Five jaw-dropping verses on Mr. Morale & The Big Steppers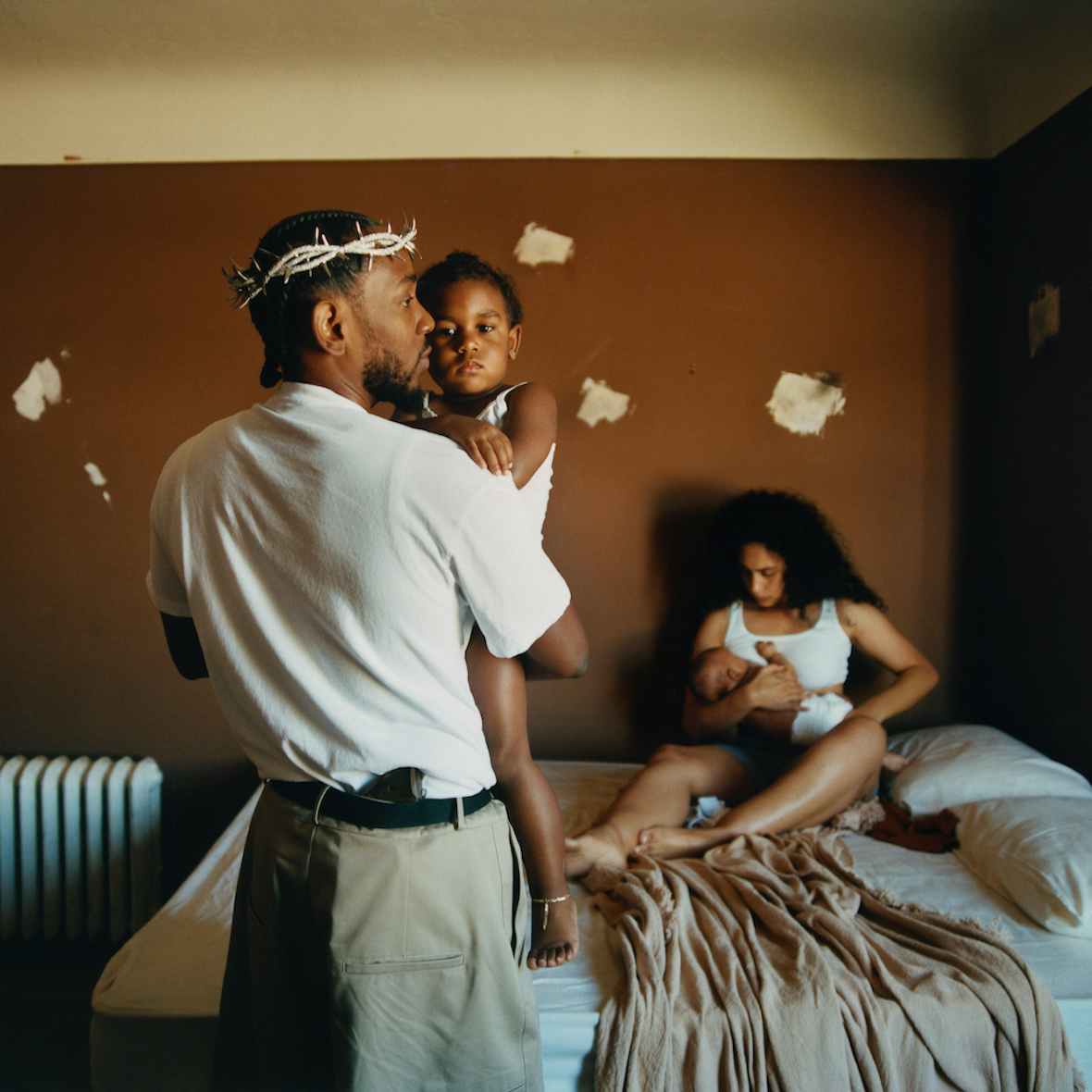 The release of Kendrick Lamar's fearless double album is one of the biggest cultural events of 2022. Here, THE FACE analyses some of the rapper's deepest bars.

Five years is a long time in the music industry, more than enough for fans to lose interest in what you're doing. Kendrick Lamar has no such problem. For years, the charismatic and unwavering rapper from Compton, California has had the genre in both palms with a sprawling catalogue that has challenged and enlightened society's relationship with grief, love, fame and Blackness. The quality of albums good kid, m.A.A.d city, To Pimp A Butterfly and DAMN. have transcended rap itself, and every K.Dot drop has all the pageantry of a major cultural event.
His sprawling new double album, Mr. Morale & The Big Steppers is no exception. With features ranging from his cousin and protege Baby Keem to Summer Walker, Wu-Tang legend Ghostface Killah and Portishead's Beth Gibbons, Kendrick dives headfirst into all corners of his psyche, a place ravaged by the harshness of his life experiences. Naturally, the result is substance in droves, packed full of wordplay and double meaning.
Check out THE FACE's notes on the project's can't‑miss lyrics while you spend time with the record.
I bought a .223, nobody peace treat
You won't doo-doo me, I smell TNT
Dave got him a Porsche, so I got me a Porsche
Paid lottery for it, I ain't want it in portions
Poverty was the case
But the money wipin' the tears away
On Mr. Morale…​'s opening track, Kendrick eloquently relays the inner anguish that has plagued him since 2015's To Pimp A Butterfly. He experiences guilt from making it out of his impoverished environment through music, when countless others didn't.
This shame is white-hot, but access to any and every privilege he could dream of – buying a Porsche upfront just because business partner and pgLang collaborator Dave Free did, for example – can temporarily ease the pain. He still bears that ​"crabs in a barrel" mentality of life in the hood that plague communities like his in Compton. This is evident in his purchase of a .223 Remington, a bullet for a high-powered AR-15 semi-automatic rifle, without thinking twice. The tension of his existence remains thick in the air, and though he remarks that money has bought him happiness, ​"wipin'" his tears away, the rest of the album reveals his finances as merely a momentary coping mechanism.

I caught a couple of bodies myself, slid my community
My last Christmas toy drive in Compton handed out eulogies
Not because the rags in the park had red gradient
But because the high blood pressure flooded the caterin'
On Worldwide Steppers, we see how even Kendrick's best intentions end up deadly. With a sombre, acrobatic flow, he compares the trend of gang violence in Compton ("rags in the park" alludes to those worn by Bloods gang members) with the act of handing out food that causes high blood pressure to the community at Christmas time.
But such is K.Dot's brilliance that another meaning persists – that of the Bloods finding their way, via his affiliation, into spaces like a Christmas toy drive, which frightens the community to such a degree that the stress skyrockets their blood pressure. The perceived probability of such affiliation continues to hammer home Kendrick's strange role in his own story; that of a conduit between the light and the dark of his world that unravels throughout Mr Morale.
I come from a generation of home invasions and I got daddy issues, that's on me
Everything them four walls had taught me, made habits bury deep
That man knew a lot, but not enough to keep me past them streets
My life is a plot, twisted from directions that I can't see
On this tender track featuring Sampha, Kendrick paints a picture of his home environment, explicitly relaying issues growing up with his father. Employing vivid imagery to display a history of violence attached to his family ("a generation of home invasions"), he presents his milieu as being stacked against him from as soon as he was born, ingraining in him a mentality of pain and suffering. He pulls no punches in assessing his father, who essentially fed his son to the street life that has consumed them. This amped-up stance may fly in the face of a previous presentation of Kendrick's dad on 2012's good kid, m.A.A.d city – who wanted Kendrick nowhere near trouble of any kind – but these opening bars on Father Time exemplifies the constant duality the rapper portrays throughout his music.
Bite they tongues in rap lyrics
Scared to be crucified about a song, but they won't admit it
Politically correct is how you keep an opinion
N*ggas is tight-lipped, fuck who dare to be different

Kendrick goes nuclear on Savior as he frantically lambasts the rap game at large. The Compton rapper may lay low nine times out of 10 – ("I go months without a phone," he claimed in a letter posted on his website last year) but he proves he's an avid observer, annoyed by a perceived lack of risk-taking in hip-hop and the artistic monotony that comes with it.

Unlike Kendrick, an MC whose catalogue has showcased a willingness to say what's on his mind – whether controversial or not – he argues that his contemporaries are fearful of being criticised or, more drastically, cancelled. In this climate, being ​"politically correct" in their music and actions serves to help rappers maintain their positions, but Kendrick has no respect for it. The result is a composed rebuking of conformity from one of hip-hop's most single-minded leaders.

You said, ​"Kendrick, ain't no room for contradiction
To truly understand love, switch position
​'F*ggot, f*ggot, f*ggot,' we can say it together
But only if you let a white girl say ​'N*gga'"
The final verse on Auntie Diaries sees Kendrick detailing the story of his cousin Mary-Ann's transition. Serving to unlearn his previous prejudices, he employs a thematic motif also heard on 2015's The Blacker The Berry, that of calling out hypocrisy within himself, for calling out racial injustice in America when gang violence sees his own people kill each other. As in Auntie Diaries, he implicates himself as part of a wider problem of homophobia and transphobia, seeing the error of his ways after receiving perspective from Mary-Ann about the power of language. He raises the notion that we can't use hateful words freely while being angered by those who use hateful words against us is palpable, as Kendrick learned in 2018 when a fan, a white woman, who joined him on stage screamed the n‑word while performing m.A.A.d city with him. It's a thought-provoking message within a moving, albeit uncomfortable, track.

More like this