Raving outside I.C.E.'s New York headquarters

The Melting Point crew is throwing "fundravers" in solidarity with Latinx asylum seekers and migrants.
"RAVE TO RESIST. SUPPORT IMMIGRANTS. MELT I.C.E." So goes the slogan of rave promoter Melting Point, who's been putting parties on in New York for around a year. The group represents a community of Latinx folk and allies who stand against the actions of the US Immigration and Customs Enforcement agency, which has presided over the most aggressive policy of detainment and deportation of migrants and refugees seeking asylum in the US in recent memory. Under the Trump administration's oversight, I.C.E. has detained over 50,000 migrants, losing track of at least 3,000 children in the process. Since 2017, 24 people have died in I.C.E. custody. When the nation's attention was drawn to I.C.E.'s behaviour towards the end of 2018, Melting Point began its series of ​"fundravers", hoping to direct the energy of New York's teeming club scene in solidarity with detained migrants and asylum seekers.
Proceeds from every Melting Point party support Al Otro Lado, a ​"direct legal services organisation serving indigent deportees, migrants, and refugees in Tijuana, Mexico". The group, whose work includes legal support for families with cross-border custody issues, litigation against the US Customs and Border Protection Agency, and support for recently-resettled deportees in Tijuana, has received over twenty thousand dollars in aid from Melting Point. In New York's rapidly gentrifying dance music culture, Melting Point is uniquely poised toward not only celebrating and affirming Latinx voices in dance music, but also channelling the optimistic promise of raving into effective resistance.
On Thursday (24th October) I witnessed Melting Point's second ​"protest rave", for which the searing, urgent mix of hard techno, noise, punk, and Latinx club music pushed by Melting Point DJs is brought directly to I.C.E.'s doorstep. Setting up decks and speakers in Foley Square, the plaza directly across from I.C.E's New York headquarters, Melting Point encourages attendees to bring protest signs, chant and dance.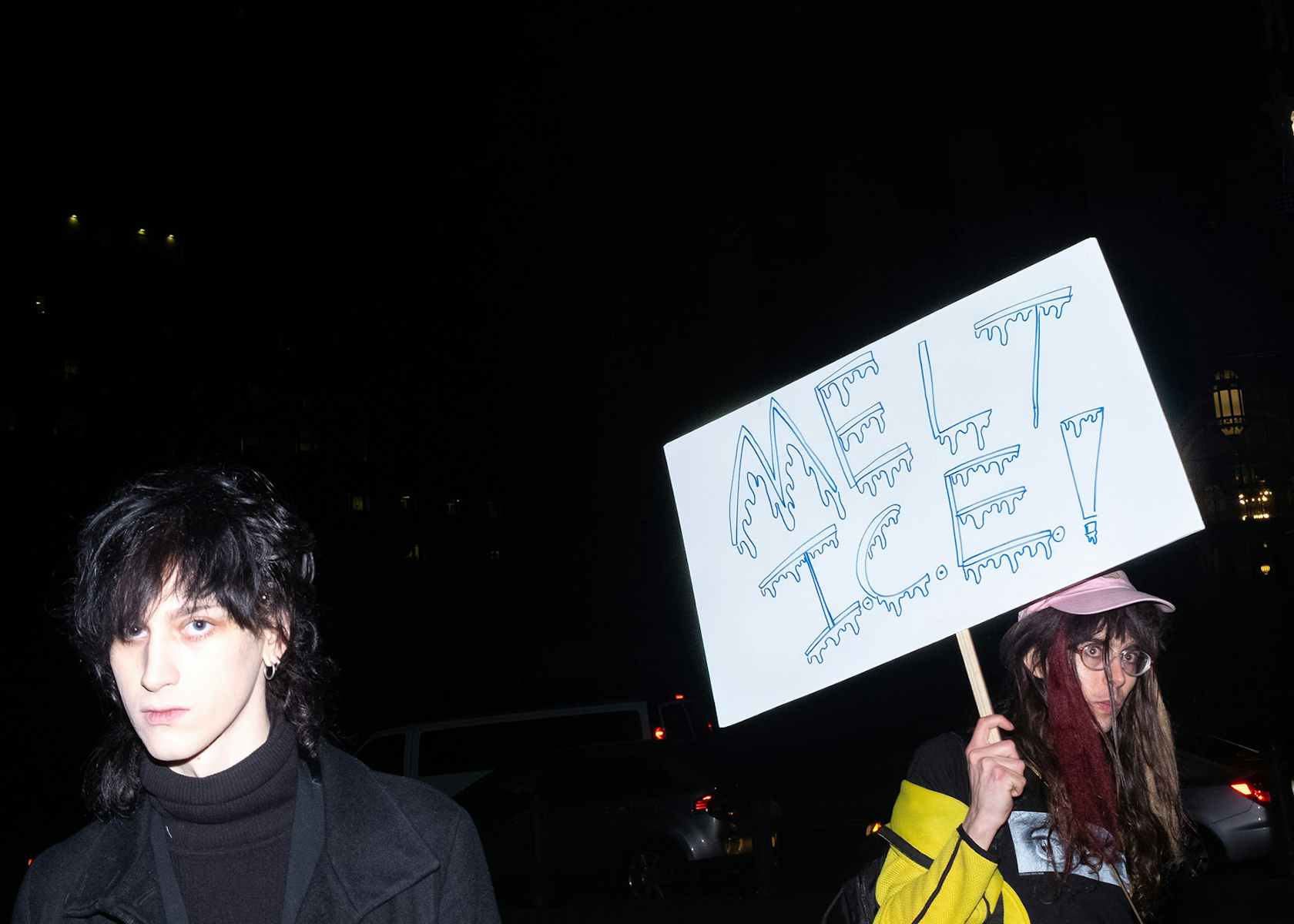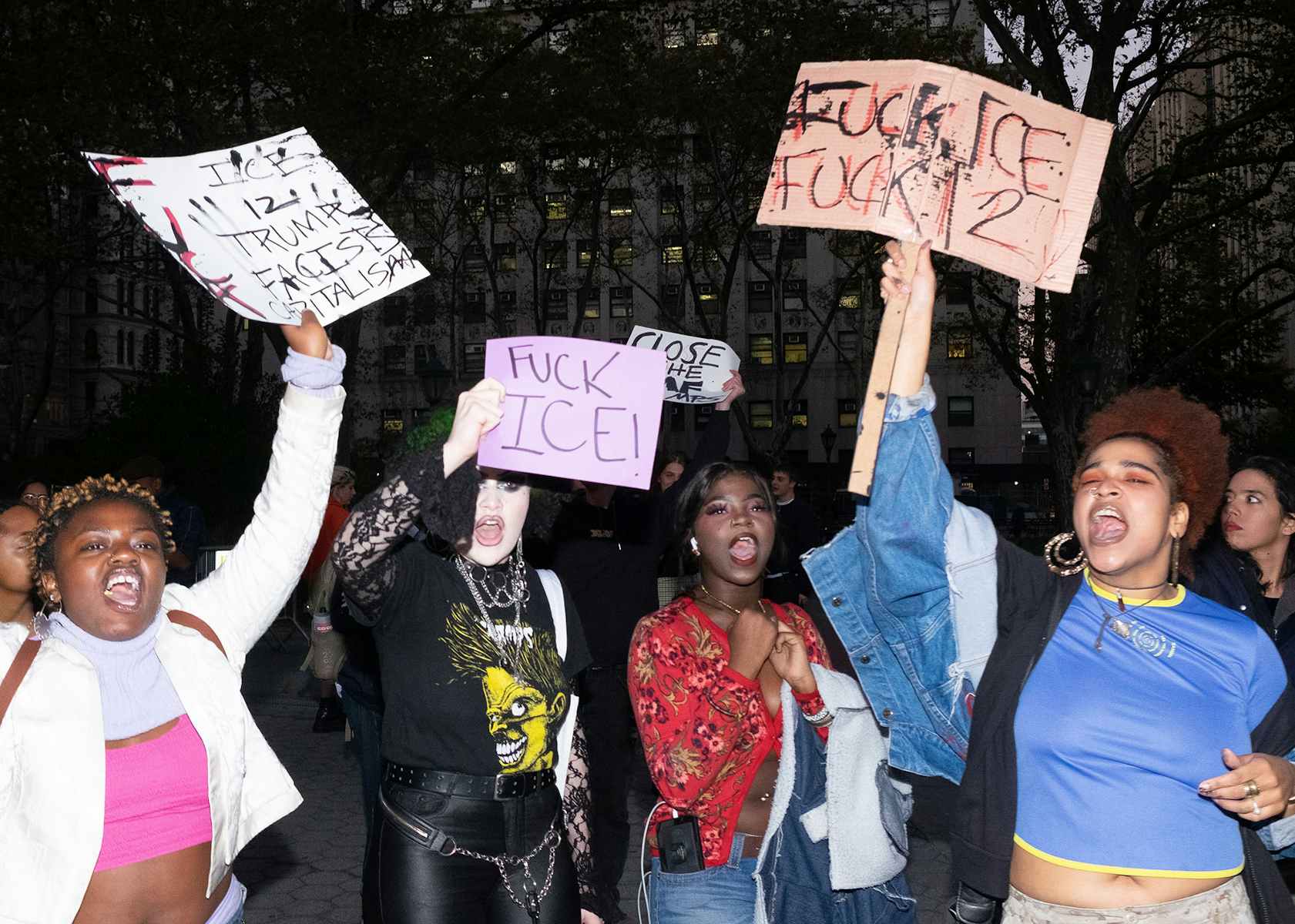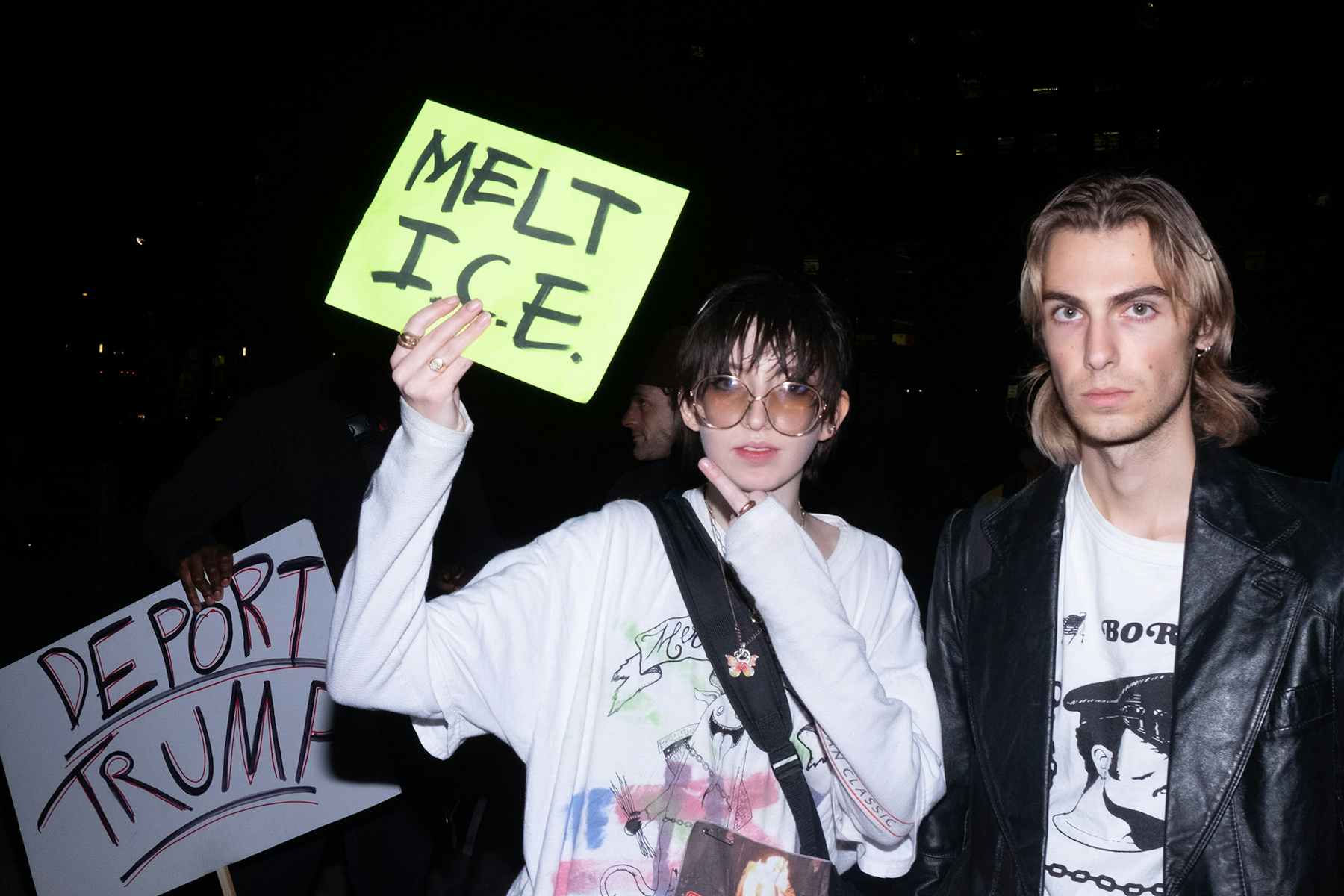 Beginning in the late afternoon, Riobamba opened the event with her signature blend of reggaeton and screwed-up club sounds. The NYC-based, Ecuadorian-Lithuanian DJ had co-organised the event, which also launched her new EP Criatura and her Apocalipsis label. ​"Before I worked as DJ full-time, I worked as a community organiser for several years," Riobamba tells me before the protest rave. ​"I've never seen creating music and art as being inherently separate from caring about and speaking to social issues."
"As artists we have the opportunity – and I believe, responsibility – to speak to injustices and issues of our times, and it is up to us to decide to use our platform to do so… Club music can communicate joy, resistance, pride in where we come from. Taking the club music community to the streets is an act of collective disruption to call attention to social issues that absolutely, urgently demand our attention right now."
I.C.E was a talking point in the music world around the time the Melting Point rave took place. Controversy had just unfolded around Intersect Festival – an event put on by Amazon Web Services, which has business connections to I.C.E and Homeland Security. Artists including The Black Madonna are no longer playing at the event after claiming to not know of AWS' involvement (the tech giant insisted this was made clear in the contract), but electronic music artists such as SOPHIE, Jamie xx and Max Cooper are still on the line-up. On the day of the rave, an open letter calling for the boycott of Amazon was signed by 380 music acts was published online, launching the No Music for I.C.E campaign.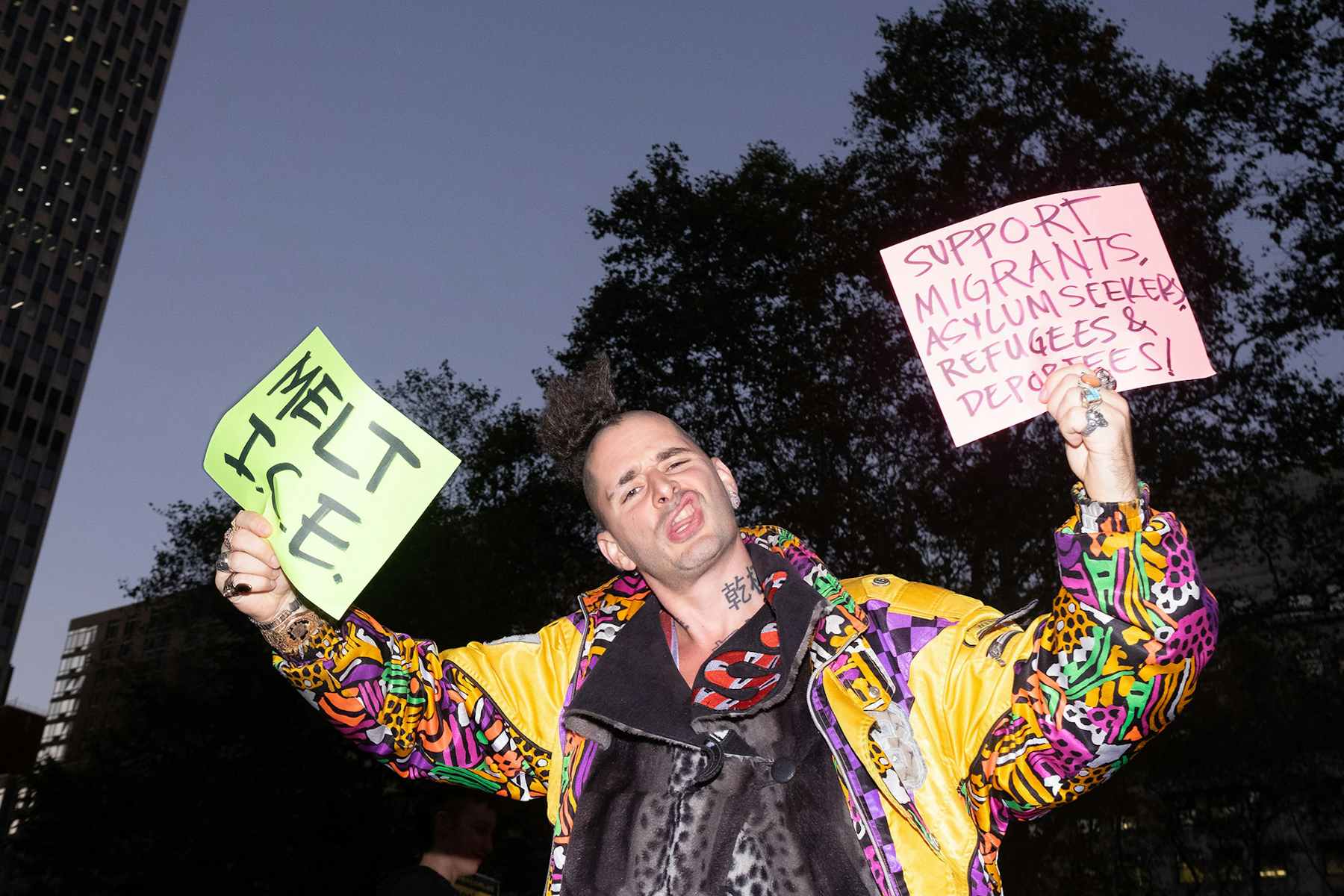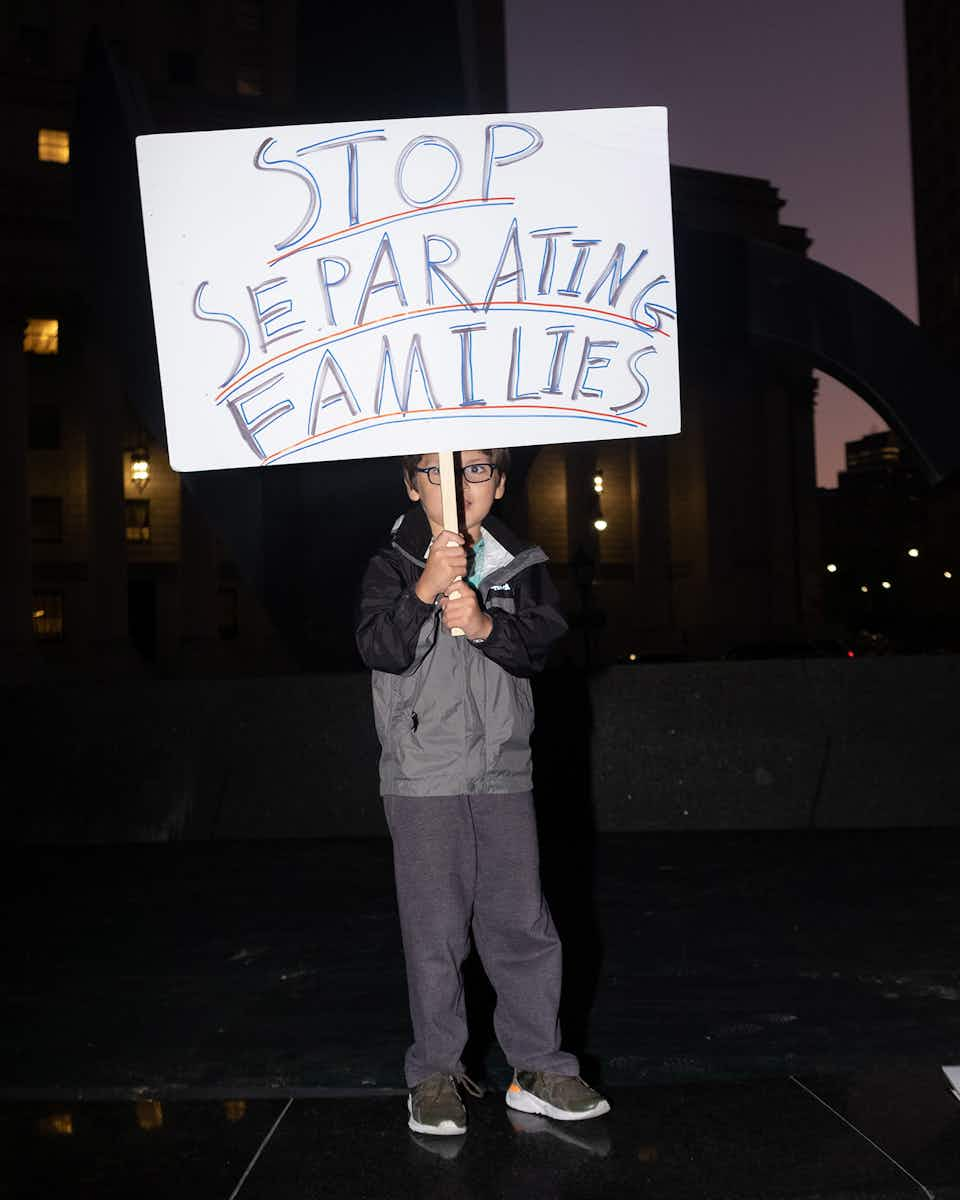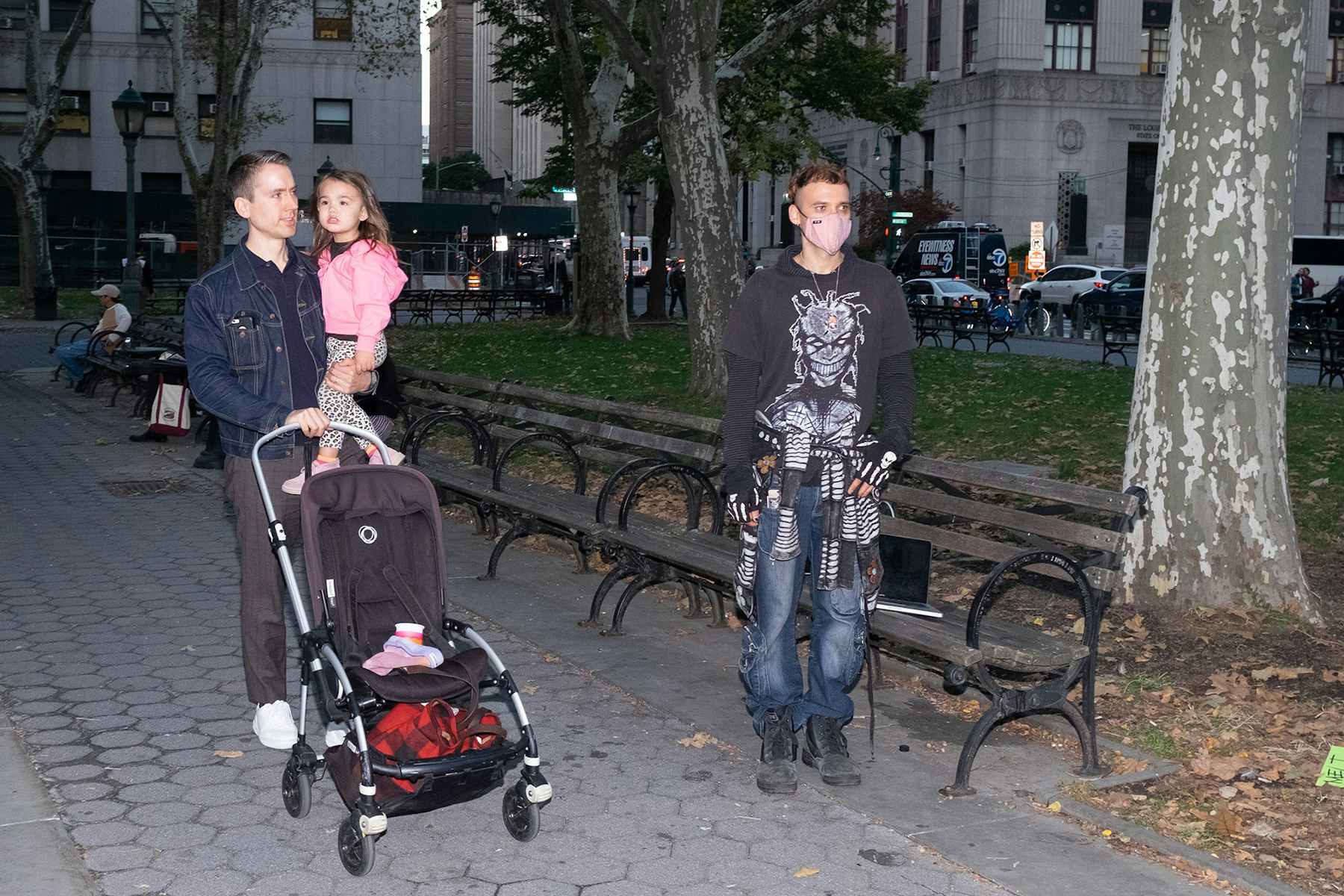 The crowd in Foley Square that evening was eclectic, to say the least. Rave warriors, resplendent in leather, chains, piercings, massive shoes, bold neon colours, and brightly dyed hair, bobbed with energy – their signs reading ​"PLUR NOT ICE" and ​"FUCK TRUMP" served as stark props in their dances. Young students, cool-kid types, twentysomethings, and techno lifers stepped side by side. At one point, I watched an older man swing his daughter (who looked to be about eight) around in a circle, holding her by the arms. She giggled as he demonstrated the traditional gabber-punk dances of his youth. As the sun began to set behind the state supreme courthouse, the music deepened, as firecracker reggaeton, dembow, screamo edits, and ​"deconstructed club" gave way to hypnotic, burning techno.
Some folks I spoke with had been guided to the square that day as much by the protest mission as by the rare promise of a proper techno event, held outdoors, in downtown Manhattan. A ship worker from Spain, an avid techno fan since his misspent teens listening to gabber in Valencia nightclubs, told me he had arrived in the city with his crew yesterday for a brief sojourn and was simply looking for somewhere to go hear techno. Another hardcore clubber, eyes bulging, compulsively thumbing at a giant, spiky septum ring, told me they could only speak with me after they were properly ​"settled into the vibe" of the dance.
Many clubbers I spoke to liked that the event honoured dance music's roots as a facilitator of spaces for queer people of colour. ​"Club music has always been a refuge for people," a woman from the Bronx who had just left her office only a few blocks away told me, "[and] there are so many ways in which systemic struggle is interwoven into the club music experience." A close follower of Melting Point's work, she told me she valued the ​"welcoming energy" she has felt at Melting Point raves, which she feels is related to the group's motives, and the fact that the ravers know their ticket money is being funnelled to help migrants at the border.
Although the techno-goths were certainly out at the Melting Point protest rave, many folks I spoke with had no prior investment in club music at all. There were organisers looking for recruits, a few stunned onlookers, and some who had simply heard of the protest and wanted to show support for those talking back to I.C.E..
On the outskirts of the dance, I saw a pair of timid kids, holding signs up as they looked on at the wild scene (I would later find out they were twin siblings). We listened to a double-time gabber remix of J Balvin's Mi Gente as they told me about spending many days of their youth coming down to the I.C.E. building to appeal for their father, who had emigrated to the US and spent years petitioning for citizenship before only recently ​"becoming legal". ​"We have a little sister; she was born in 2018… [which is] basically when America went to shit, and I want to be able to show her that we can make it better, especially this generation," one of the siblings told me. Having learned of the protest through a Facebook post from a favourite hardcore band, it was their first experience with rave culture. Still, they believed in the power of DIY music culture to educate and empower people around the pursuit of social justice. The hardcore fan among them put it to me this way: ​"I notice that if you put [social justice messaging] through music, you're able to understand it better… it's a good way to spread the word. You learn through music."
Riobamba recommends that people who are interested in helping migrants and asylum seekers look into the work of Al Otro Lado, Detention Watch Network, Immigrant Defense Project, and Casa Arcoiris.



More like this