Watch Ivorian Doll perform her breakthrough hit Rumours
The fast-rising "Queen of Drill" took to a London rooftop for the Lucent: APEX live sessions series.
In the UK rap scene, Ivorian Doll is the name on everyone's lips right now.
The Dusseldorf-born, Hackney-raised YouTuber-turned-rapper started releasing music back in 2018 with Abigail Asante. Although the duo turned heads thanks to their chemistry on drill and trap bangers like The Situation, No Bae and the TikTok hit Spare Me, Ivorian Doll and Abigail broke it off. IVD recently broke the news about the split on her blistering Daily Duppy freestyle – a GRM Daily segment which has helped further her most hyped rappers on the UK scene.
IVD is admired by her fans for a no-fucks-given approach to slanderous internet trolls, as evidenced by her breakthrough solo hit Rumours, a merciless takedown of her haters and the slut-shamers spreading gossip about her. The 22-year-old MC has accumulated millions of streams and a loyal legion of fans, affectionately known as ​"Dollz" – the most notable being Headie One, who collaborated with her on the track F U Pay Me from his chart-topping album Edna.
Ivorian Doll recently performed Rumours live for the first episode of a series filmed and produced by the creative community Lucent. The Lucent: APEX music sessions series, which THE FACE is proud to be hosting, was created to amplify rising artists while gigs and tours are on hold.

Watch Ivorian Doll perform Rumours on a London rooftop before reading a Q&A below.
You were first a YouTube and social media personality, how did the transition into music come about?
It was just an accident, it wasn't something I really planned. Me and my friend at the time were making a song as a joke and we decided to release it and it just got a lot of traction.
You have dubbed yourself as the Queen of Drill, however, the scene has traditionally been very male-dominated. Has the scene been welcoming to you?
They're welcoming now whereas before it wasn't friendly at all. At the beginning no one acknowledged me, no one would take me seriously. Now they're very welcoming when they see me. Sometimes I hear rappers say things about me, but they won't DM me or anything, but when I see them they're like, ​"Ah I'm a big fan" and it's like, well why didn't you tell me that? Some of them are still a bit weird but the majority of them have taken me in and tell me how much they like my music.
Do you think the drill scene needs a queen?
Yeah, why not. There's gotta be a queen for every scene.
What was the inspiration behind Rumours?
Because a lot of rumours were said about me and they would always come up so I thought, ​"Let me address it." And make the song something song because everyone's had rumours said about them, so I was thinking just own your truth and make it fun.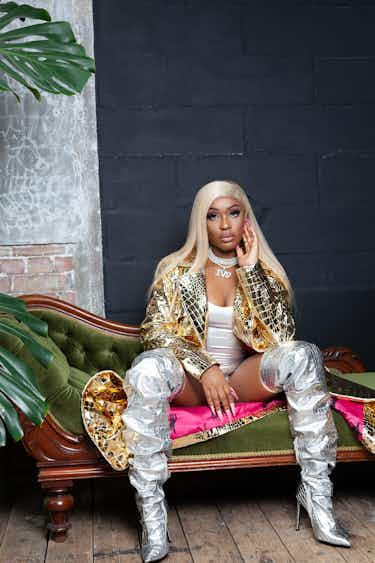 What advice would you have for people who also are having slanderous things said about them online?
If it's not true, don't mind it. I always say online is an out of sight, out of mind kind of thing. So if you delete the app, it's just not there anymore. I would say everything online seems bigger than it actually is, because in real life no one's going to come up to you and say, ​"Oh, I heard you did this and I heard you did that." So I would say don't focus on rumours because rumours are always going to happen, especially when you're at that secondary school stage.
What's your favourite one-liner from Rumours?
"I heard a rumour she banged half the block (boy…)/ It must've been an unknown D".
When and how did you find your confidence as an artist?
I think it's the people around you who build your confidence. My manager built my confidence. Also when people are taking in your music and rapping along to your sound. I've always been a confident person, so it's not hard to be confident because that is just how I am. The more you like your music, the more confident you will become.

Who is your dream collaborator?
Megan [Thee Stallion] and Nicki [Minaj].
There was a lot of excitement about F U Pay Me – your collab with Headie One and Kenny Beats. What's Headie like to work with, and how did it feel being on a number one album?
He literally just DM'd me like, let's do a song – I didn't know I'd be on the album. I. I hadn't been to the studio with him but when I met him at his listening party he was very friendly and seemed really humble, and I was thanking him for allowing me on the album. Because of him I feel like people took me a bit more seriously because it's a big album to be on.
What's the website or platform you spend the most amount of time on?
Twitter and Snapchat.
If someone were to take you for a date /​night out in London, where would be your dream places to go?

The Science Museum.
A Lucent Production

DOP + Post Production: Taz Psaras Editing: Taz Psaras, Millie Gray Producers: James Craigie, Amelida Celepija, Geri Cela
Audio Engineer: Dyre Gormsen at LAYLOW Studios Audio Engineer Assistant: Henrik Holst Hansen Audio Mix + Master: Dyre Gormsen at Eastcote Mastering Drone Operator: Barney Clark at Stem Studios Drone Assistant: Quincy Music Programming: James Craigie Location: LAYLOW

More like this