Monthly mix round-up: Handbag house gems, happy hardcore and nun samples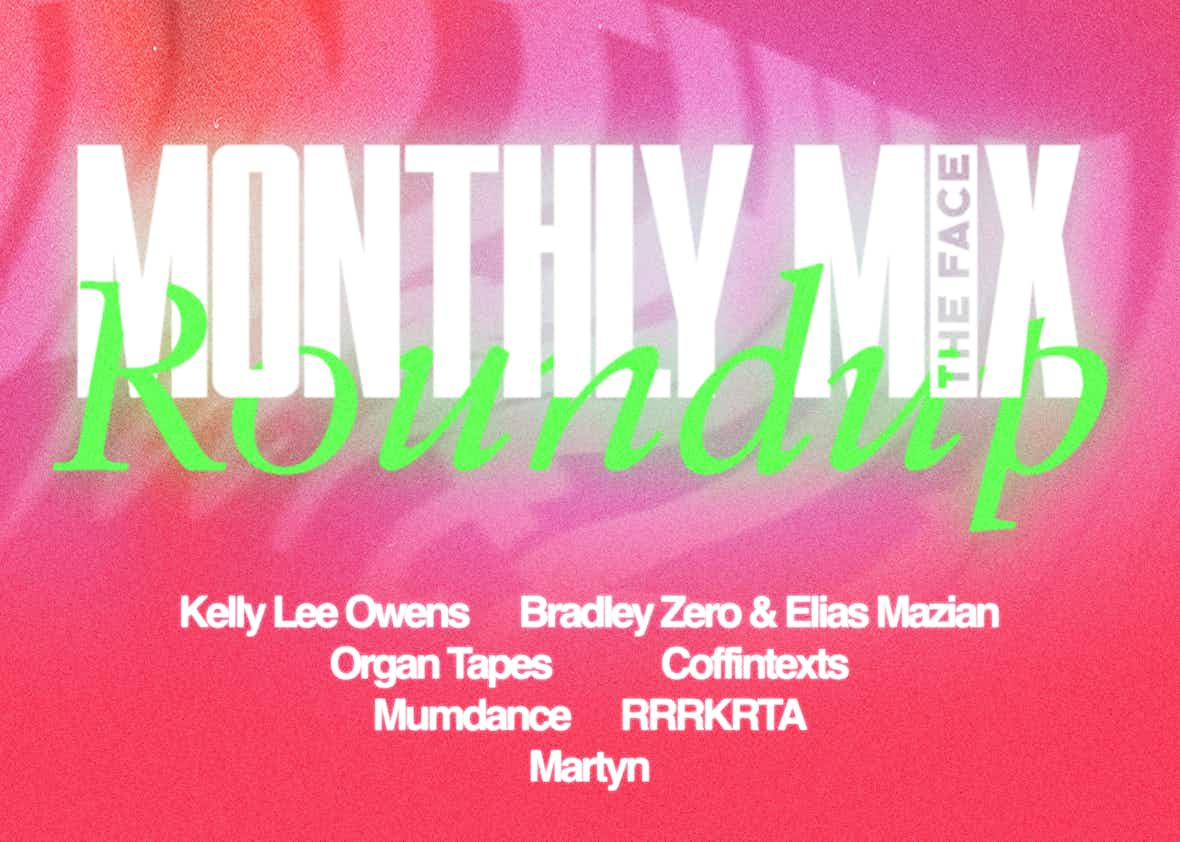 Chal Ravens' column collects the best DJ mixes and sets that have dropped in recent weeks.

Too hot to dance, arguably, but July's high temperatures were matched by some mercury-raising raves around the world. Three of them feature in this month's best mixes, including live sets from Miami, Amsterdam and Barcelona delivered by, respectively, Coffintexts, Bradley Zero B2B Elias Mazian, and a returning star known as Mumdance.
On the flipside, we've gone for the weird, the wacky and the crepuscular: arty grooves from Poland's RRRKRTA, an emo collage from Organ Tapes, thoroughbred bass from ex-dubstepper Martyn and a fearsome run-in with harsh noise and nuns via Kelly Lee Owens.
Noise, nuns and enormous techno
If you think you know Kelly Lee Owens, Welsh purveyor of steely melodic dance at the cusp of the over/​underground border, then you might be surprised at what's going on in her RA mix. She begins with a collision of the sacred and profane, pitting the choral ecstasies of Hildegard von Bingen, the trendiest nun of the 11th century, against the tectonic cataclysm of Cornet by Throbbing Gristle. It seems KLO is not here to fuck about.
For the next half hour, she plots a course from one extreme to the next, from harsh noise to the sweetest deep dub. The eternally glorious King in My Empire by Rhythm & Sound gets ripped to shreds by Russell Haswell's modular chainsaw; Aleksi Perälä's cosmic synths restore balance, only for noise hooligan Merzbow to breach the peace again. If that all sounds a bit pretentious and anorak-ish, stick with it – everything slots together in the final, breathless third via techno juggernauts from Marco Shuttle and Peder Mannerfelt.
Bradley Zero & Elias Mazian at Lente Kabinet
Full-fat party slammers for professionals
Whoever had the brainwave of putting Bradley Zero on deck with Elias Mazian can claim a round of tequila shots on us. This b2b from Amsterdam's Lente Kabinet festival is one of the best and brightest festival mixes we've heard in yonks – well, in a month at least. The Rhythm Section don and the De School regular bosh out a ferocious selection of non-serious house music sprinkled with pop vox and crafty blends, from Khia to Sugababes and Gin And Juice.
Plus, it's one of two mixes this month to reach for Stardust's evergreen filter-house belter Music Sounds Better With You – this time mixed into slamming Jersey club before a left turn into grime from Sir Spyro. Gather up every handbag in your house and dump them in the middle of your living room. You know what time it is.
Organ Tapes – Sunday Mix for Crack
Cryptic pop fragments from a curious mind
Trends are cyclical, and the ​'00s are back. Not the bits that were cool at the time, of course – the Raster-Noton revival is nowhere in sight – but the bits that were fundamentally daggy from the off, are. Can the Manic Panic angst of Avril Lavigne's Complicated be rehabilitated now as the noughties' best power ballad? Emotional wanderer Organ Tapes makes the case in his deliciously weird Sunday Mix for Crack Magazine, slotting what sounds like a random YouTube cover of Complicated next to other ​'00s punk relics by the Distillers and Transplants, as well as ungoogleable underground pop tracks by MILLY and faro. The whole mood is off-key like that – punk growls, odd untrained voices, clashing blends and random fragments of ​'90s rock chicks. What does it all mean? Only Organ Tapes knows the significance of these selections, but it's a smart tasting note for his intriguing new album on DJ Python's label, Worldwide Unlimited.
Coffintexts for Untitled 909
A tasty little zoner from the subtropics
The next big thing to come out of Miami – a city that's really having a moment right now, with Floridian talent like Nick León leading the charge – looks set to be a DJ going by the name of Coffintexts. And what a name that is! With a clutch of tracks to her name (on Club Qu, Femme Culture and loosely on Bandcamp) the Miami DJ-producer operates at the trippier end of the scale, with tribal loops and deep reggaeton providing the soft tissue of this mix for Untitled 909.
Brightened up by strange outliers from Public Possession's Nice Girl and the UK's Denham Audio, it's the soundtrack, if you will, to some dreamed-up beach bar crawl on a moonlit summer night. The breeze is warm, the sand is white, your can is cold. ​"This edible ain't shit," you think, as the bright lights across the boardwalk start to squirm and vibrate like a cloud of zonked fireflies. You are ready to enjoy yourself. File next to: DJ Voices' hypnotic tribute to Florida's open roads, selected back in May.

Mumdance at Primavera Sound
No longer M.I.A., still blog house AF
We've run the numbers and it looks like only a few hundred music fans worldwide did not find themselves wedged into Barcelona's Parc del Fòrum for Primavera Sound this year. Were you among us? If so, then at least this set can give us a taste of what we missed.
Mumdance has been AWOL for the last few years, leaving fans of his ​"weightless" grime inventions and nimble-fingered blendathons feeling bereft. But, back in the saddle for one of his first gigs since long before the pandemic, the Brighton producer sets the bar high: four decks, 90 minutes and a USB full of tricks and tools. Interspersed with Mumzo classics (Take Time and 1 Sec, his grime hits with Novelist), this hyperactive set smashes together tweaky techno, bass shellers, happy hardcore (from rave ledge Billy Bunter) and the disco daze of (again!) Music Sounds Better With You – sometimes all at once.
Wig-out material from a Polish party detonator
If we're being technical about it, this mix is an intruder from June – but as it only made the leap from radio to SoundCloud this month, we're including it anyway. The rules are there to be broken. Anyway, all-round experimental artist James K ceded the floor to RRRKRTA, former host of Warsaw party Brutaż, during her most recent NTS slot – and the results were stellar. This hypnotic hour of fuggy club music was inspired by the rare Pokémon character Mew, who is a psychic cat. Does a moodboard need any more than that, really?
Most of the tracks within are underground as fuck, dating from the ​'80s (Vicious Pink) through to the acid techno ​'90s (V.R. Volvox) and up to the present, with a wiggy track from Shjva on the Brutaż label itself. Diggers may also recognise SF artist Taraval from releases on Four Tet's Text Records. Pay closest attention to Agent Cooper Lurvs Coffee, one of those Twin Peaks-sampling records from the ​'90s, which is burnished with a Tom Verlaine-esque guitar solo performed by – according to Discogs – ​"Another Guy Called Gerald". Like so much of the best club material, it's all designed to make you feel like you're losing your marbles.
Rock-solid rhythmikal invention from an old pro
Born in Eindhoven and now based in Washington DC, Martyn will nevertheless always be associated with UK bass music, particularly the fertile few years of club mish-mash that came after the peak of classic dubstep. All of that was a long time ago, of course, but Martyn's appetite for low-end has kept him pretty well plugged in – not to mention his artist mentoring programme, whose alumni include Berlin-based mixmaster CCL.

This Fabric promo mix is a trip through the kind of heavyweight yet finely embroidered material he's been digging lately, from thundering breaks and sticky polyrhythms to drum'n'bass abstraction and fried electro. Expect seamless, Michelin-starred blends throughout and a tracklist that can slot a Dutch master like Orlando Voorn alongside NYC queer techno royalty like Jasmine Infiniti.


More like this