Kanye West documentary jeen-yuhs captures the warmth and passion of his early years
Acts i & ii of the new Netflix doc follow Ye as he breaks through with prodigious talent and unflinching confidence, often under the guidance of his late mother Donda.

The opening of act i: VISION, the first instalment of Netflix's documentary series jeen-yuhs: A Kanye Trilogy, elicits an emotional rollercoaster, one familiar to anyone at all interested in the wellbeing of Kanye West.

It's 2020, and West is energised, backdropped by lush tropical greenery during an outdoor recording session in the Dominican Republic. His bars are punctuated by arm gestures and interspersed with a broad smile, which is mirrored back to him by the production collaborators who sit nearby. The scene then cuts to a sombre West, now seated at a table on the same terrace. His music team is blurred in the background, as West speaks on a conference call. He instructs whoever is at the other end of the line to ​"move forward with this running for President, and all things needed… full steam ahead on that". In just a couple of beats, a sense of hopefulness for a Kanye West who looks and sounds and seems healthy sags into more familiar territory: frustration with a Kanye West who is puzzling and concerning, off-putting and alienating.

The documentary's co-director and narrator, Chicago native Clarence ​"Coodie" Simmons, began capturing the day-to-day life of his hometown hero Kanye West towards the end of the 1990s. As hip-hop and pop culture continued to merge into a single lane, West's uncanny ability to flip emotive soul music samples into scorching hip-hop tracks made him an appealing proposition: a generator of excellent beats-for-hire, who existed outside the dominant east coast/​west coast/​southern rap axis, but who furnished the tracks of some of the era's most territorial voices, including New York icons Foxy Brown and Jay‑Z, and Atlanta stalwarts Goodie Mob and Jermaine Dupri.

Opening scene notwithstanding, the structure of the first two parts of jeen-yuhs: A Kanye Trilogy is a relatively straightforward chronology of West's creative life up to 2005 – a crucial year for West, as he received the highest number of Grammy Award nominations for his debut artist album, The College Dropout, which had finally been released in spite of a palpable lack of belief and interest, as demonstrated by Roc-A-Fella Records label head Damon Dash.

Through the lens of Simmons and co-creator Chike Ozah, West's path towards The College Dropout is presented as a classical hero's journey. The album eventually achieved 4x Platinum status, but that dream outcome is revealed to be the result of the sheer force of West's own will. It's an album that he scraped together over several years, begging and borrowing resources from peers whose eyes glaze over with indifference once West stops talking about making beats and starts insisting that he's a rapper in his own right.

But throughout act i and act ii, Kanye West's visionary genius status and commercial appeal are validated. Dawning realisations about the extent of West's lyrical talent occur in real time, visibly etched across the faces of beloved hip-hop figures Mos Def and Pharrell Williams when they eventually stop and listen to West's verses from the songs 2 Words and Though The Wire, respectively.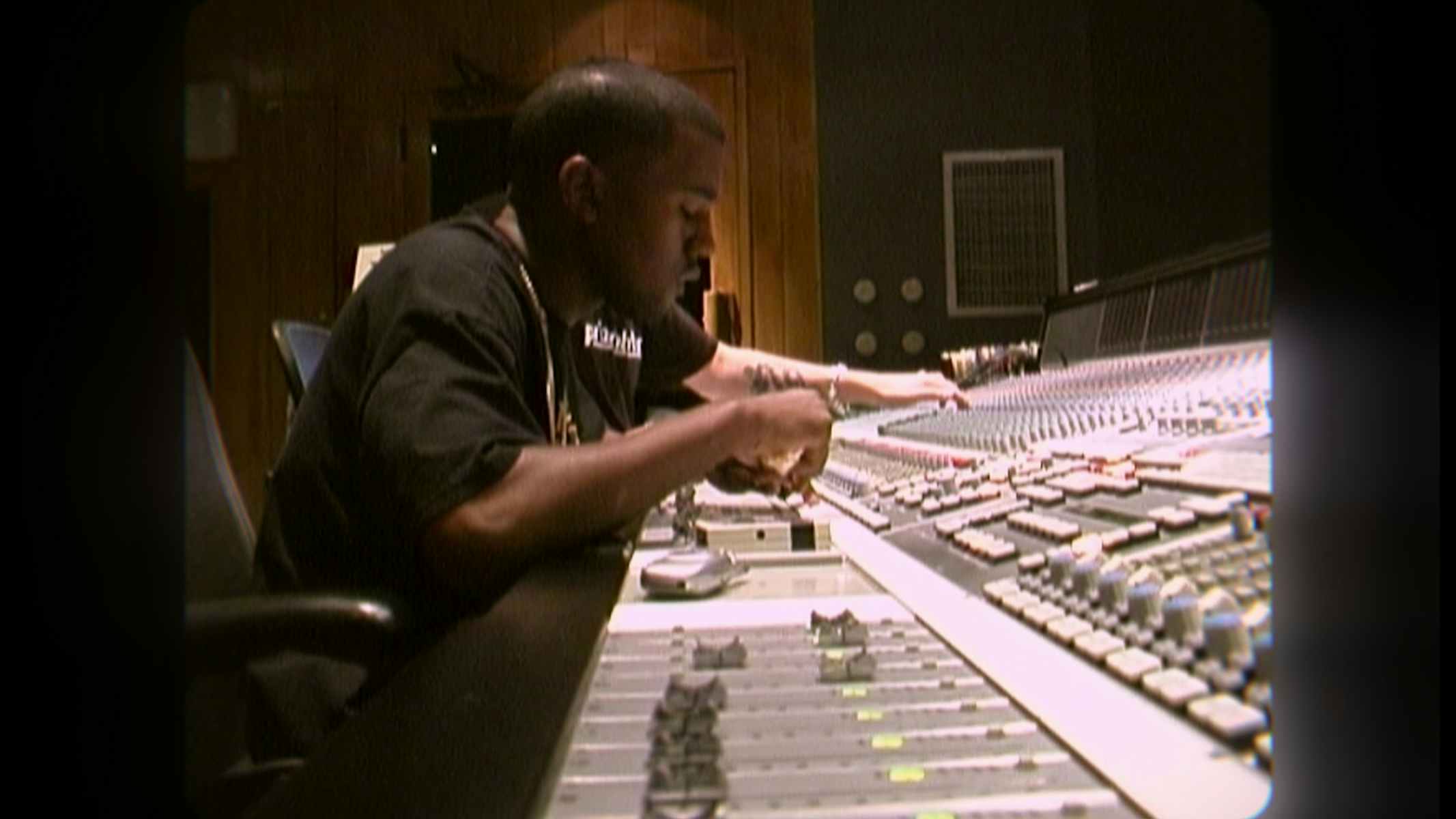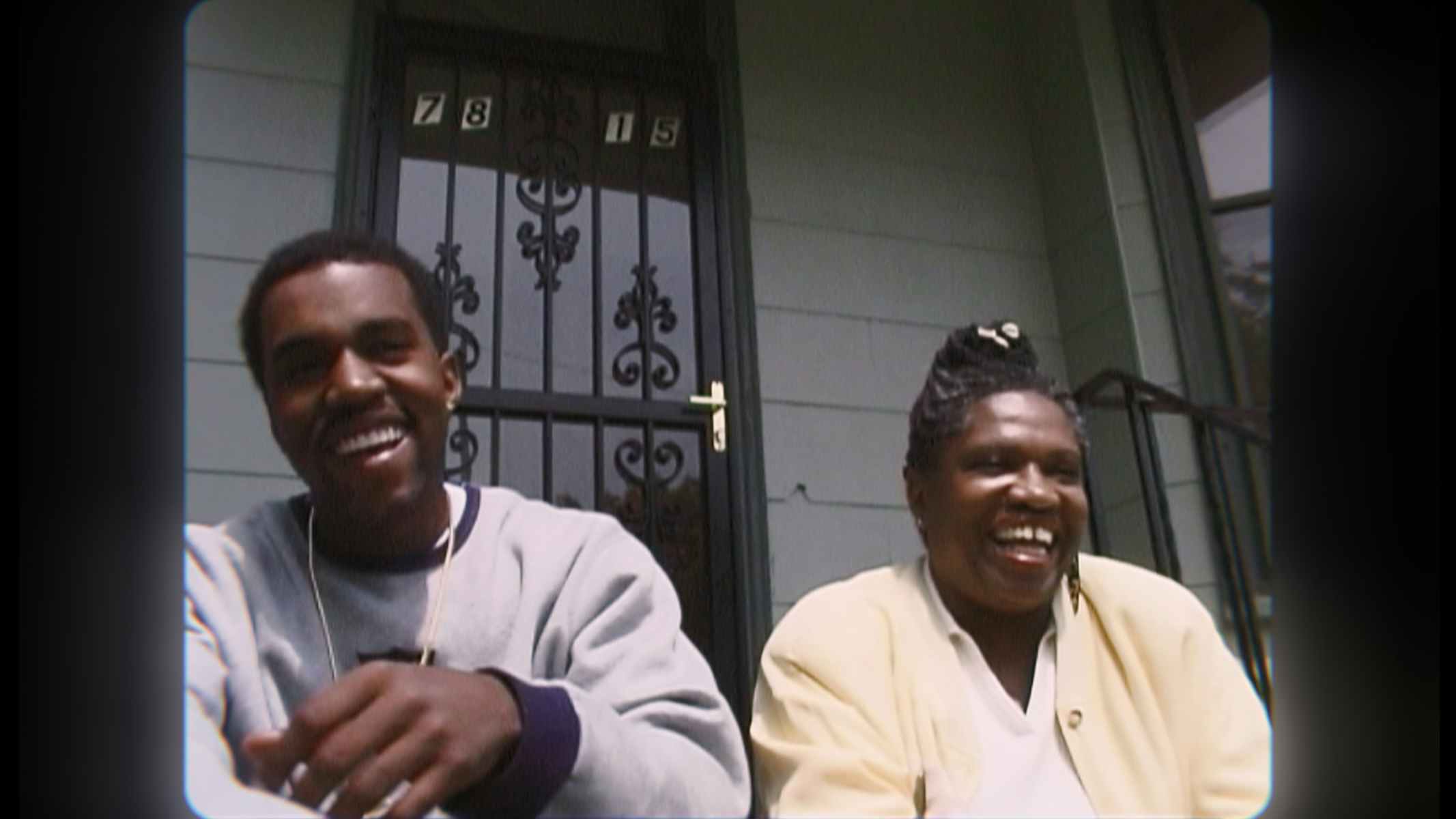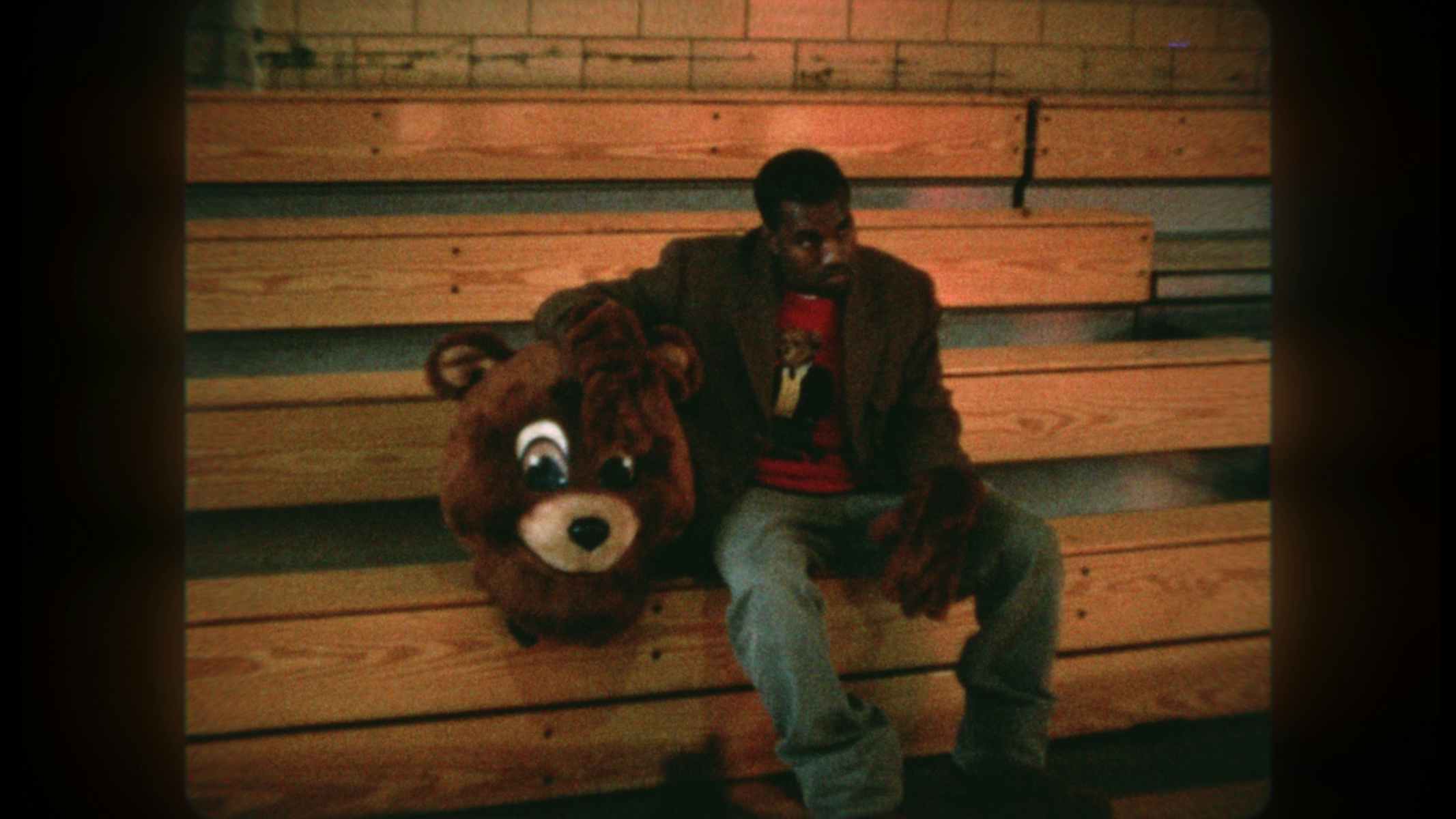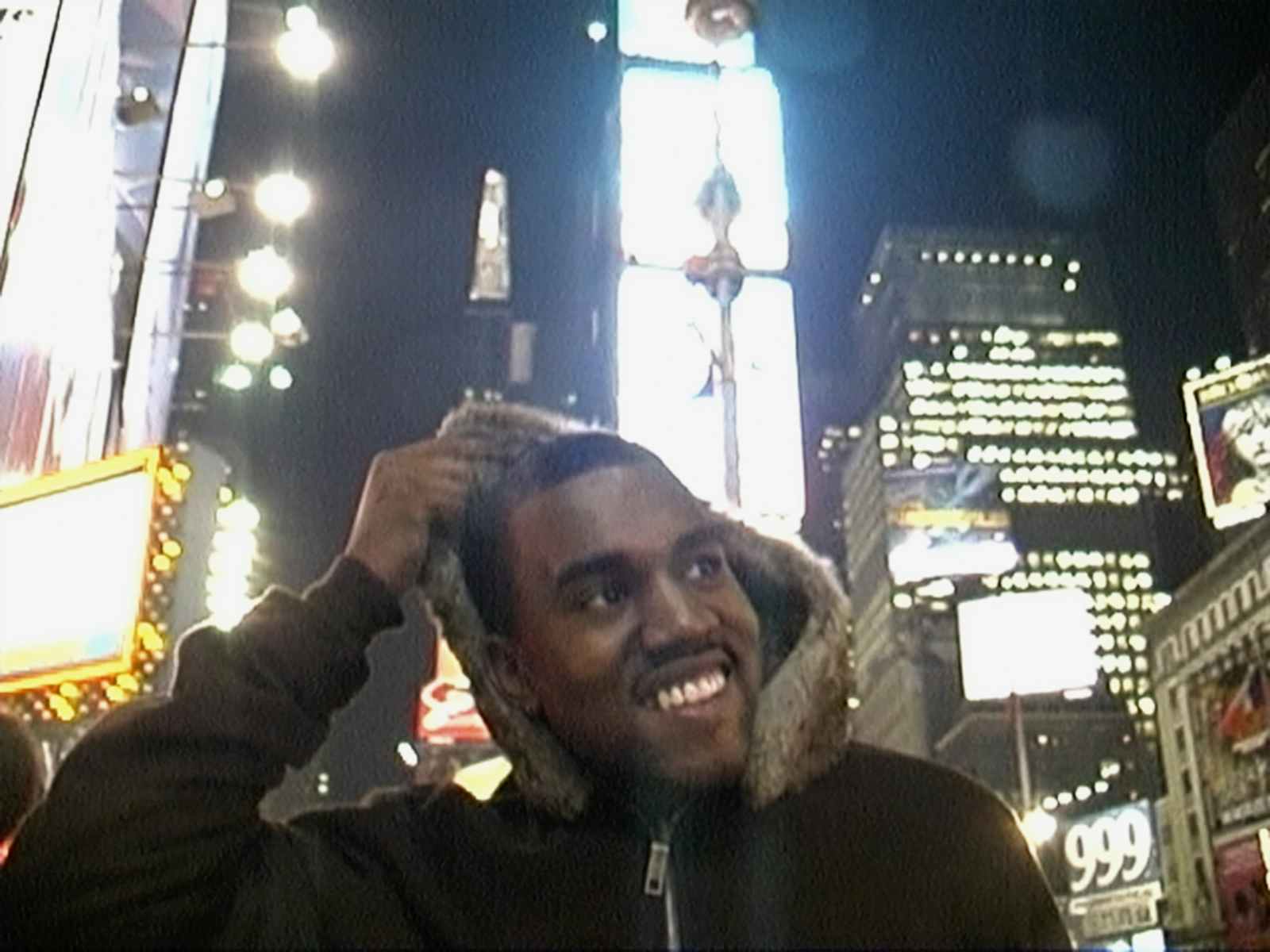 However, act ii: PURPOSE concludes with a feverish preview of some of the infamy West cultivated over the next 15 years: calling out one odious American president for not caring about Black people, and sidling up to another one wearing his signature red cap; Yeezy, beefs and public meltdowns, the Taylor Swift saga, ​"Slavery was a choice". It ends with a haunting shot from the 2021 Donda album listening sessions in Atlanta, where a fully-masked and red-clad West stands silently in the middle of a whited-out stadium.

This lopsided storytelling of the first two chapters of jeen-yuhs: A Kanye Trilogy may be reflective of the genesis of the film. While depicting the stop-start nature of West's rise to artistic acclaim as a rapper, it also offers a counter narrative of Simmons' own career arc in reverse. Having developed a following in Chicago's late ​'90s stand-up comedy scene, Simmons became a local television music show presenter, but he decided to retreat behind the camera in 2000 in service of an independent documentary about West, in whom he appears to have unshakeable faith.

It's in amongst this footage, rumoured to be more than 300 hours in total and amassed over decades of intimate access, that a young West's less appealing quirks begin to establish themselves as aspects of character. He recategorises his own desires and needs as outcomes that he feels he naturally deserves, and acts in kind. He is desperate for recognition as a rapper, and gets his feelings hurt trying to force that out of others. He bristles with indignation at suggestions that making production tracks is what he does best, even though he does that much better than anybody else.

Simmons and Ozah's darkly comic sensibility captures these moments in the most excruciating fashion. When West barges into the Roc-A-Fella Records office, uninvited and clearly unwelcome, playing College Dropout demo tracks on full volume, Simmons pushes in for long takes of staffers who silently grimace or attempt to continue answering phones despite the distraction. In other settings, he doesn't fare much better: while recounting a self congratulatory Jay‑Z anecdote about the recording session of his own Bonnie & Clyde (Freestyle) verses, he doesn't notice that he's lost the attention of the artists who sit beside him in the studio.

There are hints in the documentary towards the disagreeable characteristics that West has more fully embodied in recent years. Most poignantly in interactions with his mother, Donda West, who greets him with consistent gregariousness and warmth, but also reflects on what she considers to be his lifelong tendency towards ​'selfishness'. She implores him to remain grounded, in part to counteract a personality type which could be read as ​'arrogance'. Yet these tough love moments are offset by Donda's embrace of the full complexity of her only child. She acknowledges his shortcomings, but unlike other figures in the film, she offers her son her empathy as well as attention, leans in closely when he speaks, watches him lovingly and softly, laughs uproariously at his jokes.

The death of Donda West, who unexpectedly passed away in 2007, will presumably loom over the documentary's final chapter, act iii: AWAKENING. Her absence has haunted her son since; from his 2008 retreat into icy AutoTune roboticism on 808s and Heartbreak, to his most recent two-part album project that bears her name.

The run-up to Donda was marked with the high volume of gossip, spectacle and chaos and that is now regularly associated with a Kanye West pop culture moment: publicity-courting social media posts, diss tracks, controversial affiliations, release dates that are telegraphed and then pass silently, multiple release versions with guest verses appearing and disappearing, seemingly at will. The erraticism that now resides at the heart of West's public persona has also been evident in the anticipation of this documentary. On January 22 West posted the artwork for jeen-yuhs to his Instagram account with the caption ​"I'm going to say this kindly for the last time /​I must get final edit and approval on this doc before it releases on Netflix /​Open the edit room immediately so I can be in charge of my own image /​Thank you in advance 😊"

Determining the extent to which anyone other than Kanye West can ever truly understand Kanye West is shown to be a futile pursuit in jeen-yuhs. As he admits on that terrace in 2020, with a knowing chuckle, ​"I need a translator real bad sometimes". This, sadly, seems to be the only true consistency of his life. Yet by observing his attempts to connect and comprehend, whether through music and art that is transcendent or terrible, through manic missives or deep clarity, through godly or mortal concerns and fixations, the outcome is very rarely less than compelling.

act i of jeen-yus is available to watch now on Netflix. act ii will be released on 23rd February, act iii will be available 2nd March.

More like this