It's official: even London estate agents couldn't flog Kanye West's stadium bedroom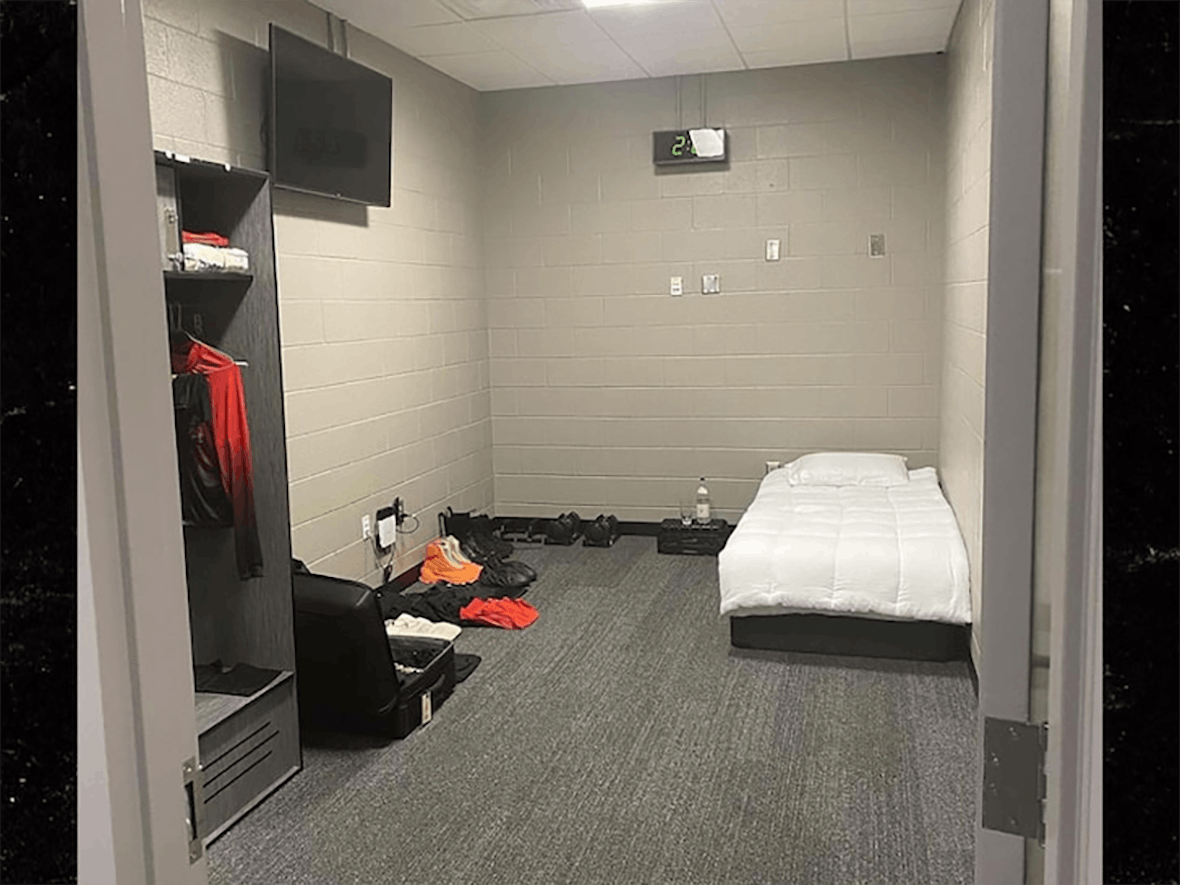 As he finishes his new album, DONDA, Kanye West holes up in a prison cell-like bedroom with no windows and a very basic bed. We ask three estate agents how they would sell it.
Following on from his DONDA listening party last week, in which 70,000 fans flooded into Atlanta's Mercedes Benz Stadium to listen to his to-be-released 10th studio album, Kanye West has holed up in a room in the venue to finish it. His bedroom, which looks worse than some of the rooms I've had in North London warehouses, seems to have no windows, a giant LED clock, some shoes and a very basic looking bed.
If life were Twitter, it would be the kind of room that would be ripe for ​"men love basic bed frames, sleeping with one pillow and reading Infinite Jest" jokes that you'd almost feel like doing said joke would be incredibly clichéd to the point of not being worth anyone's time. Almost.
To find out just how sellable Kanye's new digs are, I spoke to some estate agents from London, a city so notorious for its comically bad living standards that people literally rent the tiny spaces under their stairs, like actual Harry Potter. What do they think of Ye's latest abode?

"If I was trying to sell it, although I'm pretty sure I wouldn't be allowed, I'd say ​'It's got a minimalist Scandinavian style, complete with a built-in television and stylish digital clock that finishes off this exquisitely detailed studio apartment, previously home to an A‑List celebrity,'" says Will Yates of Pendleton estate agents, which actually does make the room sound quite good to be fair.
"You're better off listing it on Gumtree as a storage container or a garage," William Doe says, a freelance estate agent from South London.
Sarah R.X. agrees. ​"Nothing is unsellable, but you wouldn't be able to get a mortgage on this and I'd question the integrity of any letting agent that rented this."
She works at a prestigious estate agent in central London, whose name she didn't want associated with this particular room because it's so bad. ​"It's legally not a liveable space without windows or natural light, and we wouldn't be able to class this as a bedroom, only a storage space."

OK, that sounds somewhat more definitively bad.
"There's actually a lot of guidelines that protect tenants and I'm pretty sure the size of the room would be a problem if it's listed as a whole property. I'd worry about ventilation and issues with mould if someone was sleeping there," continues Sarah, rather digging into Kanye at this point. ​"It must have been cheap I guess?"
Personally, being the permanently down bad man that I am, I wouldn't even mind living in Kanye's tiny stadium room, which is so bad that even London estate agents deem it unliveable.
It's probably well cheap, you'd get to see loads of free sports games, always be very, very aware of the time and, if you're lucky, you might even get a free pair of wacky Yeezus slippers and trainers to wear around the house. Which, let's not forget, is a massive stadium.


More like this