KESH's world

The LA-via-London creative has already made a name for herself in fashion and as a fine artist. Now, following Prince's advice, her free-spirited music career is blossoming.
Thanks to KESH, you can now obliterate your lockdown cabin fever for six minutes. With celestial vocals gliding through an expansive soundscape, her all-consuming new song Jadines Escape thrusts you into orbit.
Last March, KESH announced her arrival as a musician with the fearlessly experimental seven minute track not gaan out. Now, on Jadines Escape, things get personal. The Croydon-born, LA-based multi-disciplinary artist references her adoption in the song's lyrics and Jadine is KESH's middle name – something she discovered in later life through a chance finding in some paperwork. She's finding the process of making music and creating the artwork cathartic, a release for some of the difficult internal dialogues she's had for years. ​"Each release is chipping away at that heartache," she says.
Despite crafting her production skills for nearly a decade, until recently KESH had thought of her music as her ​"private party and little secret" when her careers in fashion and fine art had taken priority. During the mid-'00s, KESH embraced the first wave of social media, adopting a DIY approach to selling her graphic T‑shirts. Her custom designs were worn by the likes of Kanye West, Mariah Carey and grime legend Jammer, and she was selected to show at London Fashion Week AW08 as part of Lulu Kennedy's MAN lineup. Her interpretation of streetwear and PVC tracksuits, were ​"laughed at, at that point," she says. ​"Now everything is basically a tracksuit!"

There was enough demand for KESH to show a second collection in New York the following year, but she found the fashion industry's seasonal cycle unappealing. ​"I don't like the pressure of the deadline," she explains. ​"I started taking the designs that I wanted to put onto clothes, onto paper." In 2010, KESH moved to The Cave, her live/​work warehouse space in LA, and shut out the rest of the world while she was building her own.
"I basically locked myself in there for a year and a half and created my next chapter," she explains. ​"That started my black and white [aesthetic] period and I was really immersed in it… I produced really beautiful work that I'm still proud of to this day." Her first solo art show at The Cave – 2012's ME​.ME​.ME – featured motifs of eyes and faces that would become her signature, and which were reprised for the prints she made with American Apparel in 2013.
Feeling inspired by the sense of intimacy in hosting an audience at The Cave, KESH quite literally put herself on display for her next show, 2015's Flight:RS279. ​"I lived inside the open front gallery, which was all glass, for four days and created a body of work. People could come and view me from the window – it was terrifying," she remembers. ​"What I actually need is protection." Flight:RS279 also took inspiration from The Artist is Present, the 2010 public art performance by Marina Abramović. The Serbian artist was honoured by the reference. ​"She was so kind and so supportive," KESH says of meeting Abramović. ​"She instilled some patience in me and we discussed the length of time it took for her to have her moment of recognition."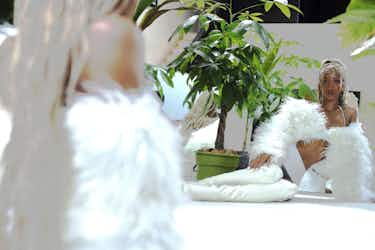 In recent years, KESH has shot self-portraits for Moschino's Picasso collection, curated a selection of works with uber-luxe fine art auction house Christie's and been hired to cast, shoot and creatively direct Kim Kardashian's SKIMS. But that American Apparel collaboration had led KESH towards pursuing music. Two years after it was on sale, a certain artist saw KESH's angular eye print T‑shirt on his band's drummer and something resonated with him. ​"Prince requested your presence," she says in a gruff voice impersonating her invitation to Paisley Park, where she spent two days in The Purple One's company in 2015.
"I was telling him how I was finally ready to do music but I wasn't feeling the label conversations I was having, because people weren't being sensitive enough to how avant-garde the music was, or even just being a Black female in the industry… I wasn't necessarily feeling that safe," she says. ​"He said, ​'Just do it yourself, set up your own record label'." Within the same year KESH created her label Tennnn, which has released records by free-spirited artists such as Greentea Peng and Loshh, as well as her own music.
KESH is planning on relaunching her design career before this year's out, as well as finishing the EP her tracks thus far are taken from,​hidden in plain sight​. ​"The whole thing is character-based, there's me and then there's my demon, it's the battle of light and darkness within," she says. ​"I'm displaying that in this body of work, it's a whole story that's evolving.
"It's one of my favourite places to be, in the studio, going headfirst into the actual structure and beats of a track," she says, promising more of the incubating sound found on Jadines Escape. ​"It's a sonic painting, you're able to use sound and build something so beautiful. Each time you listen to it I think you're going to hear something different." Isolation seems inviting when you're floating through the ether soundtracked by KESH, rather than staring into the abyss. Get in loners, we're going to another plane.


More like this