No FACE, No Case: Meekz is Manchester's unstoppable rap star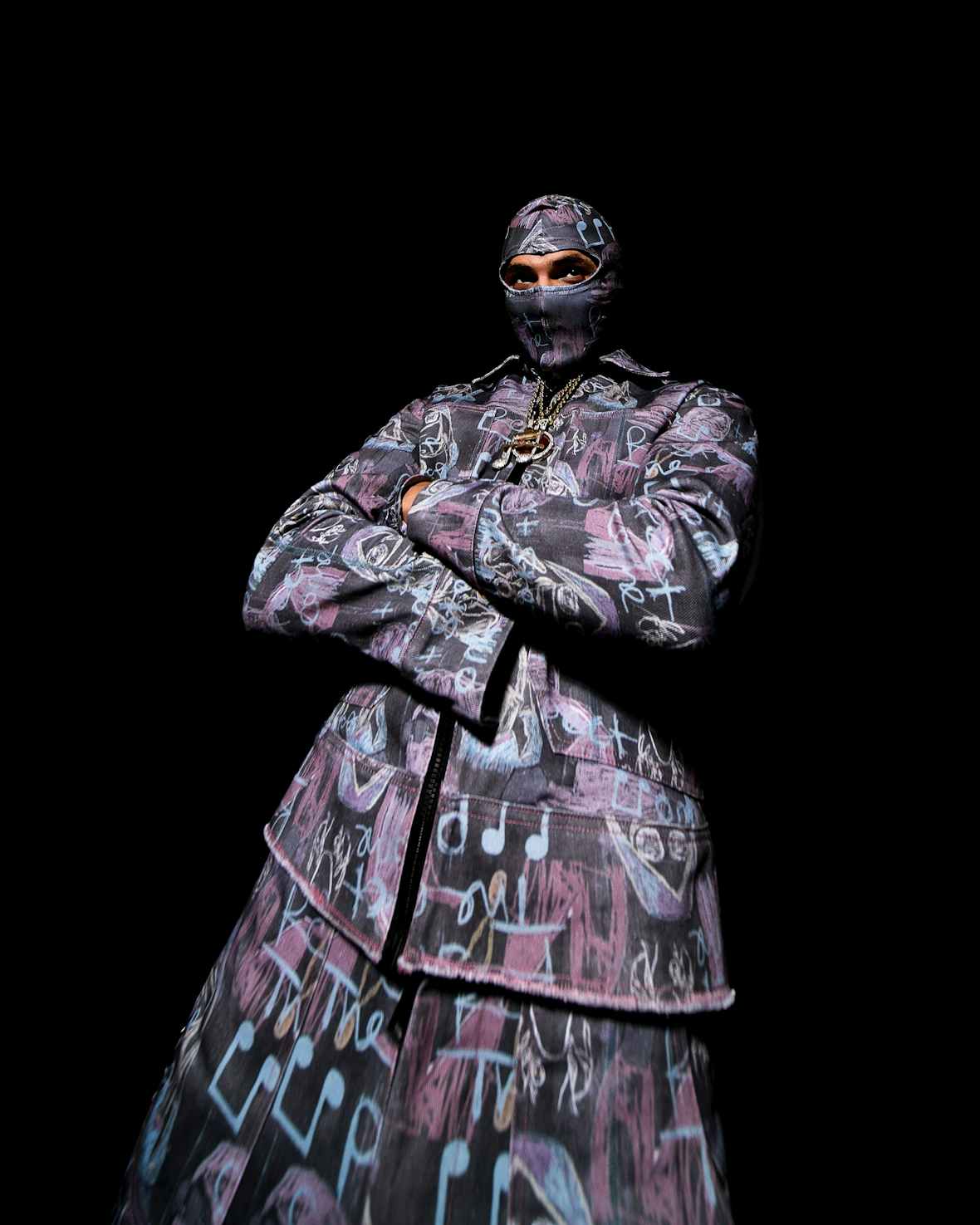 The masked artist dropped one of this year's hardest mixtapes: Respect The Come Up.
"The excitement's proper overwhelming, man."

Meekz is at his home in Gorton, southeast of Manchester's city centre, when we connect over Zoom. It's a few days before the rapper drops Respect The Come Up, his debut mixtape and arguably one of the most anticipated UK rap projects of the year. Meekz rarely gives interviews, and he tells me that talking to journalists isn't something he feels used to. But you wouldn't guess it. Despite the guarded appearance his black bally might portray, Meekz seems pretty comfortable during the interview. He's chill yet animated, open and honest, and seems like the kind of guy you could catch a joke with. ​"I have to worry about the girls chasing me now," he says with a laugh when asked how life has changed since the rap fame.

In 2019, Meekz entered the UK music scene with nothing more than his punchy flow, a love for no-frills production, and a gift for telling steely-eyed street tales with memorable wordplay. He's kept his face concealed since day one, although there are a few unclear, unmasked shots of him floating online — some of which are said to be mugshots. He hasn't confirmed his real name and his age is still unknown, but that mystery has only added to the hype around the artist formerly known as Meekz Manny. ​"It just looks and feels cleaner as Meekz," he says of shortening his rap alias. ​"Everyone knows I rep Manny to the fullest anyway."

As for the face reveal, that's not on the cards – just yet. ​"I'll have to look into it in the future," he says. ​"Obviously, when I know that my future is fully secure, then there's definitely no turning back [to] where I've come already, so I can do what I want. At this point, though, I like the fact that we can just focus on the music and I can actually go to the studio in peace." While a life led by the streets landed him behind bars a few times, music was always there to keep his dream of a life of comfortability and stability alive.

"Music's always been my life," he explains. ​"No major artists have come from my part of the city before me, no major studios – there's not really been a scene like that in Gorton, but it's definitely growing… This music thing's been harder than anything I've ever done in life though. I guess, when I was younger, I used to take the easier option – this is definitely the harder option."

After chiselling away at Respect The Come Up for over a year, the tape has finally arrived. It's a stripped-back 10-tracker that features just two head-turning guests – Central Cee and Dave – and it's packed with some of the hardest bars you will hear this year. THE FACE was pleased to meet Manchester rap's new heavyweight.

Fifteen years ago — ten years ago, even — most rappers from outside London could only dream of making a name for themselves. Birmingham grime MC Lady Leshurr deserves her flowers for kicking down doors early on that front, as does Manc rapper Bugzy Malone, who helped open them even further for locals like Aitch to slide through. Now that you're in the race, do you think there's anything left for you to prove as an out-of-London rapper?
There is more to prove, but I'm sitting in a place where I feel like people understand me a bit more now. I feel like the Daily Duppy freestyle opened me up to, like, a different level of rap rapping. It's more introspective, it's more in-depth. People can see the layers of this rapping shit.
I grew up with mummy playing the old-school hip-hop classics, R&B classics — Mase, Diddy, Faith Evans, you know, like some real, classic music? That music can help you get through this life thing and it lasts forever. I still go back and listen to their tunes now. It's not no fast, microwave music and that's the feeling I want to give people with my music. I wanna show I can make music that mummy can bop to, granny can bop to, the mandem can bop to, the kids can bop to. I've got a lot of younger kids who are fans of me — they were dressing up as me on Halloween! I've got kids that go to school as me on World Book Day. It's different now! I never went to school as a rapper. I never saw anyone come to school as a rapper. But now kids are going to school as Meekz Manny! When I see kids putting me on birthday cakes and dressing up as me, it's a good feeling to know I'm inspiring them.

From your 2020 EP, Can't Stop Won't Stop, to your new, debut mixtape, Respect The Come Up, how would you say you've grown as an artist in the last two years?

I don't think I knew what I was getting myself into when I dropped Can't Stop… I just knew I was ready for war, and then that was like me entering the battlefield. I've been fighting, man. I've been in the ring! Look at it like this: there's been five to 10 people in my corner, I've got blood coming out my nose, I'm sweating, they're in the background with the towel and that. I'm actually in the ring with blood coming out my nose, sweating – eyes mash up, I can't even see. So it's like now is the time for people to actually see this. I wanna put on the best performance and show them what they've been waiting for. A lot's been happening in the background.

You're currently signed to Neighbourhood Recordings, home to the likes of Dave and Kamal. How did that whole deal come about for you?

I was just watching the game and thinking, ​"Who actually is up there?" And my bredrin said: "[Neighbourhood co-founder] Benny Scarrs." From when he said that, I said that I wasn't answering any label calls unless it's off Benny. Then I had more and more people tell me about Benny, how he's Dave's manager and how he left Island Records to be Dave's manager and stuff. My man puts his all into artists. It got to a point where all the majors were hitting me up and offering me deals, but I still wanted to work with Benny. A week after I dropped my EP and the buzz was sky-high, I got that call from Benny and the rest is history.
The energies aligned.

Yeah, man. Obviously, Dave was really fuckin' with my shit, and that's Dave's guy, family, so he wouldn't have made the move without D and it just happened to be that's what I manifested. It was really a real recognise real situation – great musicians and people who know good music definitely recognise each other's worth.

Featuring on [Dave's track] In The Fire must have been something!

David always sends me mad stuff. One day, he sent me a bunch of tunes at 5am and, at the time, I was in Spain – Tenerife – and one of them was a loop to some choir. I was like: ​"Yo! That shit's hitting my soul." So I sent him a freestyle on my voice note and he replied, proper screaming down the phone [laughs]. I locked that one freestyle in and that was the verse we ran with. That's an amazing story in itself. I've still got Dave's voice note, and I posted it the day In The Fire came out. Big up everyone [else] on the track as well. I grew up listening to Giggs and Ghetts, so it was an honour to share a track with them.
What was the thought process behind the title of your mixtape, and its theme?

The first thing I wanna say when people ask what Respect The Come Up means is: I've lived in hostels. I went from a hostel to a council house. Now, that's a come-up. I used to be wanted, I was in and out of jail, and I used to sign on every week. I don't have to do that now. That's a come-up. I never was allowed a bank account because I had funds frozen in the past, but now I've got a bank account, big man! [Laughs] That's a come-up to me.

I don't want people to look at it like I'm at the top of the game. I'm not overly saying I'm the best, but it's just: please respect the come-up. I've come from nothing. I'm not 100% there yet – I'm fully aware of that – but for me, I have to respect the journey. God needs to know I'm thankful for the position he's put me in. I am blessed, bro! I don't do interviews or chat too much, so sometimes all this is hard to get across, but I want the people to know the come-up is everything.

Now that you've seen a bit of fame and – from what I heard – a good chunk of music money, how are the people around you treating you? Has anyone switched up on you yet? It's bound to happen, unfortunately.

Yeah, everyone's backing me. Everyone's good…. Obviously, I've still witnessed what you just mentioned. I never thought I was going to. You hear it in the music and you see it in the films, but you never know it's going to hit you that real. But yeah, man, some shit's hit me and hurt me in the past two years where certain man have come and gone. It is what it is. It was always bound to happen, you're right. And I asked for this life. When the love rises, the hate rises too. I feel like I get a lot of love, so you have to just balance that out, and keep overpowering it with the love.

More like this