Monthly mix roundup: NYC hip-hop, dextrous techno and a bass-heavy breakfast show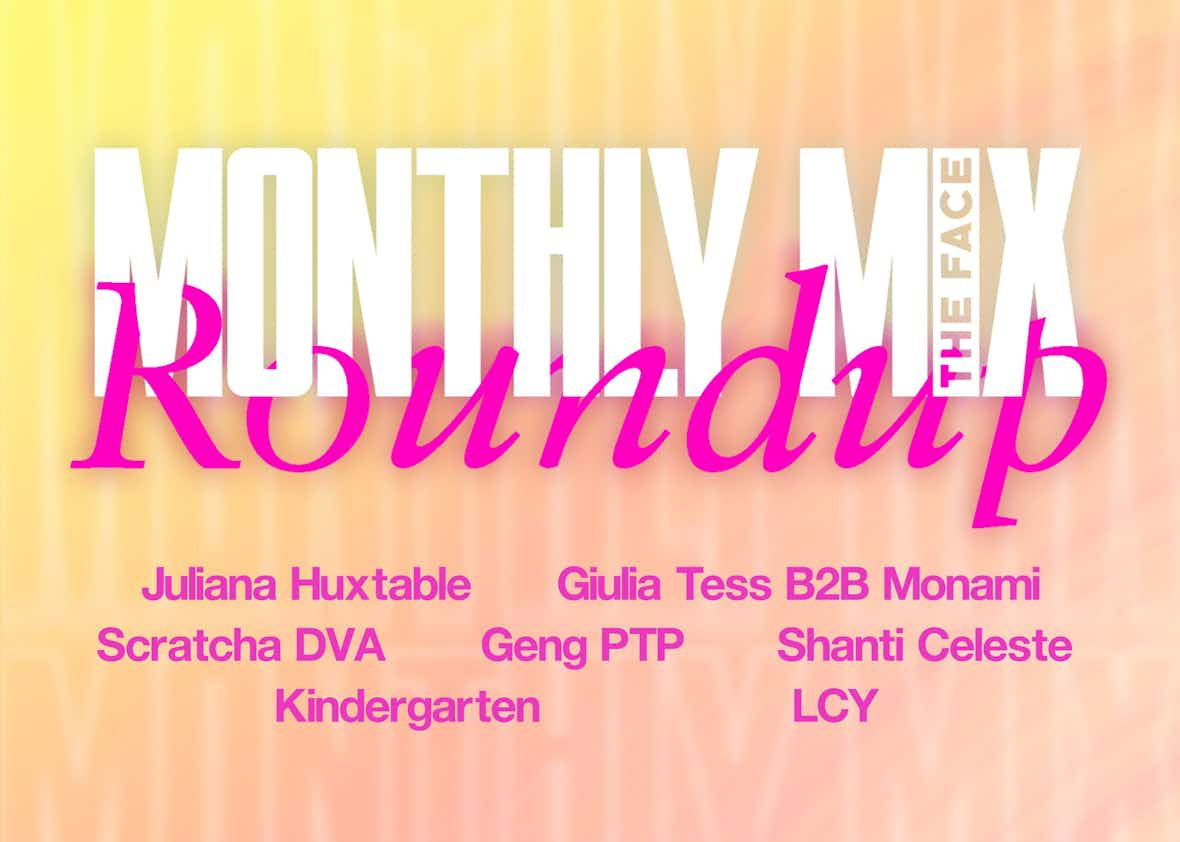 Chal Ravens' column collects the best DJ mixes and sets that have dropped in recent weeks.
This time of year usually encourages DJs to go harder and darker. With winter just around the corner and proper raving is back (just about), October's selections are suitably grotty – from zoned-out rap tapes to melody-free drum sets and raging techno. The darkness comes in many shades from Juliana Huxtable, LCY, Geng, the Kindergarten Records crew and Giulia Tess, while refreshment comes from Shanti Celeste and radio legend Scratcha DVA.
Before we begin, a shout out to Charlie Bones and his new venture, Do!!You!!! radio, where the former NTS breakfast champion is doing his own thing every weekday morning from 9am. For fans of Prefab Sprout, Larry Heard and the Waterboys, as always.
Juliana Huxtable's RA mix
Maximal techno with a CDJ virtuoso
For innovation, flair and relentless WTF moments, there is really no finer DJ than Juliana Huxtable. Her Resident Advisor mix finds her in full torque club mode, recreating one of her favourite sets from the summer when she played in Berlin between DJ Stingray and LSDXOXO. Tracks that have been kicking around for a few years get a new lease of life, like Ploy's unbeatable Ramos – one of several Bristol bass-techno cuts that she weaves between ultra-vivid material from SHYBOI, Tygapaw and Jasmine Infiniti. Leaving no button unpressed or effect undetonated, her tactile approach to the CDJs and ear for tonal blends results in a sound that's maximal, but never messy.

Giulia Tess B2B Manami on Threads Radio
Hard drums and hypnotic rave from two rising DJs
Hard breaks and no frills from the SZNS7N boss
LCY reaches for the big drums in this no-frills Unsound Podcast, focusing on rhythm and texture with some very heavy slabs of recent UK bass business. Envisioned as a warm-up for their set at the Polish festival, the set is purposely stripped back, they explain: ​"I've found that when I'm anticipating something all I want to listen to is drums, rhythms and textures, and not much melody at all." With harsh breaks and left-field crud from Two Shell, Overmono, Stenny and Jossy Mitsu, it's really not a mix to put on in the background – you're either in or you're out.
Scratcha DVA's NTS Breakfast Show
A hard-hitting radio masterclass from the Hyperdub chatterbox
No one could fill Charlie Bones' shoes, they said. Mornings would never be the same, they said. But they didn't reckon on Scratcha DVA, did they? When the Hyperdub legend took over the NTS Breakfast Show it turned into a radio masterclass – not surprising given that Scratcha already holds a doctorate in breakfast show programming from his five-year stint on Rinse FM. With stories for days and a seemingly infinite crate of records at his fingertips, he plays new finds (Jumping Back Slash, Soccer96), spins a few yarns (the time Kode9 made him eat haggis) and takes listener requests on the small topic of the ​"greatest song of all time". Liquid radio.
Geng PTP for AAC Sound Series
90s breaks and rhymes from the source
The uncompromising noise-rap-club explorations of New York label PTP are firmly rooted in the city's hip-hop history. Label boss Geng started making mixtapes in the mid ​'90s, first on cassette decks then turntables, before producing his first MPC beats and collaborating with rap collective the Atoms Family. Basically, he was there, man – and much of what he's done since then is a legacy of that offbeat, underground scene. His mix for AAC Sound Series is dedicated to that era and pieced together on cassette from Geng's own local radio and mixtape archives – a ​"fat tape", as they used to call them. He highlights the ​"legacy breakthroughs" of artists who were then remaking themselves, such as MF DOOM and El‑P, plus many of the women rappers who were part of the scene. Zoned-out, tape-baked breaks and rhymes from the source.
Shanti Celeste for Daisychain
Restrained euphoria from a versatile selector
You're always in safe hands with Shanti Celeste. The Chilean DJ's versatility is what makes her such a reliable B2B partner, and left to her own devices she glides between genres with ease: in this case, everything from blissed-out Jersey club and gleaming robo-electro through to deep, dubby tech-house and oodles of heavy basslines. Listen out for a speedy Solange remix that really nails the mood of the mix – euphoric, energetic and very classy.
Kindergarten with Ma Sha Ru, Ayesha & Despina on The Lot Radio
Jagged rhythms and modern hardcore
The central pillars of Kindergarten Records gathered on The Lot Radio to smash out two hours of jagged rhythms and deconstructed club this month. Label boss Ma Sha and her regular collaborator Rù joined labelmates Ayesha and Despina for a four-way mix that reveals a shared love of saucer-eyed rave culture and envelope-pushing bass music. Think of it as a globalised modern update to the NYC hardcore lineage that started with Frankie Bones and his ​'90s Storm Raves.

More like this