Music-washing: why are international acts performing in Qatar?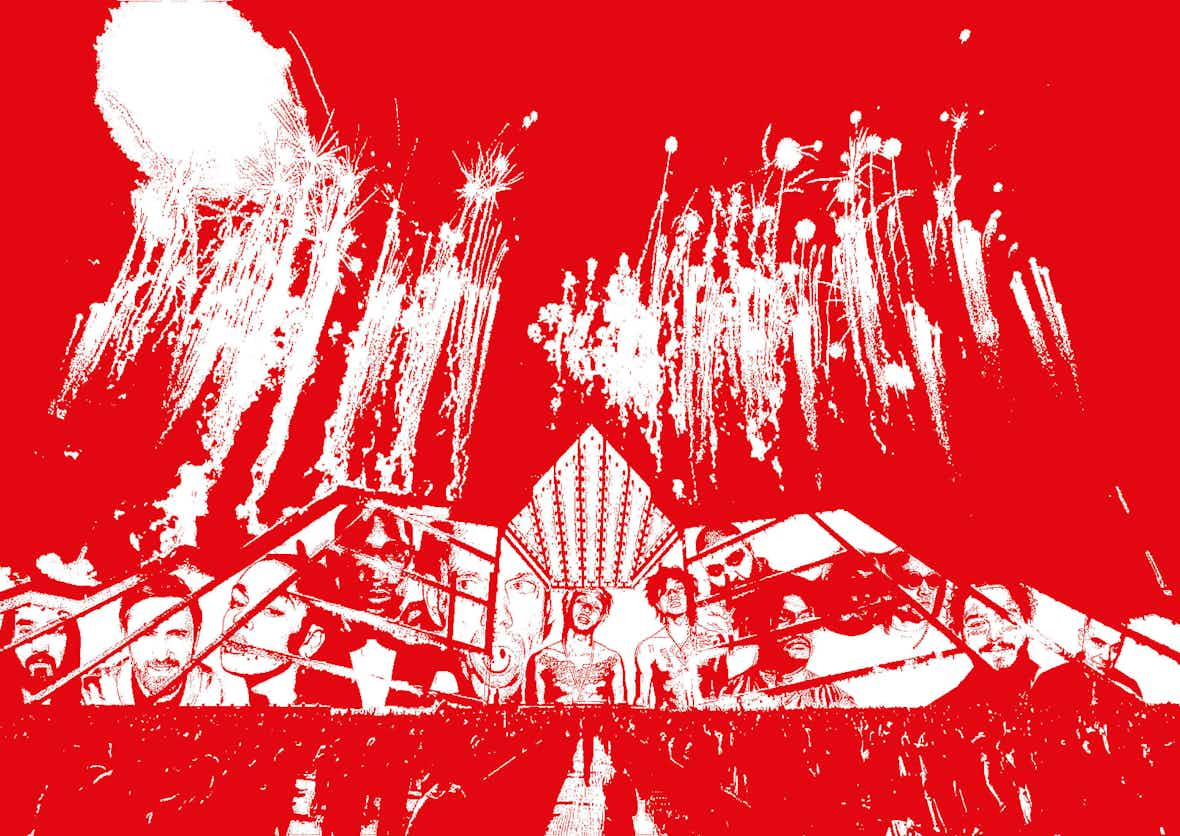 Massive musicians have flocked to the desert to perform around the World Cup, bringing an intense ethical debate into sharp focus.
This year's football World Cup in Qatar is warming up to be the most controversial since, well, the last one, in Russia.
In 2010, FIFA appointed Qatar as the host of the 2022 World Cup, making it the first Arab nation to be awarded the tournament. Ever since, allegations of sportswashing — in which governments use high profile sporting events to launder their international reputations — have been rife. And the run up to kick-off has been fraught with controversy as the host nation's human rights record has gone under a searing spotlight.
People who wouldn't be able to pin Qatar on a map can now tell you of its punitive attitude towards homosexuality, its restrictive laws around women, and its treatment of migrant workers (as many as 6,500 have died during the past decade of tournament-related construction).
Apparently alive to its moment under the microscope, the Qatari government has sunk eye-watering amounts into the spectacle, spending in excess of $200 billion on the tournament since its winning bid – more than the cost of every previous World Cup and Olympic Games combined.
Sport is just one soft power prong governments can use to clean up their image. Increasingly, music is being added as a detergent, both as accompaniment to high profile sporting events and as a standalone ploy. This World Cup will be no different, with Qatari organisers seeking to tempt a good chunk of the expected 1.5 million travelling fans to parties and performances throughout November and December.
Running alongside the football is Aravia, a 28-night run of shows with headliners including EDM stadium-botherers Steve Aoki and David Guetta alongside the likes of Jorja Smith, Tinie Tempah, Fatboy Slim and Rae Sremmurd. Beyond that, there's World Stage at the Doha Golf Club, with bookings for Black Eyed Peas, J Balvin, Post Malone, Robbie Williams and Maroon 5. Arcadia – the fire-breathing robotic spider stage famous for its annual appearance at Glastonbury – is currently stationed in the Doha desert, too, hosting 150 acts (mostly big-room DJs like Gorgon City and Camelphat) over a 17-day stretch.
Seeing artists so easily co-opted into glaring acts of culture-washing has left fans disappointed — and performers scurrying to defend their decisions.

There's some precedent for this. The Aravia organisers, MDLBEAST, have borne backlash before: they're the hosts of the annual Soundstorm festival, which takes place in neighbouring Saudi Arabia – a nation whose high profile boxing bouts, dystopian mirror city, and opaque media partnerships with the likes of The Independent and VICE have helped gloss over an international reputation for proxy wars, public executions, and the murder and dismemberment of journalist Jamal Khashoggi. This year's Soundstorm line-up ranges from rap giants Post Malone and DJ Khaled, to Jorja Smith, afrobeats star Wizkid and DJs such as Ricardo Villalobos and Seth Troxler.
MDLBEAST has direct links with Saudi culture-washing money as part of Saudi Vision 2030, the country's strategy to reduce its reliance on oil income and soften its international image. Since 2016, more than $2 billion has been pumped into the Saudi entertainment sector as part of the government's General Entertainment Authority, freeing up funding for party promoters like MDLBEAST to tempt international stars to their shores.

Last year, Soundstorm prompted a response from Human Rights Watch, which said that performers booked by MDLBEAST ​"should speak up for human rights or else not participate," and that the event was part of ​"the country's attempts to whitewash its horrific rights record". But speak up the performers did not. And, so far, bar Rod Stewart and Dua Lipa, there hasn't been much noise from musicians about the Qatar World Cup either.
Colombian singer Maluma, who features on the Official FIFA Fan Festival™ Anthem, walked out of an interview on Israeli TV when asked about the host nation's human rights violations. Robbie Williams has argued it would be hypocritical of him not to perform in Qatar because he's happy to perform in other places that have sketchy records. Nicki Minaj joins Maluma on the Official FIFA Fan Festival™ Anthem, despite pulling out of a show in Saudi Arabia in 2019 citing her ​"support for the rights of women, the LGBTQ+ community and freedom of expression".
It's possible that, after two years of limited live shows and with touring in a broken heap, artists and their teams feel they simply aren't in a position to turn down a big pay day. Saudi subsidies have previously allowed bookers to offer anywhere from three to six times normal fees, and it's fair to assume that the Qatari events have been dangling a similar carrot – particularly given football fans have been paid to attend and promote the tournament.

But the big name acts booked for these events are hardly rubbing pennies together, and, even so, maintaining principles has never been without sacrifice. Besides, in the case of Soundstorm at least, DJs have been taking dodgy pay cheques since before the pandemic wrecked touring: Peggy Gou defended her decision to play the 2019 edition by saying" ​"If there's people who want to hear my music, I will go. I don't give a fuck."

When David Guetta defended his decision to play Soundstorm in 2021, he echoed Gou's sentiment: ​"I don't play for politicians, I play for people," which suggests he's still some way from grasping the facts of the situation. But, then again, Guetta is not a man renowned for subtlety.

While there's undoubtedly progressive value in things like men and women being able to dance together in spaces where, just a few years ago, something so simple would be unthinkable, the gap between the liberating roots of the dancefloor and the oppressive regimes funding these events should be too big even for the most swollen-headed DJs to ignore. You can't get past the fact that, without the authorities' need to appear liberalised, these things simply wouldn't exist.
The direct links of these events to state money – and therefore the naked aim of polishing the image of regimes that continue to persecute gay people, treat women as second-class citizens, silence journalists, and (use UK and US arms to) bomb Yemenis to starvation and cholera – negates any apparent cultural progress being made.
Looking at the expansive musical programming around the Qatar World Cup, it seems like international acts taking these dirty cheques has become more normalised. The question for artists is whether they want to be complicit in this culture-washing, and whether or not they actually believe that reaching fans in far-flung places is a good enough excuse. When it comes to moral gymnastics, it seems a big booking fee can be quite the performance enhancer.


More like this