Richie Hawtin on collaborating with Prada

When the techno figurehead hosted a rave with the fashion house at the Tate Modern in London, Prada Extends was the talk of the town. Here, Hawtin discusses his creative chemistry with the label, also sharing his hopes for dance music's future.
When Richie Hawtin and Prada hosted the first Prada Extends event on Thursday 25th November at Tate Modern's live art and performance space The Tanks, there was a worry during soundcheck that the sound levels might send some expensive artworks flying off the walls.
"Music has to be at the forefront here. I struggle with sound regulations these days," the club music figurehead says, sipping coffee in one of The Tanks' dressing rooms on the morning of the event. ​"Dance music is a physical form of celebration, you need to be moved by the music before you even move yourself."
Ready for his photoshoot, the British-Canadian DJ, producer and tech enthusiast is dressed head-to-toe in Prada. He comes across as a seasoned professional who is gracious, composed and thoughtful as we chat about his work with the Italian fashion house.
Richie Hawtin and Raf Simons' friendship began when they met at a festival in Ghent, Belgium, around 10 years ago, but their official work together with Prada began in 2020. Having long associated the aesthetics of Prada with his output as Plastikman, it's a serendipitous pairing that has felt natural from the start, ​"like pieces of a different puzzle coming together," as Hawtin puts it. As he gets older, Hawtin feels more aware of the finite time he has on this planet and the value of spending time with people he shares ideals with. In his work with Prada, he gets the nourishment of sitting around the table and chatting with people who understand him.
The first Prada Extends event hosted sets from Hawtin, Overmono, HAAi and OK Williams. The line-up was assembled to embody the sound of London and each DJ was paired with an artist for the visuals: Joelle Snaith, Rebel Overlay, Hanzo and L'Aubaine, respectively. In the brutalist architecture of The Tanks, the night unfolded into a sort of Berghain for fashionistas, looks and cocktails served in equal measure. As the weighty bassline of Overmono's euphoric track So U Kno rattled through the concrete room, I too wondered about the art upstairs.
"I'm very happy with the first Prada Extends evening," Hawtin told me after the event. ​"The unique four-way set-up created an energy between [the artists] and the audience, and led to a really infectious night. It was a pure melting pot of fashion, culture and music."

I read that lockdown allowed you time to rekindle your love of making music. So, how did this time impact you creatively and how did you keep busy?
When you think about the last two years, of what it gave you or what it took from you, we felt it in different ways. We all had hard moments, trying to figure out what was happening with the world, our lives, our jobs and everything. But I was already coming into 2020 knowing that it was a transitional year. In February [2020] I was with the photographer Willy Vanderperre. We did a photoshoot and the whole theme was transition. I was turning 50 and had 30 incredible years of DJing and touring under my belt.
And so, when Covid-19 came, I tried to keep that in my mind, to take it as a transition, something I knew I was going into, maybe not exactly as I expected. All I knew was that I had been missing studio time and missing music making. When I was a kid, when I was introverted and didn't feel comfortable in my own skin, the studio was where I really felt comfortable. So it made complete sense that the studio needed to be the place to sit this situation out.
At first, I rekindled my love and fascination with all the machines around me, a reintroduction to many old friends from the ​'90s. I used the first couple of months to remember how and why I was fascinated by electronic music. Then I started to be inquisitive about where I wanted to go: what type of machines? What type of sounds? In the summer, I had started on some new material when I had a call from Raf [Simons] asking if I would be interested in soundtracking Prada's first digital fashion show. It was exactly what I needed, to go from research and development mode in the studio to something which was really concrete and had a set of parameters to frame my energy and my focus.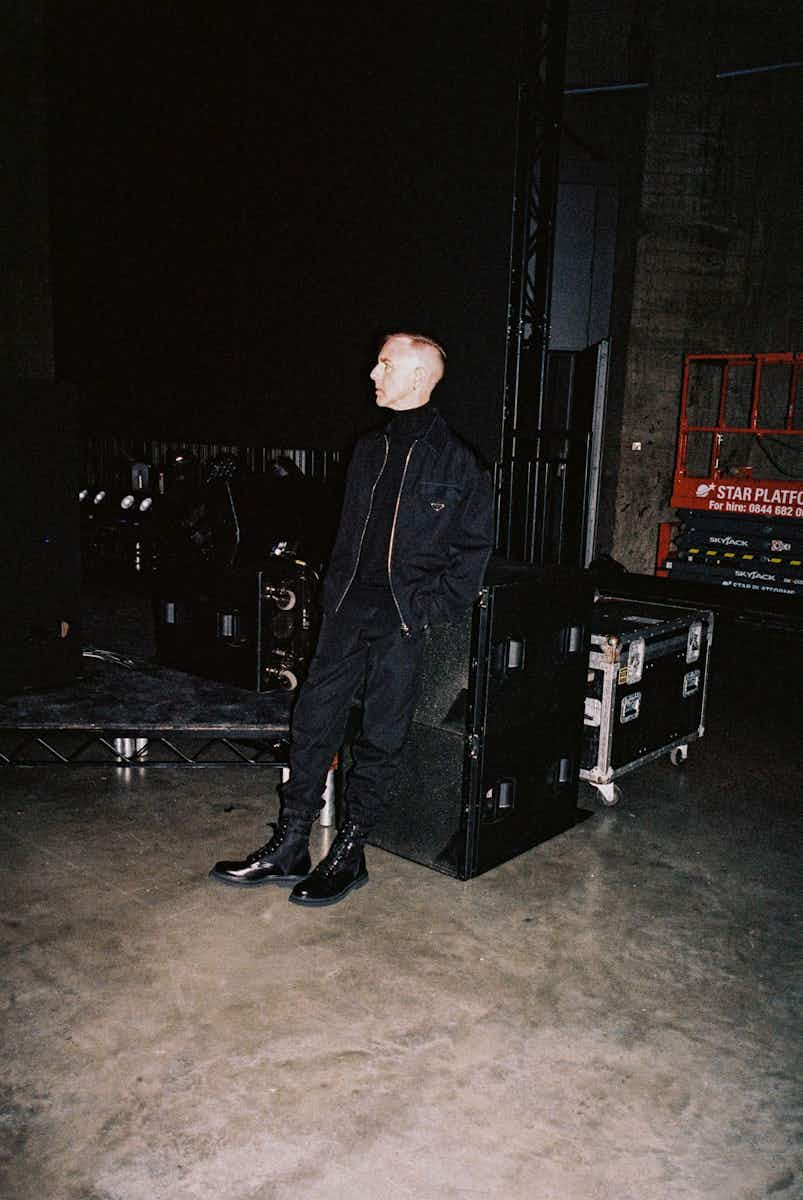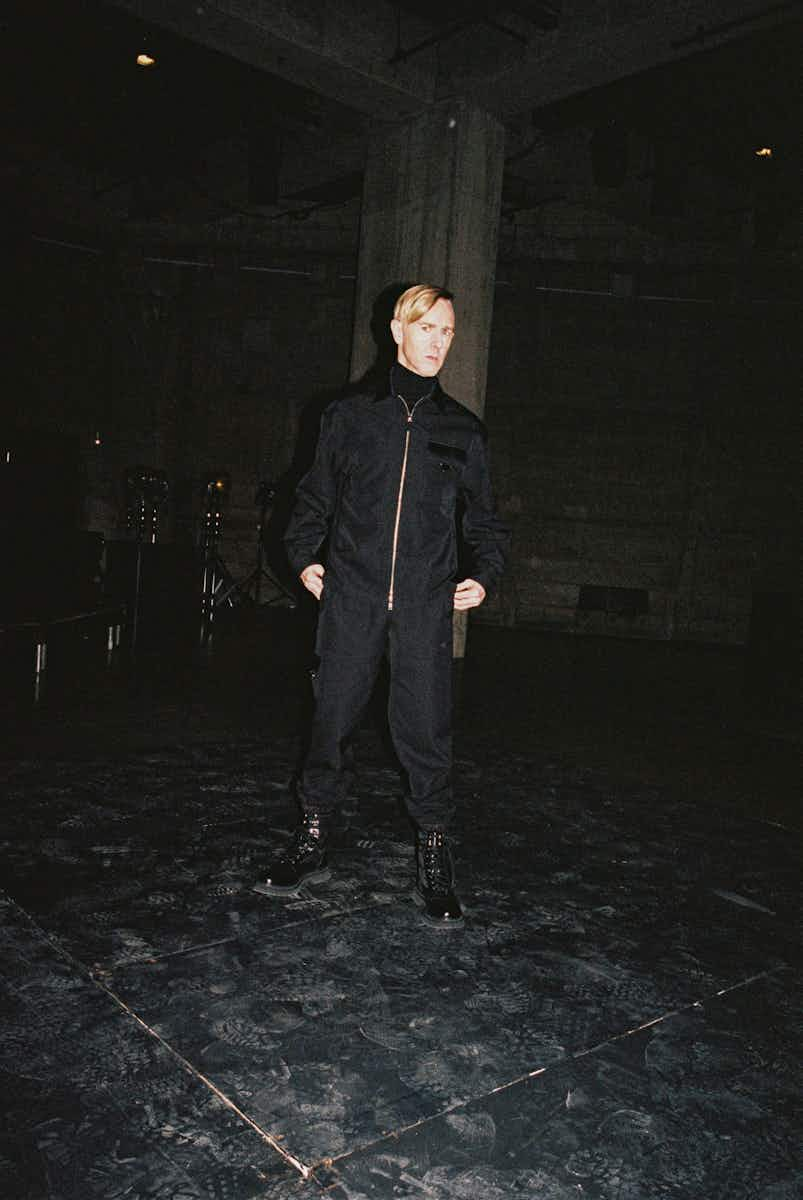 How have you found DJing again now that clubs are back open?
It feels like everyone is jumping back into exactly what they were doing before. I love DJing and touring and travelling. It's great to have that inspiration back and it's great to have that part of the economics of my life back. But I've been very careful about how many shows I book. The world is so crazy and overconsuming. We saw so much beauty came back during Covid-19 with nature and wildlife, and there's so much talk about the environment, rightly so. I think, ​"man, are people really not sensitive to what's happening on the planet?"
I think what I love about music, and why I love design, aesthetics and fashion like Prada, is that there's a beautiful sensitivity that we're all in touch with in our individual art forms. That sensitivity is something I'm very interested in creatively, but also socially and ecologically. So I find it incredibly exciting going back into the real world, but it's also challenging and confusing sometimes.
I don't want to lose this real love and connection to music making and the other side of my creative brain. DJing is absolutely great, it is a beautifully creative experience for me. But it's everything that surrounds that. After 30 years, I am a touring machine, I can handle it, but you only have so much time. I want to be fully creative and present in the studio, present with my family. I'm trying to find the balance to give my most impactful, intense DJ experiences. And if that means I do less than I used to, but I'm firing on all cylinders, then that's amazing.
How do you see the intersection of fashion and electronic music, and why do you think it works so well?
I think it has been there for as long as there's been both of those art forms. Sometimes it works well, sometimes it's not real or authentic and it crumbles. I think that's what people from electronic music are afraid of, especially the more original techno underground [scene], who may argue that fashion and music shouldn't come together.
But think about David Bowie. Think about his ideals and personality, and how his music became something more when he fused fashion and his musicality together. Think about Kraftwerk. If you strip away the image of the robots, the music is still incredible. But it's what you take from the image of Kraftwerk and how it gives the music even more of a futuristic edge. I was brought up on Kraftwerk, Tangerine Dream and Mute Records, who [all] had a real visual sense. Also, going into record stores and choosing records because the cover looks cool. It doesn't always mean it is going to be cool, but when it looks as good as it sounds, or vice versa, it's just so much more powerful. I've always remembered that in all my musical endeavours.
In my early career, it was about the look and feel of the records with Plus 8. And in the late ​'90s, with the Plastikman Consumed album, I felt there needed to be a look. I stand for a certain style: minimalistic, reduced, hypnotic. For me, there's a look to that sound. When I was first looking for fashion I felt comfortable in, something that felt like an outward expression of what I was feeling inside the studio, I gravitated to Prada. I didn't know anything about fashion, it just fit.
When Raf, who was already a big Plastikman fan, called me, it was a completely new endeavour, but enough parts of the equation already felt close to me that it felt like the right direction.

What is it about your music and yourself as an artist that makes Prada a good fit?
I think the sensitivity of my music, [the fact] that it's very stripped down. The space within the music allows it to connect to a visual medium. But not just any visual medium, it's very specific in my mind that my music works in connection with the visual and design aesthetics of Prada. It's not this flash, logo-driven fashion brand – there's something more subtle about it. You're seeing beautiful silhouettes. Everything comes together, not just Miuccia [Prada] and Raf's designs and my music, but also the way it's filmed and the architecture of the spaces by Rem Koolhaas. There is this restraint that allows you to look deeper, listen deeper, or experience architecture in a deeper way. It doesn't present everything to you at once. People [are] coming from different disciplines with that same intention, to fill different gaps and complement each other.
You've done four shows with Prada now, how has the process developed?
They become more challenging every time. It takes an incredible amount of time and creative energy. It's partly dangerous, because I feel that the Prada projects have drained me creatively over the last year. But when I look at what the pieces have become, it's been worth it. It's been exhilarating to go through all these processes, and be on this deadline to boil and reduce my ideas to their essence, and then to see them all come to fruition at the same time.
Fashion is so much [about] the moment. You can plan and plan, but as they're going into the shows and they're doing their final looks, an idea comes and they react. I have to work with that as a musician and I'm able to do that as a producer because of my years as a DJ. That's a reaction, it's spontaneous. Being pushed and challenged is why I got into electronic music in the beginning. The music is never finished. There's new tech, new machines, it's still about the future. By design, it's going to continue to challenge me as an artist and as a DJ, and I find that in this whole conversation I'm having with Prada.
What does the word ​"extends" mean to you in the context of Prada Extends?
When we were brainstorming about doing more work together, I was thinking about what the relationship between Prada and myself has become. It's an extension of your creativity, it's extending my music beyond the techno fans, it's connecting it to visuals, to different aesthetics, and it just goes beyond our normal connections. This project is about a crossroads of like-minded creatives. There was this idea of moving around the world doing different events and thinking about what we could offer local artists by having these conversations. Can we challenge and extend their creativity? Can we extend their audience? Can we cross disciplines and barriers and cultures?
There has to be a core value, something that brings us together. And I think that, being fascinated by electronic music, I am looking for electronic musicians and visual artists who have a shared aesthetic of sensitivity to details, to silhouettes, to quality, to beauty, all the things I believe are innate to the Prada brand and are part of what makes my music touch people. Those are the kinds of people we're looking for. It's an extension to welcome more creatives into the Prada family.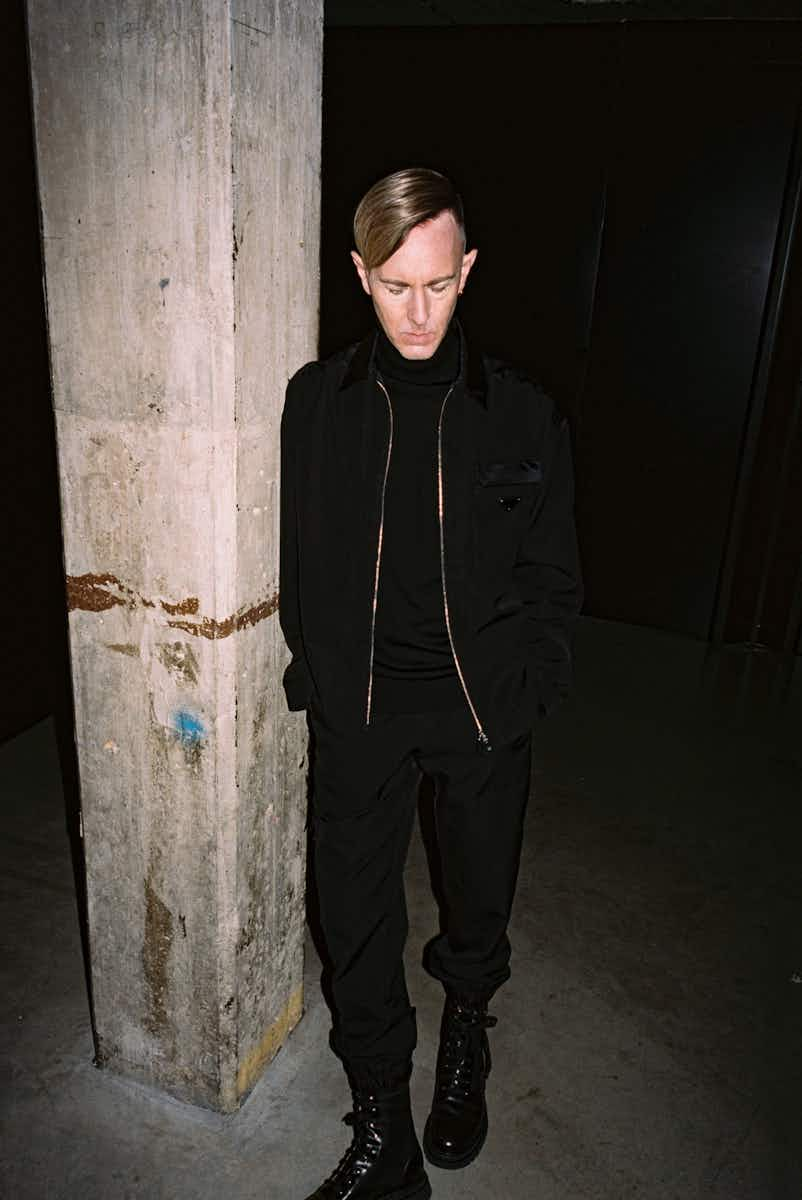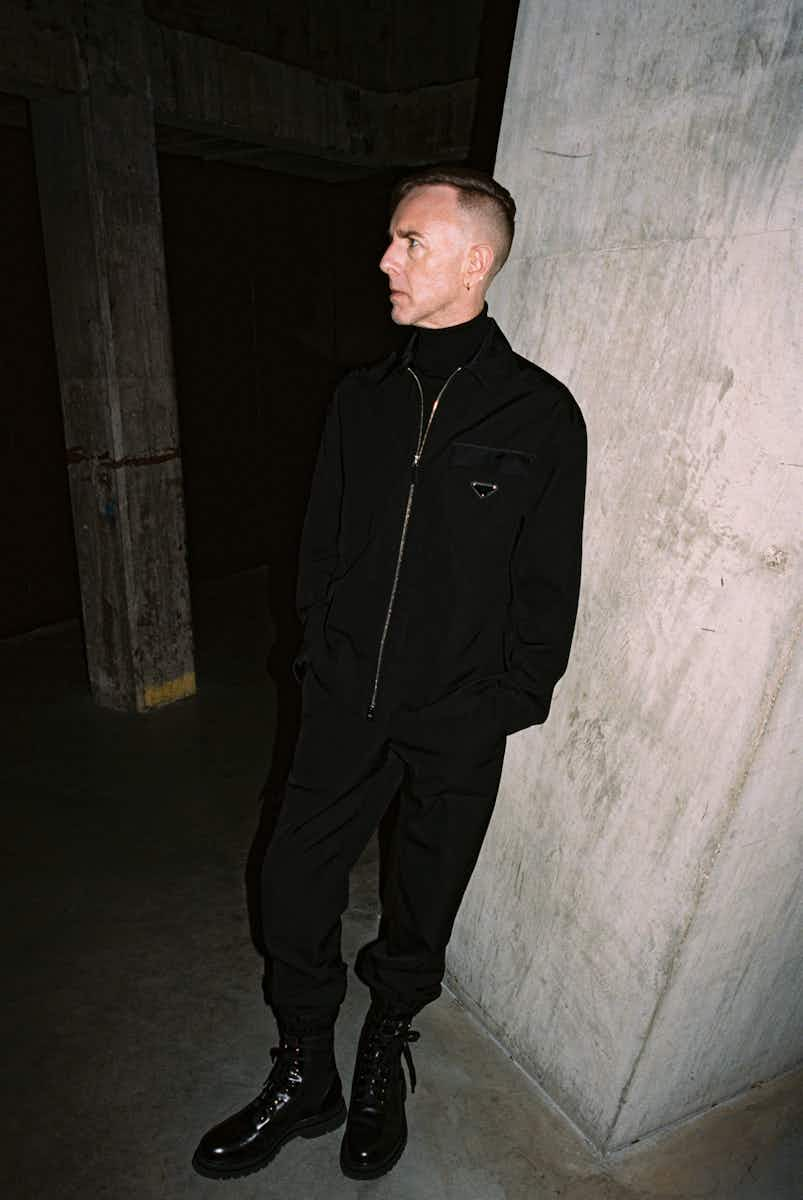 Tell me about the production set up. You've got this central dance floor with four surrounding DJ booths, four DJs, four visual artists…
It was important for me to have a way to present the artists in the most beautiful aesthetic way and for there to be a flow throughout the night. One of the things that I don't like when you're performing in clubs and festivals is the shuffle between artists. I wanted each artist to have a place where they could be focused and present their idea in an undisturbed way. Inspired by what Rem Koolhaas did with the other Prada shows I soundtracked, we're capturing the silhouette of each performer. We're capturing the visual presentation. It's very much about space and architecture, all the things that I felt made these Prada and Plastikman collaborations successful.
There's also something about being immersed in sound. And then, what is a dance floor? It brings people together. What is Prada Extends? It is Prada extending and bringing people together in conversation and celebration. In celebration of design and aesthetics, but also in celebration that we can come together again. By surrounding everybody in speakers, in these totems of visuals and artist stages, it is also very womb-like, very communal, very warm.
What are your thoughts on conversations about dance music needing to be more inclusive and diverse?
I remember getting into dance music when I was 15 or 16. The beauty of the dance floor was that it was filled with such diversity that it opened up my mind, it blew me away. I'd never seen or felt these frequencies, I'd never seen people with so much contrast in sexuality, colour, language. Somewhere along the line, as dance culture exploded, we lost that. It's really important for me to remember where my journey started and to be active in bringing those ideals back. The way to do that is to get involved in projects where you're with people who are open to those ideas, or are also thinking about them. Unfortunately, in dance culture, I don't think it's as common as it should be.
It comes back to what you were saying: that we've all gone back to doing what we were doing before. And now it's whether people are going to make good on those conversations and act on what they were preaching last year.
The vibrancy of early dance culture was what made me excited. It's also how I fit in. I was a nerdy white kid, but when I got into it, the dance floor was not filled with nerdy white kids, it was filled with every colour and denomination of people, people who felt like they didn't fit in somewhere else. I would love to support that, to give a safe place on the dance floor for anyone who feels a little bit left, or just feels like their ideas aren't being heard, or their fashion is not understood, or their sexuality not appreciated. That's the power of the dance floor. I think that by collaborating with fashion, you can magnify the intention there.
I'm doing some work in France with the artist John Gerrard, who is concerned with the environment, and what I'm really understanding, at this moment in history, is that we need to work together and collaborate as artists to magnify the issues that we all feel connected to. That ranges from inclusivity and diversity to the environment, to nurturing new talent but also supporting the original talent. There are so many different voices and we need to celebrate that and work together. This is also, for me, the power of dance culture. Originally, there was such a DIY, independent feel. Our little scene could do anything. I like to remember that. We have such an amazing opportunity to make dance music a leader in all these important values.
As you can tell, I want to find ways to tackle these big questions of our time. I think it can be overwhelming and can put you in a position where you are unsure [of] how to take a step forward. I'm becoming more and more aware that, to make a difference, it's about collaborating and sharing ideas, talking and coming together. I've spent 30 years in dance music culture, I would be very proud to see it continue to be an even more positive force in people's lives.

More like this