There's something about Rita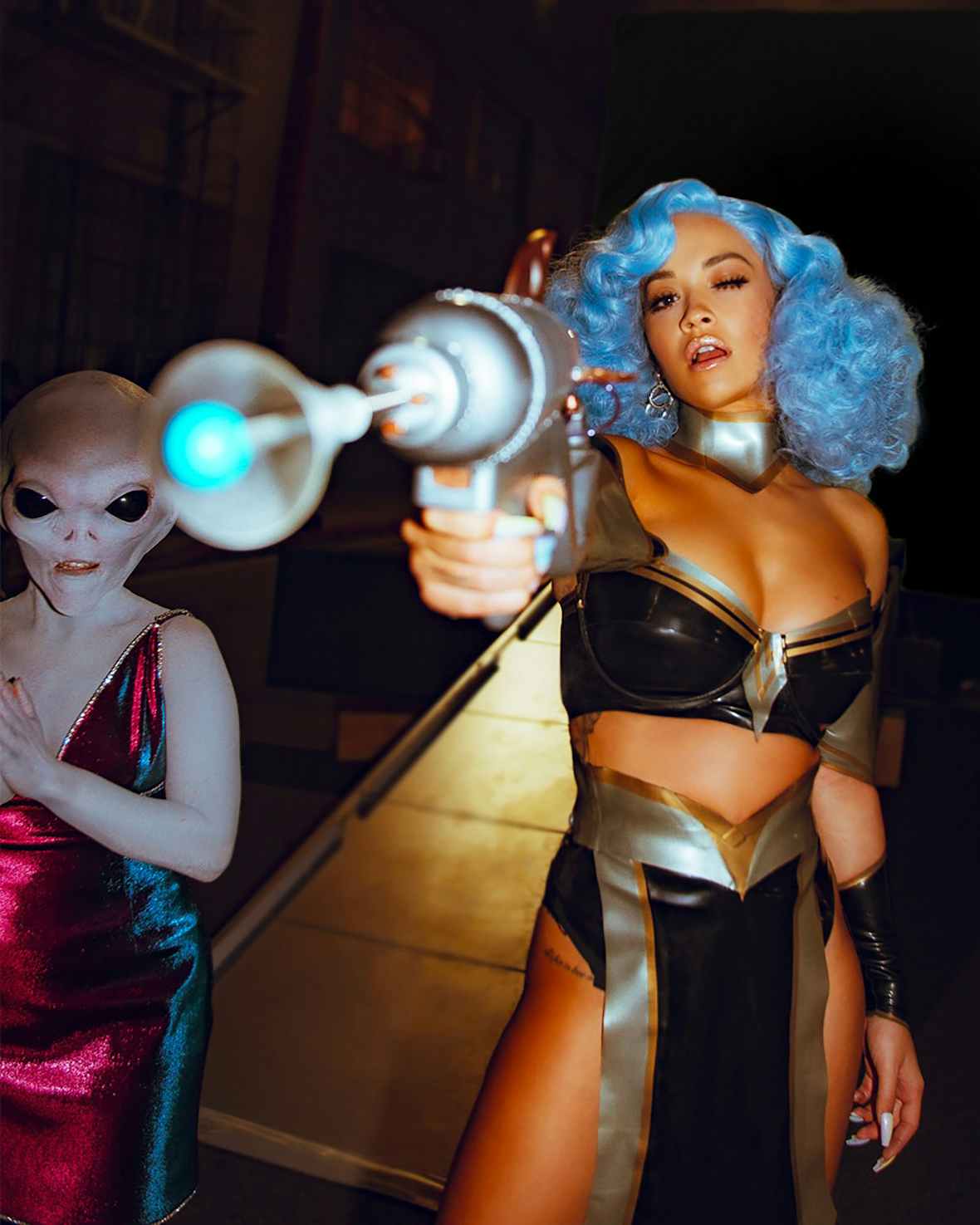 That's Rita Ora, of course. A string of hits, kinky feature films, judging Masked Singers, walking in Miu Miu's AW20 show – and now, partnering with the UN and bringing us the perfect pop song for now. Is there nothing she can't do?
Cometh the hour, cometh the heroine: just as we entered lockdown, Rita Ora stepped forward with the perfect anthem for the times. How To Be Lonely, released last Friday, is the cheering sound of a glittering-but-also-relatable popstar advising us on how to best self-isolate via the medium of a mid-tempo pop song.
As marketing plans go, that takes some beating.
"Ha ha!" the singer replies gamely at the very suggestion. ​"A lot of my friends and fans have been messaging me, asking if I planned this."
So to be double-clear and for the avoidance of doubt: for all her other talents, she can't predict the future?
"Exactly! Like I knew this global pandemic would happen!" she says, her gutsy, Proper Londoner laugh rattling down the phone line.
In all the best ways, we know what we're getting with Our Rita. The 29-year-old has produced a string of hits – How We Do (Party) in 2012, Your Song six years later and, in 2018, Girls featuring Cardi B, Charli XCX and Bebe Rexha – since dropping her chart-topping debut album, Ora, in 2012. But really, she's been an entertainer most of her life.
Born to Albanian parents in Kosovo, part of the then-disintegrating Yugoslavia, she and her family relocated to Notting Hill, west London in 1991 when Rita was one. From an early age, she was part of a choir group. Then she enrolled in the Sylvia Young Theatre School, the famed performing arts institution whose alumni includes Amy Winehouse, Dua Lipa and about half of the Eastenders lot. She describes her upbringing as very accepting, noting that her proud parents encouraged her in all her ventures and ambitions.
In 2008, aged 17, Rita auditioned to represent Britain in the Eurovision Song Contest. But after qualifying she withdrew before the competition took place, feeling like it wasn't the right path for her. It was a bold move – her breakthrough came four years later, when she featured on DJ Fresh's Number One dance track, Hot Right Now (the producer had come across her cover-version videos on YouTube).
"I was encouraged to be proud of my decisions, whether they were wrong or bad," she says. ​"I think that comes from the culture I was raised in, my parents [emigrating] from Kosovo and coming here. It goes back to being a survivor, you know?"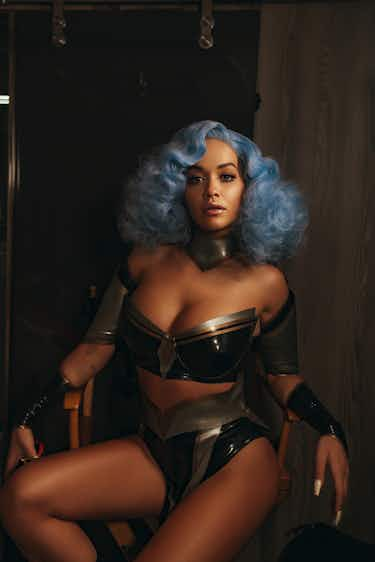 Chatting to Rita is like chatting to an old mate (so much so that it'd feel weird referring to her here as ​"Ora"). She has such a deadpan sense of humour that you never quite know whether she's cracking a joke, pissed off or caught somewhere in the middle. When it comes to coronavirus, though, she's deadly serious, and keen to discuss it before we delve into her latest projects.

​"I've lost endless amounts of sleep trying to figure out why humanity is so panicked when it comes to trying to do something together," she admits. ​"It's usually difficult to mobilise society in one direction."
Determined to do something, true to decisive form Rita went straight to the source: she phoned Sir Bob Geldof. Once a Boomtown Rat but better known as the driving force behind Band Aid and Live Aid, the 68-year-old Irish musician offered inspiring words on how she could lend a hand during these weird times.
"He's the ultimate leader in making a difference from the things he's done in the past. But he was very adamant on making sure this was my movement – he simply had a phone call with me and gave me some inspiring words and ideas to make this a reality."
Rita was spurred to action. She connected with the UN Foundation and the Global Health Foundation to design an emblem to spread (careful now) the message (phew) of staying at home. It incorporates the virus rendered as a cartoonish green splatter with a red peace sign slapped over it. Around, the simple, life-saving message:
"STOP THE SPREAD. PLAY YOUR PART."
"It's hard for youth to listen when it's coming directly from the government," she reasons. ​"I wanted to do something that felt like there was unity outside of parliament and the government, which people usually have opinions about."
Still, she wholly understands that this is an odd time to put out a new track. After all, we have other things on our mind. As she freely puts it: ​"My music is my music, but with everything going on, I don't really care about my song."
Tough. Let's talk about the track. Despite the title, How To Be Lonely is punchy and upbeat. The lyrics, written by Lewis Capaldi, detail the dark side of a break-up and the subsequent loneliness once an ex-lover legs it.
The track came to her at the perfectly bittersweet moment. When Capaldi offered it (he told his Instagram followers: ​"Sometimes you write songs and you sing them and go: ​'I'm fucking shite at this'") she herself was at the tail-end of a break-up.
"I'm not ashamed to say that being alone is difficult sometimes. [Singing about] being alone is not the most attractive thing to listen to, but the song is about being OK with being alone."
The accompanying video was directed by Dave Meyers, the visionary behind multiple classic clips, including Britney Spears' Lucky (2000), Missy Elliott's Get Ur Freak On (2001), Billie Eilish's Bad Guy (2019) and Harry Styles' Adore You (2019). Rita has long wanted to work with a man she describes as one of her idols.
The collaboration doesn't disappoint. We see Rita in an array of odd scenes: rolling around in a load of eggs, hugging a bear (a real one), and slow-dancing with a skeleton. But she ends up pulling off a mask (an actual one).
"It was a really smart move that Dave wanted to make a video full of metaphors. The face-ripping is me shedding skin with the new album coming up – it's completely different [from what I've done before]," Rita explains. The eggs, she adds, ​"is a symbol of walking around somebody you thought you knew, feeling like you're on eggshells because you can feel it coming to an end."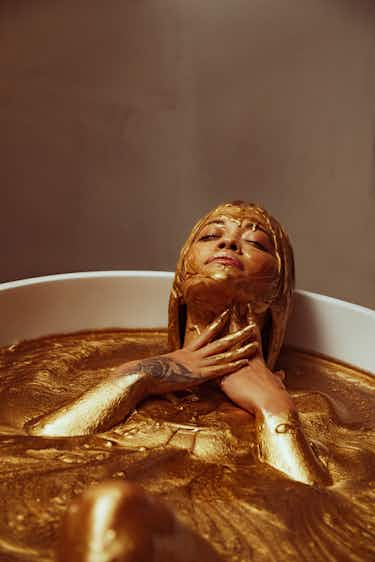 But behind every clever pop video metaphor, there's a grim reality. Rolling around in a pile of eggs, the biggest challenge wasn't so much the smell but ​"the sensation. I had egg yolk in places I can't say out loud. But you know me," she adds cheerfully, ​"I'll do anything for the art!"
For this plugged-in woman, How To Be Lonely was considerably more than a woe-is-me wallow. She keeps in touch with her 16 million-strong Instagram following, chatting candidly to fans about their fears and worries, relationships and friendships.
"With the young girls I have on my socials, it's crazy for me when they talk about boyfriends and they're like: ​'No one's going to love me!'" But it goes both ways. ​"They help me figure out my songs – sometimes I get inspired by them subject-wise."
Over the last eight years, Rita Ora's influence has been more than musical. Her look – platinum blonde locks, beanie hats, gold hoops, bright red lippy – could be seen up and down highstreets up and down the country (back in the days when we could still go out).
Still, while she's aware of her responsibilities as a Proper Pop Star and Role Model, she's keen to point out that she's always working hard to stay true to herself. ​"I've always been outspoken and in tune with my sexuality and how I represent myself. I want to establish a solid ground of solidarity, unity, love, laughter and sex – that's just me as a [both] character and as a public figure."
"I'm still a human with freedom of speech," she adds, ​"so I want to balance those things out."
In between filling tabloid pages with tales of her love life (several high-profile splits including Rob Kardashian, Calvin Harris and Tommy Hilfiger's son, Richard), she has remarkably surpassed pop heavyweights like Madonna, Adele and Kylie to hold the record for the most Top 10 singles among British females on the Official UK Chart – ever – in an eight-year career, compared to Madge's 30-odd years in the game. Like her or not, there's an aura about Ora.
What's her secret?
"You have to put things out that you like and that you're proud of – I think that's the key and why I've been doing this for all these years." Equally, though, she's a realist. ​"Maybe that's why people really connect and resonate with me still – because I have this feeling of: ​'If [the song] doesn't do what I think it's going to do, that's fine.'
She understands that she has a job to do, one perfected by her idols Cher and Madonna. ​"We still love drama, we still love glitz, we still love the mystery and the fantasy of it all. We have to bear in mind that now it's even more important to deliver that for the fans – it's our sole job to take people out of their minds."
When Rita Ora speaks of glitz and glamour, she knows of what she speaks. She walked in Miu Miu's AW20 show at last month's Paris Fashion Week. The opportunity came when super-stylist Katie Grand called when Rita was on two months of no-singing sick leave following an operation on her tonsils.
"I'd been sitting in bed and eating ice cream all day. But then I was also like: ​'Here we go!'" she recalls with a laugh. But, quietening down, she adds: ​"It was an amazing thing to be a part of, but it was on the brink of the pandemic and it was a scary time. But we kept our spirits high and it was a special moment."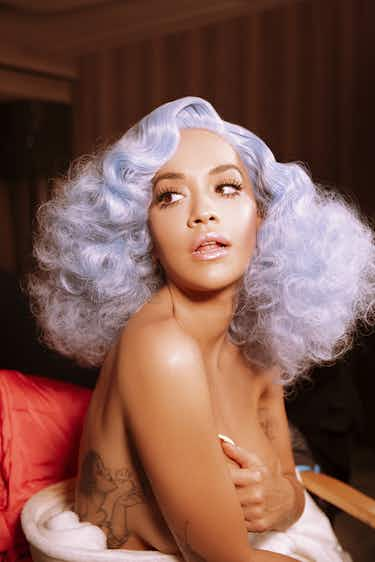 Strolling off the music path from time-to-time is nothing new. She's been dabbling in fashion and films ever since her cameo in the 2015 film adaptation of Fifty Shades of Grey, playing Mia Grey, S&M billionaire Christian Grey's adopted sister. The film was a critical flop, but no matter, the experience was invaluable.
In the same year she was drug-addicted Maria Escobar in boxing drama Southpaw, acting alongside Jake Gyllenhaal. And in between and all around, multiple TV gigs: a judge on X Factor, a coach on The Voice, playing host on America's Next Top Model and the MTV Europe Music Awards, a guest judge on RuPaul's Drag Race All Stars.
Most recently she sat alongside Davina McCall, Jonathan Ross and Ken Jeong as a judge on ITV's The Masked Singer. The oddball celeb singing competition featured Kelis, Nicola Roberts and, er, Bianca Jackson from Eastenders – dressed as, respectively, a daisy, a bumblebee and a butterfly belting out Kate Bush's Babooshka – and was an unexpected ratings smash.
Now Rita's gearing up for the release of Twist. Scheduled for a Sky Cinema release later this year, it's the latest Charles Dickens reboot, and set in the present day. She plays the shifty Artful Dodger and stars alongside Raff Law (Oliver), Michael Caine (Fagin) and David Walliams (Losberne – who?).
"It's going to be amazing to see," she says excitedly of a project that will see the light of day around the same as her upcoming third studio album. ​"The Artful Dodger is usually played by a man, so it was great to get my female perspective of the character. I felt super powerful and really inspired."
And, for sure, it lets Rita Ora do what Rita Ora does best: continue flexing all her creative muscles in multiple directions.
"I'm obsessed with the Madonnas and Gagas. They do it all. I'd love to put out as much as possible and just keep it rolling."

More like this