SOPHIE: behind the mixing board and under pop's bonnet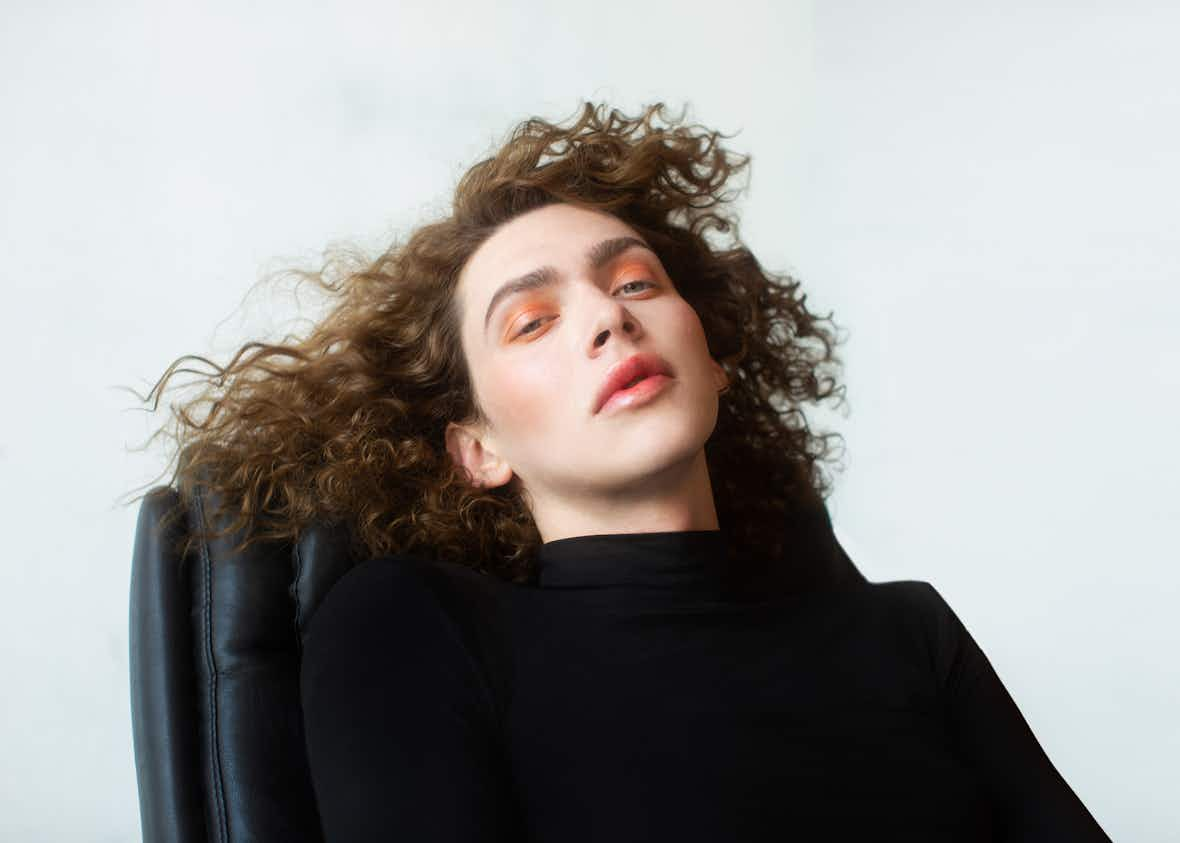 The elusive Scottish production genius talks us through five key tracks from her catalogue, then highlights five all-time sonic classics. Bitch, she's Madonna and, dude, they're Depeche Mode...
When SOPHIE flashes up on my computer screen, for a second it's hard to tell what's real.
She's wearing a boxy black T‑shirt and a thin gold chain, sitting up straight and letting her auburn curls fall to her shoulders. But behind the Scottish artist/​producer is an explosion of light and colour, a sunbathed wall of pink and crimson roses worthy of a Matisse painting.
First thought? Oh, she's using one of those fake backgrounds on Zoom, like the Golden Gate Bridge or the deep space vista. No, she smiles, she's at her mum's house in Northampton, out in the garden. Lockdown really has rotted my brain. Either way, the mise en scène is faultless: you can rely on SOPHIE to go the extra aesthetic mile.
A word that often pops up when people talk about SOPHIE is ​"carbonated". Her songs are fizzy and sweet and bright and elastic, like lemonade or bubblegum. They blow up in your face and go: POP. A string of early singles – Bipp, Lemonade and Msmsmsm – marked her out as one of the most avant-garde dance producers of the ​'10s, aligned with the art school chic of London's PC Music collective.
But her high-wattage sound was always destined for the main stage, and soon she was collaborating with forward-thinking artists like Charli XCX, MØ and Vince Staples, and getting in the studio with Diplo and Madonna. Her debut album was another revelation. Oil of Every Pearl's Un-Insides, released in 2018, heralded a soft-spoken producer coming out of the shadows, combining Autechre-weird electronics with dreamy pop ballads and presenting her, for the first time, as an artist, a performer and a visible, tangible woman. It was, as they say, a look.
SOPHIE was deep into the making of her second album when lockdown began, and the whole experience has made her ​"think twice" about the direction of the project.
"Whatever is put out into the world now needs to somehow be reactive to [the pandemic] and learn from this situation," she says, birds chirping in the background. ​"I feel some kind of shift of consciousness is occurring, whether that's me coming into this more reflective place or whatever else it is, and I'm curious to know how that might manifest itself musically."
In the meantime, she's seeking out stimulation by listening to some of her all-time favourite pop productions – songs that capture a perfect mood and songs that changed the course of music history.
Twenty of those productions from her own back catalogue are collected in a playlist she's compiled for a new feature on Apple Music. Behind the Boards gathers tracks made by key producers with various artists, with the first tranche of playlists also including selections from Stormzy/​Adele wingman Fraser. T Smith, Jae5 (J Hus, Dave), Catherine Marks (Foals, PJ Harvey), Dan Carey (Kate Tempest, Fontaines D.C.) and Nile Rodgers (you know).
From her idyllic English rose garden, then, SOPHIE tells the stories of five of her pop creations – and highlights five more classic singles from some of her favourite producers.

CHARLI XCX: GIRLS NIGHT OUT (2018)
I just remember having fun, and that generally means producing better music. When you first start working with someone you're learning a lot about them quite quickly and that can be exciting. I remember I was dancing like crazy and that was the first time Charli saw me do that. I thought no one was looking. She definitely learned something about me.
It's more like an energetic thing, I suppose, when you first meet someone. I think you're vibrationally aware of them, atmospherically aware of them and their physical presence, which is quite relevant to now. It's a very different thing to working online. Charli exudes a lot of physical energy, so I was just picking up on what tempo she wanted to move at.
I think that's fundamental, to tune into someone's frequency and try and translate that musically.
VINCE STAPLES: YEAH RIGHT (2017)
I wrote this around the same time as my song Faceshopping. I was experimenting with doing a particular sort of sound design, trying to synthesise a particular texture. One of the variations of that turned into Faceshopping, and one of them turned into Yeah Right.
You can hear that they're from the same sound palette. The particular machine I was working on is called a Monomachine. It allows me to sketch out beats. It's good because you just get a bit of clay on the board to start working with. When Vince started rapping, the song structure came after that. Then it was a case of Vince sending some things back, then the Kendrick Lamar verse was added.
Some of my favourite modern pop productions have come from the hip-hop world. I love the speed that a lot of that music is made and how reactive it is to the present moment. It's less cerebral from the production side – it's more about listening loud and getting excited about sound. I've definitely tried to bring some of those ideas into my work. I like it to feel live, and that's kind of the way I'm working on new music now.
I'm developing a system that's a bit like the Monomachine but on the computer. I can basically be playing live, like an instrument, trying to make something that feels natural without stopping the beat at any time.
MADONNA: BITCH I'M MADONNA FEAT. NICKI MINAJ (2015)
That was one of the first things I ever really worked on in a proper-pop-session way. And it was the first time I went to LA to do music. I didn't think there was anything unusual about the way I was making music.
But that situation, working with Diplo, showed me that my process was quite different. But the same could be said of Diplo. He has had many iconic personal sounds that are specific to him, and I think that's how it should be. You should value whatever's personal about the way you do things.
For a while I was worried about just being the ​"crazy sound" person – like, someone's done an ordinary song and then gets me in to do some computer sound effects on it or something. For a while that's what was happening. But I wanted to make what I was doing relevant to the lyrical content. I think there should be a synergy between the content and the sound design.
It was written on an acoustic guitar originally and I was like: ​"That's really fun, I like the lyrics of that." I thought it was a cool message for Madonna, it had that brattiness. So I went off and did it and it was Madonna's favourite one.
You can hear quite clearly which are Diplo's parts and which are mine. I think that made it better – to have me doing the verses, giving it a sense of the overall structure, and then Diplo's drop. That's one thing that [PC Music producer] A.G. Cook was playing around with on the Charli XCX mixtape Pop 2: trying to make each individual section feel like the artist themselves.
It's a cool way to produce music. As much as you can say that [guest] features are all just about strategic alliances in the pop world, I think it makes things pretty fun. Everyone gets caricatured a little bit, and that's fun – why not?
SOPHIE: FACESHOPPING (2018)
It's basically about how you relate to how you present yourself. Is it you that's in the mirror? Are you the person looking at the mirror? Are you actually somewhere behind all of that, observing the whole situation? Trying to work out where your genuine self lies.
It was kind of a snapshot of how it felt to be in my body at that particular time, with all the pressures that are on everyone, and just existing or cultivating some kind of public persona. It's an ongoing debate in my head, with a lot of the same questions. You consider and then reconsider.
I think the video delivers the message of the music – but I think that's just one approach to how you do a video. It's like what Aphex Twin said about Windowlicker, or all of the Chris Cunningham [video] collaborations: a problem with the music video is that people then have a very specific visual associated with it, in a way that limits how the music feels. So I don't know, there's pros and cons of doing videos. I had never really done any videos before that, so it was fun to play with.
LET'S EAT GRANDMA: HOT PINK (2018)
They had a rough outline of the track already and I did my little thing on it – some metal banging [laughs]. It worked out on that occasion.
We're on the same record label and I'd been sent their work and I thought it was curious, some of the melodies were really great.
They reminded me of the way I used to play with music at home, before I really knew anything about anything. To me, the way I was structuring music made complete sense – and I felt like it was the same for them. There was a way the music moved that was quite unique to them. Before you get too bogged down in the formalities of everything, and the way that things are done. It was really nice to feel free in that context.
DEPECHE MODE: JUST CAN'T GET ENOUGH (1981)
This was before digital synthesisers really came about, so it was very much the same process that I've tried to reverse-engineer in my own work, where you have to hand-make every particular sound.
It's not like you're getting a snare sound from a drum machine, you're thinking about the physics behind it.
The record sounds amazing and it makes you feel good, and they did it at such a young age. I think it's just an amazing achievement, to do something that set the format in a way – it established one part of the sound of the decade that followed. It's really cool to do that in an unpretentious, pop music way.
CLIPSE: GRINDIN' (2002)
I was watching a conversation with Pharrell and Timbaland – I think it might have been on Beats 1 – and they're talking about the time in Virginia when they were making this music. They had this small studio with a tin roof – they'd all moved there ​'cause they thought the energy was better for making music. It's just so wild sounding, there's so many different things about it. There's so much space in it, so many places the sound can go.
I love music that makes you feel that music itself is wide open and could go to so many different places. In a way it takes something from industrial music and Throbbing Gristle – there's definitely a through-line to [the idea of] sound as a valid material in pop music. It opened up a world of possibilities in pop, so I feel that that's a great example of something influential.
The way I understand it is, there were a lot of workstation keyboards coming out at that time, and basically they have thousands and thousands of sounds. Some of them would be sound effects, and you could just play them [like a keyboard]. So as I understand it, The Neptunes at that time were just playing freehand, recording on an eight-track or a hard disk recorder, so you get the natural timing of it as well.
You can say that they were indebted to the technology, but the same applies to anyone working at any period.
INNER LIFE: MOMENT OF MY LIFE (1982)
I would be really curious to know how Leroy Burgess was working. He's a boogie producer, from the late ​'70s and early ​'80s. I always talk about the same people, but that's who I like! He's obviously an amazing musician. I think he was quite influenced by Stevie Wonder. His understanding of the piano… There's a virtuosity to it that is then applied to newer technology, in terms of new analogue keyboards.
A Moment of My Life was by Inner Life, which was [producer] Patrick Adams and Burgess [with Jocelyn Brown on vocals on this track], and I just think so many of their songs are amazing and catchy. I would just be so curious to know how they were working at that period of time, and what it felt like in the studio.
I have no idea how they did it but it sounds great.
STARDUST: MUSIC SOUNDS BETTER WITH YOU (1998)
I'll always remember the video for this – it reminds me of summer holidays when I was growing up. That's what I'm aiming to do with music: make this little plane and throw it into the sky. Being able to capture that energy is really impressive. You want to work on your process every day and get good at it so that when you go into a studio you can use the techniques in real time, responding to what's around you. You've got this little toolkit and you can start putting things together quickly.
But you can only do that if you've put in the time previously – knowing where your buttons are, knowing which things work.

LADY GAGA AND ARIANA GRANDE: RAIN ON ME (2020)
I love the atmosphere of this whole new wave of Gaga. It's meaningful to me right now. Bloodpop did the production and I said the same to him the other day: that it's such a good vibe to bring into the universe at this present moment. I've always talked to him about ​"summer house" tracks that aren't more genre-specific than that. It's just: summer, party, feel good, funky, soulful house music.
It's been through so many different iterations by this point but it's a genre of its own now – everyone knows what that means. It seems open and it feels good to many people. Some of my younger friends saw it in a completely different way. One-off dance songs were a lot more possible back [in the late ​'90s and early ​'00s]. I don't know what that says about the current state of music. Perhaps you have to have a status or an identity now.
Listen to SOPHIE's Behind The Boards Apple Music playlist here.

More like this