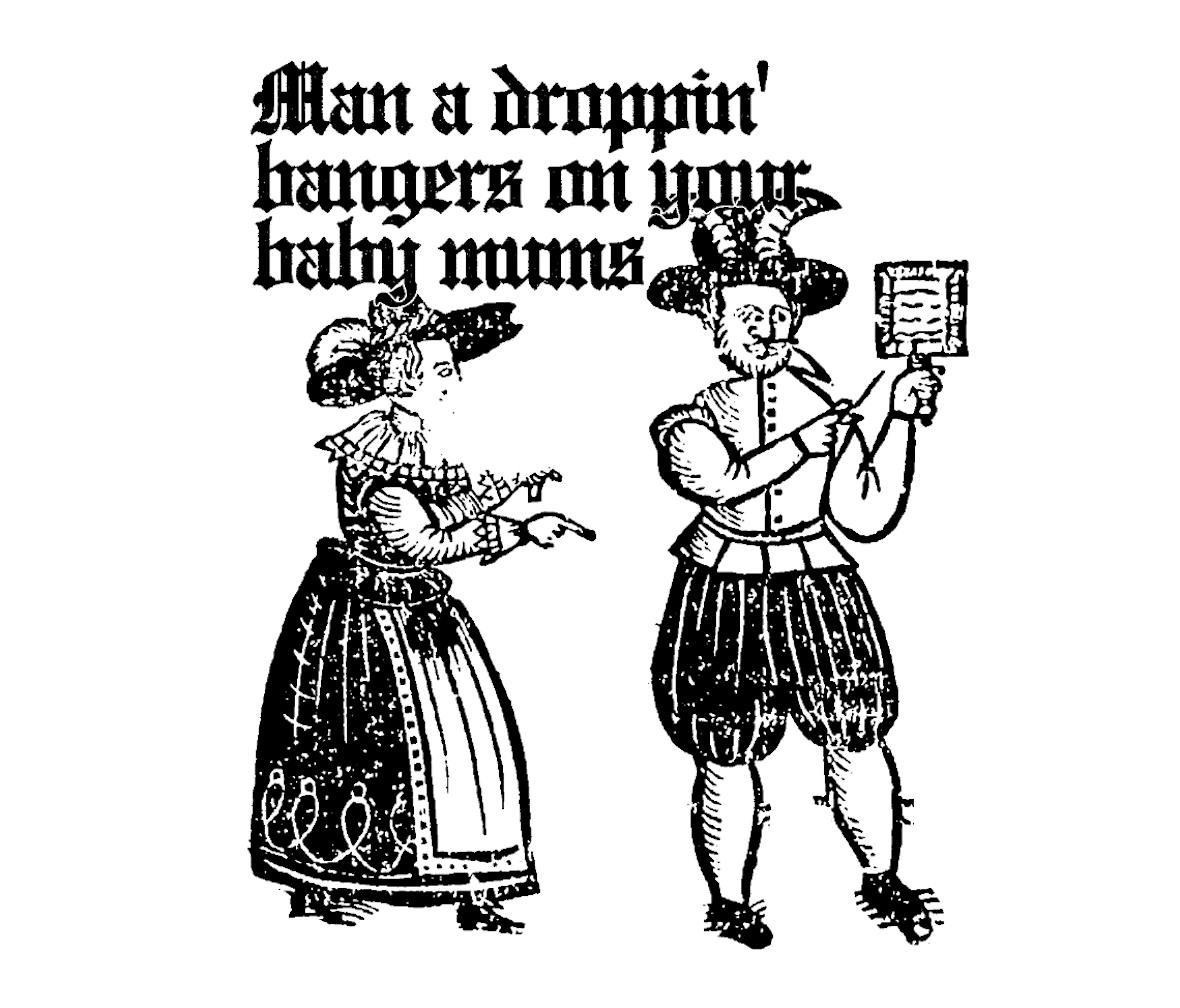 Take Thy Mrs: How come MCs are obsessed with cuckolding?
Stor­mzy final­ly land­ed a num­ber one sin­gle. While Big For Your Boots, Shut Up and Blind­ed By Your Grace Pt.2 all made sol­id attempts – it was Vos­si Bop that did it. Stormzy's a heavy­weight in the UK rap scene, espe­cial­ly when it comes to bring­ing the genre to the main­stream, and this was a long-await­ed, well-deserved win.
The hook for the chart-top­ping track? ​"I tell your girl to link me at the cof­fee shop / Get­tin' freaky in the sheets, we're takin' body shots". Embed­ded with­in the track are even more taunt­ing lyrics. ​"I could prob­a­bly take your chick, but I just wouldn't ​'cause she's jar­rin'," the South Lon­don­er jeers in the open­ing verse, fin­ish­ing the track off with one last jab – ​"Man a drop­pin' bangers on your baby mums".
It's not just Stor­mzy. Bet – arguably Octavian's most pop­u­lar track to date – cen­tres on the bar about steal­ing someone's girl. ​"I just made your girl a sket / She repped the set/​She made my dick erect," goes the hook, which inspired Skep­ta to jump on a remix to repeat the ago­nis­ing taunt: ​"I just asked your girl please / Get on your knees". Skep­ta recent­ly returned to the theme for his sin­gle Greaze Mode: ​"And I just made your girl (Yeah) my girl, she's on her knees (Yeah)". Ear­li­er this year, Coven­try rap­per JAY1 instant­ly scored a viral hit with his song Your Mrs, which – at the time of writ­ing is sit­ting on over 6.9million YouTube views. Even Lady Leshurr is want­i­ng to get a slice of some­one else's action – she recent­ly dropped her freestyle Your Mr, which bagged 463k views in 24 hours.
So why is every­one in the scene threat­en­ing to take your main squeeze?
The hos­tile nature of these lyrics is noth­ing new. Rap bat­tles and diss tracks are inte­gral to the her­itage of both rap and grime, and over the decades, the lev­el of seri­ous­ness of MC feuds has var­ied from good-natured to fatal. Antag­o­nis­tic ener­gy is often a major part of the gen­res' appeal – it can shock, sat­is­fy or amuse, depend­ing on the dis­po­si­tion of the listener.
More­over, the theme of roman­tic loy­al­ty (or the lack there­of) is hard­ly ground-break­ing in rap. There's a cacoph­o­ny of dis­trust­ing tracks, just look at Chris Brown's hit Loy­al. But this isn't about loy­al­ty, it's about the antag­o­nis­er being able to woo their boo, ran­sack their mar­i­tal house and knock their pride down a peg or two – in effect, it's about cuck­old­ing some­one. And right now, it feels like every­one is threat­en­ing to do it.
Cuck­old­ing is the act of tak­ing some­one else's part­ner. It's a term that's been around a lot longer than inter­net porn and despite the fetishised con­no­ta­tions it's been giv­en through cer­tain ​"cat­e­gories", it's got a long his­to­ry as a ridi­cul­ing insult. The word is derived from the cuck­oo bird's cus­tom of lay­ing eggs in oth­er unsus­pect­ing bird's nests – folk­lore tales go that a man whose wife gets tak­en trans­forms into a horned beast called a cuckold.
With­in its long his­to­ry how­ev­er, there is one stand­out indi­vid­ual who was as obsessed as UK rap­pers with this put-down. William Shake­speare was the ulti­mate cuck­old­ing con­nois­seur, fix­at­ing on this insult in a slate of his plays. You see it in the wager plot of Cym­be­line, where Ici­mo taunts Posthu­mus about his wife's faith­ful­ness. In Oth­el­lo, the pro­tag­o­nist lit­er­al­ly dri­ves him­self mad because he thinks his dear Dis­mer­al­da has cuck­old­ed him. Even Ther­si­ties goes so far as to say he would rather be ​"the louse of a lazar" than to be the cuck­old Menelaus (Troilus and Cres­si­da V.i.64 – 69). For Shakespeare's heroes, to be betrayed by a woman was the social faux pas, with the guy who per­forms the cuck­old­ing hav­ing the ulti­mate upper hand. And it was all about hav­ing the upper hand in Eliz­a­bethan England's cul­tur­al politics.
"The anx­i­ety about get­ting cuck­old­ing came from the com­pet­i­tive nature between men," says John Lavagni­no, pro­fes­sor of Shake­speare stud­ies at King's Col­lege Lon­don, ​"the strongest way for some­one to show their supe­ri­or­i­ty is hav­ing sex with your woman." Lavagni­no points out that ​"in Shake­speare plots no major char­ac­ter actu­al­ly is a cuck­old. They just wor­ry end­less­ly about it." So that's not the point, it's not about actu­al­ly cuck­old­ing some­one – it's about the fact they could, if they want­ed to.
Of all the ways to dis­hon­our a man in Shake­speare cuck­old­ing some­one was one of the worst. But why? Under­neath the obvi­ous patri­ar­chal struc­tures here, the insult taunts deep emo­tion­al and psy­cho­log­i­cal insecurities.
"If you look at Shakespeare's plays, there are plen­ty of exam­ples of gen­uine love in the sto­ry­lines and peo­ple actu­al­ly car­ing about one anoth­er," Lavagni­no con­tin­ues, nod­ding to Oth­el­lo and Winter's Tales as exam­ples where the mar­riages are gen­uine, and not ones ​"that are for eco­nom­ic convenience".
Charles B. Strozi­er, a New York based self-psy­chol­o­gist, argues that this is what gave the insult so much weight. An off­shoot of Freudi­an the­o­ry, self-psy­chol­o­gy sees an individual's sense of self as depen­dent on those around them. ​"A self-object is some­thing [or some­one] who ful­fils func­tions of you," explains Strozi­er, ​"and in that rela­tion­ship exists a gen­uine, lov­ing con­nec­tion." But, if some­one inter­rupts that con­nec­tion, that indi­vid­ual will be sent into ​"an over the top jeal­ous rage caused by their injured pride." The clinch here being that this can only hap­pen if there is a gen­uine love between the two in the first place.
So for Shakespeare's infat­u­at­ed char­ac­ters with an appetite for hon­our, what bet­ter way to unhinge them than to threat­en to take thy missus?
This echoes the cur­rent cuck­old fren­zy. Many of the afore­men­tioned artists in the UK are vis­i­bly wifed up. Amongst all the girl-steal­ing bars, Stor­mzy raps ​"Lookin' at my girl like ​'What a god­dess'" in Vos­si Bop, and JAY1 gloats ​"My girl with the back looks love­ly". Octavian's girl­friend reg­u­lar­ly fea­tures on his Insta­gram, whether that be pho­tos of her tat­ted ​"Octo" arm cap­tioned with the word ​"Loy­al­ty", or sto­ries direct­ing his 162k fol­low­ers to her YouTube page. Heck, Maya Jama even made a show-stop­ping cameo in MoStack and Stormzy's music video for Shine Girl. Like Shakespeare's doey eyed char­ac­ters, it seems UK rap­pers pre­oc­cu­pied with cuck­old­ing are actu­al­ly pret­ty loved up.
Just like Shakespeare's Eliz­a­bethan Eng­land, when beef­ing is the norm and PDA is ram­pant, it feels like there's no deep­er insult than threat­en­ing to link someone's girl. Through the spate of slan­ders and diss­es out there, one par comes out on top. It's all over the radio, it's being shout­ed out loud in clubs and in the crowd at rap shows. And it's one that William would be proud of.
---