Take Thy Mrs: How come MCs are obsessed with cuckolding?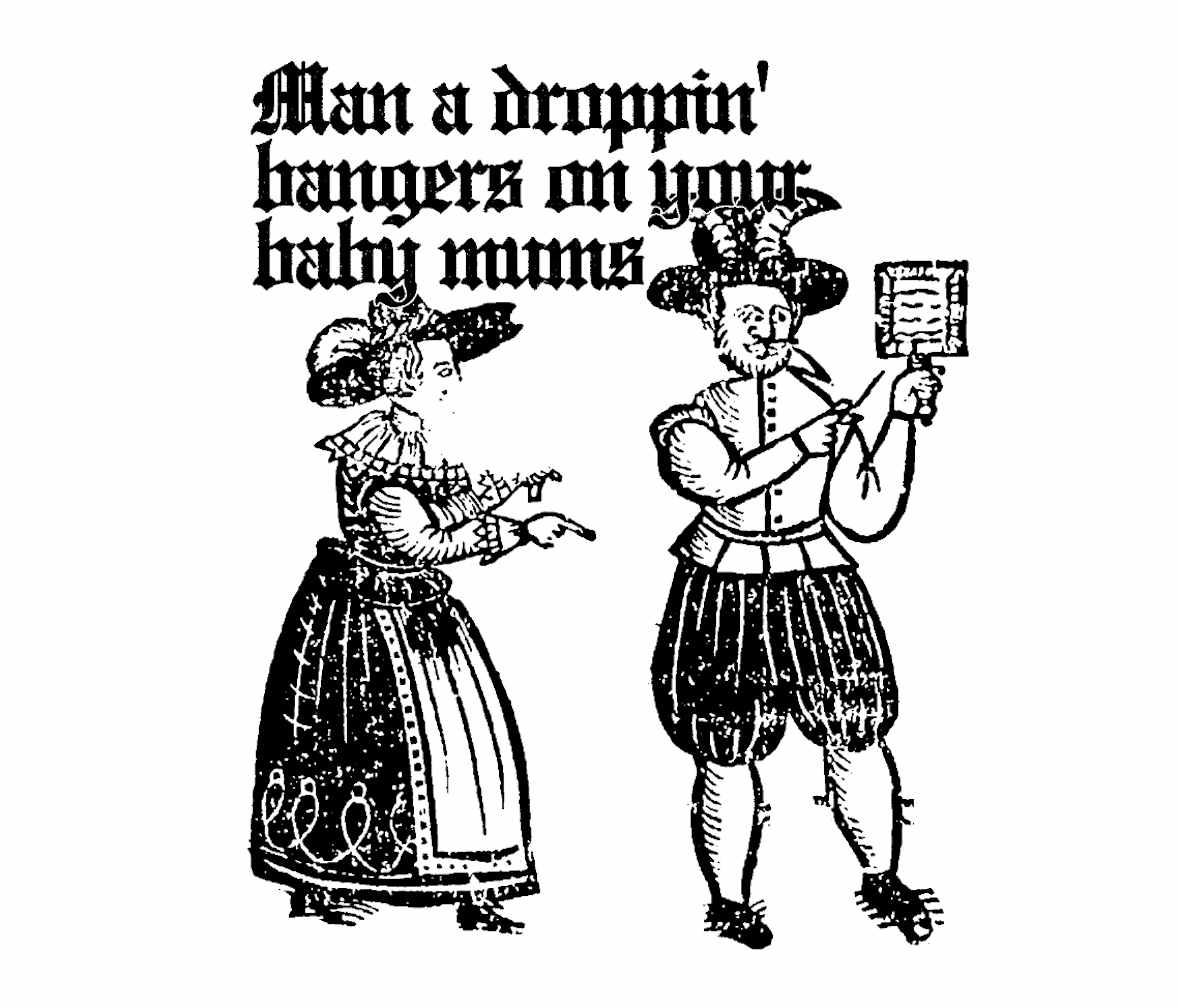 Rappers are scoring hits by threatening to link your girl. It's a form of ridicule with a long history in literature and folklore.
Stormzy finally landed a number one single. While Big For Your Boots, Shut Up and Blinded By Your Grace Pt.2 all made solid attempts – it was Vossi Bop that did it. Stormzy's a heavyweight in the UK rap scene, especially when it comes to bringing the genre to the mainstream, and this was a long-awaited, well-deserved win.
The hook for the chart-topping track? ​"I tell your girl to link me at the coffee shop /​Gettin' freaky in the sheets, we're takin' body shots". Embedded within the track are even more taunting lyrics. ​"I could probably take your chick, but I just wouldn't ​'cause she's jarrin'," the South Londoner jeers in the opening verse, finishing the track off with one last jab – ​"Man a droppin' bangers on your baby mums".
It's not just Stormzy. Bet – arguably Octavian's most popular track to date – centres on the bar about stealing someone's girl. ​"I just made your girl a sket /​She repped the set/​She made my dick erect," goes the hook, which inspired Skepta to jump on a remix to repeat the agonising taunt: ​"I just asked your girl please /​Get on your knees". Skepta recently returned to the theme for his single Greaze Mode: ​"And I just made your girl (Yeah) my girl, she's on her knees (Yeah)". Earlier this year, Coventry rapper JAY1 instantly scored a viral hit with his song Your Mrs, which – at the time of writing is sitting on over 6.9million YouTube views. Even Lady Leshurr is wanting to get a slice of someone else's action – she recently dropped her freestyle Your Mr, which bagged 463k views in 24 hours.
So why is everyone in the scene threatening to take your main squeeze?
The hostile nature of these lyrics is nothing new. Rap battles and diss tracks are integral to the heritage of both rap and grime, and over the decades, the level of seriousness of MC feuds has varied from good-natured to fatal. Antagonistic energy is often a major part of the genres' appeal – it can shock, satisfy or amuse, depending on the disposition of the listener.
Moreover, the theme of romantic loyalty (or the lack thereof) is hardly ground-breaking in rap. There's a cacophony of distrusting tracks, just look at Chris Brown's hit Loyal. But this isn't about loyalty, it's about the antagoniser being able to woo their boo, ransack their marital house and knock their pride down a peg or two – in effect, it's about cuckolding someone. And right now, it feels like everyone is threatening to do it.
Cuckolding is the act of taking someone else's partner. It's a term that's been around a lot longer than internet porn and despite the fetishised connotations it's been given through certain ​"categories", it's got a long history as a ridiculing insult. The word is derived from the cuckoo bird's custom of laying eggs in other unsuspecting bird's nests – folklore tales go that a man whose wife gets taken transforms into a horned beast called a cuckold.
Within its long history however, there is one standout individual who was as obsessed as UK rappers with this put-down. William Shakespeare was the ultimate cuckolding connoisseur, fixating on this insult in a slate of his plays. You see it in the wager plot of Cymbeline, where Icimo taunts Posthumus about his wife's faithfulness. In Othello, the protagonist literally drives himself mad because he thinks his dear Dismeralda has cuckolded him. Even Thersities goes so far as to say he would rather be ​"the louse of a lazar" than to be the cuckold Menelaus (Troilus and Cressida V.i.64 – 69). For Shakespeare's heroes, to be betrayed by a woman was the social faux pas, with the guy who performs the cuckolding having the ultimate upper hand. And it was all about having the upper hand in Elizabethan England's cultural politics.
"The anxiety about getting cuckolding came from the competitive nature between men," says John Lavagnino, professor of Shakespeare studies at King's College London, ​"the strongest way for someone to show their superiority is having sex with your woman." Lavagnino points out that ​"in Shakespeare plots no major character actually is a cuckold. They just worry endlessly about it." So that's not the point, it's not about actually cuckolding someone – it's about the fact they could, if they wanted to.
Of all the ways to dishonour a man in Shakespeare cuckolding someone was one of the worst. But why? Underneath the obvious patriarchal structures here, the insult taunts deep emotional and psychological insecurities.
"If you look at Shakespeare's plays, there are plenty of examples of genuine love in the storylines and people actually caring about one another," Lavagnino continues, nodding to Othello and Winter's Tales as examples where the marriages are genuine, and not ones ​"that are for economic convenience".
Charles B. Strozier, a New York based self-psychologist, argues that this is what gave the insult so much weight. An offshoot of Freudian theory, self-psychology sees an individual's sense of self as dependent on those around them. ​"A self-object is something [or someone] who fulfils functions of you," explains Strozier, ​"and in that relationship exists a genuine, loving connection." But, if someone interrupts that connection, that individual will be sent into ​"an over the top jealous rage caused by their injured pride." The clinch here being that this can only happen if there is a genuine love between the two in the first place.
So for Shakespeare's infatuated characters with an appetite for honour, what better way to unhinge them than to threaten to take thy missus?
This echoes the current cuckold frenzy. Many of the aforementioned artists in the UK are visibly wifed up. Amongst all the girl-stealing bars, Stormzy raps ​"Lookin' at my girl like ​'What a goddess'" in Vossi Bop, and JAY1 gloats ​"My girl with the back looks lovely". Octavian's girlfriend regularly features on his Instagram, whether that be photos of her tatted ​"Octo" arm captioned with the word ​"Loyalty", or stories directing his 162k followers to her YouTube page. Heck, Maya Jama even made a show-stopping cameo in MoStack and Stormzy's music video for Shine Girl. Like Shakespeare's doey eyed characters, it seems UK rappers preoccupied with cuckolding are actually pretty loved up.
Just like Shakespeare's Elizabethan England, when beefing is the norm and PDA is rampant, it feels like there's no deeper insult than threatening to link someone's girl. Through the spate of slanders and disses out there, one par comes out on top. It's all over the radio, it's being shouted out loud in clubs and in the crowd at rap shows. And it's one that William would be proud of.

More like this