Occa­sion­al­ly, new DJs are thrust onto the glob­al club and fes­ti­val cir­cuit before they're quite ready. It could be off the back of their pop­u­lar pro­duc­tions, or part­ly thanks to their con­tacts, or an engag­ing social media pres­ence. By the time Mike Servi­to reached the sta­tus of an ​'inter­na­tion­al DJ', he'd spent years earn­ing his stripes.
Born and raised in Detroit, Servi­to expe­ri­enced the tech­no scene which is so dear­ly respect­ed, ref­er­enced and researched by ravers across the world. Mov­ing to NYC in the ​'00s, he grad­u­al­ly built up a rep­u­ta­tion as a pas­sion­ate, ener­getic skil­ful DJ, and he became res­i­dent at Brook­lyn club­night The Bunker – a posi­tion he still holds to this day.
Five years ago, Res­i­dent Advi­sor referred to Mike Servi­to as one of Detroit and New York City's ​"best kept secrets." For some time now, the secret's been out – Panora­ma Bar, Move­ment Detroit and Dek­man­tel are a few of the big gigs he's ticked off the list. For The Face's mix series, Servi­to has deliv­ered a pas­sion­ate blend of tech­no, house, elec­tro and acid that'll con­jure up hazy mem­o­ries of the sweaty dance­floor expe­ri­ence from the com­fort of your home or desk.
Lis­ten via the play­er above.
What makes you feel hap­py when you're DJing in the club?
Get­ting in the zone, being in the mix, and let­ting the tracks speak. I love being in absolute sym­me­try with the music. There's noth­ing greater than when every­thing aligns. Every­one danc­ing, music pump­ing, no dis­trac­tions. Just a com­plete con­nect with the music and the dance floor. I live for that exchange. It can make a night feel electric.
What's the vibe and direc­tion of your Face mix?
Schiz­o­phrenic acid house Jacker.
Hon­est­ly, the mix is inspired by the live DJ mix. You have that one shot. I like that coin toss. Some­times, obsess­ing over some­thing detracts from the spir­it and ener­gy going into it. The mix is pret­ty rep­re­sen­ta­tive of how I play out. It's a mixed bag of favourites. Acid, elec­tro, tech­no, and house music have always been a main­stay for me. I grew up in the Mid­west on that first wave of acid house, so it's tucked very close to my heart. There's a decent sprin­kling of British artists I've always admired. I have a real soft spot for British dance/​electronic music his­to­ry and its appre­ci­a­tion for Detroit and Chica­go in the late ​'80s and ear­ly ​'90s, and what that con­tin­ues to inspire in the music today. It's a mag­i­cal and blessed era. There are touch­es of the past and present in there.
My mix for The Face is brash, funky and raw. It's spon­ta­neous, ener­getic and moody. I think peo­ple can relate when I say a chaot­ic envi­ron­ment can sub­con­scious­ly influ­ence what you put out there cre­ative­ly. We are def­i­nite­ly liv­ing in chaot­ic times. This mix is reflec­tive of a chaot­ic state of mind, unapolo­get­i­cal­ly mixed for a chaot­ic world.

What are your hopes and fears for the New York club scene?
My hopes are that New York nightlife will con­tin­ue to thrive and suc­ceed in the face of adver­si­ty and con­tin­ue to be a great out­let for us all, local­ly and inter­na­tion­al­ly. We need healthy, invit­ing dance floors. And, I think we achieve that and do it well. New York is on fire!
My fears? This doesn't apply to just New York, but I think the incu­bat­ing time for DJs to grow and mature has been dis­solved. We are just thrust­ing peo­ple into spot­lights. It feels accel­er­at­ed in a way I've nev­er seen before. I've seen the evo­lu­tion and de-evo­lu­tion of DJ cul­ture over the last three decades. My fear is see­ing a cul­ture fiz­zle and fade fast because of over­sat­u­ra­tion and over con­sump­tion on every lev­el. It feels hyper dis­pos­able. In today, out today. No one's work, no one's his­to­ry mat­ters any­more. Cre­den­tials don't mat­ter. That's scary.

Any new or under­ground DJs on the scene we should keep our eye out for?
In New York, I love Ace­Mo and Love Let­ters. They real­ly do it for me. Such tal­ents. I just played with Danielle in Lon­don. I real­ly love her style. She has impec­ca­ble taste and skill. I like new­er DJs and pro­duc­ers who seem to car­ry the torch for the his­to­ry of true under­ground dance music.
Who would you most like to see on the cov­er of The Face?
I wish I had the face to grace your icon­ic mag­a­zine, but nah. I would love to see a Grace Jones cov­er again. She just per­formed in my home­town of Detroit. So, let's say her. Icon­ic. Black. Female. Beau­ti­ful. Unapolo­getic. And For­ev­er Bold. Grace Jones 2020 is a good look. I'm imag­in­ing it. Put some Grace in your Face!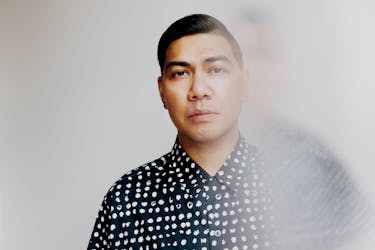 Luke Vib­ert – iSock­et (Lib­er­tine Traditions)

RAC

– Tun­nel Talk (Warp)
Gescom – A

2

– (Skam)
Pur­vey­ors Of Fine Funk – State Of Mind – (Peace­frog)
Trun­cate –

7

_

2

Lim­it­ed #

2

– (Trun­cate)
Para­noid Lon­don – (Vi Vi) Vicious Games Dub ft. Josh Caffe – (Para­noid London)
Acid Jesus – Radi­um – (Klang Elektronik)
Rep­tant – The Raid – (Craigie Knowes)
Vin Sol – Mis­guid­ed Until Today – (Dark Entries)
Bill Con­verse – W.A.T.B. ft. Car­los Souf­front – (Dark Entries)
The Moody Boys – Acid Heav­en(Holy Mix) – (City Beat)
Lil Louis – Jupiter – (Dia­mond Records)
A Guy Called Ger­ald – In The Begin­ning – (Rham!)
Baby Ford – Nor­mal (Hel­ston Flo­ra Remix by

AFX

) – (Rephlex)
Luke Vib­ert – iWash – (Lib­er­tine Traditions)
Love Let­ters – Hey Yo Who Dat – (unre­leased)
Blot­ter Trax – Pro­grammed Mem­o­ries – (Frus­trat­ed Funk)
L.A.M. – Bal­ance Of Ter­ror – (Hard­wax)

BBC

Report on Acid House – Lights Flash­ing – (

BBC

News)
---