Hear God Colony guide you through a Mad World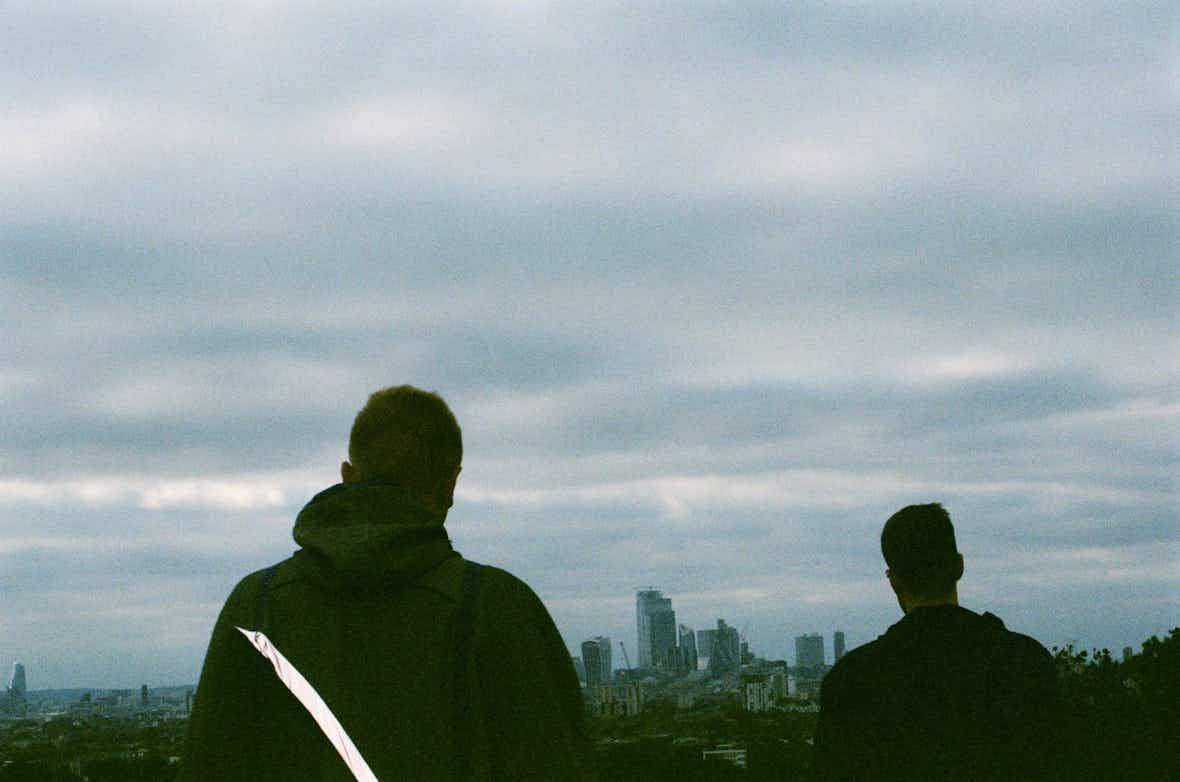 The London-via-Merseyside duo have created a network of free-spirited collaborators.
God Colony have been making music together since they were teenagers. Sometime around the mid ​'10s, they started scouring the periphery of Soundcloud for open-minded rappers and singers who could bring fresh energy to their experimental beats. God Colony released a series of tracks between 2016 – 17, featuring the likes of Bbymutha, Massachusetts rapper Stash Marina, Kojey Radical and Flohio – who, at the time, was just on the verge of blowing up. Having moved into a new studio in 2018, known as The Blast Office, God Colony have had a rotating cast of guests through the doors for free-spirited sessions. And since last September, they've been dropping a series of tunes from their fresh batch of material, including collaborations with Hackney rapper Izambard, Cosima, Samirah Raheem (you'll know her from that legendary SlutWalk interview) and Flohio. Their mixtape CULT is expected to drop soon.

God Colony's Face Mix includes unreleased material and tracks by Mykki Blanco, Sega Bodega, Beatrice Dillon, Isamaya Ffrench and many more. Listen to the mix – entitled Forest Hill Dubs – and read Q&A with the duo below.
Tell us about God Colony HQ…
We moved to our new studio in July 2018 when we moved our base from Gunfactory Studios in east London to The Blast Office (as it became known) in Forest Hill, along with Raf Rundell. Before we moved in it had previously housed a pretty successful label and artist (who would rather not be named) and it's been our base ever since. The space is magic. Everyone in there is mates. Alongside from the production of God Colony's mixtape CULT and Raf's album, The Blast Office worked on Beatrice Dillon's Workaround, Sega Bodega's Salvador, Man And the Echo's Men Of the Moment, as well as couple of killer Shygirl singles (BB and Uckers), plus some more NUXXE stuff. There are forthcoming albums from Mykki Blanco and Raf Rundell in the pipeline that we can't wait for you to hear.
What's the vibe and direction of your Face Mix?
Forest Hill Dubs is compiled of unreleased material from God Colony, Sega Bodega, Beatrice Dillon, Mykki Blanco, plus some artists you maybe won't have heard that we're really excited about. It's sort of a mission statement for our label MAD WORLD. Every track on here has been kindly submitted by contributors and friends of ours who have passed through The Blast Office. In the interests of people who may want to release a lot of these tracks in future, we need to hold back the tracklist, but you can see who's involved.
How, if at all, does the city of London inspire you music?
London has been a huge inspiration to us. I don't think we'd make the music that we make if we hadn't moved from Liverpool – which is another city that's very important to how we sound. Seb Wheeler's night Tropical Waste was a turning point for us really, and it's also where we did our first show. I think that night had a huge impact on me, as did things like Bala Club, Endless, and also going to see Perc play a lot too. We always wanted to sound like Perc and Timbaland put together. I also think the immense pressure of the city, the way it breathes and moves, has a big influence on how we sound.
Are there any other producers who you feel are pushing boundaries at the moment?
Yeah, and we work with some of them. We're always blown away by Salv [Sega Bodega]. We love Skee Mask, Slikback, Beatrice Dillon, and the production on all the Billie Eilish stuff is really interesting too. SOPHIE and Arca are inspirational, anarchically gifted producers too.
What are your studio essentials – snacks, drinks, rules etc?
We drink too much, smoke too much, and eat too many edibles. We eat pho from the Vietnamese round the corner a lot, and we've also been making exactly the same chicken wrap for about six months. No rules.
What would be the best way for our readers to support musicians at the moment?
Buy our music on Bandcamp. We were lining up MAD WORLD parties that have obviously been postponed now, so please look out for them when all this is over, they're going to be so good, especially now it feels like no-one can remember what parties were like. I guess also just in a more general sense, buy some merch, buy some records. But to be totally honest, everyone's going through this right now, not just musicians. Everyone needs to help each other.
The Forest Hill Dubs mix features music by:
Abi Thompson
Beatrice Dillon
Eastend Gravy
God Colony
idntmttr
Joy Anonymous
Izambard
Isamaya Ffrench
Mykki Blanco
Raf Rundell
Sega Bodega
Vista

More like this