Inspecting the DNA of ​

'

Igor'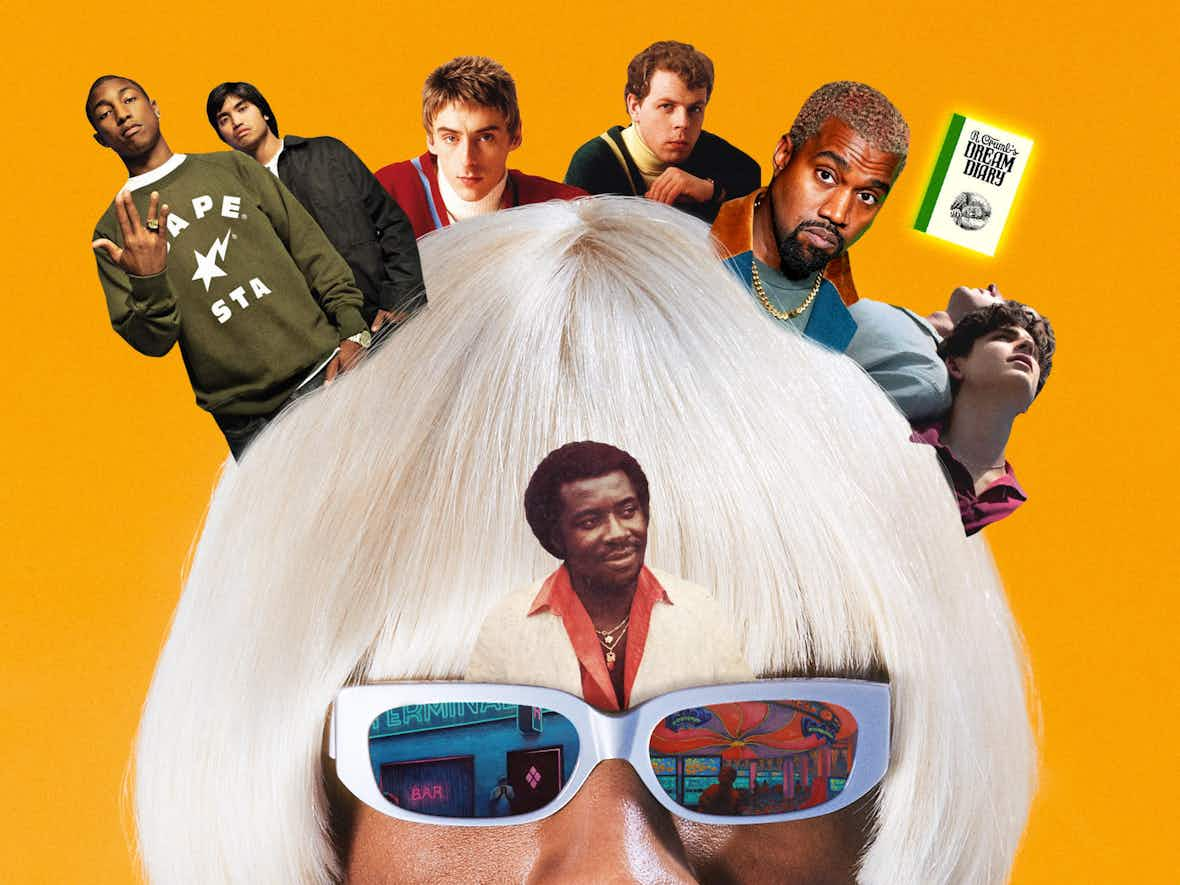 The Face cover star Tyler, the Creator scored his first number one album this year. In honour of his vibrant masterpiece, here's a run down of the art and music which (potentially) inspired it.
Tyler, The Creator is one of the most influential artists of this generation. And yet, when it comes to pinning down exactly what has inspired him, things get a little tricky. These days the man hates interviews and when he does occasionally do them, he has little interest revealing any deeper meanings behind his work. But Tyler's always loved to talk about other people's music and art.
So in honour of the lush and emotive album Igor (which reached no.1 in the US), here's a list of cultural references which Tyler has made in recent interviews and on his socials, in the hope that it further enriches your listening experience of Igor.


Jane Dickson
In his interview for The Face, Tyler mentioned he was reading a book about the artist Jane Dickson. She's a painter and photographer who worked on programming the digitally animated billboards in Times Square back in the ​'70s. Her work is often very vivid and oozing with nostalgia, characteristics you might spot in Tyler's art. Dickson said in an interview with the Guardian, ​"I'm not making images that tell you what to think. I see painting as a space where you can sift through your own ideas." Which, again, feels a very Tyler sentiment when it comes to his own work – Igor does not force a specific narrative, instead it provides sonic moods that encourage you to meditate on your own thoughts and memories.
Kanye West
Tyler might just be one of the only people who considers Ye to be Kanye's best album. He told GQ last year that Violent Crimes made him cry when he first heard it, and if you follow him closely on socials then odds are you remember him changing his Twitter bio to a reversion of the lyrics to No Mistakes. Kanye has always been an influence on him of course, but from the Zane Lowe interview you get the sense that the emotional rawness of Ye really struck Tyler. Of course, Kanye features on Igor, but Tyler also slyly nods to him elsewhere on the album – sampling from the same song used on Kanye's Bound 2, and seemingly interpolating New Slaves on What's Good.


Call Me By Your Name
It's no secret Tyler is a big fan of this beautiful film. At the time of writing, his Twitter location is still set to ​"somewhere in northern italy"; on Okra the lines ​"tell Tim Chalamet to come get at me /​skin glowing, clear of acne" truly captured a pop cultural mood; while on last year's loosie Gelato, a remix of Jacquee's No Validation, he added his own verse, with the lines, ​"You got me on tippy toe, So who's Oliv, who's Elio?". He recounted to Zane Lowe how he rented a house in Lake Como after seeing how beautiful it was there, mentioning that Frank Ocean came to hang out, while Solange also pulled up on a boat and recorded her vocals for the album on a handheld mic – one of the tracks she features on is I Think, which includes the line ​"Man, I wish you would call me /​By your name ​'cause I'm sorry." Idyllic natural beauty and romantic yearning is very much Tyler's shit, but manifesting his adoration of Oliver and Elio by creating some of his album here shows just how much the work resonated with him. Bonus shout out to another homoerotic film, El Angel, an Argentinian film which Tyler posted a screencap from on scumfuckflowerboy (Tyler's alternative Instagram) late last year.
The Neptunes
Of course, with pretty much any member of Odd Future there is a reverence for production gods The Neptunes. Matt Martians and Syd's initial concept for their band The Internet was for the two of them to act as the producers, bringing in guest vocalists à la The Neptunes Present…Clones. Tyler too has always idolised Pharrell and co., and the construction of his work particularly on Igor is emblematic of that. The scuzzier end of N.E.R.D. is channelled on tracks like New Magic Wand and there are synths sounds across the album which bring The Neptunes to mind. It's no coincidence that he shared a screenshot of him listening to Justin Timberlake's Let's Take A Ride last year, speaking somewhat wryly in praise of ​"a four minute bridge" (the track is four minutes and 44 seconds) – but then, Igor was all about subverting traditional song structures. Timberlake's album Justified was the incredible pop album it was because of the Neptunes and Timbaland, and if you listen to the construction of those beats and melodies that are a little bit schmaltzy and funky, it's hard to deny how much Tyler soaked that vibe up for Igor – albeit there's definitely something more luxe about Tyler's sound.

UK ​'80s pop
Odds are, Paul Weller is not someone you associate with Tyler's work. But in his Zane Lowe interview he noted how he's been really getting into ​'80s music lately – specifically, British ​'80s pop. He namechecked Paul Weller's post-The Jam band The Style Council, along with Isle of Wight heroes Level 42 and synthpop pioneer Gary Numan. The polished era of music filled with swooning, yearning emotions and – to paraphrase Tyler – white people trying to make a version of soulful music even though they didn't actually grow-up listening to soul — played a big part in the lush soundscapes you hear on Igor
Nigerian disco
During his Apple Music livestream performance, Tyler got talking between songs, explaining some of the stories behind I Think. He noted that the track was inspired by Nigerian music, saying: ​"So my dad's Nigerian, supposedly, and Nigerian music, it's good. You have Sade, you have so much Nigerian rock… in the ​'70s they made a lot of funk, a lot of dance, disco… they used to take photos of all the young kids who would go to these disco parties and dance and dress up and shit. And I wanted to live in that moment for a day…" The track ended up sampling Bibi Mascel and ​"forgotten super-producer" Nkono Teles.
R. Crumb's Dream Diary
Last October, Tyler posted a picture on @scumfuckflowerboy of prolific Philadelphia cartoonist Robert Crumb's Dream Diary. The artist had kept a meticulous daily dream diary for decades, which he published in 2018. R. Crumb was a major part of the underground comix scene in the ​'60s, publishing surreal material that satirised contemporary American culture and didn't shy away from sex, violence and drug use – though his images were often called out for being violently misogynistic and racist (some argue that R. Crumb's work has become less controversial over time). During his Beats 1 interview with Zane Lowe, Tyler agreed Igor captured an outpour of emotions, saying: ​"I woke up in the morning, wrote down how I felt and made that song – I did that for two weeks." Sure, this is rampant speculation, but there's every possibility that he decided to put down his feelings diaristically every morning inspired by his fellow former provocateur R. Crumb? At the very least, Crumb's trippy style of art presumably appealed to Tyler's vivid imagination.

More like this