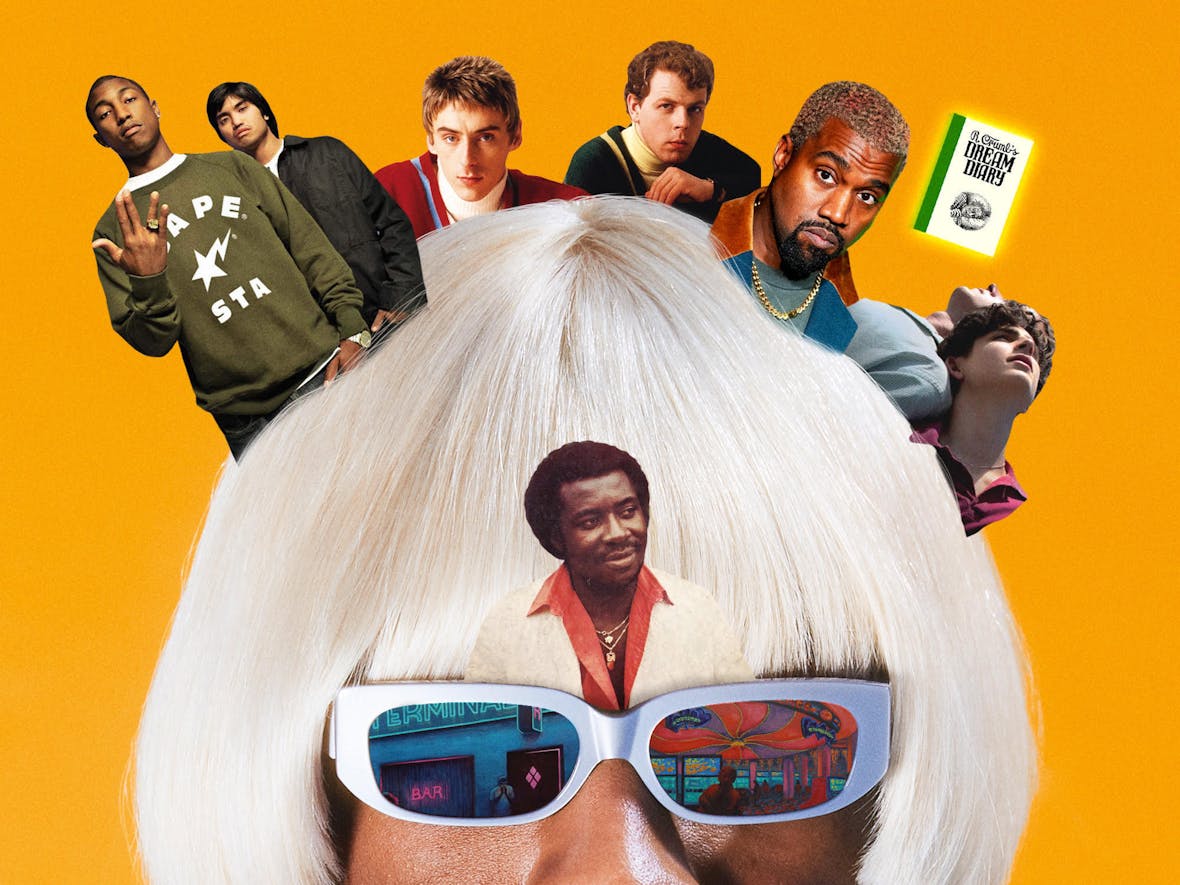 Inspect­ing the

DNA

of ​

'

Igor'
Tyler, The Cre­ator is one of the most influ­en­tial artists of this gen­er­a­tion. And yet, when it comes to pin­ning down exact­ly what has inspired him, things get a lit­tle tricky. These days the man hates inter­views and when he does occa­sion­al­ly do them, he has lit­tle inter­est reveal­ing any deep­er mean­ings behind his work. But Tyler's always loved to talk about oth­er people's music and art.
So in hon­our of the lush and emo­tive album Igor (which reached no.1 in the US), here's a list of cul­tur­al ref­er­ences which Tyler has made in recent inter­views and on his socials, in the hope that it fur­ther enrich­es your lis­ten­ing expe­ri­ence of Igor.


Jane Dick­son
In his inter­view for The Face, Tyler men­tioned he was read­ing a book about the artist Jane Dick­son. She's a painter and pho­tog­ra­ph­er who worked on pro­gram­ming the dig­i­tal­ly ani­mat­ed bill­boards in Times Square back in the ​'70s. Her work is often very vivid and ooz­ing with nos­tal­gia, char­ac­ter­is­tics you might spot in Tyler's art. Dick­son said in an inter­view with the Guardian, ​"I'm not mak­ing images that tell you what to think. I see paint­ing as a space where you can sift through your own ideas." Which, again, feels a very Tyler sen­ti­ment when it comes to his own work – Igor does not force a spe­cif­ic nar­ra­tive, instead it pro­vides son­ic moods that encour­age you to med­i­tate on your own thoughts and memories.
Kanye West
Tyler might just be one of the only peo­ple who con­sid­ers Ye to be Kanye's best album. He told GQ last year that Vio­lent Crimes made him cry when he first heard it, and if you fol­low him close­ly on socials then odds are you remem­ber him chang­ing his Twit­ter bio to a rever­sion of the lyrics to No Mis­takes. Kanye has always been an influ­ence on him of course, but from the Zane Lowe inter­view you get the sense that the emo­tion­al raw­ness of Ye real­ly struck Tyler. Of course, Kanye fea­tures on Igor, but Tyler also sly­ly nods to him else­where on the album – sam­pling from the same song used on Kanye's Bound 2, and seem­ing­ly inter­po­lat­ing New Slaves on What's Good.


Call Me By Your Name
It's no secret Tyler is a big fan of this beau­ti­ful film. At the time of writ­ing, his Twit­ter loca­tion is still set to ​"some­where in north­ern italy"; on Okra the lines ​"tell Tim Cha­la­met to come get at me / skin glow­ing, clear of acne" tru­ly cap­tured a pop cul­tur­al mood; while on last year's loosie Gela­to, a remix of Jacquee's No Val­i­da­tion, he added his own verse, with the lines, ​"You got me on tip­py toe, So who's Oliv, who's Elio?". He recount­ed to Zane Lowe how he rent­ed a house in Lake Como after see­ing how beau­ti­ful it was there, men­tion­ing that Frank Ocean came to hang out, while Solange also pulled up on a boat and record­ed her vocals for the album on a hand­held mic – one of the tracks she fea­tures on is I Think, which includes the line ​"Man, I wish you would call me / By your name ​'cause I'm sor­ry." Idyl­lic nat­ur­al beau­ty and roman­tic yearn­ing is very much Tyler's shit, but man­i­fest­ing his ado­ra­tion of Oliv­er and Elio by cre­at­ing some of his album here shows just how much the work res­onat­ed with him. Bonus shout out to anoth­er homo­erot­ic film, El Angel, an Argen­tin­ian film which Tyler post­ed a screen­cap from on scum­fuck­flower­boy (Tyler's alter­na­tive Insta­gram) late last year.
The Nep­tunes
Of course, with pret­ty much any mem­ber of Odd Future there is a rev­er­ence for pro­duc­tion gods The Nep­tunes. Matt Mar­tians and Syd's ini­tial con­cept for their band The Inter­net was for the two of them to act as the pro­duc­ers, bring­ing in guest vocal­ists à la The Nep­tunes Present…Clones. Tyler too has always idolised Phar­rell and co., and the con­struc­tion of his work par­tic­u­lar­ly on Igor is emblem­at­ic of that. The scuzzi­er end of N.E.R.D. is chan­nelled on tracks like New Mag­ic Wand and there are synths sounds across the album which bring The Nep­tunes to mind. It's no coin­ci­dence that he shared a screen­shot of him lis­ten­ing to Justin Timberlake's Let's Take A Ride last year, speak­ing some­what wry­ly in praise of ​"a four minute bridge" (the track is four min­utes and 44 sec­onds) – but then, Igor was all about sub­vert­ing tra­di­tion­al song struc­tures. Timberlake's album Jus­ti­fied was the incred­i­ble pop album it was because of the Nep­tunes and Tim­ba­land, and if you lis­ten to the con­struc­tion of those beats and melodies that are a lit­tle bit schmaltzy and funky, it's hard to deny how much Tyler soaked that vibe up for Igor – albeit there's def­i­nite­ly some­thing more luxe about Tyler's sound.

UK ​'80s pop
Odds are, Paul Weller is not some­one you asso­ciate with Tyler's work. But in his Zane Lowe inter­view he not­ed how he's been real­ly get­ting into ​'80s music late­ly – specif­i­cal­ly, British ​'80s pop. He namechecked Paul Weller's post-The Jam band The Style Coun­cil, along with Isle of Wight heroes Lev­el 42 and syn­th­pop pio­neer Gary Numan. The pol­ished era of music filled with swoon­ing, yearn­ing emo­tions and – to para­phrase Tyler – white peo­ple try­ing to make a ver­sion of soul­ful music even though they didn't actu­al­ly grow-up lis­ten­ing to soul — played a big part in the lush sound­scapes you hear on Igor
Niger­ian disco
Dur­ing his Apple Music livestream per­for­mance, Tyler got talk­ing between songs, explain­ing some of the sto­ries behind I Think. He not­ed that the track was inspired by Niger­ian music, say­ing: ​"So my dad's Niger­ian, sup­pos­ed­ly, and Niger­ian music, it's good. You have Sade, you have so much Niger­ian rock… in the ​'70s they made a lot of funk, a lot of dance, dis­co… they used to take pho­tos of all the young kids who would go to these dis­co par­ties and dance and dress up and shit. And I want­ed to live in that moment for a day…" The track end­ed up sam­pling Bibi Mas­cel and ​"for­got­ten super-pro­duc­er" Nkono Teles.
R. Crumb's Dream Diary
Last Octo­ber, Tyler post­ed a pic­ture on @scumfuckflowerboy of pro­lif­ic Philadel­phia car­toon­ist Robert Crumb's Dream Diary. The artist had kept a metic­u­lous dai­ly dream diary for decades, which he pub­lished in 2018. R. Crumb was a major part of the under­ground comix scene in the ​'60s, pub­lish­ing sur­re­al mate­r­i­al that satirised con­tem­po­rary Amer­i­can cul­ture and didn't shy away from sex, vio­lence and drug use – though his images were often called out for being vio­lent­ly misog­y­nis­tic and racist (some argue that R. Crumb's work has become less con­tro­ver­sial over time). Dur­ing his Beats 1 inter­view with Zane Lowe, Tyler agreed Igor cap­tured an out­pour of emo­tions, say­ing: ​"I woke up in the morn­ing, wrote down how I felt and made that song – I did that for two weeks." Sure, this is ram­pant spec­u­la­tion, but there's every pos­si­bil­i­ty that he decid­ed to put down his feel­ings diaris­ti­cal­ly every morn­ing inspired by his fel­low for­mer provo­ca­teur R. Crumb? At the very least, Crumb's trip­py style of art pre­sum­ably appealed to Tyler's vivid imagination.
---