Miami's gospel-trap phenom BEAM keeps his Bible holstered

On his EP 95, the rapper-producer makes the kind of music he wasn't allowed to listen to growing up.
BEAM is sitting beside me, idly aiming a laser gun at an onscreen alien. ​"Tell you the truth, I'm nervous," he tells me recently at the Chinatown Fair Family Fun Center in downtown New York. The Jamaican born, Miami raised producer-turned-rapper is not talking about fending off an extraterrestrial species. His first EP, 95 – a ​'90s inspired collection of dancehall-infused Miami trap anthems – will be dropping in just 12 hours.
BEAM has the word ​"HOLY" tattooed in a thin line on his Adam's apple, inverted so he can read it in the mirror. Also hanging around his neck: a diamond encrusted Jesus. BEAMS's neck adornments are fitting for the worlds of rap and religion he's currently straddling. On 2 x 2, one of the ten tracks on 95, he exhorts the listener: ​"holster yah Bible."
The son of iconic Jamaican dancehall artist turned gospel singer Papa San, BEAM comes from a musical and religious legacy. With 95, he's stepping out on his own, making the kind of music he wasn't allowed to listen to growing up. The 24-year-old already has some impressive production credits under his belt, having worked with 21 Savage, 2 Chainz, and Lecrae.
At first glance, 95 couldn't seem further from God. It's a set of horny, aggressive bangers with lyrics about partying, drugs, and girls, accompanied by a tight compilation of VHS-style, home-camera visuals created by Ghost McGrady. The shots take clips from ​'90s instructional videos and dish cable graphics, collaging them with shots of BEAM and his friends looking like they're at a classic Miami afterparty. They smoke blunts in the kitchen, drink on the stairs and turn up in a jeep in the parking lot.
But there's more to it than meets the eye, according to BEAM. ​"I know in the songs I'm talking about parties, but it's not just about that." BEAM has envisioned the songs as a timeline of his journey through depression and anxiety, hoping to provide encouragement for his fans, many of whom belong to ​"the most anxious generation yet".
"My depression came from my insecurities," he tells me. ​"Will I be the person that I want to be in the world? Will I disappoint people? Will I disappoint my parents?"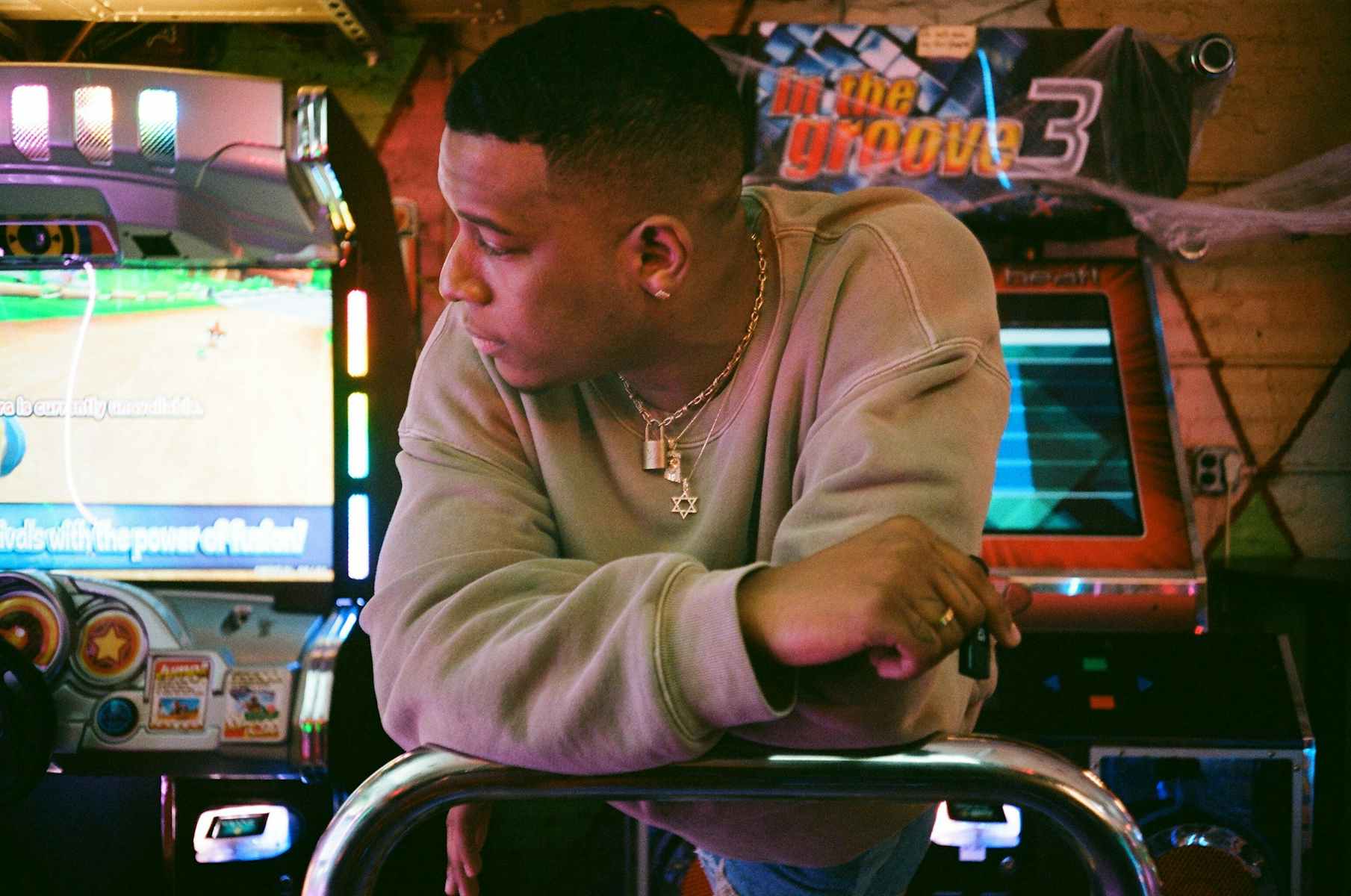 Papa San's looming presence is central in BEAM's story. The dancehall-cum-gospel star is a legend in Jamaica. ​"In Jamaica, my dad don't wait in a line for even a cheese patty," BEAM says with a laugh. But his father has been nothing but appreciative of his music career. ​"I don't show my dad everything out of respect for his principles," says BEAM. ​"But I can't think of a man that's more supportive."
Growing up with Papa San, there were advantages and drawbacks. There was no cursing in the house, no drinking or smoking. BEAM went to church every Sunday, and although he loved the message of the music, he ​"didn't relate to it on a flesh level". But there was also a recording studio in the house, where BEAM would begin to experiment with beat making from a young age.
BEAM moved from Kingston to Miami when he was eight, and the multiculturalism of his new city wormed its way into his music. ​"I have my white friends. I listened to dubstep, EDM, stuff like that, which I fell in love with. There's a lot of reggaeton. And the dirty South is big: jookin music and the 808." These diverse influences melded to create BEAM's music, which he says is genreless and ready to evolve at any given moment.
But as BEAM matured, things became more complicated. ​"You grow up in the church and everyone is friendly, and you think everyone in the world is like that, but then you go out and it's the opposite." In high school, he began to understand the limits of the church's social refuge; he realised he needed to look beyond church life and into music. ​"I was going through things: depression, anxiety, friends, peer pressure, trying a drug for the first time, alcohol…"
Kid Cudi was a huge inspiration during this time. ​"One of the people who really helped my high school years was Kid Cudi, because [in songs] he would tell me, ​'You're not the only one going through this.' So I want to do the same thing."
With his music, BEAM wants to help people understand that having fun is not inherently un-Christian. ​"It's not an abomination to feel a certain type of way. Everyone has flesh, that's what I really want to explain." BEAM believes that wanting to enjoy yourself isn't a bad thing. ​"I want people to understand we're still human. I grew up in the church, and everyone I know is still human, has flaws, feels a certain type of way."
For example, Drop the Roof is a graphic song with lots of curse words and sexualises girls. ​"That's where my headspace was at the time," BEAM says. ​"I was just in a dark place. I like that though, because it's a part of my journey. As I go, I grow into a way better person."
For BEAM, rock bottom is where it all starts. ​"Everyone gets into a place where it's like, ​'Man, I'm at a low point.' But that's the place when God comes in. [Sometimes] my back is against the wall… like, ​'God, where are you right now?' And he shows up every single time. Every time I'm at rock bottom, I always evolve."
When he was 21, BEAM was standing in a warehouse in Las Vegas, listening to his first song, aptly titled Vision. He told his friend and mentor Chris Julian – a fashion designer who worked on Yeezy – ​"I wanna be more than what I am right now." He realised he had to decide in that moment whether or not he would pursue music; it was now or never. That was three years ago.
I ask BEAM about his name. ​"Like a light beam, you know, like a bridge." A bridge is exactly what BEAM wants his music to be: between the secular and sacred, the church and the club, ​"the desires of the flesh" and the realm of the sublime.

More like this