Our predictions for the upcoming 2023/​24 Premier League season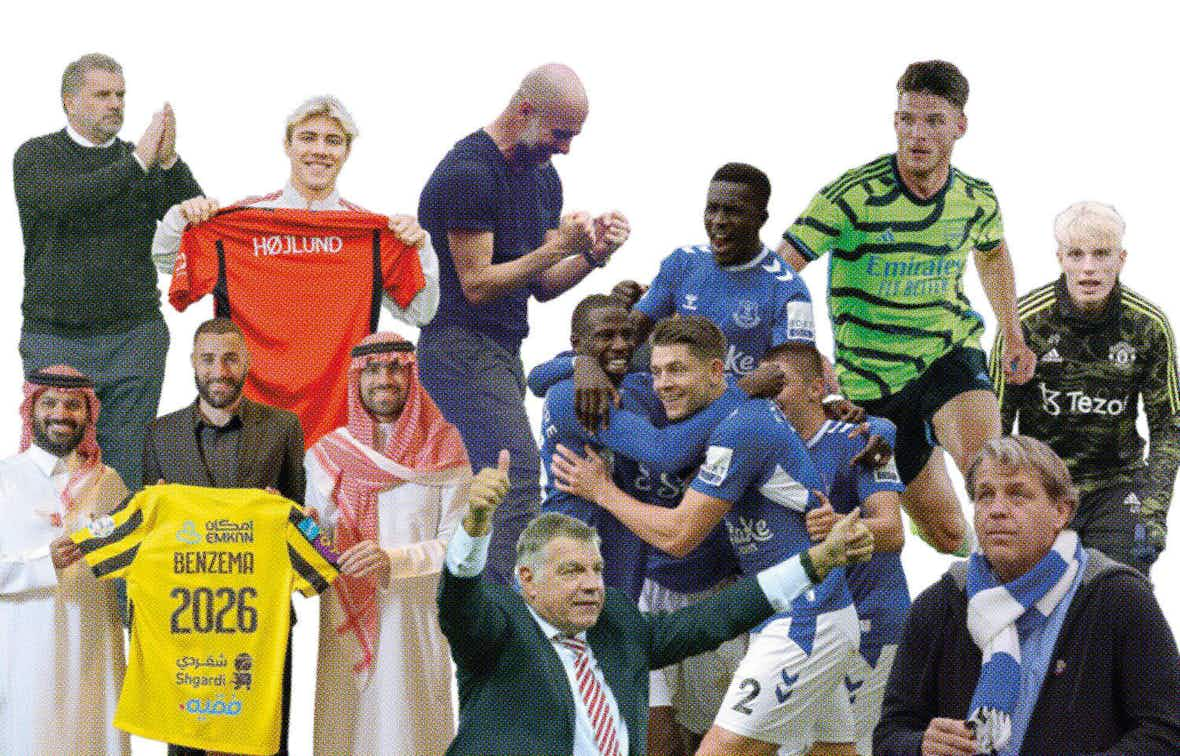 Sackings, Saudis, haircuts – here's what we think is going to go down this year.

The Premier League is almost back. Last Sunday's Community Shield was the marker for the end of a summer that never really started, and this Friday night, the season kicks off proper with Man City starting their title defence at newly promoted Burnley. The league's return means the transfer window is only a few weeks away from closing, which means fewer people drawing up 38-tweet threads profiling press-resistant midfielders from Fenerbahce's U18 team. Let's get into some predictions for the upcoming season.

TOP 4 / RELEGATION CANDIDATES
Right, time to kick off with some future-gazing that will inevitably make me look ridiculous come May. Pep Guardiola's seven-year, UAE-backed, lab-controlled experiment to achieve footballing perfection will produce a silent death march towards the title and blow everyone else away. For me, he's the best manager the league has ever seen and Manchester City's treble-winning team are the best side. They'll walk it.
Put this one down to ​"gut feeling", but despite their Community Shield victory I predict that Arsenal will struggle to hit the heights they did last season. Their first eleven hasn't improved hugely, while clubs around them have. Same goes for Newcastle. I think Pochettino's Chelsea, unburdened by being in European competition, will make the top four, along with Manchester United and a resurgent Liverpool, even though Klopp's transfer planning has been shakier than in previous seasons.
The drop will be contested by five clubs: Luton Town, Sheffield United, Wolves, Bournemouth and Everton (again), with Luton, Sheffield United and Everton to go down, although I'd prefer it to be Wolves rather than the Toffees. I think Burnley under City legend Vincent Kompany will have a good season back in the Prem.

FIRST MANAGER TO BE SACKED
The 2022/​23 season was the most trigger-happy in history at boardroom level, with a record 15 sackings taking place. Being binned happens to more or less every football manager and the average reign of a manager in Britain has halved over the past decade. Wolves manager Julen Lopetegui has already left via ​"mutual consent" without a ball even being kicked. So this season, people are going to get shoved through the trapdoor – but who?
Bournemouth's recently appointed manager Andoni Iraola is already up against it, the darling of a new Texan chairman, Bill Foley, who callously got rid of fan and player favourite Gary O'Neil after he'd kept them up (O'Neil's going to Wolves). Foley has proved he's happy to be ruthless so if they're looking primed for the drop as we head into winter, then Iraola's tenure could be short.
Everton's Sean Dyche – a good manager – could be the fall guy for an owner, Farhad Moshiri, who has no idea what's going on. Ange Postecoglou has been thrust into a hostile environment called Tottenham and you wouldn't bet against Levy's stupidity getting rid of the new guy before Christmas. David Moyes and West Ham have always felt locked into an unhappy marriage – just about surviving but always on the verge of divorce. Even though Erik ten Hag is widely considered to have done a fantastic job in his first season at United, there is the looming spectre of a takeover. If the Qataris seize control of United and his side starts the season poorly, then who's to say that they won't try and bring their own man in? Granted, this one's a bit of a wildcard.

WHICH CLUB WILL BIG SAM ATTEMPT TO RESCUE?
Bournemouth. After the ​"prodigal Spanish tactico" experiment fails, Foley, revolted by his own naivety, will bring in Big Sam to protect the Cherries' Premier League status. He was relegated last year with Leeds, but given that he was only there for four games it doesn't seem fair to stick that on the CV. Big Sam, seduced by the idea of life on the south coast, will take the gig in what will prove to be his last job in football, playing four-four-two, keeping Bournemouth up on the last day and celebrating with pints of Pinot Grigio on the seafront.

GROUND WITH THE WORST ATMOSPHERE
Last season at Goodison was a hotbed of bad vibes, notable for the ​"phantom headlock" (the board's accusation that a fan put former chief executive Denise Barrett-Baxendale in a headlock at a game) and fans surrounding players' cars in the street demanding they get out to explain themselves as they teetered on the brink of relegation. Frank Lampard had a haunted demeanour in interviews towards the end of his reign, explaining tactical failures with the expression of Dean Gaffney being told by a hysterical Ant and Dec that he's about to have cockroaches poured on his head.
So far this summer, they've only signed 38-year-old Ashley Young and Villareal striker Arnaut Danjuma, who binned them off last season on deadline day for Spurs (nine games, one goal). They're also being linked with a Sporting Lisbon striker who scored three last season. Everton are a great club, I like Sean Dyche and I'd genuinely hate for them to go down, but their fans have had the piss taken out of them for years. Unless they sign some players, there's a chance it could get toxic (again). My vote for the worst atmosphere, an inferno of negative space.

PLAYERS MOST LIKELY TO SURPRISINGLY MOVE TO SAUDI ARABIA IN JANUARY FOR OBSCENE MONEY
The Saudi project feels so much ​"realer" than China's attempted expansion into the beautiful game via cash-drenched contracts and astronomical transfer fees a few years ago. The Chinese Super League managed to pull in B‑listers like Marko Arnautovic, Oscar and Odion Ighalo, compared to the Saudis coaxing Ronaldo, Karim Benzema, N'Golo Kante and, Riyad Mahrez to the desert – legitimate superstars who are certainly standing at the top of the hill but aren't quite over it.
My bet is that the Saudi league will be a competition that's taken seriously within a decade. Alongside the headliners, its clubs will continue to lure under the radar players to bulk out the league's quality. Enter Dominic Solanke's quiet January 2024 departure to Al-Ettifaq for £45 million. Steven Gerrard tried to sign him when he was at Rangers and he loves an ex-Liverpool connection. Decent striker, 25. Money doesn't matter – could be £45 million, could be 450 – but ​"SOLANKE IS ETTIFAQI" is coming to a screen near you.
Gigantic left-back Dan Burn is a chess piece I can see being moved around by the PIF, the Saudi sovereign wealth fund that owns 80 per cent of Newcastle United. The Geordie lad who got his dream move back home last summer after being released aged 11 might find himself surplus to requirements as Newcastle ramp up their bid to become a sporting superpower. They have just sold Allan Saint-Maximin to Al Ahli, a club also owned by the PIF, and I think Burn could go the same way, a minted martyr jetted off into the sun by employers he'll never meet, a data entry on a spreadsheet built to circumvent FFP. Al-Nassr in January, £23 million. Boy done good.

PLAYER MOST LIKELY TO GET HAIRCUT THAT MAKES ROY KEANE COMBUST
Manchester United's Alejandro Garnacho is a prodigiously talented footballer, an electric teenage left-winger with palpable ​"I'm him" energy and a Backstreet Boys aesthetic. He's also got inexplicable tattoos, like the cast of Prison Break. Halfway through last season he bleached his hair and started doing the annoying ​"siuuuu" thing when he scored. Now established as part of the first team, he'll have even more confidence to take his haircut to previously uncharted territories. Sporting a reverse mohawk, he'll give the ball away in the derby to let Foden score then, in the Sky Sports studio, Roy Keane will tell the nation how he'd have beaten him to death if he'd turned up to training looking like that. Micah Richards will be laughing. Roy will end his terrifying monologue with a knowing smirk at his colleague and, now, dear friend. I wonder if those two have sex? I hope they do. I love Super Sunday.

Manchester United have just signed Rasmus Højlund for £64 million (with a potential £8 million's worth of add-ons still to come). He's a 20-year-old striker that no-one had really heard of until three months ago, whatever Twitter's tacticos may have you believe. Despite the fee, his first season will be a grace period and the pressure for him to succeed is more on his manager than him. However, alongside arriving with an injury, he suffers from a condition called ​"not being Harry Kane", which is an added weight to the already enormous responsibility of being United's new No9.
Declan Rice is too good to not work out at Arsenal, even if he's not worth £105 million. Flop-wise, it's a crucial season for two players brought to the Premier League in 22/​23: Antony and Mykhailo Mudryk. Both are wildly expensive players that currently feel like luxury items degrading in value rather than the potential Ballon d'Or winners they were once talked about as being. Clearly they've both got something, but do they have it? Darwin Nunez curried favour with Liverpool fans last season for bolting around Anfield like a horse without a jockey but needs to deliver this year. Same applies to Jadon Sancho.

I want it to be Graham Potter. At times last season it felt like he had simply chosen the wrong sport, a decent man being swallowed whole by the amorality of elite football. It would have been hard for any manager to succeed in the chaotic cauldron of Todd Boehly's strange new Chelsea, but Potter didn't help himself either. In a press conference he revealed that fans had been sending him abuse via the email address ​"potterbastard@​gmail.​com". Just don't mention ​"Potter bastard"! No need! Still, he's probably a good manager, as well as being clearly an alright guy, and I'd hope that he gets another chance to prove himself, somewhere like West Ham once the goodwill that Moyes's Conference League victory generated has dissolved. Let's say early September.
Dele Alli has returned to Everton after an unsuccessful loan at Besiktas and a tell-all interview with Gary Neville, where he opened up about the traumas he suffered in his childhood – which have undoubtedly affected him reaching his full potential. I'd like nothing more than for him to rediscover his talent and love for the game, show signs of the player that humbled Zidane's Madrid in 2017 and play a big part in keeping Everton in the league.

CHAIRMAN TO BE DONE BY A FAKE SHEIKH
It's Todd Boehly. It's just so obviously Todd Boehly.

PLAYER TO LAUNCH AN ILL-ADVISED RAP CAREER

More like this