The changing face of UK shopping

Volume 4 Issue 001: The last decade has seen Britain's city centres radically altered, making way for a new breed and an experiential take on retail. But exactly who are these new malls for?
Arti­cle tak­en from from The Face Vol­ume 4 Issue 001. Order your copy here.
To drift through the middle of Leeds is to drift through several versions of ​"town" all happening at once. The city centre is almost entirely atomised, separated into distinct districts, each with its own name, history and target audience.
Trinity, which opened in 2013, is the largest and most popular of these shopping precincts, and the aimlessness we call ​"shopping" is everywhere: parents and children abandon Jack & Jones for lunch at Giraffe; vacant sixth-formers sift through the slim pickings of another Urban Outfitters sale. These are scenes of the unremarkable; the sort that fold away entire weekends like receipt paper.
In other ways though, Trinity is a future vision of ​"going into town". The centre's smooth walkways are wrapped around an atrium, at the heart of which stands a 15-foot metallic sculpture of a packhorse, drenched in dazzling silver light. This is still ​"town", but more pristine than in the past.
MARKETS ARE ANCIENT, SHOPPING CENTRES ARE NOT
In the 20th Century, malls became the primary model for shopping worldwide. While in America this meant out-of-town super-structures, in Britain, Victorian arcades and high streets were razed and brave new complexes were plonked in their place. Beginning with Jarrow, Tyneside in 1961, Arndale was responsible for some 23 centres built in British towns: concrete, Brutalist shells that sought to contain every consumer need in one rain-proof box. They transformed our towns and cities, but quickly became eyesores.
The cycle has been slowly starting again and over the past decade towns have been radically altered once more. New shopping centres have opened in the middle of British cities, often slap-bang next to their predecessors, offering a contemporary vision of commerce to a higher class of customer. It's a new, experiential take on retail. As big brands have jumped ship in favour of pastures new, the pre-millennium originals have been left to ruin. From Nottingham's Broadmarsh to Stafford's Guildhall, they've fast become retail graveyards, often with little more than a smattering of discount denim stores and a Card Factory.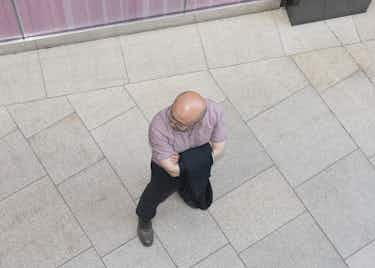 In July, the UK government announced the launch of a High Streets Task Force (an expert panel formed to help local authorities save town centres from ​"changing consumer habits") alongside a £675m Future High Streets Fund, supporting ​"local areas", plans to make their high streets and town centres ​"fit for the future". But as shiny new complexes continue to open and affordable shopping centres slowly deteriorate, the question of saving the high street is less how, and rather, who for?
Trinity, Leeds, was designed by Chapman Taylor, an architectural firm behind Britain's modern shopping mall aesthetic, masterminding Birmingham's Bullring (2003), Bristol's Cabot Circus (2008), the rebuild of Princesshay in Exeter (2007), the St David's Dewi Sant in Cardiff (2009) and the renovation of Oxford's Westgate (2016). All share consistencies: geometric glass ceilings, polished granite and exposed metalwork. Flooded with bluish light. Edgeless and refined. It's a look that points to where the shopping centre would go next.
Five minutes' walk away from Trinity is Leeds' newest shopping precinct. Built in 2016, Victoria Leeds looks more like an art gallery than a mall and has machines permanently buffing the floors. While not designed by Chapman Taylor, it has similar qualities: it's smooth, open and glassy. As well as Calvin Klein, COS and Charbonnel et Walker, it contains the largest stained glass window in the country, created by the artist Brian Clarke, and there's a Damien Hirst angel, wings spread, cordoned off by a low-hanging rope. A cluster of passers-by take photos while two smartly-dressed security staff watch on, walkie-talkies crackling.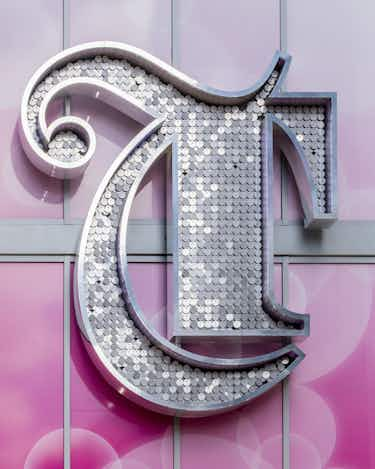 What's most striking, though, is the almost total quiet and lack of crowds. In the old shopping centres this minimal footfall might have been a cause for concern – a hallmark of irreversible decline. But in the retail world of the future this doesn't matter. Since internet shopping precipitated the ​"death of the high street", shops have taken on new meanings. Rather than focusing on selling things, they've become tools for building brand awareness. Mary Portas, the so-called Queen of Shops, coined an unintentionally chilling name for this new model of shop: the ​"brand temple". It's a phrase that speaks to the repositioning of retail as an experience, rather than an exchange.
The brand temples that fill Victoria Gate don't need to sell things because trade happens online. But, so far, the only businesses able to facilitate – or, perhaps, that are compatible with – the reimagining of the shop as a site of brand worship are the upmarket ones. Cities are increasingly going to be full of showrooms for the major fashion houses and Nespresso, Dyson and Apple, so if you can't afford their handbags or their hoovers, going to town isn't going to be much fun.
In Leeds, the echoes of retail history are not gone completely. Kirkgate Market is seconds from Victoria Gate. Opened as an open-air market in 1822, it was the site of the first ever Marks & Spencer, which opened in 1884 as a penny bazaar. Here, good old-fashioned 20th-century consumerism ticks along: carpets, ribbons, bowls of bananas, kitchen utensils, rat poison, wigs, hi-vis gear, piles of jeans, hot-dogs with soft-boiled onions. It's busier, and louder! The owner of a stall selling cookers breaks down the cost of an electric mini hob, while a butcher methodically lists the prices of the day's cuts. It's a reminder of the marketplace as a social environment.
Yet the scene at Kirkgate Market also feels quaint – anachronistic even – compared to the polished edges of its gleaming new counterparts. It's a past gently cooling in the shadow of the future. Glossy developments open next to decades-old arcades, ensuring their predecessors' slow slide into irrelevance. This picture is the same across the country: The Galleries (1991) in Bristol are a minute's walk from the shining Cabot Circus (2008) and Liverpool's St Johns (1969) is next-door to the newer ONE (2008).
Of course, there have always been districts pricier than others, but the trend is clear: across the UK, of the retail developments of the past 10 years, ground has increasingly been ceded to high-income consumers over the everyday shopper. These centres – many built within a year of the financial crash – illustrate the gradual fracturing of the high street into distinct economic and sociocultural quarters.
Coal Drops Yard, which opened last year in London's King's Cross, is perhaps the most dramatic example yet. Throughout the 20th Century, the railway arches it now inhabits had housed everything from coal to raves. Now, thanks to Thomas Heatherwick's elegant design and the presence of brands like A.P.C. and Aesop, this grubby past has been smoothed over in favour of a curated future.
Perhaps the Westfield Group, which owns two centres in London, as well as Bradford's Broadway, disproves this decline. After all, these are centres that contain, in Stratford City's case, everything from an Arket to a Coral bookmakers. But even there, a cursory coast along the walkways suggests the same separation. It's the food courts or the JD Sports that fizz with activity, while the upper echelons of fashion and perfume – often physically on higher floors – are practically serene.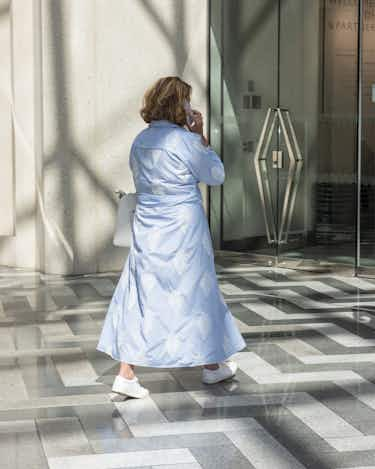 Whether shopping centres can be understood as public spaces is questionable. They are ultimately businesses, so to consider them as sentimentally as we do parks or plazas is perhaps naïve. But they are also significant. For better or for worse, our towns and cities are built around shops and shopping culture. If we accept a future where cheaper shopping takes place entirely in the digital sphere, and where familiar brands like M&S and Debenhams are replaced by big-brand temples, then we accept a world in which the everyday shopper is tacitly edged out of civic life.
We'll always be drawn into town. Even if the day comes when trainers are drone-flown directly onto our feet, there will always be time to kill. There will always be a centrifugal force pulling us back to the splash of fountains, the smell of candied nuts, the cackle of doomsday preachers through amplifiers somewhere in the middle-distance. What is waiting for us – how welcome we feel – when we get there will play no small part in defining the changing surface of our lives. Call it experiential retail or enforced window-shopping; the future, it seems, may not be for everyone.

More like this