This Is England… Probably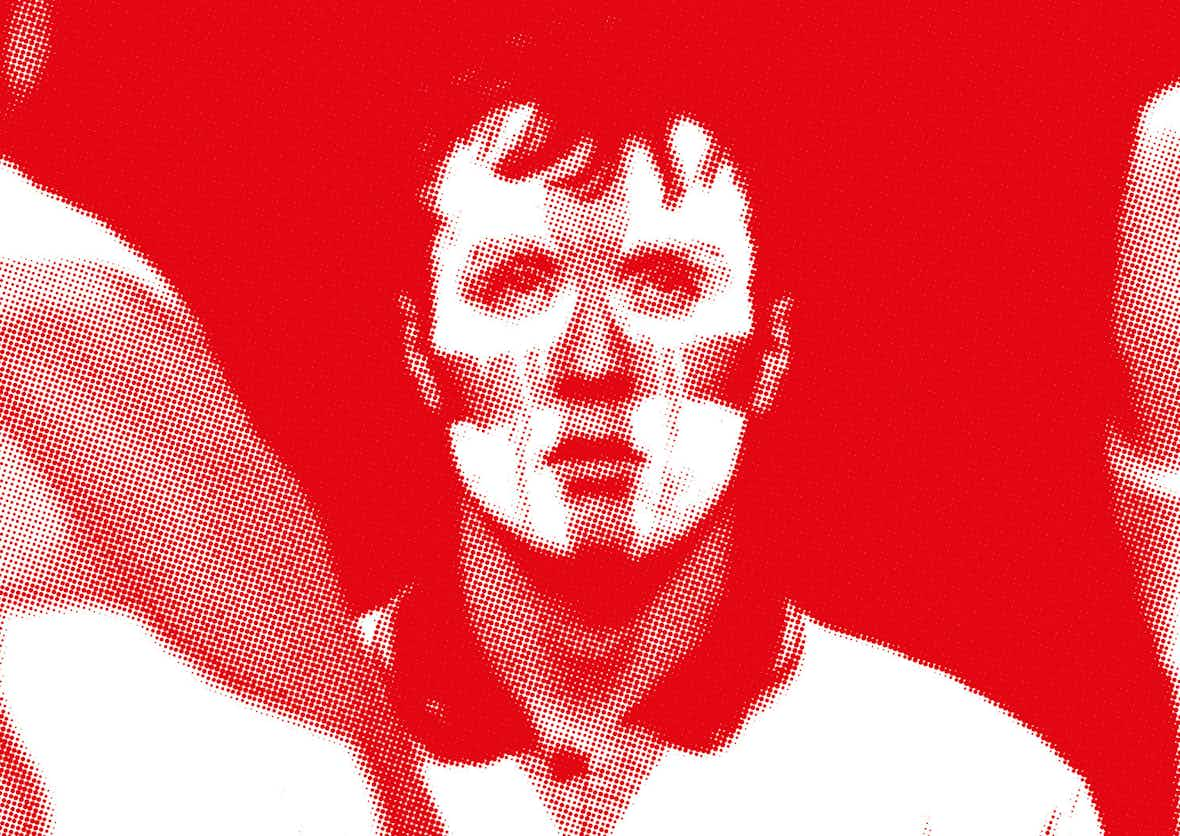 Just over a year ago, the England team were heroes. Now they're heading to a World Cup mired in death and corruption, with a palpable lack of "it's coming home" energy.

Just over 16 months ago at 8.02pm, things in England briefly seemed alright. At Wembley, Luke Shaw had just scored the fastest ever goal in a European Championships final against Italy, and pubs across the nation exploded. It was a heady, unhinged moment during a summer that'd risen out of a brutal lockdown earlier that year, but was still in the clutches of the ​"rule of six", endless lateral flows and social distancing signs. Shaw's goal was scored too soon, enough time for England to overthink, to let wily, hard operators such as Giorgio Chiellini and Leonardo Bonucci throw their weight around and dominate the saloon all the way to the shootout.
This iteration of the England team was generally adored: young, talented, nice in a way that didn't feel cloying, a wolfpack of potential led by a manager whose relationship with the public had long managed to move beyond the heartbreak of Euro ​'96 and his famous penalty miss. What a time it was, a period punctuated by flashes of anti-heroic national pride and feral freedom: a man in a bucket hat up a tree snorting coke in front of a cheering crowd, Stormzy turning up at a fan's afters, Barry from Eastenders performing Mustang Sally at Boxpark Wembley before the Denmark game. Are these moments really any good? It didn't matter then.
By the end of the final on 11th July, the curtain was pulled back to reveal an England that had been there the whole time. Black players racially abused on social media, an investigation into thousands of fans that had stormed the stadium, the creepy commiserations of a populist prime minister who'd weeks earlier failed to condemn supporters who were booing players for taking the knee. Football is as strong an opiate of the masses as any religion, and a major tournament a month-long retreat during which a nation can forget who it really is, or hide it.
After the comedown of the summer, the England team drifted into the back of people's consciousness. Nations League fixtures emerged, like a flatmate turning up with cans just as you're going to bed, and ​"Gareth" became ​"Southgate" again. Goals dried up, performances were anxious, stale, and the team's form quietly nosedived to little fanfare; losses against Hungary and Italy, a draw with Poland, routine wins against Andorra and Albania, with that game only notable for Harry Maguire's fuck-the-haters-fingers-in-ears celebration directed at his numerous critics. But was anyone even watching?

Over the 18 months following the Euros, the side became slightly unknown again, one step outside the national psyche. As the country churned through endless turmoil, doubts about Southgate were left to ferment, and the absence of meaningful competition only strengthened them: complaints he had an easy run to the final, a frustration he didn't know how to use our attacking players. The buzz turned to hum.
It's fairly possible that this will be Southgate's final tournament in charge of the England team, and despite heading to Qatar with some highly-regarded players, there's a palpable lack of expectation, an obvious absence of ​"it's coming home" energy.
This is of course partly to do with the situation, a World Cup mired in corruption and death that's taking place in December. World Cup 2022 has the feeling of a looming wedding that you can't be arsed going to, an atmosphere of apprehension and, at least in my case, apathy. Even if this spectacle was signed off way back in 2010, there's a distinct Super League feeling to proceedings, an inevitability about the direction of the world and the sport, a sense that the Illuminati might be real. Everyone knew what was happening, everyone knew it was terrible, but the show went on regardless.
I could happily live the rest of my life without hearing the phrase ​"unprecedented times" again, but there has never been a World Cup at this time of year and I'm curious to see how it plays out in England. A group containing the US, Iran and Wales mixes local rivalry and geopolitical tension, but still I can't imagine people belting out Sweet Caroline on the streets in the midst of winter. The new Three Lions (It's Coming Home for Christmas) edition contains the lines: ​"When they decided on Qatar /​Should have checked VAR /​It's too hot /​And too far". Reject modernity, embrace tradition.

It's taking place when living in England itself feels like a laughing stock: three prime ministers in seven weeks, a public being relentlessly ripped off, a conveyor belt of cartoon villains who fall in and out of power, occasionally appearing on our feeds to say something like ​"heating is woke", launch an assault on tofu, or to whip up excitement about sending people to Rwanda.

Everyone's knackered, everything's divided. The Queen's death revealed England's identity issue. An island of myth and mantra, a teddy bear from Peru hoisted up as a grief totem. A monarchy that's fading into insignificance, a nation mourning the future as much as it is the past. Screwfix posting its condolences. A king barking at his subjects over leaking fountain pens.
During a glaring crisis of global leadership, Southgate at least appears dependable – principled, committed, honest, perhaps a little risk-averse, but ultimately someone to get behind, even if he's no maverick tactician. Bielsa-ball this won't be. The England squad has gone to Qatar as a strange entity, one that contains a smattering of elite players, some with extraordinary potential, and others that are woefully out of form.

The pervading perception is that Southgate does not have the managerial mind to win the World Cup against the French or the South Americans, and despite this team being a young one, the feeling is that it's running up a tab at the last chance saloon. People will watch this bizarre event, a pallid parade of artifice with the atmosphere of a homophobic LinkedIn conference. Does anyone really care if it comes home? Where even is that?


More like this