Alyssa Groeneveld is the designer turning footie kits into proper ​

'

fits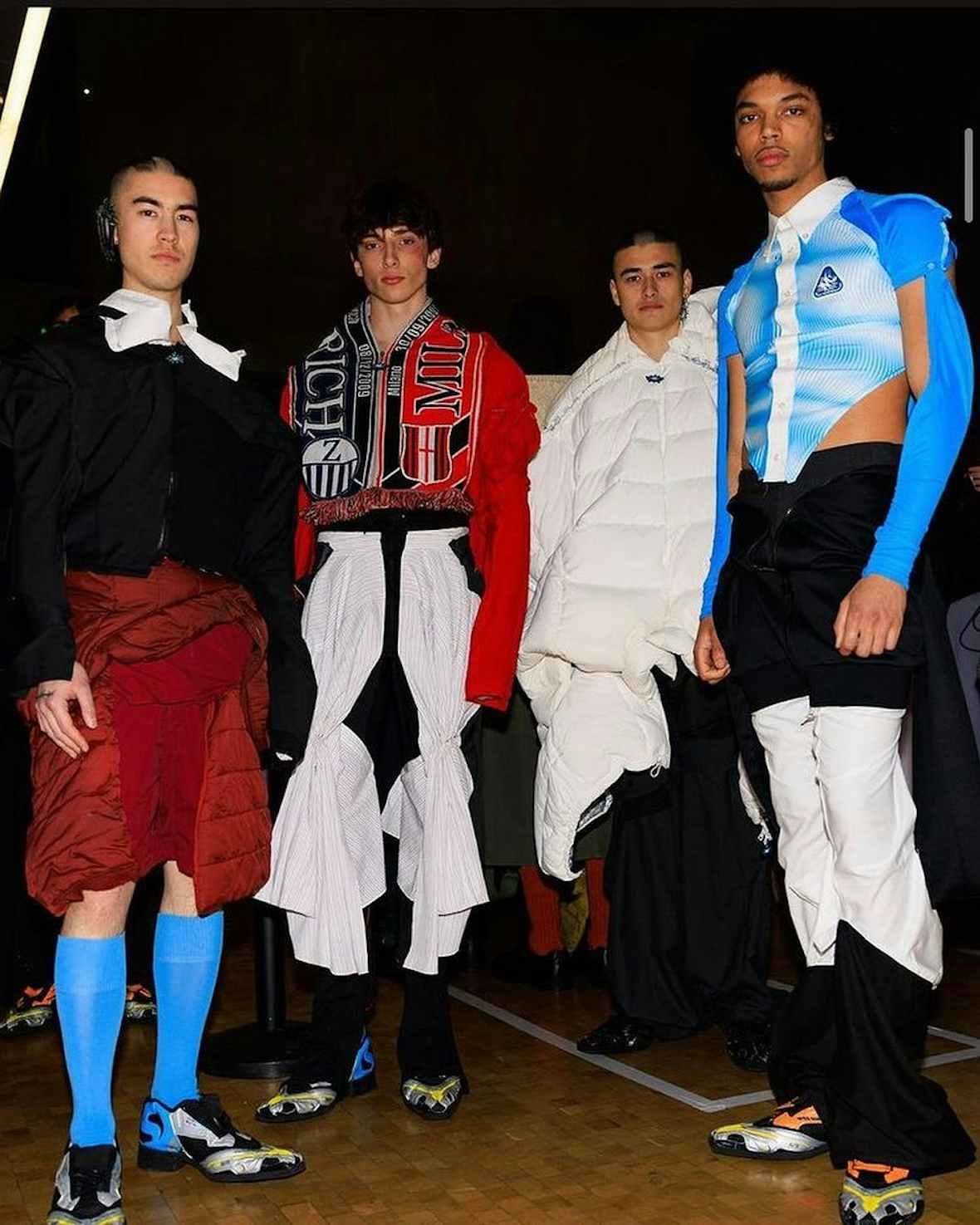 Off the Rails: This week, we meet Dutch designer Alyssa Groeneveld, whose graduate collection scored praise on and off the pitch, challenging modern masculinity in the process.
These days, sportswear is more widely associated with the innovative designs of emerging fashion talent than it is with boring leggings and hoodies. Designers like Central Saint Martins grad Alyssa Groeneveld, for example, are taking the category's traditional tropes and shoving them through the shredder. Reimagining sportswear has rapidly become a favourite exercise for the fashion pack, as they find new means of making pieces that bolt past the finishing line by breaking new ground.
Groeneveld's final menswear collection at CSM was a mash-up of football kits and scarves, tech-wear and puffer jackets. For her, making of a new kind of sportswear – more rooted in emotion – hit close to home. ​"My dad always brought me to football games when I was younger," she says. ​"I remembered how I identified with masculinity [in terms of] anger and aggression, but also the brotherhood and love that is shown there. You see a lot of emotion in stadiums."

There was nothing linear about Groeneveld's collection, with a shirt and tie in one look, a chopped-up footie top in another and a white shirt attached to the side of tailored trousers also cropping up. But throughout the whole thing, there's a consistent sense of frustration in the construction of each garment, an anger in their mismatched layering and blown-up puffers. ​"You can see the club manager, the streaker, the hooligan, the normie supporter and the people who are in skyboxes. There are varying [types] of masculinities in there, but the behaviours are kind of the same."

Groeneveld grew up in Rotterdam listening to hip-hop and watching the genre's highly-produced music videos on TV, falling in love with the extravagant clothing, XXL styles and brand allegiances favoured by rappers in the early-00s. ​"I thought, ​'I'm going to start a streetwear brand making t‑shirts, hoodies, everything!' That was the main reason why I started fashion, to be honest," she remembers. ​"Then I started looking into brands and there was just a whole different world out there."

After studying fashion at the Willem de Kooning Academy in her home city, she moved to nearby Amsterdam at 22, joining forces with four other friends to start a now-disbanded design collective, Reconstruct Collective. The move was a reaction to the Academy's decision to not host a graduate fashion show for its students. Instead, they raised money and hosted their own.


But being part of the collective didn't exactly rake in the cash. After some years of designing collections, creative directing and struggling to pay rent, Groeneveld decided to go it alone and applied to Central Saint Martins' MA course. She'd always wanted to do a masters, anyway.

"[Reconstruct] did really well at the beginning, but there was no time for me to do an MA. Now I'm actually doing what I really wanted to do – for myself," she says.

Moving to London two years ago, in the middle of the pandemic, Groeneveld sunk her teeth into the MA, an admittedly ​"amazing but unexpected" experience. ​"I arrived really confident, thinking it wouldn't completely destroy me – but it did!" she says.

But the challenge helped Groeneveld realise what kind of designer she was, as she began questioning her own masculinity and femininity, the spiritual beliefs she inherited from her Filipino mum and the emotions she inherited from her Dutch dad. ​"We had to write a manifesto and [while doing that] it became really clear to me that, actually, because of the roles of my parents and how they influenced me, I had always been living in duality."

"I'm half-Filipino, half-Dutch. I don't know my sexuality – I'm not straight but I'm also not a lesbian," she continues. ​"There's always this middle point and that is what I try to highlight. You don't have to be whole and, with that, I feel like I can reach more kinds of people."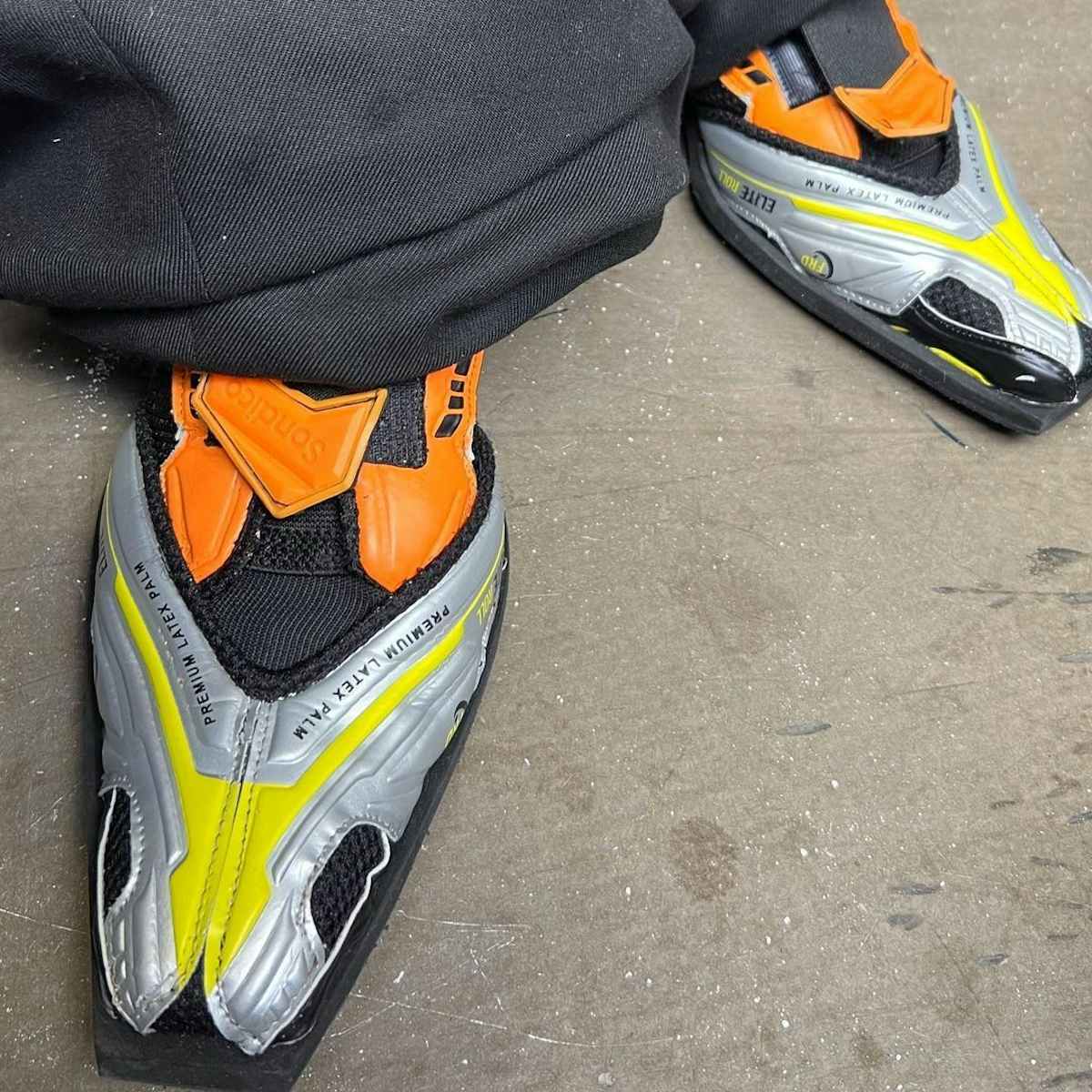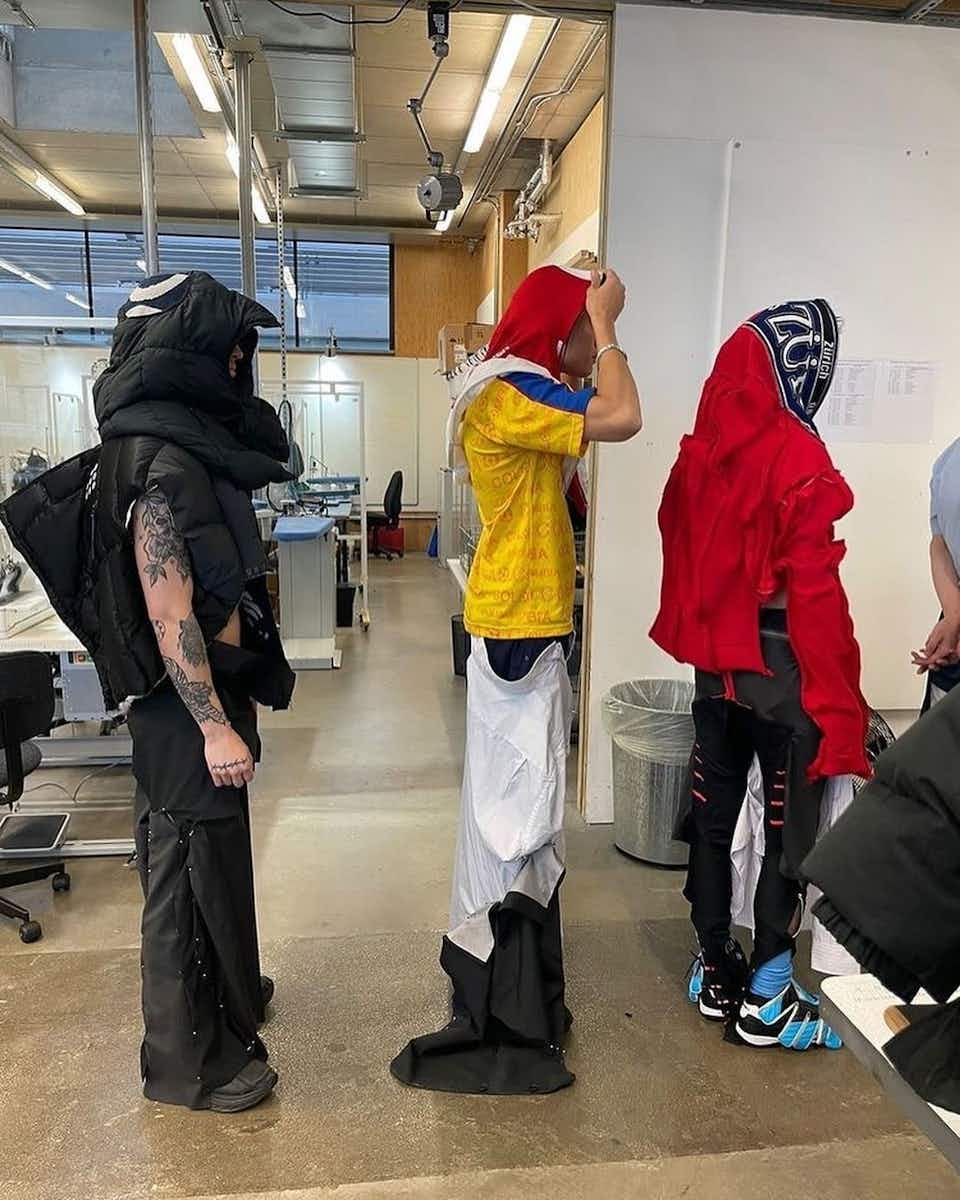 Her collection ended up being an amalgamation of the anger, frustration, passion and unity that comes out of a football game, dodging the ​"middle point" by shoving all sides together and throwing them in a blender. Her early influences, like Hood by Air and Comme des Garçons, and the learnings of her pre-MA internship at Nasir Mazhar can be found in the details – the futuristic shapes, the draping of fabrics and, above all, the challenging of modern masculinity.

She scored with the footie-inspired collection, but Groeneveld's not sticking around on the pitch for long. Next, she's taking on the Tube and all the characters that ride it each day. ​"It's about the emotions and how people act, putting these different people together," she says.

But for now, we go Off the Rails with Alyssa Groeneveld below, where she fawns over London, raves about Kendrick Lamar's latest album and meditates the morning blues away.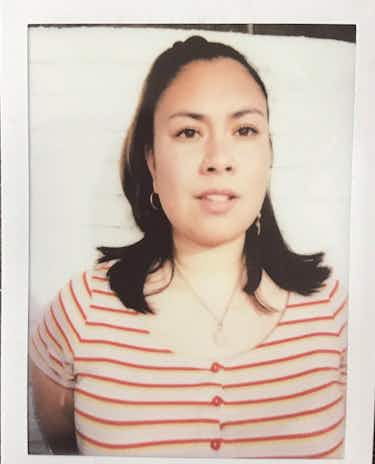 What's your motto in life?
Be kind and honest. You don't know what people are going through and I think it takes the least energy to just be yourself!

Who would you most want to see in your clothes?
A$AP Nast.

What do you reckon you'd be doing if you weren't a designer?
I think I'd be a beatmaker. I'm actually more inspired by music artists and how they think than fashion designers. They're more authentic and more real about their personal experiences.

What's the last film that you watched?
Probably White Chicks… I watch it every six months or something.

What gets you out of bed in the morning?
Mostly meditations and prayers, then I'll call my best friend.

What do you currently love and what do you currently hate?
I love London and I hate that I'm struggling with money.

What do you listen to in the studio?
During my graduation collection, I had so much anxiety, so the only person that really calmed me down was Tyler, the Creator. But I also listen to a lot of Mustafa the Poet and Ye. I think for my upcoming collection, I'll probably be listening to Kendrick's new album – it's so good!

What is the best city to let your hair down in?
Rotterdam. The people are honest, real and bold. Don't fuck with them! But they're also super open and funny.

What five famous guests would you invite round for dinner?
Joe Rogan, Ye, Kris Jenner, Raf Simons and Kendrick Lamar.


More like this