Hackers paradise: Balenciaga's out-and-out ode to appropriation

Demna Gvasalia's SS22 offering for the French house probes at the line between the fake and the authentic, with "Gucci" bags, Divine inspiration, deepfakes and pure power looks.

In their droves, Balenciaga fans tuned in to see what Demna Gvasalia had up his sleeve for SS22 last night – and not just in terms of the clothes. Given that last season the Parisian house's creative director launched a fully-fledged video game to showcase his collection, expectations were high for what is hoped to be the final digitally-presented fashion week before IRL shows can resume.
And Gvasalia didn't disappoint. In every sense, the Balenciaga Clones collection probed at the boundaries between the real and the unreal, the authentic and the fake, in a mesmerising critique of today's frequently doctored reality.
"We see our world through a filter – perfected, polished, conformed, photoshopped," the show's opening notes read. ​"We no longer decipher between unedited and altered, genuine and counterfeit, tangible and conceptual, fact and fiction, fake and deep fake."
Cut to a bright white presentation space, with a maskless audience wearing all-black. It didn't take long to realise that we were watching a simulated fashion show, albeit an incredibly realistic one.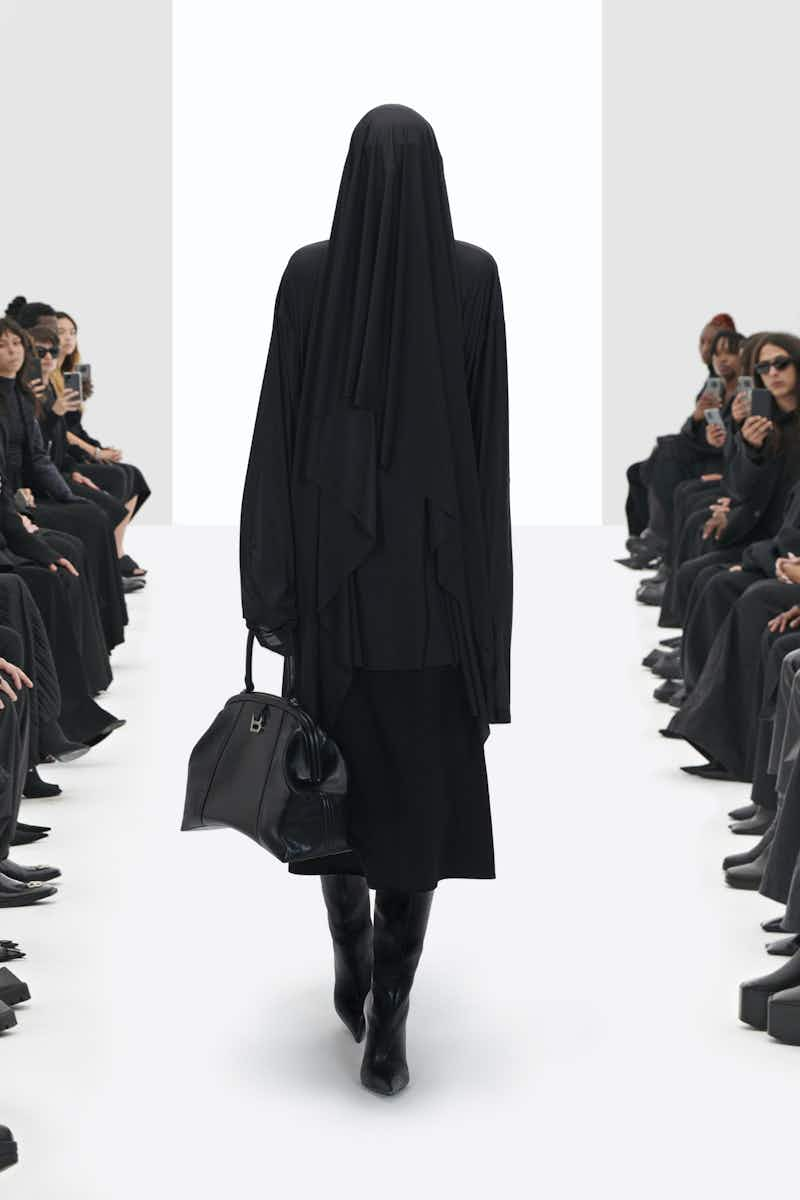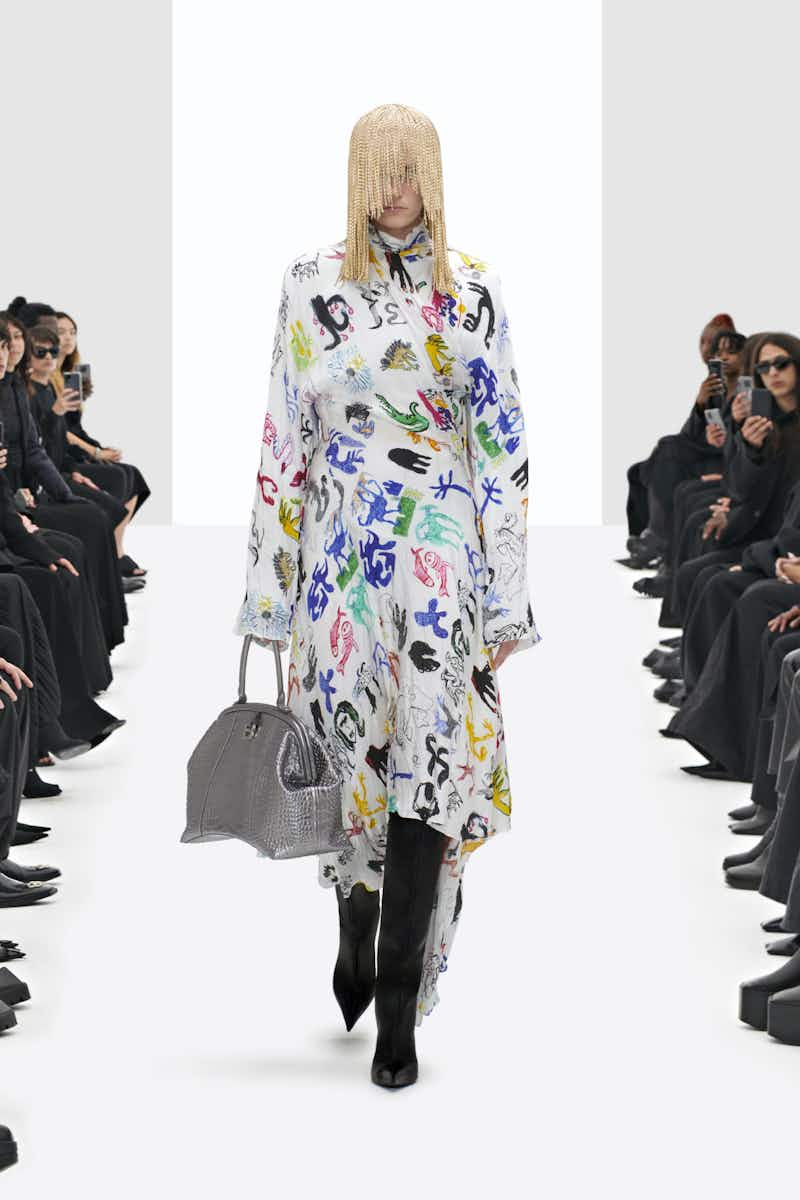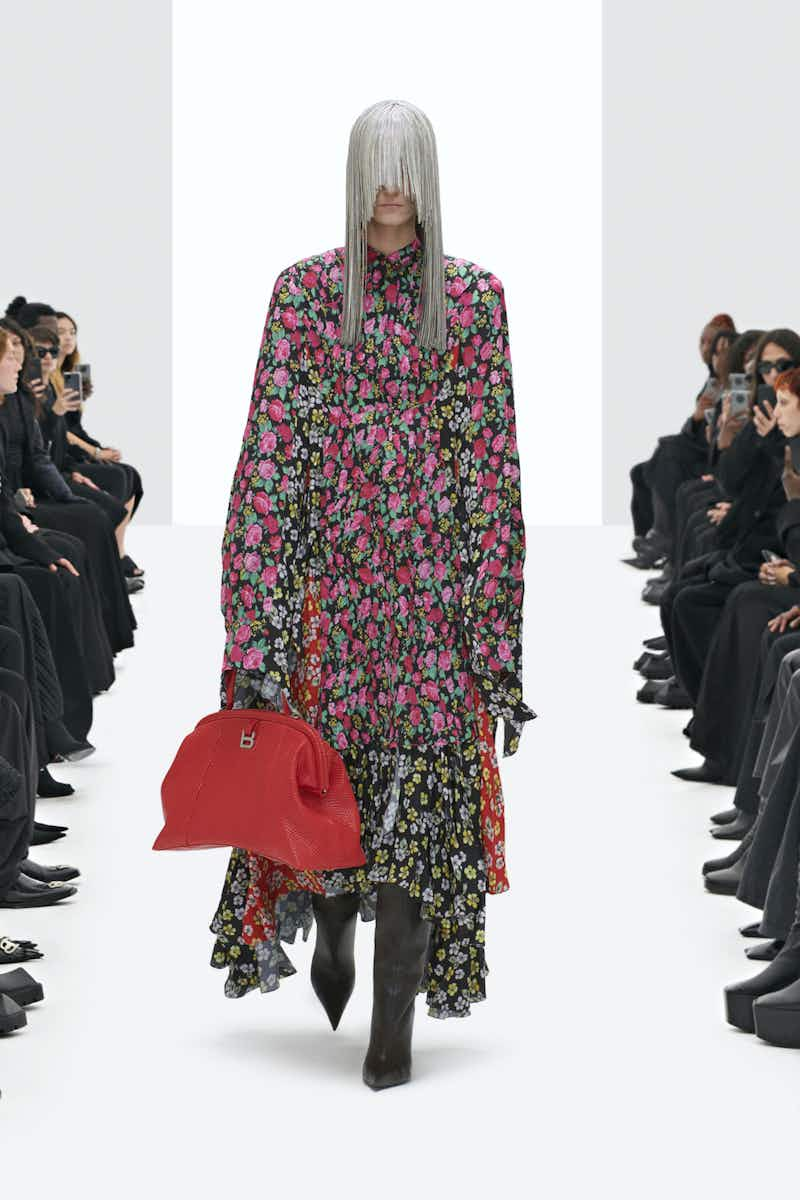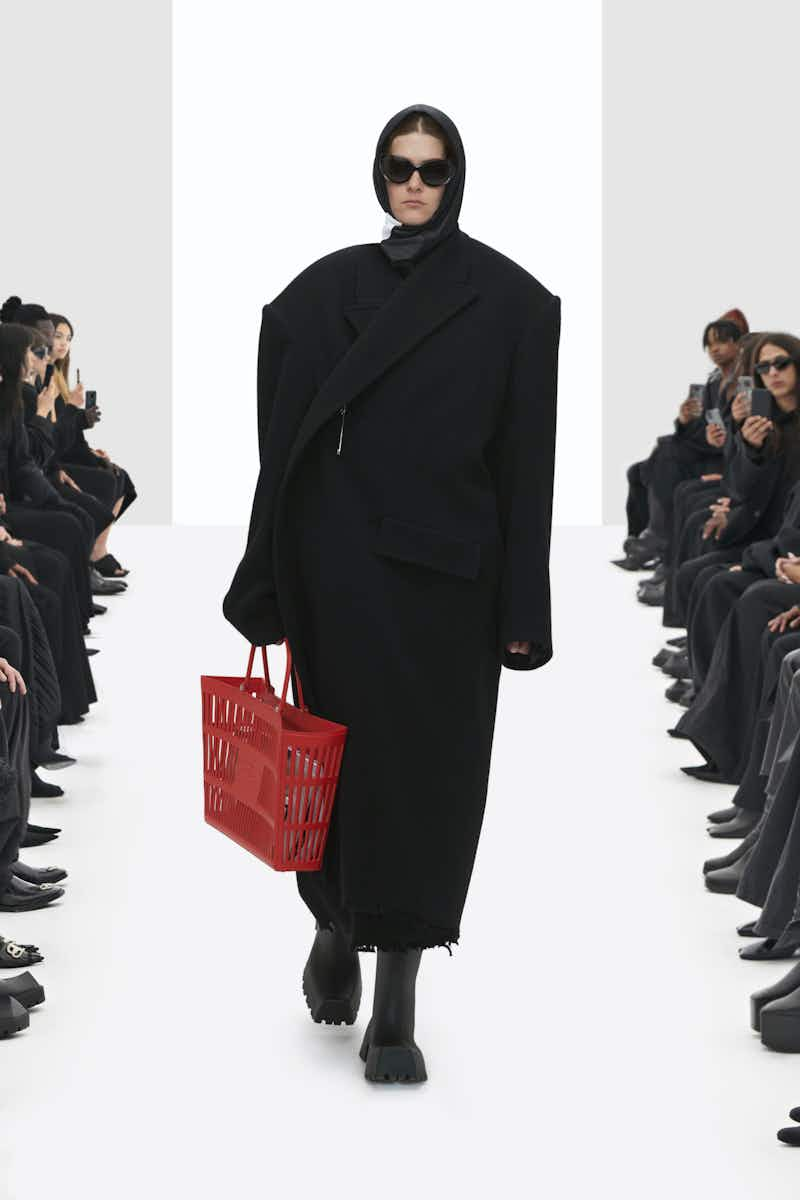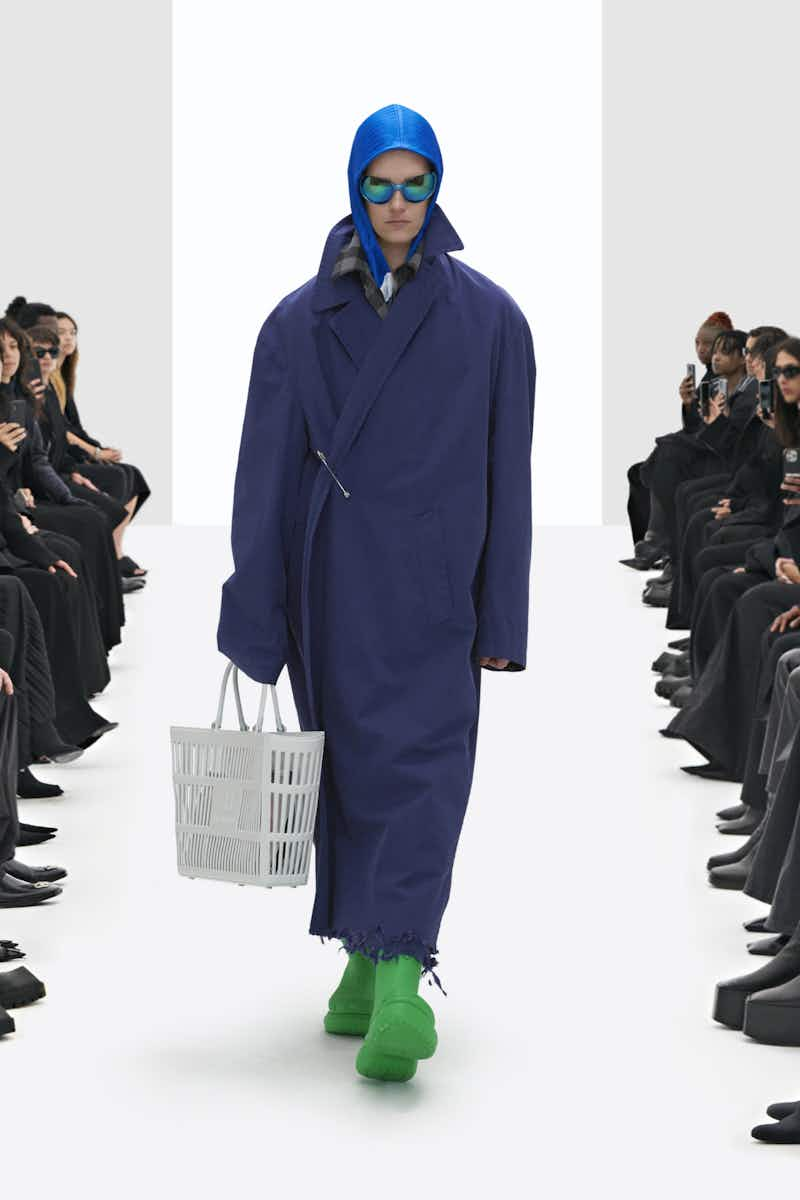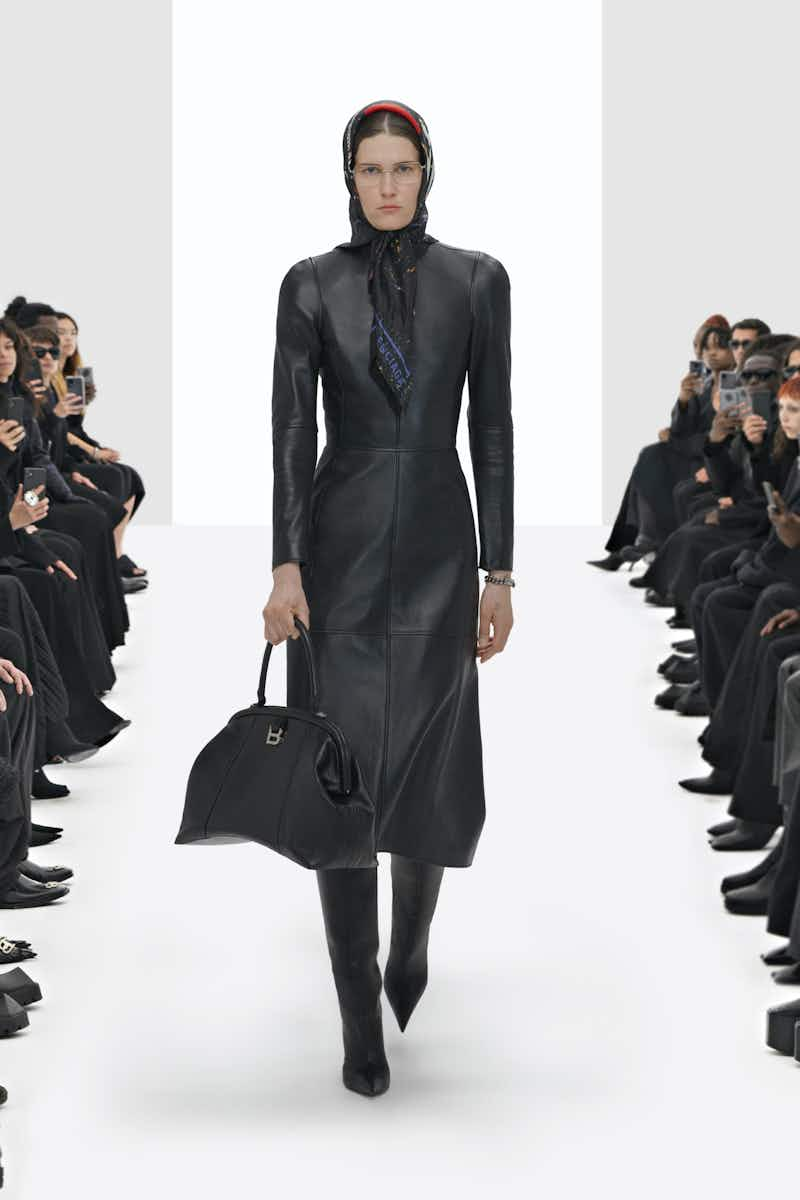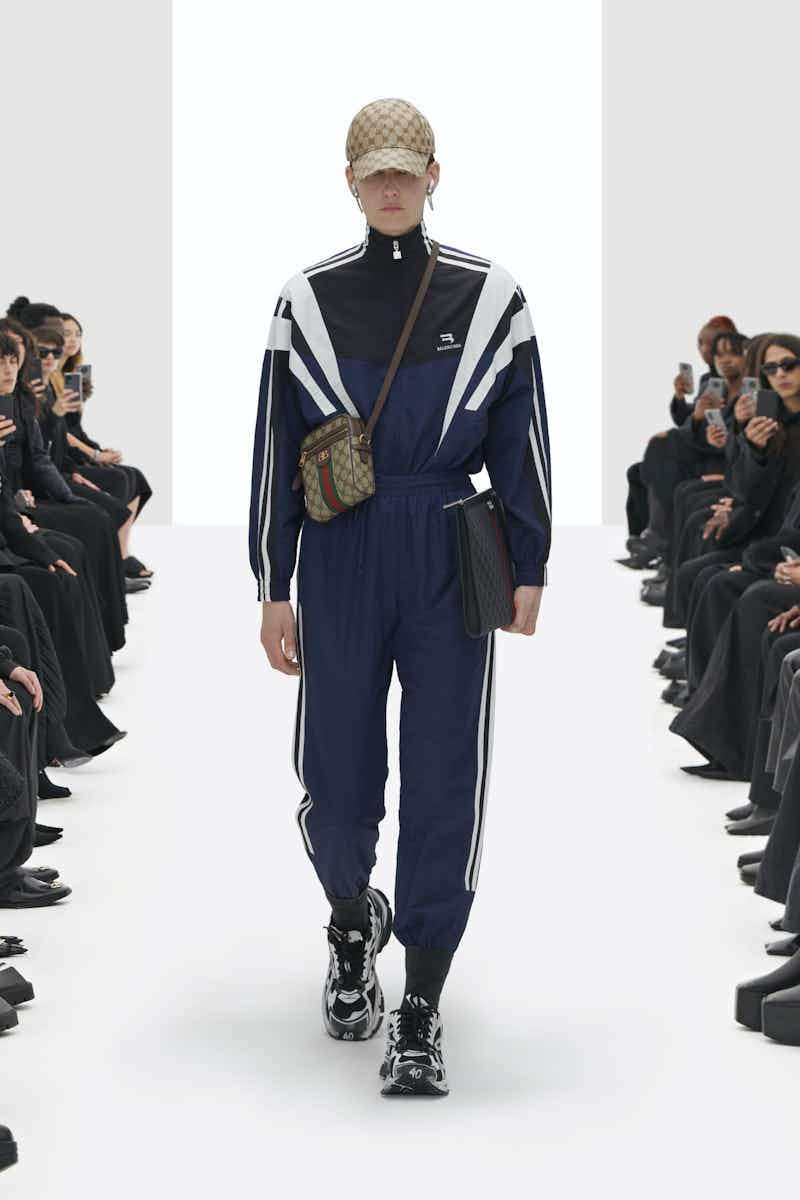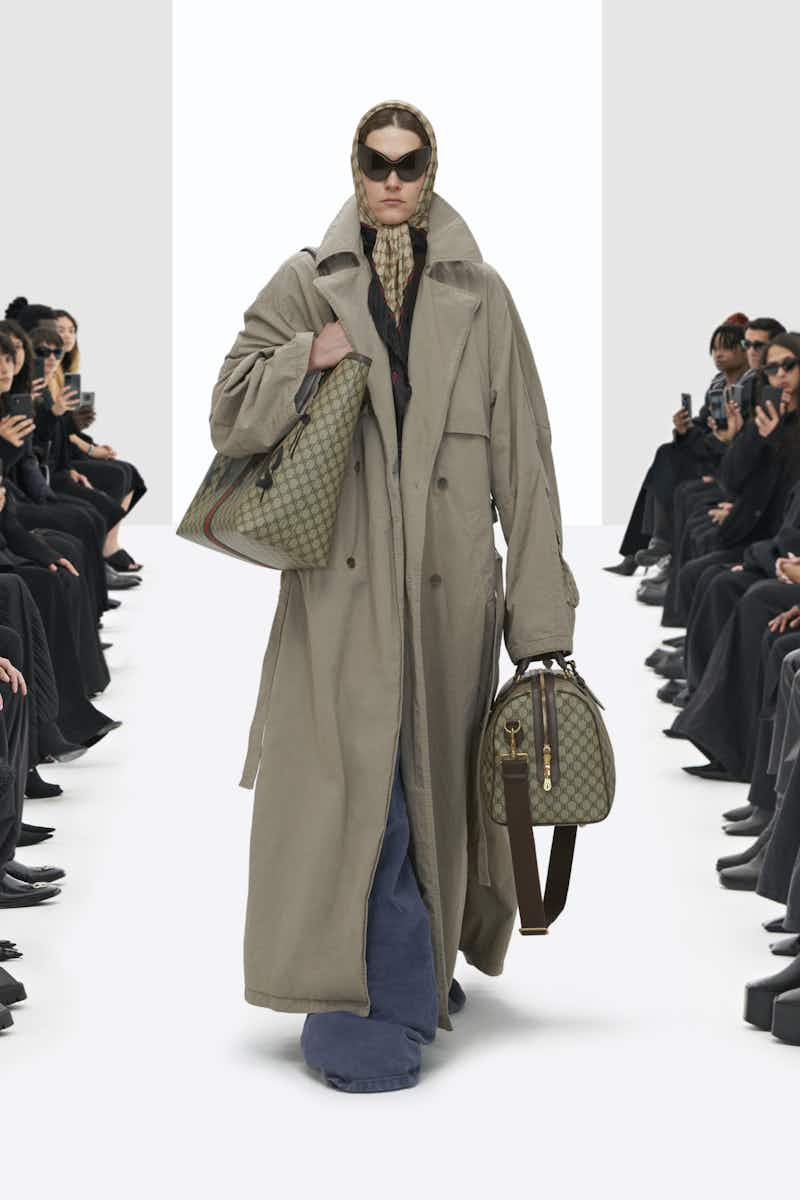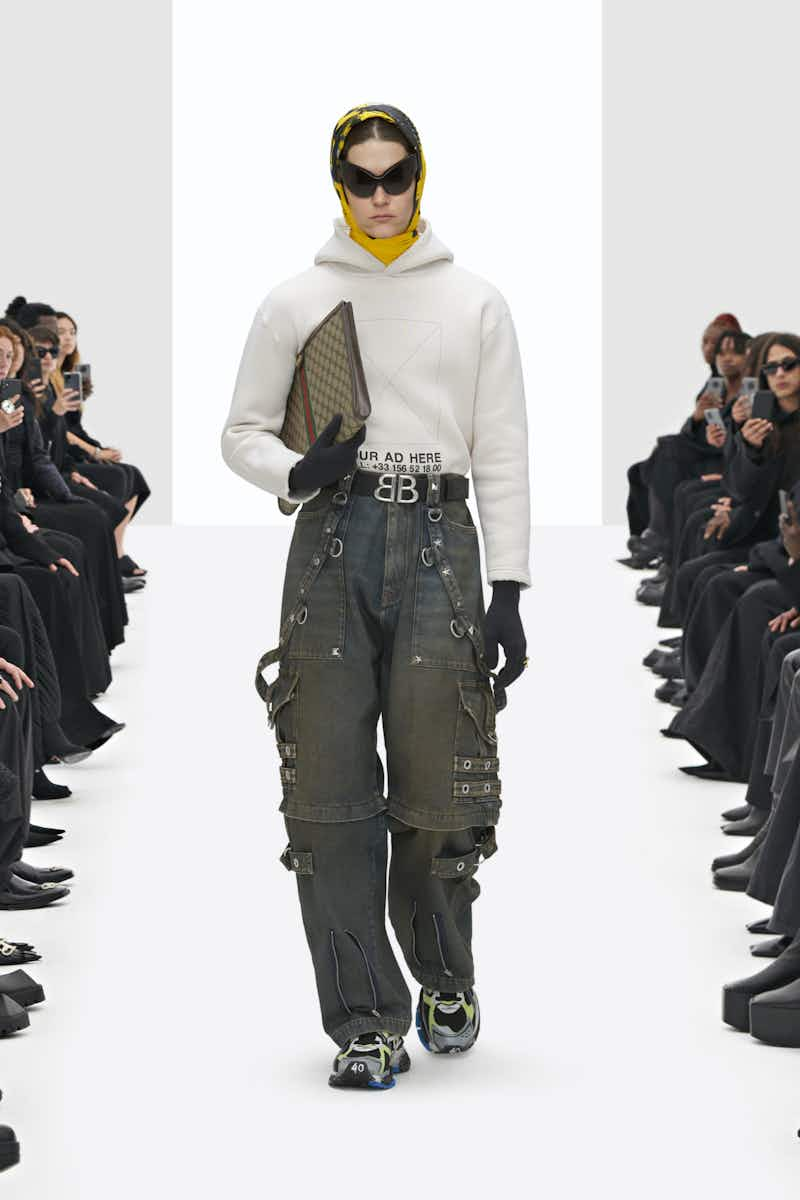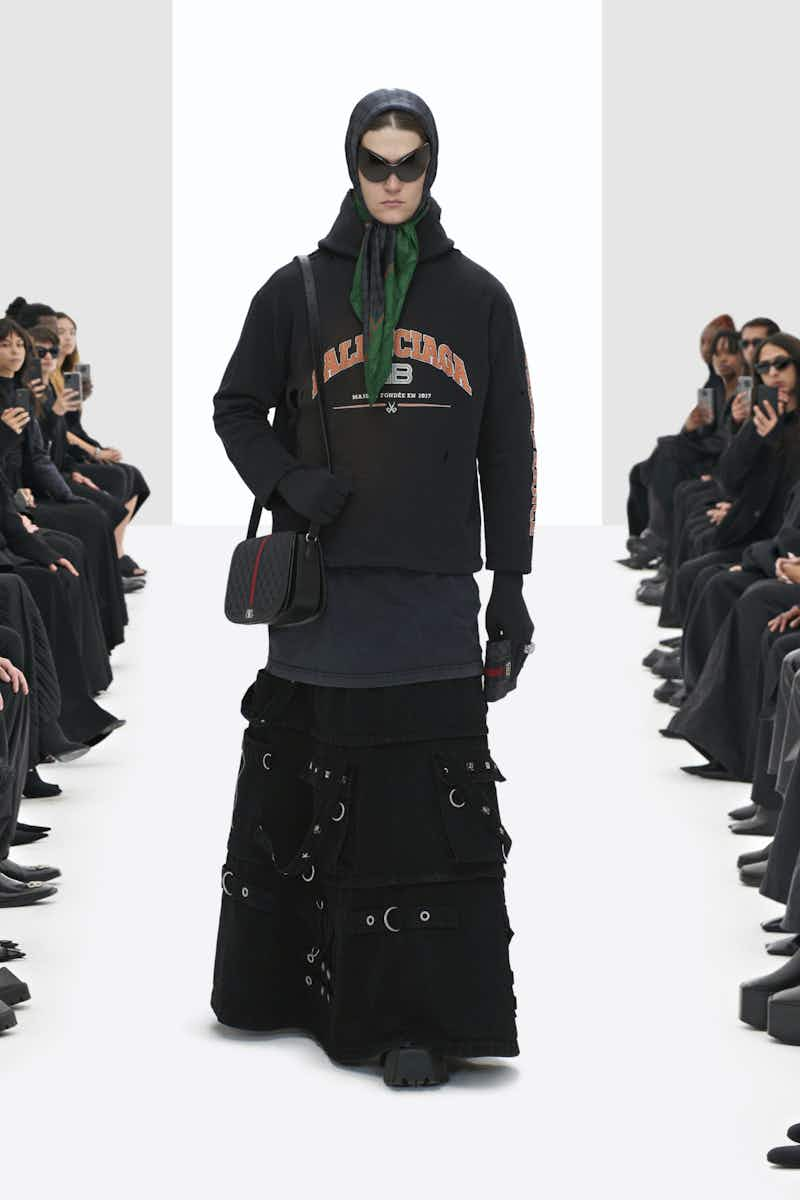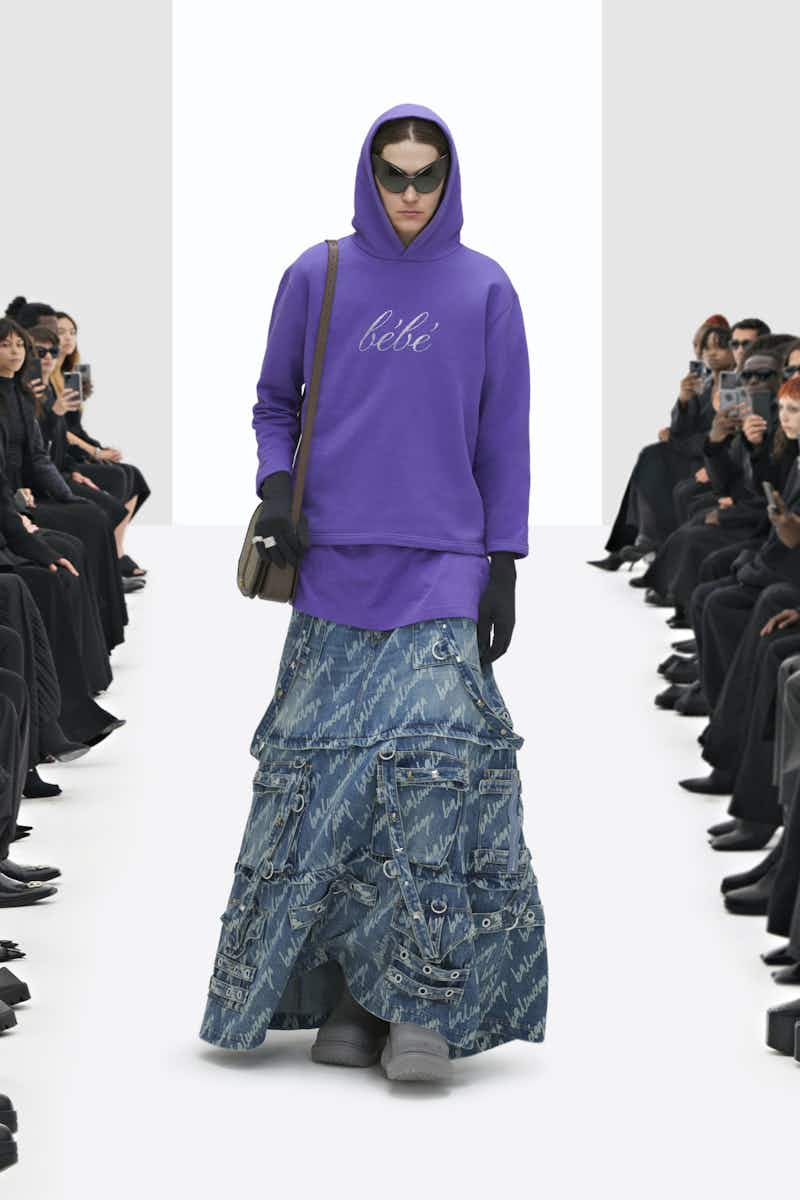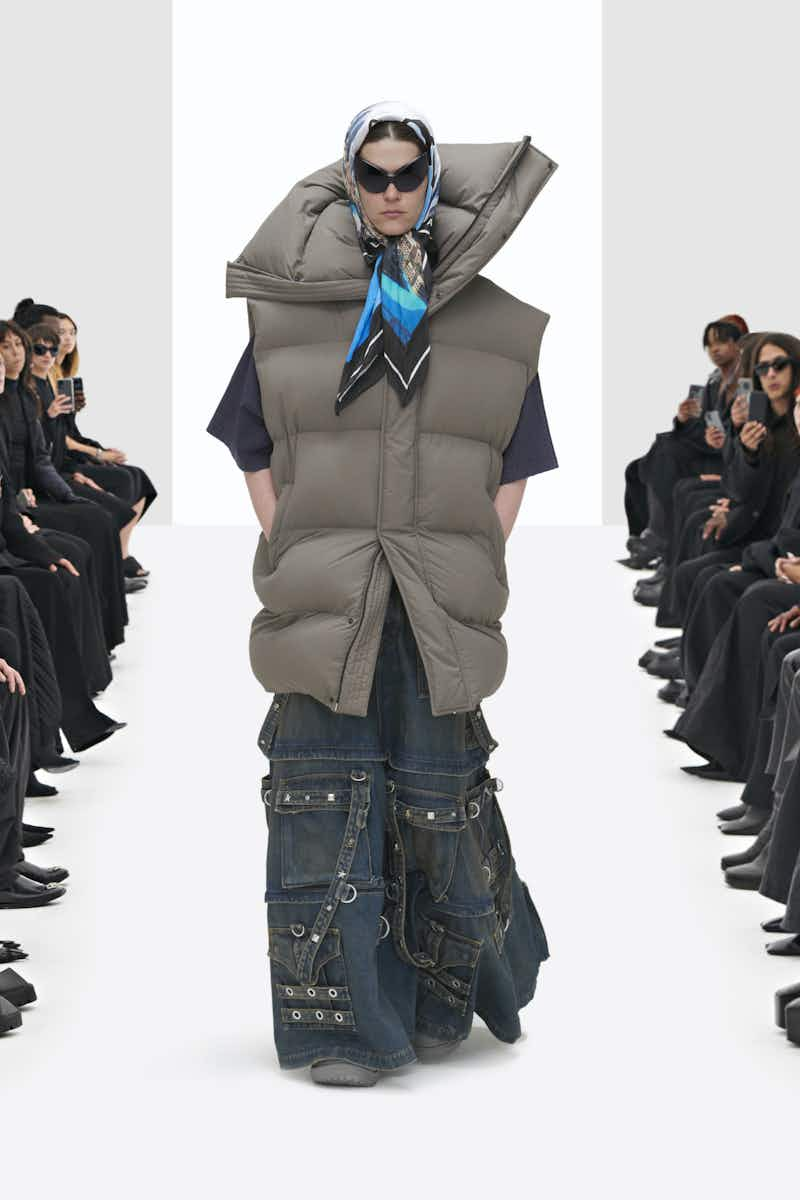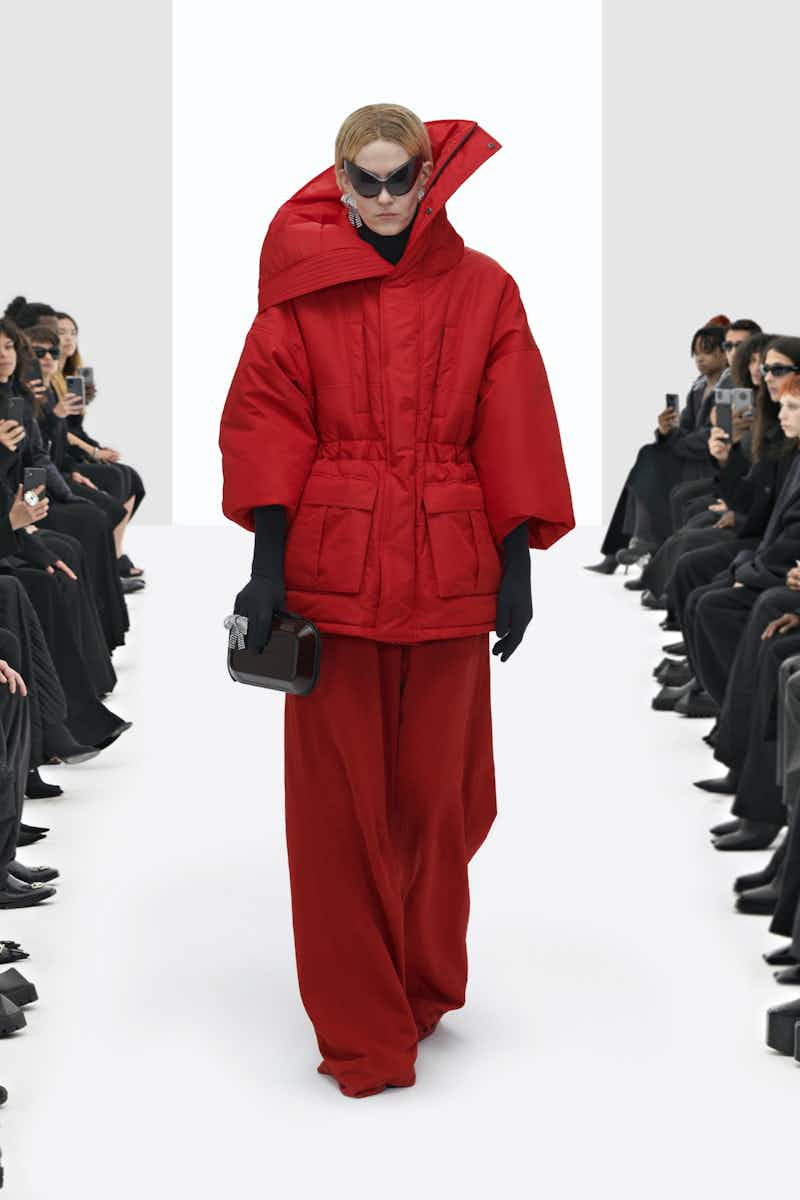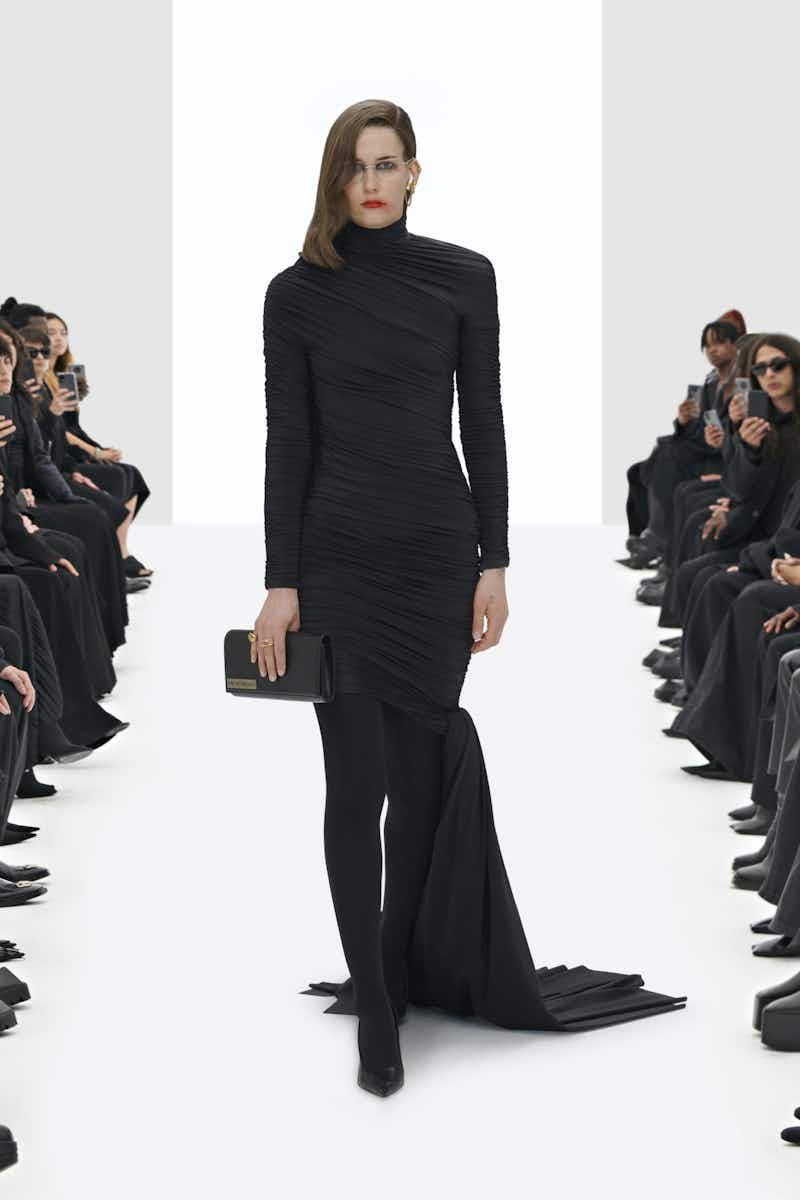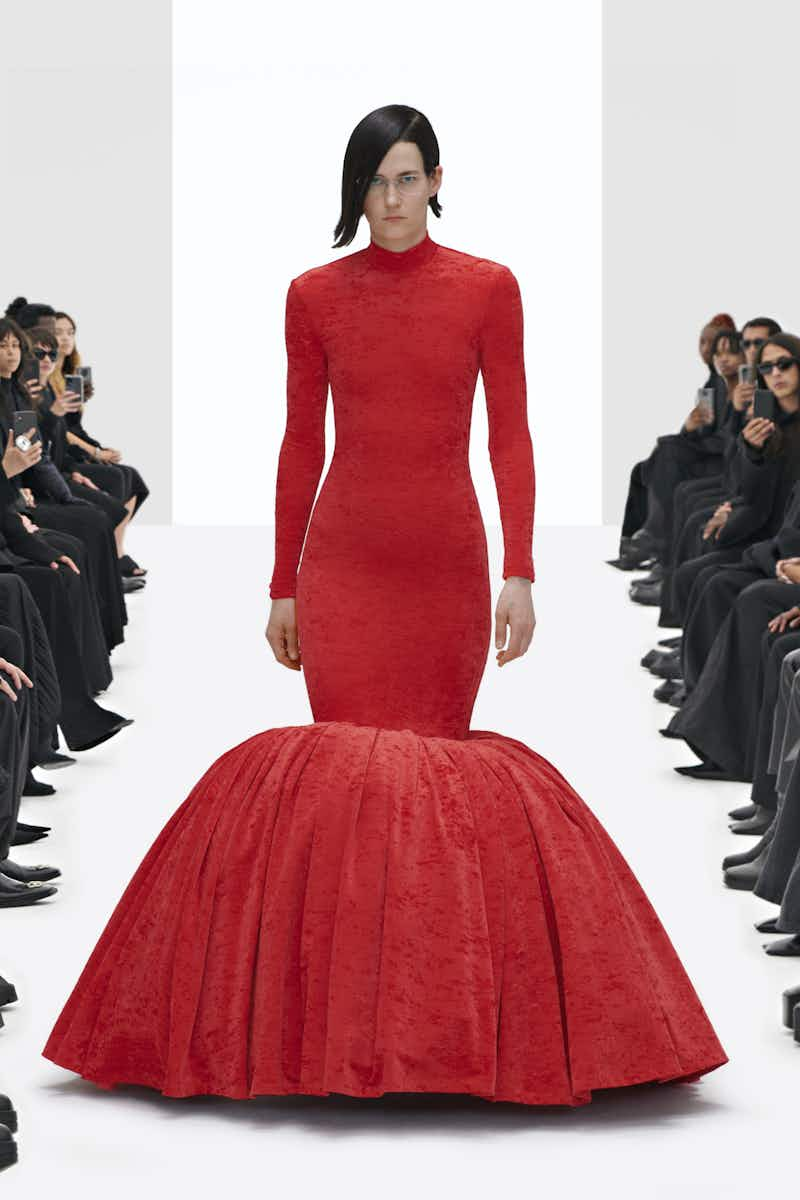 It was only until it became apparent that every model was the same person – artist Eliza Douglas, a Gvasalia favourite – sporting both mens and womenswear. In fact, many of the ​"Douglases" were not actually Douglas, but models who were taught to walk like her before having her face superimposed onto theirs. Turns out the video's producer, Quentin Deronzier, is something of a wizard, using photogrammetry, CG grafting, planar tracking, rotoscoping and 3D modelling.
The fake fun didn't stop there. The collection also included a take two of The Hacker Project, last season's collaboration between Gucci and Balenciaga, which saw Alessandro Michele interpret many of Gvasalia's Balenciaga signatures for the Gucci runway. For his return match, Gvasalia ​"copied" Michele's double G buckle belt, replacing ​"GG" with ​"BB", as well as a number of classic Gucci bag styles also bearing a ​"BB" print. One weekend bag was playfully tagged with the words ​"This Is Not a Gucci Bag", à la René Magritte, to highlight the semiotic silliness of it all.

Most of the fashion, however, had Gvasalia written all over it, from a plethora of oversized, immaculately tailored coats to puffer jackets with huge, angular collars, utility trousers to hoodies (here, bearing the word ​"bebé" and The Simpsons family decked in Balenciaga). Dresses were flowing with bold prints or rendered as dramatically cut evening gowns. The final look – a copy of Divine's bright red balloon dress from Pink Flamingos – was the real showstopper.
The non-Guccified accessories were similarly familiar: supermarket-style shopping bags, Crocs and pointy boots, headscarves and cyber-goth sunglasses, plus a fresh take on archive Balenciaga crystal bows.
All-black looks were intersected with brightly coloured ones (fuschia, citrus yellow and cherry red) to express what Gvasalia has described as a deliberately hopeful emergence from our period of collective mourning.
Technologically, symbolically and sartorially, Balenciaga SS22 packs a powerful punch – and we're all here for it.

More like this