Bianca Saunders takes a surreal approach to tailoring
In an experimental AW21 collection titled Superimpose, the menswear designer explores the offbeat works of Man Ray, Erwin Wurm and Jean Cocteau for pieces that defy gravity and play to her strengths.

Bianca Saunders has, like many young designers in the past year, felt the wrath of the pandemic, factory closures and remote working. But also, insidiously, Brexit. With the UK's official break-up with the EU on 31st January, Saunders quickly had to navigate her way through fabric deliveries, sourcing suppliers closer to home and all the while ensuring she filmed, shot and produced her AW21 collection in time for her London Fashion Week slot today.
"It's still shocking to me that I've been able to get it all done," the designer says, on her 17-look collection, Superimposed. But through the financial burdens and irritating stop-start work-from-home constraints, Saunders has produced her most developed collection yet, creating her own textiles, exploring conceptual themes on masculinity and manipulating fabrics to form surreal shapes. ​"It's still wearable, but very experimental at the same time," she adds.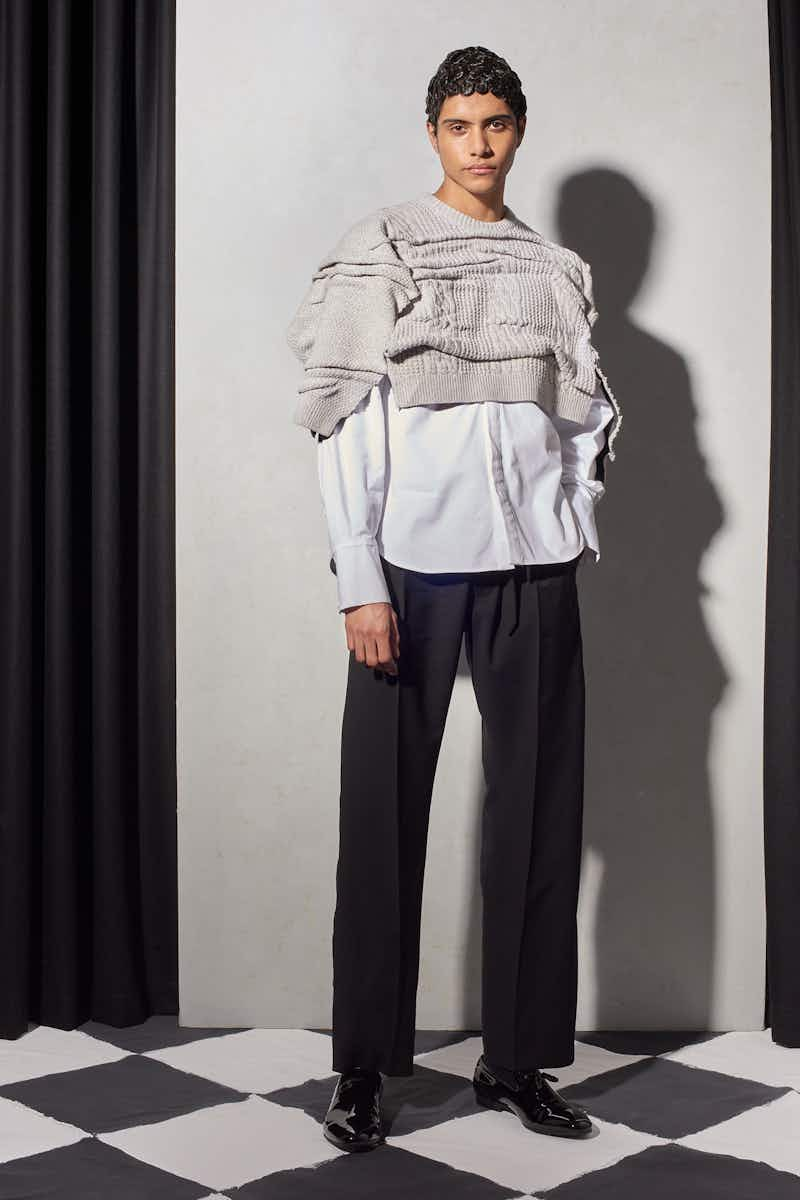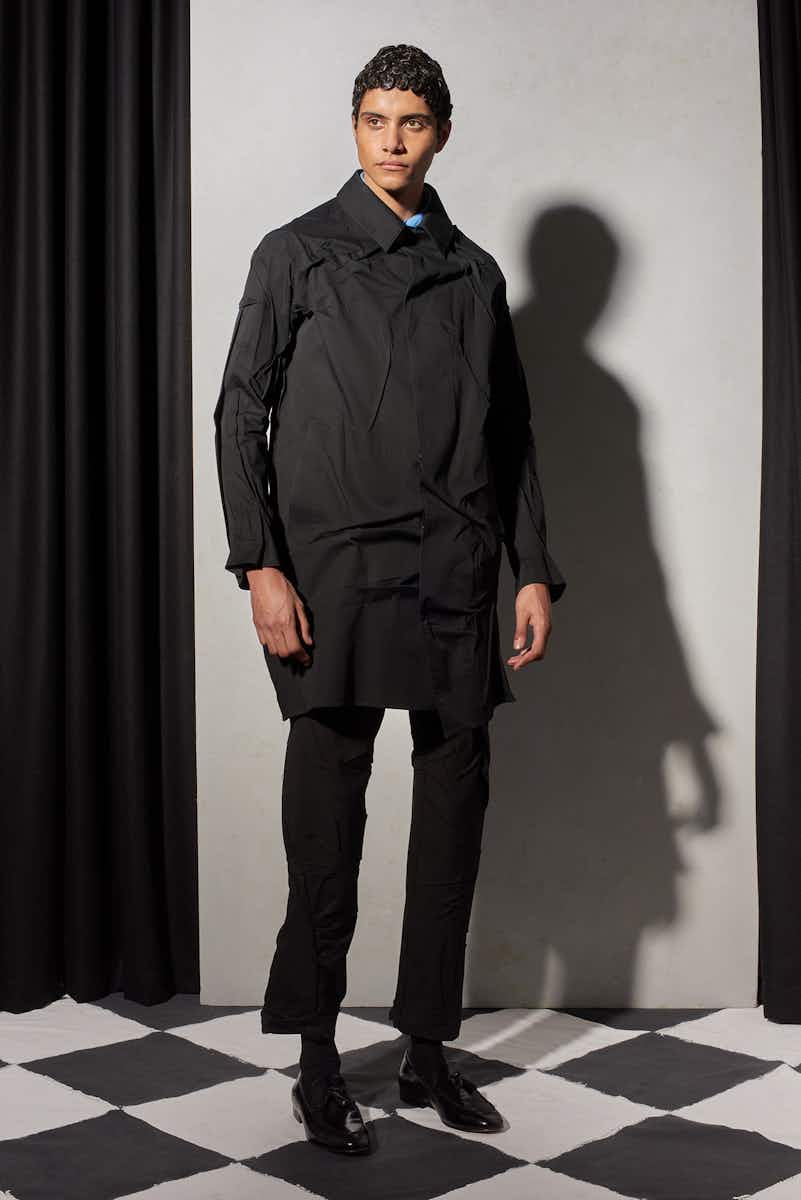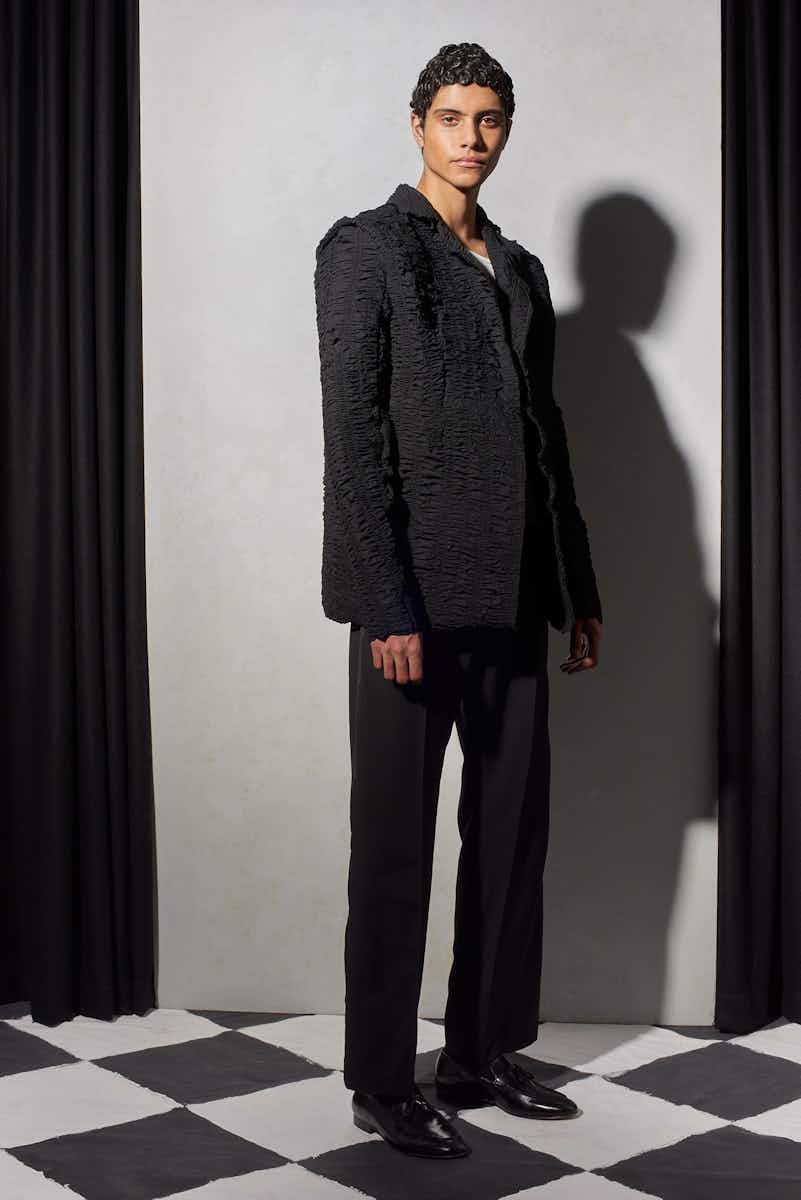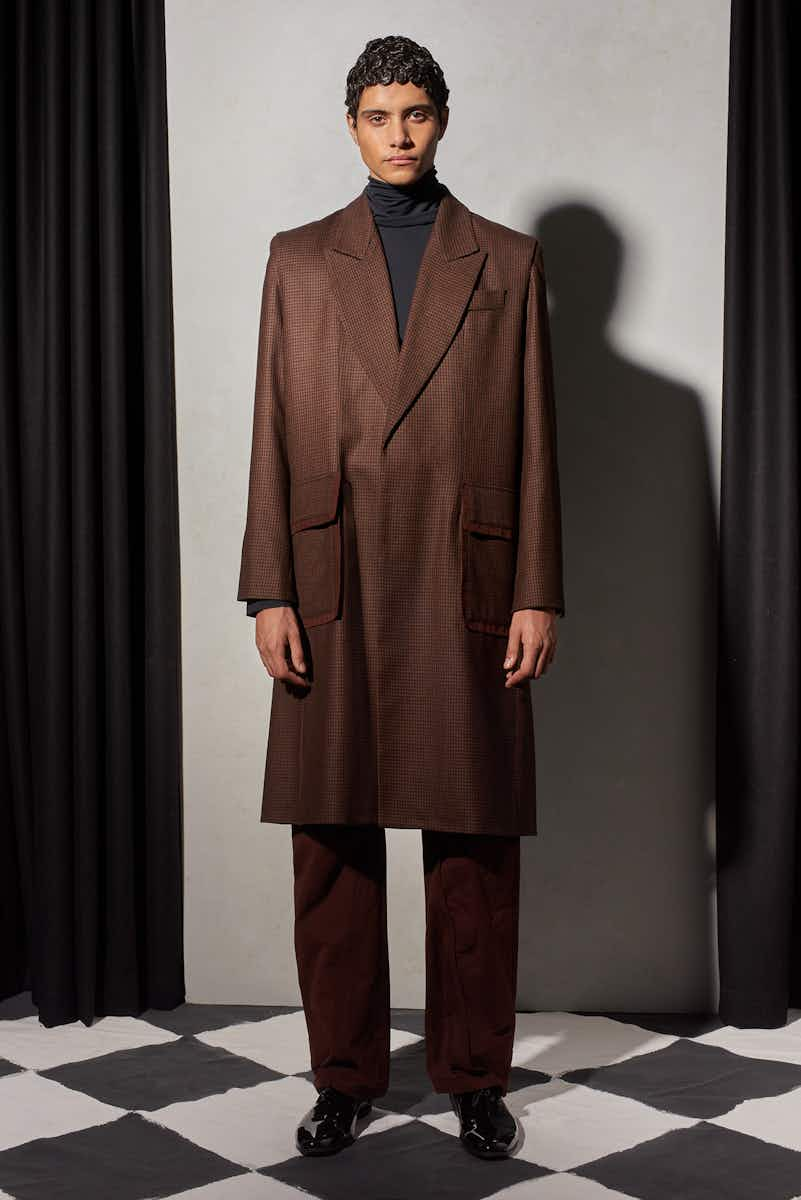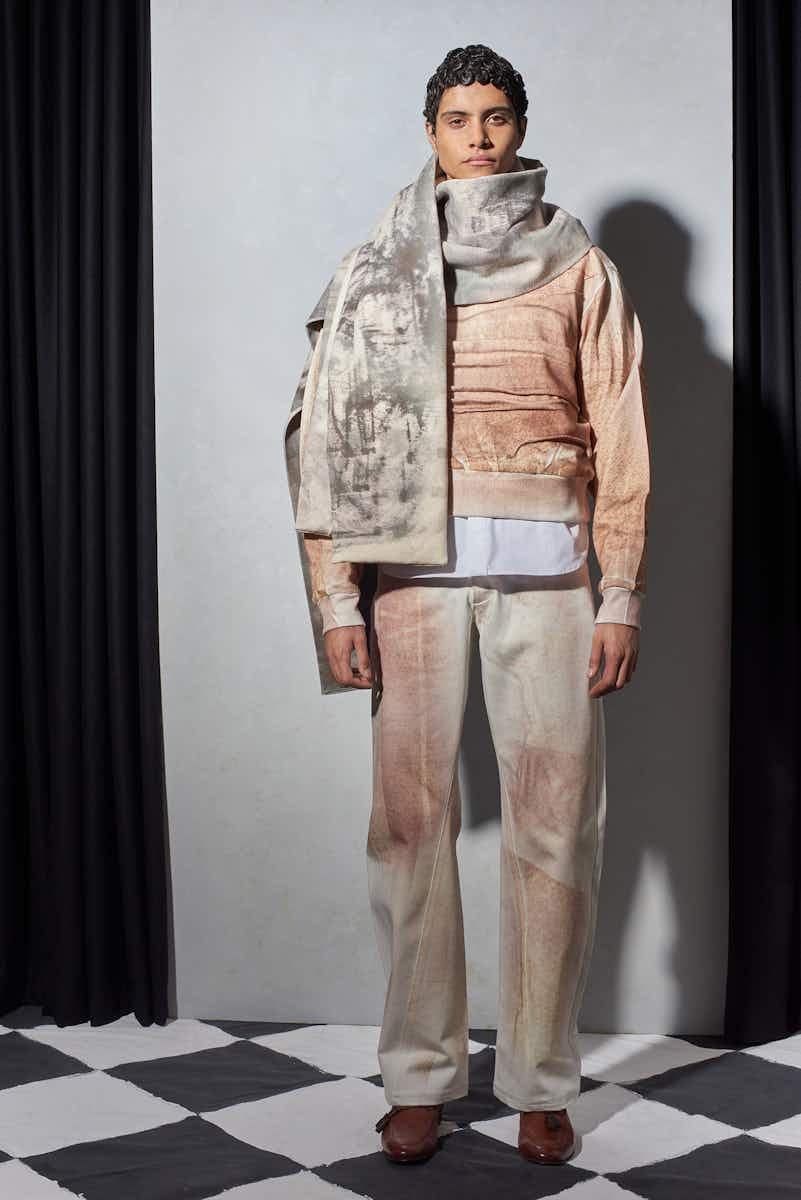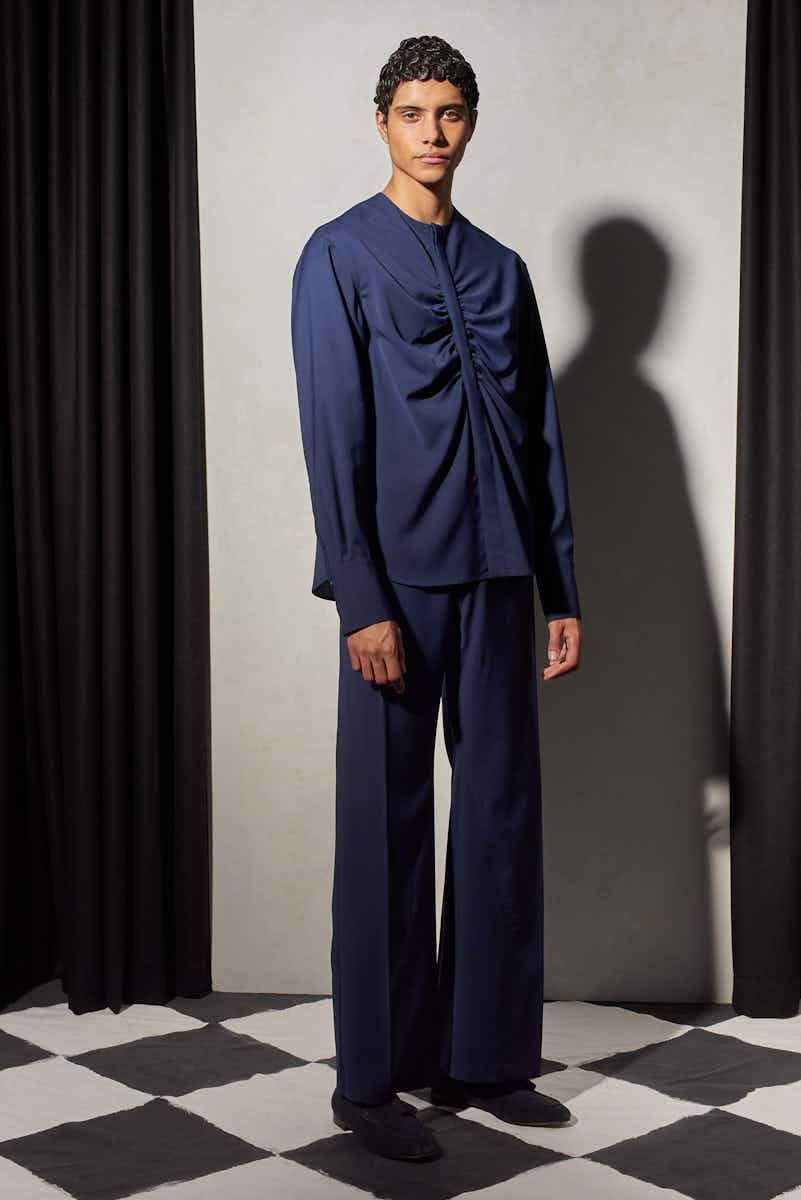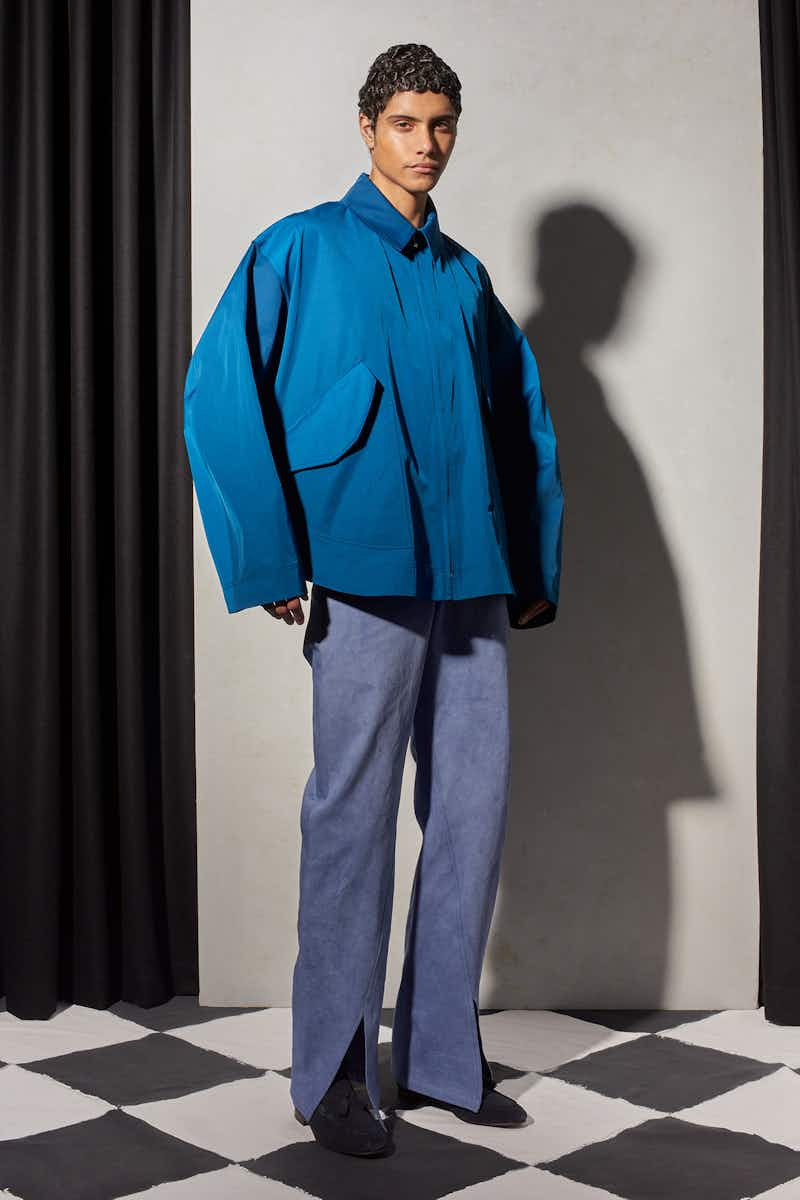 As with previous collections, Saunders' eyes were set on perfecting the tailoring element – her past designs indulging in ruched shirting cinched to the body and wide-leg trousers supremely cut to allow for ease of movement. But this time, warped, pegged trousers hug the thighs and end some way from the feet. Ruching re-appears, but reimagined in an intricately detailed blazer where the fabric technique isn't a small detail, but rather the main event, creating waves in the jacket lines when placed on the body. A black mac coat defies gravity, static as though caught mid-air, and a shirt, or is it a jumper?, is layered on top of one another – as the collection title aptly suggests.
These experimental developments were guided through her referencing of visual artist Man Ray's work at the height of the Dada and Surrealist movements, and warped imagery of Erwin Wurm where the photographer captured stretched fabric through worm-like movement, as seen in Untitled (Skull) (Pullover) (1998) and Psycho 7 (2010). And these art references are a nod to Saunders' recent endeavours, presenting an installation, Loose Man, in Ben Broome's Drawing a Blank exhibition in Paris last September. The piece depicted a loosely hung, bodiless blazer and trouser ensemble lying limply in mid-air – assumingly defying gravity while referencing Jean Cocteau's avant-garde 1930 film, The Blood of a Poet.

"I wanted to create a collection that appeared as something, but then also appeared as something else," Saunders explains. ​"Every element of the collection was either creating large silhouettes on top, and then more focus on the textiles, prints and fabric manipulations."
There's a noticeable strength to the Bianca Saunders man this season. While before vulnerability came through personal nods to the designer's British West-Indian heritage, in sensual dance moves and cuts familiar to her from an early age, Superimpose is a newfound confidence both for the garments and the designer herself, introducing newly-formed techniques, exploring unknown territory and proposing Saunders as a serious multi-dimensional artist. As well as one of Britain's most promising menswear designers right now.

More like this