The year we found ourselves obsessing over one colour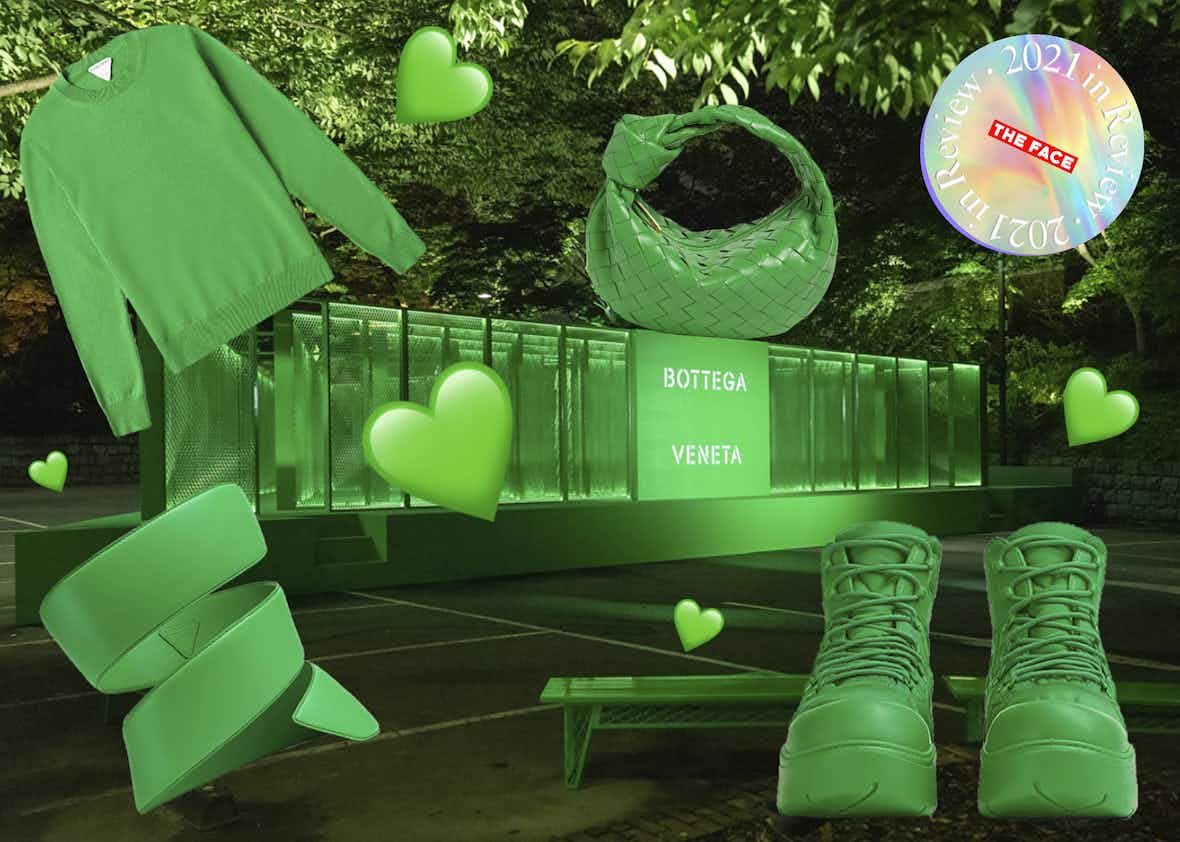 2021 in review: Extreme colour blocking is back, baby. After a year of WFH fits, we went all out and we went out out wearing a solo colour, from Bottega Green to Balenciaga's hot pink.

I vividly remember the first time I wore head-to-toe colour.
I'd just turned nine and, much to my dismay, my mother insisted on dressing me entirely in orange – tangerine tunic top, matching flared trousers, and orange suede Kickers – for her friend's 40th birthday party at a villa in Marbella, Spain.
I know I wore all-white – tulle dress, satin headband, silk pouch bag and leather Mary Janes – to see in my fifth birthday, thanks to photographic evidence in the family album. I will never forget the night, aged 14, I wore a quadruple denim look – corset decorated with appliqué flowers and denim ra-ra skirt combo, accessorised with a Miss Sixty (surely due a comeback?) shoulder bag and some hideous patchwork mules – to a blue light disco at Time & Envy in Swansea, because my friends haven't let me live it down since. (I still stand by it, by the way.)

But I can safely say that I've not committed to such a colour coordinated look for the last 16 years (because black doesn't count). Sure, colour blocking has clung on through the decades, often targeted at fashion illiterate middle-aged women via articles that address the ​"dos and don'ts of colour dressing" on the pages of Marie Claire and Grazia. But otherwise, dressing yourself entirely in purple? A bit of a no-go.
Yet this year served us a fresh take on what we might call ​"power pigments".
Bold pops of colour, namely what we've come to know as ​"Bottega Green" and what I'm going to refer to as ​"Balenciaga Pink" for the sake of this article, have been disrupting our feeds thanks to a string of famous faces. Twelve months in, and the trend has trickled right into our wardrobes, mine included, despite 90 per cent of it being filled with black garments this time last year.
Let's rewind. Cast your mind back to the distant, and dismal, days of January 2021 (the UK's third national lockdown). Joe Biden's inauguration took place in Washington DC at the Capitol Building, during which American poet Amanda Gorman recited The Hill We Climb wearing a sunshine yellow Prada coat that triggered a tidal wave of social posts and ​"get the look" articles.
Less than a month later, Gorman appeared on the cover of TIME wearing a dress by Canadian designer Greta Constantine in a similarly sunny yellow – a hue that instantly came to symbolise the power of youth, hope and new beginnings.
Yellow just happened to be one of the colours of the year Pantone had, the previous month, chosen for 2021. Following a prophetic warning when announcing Classic Blue, the shade used for medical scrubs around the world, as their colour of the year for 2020, the trend forecasters hedged their bets when selecting not one, but two, colours for 2021: ​"Ultimate Grey" (does what it says on the tin) and ​"Illuminating" (a Gorman-adjacent yellow, to save you Googling it).
You can see why despair (grey) and hope (yellow) were part of our collective psyche as the car crash that was 2020 came to a close. But despite the informed guess, and the early endorsement from Gorman, neither colour fully dominated the year.
Enter: green. Had the powers at Pantone predicted this shade to rule twenty ​'21 (much like Greenery, 2017 colour of the year), they'd have been bang on the money.
It's the colour of fizzy water bottles, Crayola crayons, lush green grass, 7up cans, sliced avocado, racing flags, absinthe, M&Ms (OK, some of them) and Walker's salt and vinegar crisps.

It's the exact same colour as the countless plants we now nurture indoors to make it feel a little more like The Great Outdoors. It's a calling card for climate change and eco-anxiety. It's the leprechaun on your shoulder, a joyride through the rolling hills in the British countryside, it's the sacred list of countries with their doors open for travellers, it's the traffic light telling you to go, go go!
Yet there's one shade amongst the greens that demands attention: Bottega Green, the perfect antidote for a year spent in sweats.
But what exactly is Bottega Green?
It's more sophisticated than Billie Eilish​'s bratty slime green hue, and it's more luxurious than the neon glow of terminal green seen in The Matrix films and splattered across ​'90s rave and skateboarding ephemera. And it costs more, too.
It's a shade that's not been seen so heavily on the runway since the heydays of Claude Montana and Thierry Mugler. It looks expensive, smells like money, and it feels like you've maxed your credit card. It's a play for luxury status, in a world that's growing tired of traditional, flashy, logo-clad markers of wealth.
In its most primitive form, Bottega Green is symbolic of our pandemic-induced obsession with getting dressed up to go out out once again.

And quite frankly it's been inescapable – seen on Bottega Veneta​'s bulbous puddle boots, seersucker swimsuits, teddy shearling pool slides, and much-coveted Jodie bag (the second most searched item of clothing in Q2 according to global fashion shopping platform Lyst's quarterly report). And all of which arrive packaged in a large, glossy green box.
Sitting somewhere between emerald, shamrock and parakeet, Bottega Green has become so much more than just a pigment in its clothing collection. During his three-year tenure at the Italian fashion house, the brand's former creative director Daniel Lee manufactured the colour into a new house code that's become one of the most hyped status symbols in fashion, following in the footsteps of Tiffany blue, Hermès orange and Christian Louboutin red.
Having toyed with the colour in previous collections, it was in Bottega Veneta's SS21 collection – presented to a socially distant crowd at London's Sadler's Wells Theatre lit in the witchy hue in December 2020 – that Lee went full steam ahead, opening the show with a top-to-bottom Bottega Green look: a monochromatic tweed skirt suit worn with matching rubber slides and a shearling handbag.
The distinctive hue has proved highly lucrative for the Italian house, where accessories make up nearly three quarters of its revenue. In less than three years, Bottega Veneta has transitioned from a quiet, yet no less major, luxury player into one of the most worn brands of the moment without leaning on logomania, just some seriously good leather, the occasional golden metal triangle and a rich pigment – the latter of which has been the hero in a number of covetousness inducing post-pandemic fits as seen on Instagram, before flooding the streets IRL at fashion weeks worldwide. Look to Dua Lipa's leather trench coat, Victoria Beckham's cassette bag and Hayley Beiber's padded puffer for proof. Green with envy, moi?

Of course, the high-street knock offs followed: a vast array of accessories and fine knits in Zara (including an eerily similar padded bag), layering pieces at Ganni and all manner of green accents at & Other Stories. And there have been other high fashion adoptions, too: Balenciaga's Le Cagole now comes in the ziggy colour, and how could we forget Cardi B's green spandex body suit worn beneath pleated pants with built in shoes, sunglasses and a frilly bonnet? A look.
Forget Pantone's predictions – Bottega Green is arguably the most culturally relevant colour of the year. But what's fashion without a bit of healthy competition?
All that said, colour blocking doesn't solely reside within the Bottega Veneta vernacular, as there are further noteworthy colour moments that deserve a special mention.
Kanye​'s triple-red look at the Atlanta leg of the Donda listening party which featured the Yeezy x Gap Round Jacket. Balenciaga​'s first couture collection since its founder retired in 1968, which included a series of coat-like gowns in all red, all green and all pink/​Anything by American designer and winner of the 2019 CFDA/​Vogue Fashion Fund Christopher John Rodgers, who's painting the rainbow with over-saturated, oversized pieces as worn by the likes of Kamala Harris and Lil Nas X.
But if Bottega Green was the colour of the summer, then it's Balenciaga Pink that's been injecting pizzazz into the colder months.
In October, post-divorce announcement, Kim Kardashian had a serious magenta moment when she wore not one but three hot pink Balenciaga looks – a long anorak coat; a velveteen, polo-neck, form-fitting catsuit; a spandex bodysuit with built-in heels, teamed with a disco-ready, shaggy floor-length flamingo-esque coat – to host Saturday Night Live.

Of course, Kardashian is no stranger to monochromatic looks. Case in point: her highly profitable Skims venture that was valued at $1.6 billion in April this year, bucking the pandemic trend for loose, lockdown fits, as fans stockpiled her form-fitting shapewear pieces in (almost) 50 shades of beige, best worn as a solo hue.
And she's inspired us to follow suit. Kardashian's trifecta of pink Saturday Night Live fits spiked searches for ​"velvet catsuits" by 117 per cent in under two days and ​"sock boots" by 61 per cent over the weekend, with ​"Balenciaga" also rising by 47 per cent during this time, according to Lyst.
On Monday 13th December, half a month before the year crumbles to a close, Kardashian posted a series of photographs of herself (six, no less) dressed in another block colour Balenciaga look.
This time it was a bluey purple bodysuit, complete with drapery, accompanied by a caption about her law school journey and her success in passing the Bar exam. Uncannily enough, it's not dissimilar to the colour Pantone announced the following day as the colour of 2022. Take a bow, Very Peri.
It's said to be symbolic of the ​"transformative times" we're living through, while marking the first time that Pantone has created a brand new hue as part of its annual colour program. ​"Very Peri is a symbol of the global zeitgeist of the moment and the transition we are going through," reads the release. ​"As we emerge from an intense period of isolation, our notions and standards are changing, and our physical and digital lives have merged in new ways."
Whether Very Peri will be dominating 2022 dressing remains uncertain, however influential Kim K's early adoption. But one thing's for sure: 2021's colour choices were rooted in optimism, excitement and self-liberation. God knows we needed them to cure the 2020 pandemic hangover – and we surely still will, to drown out the aftermath of an increasingly fraying 2021 as we stagger into the new year.
So resist the temptation to retreat straight back to your all-black wardrobe, pick a hue, and swaddle yourself in it. Extreme colour blocking is back, baby. Be bold. Be green. Be pink. Just make sure it's from head-to-toe, and colour yourself… optimistic. Twenty twenty-two's got a lot to prove!


More like this