Caitlin Yates is making surveillance-savvy garb
With mass CCTV watching our every move, this emerging University of Westminster fashion student uses Google Maps to create fashion that toys with perception.

Who would've thought snooping around Google Maps could end up earning you a decent bit of dosh?
23-year-old Caitlin Yates, founder of semi-eponymous menswear label C8Y8S, makes surveillance-savvy garb, scavenging through the satellite mapping service to find the weird, wonderful and often wonky scenarios that crop up in all four URL corners of the globe.
"Honestly, the concept came to me when I was sat in bed, super hungover, just looking through weird stuff to try and cheer myself up," explains Yates, who after getting herself into a strange internet hole one night in 2019, decided to make two Lycra tops emblazoned with a lad she found flipping off the Google Maps camera as it drove past him.
After sticking the tops on Instagram, Yates soon became inundated with people wanting to buy her initial designs, including London-based concept store, 50m, which currently stocks a number of her signature styles.
Yates mainly finds her Google Maps scenes on dedicated groups buried in the depths of Reddit and Facebook, and currently has a folder of over 300 odd-ball snapshots sitting on her computer, ready to be whacked on tops, bomber jackets or a pair of jeans, at any given moment.
The appeal to Yates' work is the unknowingness of these images – Are they real or staged? Who's aware of the camera and who's acting completely natural? – giving her designs some political welly.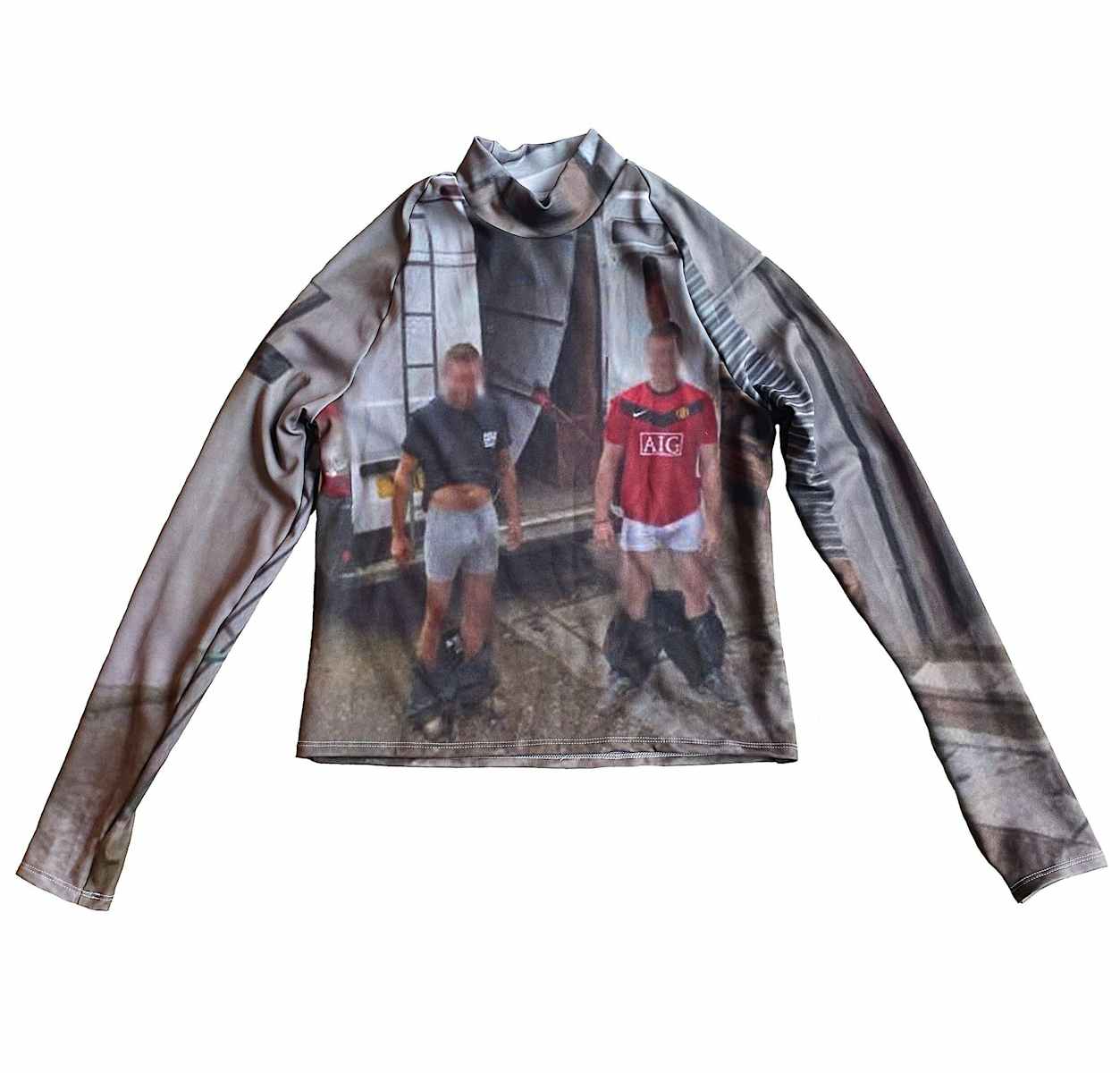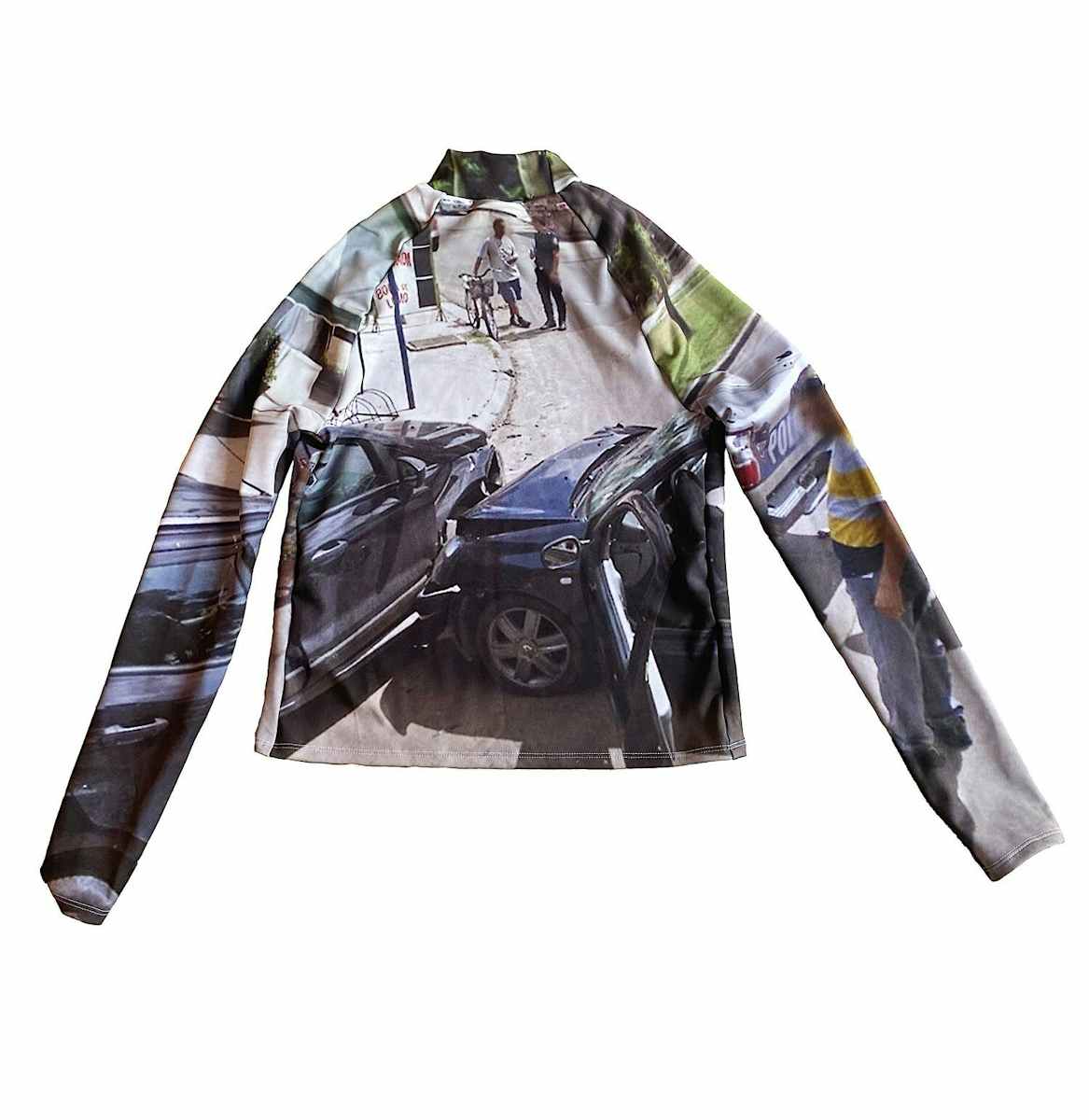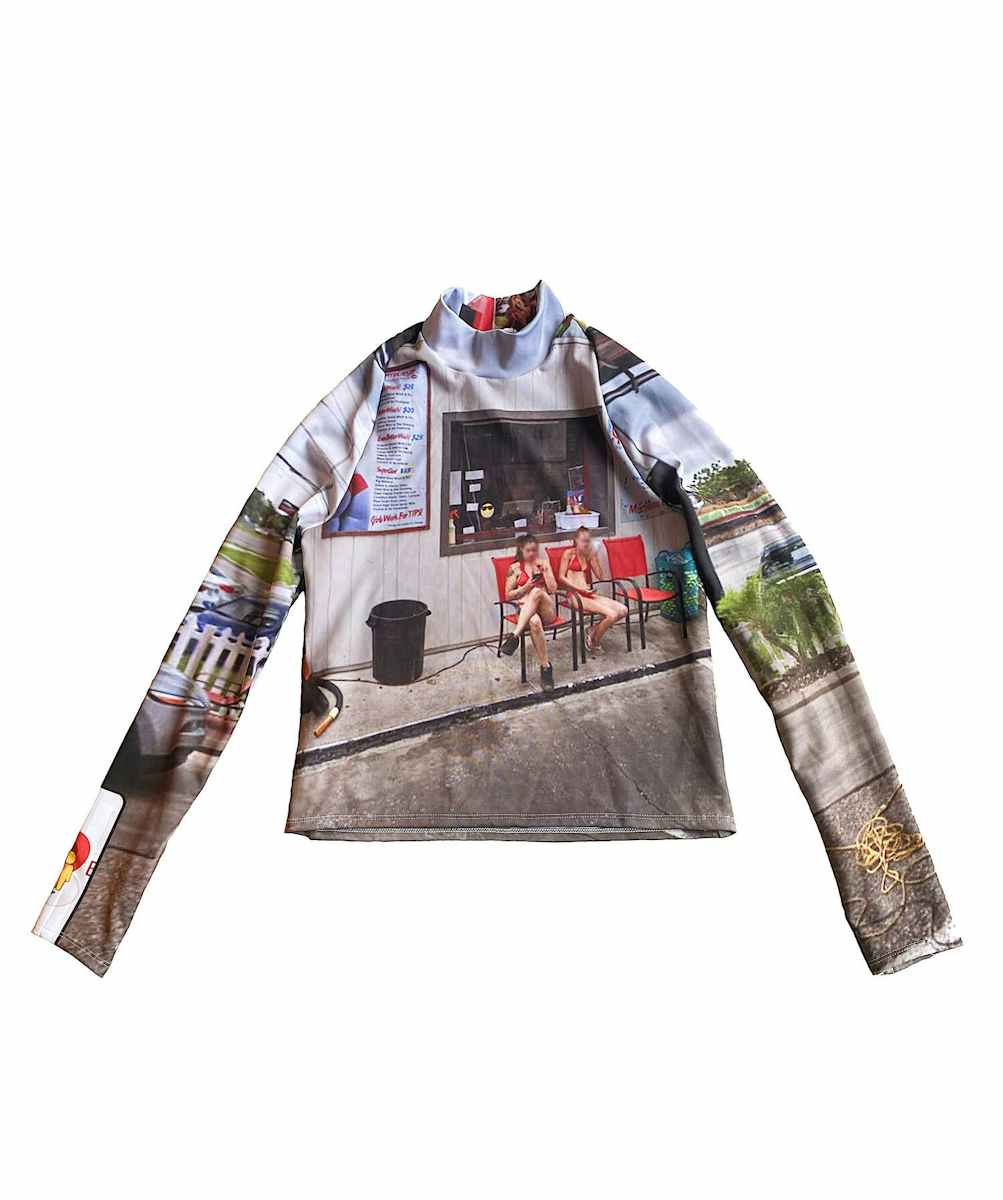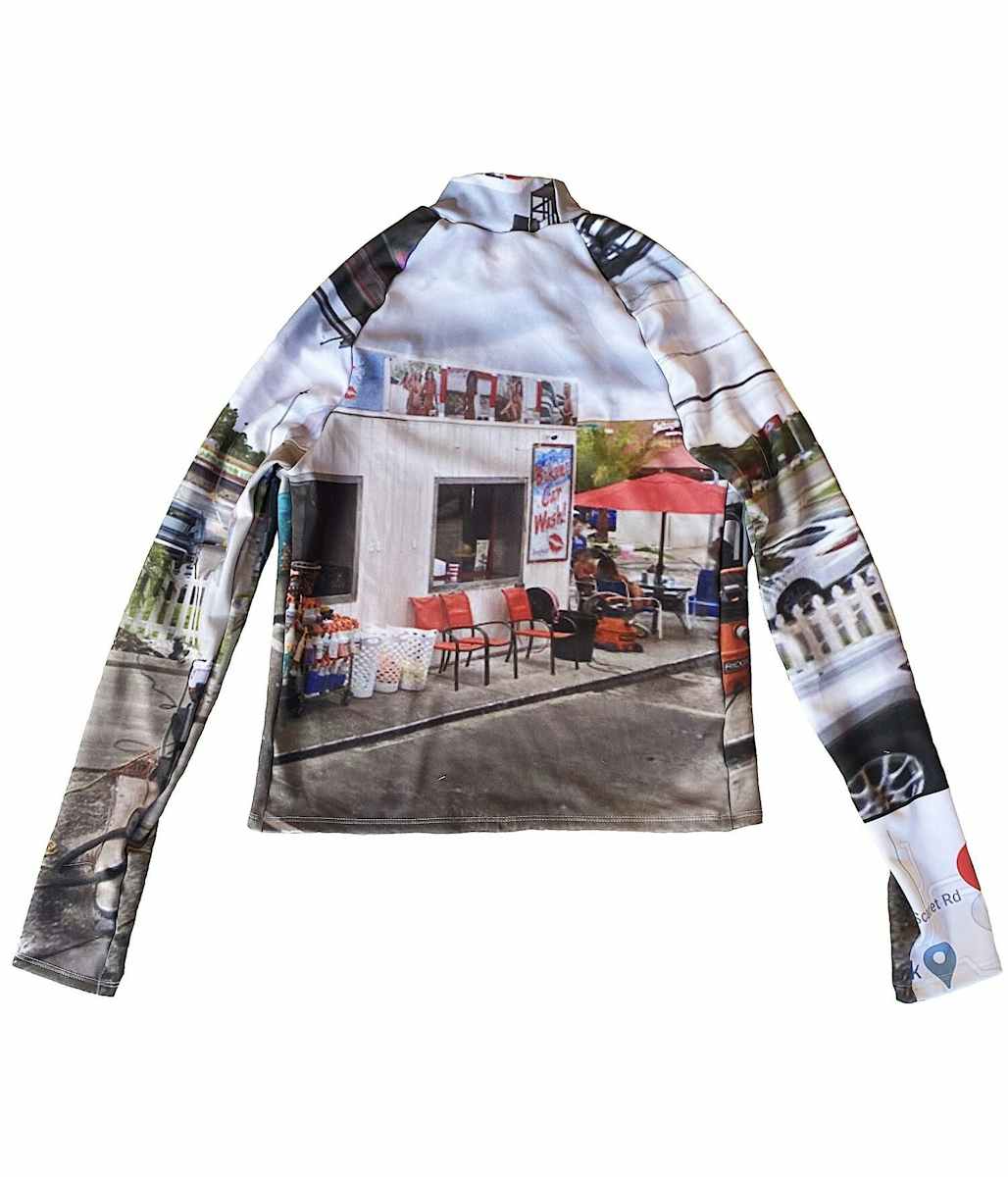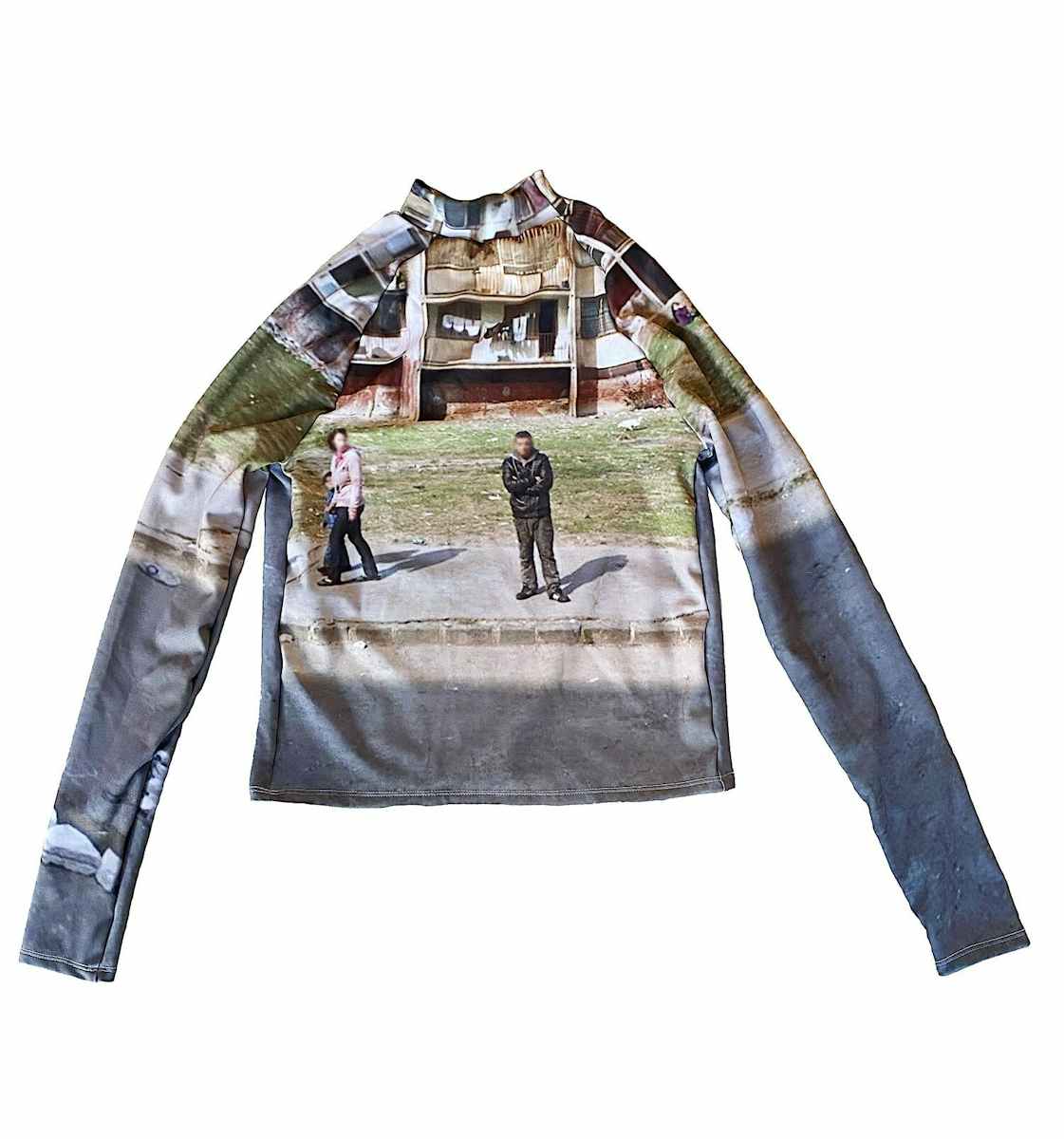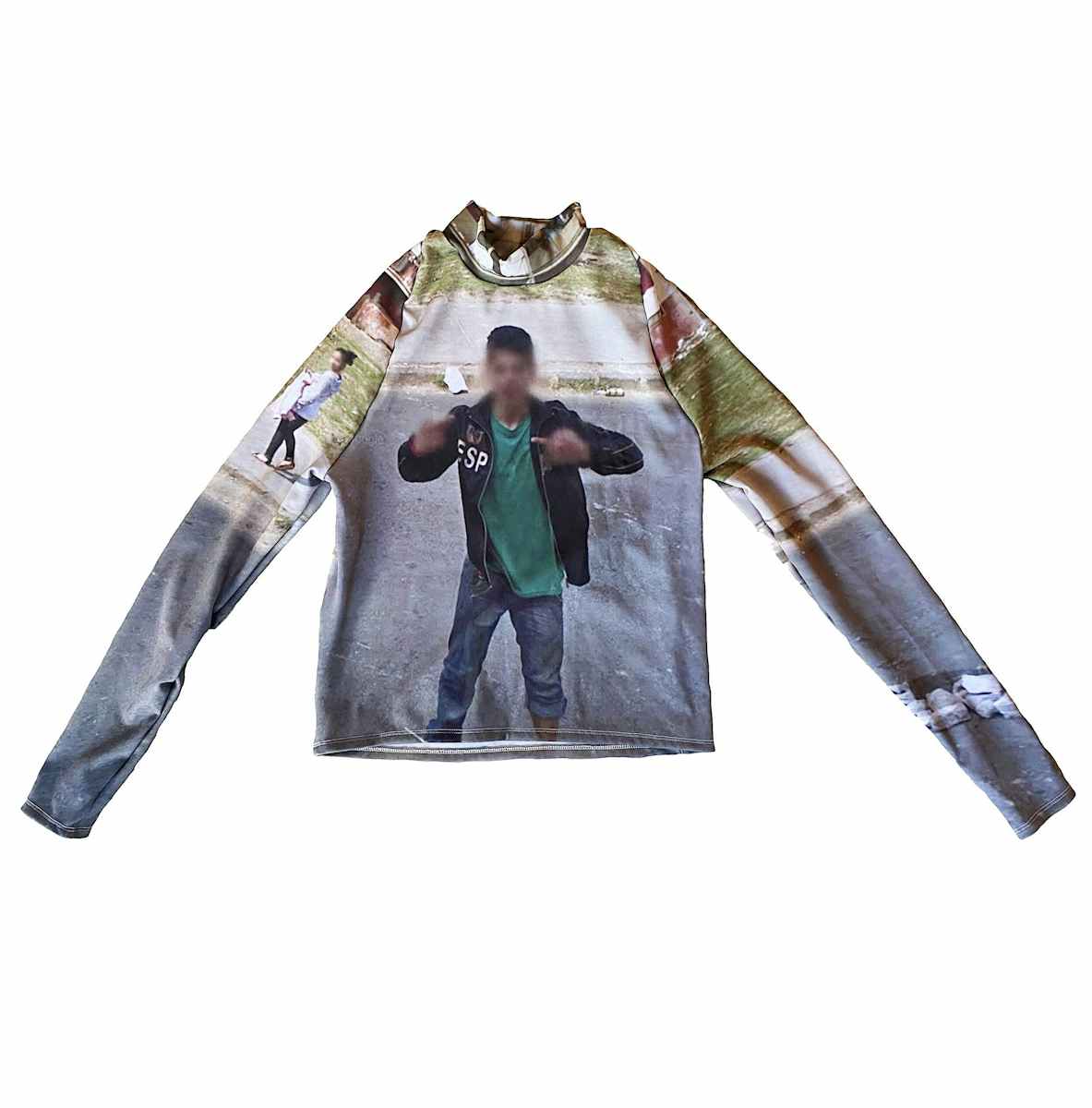 No two scenarios are the same. Whilst one top sees two men standing in front of a white van with their kecks down, another depicts a toddler pointing a gun at his father's head. ​"I remember having a meeting with an American stockist and they said they didn't want any with guns on which, of course, makes sense to an American audience, but it just proves that each snapshot draws up completely different reactions based on who you are. Depending on your political views and background, the stories change."
The designer is keen to use her work to comment on mass surveillance, particularly when it comes to how easy we can access information through the internet. ​"In terms of the street view, faces are blurred which gives some form of privacy, but you can still see the house number or street names. So even though facial identity isn't there, there are weird ways around it," says Yates. ​"You don't know when you're being watched. If you did, how would you react?"
Currently in her final year studying a BA in fashion design at the University of Westminster, flogging her Google Maps goodies has helped Yates fund her way through her studies. These days, you'll find her shacked up in a make-shift studio inside an old storage room in her North London flat, hammering away at her final collection. She's set on defining what ​"British Dress" accounts to in the year 2021, looking specifically at her Gloucestershire roots for inspiration.
"It's a lot of combining the stereotypes of the Cotswolds vs. how it actually is," explains Yates, who says the tweed-clad, upper-class perception of the area is far from its reality. In 2019, it was reported that 30 per cent of children in Gloucester were living in poverty.
"[The collection] questions what it means to be ​'British' in today's society," she says. ​"It's a bit cheeky, a bit funny, a bit rude, but also a bit serious. Oh, and not to forget the famous Gloucester Cheese Rolling competition!"


More like this