Inside designer Leeann Huang's plastic fantastic world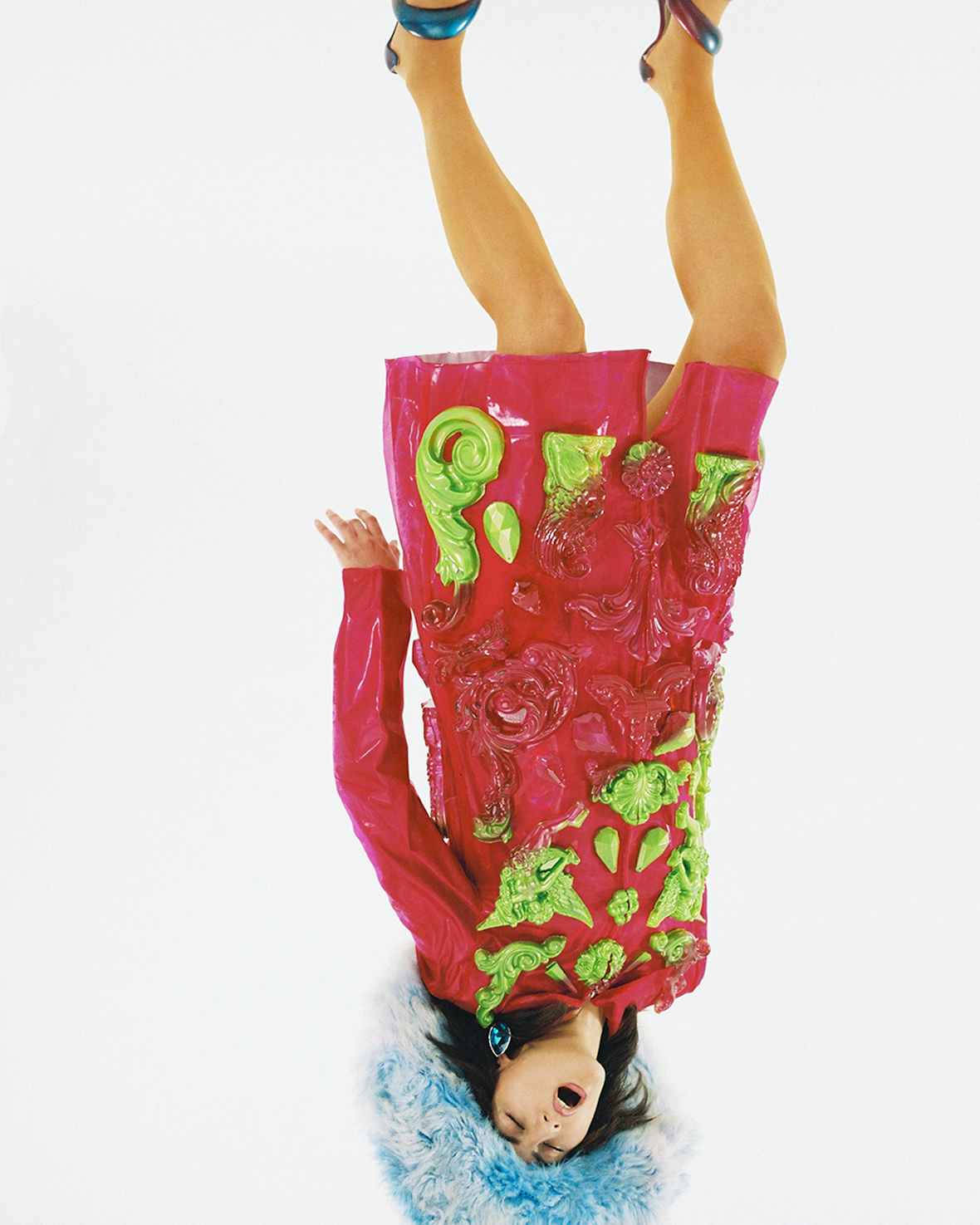 Based between Los Angeles and London, the Central Saint Martins graduate draws inspiration from the Powerpuff Girls and Charlie's Angels to create dynamic, seductive garments balancing camp sensibilities and girl power.

Ever since Leeann Huang graduated from Central Saint Martins' BA Fashion course in 2018, she's been closely watched for her future-facing approach to design. Fusing art and science, her candy-coloured pieces are innovative, bold and ultra-wearable. Now a recent recipient of the fashion school's MA course, she's hell-bent on shaking up her approach, piece by piece.
Born and raised in California's San Gabriel Valley, the Taiwanese-American has a knack for repurposing materials to captivating effect. Her most recent collection's overarching theme centres around the use of recycled plastic, featuring hand-painted bijoux earrings moulded from vintage chandelier and furniture pieces, hand-feathered hats, colour-changing lenticular bags and a cow print cropped suit, hyper-coloured, garish and incorporating unique textures such as holographic rubber.
Last week, a short film Huang and her friends put together premiered across several screens across Shibuya,Tokyo, celebrating her MA collection and subsequently marking the end of eight years' hard graft completing a foundation, BA in Fashion Print, followed by an MA all at Saint Martins – an environment which helped sharpen up her avant-garde aesthetic.
"I feel like I pretty much grew up there," the 26-year-old tells THE FACE. ​"Saint Martins made me unlearn everything I thought I knew about design. The culture at the school felt very radical when I first arrived; there was no structure, everything was subjective. I learned through osmosis."
After almost a decade spent studying and amidst internships at Chanel and Maison Margiela in Paris, Huang has now decompressed from the experience and appreciates how rigorously it helped her to build a strong visual narrative through clothes.

Initially, though, her appreciation for design first came from the women in her family. ​"My grandma was a seamstress and my mum sews most of her own ballroom dancing costumes," she explains.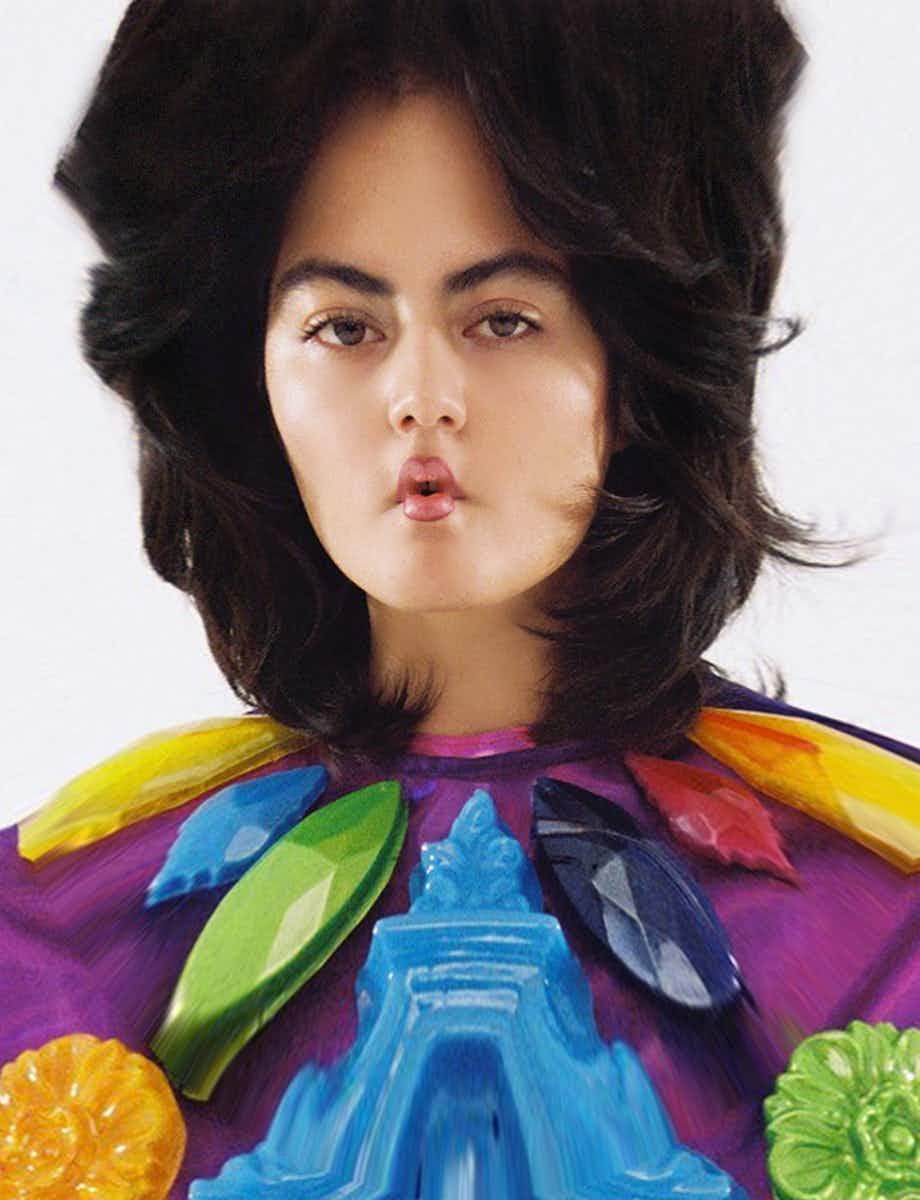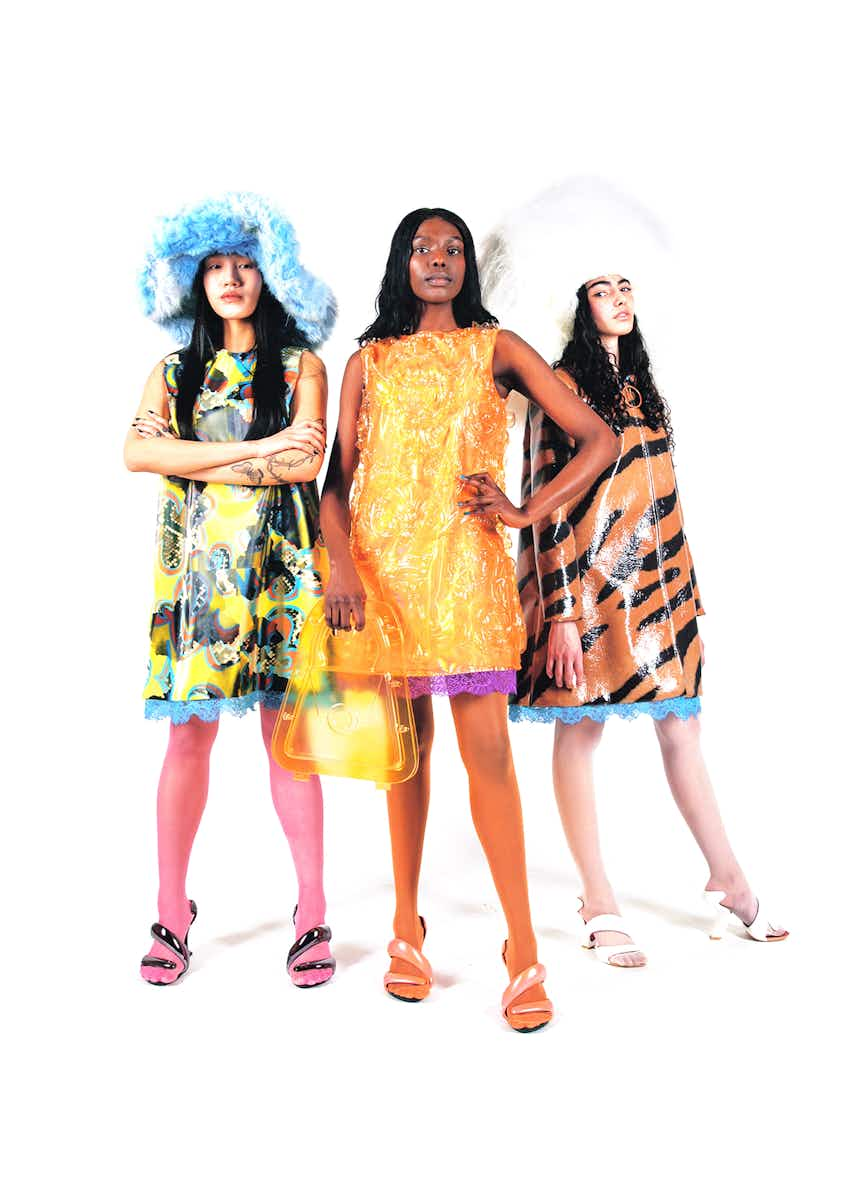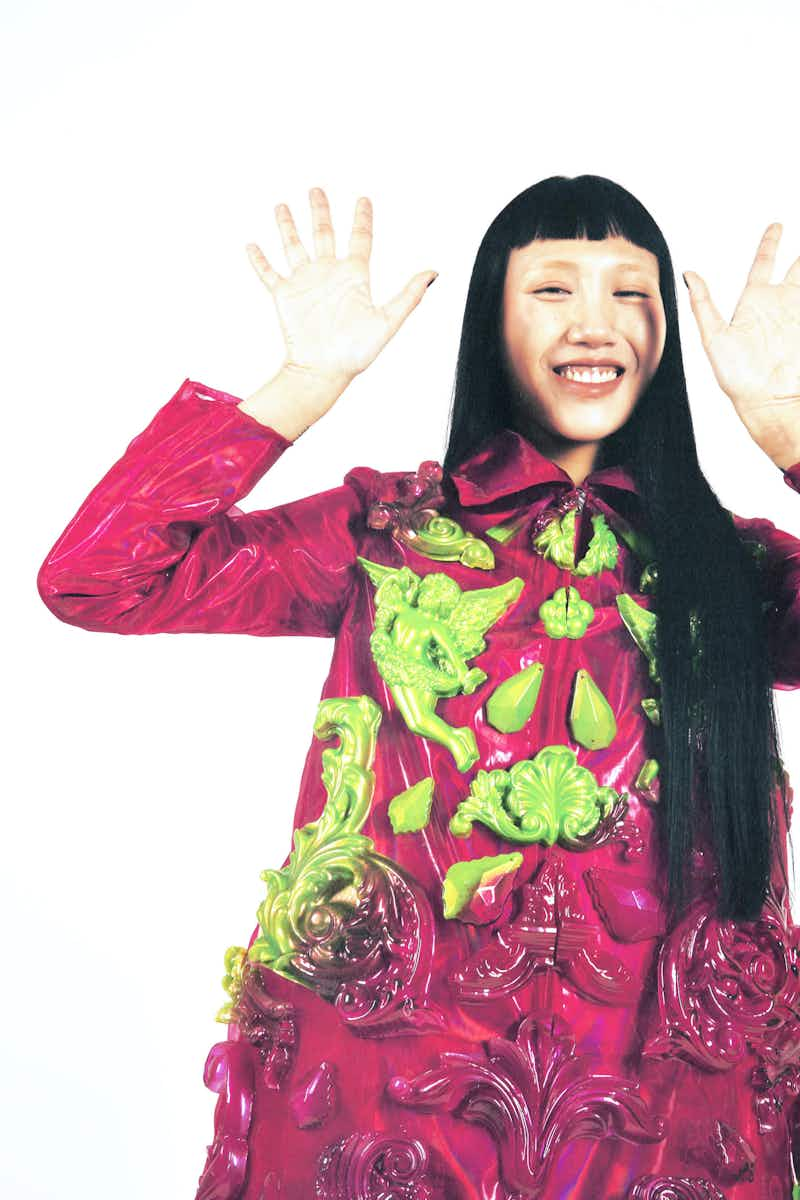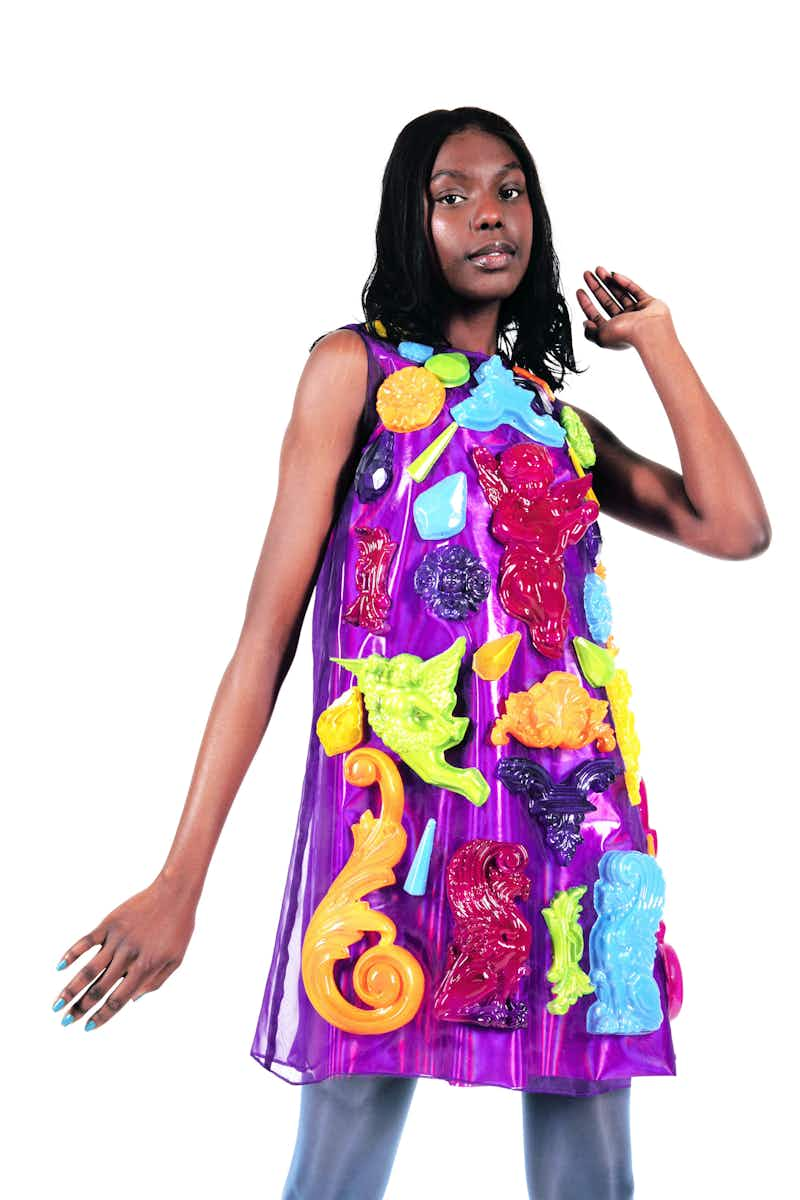 "They taught me all the tricks like crocheting, knitting… My grandma had a wild style and an infectious love for life. She had llama-shaped hedges, a Barbie-style dream house filled to the brim with stuffed animals and dolls!" Given Huang's experimental approach to design, it's no surprise Granny Huang's obsession with camp rubbed off on her.
When Huang turned 13, she'd caught the fashion bug and did everything she could to learn more. She took as many community college classes as possible and eventually became a teaching assistant at Art Center in Pasadena, California, before shipping herself off to London straight after graduating from high school. From there, she became obsessed with material experimentation and learning the techniques she's now nailed head-on.
"I like learning about techniques from the very base level, so I can then figure out how to engineer or fashion something," she says. ​"I also use recognisable silhouettes as a canvas for the material I've picked, so that I can translate it to something wearable. I think of it as familiar clothing with a surreal textile application."
Huang takes pride in subverting expectations and having people question what her garments are made from, but there's always a personal element to it, be that in the past or the future. Her MA collection was based around her self-professed plastic fantastic childhood fantasy of the future. ​"I've always been enthralled by the seductive imagery of ​'60s retrofuturism and the utopian future portrayed in female-led action shows, like the Powerpuff Girls, Charlie's Angels and Totally Spies," she says.

Now the collection is done, Huang reflects on her experience being based between London and Los Angeles. ​"I come from a very dense Asian community, and in LA I've never felt the need to over-analyse my cultural identity or heritage," she explains.

"In London, people constantly questioned my ability to speak English, where I came from, my economic status, even my worthiness as a designer purely based on my race. That being said, London is better in terms of its appreciation for art and culture. There's more funding and structure for young designers, and I've felt a much stronger sense of community here. There's a lot less formality."
Huang's designs speak for themselves. She continues to push the boundaries of what is materially possible while staying true to herself and her uncompromising vision, injecting the joy of everyday life into highly experimental garments. It's a unique kind of fun.
As for upcoming projects, Huang is currently working on a collaboration with her friend Sixty-Nine as well as building a collective studio in LA with her mates in the creative biz, who have moved there from London.
For now, her routine involves waking up, drinking some highly caffeinated tea, hanging out with her dad and his 22 birds, and working on whatever project she fancies. ​"Covid means there's no huge deadline pressure," she says. ​"It's nice to figure things out at my own pace compared to the sleep-deprived rush of graduating last year."


More like this