Dominic Calvert-Lewin on fashion, footie and his incredible season start
He shoots, he scores, he wears amazing clothes. The Everton and England striker invites us round to rifle through his enviable wardrobe. Diamond formation? That's Burberry check, daahling.
Dominic Calvert-Lewin can't stop smiling. On a sunny October day, the footballer is beaming into my living room from Chesire via a video link, two days after the derby between his team, Everton, and Liverpool, their local rivals and current champions of England. He scored the equaliser that ensured Everton got a point and kept the team's place at the top of the Premier League. Dom, as the 23-year-old likes to be called, has scored seven goals in the opening five league games, making him the joint most in-form forward across Europe (matching Bayern's Robert Lewandowski). He's also recently turned boyhood dreams into reality by scoring on his debut for England against Wales. ​"Everything starts in my head," he says.
"I have put myself in places before I have even been there, if that makes sense."
While most footballers conform to the train-eat-play-Fortnite-repeat cycle, Calvert-Lewin – and his Evertonian partner-in-crime Tom Davies – are on the radar of those who don't have FotMob alerts on their phone. They are part of a select, but growing, group of footballers – also numbering Hector Bellerin, Serge Gnabry and Timothy Weah – who have embraced streetwear and its surrounding hypebeast culture. Rather than the elaborately ripped jeans and bling usually preferred, they wear new Gucci, Burberry, Stone Island, Vetements, ­Casablanca. And rather than the typical Dubai winter sun for their break in February, Dom and Davies went to New York Fashion Week. The resulting content showcased looks sure to be snapped by any circling street style photographer. See Calvert-Lewin in a bucket hat and pinstripes in SoHo.

On a Citi Bike in blue cord. In mismatching suits – with Davies in a robe, no less – on the way to the Michael Kors show. ​"Davies and Calvert-Lewin's NYFW odyssey shows they're cut from a different cloth," proclaimed The Athletic.
Today, the most in-form striker in the English Premier League says he has ​"been a bit quiet in [my] purchases" of late, but he is wearing a sugar pink Vetements T‑shirt. He nominates Prada as his favourite label, is excited about its Raf Simons' partnership and deems A$AP Rocky ​"the GOAT in terms of streetwear".
"As a footballer you're so in a routine, and you do the same things every day," he says of his interest in fashion. ​"It's that bit of freedom. If you want to wear a suit for no reason, why not?"
Twenty years ago, Manchester United manager Alex Ferguson gave David Beckham – then probably football's lone stylish fashion plate – a famous, and possibly apocryphal, ultimatum: either the sarong goes, or you do. Calvert-Lewin says there is more tolerance in the current era. Does he get teased? ​"Not so much now. Now the tables have turned and they go, ​'Actually, looks alright that, only you could pull that off,'" he says. ​"It's like a backhanded compliment."
Vivienne Westwood was the first designer Calvert-Lewin remembers hearing about, because his dad wore her clothes. The first big ticket item he bought himself – with his first paycheque at 16 – was a Ralph Lauren puffer jacket. ​"I gave my mum a portion of the money and went and spent the rest on this coat. I left myself with probably £20 for the rest of the month." He still wears the coat.
Calvert-Lewin's interest in clothes has done more than expanded his wardrobe, he says. It's also expanded his world view. ​"In getting the stick for dressing a bit different, when I see someone dressed in something I wouldn't wear, I don't judge anymore," he says. ​"I just appreciate that the person is comfortable and confident wearing that."
Dominic Nathaniel Calvert-Lewin doesn't remember when he realised he was better at football than his friends. Born in 1997 and brought up in Sheffield, he signed for Handsworth Boys when he was seven and moved to Sheffield United a year later. ​"My whole childhood I was in Sheffield ­United's academy, really. It started off going to training on a Tuesday and a Thursday… Before you know it, you're training most nights of the week," he says.
"It was always internal, my love for football."
That love took him all over the country – playing for non-league Stalybridge Celtic in Manchester and League One's Northampton Town before signing for Everton in 2016 for £1.5m. He started playing as an attacker at around 17, initially watching top strikers like Thierry Henry, Sergio Aguero and Edinson Cavani on YouTube and imitating what they did. He's now contracted with Everton until 2025.
Despite the move to Merseyside, Calvert-Lewin's Yorkshire accent remains. This is perhaps because he's still close to his family, speaking to his dad, Karlda Lewin, most days. ​"There were times when things weren't going well and he's always been there to help me through, and [now] he is there to ­experience the upsides," says the footballer. See Lewin's Facebook post after his son's England debut, against Wales in October: ​"The tears shed tonight are happy ones while smiling at anyone who said he'd never make it," he wrote. ​"Tonight belongs to you."
As well as making his father proud, Calvert-Lewin made history that night. In a squad that also included fellow debutantes Bukayo Saka and Reece James, the trio's appearances meant the England team reached a milestone – 100 players of Black heritage have now played for the national senior team since Viv Anderson made his debut in 1978.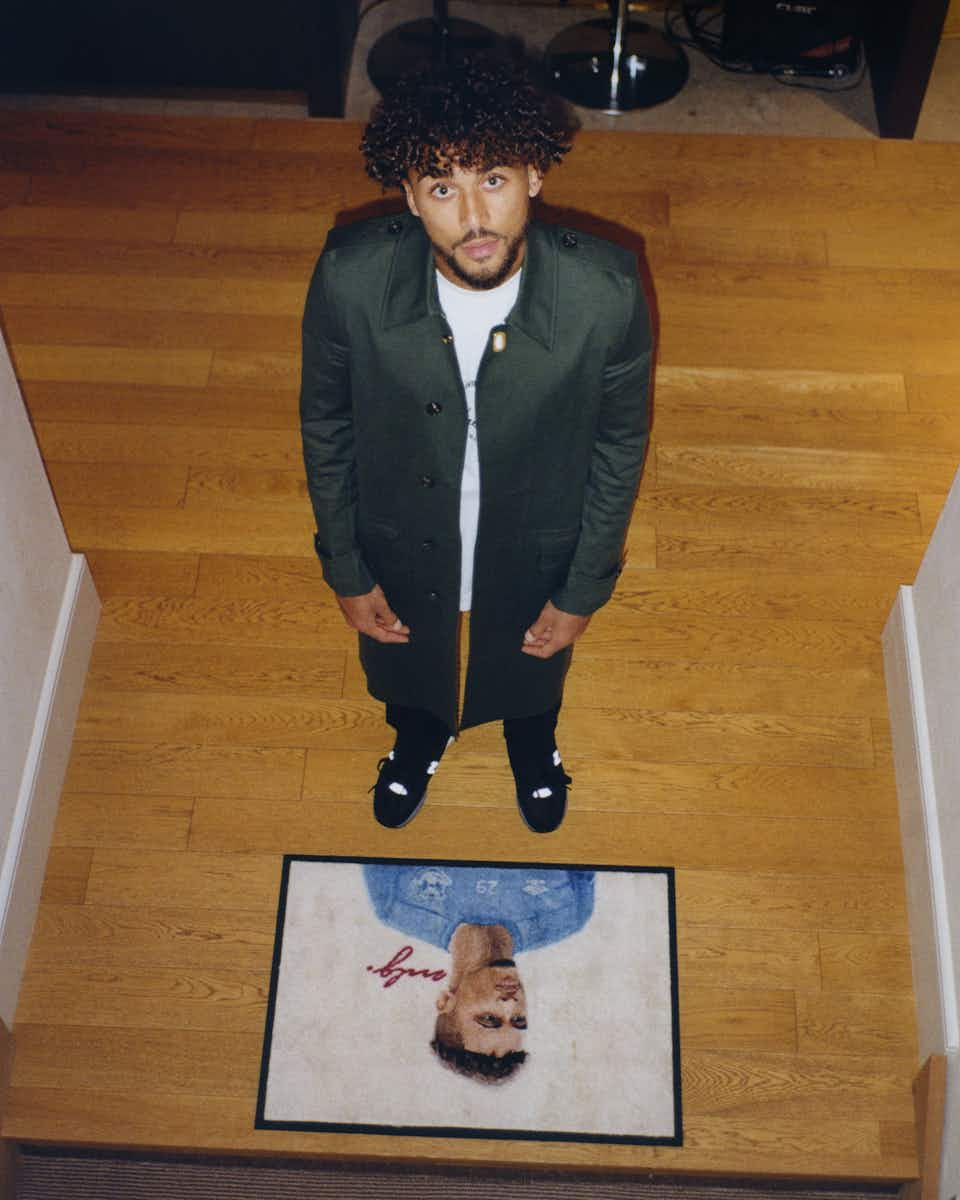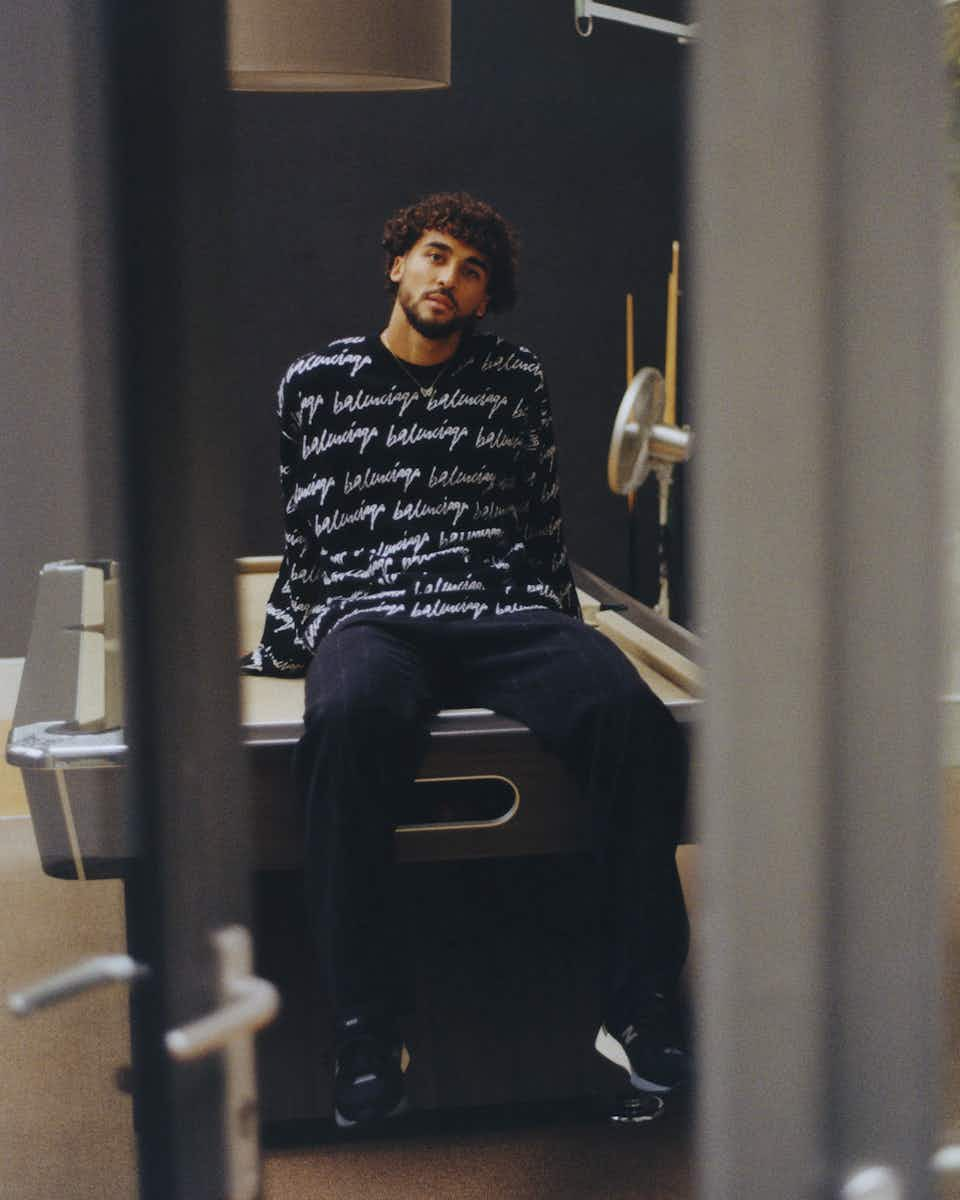 Racism in football remains a huge issue, with players including Raheem Sterling and Wilfried Zaha speaking out recently. Calvert-Lewin, whose mother is white British and father is Black British, has fronted a video talking about his experiences for the Premier League's No Room for Racism campaign. He says this work is particularly important in a year where the Black Lives Matter movement gained further momentum. ​"For that to have happened at a time when everyone was in their houses, it allowed people to give it the attention it deserved and what it needed, to go and protest and stand up for what's right," he says.
He adds that while there has been progress – with Black Lives Matter on the backs of shirts and players continuing to take a knee before matches – there is a long way to go. I ask him about the scarcity of Black managers in the Premier League. Despite the fact that 33 per cent of Premier League players are now Black or of mixed heritage, there are only six Black managers in the top four English leagues. That's 92 clubs. ​"It's crazy," he says. ​"Statistically it doesn't make sense for there to be so little. You'd ask the question: ​'Why is that?' I don't have the answer but I would hope with what is going on now, that will start to change."
The Calvert-Lewin schedule features yoga on a Thursday, timed to maintain mental serenity for Everton's weekend fixture. He eats salmon and pasta the night before a game, and just before it, for energy but also because ​"I really like salmon". He always plays Lemonade by Internet Money and Gunna when he steps off the team bus as, like most footballers, he's superstitious. ​"I'm a creature of habit," he says. ​"If I do something and get a good result I'll keep doing it till it changes and then I'll change it."
Calvert-Lewin isn't always entirely zen, of course, even after the effects of a 20-minute shavasana. He was starstruck for the first time when he spotted his hero, Thierry Henry, after a game at Arsenal's Emirates Stadium earlier this year. ​"I thought: ​'I really want to shake his hand but I'm too scared,'" he says. ​"I just wanted to say: ​'Look, you're my hero, I've watched you since I was a kid, I always had Thierry Henry shirts' − but I froze in that moment." With the trajectory Dom is on, another one-to-one with Henry, so to speak, is sure to present itself.
This time, and in this form, you wouldn't bet on him bottling it again.

More like this