Donkwear: Manchester's Mowalola-approved cult fashion label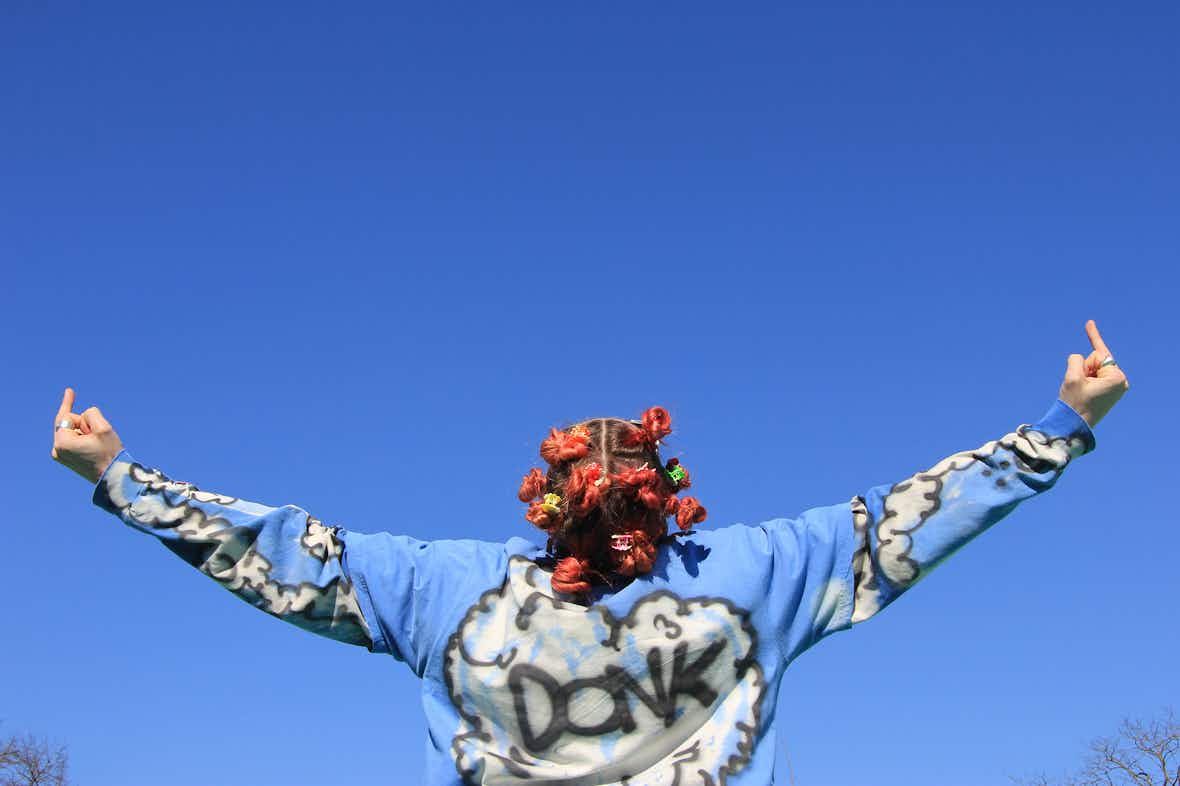 With influences such as Kevin and Perry, Ali G and Beetlejuice, Donkwear might seem whimsical, but its designers see it as a serious alternative to fast fashion.

Donkwear's clothing is experimental, lively, and – if their signature smiley is anything to go by – incessantly mischievous. The Manchester-based duo have created a brand which prides itself on a lack of seriousness, citing Kevin and Perry (remember… vodka eyeballing?) and Ali G as influences in the same sentence as Betty Boop and Beetlejuice. But underneath their whimsical approach, designers Sam Shep and Madi Marcantonatos stand for a deeply serious and affirmative alternative to the way the fashion world exists.
Growing up in Bolton, Greater Manchester, Donkwear's name is an explicit reference to the music genre popularised by the same town. Donk accelerated itself into the forefront of every young Boltoner's lives in the late 2000s and, soon enough, the rest of the United Kingdom was peering in with a hypnotic trance, bemused, yet charmingly engaged.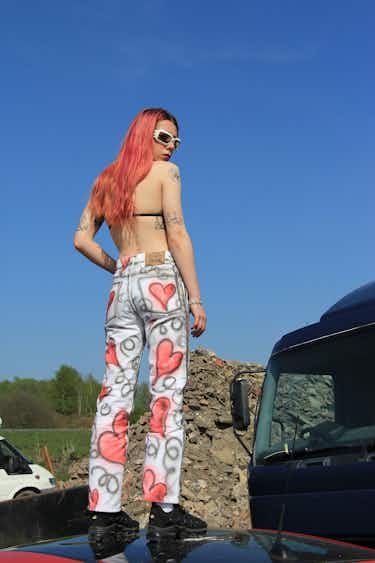 As self-described scene kids in Bolton, the duo's childhood saw them exposed to guttural screams and heavy breakdowns from bands like Bring Me The Horizon, while simultaneously surrounded by the inescapable 150 BPM donk thumping from souped-up Vauxhall Corsas. This musical juxtaposition found harmony in Shep and Marcantonatos who, together, wouldn't look out of place at a free party, nor a punk gig.
This eclecticism translates directly to Donkwear's clothing. With backgrounds as upcyclers, the pair take old fabrics, stray materials or whole pieces, and unleash them as new, coalesced forms. The brand initially gained traction for cloud detailing –think: old Versace jeans reimagined with painted, playful imagery, or jumpers bleached to create lively shapes – but have since expanded into couture-based experiments.
"We want to be known for making the hardest tracksuits – that's something we love doing," Marcantonatos says, before going into how they've built up a cult following in Manchester for making personalised tracksuits for various rappers, DJs and artists.
Donkwear refer to themselves, lightheartedly, as street couture, but this riff on haute couture isn't a joke. In a time where young creatives find it harder and harder to make a living off their own work, it's important to acknowledge the history of the industry they're in. With haute couture, expensive brands make individual items for high-paying clients. With street couture, Donkwear makes individual items for young creative types – people like them.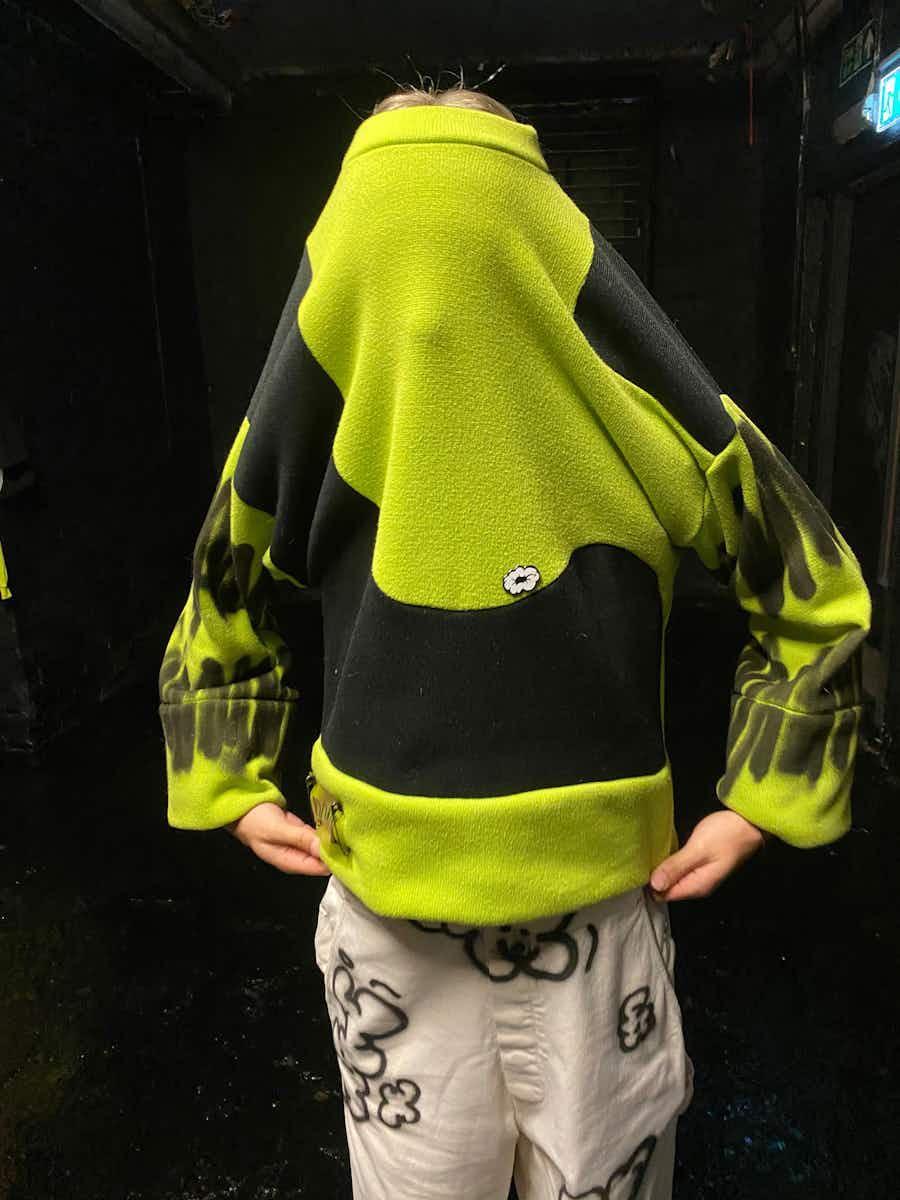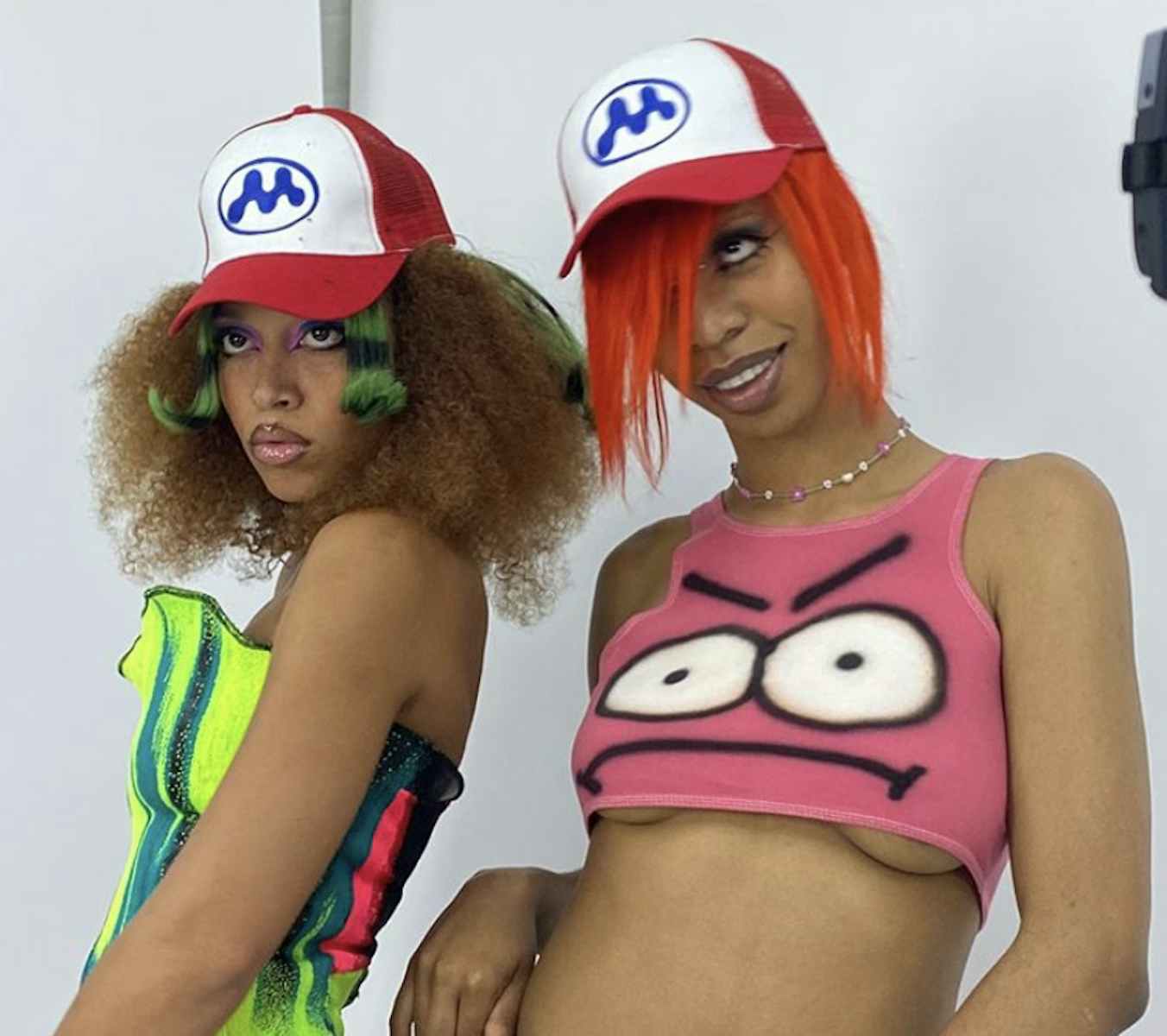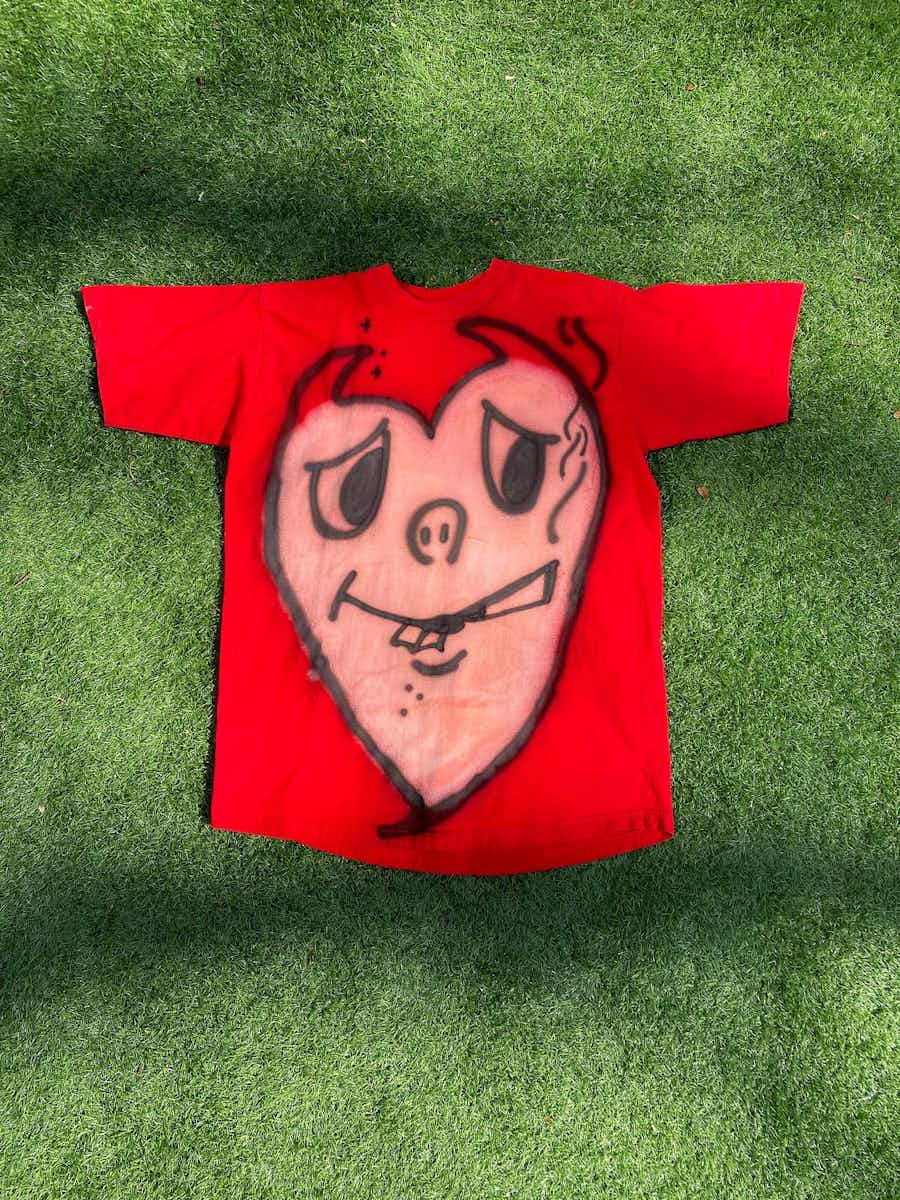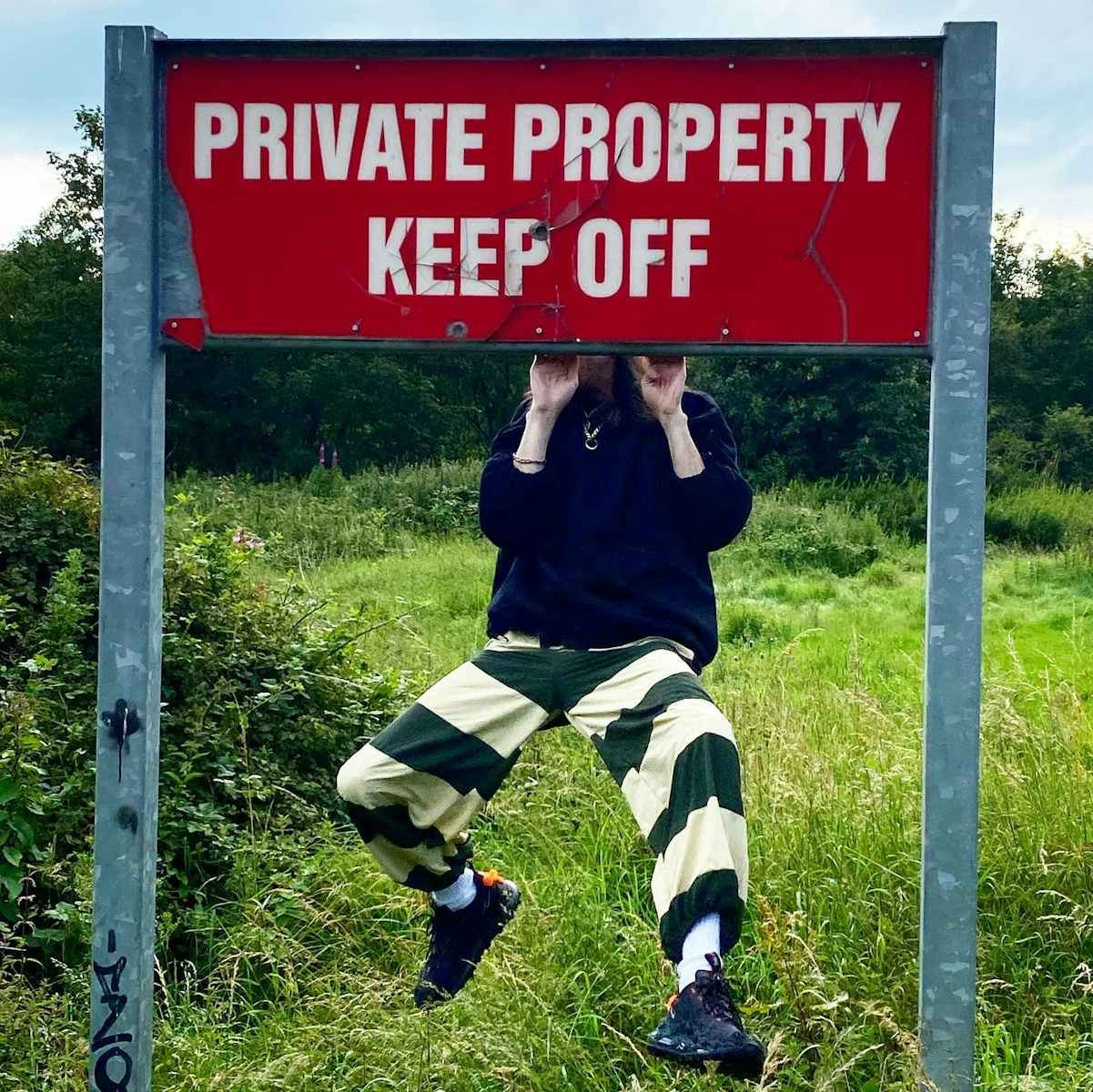 This only scratches the surface of their underlying seriousness. Donkwear expresses dissatisfaction with Manchester's association with fast fashion – a city dubbed the e‑commerce capital due to brands like Boohoo, Nasty Gal, Pretty Little Thing and Missguided setting up offices in the city. Donkwear's frustration is how fast fashion distorts the perspectives of consumers. ​"The fact that you can buy a full tracksuit for £30 from boohooMan is fucked," argues Shep, who hopes that being transparent about the processes behind hand-making clothes will go towards addressing a worldwide normalisation to fast-fashion prices.
Having benefited from a recent co-sign from the stylist Lee Trigg, who styled designer Mowalola in Donkwear for a shoot with Aidan Zamiri, the design duo are hoping their expansion into the London market will carry their message with them.
With humility, they tell THE FACE that ​"high-profile figureheads have a responsibility to be conscientious with what they style people in," hoping that DIY fashion can exist hand in hand with established design, and together they can combat the distorted world of fast fashion's cheap and instant gratification.

More like this