Trivial Pursuit is the coolest fashion exhibition in NYC right now

Alienation, anxiety and economic pressures are the ultimate themes in Daisy Sanchez's exhibition looking at fashion in the context of contemporary art.

Over on Instagram, Daisy Sanchez aka Junya Wannabe aka NYC gal about town, has established herself as an uber-cool art historian for the internet generation, regularly posting the by-and-large unknown buried treasure she comes across.
One day it's a collage by pioneering feminist artist Miriam Schapiro, the next it's a razor-sharp photograph of a ballgown turned into a BDSM trap by American conceptual artist Sarah Charlesworth, or a Michel Majerus painting from 2001, Pornography Needs You. And throughout, a satirical wit – like the time she dressed up as Marc Jacobs in a neck brace at one Halloween party, and Vivienne Westwood with just a leaf covering her modesty for another.

Opening last week in New York's Entrance gallery is Trivial Pursuit, a group art show lovingly curated by Sanchez herself, featuring some of the most brilliantly subversive artists from the city and beyond, such as Ana Viktoria Dzinic, Inez Valentine and Iris Luz.
It all started with a quote taken out of context, from an article by famed art historian Lucy Lippard. The quote in question, ​"after fashion – the group show", ended up being the exhibition's tagline. ​"The write-up doesn't pertain to fashion, but I re-styled that snippet for my own purposes as it felt particularly apt as a descriptor," explains Sanchez.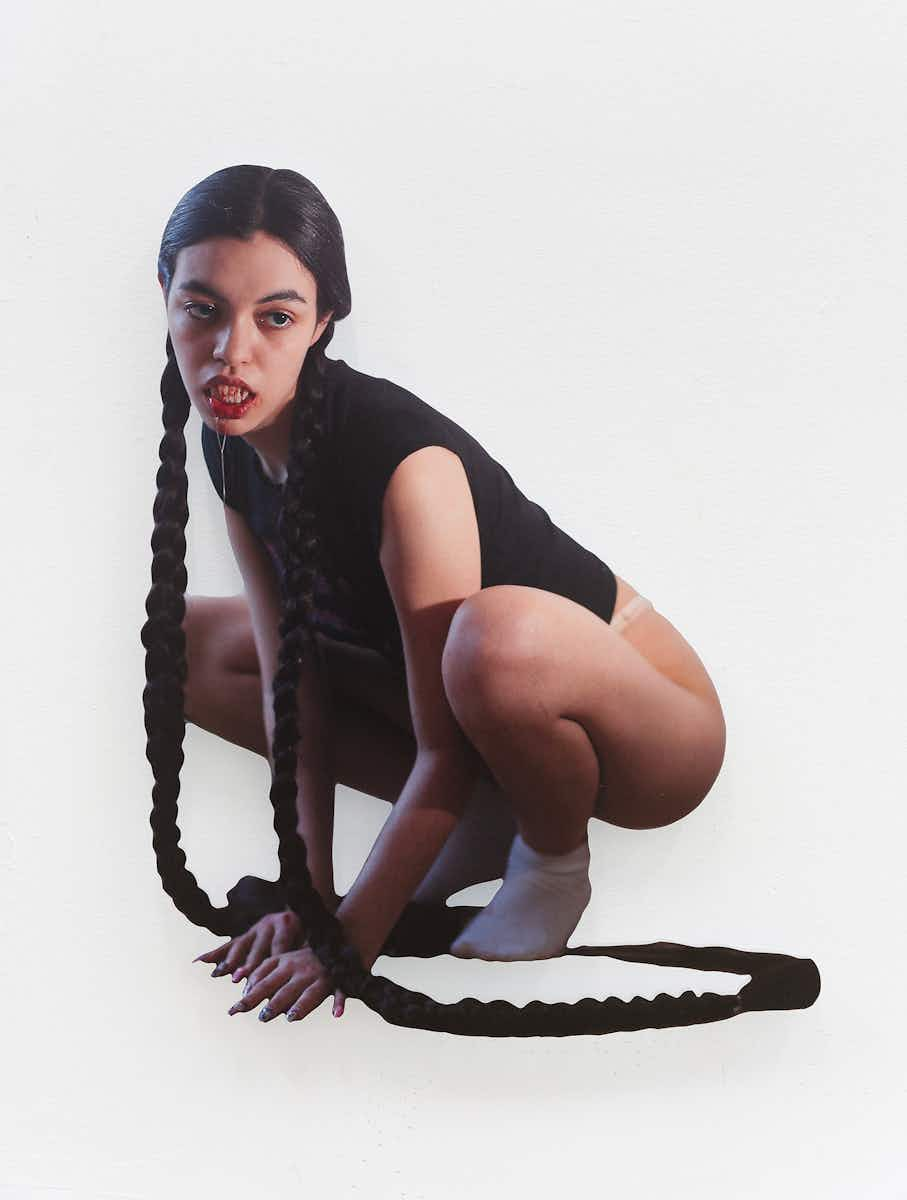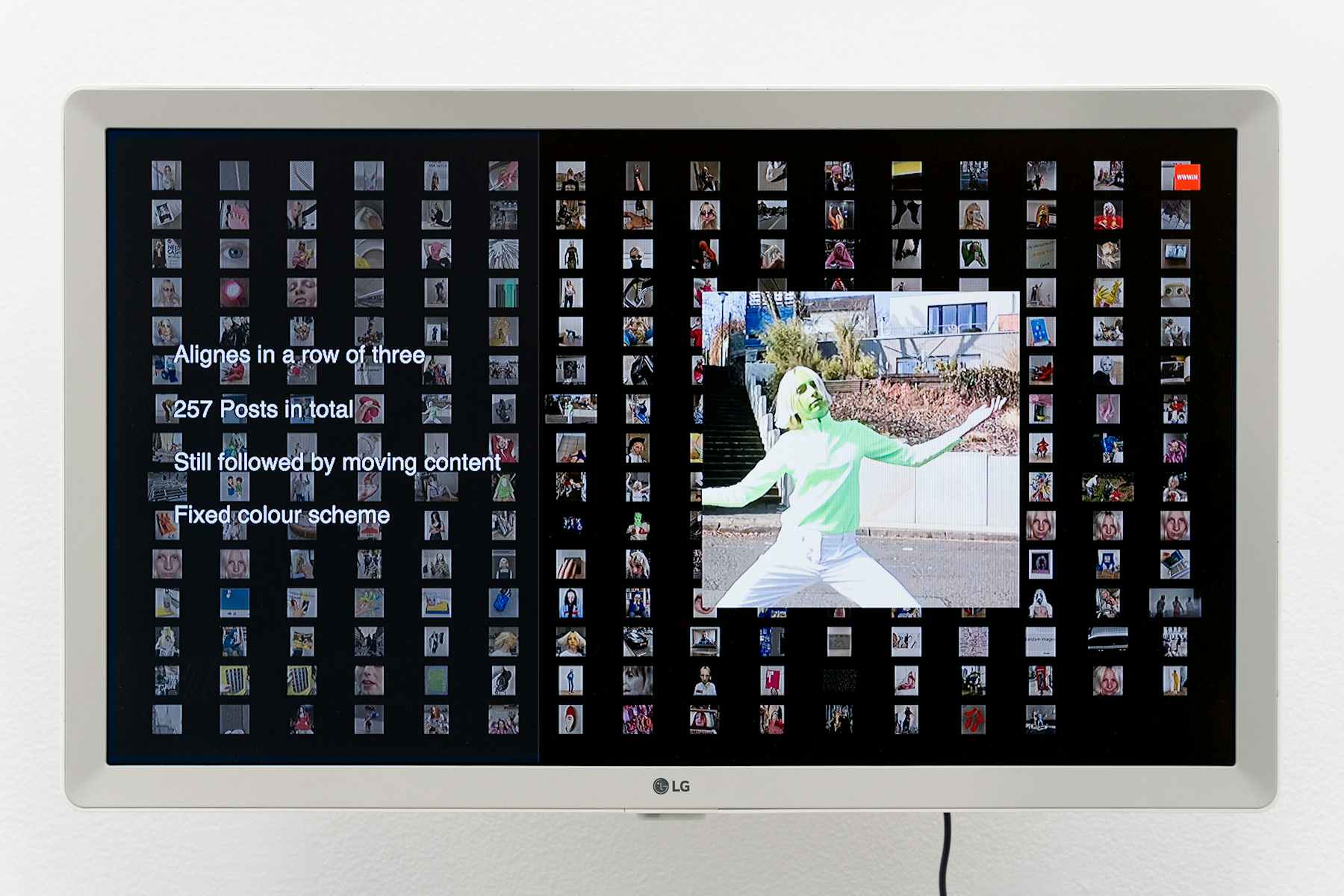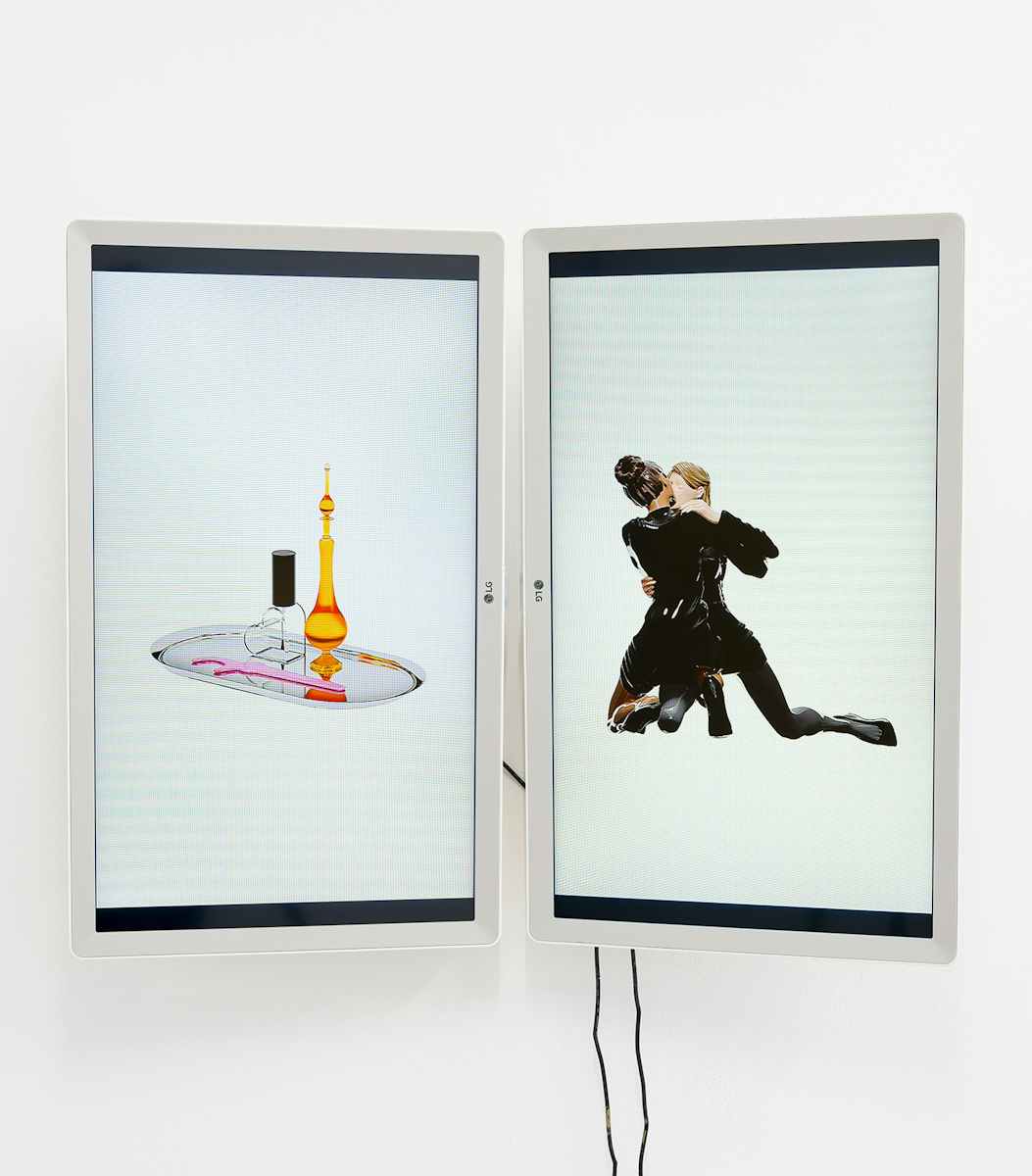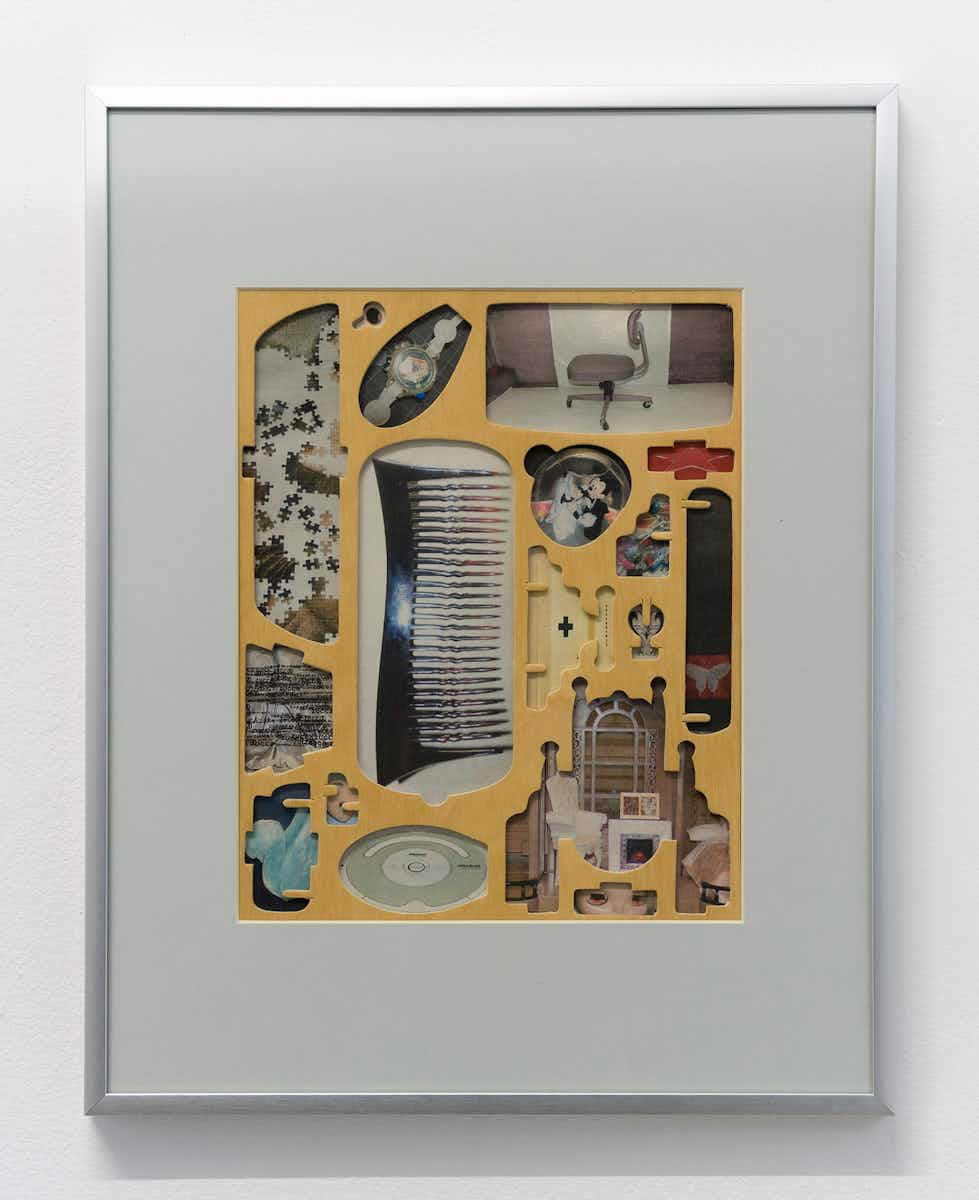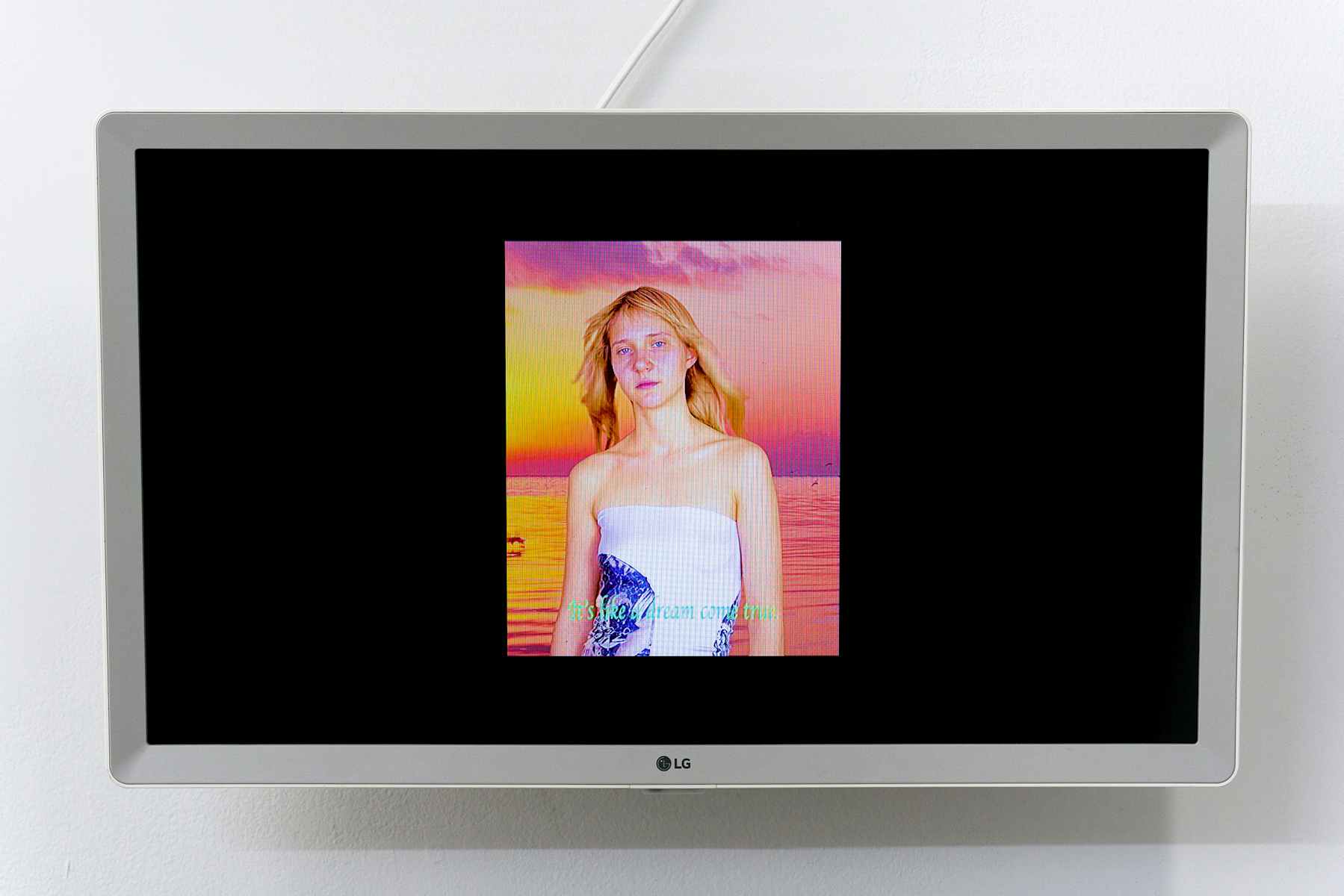 "Trivial Pursuit is a group exhibition featuring artists who have worked within the fashion system in a variety of roles – as collaborators, content creators, photographers, designers and models – as a means to fund their artistic practices. No one escapes fashion. We are all participants whether we like it or not."
The fashion-adjacent artists in question are seven women from a range of multimedia backgrounds. Fashion photographer Alessia Gunawan has shot for brands like super-sexy ATXV and the outdoorsy Vibram. Visual artist Iris Luz's work is often informed by her cultural curiosities – mostly the weird underbelly of the internet – working on fashion editorials that merge aliens with tacky Windows XP sunsets and hair patterns. And Iniz Valentine, who runs apparel brand Aircrush, airbrushes slogans like ​"heart attack", ​"angels luv me" and ​"i miss you" on t‑shirts, hoodies and knickers.
"They're all younger artists around my age – I [was born in] 1998 and the range in the exhibition is ​'98 to ​'94 – with limited to no exhibition history in a gallery setting," Sanchez says. ​"Their backgrounds and interests span a multitude of diverging directions but coalesce in their rigorous engagement with the societal runoff generated by the fashion system.
Sounds like a beautiful riot. The whole exhibition, according to Sanchez, was prompted by conversations she was having with artists working in fashion, who spoke on the ​"ascendant opportunities" it offered, ​"as well as feelings of alienation and exploitation endangered by the system". As such, Trivial Pursuit also looks at the economic pressures of being an artist and the anxiety that comes with it.
As well as those conversations, Sanchez was influenced by the very artists that dominate her Instagram feed every day – you know, since she's an art historian. "[There was] a Julie Becker drawing where she scrawled out ​'I must create a masterpiece to pay the rent', a quip from Robert Rauschenberg about ideas not being real estate, Isabelle Graw, Julian Stallabrass and Adam Greczy's writings on the relationship between art, fashion and commerce," she says.
"To quote Lippard again: ​'If I have ever had a methodology or anaesthetic, it could be defined as ​"one thing leads to another'…"

More like this