Fashion's take on dystopian times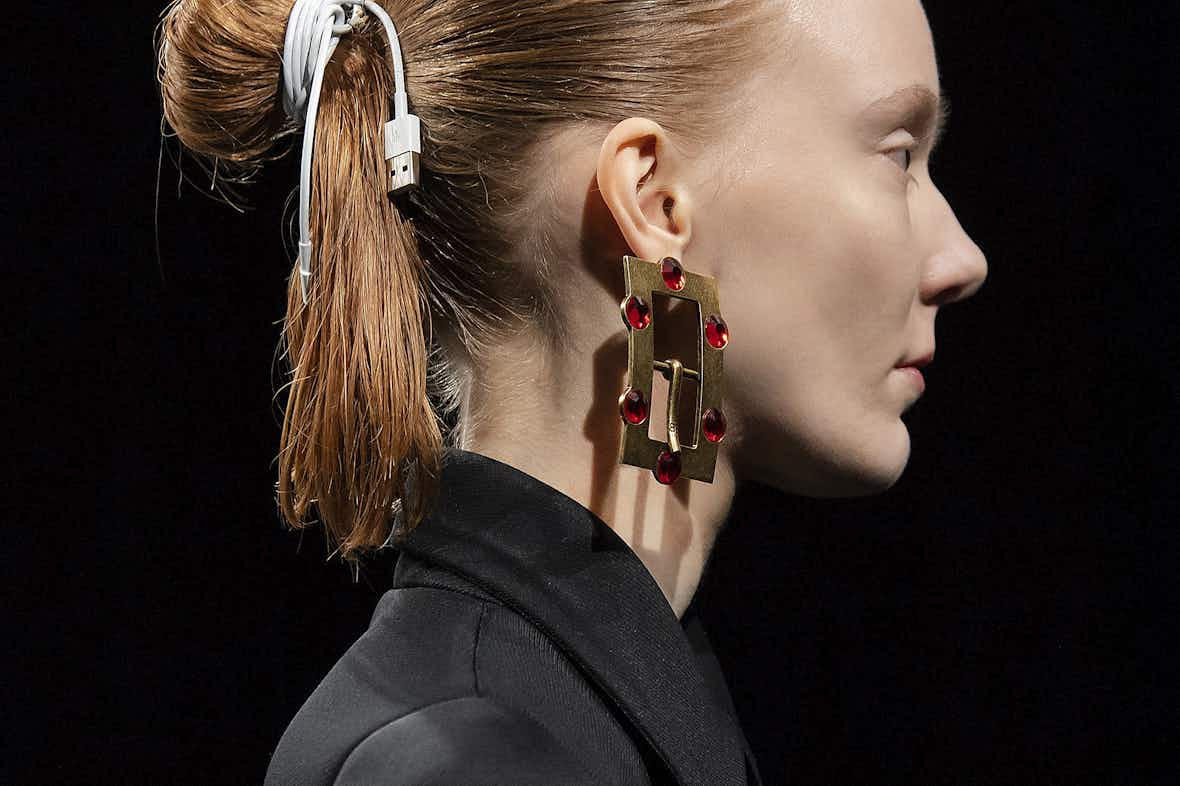 Childlike joy, mundane surrealism and post-apocalyptic apparel – this is how designers are responding to oppression right now.
At the Rick Owens show this season, the clothes were not what had people talking, good as they were. Instead, it was his wife, Michèle Lamy, or more accurately, her handbag, that captured the most attention. A rubbery replica of the head of her husband, it was surreal and ridiculous, and everybody loved it. The weird and the wonderful ruled at the shows this season; fantasy is back in a big way, because, well, we desperately need it to be.
We are living through a time where working in a superficial industry like fashion feels anathema to the direction the world is going; what's the point of creating more and more clothes when all we're doing is destroying the planet? For an industry that has always struggled to defend itself, things certainly aren't getting any easier. But for those designers who are clever, impending doom is simply more motivation to get creative and remember one of the main reasons for partaking in fashion in the first place: joy. Coronavirus may be about to wipe us all out, the Home Office is more hostile than it's ever been, and the rich are buying up land in New Zealand to prepare for the revolution. Yet the world keeps turning and, for now, we all need to wear clothes.
John Galliano has always been a proponent of the joy of fashion, and at the end of his Maison Margiela show this season, he spoke of restoration and of giving forgotten garments new life. He used his show to introduce Recicle, a play on the brand's old Replica line, and an opportunity to play with things that he and his team find in charity shops and beyond. ​"To freeze that moment, put it on the runway and sell it, just supports this feeling of being inventive with a conscience," says Galliano in the podcast he released after the show to explain the collection. Indeed, he repeats the word ​"joy" with theatrical emphasis. Clear plastic bags half-covered the handbags at the show, worn next to the upcycled garments.
"It's a return to worth, it's slower fashion, something that you can believe in," he continues. ​"Things that we hanker for, safety and heritage." Of course, the idea of Galliano picking up a sad old coat from Sue Ryder, chopping it up, giving it a Midas Touch and flogging it for a couple hundred times the original price is ridiculous. But if a designer that influential can upcycle old clothes into things that people want to buy, and does so sustainably, who are we to complain?
Elsewhere, joy comes in the form of the mundane and the familiar. At their debut Paris presentation back in January at the menswear shows, LVMH-winning Japanese brand Doublet based their collection on family restaurants and plastic food (known as shokuhin sanpuru); those who worked on the show were all given a plastic food model – oysters, plates of katsu curry – to take home as a souvenir. The childlike influence was everywhere: troll dolls and finger puppets were sewn into sweaters, and Singaporean sauna towels were fashioned into cashmere scarves. It was the cheap and cheerful made high fashion; these are expensive clothes made of carefully sourced fabrics in reputable factories, and they are intended to be worn for a very long time. It's not so much taking the lowbrow and ​"elevating" it to the runway, as Jeremy Scott did with his Moschino-McDonald's collection back in 2014, but taking whatever you can find lying around and turning it into something that, at the very least, brings a smile.
"What you see is not always what you get," says Stéphanie D'Heygere, a former accessories designer for Margiela, who runs an eponymous accessories brand for which the everyday is the linchpin, and has a particular knack for ​"appropriating the familiar". ​"I get inspiration from my daily life, from the objects that surround me," she says. Her designs range from the useful: a belt that doubles as a rather chic lighter holder; to the surreal: a wax-filled signet ring that is also a tealight, complete with a wick – a playful nod to signet rings traditionally being inscribed with family crests for wax seals.
D'Heygere's most recent creation is a line of jewellery that functions as a notepad and comes complete with markers for temporary decoration or note taking. ​"The idea is to accessorise your accessories by drawing on them," says D'Heygere. ​"The tag of the ID-bracelet, traditionally engraved with your name, has been replaced by the white board. You can write your name on it, your lover's name or anything else. You can easily erase the marker with a tissue. Or perhaps some grocery you need to get or an important appointment. So, I don't need to write on my hand ever again." It is Duchampian, joyful stuff that thrills in its accessible sense of cheekiness.
This idea of dressing up in stuff one might find around the house isn't new to anyone who grew up with an imagination and access to their parents' wardrobes, of course, but in the internet age, a little creativity means crafting clothes from everyday objects has viral potential. Rombaut, for instance, is a sustainable accessories brand based out of Antwerp that makes sneakers crafted from plant-based materials and recycled fabrics; it made its name with sliders that had fake pieces of lettuce that wrap over the toes. Nicole McLaughlin, an artist who blew up on Instagram a couple of years ago for her viral creations, operates in the same space. Think: coats crafted out of sewn-together oven gloves, bras made from two packs of Dove wet wipes, and even a sling for a broken arm created from pieces of old The North Face jackets.
Back to the runway: designer Molly Goddard has built a successful brand in record time on what could well be called dressing-up-box fashion. At Goddard's AW20 show in London last month, her inspiration came from a photograph of her as a child that was originally published in a 1992 issue of Fruits, the Japanese street style magazine. The designer's huge, childish tutu dresses have delighted everyone from Rihanna to Killing Eve​'s Jodie Comer in recent years. It's positive, enthusiastic, and youthful.
And in the spirit of dressing-up-box fashion, it would be unjust to forgo mentioning Matty Bovan's AW20 show that saw models stomp in sheer, pannier-hip prom dresses complete with mobile curtain headdresses – that framed the faces of their wearers to photo-ready effect – constructed with the help of Stephen Jones. When the world feels sad, designers like Goddard, Bovan and the aforementioned D'Heygere promise the ultimate rebuke. Wearing a big colourful prom dress, poking your head through portable curtains, a bracelet that's also a notepad, or a handbag that's your husband's head, well, it's all part of the fun.
One designer that is shrugging off any sense of frivolity in fashion is Demna Gvasalia. At Balenciaga's AW20 show in Paris last weekend, he presented a hard-edged funereal collection in which models wore swathes of structured black tailoring and splashed down a catwalk deluged with water. It was an epic scene many likened to the type of thing Lee McQueen used to throw.
As the screens on the ceiling switched from racing clouds to a hellish storm gathering overhead, the models – some of their eyes all black or red, like chic extras from 30 Days of Night – strutted almost angrily through the flooded studio in the Saint-Denis district, as if signalling the arrival of the apocalypse. There was further food for thought in the details, too. T‑shirts were printed with the all-too-familiar-and-dreaded ​"no WiFi connection" icon, while old white Apple USB cables were used to fasten the models' hair in cyborgish fashion. They also had airpods in their ears and clutched iPhones; we're entangled with our devices whether we like it or not.
And then there was the seating arrangement – the front few rows, normally reserved for the industry's elite, were drowned underwater. Of course, showgoers (including Kim and Kanye) were still seated on the frontmost row that wasn't submerged, but the message was there: when the water rises, no one will be spared. And yet in a difficult world, it appears great design talent is thriving. Our advice? Wear it while you can.

More like this