The gloves are on: the accessory dominating 2021 fashion
From Olivia Rodrigo's good 4 u video to T LABEL's viral tulle creations, gloves are having a big moment right now.
When you think of gloves, what comes to mind? Is it bitterly cold winter days, slipping on a knitted pair before trudging to school? Or Audrey Hepburn, cigarette holder poised between gloved fingers, in Breakfast at Tiffany's? Gloves usually fall into two categories: the functional and the cinematic. It's hard to get excited about them when they are associated with washing dishes or weeding the garden.
That is, until now.
Gloves have taken on new meaning in the pandemic, becoming part of our anti-Covid toolkit, along with masks and hand sanitiser. They are no longer reserved for the glamorous, but also for the germ-averse. However, they don't have to be banished to the nowhere-land of ultra-functional fashion. Gloves have truly packed a punch across fashion and culture in recent months. Think less virus prevention and dish washing, more vintage elegance and statement-wear.
See them with crisp shirt dresses and smart trenches in Erdem's Resort 2022 collection or with knitted maxis and tie-dye check at Altuzurra Fall 2021. Cult Gaia's modern interpretation of long elegant gloves were paired with sleek and shiny evening wear. At Christopher John Rogers, leather gloves in slime green, lilac and tangerine complemented contrasting colours and clashing prints. Marine Serre​'s signature crescent moon print has also made its way onto elbow-length second skin gloves. And T LABEL's ethereal tulle gloves have been a big hit, going viral on Instagram and worn by Lizzo. Crafted from deadstock silk organza or a shock of fluorescent tulle, their standout ability to elevate an understated look has certainly played a role in bringing gloves back into fashion.
With their innate high glamour and elegance, gloves are no stranger to the red carpet either; Billie Eilish, Ariana Grande and Lizzo have all slipped on pairs to ramp up their award show looks. Meanwhile, white lace driving gloves accessorised Lana Del Rey's drive down the coast in a vintage cherry red Benz in the Chemtrails Over The Country Club music video. Then Olivia Rodrigo propelled the accessory to iconic status once more, as a vengeful cheerleader wearing latex gloves while her bedroom burns around her in the Petra Collins directed video for good 4 u. Rodrigo's gloves are a nod to cult teen flick Jennifer's Body – in both instances, the putting on of gloves leads the protagonists to commit acts of violence, the garment simultaneously becoming a symbol of power and psychological unravelling.
For Taylor Bea-Gordon, the designer behind T LABEL, gloves are more about romance than revenge, although her determination to perfect the art of glove making did come in response to a fashion tutor telling her not to waste her time on it. ​"I associate romance with an element of touch," Taylor says, explaining her affection for gloves. ​"Our hands are instruments for this. Romance should feel beautiful, emotionally and tangibly."
Nostalgia lets us view the past through romantic rose-tinted lenses. When we think of the Golden Age of gloves, Bridgerton-era ballrooms unfurl in our minds before giving way to 1920s speakeasies and the glamour of Old Hollywood. We're all craving a little escapism right now and gloves help us get in touch with that idealised past. There's also something romantic about hands themselves. When Romeo yearned below Juliet's balcony, he lamented, ​"O, that I were a glove upon that hand that I might touch that cheek!"
But they're not just romantic. They're sexy, too. Kink and fetishwear have always gone hand-in-hand with fashion. There are shades of eroticism to Olivia Rodrigo's black latex gloves, which is also mirrored in Petra Collins' photographs of Euphoria's Alexa Demie in her erotic Fairytales photo book, out October. Alexa's hands are covered in what looks like black slime, giving them a shiny latex effect. Other images in the book reference BDSM more directly through a series of rope tying images. It's official: kink has penetrated the girlhood aesthetic that has for so long characterised Collins' work. Her subjects are tired of pretty daydreams. Now, they're out for blood.
Glove fetishes usually come down to the material and its feeling against the skin. Latex, yes, but also leather and PVC. Putting on a pair of gloves can make you feel sexy and powerful, but they're also conducive with a safer sex environment. ​"Vampire gloves" with spikes on the fingers and palms are used in some BDSM practices to create a tingling sensation or cause pain. Anastasiia Fedorova, who writes about BDSM, fetish and kink, says that, ​"There is a range of sensations and practical qualities that are meaningful for the BDSM community: the ritual of shining the latex, the smell, the sound, the sweaty palms all become part of the erotic sensation. Long latex gloves can create a very empowering look. It's elegant, but also a bit over-the-top and very fluid. For me, gloves are definitely about power, the pleasure I get from wearing latex and what kind of headspace it puts me in."
Gloves are an easy entry point into fetishwear, because they are relatively cheap and versatile. While her delicate designs are an elegant counterpoint to kinky latex, T LABEL's Taylor can relate to the emotional response that many kinksters get from putting on gloves. ​"They make me feel different," she says, ​"like slipping on something made for my skin. I would consider myself an introvert in many situations, but creating and wearing gloves has given me a glimmer of another side of myself."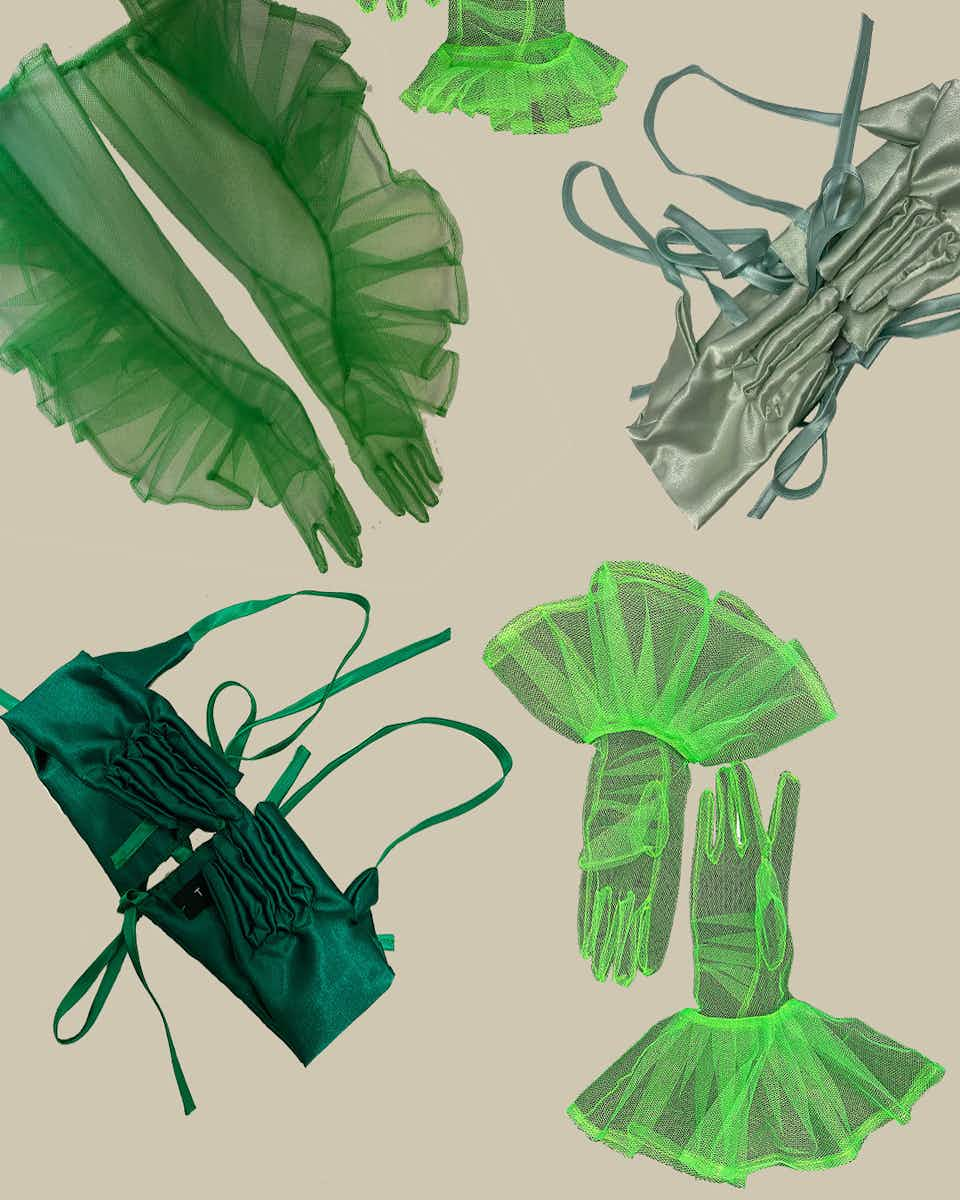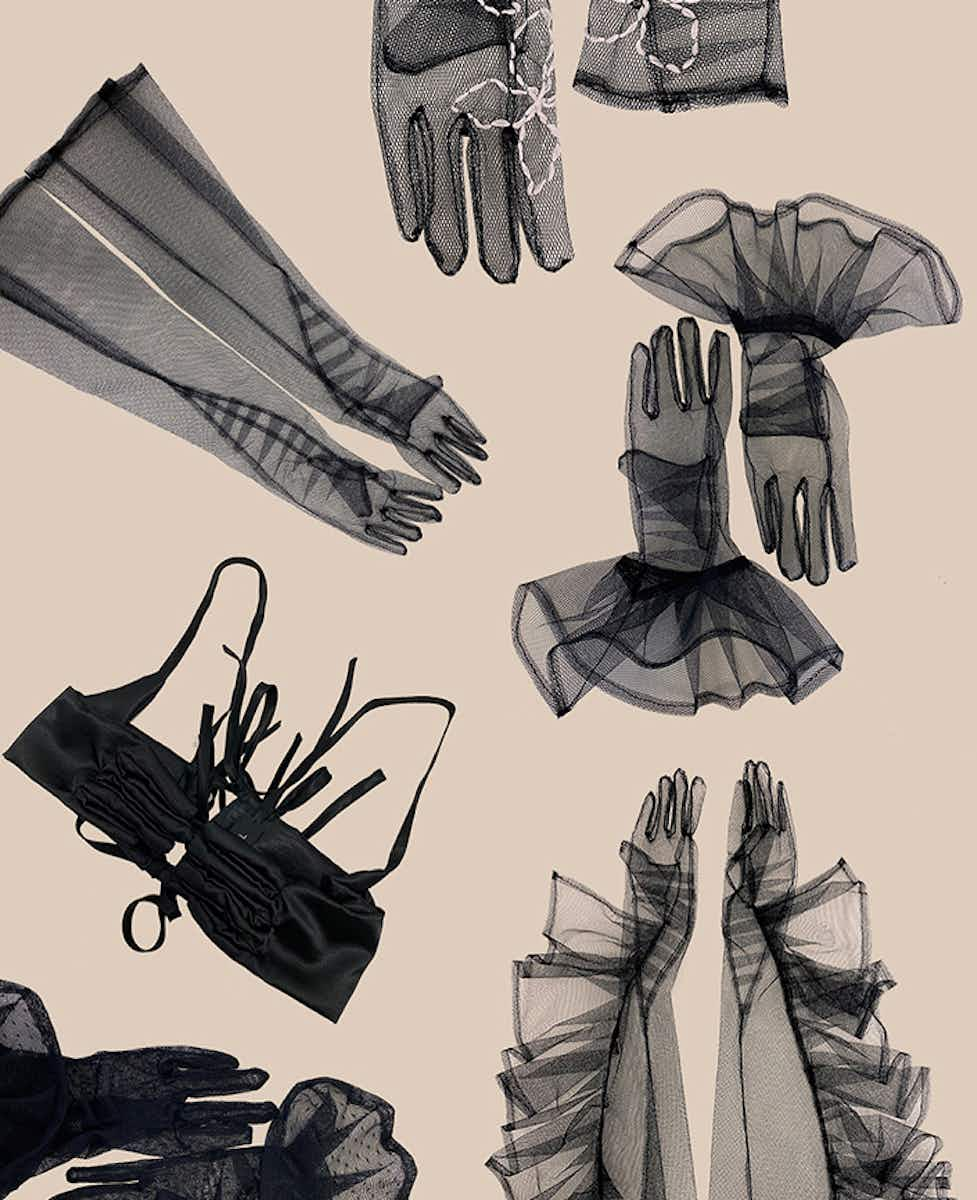 Outside of the BDSM community and the entertainment industry, wearing gloves IRL today comes with certain difficulties. ​"How do you style and interpret gloves in the modern world?" Taylor asks. It's an interesting question. Our lives have changed so much since the early 20th century when gloves were a wardrobe staple. Society today is almost unrecognisable from the formal affairs and nights out at the opera that defined the social lives of former generations. And the biggest change of all is how ubiquitous smartphones now are at social events. If you wear gloves today, you quickly come up against the dilemma of how to type a message through a layer of material. Texting with gloves on is no small feat, so it's ironic that social media has fuelled the trend. ​"In my circumstance, smartphones have enabled a shared conversation with this piece of clothing that wouldn't have been possible otherwise," says Taylor of the popularity of her gloves on Instagram.
Would wearing gloves to an event and not being able to go on your phone be such a bad thing? Sure, you wouldn't be able to scroll through Twitter in a dull moment, but it could make us more present. After all, connecting with people face-to-face has been bumped right to the top of our priority list after 18 months of speaking through screens. Once we can go out out again, a killer party look will be more important than any practical considerations anyway. If the idea of being more or less phoneless for the night still makes you anxious, designers are already coming up with smart solutions. Cult Gaia's elbow-length gloves leave the fingers free by looping the material around the middle finger only – think of them like flip flops, but for your hands. T LABEL's bralets place the gloves suggestively over your chest, leaving the hands free. And then, of course, there are classic fingerless gloves just in time for emo girl summer.
Fashion gloves are excessive. They serve no purpose but to elevate a look. When it's time to return to clubs, those who want their outfits to be more than a little extra – and to be honest, who wouldn't? – might opt for a contrast print over the elbow pair à la Marine Serre or for a burst of fluorescent tulle. While gloves are perfect for capturing a standout Insta snap and we are increasingly dressing up for the ​'gram, it's yet to be seen whether gloves will ever become a mainstay for a night out on the town, as they were in the past. It's unlikely we'd wear them to pop to the shops or for a pint down our local, but what's certain is that gloves will never disappear completely. Their ability to conjure emotions from romantic nostalgia to revenge and power makes them an ideal costume choice for movies, music videos, red carpet events and beyond.


More like this