GUT makes XXX-mas a sexy year-round jolly

After a two year break, Ami Hughes is back with her latest issue, exploring traditions – like Christmas and Easter – in all their weird fantastical glory.

"Oh, I wish it could be Christmas everyday," said not one single sane adult since the one-hit-wonder band Wizzard in 1973. Ever since, we've succumbed to the deathly, sickly sounds of children singing the disgustingly saccharine song as it booms in ASDA every bloody year come 1st December – although it's more mid-October now, isn't it?
Since 2015, Ami Hughes of GUT magazine has brewed a witches cauldron of subversive themes for her annual publication, diving head-first into slime-covered magic, food, trolls, death and costume. This year, she's back with Traditions, the first GUT issue since 2019's sex-Halloween-demons-and-German-fest. Celebrating Christmas and other holidays throughout the issue, it turns out, someone might agree with Wizzard after all…
"As soon as I finished the last one, I started thinking about [this] one," she says. ​"I thought it was going to be Christmas-themed, and there did end up being a lot of Christmas stuff in there, but I do want to make it clear that it isn't just Christmas! There's so much more to the book than that."
For Hughes, Christmas felt like a decent jumping-off point to explore wider themes around traditions, getting stuck into its kitsch ​'80s aesthetics, all disgusting and tacky. Just another day at GUT HQ, then.
The 33-year old points out that Christmas is supposedly only for Christians, even though most people in today's generation aren't Christians. ​"It's just a big facade! The same as Easter, which is about Easter eggs, dressing up and going to the pub. Those are the aspects I find funny," she explains.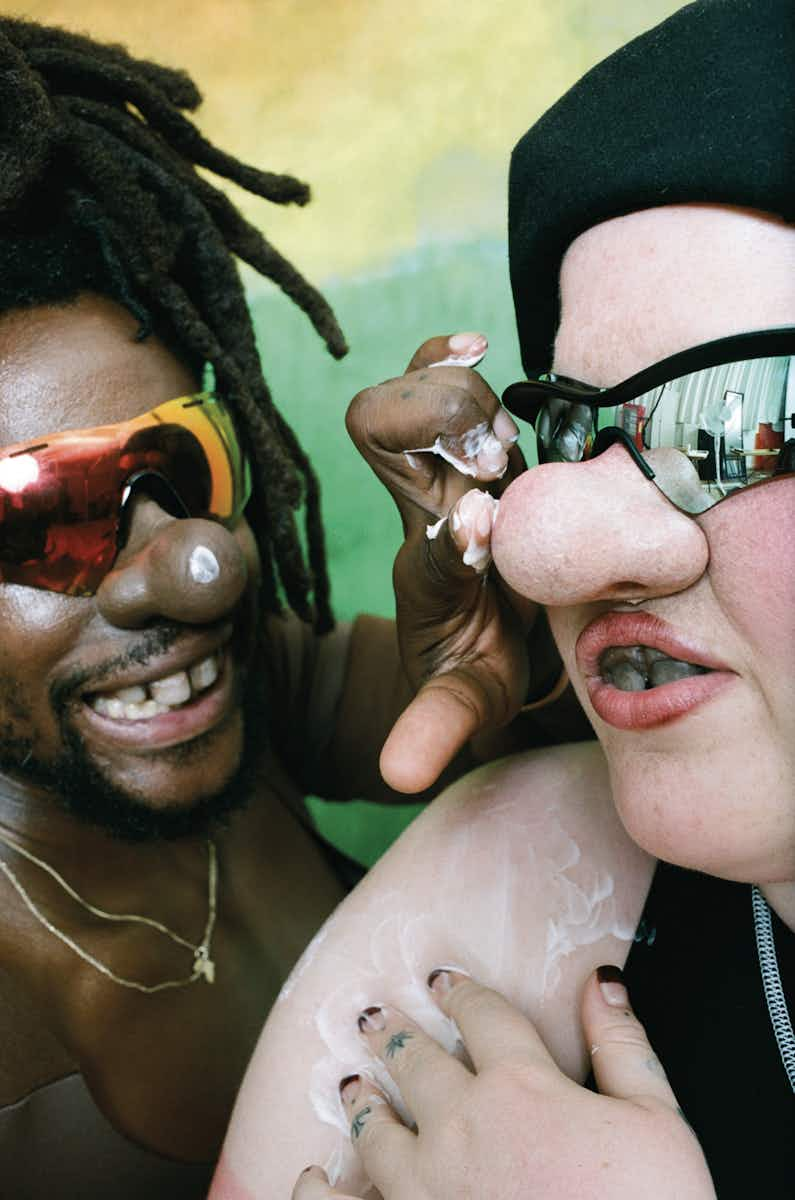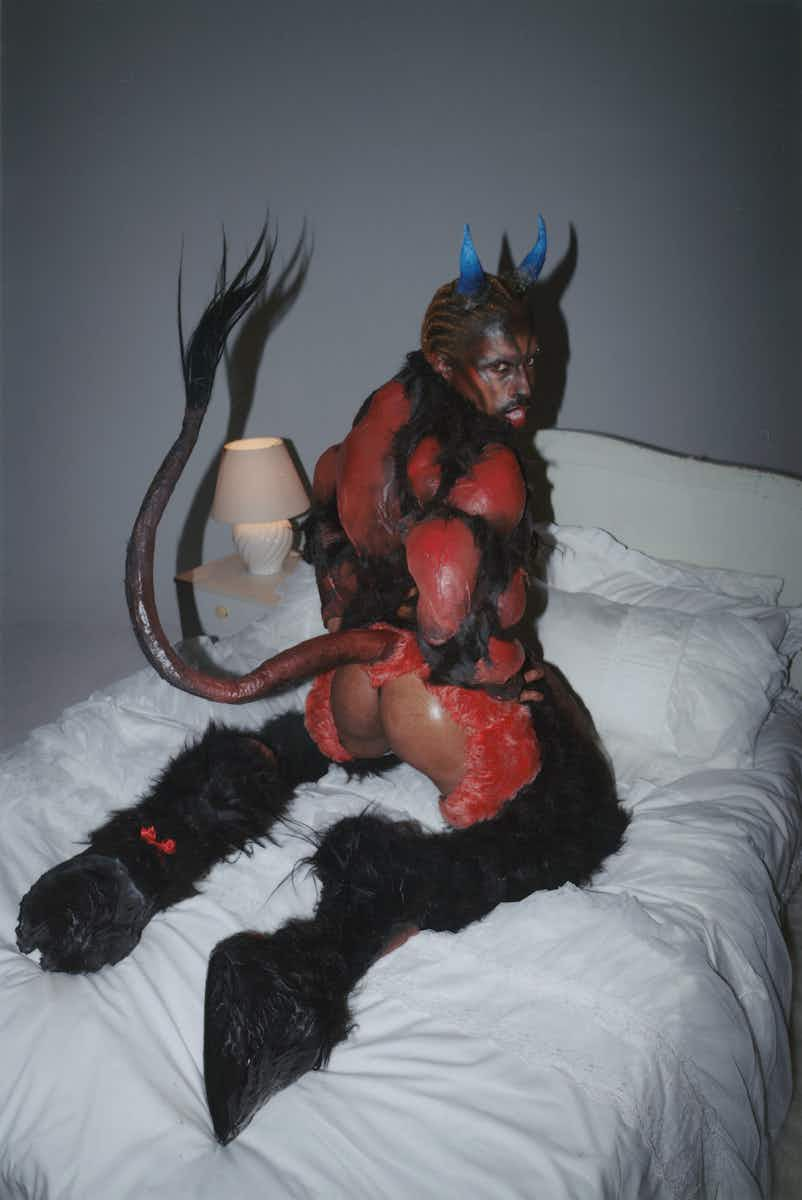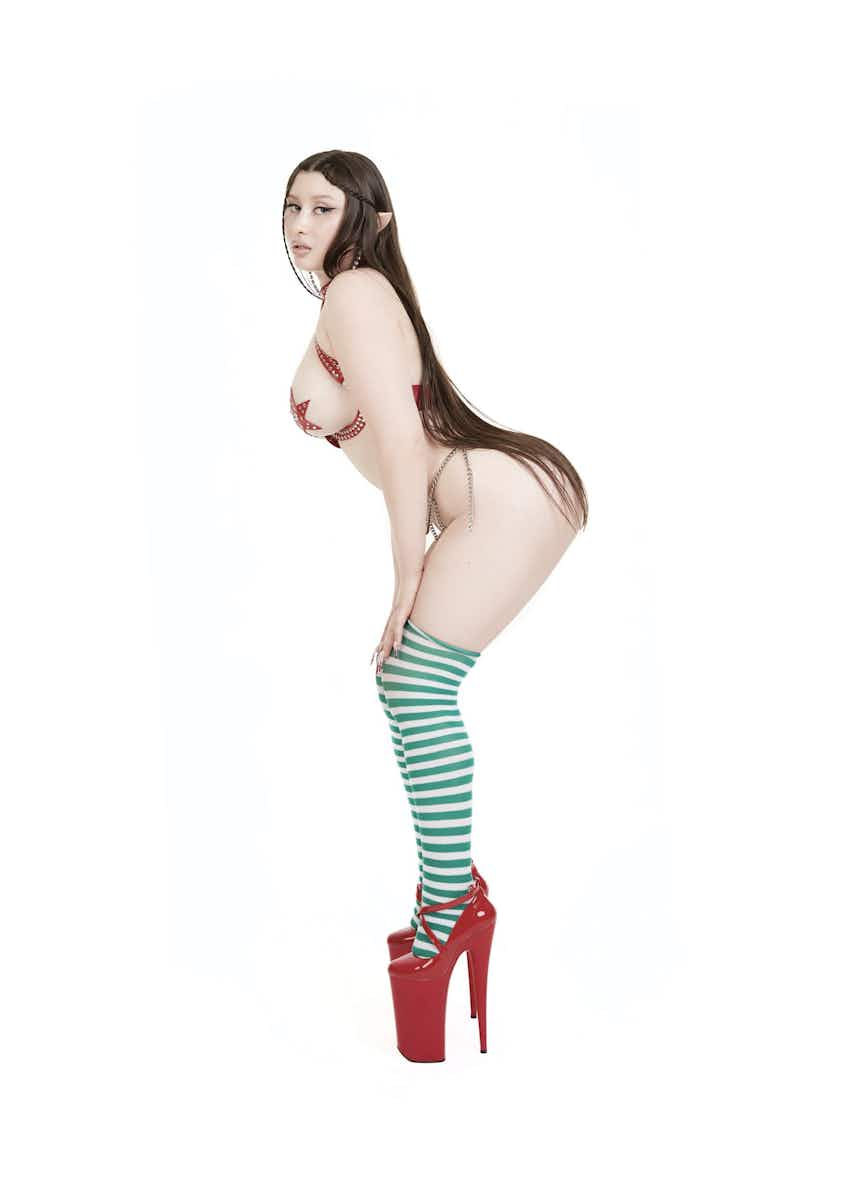 Hughes has wanted to do a Christmas-themed issue for a long time, but GUT​'s return to print felt like the perfect moment. Like so many other small, independent publications, GUT felt the wrath of the pandemic and had to halt production for two years. So, when they were finally able to make another issue it was time to celebrate – and what better way to do so than with hot girls dressed in sexy Santa outfits?
"The issue is much more clear and well-rounded," she says, reflecting on the theme. ​"Personally, I feel much prouder of it than other ones. I'm happy about the whole thing, because I had a bit more time to breathe."
Inside is as twisted, camp and OTT as any other issue of GUT. Case in point: Hughes worked with designer Max Allen on a shoot with London's finest drag queens, Bailey Mills, Barbs and Sharon Legrand, dressed as Christmas trees. ​"You don't get more camp, silly and English than that," Hughes says. There's also a photo story of a gay twink with a butt-plug up his arse that happens to be a reindeer tail. Enough to make Rudolph blush brighter than his nose, that.
Since GUT​'s initial launch, Hughes has built a trusty network of collaborators and mates, such as model Jess Maybury, and artists and photographers Racheal Crowther, Raphael Bliss, Dexter Lander and Paul McCarthy. But often, she'll receive emails from unknown GUT fans around the world wanting to contribute.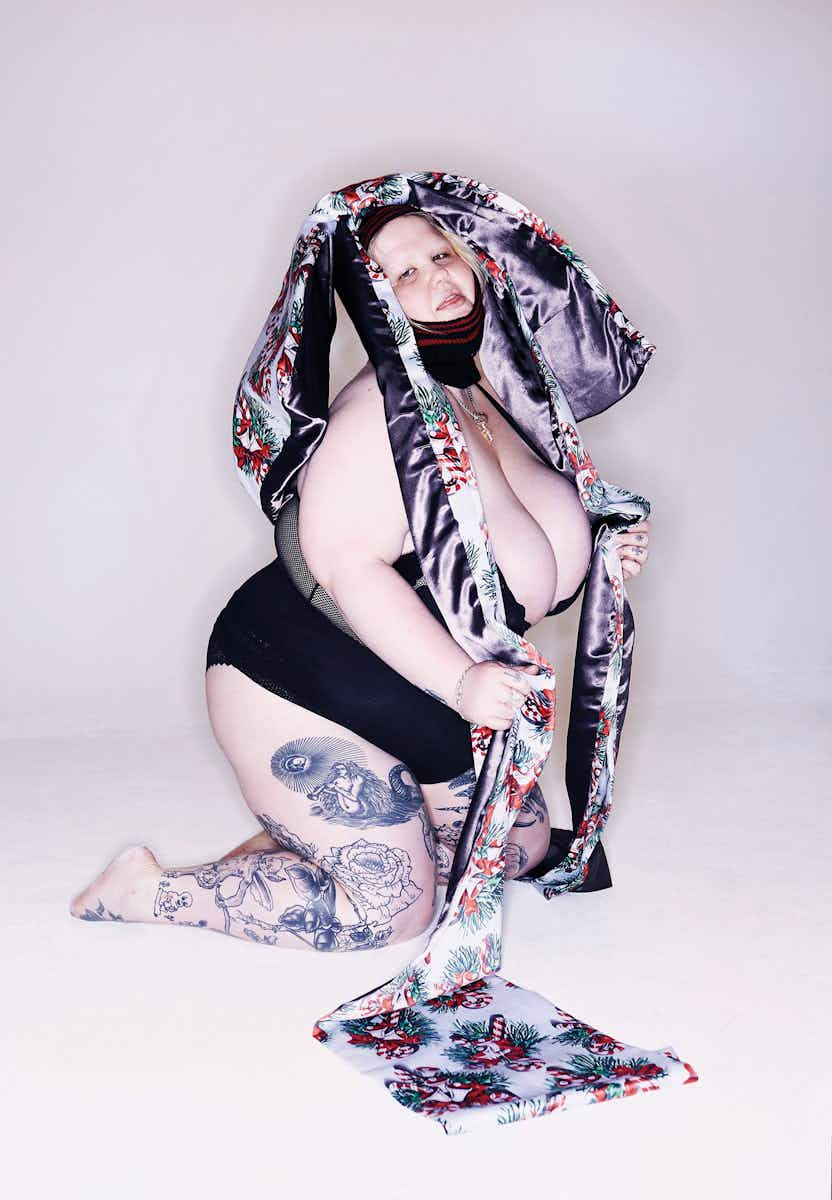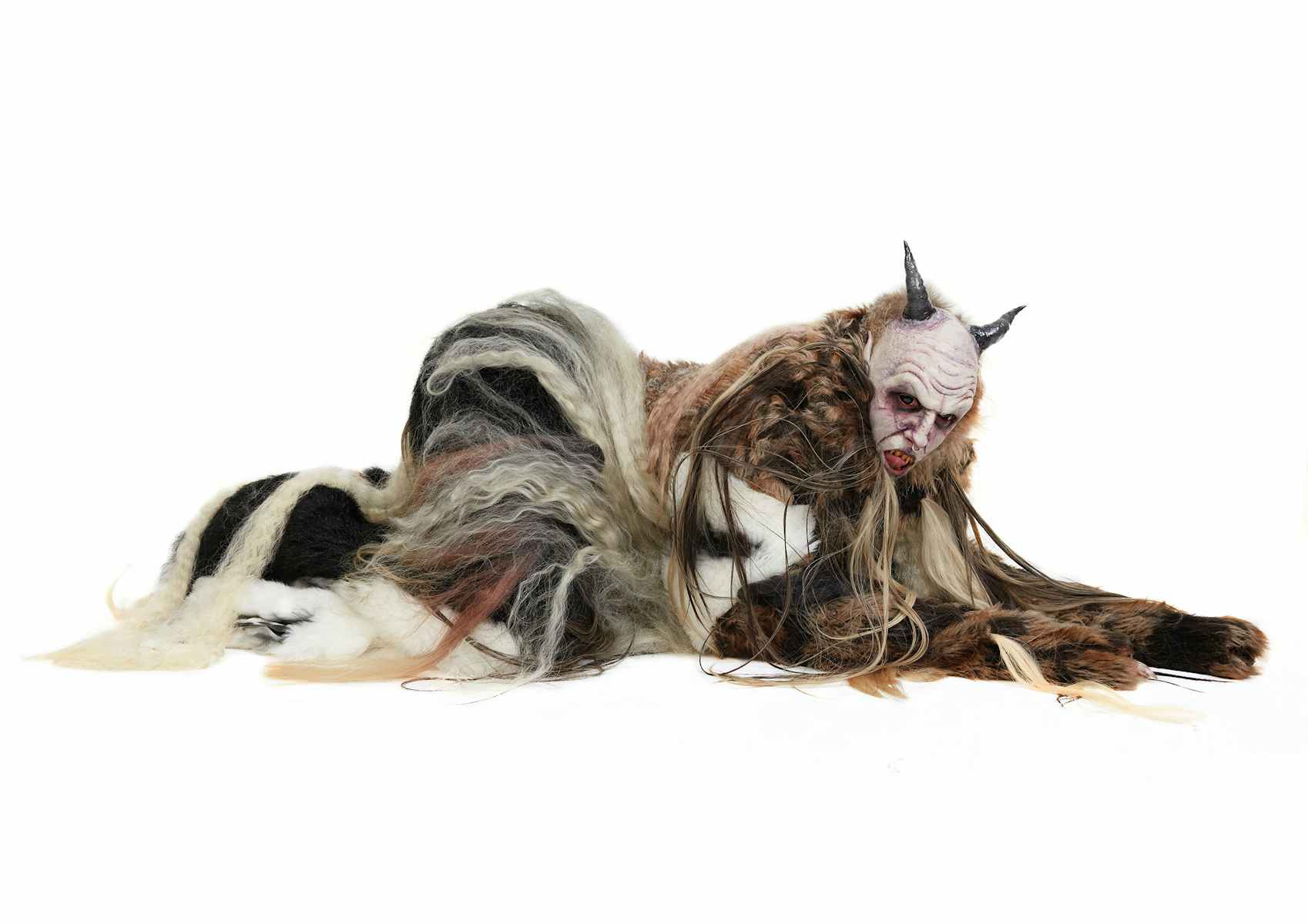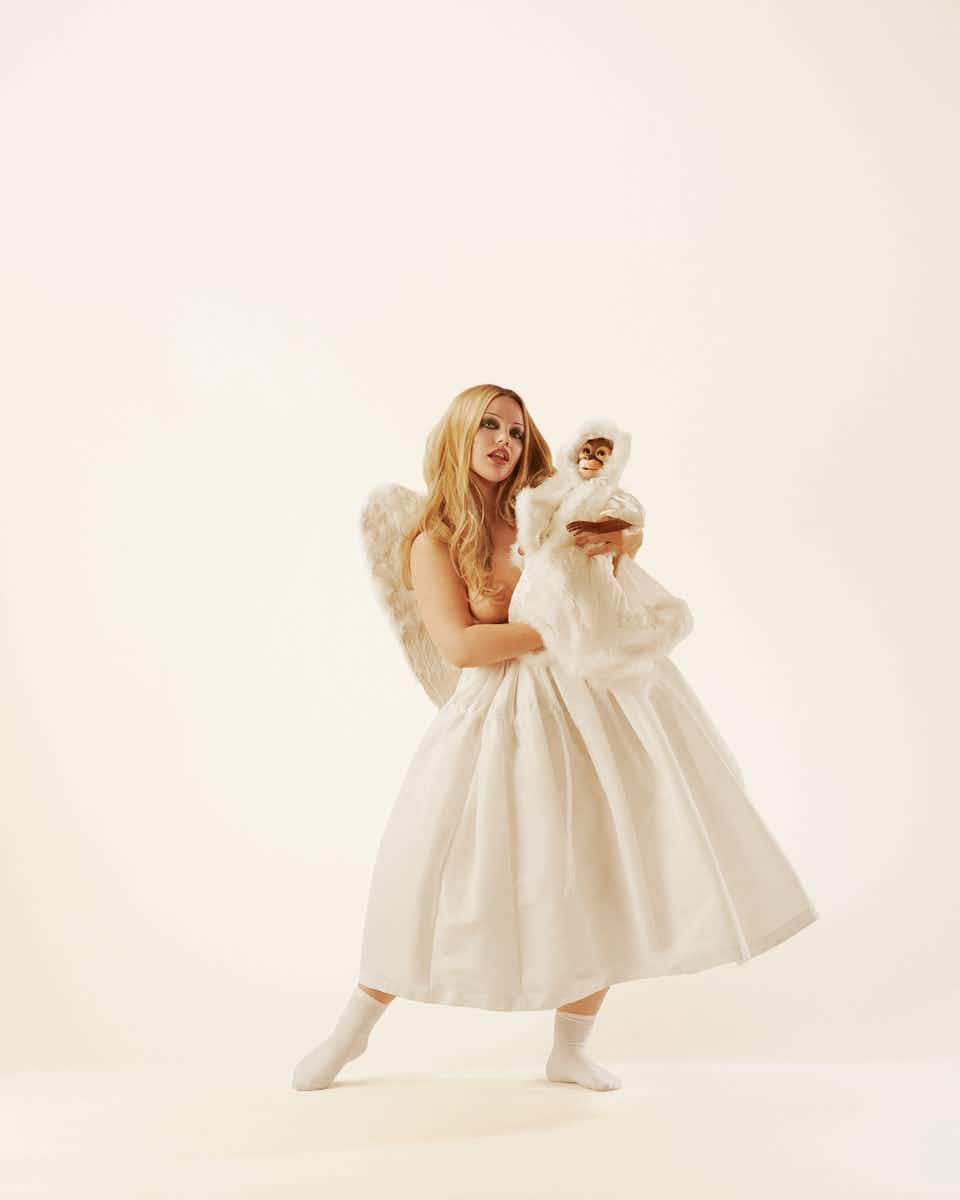 While working on this issue, she found a message in her inbox from an Austrian photographer, who ending up shooting a story titled Twinkly. ​"In their language, ​'twinkly' is the sound the Christmas bells make when you ring them. [For the shoot] they used traditional dress from where they're from, and costumes and backdrops from the theatre. It's very ethereal and beautiful – almost about female energy, but using this aesthetic of Christmas from where they're from."
A stand-out story, though, is by London animator Éamonn Freel, who shot a series of mashed-up pages on what Christmas means to him. There's a photo imagining Krampus, a German folktale character who steals children, with an OnlyFans account, another of Mrs. Claus making a phone call on an old Nokia brick and a shot of Santa Claus as a hermit using a walking stick made of old mobile phones. Sadly that last one didn't make the final cut, so you'll just have to imagine it.
There's also a sex story by art director Kurt Johnson and photographer Jamie Heath that ended up being so X‑rated that an extra saucy version has been uploaded to PornHub. But despite that, Hughes reckons this is the magazine's most toned-down issue yet (by GUT standards, mind).
"There were shots of actual sex [in that shoot], but I knew this was going into lots of bookshops so I took it out," she says. ​"The mag has grown up a bit. Before, there would be pictures of an old sex worker literally squirting over Roxy Lee's camera. But there's a level of appropriateness to it [now]."
Don't panic, though. GUT​'s not going soft. Did we mention the twink?


More like this