Cool people wear Hawaiian shirts
Macaulay Culkin's blue number in Gucci's show has us thinking of the Hawaiian shirt in four key categories: The Existential Romantic, The Psychoactive Zonker, The Bad Boy, The Comic. Where do you fit?

Aloha, it's your old friend: the Hawaiian shirt. Not so long ago, it was a staple of the vintage-loving patrons of London's Brick Lane in 2012. A sort of comical addition to skinny jeans and a leather jacket, the Hawaiian shirt was the beating heart of boys who were yet to become men. But it soon became a gut-wrenching, dust-collecting relic of the past, curled up in a ball and left in the back of the wardrobe.
Until the night of Tuesday 2nd November, that is, when Gucci went all out in Los Angeles for their latest collection with the Gucci Love Parade. A whimsical make-believe land of Alessandro Michele's grandest ambitions to date, the Italian house literally brought Hollywood Boulevard to a standstill, inviting celebs and models to stride down the Walk of Fame, wearing clothes that were designed as an ode to old Hollywood.
Out came floor-length gowns, fur trims, bubblegum pink prom suits, Cleopatra headpieces and… Macaulay Culkin, wearing a blue Hawaiian shirt with islands and clouds printed on it. Paired with yellow-tinted sunglasses, with his hands in the pockets of a pair of loose, gold, tailored trousers, Culkin looked cool. Really cool. He even looked a bit smug, head tilted and smiling coquettishly.
The child star of the ​'90s, Culkin made his name through roles in Home Alone, My Girl, Richie Rich, etc. But by the end of the decade he'd become an elusive, subversive character, appearing in Sonic Youth's music video for Sunday, directed by transgressive daddy Harmony Korine. Later on, in 2002, he became a Party Monster in the critically-panned re-telling of the infamous New York City club kids of the late ​'80s and early ​'90s. Then came arrests for possession of weed and Xanax, a very brief stint in prison, an arraignment in court for a misdemeanour drug offence and three one-year suspended prison sentences.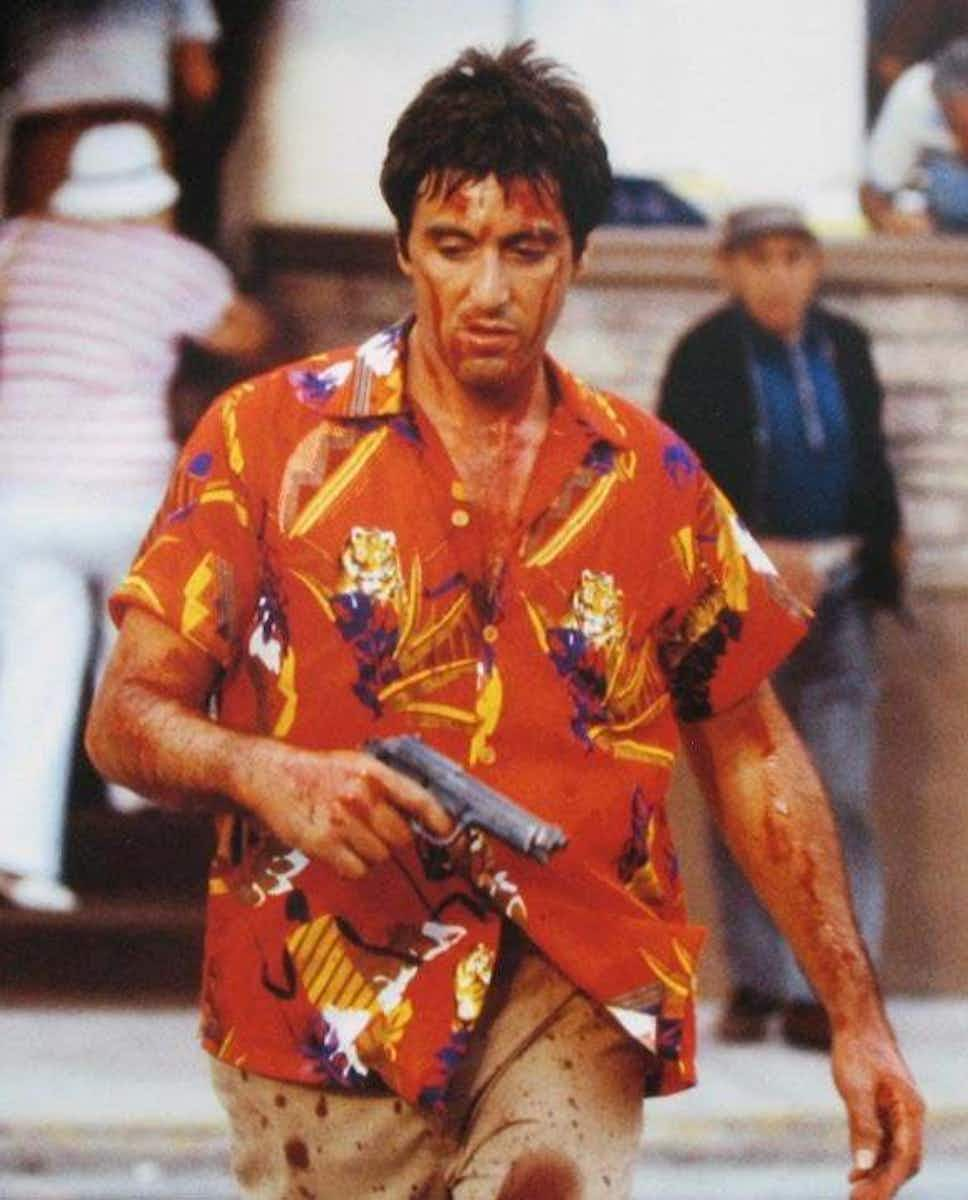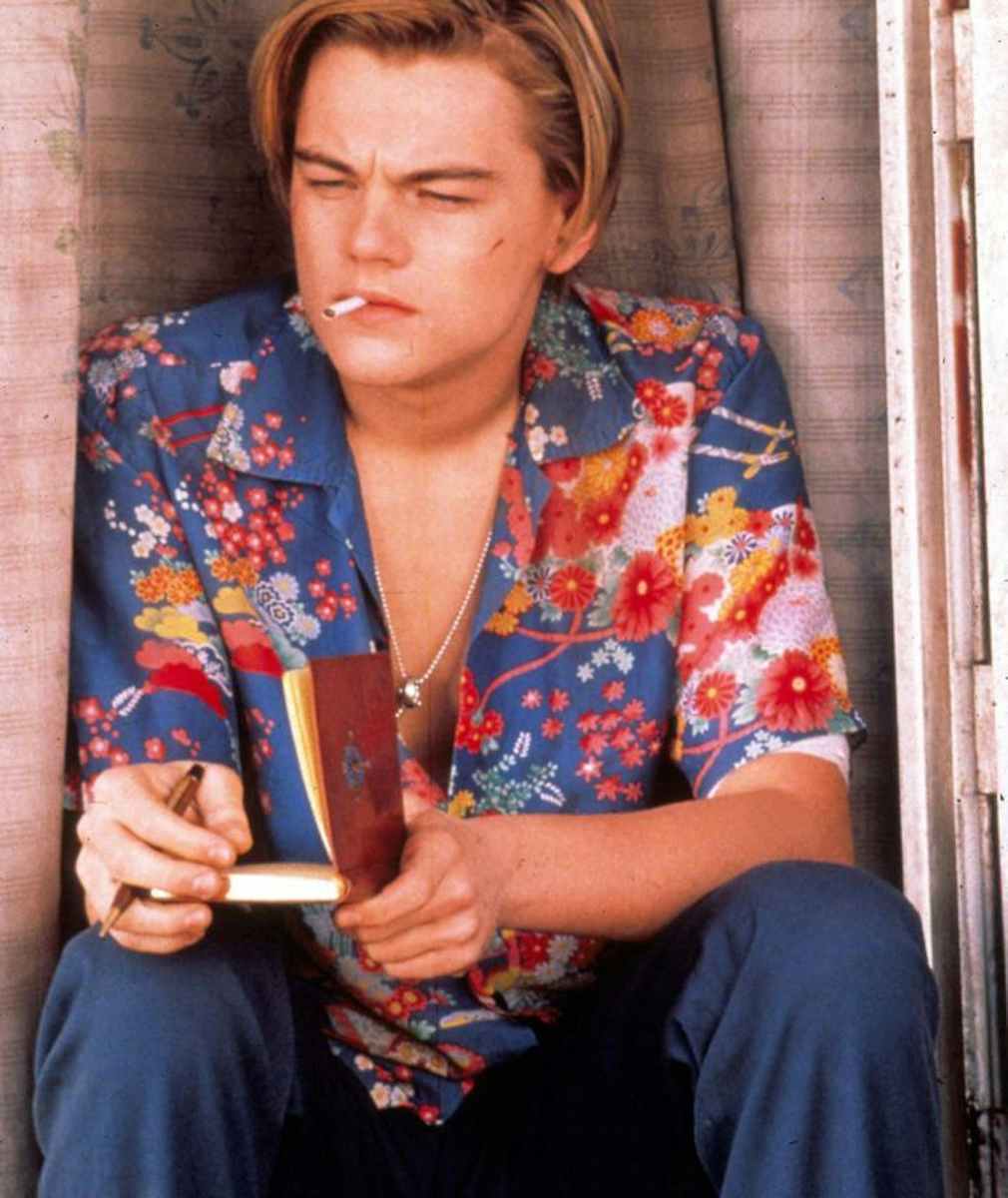 Everyone loves a bad boy, right? But seeing Culkin striding in a Hawaiian shirt with an air of smugness had him looking slick, a little naughty and – say it again – very, very cool.
It makes sense that Hawaiian shirts are making a comeback. Throughout the years, film has portrayed the Hawaiian shirt wearer as various characters: The Existential Romantic, The Psychoactive Zonker, The Bad Boy and The Comic. And in every instance, said Hawaiian shirt wearer looks hot.
If Culkin was the child star of the ​'90s, Leonardo DiCaprio was the heartthrob poster boy. Long hair swept back from his face, cigarette hanging from his mouth, the then-21-year old wore a blue Senshi Hawaiian shirt sitting on Venice Beach in Baz Lurhmann's technicoloured, unconventional retelling of Romeo + Juliet (1996). Playing Romeo, DiCaprio was often deep in thought, dreaming about the forbidden fruit Juliet (Claire Danes), while his pink-haired cousins bounce around like dancing demons.
Ultimately, DiCaprio wasn't sexy in Romeo + Juliet. He was vulnerable, thoughtful and existential, and so was his styling. Loose trousers slowly swaying in the breeze, romantic suiting and loud, printed shirts pointed to his boyish charm. Here, the Hawaiian shirt becomes an emblem of the teen fantasy.
But before DiCaprio's swooning came the Hawaiian shirt as a symbol of the bad boy or psychotic killer, often played by a handsome actor, like Al Pacino in 1983's Scarface. His Hawaiian shirt of choice is red (appropriate), worn with light brown chinos, a gun and a whole lotta blood. My God, he looked badass. Equally, so did heartthrob Christian Slater in 1993's Tarantino-directed True Romance. He also donned a red and blue Hawaiian shirt in between a psychopathic killing spree across Southern California.

And while not a killer, Brad Pitt's Tyler Durden in Fight Club (1999): cold, calculating and, er, not technically real. What is it about the villain in a Hawaiian shirt that looks so… right?

In 2018, there was a Hawaiian shirt resurgence happening on the men's runways. The shirt had new meaning, no longer pegged to embarassing dads on holiday, drug lords or sex pot serial killers in films. Kim Jones for Louis Vuitton presented a sort-of tapestry Hawaiian shirt, with bits of floral merged with the LV monogram and printed on material that looked a bit like denim. DSquared2, Dris van Noten, MSGM and Paul Smith followed suit.
But the almighty Balenciaga under Demna Gvasalia got it just right. Often subverting the ordinary, geeky and uncool, the Parisian house designed an oversized sunset orange iteration, worn with Matrix sunglasses and boxy blue jeans. Its influences pointed more to The Comic film trope as opposed to anything overtly sexual or, indeed, cool.
For a prime example of ​"The Comic" Hawaiian shirt wearer, look no further than Chunk in The Goonies, who truffle shuffles his way through the 1985 film as an untrustworthy, clumsy and goofy character, often saying the wrong things at the wrong time, failing to use an inside voice and even breaking the cock off a Grecian statue. Oops.
And the archetypal cringe father figure in Family Guy, Peter Griffin, regularly wears one throughout the dopey, painfully irritating series. This side of the Hawaiian shirt is more associated with loser characters, the ones who are a little hard done by, podgy around the waist and the crappy starter before the sexy main. See also: Matt Dillon in There's Something About Mary, Jason Segal in Forgetting Sarah Marshall and Screech Powers in Saved by the Bell.
Then, finally, there's The Comic's kissing cousin, The Psychoactive Zonker: see Johnny Depp's Raoul Duke in Fear and Loathing in Las Vegas (1998).
When you throw your Hawaiian shirt on and look in the mirror, what do you see staring back? The existential romance of young Leonardo DiCaprio? Perhaps it's the hard-bodied hotty Al Pacino, all glistening and bronze. Maybe, just maybe, you look so cool that you don't even look cool, like Balenciaga. See, it's as versatile as the characters it has created.
And you, too, can be a cool person who wears a Hawaiian shirt. Easy.


More like this