How the bucket hat became a symbol of Welsh national identity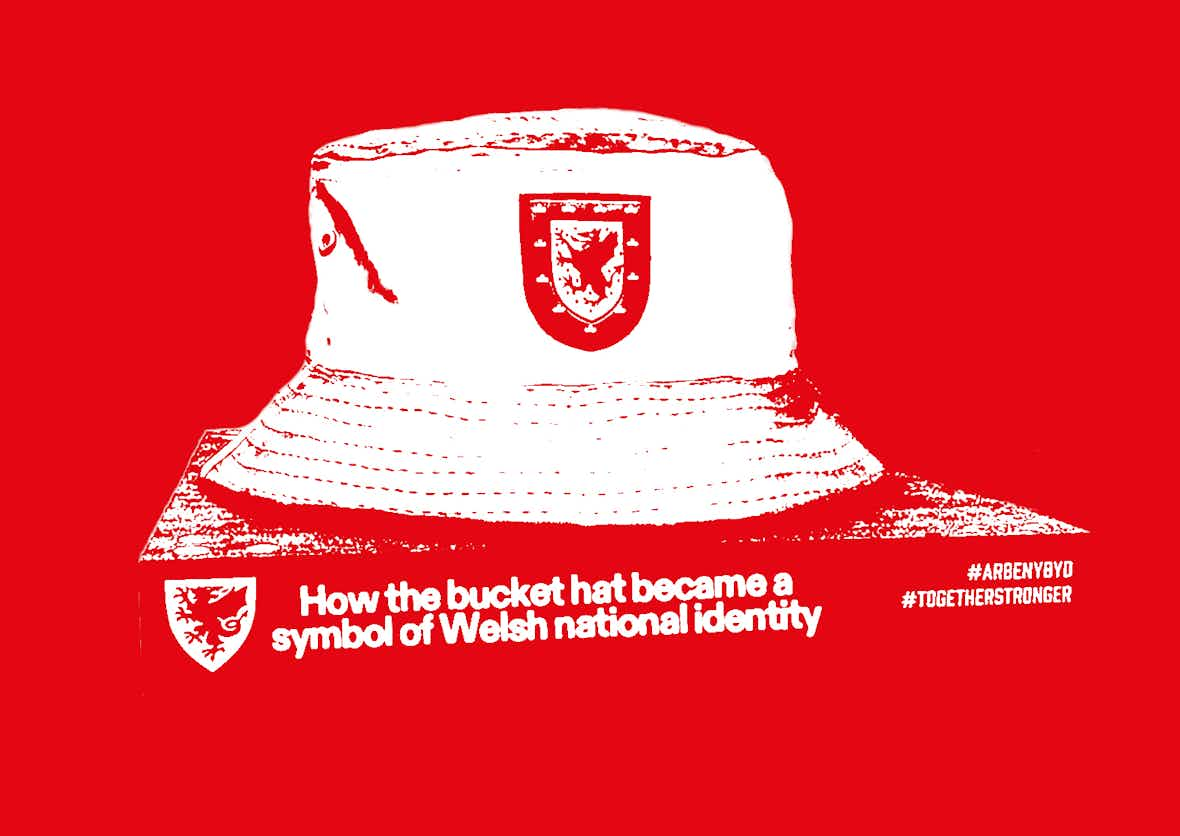 Adopted by the Welsh football hardcore, bucket hats in the national colours are now as much a symbol of Wales as the leek, daffodil or rugby shirt.

Stroll through the centre of Cardiff, Swansea, Aberystwyth or Wrexham over the next few weeks and chances are you'll be greeted by a new fixture in each town and city. Giant statues of multi-coloured bucket hats emblazoned with the badge of the Welsh football team have been popping up around the country, as Wales prepare to begin their first football World Cup campaign in 64 years. Seven years ago, it was a giant rugby ball crashing through the outer wall of Cardiff Castle, that caught people's attention as the 2015 Rugby World Cup came to town. But the giant bucket hats tell a story of a country not only slowly changing its sporting allegiance, but perhaps beginning to reflect more strongly on its own identity and place in the world.
"I started the brand in 2010 and printed 200 T‑shirts to try and sell when we played Montenegro away," says Tim Williams, lifelong Wales fan and founder of Spirit of ​'58: the brand responsible for the immortalised hats.
"It was a lot of money to outlay originally," he explains, down the phone from the brand's bricks and mortar shop in Bala, North Wales. ​"I was worried they wouldn't sell but the design was based on the time we beat England at the Racecourse in Wrexham in 1984 so they ended up doing alright."
A member of Wales' (then relatively modest) travelling support, Williams had been all over Europe and beyond following the Wales team and wanted to create something that catered to fans who ​"weren't keen on wearing replica shirts". Named after the last time Wales qualified for the World Cup in 1958, Spirit of ​'58 began with a few T‑shirt designs, before Williams hit upon the idea of creating a Welsh football themed bucket hat.
"I was a massive fan of The Stone Roses and the early ​'90s rave scene," he says. ​"The bucket hat was massively popular back then so the idea of creating a Wales themed one really appealed to me."

The hat was an instant hit among Wales' travelling support with Welsh comedian, Football Fantasy host and dedicated Wales fan Elis James telling us: ​"I remember going to Hampden Park to watch us play Scotland in 2013 and they were absolutely everywhere. They just exploded and instantly became a sign of someone who took their support for the national team very seriously. I had an original one but lost it on an away trip to Cyprus in 2015. I've heard they're going for ridiculous amounts on eBay now."
The brand launched at a time when following the Welsh football team was very much a niche concern and played second fiddle to rugby in the national consciousness. But things were about to change and as Wales qualified for Euro 2016, their first major tournament in 58 years, then steamrolled their way to the semi-finals, the bucket hat found its place on the world stage.
"I sold out of everything before we went to France in 2016 and said ​'I won't be back to work until Wales get knocked out,'" Williams says. ​"I wasn't expecting that to be over three weeks later when we went out in the semis but it was amazing seeing our bucket hats all over France and at all of the games."
As Wales have managed to continue to build fervour around the national team, playing in a further two tournaments, the bucket hat has seemingly taken on a life of its own. When Wales qualified for the World Cup in June, beating Ukraine in a play-off final, the original Spirit of ​'58 bucket hats were going for upwards of £200. Now every single gift shop in the country seems to be selling its own knock-off version.

"The bucket hat has become a symbol of Welsh football identity and the current Welsh football identity is representative of something bigger," says Martin Johnes, Professor of History at Swansea University and Wales' pre-eminent modern historian. ​"It's become a symbol of a competent Welshness and a Wales that's quite happy to take its place on the world stage."
Noting that the bucket hat often pops up at festivals all around the UK, as a way for Welsh people to self-identify themselves and celebrate their culture, Johnes also notes that the bucket hat has become a symbol of the growing pro-independence movement in Wales, too.
"You go to an independence march in Wales and you'll see people in bucket hats and Welsh football shirts as opposed to rugby shirts and daffodils," says Johnes. ​"Rugby's often linked to unionism because they use the Prince of Wales feathers as their badge, while the bucket hat fits this strong, vibrant, confident and forward looking Welshness."
While pro-independence might still be a minority concern in Wales, Johnes sees Wales as being ​"increasingly indy-curious", with football success and modern symbols such as the bucket hat fuelling that curiosity and reflection on ​"our place in the world. Especially at a time when the UK seems increasingly unstable."
Wales fans and the Football Association of Wales have adopted Dafydd Iwan's 40-year old defiant nationalist anthem Yma o Hyd (We're Still Here) as their official World Cup song and the large contingent of North Walian supporters, both home and away, means Welsh football success and the bucket hat represents a broader and often more Welsh-speaking version of Wales to the world. An important distinction when the vision of Wales that people have is often so South-Wales centric.
But there might be an even more simple reason for the bucket hat's runaway success.
"It looks really cool," says Martin Johnes. ​"It's not a cliché, in the way that coal mining and Max Boyce and his giant leek is to Wales, and it's not associated with these old stereotypical versions of Wales. Eventually, it probably will become a stereotype and cliché and the football hardcore will move on, but right now it's quite unusual in that it appeals to young, old, men and women in Wales. It's become this hugely uniting symbol."


More like this