Is Avril Lavigne fashion's new It Girl?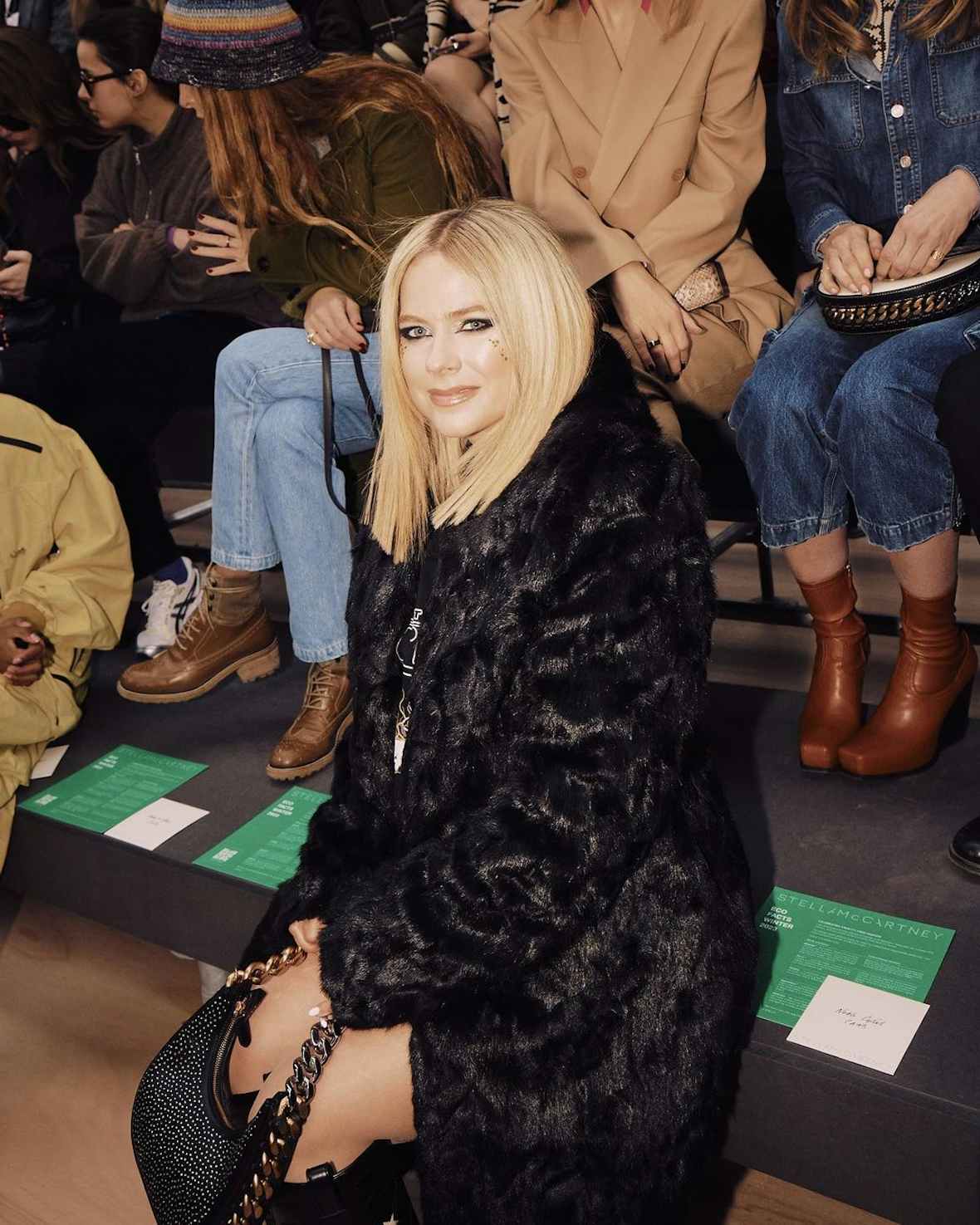 The pop punk princess made quite the scene at Paris Fashion Week.
There's been a lot to digest from fashion month. Daniel Lee made his thoroughly northern debut at Burberry; Coperni went all Black Mirror by unleashing robodogs on the runway; Ethel Cain, Mia Goth and Emma Corrin charged around in secretary cardis and strip tease-ready sequin knickers for Miu Miu. All was well and predictably bonkers in the fashion world.

But hang on. Who was that mysterious woman in black at the Courrèges show, scanning the runways with her brooding, black khol-smothered eyes? She looked like Avril Lavigne, but surely not. After all, the pop punk princess made a name for herself by riling against ​"gloss and glamour", declaring herself as ​"Sid Vicious for a new generation" at the age of 18. ​"I'm just a rock chick," she famously snarled at a camera back in the early ​'00s. ​"I like to throw shit around […] I like to break things, I like to yell, I like to get my anger out." Not quite front row behaviour.

Yet there she was again at Lanvin, in a floor-length suede overcoat and devilish cat-eye. And again at Elie Saab, wearing a dolled-up leather look with floral (yes, floral) embellishments. In fact, Lavigne was pretty much everywhere at Paris Fashion Week, popping up at Stella McCartney with sequin teardrops falling down her cheeks, and at a swish Louboutin party in red-soled stompers.

The most surprising moment of Lavigne's fashion week jolly, however, came when she attended a Mugler x Hunter Schafer party and had a big fat snog with *checks notes* Tyga, inadvertently confirming their rumoured relationship. A busy week for rock chicks and whoever cares about the lives of Kardashian-Jenner exes, eh?

But back to Lavigne's newfound fashion credentials. Every now and then, a new It Girl rises from the ashes of fashion month. Take Julia Fox, for instance, who went from Kanye West's date to a megastar in her own right within weeks of debuting her signature extreme smokey eye at Schiaparelli last year. Could it be that Lavigne will be the next unlikely proponent of heavy eye makeup to be embraced by the fashion pack?

Well, the industry does love a wild card. Cast your mind back to last year's AW22 shows, when Jeff Goldblum and Kyle MacLachlan became Pra-daddies after taking to the Prada catwalk. Or Loewe's pre-Fall ​'22 campaign, for which Anthony Hopkins cheerily put a thumbs up to Juergen Teller's camera. And who can forget when Phoebe Philo enlisted the late Joan Didion to be the face of Céline, impeccably aligning Philo's revered aesthetic of timeless cool with Didion's revered intellect and cerebral prestige.

Avril Lavigne's different from that lot, though. The likes of Goldblum and Hopkins have (and we say this lovingly) the golden oldie factor. Having conquered their respective industry decades ago, it almost feels as though they're just putting on donut jumpers and fur-trimmed overcoats for a laugh, embracing the ​"why not?" spirit that apparently comes with old age.

Lavigne, on the other hand, is still yet to break 40. She's got throwback energy, but her fashion week appearances didn't feel like a novelty; they felt like a rebrand. There's a chance we're witnessing a rare natural phenomenon, as the sk8er girl blossoms into a f4shi0n girl. There's a chance that maybe, just maybe, gloss and glamour isn't so bad after all.


More like this