Everything from London Fashion Week AW23
Here's what's going down at this season's shows, on home turf.
LONDON

LONDON

LONDON

LONDON

LONDON

LONDON

LONDON

LONDON

LONDON

LONDON

LONDON

LONDON

LONDON

LONDON

LONDON

LONDON

LONDON

LONDON

LONDON

LONDON
What?
The party of all parties to close London Fashion Week, hosted by Moncler Genius in celebration of its The Art of Genius co-creation platform, which has seen the Italian fashion house collaborate with the likes of Alicia Keys, Rick Owens, Pharrell Williams, Palm Angels, Mercedes-Benz, FRGMT, Jay Z, adidas Originals and Salehe Bembury.
Where?
The massive, multi-space event took place at London's recently reopened Kensington Olympia venue which had been quite literally transformed into a maze of immersive rooms (one per collaborator) and a performance space, all of which which merged fashion, art, culture, music and sport under one roof for one night, and one night only.
What was in the rooms?
Each space showcased and celebrated the creative vision of Moncler Genius' collaborators, from Pharrell Williams' ​"The Art of Terrain" surreal outdoor glamping-inspired woodland, to FRGMT's ​"The Art of Love" robot peep-show exploring Hiroshi Fujiwara's futuristic vision of emotional connection.

Elsewhere, Palm Angels x Boiler Room reimagined a party in the early-2000s via a sound and foam (party) installation, equipped with hazmat suits for guests who fancied diving in head first. Meanwhile, Rick Owens unveiled a Sleeping Pod, or ominous looking soundproof, steel isolation chamber complete with a regenerative oxygen concentration device, a soundsystem and a bed (purchasable via Owenscorp Furniture Division).
Who performed?
Alicia Keys headlined the event performing a string of her greatest hits on the ​"The Art of Dreaming" stage which she shared with Little Simz, Cleo Sol and a host of dancers wearing the upcoming Moncler x Alicia Keys collection.
Who was there?
Like, the whole of London. Okay, that's a slight exaggeration, but there were a staggering 10,000 people in attendance. And big-name celebs from Aitch, FKA twigs and Charli XCX to Marcus Rashford and Justin and Hailey Bieber were getting in on the action, too.

WORDS: Brooke McCord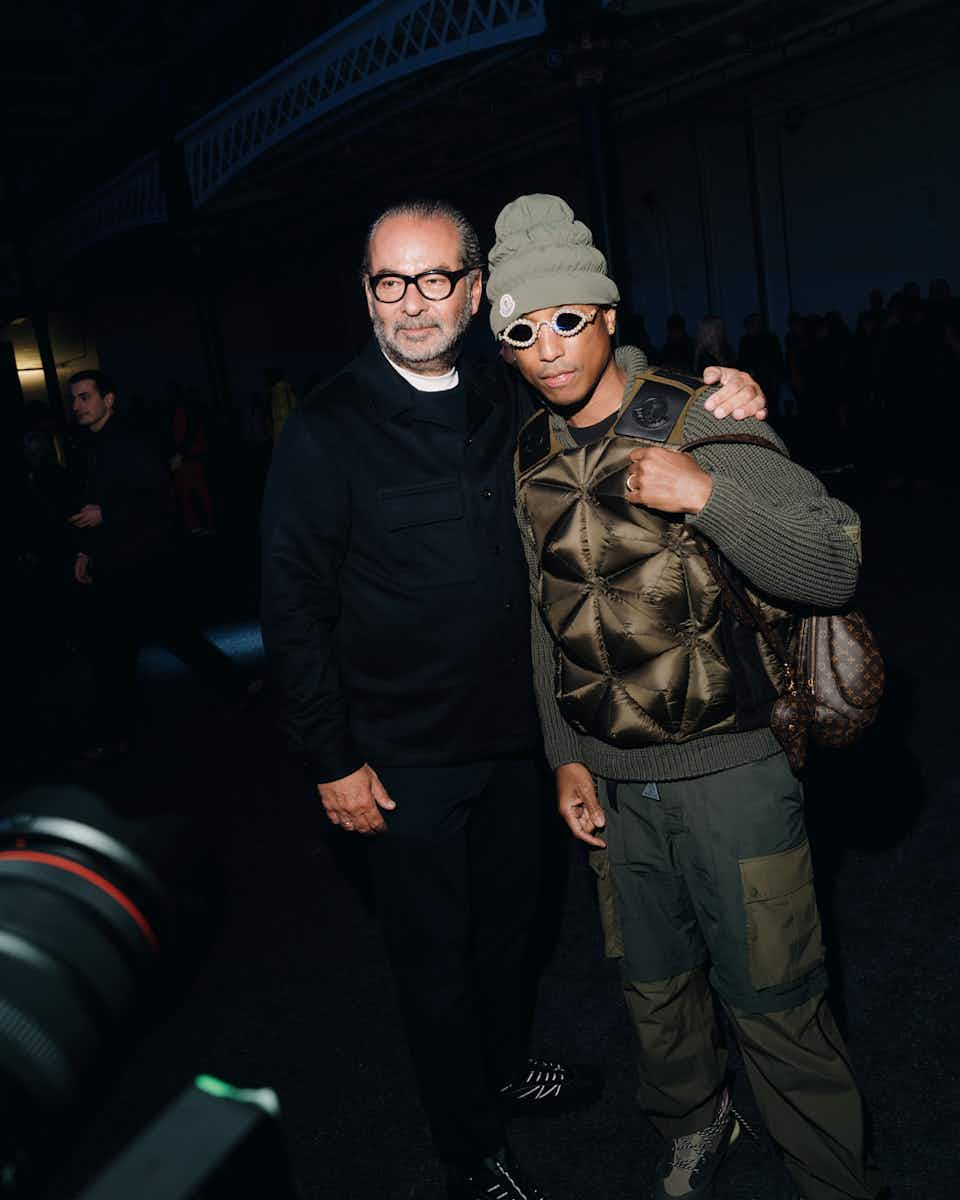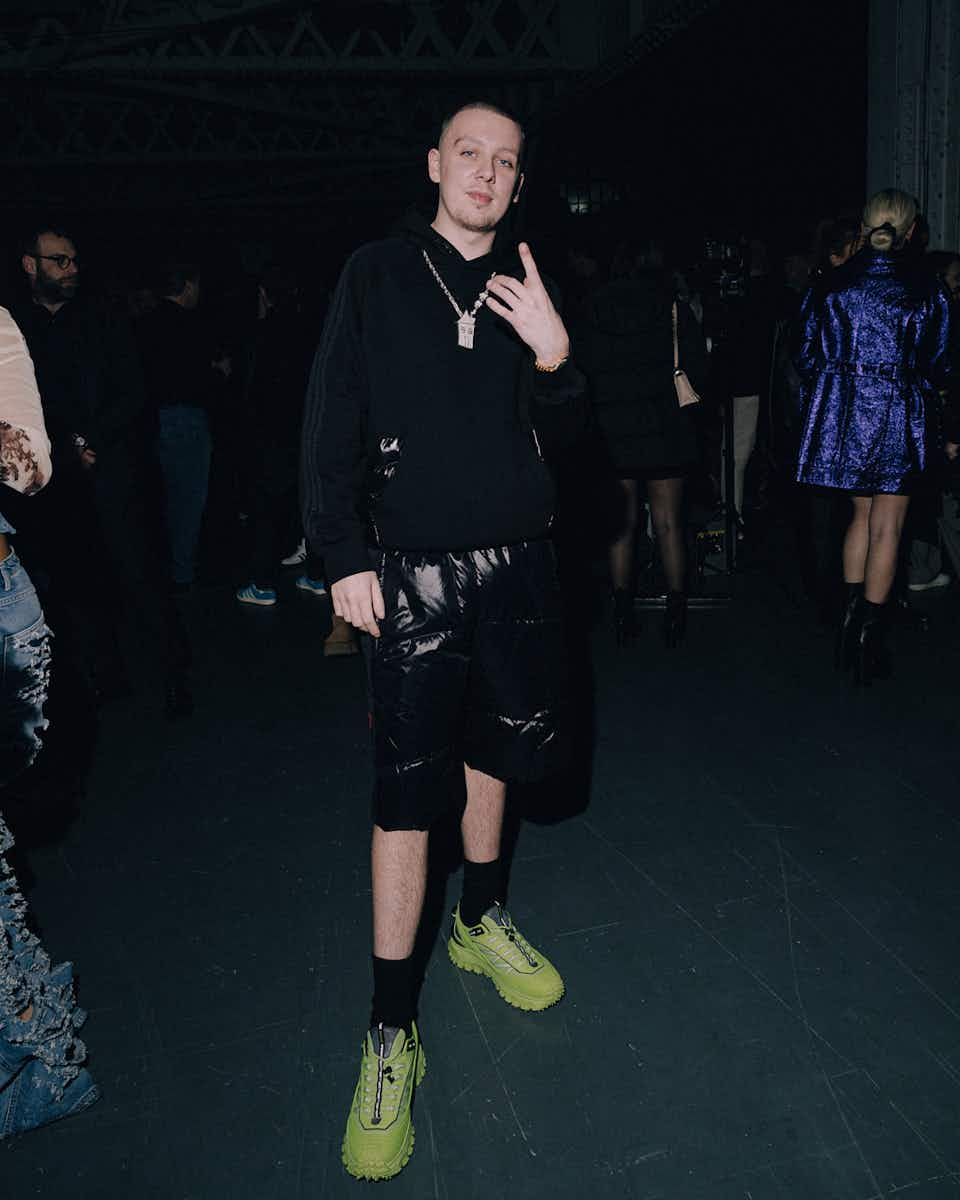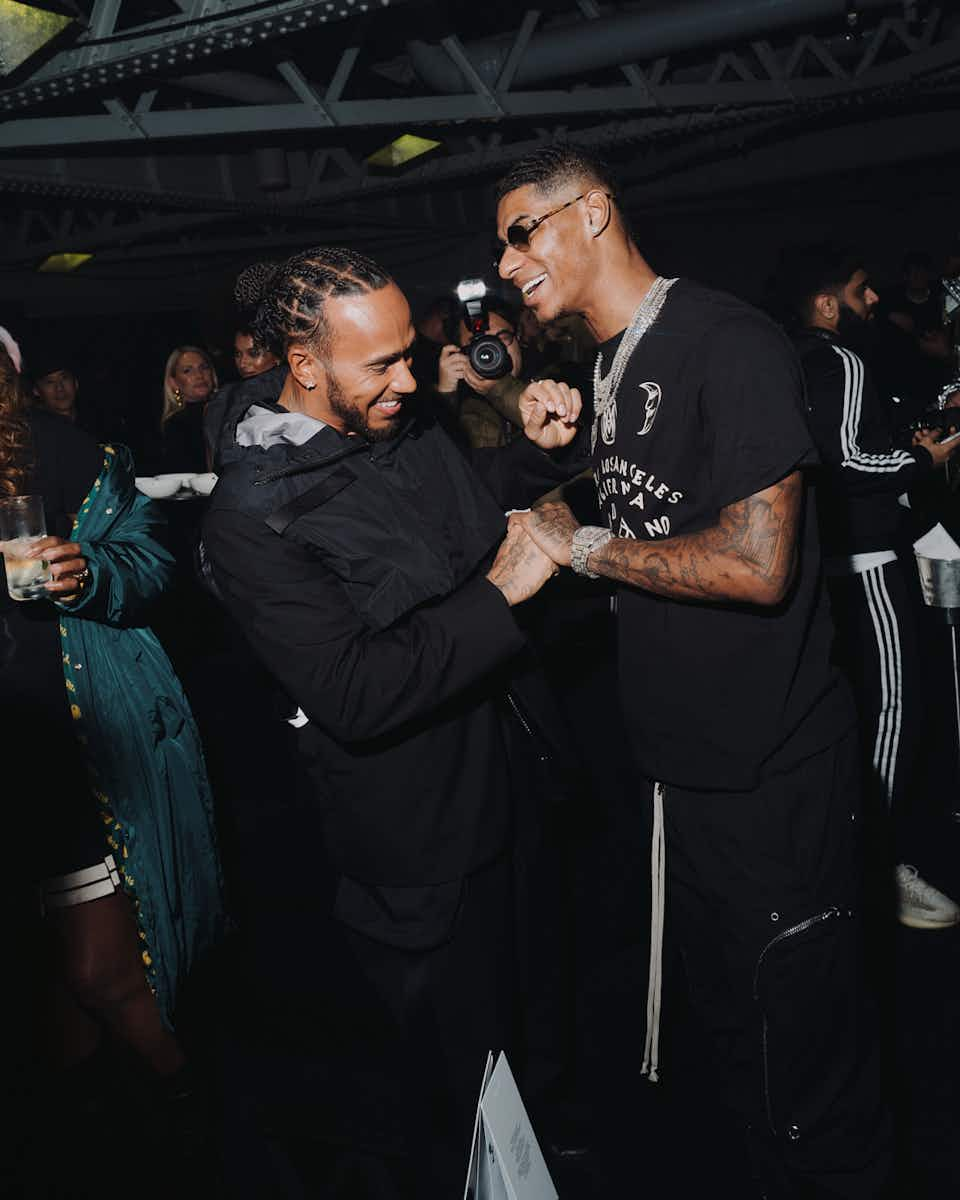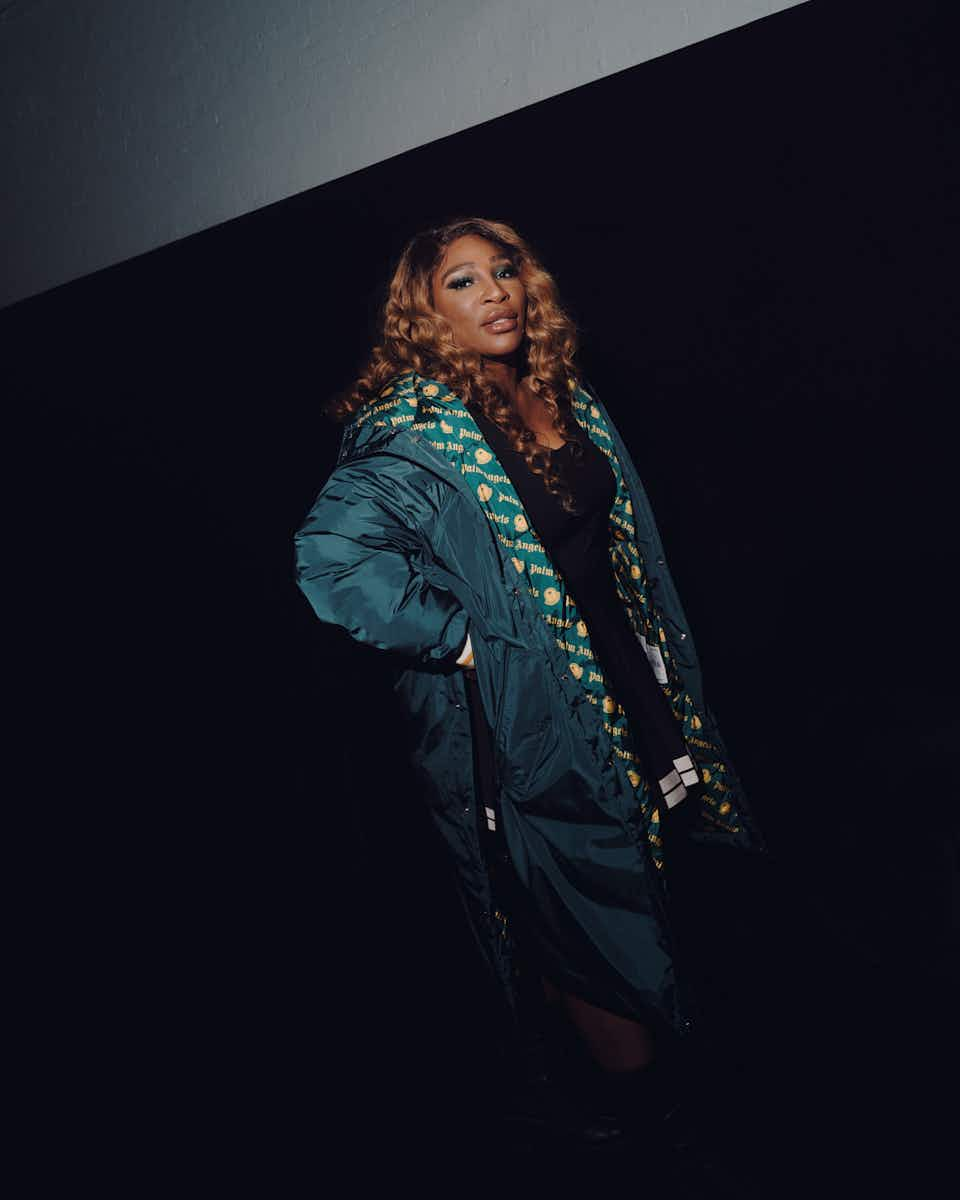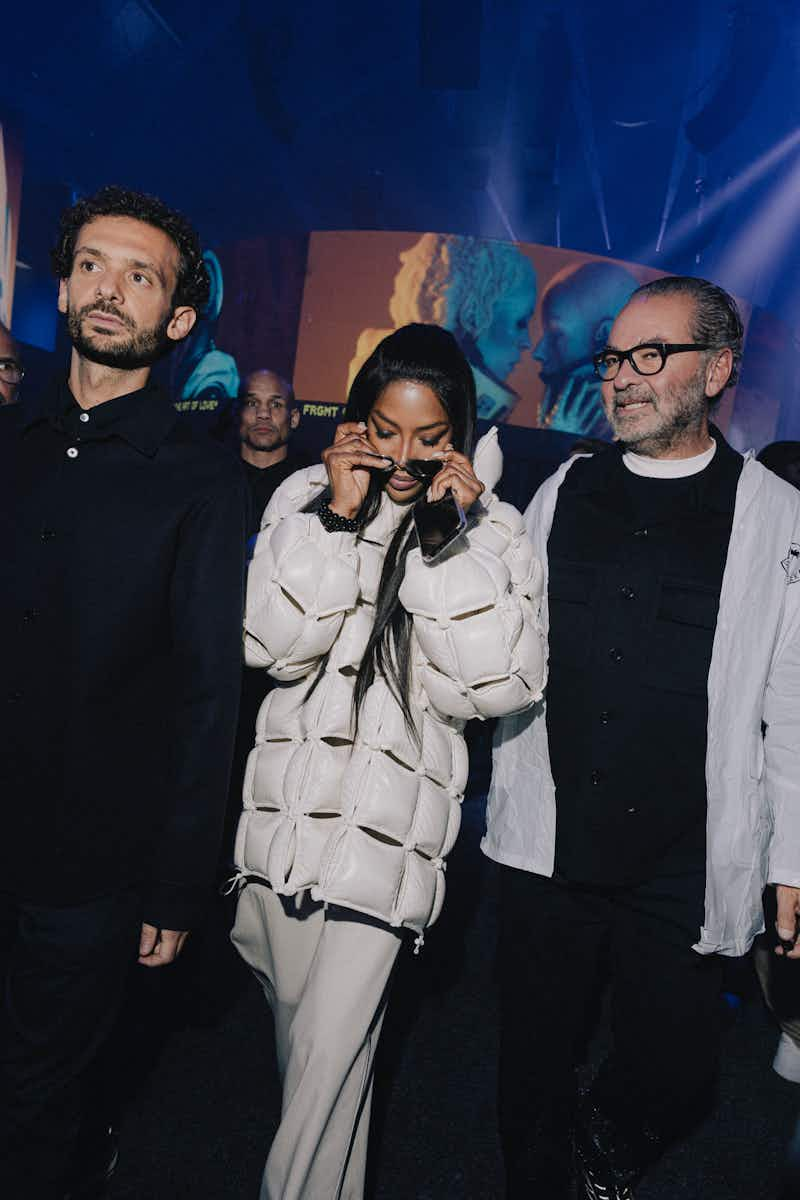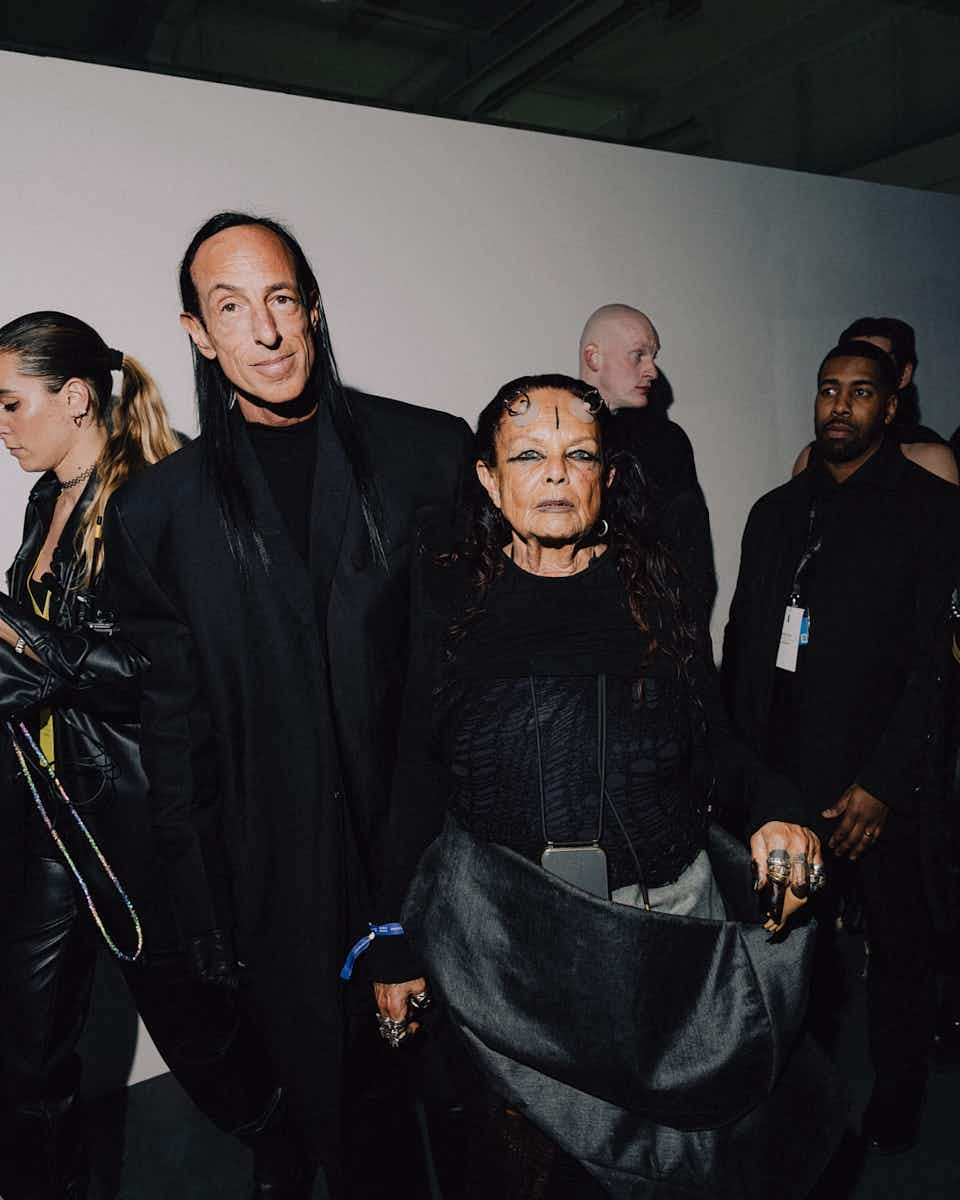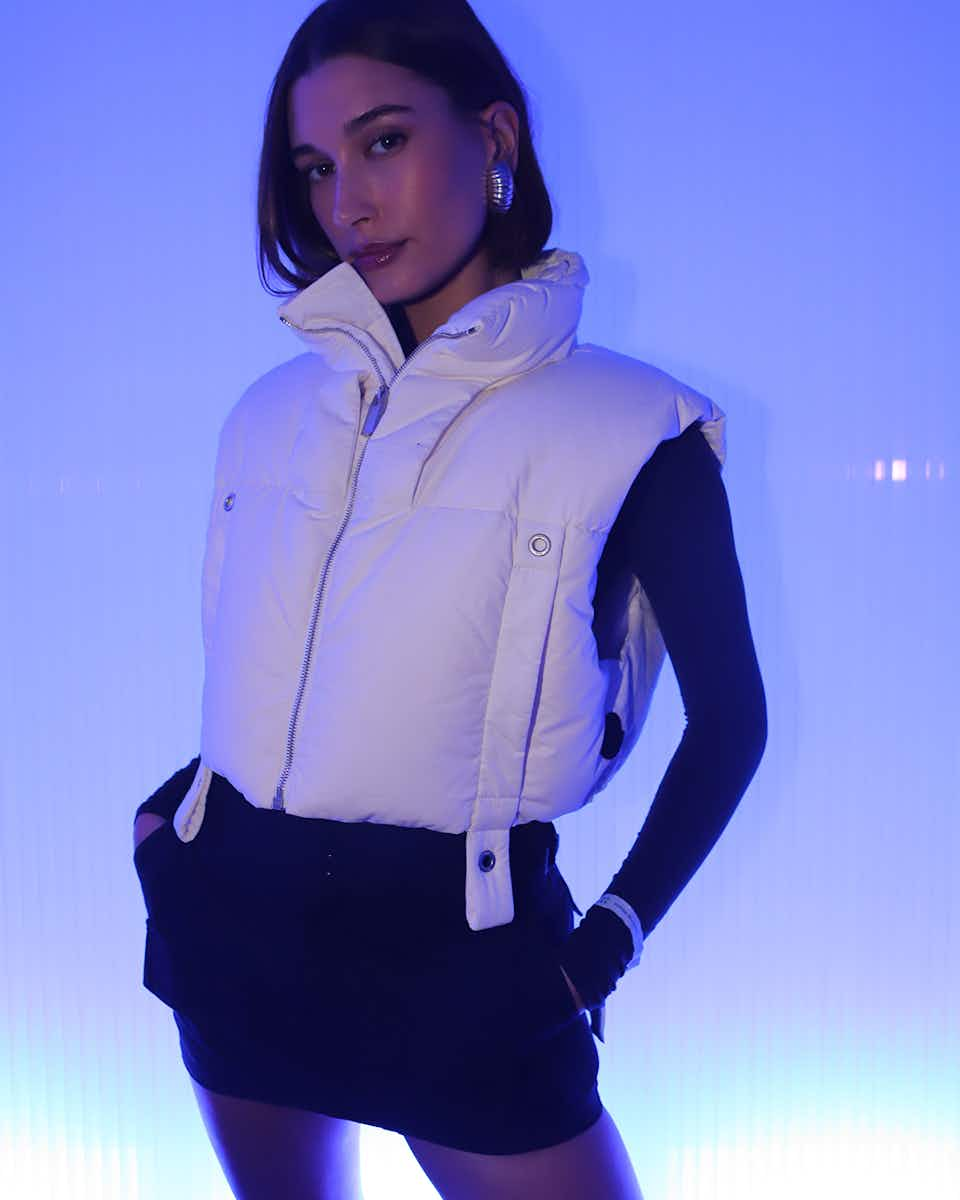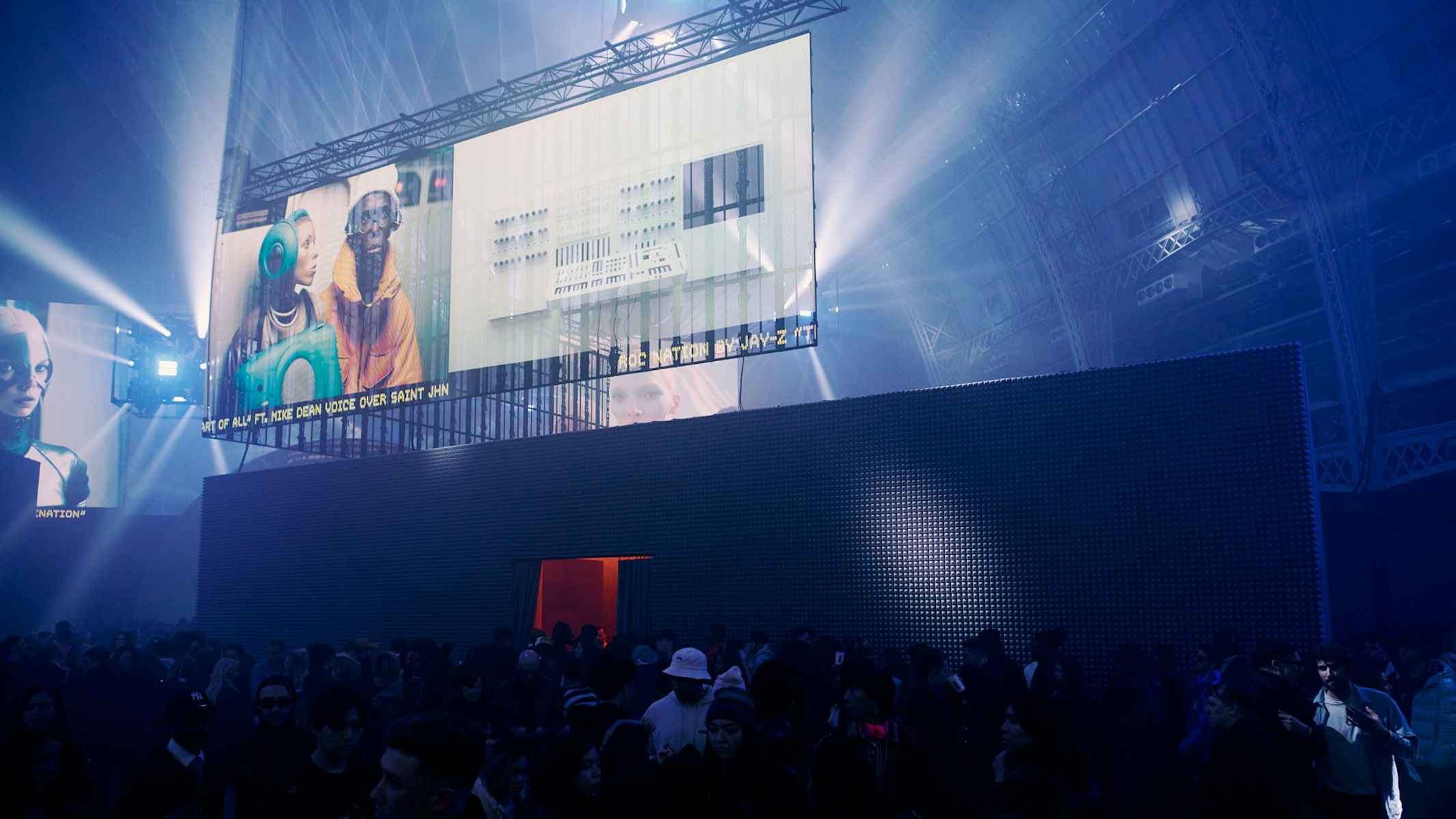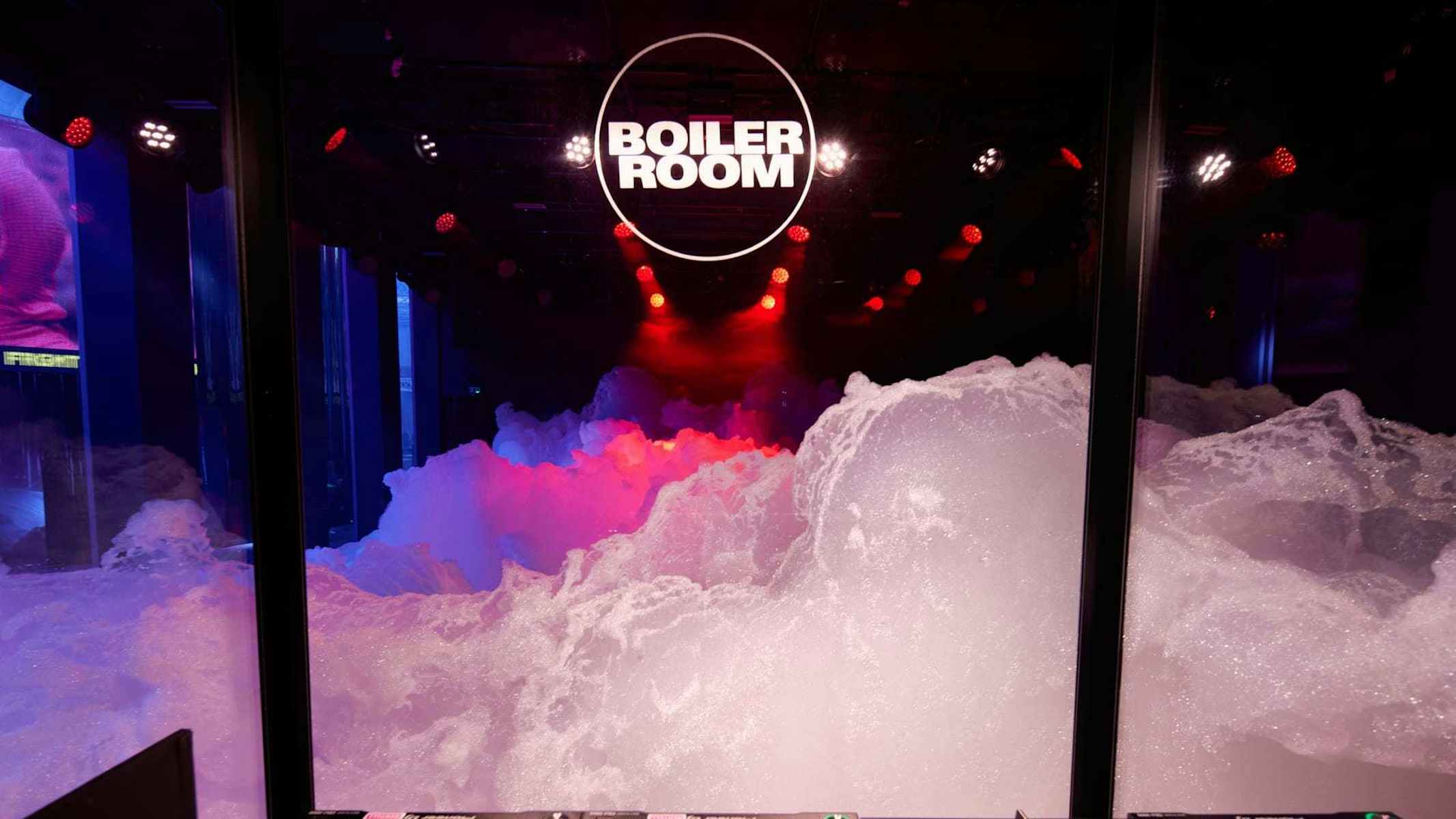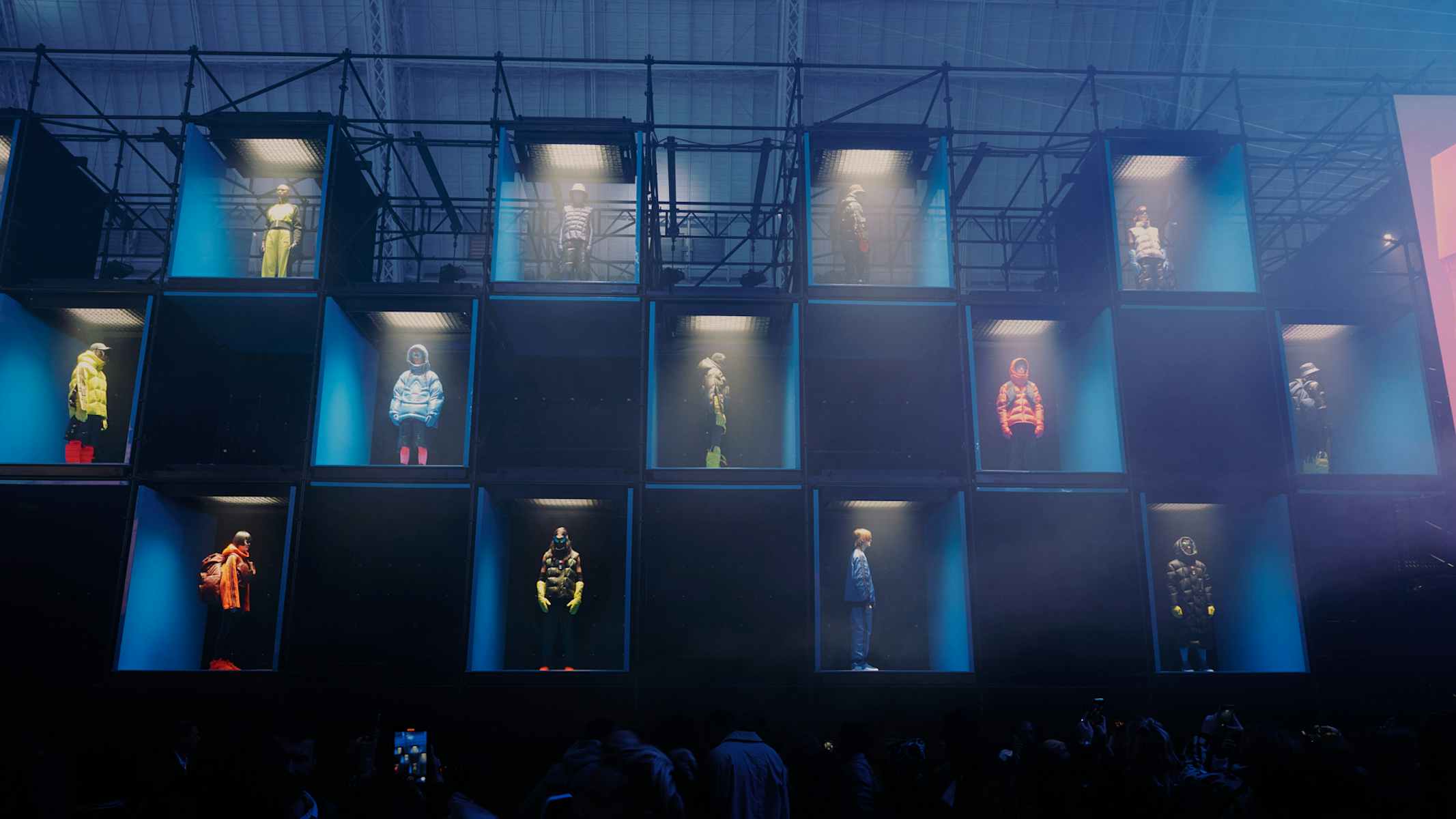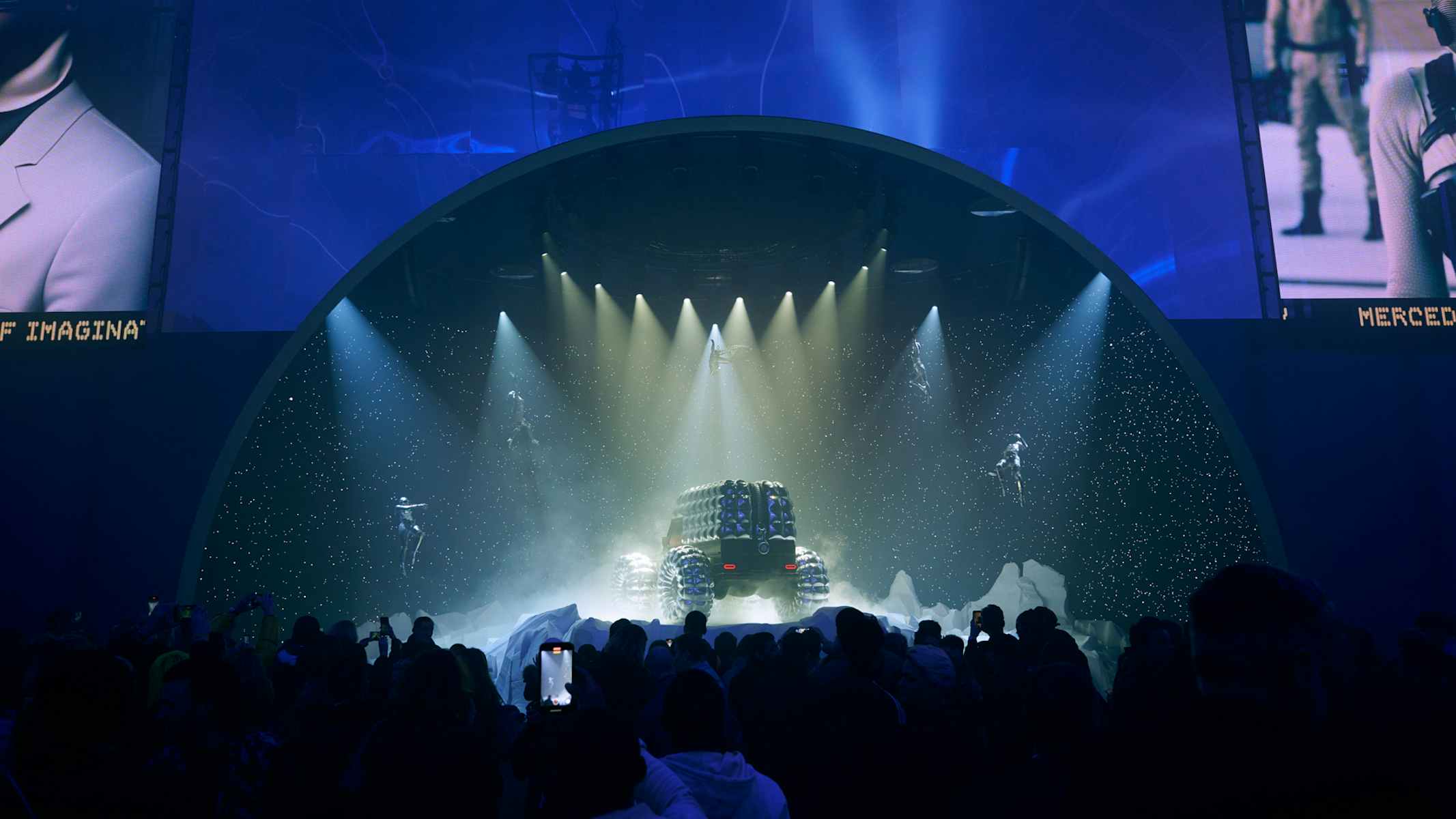 What?
The big one: the first look at Burberry under the helm of new creative director Daniel Lee, fêted for his transformation of Bottega Veneta between 2018 and 2021.
Where?
In a tent. A good old fashioned Burberry tent, like days of yore. This one was in Kennington Park in south-east London and was designed by Lee himself. There were blankets and hot water bottles on every seat (which were quickly pilfered by guests after the show). It was dark. There was excitement.
And so…? First thoughts?
The initial thing that struck you was the colour palette. The brand has experienced a redesign in recent weeks (replacing its Peter Saville designed logo with the classic ​"Prorsum" one, changing its branding to blue). And the rejig was reflected from the first look: a deep purple followed by shades of even deeper green, black, brown and red. The vibe couldn't have been more different from the muted beige of previous creative director, Riccardo Tisci's, first show.
How were people reacting in the room?
We could see phone cameras focused on the accessories, which were such a huge part of Lee's tenure at Bottega and will need to be here, too (think about the Pouch bag, that was everywhere in 2019). We particularly liked the shoes, which came in equestrian and rubber rain boots, big, chunky trainers, and these great purple heels, with a rose on top.
What was the vibe overall?
Very British, obviously. But more specifically, to our eyes at least, very northern. The duck was a recurring motif throughout, appearing printed on various garments, and as a hat in one look. Very Jack and Vera. And the northern archetypes continued throughout, with great (faux) fur coats and mules that wouldn't have looked out of place in a kitchen sink drama. Like previous creative director Christopher Bailey, who was at the brand between 2001 and 2018, Lee is a Yorkshireman. And it felt like this collection was an exploration of his home: from the domesticity of the blankets and hot water bottles, to the rose prints that evoked ​'70s wallpaper, and the curtain tassels that dangled from some of the tops and bags. Just don't mistake the cosiness for complacency – this was a real shakeup.
In a word?
Exciting.
WORDS: Matthew Whitehouse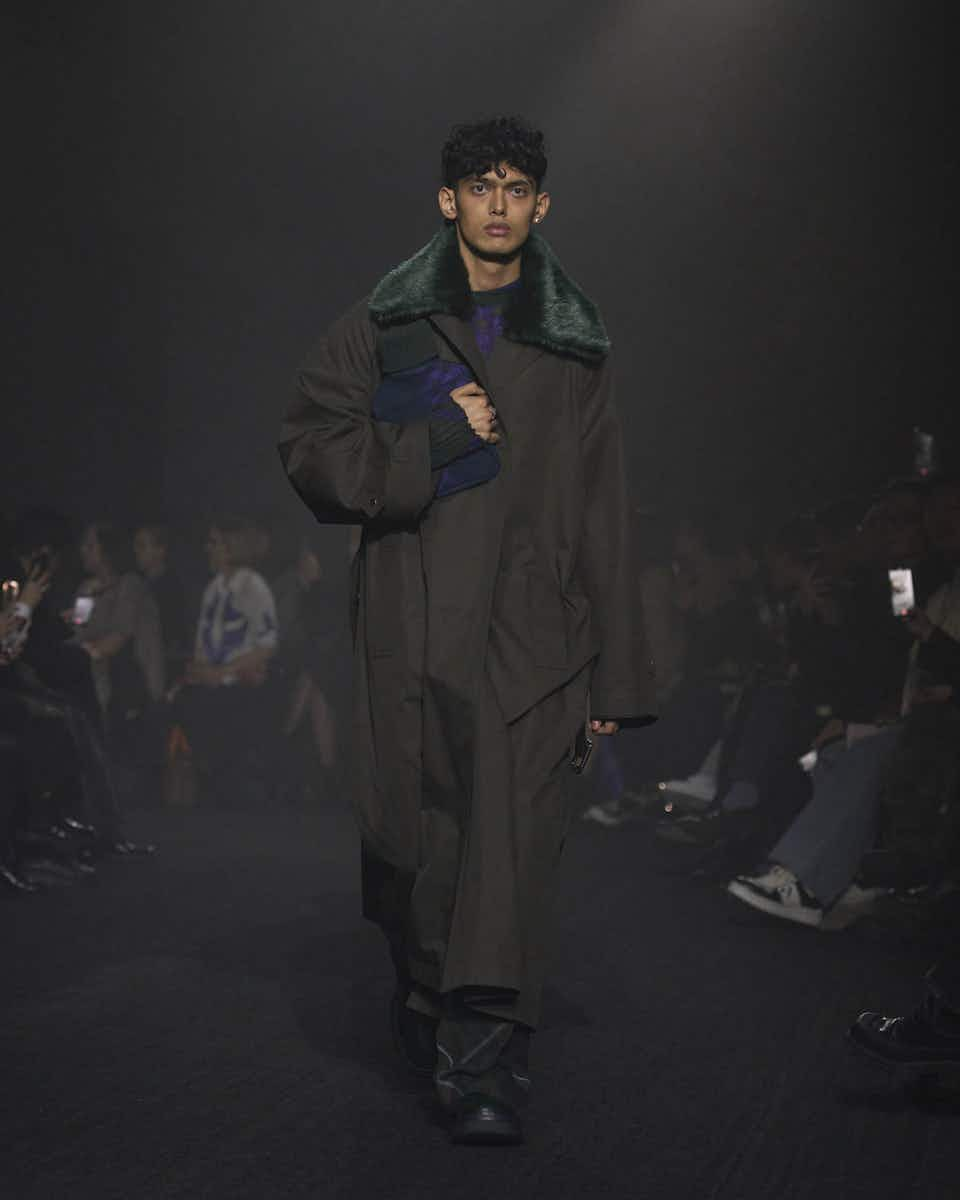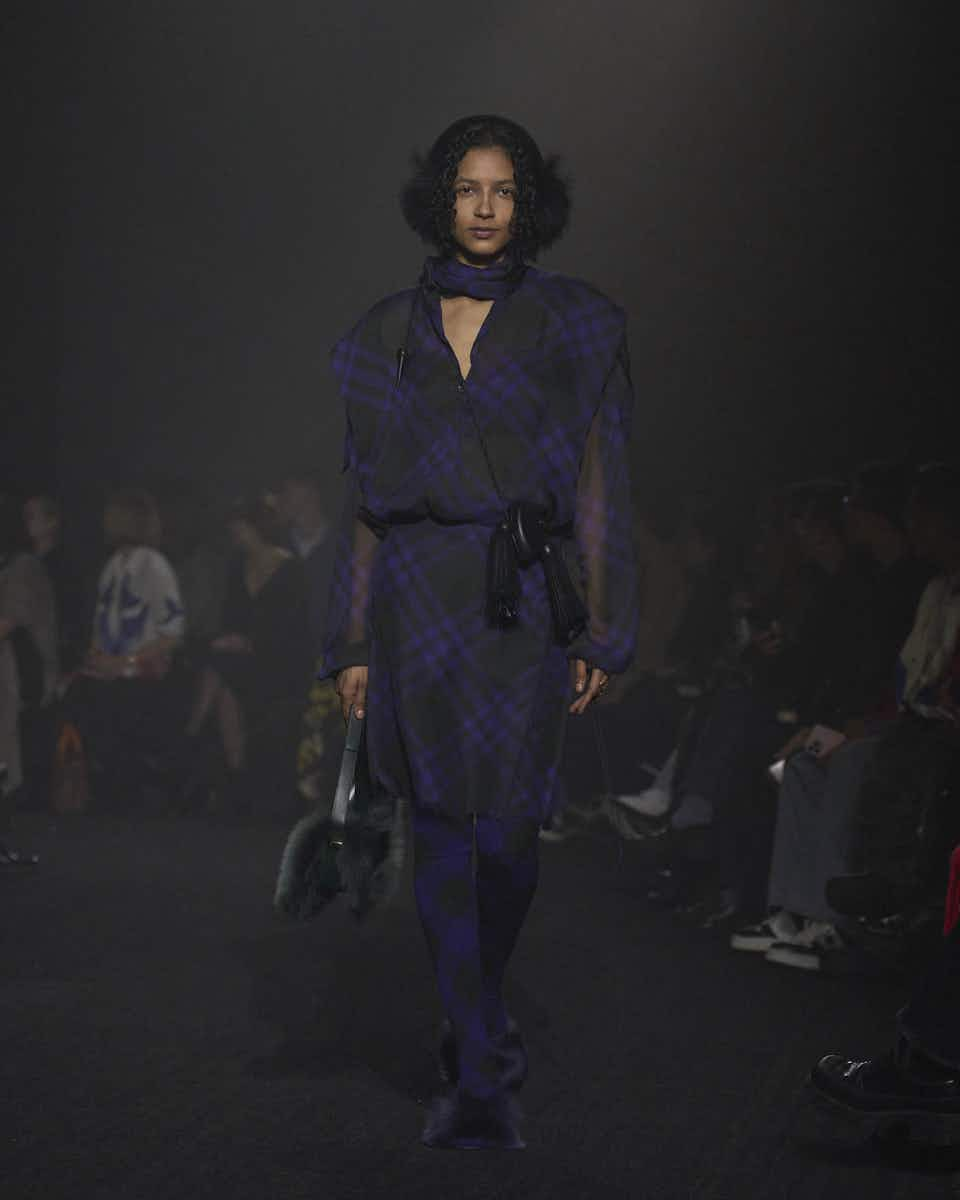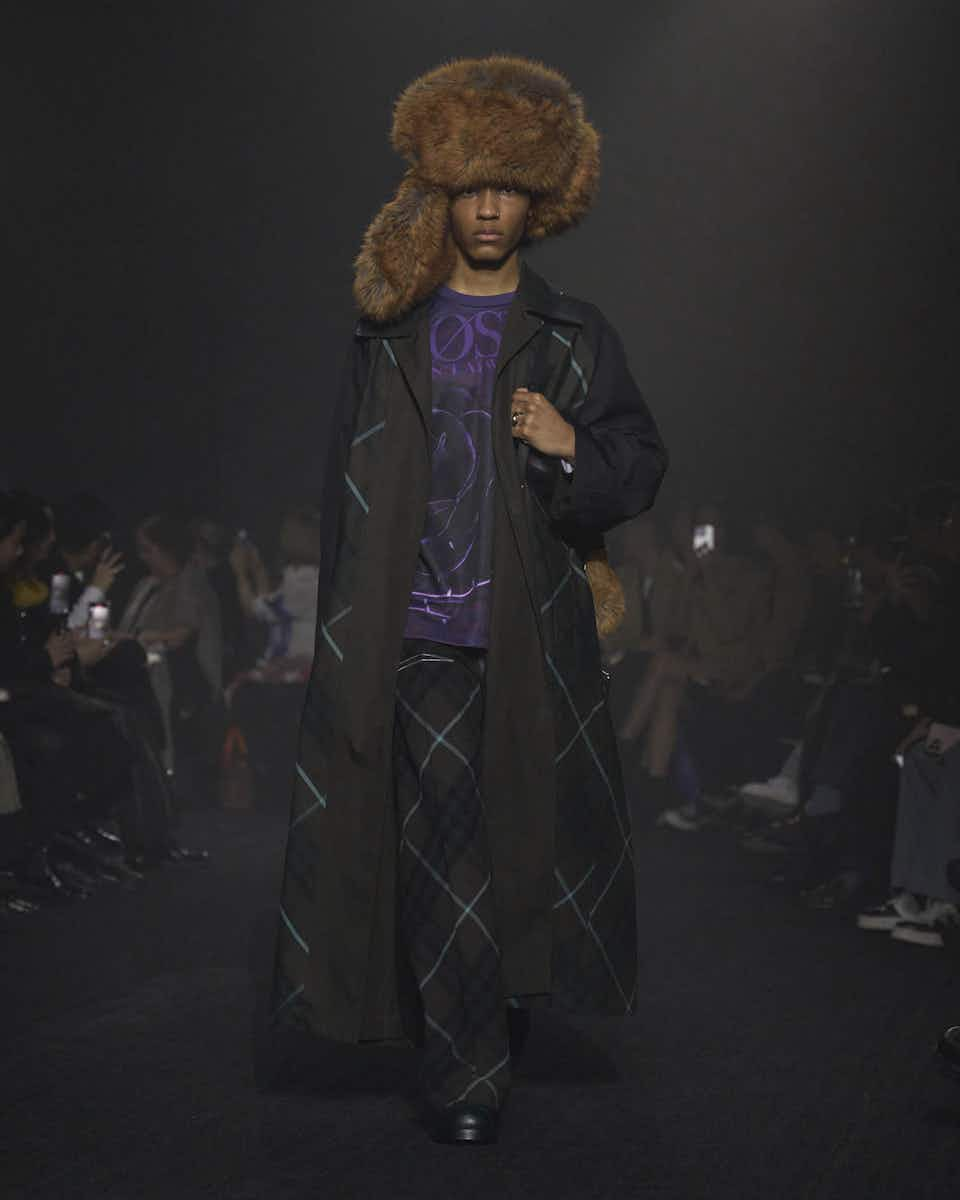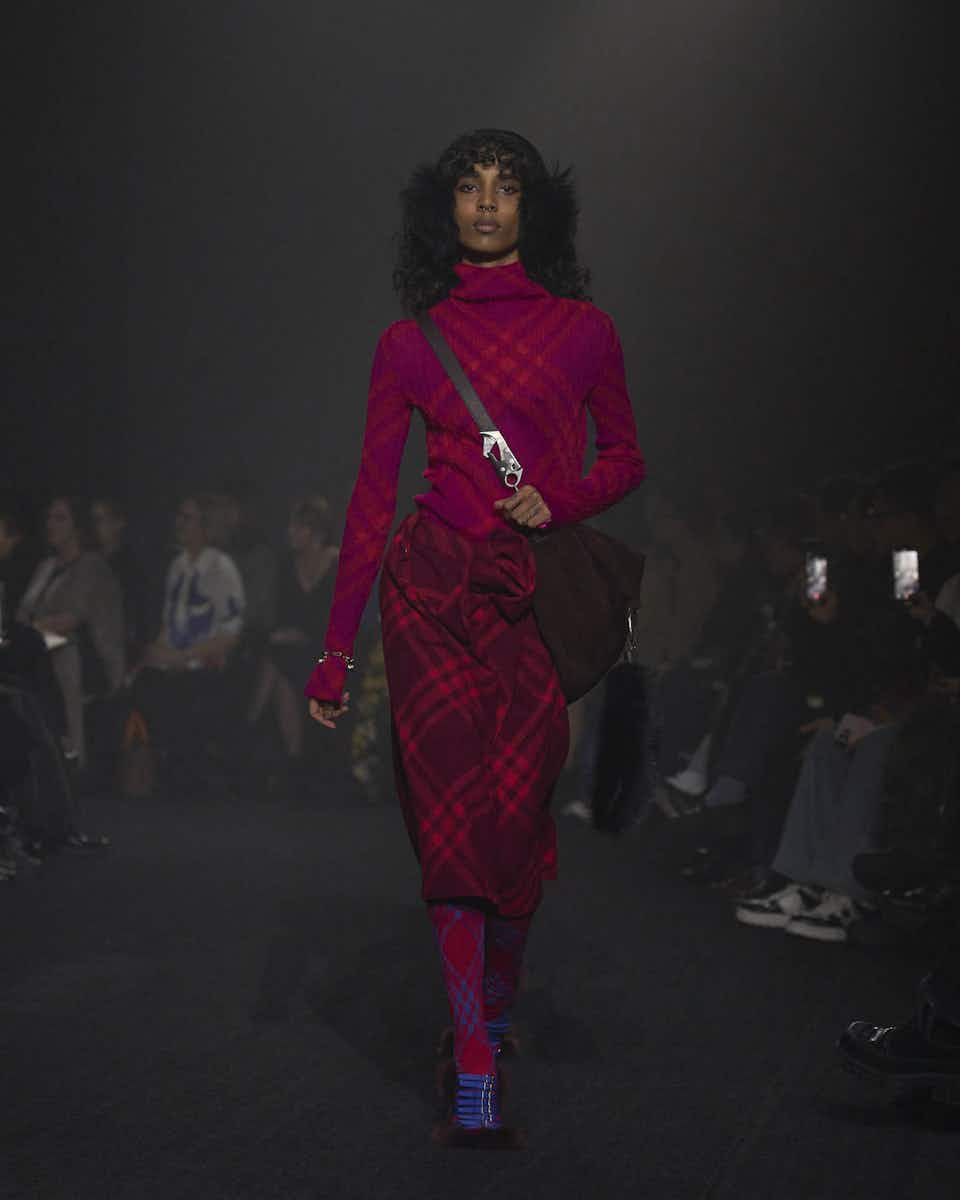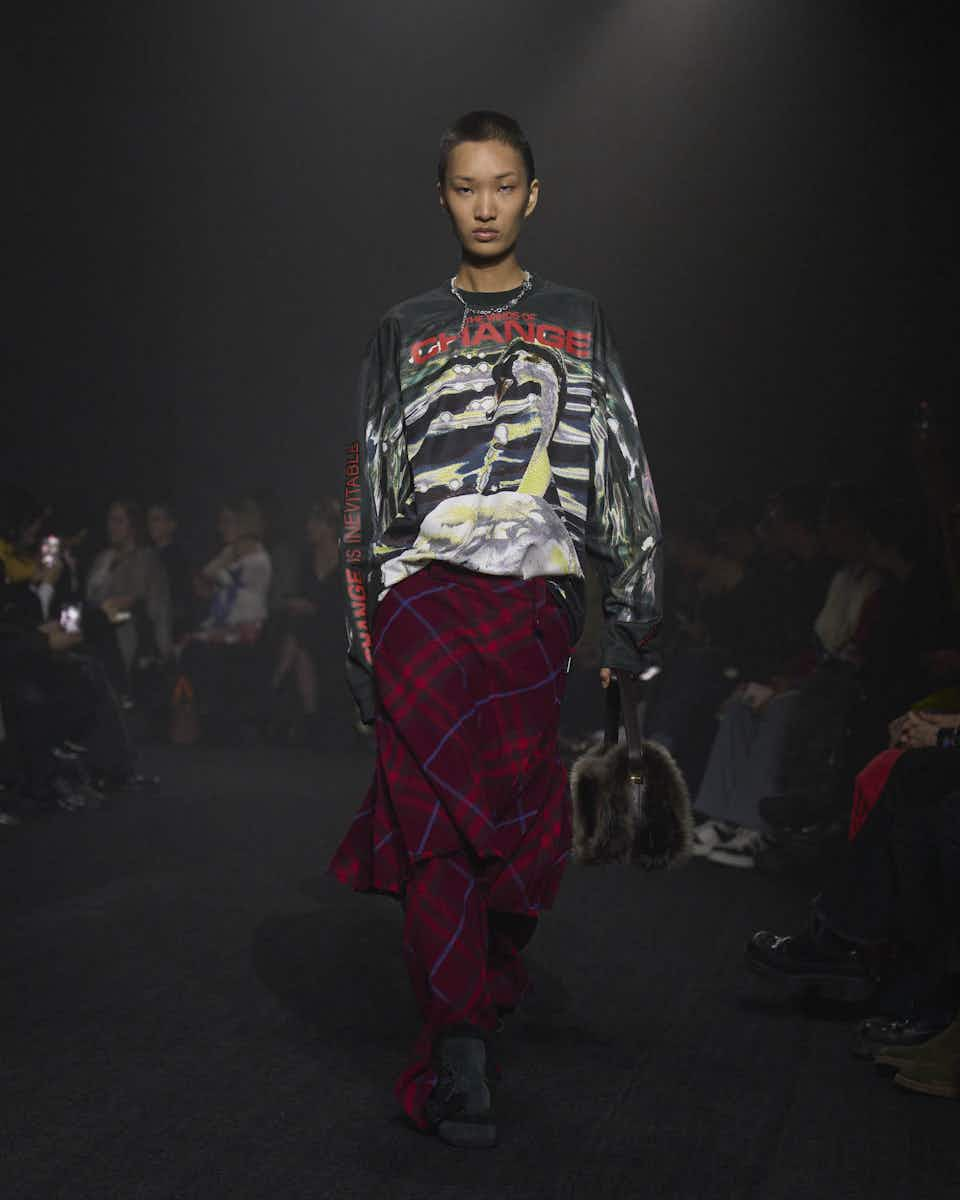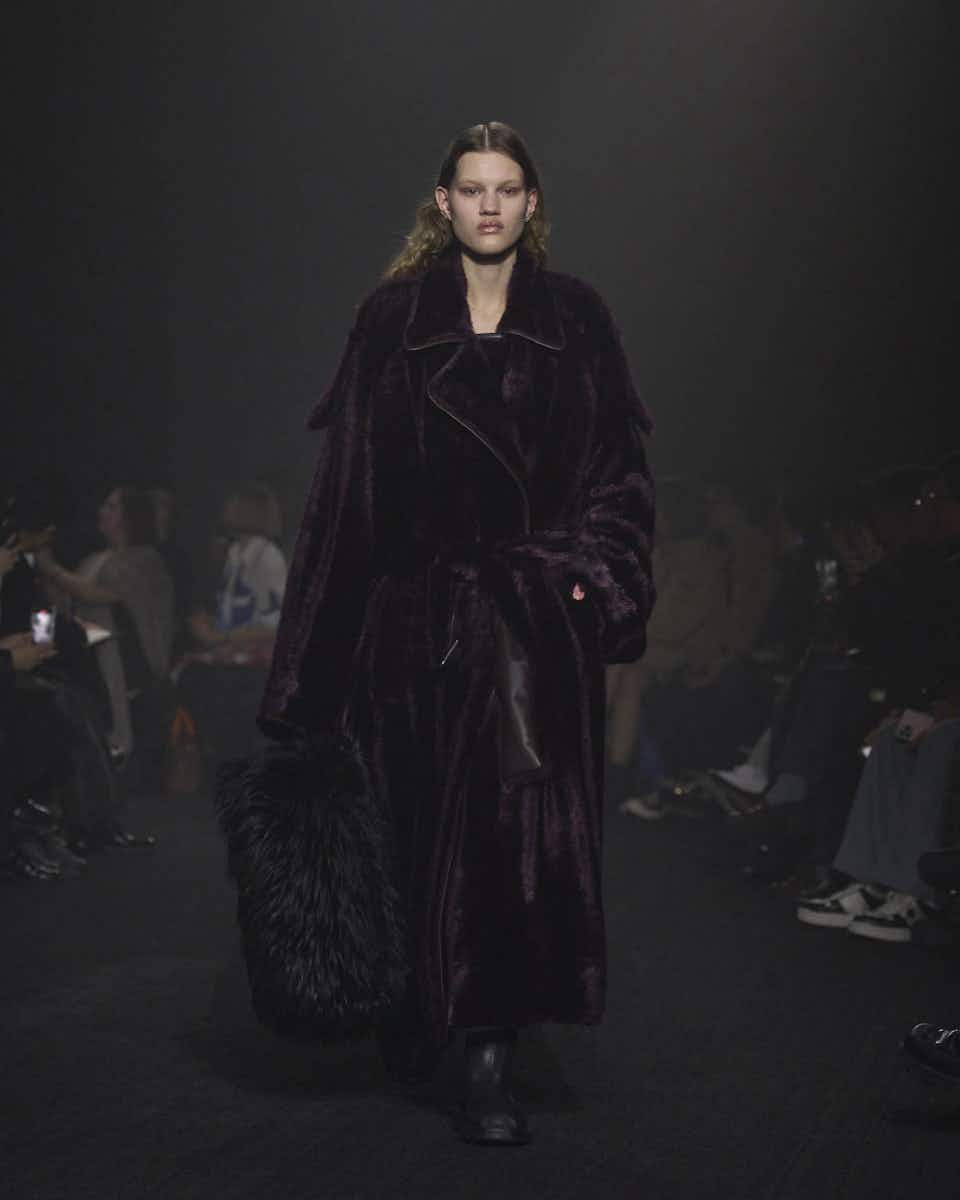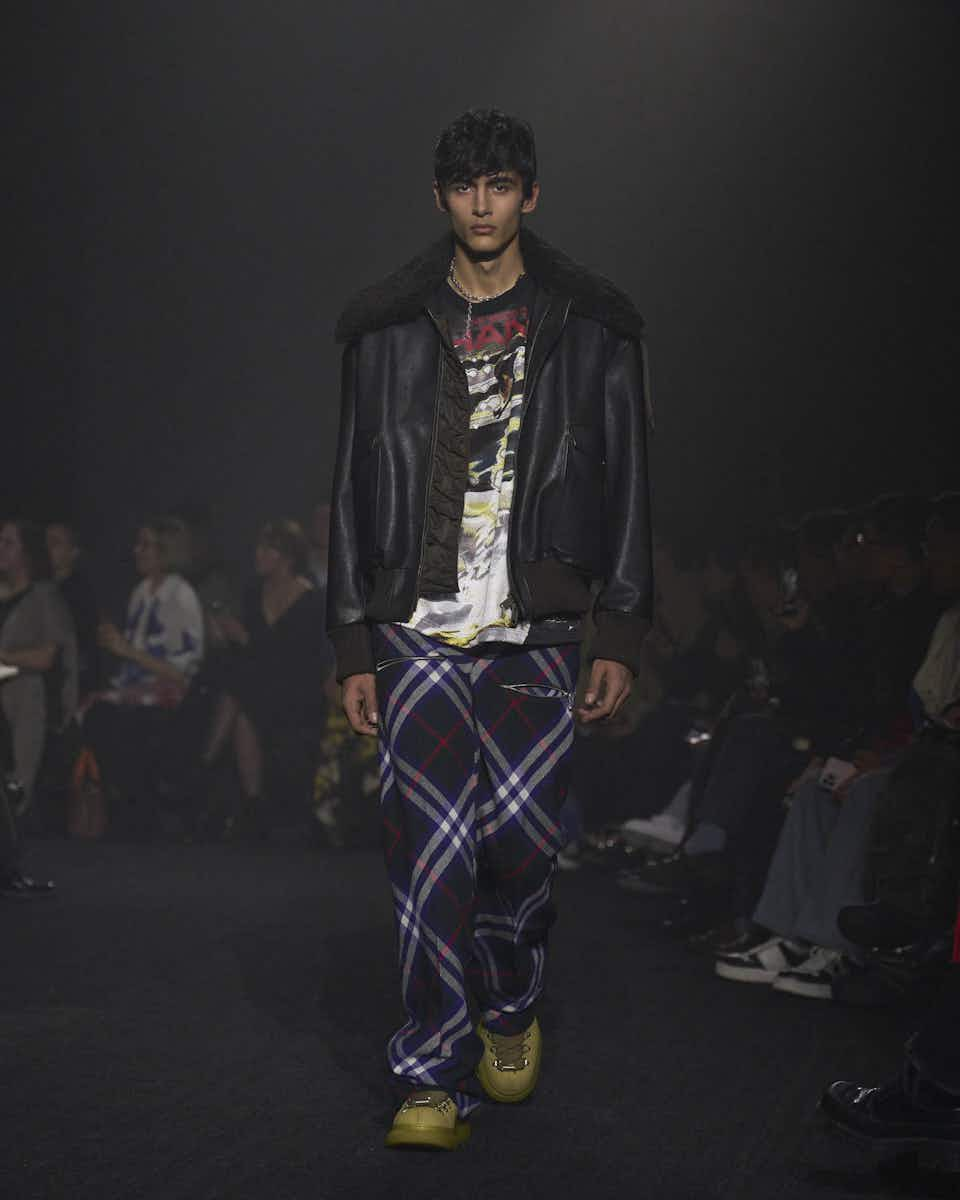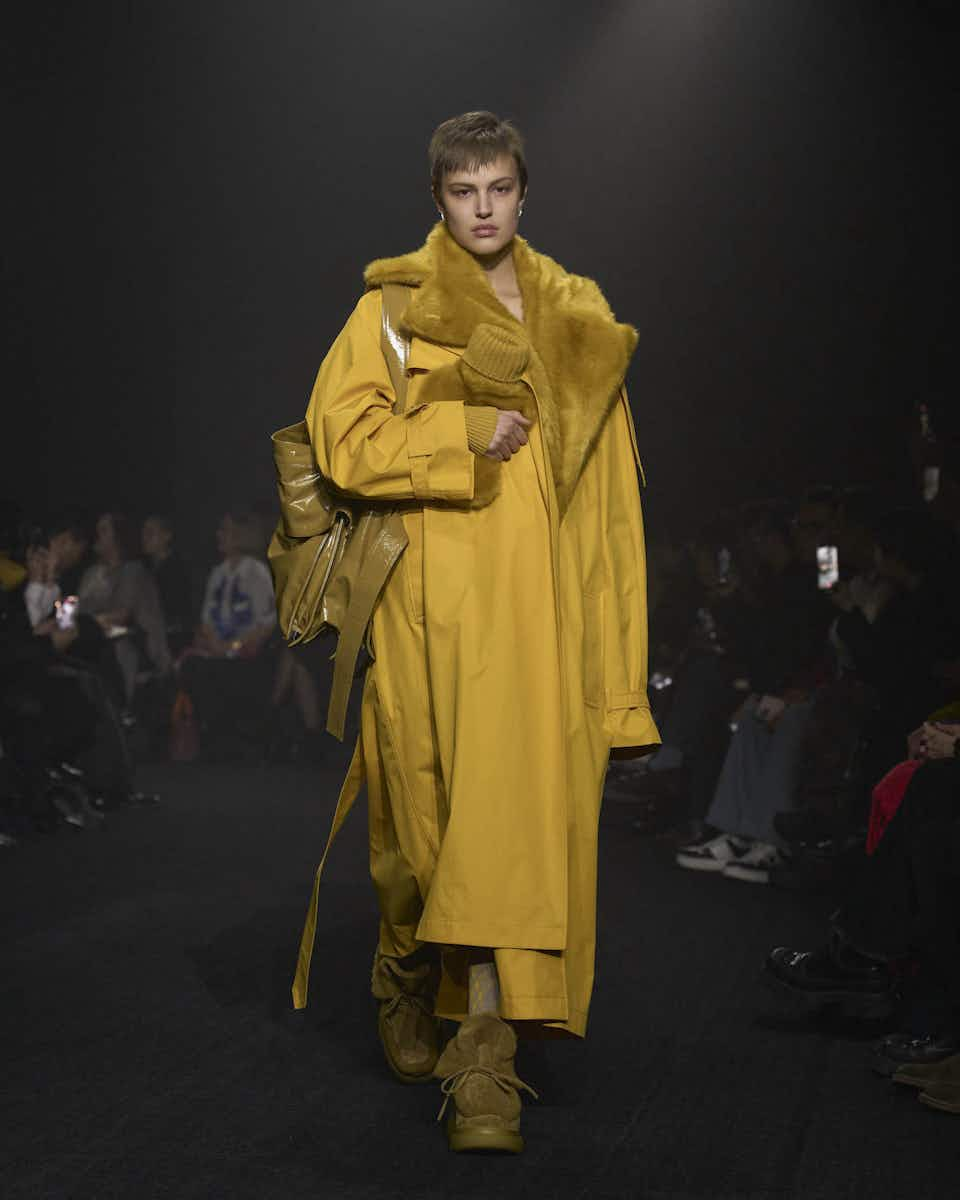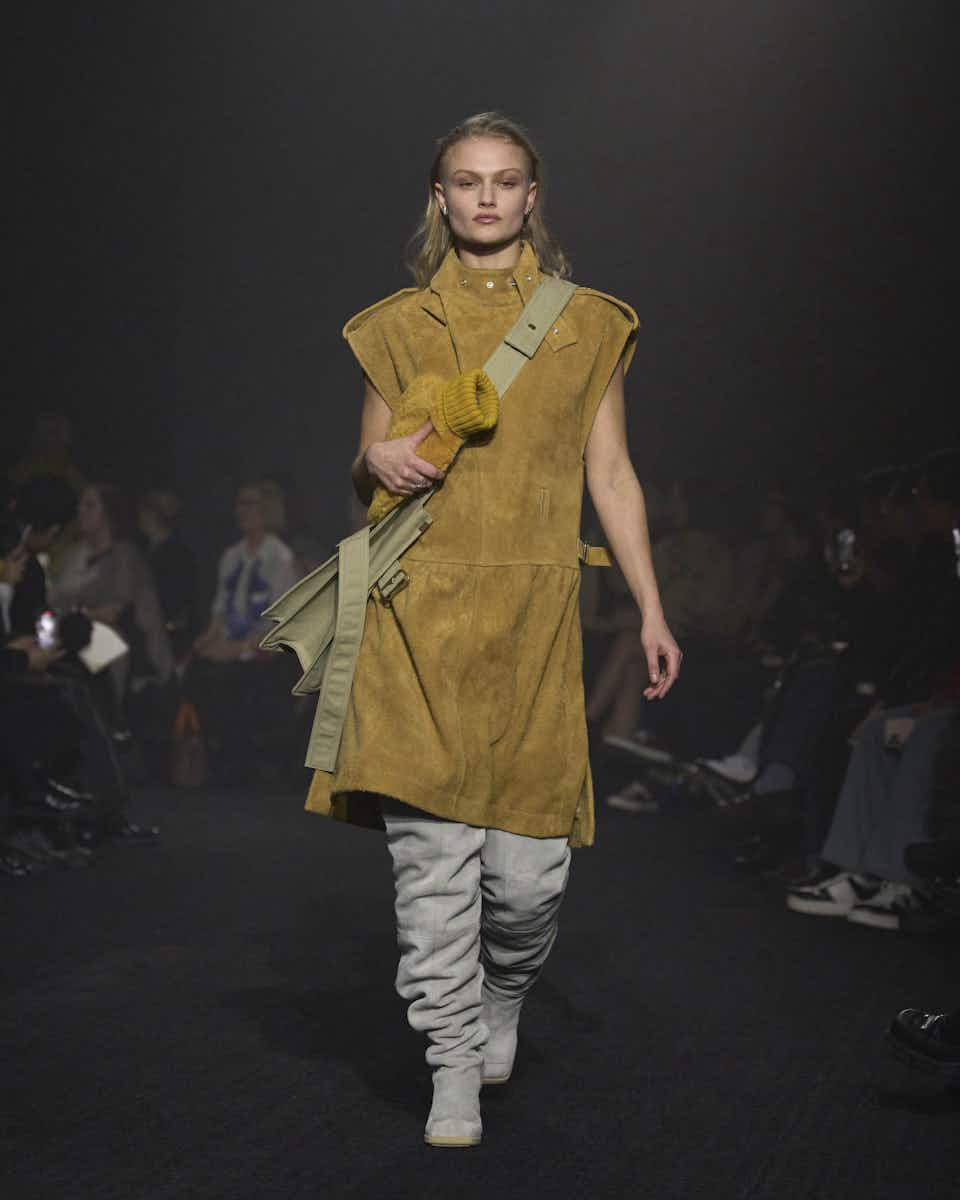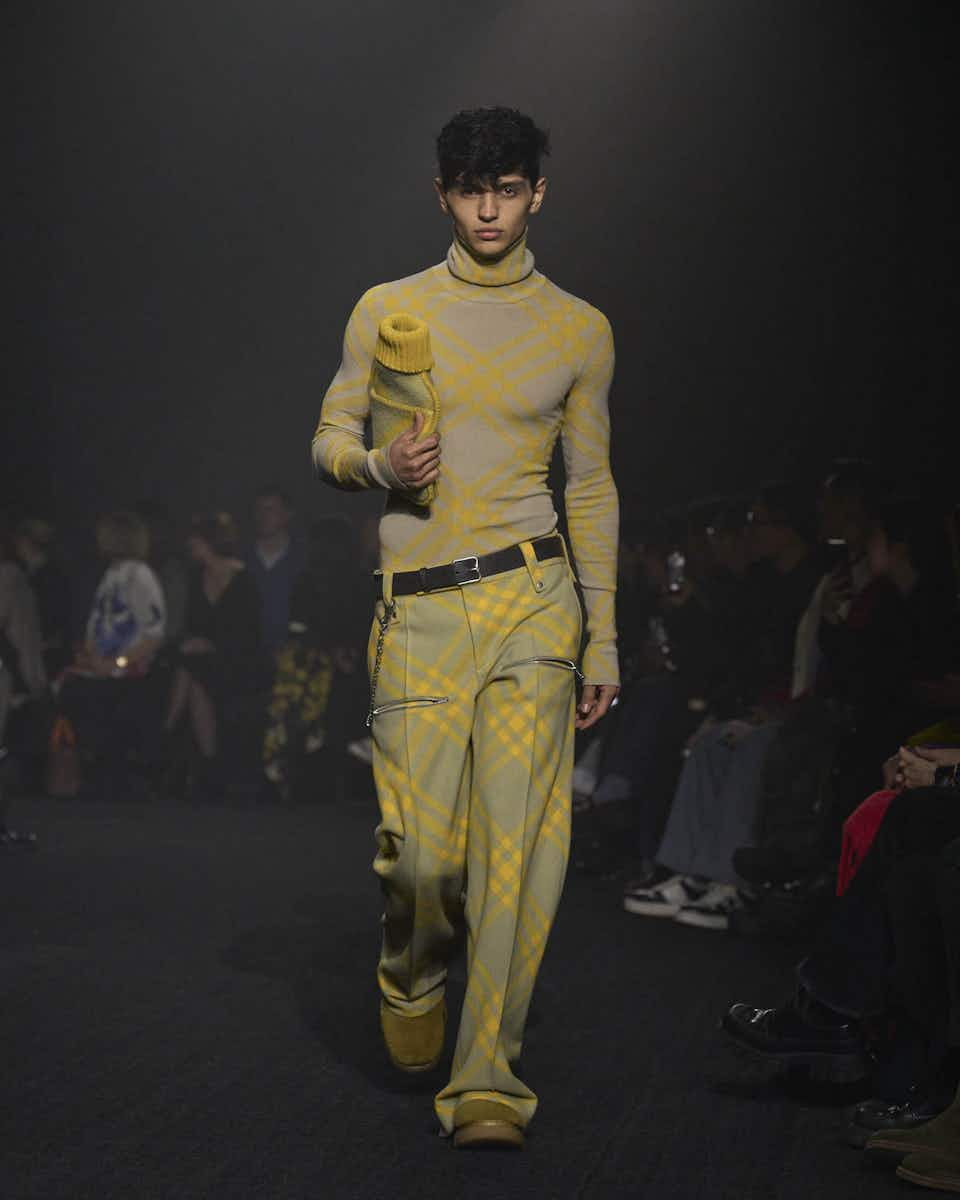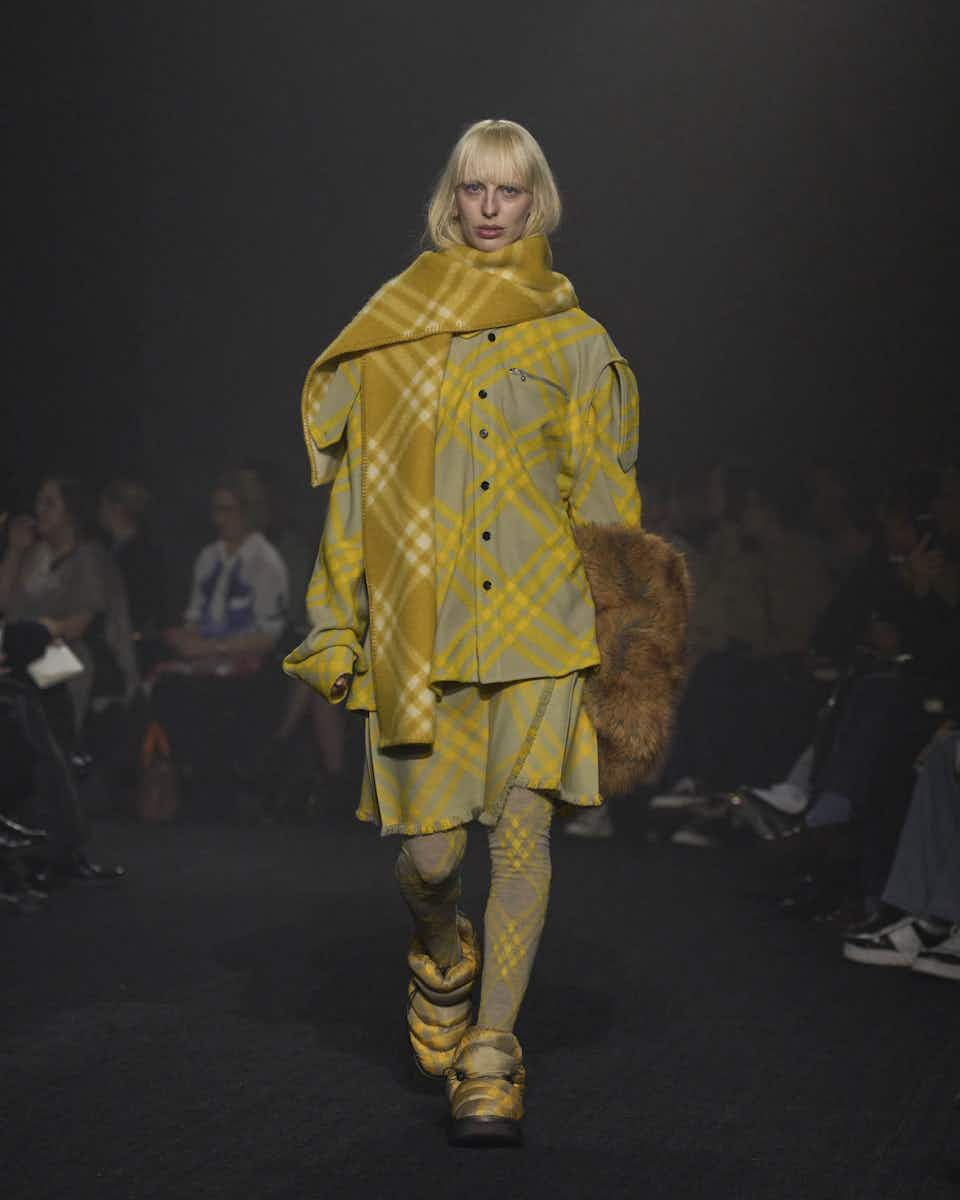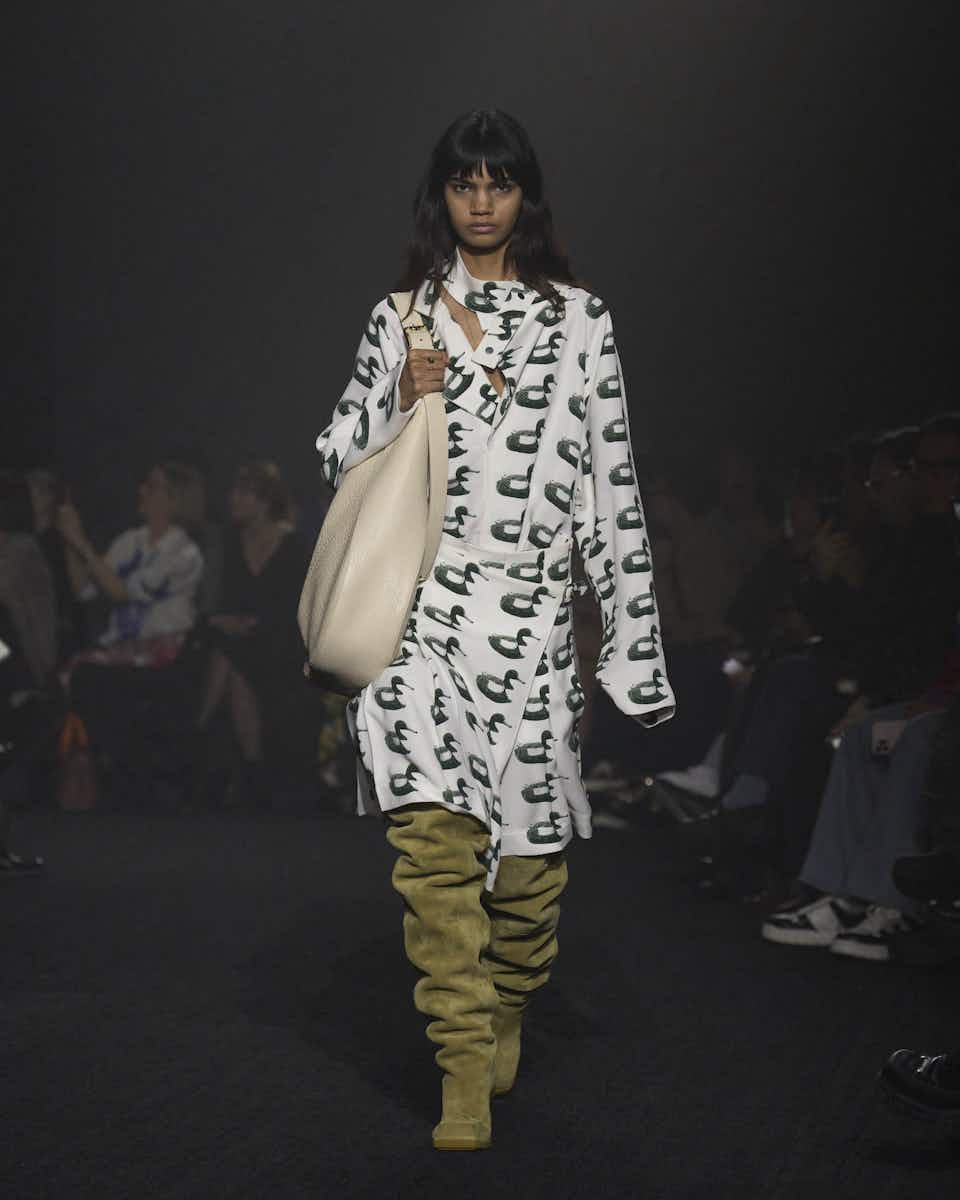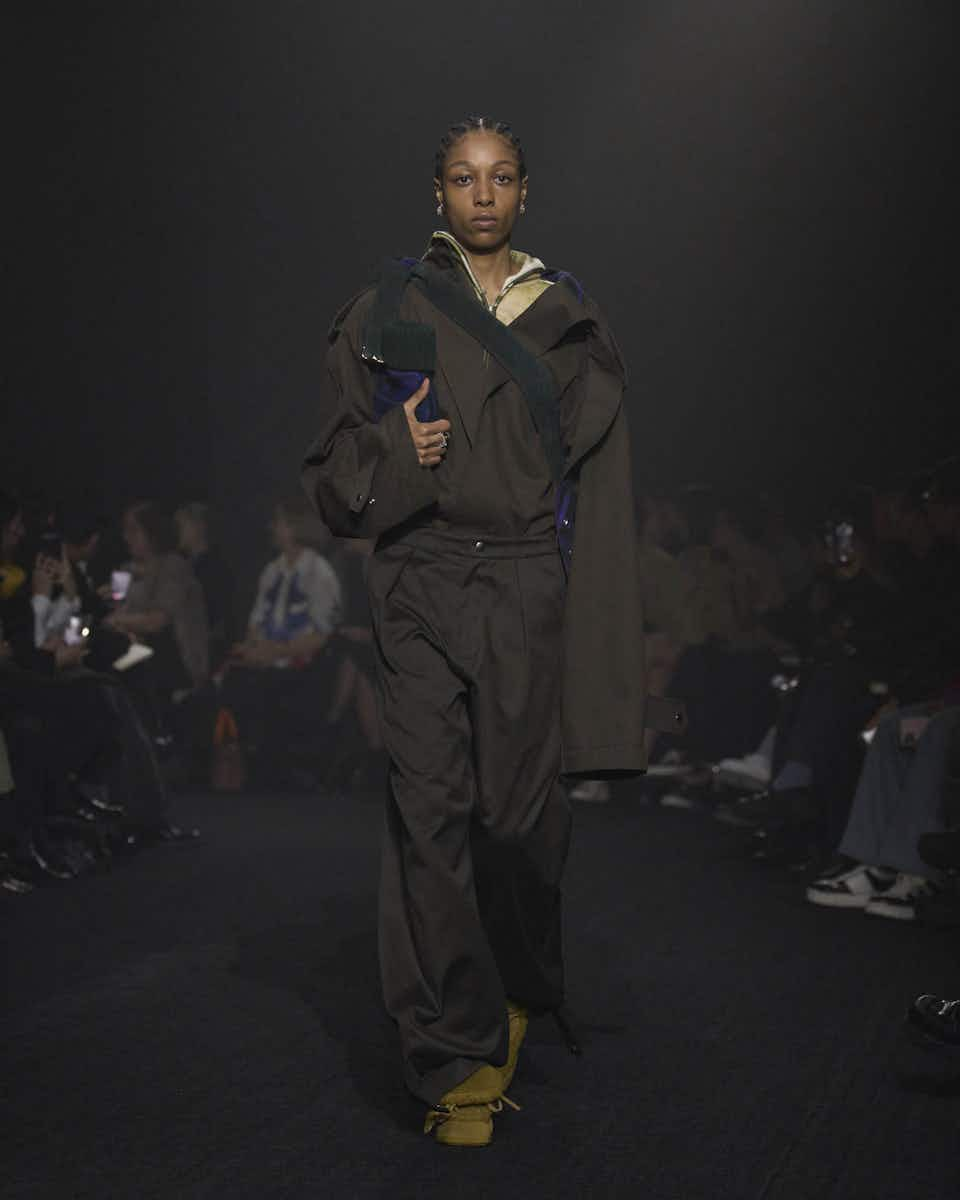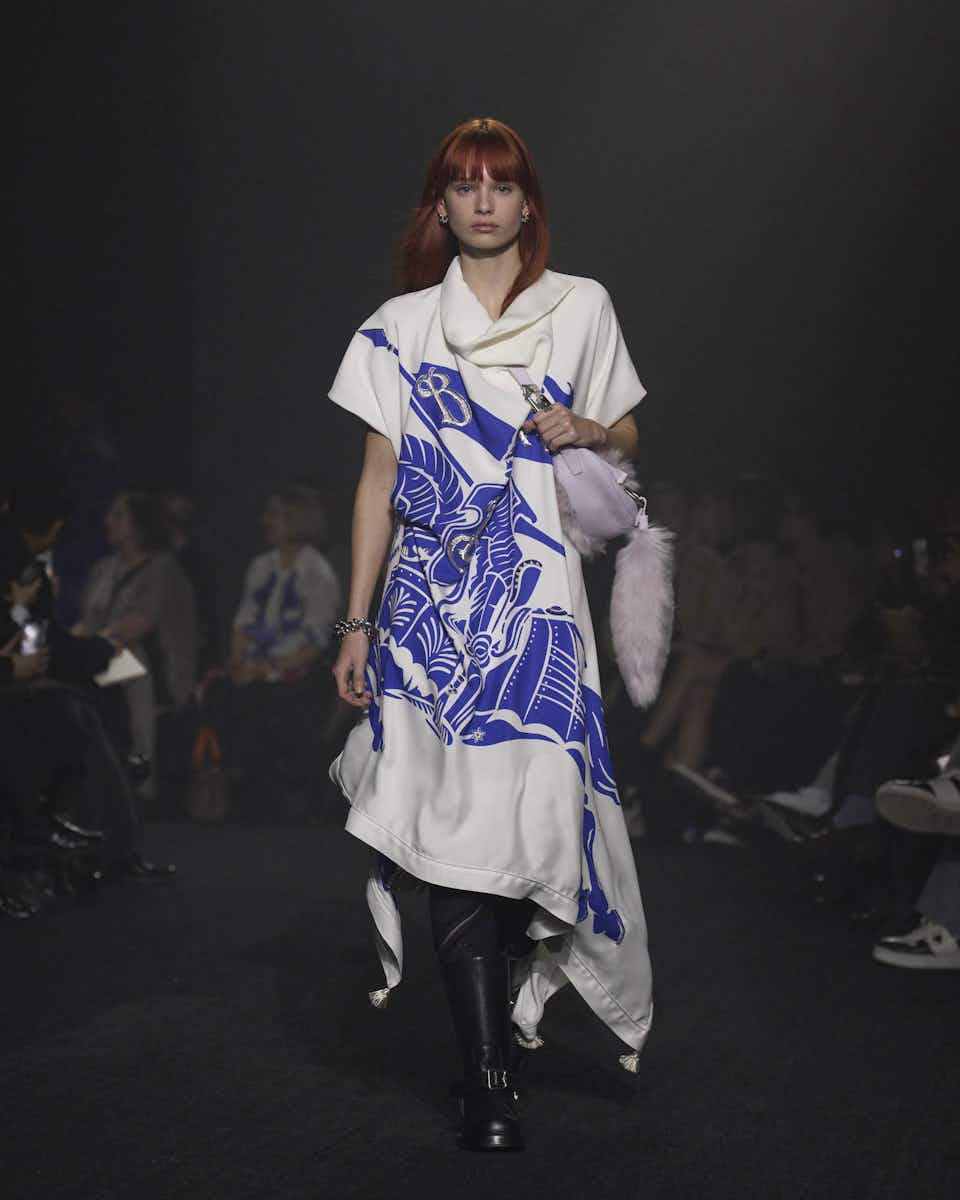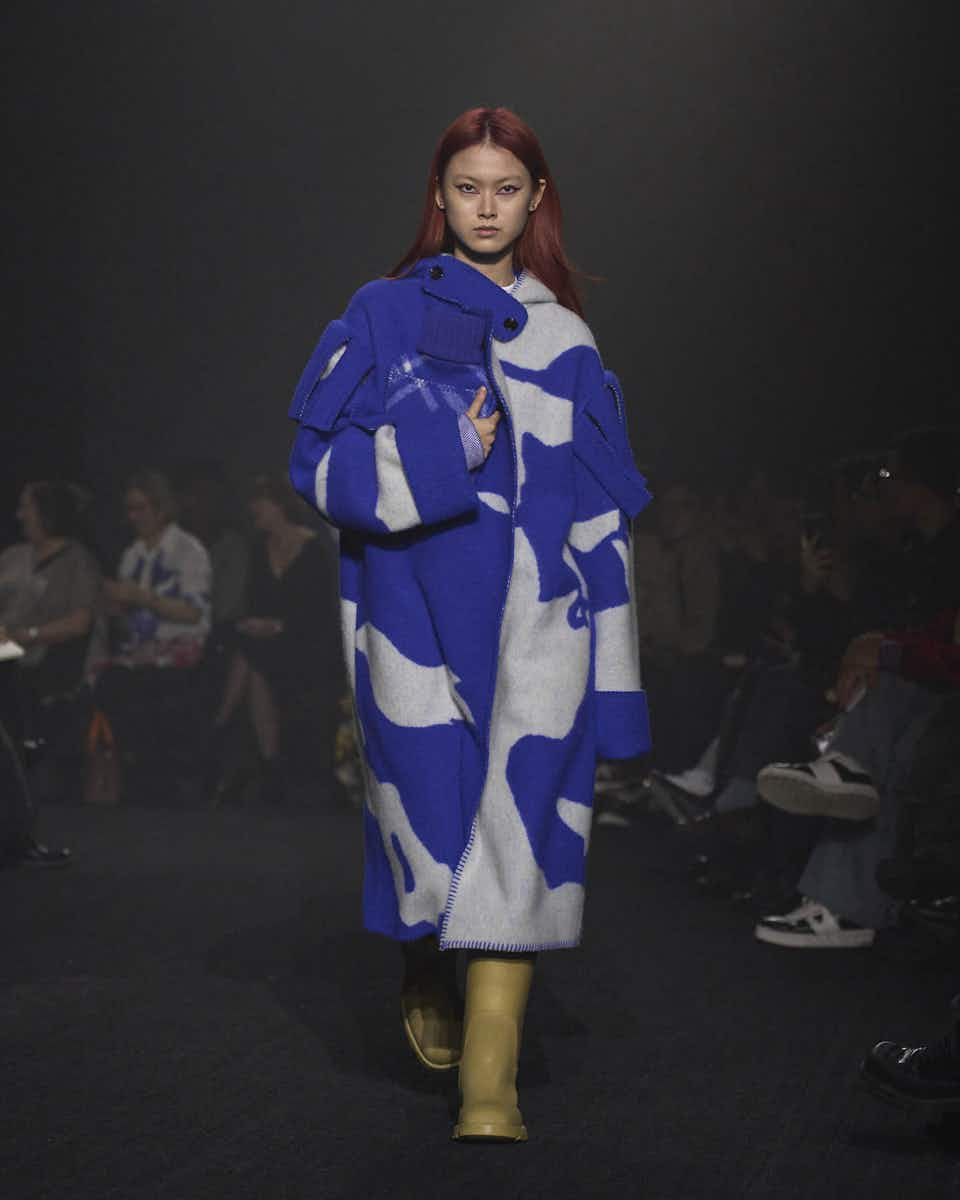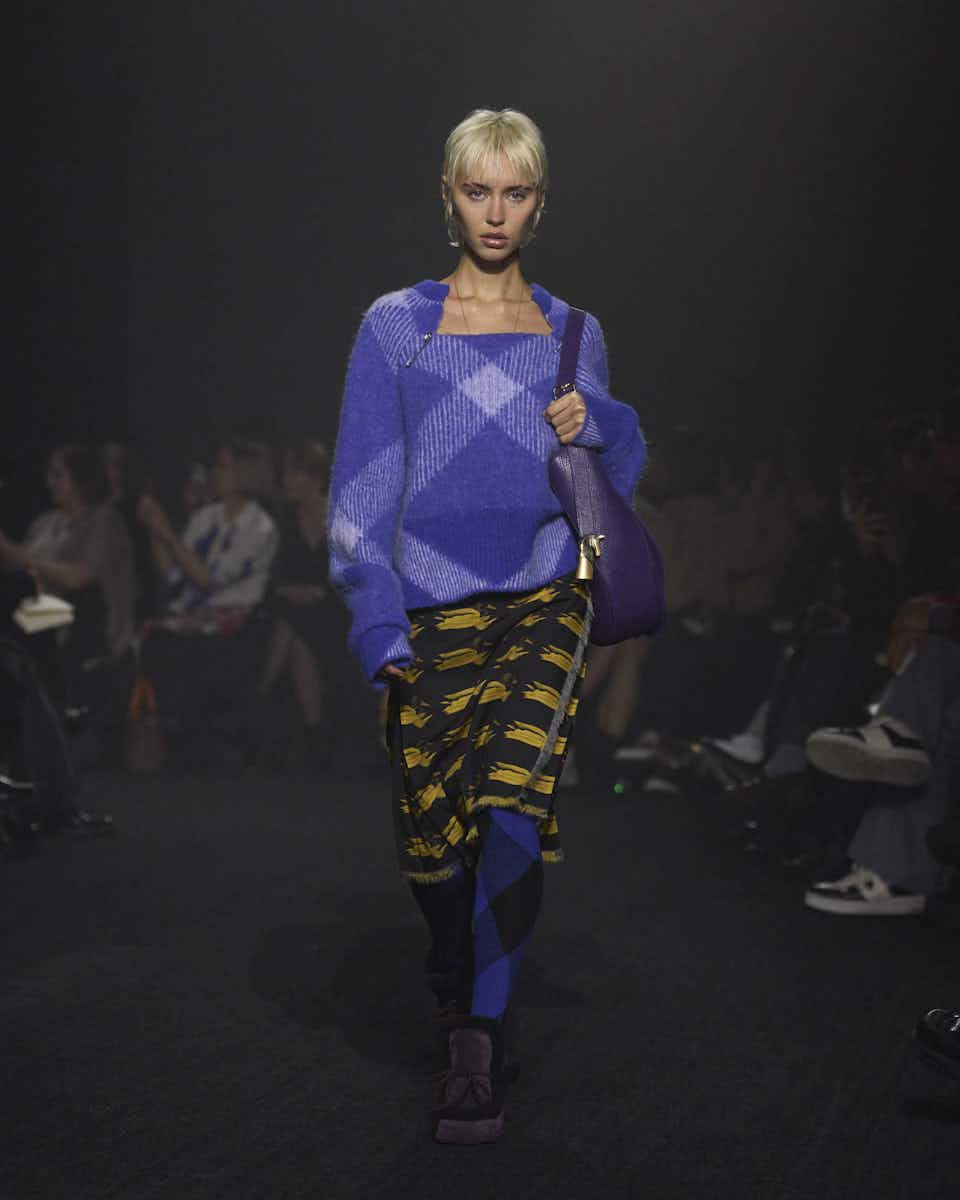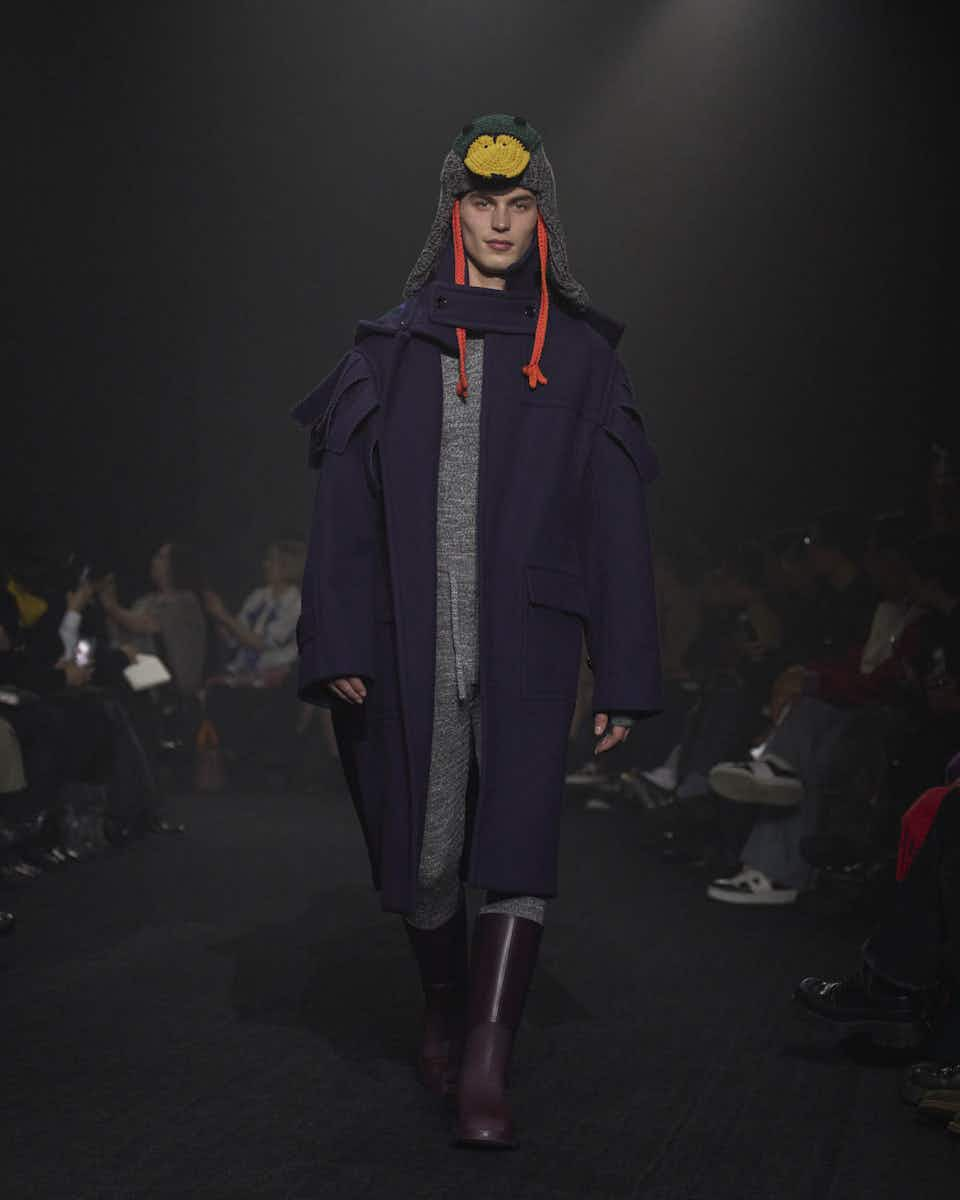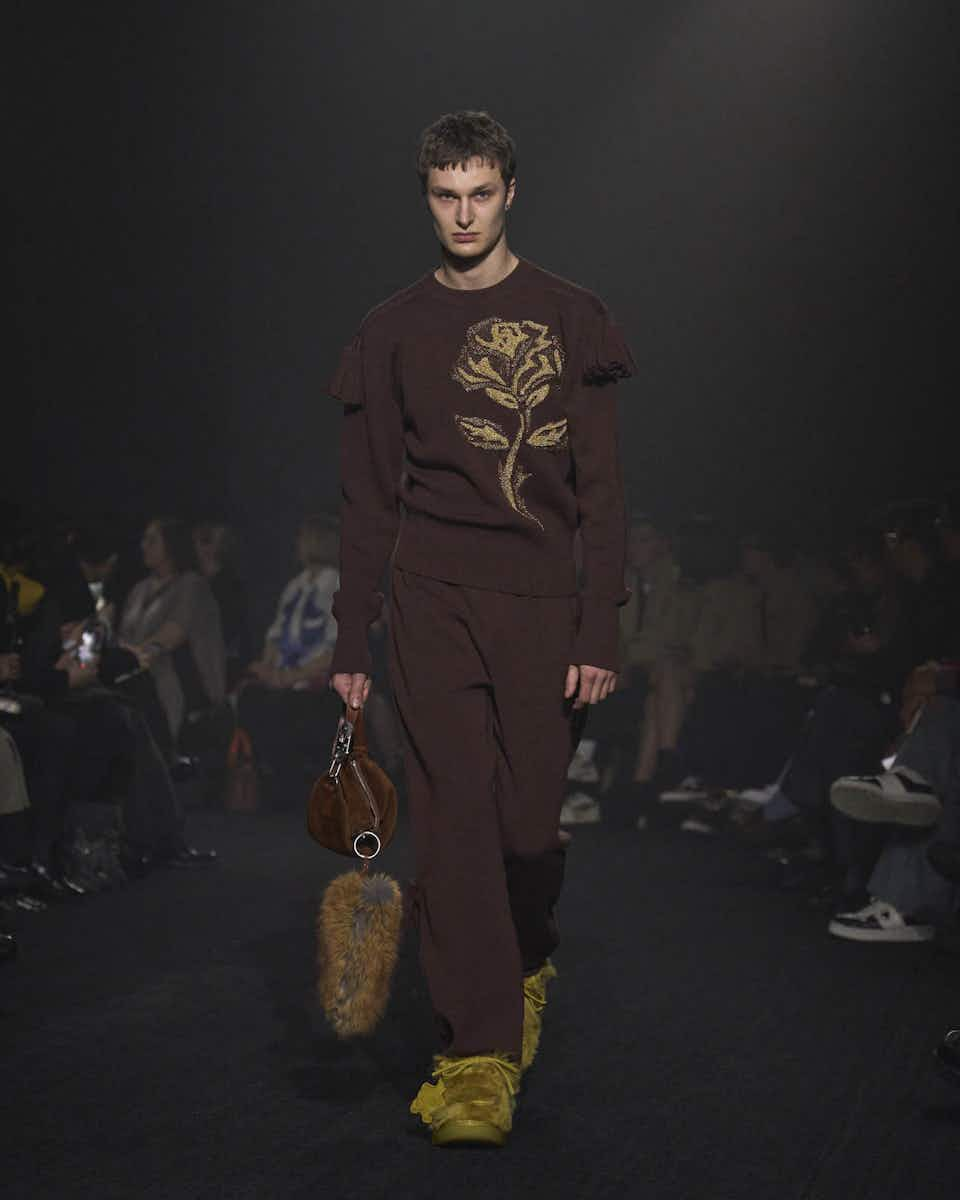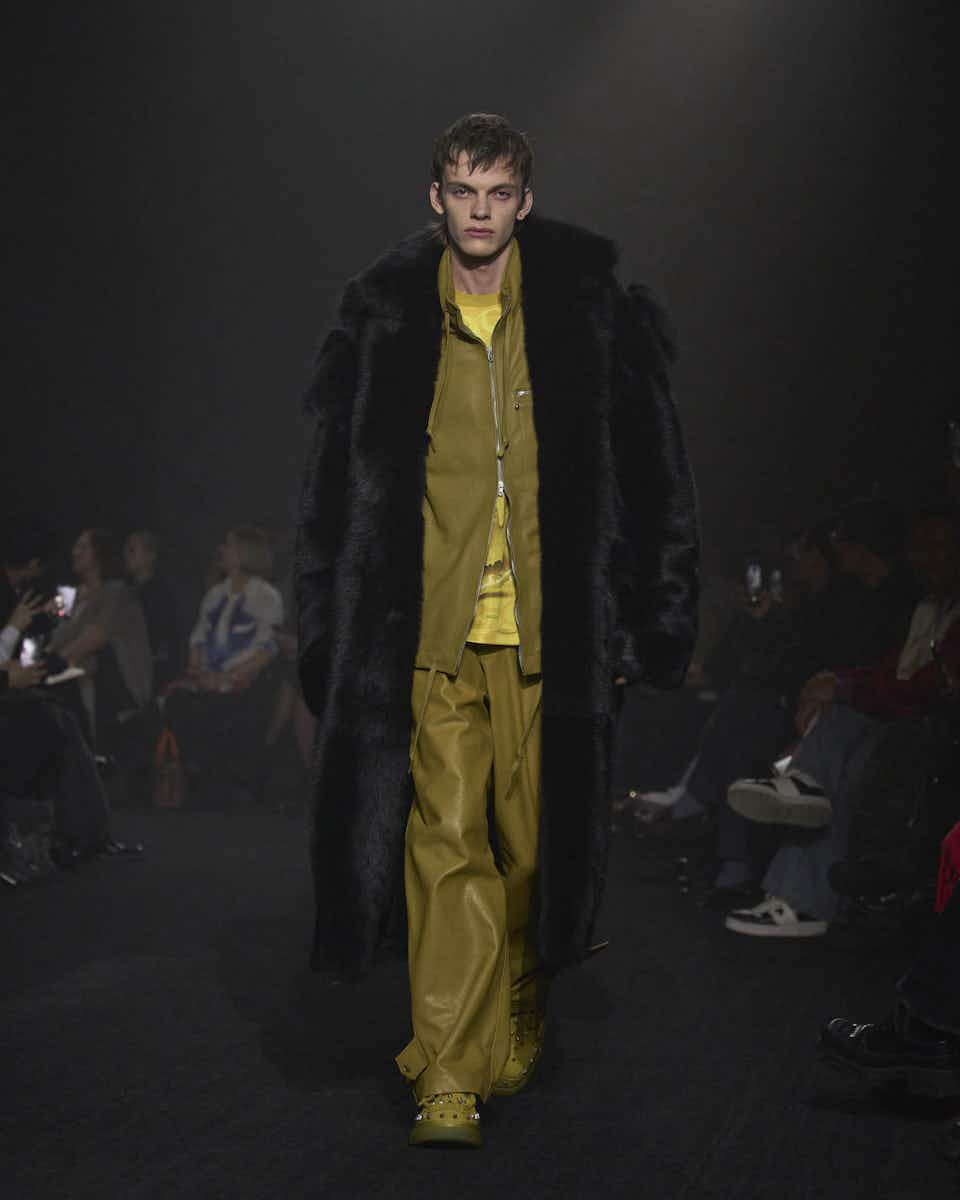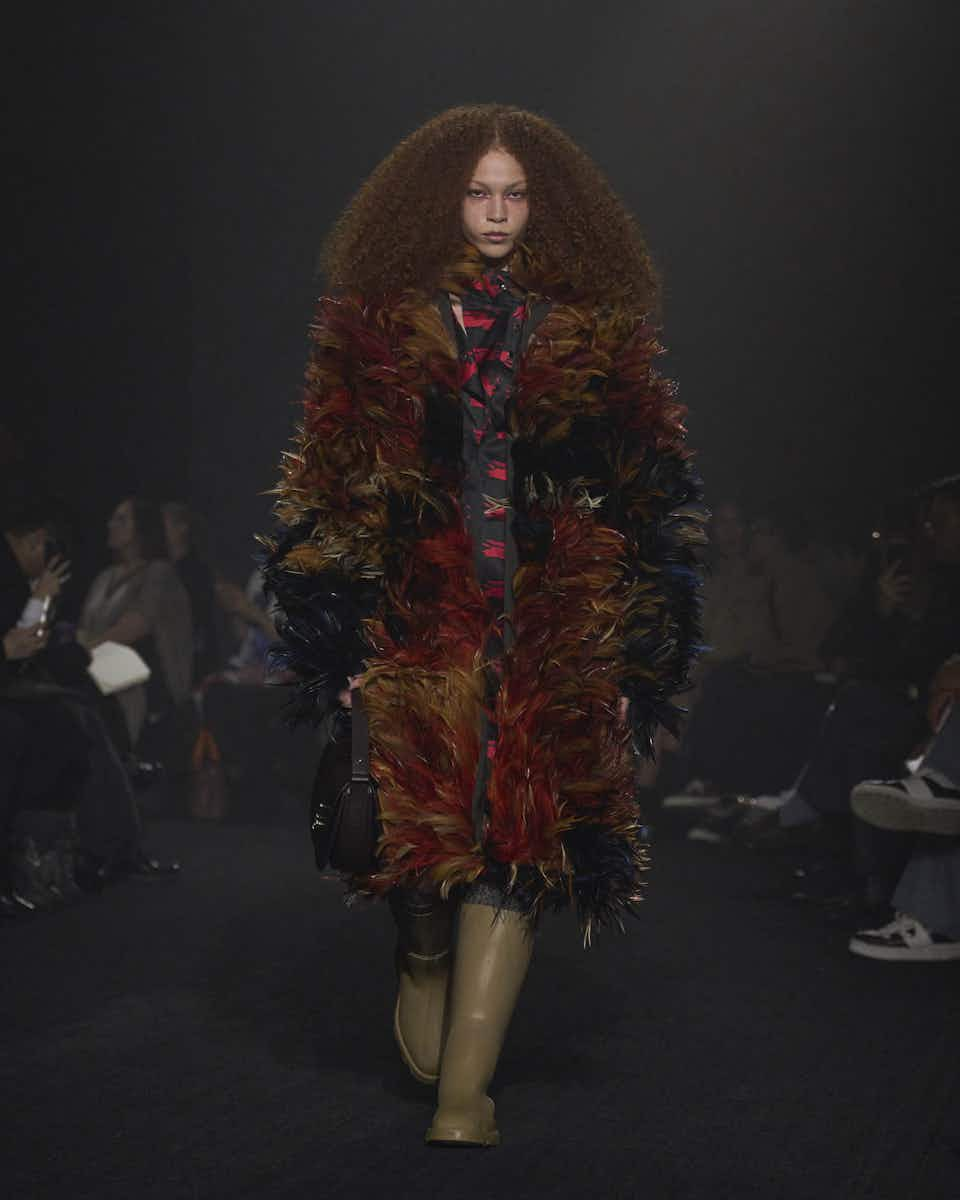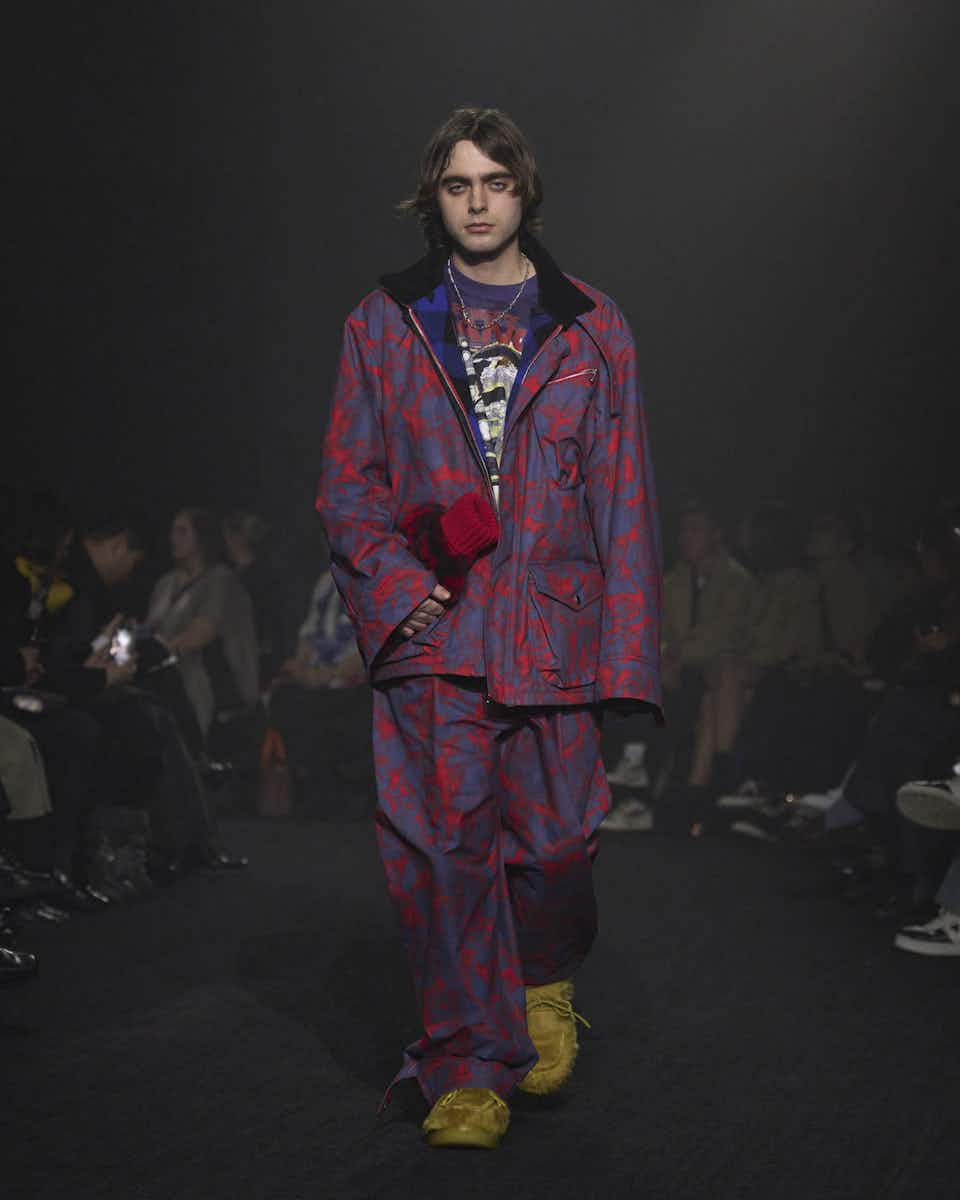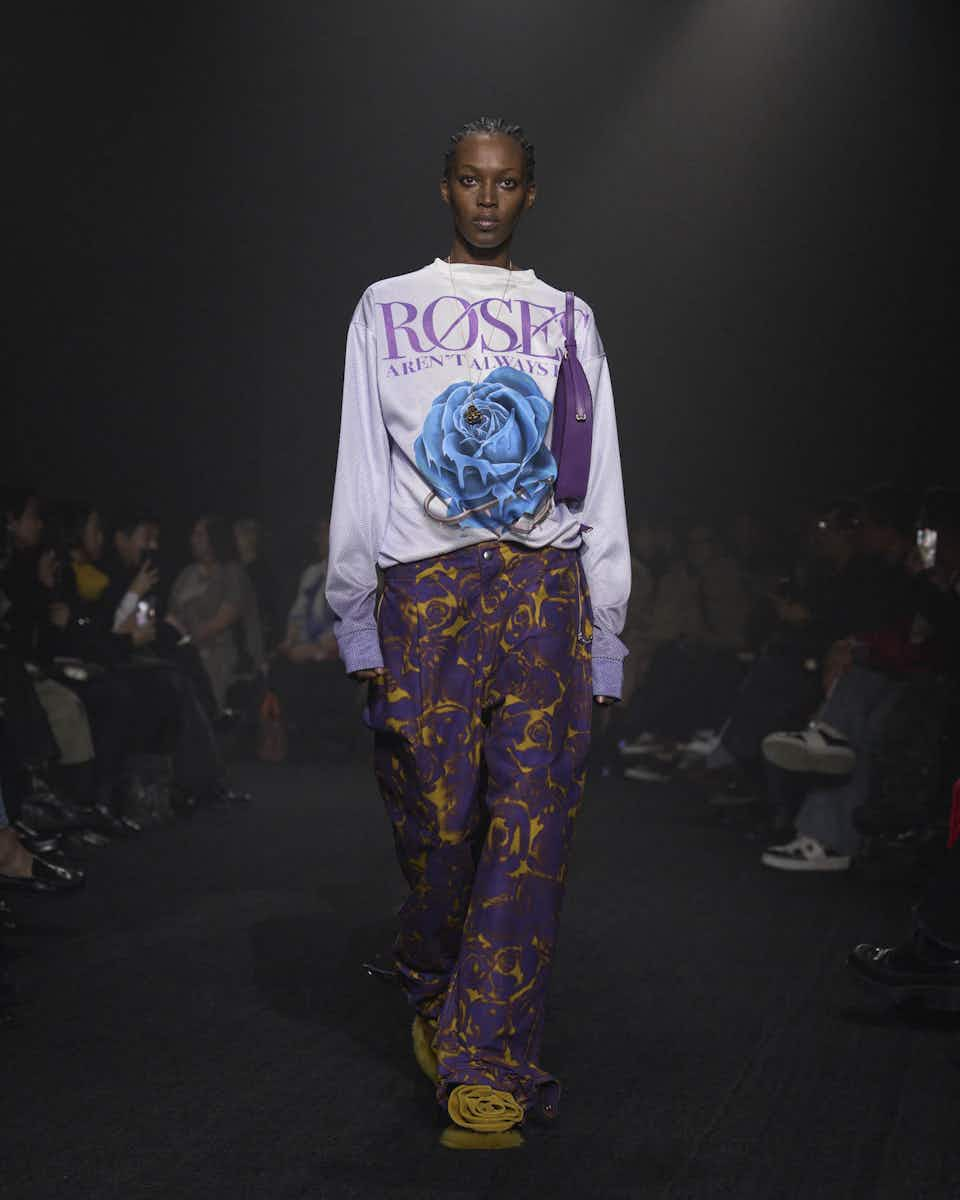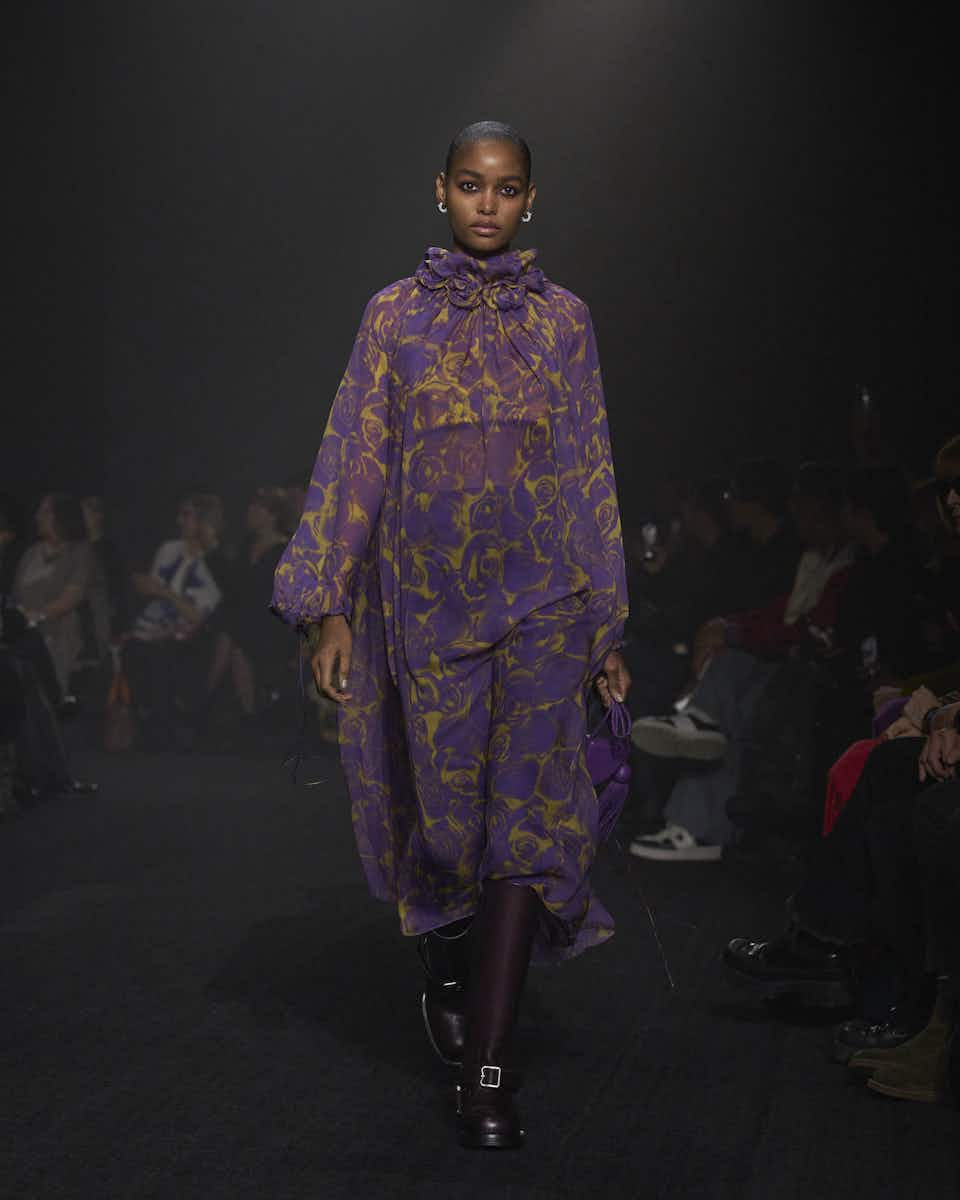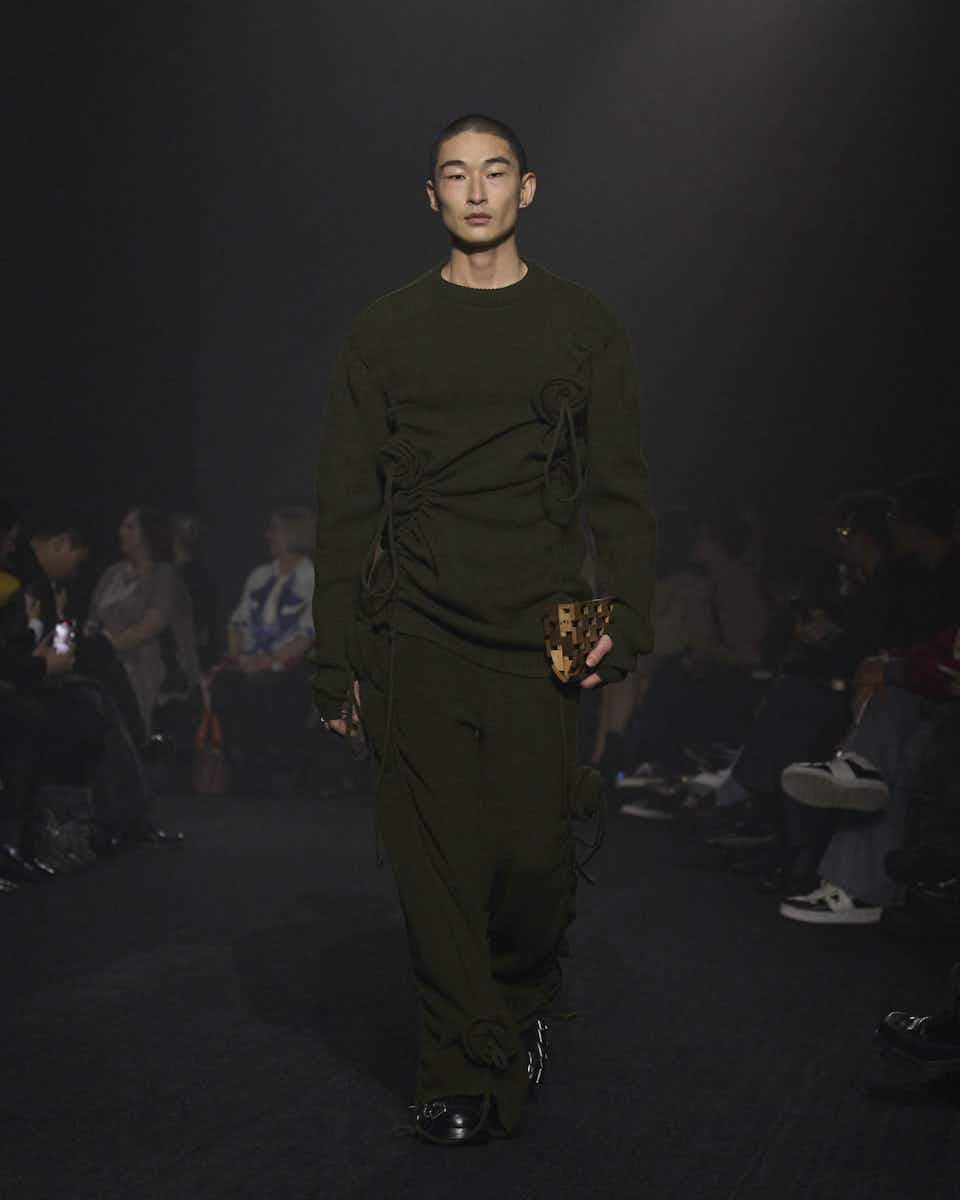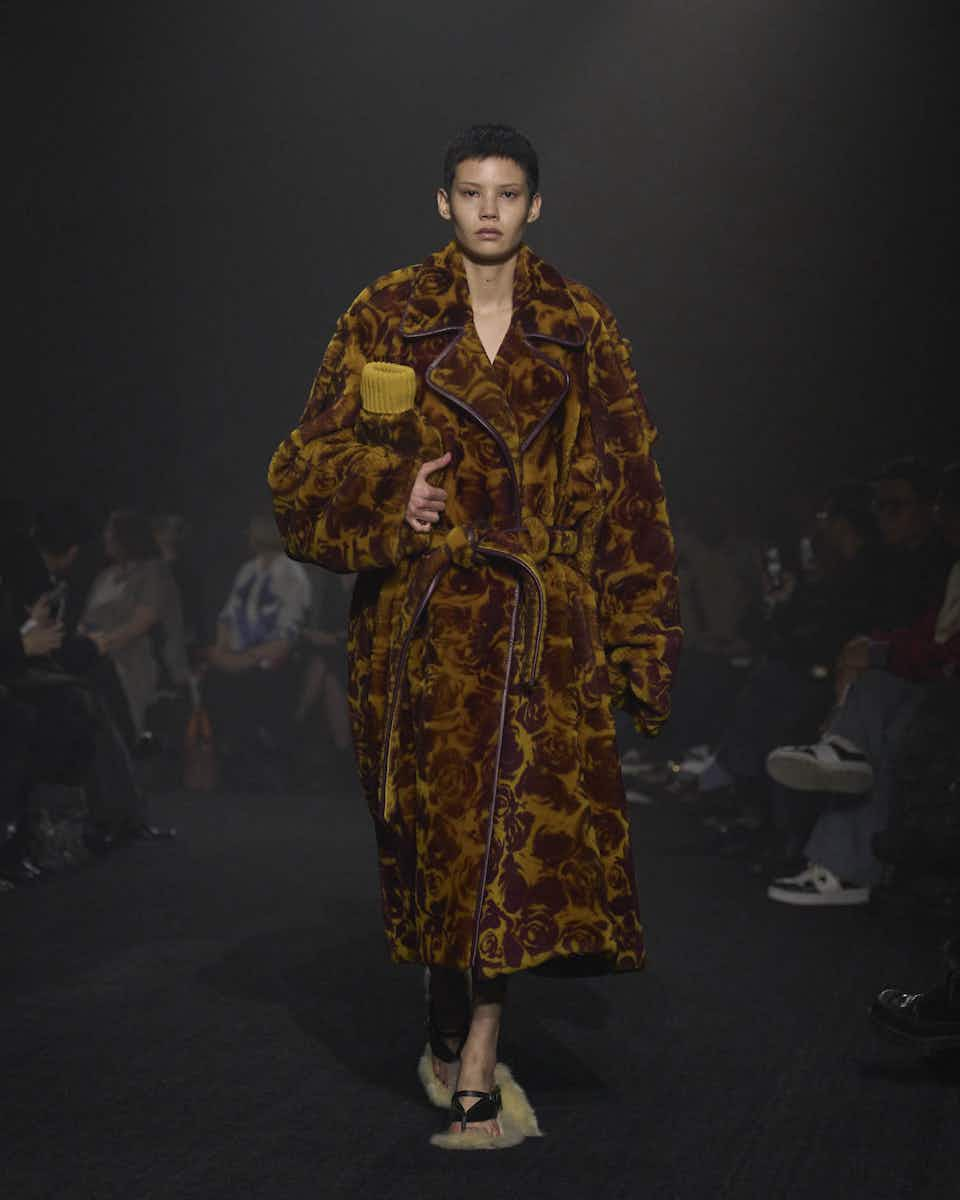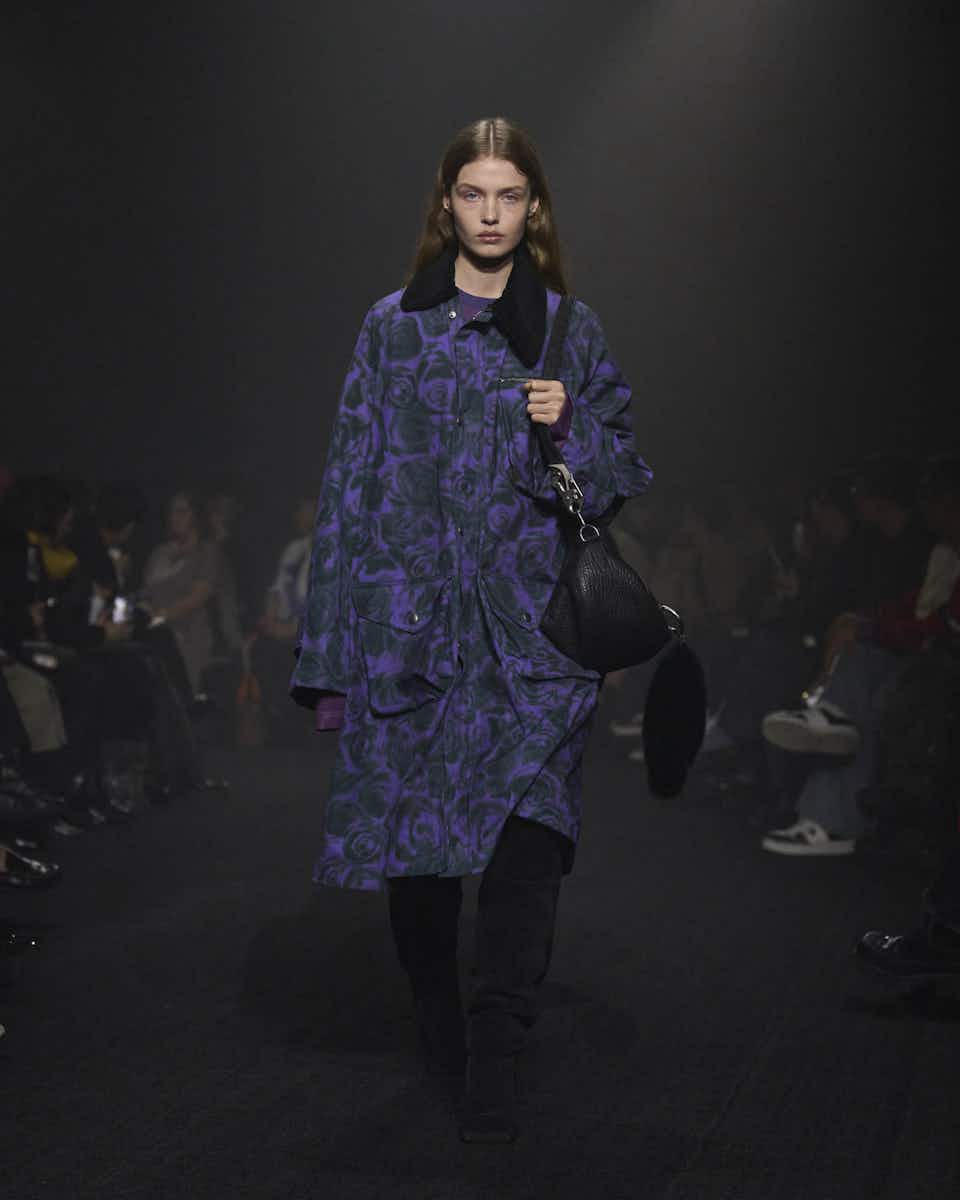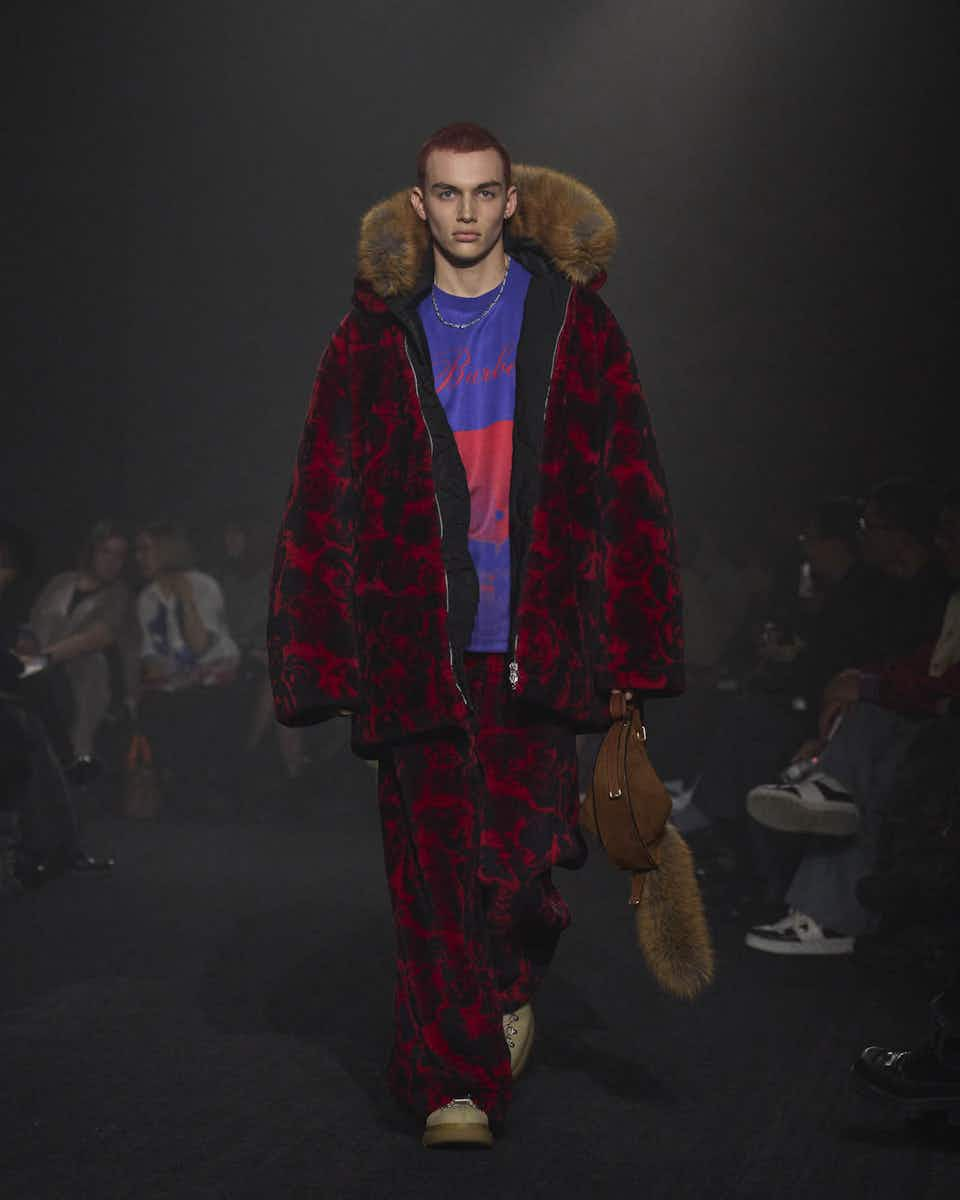 What?
A watershed moment for London's most romantic designer.
Where?
Dojaka returned to Alva Coachworks in North London. Once a Victorian tram repair depot, it's now a cavernous photography studio.
What were the clothes like?
Since her final collection with Fashion East in 2021, Djoka's subsequent solo shows have received mega reviews for her carefully constructed, barely-there dresses and expansion into denim and leather. But this season felt like an effortless step up for the womenswear designer. Her signature styles were all there, with flowers – a recurring inspiration for Dojaka – revisited in the collection's feminine details: hand-pleated frills and tulle panels, leggings with mini godets of tulle sewn at the ankle and flared dresses that open up like a blooming rose. There were new shapes, too, with jersey skirts that were more fitted than last season's and a highly detailed evening dress embroidered with Swarovski that will no doubt be seen on a red carpet pretty soon.
In a song?
Seal – Kiss From a Rose
In a word?
Romance.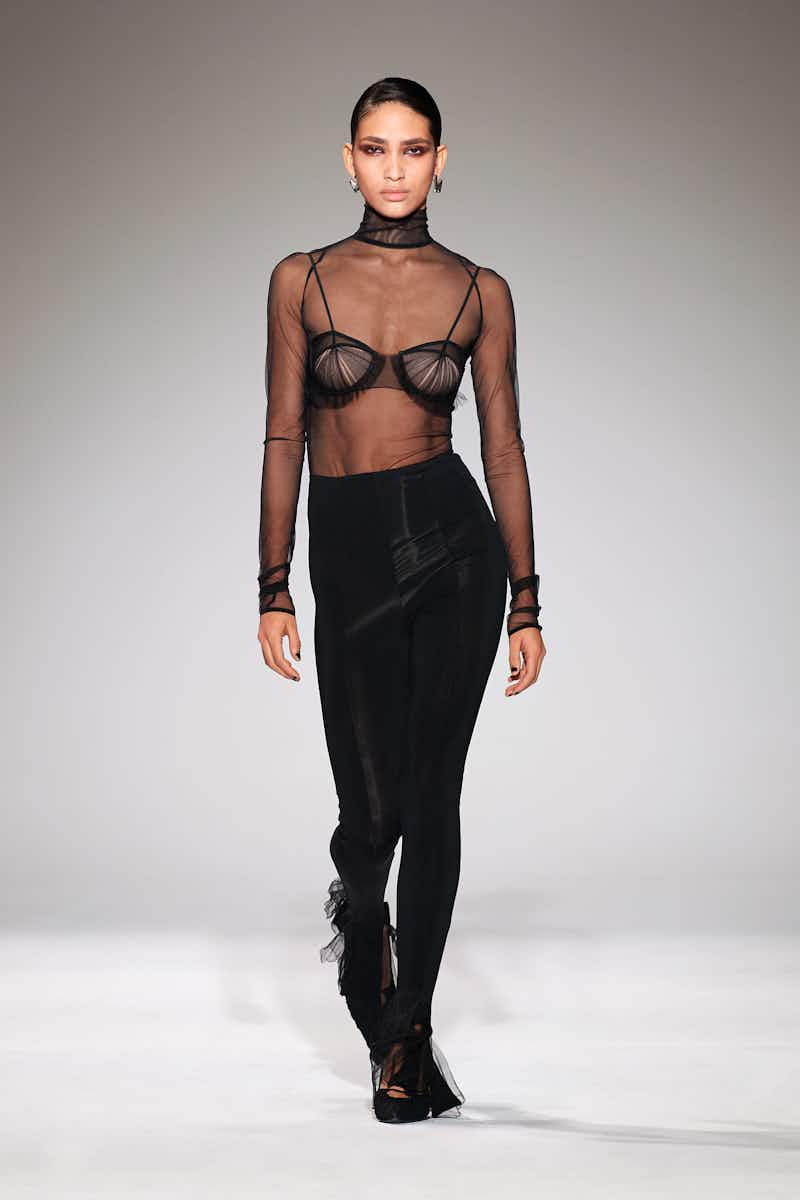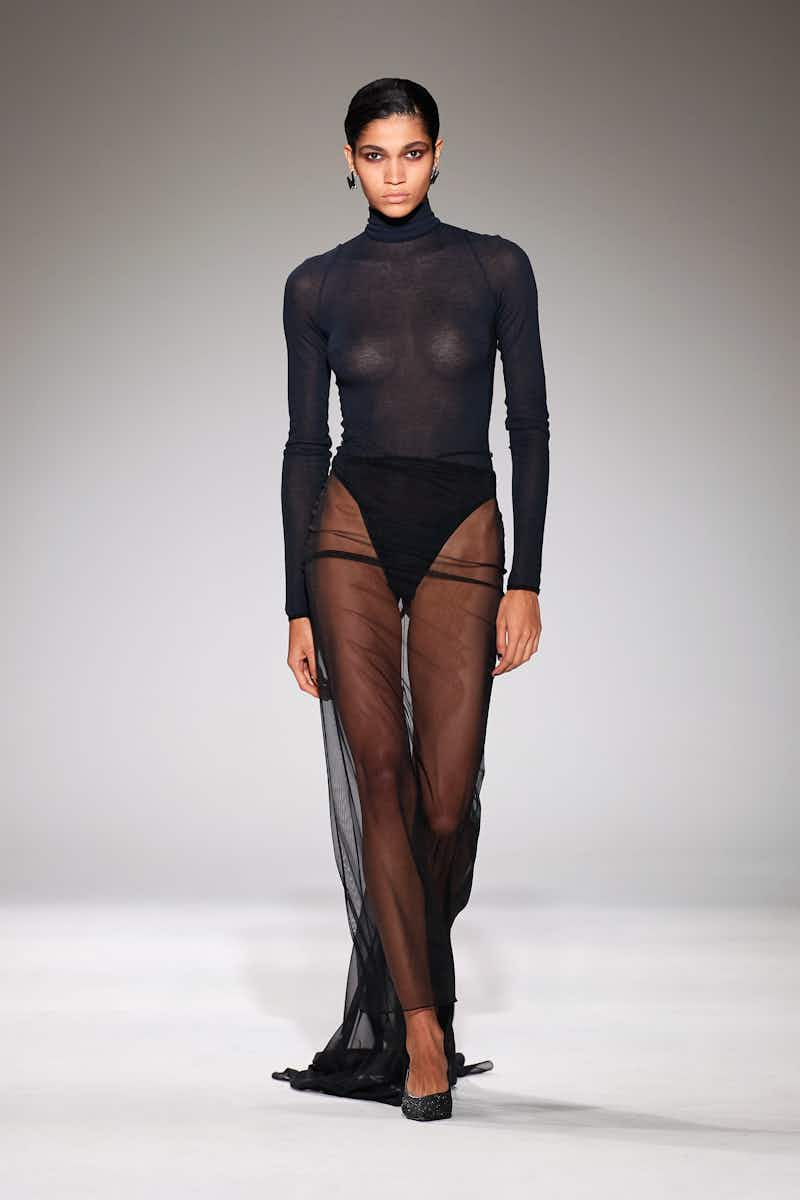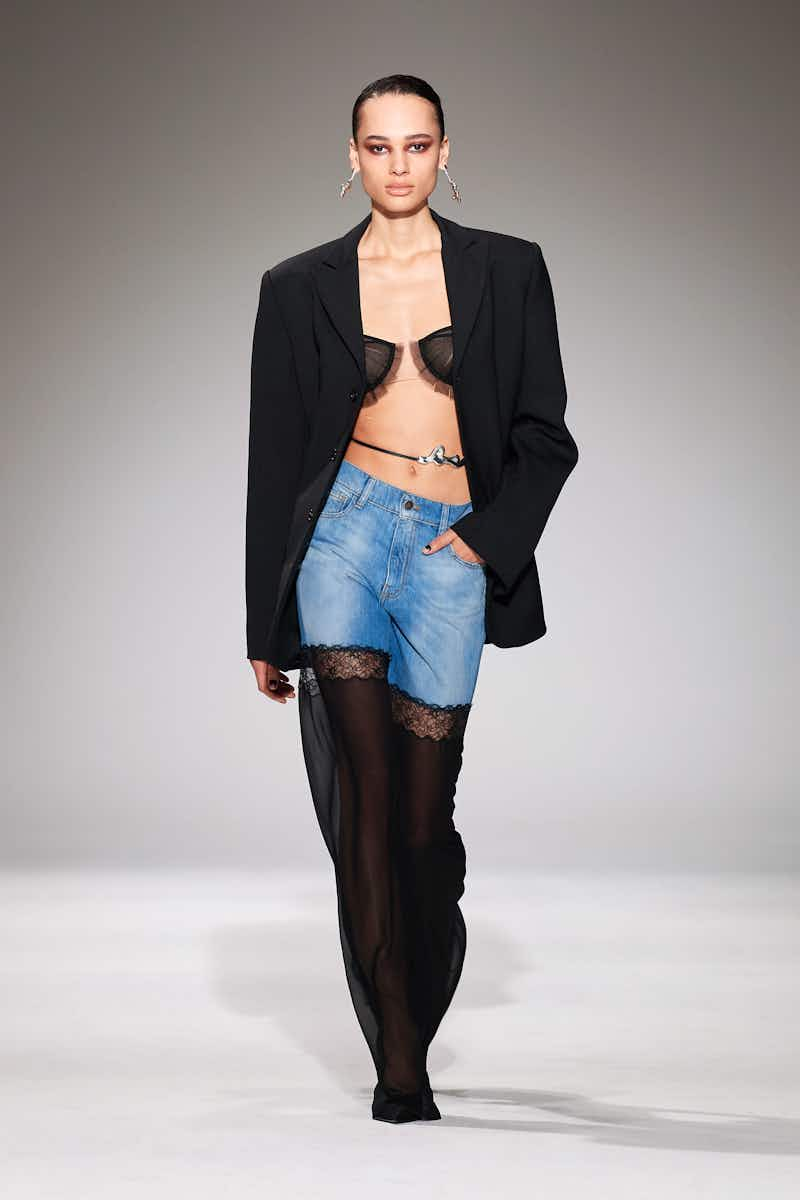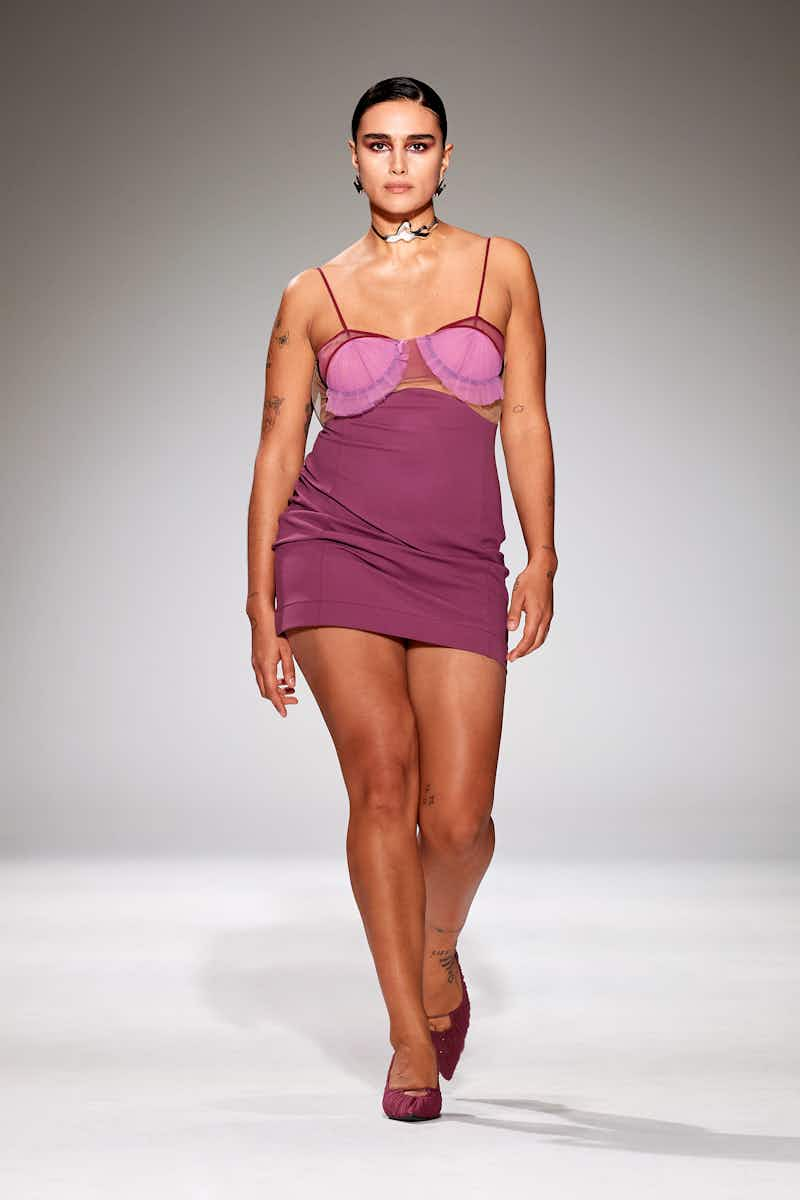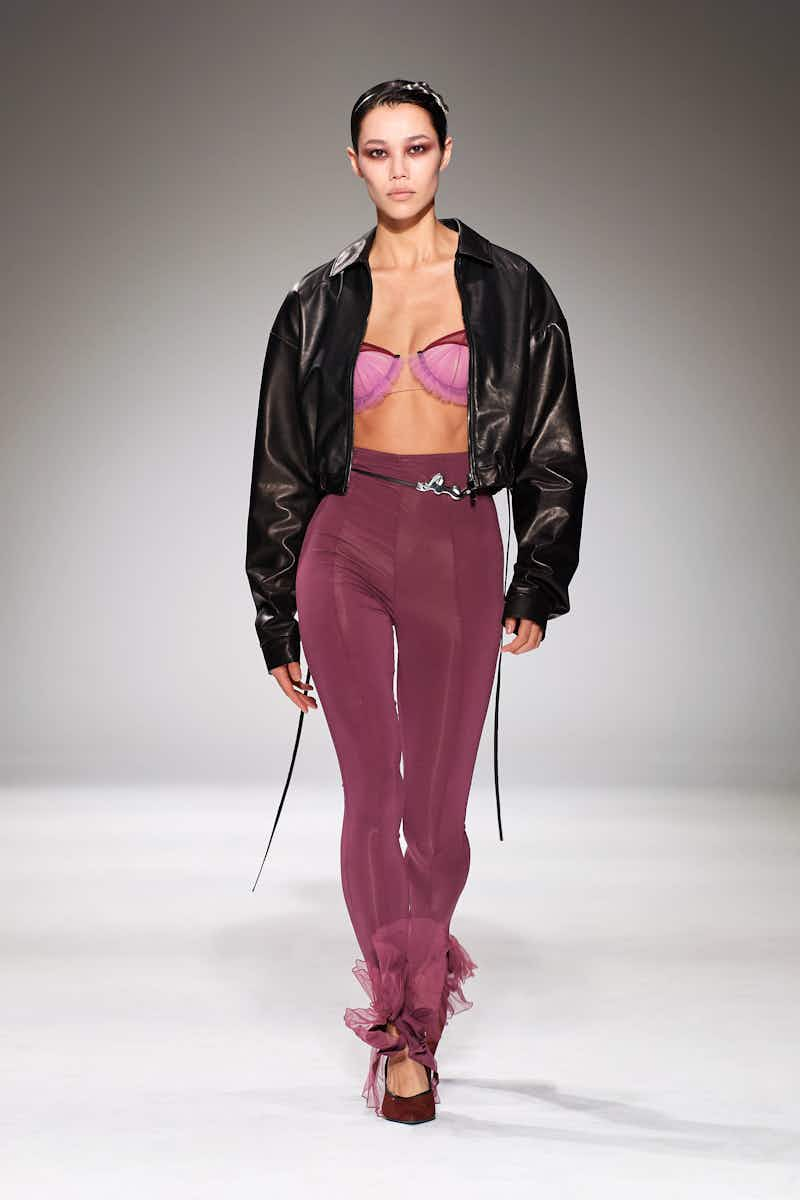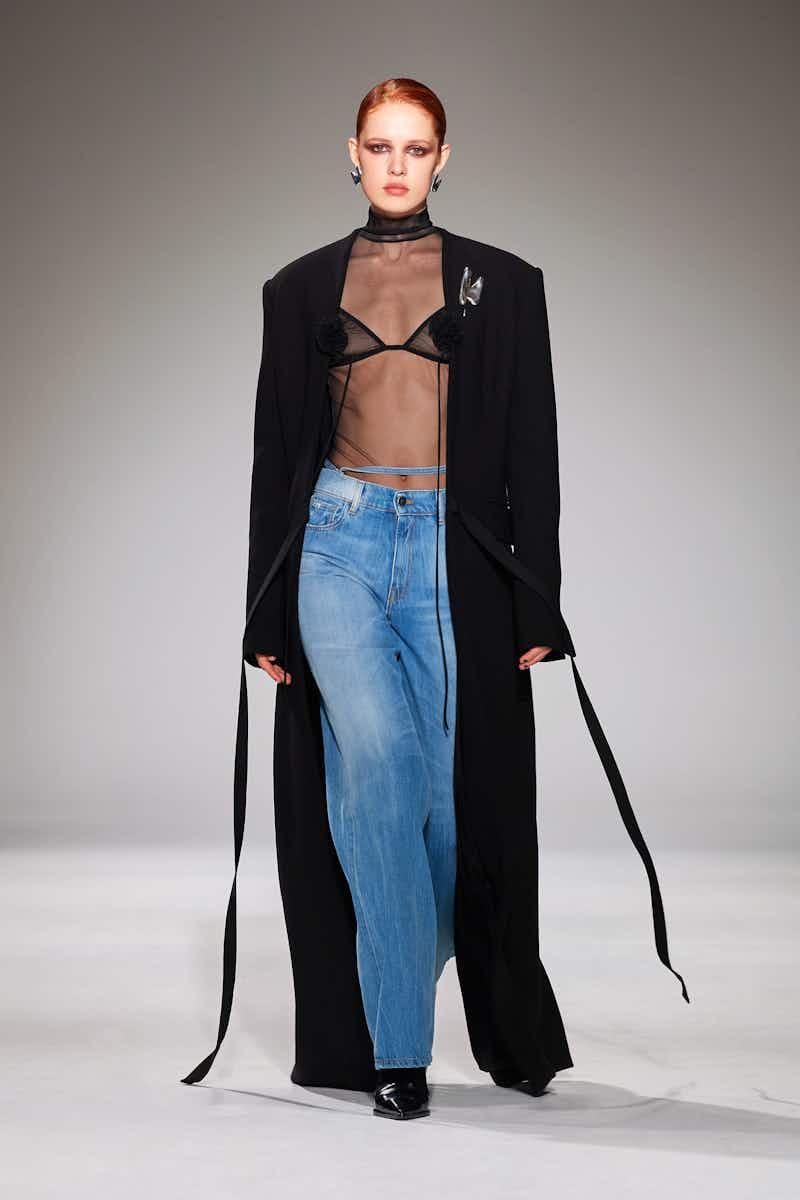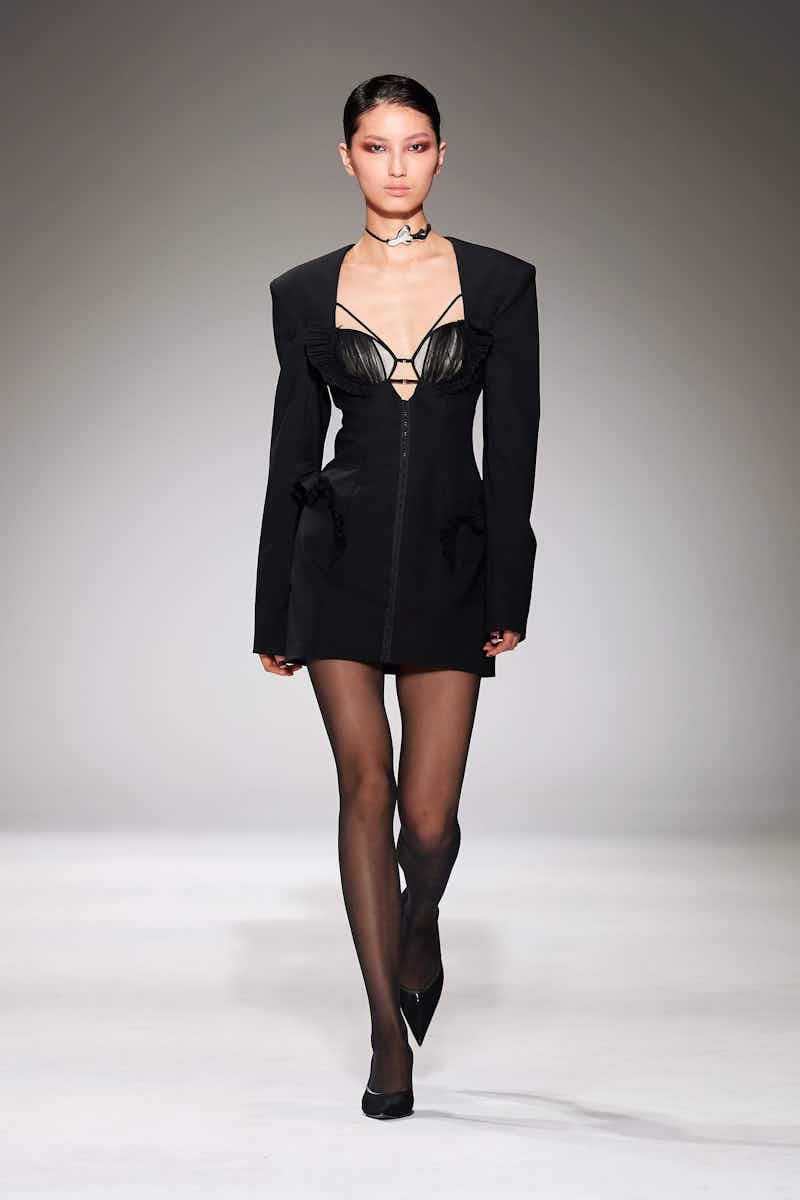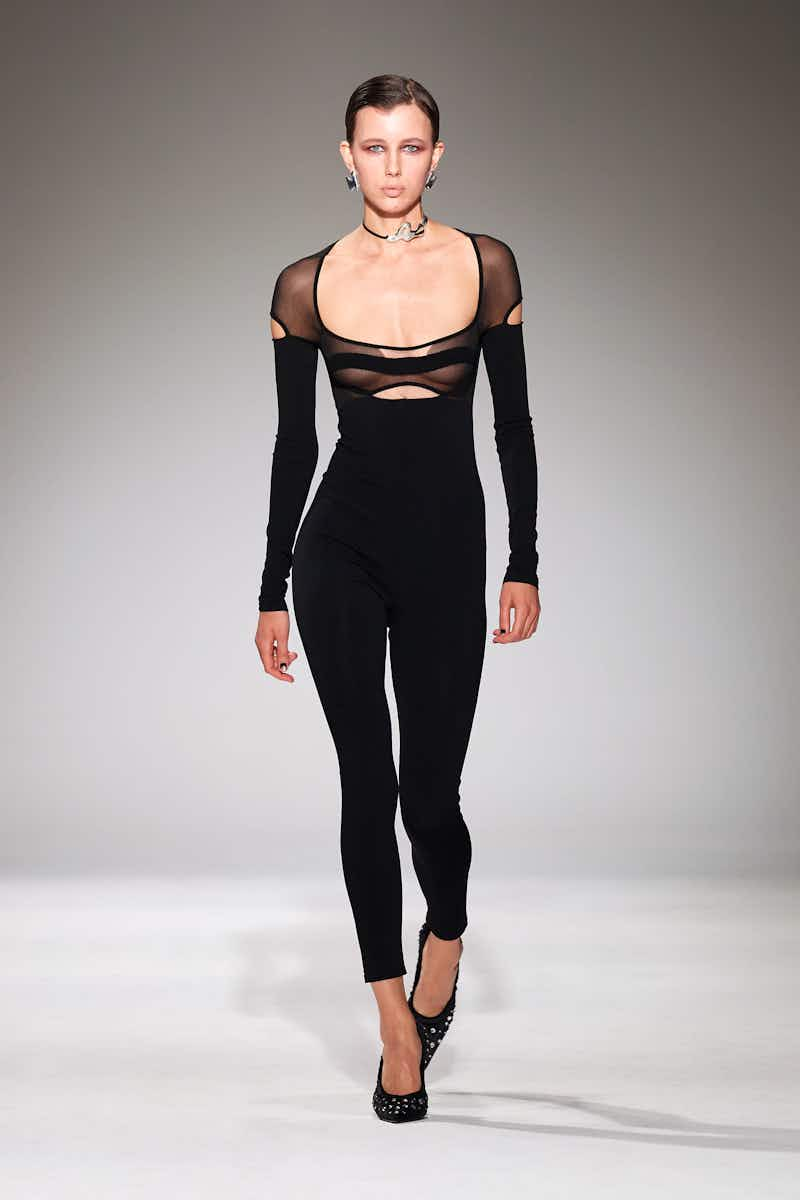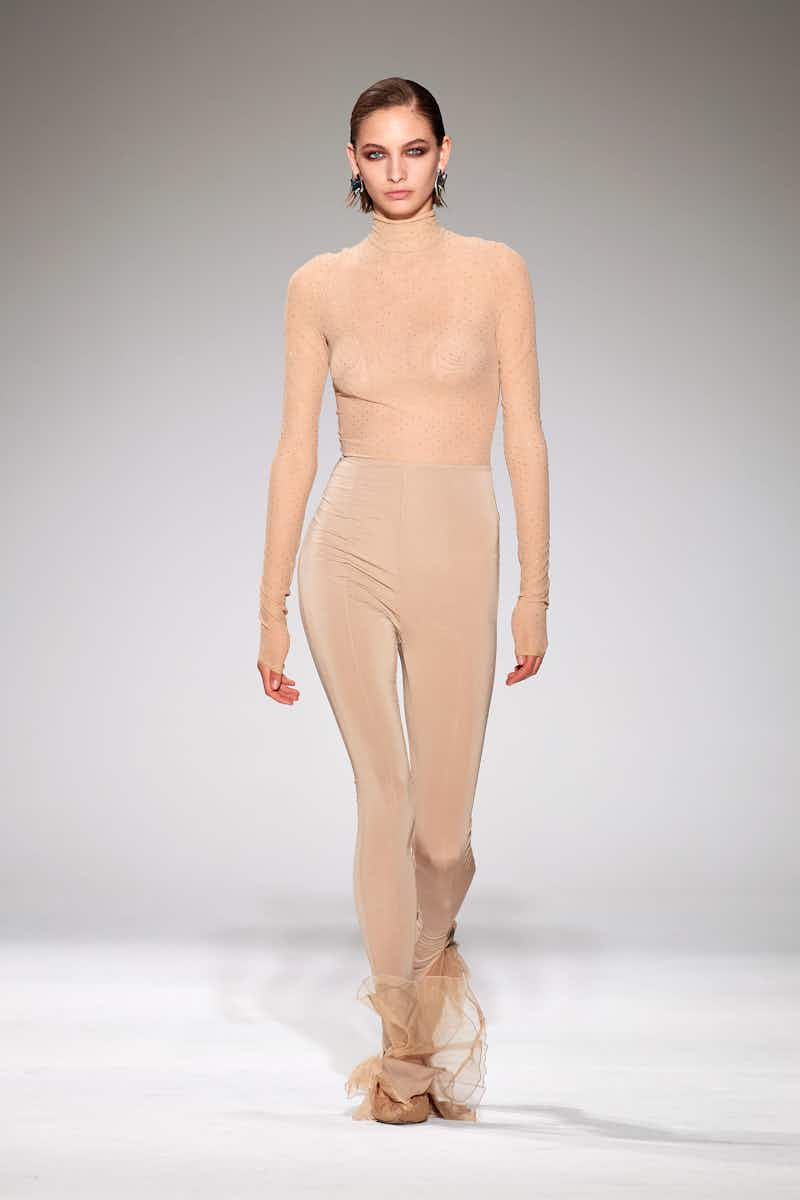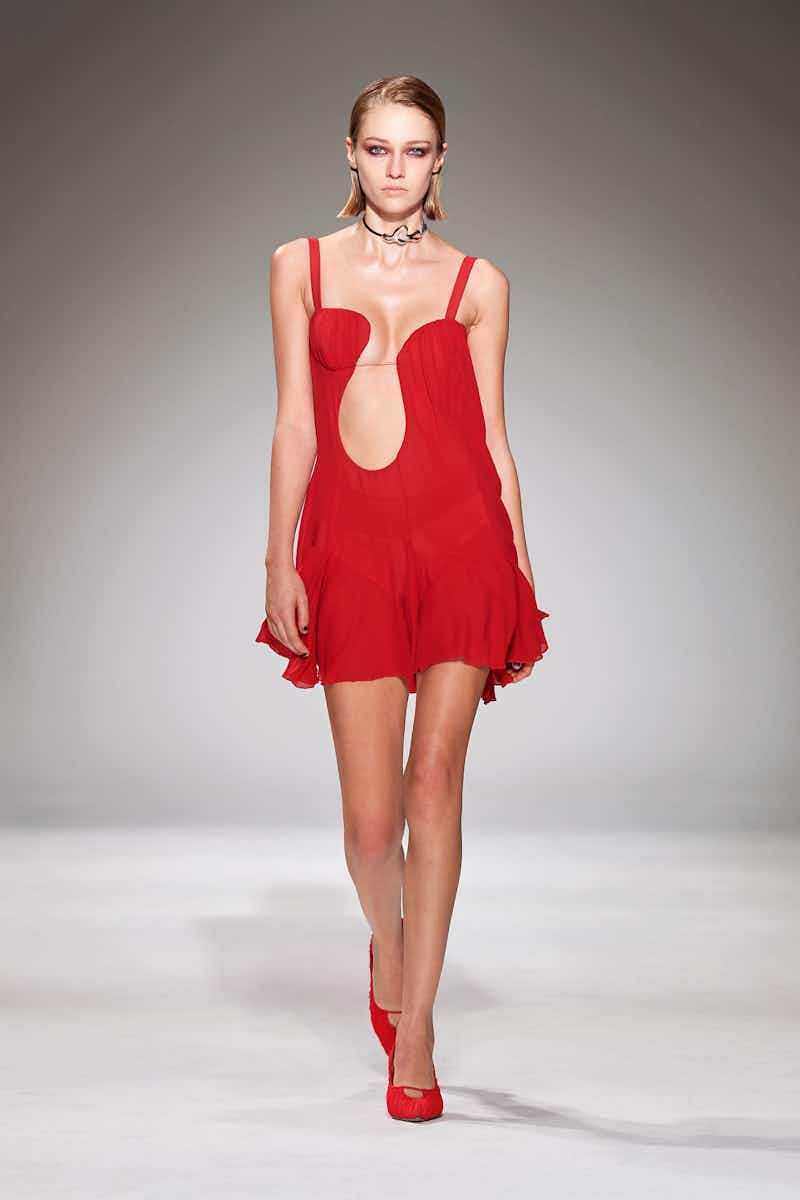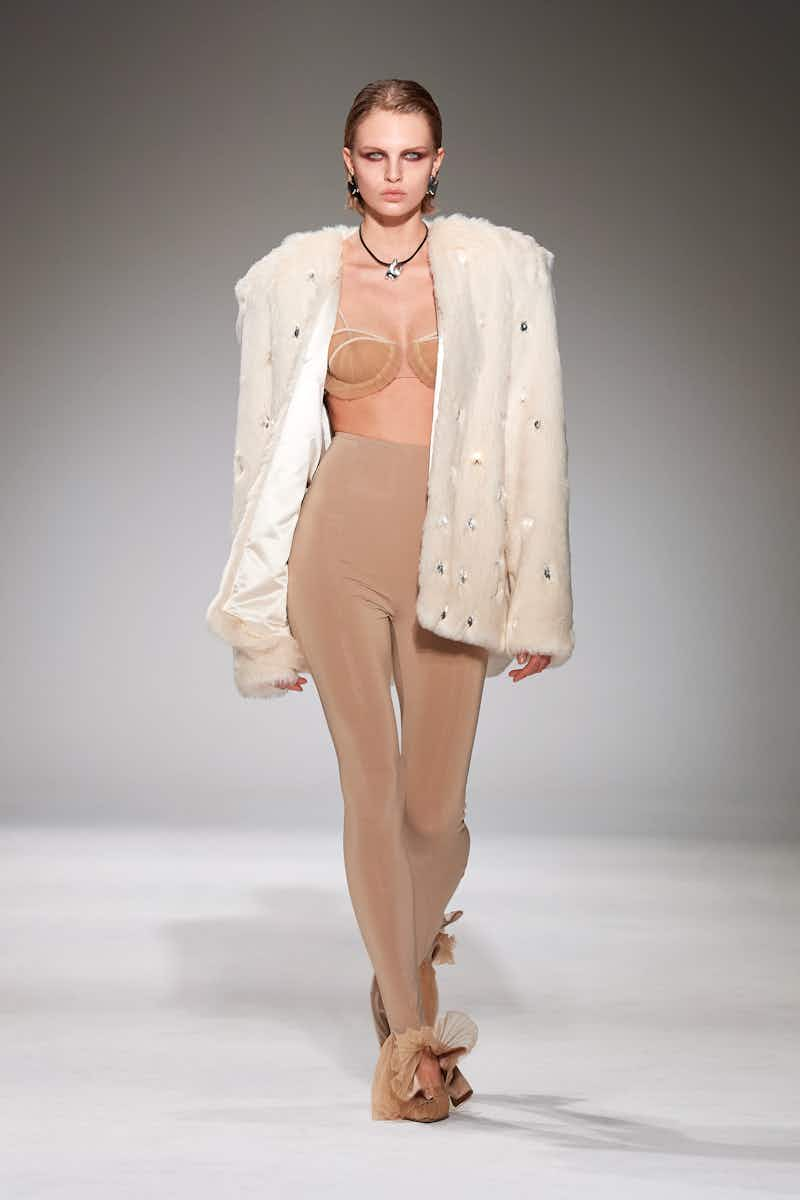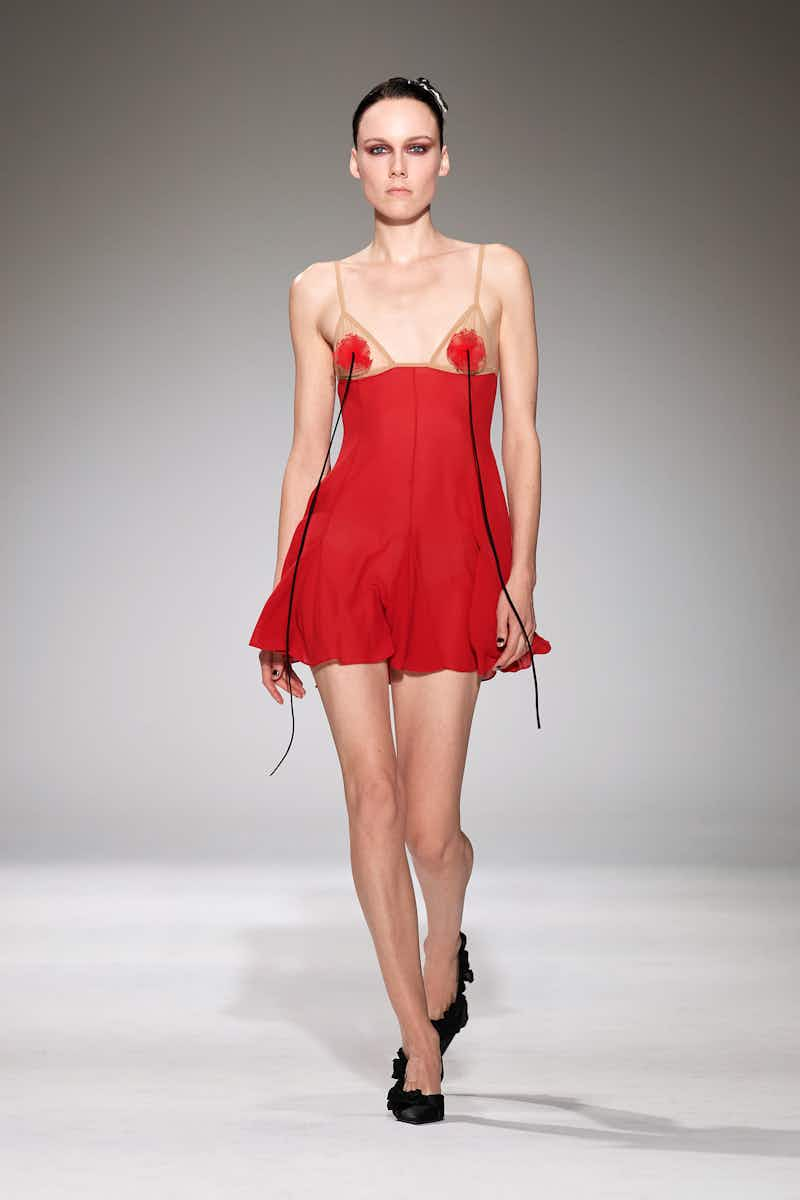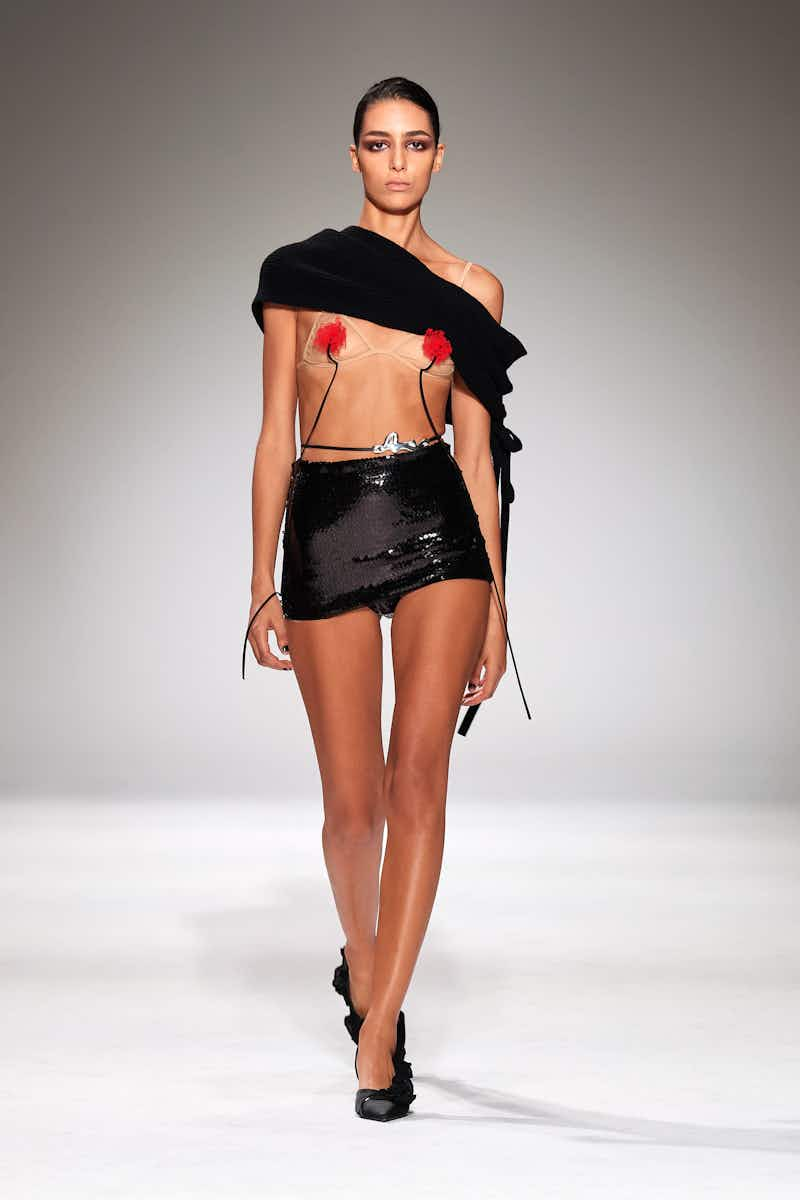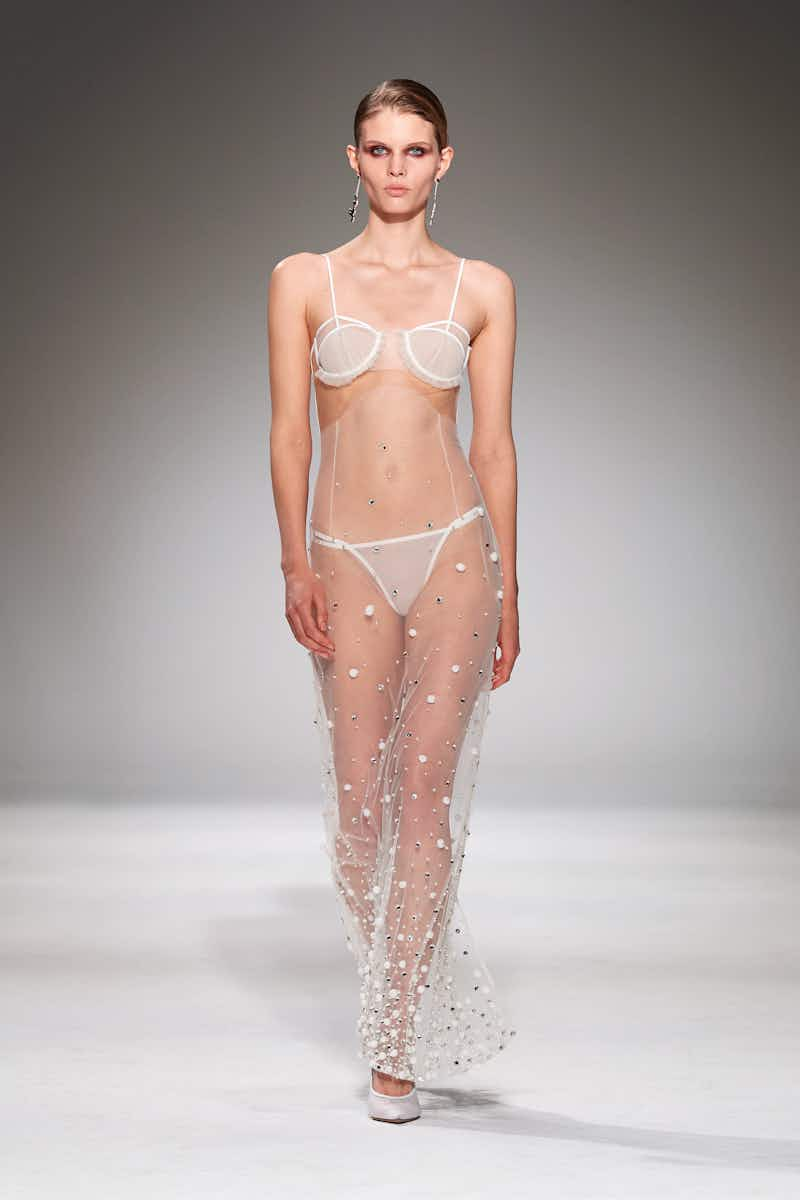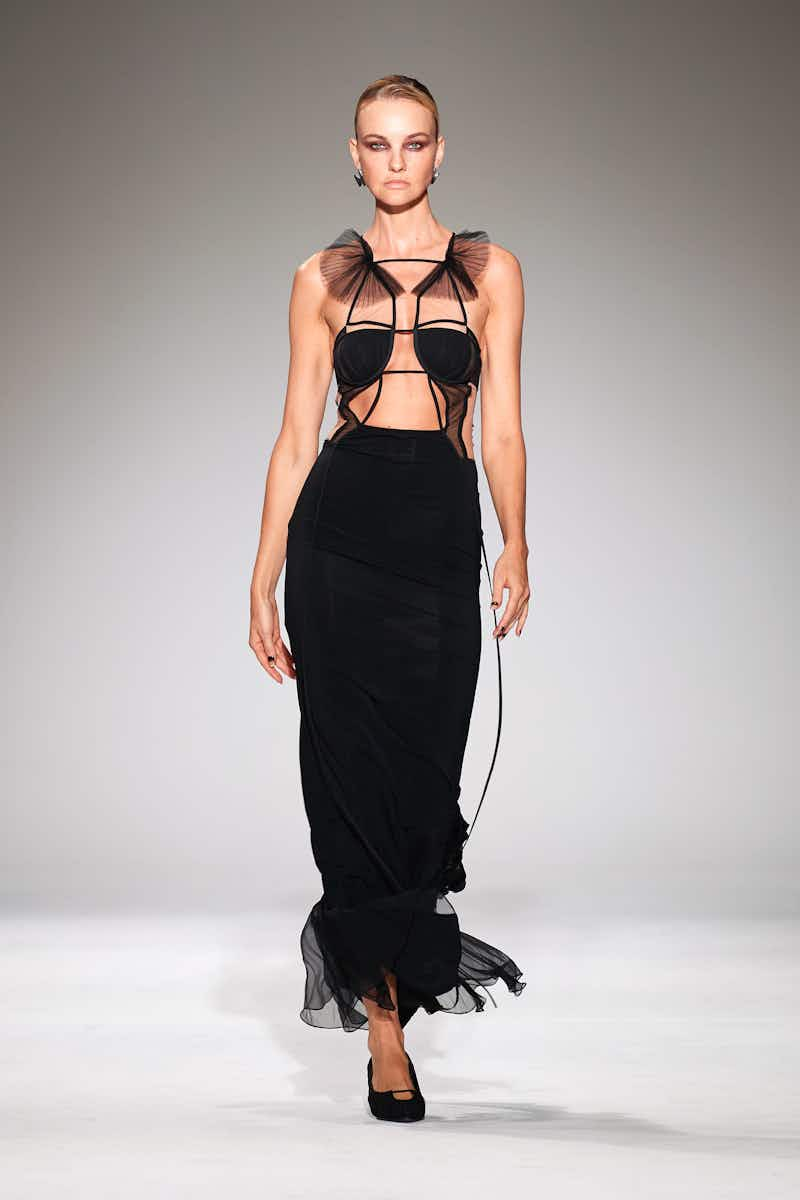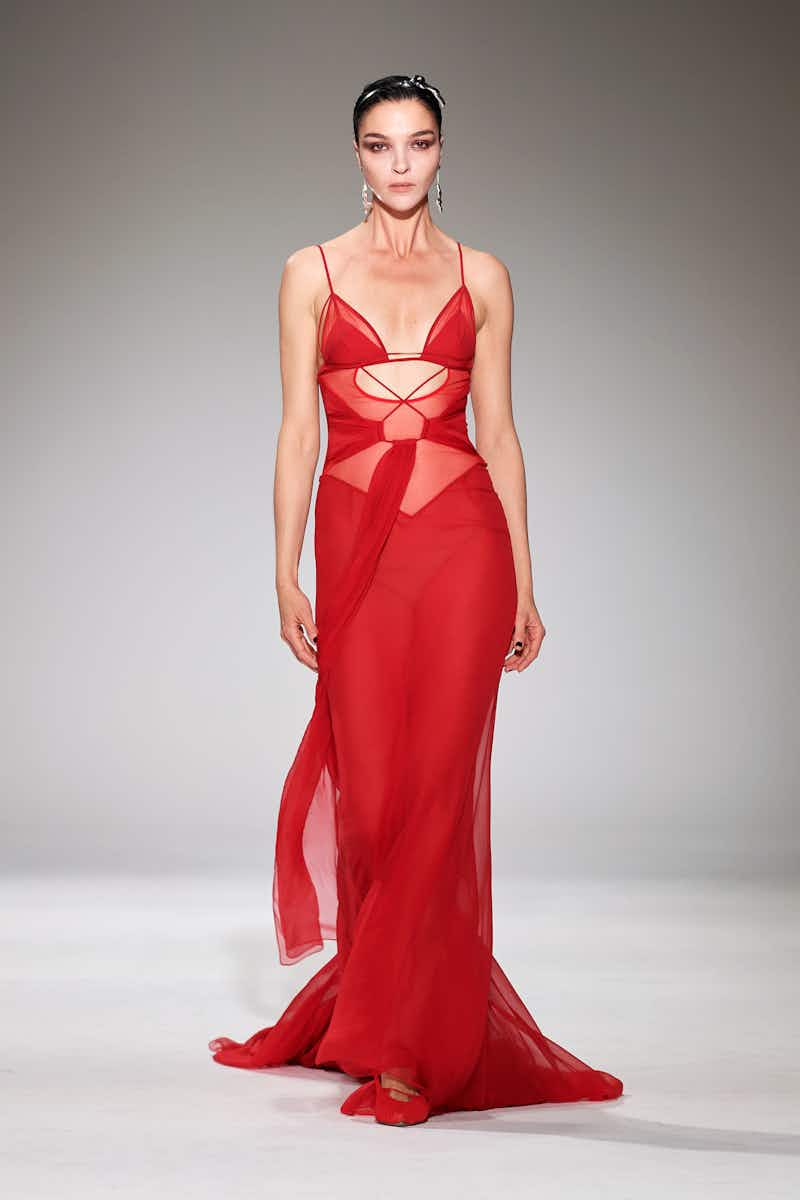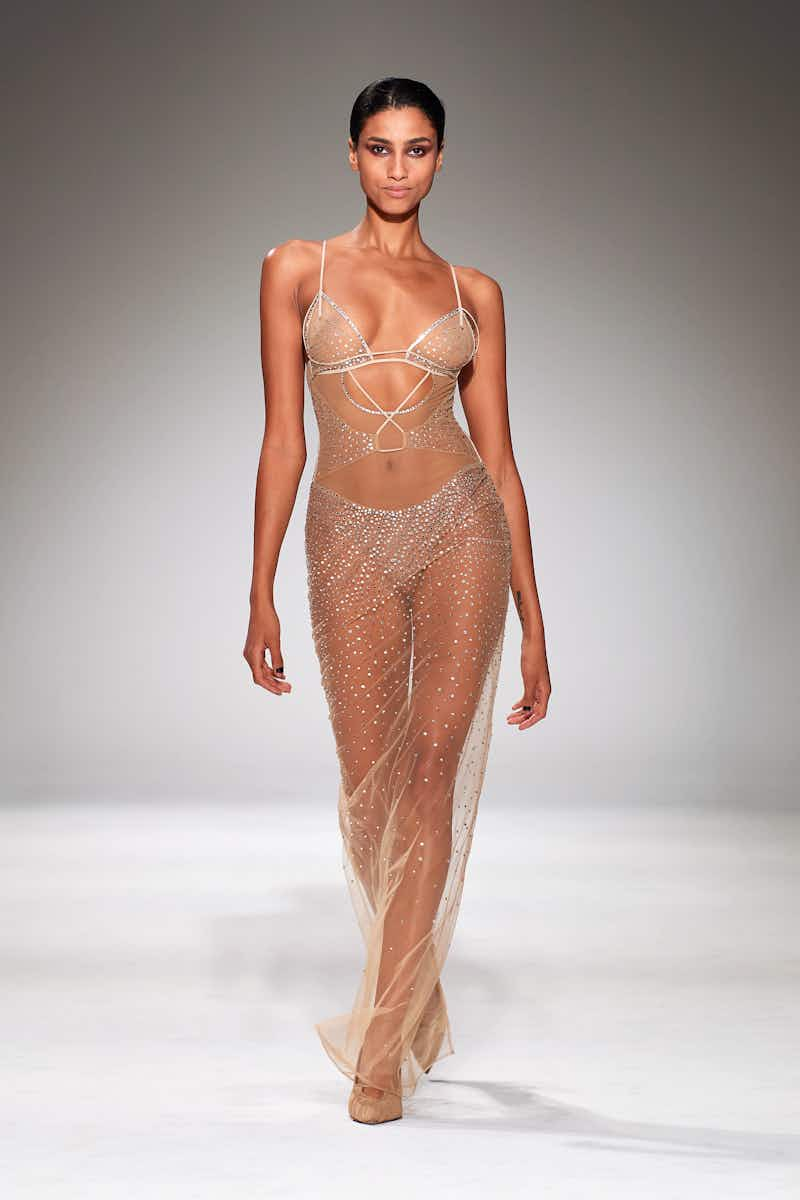 What?
An ode to the well-dressed women Christopher Kane grew up around in Scotland during the ​'80s.
Where?
The Block in Islington. Imagine a fashion show as seen in an early-'00s TV show: silvery grey floors, pop-coloured poofy seats and classic catwalk music playing as guests walked in.
What were the clothes like?
Wearability has been all the rage this season, especially in New York. And if Kane was feeling experimental last season, he certainly pared it back this time around. The first few looks were crisp and minimal: a strapless charcoal dress with subtle floral decoration, a strappy date night slip with lace detailing, and tailoring with cut-out details and deep V‑necks. Proper clothes you'd see in a sexy restaurant or dancefloor on a Saturday night.
It was all inspired by the women he grew up around in Scotland during the ​'80s: his mum, aunts, neighbours, the barmaids and cleaners. The camp glamour of the decade was all there in a red latex pencil skirt, shimmery emerald sequin dress, cobalt blue knits and pink-yellow floral motifs that you'd find on an old teatowel.
But even the more minimal shows aren't totally void of a viral moment, particularly when it comes to Kane (some of his past hits: the More Joy vibrator, the Rubberist dress, Crocs on the runway). Every so often, playful prints of pigs, butterflies, rats and chicks popped up on stretchy long-sleeve dresses and tops. ​"They're working-class animals," Kane said backstage. ​"I grew up around these animals." And, it turns out, the hyperreal images were AI generated. ​"We should all be a bit worried about our jobs, it's taking over!"
All in all, a lot of good fun from Christopher Kane.
In a song?
Pet Shop Boys – West End Girls
In a word?
Oink.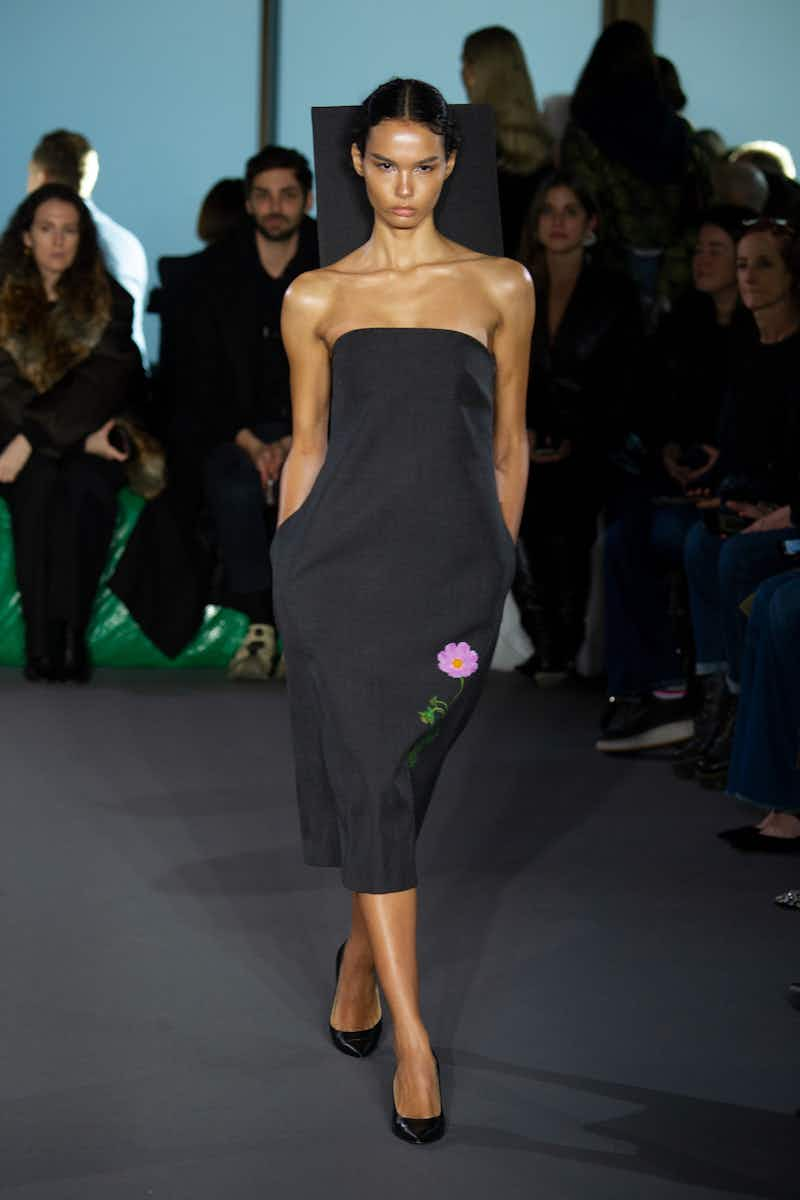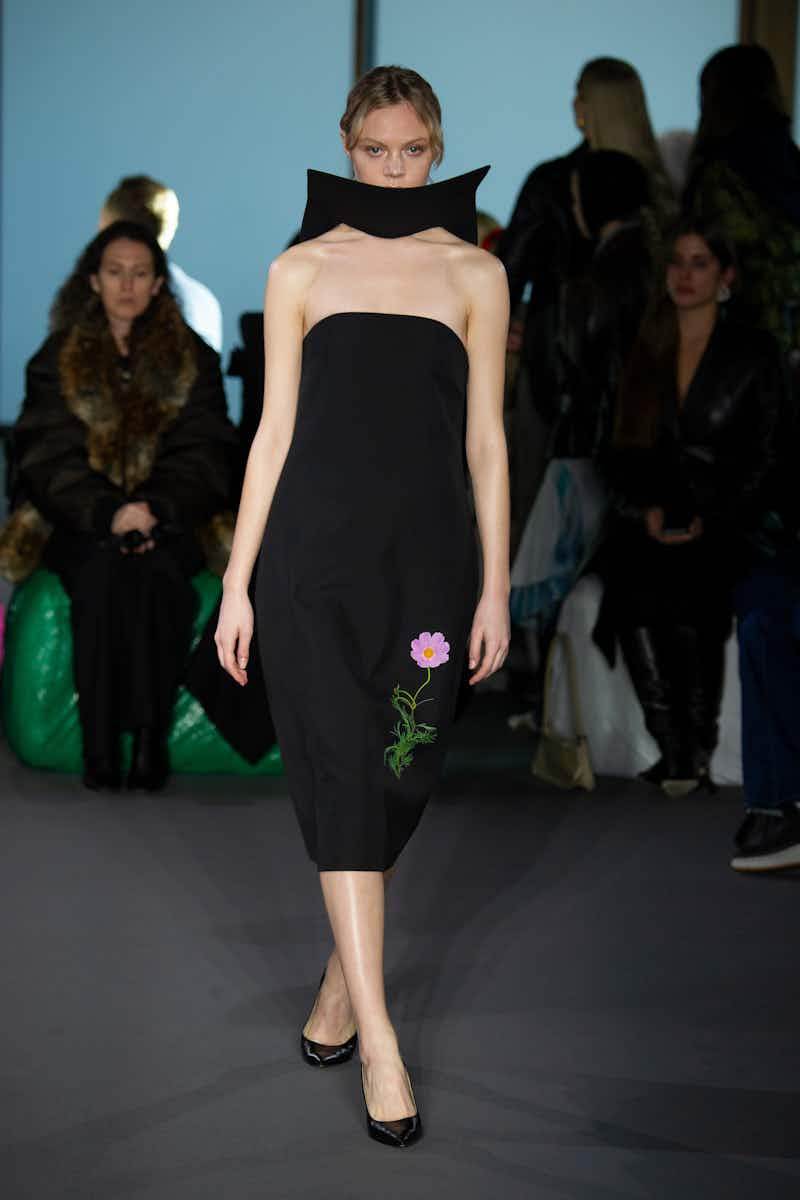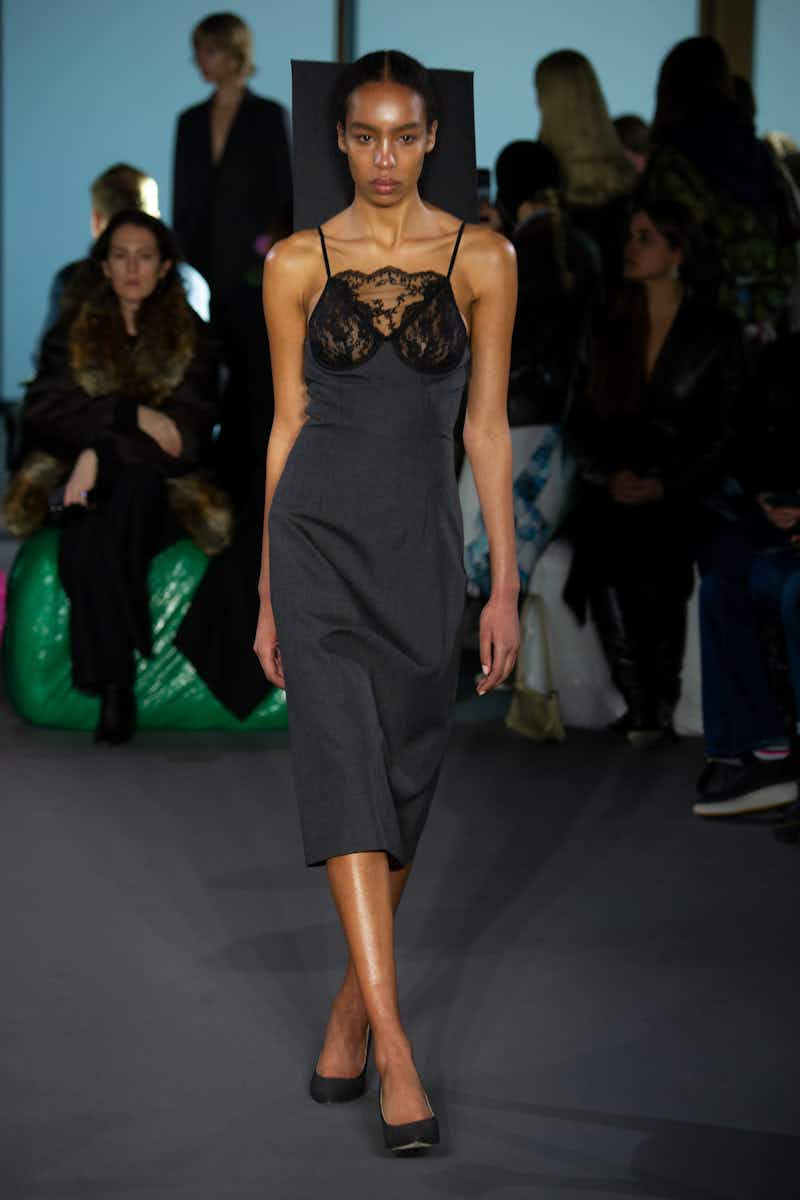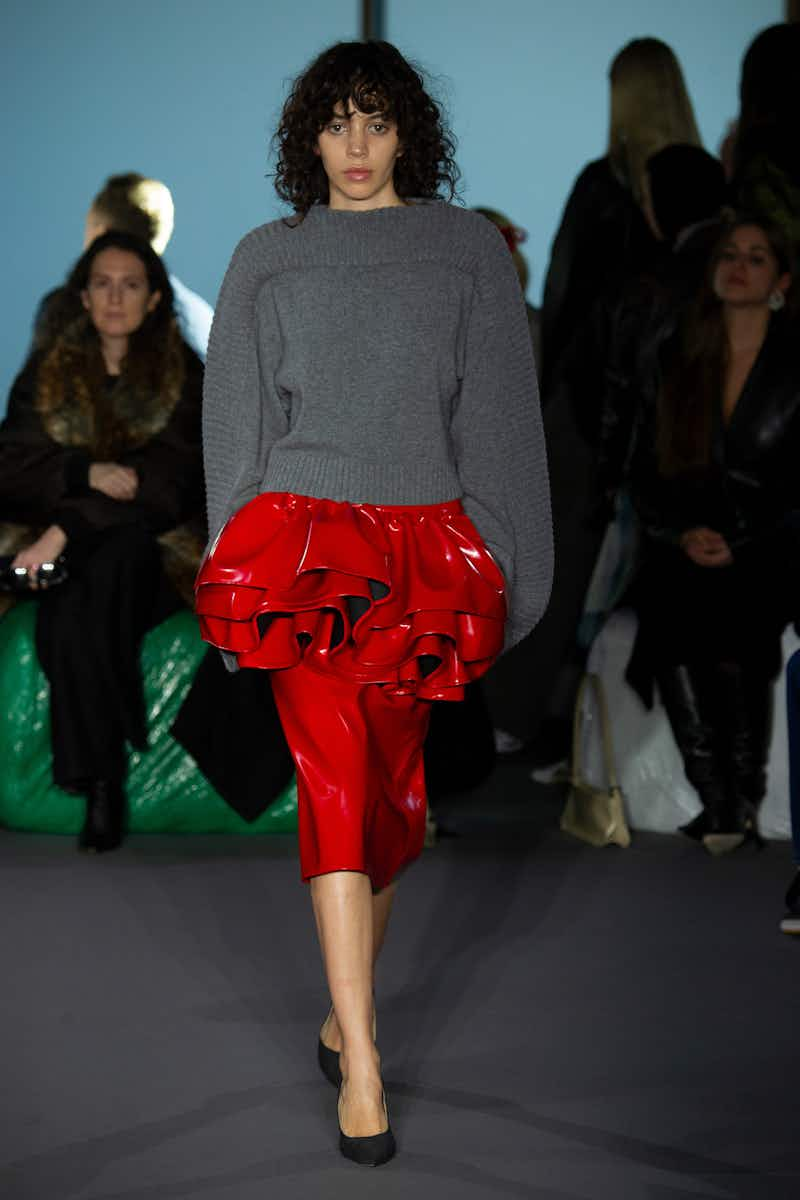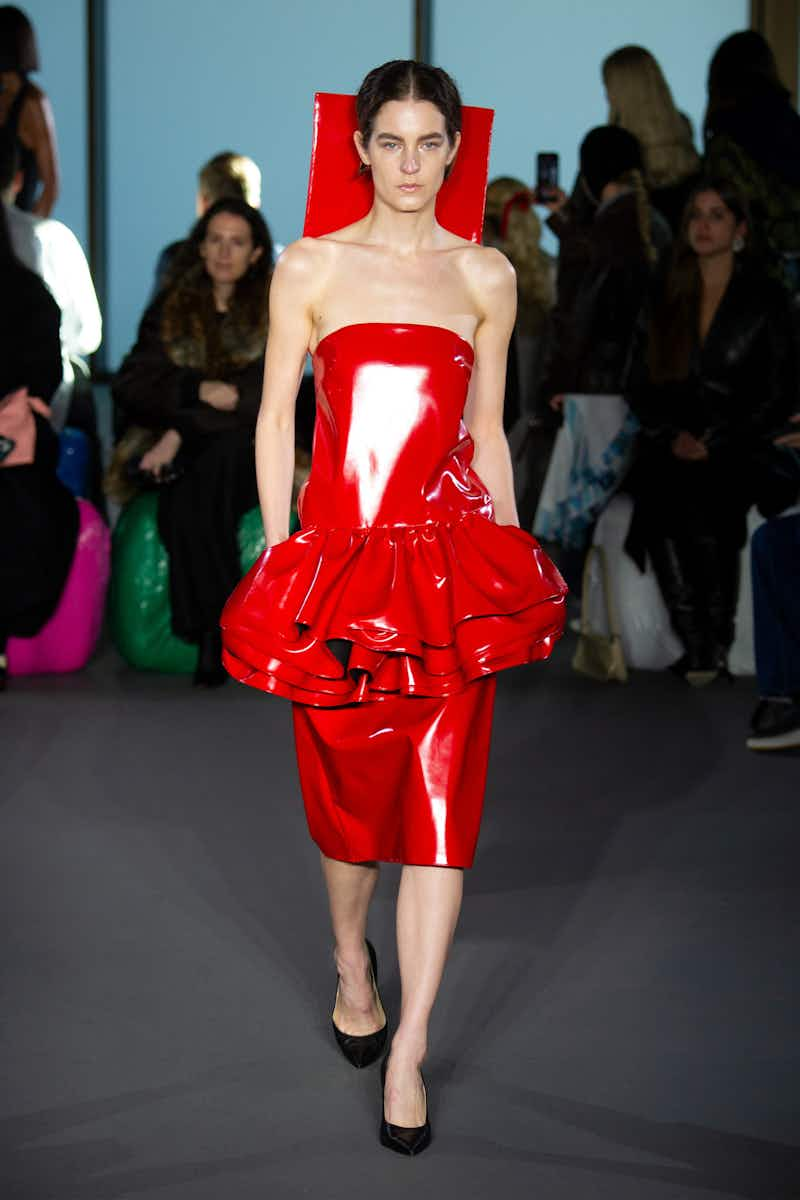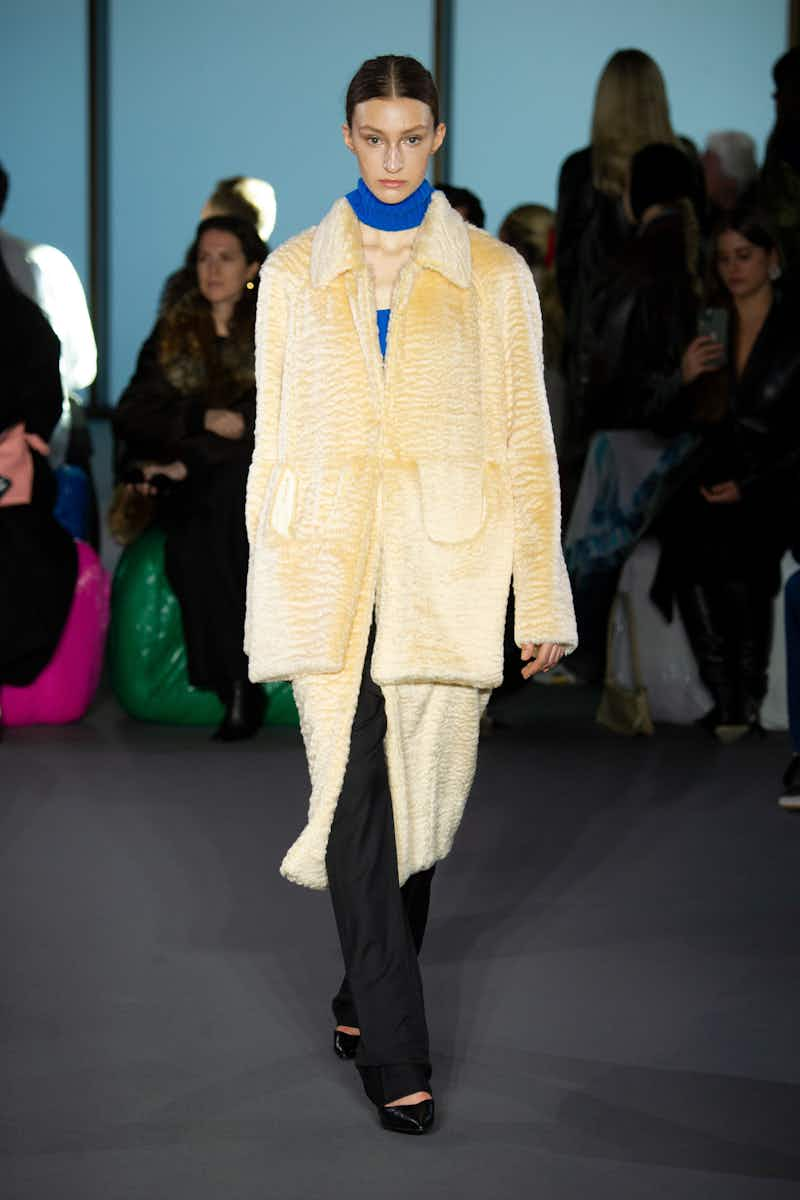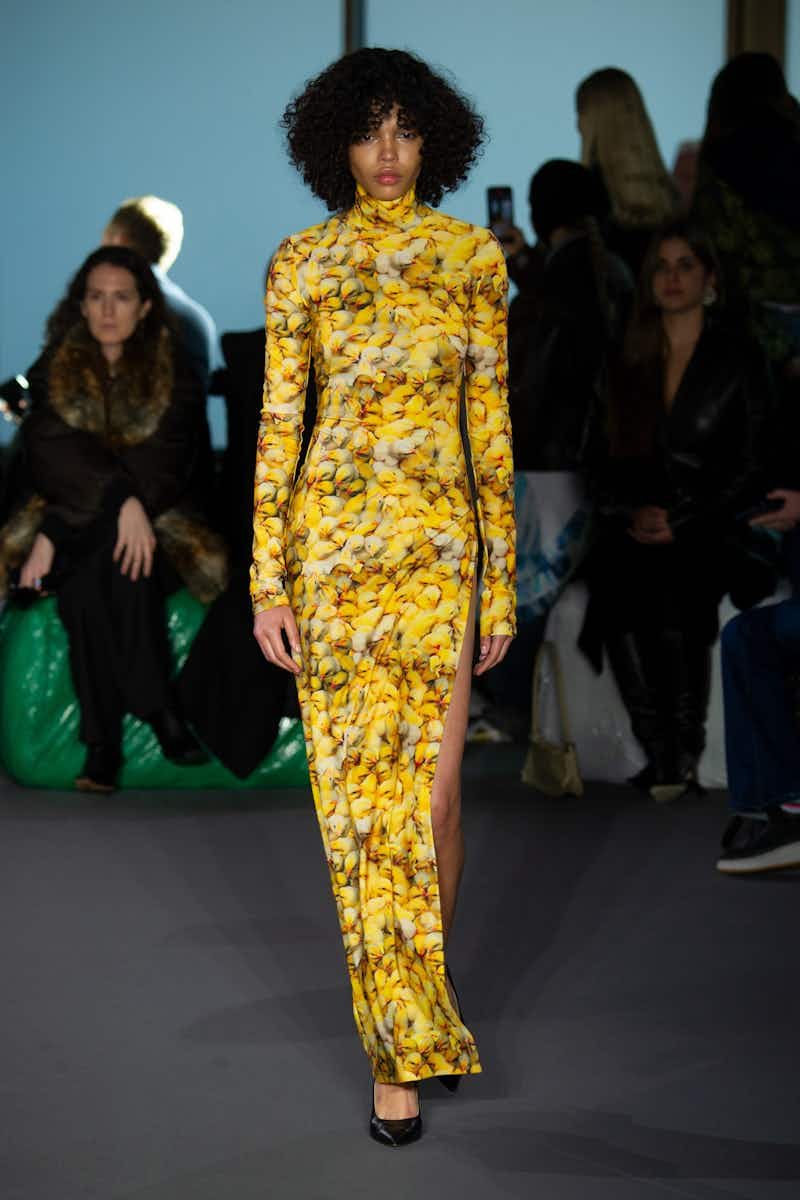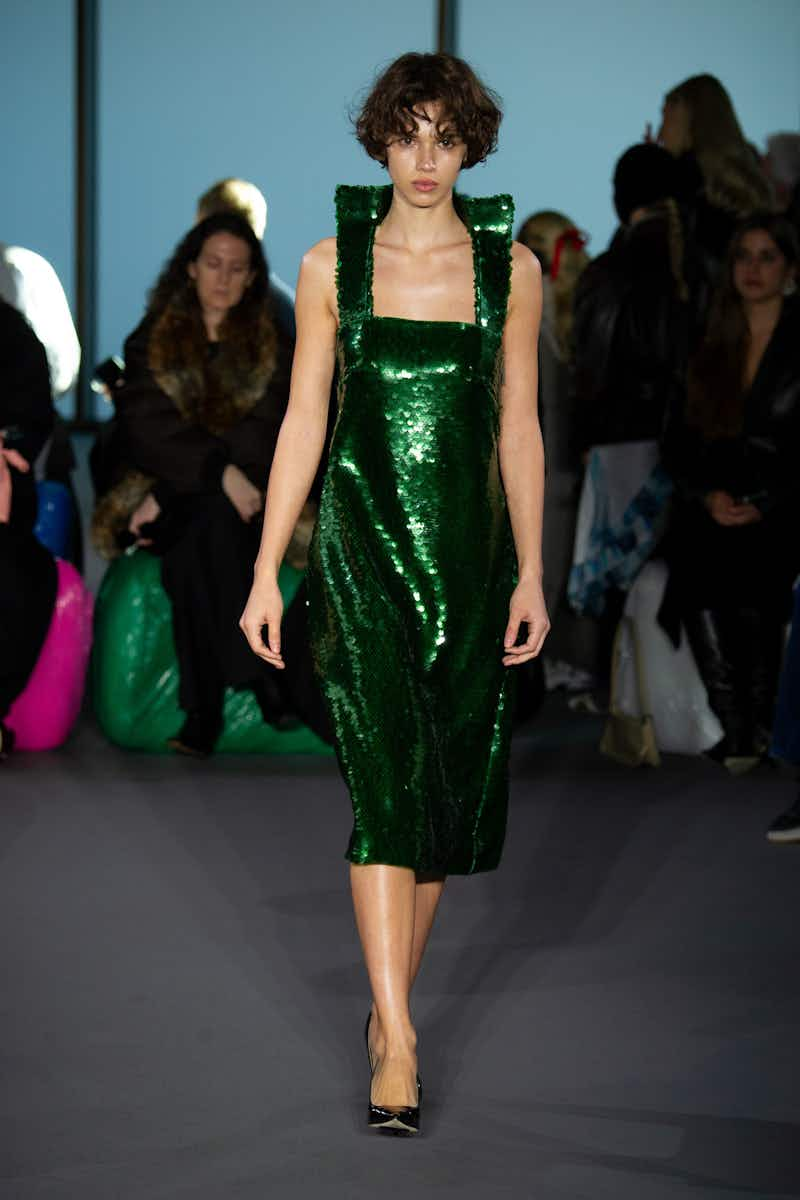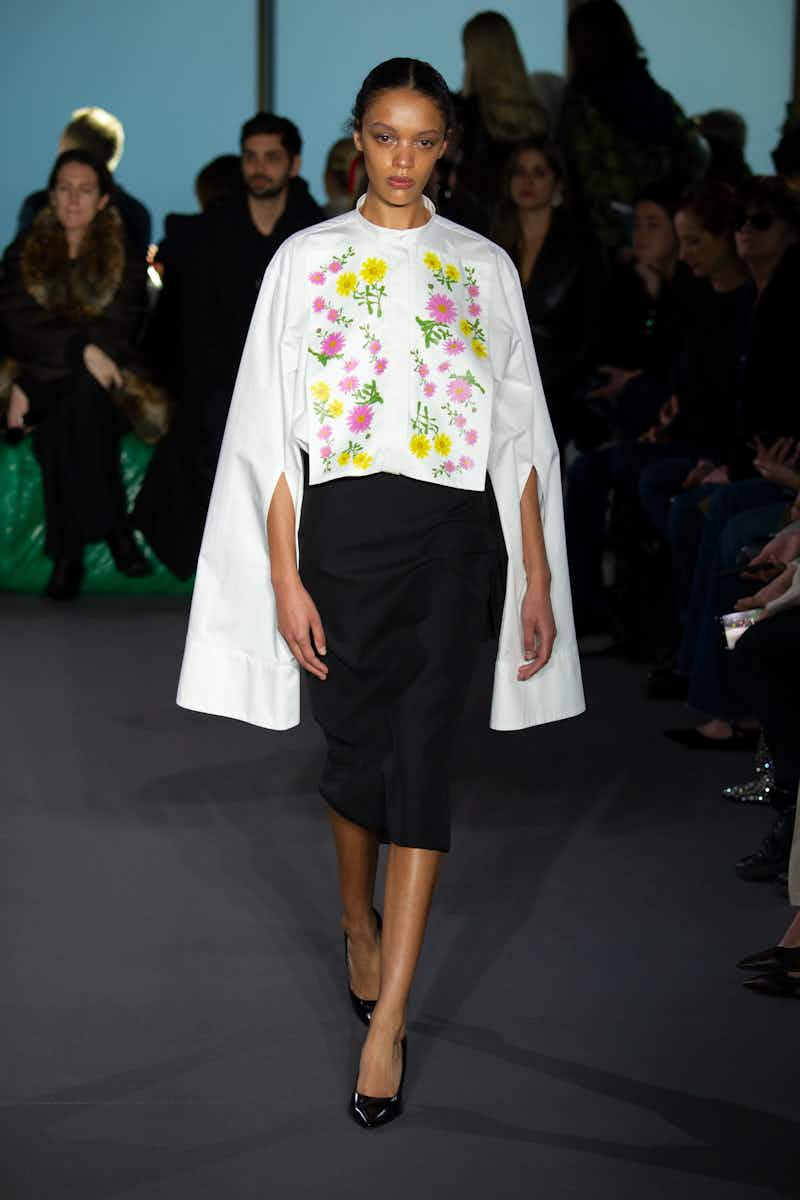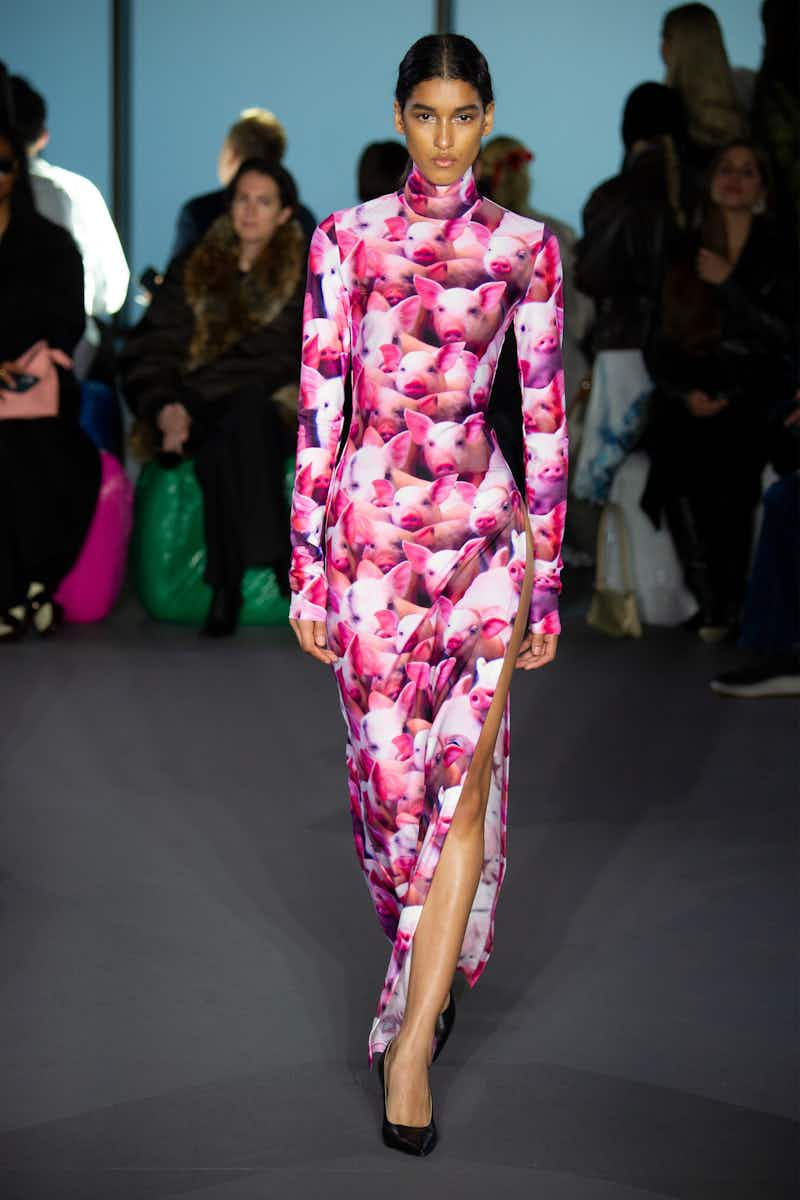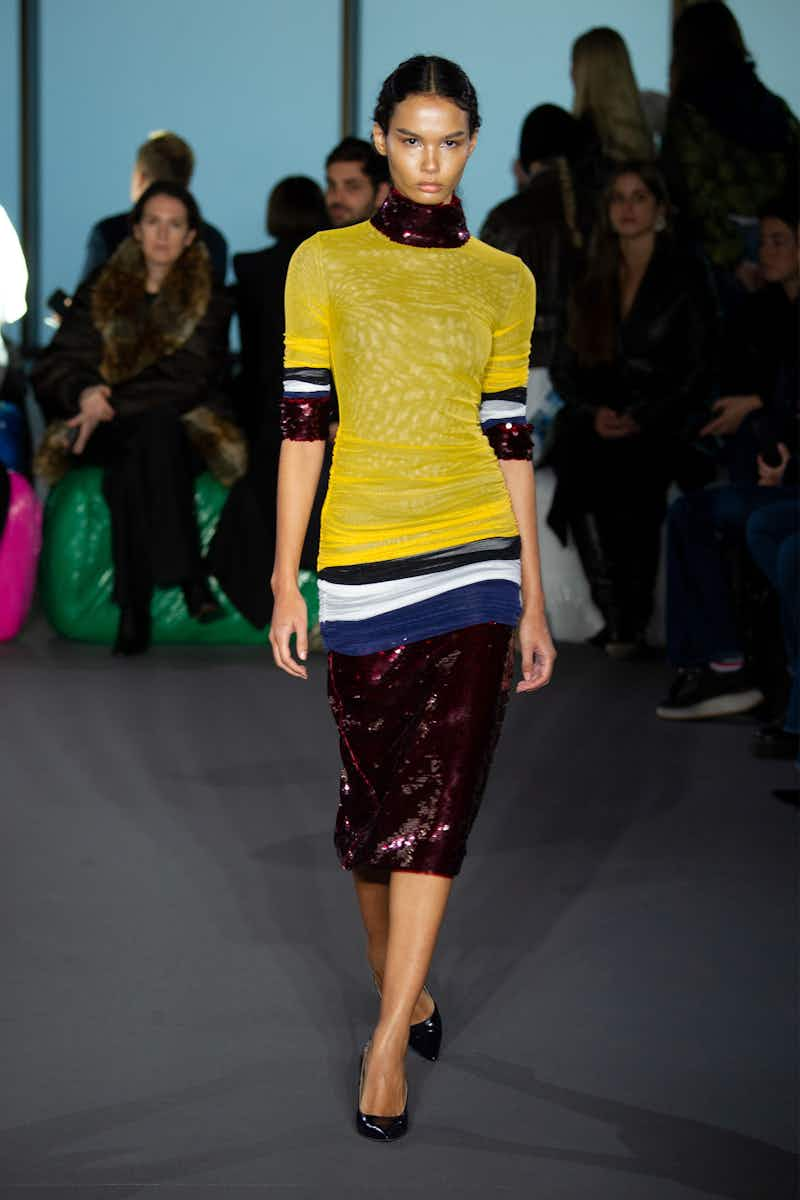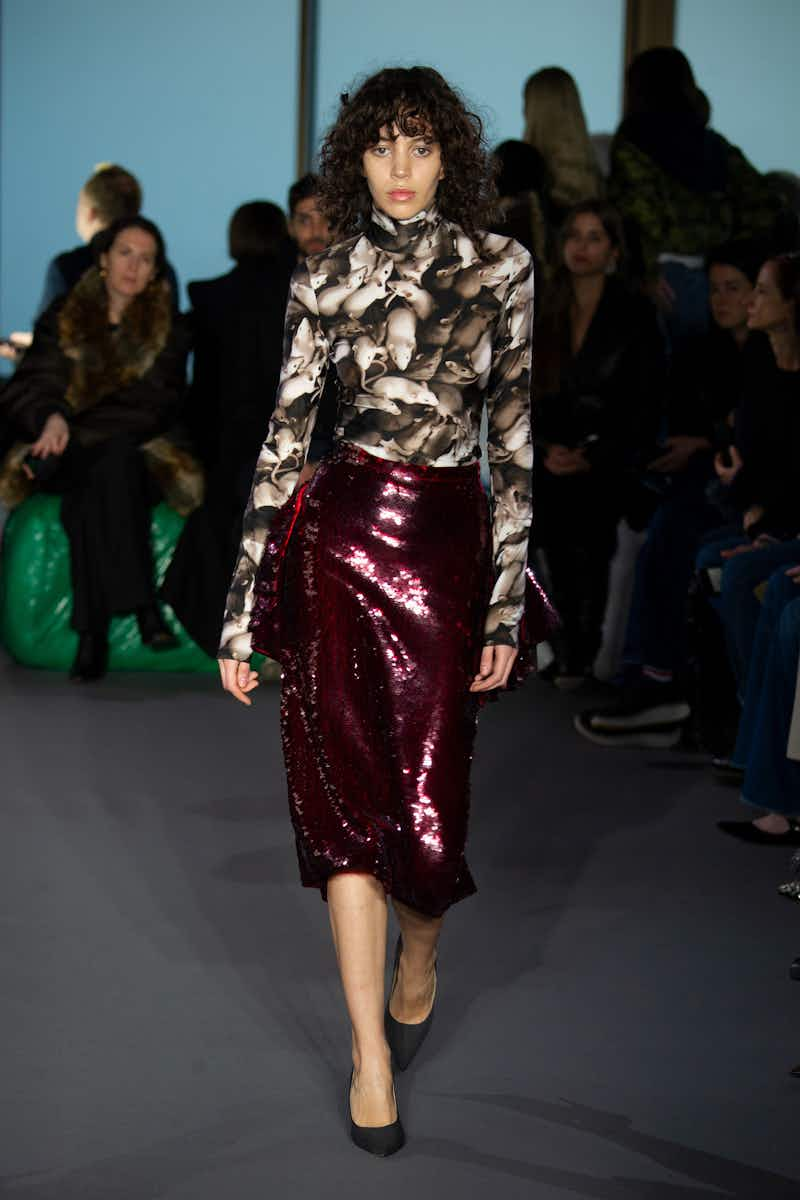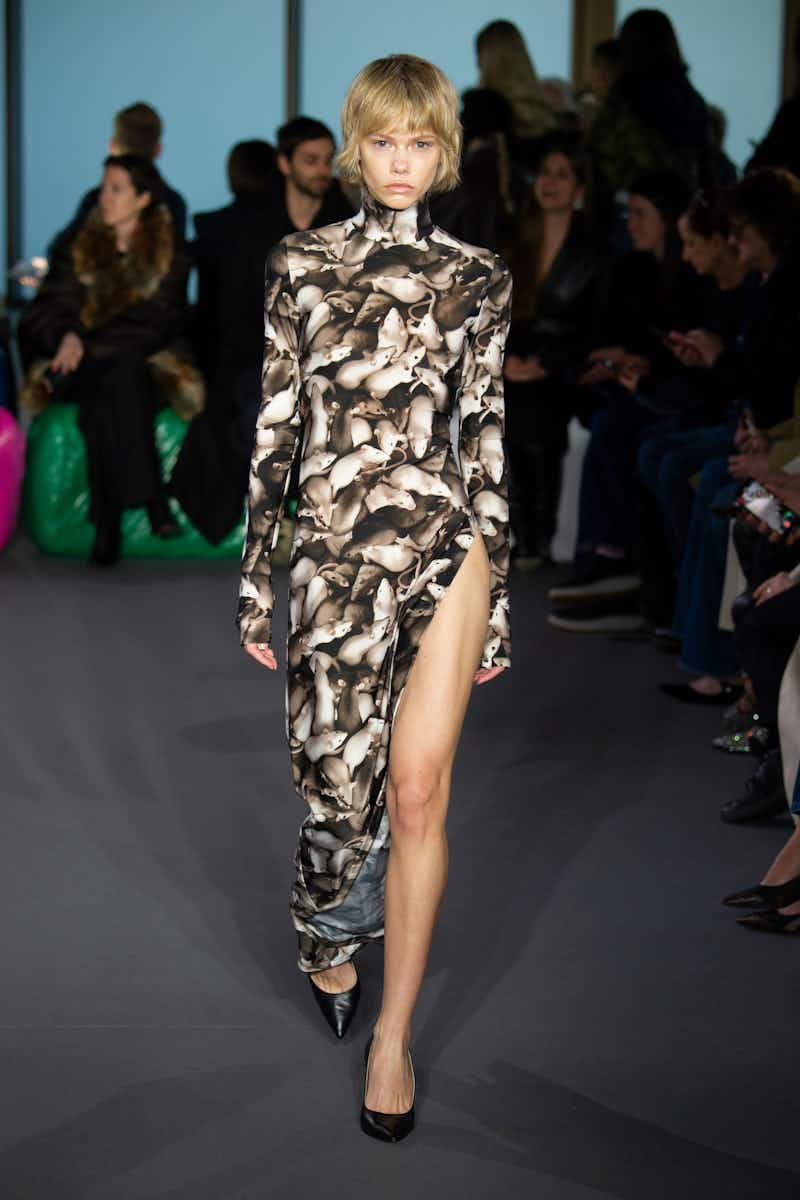 What?
The first show of LFW's Super Sunday; one that sees Irish designer Jonathan Anderson take to London's Roundhouse for a collection that caused even Anna Wintour to crack a smile.
Who was there?
We spotted Naomi Campbell, who posed for a picture with Anderson after the show, and Russell Tovey, who looked like he was chatting about art or something. And there was also Romeo Beckham, Alexa Chung and Arlo Parks, who's really been doing the rounds this fashion season.
So what was it all about?
Well, we like it when Anderson is excited to be collaborating with someone he admires (we're thinking of that great one he did with the Estate of David Wojnarowicz for AW20), and this show delivered on that, featuring imagery associated with Scottish dancer and choreographer Michael Clark (described in the press release as an ​"agitator who defied the system"). There was an almost ephemeral, merch-like quality to some of the T‑shirts, emblazoned with typography from the Michael Clark Company archive – much of which was originally designed by FACE friend Scott King. And as in his men's show from January, which saw the return of the ruffled shorts from AW13, the rest of the collection saw Anderson plunder his own past, even finding space for an anchor adorned Breton stripe. It wipes the slate clean for an interesting next collection, we think.
In the designer's words?
​"It's been nice to go back to shows like at the Tate Britain [2018], or the very first shows that I did with paisley [2011], and work out what they mean today. And in a weird way, it's a good full stop to be able to go onto different things. I think this was a moment to reflect on that. I find it a really liberating process… it was nice to try to improve [the pieces] somehow."
In a song?
Ekkehard Ehlers – Plays John Cassavetes, Part 2.
In a word?
Fandom.
WORDS: Matthew Whitehouse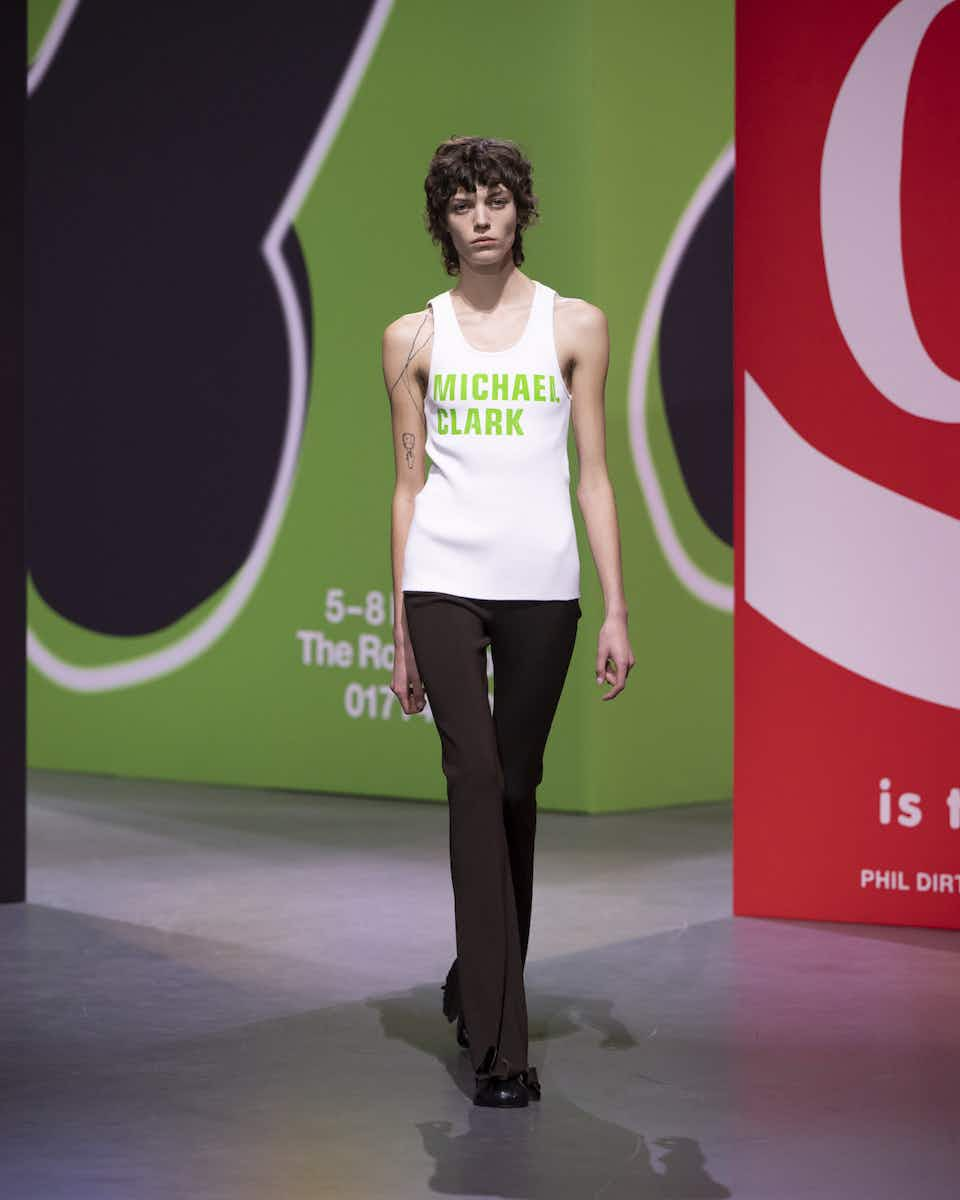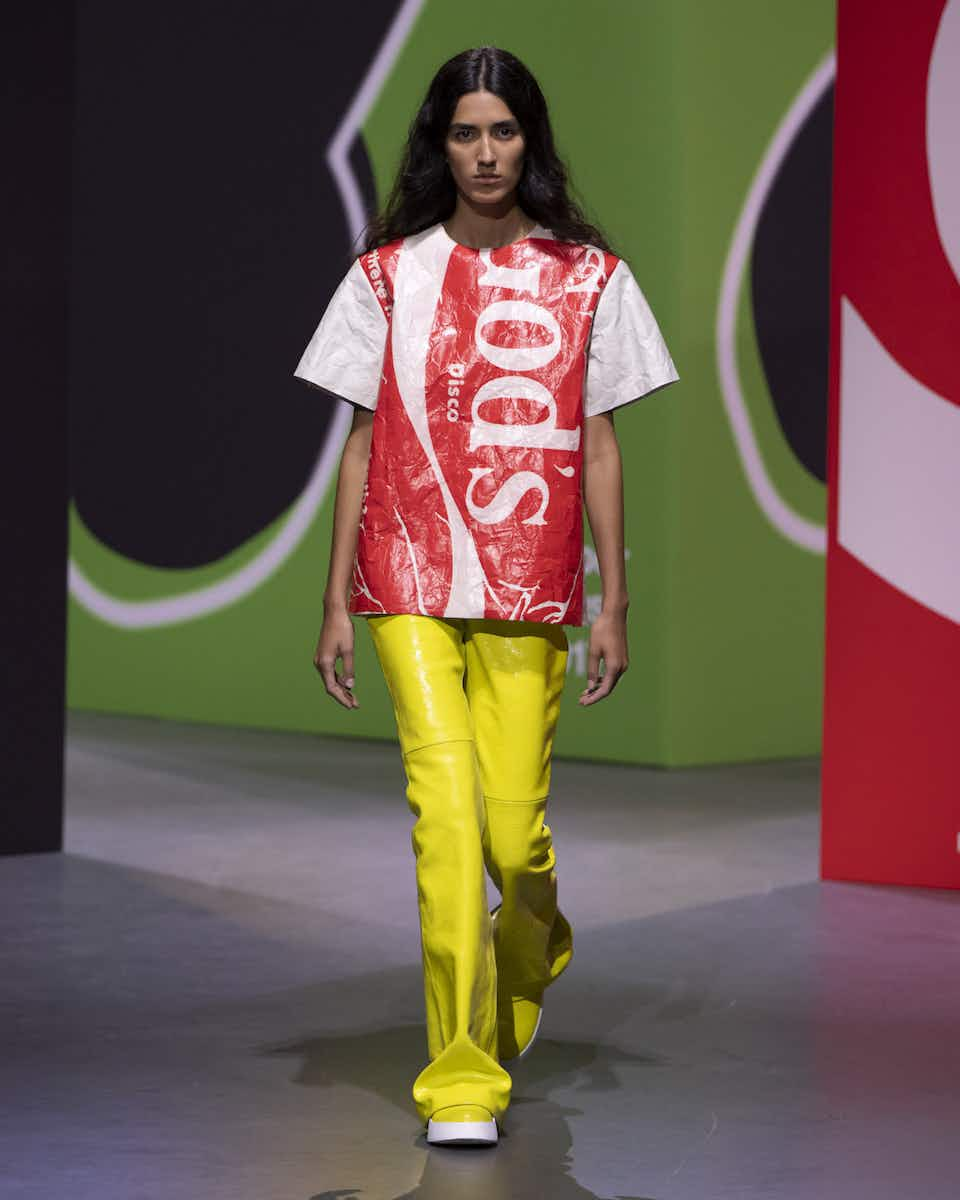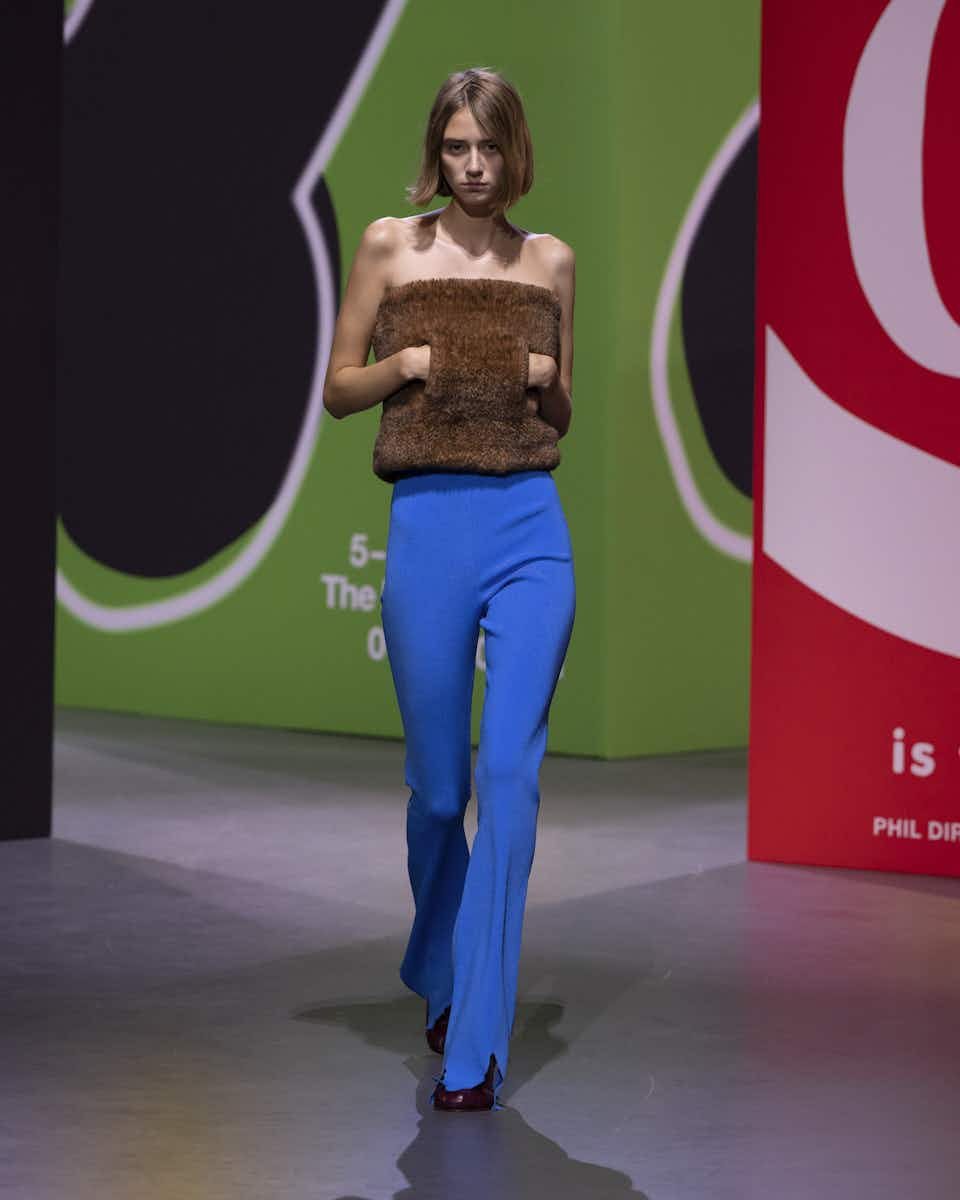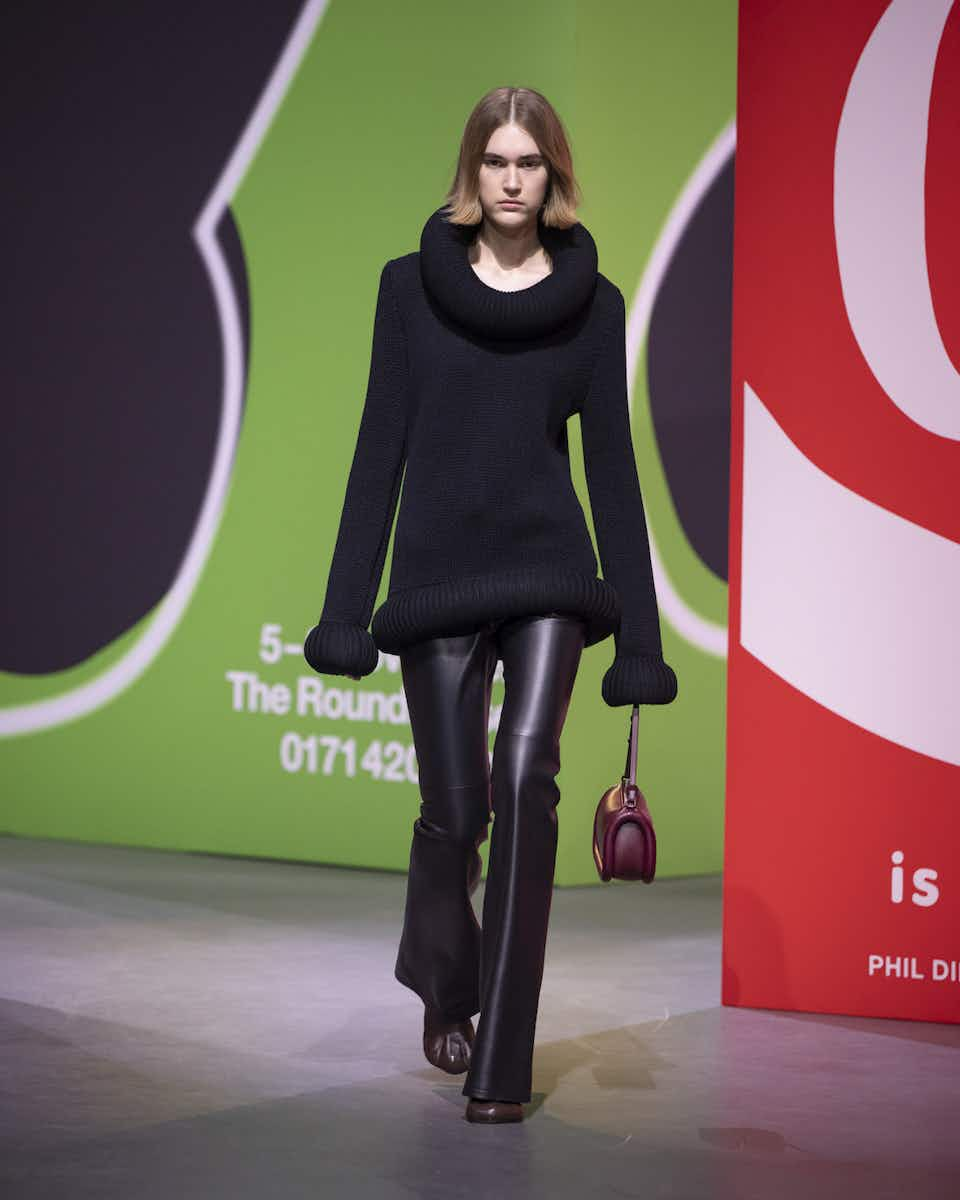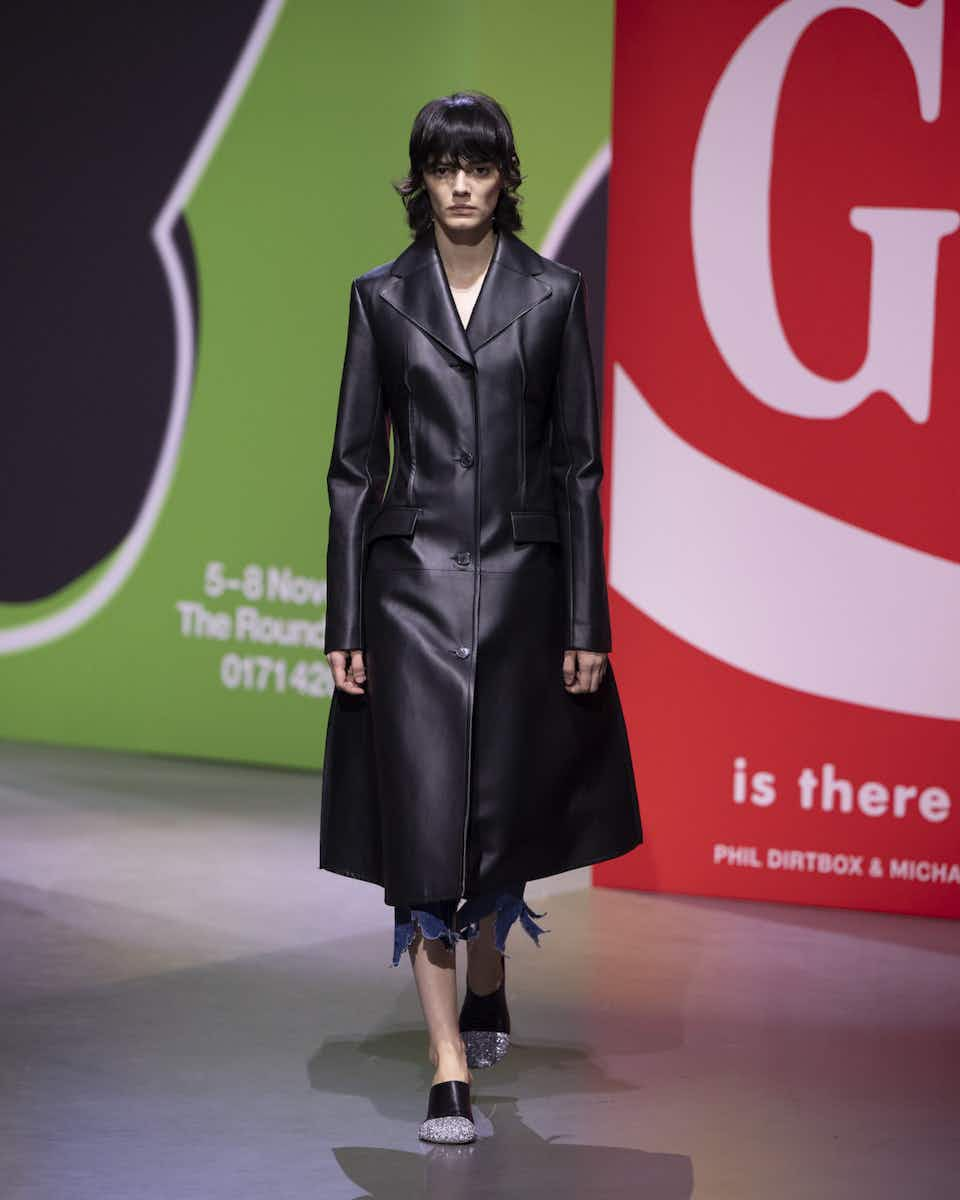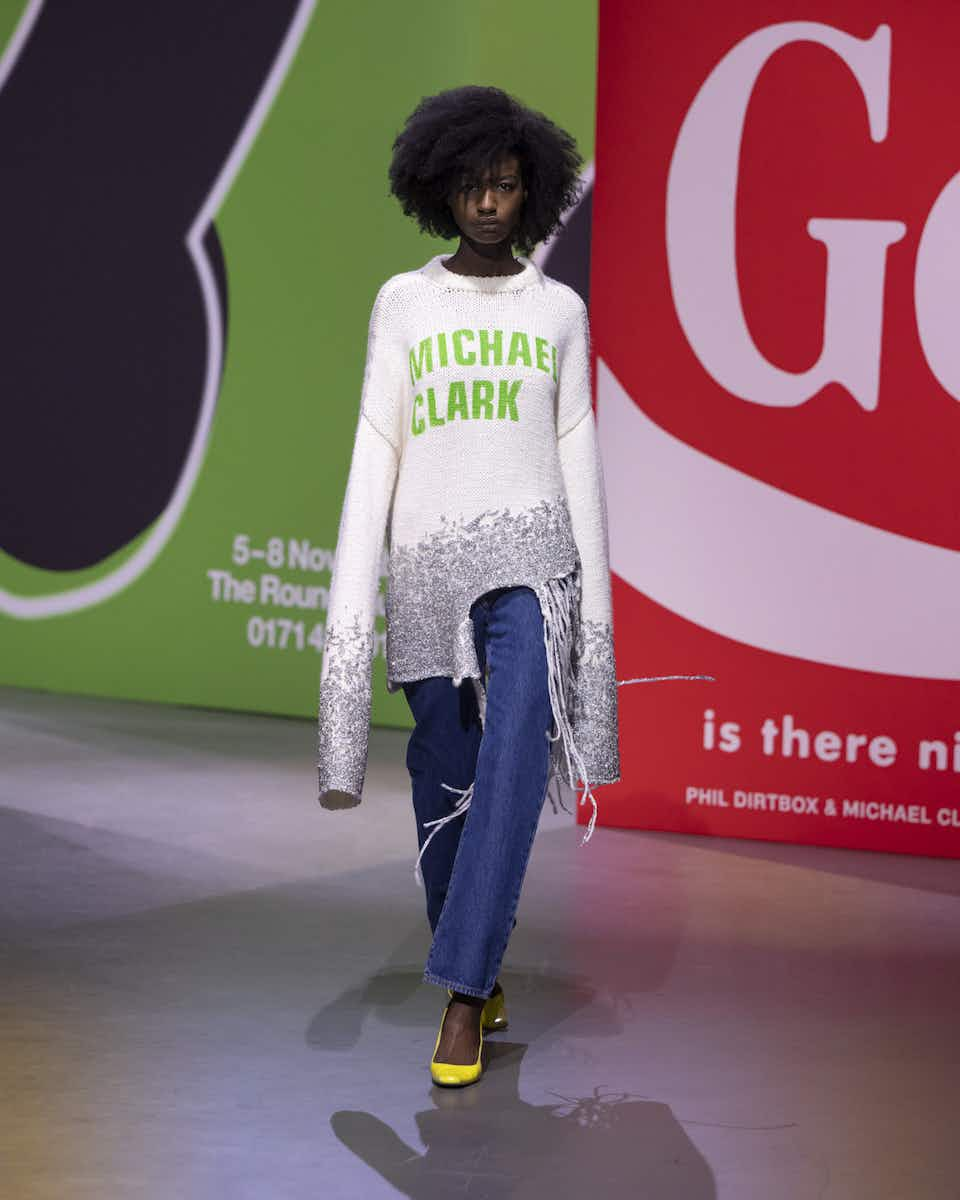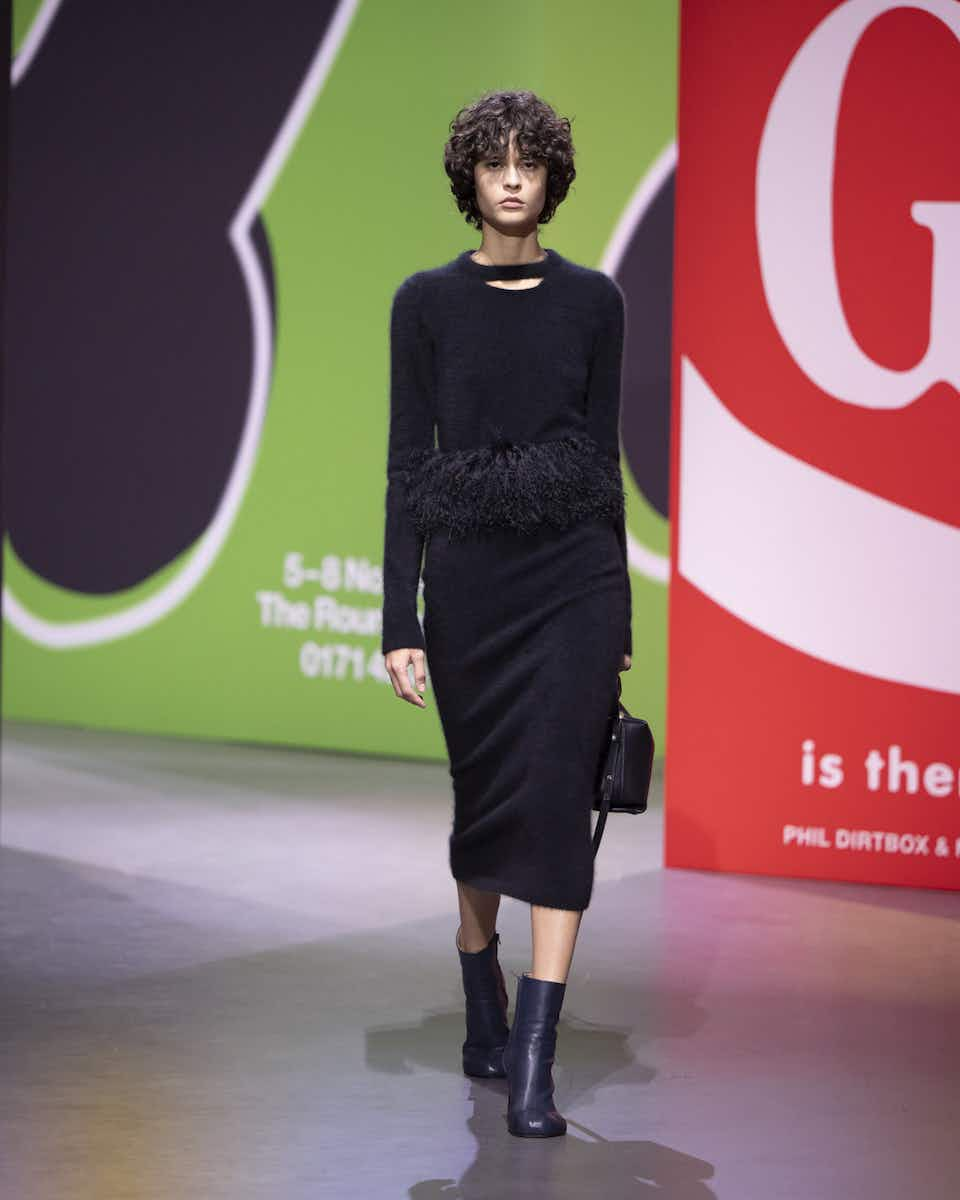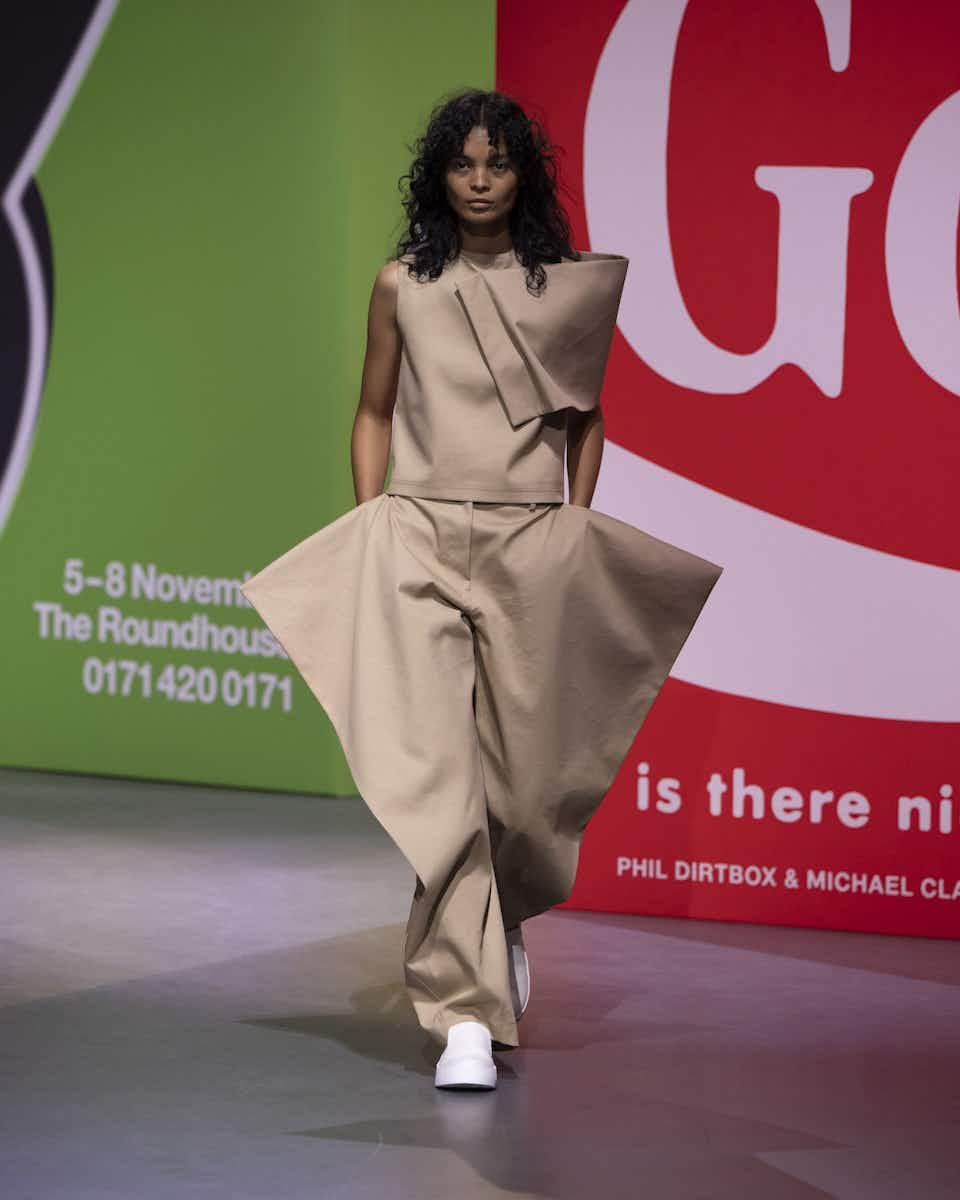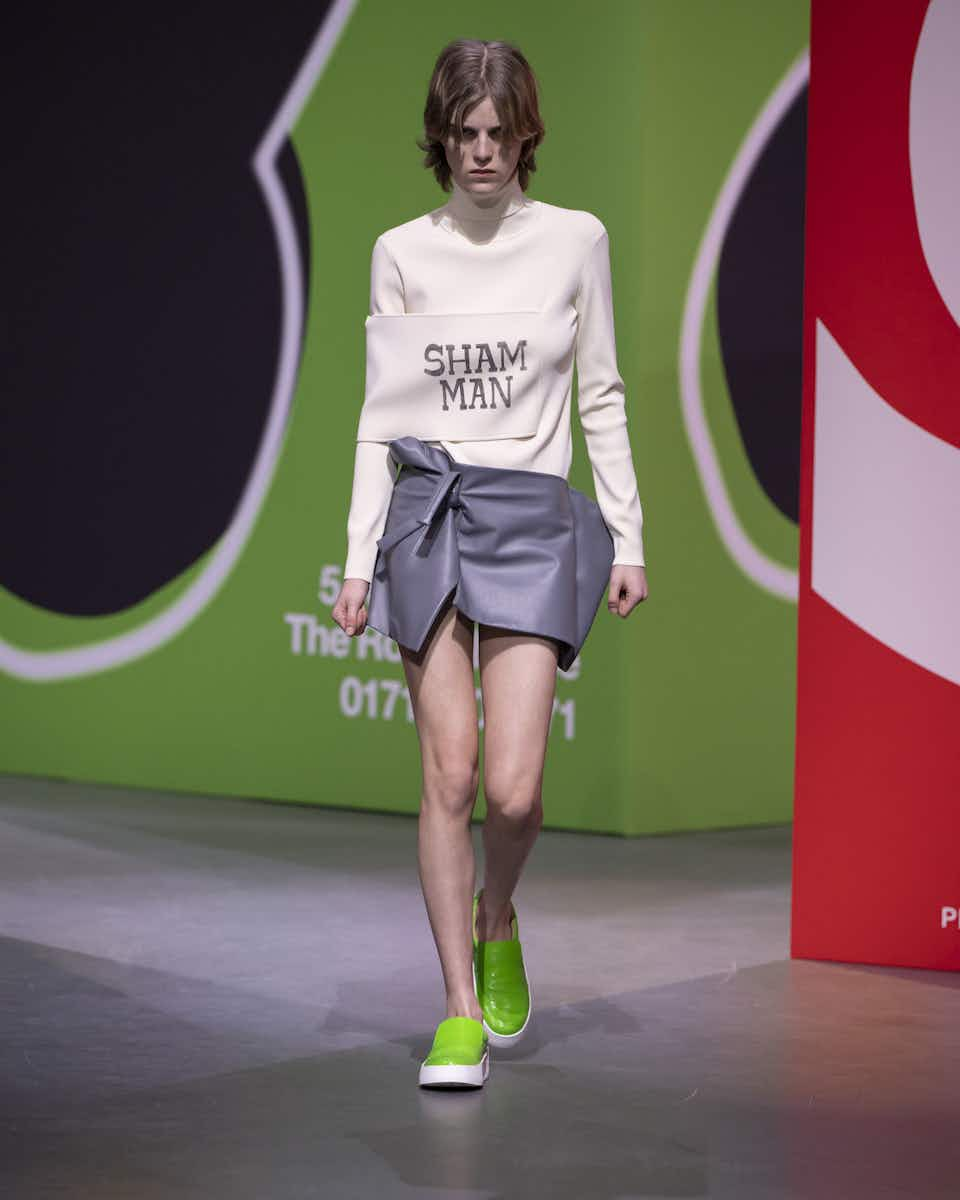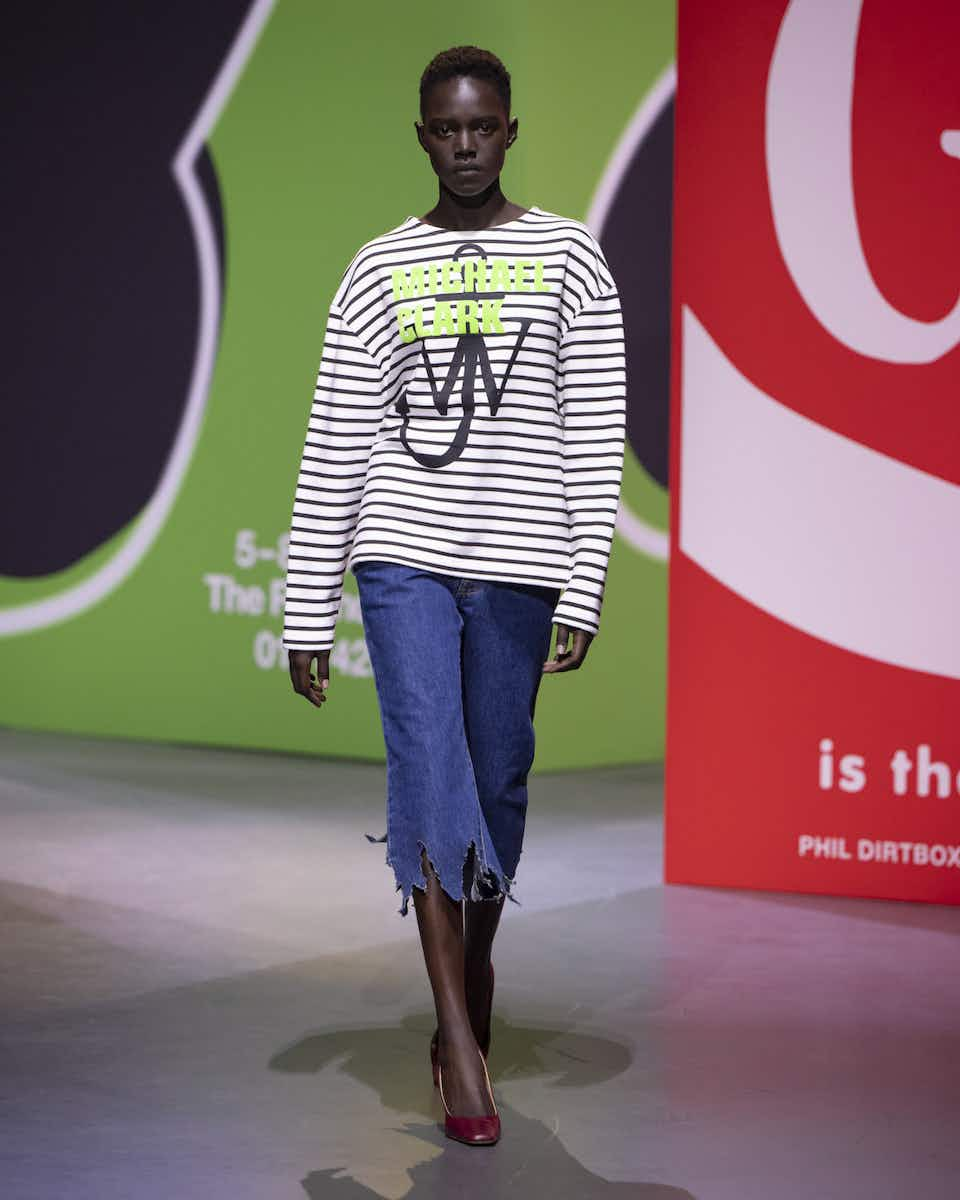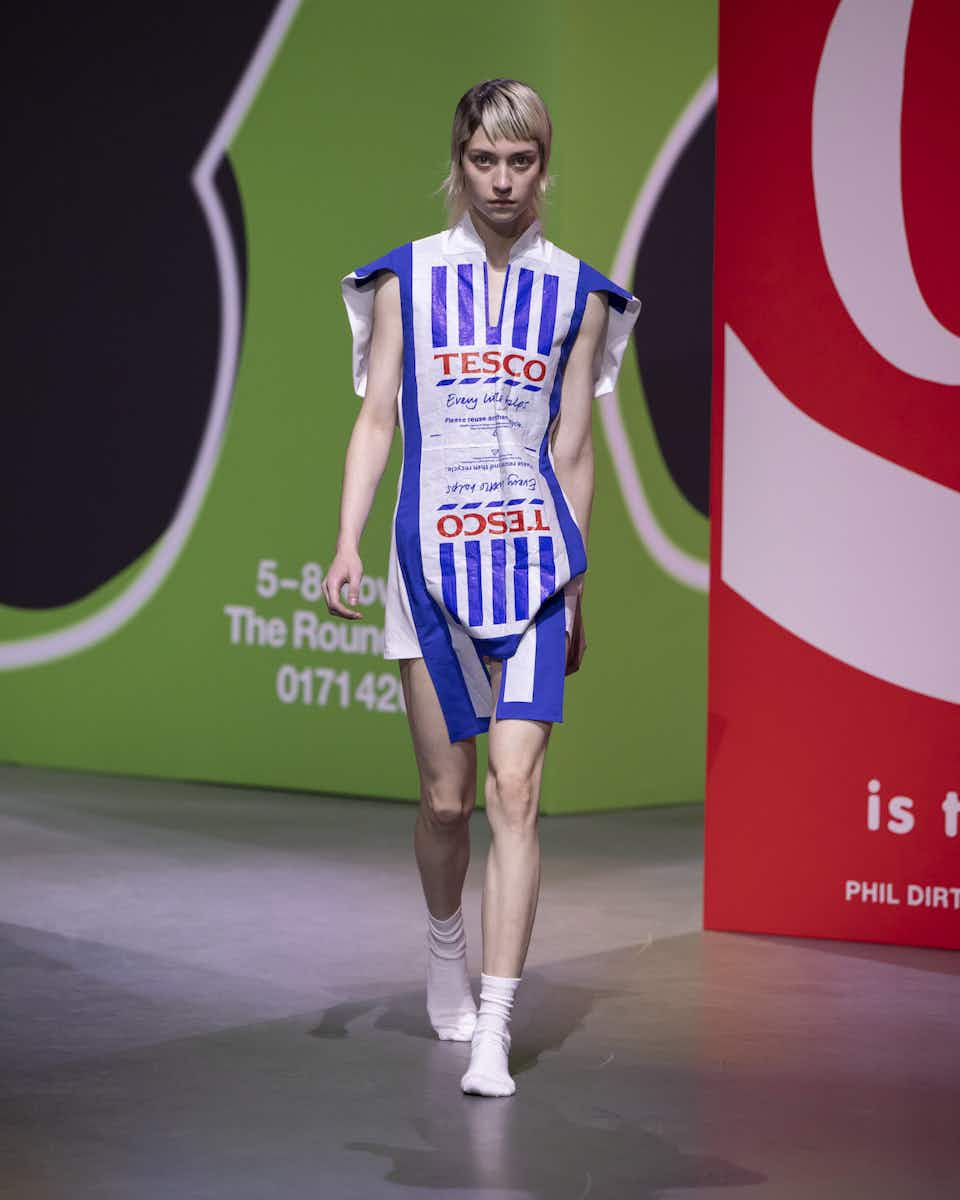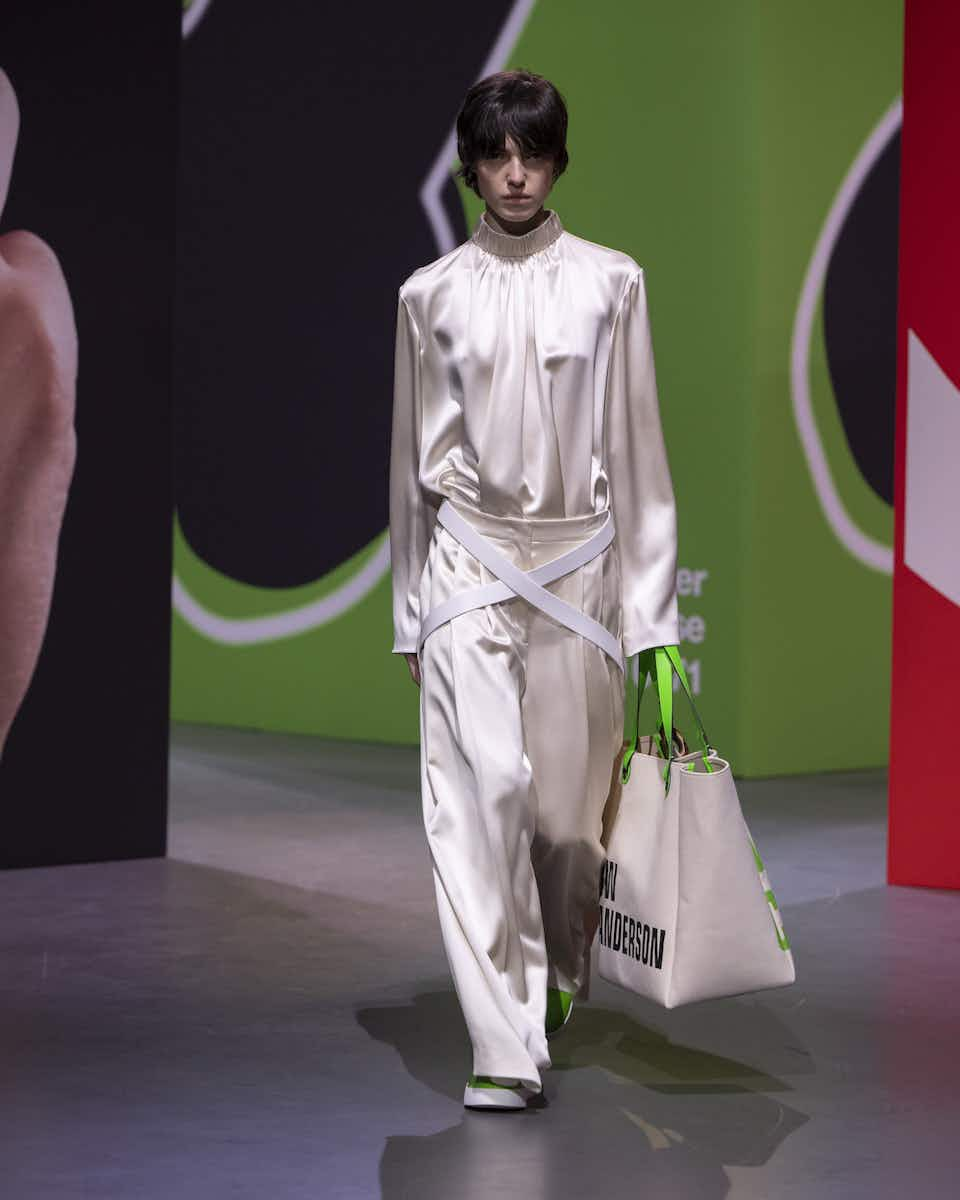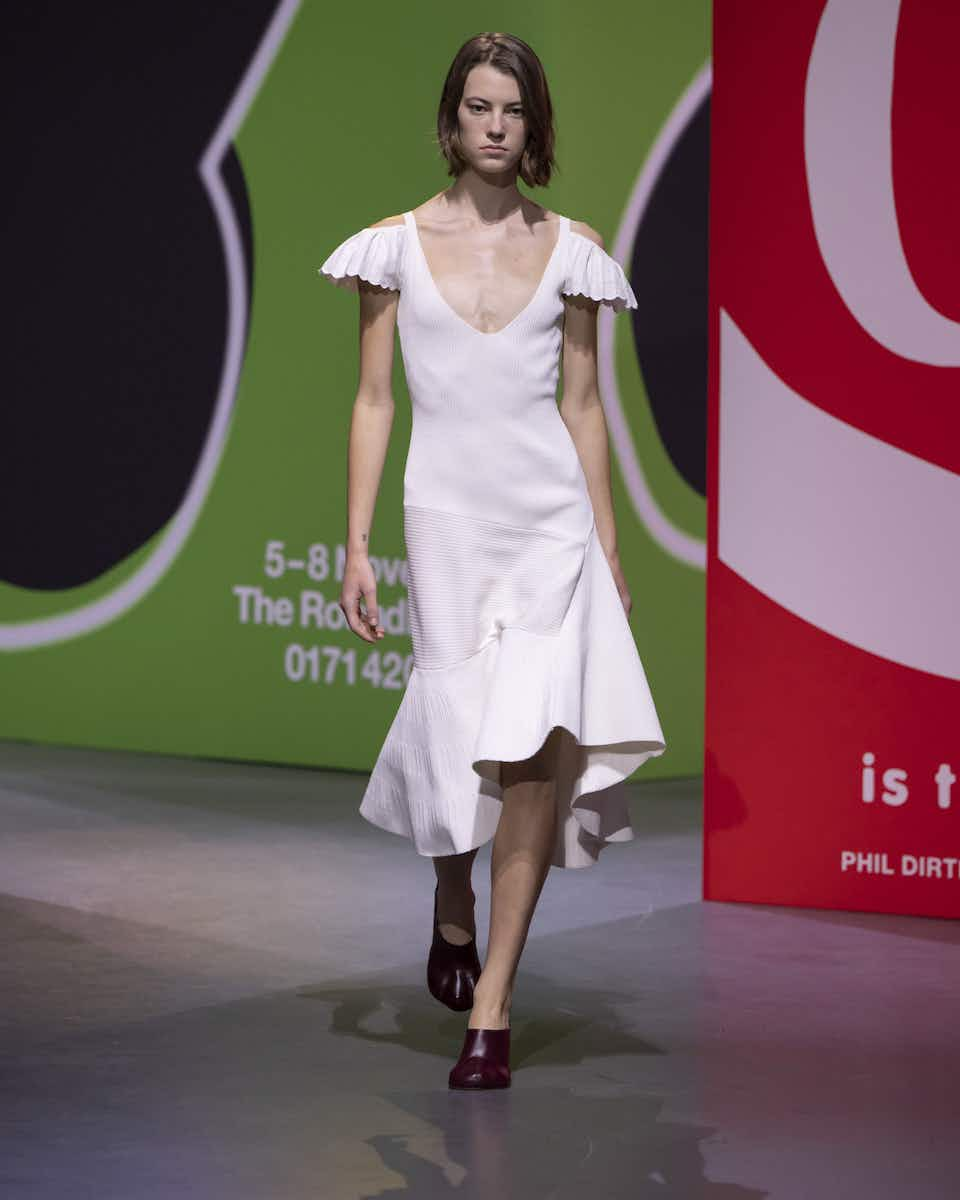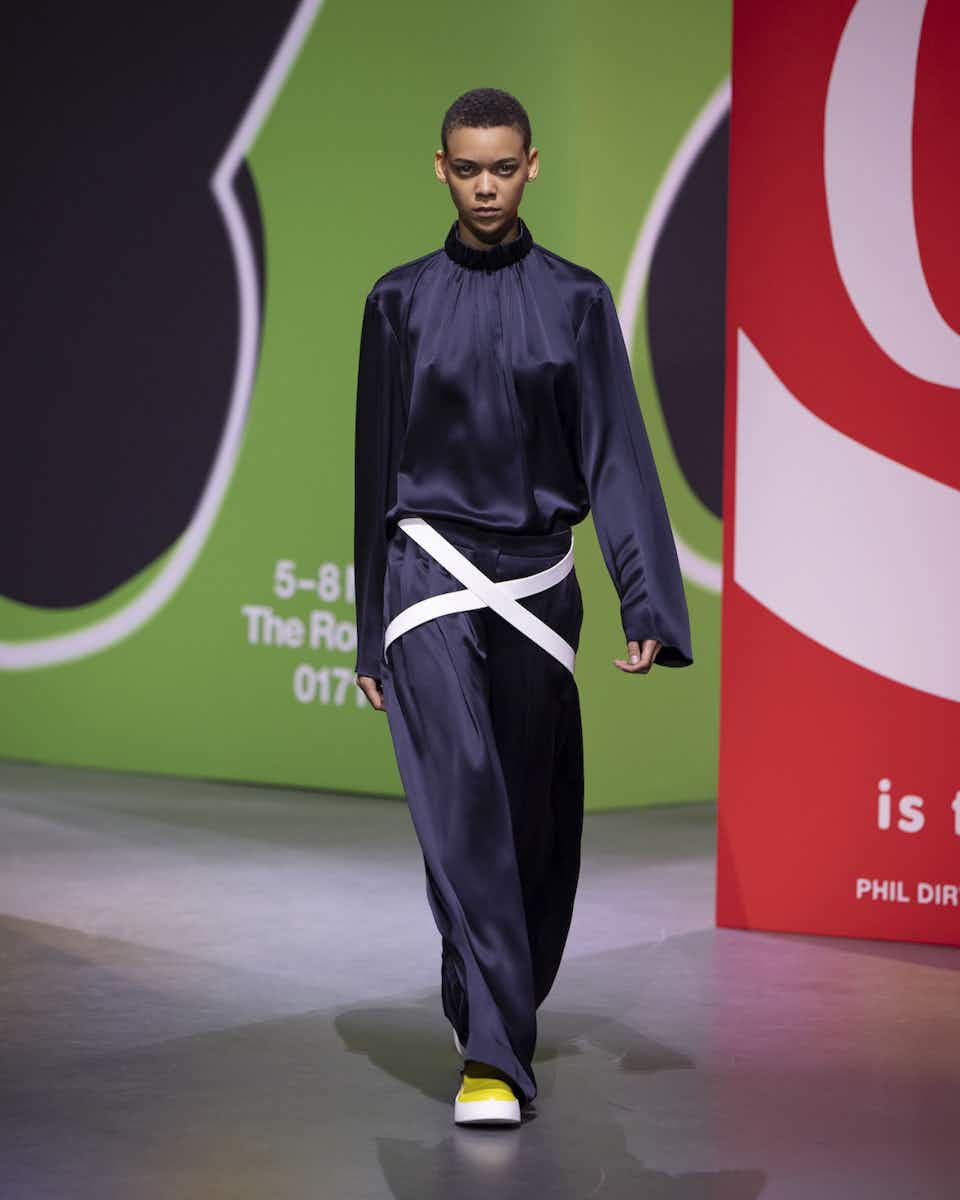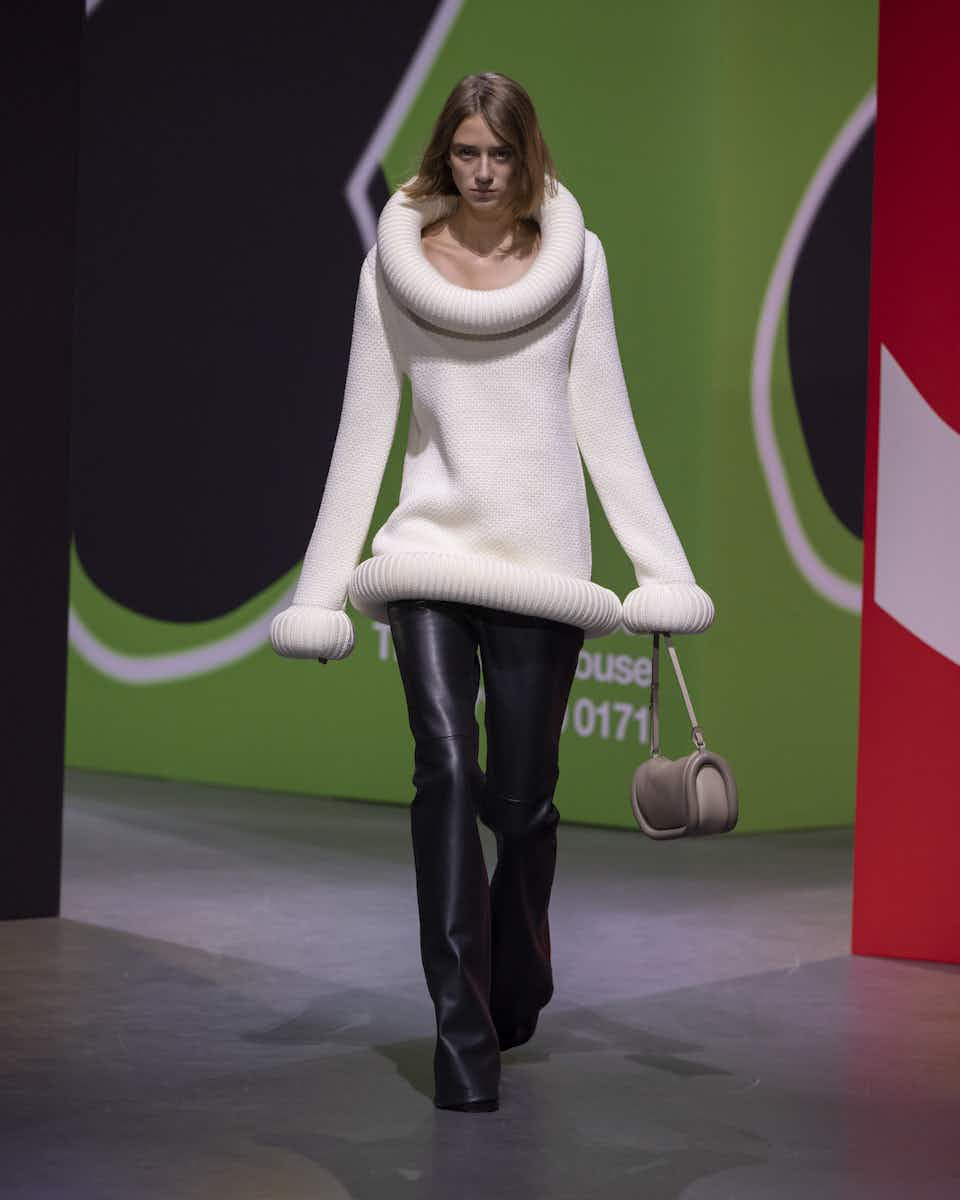 What?
The hottest party in town, courtesy of the cult designer Mowalola.

Where?
Ambika P3, a huge industrial warehouse on Baker Street that usually hosts exhibitions.

What were the clothes like?
The show kicked off at around 10pm, by which point there was a proper buzz in the room. Mowalola has established herself as one of the most subversive designers to have come out of London in the past five or so years, and has become a pro at altering an audience's mood while she's at it. Whether it's joy, optimism, unease or, as was the case with this show, ​"Dark Web" – a feeling of conflict – the Nigerian designer delved into clashing debates in the news to trigger a spectrum of emotion.

This season, she made a statement on capitalism by way of enlarged New York (AKA the money-making capital) symbols. Feelings of detachment were expressed through jean-skirts that were literally detached from the body, with pockets removed from a pair of jeans entirely. Faces were concealed on two models, bombers were slashed at the chest and a leather T‑shirt bore a ​"United States of Amnesia" slogan that felt riotous, alienating and brilliantly chaotic.

There was humour, too. On one white leather bomber, grotesque brown splatters were spray painted – the remnants of a speeding car, or something a little more grim? On a long jersey dress, an arrow pointed to the crotch with ​"Insert Disc Here" written above it, while a smutty ​"Sue Me" T‑shirt appeared elsewhere.

Back in London after showing in Paris last season, Mowalola returned with the rebellious spirit and anarchic agenda that made her a fan favourite in the first place.

In a song?
Slipknot – Spit It Out

In a word?
Anarchy.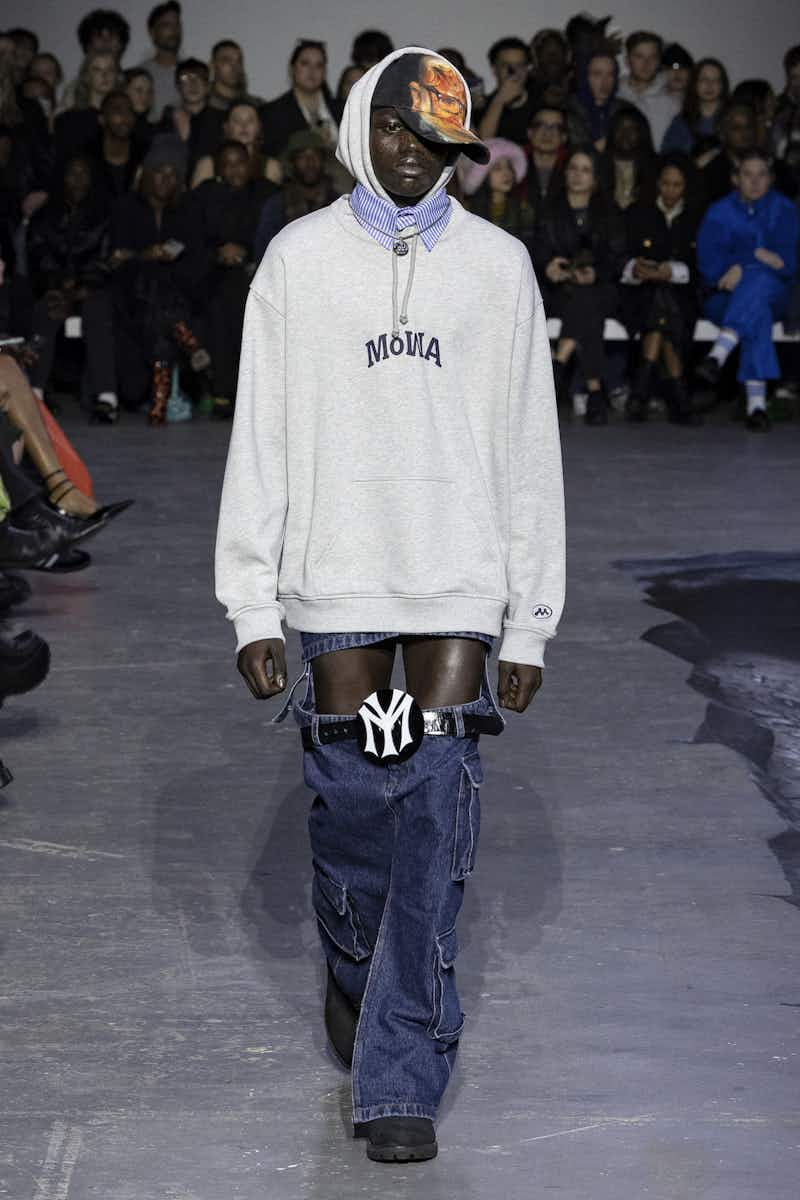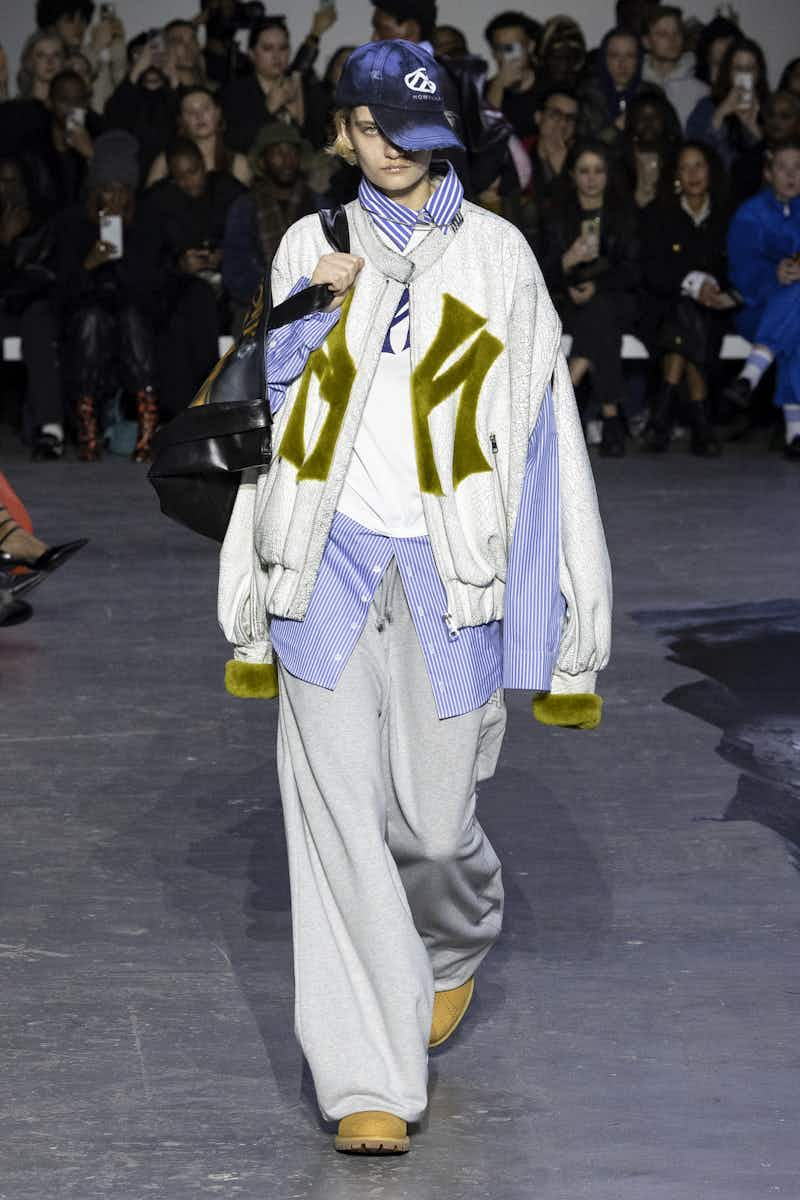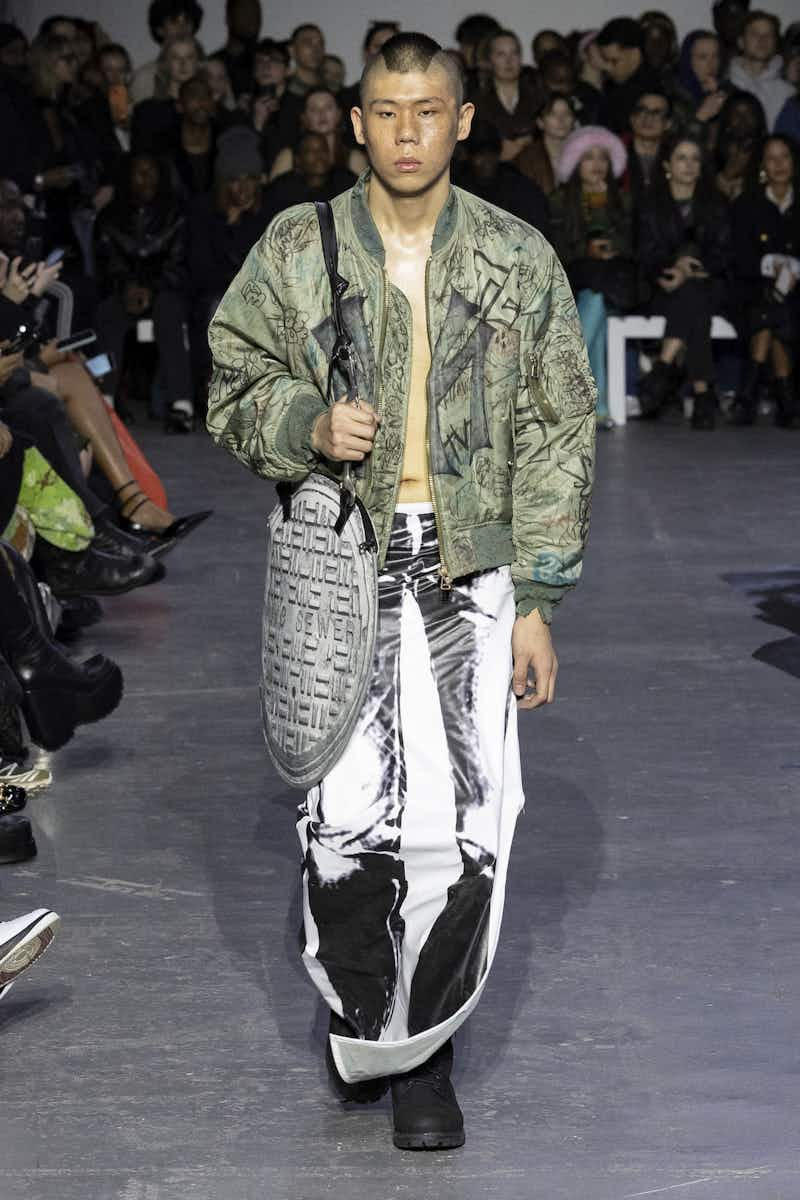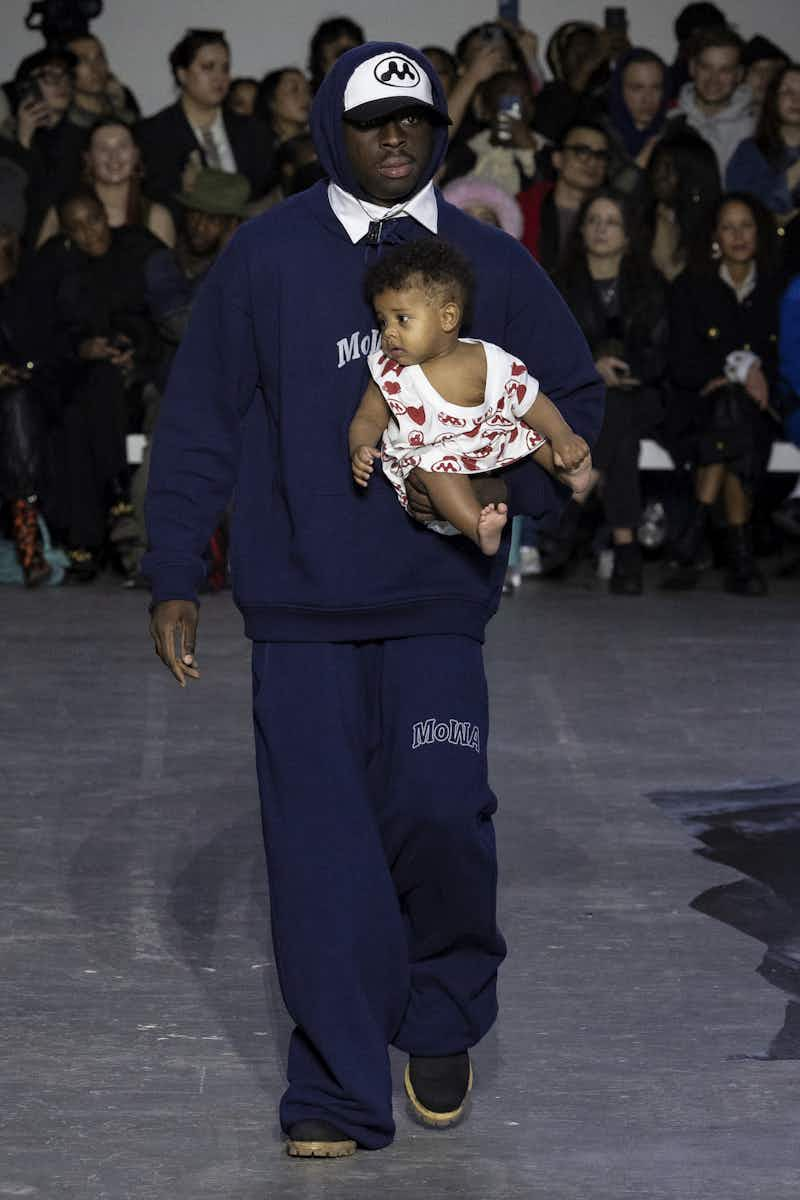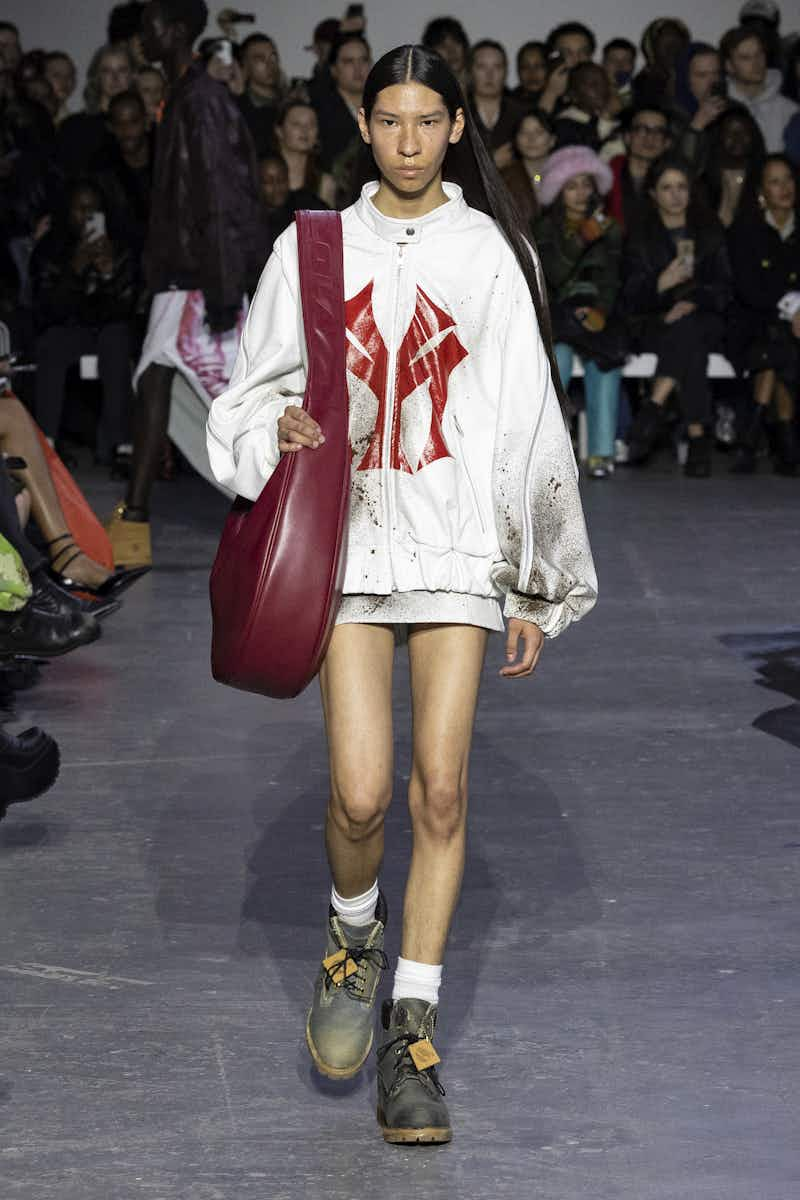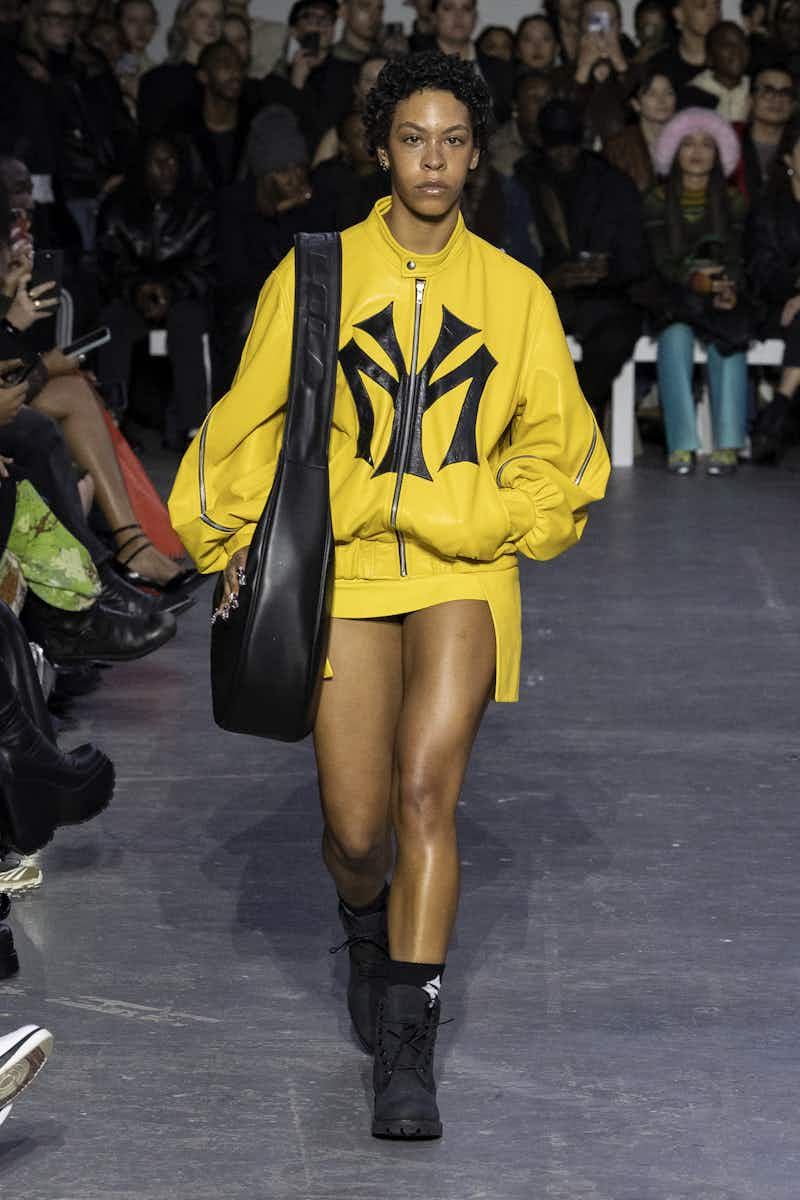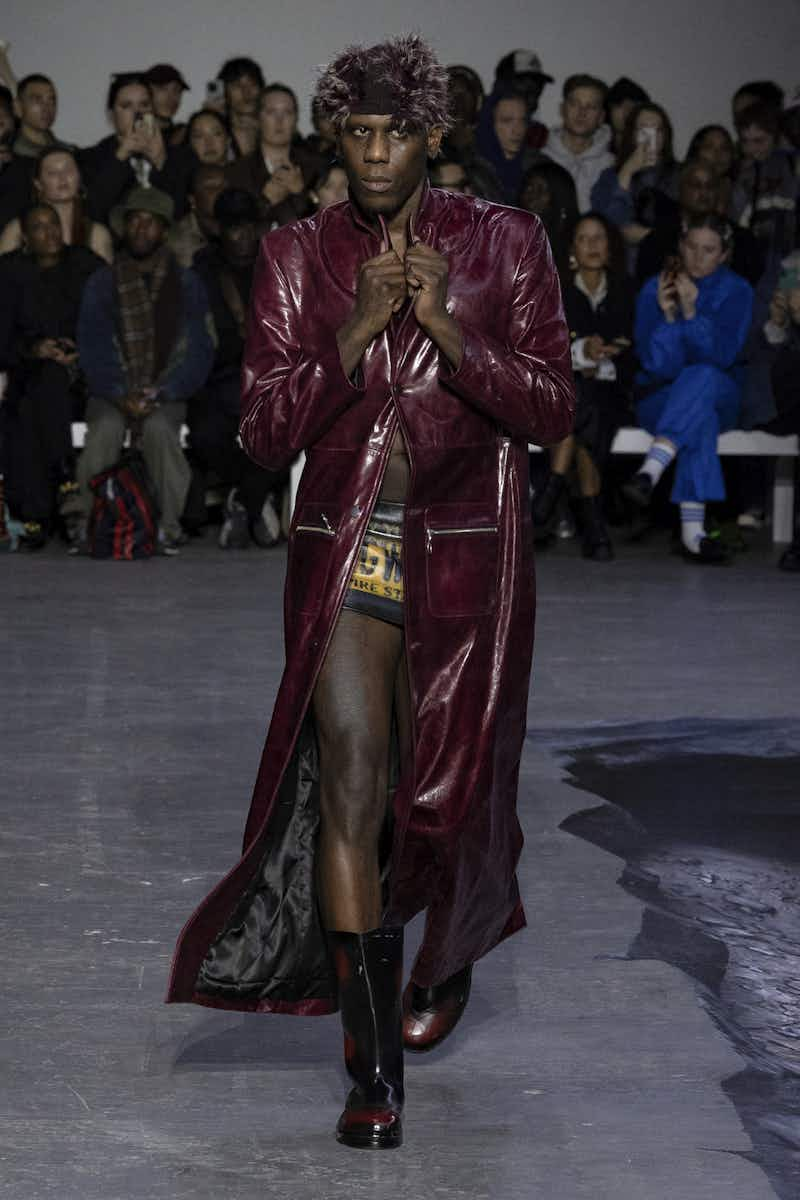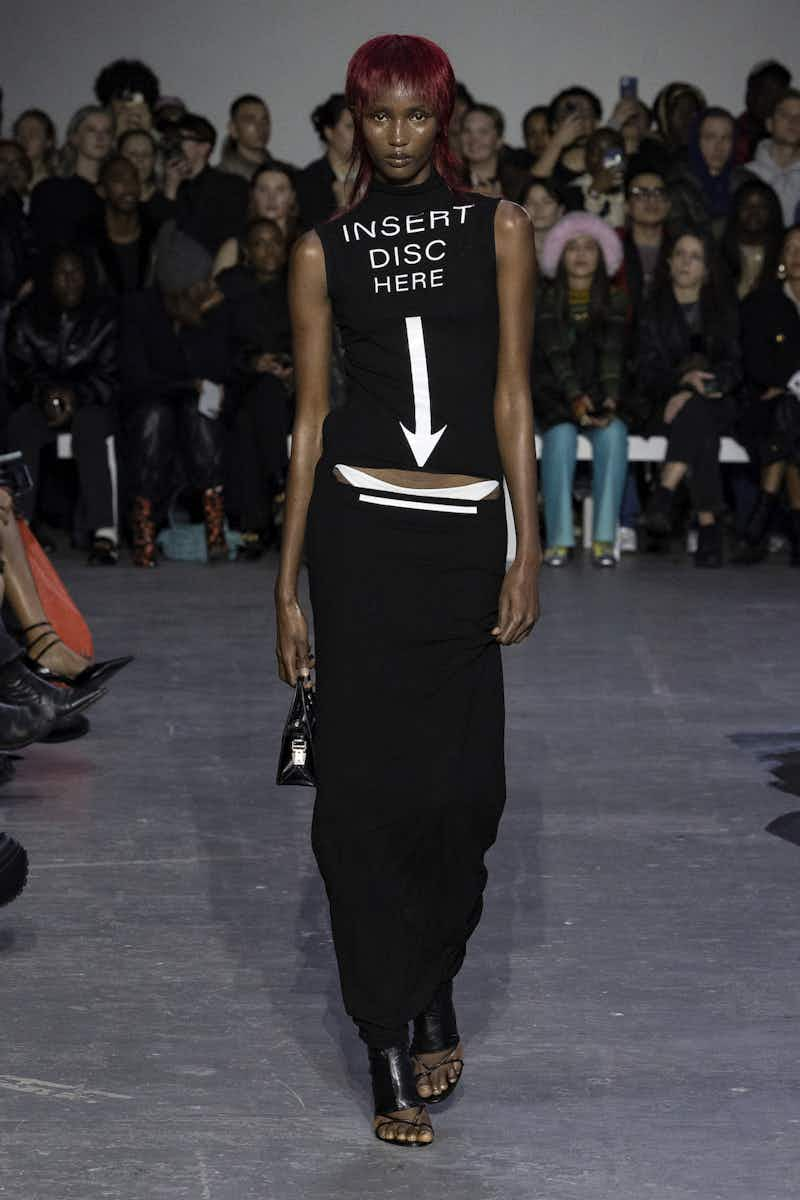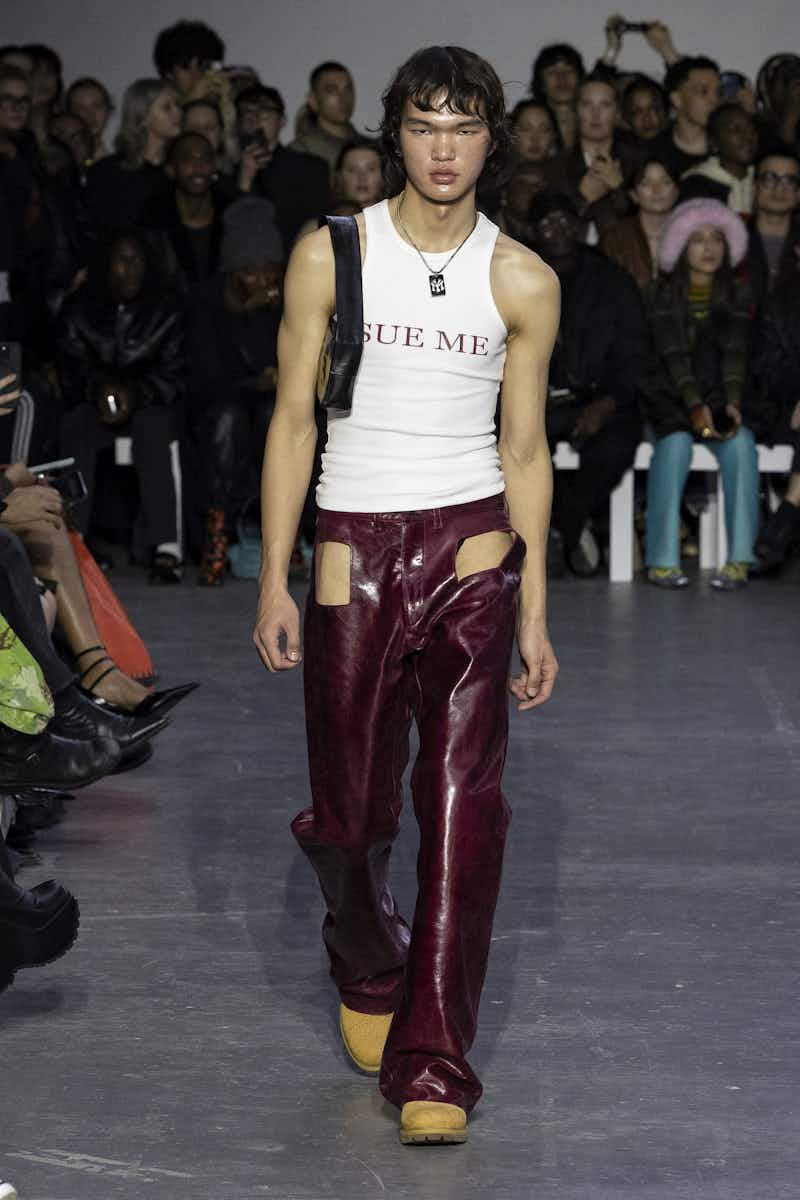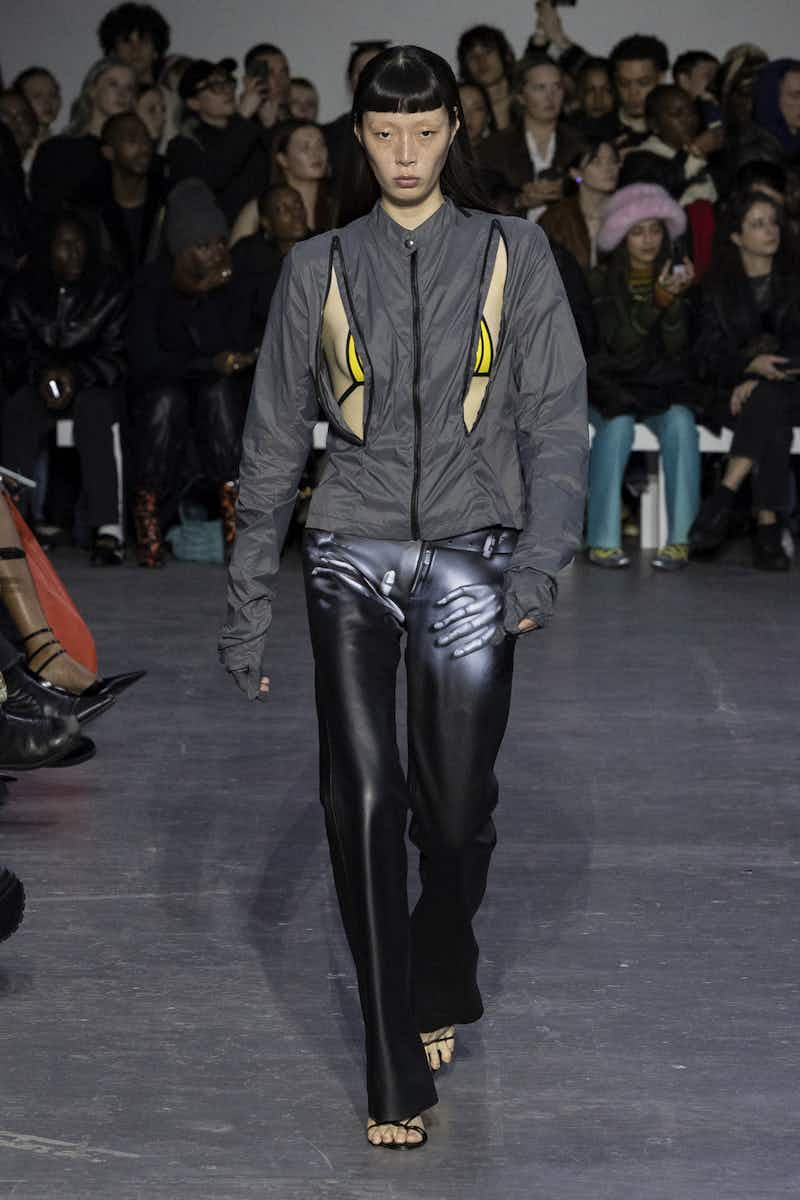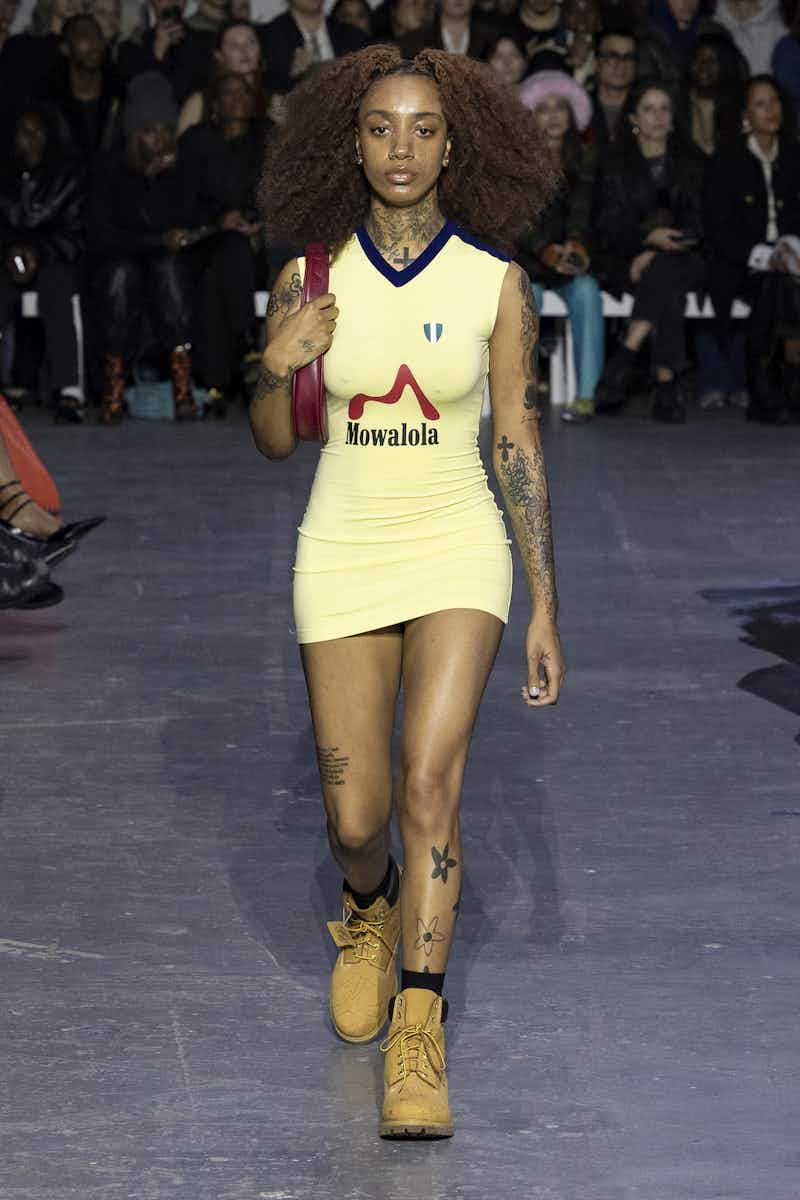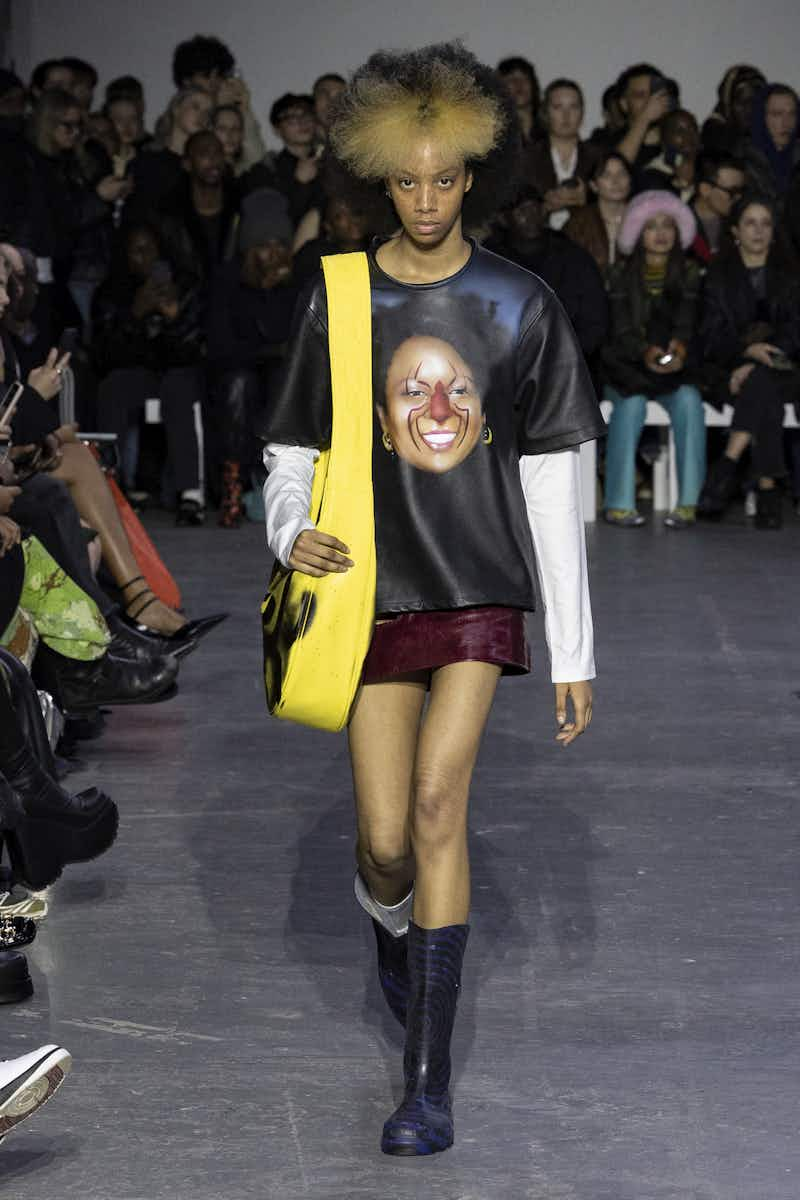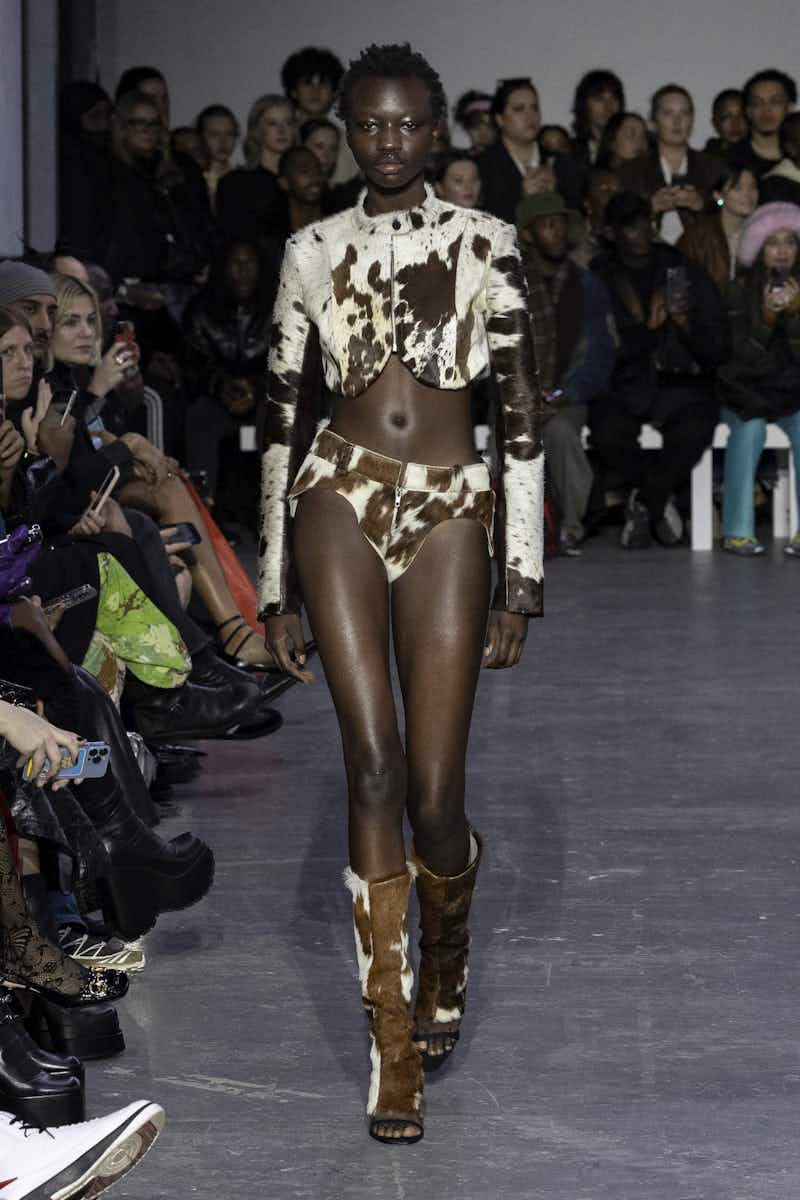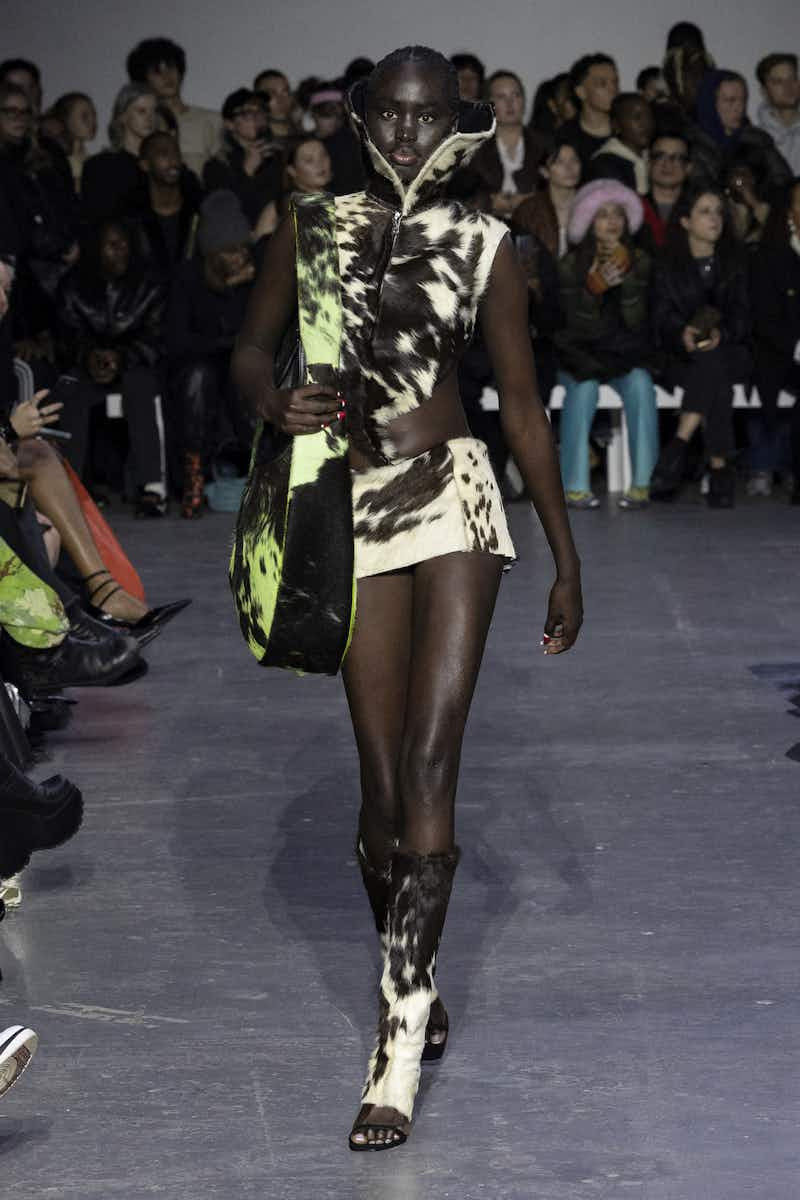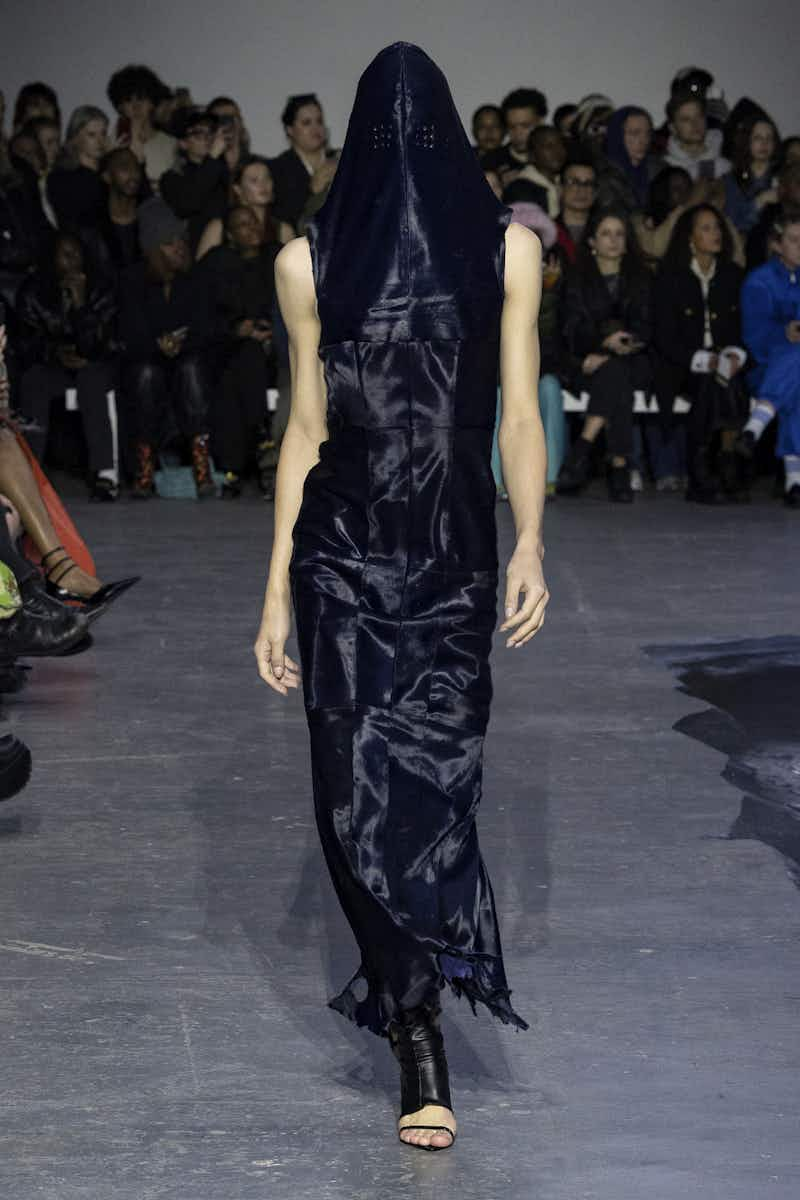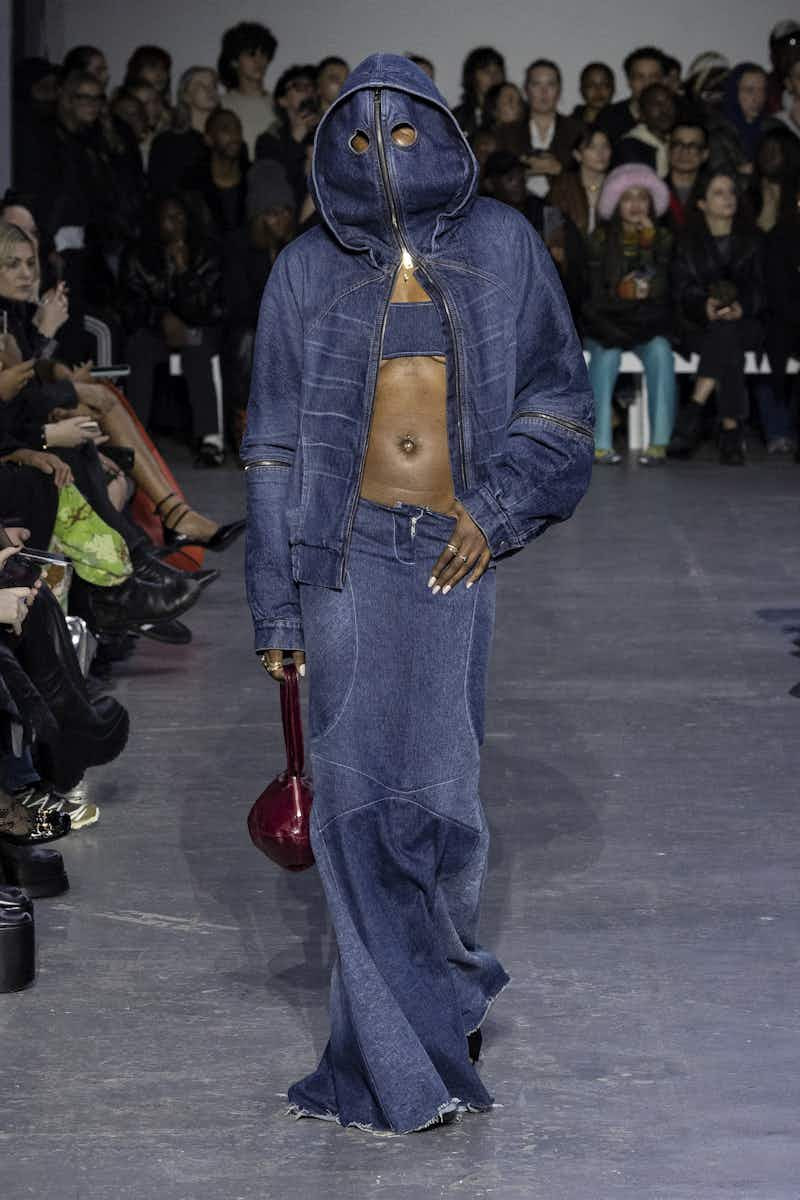 What?
Lynch's first show since she was nominated for The Woolmark Prize, for which she's now a finalist.

Where?
The Old Selfridges Hotel.

What were the clothes like?
While Dublin-born Lynch has long been influenced by her roots, this collection felt like her most explicit celebration of Ireland yet. Woven into chunky cable knits, functional gilets and short-shorts was a sentimental love letter to her home country: Guinness motifs, a singular green palette and, as a nod to the country's favourite stout, a live harpist who soundtracked the show. ​"I Googled ​'Irish T‑shirt' and what came out was a bunch of green, leprechauns, shamrocks, pints of Guinness and harps," the designer said. Lynch was wholly comfortable embracing the stereotypes, elevating them on Merino wool, smart jersey jumpers and fleeces as symbols of Irish pride that felt brilliantly youthful.

In a song?
Elton John – Belfast

In a word?
Lucky.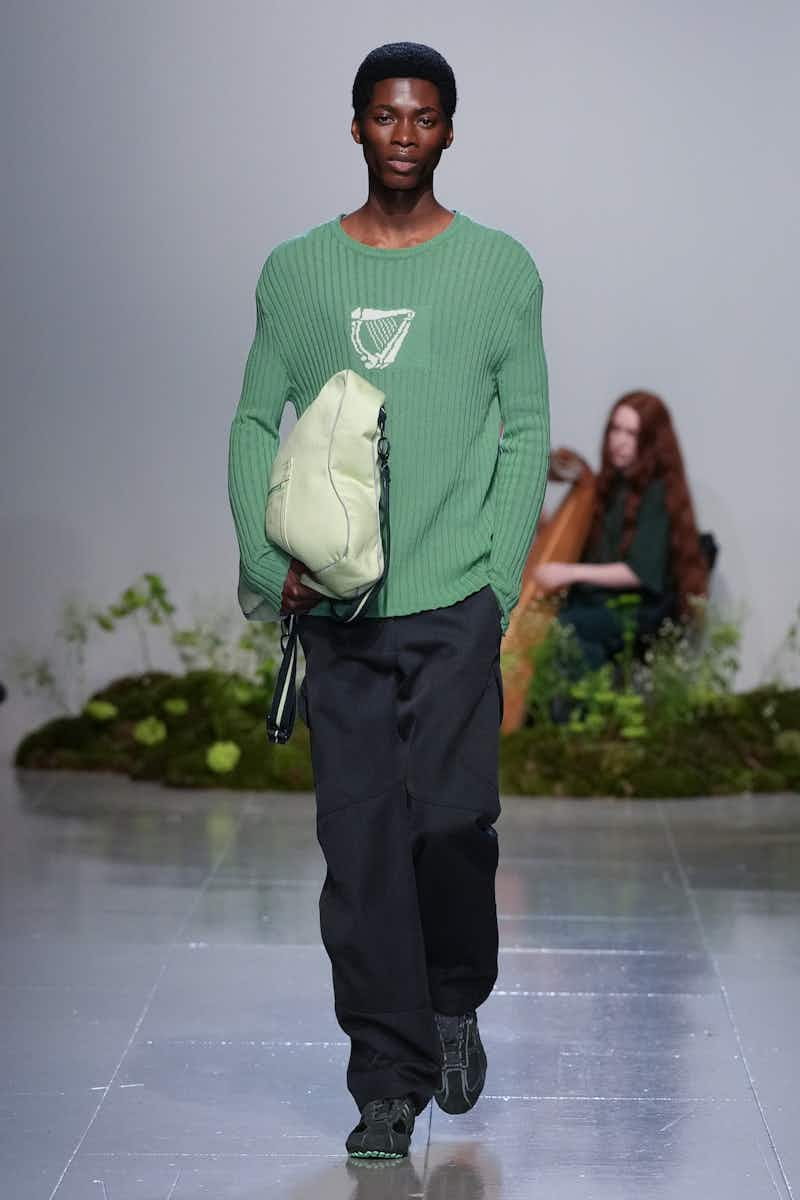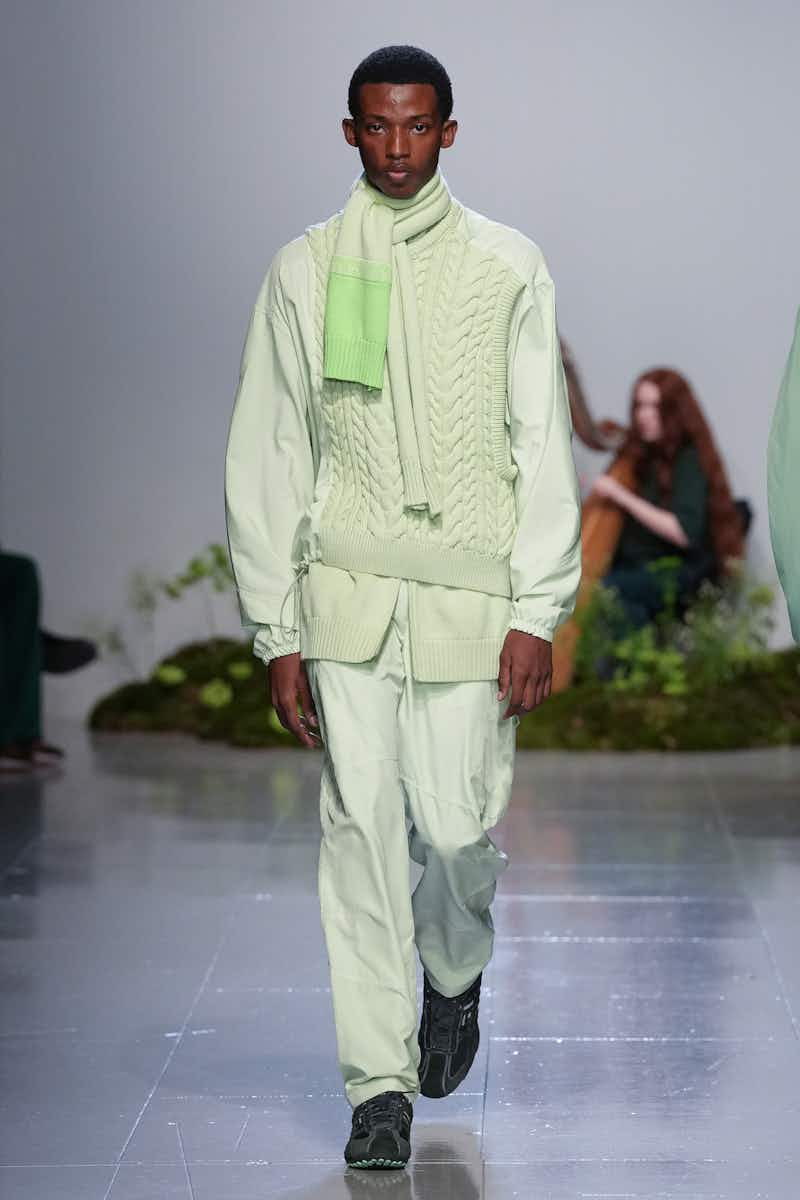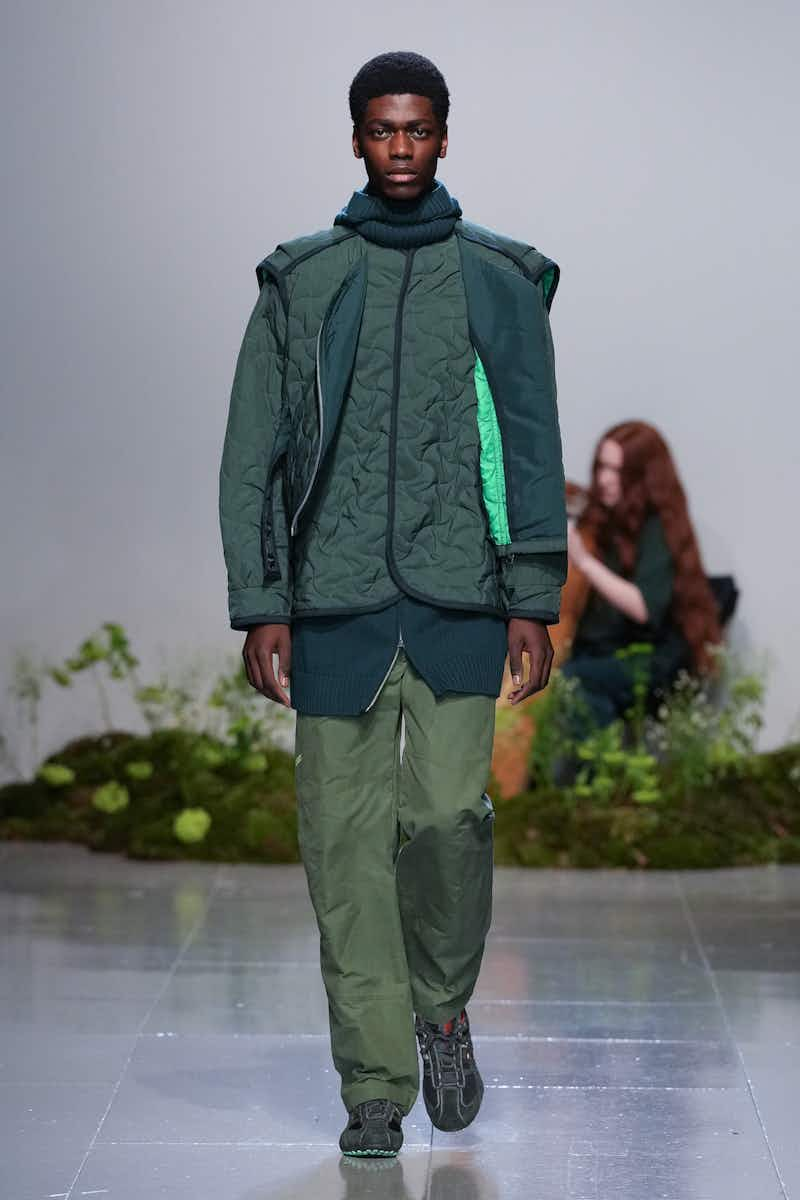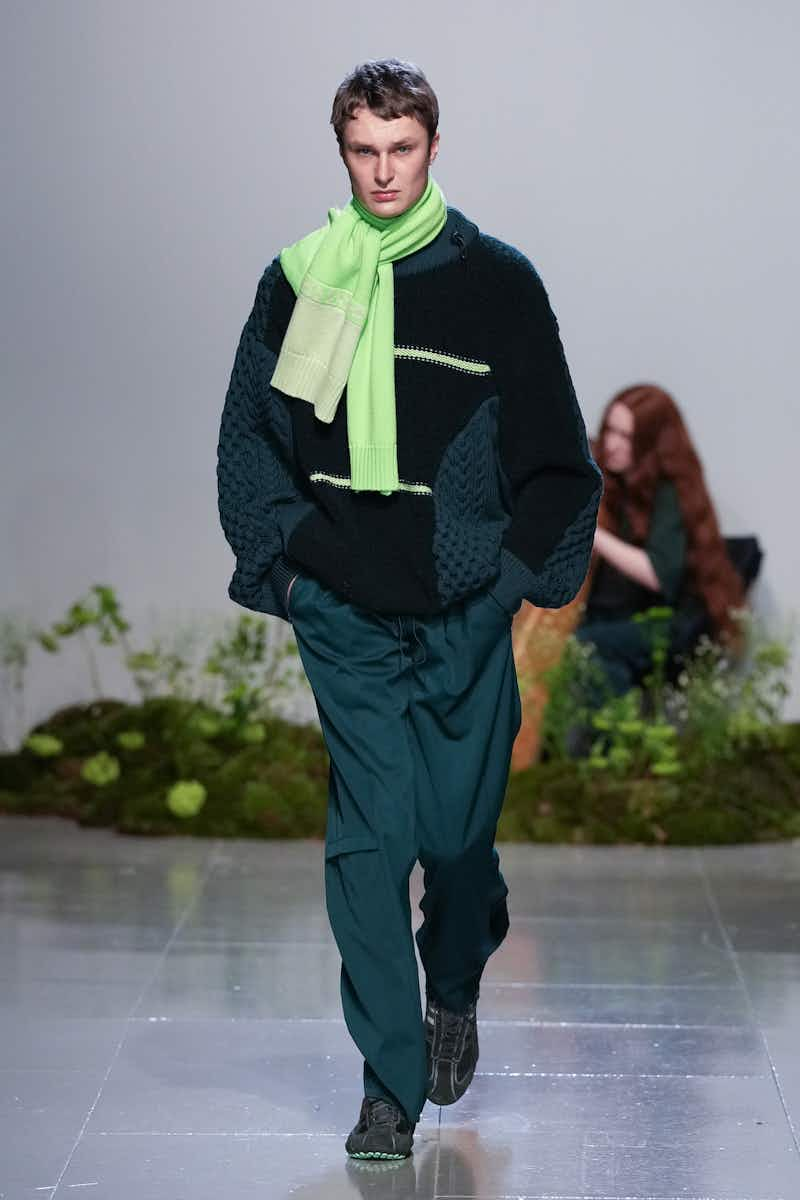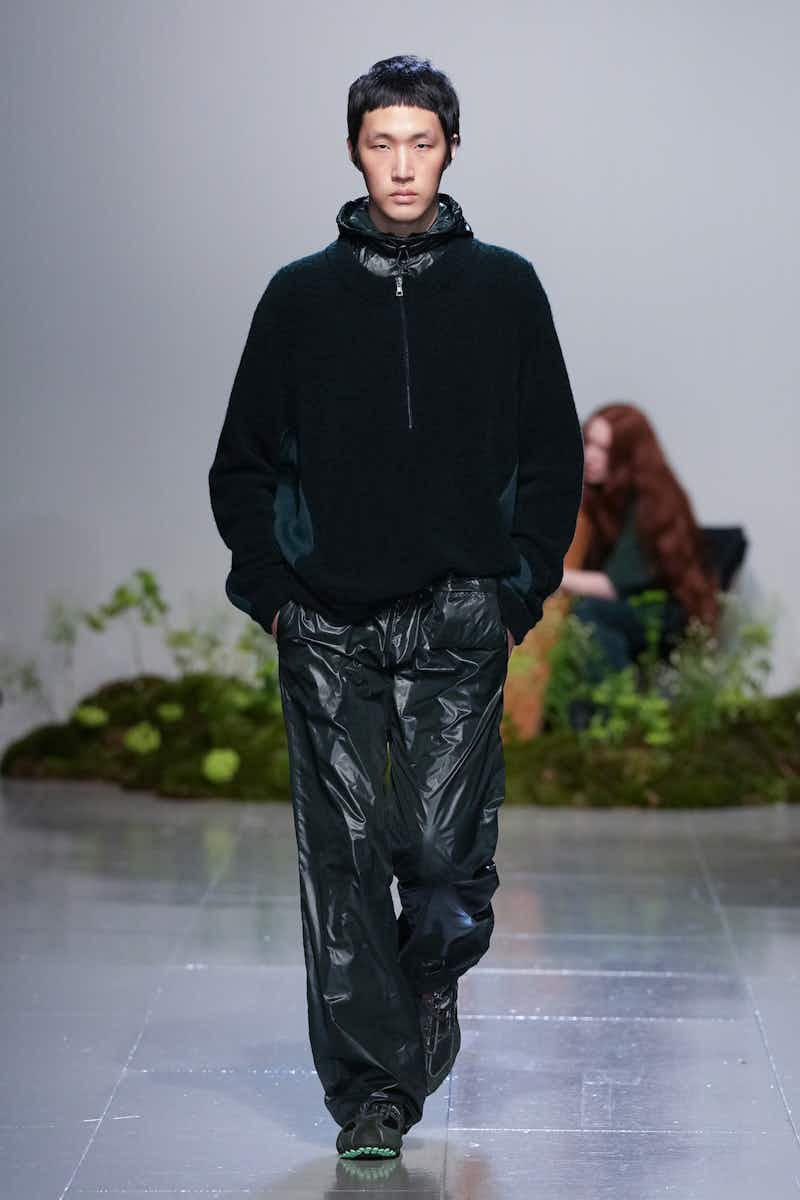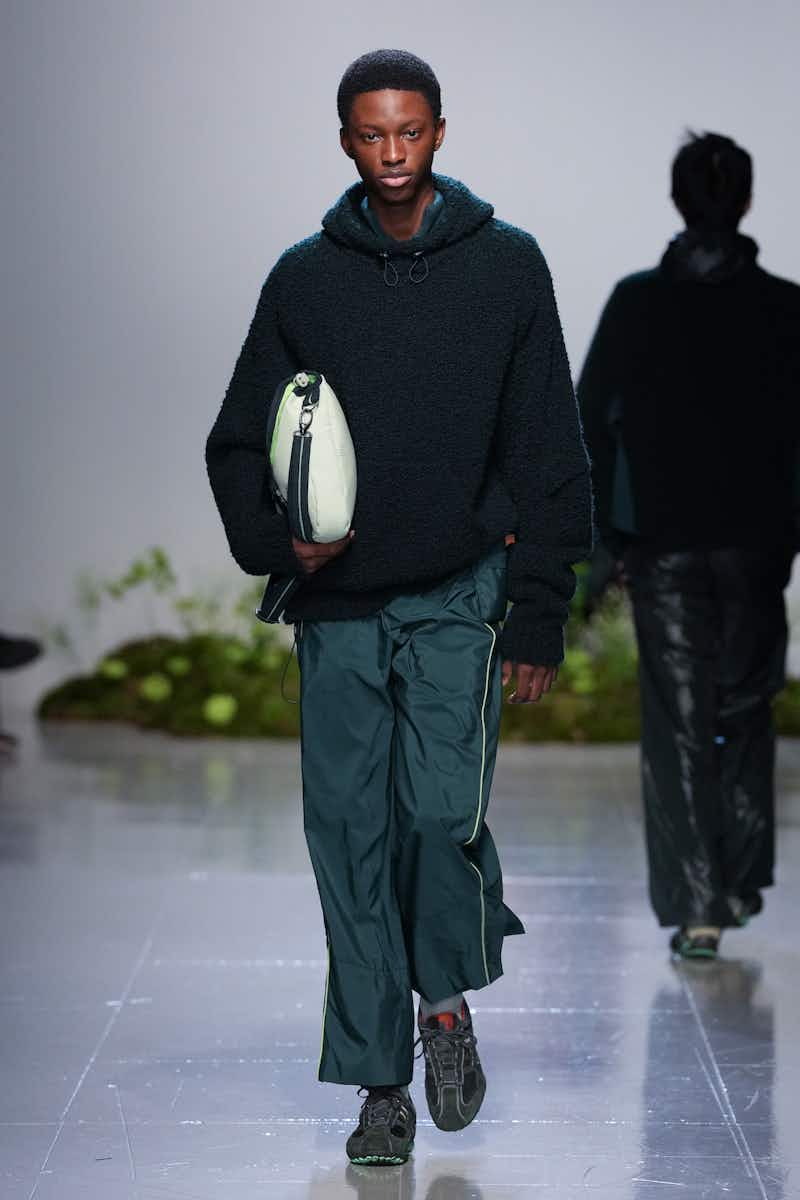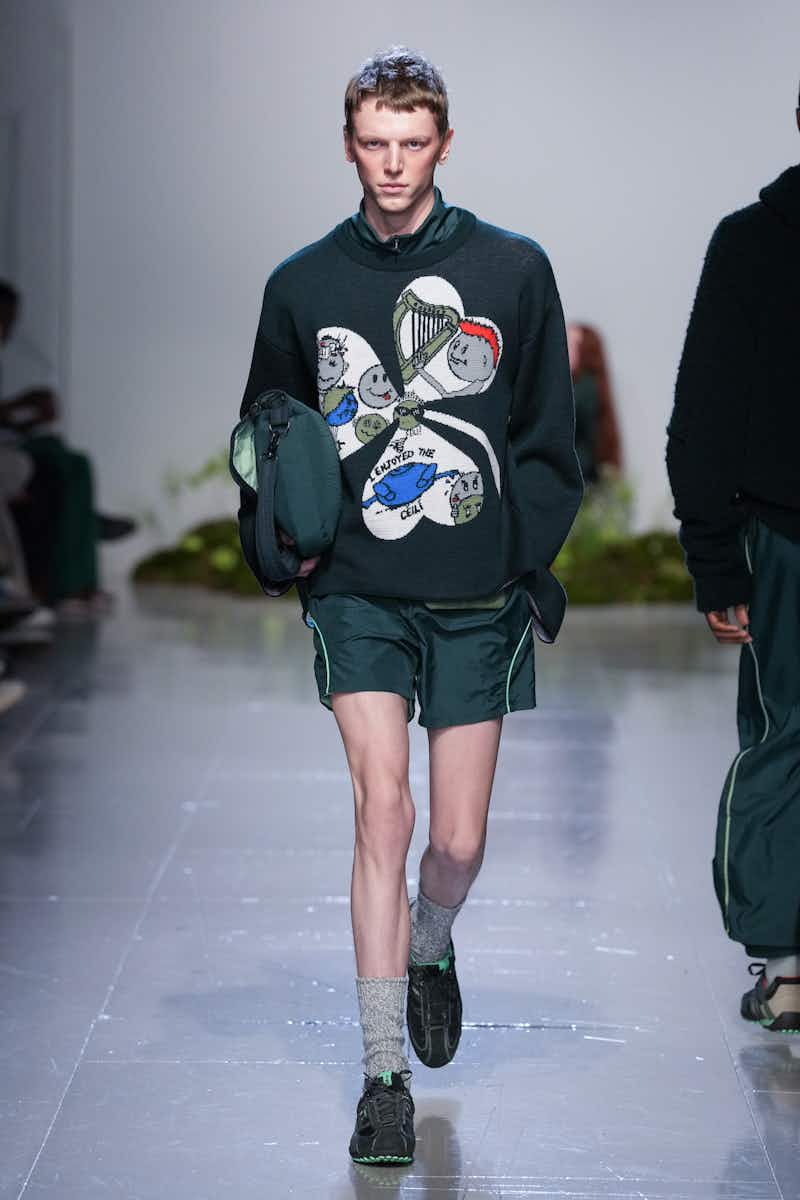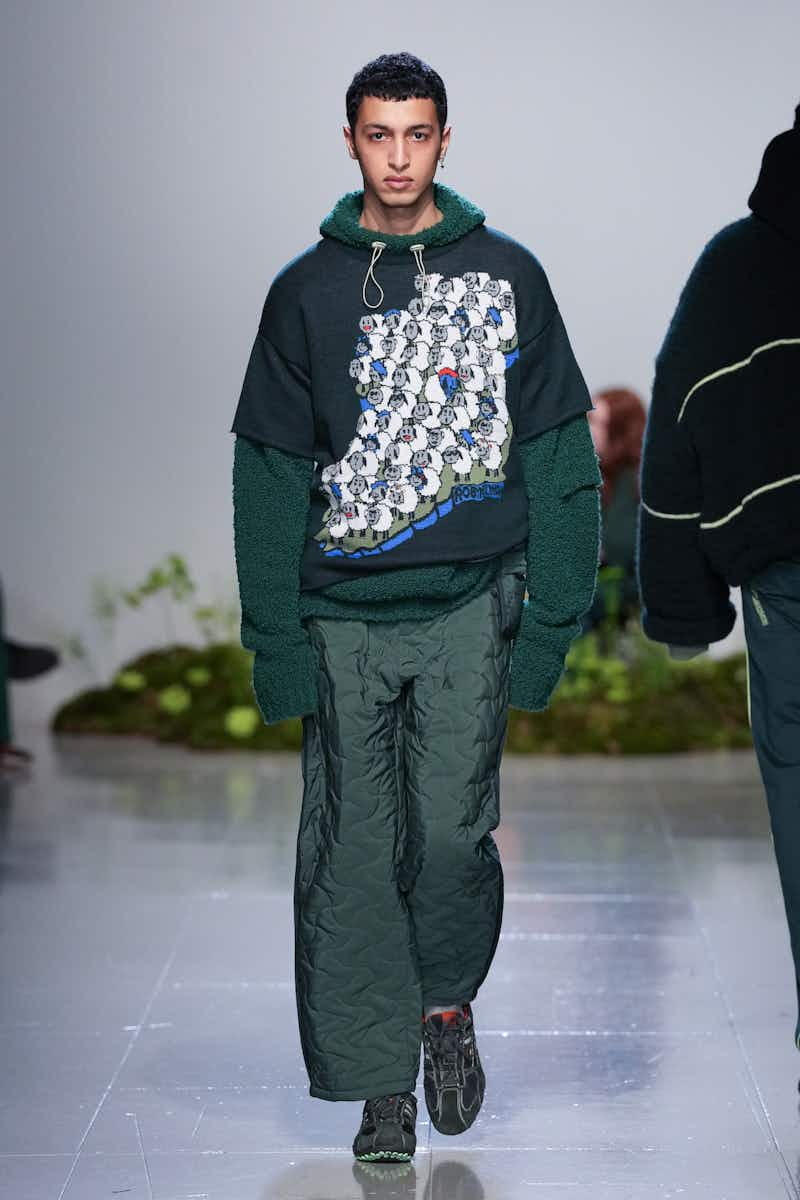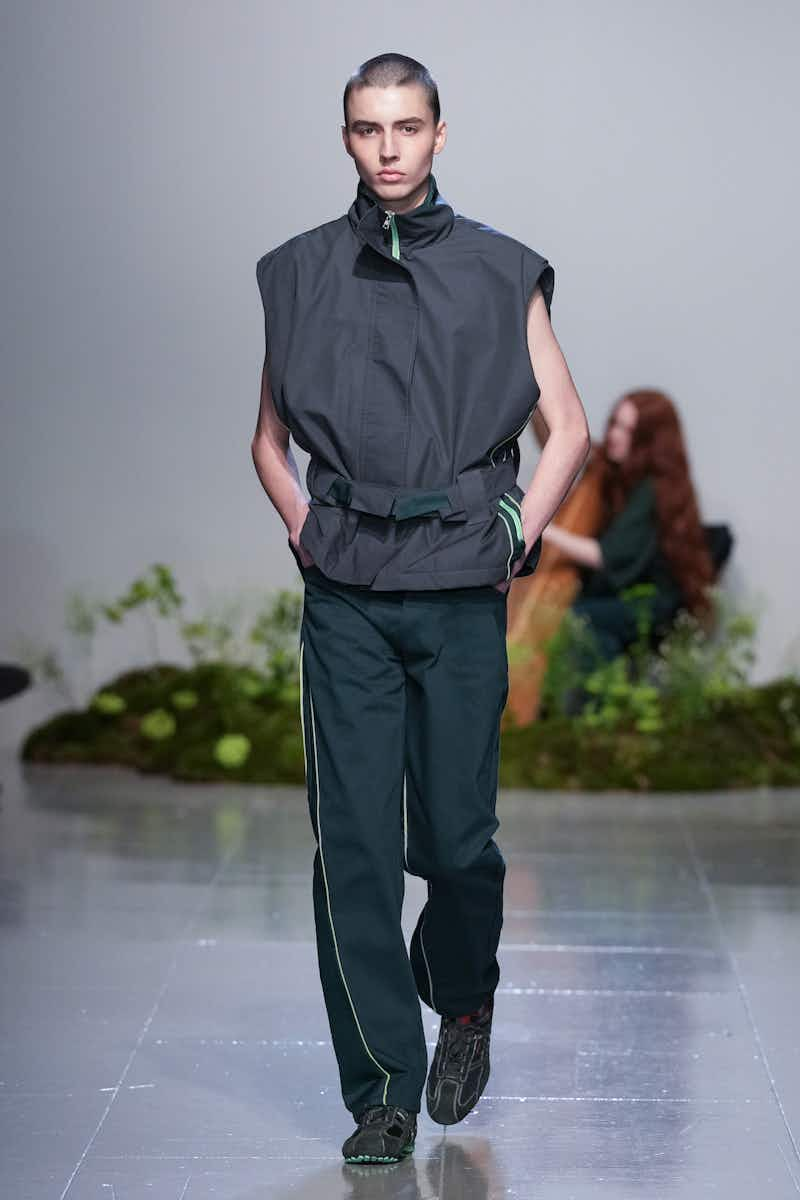 What?
The New Yorker's latest runway show, ​"Bioluminescence".

Where?
The Old Selfridges Hotel, which was cast with a bright blue light just before the show kicked off.

What were the clothes like?
This was Lo's darkest collection to date. While he's established a poppy tone in the past with colour palettes that mirror Tango Ice Blasts, this show felt quite sombre at times, with black hooded dresses, billowing silk trousers, pixelated graphics on knits and red-black ombre on mini dresses worn with strappy Y2K platforms. And for the first time there was leather, which tapped into Lo's new-found rage this season, used on a spray-painted jacket and skirt, and heavy-duty boots – his Lo's rage against the machine, if you will.
Any highlights?
The models' bright blue tongues that were stuck out at the audience, courtesy of make-up artist Isamaya Ffrench.

In a song?
Sneaker Pimps – Six Underground

In a word?
Grrr.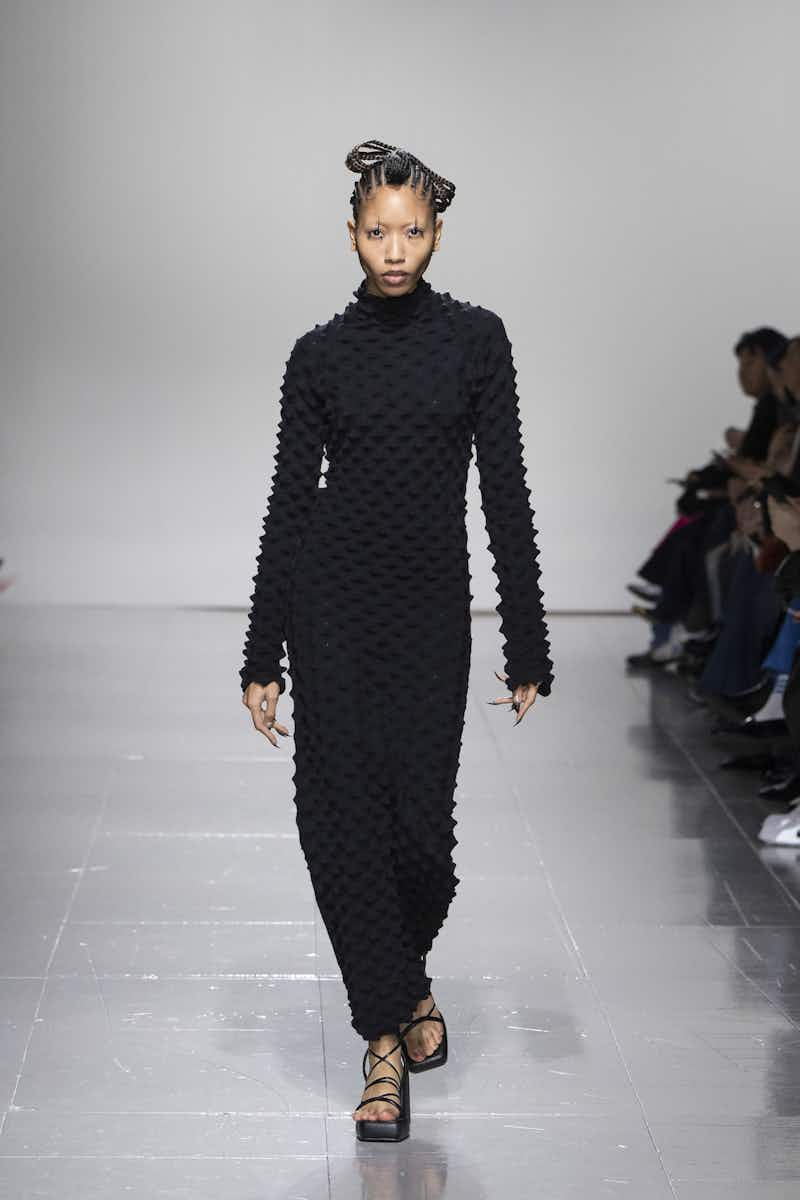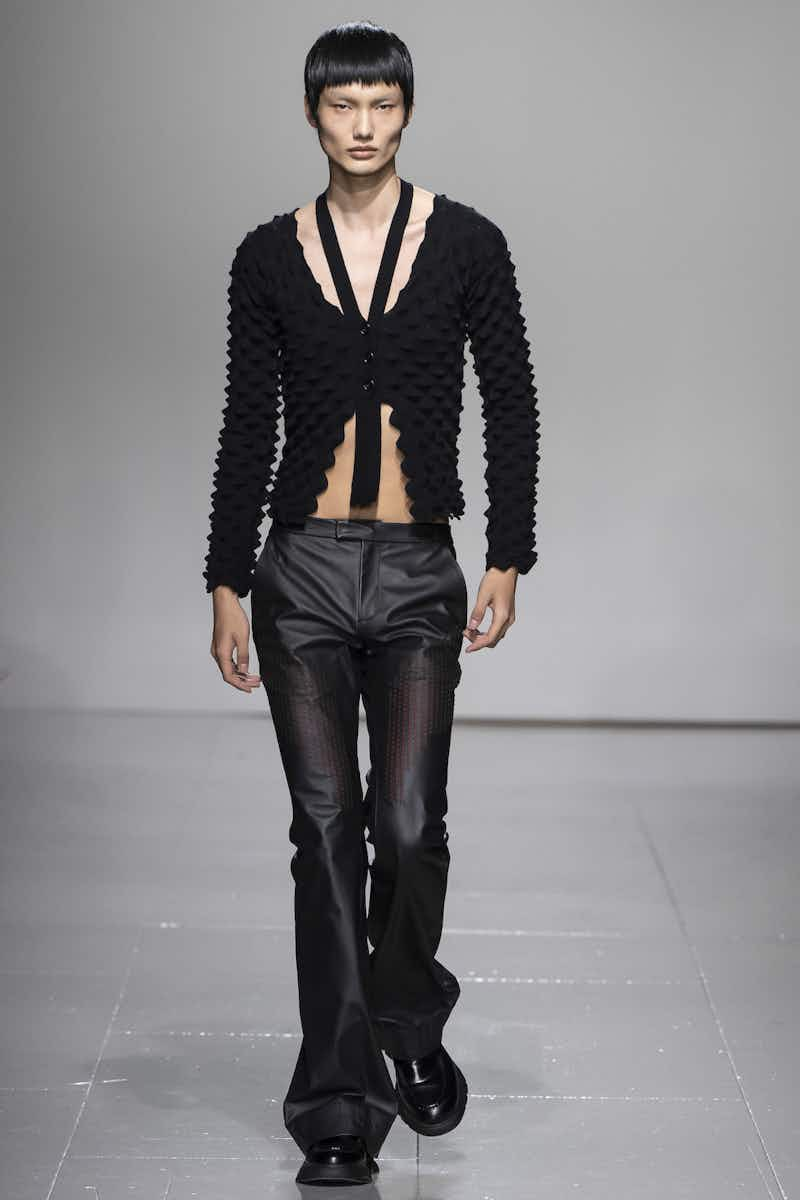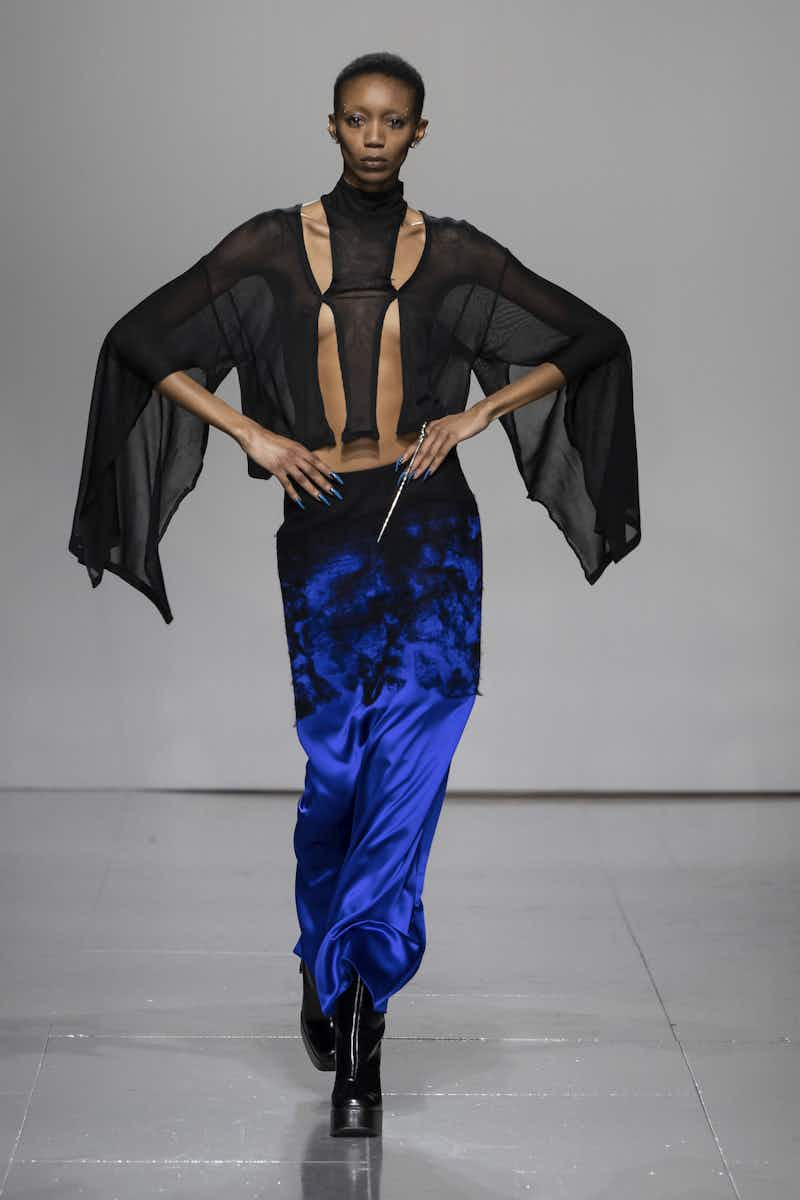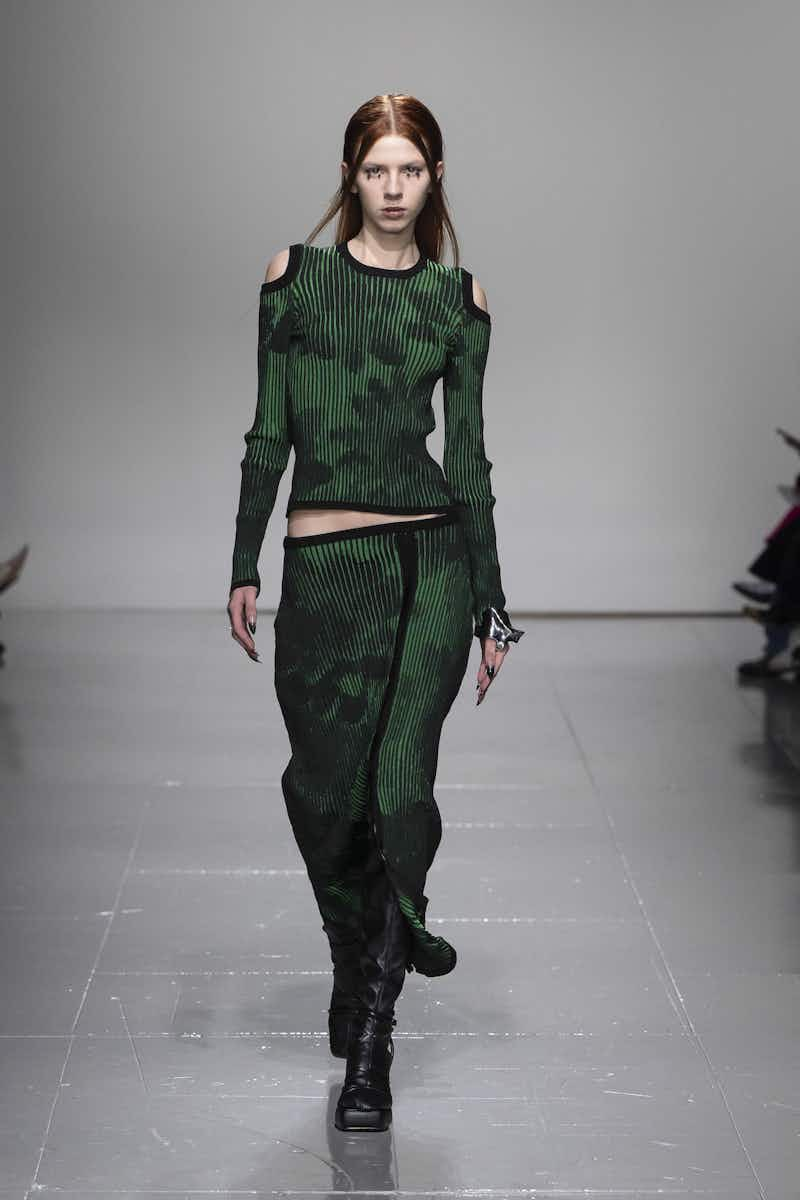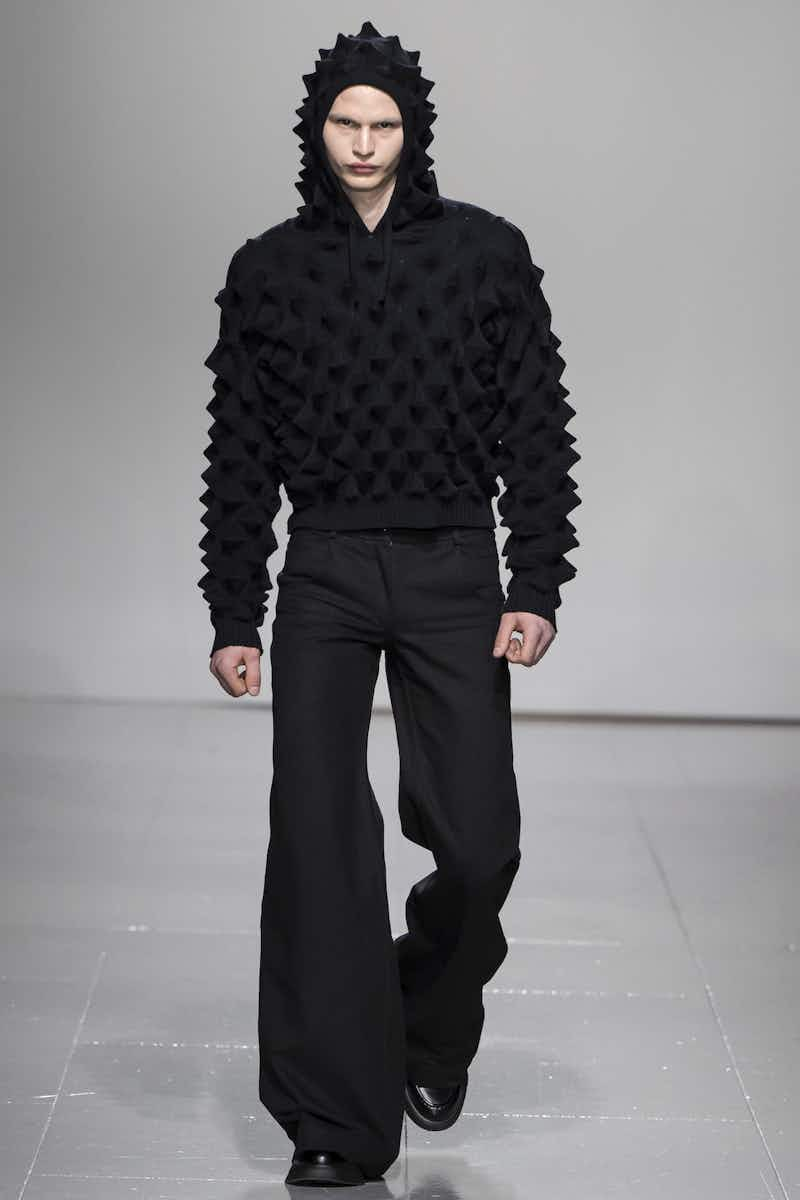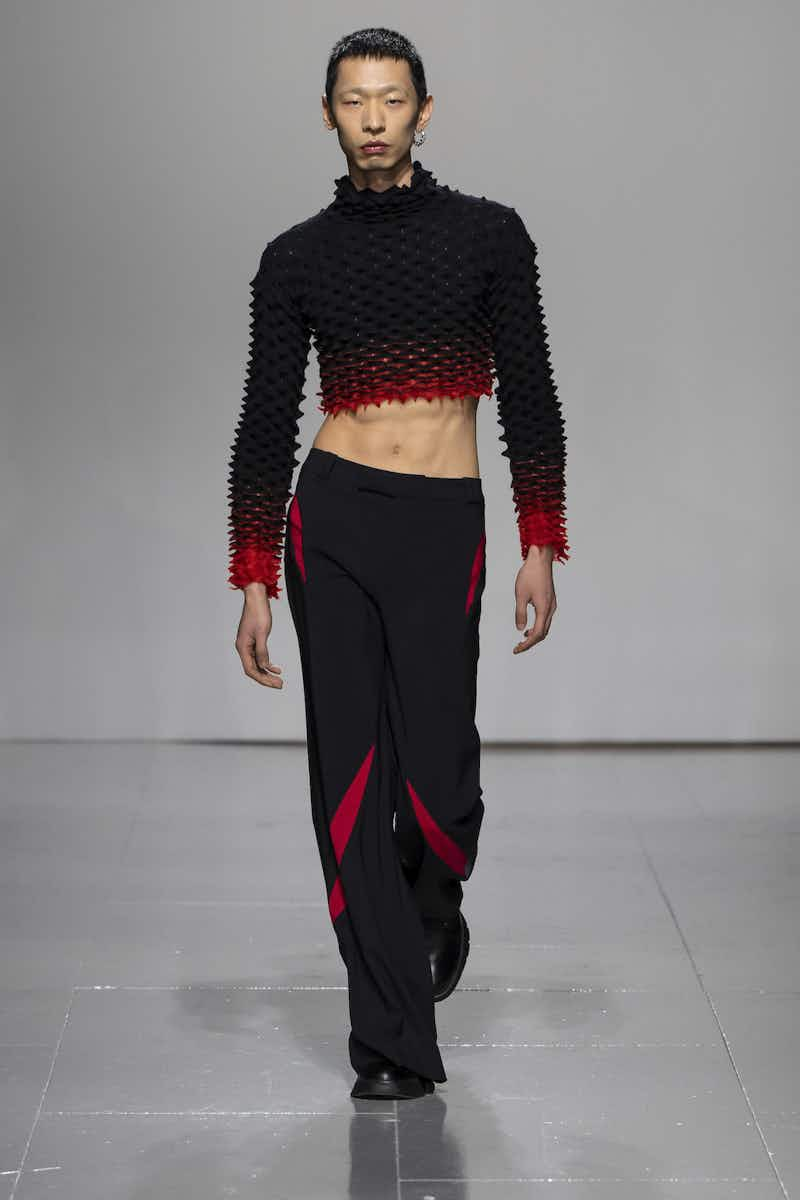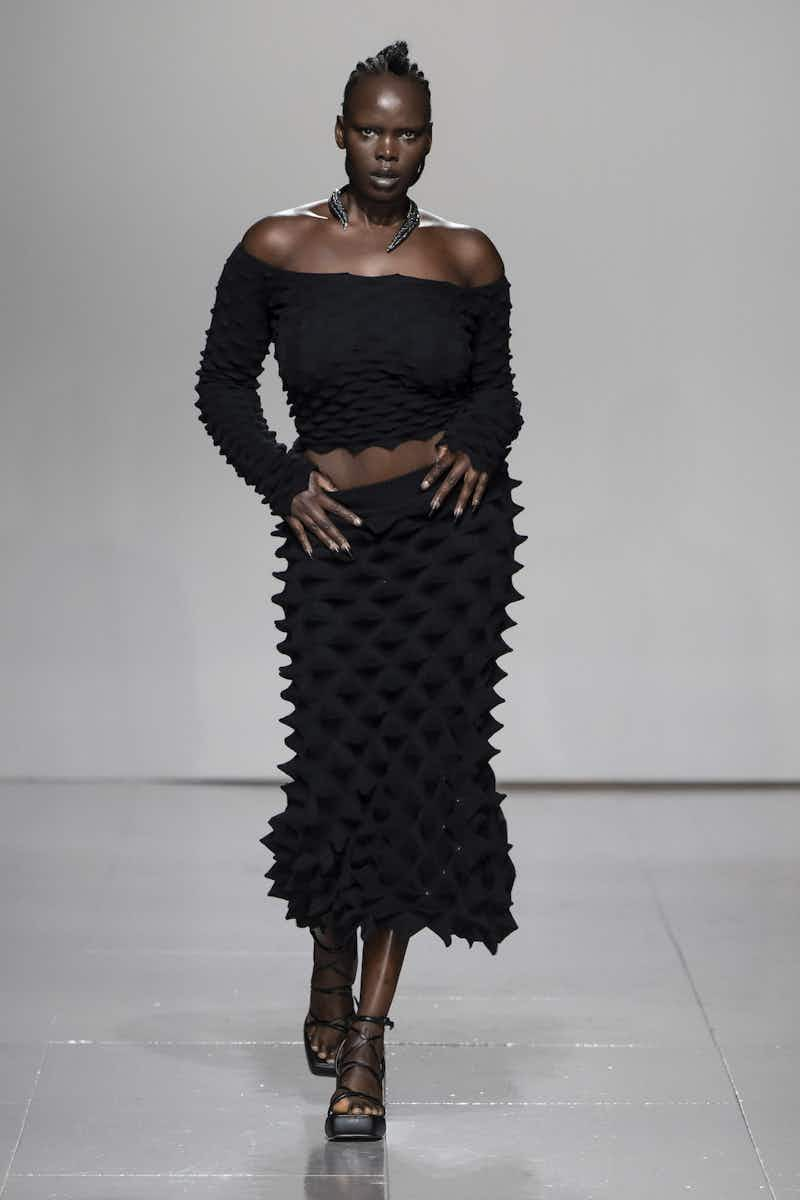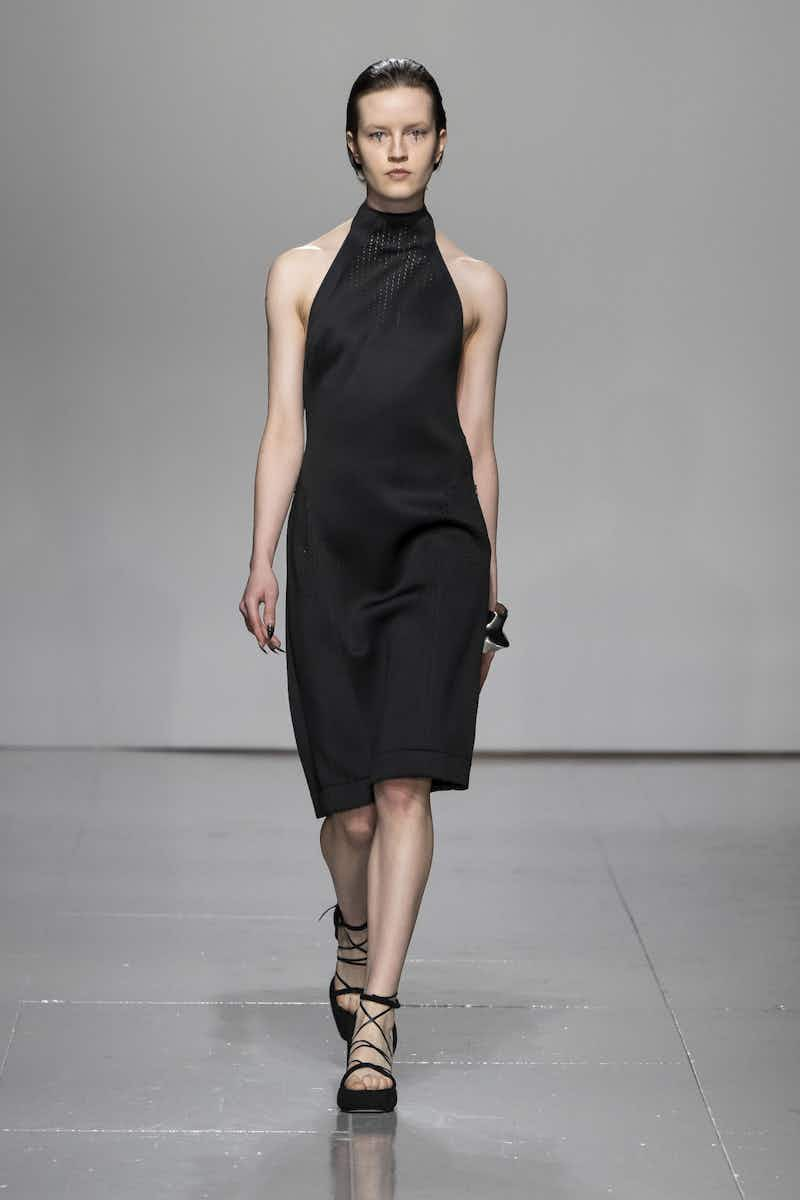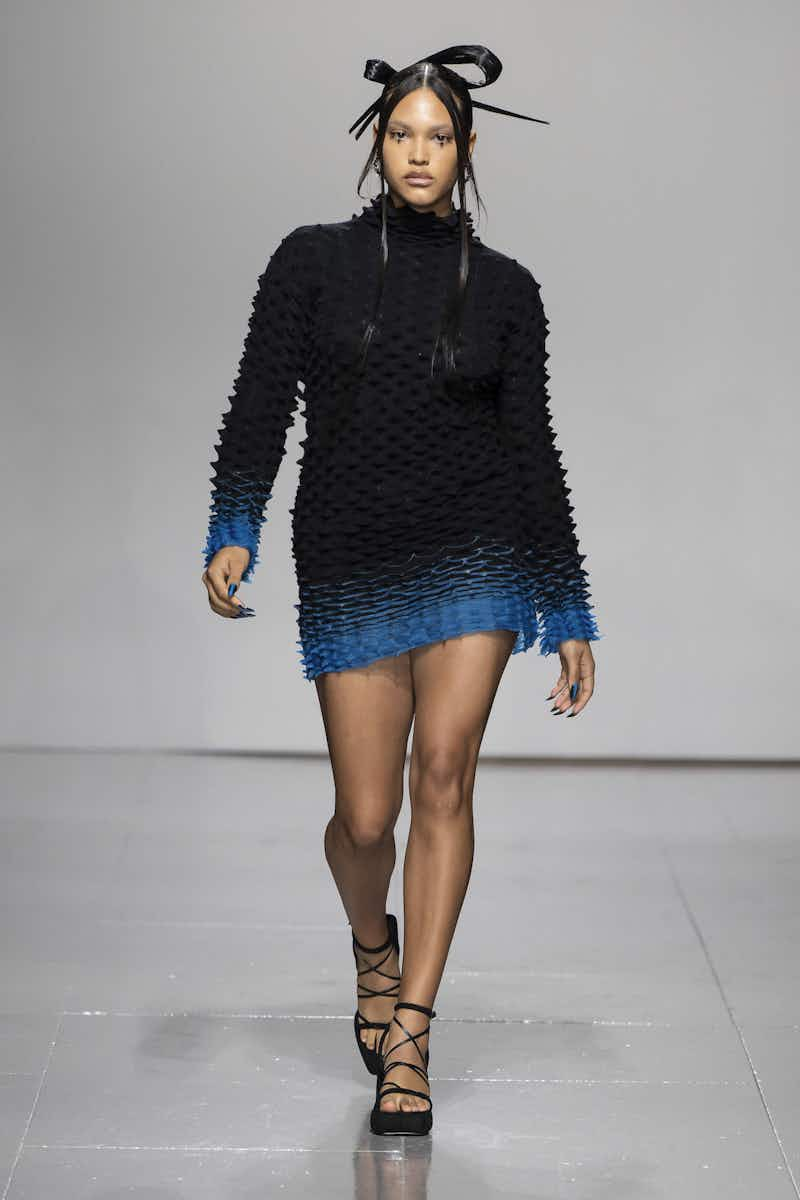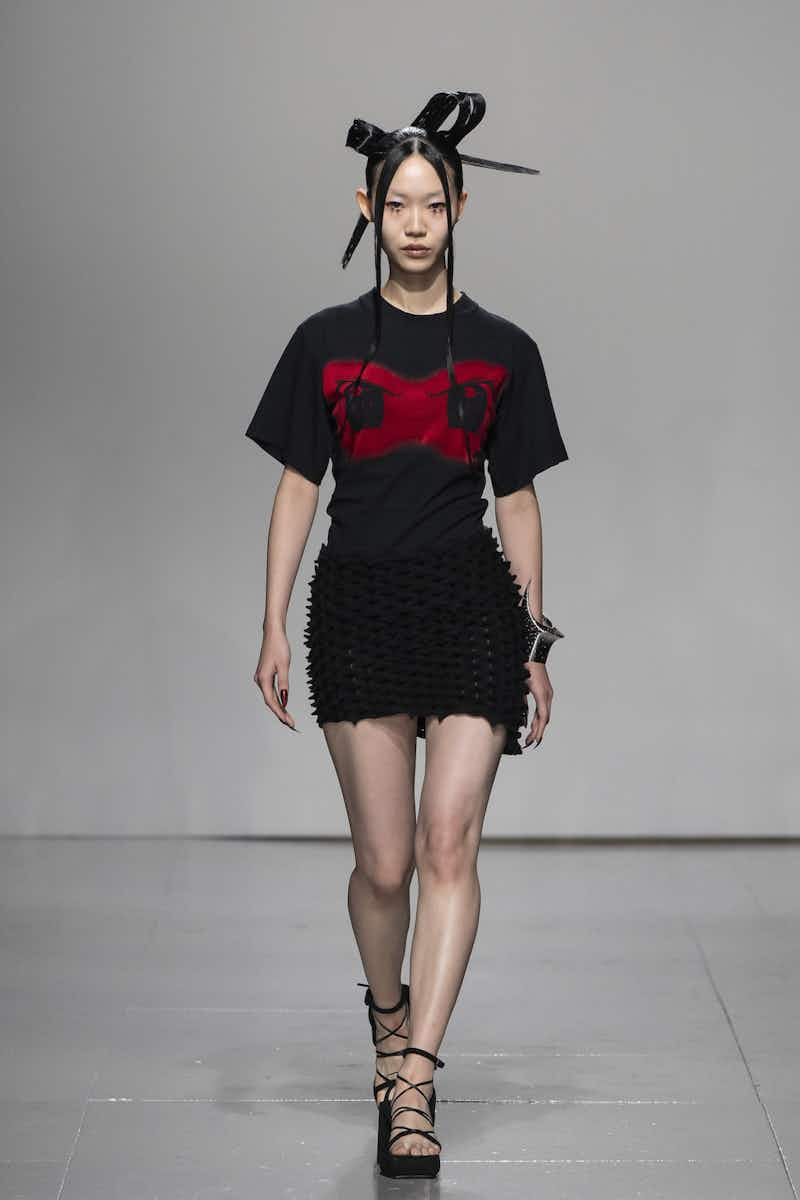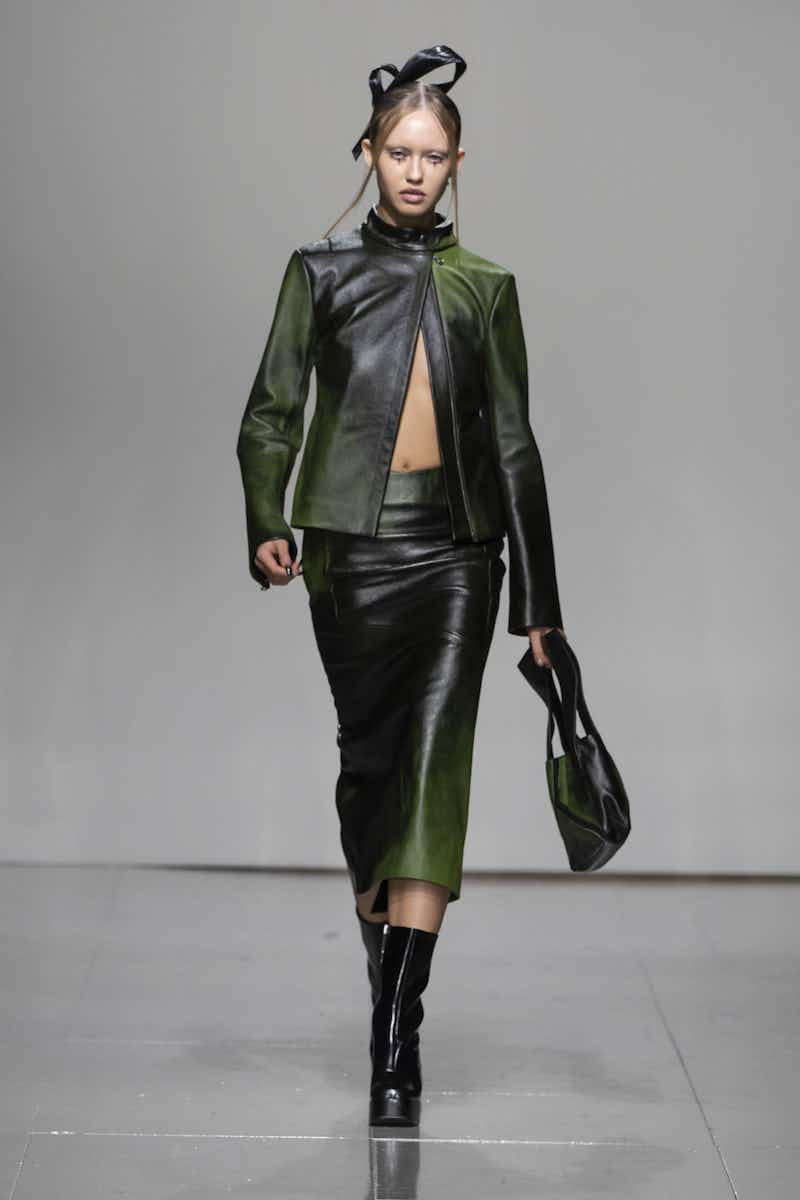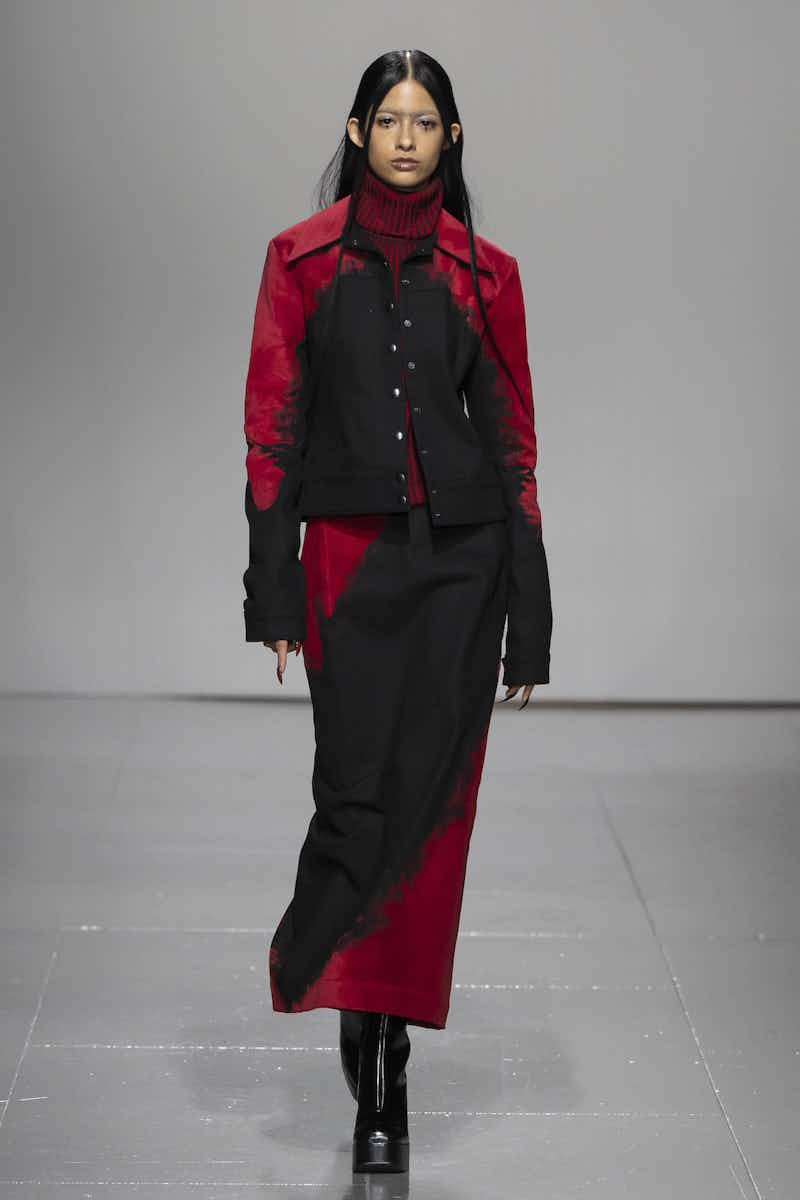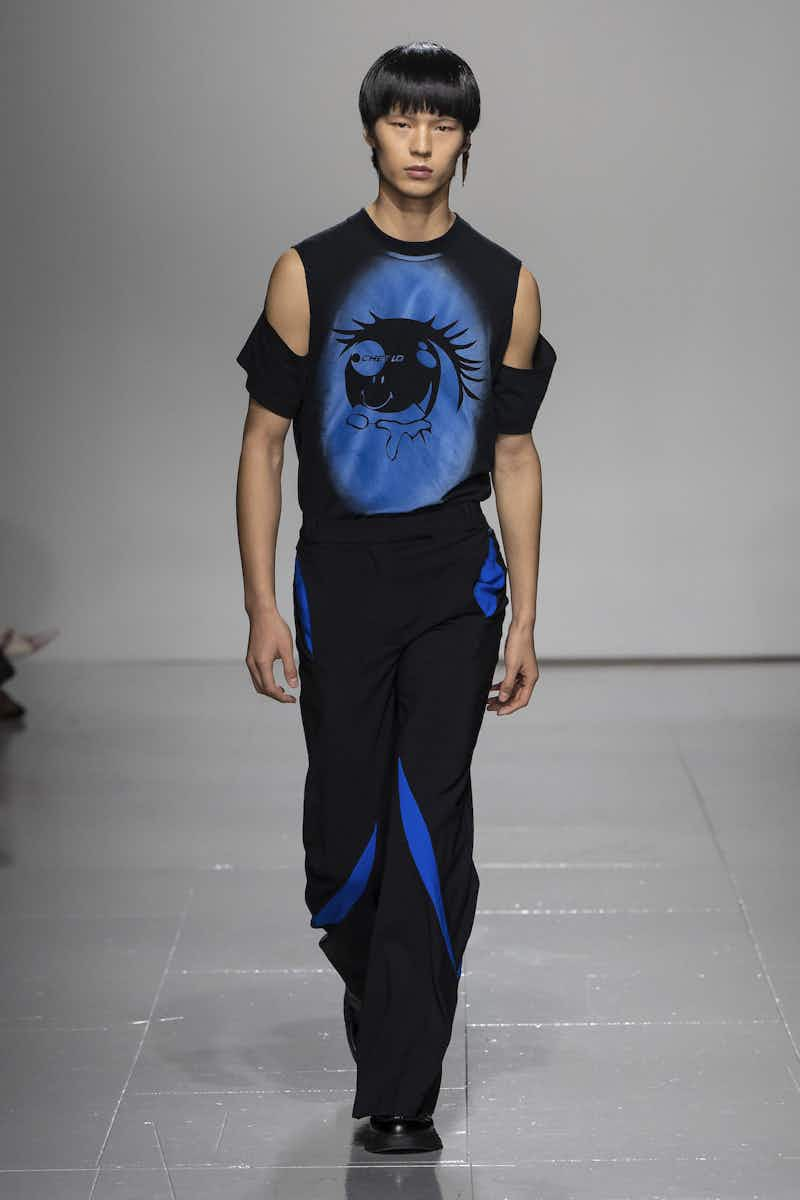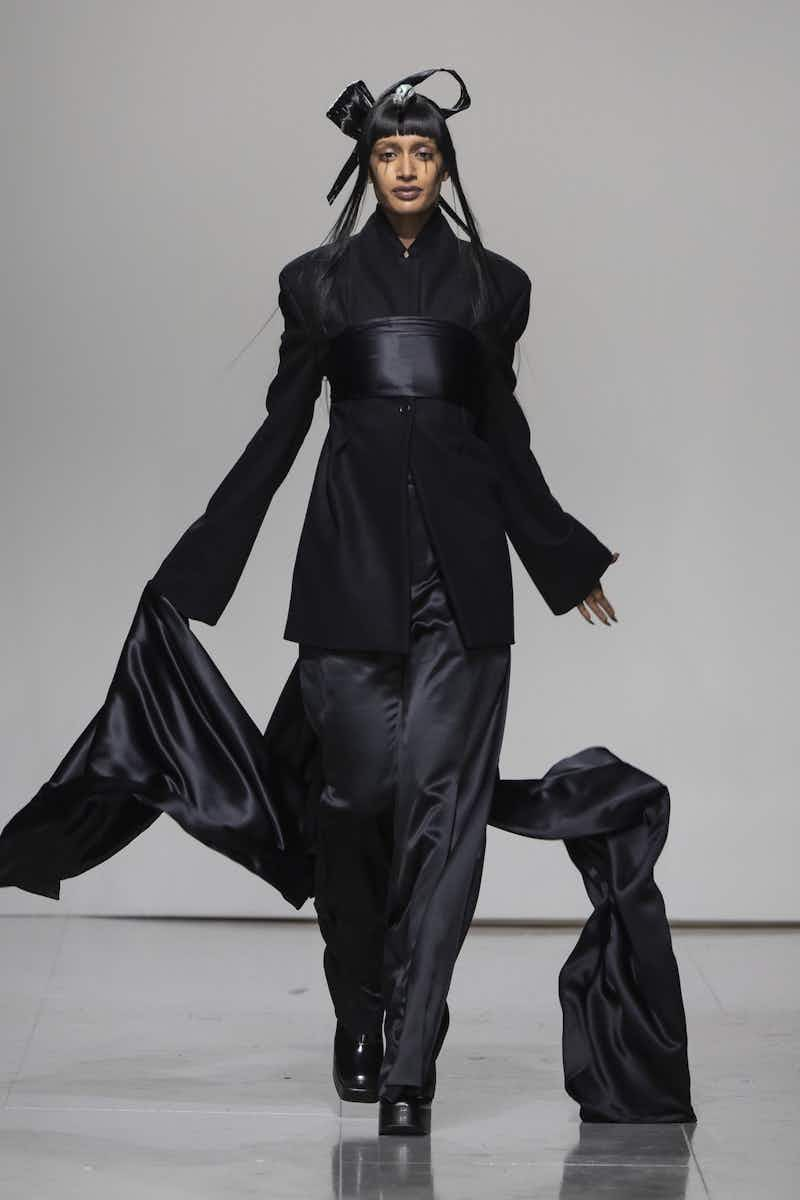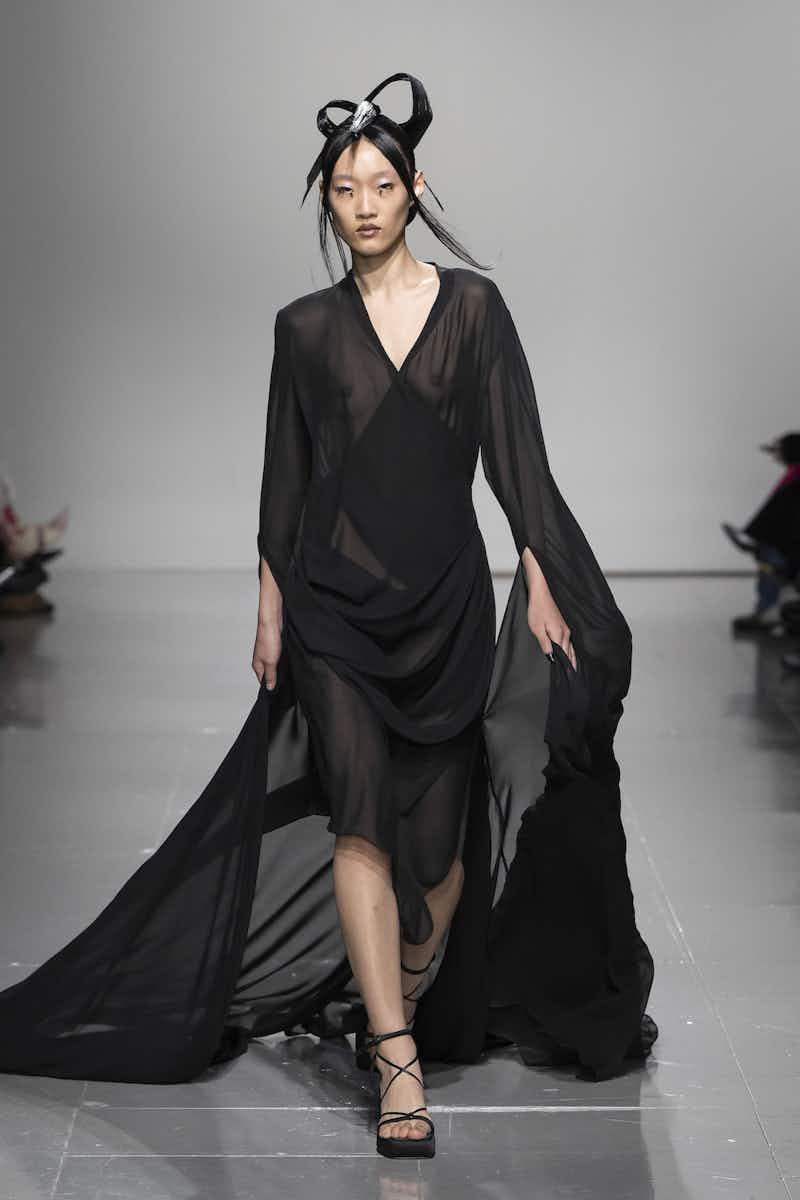 What?
Molly Goddard's AW23 collection which celebrated the joy in putting your glad rags on and dressing up.
Where?
Goddard showed the collection in her atelier in London's Cambridge Heath where the clothes are made each season. Inside the striped back space, guests sat tightly packed on wooden chairs which lined a narrow walkway which ensured we got up close and personal with the collection.
What were the clothes like?
They referenced the kind of clothes Molly and her sister, stylist Alice Goddard, owned as teens and the pieces they dreamed of wearing as adults whilst flicking through the pages of glossy fashion mags as kids.
The leopard print they'd worn on jeans appeared on a strapless prom dress and signature, voluminous tulle skirts; the designer slip dresses they'd cooed over appeared with Mollifications (tulle inserts and ruffles, here and there); the sporty knitwear they'd pillaged from Portobello Market inspired a series of cropped cardigans and zip-up jackets.
The key takeaway?
This collection wasn't about drama or fanfare pieces, it was a return to Molly Goddard's roots.
In a song:
Bikini Kill – Rebel Girl
In a word:
Preppy!

WORDS: Brooke McCord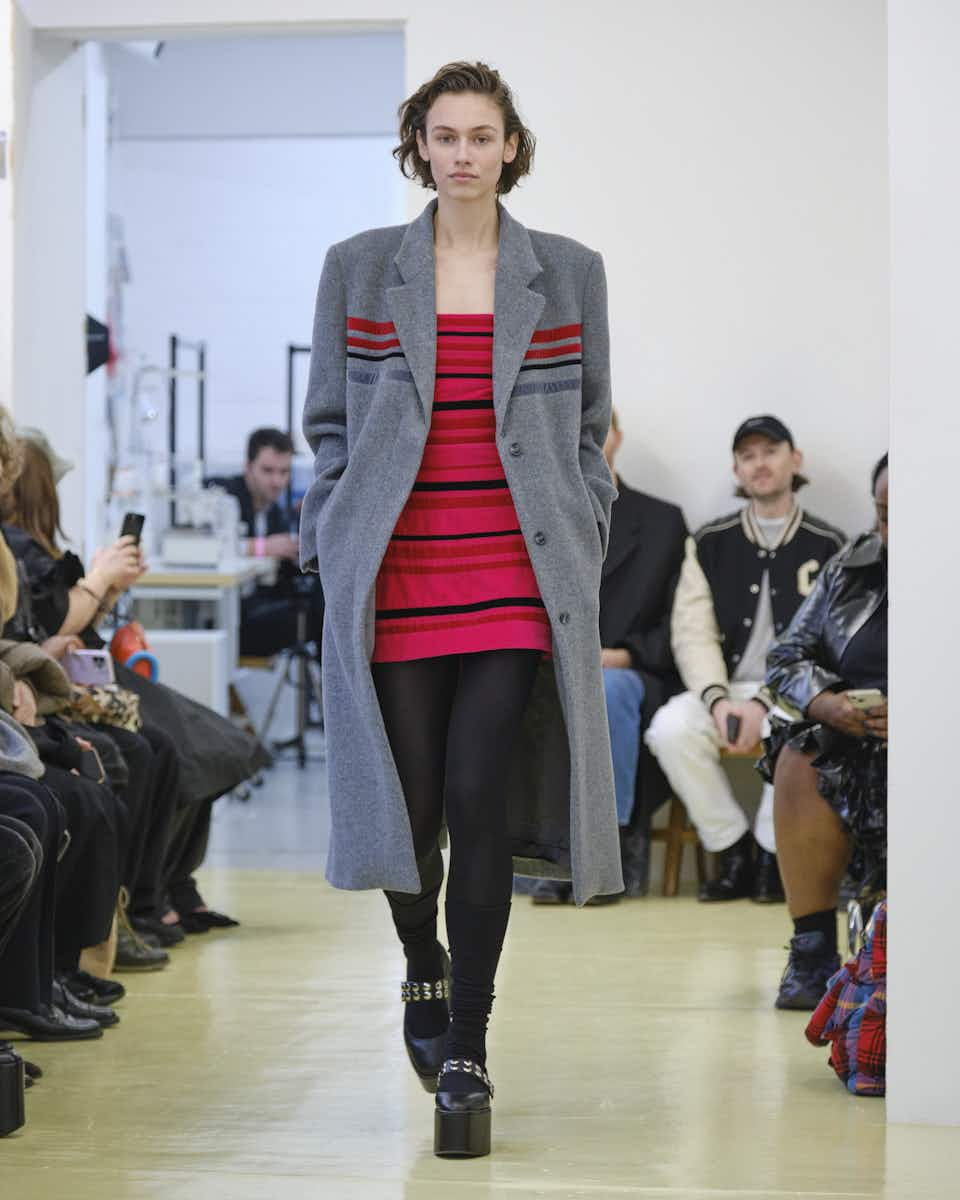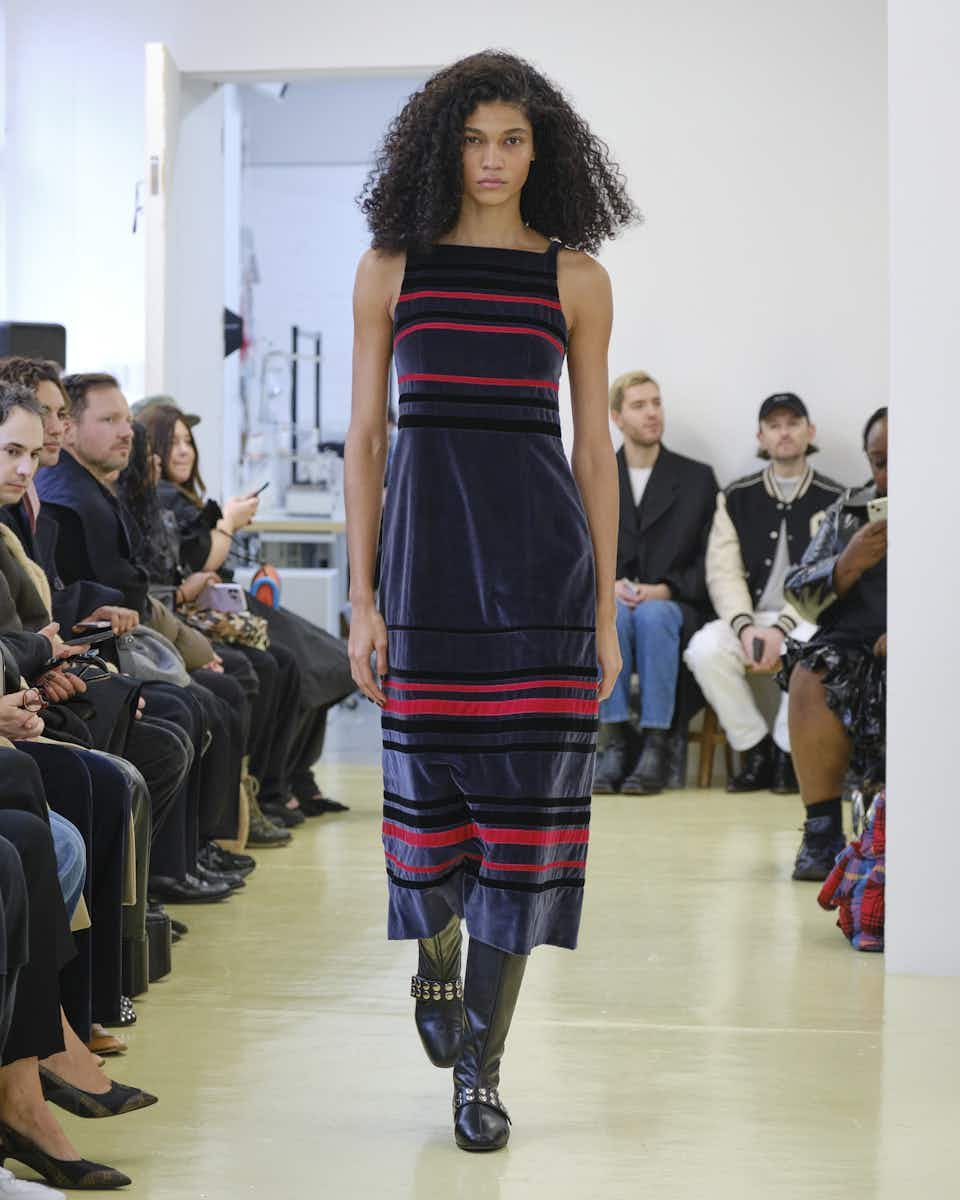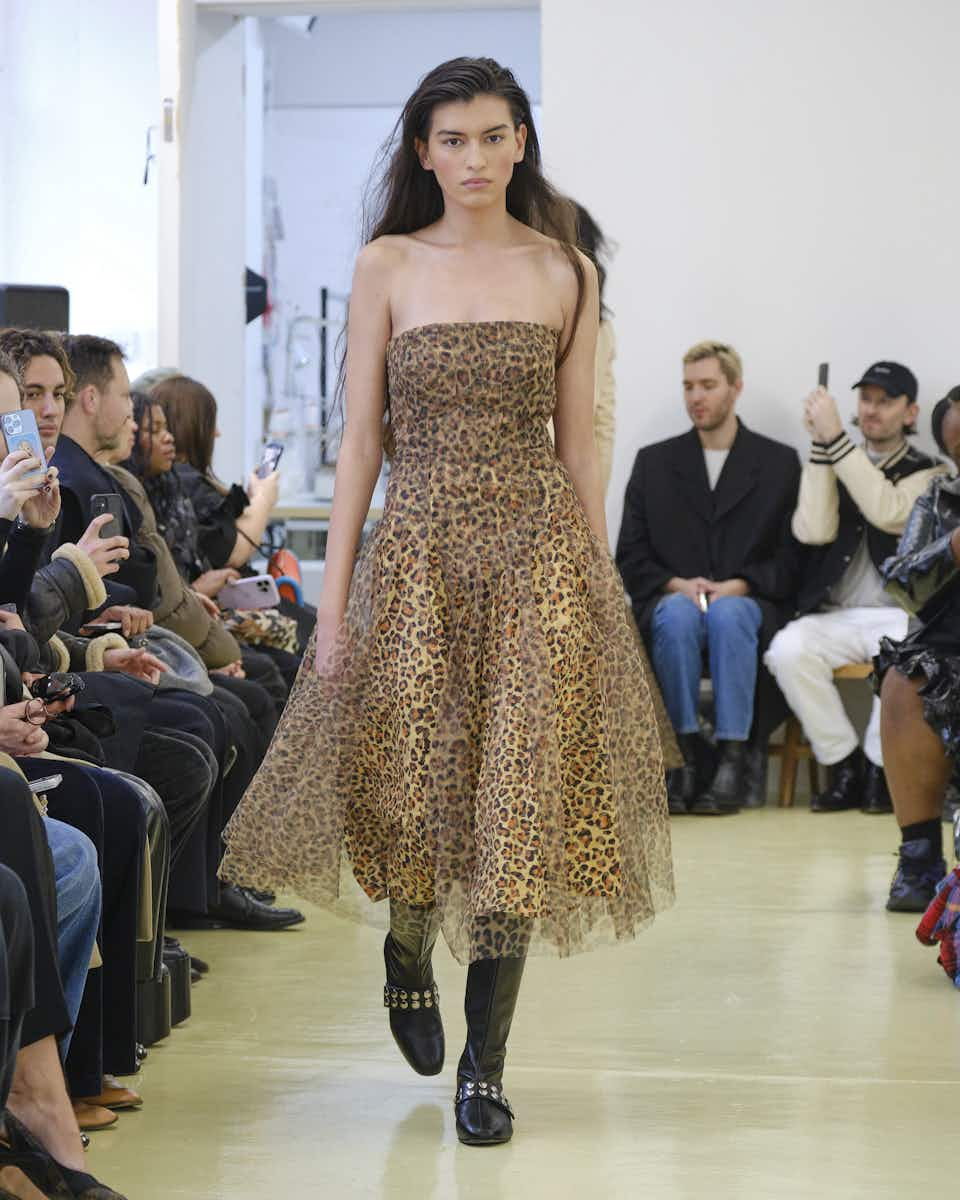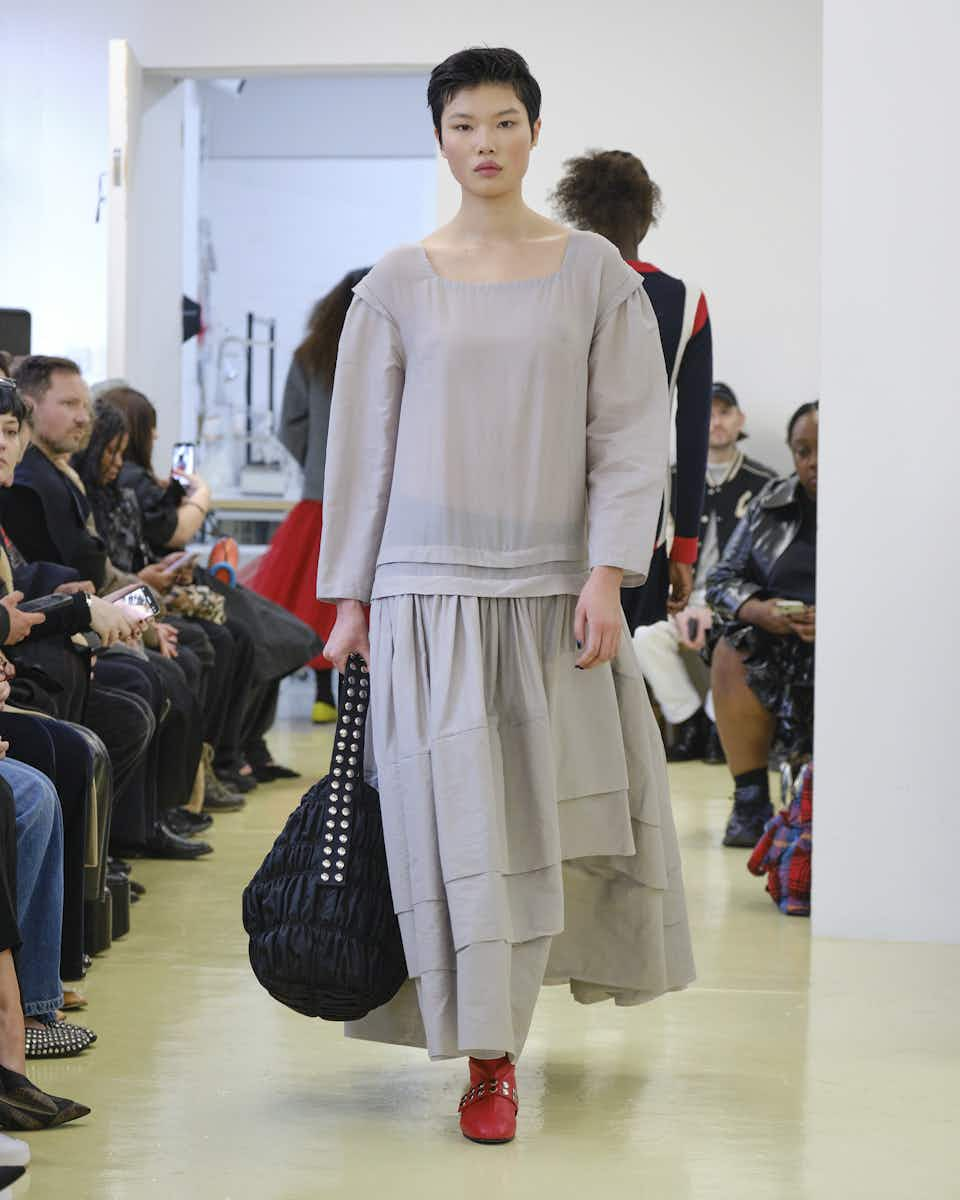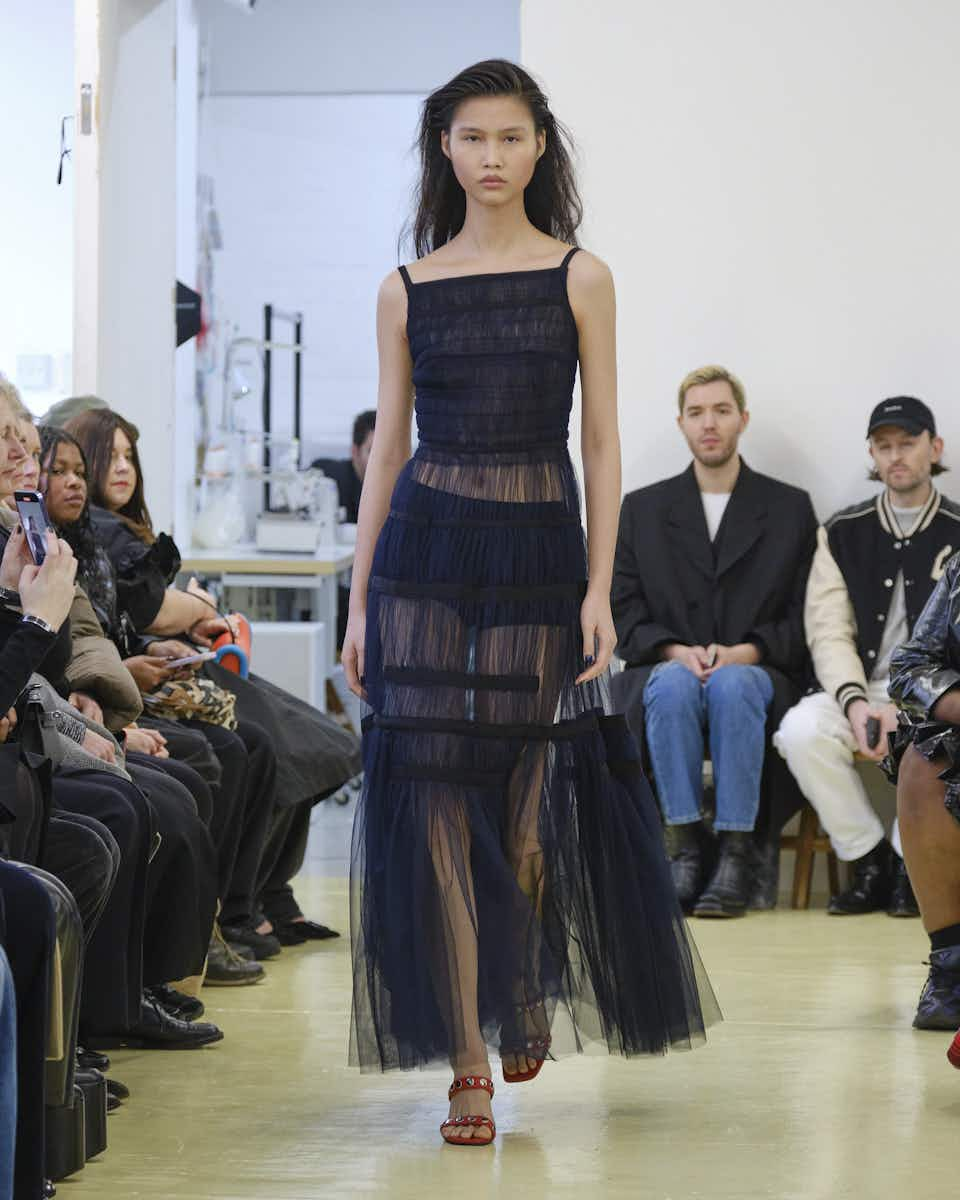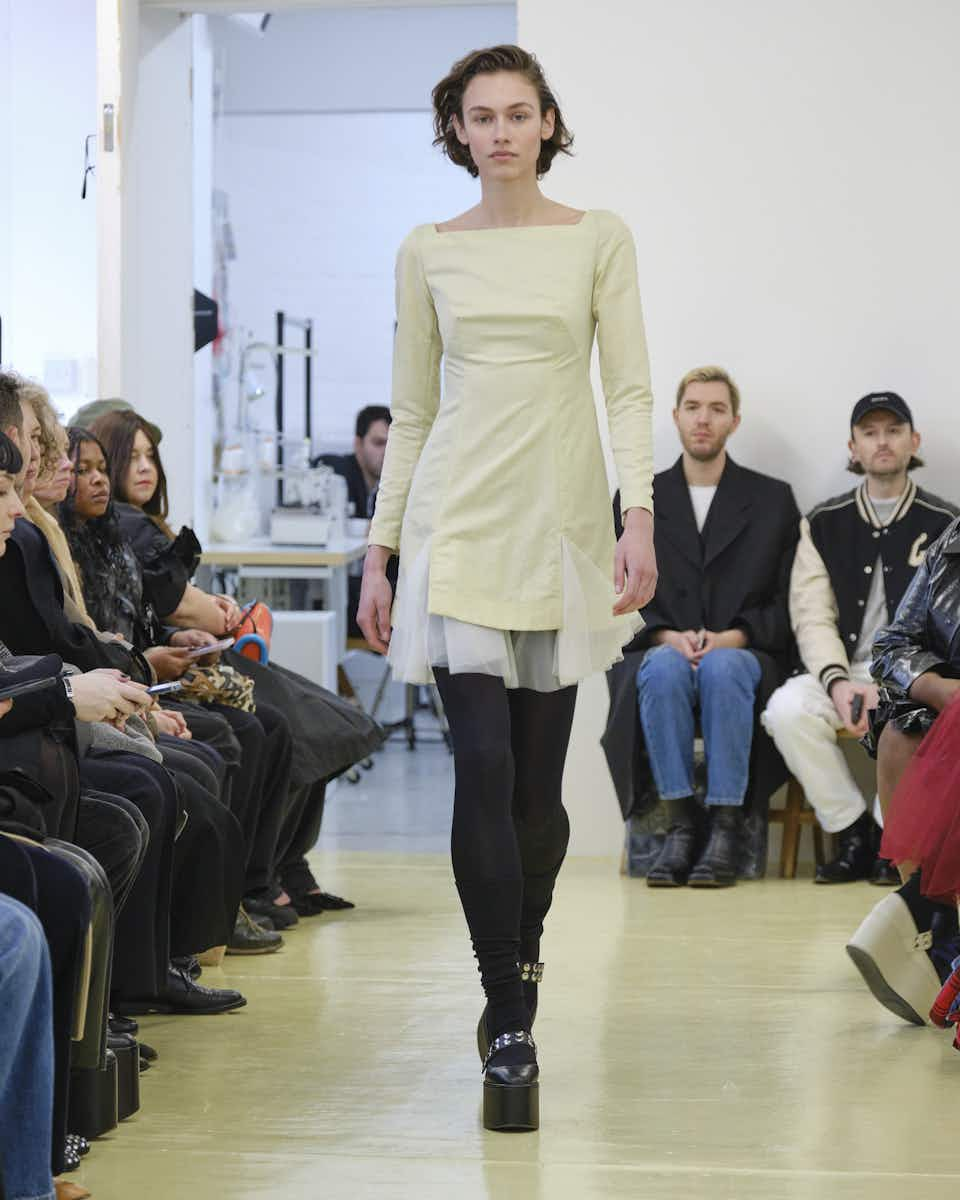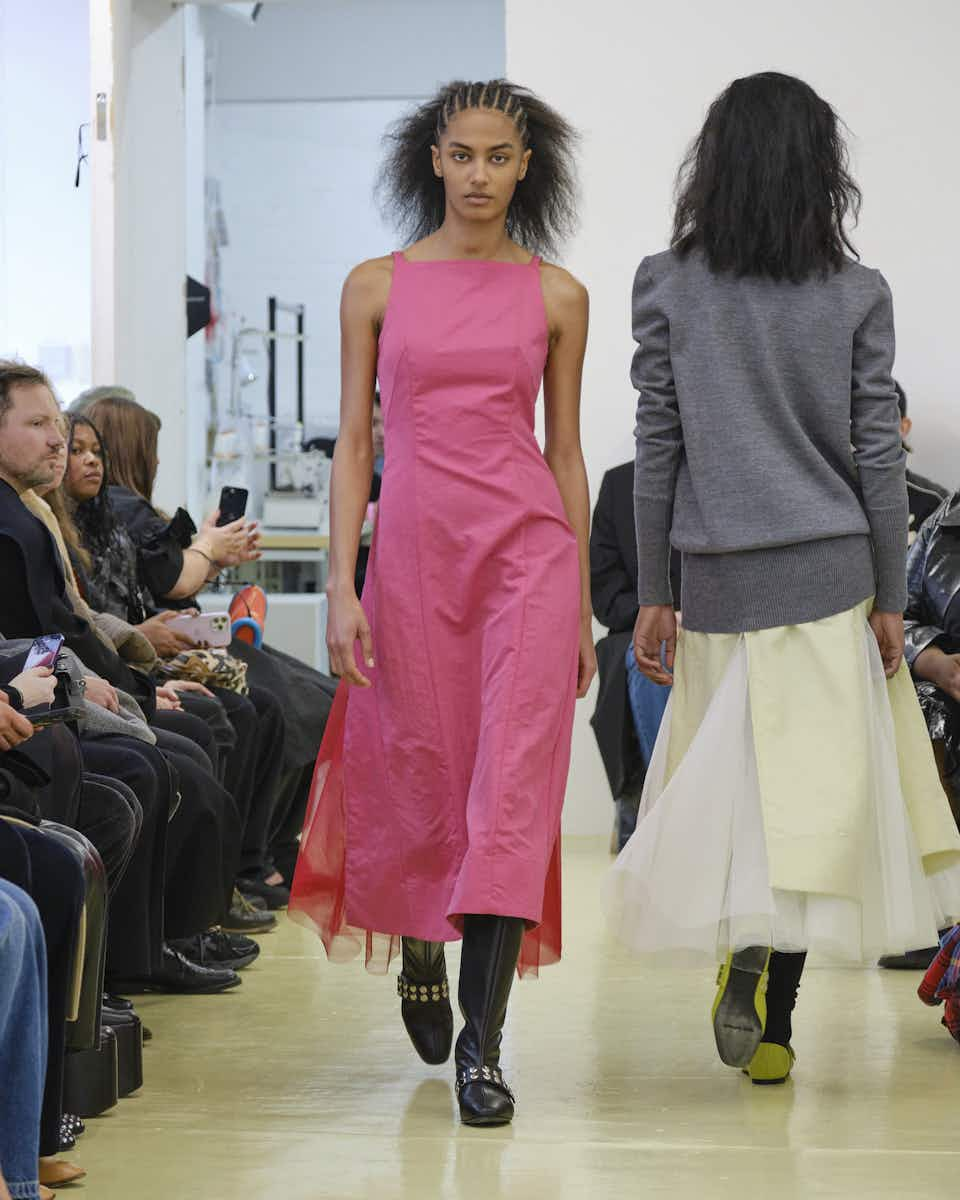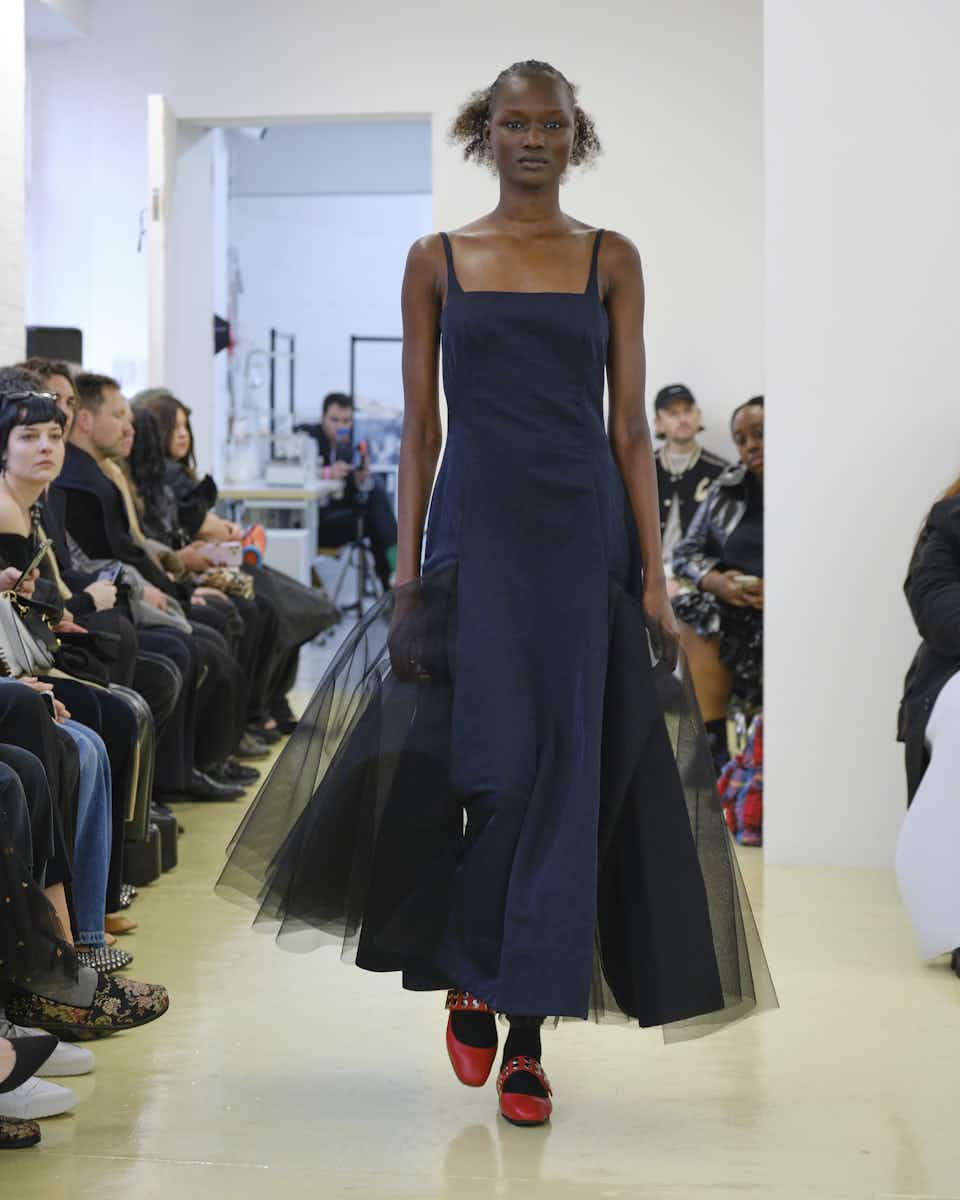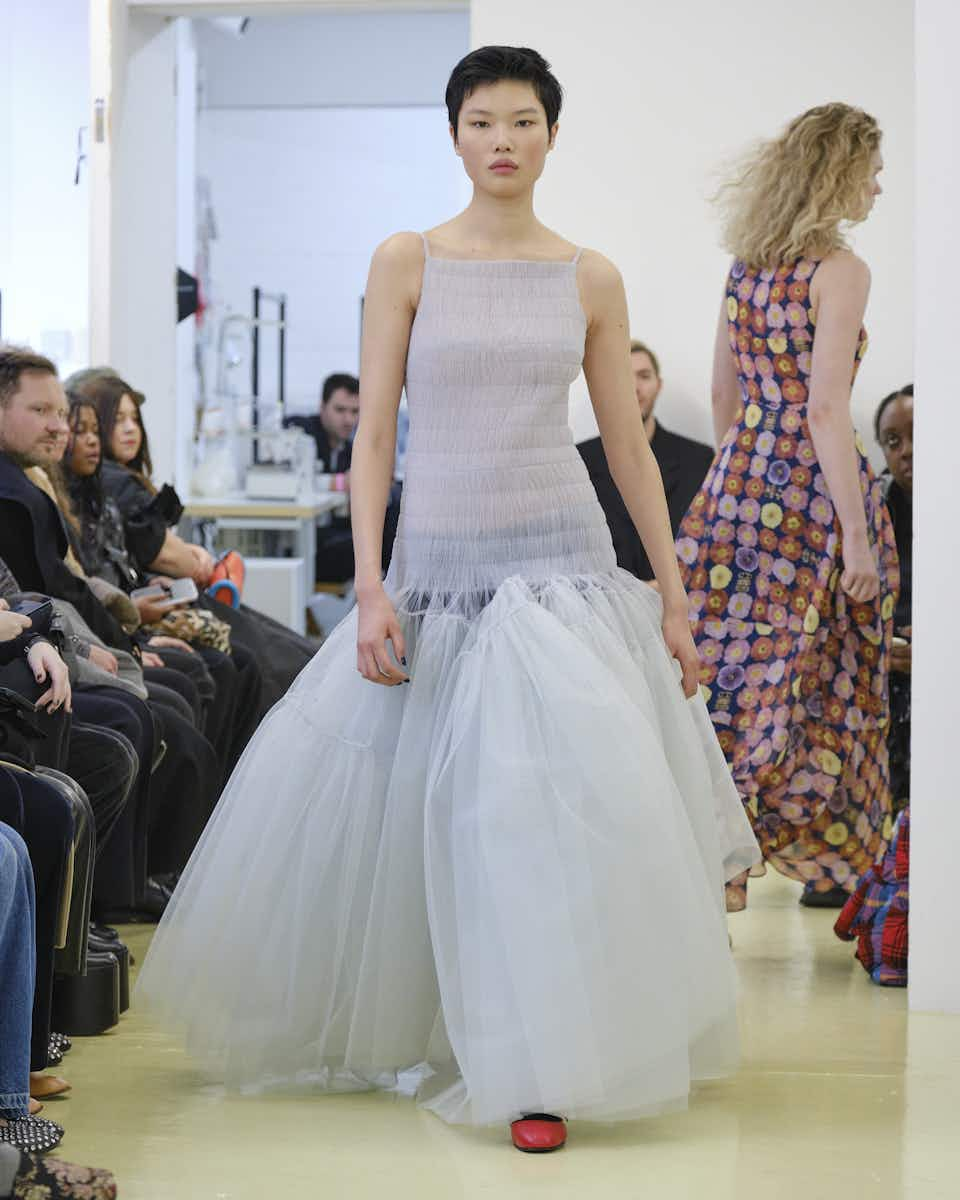 What?
Marco Capaldo's latest collection for the party girl's go-to brand.

Where?
Yeomanry House, AKA an army drill house in Bloomsbury where soldiers get into formation.

What were the clothes like?
There's no doubt that 16Arlington has acquired a reputation for going out-out. Its past designs suit the party girl – some stand-out pieces over the years have included frosty silver mini dresses, floor-length fur coats and shimmery Swarovski detailing on a pair of tight trousers. But this season, Capaldo eschewed the night in favour of an early morning. In fact, the floor of the venue was covered with recycled ground coffee.

"The title of the collection, Wake, has multiple meanings," says Capaldo, referring to the tragic loss of his partner and co-designer, Kikka Cavenati, in 2021, and the mourning period that followed. ​"In life, there are periods of darkness. But in those periods you also find beauty and a lot of reflection. It forced me to focus on myself and really analyse my position now as a solo creative at the helm of a womenswear brand."

Capaldo took a dusk till dawn approach to his collection. The initial pieces were ethereal, with delicately embroidered sheer wispy gowns, oversized knitwear that hung loosely from the chest and silver sequins that, like a midnight moon, shimmered under the light.

"16Arlington has kind of cemented itself as an after dark brand," says Capaldo. ​"I think there's a lot to be said about that, but I've wanted to really expand the universe."

This season, Capaldo achieved that with the brand's first menswear pieces: delicate knitted jumpers and trousers, fitted suits and, of course, some sparkles. As the rest of the collection progressed, pieces went from heavily embroidered dresses and sharp evening coats in black, to dark brown mock-croc skirts and sequin dresses to, finally, the light at the end of the tunnel: blue-grey leather and feminine, dusky pink on a feathery dress.

"After 10 years of being together and working together, [Kikka's] voice is so present," Capaldo says. ​"This is about approaching womenswear as a man with as much female context, surrounding myself with what I learned from Kikka and all the incredible women that surround the brand."

In a song?
Kate Bush – Wake Up

In a word?
Mystical.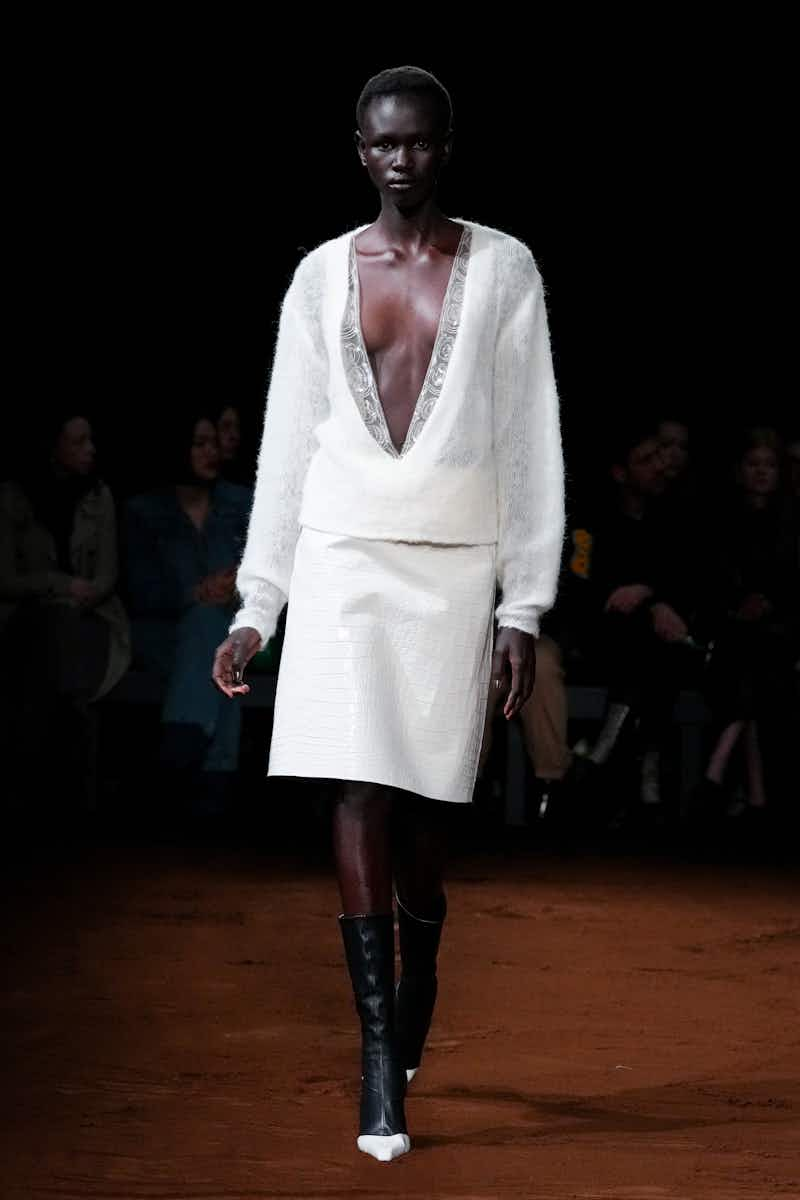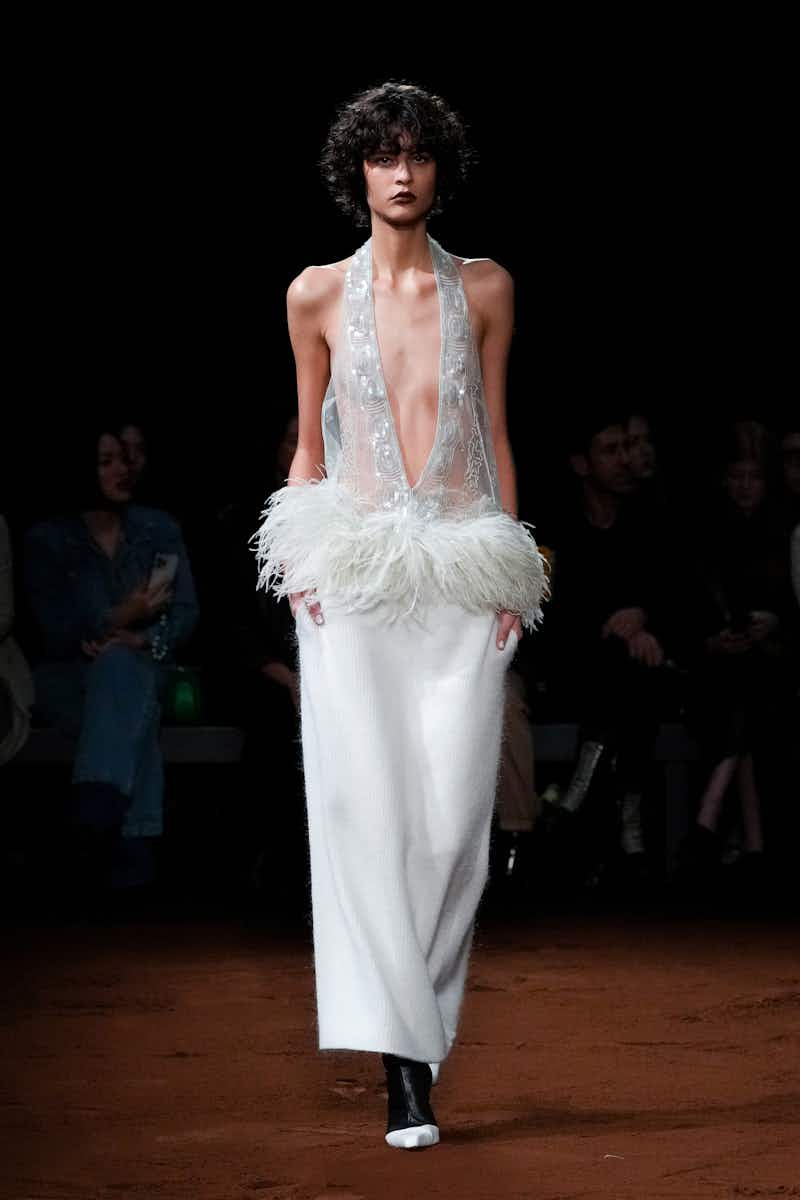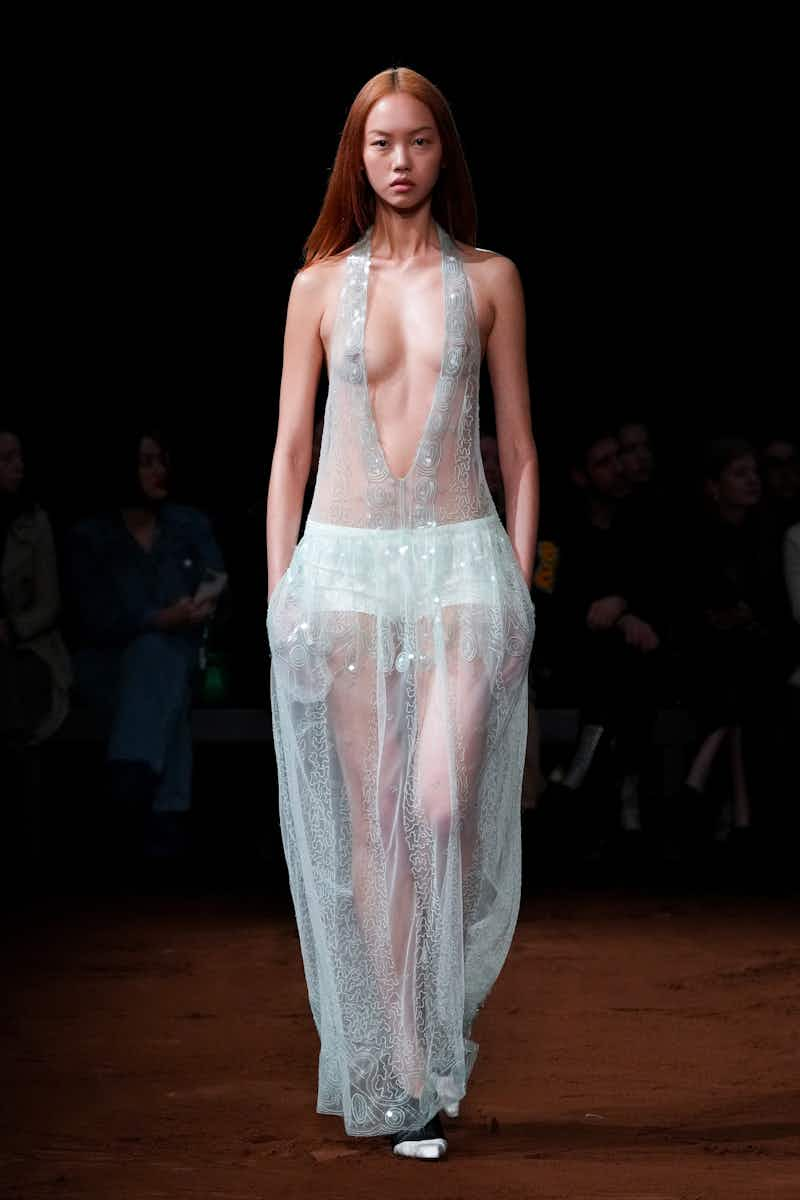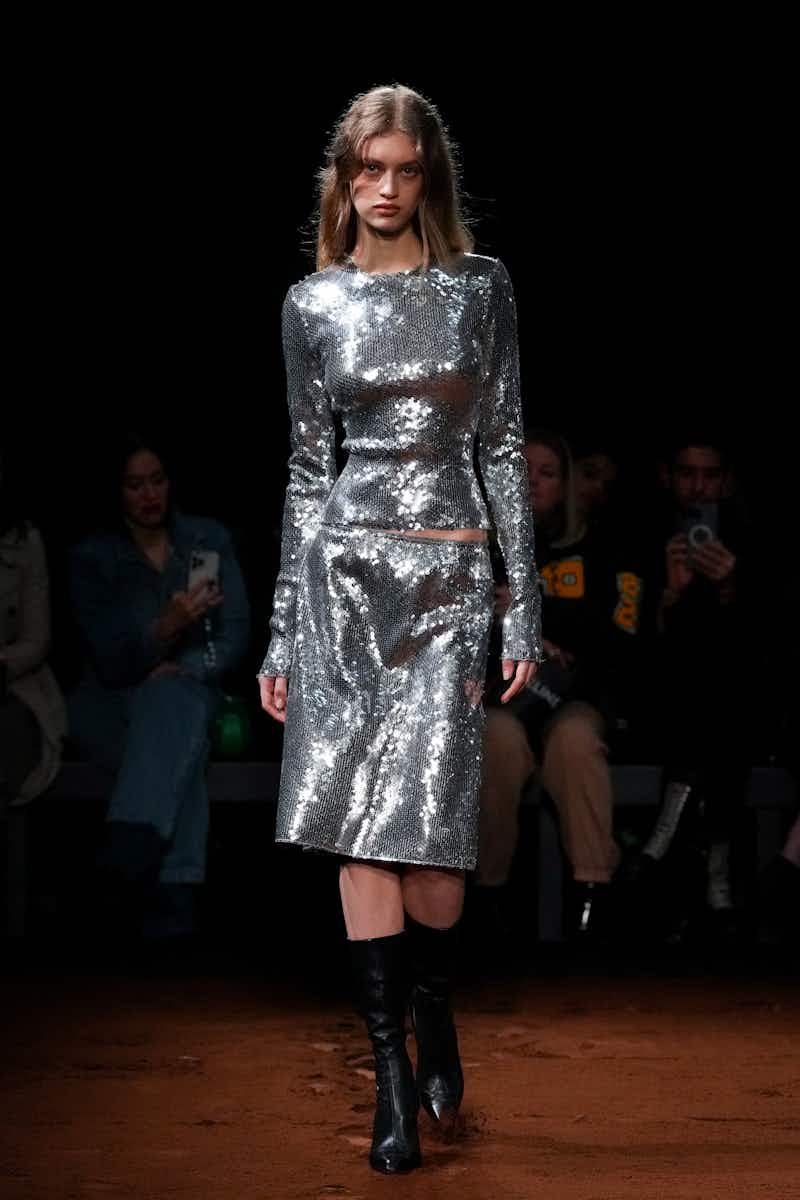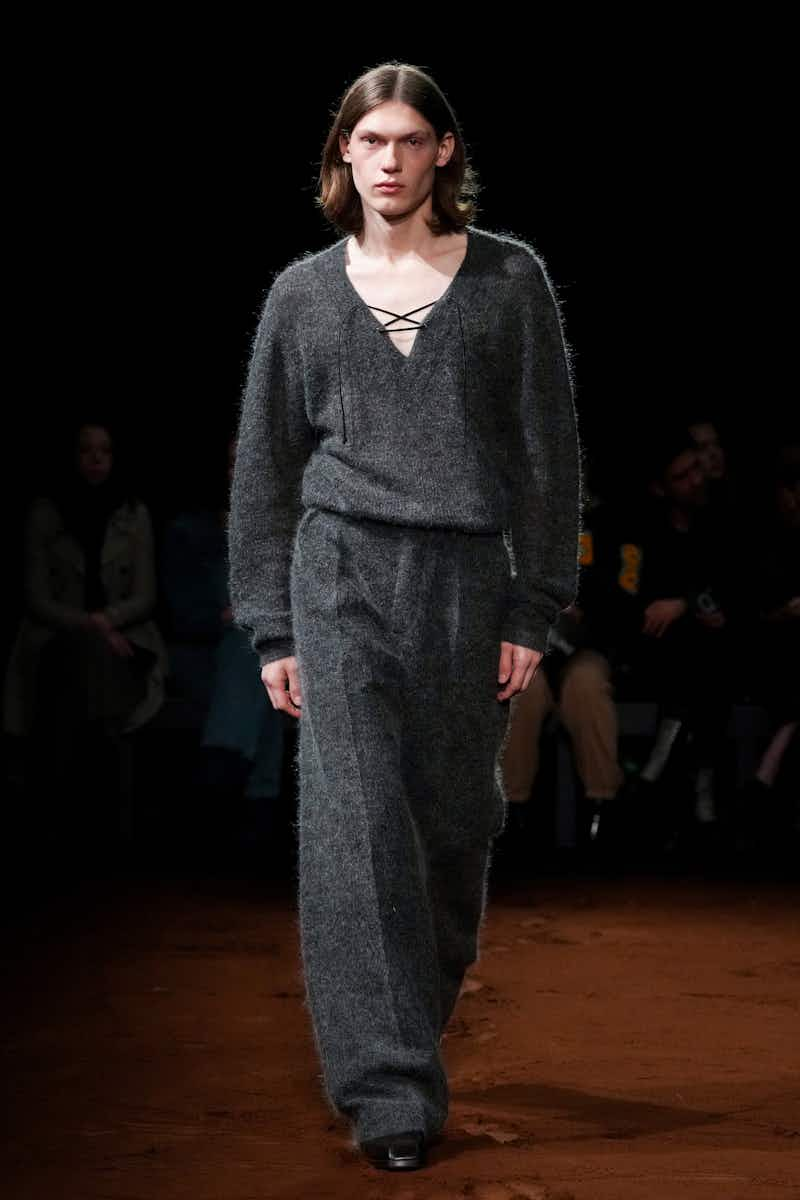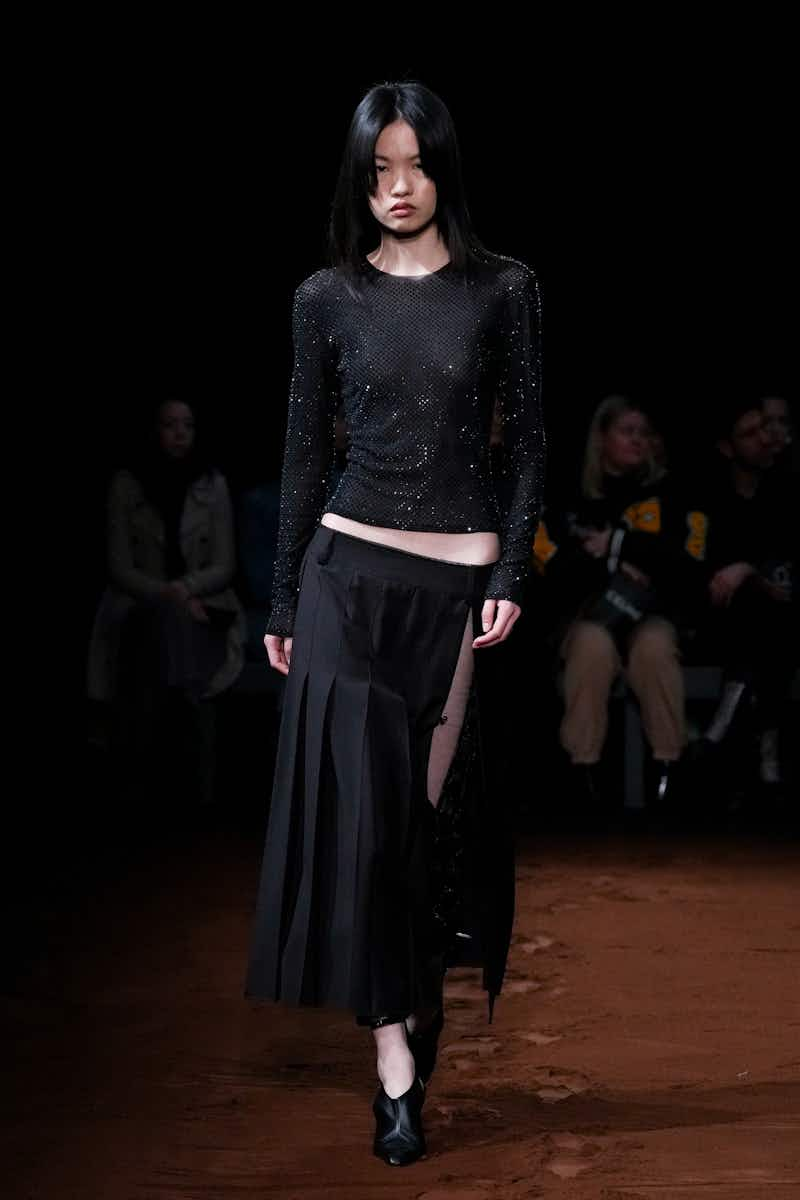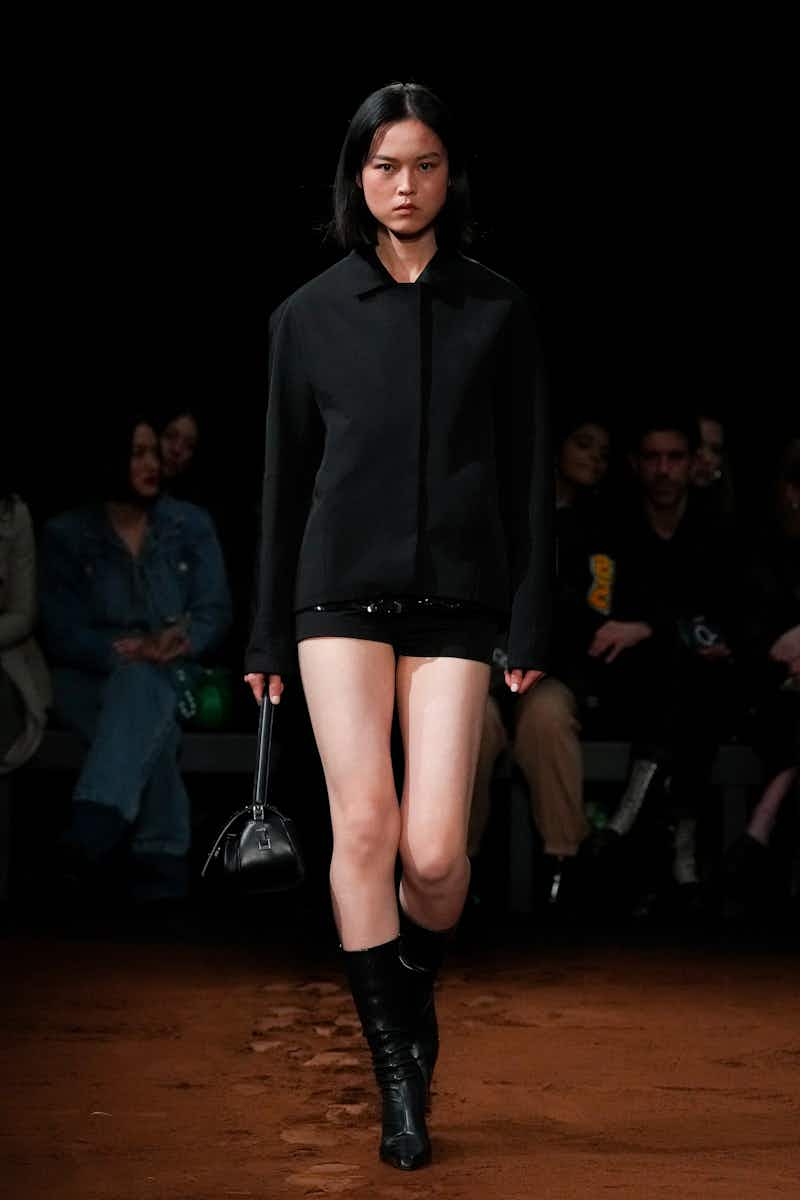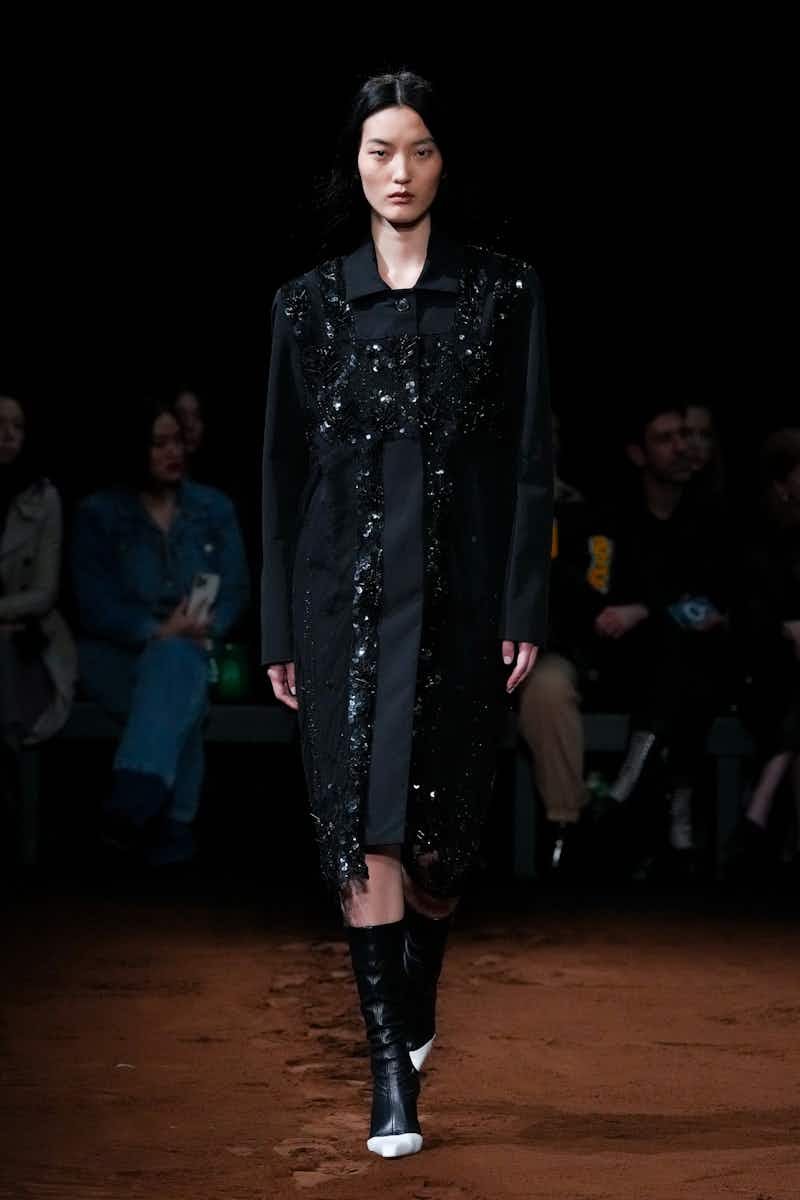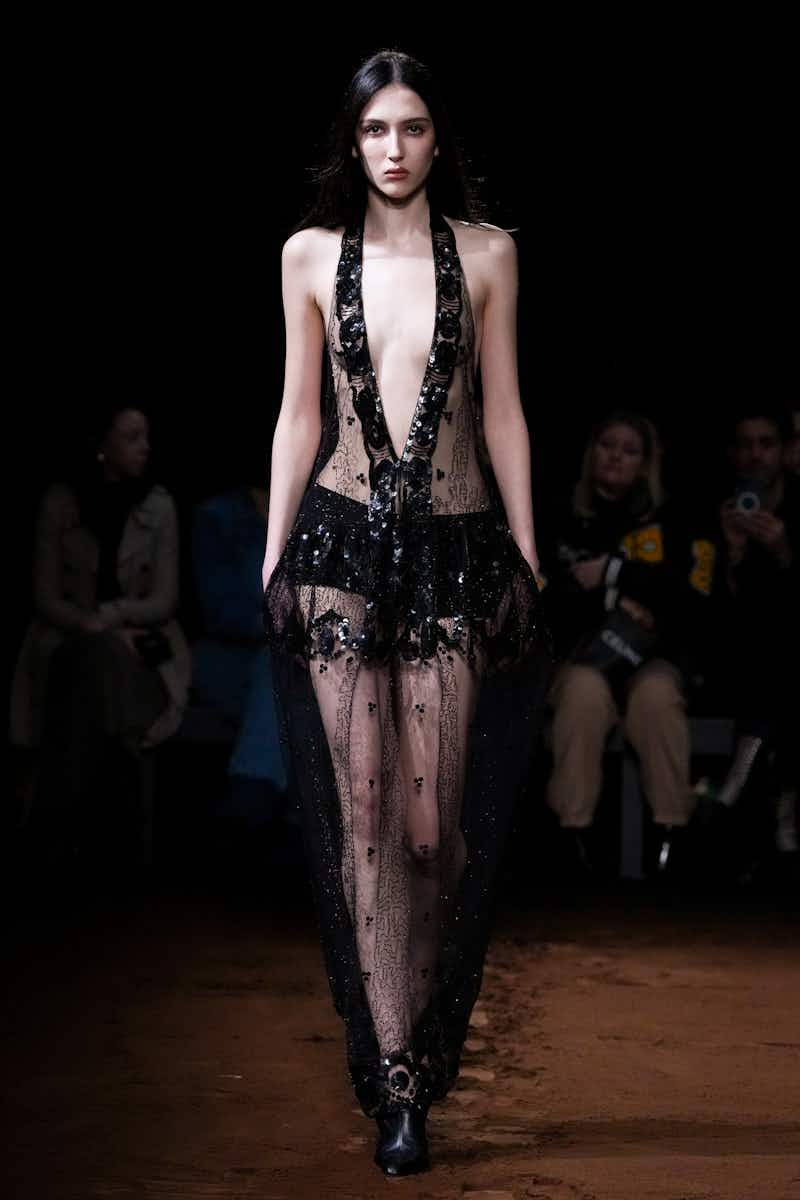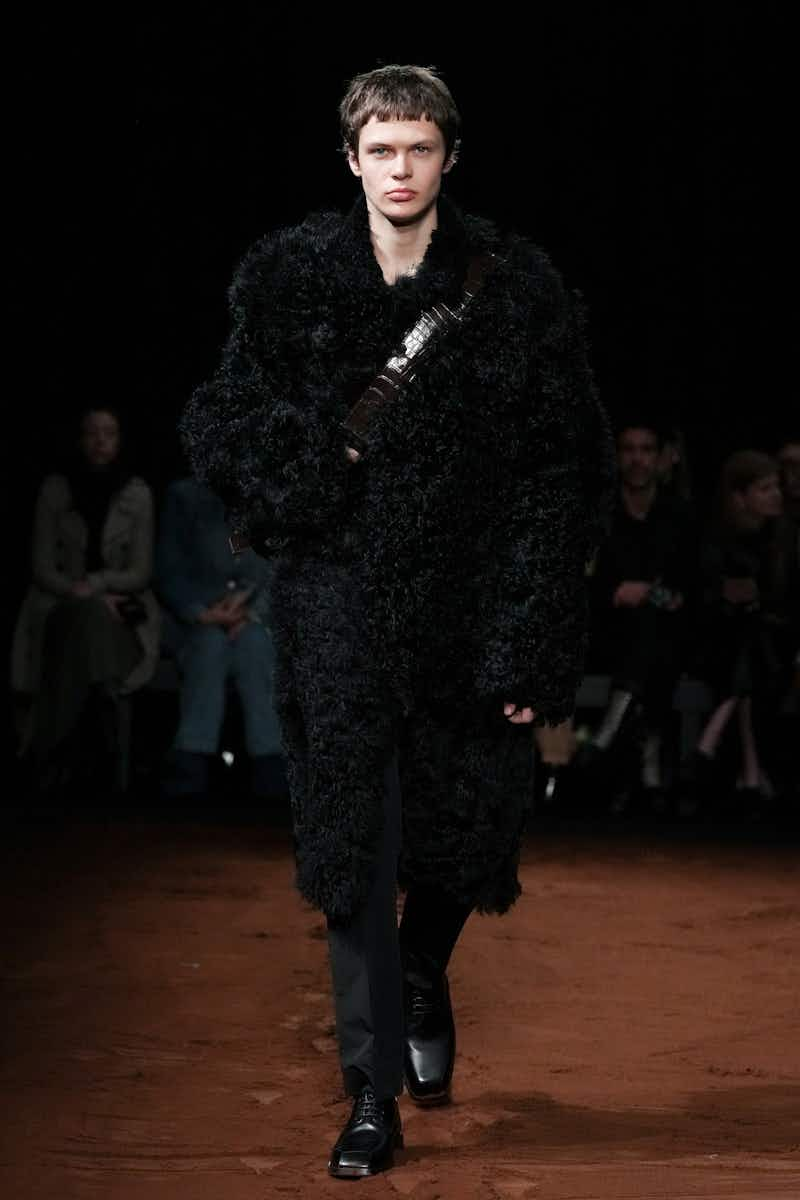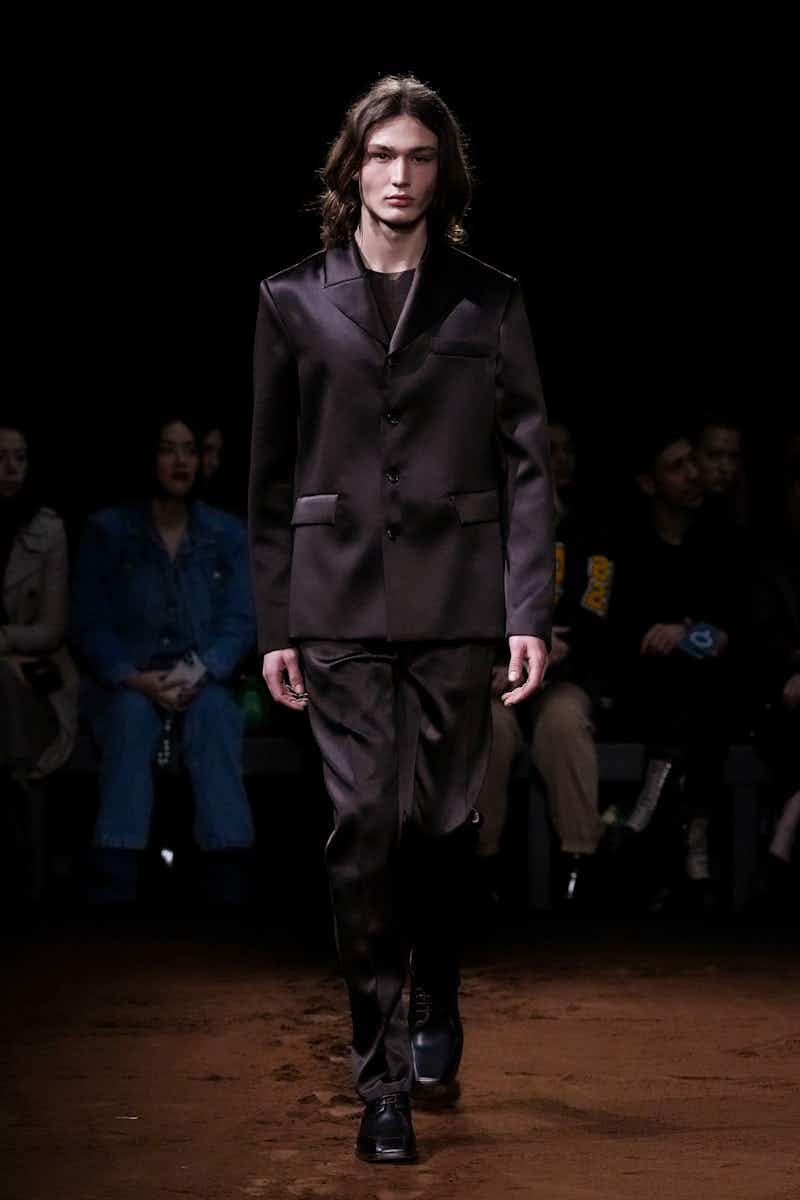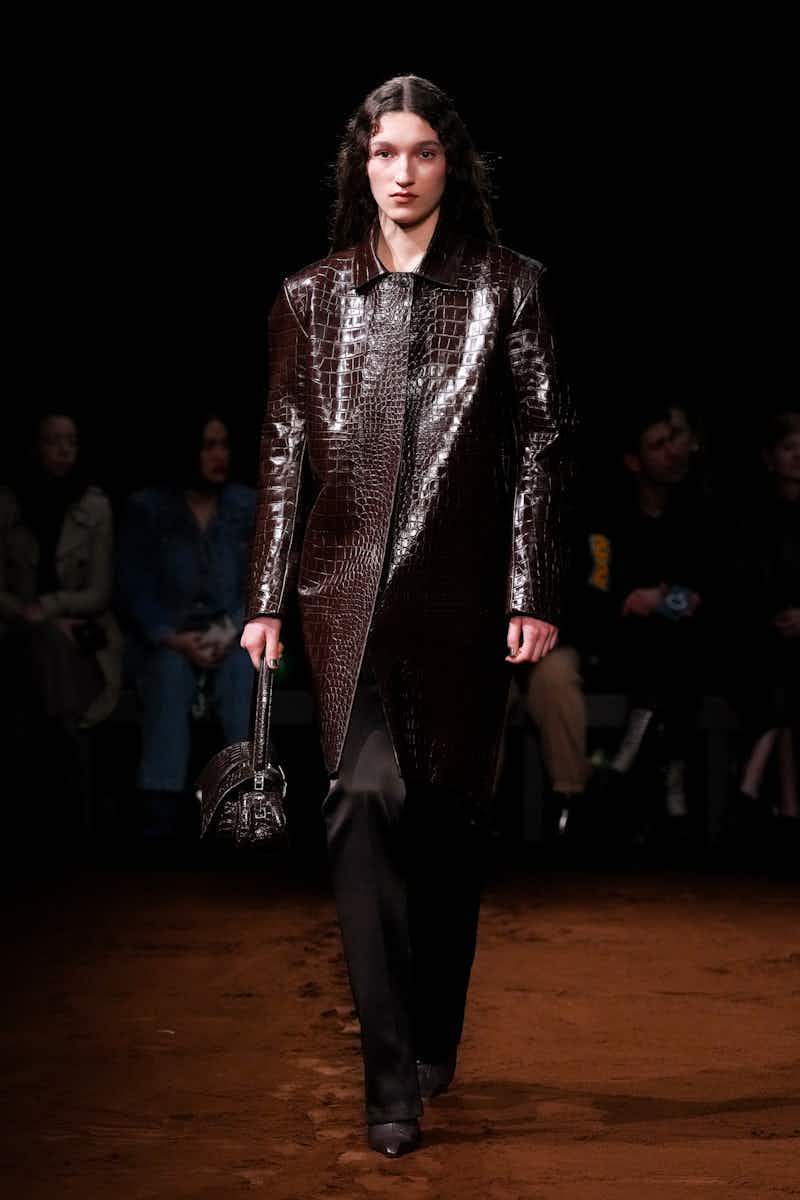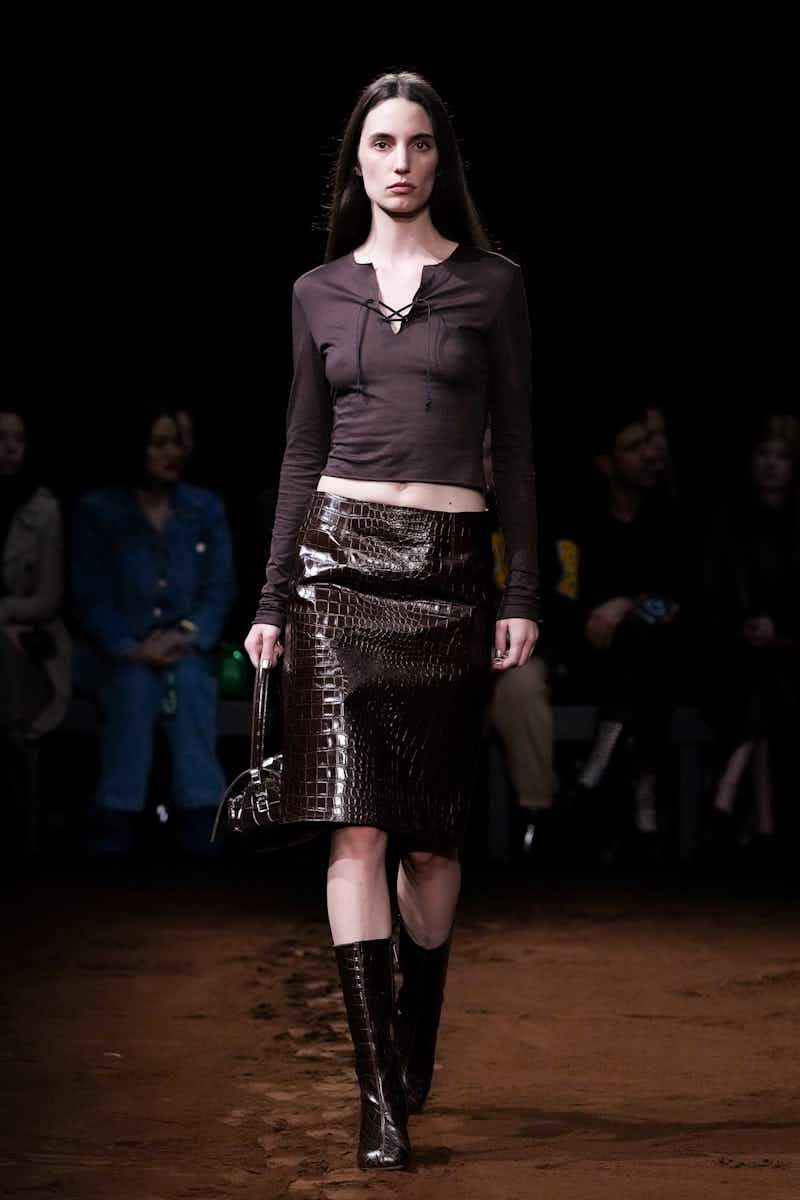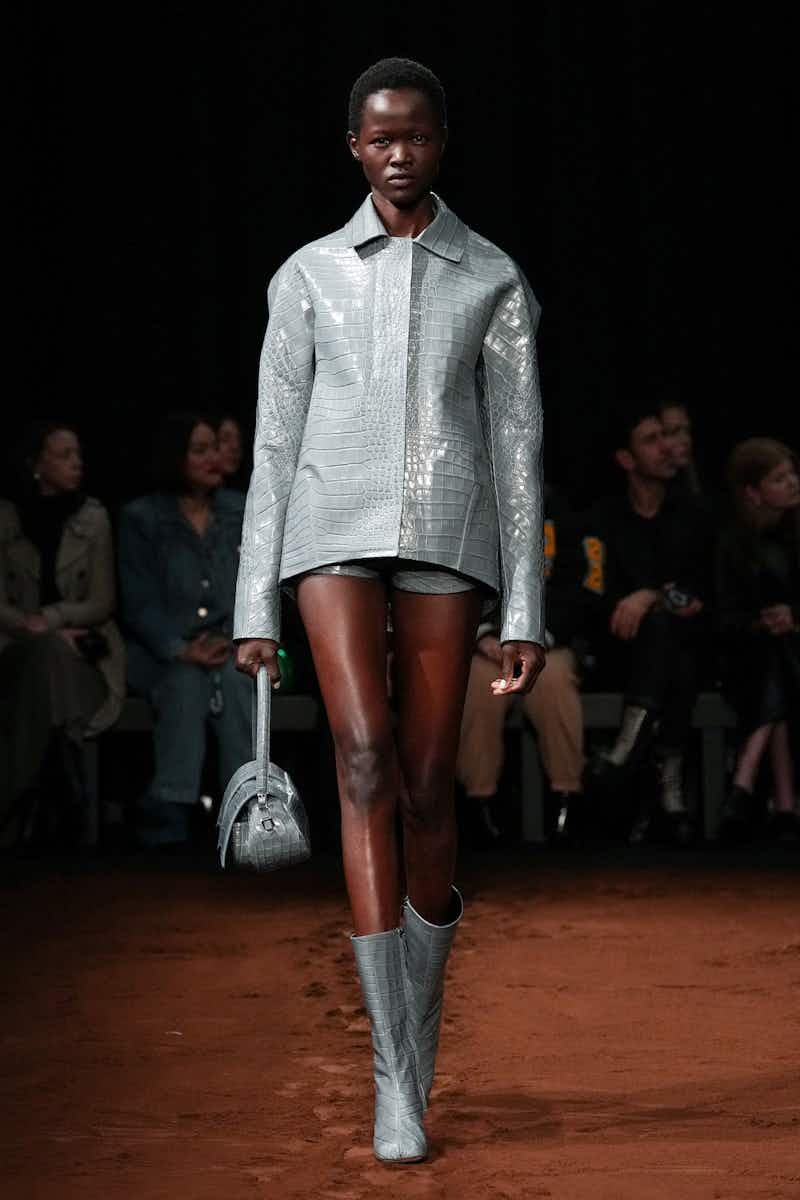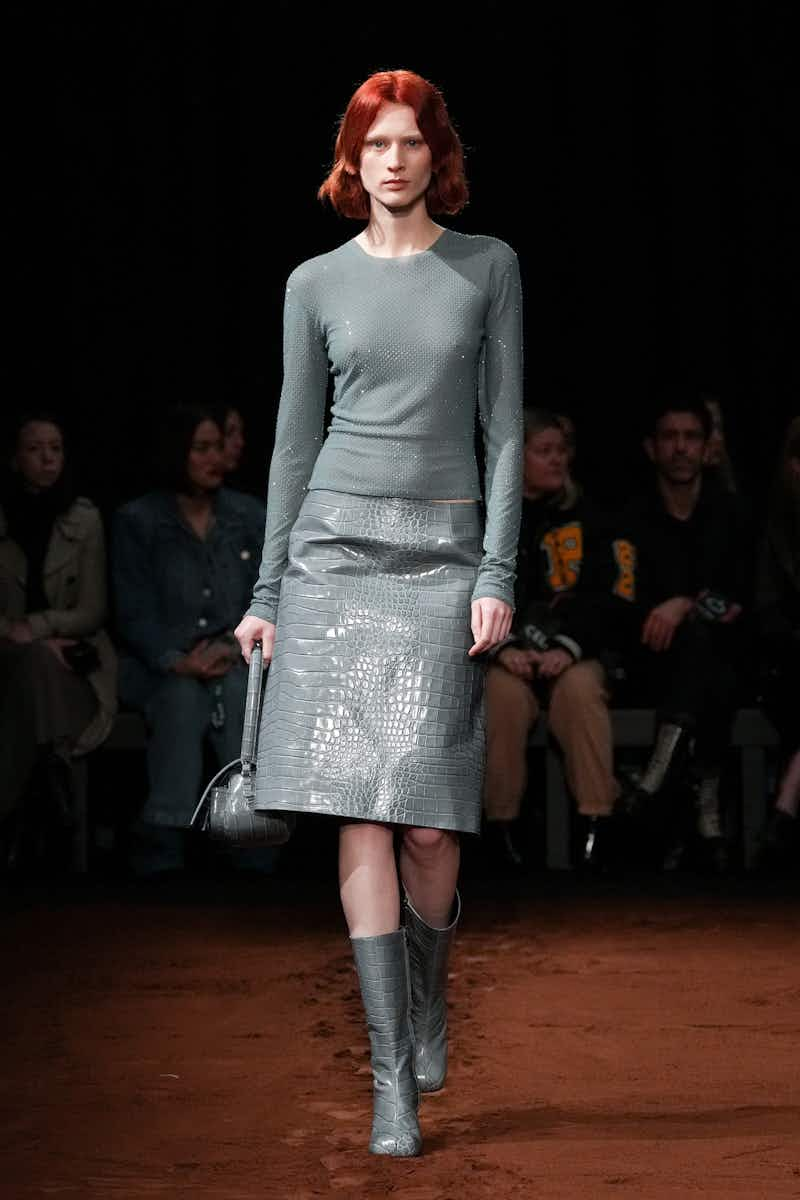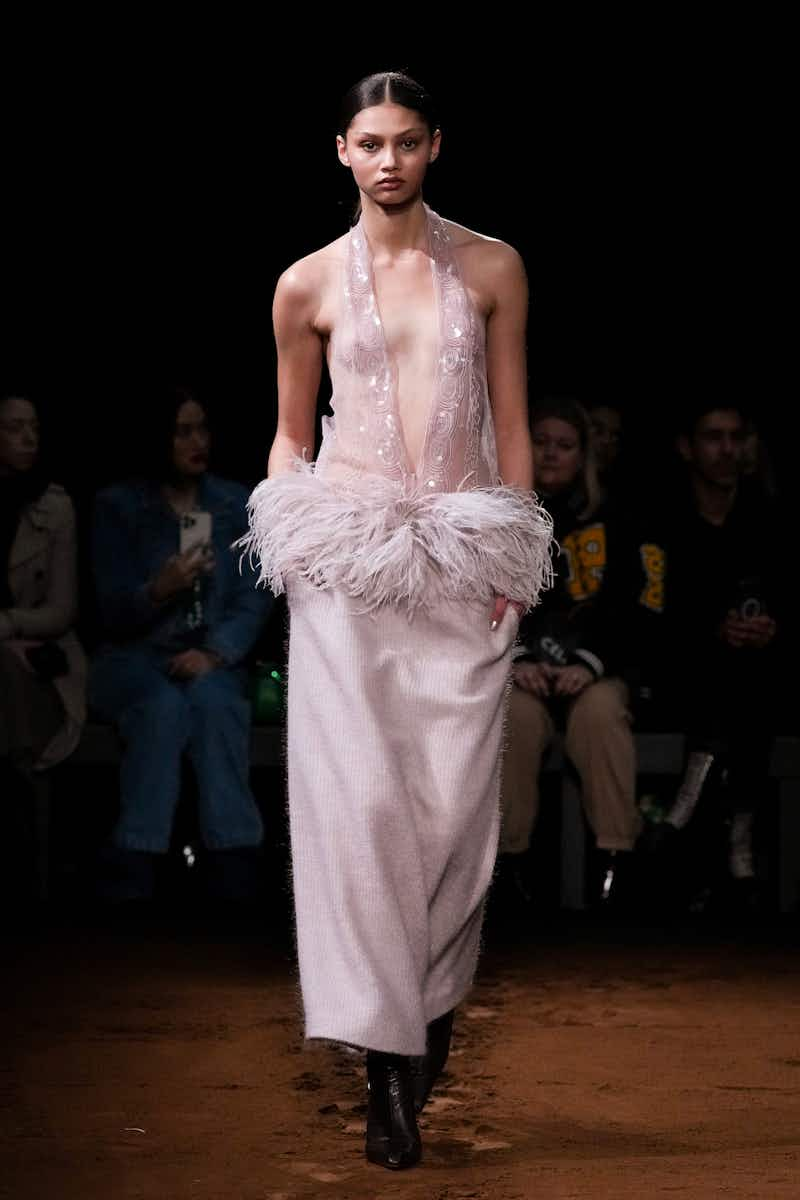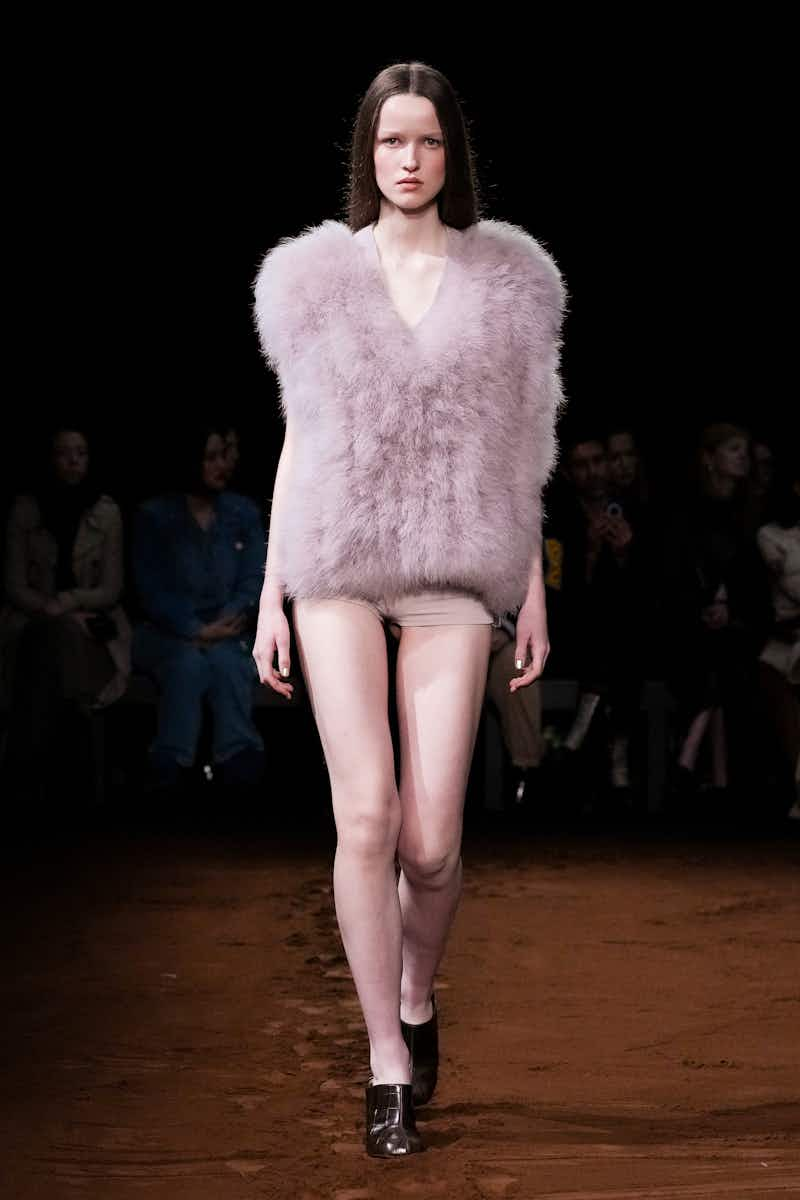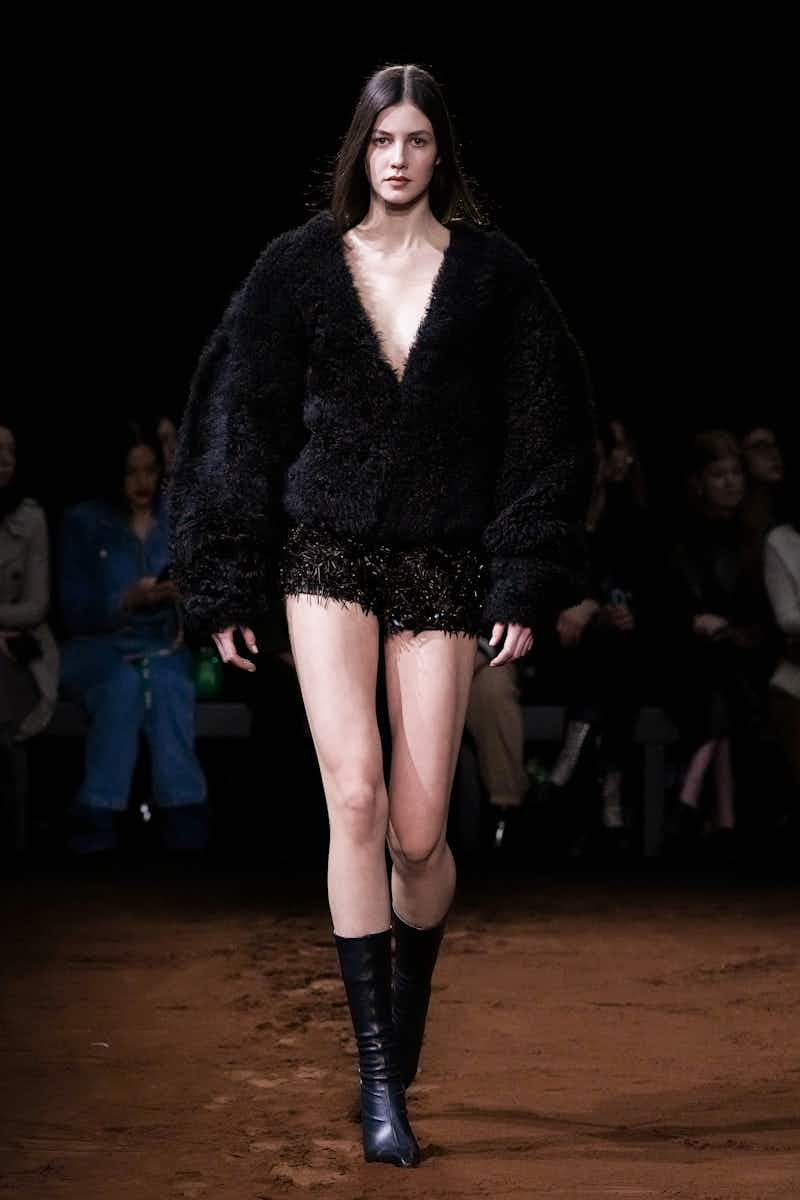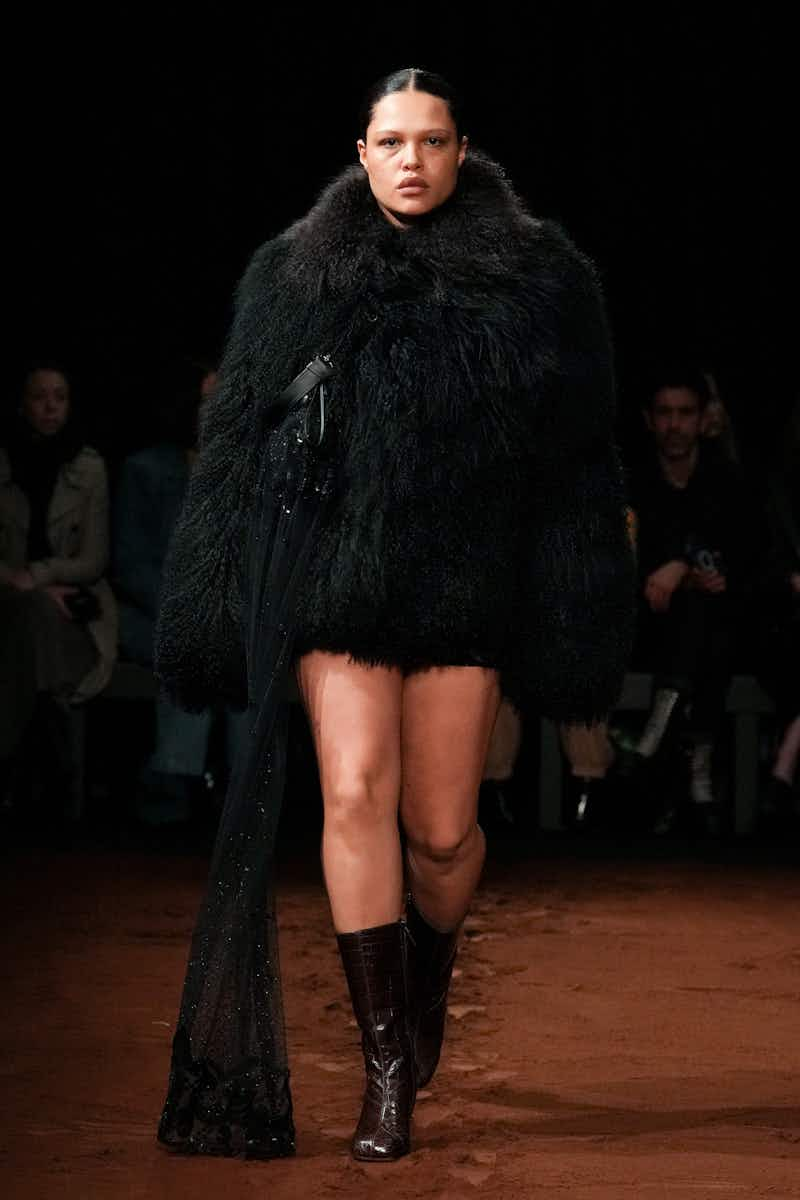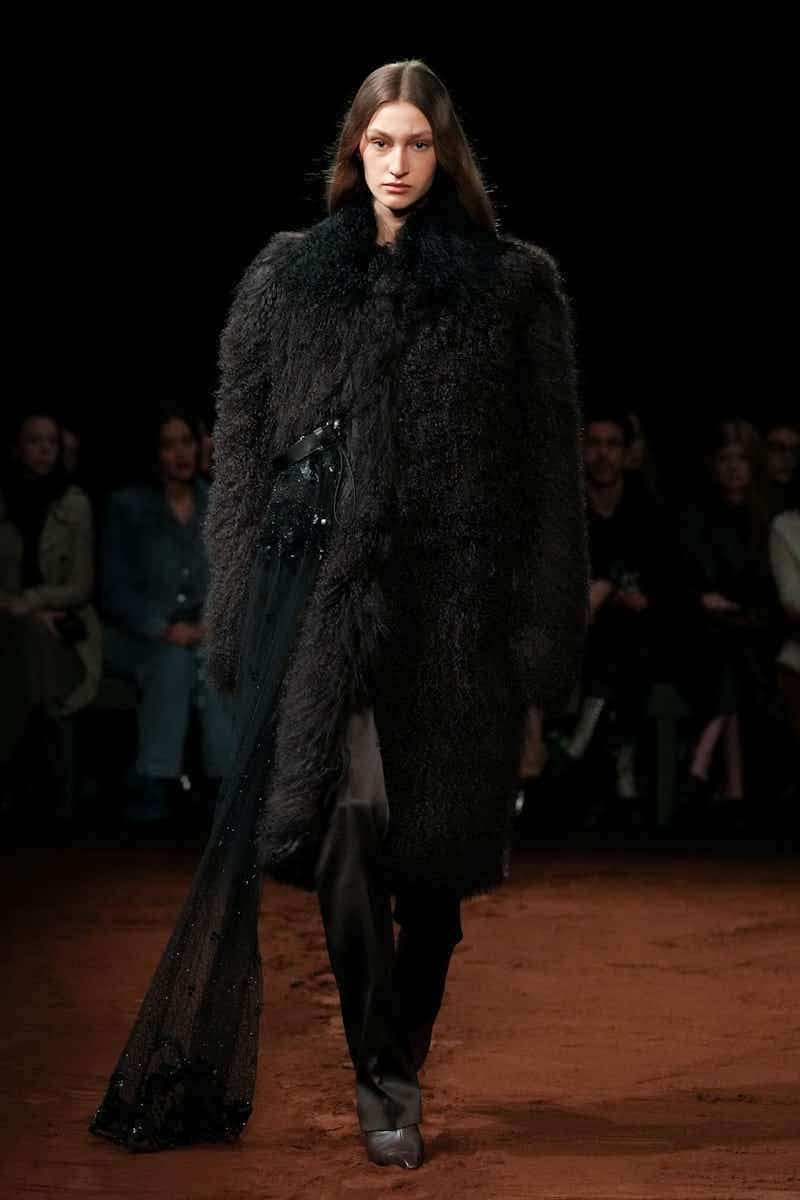 What?
The latest show from British-Indian-Nigerian designer, Priya Ahluwalia, inspired by the music she grew up listening to.
Where was it?
The very posh St John's Smith Square concert hall in Westminster. On most nights, attendees are cutting loose to the sounds of classical music. But this morning, there was a live saxophone and piano playing Missy Elliott.
What were the clothes like?
Very soulful. It was a nostalgic trip, looking back at sartorial hits from musicians such as Sade and Lauryn Hill, house and bashment from British house parties, and hip-hop from the ​'90s and early ​'00s. It was like hopping through the decades, with hot pink frills on an ​'80s-adjacent dress, casual menswear suits and loose fitting trousers, and a denim maxi skirt and jacket straight out of a Y2K disposable camera. And, throughout, Ahluwalia's Bollywood-influenced prints that she's long-established over the years. All in all, very optimistic.
Who was there?
Only some of the UK's finest voices: Arlo Parks, Mahalia, Leigh-Anne Pinnock, and funnyman Munya Chawawa.
In a song?
Sade – Smooth Operator.
In a word?
Cassettes.

Listen to Priya Ahluwalia's carefully curated Spotify playlist below!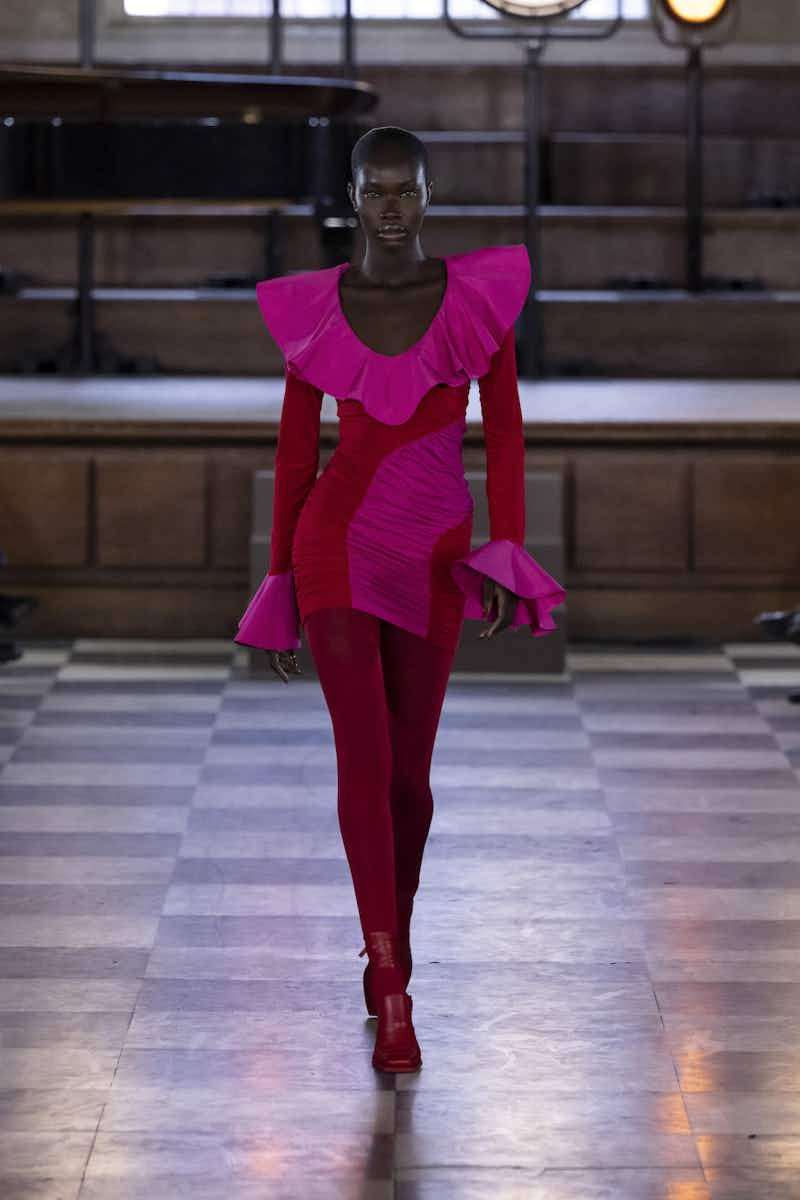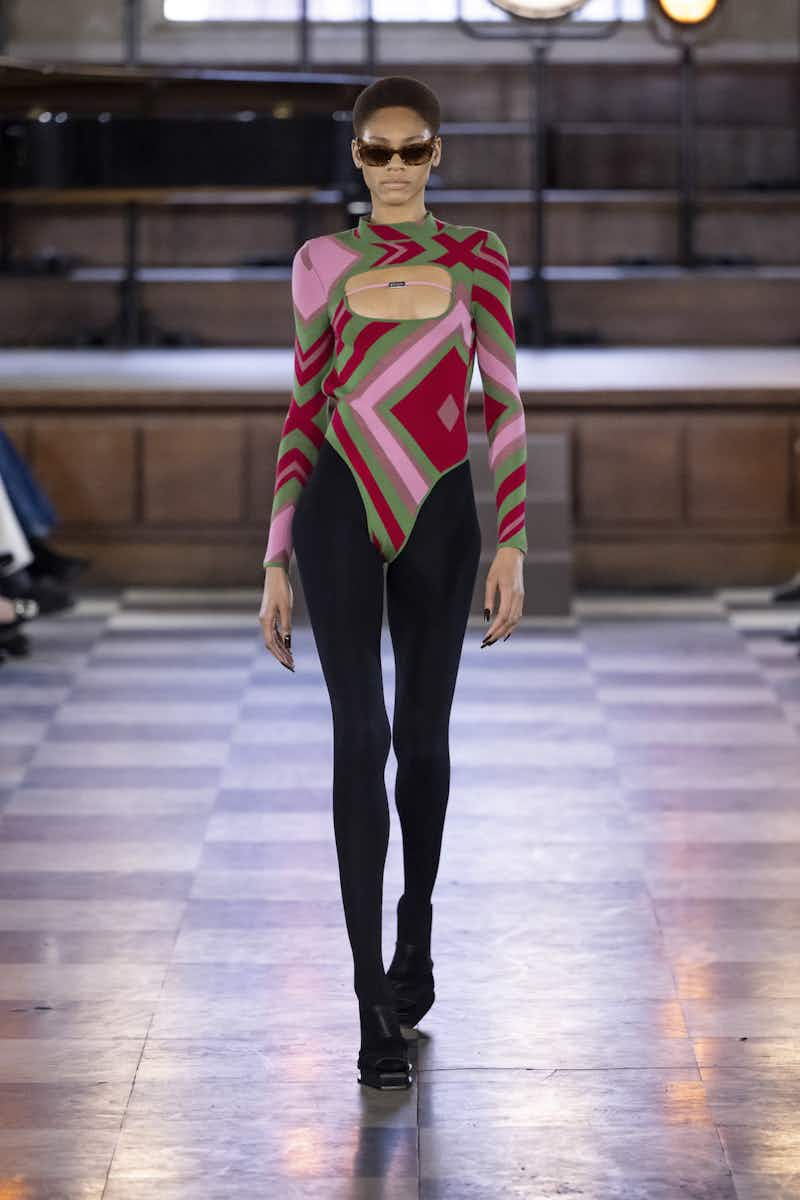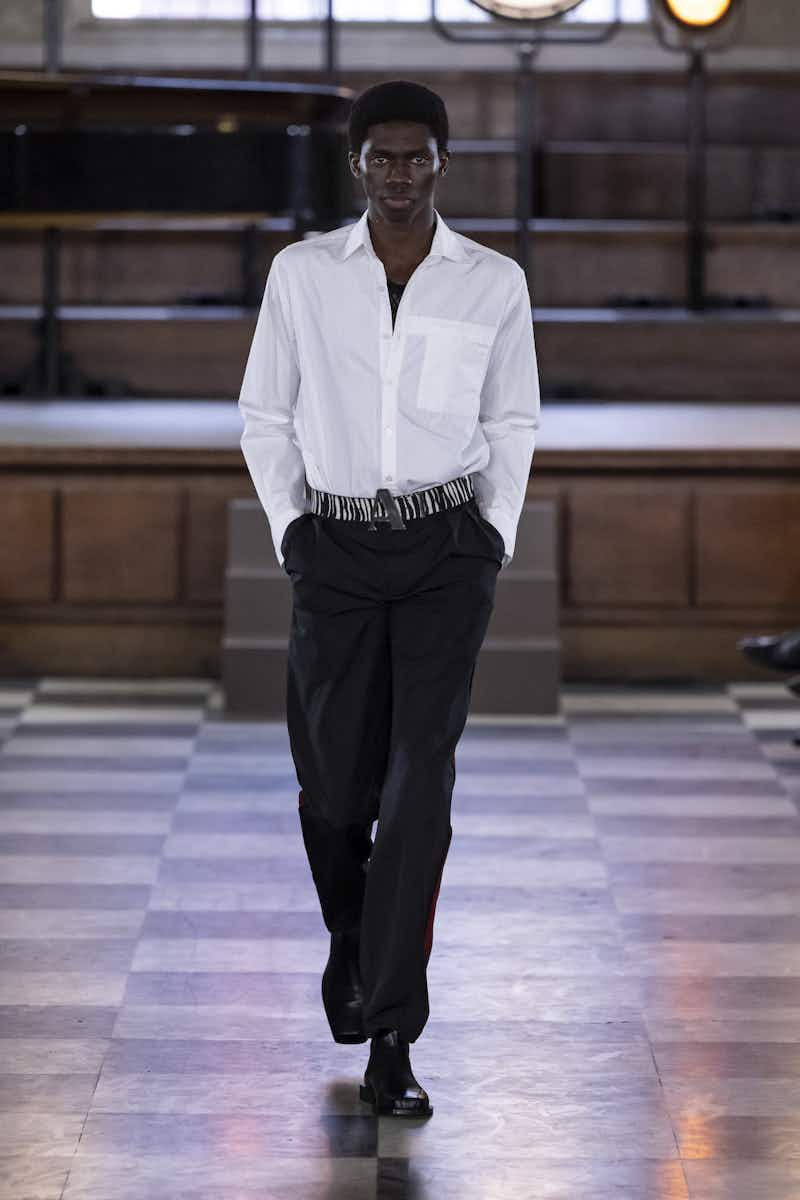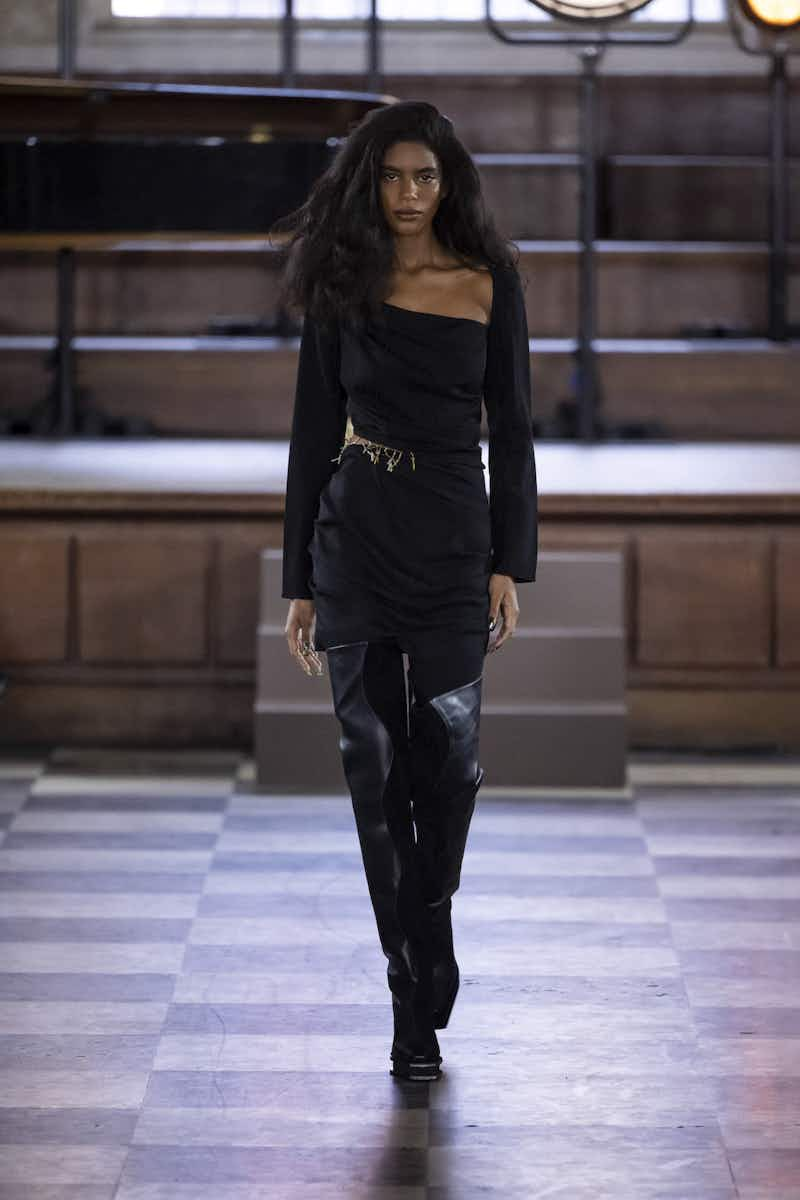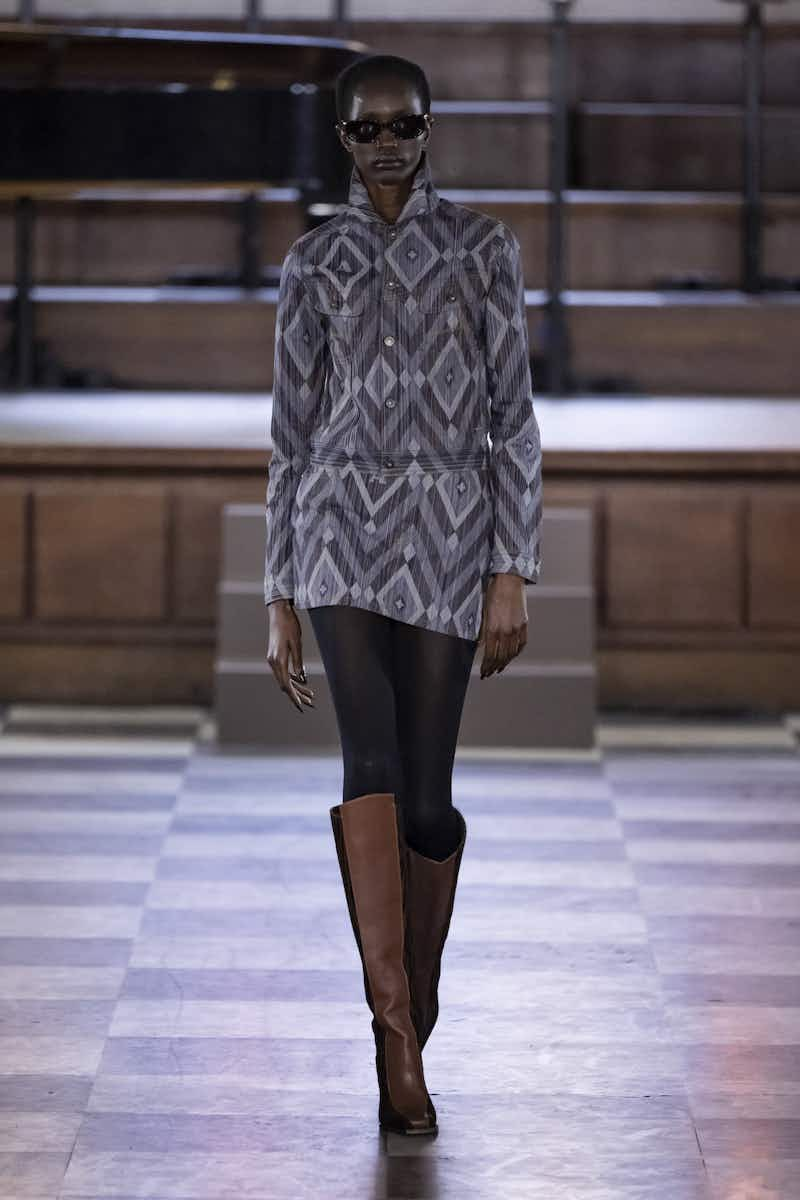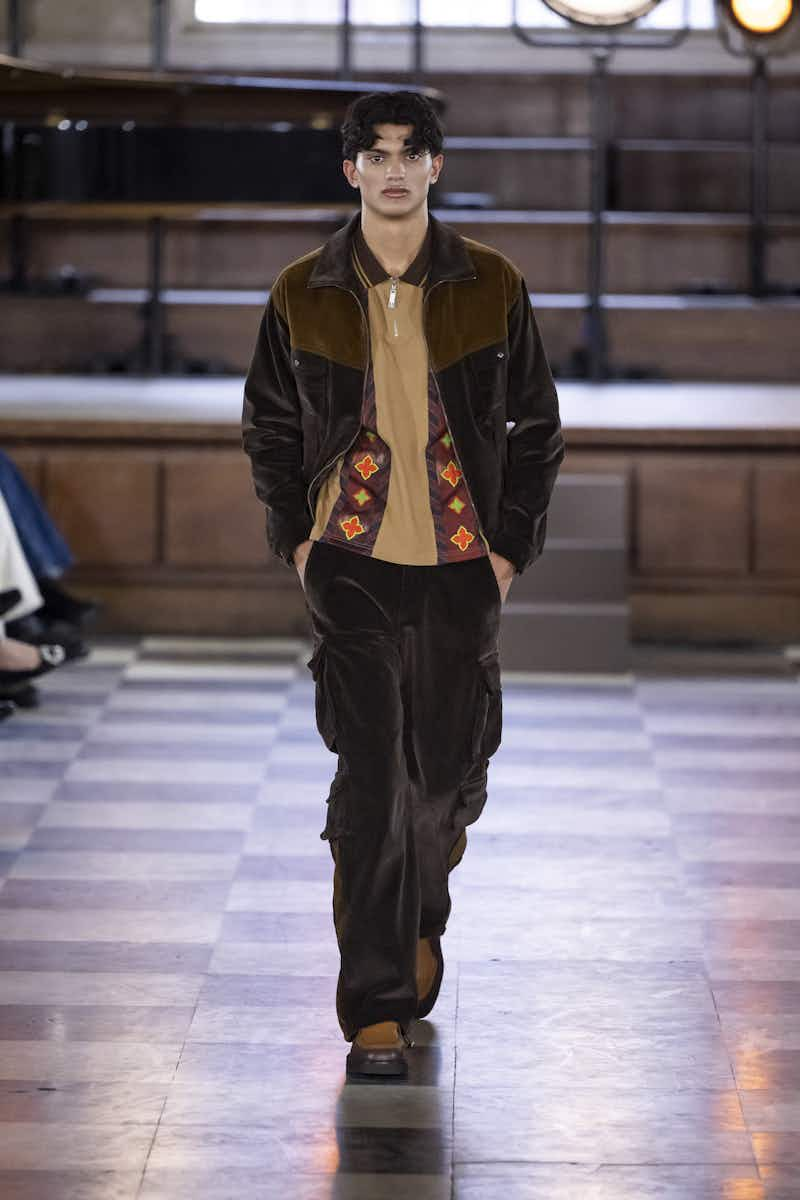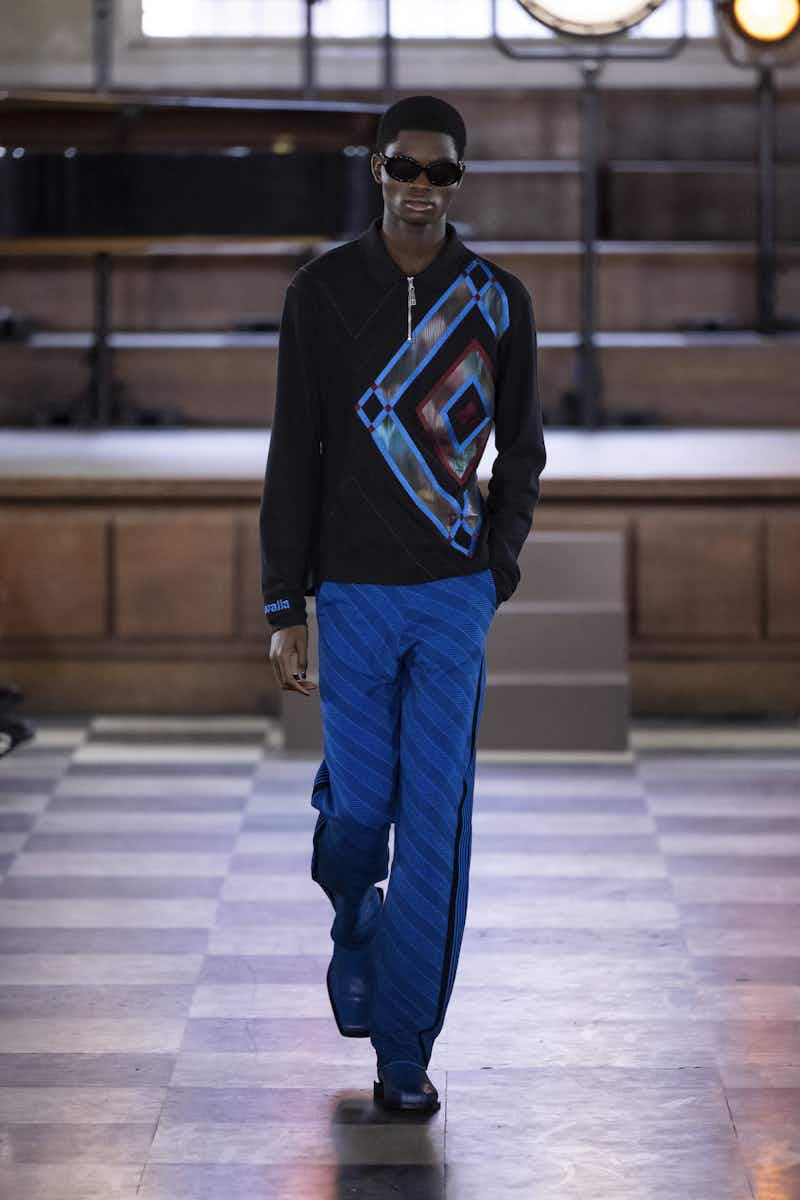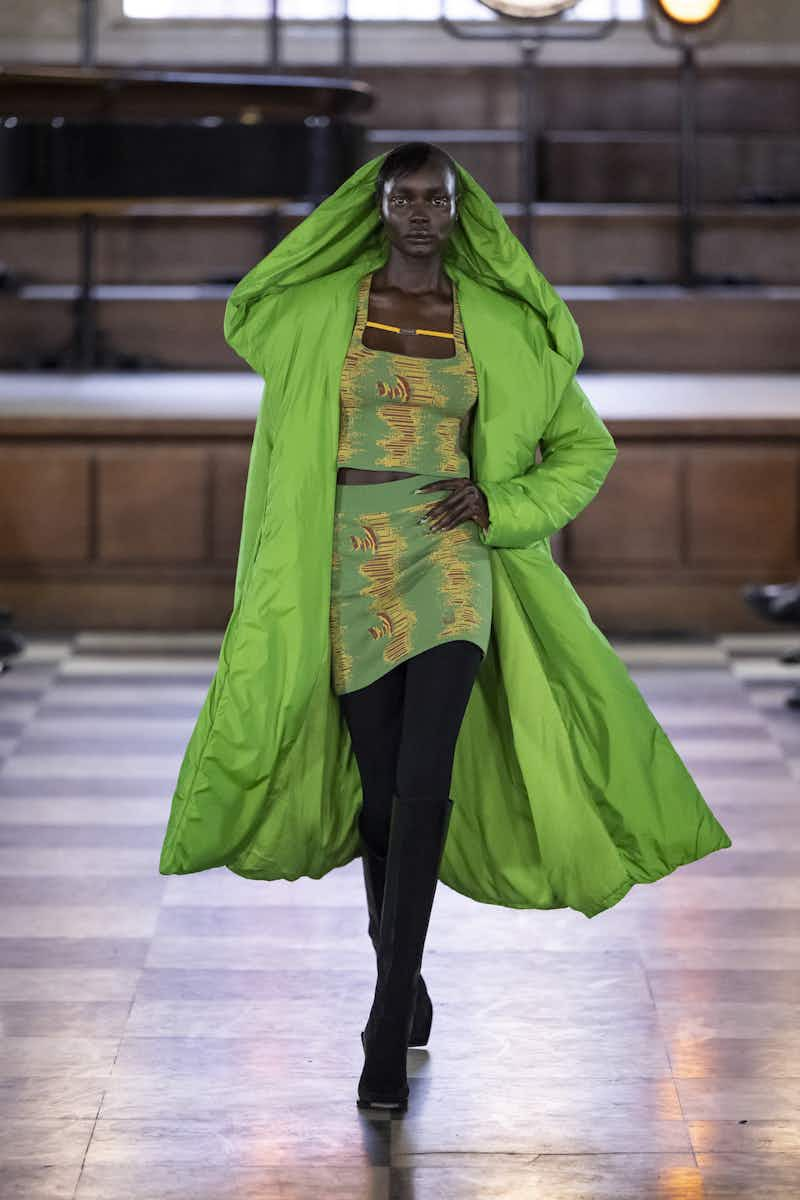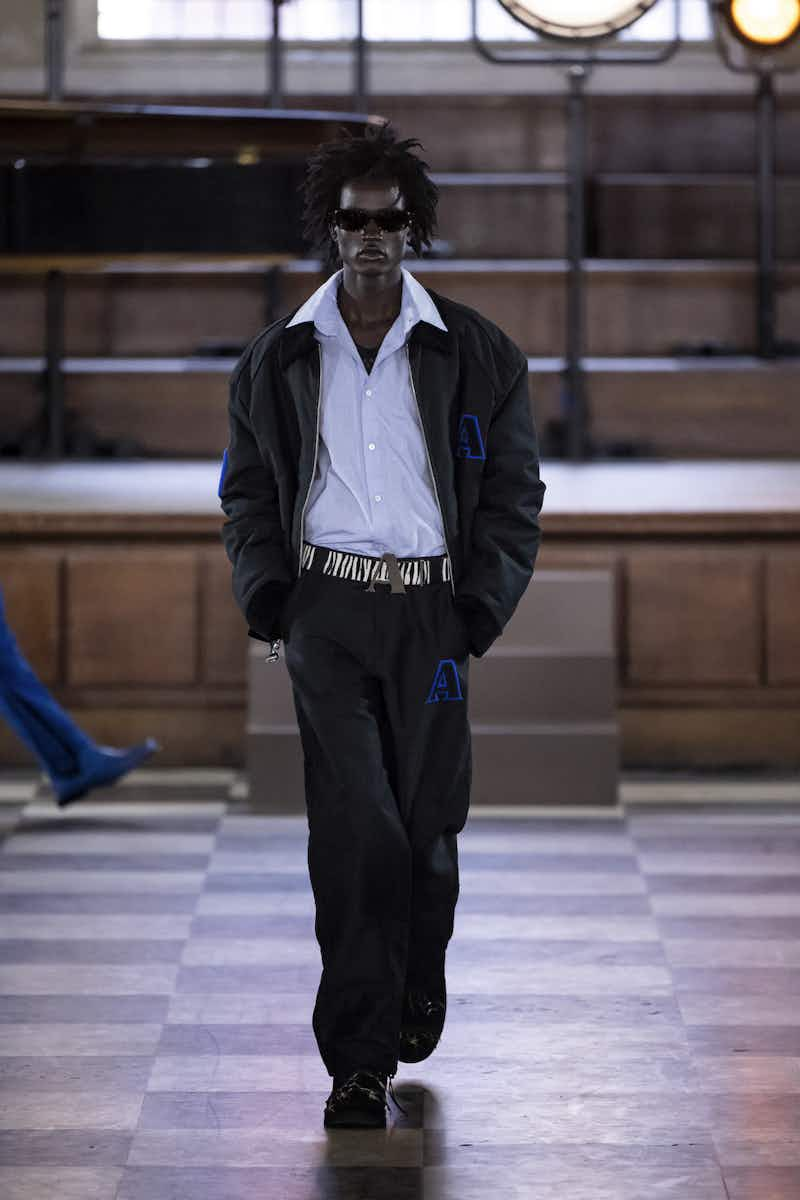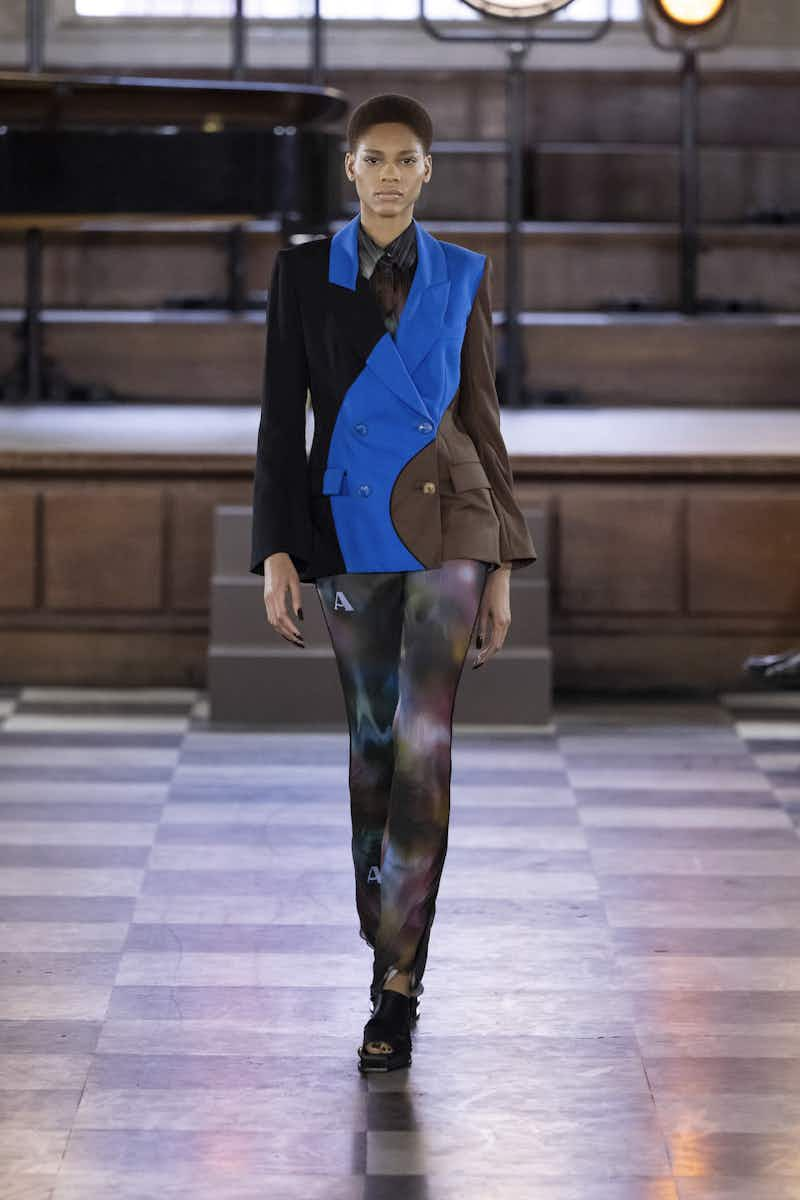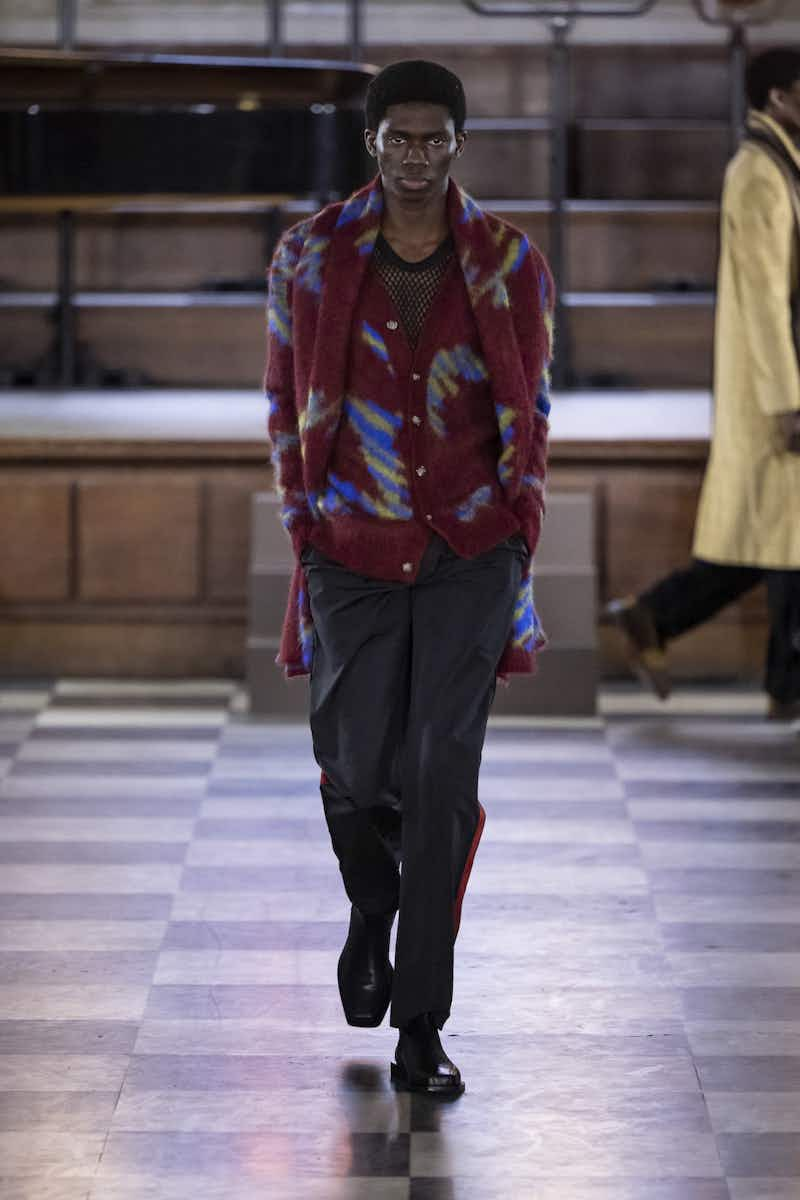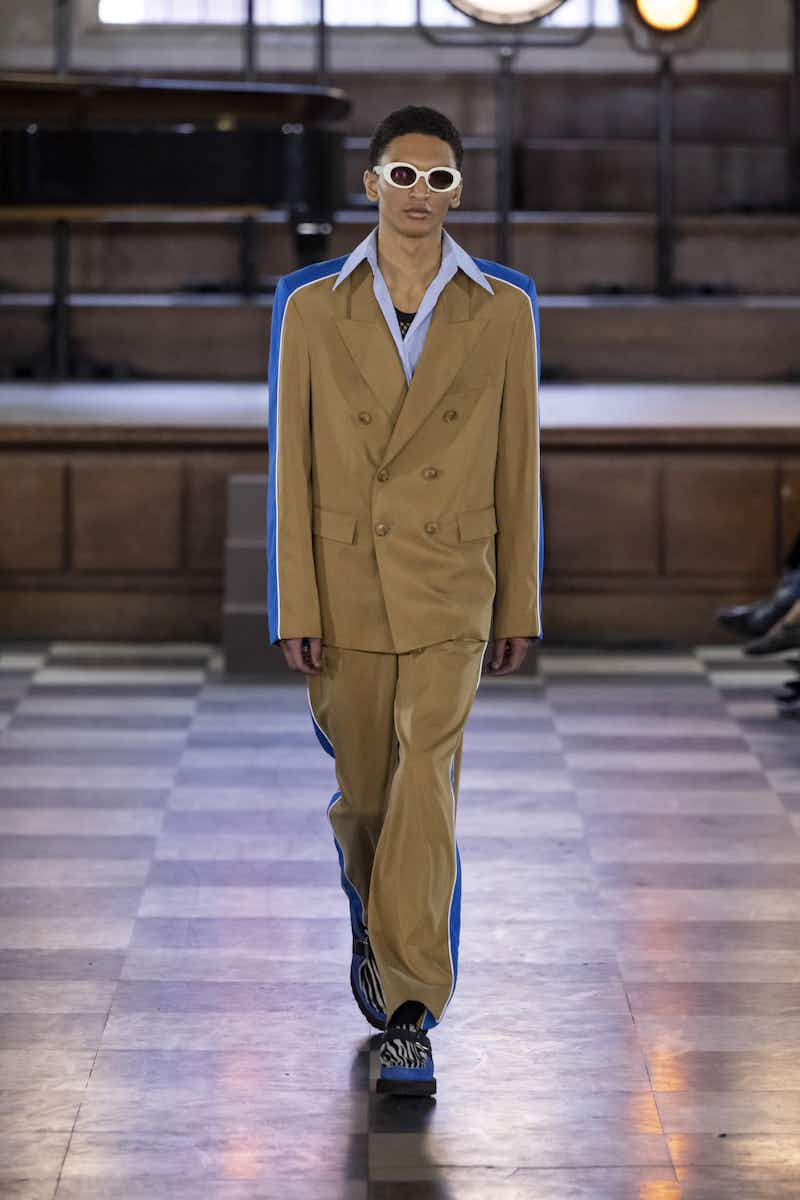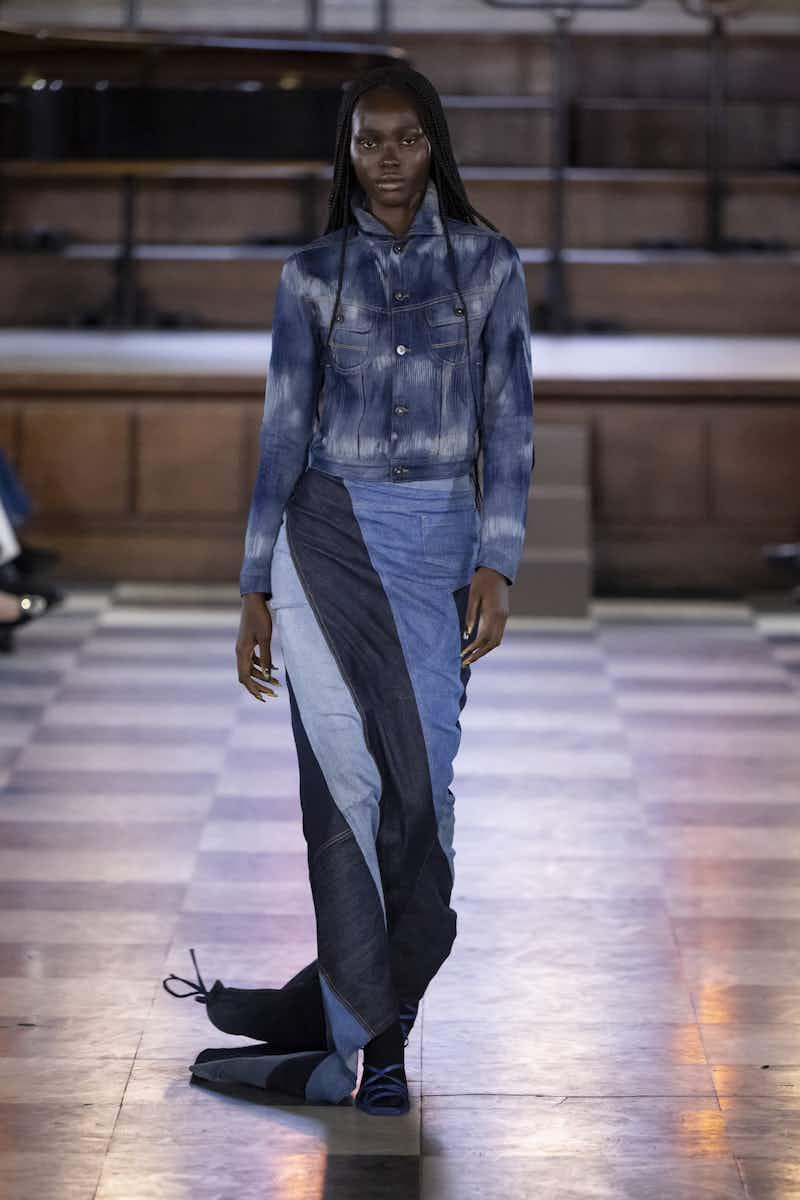 What?
A helluva return to the runway from the American designer, whose LFW debut was this time last year.
When and where?
On Friday night – a very suitable slot for a balls-out collection – and in the British Fashion Council's Newgen space, behind Selfridges.
So what were the clothes about?
Ives was out to have a good time, and he was back with a new, all-star line-up of archetypes including The Glasto Girl, The Hard Rock Girl and The Real Housewife, inspired by a whole host of women in pop culture such as Kate Moss, Lady Miss Kier and Britney Spears.
It felt like fashion when it loosens up a bit: ​'60s swirl prints, fuzzy fur coats and fancy beaded skirts paired with a cropped hoodie, Americana prints and tongue-in-cheek ​"proud mom" slogans all felt youthful and, to put it simply, very cool. We chatted to Ives a few days before the show, where he was talking about fashion being a spectacle, something to enjoy, to feel excited by. ​"Life's too short for us to all be complaining about fashion week because we're all exhausted," he said. ​"What's the reason that we're doing this in the first place, then?"
And so the show took on an old school spirit, with models striking poses, blowing kisses and winking like they did in high-glam ​'80s fashion shows. But also, Ives wanted to recreate the same feeling he had when, aged 10, he opened his mum's issue of Harper's Bazaar and saw Nicolas Ghèsquiere's AW06 collection for Balenciaga – arguably the designer's magnum opus. ​"It was like tasting wine for the first time, one of those life altering experiences," he says. ​"It reaches this point where you're almost like, well, is it that deep? But then simultaneously, why are we all doing this, then, if it's not to capture an emotion? It's meant to stir some kind of feeling."
Any highlights?
The Conner Ives bride who closed the show. Spot the Parent Trap ref?
In a song?
Fergie – Fergalicious.
In a word?
Pop.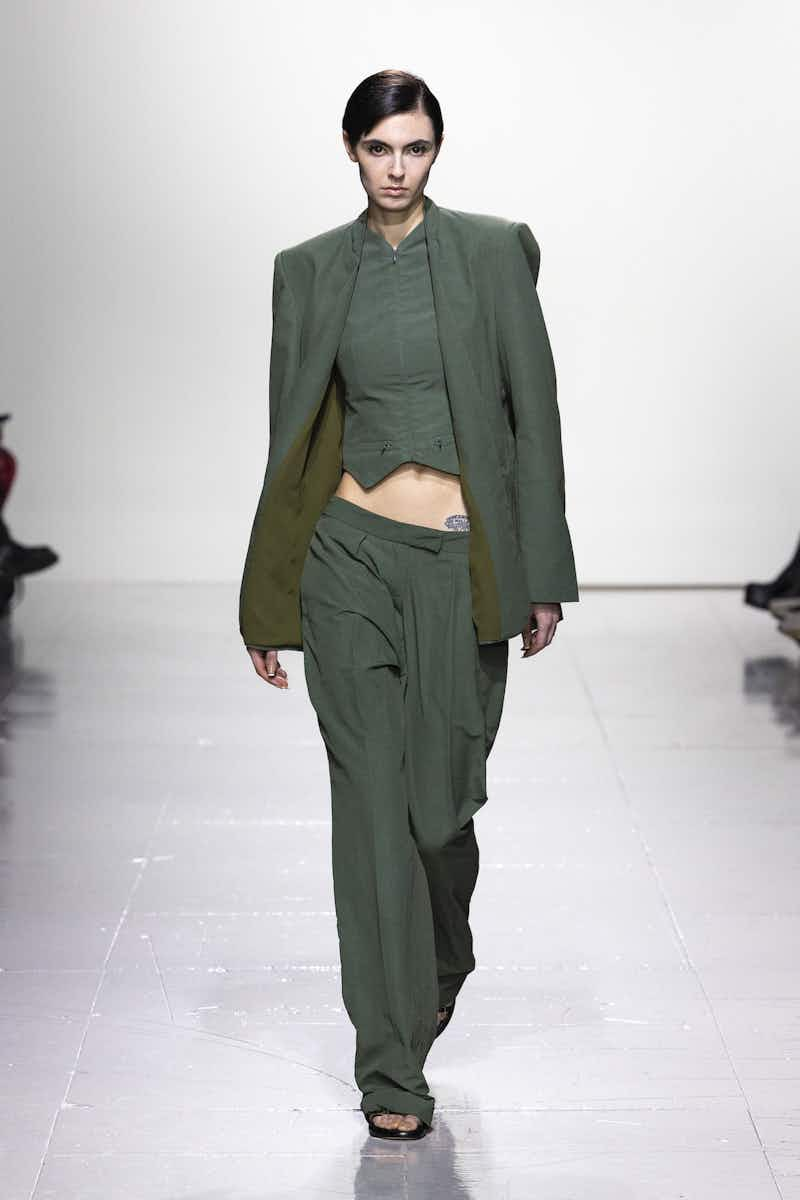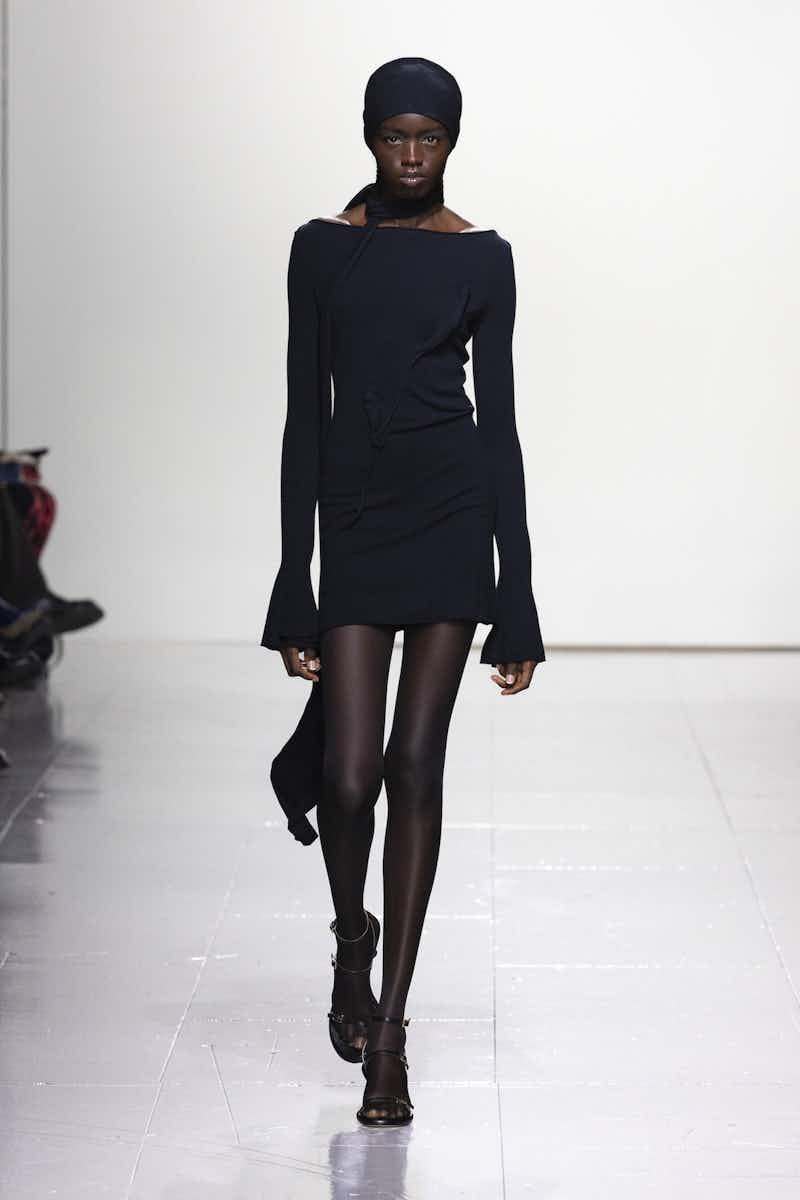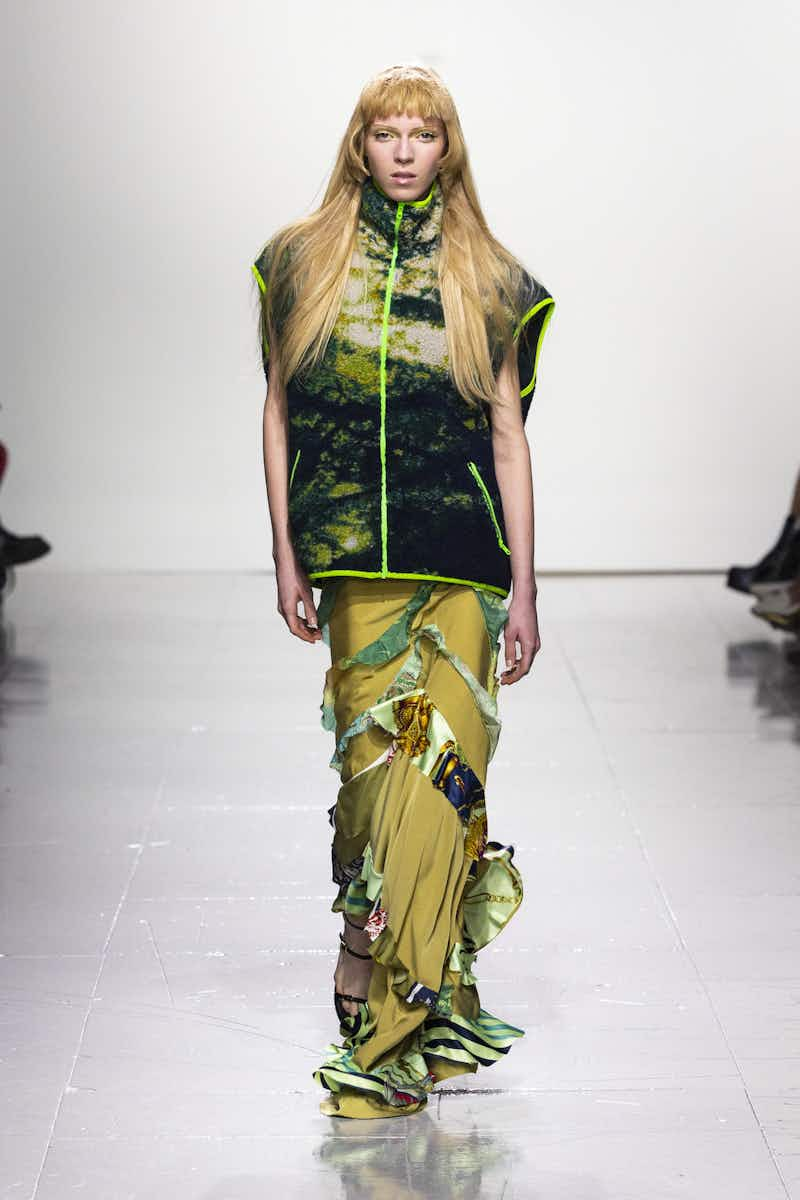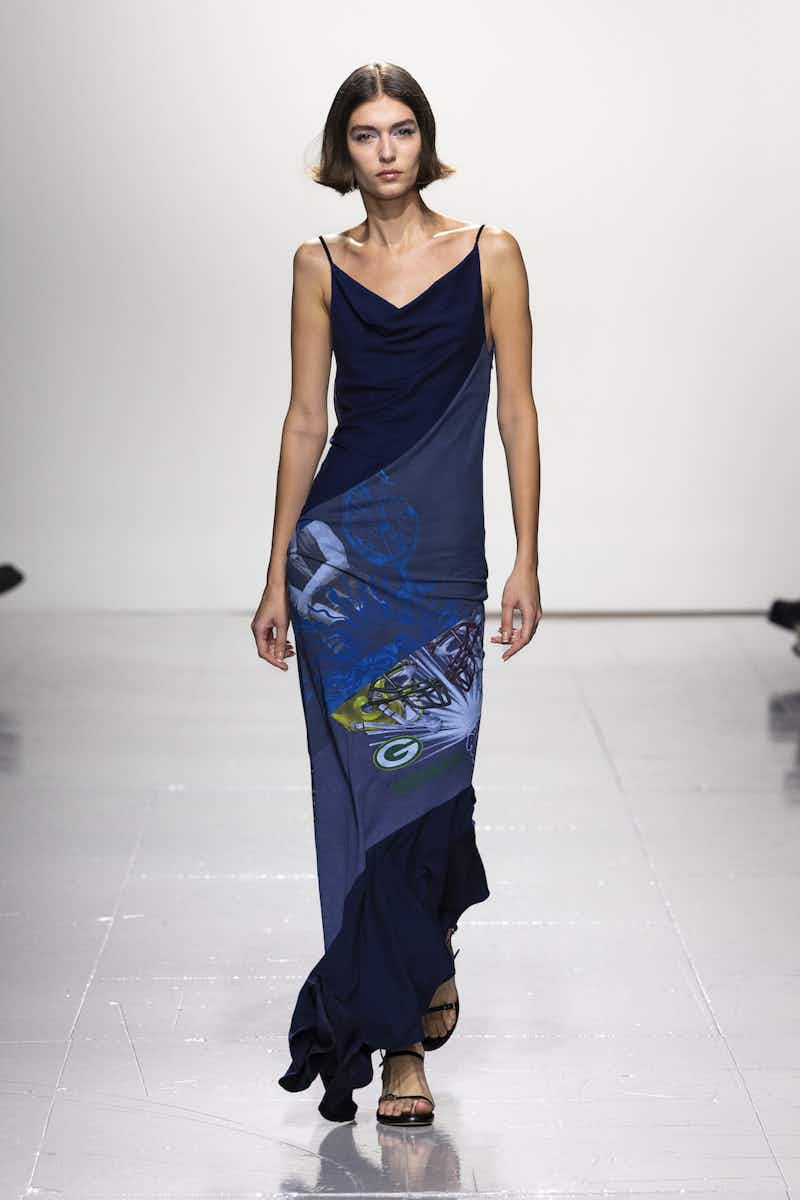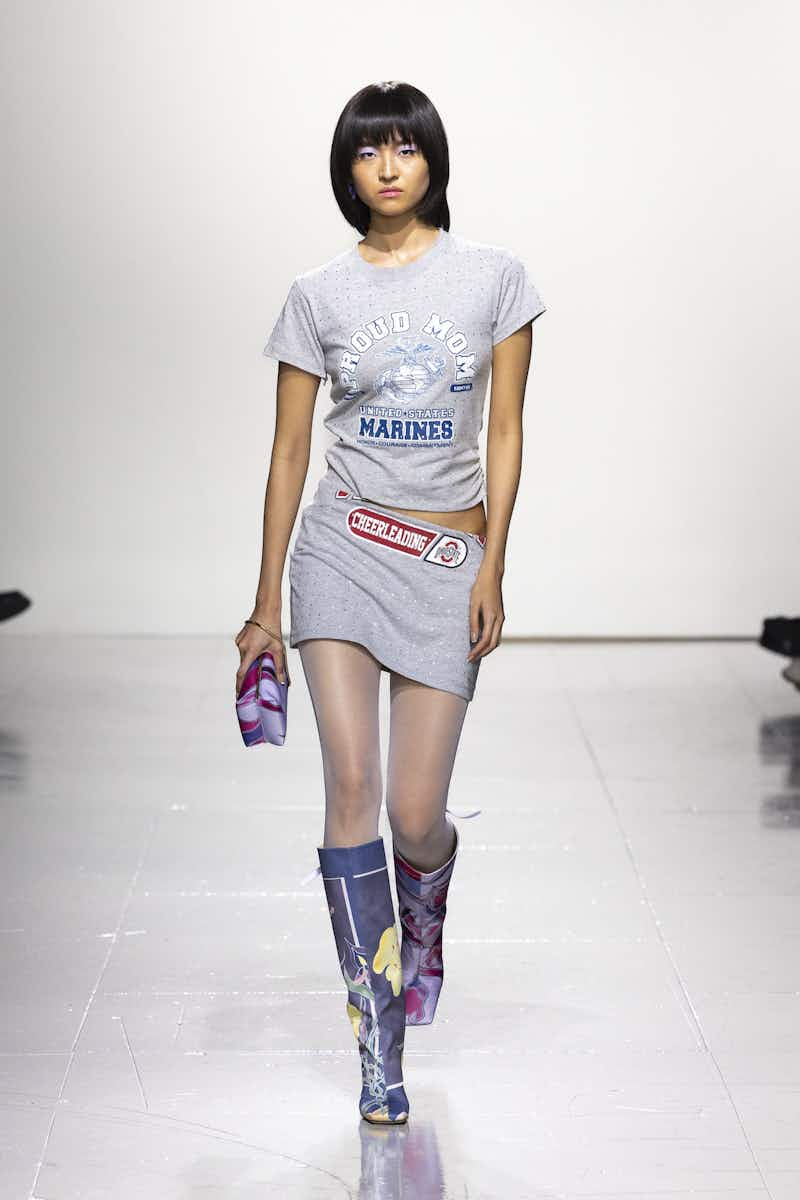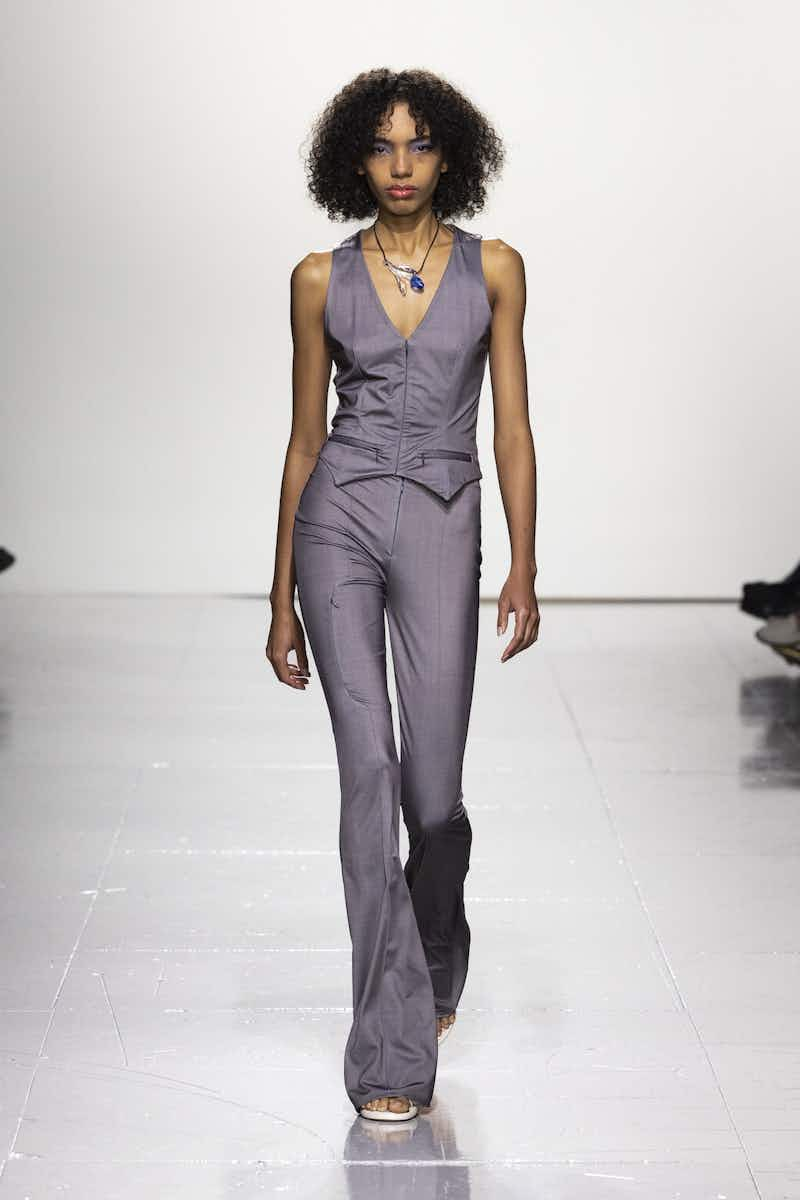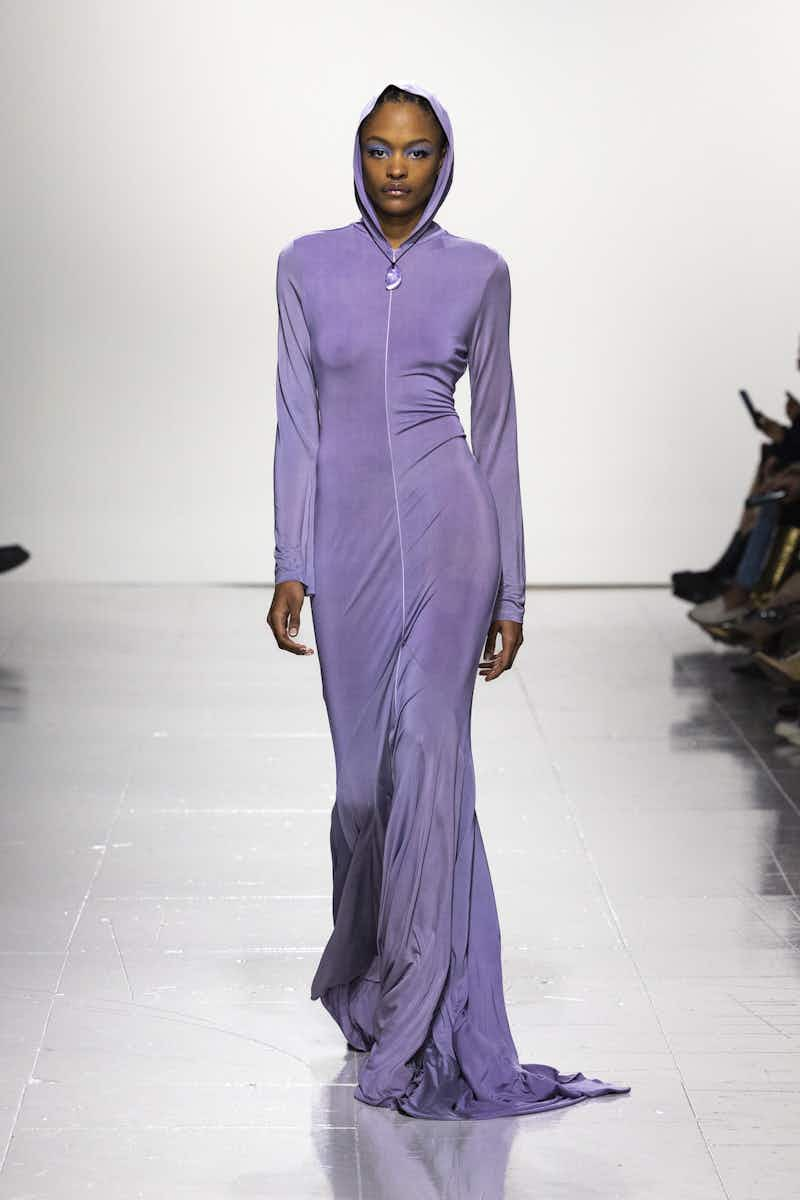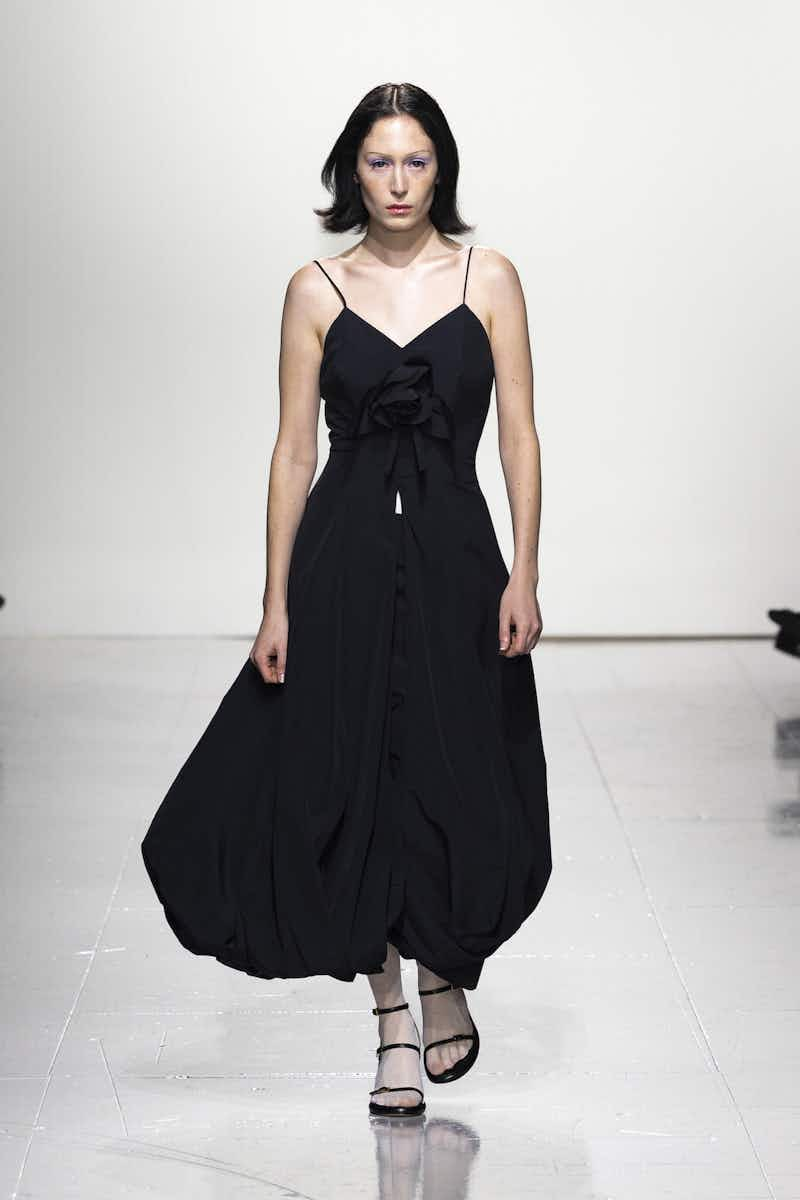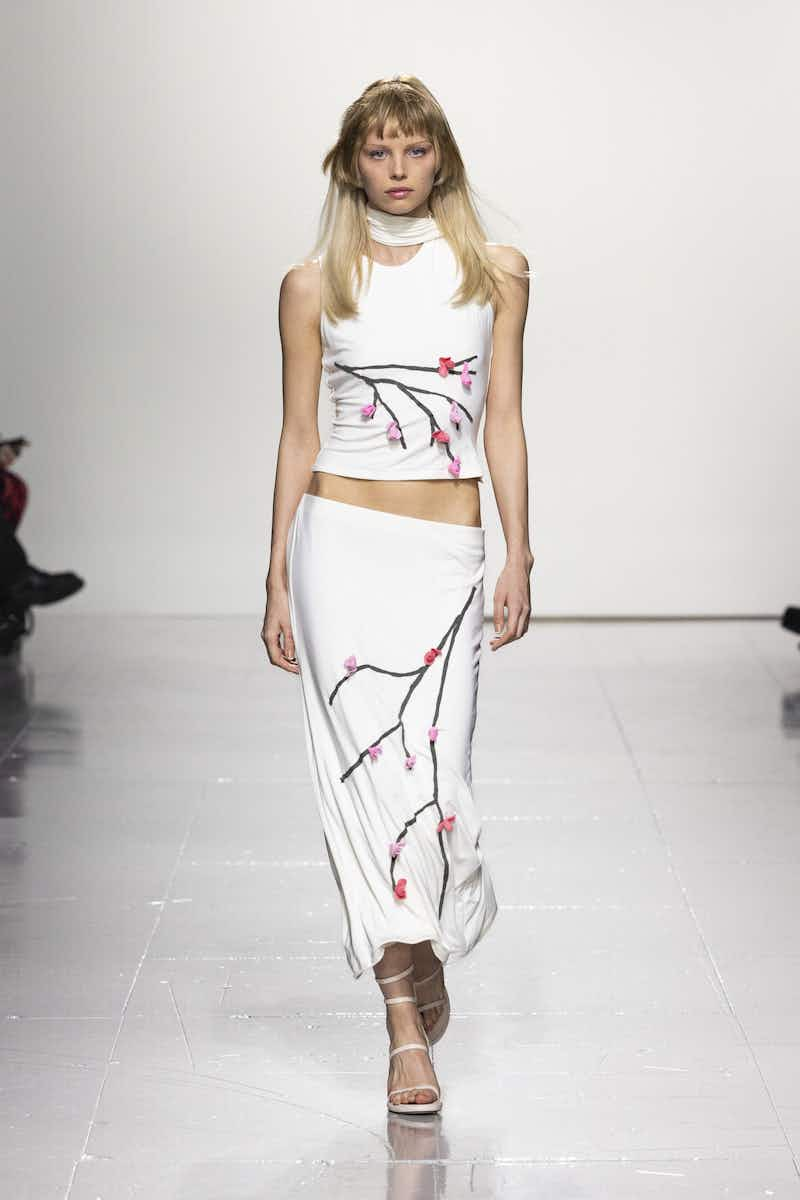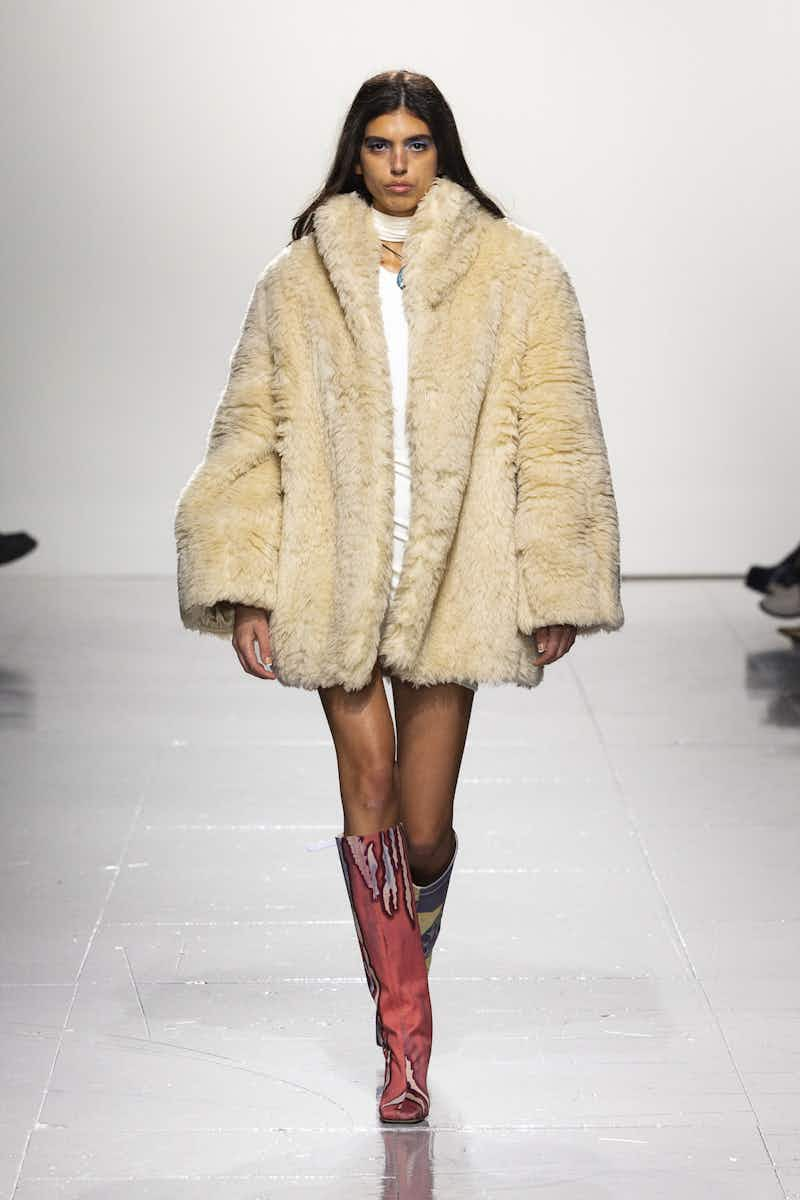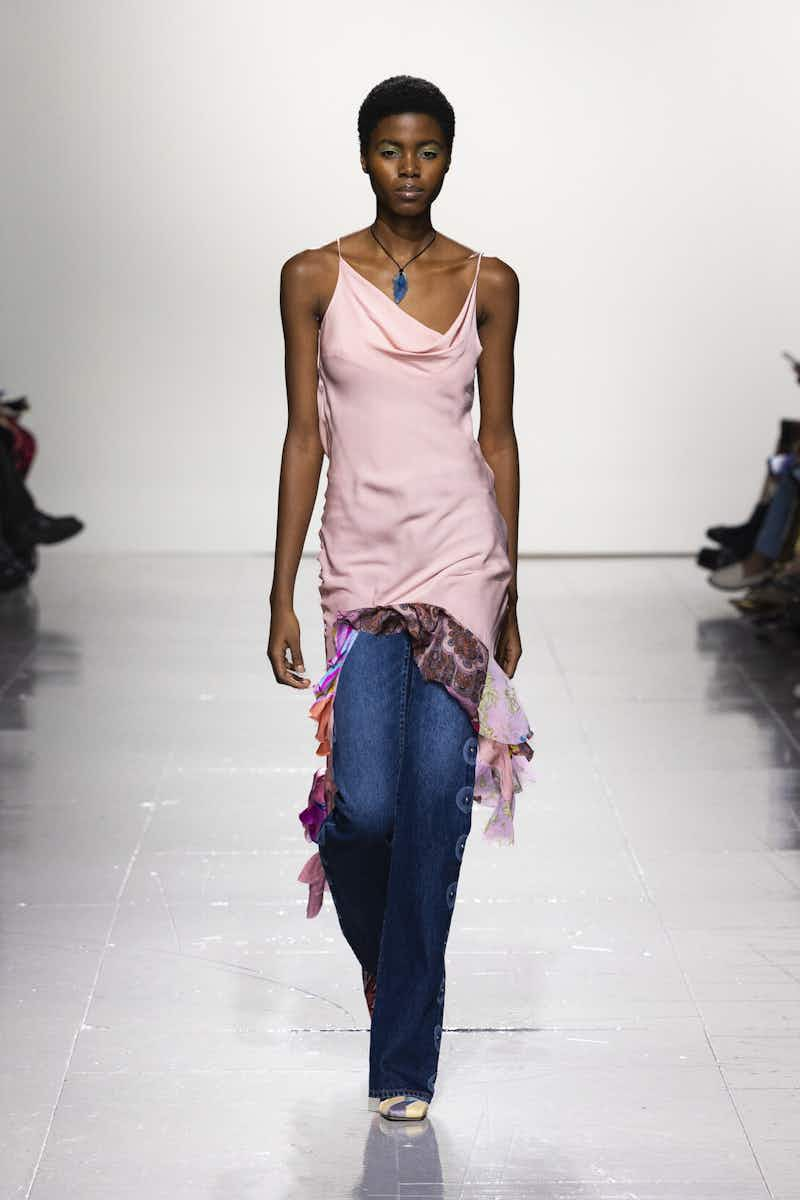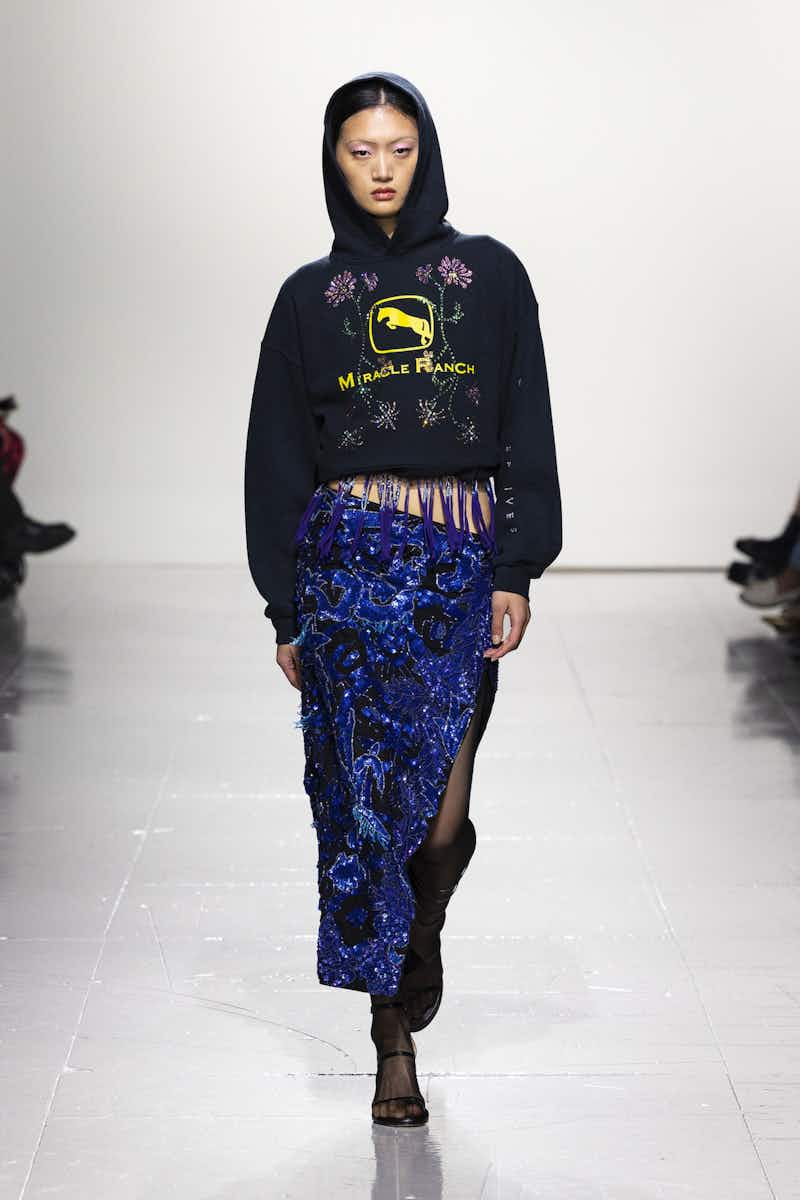 What?
Deep Space Nymphs, aka the Yorkshire designer's latest collection shown as a static presentation.
Where was it?
Langan's, a camp cocktail bar in Mayfair with red velvet walls, pricey champs and a lot of Botox.
What were the clothes like?
Imagine yourself on an acid trip. True to form, Bovan took his designs way out of this world, mashing up knits, repurposed bombers and all sorts of mind-altering prints for garments that looked positively wicked. And Bovan used Calvin Klein jeans, 66North puffers, Dr Martens and Alpha Industries flight jackets – all almost entirely deadstock, as well as the knits – rendering them unrecognisable by the time he customised the pieces with hand painted patterns and chaotic layers. There was a toughness to Bovan's latest collection, as if the designer was about to declare a New World Order. These lot would put up a good fight. Especially in those big booties.
In a song?
The Prodigy – Funky Shit.
In a word?
Rrrriot.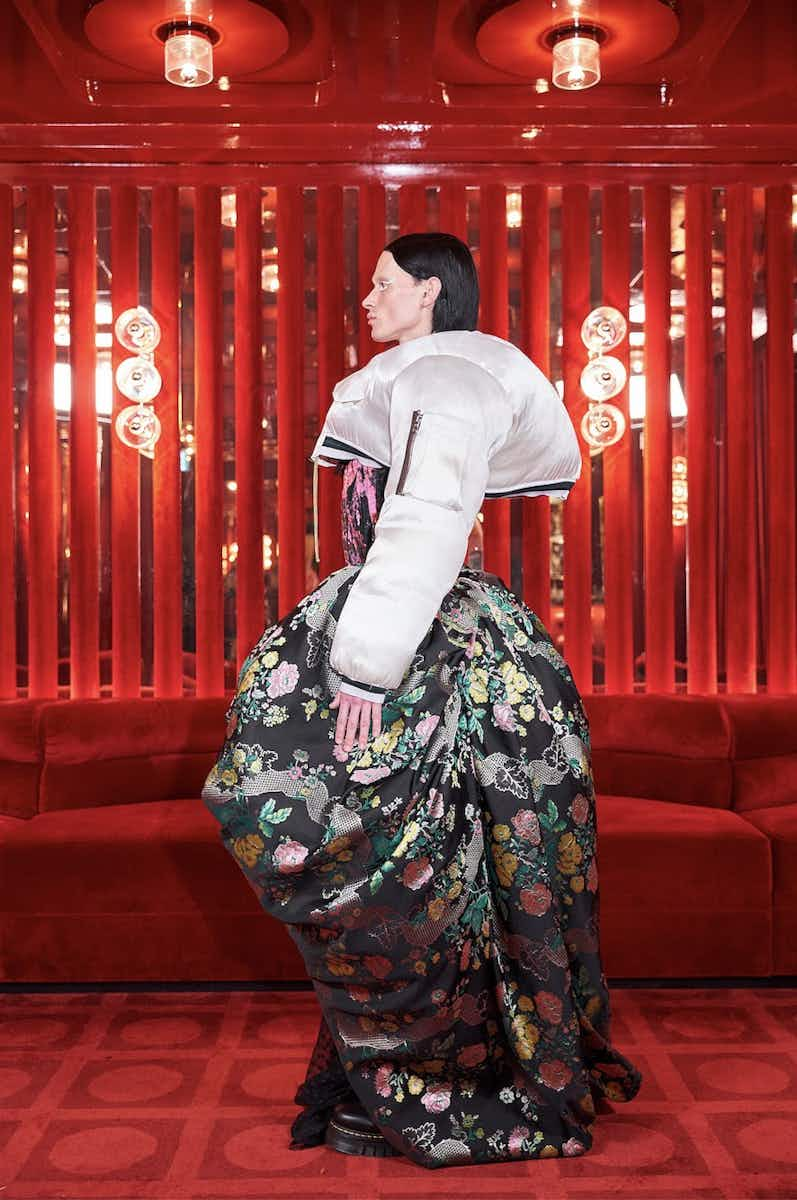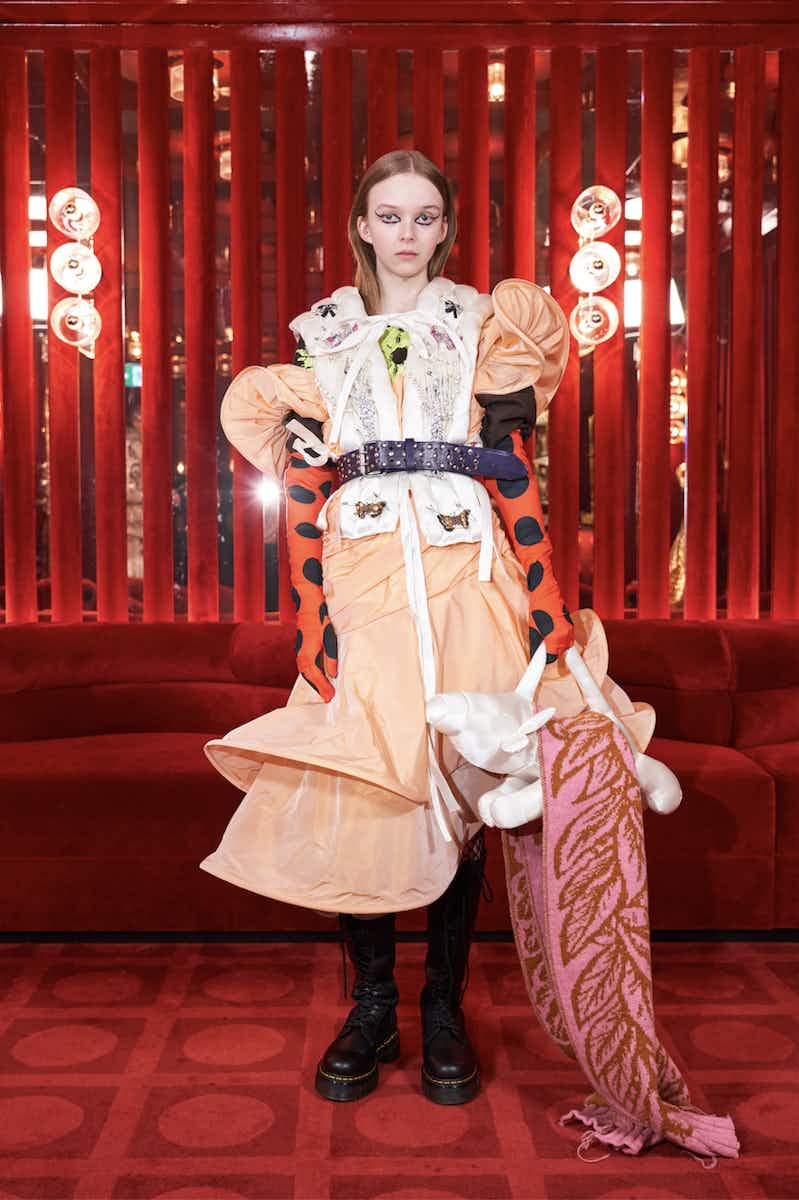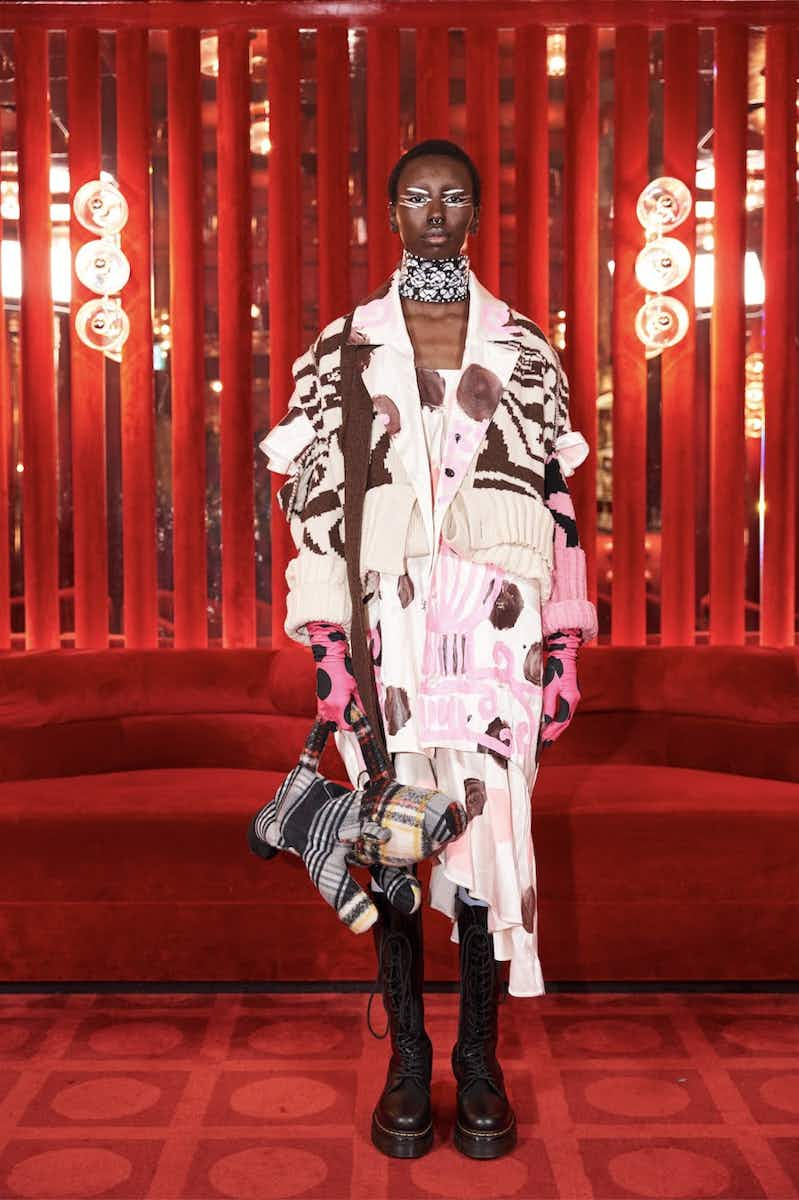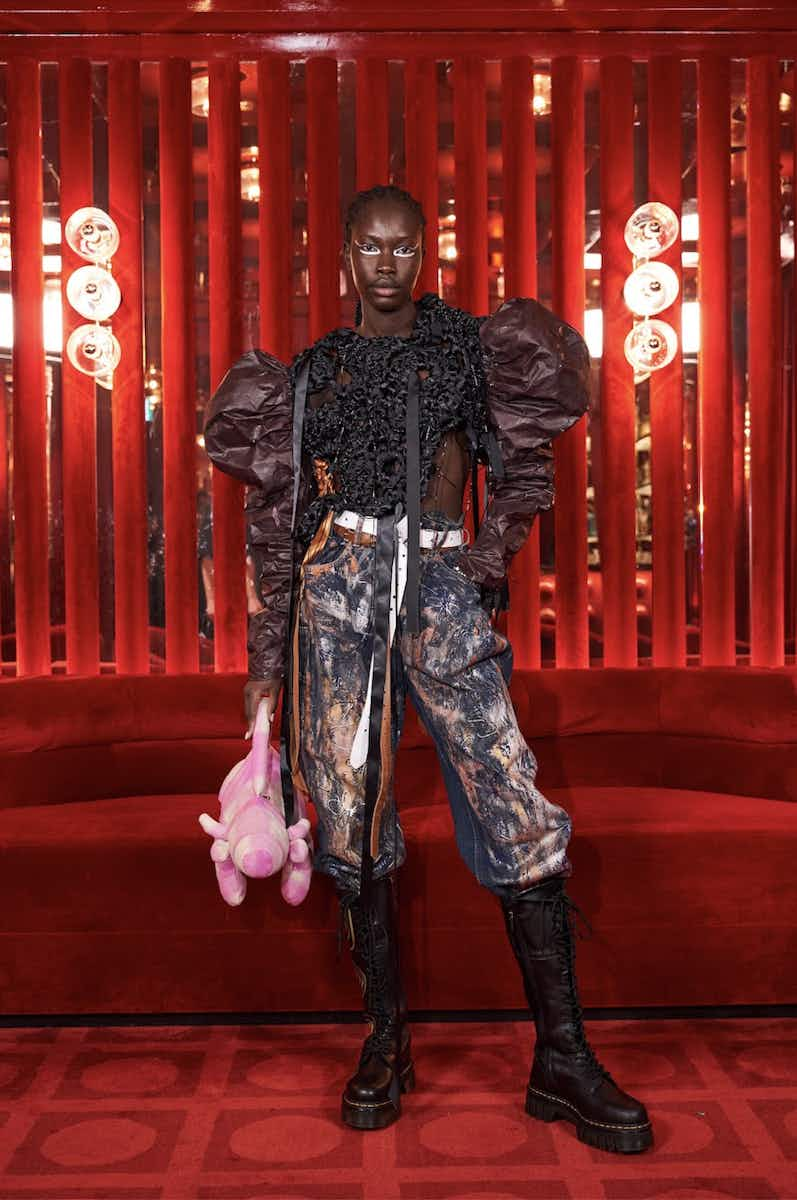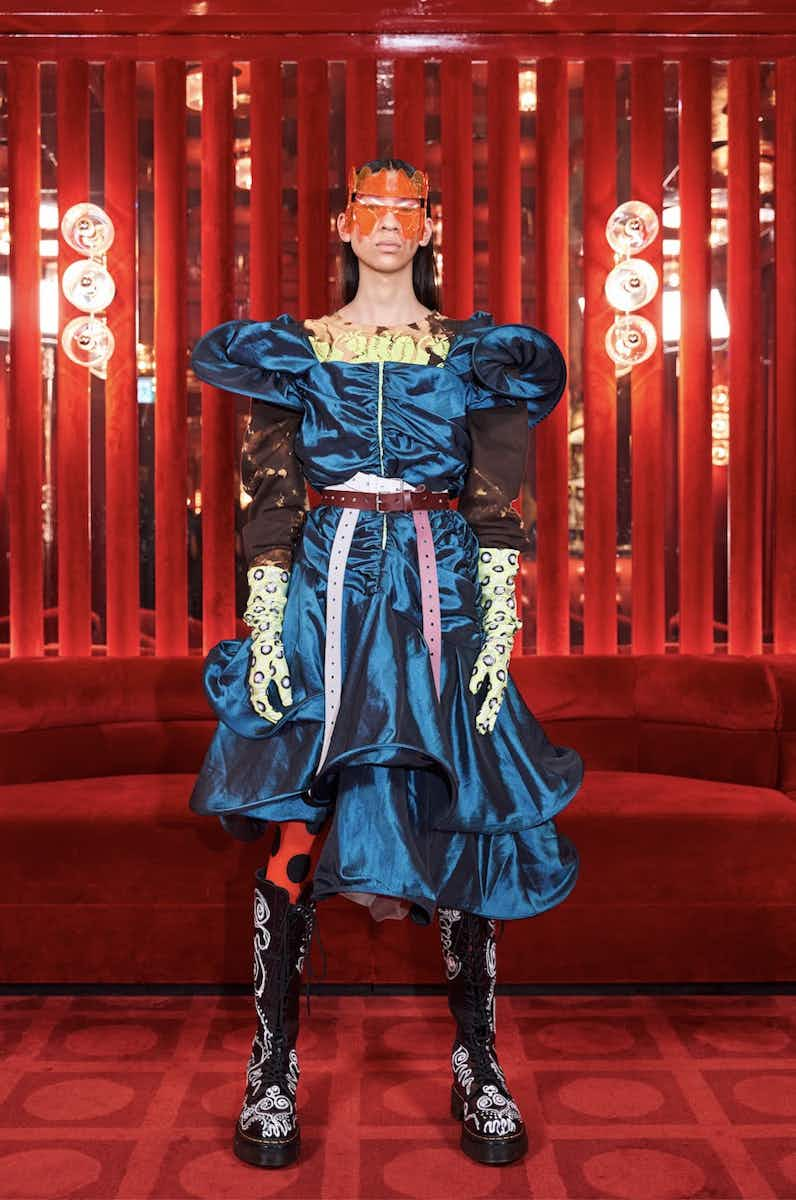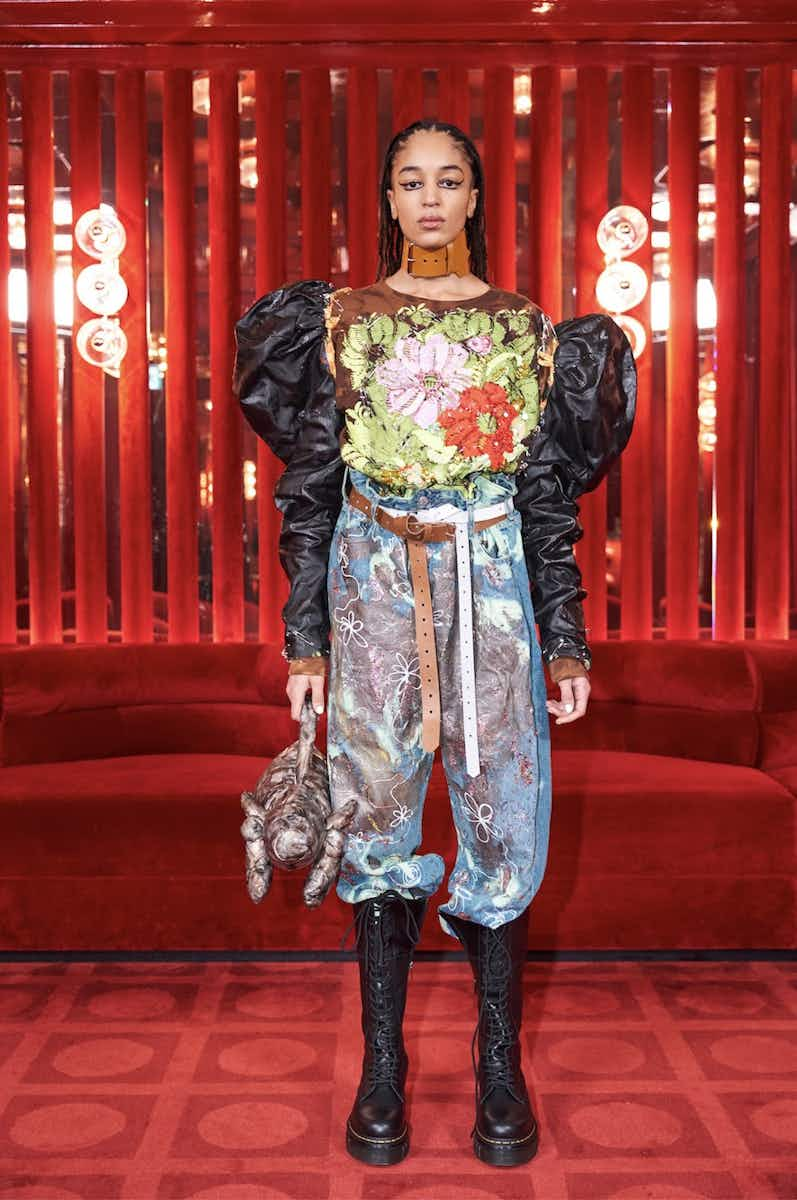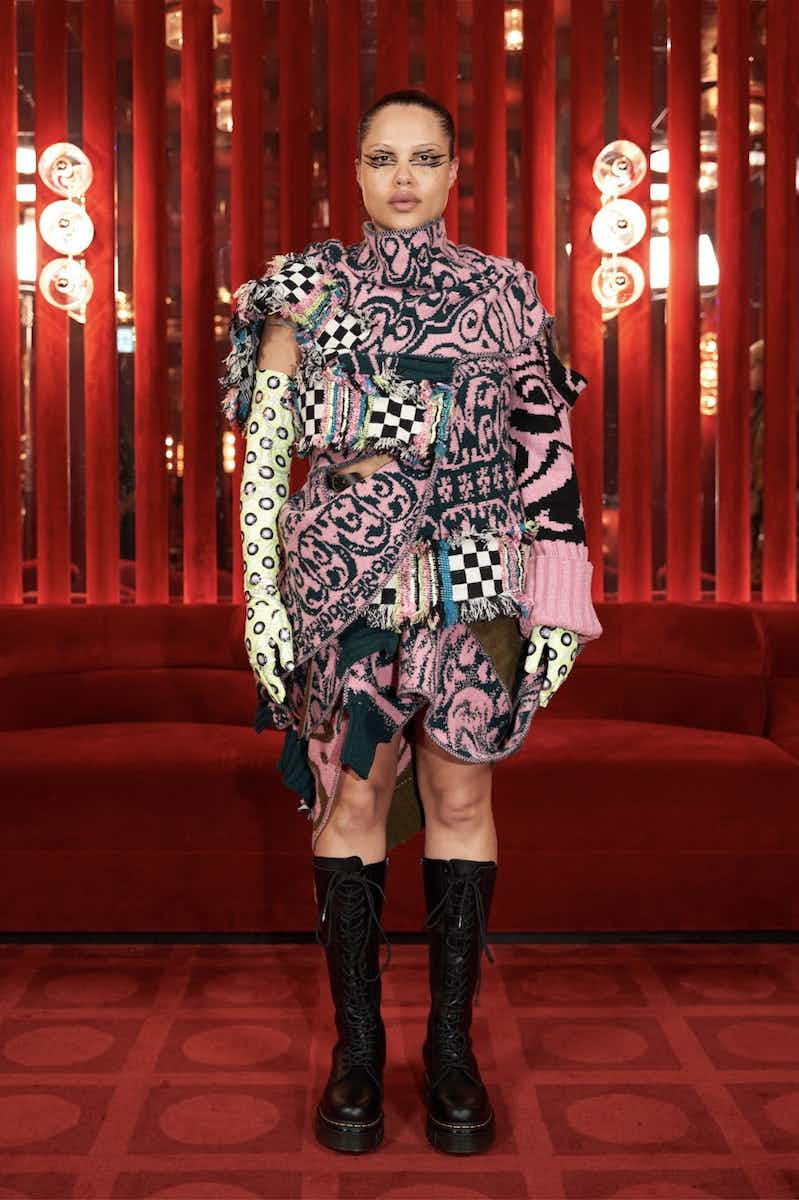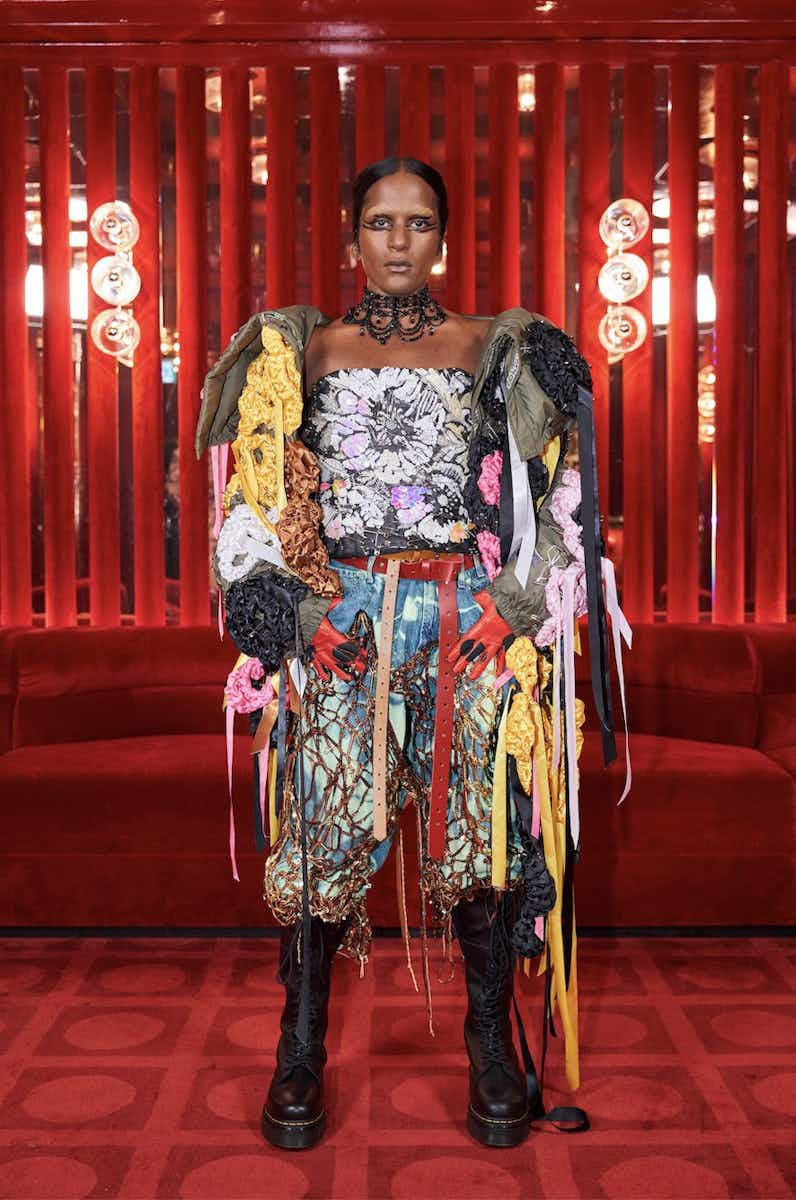 What?
The talent incubator's twice yearly showing, this time featuring Standing Ground designer Michael Stewart, size-inclusive studio Karoline Vitto and, new to the line-up, recent LVMH Prize nominee Johanna Parv.
Where?
At Truman Brewery – a familiar friend for Fashion East, who have hosted countless shows at the Shoreditch venue since 2000 (its very walls have witnessed the making of Jonathan Anderson, Simone Rocha and Martine Rose).
What were the clothes like?
Like all Fashion East shows, it was properly diverse from start to finish. Standing Ground opened with some pretty spectacular evening gowns that felt as romantic as they did vengeful; the body becoming a weapon with protruding hips, ultra-cinched waists, and fabrics hanging like liquid. The star of the collection was a floor-length overcoat, with the waist moulded inwards before extending out.
Then onto Johanna Parv, whose multi-functioning pieces included gilets, raincoats and cargo skirts with nifty zippers and detachable bits – which the models very thoughtfully demonstrated on the runway. Parv's take on utility is tough with an almost ninja-like precision in the garment's sharp cuts and quiet palette of mainly black and silvery grey. We wouldn't mess with these lot.
And lastly, Karoline Vitto looked back to the ​'80s (there were shoulder pads) for her second collection with Fashion East. It was a camp affair, with acid yellow, deep purple and ruby red all turning up and out on seriously sensual, structured dresses and two-pieces, with the designer's signature metal claws latching onto thighs, arms and waists.
Any highlights?
Karoline Vitto's collection ended on a really solid acid house track, which Shazam didn't manage to catch in time. If anyone knows it…
In a song?
Donna Summer – Bad Girls.
In a nut-shell?
Two's a company, three's a party.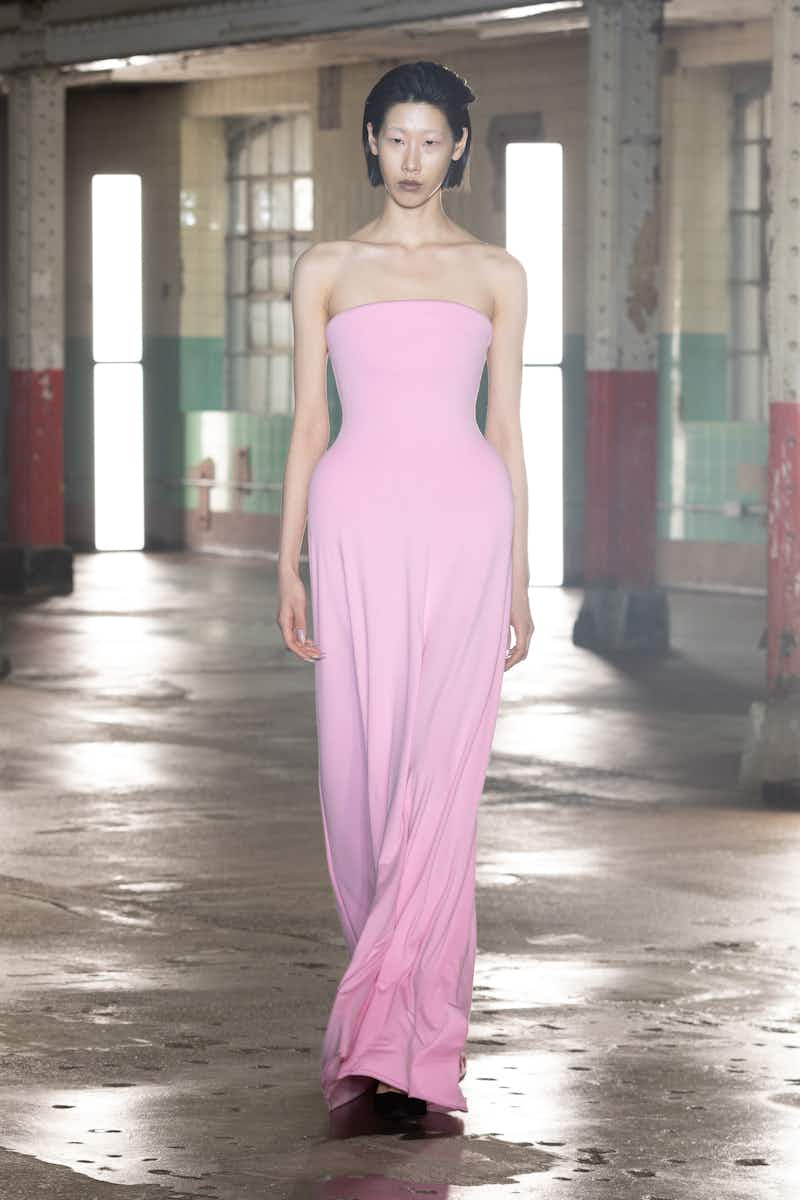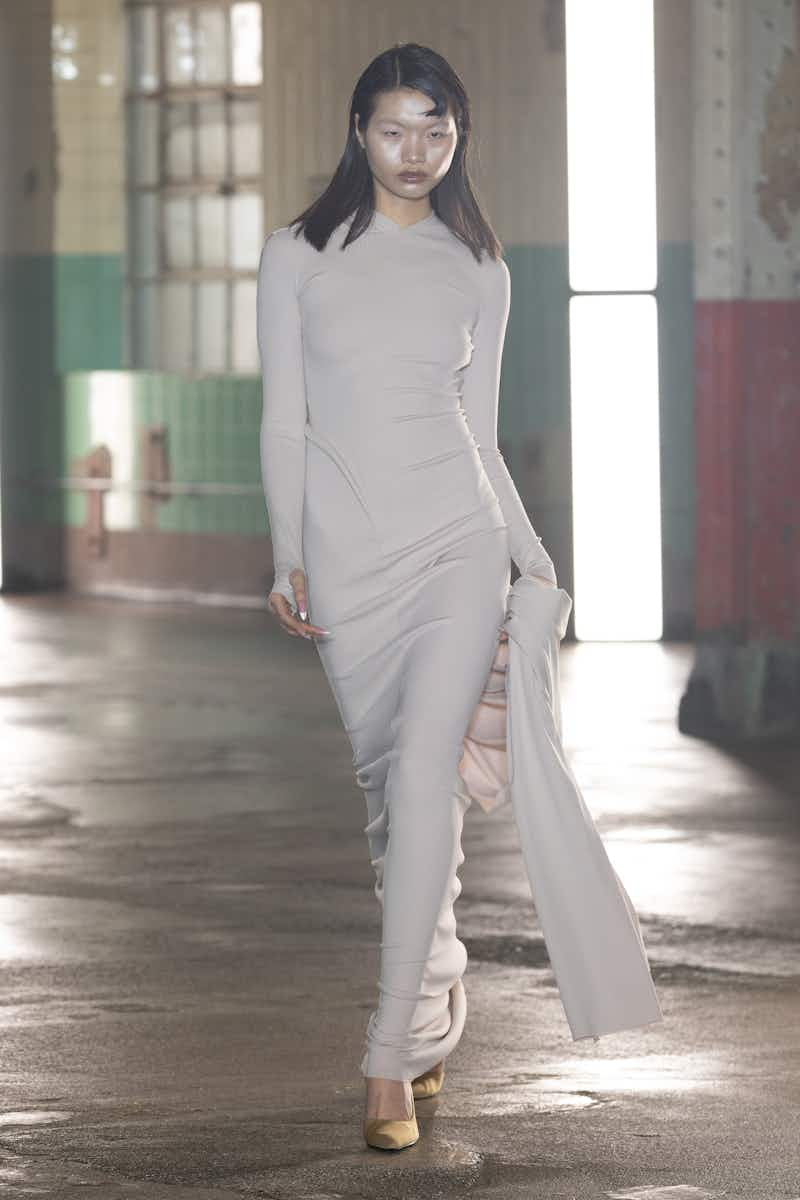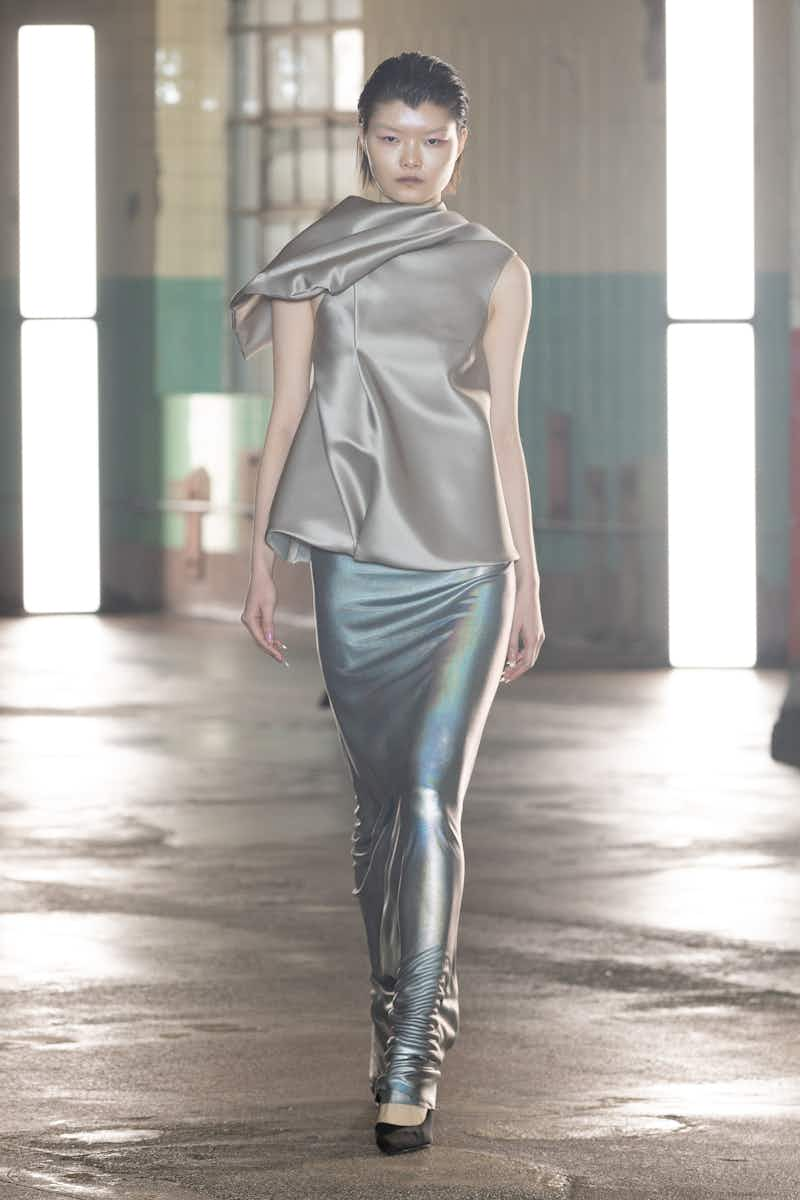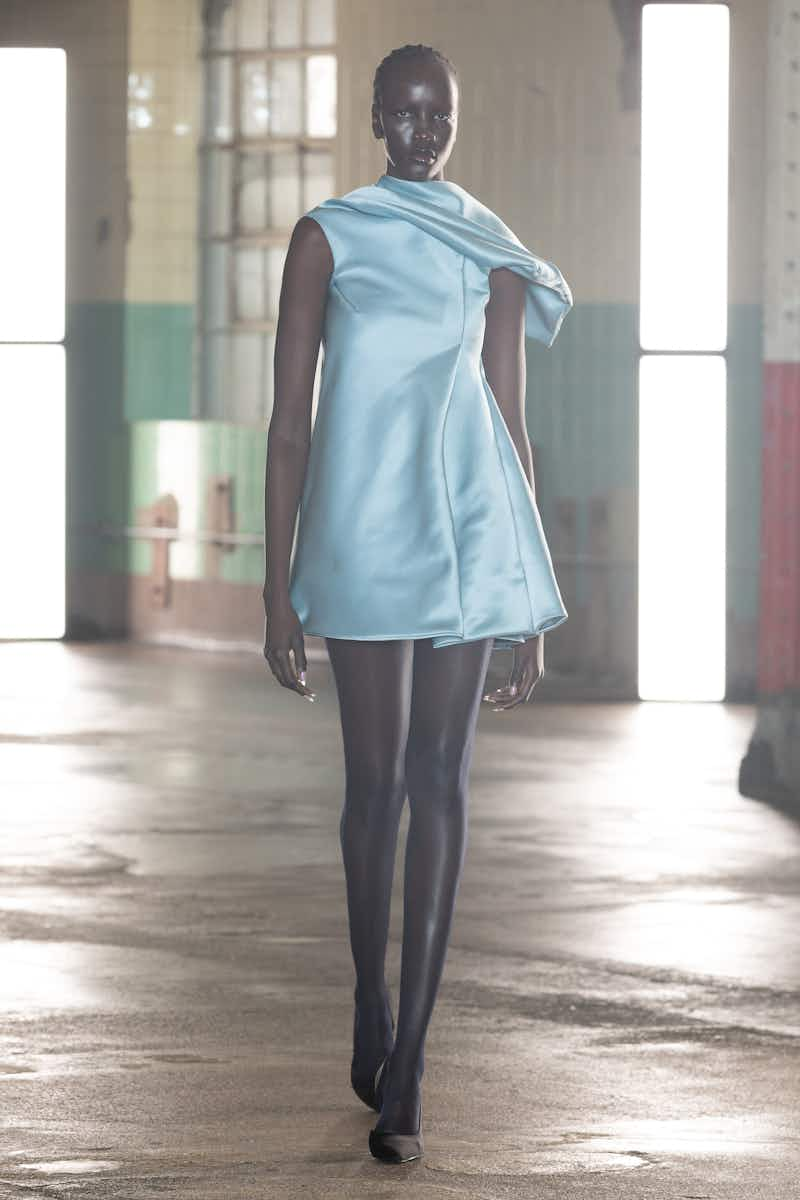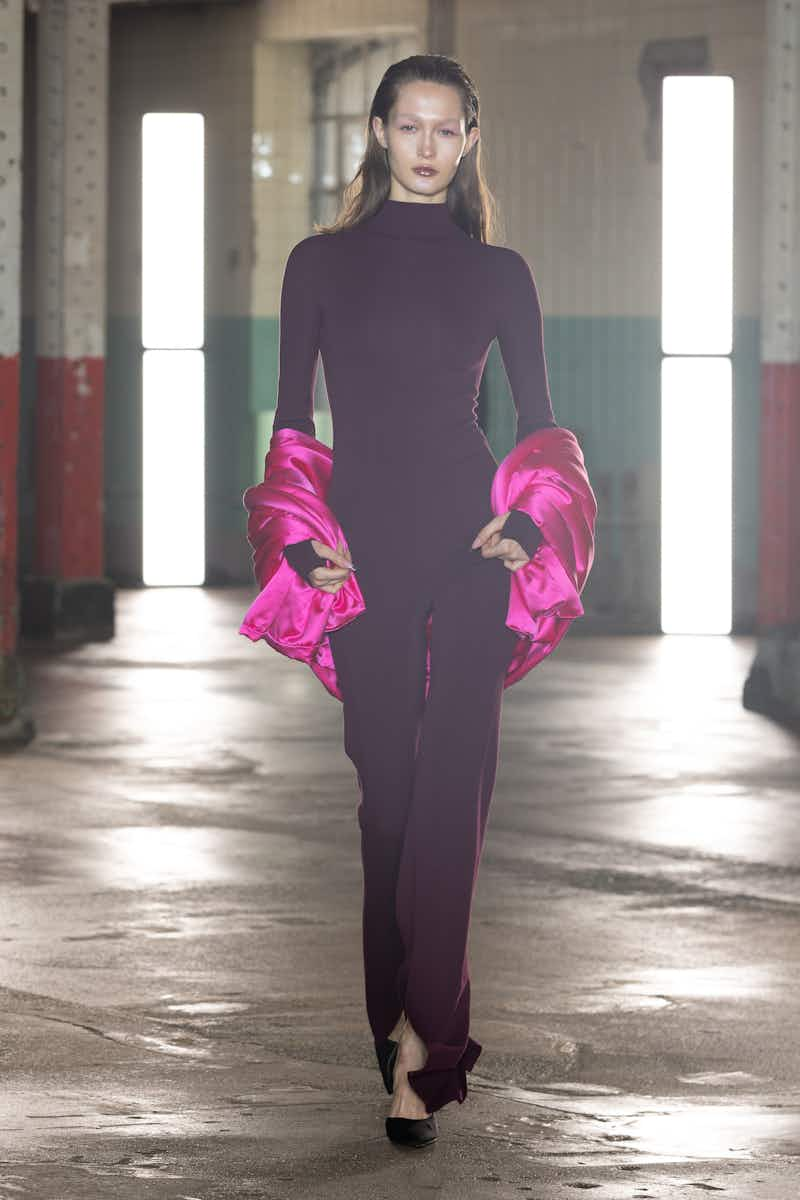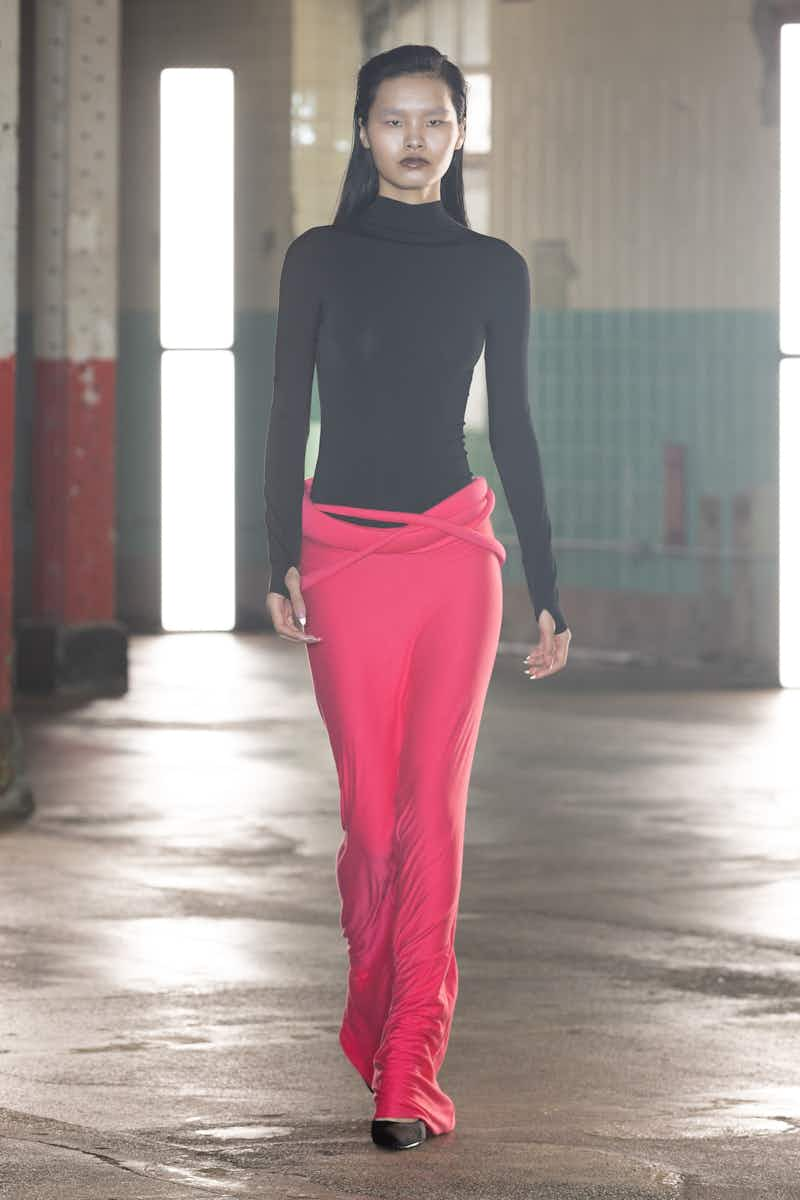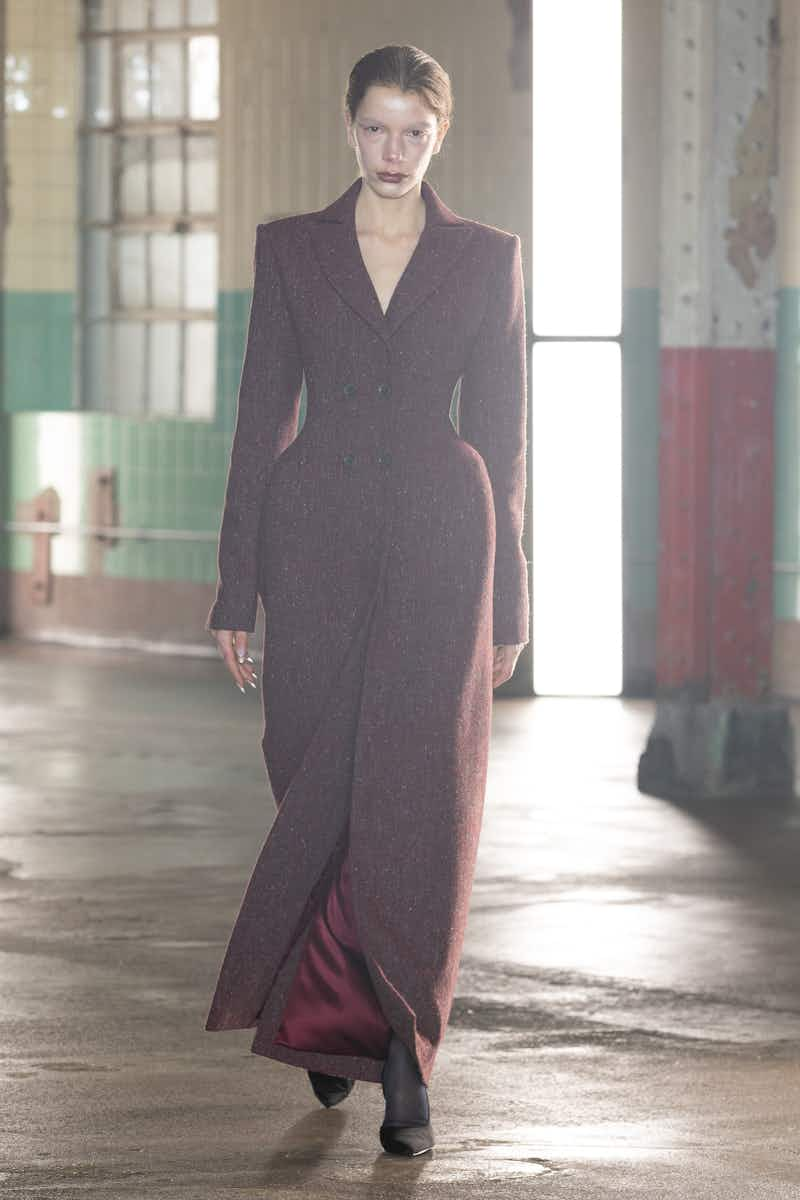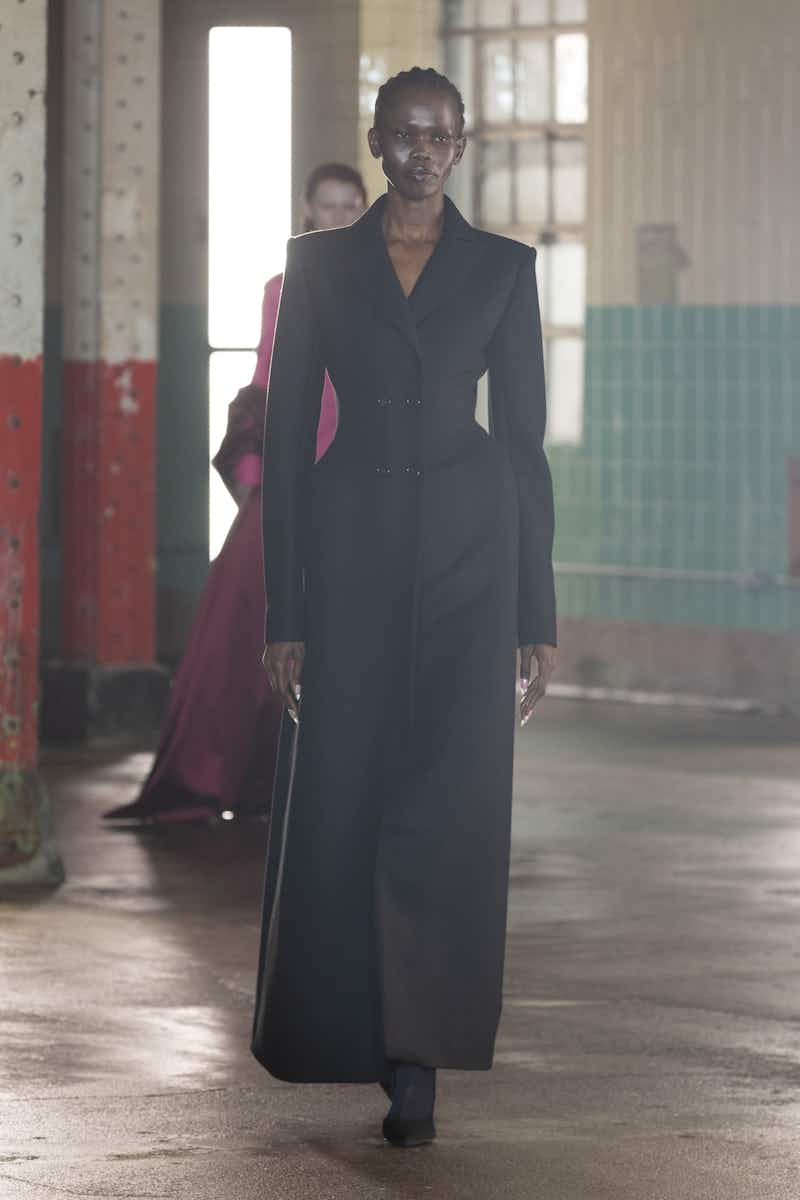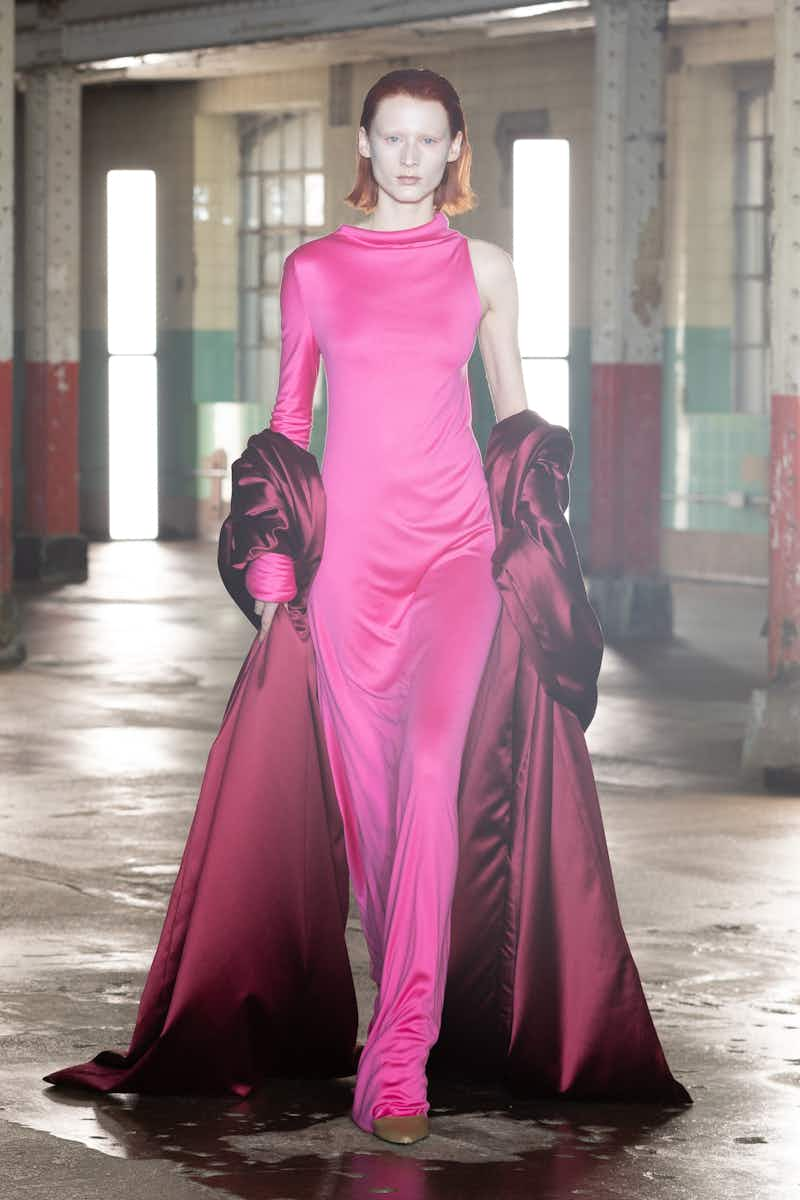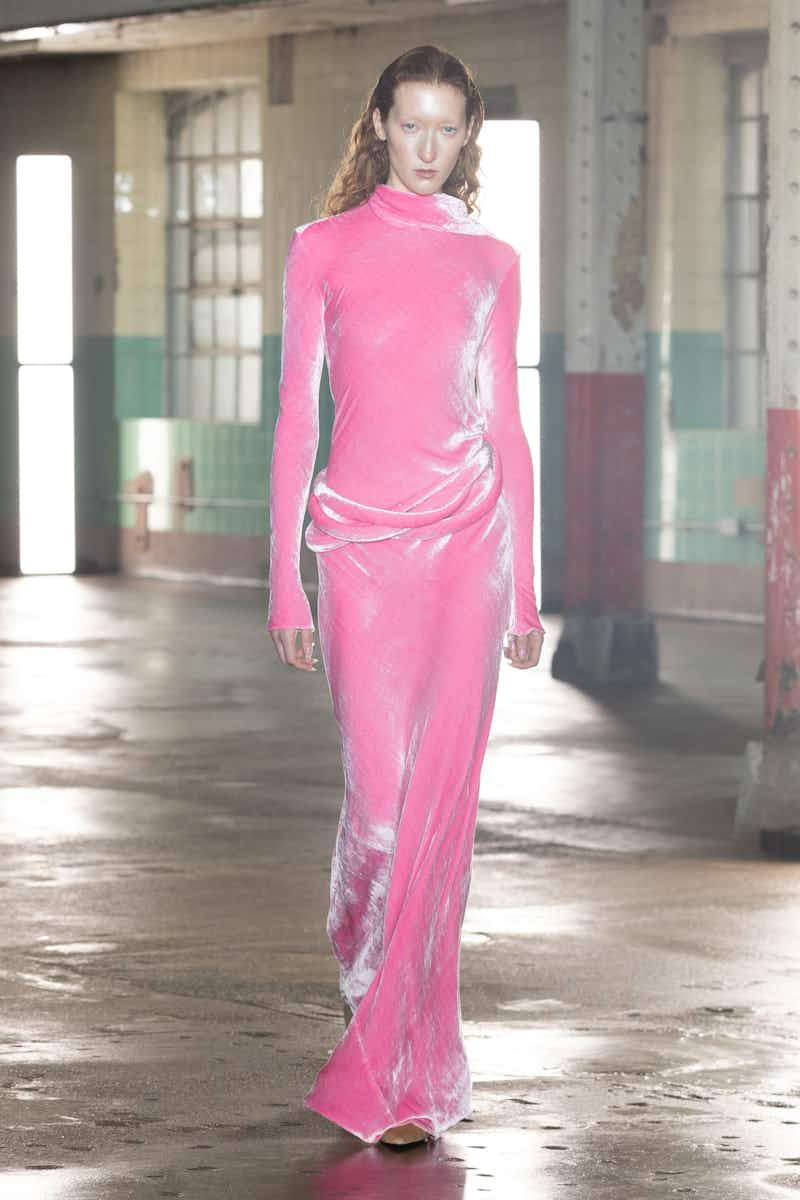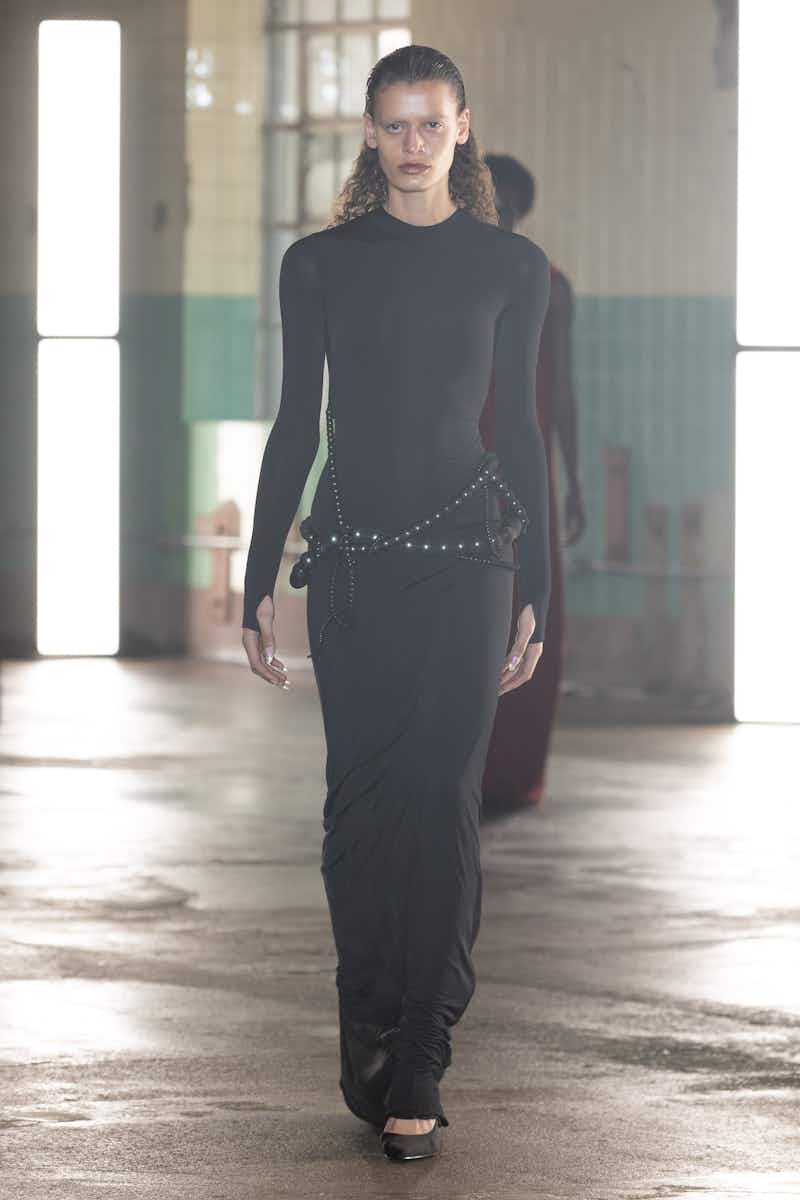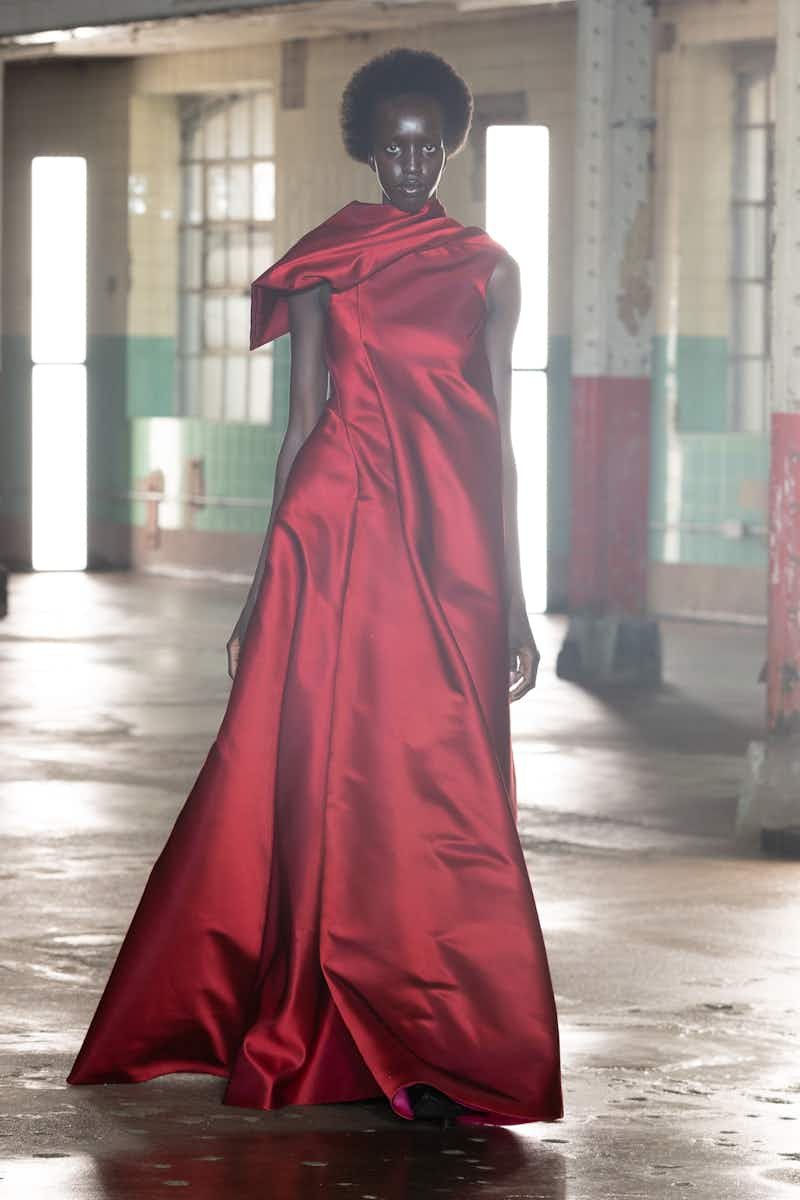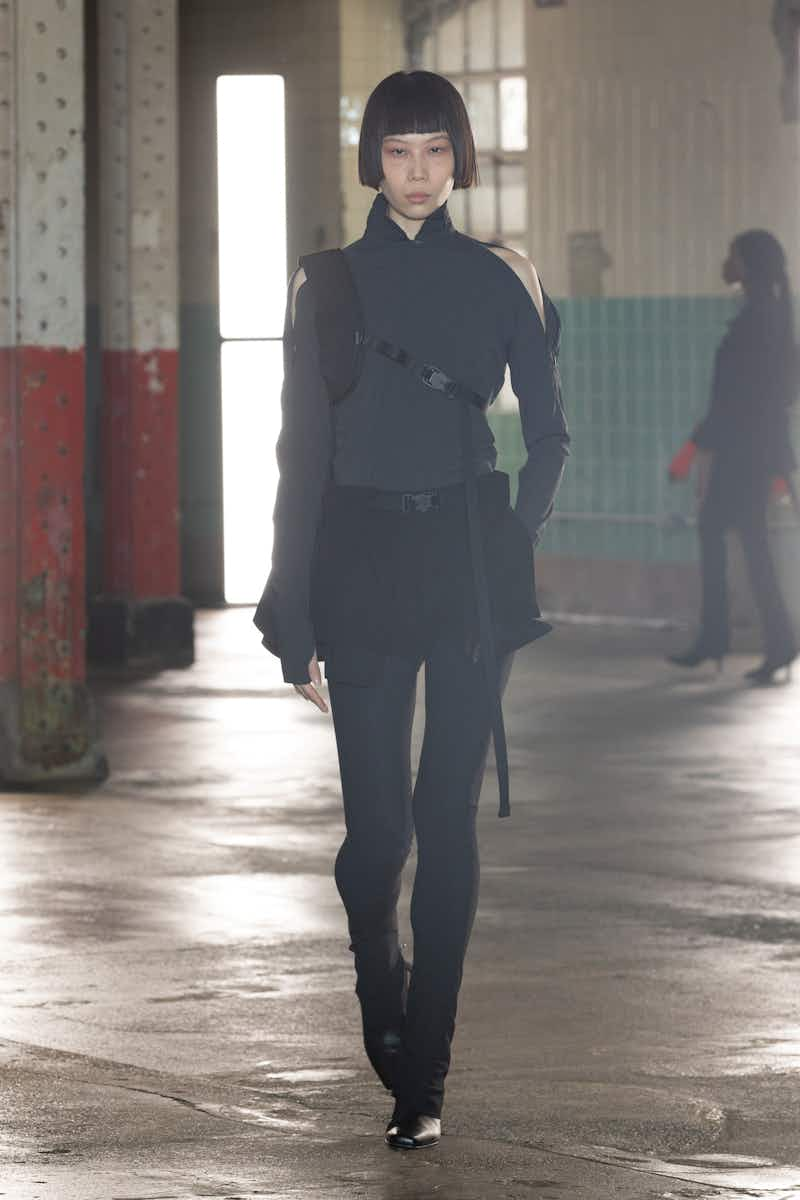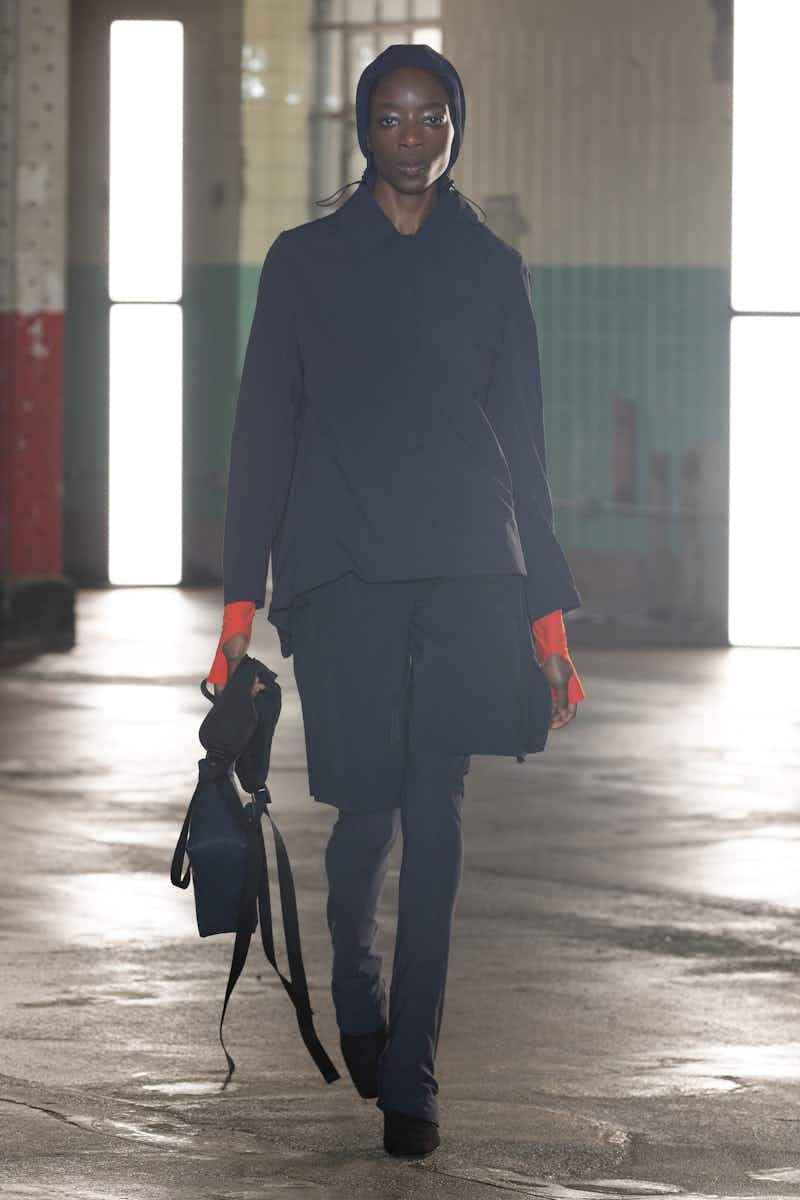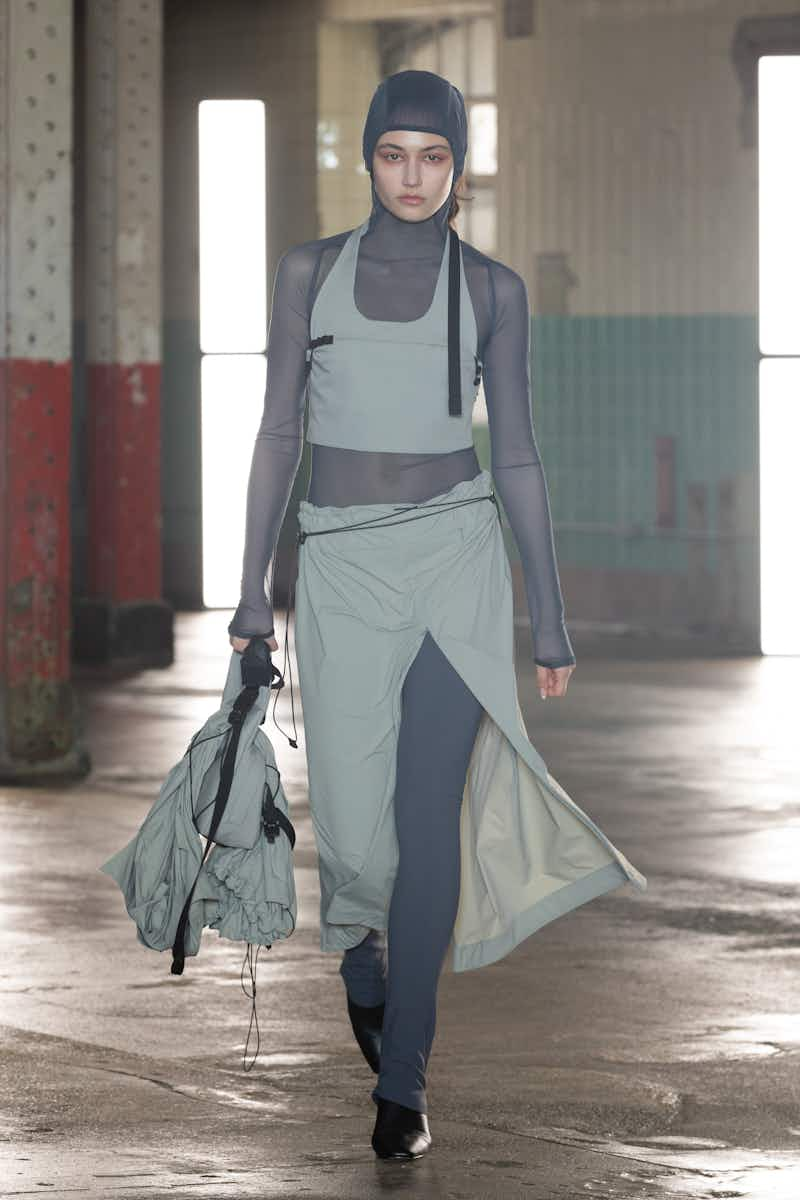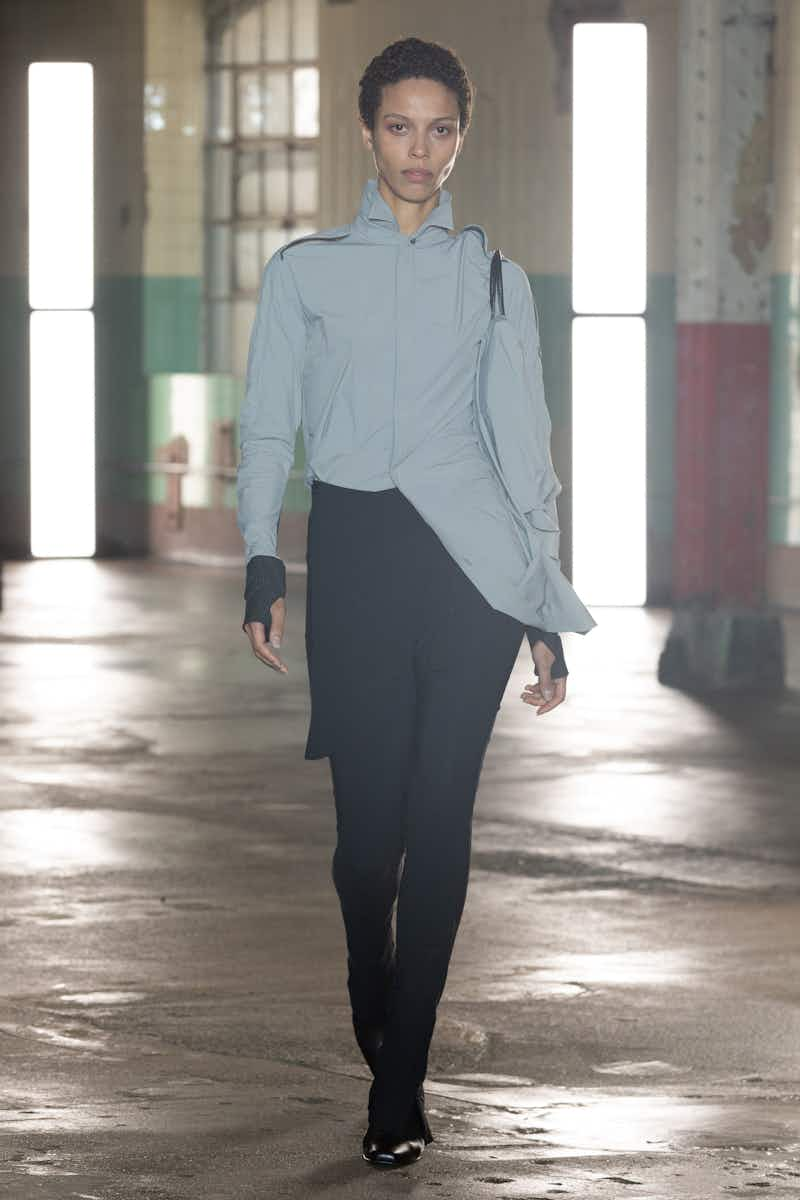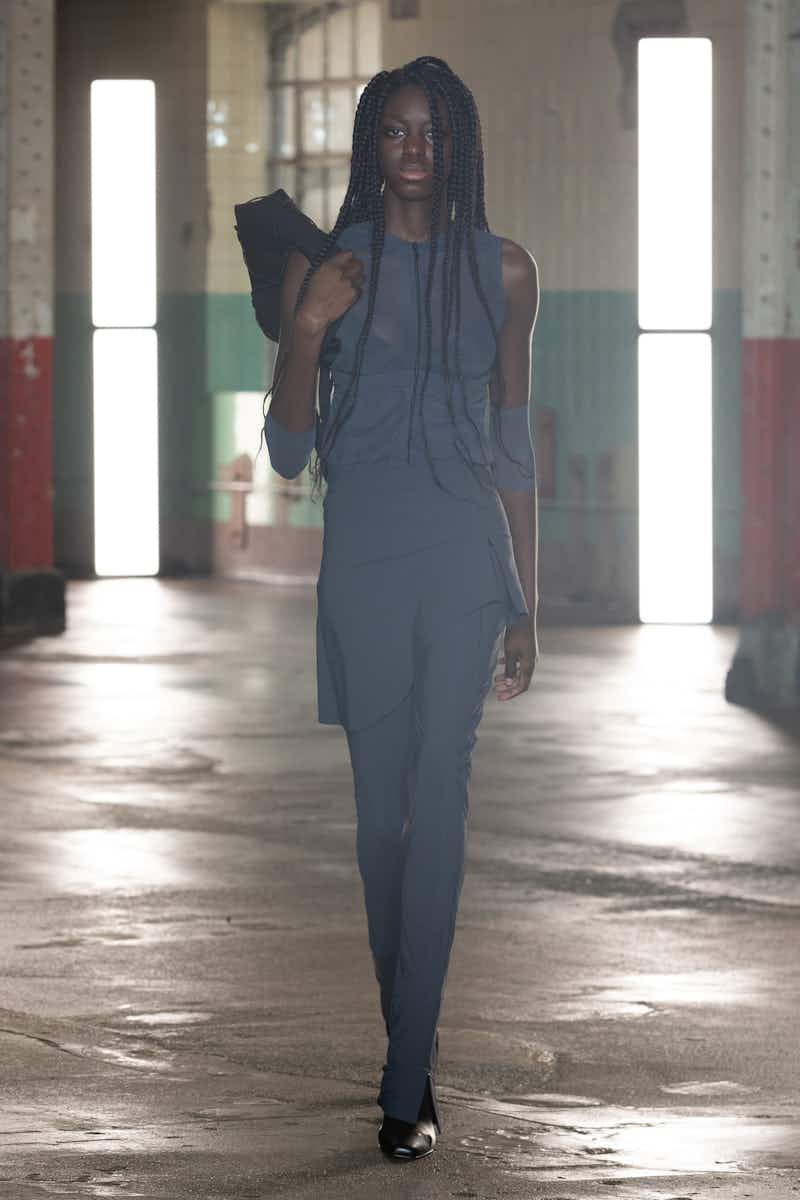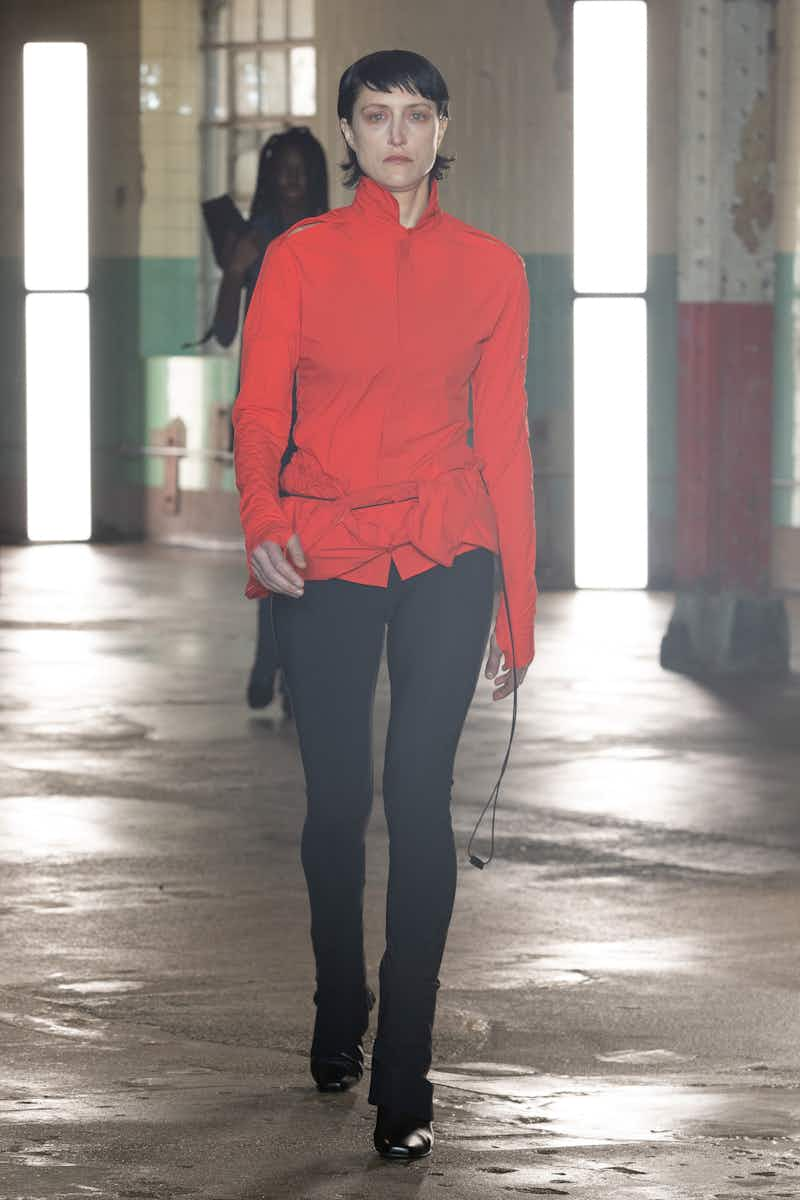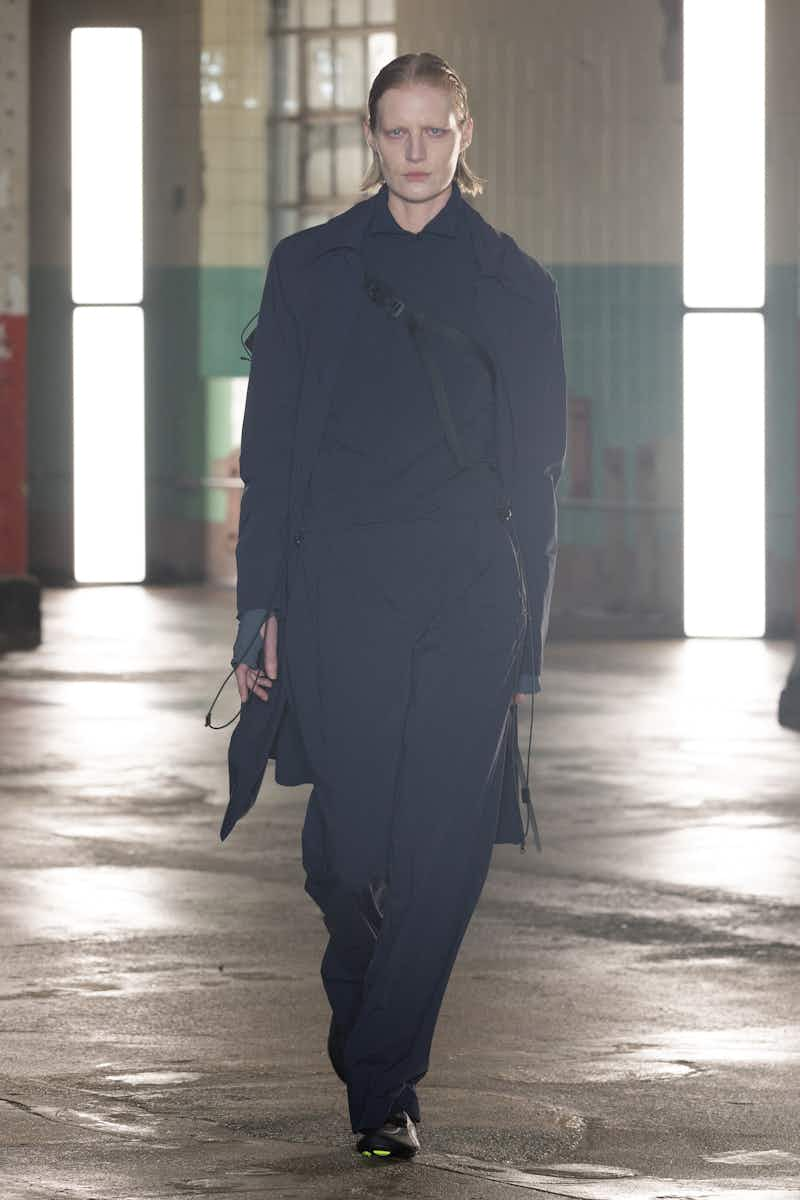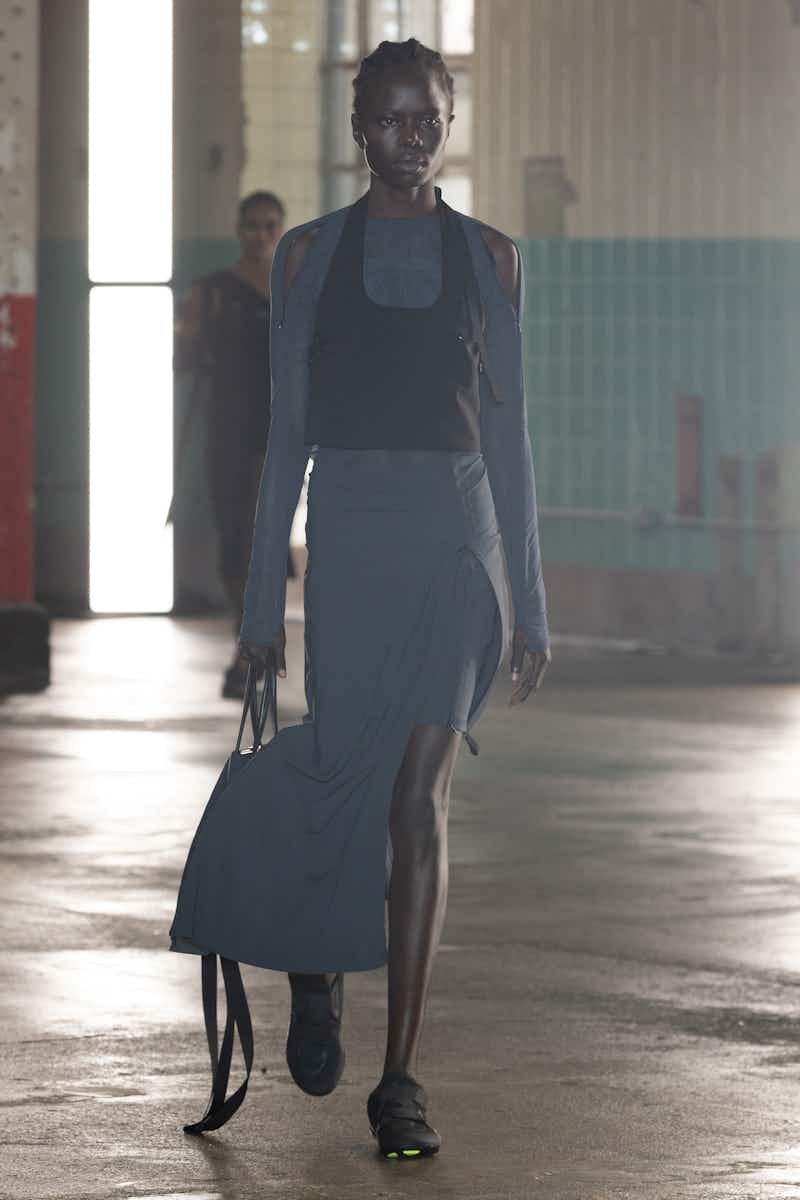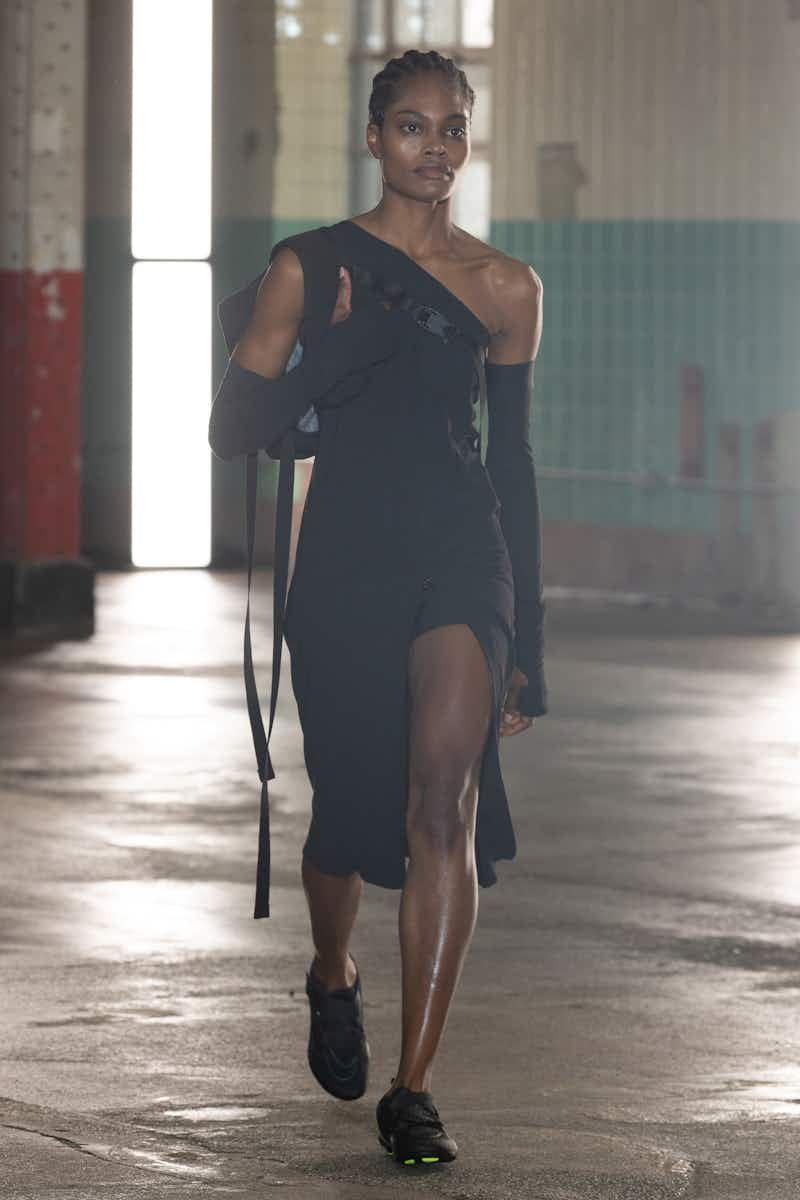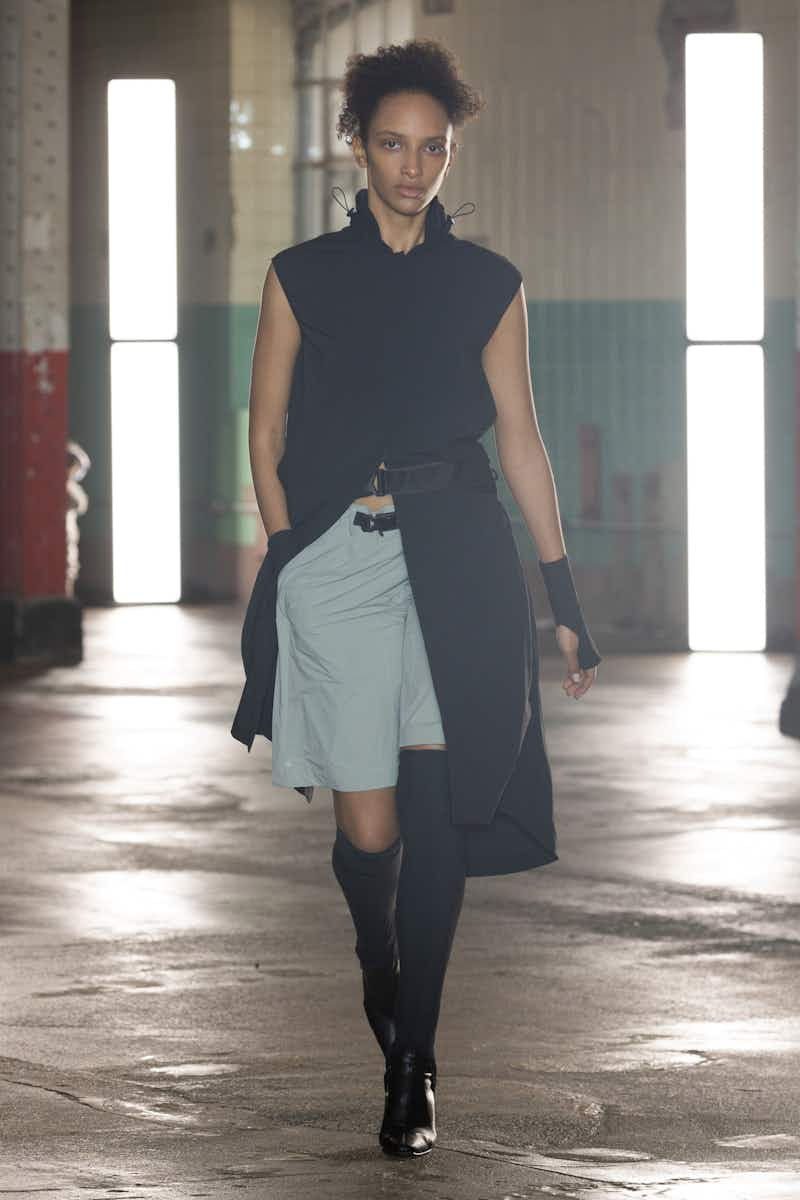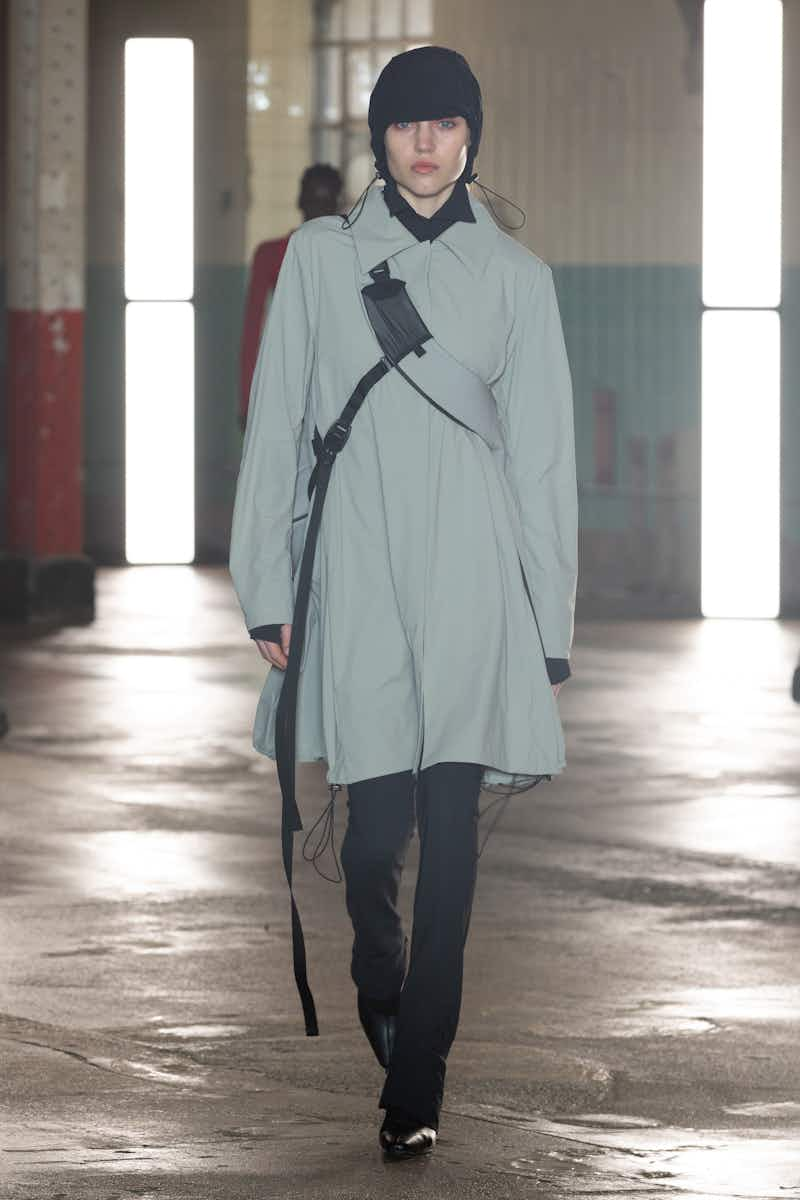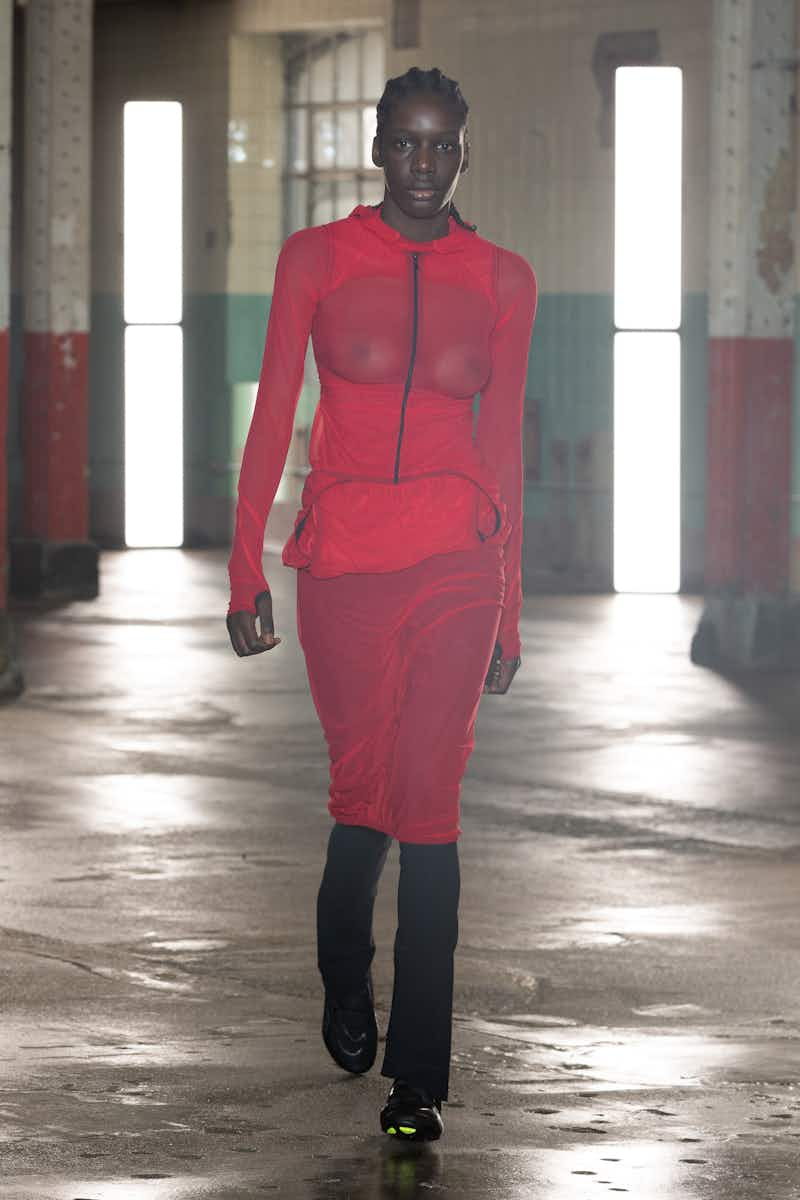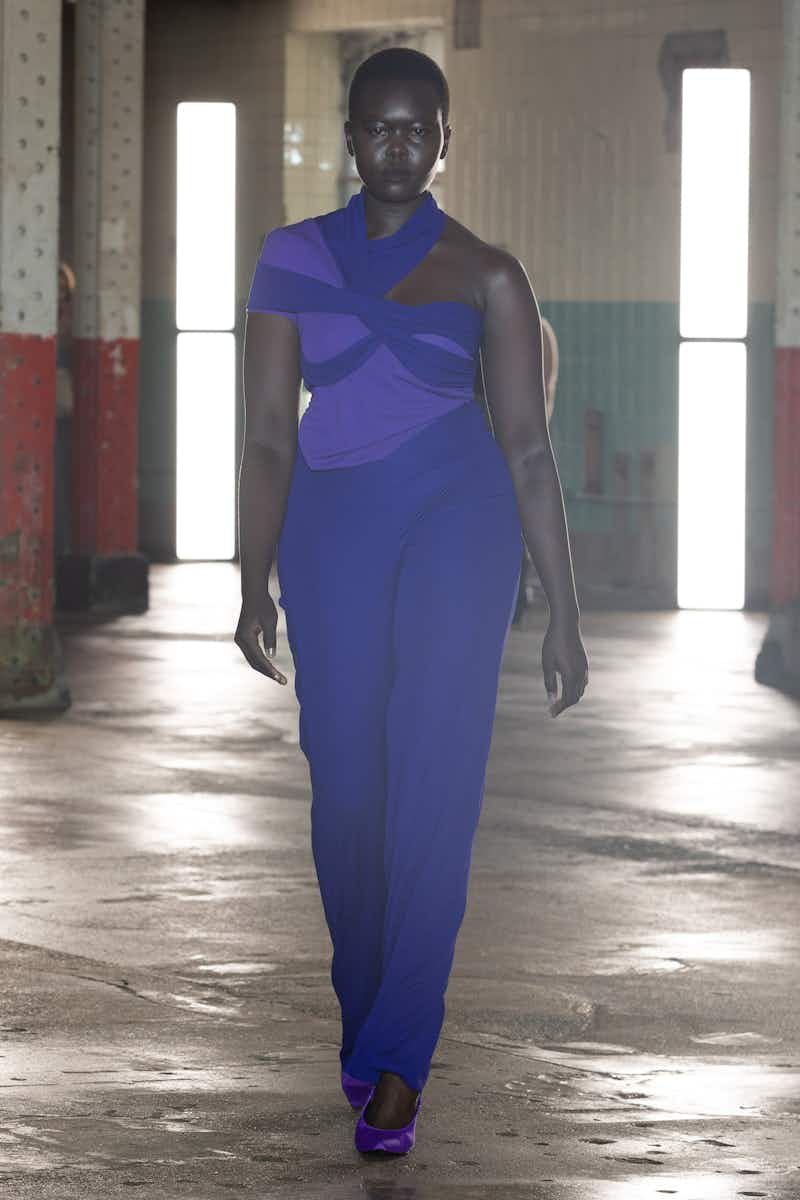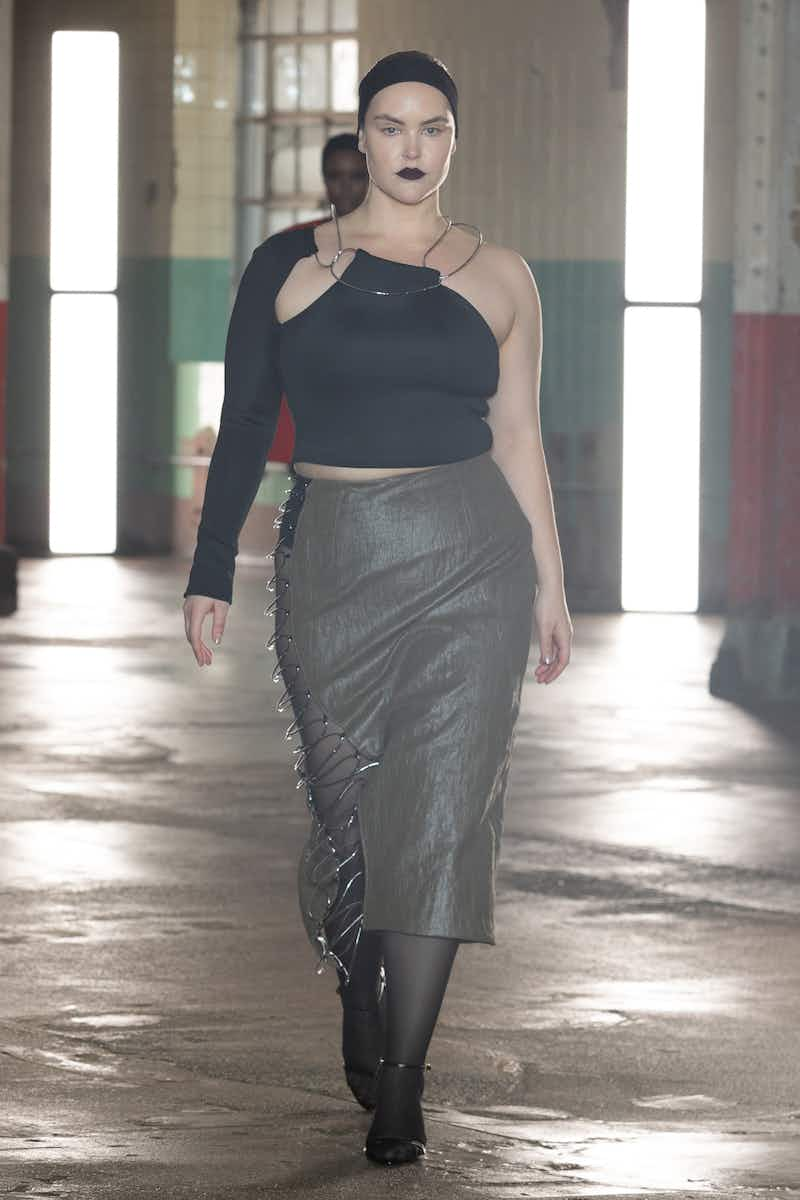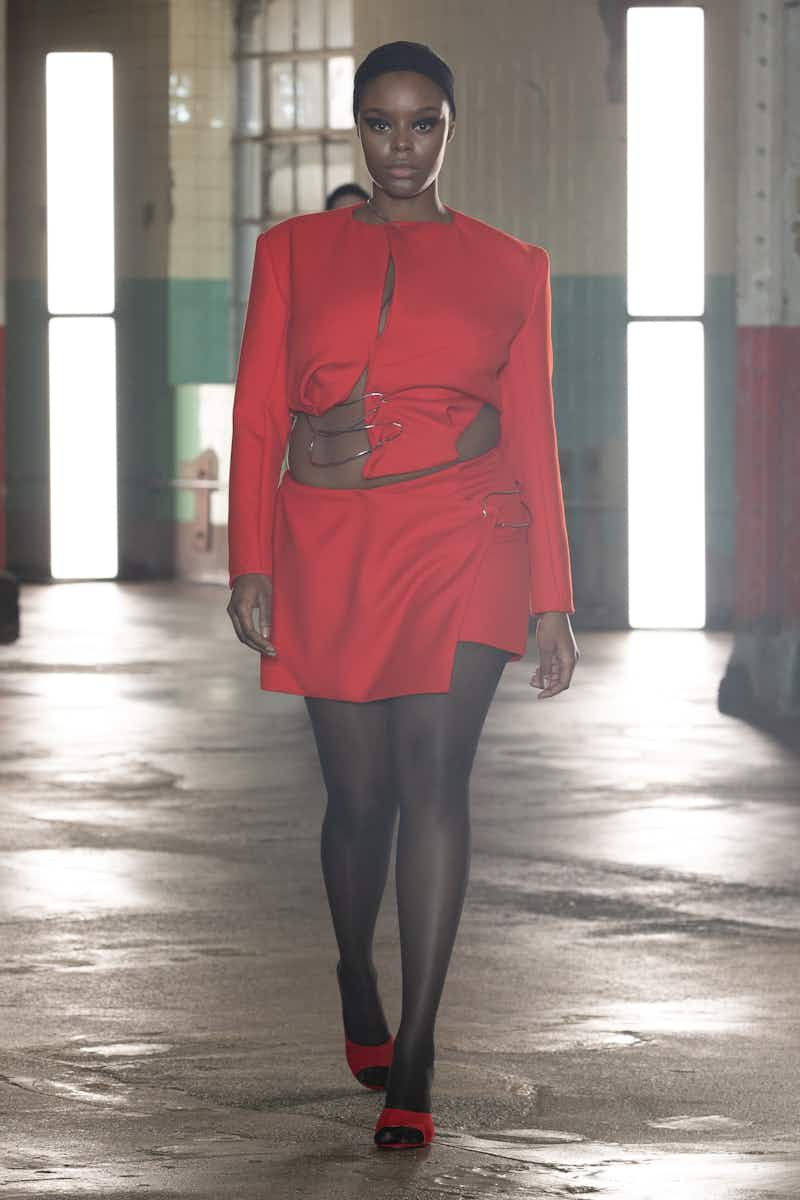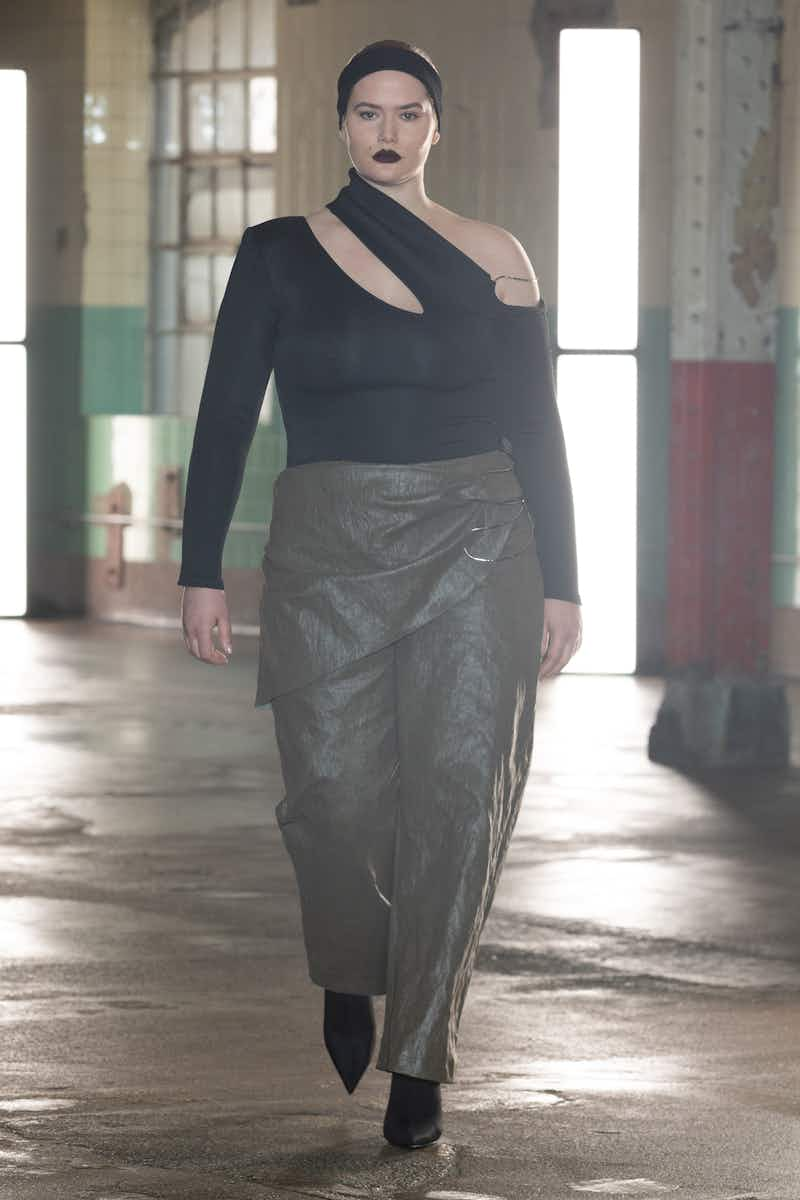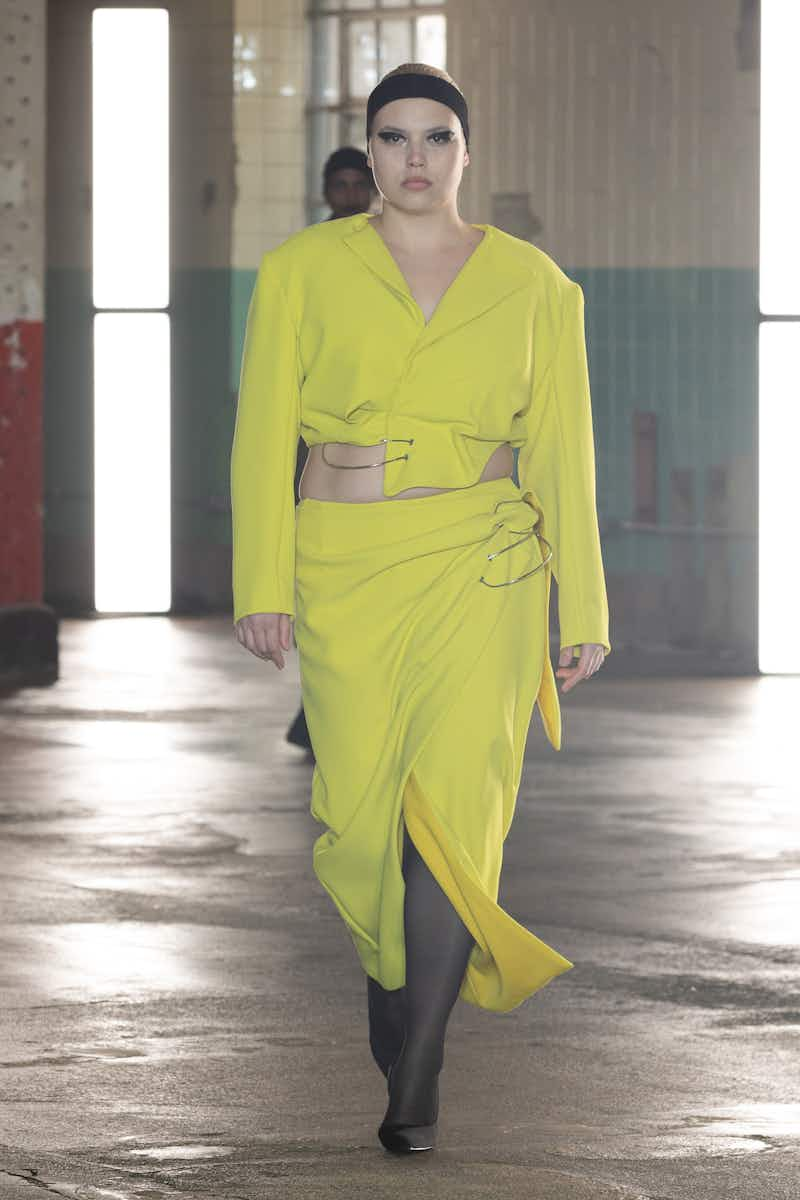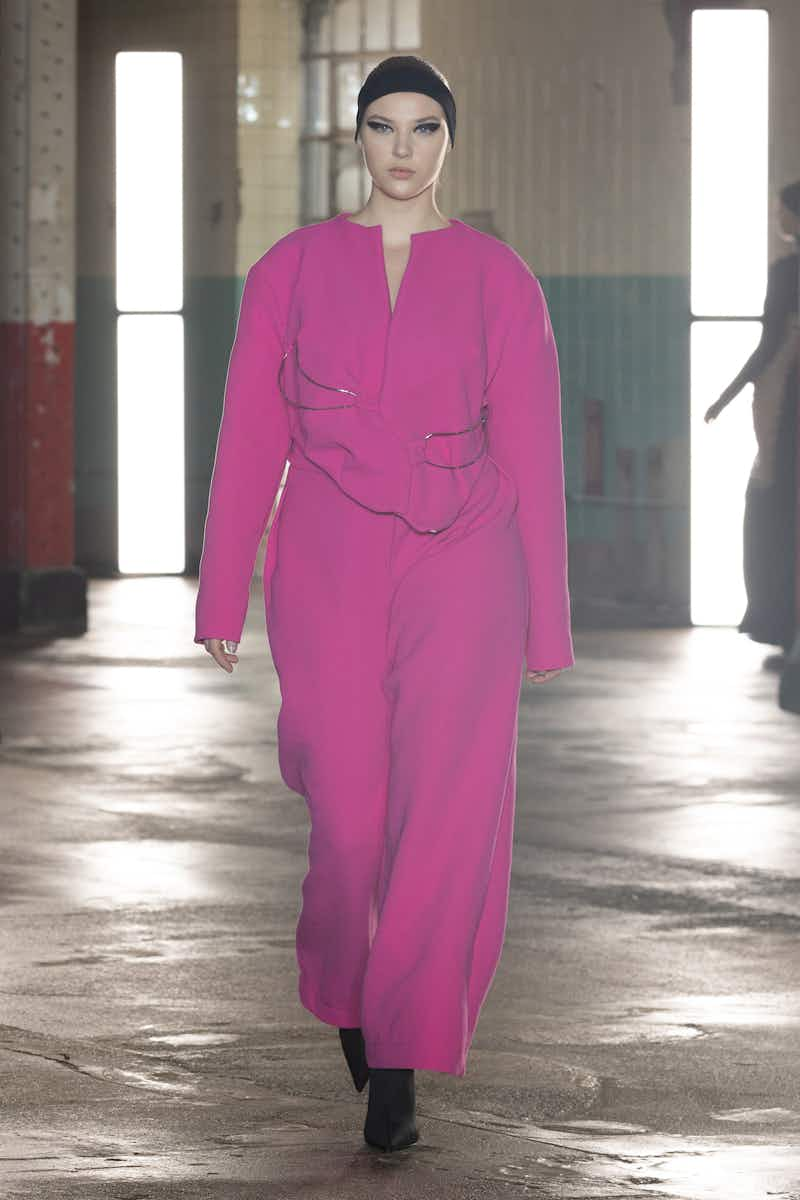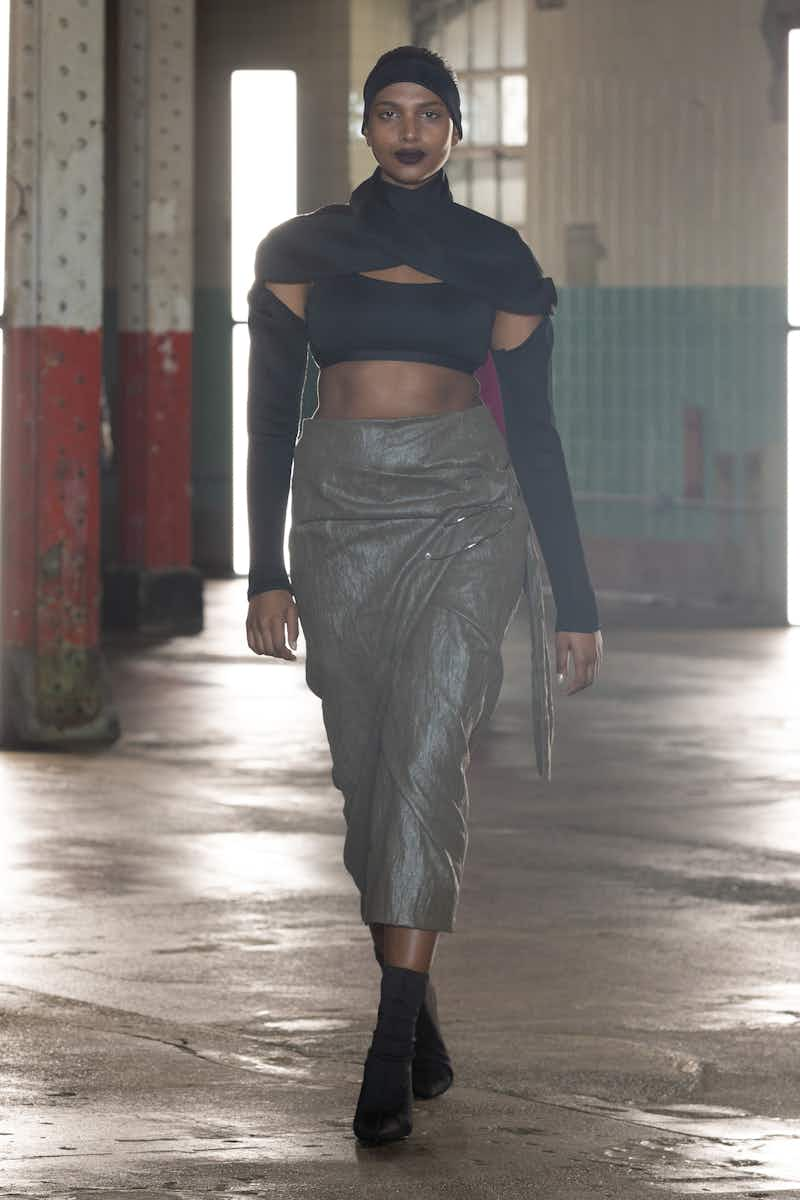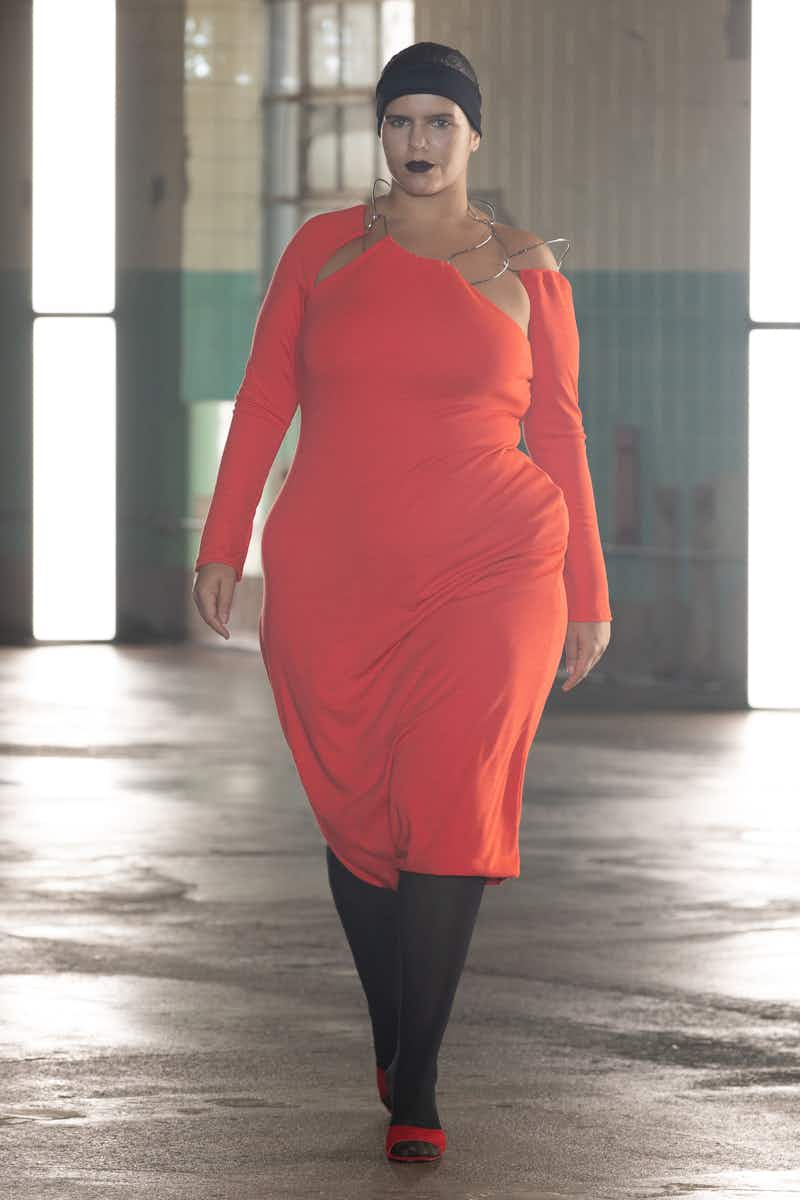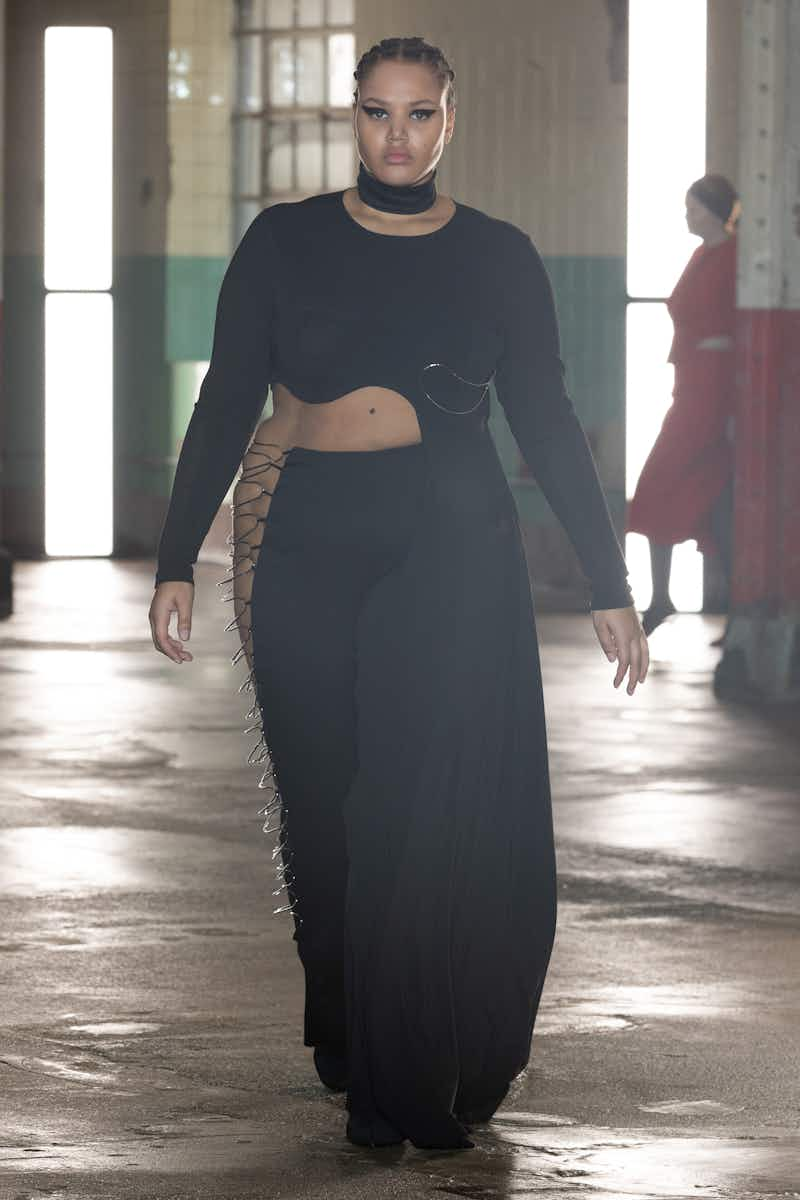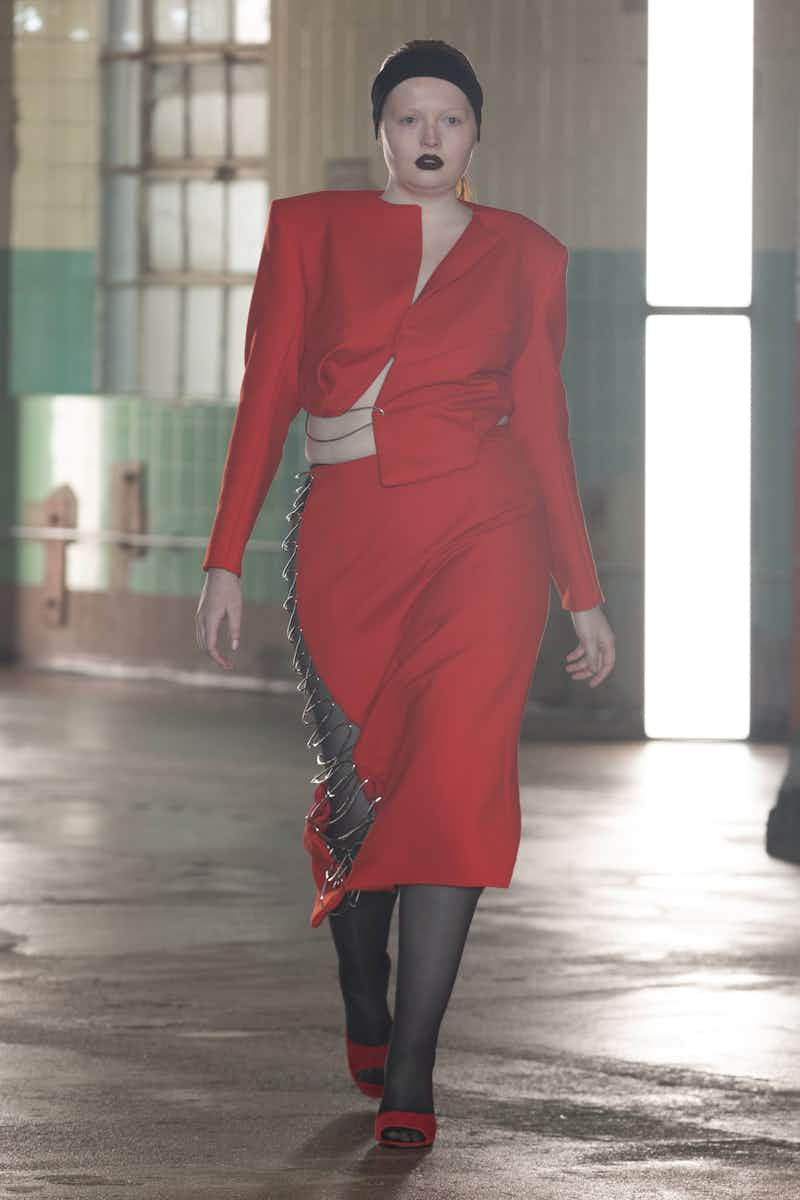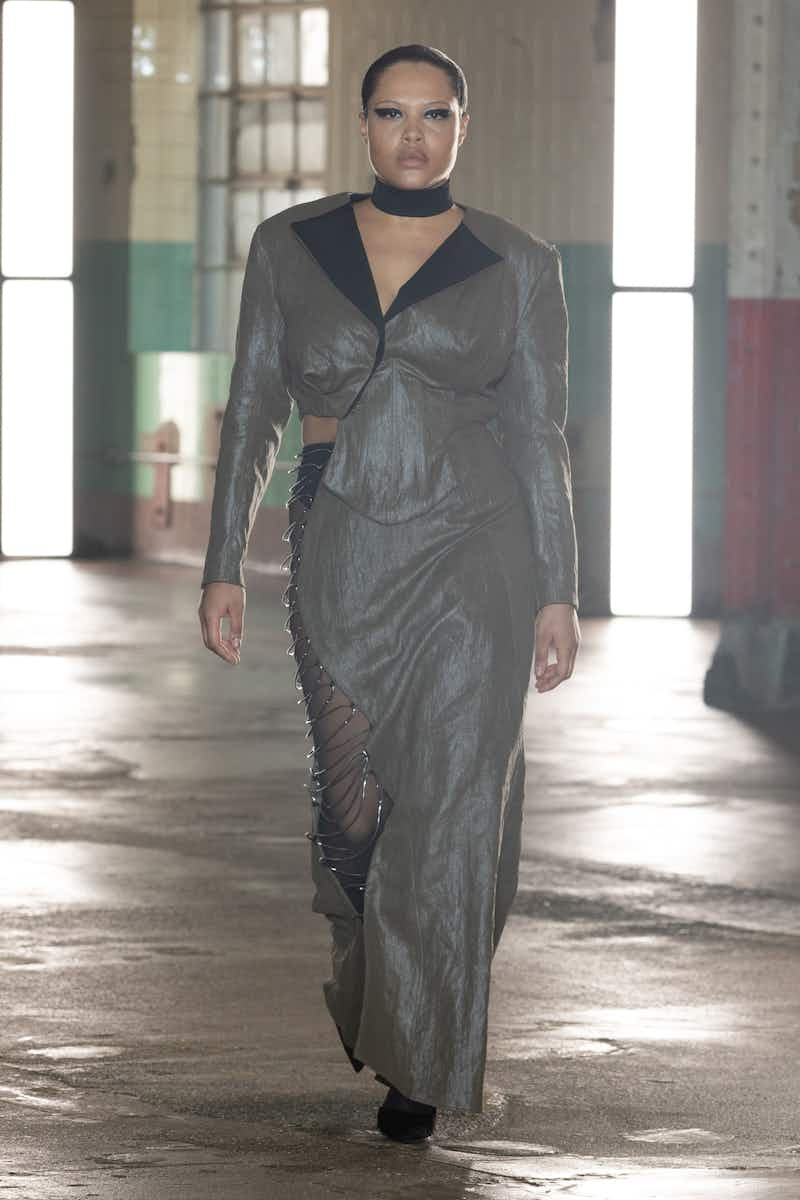 What?
Kicking off London Fashion Week and getting us out of bed this morning was the Irish designer's second ever runway show.
Where?
At The Old Selfridges Hotel where Newgen designers, such as O'Dwyer, present their collections, courtesy of the British Fashion Council.
What were the clothes like?
While O'Dwyer designs very wearable, staple pieces such as tailored trousers, smart shirts and workwear blazers, there's always a proper electrifying current running through them. These are clothes for going out-out, for stripping off the shirt and tie and diving into the weekend head-first. Among pleated mini-skirts, O'Dwyer re-introduced the cut-out bodysuits from last season, and got all romantic with halter-neck silk tops, a hot pink mini dress with matching ​'80s arm warmers, and a corset moulded to the torso.
Any highlights?
O'Dwyer's shows have both been about the models as much as the clothes. With casting director Emma Mattell working her magic, the line-up was as inclusive – and wickedly confident – as last season's, featuring bodies of all shapes, sizes, ethnicities and abilities. A job very well done.
In a song?
Yunè Pinku – Fai Fighter
In a word?
Passion.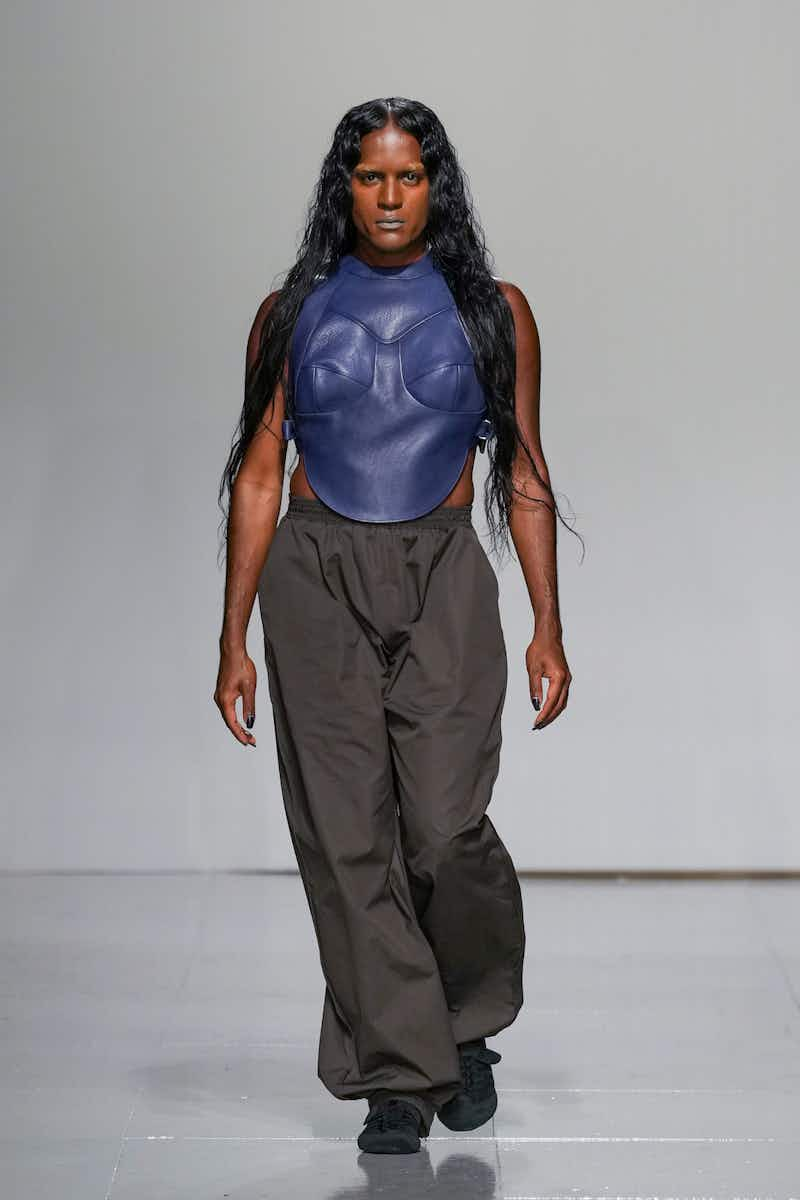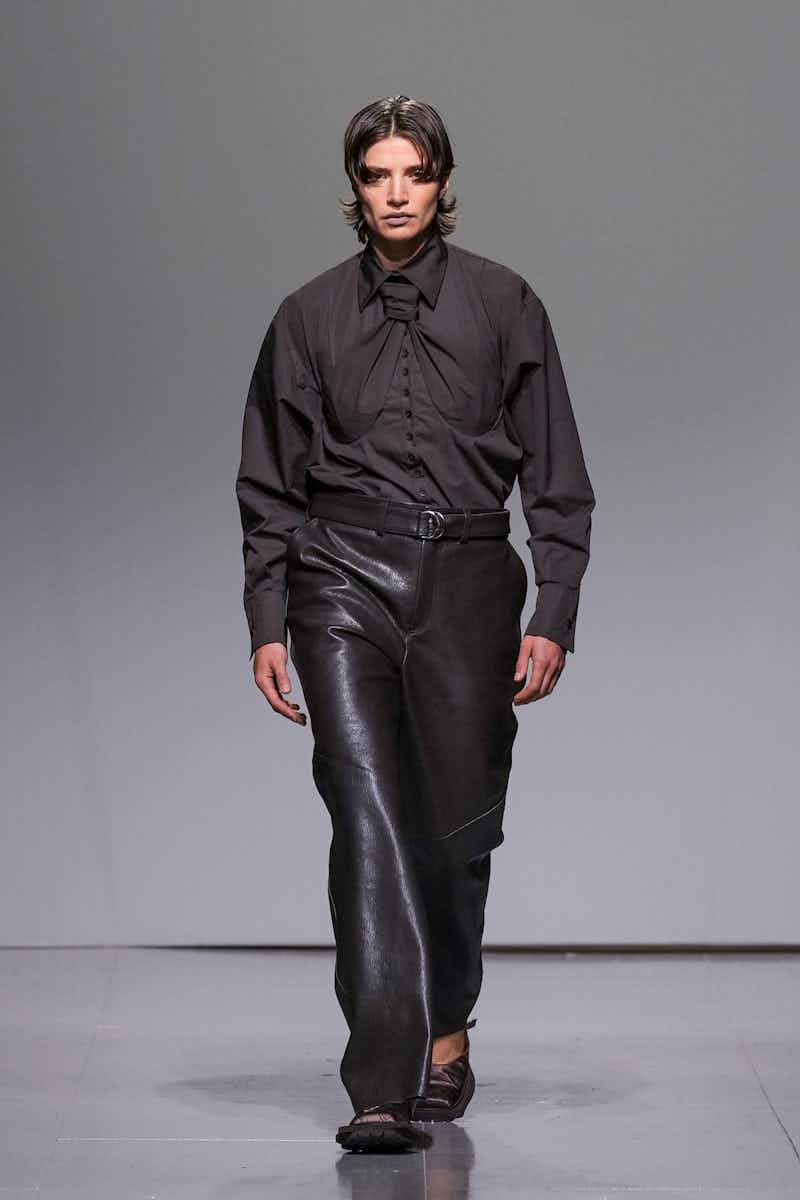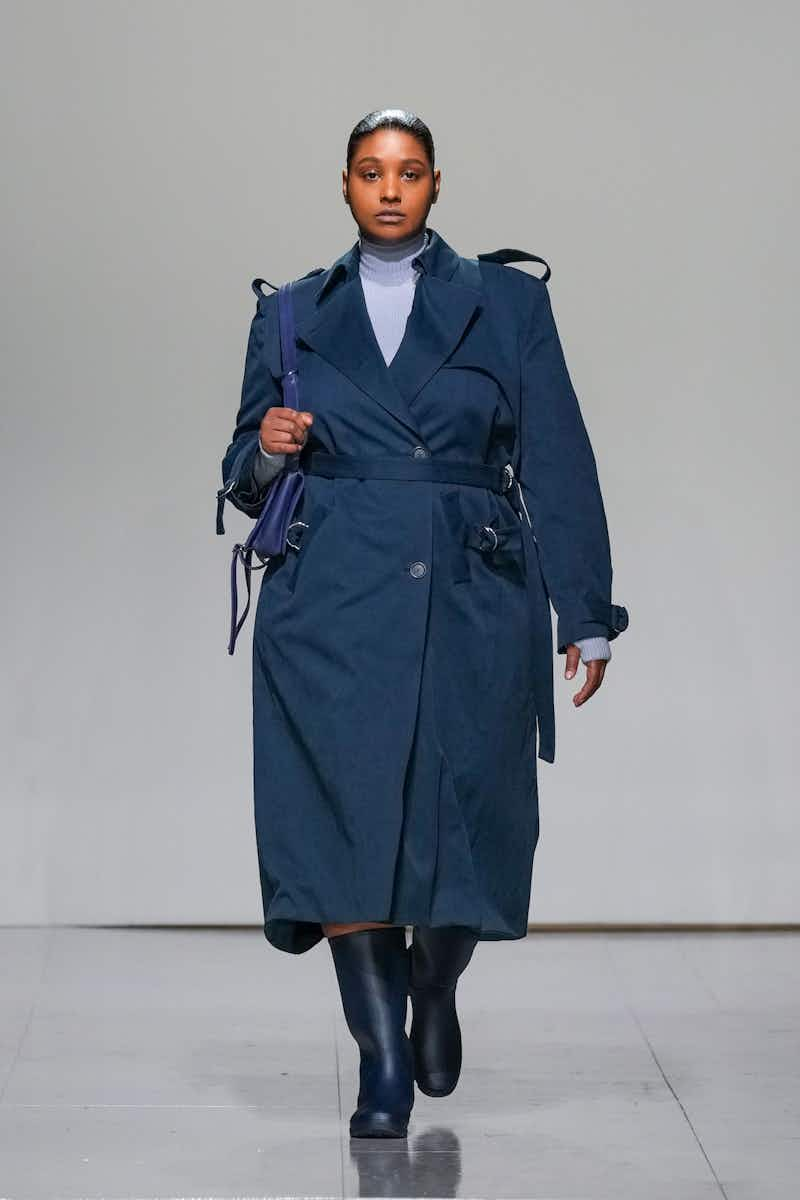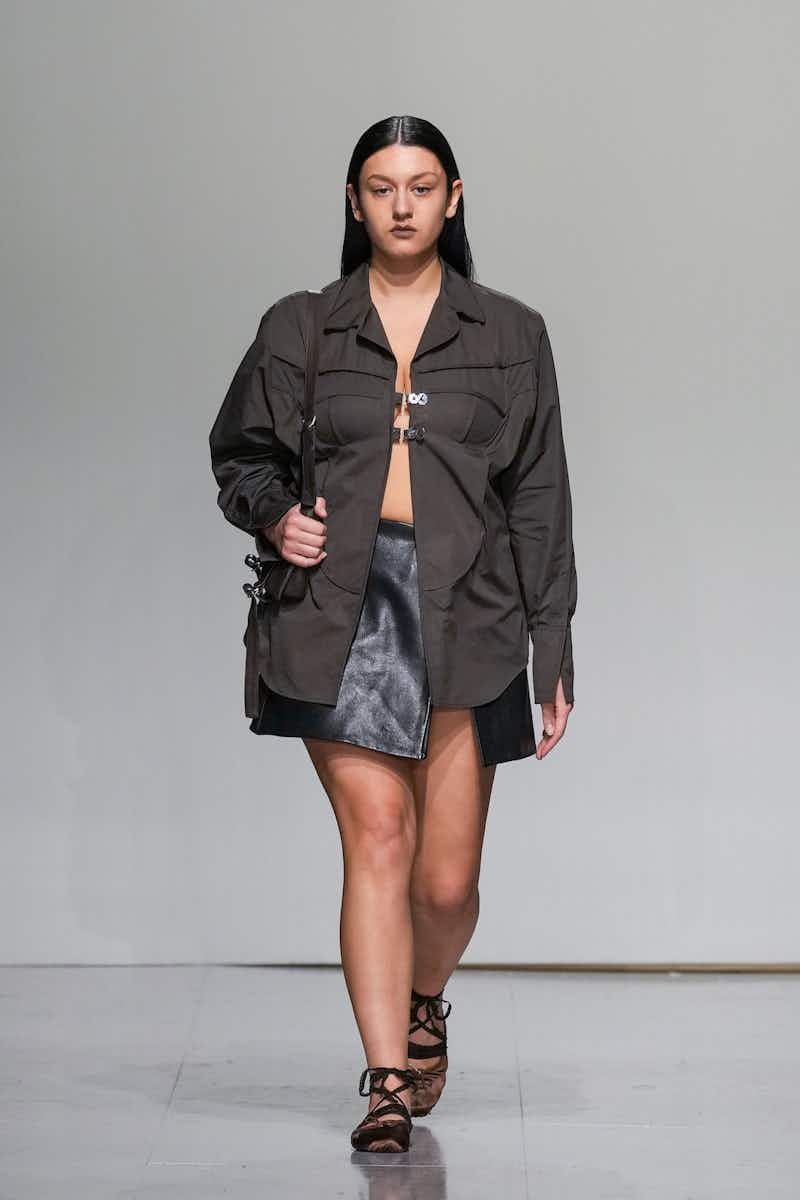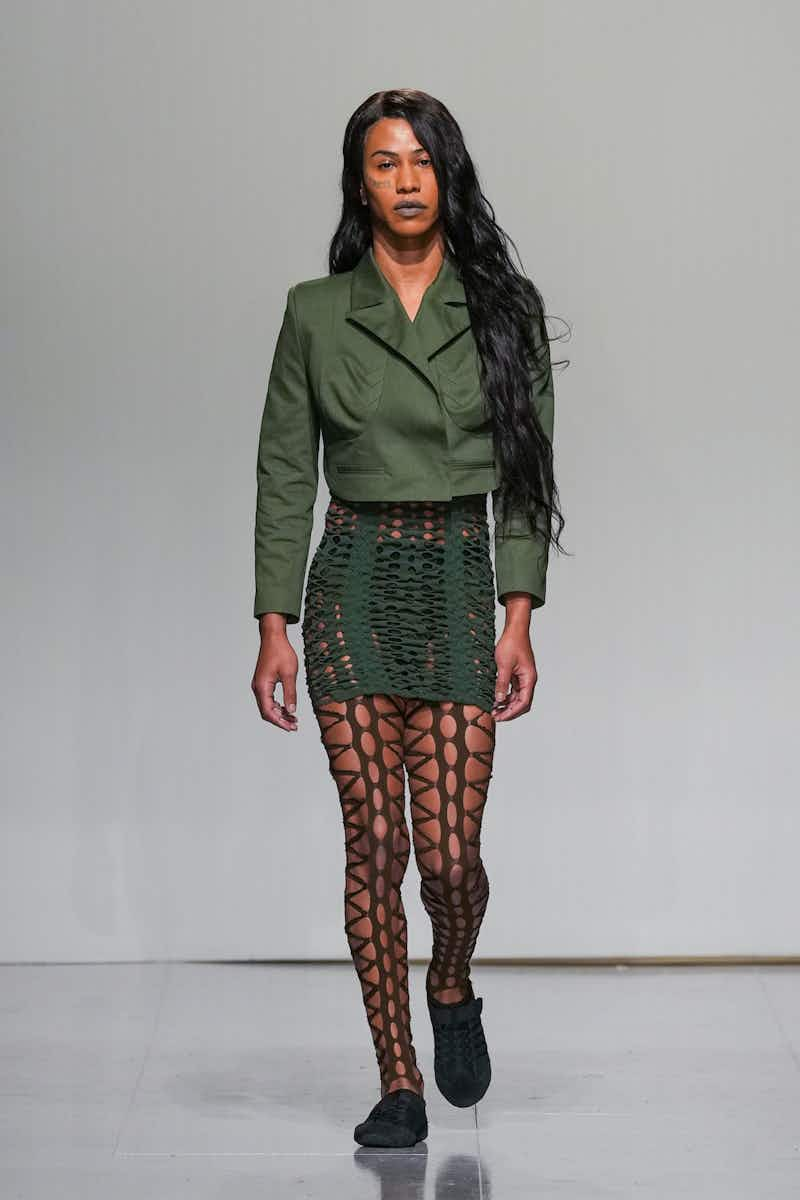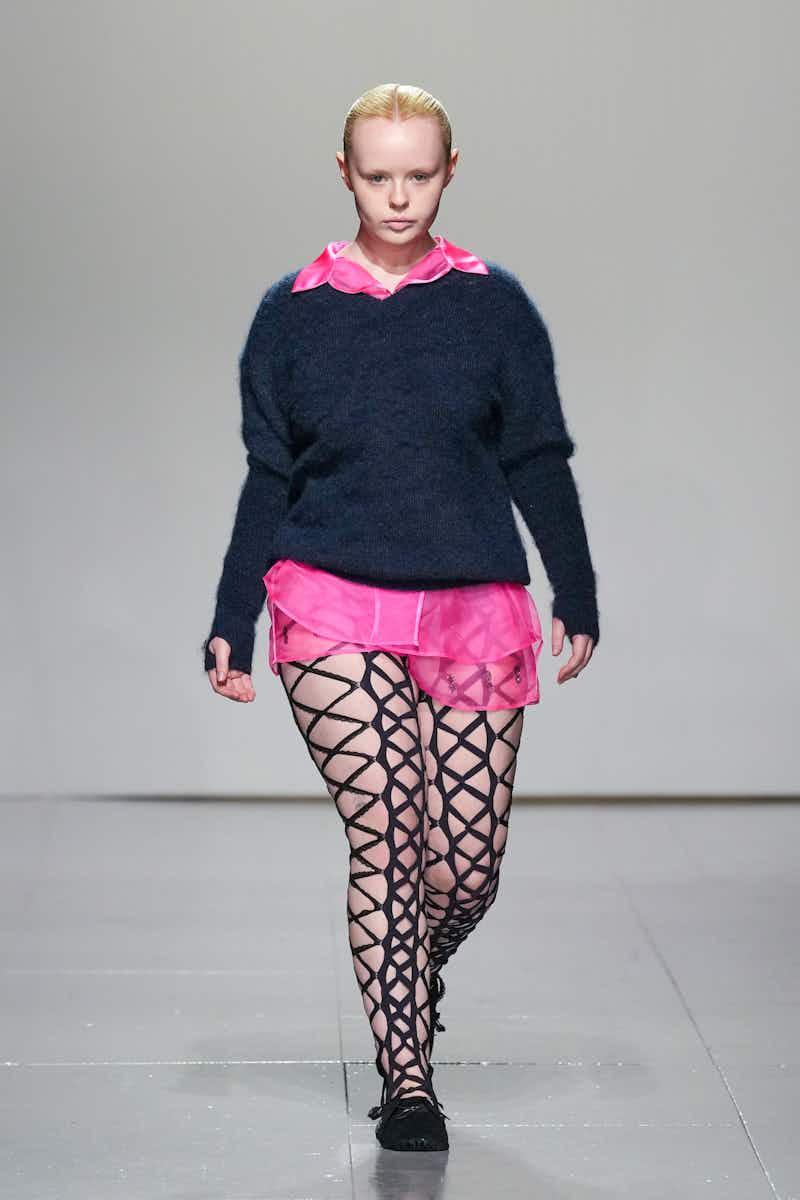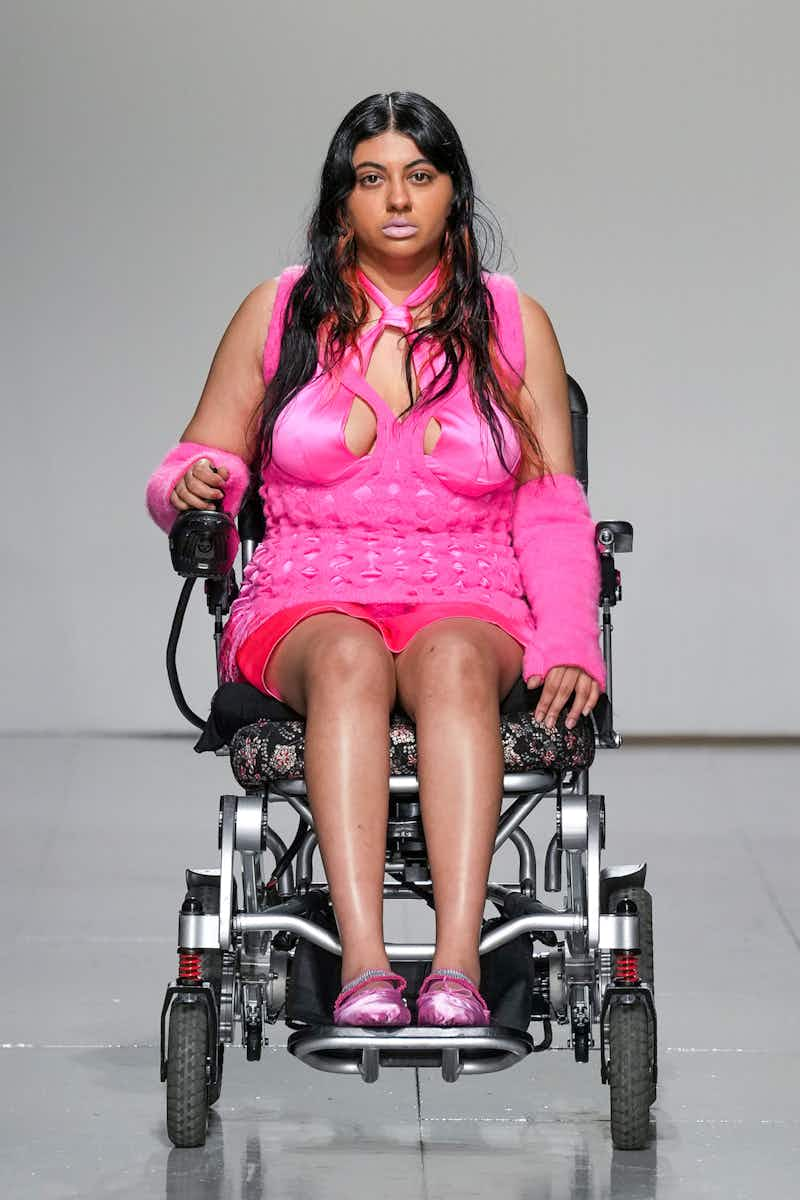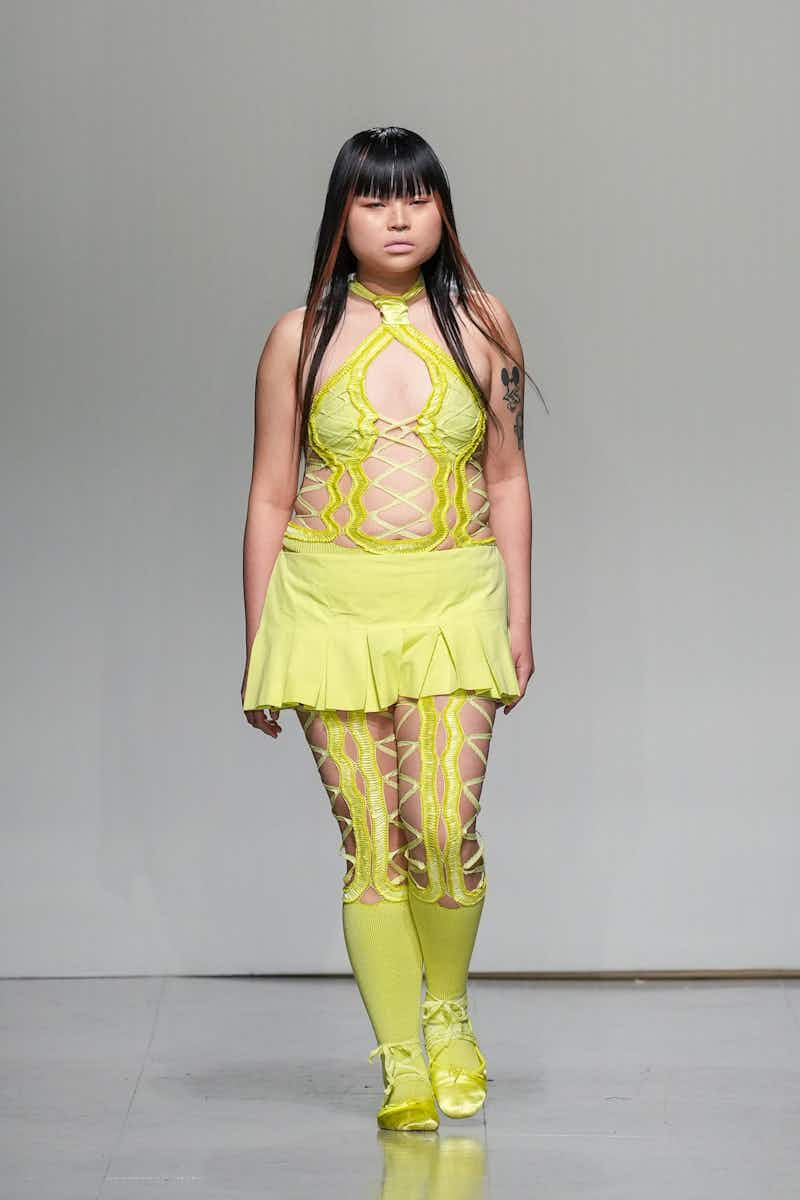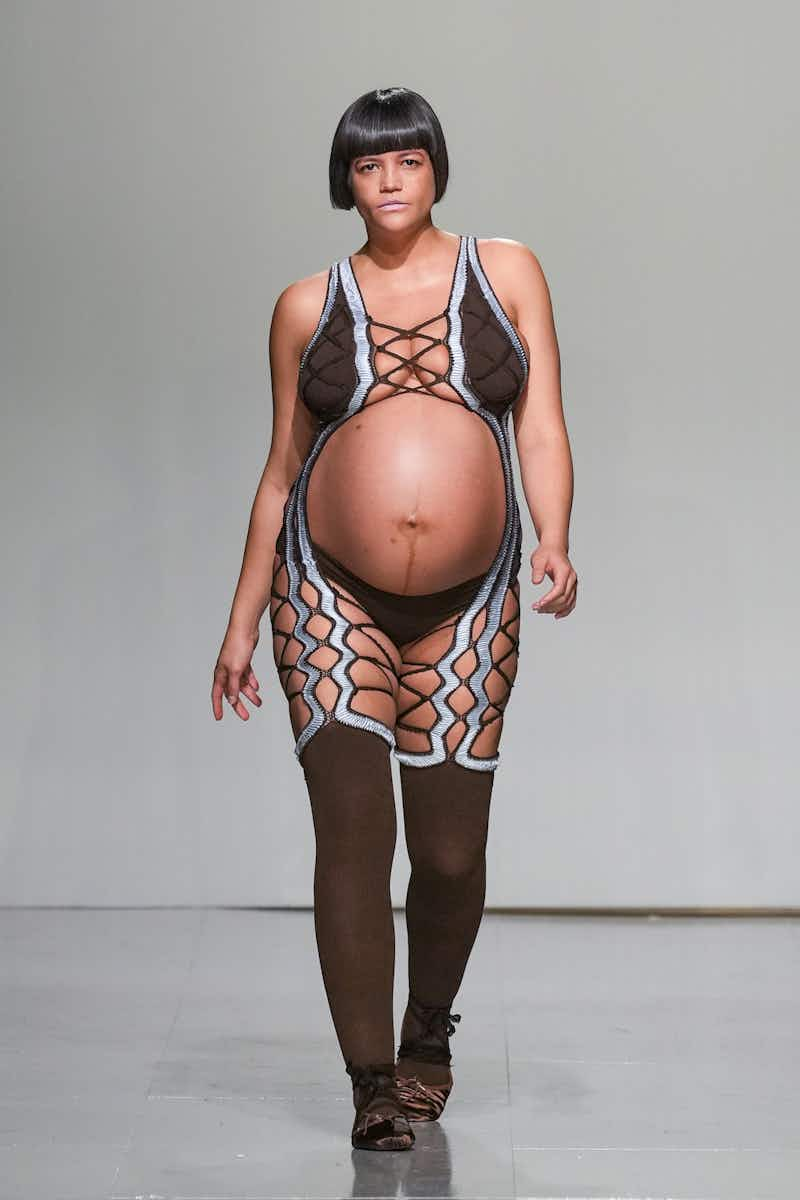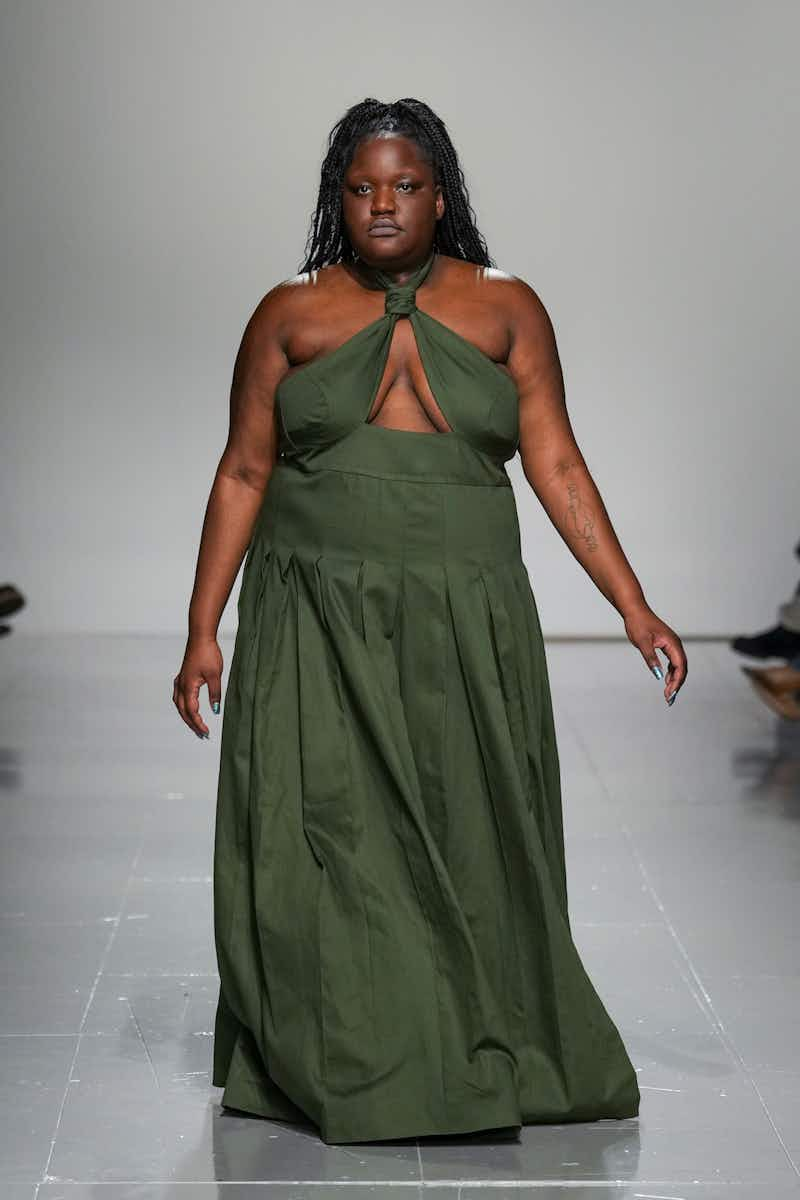 More like this