Arlo Parks refuses to stay broken
After she cancelled shows earlier this autumn for the sake of her mental health, we joined the singer in Iceland for the final gig of her 18-month tour – and found a woman exiting one stage, ready for the next.
Last September, THE FACE was pleased as punch to publish Arlo Parks' tour diary.
In the week that the West Londoner had won the Mercury Music Prize for her debut album Collapsed in Sunbeams, she generously shared with us snapshots and postcards from her summer run of shows. Having emerged as an artist during the pandemic, the then 21-year-old had not long started gigging in earnest.
"Boardmasters was our first festival back and our first time in a tour bus," Arlo wrote in her opening diary instalment. ​"Everyone had to get used to sleeping in dark, claustrophobic bunks and the permanent, low rumble of the road." Her joy, too, at finally being able to perform for fans was palpable. ​"Under the pulsing red and purple lights I just felt really glad to be doing what I do."
At the end of the feature, we added this information line: Arlo's world tour continues all the way to November next year (hello Iceland!).
It was a light-hearted nod to the fact that, blimey, Arlo Parks had her tour schedule mapped out for a further 14 months. That seemed bonkers. But needs must when you're the hottest new British artist of the year (Arlo was also, at the time, holder of both the Brit Award for Breakthrough Artist and the BBC Introducing Artist of the Year accolade) and all the world wants a piece of you.

So Arlo Parks toured, and toured some more, and did that all over the world. By summer this year she was back home(ish), supporting Billie Eilish and Harry Styles ("uhhhhh im playing a stadium tomorrow…" she tweeted, ​"the last time i played in Dublin it was in a pub…thank you Mr Harry Styles"). And she was smashing it at Glastonbury – amongst other appearances at the festival's own glorious, post-pandemic comeback, she and Clairo joined Lorde for the New Zealander's Pyramid Stage performance of Stoned at the Nail Salon.

Then, on 16th September 2022, one year and one week since we'd published her tour diary and she'd sung the praises of her first ever tour bus, the wheels fell off. ​"I am broken," Arlo said in a lengthy post on Twitter and Instagram.
"I've been on the road on and off for the last 18 months," she wrote, ​"filling every spare second in between and working myself to the bone. It was exciting and I was eager to grind and show everyone what I was capable of, how grateful I was to be where I am today. The people around me started to get worried but I was anxious to deliver and afraid to disappoint my fans and myself.
"I pushed myself unhealthily, further and harder than I should've. I find myself now in a very dark place, exhausted and dangerously low. It's painful to admit that my mental health has deteriorated to a debilitating place, that I'm not OK, that I'm a human being with limits.
"I don't take decisions like this lightly but I am broken and I really need to step out, go home and take care of myself."
Her team (who call her Isa, a tangential nod to her birth name, Anaïs Oluwatoyin Estelle Marinho) cancelled gigs in Boston, Minneapolis, Milwaukee, Denver and Salt Lake City, giving her a week's respite, with the tour resuming at The Crystal Ballroom in Portland, Oregon on 26th September.
She wasn't the only one suffering.
The week before Arlo's announcement, Sam Fender announced that he was also cancelling a bunch of American shows, citing similar concerns. ​"I've neglected myself for over a year now and haven't dealt with things that have deeply affected me," the Tyneside-born singer-songwriter posted on IG. He, too, had been frantically touring for most of the year in support of the runaway success of a 2021 album (Seventeen Going Under). ​"It's impossible to do this work on myself while on the road, and it's exhausting feigning happiness and wellness for the sake of business."
The problems for performers are also systemic. Post-Covid, the live industry has boomed back to life. Mostly that's A Good Thing, not to mention a much-needed one. But it's also created a pinch-point of logistical and financial challenges for touring musicians – a topic Lorde addressed in her most recent newsletter to fans.
"You'll notice a ton of artists cancelling shows citing mental health concerns in the past year," she wrote, ​"and I really think the stress of this stuff is a factor – we're a collection of the world's most sensitive flowers who also spent the last two years inside, and maybe the task of creating a space where people's pain and grief and jubilation can be held night after night with a razor thin profit margin and dozens of people to pay is feeling like a teeny bit much."
Given the New Zealander's friendship with Arlo, it's not unfeasible that she was talking with intimate knowledge of the Londoner's situation and mindset.
Last weekend, Arlo Parks finally made it to Iceland for that show we flagged 14 months ago. She was the headline live act on the biggest stage on the last night of this year's Iceland Airwaves festival, which was also roaring back to life after its pandemic pause.
We went to meet her there for an interview, in her dressing room, five hours before her stage-time at Reykjavik Art Museum. We wanted to tell the story of what's happened to her over the last year, not least because we've been with her, on and off, from the start – both of her career and of THE FACE's 2019 comeback.
In the month that we relaunched, we published her Vision of London, a beautiful, lyrical ode to the city of her birth. Then, in December 2020, ahead of the January 2021 release of Collapsed in Sunbeams, we ran a feature titled ​"Arlo Parks Is Leaving Her Bedroom", the first in-depth interview with her.

Backstage, Arlo was relaxed and happy, cocooned in a newly acquired mint-green puffa jacket from 66°North ("Keeping Iceland warm since 1926"). She didn't want to talk directly about why she'd cancelled those shows. It was too recent, too raw, and possibly too unresolved. But she understood we needed to have some discussion of that difficult time for her. So she sent us a statement in advance:
"Touring can be beautiful and restorative as much as it can be spiritually and physically taxing. Conversations with friends about the energy touring saps, and the headspace it can drive you into, has made me feel like something has to change in terms of the pacing of shows, mental health support and general pressure cooker culture around touring.
"My hope for the future is that we, as artists, find balance, that people are protected from burnout, that health is put first before all else. I think a gentler, more empathetic approach to artists and their limits would re-infuse touring with the joy it so naturally contains."
We were happy to respect her wishes about the limits of what she could say, especially as we'd be talking to her only a few hours before her show – the final show after which she'd finally be able to return to her bedroom. And, in fact, as we talked, Arlo did speak thoughtfully, insightfully and carefully about the highs and lows of touring for all those 18 months.
"Your body can withstand a lot of discomfort, you realise," she said at the very beginning of our interview, reflecting on what she'd been through and how far she'd come.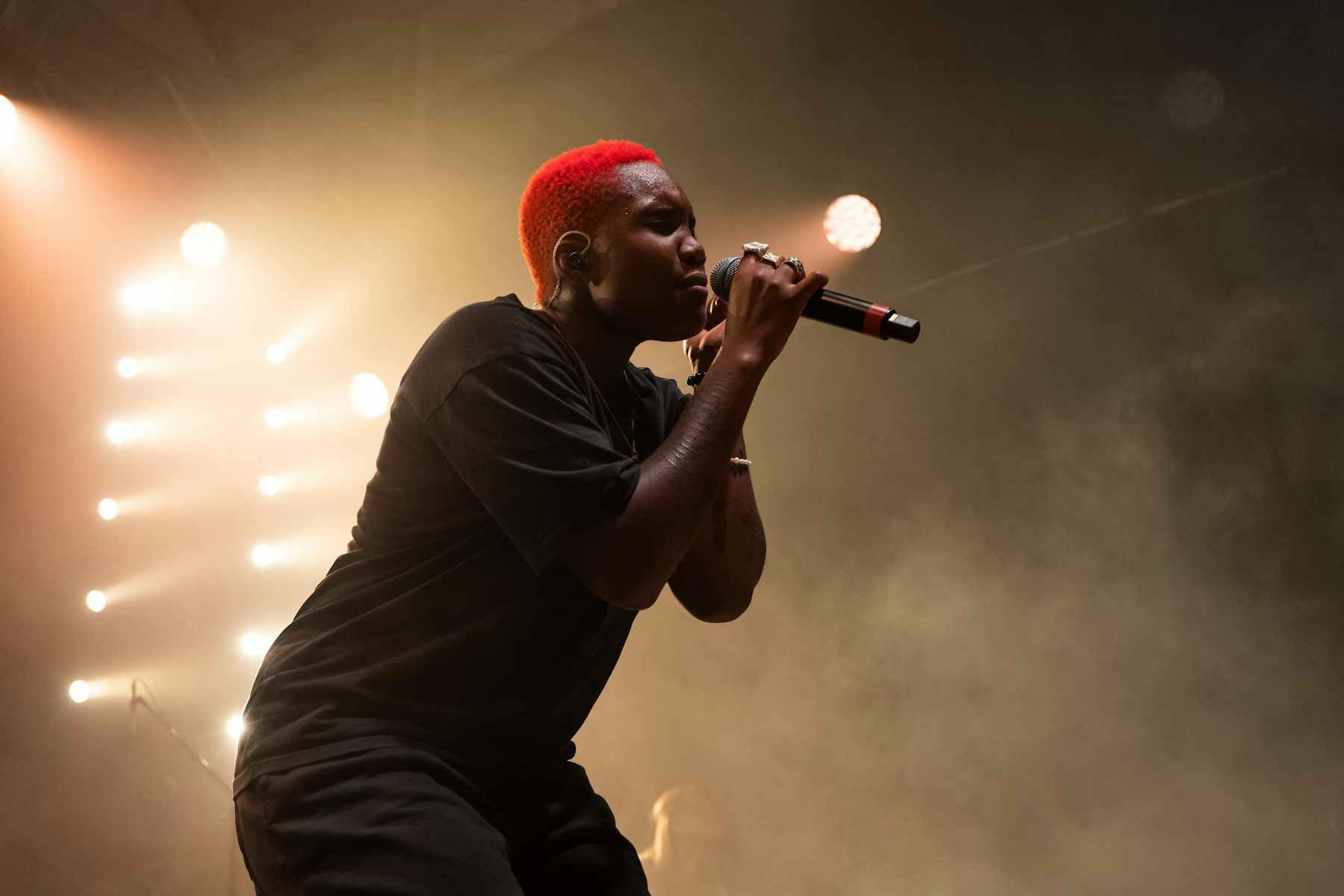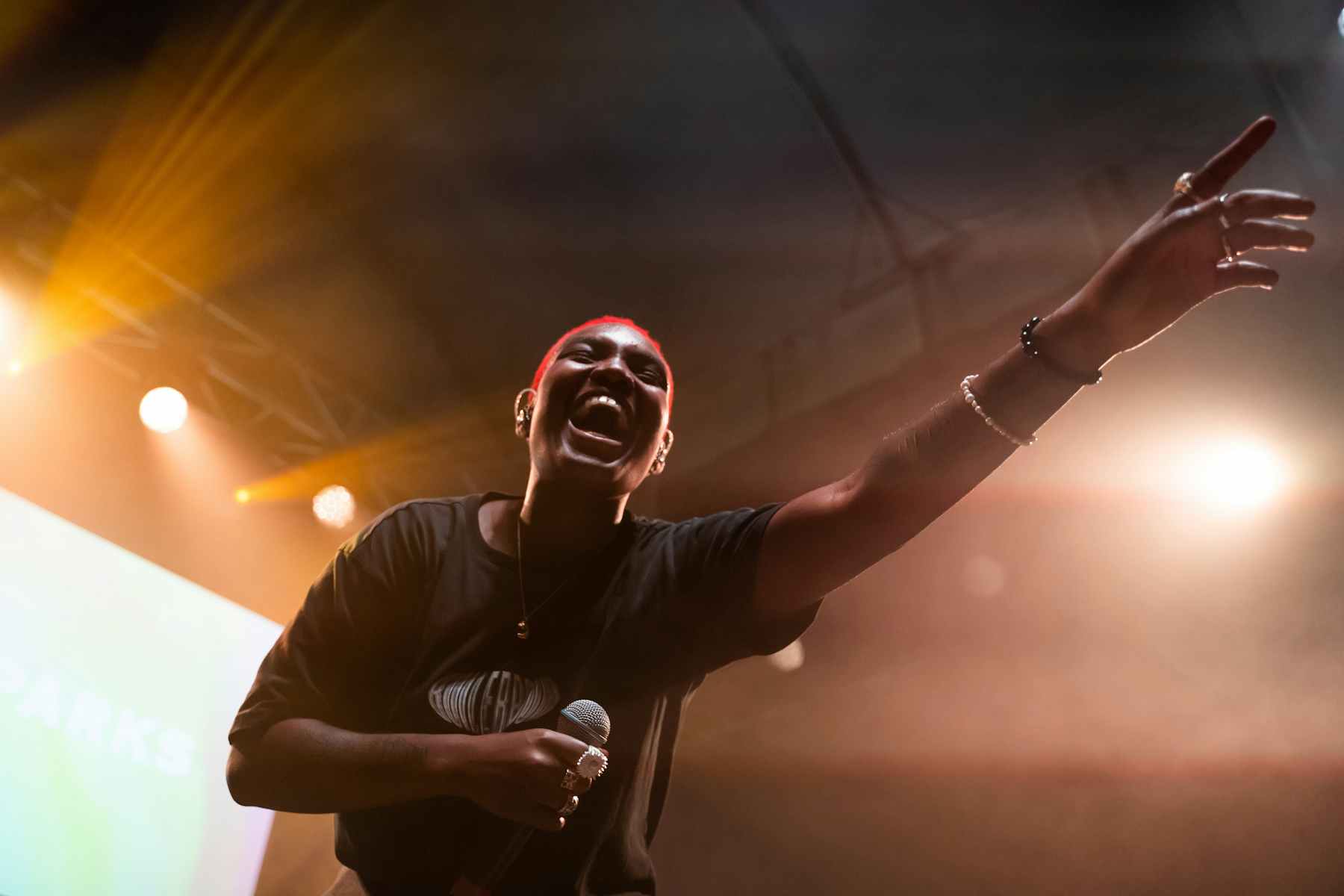 What feelings sum up the past year of touring for you?
It's been… overwhelming. But at the same time, incredibly fun and affirming. Challenging! Exciting! As with anything, I'm dealing with the reality of dreams coming true and the workload that comes with that, and the sacrifices. But also the kind of intense beauty and… Yeah, it's just a lot.
You inspire intense devotion from the fans because of your lyrics – there's a fundamental relatability to what you do. Has that been nourishing for you, seeing how much fans get from what you've written about?
Mmm, definitely. That's honestly been my happiest thing. It's my favourite thing about doing shows: seeing people, especially young people, their faces light up, and the community-building aspect of music. Getting messages from young kids who I've given the courage to start writing poetry. Or they're young black kids who love the Pixies but they were like: ​"OK, I didn't think I was allowed to enjoy this [music]. But I want to make indie-rock music, and I see you, and you inspire me."
That chain of inspiration is why I do all of this. It truly feels like my purpose is to make music that feels true to me, but then is also a gift that I can pass on to younger people.
In mid-October, when you finally wrapped up your American dates, you posted to IG: ​"It's the end of the tour. 125 gigs this year. Speed-reading. Watching double features and scoffing popcorn. Hugging hard. Sandalwood. Coming back to my body. Sugar snap peas. Sounds flooding me always". I love the haiku-ness, almost, of that. Can we break down some of those elements please? Firstly: ​"Watching double features and scoffing popcorn." Is that tour bus activity?
No, we went to the cinema in New Orleans and we saw the original Candyman and Get Out. I had a crazy amount of popcorn – salty, of course, no sweet – and I had a massive tummy ache.
"Hugging hard."
Hugging my girlfriend when I got home, and all my friends. I'm a massive hugger. I'm very clingy with all my friends – especially after tour!
"Coming back to my body."
I'm just doing a lot of grounding work, especially when being at home. Going from flux to home can kind of yield this strange feeling of adrift-ness. So I've been doing a lot of putting my feet in the mud. I was next to Big Bear [in California], by the lake, just trying to come back to myself on the ground.
"Sugarsnap peas."
Just love ​'em! There's literally no other reason. I wish there was cool stuff to say! But it's just me for the next hour in the kitchen, just eating peas.
"Sound flooding me always."
I hate silence. Do you know that band Gas [AKA German electronic musician/​composer Wolfgang Voigt] and that album Pop? It's ambient, textural stuff. I mainly listen to ambient music on my way to and from the studio because it's like a sound-bath thing.
Have you learned to sleep on the tour bus with the constant noise and motion and rattling?
I have my earplugs in, which helps. We calculated that we've spent six months of the year in the same American bus, with the same rattly old situation. So I've gotten used to it by now.
How stinky was it by the end?
Pass! Next question! You don't want to know!

You're an artist who, because of the pandemic, was robbed of the time when you would have been playing a lot of smaller shows – getting your gigging legs, if you like. Then, once the world opened up, you had to rush straight out of the gate, find your feet and go: ​"OK, I'm already on fairly big stages." Fair comment?
Definitely. It was a weird flow of things. It was leaving school, then doing a couple of festivals that summer. And then the pandemic, then making the album and then going straight out into it.
But in a way, because I didn't know what to expect, I went into it with this excitement. And I think that energy propelled me for a long time, where everything was so new and shiny. I was just like, soaking it all in. But even some of my friends who have been touring for a while were, like, [after the pandemic]: ​"Oh, this takes a lot more energy than I remember."
And I was used to being static in that way – being in my little cocoon, making tunes. And then suddenly, it was like: OK, be in front of people and be vulnerable.
Your first album was based on thoughts from your bedroom, at home in West London, and on teenage experiences, school experiences. Now you've had, literally and figuratively, a world of experiences. Will that sense of travel and exploration and interaction with fans all around the world feed into the songs you write for the second record?
There's no way it couldn't. The context leads into what I write. Especially going to countries and cities that I've never been to before, [for example] spending time in Tokyo. When I visit a country, I dig into the subcultures a little bit. That also opens my musical horizons.
And having conversations with fans, spending more time in the States, talking to people within my peer group and making new friends [there] – all those experiences do subconsciously feed into the music that I make.
What's your favourite festival that you've performed?
Glastonbury is always the one. Just ​'cause it's been a part of my career, in a weird way, at every stage. [When I started out] I did The Great Escape first [in 2019], but Glastonbury was the first big festival that I played. I did the BBC Introducing stage, The Crow's Nest… I did a lot of shows [there] that year.
This year, I did Park Stage, then I did Pyramid Stage with Ella [Yelich-O'Connor, aka Lorde] and Claire [aka Clairo]. Then I did the John Peel stage with Phoebe [Bridgers, on the song I Know The End]. Then I curated the BBC Introducing stage as well. So it was like this full circle, beautiful moment.
How was that mainstage all-star moment?
It's something that I'm still processing, especially because it was quite a last minute thing. I had gone home to London after my set because I had a Billie Eilish show in between, at The O2.
Then Ella was like: ​"This will be amazing. Where are you?" Yeah, but I'm in London, playing with Billie Eilish… That weekend was honestly one of the most insane weekends of my life! So we drove back to Glastonbury, and it was this really peaceful, beautiful moment. I was side of stage and Claire and I were holding hands, looking out, being like [squeaks]: ​"That's a lot of people!"
So even if your body, your manager, your mum or dad or whoever is saying, ​"that's mental, you can't do that," you're thinking, ​"this is such a great opportunity that I have to take it"?
Yeah. It's not every day that Lorde asks you to play the Pyramid Stage at Glastonbury with her. Wild horses could not have held me back. I was learning the harmonies in the car. I was ready to go.

The Mercury Music Prize win: how meaningful and impactful was that?
I remember doing Christmas carol services at the church where we did the press [for the award] when I was seven. I did some reading that I probably completely butchered because I was nervous. I cycled past that church on the way to school every day for years!
The Mercury Prize especially has always represented and celebrated just how eclectic and profoundly good British music is. That's why it was always a prize I followed super-religiously. I would check out the longlist and download it and listen to everything.
For that reason, I would say that has been the highlight of my career. Now it's sat in my parents' house, and I still walk past it slightly disbelieving that it happened to me.
How did you feel when you saw Lil Simz win last month?
I was beeeeeeming! I was BEAMING! She came to my show at [London's] Village Underground [in September 2021] and we've been loosely texting ever since. I've been a fan since 2015. I was 14 years old, trying to skateboard and listening to her first EPs on SoundCloud, just being completely blown away by her. She's such a force.
Do you think that the sensitivity that makes you such a strong lyric writer is also the thing that makes other elements of the job – the touring – more challenging for you?
Yeah. I am very sensitive. I enjoy routine. Even though you're turning up to a venue every day, it is a different venue, and you can't cook. I've got loads of allergies and stuff, so small things like that can really disrupt that sense of flow. When my flow is disrupted, my ability to create things is disrupted. That then affects everything else negatively.
Also, it's a learning process: I've never done this before. I just threw myself right in. So after the show [tonight], it's gonna be an opportunity to reflect and be like: OK, how do I do this in a way that's healthy and kind of myself? And what's the right pacing? And also just talking to my friends still and finding solutions, as a group, as a community.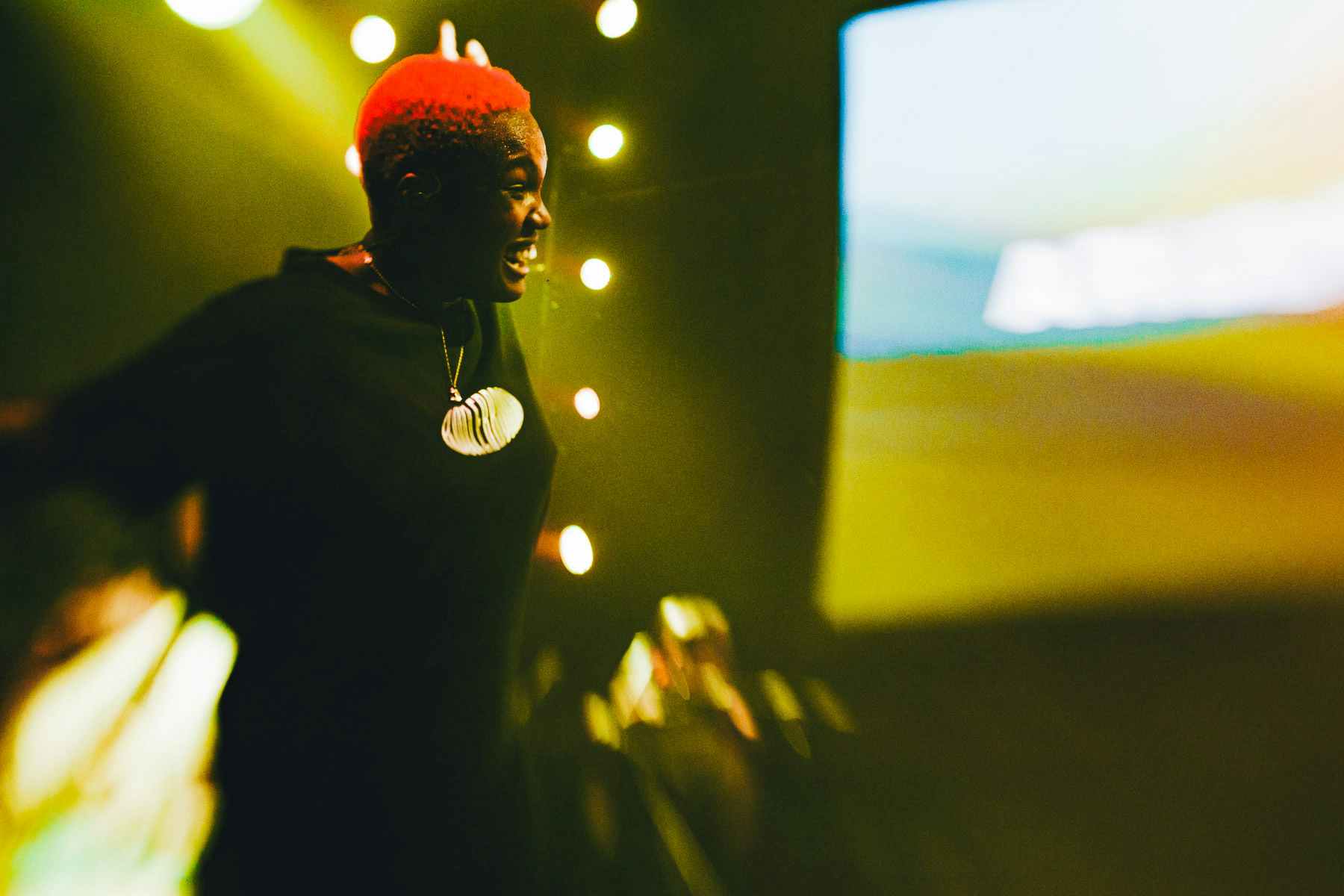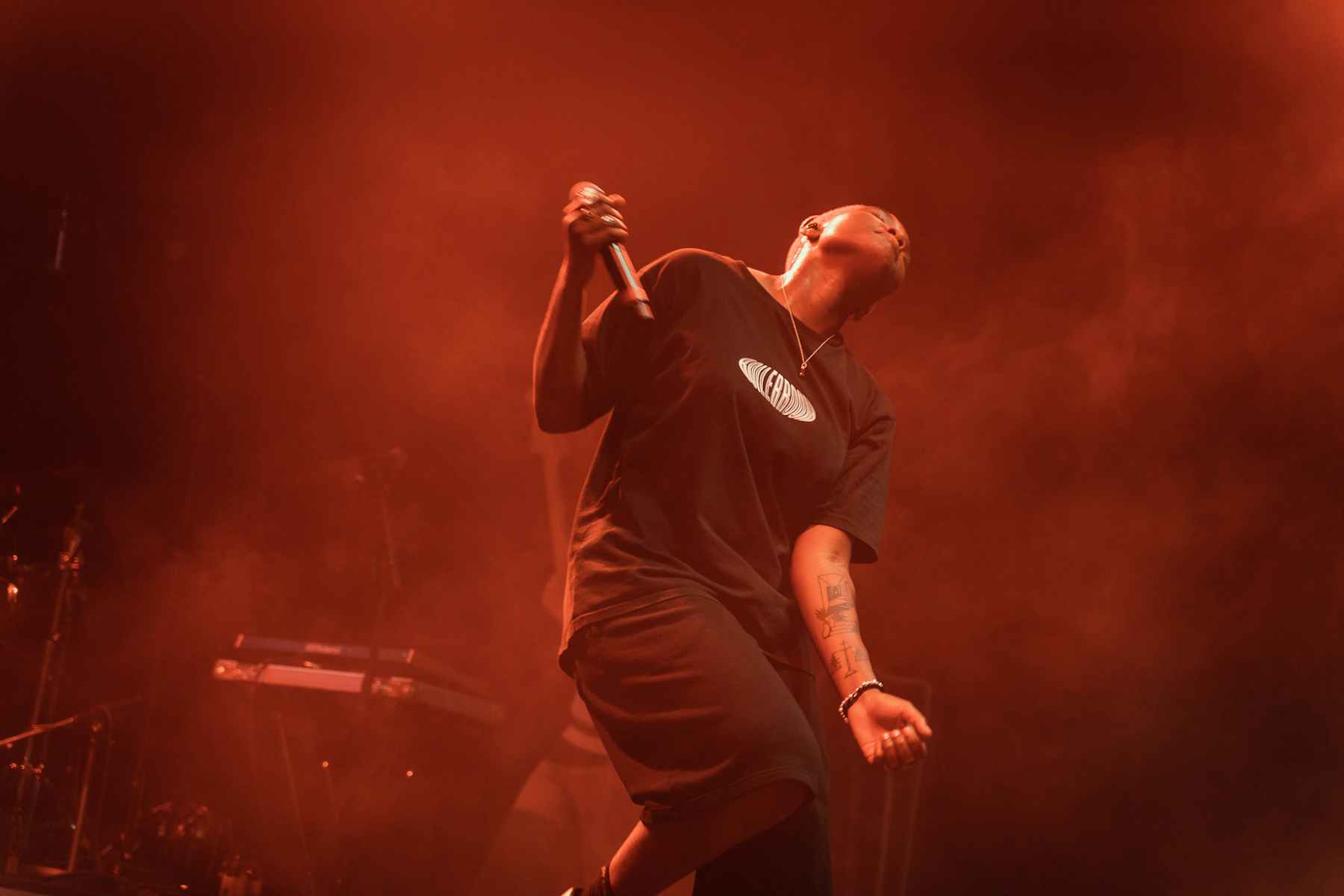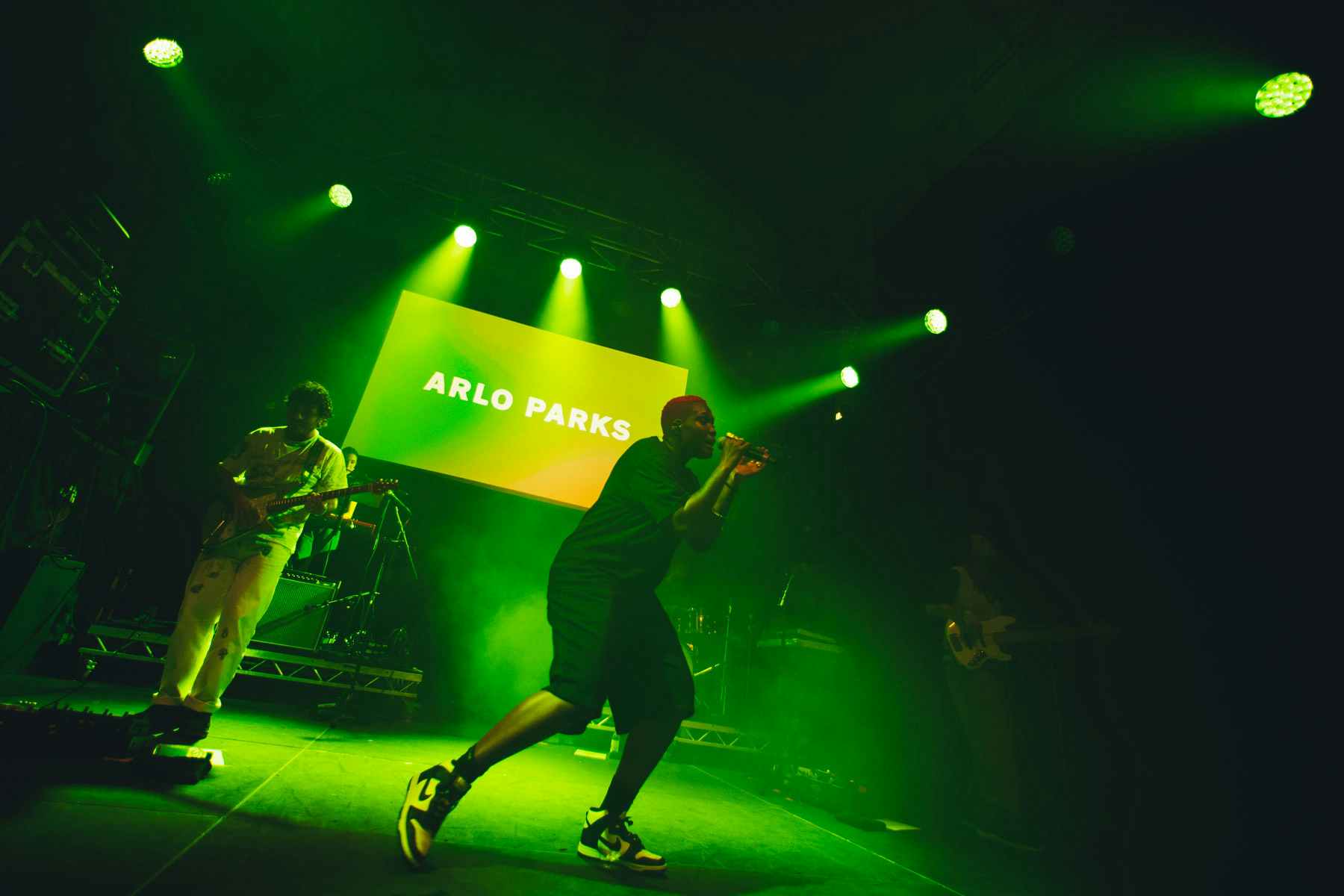 Did you talk to other artists like Ella, for example, who out of the gate, not dissimilar to yourself, had to hit the ground running as ​"Lorde" – even younger than you were.
Definitely. I talk to everyone. I'm like: ​"Guys, come on, we need to pool our resources." Everyone has different ways of doing it. But I think the general consensus is to make time for things that feel good. Even when it feels like there is no time, just being very protective of the things that keep you feeling happy.
It's easy for work to flood everything. There's something beautiful in the fact that you can never quite do enough, it's a lifelong quest. But there is something taxing about that, because there are only so many hours in the day. So everyone said the same thing: ​"Protect your happiness." The goal is still to live a beautiful life and do things at a pace that feels right to you. That's been the general advice.
So after this show tonight, is the first order of business: no business?
Um, no! Not quite ​"in the studio on Monday", but it's just [about being] creative now, which is where I thrive. That's where I'm at for the next few months. Just whittling away in my little hermit workshop, which is my favourite place to be!
Have you had time to move out of your mom and dad's house yet?
Yeah, I live in LA now. I love it! Sunshine, mate! And just going out to the water, spending time by the ocean. I haven't really been [living] anywhere, technically, but I've been [there] from the beginning of the year.
What are you going to do immediately when you step off stage tonight? A little celebratory drink?
I'm going to bed! I wish I was exciting and wild. [Those tour days] of getting back from the show at 1am and 3am boarding calls to leave were mental. By the end, I went to bed at 6pm and I got up at midday. That was the best sleep of my entire life. I felt like a baby, in a good way. I just felt fresh.

At 11.10pm on 5th November, Arlo Parks hit the stage at Reykjavik Art Museum, capping off Iceland Airwaves 2022 and 18 months of touring. Forty-eight minutes later, she finished with Softly, the uptempo, beat-driven single she released earlier this year, her first new music since Collapsed in Sunbeams. At 11.58pm, sweating and beaming wildly as the sell-out crowd roared their approval, she was sharply offstage, as if intent on not letting her never-ending tour creep into another day.
When you go on Arlo's website now, under the tour tab, there's a new message: ​"There are no upcoming events."


More like this