Everything you need to know about men's fashion week AW23
With Milan finito, we're onto Paris for Givenchy, Rick Owens, Rains and more.
What?
Jonathan Anderson's serene Loewe show – and Bones and All reunion – which took place on Saturday morning in Paris.
Where?
In an all-white show space – with a crumbling concrete floor – save for a pair of floor-to-ceiling paintings by American artist Julien Nguyen, featuring fictional characters which Anderson referred to as ​"otherworldly" post-show.
Who was there?
The holy trinity: Italian director Luca Guadagnino and actors and co-stars Timothée Chalamet and Taylor Russell. Reunited, the three of them cosied up for a front row photo, alongside the likes of Naomi Campbell, Troye Sivan and The White Lotus stars Will Sharpe and Murray Bartlett.
What were the clothes like?
You know what they say: three is a trend. Like Prada and Jonathan Anderson's namesake label, this Loewe collection also favoured a new found simplicity. Anderson spoke of challenging the idea of menswear and its subtlety and using fabrics that don't exist post-show, specifically a silver top that was given its shape via the use of sand, metal jackets crafted from copper, puter and vellum ("I liked the idea of freezing a garment in time") and a full leather look ("it forces you to have attitude").

Anderson also talked about a move away from excessive styling and the idea of reducing things down to a singular garment which allows him to create a narrative throughout the rest of the show. This season it was his opening look – an overcoat designed with a sling-like armrest creating a silhouette which mirrored those seen in classical paintings.
A highlight?
The Loewe long johns, perhaps the winter counterpart to the much-hyped Loewe tank. ​"I liked the idea of looking at undergarments and the idea of something quite sensual, paired with something hard," Anderson explained.
Of note:
Pupil-less people. Many models wore all-white contact lenses which made for an off-kilter mood.
In a word?
Undressed.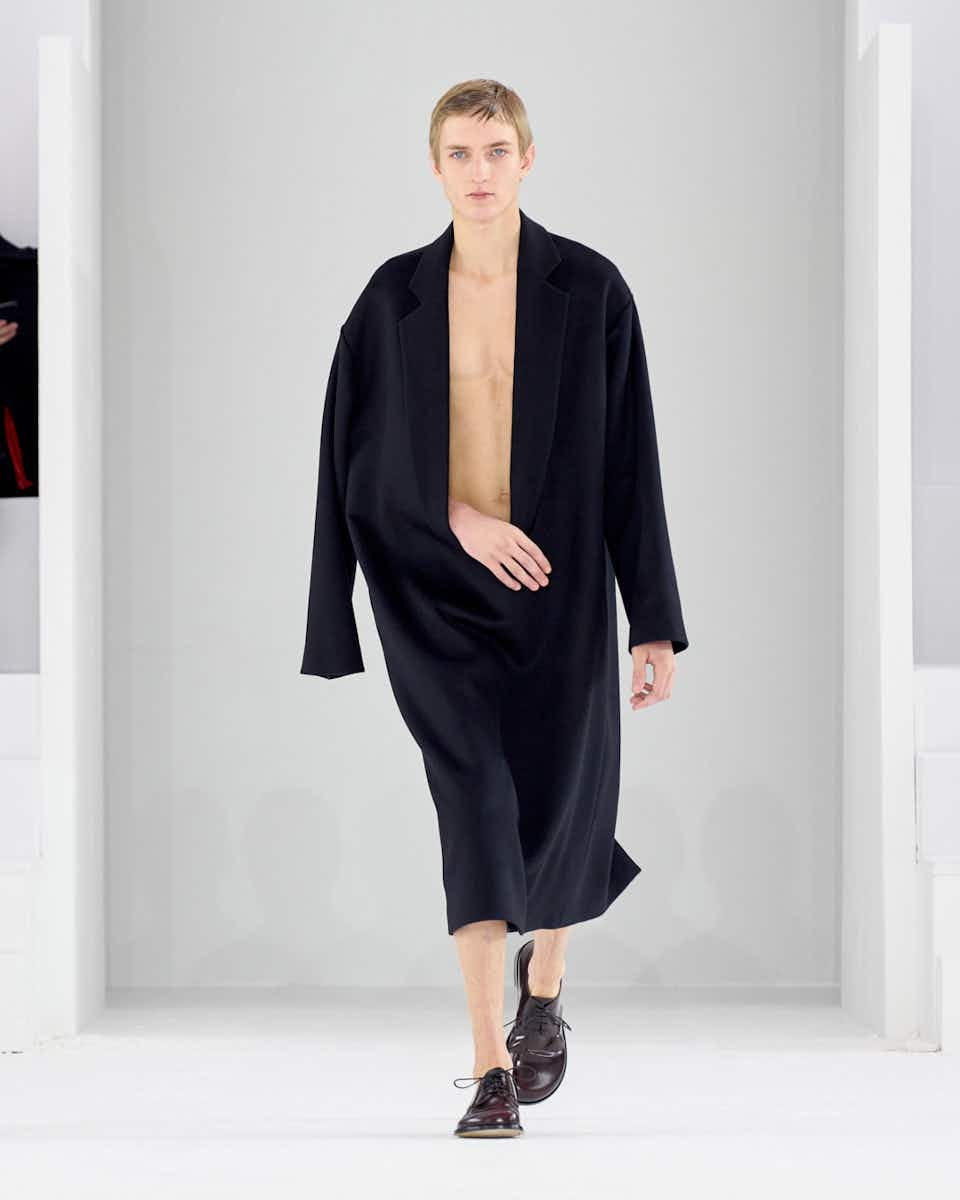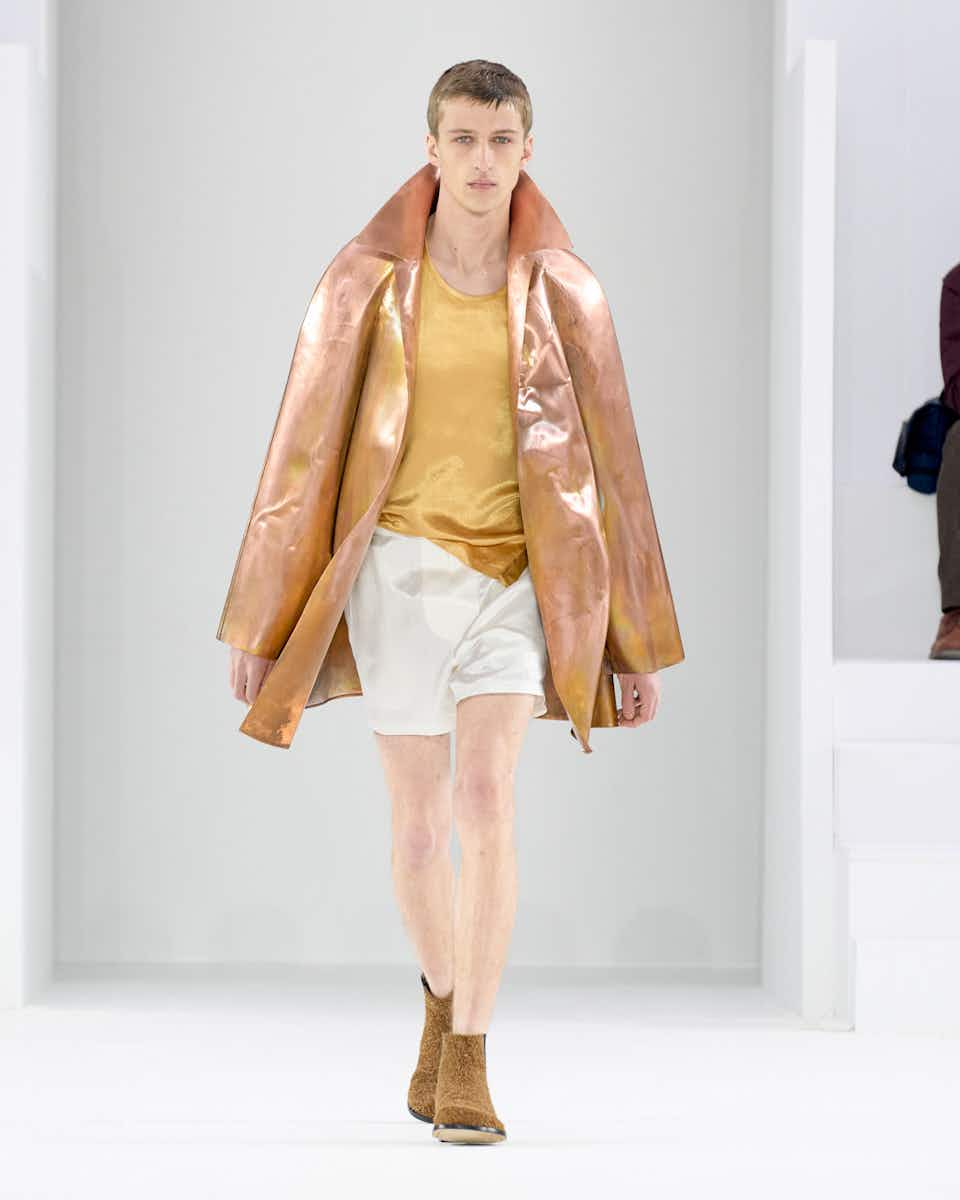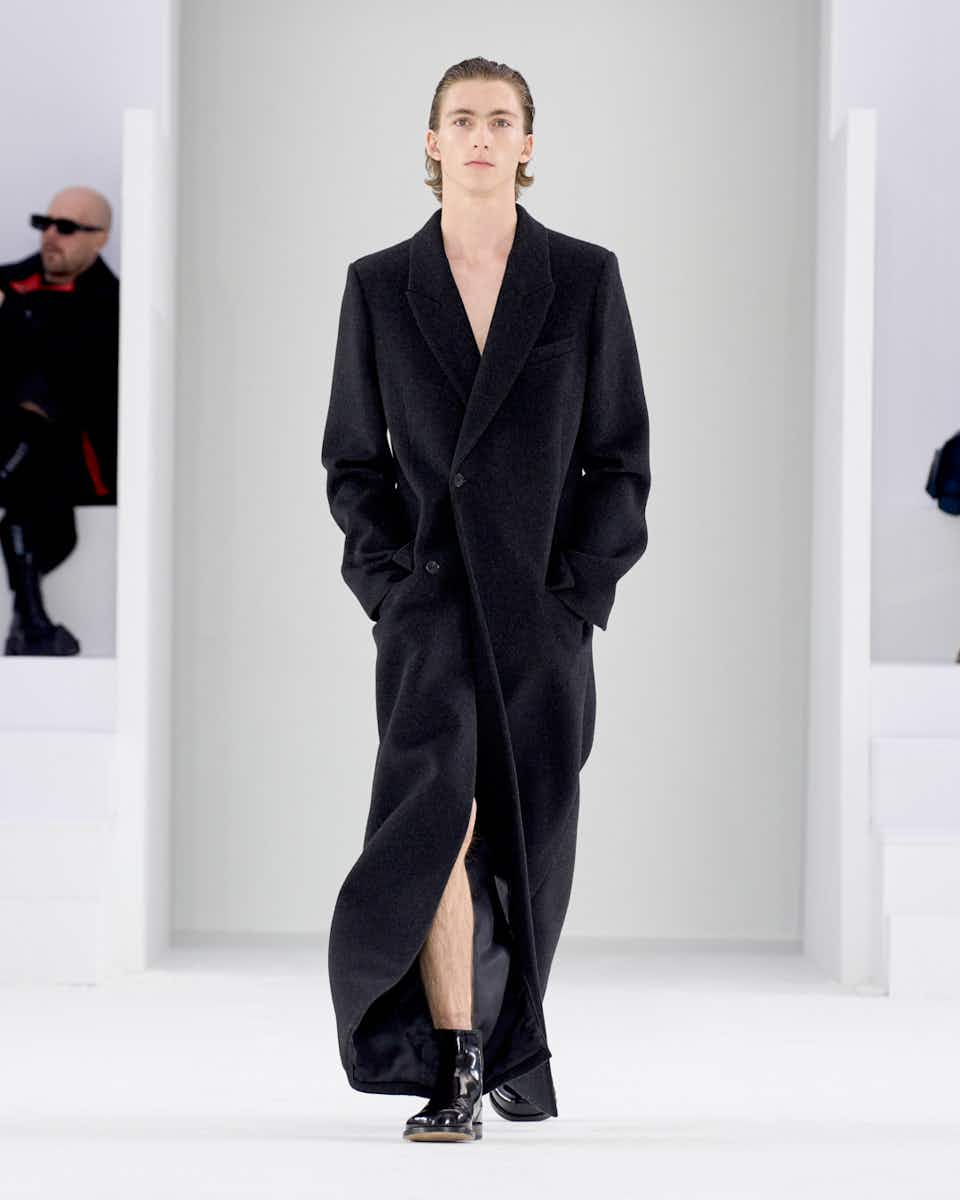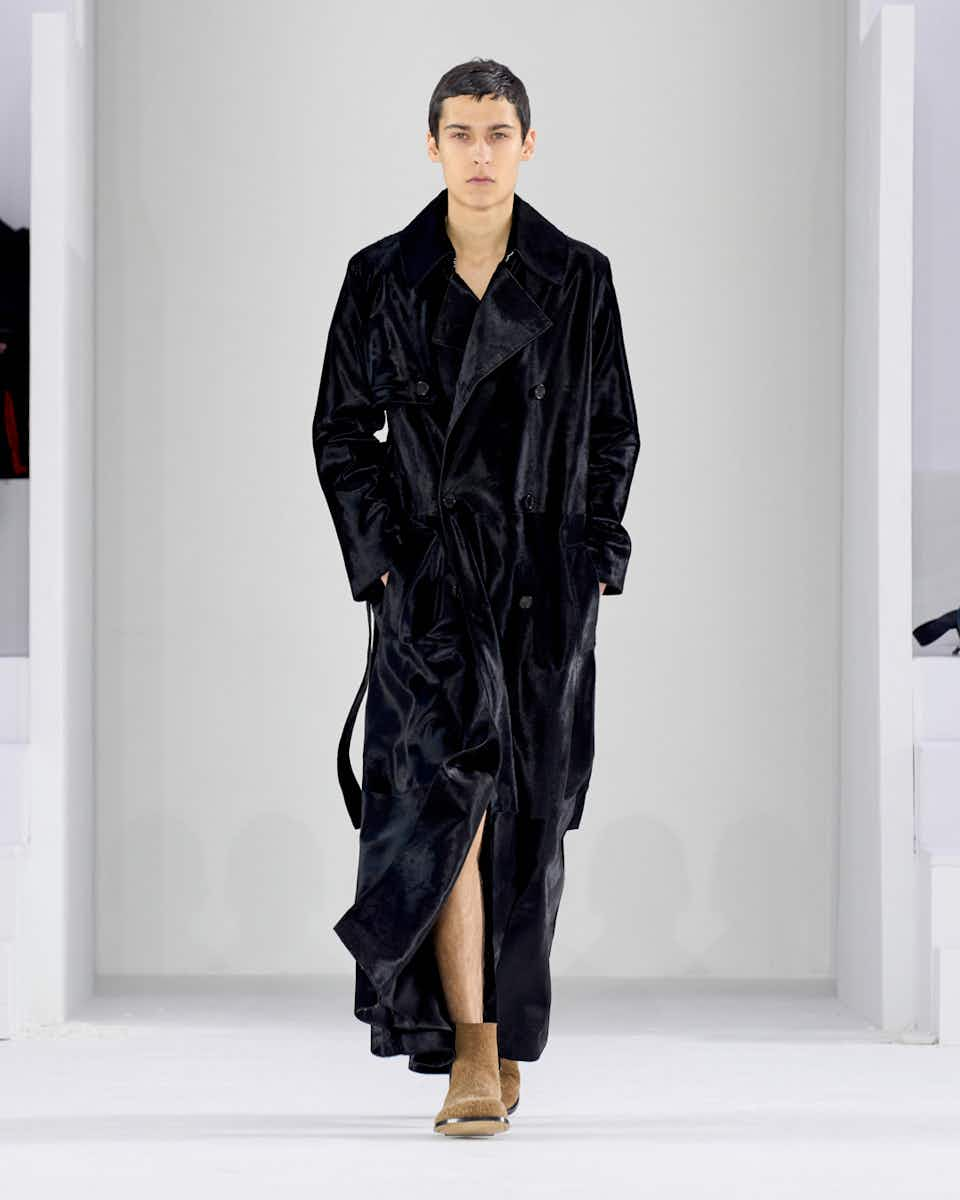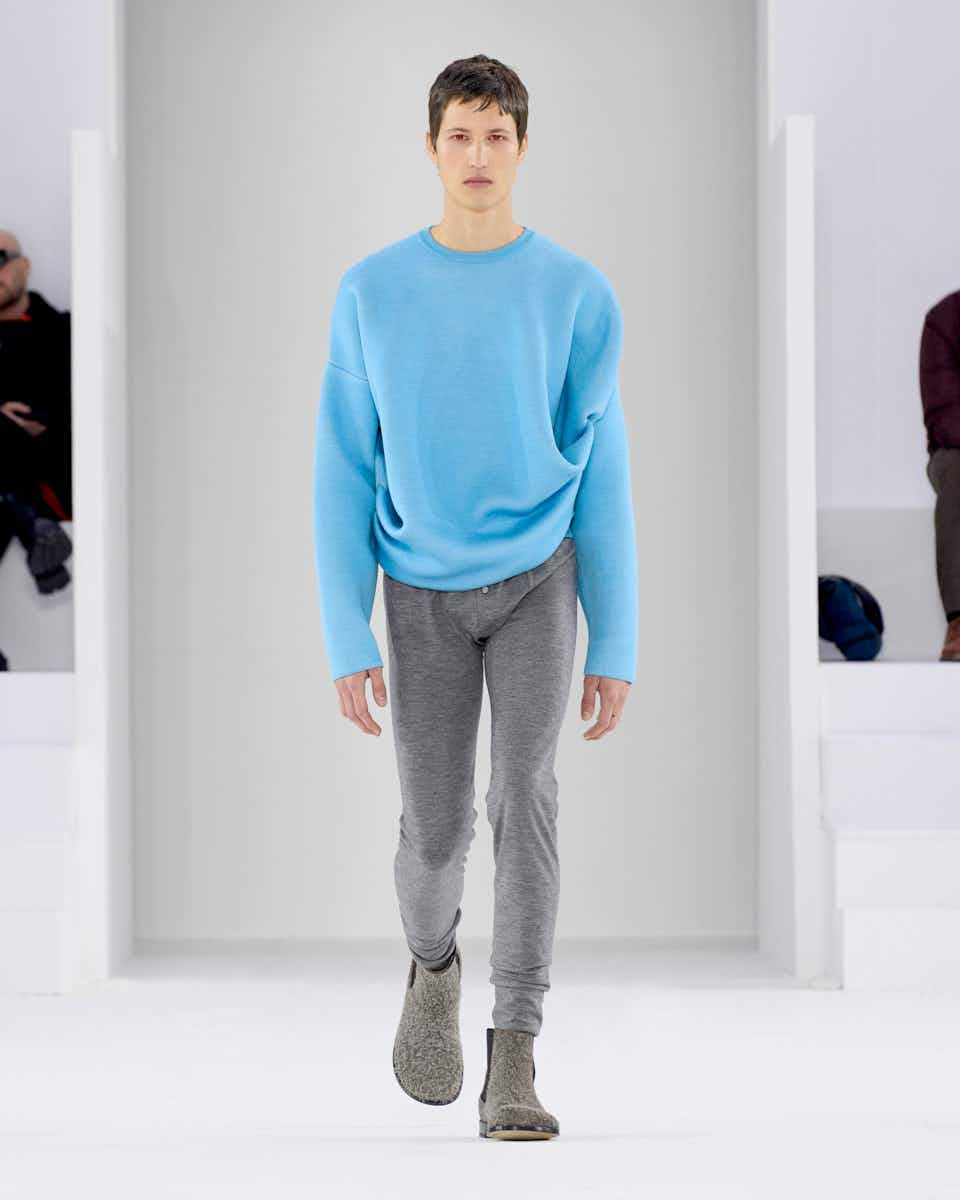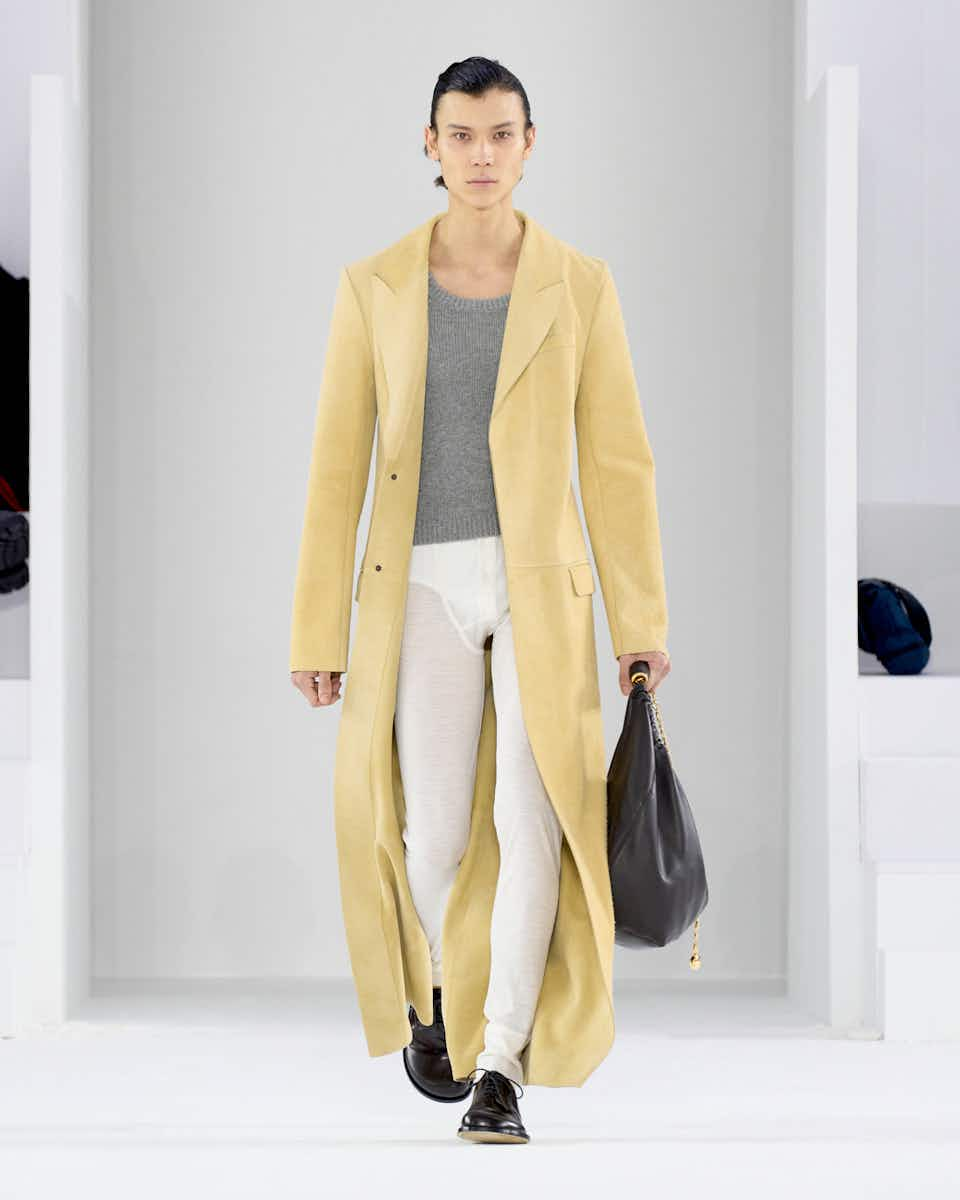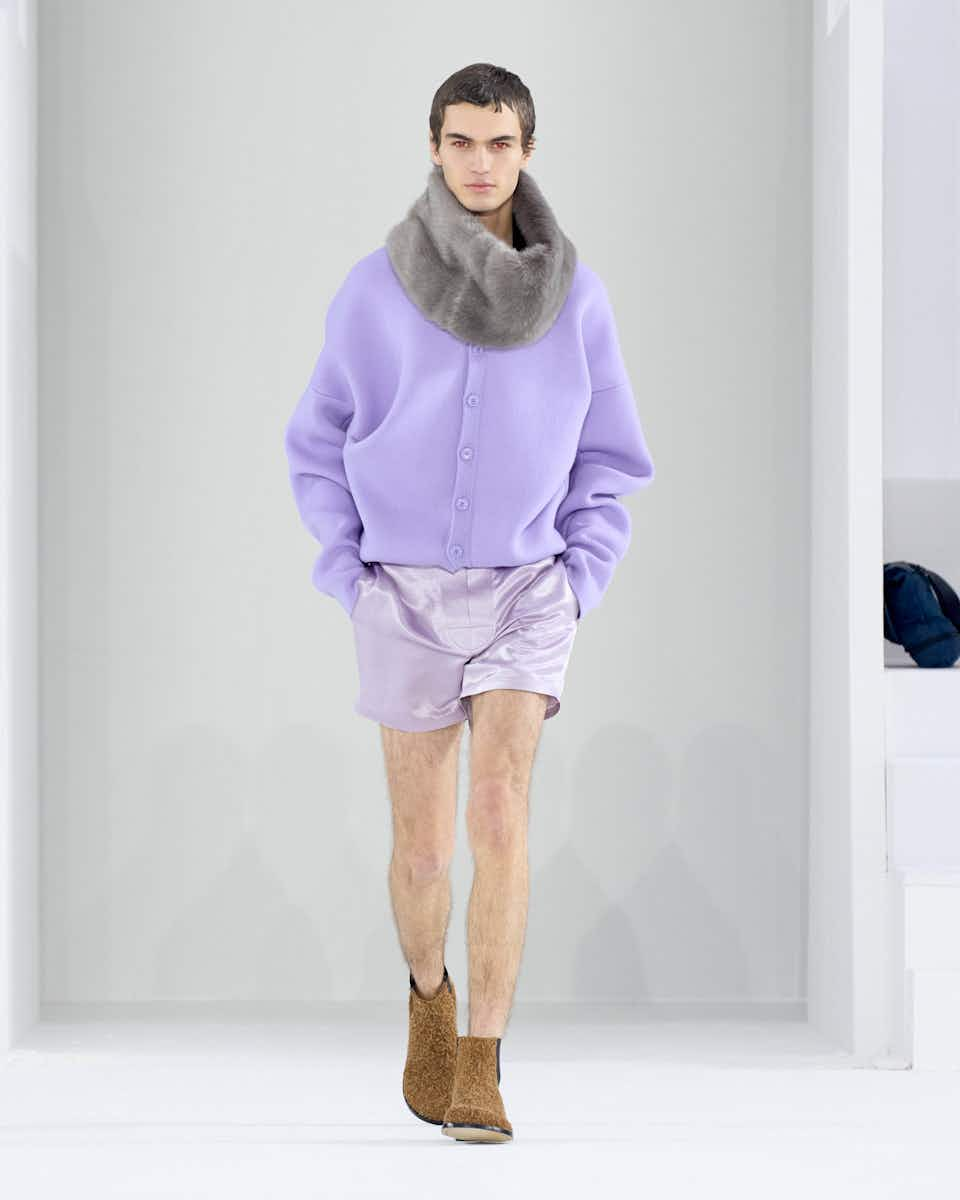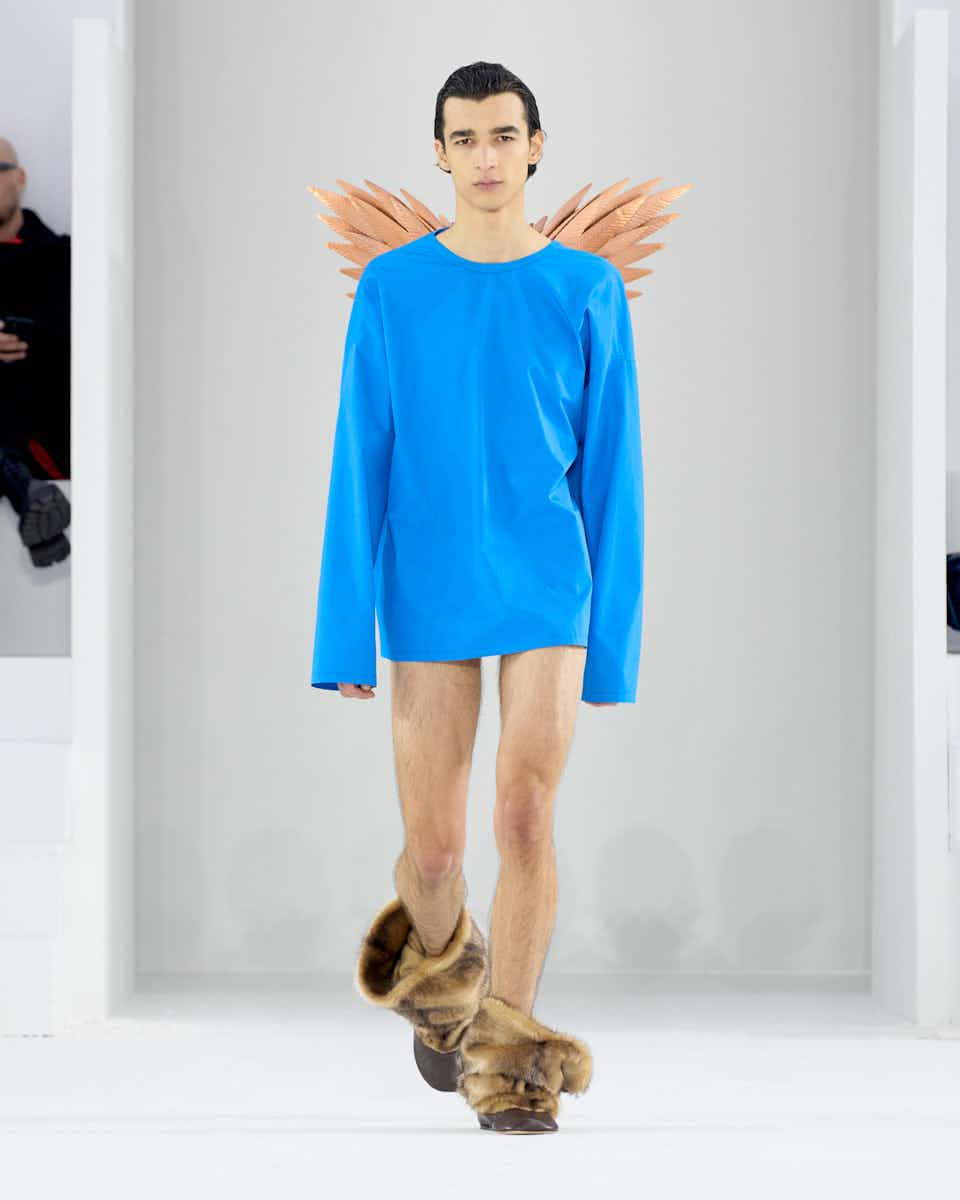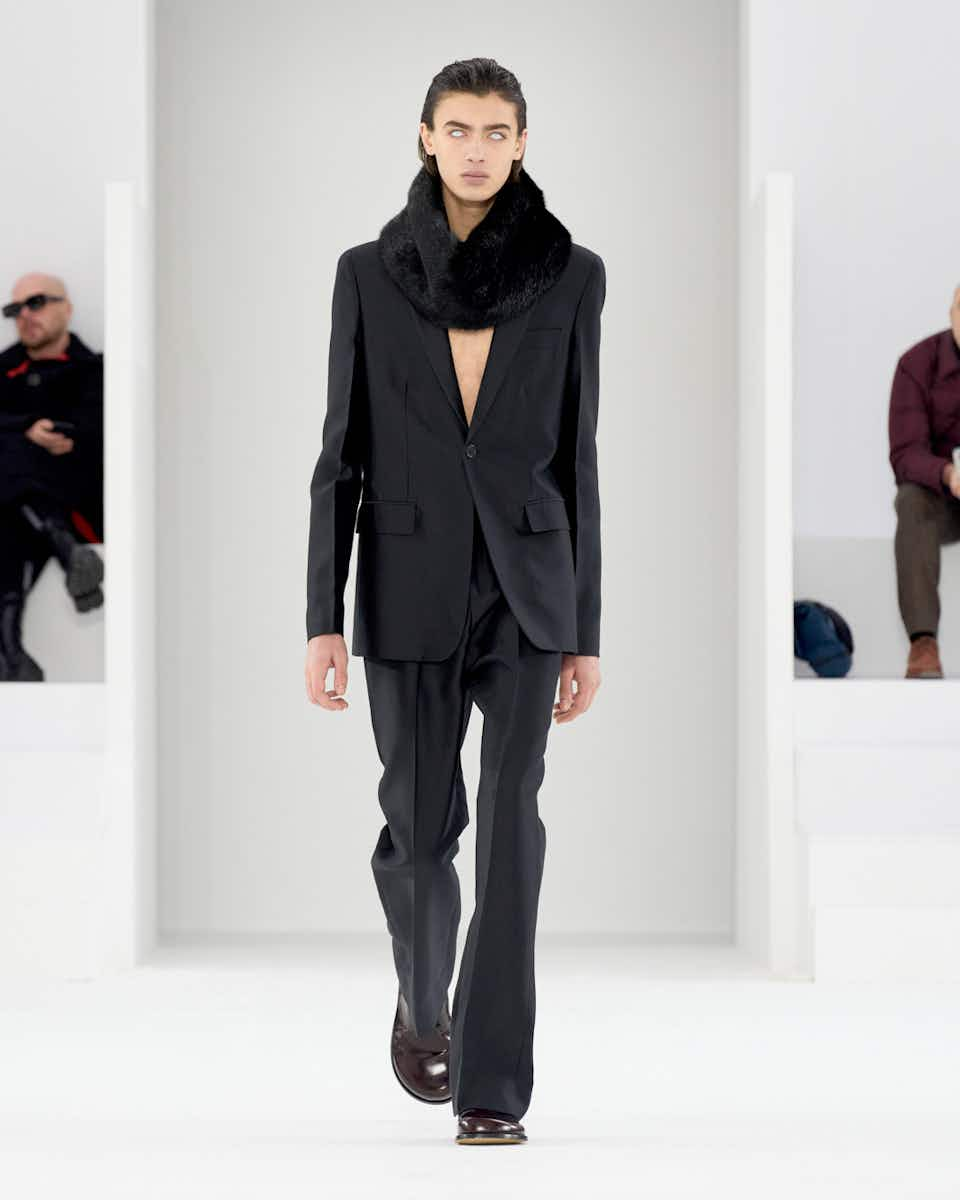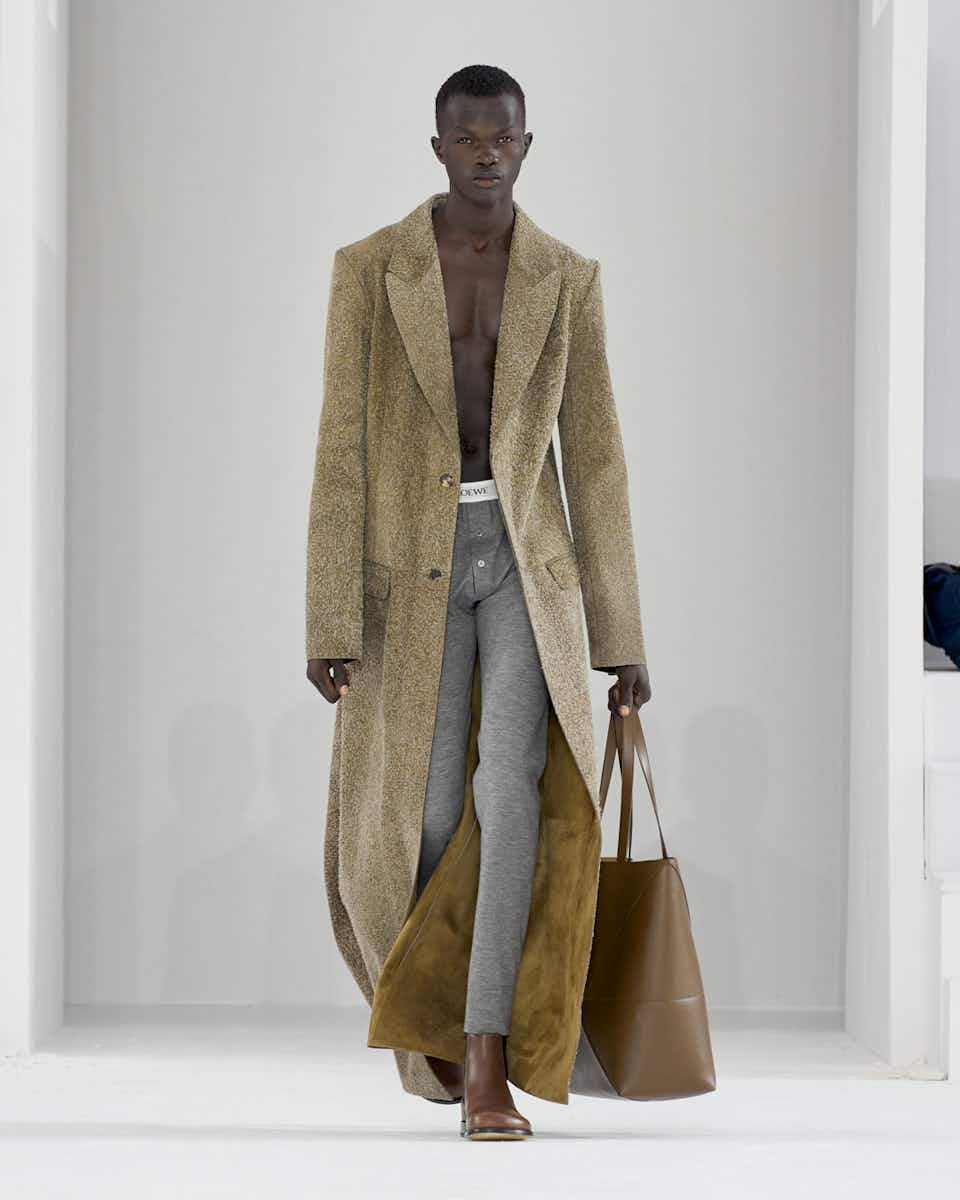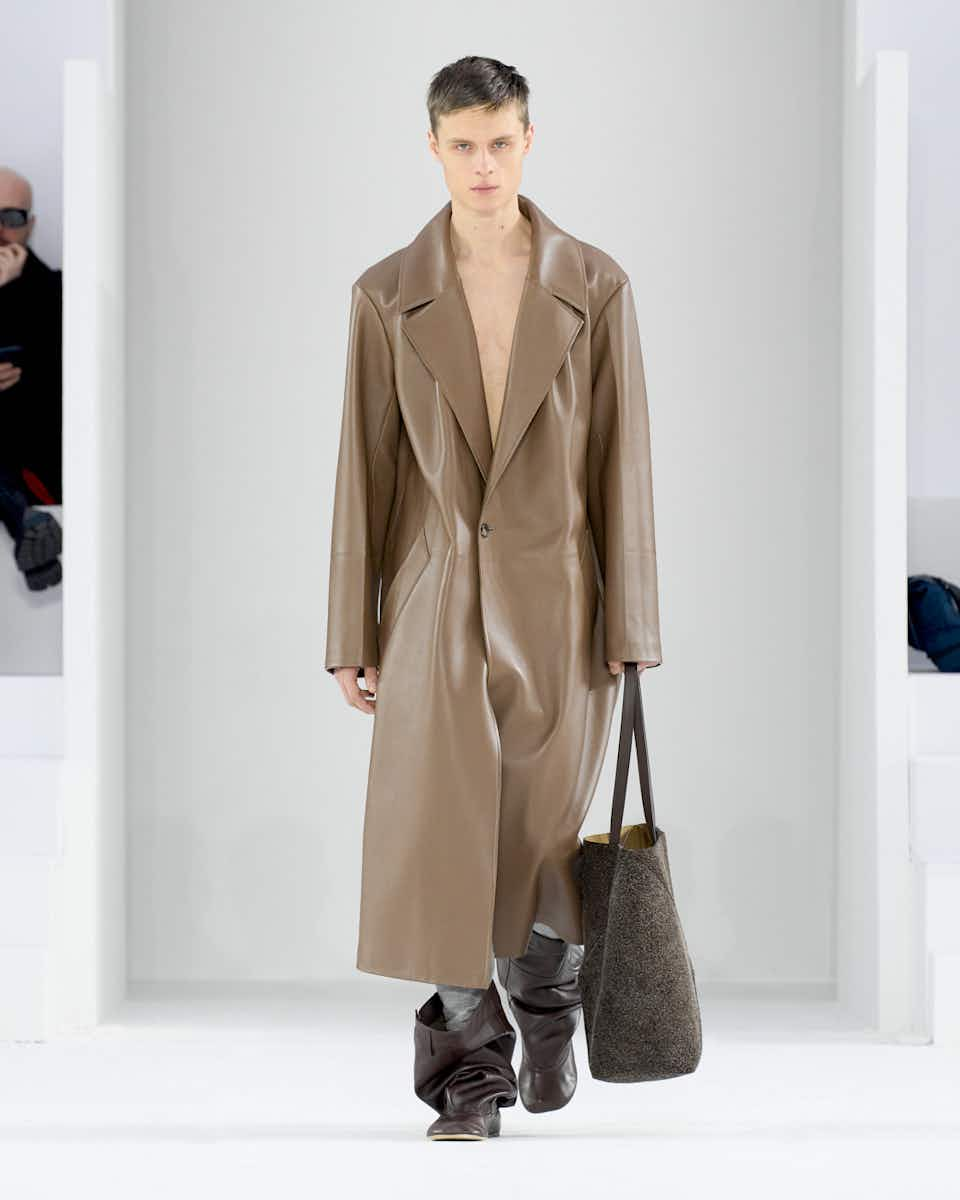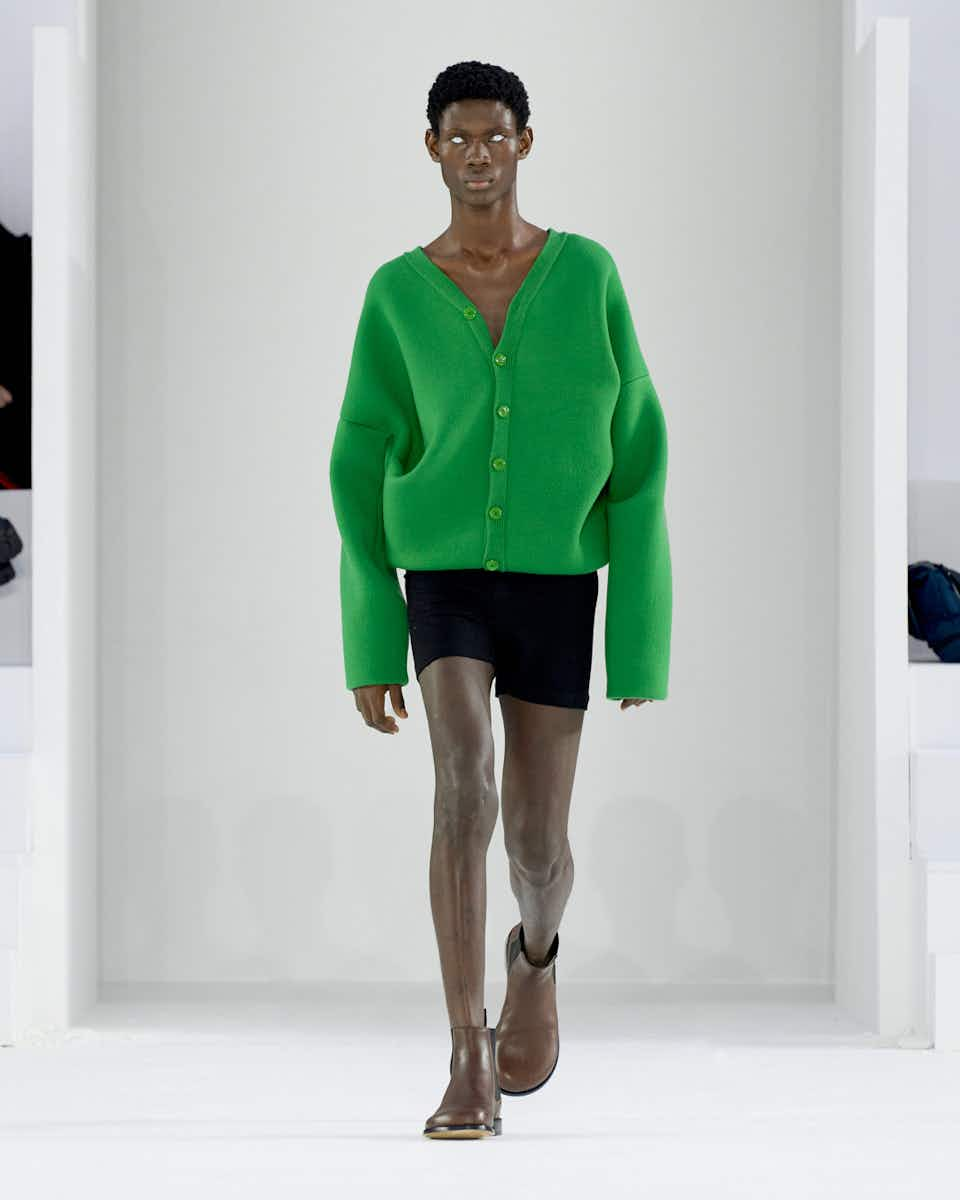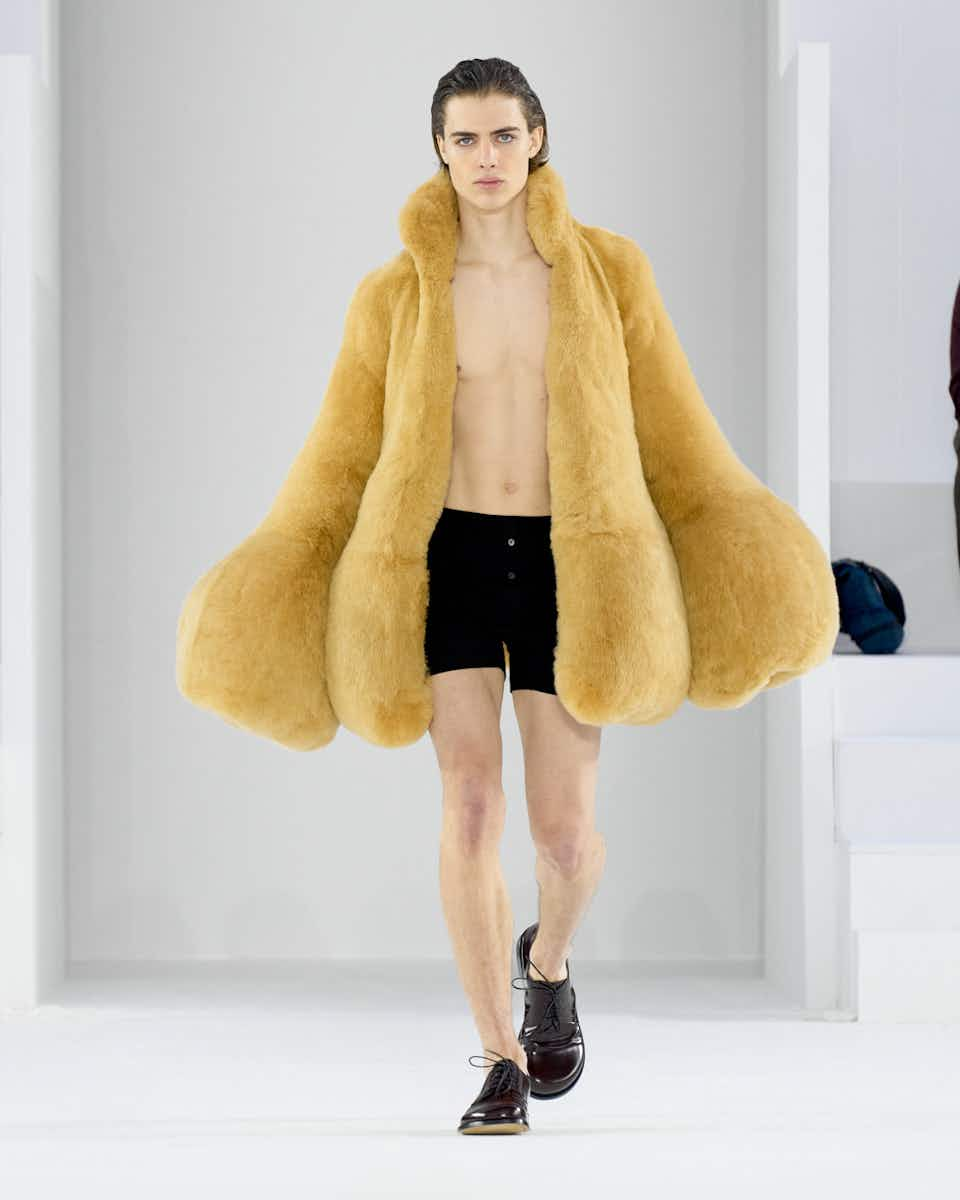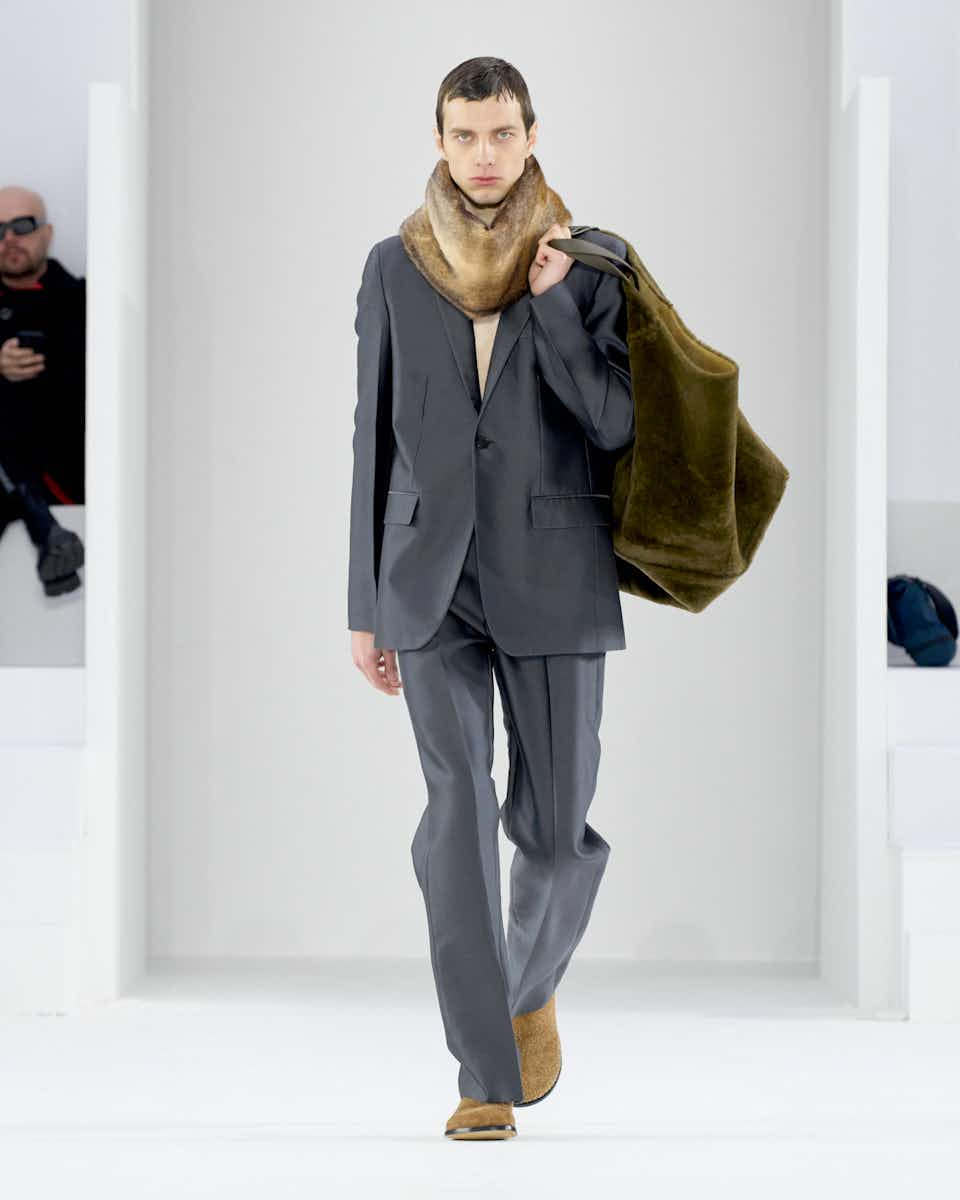 What?
Art director Nigo's trip through a multitude of styles and subcultures throughout the eras.
Where?
At Salle Pleyel, a concert hall in the 8th arrondissement of Paris – a fitting backdrop for a string quartet playing Beatles renditions which soundtracked a collection that started in the swinging Sixties.
Who was there?
Skepta, Troye Sivan, Tinashe, Headie One, Pusha T and Pharrell (plus family). Pharrell's head bop suggested he was particularly vibing the strings.
What were the clothes like?
Nigo's fascination with British dandy style and Saville Row tailoring has long been documented, and his latest collection saw this converge with Japanese street culture and American workwear. Think: checked British country outerwear, trousers with mini-skirts layered atop, Y‑shaped jackets, chocolate and canary-yellow suede mini-skirt suits, duffle coats slung over lurex fairisle knits and ruffled slip dresses. Stand out accessories came in the shape of ​'80s sports bags, flower-clad wedge clogs, bob hats and oversized berets.
Anything else we should know?
The transition from show to party mode was quick, and loud. Upon exiting the auditorium, guests stepped straight into a red-carpeted afterparty complete with pounding beats and, later, a performance by Lil Baby.
In two words?
Culture clash.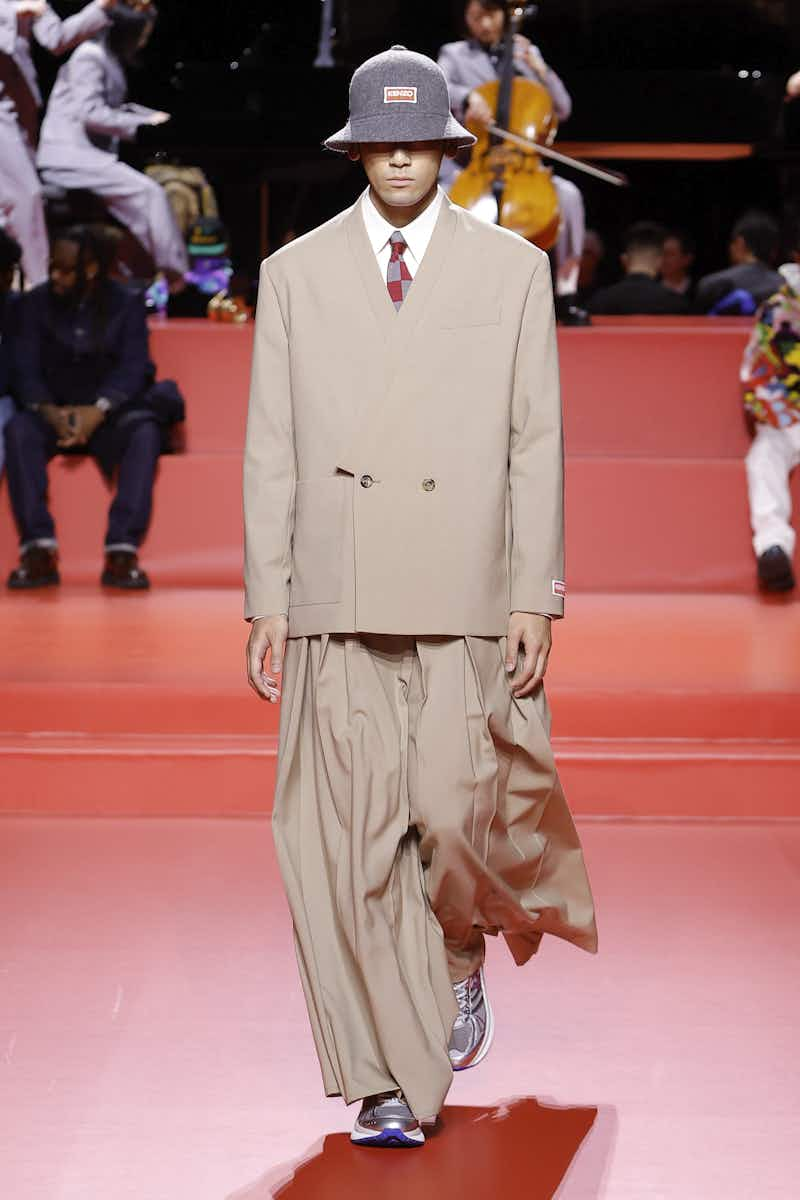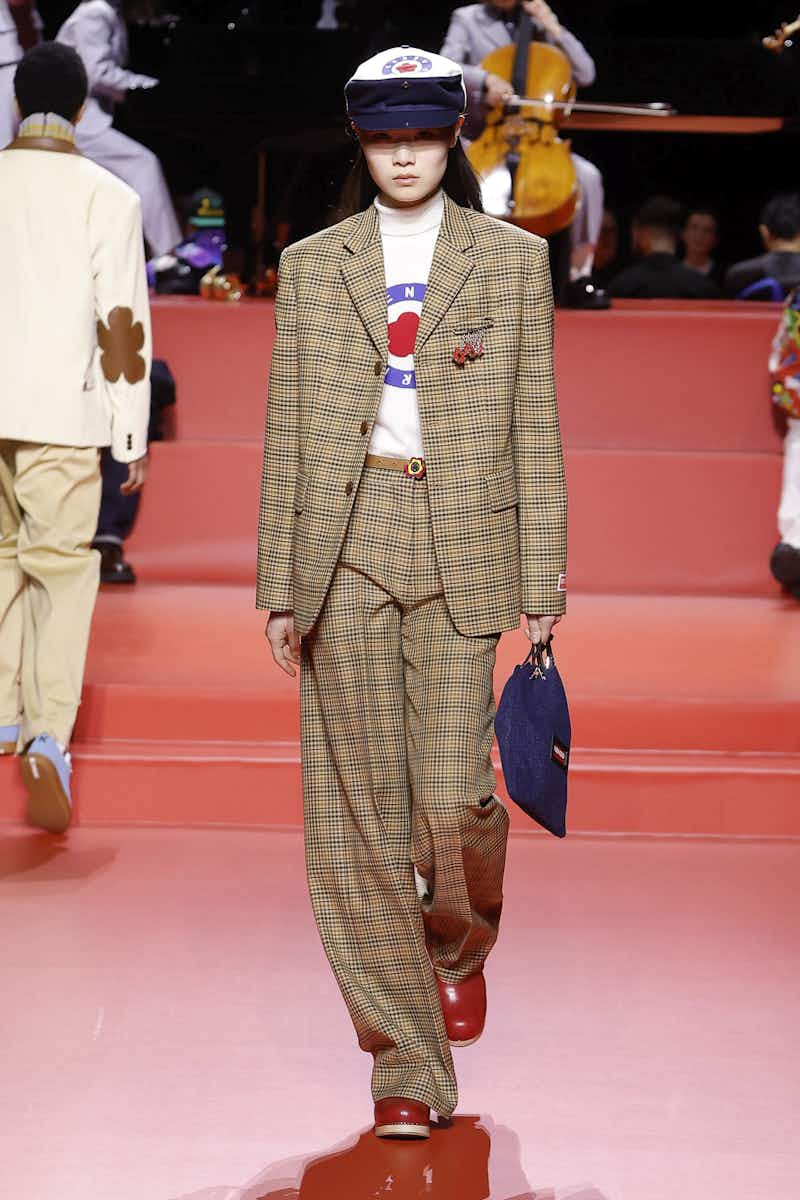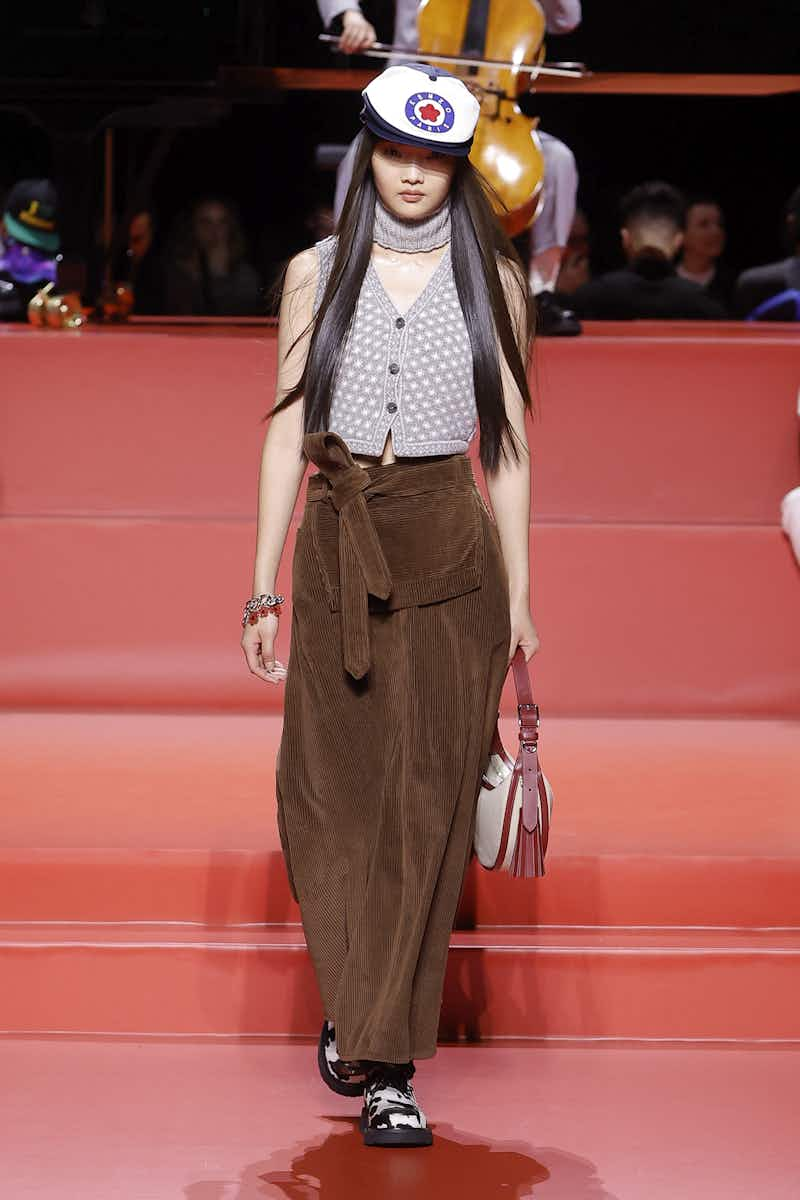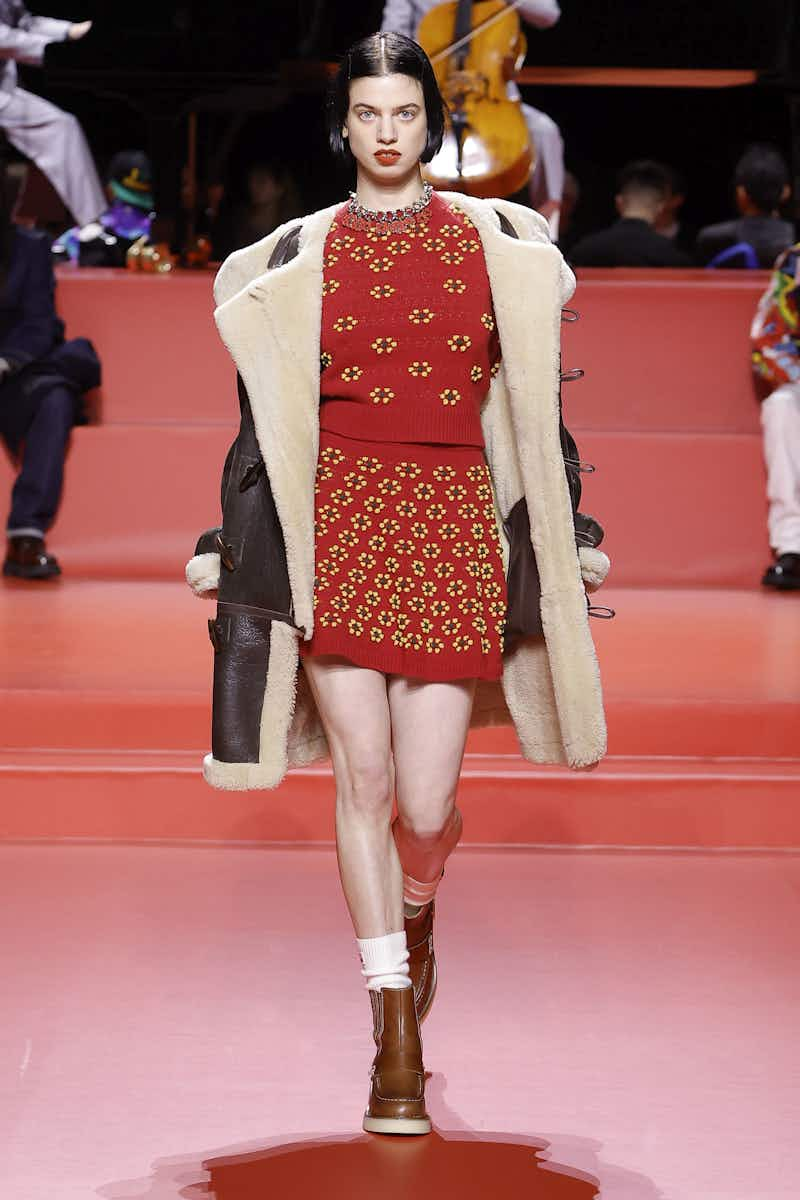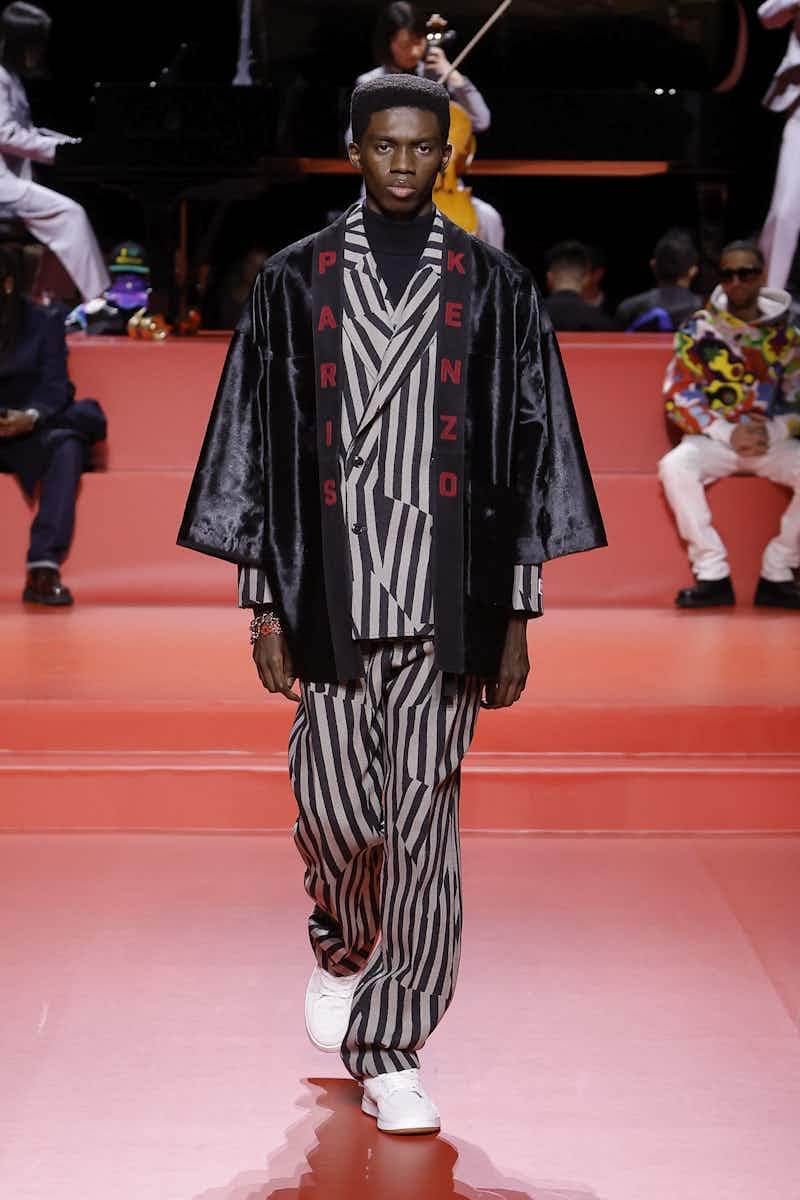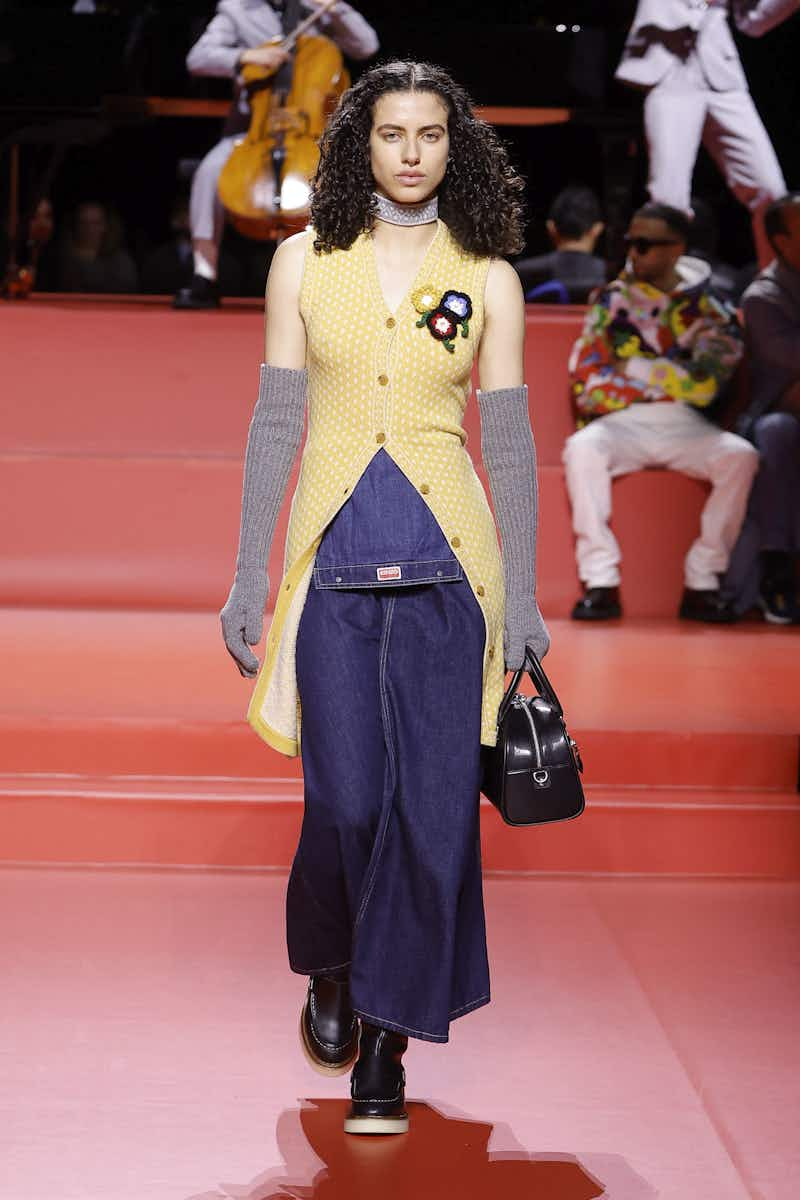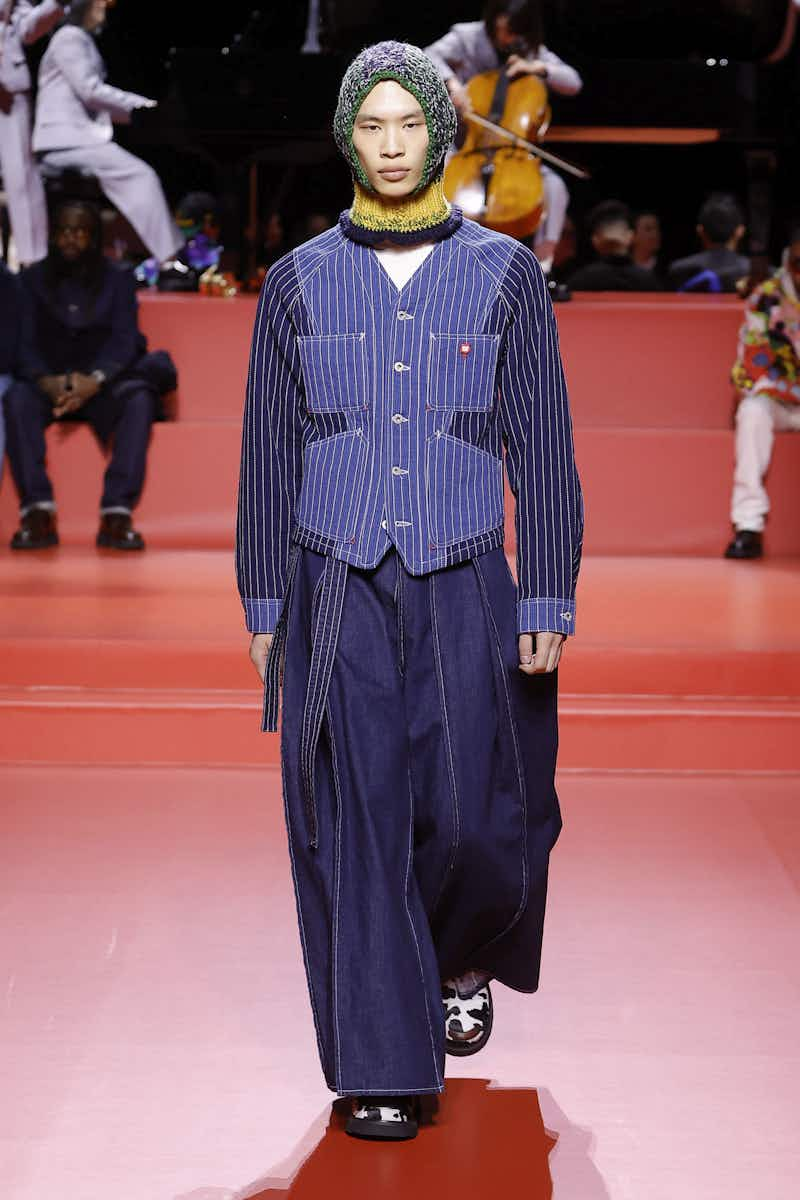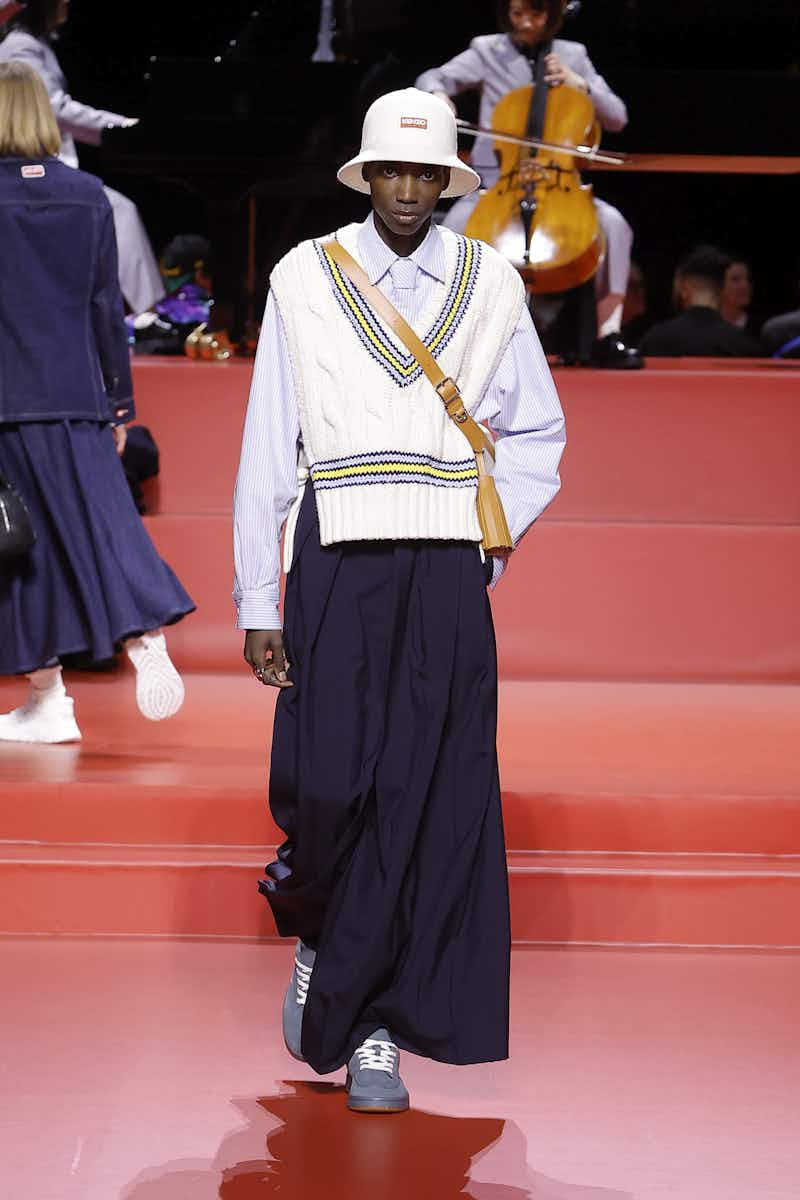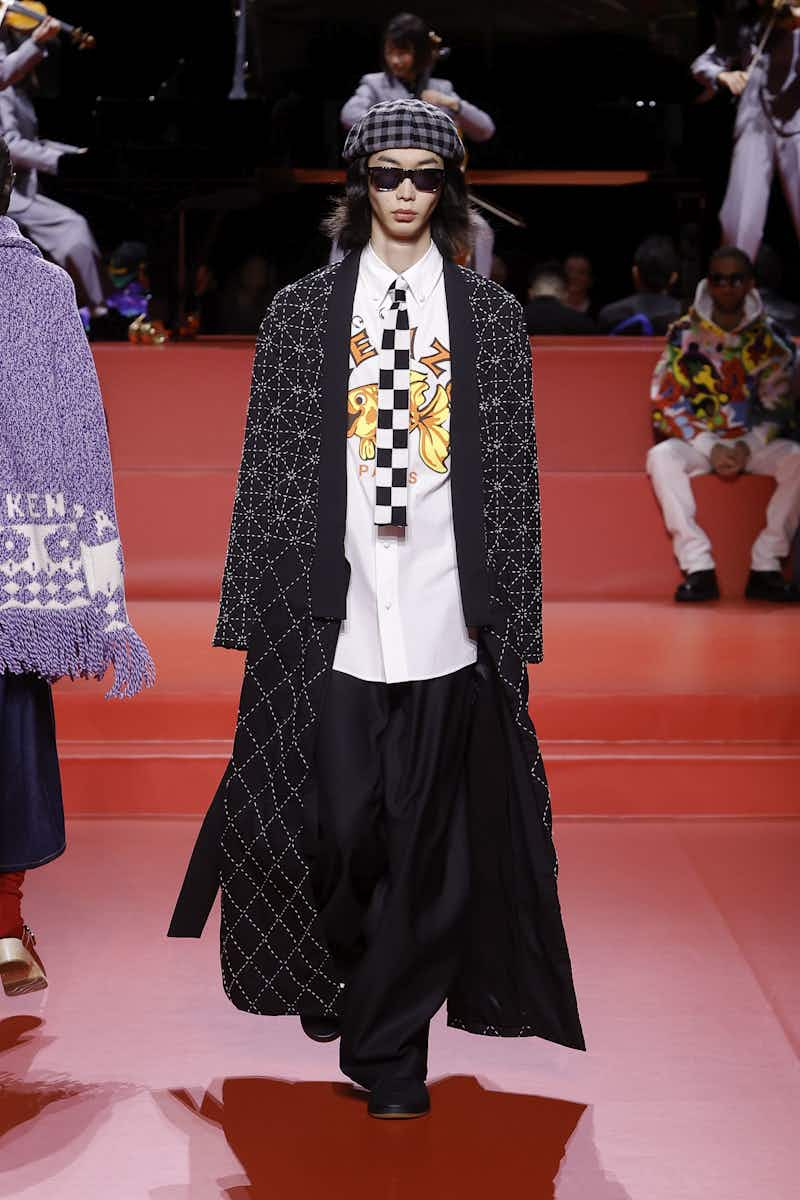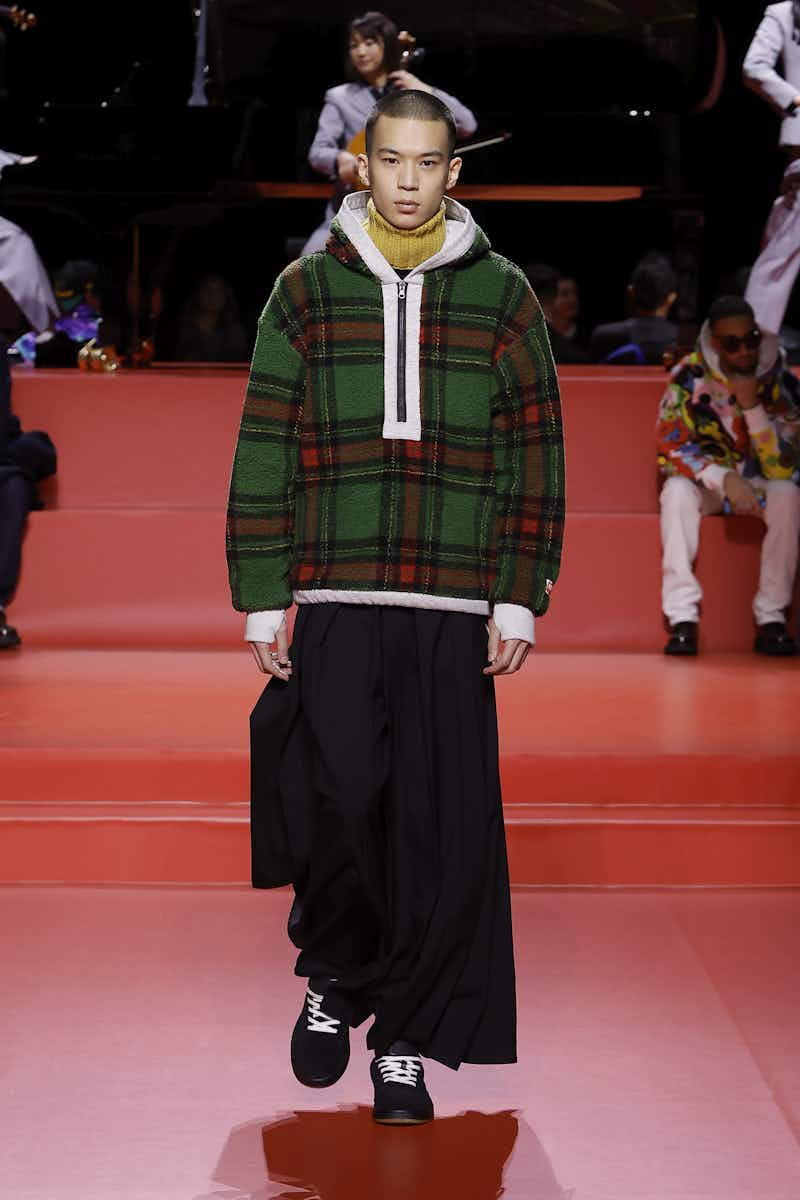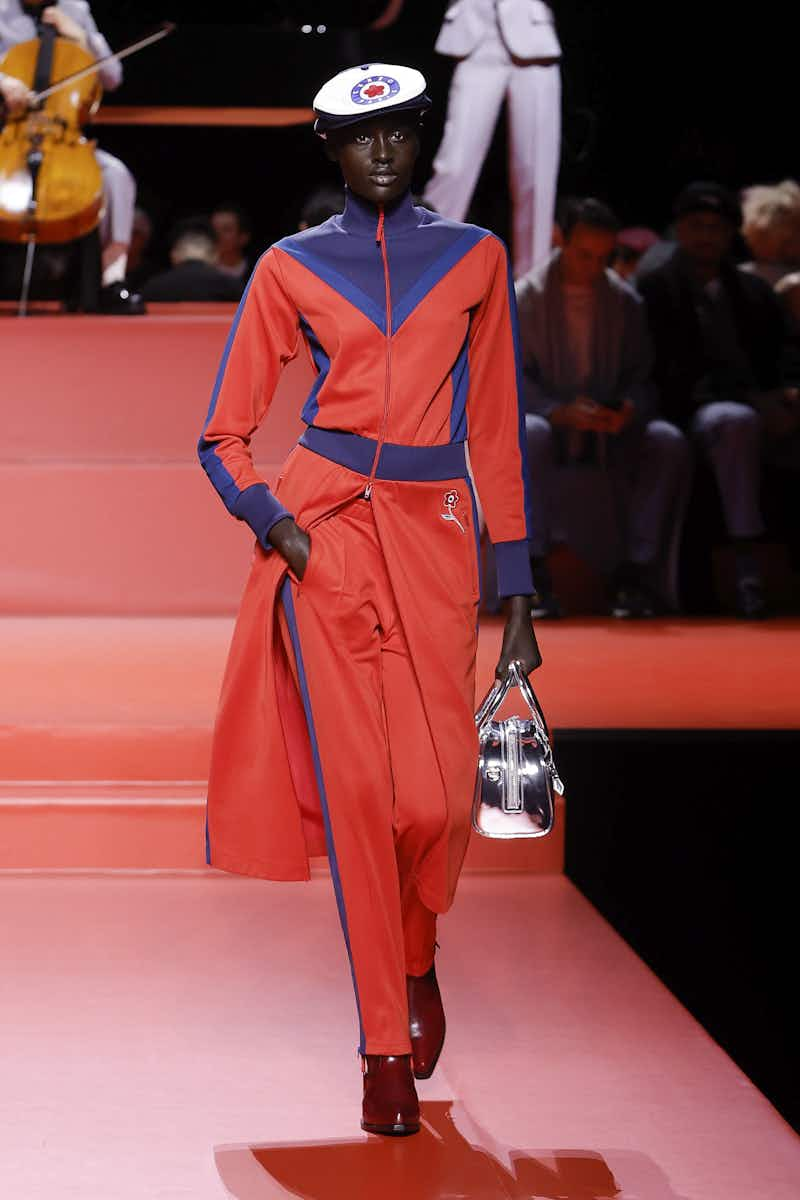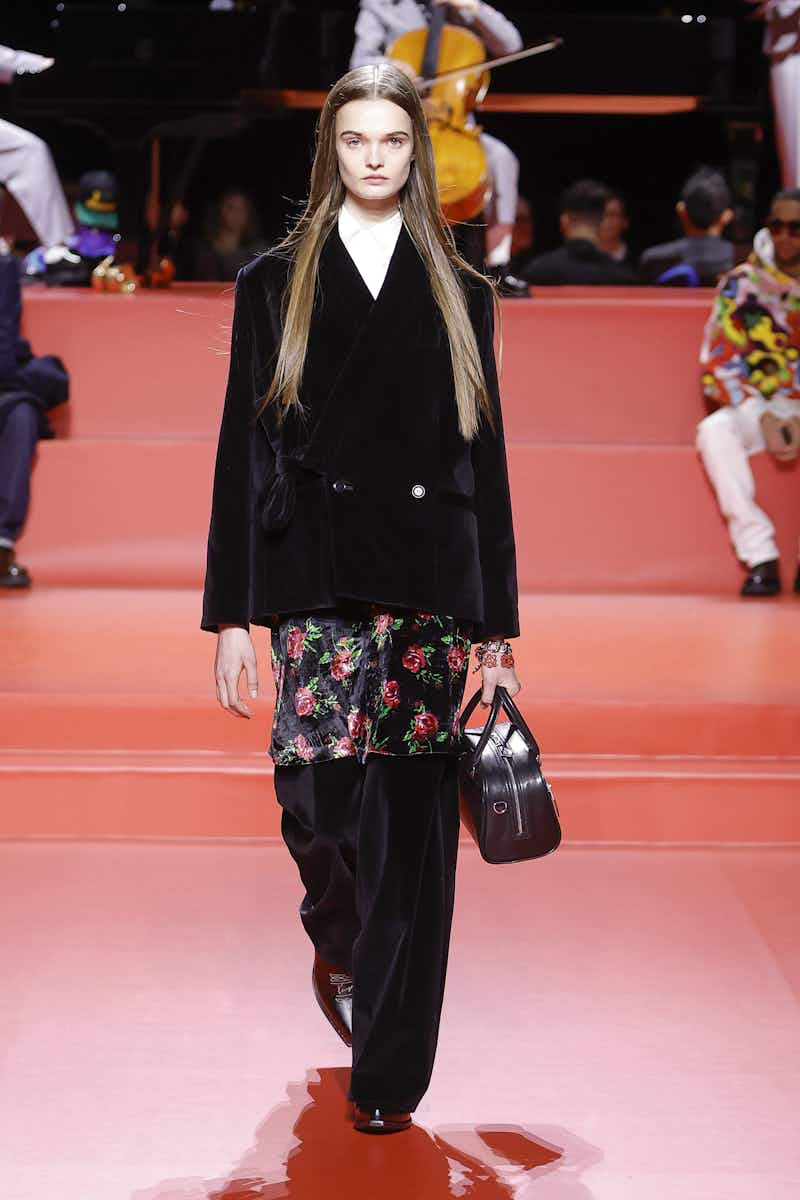 What?
Kim Jones' AW23 Dior collection that traversed between historic workwear and future-facing silhouettes.
Where?
In Dior's usual venue: a gigantic space erected just for the occasion at Paris' Jardin des Tuileries. Inside the all-black box, the faces of Robert Pattinson and Gwendoline Christie were projected larger-than-lifesize on screens, each reciting T.S. Eliot's post-war poem The Waste Land, which focuses on disillusionment in the contemporary world, in deep, dramatic voices.
What were the clothes like?
Much like the themes explored in Eliot's watershed poem – reinvention and renewal – Jones explored the brief period in Dior's history when Yves Saint Laurent was at the house's helm from 1958 – 1960, aged 21, with a future-facing outlook. Referencing traditional fisherman attire, the collection featured a series of oversized splash-proof anoraks, Aran knits, buoyant life-jacket-esque gilets, rubberised rain hats and Wellington boots. Elsewhere, these silhouettes were met with lighter, looser pieces: wide skirts, wafer-thin, transparent tent-like layers and velvet trench coats in a palette dominated by neutrals and greys.
Of note:
Robert Pattinson's tweed skirt – yes, the same one from the runway – and fur coat combo that's sparked much online discourse since. We can confirm that the Dior ambassador looked ravishing in one of his boldest fits to date.
In a word?
Wet (wet, wet!).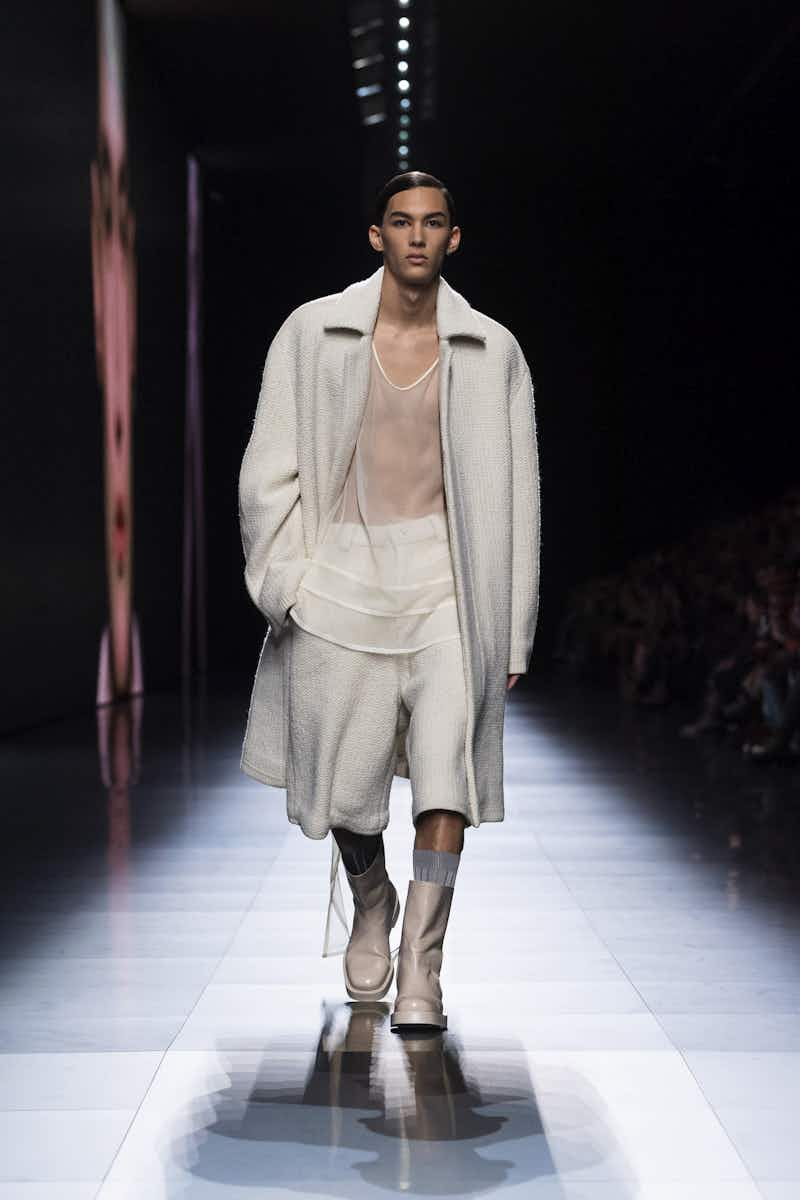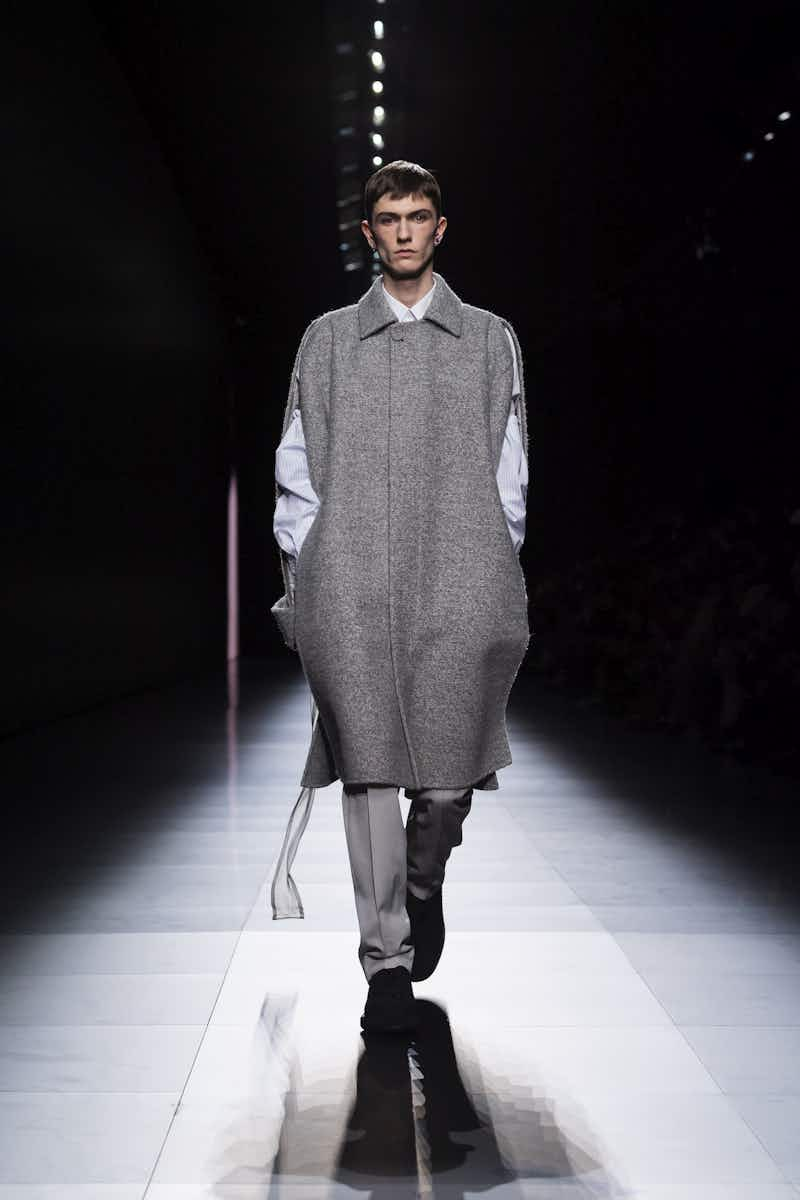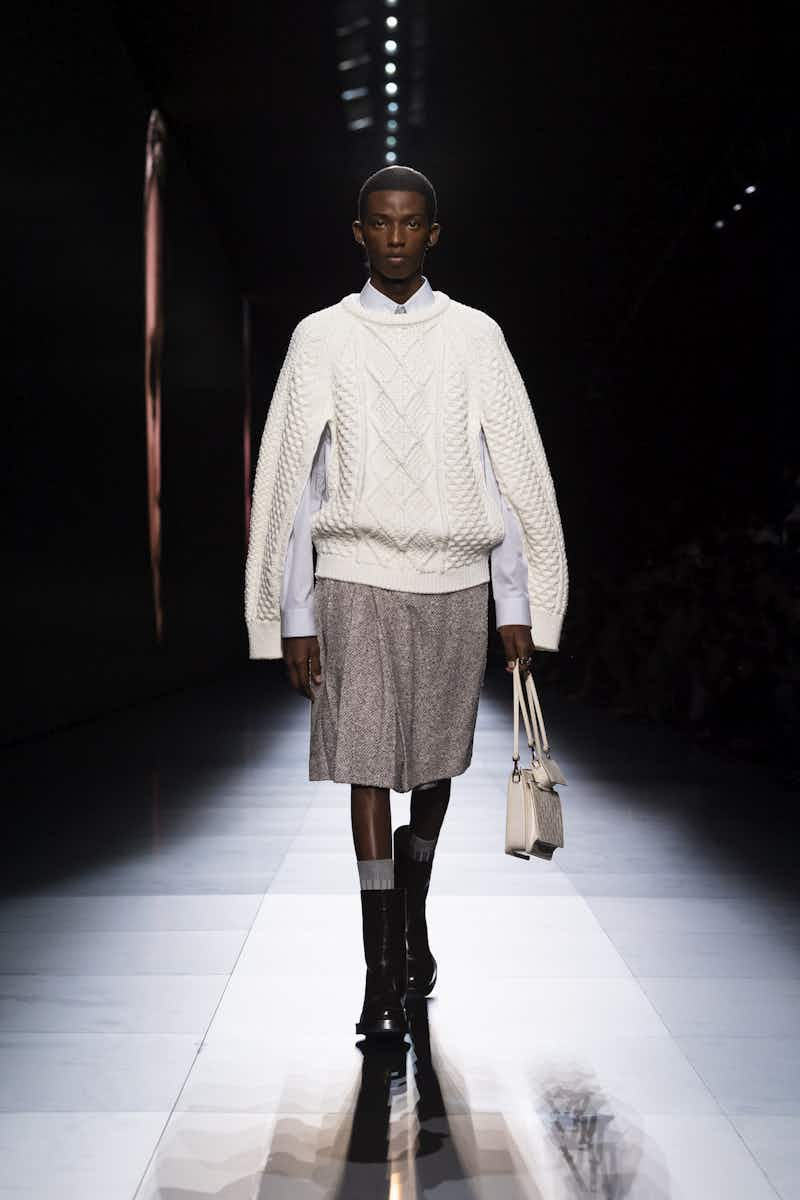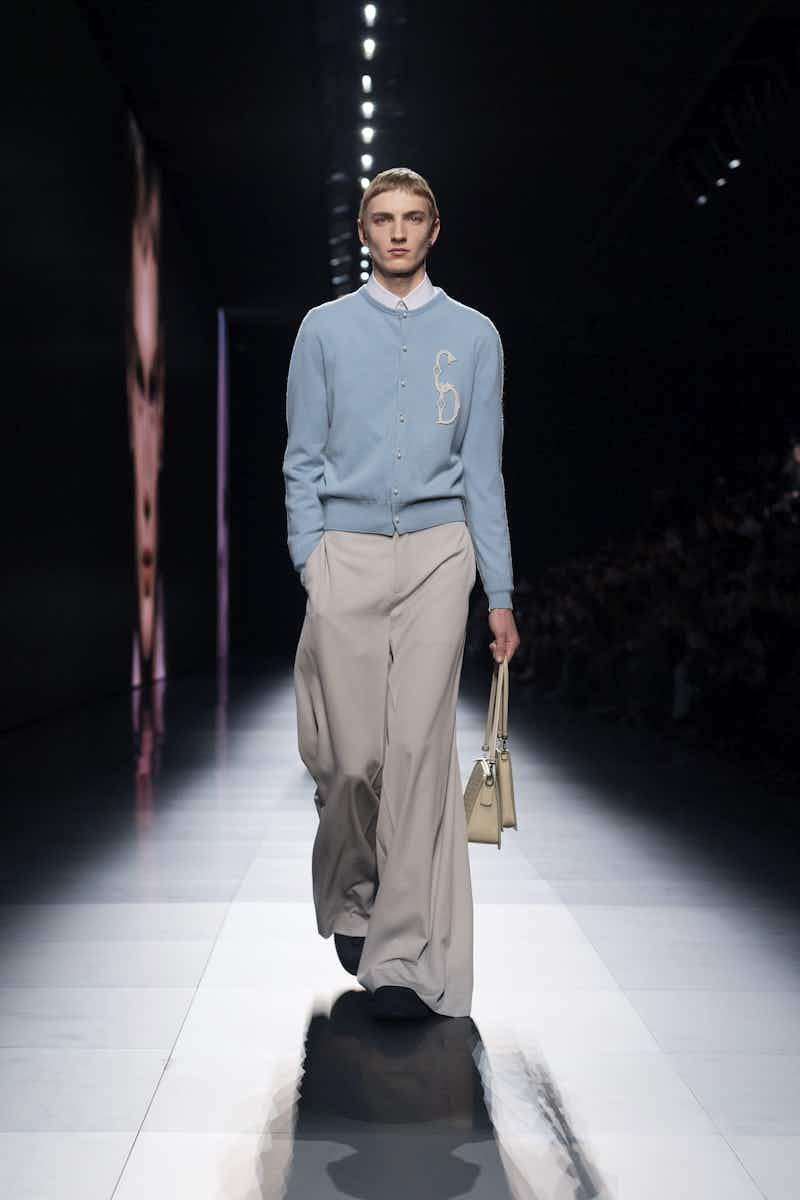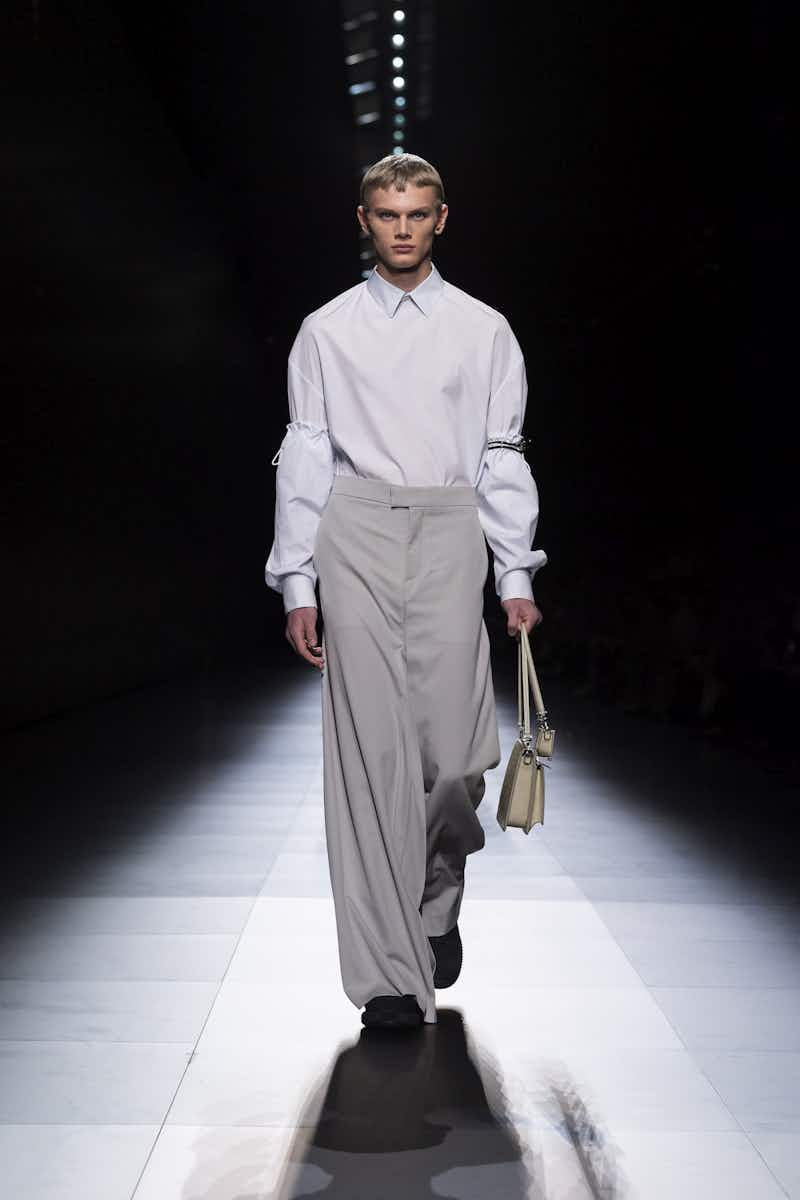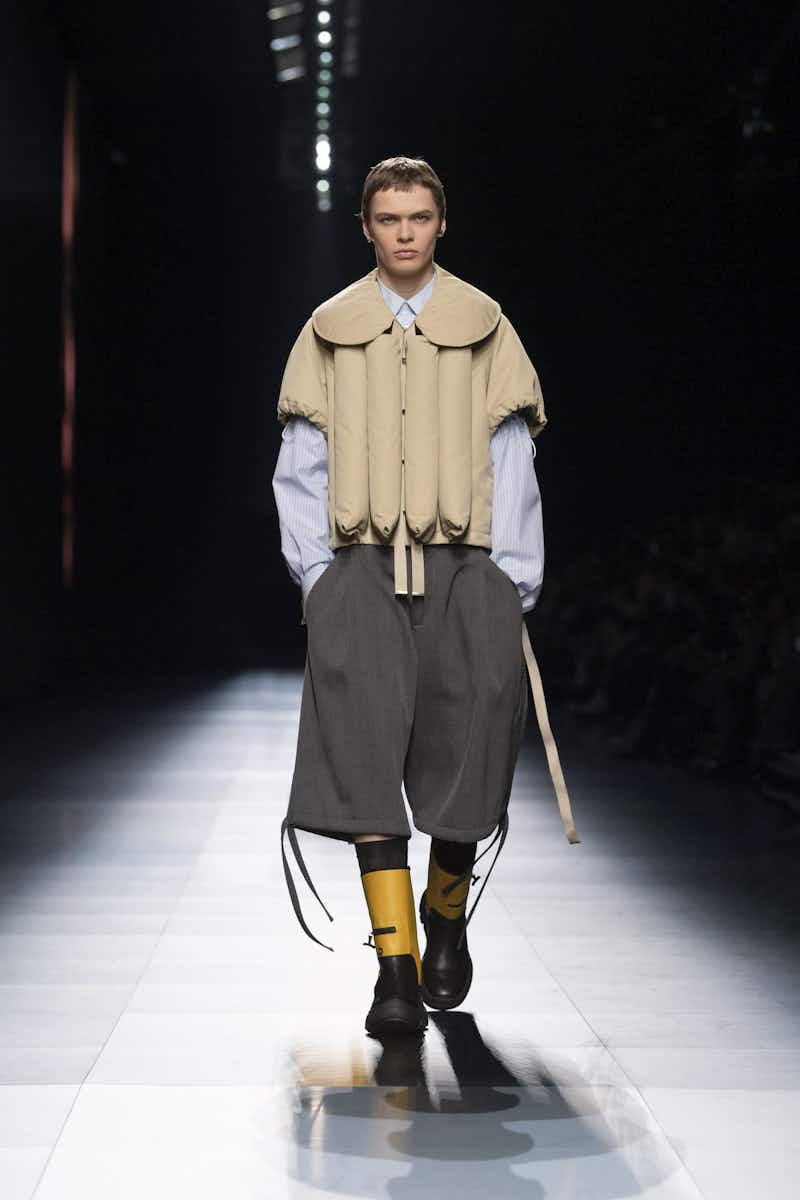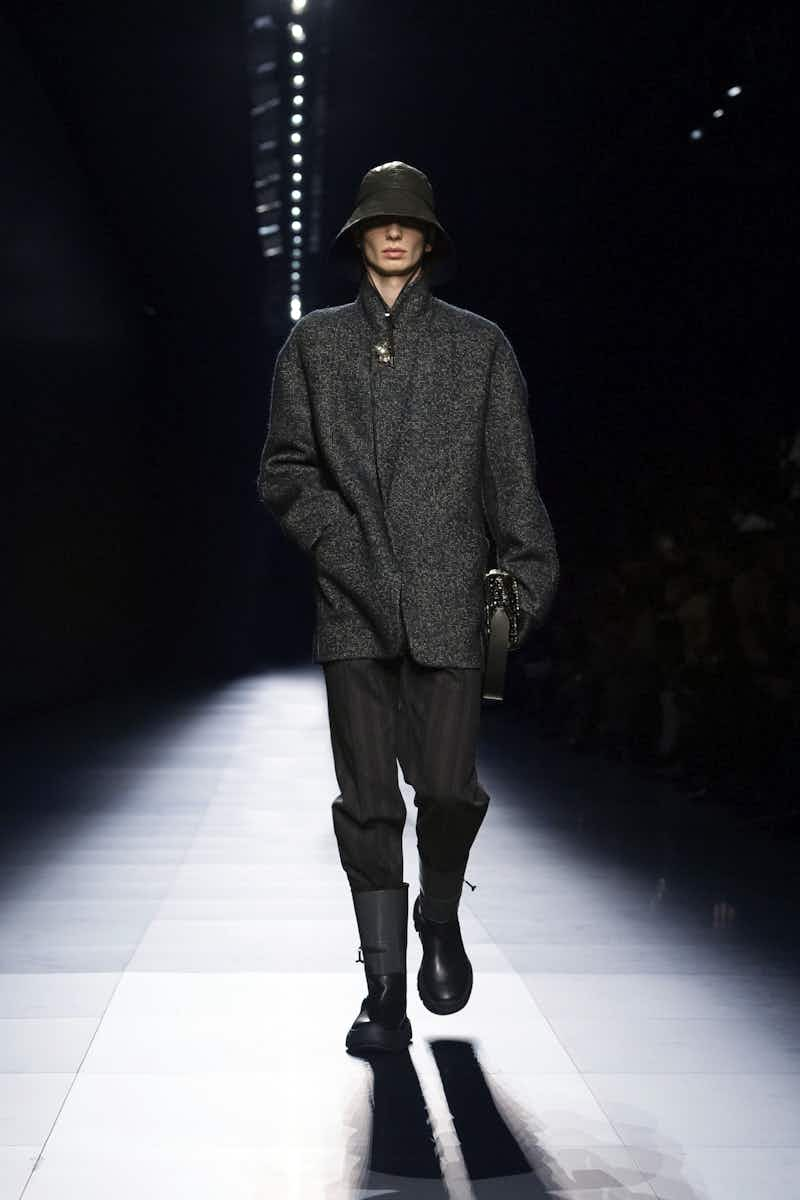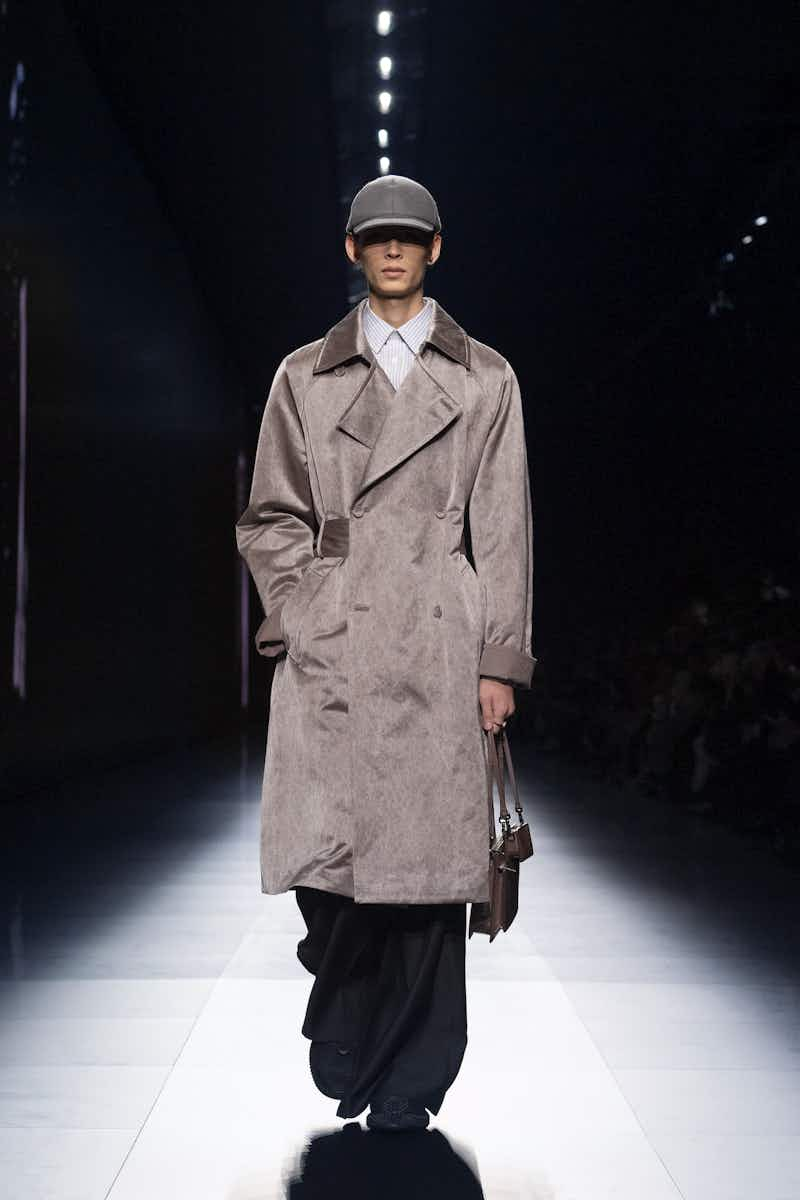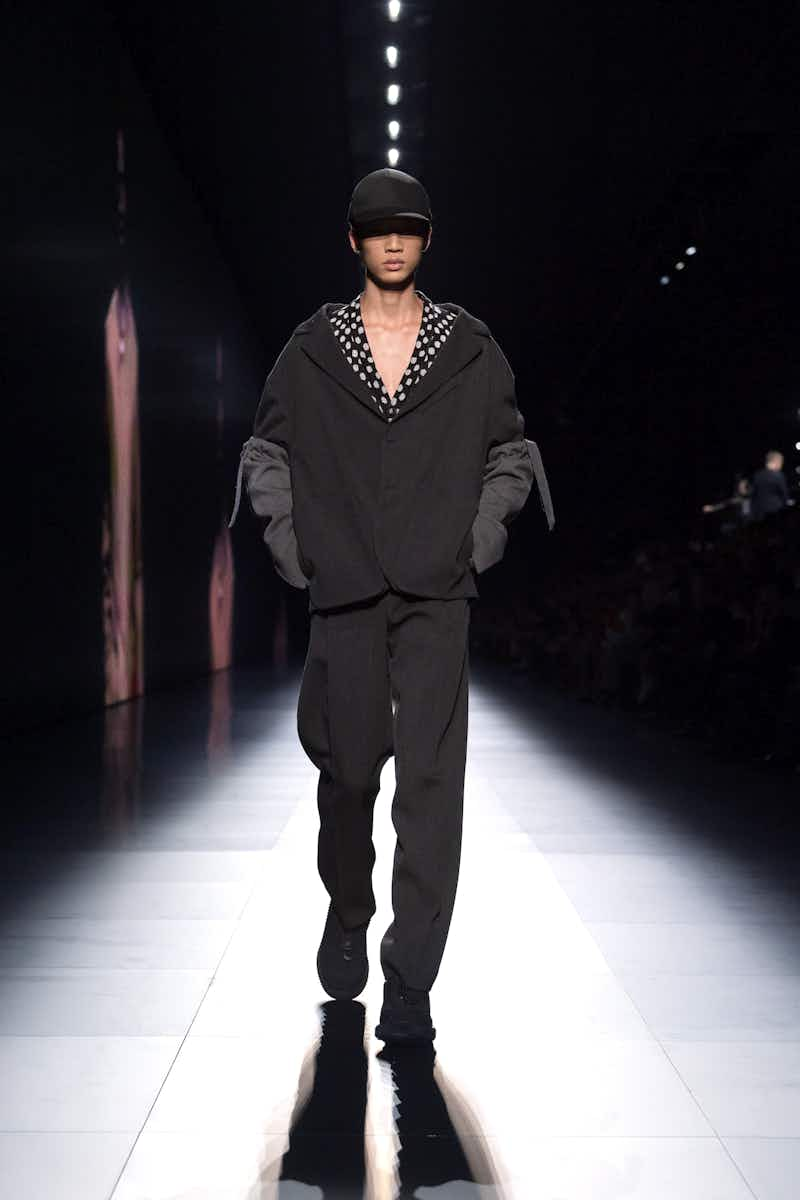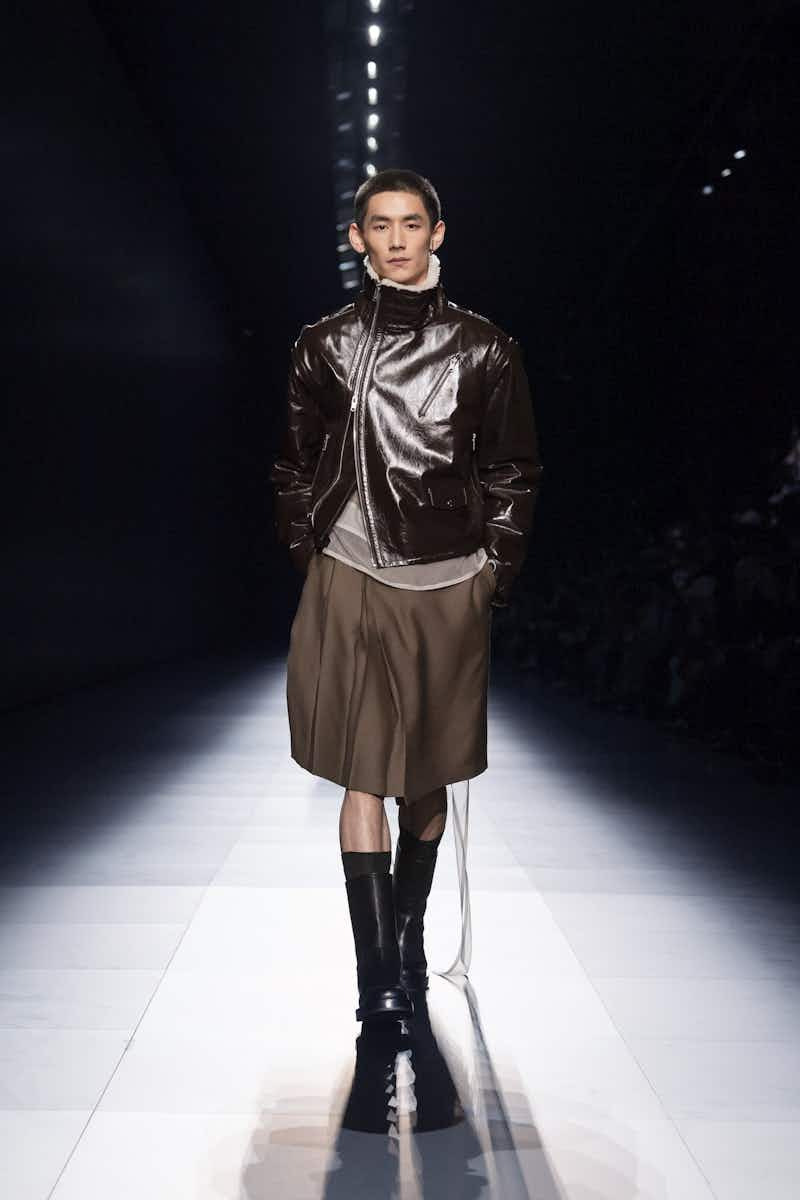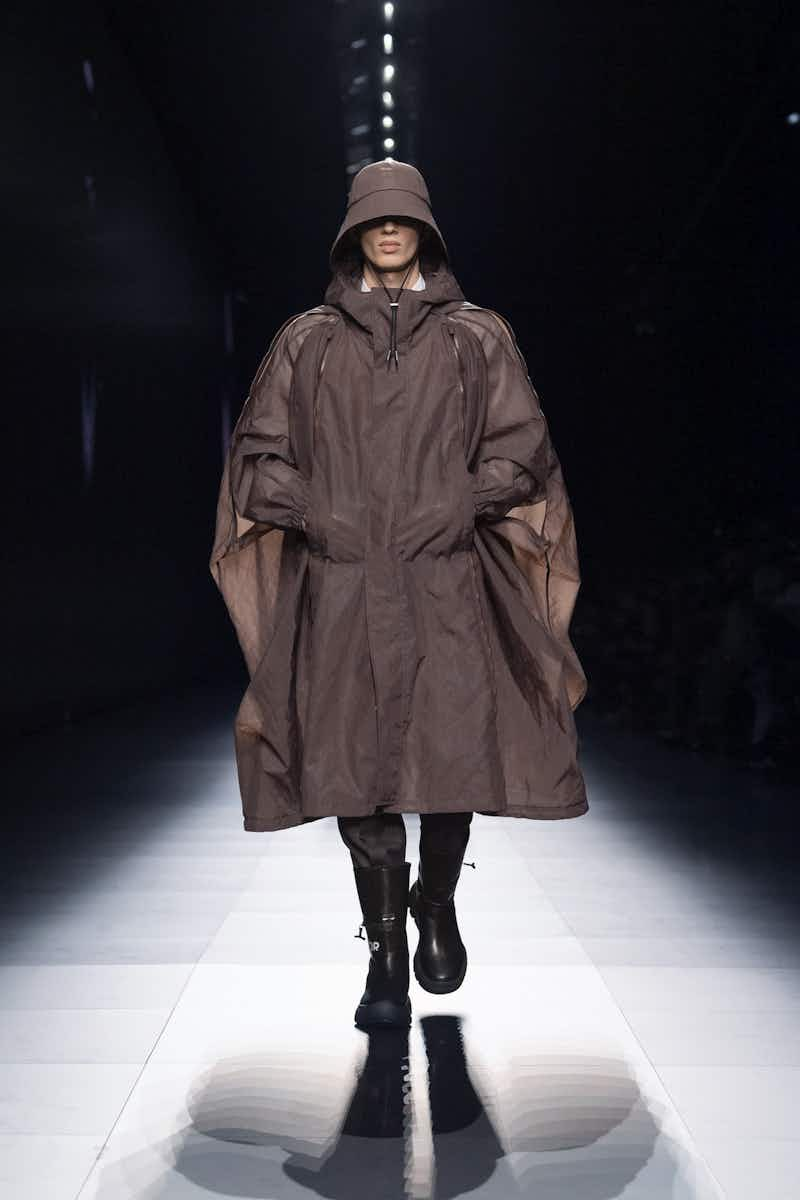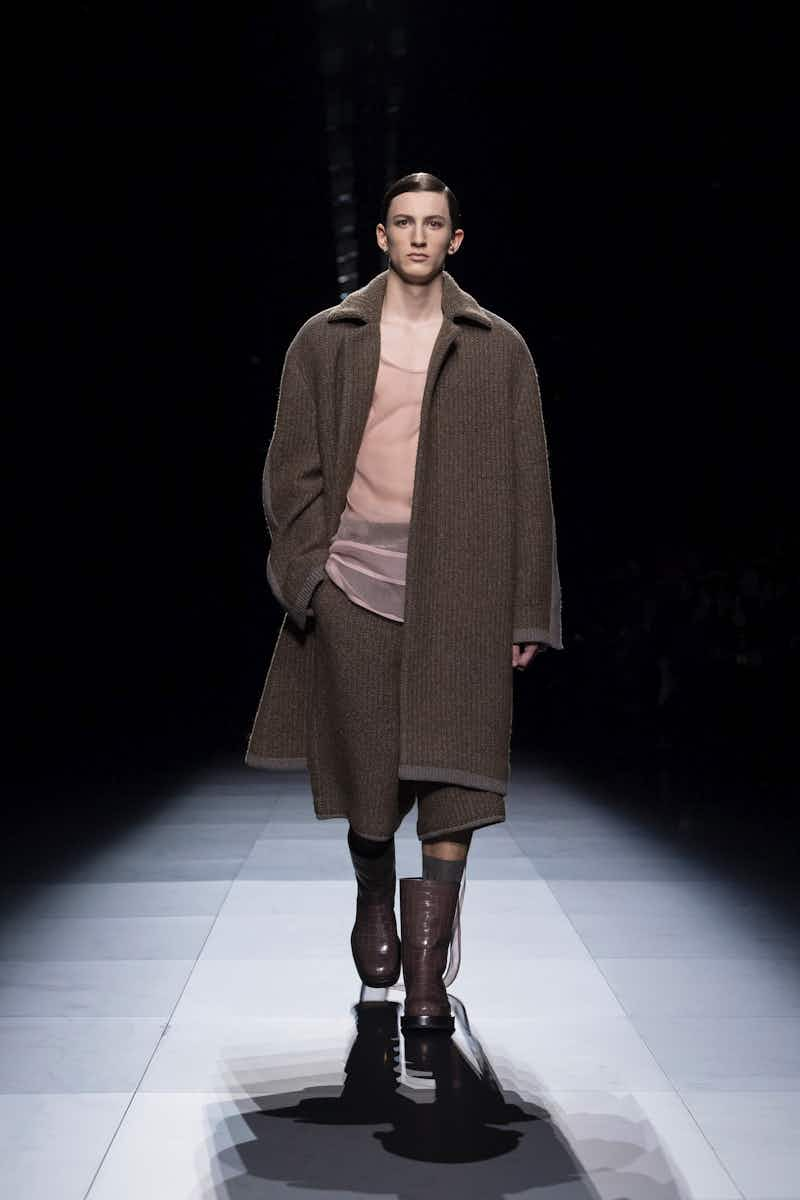 What?

Louis Vuitton's AW23 catwalk-cum-concert soundtracked by global superstar and former FACE cover star Rosalía.

Where?

In a space erected within the grounds of the Musée du Louvre. The set design was pure teenage nostalgia: the house built by filmmakers Michel and Olivier Gondry took guests on a whistle-stop tour of the formative touchpoints of a teenage boy's life. Think: bunk beds, books, dart boards, football-shaped nightlights, computer games, Barbie dolls, lava lamps, drum kits and guitars. There's also something to be said about the significance of a ​"house", a place where people, families, friends and co-workers come together under one roof to cohabit, connect and collaborate. Which is exactly what the Louis Vuitton studio team – all of whom stepped out onto the runway for the final bow – did today.

Why should we care?

In the 13 months since Virgil Abloh's passing, Louis Vuitton has yet to name his successor. However, today's show was put together under the guidance of guest designer Colm Dillane, founder of New York-based fashion label and creative studio KidSuper, whose playful contribution to Louis Vuitton's legacy has surely made a mark.

So, what were the clothes like?

In keeping with the coming-of-age theme, the collection was peppered with childlike prints, TV screen and Internet explorer-inspired graphics, outfits and accessories made from letters, and outerwear spray-painted with statements like ​"fantastic imagination" and ​"blurry vision of a bright future". Elsewhere, we saw grey tailoring of enormous proportions, rhinestone monogram-embellished denim, patchwork camo co-ords and a space man-esque silver leather jacket.

The highlight?

Rosalía! The MOTOMAMI singer's performance lasted the duration of the show, spanning a string of songs from her most recent album. Dressed in a gigantic grey puffer, sweats and a white vest, she started the show standing atop a yellow Chevrolet, spent some time headbanging/​collapsing on a bed in the middle and ended with a final lap of the runway to rave reviews.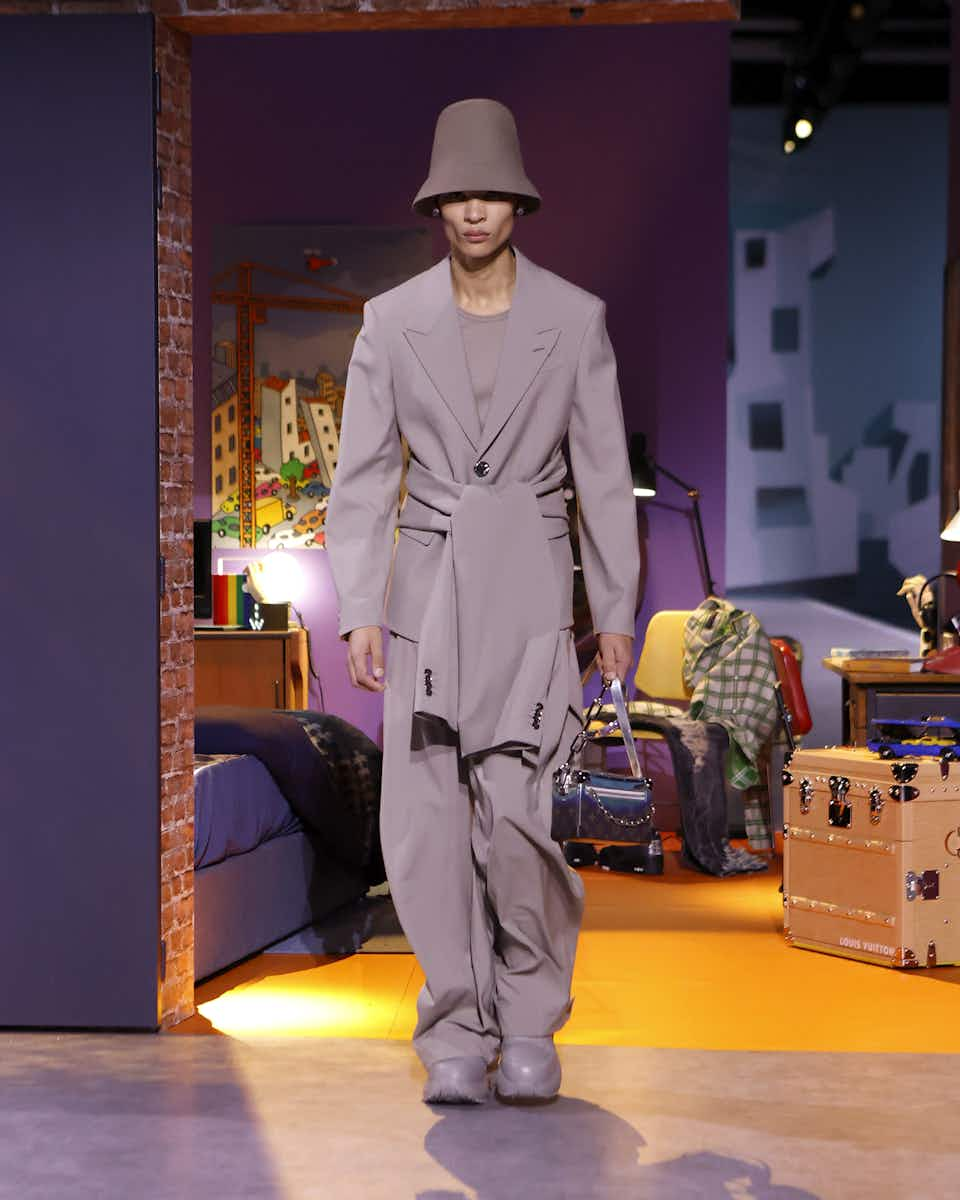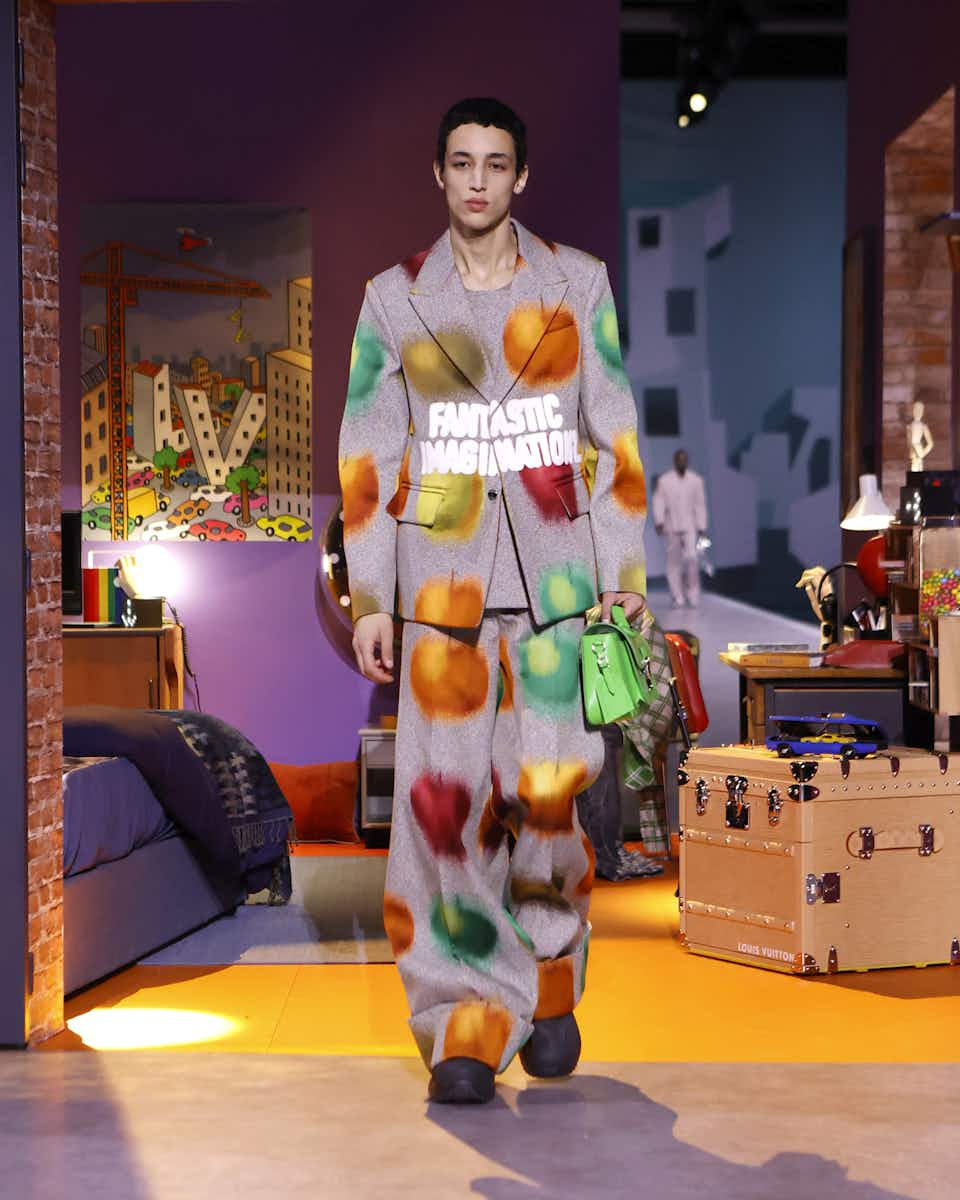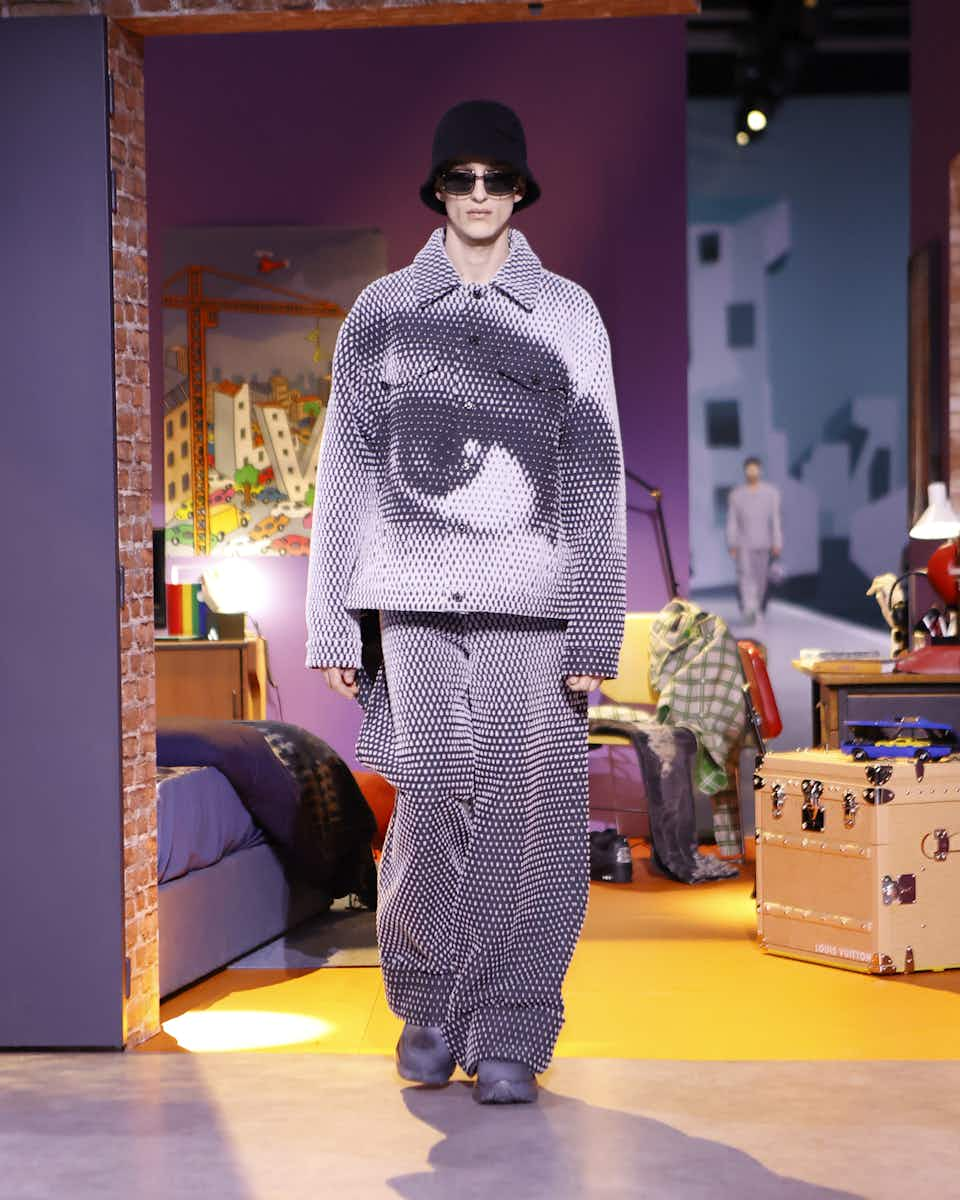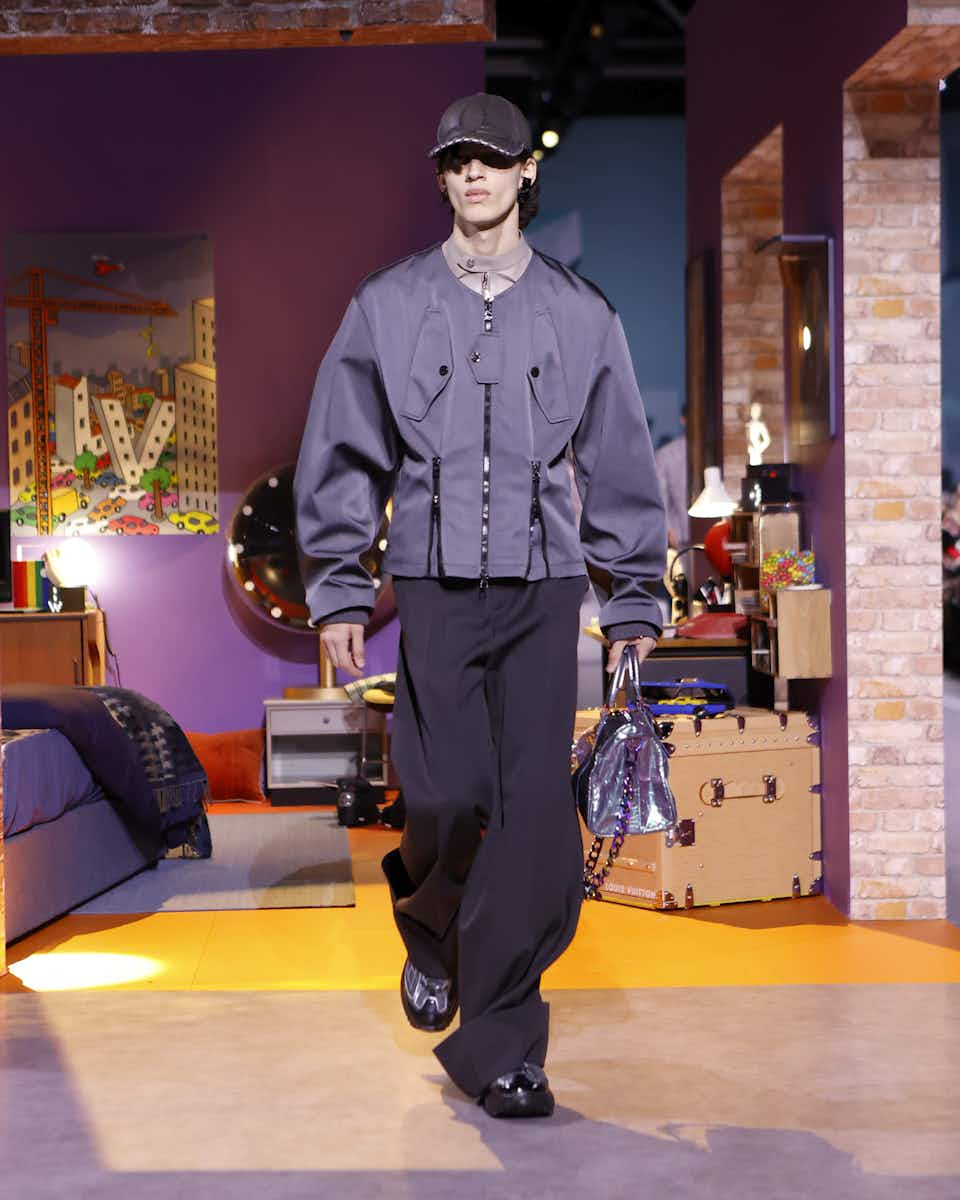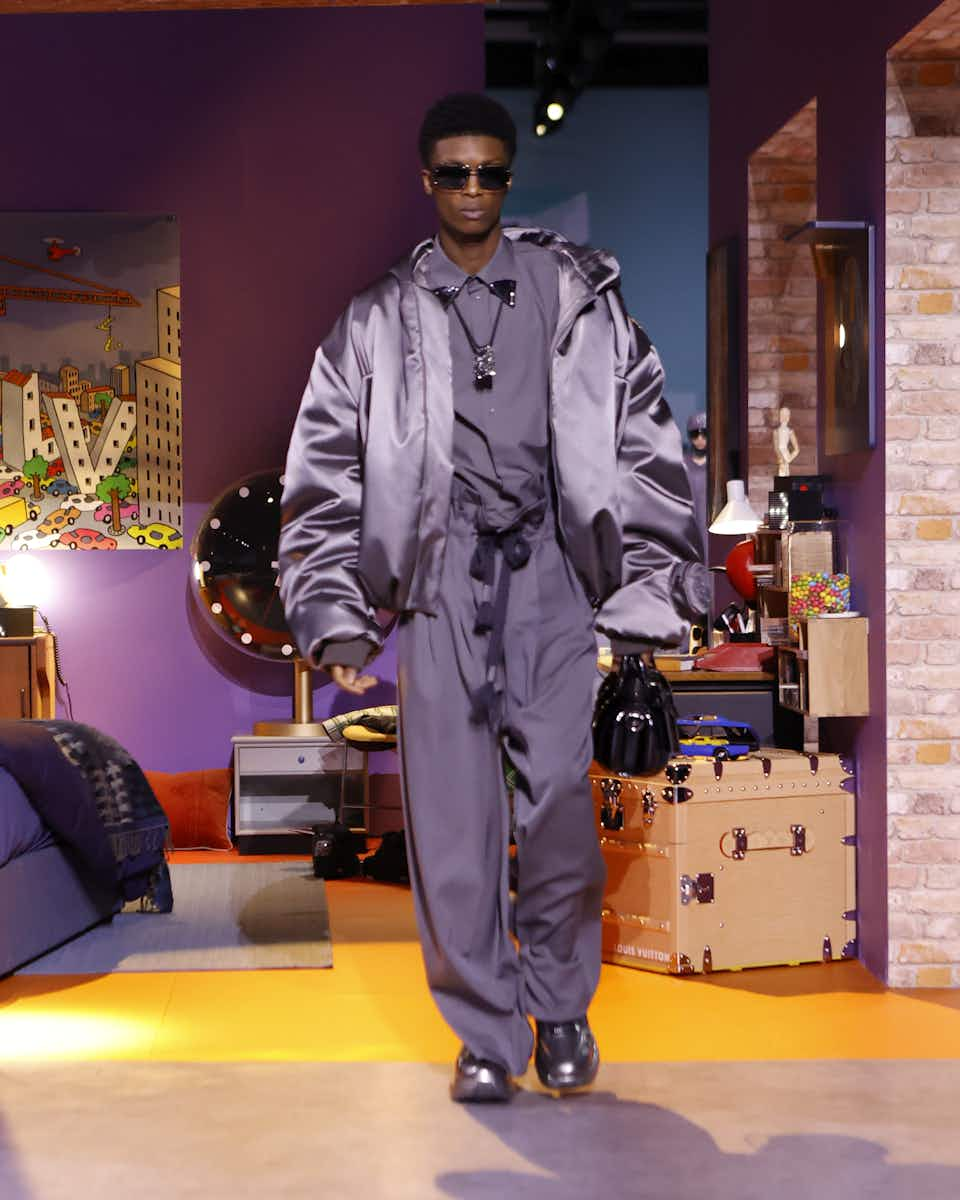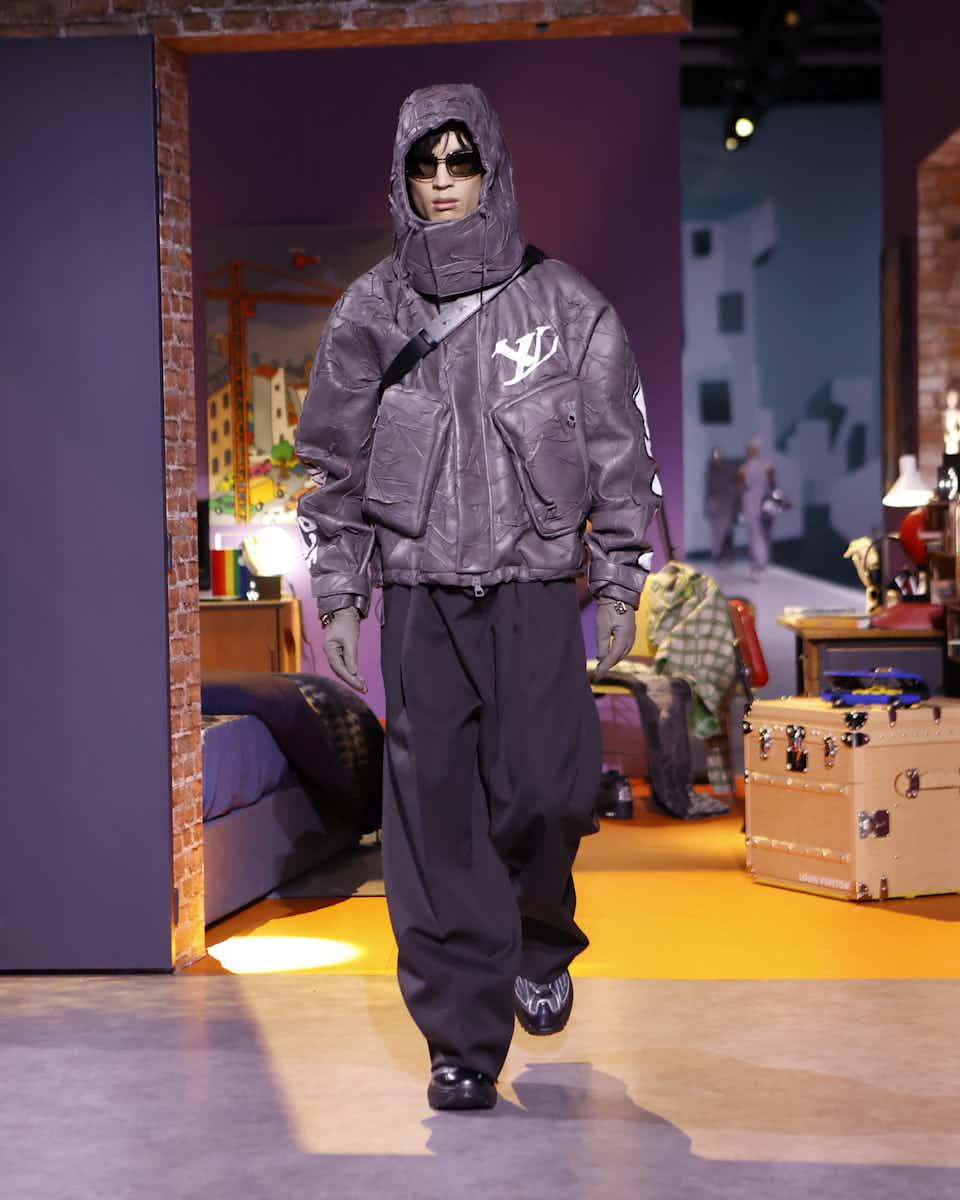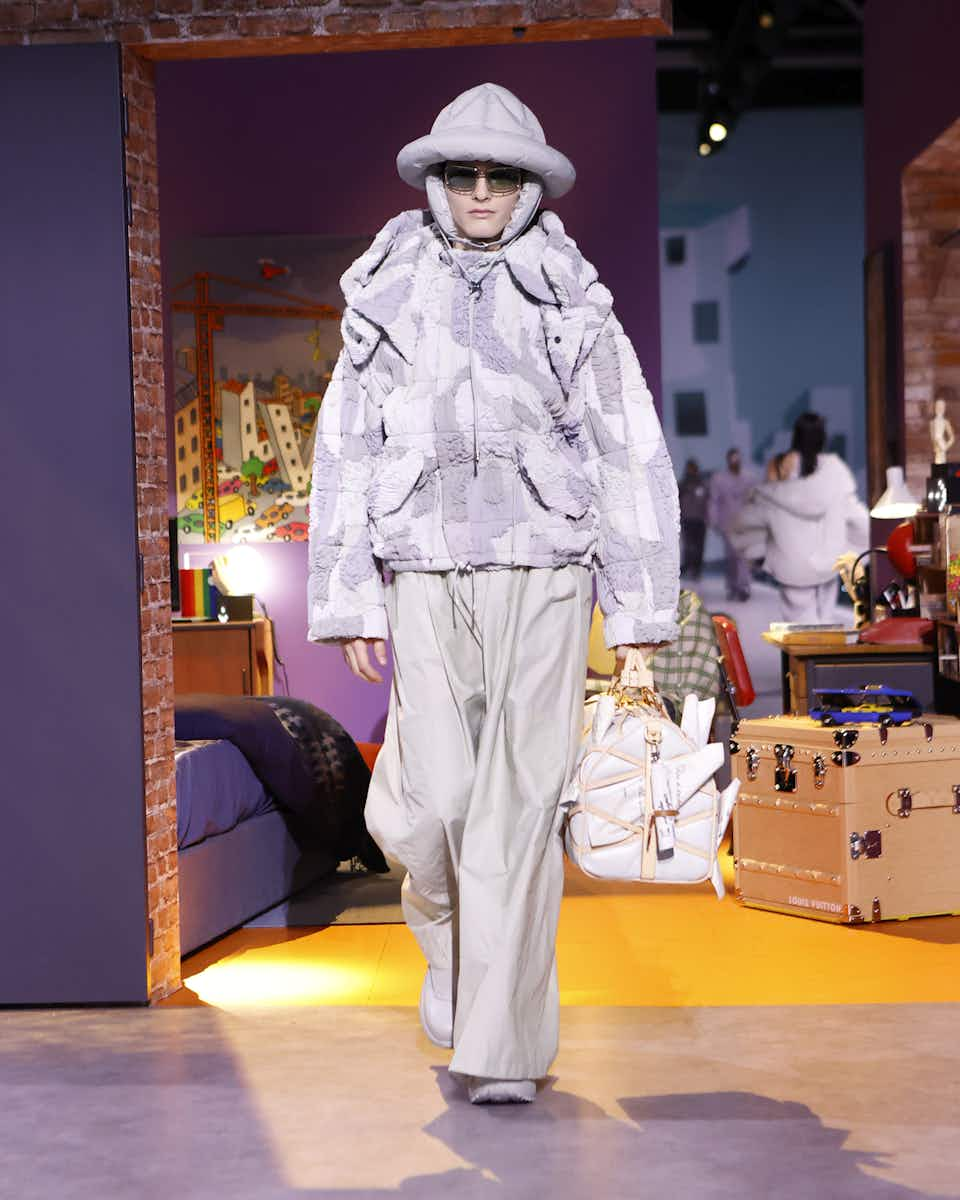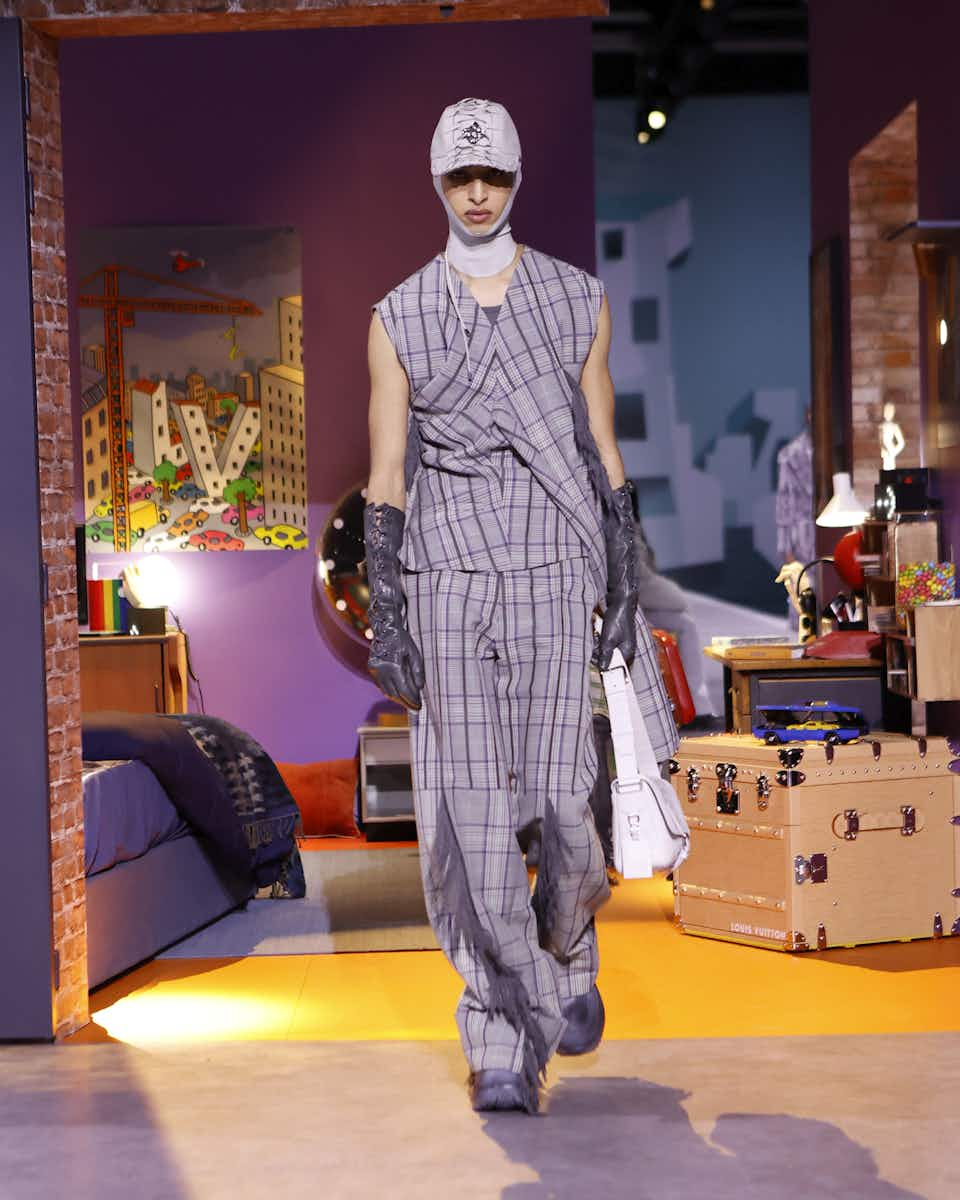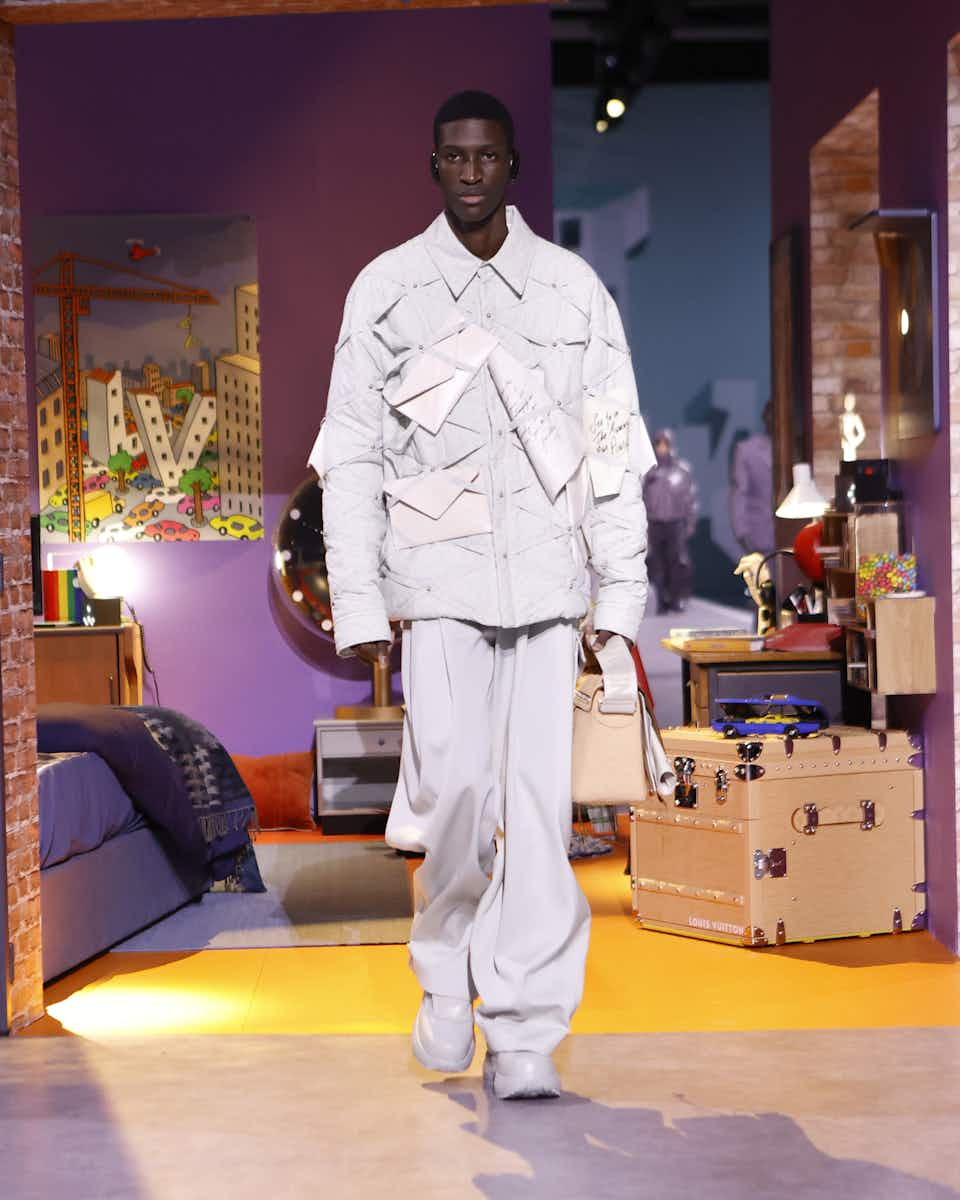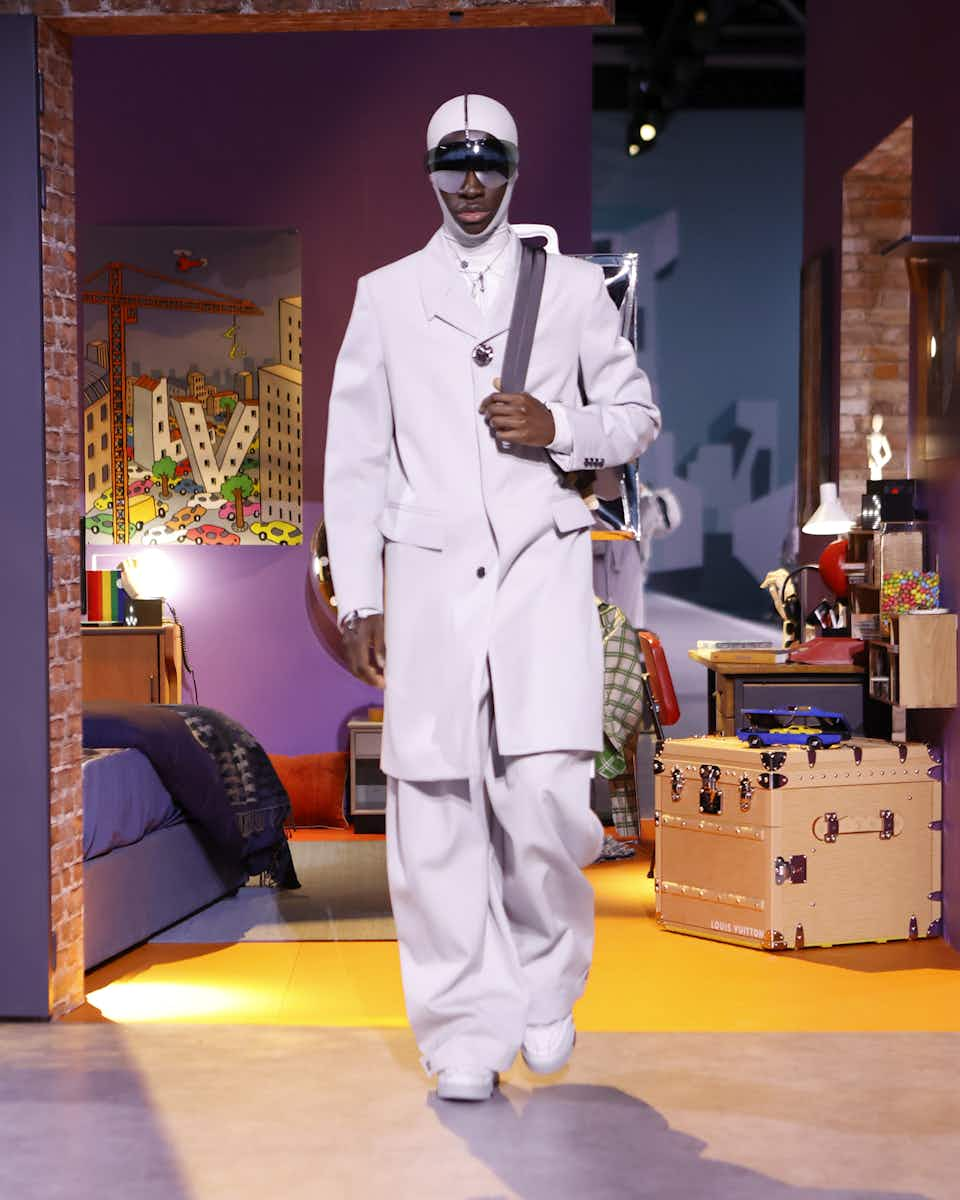 What?
An ambitious fashion week showing for the fast-growing Danish outerwear brand.
Where?
Théâtre du Châtelet, where guests sat on the stage and a wall lifted to reveal the velvet seating of the house.
Why should I care?
Because this was a proper step-up for the brand, whose first runway show took place at Copenhagen Fashion Week in 2020. Silhouettes were pushed to dramatic proportions and the sense of theatre was upped (quite literally) with floor-length puffer capes.
Best bit?
The extra-long sleeves, designed to ​"recall the over-extending limbs of the superhero trope." Also perfect for the freezing Paris weather.
In the words of Tanne Vinter, Rains' Head of Design?
​"Change is a common theme in our lives right now, like standing on shaky ground. We can let it overwhelm us or search for the hero inside. The show and collection capture that hero energy, forward momentum, grounding, and positivity. It's about taking on your uniform for whatever hero you need to be."
In a word?
Heroic.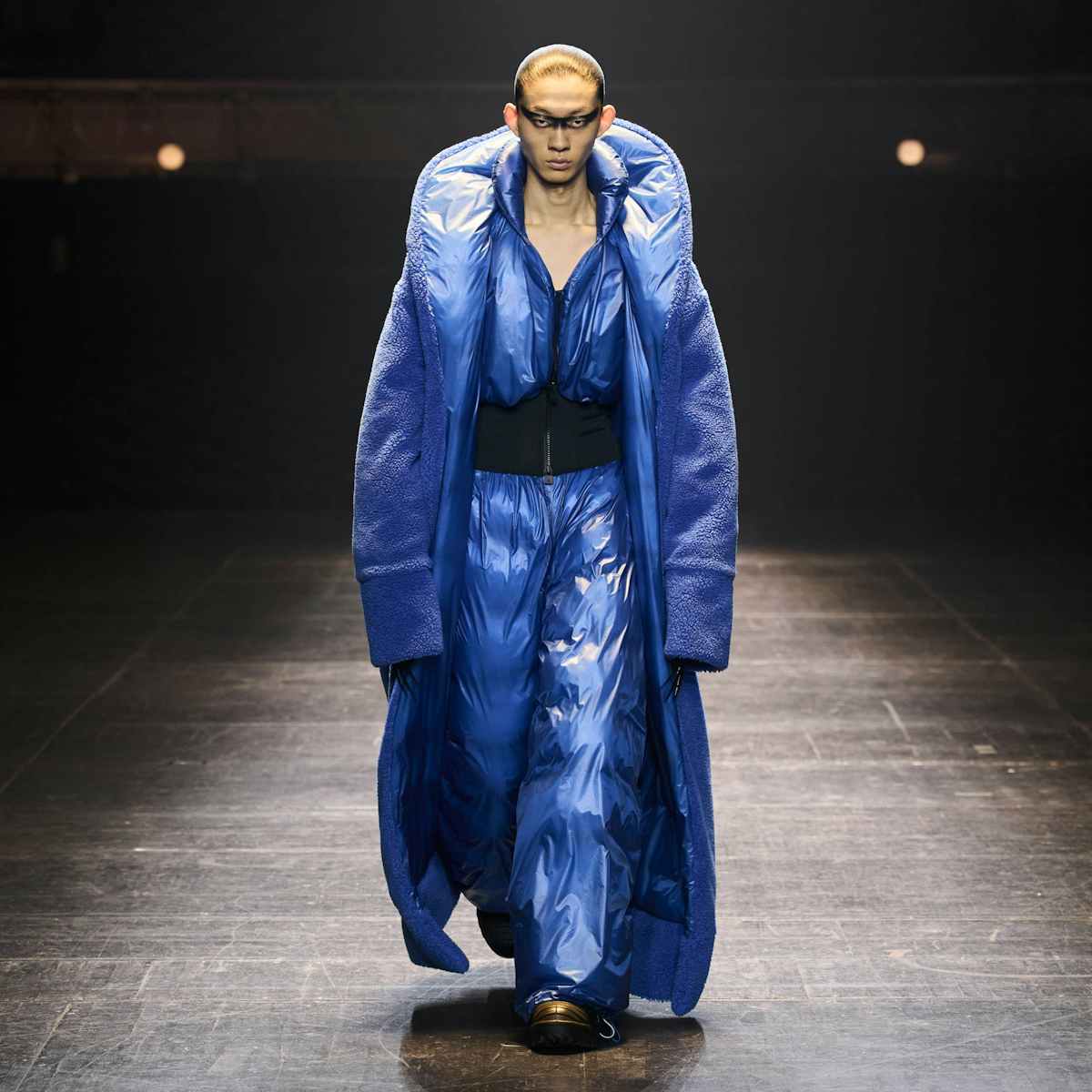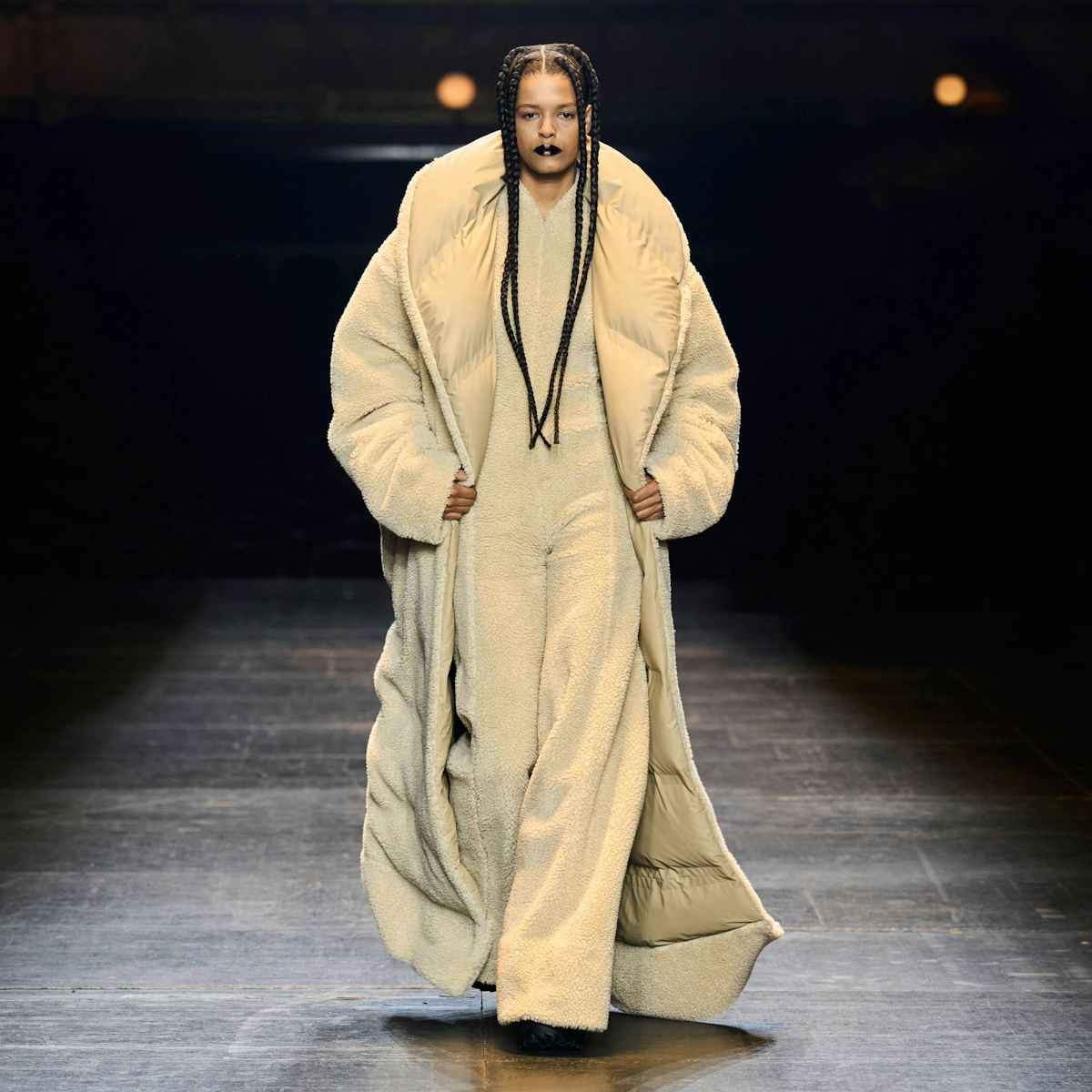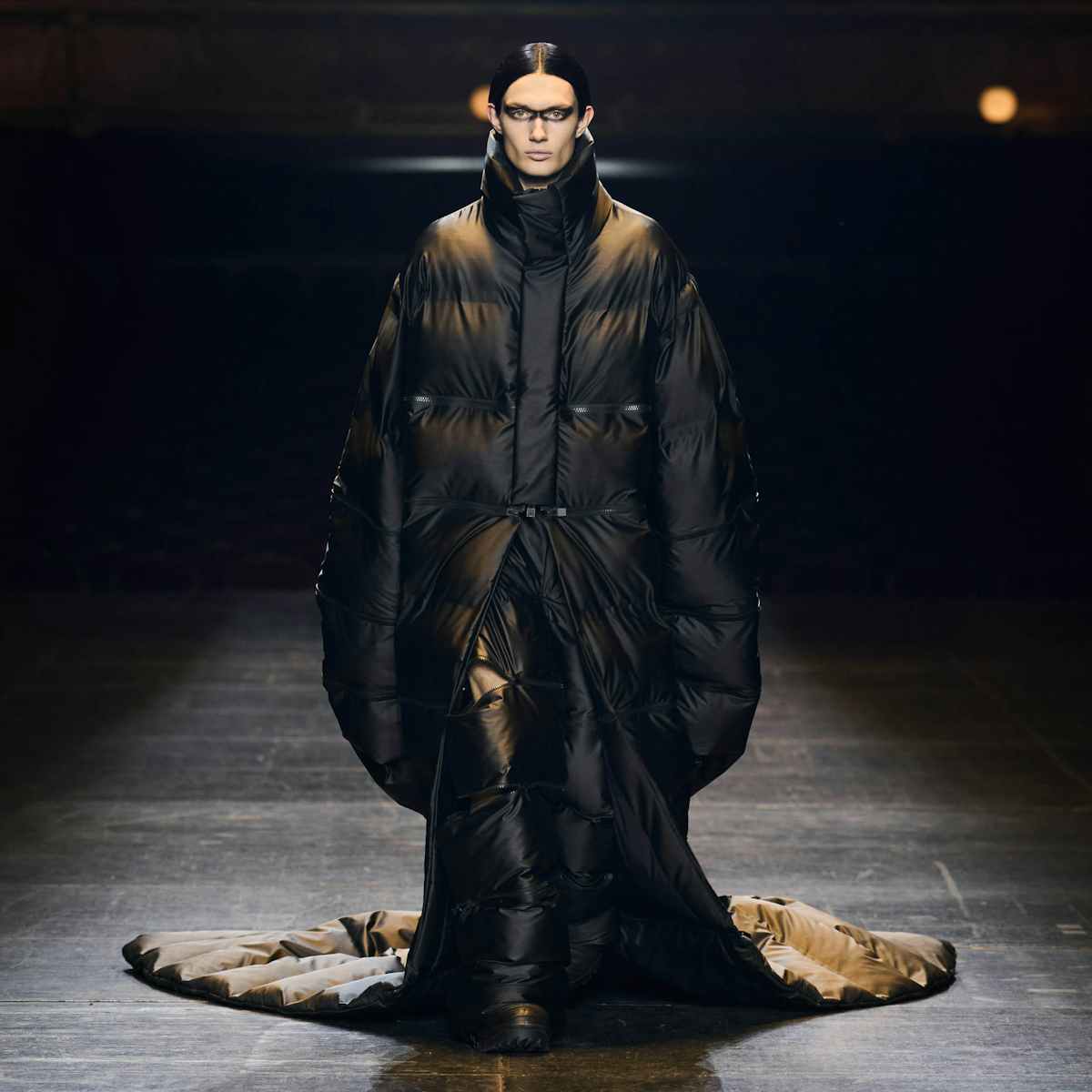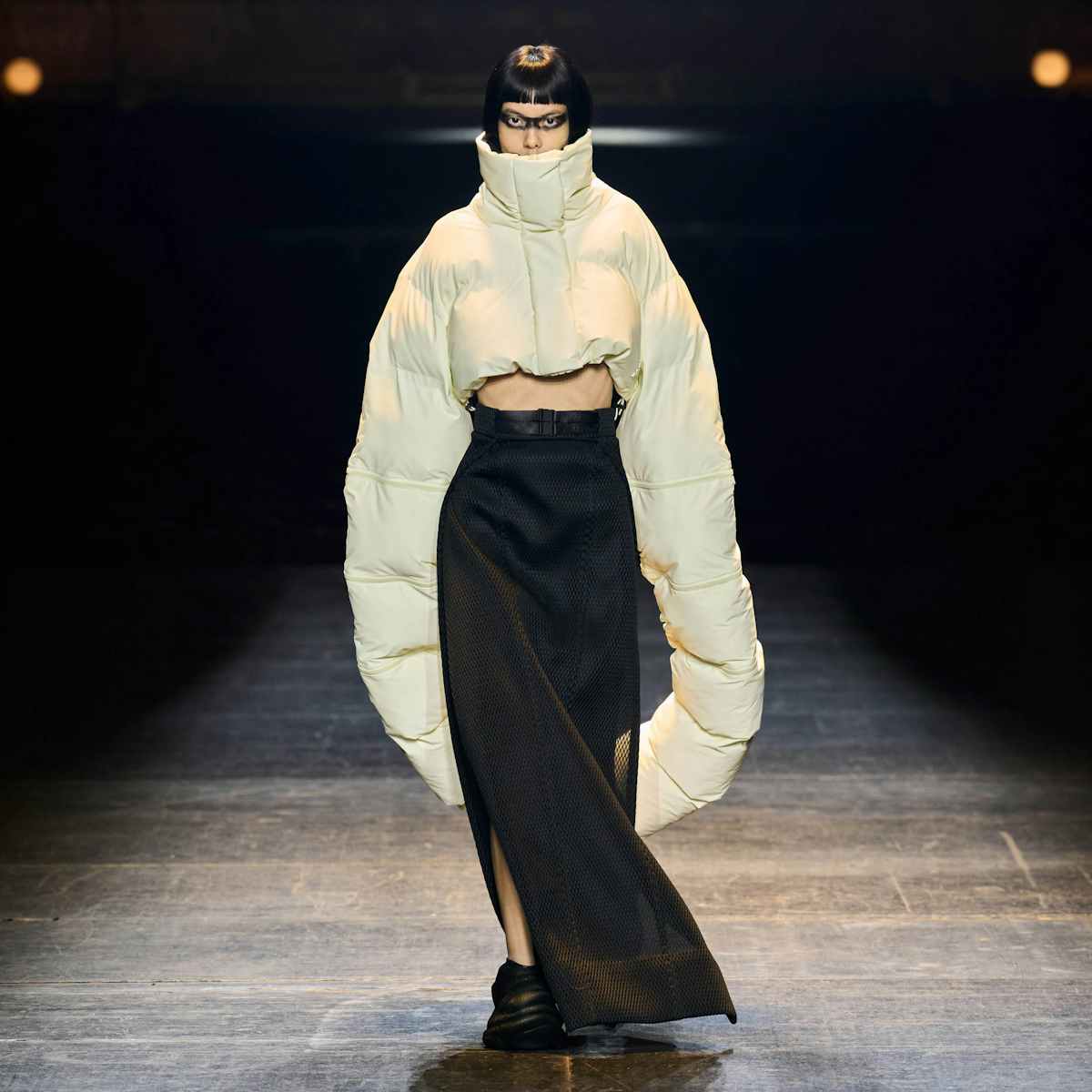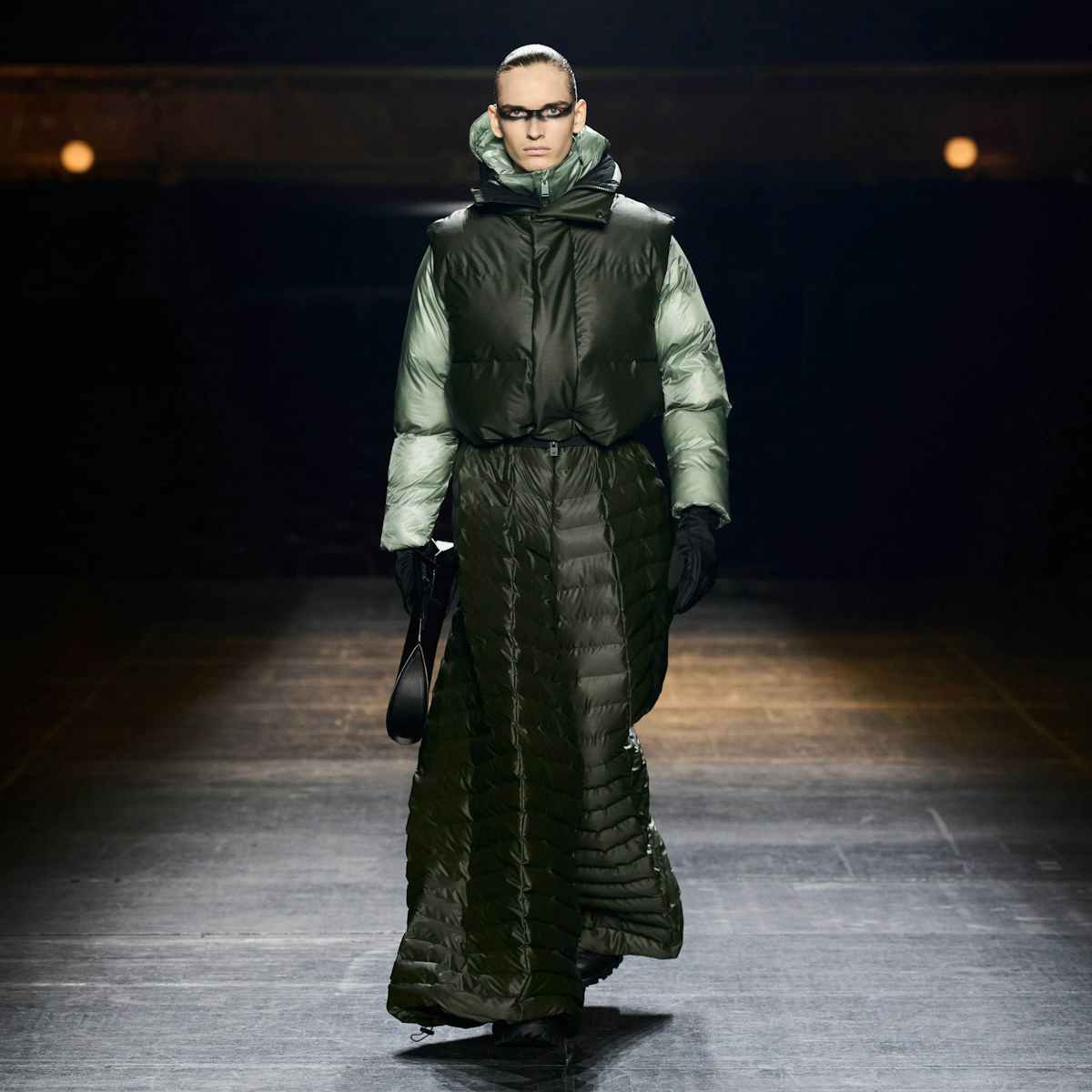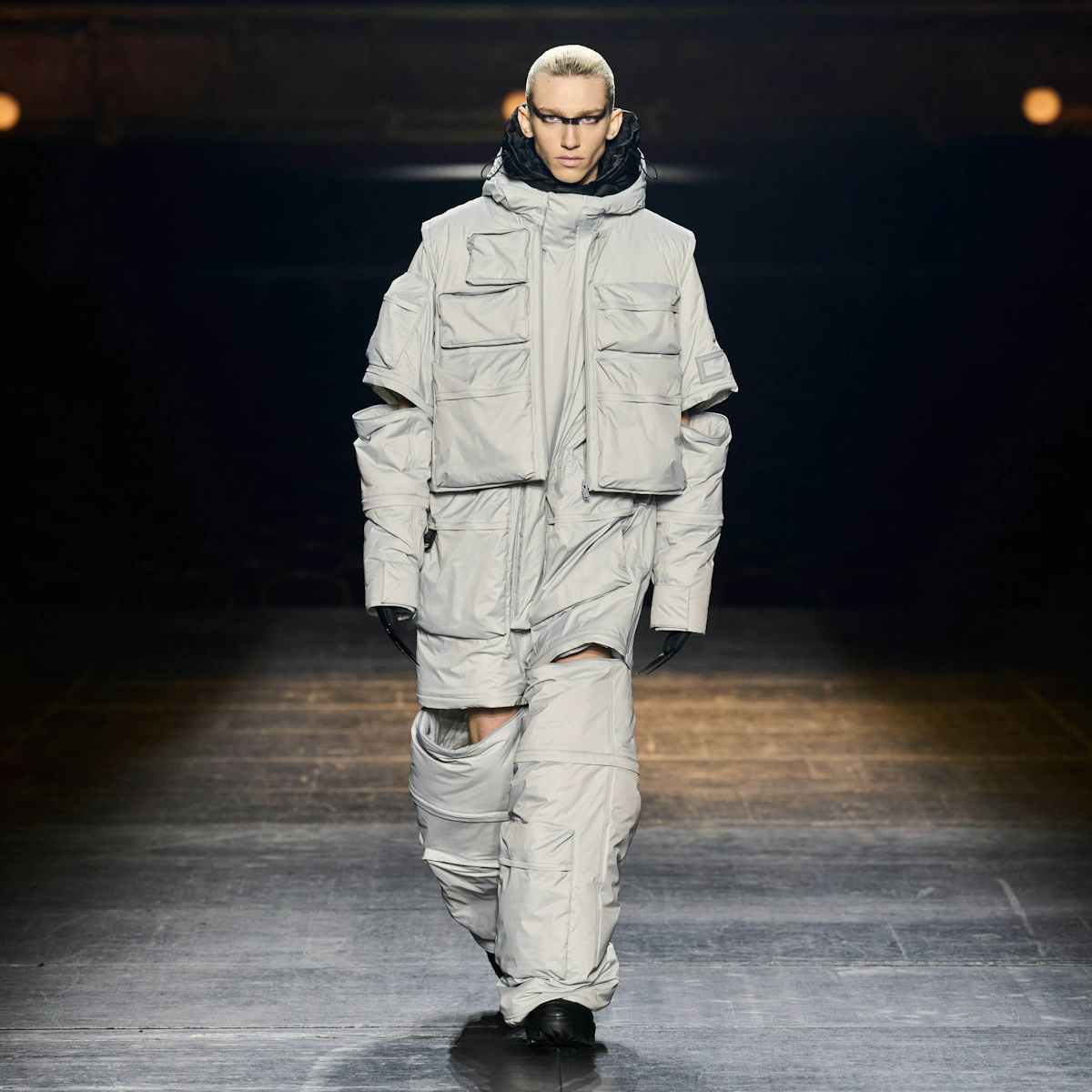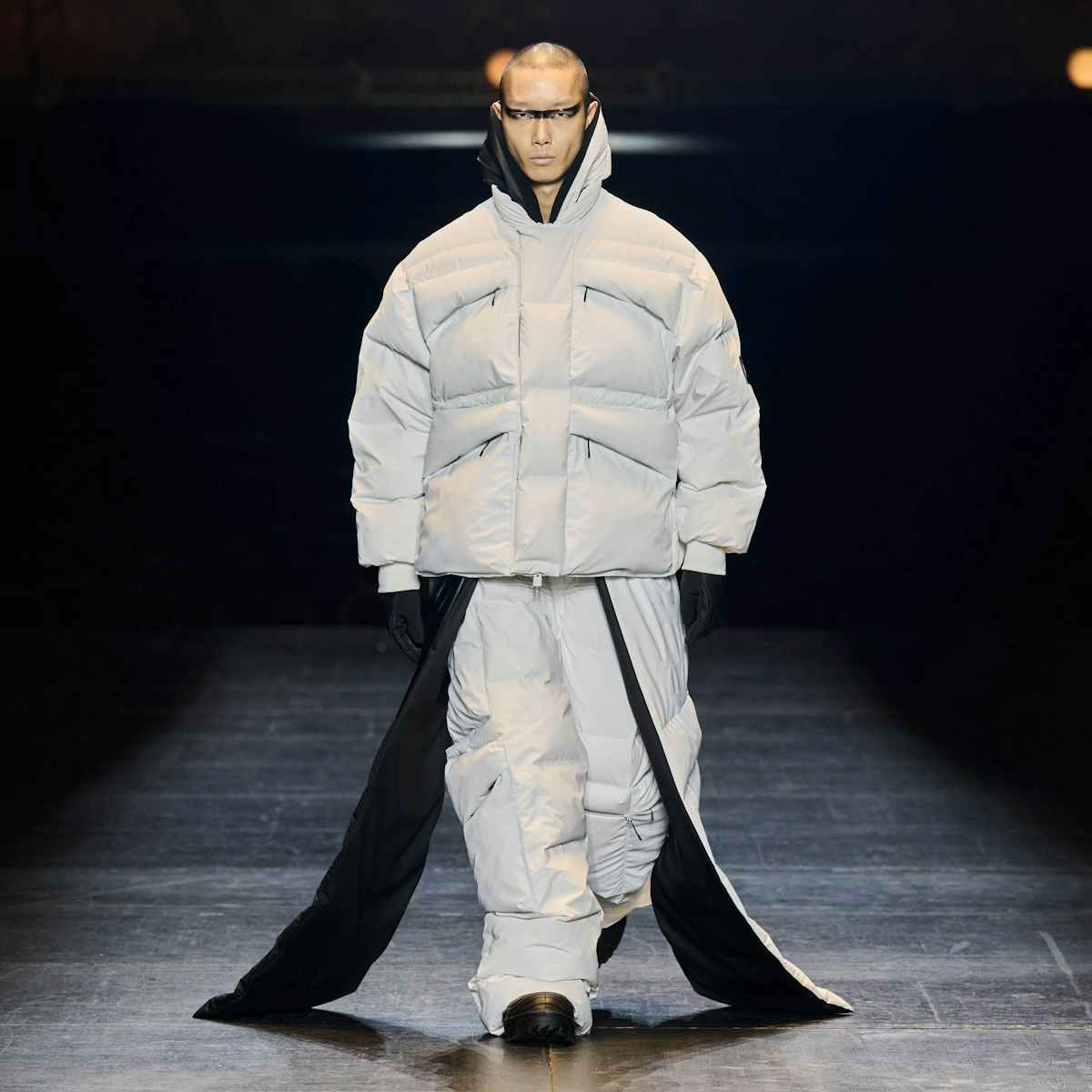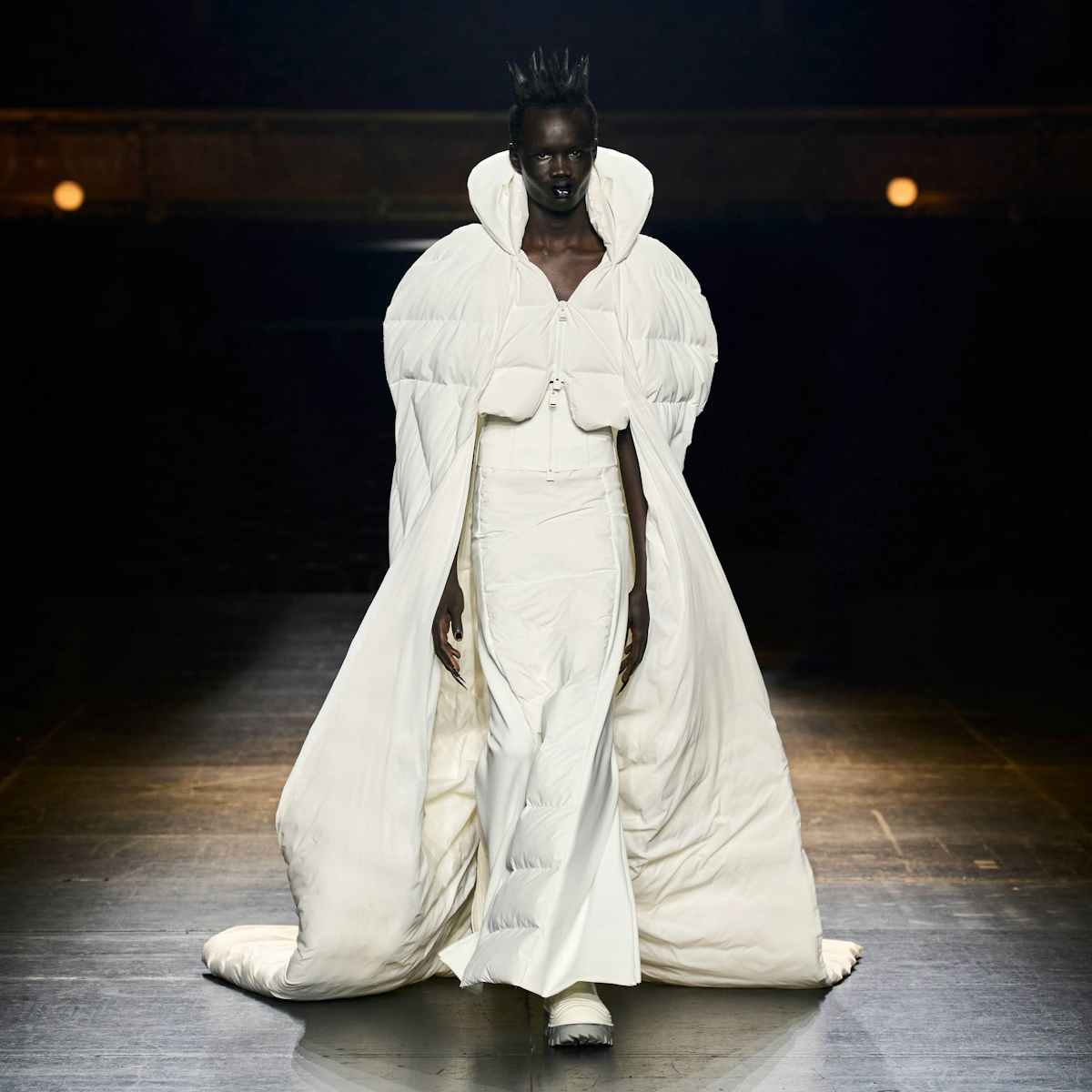 What?
​"A whiff of sleazy seventies pseudo-mysticism" by The Lord of Darkness.
Where?
At Rick Owens' usual venue, Palais de Tokyo, this time on a runway constructed from industrial metal scaffolding that allowed Owens' models to tower above the audience, elevated higher still by their platform boots.
What was it like?
A typical Rick Owens affair: dystopian and devilishly good – and said to be inspired by the designer's winter retreat to Luxor, Egypt. Owens' trademark architectural shapes engulfed the bodies of their wearers, this time with an emphasis on high shoulders, nipped in waists and flared hems – something Owens referred to as an ​"almost Victorian silhouette". As ever, the boots were nothing short of brilliant. See: a wader-esque version of the brand's cult Kiss boot and a padded flatform style that's not dissimilar to an ankle walker boot (hospital chic?).
Stand out piece?
A pair of super-ripped flared denim jeans that will no doubt have sparked an onslaught of frantic searches for ​"y2k distressed jeans" on Depop.
Any notable guests?
David and Victoria Beckham turned up to show their support for their pal Rick, and we've got video proof of VB cracking a smile.
In a song:
The Cult's Brother Moon, Sister Wolf, which just so happened to be the soundtrack to the show.
In a word:
Rick.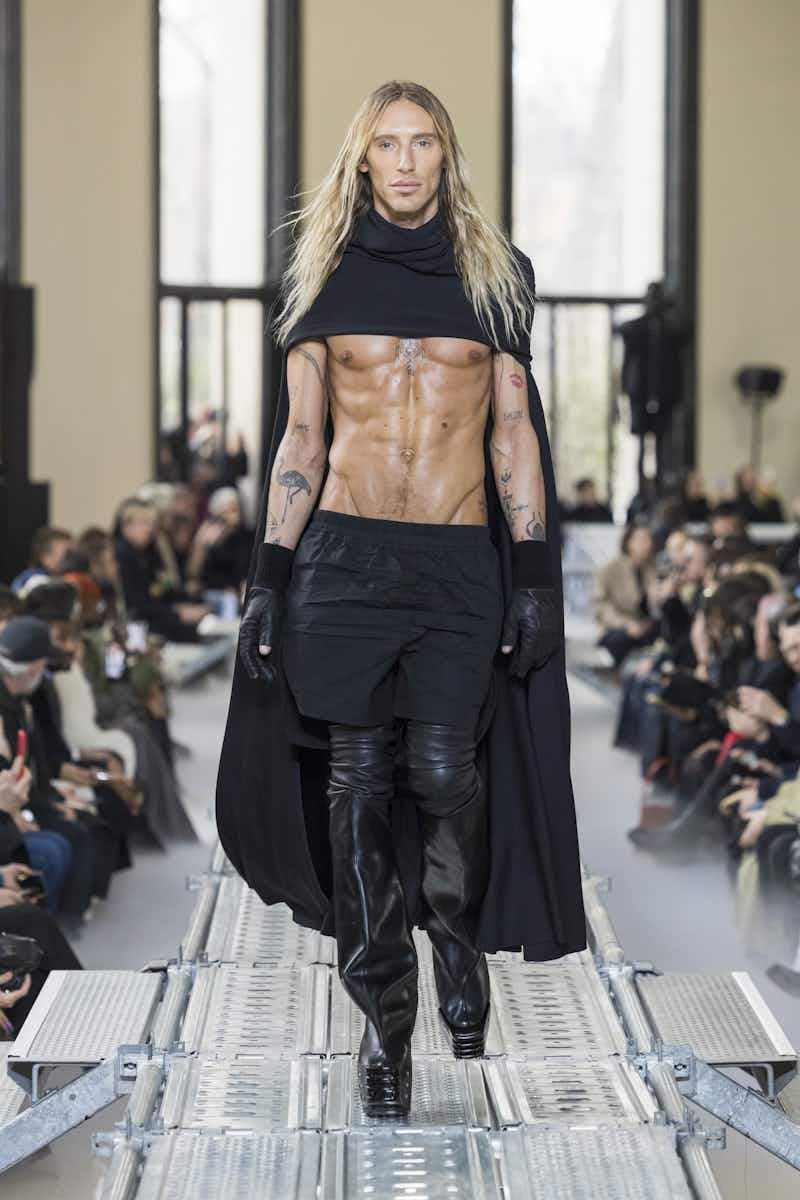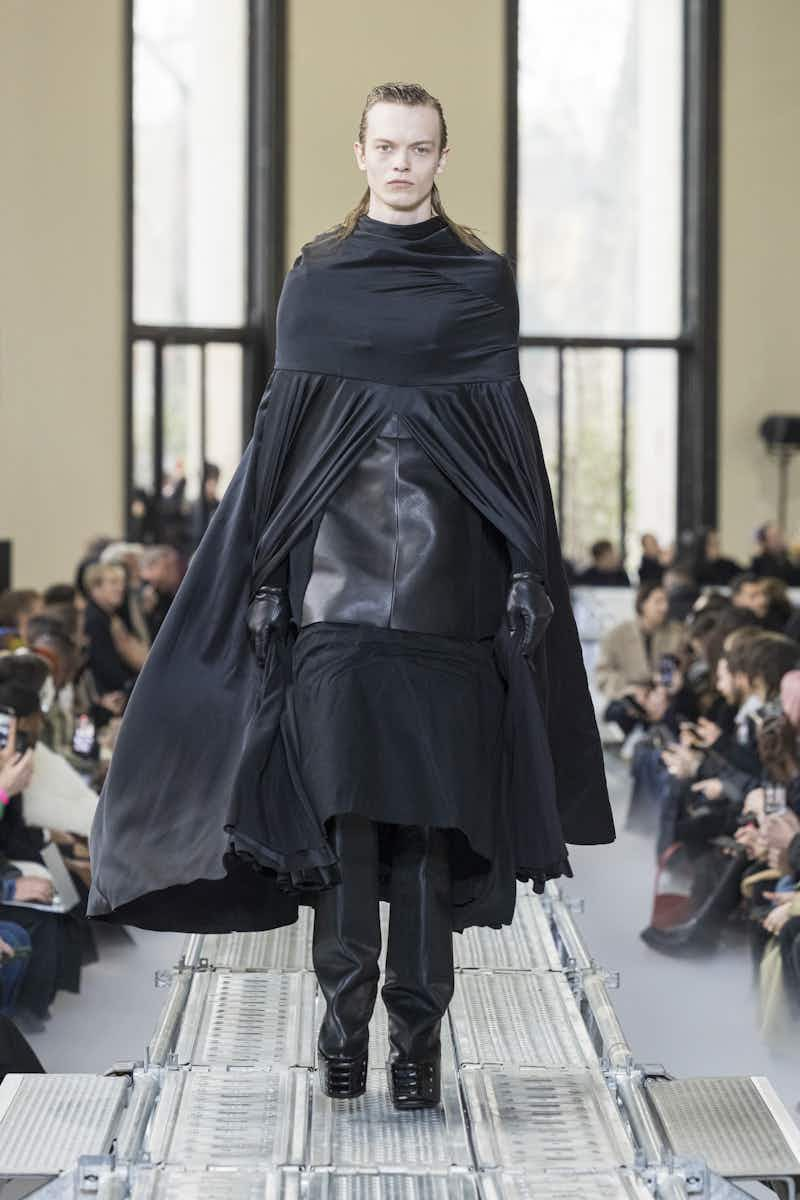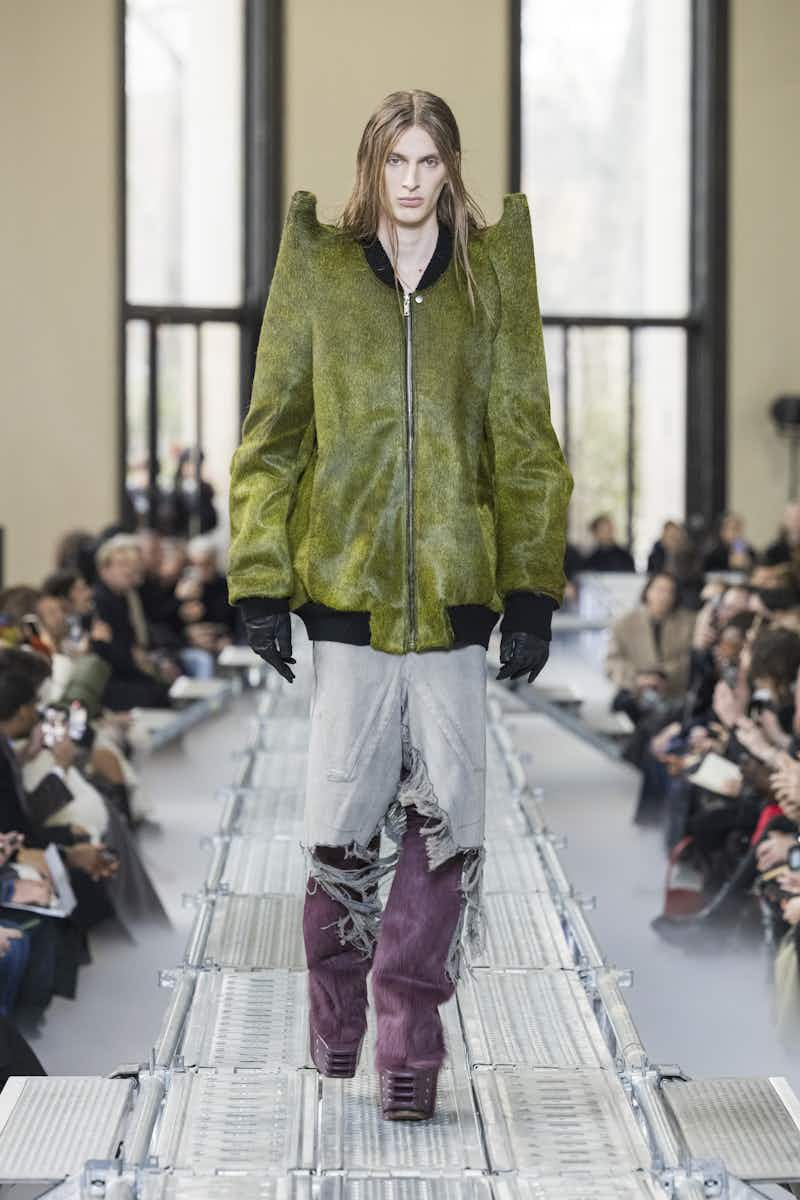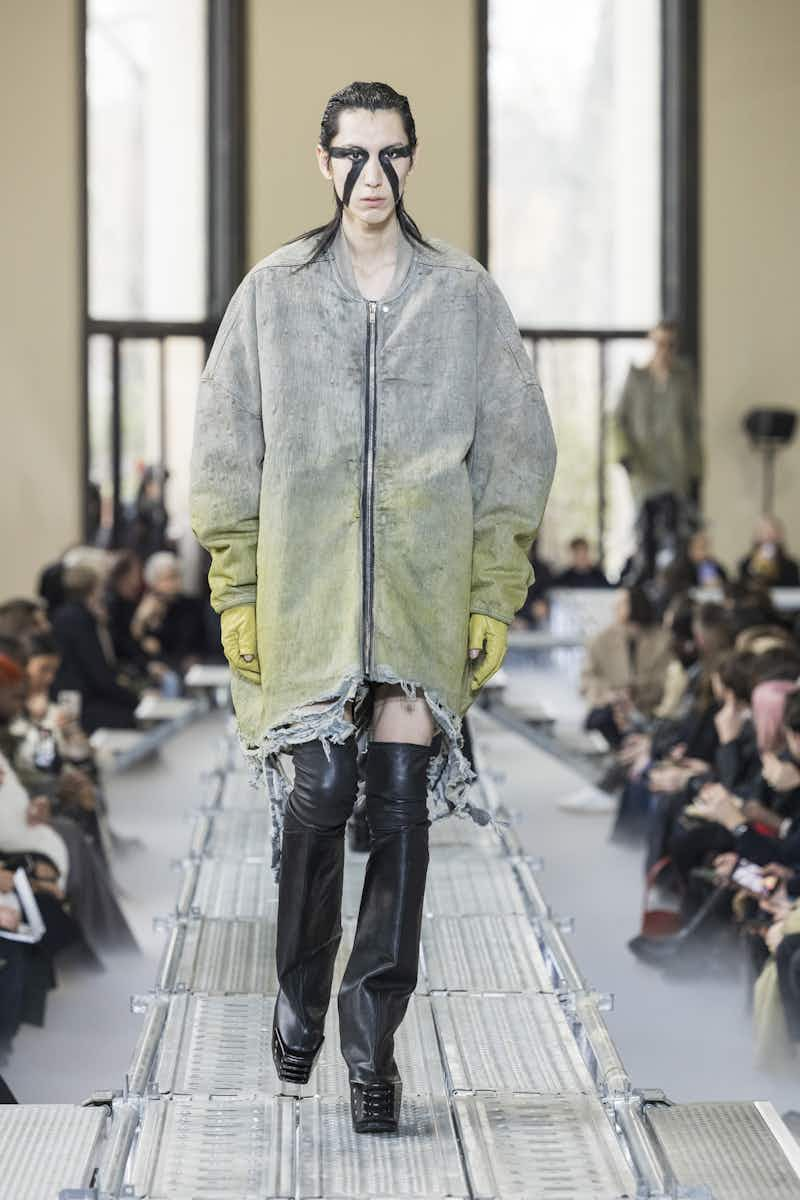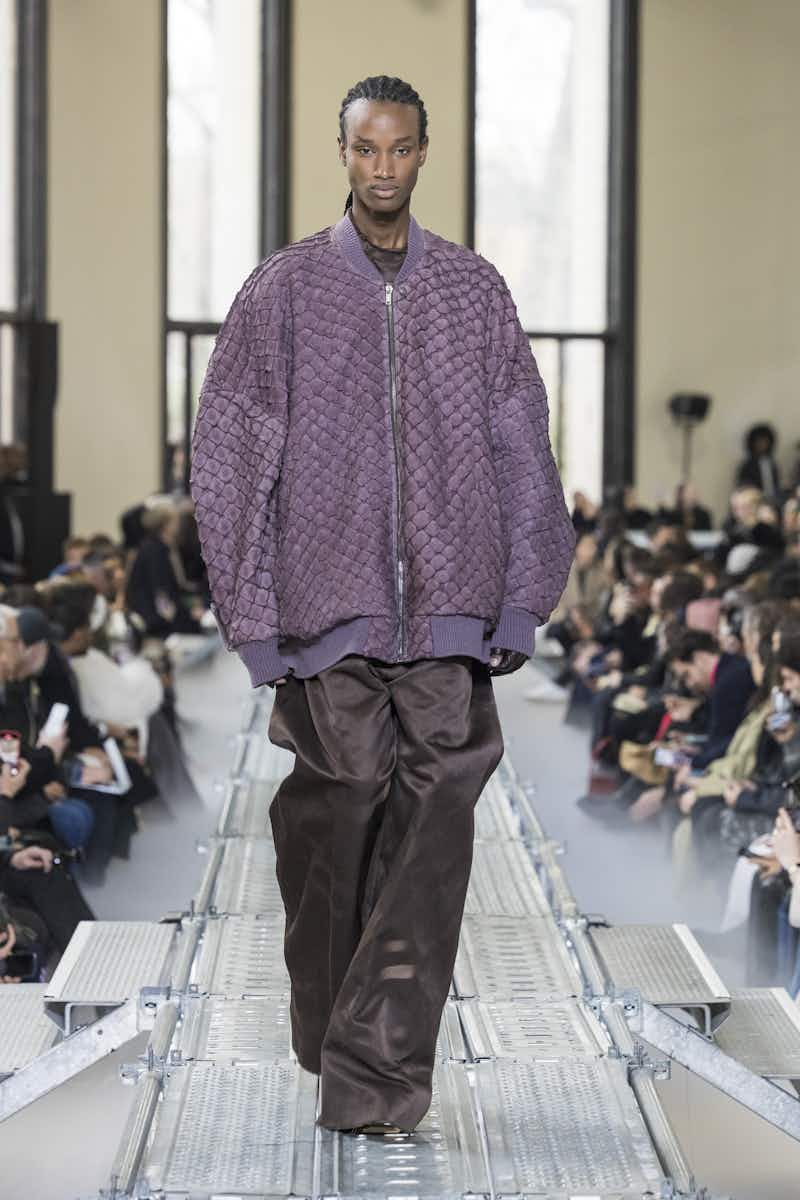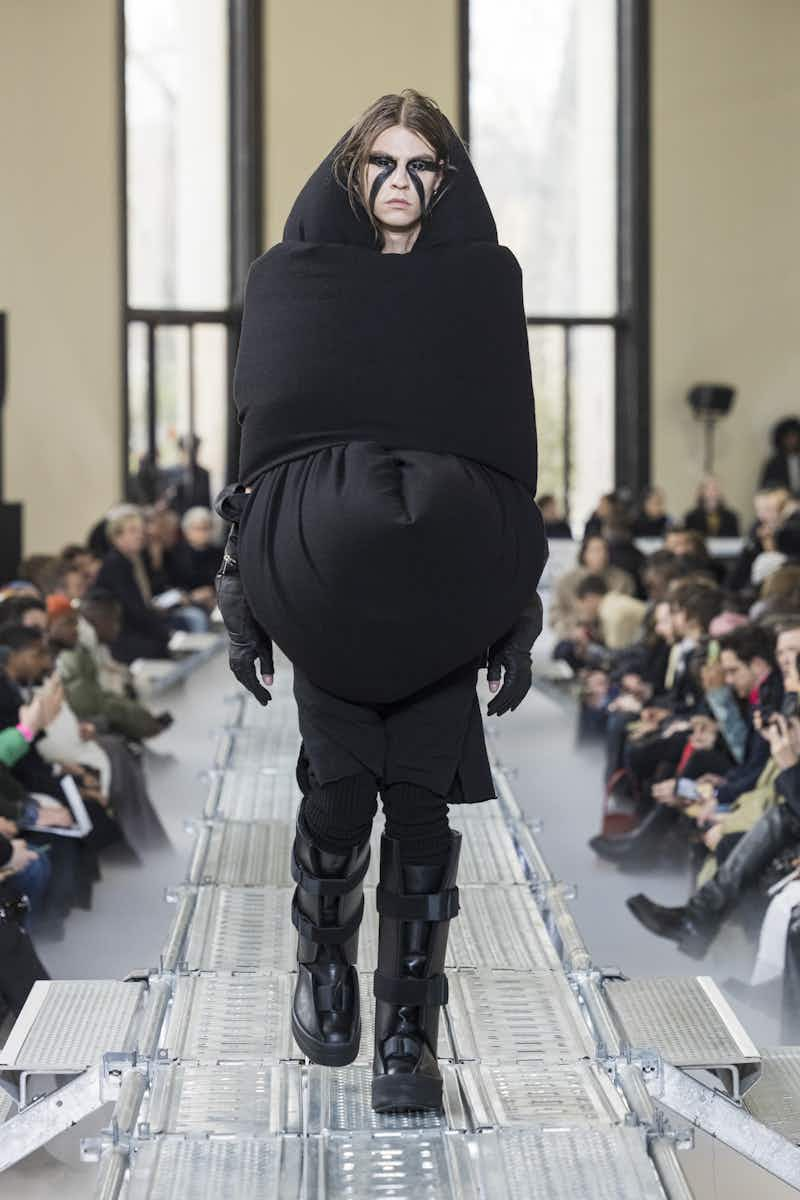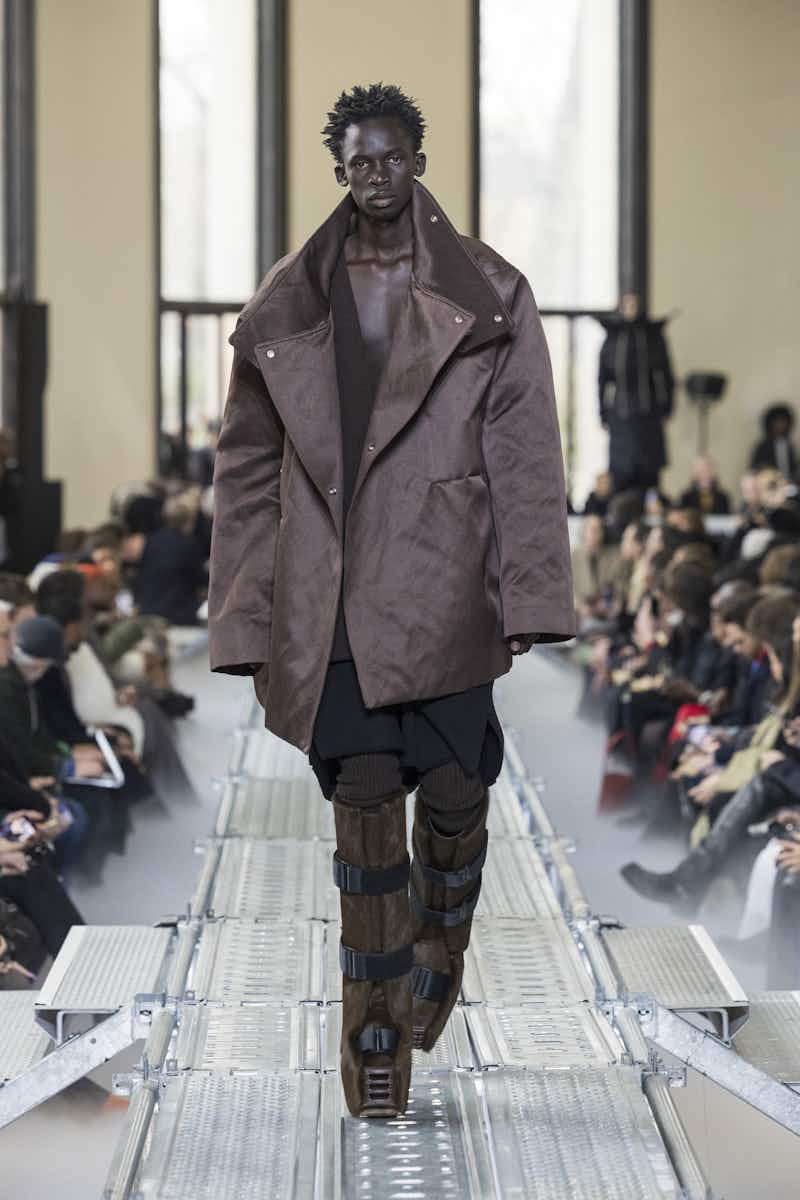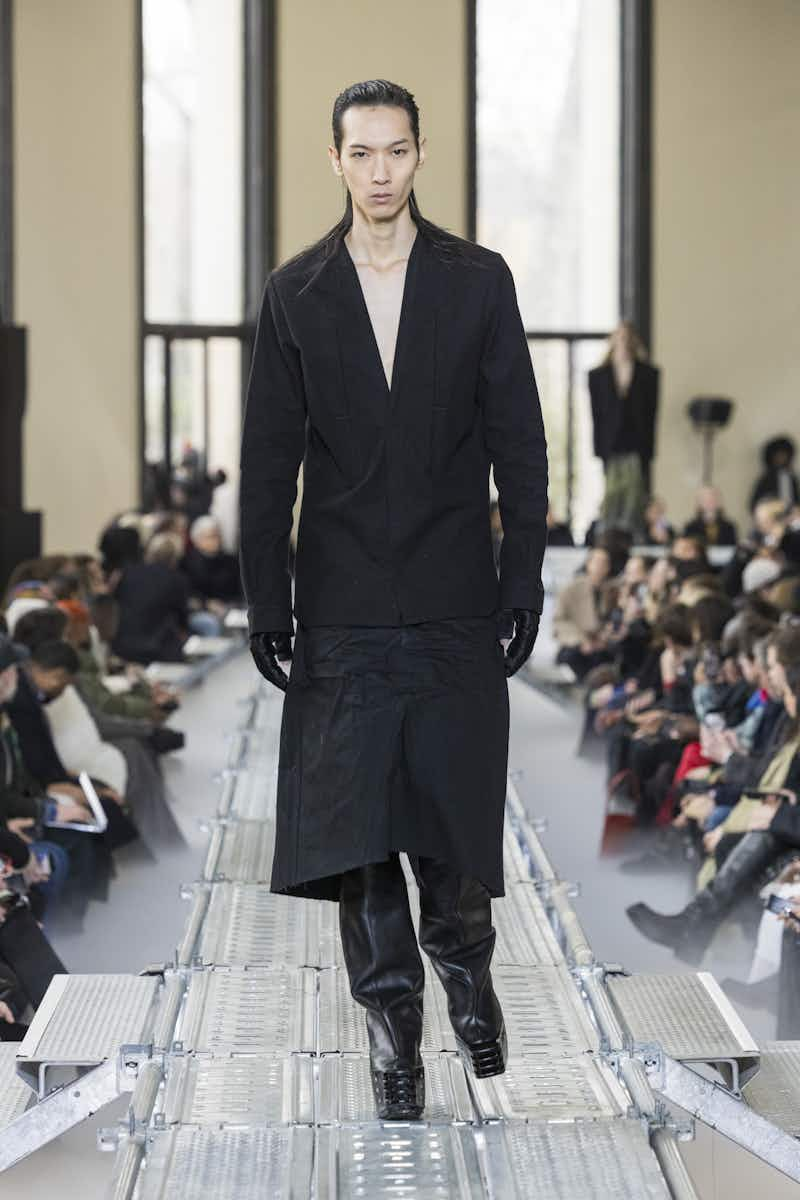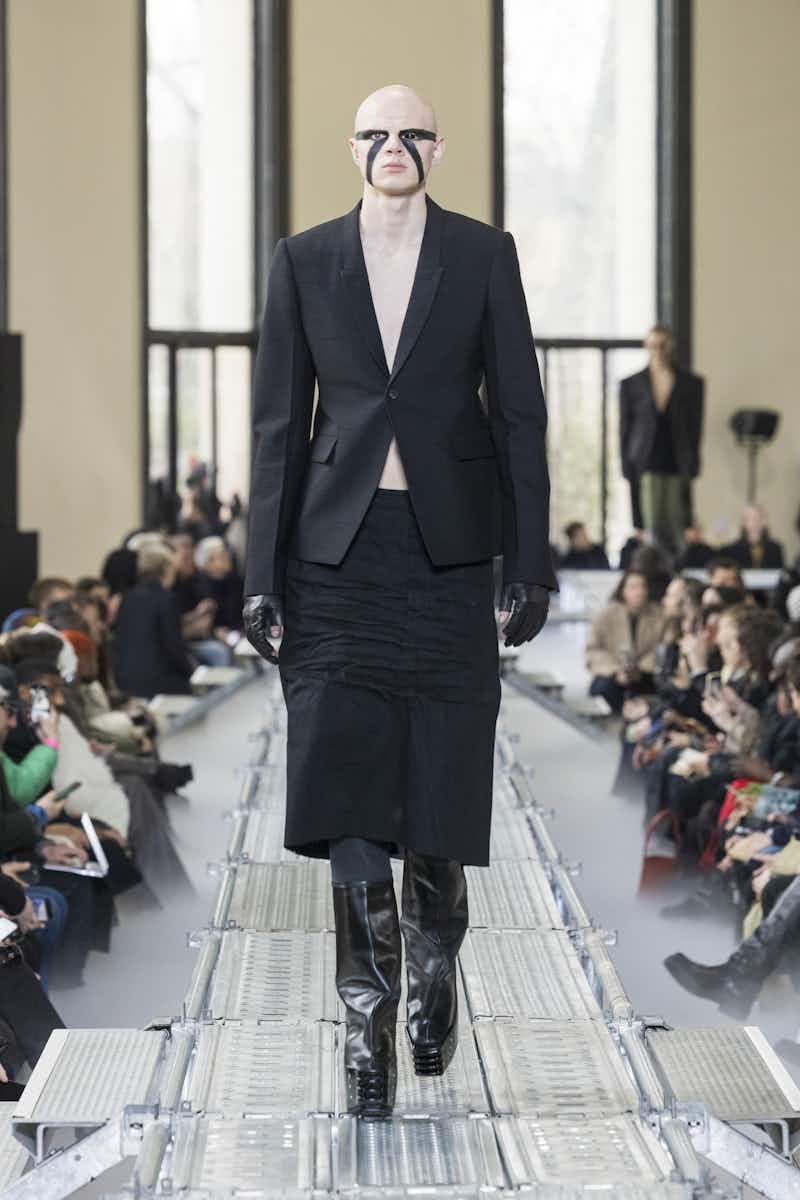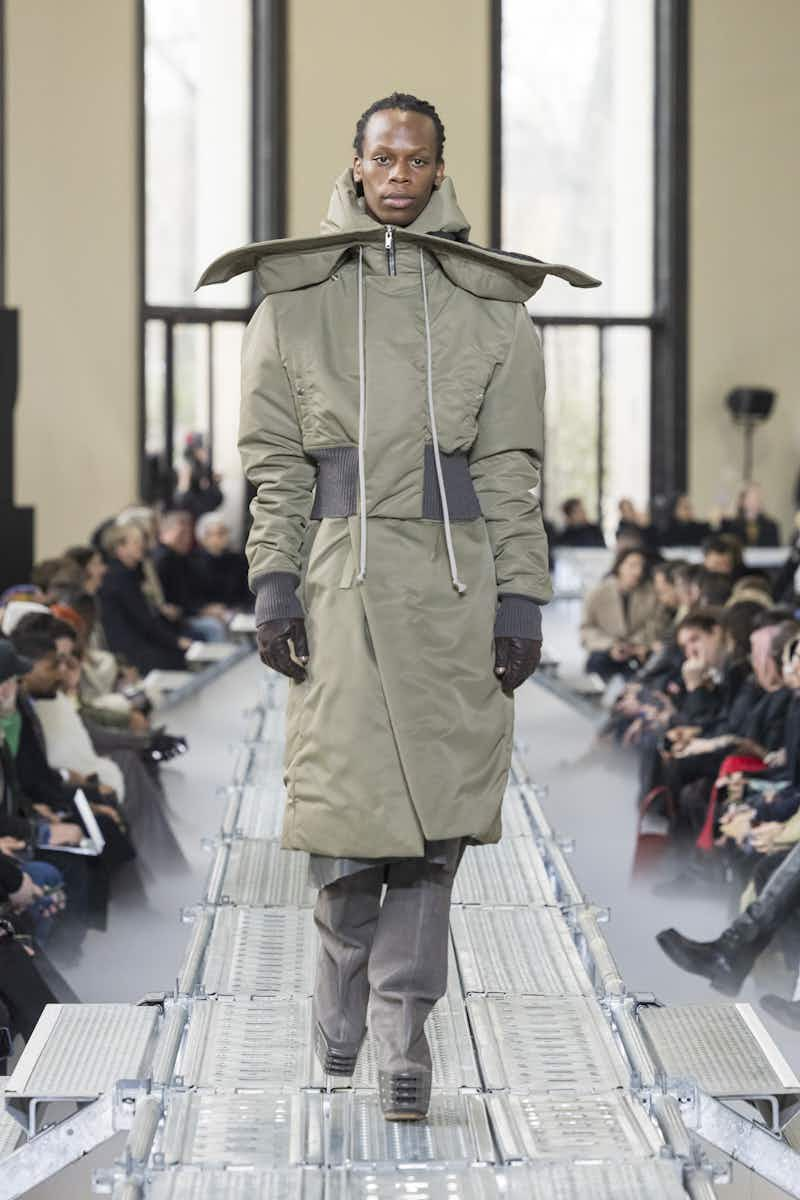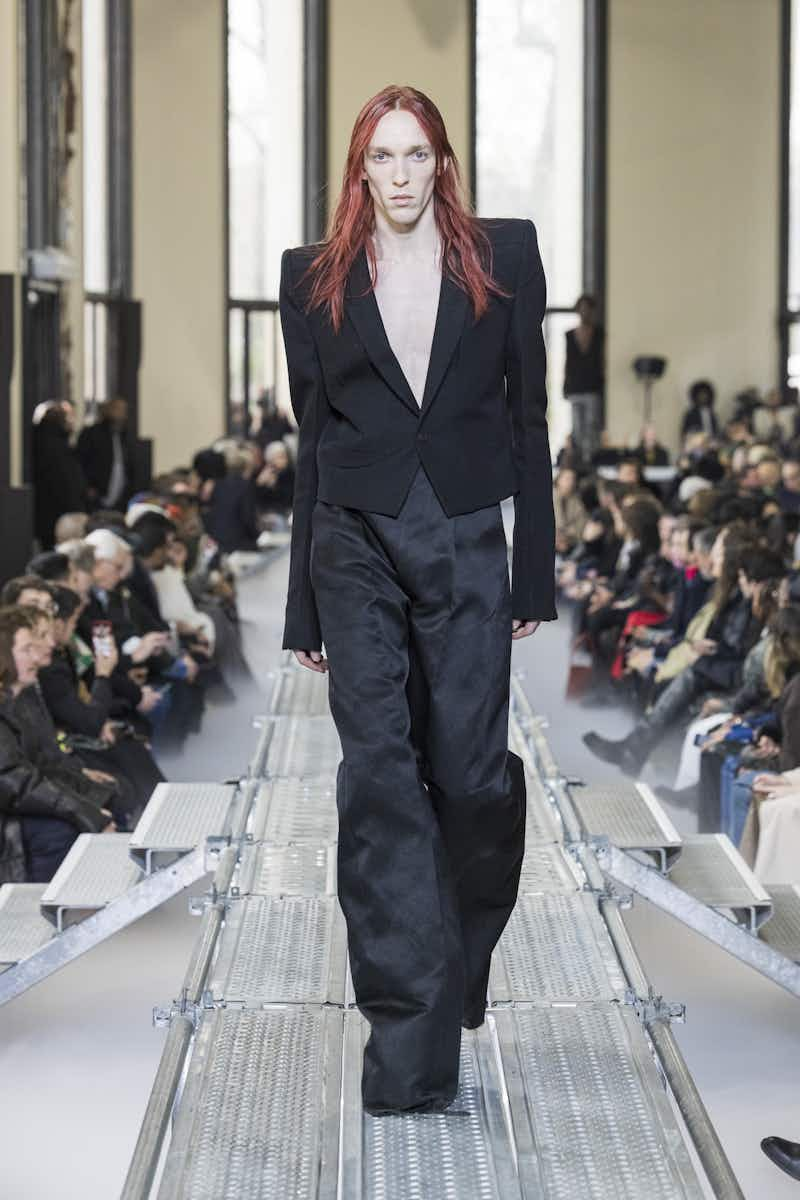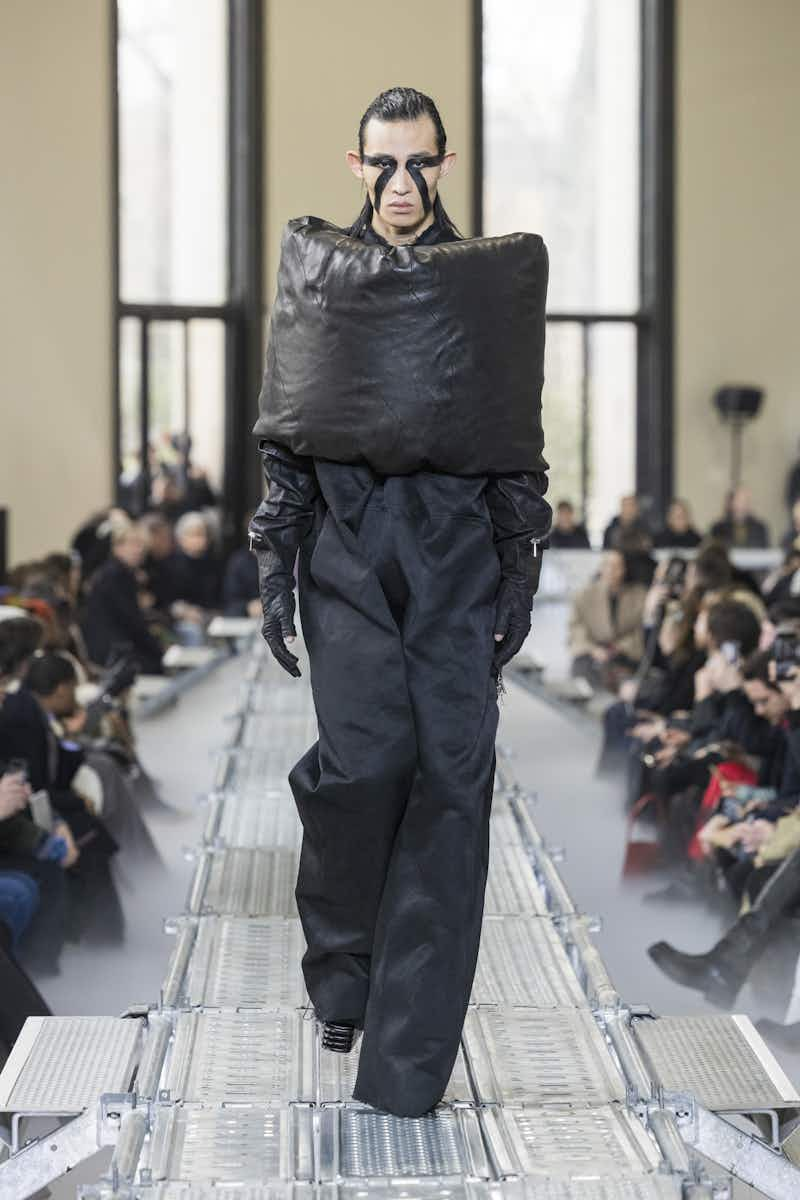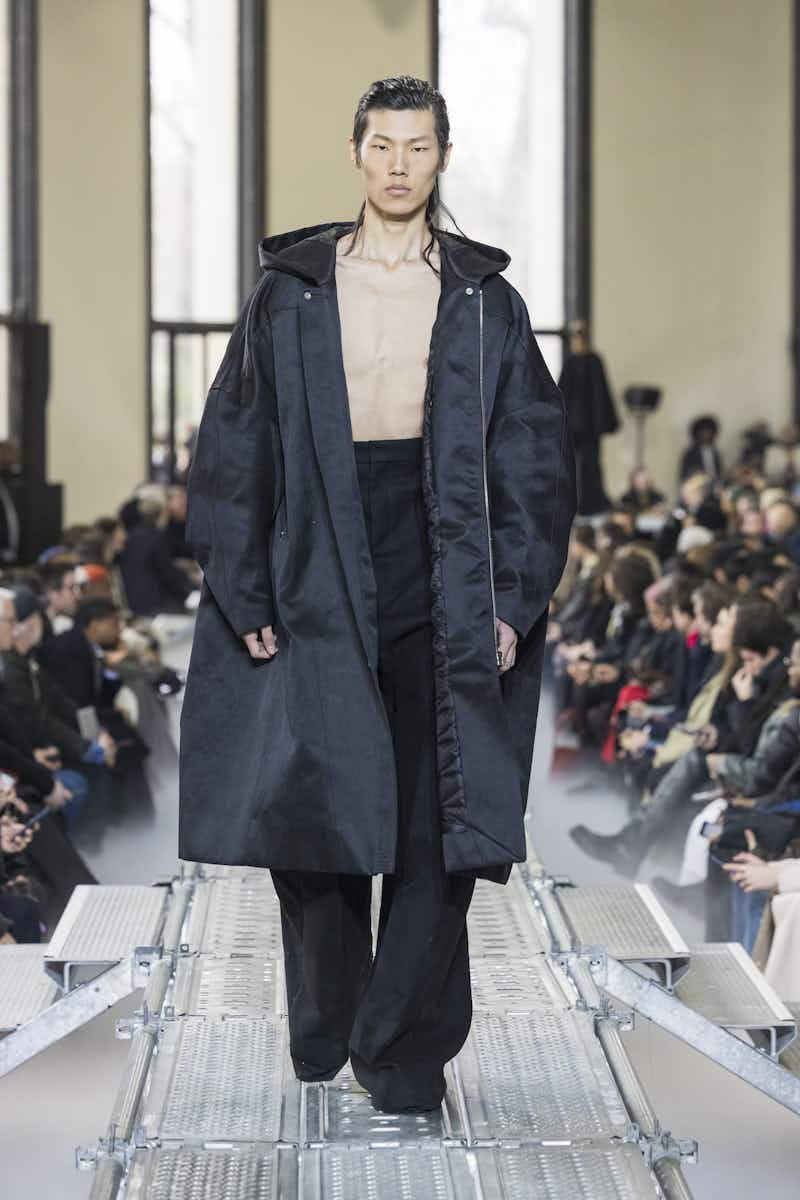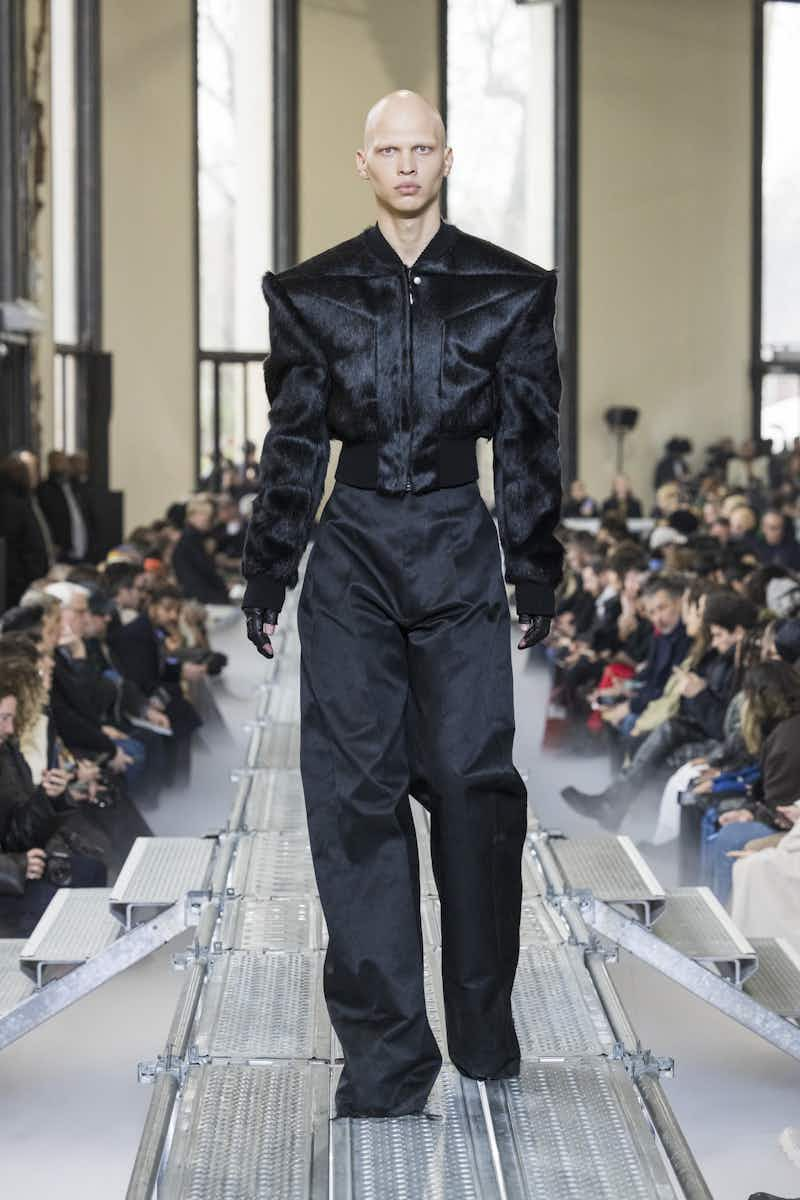 What?
One of Matthew M. Williams' strongest Givenchy collections to date.
Where?
A white carpeted box housed within the grounds of a Parisian military school, lit up by blinding white flood lights.
What was it like?
It was all about the styling, the way that people express themselves via the way they wear their clothes. Sure, the usual tropes were present: sharp tailoring, killer outerwear and bold streetwear staples. But it was clear that Williams was thinking about real use cases for the pieces in his collection with a new, pared-back vision for formality, elevated workwear and a grungy take on casuals. This all came together by way of shrunken hoodies, plaids tied around the waist, stone-washed denims, metallic shell suits, spliced-open cargo pants, oversized fur coats and a deconstructed ​"sweat-skirt", which is said to have been inspired by a 1960s photograph of Hubert de Givenchy with a jumper tied around his waist like a skirt.
Who was there?
Only the likes of J Hus (a rare sighting), Tyga, J Balvin, Pusha T and Headie One. No big deal.
What did it sound like?
Like a sad softboy mixtape. The soundtrack was composed and recorded for the occasion by British indie rock musician Bakar in the days running up to the show.
Any stand out looks?
A series of leather chemical waste disposal squad style boiler suits that, when folded down, revealed the Givenchy logo. And a deconstructed grey tracksuit remixed with a sharply tailored white suit, that's sure to spice up grey tracksuit season. Wahey.
In a word?
Grunge revival. Okay, that's two.

Brooke McCord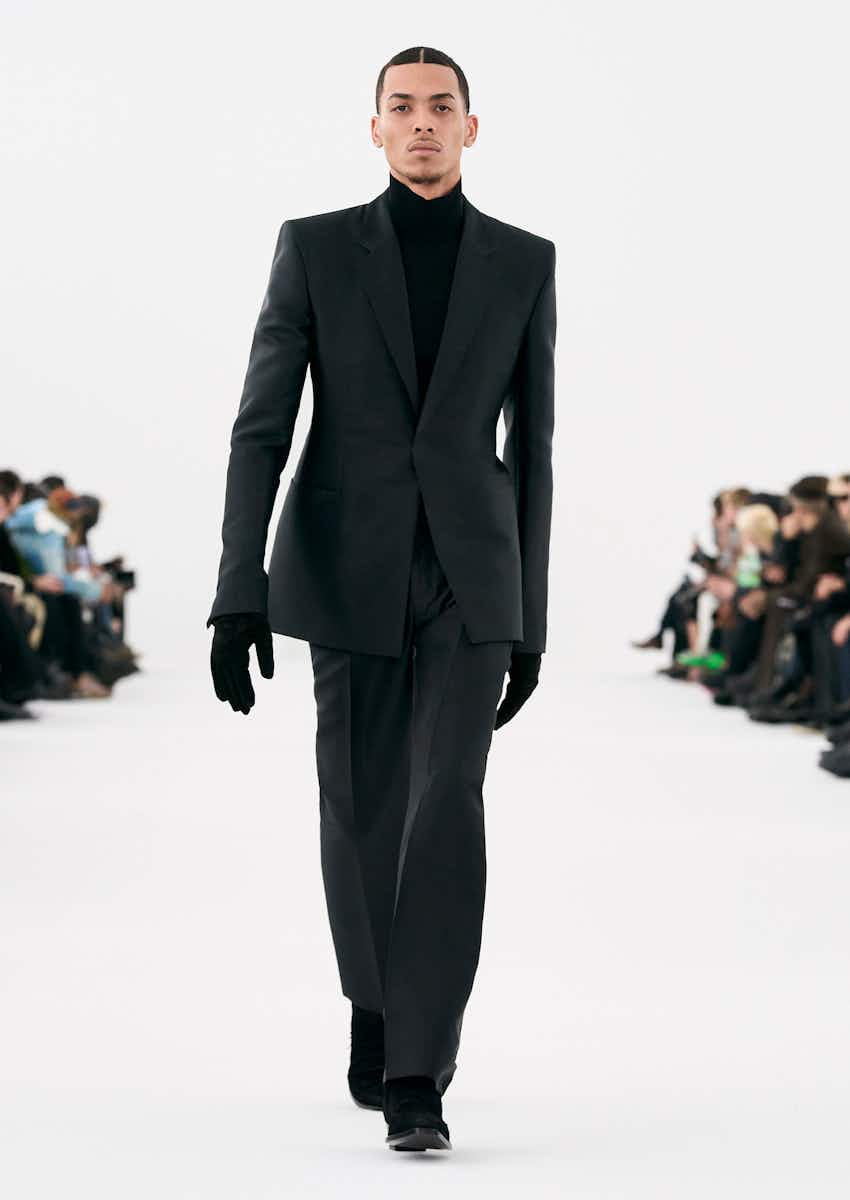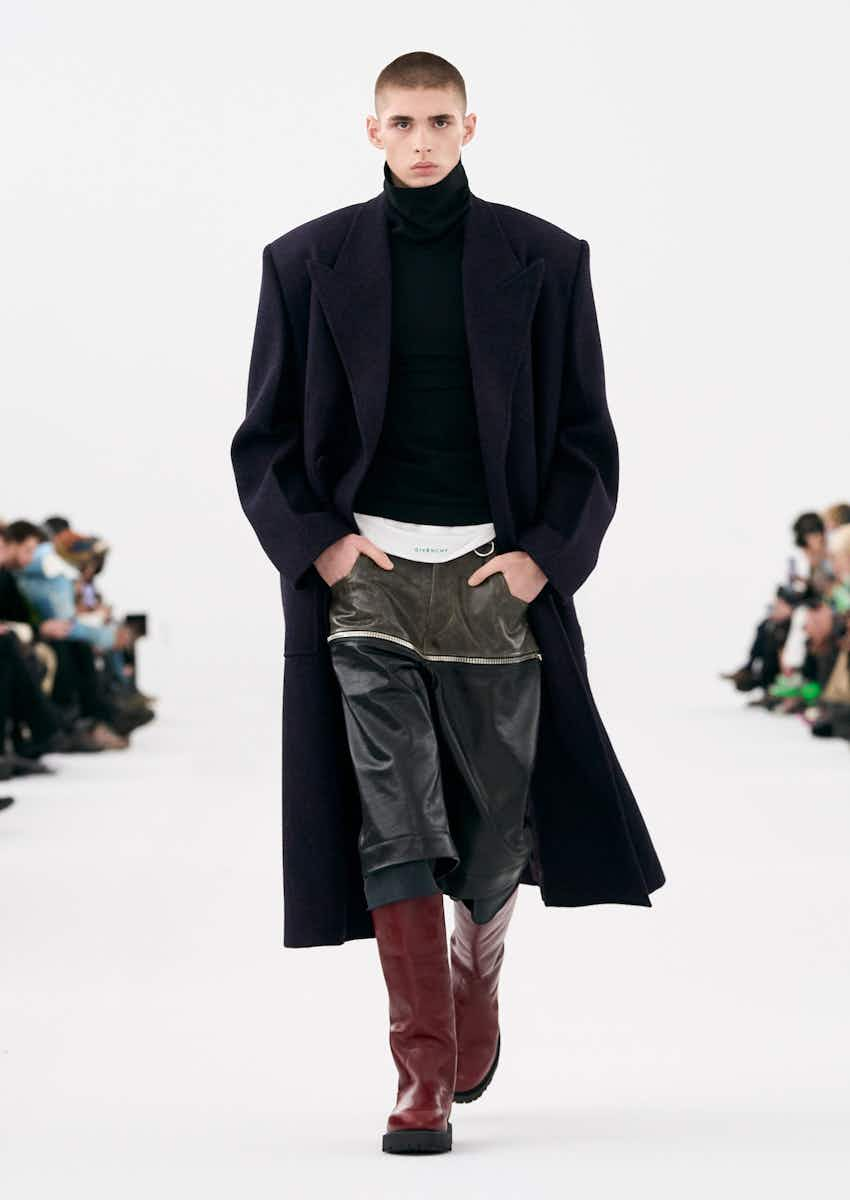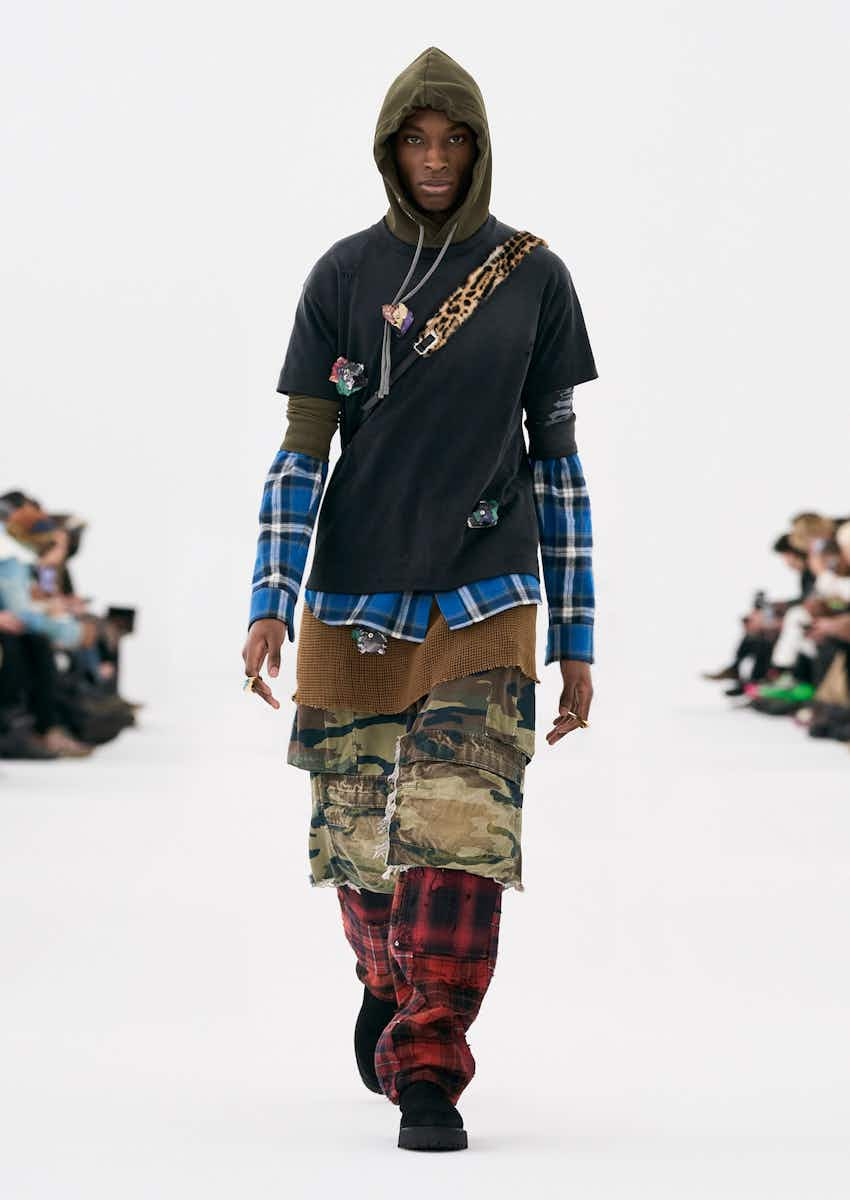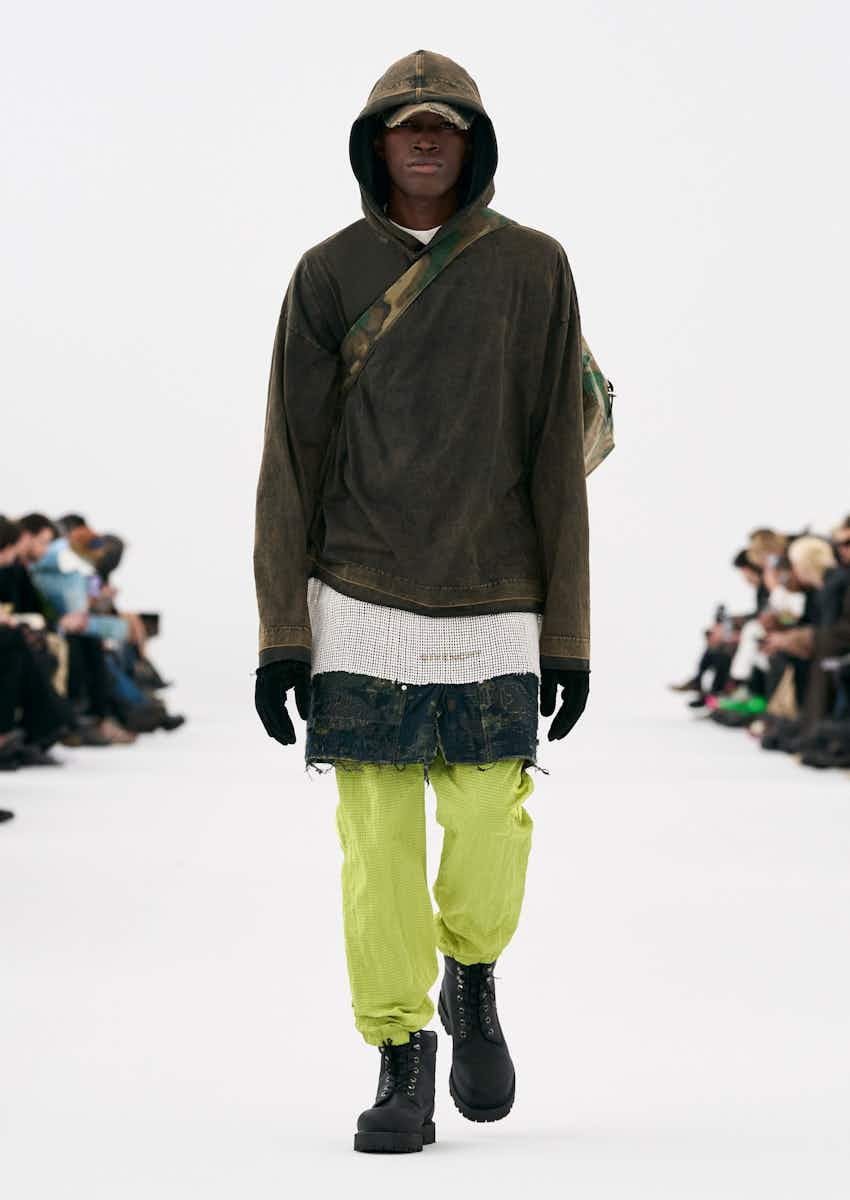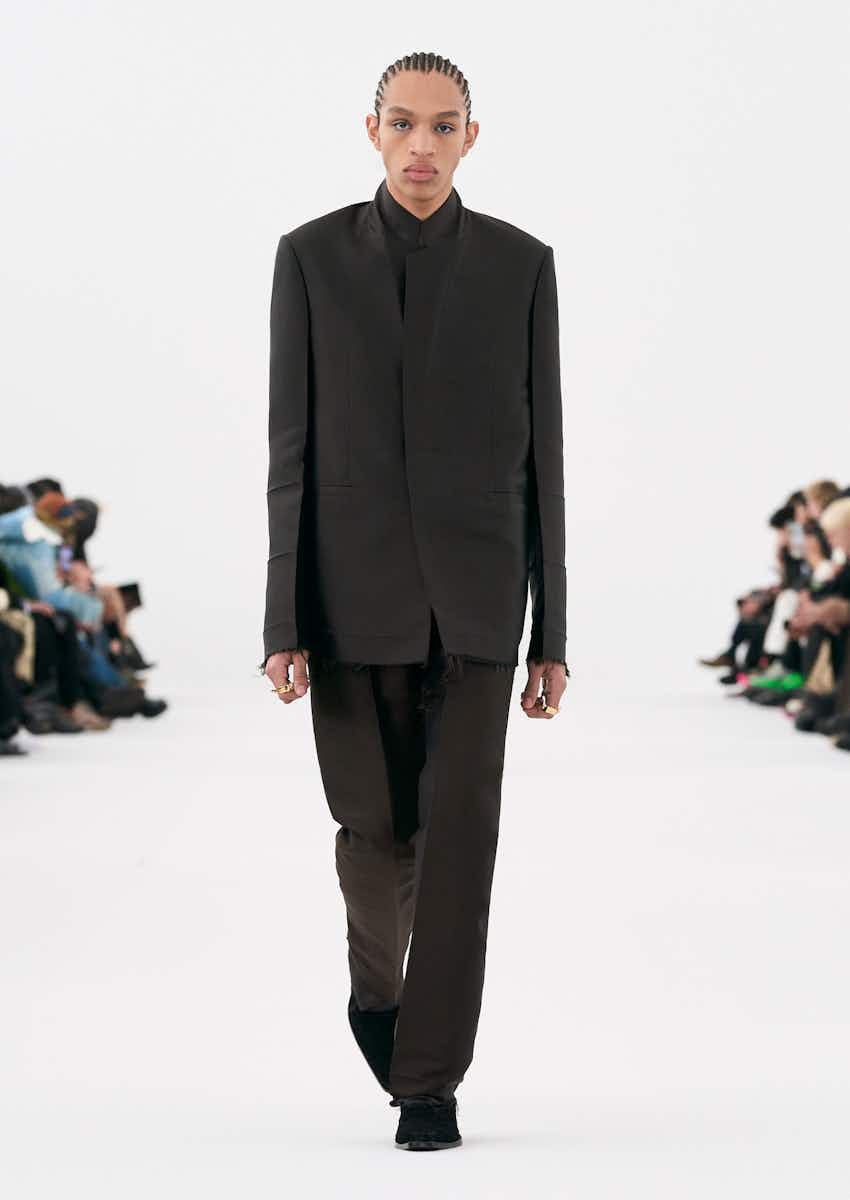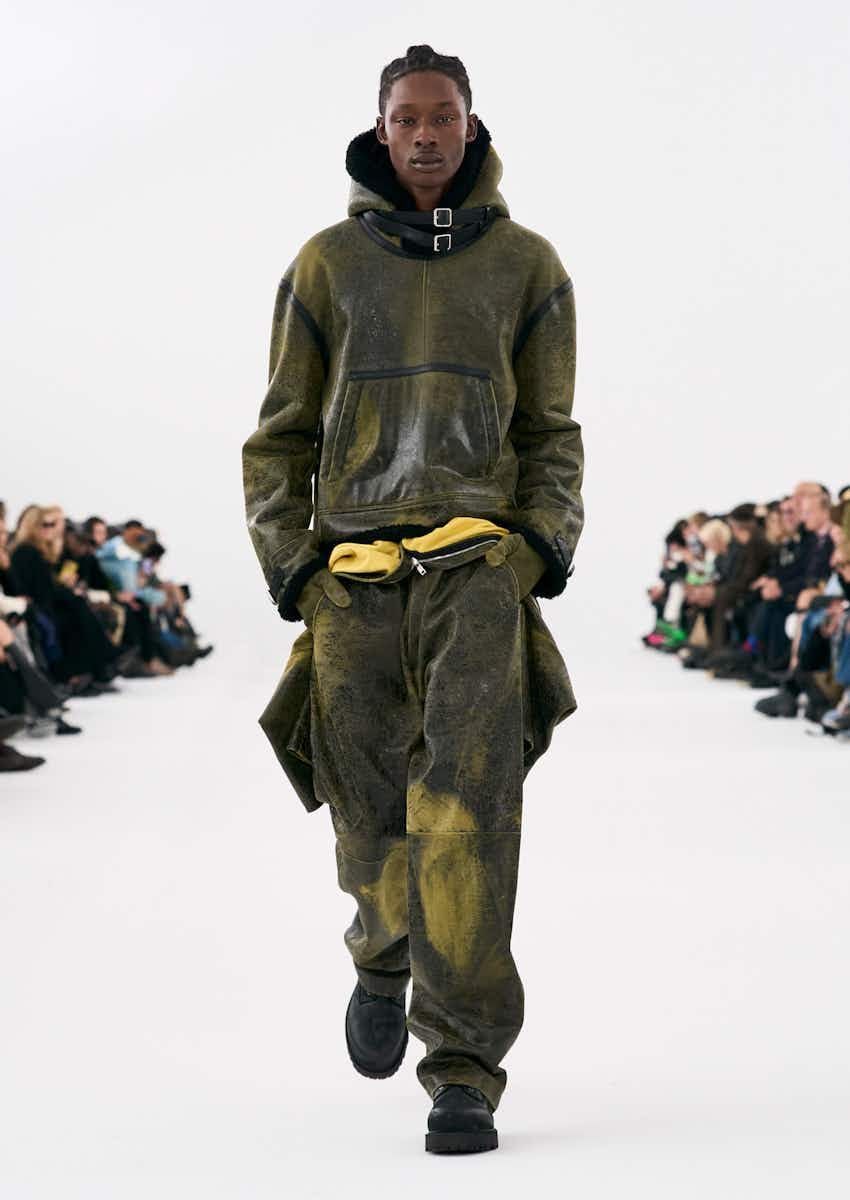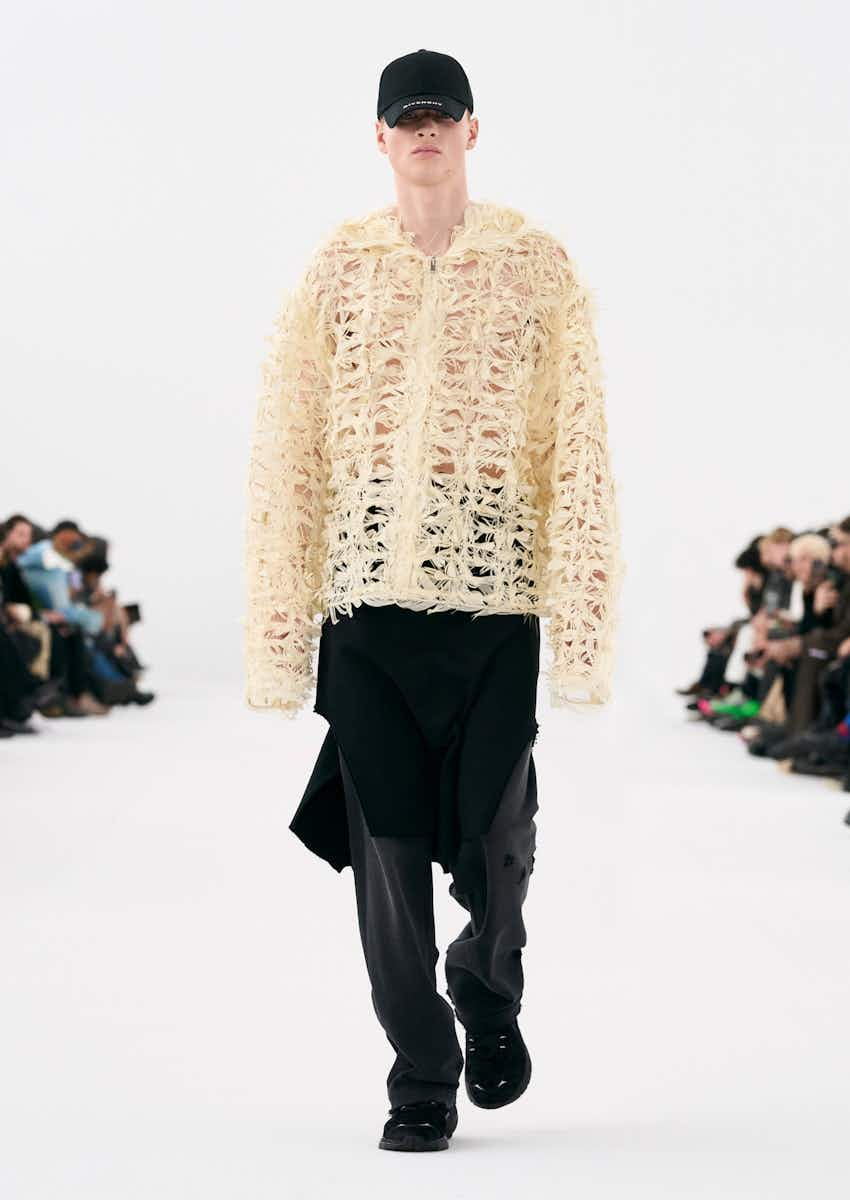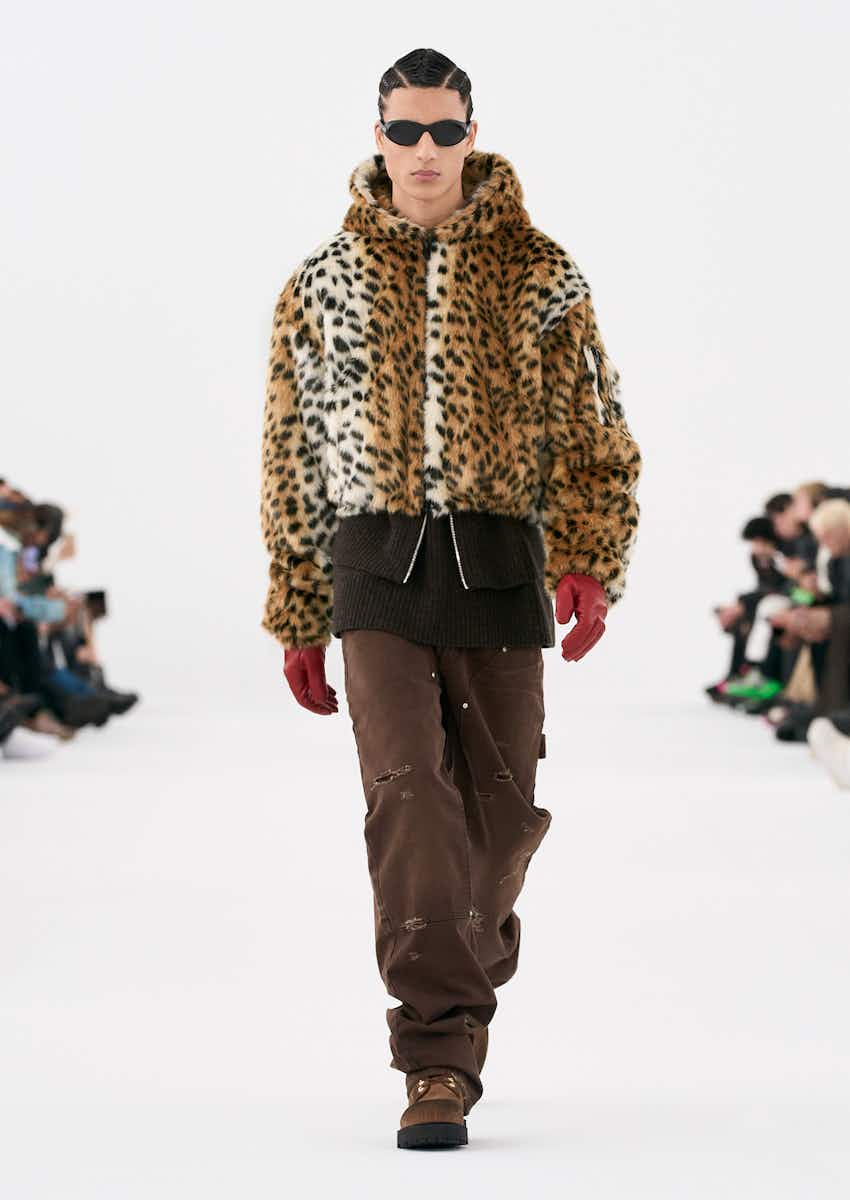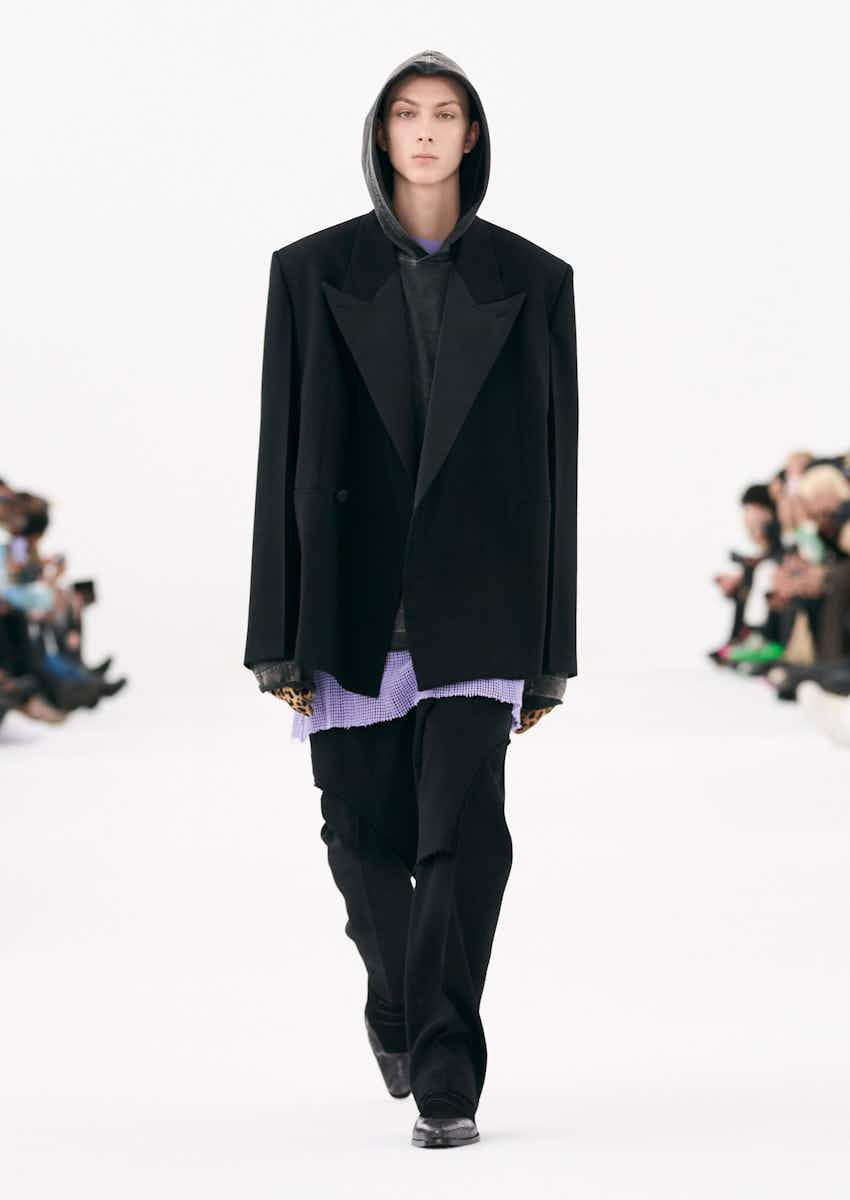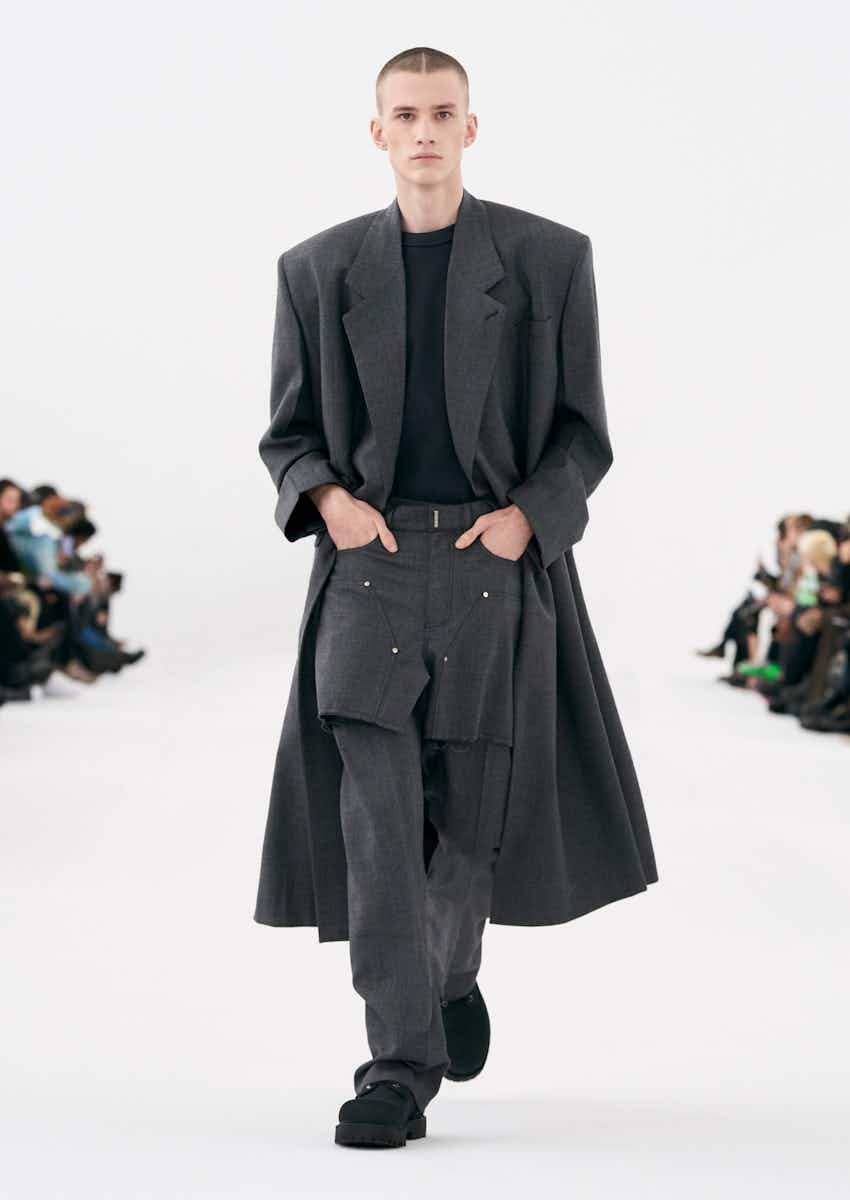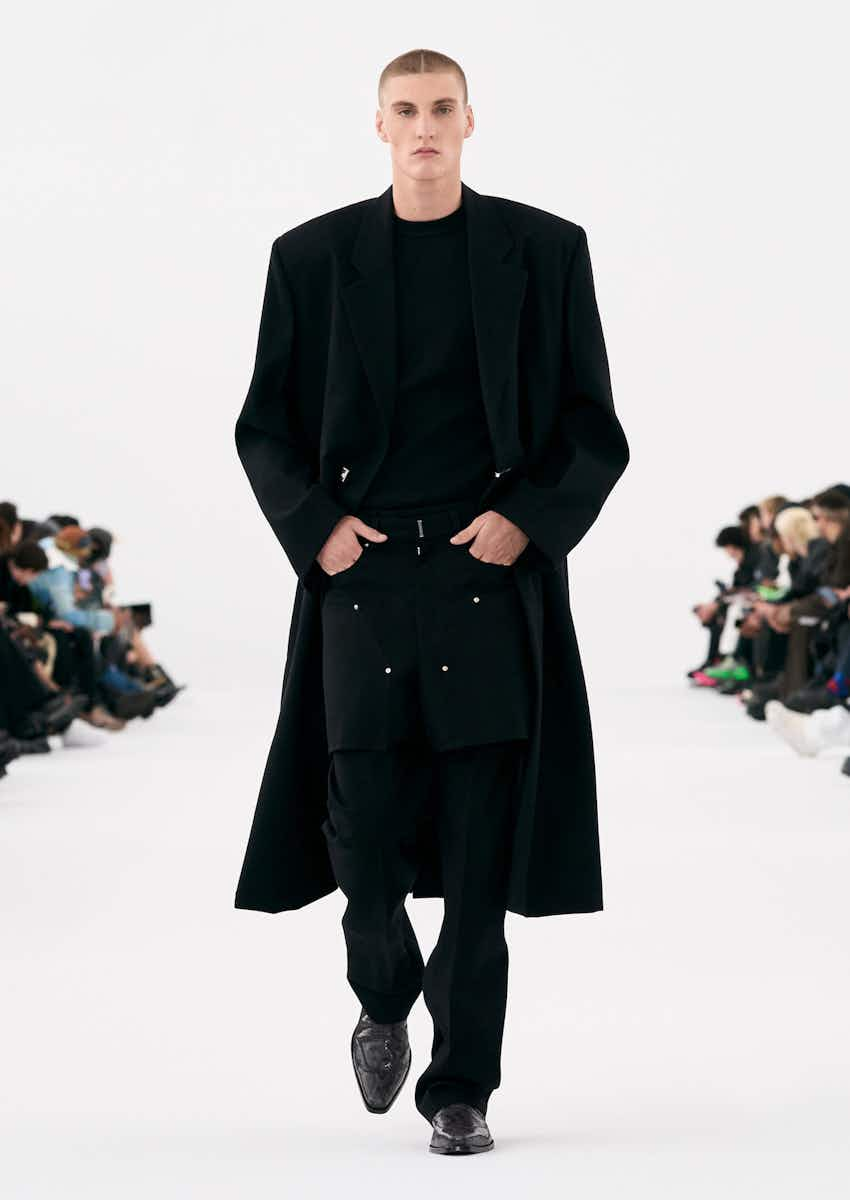 Runways aside, some labels showed off their collections in the more low-key, tranquil setting of a showroom, fueling guests with (much appreciated) snacks, caffeine and green juices as they pit stopped between shows.

Acne Studios' collection focussed on eclectic styling – specifically craft-infused daywear and experimental evening-wear that played with proportions. Skin-tight crop tops paired with supersized knits, slim leather pants with boxy blazers and exercise-style lycra teamed with baggy denim, all of which riffs on the contrast between ultra-masculine versus ultra-feminine clothes. ​"When I work, it's sort of like therapy," wrote creative director Jonny Johansson in the collection notes. ​"I've been thinking a lot about the masculine baggage that we drag along as guys, boys, men and I wanted to explore it for fall."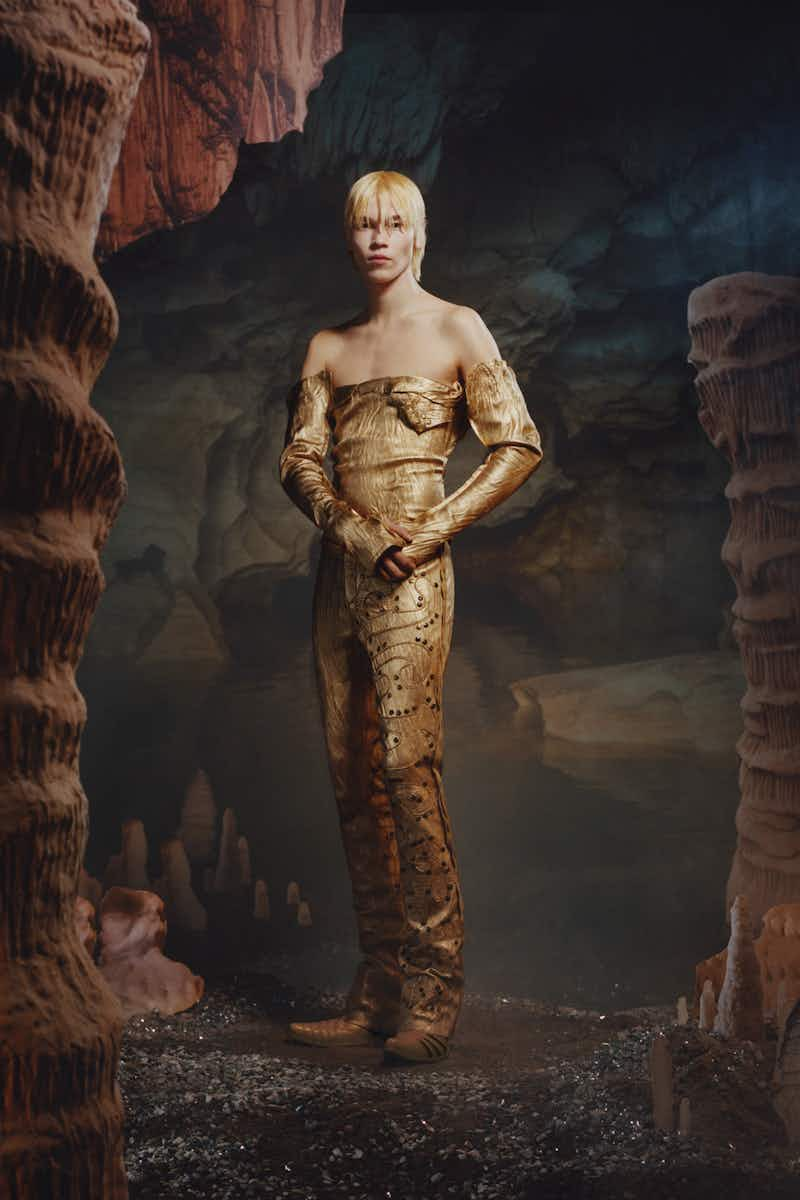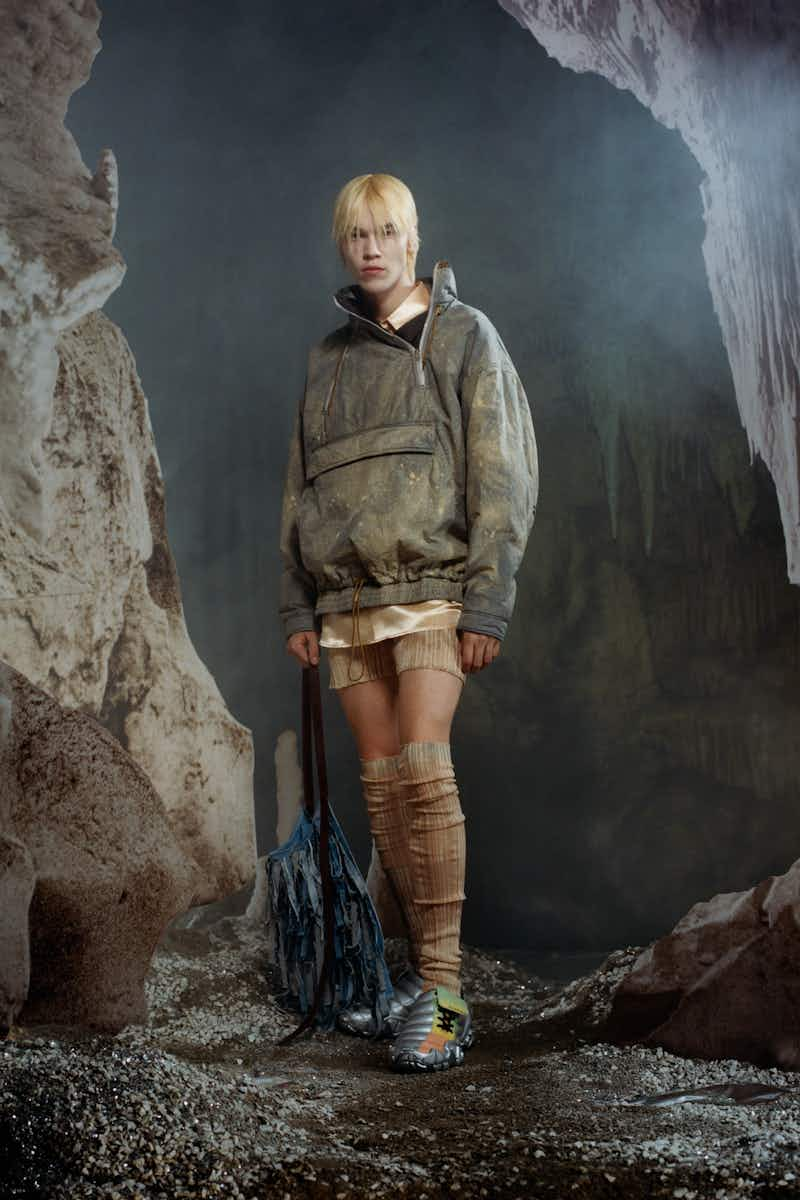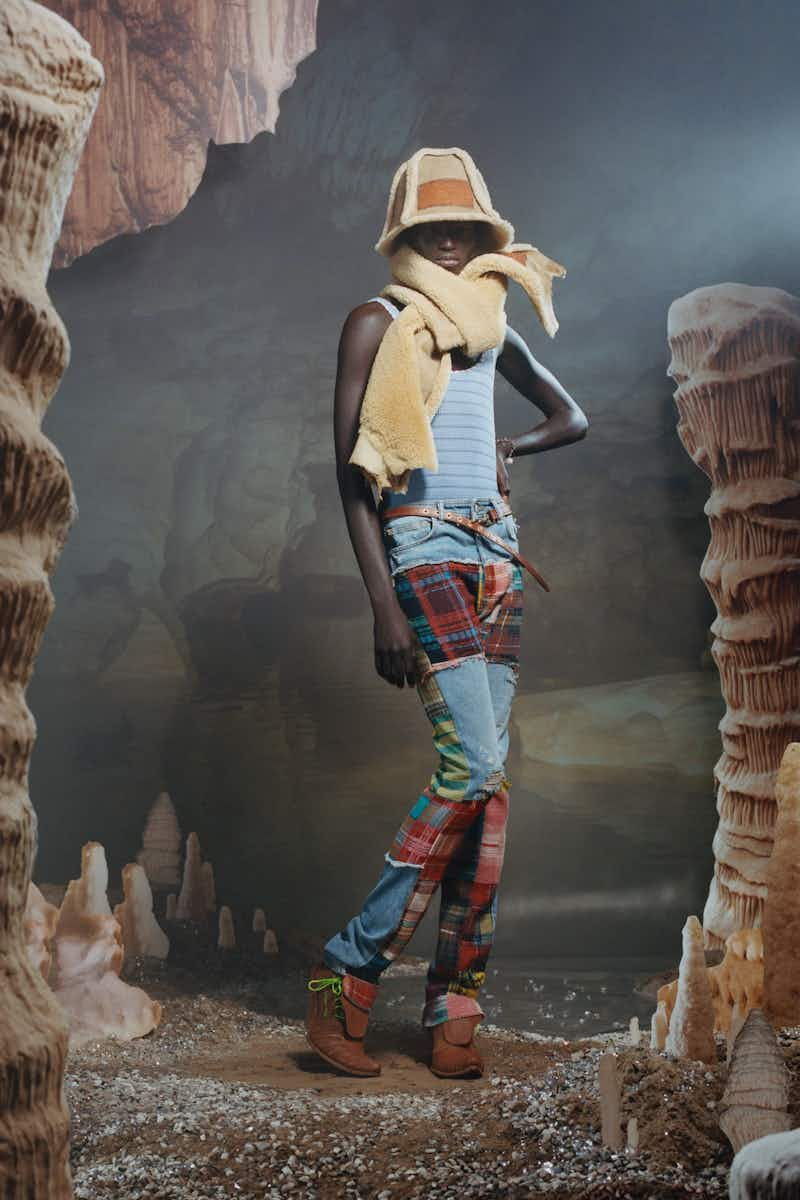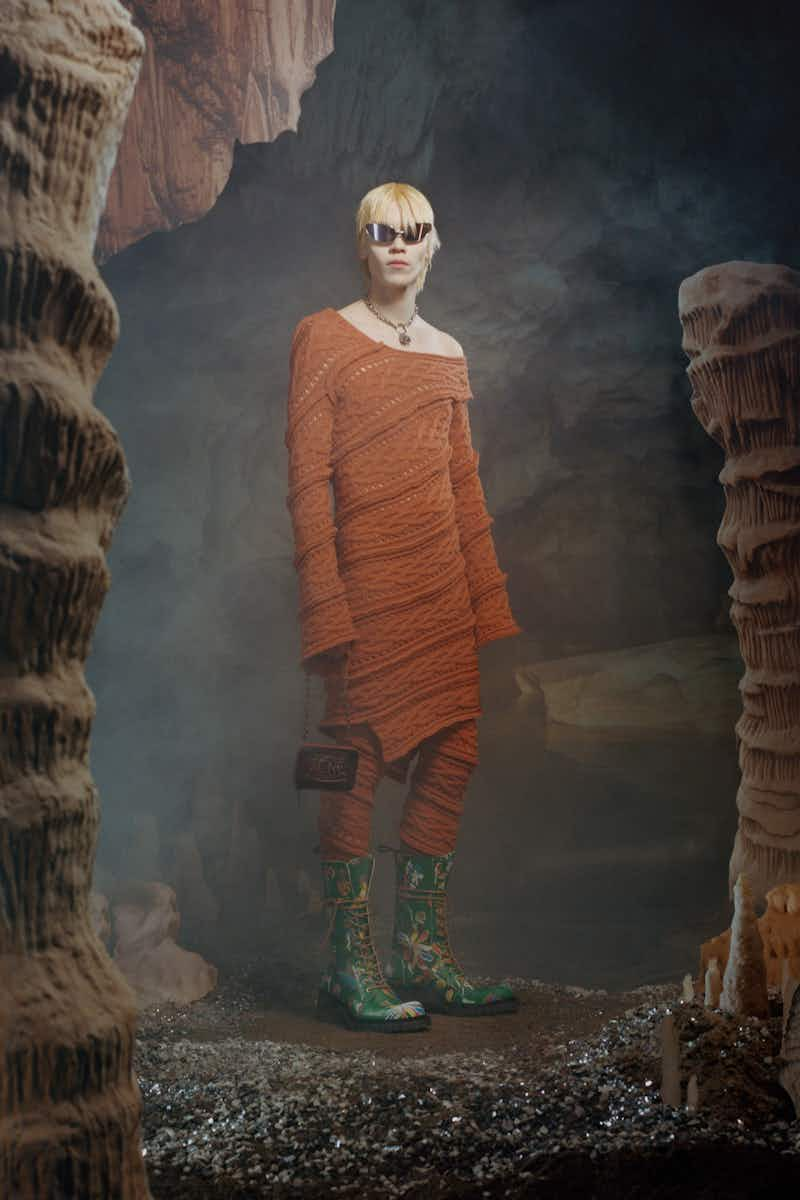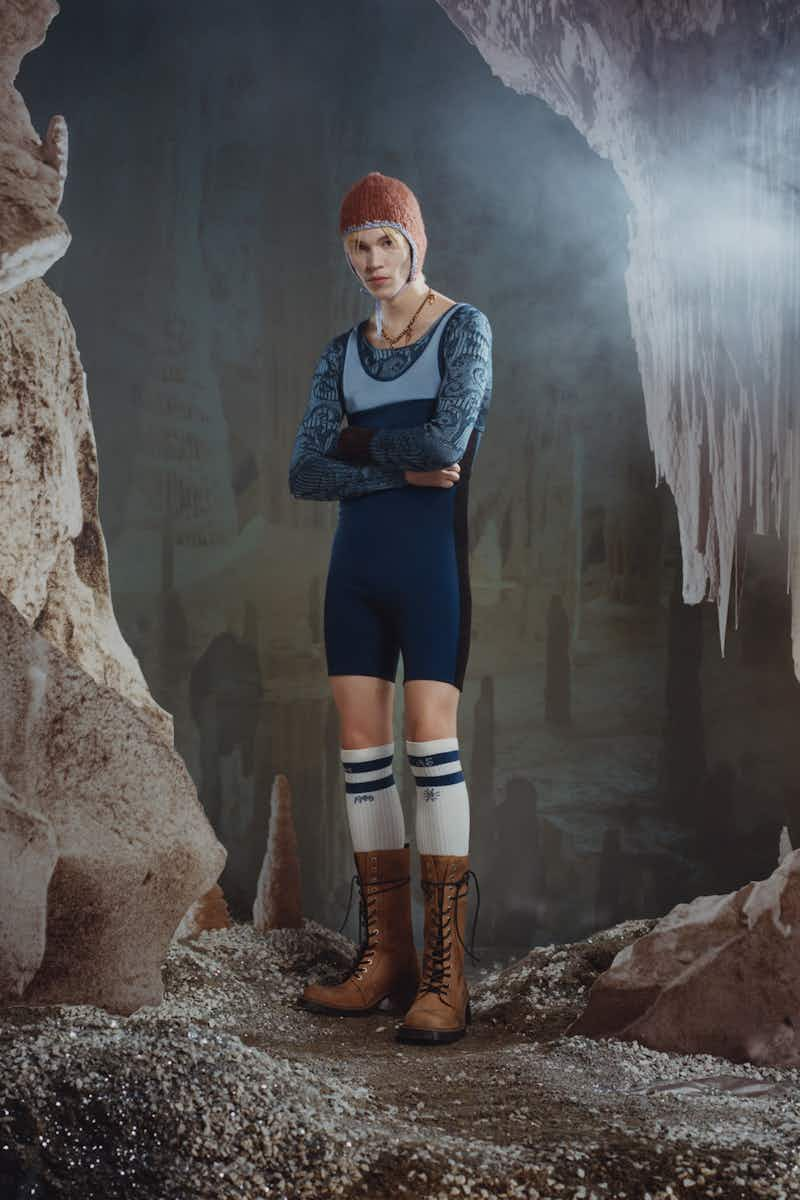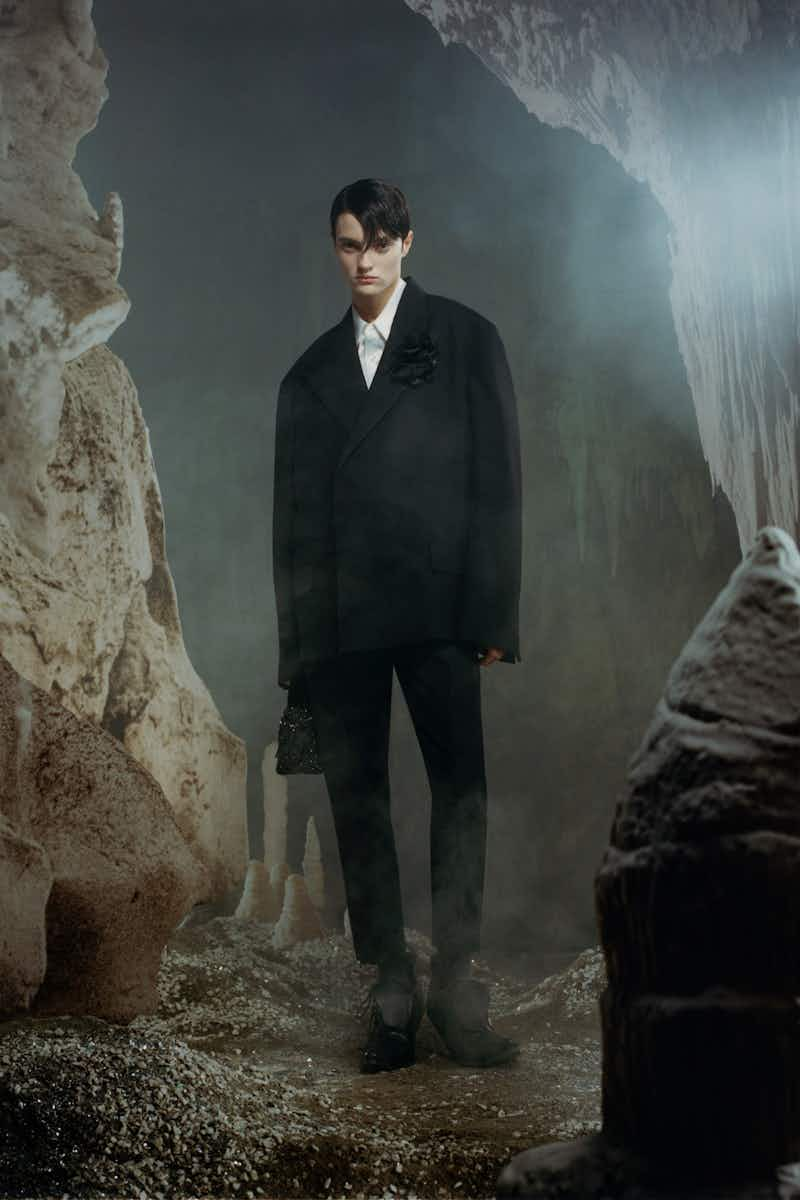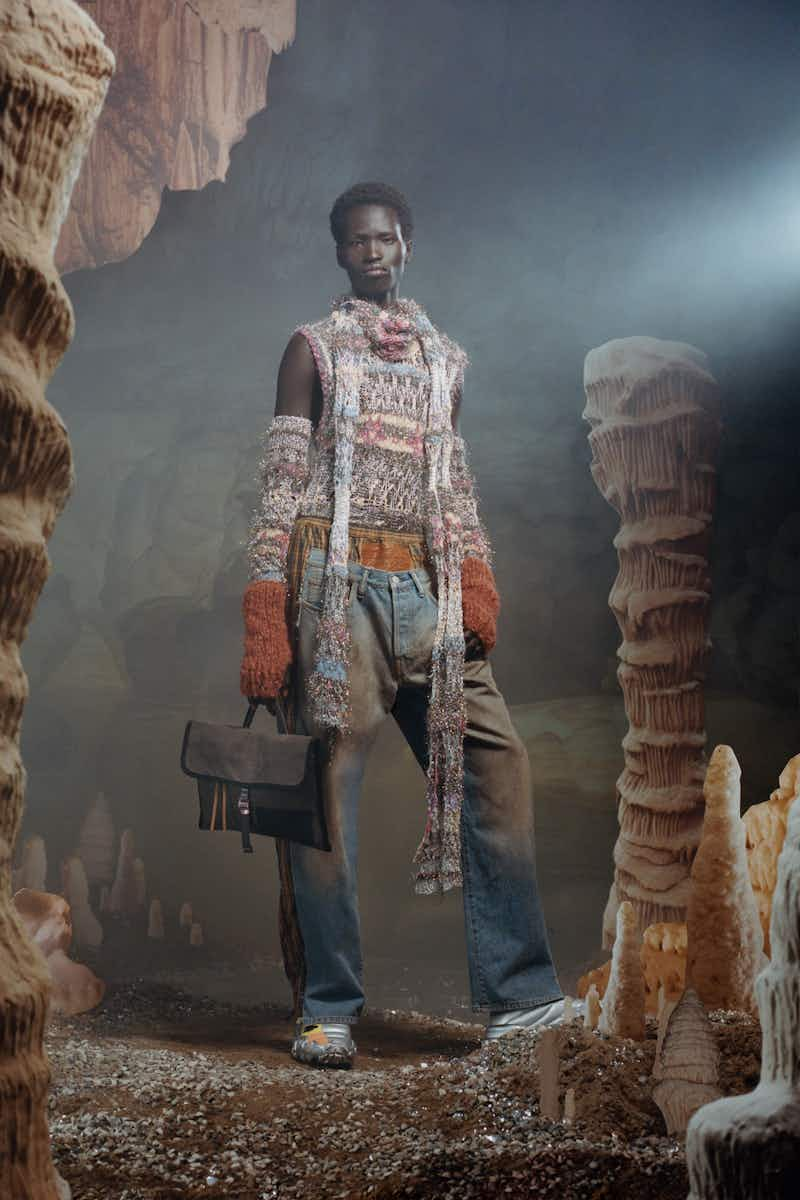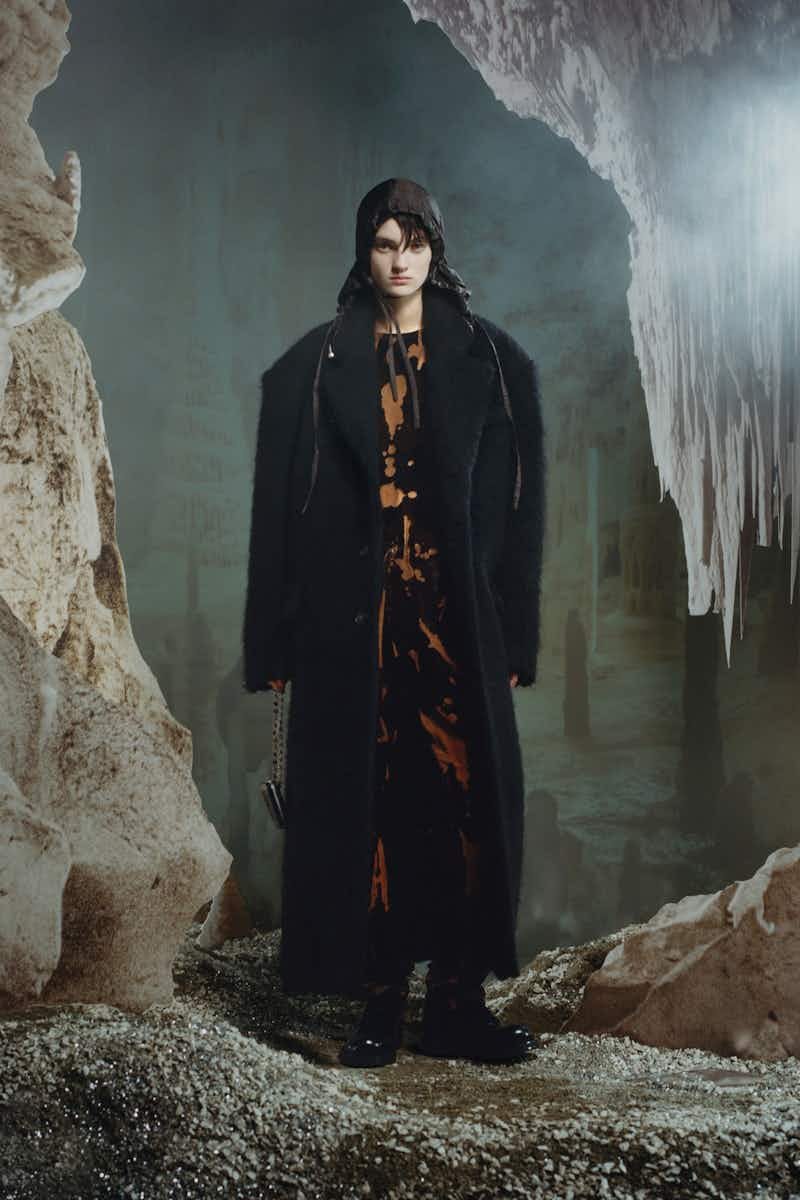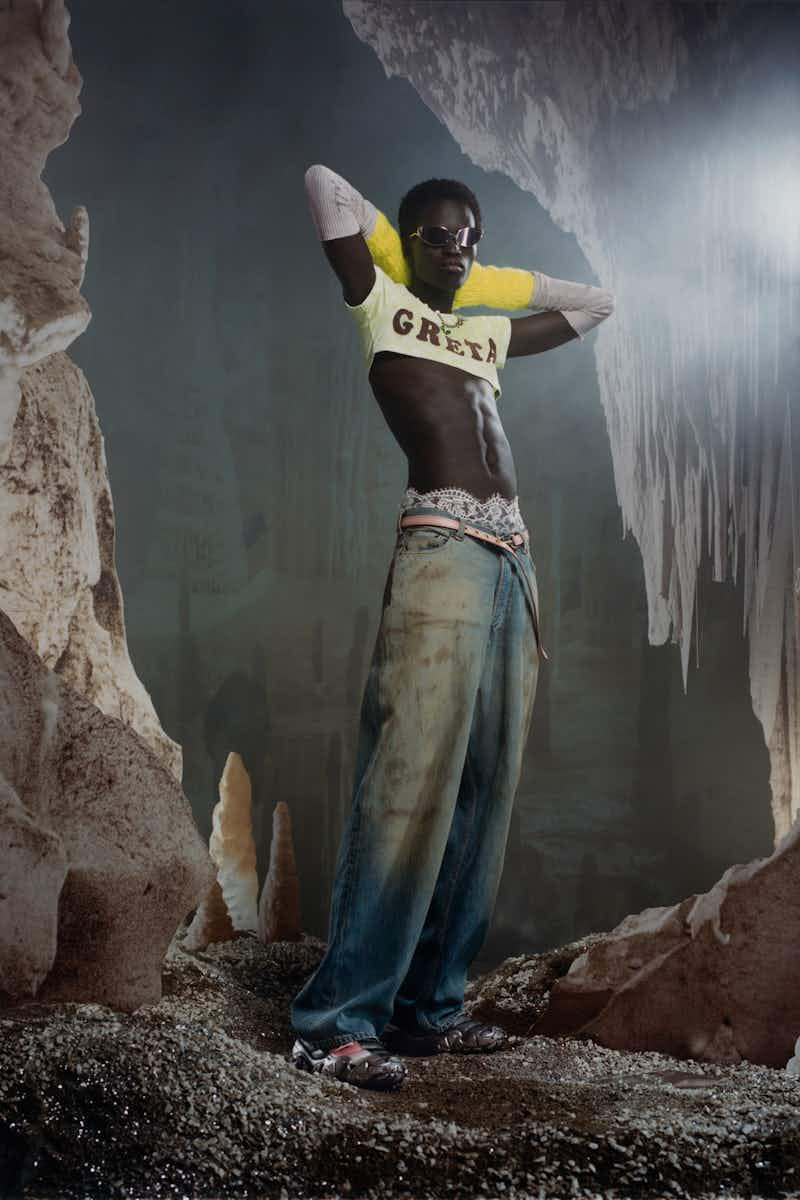 Meanwhile, Isabel Marant's AW23 collection favoured timeless pieces over trends: wide-leg, rave-ready denim jeans; grungy, workwear-inspired shirts and jumpsuits; fluffy and fuzzy outsized knits.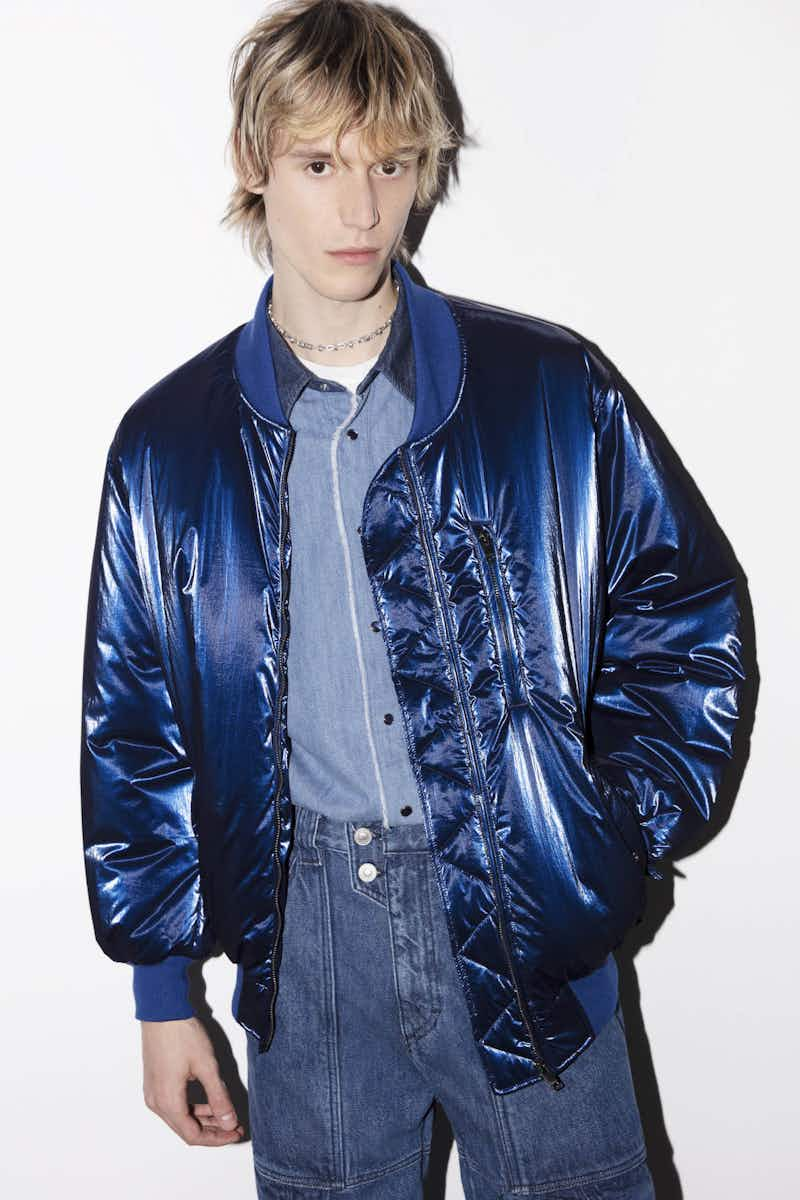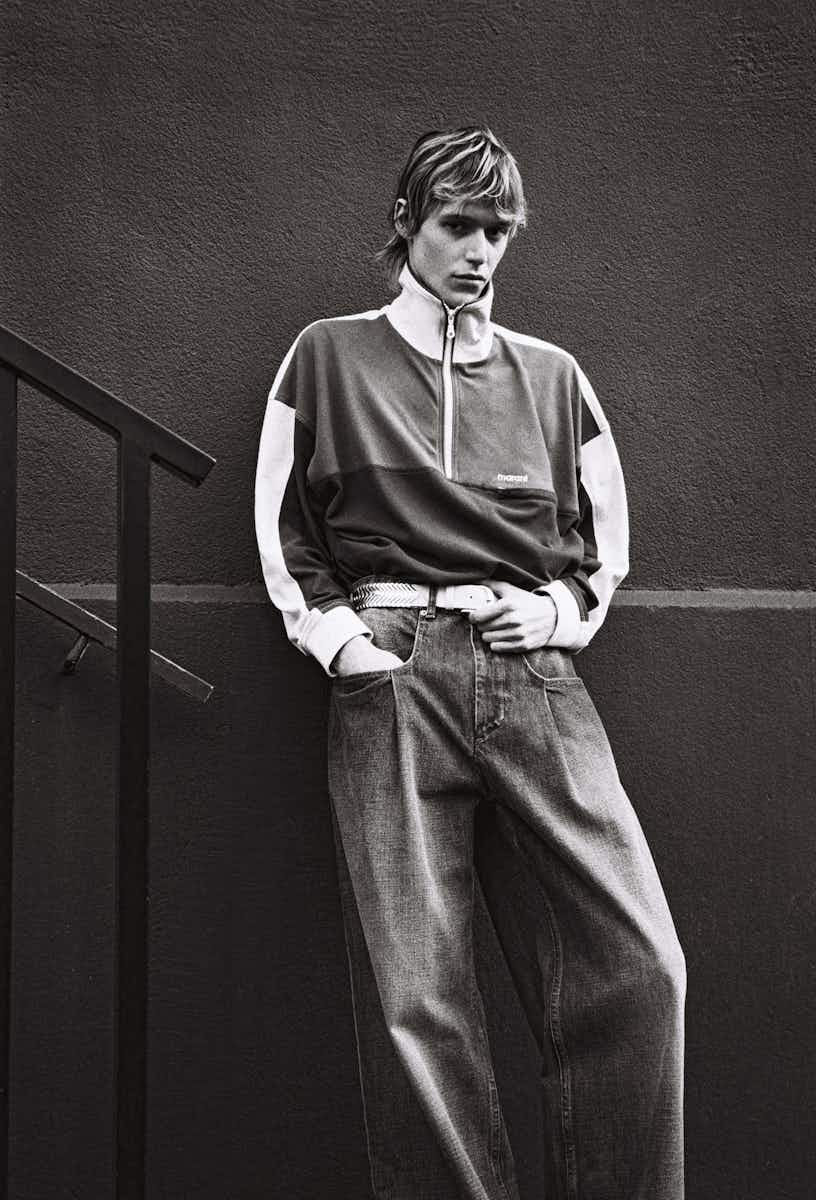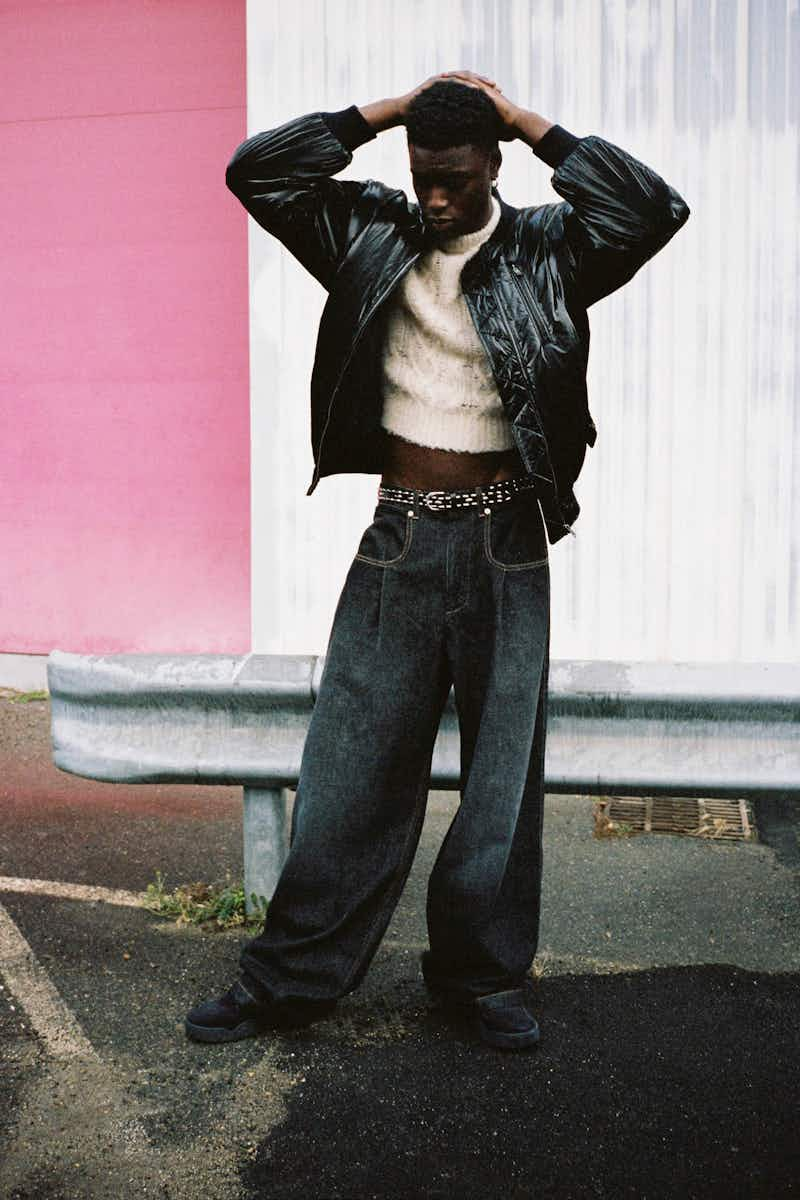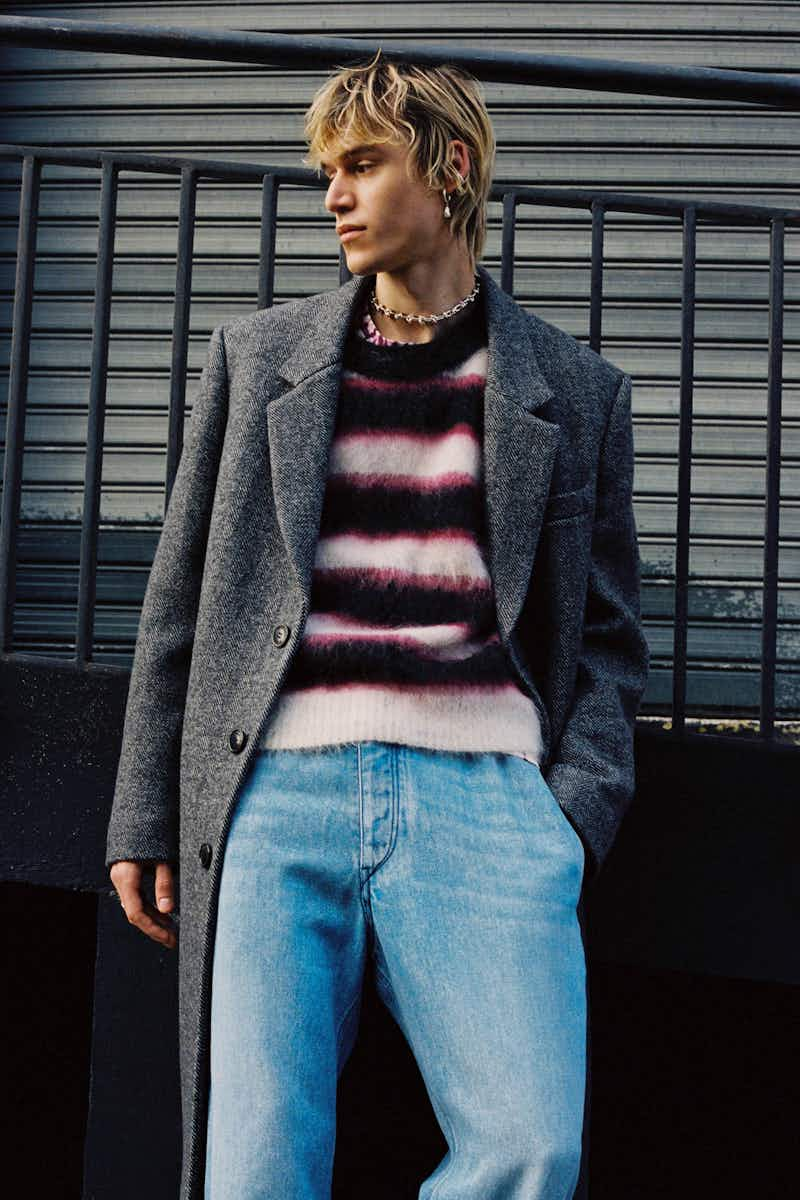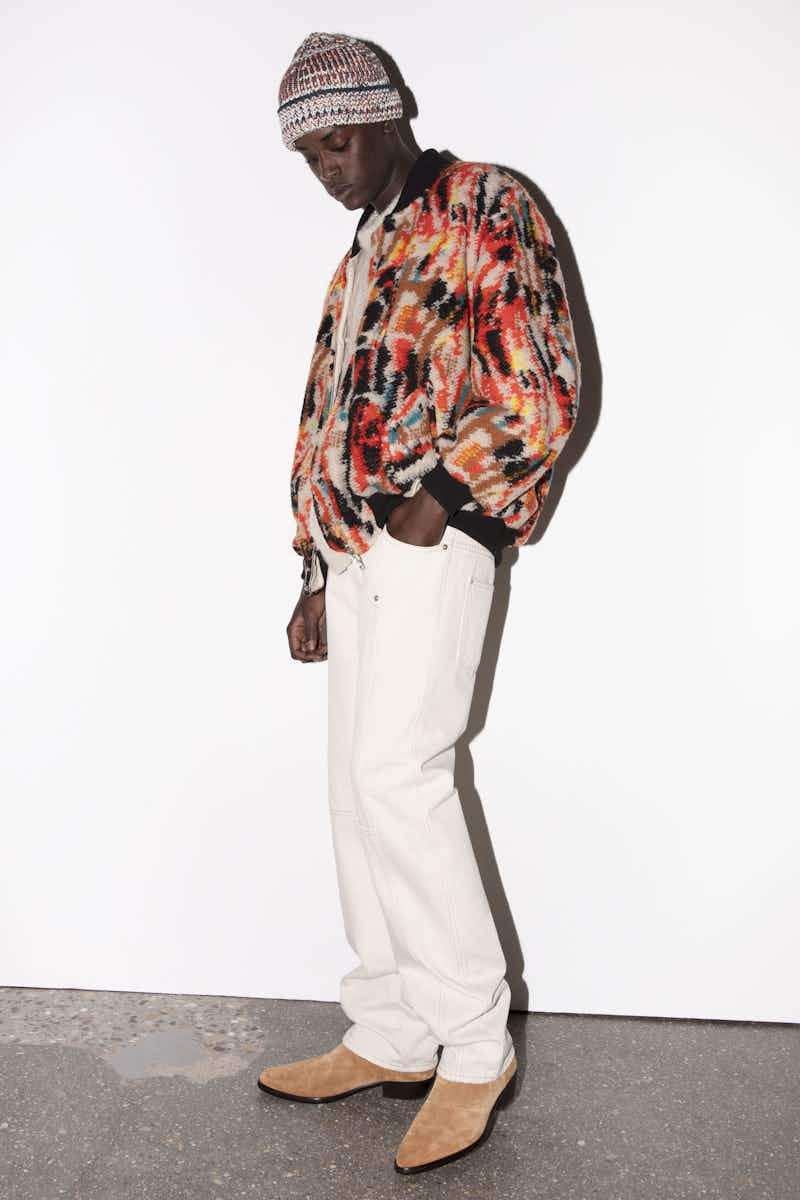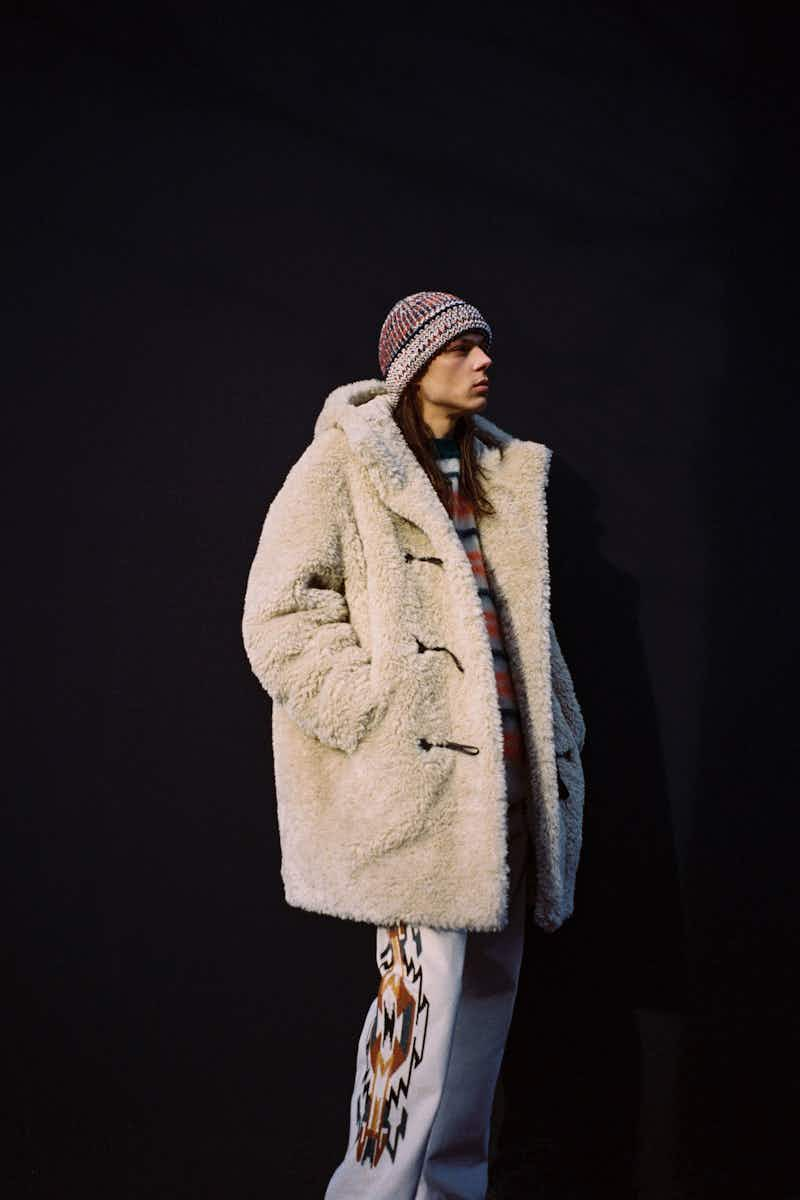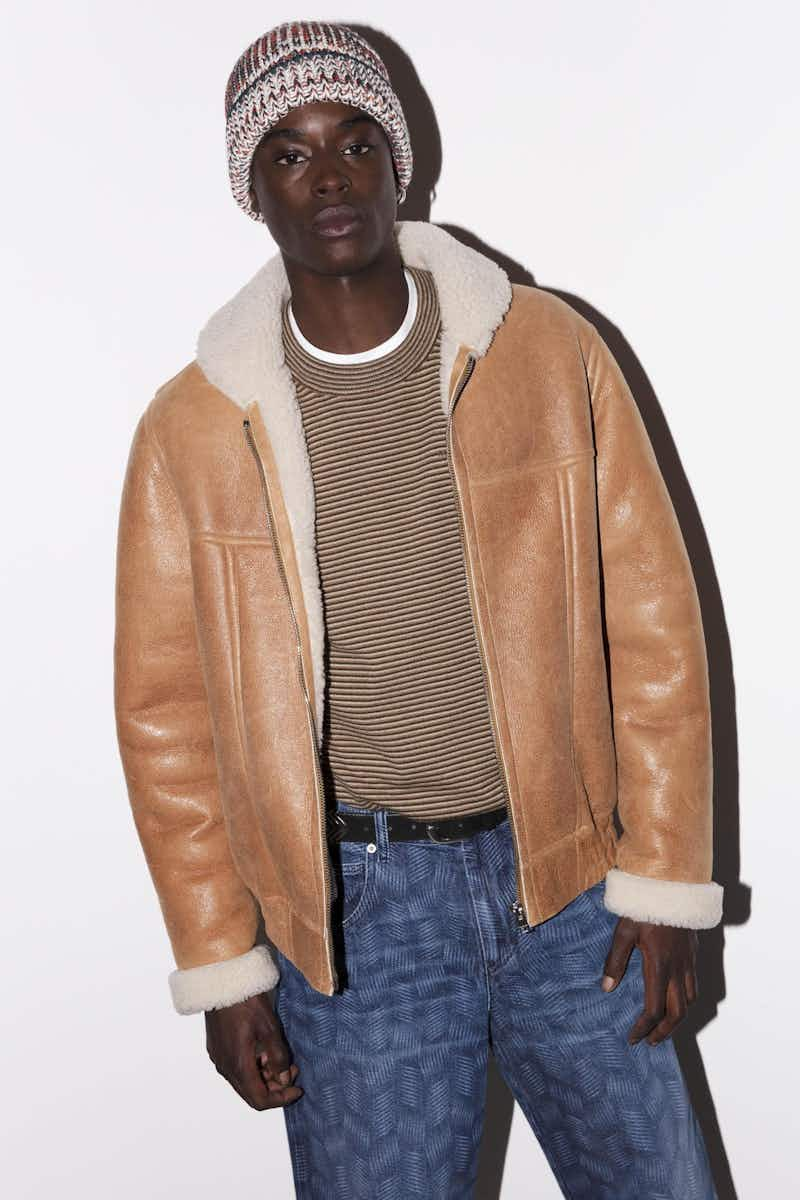 MILAN

MILAN

MILAN

MILAN

MILAN

MILAN

MILAN

MILAN

MILAN

MILAN

MILAN

MILAN

MILAN

MILAN

MILAN

MILAN

MILAN

MILAN

MILAN

MILAN
In another break with our established format, we stuck a dictaphone in the face of Charles Jeffrey and he did the really brilliant thing of describing his entire show in about two minutes.
Hello Charles! Is it true that the inspiration for this show was the artist John Byrne?
The inspiration for this collection was the artist John Byrne. He's a Scottish artist and playwright, and I was really inspired by his film called The Slab Boys which is a working class tale about someone who wants to strive and do better, someone who wants to go to a bigger and brighter place. So for me, this collection's a celebration of Scotland, it's a celebration of workers, a celebration of the Renaissance man or woman or in between. And it's just an opportunity for me to be authentic in a new space.
Yes, this is your first show in Milan, after years in London. How does it feel?
It's like meeting somebody new, having a new relationship, putting yourself out there again. I feel like we did a lot in London, we achieved a lot in London. And the decision to come to Milan felt so right. It's an industrial city, it kind of worked with the concept of the collection. And I love the people here. I lived in Paris, I interned in Paris, I know the people really well. For me, Milan just feels like the right place to sort of start afresh.
Lovely. Tell us about the clothes, then!
The collection has a ​'50s feel to it, obviously looking at John Byrne and the teddy boys. And for me it's kind of like traditional maximalism. It's got fierce, kind of awkward nuclear tartans that are almost so ugly and wrong that they're right. We've kind of shifted our primary colours into more cobalt and orange and gold. We've literally used the paintings of John Byrne as prints themselves, and were able to access that archive. We actually wanted to see this more like a film so we created three subcultures. We called them the workers, the posers and the snakes. And each had places within this imaginary world that we created that governed how they dressed. For me, that's a really important thing. It's not only the product design that's behind it, it's the characters that are behind it as well.

[For what it's worth, we thought the show was excellent, taking place in a murky, industrial setting, and transitioning between coal-faced workwear, classic Charles tailoring, and some properly foppish balderdash to finish. Also the closing track was literally called Charles Jeffrey, which is quite the flex, isn't.]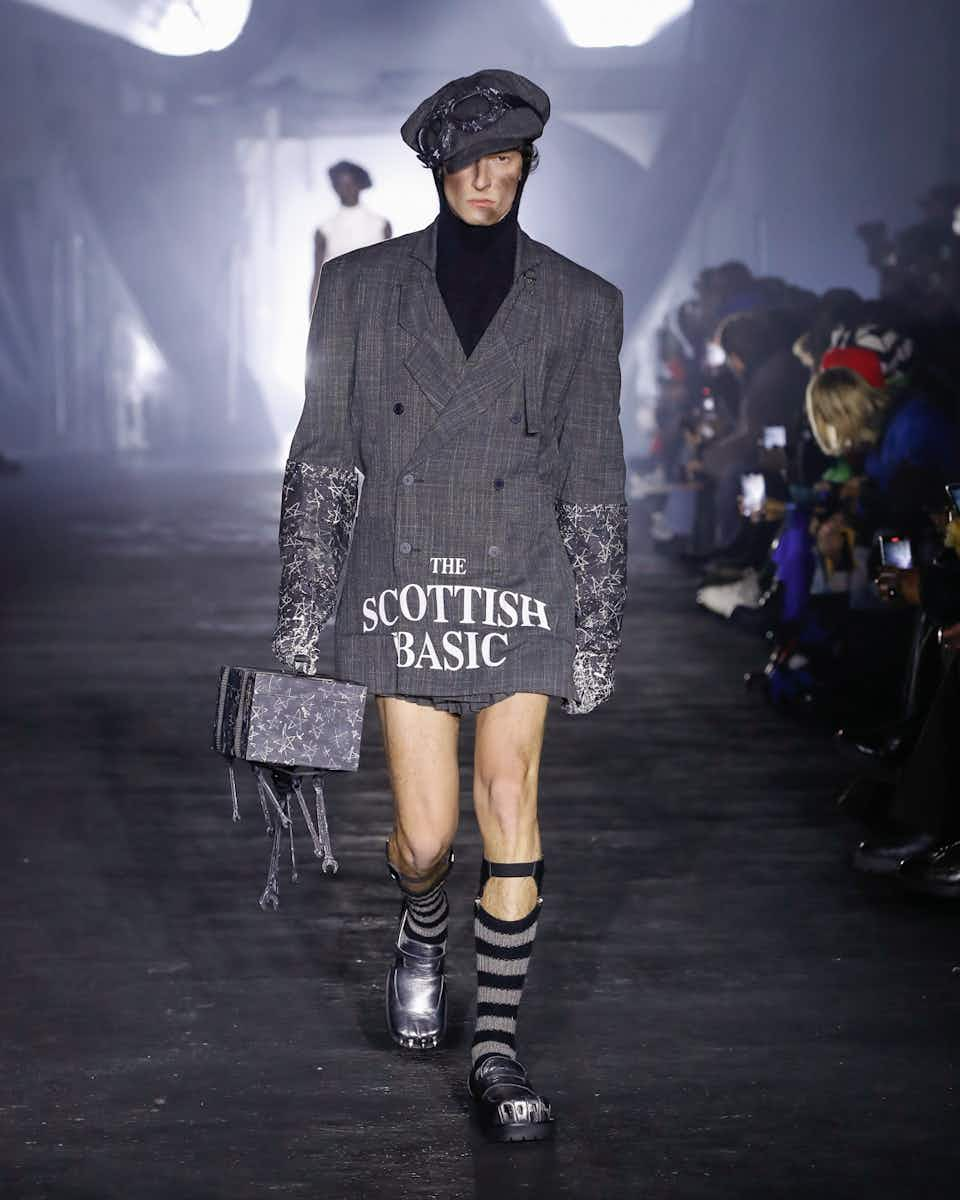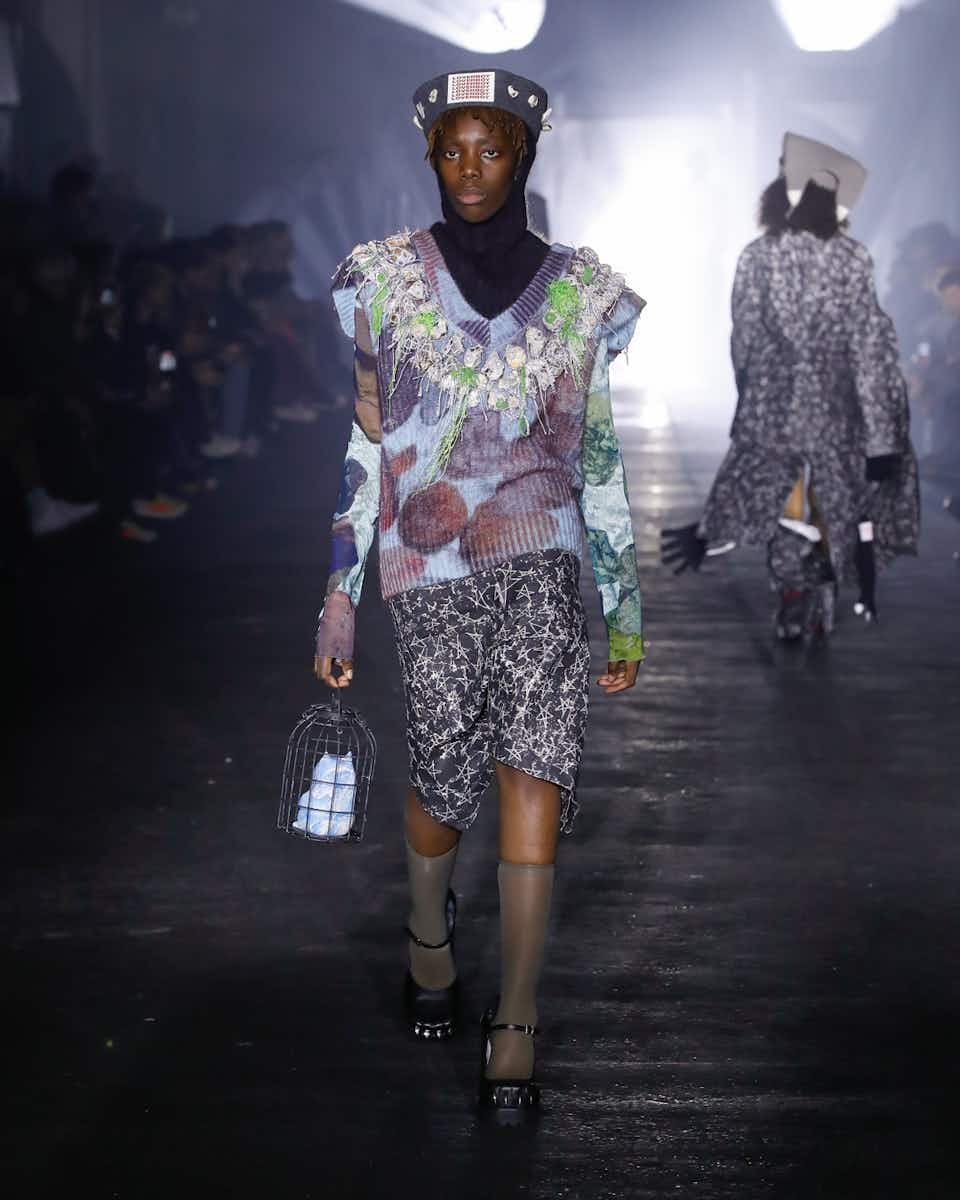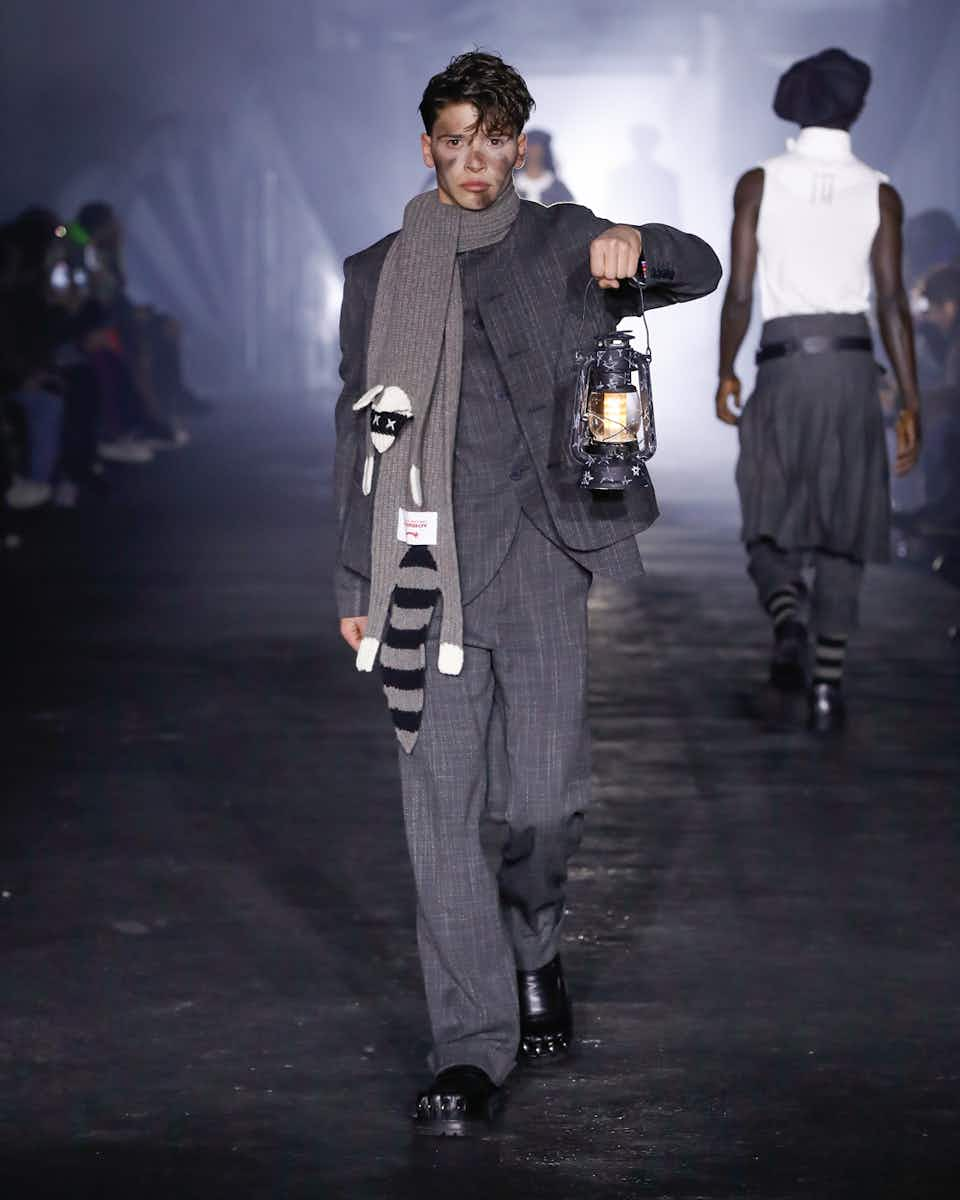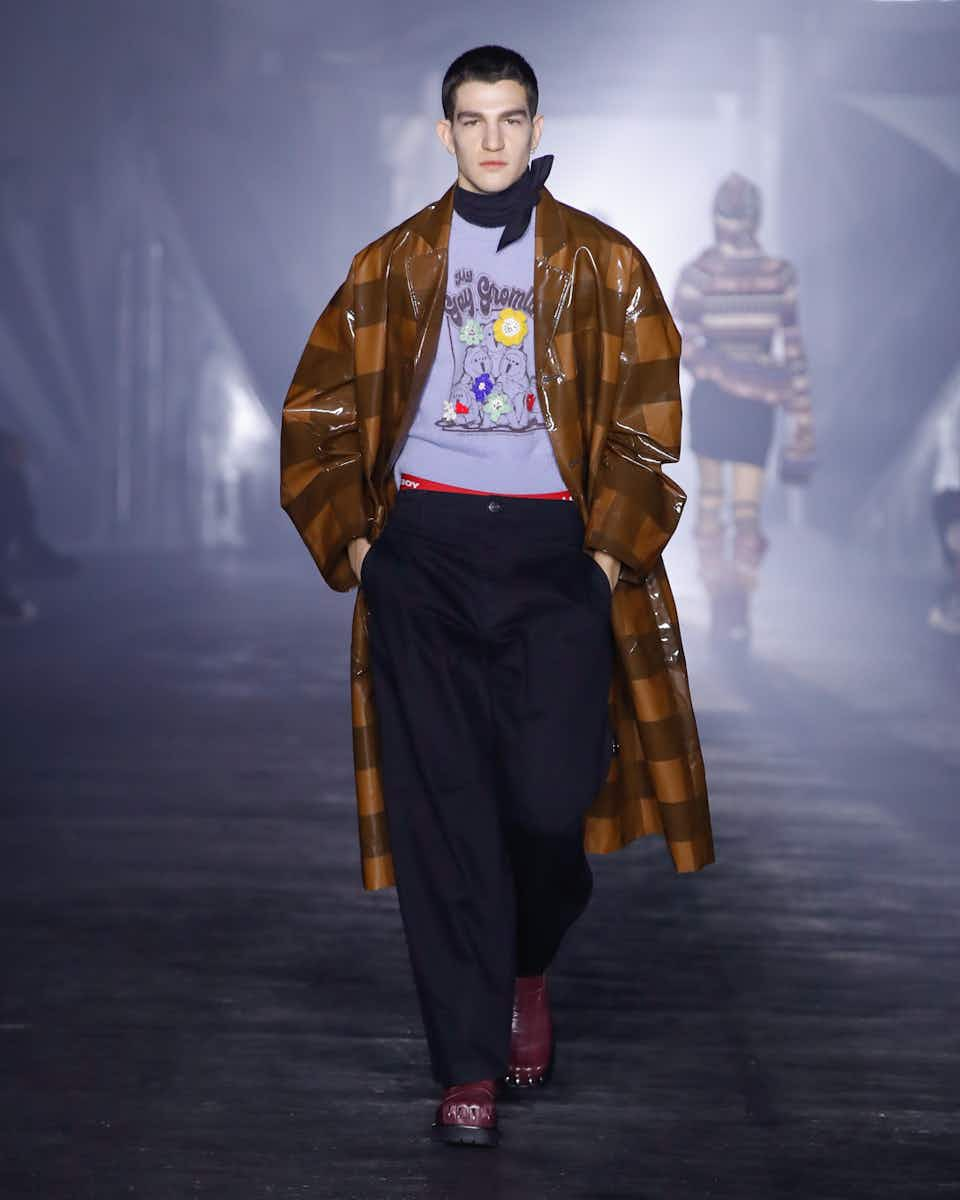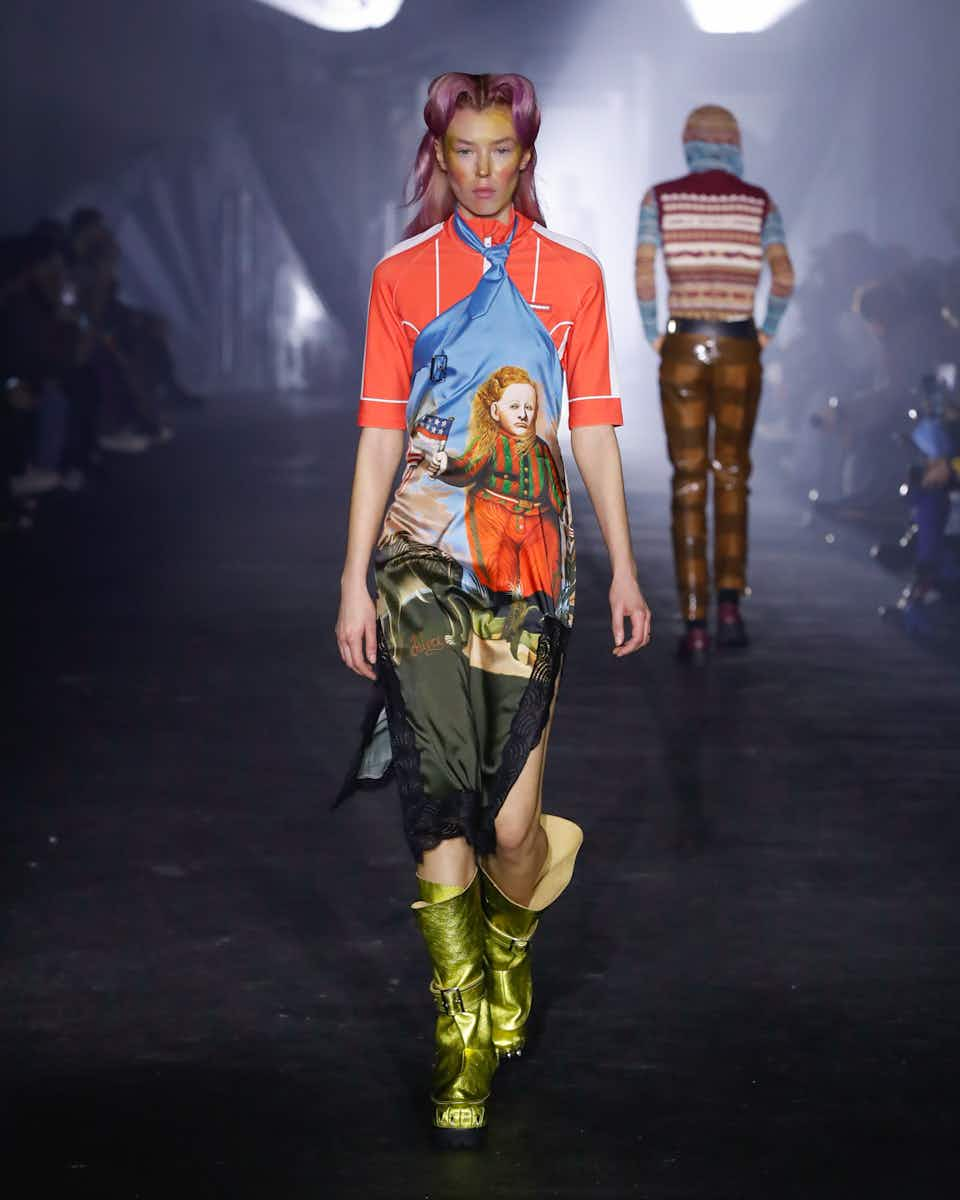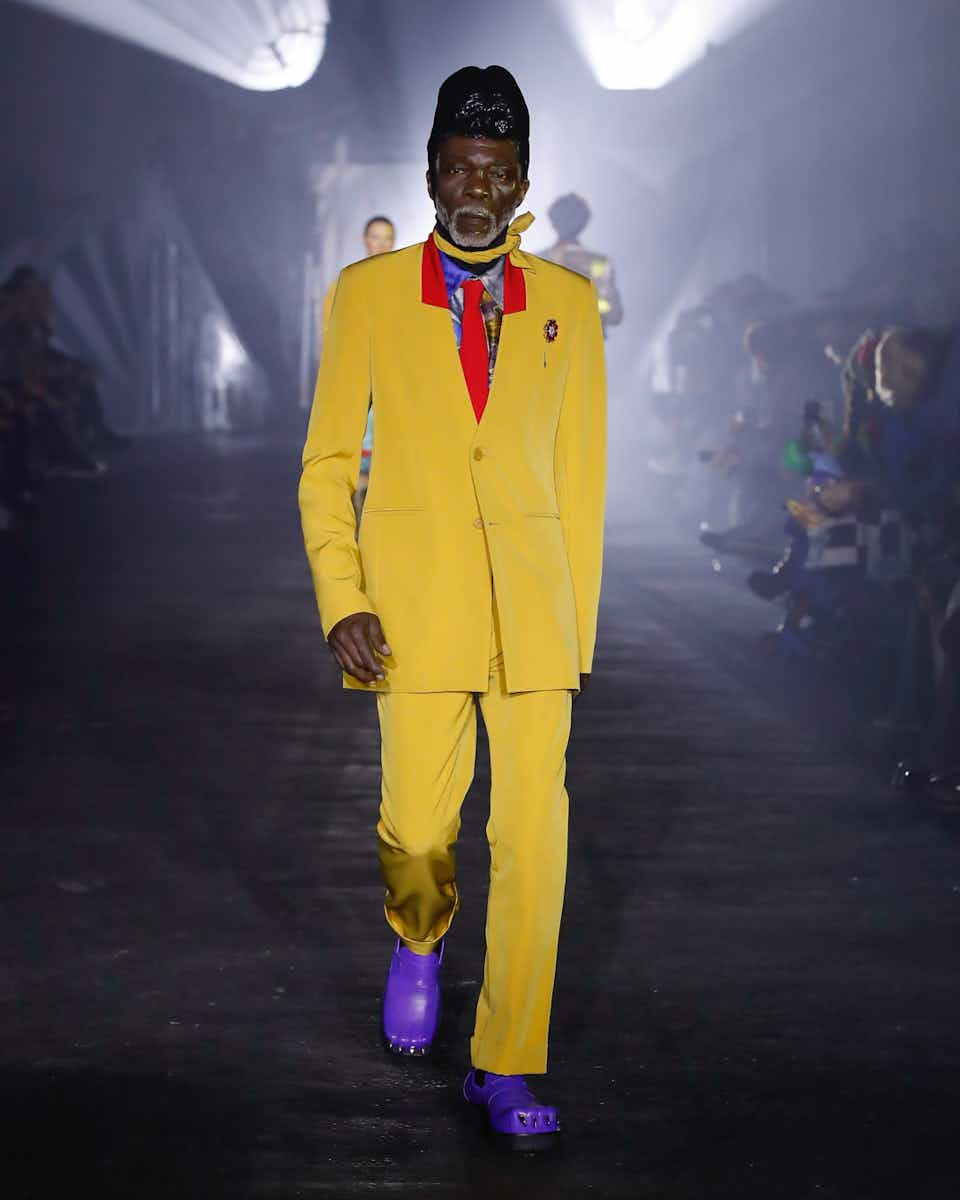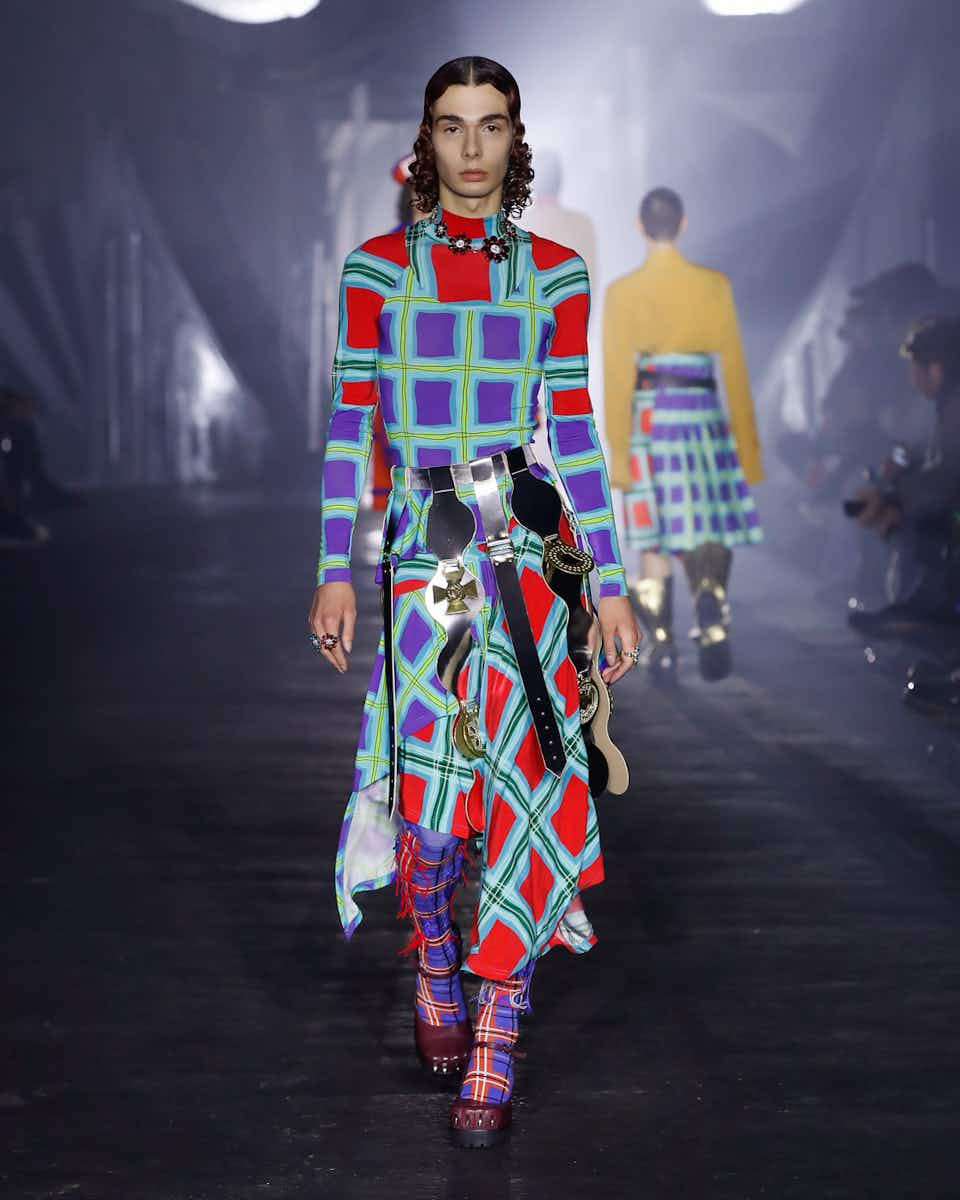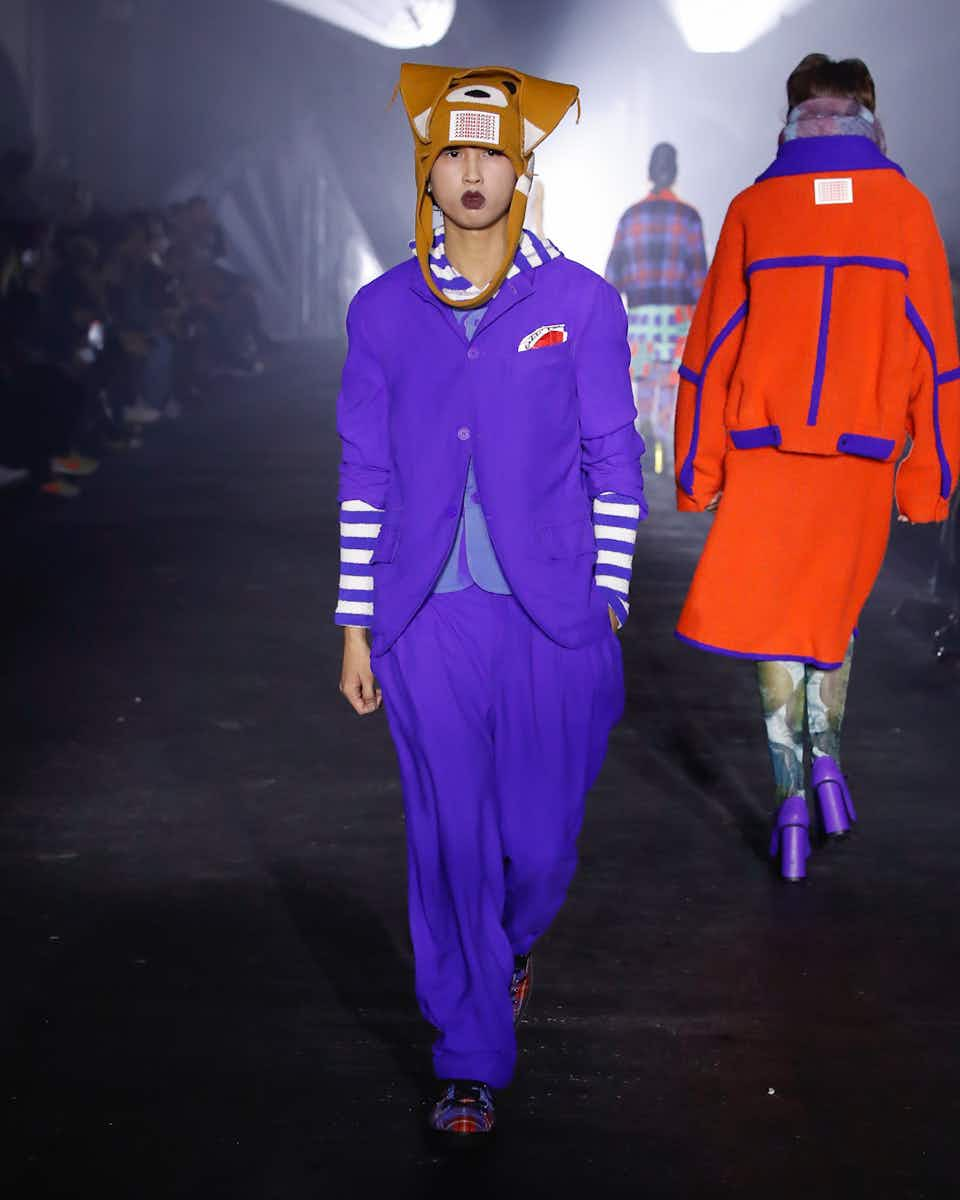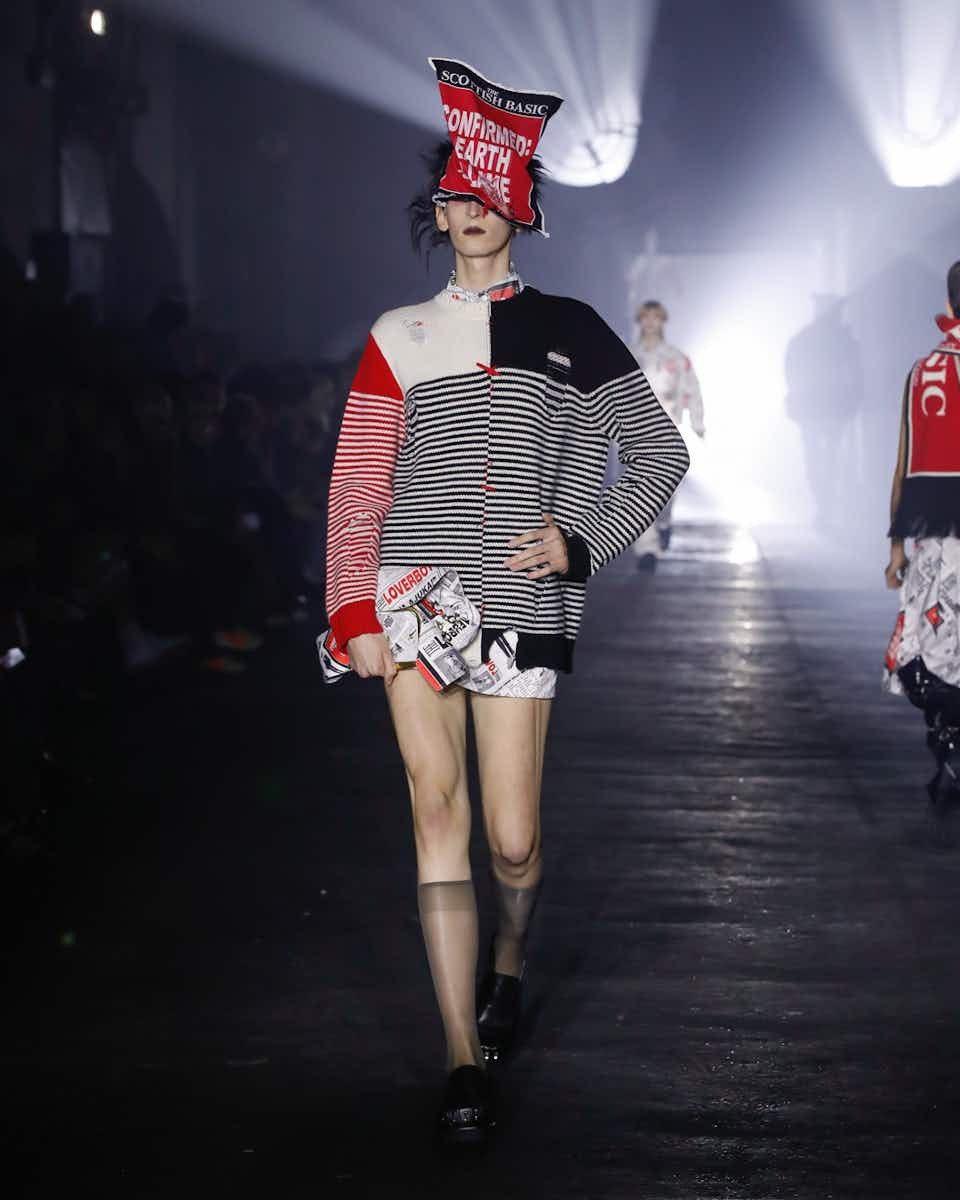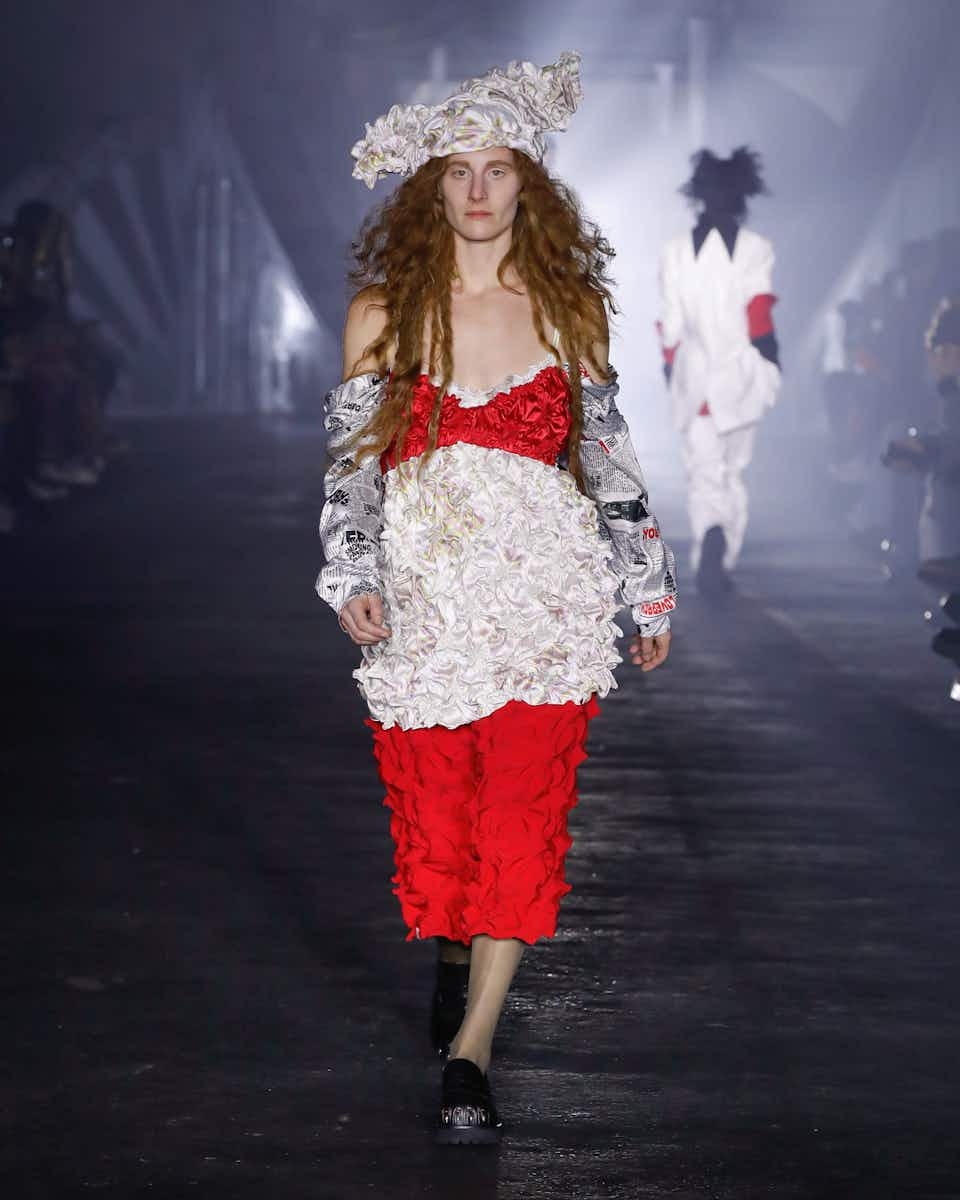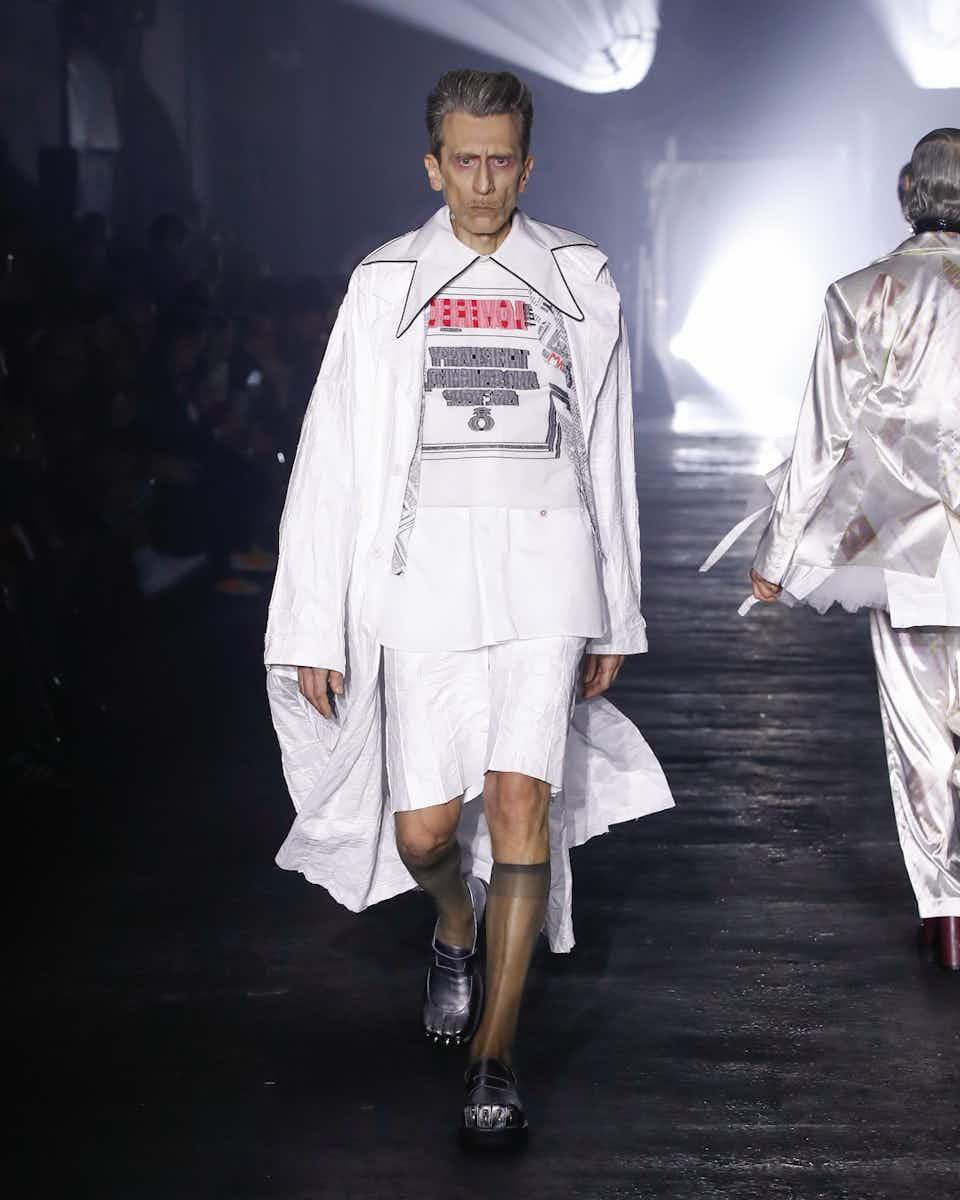 What?
The last show of the weekend in Milan by big draw JW Anderson.
Who was there?
Charli XCX, Arlo Parks and White Lotus stars Simona Tabasco and Sabrina Impacciatore (it felt like every show this season has had a White Lotus cast member, but these were by far the most ecstatically received).
So what did it look like?
Like Prada before it, JW Anderson was all about reducing clothes to their simplest form. Backstage, Anderson talked about ​"starting afresh … this idea of it being something that is a raw state of mind. The sweater is a sweater. The trouser is a trouser. The jacket is a jacket. There's no kind of over-explanation in the look." At its most primitive form, such as the opening look, this took the shape of a barely dressed model carrying a roll of raw fabric. And at its most fantastical and headline grabbing, a return to the primal saw the designer plunder his childhood and bring back the Wellipet; a frog-like shoe worn by Anderson (and Prince Harry) in his youth. They ​"took a bit of time and persuading," by all accounts. Next season: open-toad.
Best bit?
Seeing the return of the ruffled short from AW13. Anderson rarely looks back as a designer so it was nice to see him take some ​"ownership" as he told us backstage. ​"I felt like I had to go back to go forward, ultimately."
In a song?
We All Stand Together by Paul McCartney.
In a word?
Ribbet.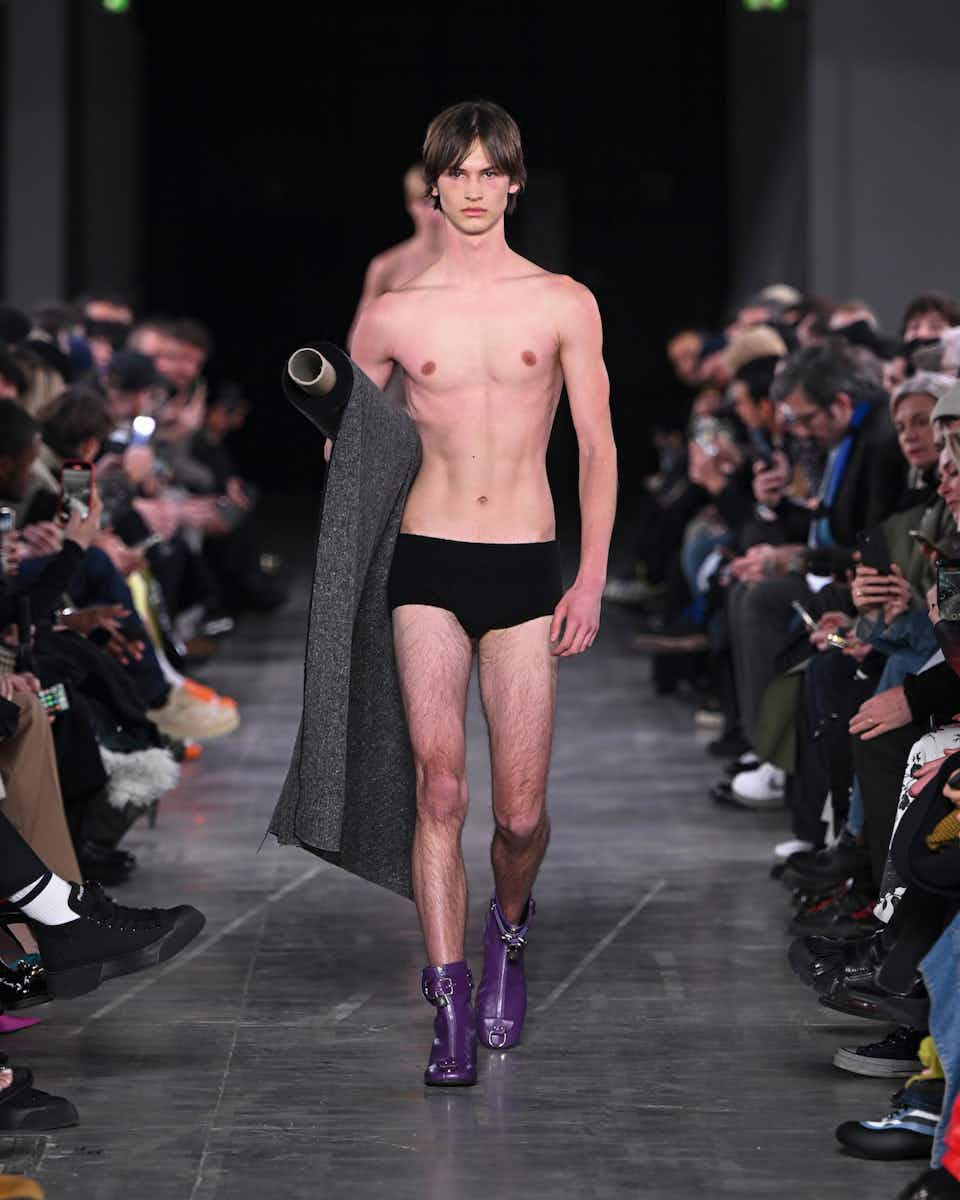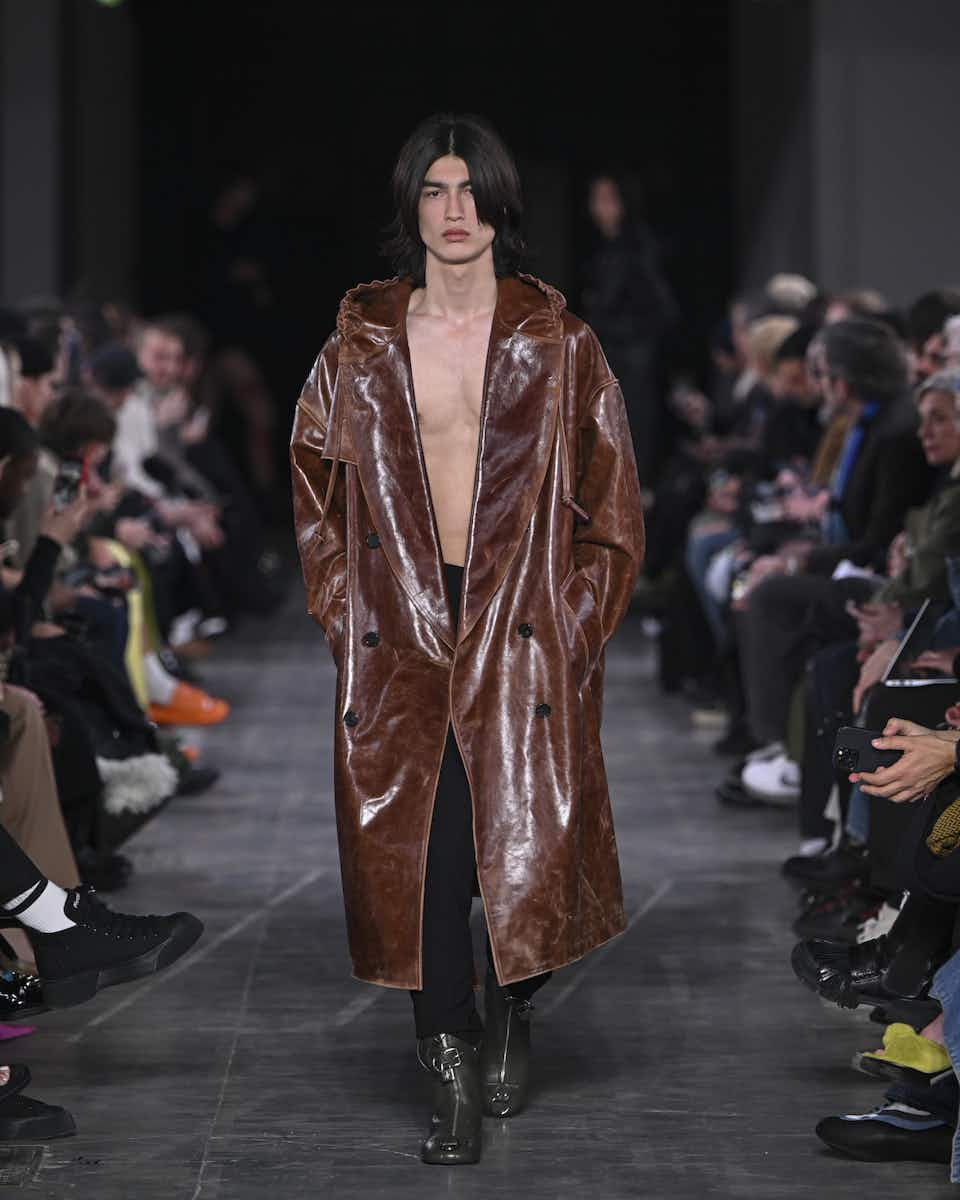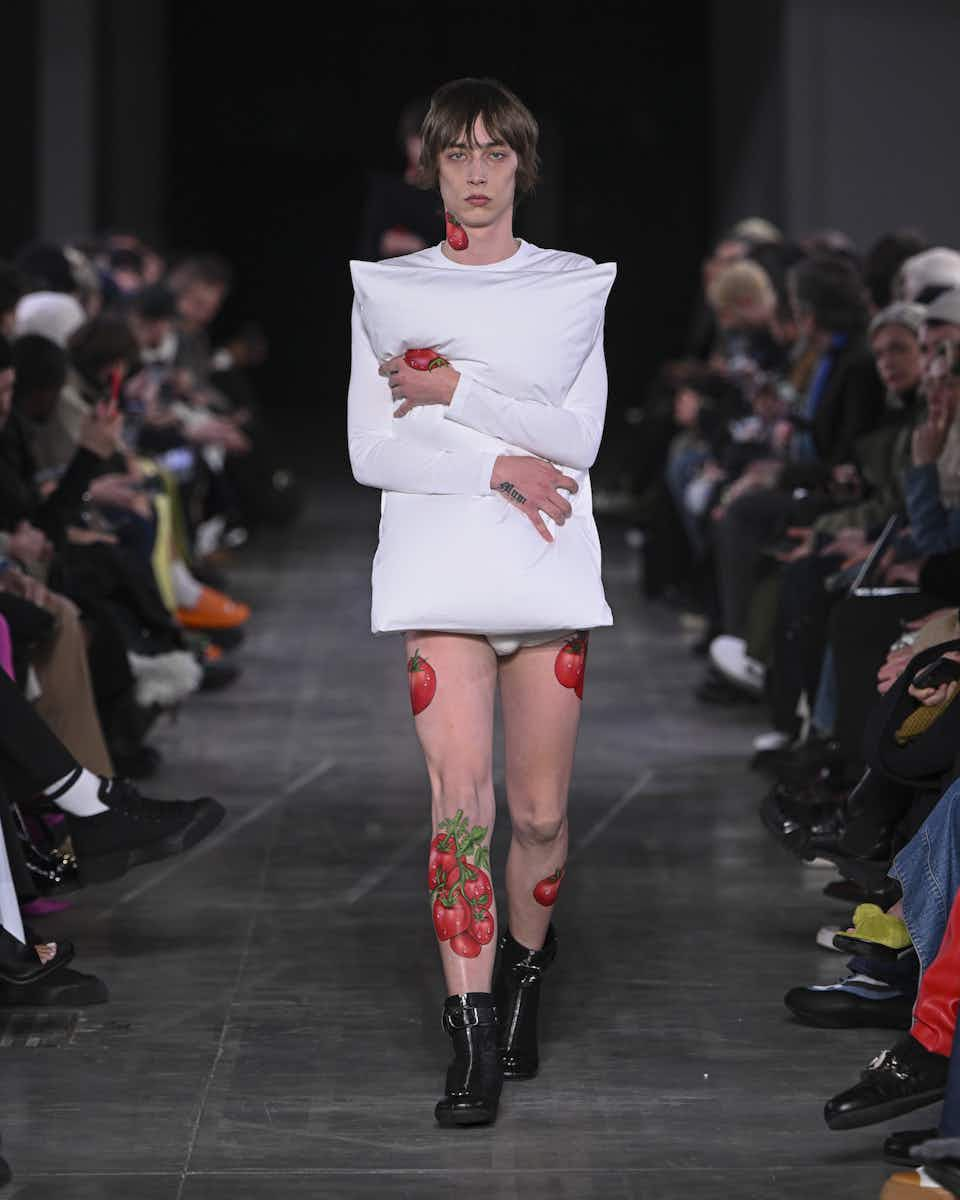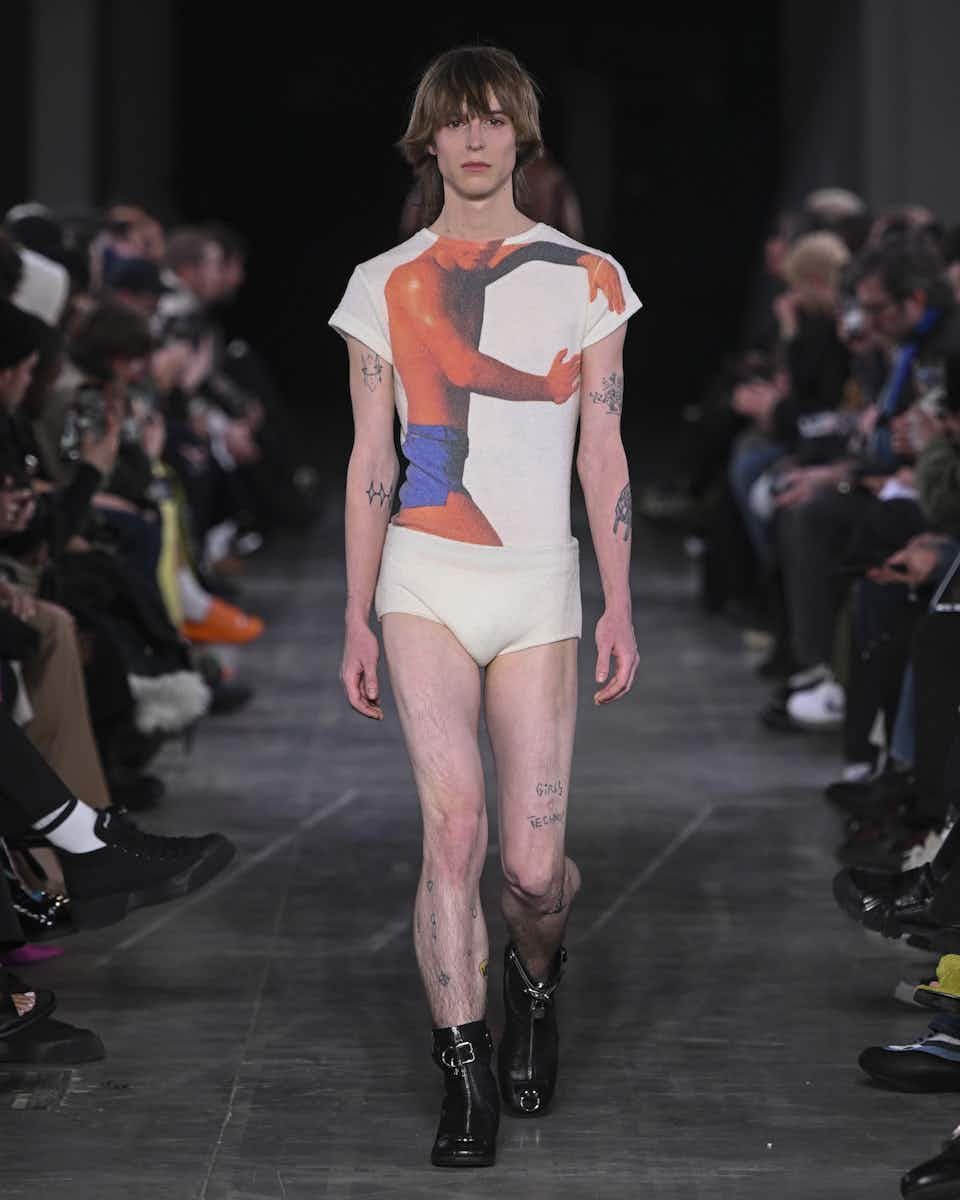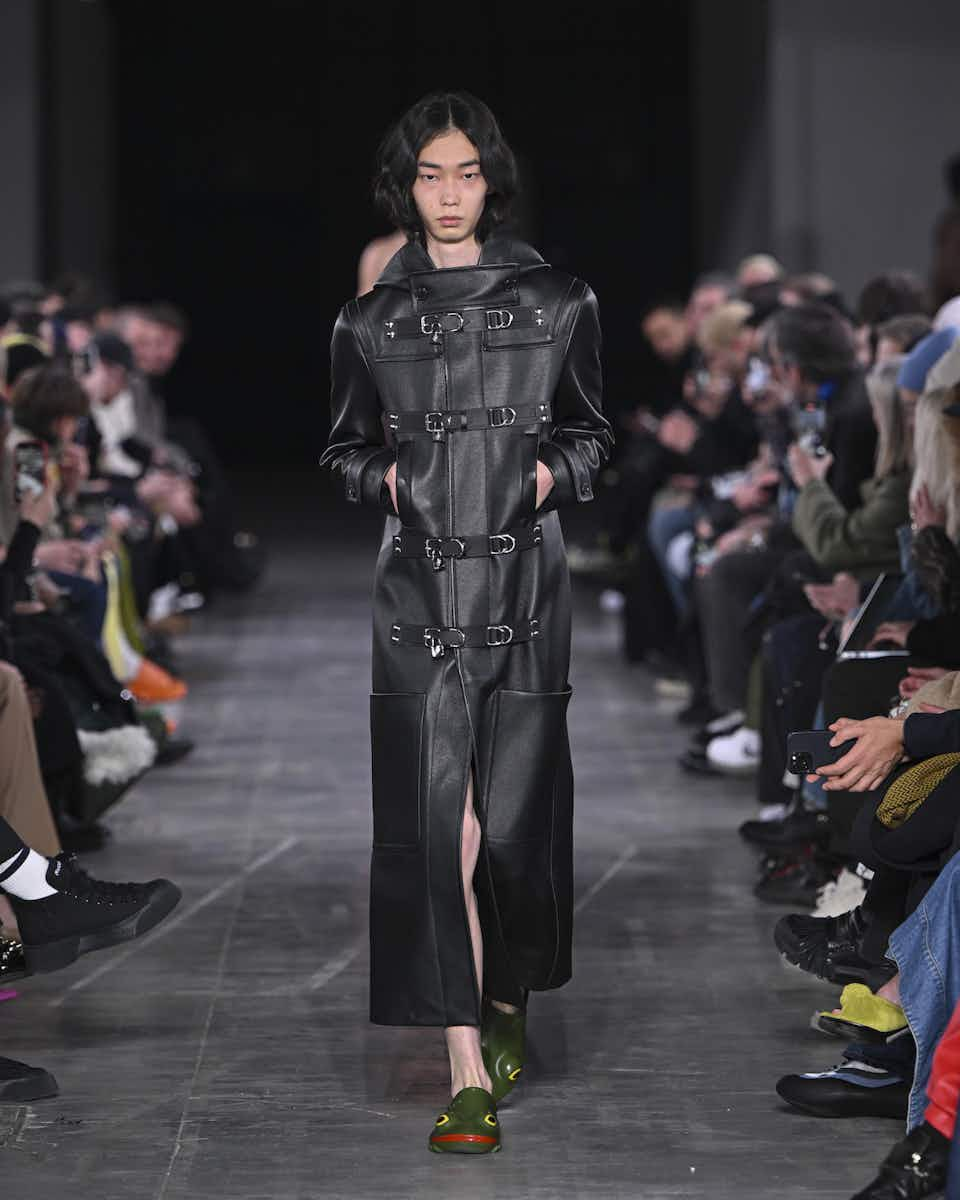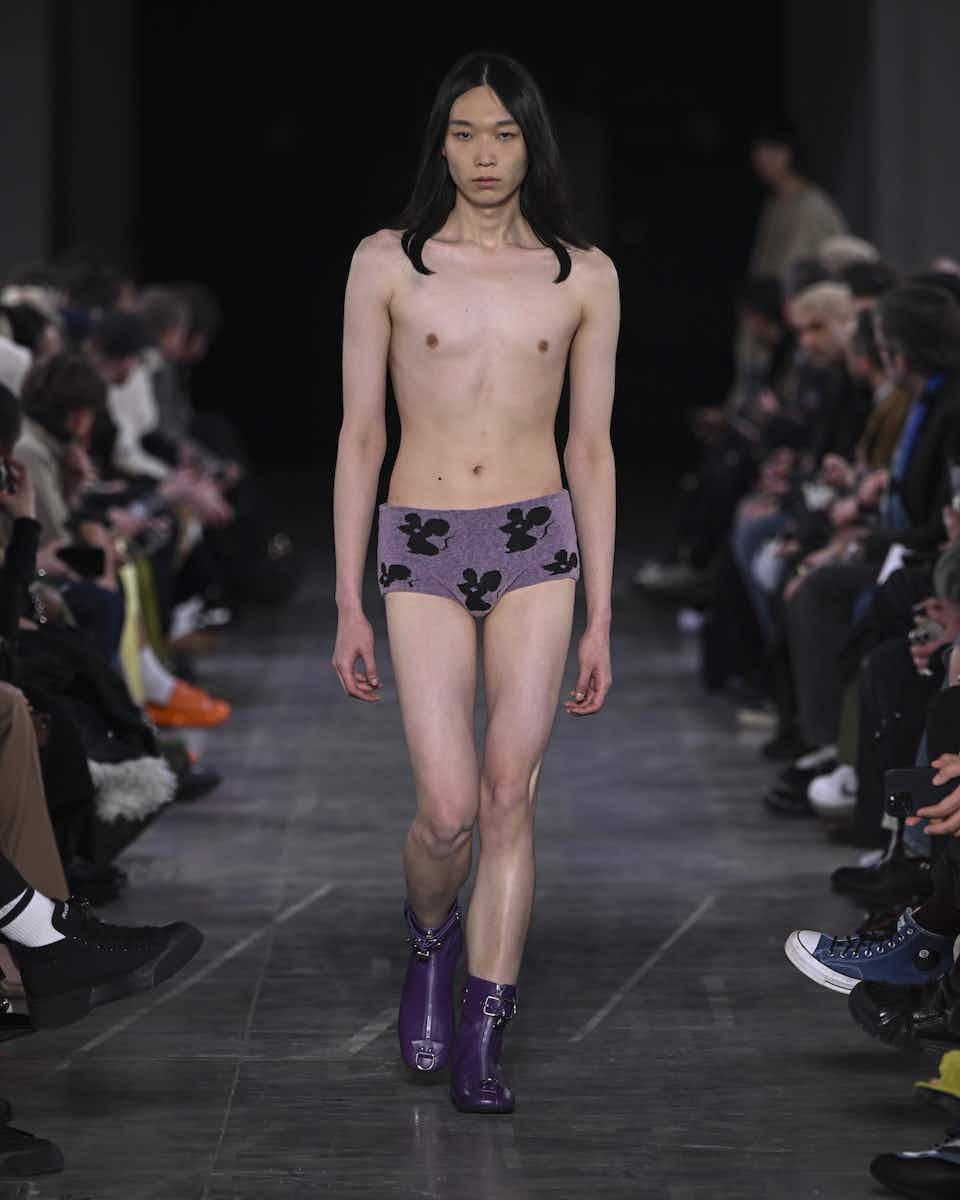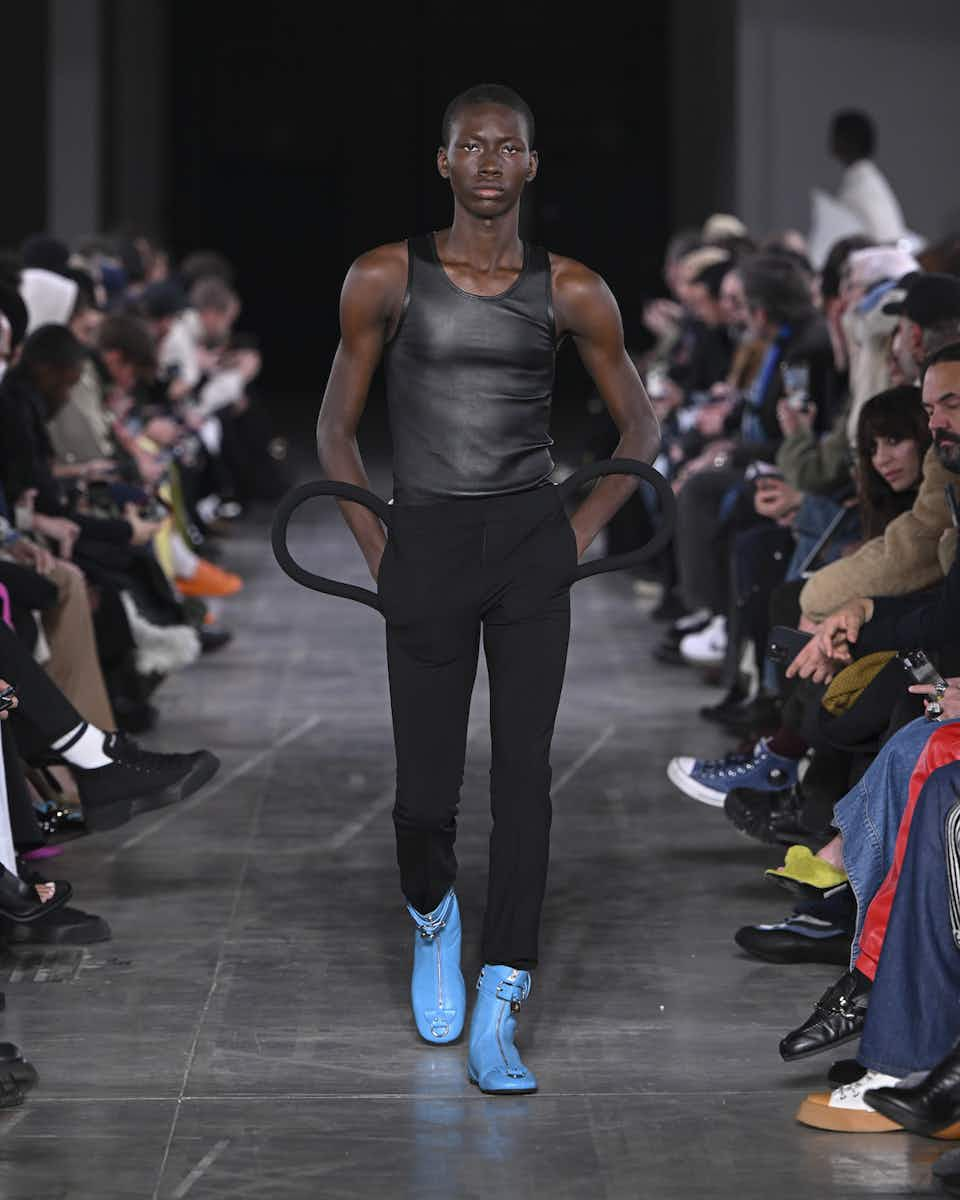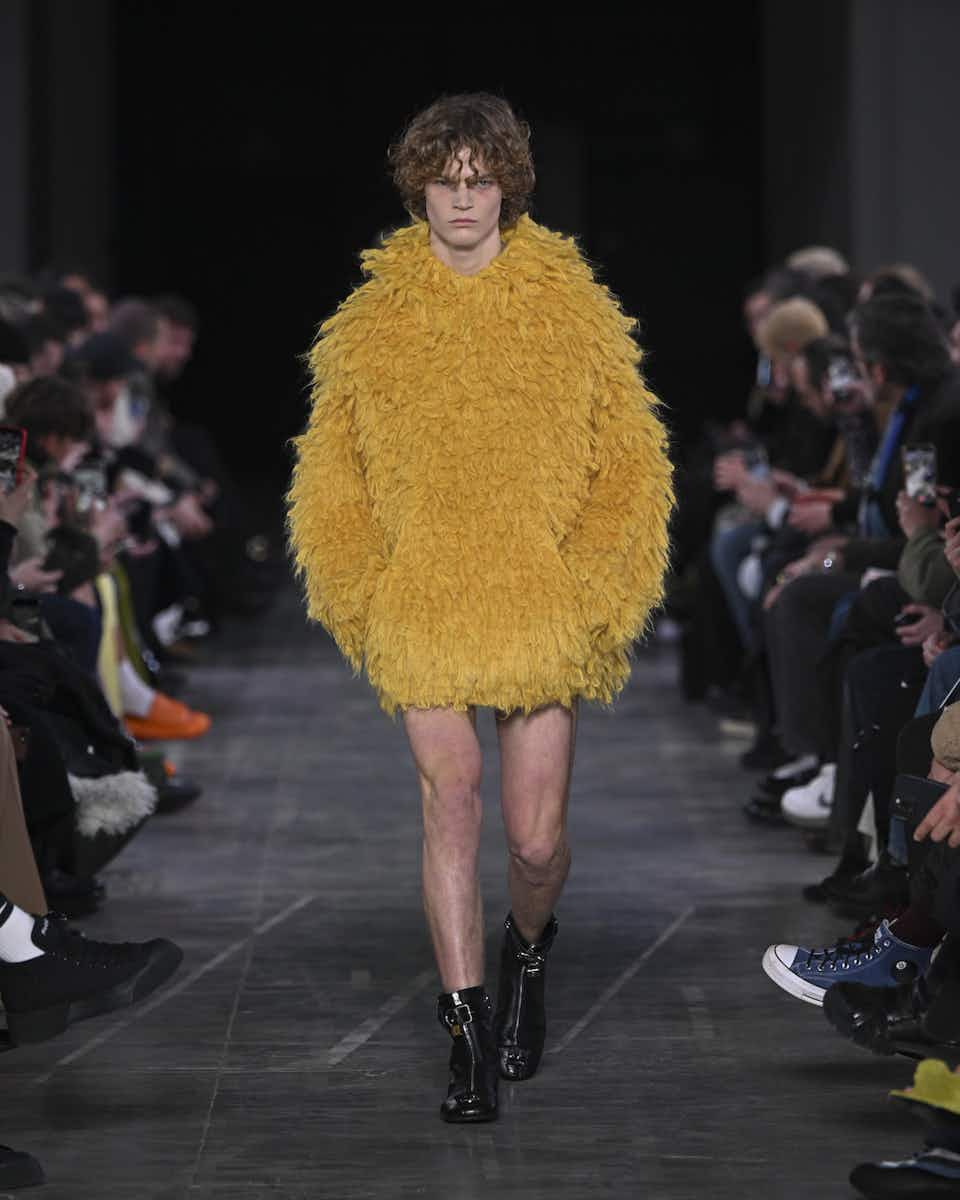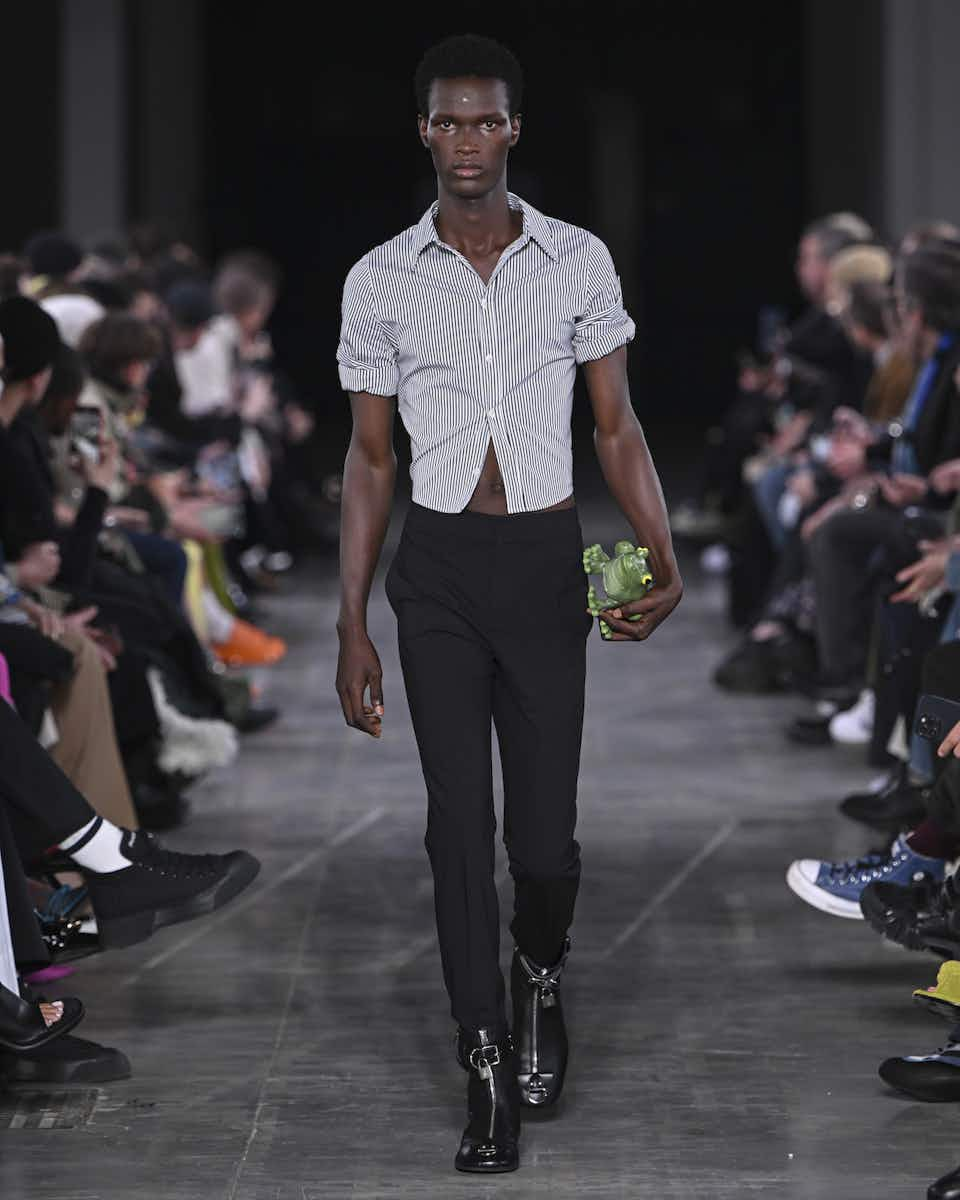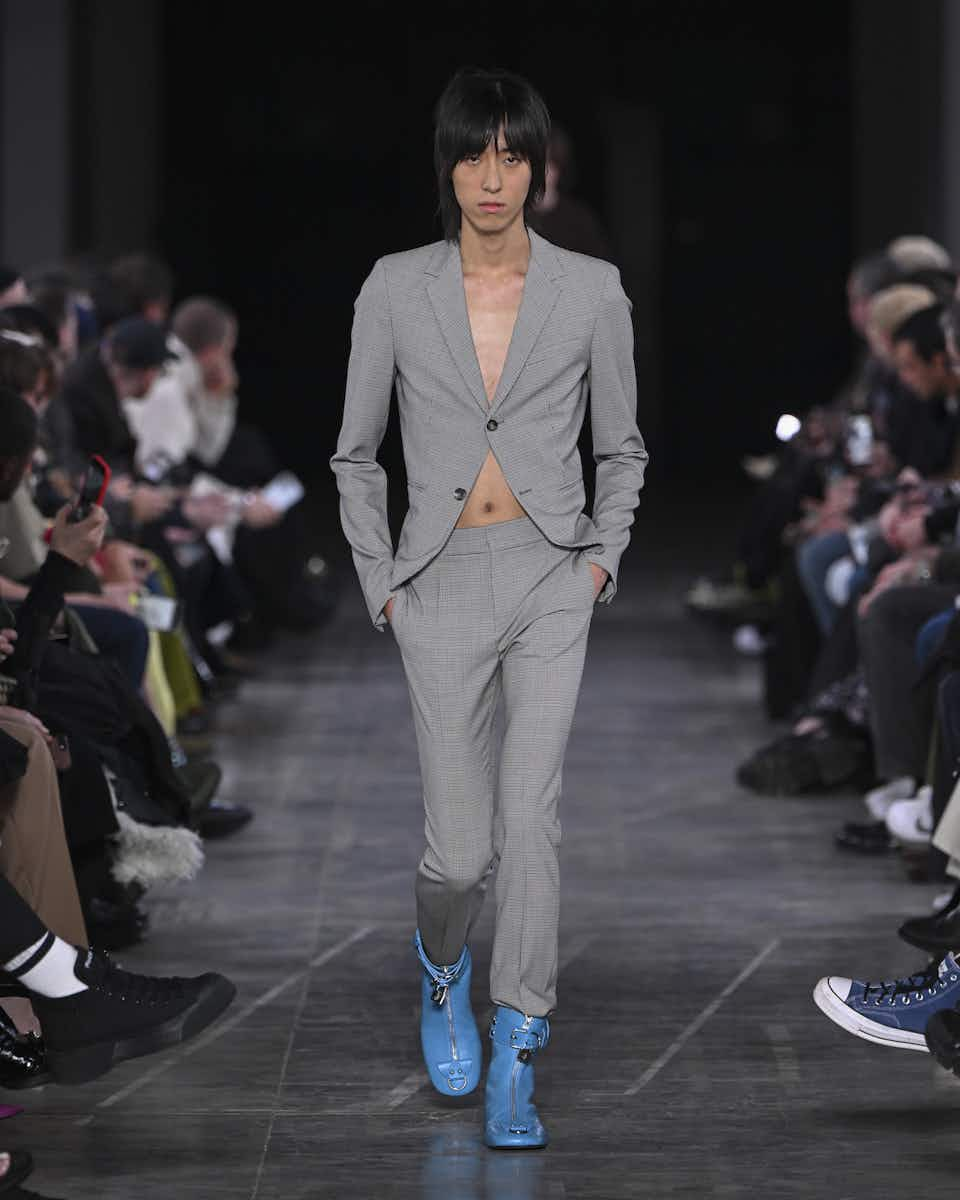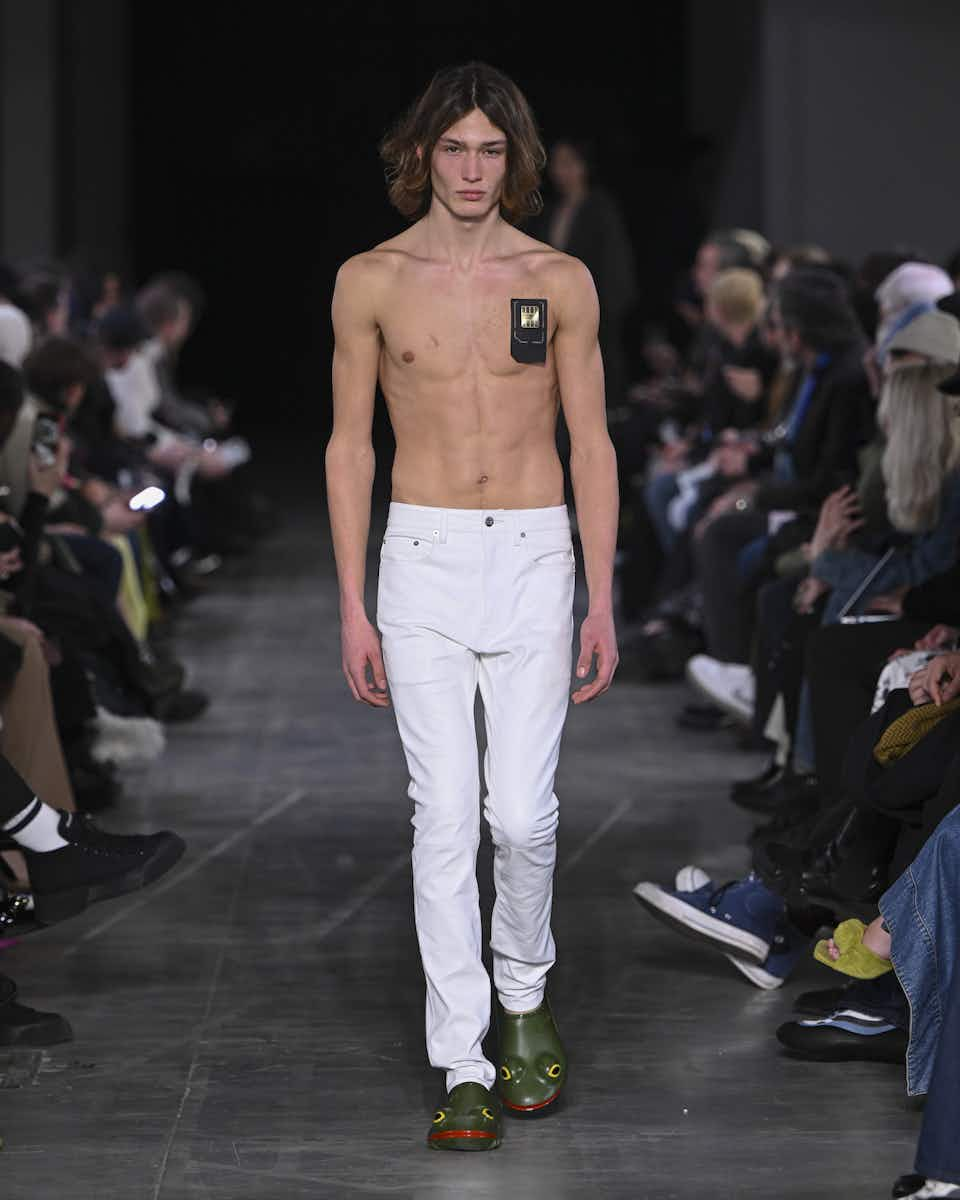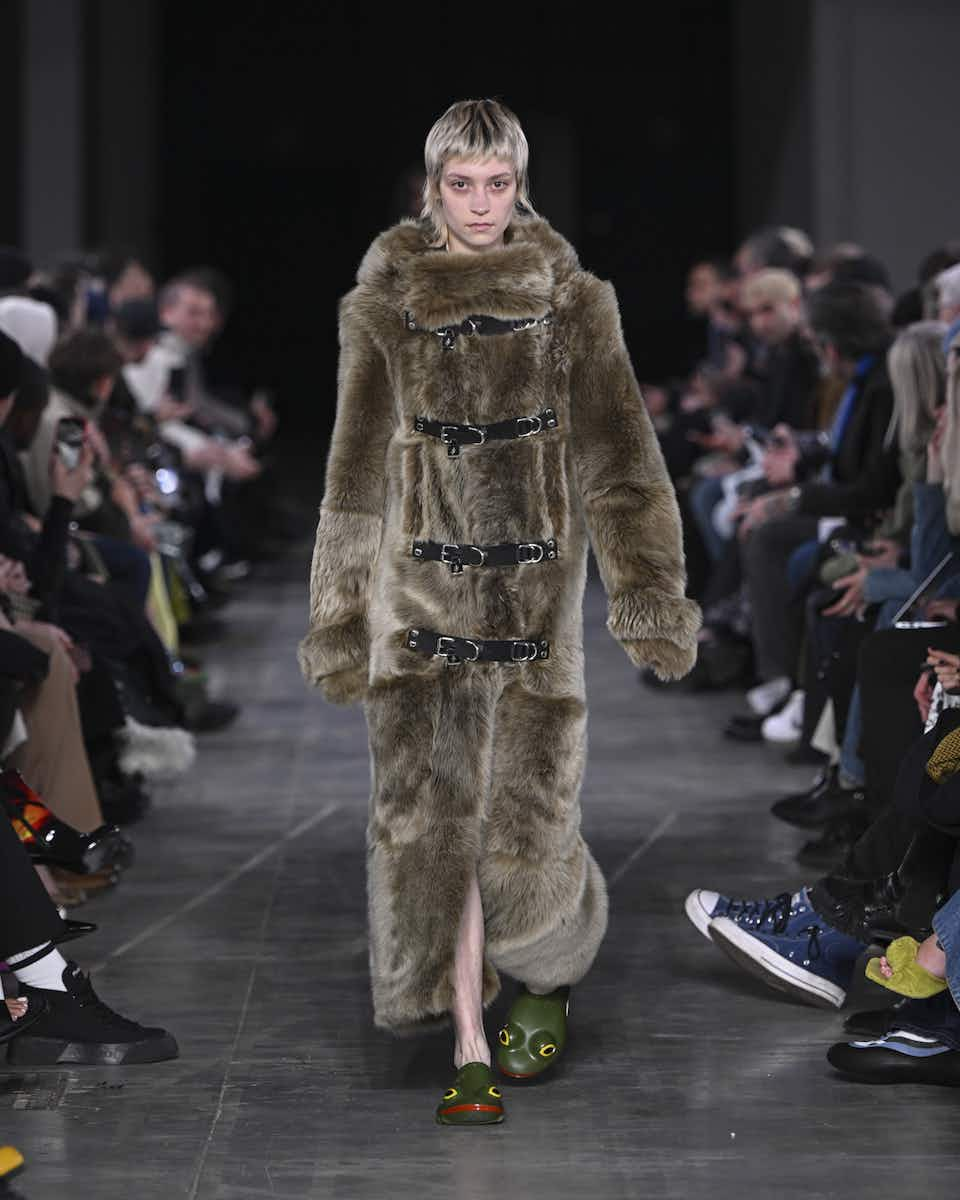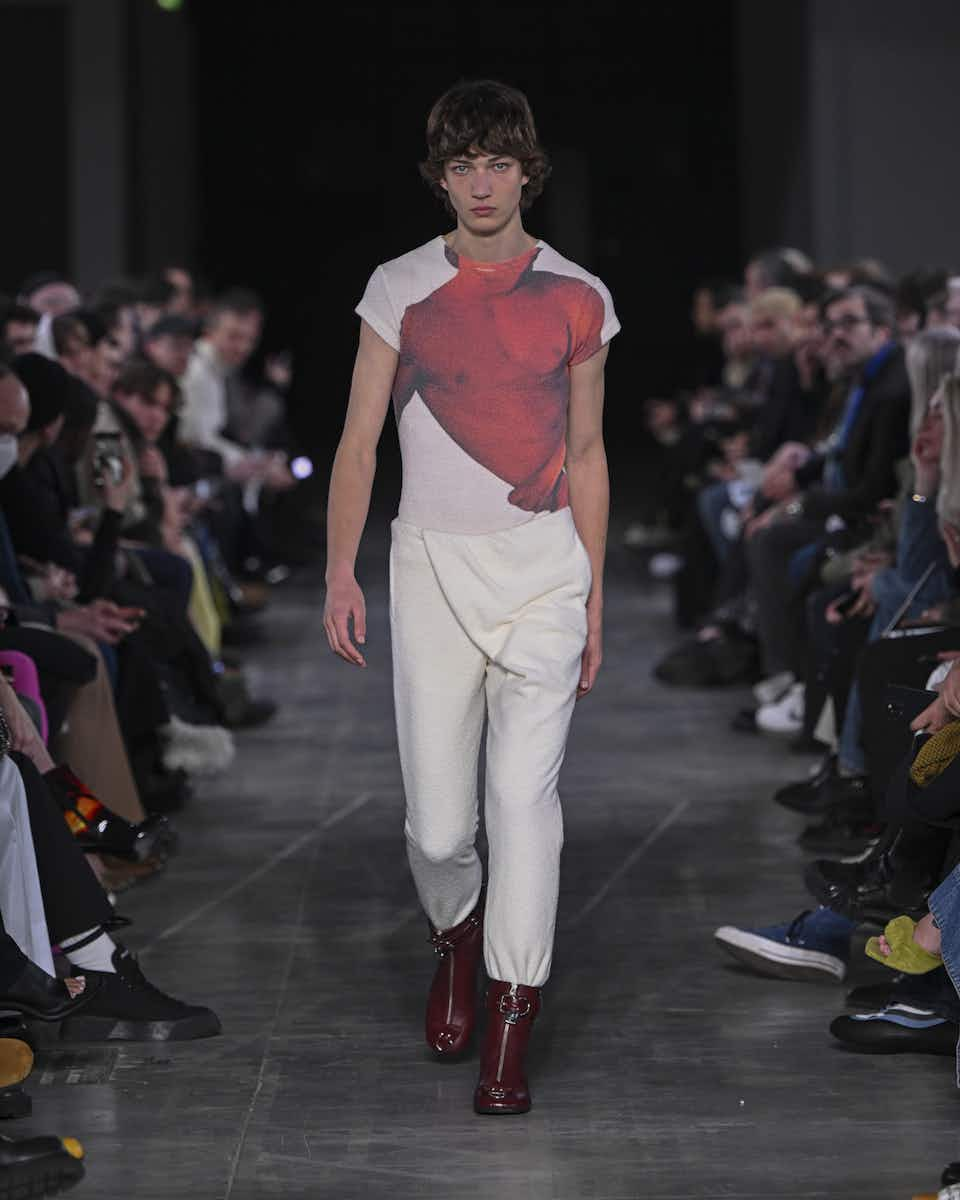 Taking a break from our established format, we said hello to Prada guest Stormzy to see what he thought of the brand's AW23 show.
Hello Stormzy. What did you think of the brand's AW23 show?
I thought it was amazing. Yeah, man. Amazing.
What do you think of when you think of Prada?
It's clean, man. Anyone who knows me, when it comes to fashion, when it comes to dressing, I like a clean fit. Something that's clean, tailored, that's my thing. So when I see Prada, I'm like, yeah, that's very much in the realm of my spirit when it comes to dressing.
What is it like going to fashion shows, sitting on the front row and all that jazz?
I enjoy it because when I first started doing music, I got into fashion. And the way someone explained it to me was, the same way I do music, this is someone else's form of expression. And from when they said that, I see it totally different. If I go on tour and have a live show, this is Prada's live show. This is their chance to express and take their art and turn it into clothes. Even the models, they've got a vision and they're executing it. Now that I see it like that, I feel like I'm sitting at a live show of someone's art. I take it as art. Same way as I go to craft an album. Someone's crafting the fabric and the model and the way it sits on them. I sit down as a lover of art and I appreciate it.
What was the first fashion item that you remember really wanting?
Ooo, that's a good flipping question!
Well, I am a journalist.
Let me think…
What was the thing at school that everyone wanted to wear?
In school, it would have been… [To his entourage] What did the mandem want to wear in school when we was younger? Avirex! Avirex. 100%. That's definitely the first thing is terms of being young and thinking, of shit, if I got one of those, I'm fucking cool! Avirex leather jacket.
Where do you get your boxers and socks from?

I just go M&S, you know? When it comes to my plain tees and boxers, I just go to M&S. And I stock up. I get bare boxers and bare socks, that's me.

Thanks, Stormzy!
[We obviously loved the show, too, which the brand described as ​"a further exploration of the fundamentals of fashion" i.e. a collection of really classic pieces given a Prada twist either by making bits bigger or smaller. ​"We, as designers, are very aware of what is happening, the problems, the difficulties. It is a complicated moment in the world – and we react to it," said Miuccia Prada who designed the collection with co-creative director Raf Simons, as she has since April 2020. ​"The most honest thing we can do is to create something useful for people today – to face reality in." Our favourite useful bit? What looked like metal water bottles, peeking out of the tote bags.]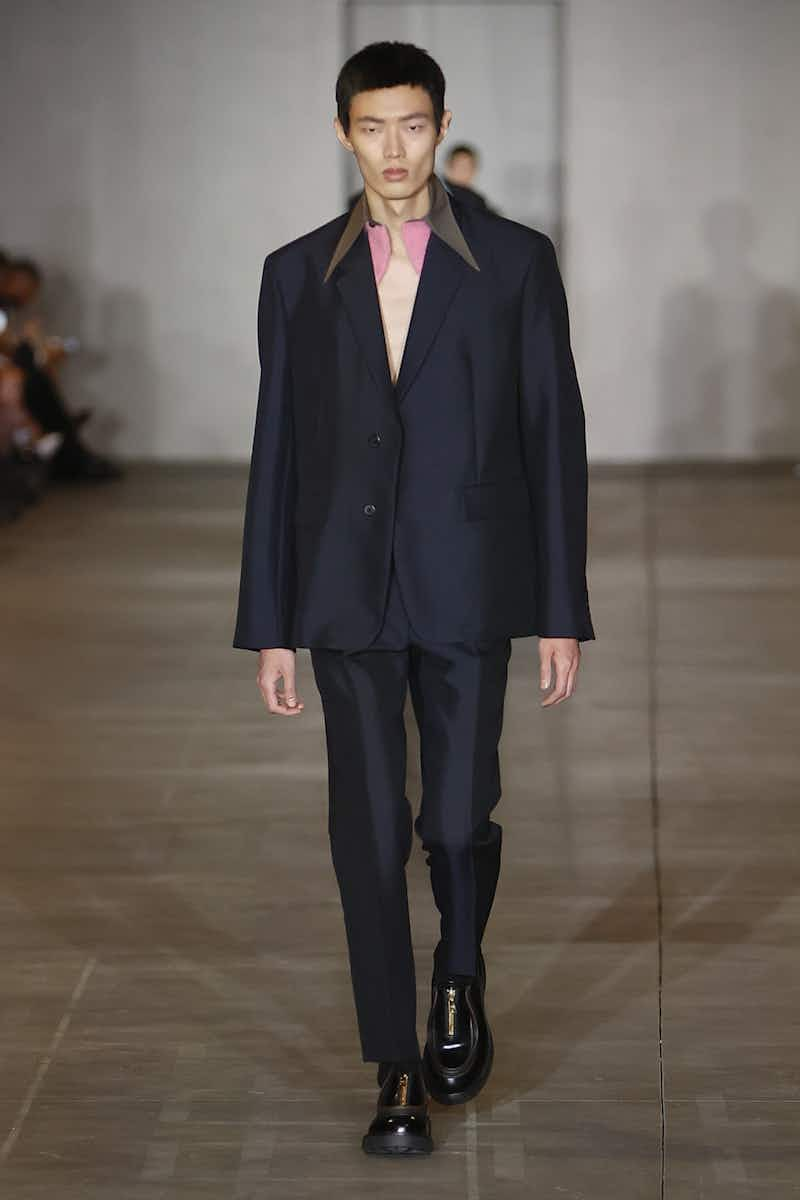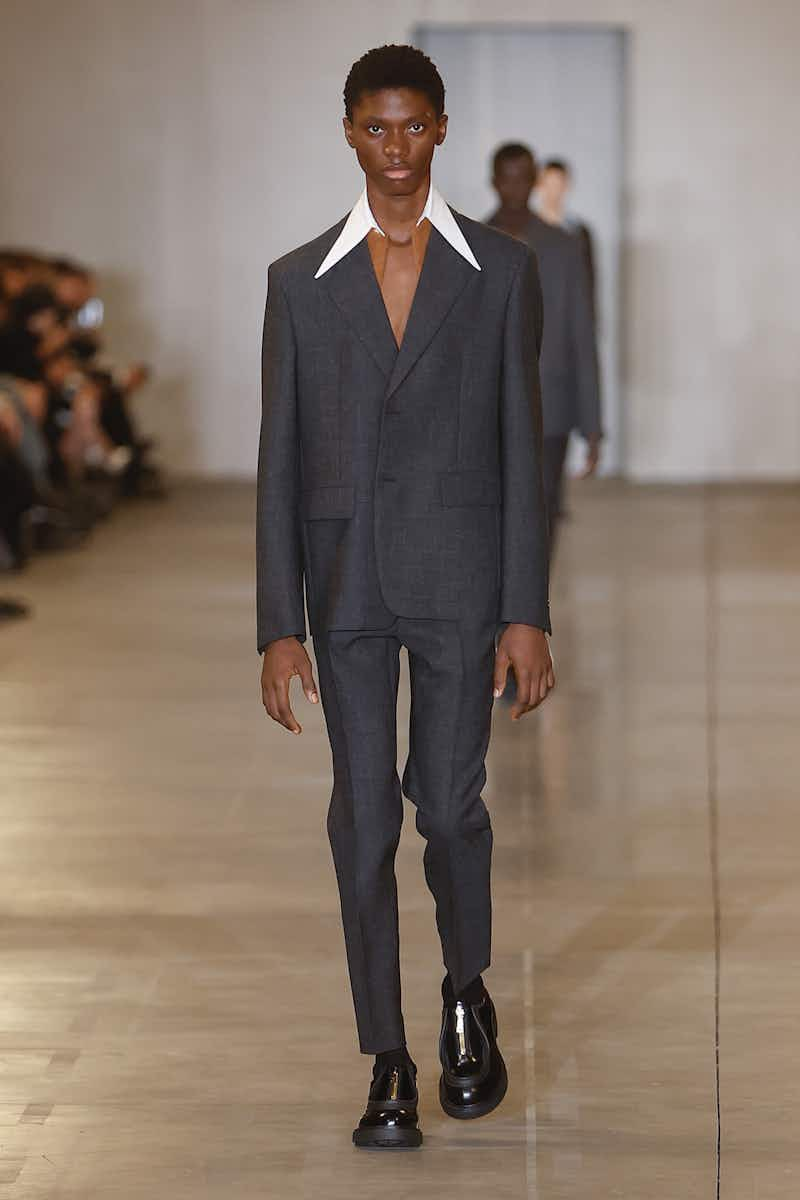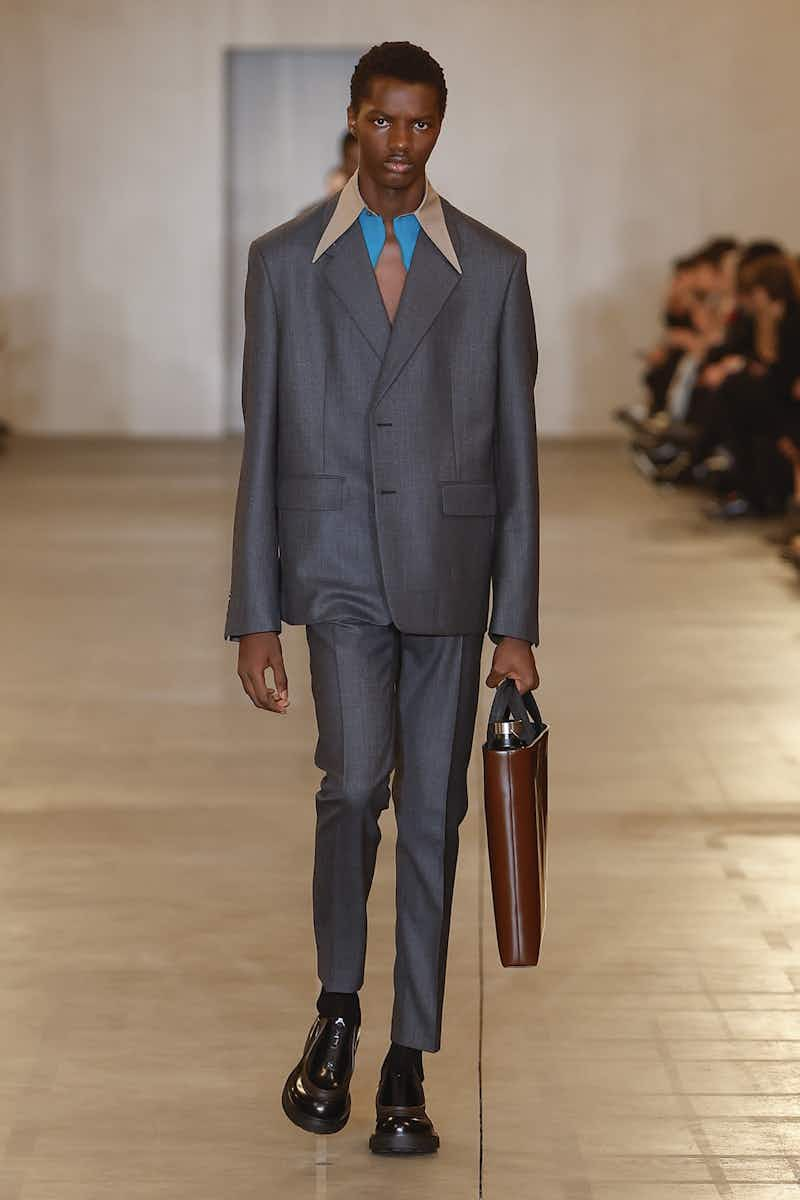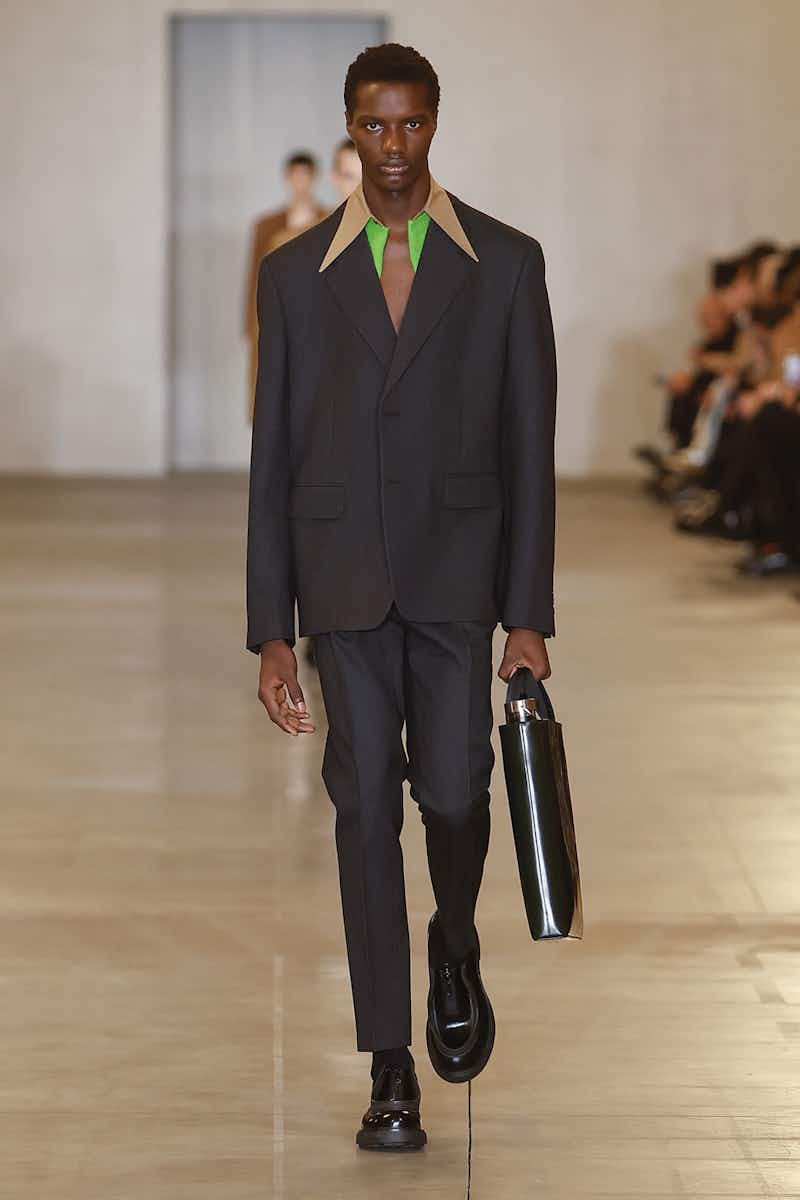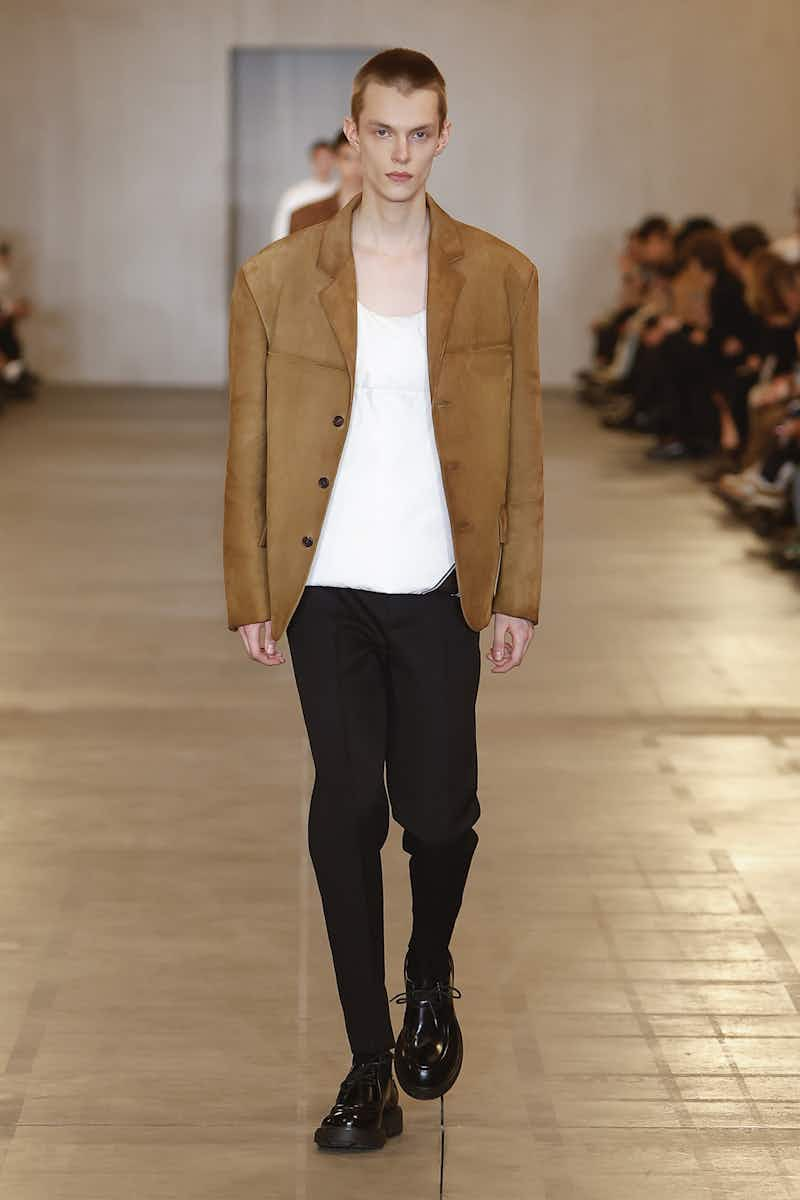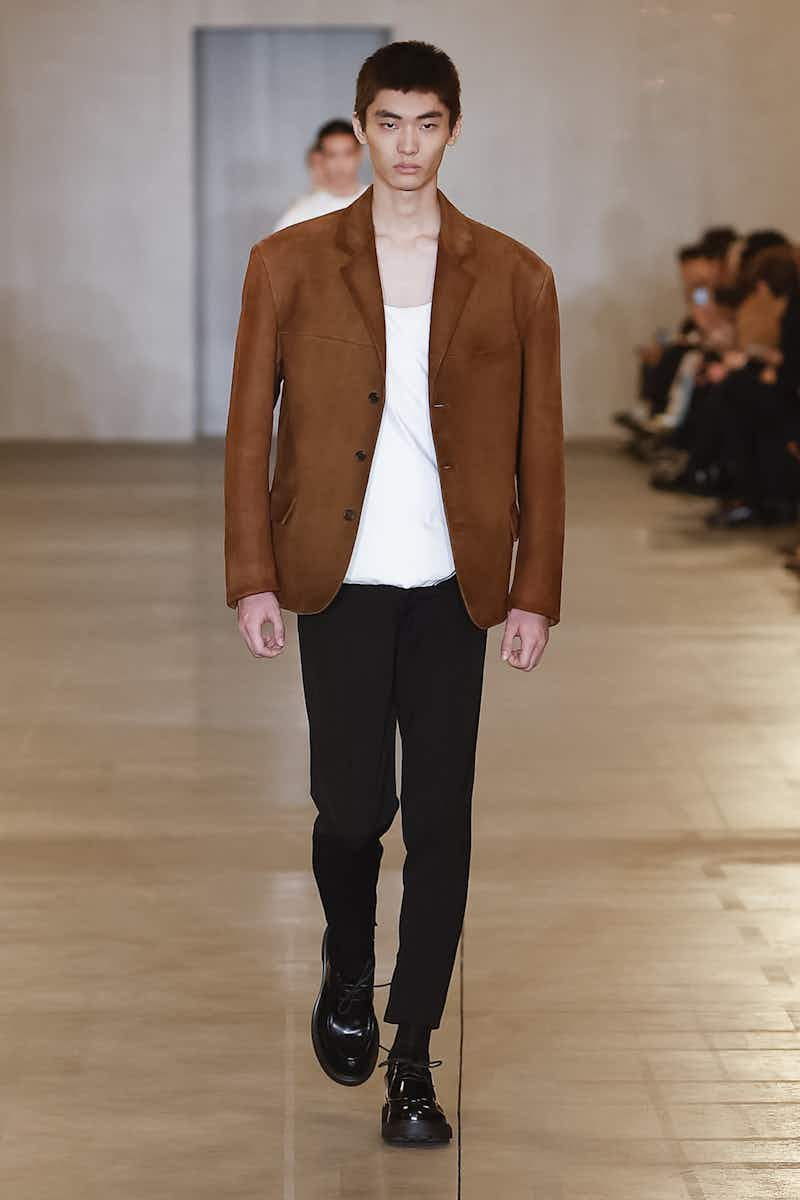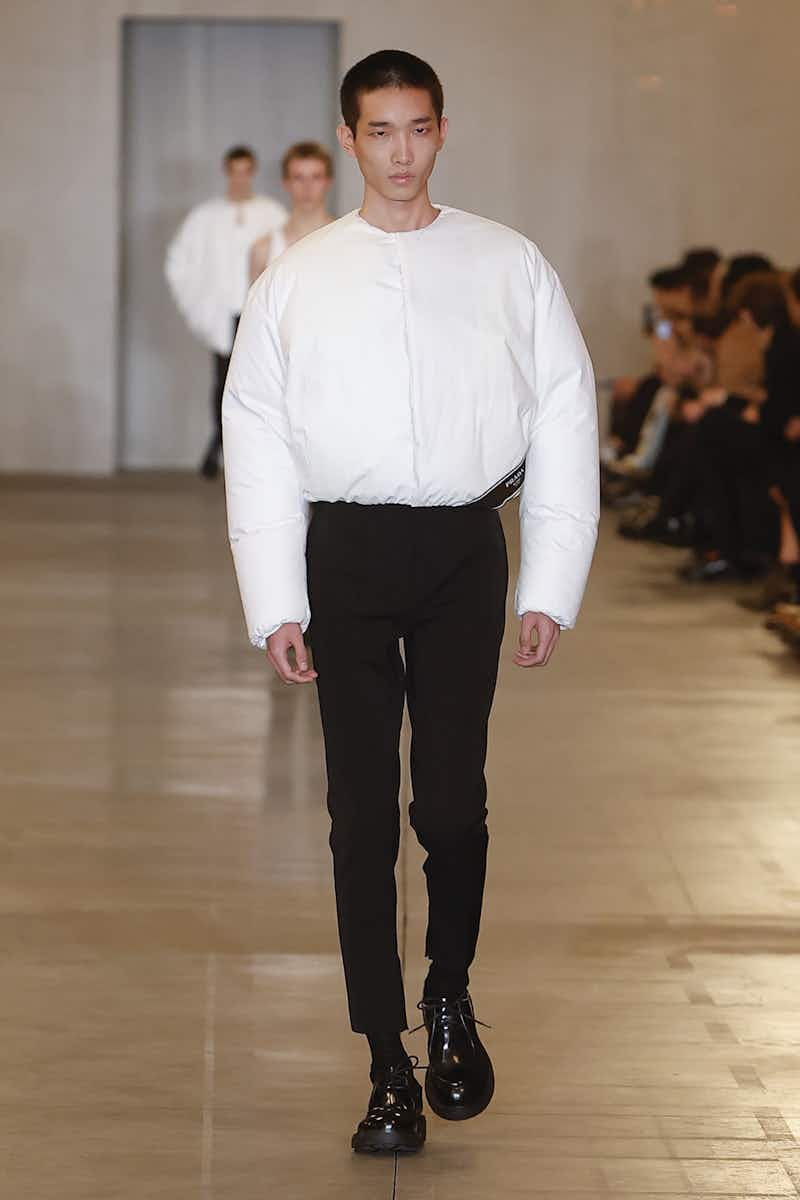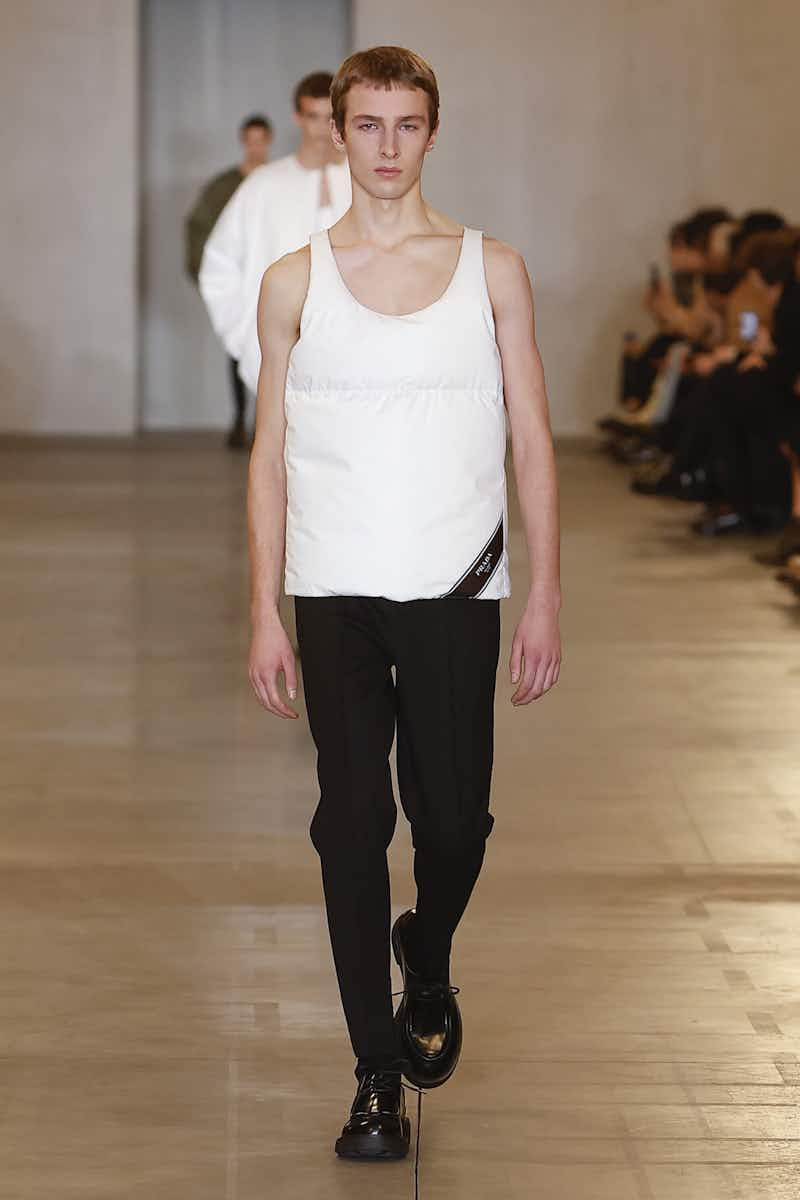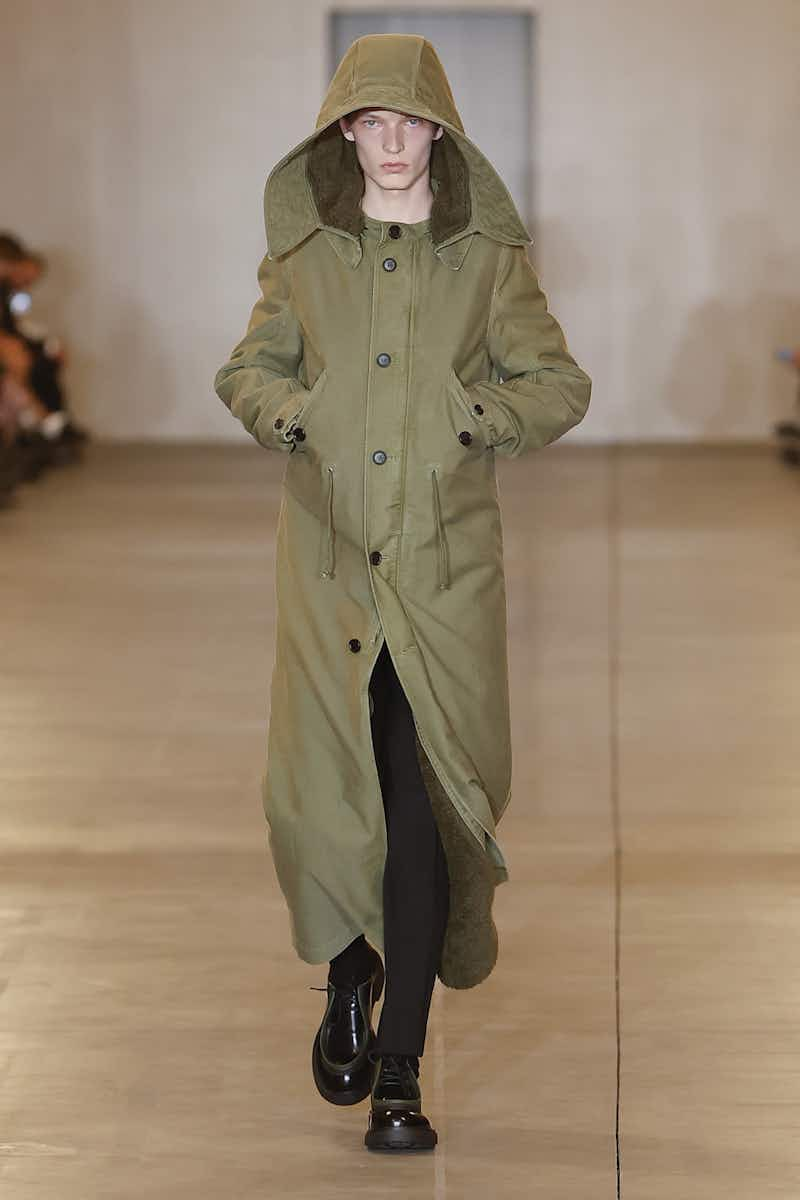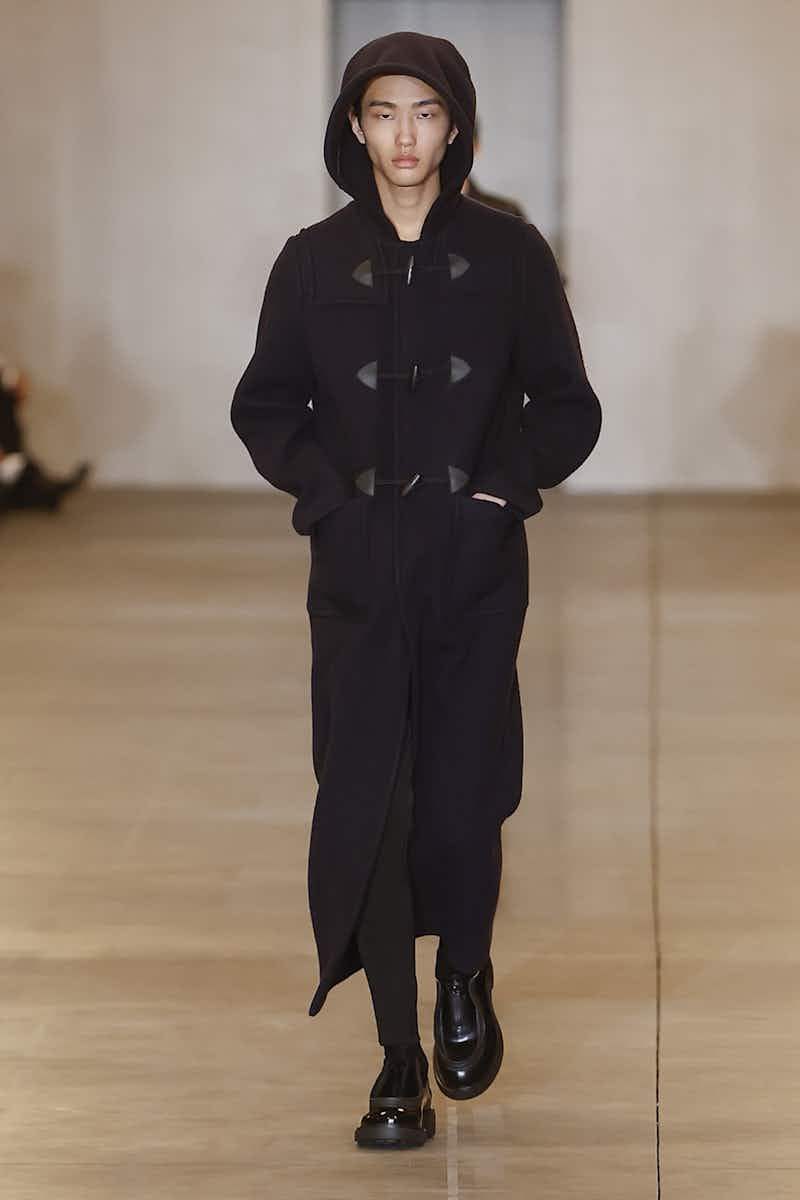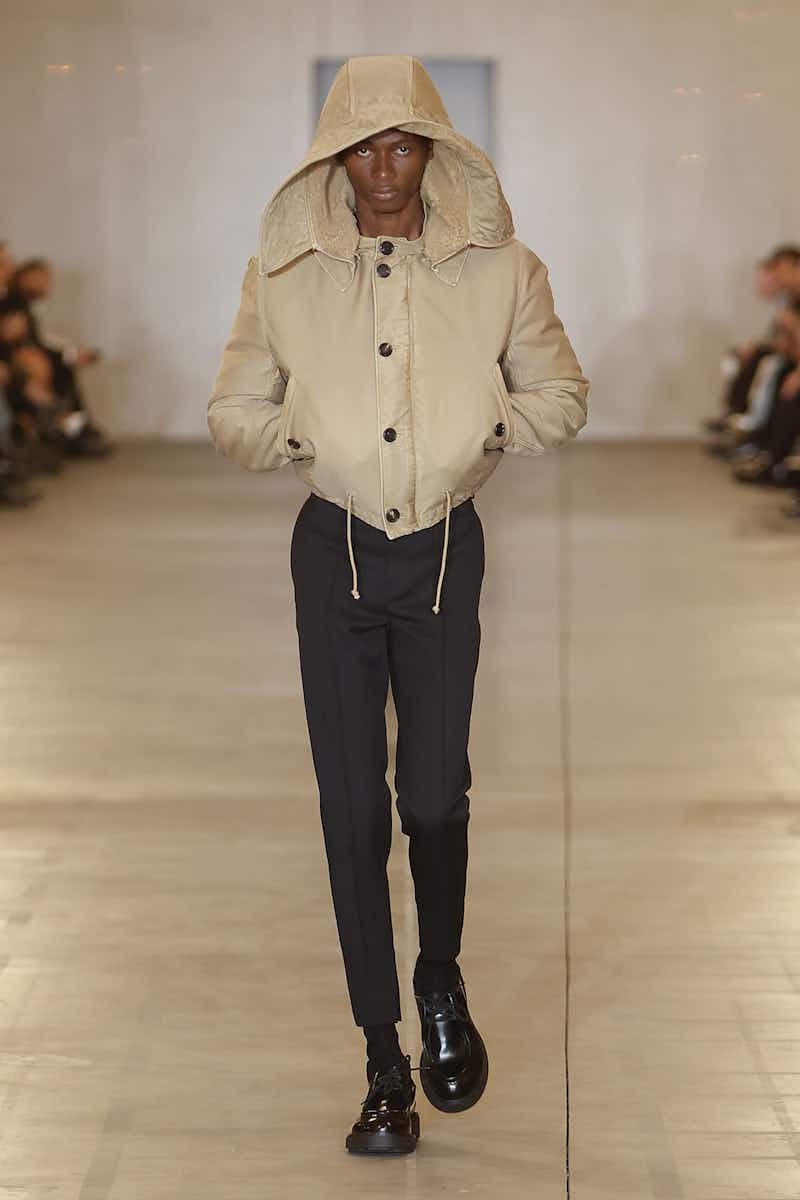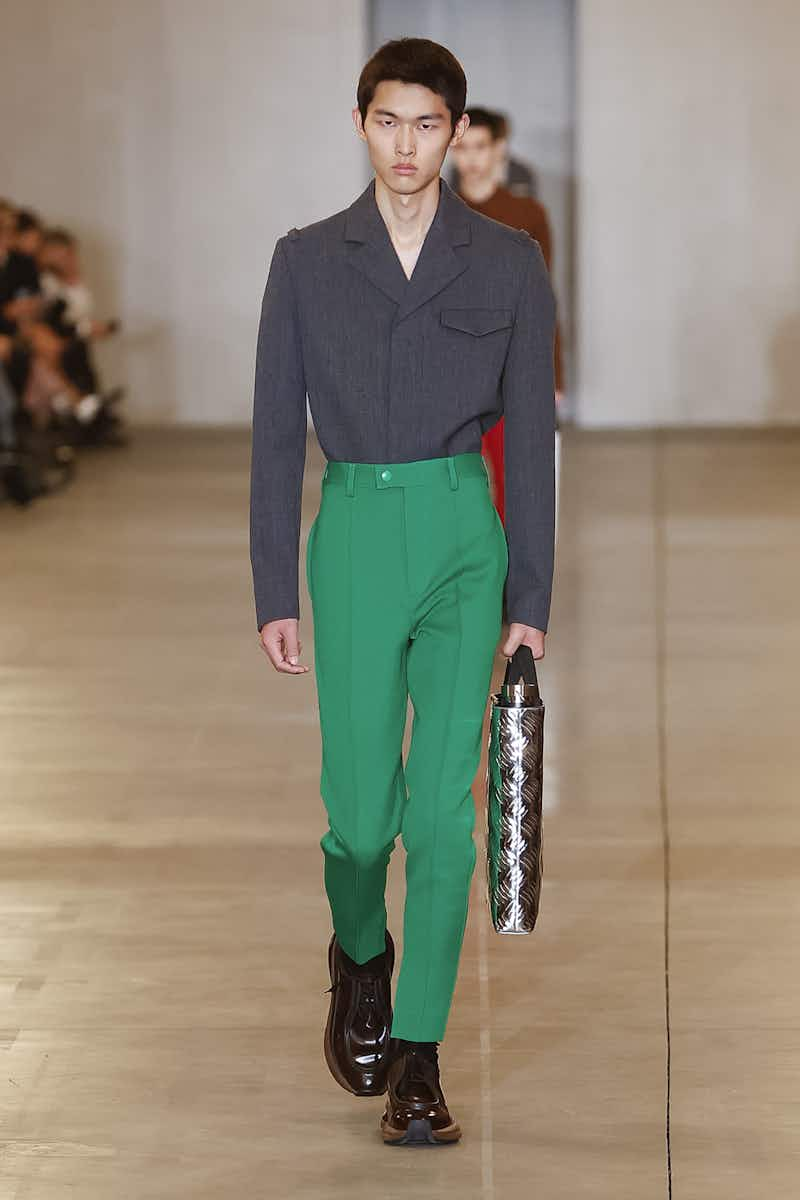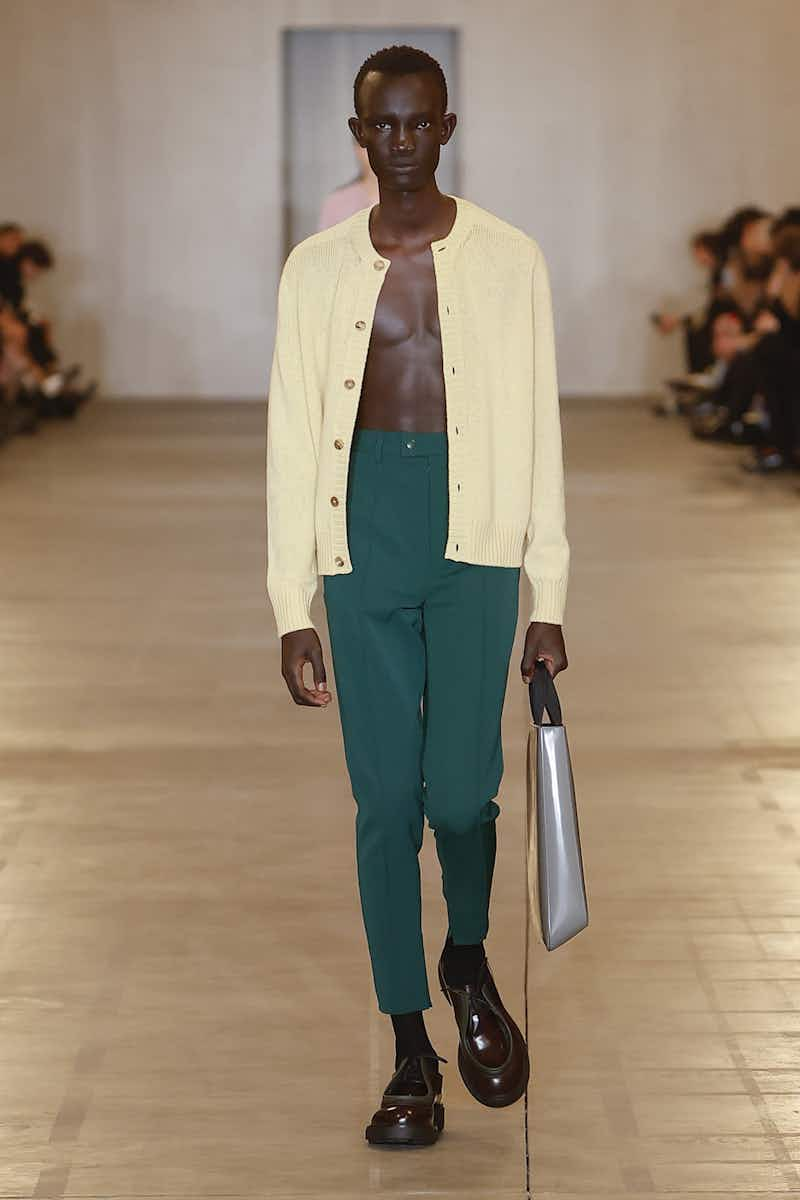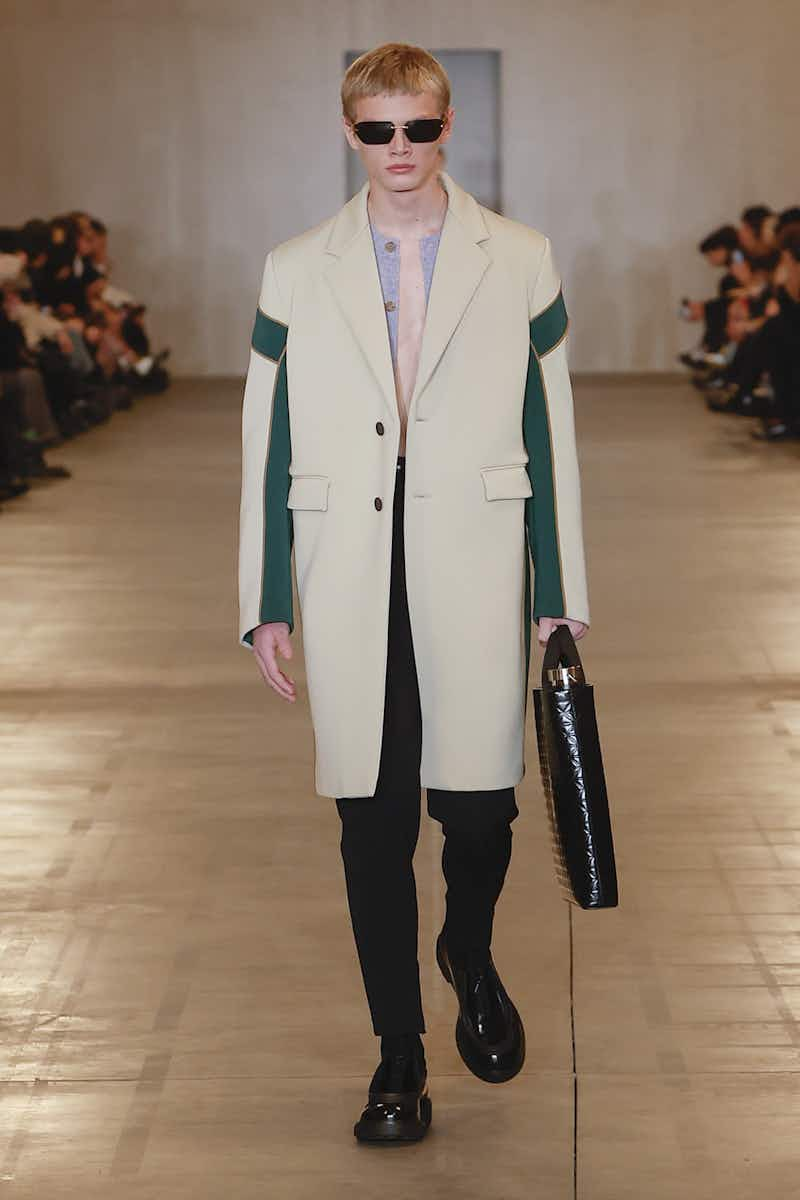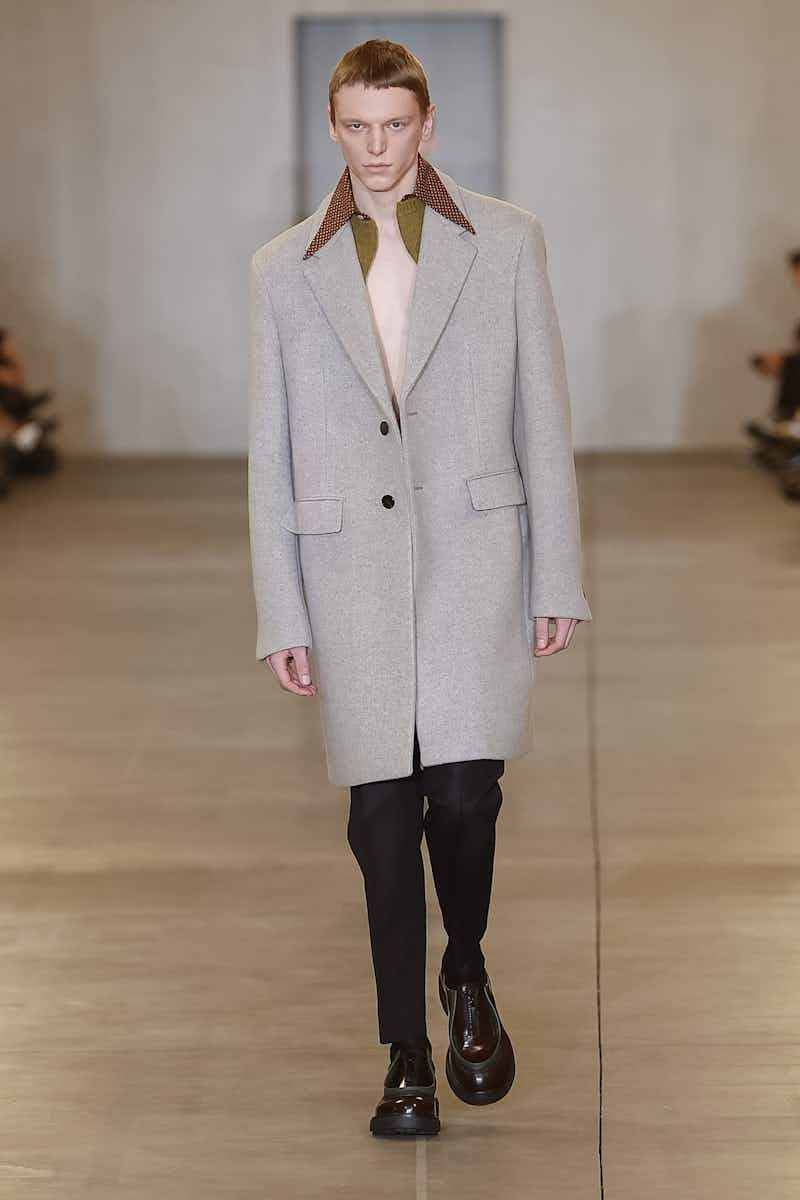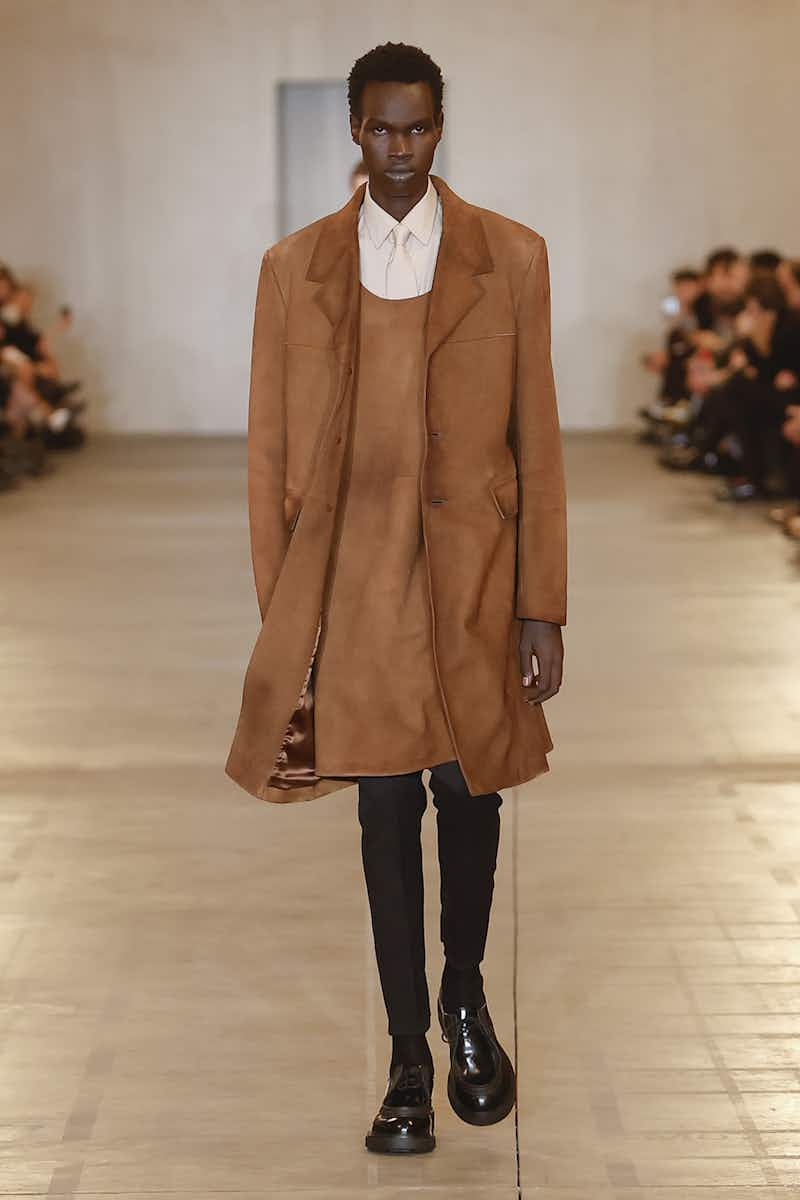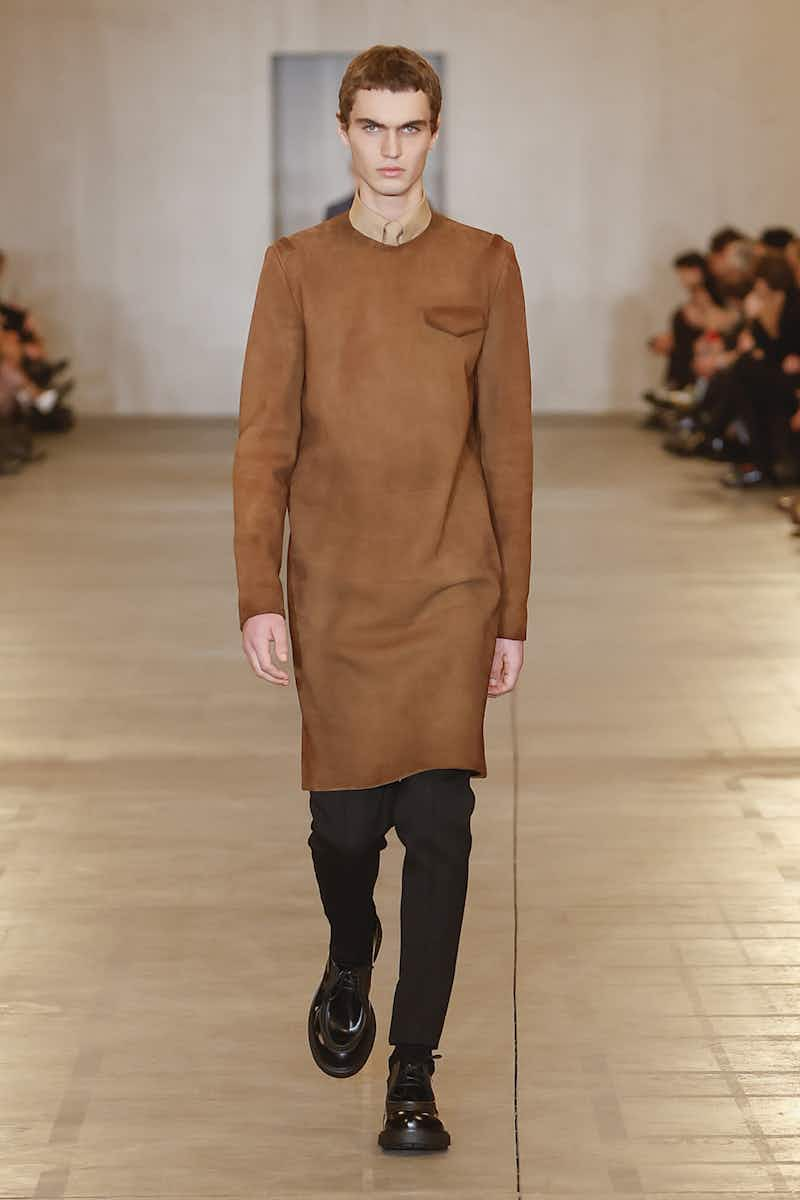 What?
The menswear debut of designer Marco De Vincenzo, following his first women's show last September
Where?
Another one of those industrial buildings-turned fashion hubs that Milan seems to do so well.
What was it like?
The kind of show where people turn to each other and whisper: ​"This is really good, isn't it?" Sandra Salibian said it nicely in her review for WWD, but it felt like you were joining in the ​"discovery process" along with De Vincenzo, the set surrounded by rolls of fabric, that echoed on the runway. ​"Tailoring [has always been] beautiful and important for [Etro]," said De Vincenzo, as he spoke with a really lovely amount of reverence for the brand backstage. ​"They started producing and showing men's fabrics, especially the tartan. It's one of the most important fabrics in the [brand's] history. What I'm doing is just studying everyday and taking inspiration from what people don't know yet [about the brand's history]. Because it's a long story. And tailoring and the masculine is something that Etro has in its codes."
So, who is this new Etro man?
​"He's a man who combines private and public," De Vincenzo continued. ​"Most of the outfits are a combination of something that is very comfortable but at the same time, eccentric. I think that is the key for my future with the brand."
In a song?
Someone Great by LCD Soundsystem.
In a word?
Romantic.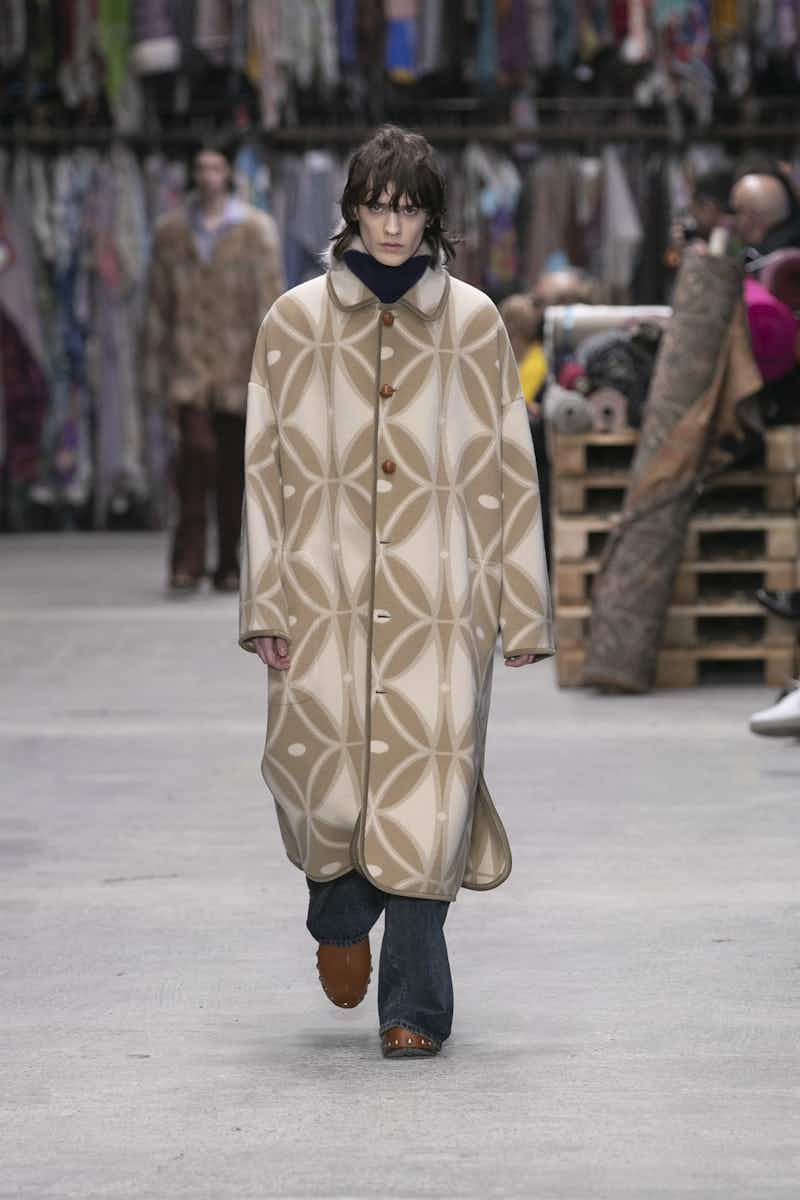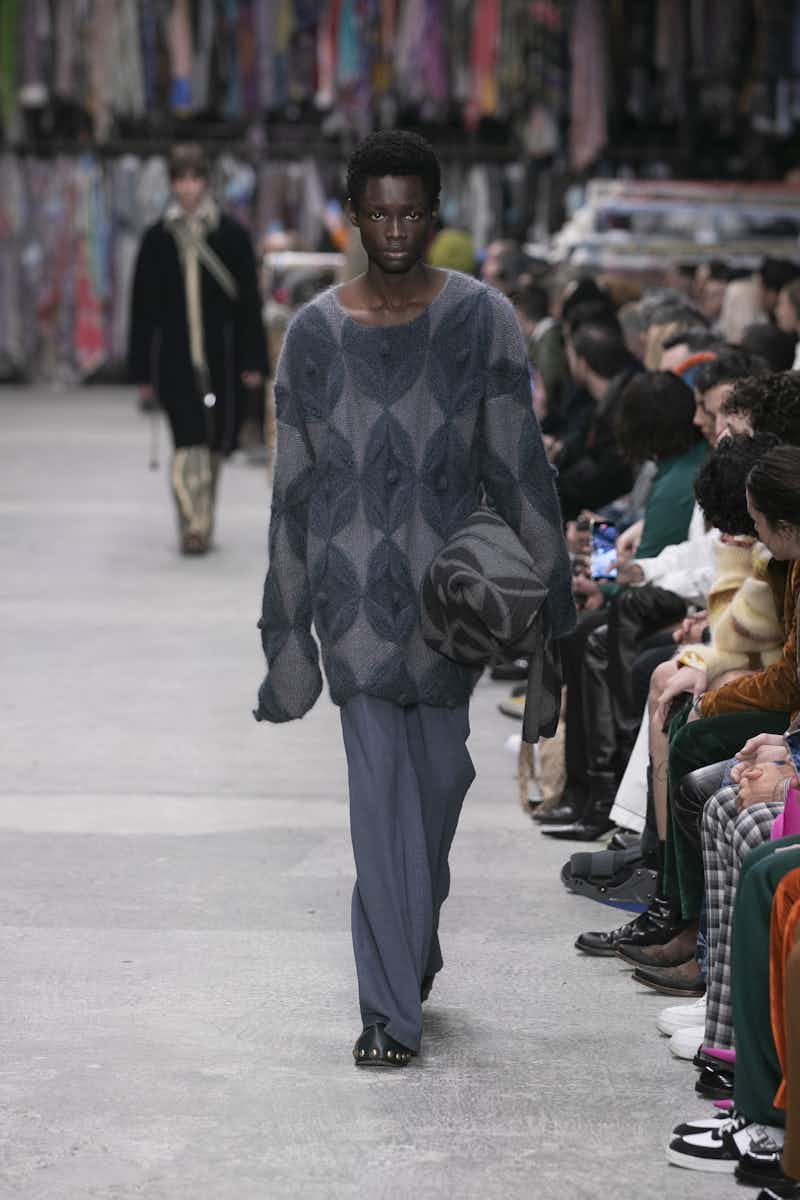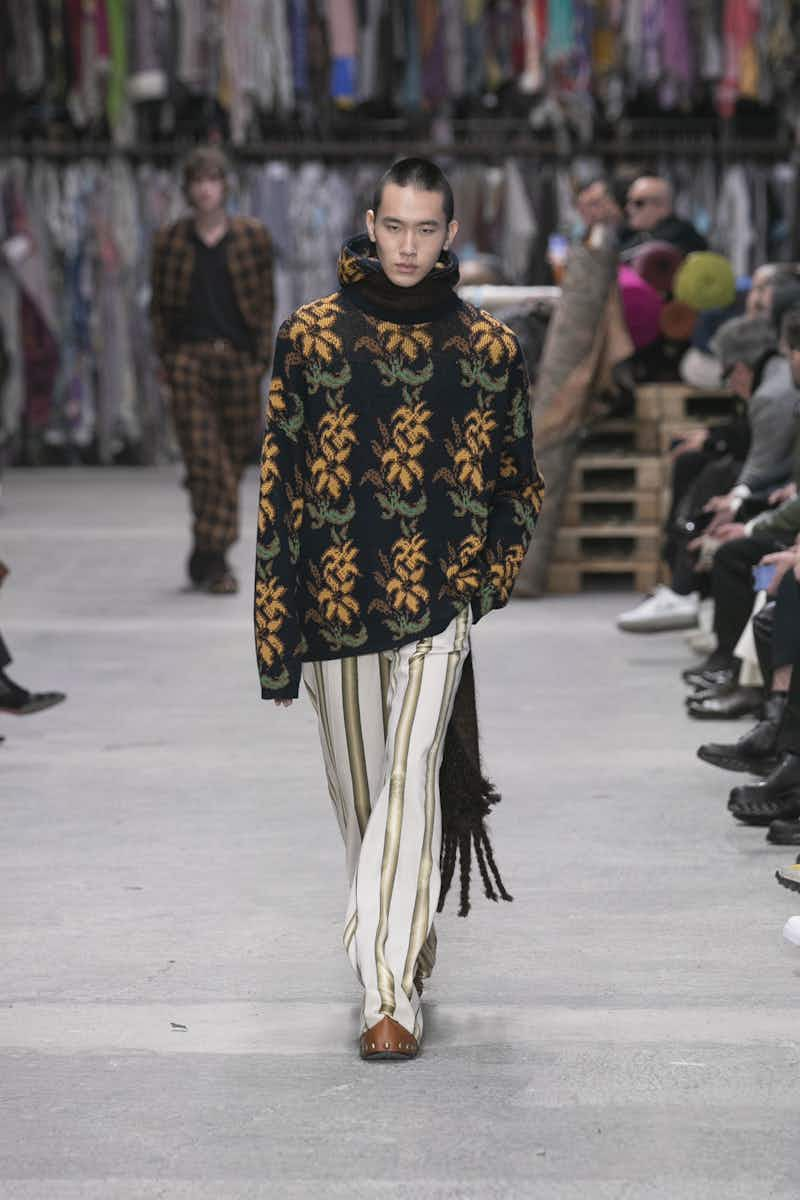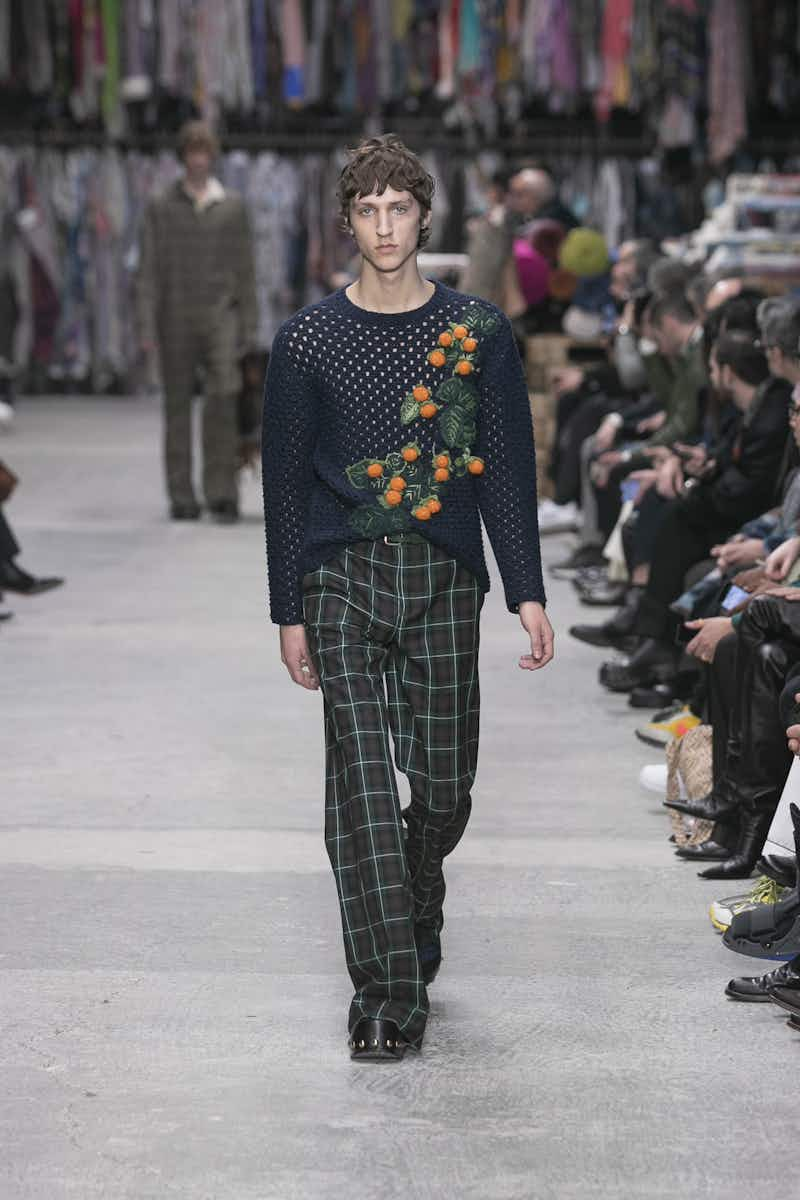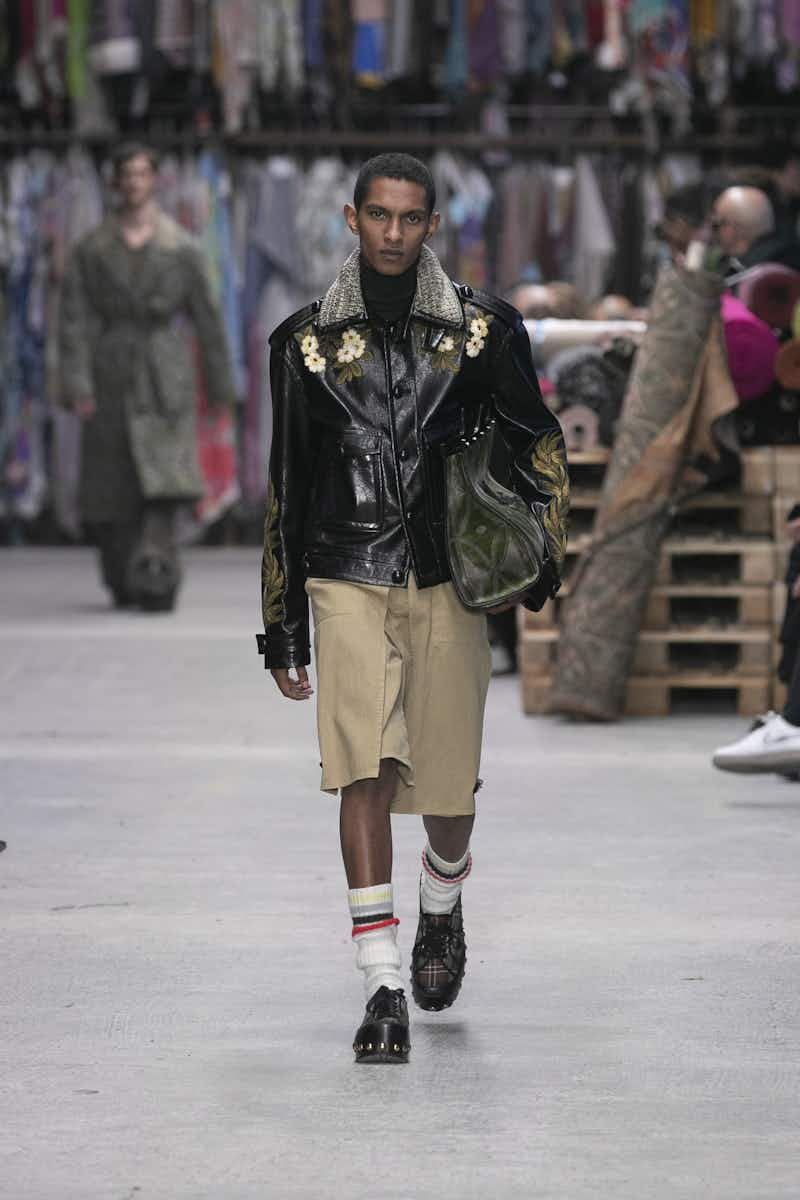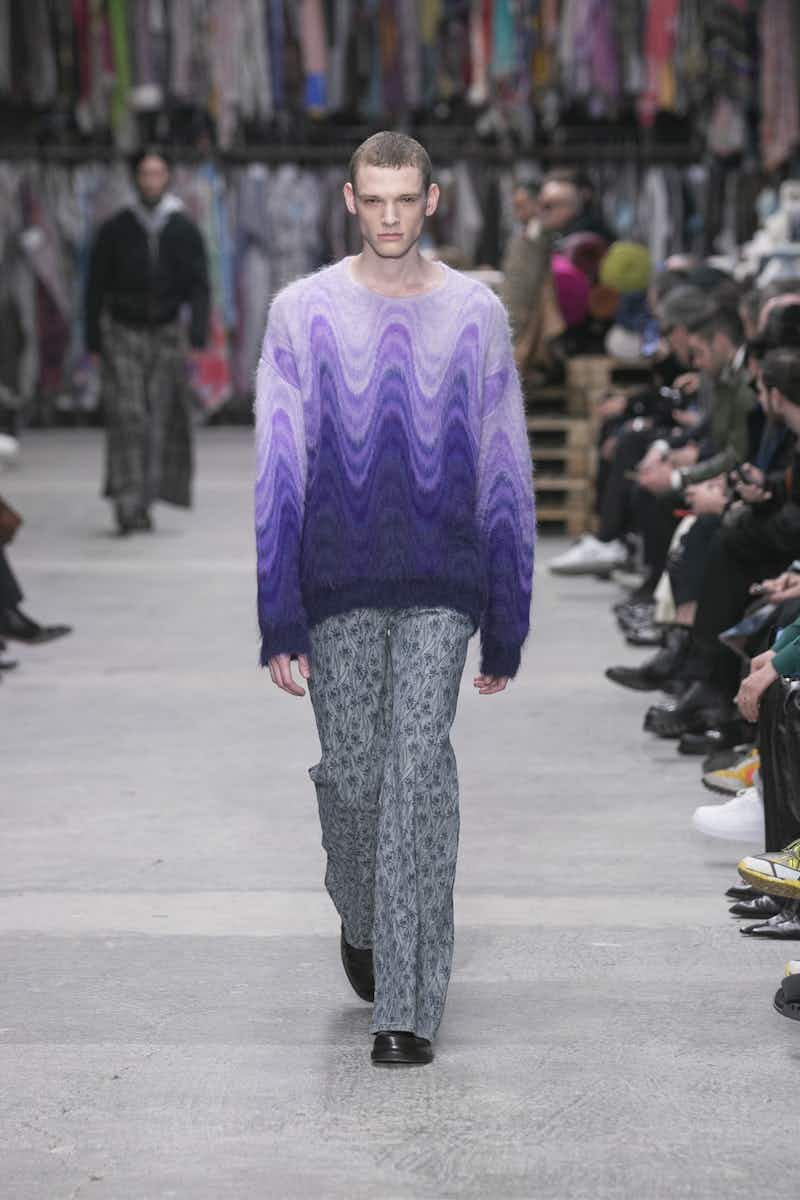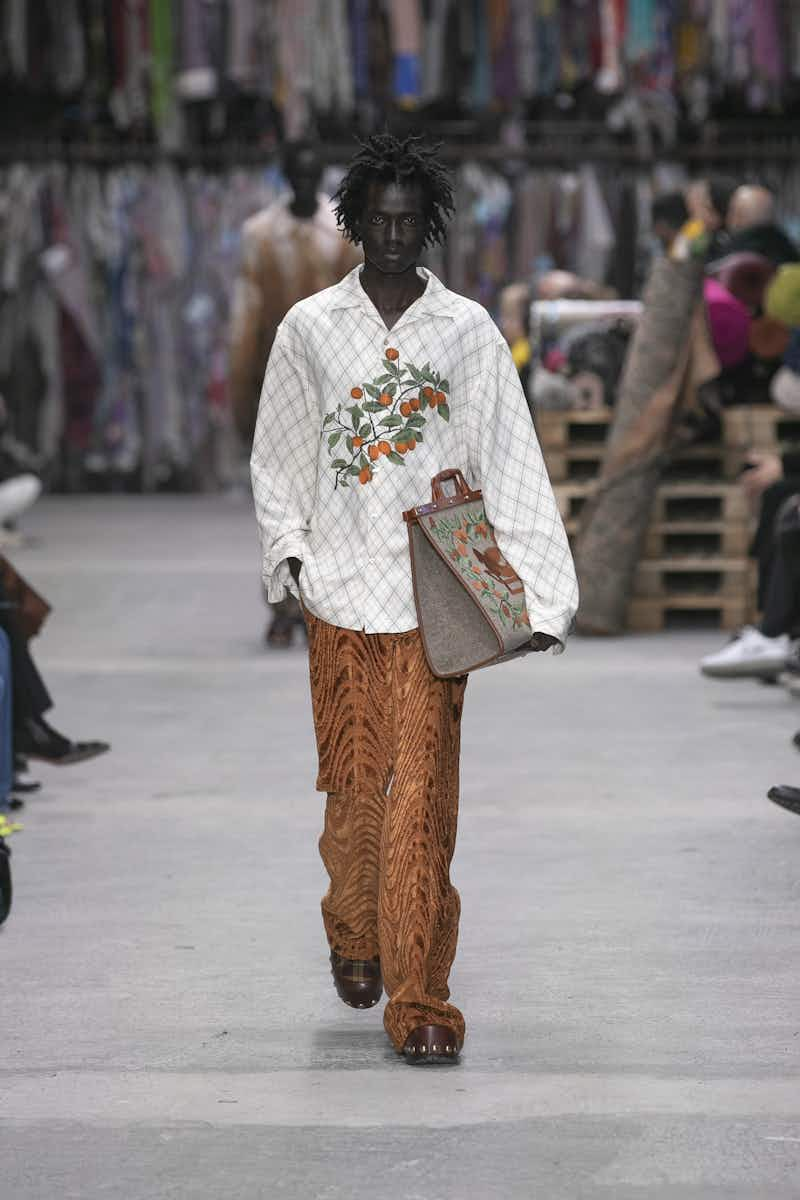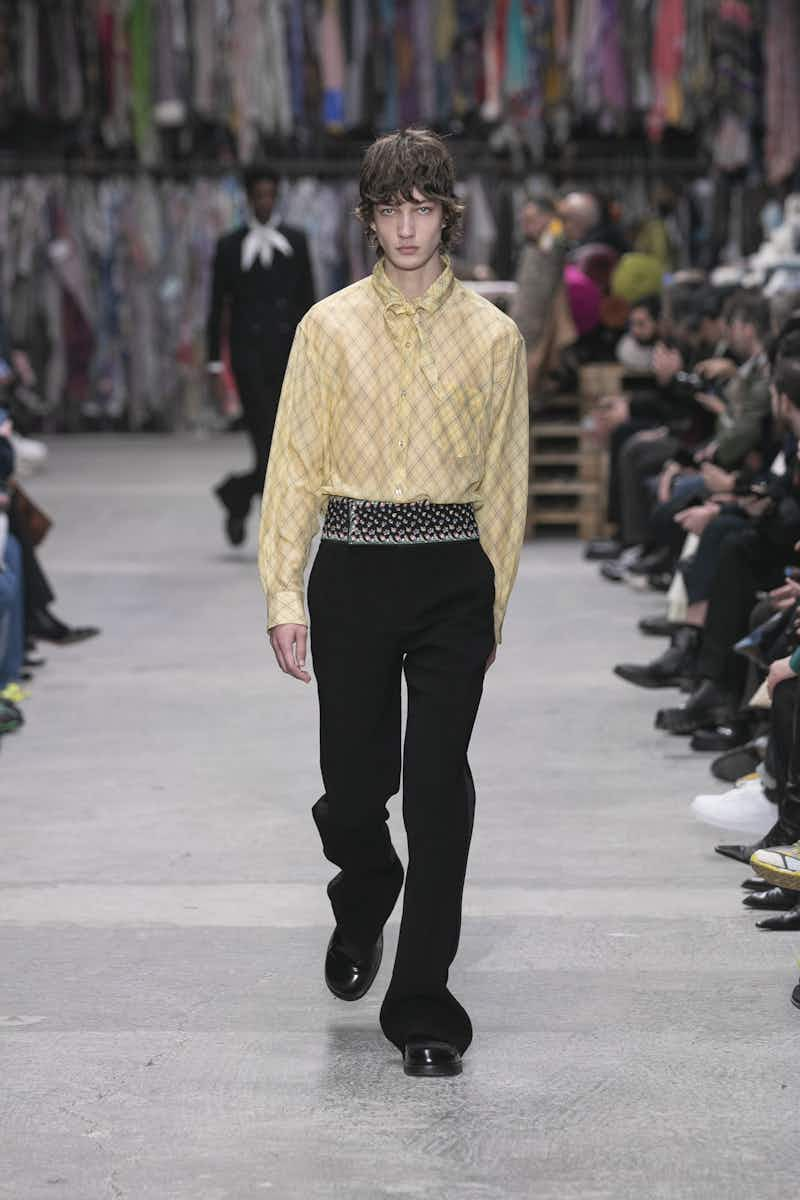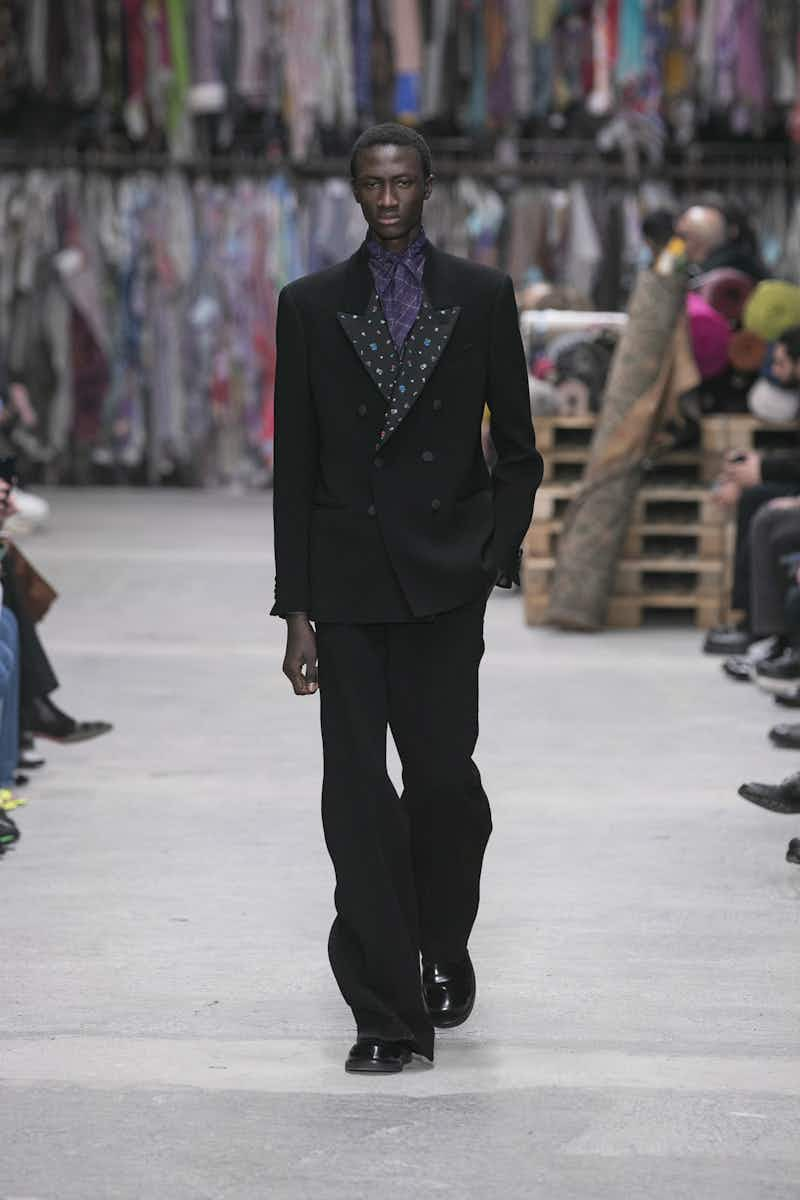 What?
A ​"cosy, sexy, cool" collection for pinball wizards everywhere.
Where?
The brand's headquarters in the south of the city.
What did it look like?
Opening with the voice of Italian songwriter and producer Giorgio Moroder, this was a collection inspired by the roller disco. Or more specifically, a pinball machine inside the roller disco, a succession of large, metallic balls rolling on tracks above the audience's head. The dance floor is something artistic director Silvia Venturini Fendi has explored before, most recently in the brand's SS22 collection, created with Kim Jones, and prior to that in her socialite days at Studio 54. This time, however, the mood was captured by the ​"disco ball hues" of the clothes.
How did it go down?
Anecdotally, we probably saw more positive tweets about this show than any other so far. Which is quite good, isn't it?
In a song?
I Feel Love by Donna Summer.
In a word?
Balls.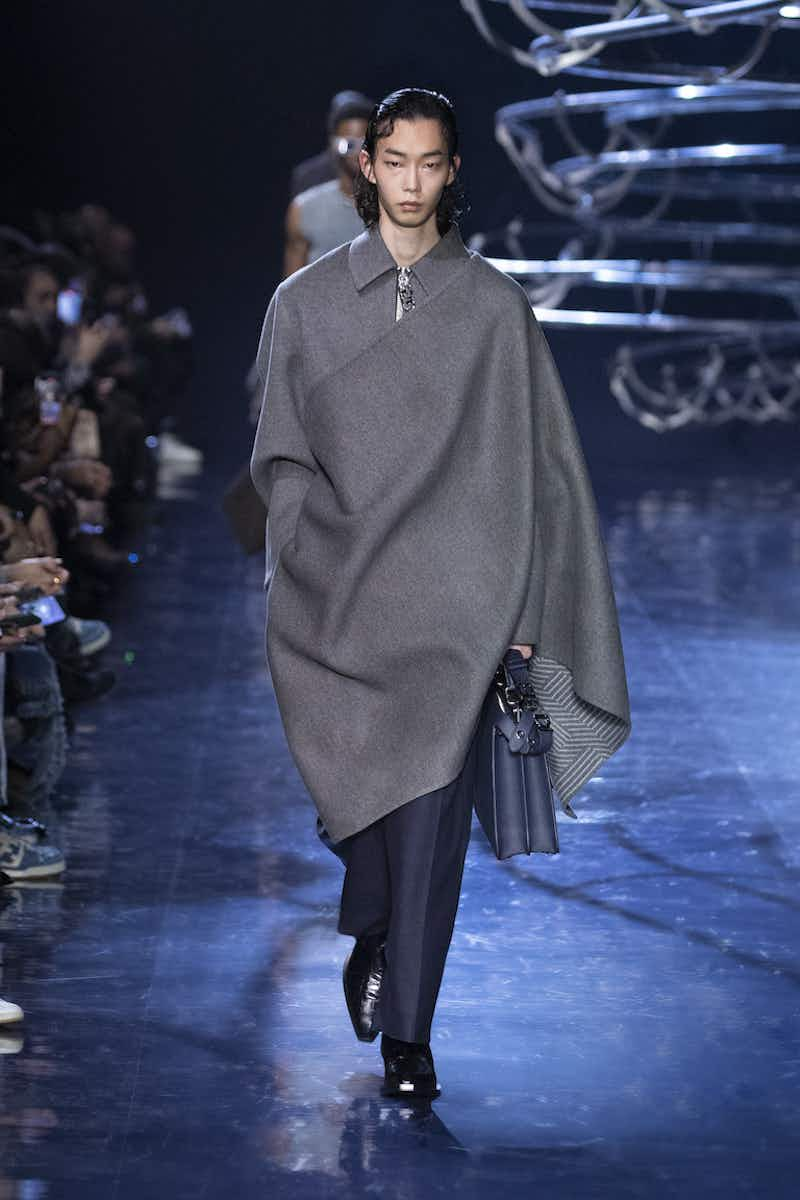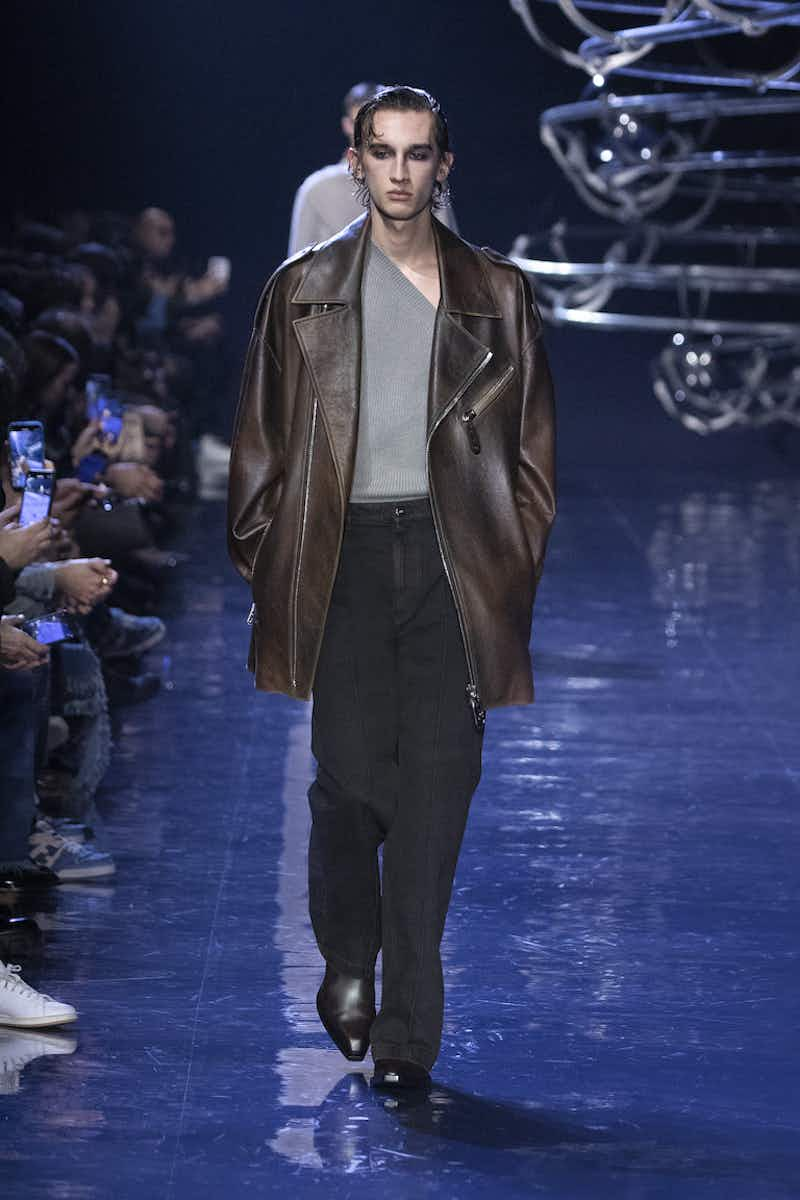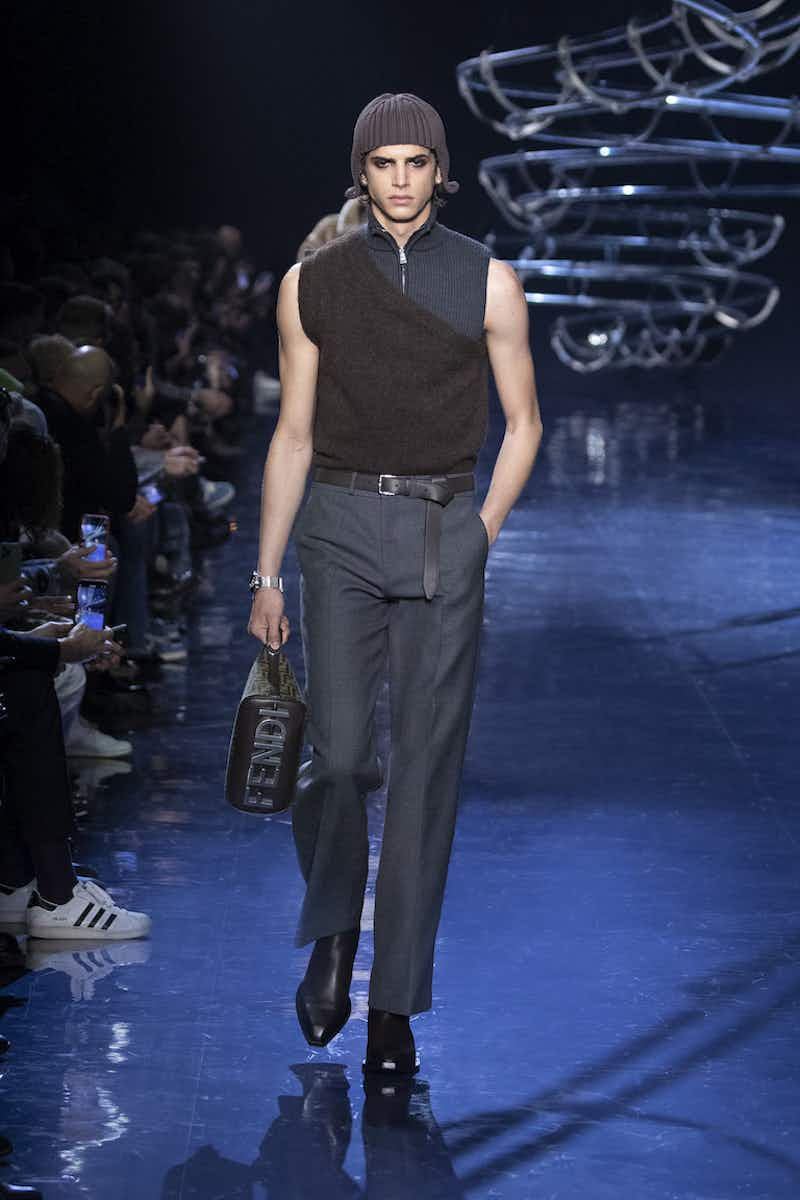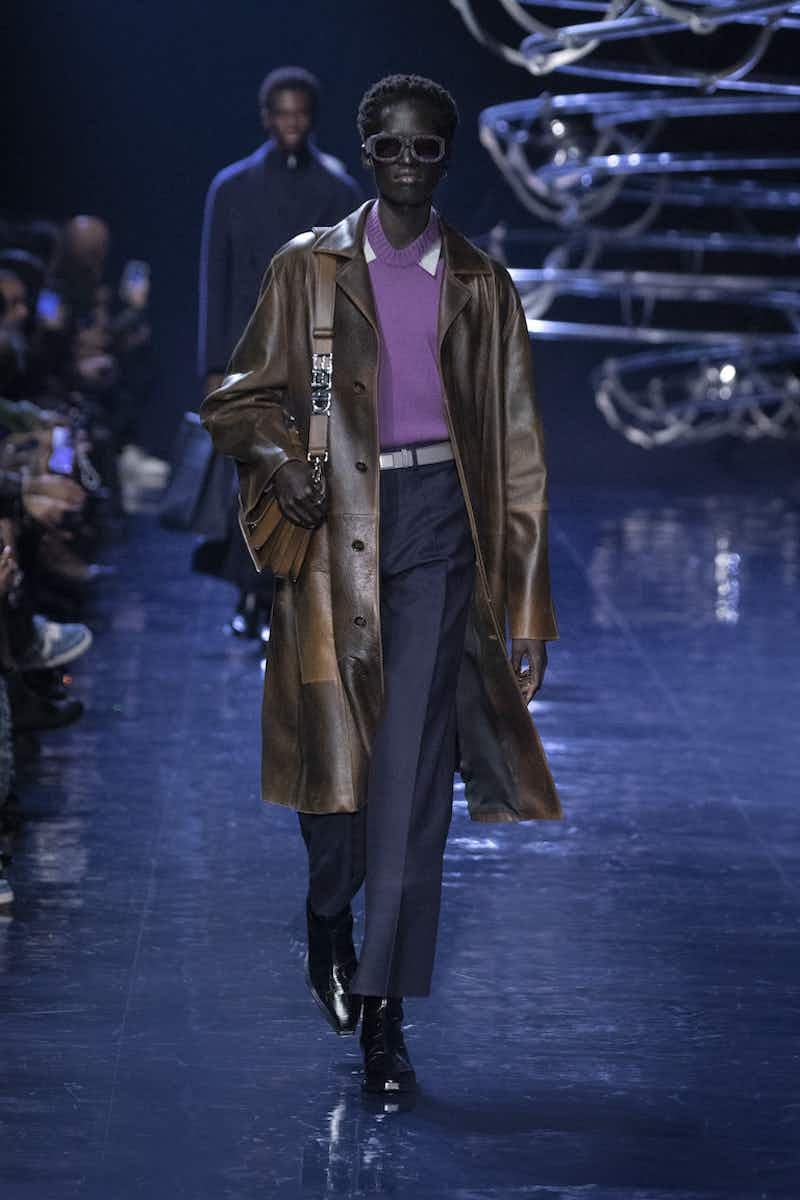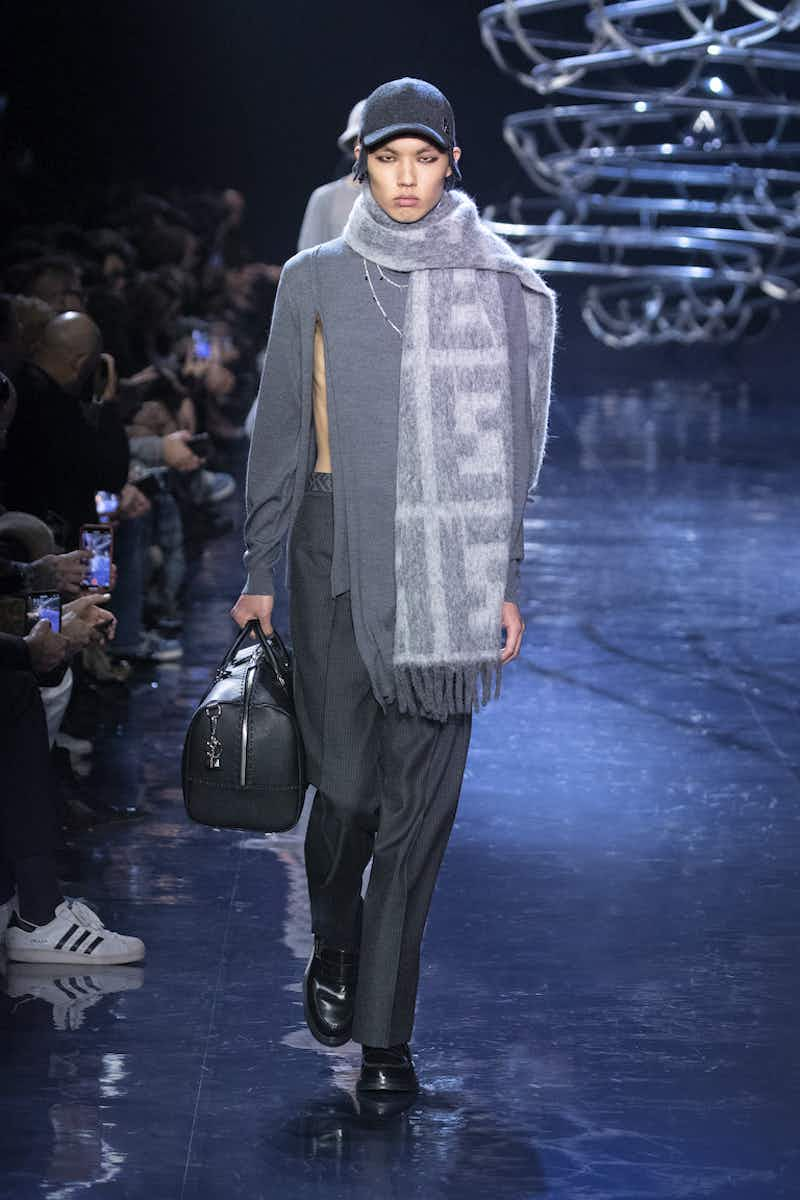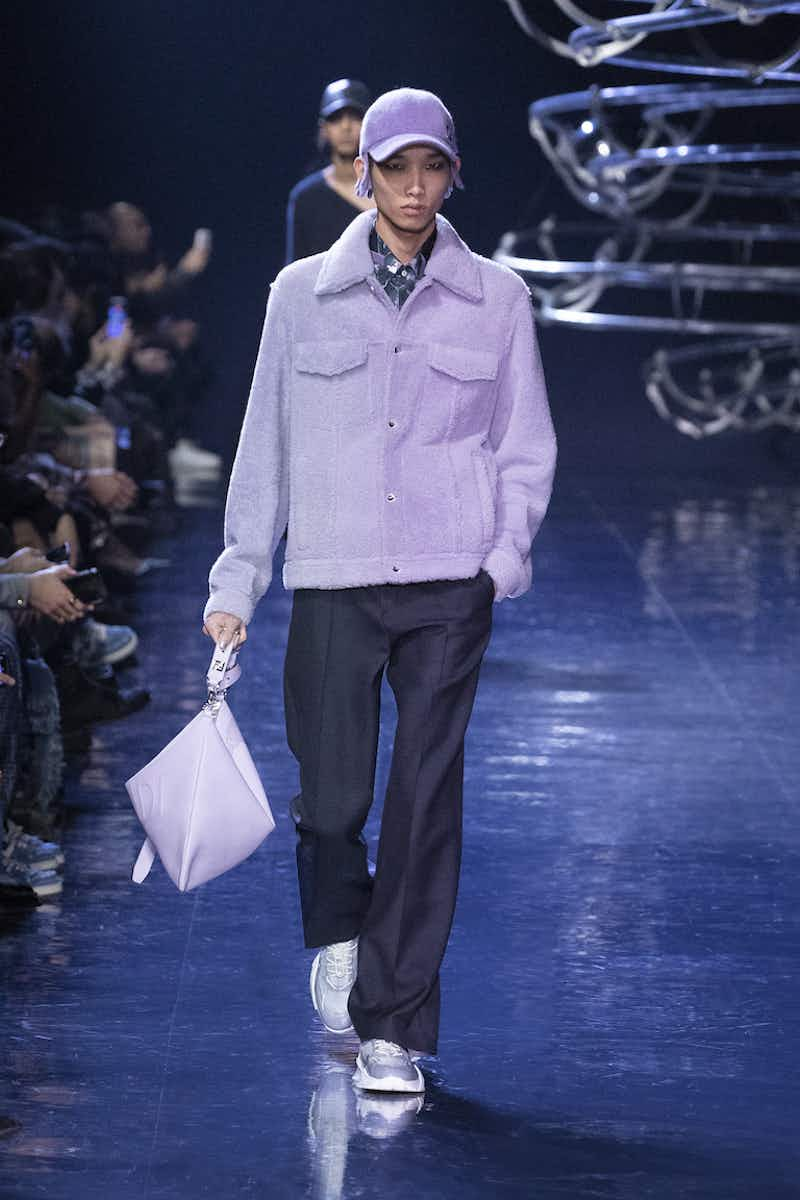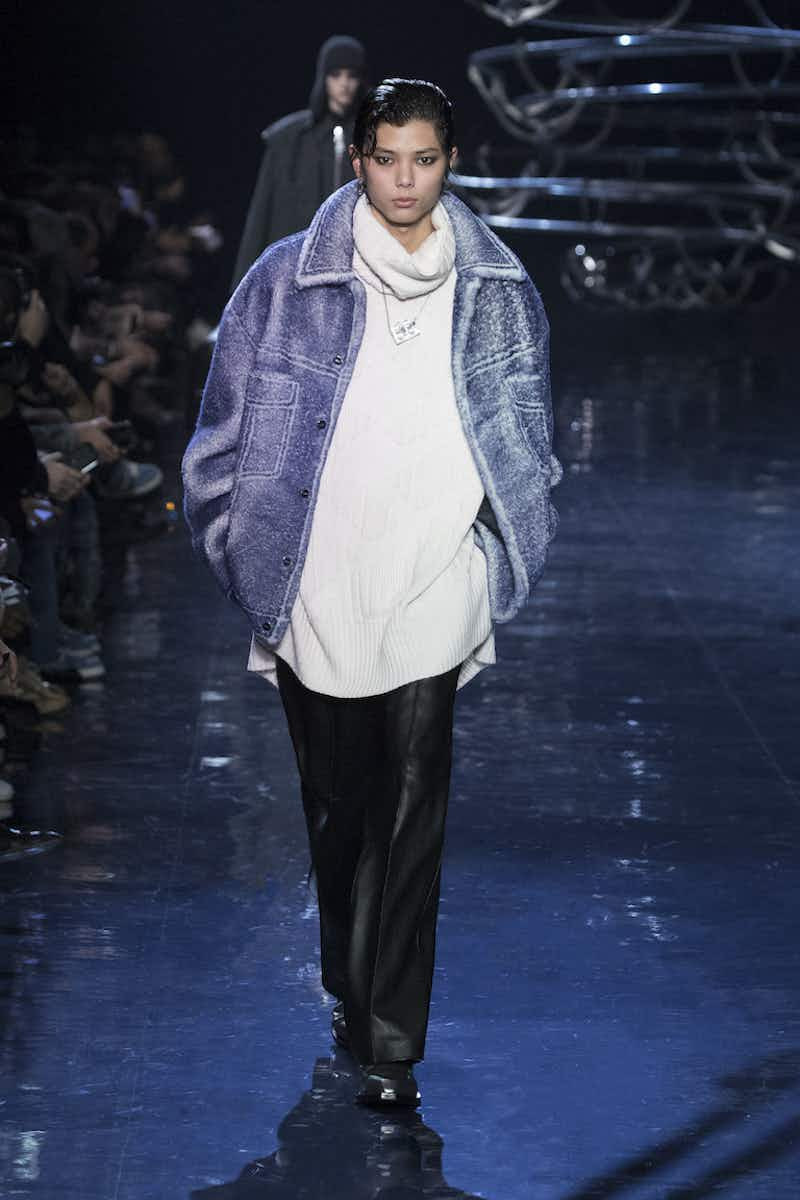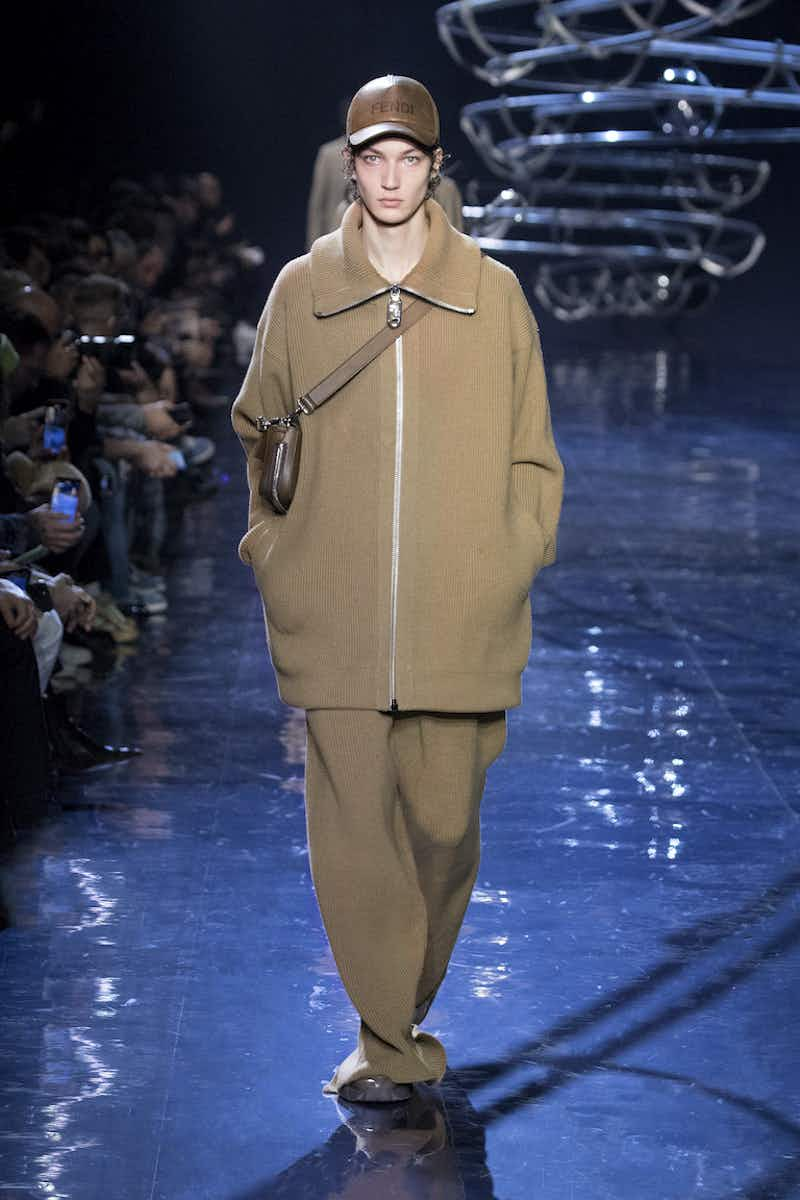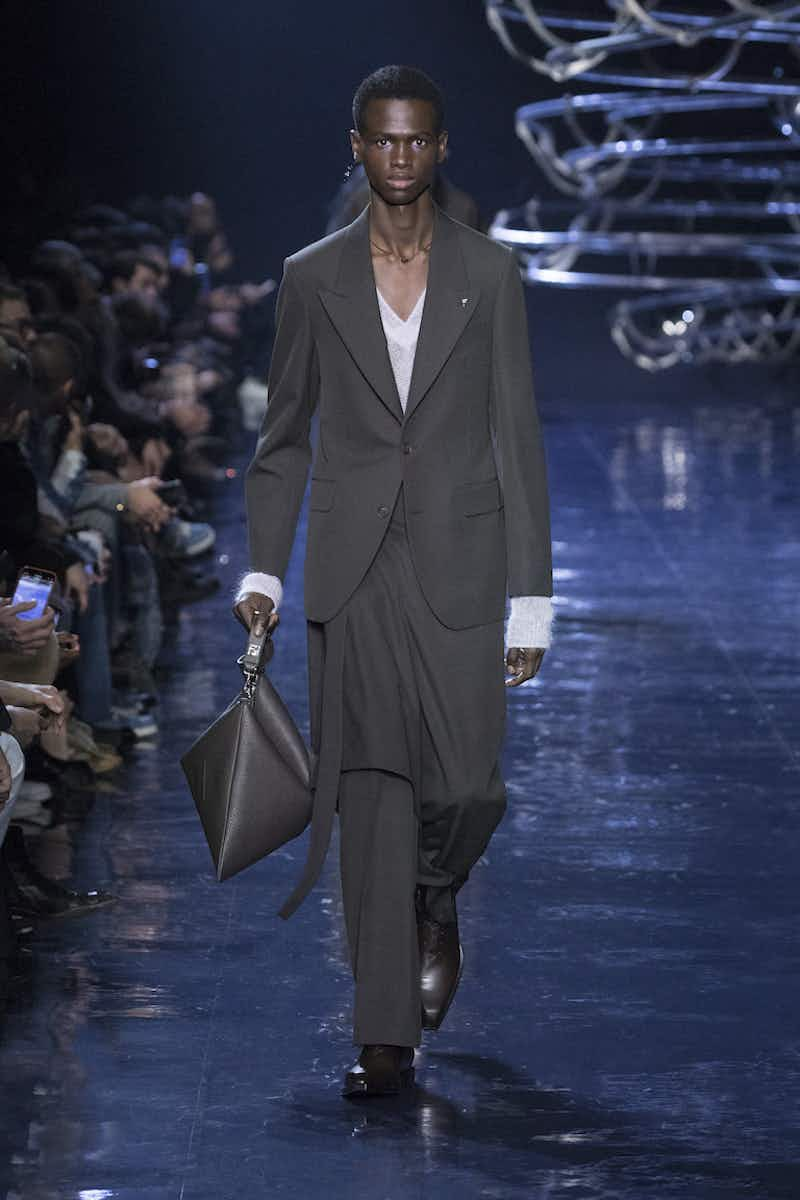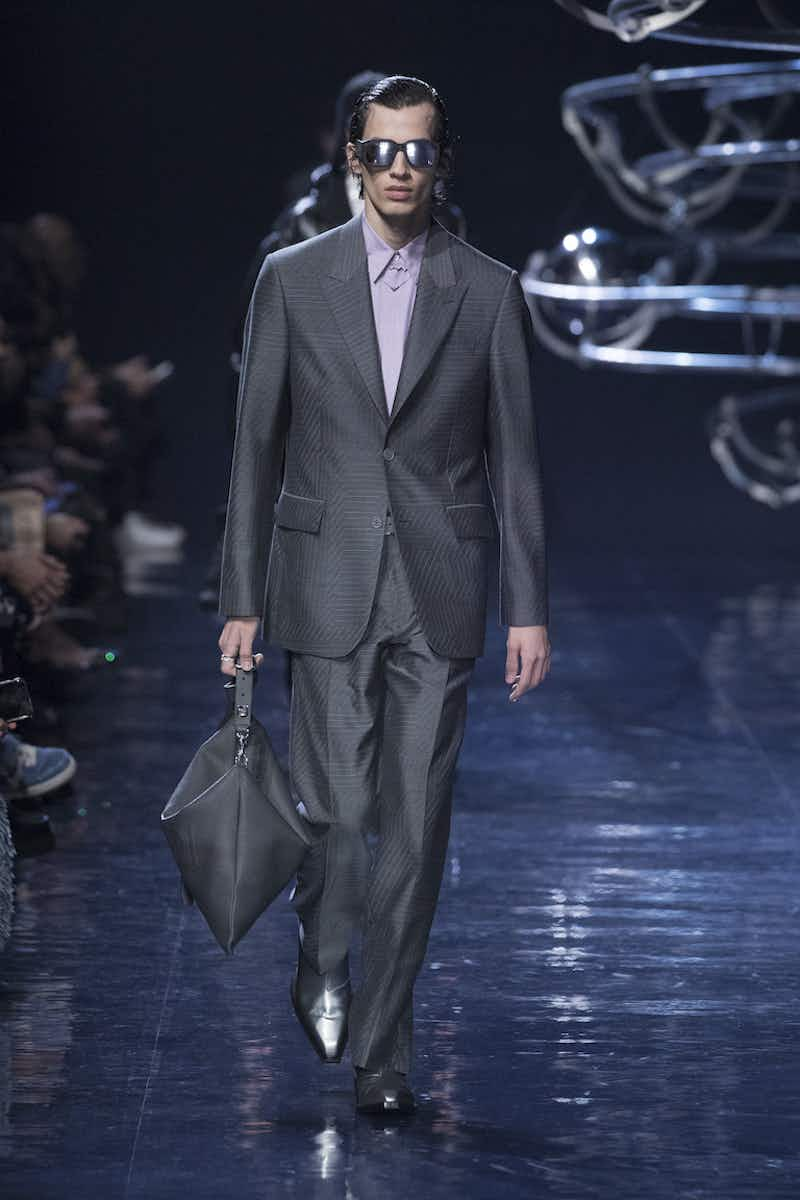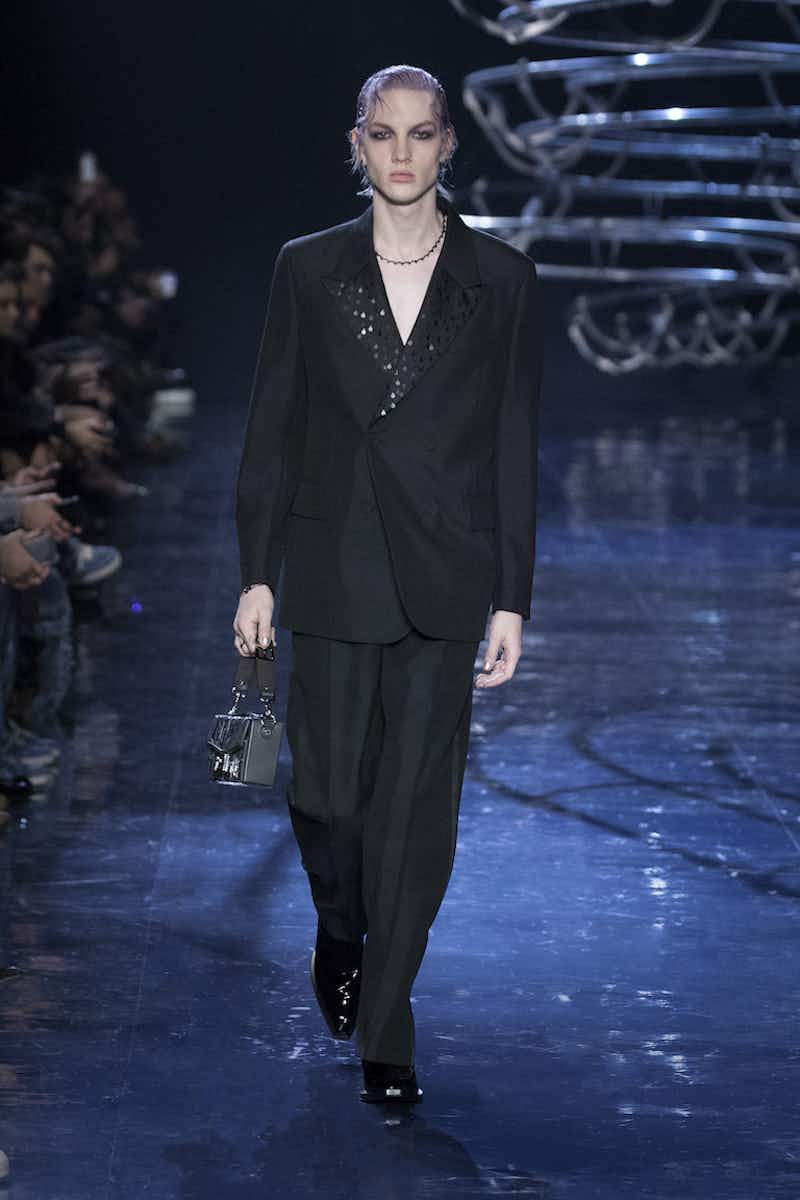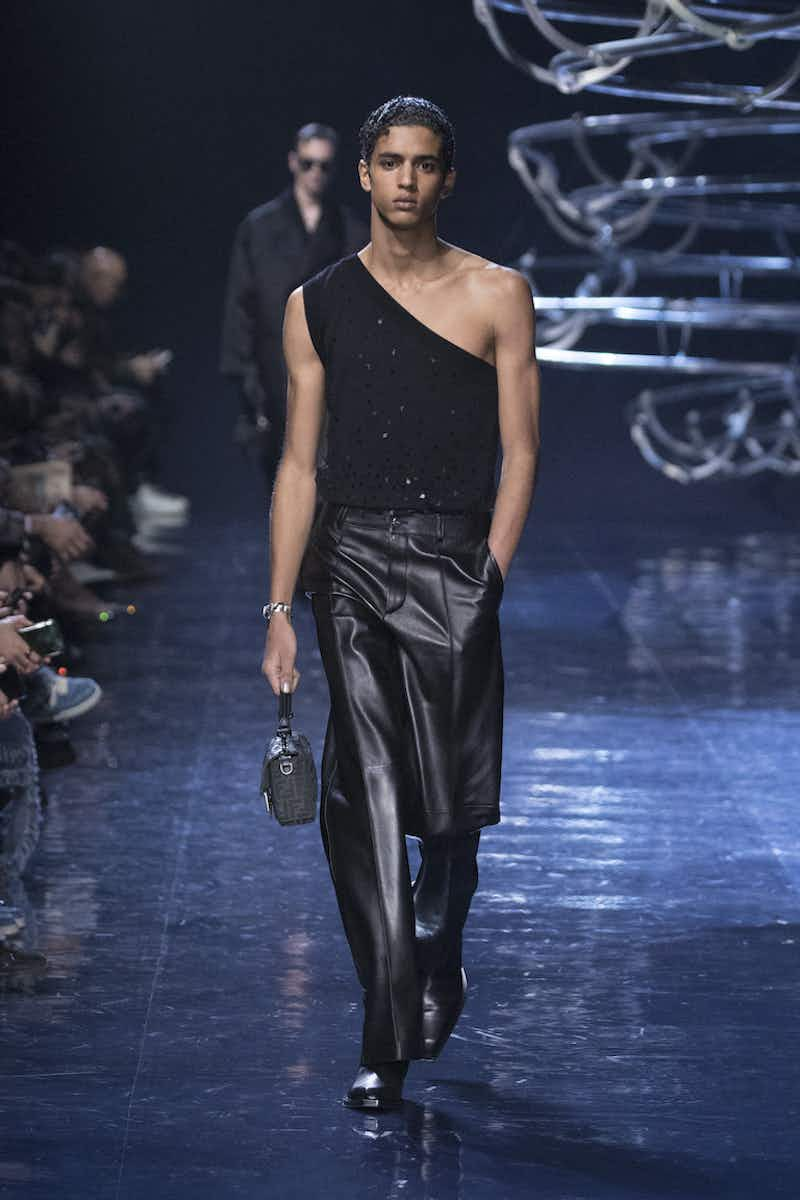 What?
An elegant display of tailoring from the 38-year-old brand.
Where?
The D&G headquarters in the east of the city.
What did it look like?
Black; by our estimate a good 80 per cent dedicated to the kind of inky tailoring Domenico Dolce and Stefano Gabbana do so well. Shirts, if worn at all, were embraced by exterior corsets, while crucifixes bounced atop pecs, like an IRL version of the hot priests calendar. Titled ​"Essence", the show was an impressive display of the house's sharply tailored codes.
Who was there?
Machine Gun Kelly, by all accounts.
In a song?
Cavalleria rusticana: Intermezzo Sinfonico.
In a word?
Amen.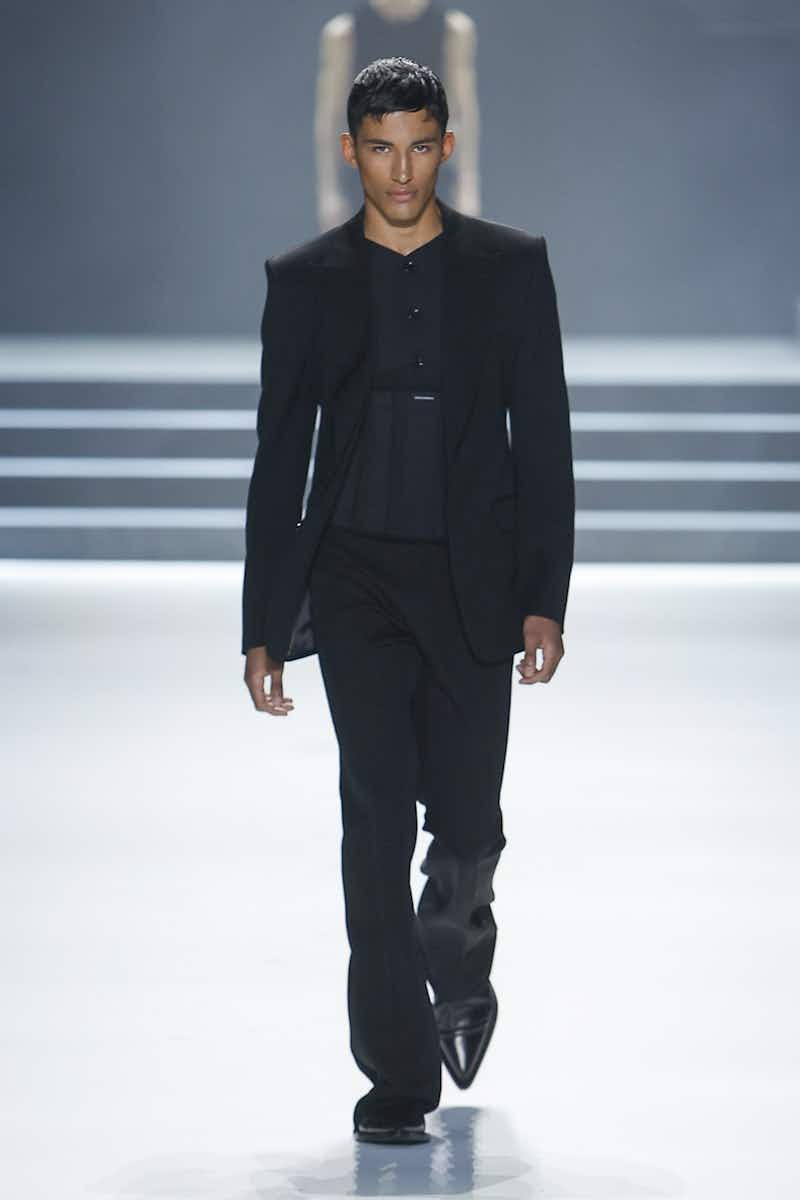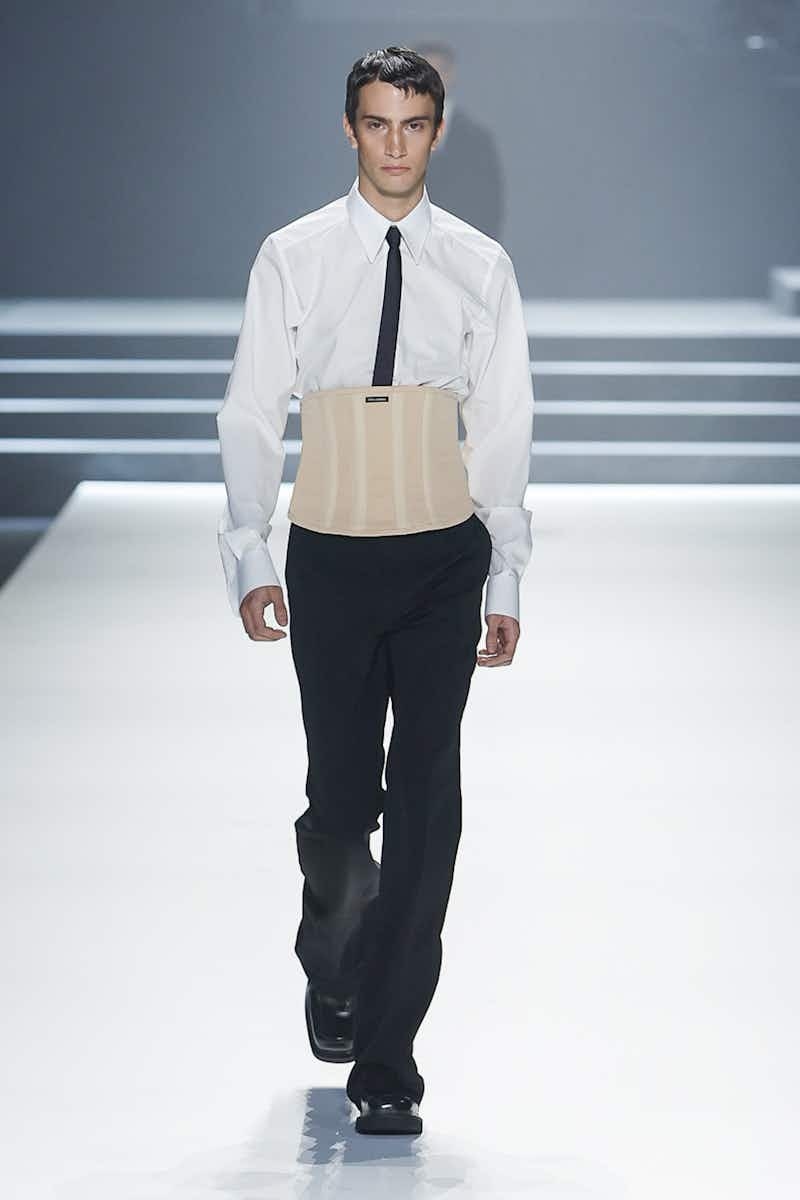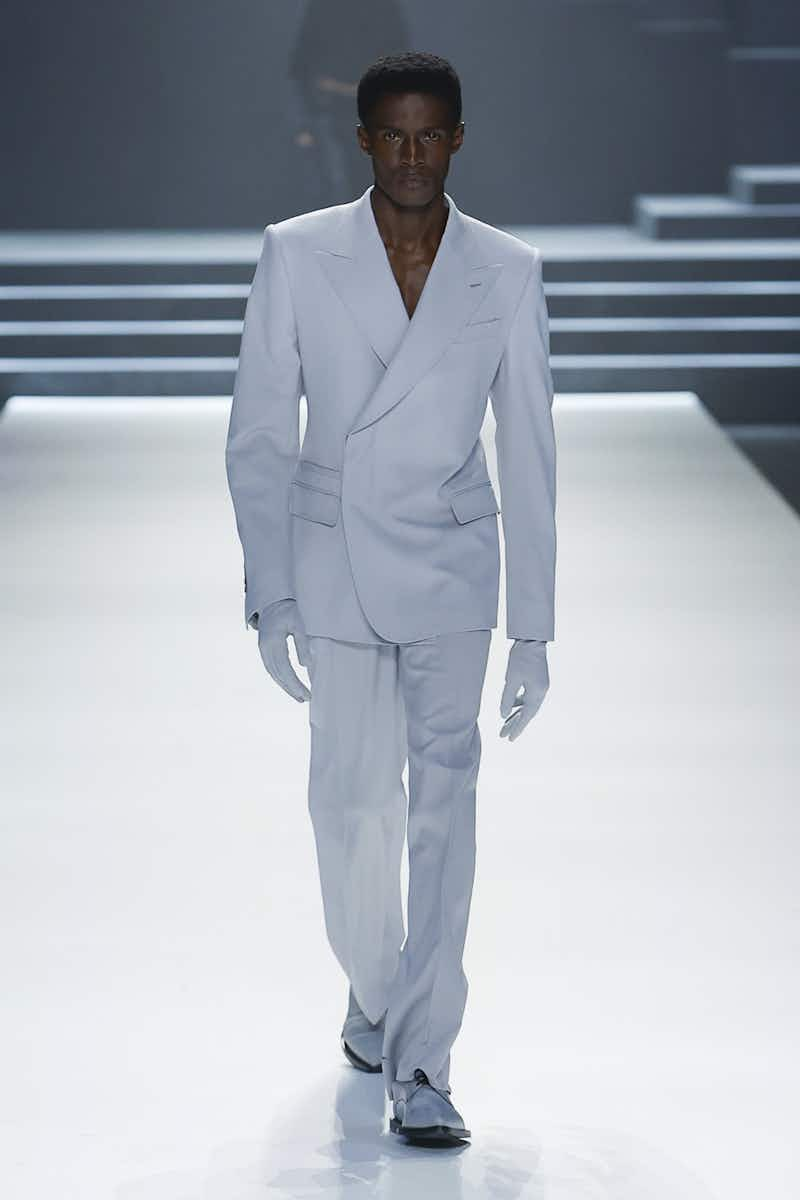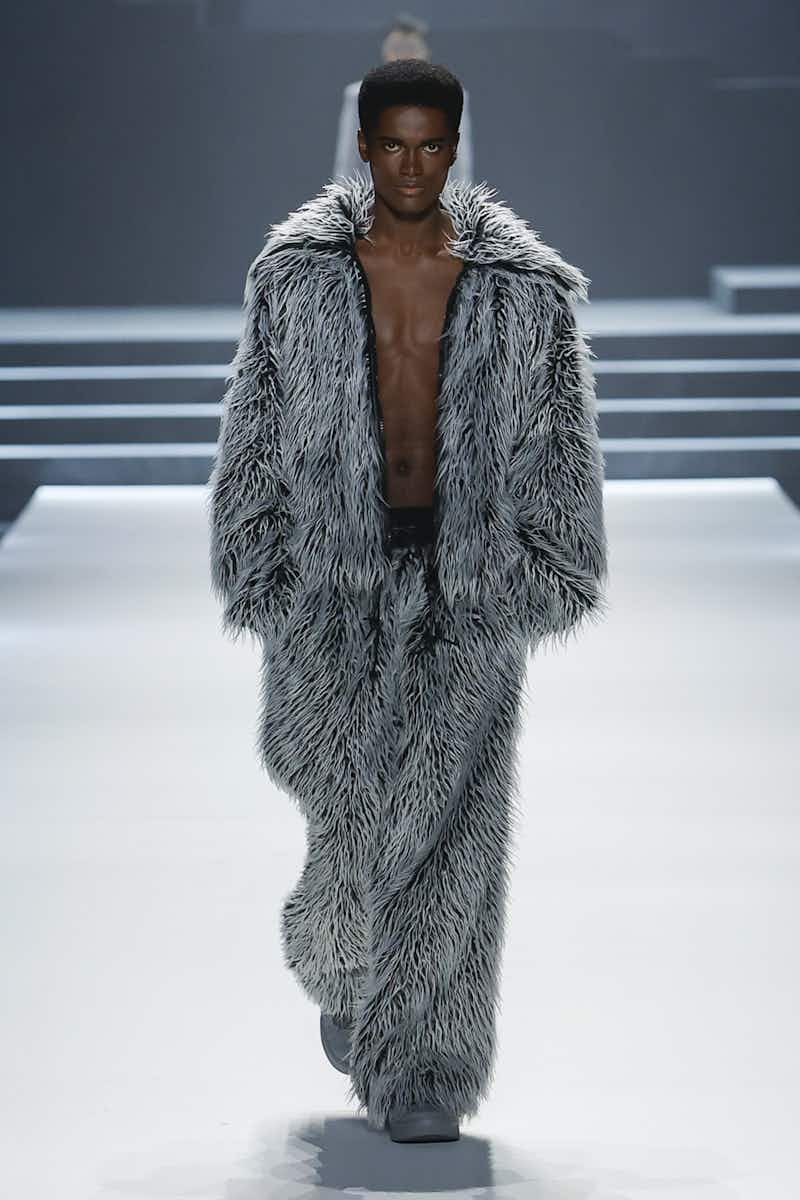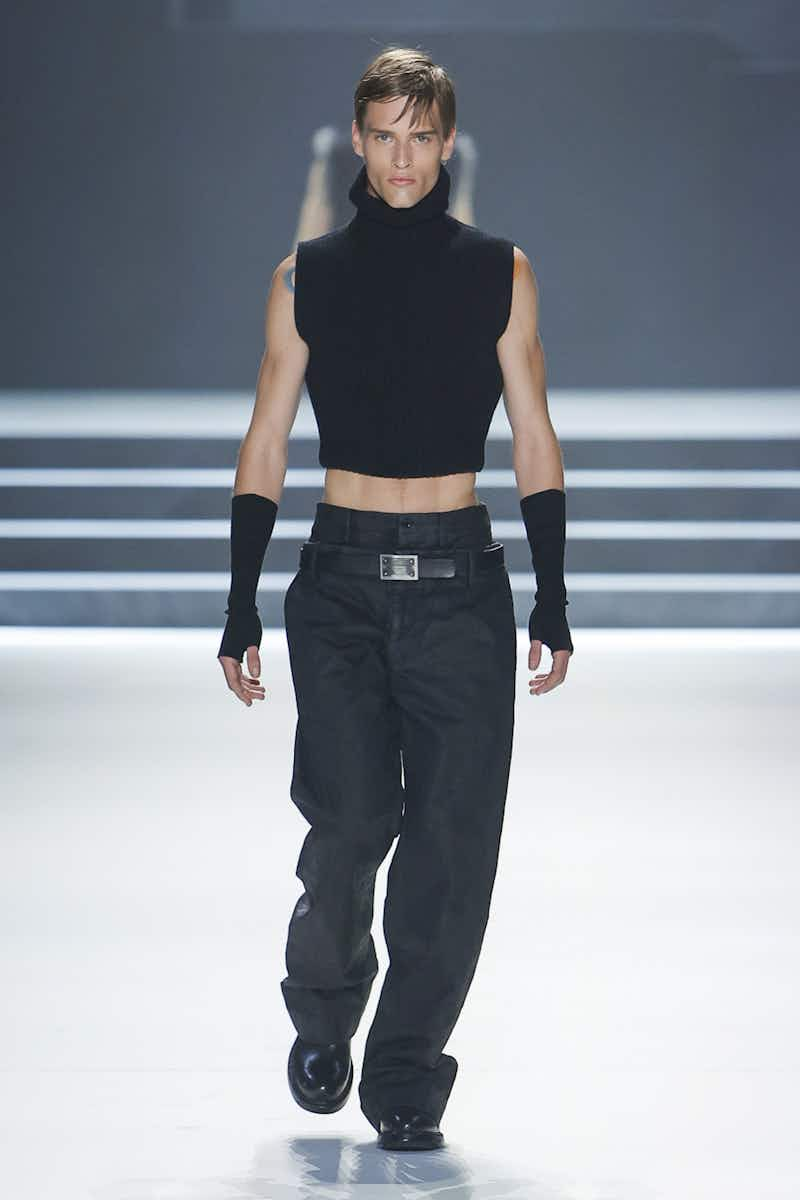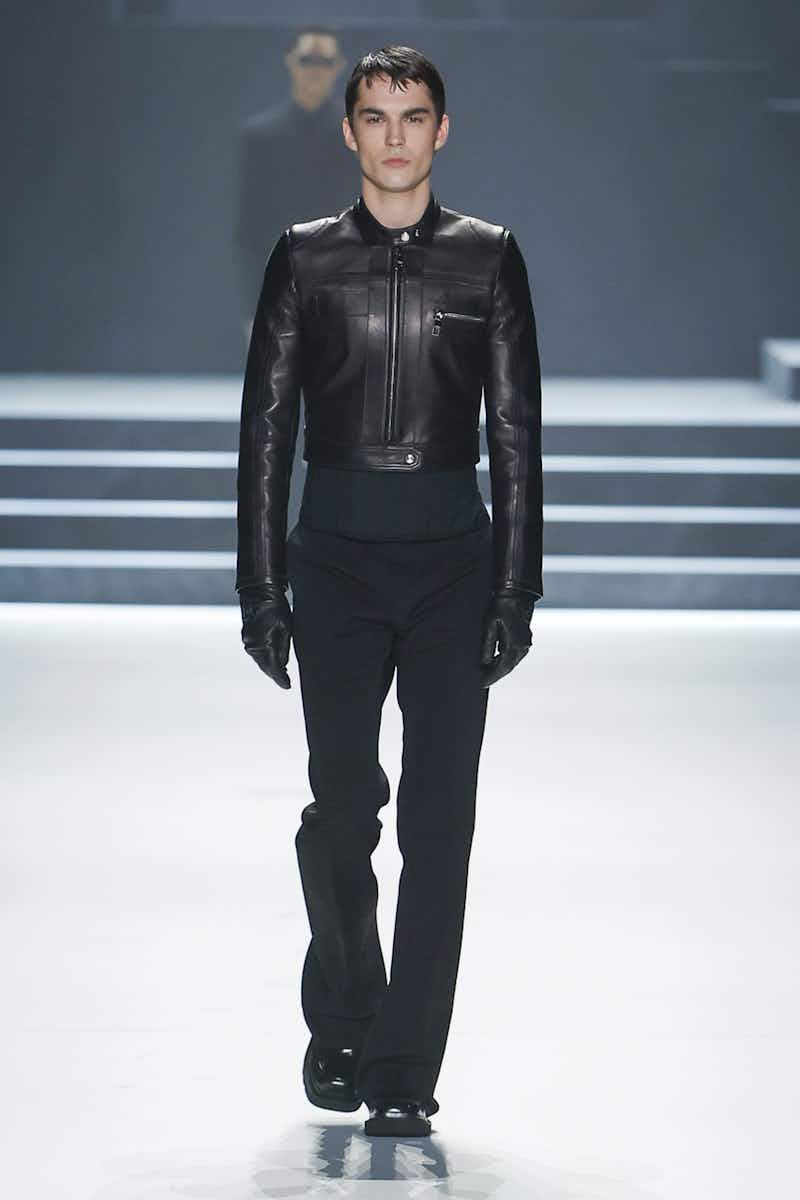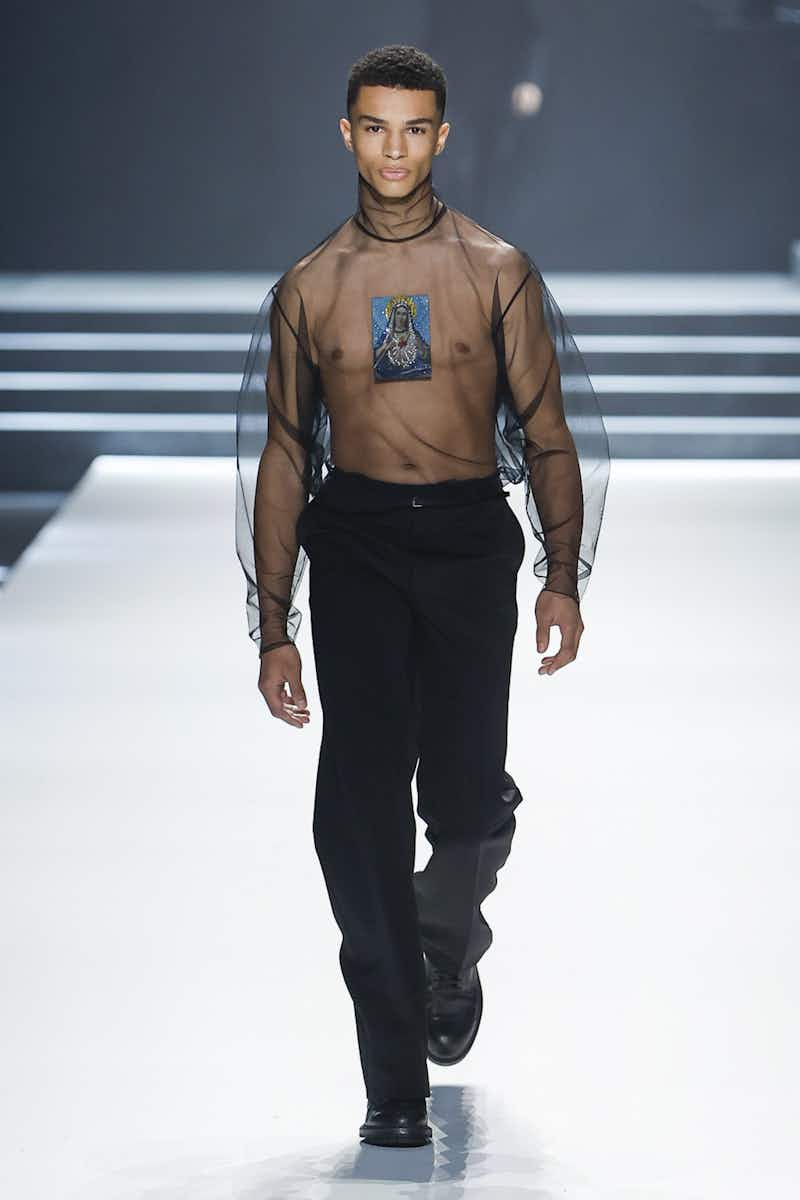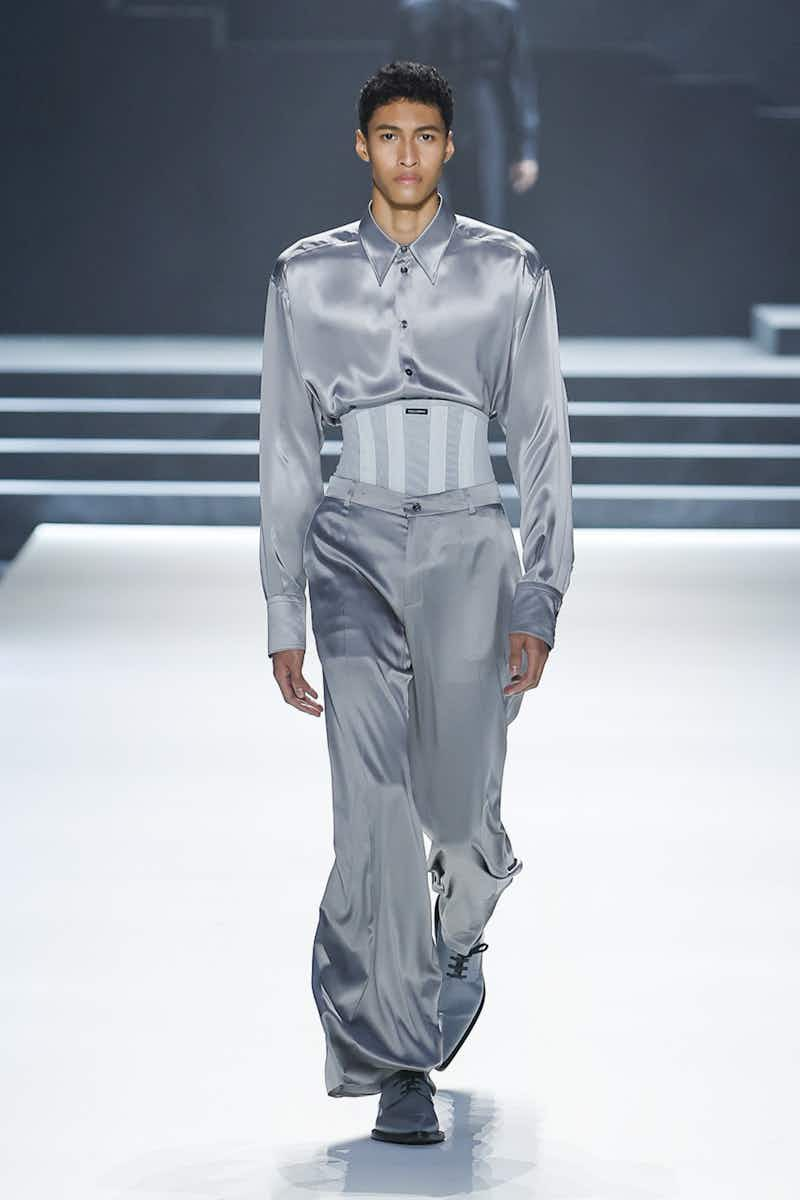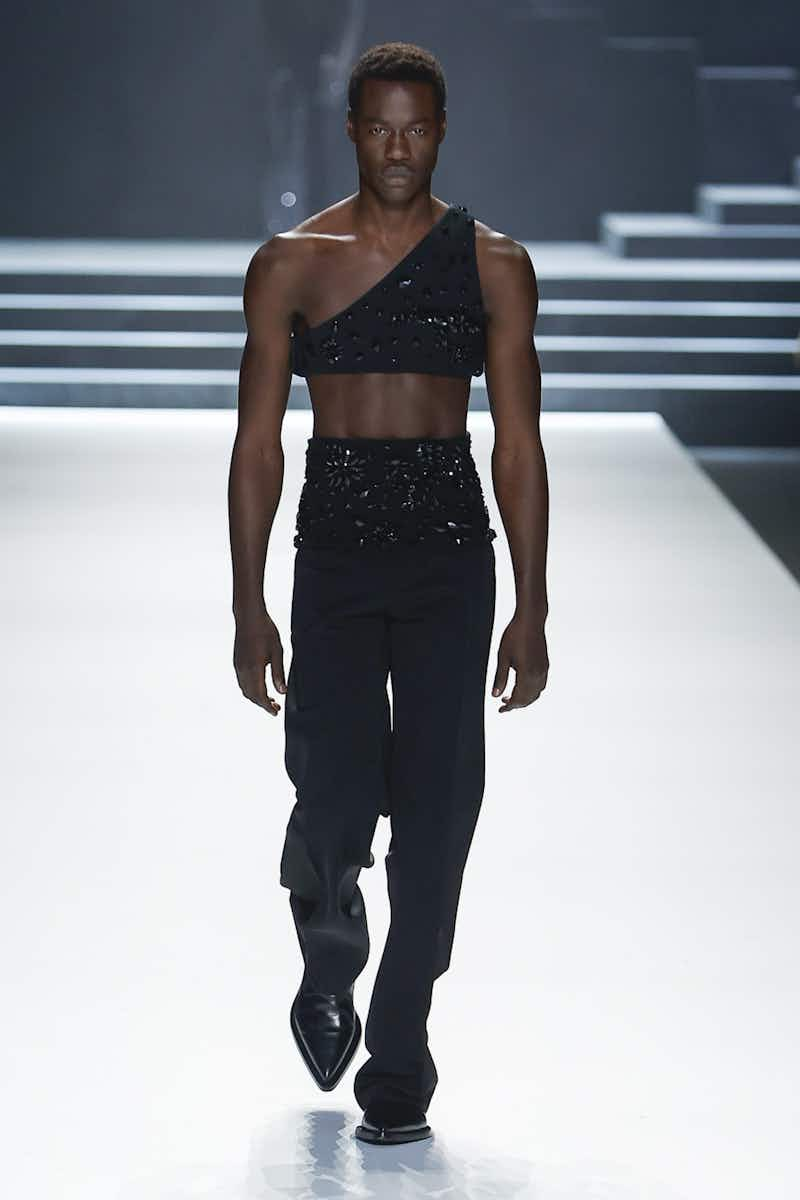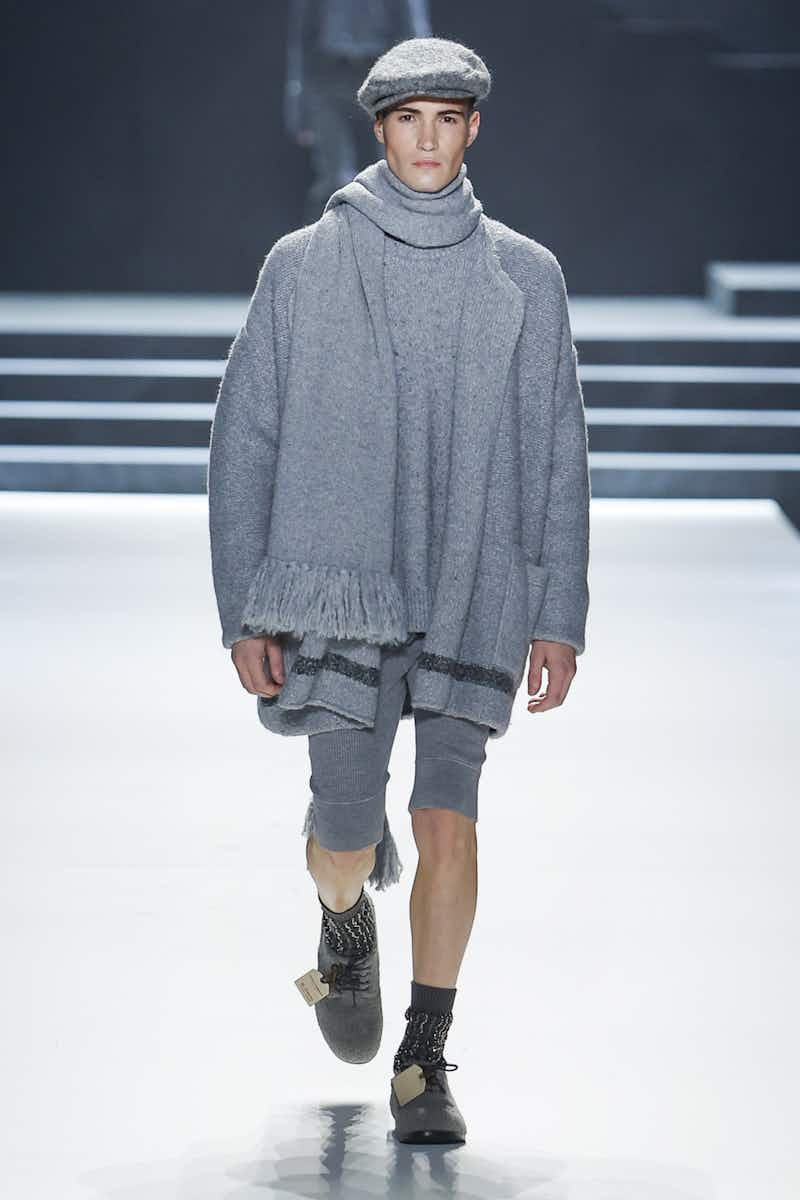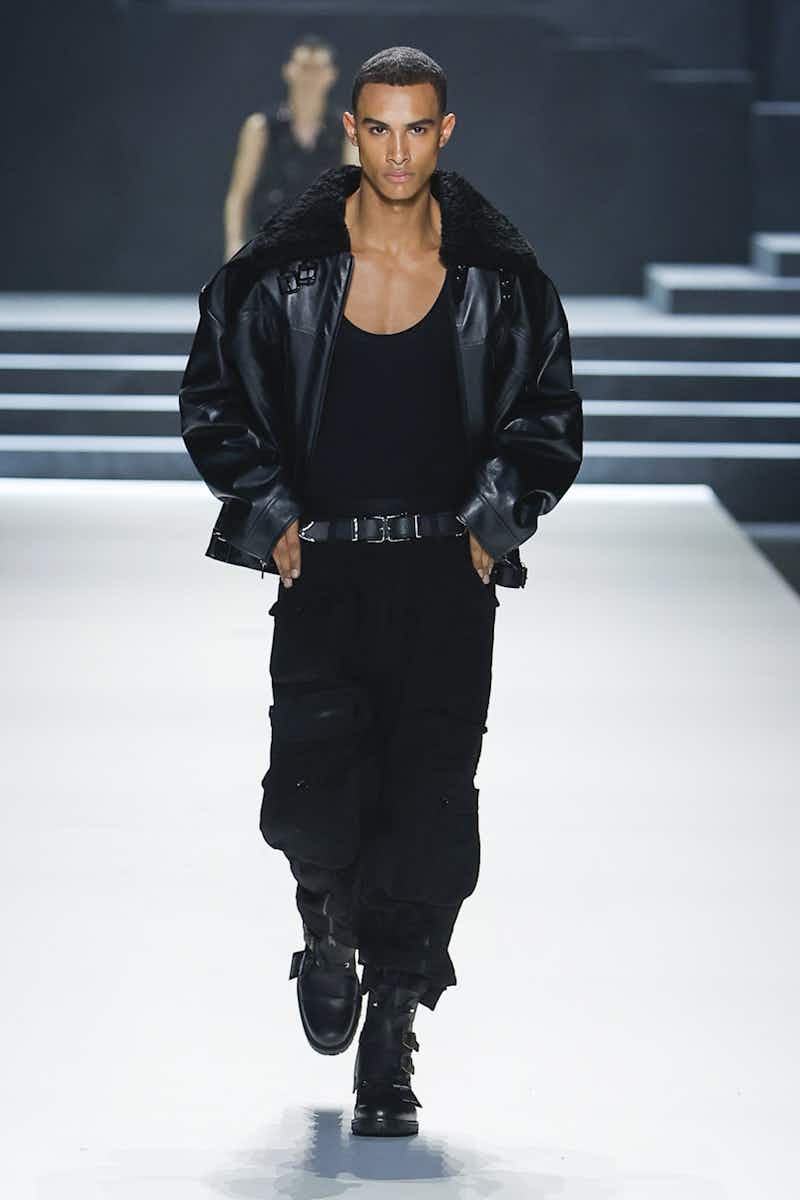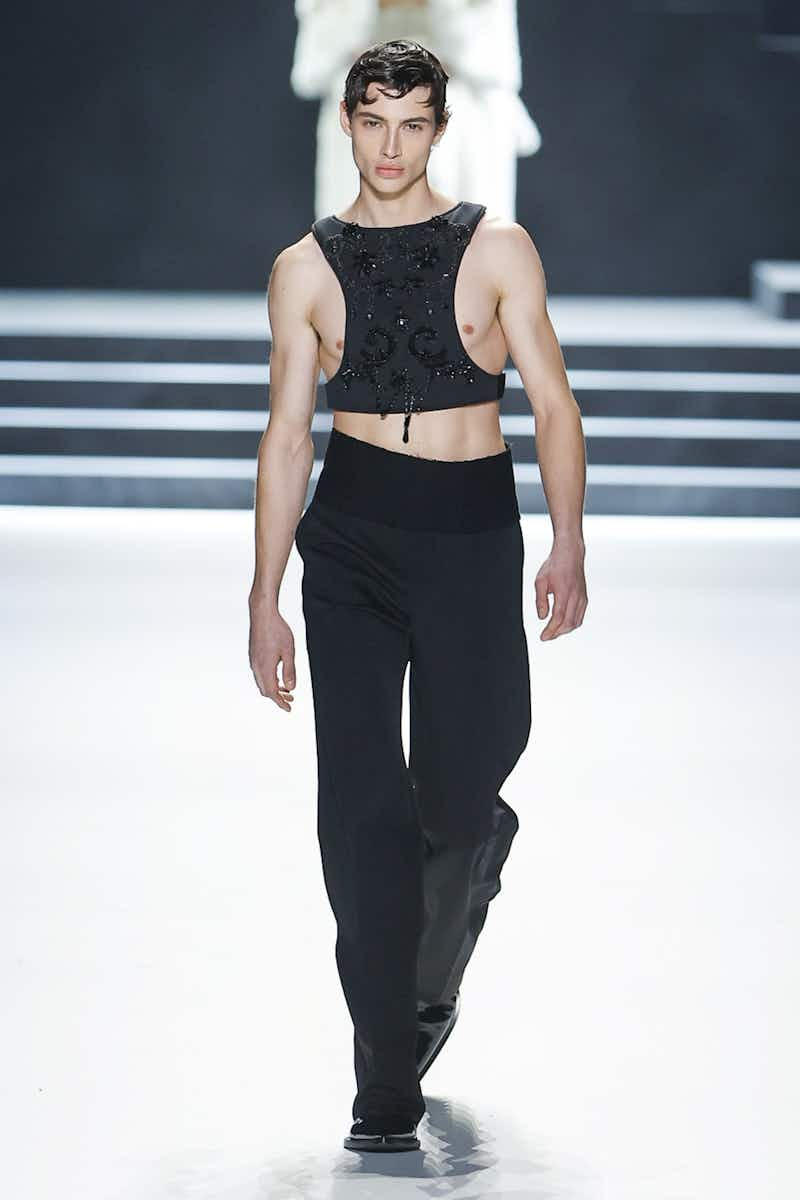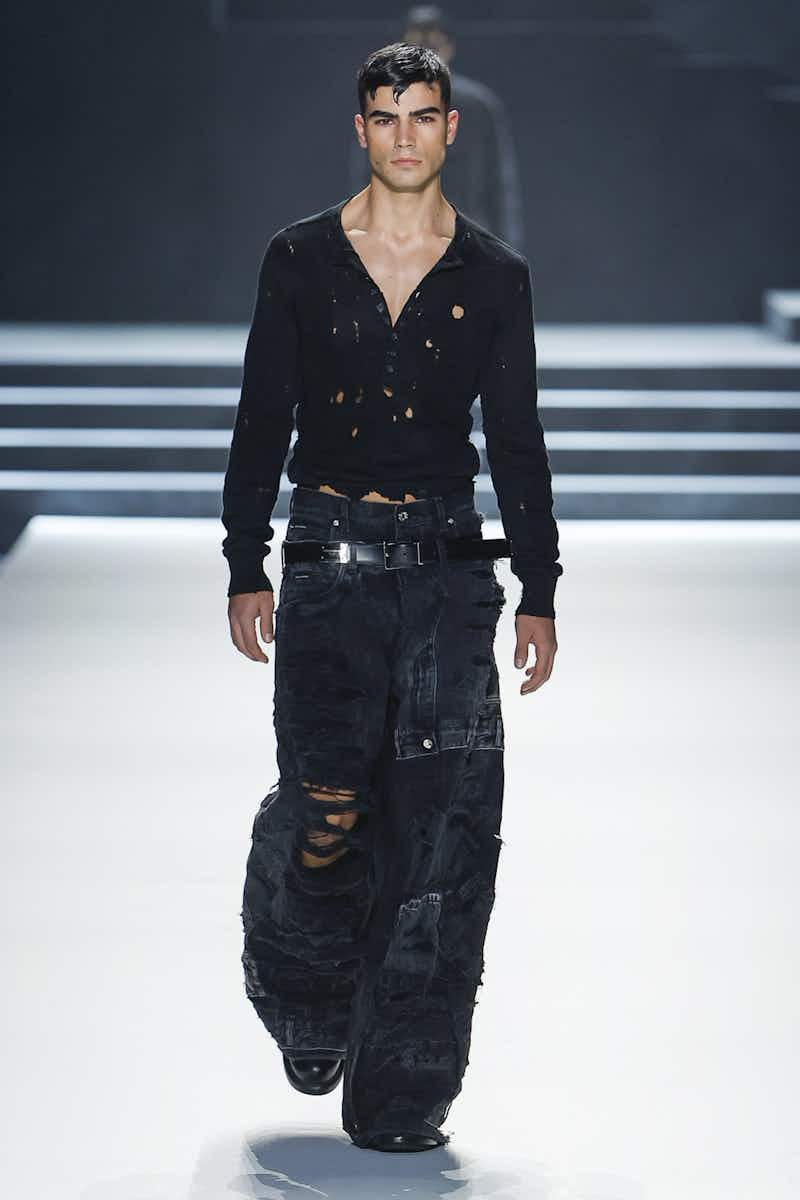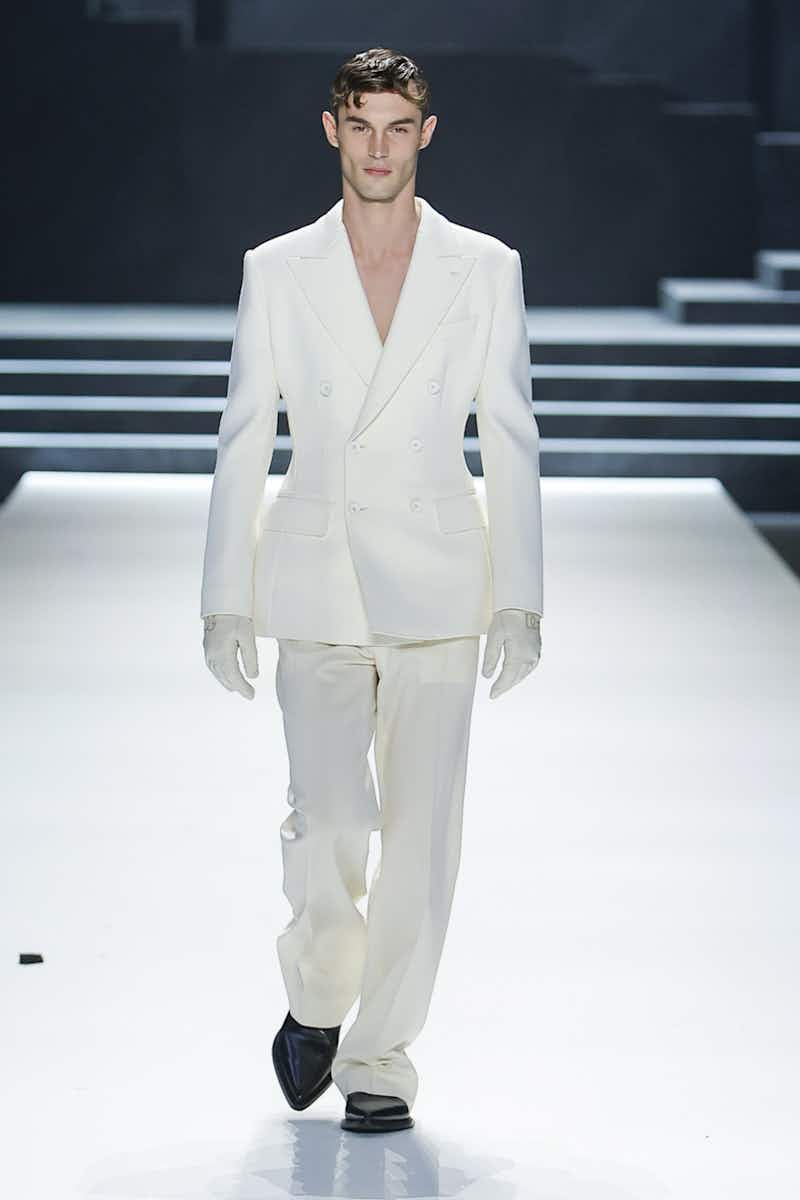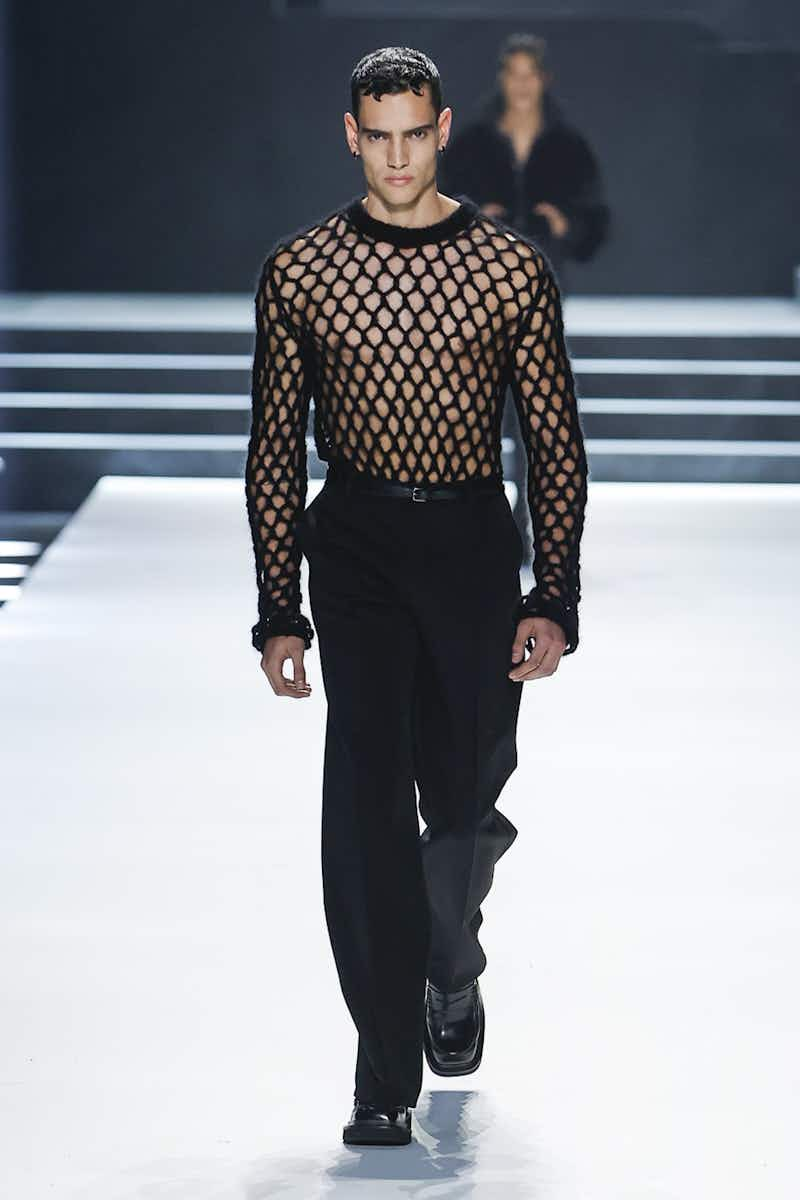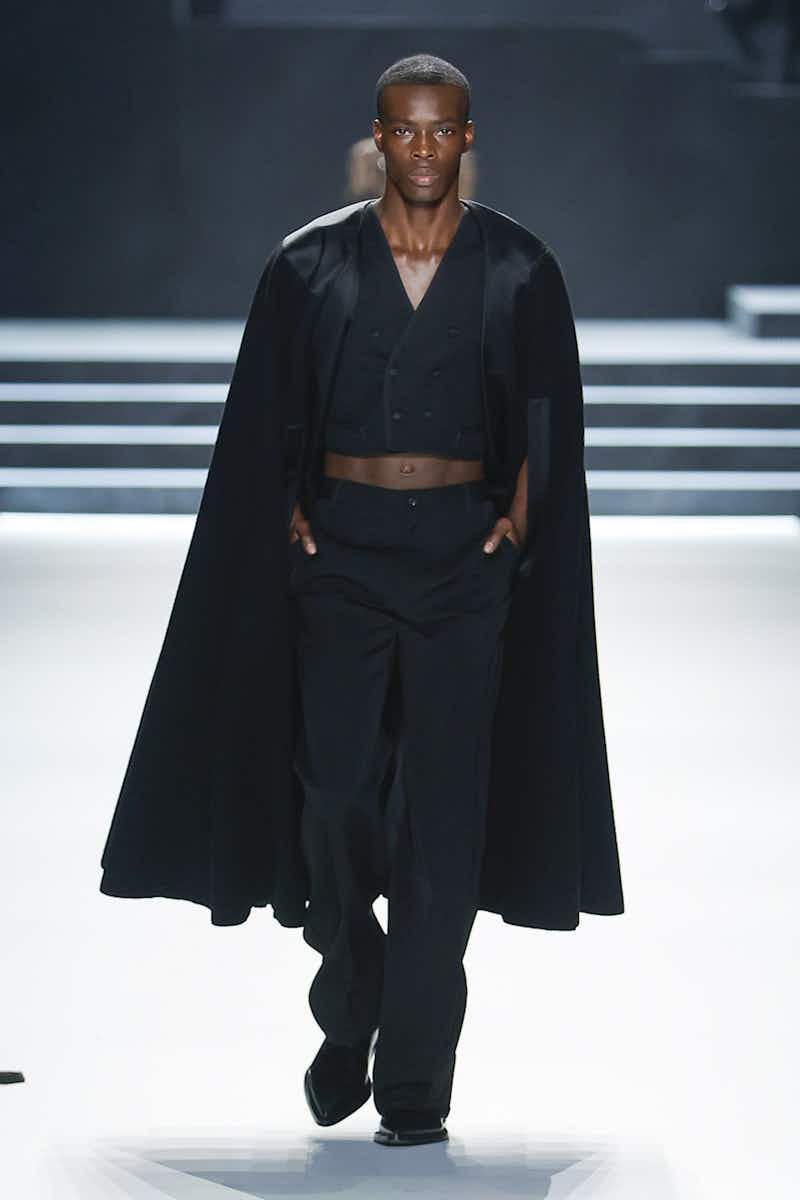 What?
Clothes for magnificent men in their flying machines.
Where?
The Tadao Ando-designed Armani theatre (a lot nicer than the work he did on Manchester's Piccadilly Gardens).
What were the clothes like?
Models walked out on, and literally circled, a map of Milan on the runway floor, wearing leather gloves, leather boots and leather flight caps. Dark sunglasses completed several looks (worn on the head like a pulled back pair of flight goggles), and the silk scarf-accessorised tailoring of the latter half felt indebted to the Golden Age of Air Travel. With Masters of Air coming to Apple TV+ this year, Armani will be hoping it takes off in the way Top Gun: Maverick did.
Best bit?
Either the cardigan and matching gilet twin sets or the T‑shirts made from the same wool as the suit they were worn under. Nice bomber jackets, too.
In a song?
Stop the Pigeon.
In a word?
Aviatic.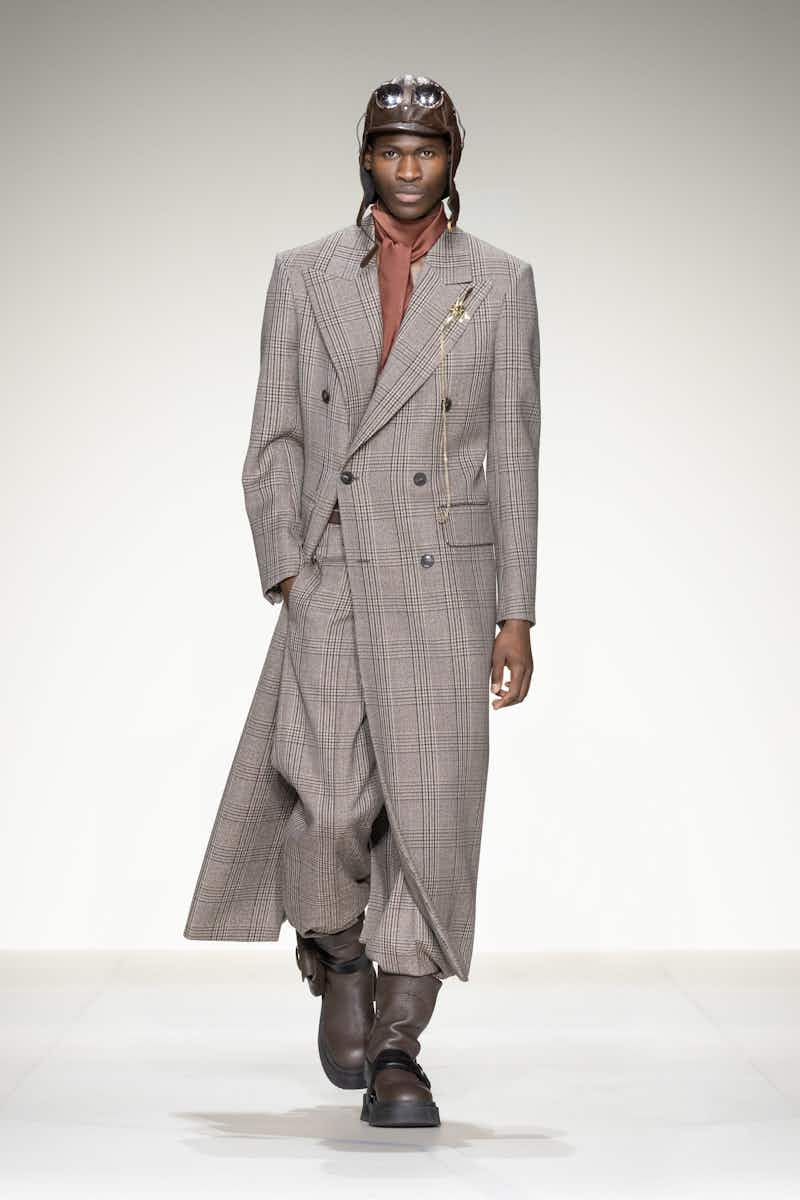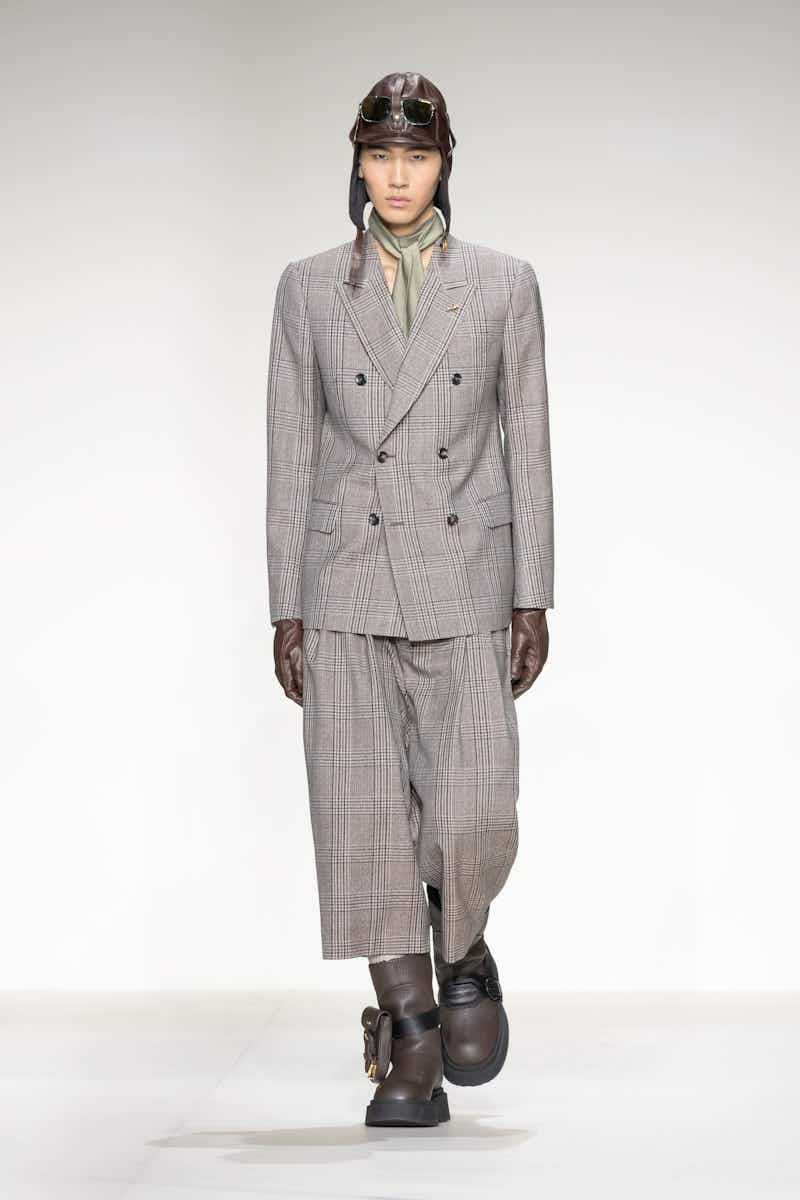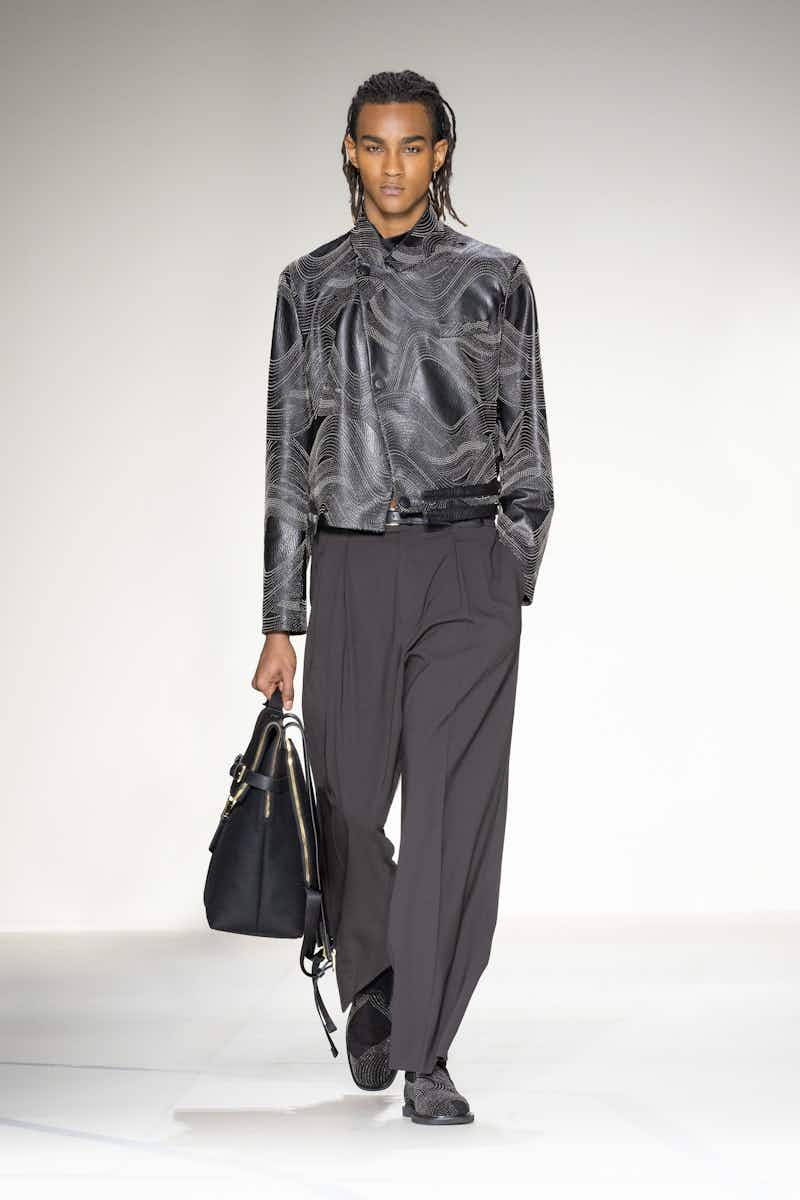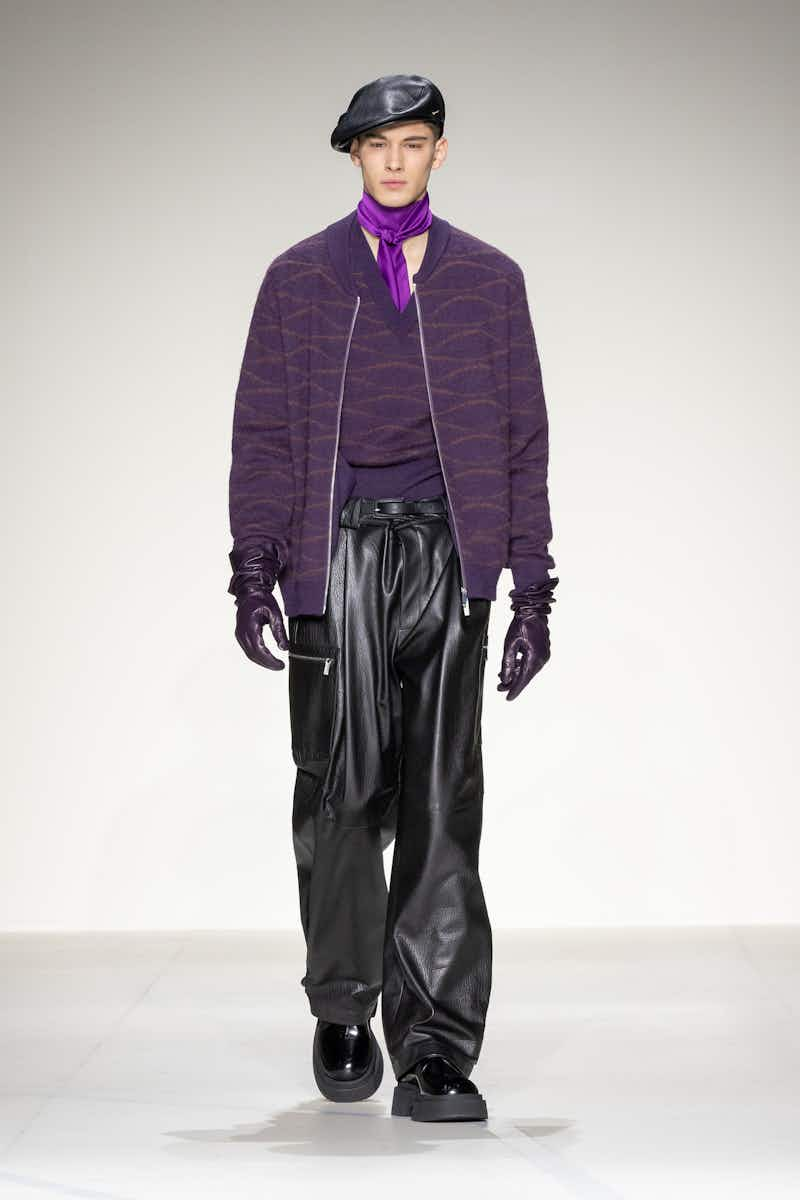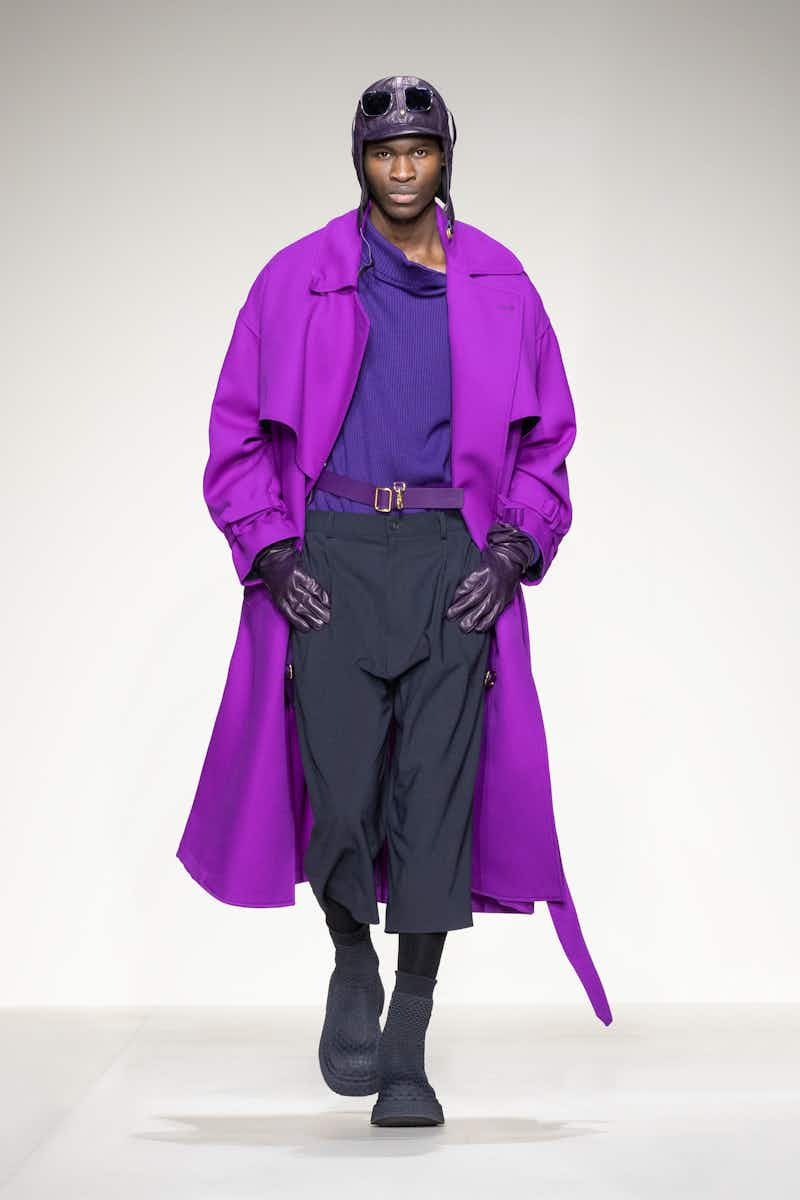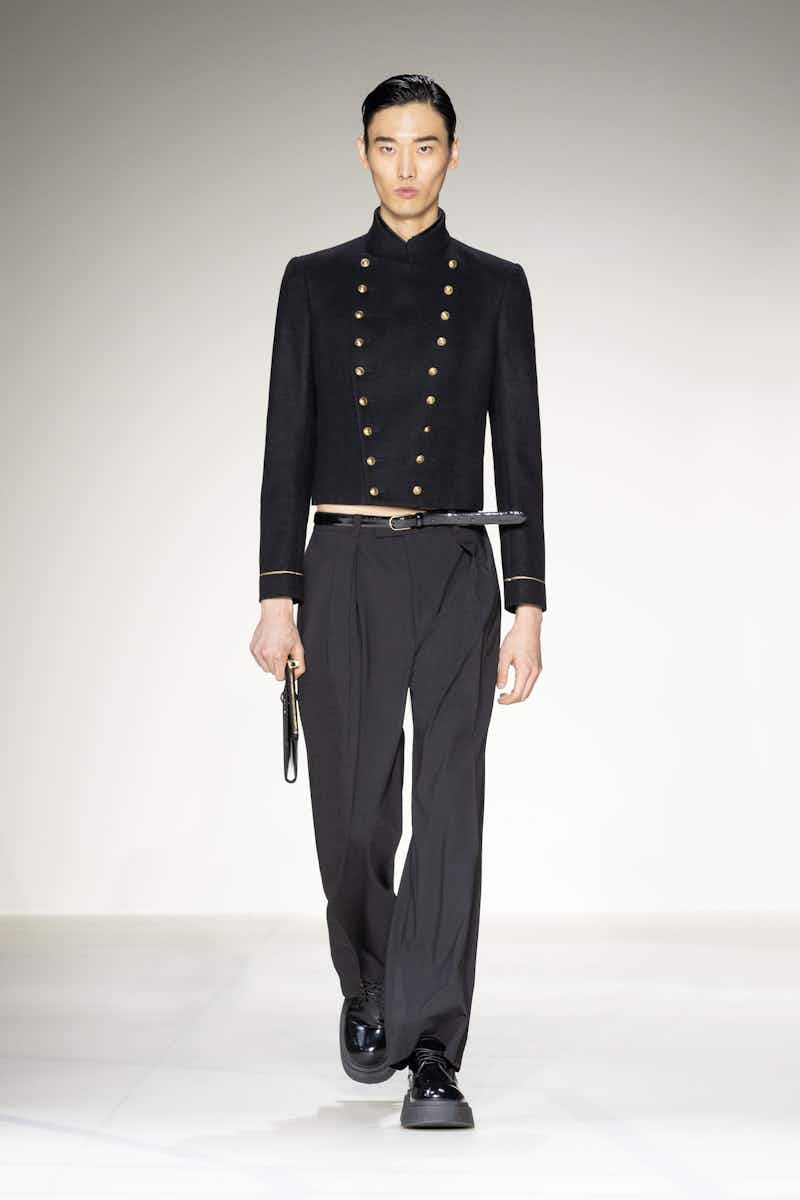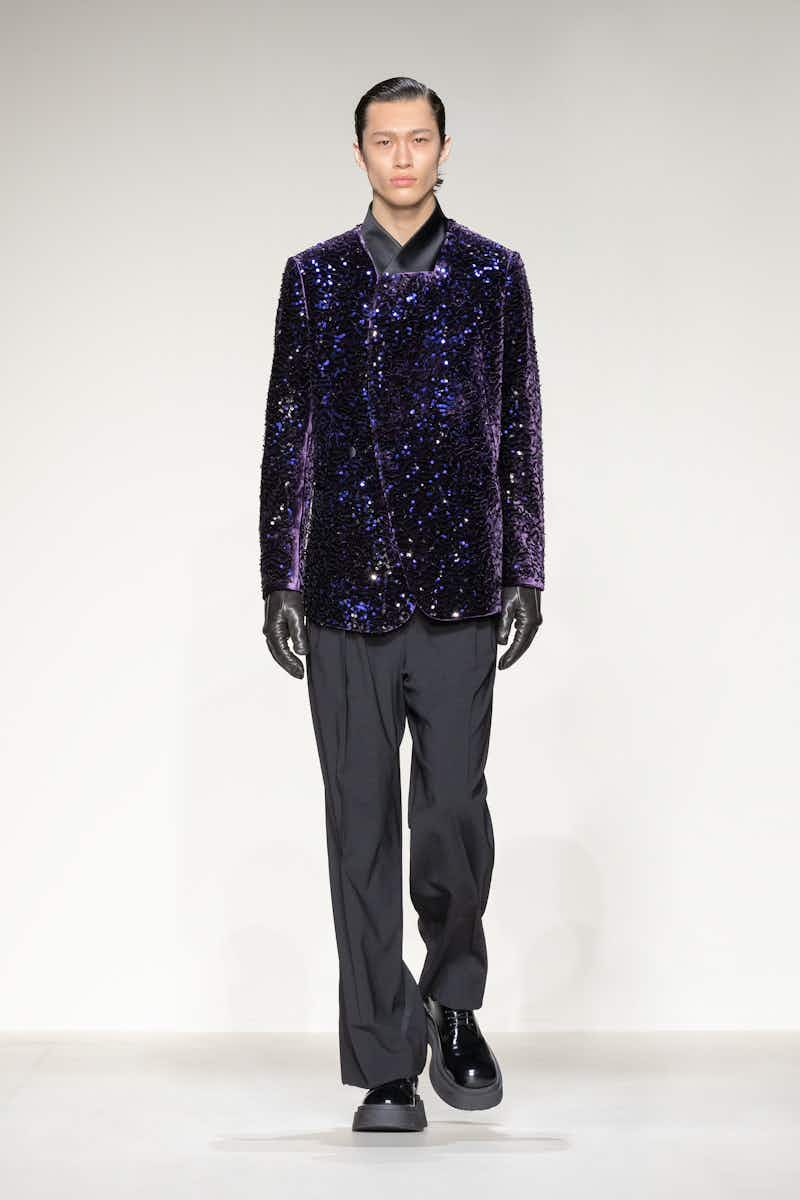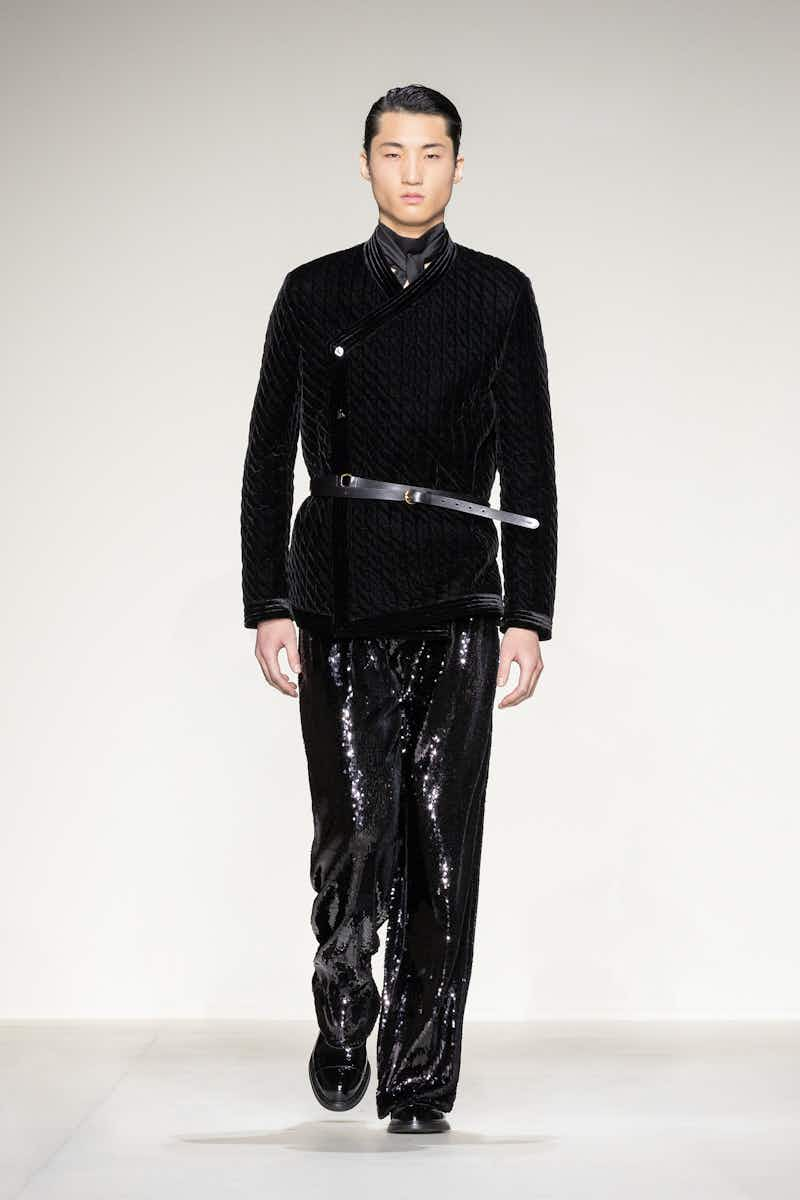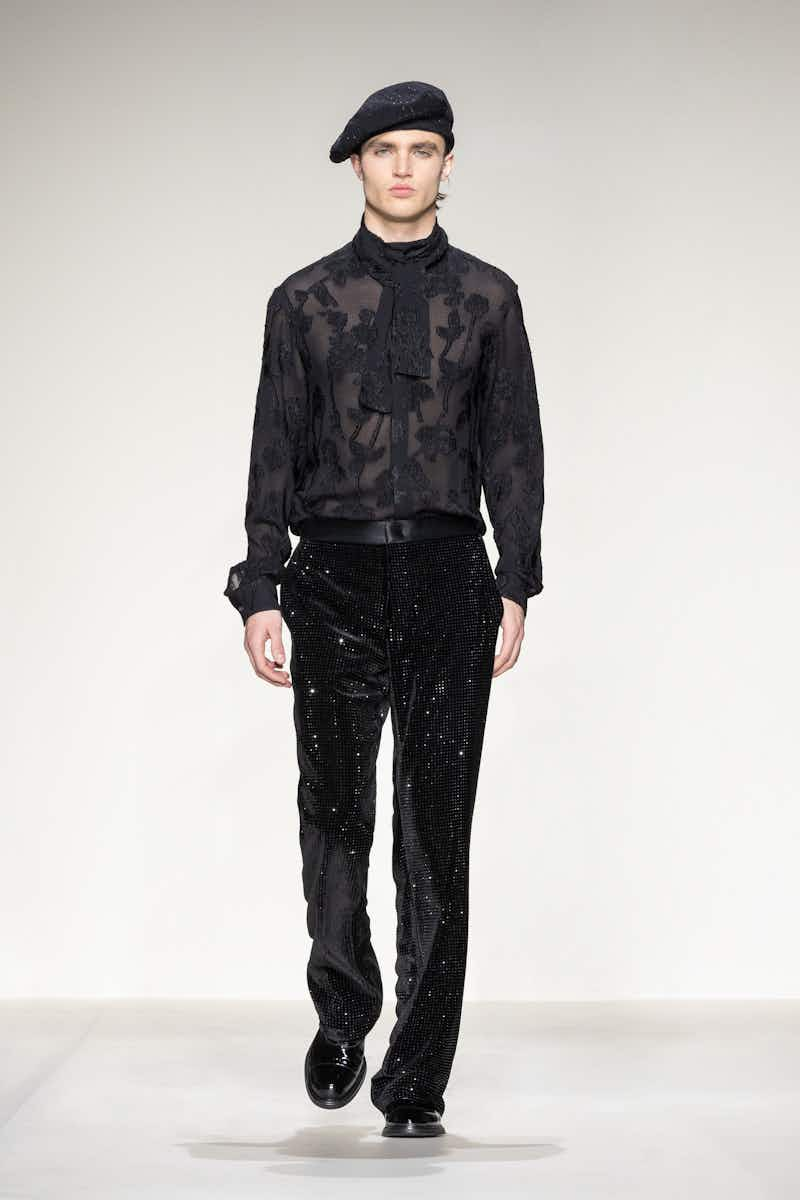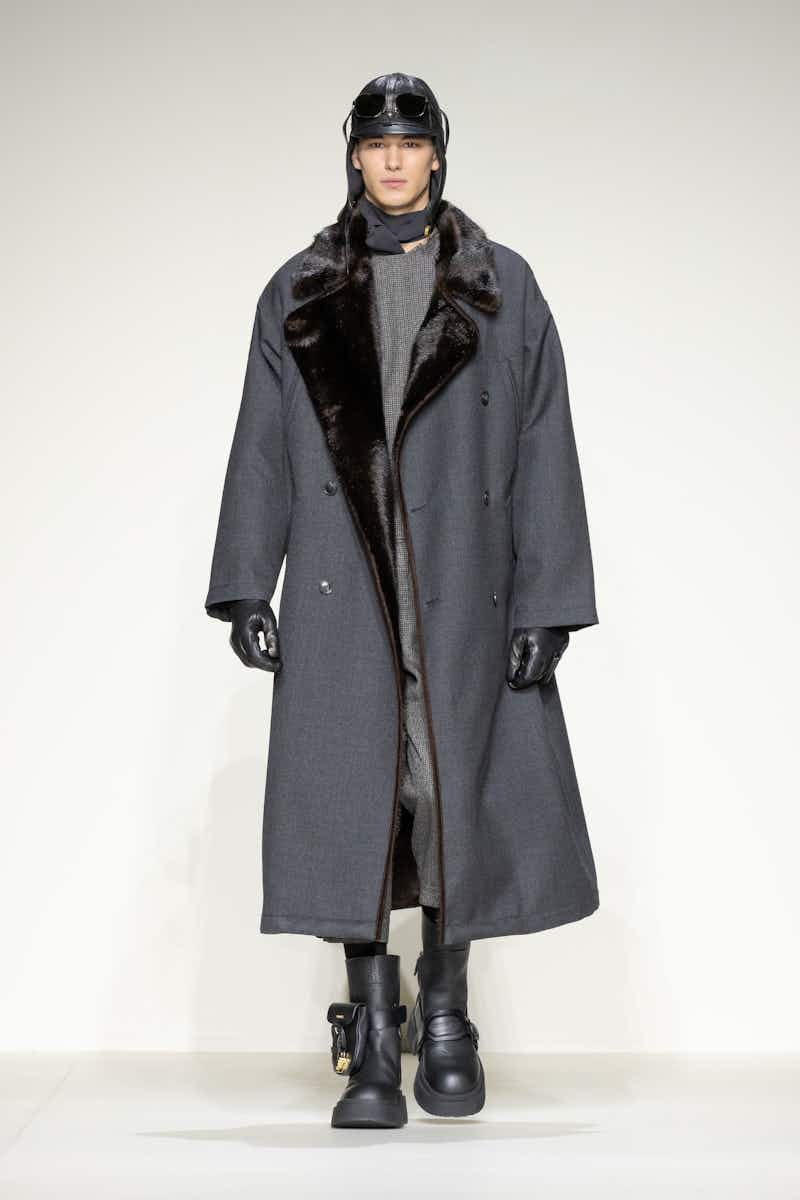 What?
The first show of Milan Fashion Week's second day.
Where?
The city's Polytechnic University (the reason for which will soon become apparent).
What were the clothes like?
Collegiate. Massimo Giorgetti's MSGM picked up where last night's heaps of fun Dsquared2 show left off. The kids have graduated high school and started college. Campus looks came stamped with MSGM college insignias and cat mascots. Sports team hoodies were branded with ​"University of Dreamers" logos (a nod to AW18's ​"University of Casualty" collection). Socks were pulled up, jumpers were tied around necks and pennant flags hung from layers of Oxford shirts, V‑necks and cardigans.

Best bit?
The signature covered jackets (apparently the John Hancocks of the entire MSGM team).
In a song?
Lo Sto Bene by CCCP Fedeli Alla Linea.
In a movie?
Dead Poets Society.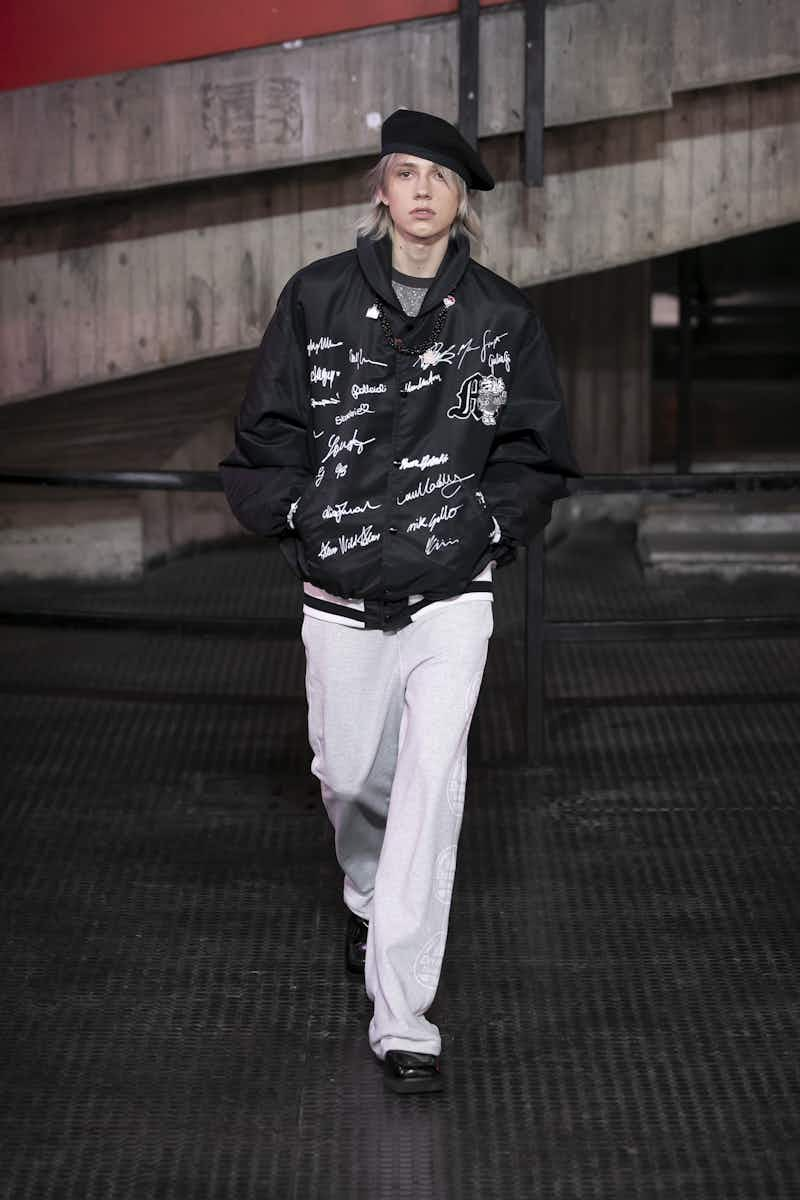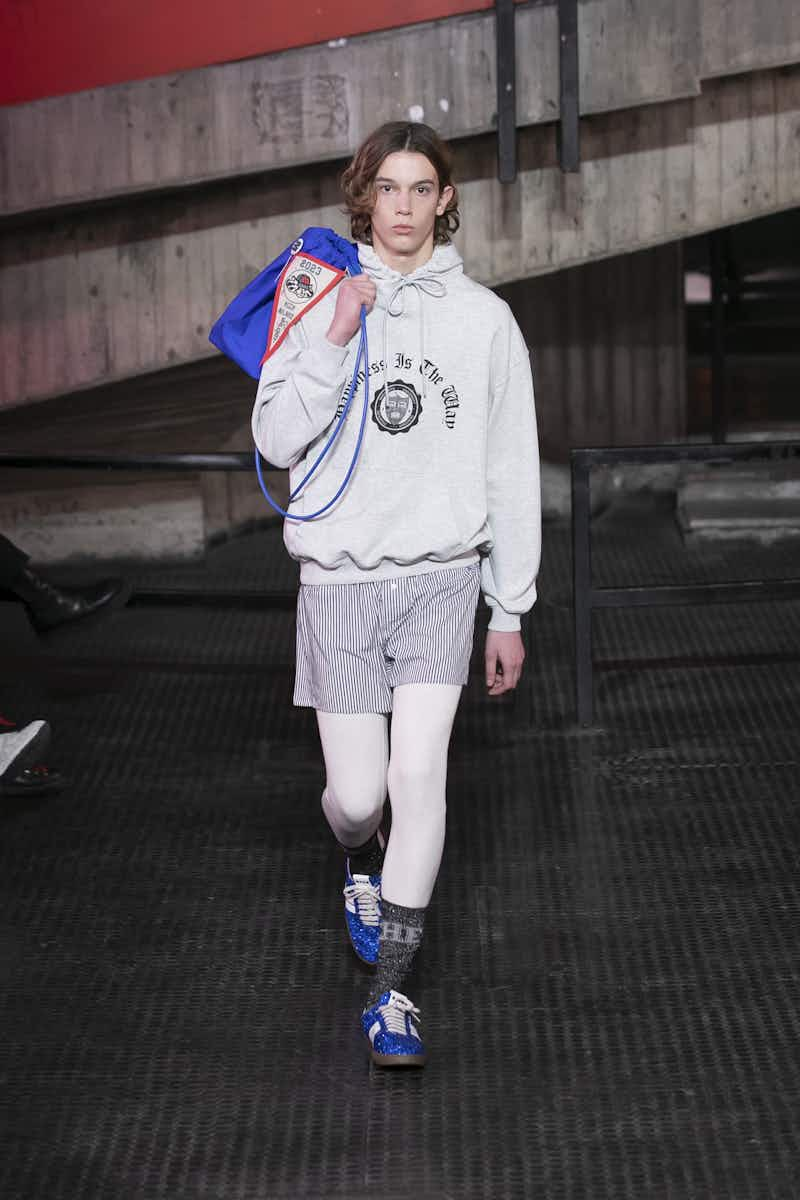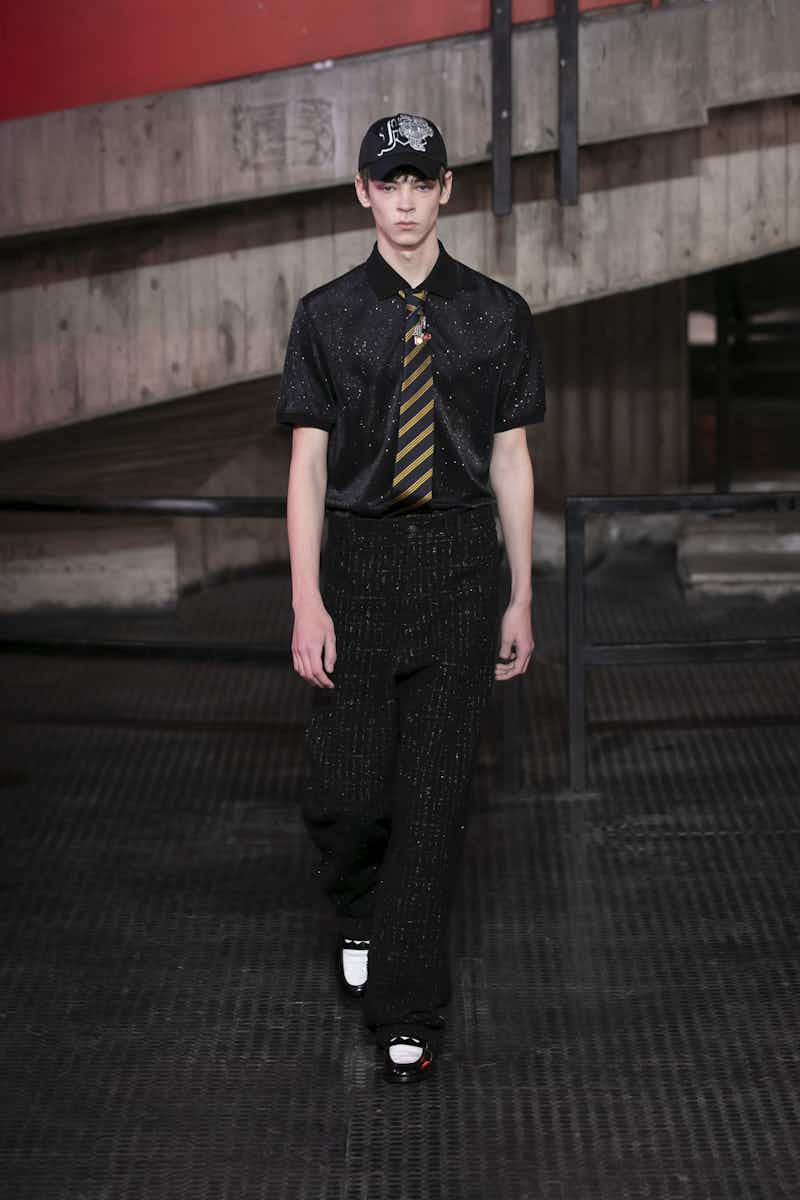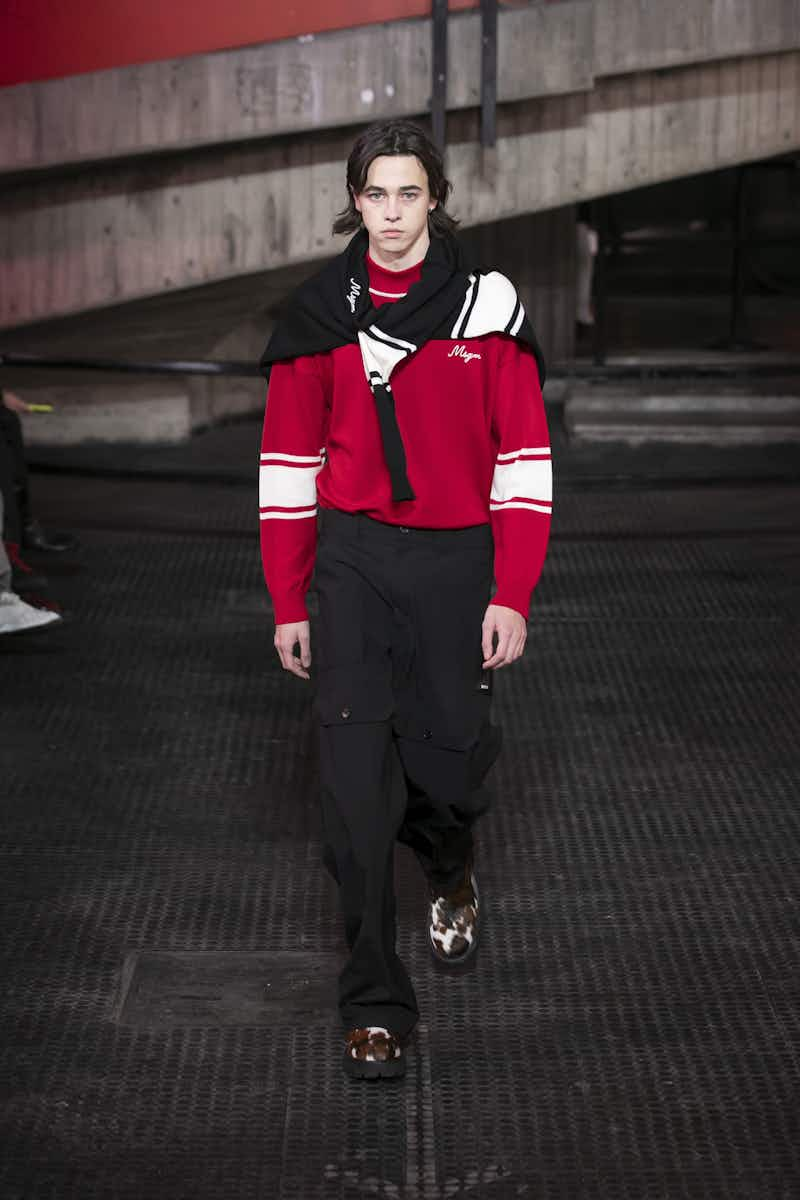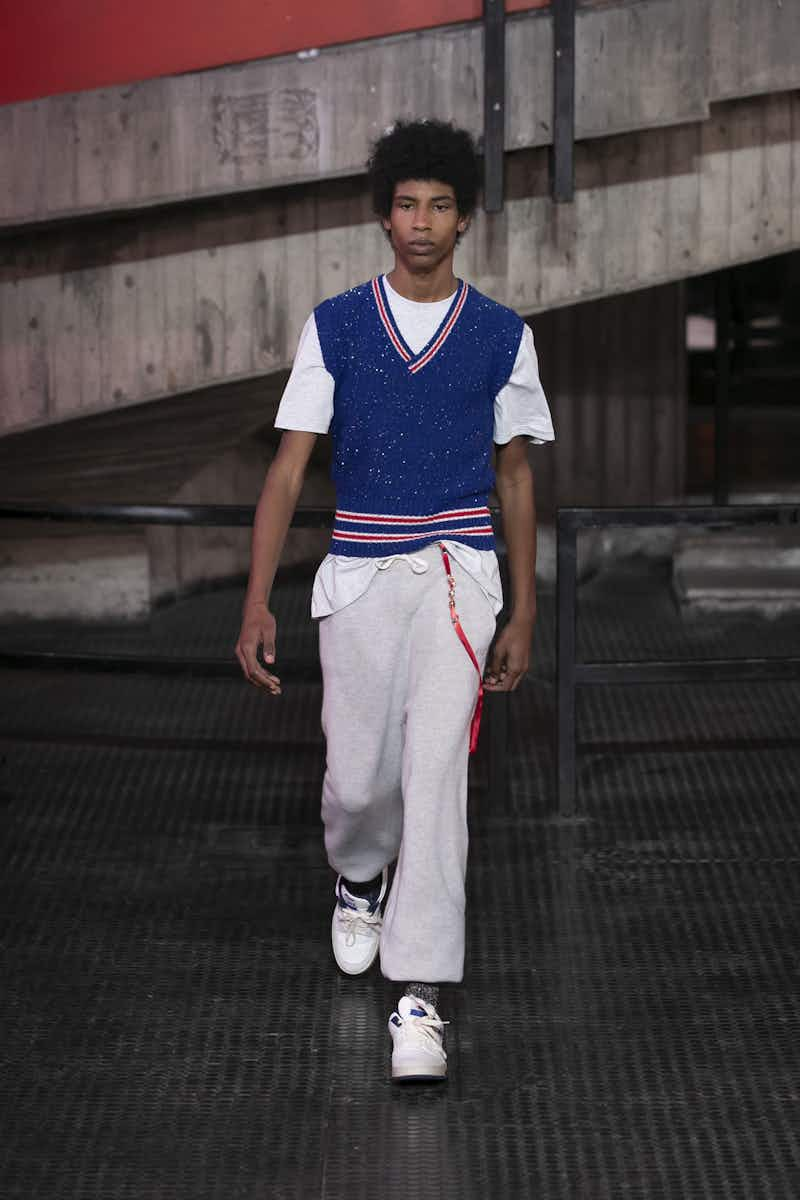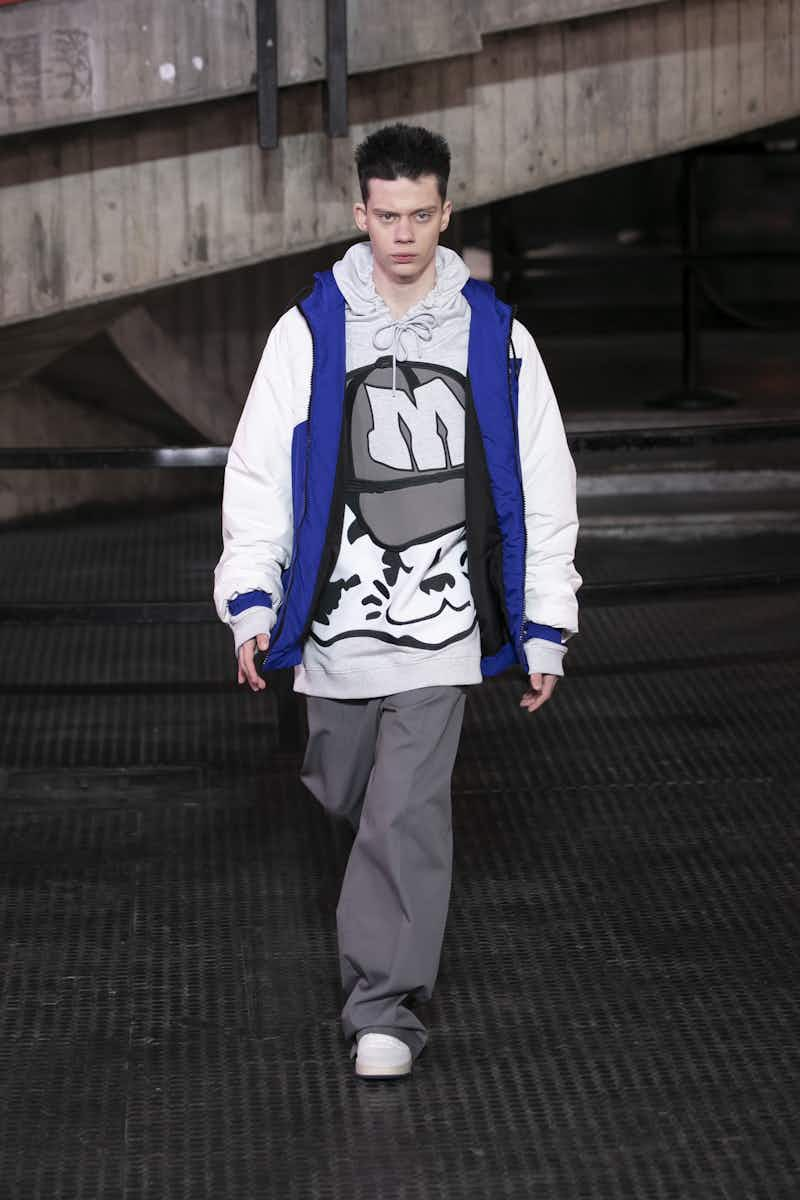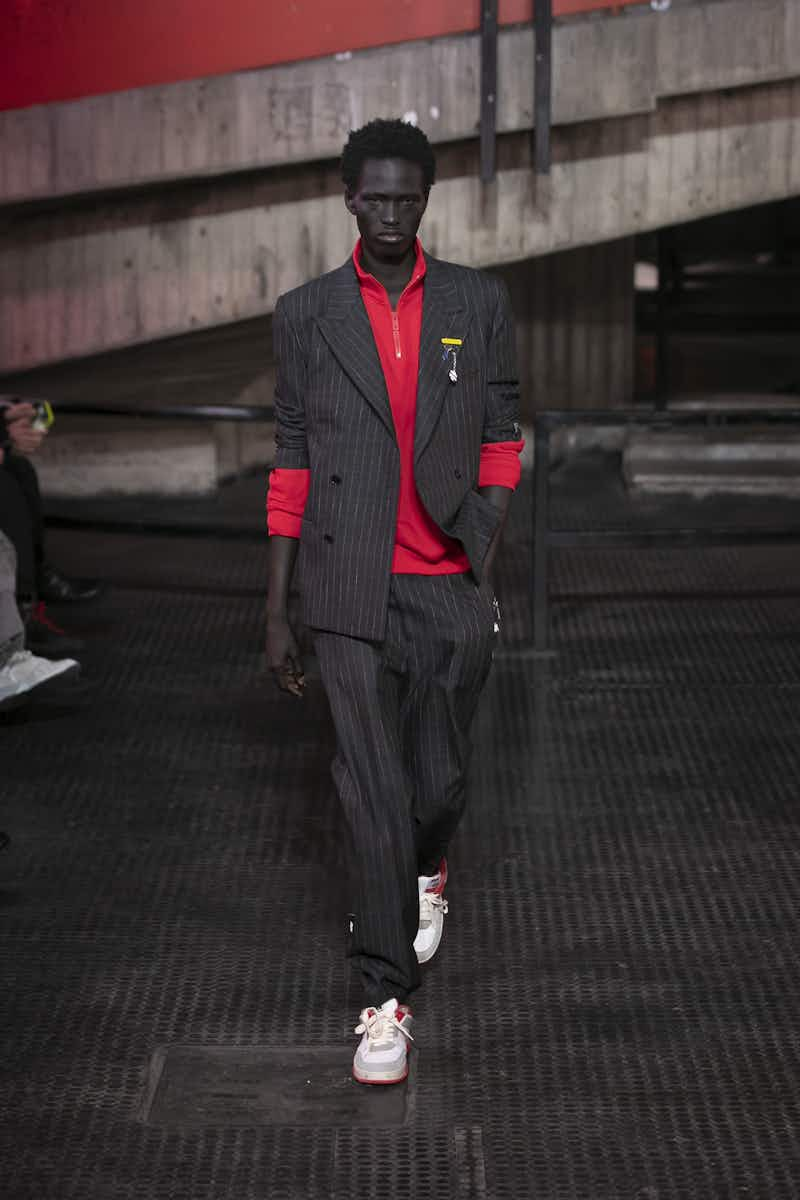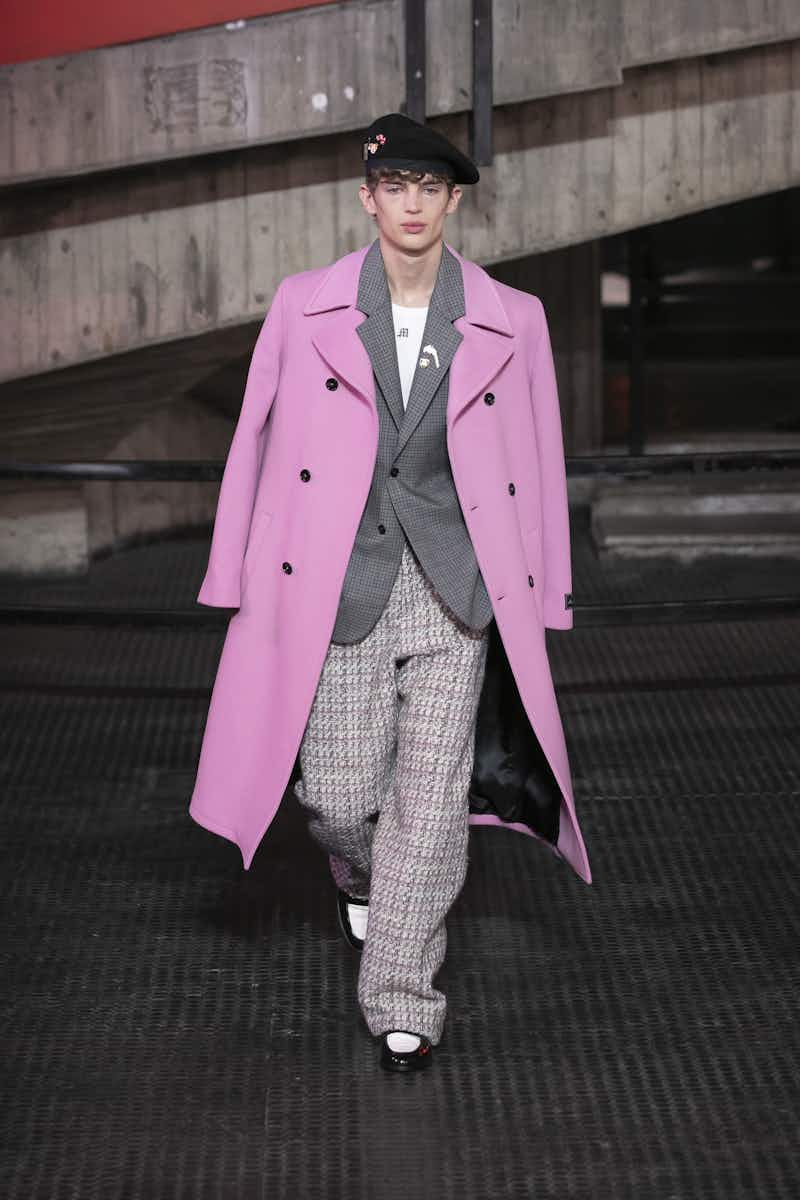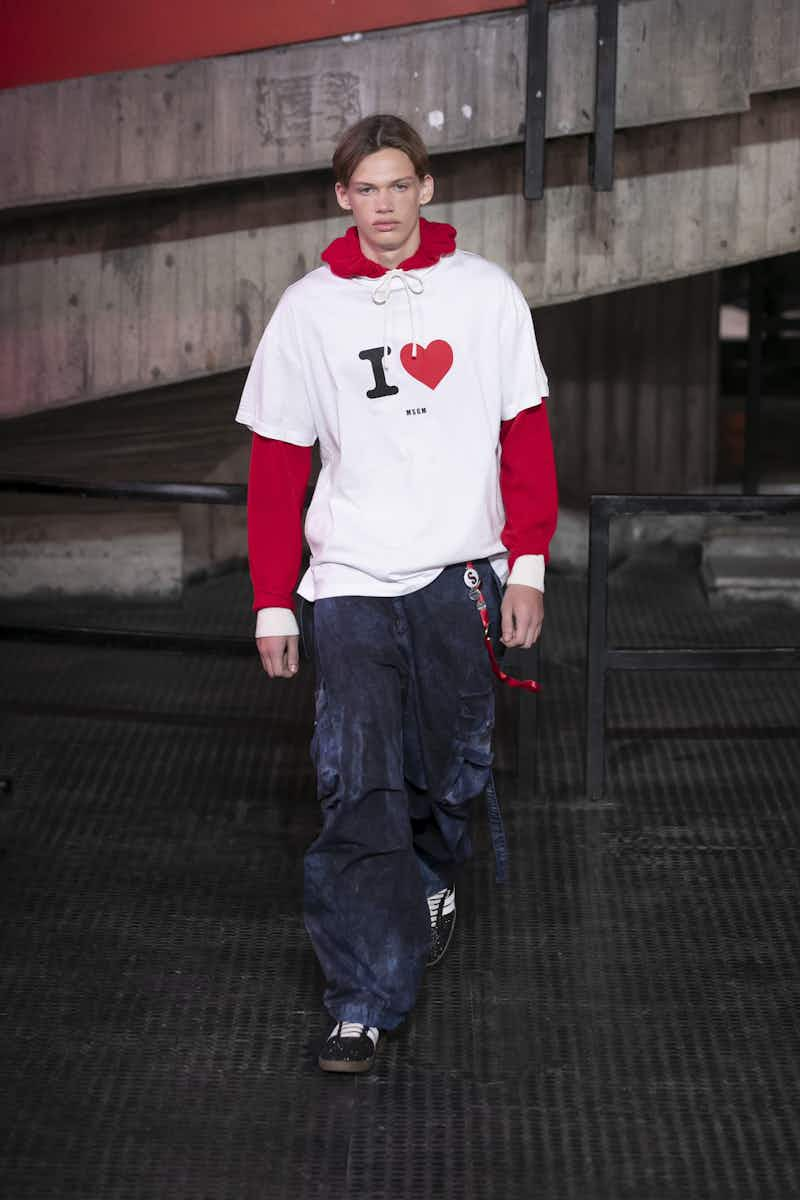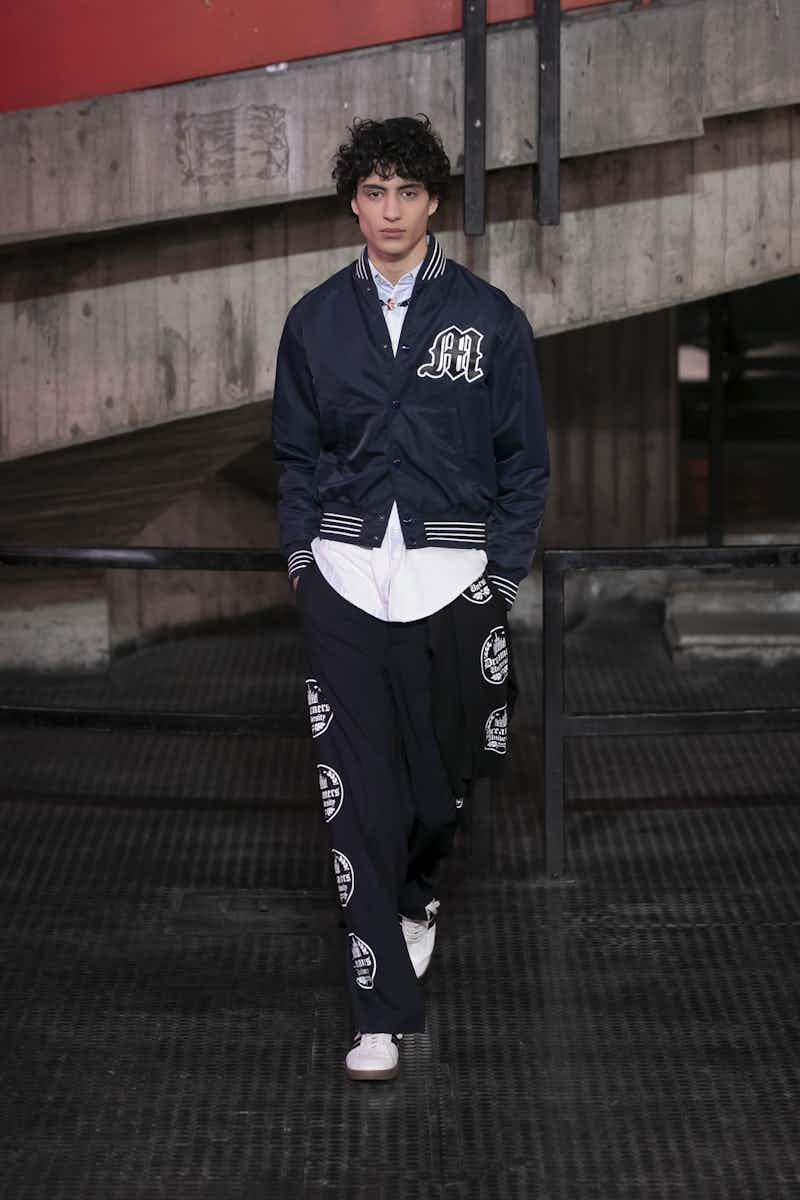 What?
A Dsquared2 show fit for Rydell High.
Where?
God knows, some big room somewhere. It was quite dark inside until the lights came on and illuminated a teenage bedroom, filled with Pac-Man paraphernalia, at the end of the runway. ​"Junior?" yelled a voice off-stage as a floppy-haired model pulled on a pair of pink cowboy boots and fringed jacket. ​"Get out of that bed if you ever want to be somebody!" Then, for some reason, the Grease soundtrack came on and– oh, who cares, it's so much fun.
What were the clothes like?
A teenage wet dream. Tops tight, flies open, bums out, the Grease soundtrack mega-mixing into Britney Spears's 2003 Outrageous (released the same year as the first Dsquared2 women's runway show). You could feel that era in the designs too, where trucker caps, big buckled belts and slogan T‑shirts worked alongside frayed denim, Western style fringing and shearling chaps. There was a preppy touch to some of the looks, with socks pulled up over tennis pumps, and varsity style pieces here and there. The effect was to create a high school collection with the entire studentry catered for: from jock kids to rock kids and nerdy nose pickers in between.
Best bit?
A T‑shirt that said ​"choke" in the same typeface as ​"Coke".
In a song?
Grease by Frankie Valli.
In a word?
Sandy!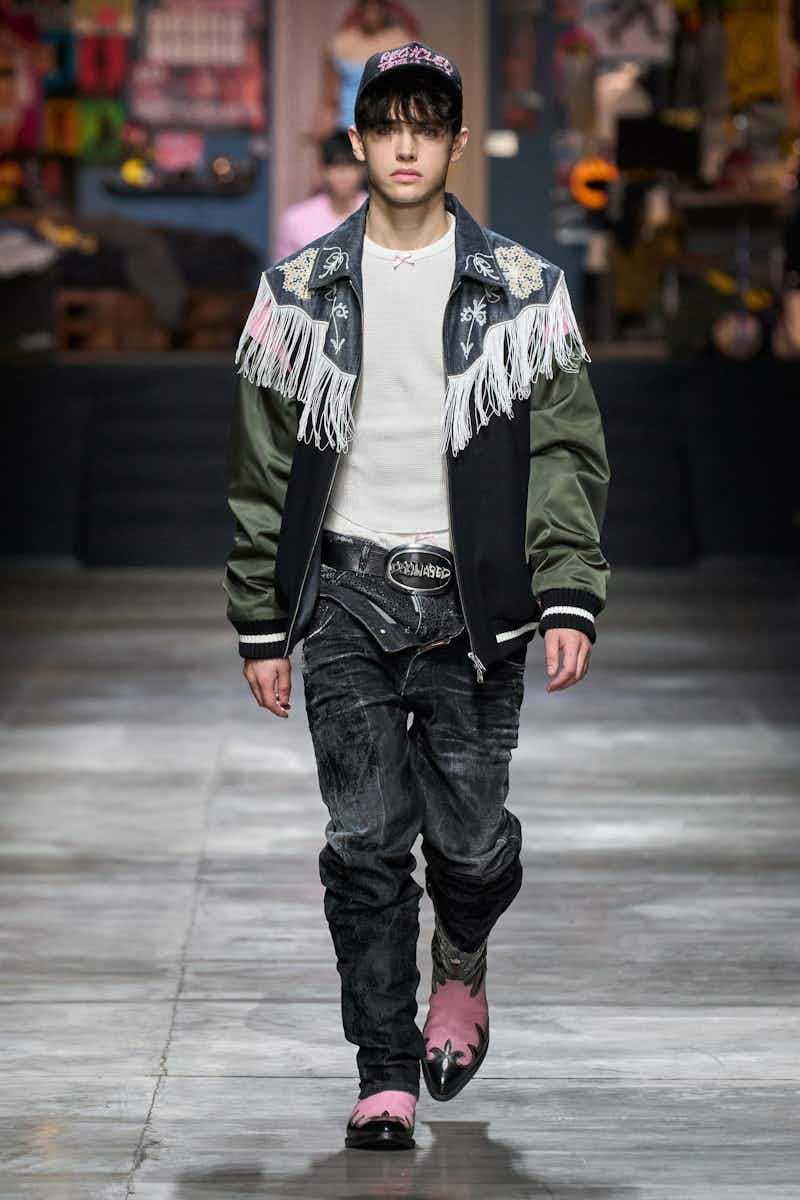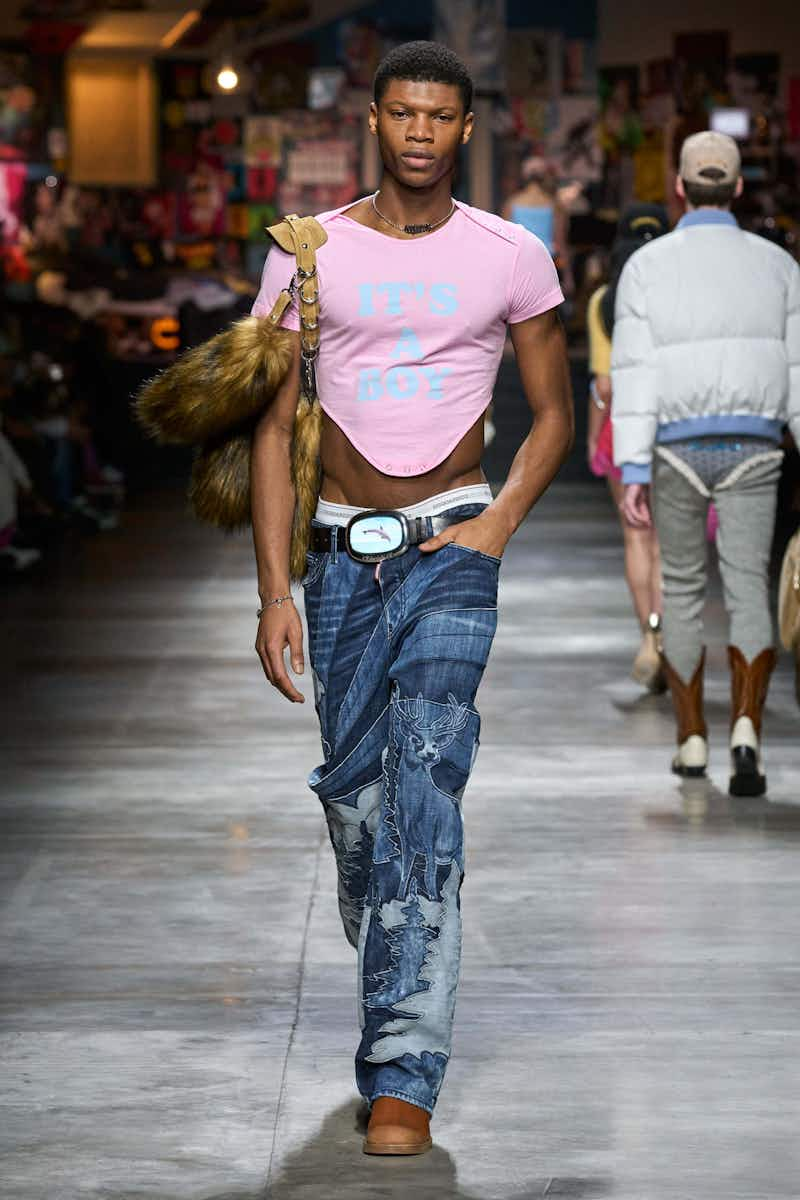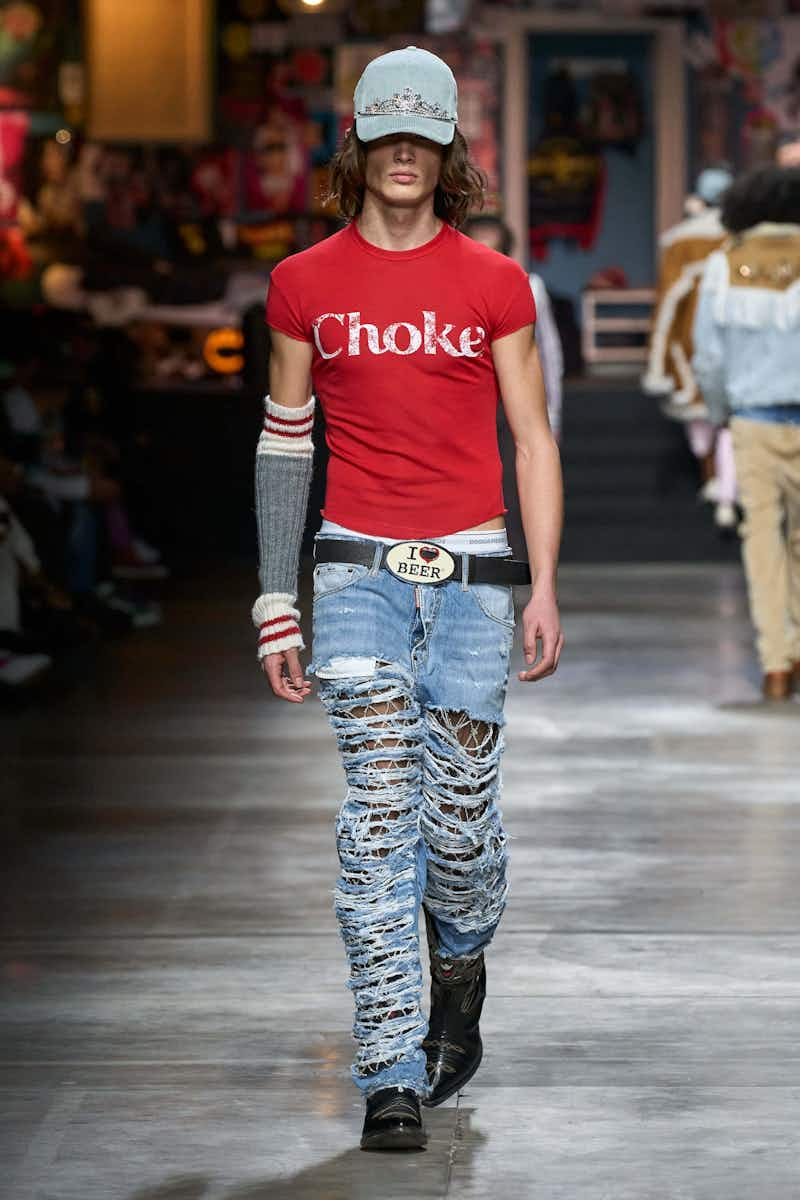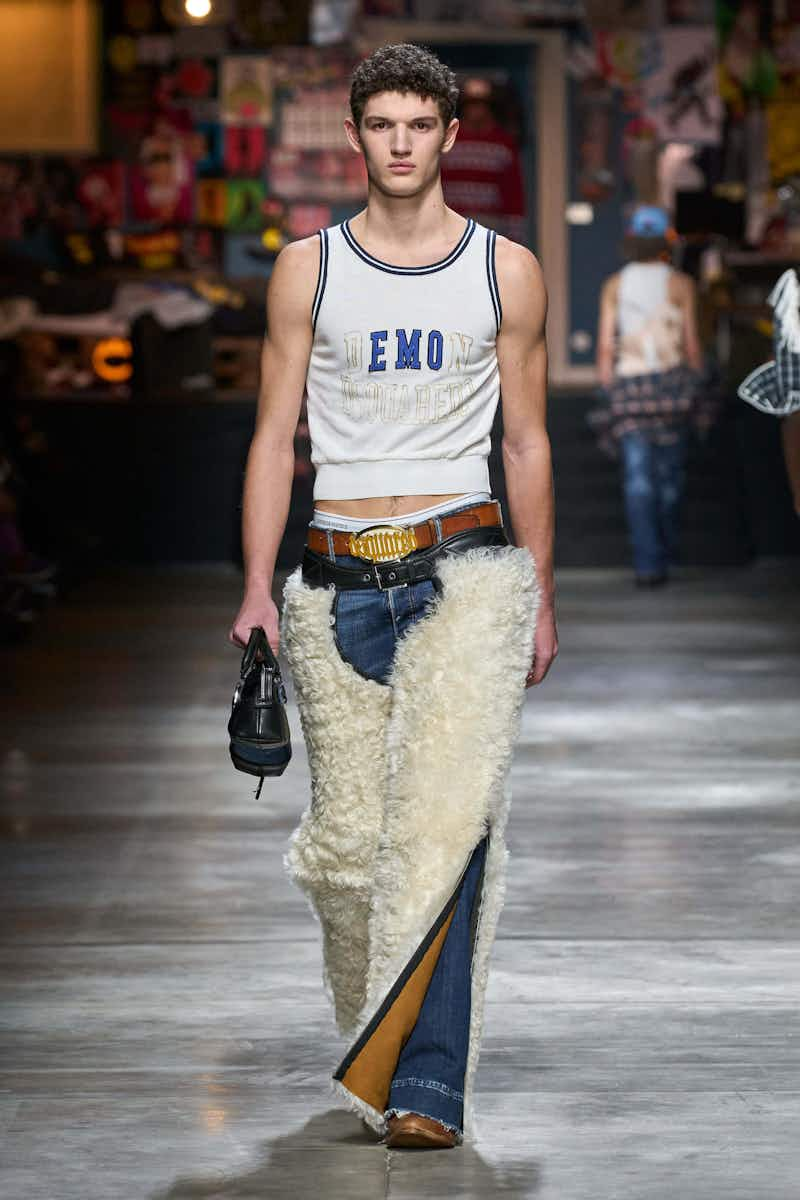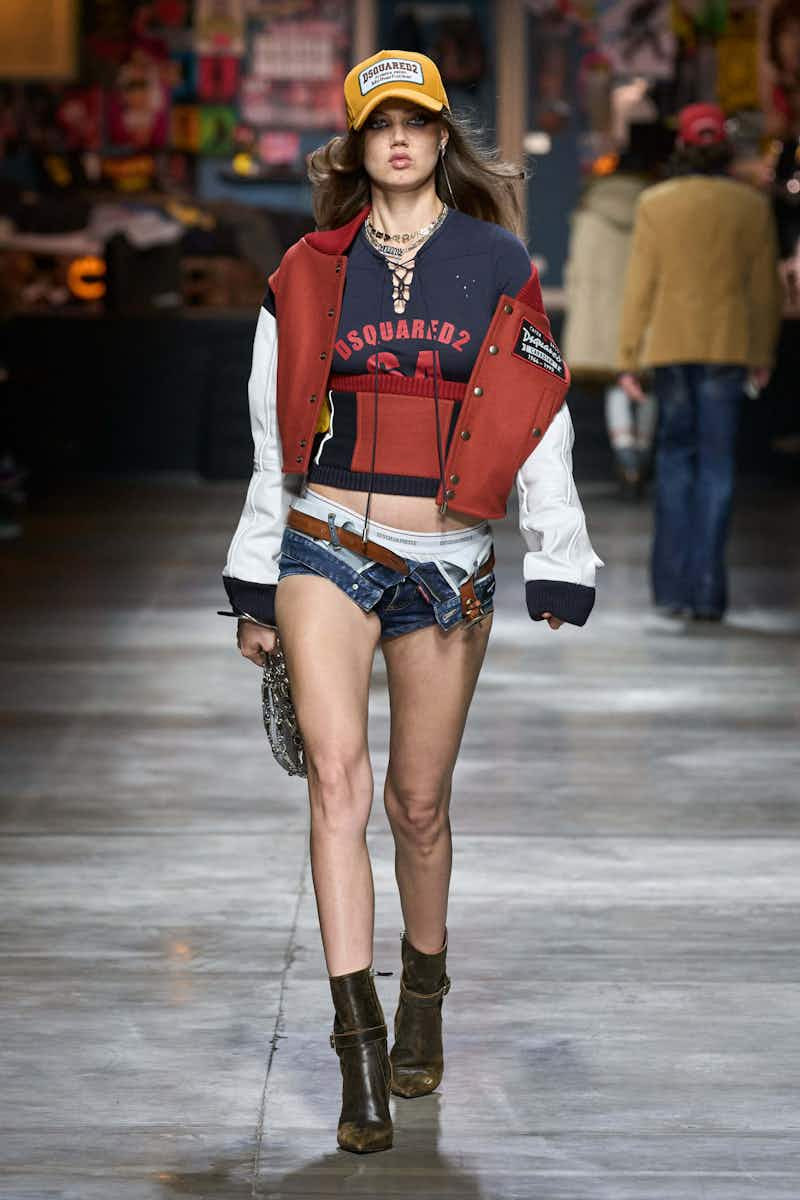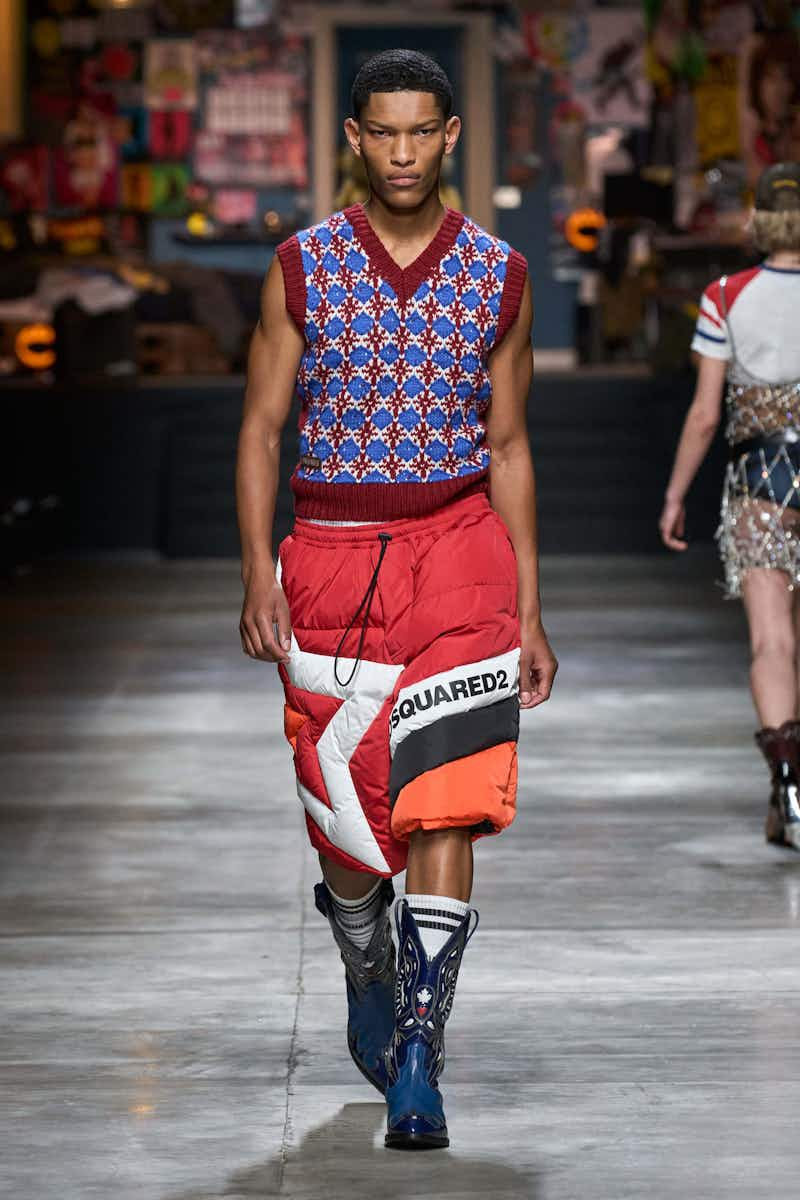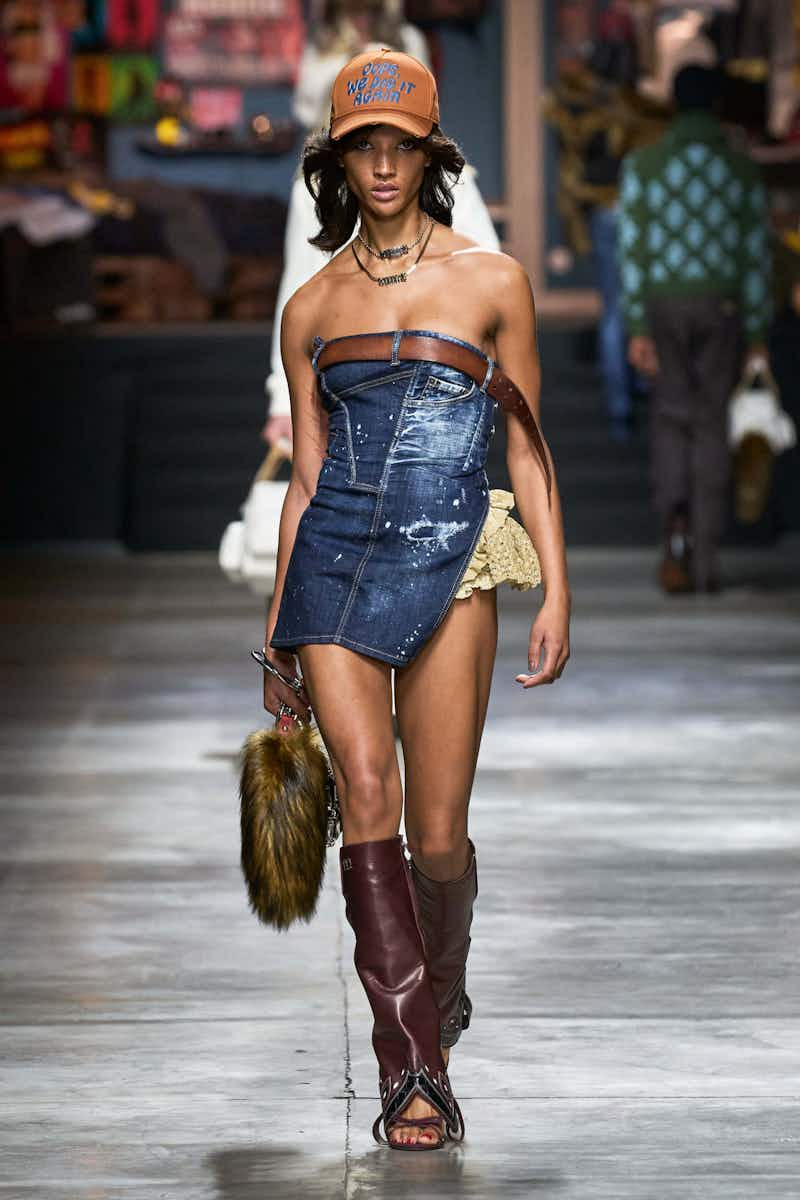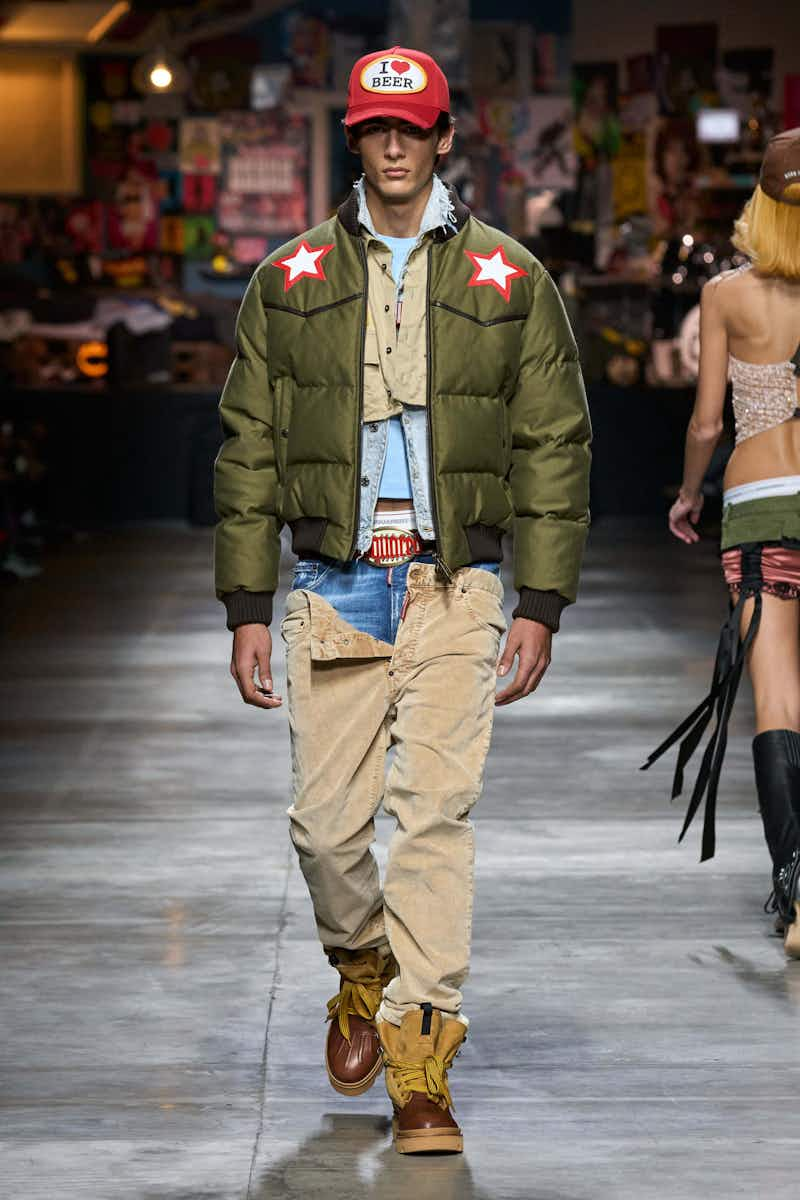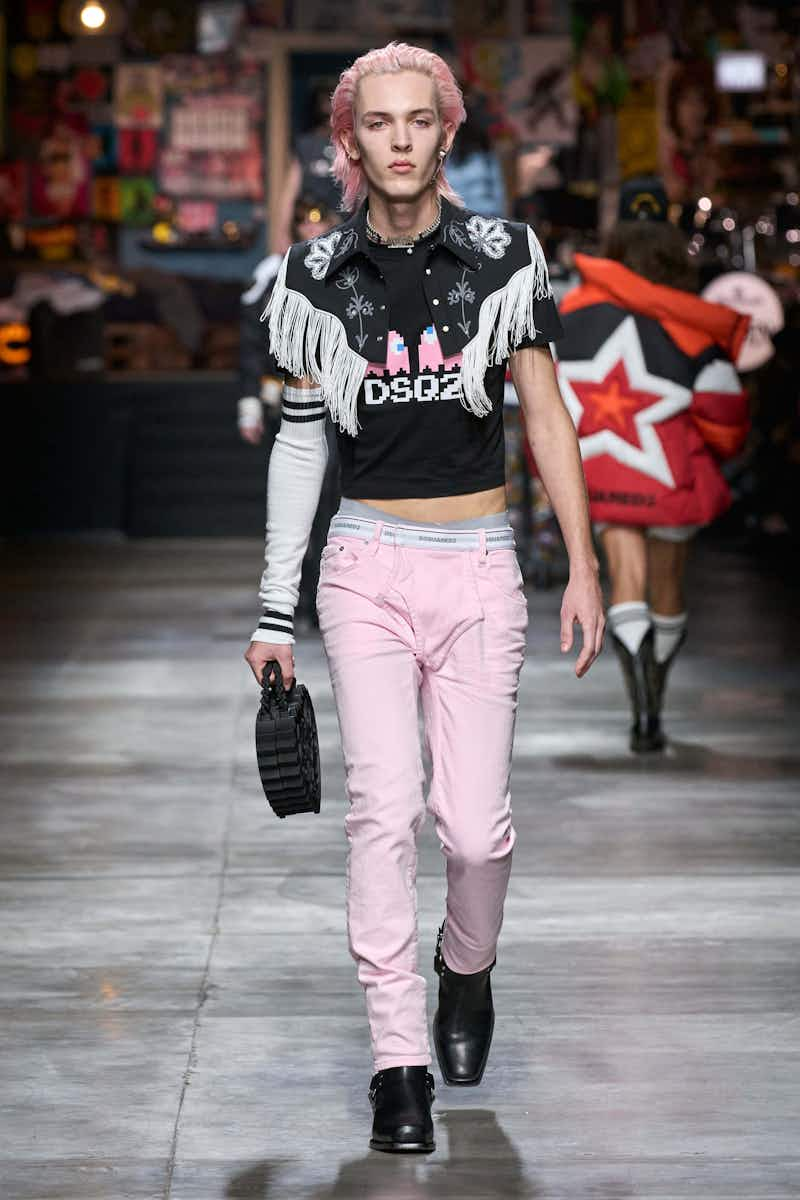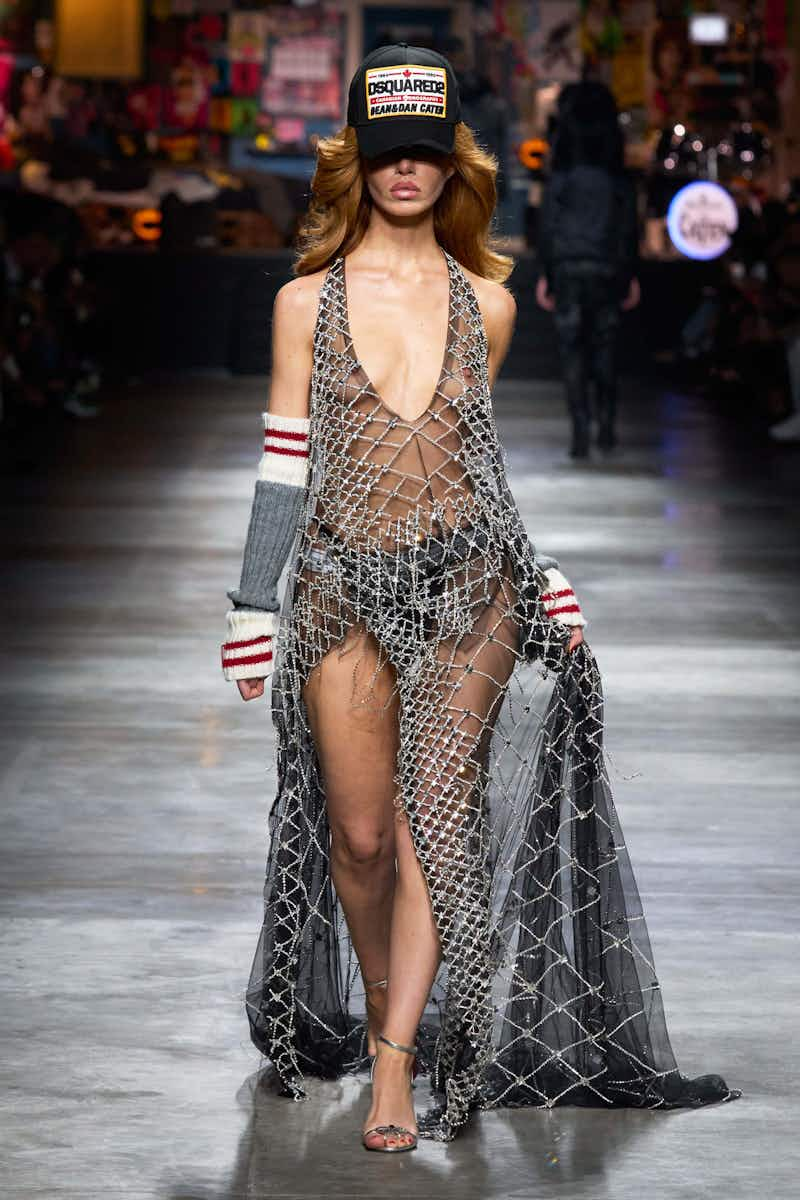 What?
The first Gucci show post-outgoing Creative Director Alessandro Michele.
Where?
Gucci's headquarters on Via Mecenate, Milan. Easy to find due to the large number of screaming Kai fans outside.
Why should I care?
Aren't you paying attention? Because this is the first Gucci show post-outgoing Creative Director Alessandro Michele; a designer who in seven and a bit years helped make the Italian brand one of the hottest, most recognised and most valuable on the planet!
So what did it look like?
Quietly revolutionary, actually. Take the first look: white t‑shirt, some voluminous yet classic brown trousers, a nice bag on the shoulder. A model carrying their own head, this was not. And it set the tone for a collection that was largely confident in its simplicity; a logical place to take the brand after the best part of a decade of Michele maximalism.
How did they do it?
Collaboratively. According to the show notes: ​"the collection was designed by the studio, which is made up of expert designers and artisans, many of whom have worked for Gucci for decades."
What were the best bits?
The faded denim trousers, which felt pleasingly ​'00s but not in a way that rammed it down your throat. And the jewellery, which was eye catching and luxurious yet personal, too; a balance the brand managed to strike throughout the collection.
Who was there?
KAI, KAI, KAI!
In a song?
Lies My Body Told Me by Ceramic Dog.
In a word?
Intriguing.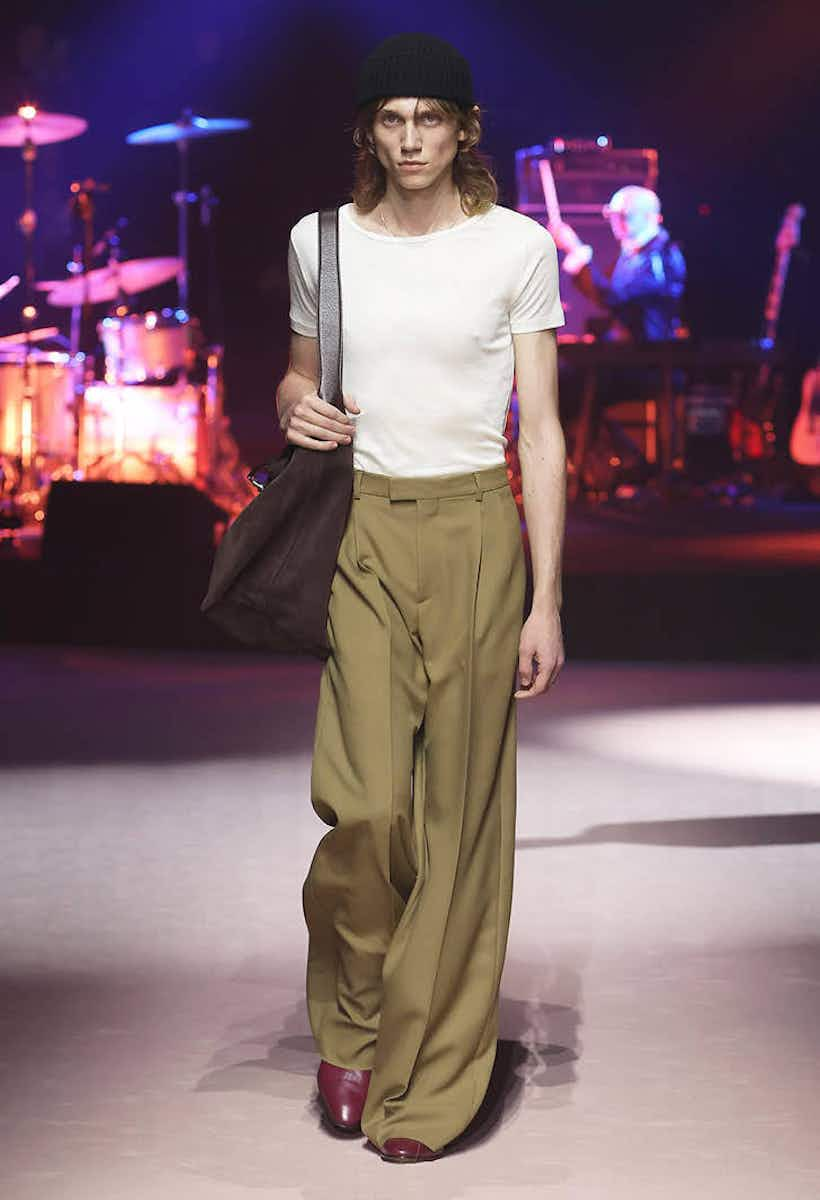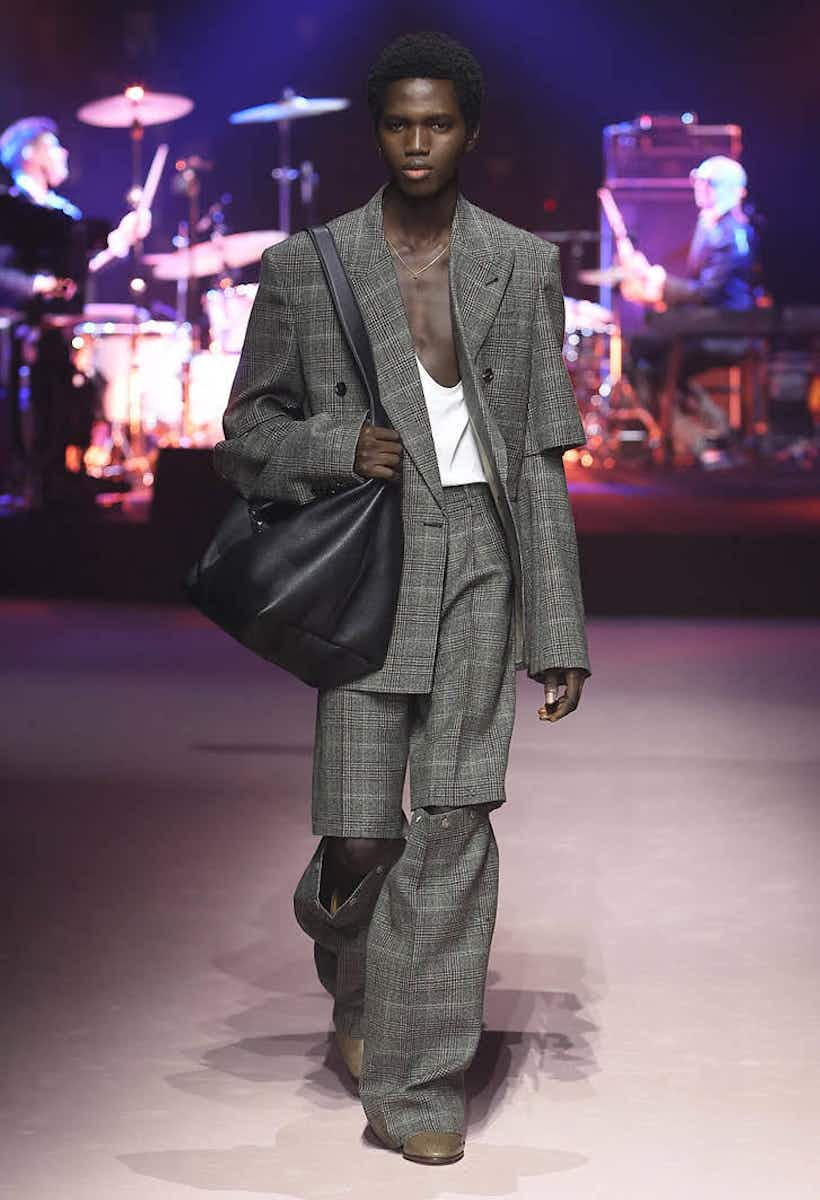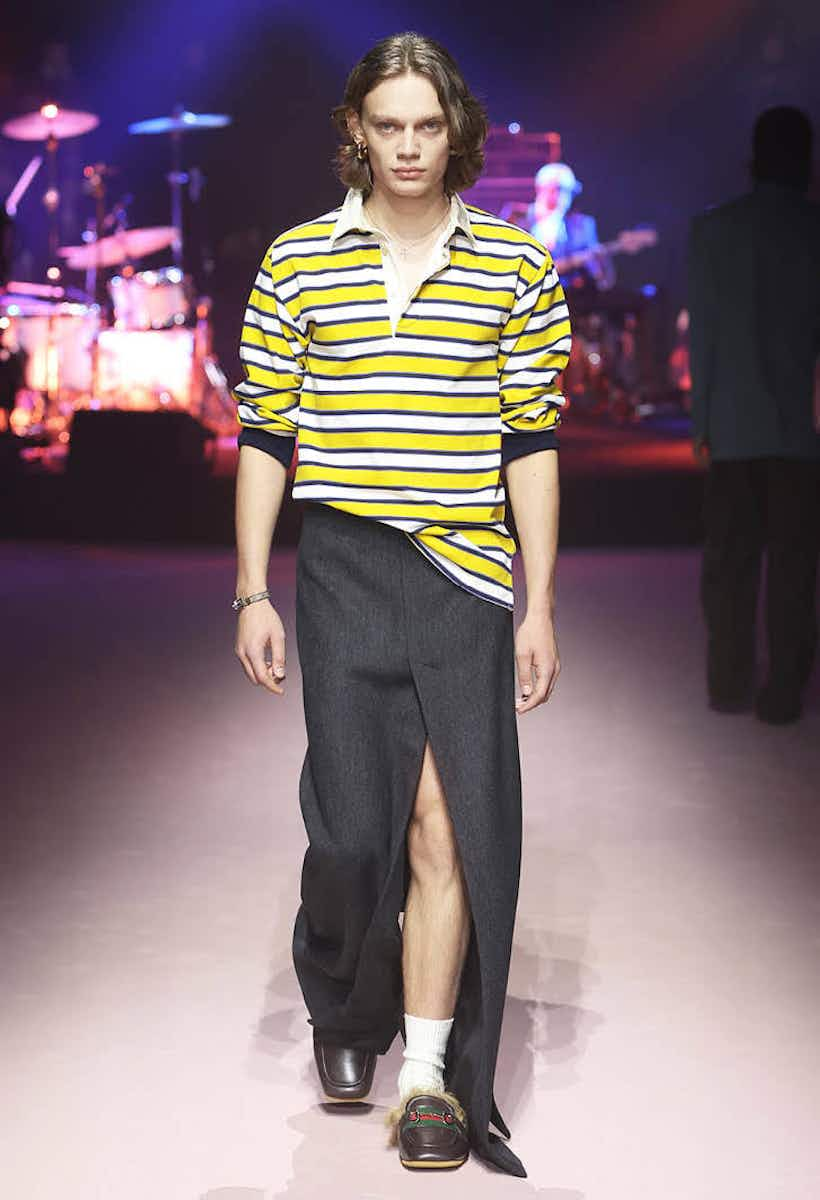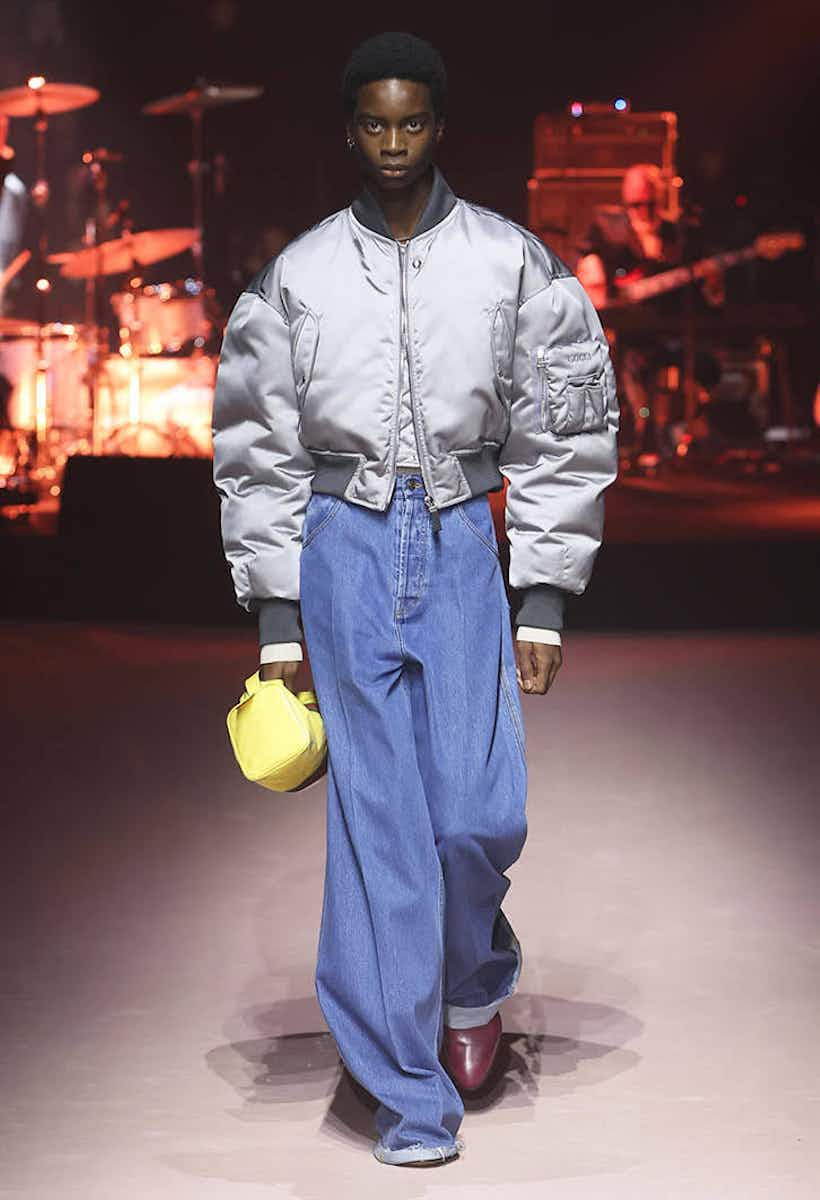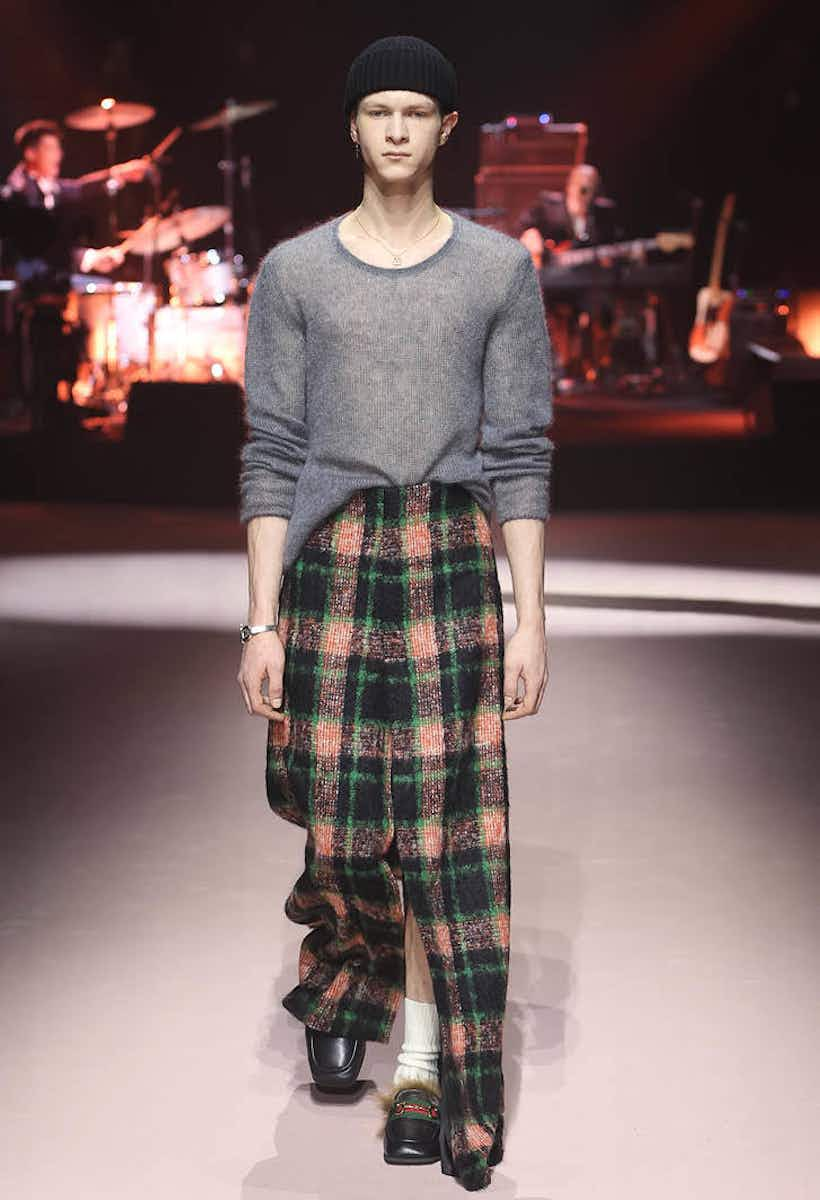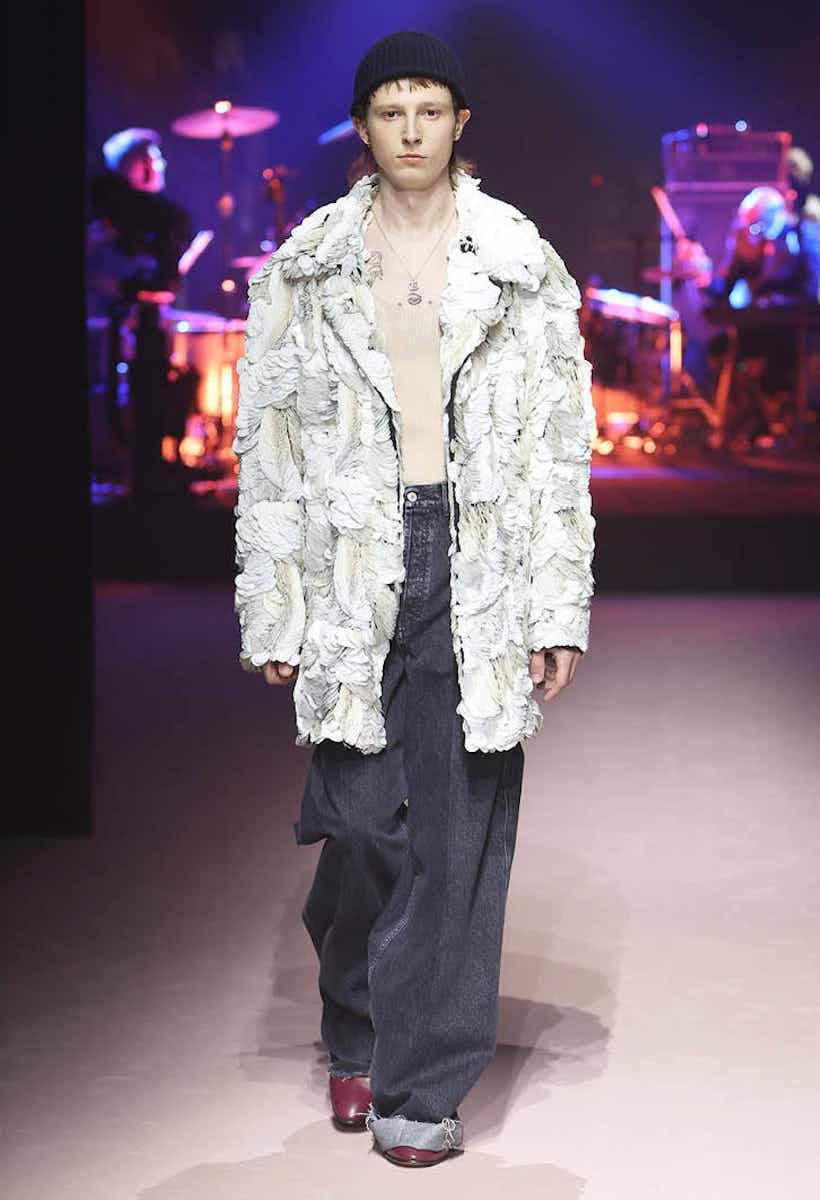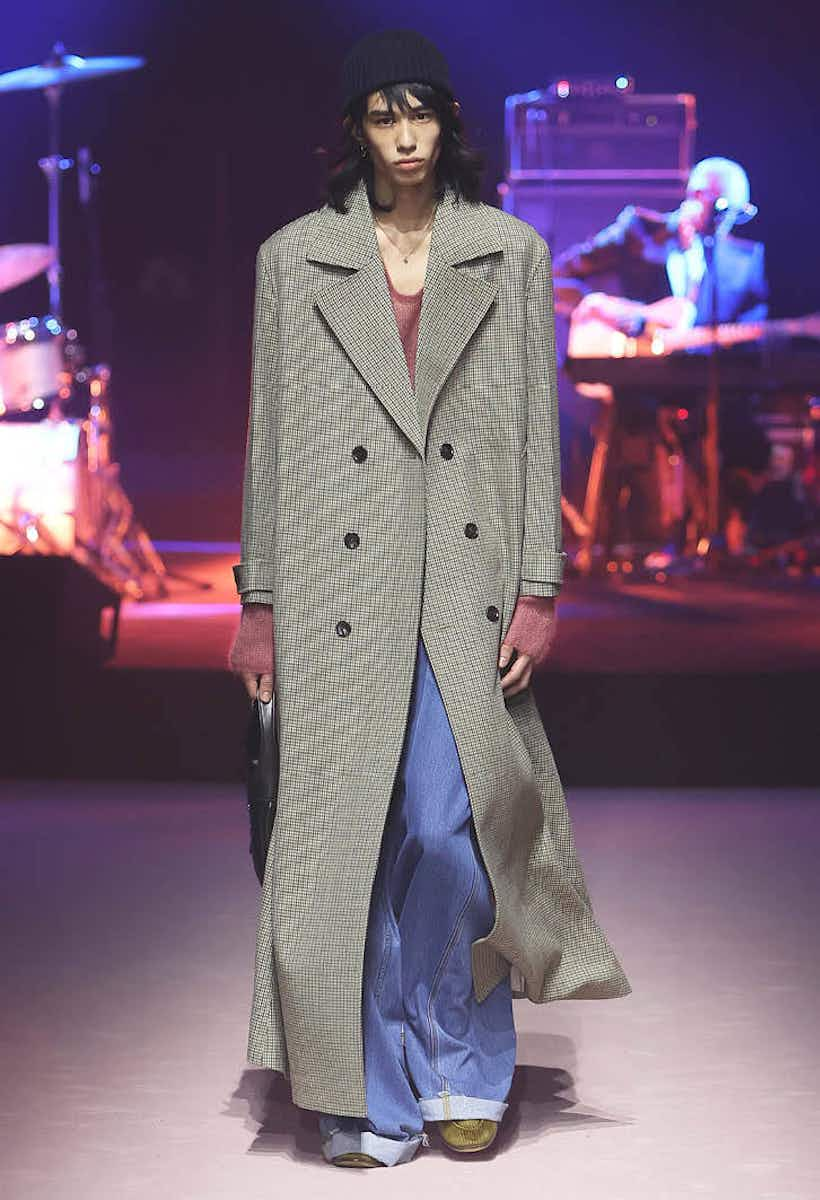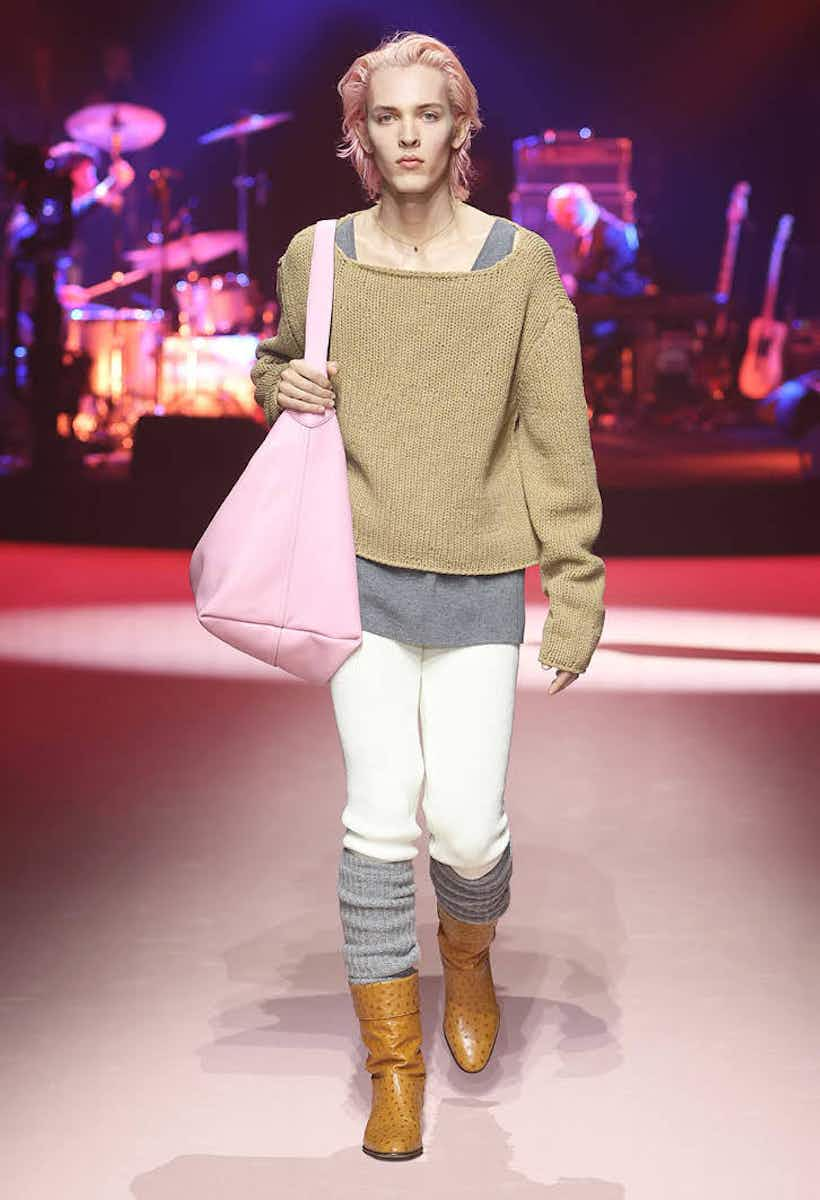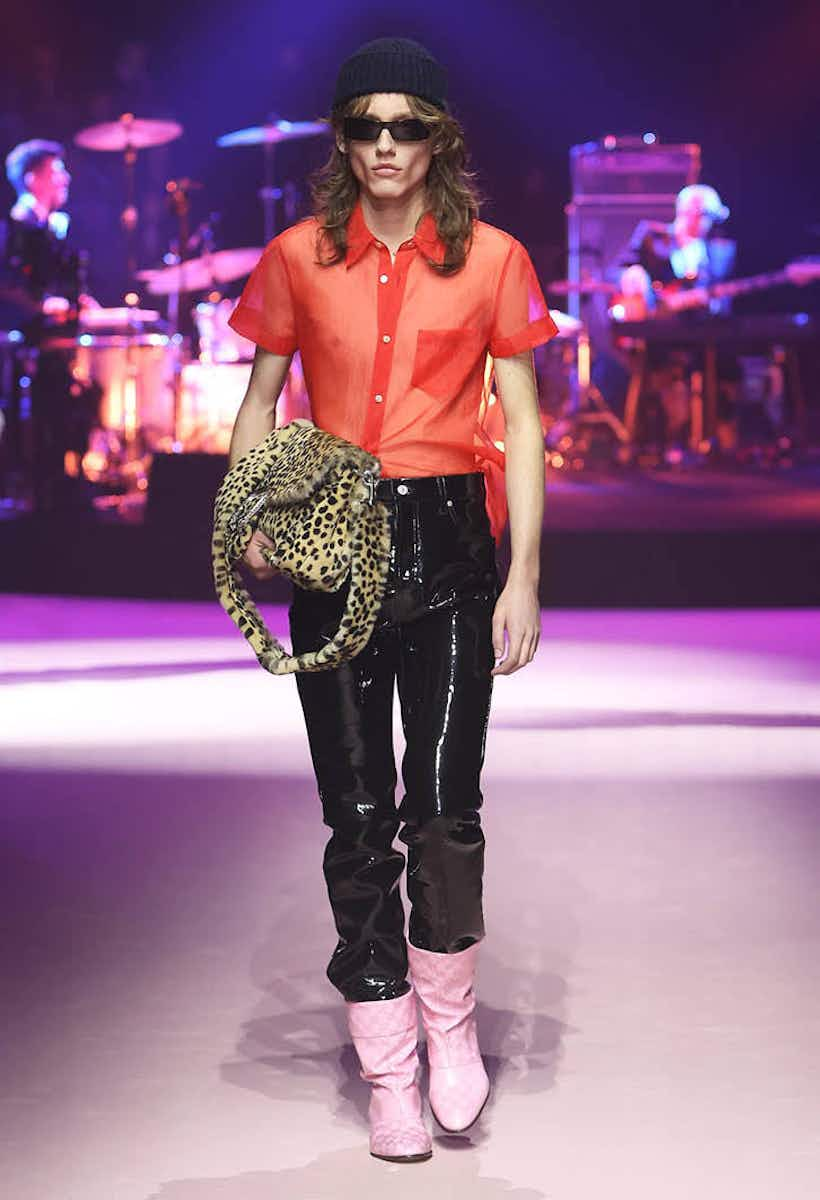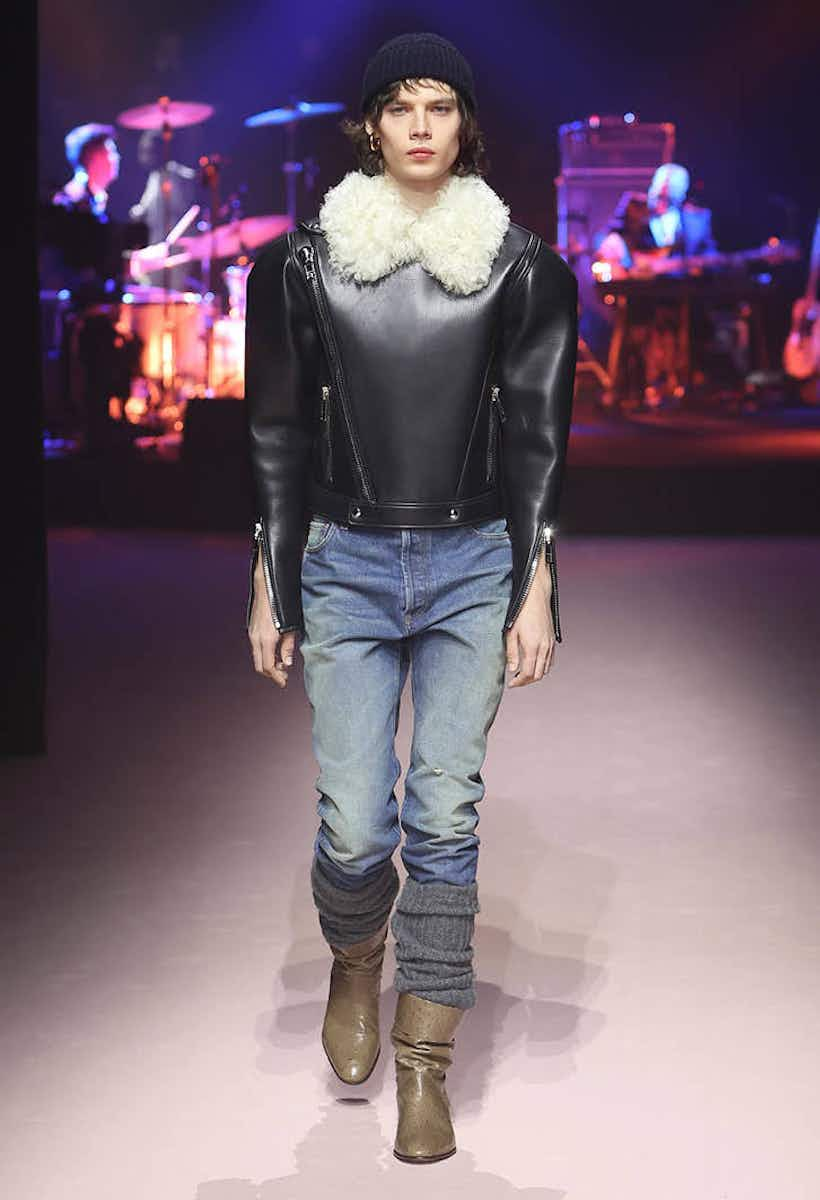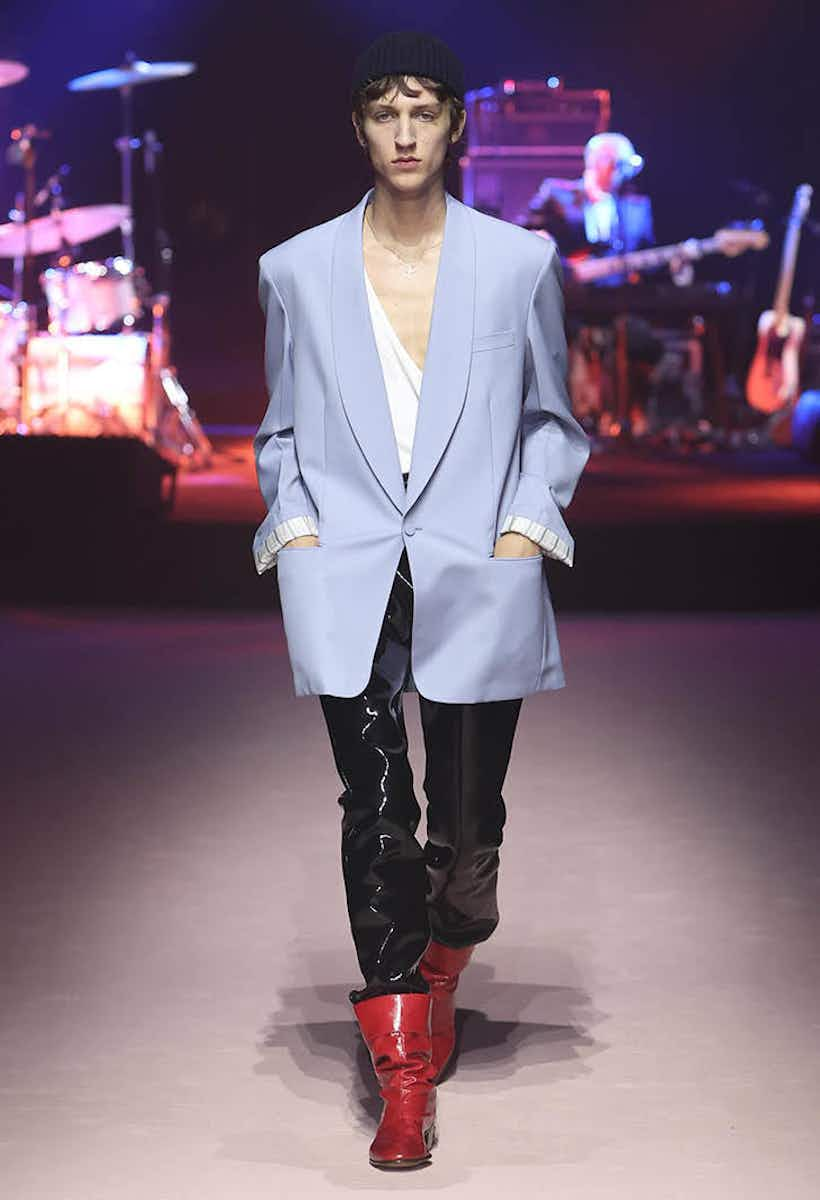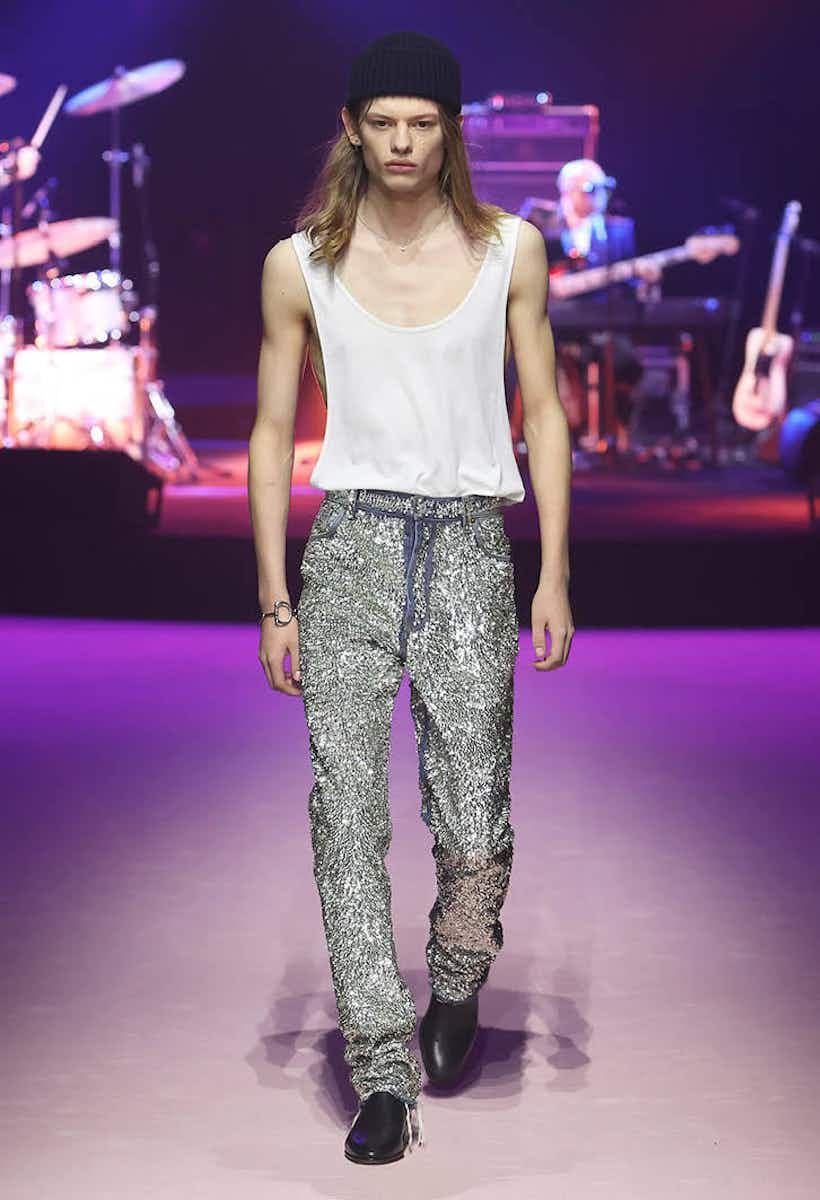 PITTI UOMO

PITTI UOMO

PITTI UOMO

PITTI UOMO

PITTI UOMO

PITTI UOMO

PITTI UOMO

PITTI UOMO

PITTI UOMO

PITTI UOMO

PITTI UOMO

PITTI UOMO

PITTI UOMO

PITTI UOMO

PITTI UOMO

PITTI UOMO

PITTI UOMO

PITTI UOMO

PITTI UOMO

PITTI UOMO
What?
Martine Rose's first show at Pitti Uomo.
Where?
Well, Pitti Uomo, obviously. But more specifically, Florence. And even more specific than that, Piazza Del Mercato Nuovo, a square in the middle of the city that was quickly surrounded by a lot of gesticulating old men.
Why should I care?
Because this was, essentially, the start to Fashion Season Proper. Plus, a first Italian showing for Britain's best-loved designer.
So what did it look like?
​"A collaboration of Italy and London coming together," as Martine put it to us backstage. ​"I hoped to reflect that in the clothes, everything. I wanted it to feel like it was a real blend of things."
How did she do it?
Well, obviously through the clothes, which she described as ​"very naughty. I definitely wanted a sense of sexiness and cheekiness and fun." But through the casting, too: ​"A lot of them are Florentine, from the café, right to the restaurant, some from wider Italy," she said. ​"Mainly locals and then, of course, my friends from London who we brought across."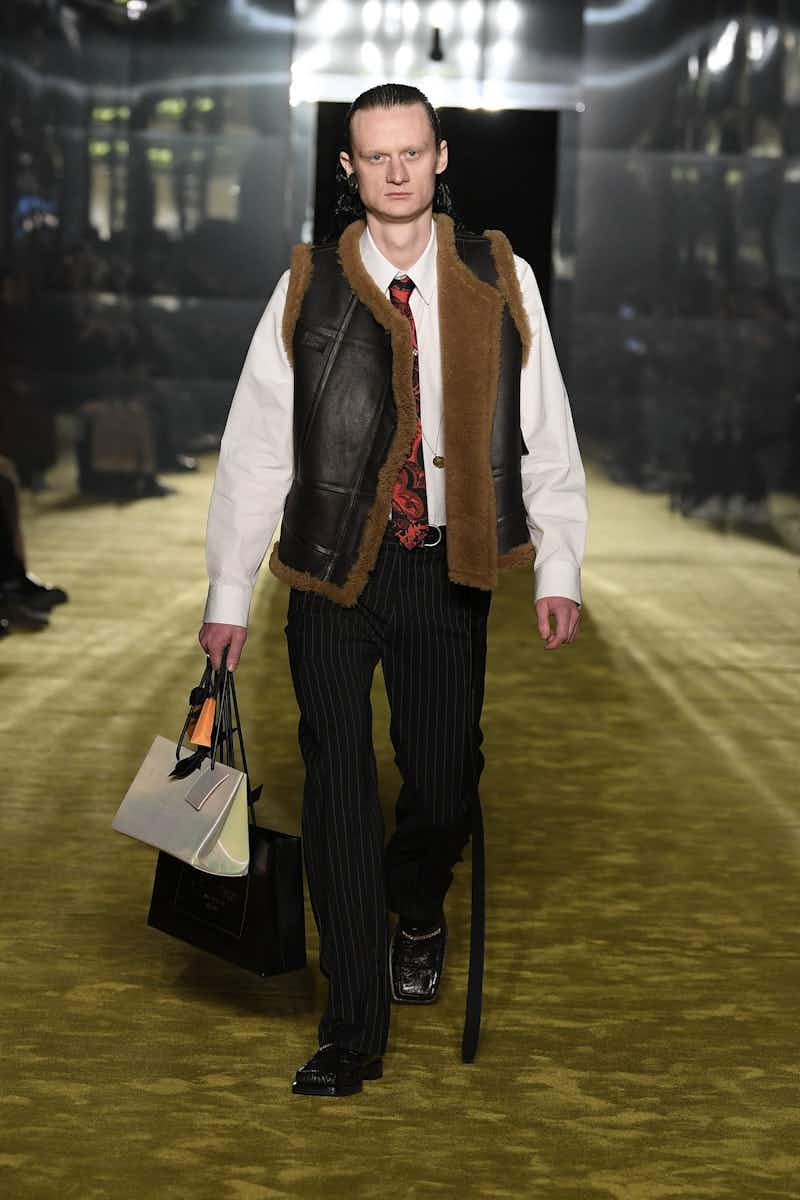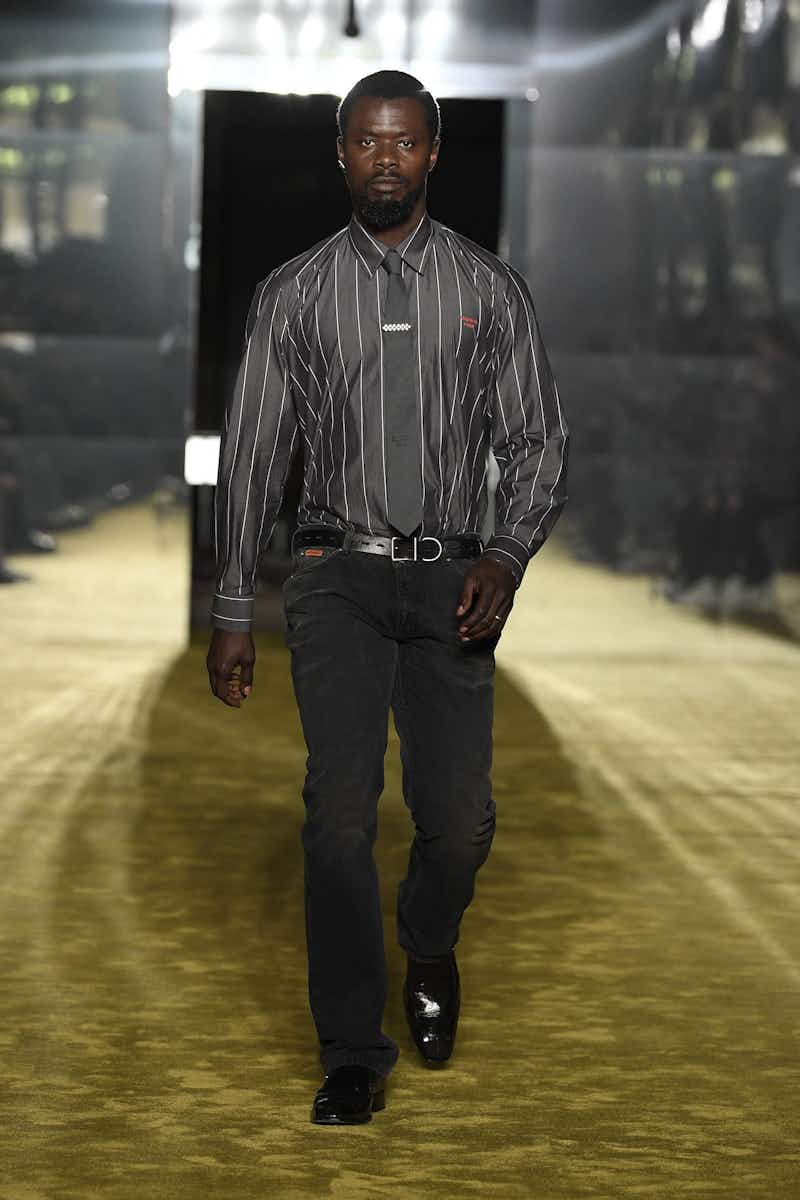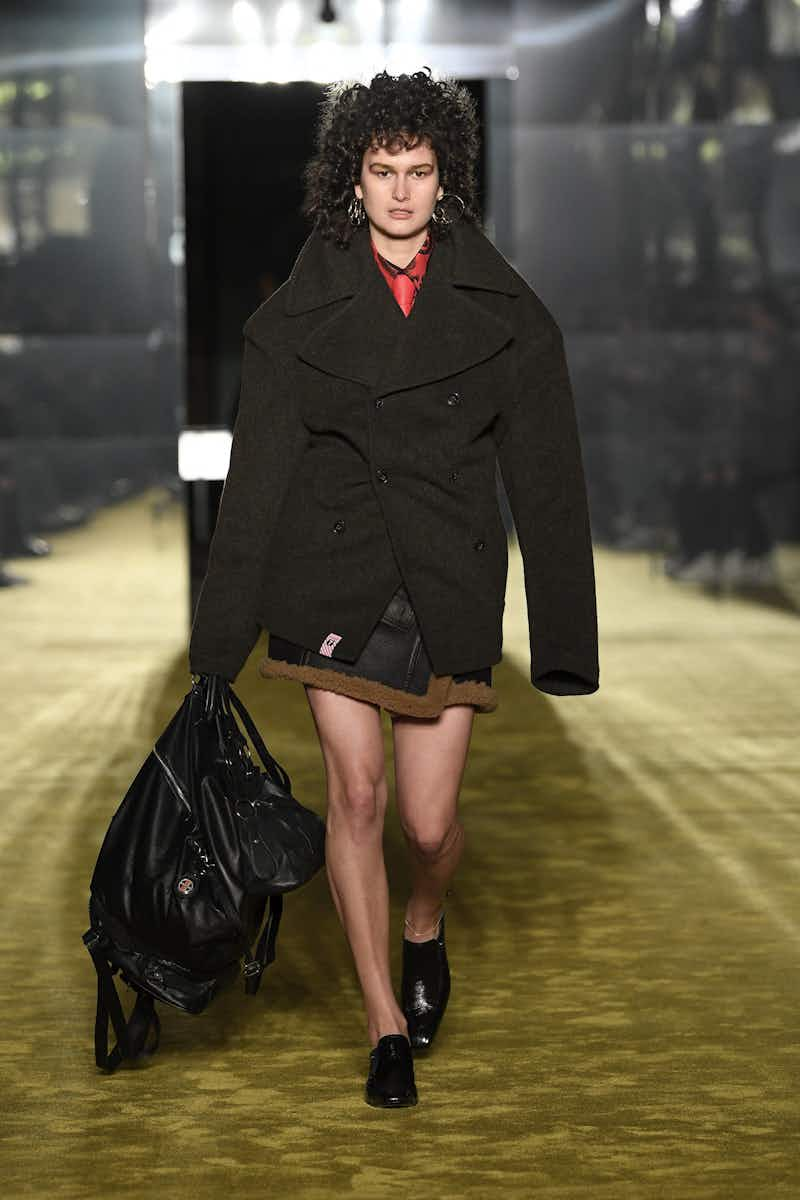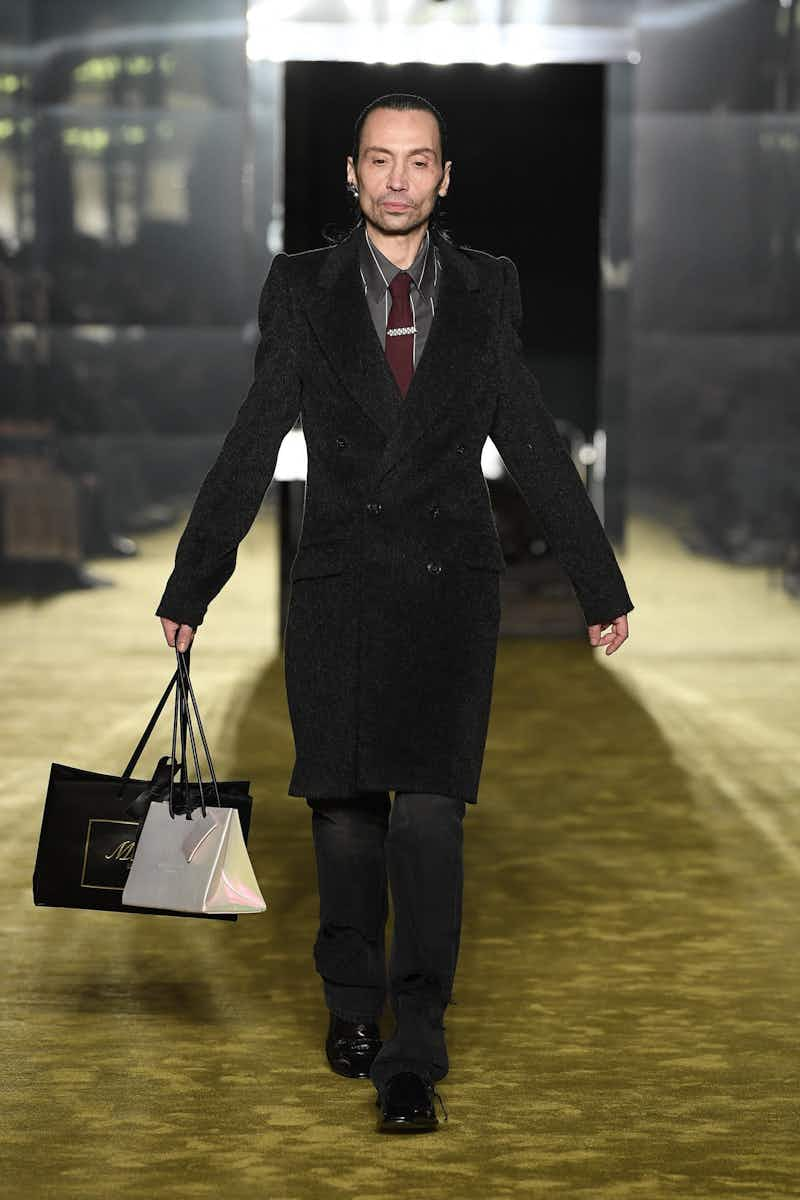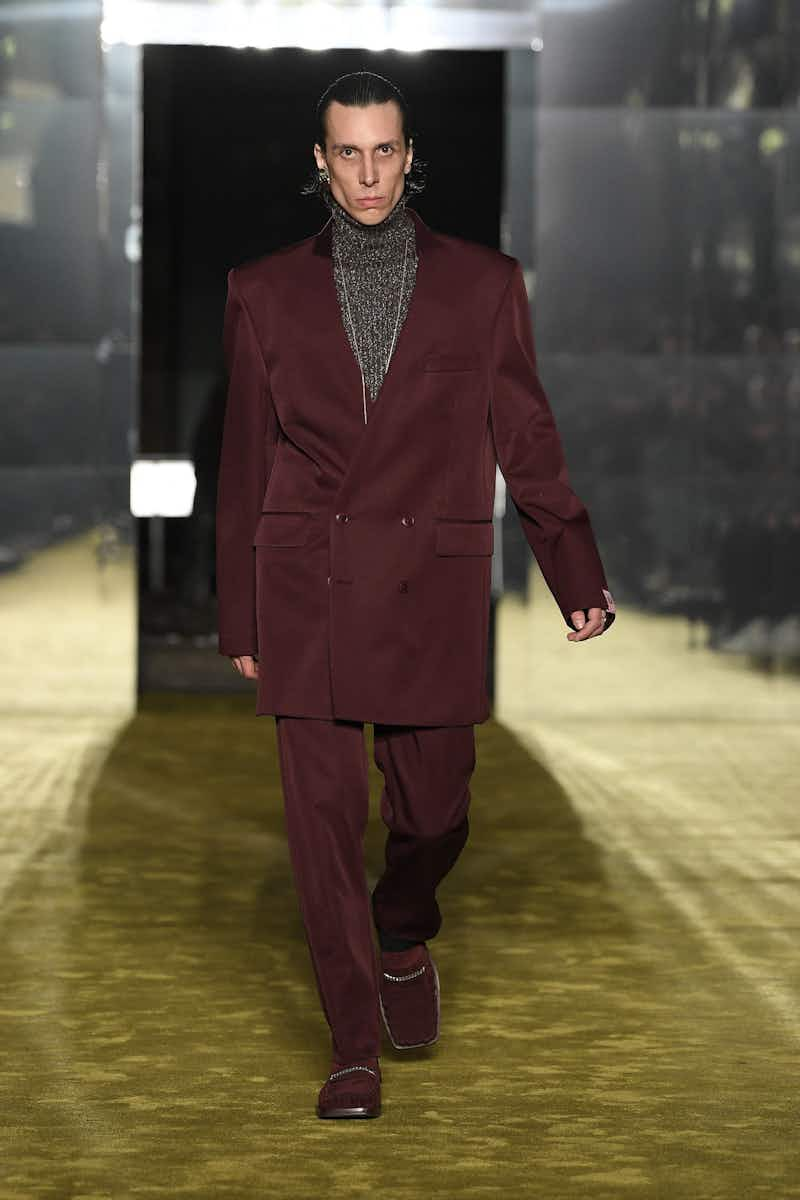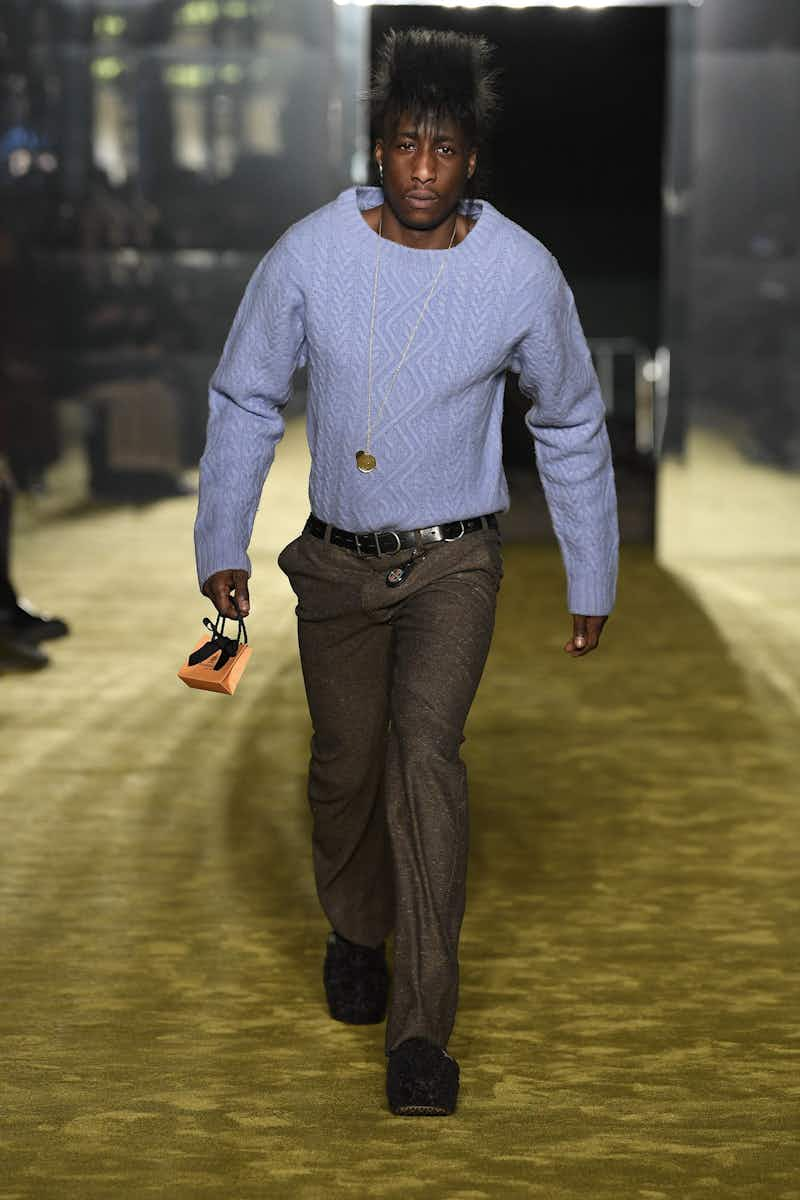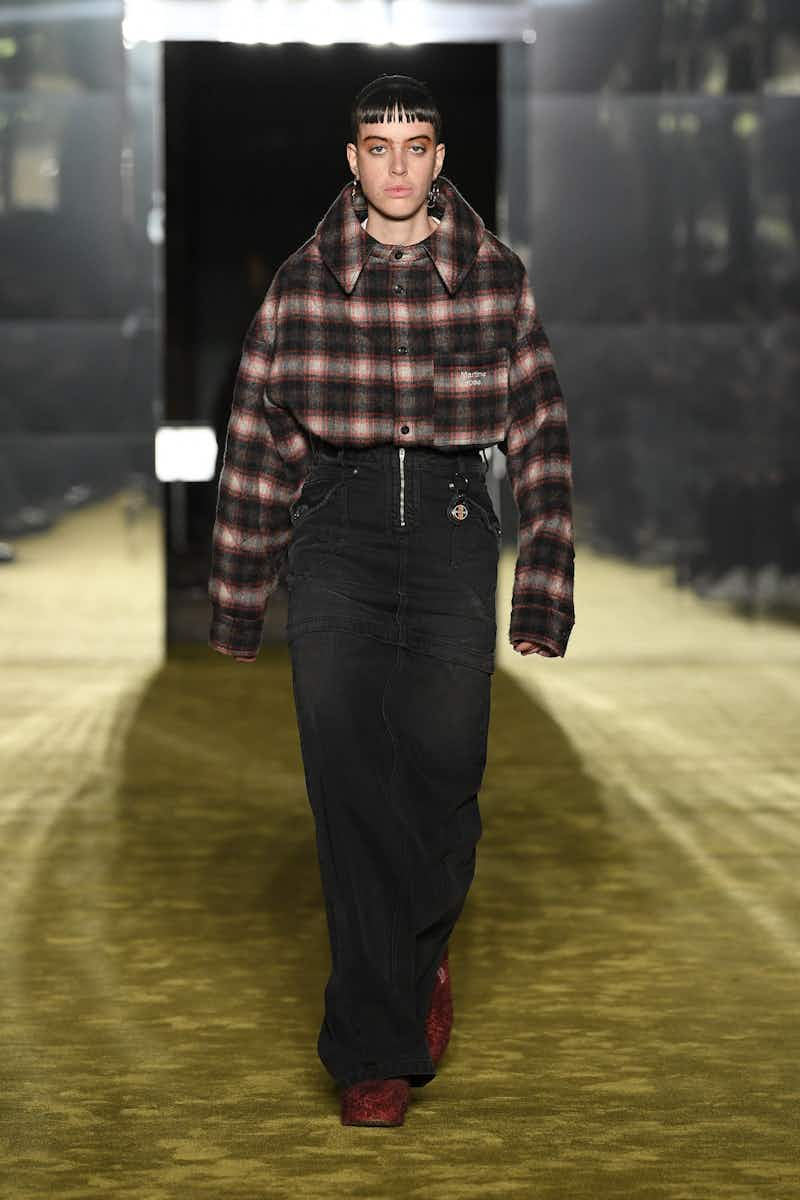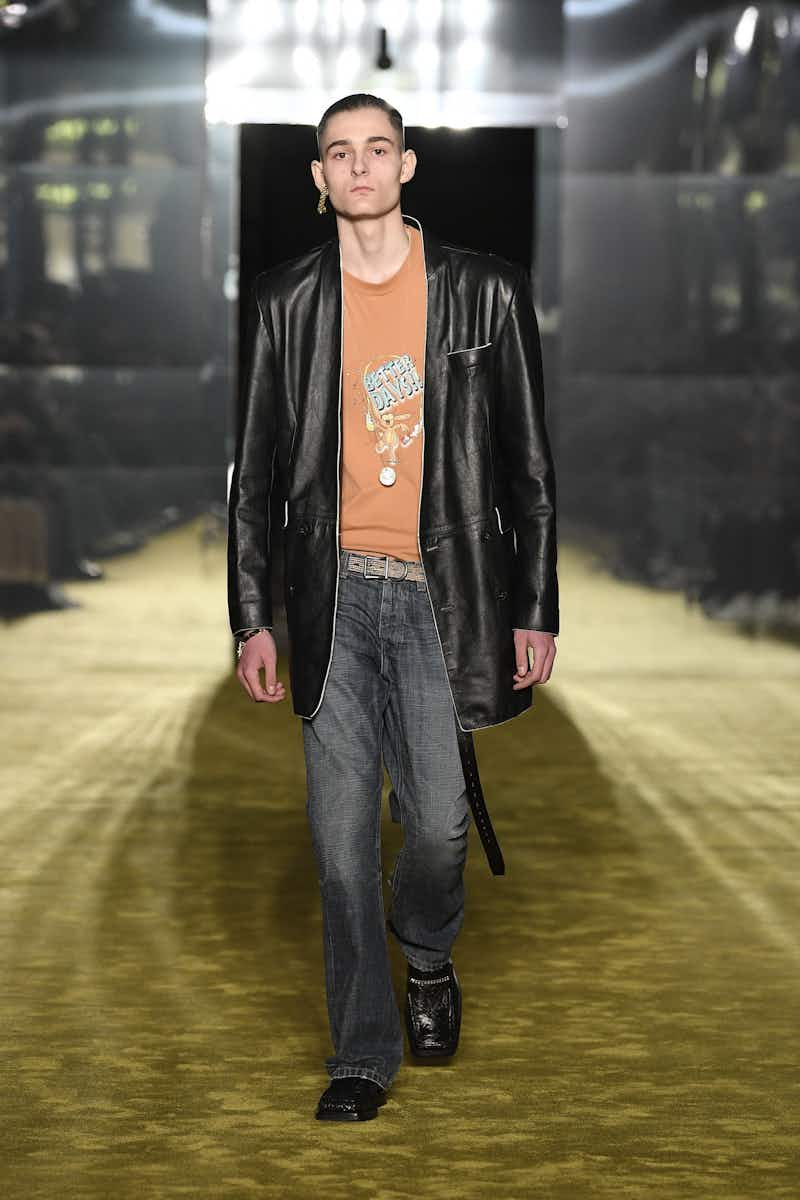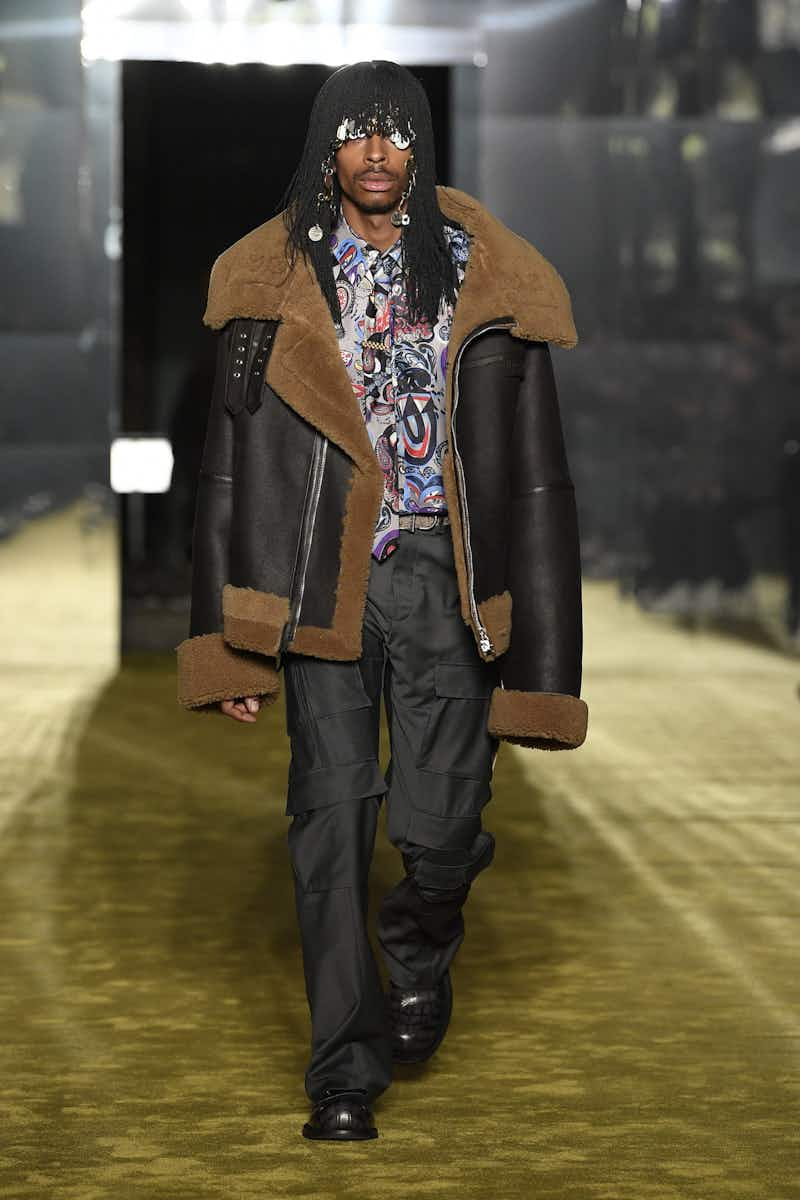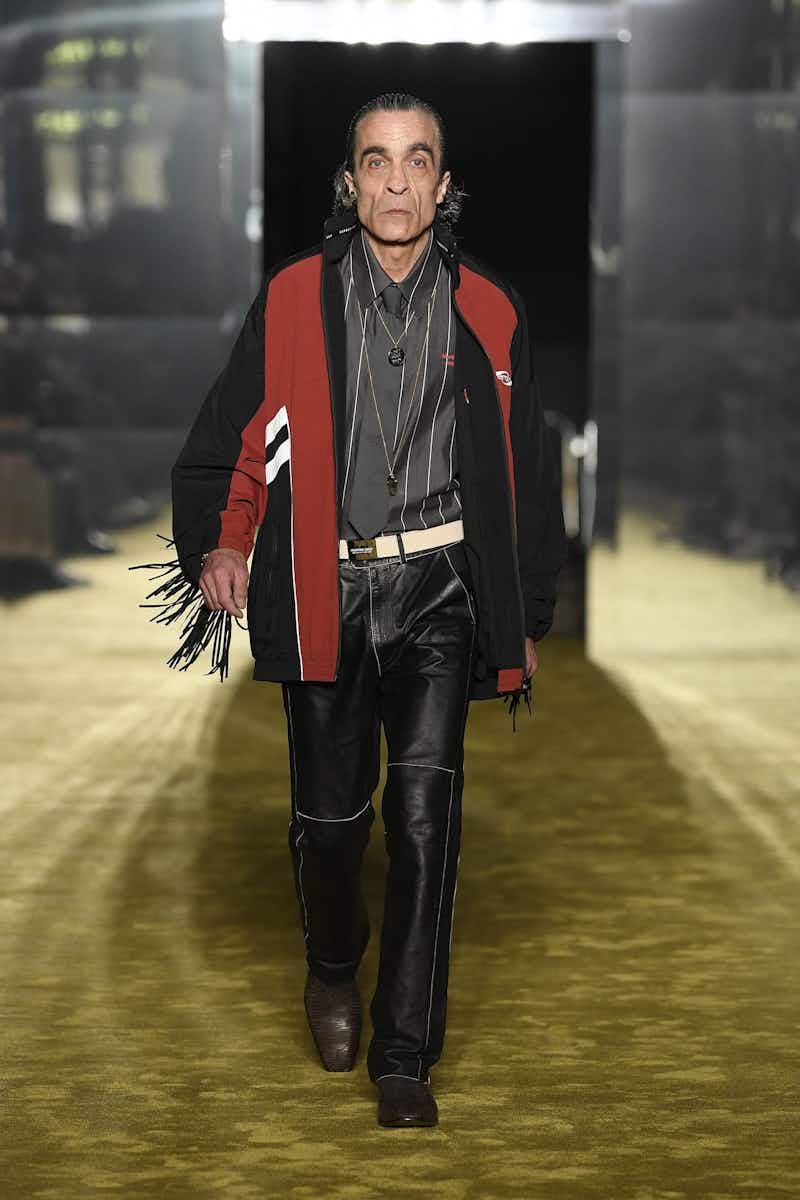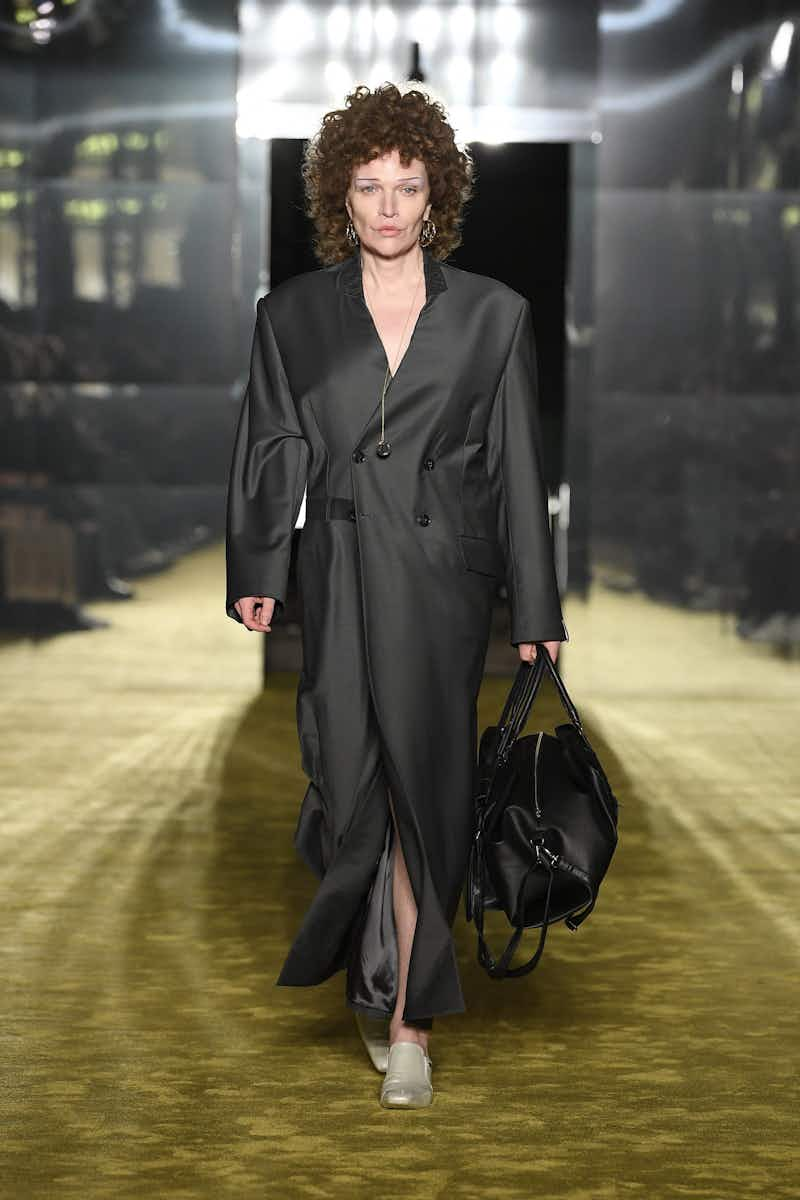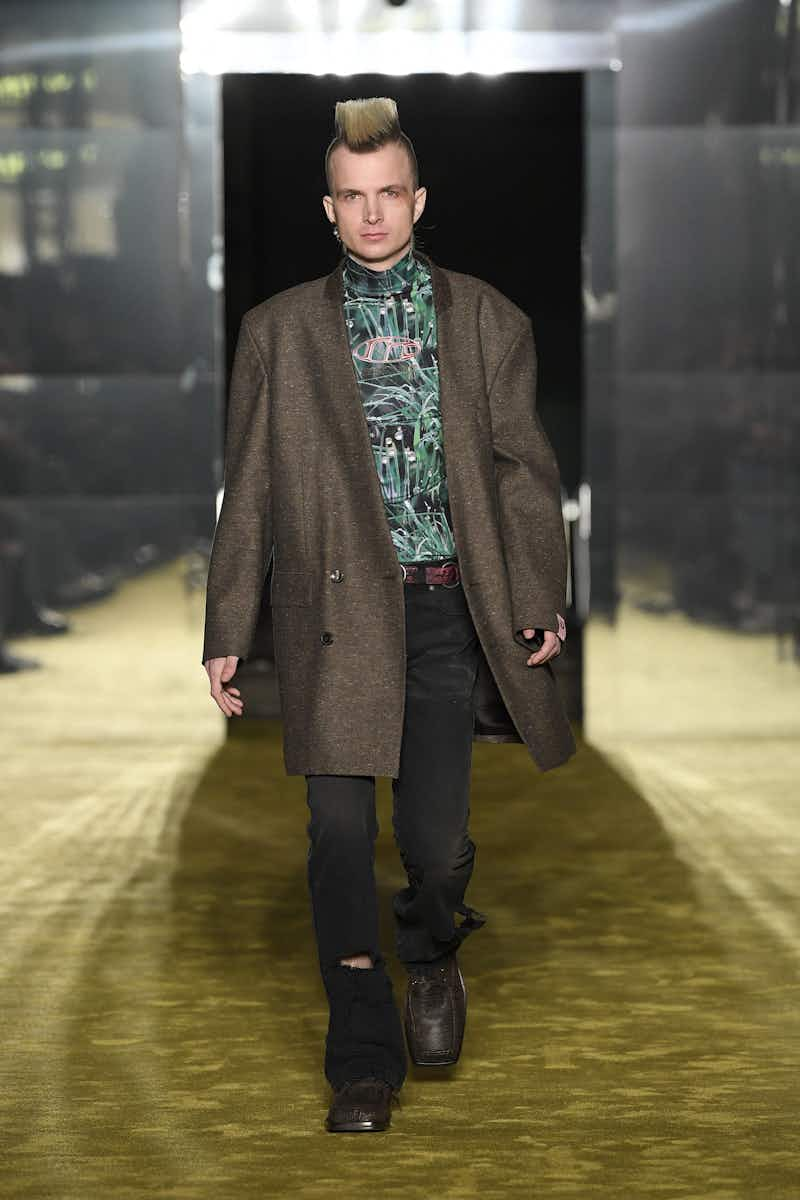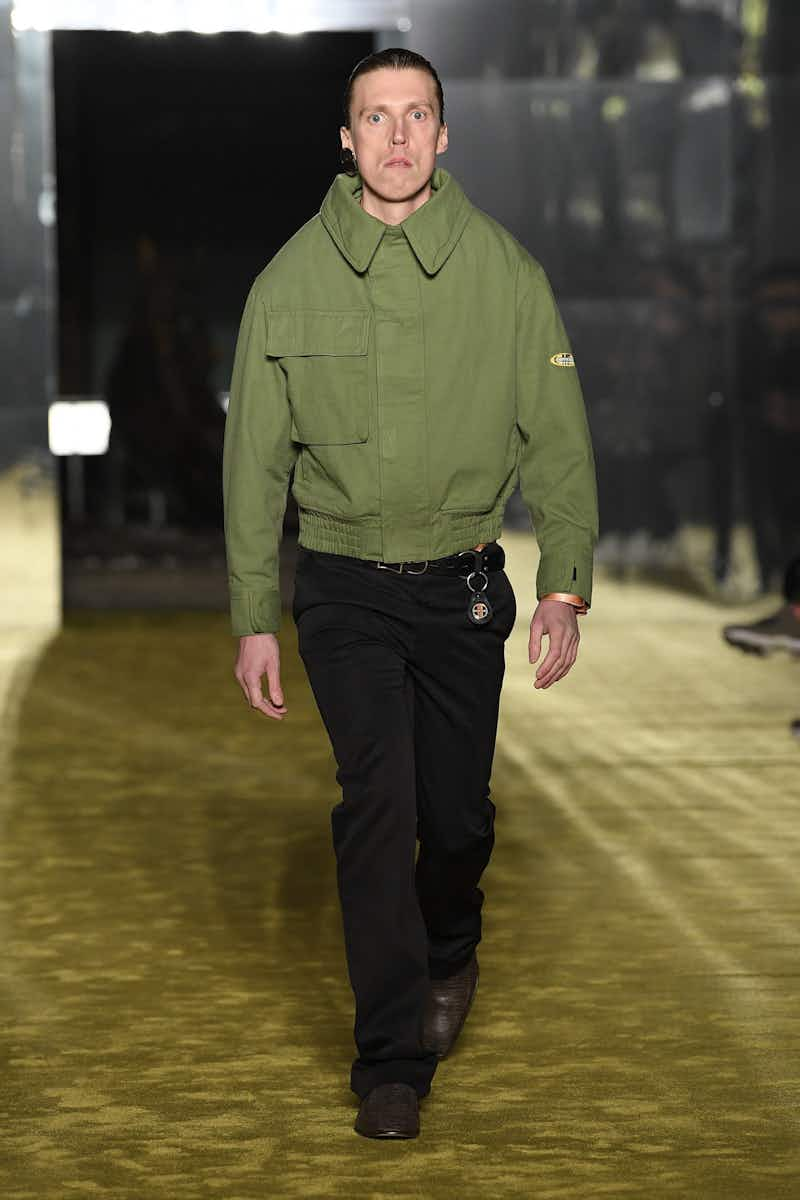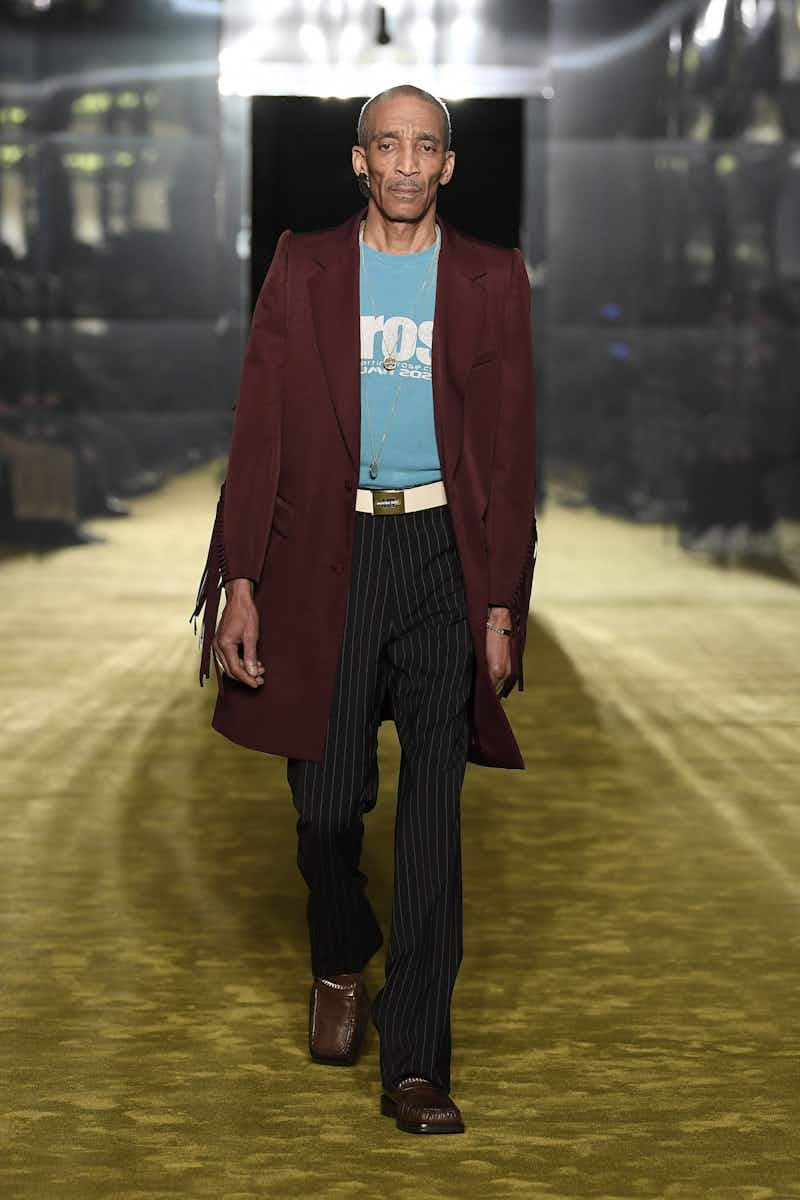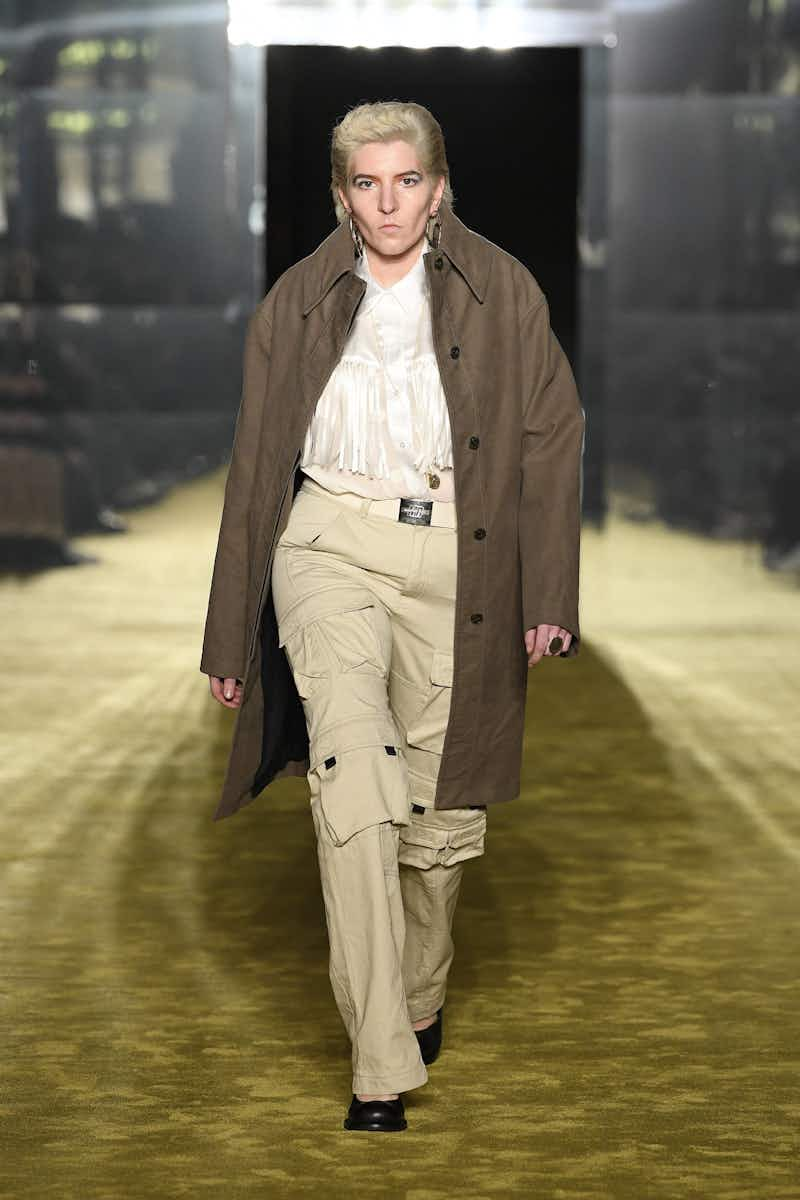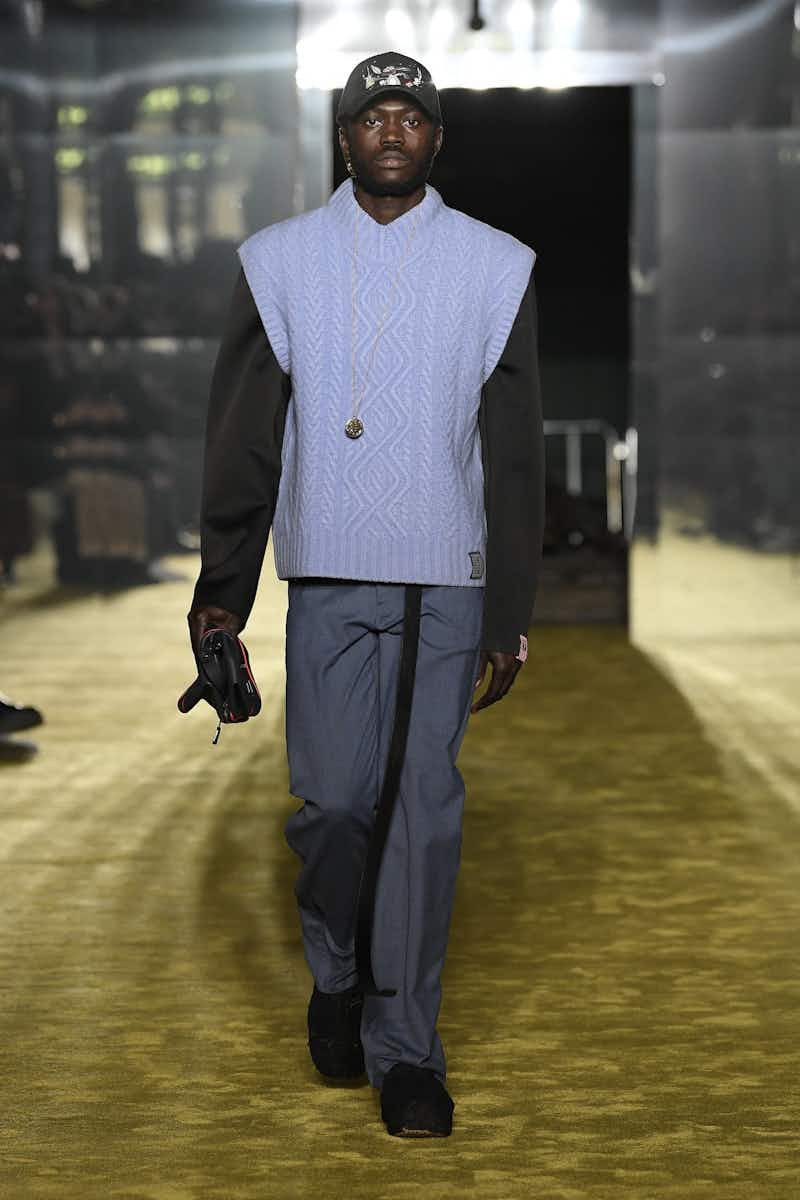 Any technical details?
​"I always like things that feel familiar but slightly off. I had this idea: I was looking at doll's clothing and how you can never get form to fit a doll. So, we were looking at the structure with canvassing or wadding or shoulder pads." We liked what appeared to be Western-style fringing on some of the jackets, which Martine told us was more inspired by the idea of putting something through a shredder (feels like a very Martine way to put it). Oh, and there were some great UGG clogs that appeared to have been dyed to match the louche, nightclubby feel.

Who was there?
All the London cool kids, who arrived en masse and made the show feel like you were walking into The Blue Posts on Berwick Street, Soho.
So it was good then?
Very.
In a song?
Stope De Piscopo by Tullio De Piscopo.
In a word?
Bumsters.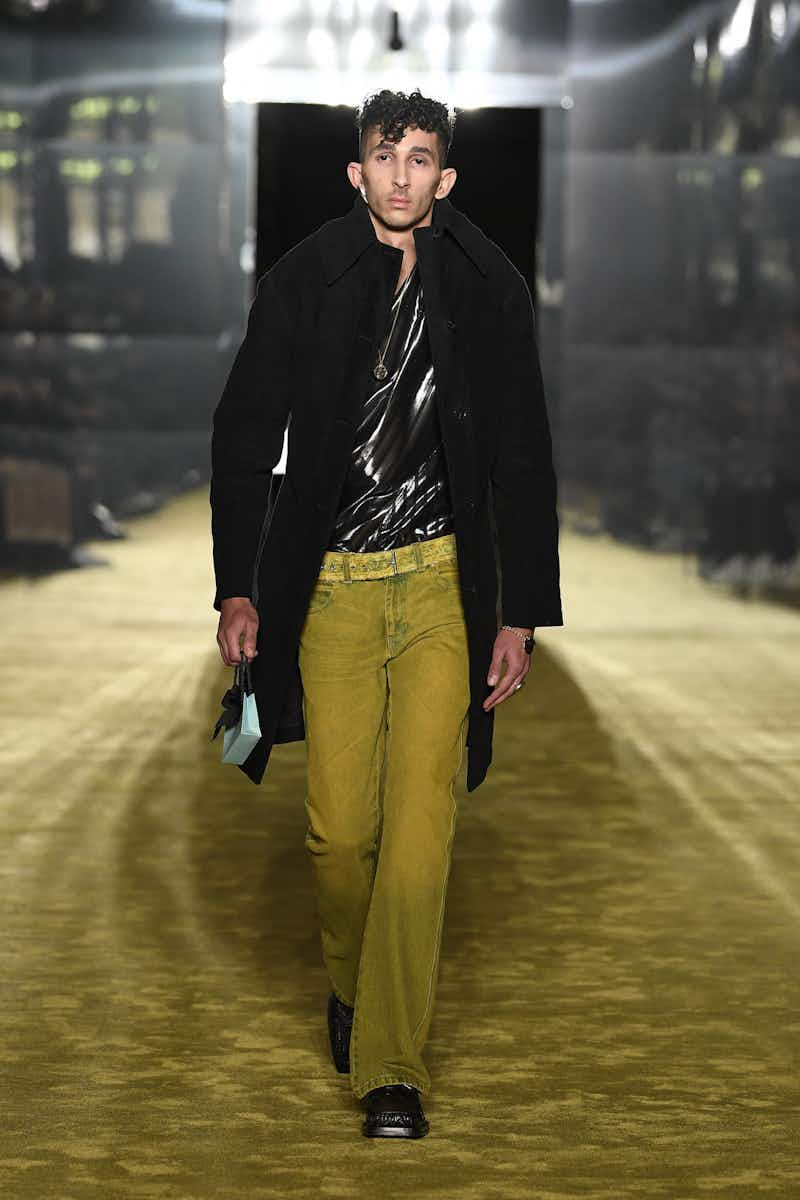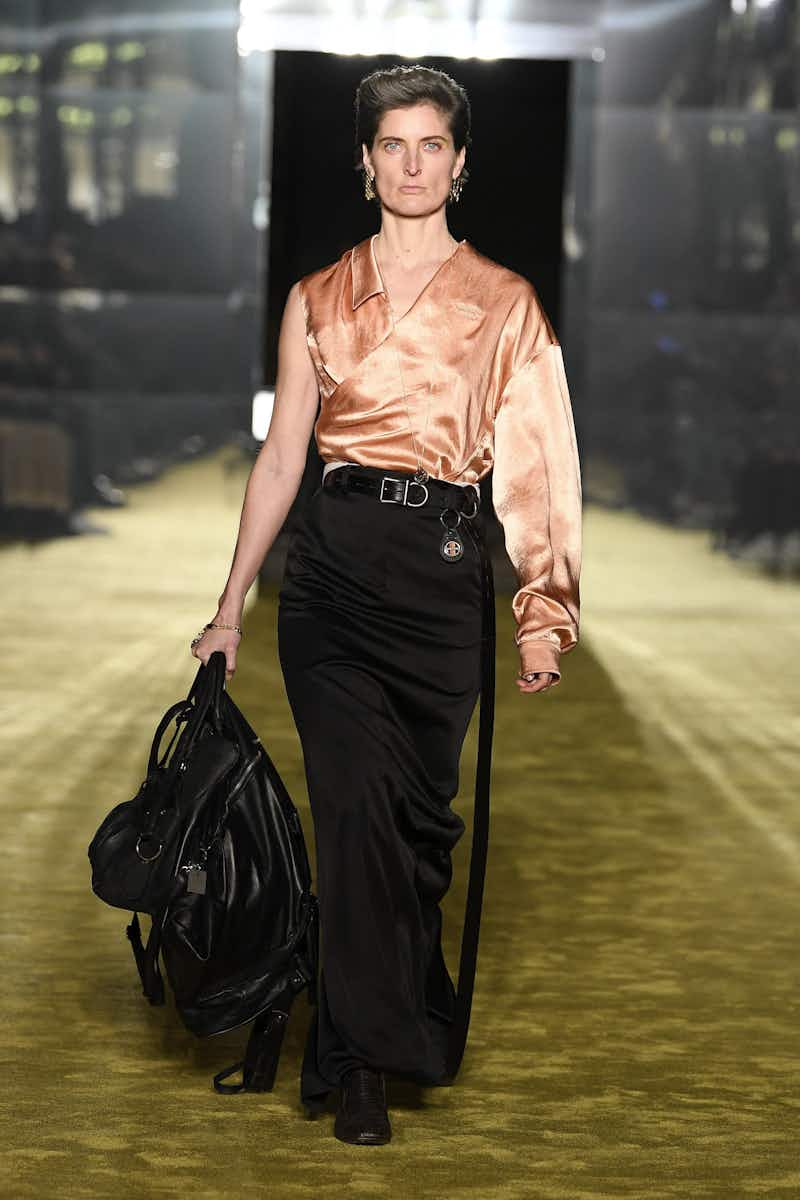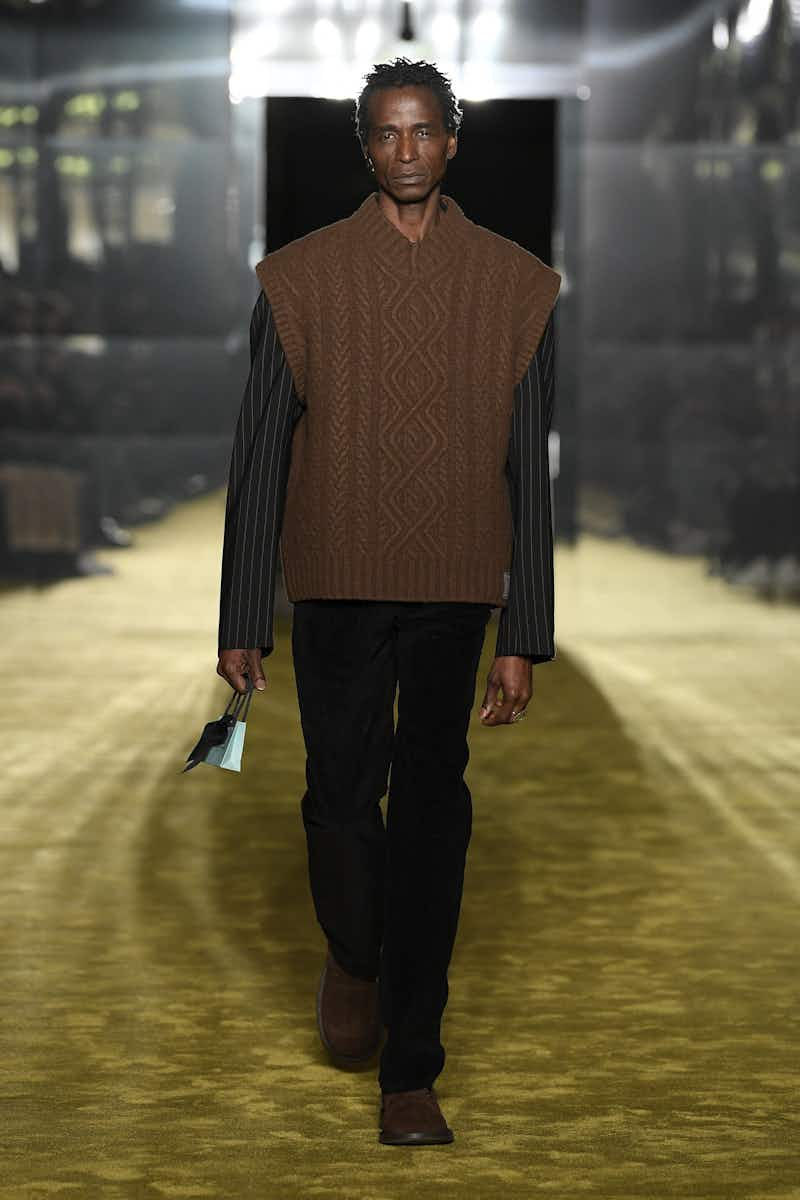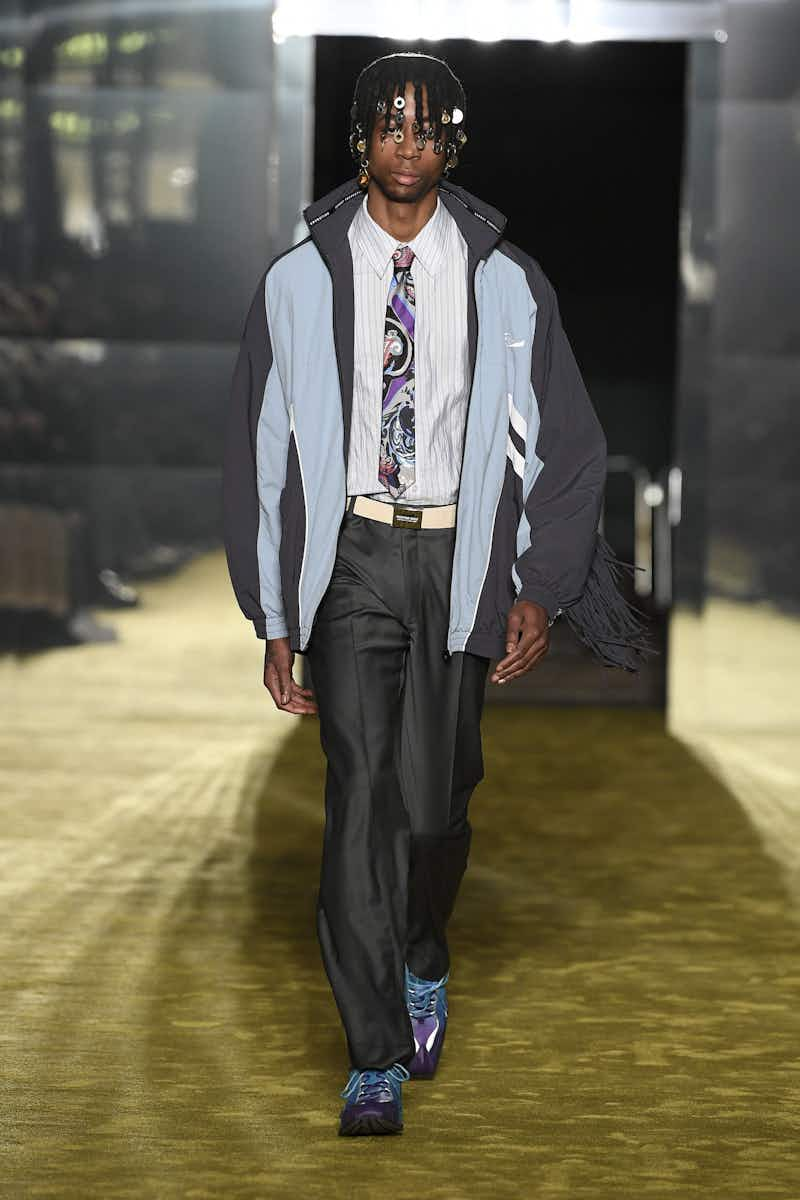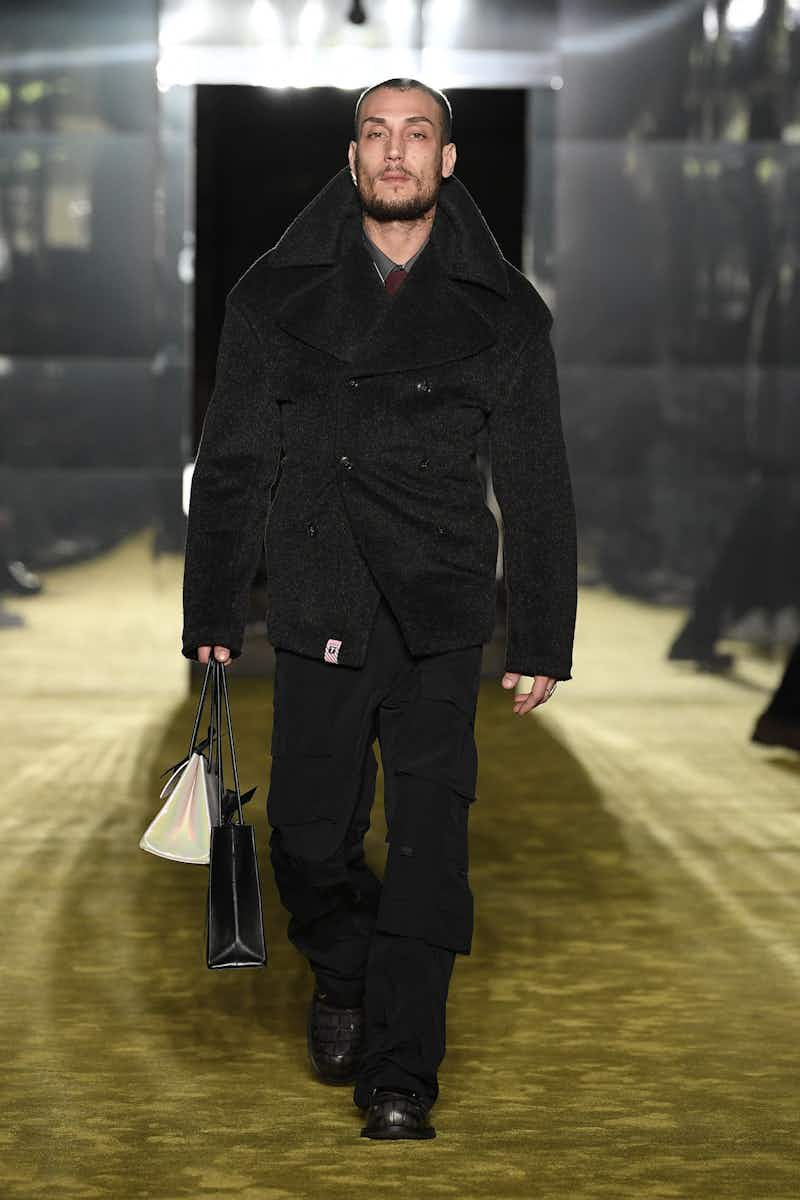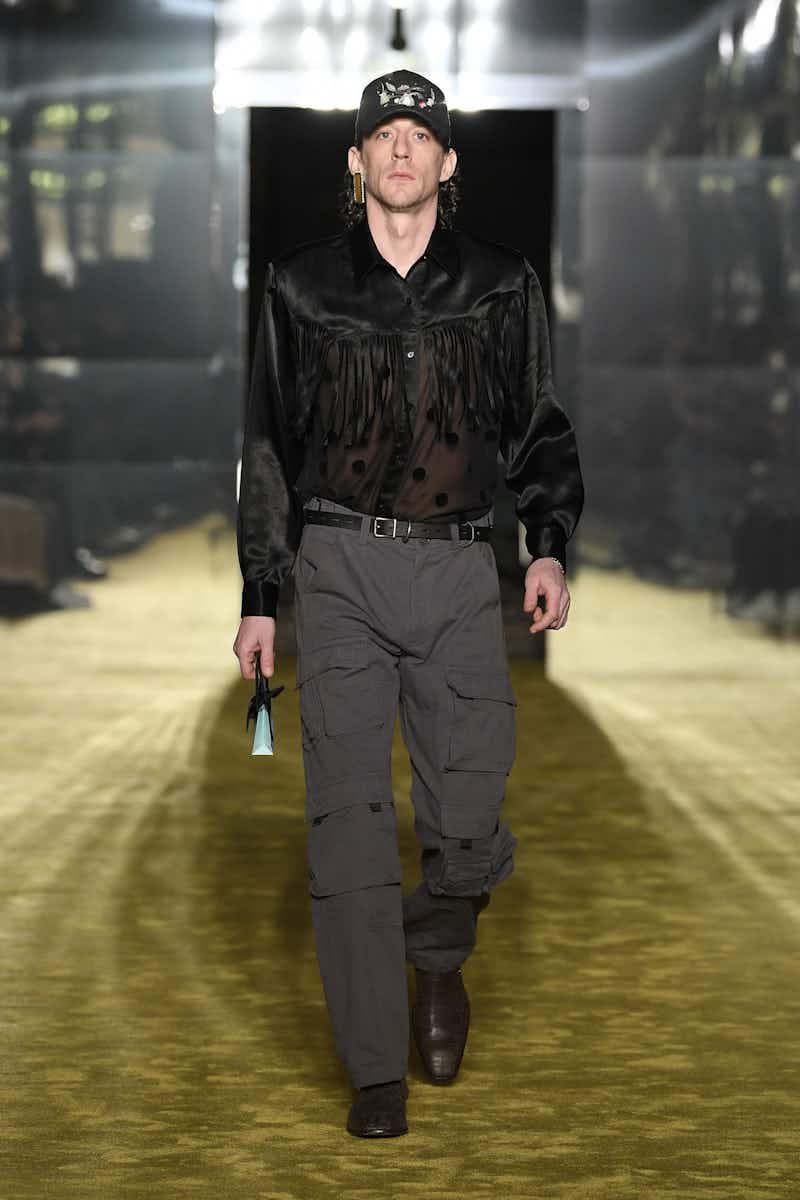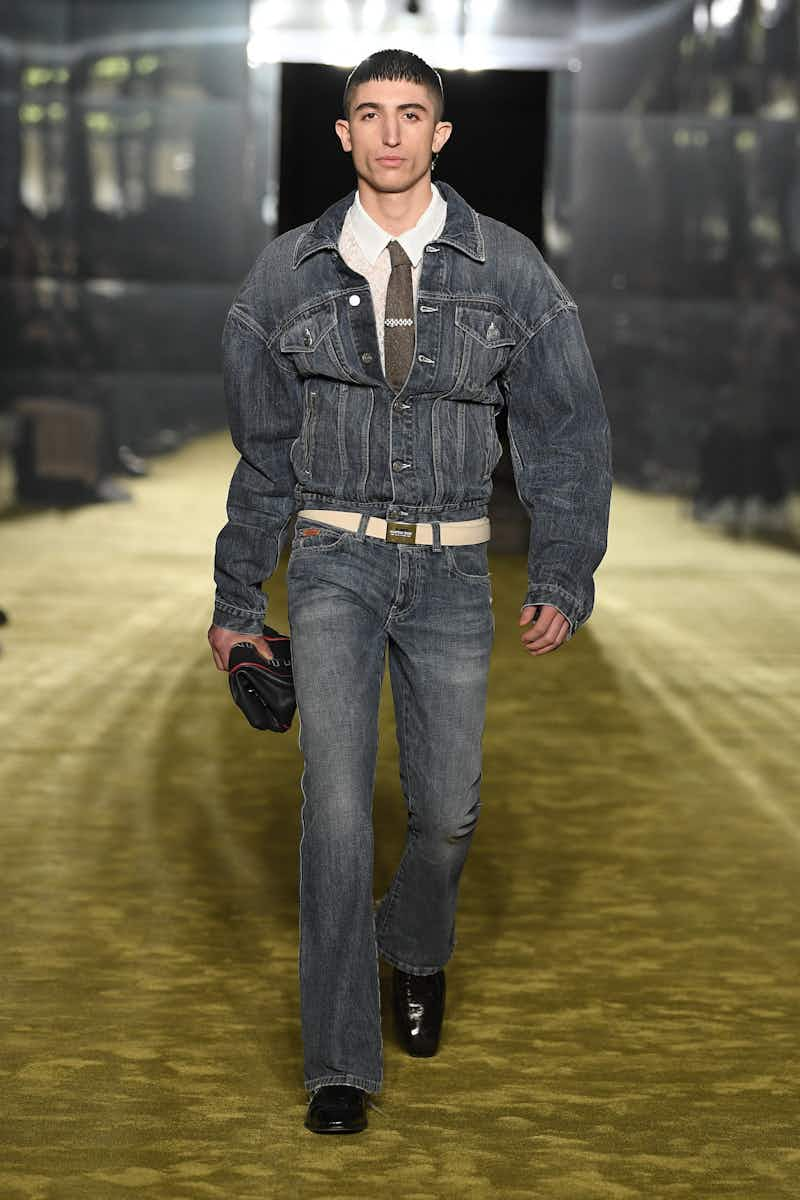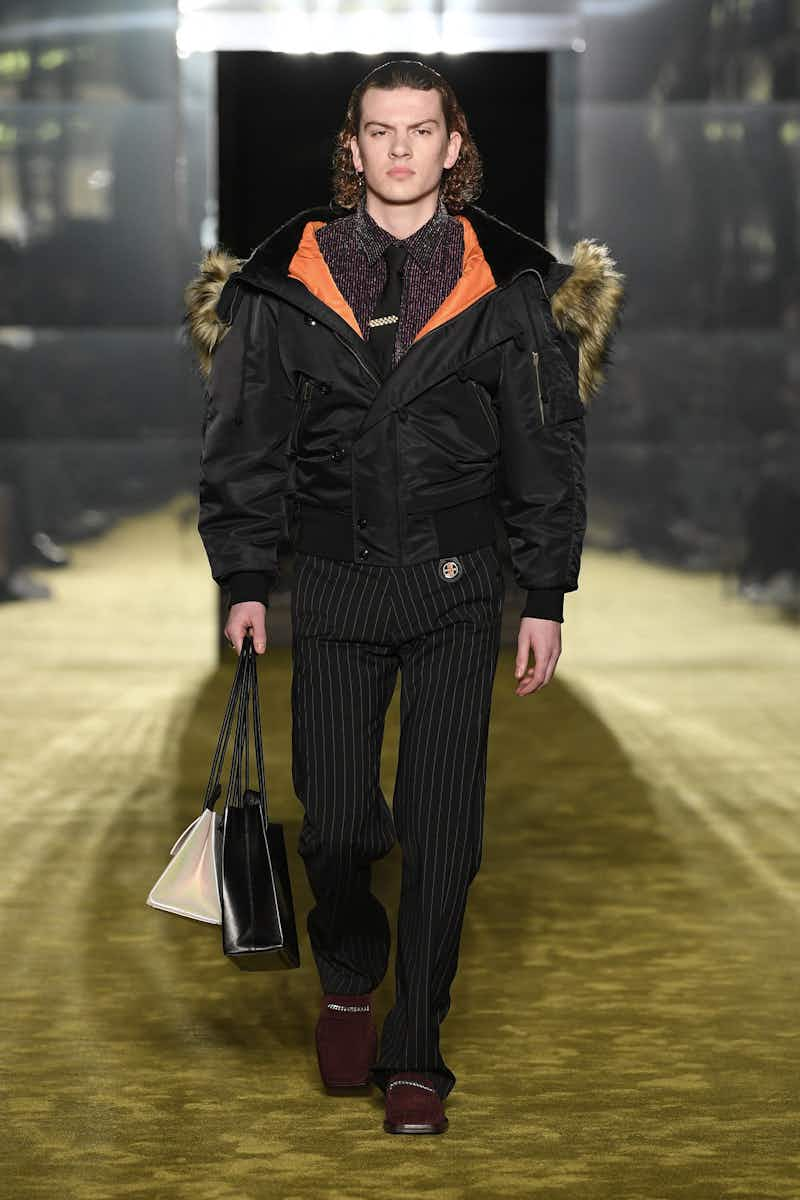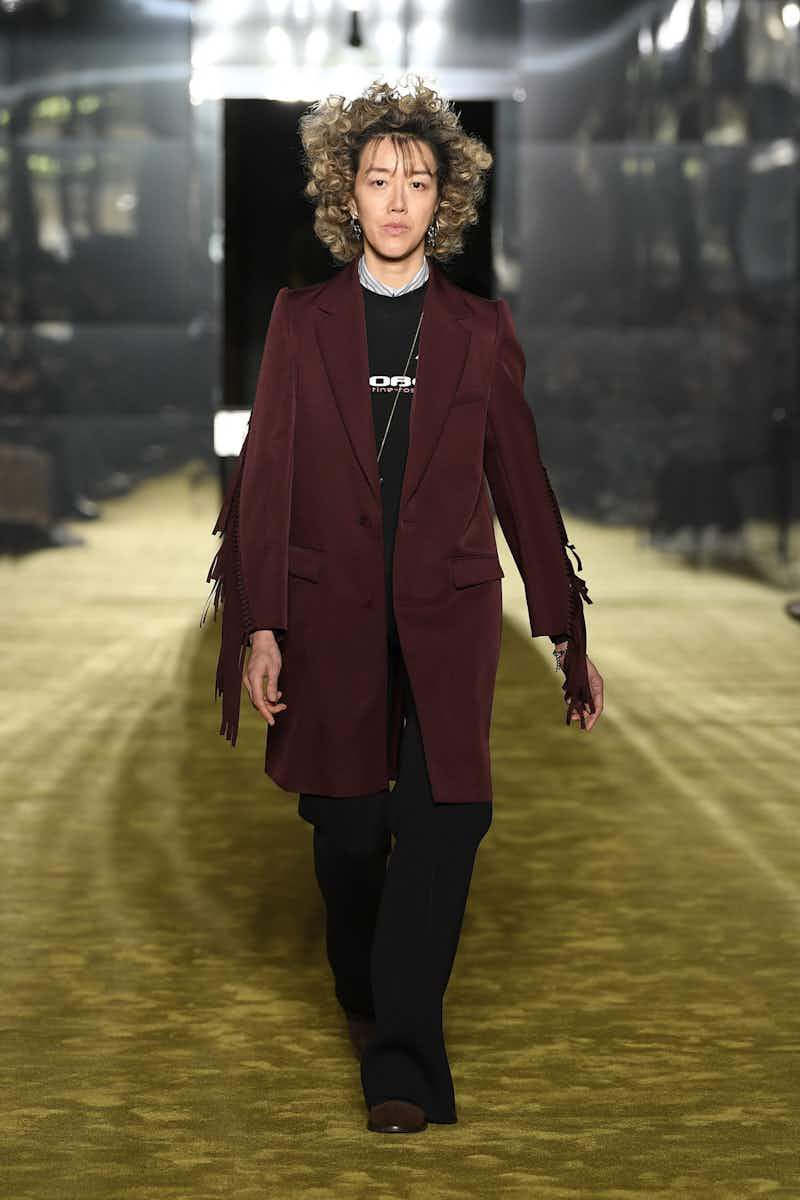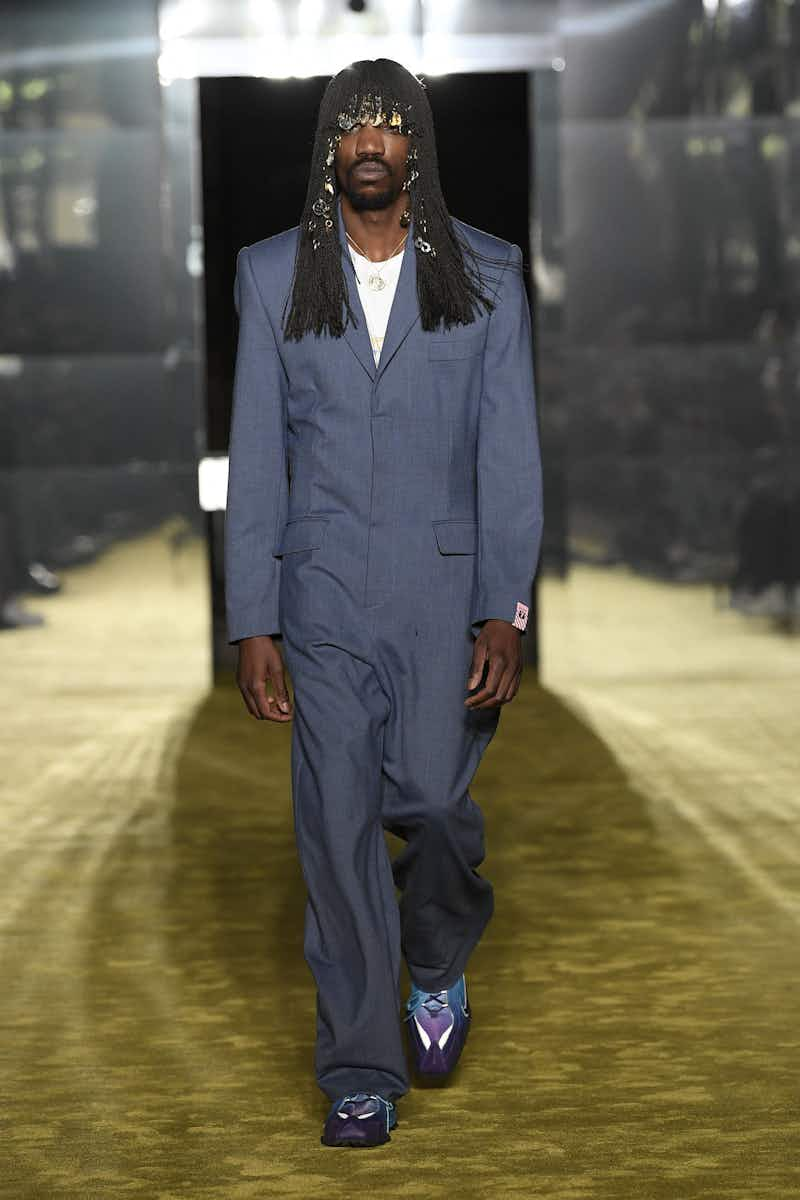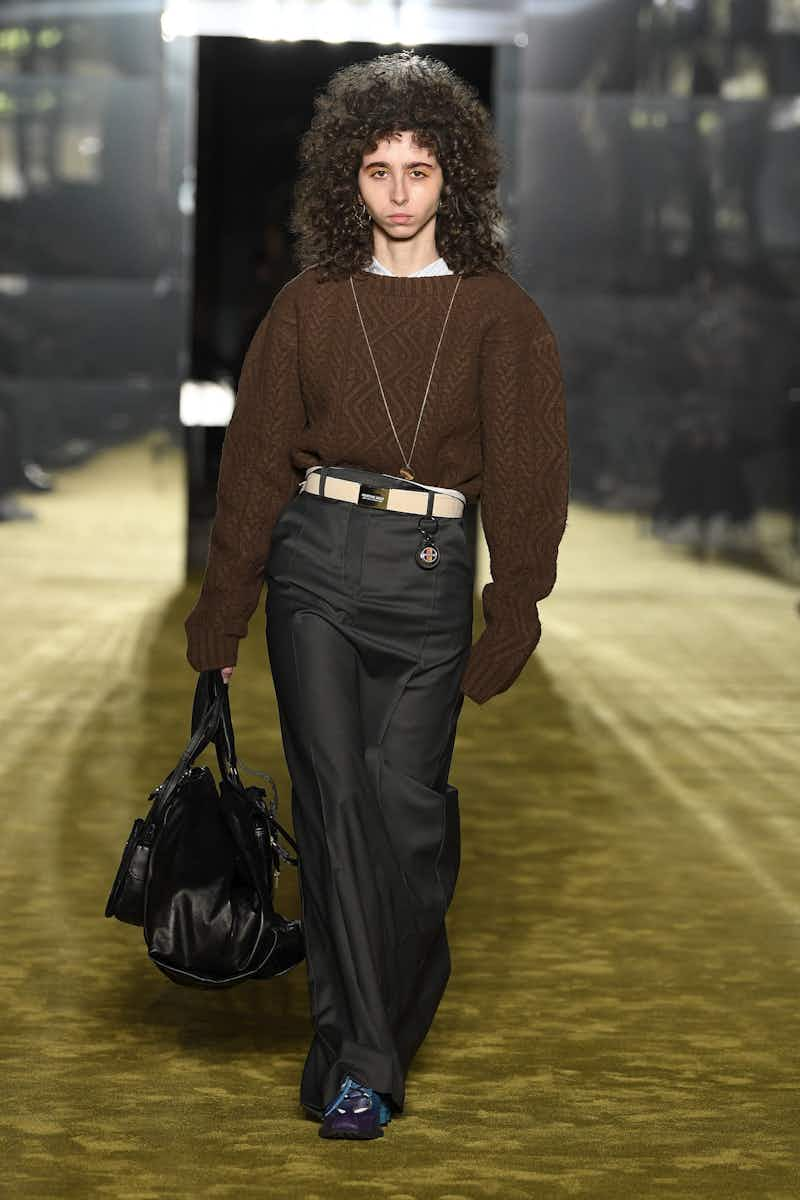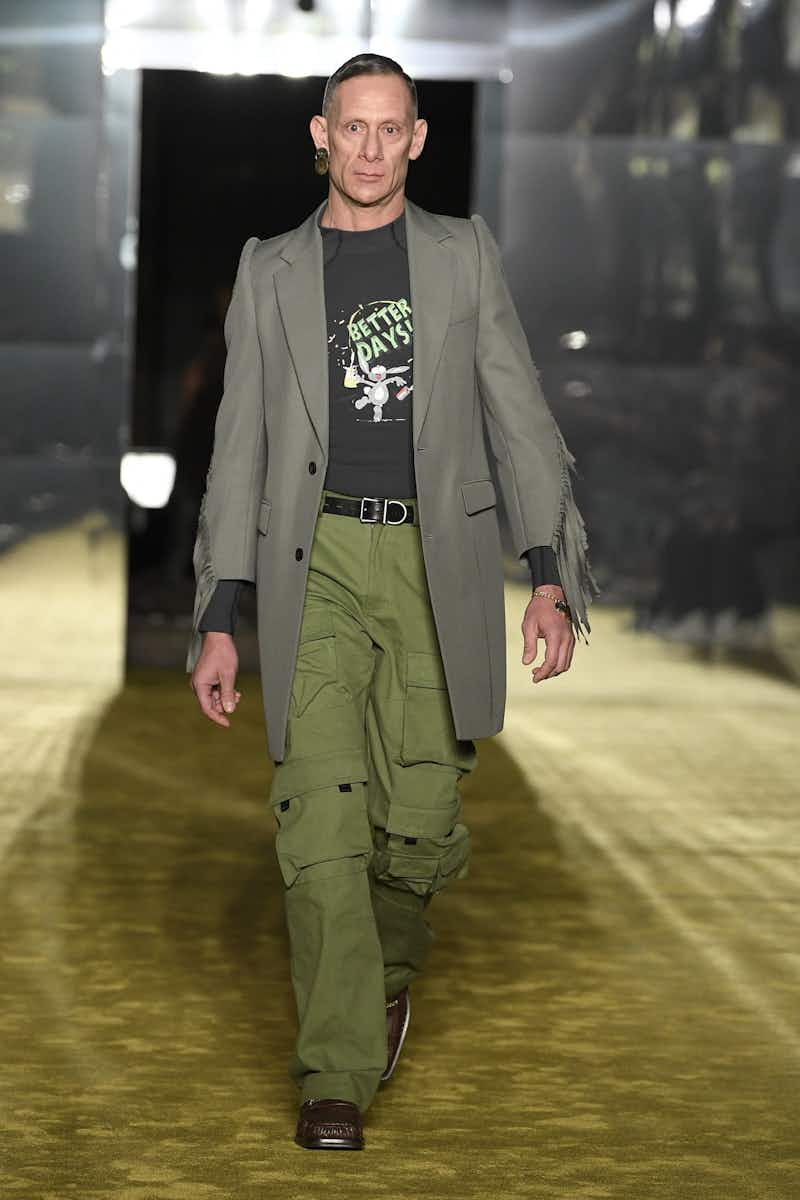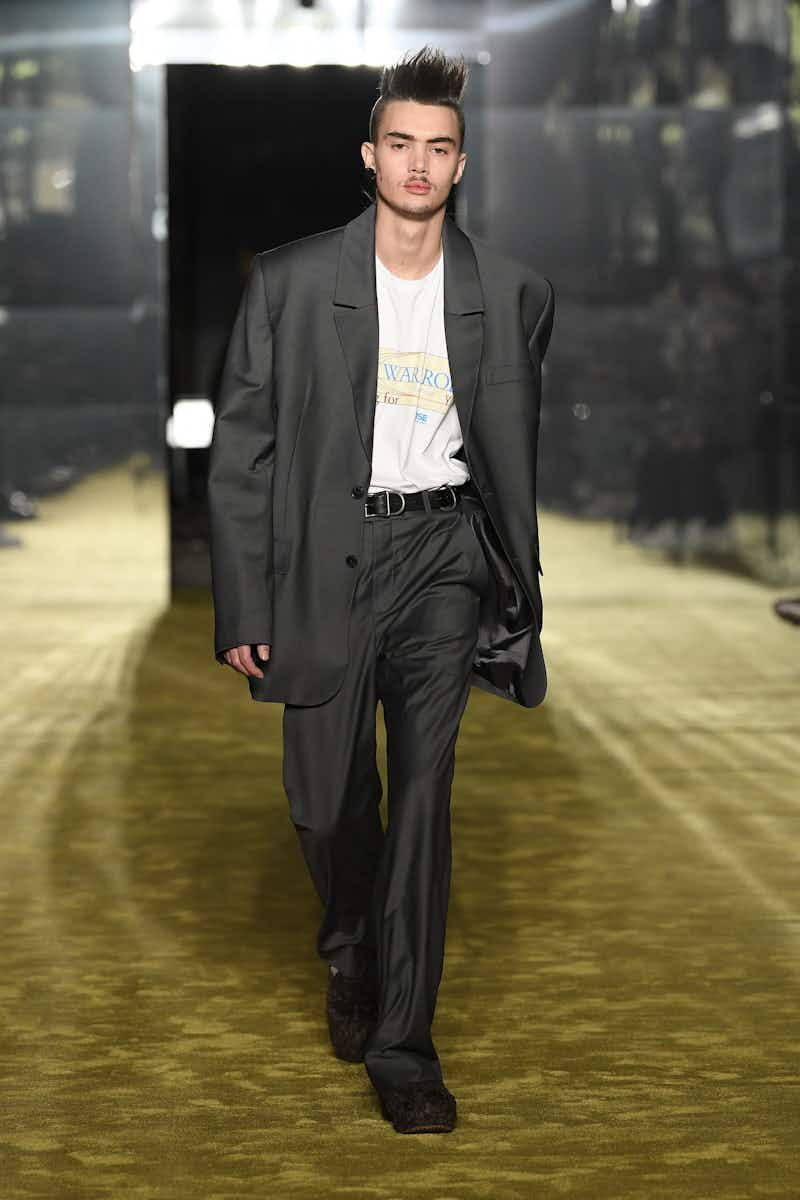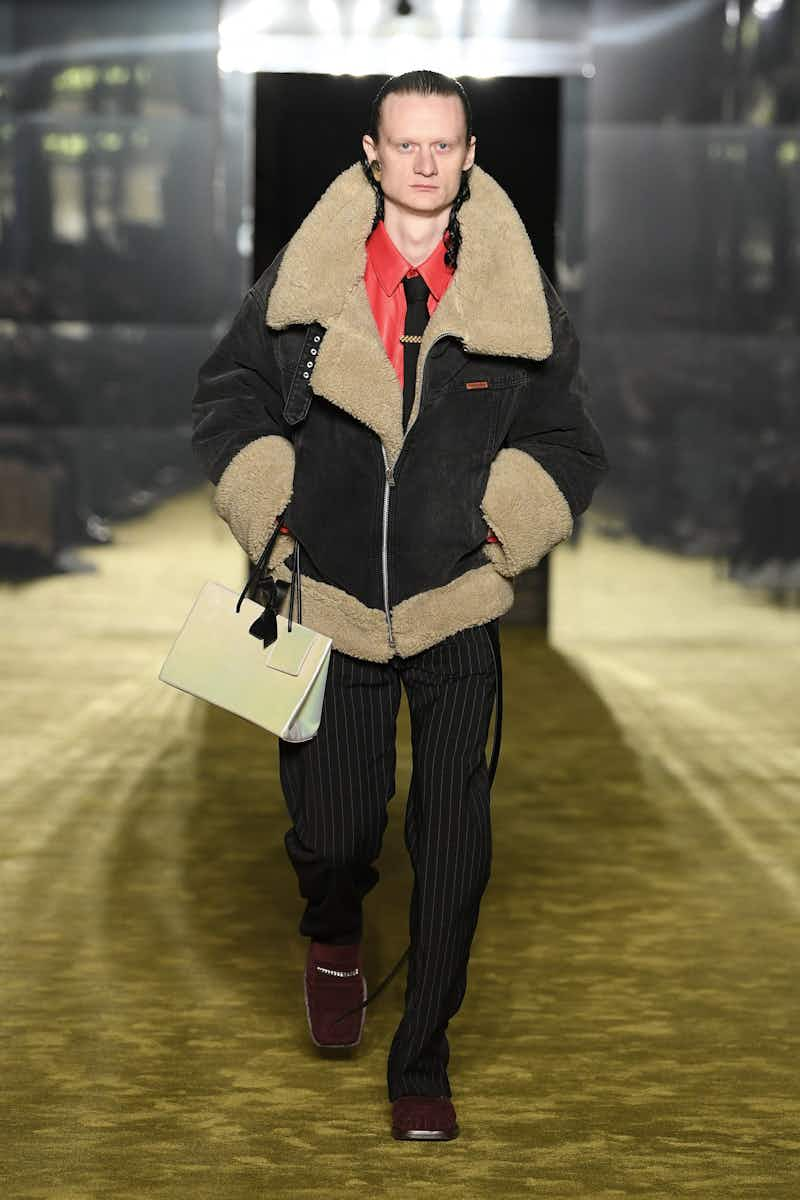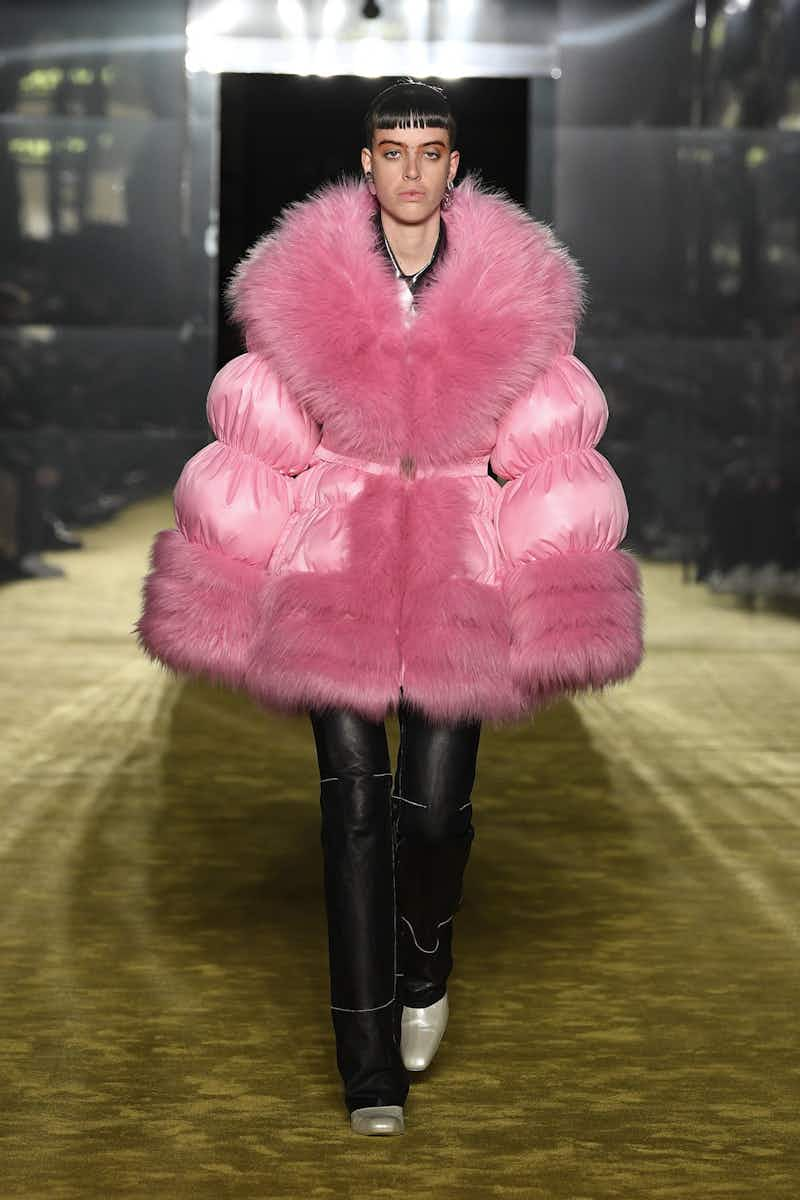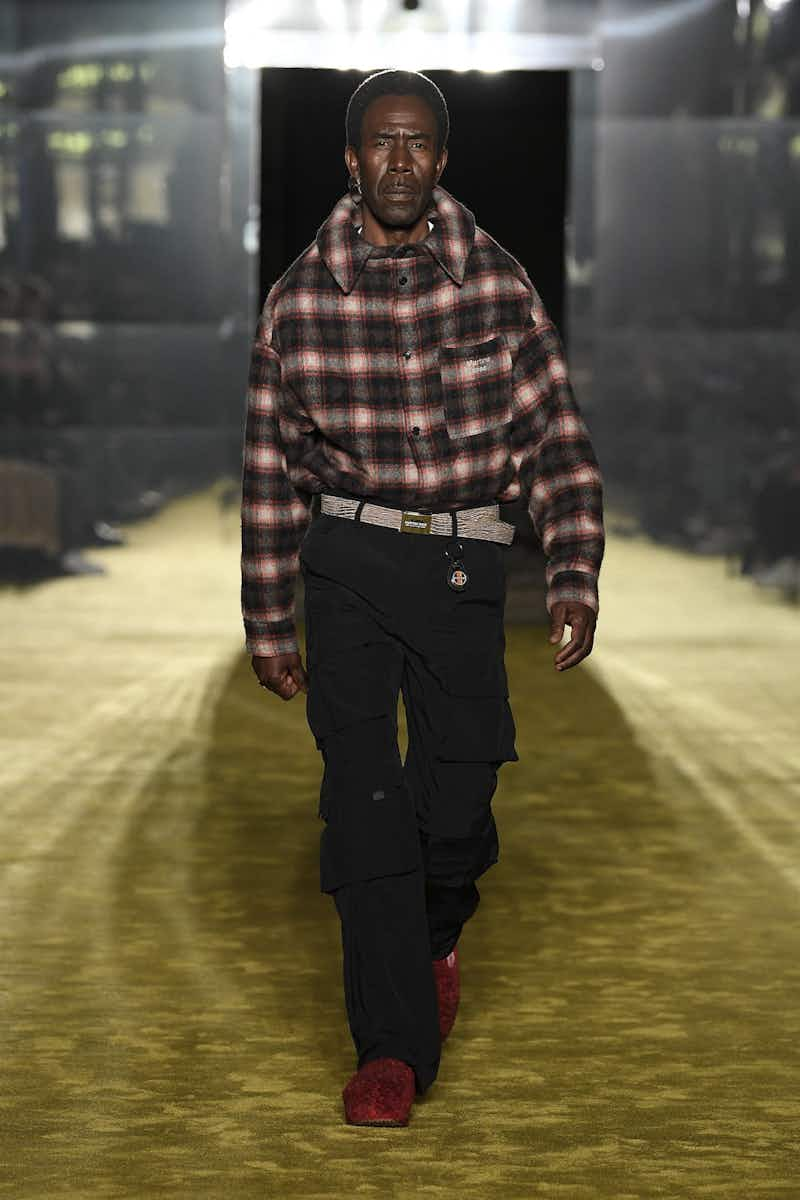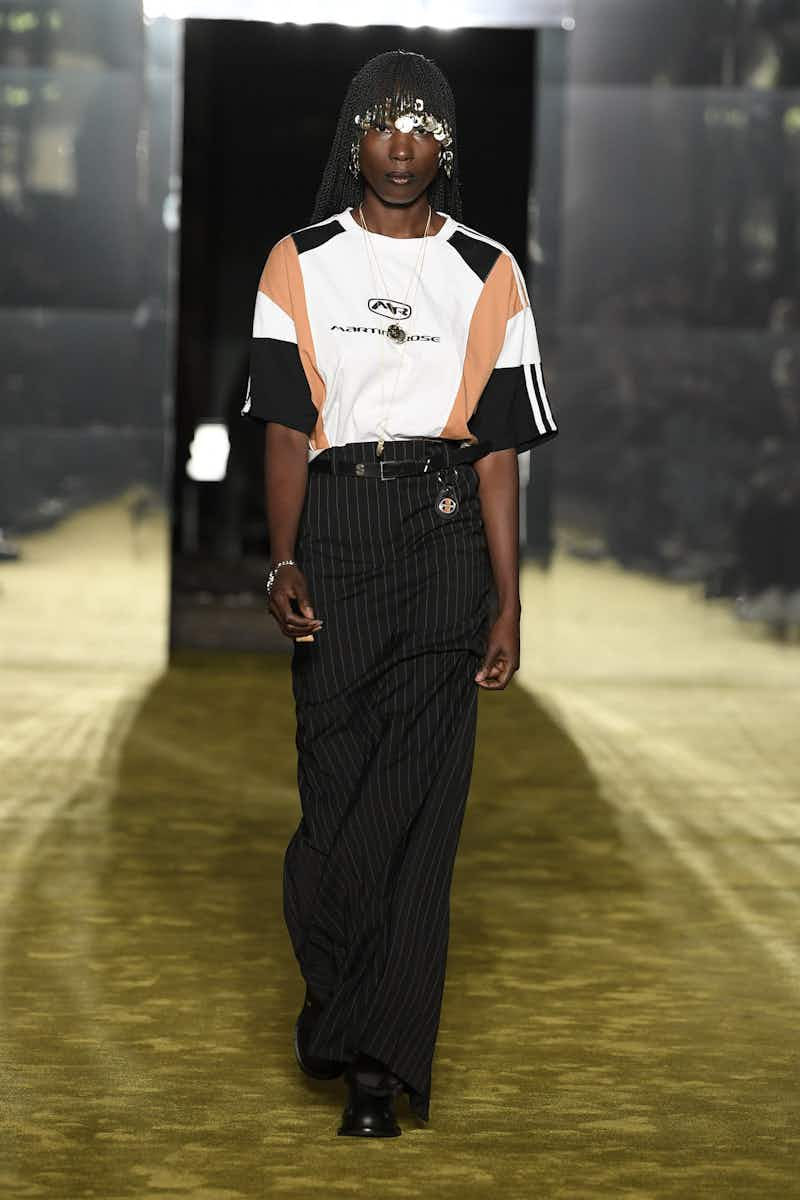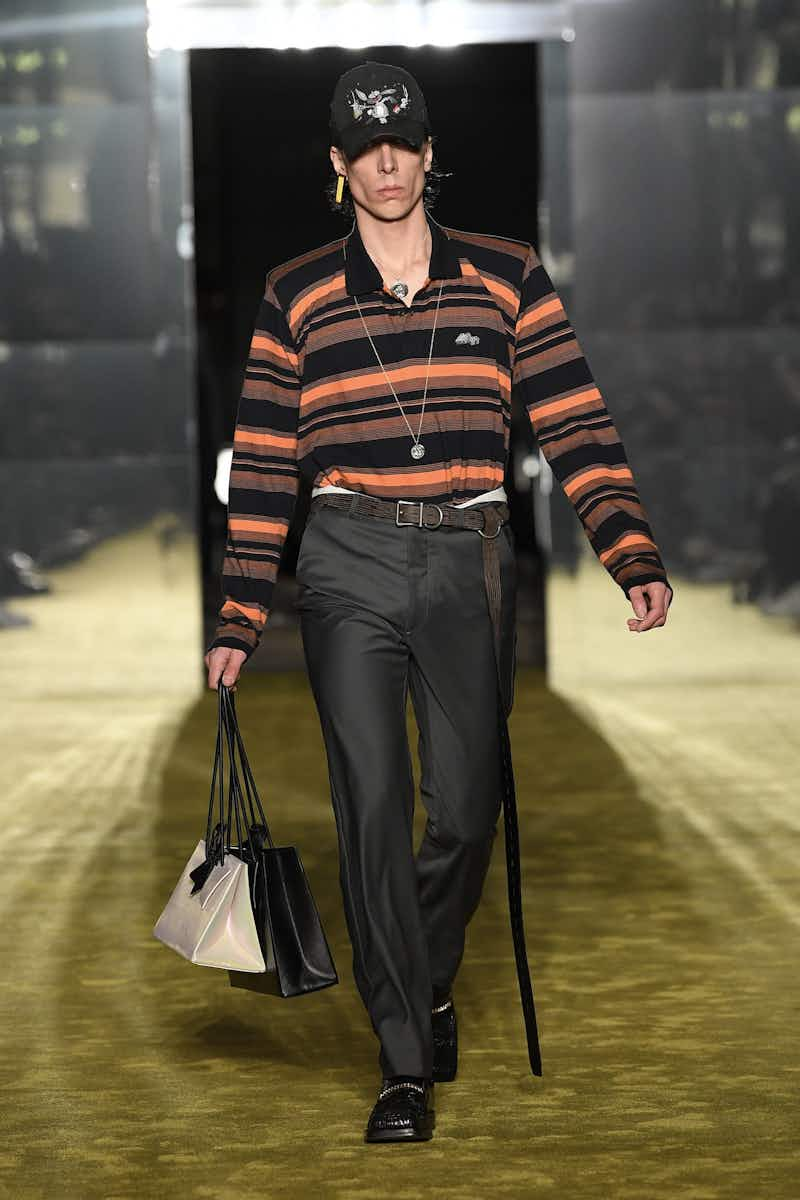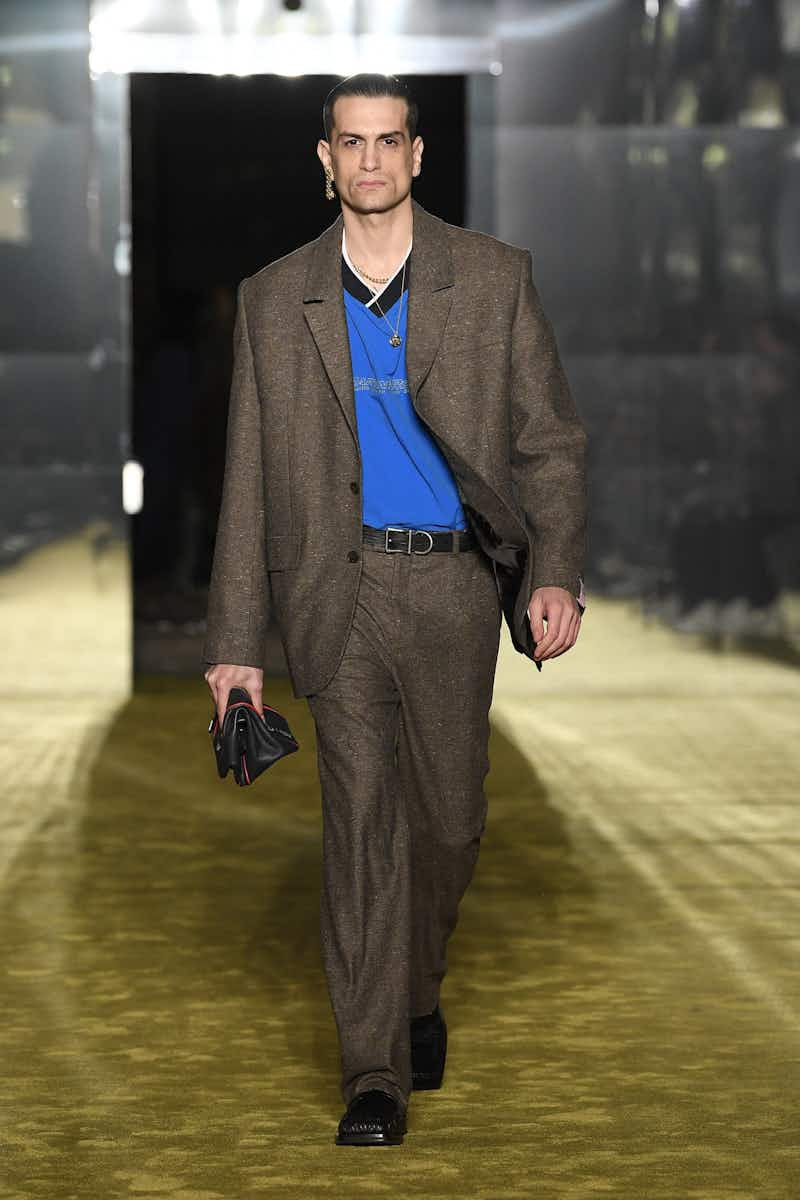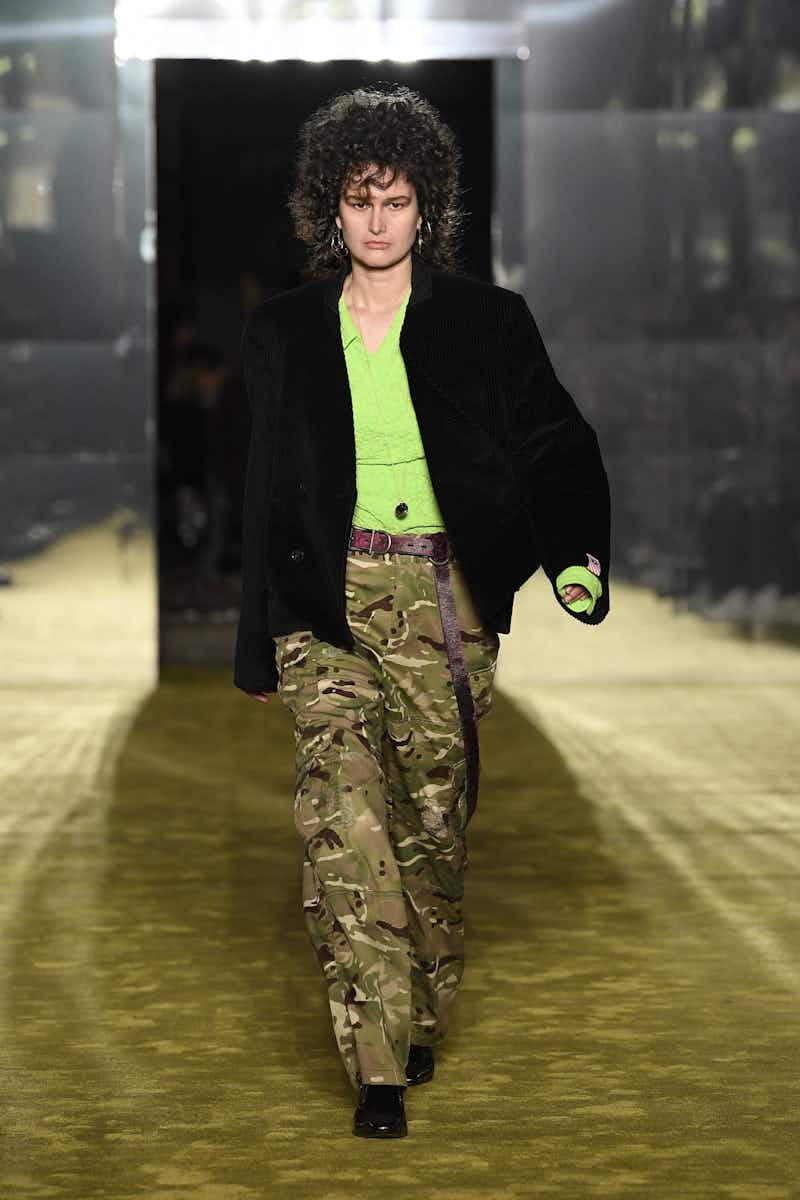 Elsewhere at Pitti…
We saw all sorts of technical wizardry at the AlphaTauri ​"mobile innovation lab". The premium fashion brand of Red Bull has developed its own fabric, Taurobran, which allows your skin to breathe while also not letting any water in (pretty handy if you're running for the bus in the rain). They have a fairly extensive range of knits, in some nice deep blues, greens and purples, as well as bags made from Apple Leather, which we didn't know was a thing but apparently repurposes waste from the local fruit juice and apple sauce industry. Oh, and shoutout to Chateau Orlando, whose Cornish folklore-inspired collection was very evocative. They had a nice zine on display, made in collaboration with our friends at Weird Walk, too.

More like this