Liberty Ross is bringing Studio 54-on-wheels back home with Flipper's
The Brit supermodel turned roller skating mogul has launched the hottest destination in London for skaters and cool kids alike – inspired by her own family's heritage.
As opening nights go, the kick-off for White City's new roller skating destination, Flipper's Roller Boogie Palace, was quite something.

It was the only place in London to be on Wednesday night, as a pink carpet was rolled out to welcome everyone from Dr. Dre and Mary J. Blige to Julie Adenuga, Michael Ward and THE FACE columnist Nectarine Girl. Even our mate Francis Bourgeois was there. Oh, and there were performances from Central Cee, Kaytranda and General Levy, as well as free-flowing champagne, chicken strips and chips garnished with caviar.

Now that's how you throw a proper good party.

There's a good reason for all the hype. Helmed by legendary Nineties and Noughties model, and two-time THE FACE cover star Liberty Ross, the new Flipper's is more than your average roller rink. It's a slice of Hollywood history transported from Los Angeles.

The name comes from Ross' dad, Ian, who was nicknamed Flipper after he was injured in a car crash and subsequently walked with a limp. He's the man behind the original Flipper's Roller Boogie Palace, which opened in Hollywood in 1979 and soon became the city's on-wheels answer to Studio 54. Prince, Robin Williams, Elton John and Nile Rodgers all put their skates on there. Although it only had a three-year run, closing in 1981, it became the stuff of Hollywood legend.
"No joke, still to this day, I meet people who are like: ​'What, your dad is Flipper? Oh my God, I had my first kiss there, I saw Cher there, I danced with Kareem Abdul-Jabbar there!'" says Ross, the day after the big launch. ​"Everyone has these insane stories."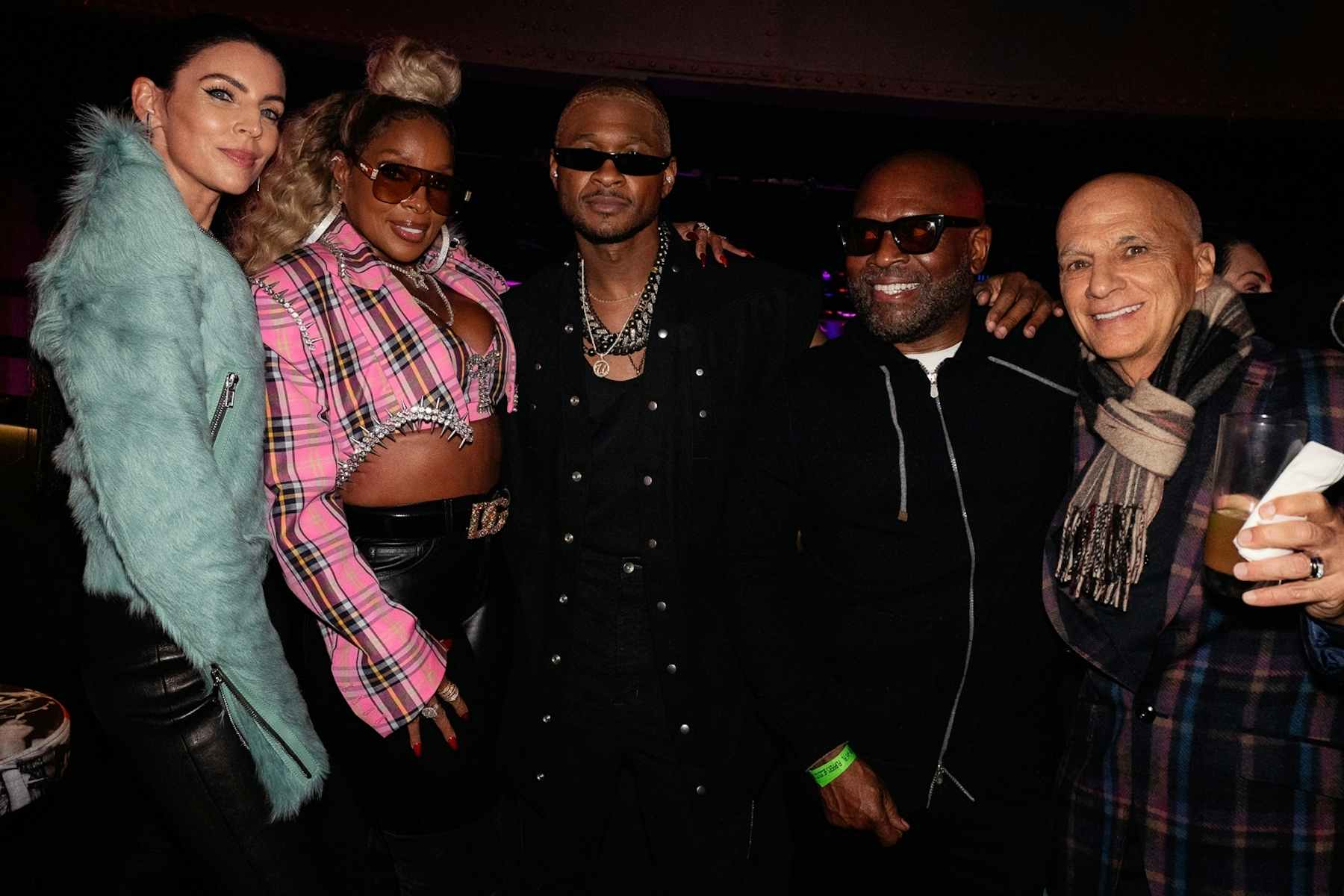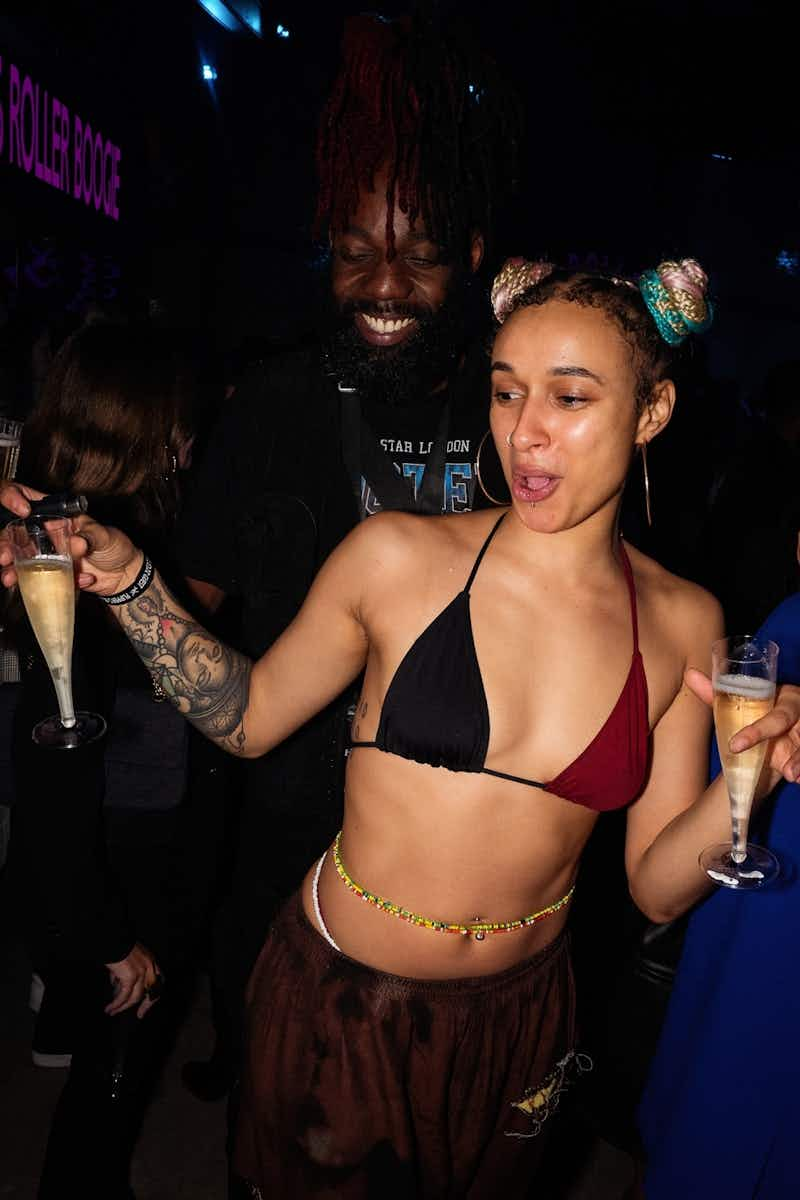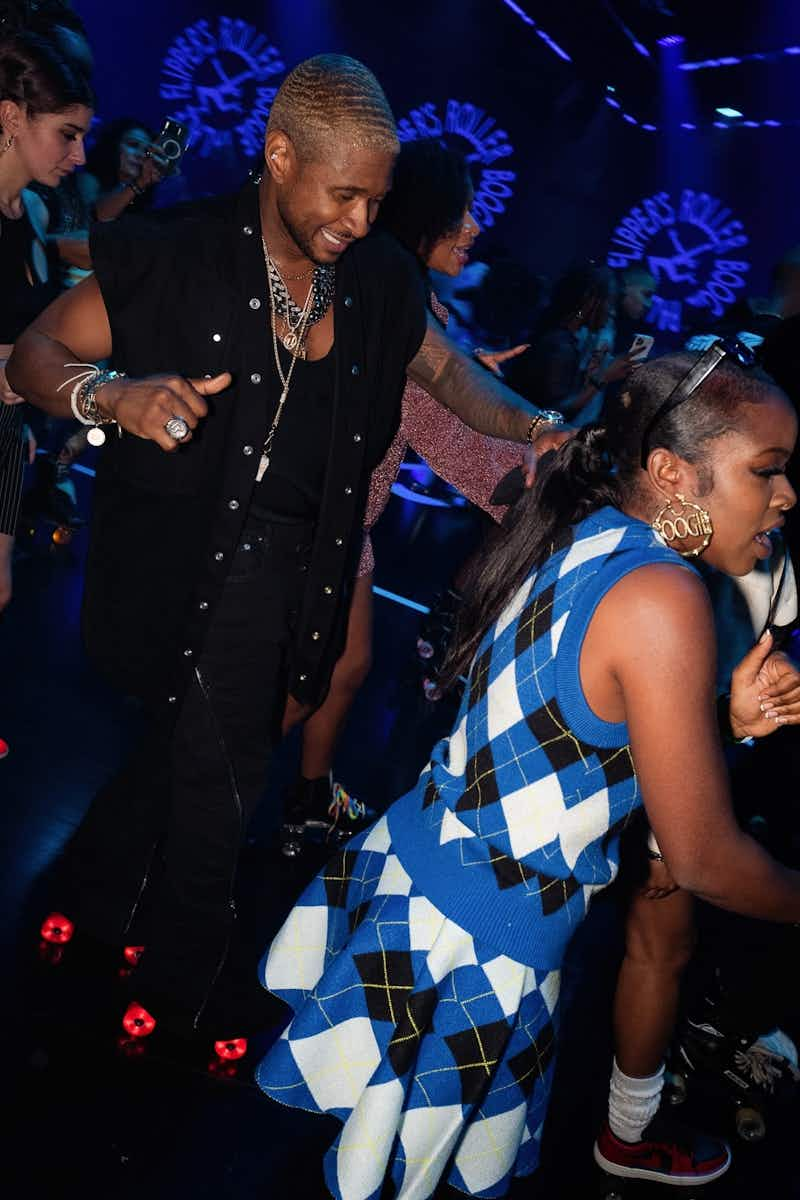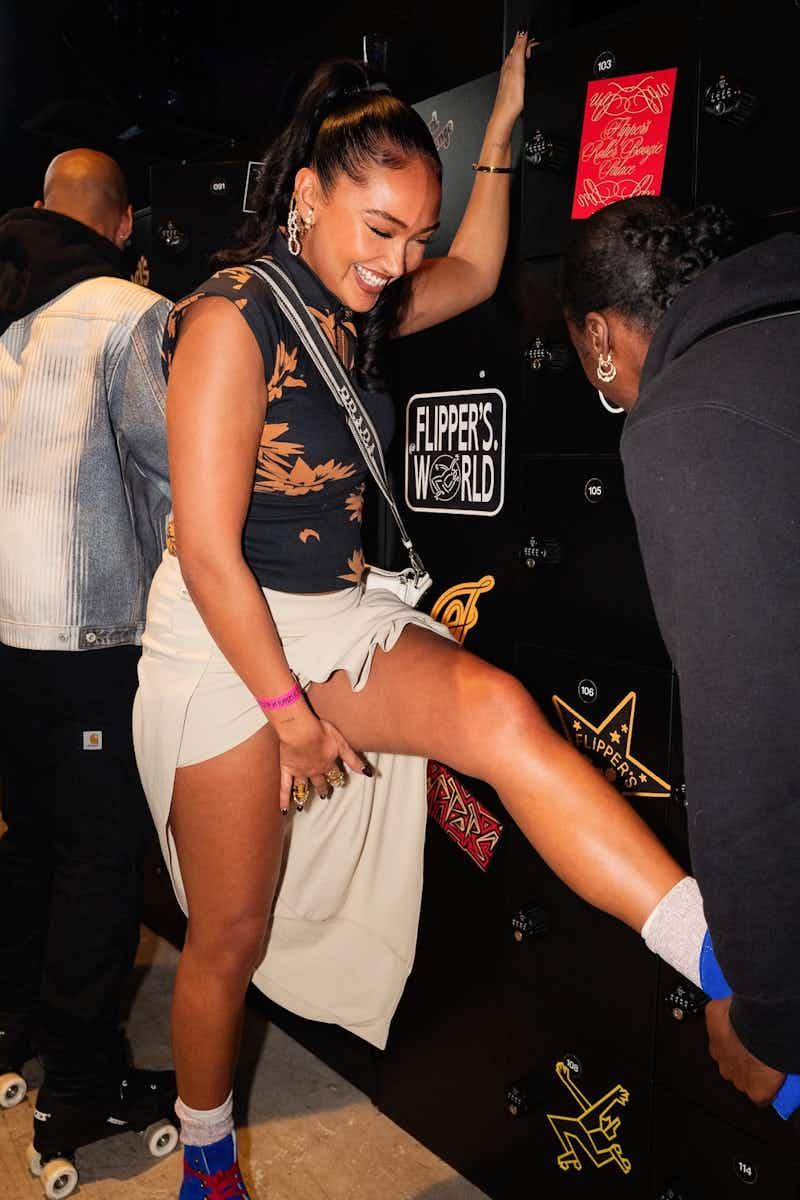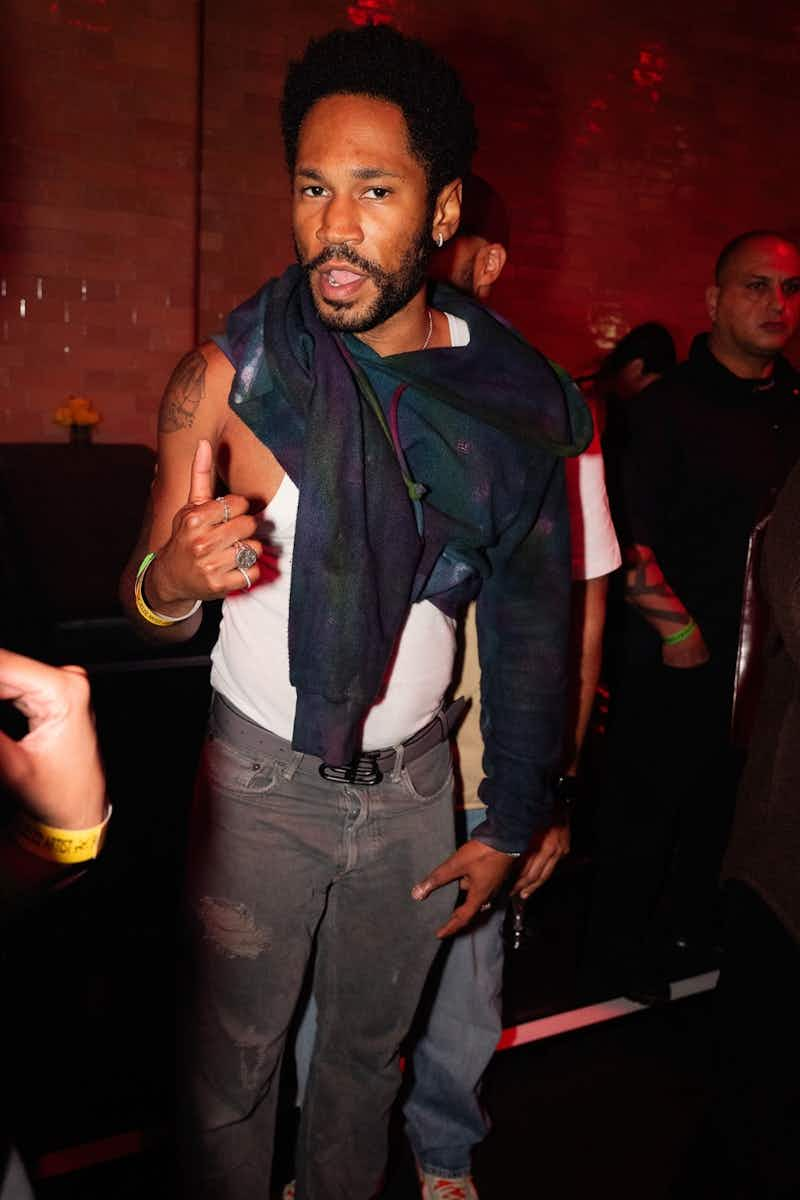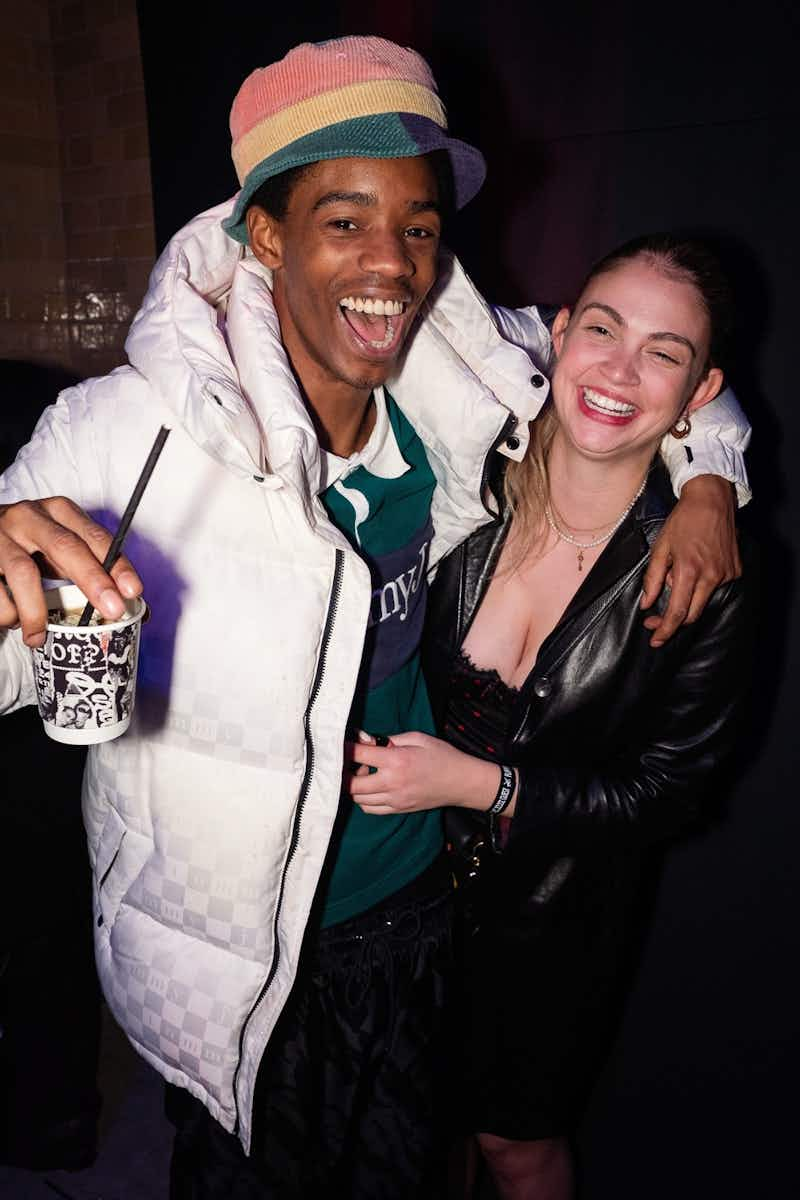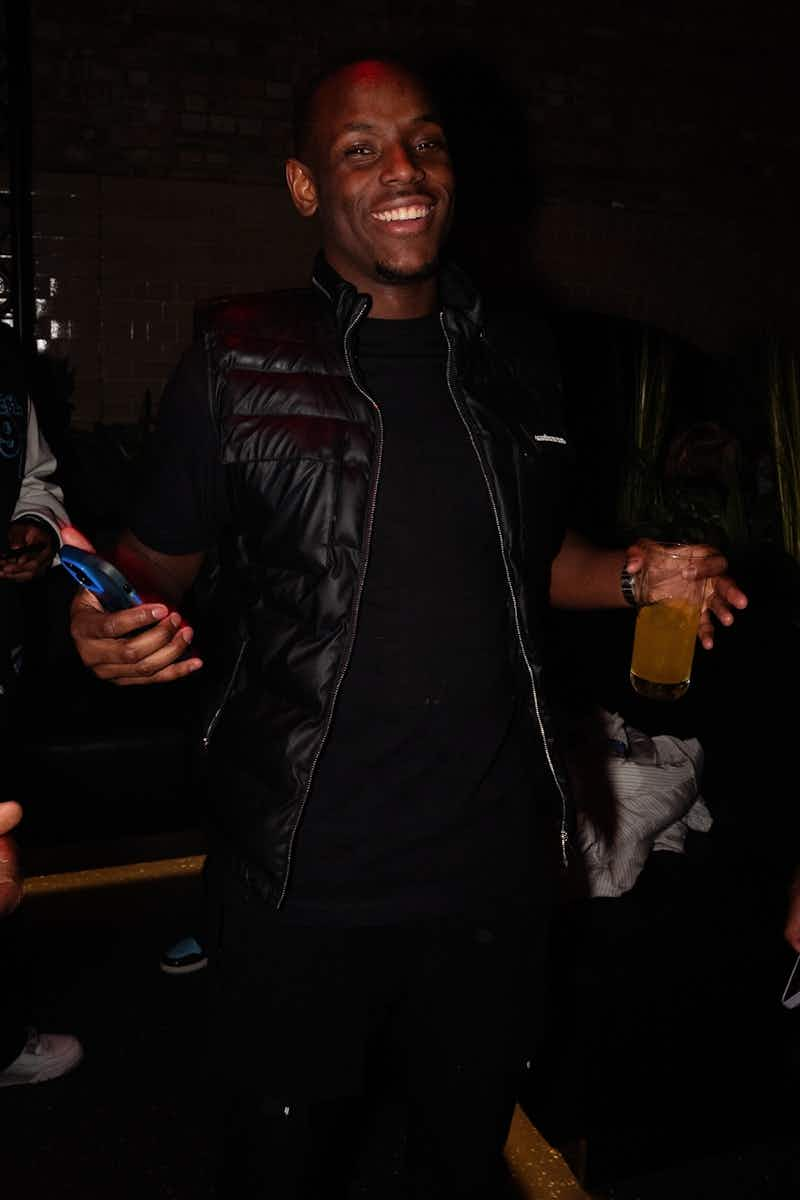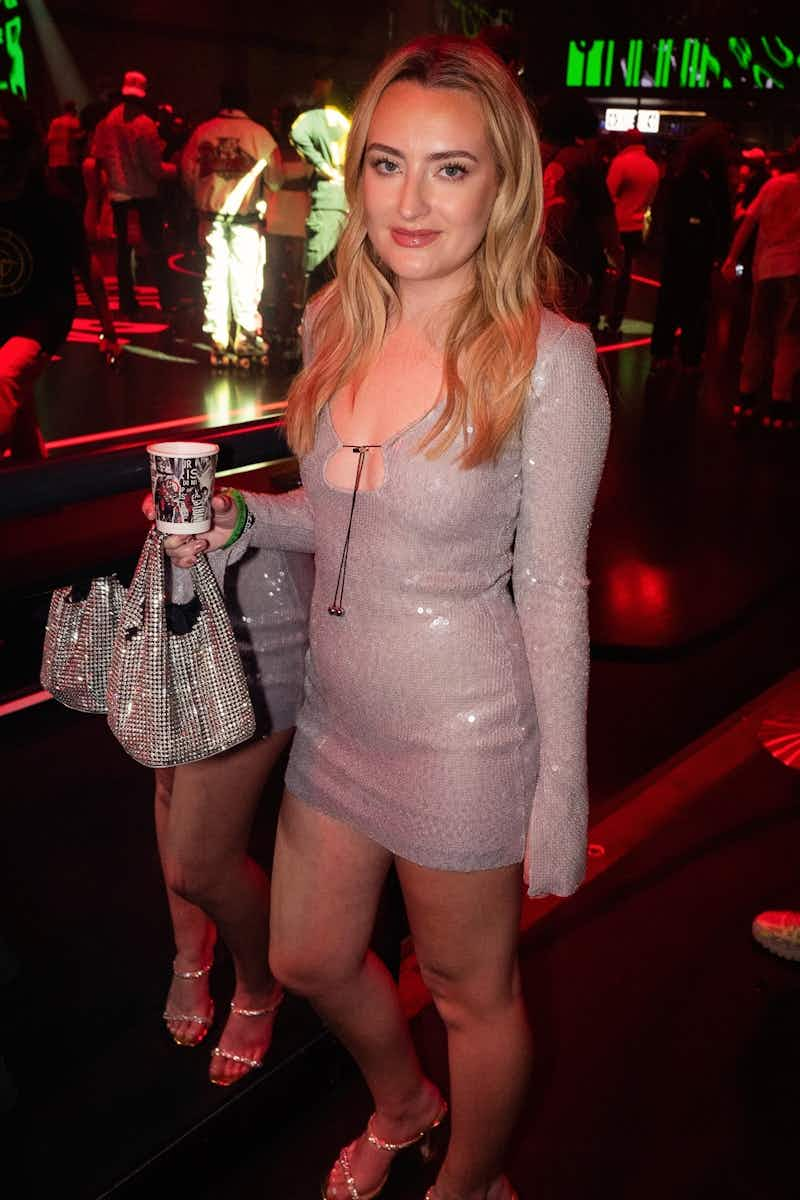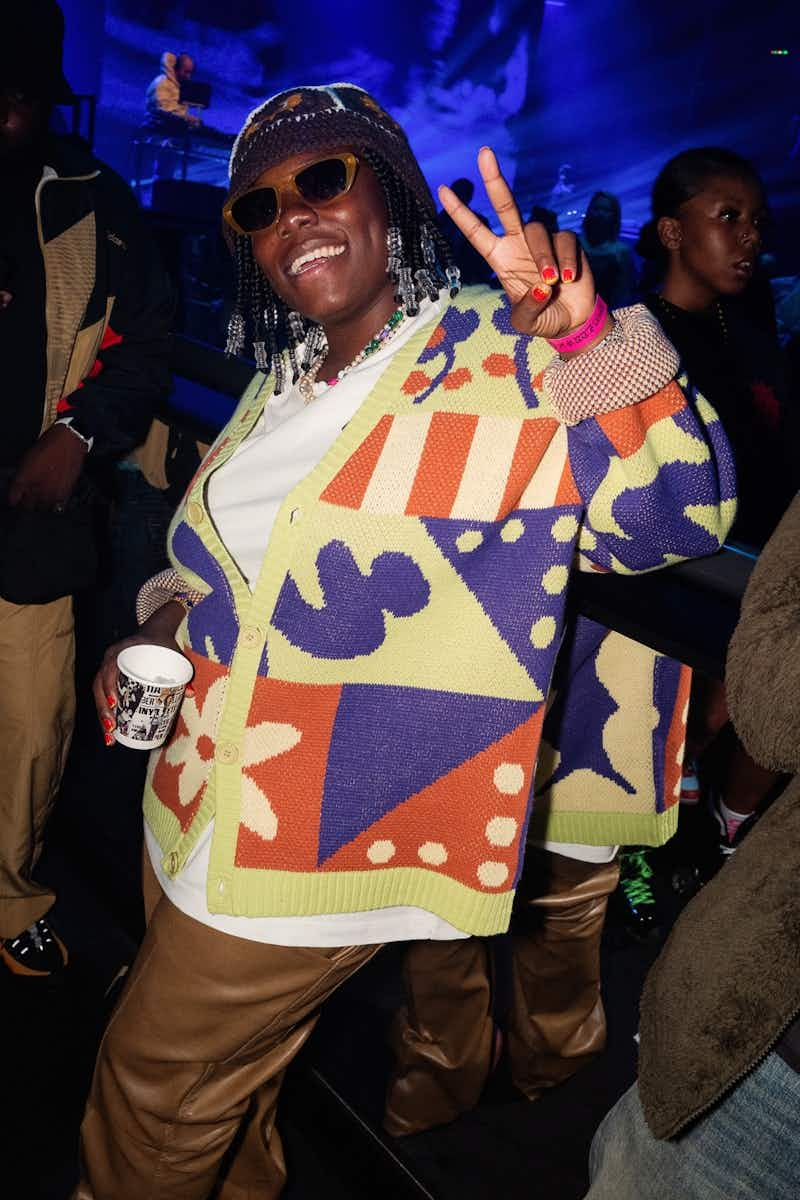 Ross opened London's Flipper's 2.0 wearing a baby blue Rick Owens fur jacket with devil horned shoulders – accidentally matching Usher, by the way, who opted for a longline, Black fur number by the designer. The unintentional synergy was fitting, considering that he's also Ross' business partner on the roller revival (more on that later).

But today, the model turned roller mogul is Zooming in wearing a decidedly more casual silk pyjama-style shirt. A nod to her heritage and new passion project is still there, though, via hoop earrings with a dancing skater in the middle of them – a riff off her dad's original logo – and nail polish in shade ​"Boogie Nights Black", both of which are a collaboration with jewellery designer Simone I. Smith.

They can be yours, too, if you visit Flipper's merch shop, both online and in-store at the new rink, which is yet another notch in Ross' burgeoning skate empire.

But this isn't some strategic enterprise Ross has cooked up to get the capital's – no, world's – coolest people in one place. Flipper's is a true labour of love, a venue created with skaters for skaters.

No detail has been overlooked, from the interiors that boast roller skate-wheel shaped booths and custom cushions adorned with archive photography of original Flipper's nights, to the black rink, mega sound system and lush, blue suede rental skates that are a replica of the ones Ross' father had at his own place.

The venue is staffed by skaters ready to help novices buy their first set of wheels (or, you know, just make it round the rink). To get the food right, Ross even flew a London chef out to LA to take them on a culinary tour of the best American diners.

"Every single thing that I've done is very, very intentional," says the 44-year-old. ​"I've had the building for about a year, just working with my roller skater friends to really understand the needs of skaters."

"All of this has happened very organically. I didn't set out five years ago to build rinks all over the world," she continues, laughing. ​"I think that's why it's been so fun. I have no idea where this journey is going to take me. I'm just rolling with it." Nice pun work there, Ross.

Itching to know more about how London got its very own Roller Boogie Palace? And how Central Cee wound up headlining the launch? And how Usher's involved? You're in luck, because we got the need-to-know details about Flipper's and then some (read: behind-the-scenes memories from her THE FACE February 2002 cover shoot with Kate Moss). Skates on, people. Let the good times roll.
Hey Liberty! Last night's party was insane. How are you feeling after it all?

I mean, that's just the beginning for me – we've got four solid nights [to do next]! But I'm just really happy. It's so beautiful to be able to provide space for a community that I was born into and that's always meant so much to me. There were skaters that flew from all over the world to be there last night. It's just incredible to see how strong the community is.

Wow! A truly international affair. How did you go about planning the party and making sure all those amazing skaters were there?

Last October, I put the Flipper's book out and we had a really great launch party at Dover Street Market. I also rented the building that we now have the lease to just for a night, and I literally gave the keys to two roller skating friends of mine. I said: ​"I want to come to your party." At about midnight, I showed up there after the book launch and I was so blown away by what I saw.

I realised the community in London is very deep. I felt like we needed to do it here. I've kept my relationships going with the skate community for the past year and we built the space together, which was really beautiful. Everything that you see at Flipper's has literally come through me and my friends.

How did you curate the music?

I worked really hard on the lineup, because I wanted it to be a perfect balance between America and London. After my party last October, I said to my husband [Jimmy Iovine, co-founder of Beats Electronics with Dr. Dre]: ​"We need to create a skate anthem. I want to do something with amapiano." We put together a song that we released last month called Power (Remember Who You Are) by DJ Snake, Summer Walker, SPINALL and Äyanna – she's a London girl with such an amazing voice. She performed our song last night with SPINALL.

We had Central Cee, who's from the White City Estate, so it meant a lot to me to have him there. I really wanted that essence of London to be represented – and I'm actually from the same neighbourhood. Kaytranada is so amazing and he means a lot to the skate community, so I was just blown away when he said yes.

And then General Levy, his song Incredible is an anthem for skaters in London in particular. They do an incredibly fast paced speed skate backwards to his music. We couldn't do that last night because it was too crowded and we didn't want anybody to get injured, but you'll see it regularly at Flipper's – it's something that really needs to be seen! When I saw that last October, I felt like I was seeing breakdancing for the first time.


It sounds like a lot of thought and meaning went behind each choice. When did the process of putting the book together and then the rink begin?

It really started when I moved back to LA about 18 years ago. I was three years old when Flipper's shut, so I really wanted to know more about it. My parents had maybe five photographs – they hadn't managed to keep much of an archive. I started going down this rabbit hole of libraries and internet searches. I gathered all of this material and thought: ​"The world needs to see this."

Every other city has its [iconic venue, such as] the Moulin Rouge or Studio 54. I feel like Flipper's was that for Los Angeles. I was blown away by the stories and the imagery, and the blending of culture on all fronts was so intriguing. There were three year olds there and 103 year olds there – the whole diversity was fascinating to me. I started to assemble a book and I had like 30 pictures when I started.

In the end, we had a 300-and-something-page book and I have 3000 photographs now. As more and more people are hearing that Flipper's is coming back slowly, people are sending me stuff now. This woman gave us 100 photographs that she found in a dumpster next to her house!

What's the best photo that you've found?

I think my ultimate favourite is a black and white photo taken by Cisco Craig Dietz, our photographer from 1979. It's two girls sitting at a table, one with her leg up and she's got this underwear with musical notes on it and roller skates. The girl next to her has the iconic Vivienne Westwood ​"Tits" tee on. It's such an epic photo, there's cigarettes and stuff on the table. To me It says it all in one shot. It's the vibe of Flipper's.

Lots of joy!

So much joy. I think that's what people took away from last night, like: ​"Oh, this is what parties used to be like!" It was so fucking fun. I want to bring back that feeling of freedom because I think now, with social media and everything, everyone's so contrived. What I love most about skating is that it's actually pretty hard to do and film yourself. We at Flipper's really encourage people to ​"less scroll, more roll" – that's our motto. Be in the moment, be in your body, feel the wind in your hair and just connect with the people around you.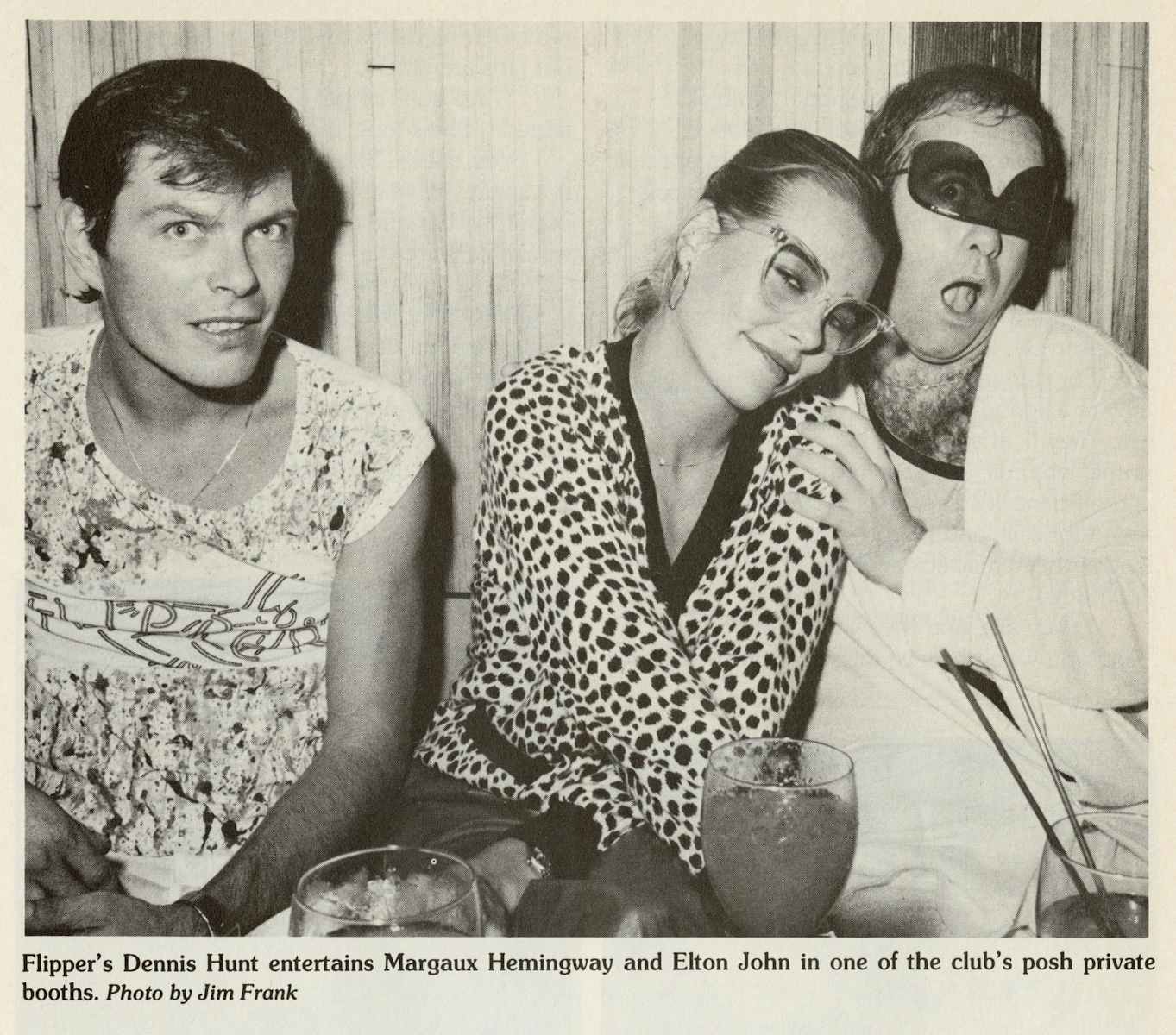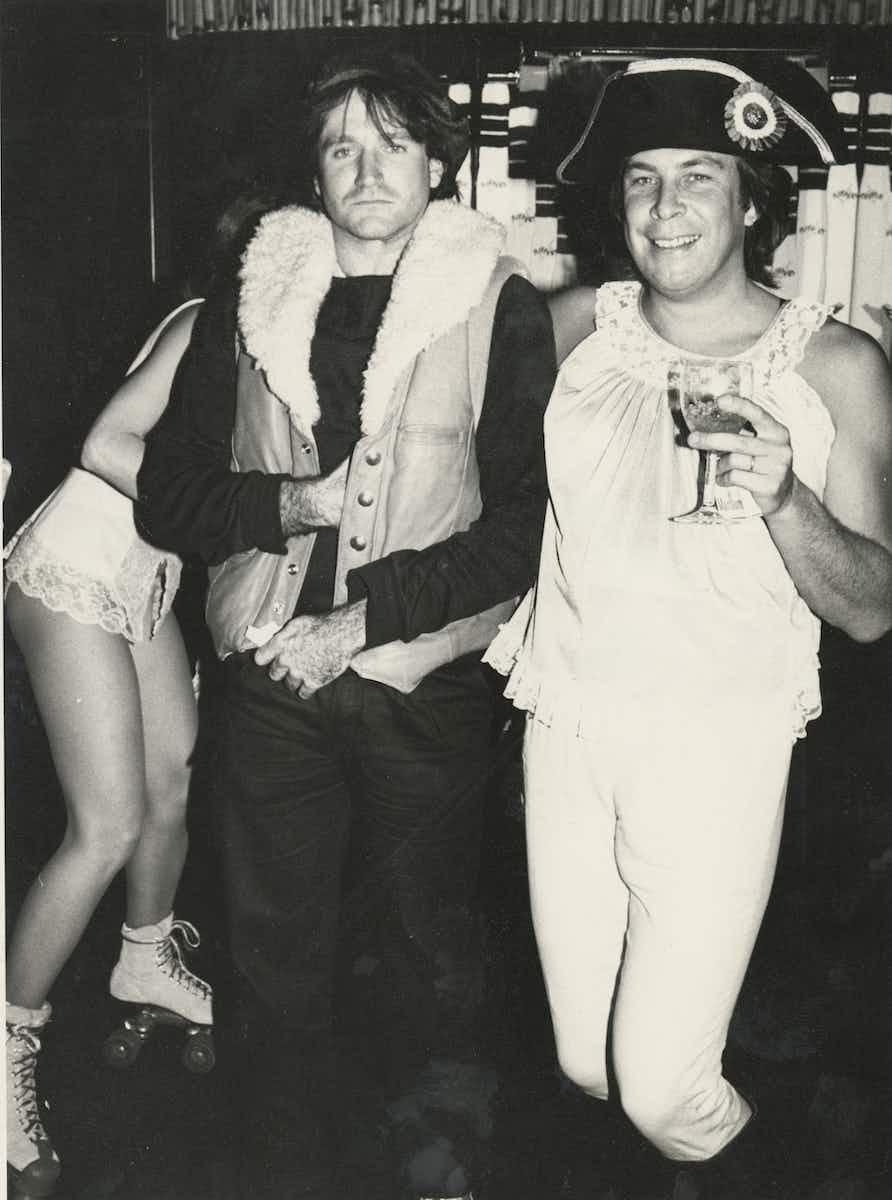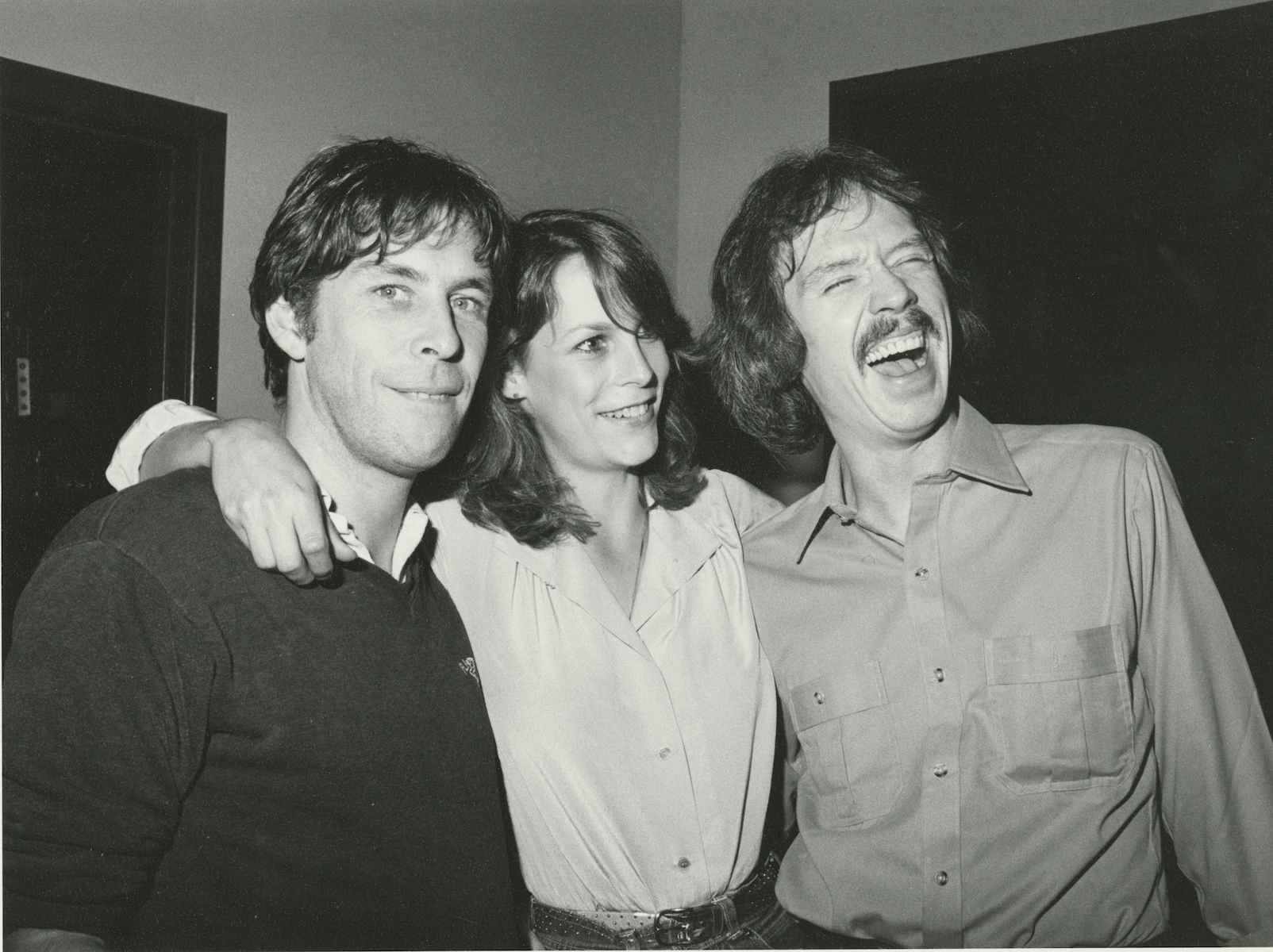 And you have your own personal roller skating rink at home, right?

I do! During the pandemic, obviously all the rinks shut. But my husband and I love skating with our kids. When my skate teacher Dirty Deb's rink closed, she said: ​"Don't you guys have a garage? You could just throw a wood floor down so you can keep up practising." And I actually did have this big underground garage full of paint pots and lawn mowers and stuff. So as a surprise for Jimmy's birthday, I converted the whole thing. I put the wood floor down, I built a bar and a bathroom and like a whole skate rack.

That is Flipper's in LA for the moment. And it's LA's best kept secret. People call me to be like: ​"Hey, can I have my birthday party in your garage?"

You're going to need a doorman! How did Usher get involved with Flipper's 2.0?

I got introduced to Usher through a mutual friend. It was actually when I built the rink in my basement, Usher came over and was like: ​"Oh, my God, I have been wanting to do this for so long!" We both really respect rink culture and we're both so sad that so many rinks have shut. I showed him everything that I was doing and I told him the whole story of my family's history. He was so inspired and so we decided to do this together. He's been the most amazing partner. I couldn't dream of somebody that is as equally as passionate and on the same page, with the same mission. It feels God sent, honestly.

We obviously also have to talk about your FACE covers, both the 2000 20th birthday issue shot by Sølve Sundsbø and the 2002 cover with Kate Moss…

Those were incredible. I always loved THE FACE magazine. To be on the cover was next-level for me. I still have the denim shorts that I was wearing in the Kate Moss one and I still fit into them, which is saying something!

I love the [2000] one of me on the telephone, and then the double fold-out that has the guy on the other end – so genius. I worked a lot with Sølve, and it was always such a good time. And obviously working with Kate was always such a dream. She's my absolute favourite supermodel by far. She was also always so kind to me, really generous, and we shot a lot together – we did the Burberry campaigns together. This shoot just felt really girly, because Liz Collins was the photographer so it felt really special.

I have both of those covers framed actually. I'm not one to frame pictures of myself at all. But for those two, I will.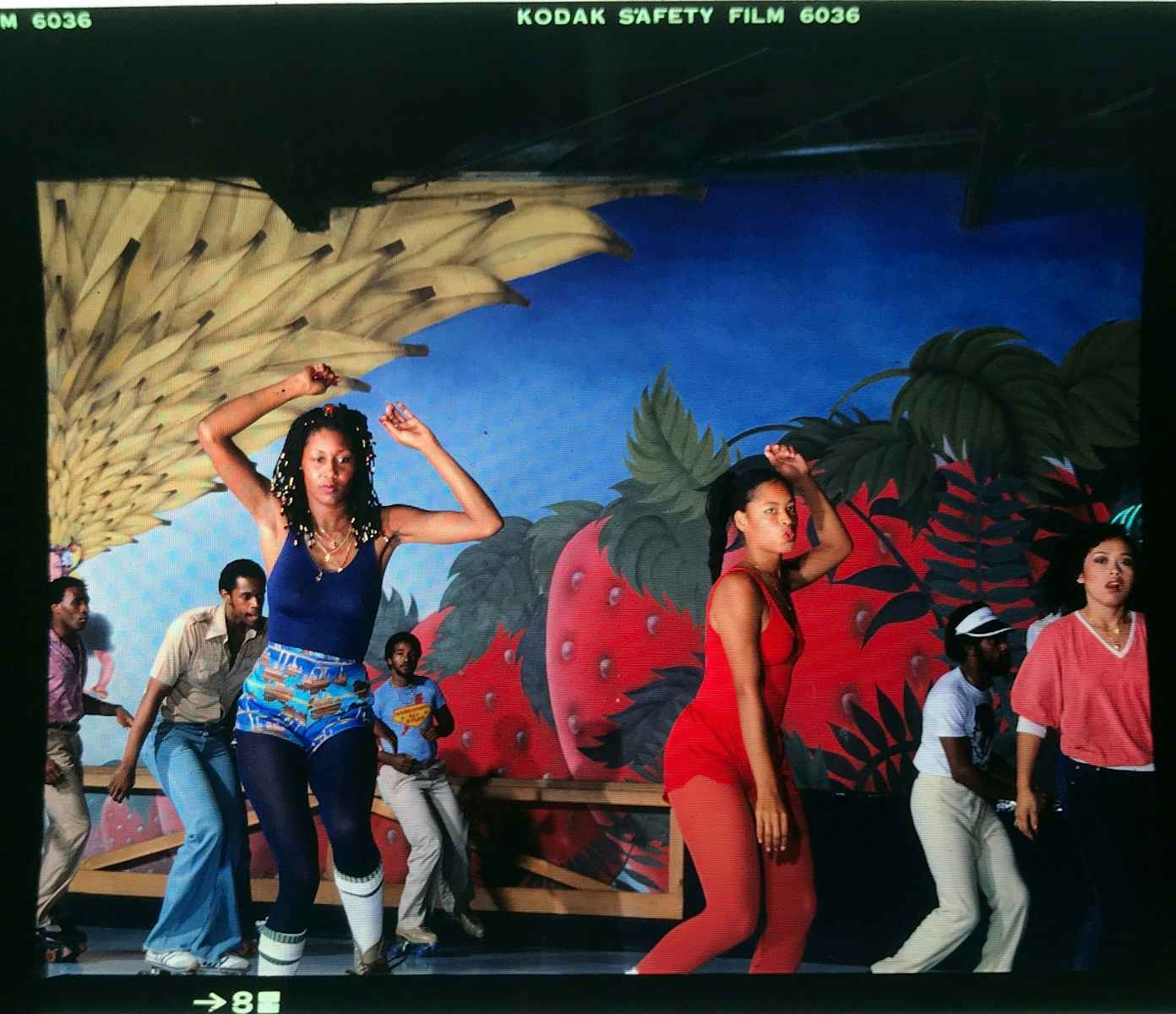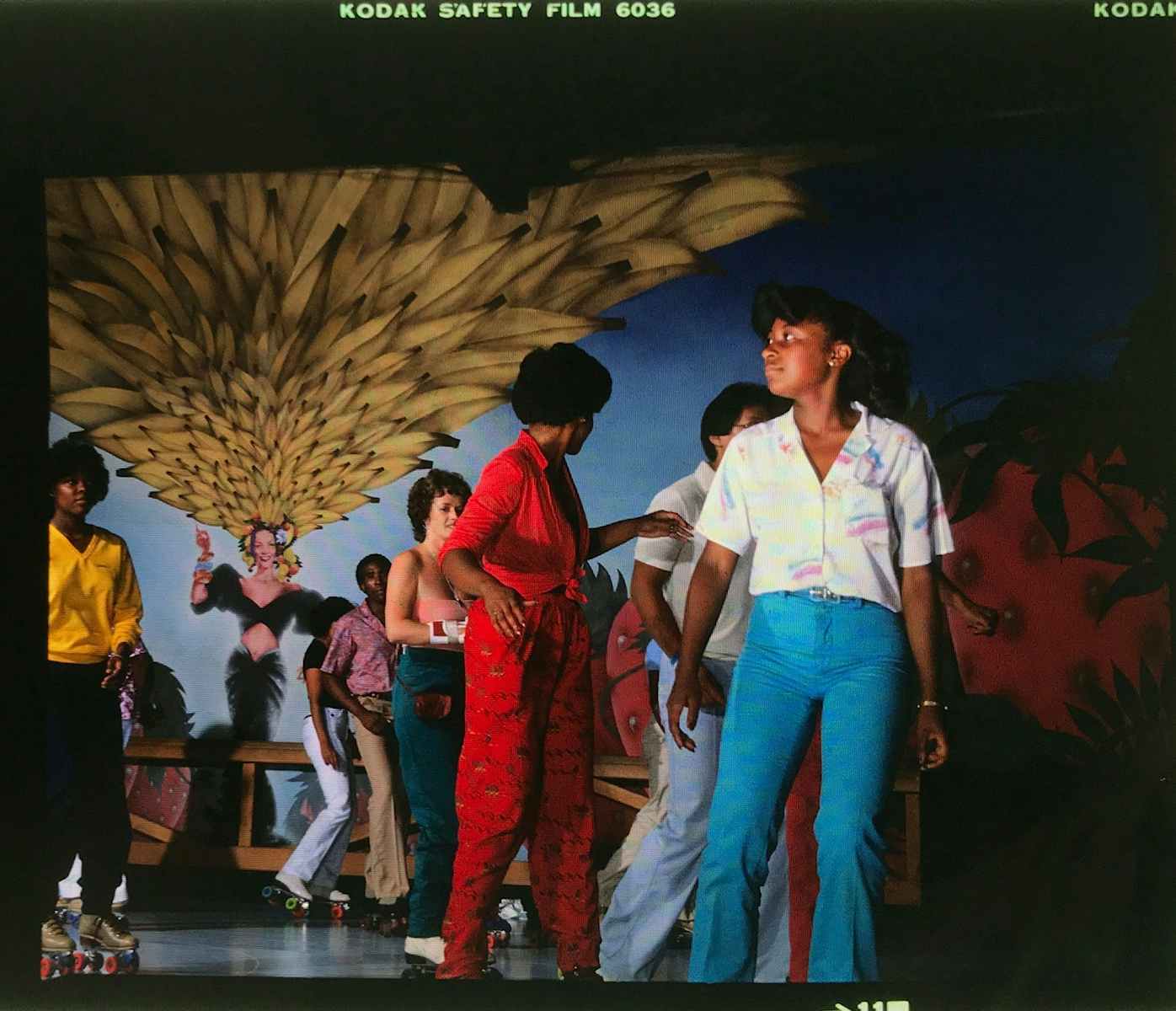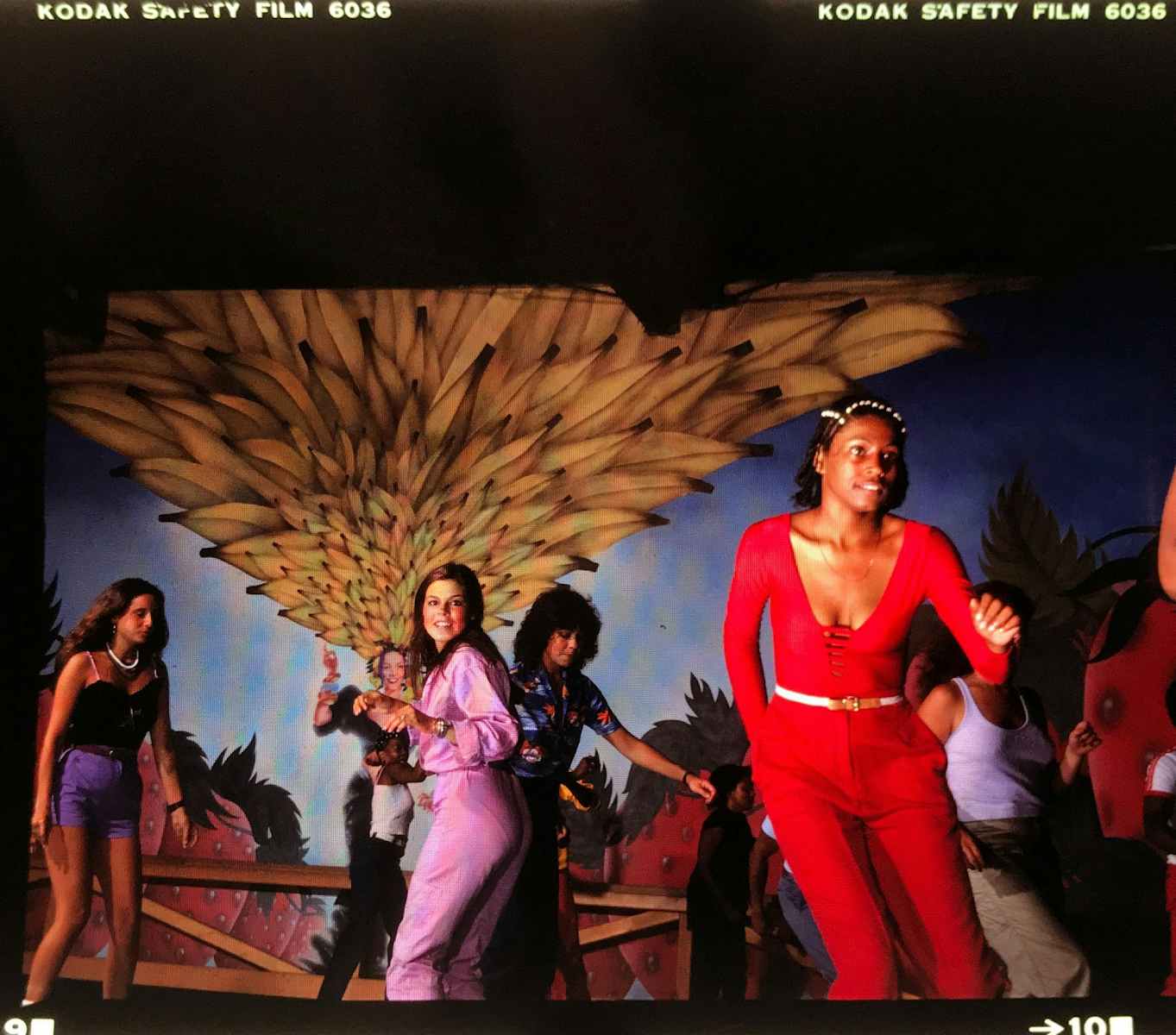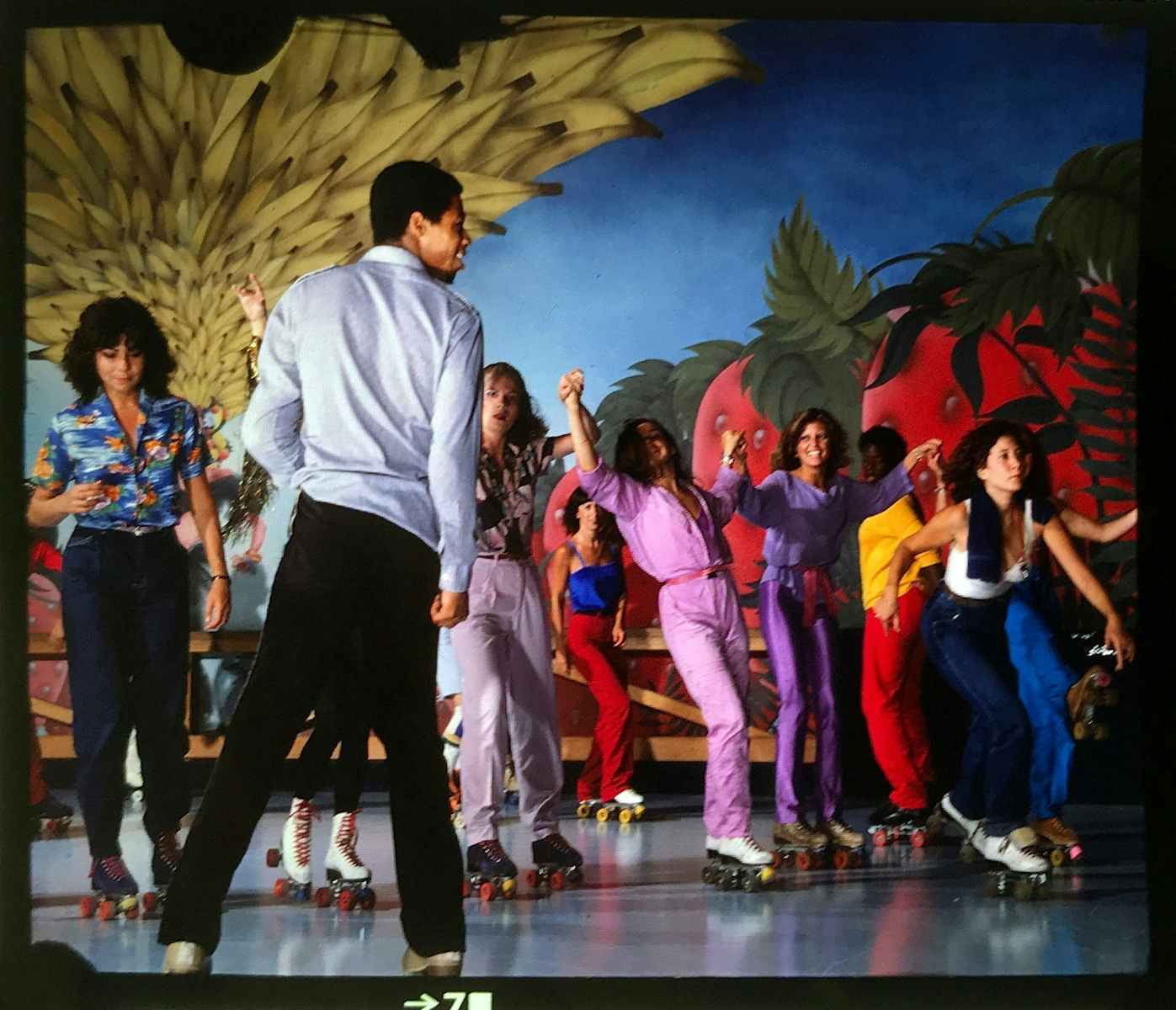 We're honoured. What are your overall highlights from those early 2000s modelling days?

Working with Mario Testino really put me on the map, which was incredible. That made such a difference, to have somebody like him championing you. Then Katie Grande, who also was a big champion of mine, used to put me on so many of her shoots, whether it was Pop, THE FACE or Dazed. Through Katie, I got to meet Nick Knight and that really changed my life, because I feel like my best body of work came through him.

I worked a lot for Dior, with John Galliano and Nick Knight, so I think those are the things that really shaped my career that I will utterly be grateful for. I still collect John Galliano dresses, because no one cuts a dress like him still to this day.

It was such an amazing time and fashion. I'd love to see more of that come back. I think with Daniel Lee helming Burberry, we might get a snip of that again. I'm excited.

It was definitely a legendary era. What do you have planned for the rest of your time in London?

Flipper's, Flipper's, Flipper's! And seeing my friends. I love London, it's always my home. I still live in the house I've had for 25 years and my sister lives next door, and my mum and dad live next door the other side. I love to be with my family and see all my siblings, because four of us live in LA. Everyone came over apart from my brother Atticus [Ross, super in-demand composer who worked with Trent Reznor on the Oscar-winning score for The Social Network] because he's working on a film.

My entire family was there last night, all my aunts, uncles, cousins, nieces, nephews, and all my friends. It was like when you go to weddings and you're like: ​"God, we should do this more often!"

You're really bringing the whole world together, eh?

Hopefully! That's the dream.

Well, thanks for the great chat and amazing party, Liberty. We'll see you back on the rink!

Flipper's Roller Boogie Palace is open Tuesday to Sunday at Exhibition London, Ariel Way, London, W12 7SL. Click here for more info.

More like this