In with the old: Pra-daddies make everything sexier
Sunday's AW22 show was a big hit, thanks to the tailoring, fur-trims, shoulders and men over 40. A decade after Willem Dafoe and Gary Oldman marched for AW12, Prada finds the power of the daddy for a new generation.

Sorry, babyface. You're not getting in. The fountains of eternal youth have frozen over and your fake IDs mean squat round here. After Miuccia Prada and Raf Simons sent Jeff Goldblum and Kyle MacLachlan down the runway at their AW22 presentation last night, we're getting in with the old(er man). Pra-daddies have re-emerged from the ashes a decade after the Italian house tapped the over 50 fitties. So, form a line Jeff Goldblum, Kyle MacLachlan and the men of looks 20, 35 and 45.
The collection was masculine from the off. Shoulders were impeccably angular, mimicking the stance of a tough-nut boxer, fur trims were immediately off-set by harsh, shiny leather and workwear – grey knits with bright orange trousers – was a playful extension of Prada's practical power dressing for SS22 womenswear.
As master daddy, Prada pin-up and actor Goldblum closed the show, marching in a black, rigid, tailored evening coat that encased the body and forced him to stand up tall and straight, it set an end-of-show tone that sent knees weak. The Grindr whistle sirened, Instagram exploded. Daddy's back. Grey-haired, leather-gloved and smart shoed, the 69-year-old set the tone for a show that revelled in classic menswear tropes – and it only got better as more over-40s flocked in.

Body of Work, as the collection was titled, was as much an on-brand futuristic vision as it was a looking-back exercise for Prada, with last night's show occurring exactly 10 years after the red-carpeted AW12 collection, Prada Presents: II Palazzo. A Palace of Role Play. Yes, it was as theatrical as the wordy title suggested and the collection was so extraordinary it often earns a spot in those fash mag round-ups of the ​"best shows ever".
Worn by Tim Roth, Gary Oldman, Adrien Brody and Willem Dafoe (and Jamie Bell, sans daddy cred), the individual star-power of each man played into Prada's male archetype trip, as each actor pretty much played their Hollywood role on the runway. It was sexy in a proper hot dad way, not the Men's Health kind. And that is only a good thing.
The AW12 menswear was steeped in power, picking apart male stereotypes through double-breasted suits that squeezed the neck, pinstripes, tailored top coats, fur-lined collars and evening shoes that were so polished, so expensive, so grand. Miuccia Prada told an editor that it was ​"a parody of male power" backstage (historically tough menswear pieces have transfigured into items of beauty and grace through the eyes of a woman), a transgressive approach to future menswear almost a decade before skirts became a very welcome addition to designer's menswear collections, like the late Virgil Abloh's Louis Vuitton and Jonathan Saunders' Loewe.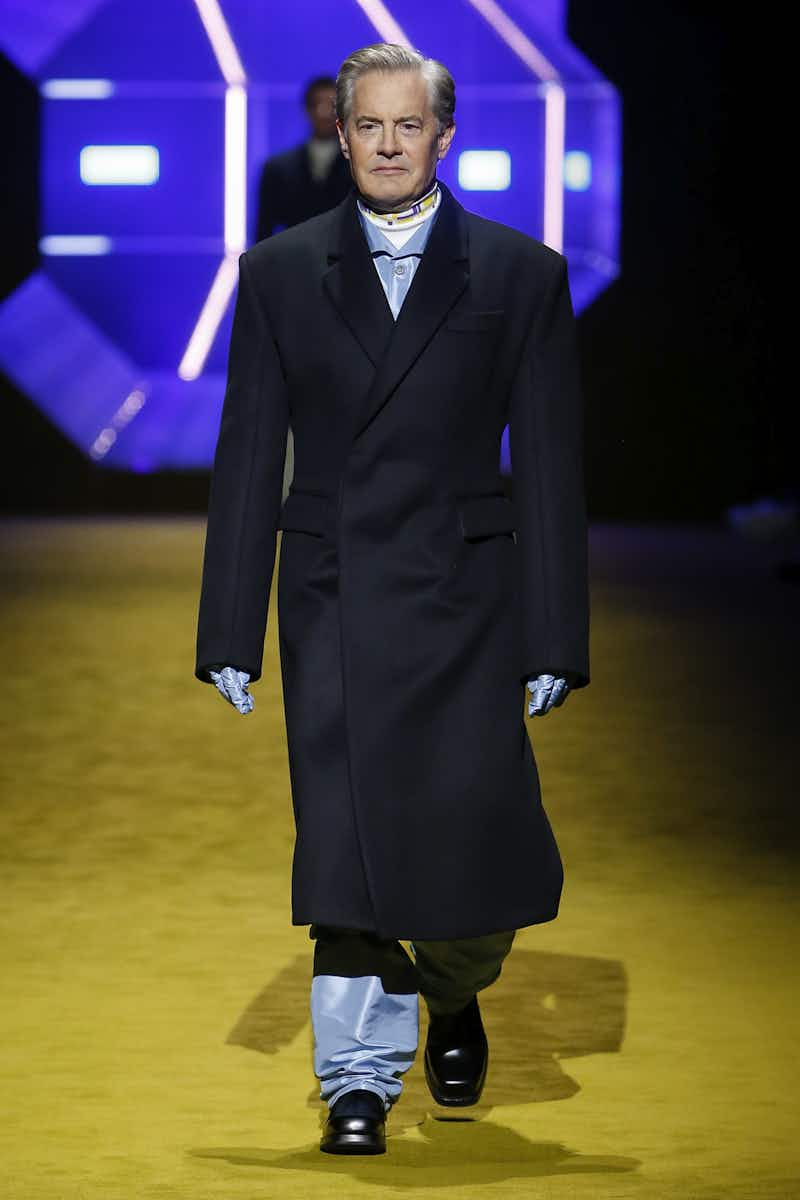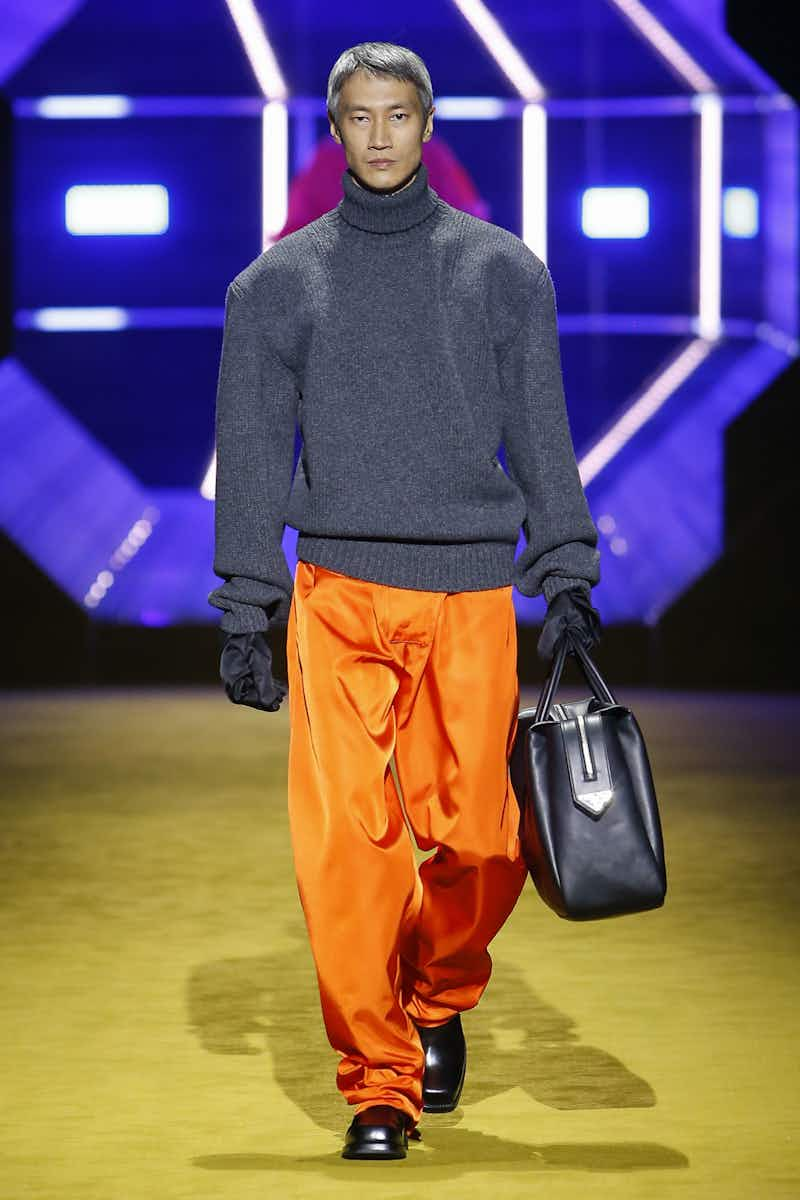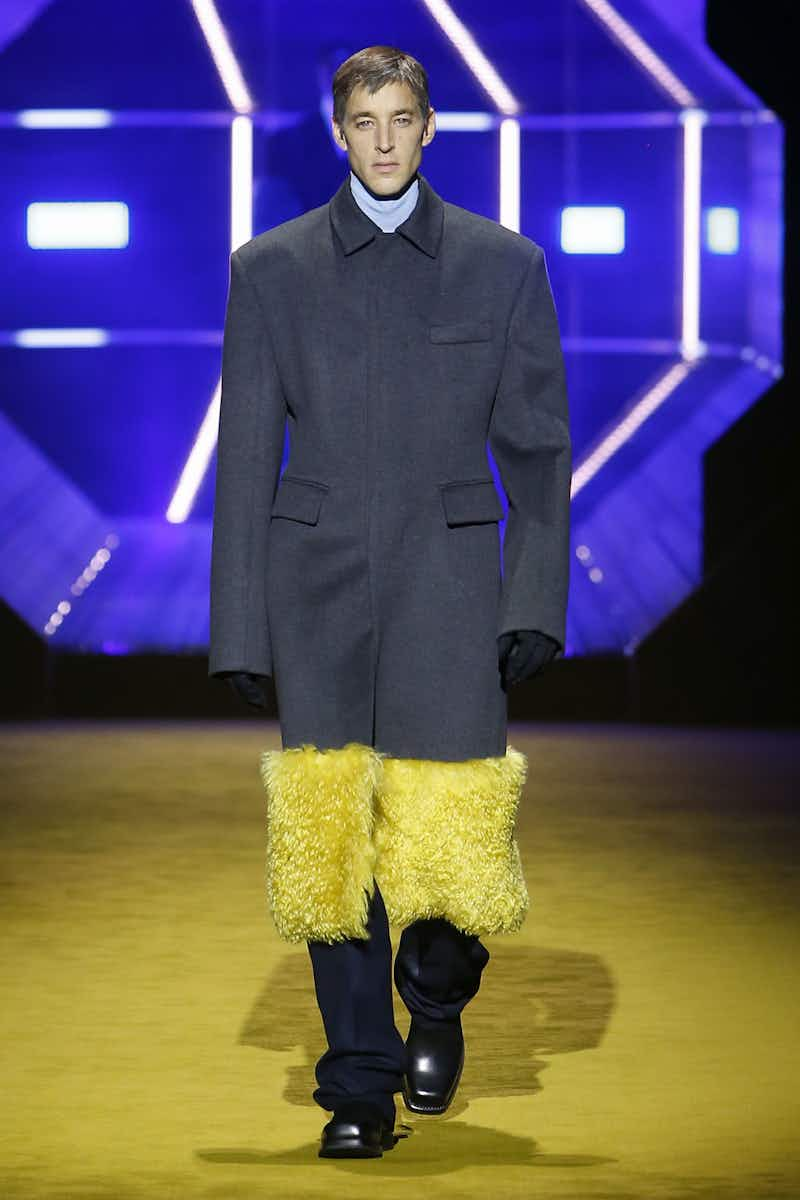 The ingenious addition of the daddies added a softer approach to the harsh lines Mrs. Prada was informed by. If the pieces had been worn on the chiselled muscles of fashion's latest Hot Boy, would the effect have been as all-encompassing? Nah. Daddies are comforting, confident in their wise-old-ways and killer strides. There's an assurance, even if Goldblum did look slightly confused on the runway (who cares? He's got It).
While compared to AW12, this season looked further out into the future – bug-like leather bombers, sci-fi cinches and pops of technicolour. But the version of menswear remains the same. Shove it on a daddy and you've got an instant classic. A key moment in hot-dadness was Kyle MacLachlan, 62, known for his nervy roles like Sex and the City​'s quivering aristo Trey MacDougal. All smiles shuffling down the runway, equally as cocooned as Goldblum in a straight-down evening coat, there was an enduring awkwardness that towed the line between hot and really, painfully cute. Pra-daddies needn't pout. Just be of a certain age for maximum effect.
Cheers, dads. You are all hot.


More like this