Saying pants to trousers: menswear's big skirt moment
If this year's AW21 shows are anything to go by, men in skirts are here to stay – even if you're not Harry Styles. But are we even close to seeing the average bloke in a knee-length number?

A few weeks ago, musician and Gen Z pin-up Steve Lacy shared a series of images of himself on Instagram wearing a checked Kiko Kostadinov dress and over-the-knee metallic boots. The comments quickly flew in: ​"Go awf" said British designer Mowalola, while playwright Jeremy O'Harris wrote: ​"Fuck my drag."
The image has since received over 150,000 likes. It's certainly not the first time Lacy has worn a skirted garment – quite the fan, he attended last year's Grammy Awards in a tailored Comme des Garçons dress and blazer.
We've come a long way from David Beckham in 1998 and his (shall we say) valiant championing of the sarong, because alongside Lacy, many more men in the fashion sphere have been pledging their allegiance to the skirt.
Quil Lemons, who became the youngest photographer to shoot a Vanity Fair cover earlier this year, wears kilts by Chopova Lowena and house dresses by Batsheva. Art critic and curator Antwaun Sargent recently shared an image on his Instagram stories of himself dressed in a pleated skirt. O'Harris has been photographed in skirts on numerous occasions – most recently, he's been teaming Thom Browne numbers with knee-high socks, and Browne himself is a renowned advocate for men in skirts since debuting a gender-fluid collection in 2018.
It's happening on today's digital runways, too, if the AW21 men's collections are anything to go by. At Louis Vuitton, in what has been regarded by the fashion press as one of Virgil Abloh's most accomplished collections to date, the artistic director presented eight looks with calf-length pleated skirts. They were layered over trousers, worn with socks and sneakers, belted at the waist and worn with cowboy boots, subverting skirt styles by weaving in traditionally masculine tropes.

It was Abloh's intention, as written in his show notes, to break away from ​"presumptions we make about people based on the way they dress".
Hedi Slimane, too, made a case for the skirt when he unveiled Teen Knight Poem for Celine Homme last week. A long tartan pleated skirt worn by a male model was reminiscent of those he showed in his AW04 collection for Dior Homme. Back then, his floor-skimming, pleated skirts sat belted on the hips of long-haired boys. This time around, the skirt fell to the calf revealing tailored trousers peeping out from underneath its hem. Nor did Loewe's creative director Jonathan Anderson skirt the issue. He presented an optimistic ode to queer artist Joe Brainard in a collection fusing rave, punk and hippy subcultures – and a floor-length, floral-printed maxi skirt.
"If we perceive someone's gender as male, to see them wear a skirt in the West is a political act and is part of the fascinating conversation around perceived notions of gender," states Nick Paget, Senior Menswear Strategist at trend forecasting agency, WGSN.
He notes that celebrities like Jaden Smith, Harry Styles and A$AP Rocky have recently given signals that wearing more feminine-looking clothing – skirts, pearls, tiny bags – is an affirming expression of individuality, despite the predictable mainstream media response that they're ​"less manly" for doing so. And, arguably, the skirt is a menswear item whose time has come. ​"As part of our universal commitment to finding the comfiest outfit to lounge around at home in right now, it's conceivable that more men might contemplate a skirt."
But this is far from a faddish development. Men wearing skirts can be traced throughout history: the Egyptians in the shendyts that would sit above the knee, the Greeks in tunics and togas, and the Romans in short skirts they would wear to battle. Ironically, as the kilt established its status in 16th century Scotland, men's skirts had already begun to decline in the rest of Europe, making way for the increasing popularity of leg-wear such as breeches.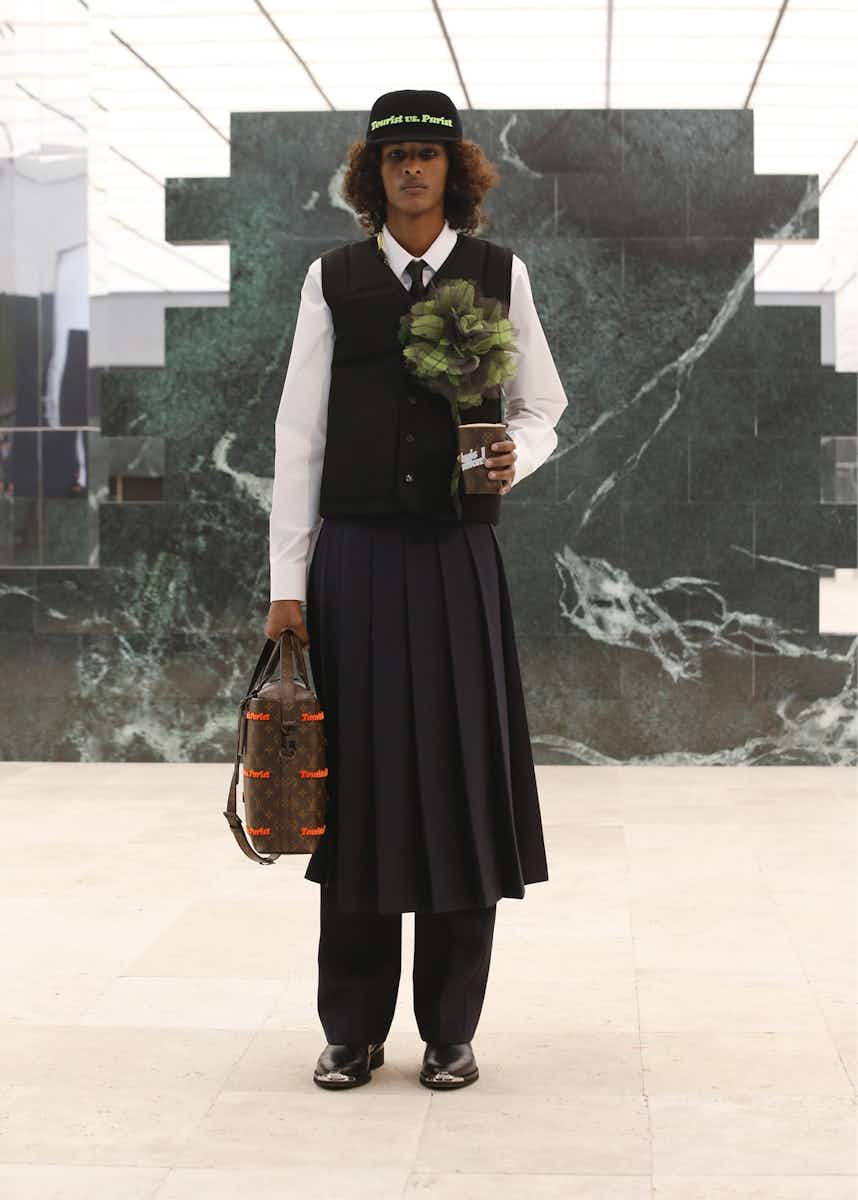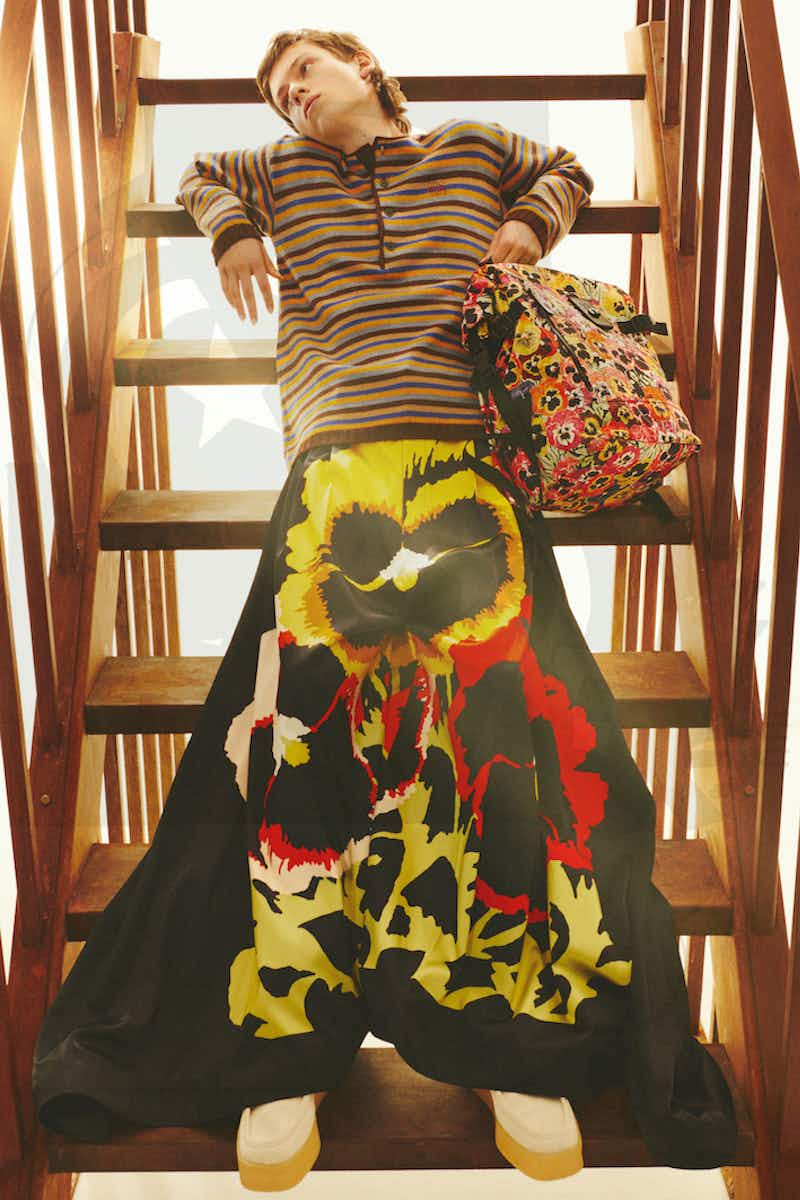 Fast forward to the late 20th century, and both counterculture and high fashion began to reclaim the skirt for men. Subverting traditional gender conventions, subcultures such as hippies, punks and New Romantics would wear skirts regardless of gender, acting as political sartorial statements.
Come 1984, a bare-chested man wearing a checked skirt with pulled-up socks and polished shoes graces the cover of THE FACE. The following year, Jean-Paul Gaultier sent a man wearing a skirt down his runway, with the world's most influential and impactful designers following suit over the years, including Vivienne Westwood, John Galliano, Alexander McQueen and Raf Simons.

Over the past few years, that passion for the skirt has gone from mini to maxi. We've seen Jared Leto, Billy Porter and Ezra Miller wear skirts and dresses on stage, on glossy magazine covers and on the red carpet. The responses have, in large part, been positive. ​"Billy Porter stuns in Giles Deacon Gold Feather Ensemble At The Oscars," wrote The Hollywood Reporter, while Evening Standard confirmed ​"Harry Styles wearing a dress is joyful and manly," after his British Vogue cover reveal last year. Meanwhile, The Guardian​'s Barbara Ellen opined ​"give me a bloke in a dress over one who runs scared of being ​'unmanly".
But what about men outside of the fashion bubble?
"Patriarchal attitudes to gender need to change before someone who is masculine-presenting wearing a skirt will be anything more than a joke for those stuck in old, gendered concepts," says Paget. ​"It's a mindset."

And still, of course, there are many who strongly oppose men in skirts. In response to Styles' Vogue cover, critic and writer Candace Owens, a vocal Trump supporter, tweeted: ​"In the west, the steady feminization of our men at the same time that Marxism is being taught to our children is not a coincidence. It is an outright attack. Bring back manly men." Her tweet was re-shared 56,000 times, and liked by 88,000.
But there's perhaps no better riposte than that of Mark Bryan, a robotics engineer from Wallhausen, Germany, who you may recognise from Instagram or Martine Rose's recent digital presentation, What We Do All Day. ​"I am just a straight, married guy that loves Porsches, beautiful women and incorporating high heels and skirts into my daily wardrobe," reads his Instagram bio to his 271,000 followers.

Bryan started wearing skirts regularly around four years ago. ​"I get very little reaction when out wearing skirts and heels," the American expat explains. ​"When walking in an airport or at a train station I try to make eye contact with everybody. Most men will look at me and then look away like they didn't see me. Most women will make eye contact and give me a smile or a wink."
Is society ready to see more men in skirts? ​"Maybe not!" he laughs. ​"It's not mainstream enough at the moment to be considered normal. It still generates doubt in people's minds about the sexuality of the man."
But Bryan remains undaunted. Skirts are more comfortable than trousers, ​"and you have all these different styles. Plus, they show off my legs and the high heels I'm wearing."


More like this