Lisa Danbi Park is making her stamp with figure-hugging fashion
The LA-based designer and printmaker is concocting irresistible, vintage-style womenswear as an homage to her Korean-American heritage.
Designer and printmaker Lisa Danbi Park is a bit of a mad scientist when she's in the studio, mixing and boiling lurid dyes to come up with the best possible concoction of colours and textures.
But out of such chaos comes a spark of genius. Park's garish, complex garments set her apart from her design contemporaries, as she tells the story of her Korean-American identity through layered, vibrant pieces.
"I had a really special experience of having parents that their lived entire lives in a different country, while I grew up as an American," the 29-year-old explains. ​"This is untold in broader pop culture, but the home interiors of my Korean family members and friends mix Western and quintessentially Korean objects and decor. This is unique, and I wanted to express that through my work."
Her silhouettes are sensual, a symbiotic blend of vintage shapes and ultra-modern motifs. One of them, the Minwha tiger, reminds Park of her grandmother. ​"I was told incredible, dramatic stories about her life as a nurse in war-torn Korea," she continues.
"There's this aspect of the ​'tiger mom' associated with Asian American mothers and their parenting, which is linked to my fondness for leopard print. I wanted to use prints that could be universal and encompass my affinities with visual cues from Korean-American life."
Each one of Park's pieces forms its own collage, meticulously structured, with details piecing together like a game of Tetris and printed onto figure-hugging mesh.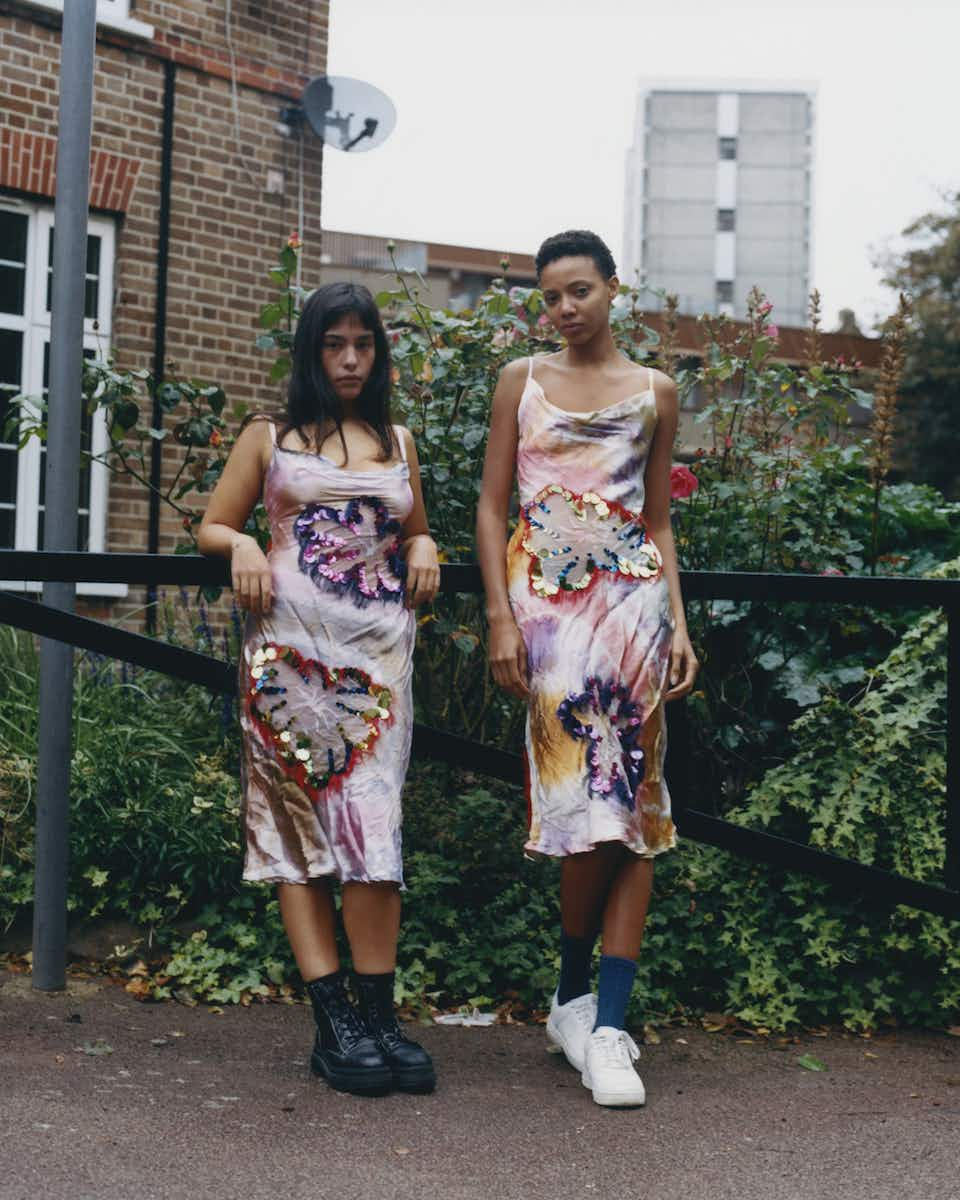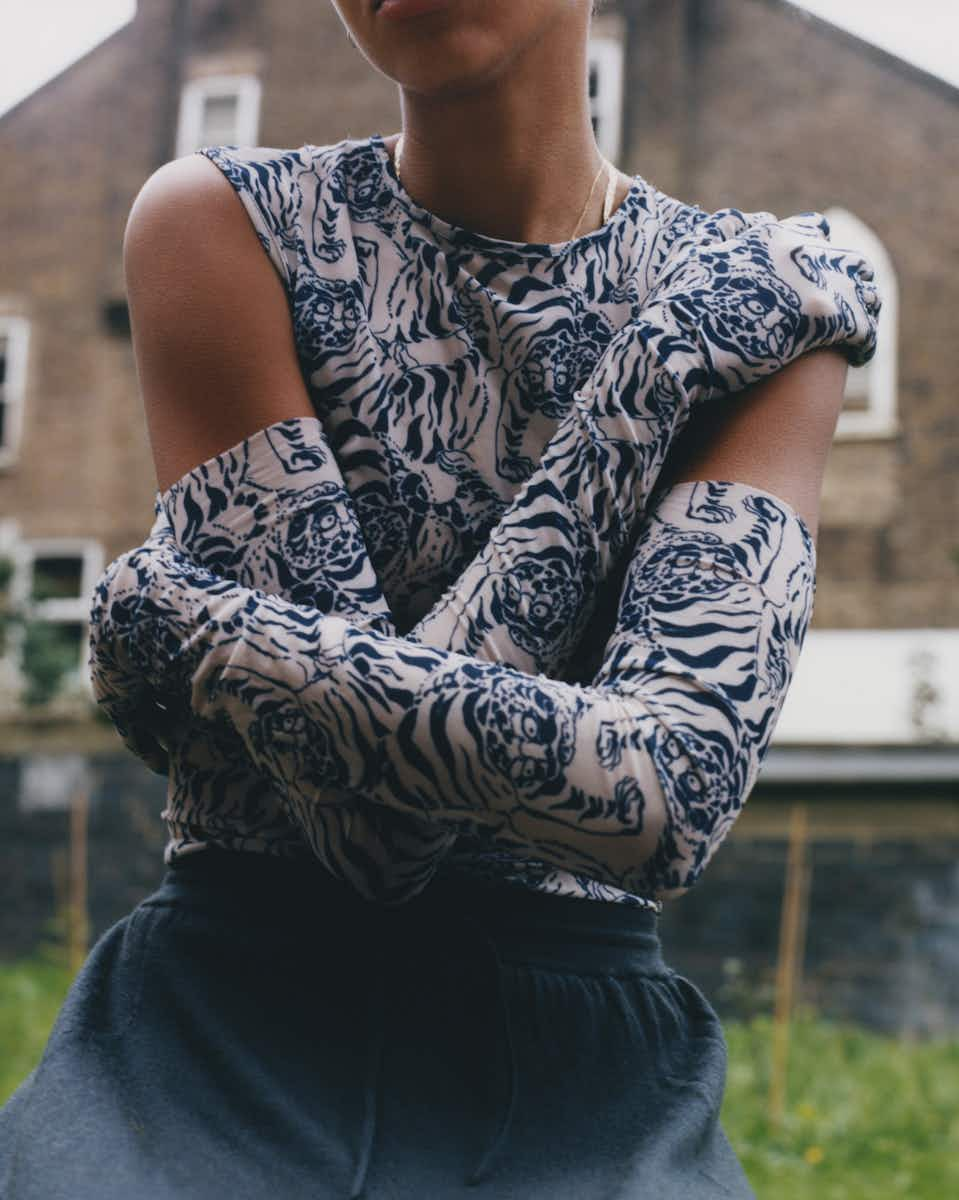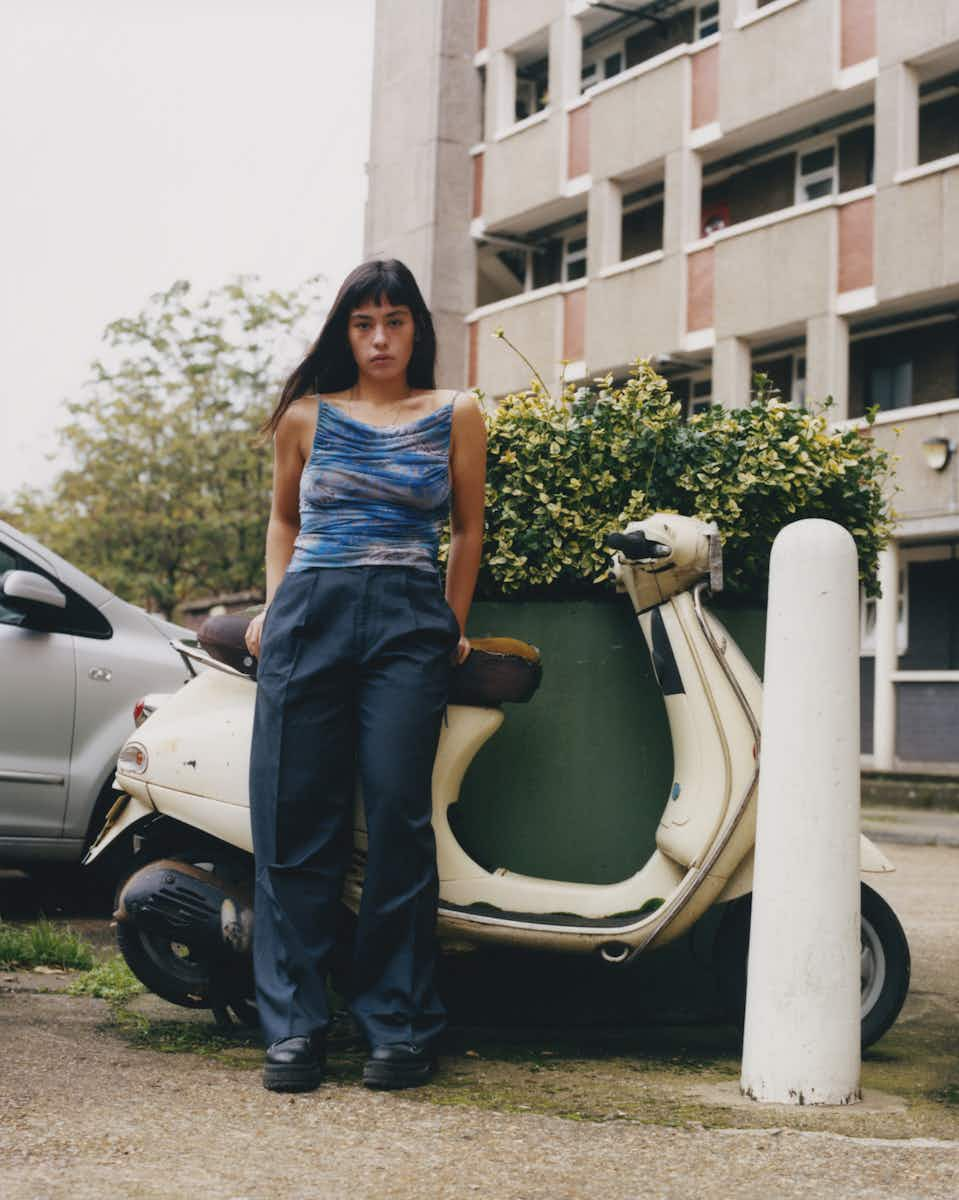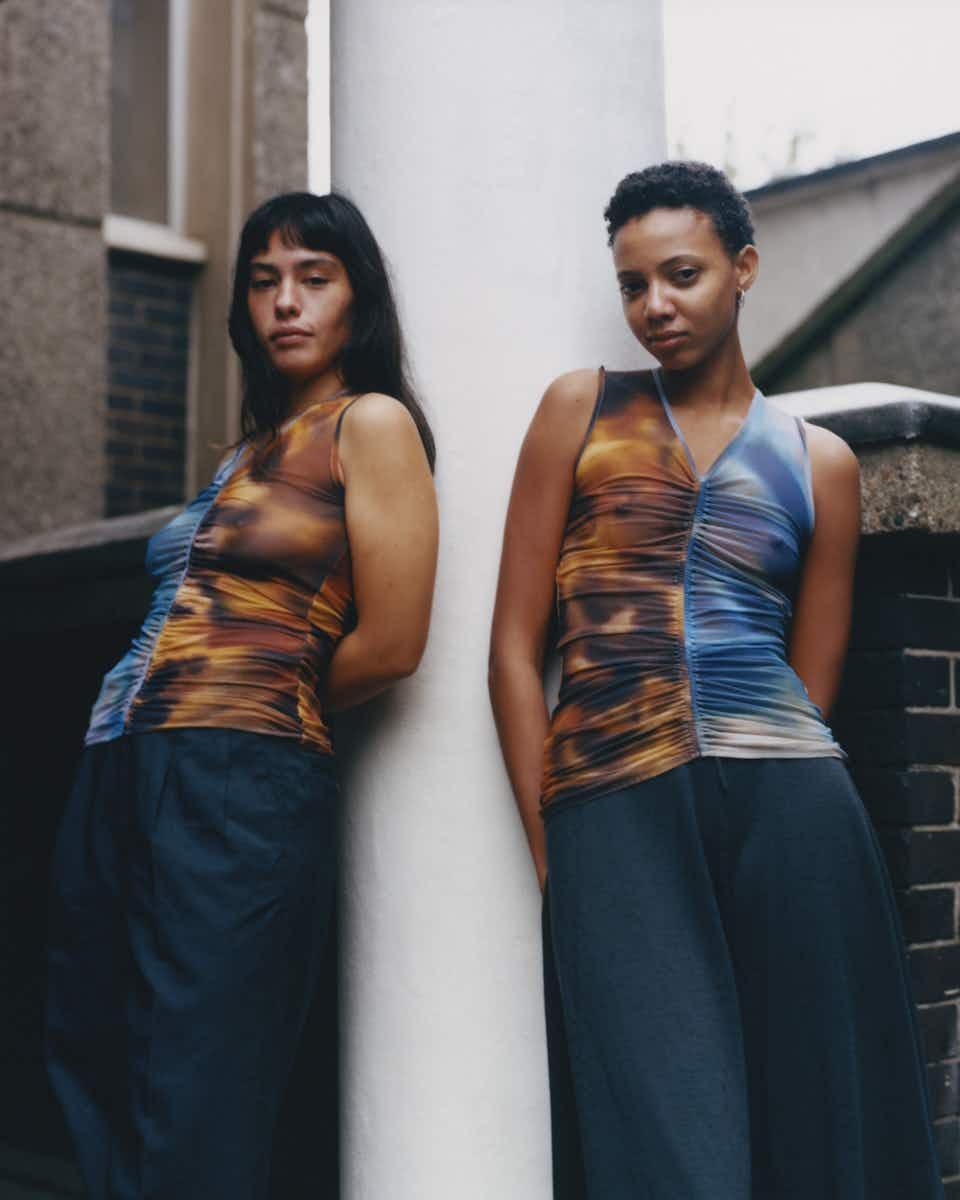 And print comes all too naturally to her. Born and raised in Southern California, Park studied art at University of California, Berkeley, before moving to London to complete a BA in print design at Central Saint Martins, graduating in 2019.
Now based in Los Angeles since her visa expired in April – ​"every international student's nightmare!" – she moved back home with big plans to put her unique design perspective of textiles and printmaking techniques to good use: by starting her own brand.
Park mentions the atypical path she took, eschewing the traditional mens and womenswear design courses favoured by young wannabe designers, in favour of print design. ​"It pushed me to notice different elements of a garment outside of its silhouette, which left me with a new appreciation for fabric," she says.
Make no mistake, printmaking isn't for the faint of heart. When Park isn't running around her studio covered in ink, she spends her working days printing onto mesh ("a forgiving material that works so well as a canvas for ideas"), diligently plotting which design step will come next. Whether it's vinyl, devore, natural or chemical dyed, sublimation or embroidery is all part of the daily pick ​'n' mix for Park, one of which she has come to master so as to ​"design without limits".
"I want to focus on the act of making," she continues. ​"I interned with the fabric team at Acne Studios in my final year – that and Saint Martins rewired my brain and helped me break away from rules and limitations I had unknowingly set for myself."
It wasn't just the art of design Park took with her from CSM. While there, she built a strong network of friends which has proven instrumental to the way she works.
"London was a new environment that I threw myself into without really processing it," she says. ​"Now I have friends helping me with pattern-making, production, photography… It's all about the community you build."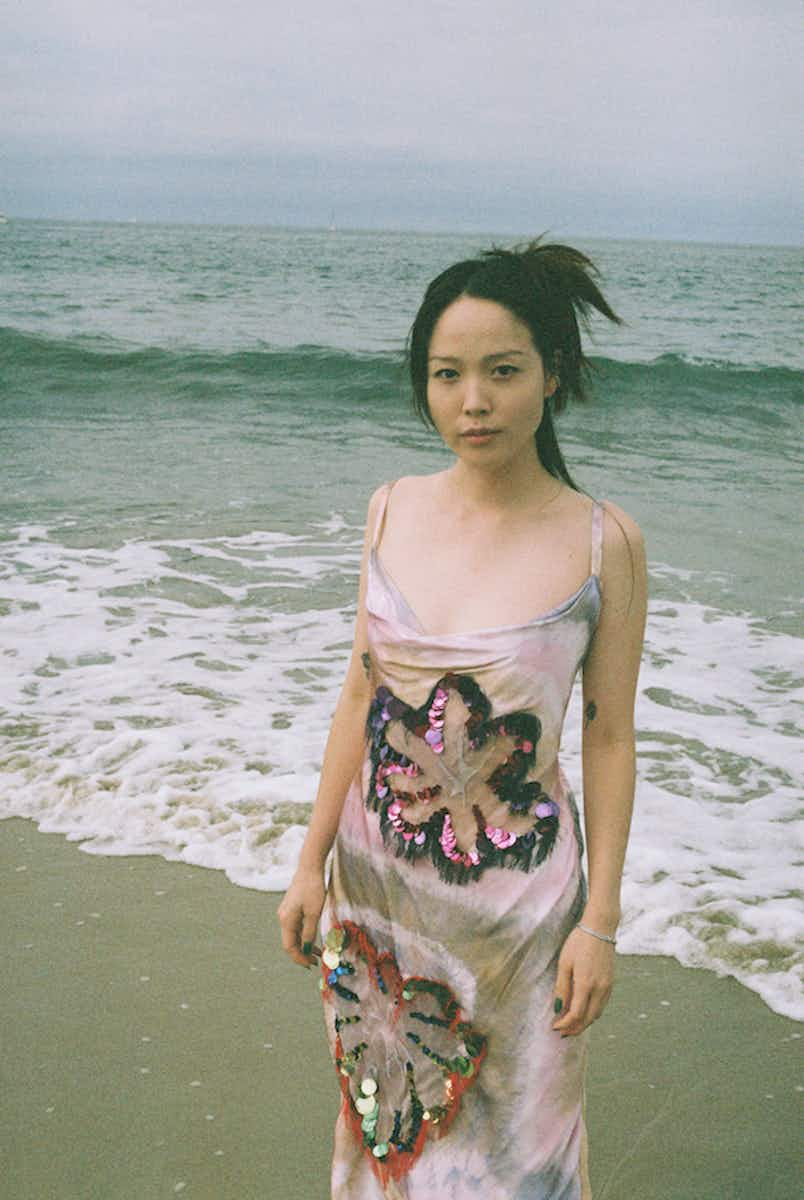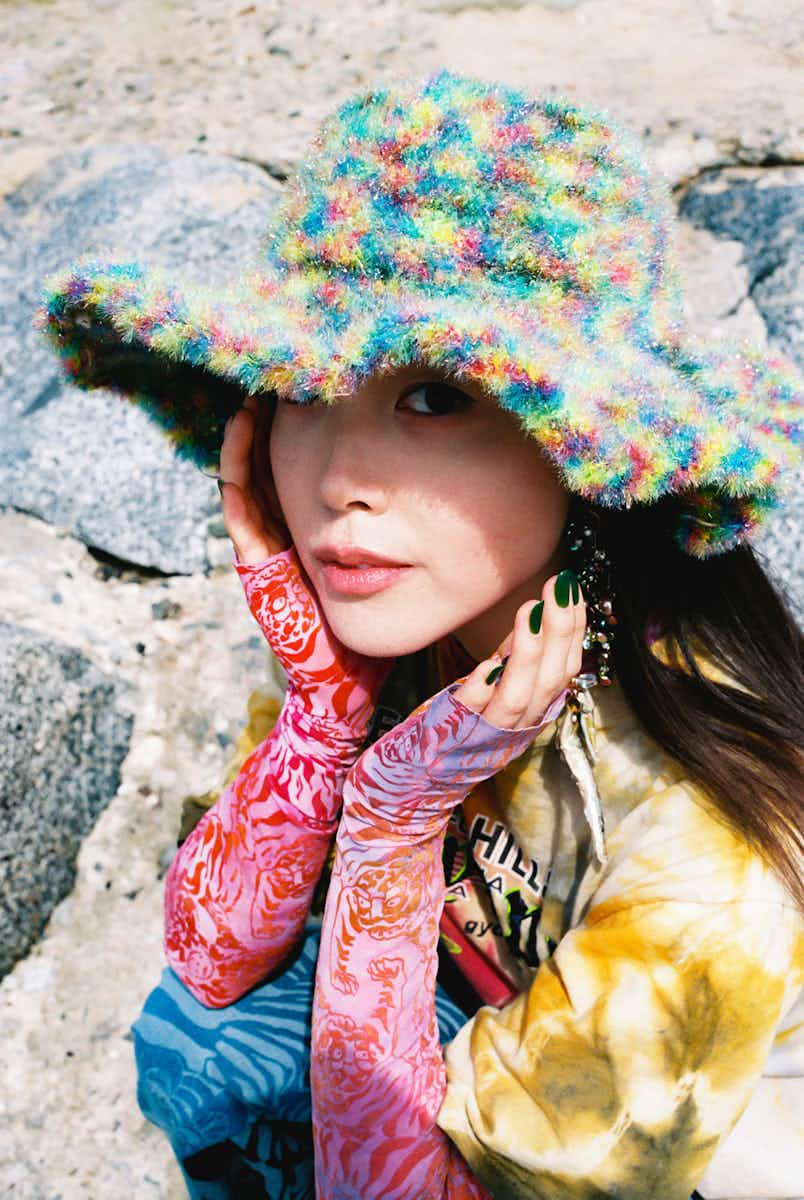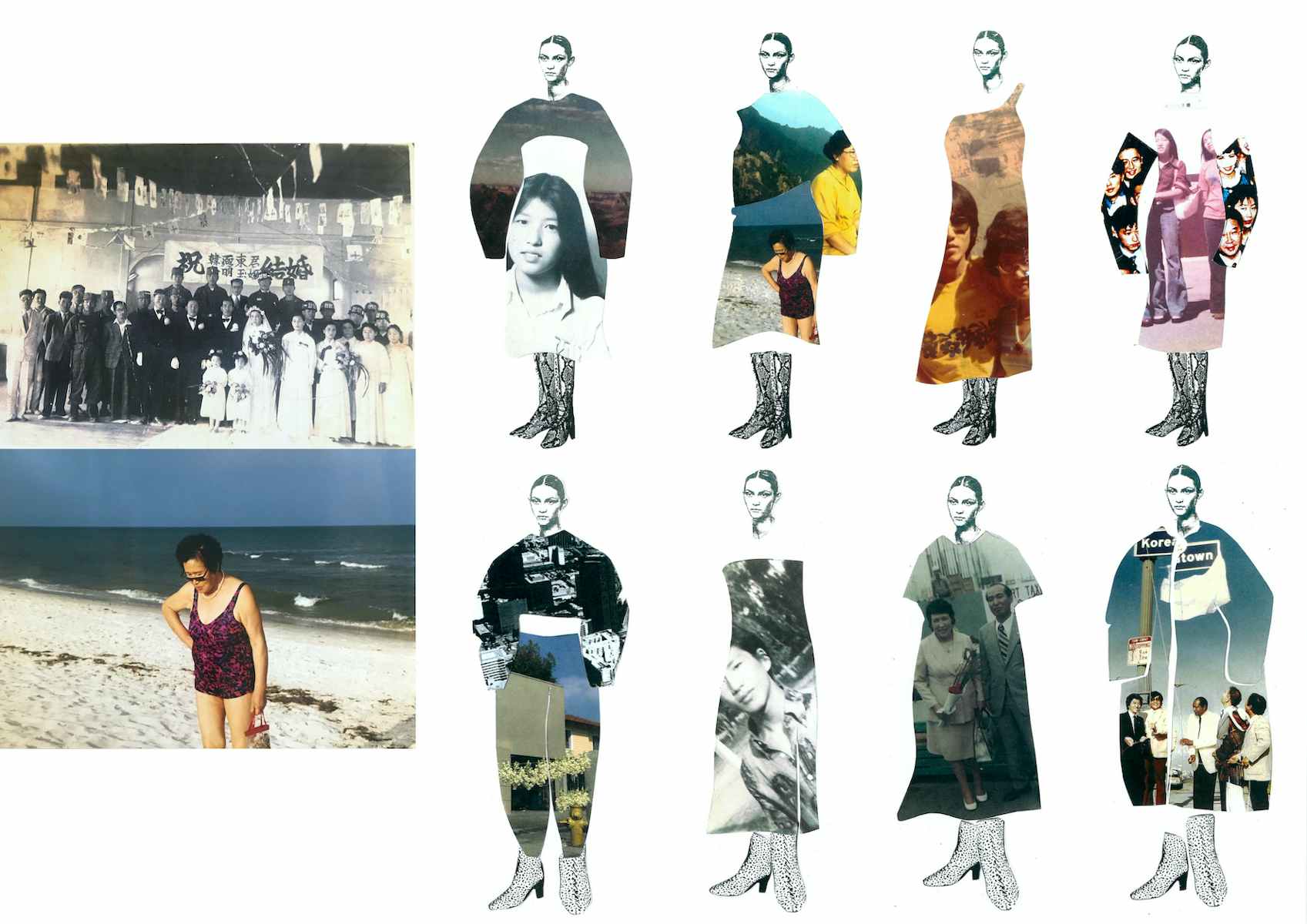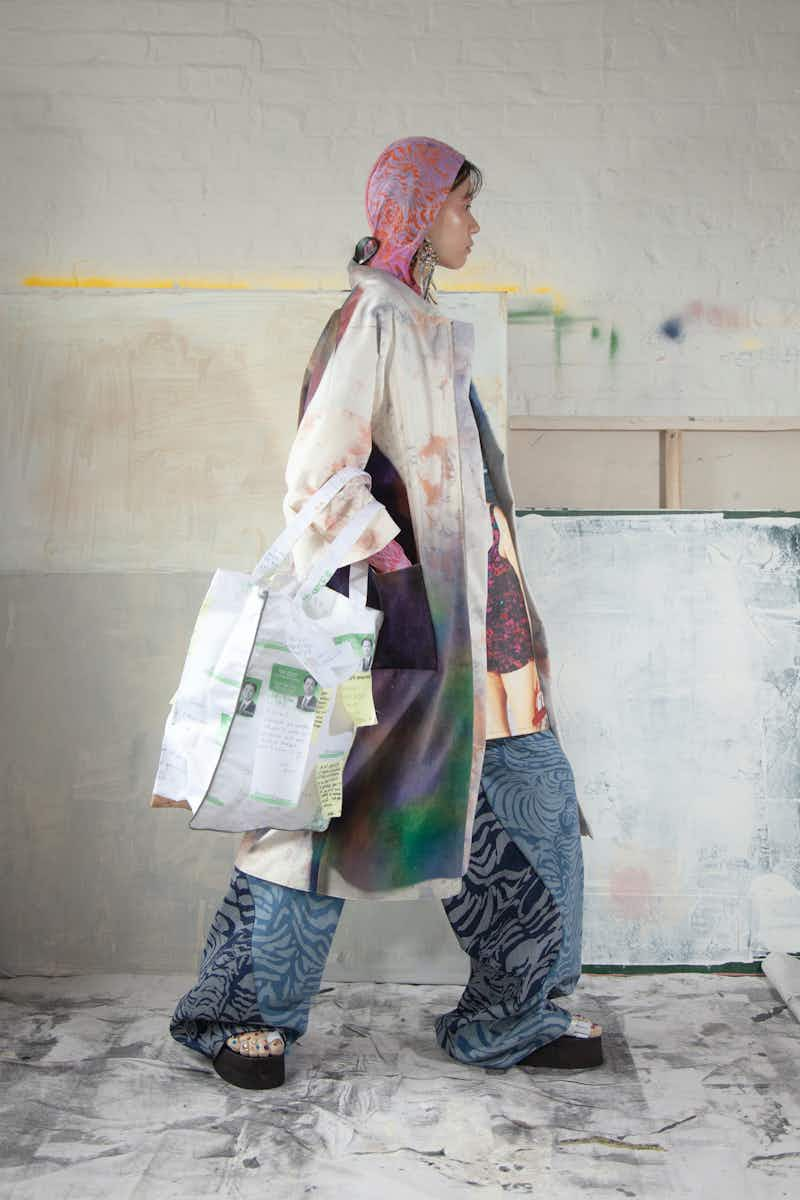 Reconciling the cultural chasm between London and LA hasn't been all bad for Park, who has cherry picked the best bits from both and appreciates their differences. She misses ​"how local London felt", her friends and the creative community that fuelled her there.
In spite of the pandemic, LA has been delivering sun, space and comfort food for Park (Mexican and In-N-Out, not too shabby,) in spades. ​"I've realised I can't be attached to any one place, especially given that the pandemic limits so many things. You have to actively seek community and pursue the things you want. People are more than willing to help."
For inspiration, Park looks to young designers such as herself who are finding ways to thrive. ​"Talking to my peers is so enriching," she says. ​"There's a lot of bad stuff going on in the world, but I've also seen so much love expressed through giving and sharing."
When she isn't busy rewriting the rules of printmaking, Park crochets hats for her friends while watching Real Housewives or Korean dramas, changing from pyjama sweatpants into work sweatpants ("yes, they're different") when creativity hits. She's even considering buying a karaoke machine to pass the time.
Most recently, she has been working hard on a new collection that will soon be ready for the world to enjoy. Production on new mesh tops has begun, as have potential collaborations with outreach projects AFAAF and Creatives 4 Systemic Change. Park has also been working on designs for jello-aficionado Nünchi (aka Lexie Park).
"I'm still learning as I go, [my brand] is evolving," Park concludes. ​"But I would always love for it to be known as something thoughtful, from me, to you."


More like this