Nicolas Ghesquière's surreal time-warp for Louis Vuitton SS22

The creative director transcends time for SS22, exploring the darkness of 17th century ruffles, skirt hoops and embroidery. But, true to form, it remained oddly futuristic – and he didn't even need a sonic screwdriver.
Time has often been of the essence for Nicolas Ghesquière, Louis Vuitton's creative director since 2013. But that's not to say he's always in a rush. Instead, the concept of time has informed Ghesquière's collections.
For Cruise 2018, he presented a heady mash-up of sci-fi prints and deconstructed silhouettes through the funkified predictions of ​'80s futurism. He transcended light-years ahead, venturing into the unknown and questioning Life on Mars, for AW21 and soared to ​"outer space and beyond" for the house's Cruise 2022 show.
He's looked to the past too. Just last year, Ghesquière's designs were featured in The MET's About Time exhibition, which spotlighted designers recontextualising the past for a brand-new future. In it, a frock coat from Louis Vuitton's SS18 collection was presented next to a riding jacket designed for Princess Alexandra in 1902.
For last night's Louis Vuitton's SS22, Ghesquière travelled further back in history, pledging allegiance to the theatrics of 17th-century style, ushered in by the ominous billows of church bells. Dun, dun, dun.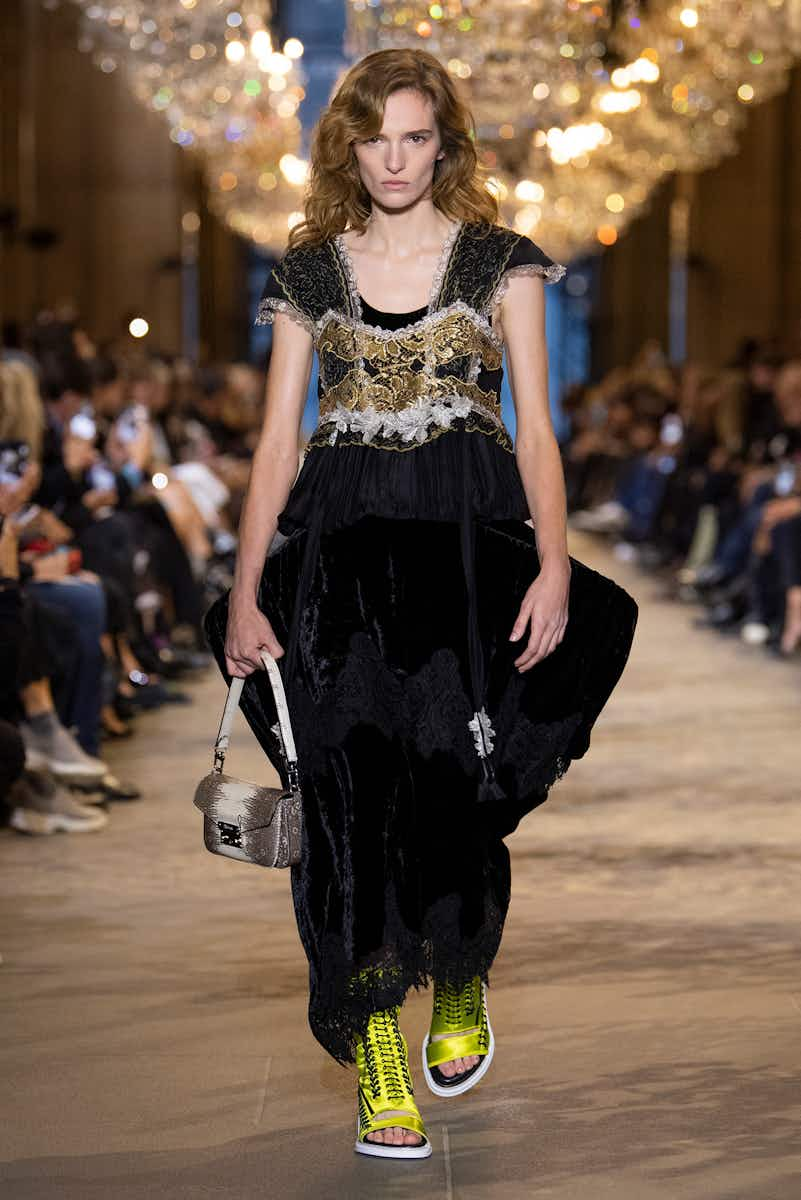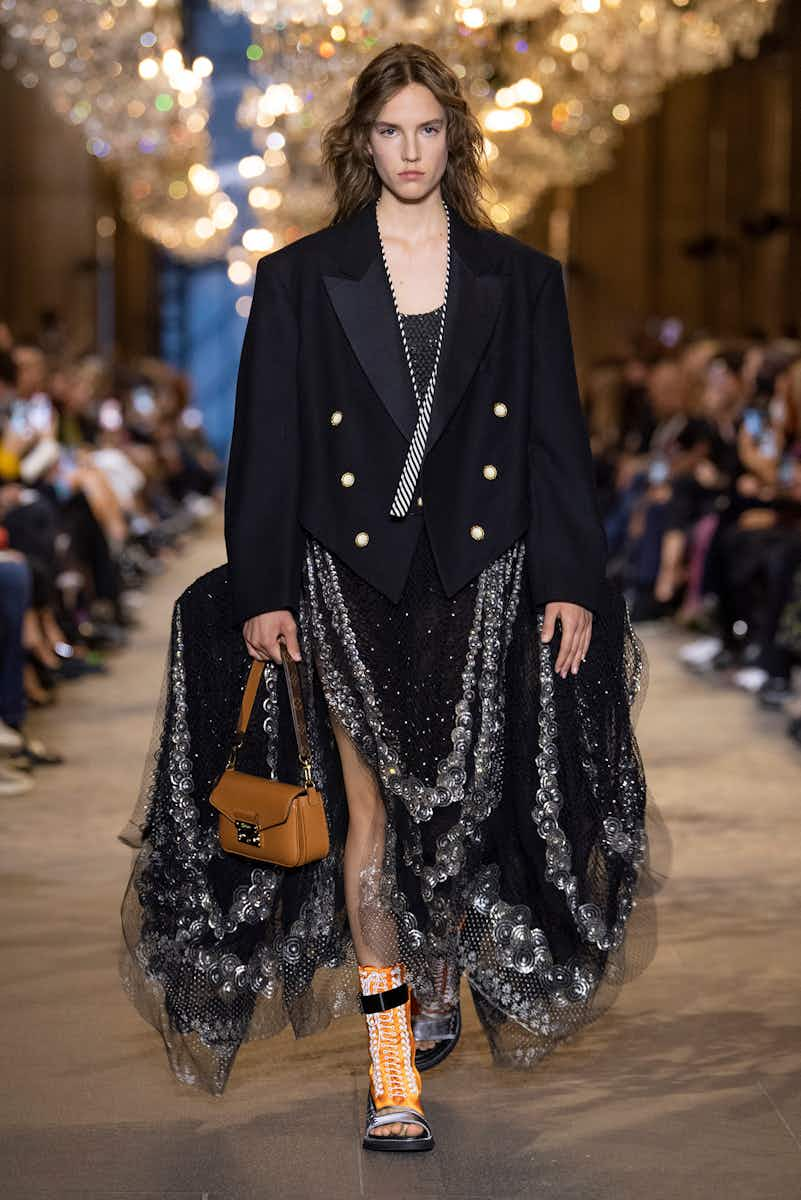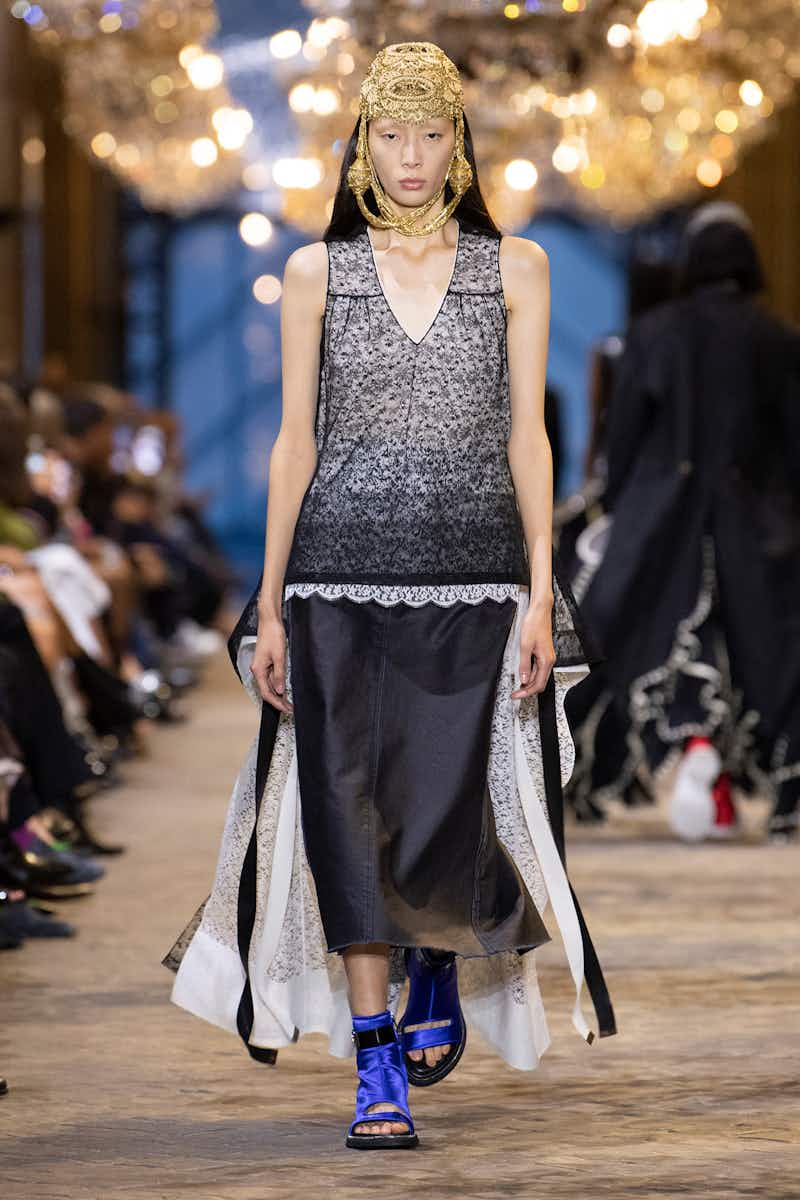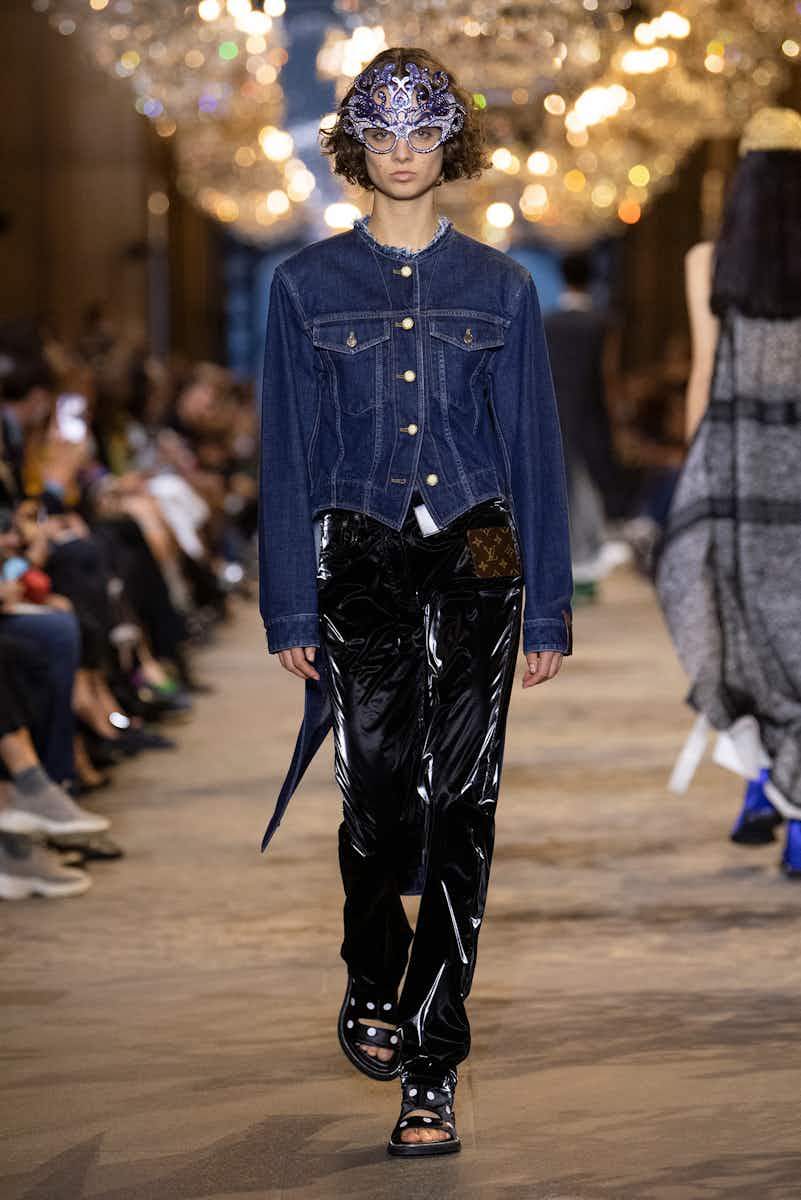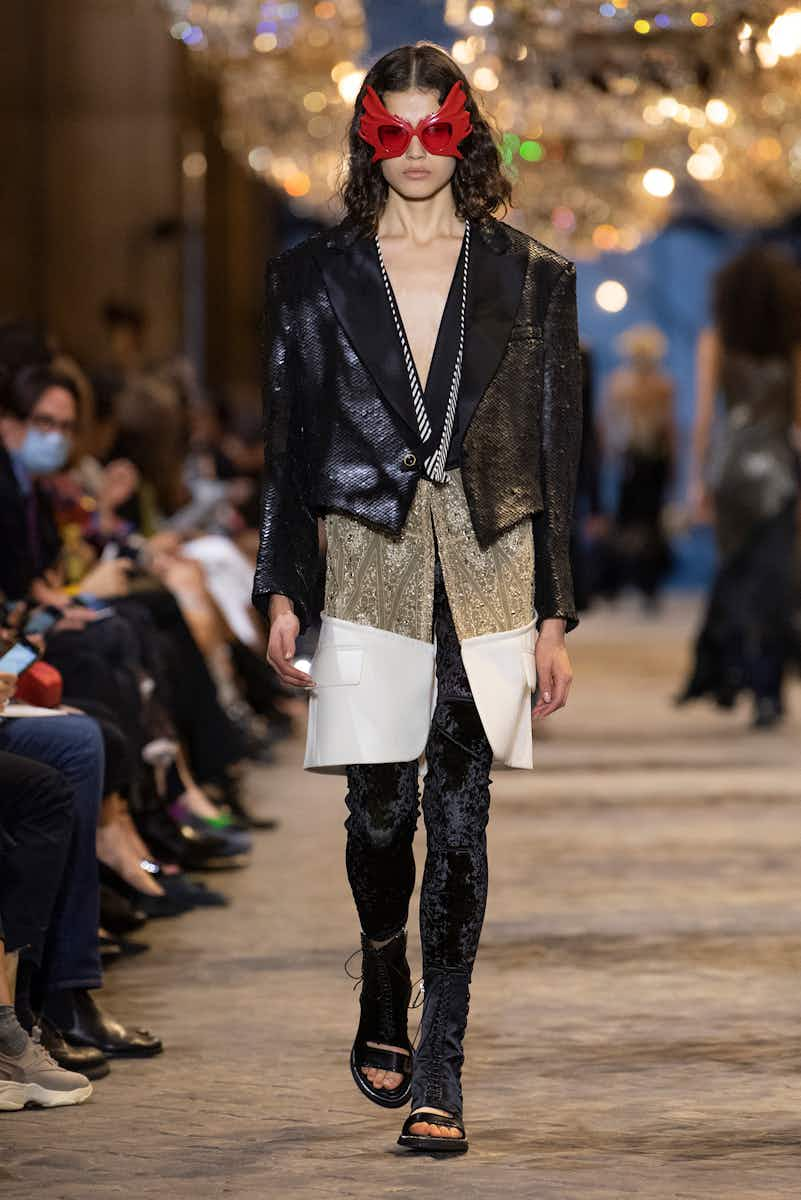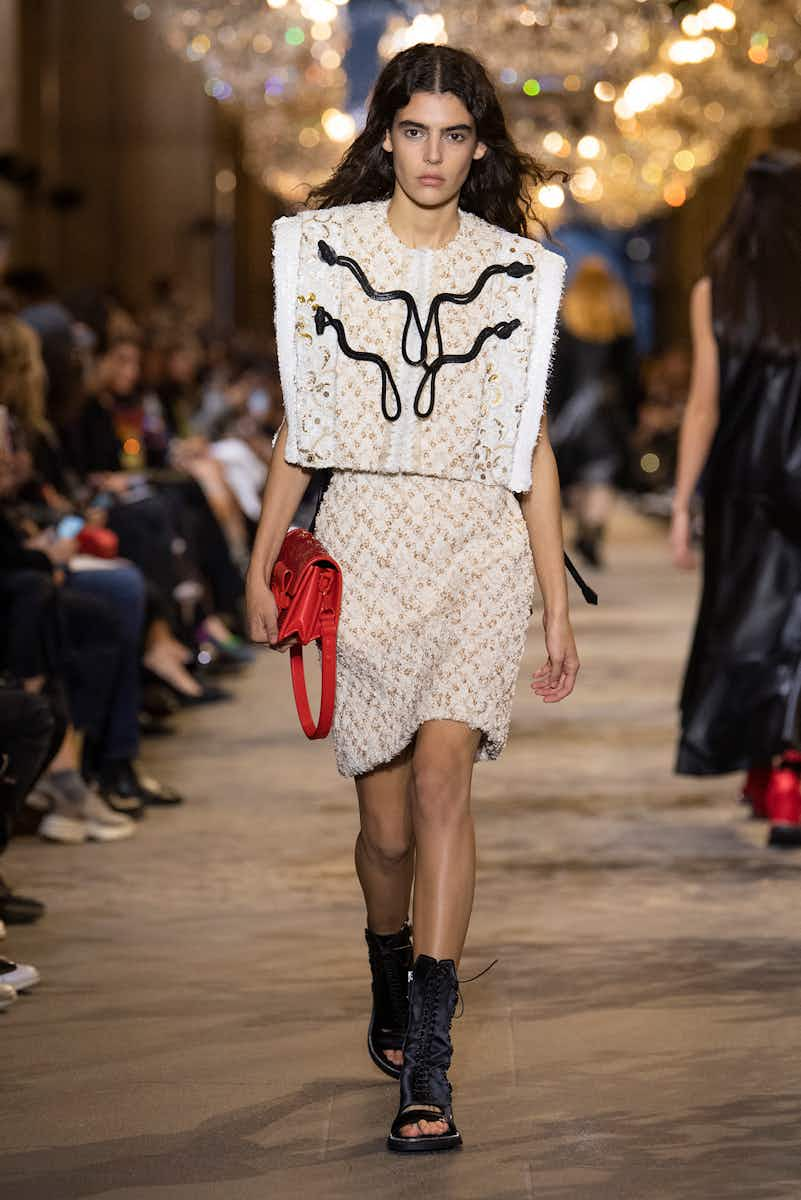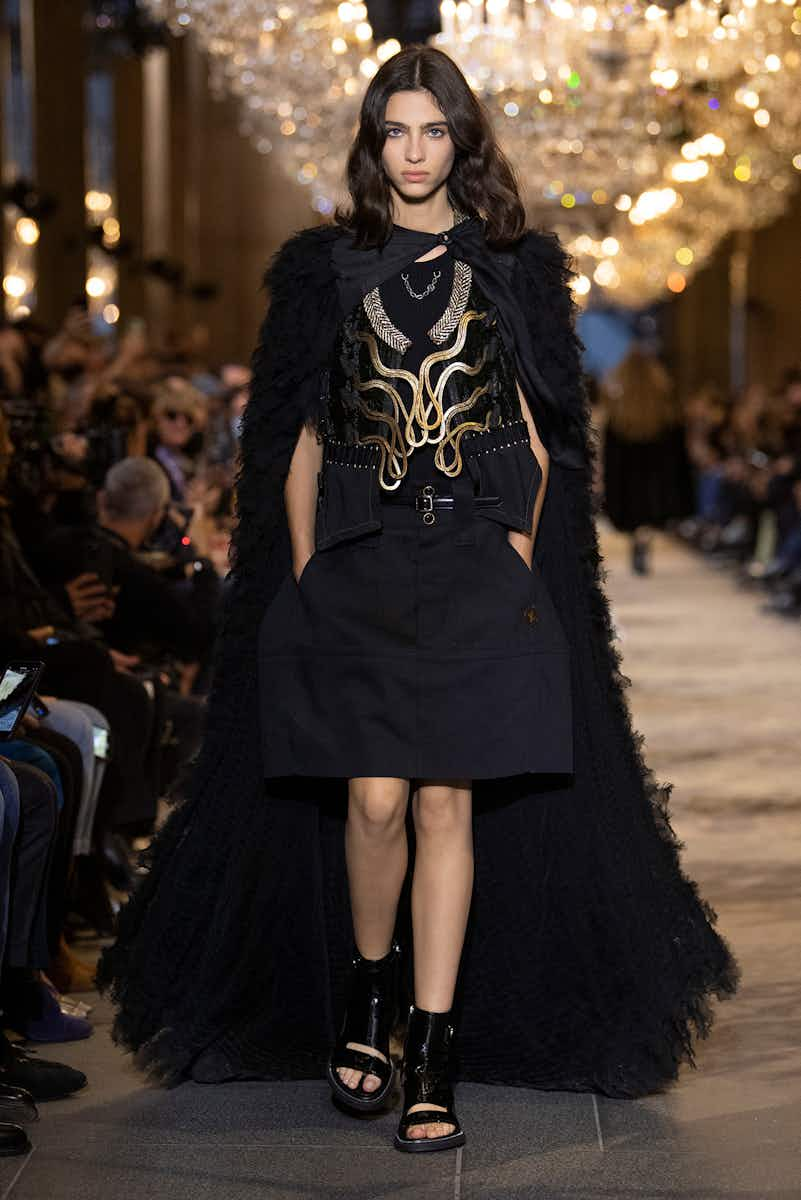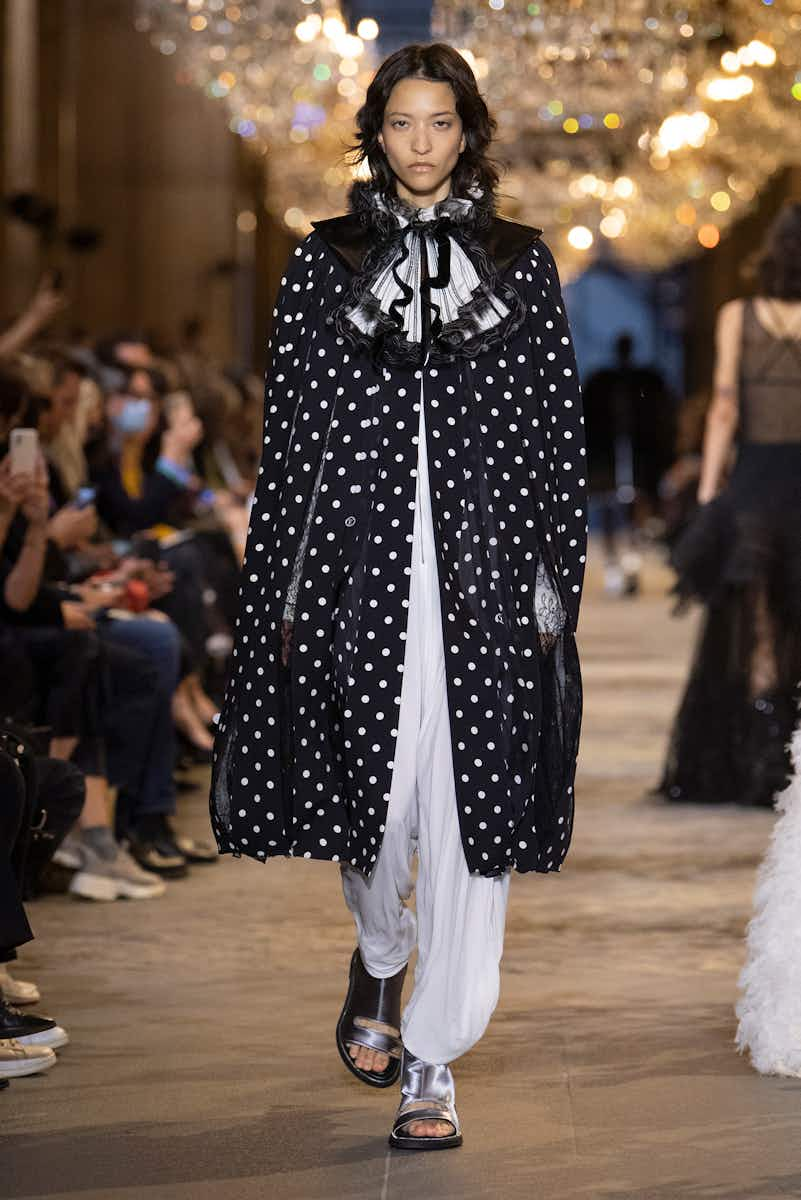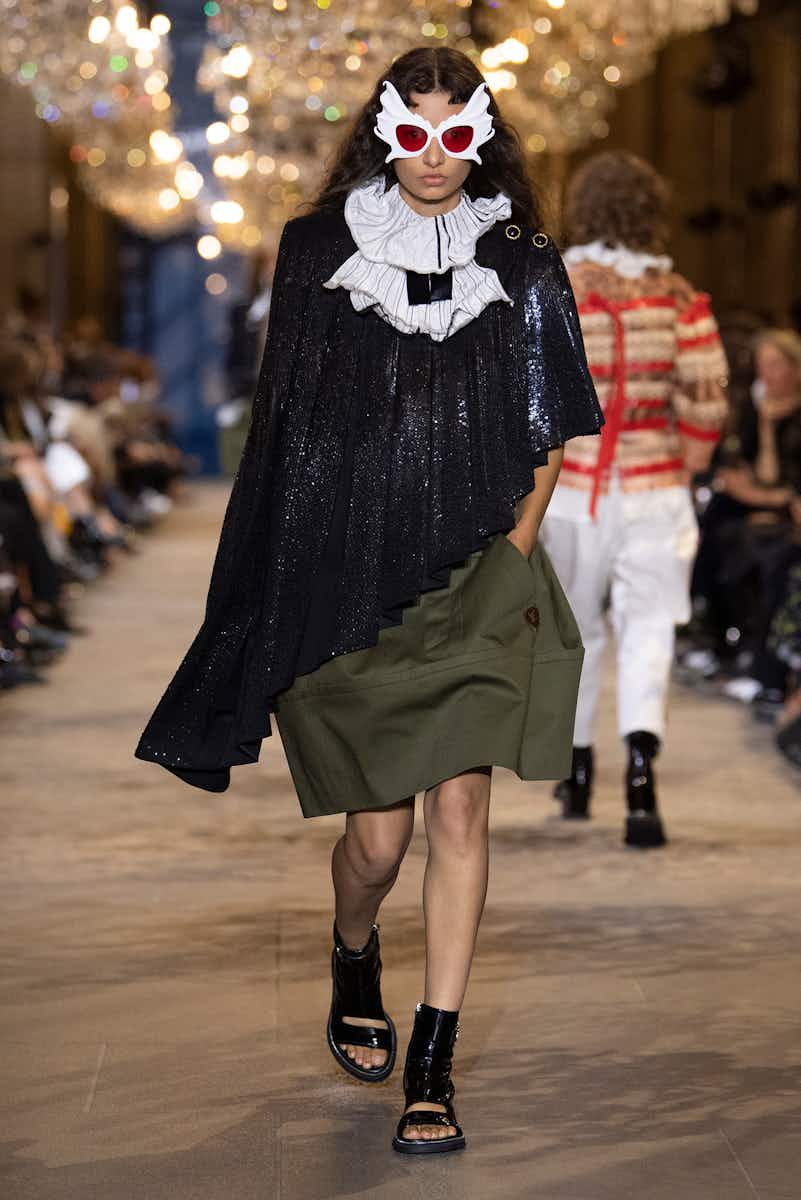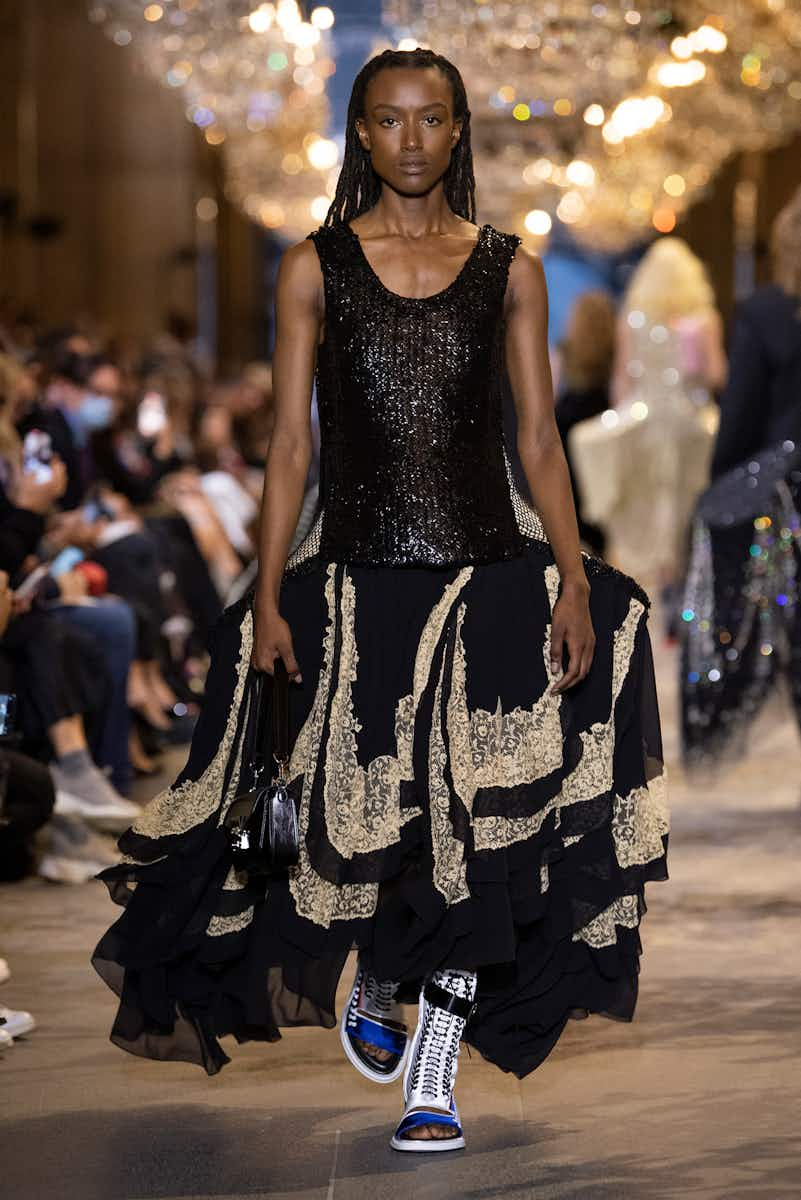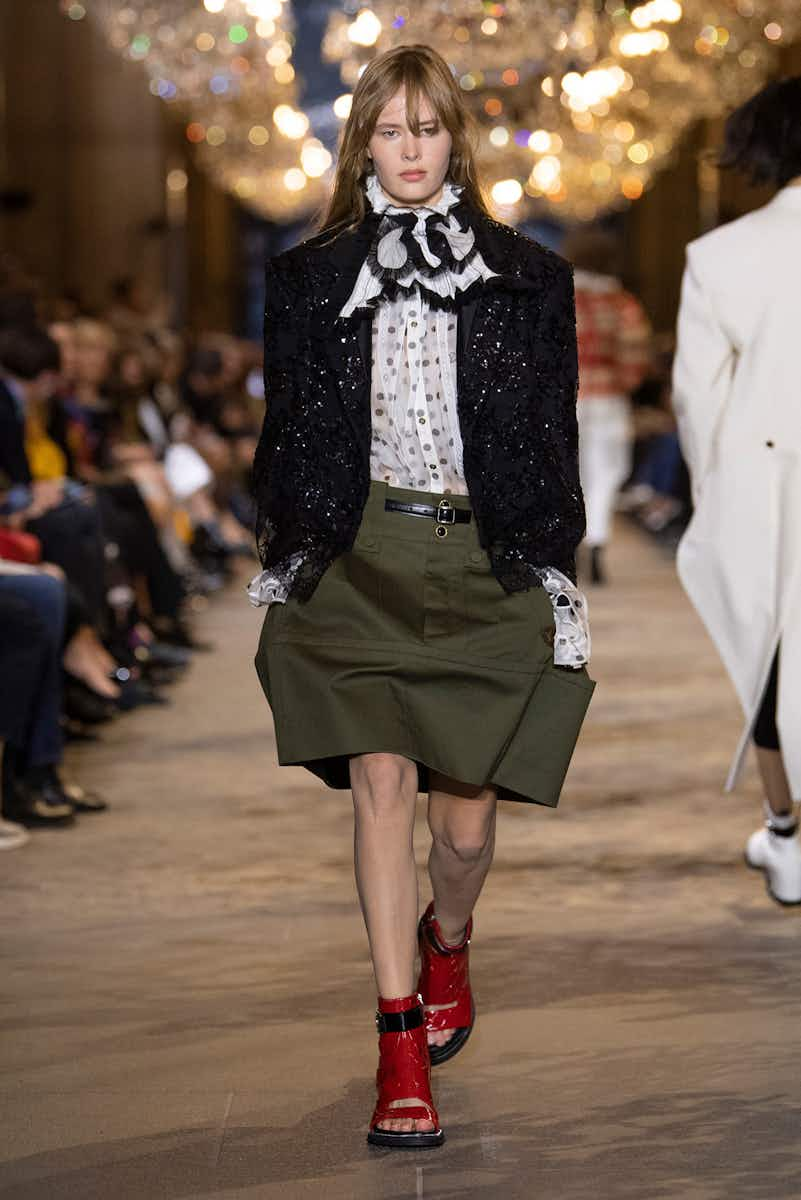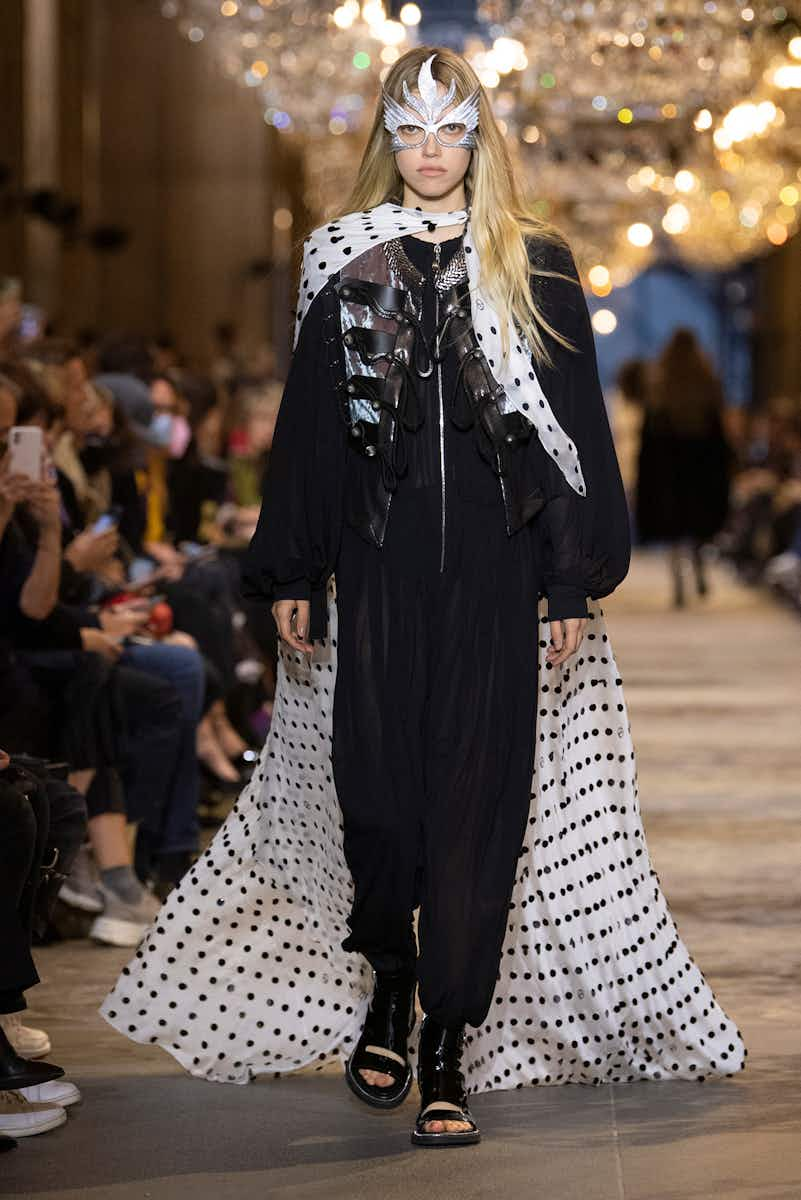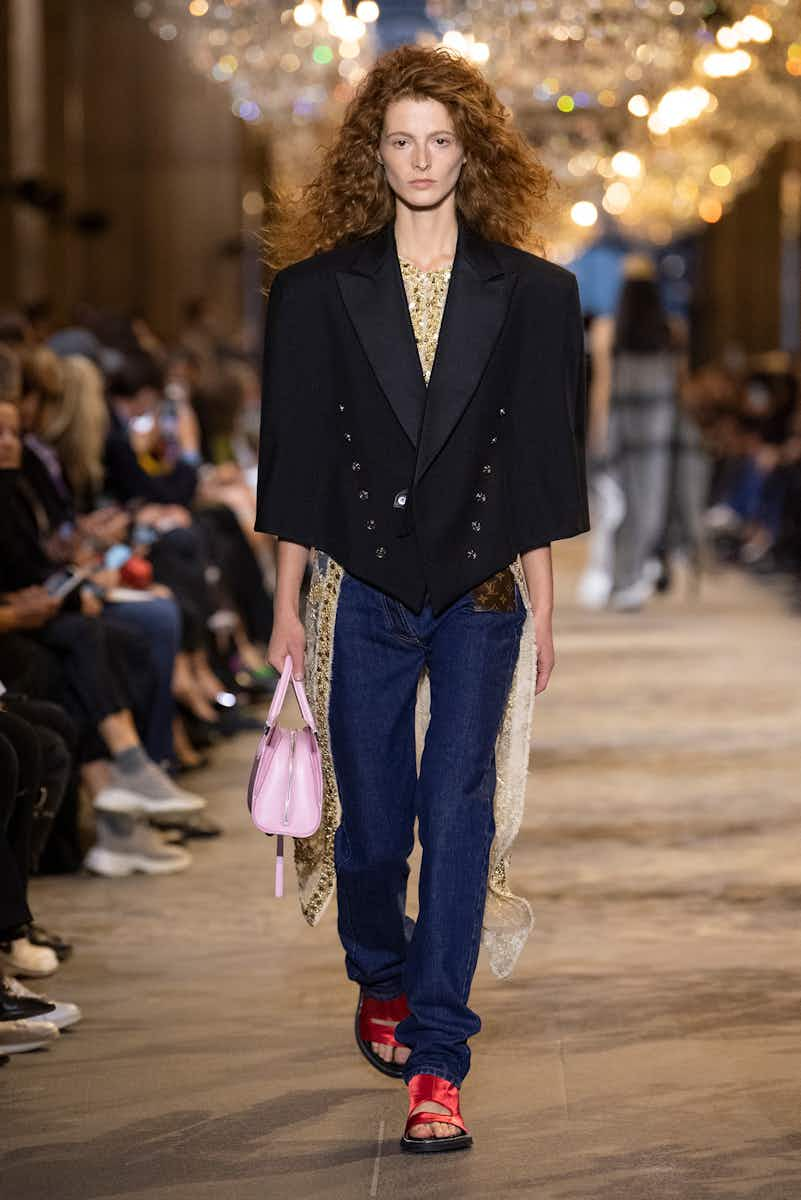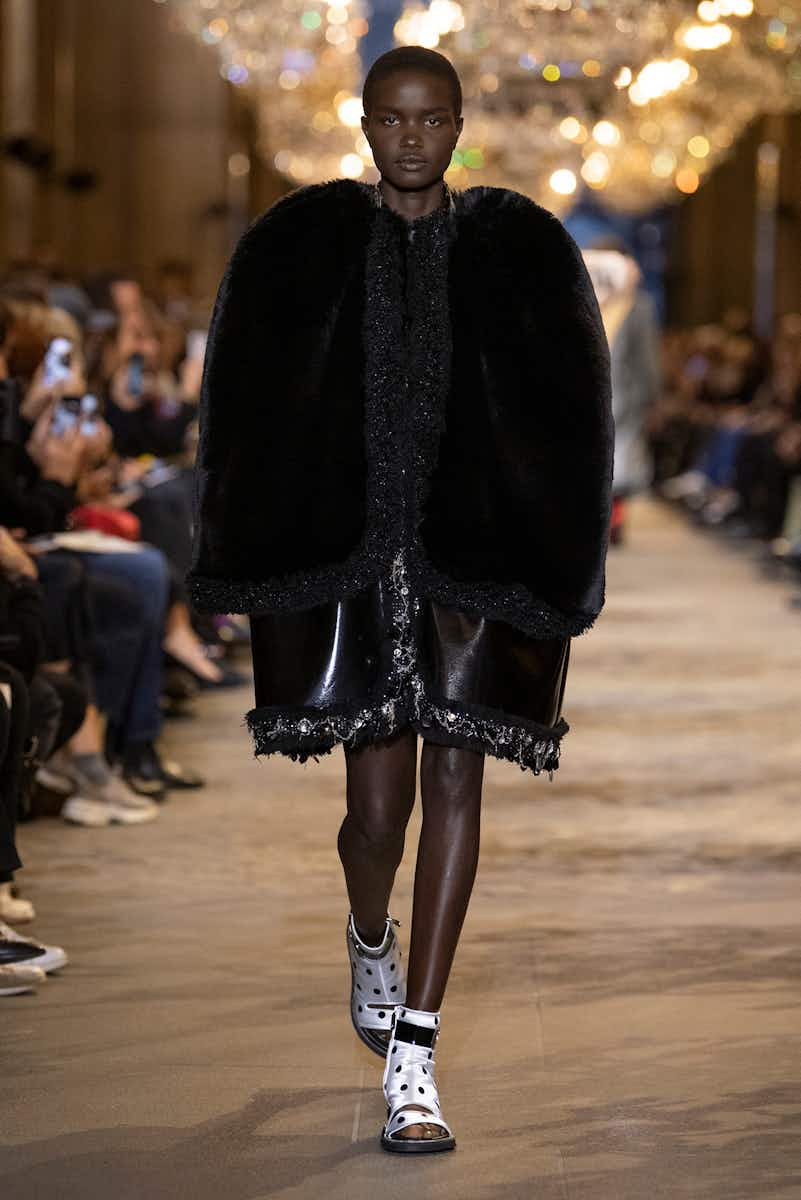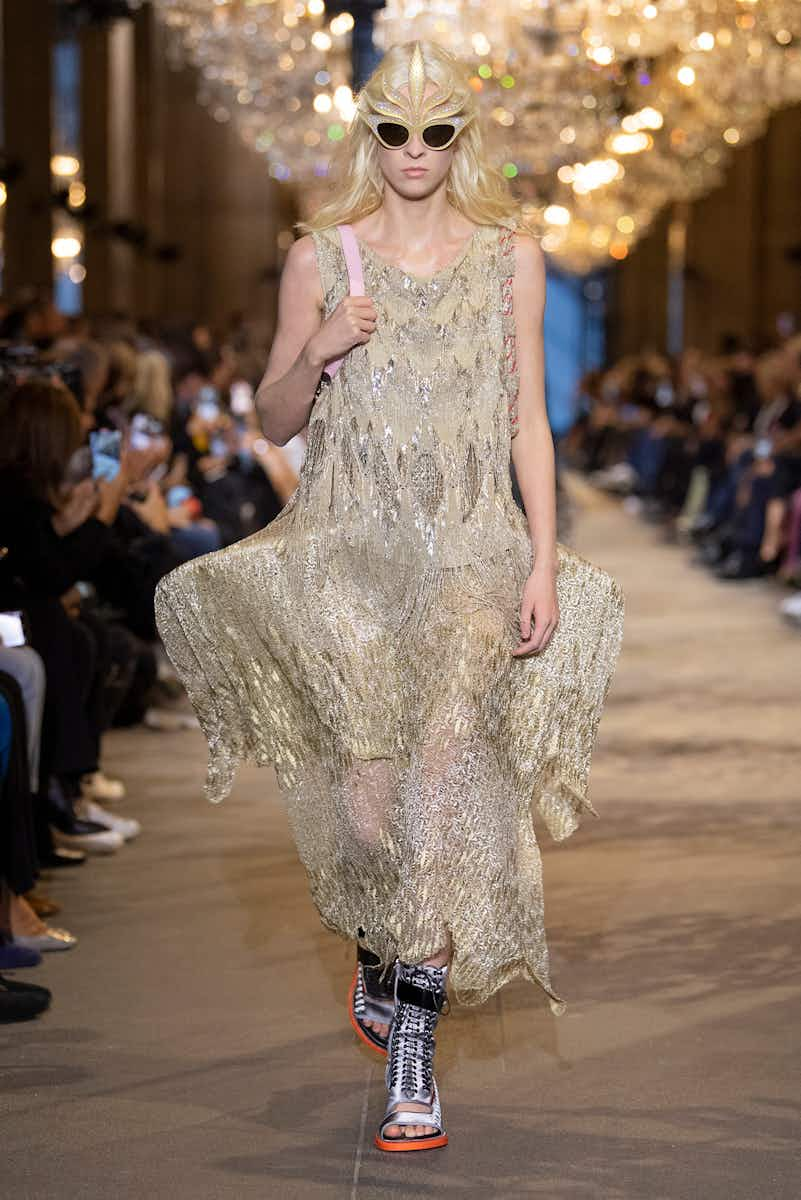 After becoming the first fashion house to ever host a show at The Louvre earlier this year, Louis Vuitton returned to the historical grounds for SS22. The first look, a heavily detailed gown with Elizabeth influence, was dark, seductive and macabre. Its voluminous silhouette had a slight stiffness to it on the body, with extended skirt hoops bouncing at the hip as the model walked. On top, an embroidered, sleeveless bodice bearing ruffles and ornate gold details was layered over a sporty vest top.
Billowing prom dresses soon followed, which saw the body become a vessel for structured, architectural pieces adorned with painstaking embroidery, spookily theatrical in its method. Next came mid-19th century style sailor blazers, buttoned in the middle and peaks sharply protruding at the bottom, while a chemise was reinvented as a sexy, low-cut gothic dress in black.
For all the ballooning capes, heavy embroidery, 1920s polka dot prints and, yes, ruffles, Ghesquière's latest collection also offered some futuristic respite, with comedic headpieces and OTT sunglasses with wings flying off the face or studded in diamantes sending us back to the future. The inclusion of denim – whether on jeans, a full-length skirt or a jacket with its collar torn off – sexy vinyl trousers and a leather trench coat also placed the collection felt very much in the present.
Altogether, it was a camp affair that, as Ghesquière promised, paused, replayed and transcended time altogether.


More like this