Martine Rose's runway return was rock-hard sextacy

Panting, throbbing and a little humid, the designer's SS23 collection shrinks proportions and winks to the sexual fantasies of London's queer culture.

There are few designers out there who can guerilla-style the traditional fashion schedule and play by their own rules. But for Martine Rose, whose last real-life show was in 2019 set in her daughter's primary school, it's no problem. She has amassed a religious following over the years, devotional in its cult-like following. When Rose hints at an upcoming show, we follow. And like the acid house references of seasons past, audiences often leave feeling euphoric, like we've just nibbled on that last quarter of a disco biscuit.

Over the years, Martine Rose has drawn in influences from the better side of Great Britain – illegal raves, terrace culture, lovers rock, punk – often served with a side-helping of stimulating sex appeal. Rose is an expert in finding hidden nuances in the nostalgic references she contextualises for a contemporary audience. And for SS23, it resulted in a throbbing, pulsating homage to London's red-hot gay history.

Set in a dissued gay sauna in Vauxhall, the audience was faced with a black vinyl curtain before the show started. With wafts of something caught between a fetishist's crotch and the basement of a Soho sex shop drifting through the air, and orgasmic panting blasting out the speaker, the tone was set for one of Rose's raciest collections yet. But this was no straight-forward take; this was a refined vision of gay fantasies in London, the city she was not only born and raised in, but devotes herself to wholeheartedly.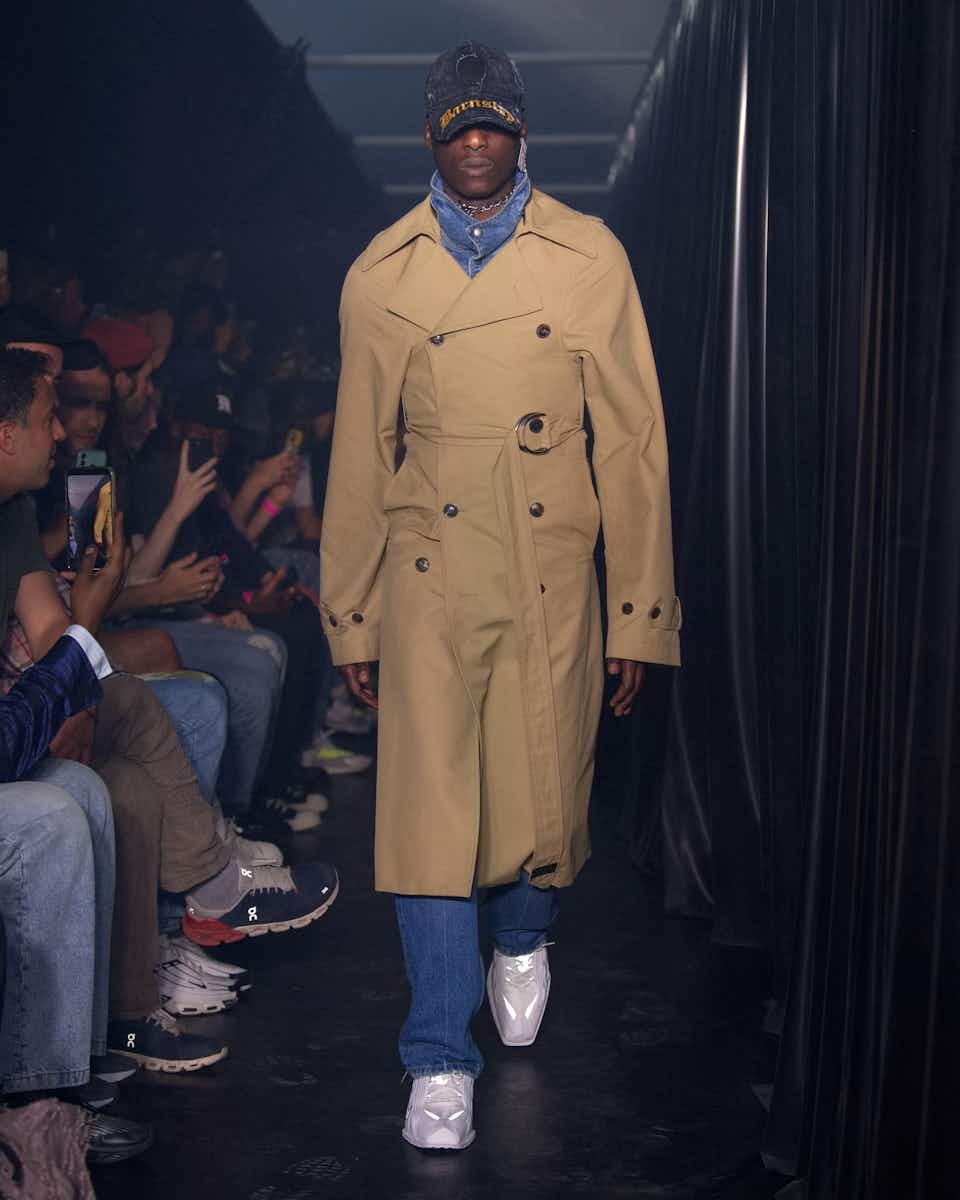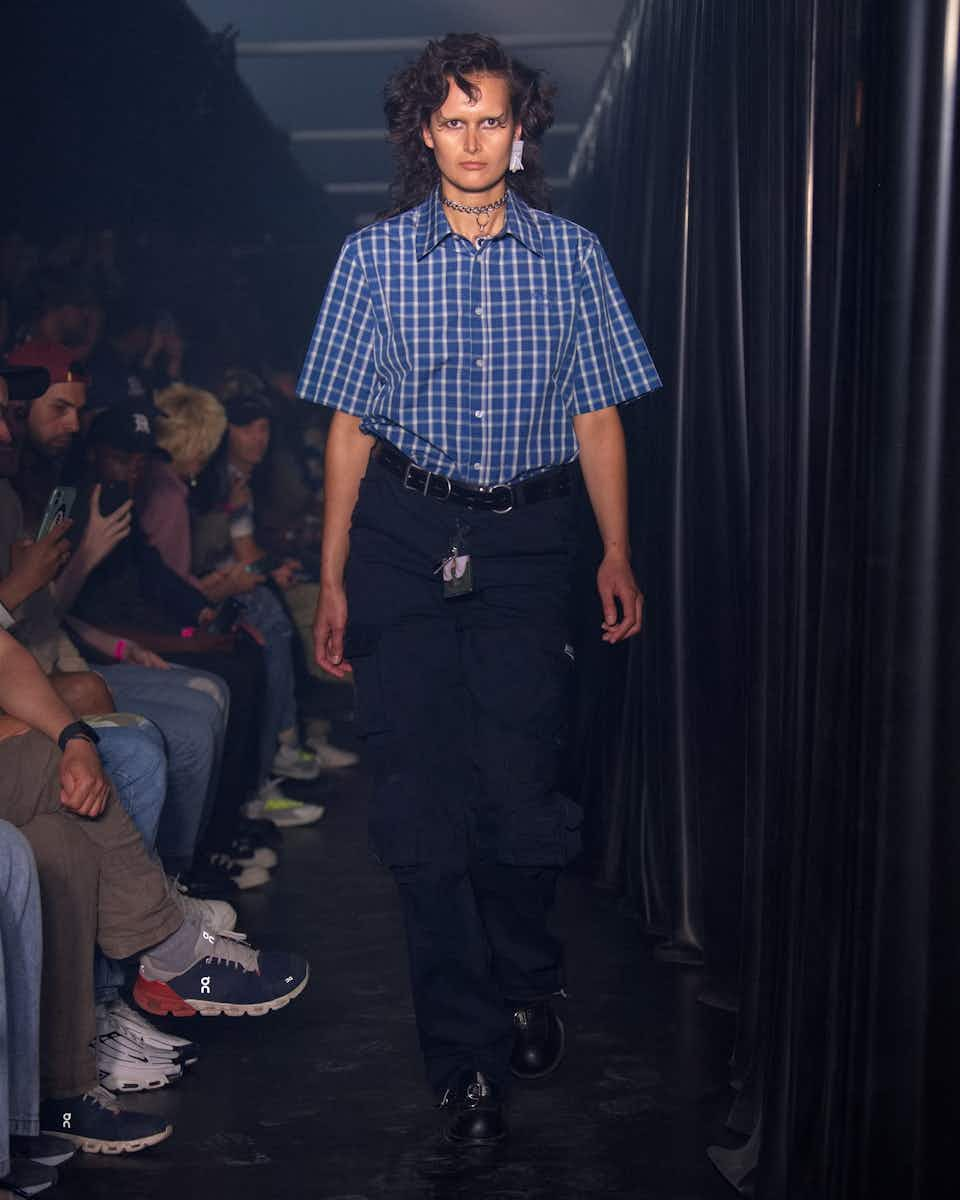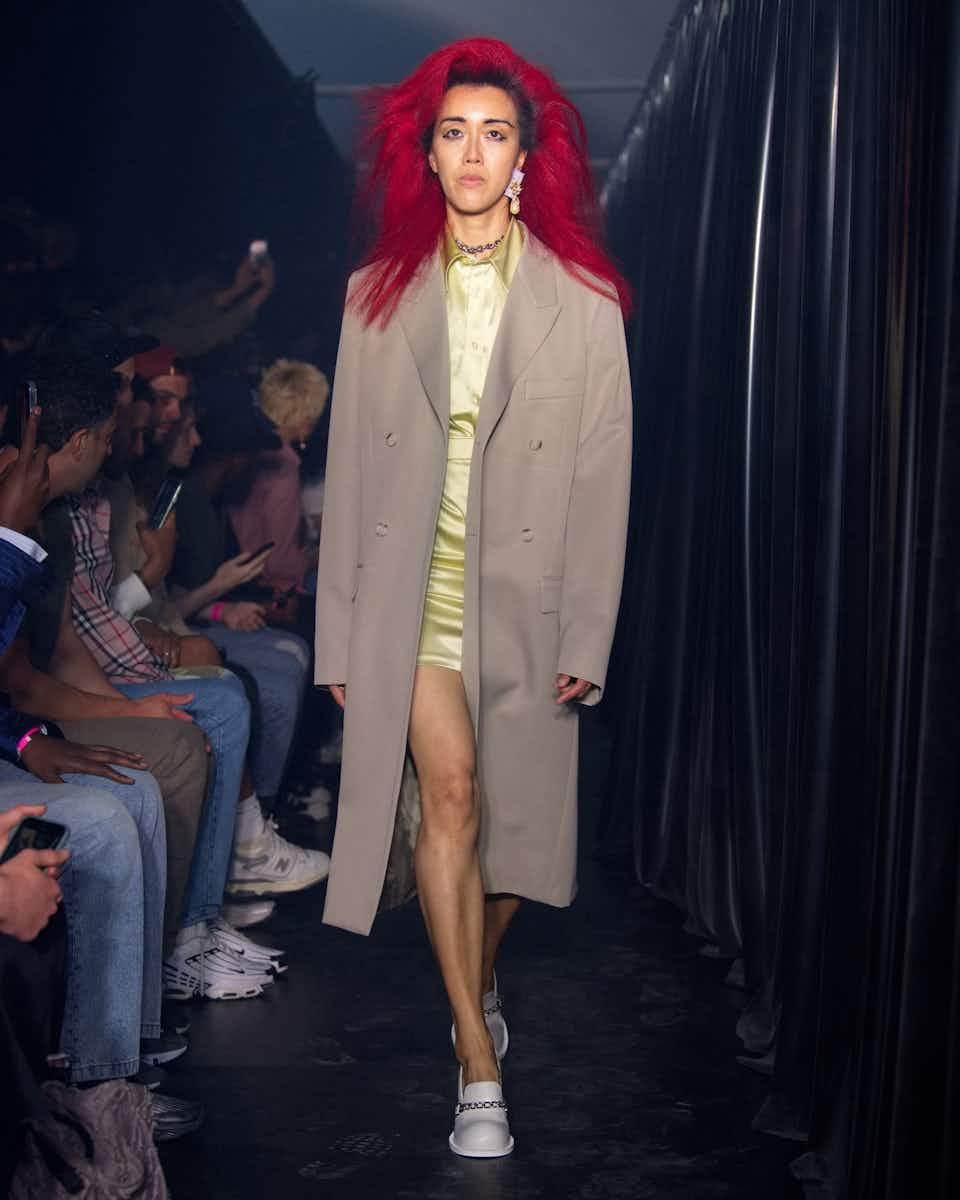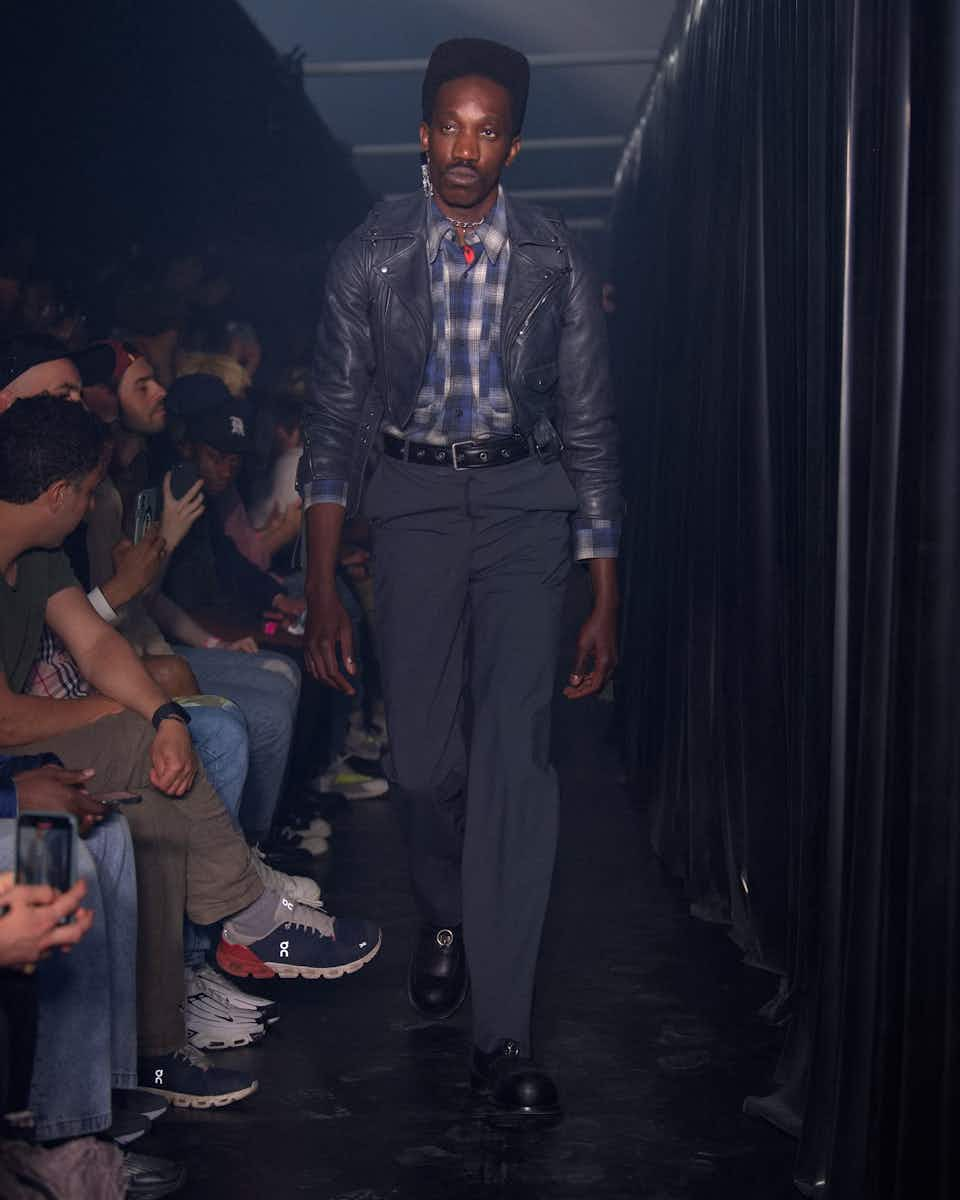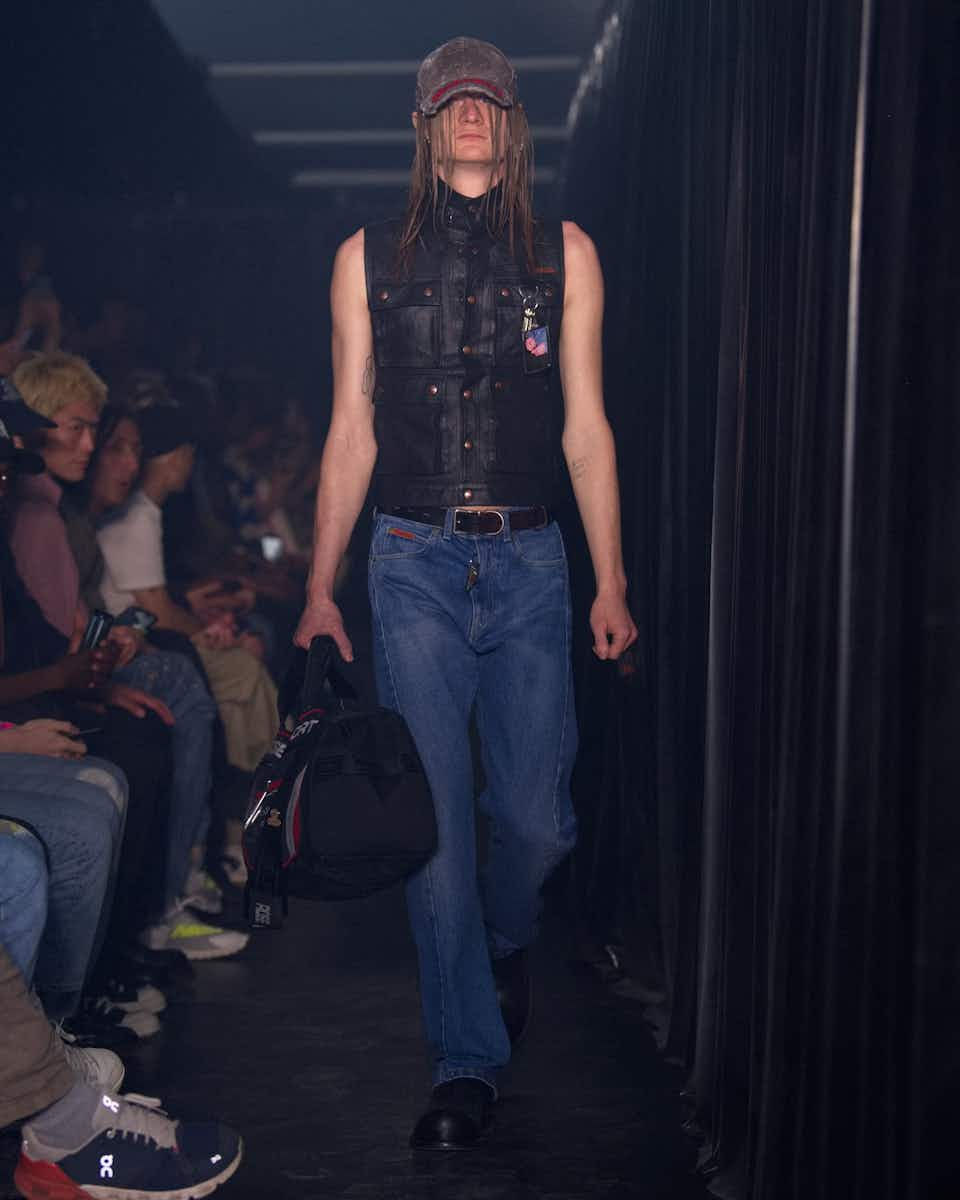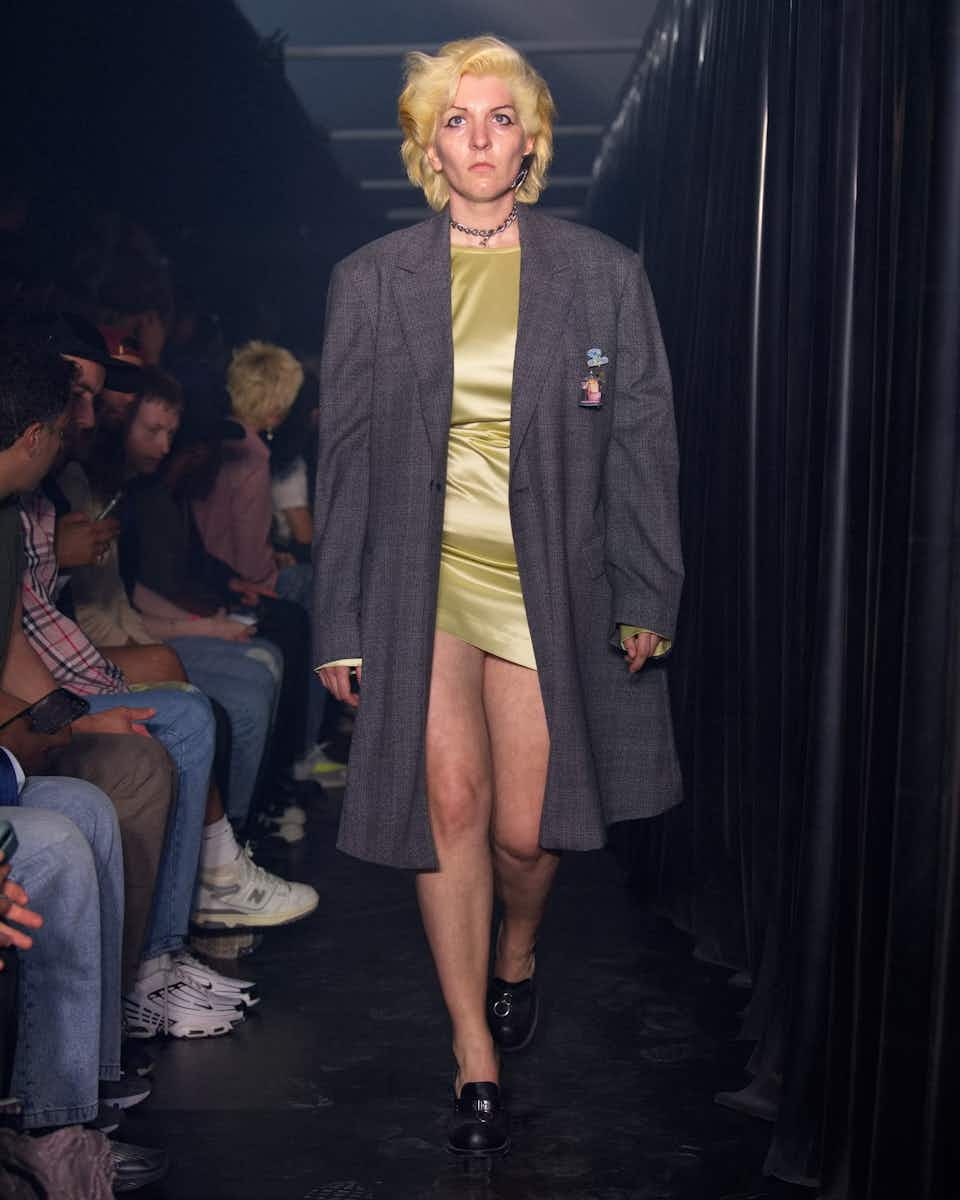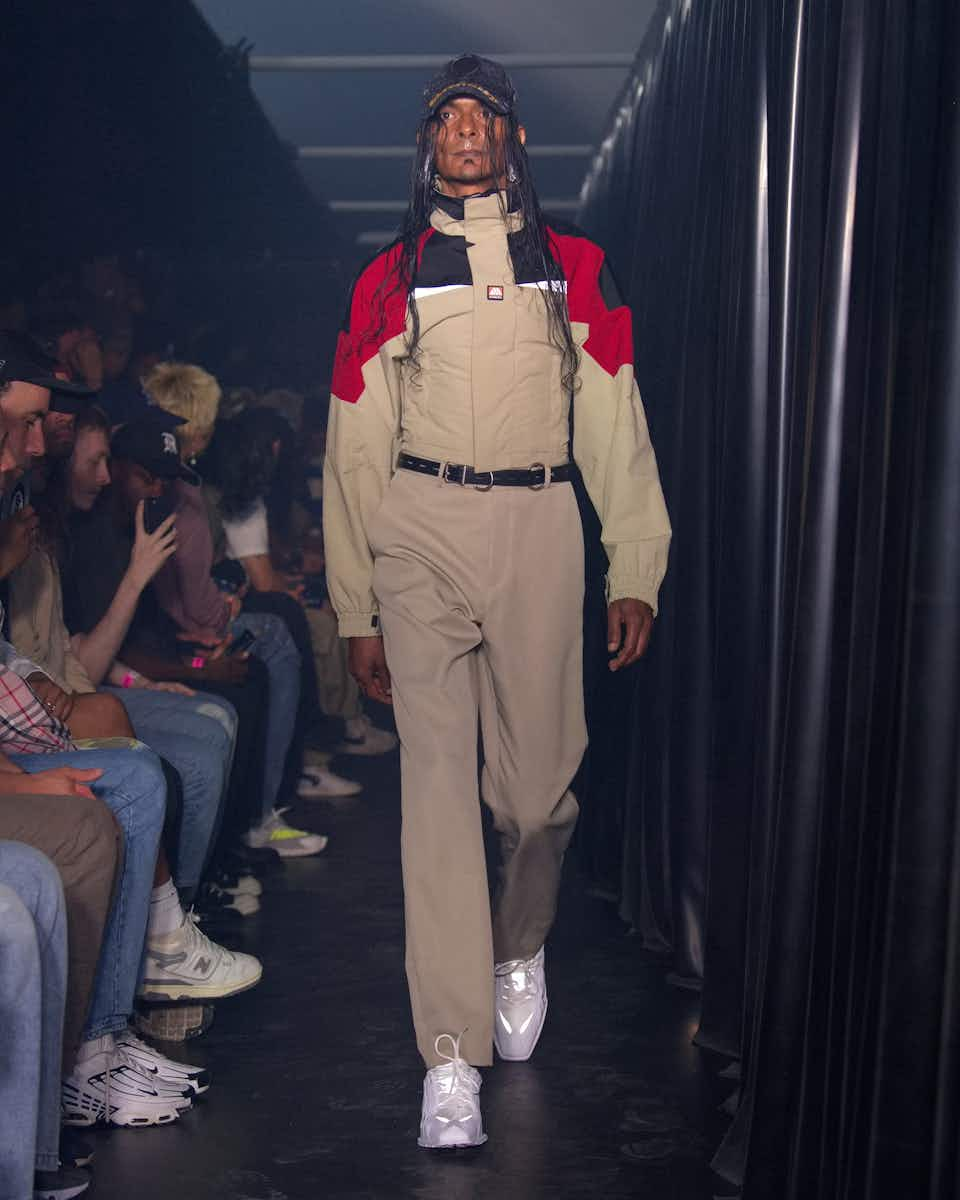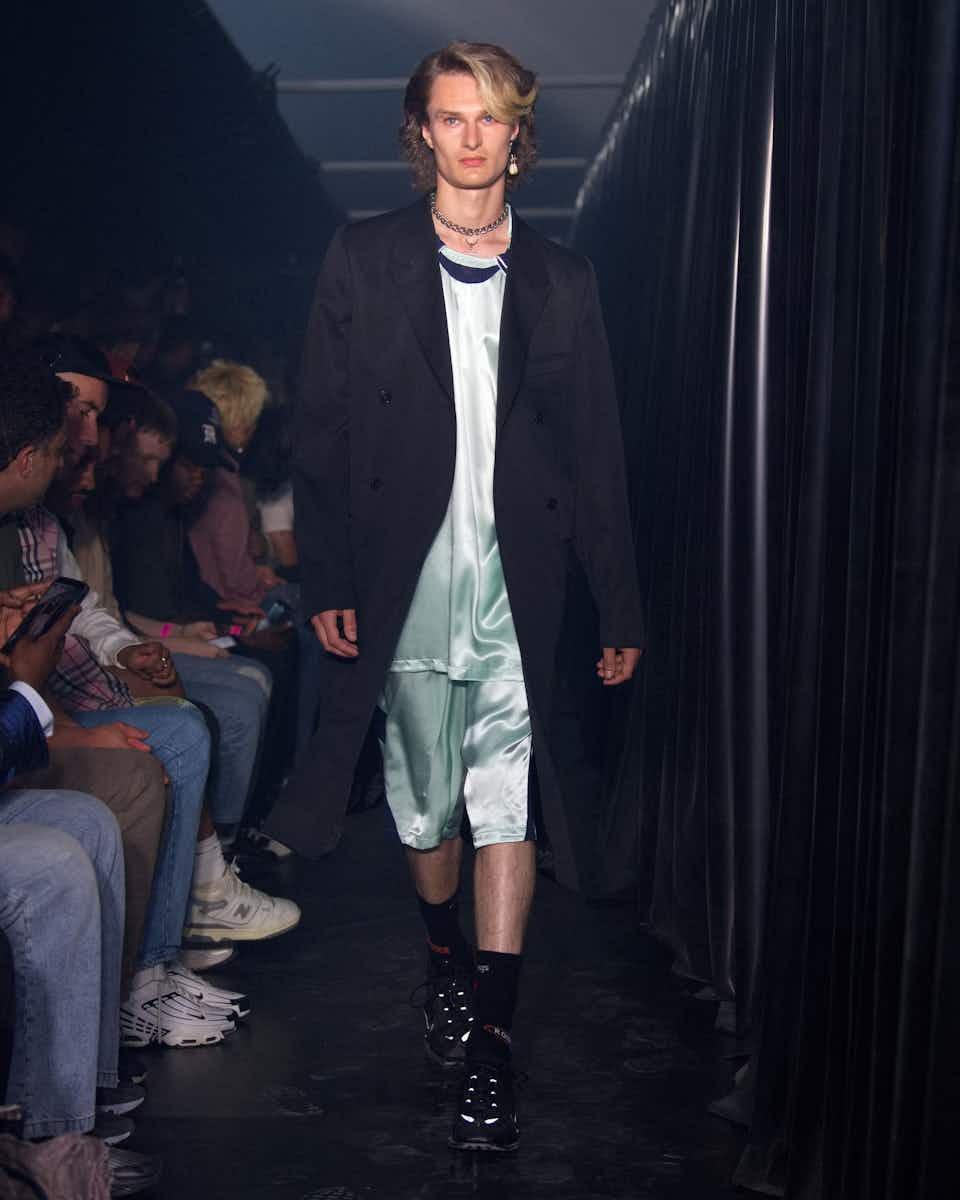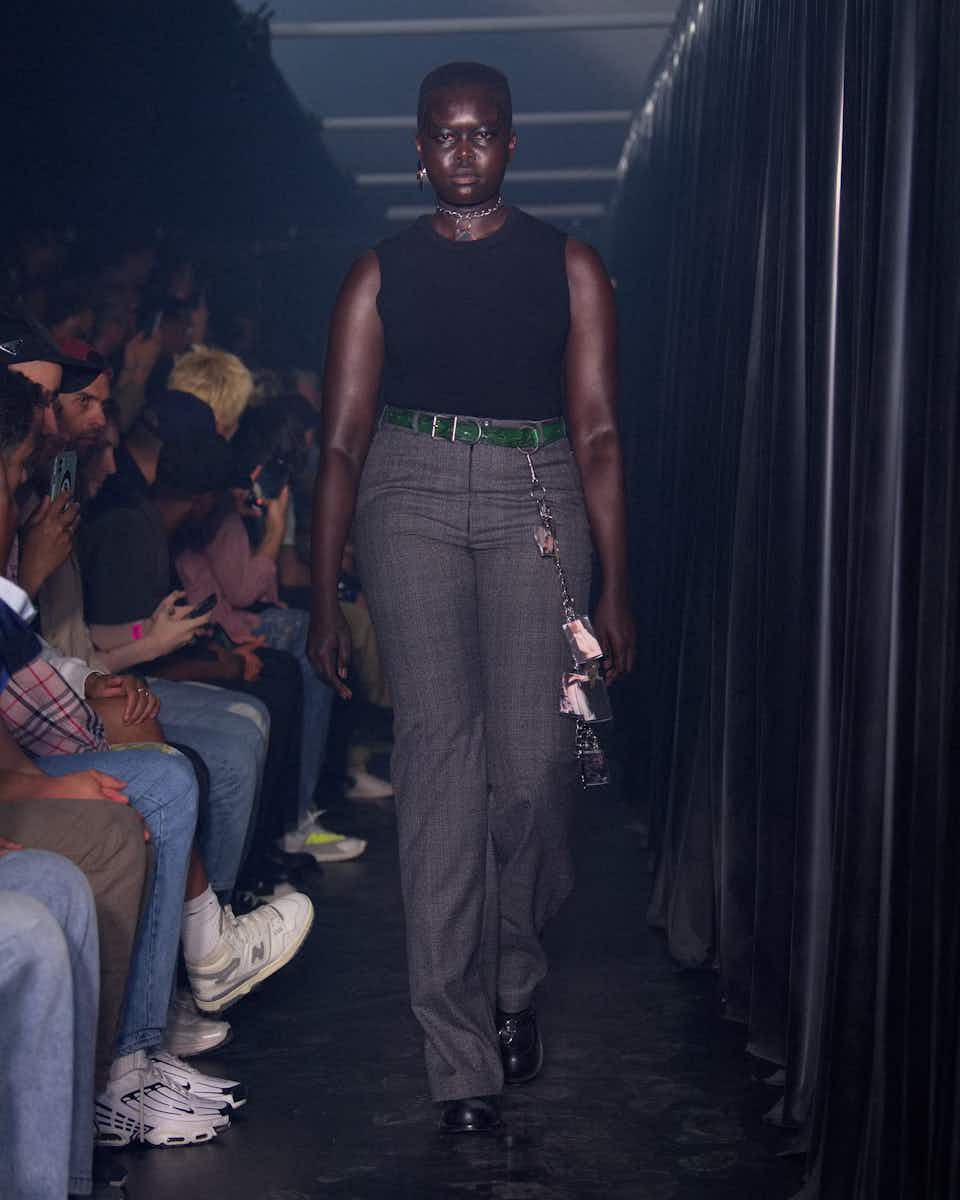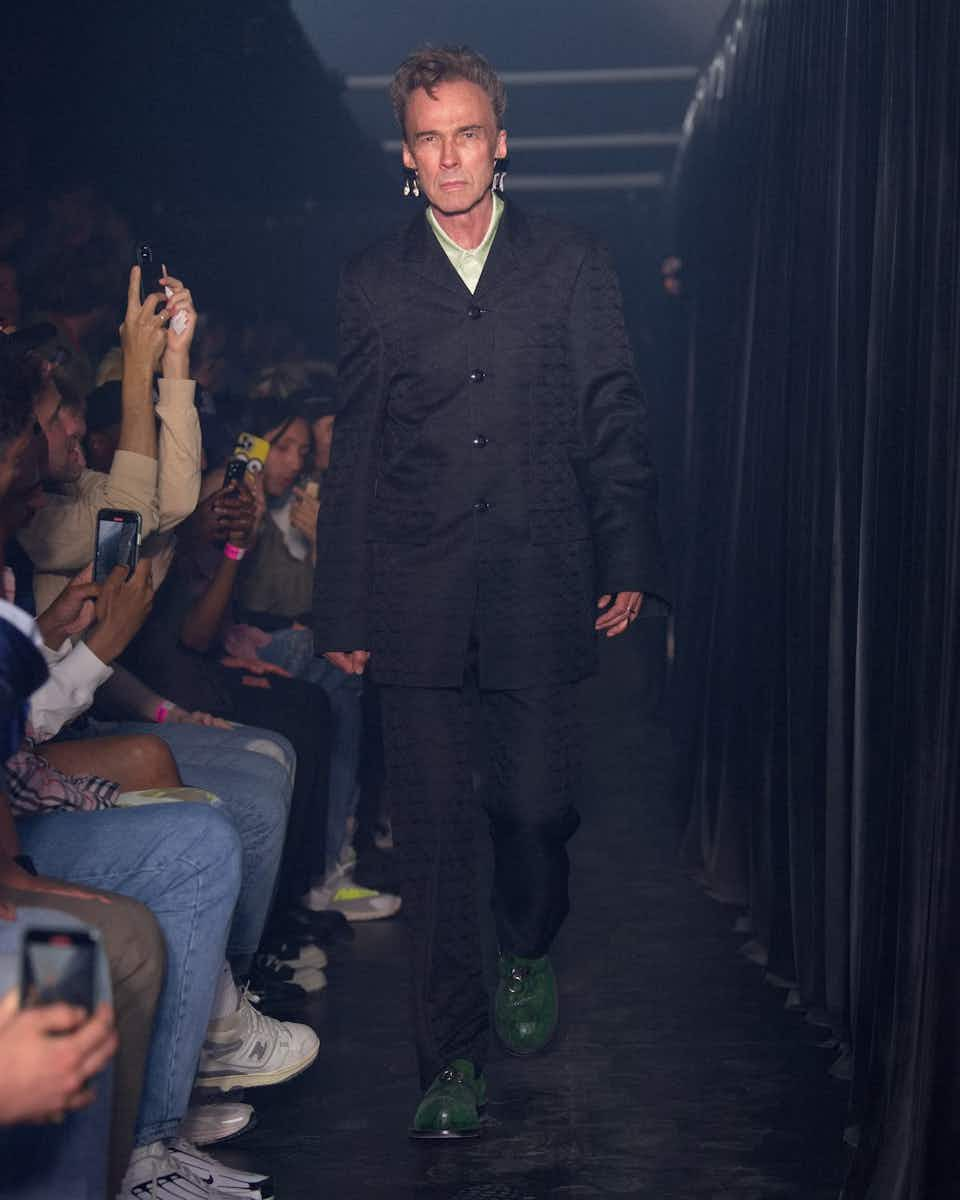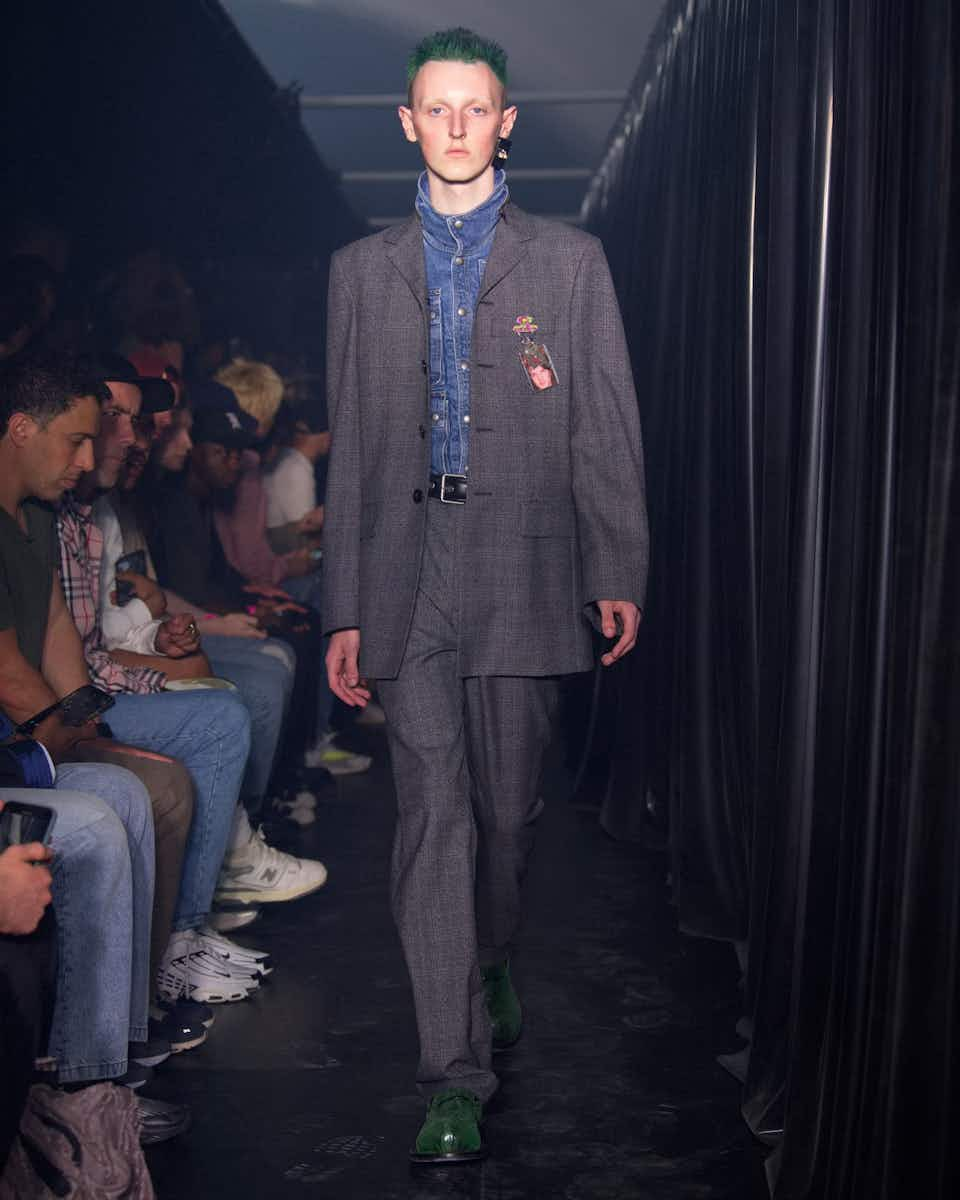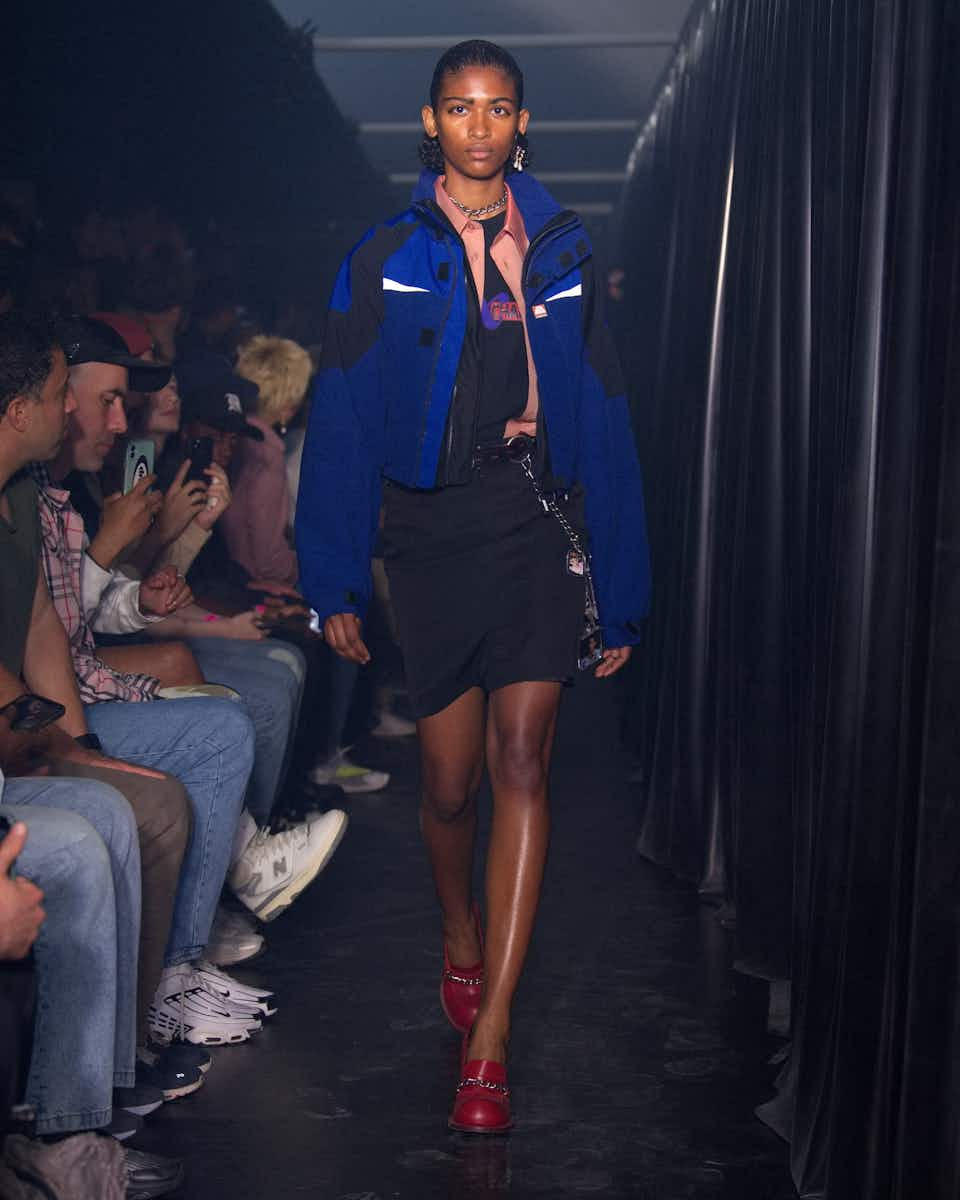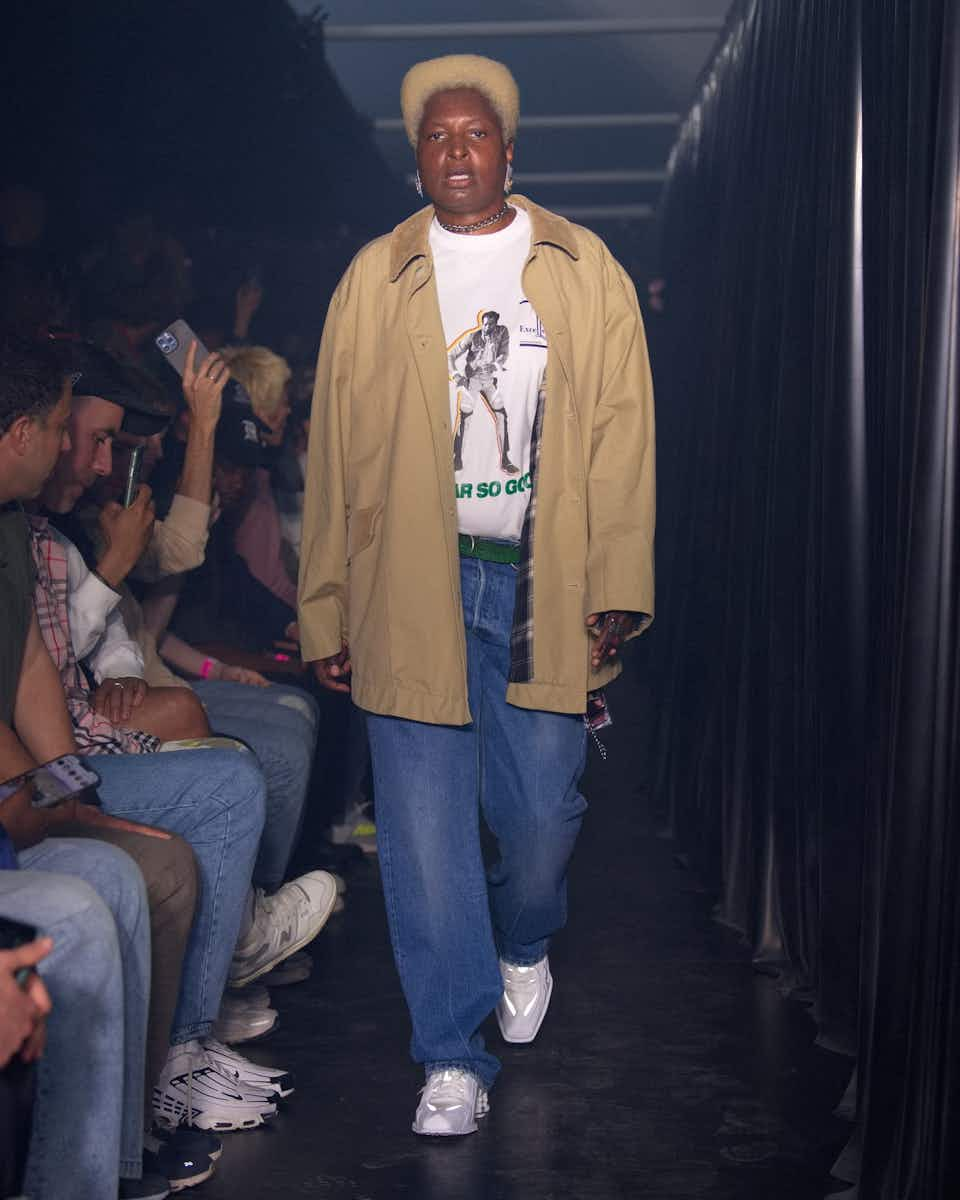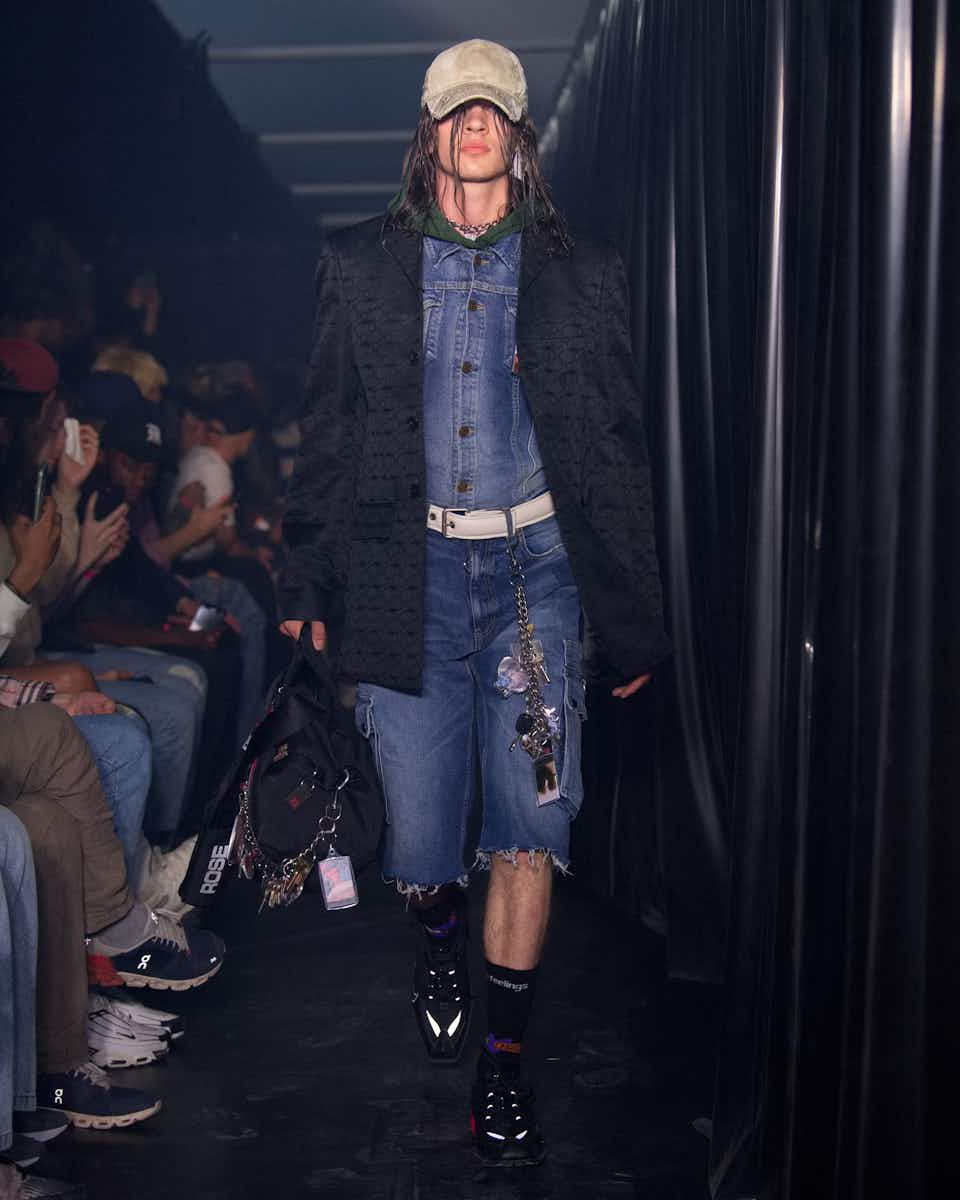 Right from the humid interiors to the teeny-tiny play on proportion of garments, it was gay repression unzipped – freedom on the darkened dancefloor, played out to a thumping house soundtrack of acid house classics like 1992's Hardfloor by Acperience 1. As ever with Rose's visual love letters to London, the references went deep and hard: a walk-through tour of BDSM clubs, late night hook-ups and office romances by the Xerox machine.

The looks belted out thick and fast, with the initial trench coat hugging the skin like a fetishistic straight jacket. Martine Rose is a master of proportion, whether elongating, accentuating or minimising. For SS23, pieces are shrunk, as if hurriedly borrowed from a one-night stand the morning-after. And where Rose has created kinky fantasies in football lads, ravers and even sexy uncles in the past, the jangling of sets of keys worn by models on the loop of their trousers conjured odd visions of a janitor stalking the corridor.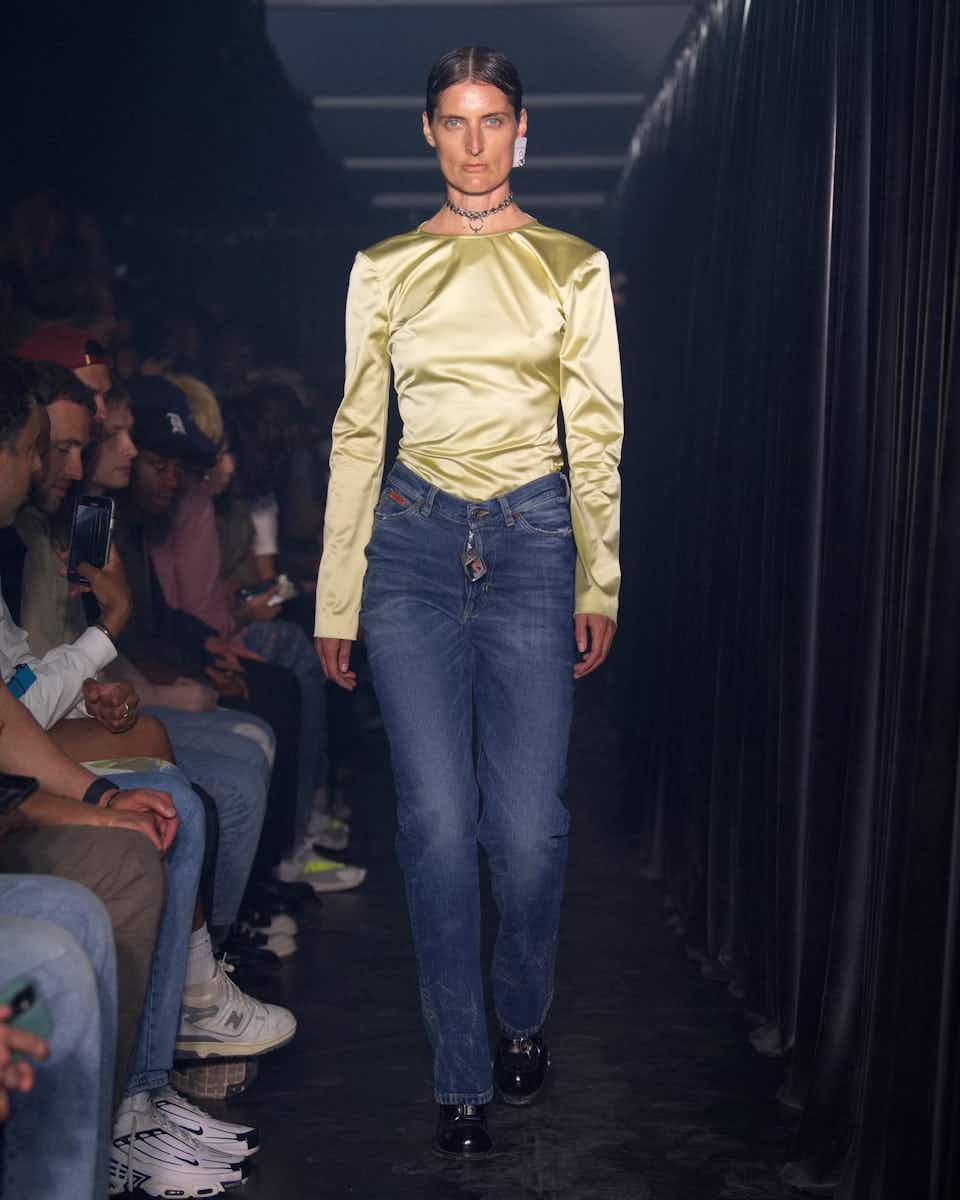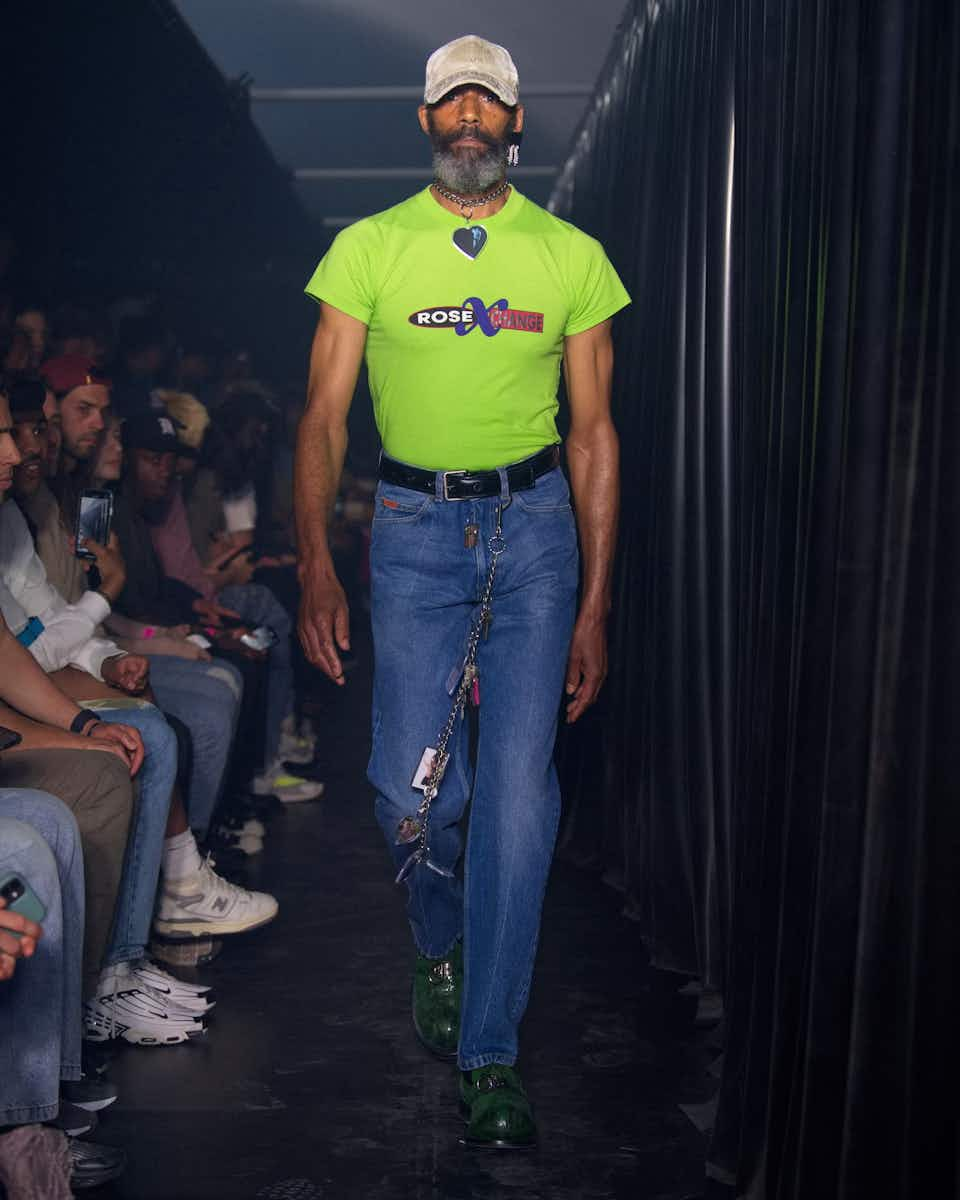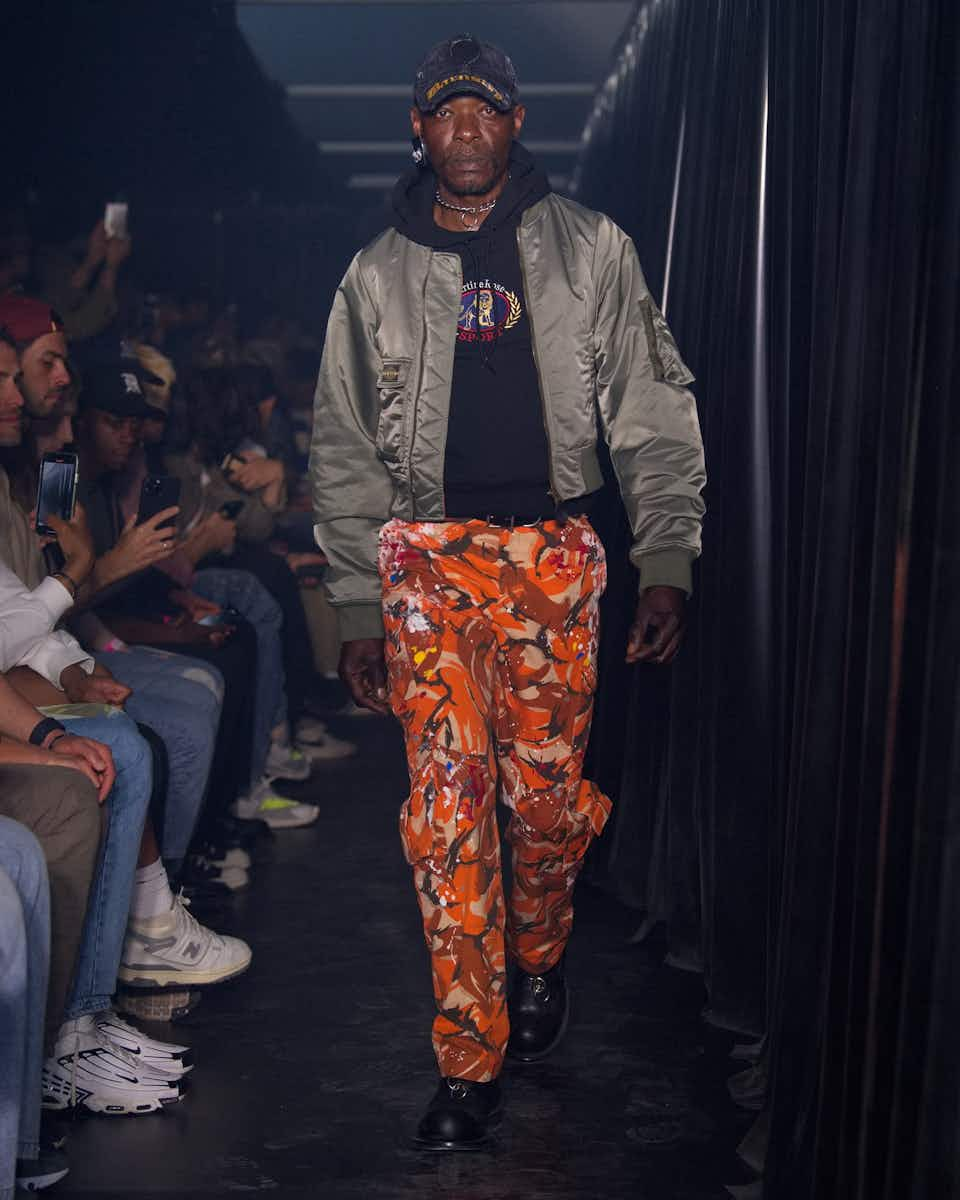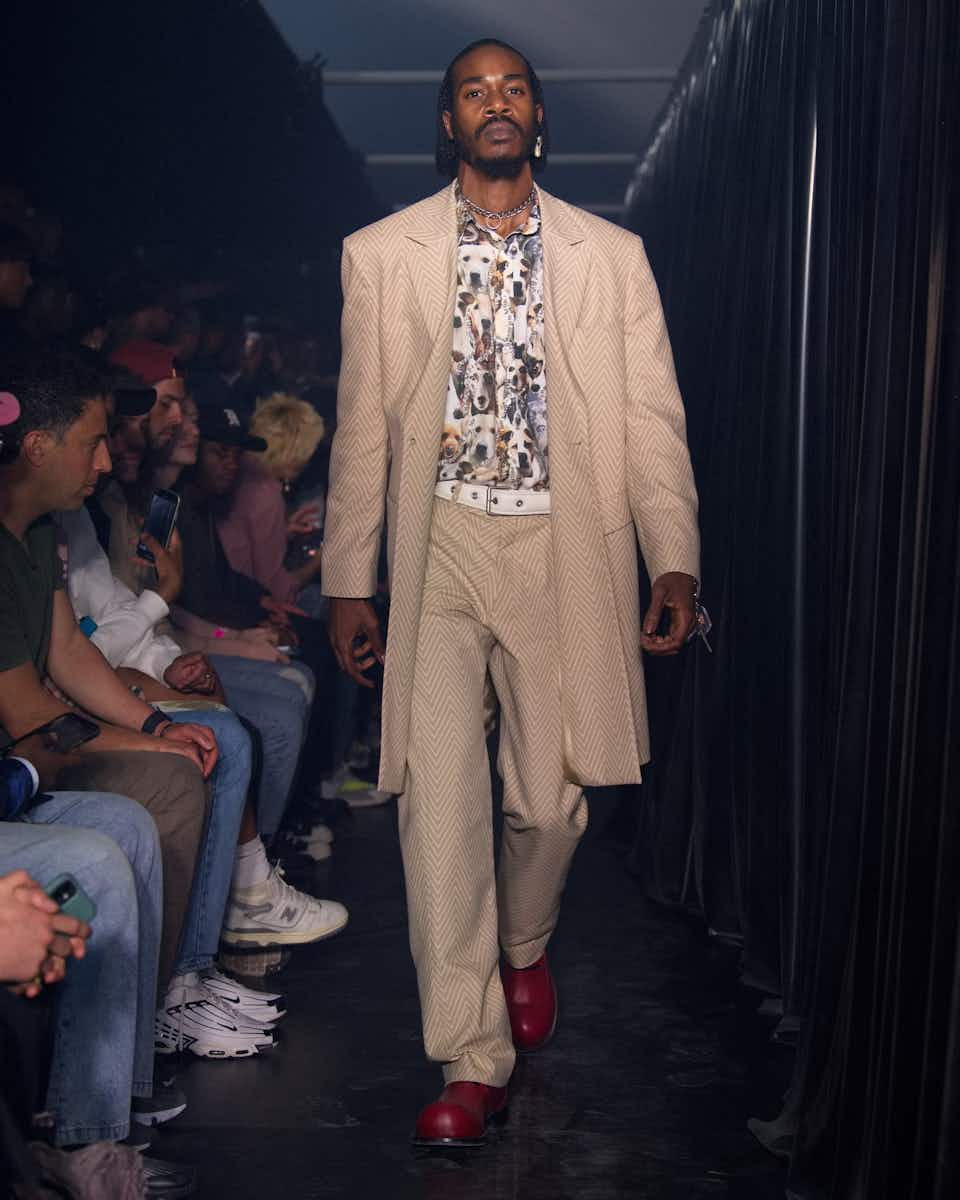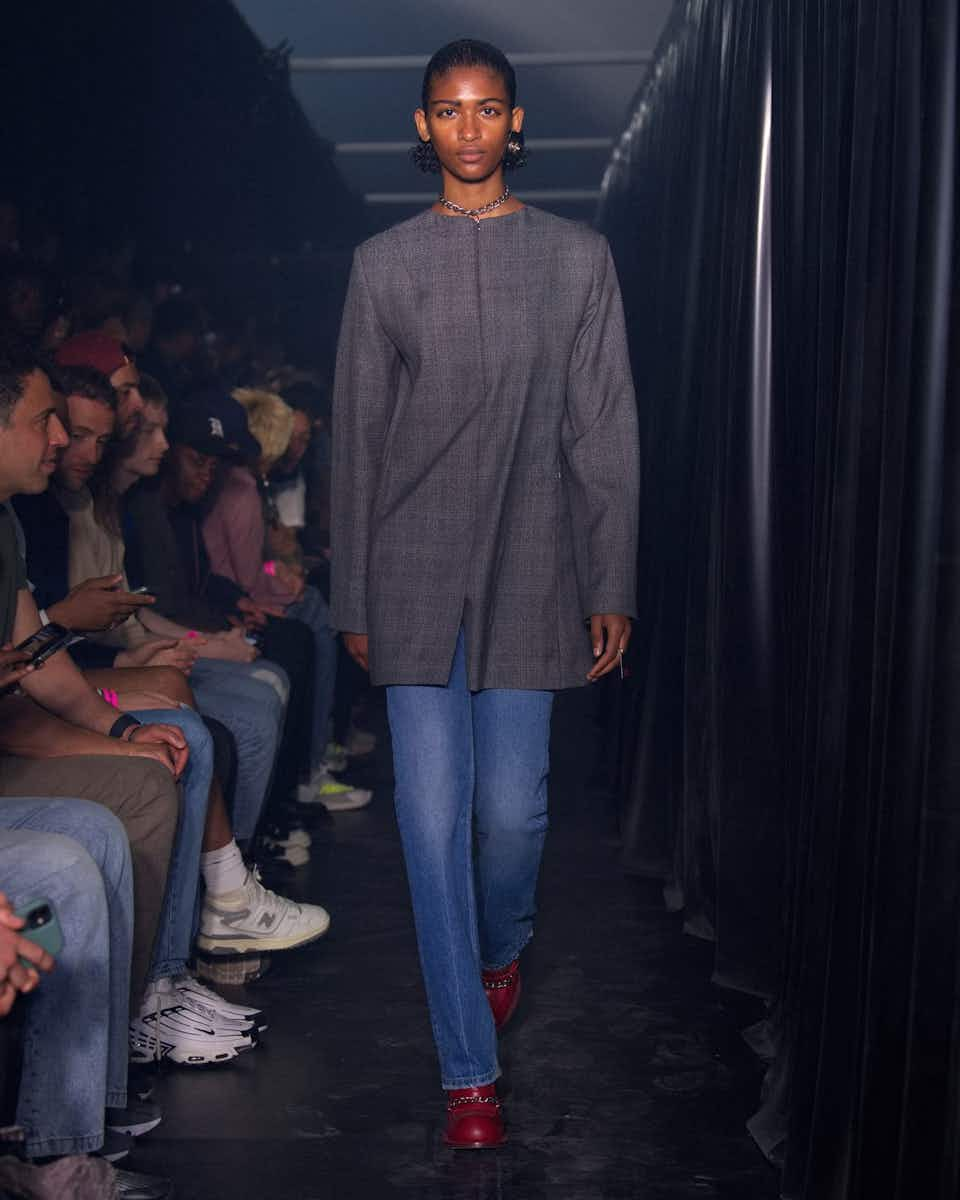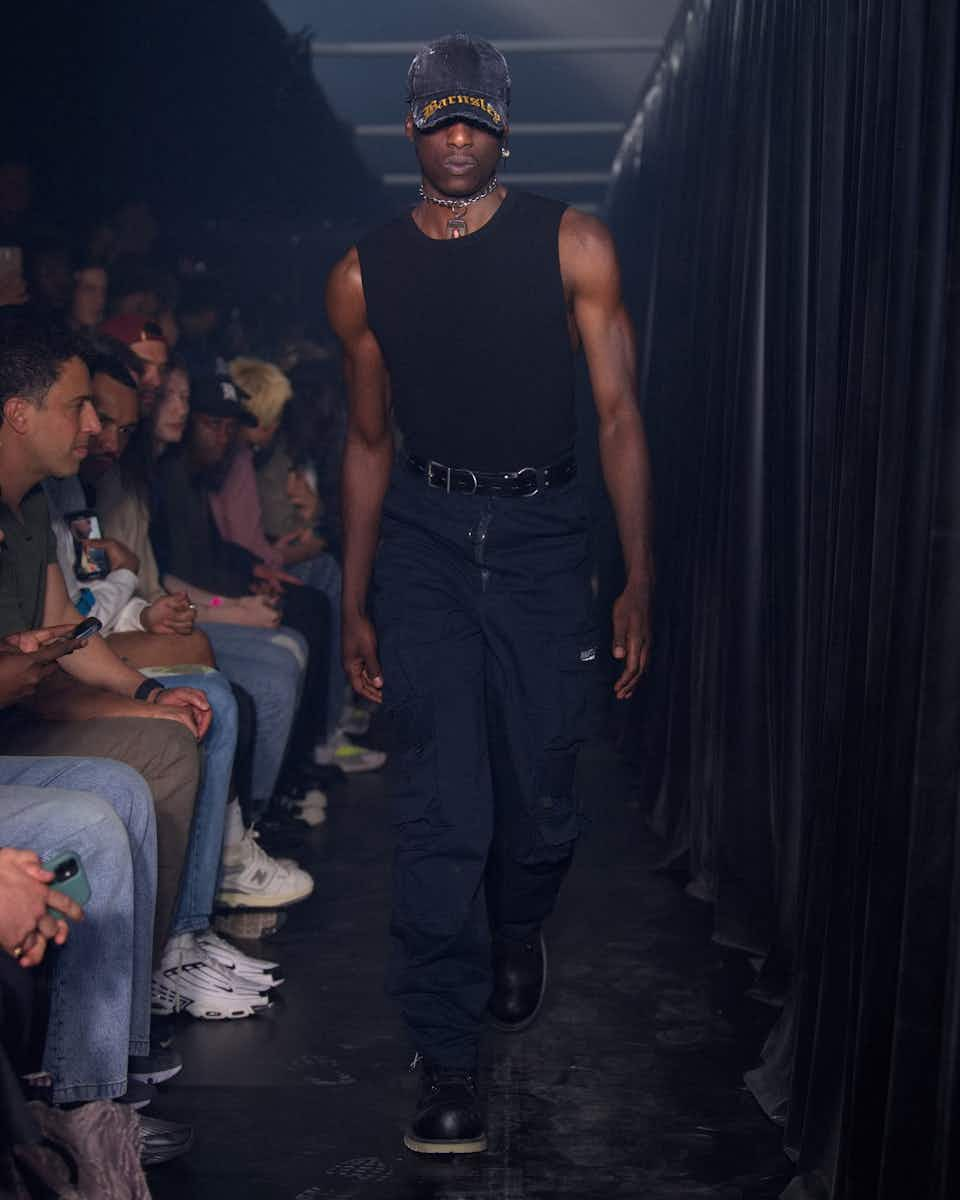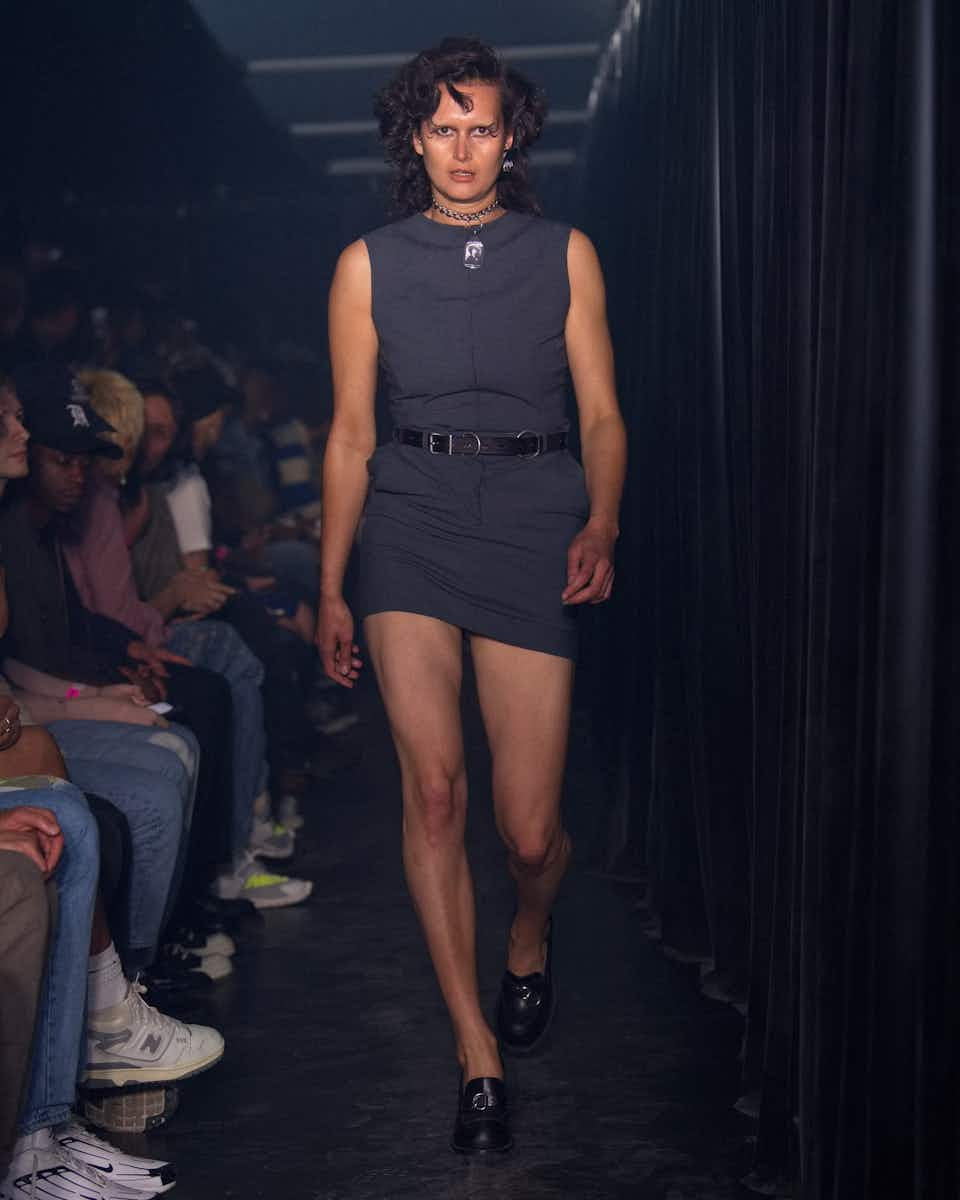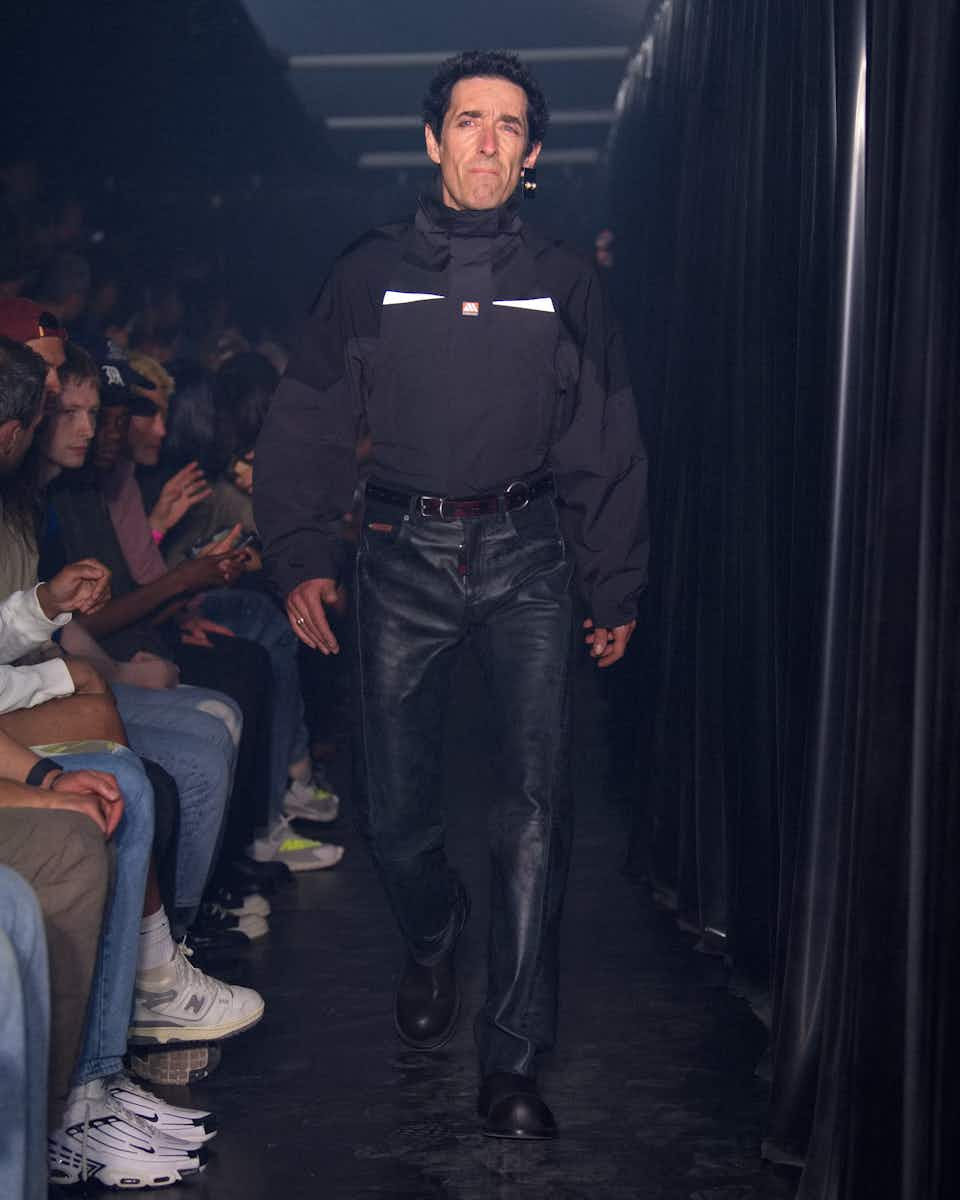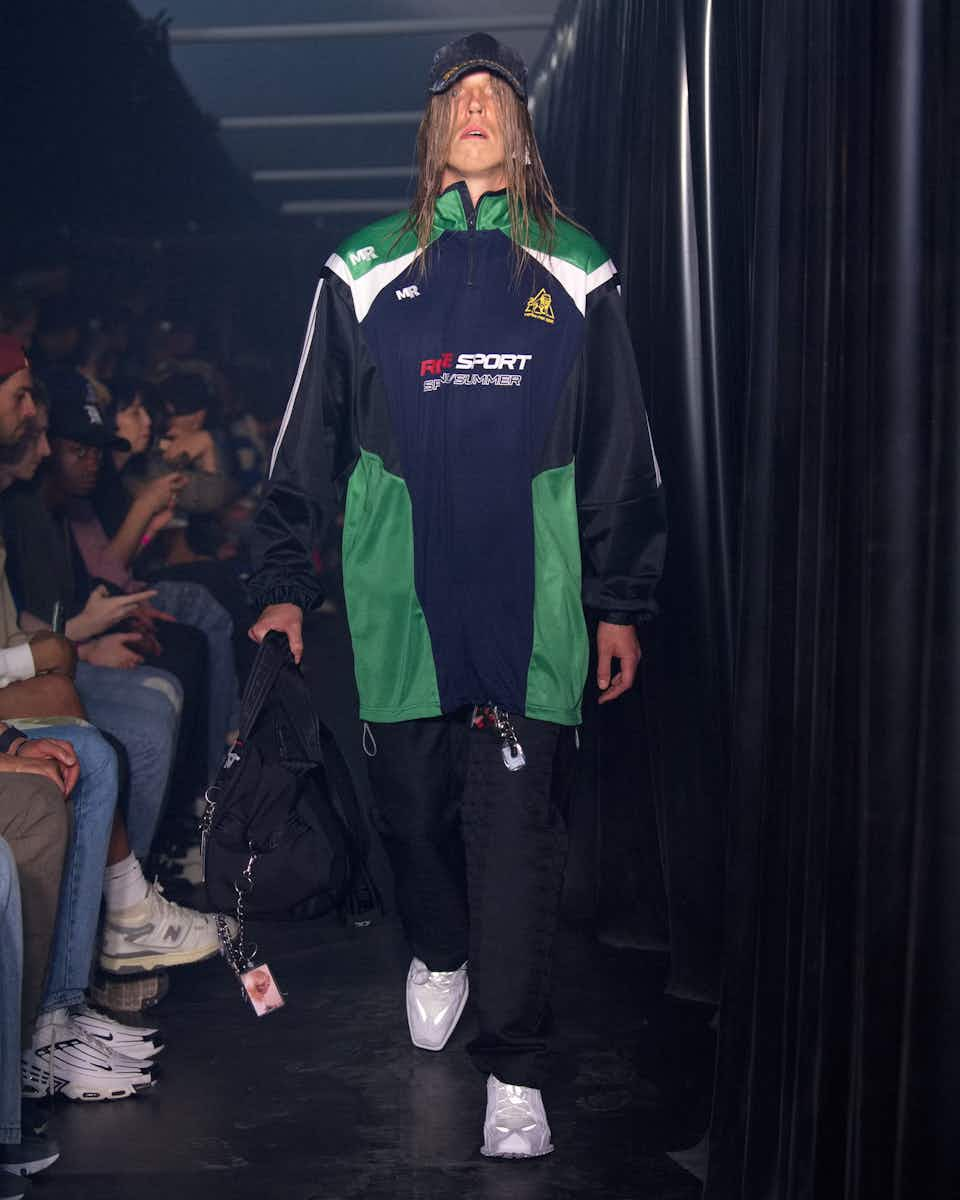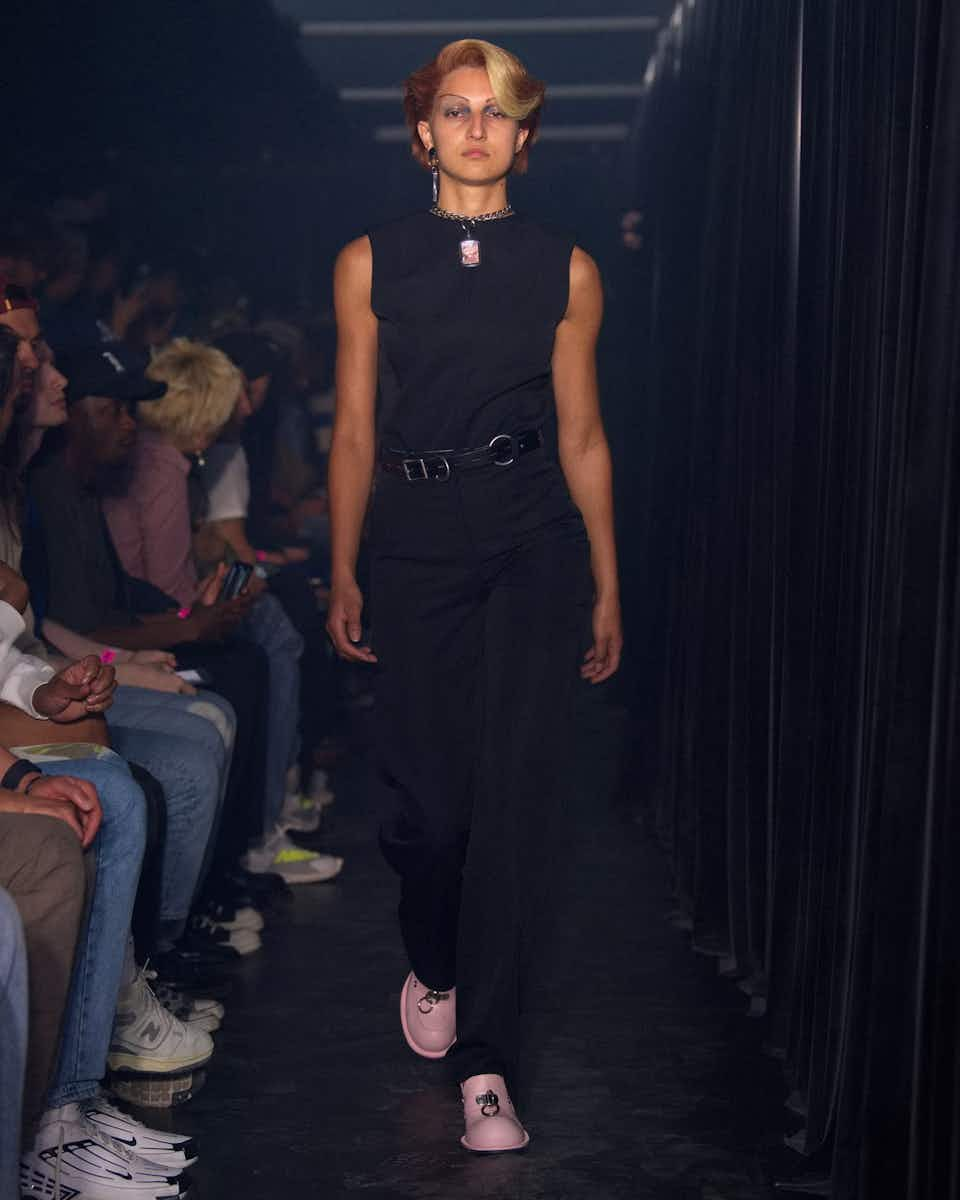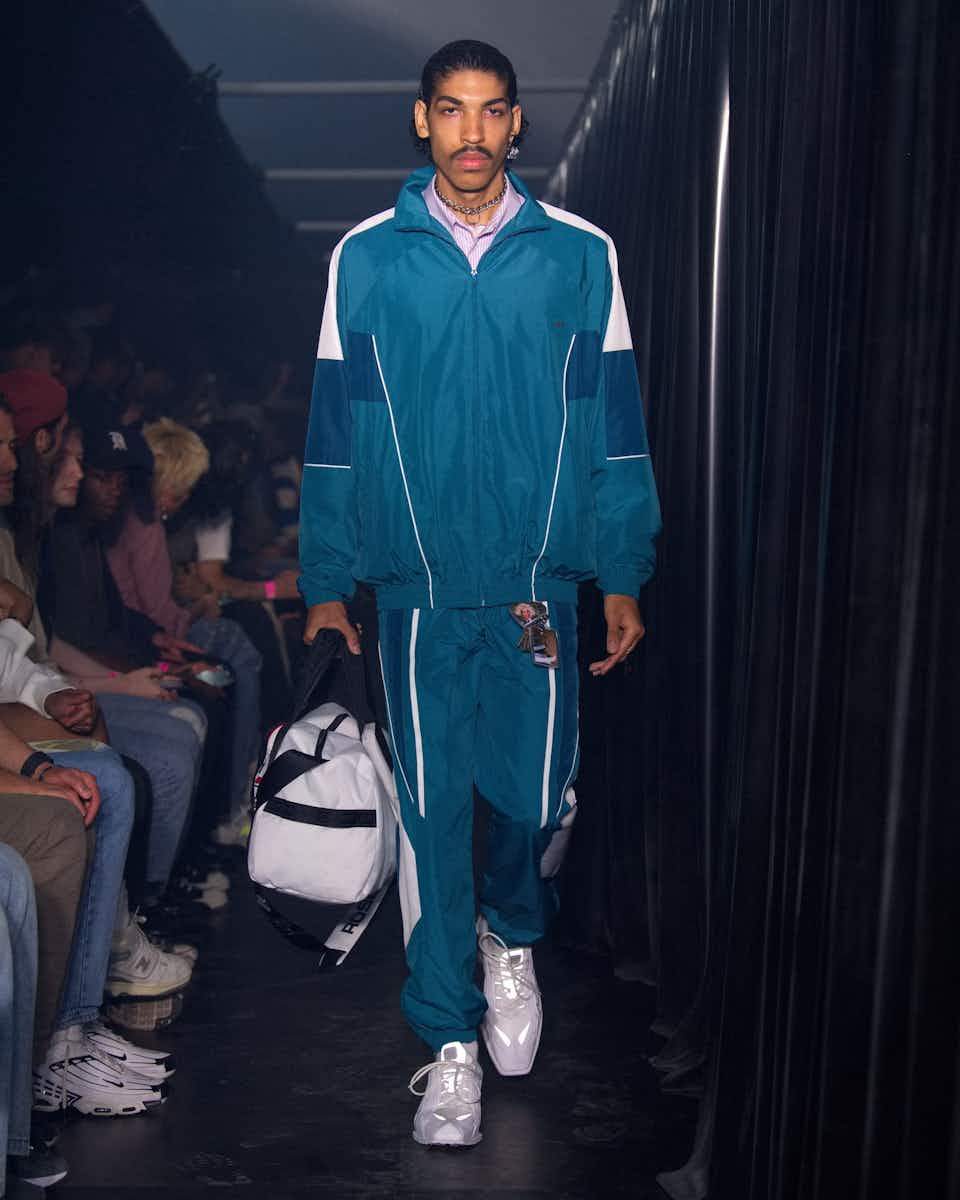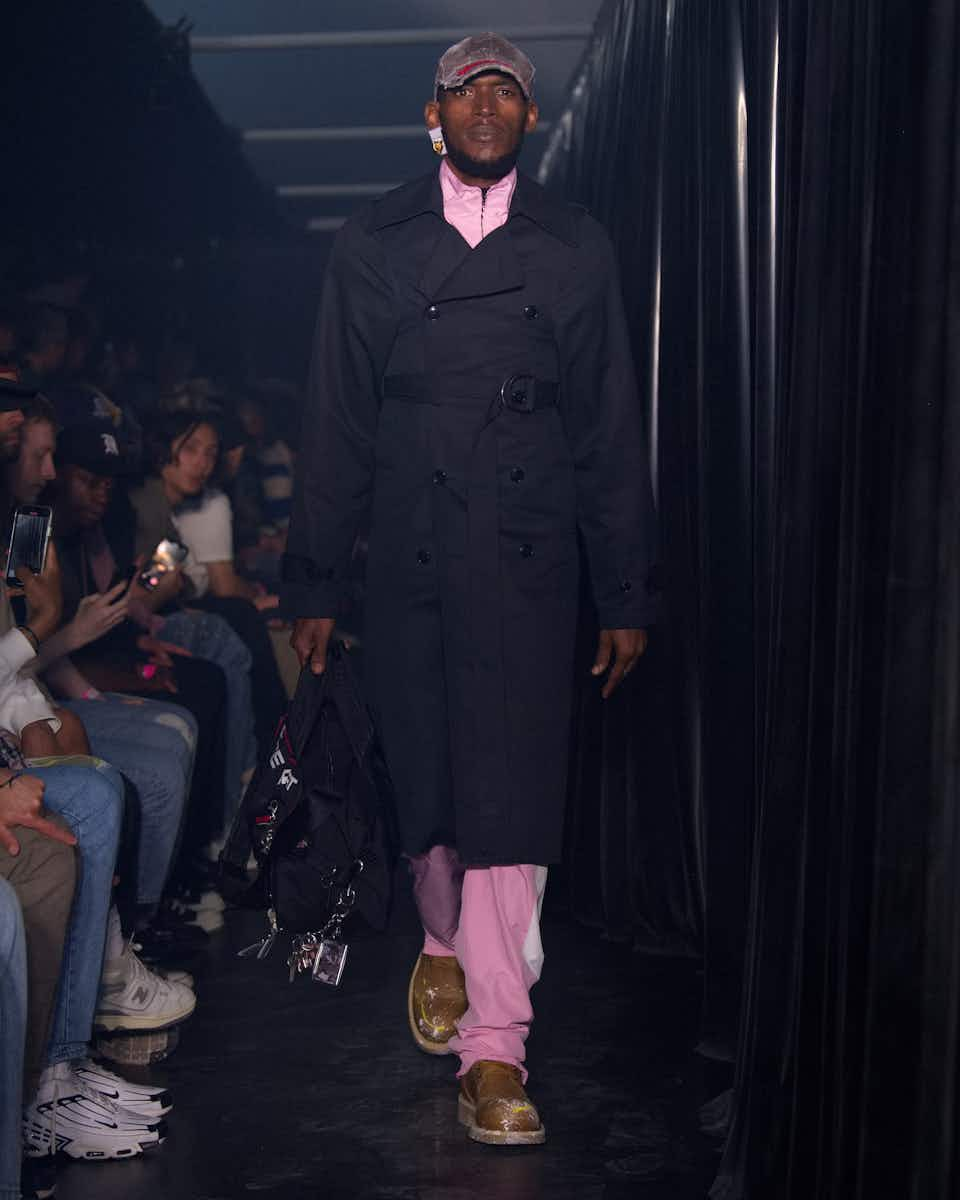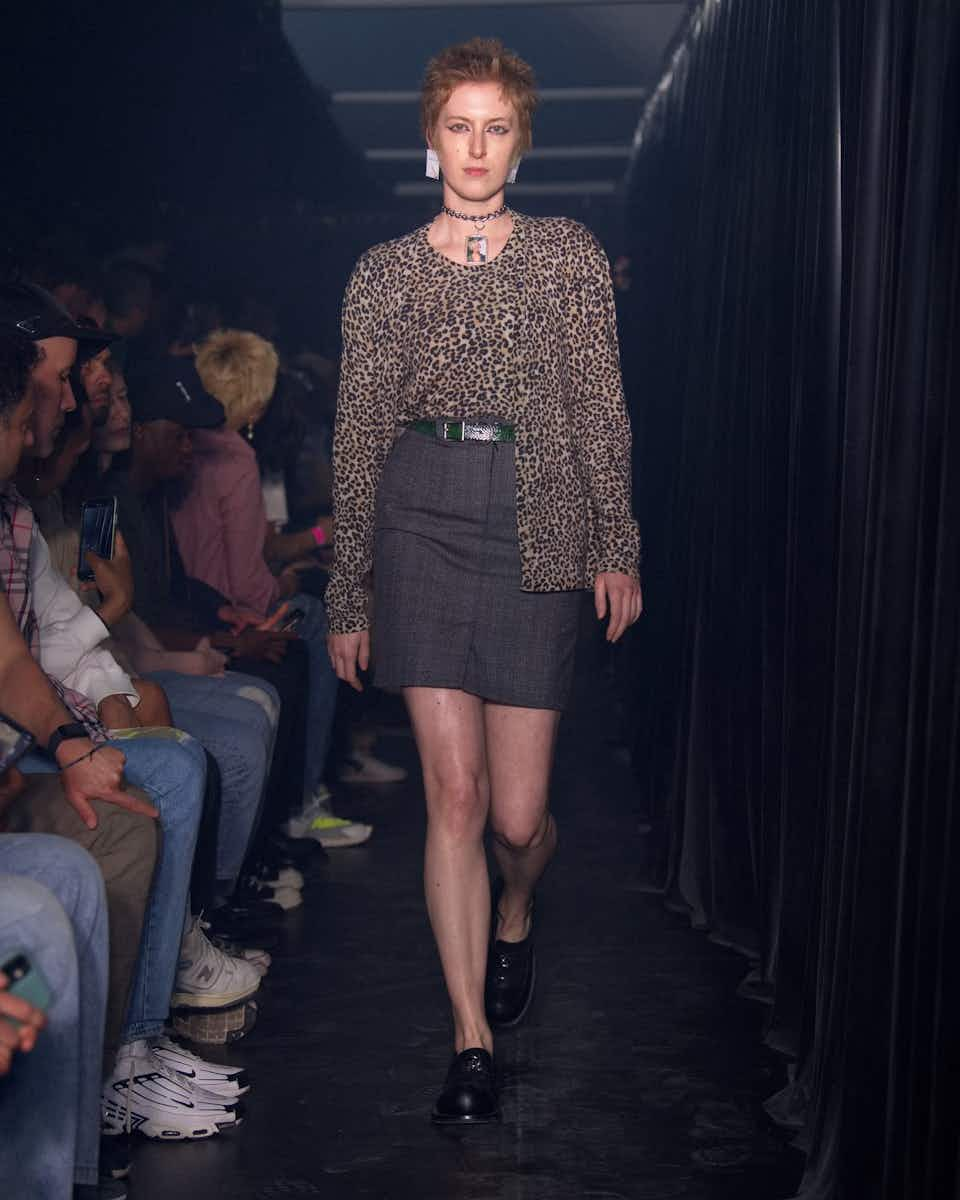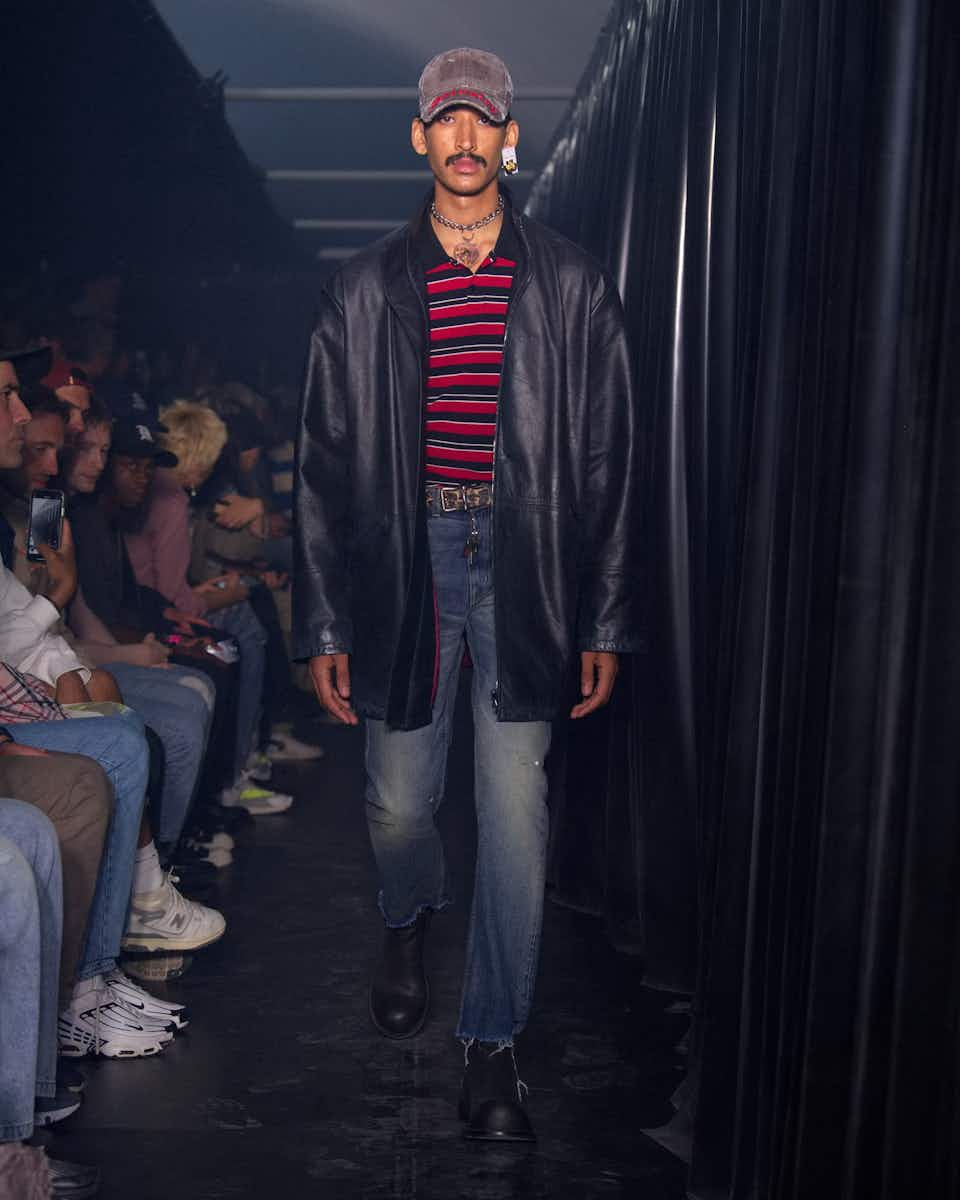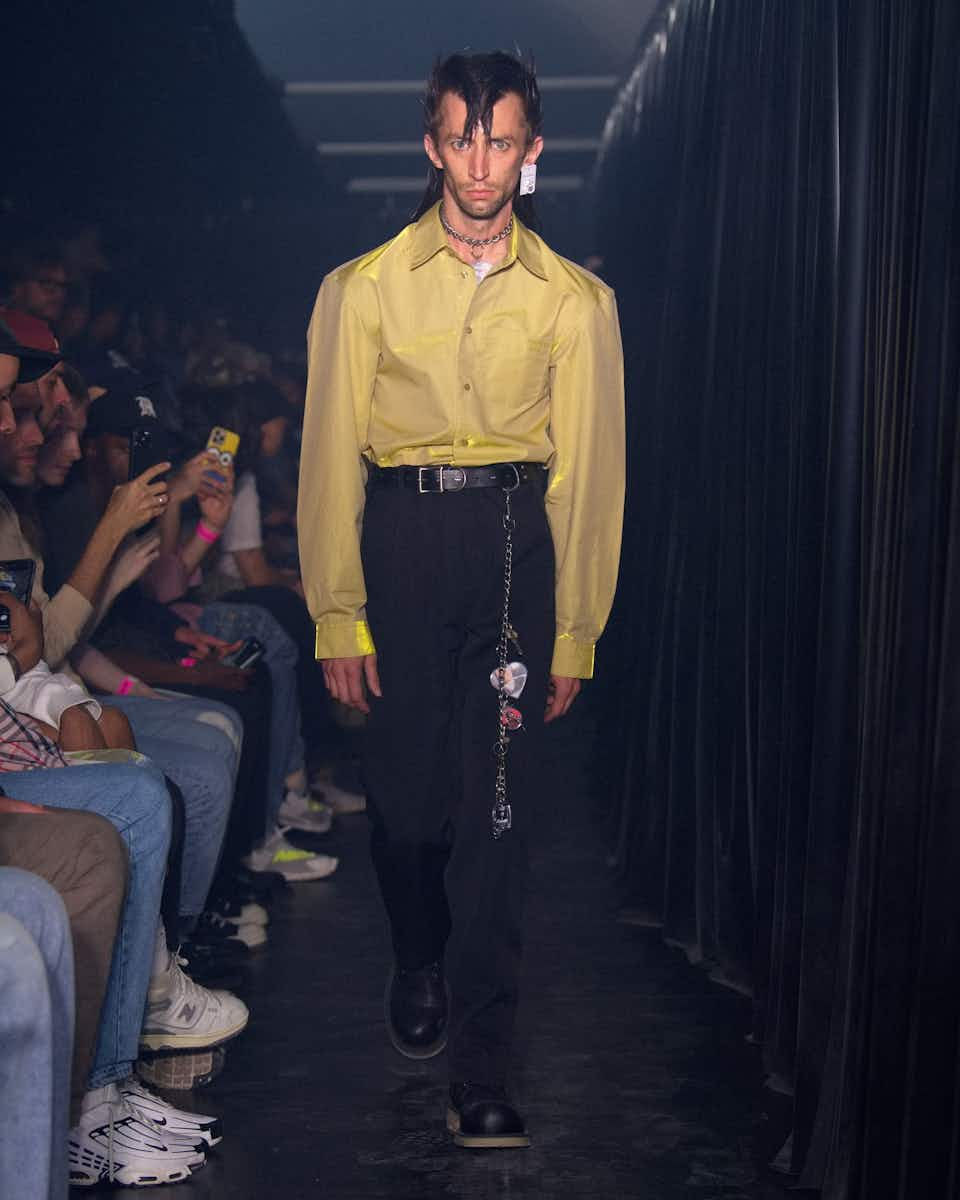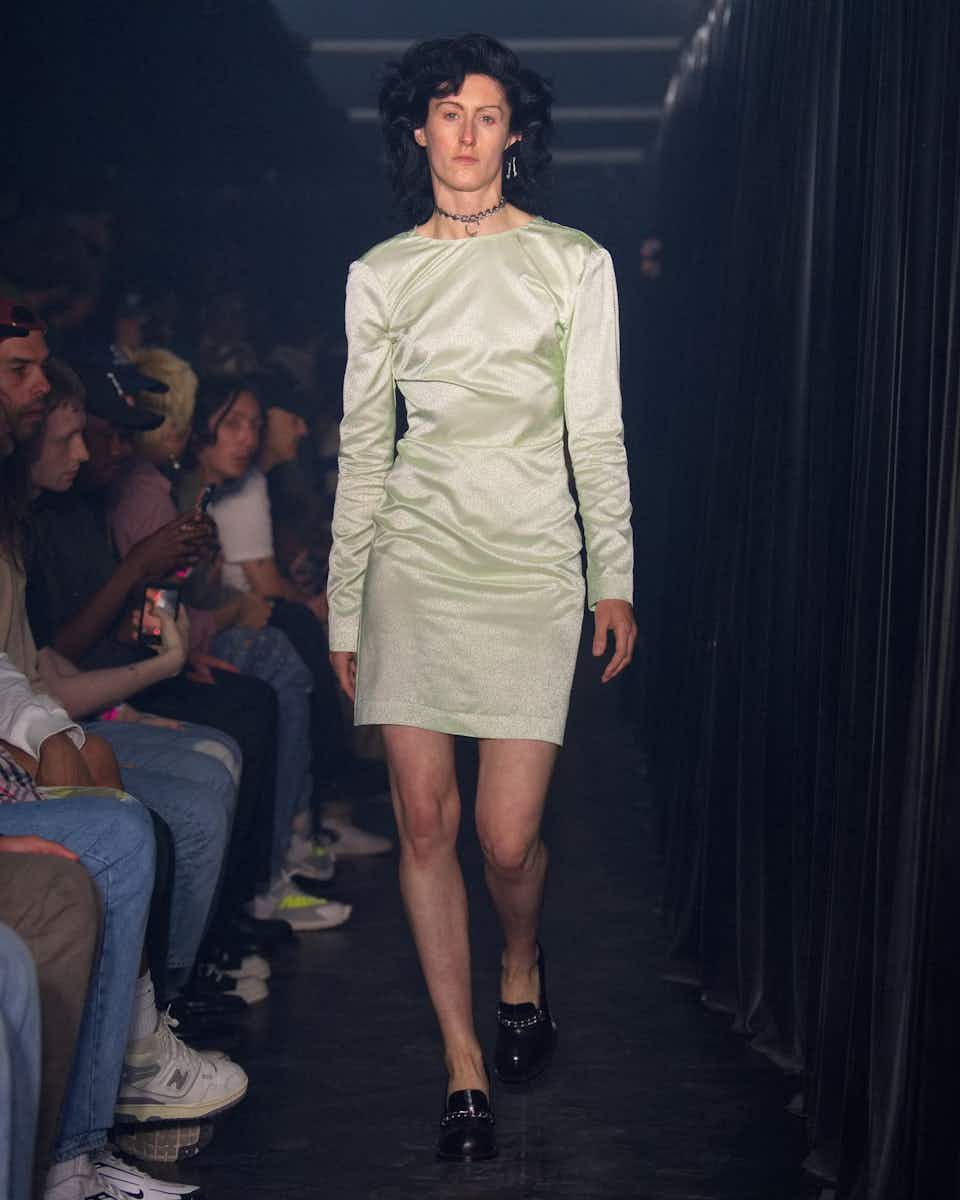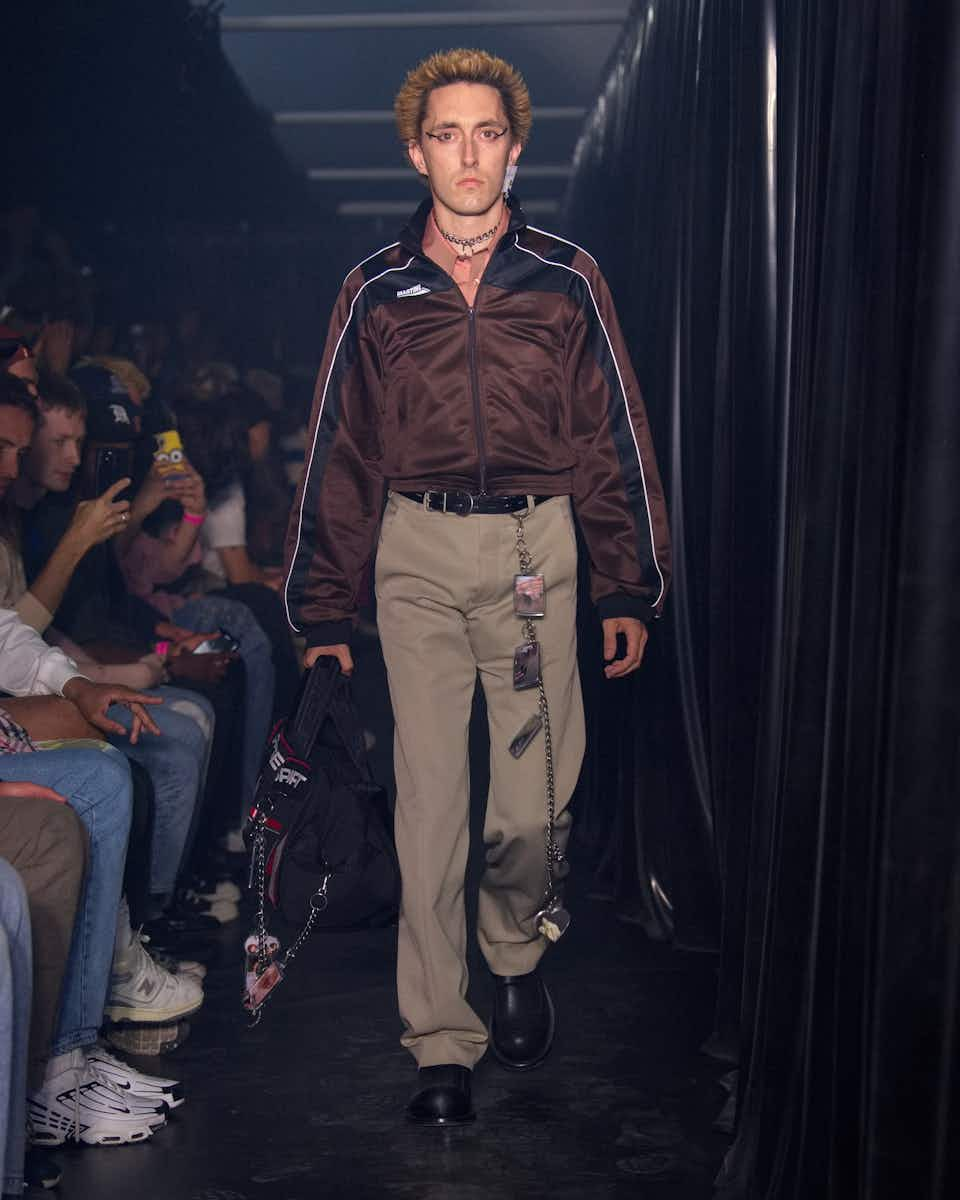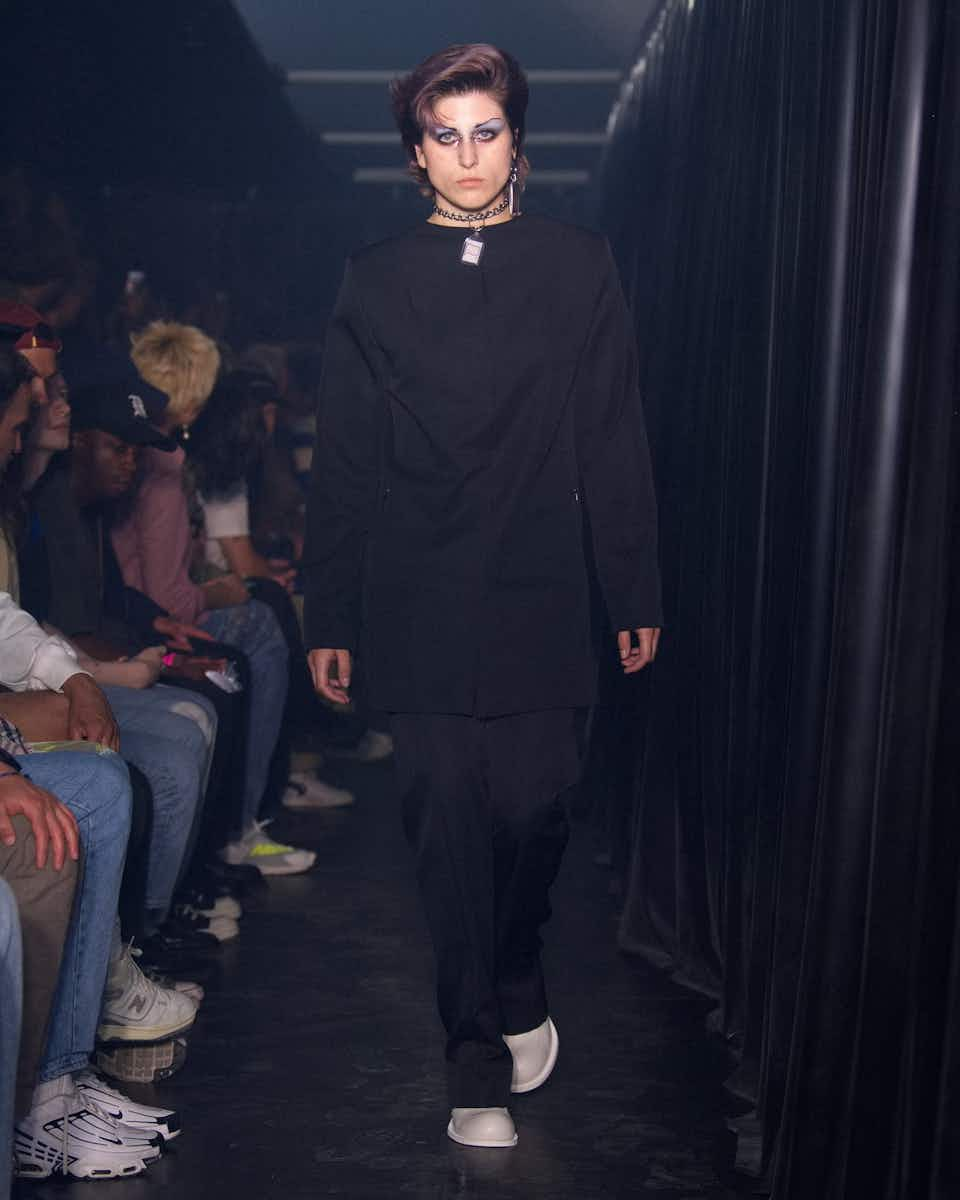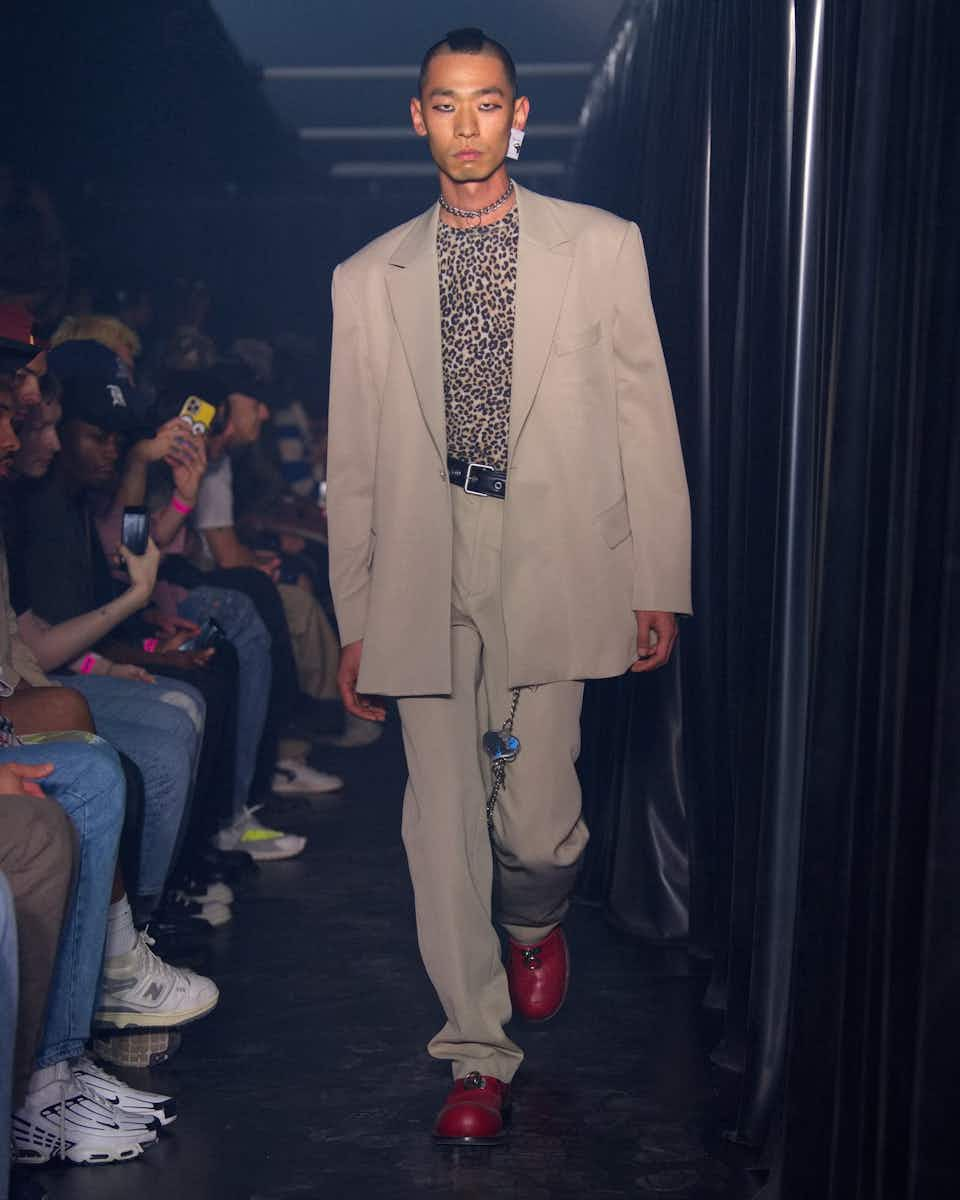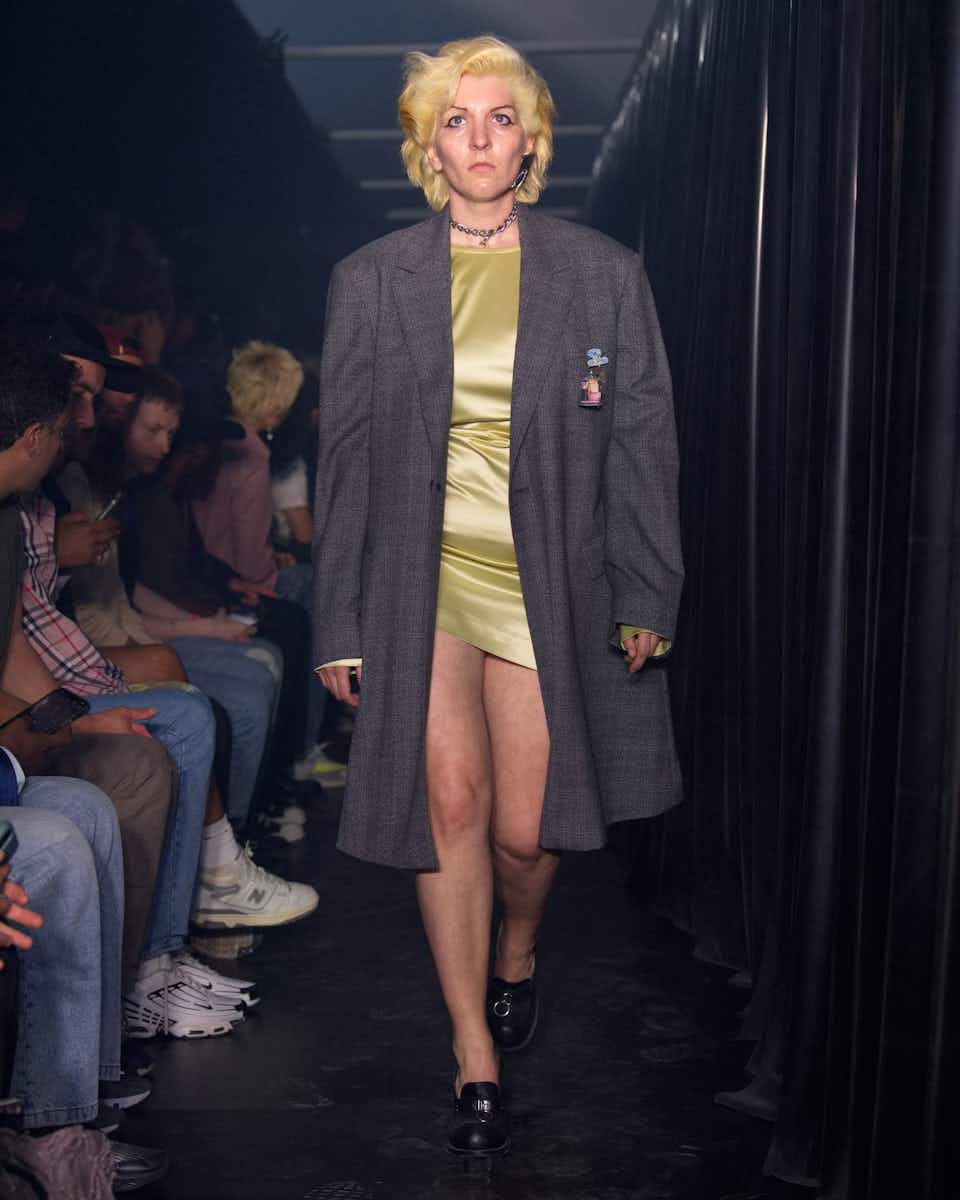 Leather jackets were cropped, hugging the shoulders as though gasping for air, and photo keyrings were suggestively hung from the zippers of jeans, provided by long-time collaborator and artist Roxy Lee, with images taken from her recent X‑rated exhibition, Cold Lunch. Bomber jackets nodded to punk styles – less ​'70s anarcho and more Bruce LaBruce – a vision of masculinity dreamt up by horny gays in the comfort of safe spaces like dirty dancefloors and red rooms. And Rose's daddy-world is reappropriated again this season, in pocketed cargo knee-lengths and trousers hoisted right up the waist, with chequered short-sleeve shirts tucked in and paired with a sexy new Nike collaboration, with the upcoming Shox MR4.

On the catwalk, Rose's family tree grew again this season, with her choice of real-life people over models brought to life by super-caster Isabel Bush. It's this trick that makes Rose's designs look brutally honest, matching characters with the sensual subversion of the designs.

Through leopard print blouses, bubblegum pink tracksuits, orange camo trousers and a shirt printed with photos of labradors, Martine Rose retains a solid friendship with the red-haired weirdos, serial strutters and those sitting in the periphery. She's the mother bear of the underground.


More like this