Everything going down at Milan Fashion Week AW20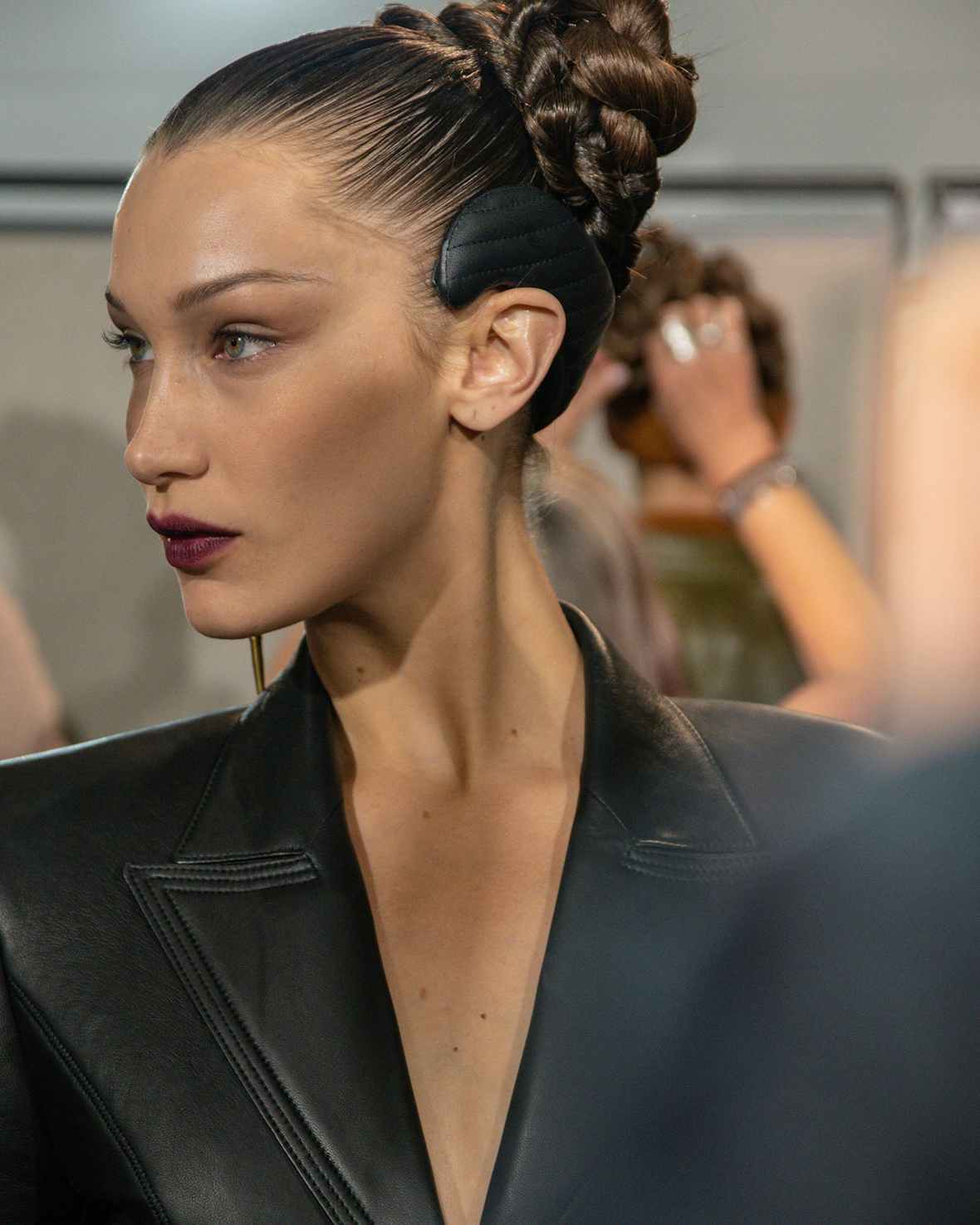 Gucci, Prada, Fendi, Moschino and Marni, Iceberg, Versace, MSGM, Bottega Veneta and GCDS.
BOSS AW20
Boss' AW20 ​"Generation" collection was a future-facing trip through the house's sartorial codes. Ultra-modern power suiting reigned supreme: boxy blazers teamed with box pleat skirts and extra chunky boots, a super-soft black leather men's suit and a blazer decorated with statement fringing (Prada, Bottega Veneta and Boss – three's a trend! Paris, we're looking at you). The show space was an intoxicating shade of Parma Violet-lilac – a shade that appeared in the collection in the shape of wool overcoats, crisp shirts, a padded bomber jacket, a belted, silk tasseled dress and as a three piece suit that closed the show. The stand out pieces? Tangerine leather trousers and a number of seriously good honey-beige coats – as ever, outerwear is something Boss does best.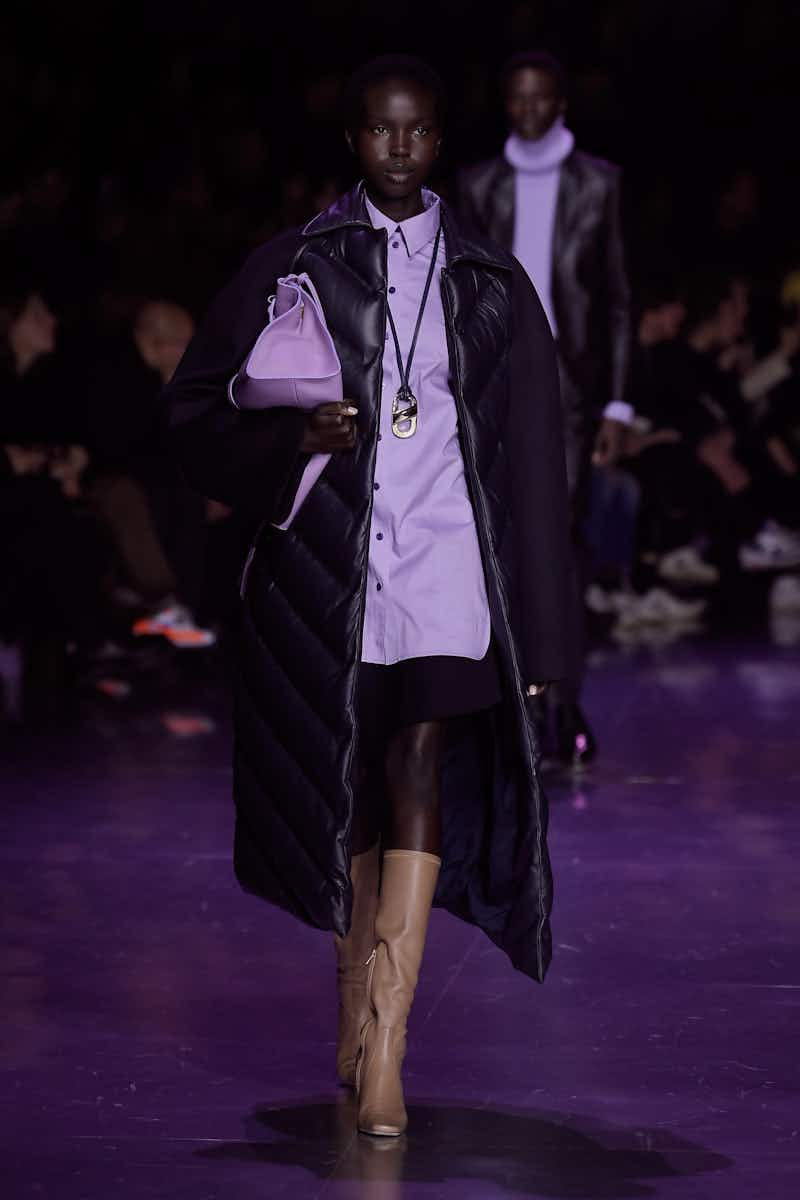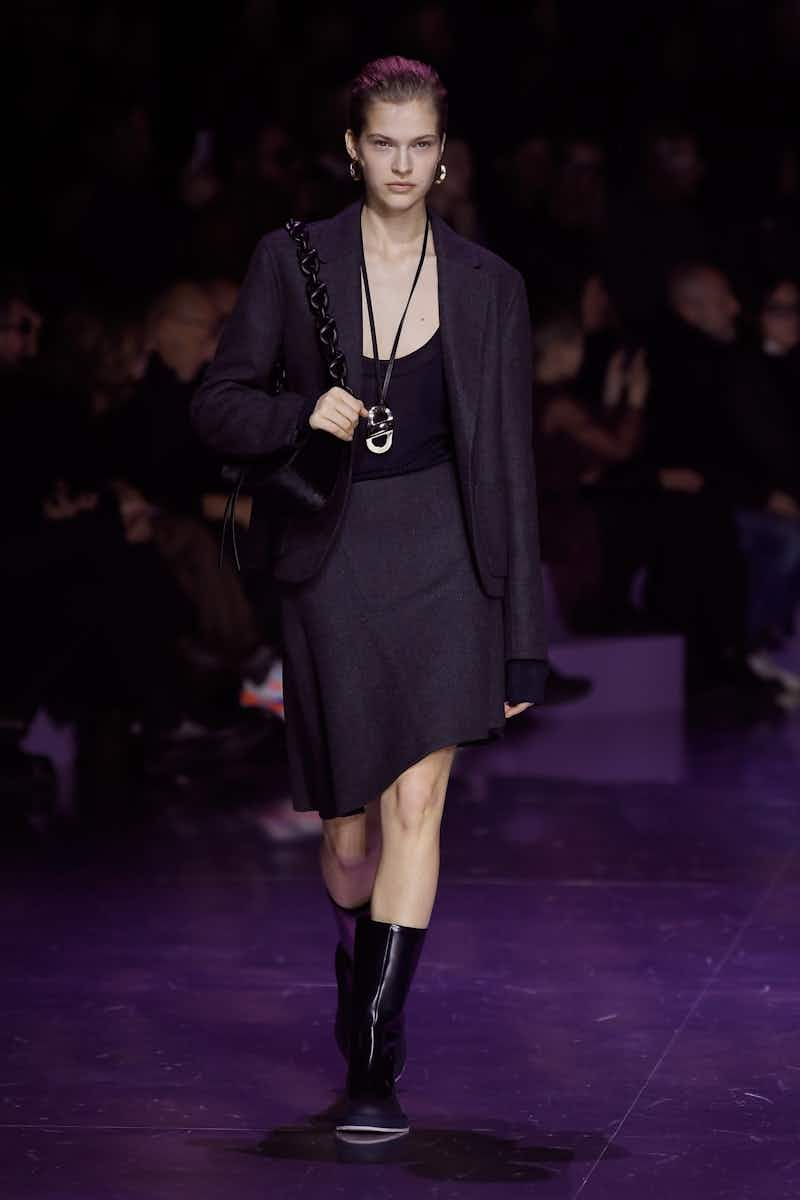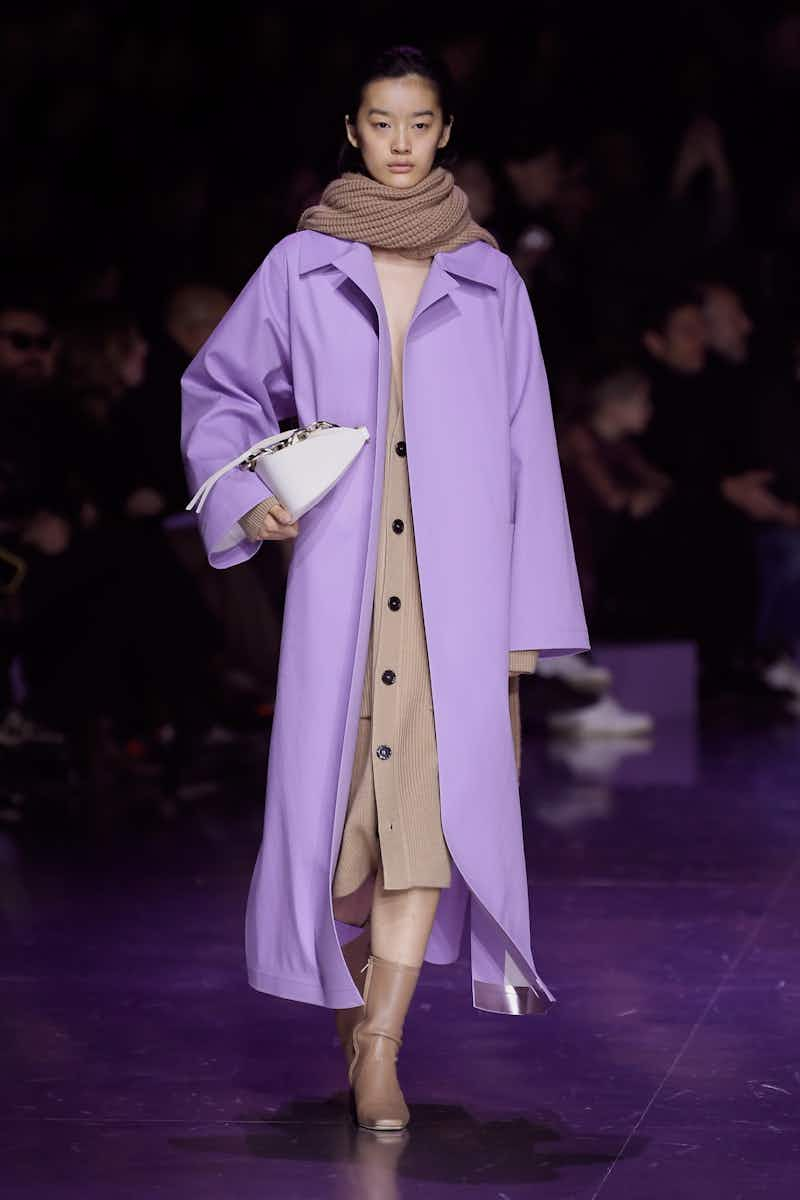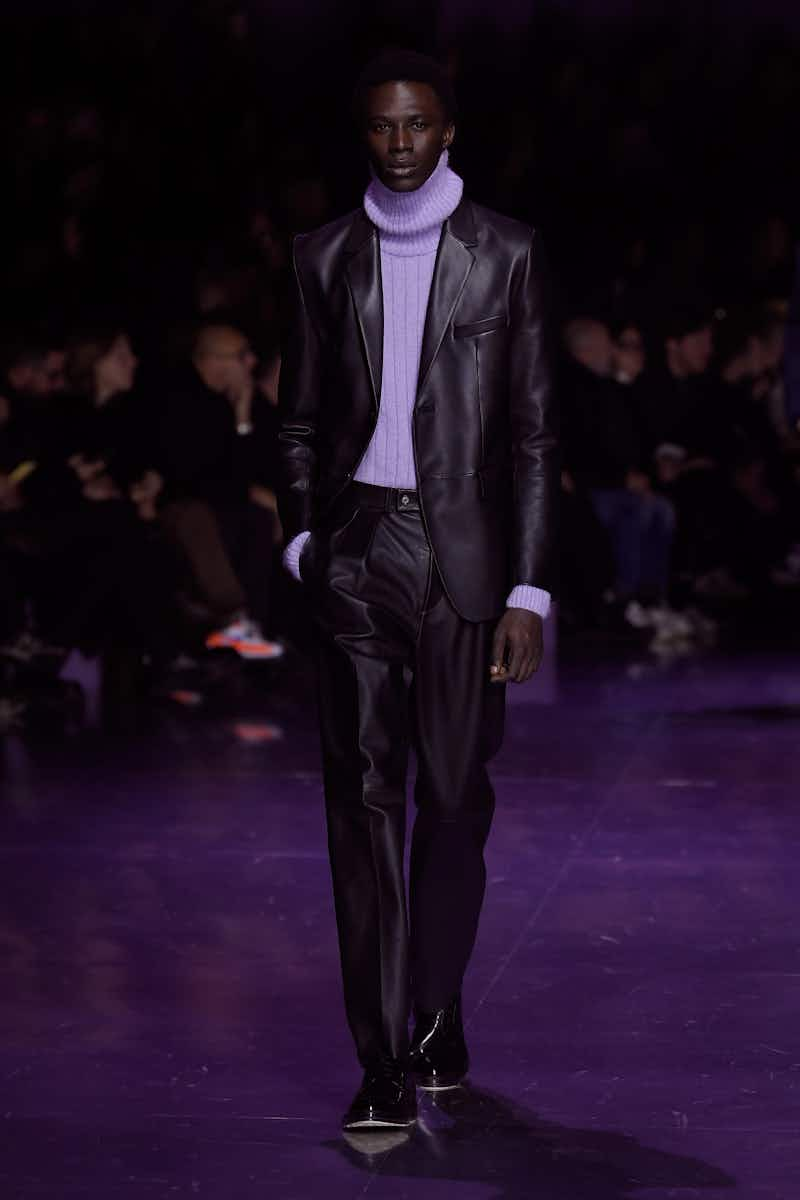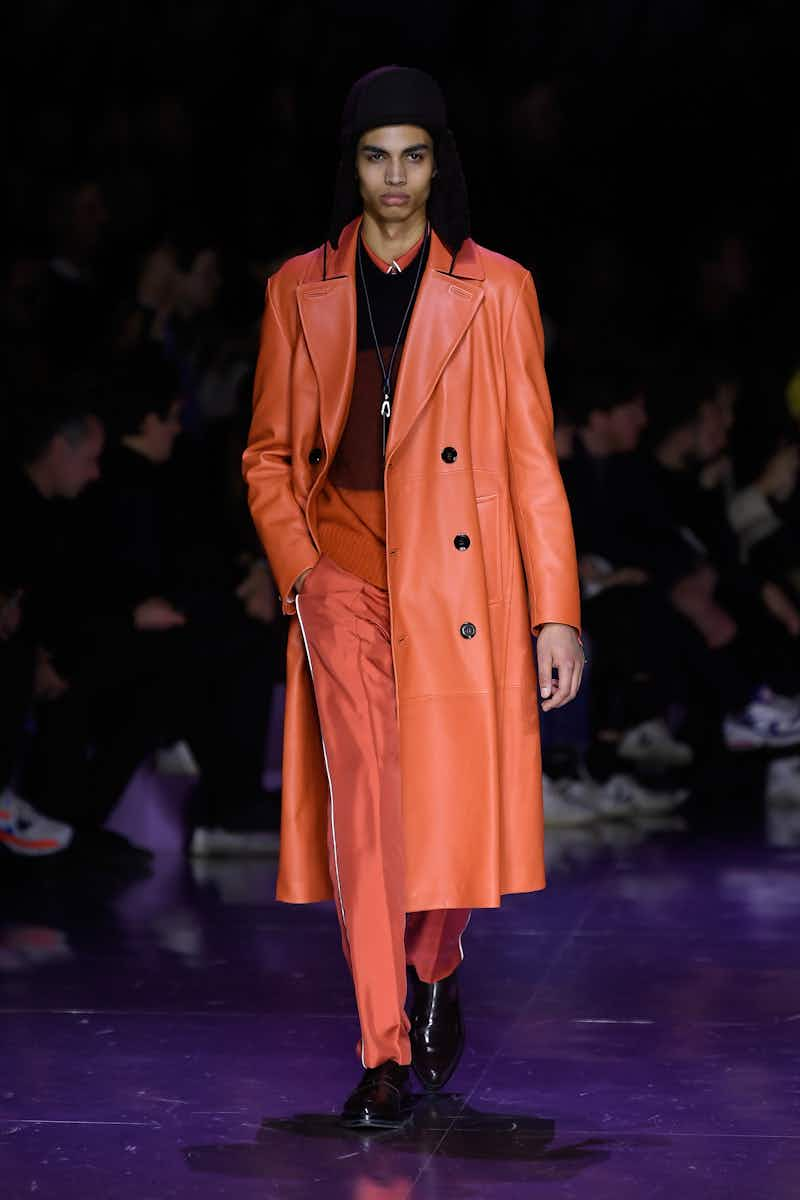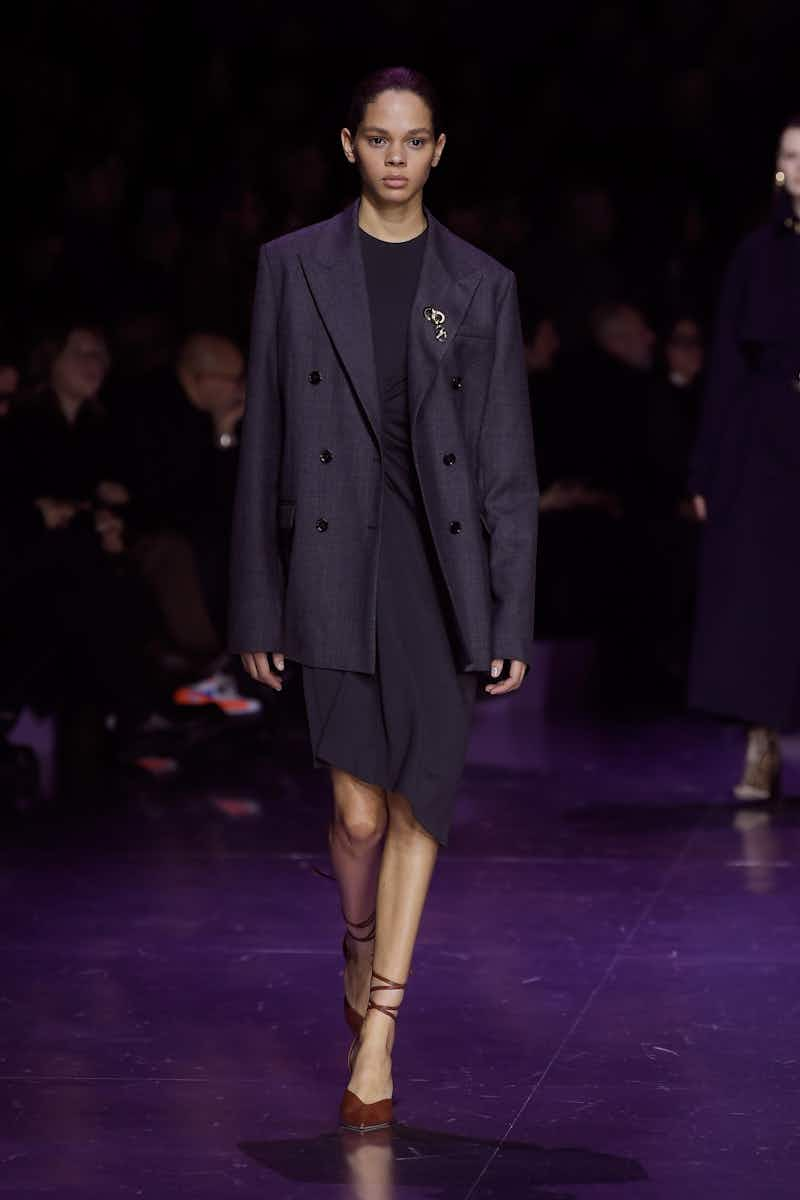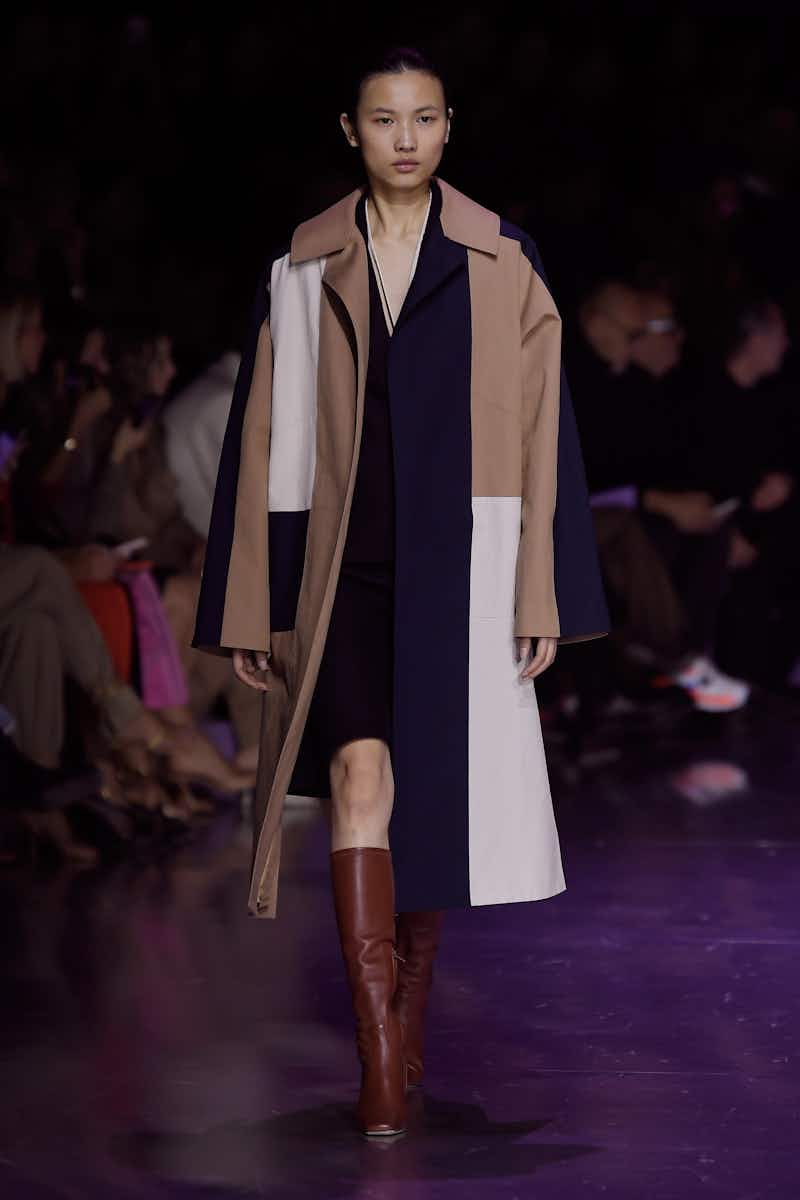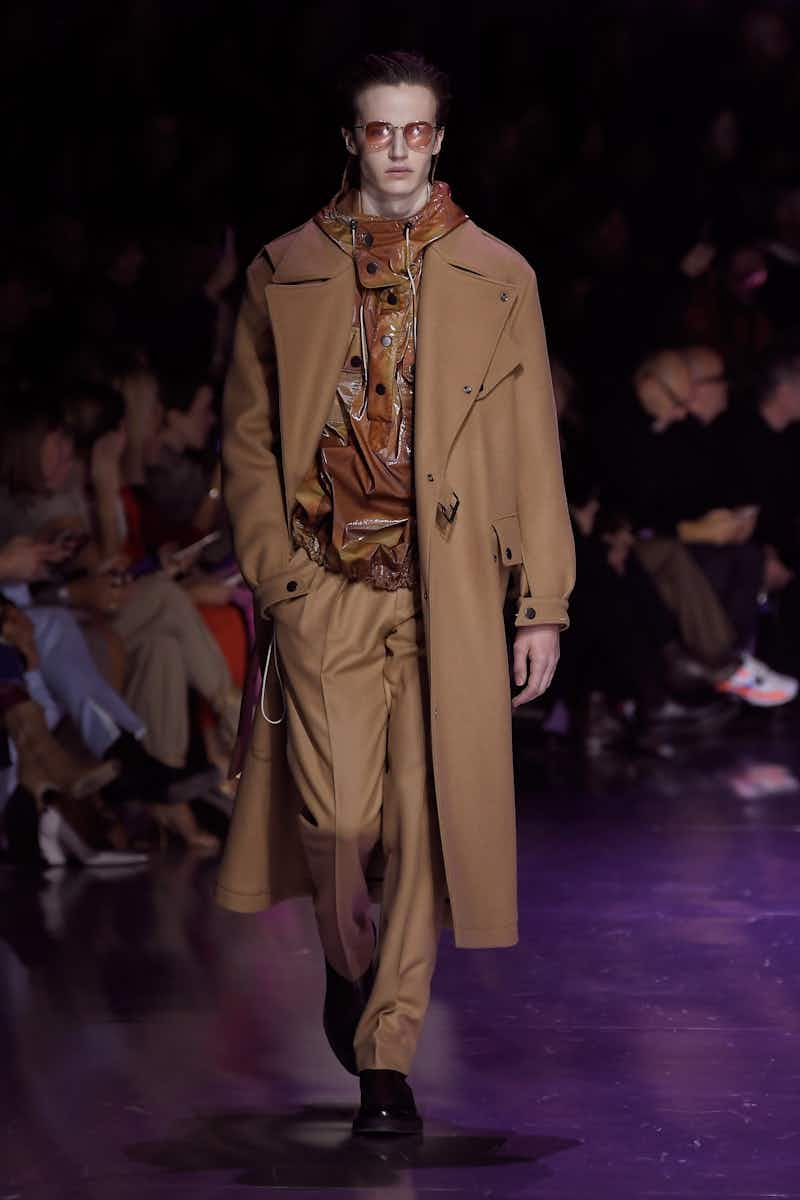 What did it sound like?
The sound of a live orchestra performing a piece entitled Down to Earth, composed by Henry Scars Struck, filled the purple show space at Social Music City, Milan.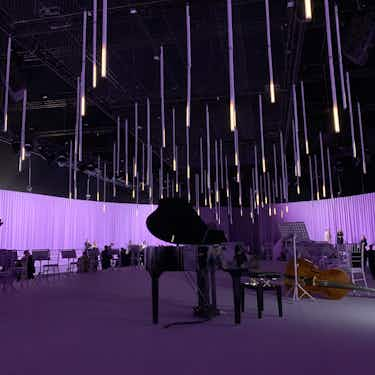 Listen now:

Via Giovanni Lorenzini 6
GCDS AW20
GCDS, Milan's homegrown loud-and-proud label, took over Milano Centrale Railway Station for their AW20 show, transforming the space with soft lighting and Grecian statues with three boobs created in collaboration with artist Jam Sutton. This season, brothers Giuliano and Giordano Calza dived deep into the shapes and silhouettes of the ​'80s and ​'90s when designing the collection: big shoulders, low waistlines, long coats, flared pants. There were further elements of nostalgia too – a purple velvet dress conjures memories of childhood gymnastics leotards, while pedal pushers were paired with cropped mohair jumpers. The stand out looks? A silk embossed patchwork coat worn with a baby blue harness and a printed jacket with an exaggerated tangerine faux fur collar.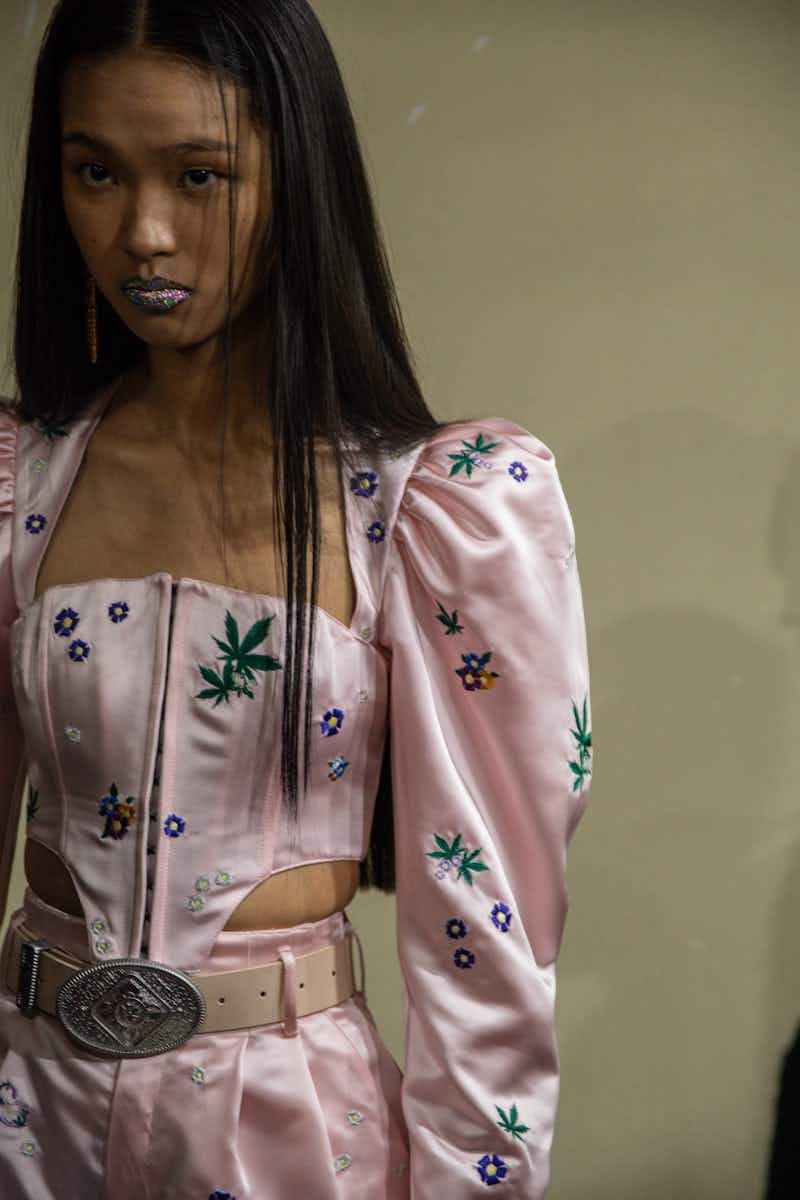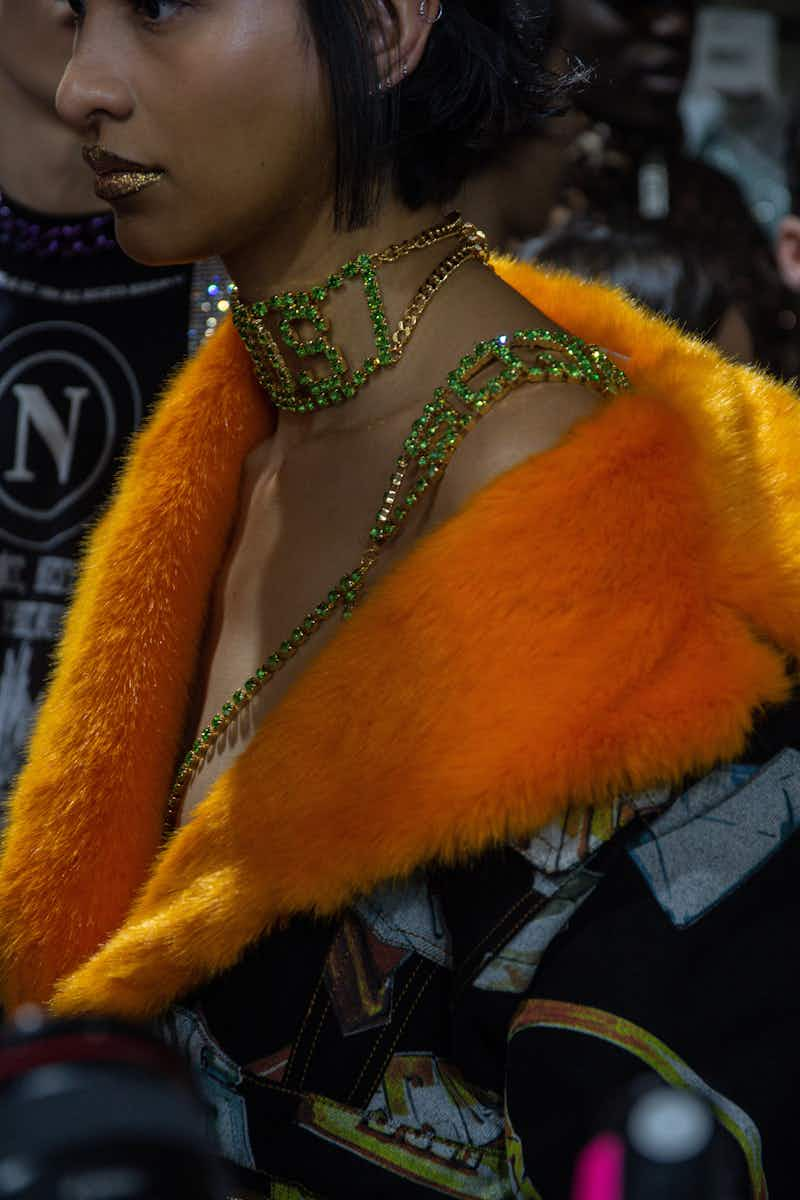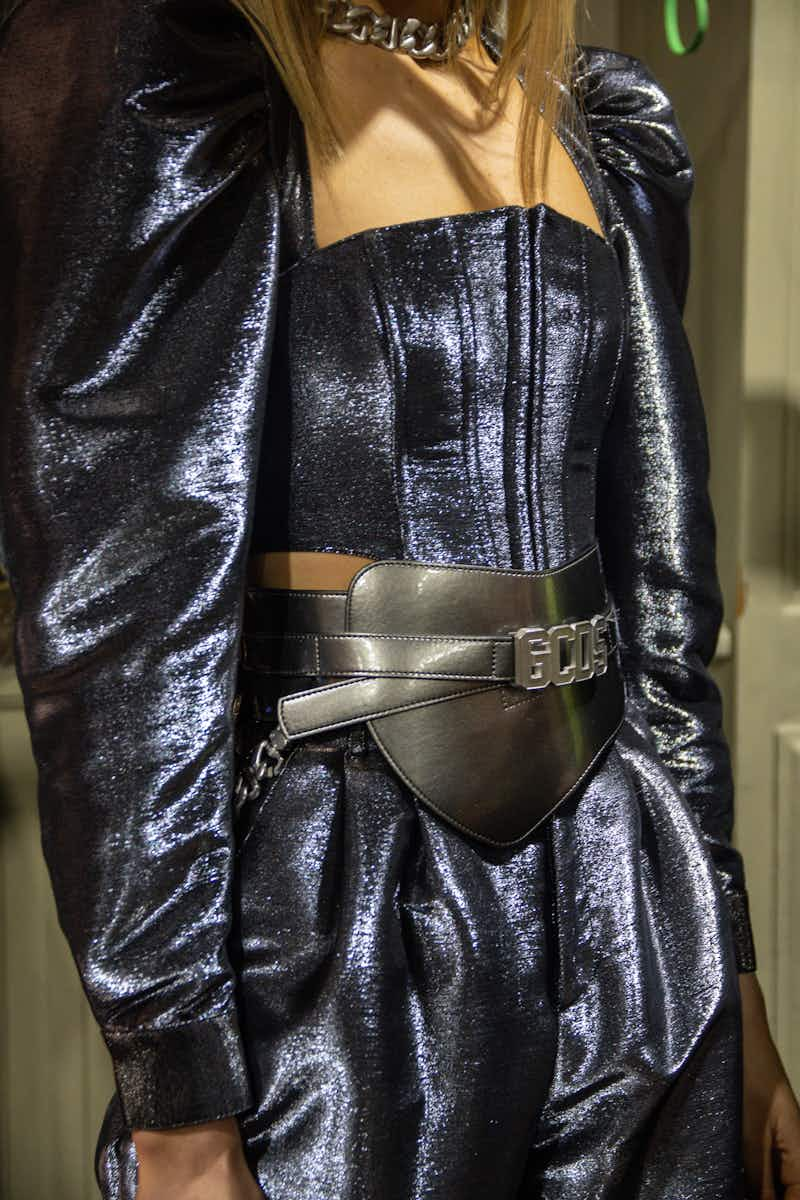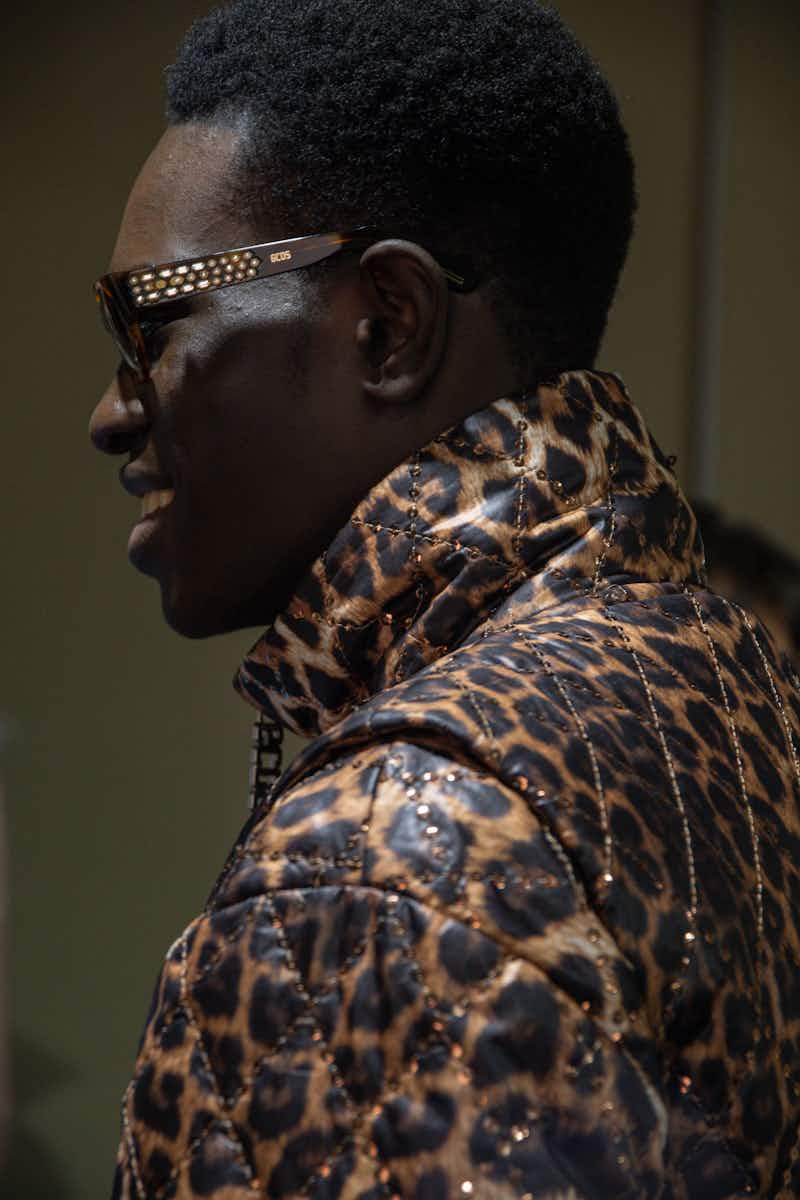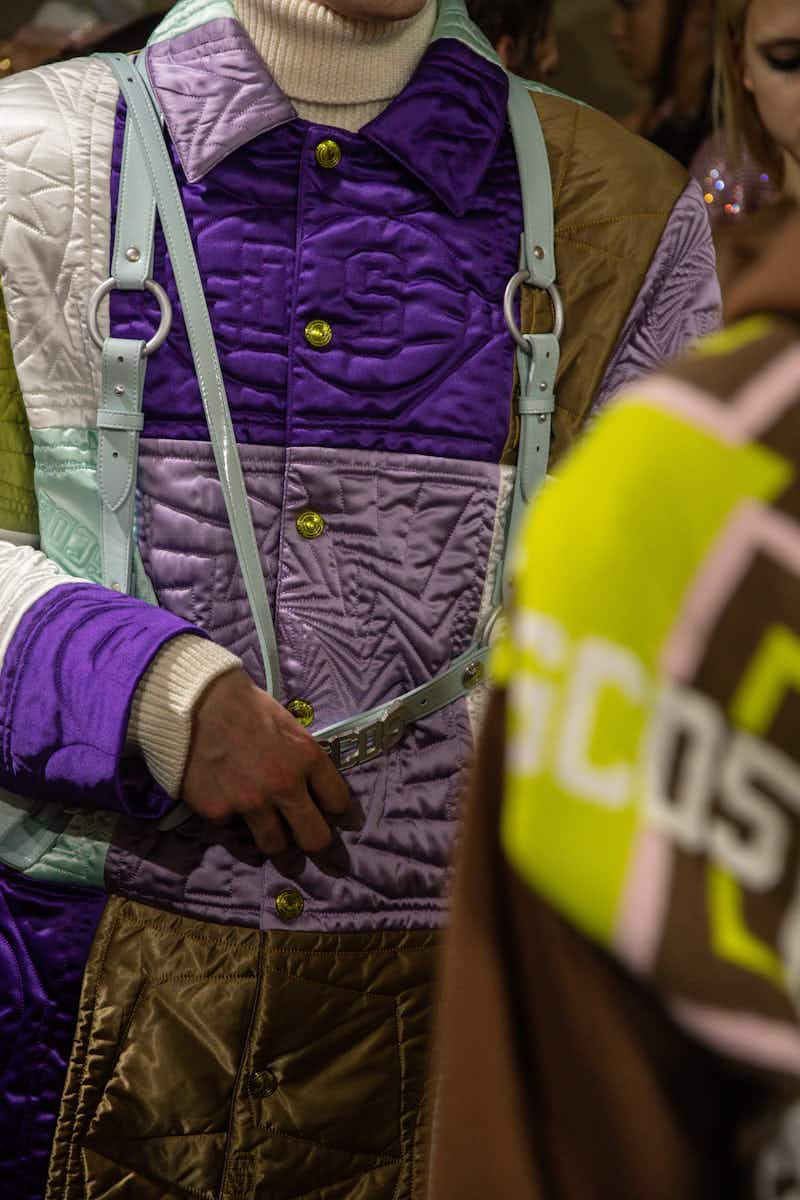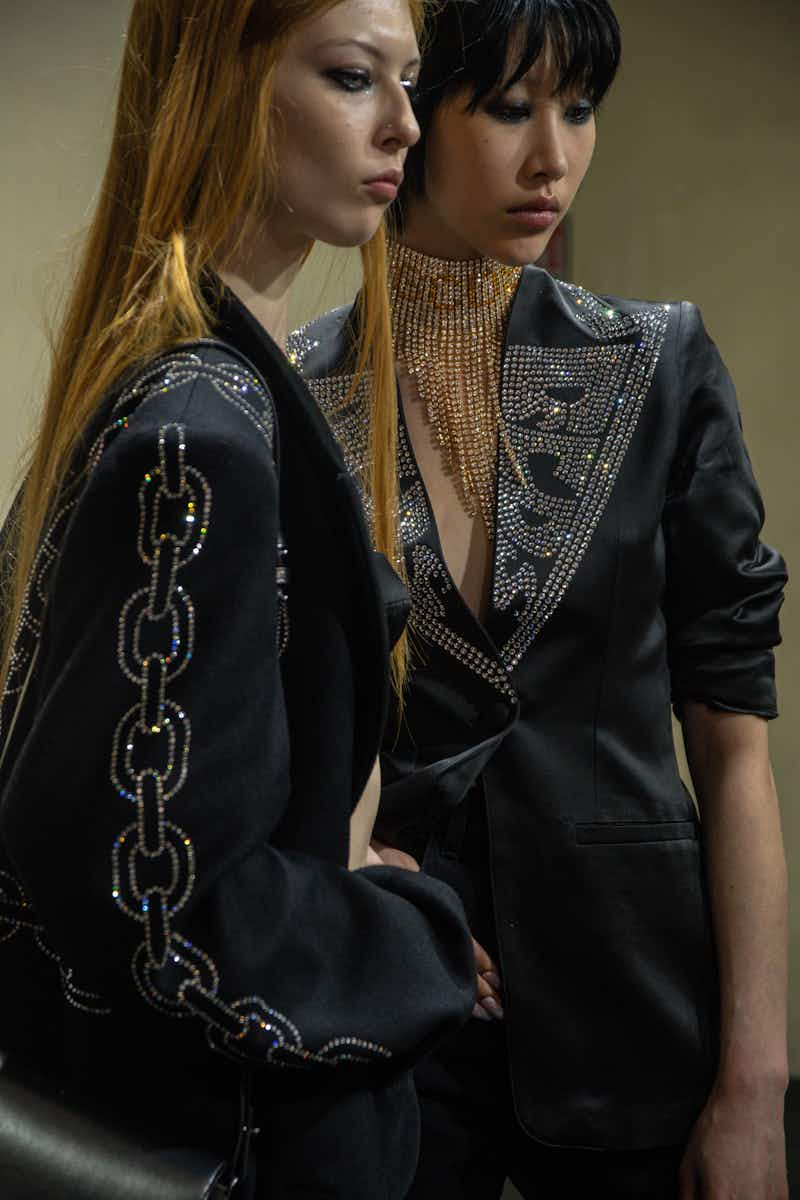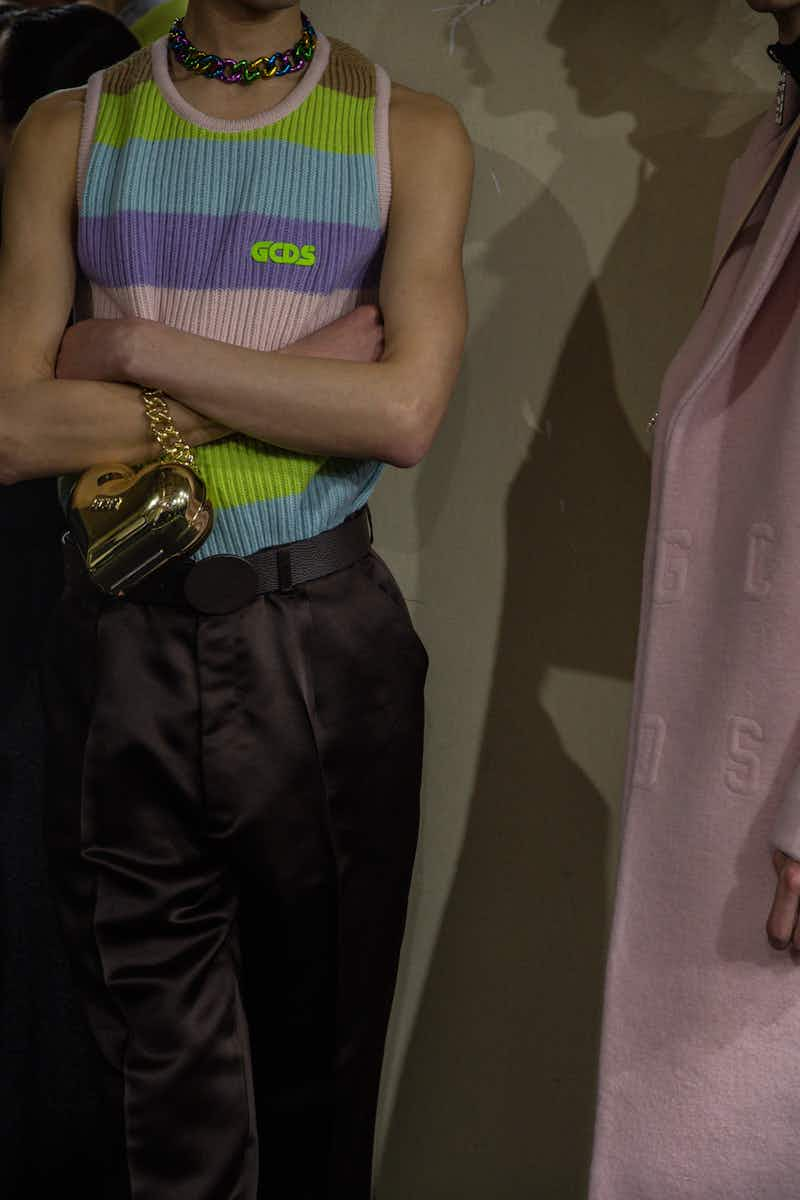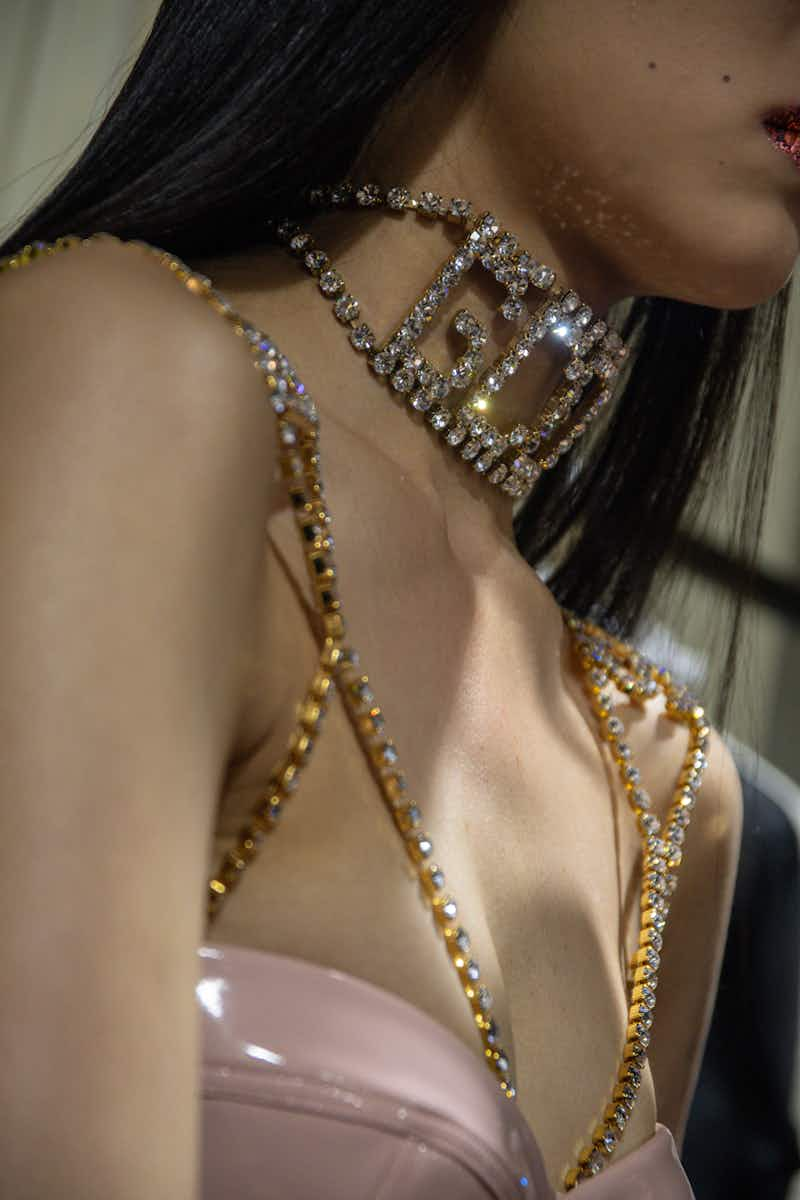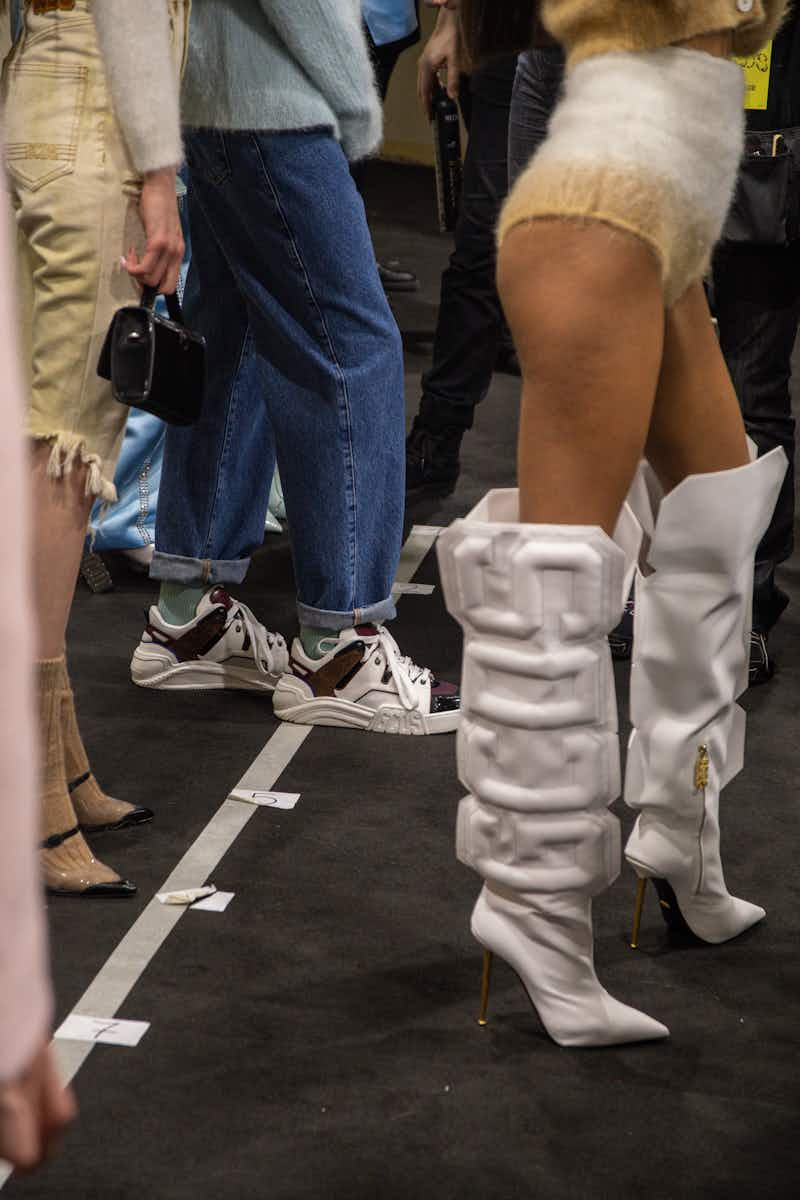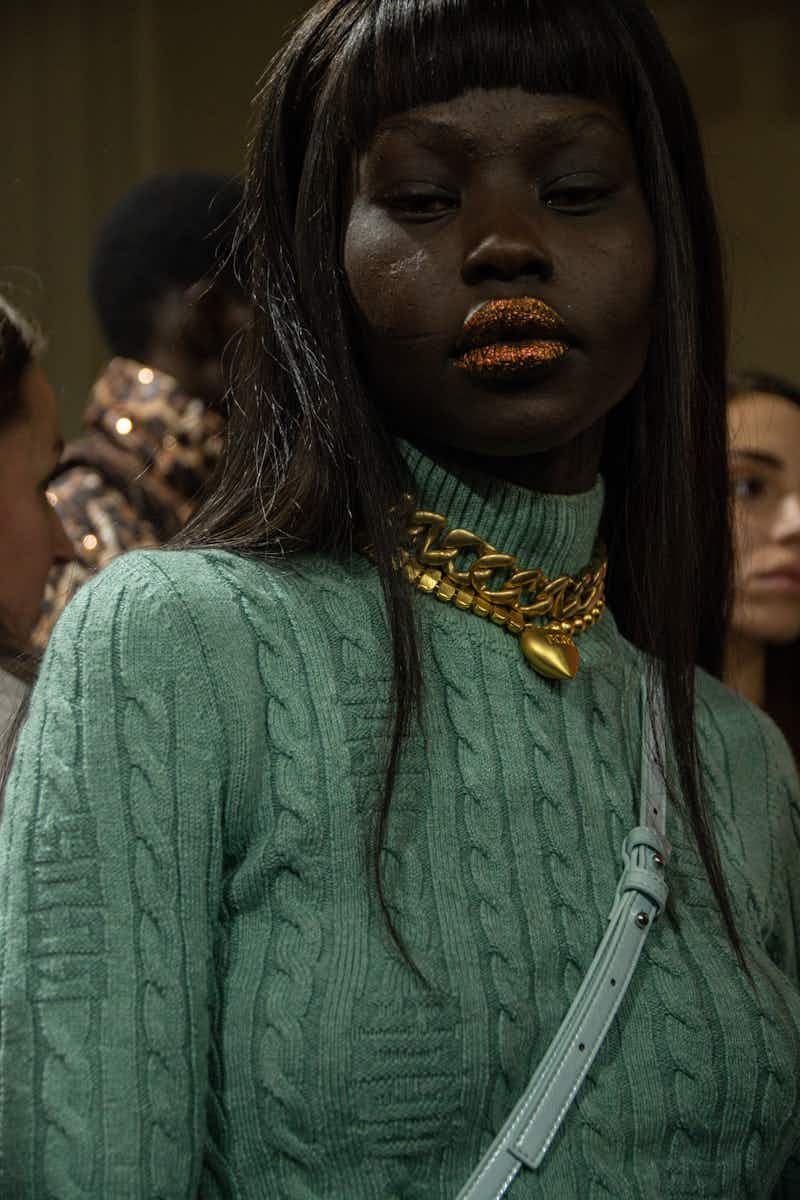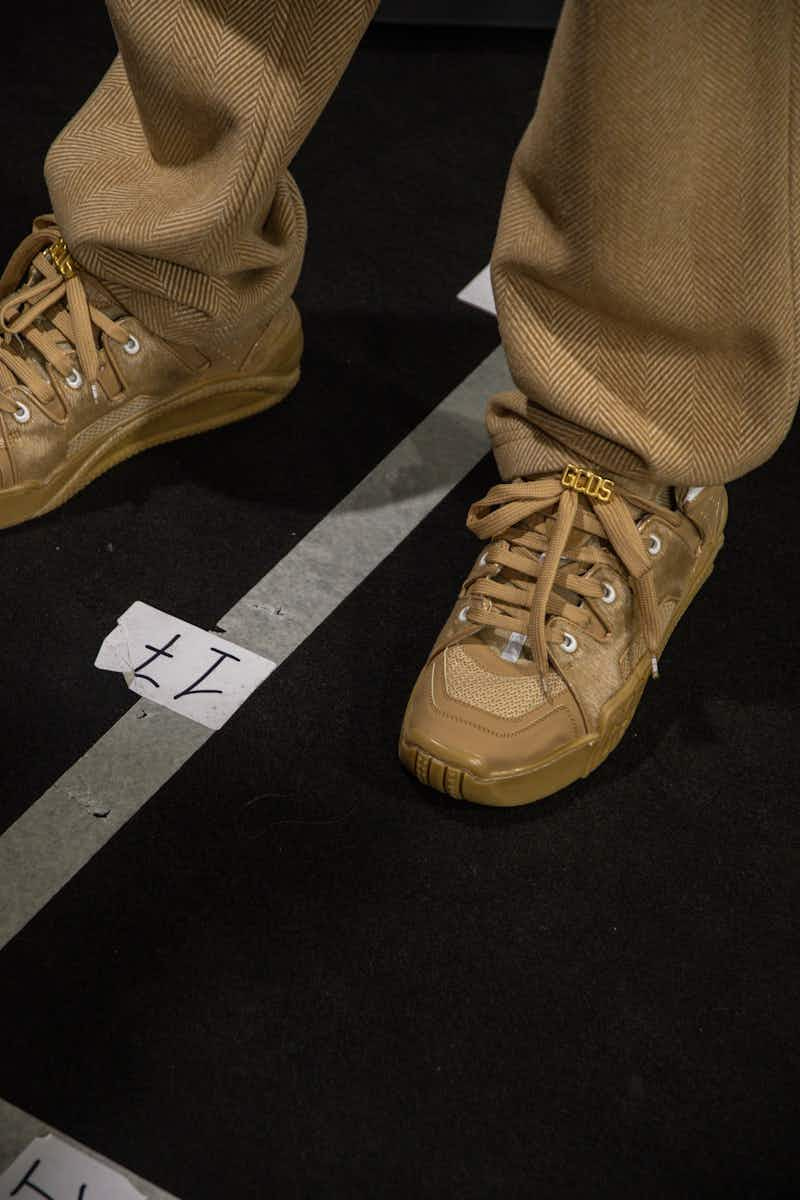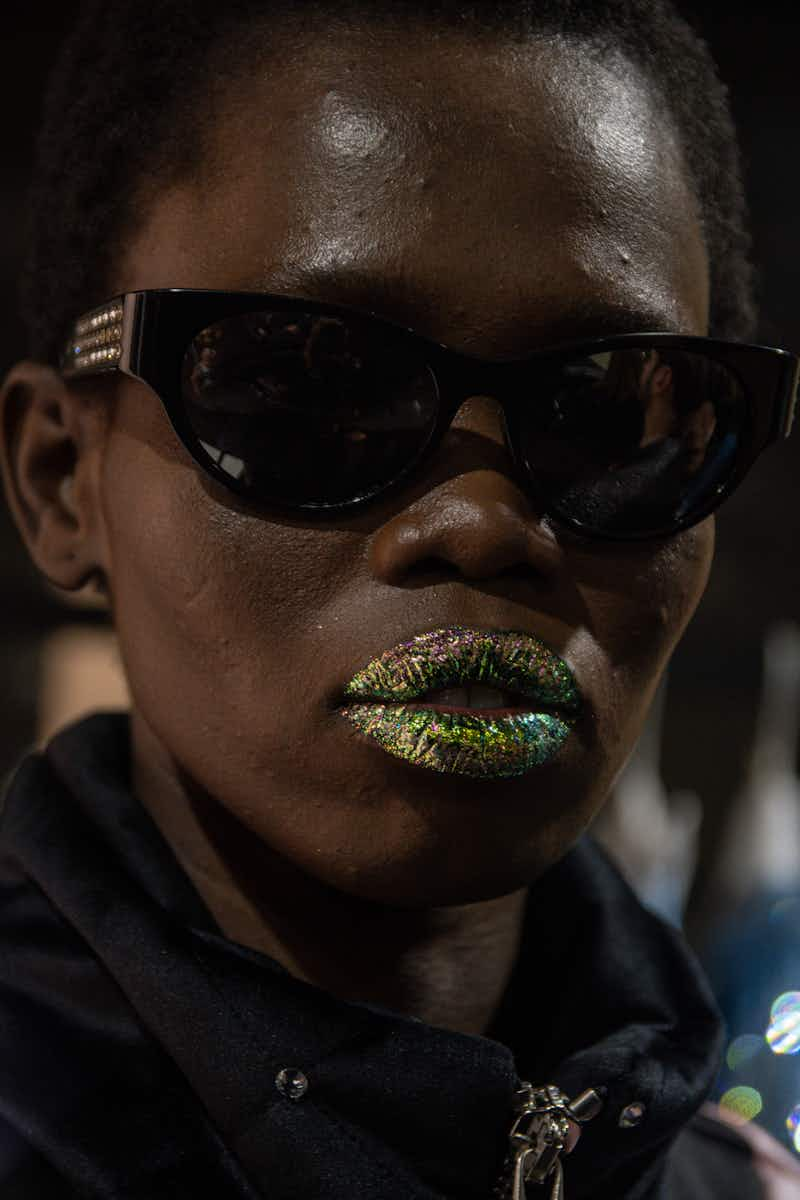 BOTTEGA VENETA AW20
Daniel Lee's third runway collection cemented what we already know: Lee is the one to watch. He was thinking about movement for AW20: ​"We really wanted to do something that felt a lot more emotional," says the designer backstage. ​"That's how the fringing came about – the elongated silhouette. I was thinking about movement, stretch and the body and how structured tailoring or a coat could occupy that space between the super formal and, what I think has been so prevalent in fashion, which is very much ​'street'."
Ribbed-knit dresses, a woven intrecciato leather sleeveless coat, precise tailoring, a heavy gold chainmail top, shimmering evening gowns, a slim-fitting suit with that flashed a lime-green knit worn beneath (as seen on Kaia Gerber) and rhinestone-studded jeans all found their way into understated, yet luxurious, collection. ​"It's about things that allow you to be very elegant and done up, but at the same time very comfortable," says Lee. It's Lee's ability to shapeshift something classic and familiar into something that feels entirely fresh that informed the stand out looks: chunky fringed shearling coats and explosive fringed trousers that resemble spinning car wash rollers. When it comes to the accessories, the futuristic rubber boots, bugish glitter sunglasses and intrecciato shearling bag, finished with long tassels, are set to be instant sell-outs next season.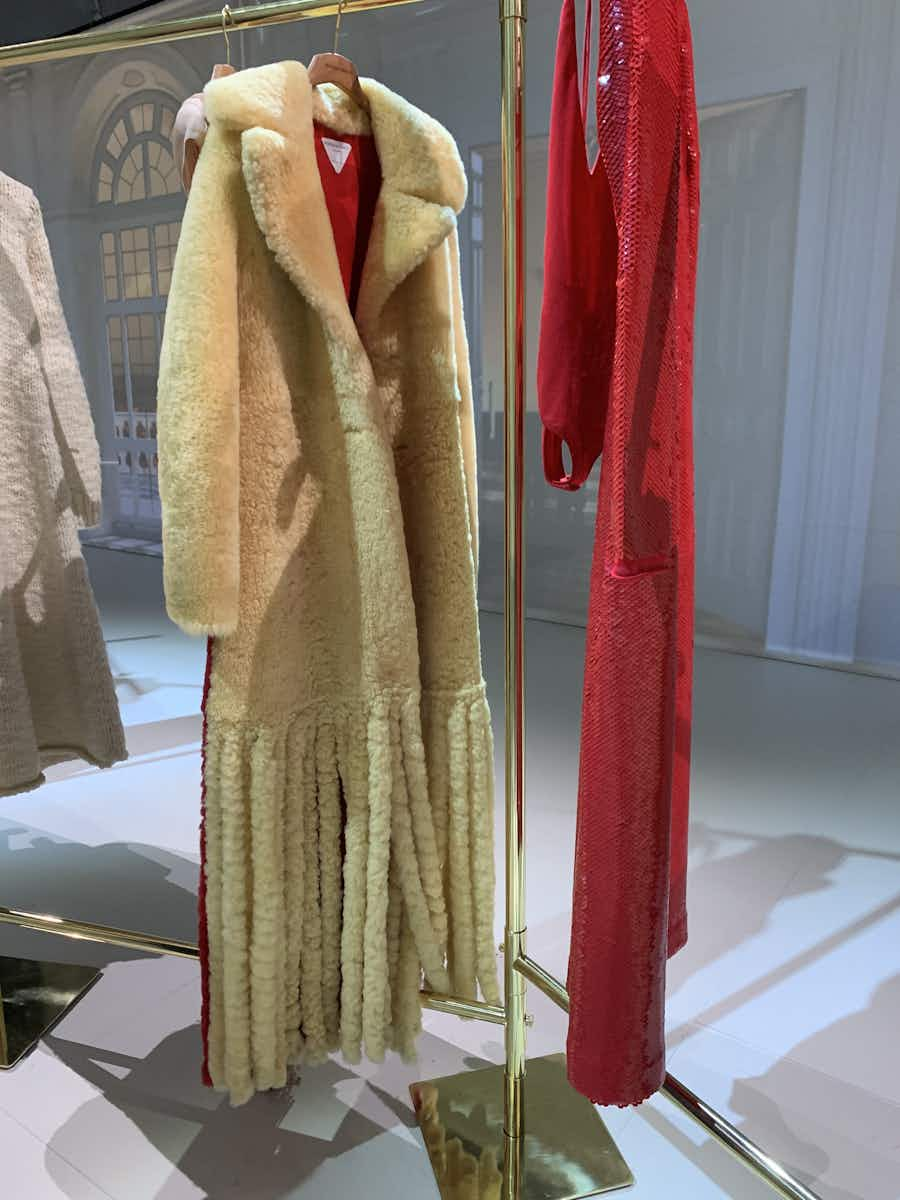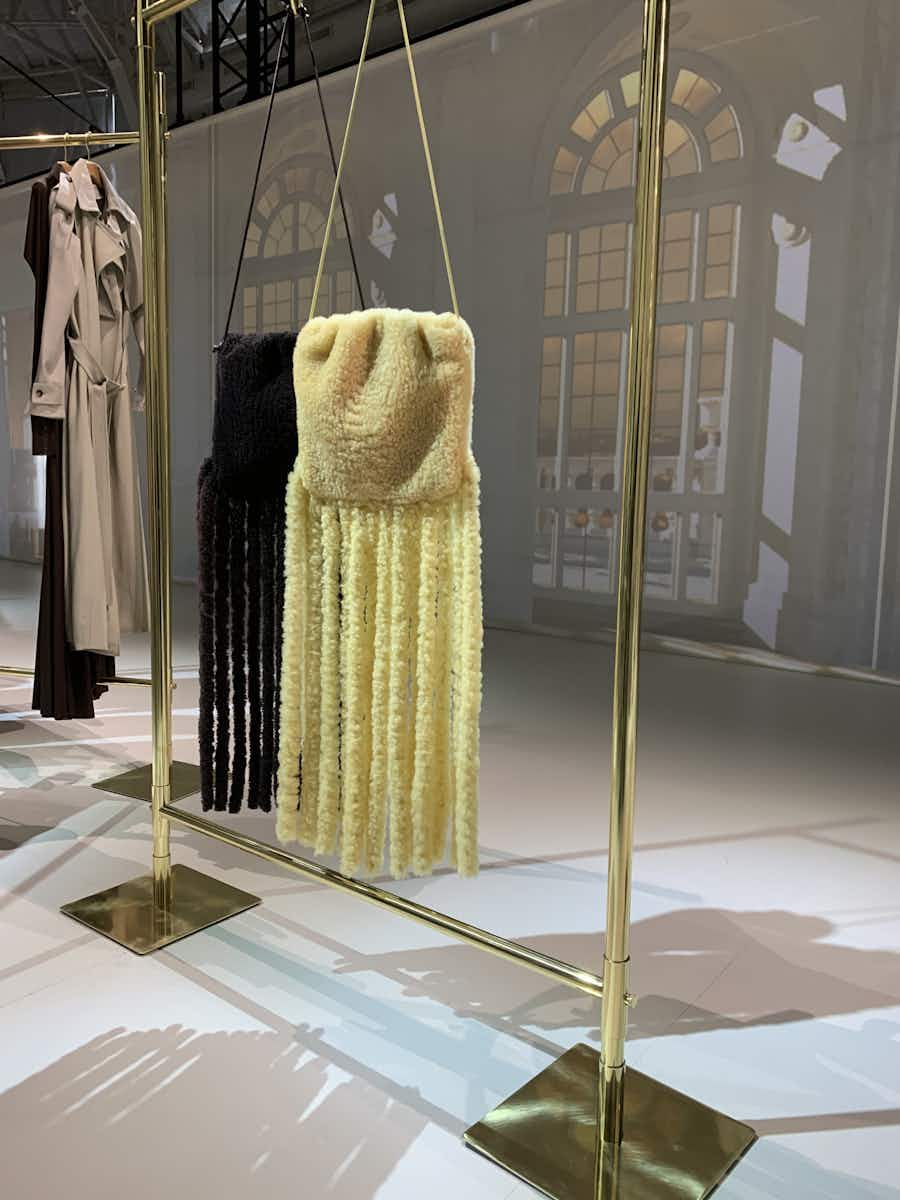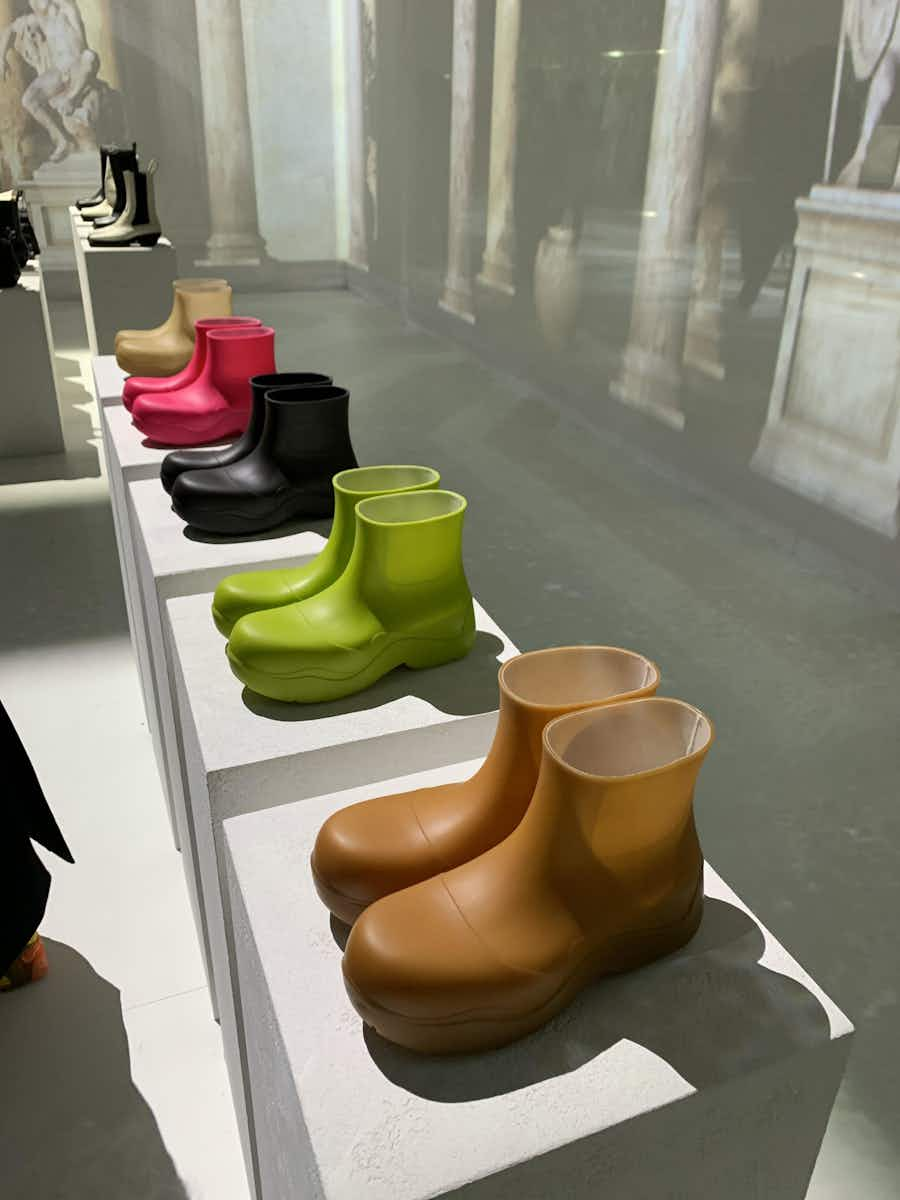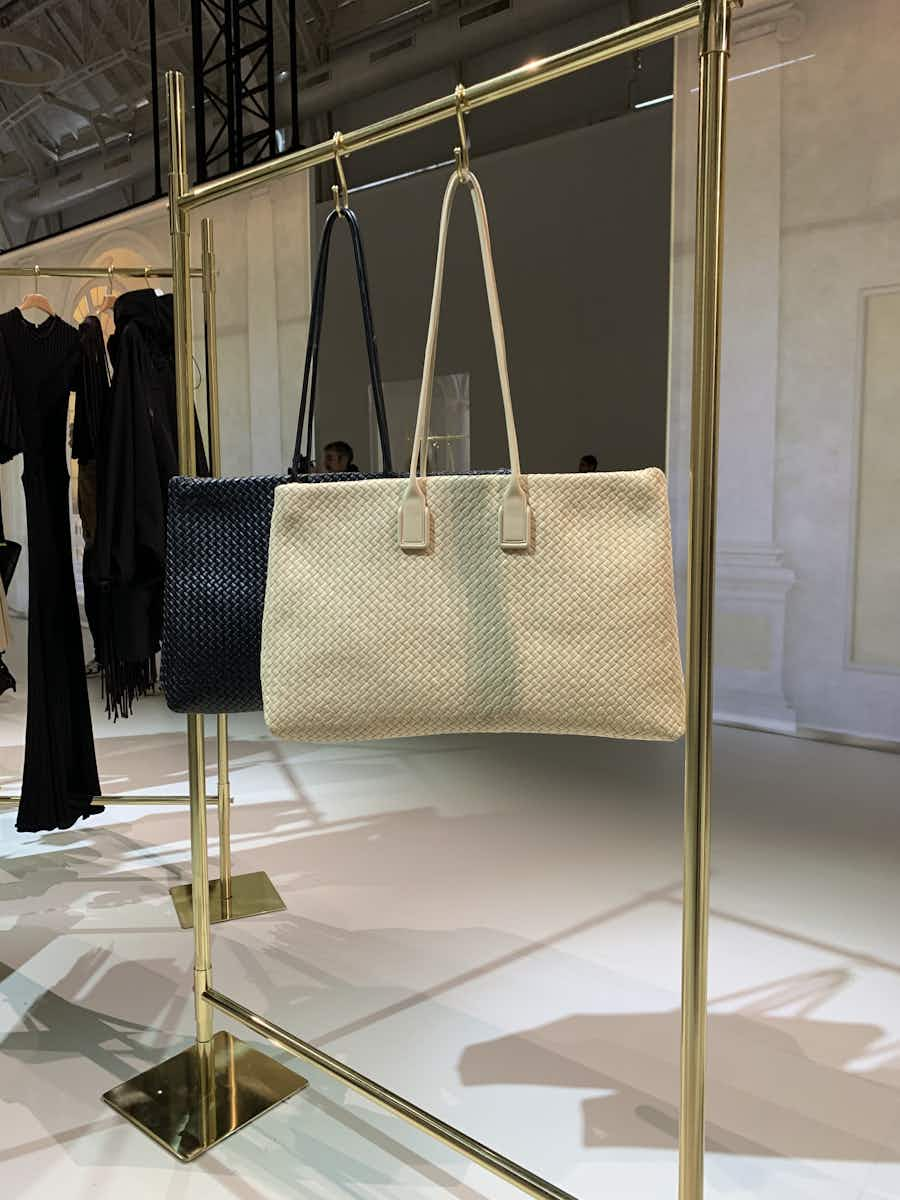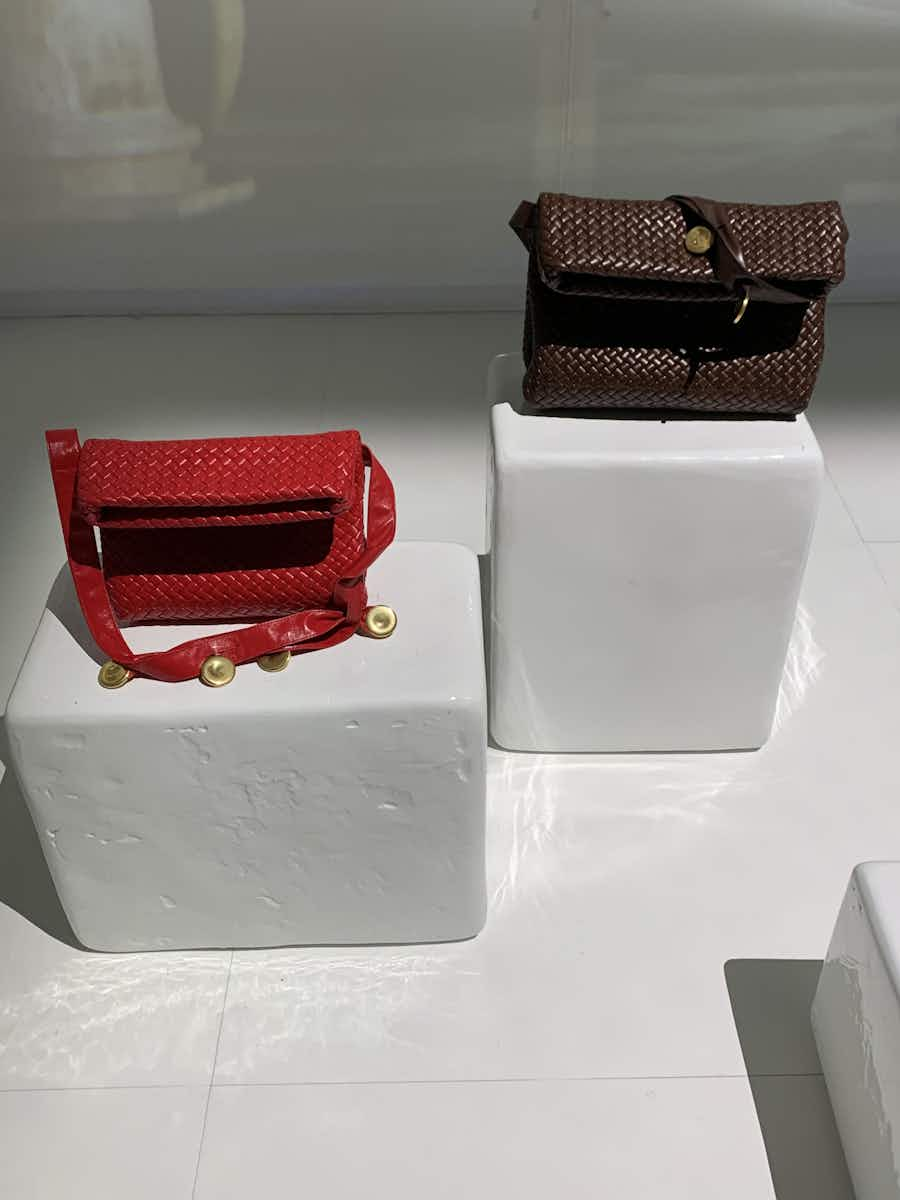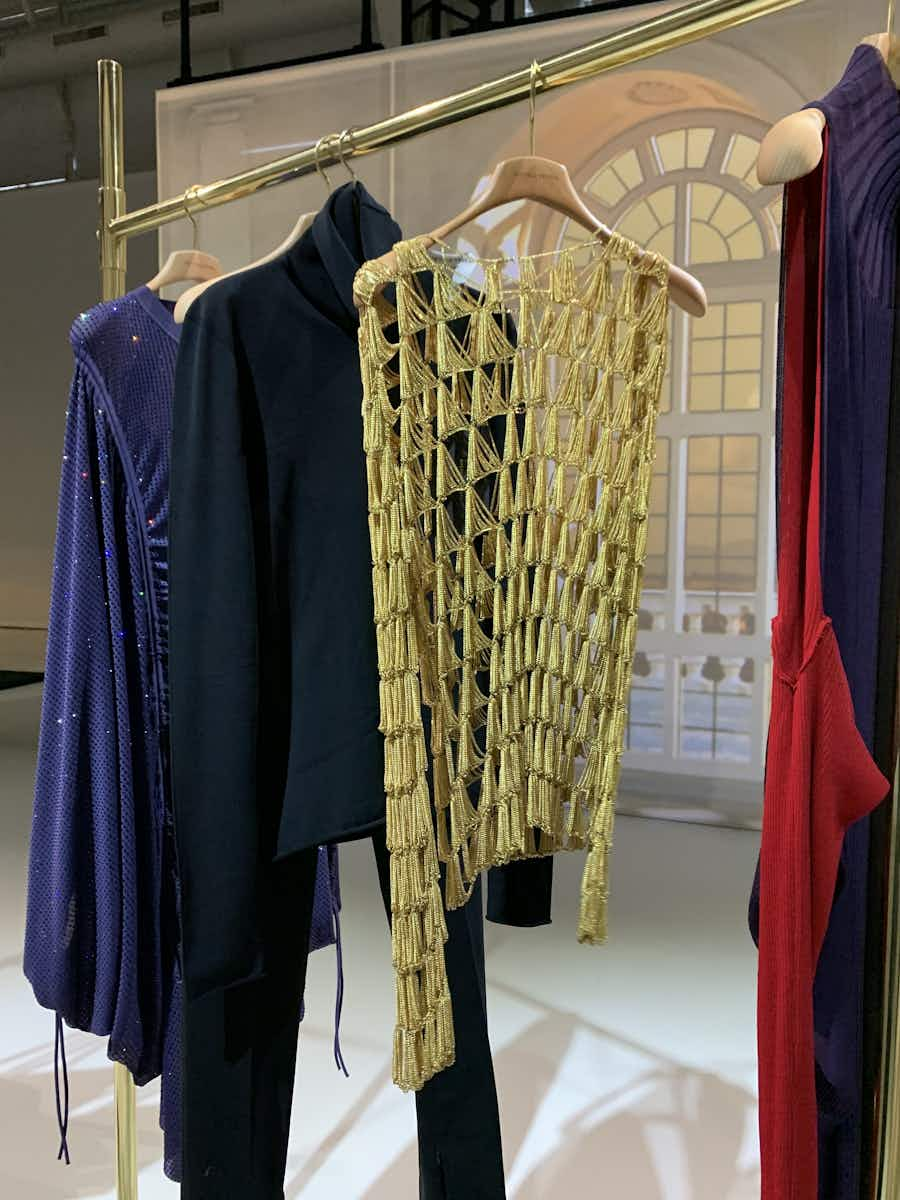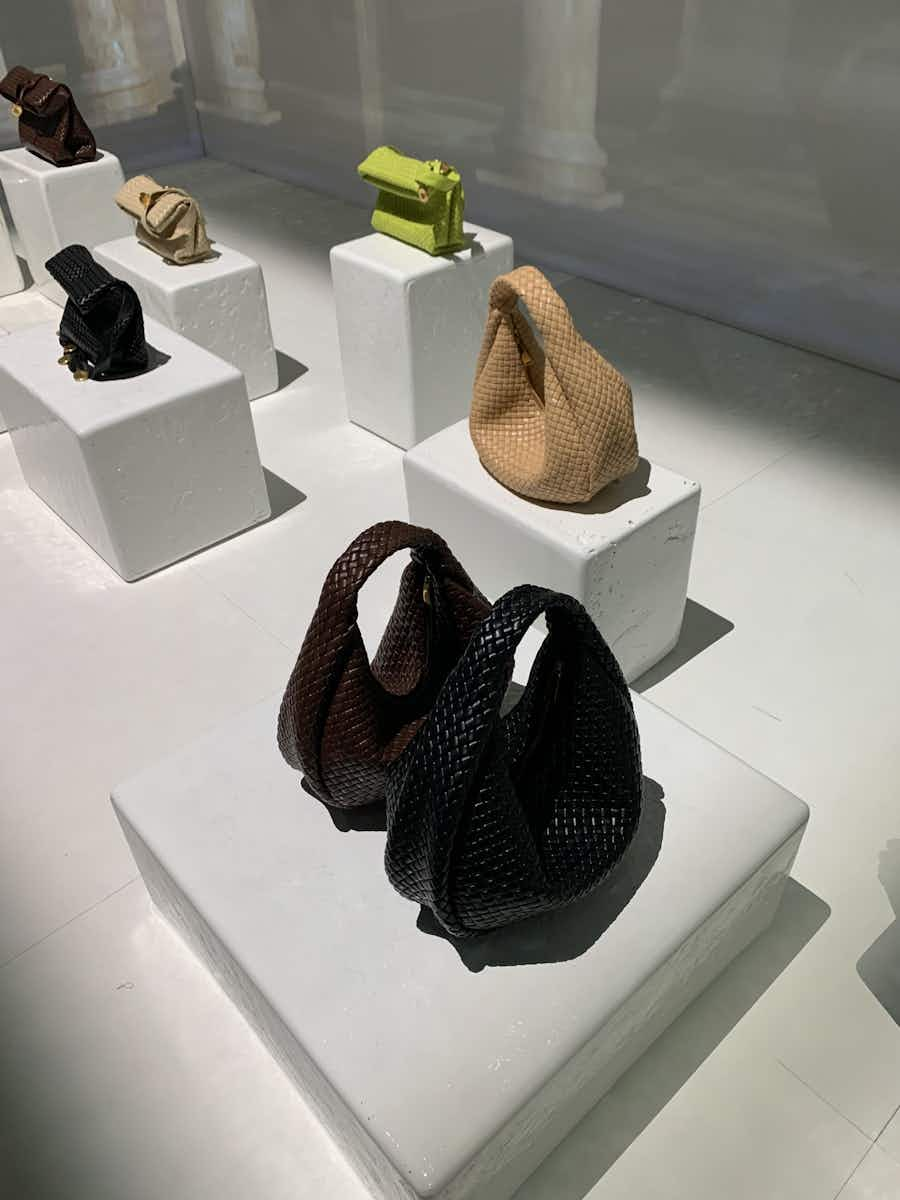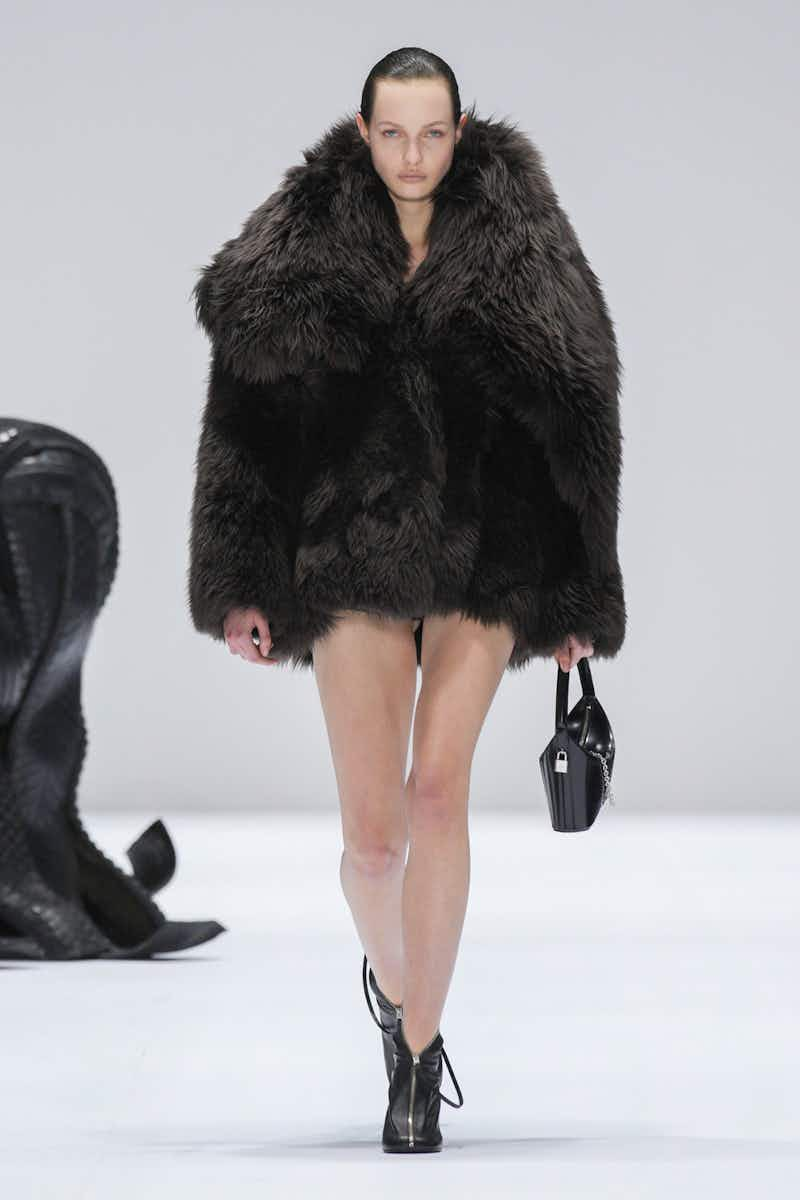 What about the show space?
A bright white space filled with white canvas screens transformed into a Roman palazzo – complete with statues and lemon trees – when the show started. It was a conscious decision to reduce the impact of fashion: ​"I've kind of been asking myself, what is the point of fashion? What is the role of an artist today? For me it is [about] something that felt theatrical," says Lee. ​"We wanted to think about how fashion can transport you to a different place, so that's why the space turned from something that felt very anonymous and bland into something quite beautiful. I really wanted to build a set that was completely recyclable that doesn't leave any kind of physical trace." This season's invitation arrived solely in digital form.

What about the front row?
It was a cultured affair: Sigourney Weaver, Dev Hynes, Barry Keoghan and Luca Guadagnino all sat front row, alongside a trio of dancers from the Royal Ballet, Francesca Hayward, Roberto Bolle and Cesar Corrales. The show was soundtracked by a live cello and violin duo that further heightened the sophisticated mood.

MSGM AW20
Massimo Giorgetti was thinking about horror again this season: his idol, Italian director Daria Argento – as referenced in his AW20 menswear collection – whose posters for Phenomena (1985) and Suspiria (1977) appeared on mood boards backstage at the show.
Creepy yellow animal eyes, blood-red leather gloves, black and white horror movie-prints (created with Argento), creeper-sole Mary Janes, shocking-pink shaggy foulards, a haunted house-print and shrunken doll-esque dresses all found their way into the collection that teetered on the dark side. But that's not to say it was absent of Giorgetti's love of colour – outerwear was served in upbeat shapes (see: Slush Puppie-blue fuzzy monster coat and metallic-green reptilian trench).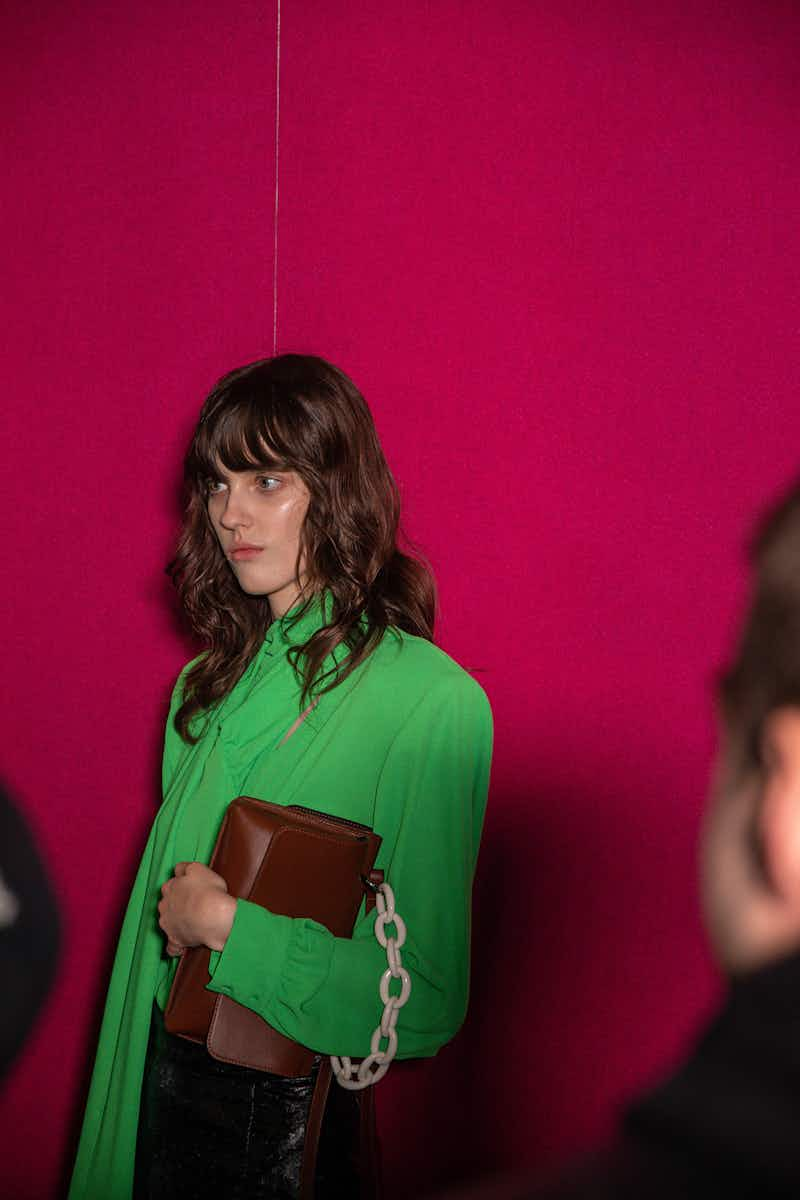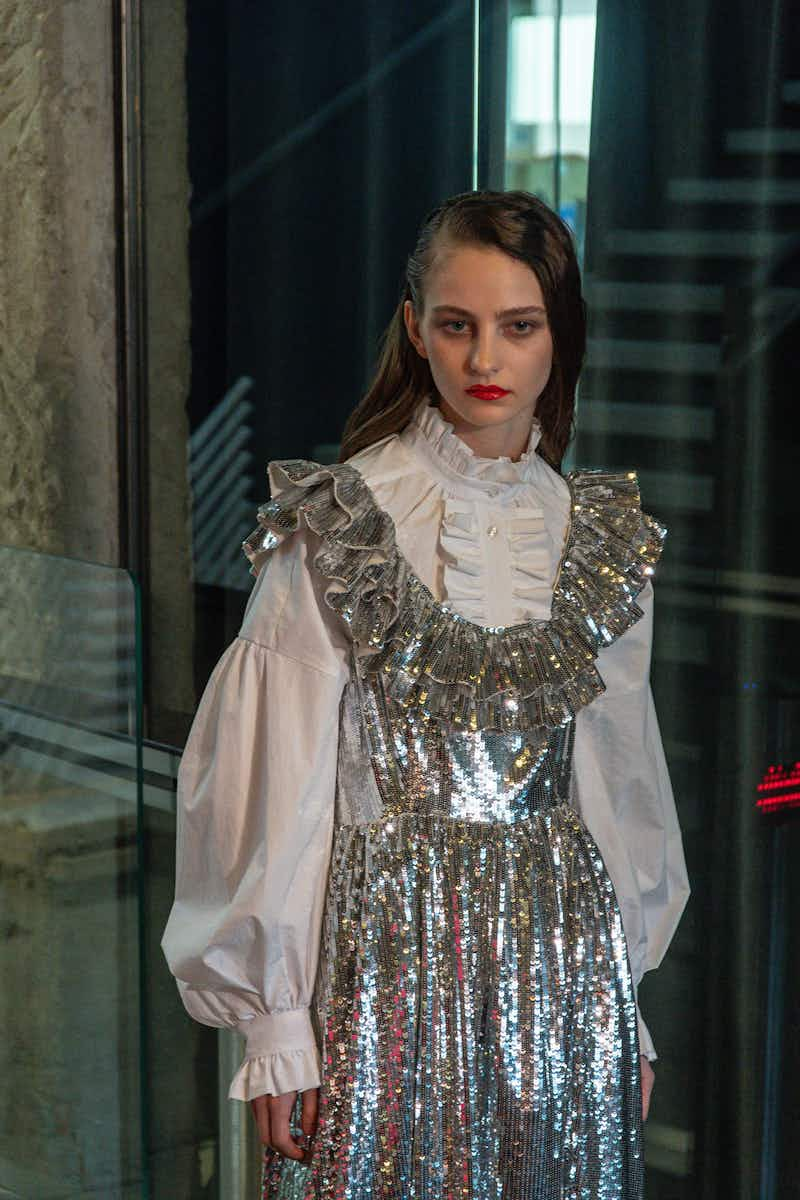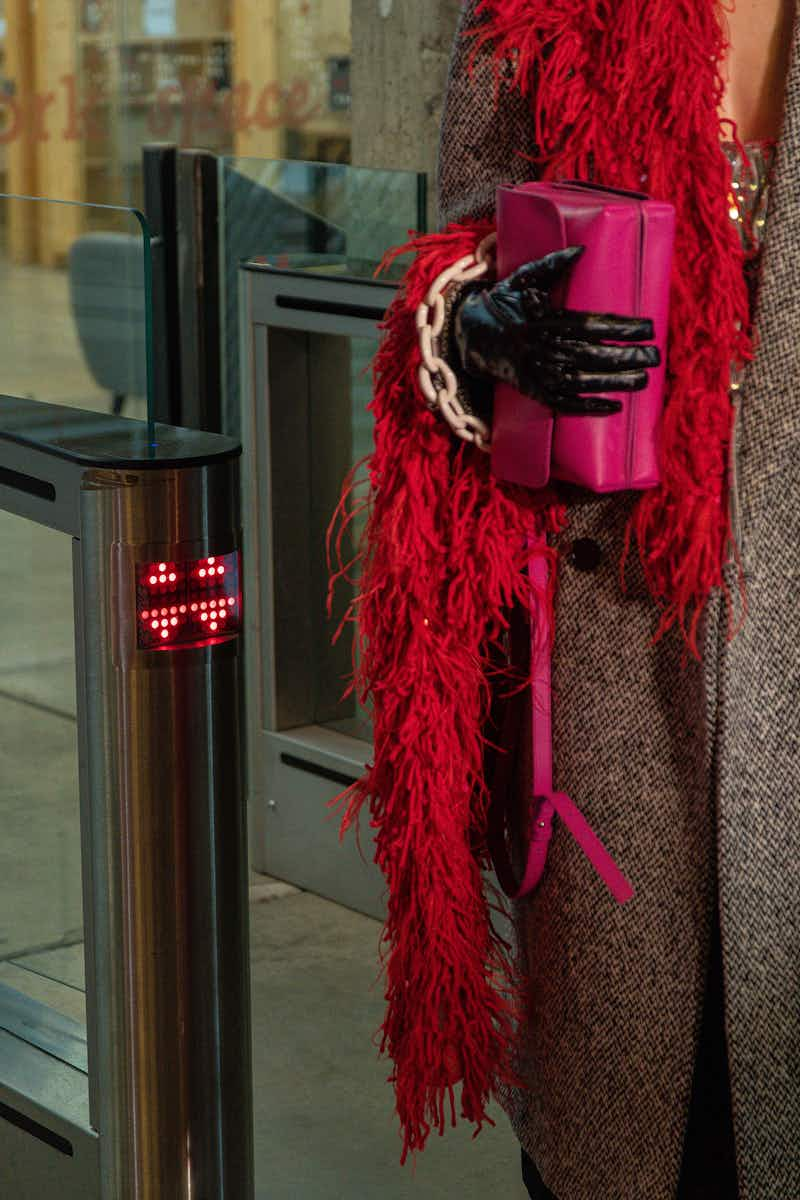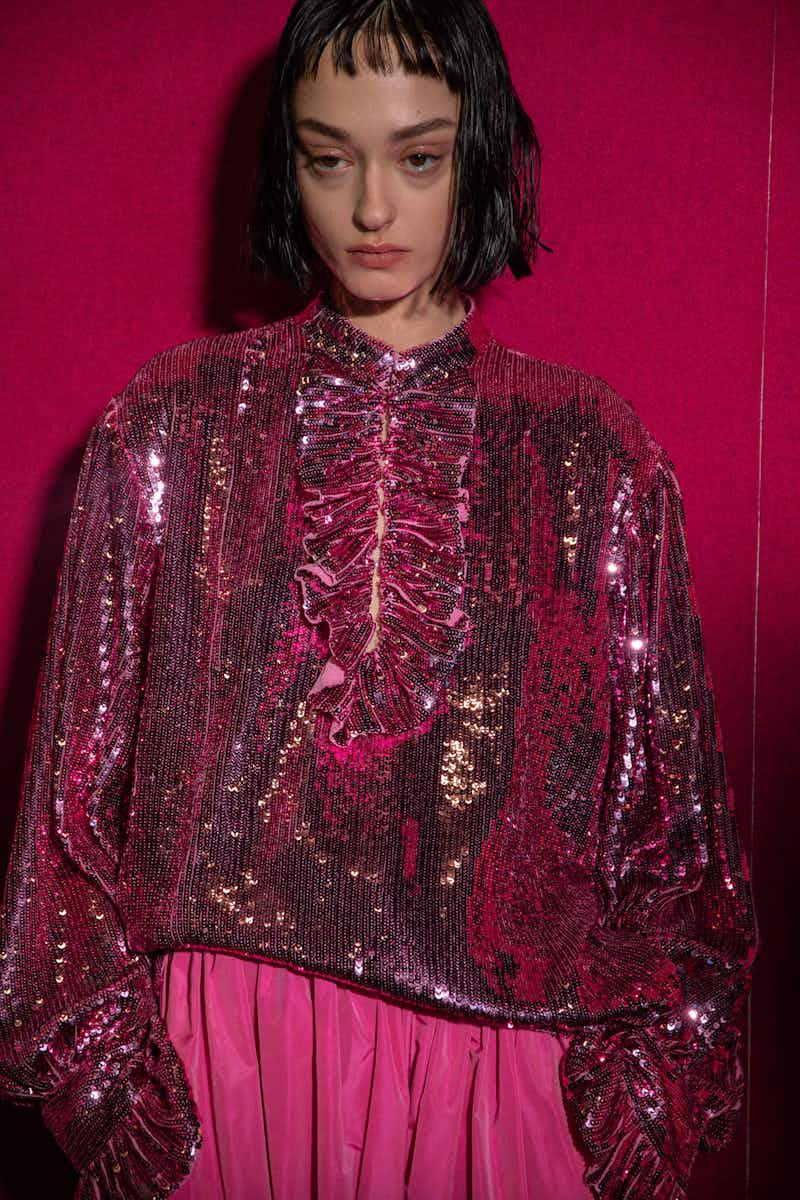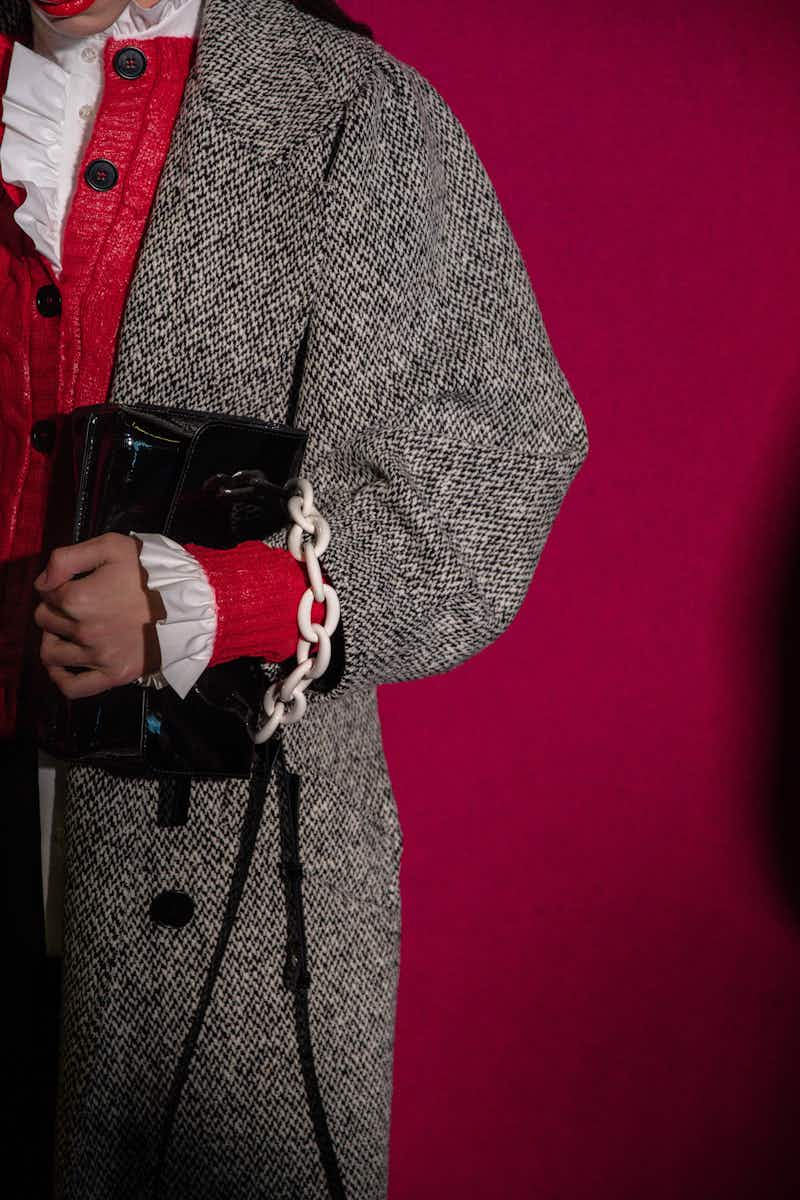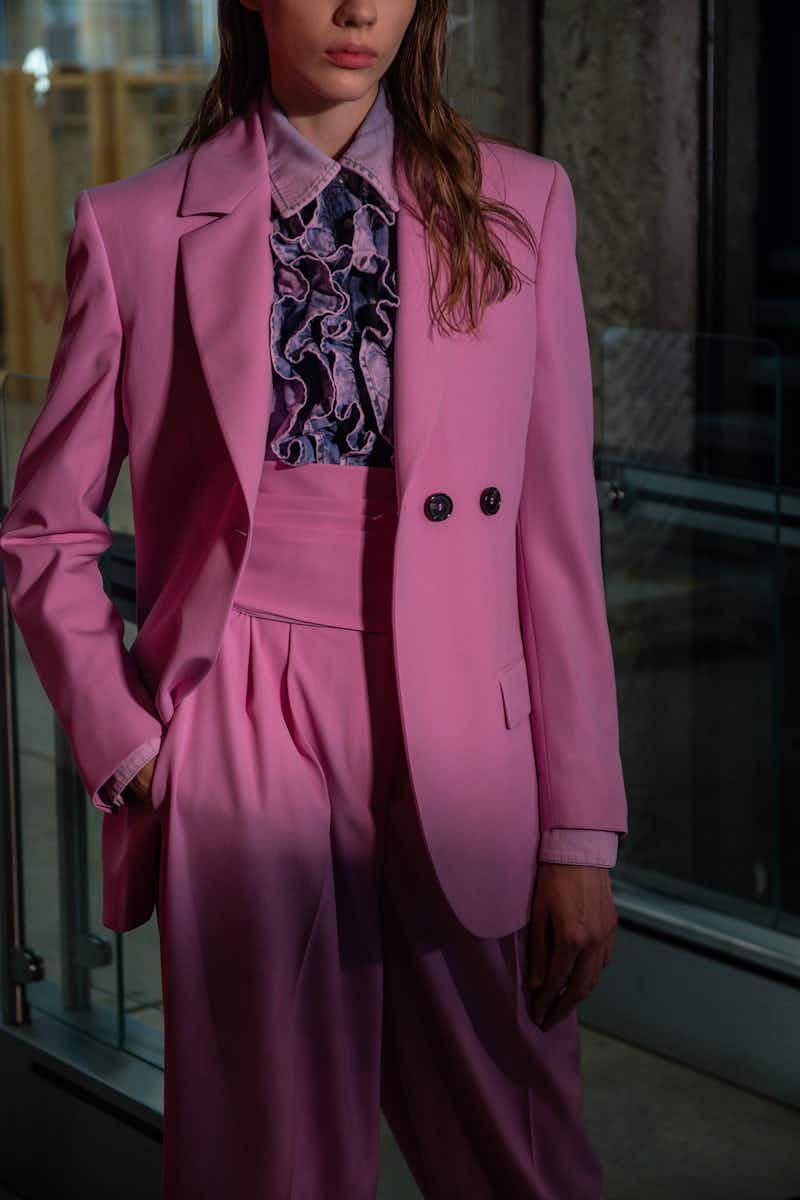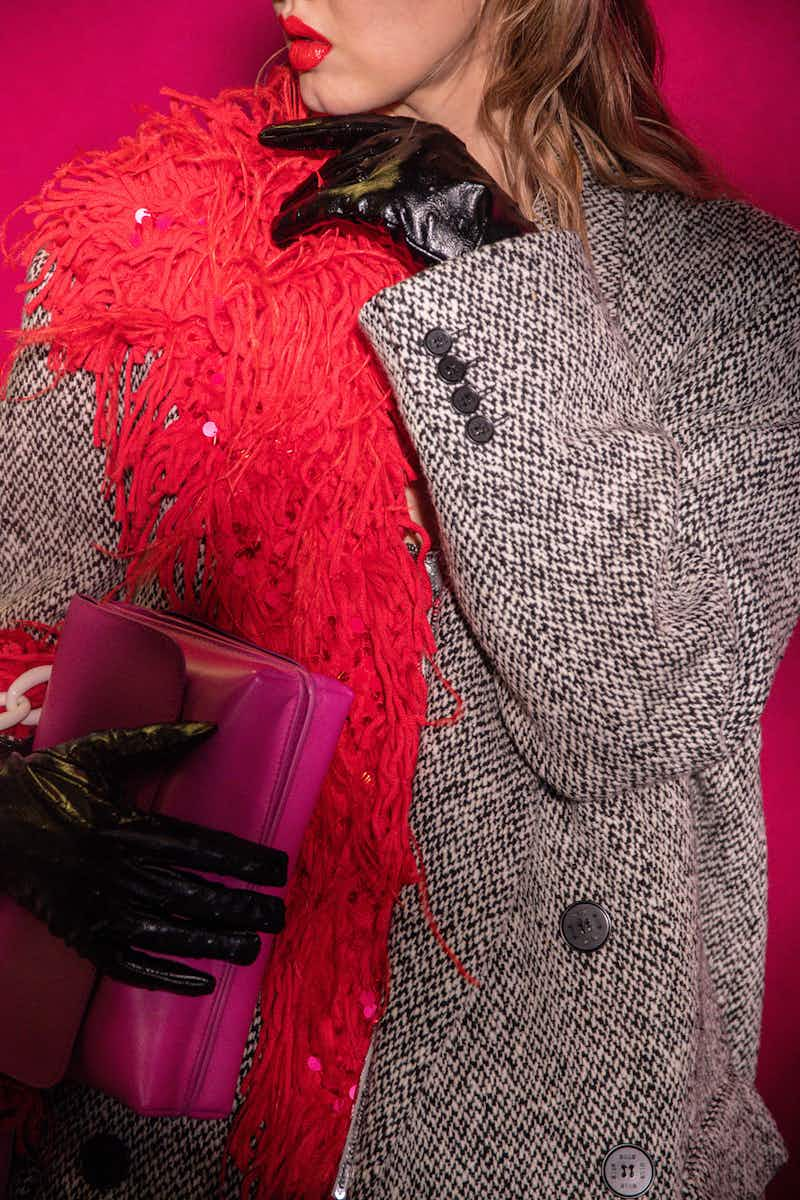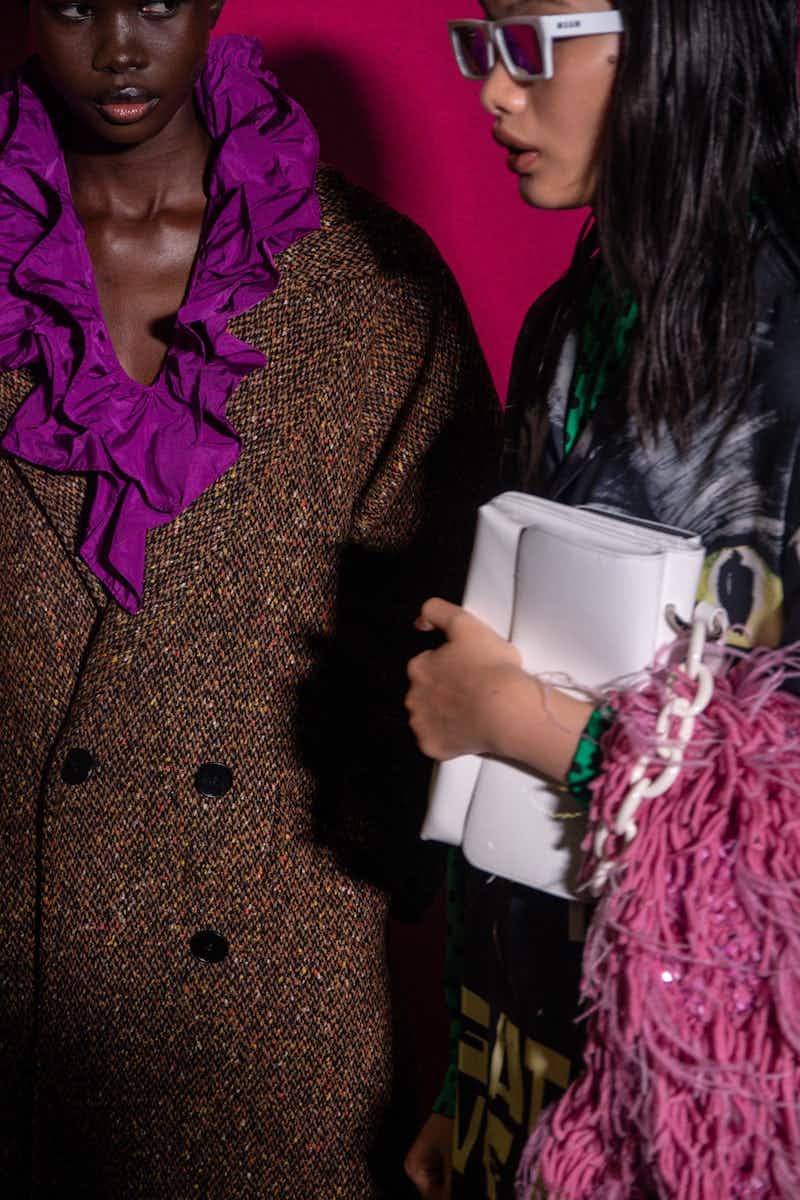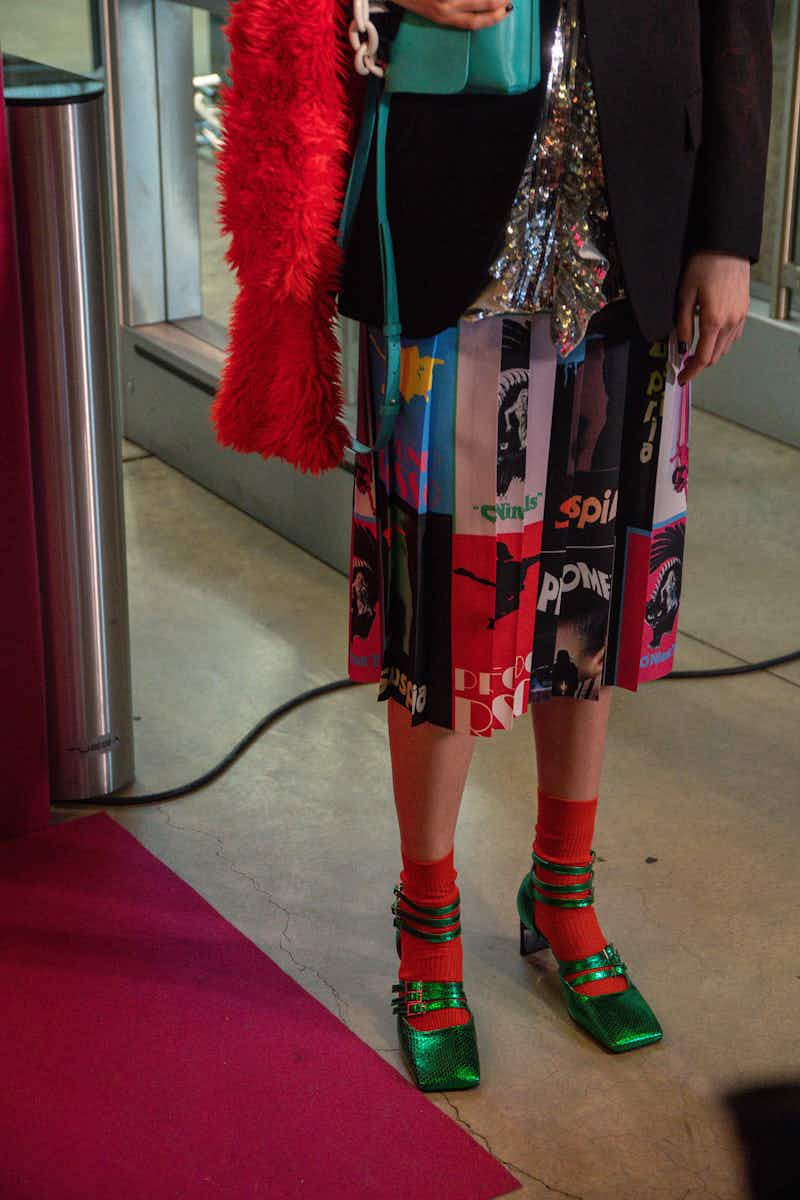 What did it sound like?

Prodigy's Smack My Bitch Up blasted through the room at heat palpitating volume, layered with eerie nursery rhyme-like piano keys over the top.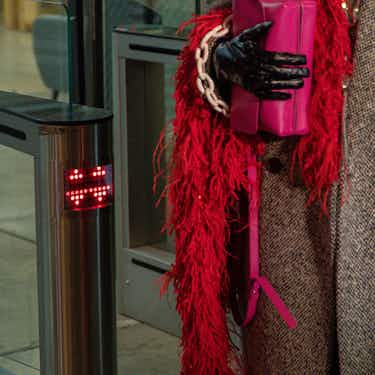 Listen now:

The sound of MSGM AW20
SALVATORE FERRAGAMO AW20
Photographs of Sharon Stone, Virginia Woolf Beyoncé, Nancy Pelosi, Rihanna and Kate Bush all appeared pinned on creative director Paul Andrew's mood board backstage at Salvatore Ferragamo. He'd been thinking about Swiss psychiatrist Carl Jung's theory that society's collective unconsciousness recognised seven archetypes of women in the 20th century. Today in the 21st century, a woman is self-defined. ​"The notion of fitting into a set ​'type' feels incredibly obsolete today, both for women and men," says Andrew. ​"I think the identities we choose to wear today are not fixed through a single filter — they are a shifting kaleidoscope, a collage of characteristics and qualities."
Andrew's collection celebrates strong, diverse women. There's something for everyone, from a glittering gold chain skirt, pants that morphed into shoes, a honey tone belted leather dress, a strapless tailored jumpsuit and a black leather coat with broad shoulders, to floor-length cloaks in camel and biscuit-beige, botanical-print shirts and a poppy-red suede funnel neck jacket. By presenting a collection that offers pieces that can be soft, powerful, romantic and sophisticated — depending on the mood of their wearer — Andrew is giving women what they want: a precise vision of female identity puts freedom first.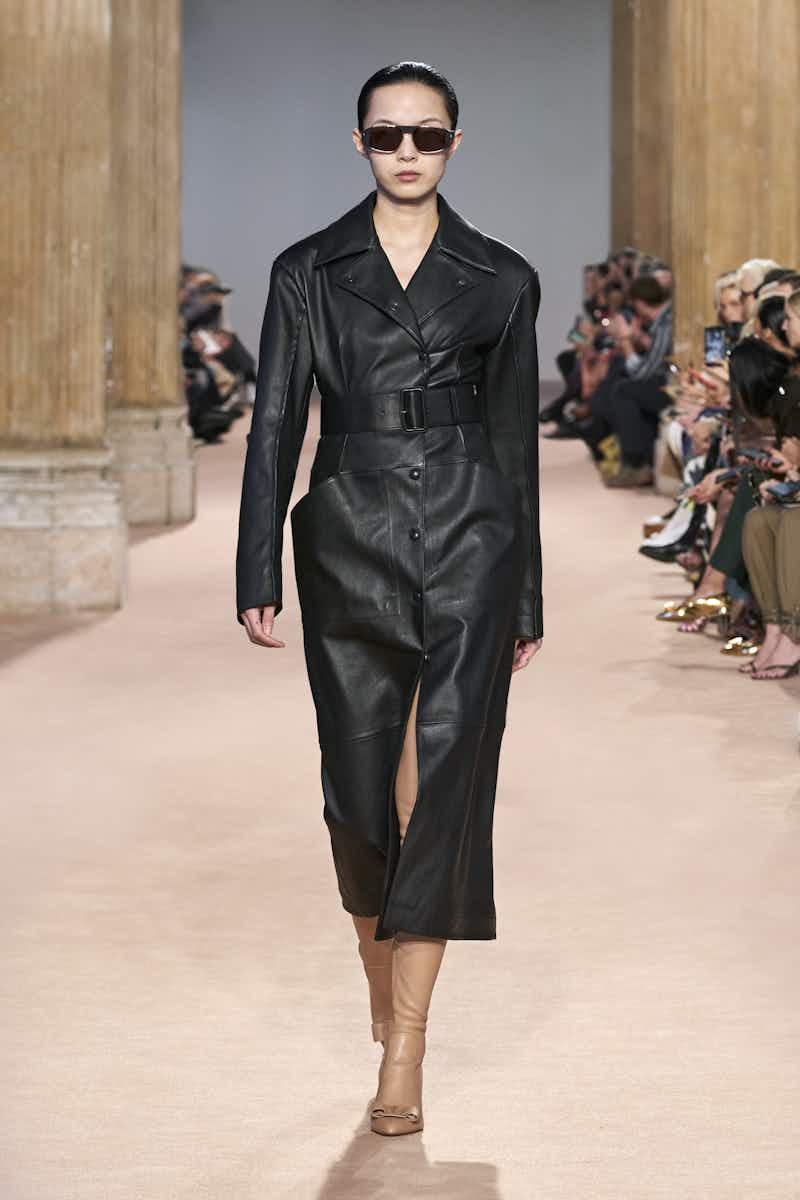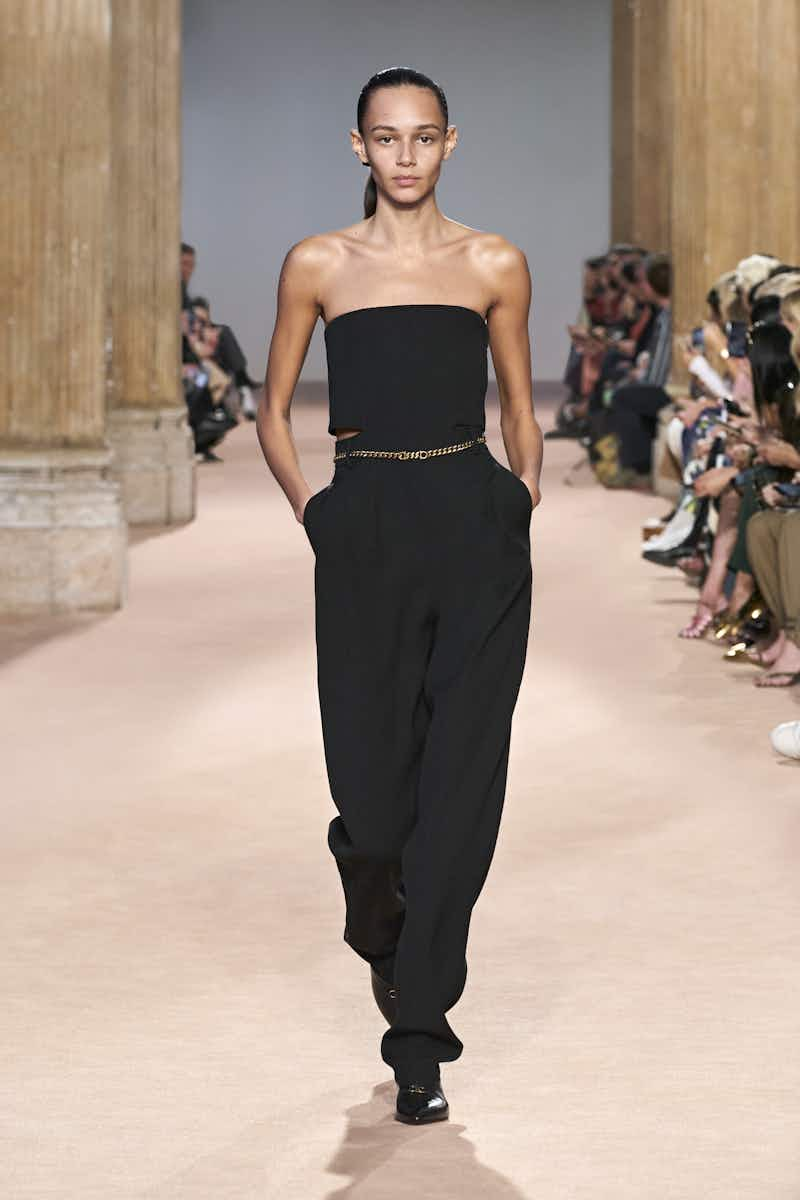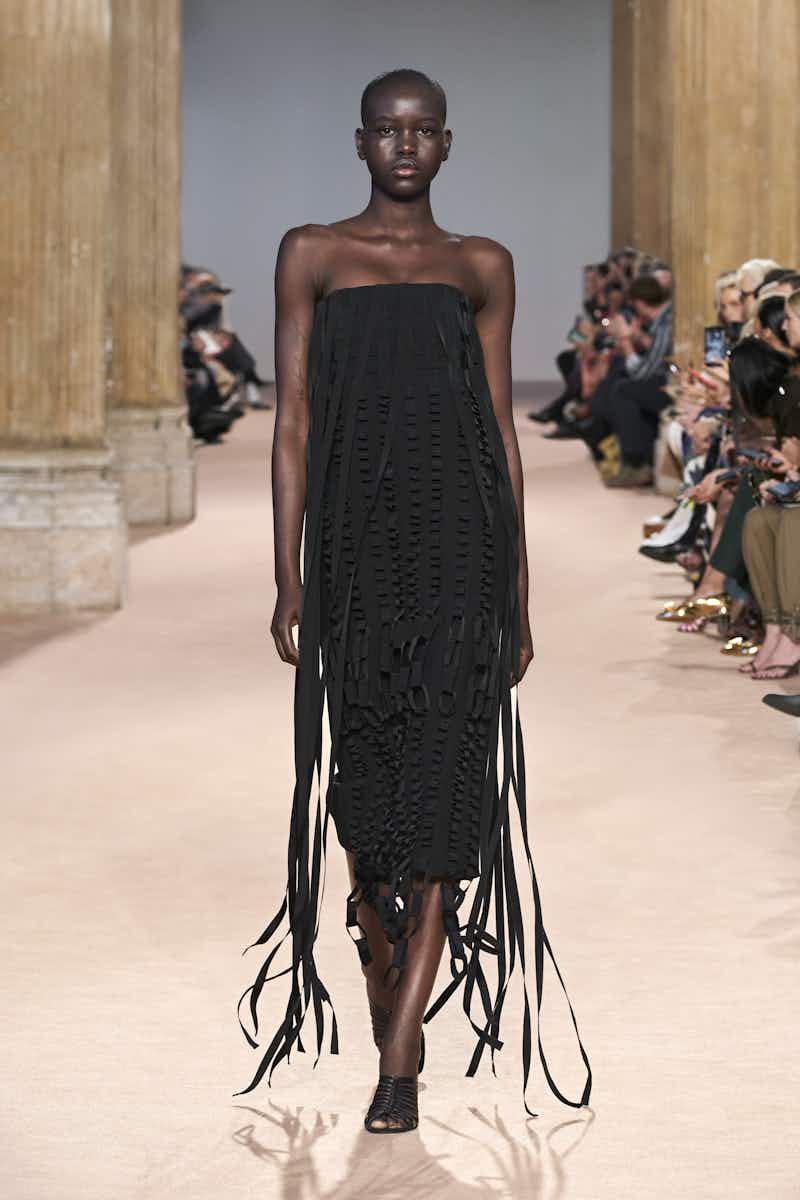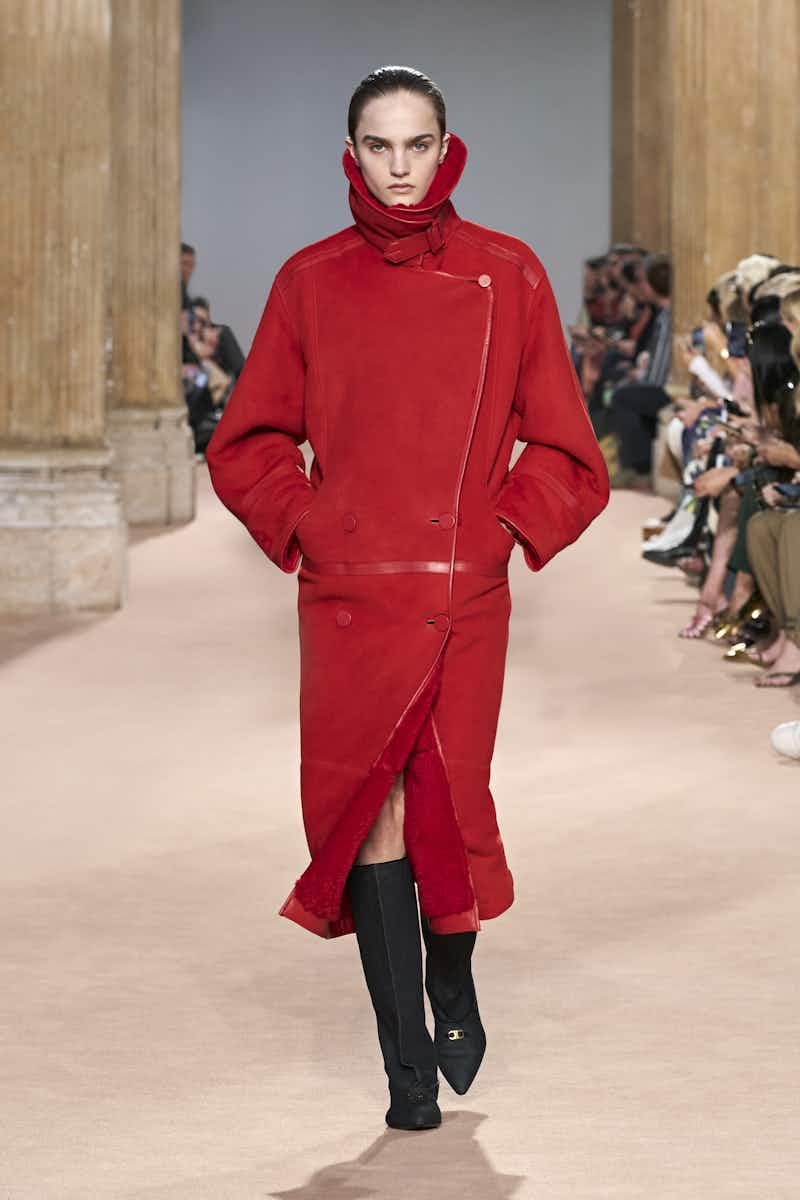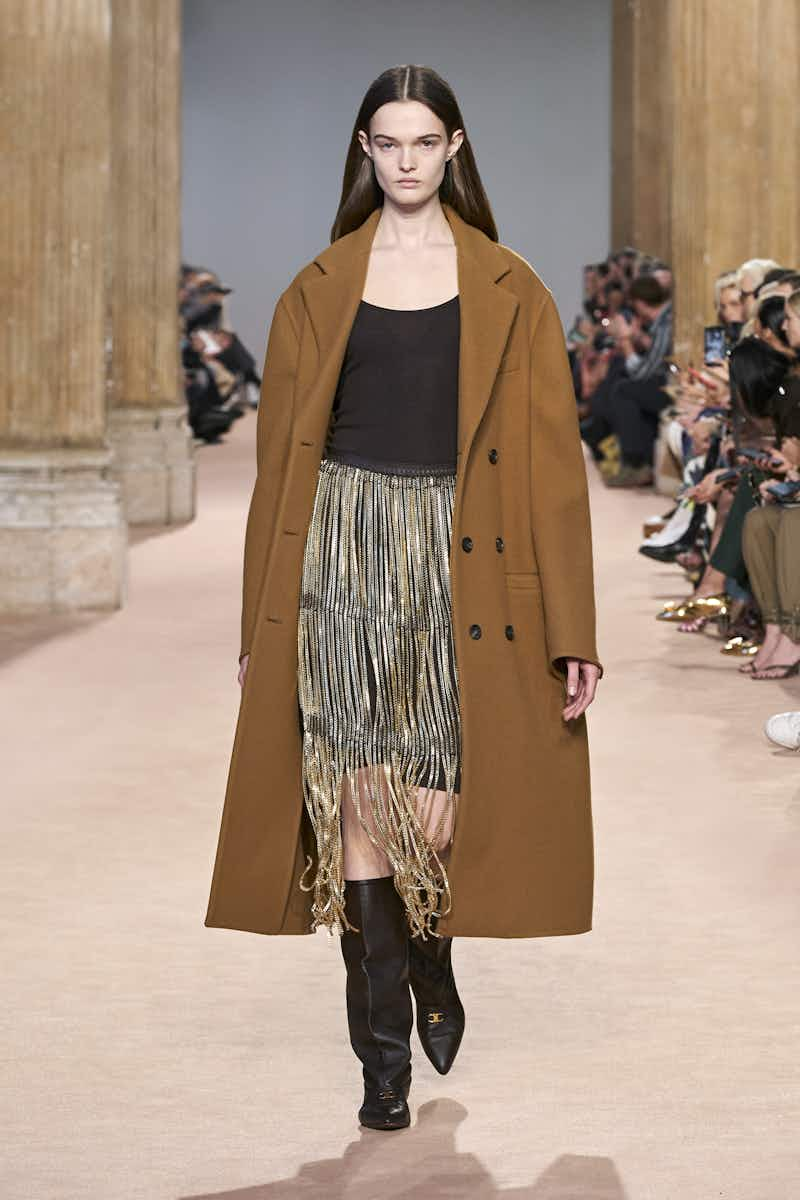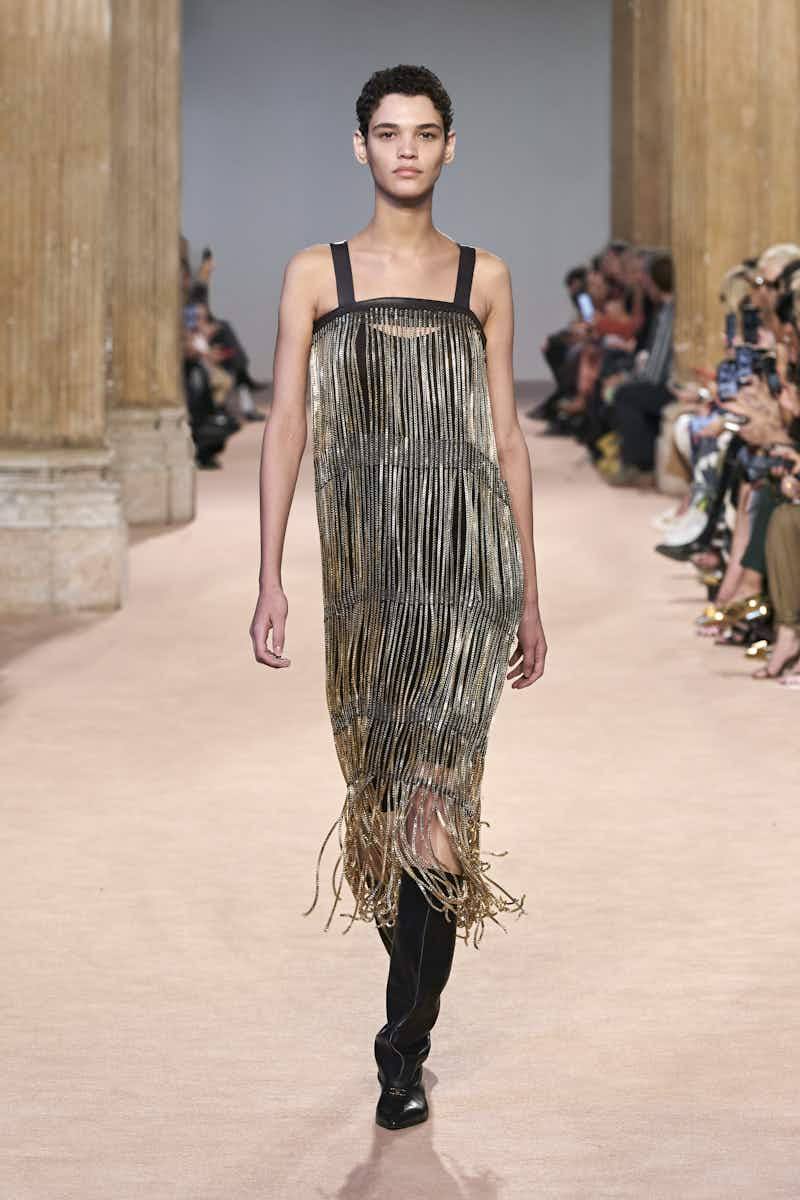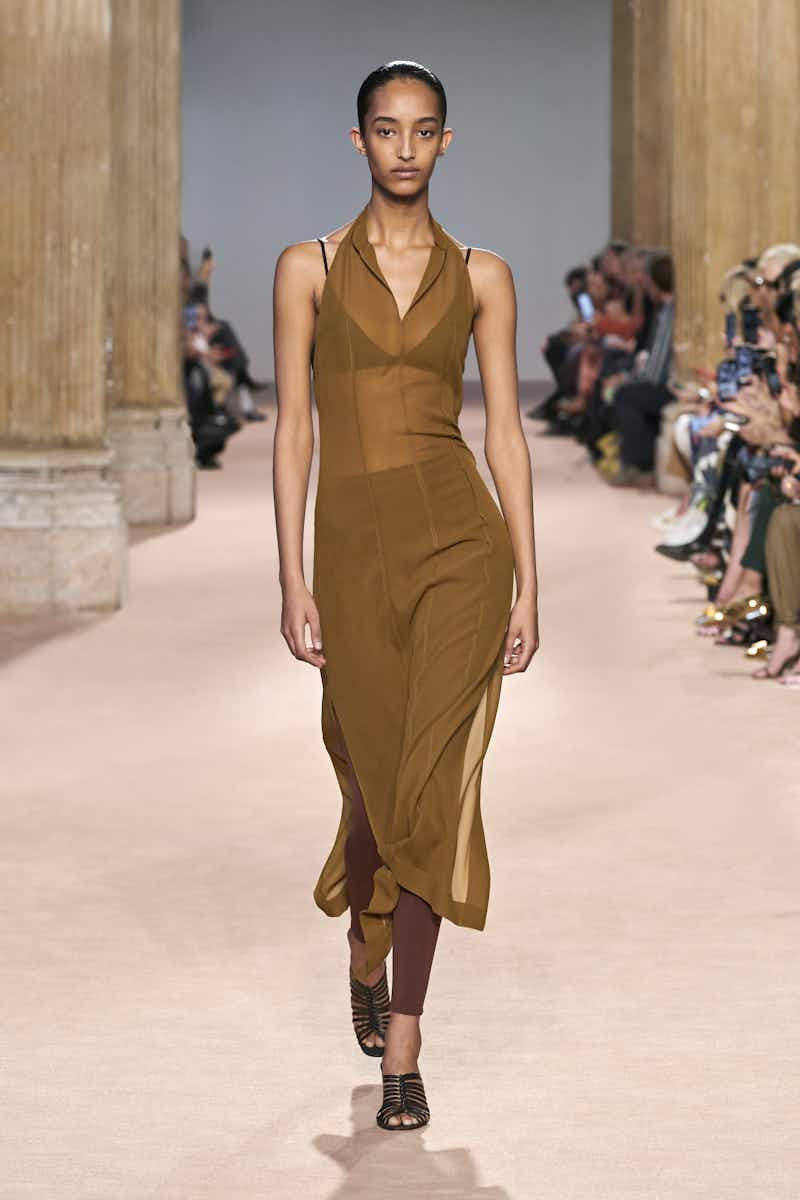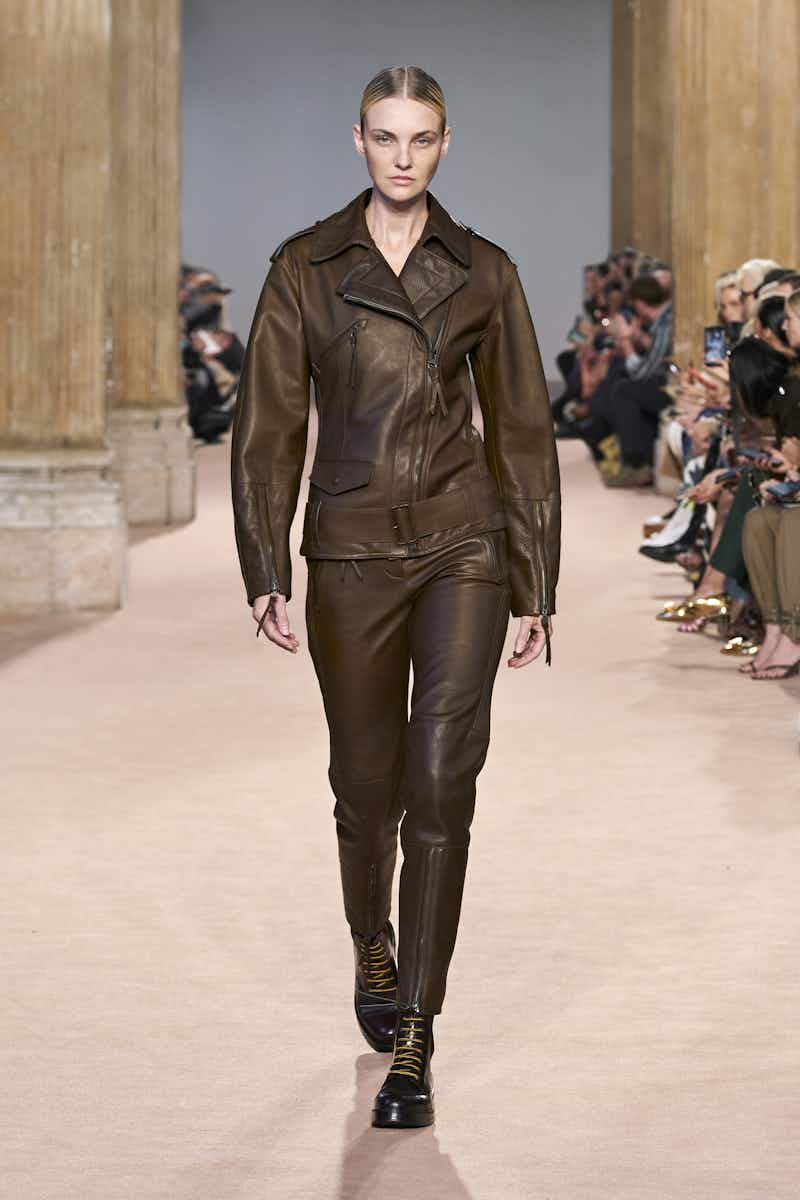 VERSACE AW20
Nobody does glamour better than Donatella. While last season's Versace collection was all about J Lo, AW20 was about the wearer — the invitation arrived in the shape of a mirror, while the runway had an LED screen down the middle that filmed and distorted the audience before their eyes.
The clothes were high-energy and high-impact, highly feminine and highly masculine — from super short skirts worn with stonking great platform boots and a dogtooth blazer with extra-wide shoulders, cinched in at the waist, to baggy jeans teamed with a patchwork leather jacket and a padded security-esque jacket worn over a crisp white shirt and a skinny black tie. Prints played a big part in the collection too: chunky stripes, upbeat florals and a psychedelic monochrome zig zag pattern. The pièce de résistance? The shimmering silver mini dress crafted from house-signature chain mail and seen on Kendal that closed the show.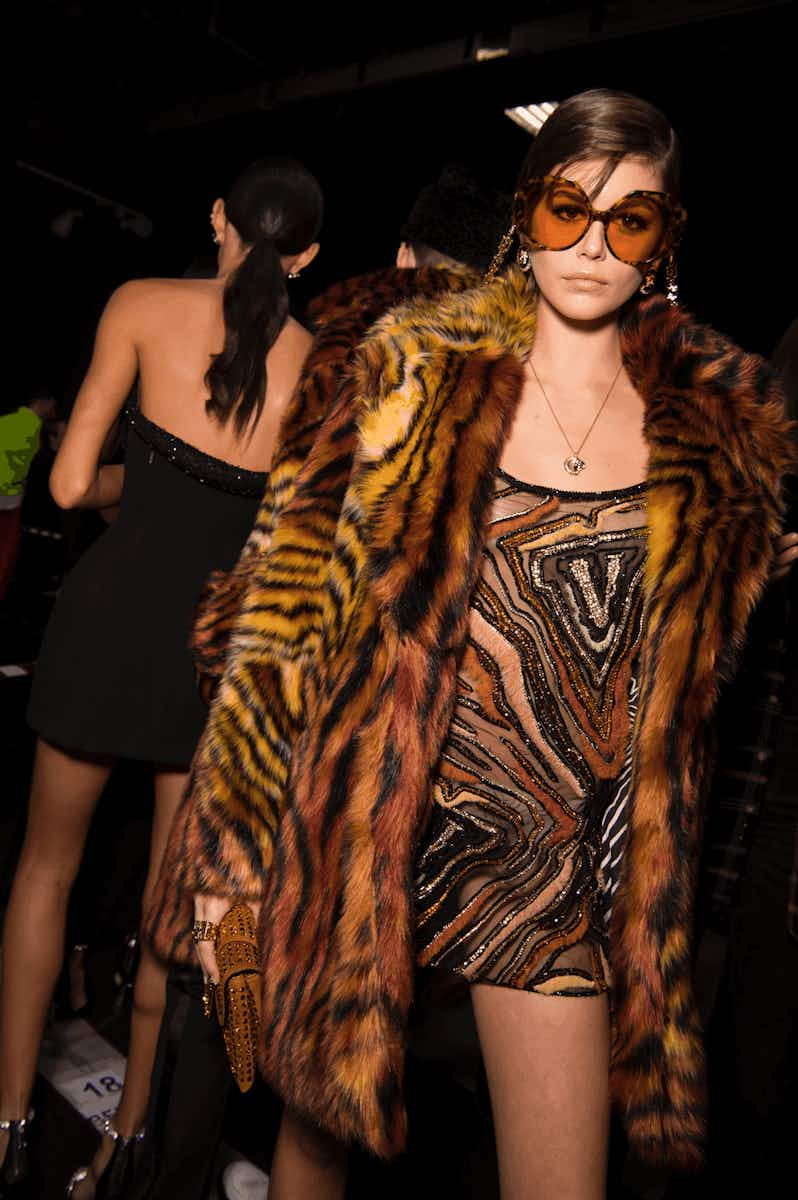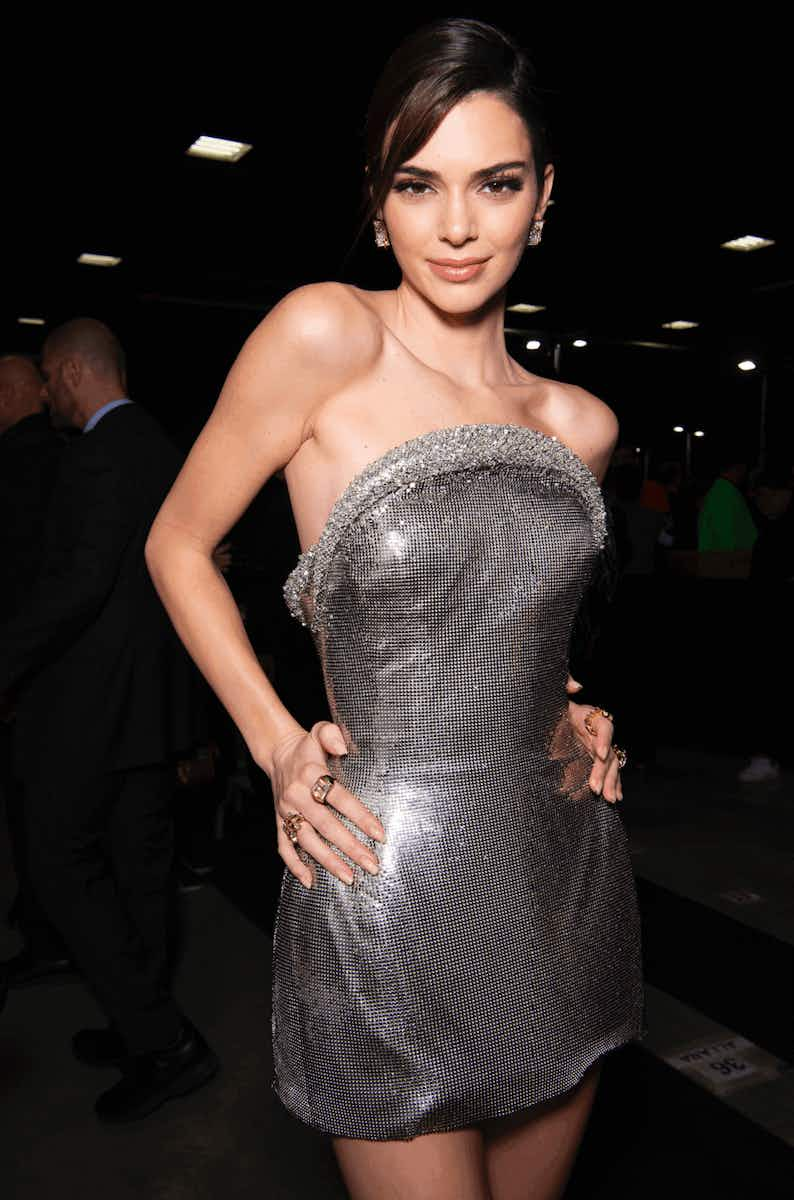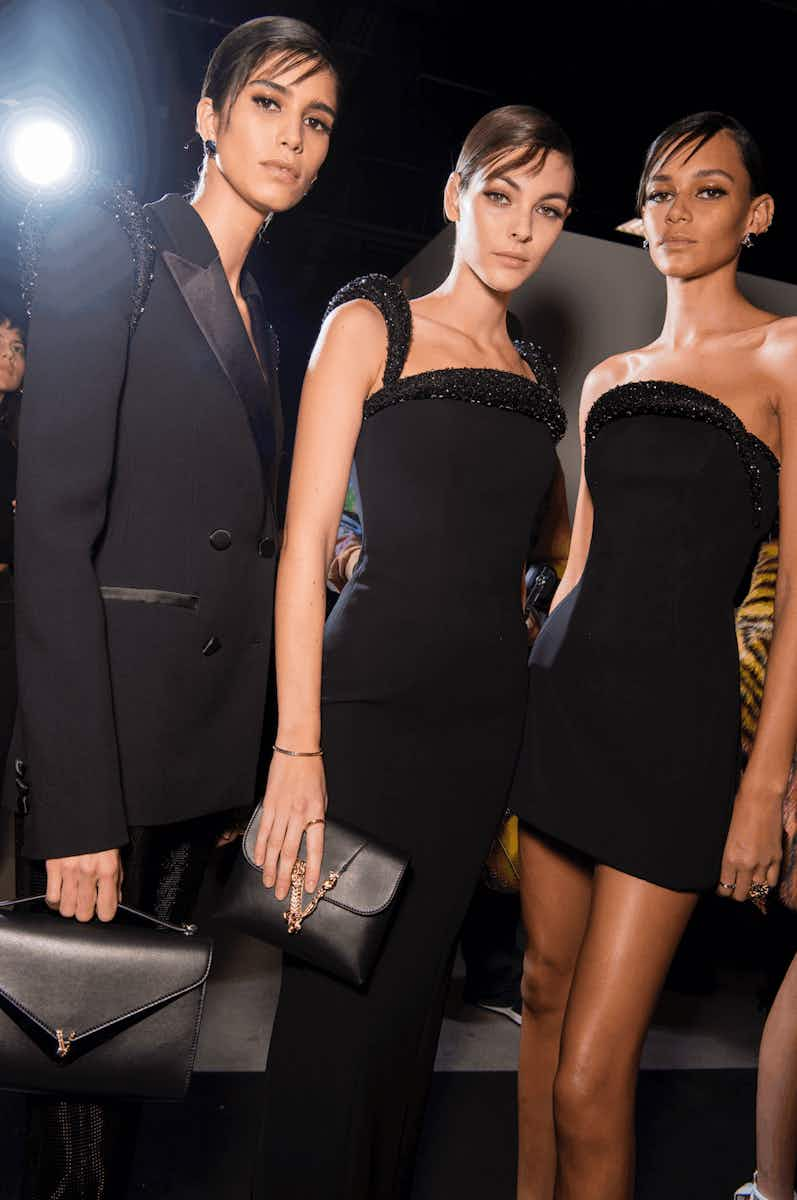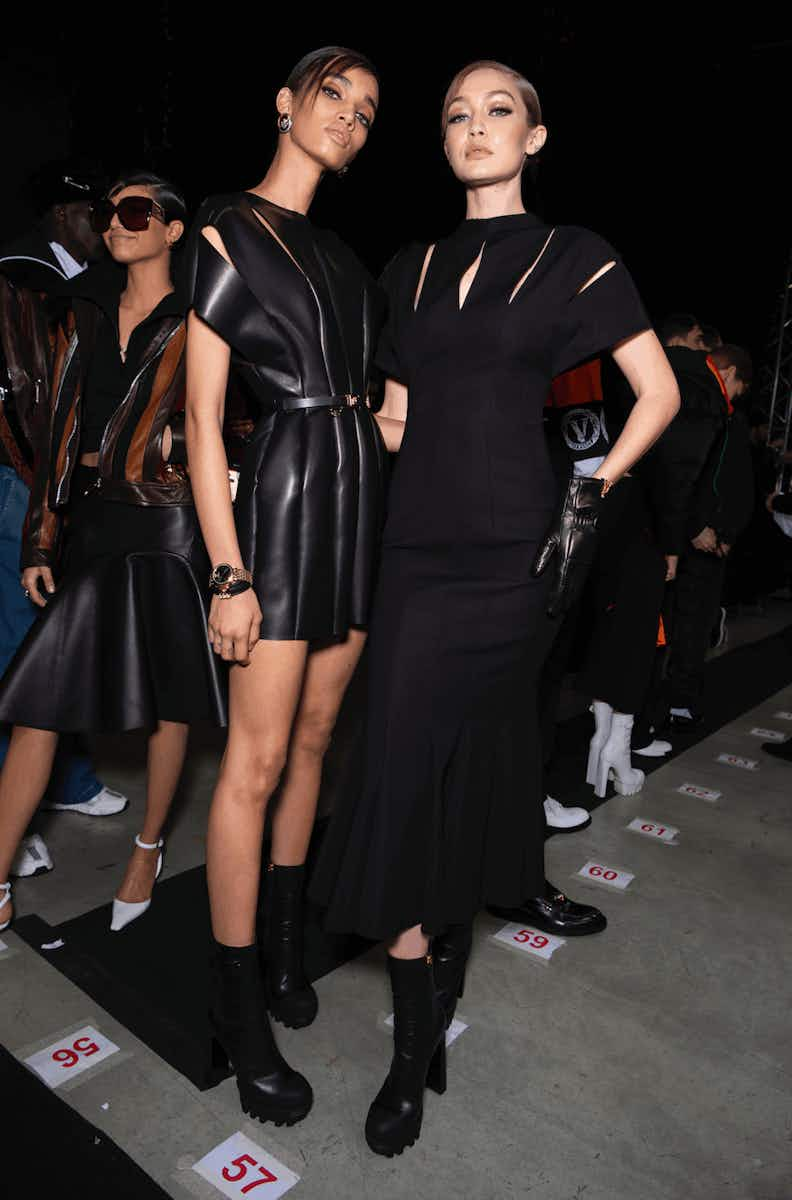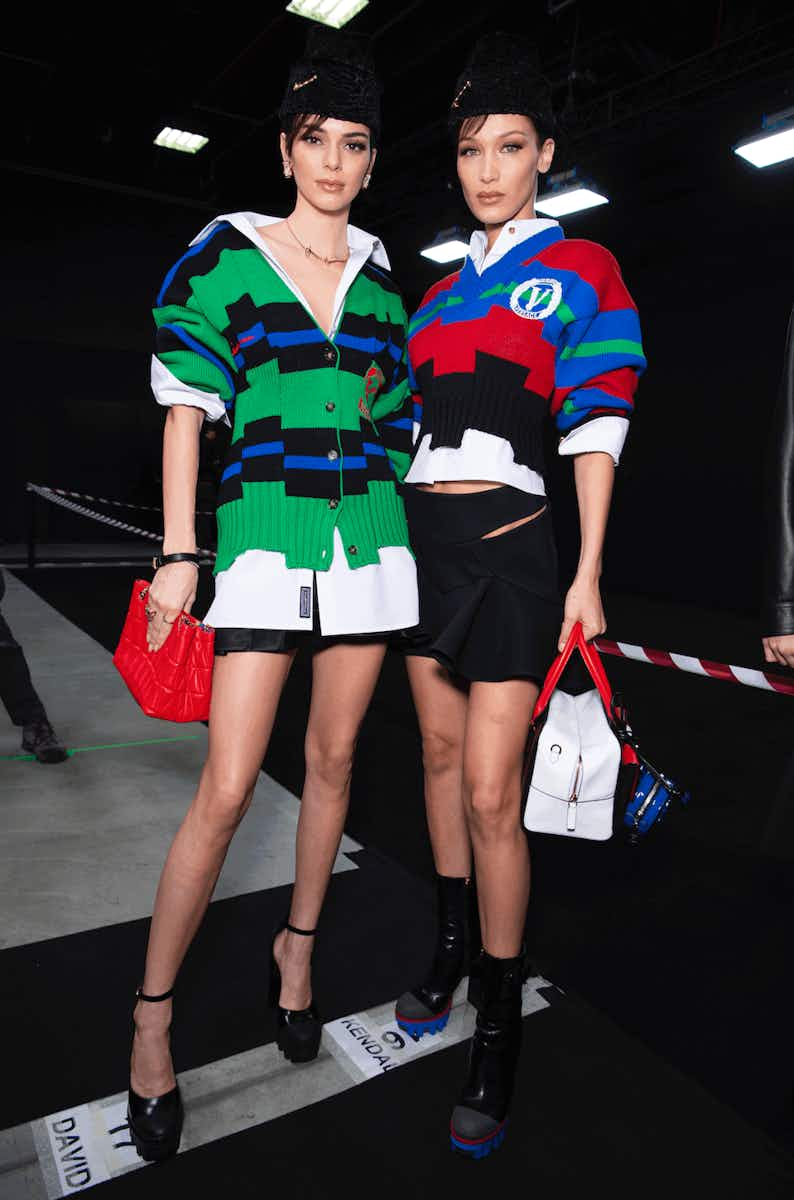 ICEBERG AW20
AW20 could be James Long's most accomplished collection to date. Inspired by the streetstyle of his home city London, Long fused formal wear with both street staples and elements of the Alps. A wool overcoat came with oversized quilted sleeves, a dress coat was paired with padded stomping boots and ruby-red lace trousers were styled with a mountain-ready, logo-printed puffer jacket and low-light ski goggles. Vivid lime-green, red and bubblegum-pink hues were peppered throughout the otherwise monochrome collection in the shape of bomber jackets, two tone knits, bucket hats and lurex tracksuits that would take you from Après to the city in a flash.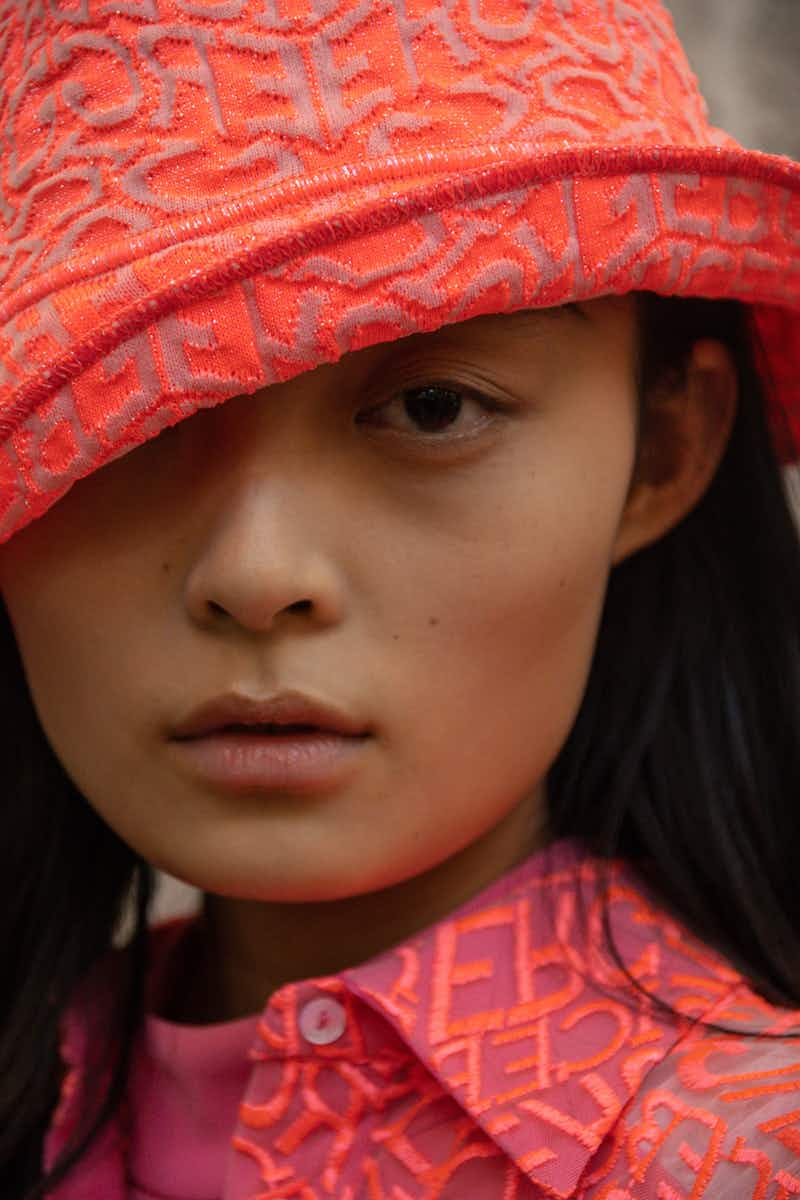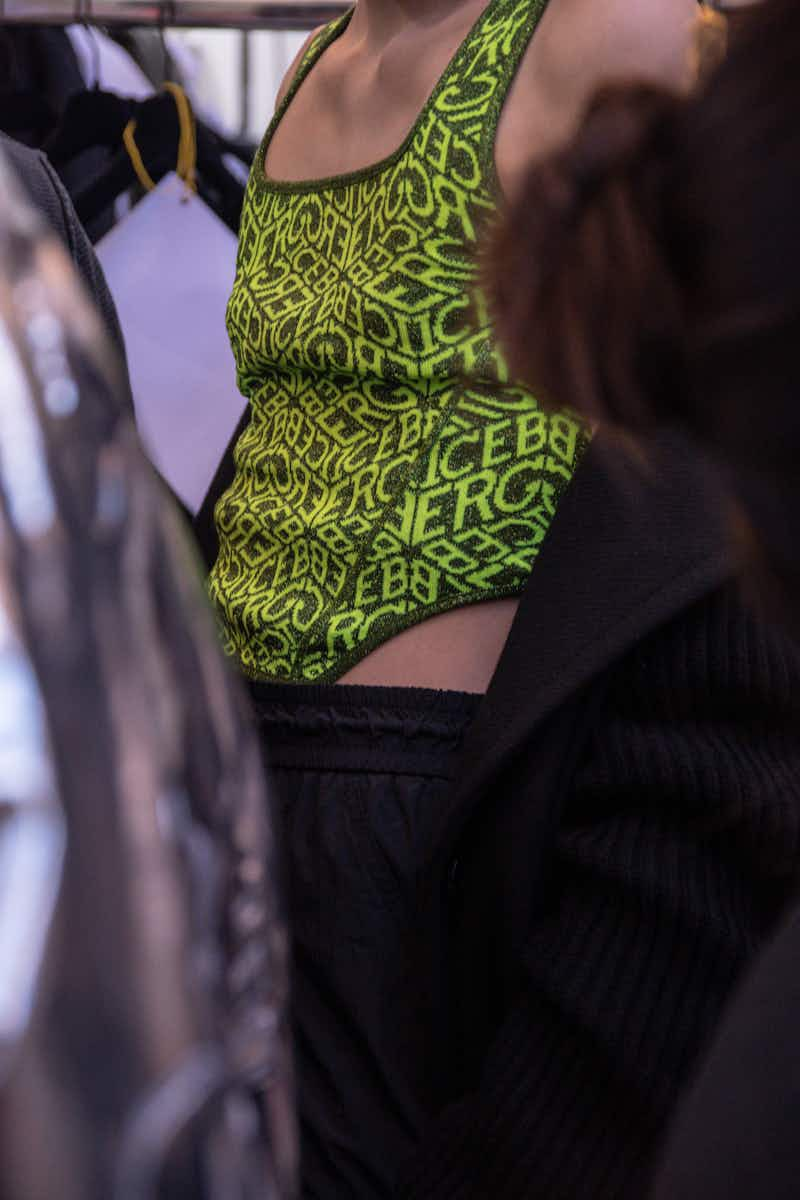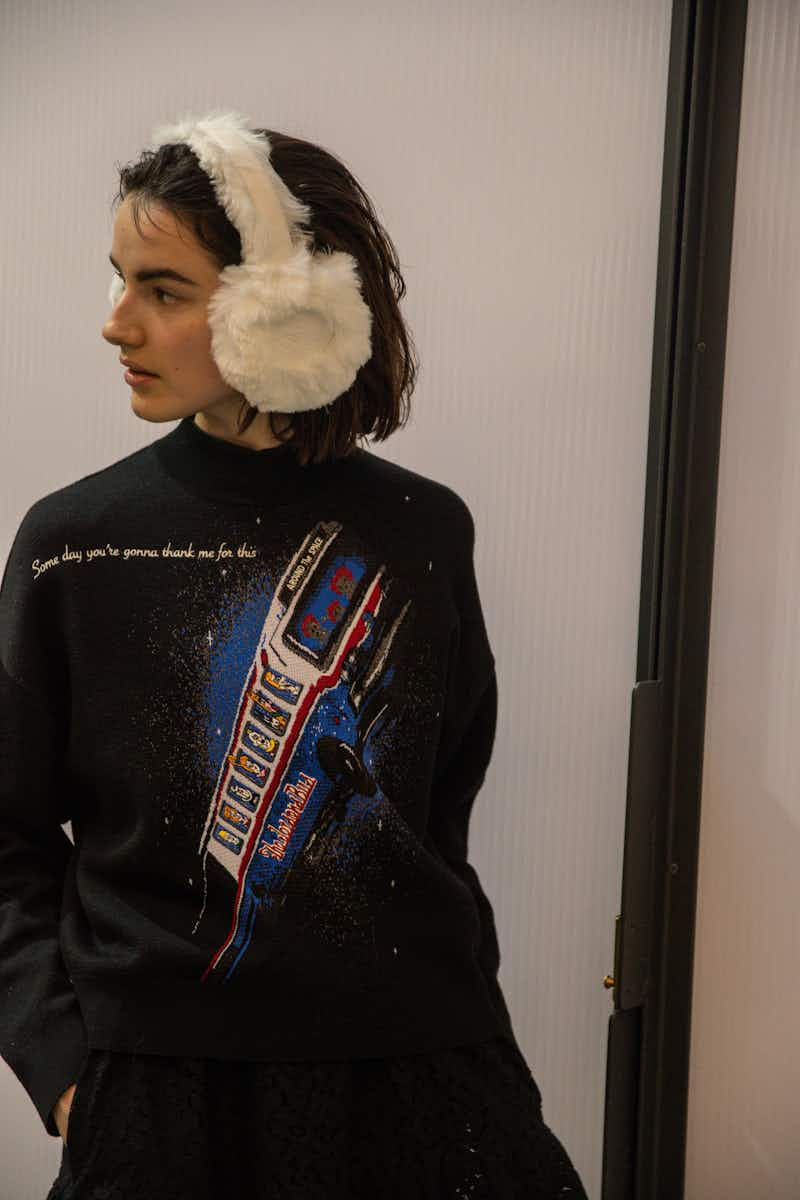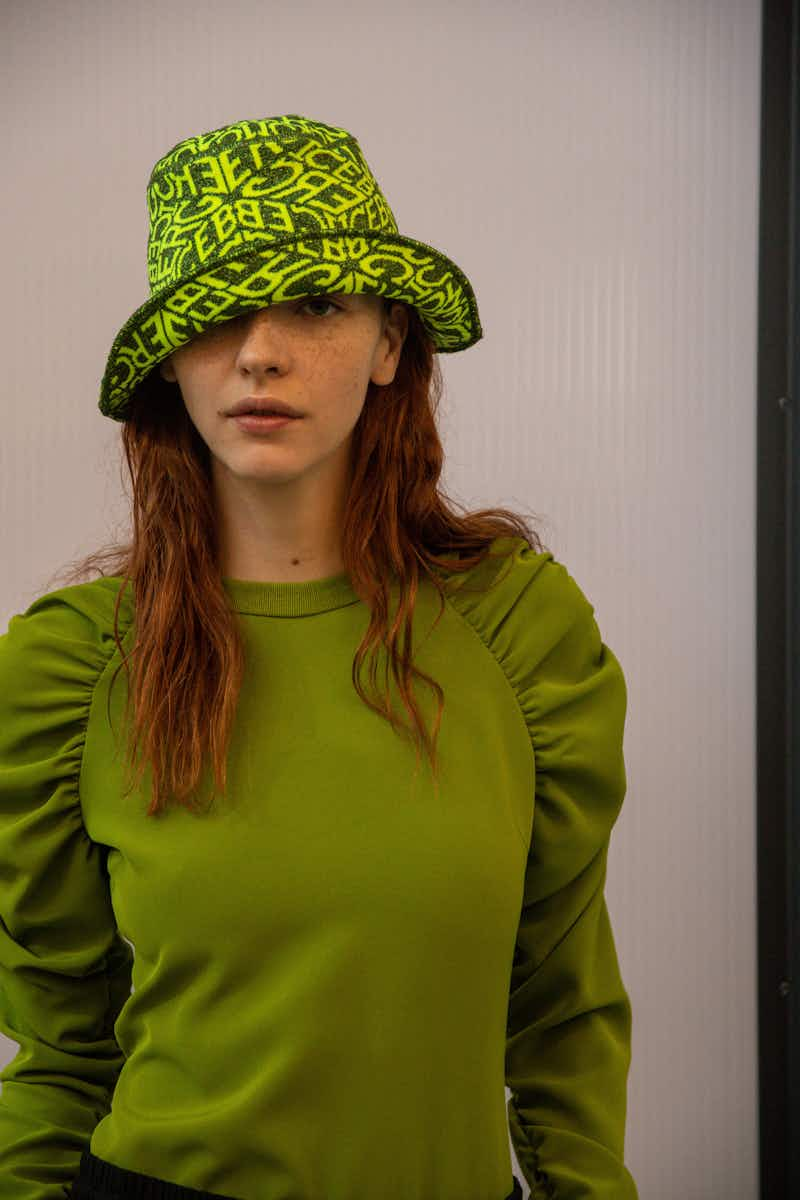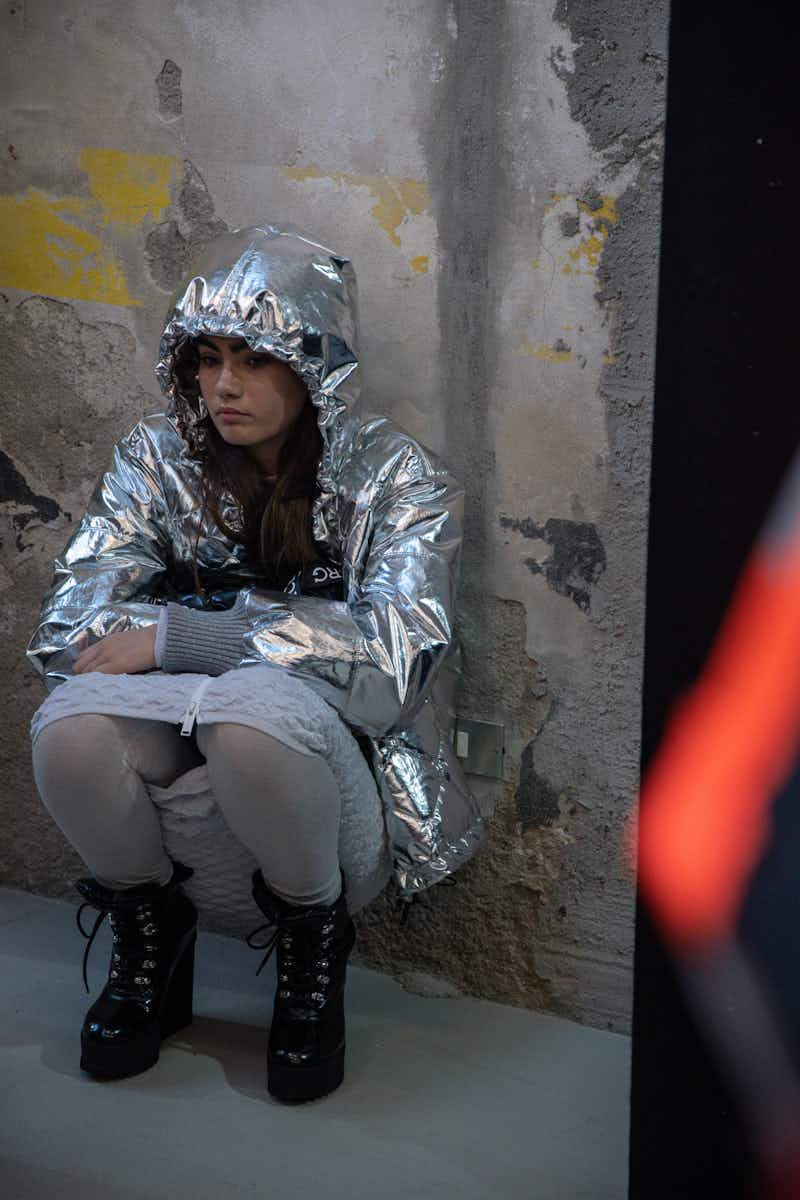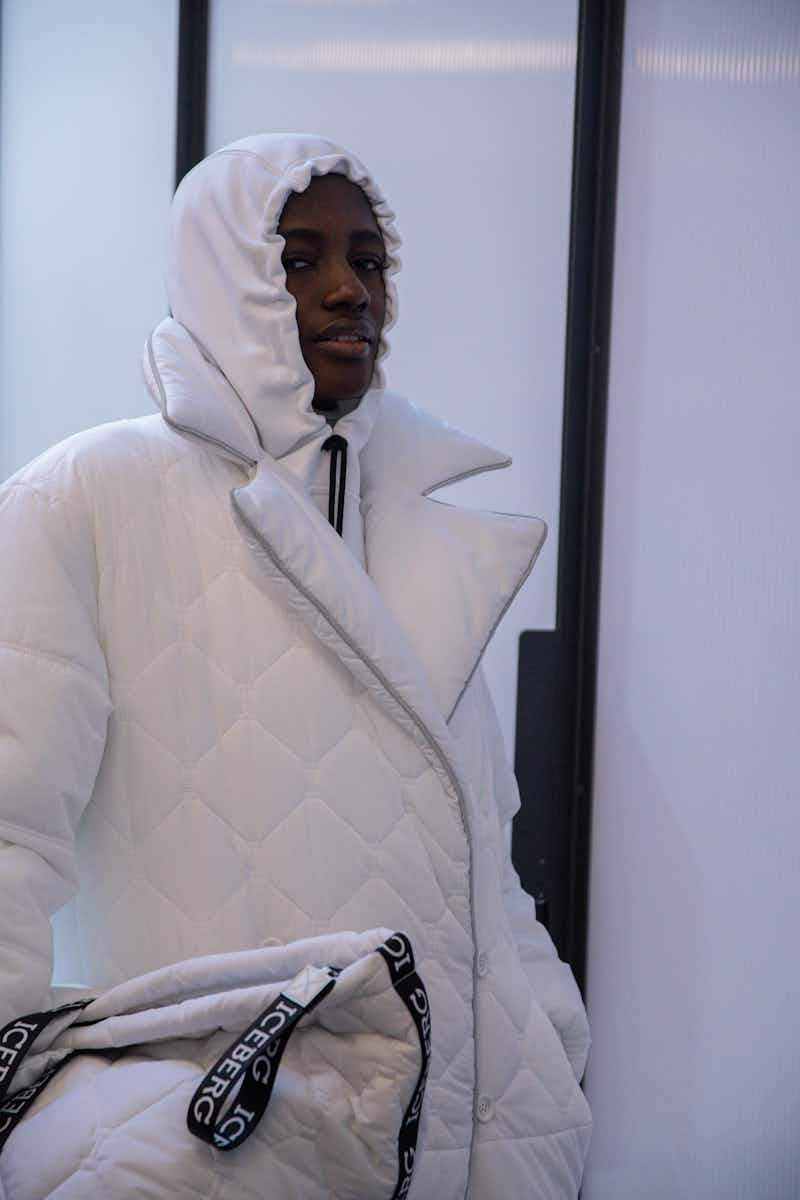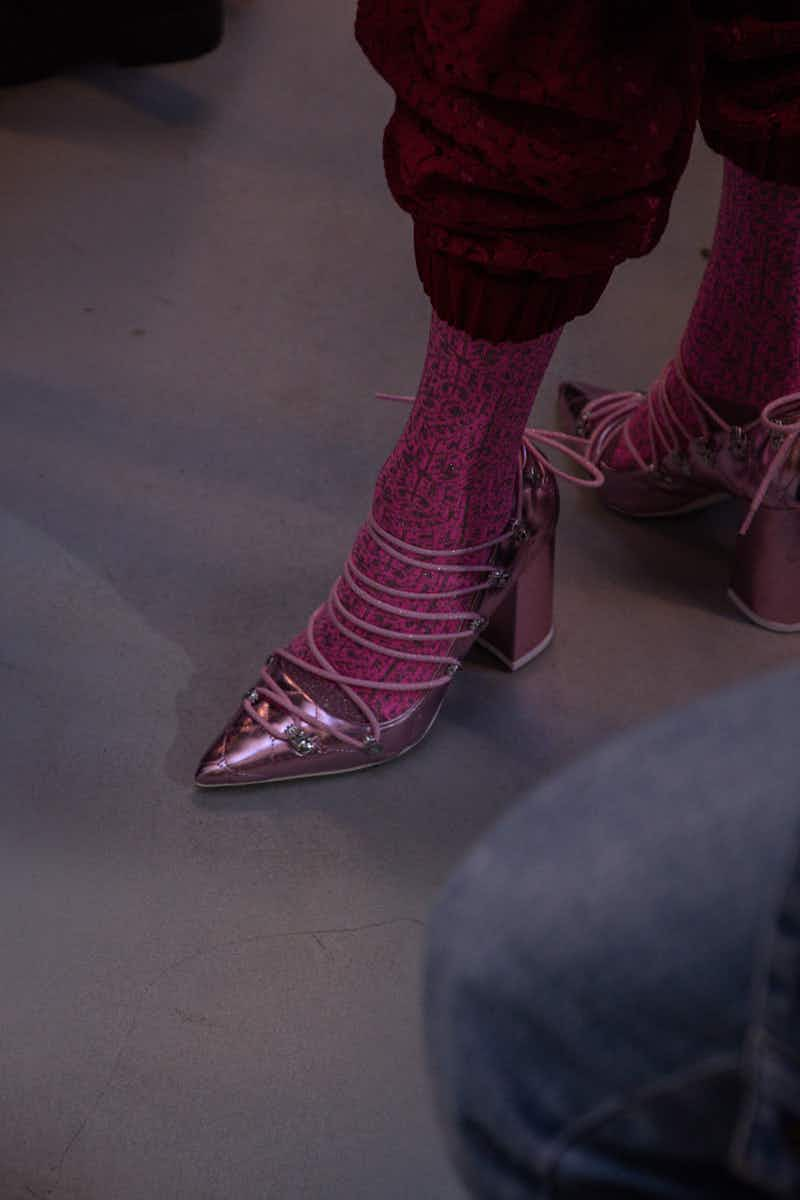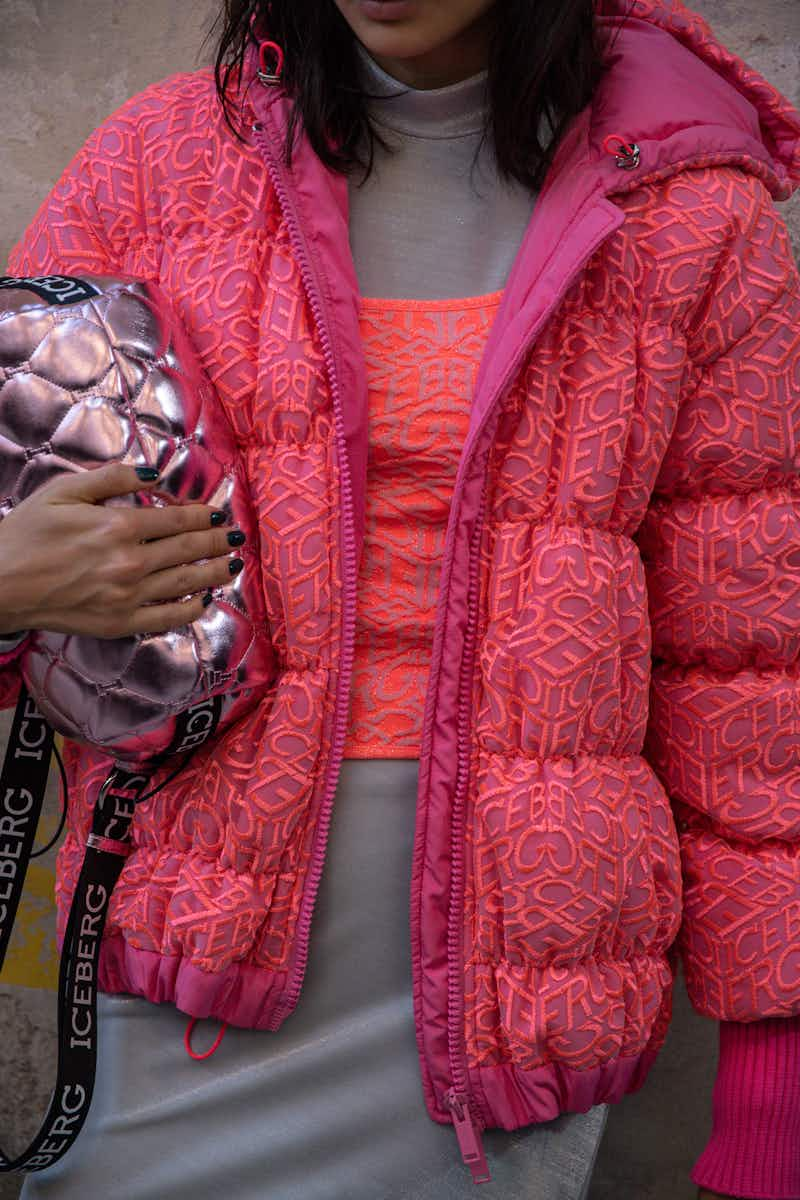 MARNI AW20
The models might have emerged from a silver spaceship like structure – within a cocoon-like show space furnished with soft mattresses and pillows upon which Marni's guests sat – but according to creative director Francesco Risso backstage, it was less about space and more about a trip down the rabbit hole. This explains the ASMR soundtrack – the word ​"inside" was whispered, over the sound of trickling water, on repeat, willing guests to step into Marni's fantasy-meets-supernatural world.
What did it sound like?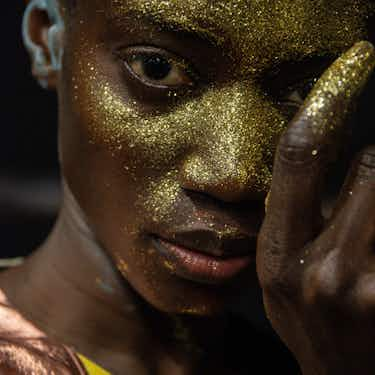 Listen now:

The sound of Marni AW20
"It's a celebration of DIY – a wild, Alice in Wonderland," says Risso. ​"And it is about her, her spirit, her questioning endlessly." Risso drew parallels between a trip down the rabbit hole and the journey he's been on this season, digging through Marni's archives while crafting the collection. Leathers formerly used for bags and shoes were given a new lease of life as patchwork coats and tunics in caramel, chocolate, biscuit-beige and metallic bronze and velvet coats took on a thrilling new form, finished in a way that looked like they had been pressed with a hot iron. ​"It's about finding beauty in the leftovers," says Risso. ​"It's been quite holistic, putting it together, it's been so intricate and beautiful. There's something beautiful in allowing time for the piece to generate itself." The final patchwork mini dresses stole the show – each featured multiple cut-away sections trimmed with metal as though the dress had been eroded and mutated by an alien substance.
Glittering Euphoria-style make up injected further fantasy into the collection – watched from the front row by Hunter Schaffer – as did wet gungy hair sprayed silver and gold.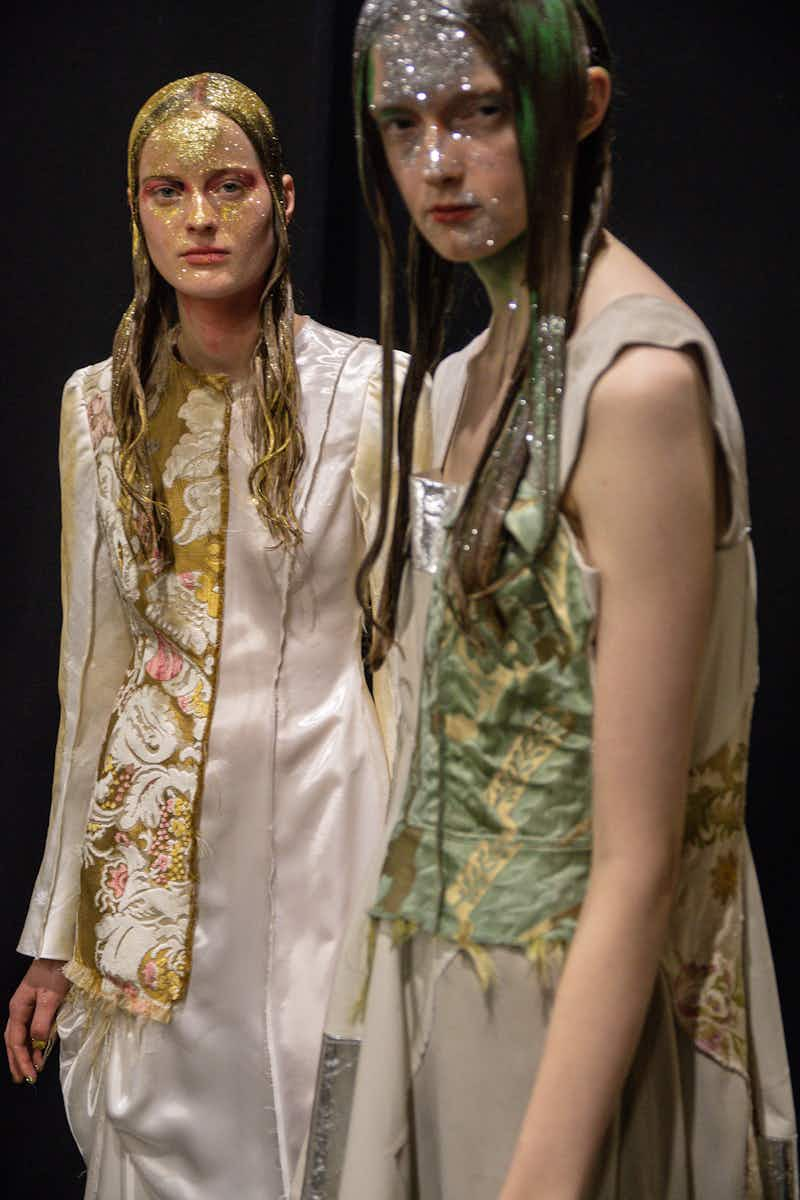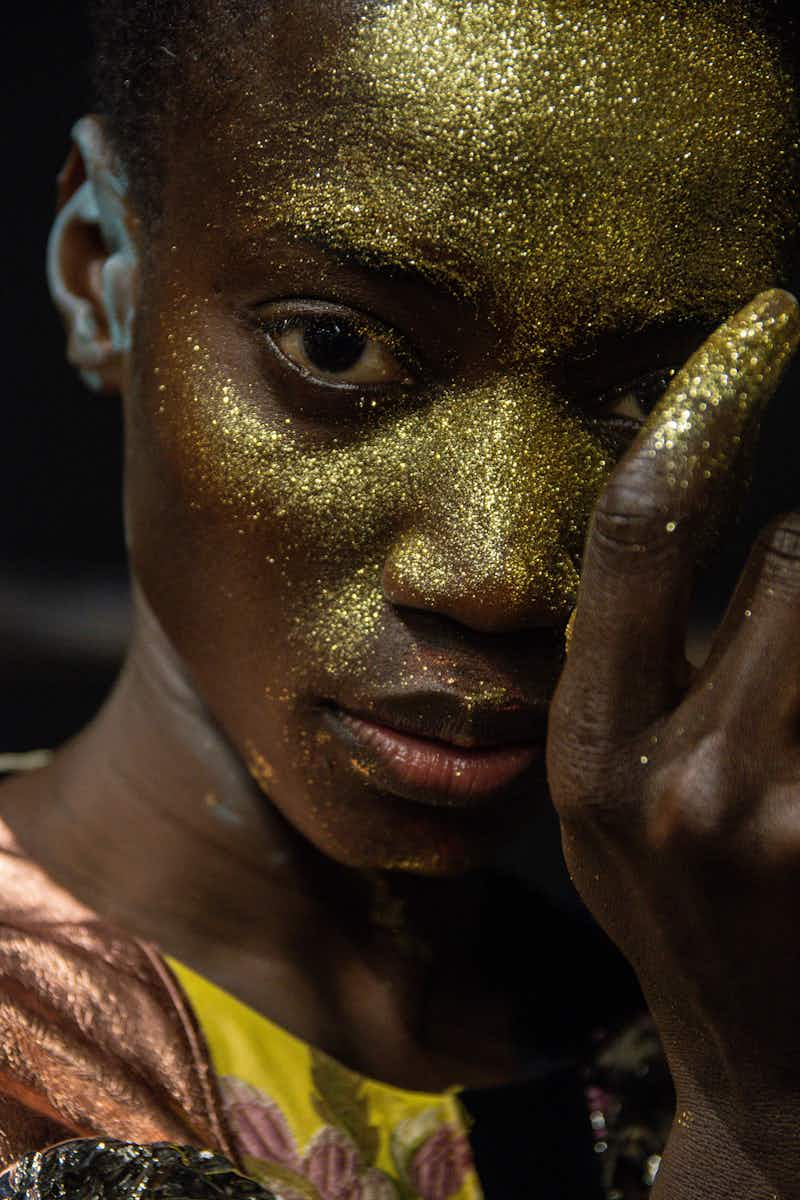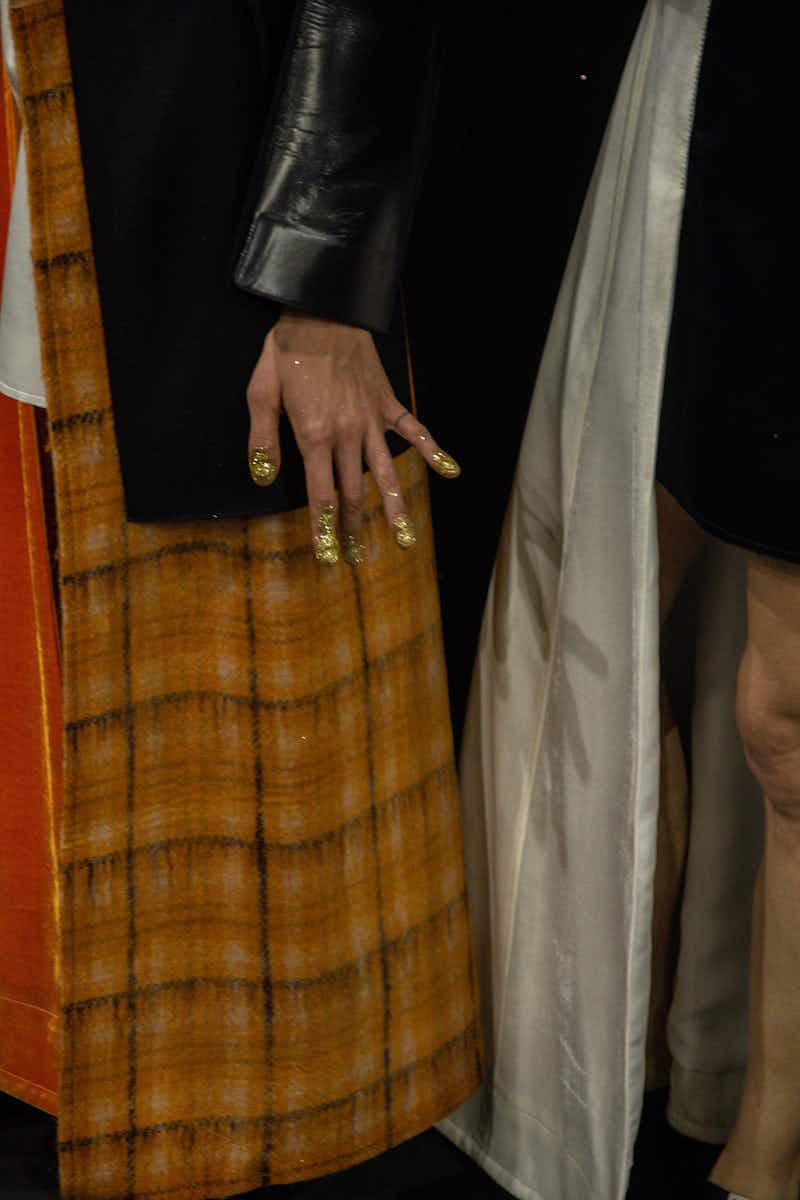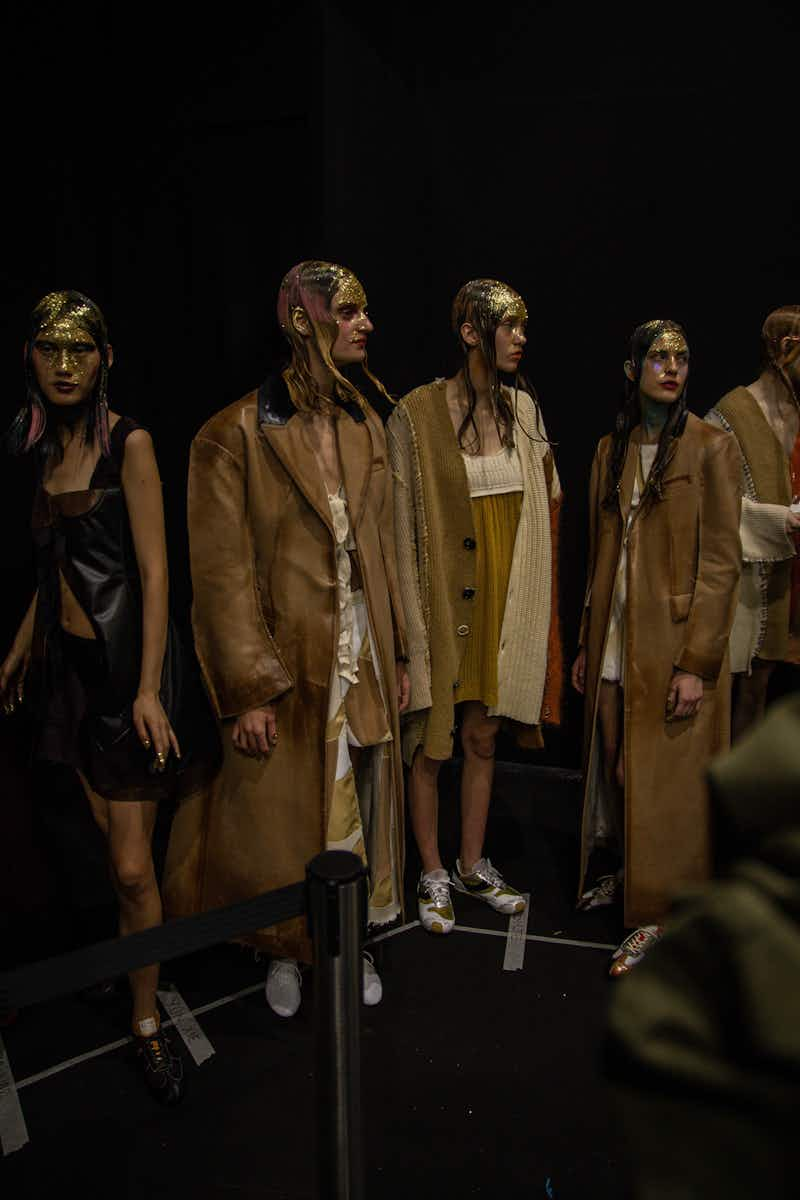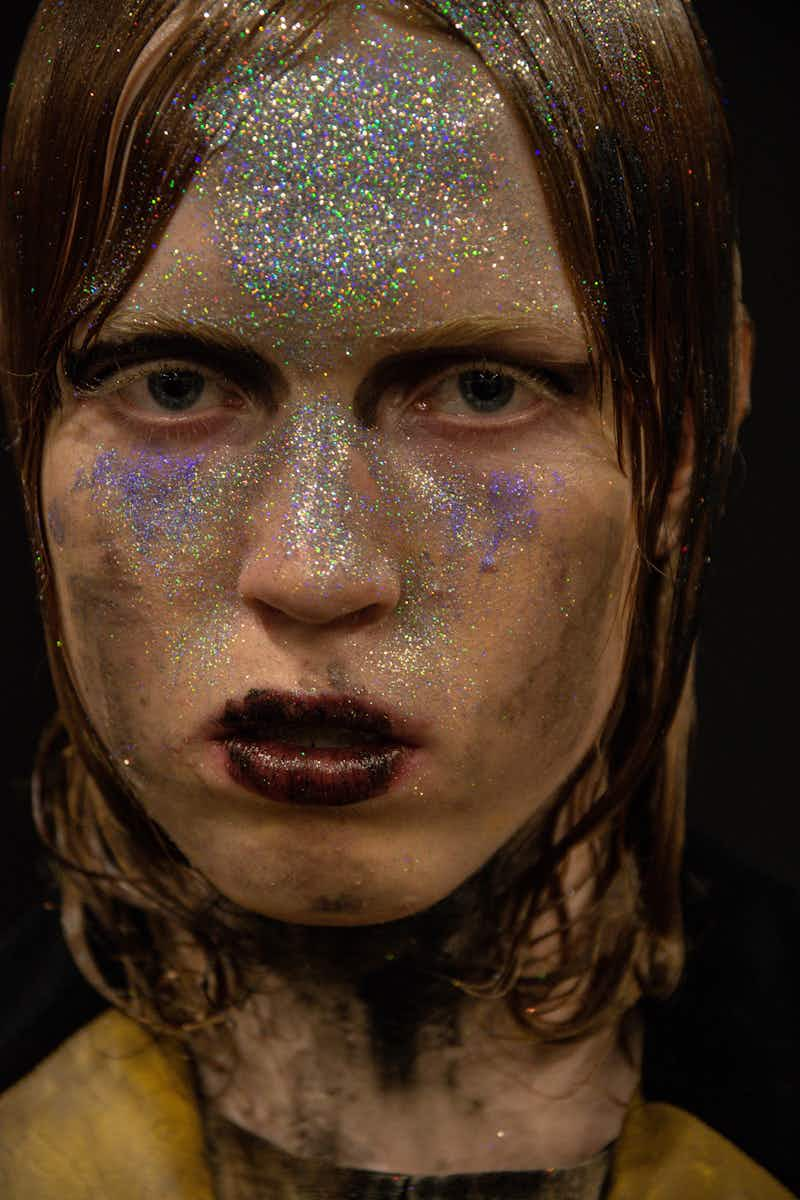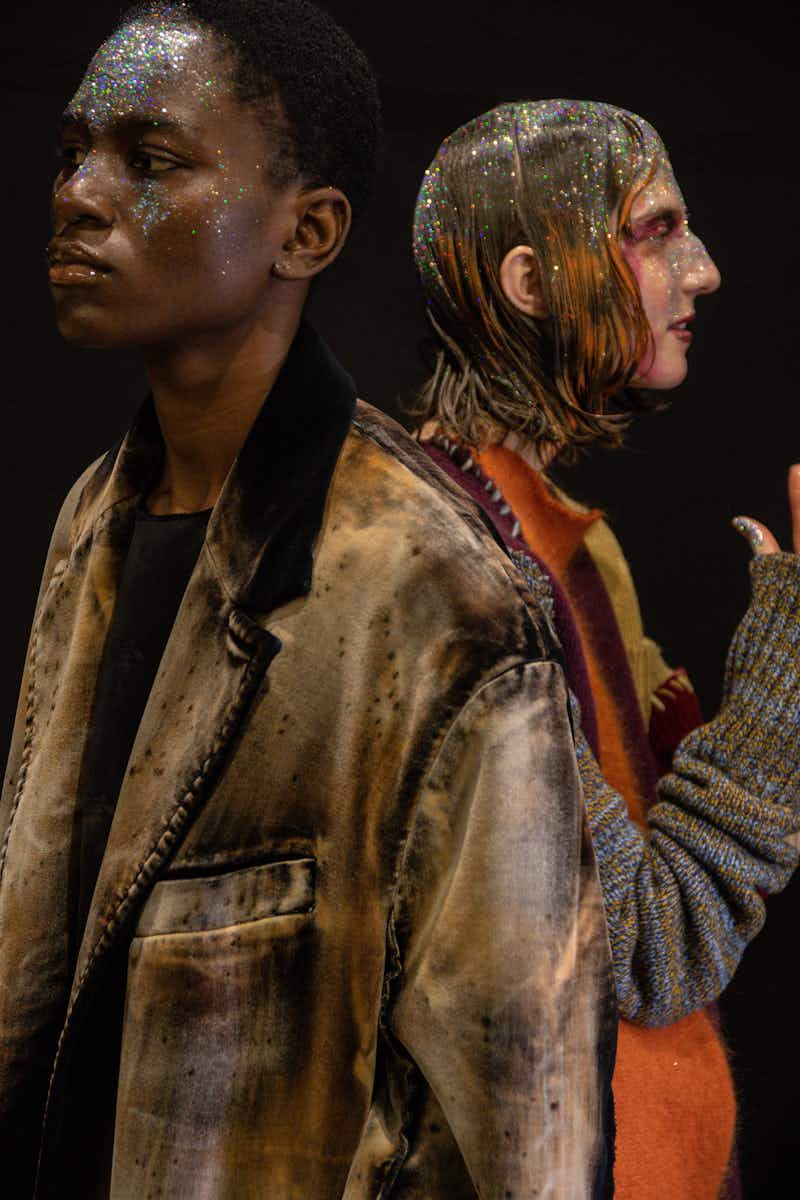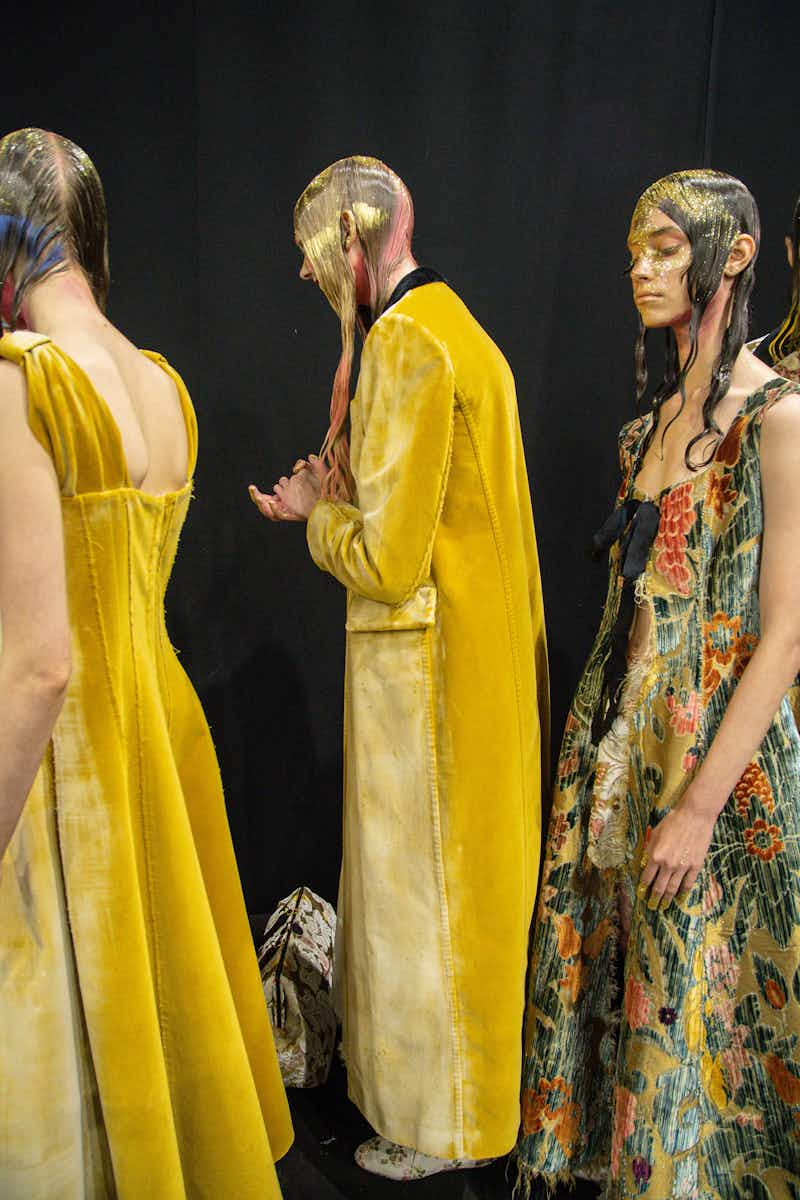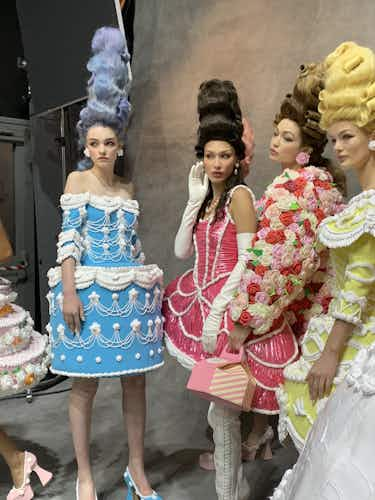 "It's like Marie Anime Antoinette – a very heightened surreal version of the icon of France." says Jeremy Scott backstage of his AW20 collection that was something of an exercise in time travel. ​"I was thinking about where we are in this geo-political place from the riots in Chile and Brexit, to the gilets jaunes in France, to the [protesets] in Hong Kong. There's so much political turmoil. I can't even get started on my country. I thought the best kind of rebellion sometimes is frivolity, decadence and a little bit of fun."

Scott's vision of frivolity manifests as sugar-coated surrealism: Marie Antoinette pannier dresses, slashed to radical 1960s mini proportions, maxi hair piled high on each model's head, corsets with puffed sleeves, denim biker jackets embroidered with gold brocade and a series of saccharine sweet tiered cake dresses and a icing swirl coat (as seen on Gigi Hadid), shown to the sound of The Strangeloves' I Want Candy. The cherry on top? An iced – latex – wedding cake dress fit to wear to a Moschino wedding at which the bride will shout: ​"Let them eat cake!"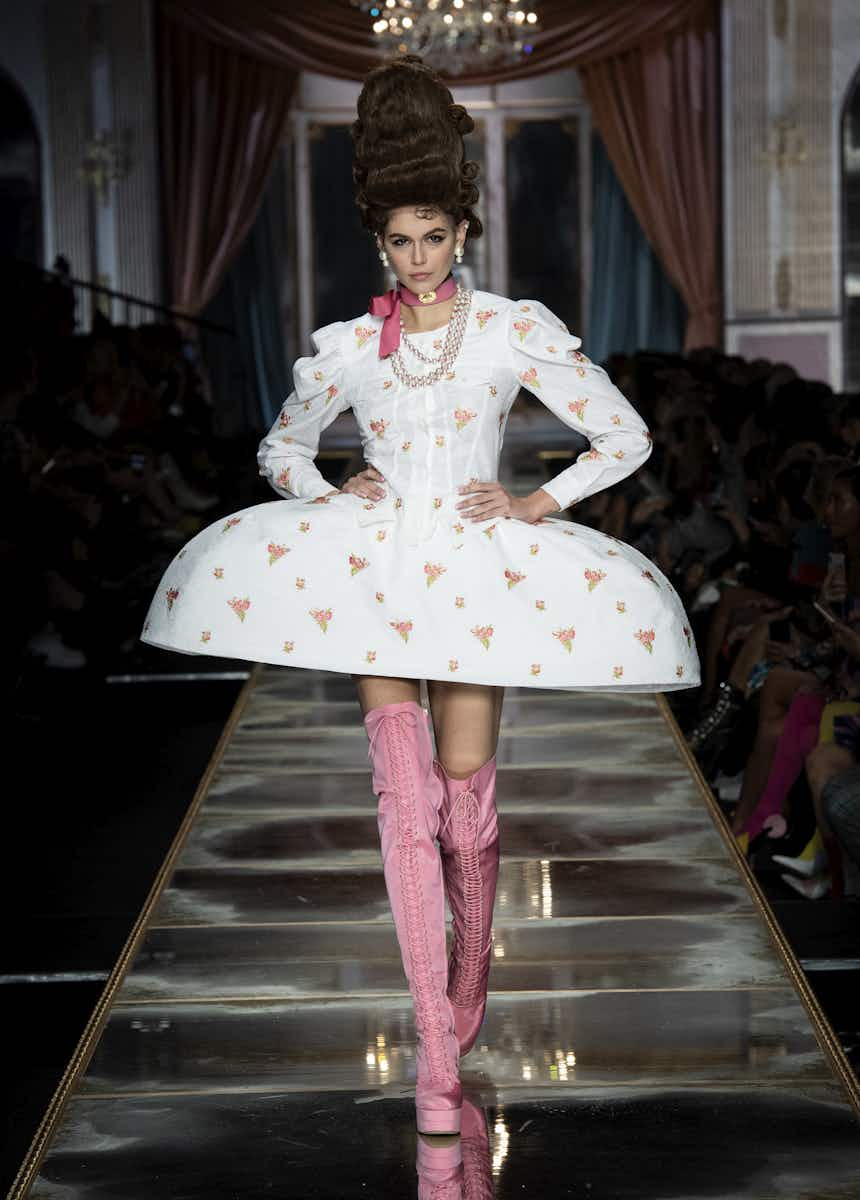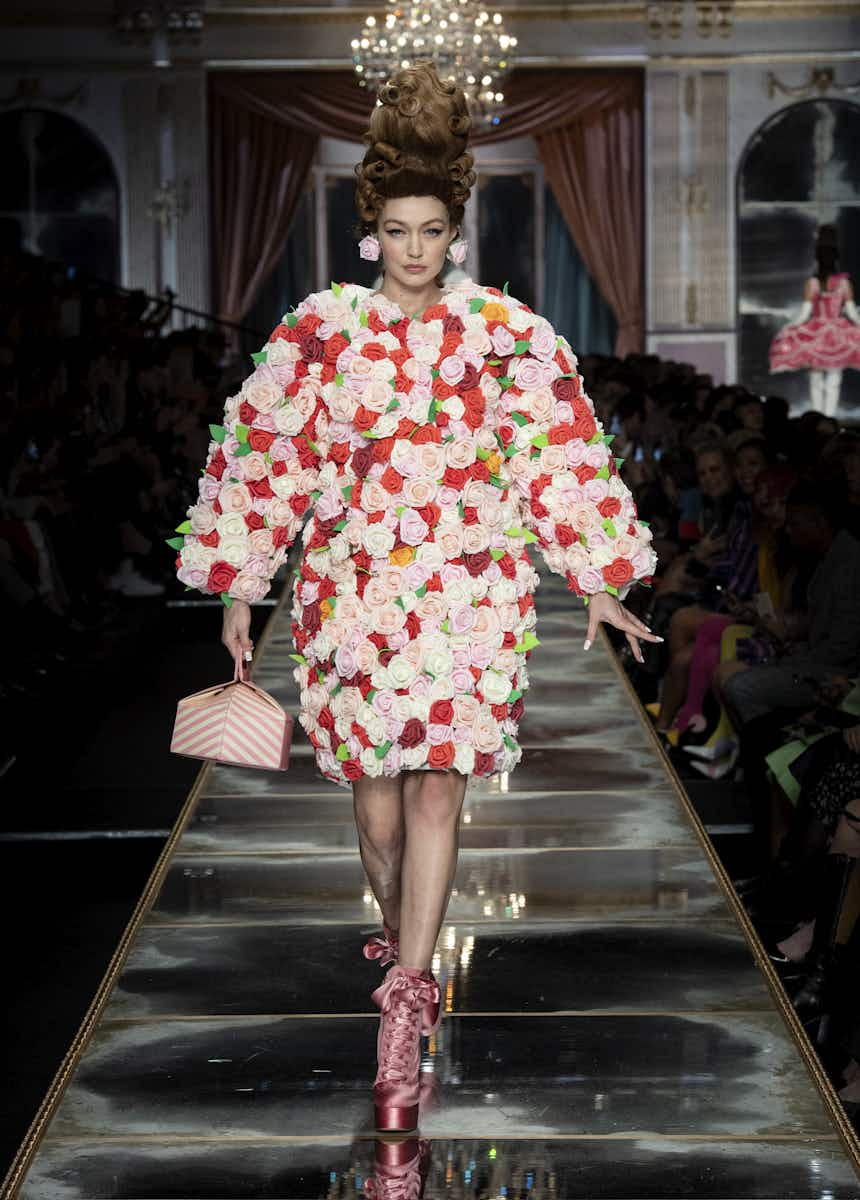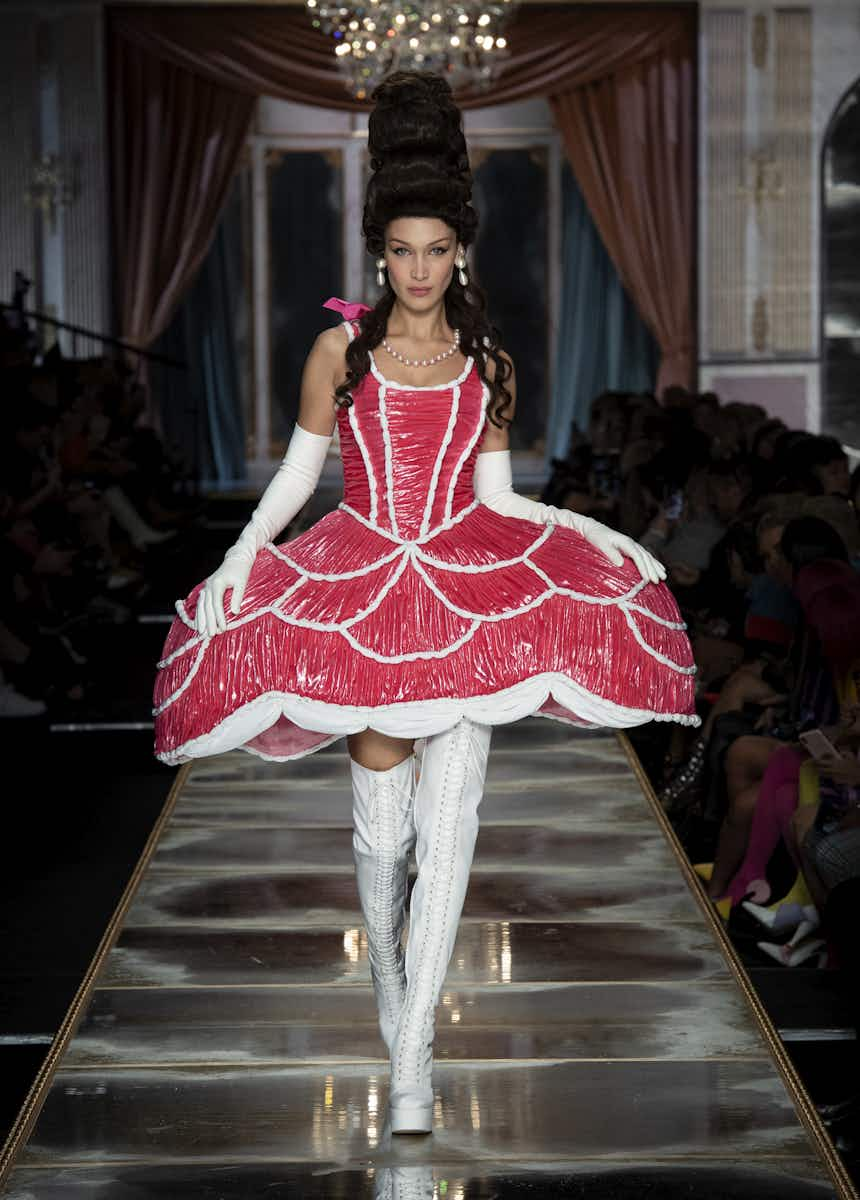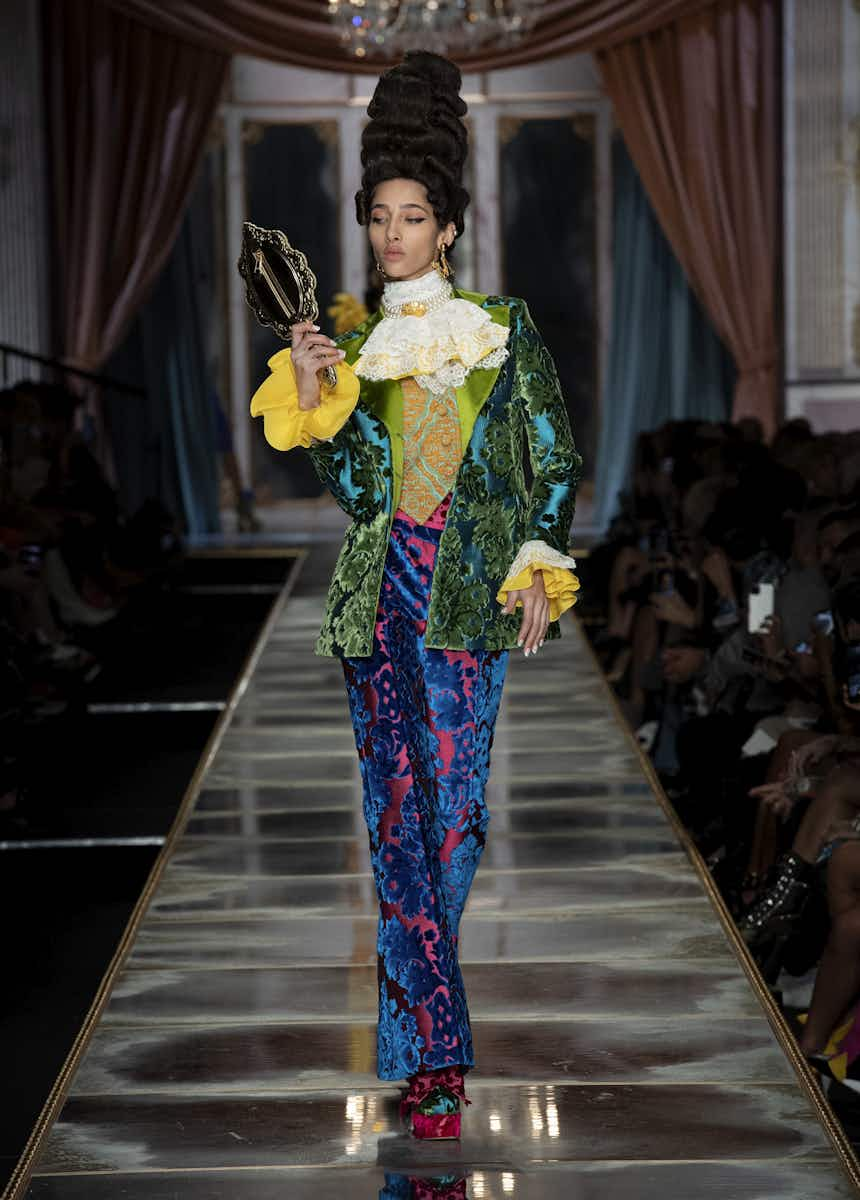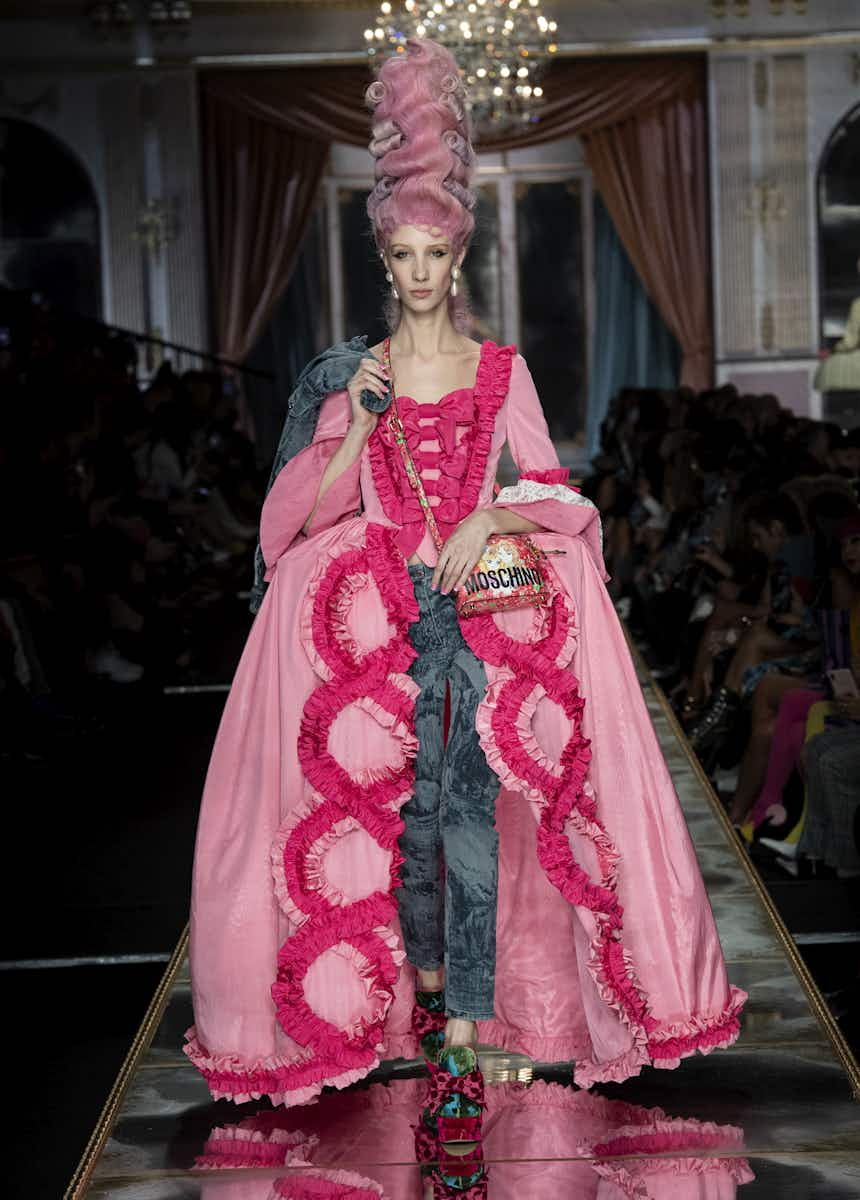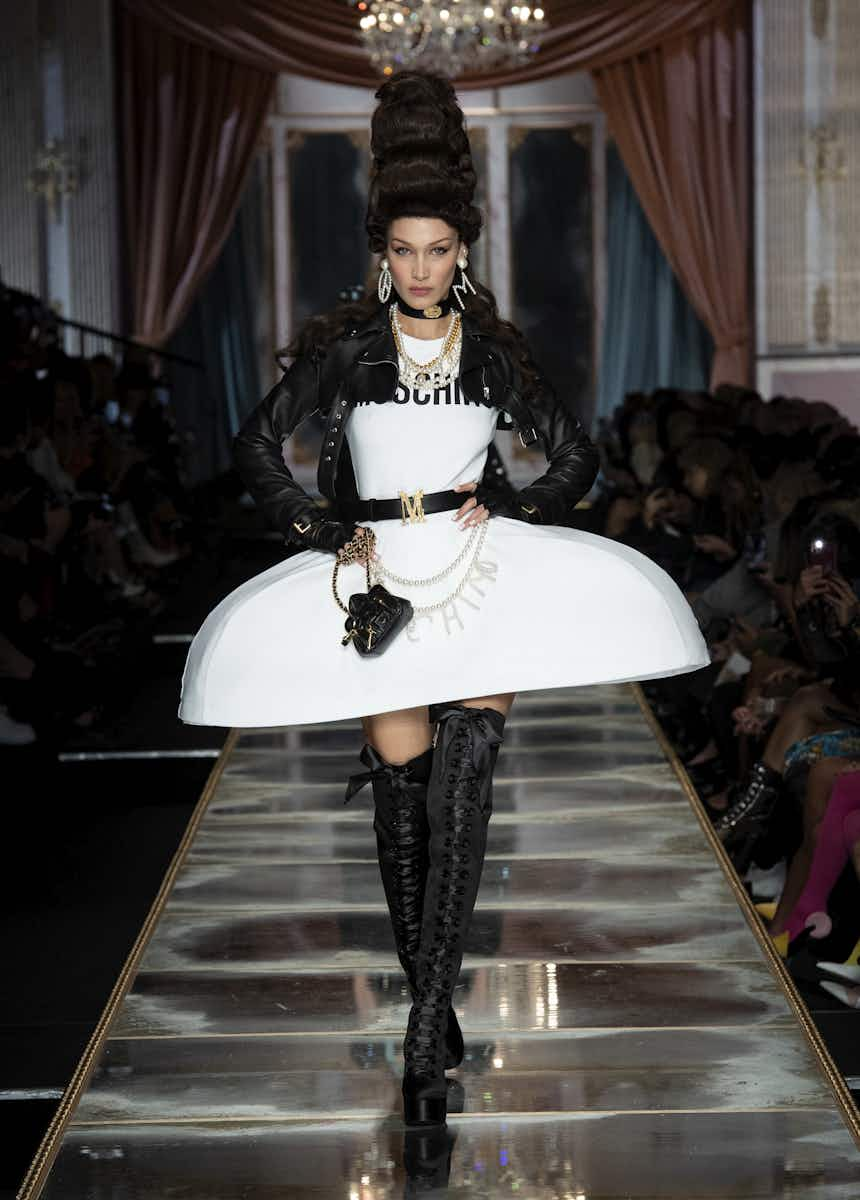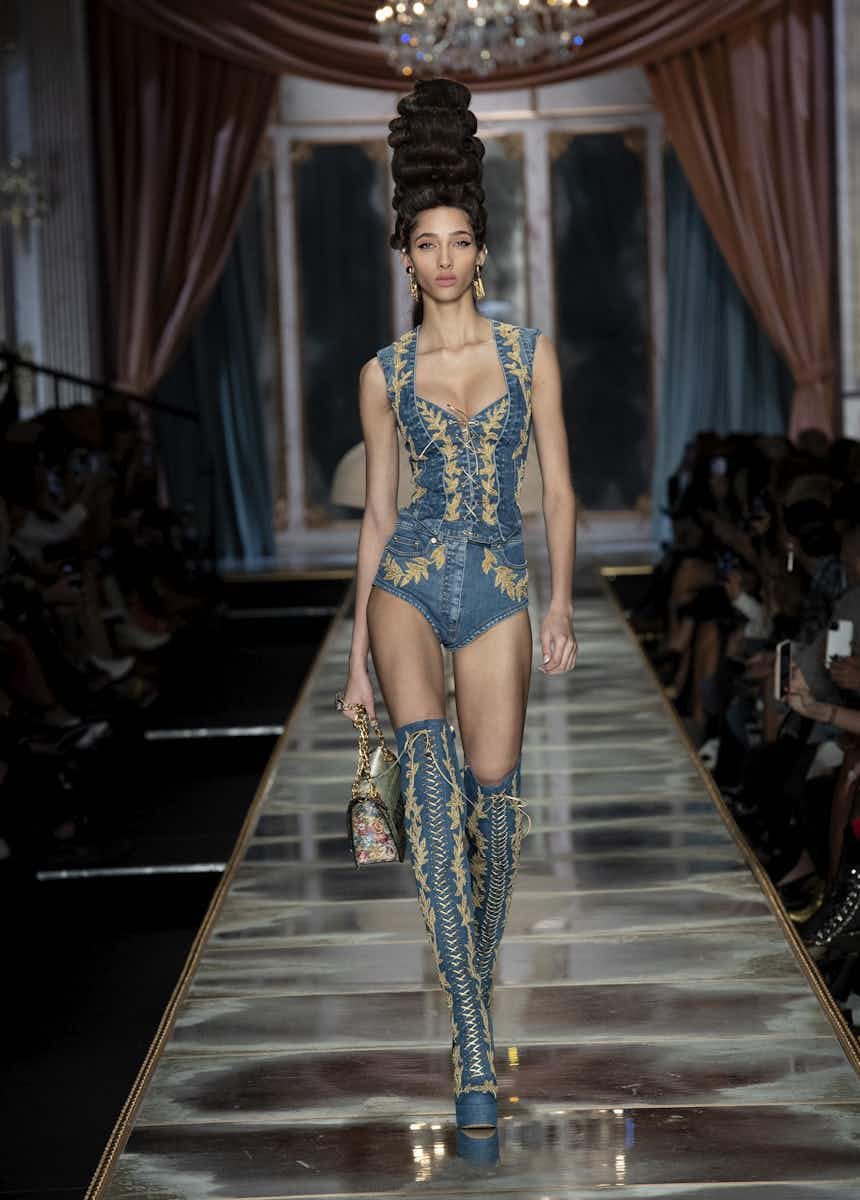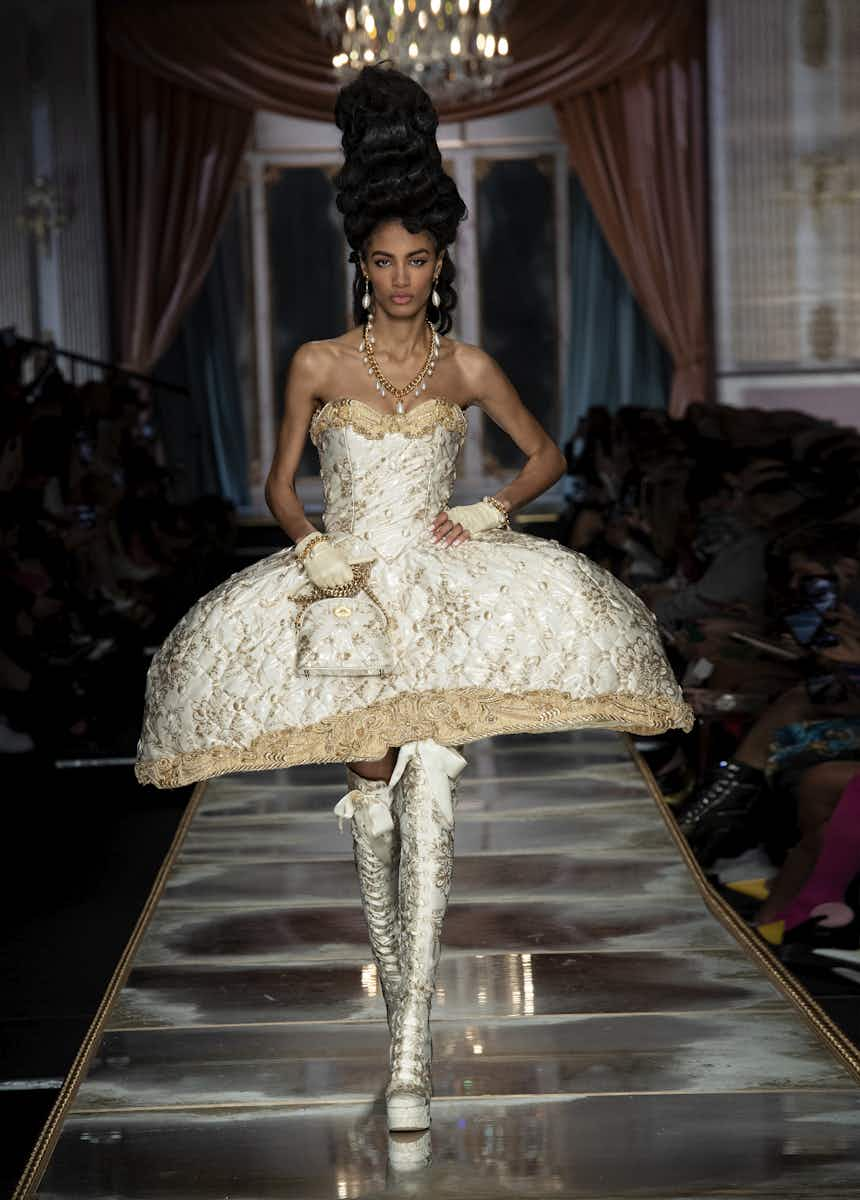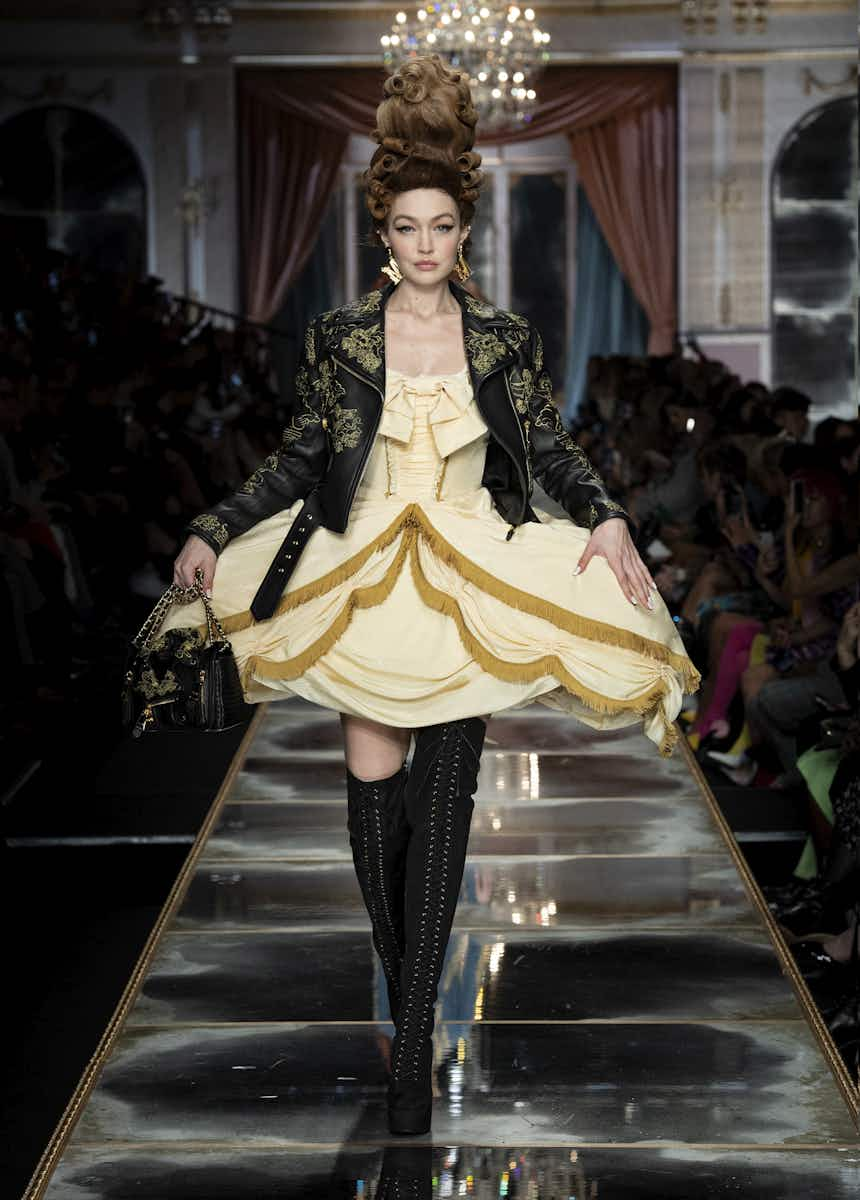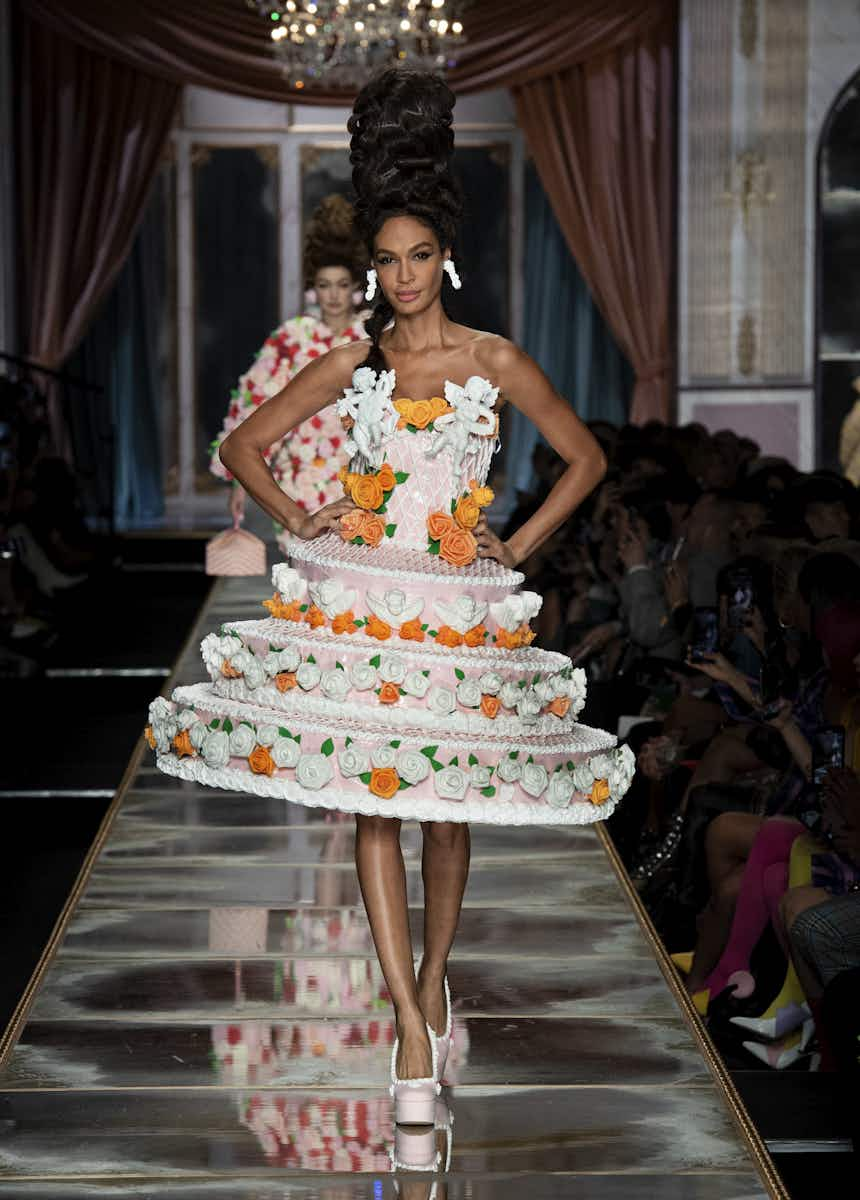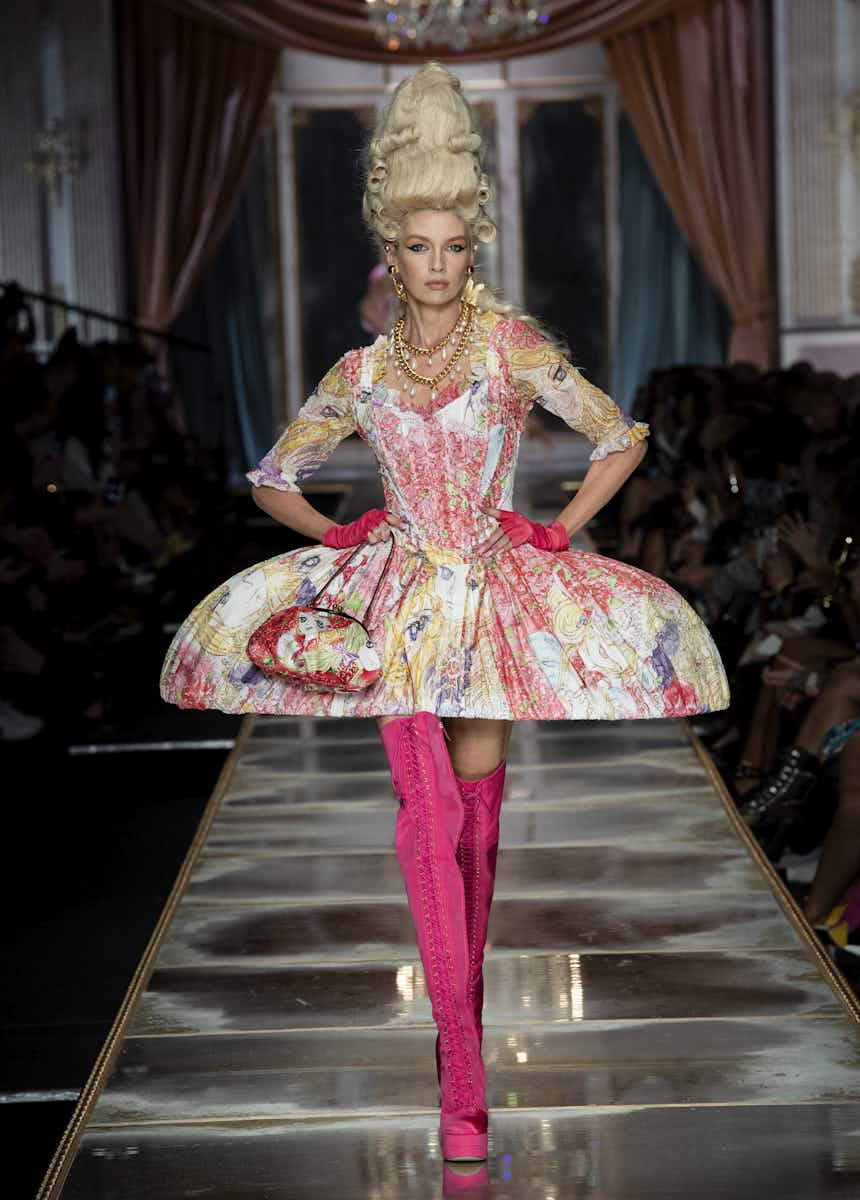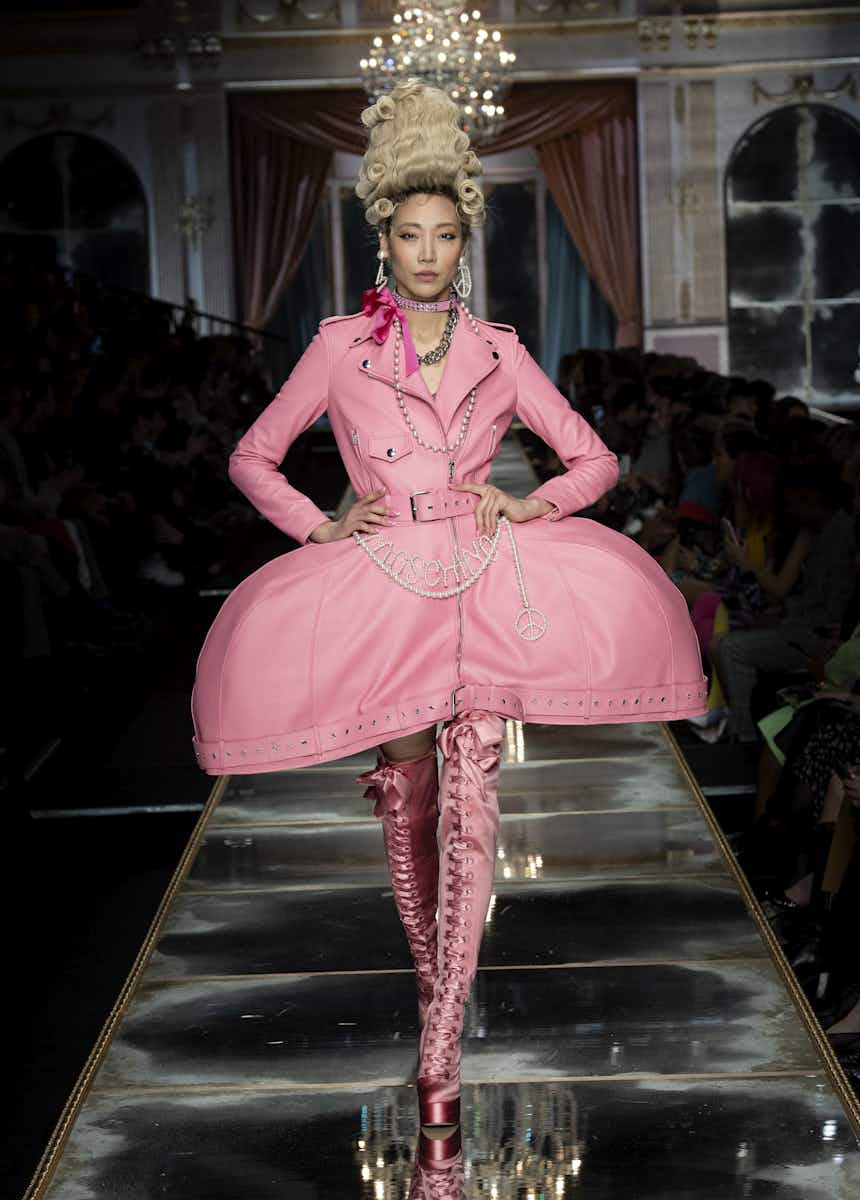 FENDI AW20
Silvia Fendi's AW20 show delivered a sensory overload – from the swirling, shell-pink velvet seating, the pink upholstered runway and the ASMR inducing soundtrack, right through to the immense plethora of textures seen in the collection and the tightly twisted hair ​'dos.
It was incredibly powerful: a lesson in the liberation of getting dressed to undress, for the purpose of nothing but self indulgence. Fendi had been watching Maîtresse while working on this collection – a 1976 French film that centres around protagonist Ariane's life as a dominatrix, blurring the line between fantasy and reality.
Structured outerwear comes crafted from fabrics that feel soft on the skin, a leather coat is worn with nothing but bare skin beneath and silky shirts slip from the shoulders to reveal corsets underneath. A biscuit-beige teddy bear fur jacket, cinched in at the waist with a belt, confirms the accessories of the season: smart cases for all your tech gadgets (as seen dangling from the belt – a collaboration with Chaos). Elevated interpretations of lingerie include a waist sculpting black velvet corset dress layered over a delicate lace bra, a number of sheer lace pieces in shades that skip from black, to pink, to peach, and suspender belt shoes in flesh-pink.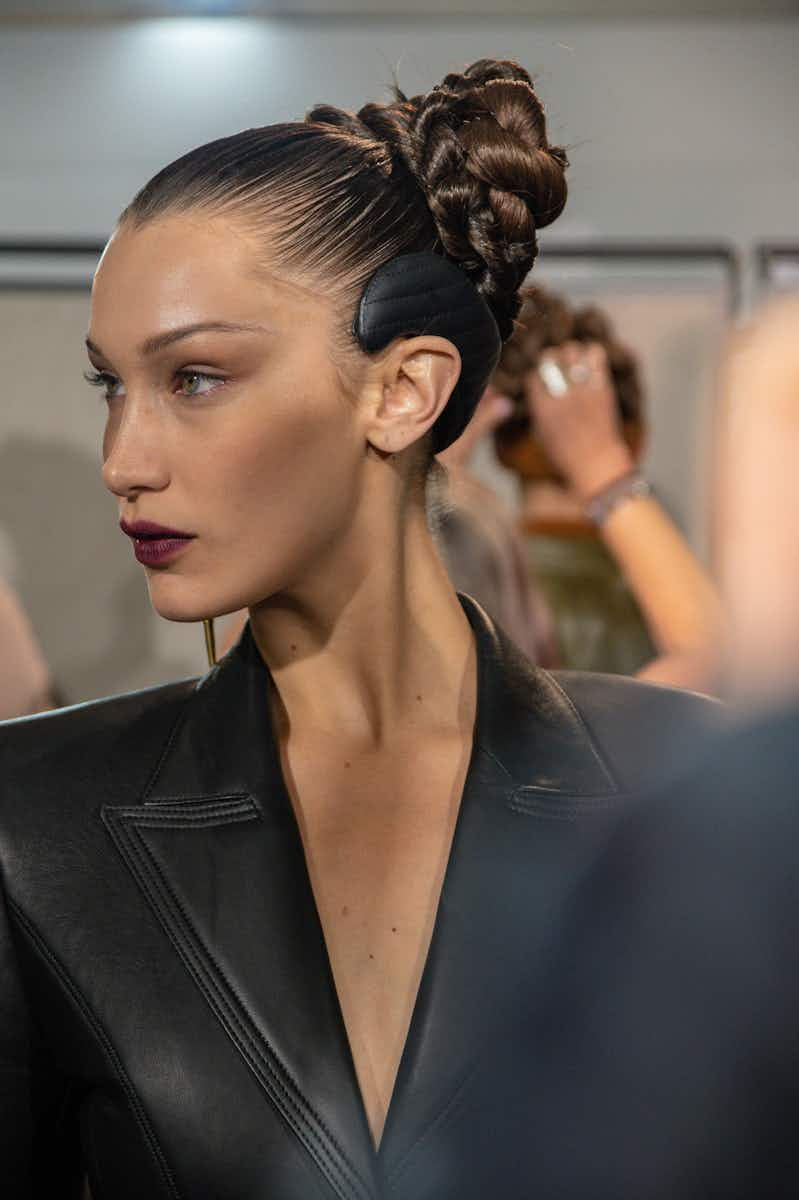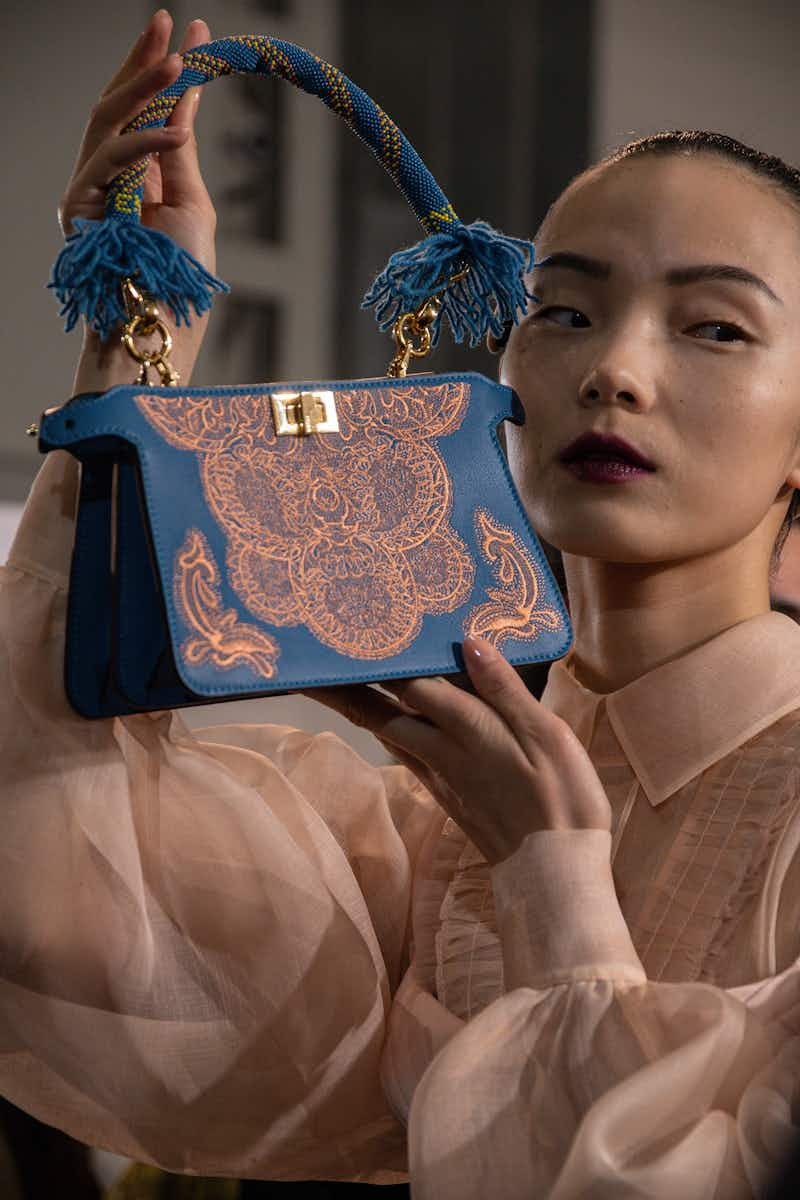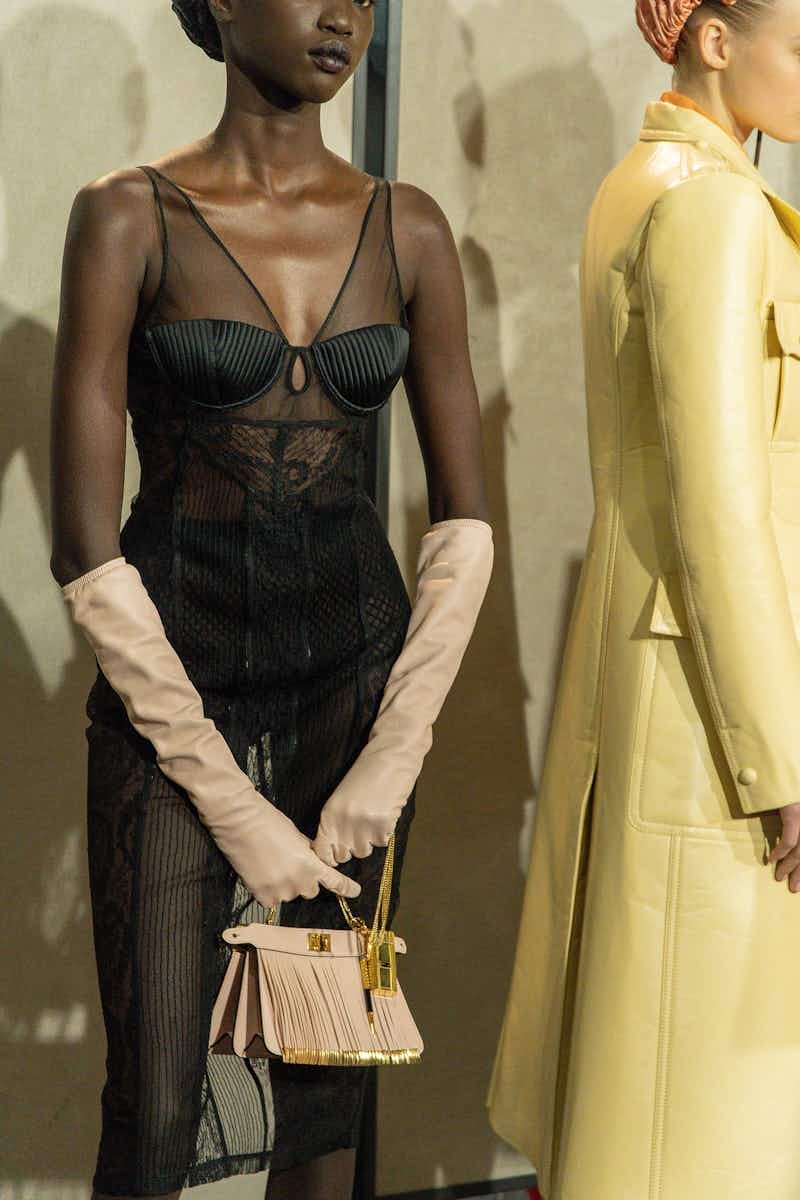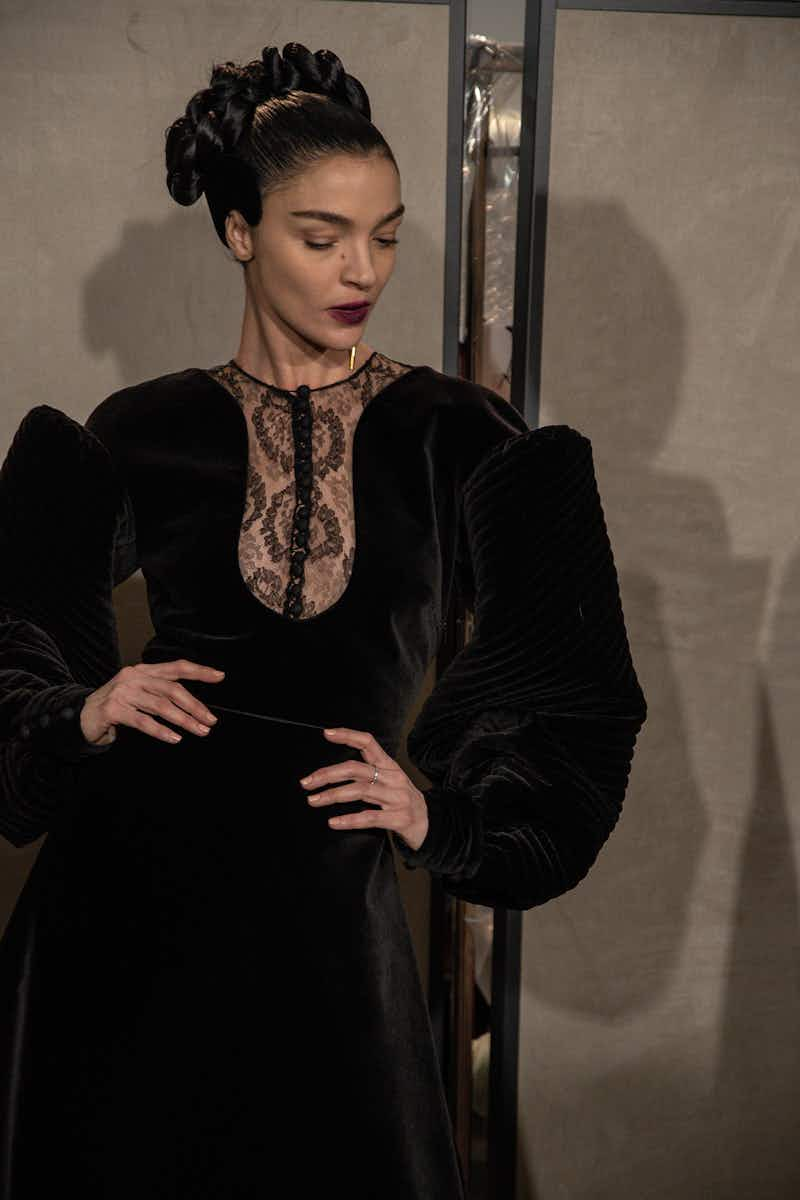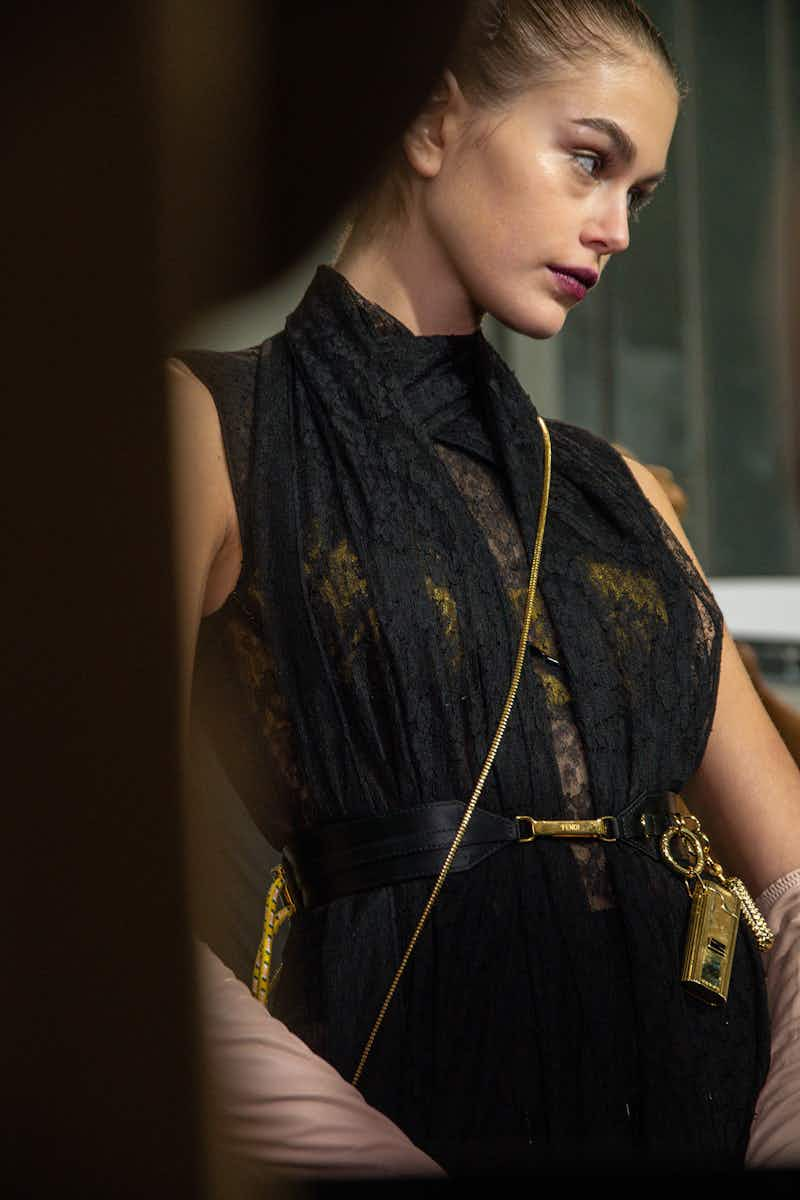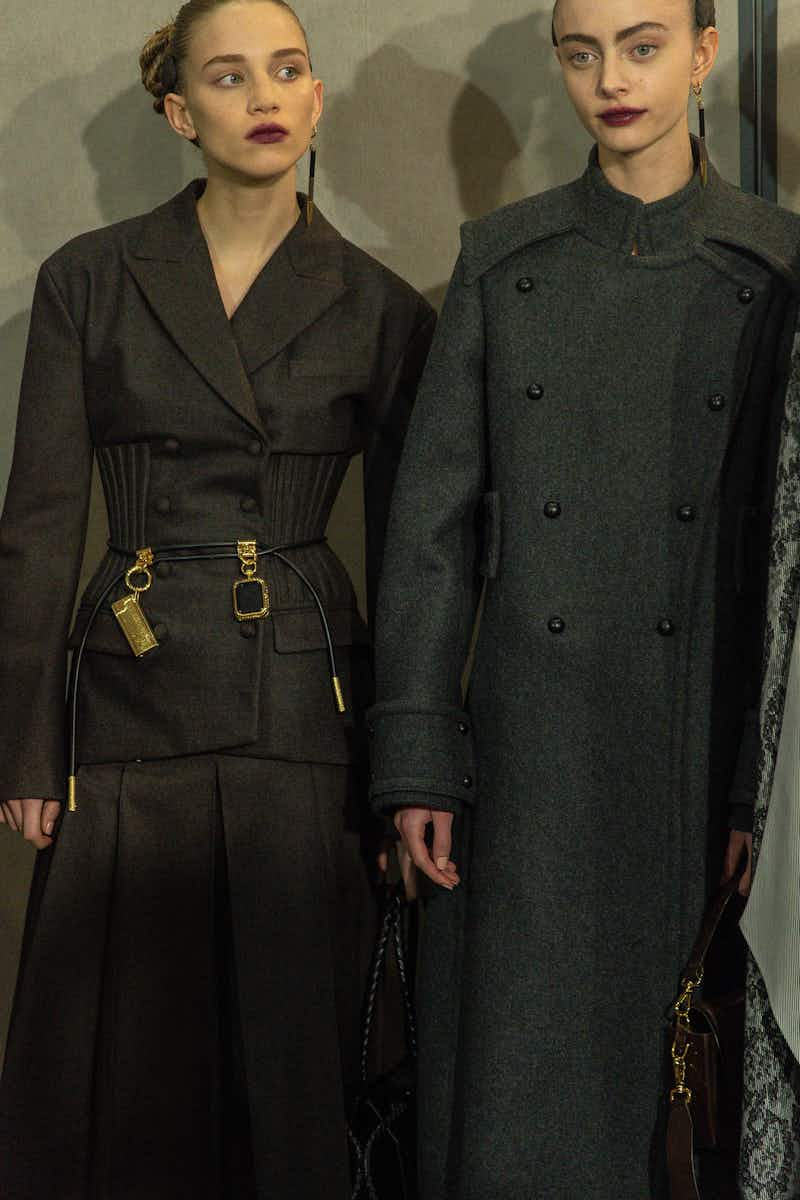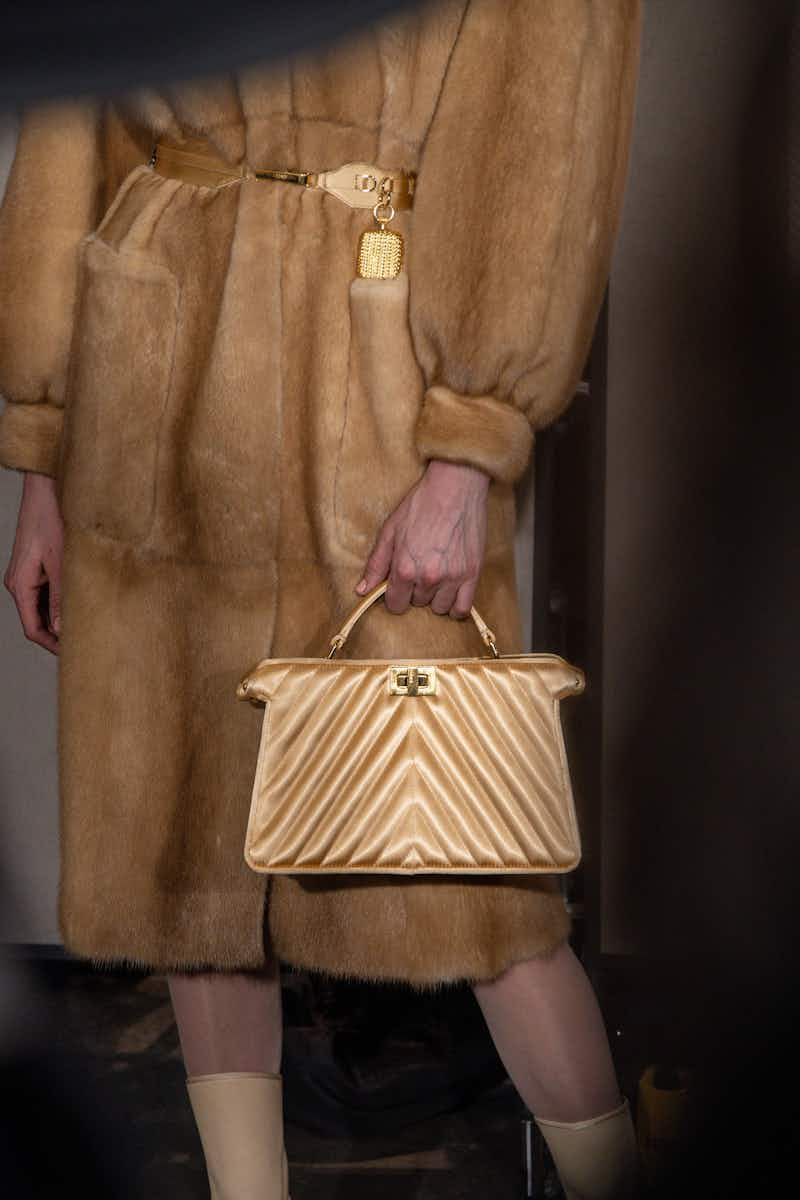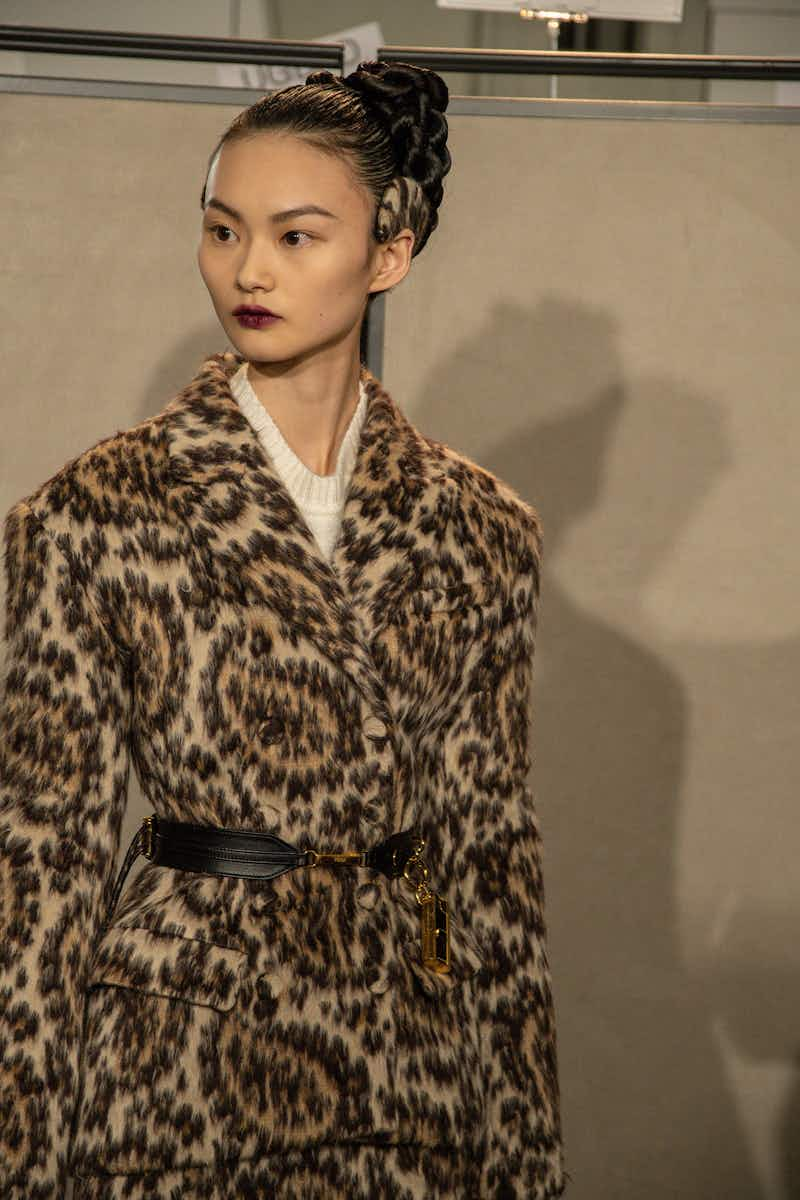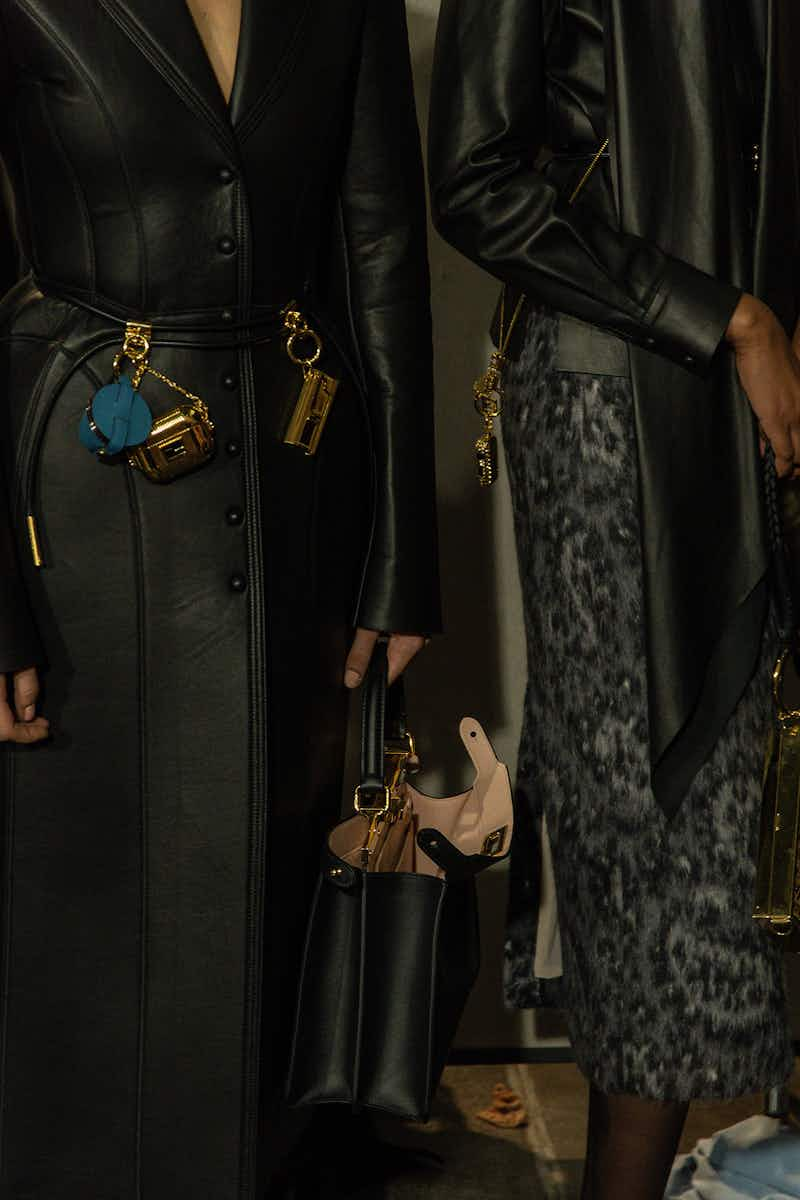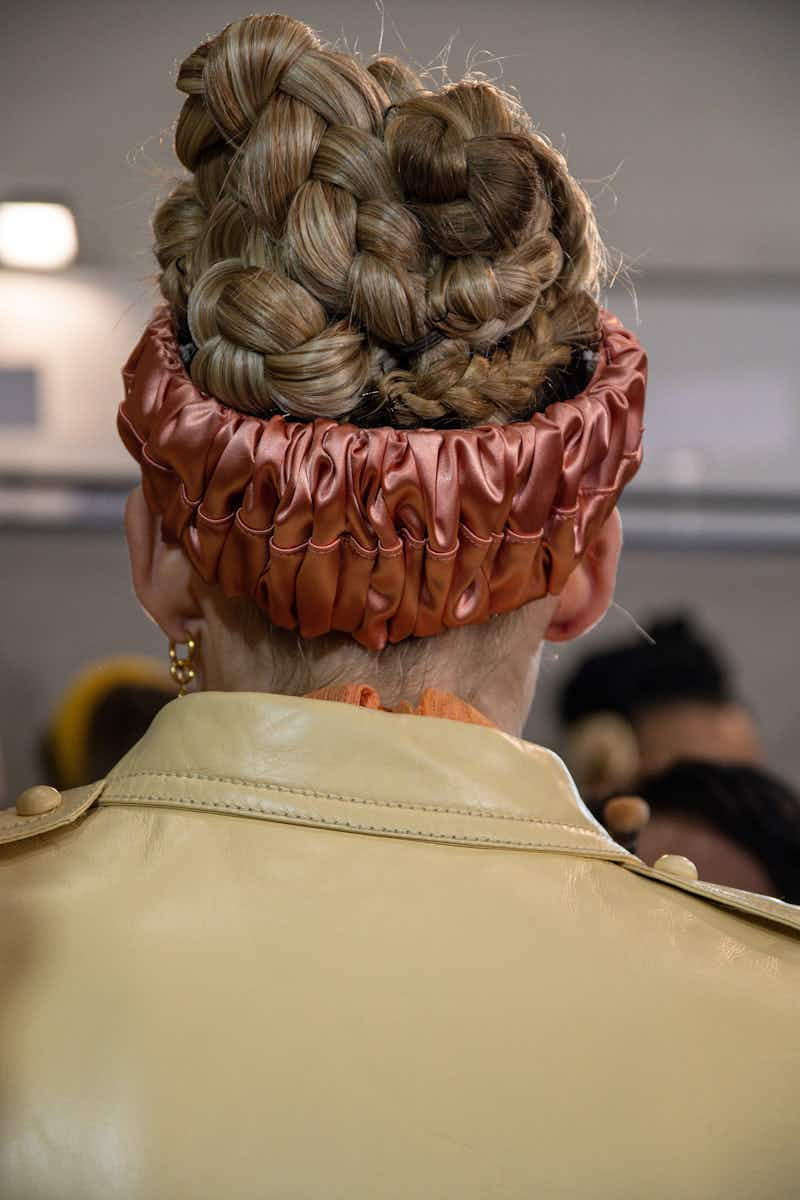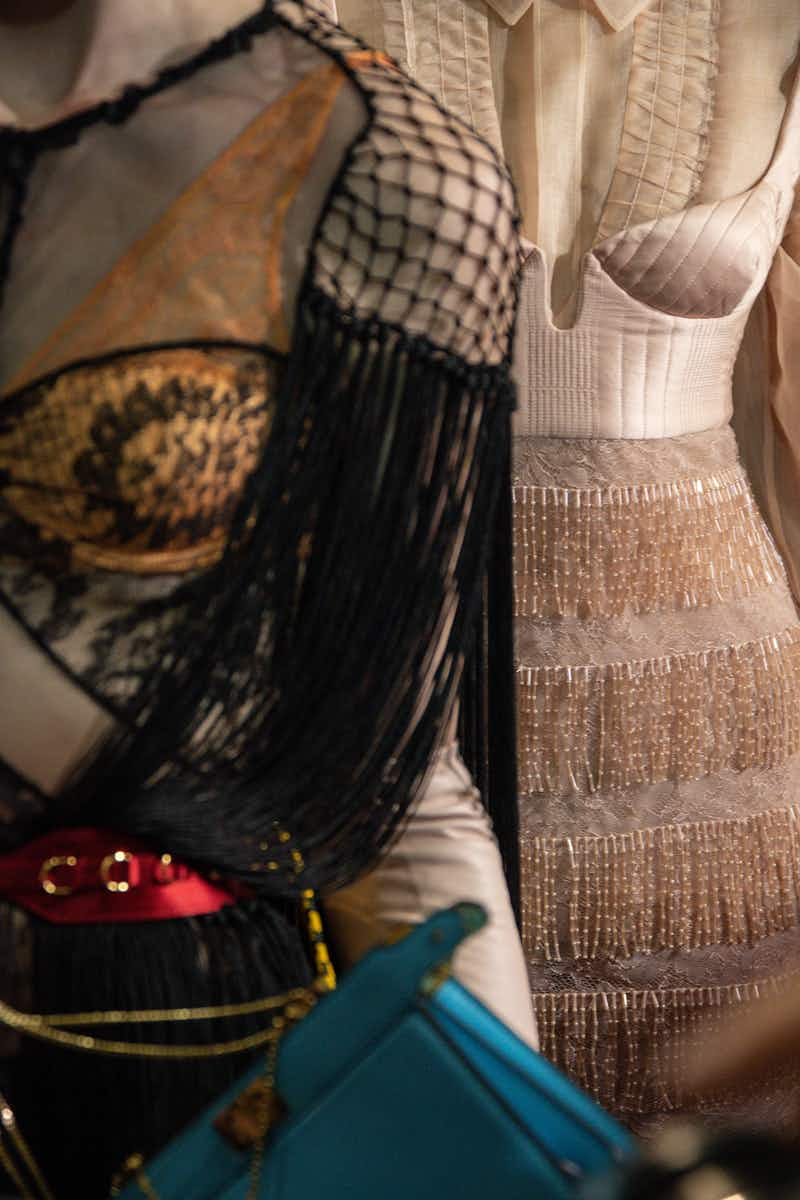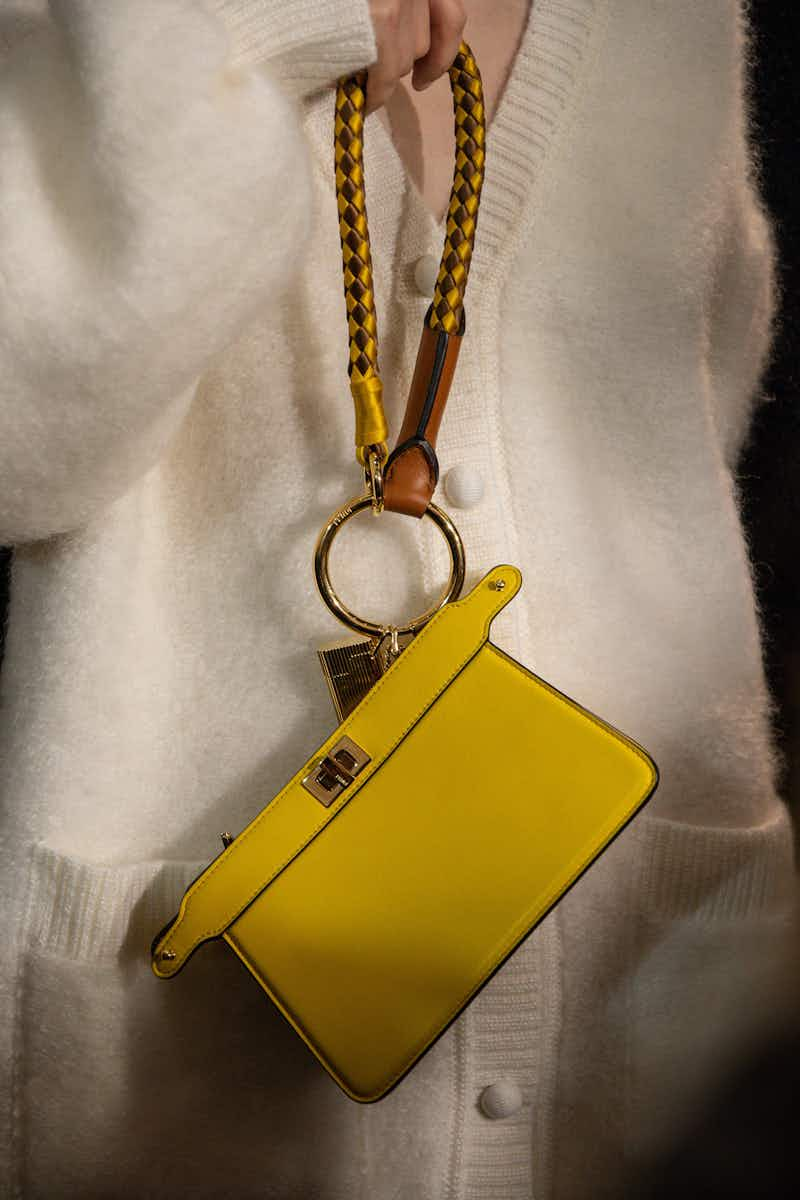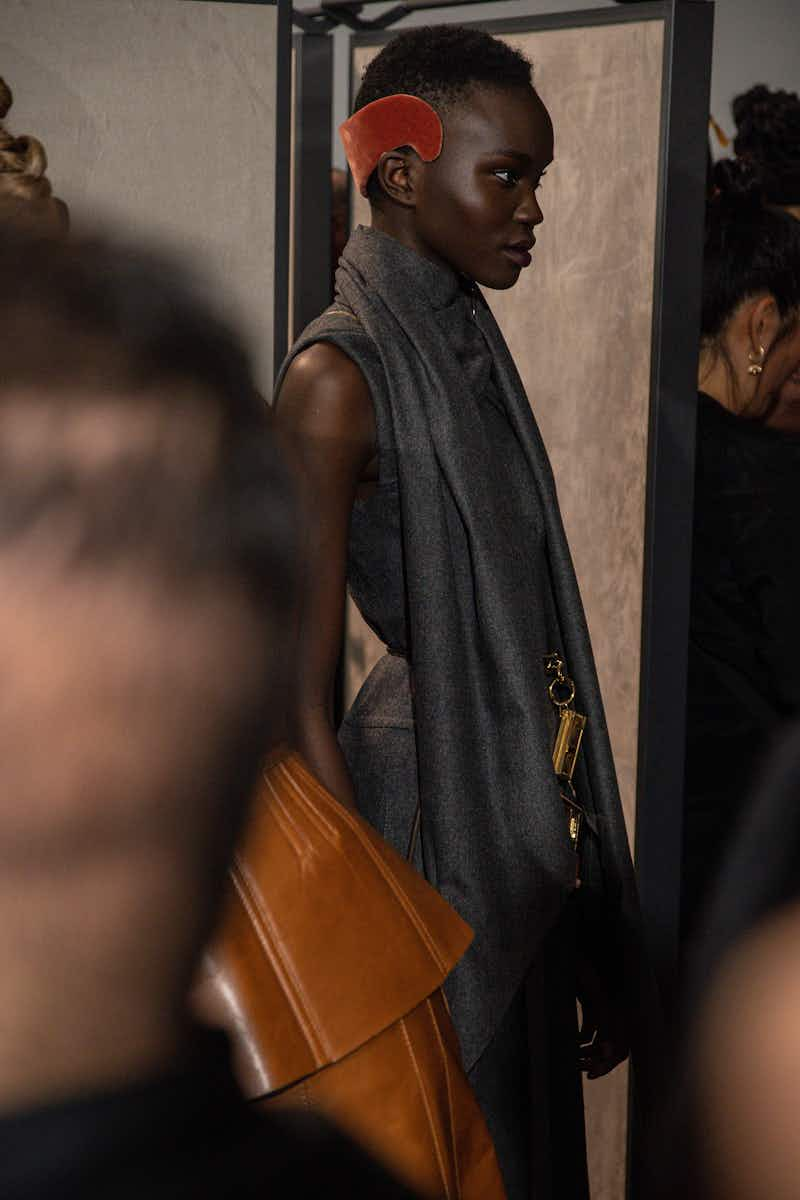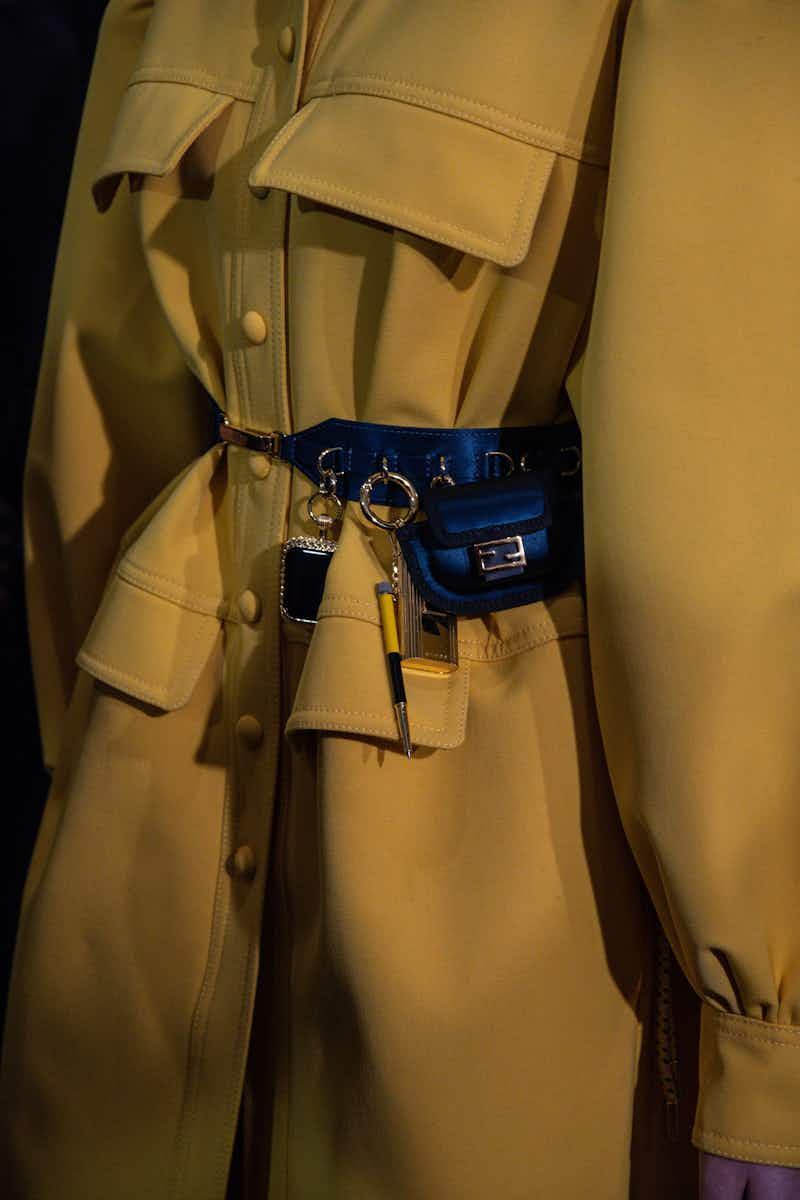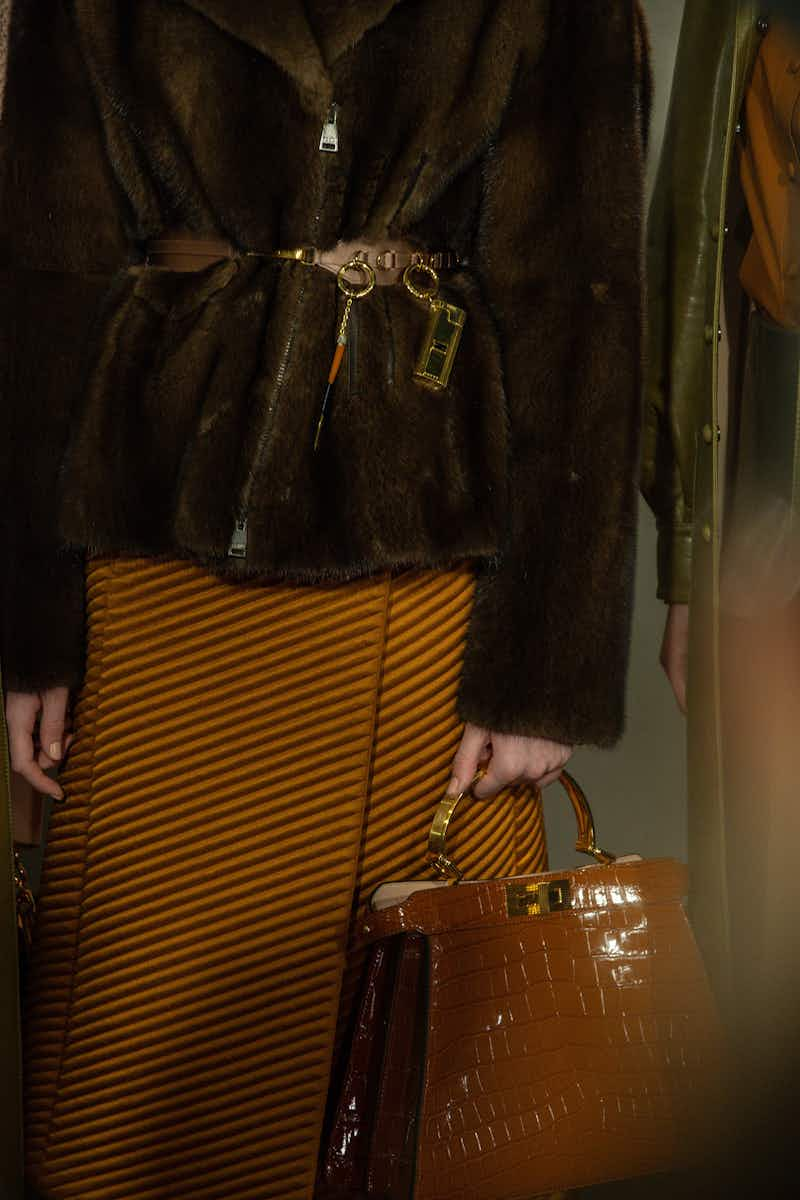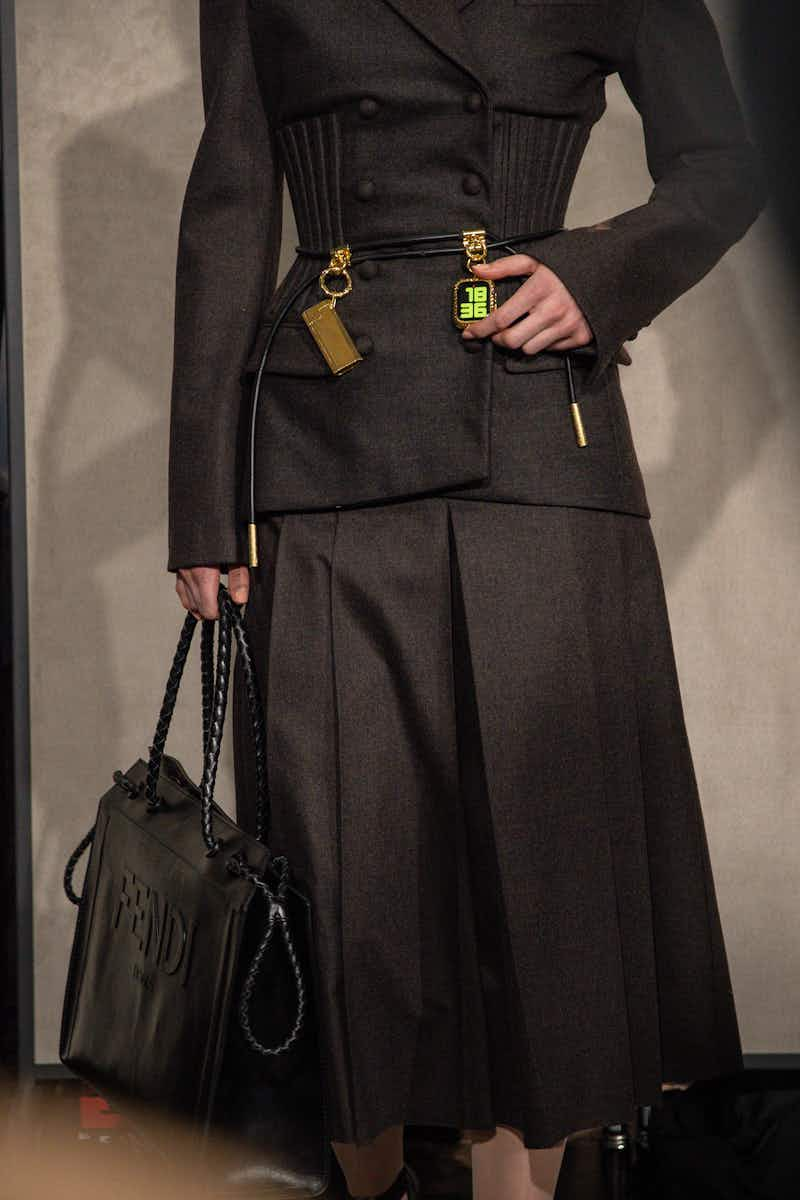 PRADA AW20
Today's Prada show took place in the stage-set palazzos used for the men's show last month — now papered with a new floral print (later seen in the collection on monochrome silk pyjama suits).
An interpretation of the Atlas statue appeared in the centre of the space — a woman with the weight of the world on her shoulders. Miuccia Prada's AW20 collection was an antidote to the daily grind, designed to be ​"something that makes you feel optimistic or lifted up" and intended to be worn by ​"strong women".
As Mrs Prada explained backstage, ​"making glamour the day option" was at the heart of the collection. ​"Women, strength and delicacy can live together, and should live together." And that's exactly what they did.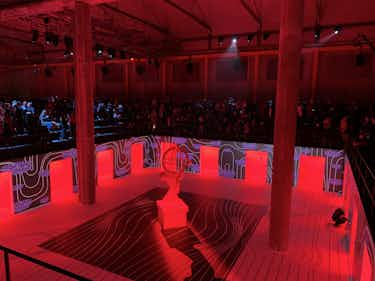 What about the clothes?
Subverting the ​"traditional clichés of what is considered feminine", Prada sent transparent shirts and bejewelled, fringed dresses down the runway to the sound of Maleria!, Berlin's all female 1980s new-wave group. Prada's strong women were given a license to thrill through elevated interpretations of everyday ensembles: grey skirt suits worn with colour clash tights and glossy pastel mules, boxy suit jackets and V‑neck knits teamed with pencil skirts spliced from the thigh down, a trio of padded leather blazers, each belted at the waist and a quilted Prada Nylon overcoat with branded details. There were party pieces too: a high-neck beaded lilac frock, a fringed dress coat with a silk lapel and a spliced and fringed velvet number with pronounced shoulders. A lesson in everyday glamour well learnt.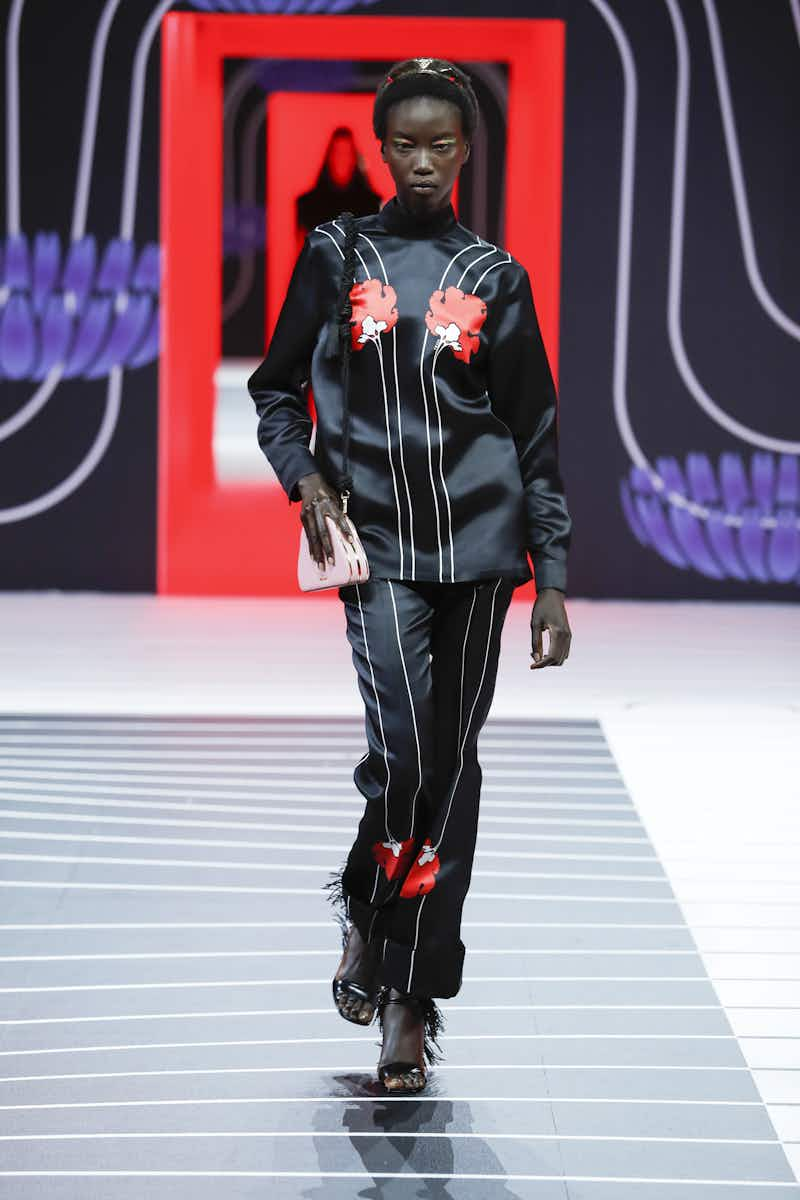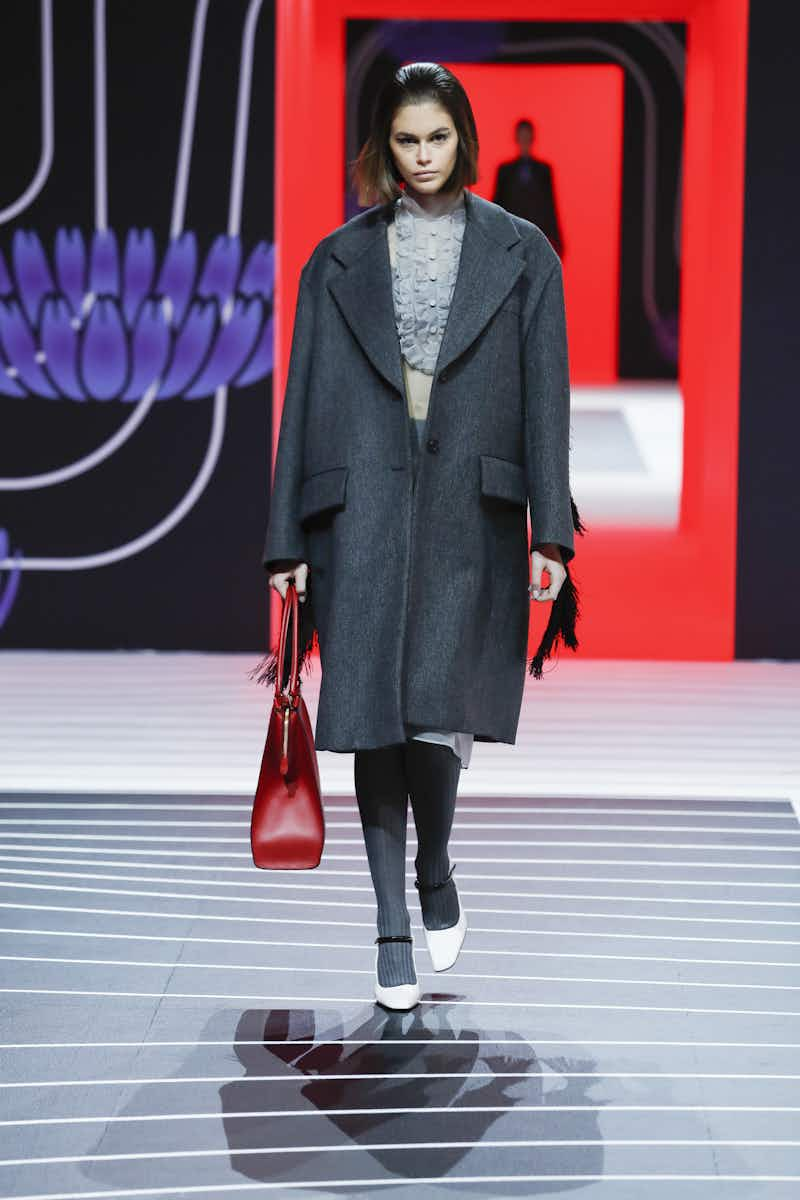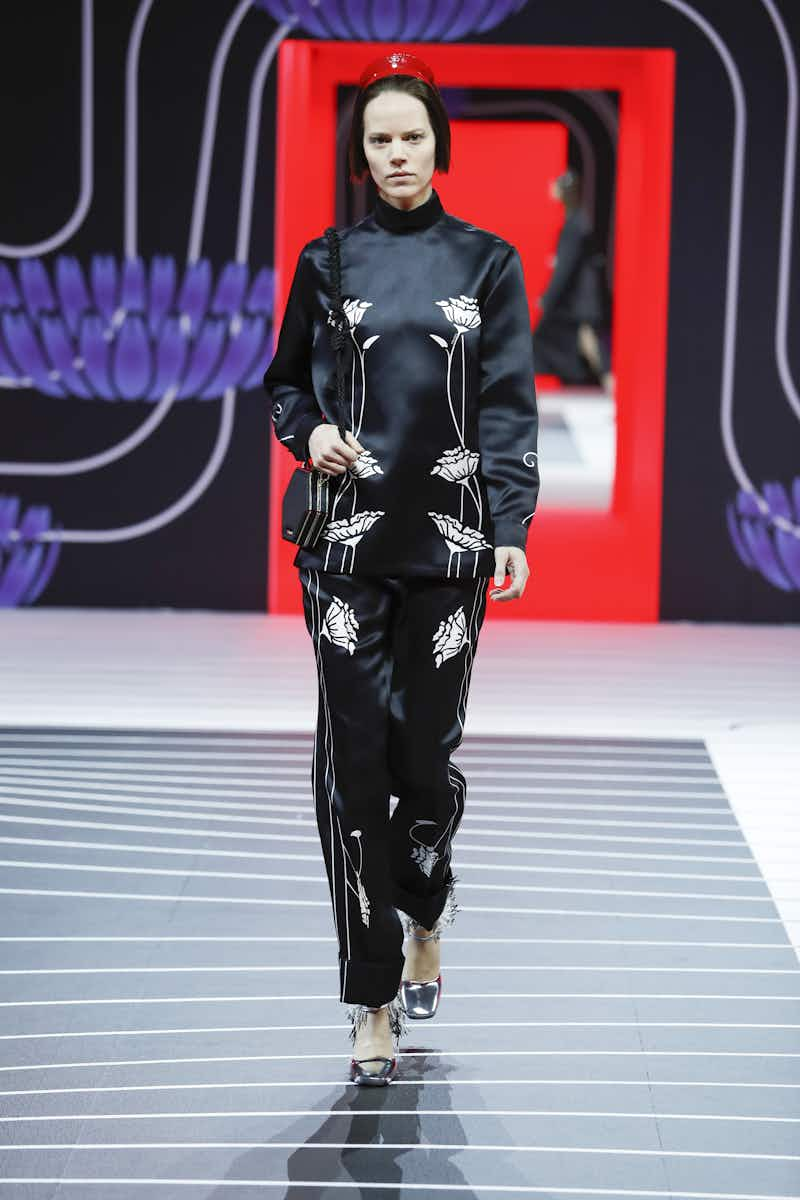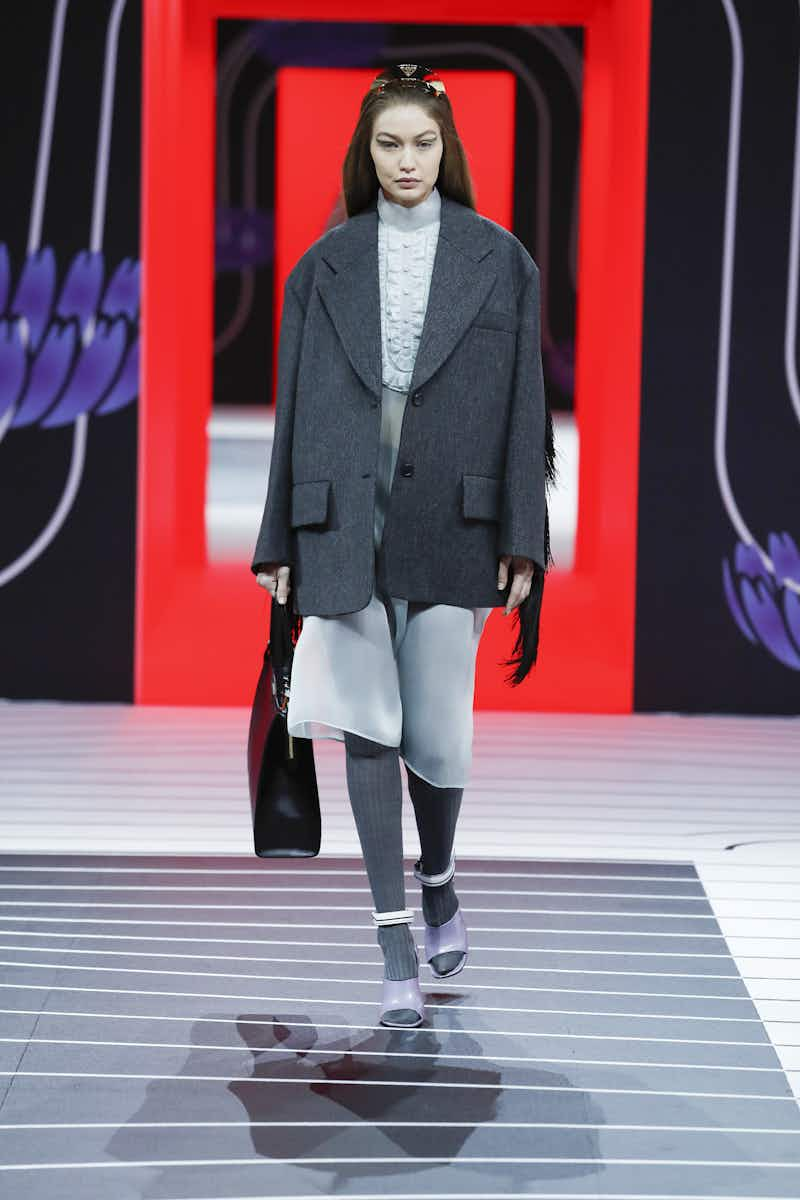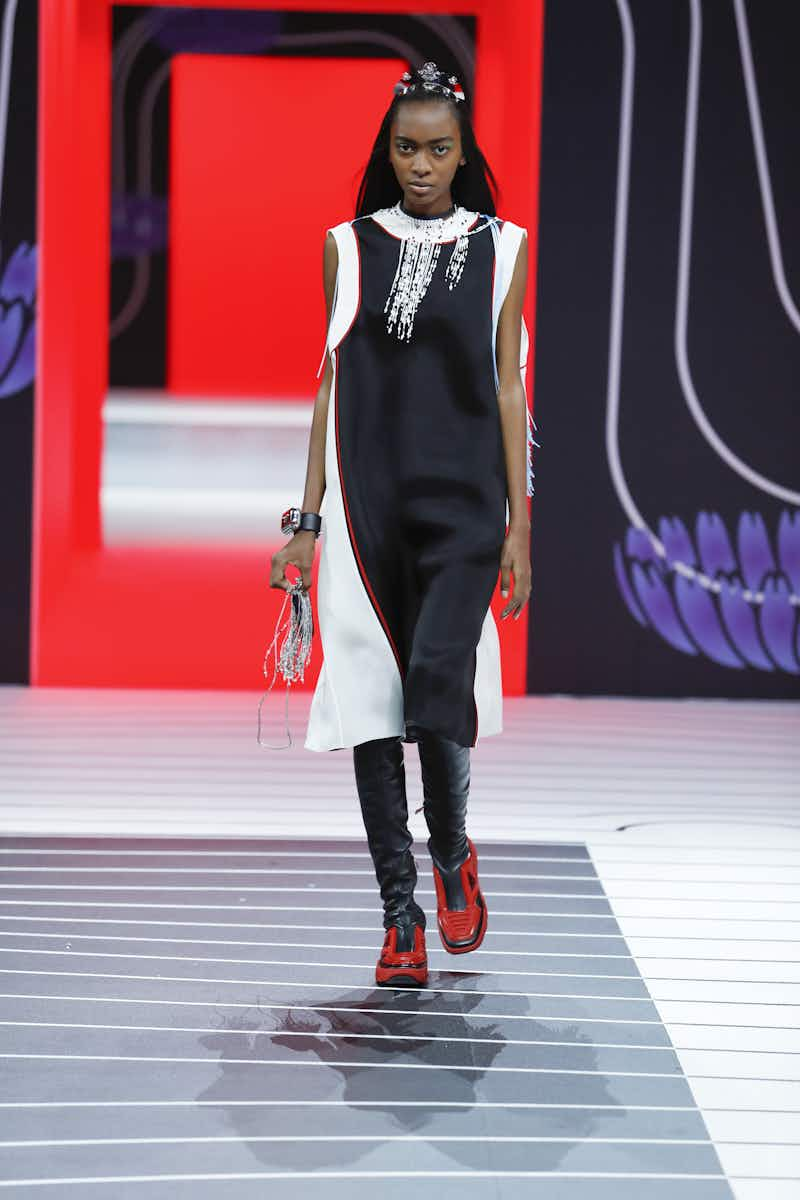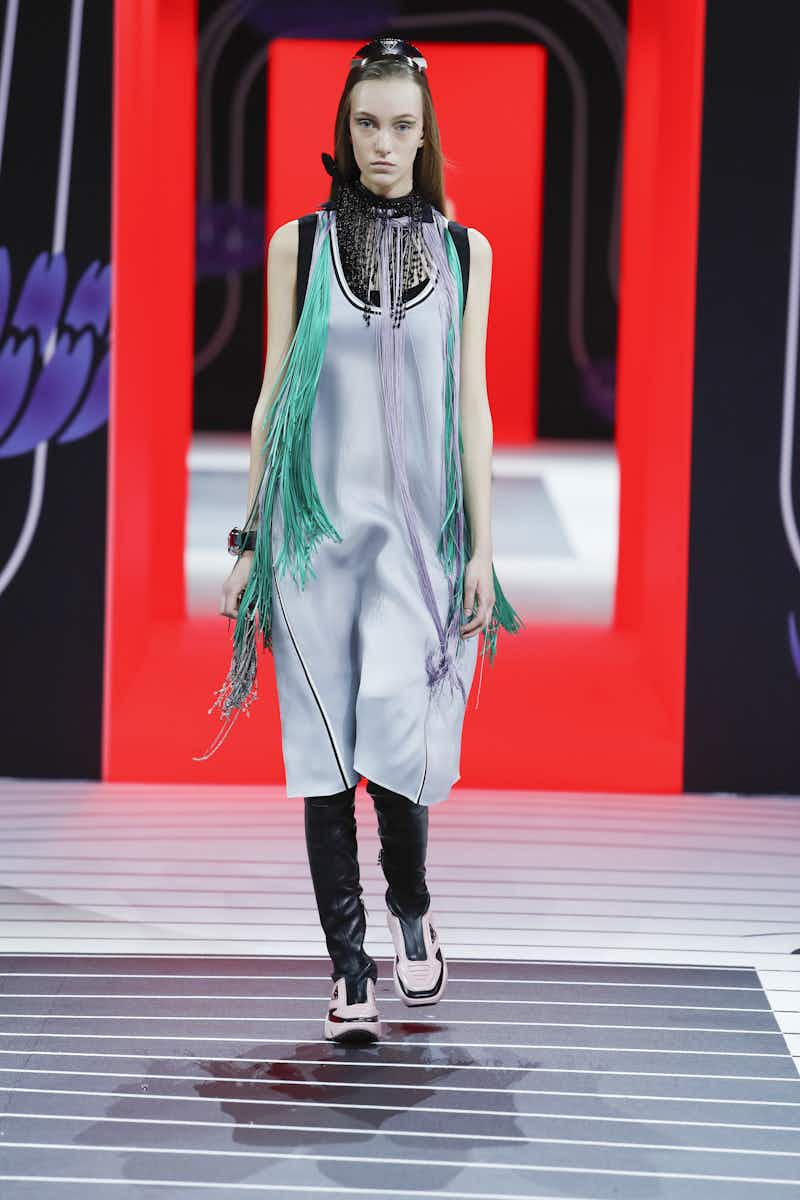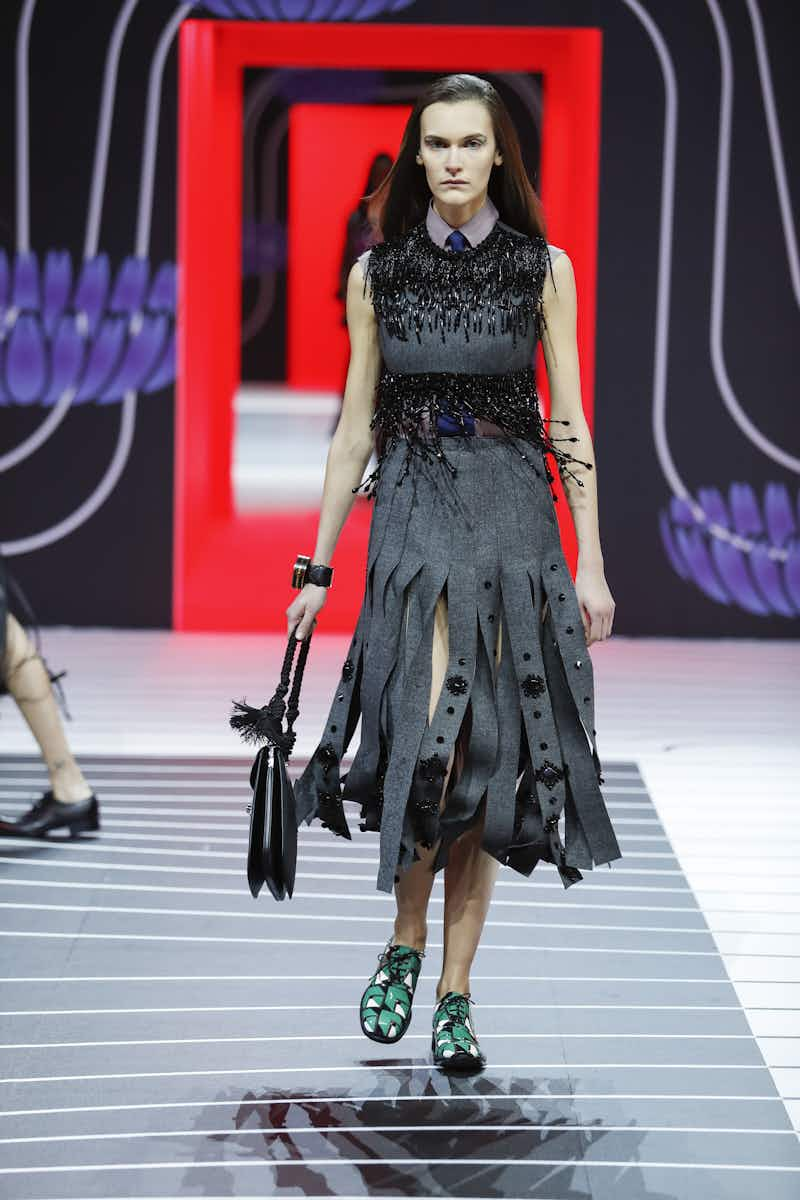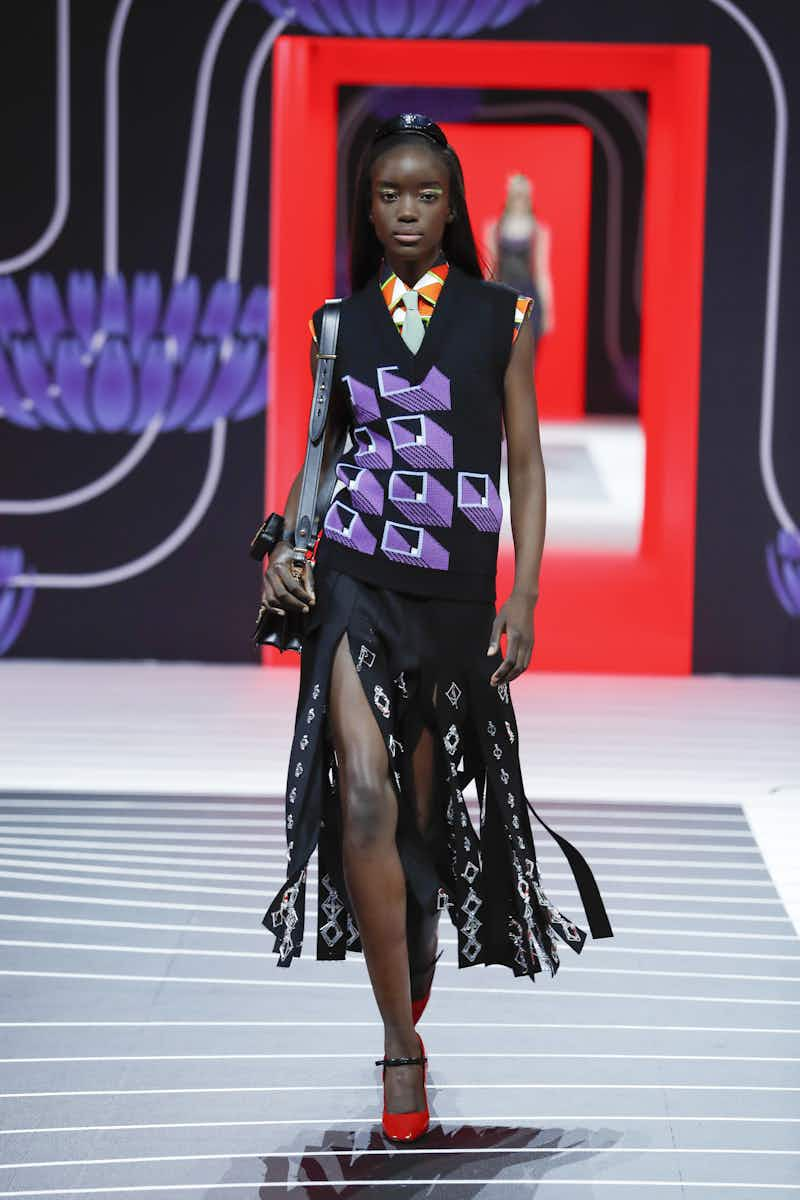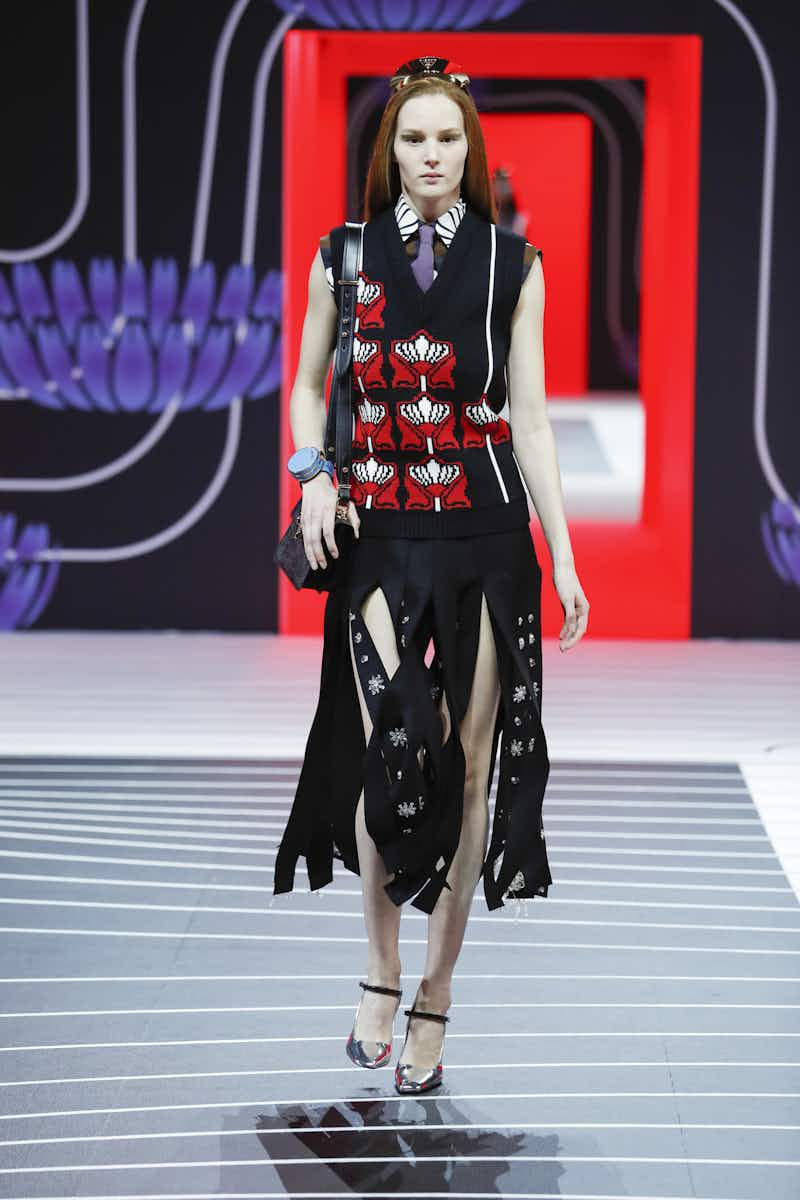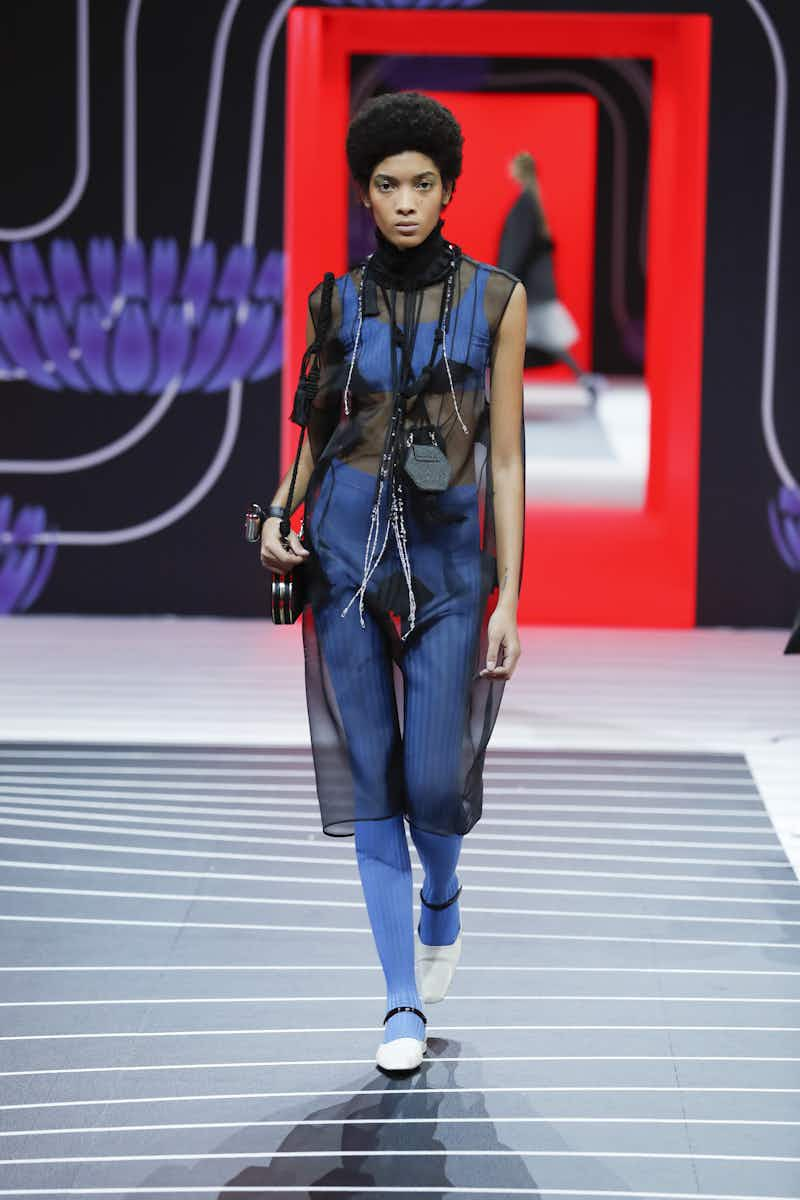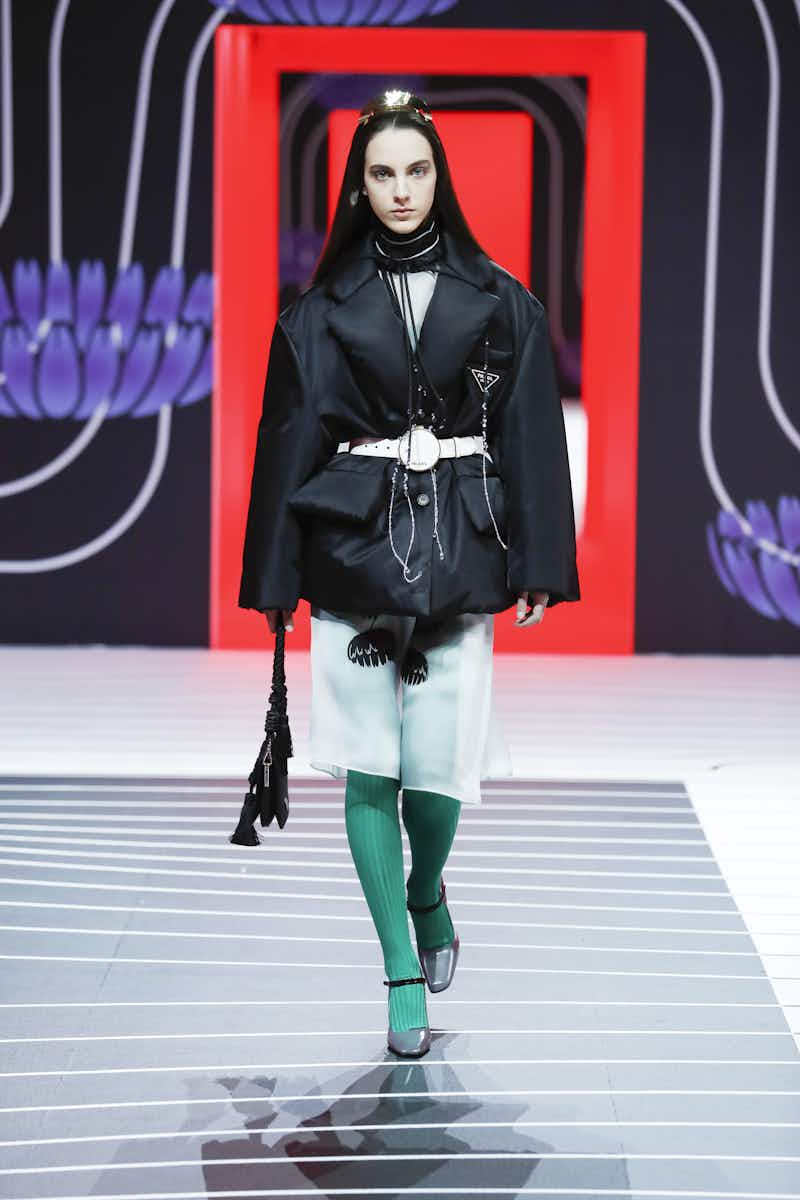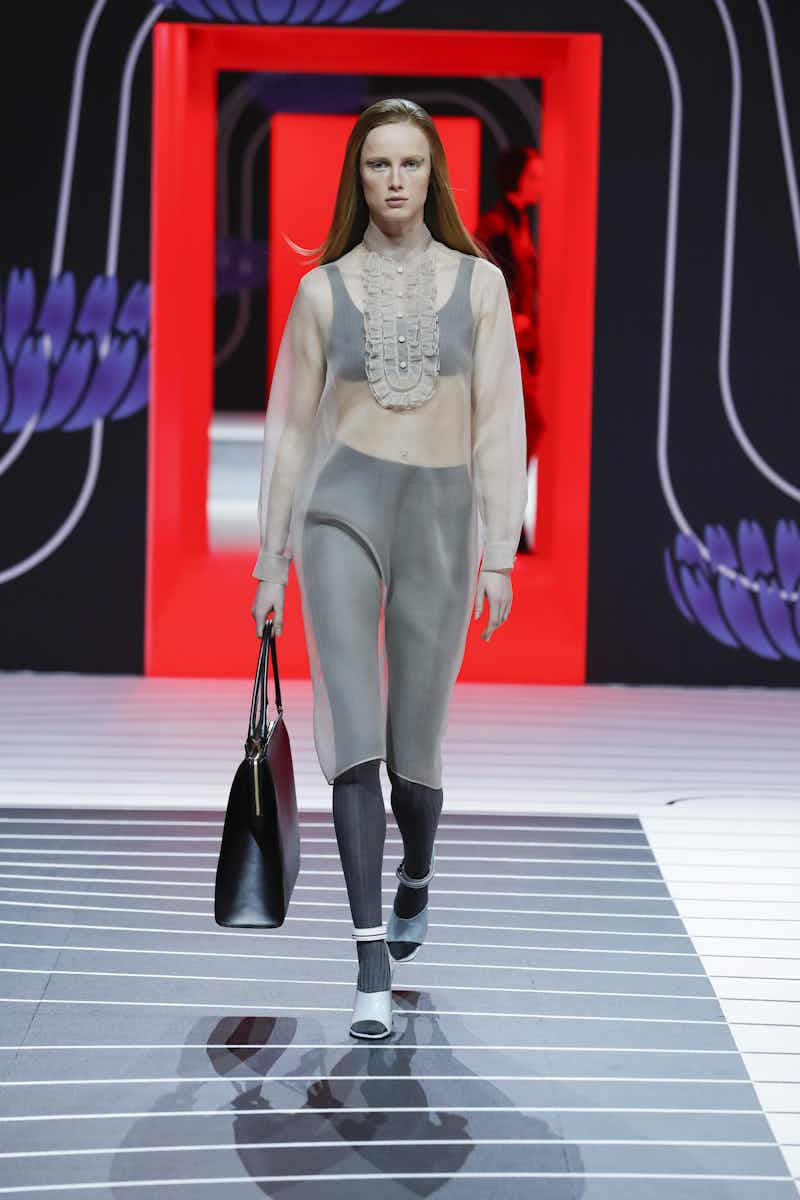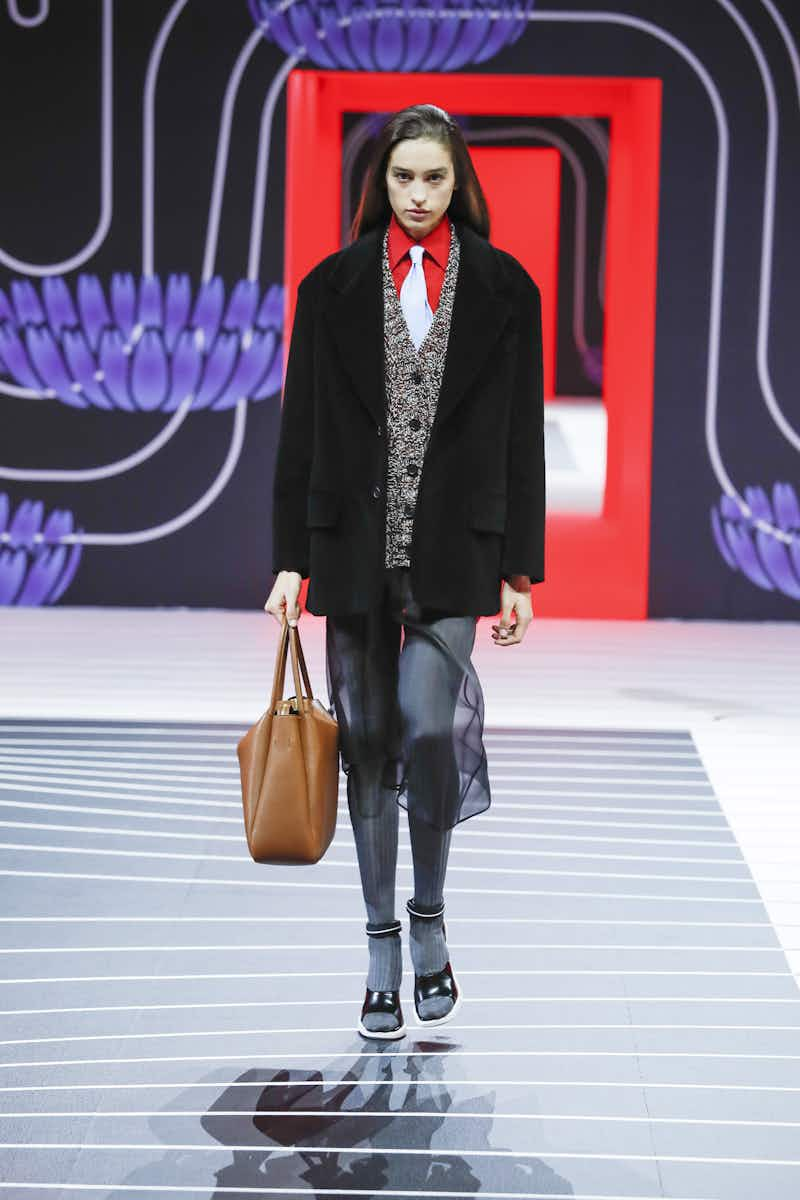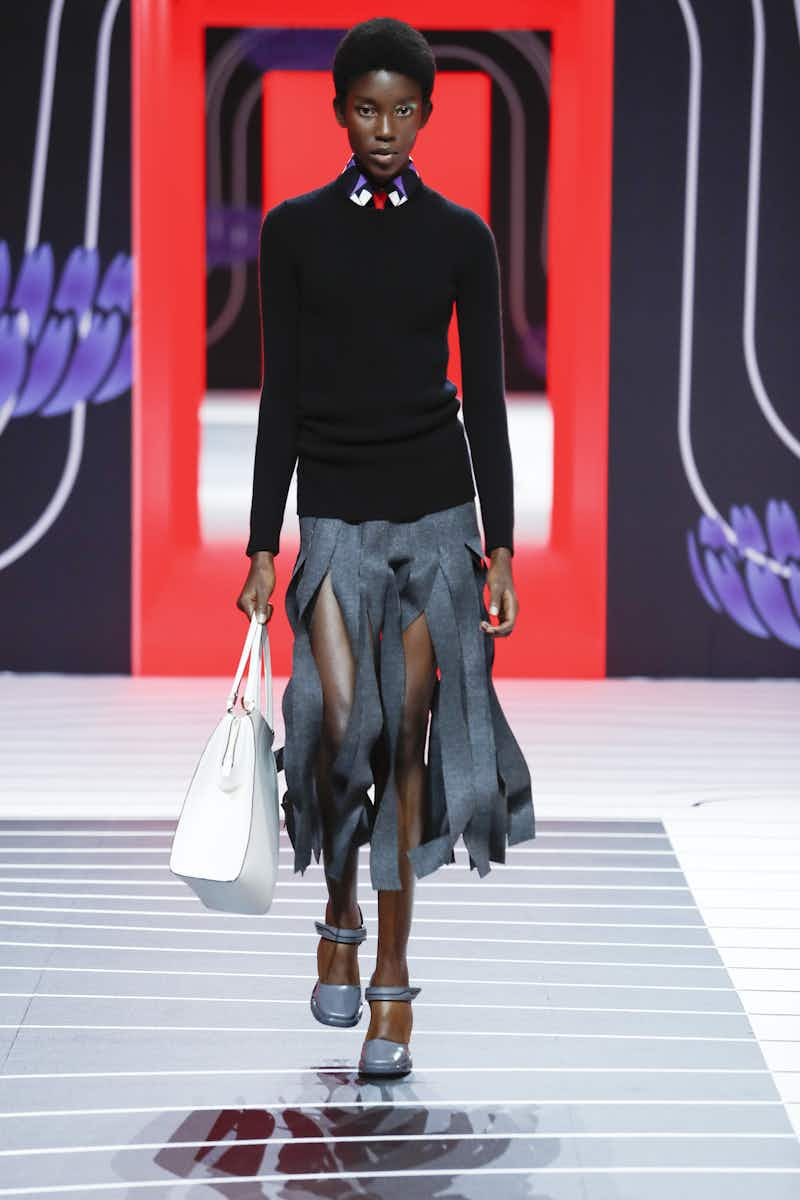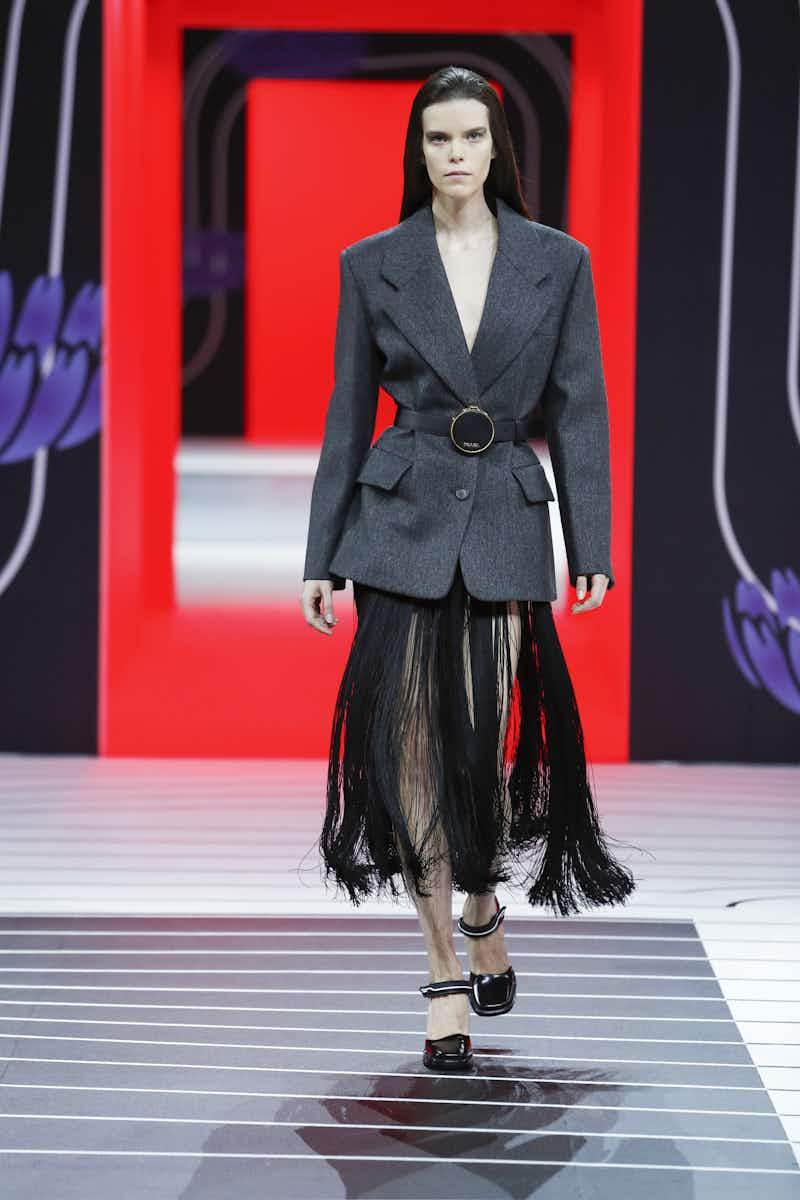 What did it sound like?
Girl power! And a lot of Malaria!: Kaltes Klares Wasser and Your Turn To Run (I Will Be Your Only One), only to be interrupted by the chatter of spectators praising the collection.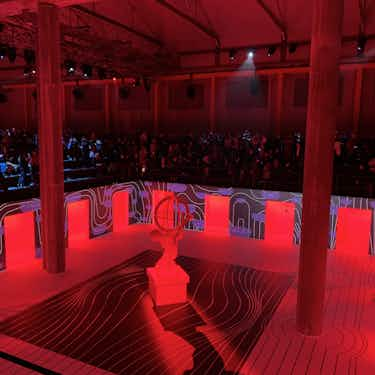 Listen now:

The sound of Prada AW20
GUCCI AW20
"I have always considered the fashion show as a magic event bursting with enchantment," reads the opening statement of creative director Alessandro Michele's show notes this season.
With that in mind, Gucci flipped the traditional show on its head – invitations arrived via WhatsApp in the shape of a voice note from Michele himself and guests entered the space through the backstage area, where models were receiving the final touches to their hair and make up. Some had fresh faced, dewy skin, while others had black tear streaks rolling down their cheeks (inspired by teen fandom, said Gucci's global makeup artist Thomas Kluyver backstage).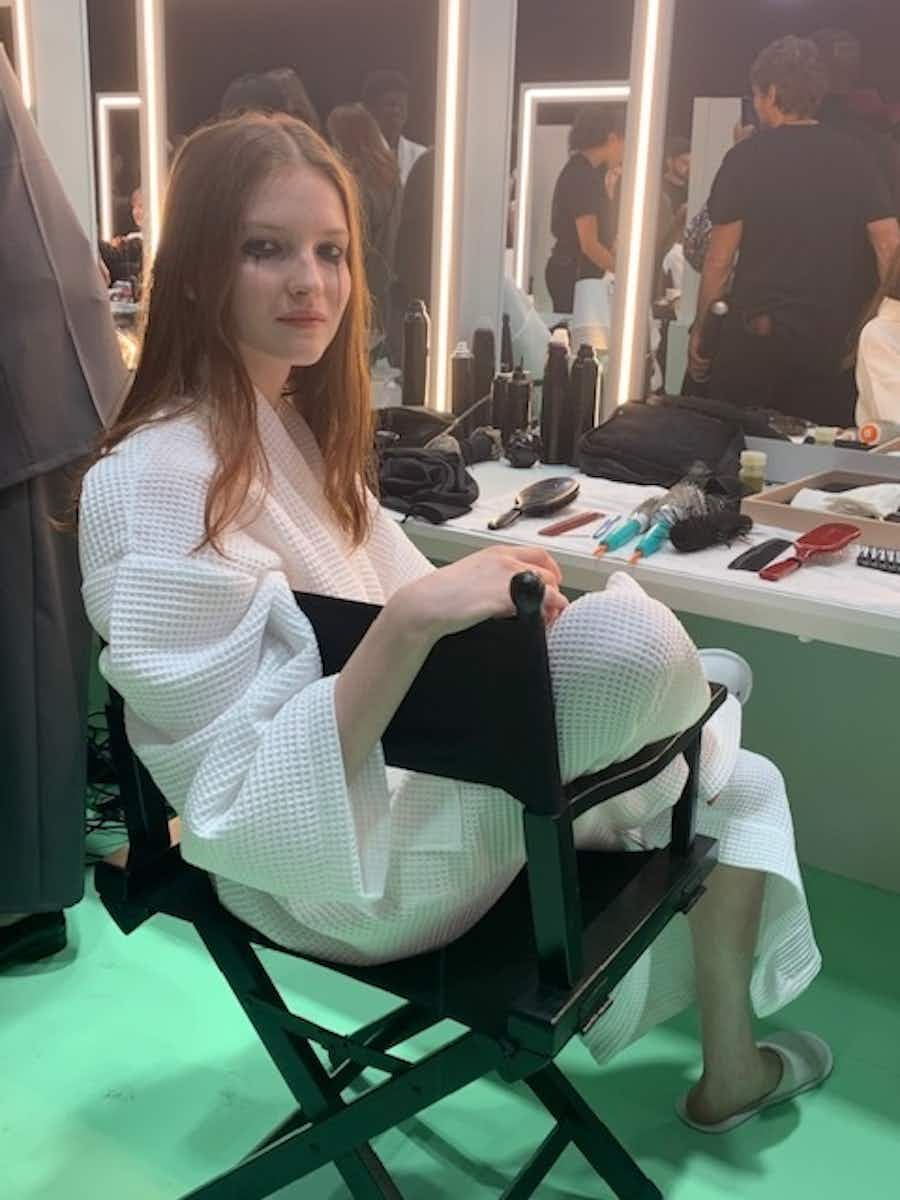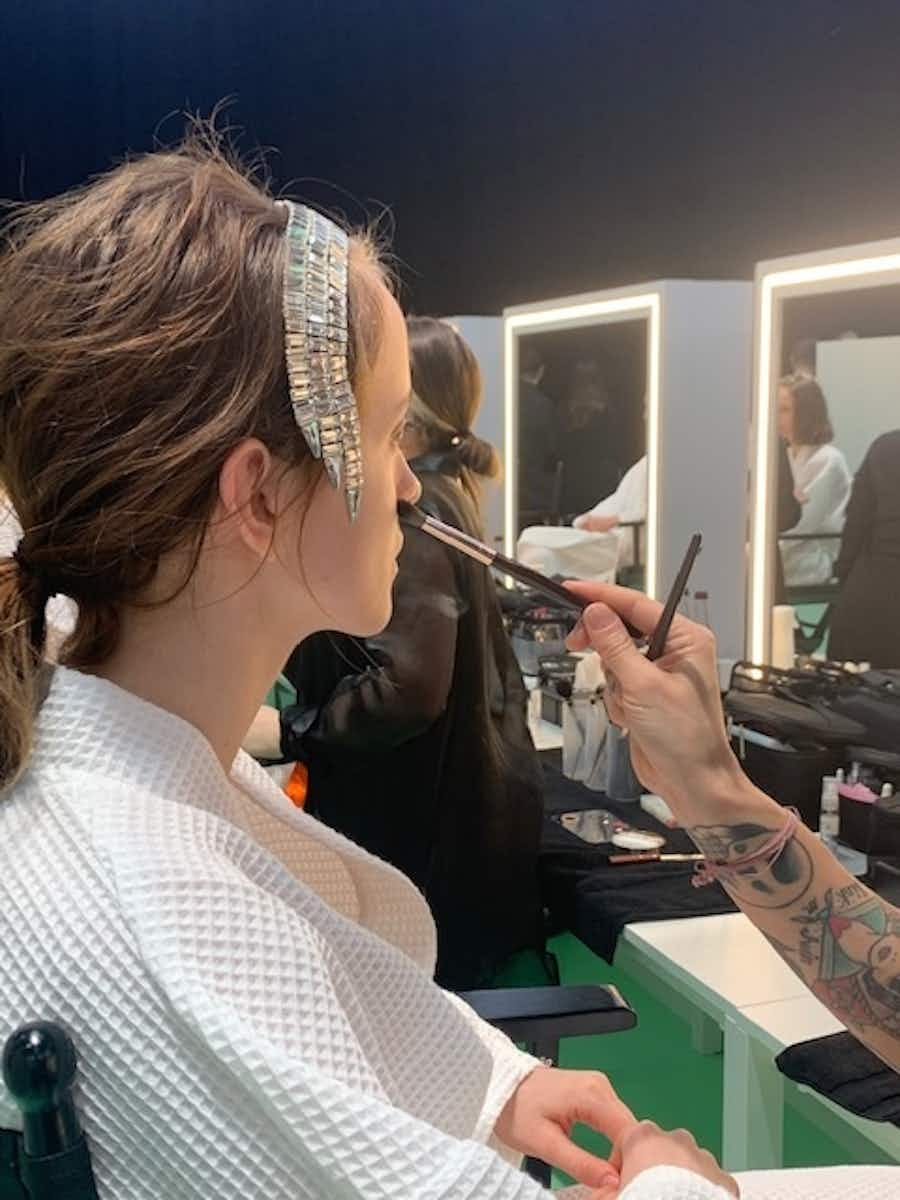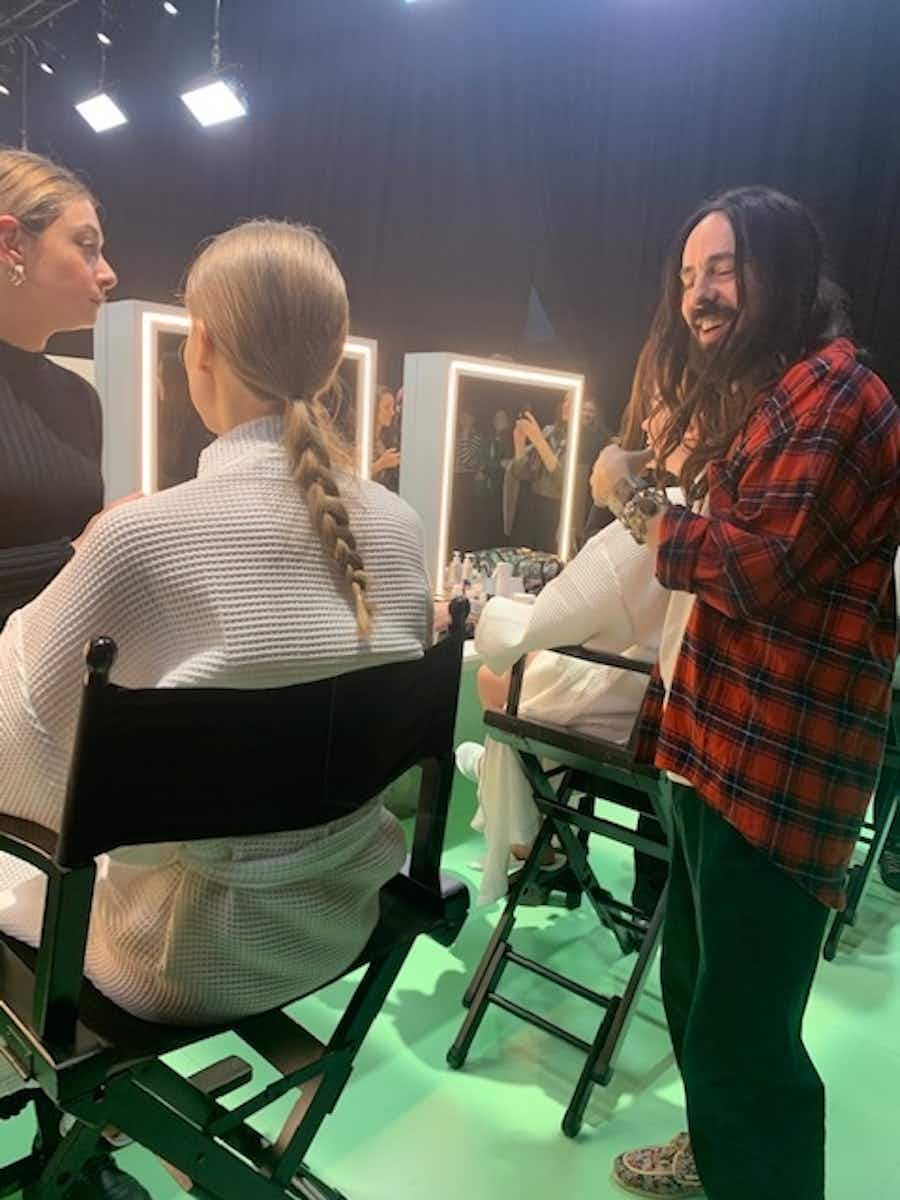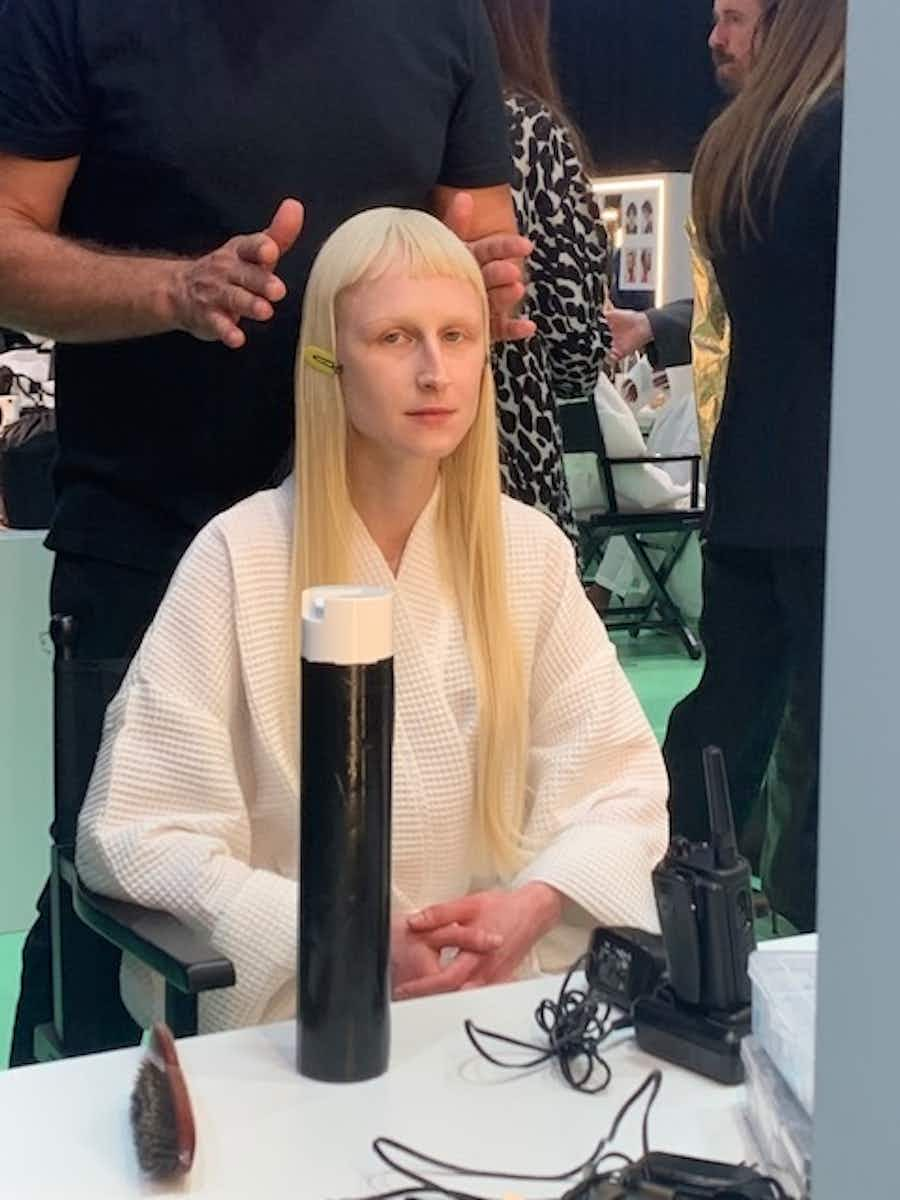 What happened next?
Central to the show space was a carousel encased in glass and concealed by a wall of Pepto Bismol-pink mist. Models – all 60 of them – filled into the space wearing dressing gowns followed by Gucci's dressers (uniformed in grey suits) who transformed them into their show looks. Once ready, each model stood in formation at the edge of the carousel.
What about the clothes?
Voluminous dresses, bondage-adjacent pieces and notes of the occult dominated alongside the usual Gucci staples: sheer, flesh-baring shirts, suiting with a hint of the 1980s, corduroy blazers and checked trousers worn with clashing tops. Elsewhere in the collection, black PVC harness-like tops were layered over delicate embroidered dresses and Marie Antoinette-style gowns were topped with witchy hats.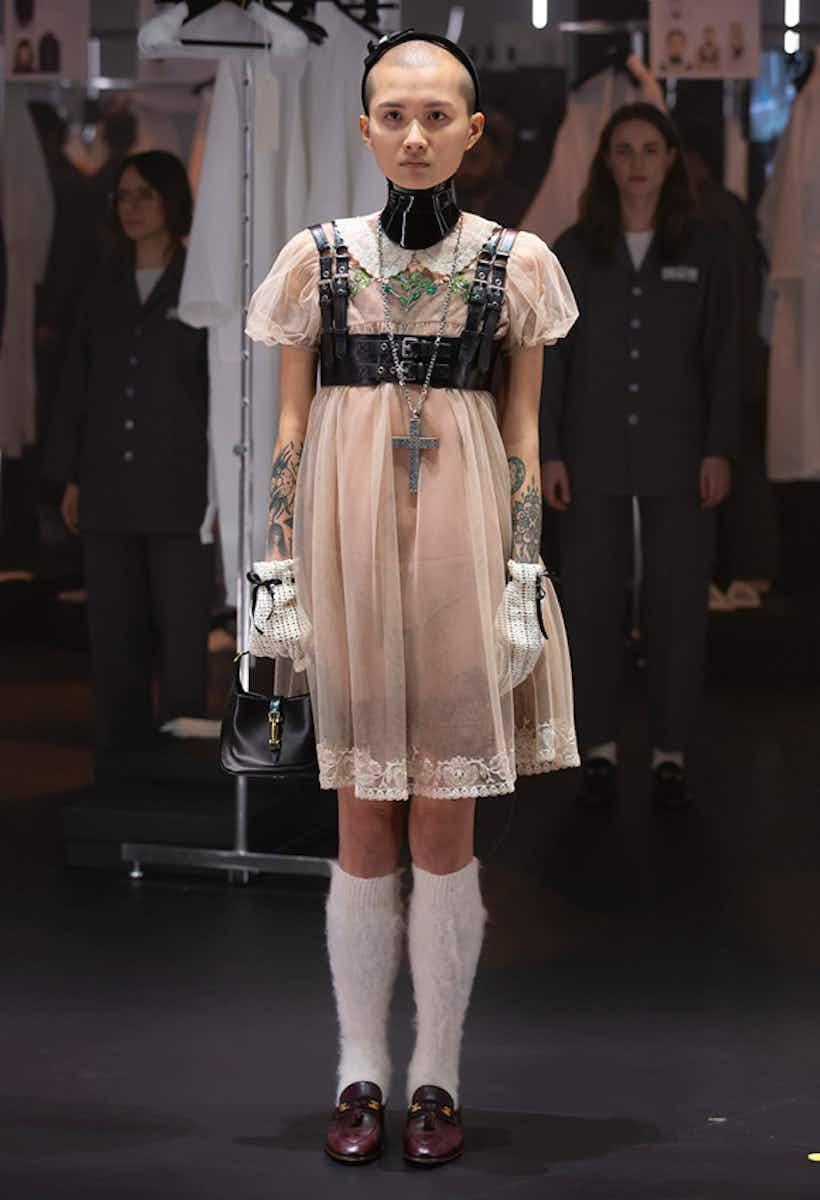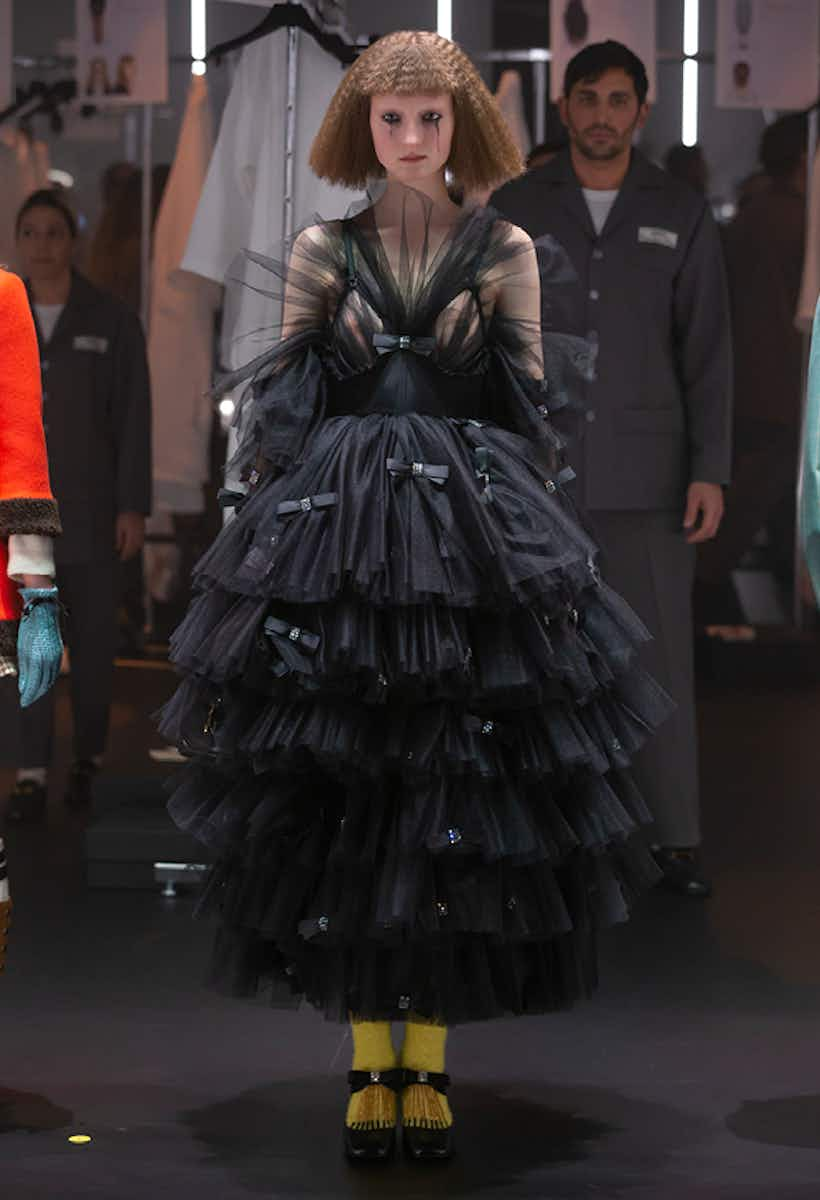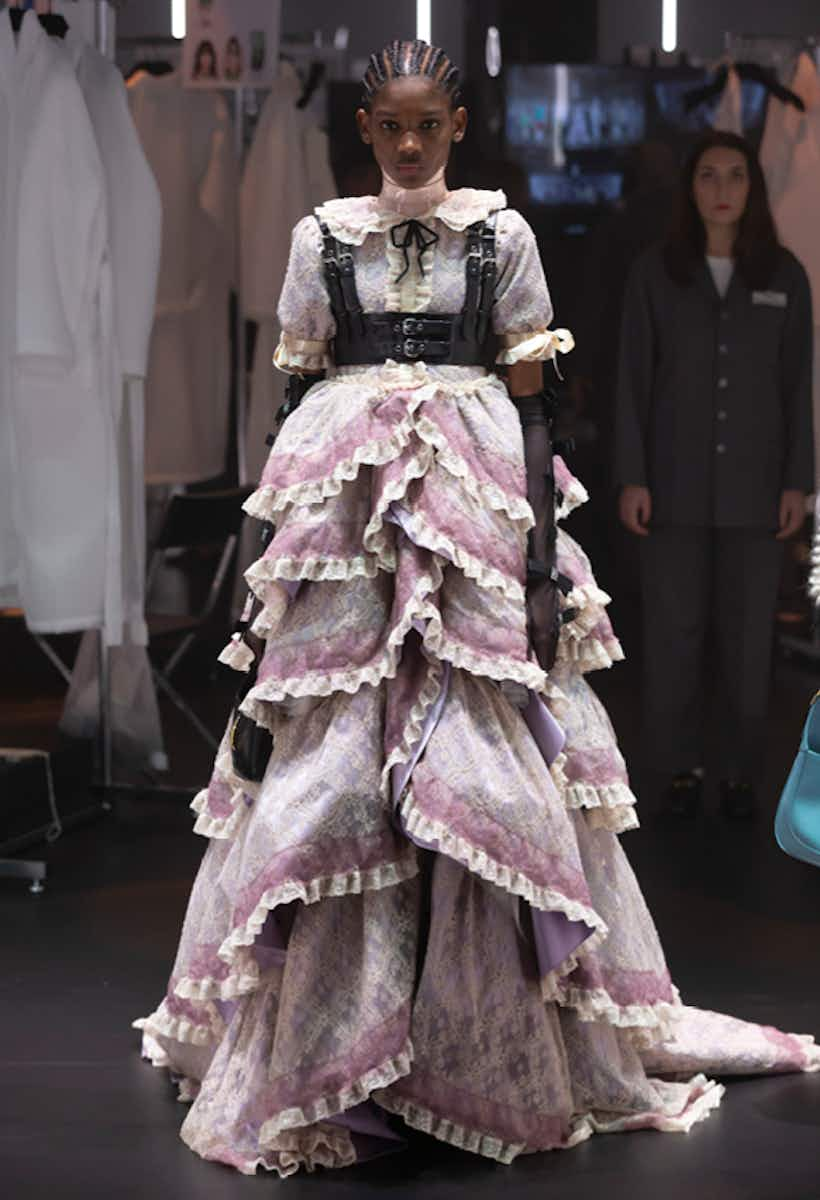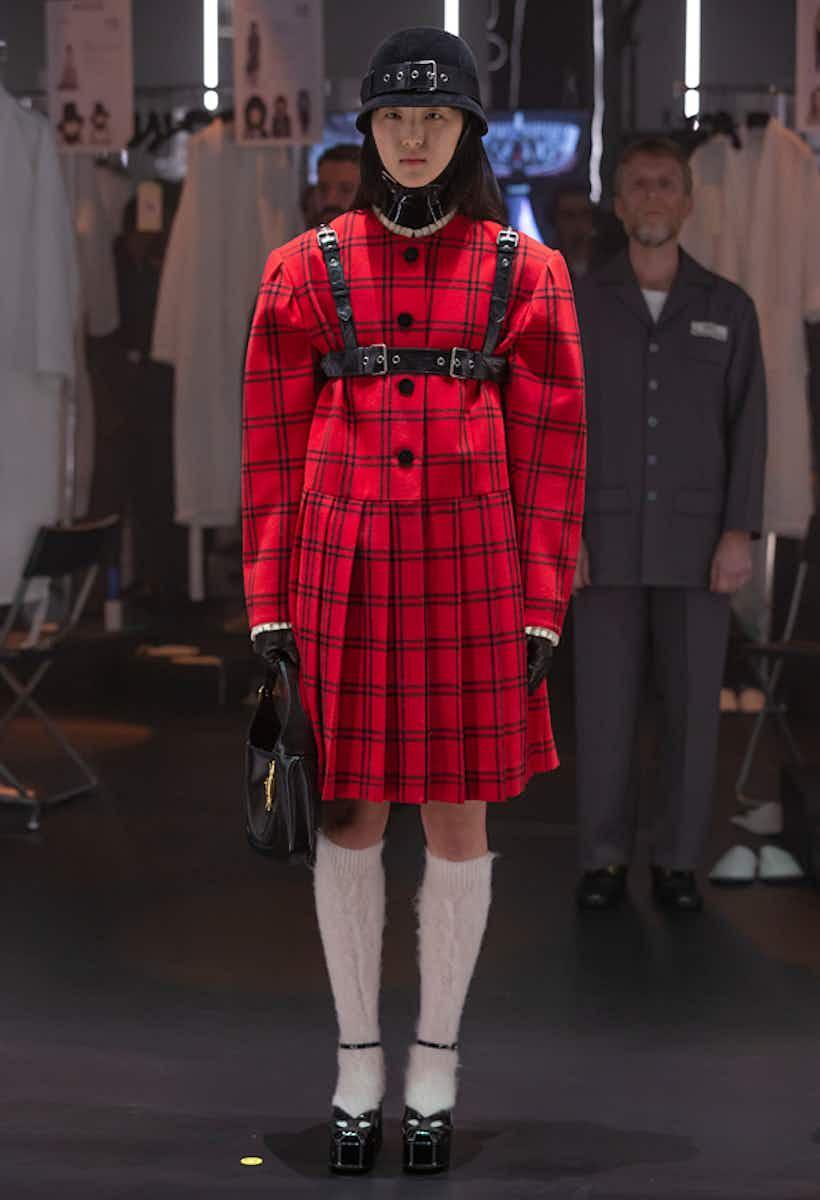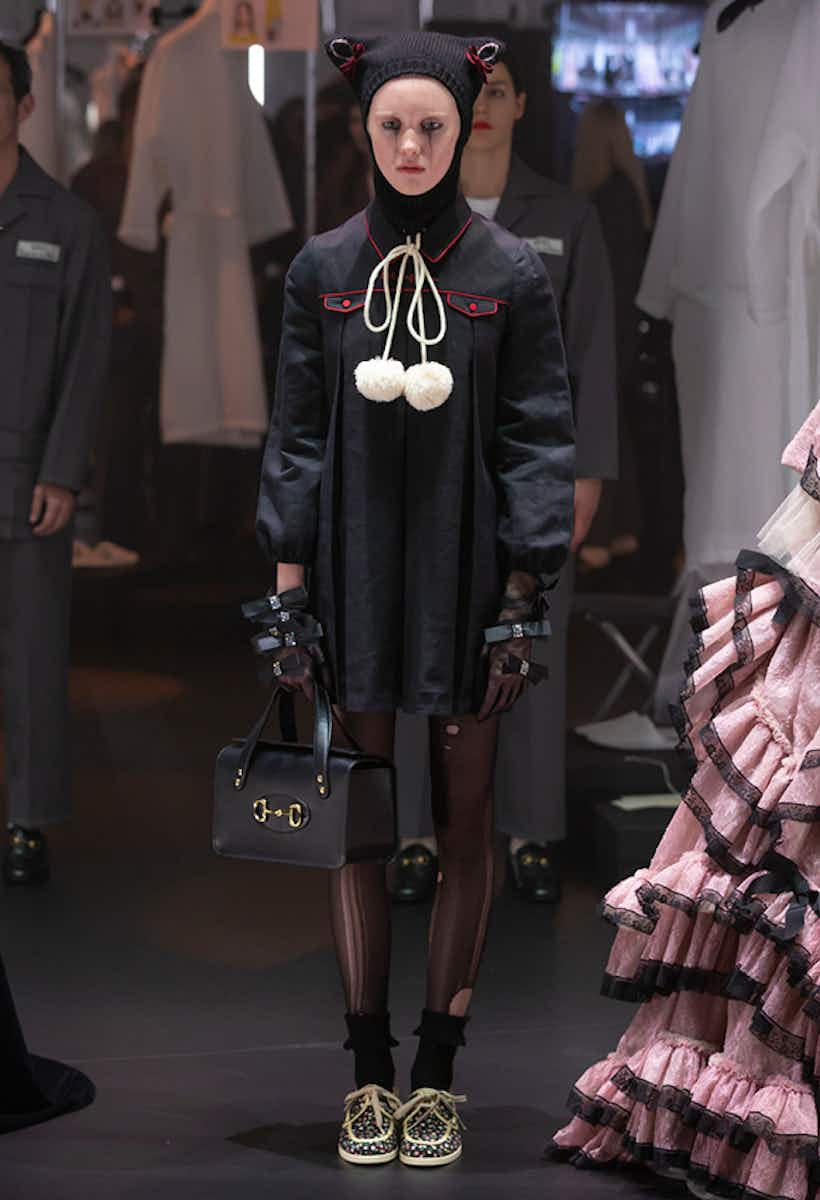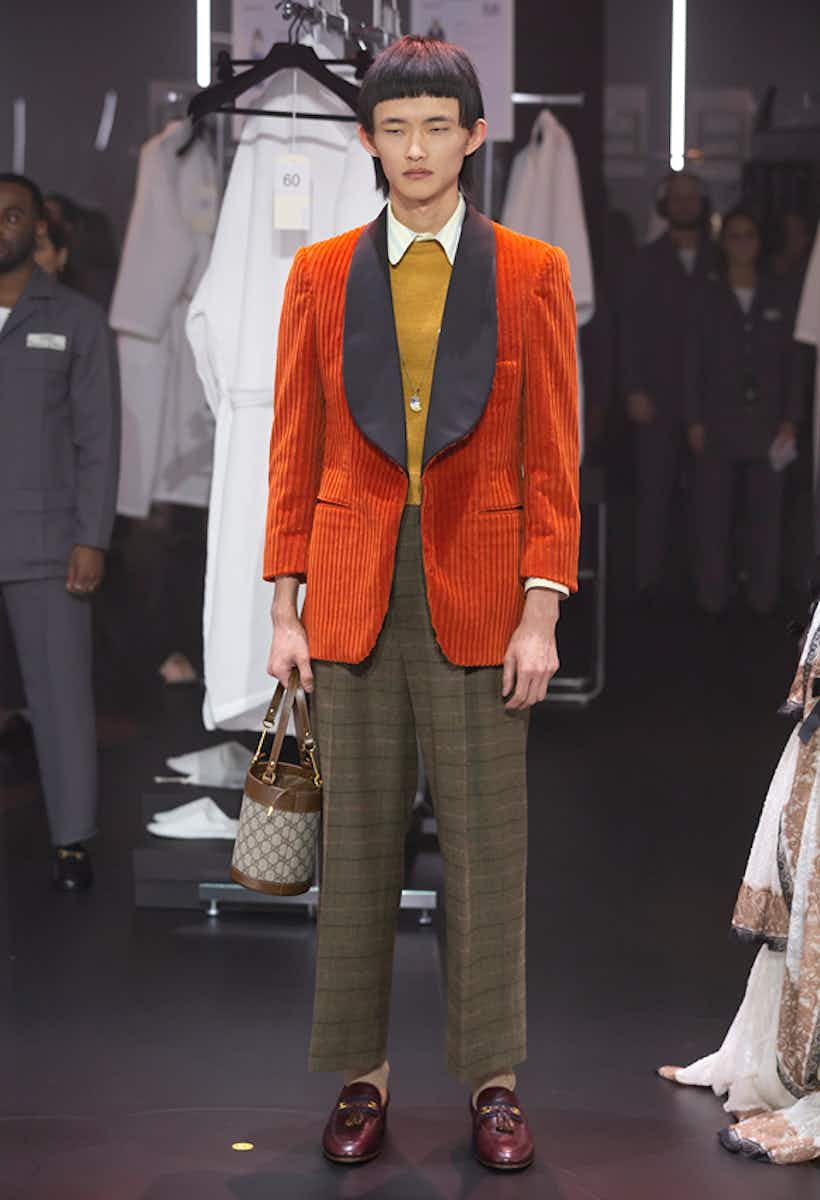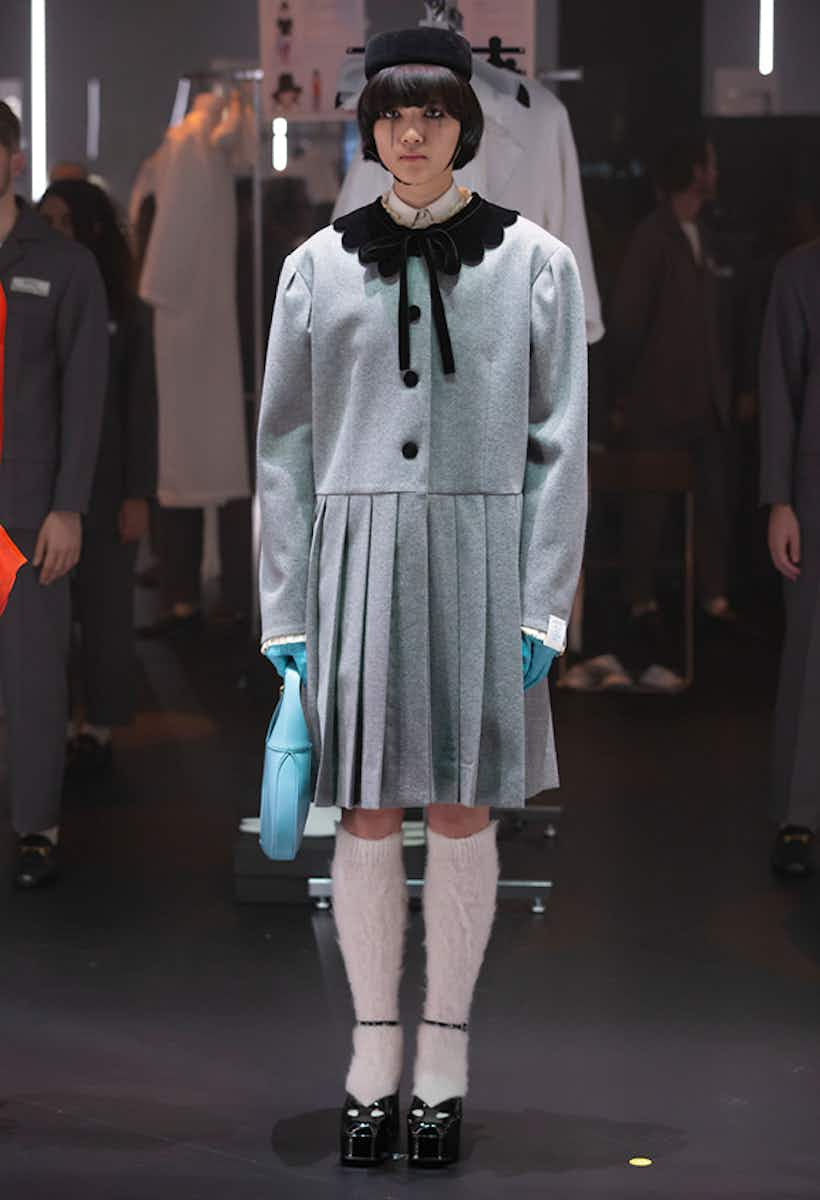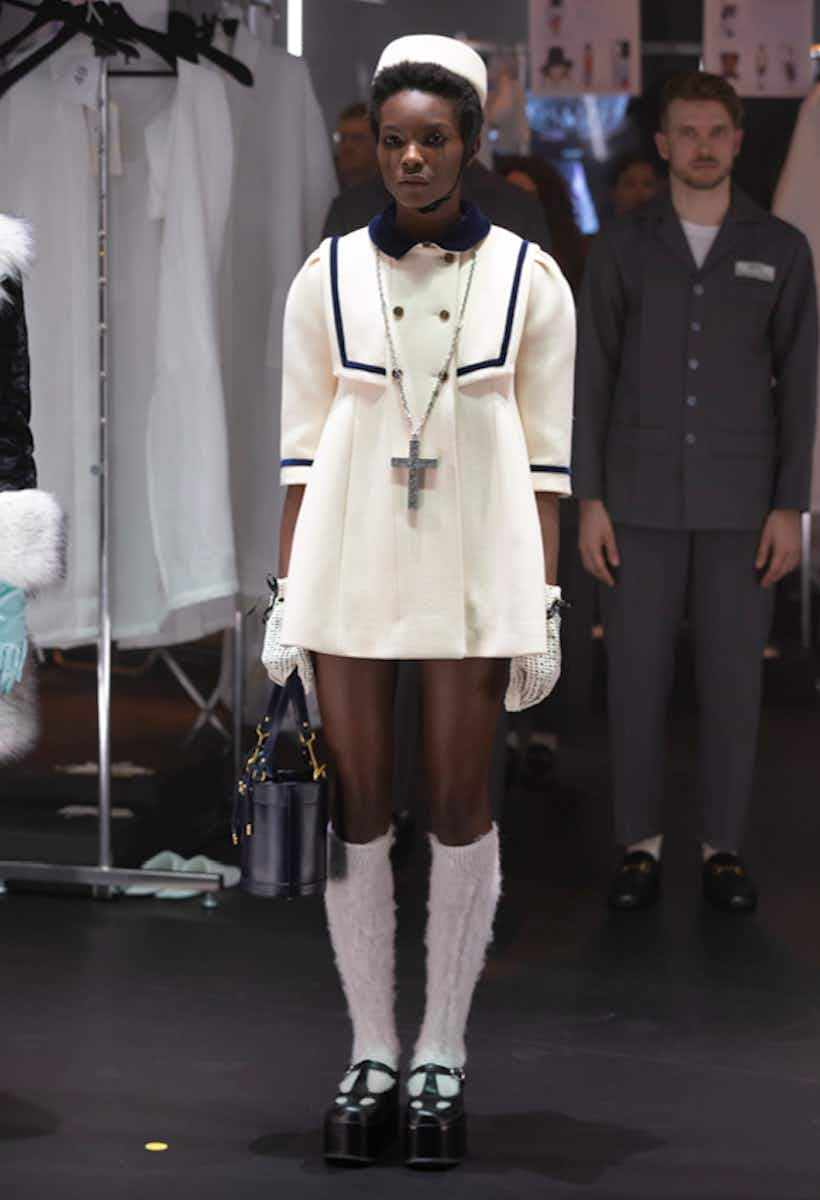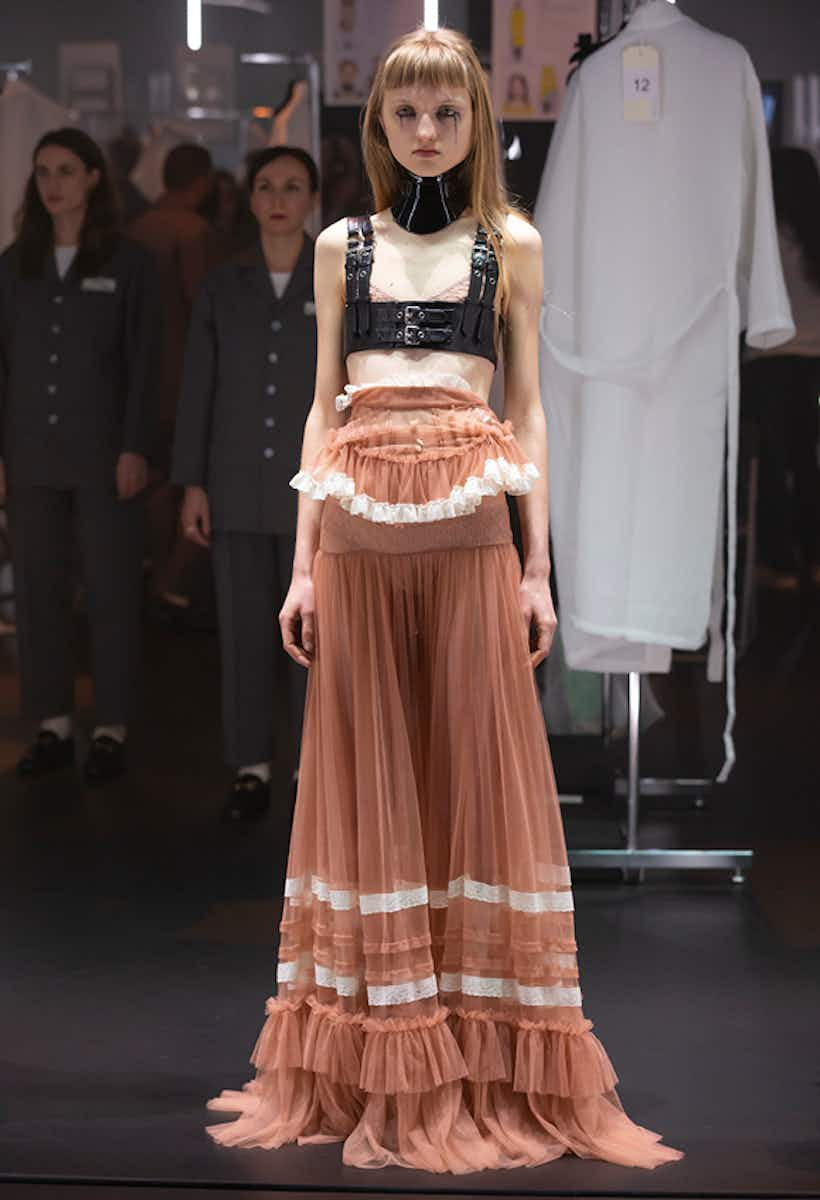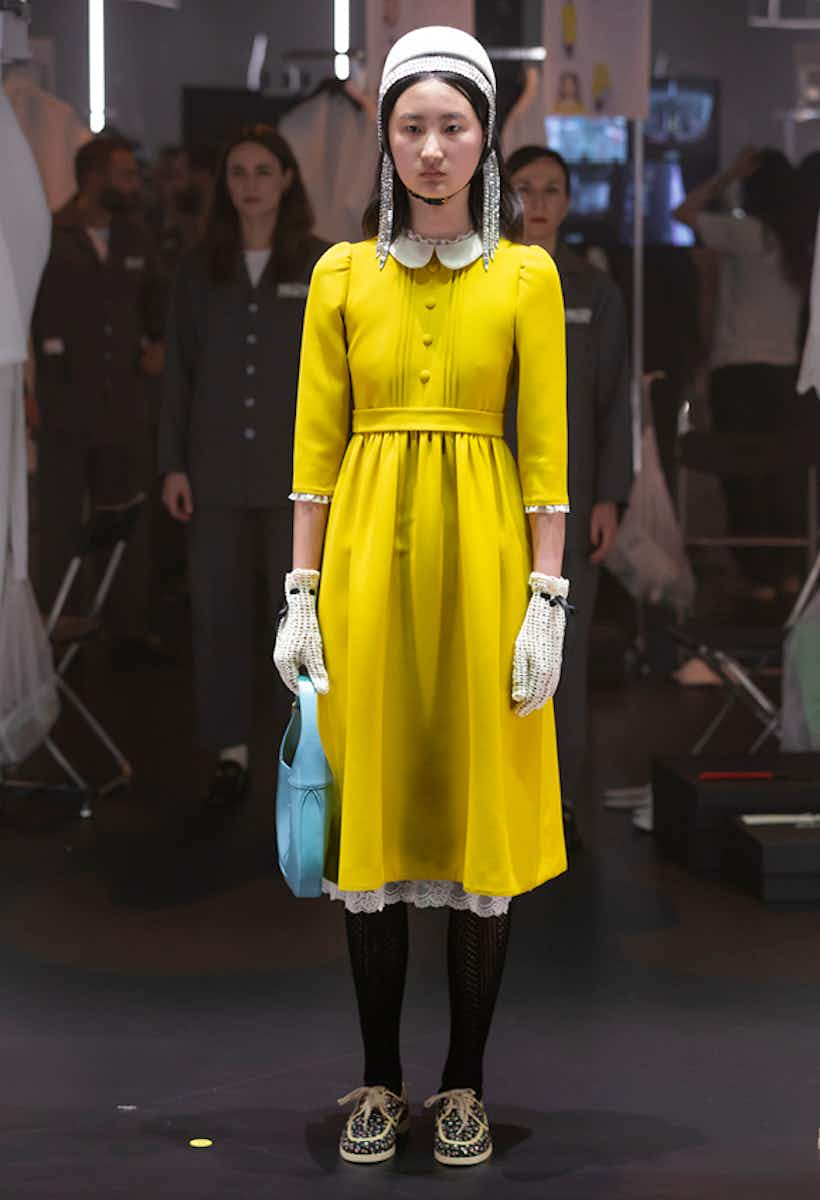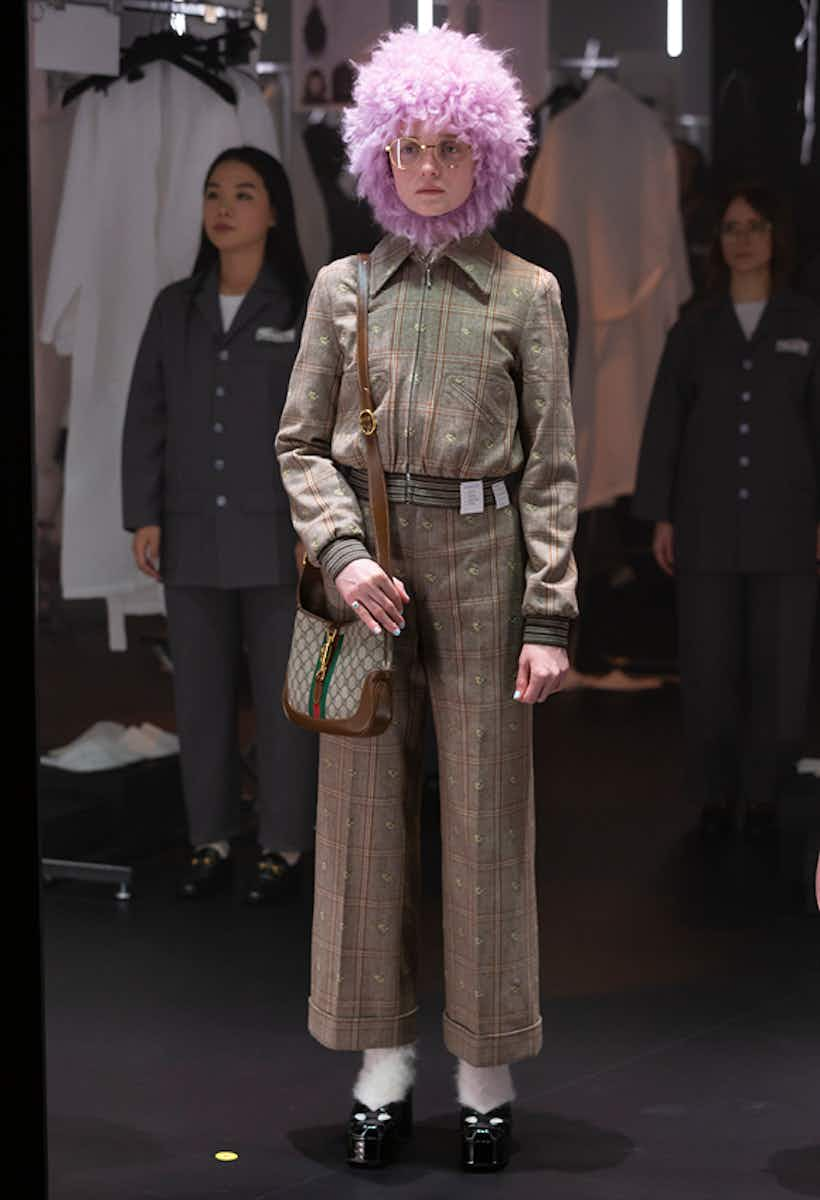 What did it sound like?
The show started to the sound of a Federico Fellini voiceover – a nod to Michele's love of cinema – before transitioning into Maurece Ravel's Boléro. A light up metronome suspended from the ceiling ticked in time with the marching beat.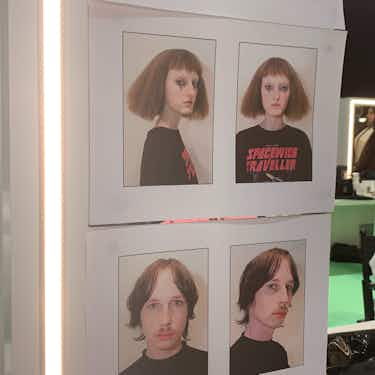 Listen now:

The sound of Gucci AW20

More like this