Olly Shinder: the designer with a fetish for workwear
The young designer's gear is a mashup of utility, sex and masculinity that can be found on the dancefloors of Berlin raves. But as well, a quiet romance that goes against traditional masculine tropes.
Olly Shinder, 23, only graduated from Central Saint Martins' BA Fashion Design course back in June, and yet he's already presented his graduate collection to prospective buyers in Paris showrooms during SS23 fashion week, been subsequently picked up by the city's Dover Street Market store and wavered in palpable buzz among London's well-dressed, curious-eyed fashion pack.
Where some designers, emerging or emerged, rely on the social media hubbub of clicky re-shares and viral moments to get seen, Shinder came quietly. There was no meme that did the rounds on the feed, or runway stunt at the CSM graduate show that propelled his turbo-fuelled trajectory. Among the 100-plus graduates that showed, his collection was somewhat simple from afar: a cream crepe shirt, belted trousers, fully zipped track tops, stretchy shorts. But up close, functional, sensual details like laser-cut holes that expose skin, bone detailing and structured, origami-like folds on a utility jacket turn durable workwear into a darker, slightly fetishistic fantasy.
"I think there are so many different elements to it," he says. ​"There definitely is an element of fetish, but that's not all." Shinder's long been fascinated by utility – cargo trousers, heavy-duty jackets and intricate details. While visiting Berlin, he'd see the city's gay crowd wearing workwear at techno raves. But it wasn't until he did his university placement at Snickers Workwear in the German capital that he was exposed to the inner workings of garment making for practicality. "[Snickers] was a really eye opening experience. I saw that actually it wasn't just a gay fetish," he says. ​"I was like, ​'This is something that a lot of men – gay, straight, whatever – like to wear and feel sexy in."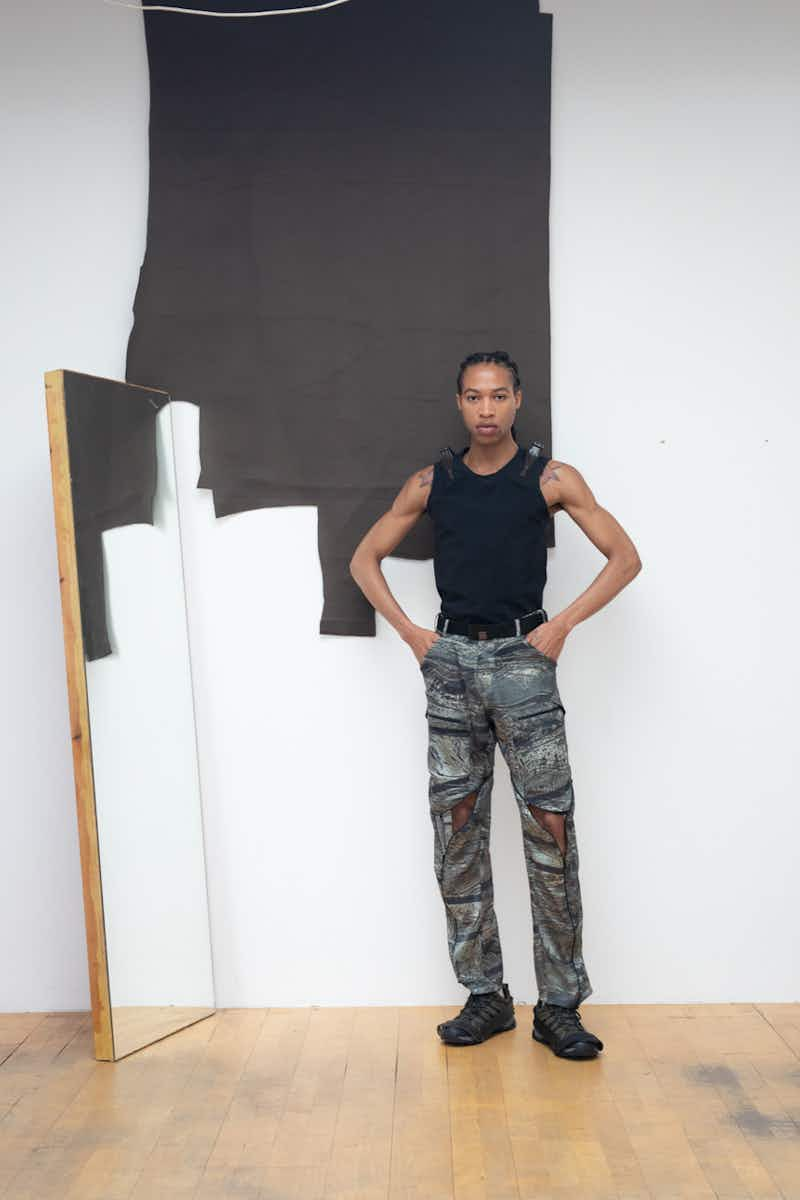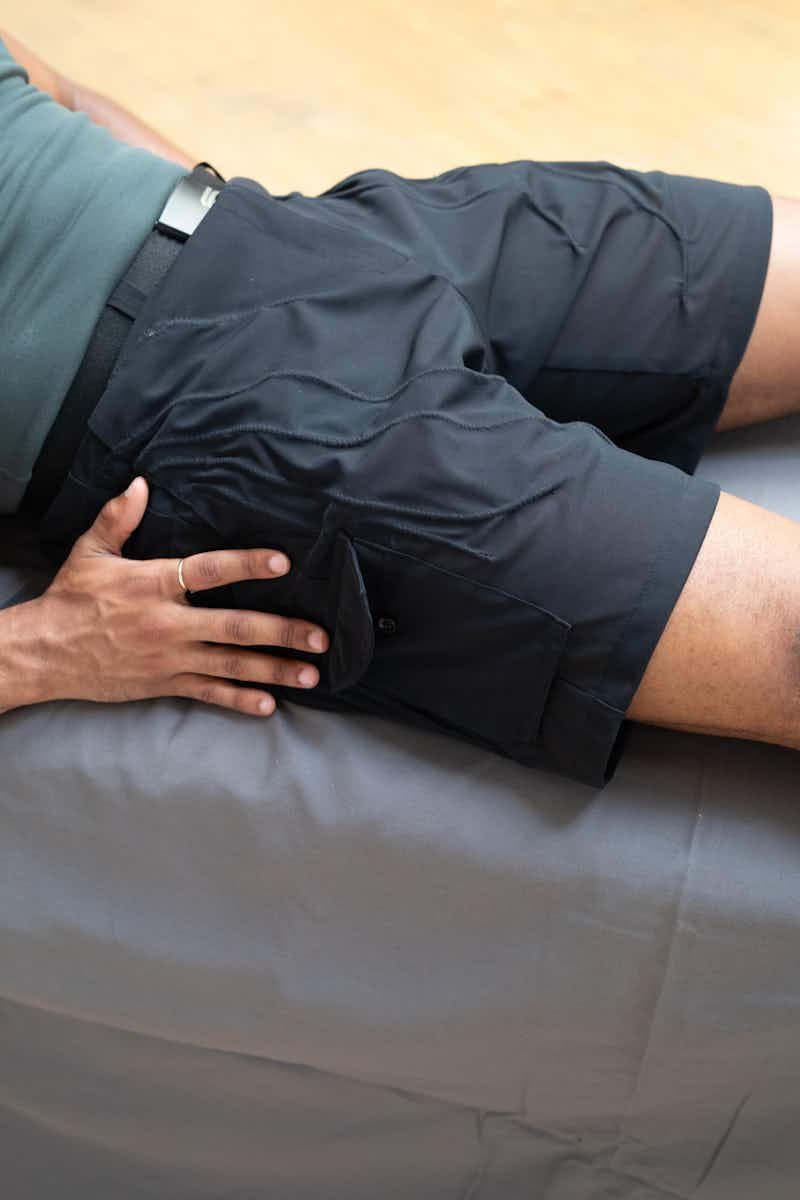 That last bit is crucial in Shinder's designs. Workwear it may be, but his approach is to make the Olly Shinder wearer feel confident, if not a little horny. "[My designs] have a theme of masculinity," he says, ​"which in itself is sexy, and it's not solely gay."
Growing up in London, by the time he was 16, Shinder was out and about in East London's clubs, going to nights like Charles Jeffrey's Loverboy at Vogue Fabrics. Using a fake ID with a ​"strict curfew of 12am", it was an early induction into the underground subcultures that would go on to inform his work.
"I saw these people, and they were the people that I was really drawn to," he says. ​"There's a reason why I was leaving all of my school friends at the time, just to be around these people." By that time, he was already ​"really into fashion". Being in the centre of the nightlife youthquake (and the killer DIY styles that were coming out of it) that was exploding up and down Hackney's Kingsland Road only exacerbated his yearning to get in the industry.
This nightlife baptism meant he was culturally ahead of his peers once he started at Central Saint Martins. But Shinder also had the CV to back it up. Before his first day at uni, he'd already interned for Celine under Phoebe Philo in 2016 ("only for three weeks, but it was very informative"). Once he started, Shinder went on to work under Nasir Mazhar – whose influence on futuristic sportswear can still be seen in the work of young designers now – and German brand GmbH, which was incidentally born on the Berlin dancefloors that Shinder would later immerse himself in during his year in industry.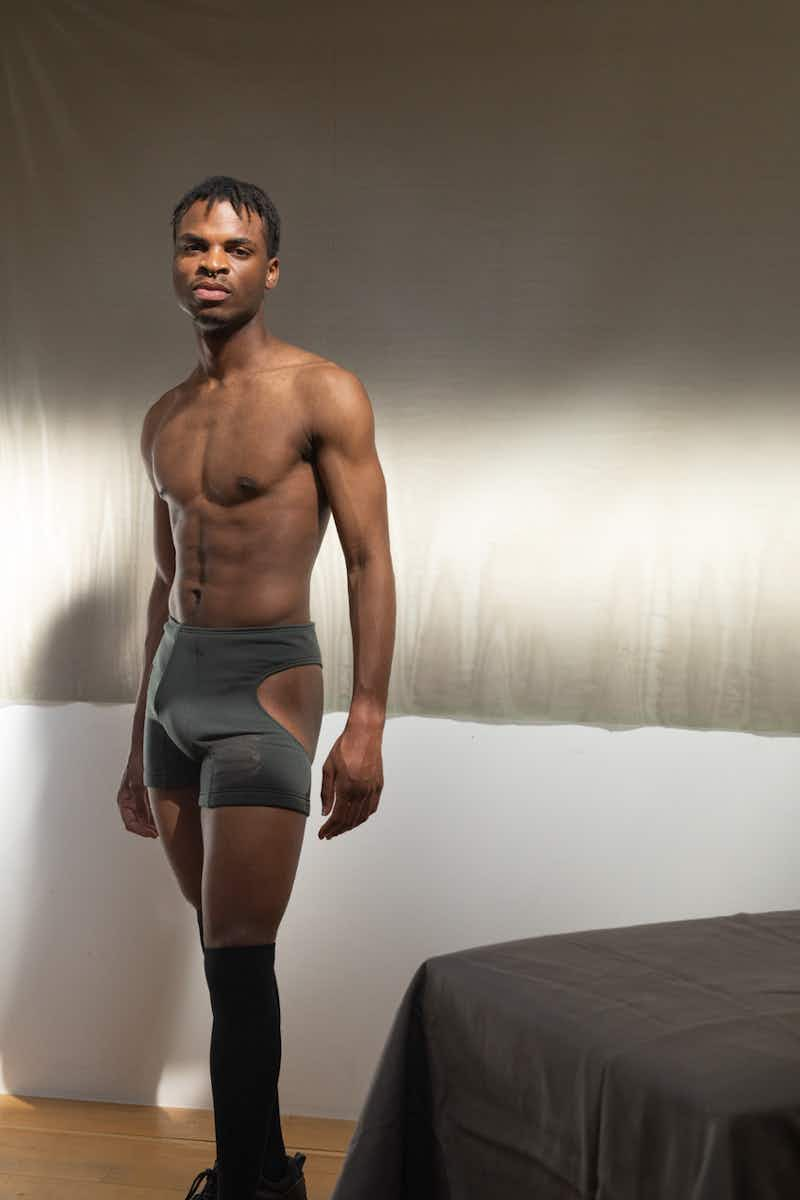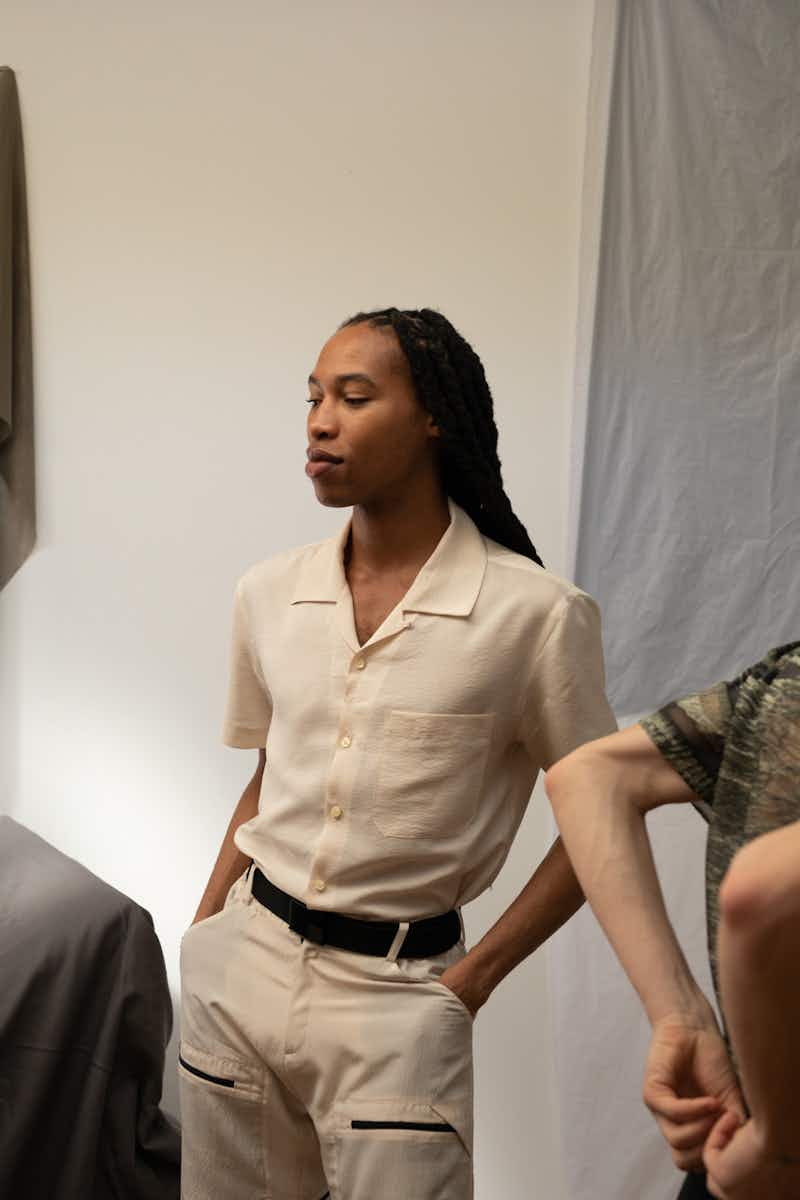 But good fashion isn't just born on the dance floor. Shinder looks back fondly at his time at Saint Martins, where he feels he was able to develop ideas, skills and his style. ​"It's a bit of a weighted question," he says, when asked whether he enjoyed his uni experience. ​"I've basically been there my whole adult life!" Unlike some, the gruelling crits, competition and eye-watering student costs weren't enough to put him off fashion. If anything, he's held onto the youthful spirit of his 16-year old self.
"I'm still passionate about fashion now that I've graduated," he says. ​"I know it can put a lot of people off, so I'm just really happy that it didn't kill it for me. The passion grew even more while I was there."
For his graduate collection lookbook, Shinder enlisted photographer Wolfgang Tillmans, whose long-established work curiously observes the nuances, fragility and beauty of gay men, among many other groups and cultures. The result is often romantic, and here, Tillmans' soft-lensed approach contrasts with Shinder's traditionally masculine workwear styles. ​"I think we speak the same language when it comes to clothes," says the designer. ​"He has this delicacy when it comes to something like, say, the military. The way he photographs it can often be soft and delicate, rather than a toxic, hardcore masculinity."

Shinder's own idea of masculinity, unsurprisingly, comes from a sartorial perspective, looking at it through the lens of traditional sportswear or a classic parka – clothes that are often ascribed to men. ​"But I know a lot of women and non-confirming people are also wearing it," he says. ​"For me, showing this wardrobe isn't about saying boys have to wear this, it's trying to show a wardrobe for people who identify as quite masculine."
And crucially, Shinder's take on masculinity is rooted in his queer experience. ​"I don't see many people approaching masculinity from a queer perspective," he adds. ​"It's delicate, but hopefully very masculine at the same time."
It's that balance that makes Olly Shinder's designs so compelling. As sexy as they are romantic, soft as they are hard. Functional, but also at home in a fetish club. It's a new masculinity taking charge in British design.

More like this