Rage against the streetwear machine
It's a new era of opulence for menswear. Magpies, rejoice!
Pearls, evening gloves, (faux) furs, crystals, diamantes, velvet: these details are serving up a new and sumptuous take on masculinity for 2020. As showcased at the first round of shows of the decade, which concluded in Paris on Sunday, a modern vision of opulence for men is shining bright, starting with AW20. Magpies, rejoice.
If you have an interest in fashion in any kind of capacity, you may have noticed this feeling flourishing under-the-radar for a little while now. Peep at the Instagram's of some of the world's most-watched men and you'll notice a growing taste for decadent jewellery. See: Harry Styles and A$AP Rocky as leading examples, both have pledged their allegiance to pearls – the precious iridescent gemstone, which, until recently, may have felt more at home on your grandmother's dressing table. Indeed, fashion houses like Alexander McQueen and Gucci, continuously showcase opulence through intricate and expensive embellishments and fine jewels. But as anyone who has been following the men's AW20 shows will have seen, this luxurious feeling has reached new heights, with some of the boldest, bravest and most beautiful collections of the season championing this heightened aesthetic.
A boy with a pearl earring opened Kim Jones' show for Dior – perhaps one of the most hotly anticipated shows on the schedule. He wore a sashaying moiré taffeta opera coat with a matching rose-shaped corsage, a crystal-strewn paisley sweater, slim-cut pinstripe trousers and snow-white velvet evening gloves encrusted with pearls. All 48 looks, in fact, were partnered with a pair of plush evening gloves.
Throughout the collection – which was a tribute to the Jones' friend, the late, incredibly influential stylist (and The Face contributor) Judy Blame – garments were expertly crafted in rich, lustrous fabrics and trimmed with all that glitters. Some of the pieces were informed by haute couture gowns from the Dior archives (where Jones has been digging deep since he arrived at the house nearly two years ago). Case in point: an impeccable tailored overcoat with sparkling embroidery that took over 900 hours to complete by hand. Now, what could be more opulent than that?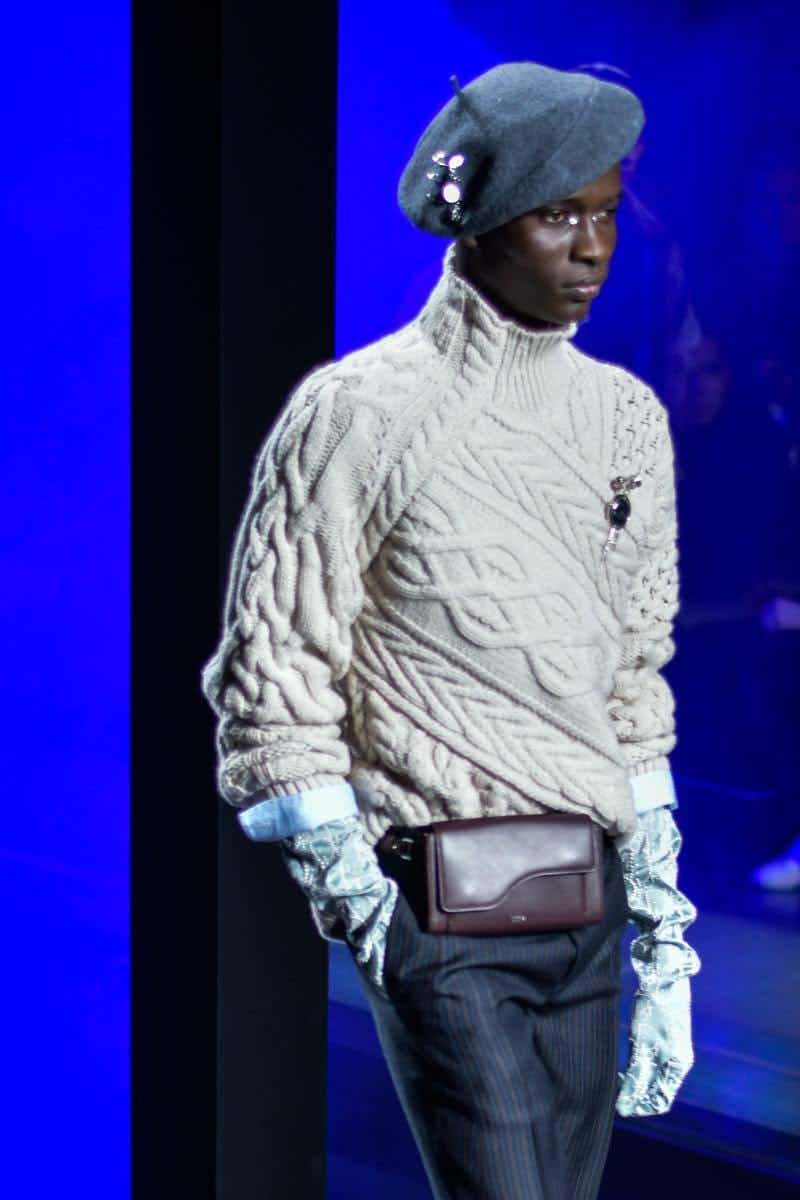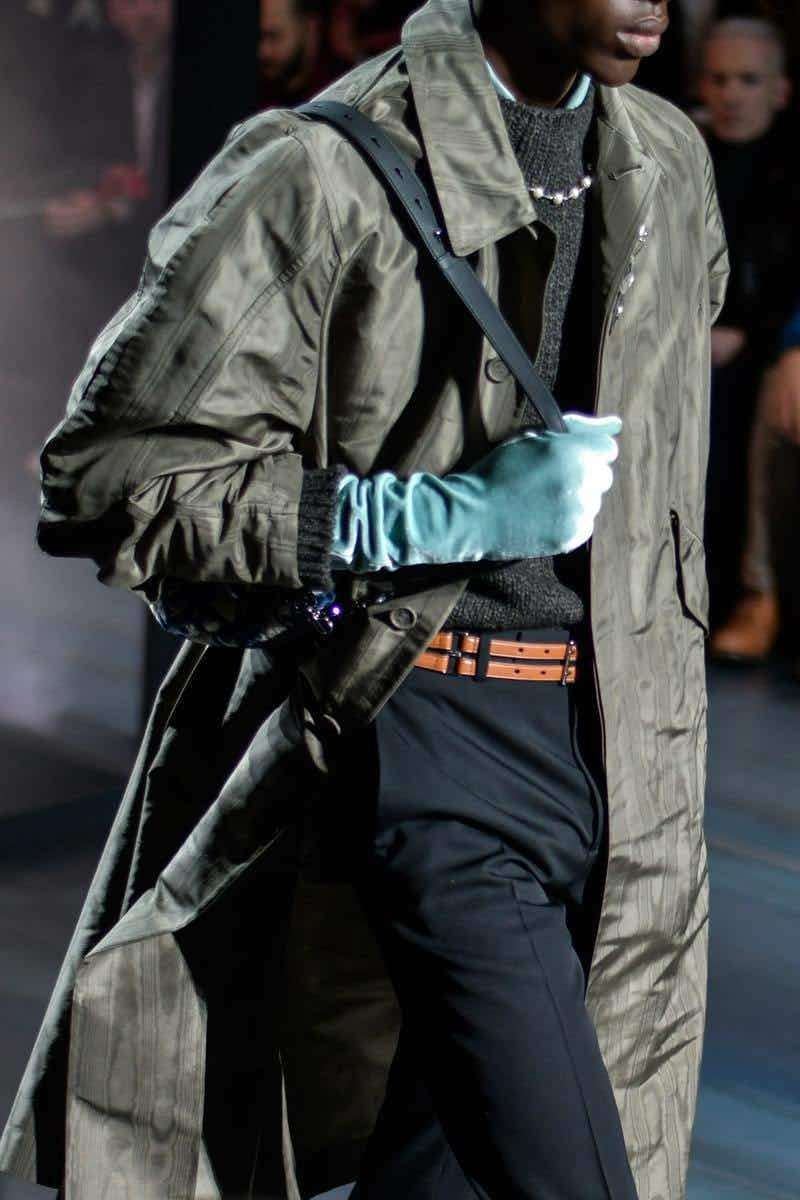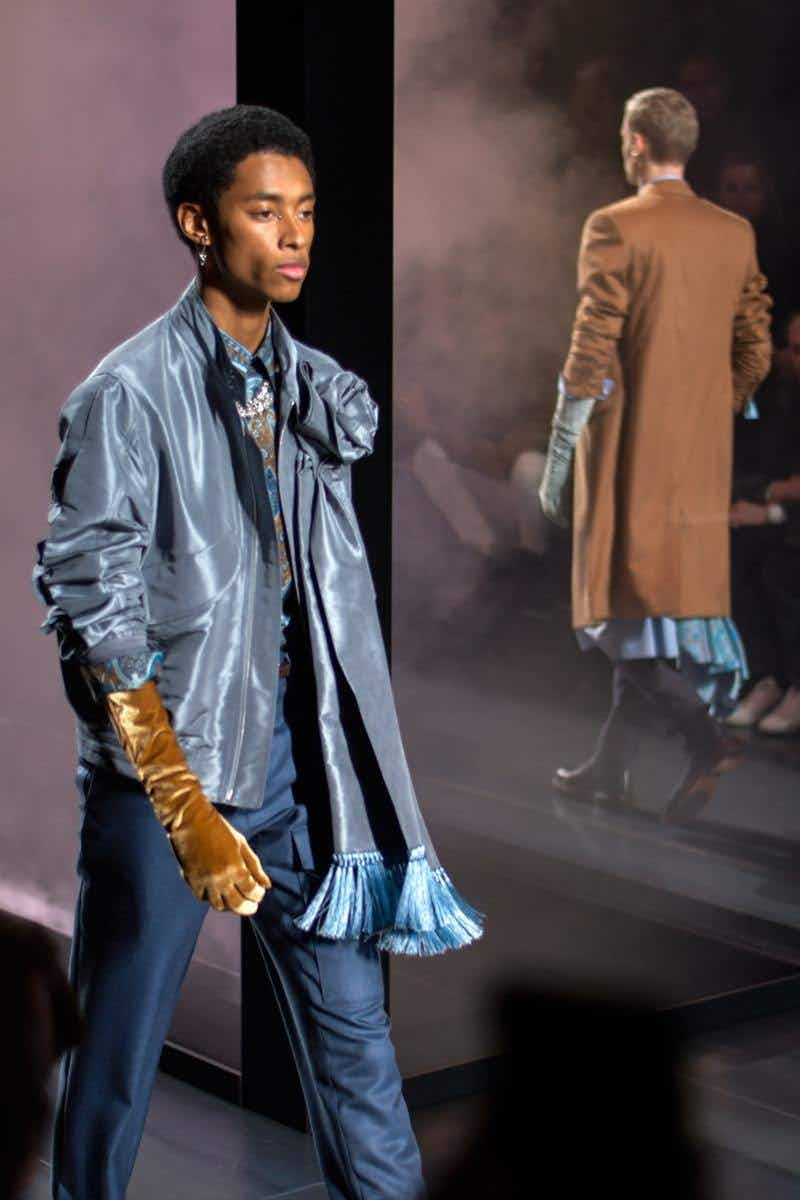 At Loewe, Jonathan Anderson also had couture on his mind. A trio of ruched, sheeny dresses were the result of a mash-up of two references: 1950s couture gowns and a dreamt up or, perhaps, familiar scenario in which young boys are holding dresses up against themselves in the mirror. As a result of the latter, said dresses were left completely open at the back and fastened like aprons. Anderson said the collection was a fantasy wardrobe. Other couture-inspired pieces within that wardrobe included exquisite coats that took on slick Princess-line silhouettes. Elsewhere, candy-coloured cable-knit sweaters were festooned with more eye-catching jewels.
At the designer's namesake label, JW Anderson, more decadent and ornately detailed clothes followed suit. His collections typically have a craftiness to them, but this time pearls adorned what looked like layered plush knitwear, and shiny gold chains in varying sizes were placed like necklaces on pleated peplum tops and hung across the waist on paisley calf-skimming dresses and checked coats to statement effect. The ever-flamboyant paisley was also cast upon flamboyant outerwear: oversized and padded double-breasted coats finished with Anderson's trademark asymmetric hem.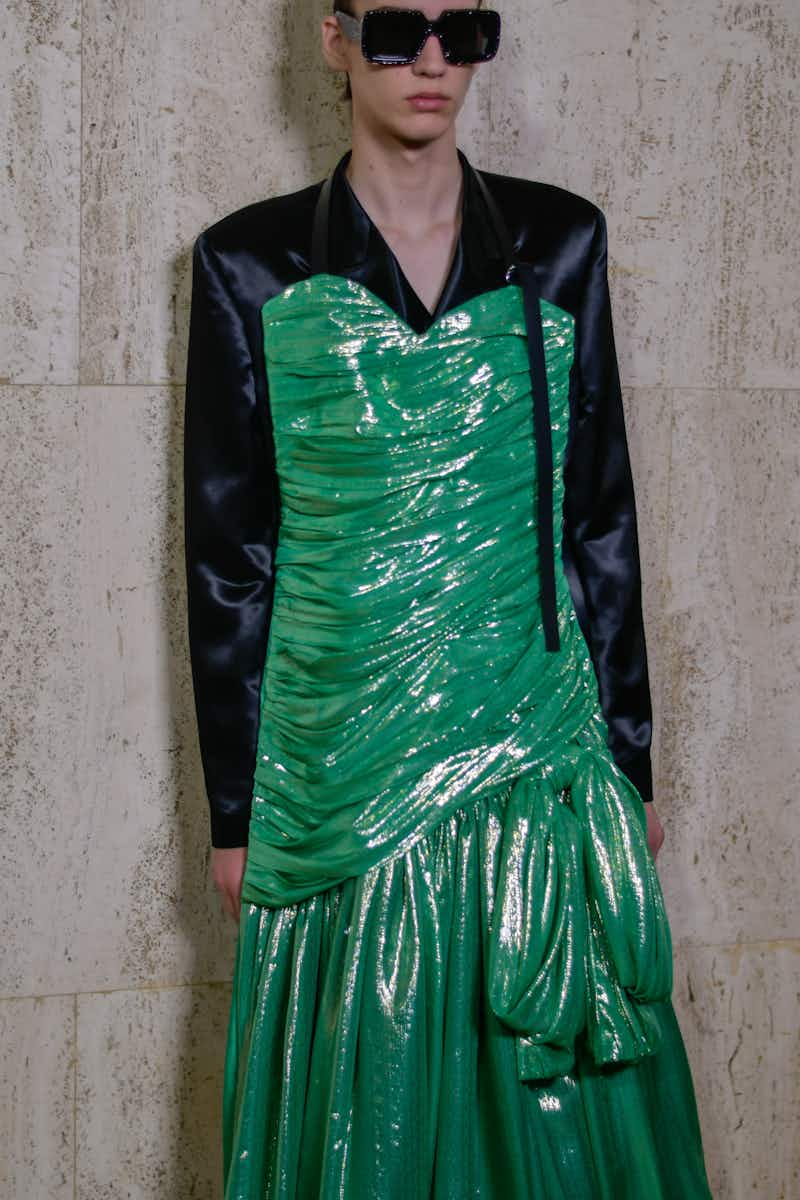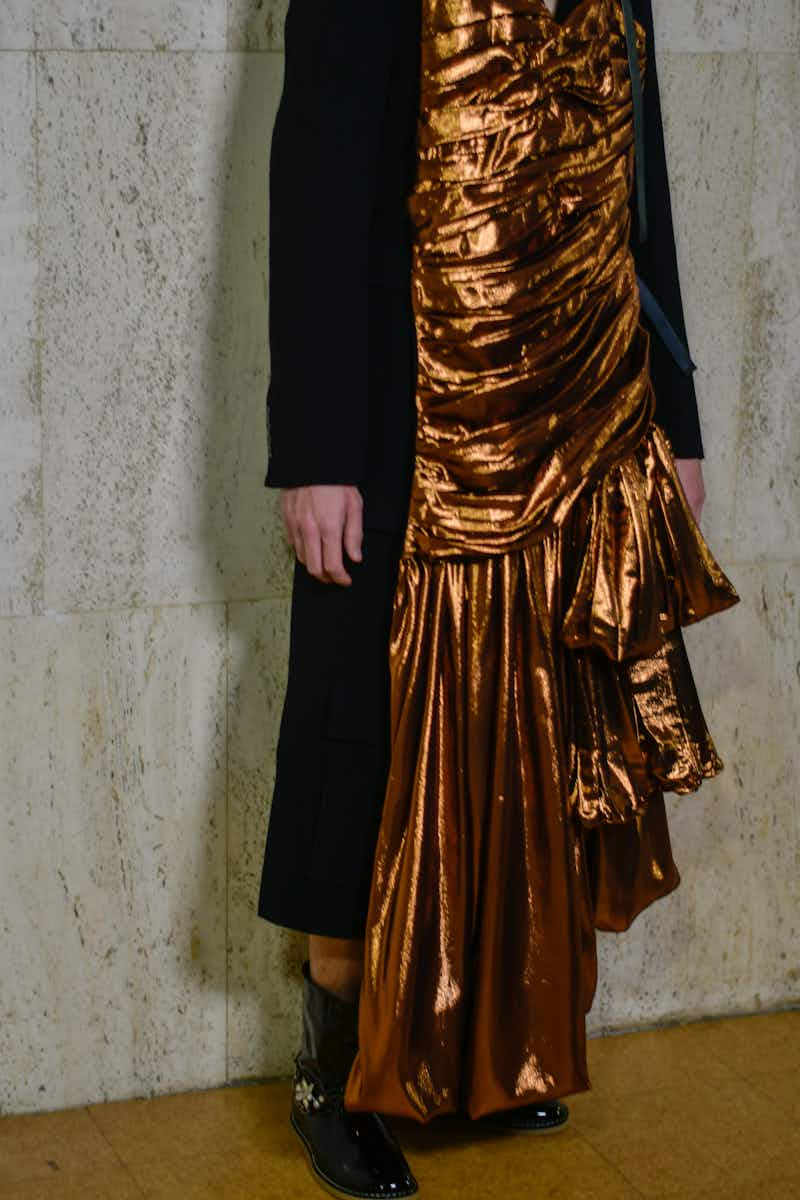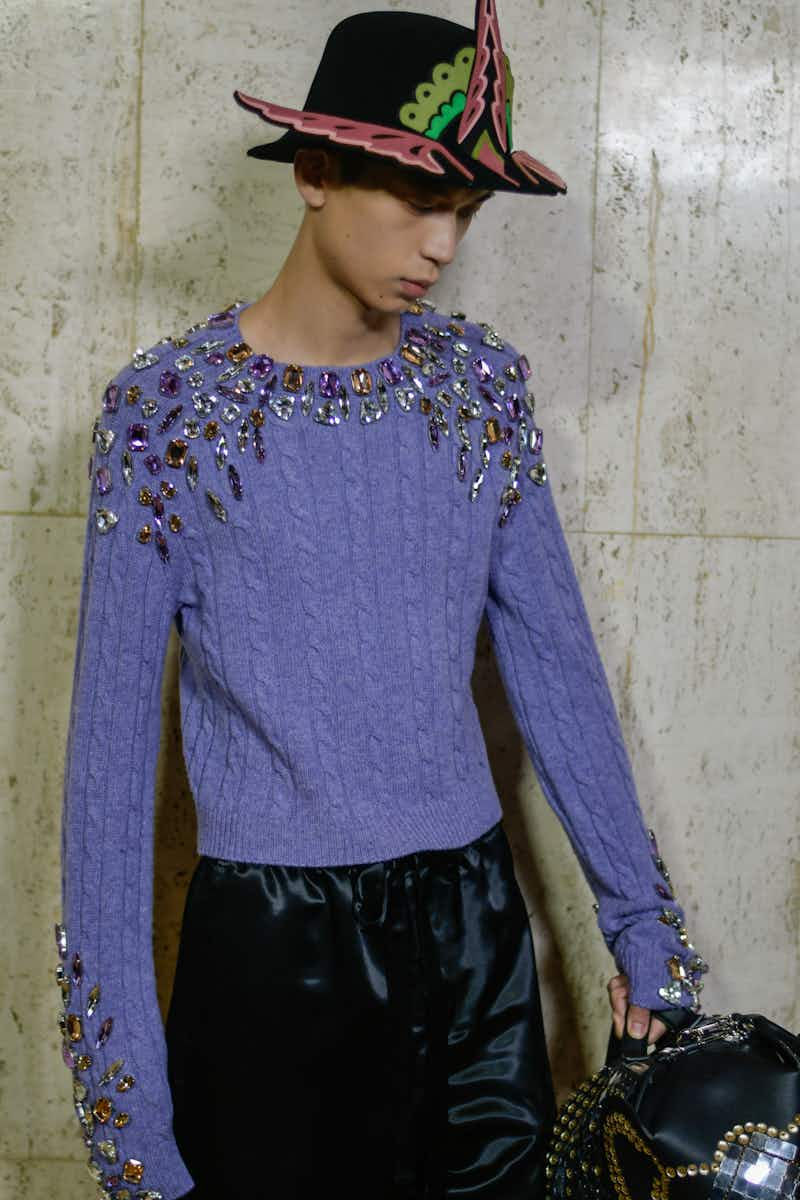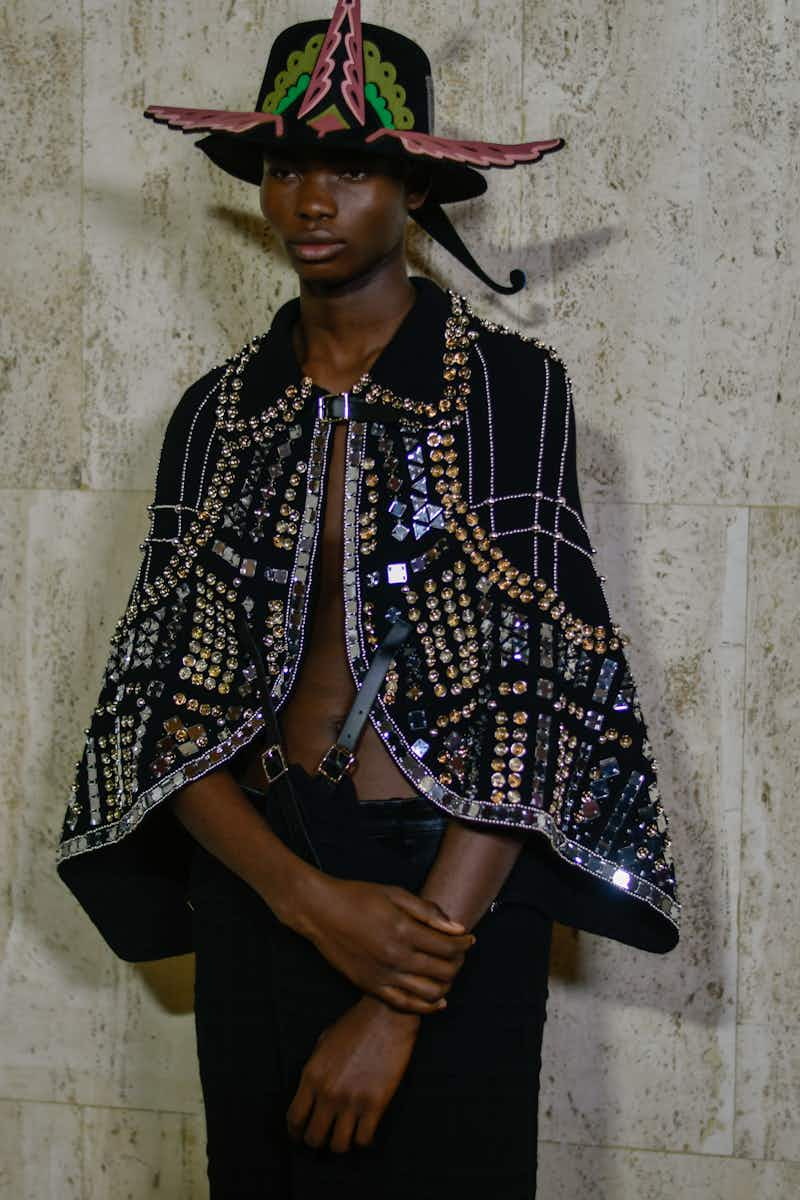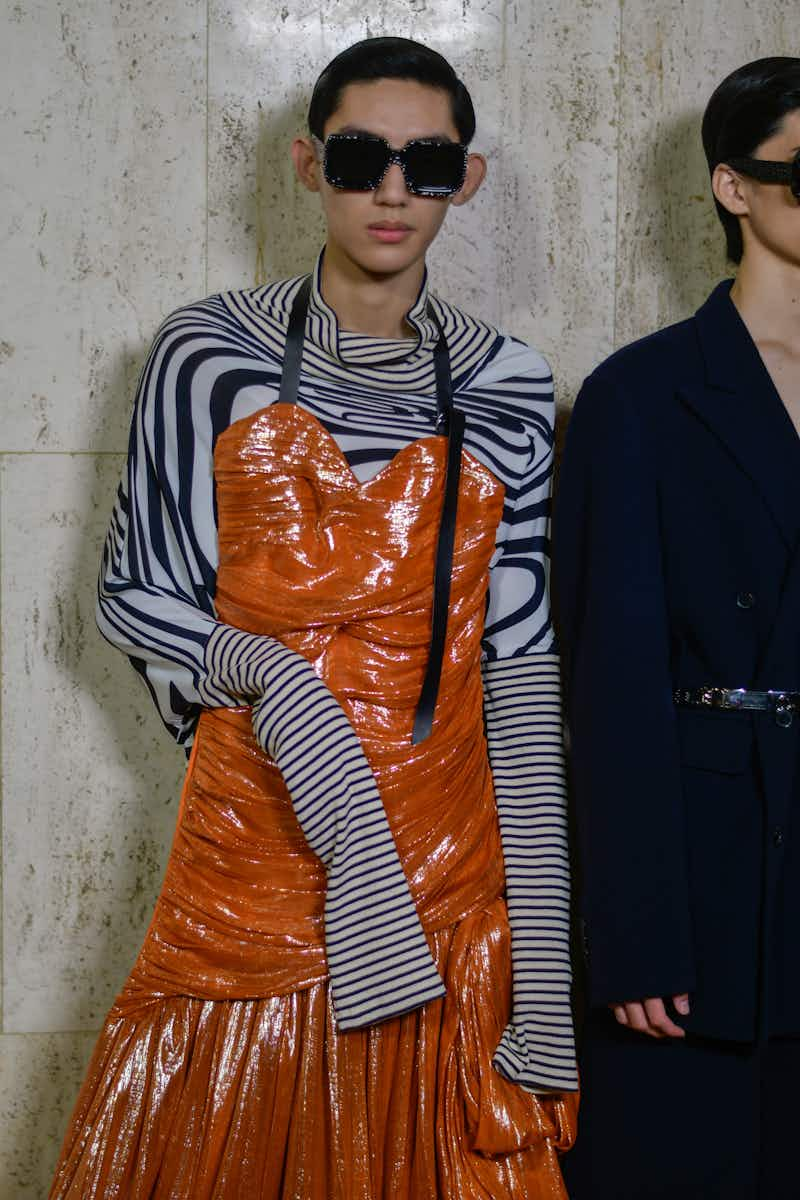 And when was the last time you longed for (faux) fur? Raf Simons' incredibly refined collection saw his boys insulated in a wonderful concoction of faux fur garments. There were elegant hand muffs, voluminous coats, fancy cascading scarves and structured shawl-like pieces worn over the shoulders atop sleek tailoring. It exuded extravagance yet looked utterly effortless. At times, the fur items were cloaked in plastic – the throwaway fabric was transformed into something to treasure. The following day, Dries Van Noten made another strong case for faux furs. Placed over pastel-hued ruffled shirts and slick double-breasted suits, (still fake) fox fur shawls fell nonchalantly around shoulders. There were more bejewelled pieces here too, on belts, on brooches, on silk shorts, on those lustrous louche shirts.
On the final day of the menswear shows, two relatively young labels presented their collections – both with different boys in mind, yet both winking to this spirit. First, Ludovic de Saint Sernin – who is eternally opulent through his sensual fabrics and silhouettes – took it to the next level. In collaboration with Swarovski, he showcased glimmering chokers, slinky crystal tank tops that were shaped like spider webs, delicate crystal bras and leather evening gloves. Secondly, a healthy dose of bling was evident at the last show on the menswear schedule, 1017 ALYX 9SM. In the designer's co-ed show, glistening diamantes were spotted on – but not limited to – smart zip-up hooded coats, denim co-ords and shirting. Helmed by Matthew Williams, it was surprising but equally telling: this is a brand, after all, which has earned recognition for its utilitarian aesthetic, hardware clasps and streetwear sensibilities.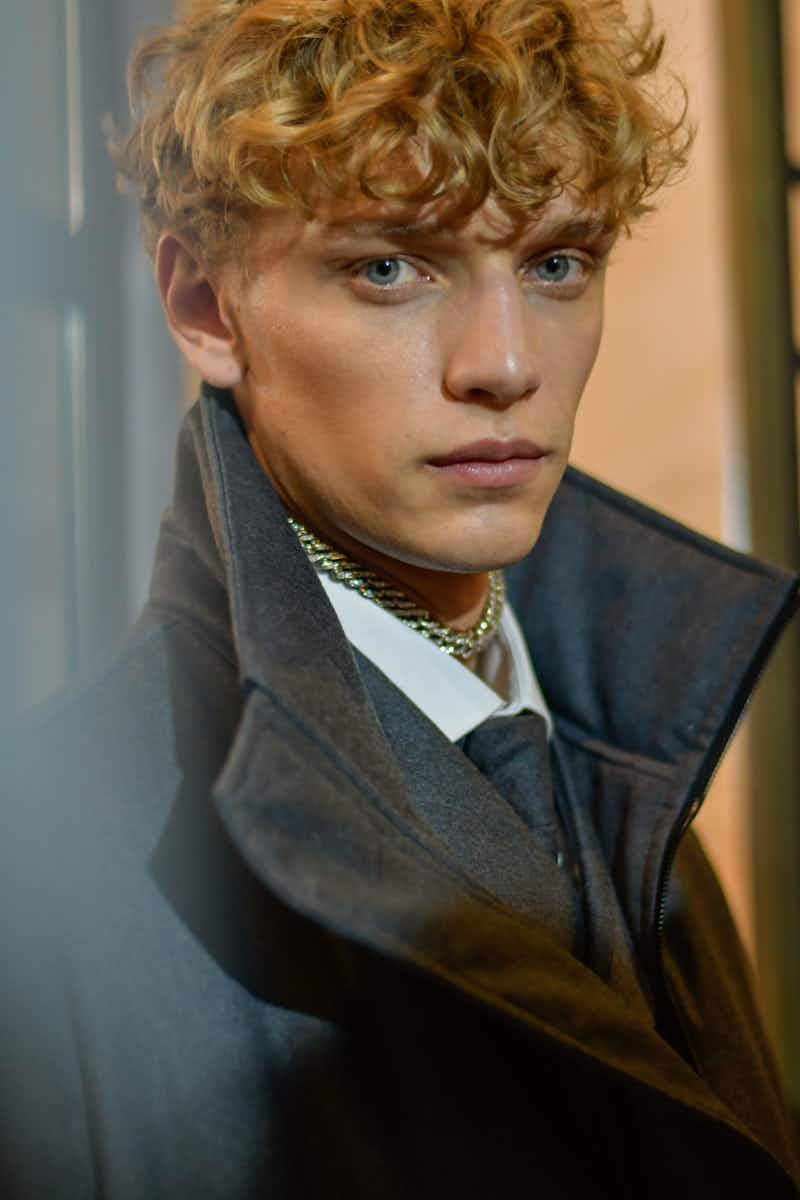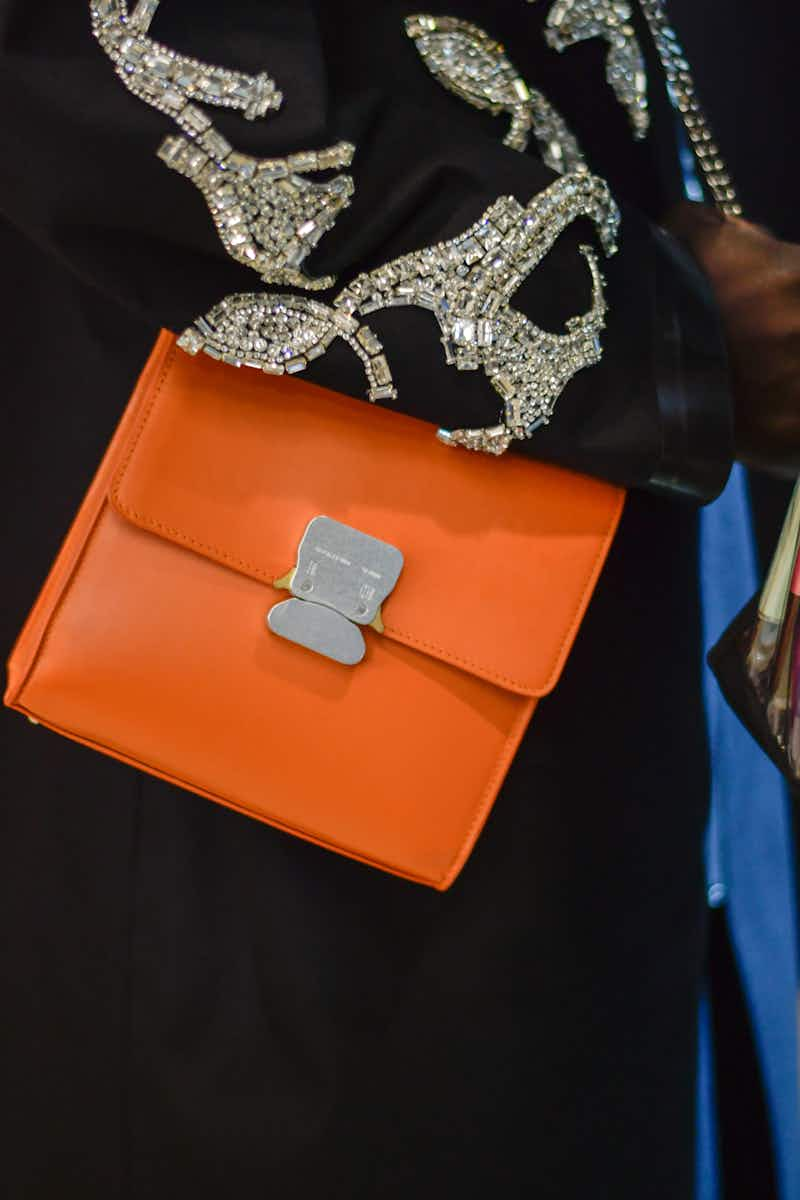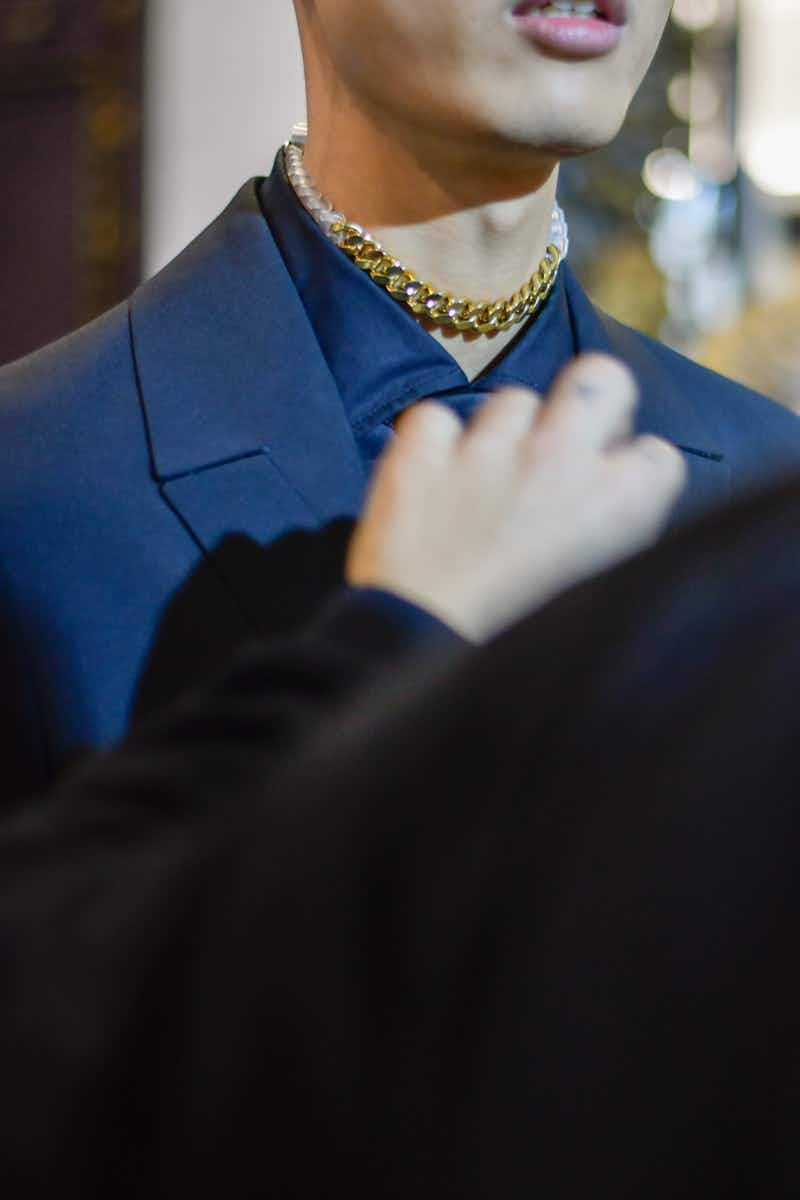 It might seem that it will take a certain je ne sais quoi for one to peacock in pearls and diamantes, and as aforementioned, the more traditionally minded may argue that these sartorial codes are stereotypically feminine. Yet history is littered with examples of men – patriarchs, royalty, sirs – decked out in lavish fabrics, pearls and lashings of richly embellished clothes. Once upon a time, opulence was a signifier of archetypal masculinity. This new mood is twisting these traditional ideas and subverting conventions of what we all perceive to be masculine right now. And, given today's political climate, where toxic masculinity remains rife, is it any wonder why men's designers are embracing the likes of couture gowns and blurring the boundaries of gender.
While it's easy to conclude that all of this is simply a rage against the streetwear machine, which commanded the conversation within fashion for the last 10 years, it feels like a more significant movement than that. Today's designers are challenging ideas of what men actually want to wear, presenting them with a refreshing and incredibly alluring, new aesthetic. One where gender definitions are ultimately insignificant. Pearls? Yes, please. As designers continue to strive and pioneer a move away from traditional troupes that segregate genders, the more standardised unconventional and boundary pushing ways of dressing will become. This is grandeur and glamour for a provocative, post-streetwear generation. It may border on bourgeois, but above all else, as Anderson puts it so well, it's a fantasy wardrobe. And right now, what sounds better than that?

More like this