Everything you need to know about SS23 at Paris Fashion Week Men's

Get the fashion lowdown from PFW 2022, including Mowalola, Acne, Isabel Marant, Givenchy, Y/Project, Bianca Saunders, AMI, Dior, Loewe, Craig Green, Kenzo, Celine and more...

PARIS

PARIS

PARIS

PARIS

PARIS

PARIS

PARIS

PARIS

PARIS

PARIS

PARIS

PARIS

PARIS

PARIS

PARIS

PARIS

PARIS

PARIS

PARIS

PARIS
"Dysfunctional Bauhaus" was the title given to Hedi Slimane's latest Celine outing. After turning his Celine boys into medieval knights and ​'70s new wave troubadours, this season Slimane was taken by a number of cultural and personal anniversaries. Staging the show in the Palais de Tokyo on the 20th Anniversary of the museum, the date also marked 20 years since Slimane's own Dior Homme AW02 show in the then-nascent space. The creative director's vision has been relatively unswerving ever since. The trousers are skinny, the ties thin, and the vague, leathery air of rock star dishevelment always present. This, then, was not so much classic Celine territory as classic Slimane (all the way down to the casting – also more 2002 than 2022). Everything came with dark glasses, all the better for moodily stalking the streets in, shoulders hunched against the world.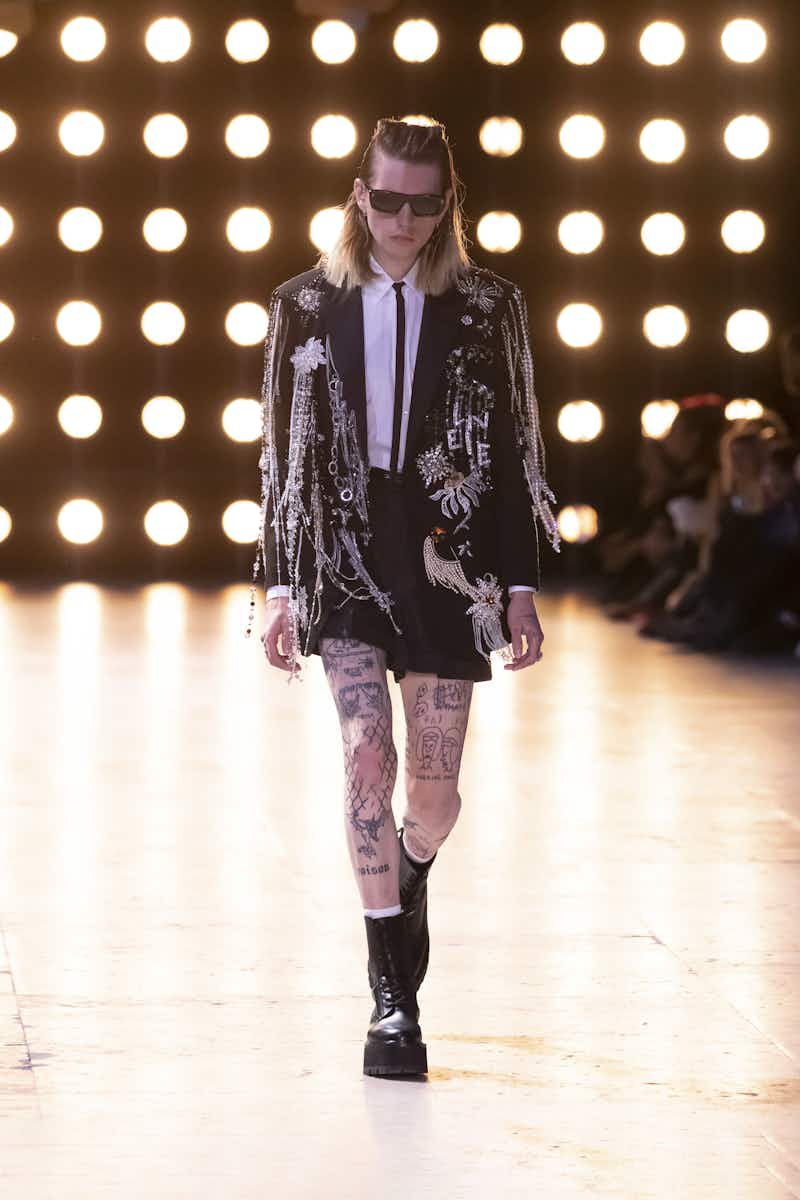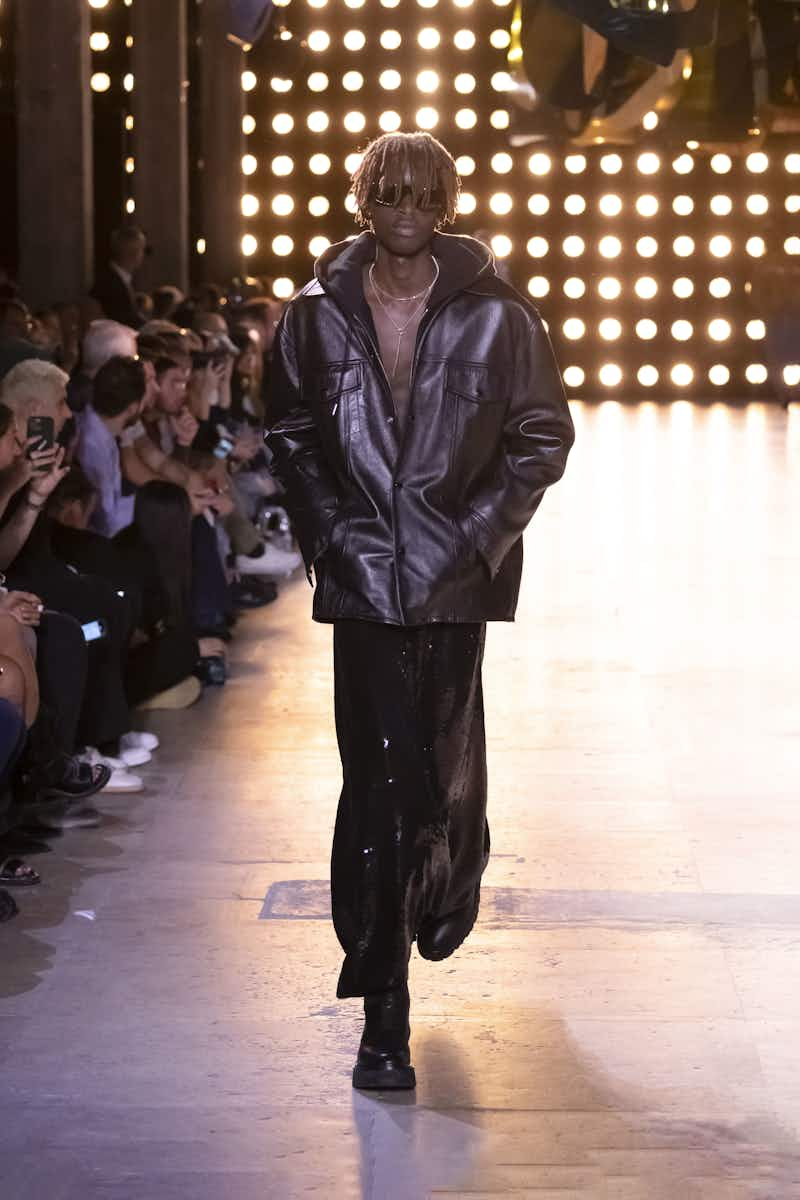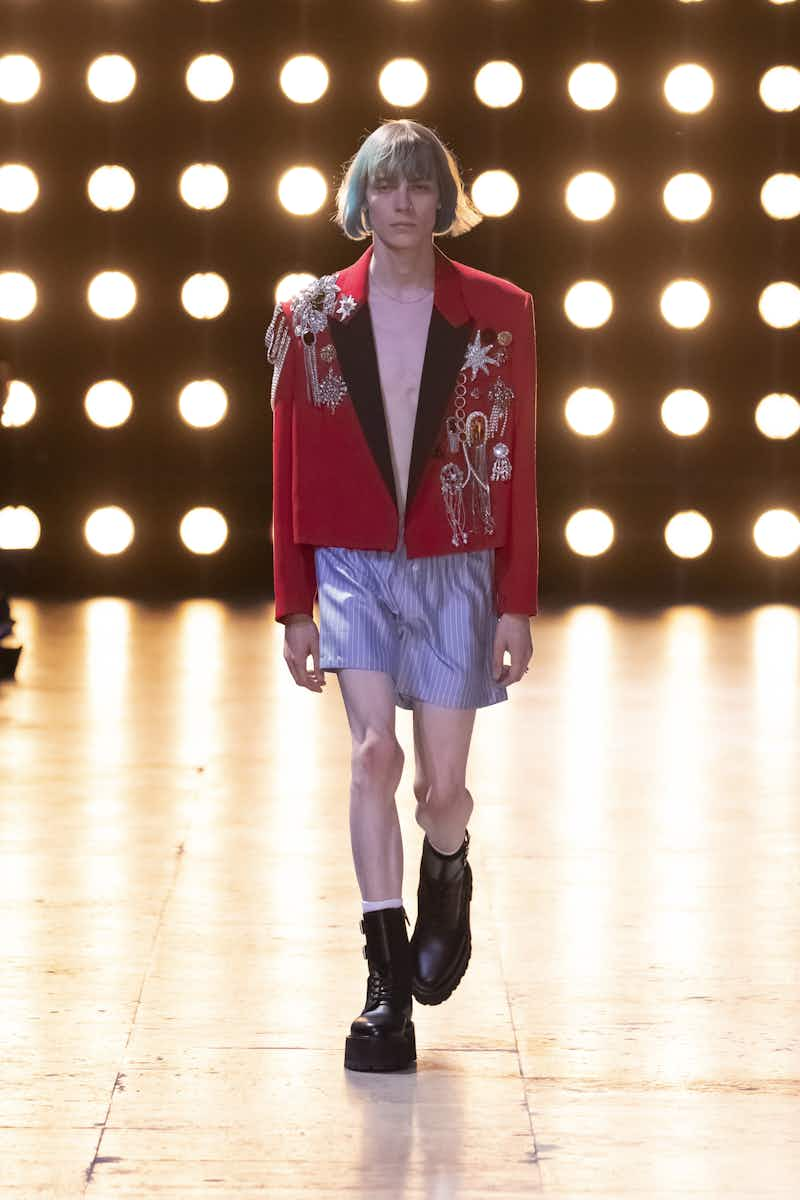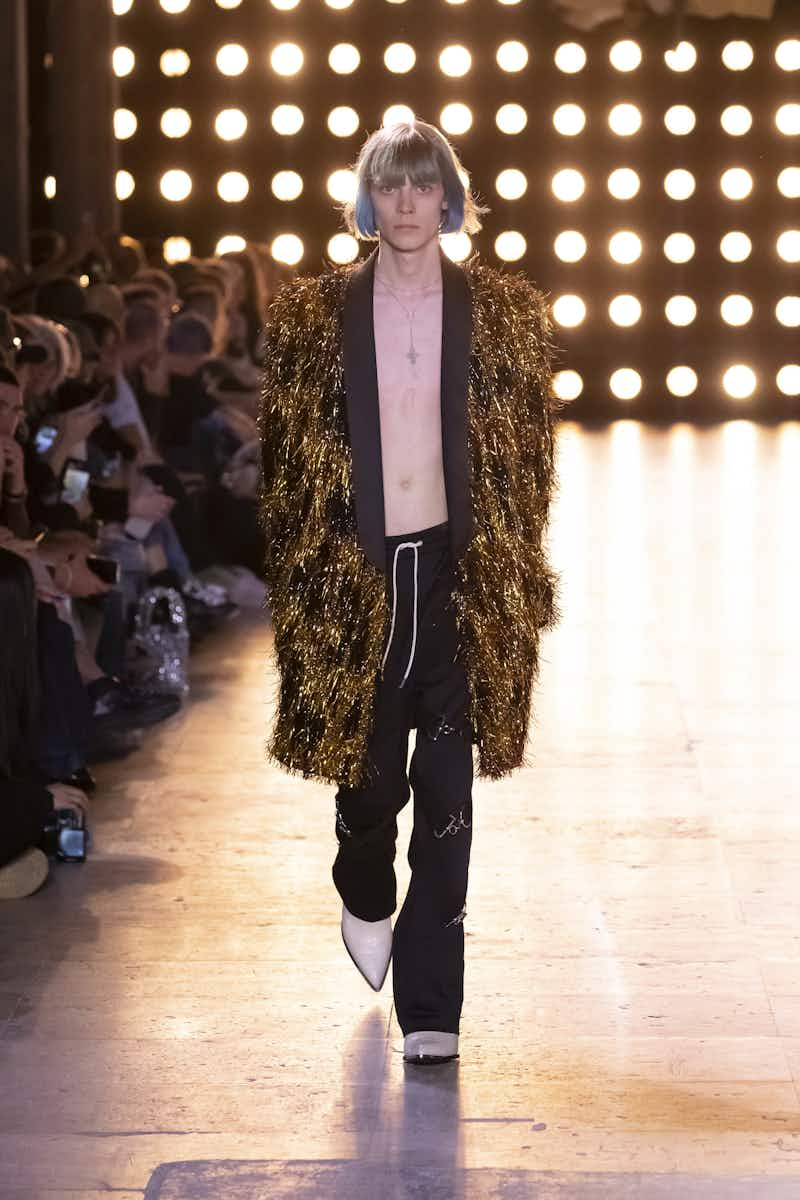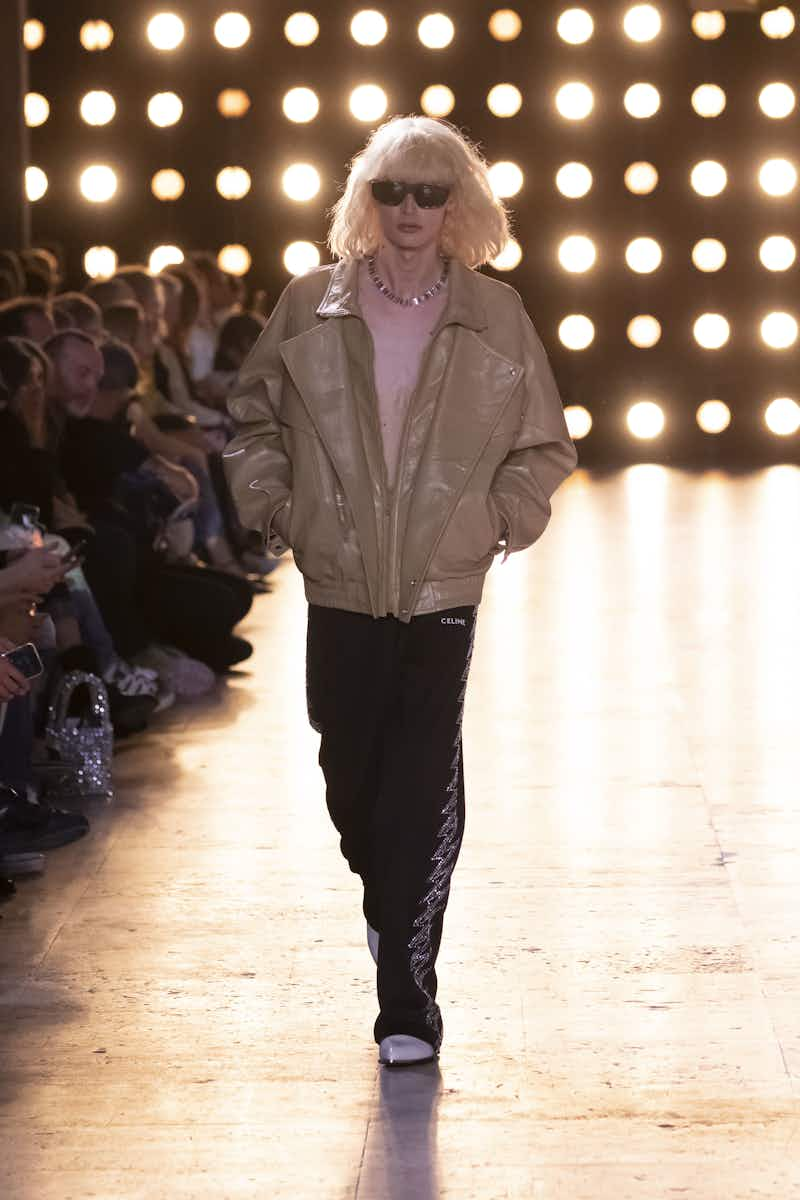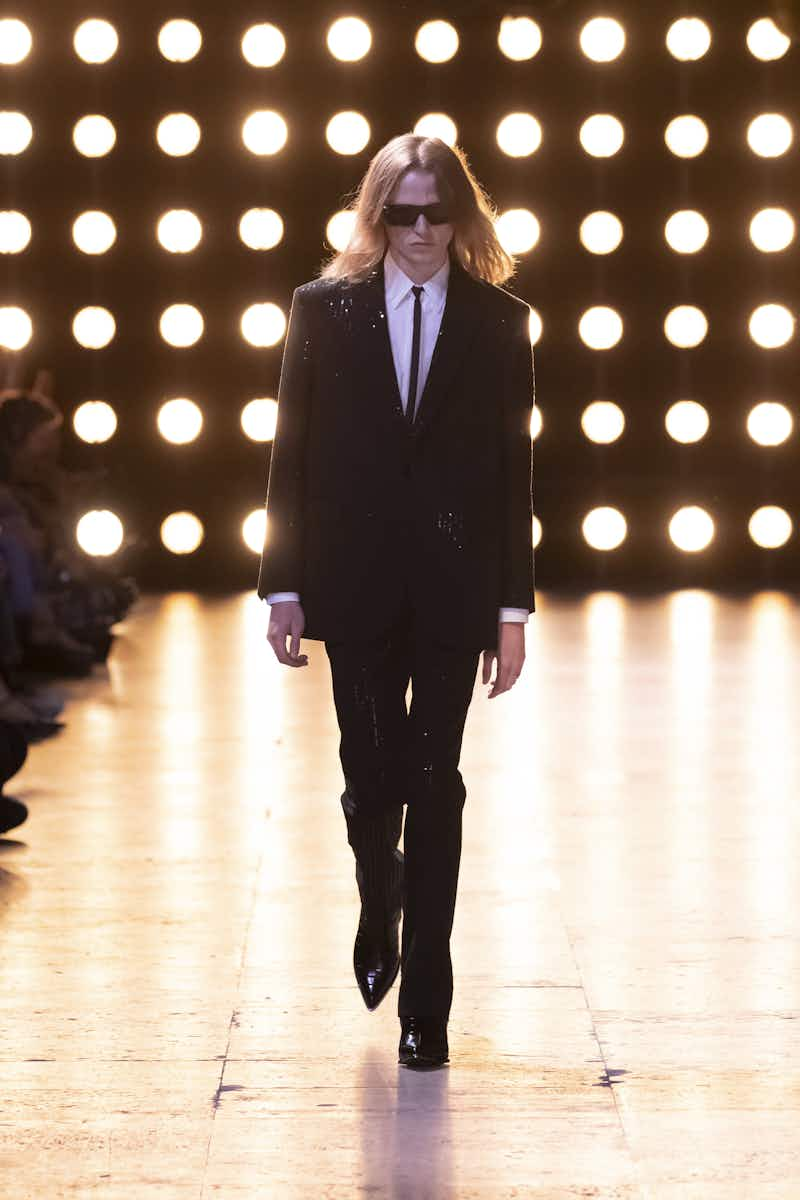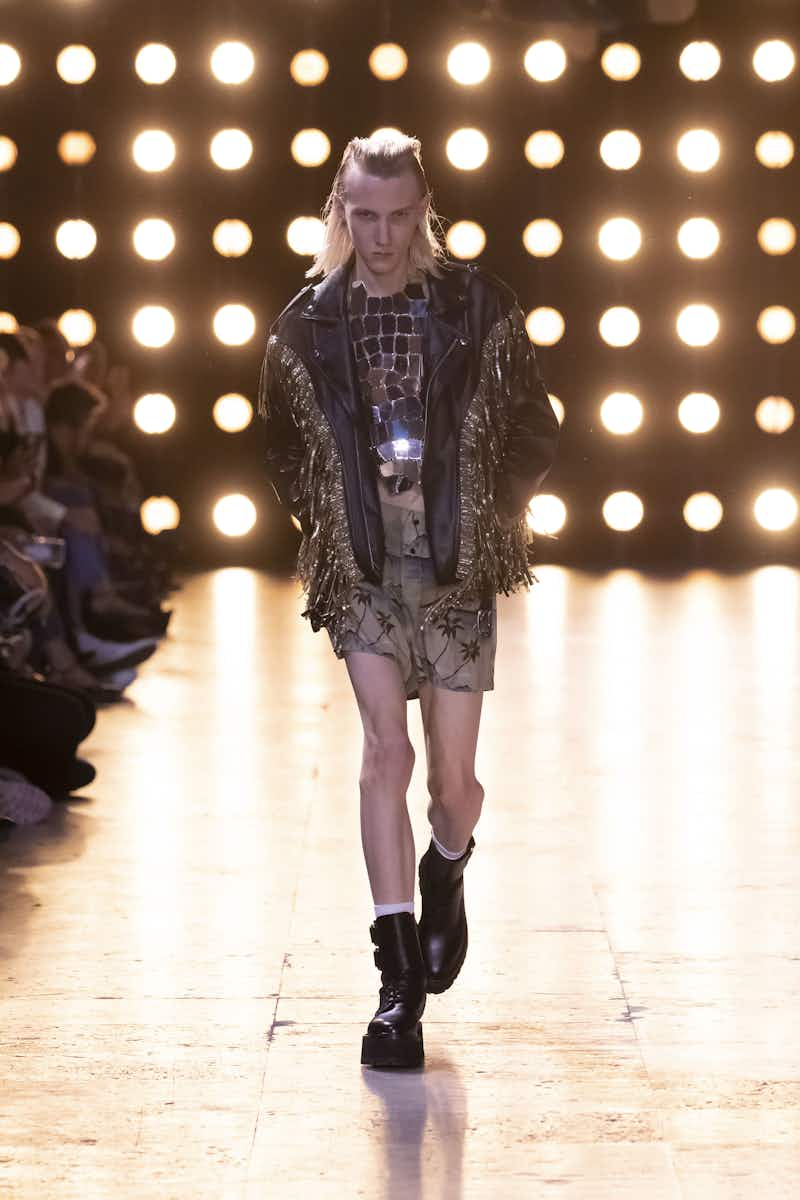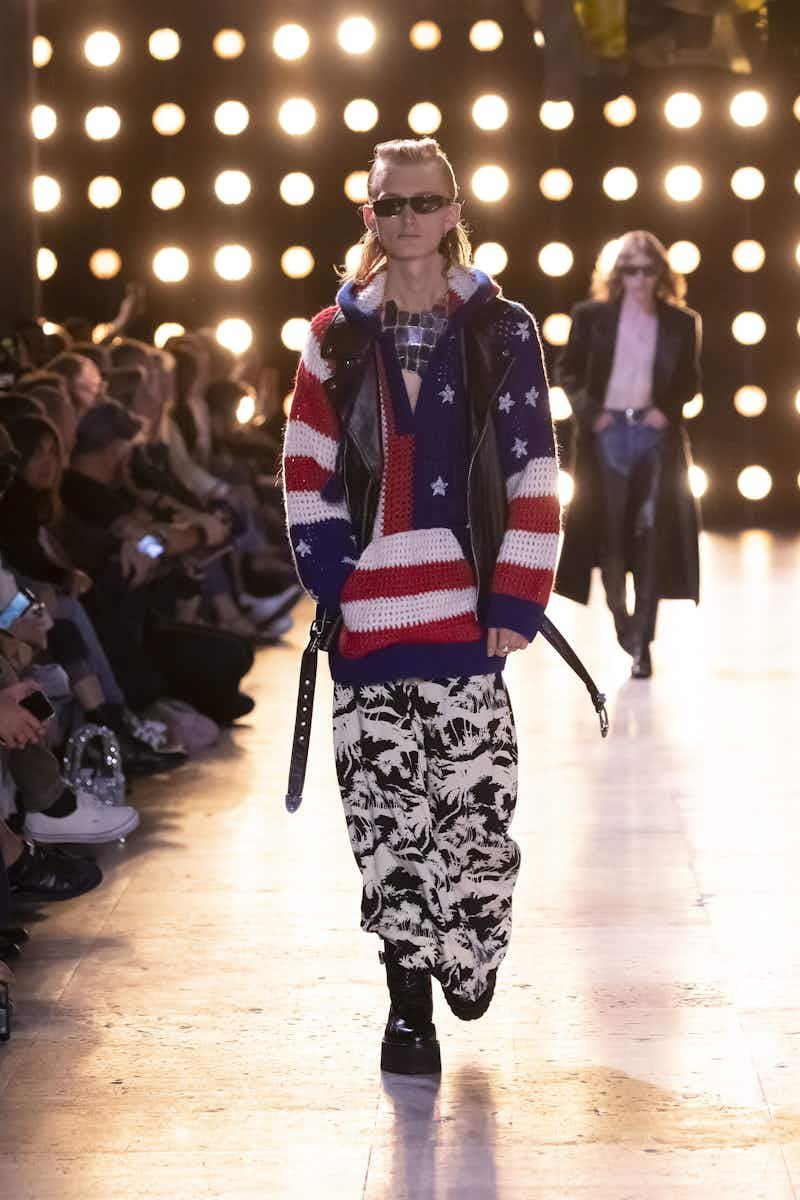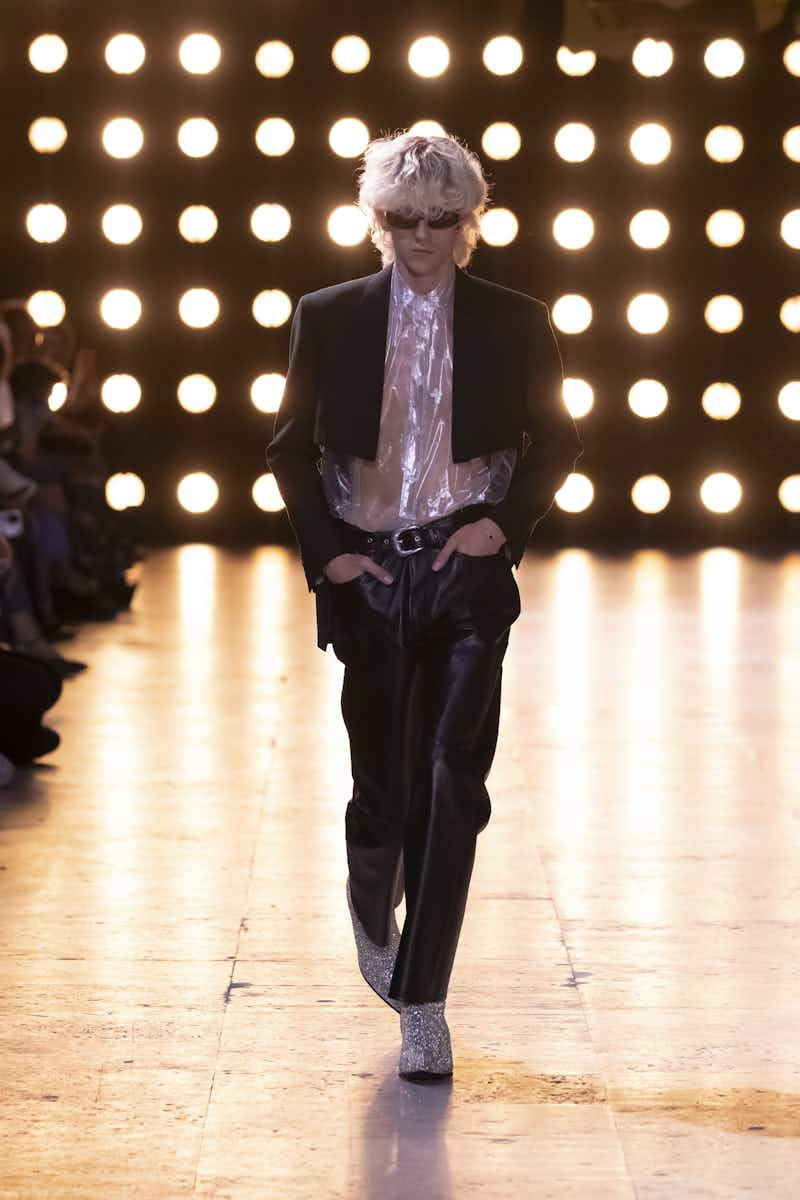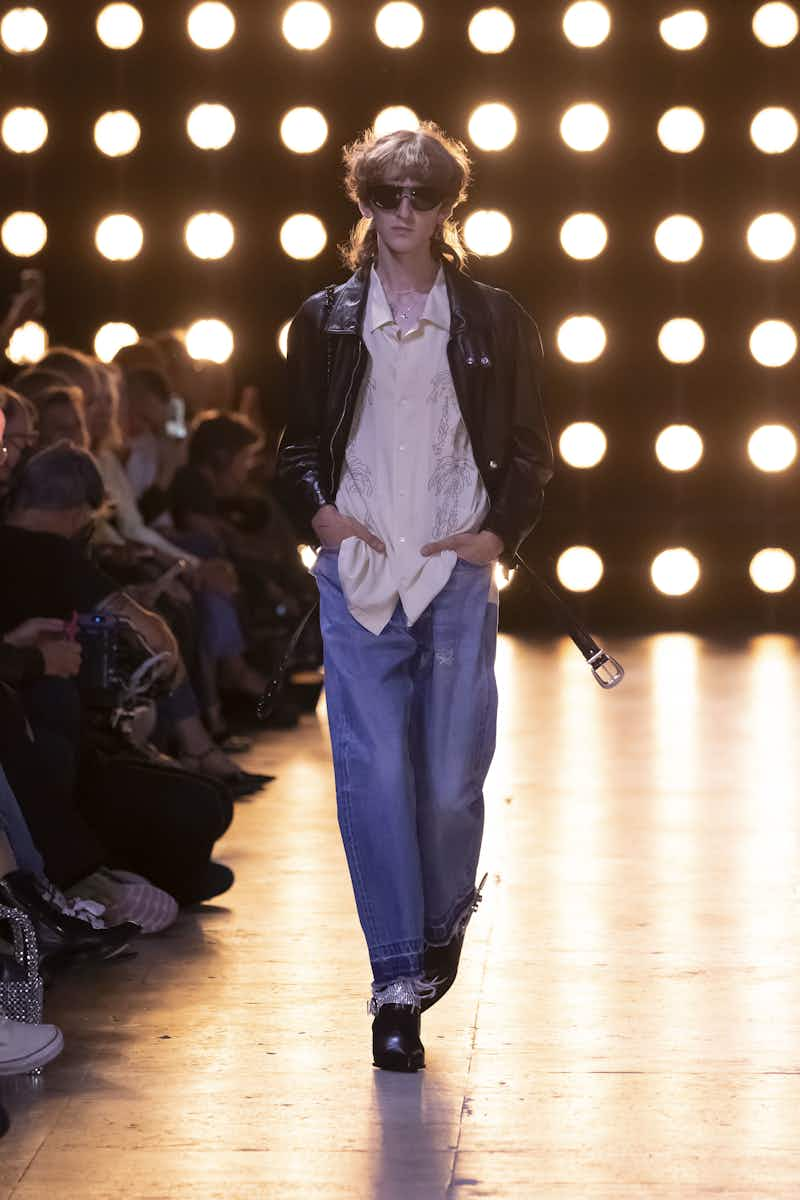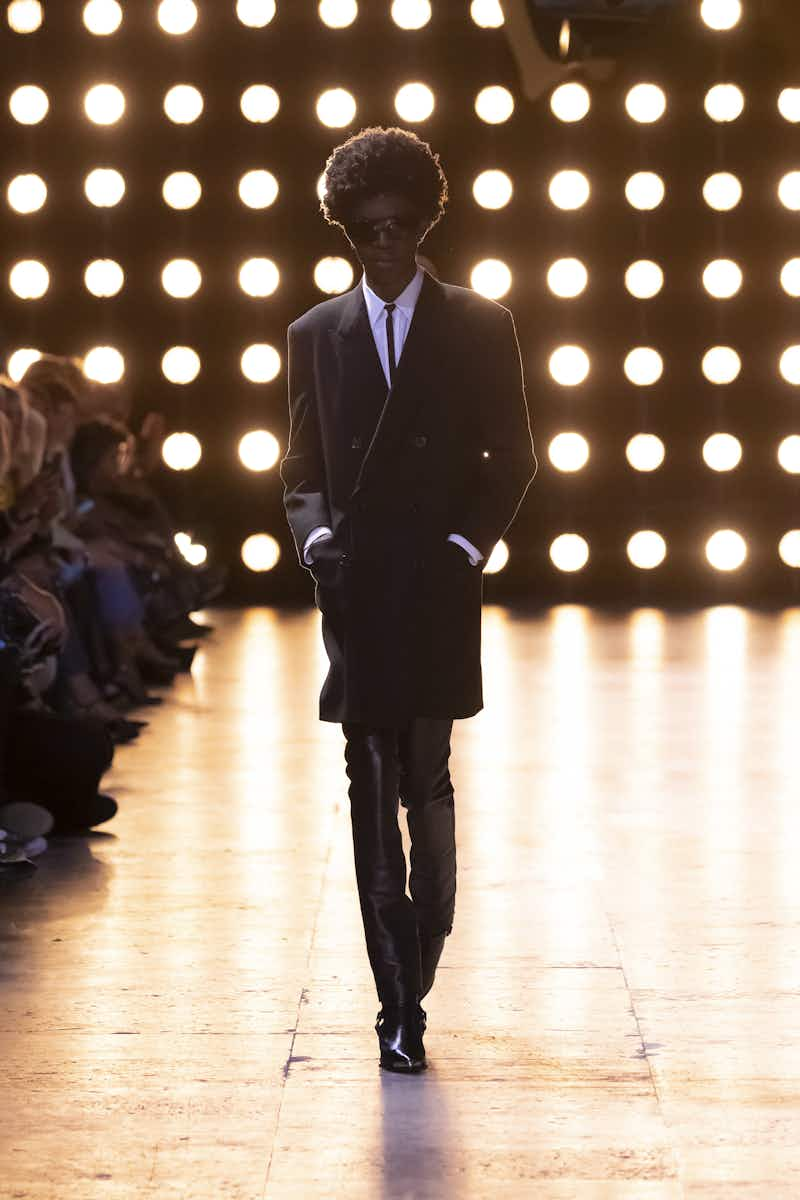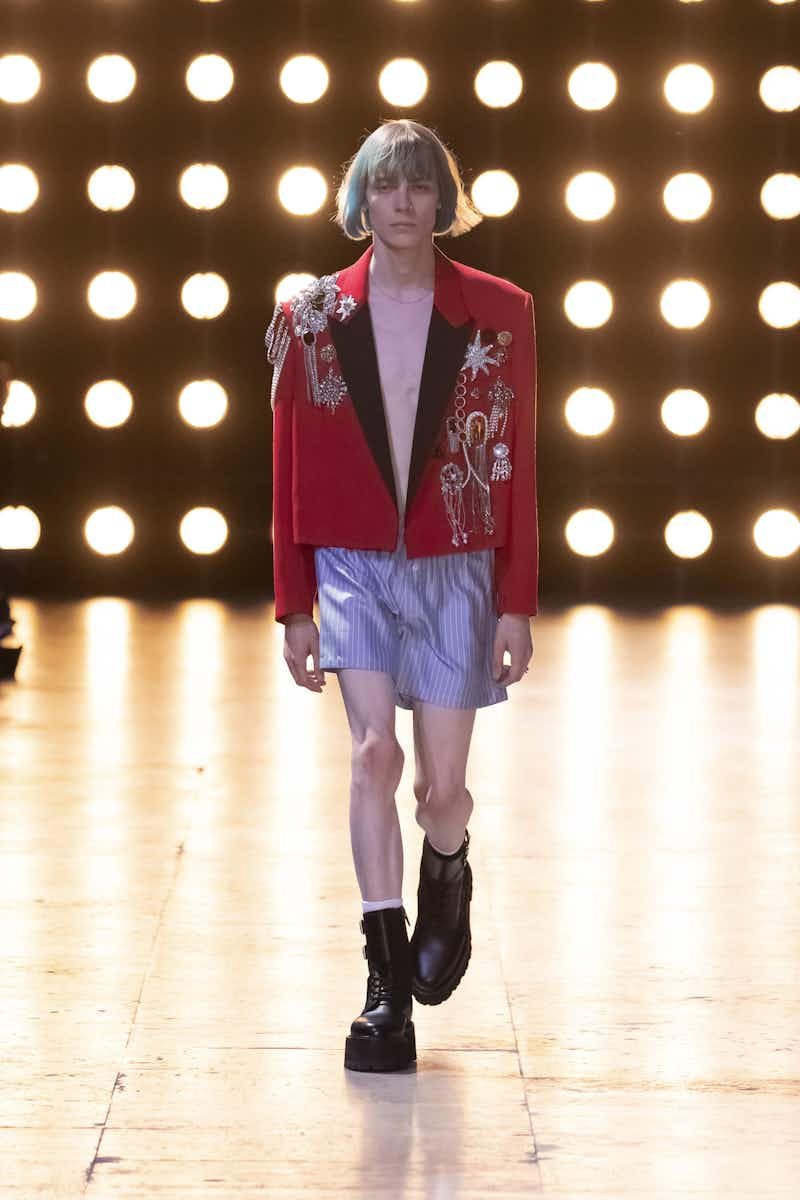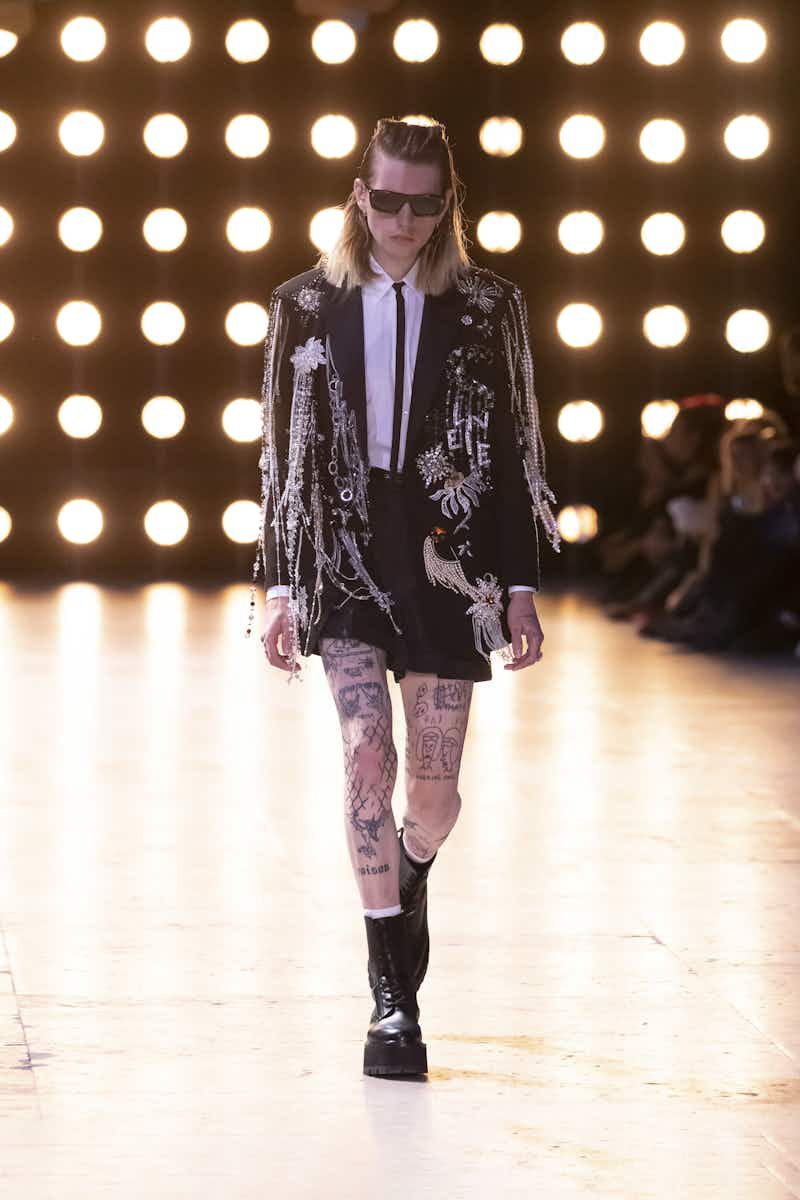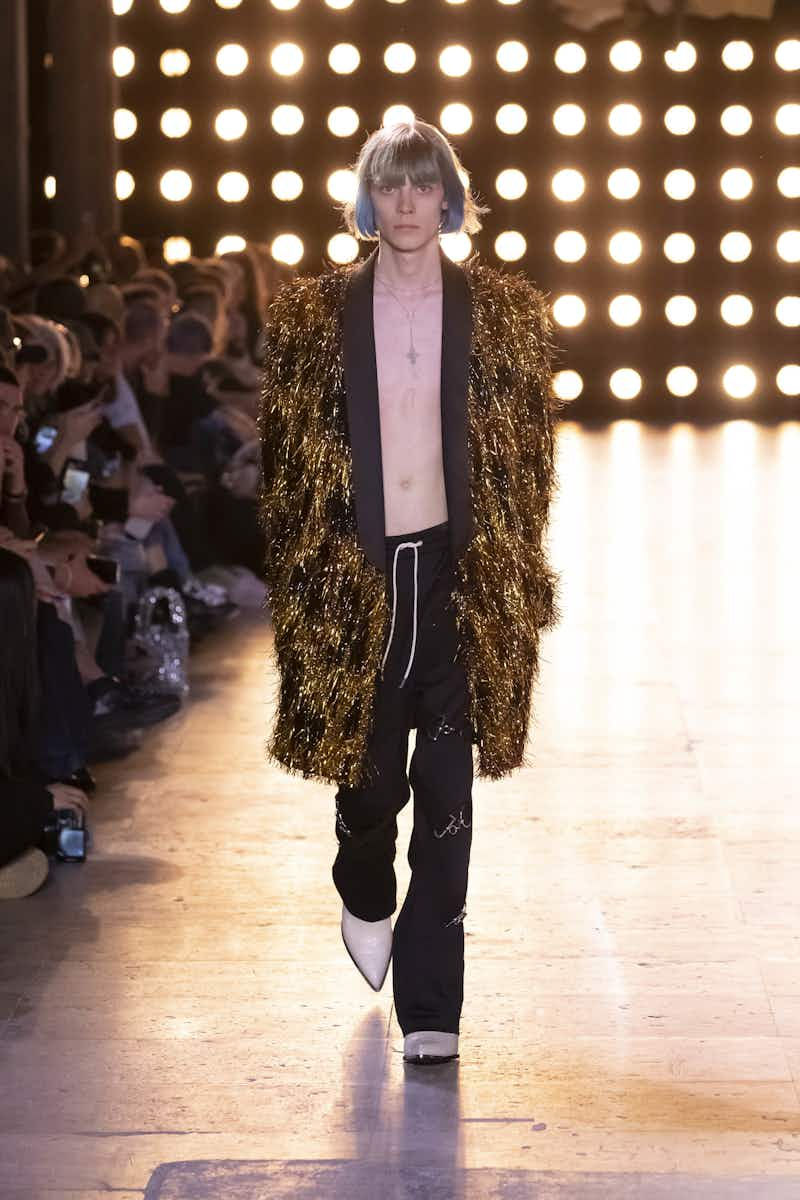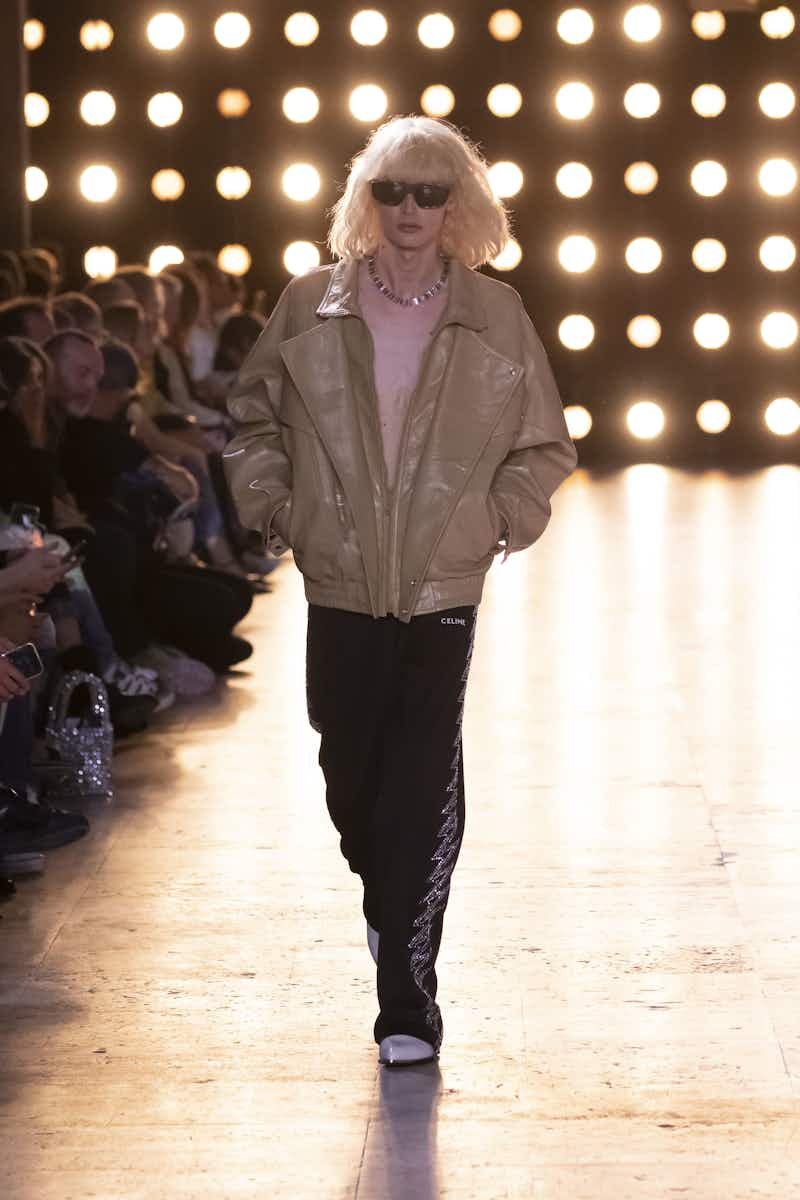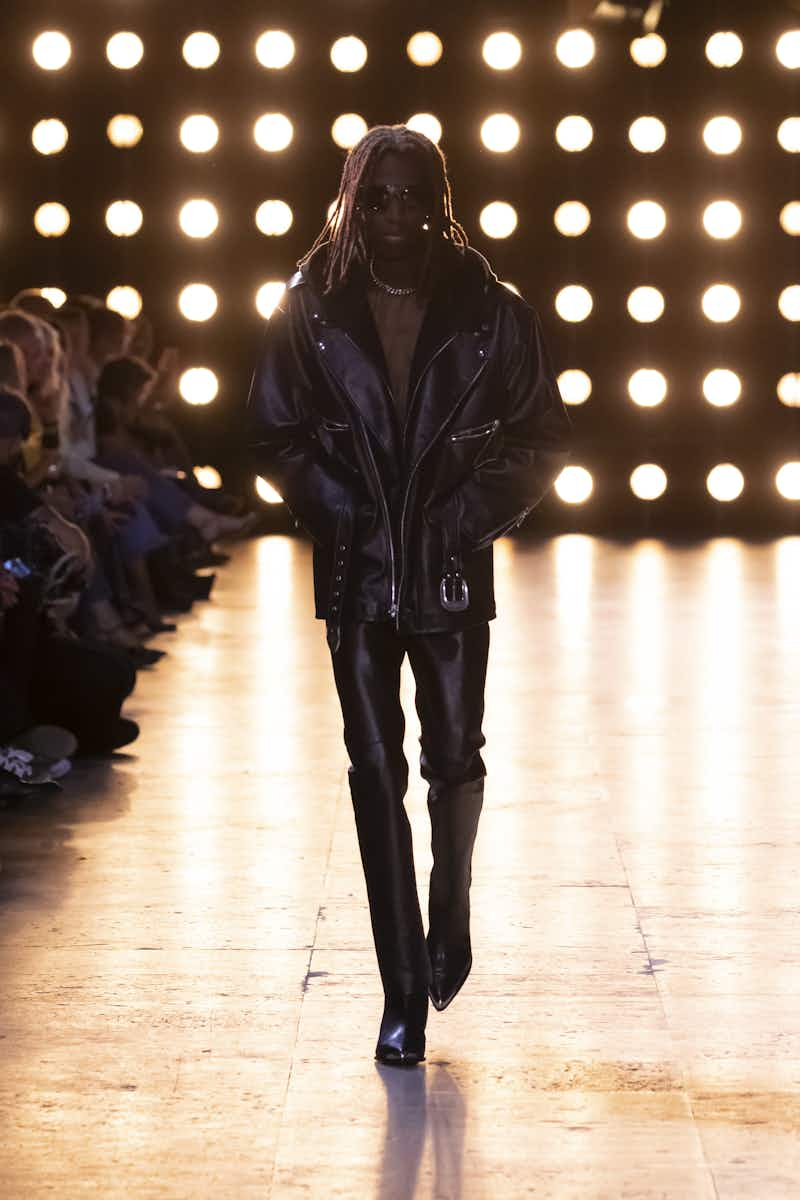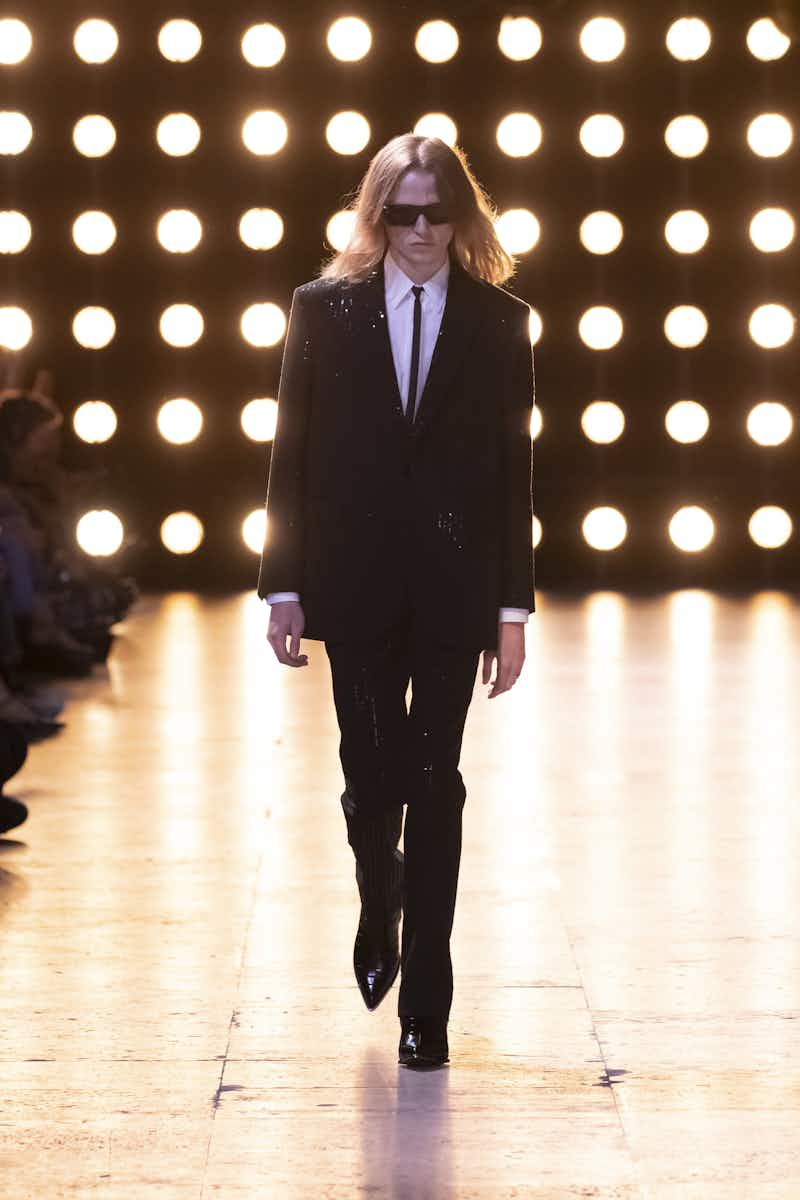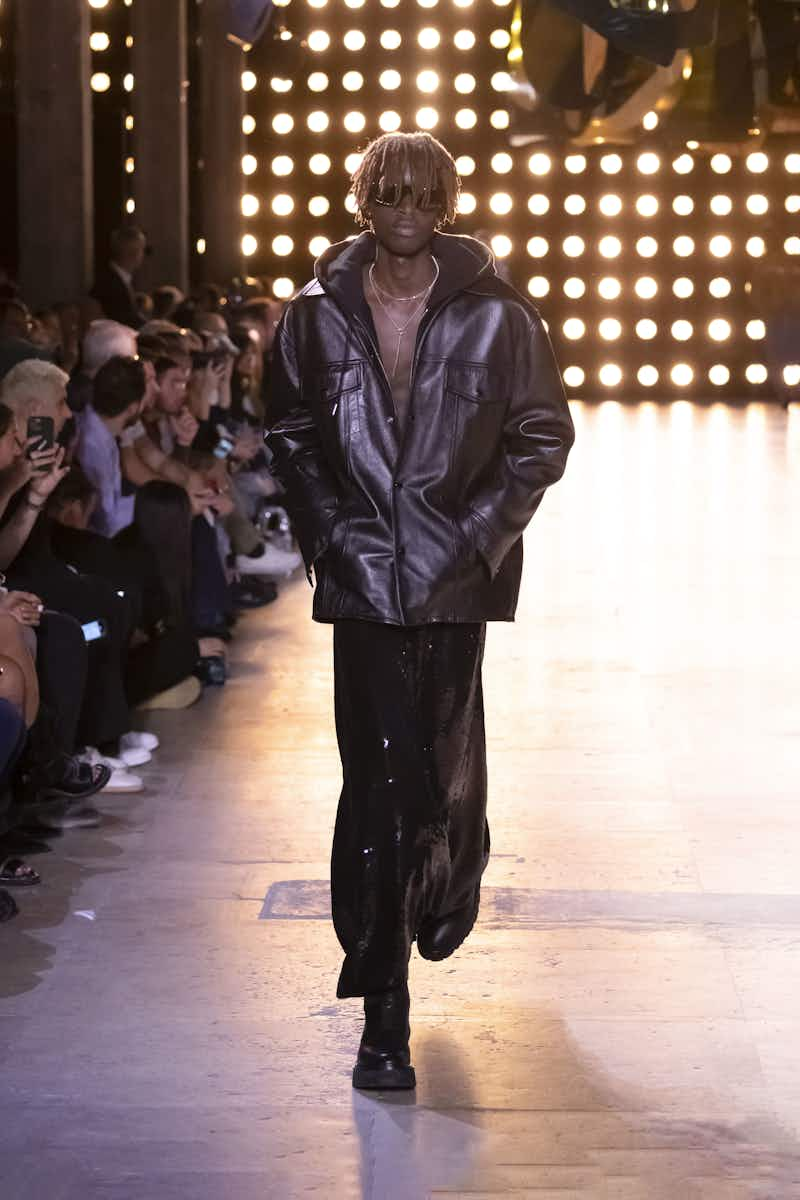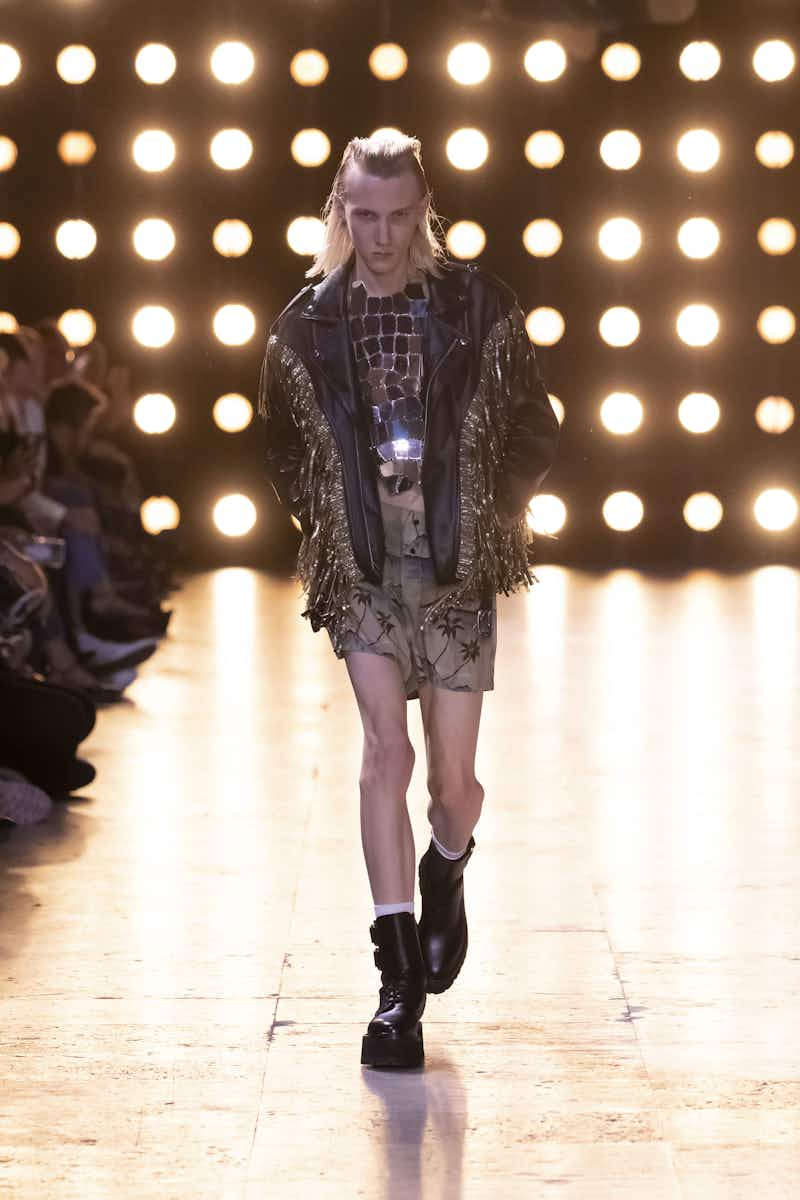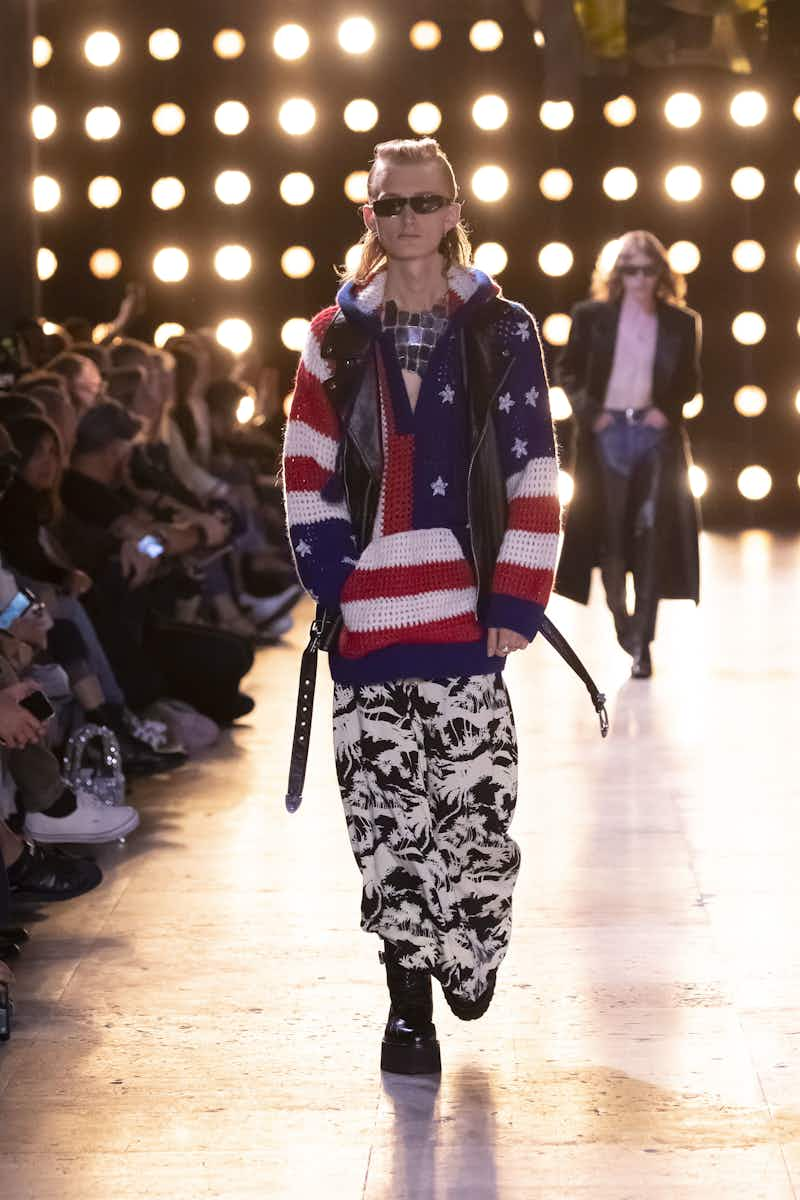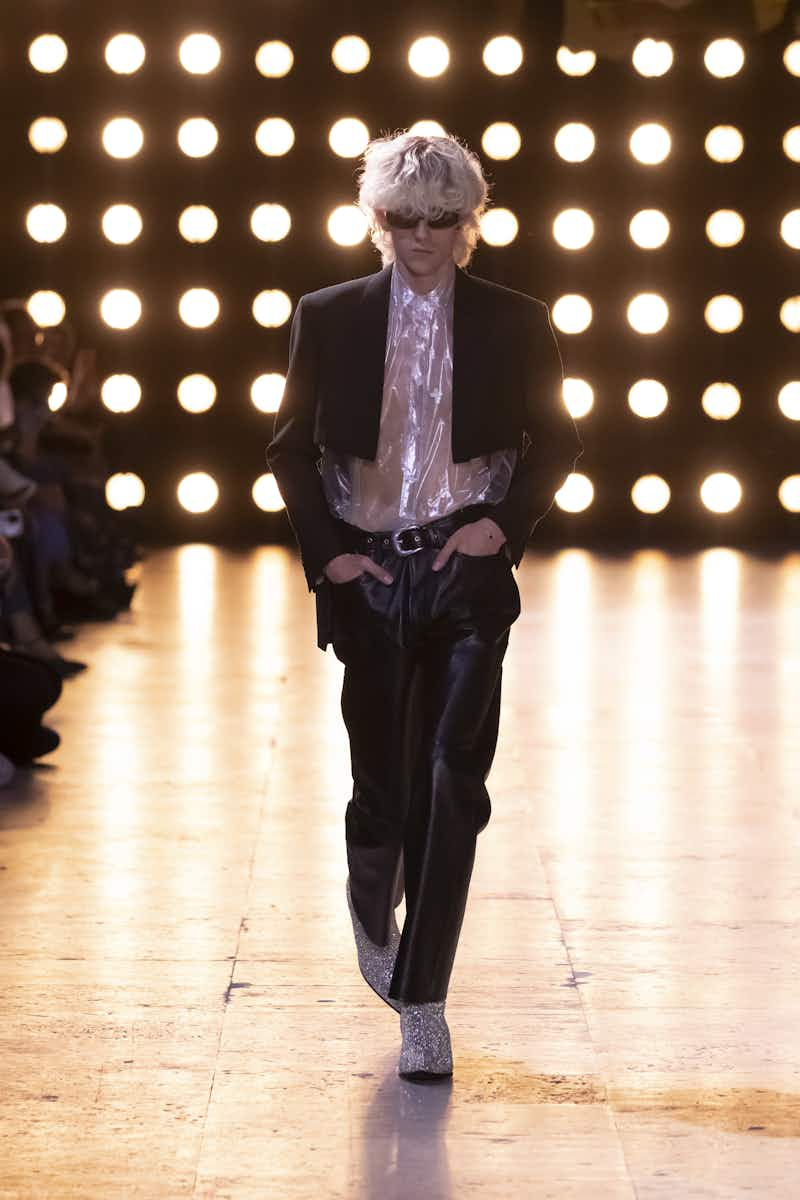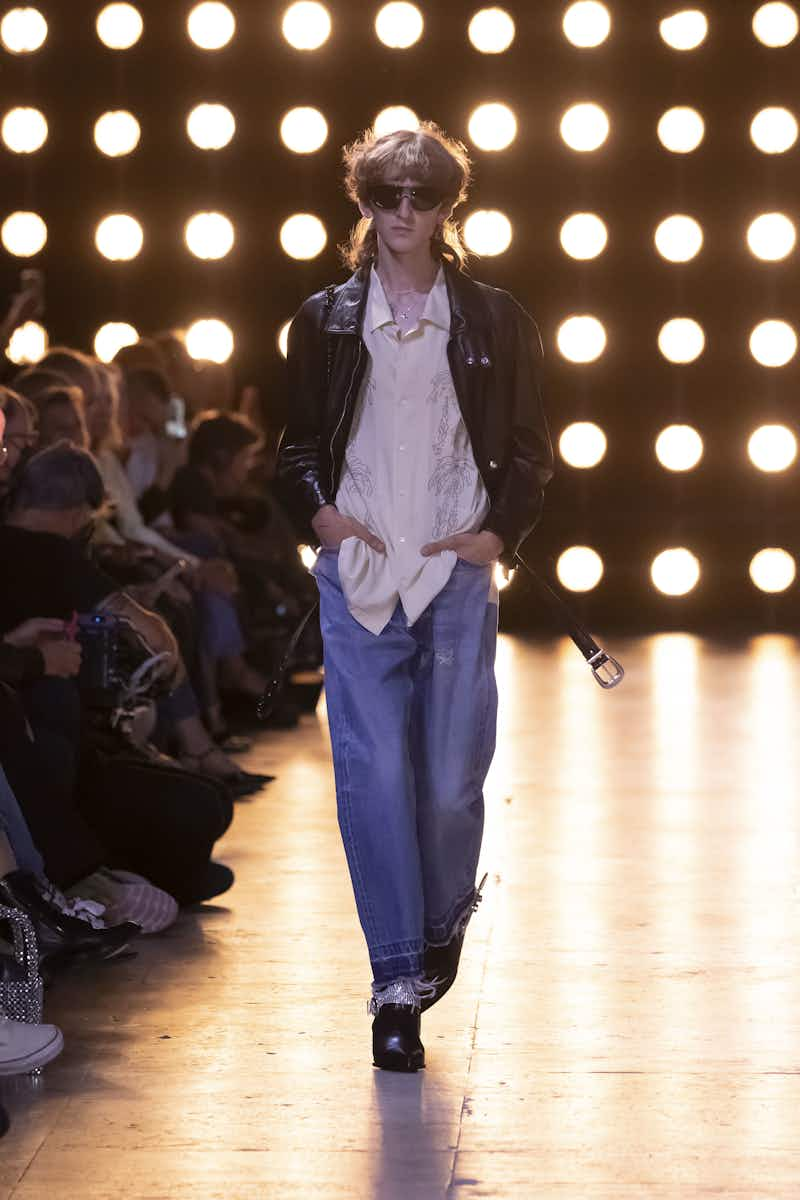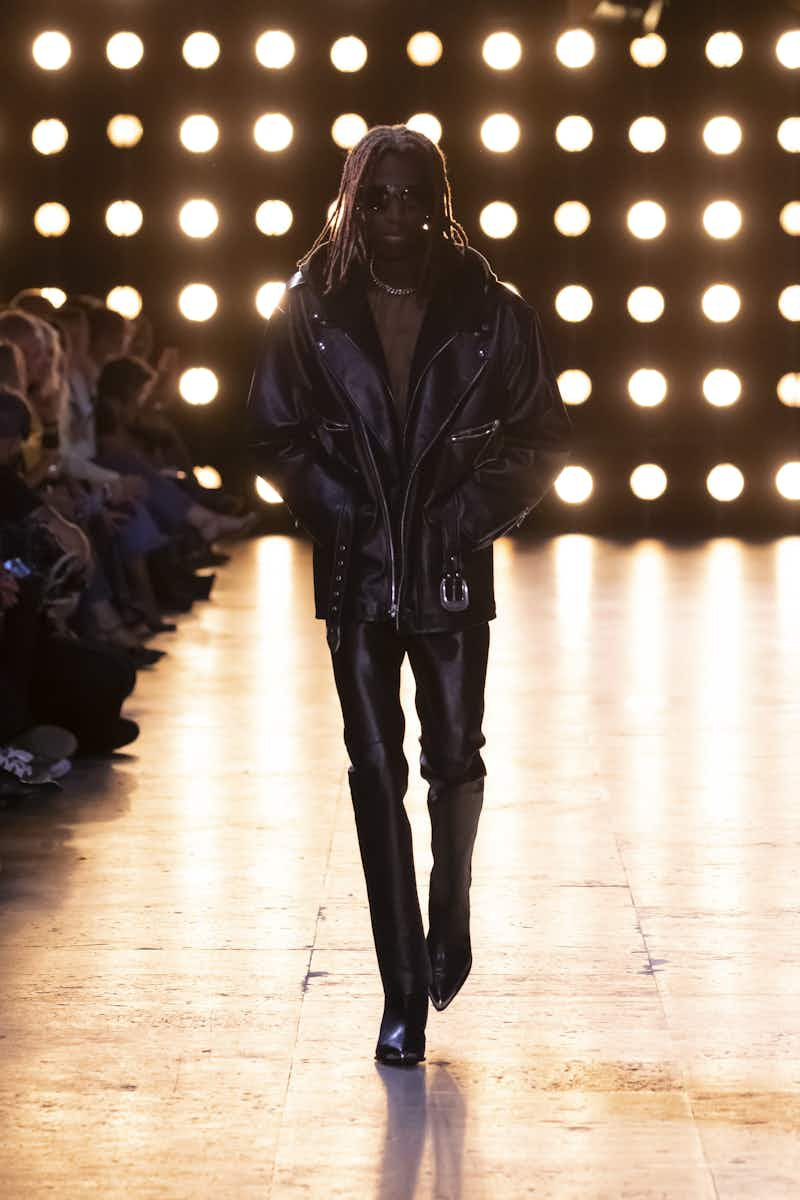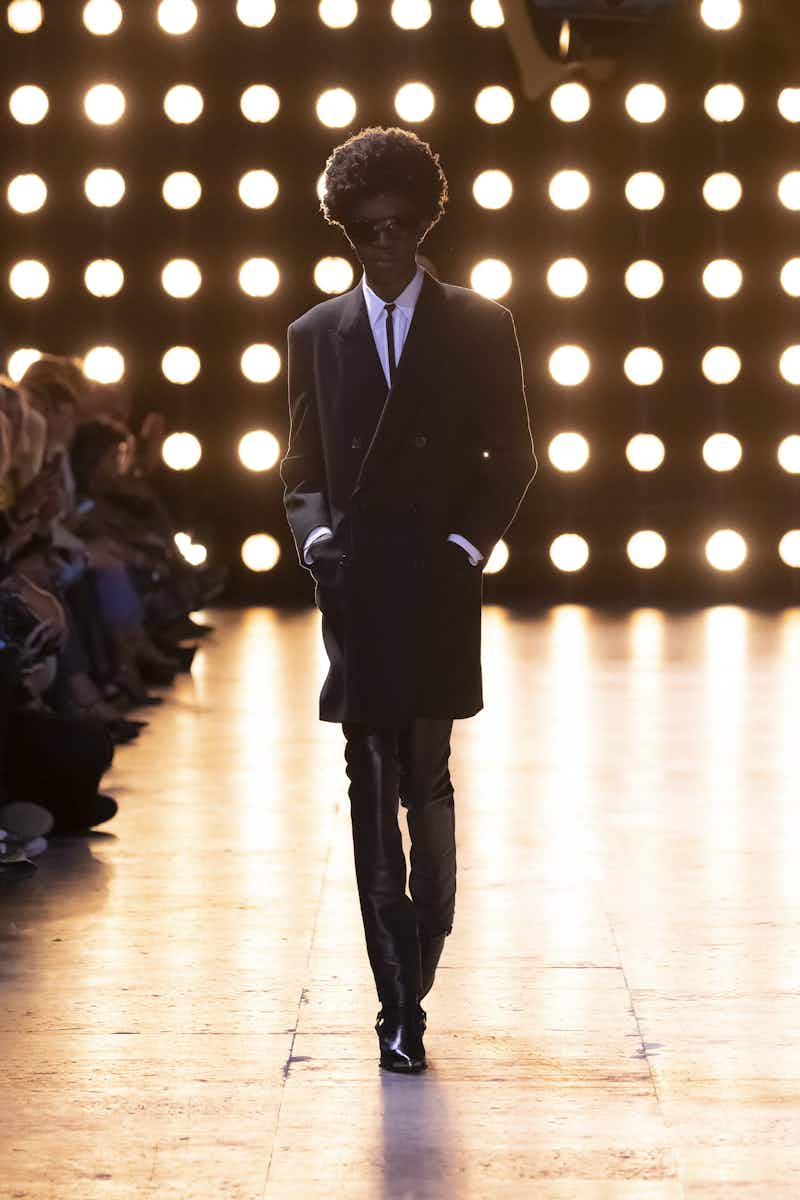 Mowalola might be alright with Paris' fashion buyers shoplifting her new SS23 collection. Why? Because it's called Burglarwear, inspired by the inner thief within us all that pinches inspiration without even thinking. A melting pot of stock characters – white-collar bankers, pastors and Lagos' internet scammer Yahoo boys – were brought together via inner-city tailoring, religious iconography and balaclavas. The runway was risque; cut-out panels in dresses and trousers – presumably looted – exposed nipples and navels, while restrictive gowns and bodysuits recalled bondage. Skimpy, impish and gimpish in equal measure, Mowalola also unveiled a new collaboration with New Balance, in the form of the rave-ready 90/​60. Call the fashion police: the show's been stolen!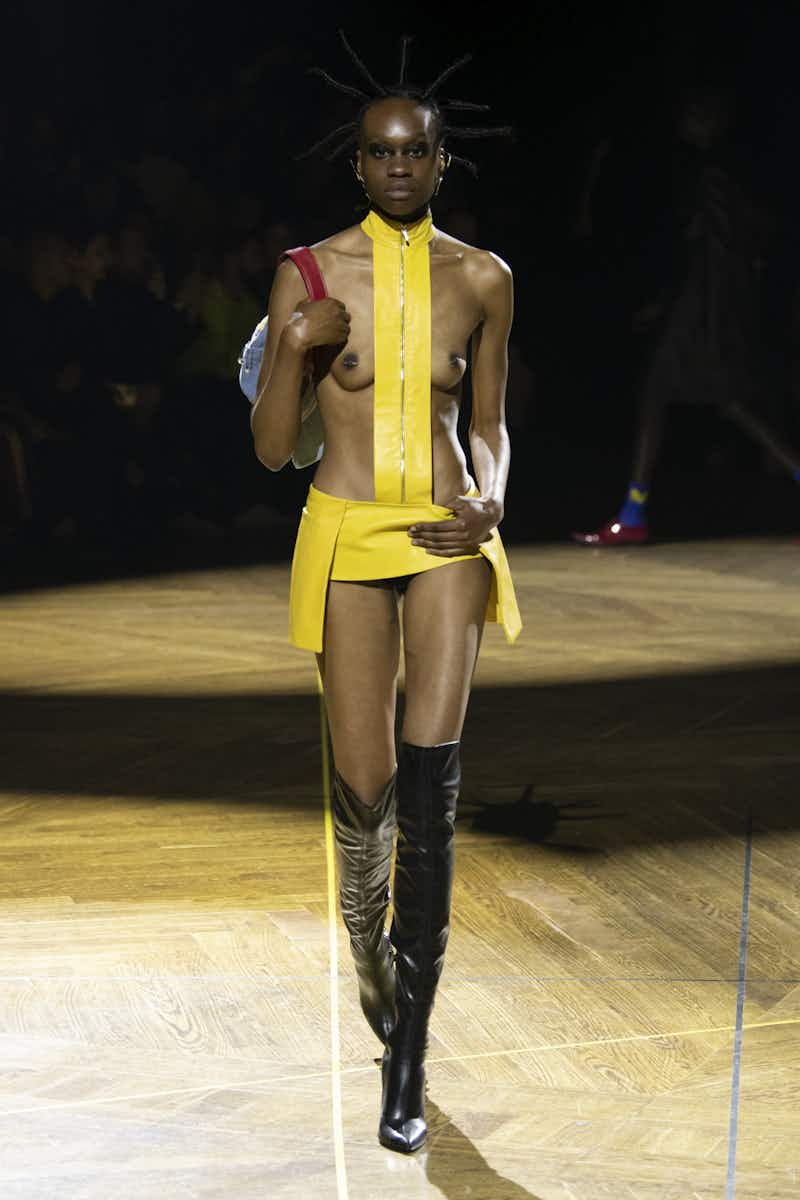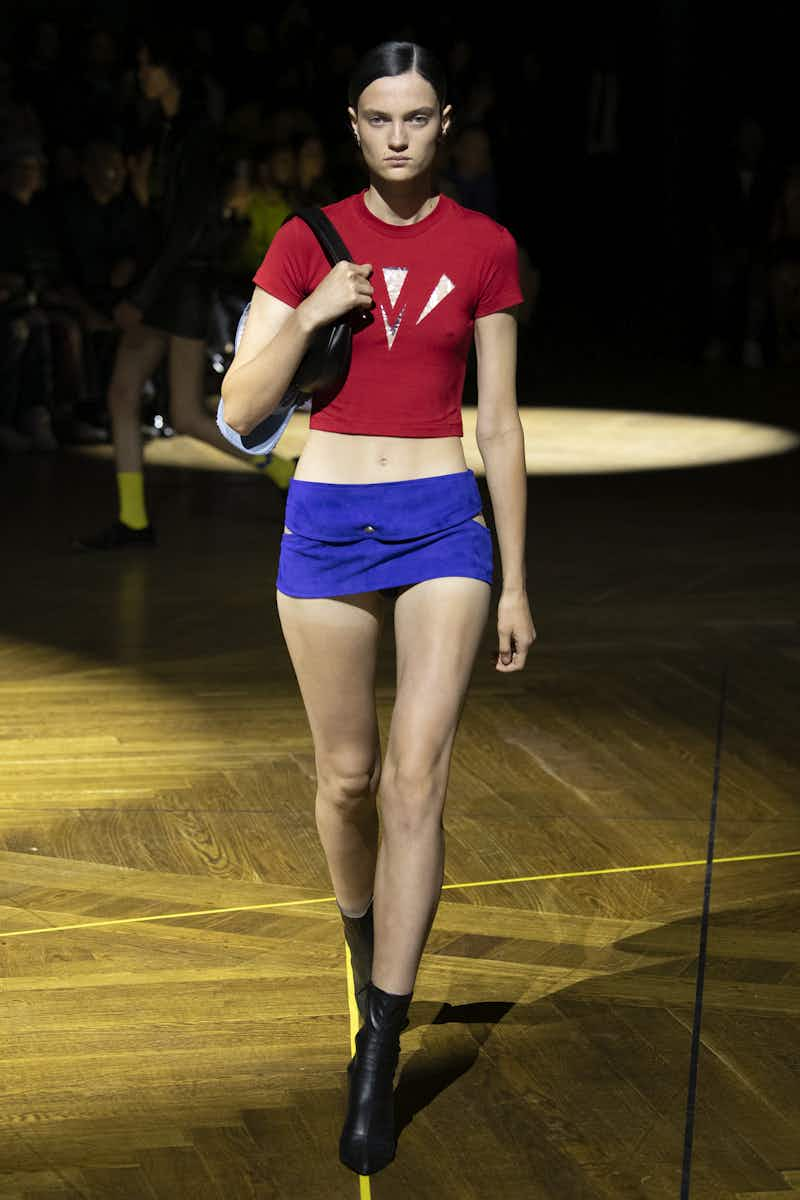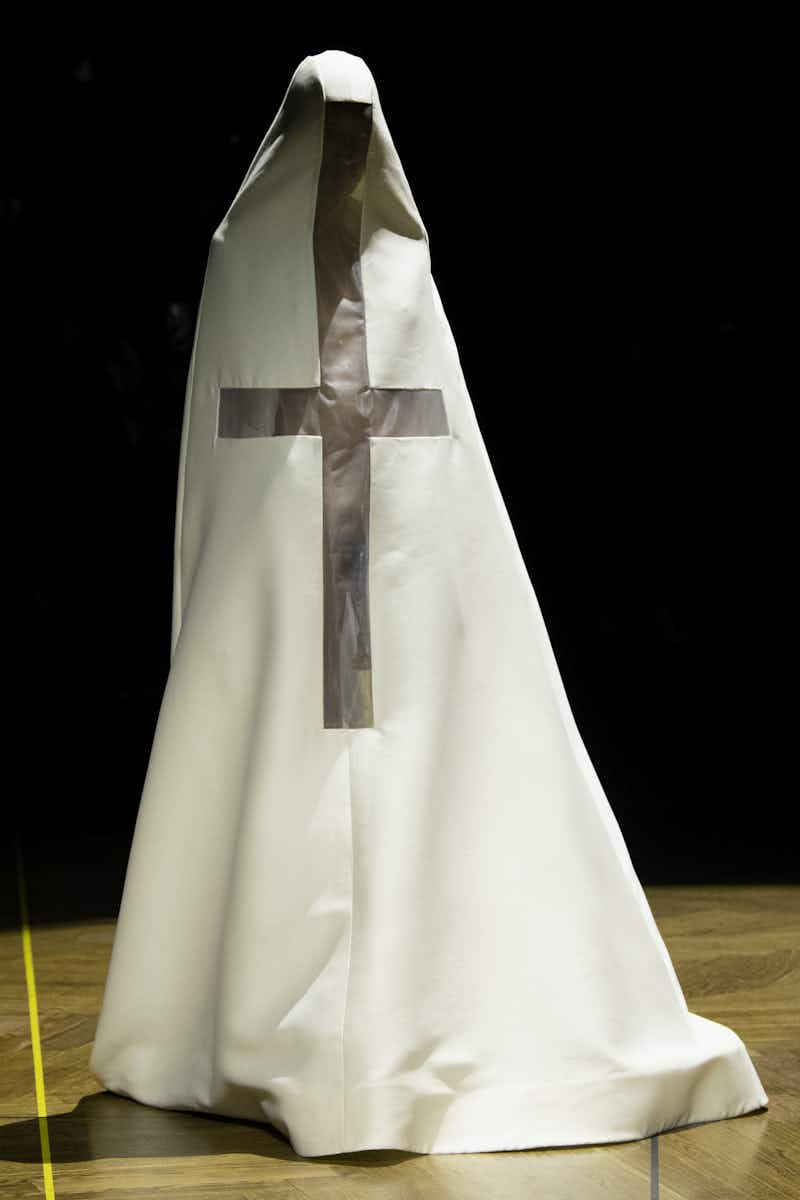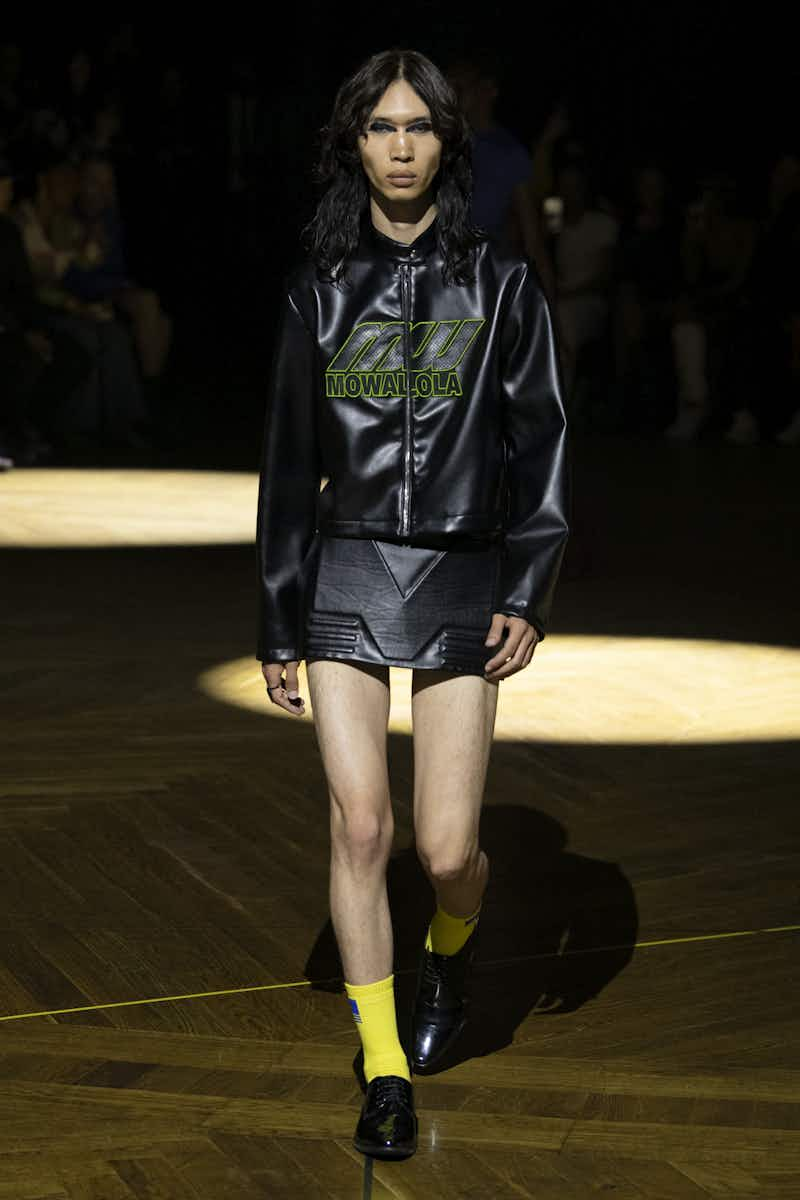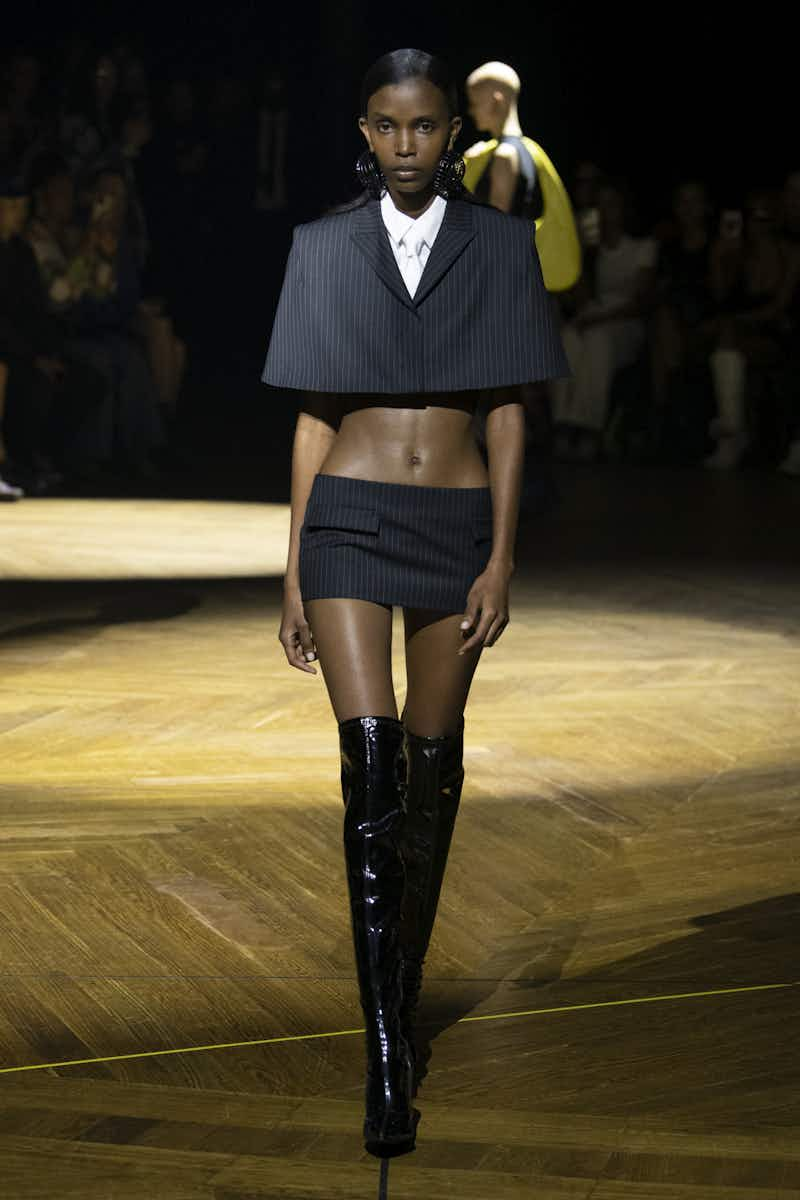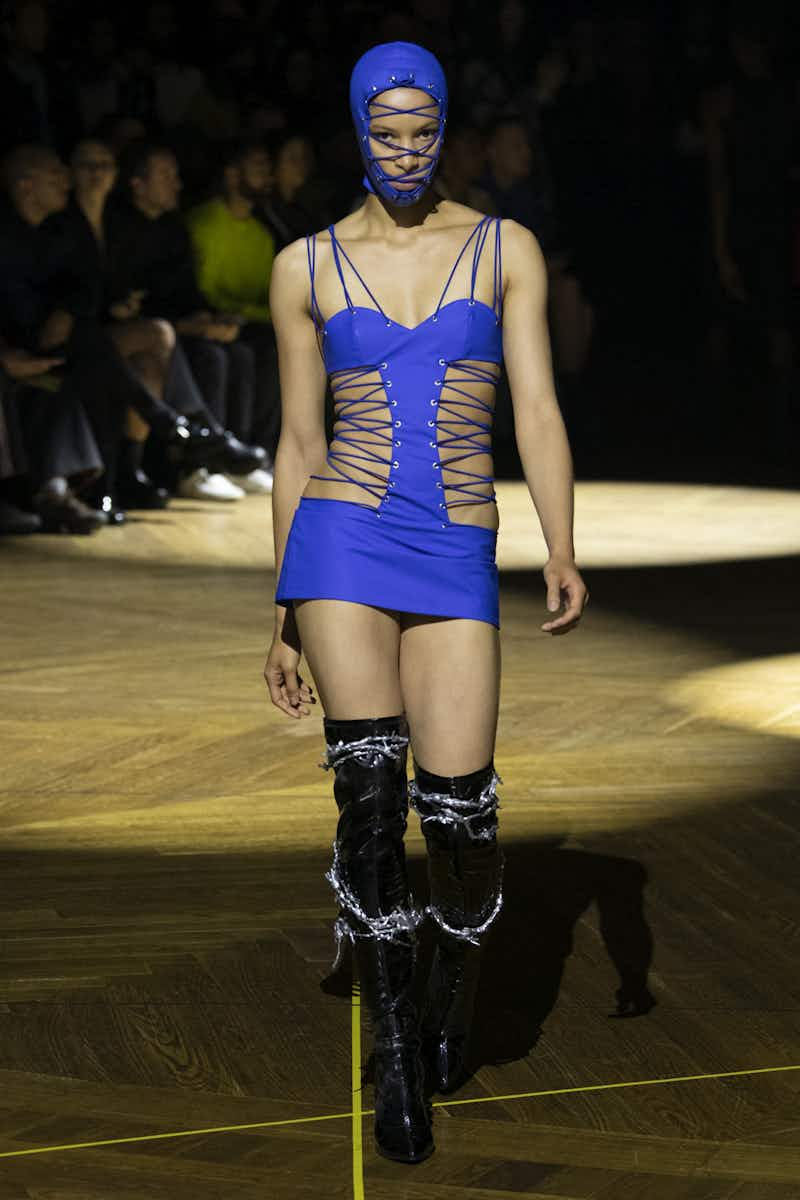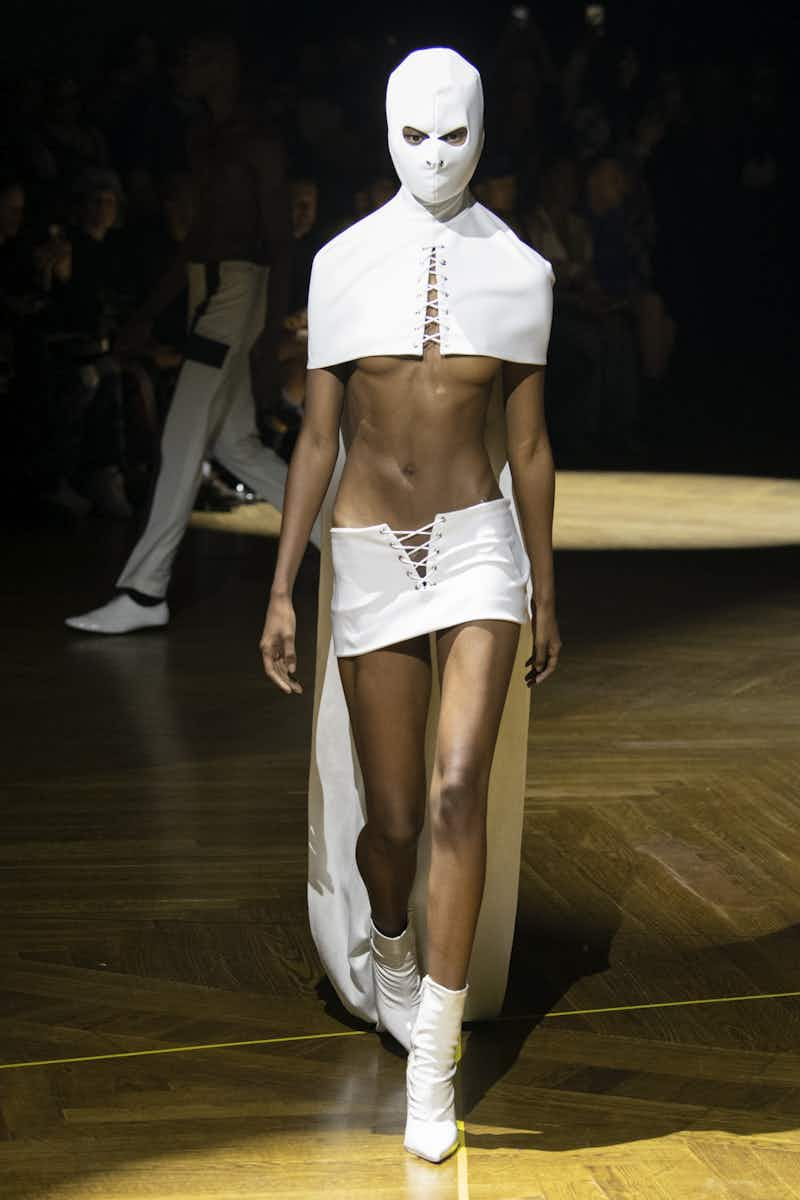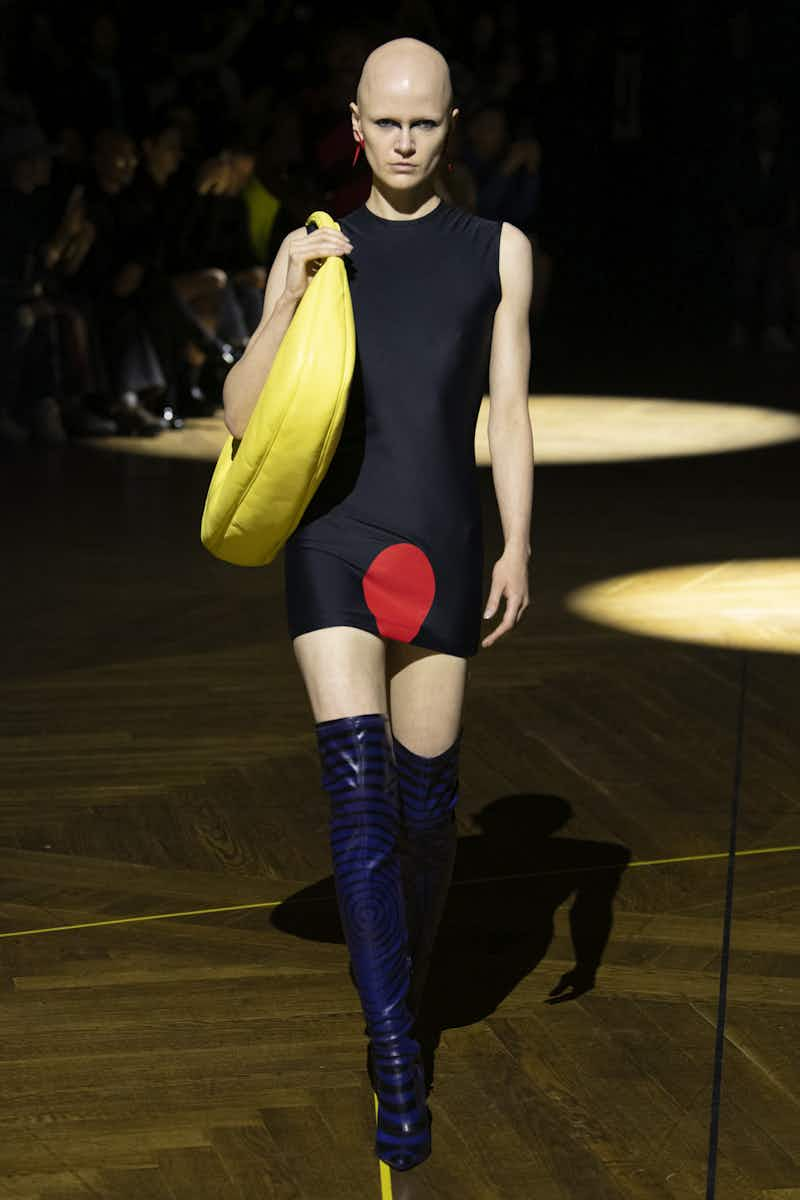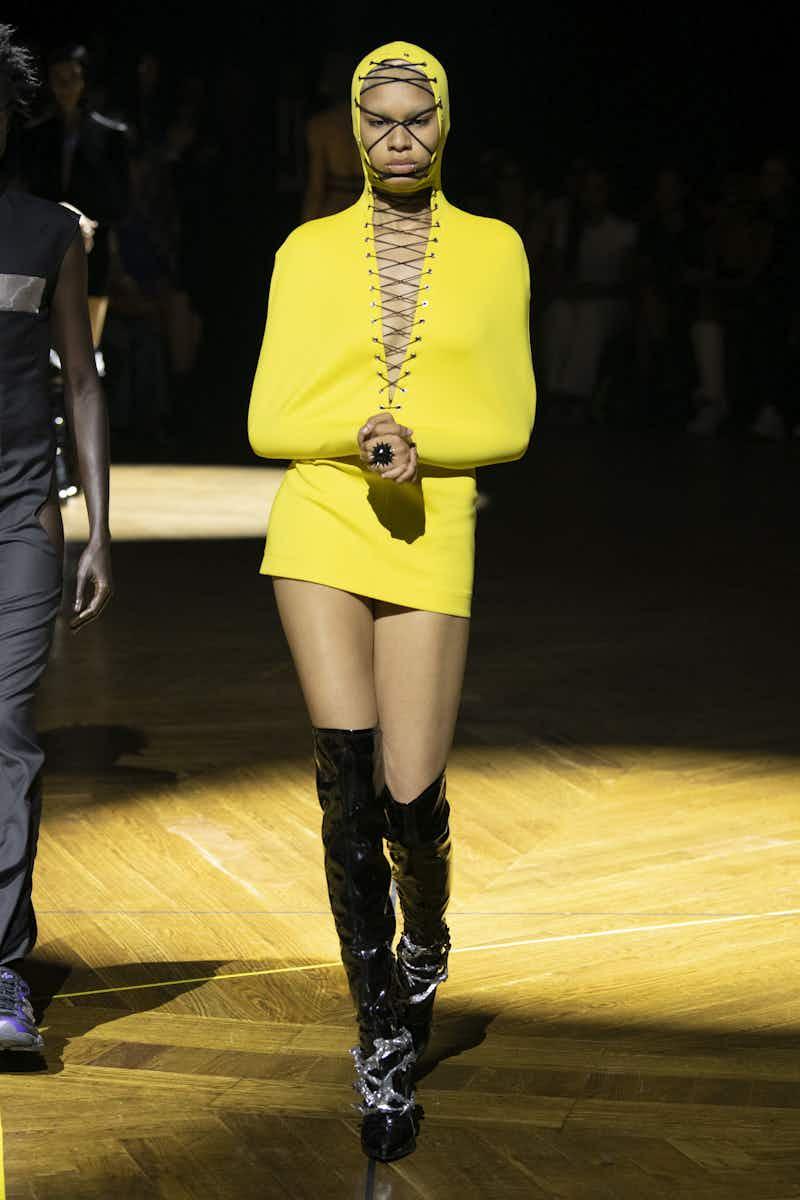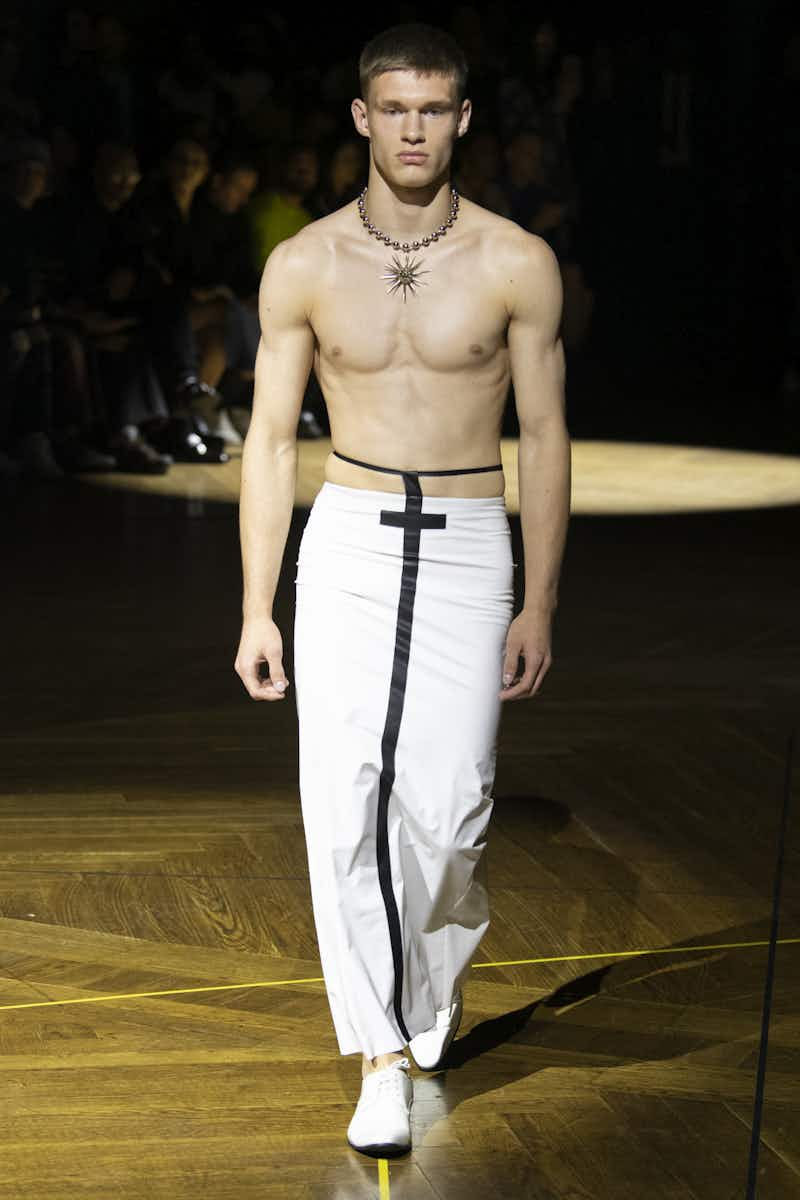 Can you hear the church bells ringing? Acne consummated its new Paris' Rue Saint-Honoré flagship store with the presentation of its SS23 menswear collection, inspired by weddings and the kitsch joy of occasion-wear. Fittingly, there was something old (hippie era flower-buckle belts and shell earrings), something new (a debut monogram print), something borrowed (the naive pastel paintings of Karen Kilmnik on hand-painted jackets) and something blue (indigo velvet loafers). Tongue-in-cheek tees with wedding cliches ("Forever Mine, Forever Yours") traced in rhinestones featured alongside nostalgic occasion-wear, from silk bows to wedding bed sheets origamied into suits for Big Day Energy. We're engaged!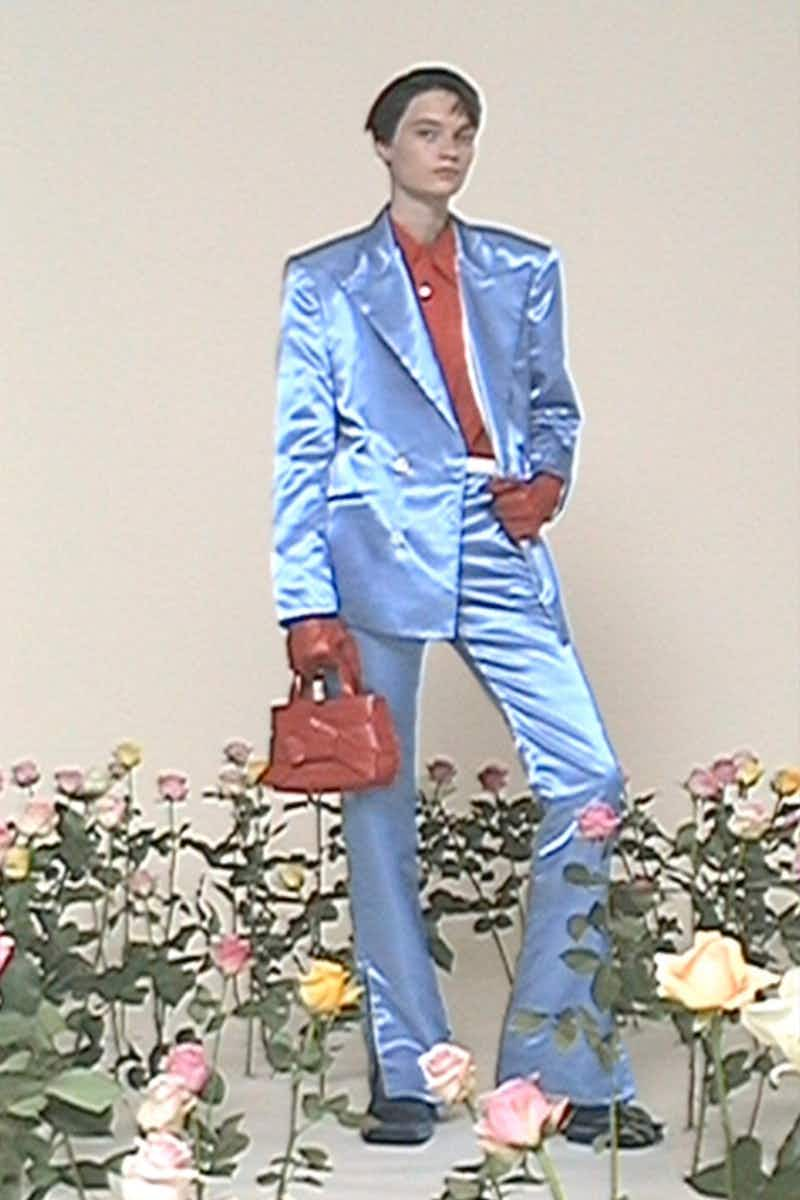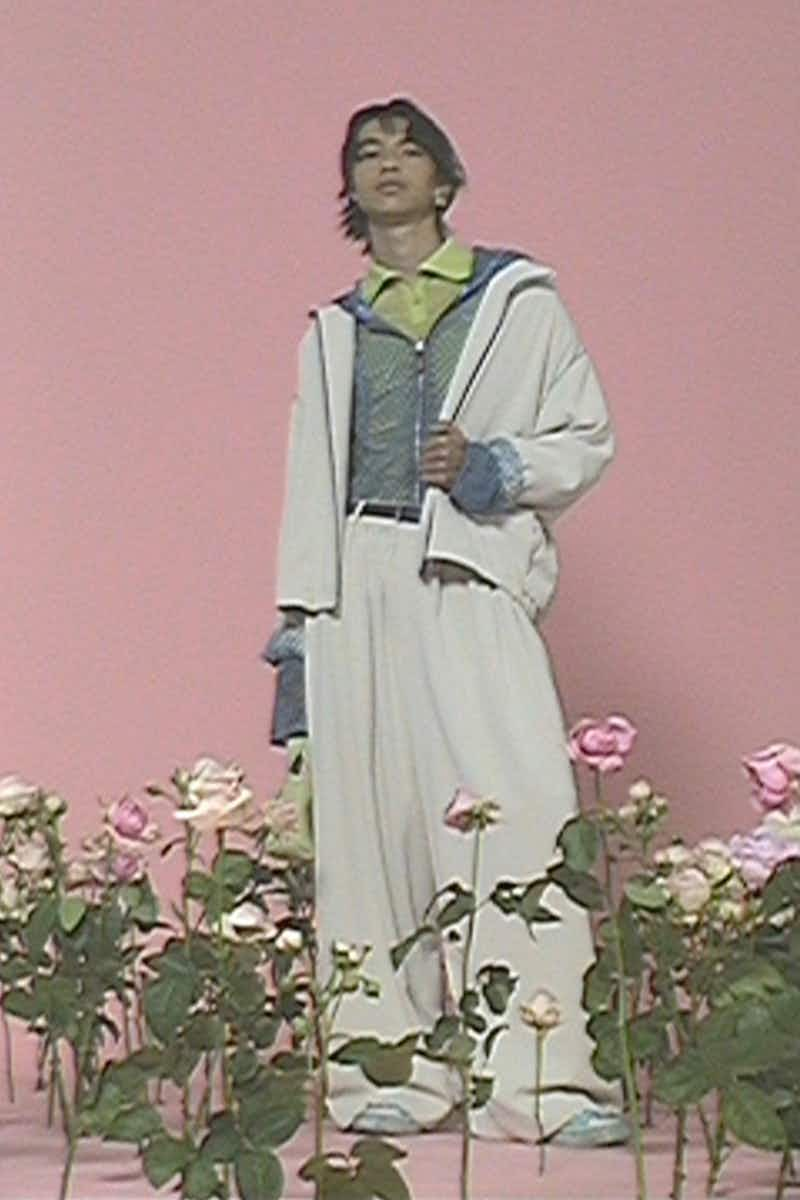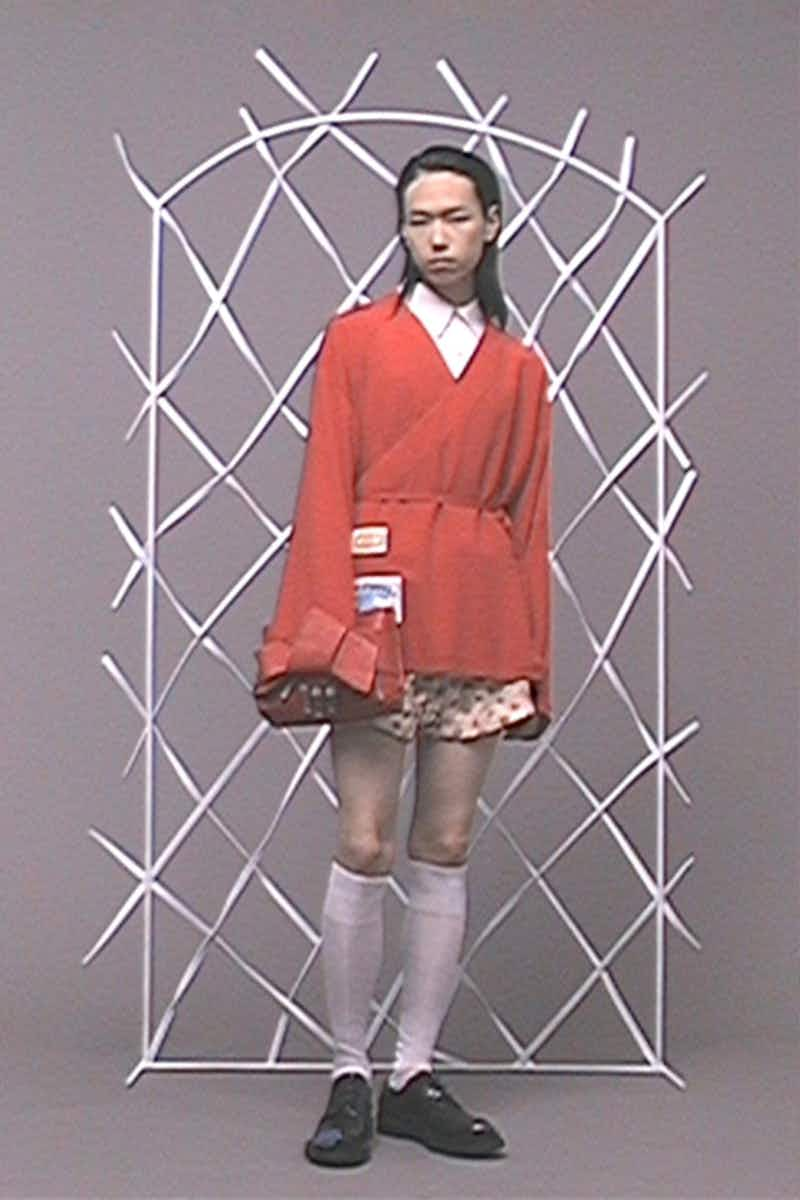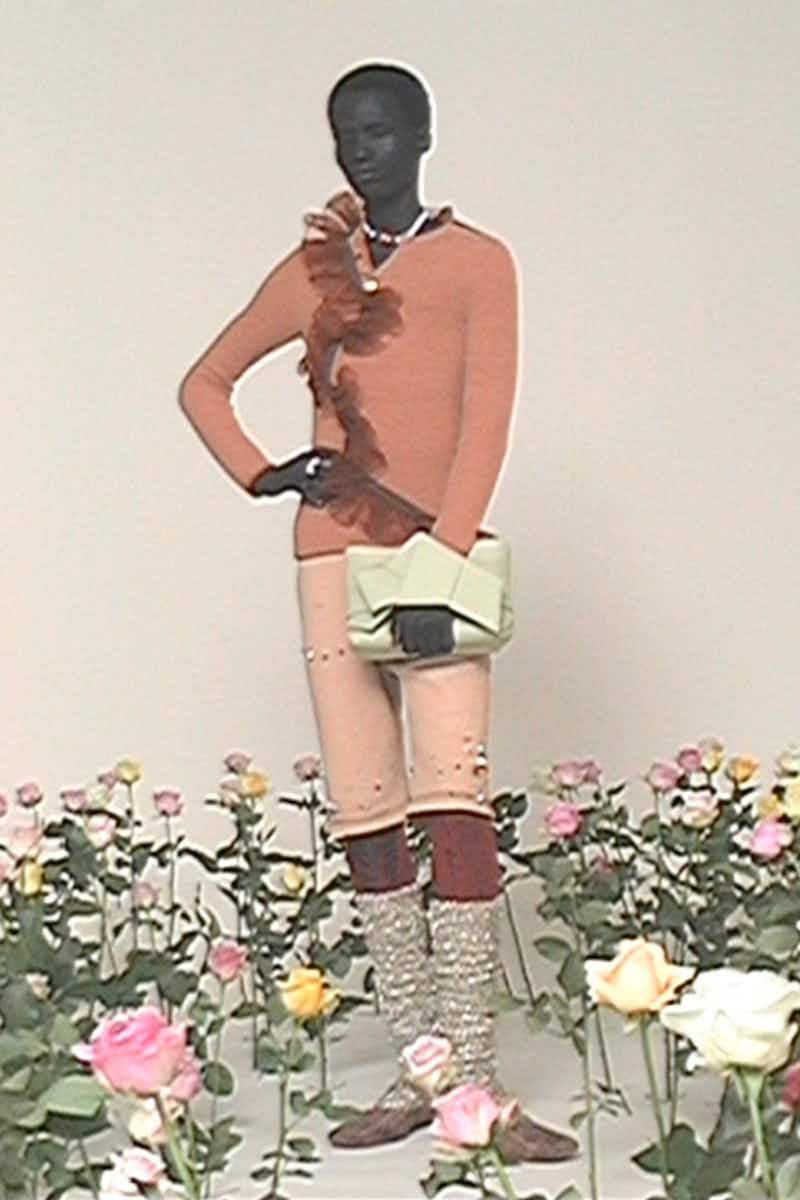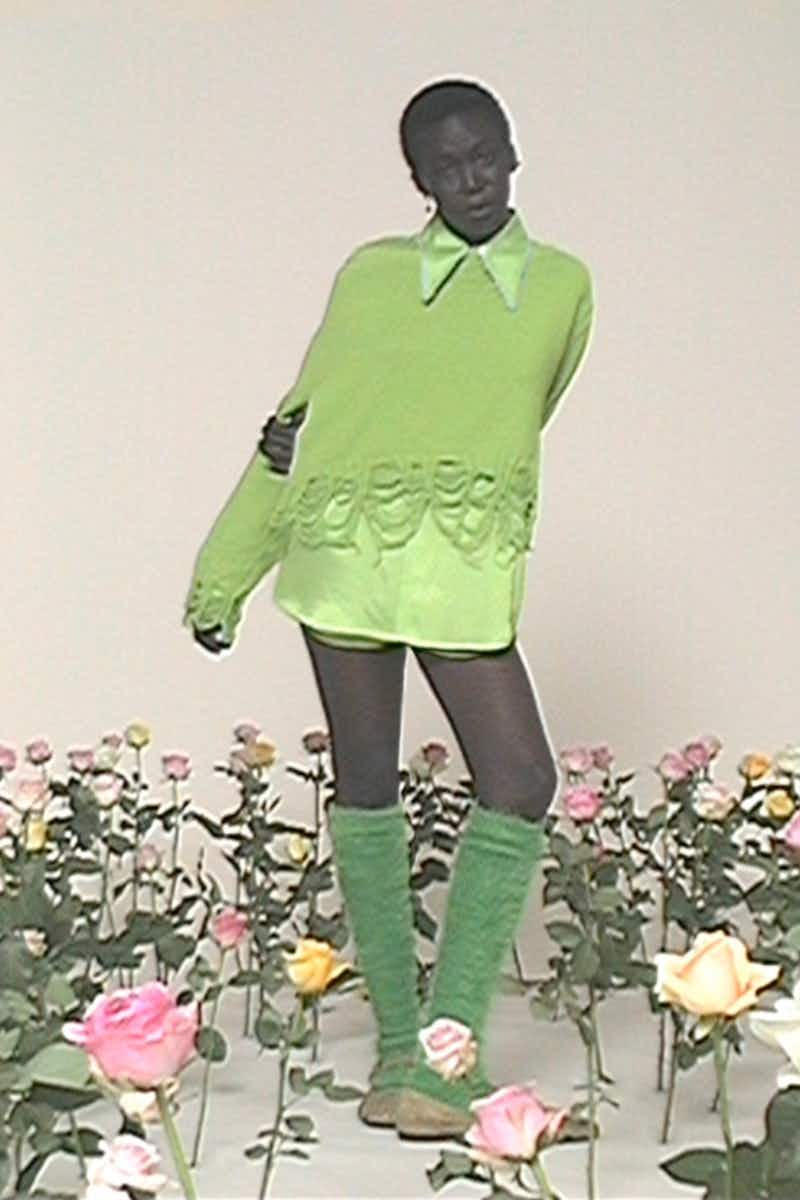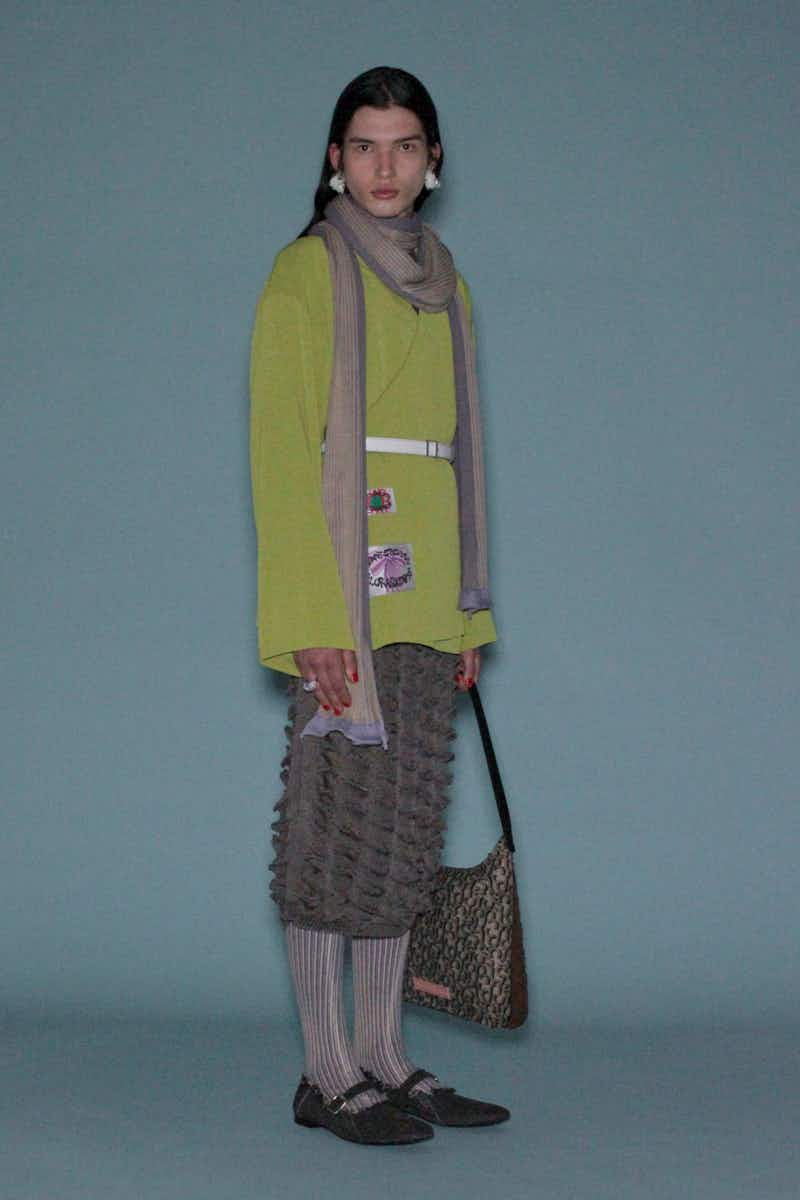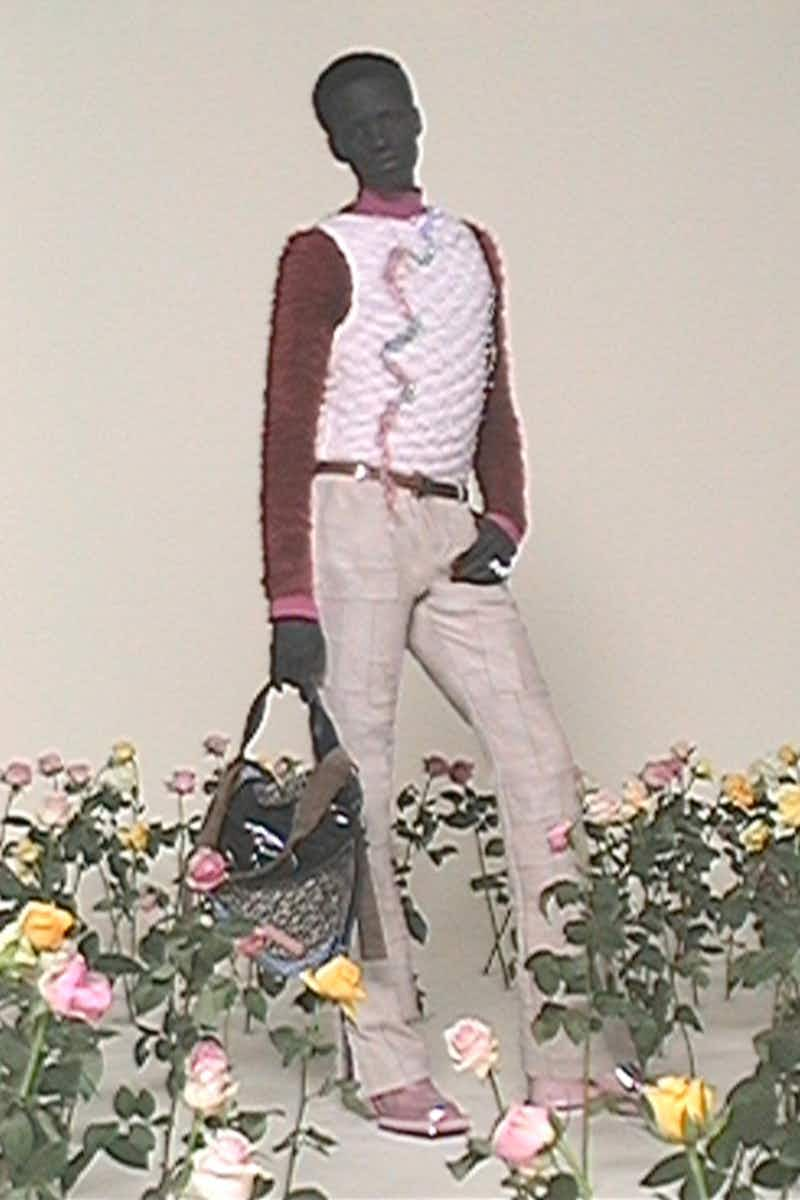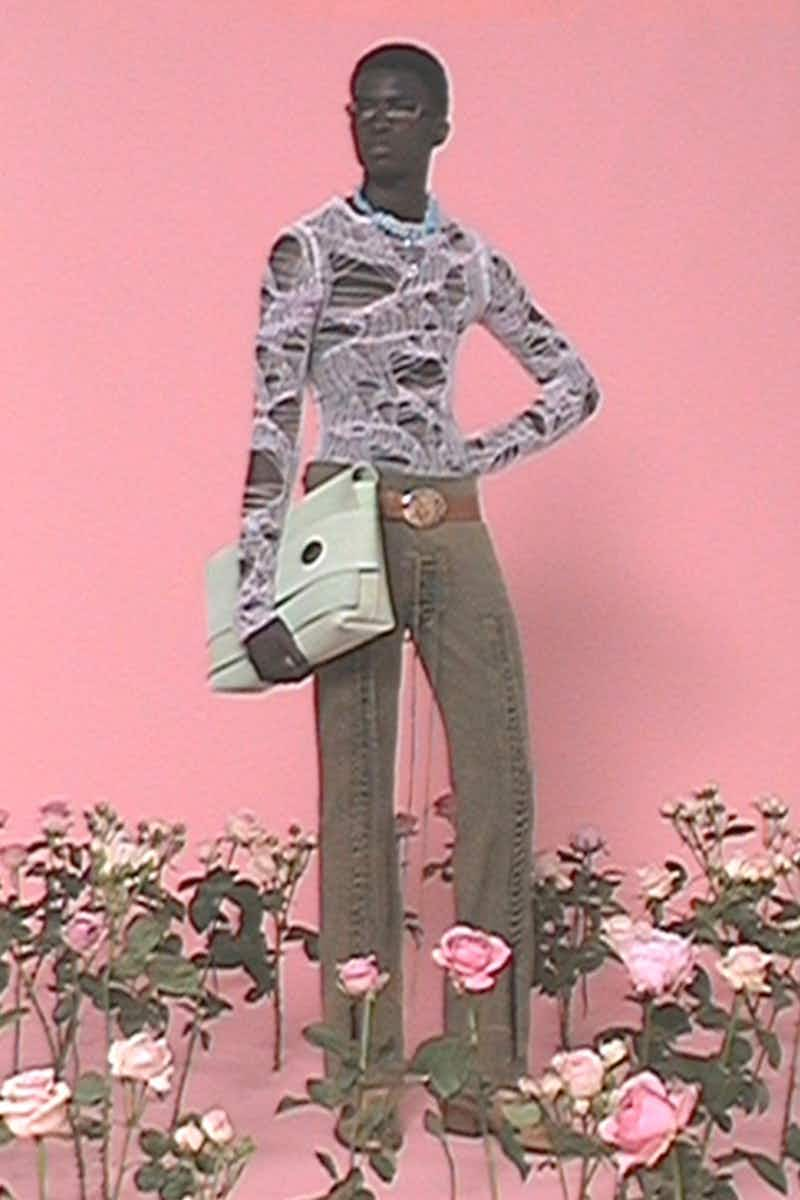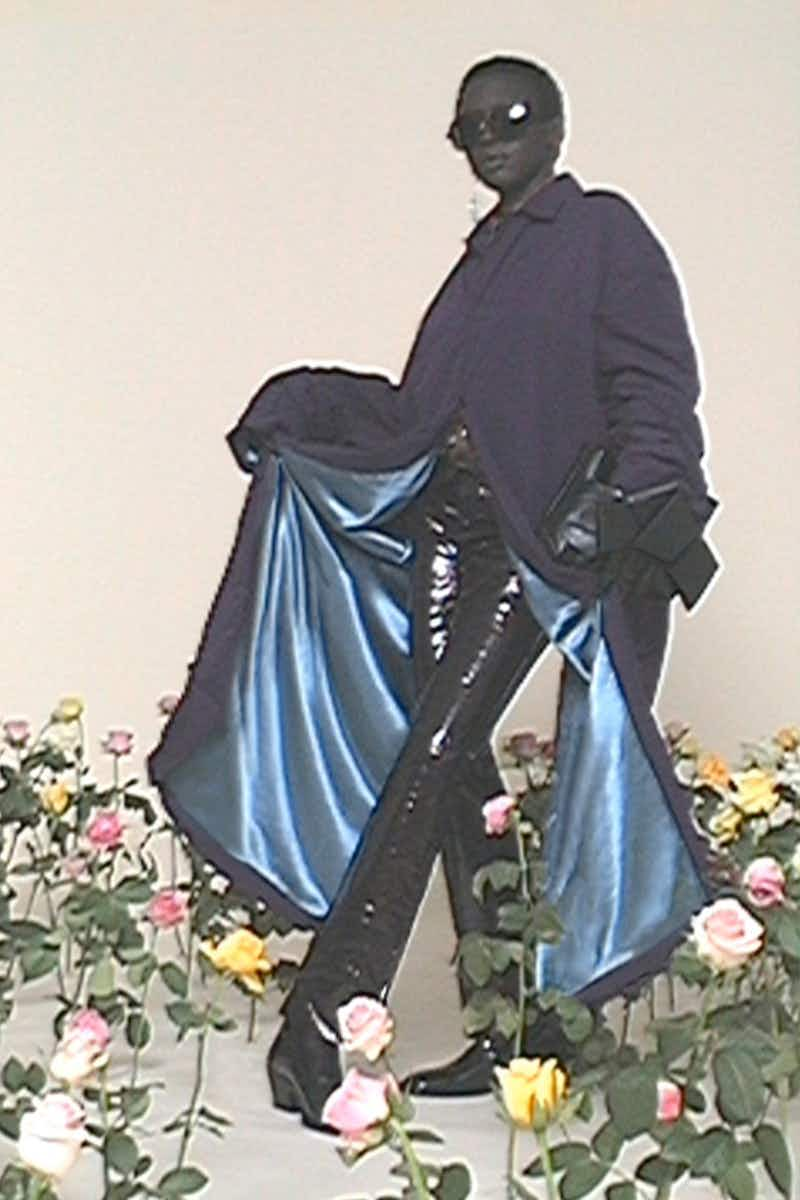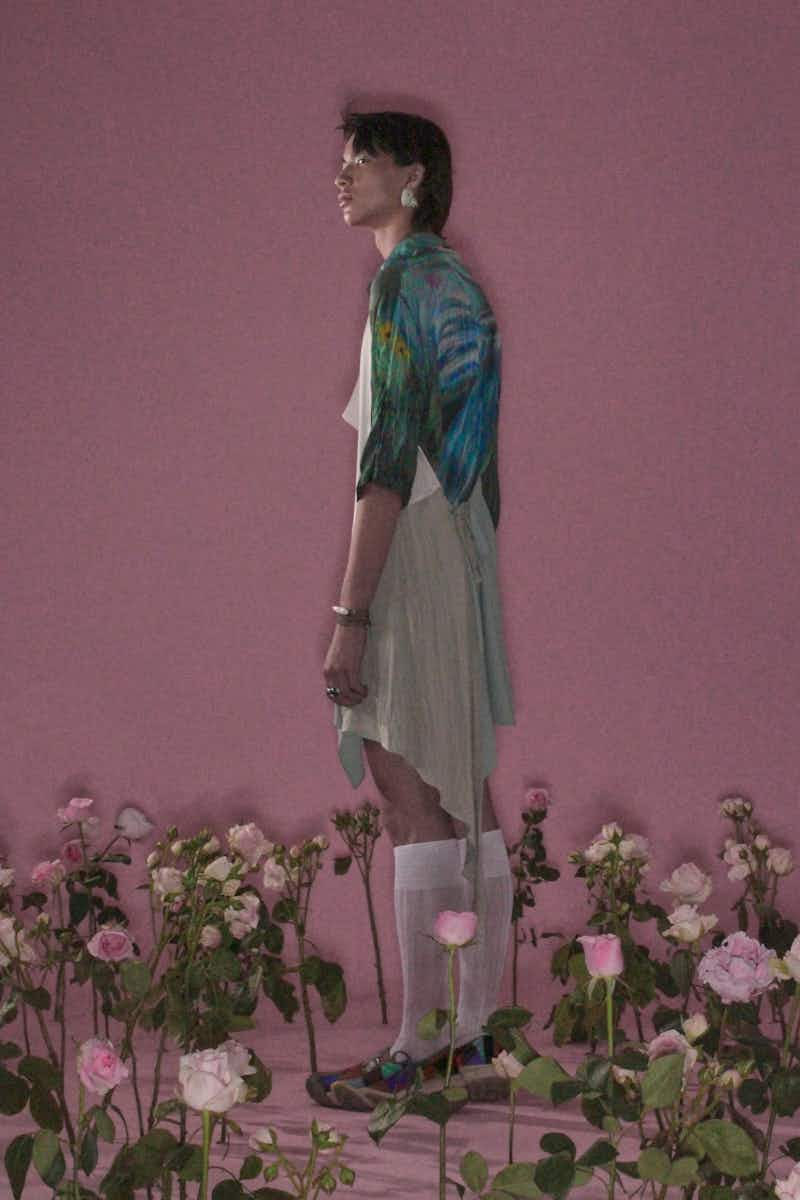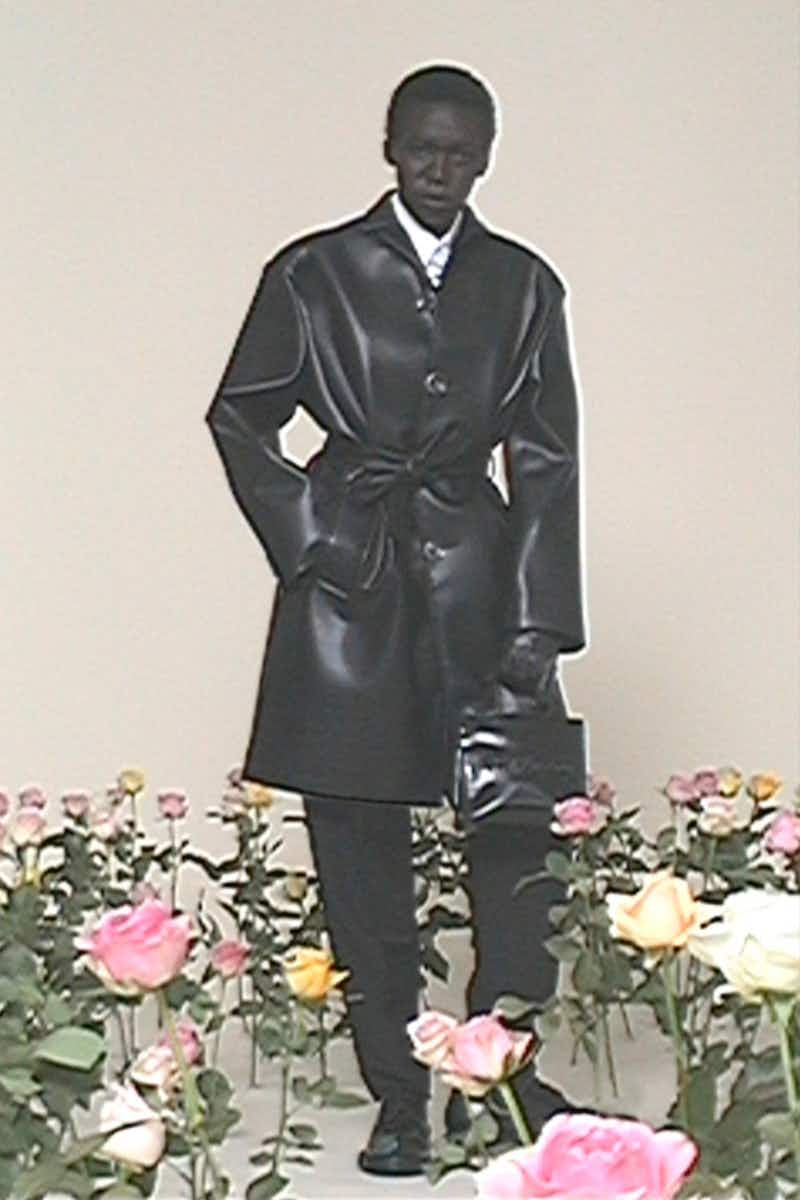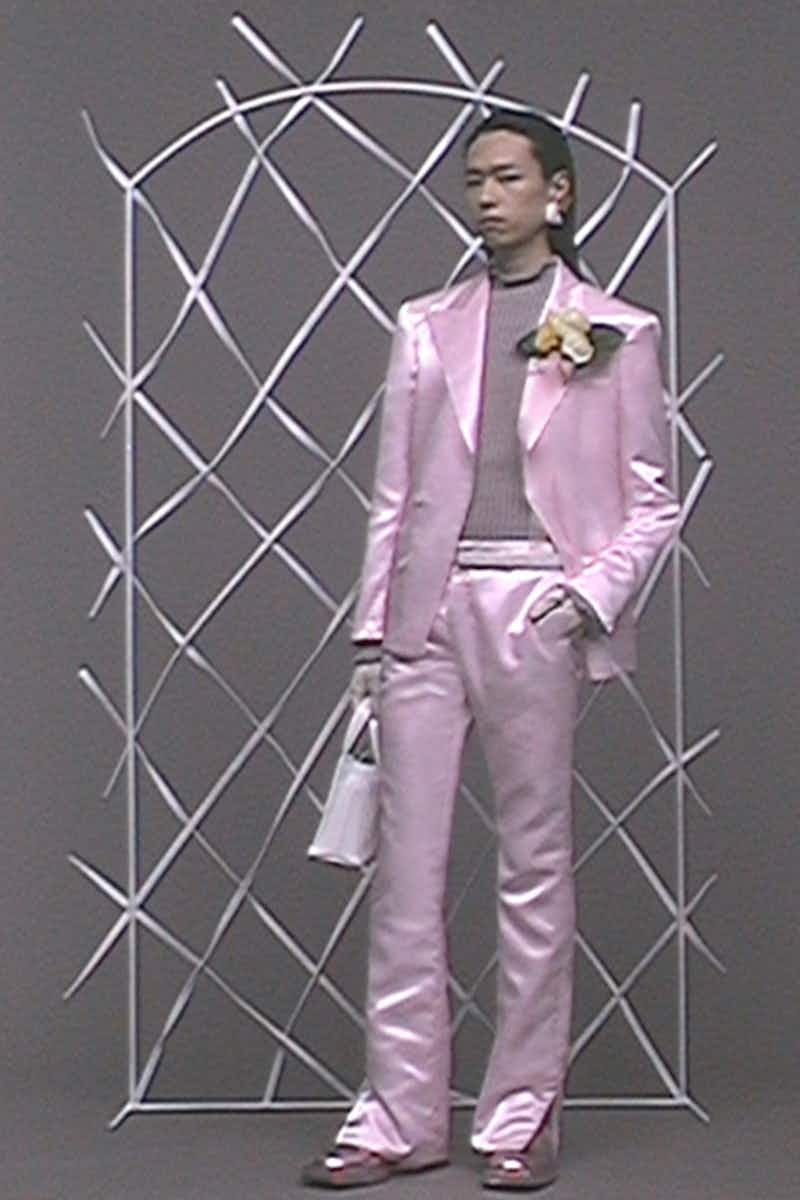 Ahoy there, sailor! Of all the fashion houses to play with, Kenzo is surely a fun one – all those wonderful colours and silhouettes to lean on, as well as that infectious spirit to uphold. This season, Nigo went back to Kenzo Takada's roots, staging his men's show in a vast French gymnasium, the first of several references to Takada's sports day-inspired collection from 1980. Here, the sporting activities took on a nautical edge, complete with sailor suit lapels and jaunty caps. Preppy academia influenced the sweater vests, letterman jackets and pastel, patchworked short suits too, while the wiggly pinstripe tailoring (another Takada reference) looked like something only the grooviest of geography teachers might wear. This collection seemed designed to have a good time in, whether you're still hankering after ankle socks or wanting to make the grade in perfect, heavy denim.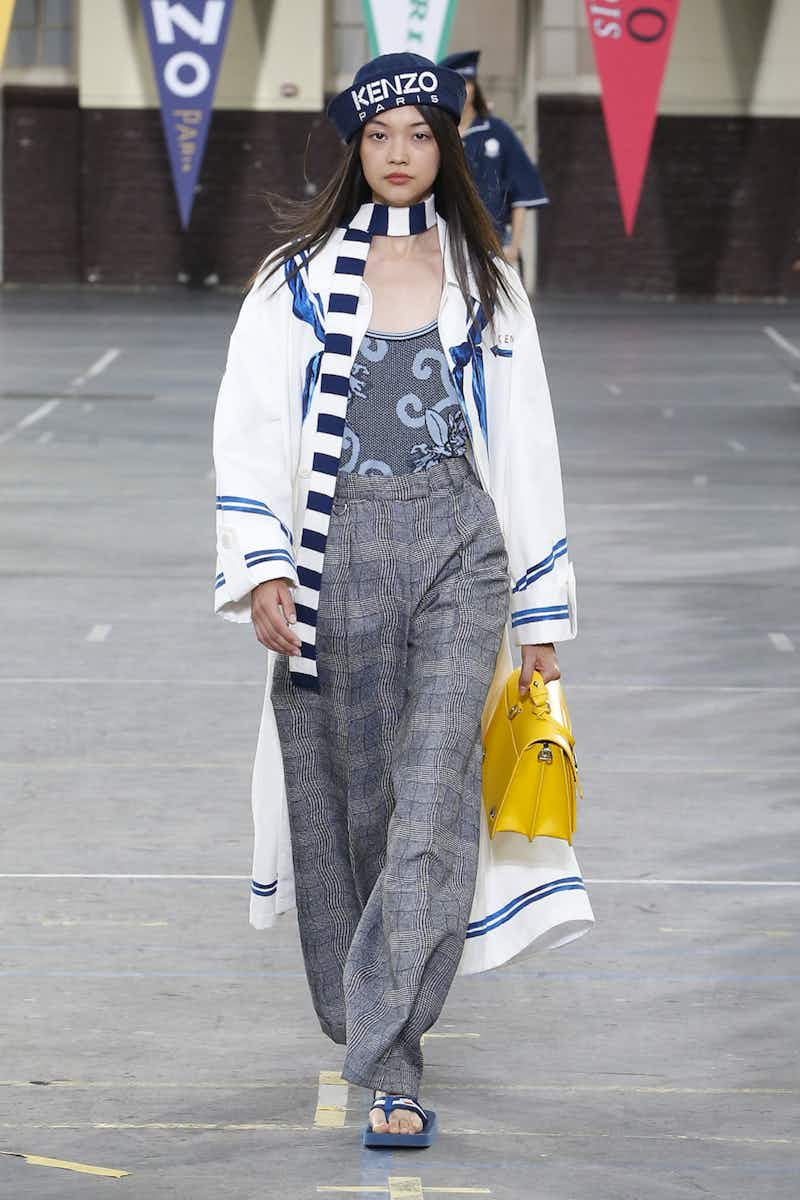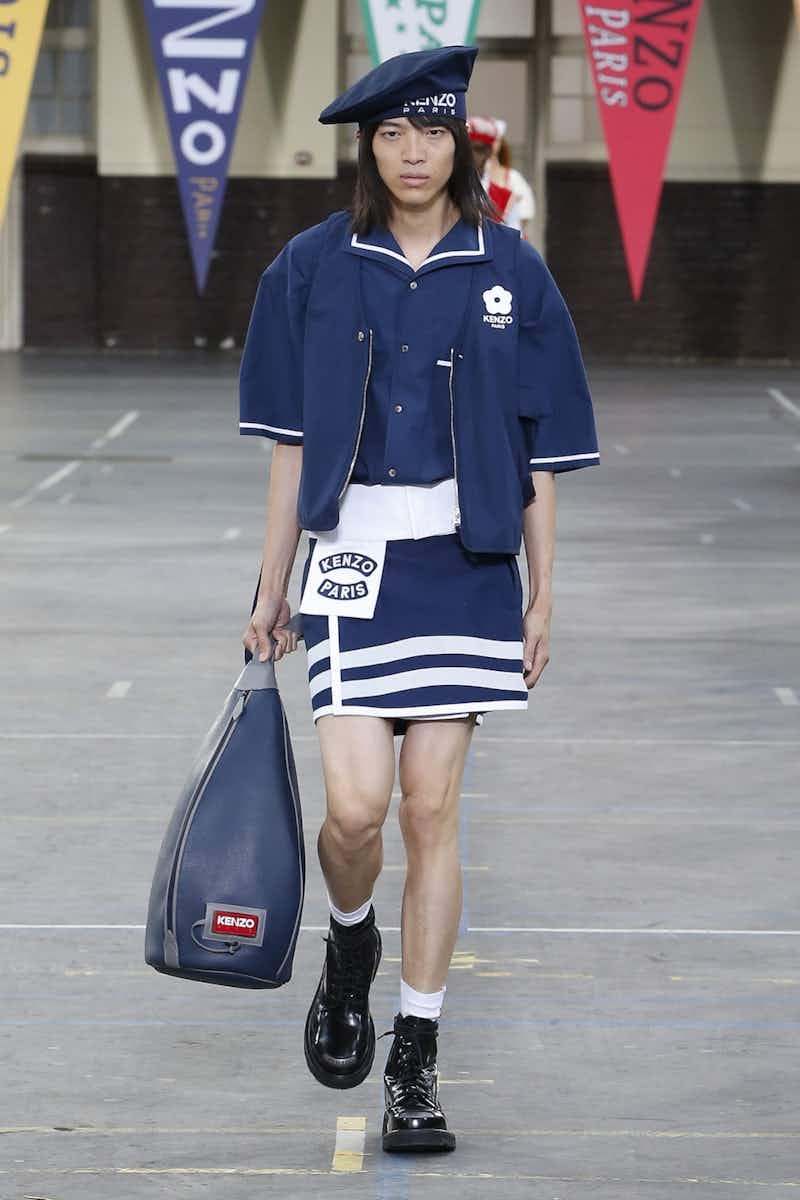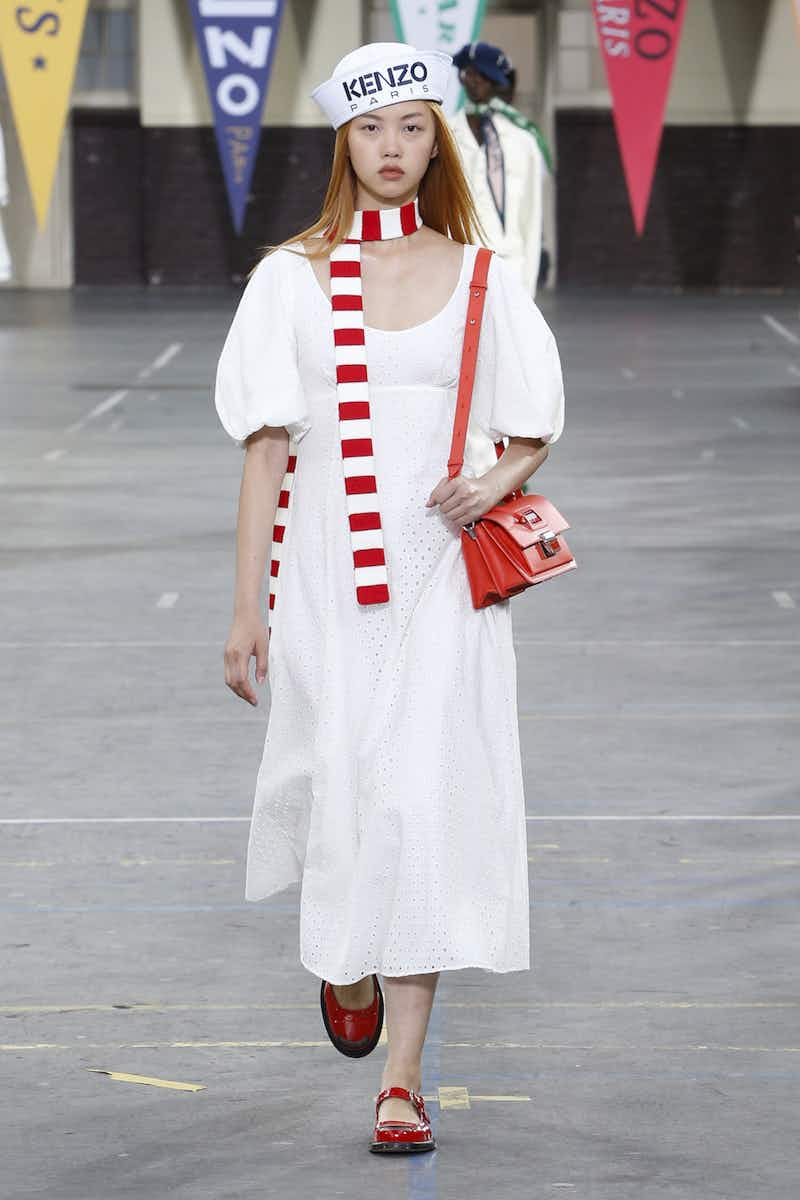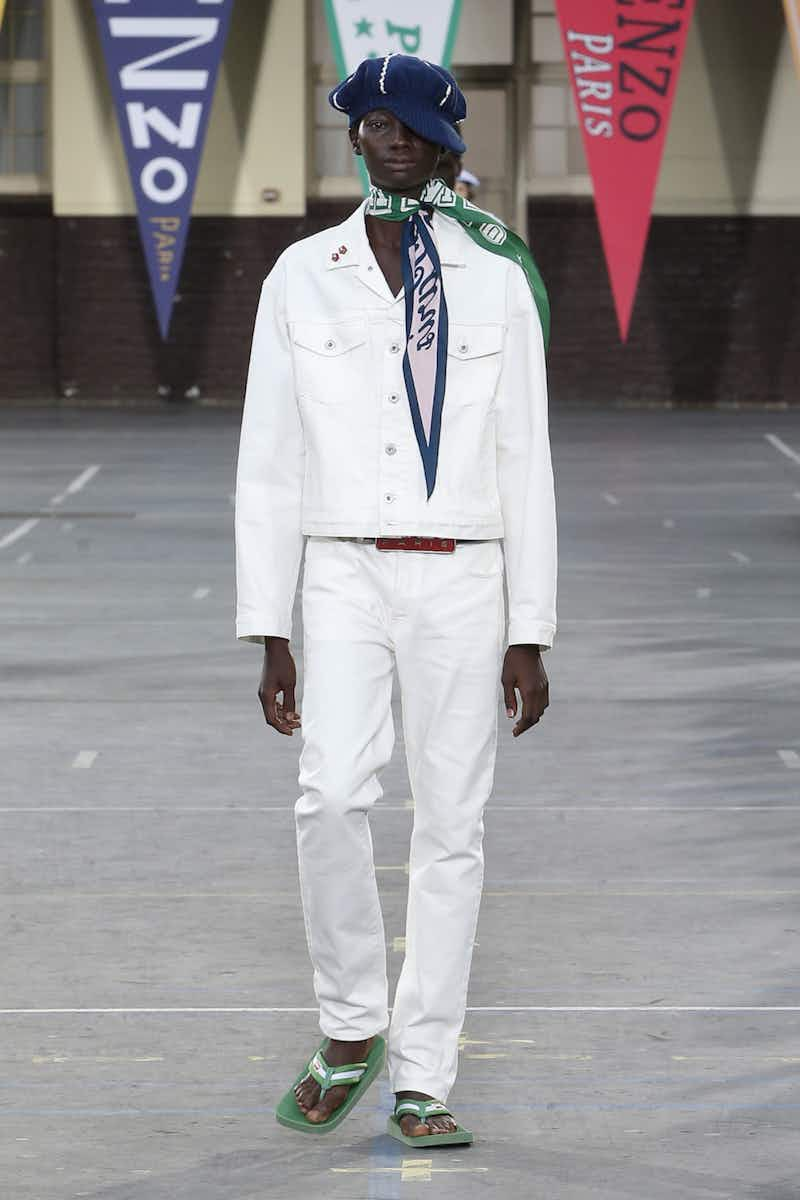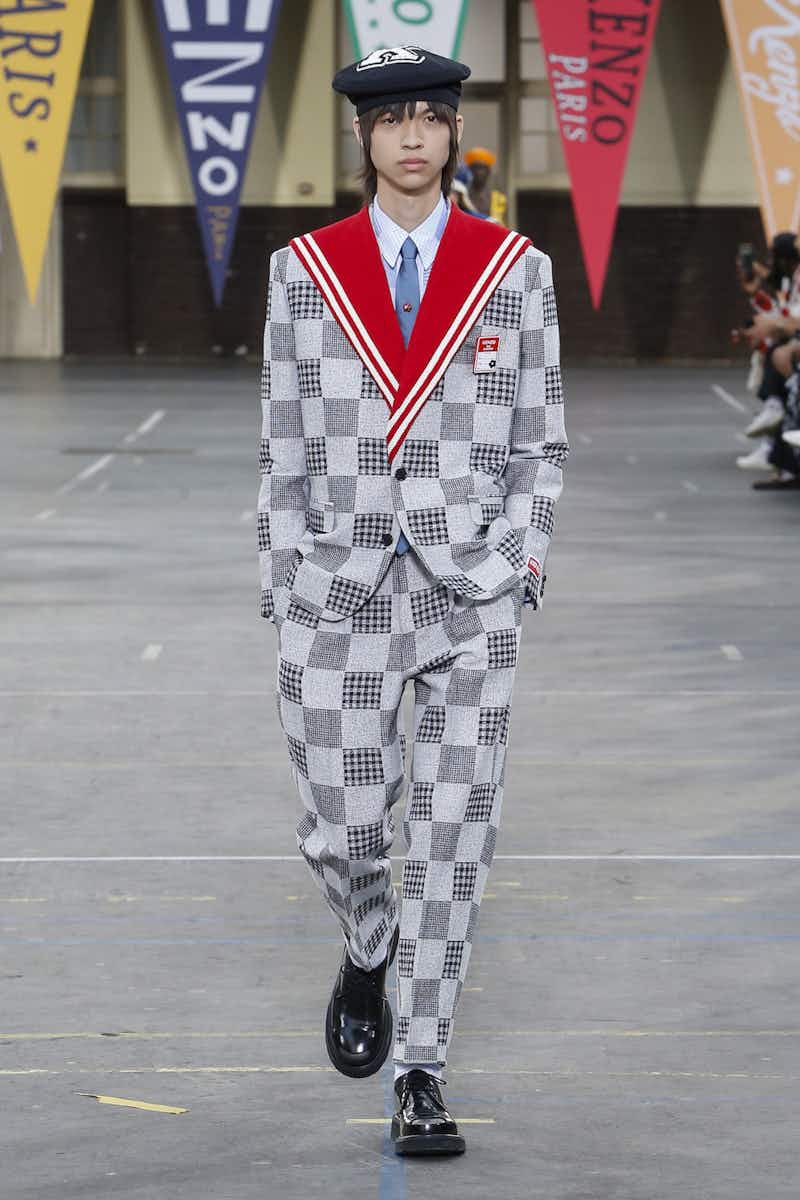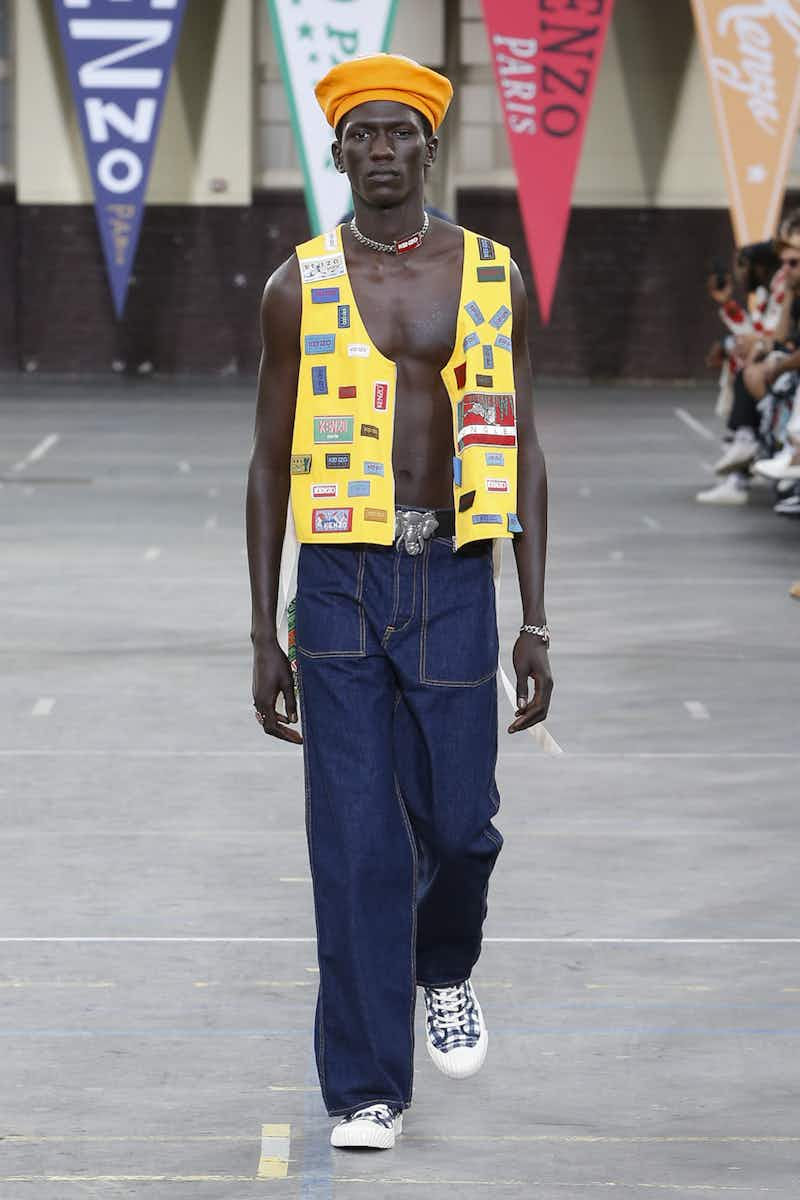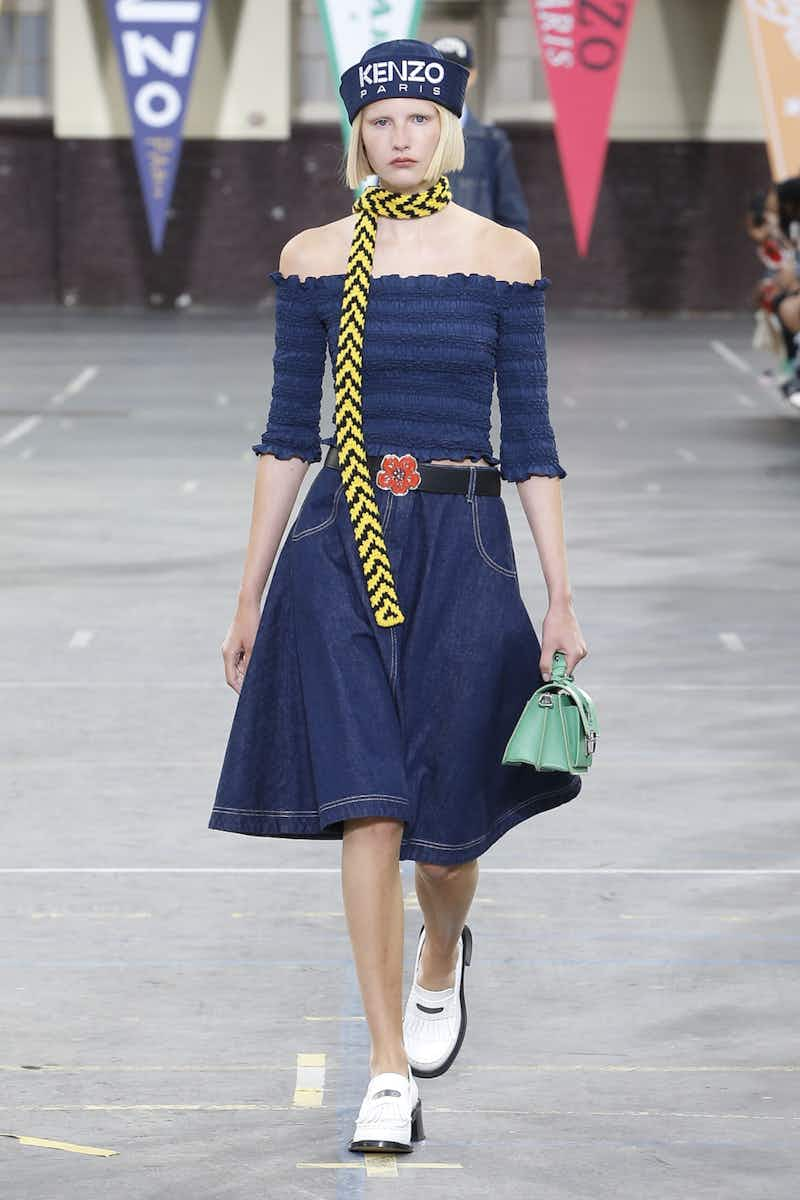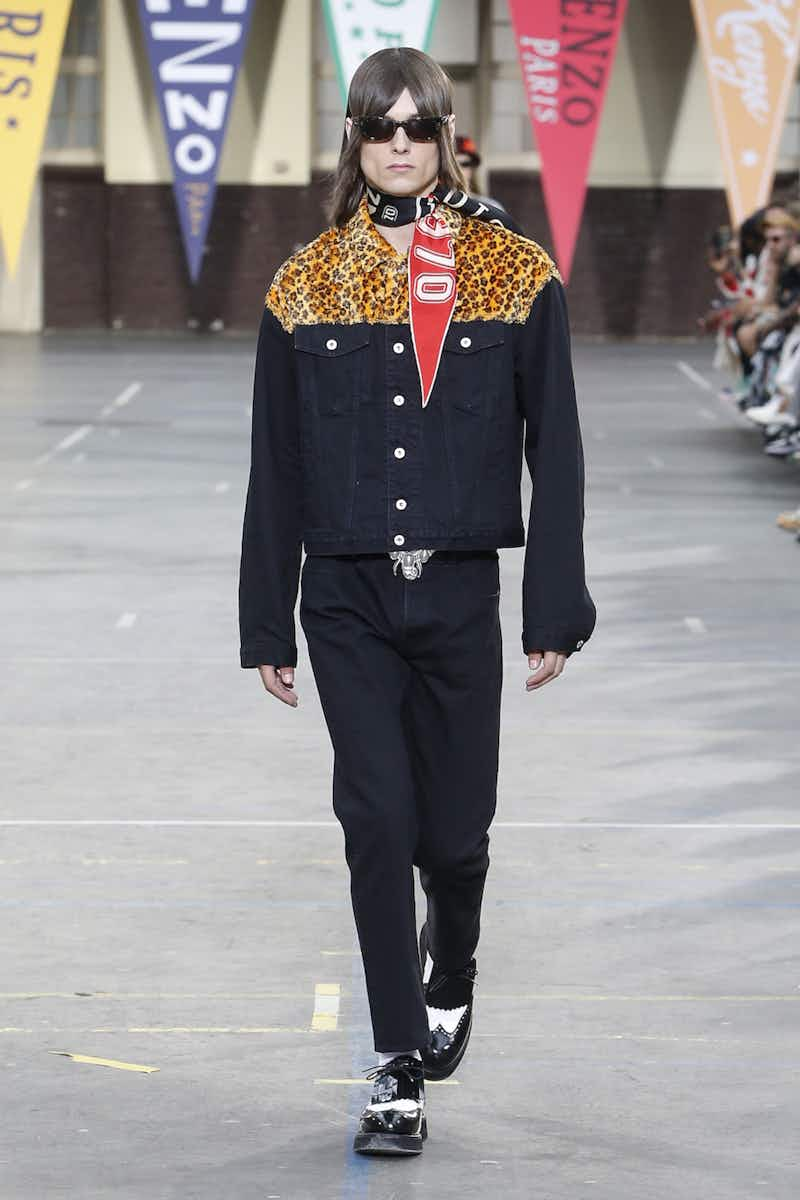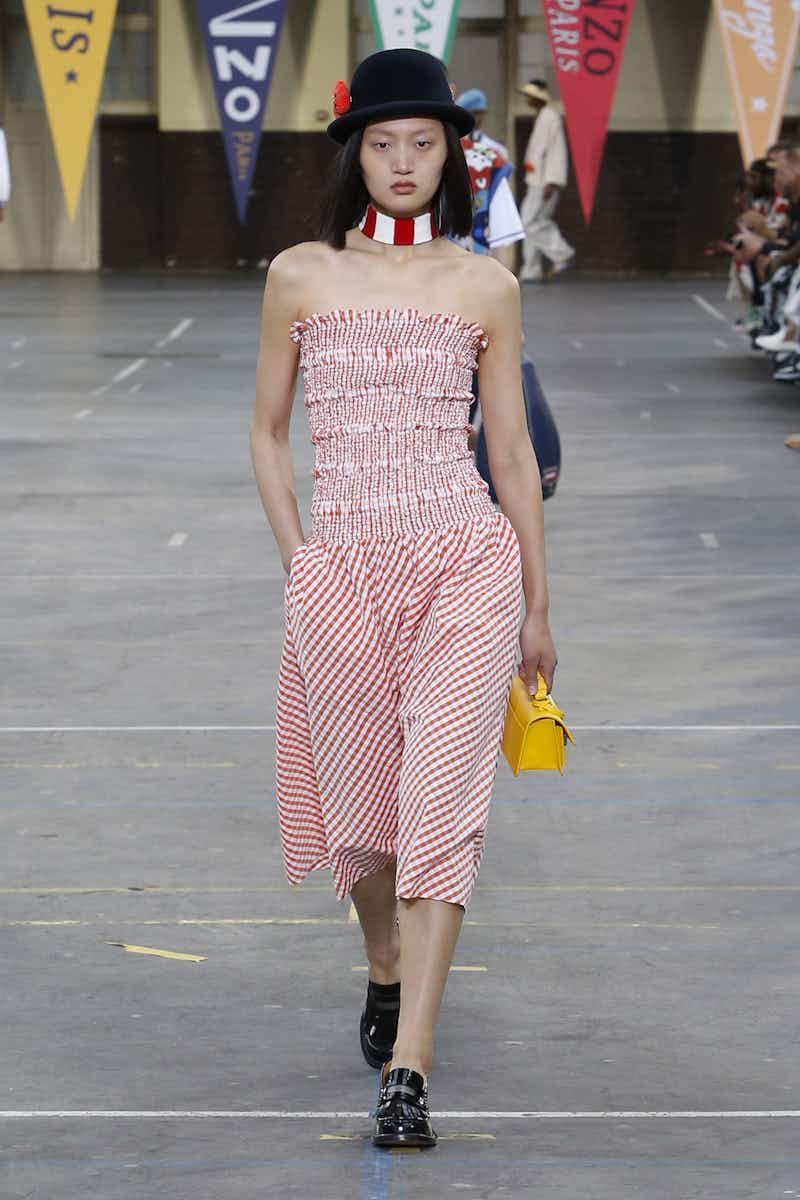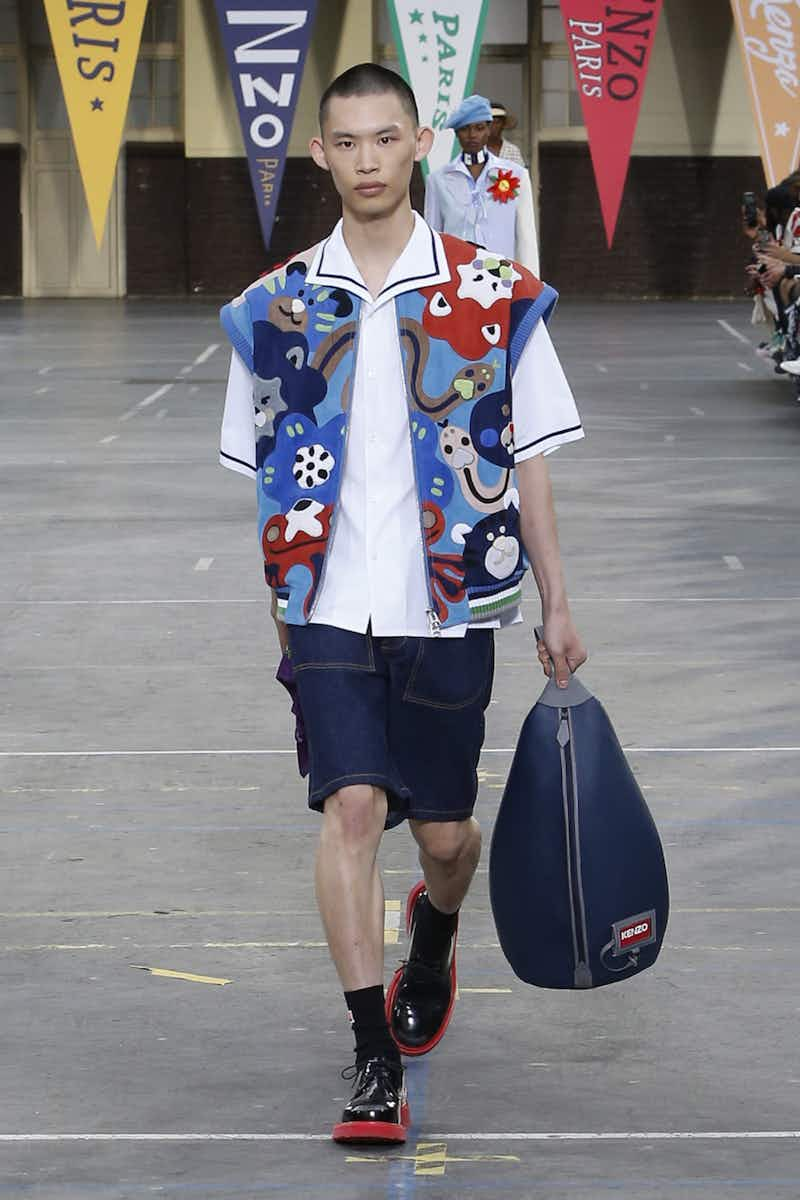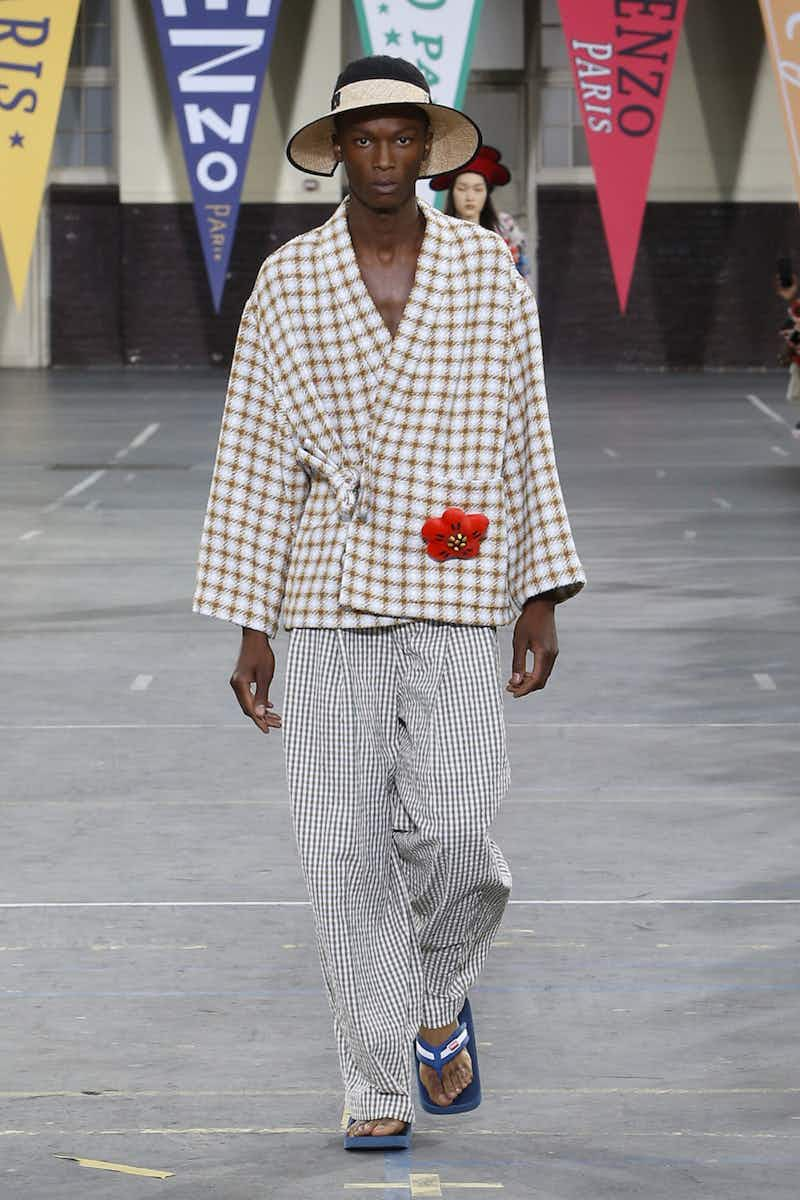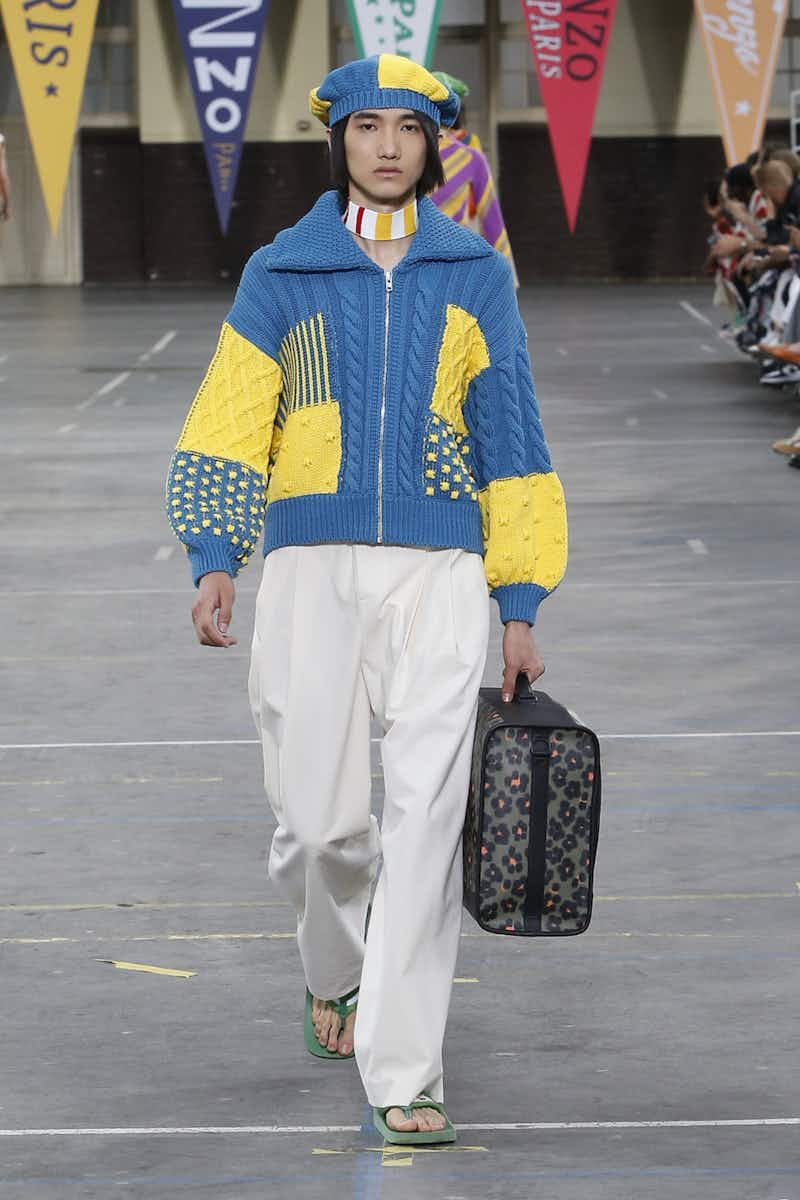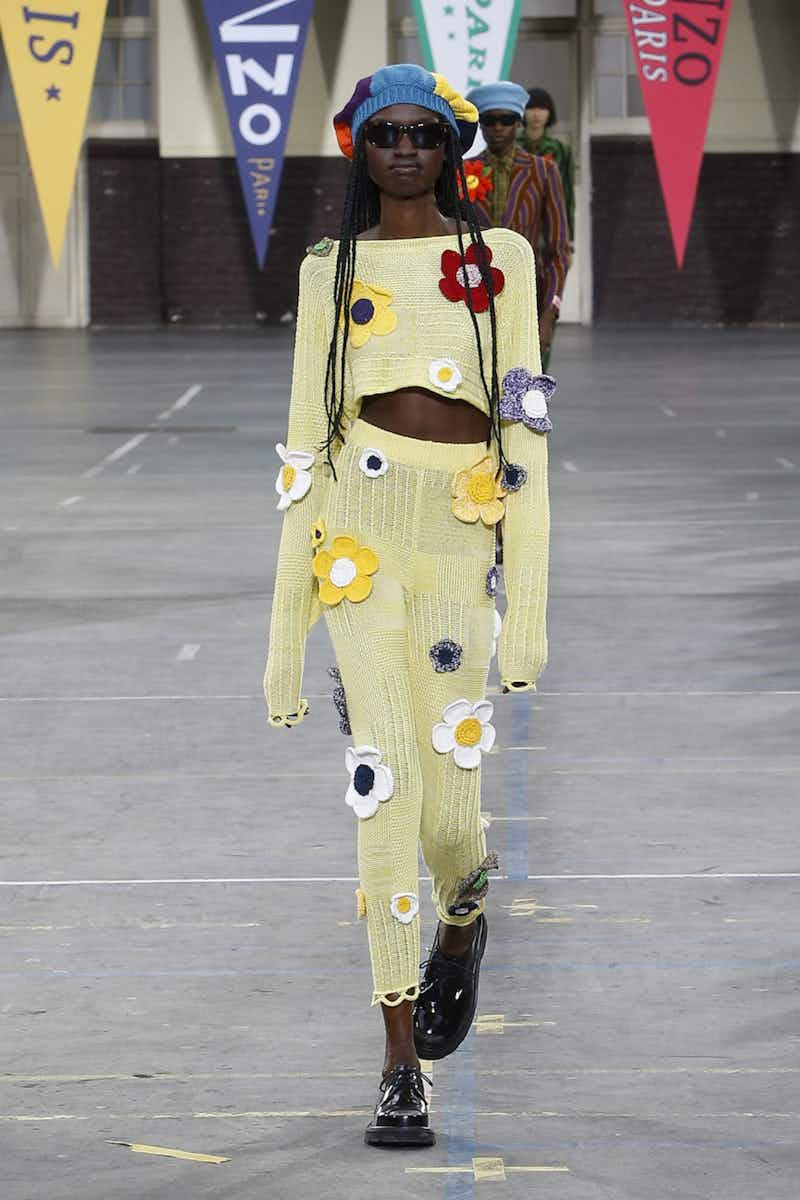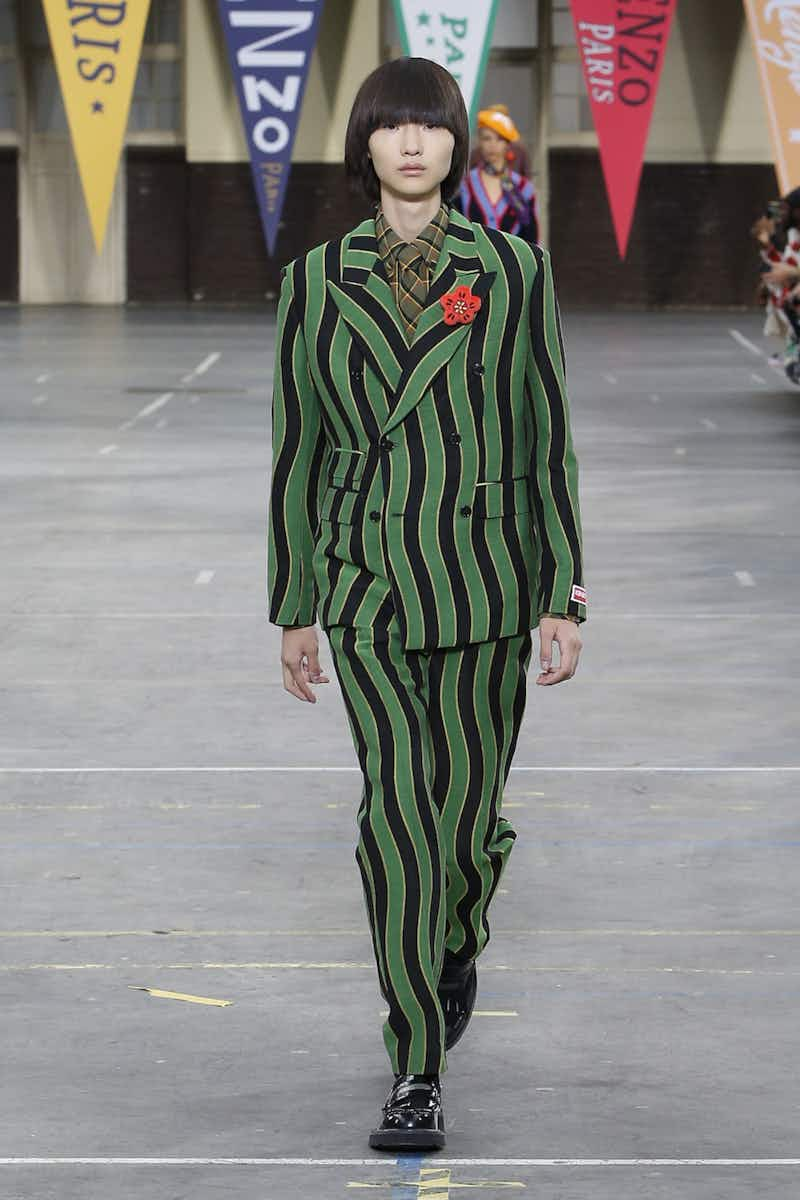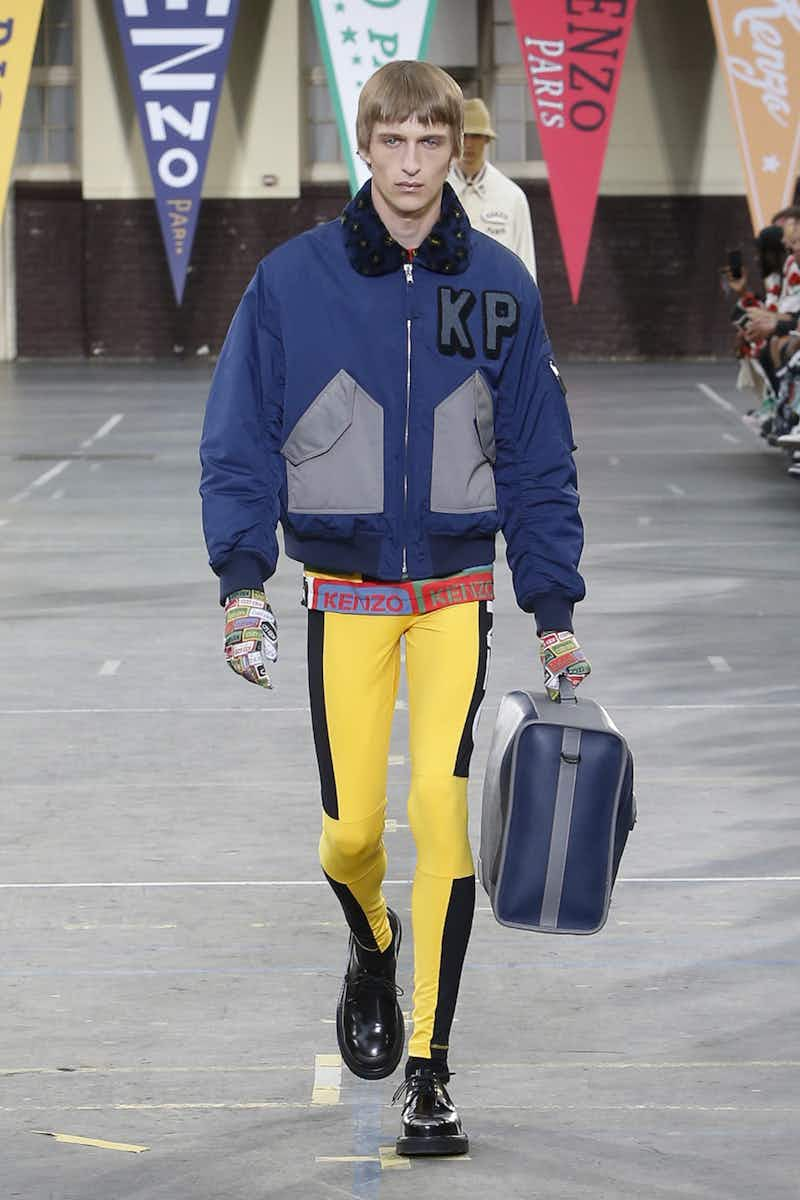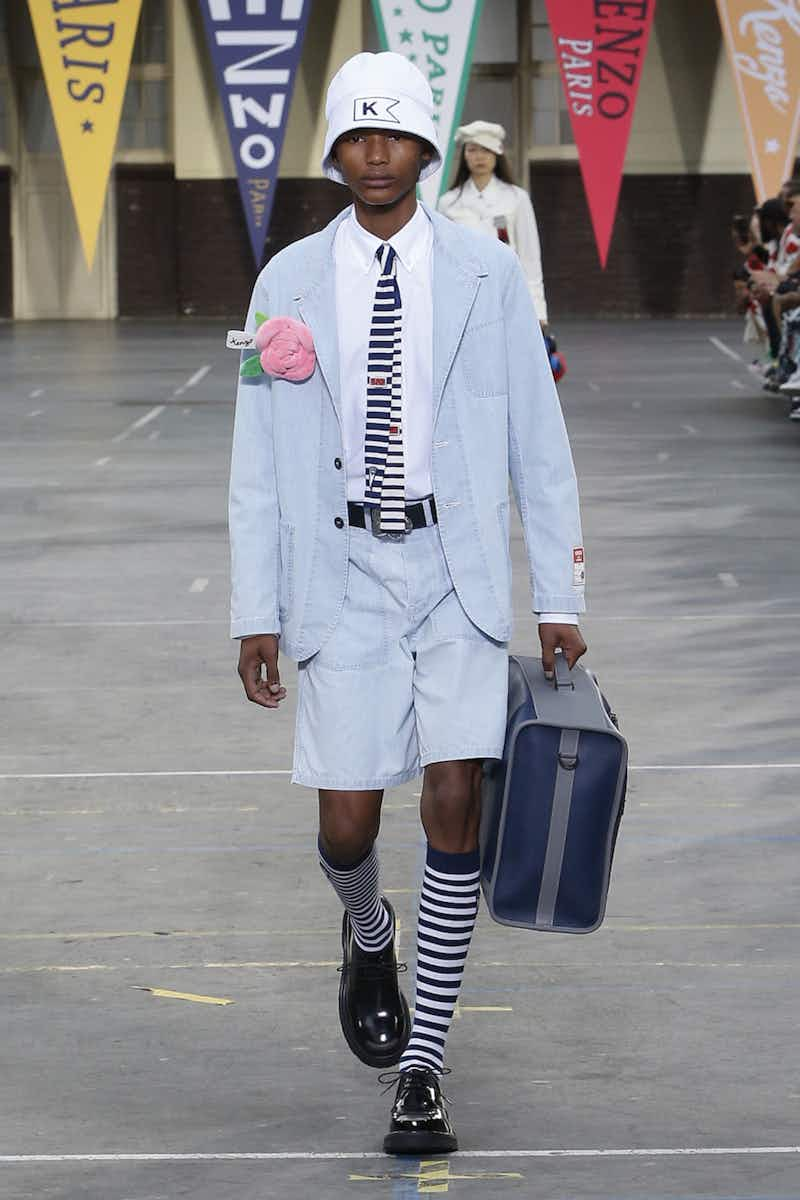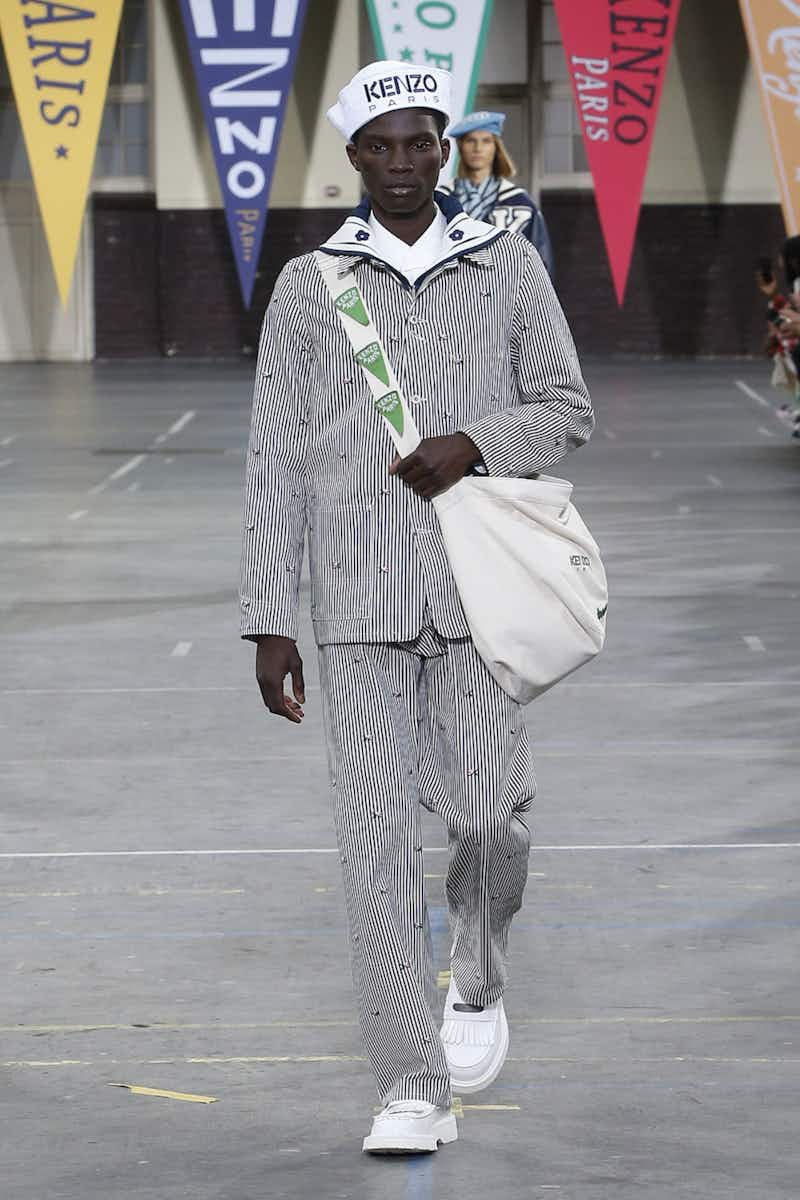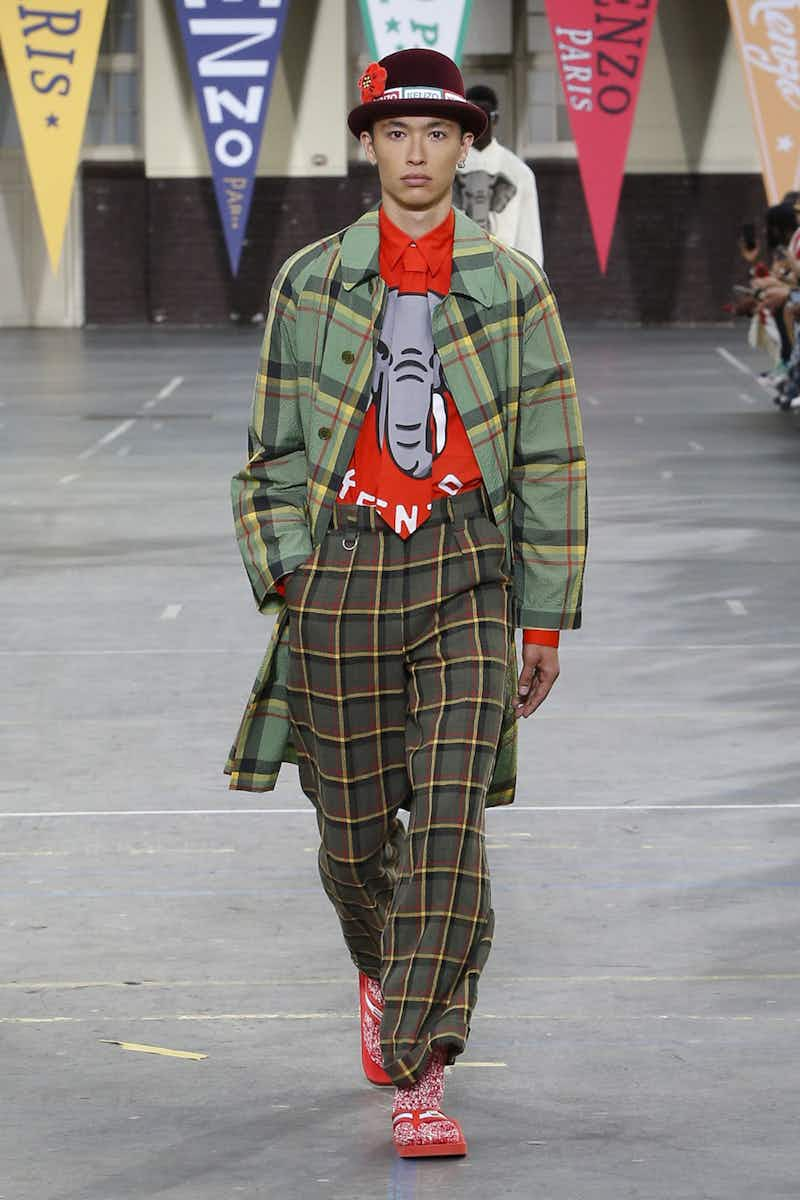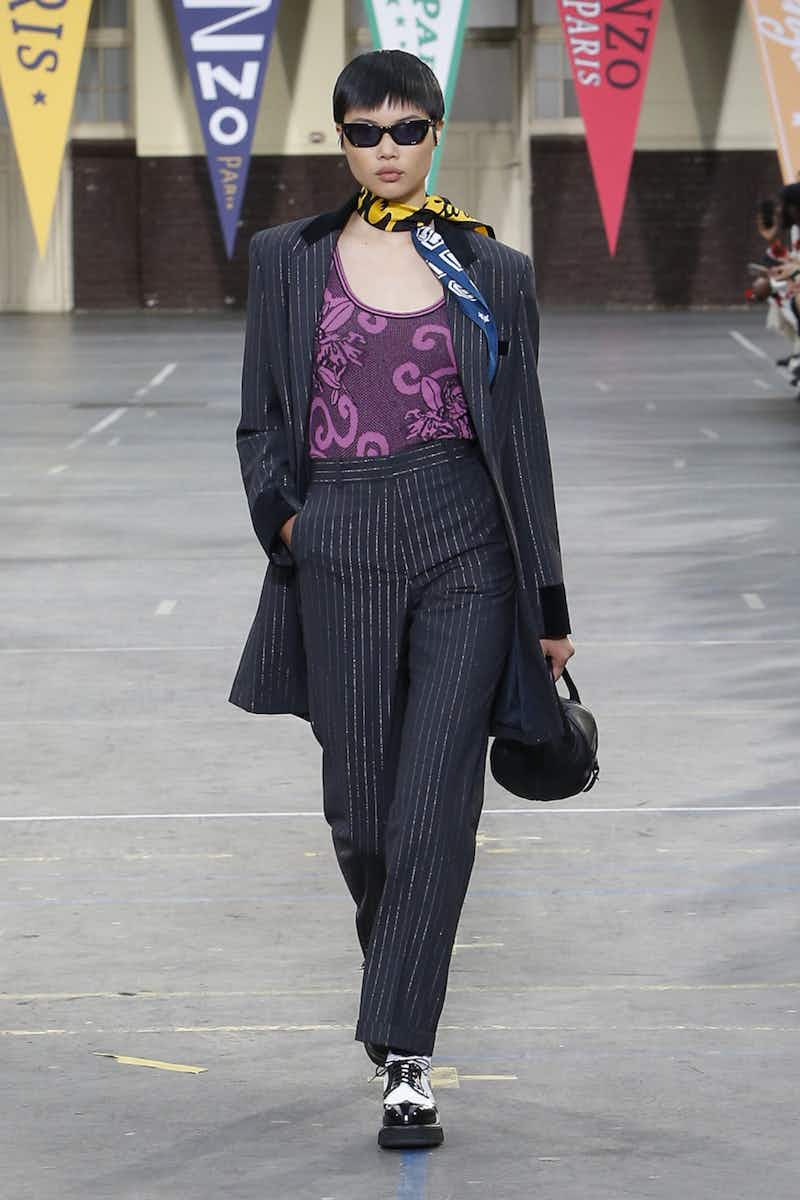 Last season's collaboration with Jean-Paul Gaultier made Glenn Martens' trompe l'oeil the talk of the town. Then, the emphasis was all on body, with Martens resurrecting Gaultier's cheeky peekaboo prints, perfect for reminding the wearer that we're all born naked and the rest is drag. This season, it was about clothes on clothes. Think: dark denim hot pants on mini dresses and jeans printed onto swishing skirts. Martens is such a wizard with denim (see what he did at Diesel last season), that this feels like a logical next step. Elsewhere, a collage of silhouettes and fabrics led to some staggeringly voluminous boots that Julia Fox is no doubt already eyeing up and some wonderfully skew-whiff drapery. Between the swoops and illusions, there was some subtlety, too. At Y/​Project, your jeans might be so wide they drown you, but they might also be perfectly proportioned – accompanied by a belt and a nice striped shirt.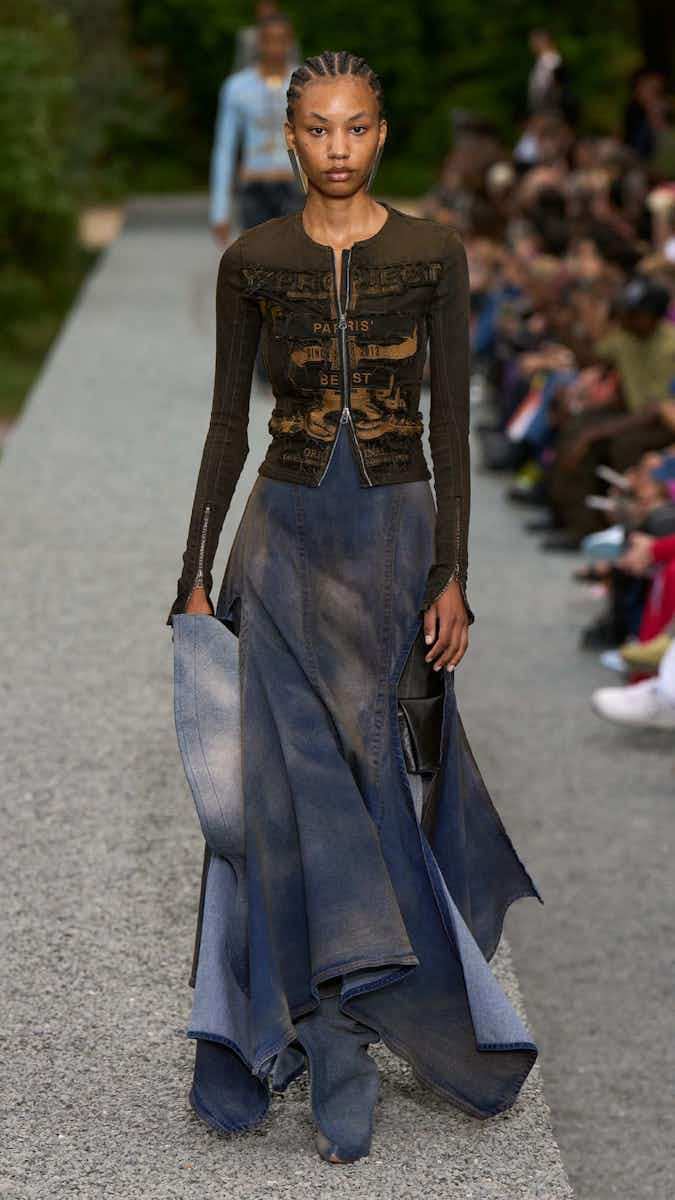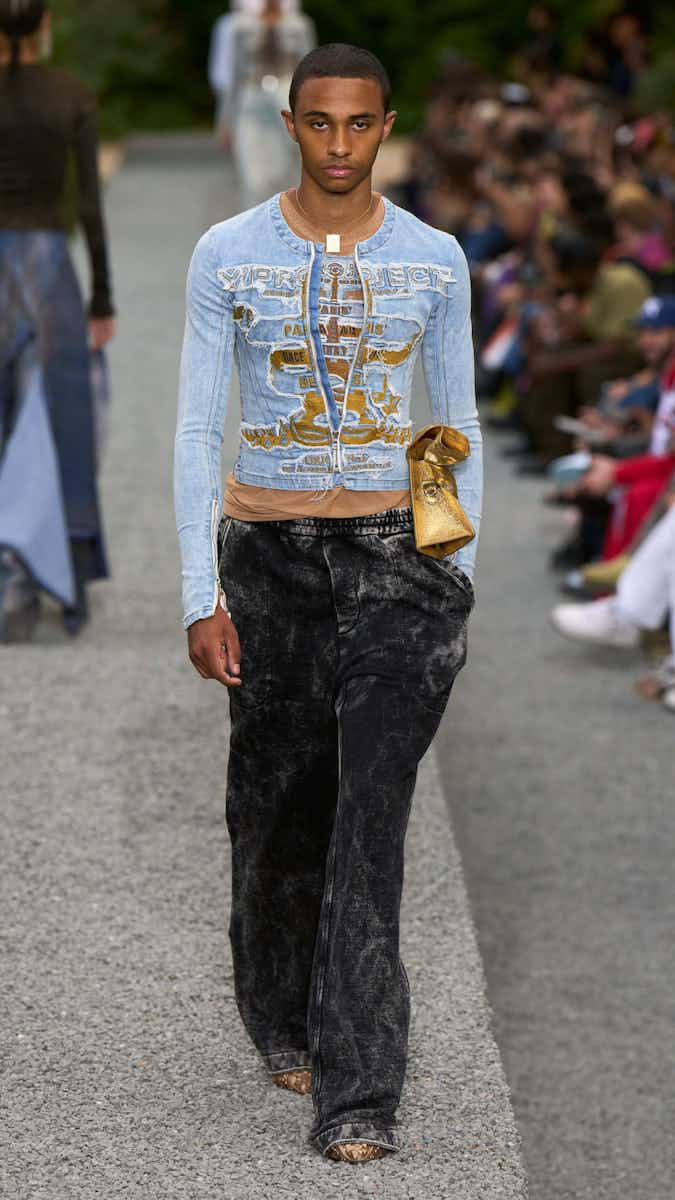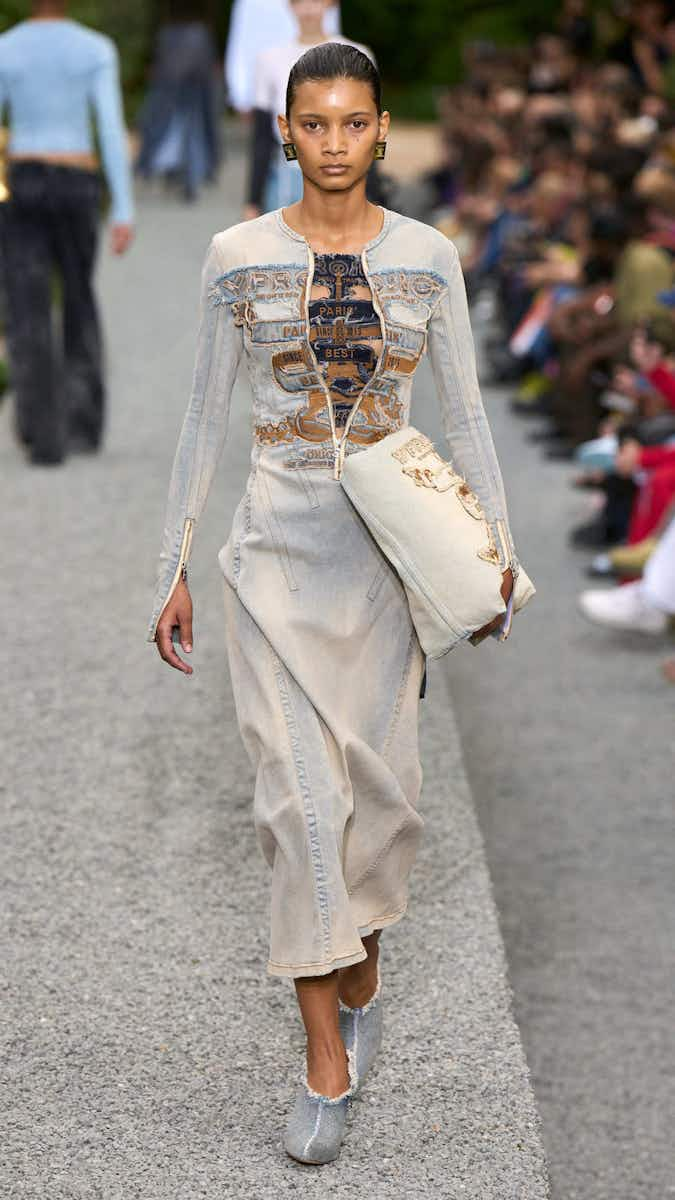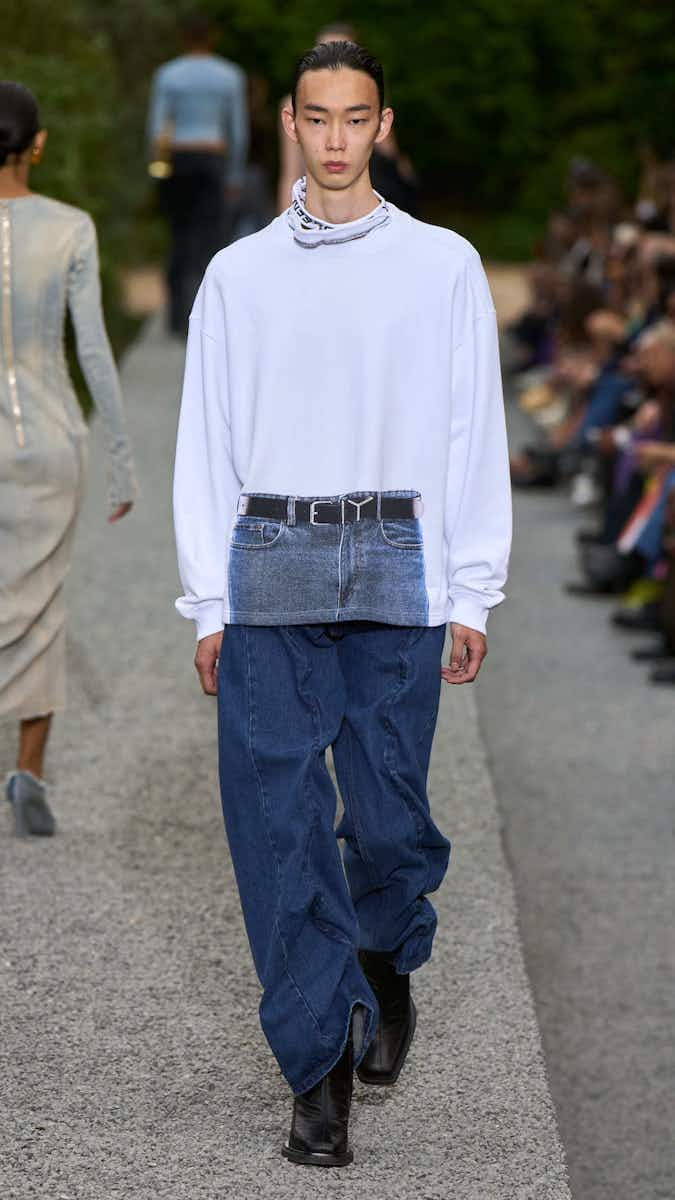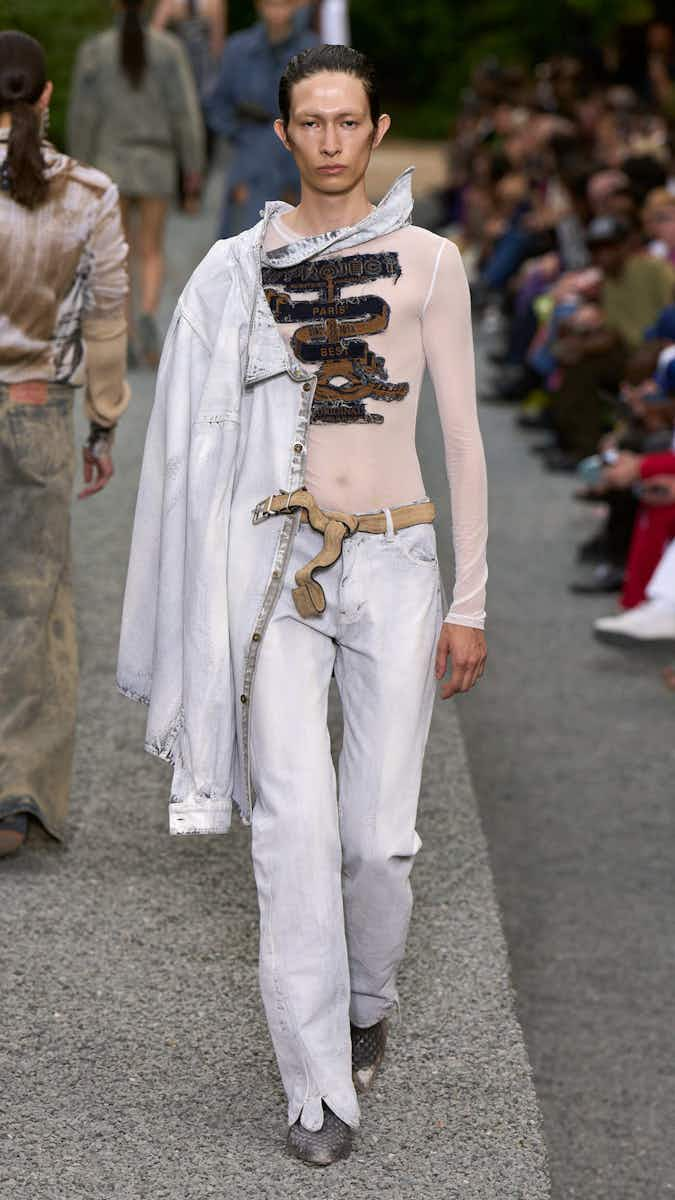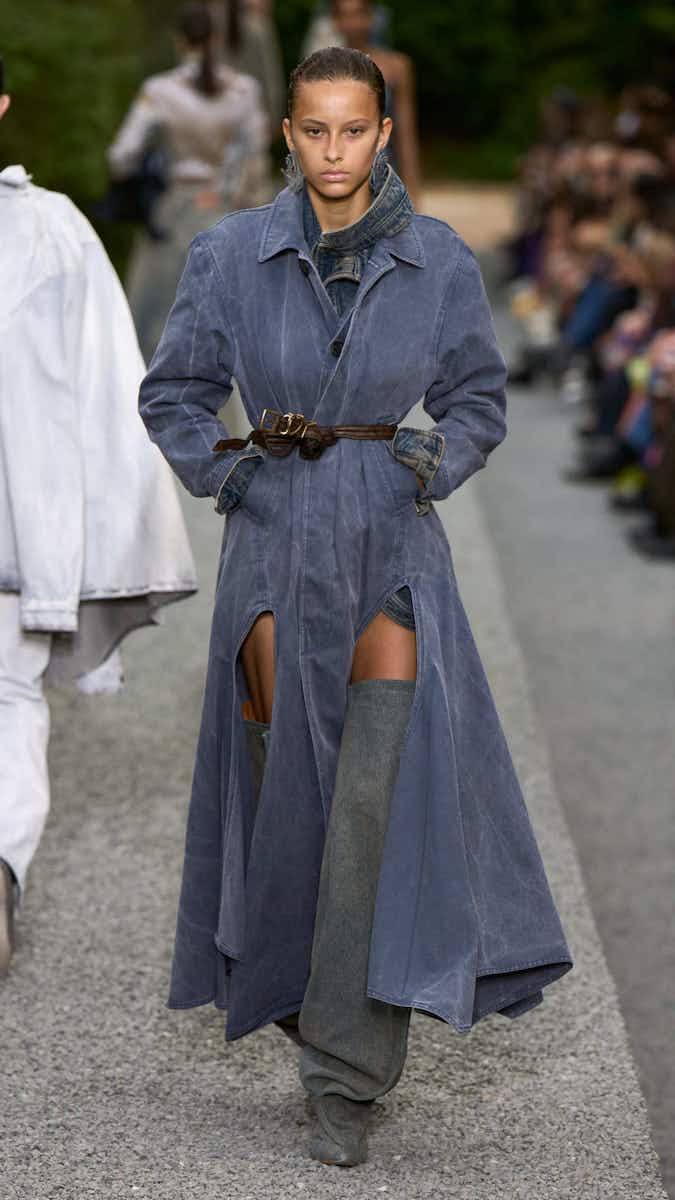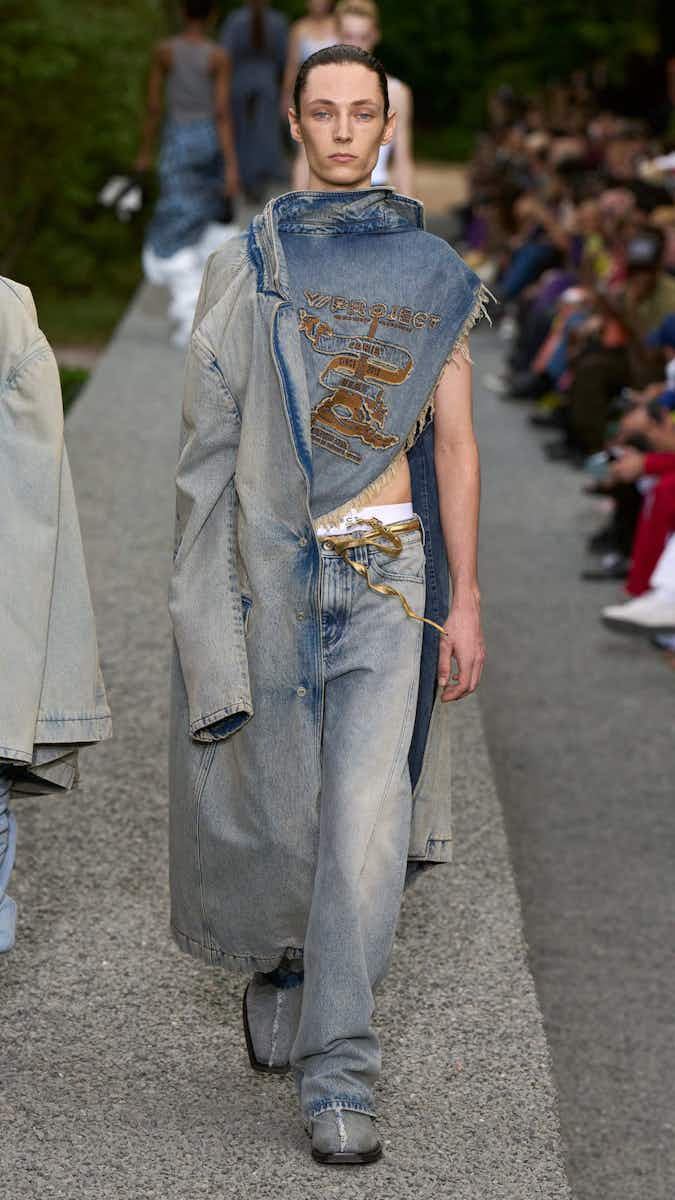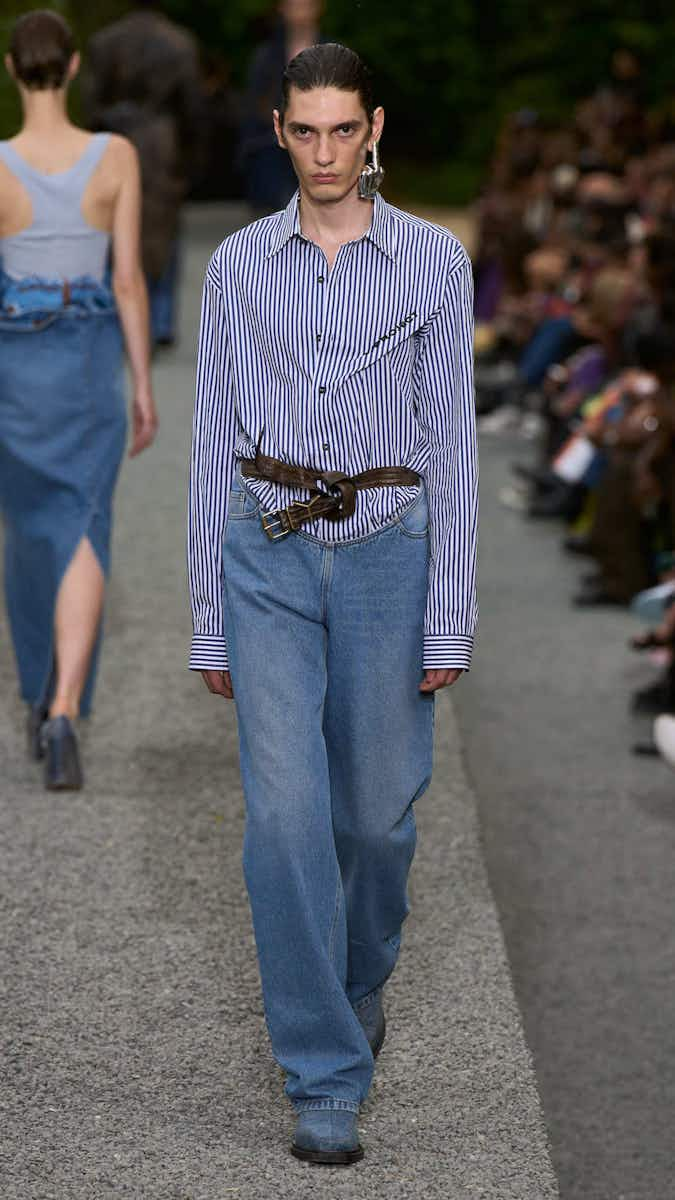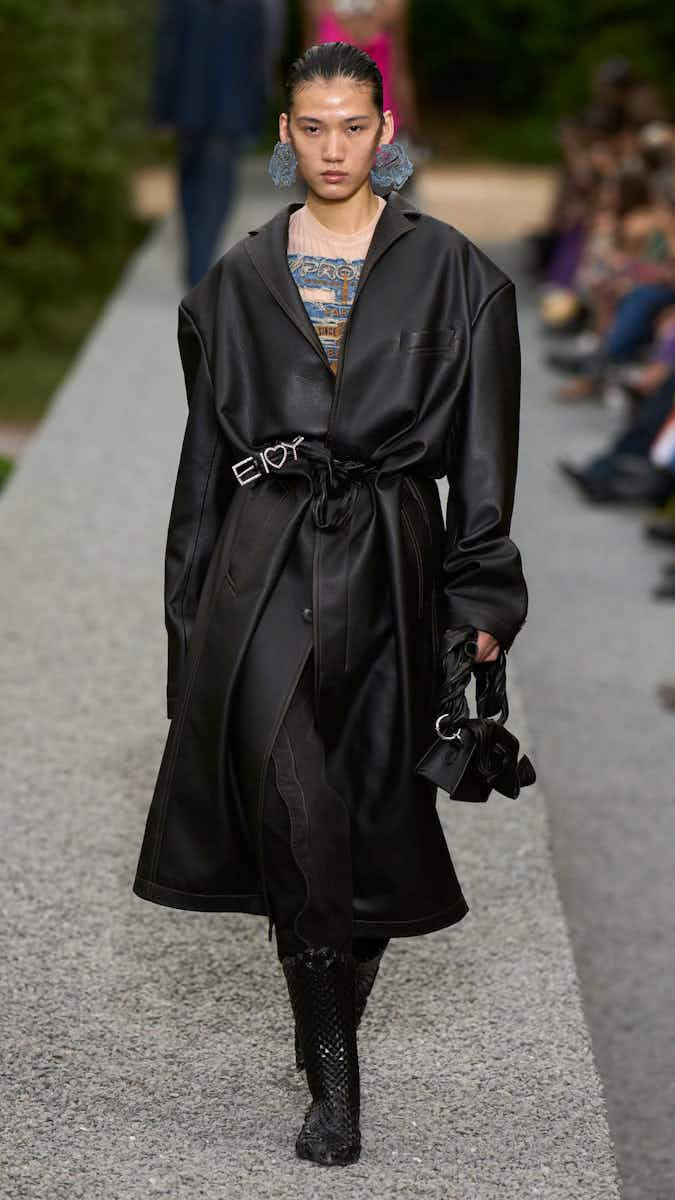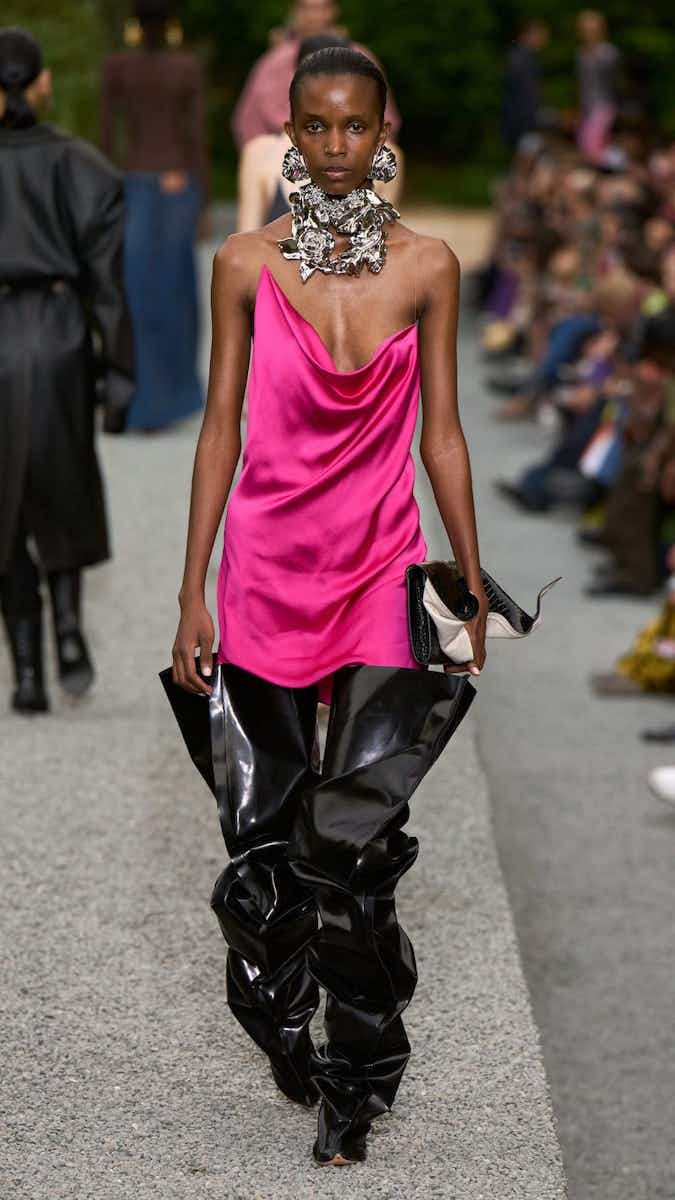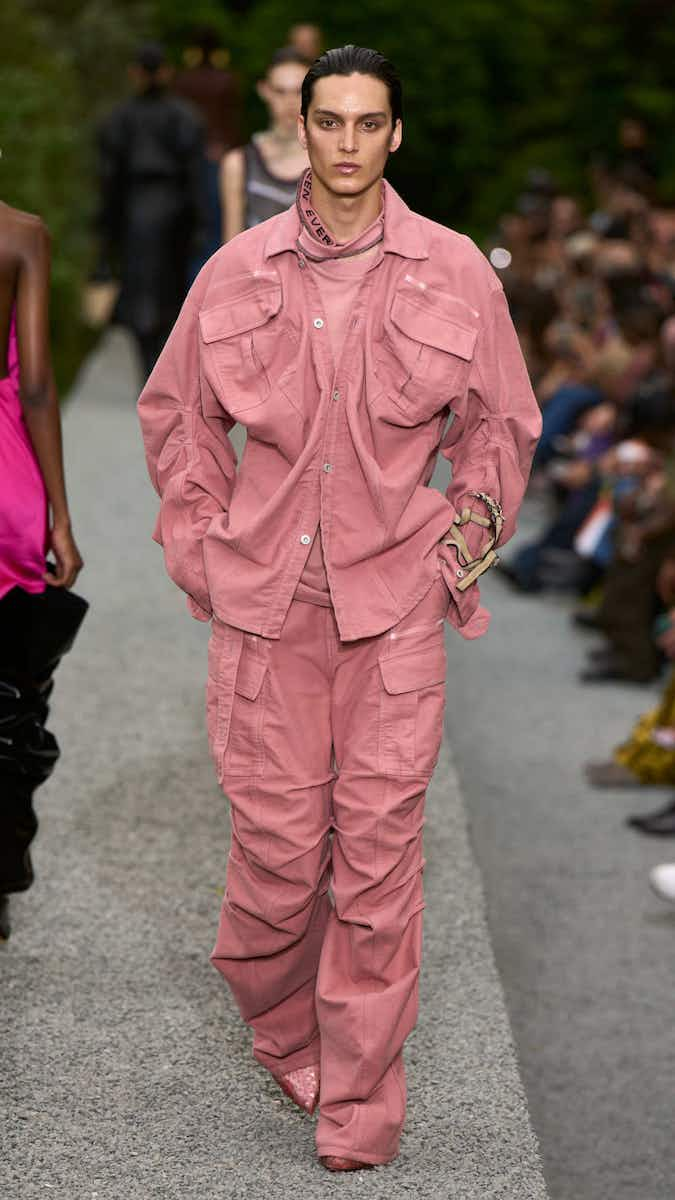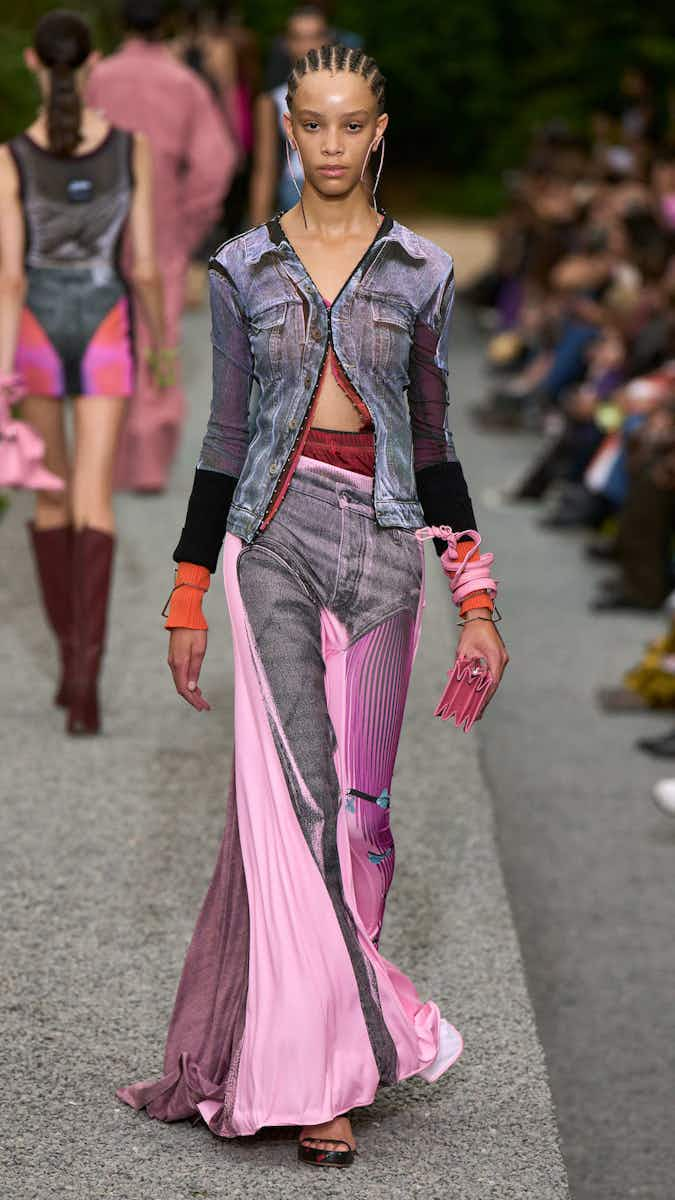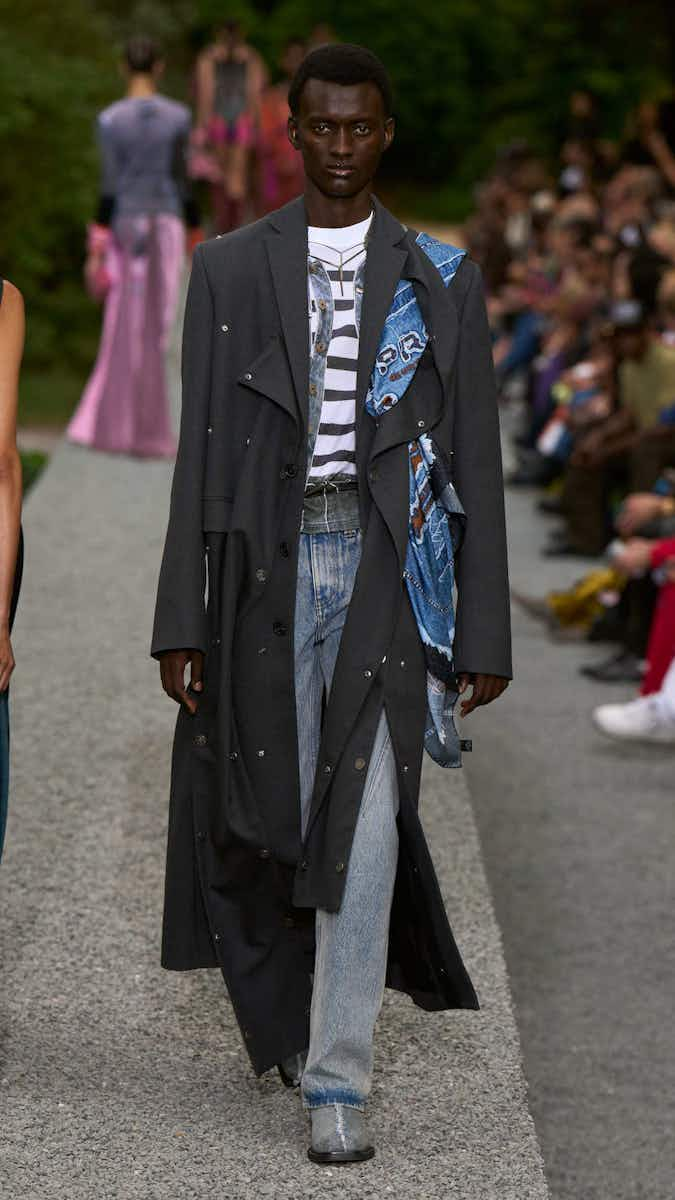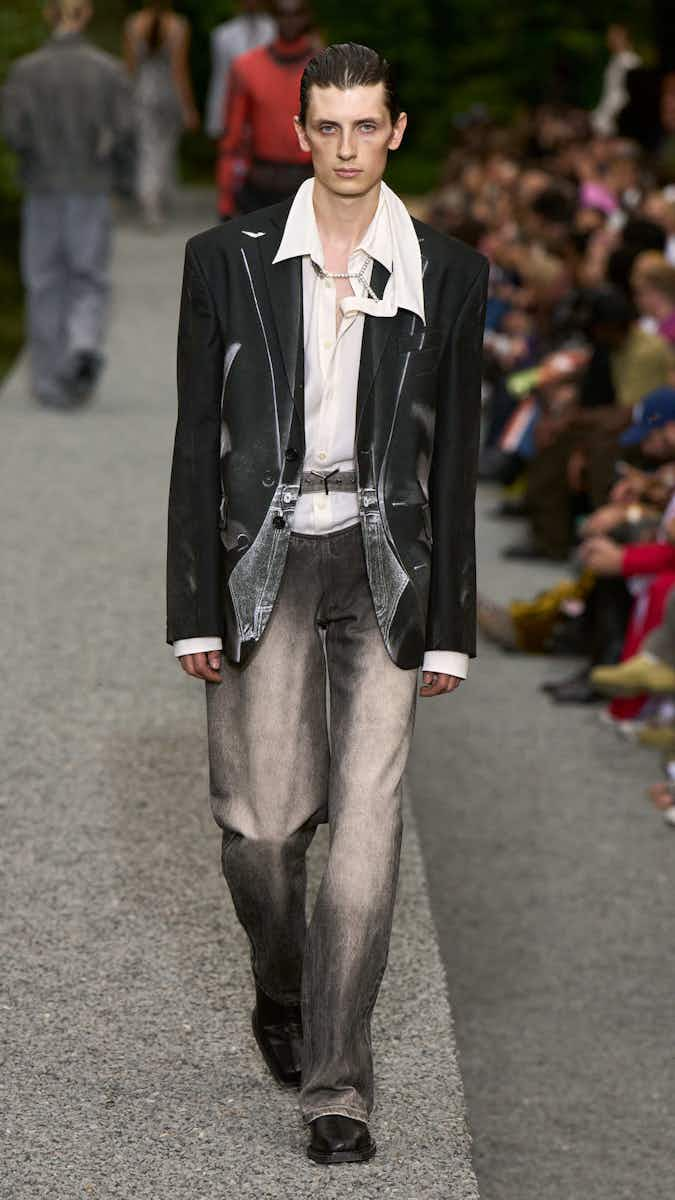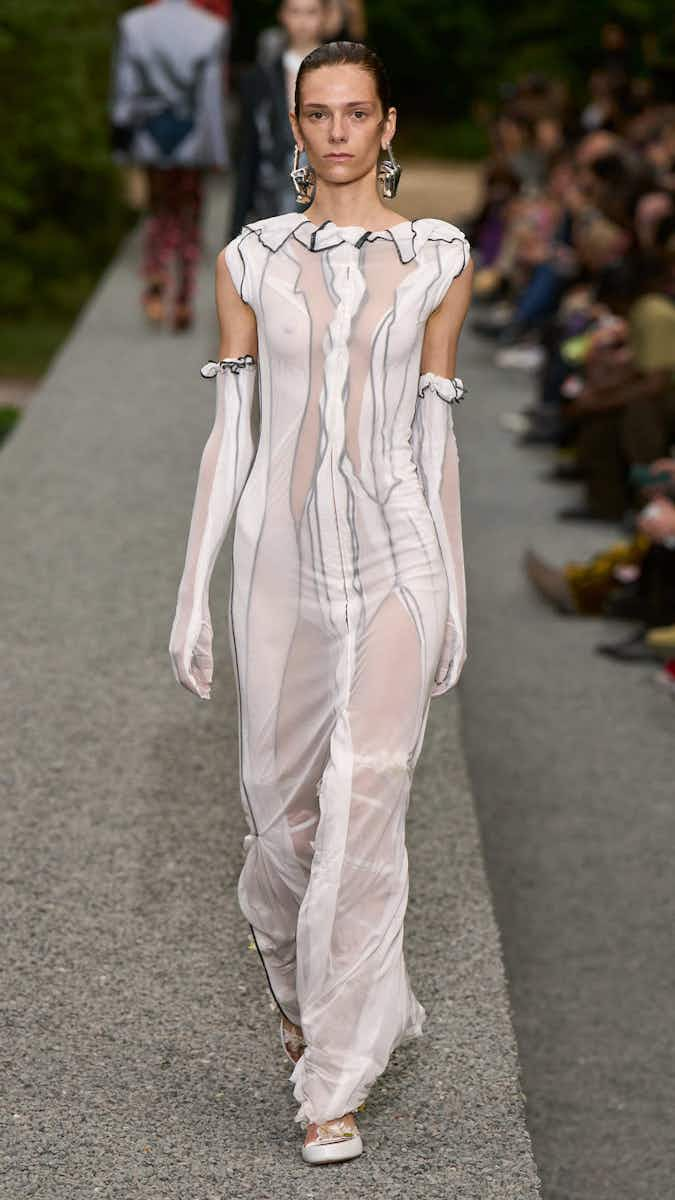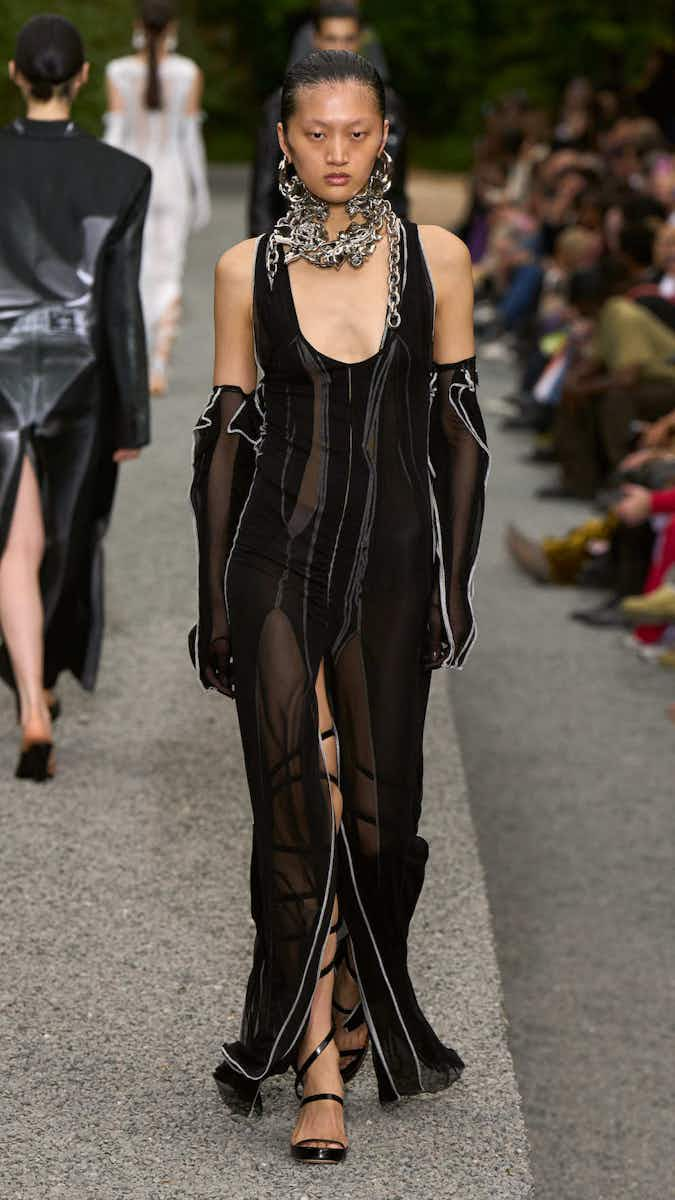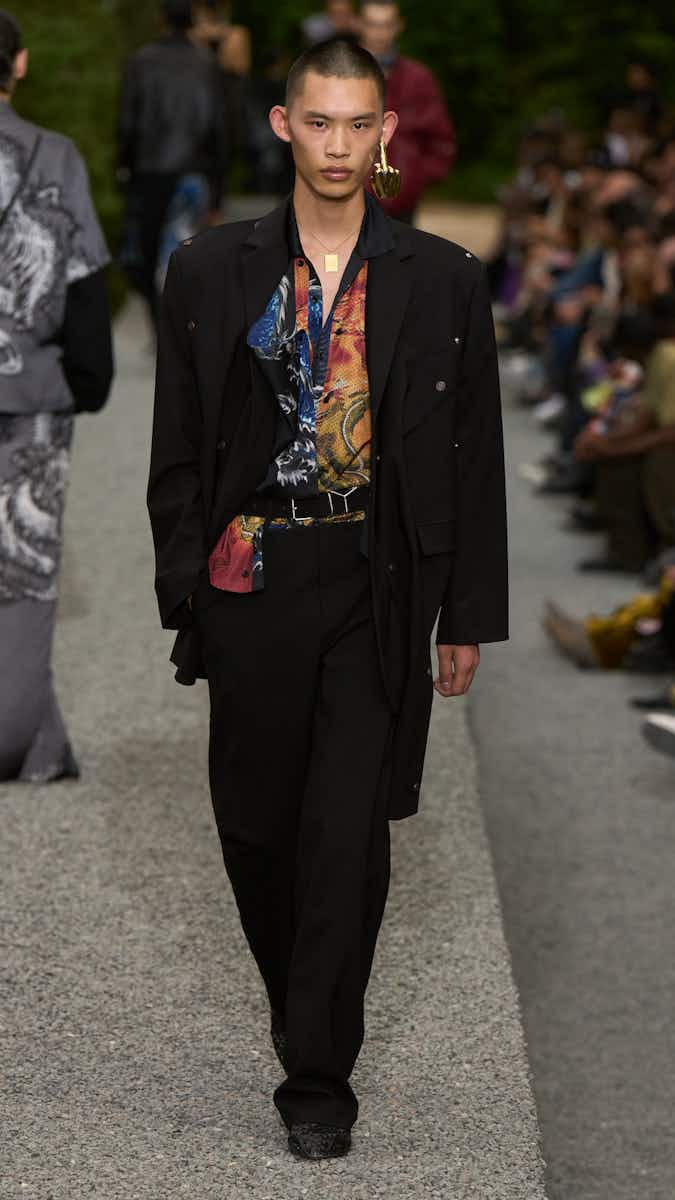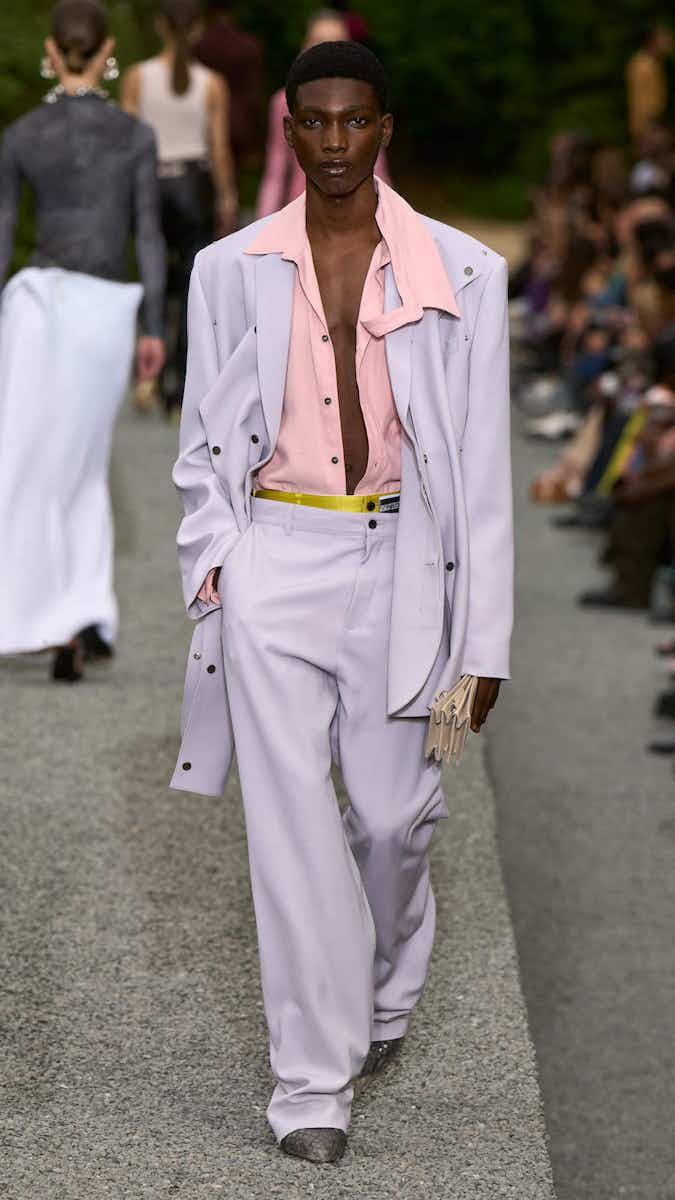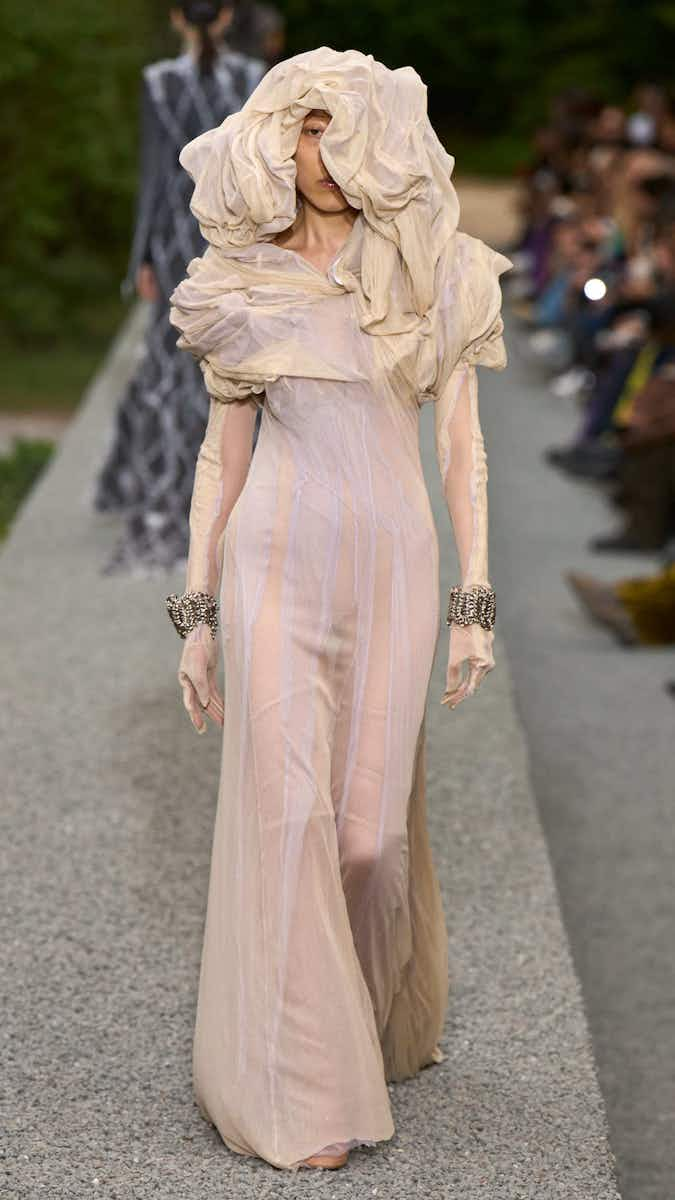 First Prada, now Givenchy. It's a big time for talking about the ​"archetypal garments" that make up a wardrobe. For Matthew M Williams' first standalone menswear show, the creative director talked about the significance of authenticity, saying he wanted to make pieces that reflected what the men around him wore. Think cargo trousers, angular tailoring, fun textile innovations such as leather masquerading as nylon, and lots of ripped knees, lest anything get too serious. One thing was clear, though. Whatever the Givenchy man is wearing, he's going to let you know it's Givenchy. Williams splashed the label's name over everything from hoodies and sweatpants, to baseball caps and balaclavas. Whatever the weather, there's going to be a logo to match.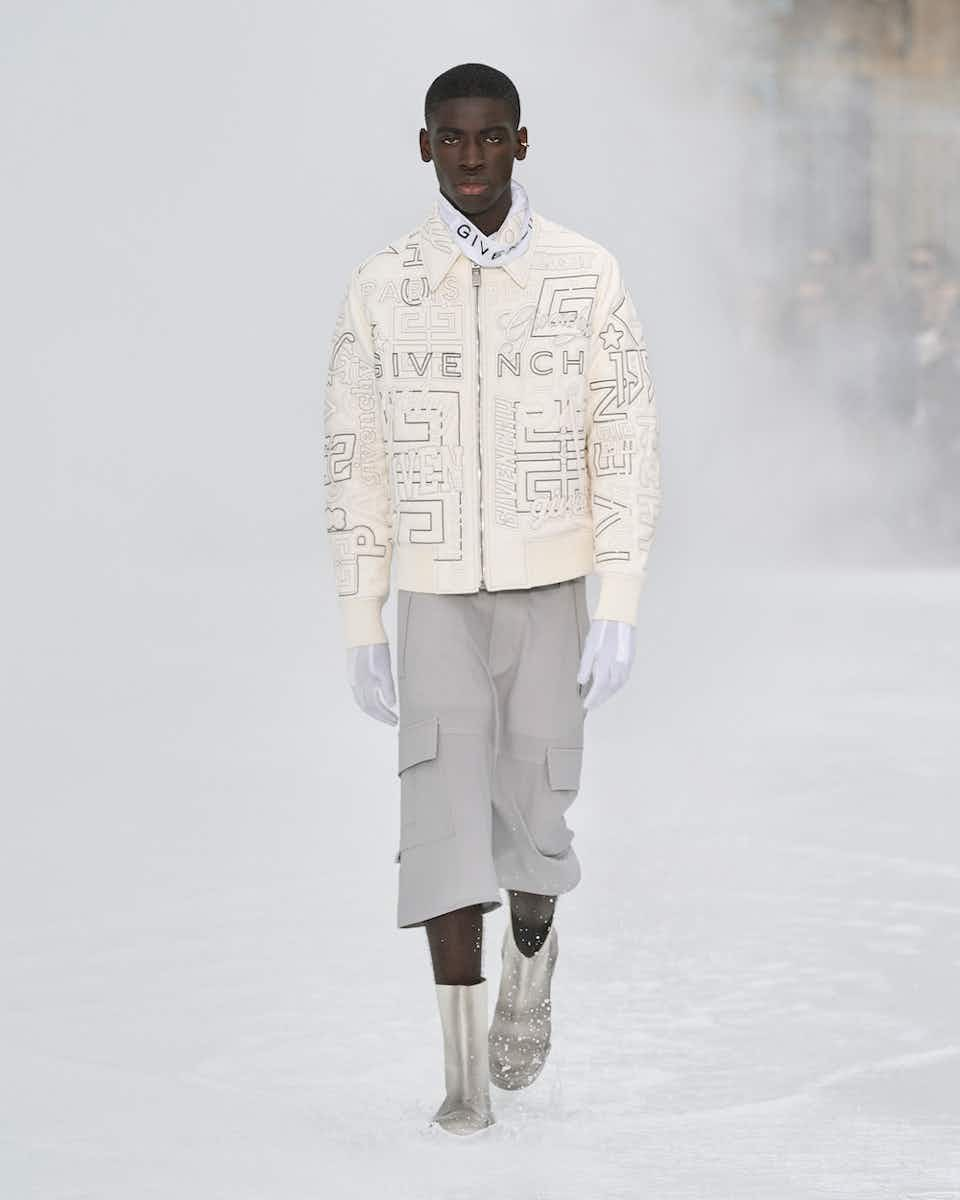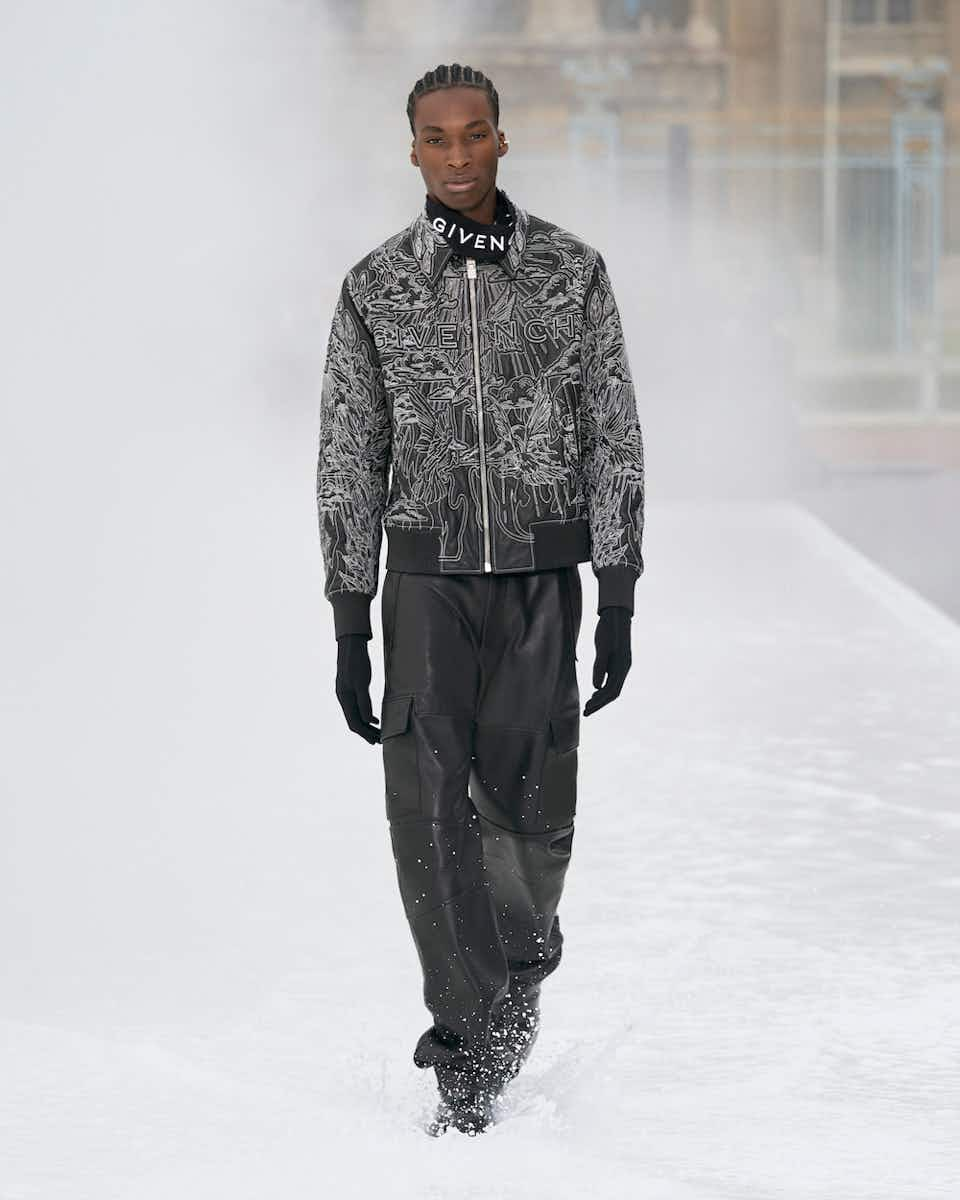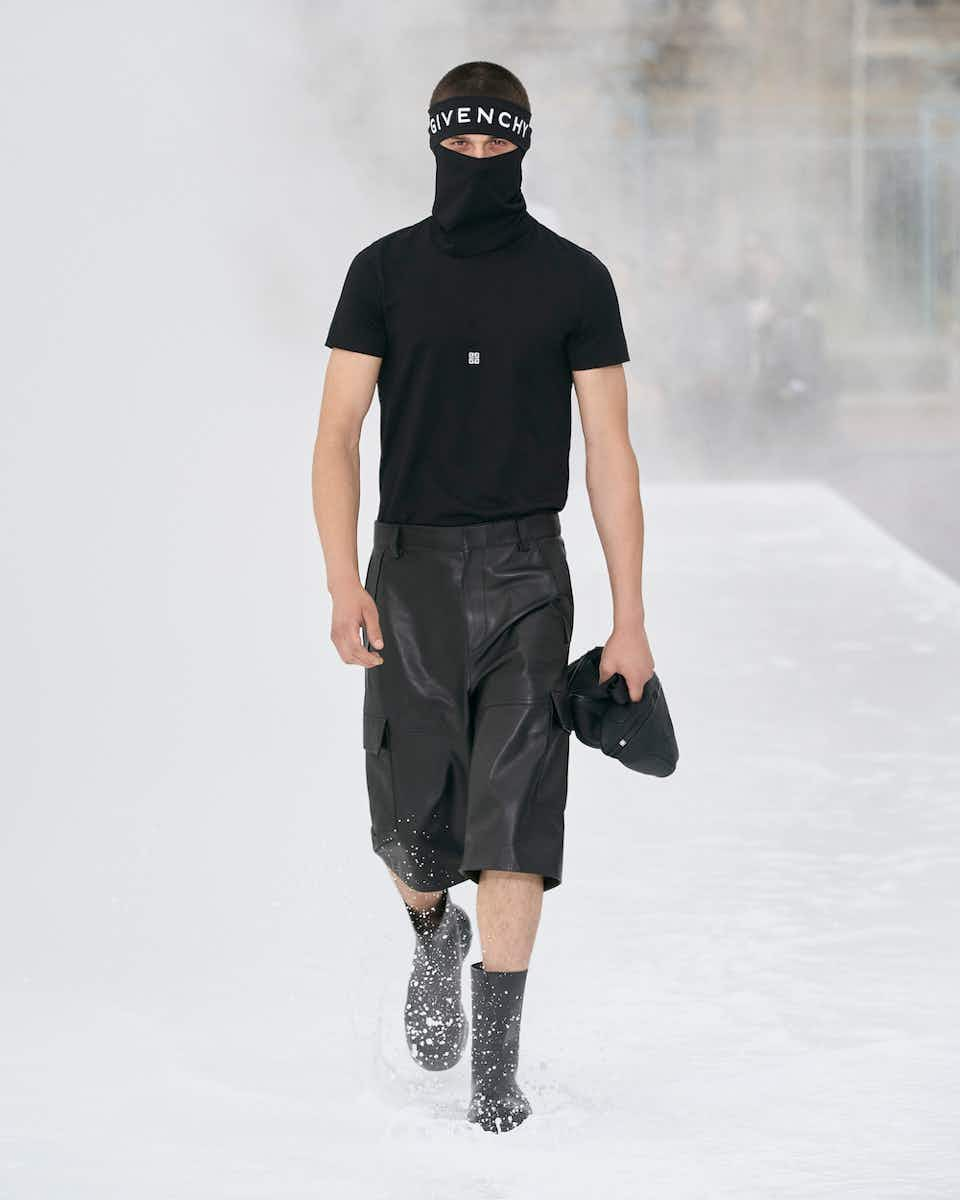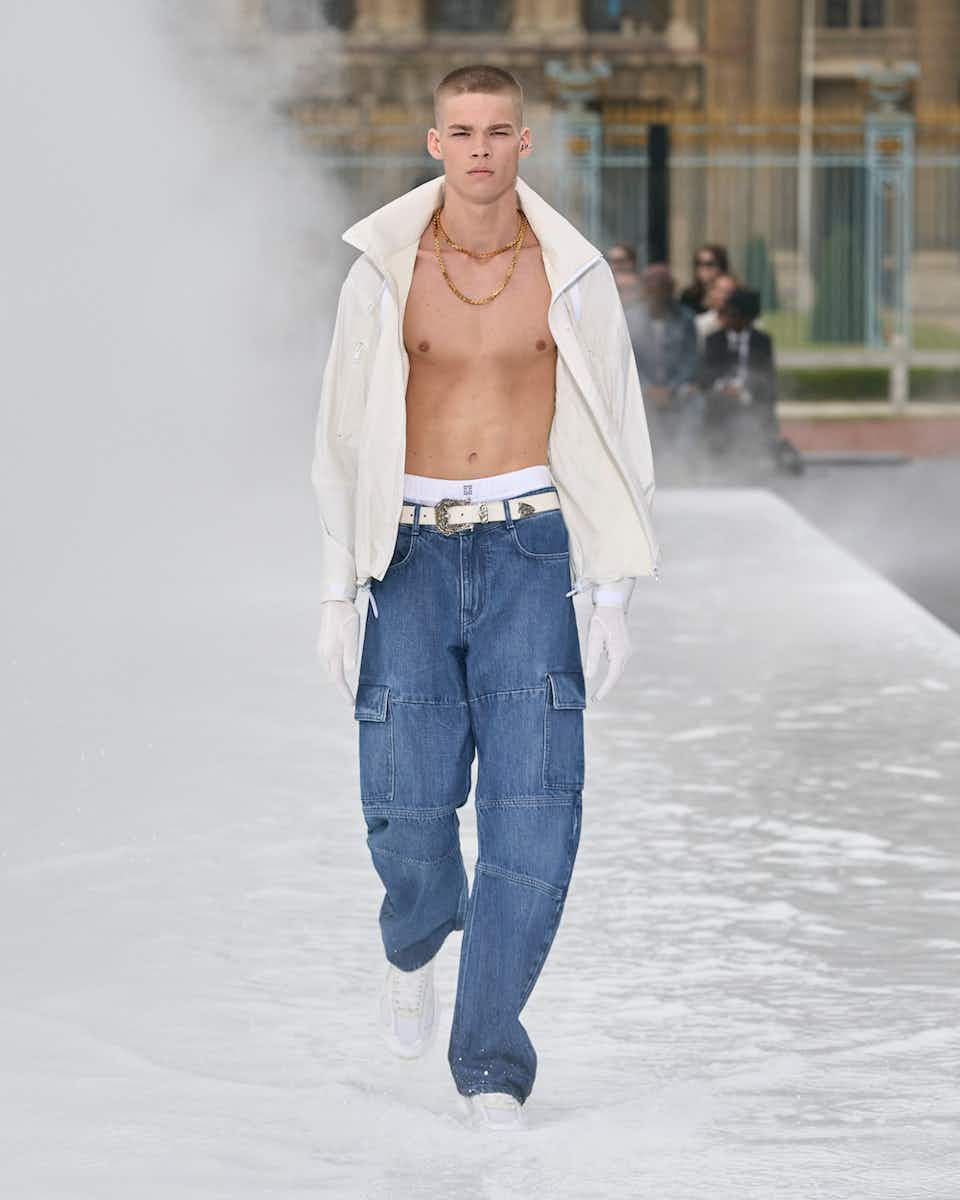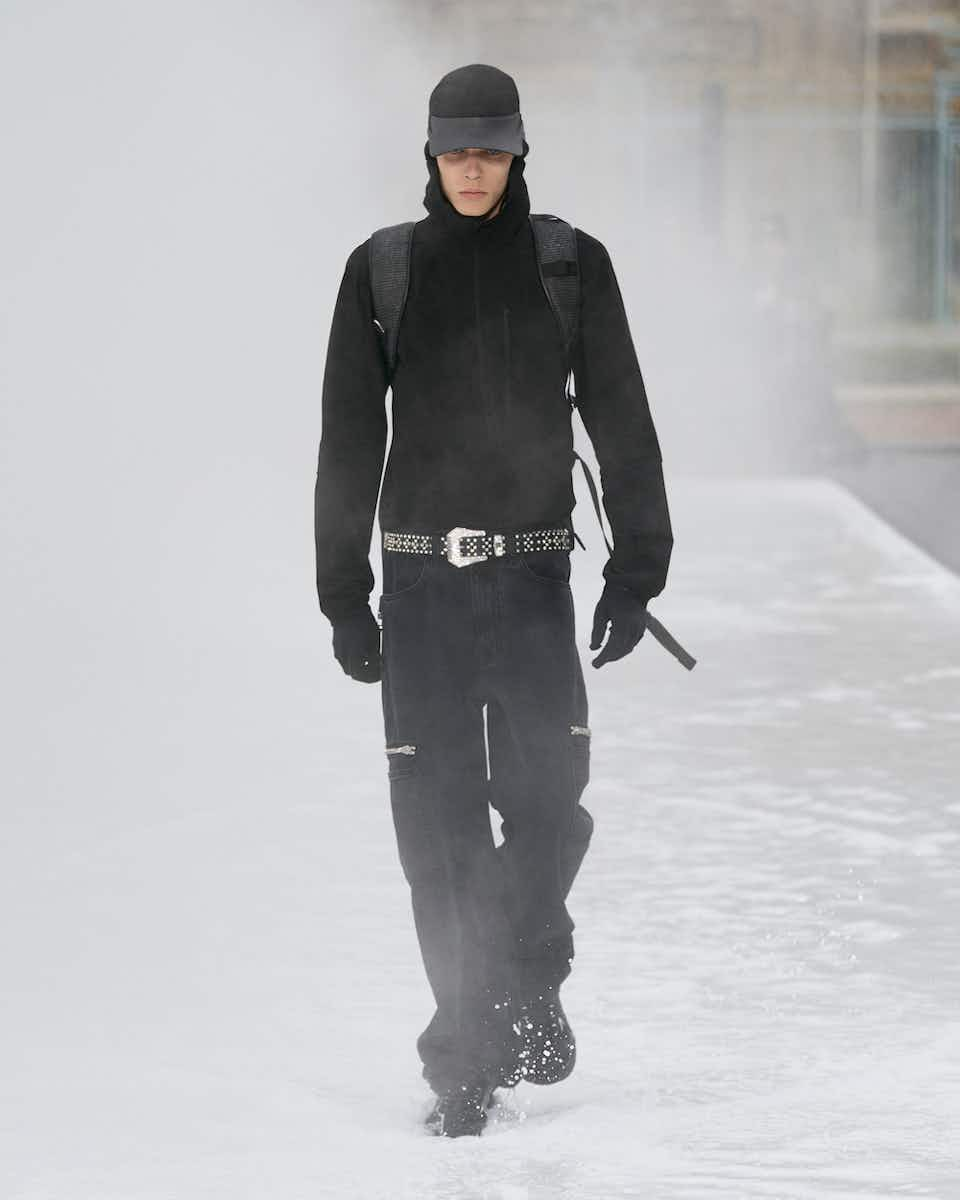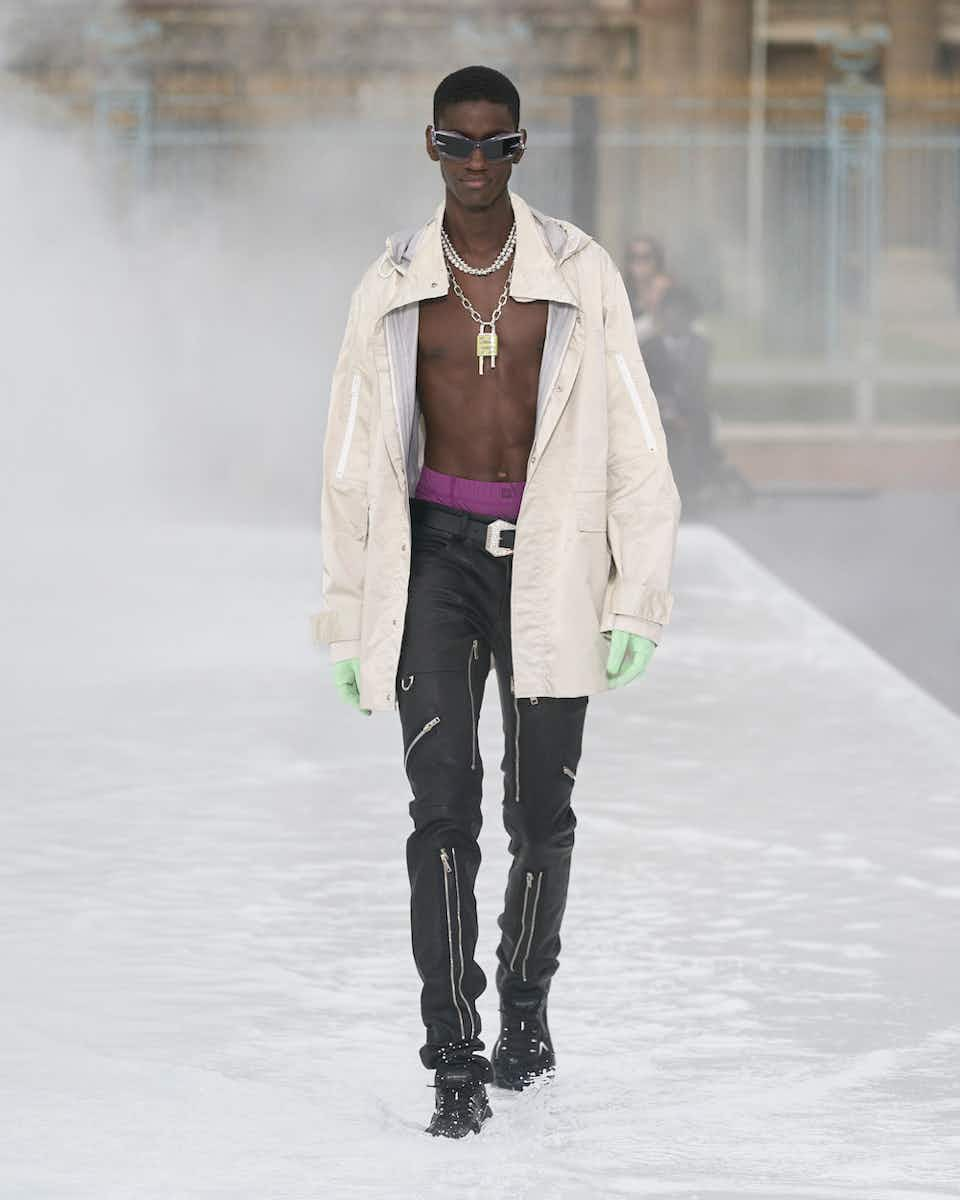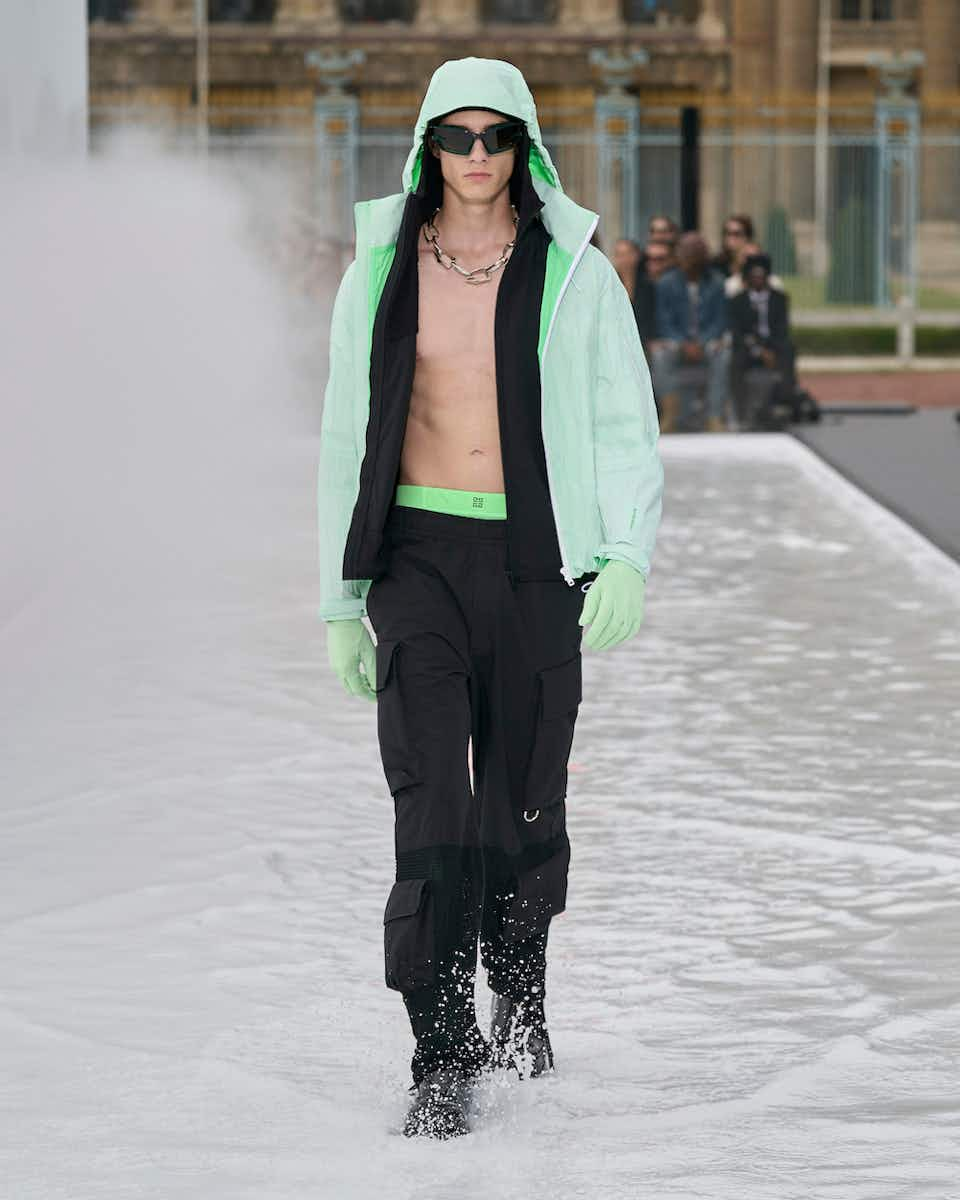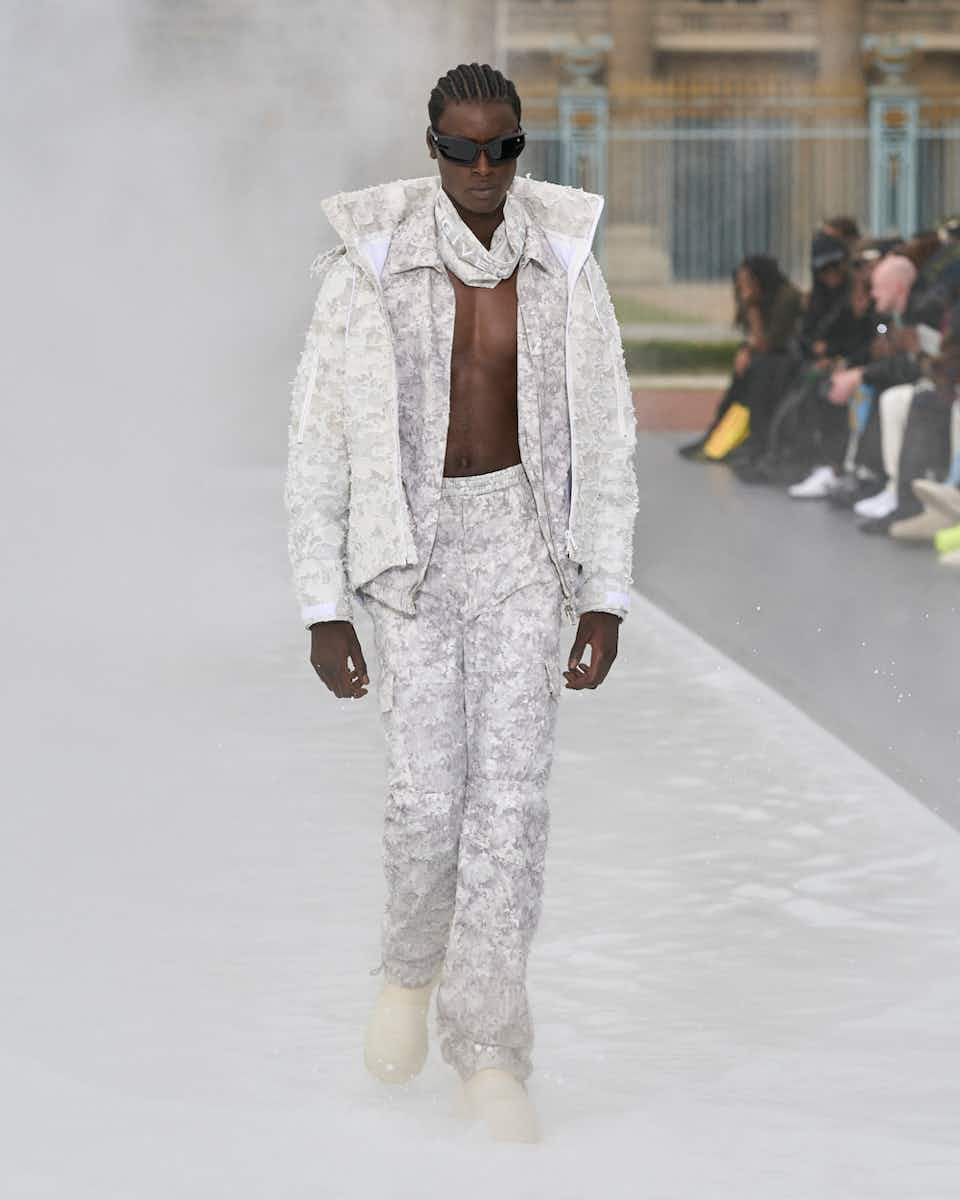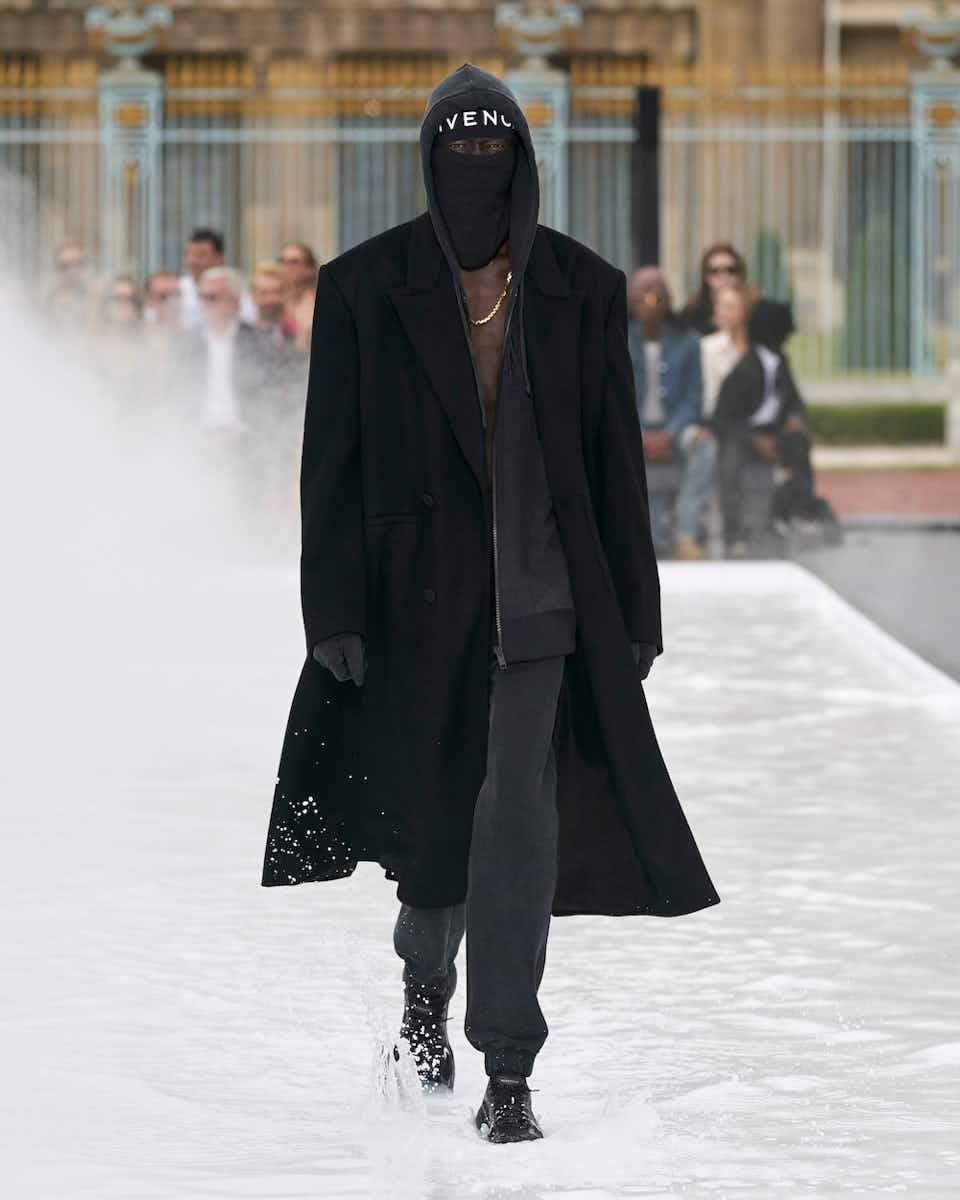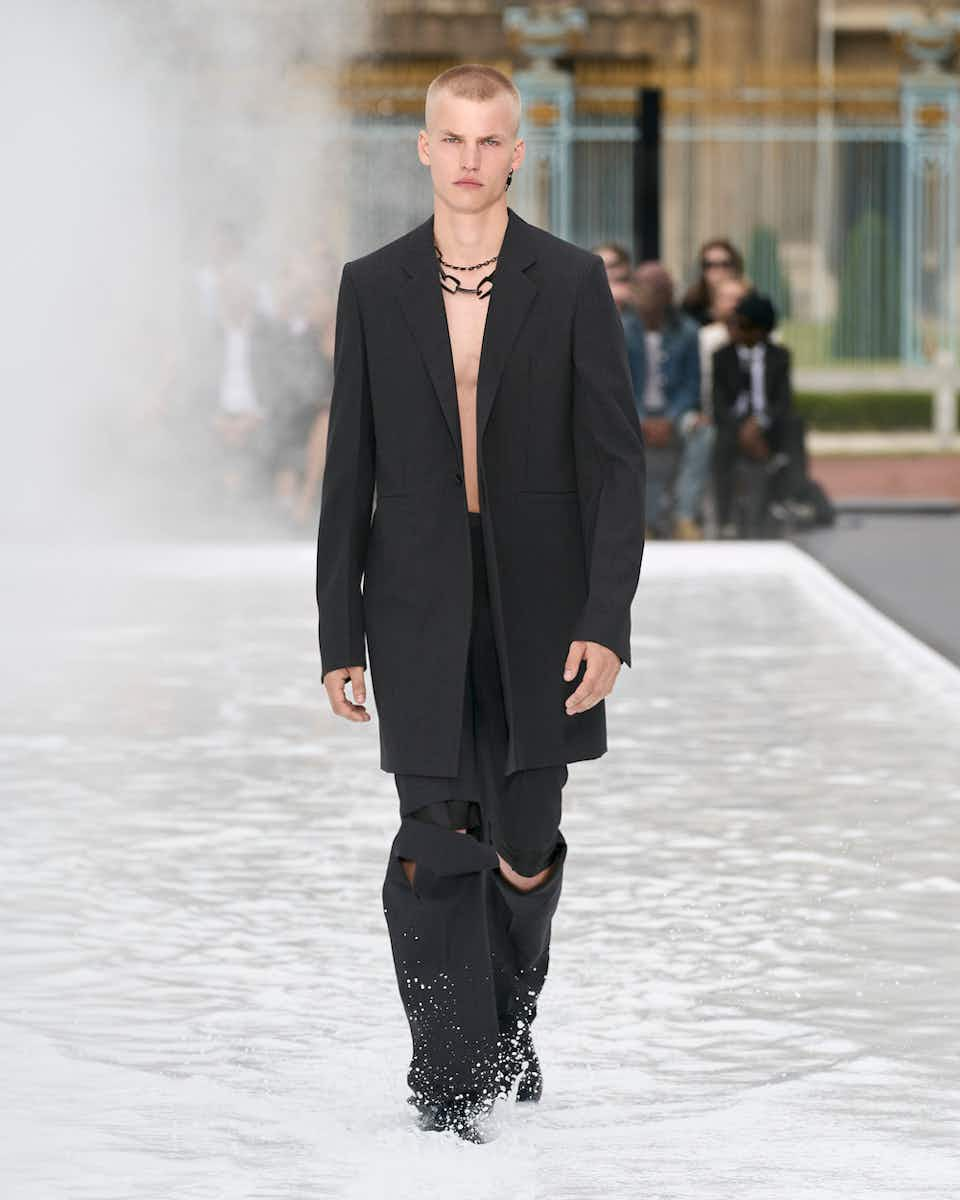 The act of skateboarding, the author Sean Wilsey once wrote, ​"is bringing emotion to emotionless terrain – unloved parking lots, vacant corporate downtowns long after the office workers are home." Is that why it's become a dominant theme among fashion houses of late? Is it something to do with freedom, with the way in which a city becomes yours to conquer, to experiment on, to test yourself against? The sport's attitude probably helps, too, as does its outfitting: grungy, unrestricted, artfully couldn't‑care-less. Isabel Marant proclaimed the skateboarder as its muse this season, the accompanying press release describing ​"a bond of brotherhood" playing out against a ​"raw, wasteland-like setting." Tie-dye jumpers, baggy branded hoodies and kaleidoscopic patterns all wore their inspirations lightly, those raw edges polished into something pretty smooth.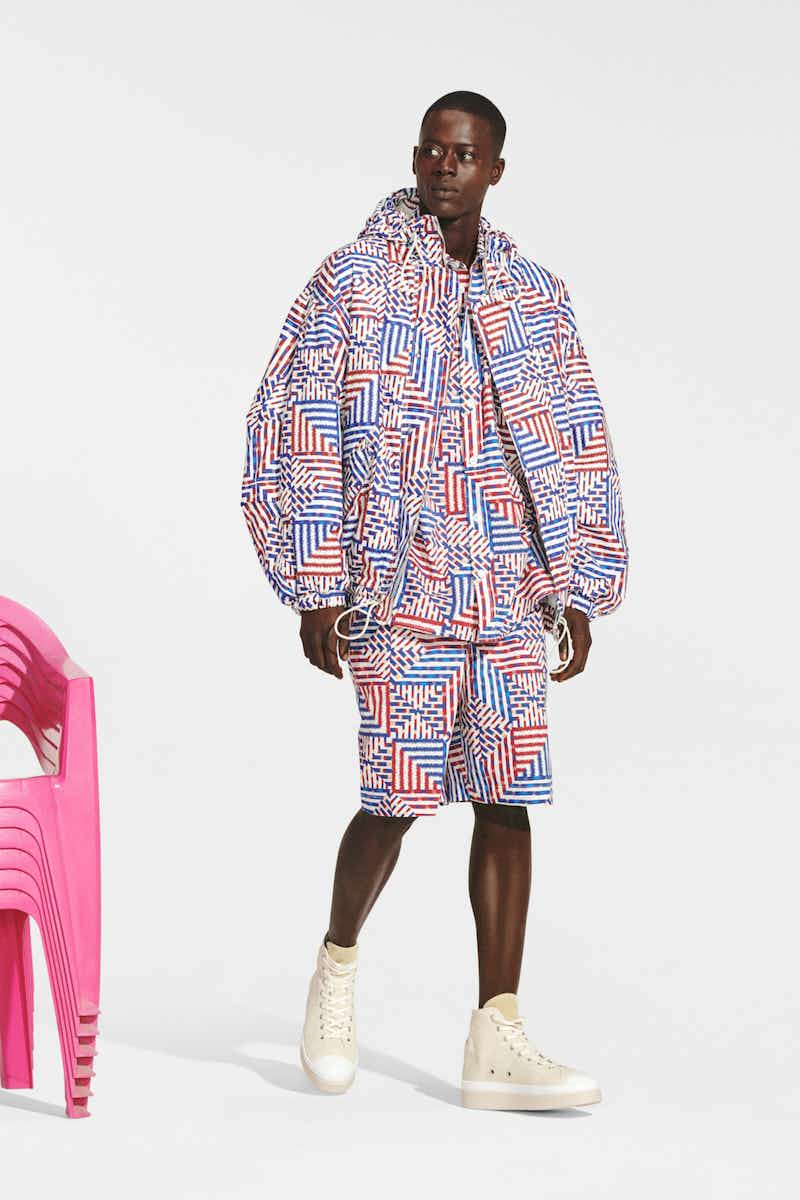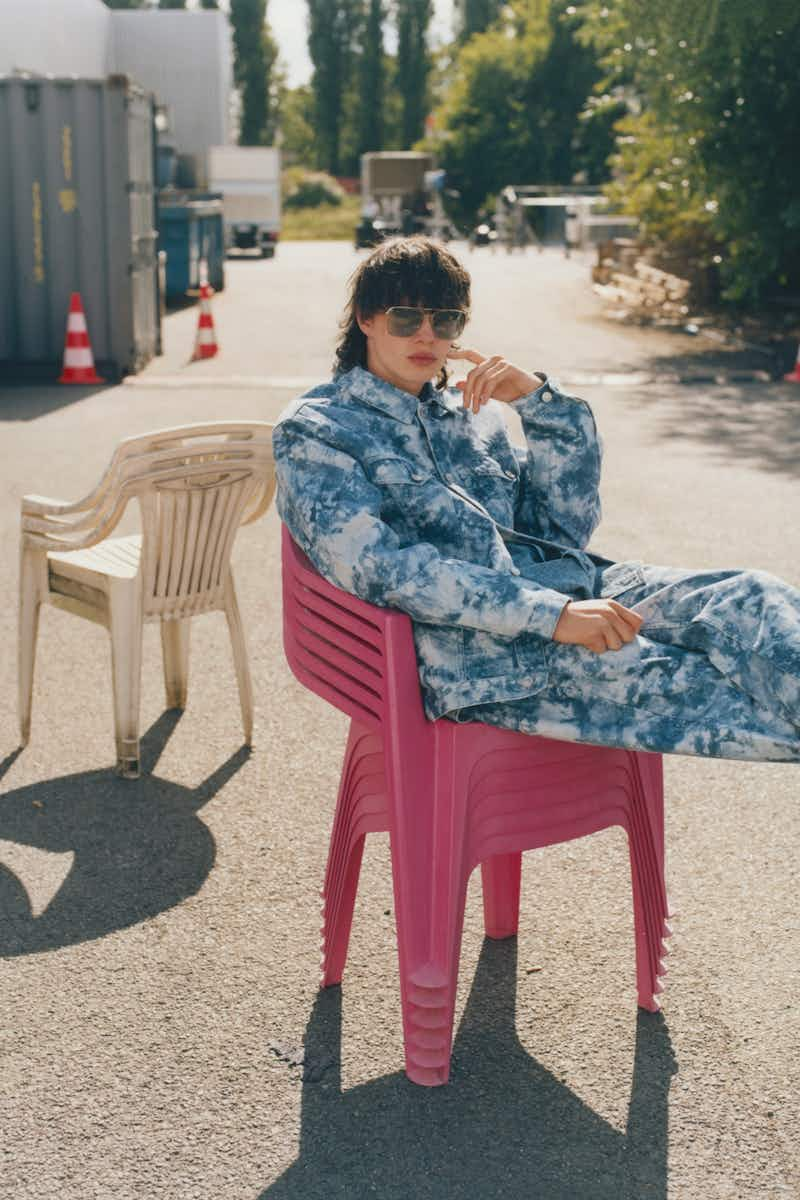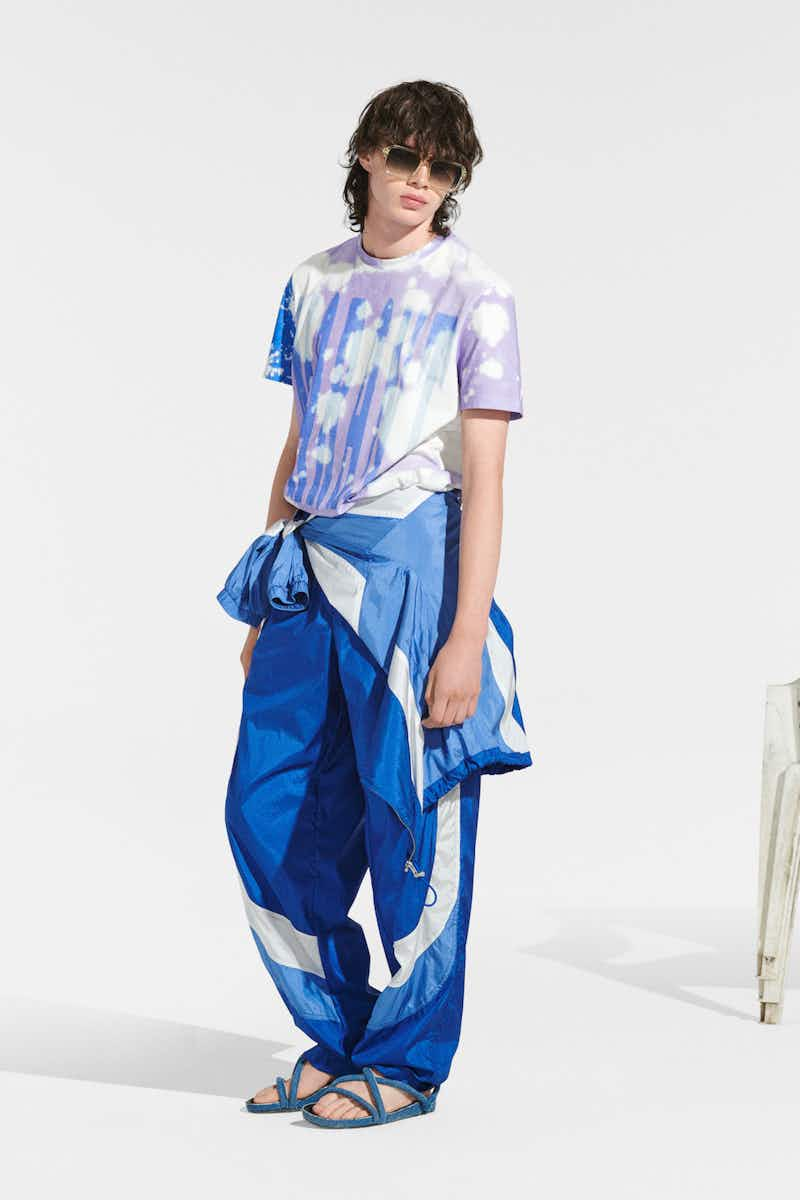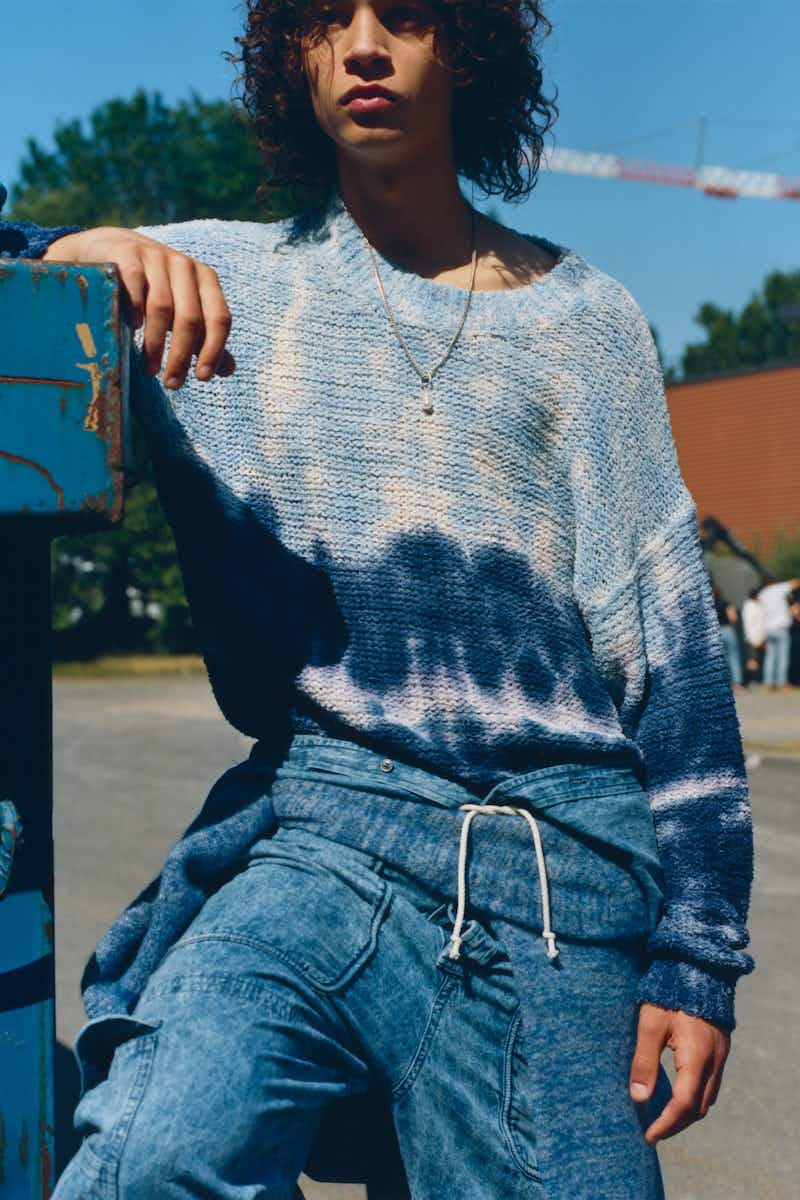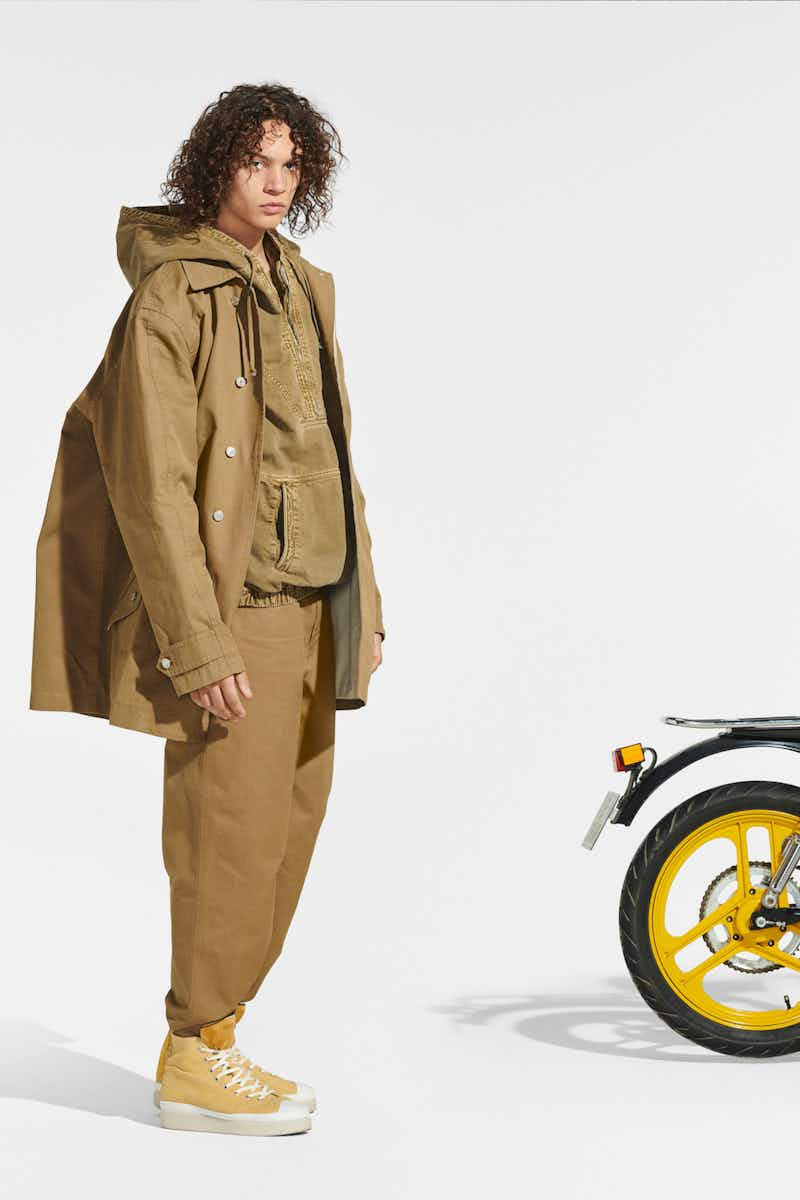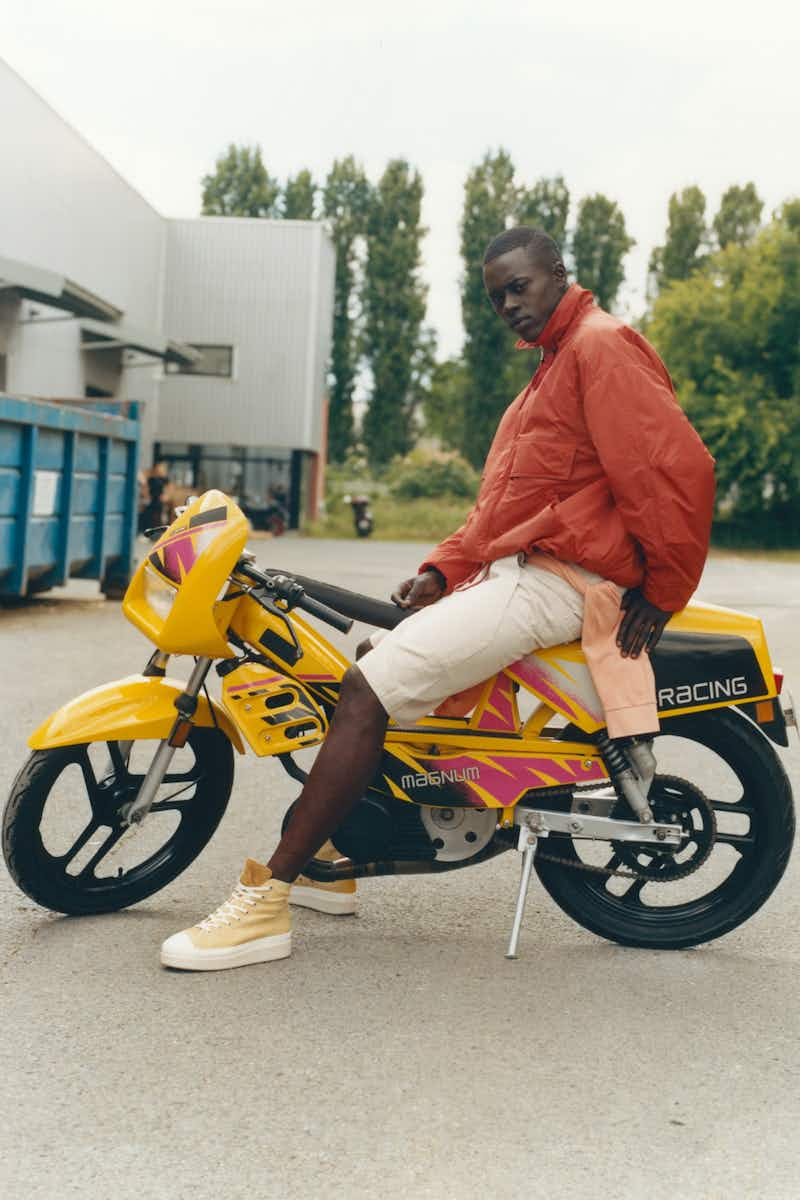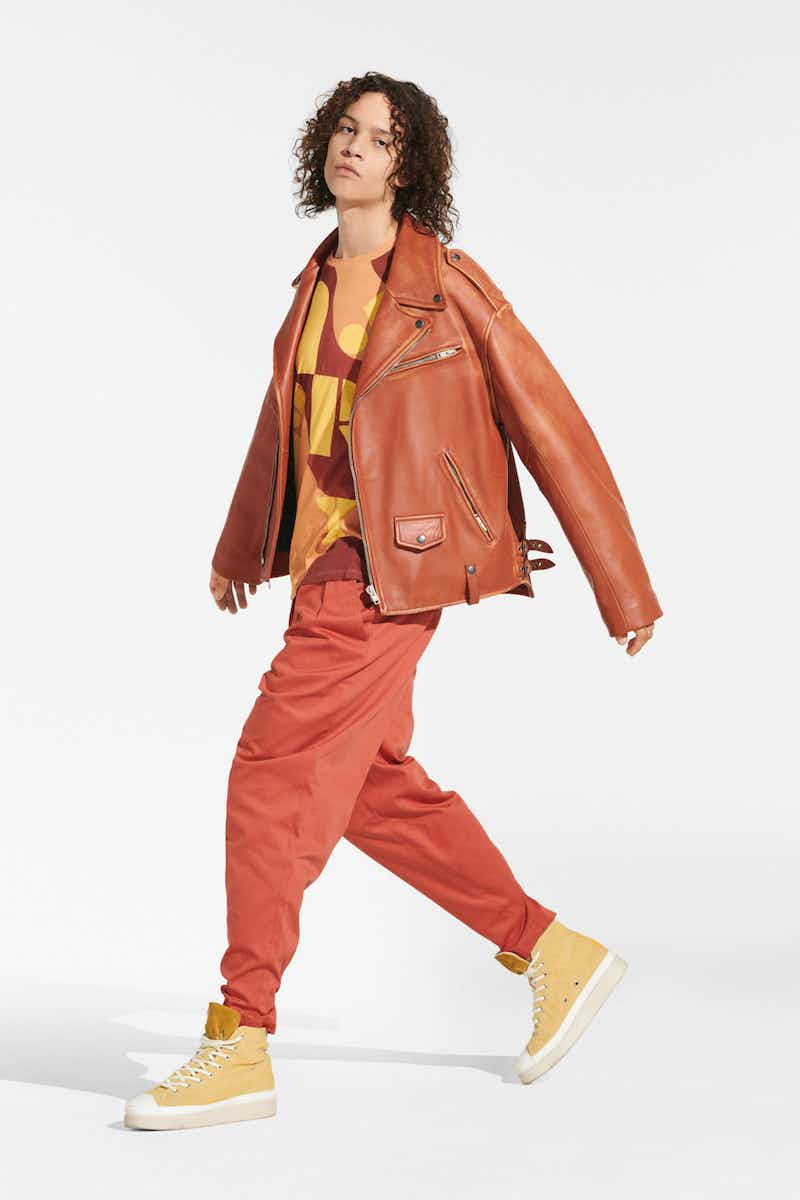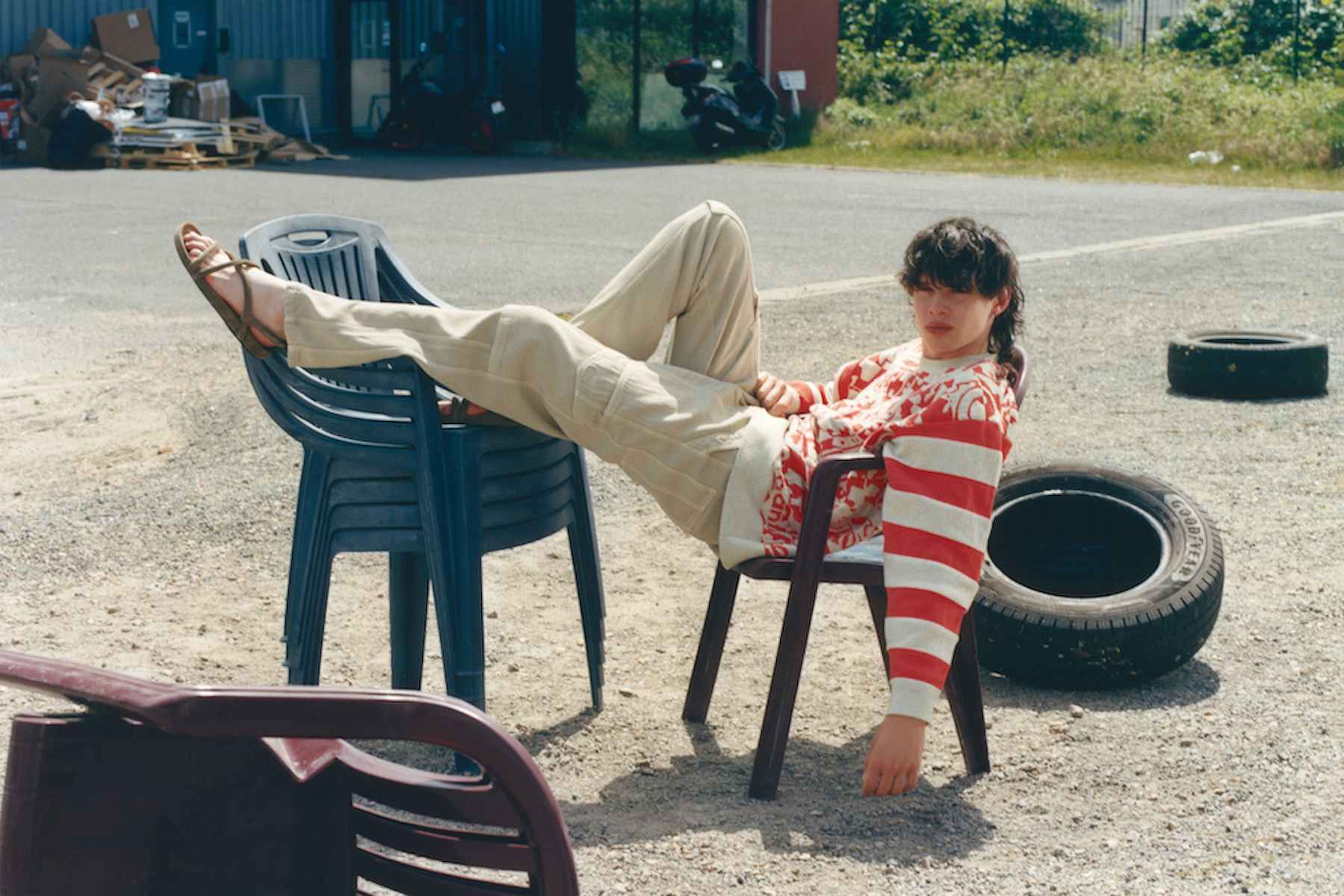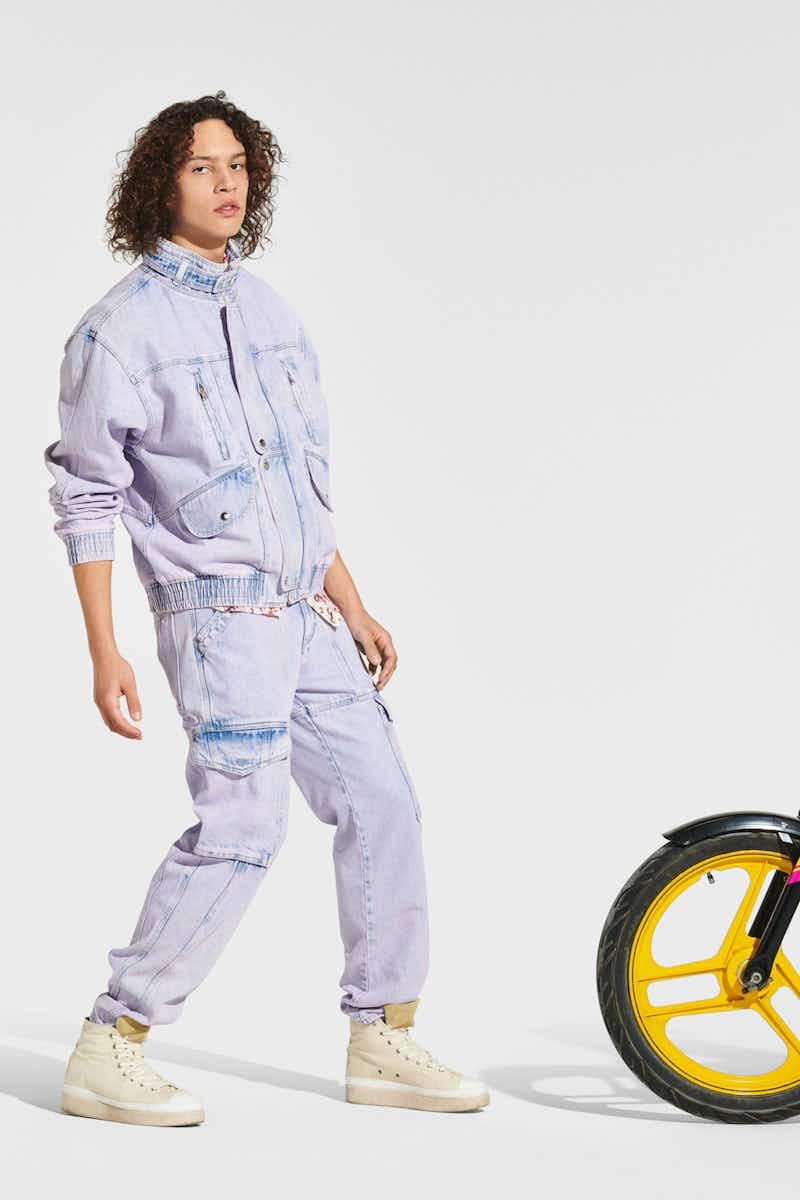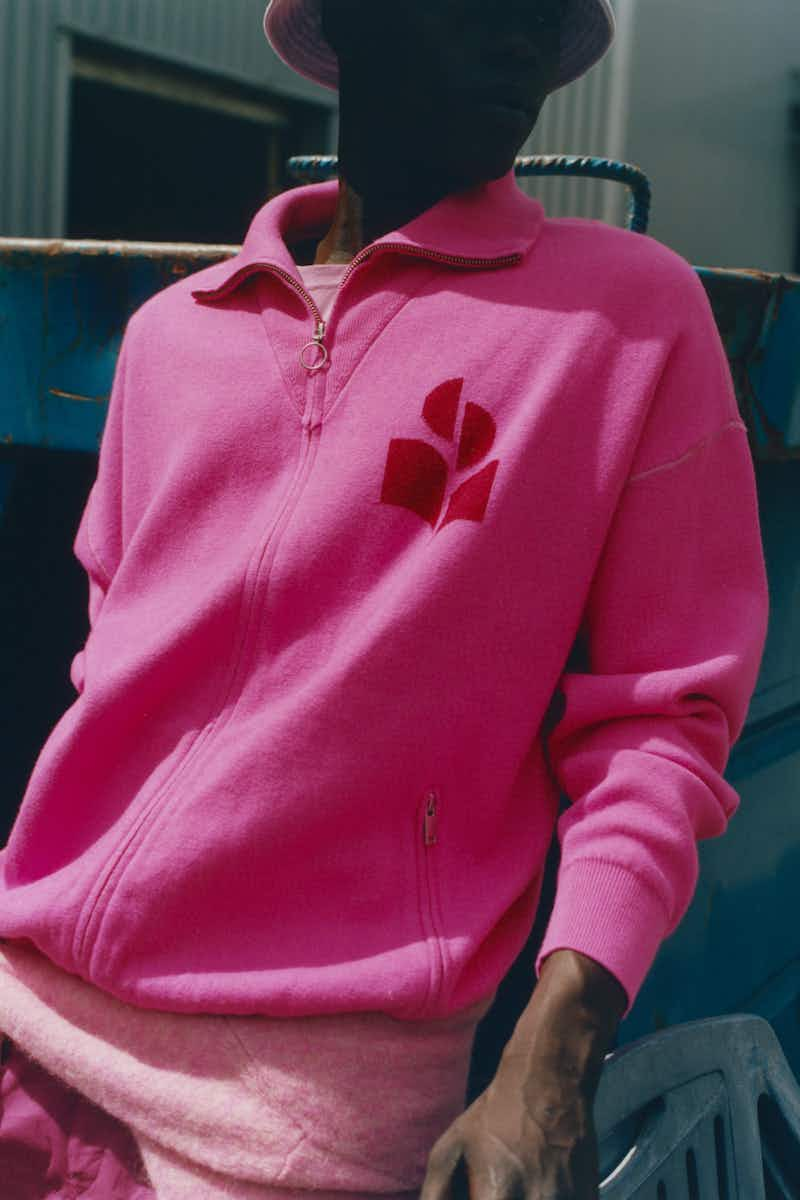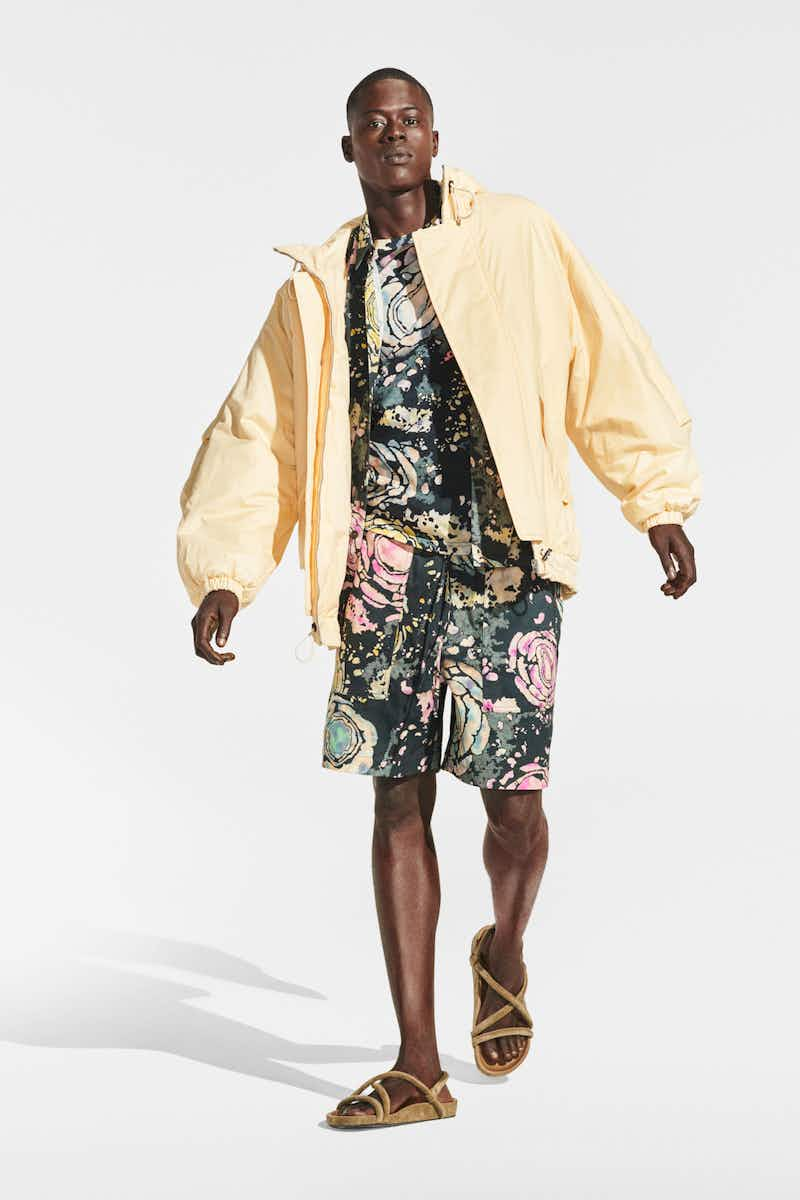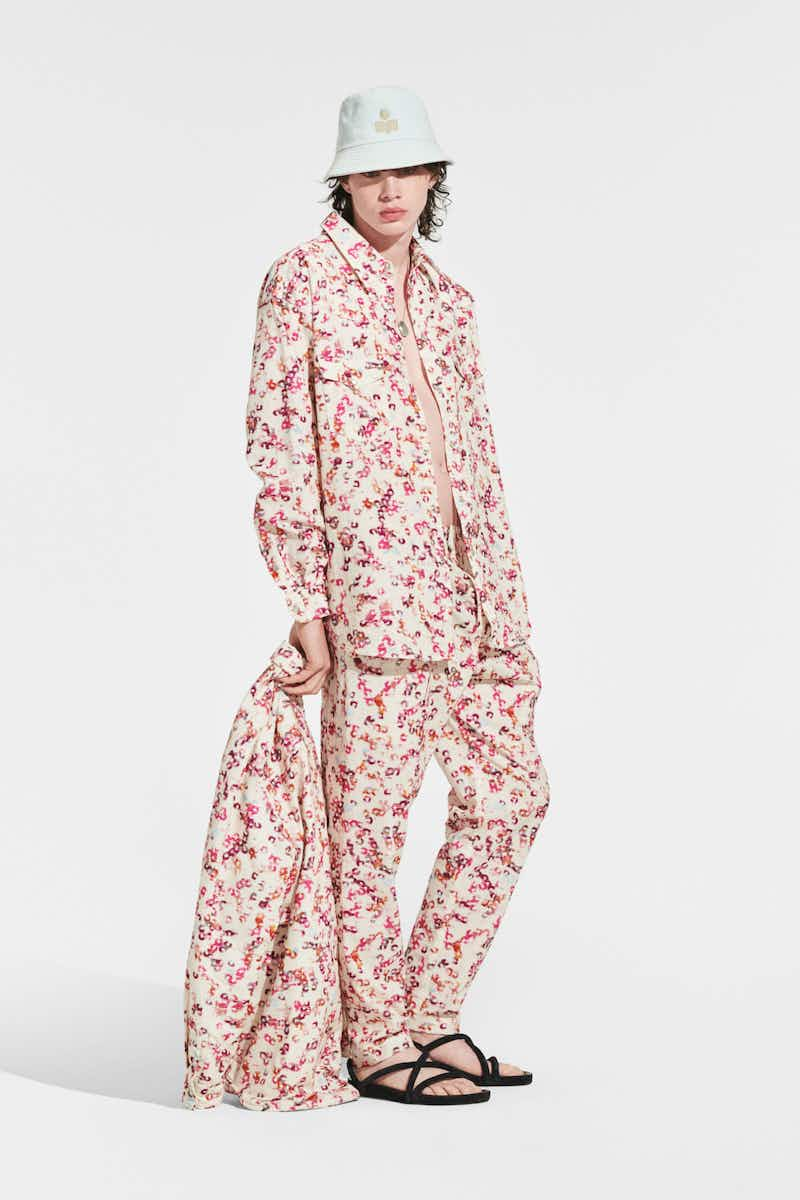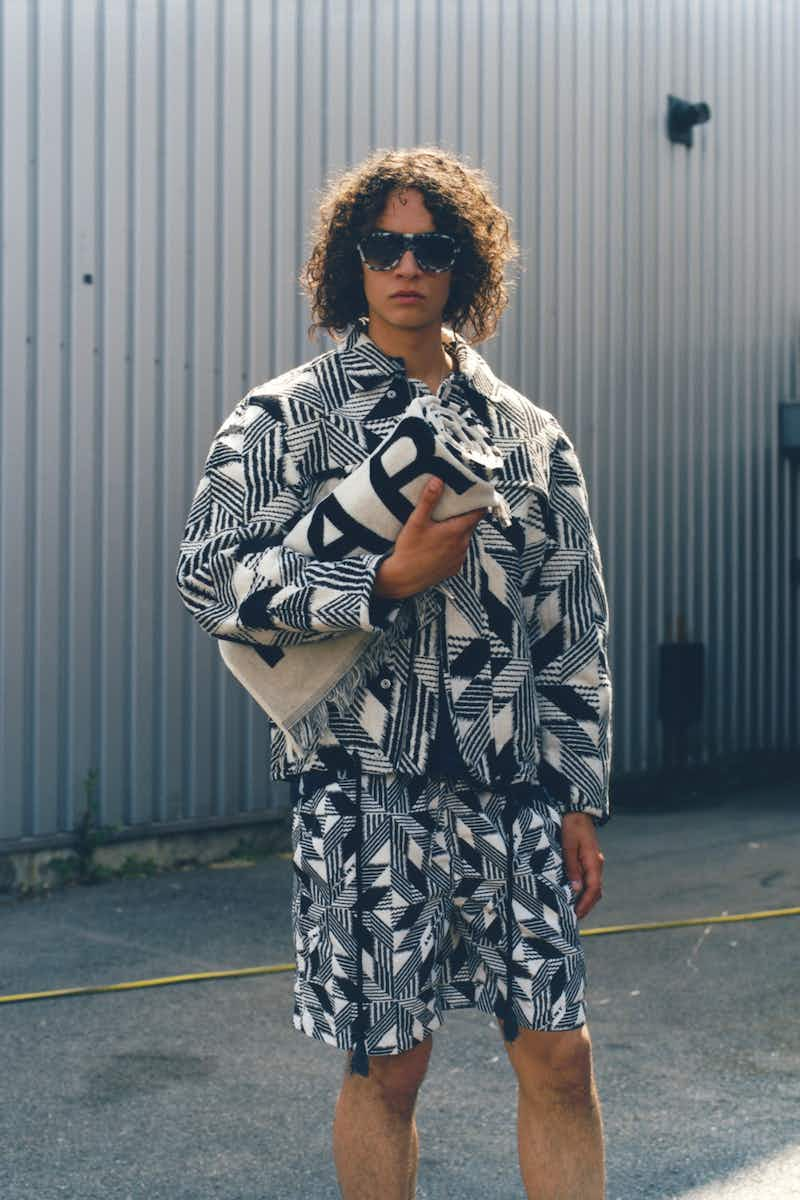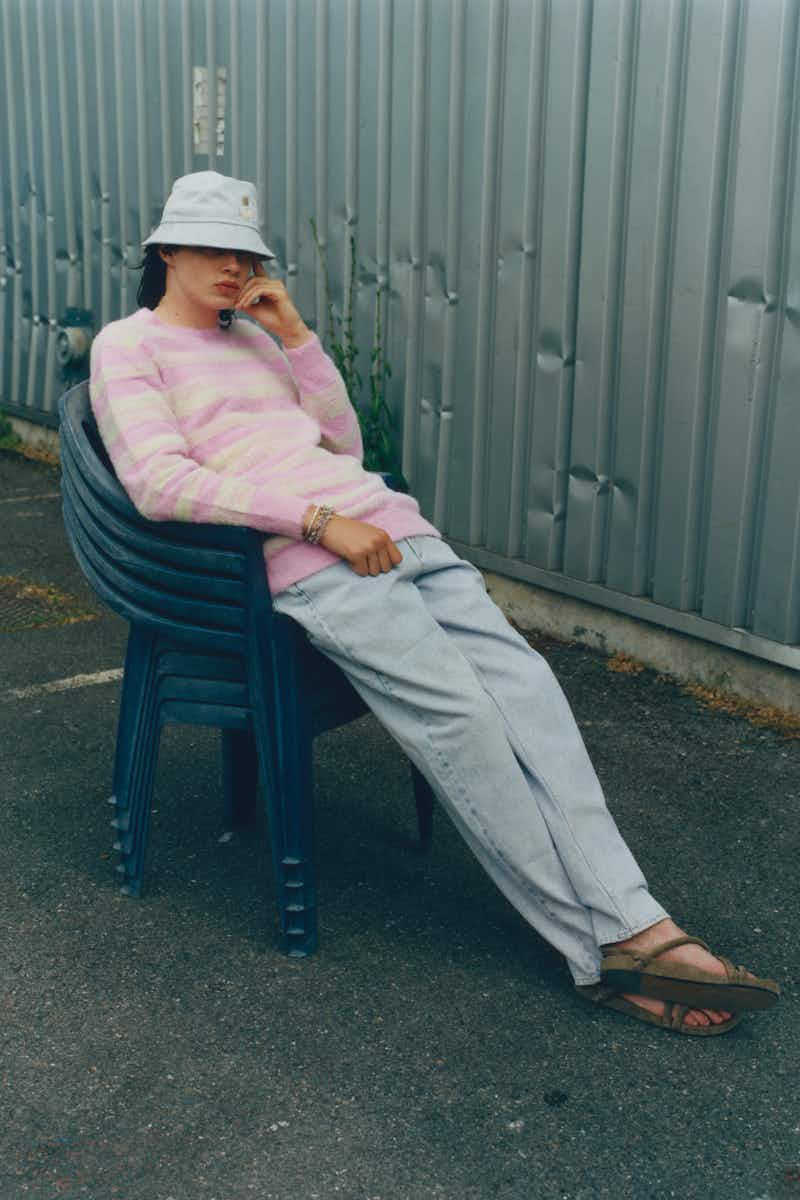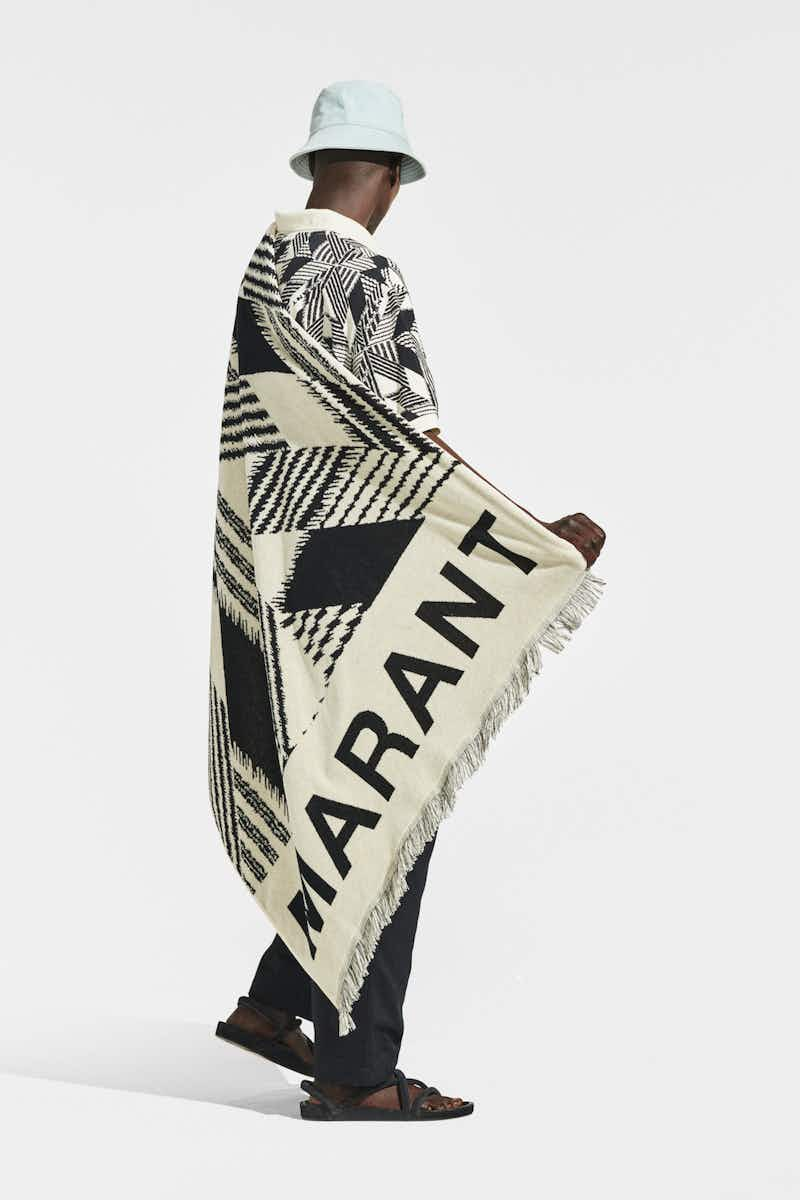 Bianca Saunders introduced her sophomore collection in Paris with the image of Hard Food: ​"a starchy accompaniment to a typical Jamaican meal, comprising boiled yam, plantain and dumplings" that ​"when served" offers an experience that is ​"the opposite of what its name implies." For the ANDAM prize winner, this was a route into thinking about dichotomies – not just hard and soft, but also external and interior, appearance and reality. Saunders' work is playful and sexy, undercut by a real sense of power. She places great attention on form: oversized pockets that curve out from the body, asymmetric draped satin that looks like it's just been clutched to the wearer's chest. From boxy denim and austere gabardine to a kingfisher flash of green jacquard, this was a truly delicious collection.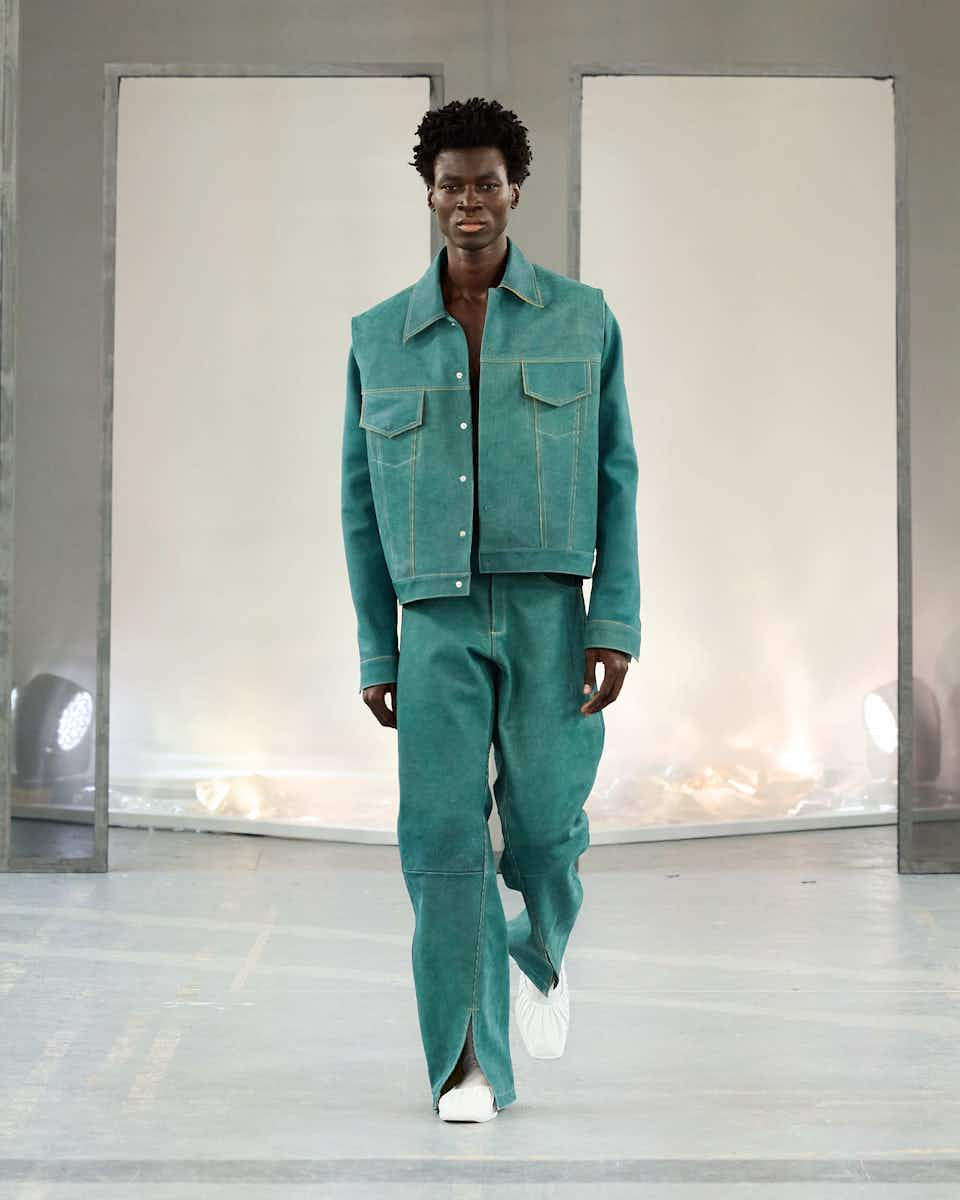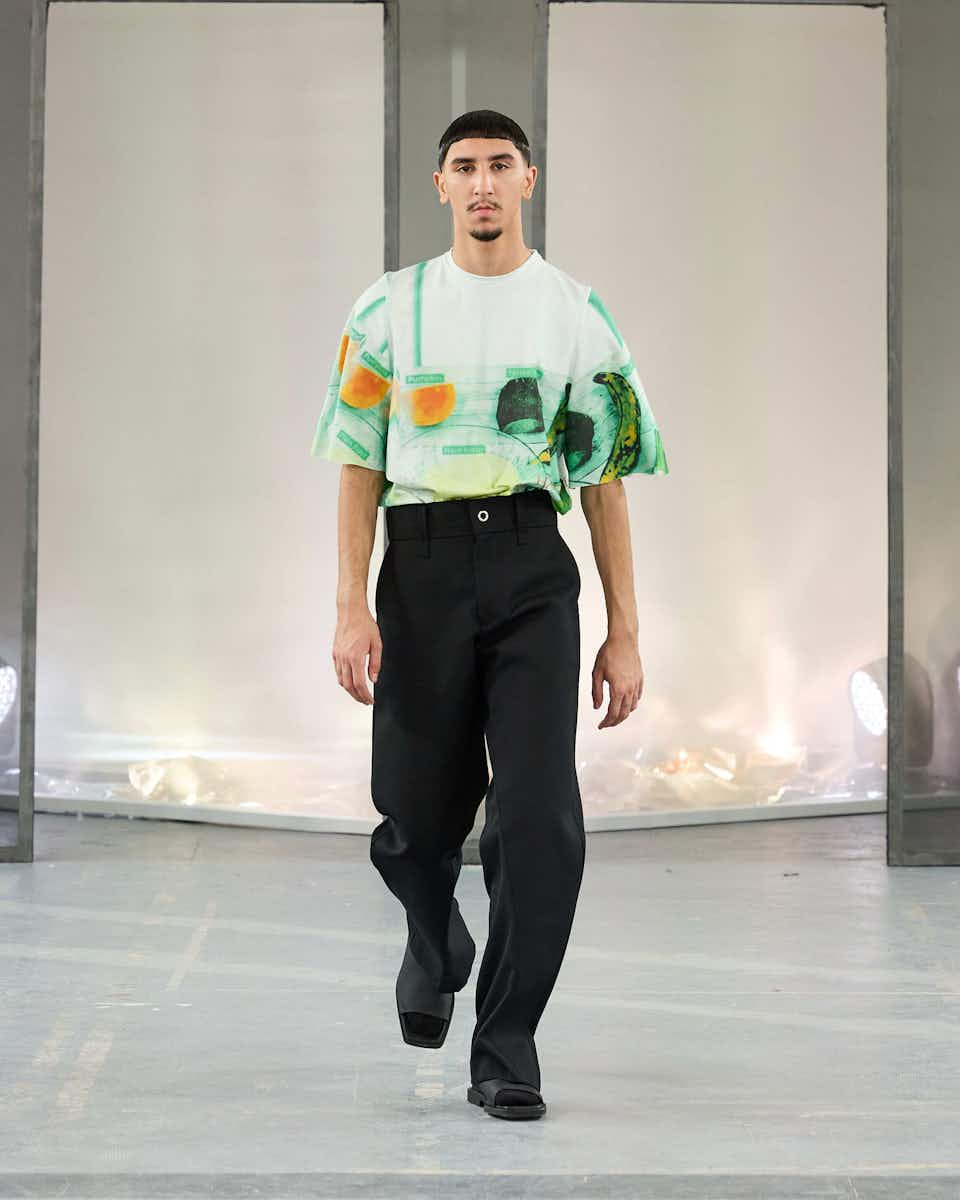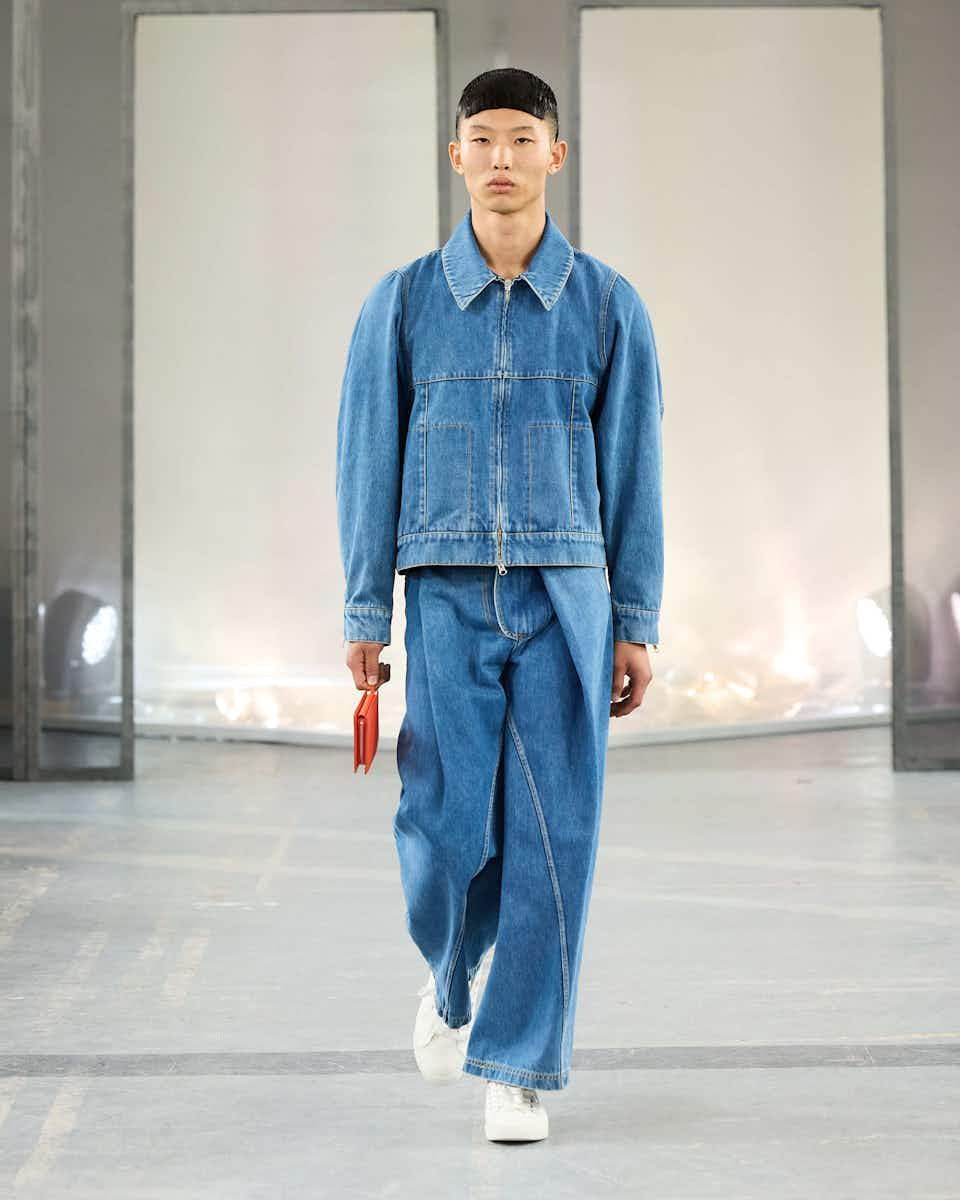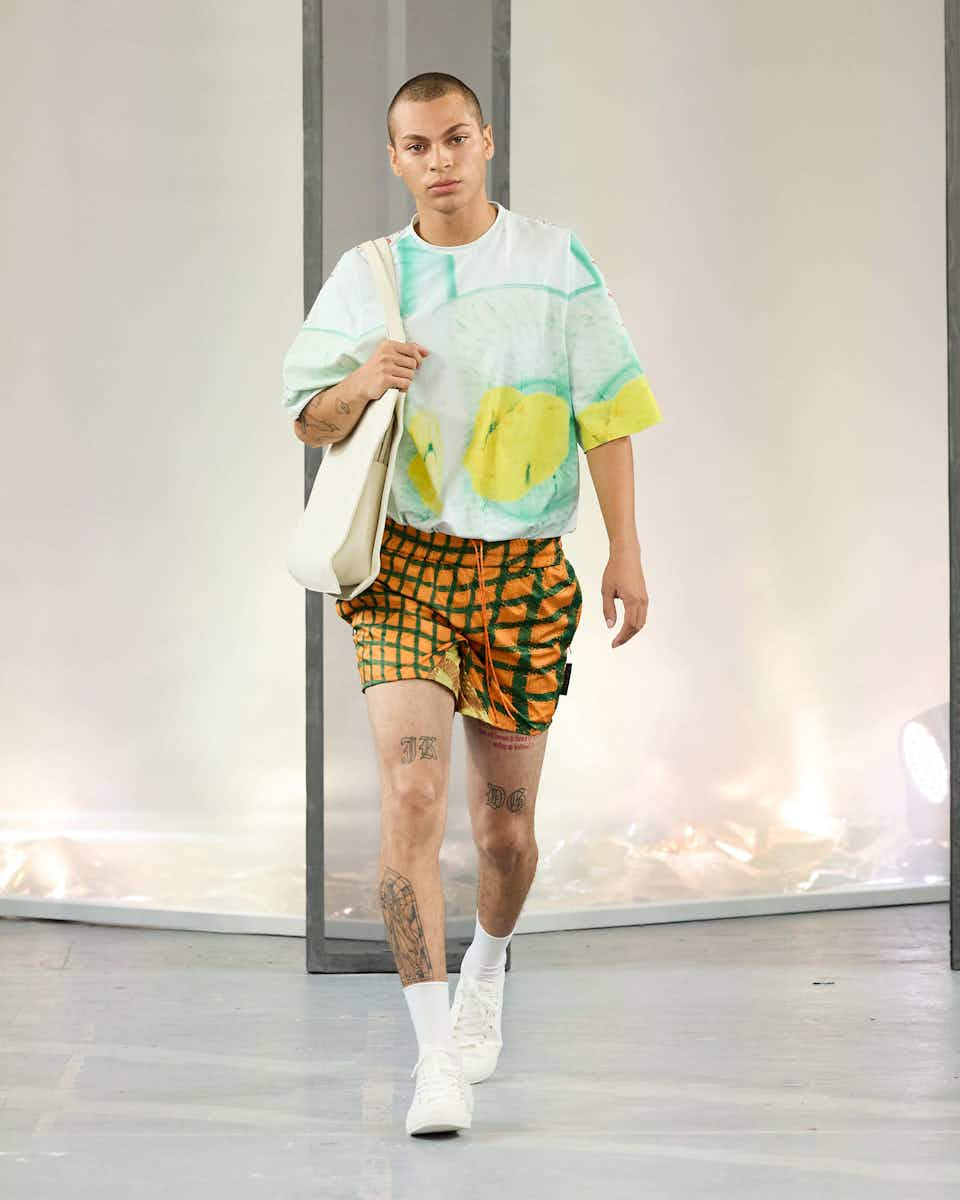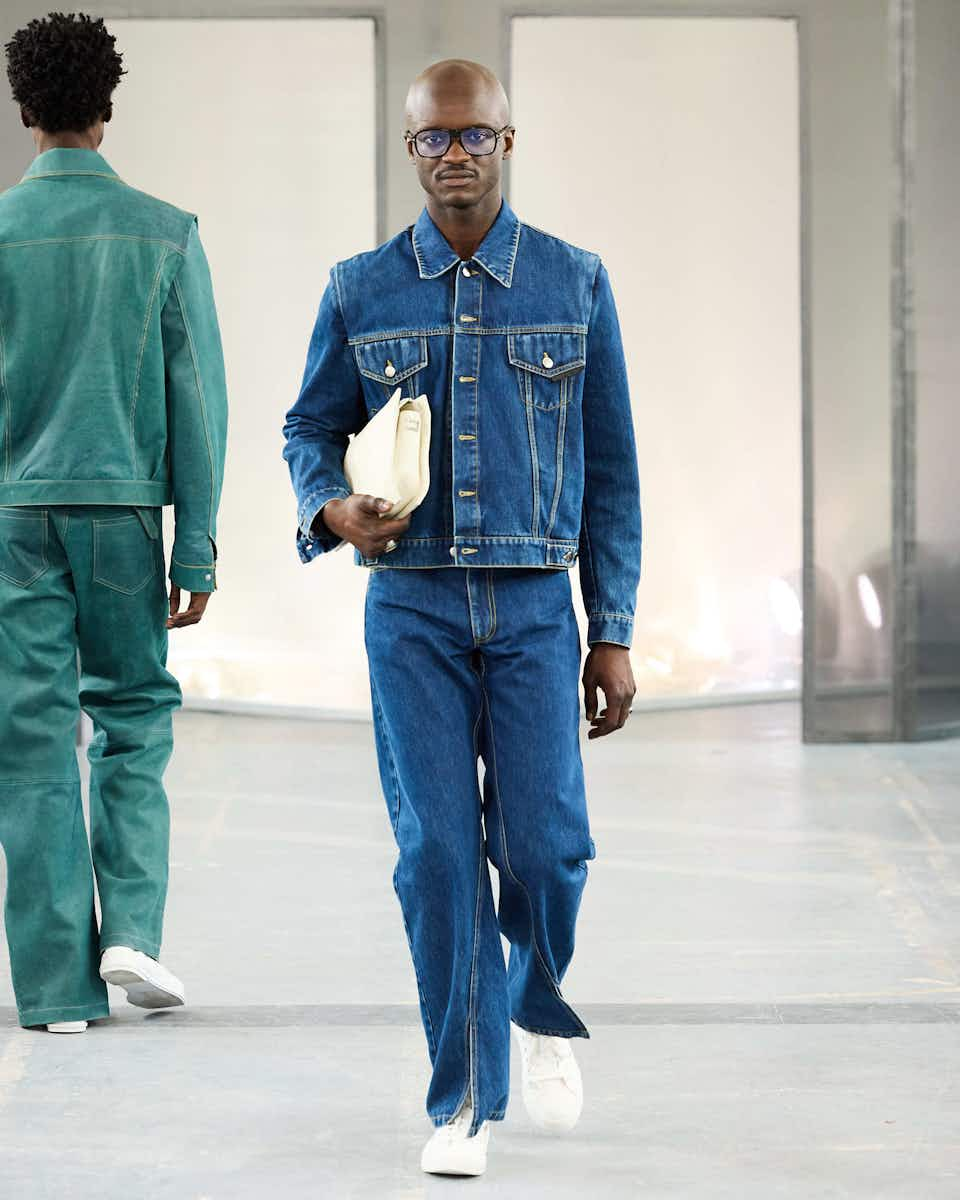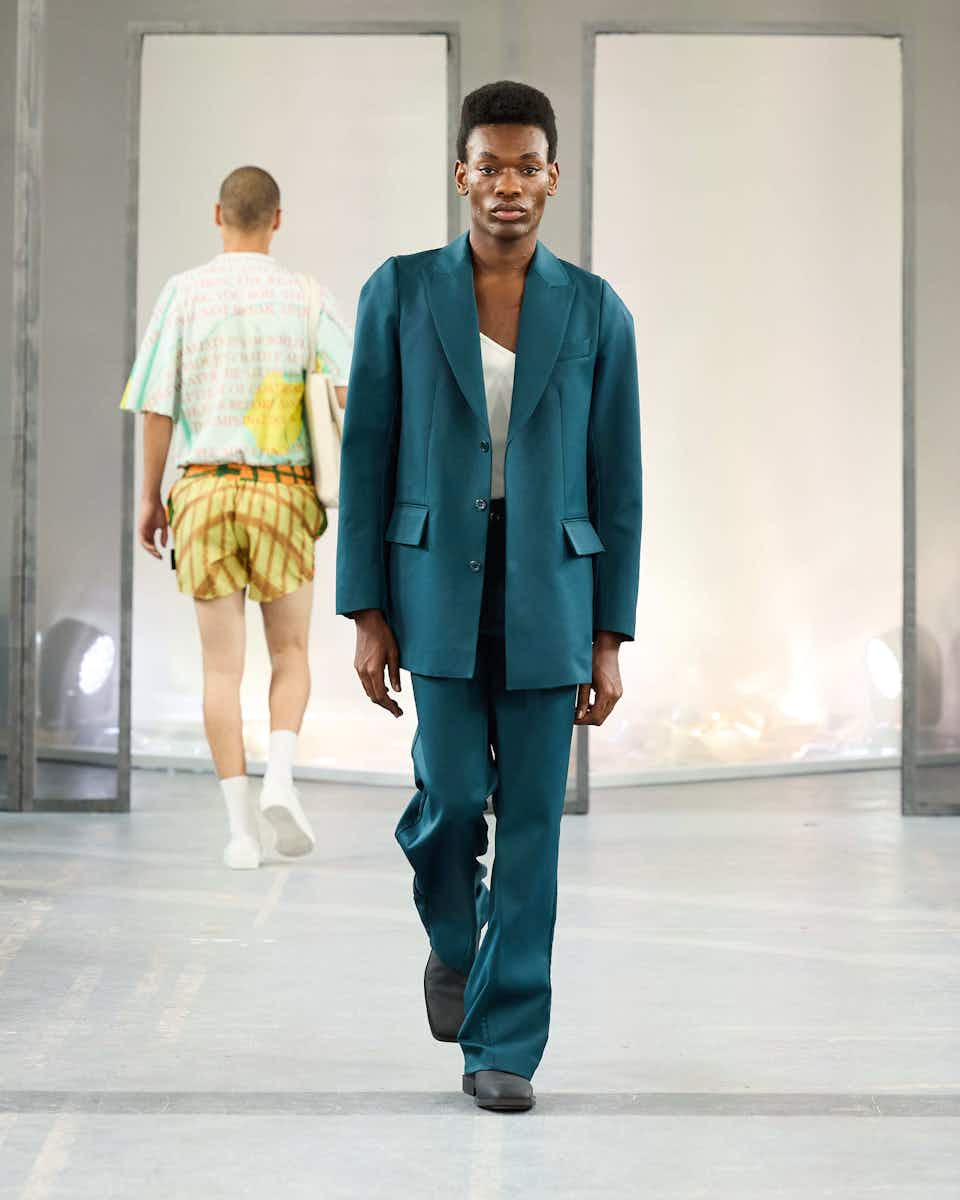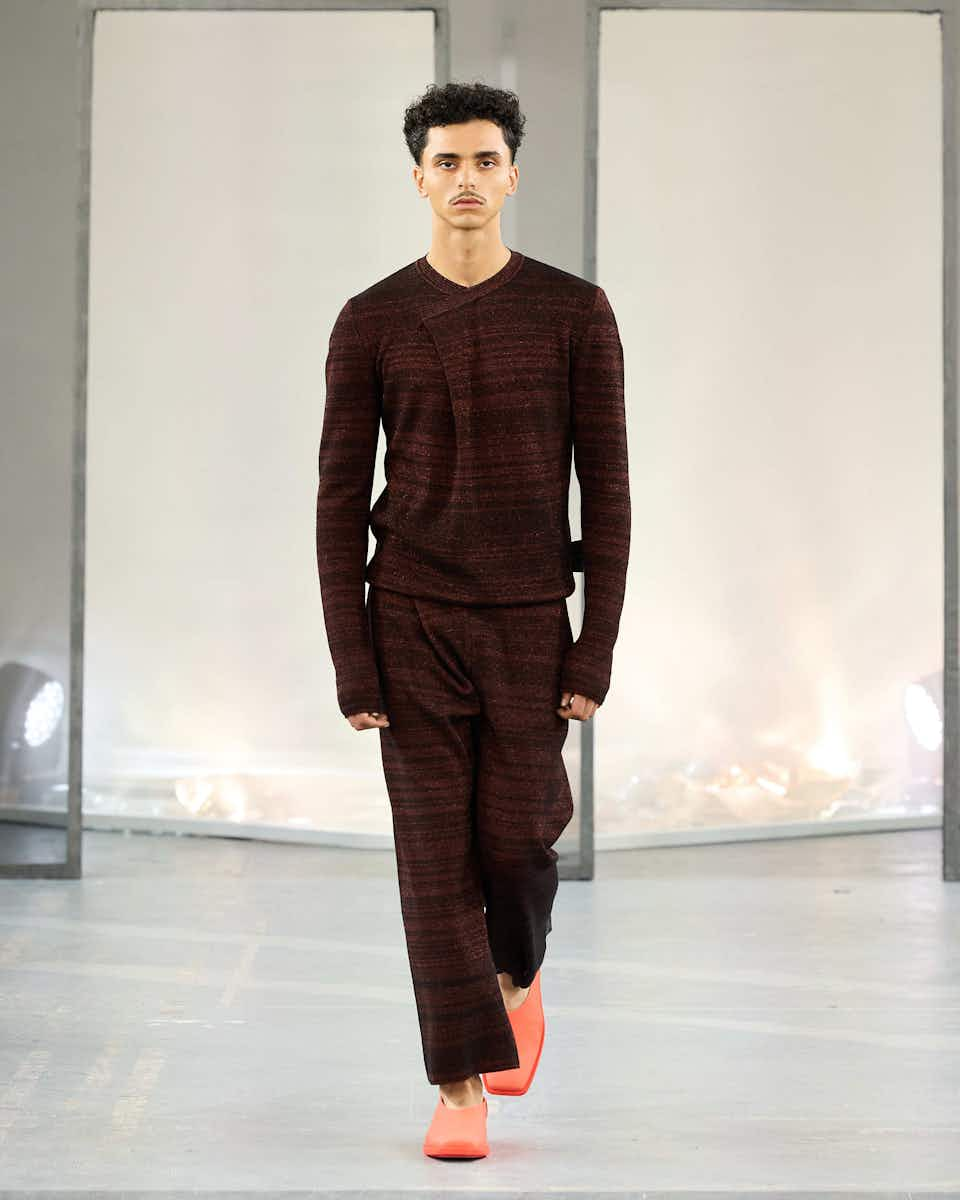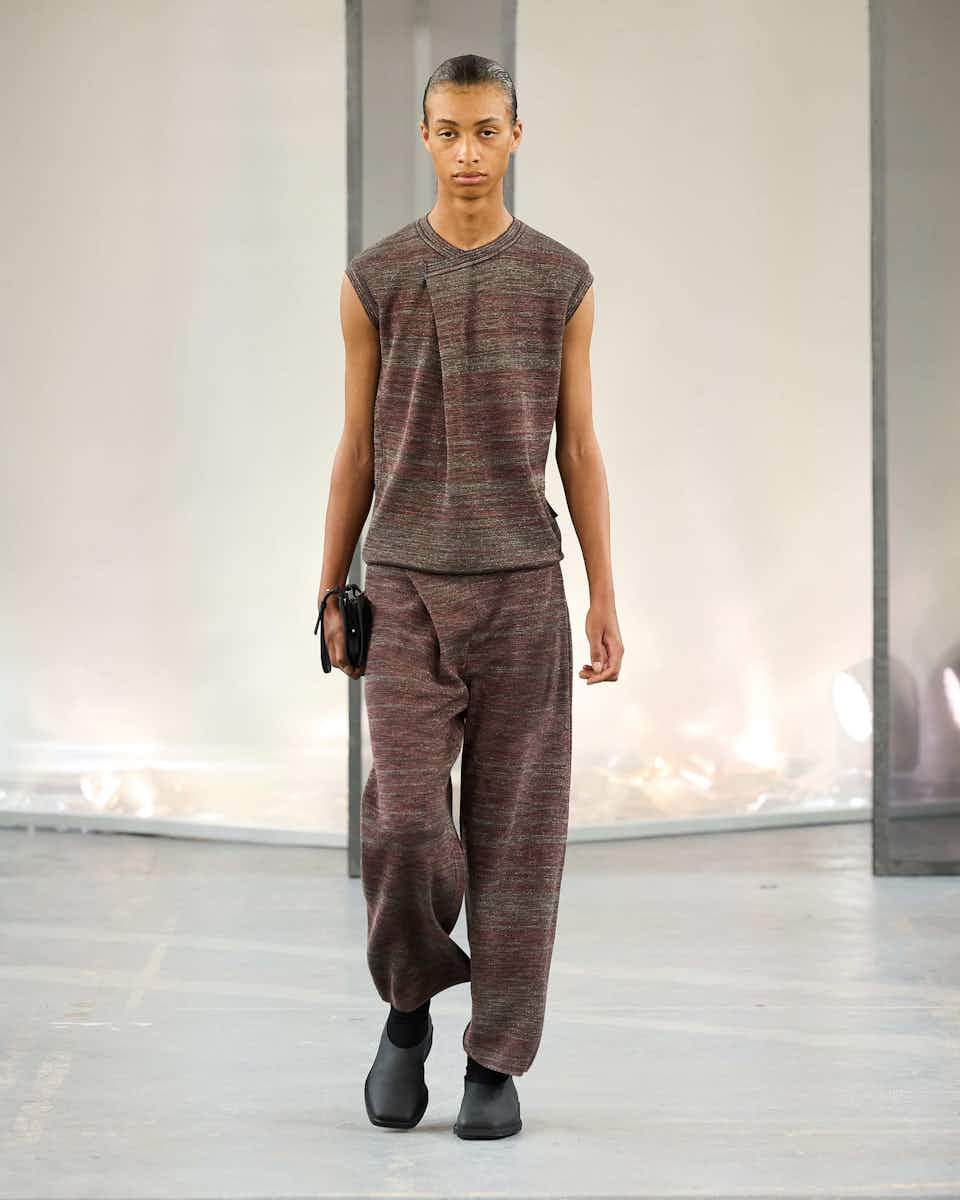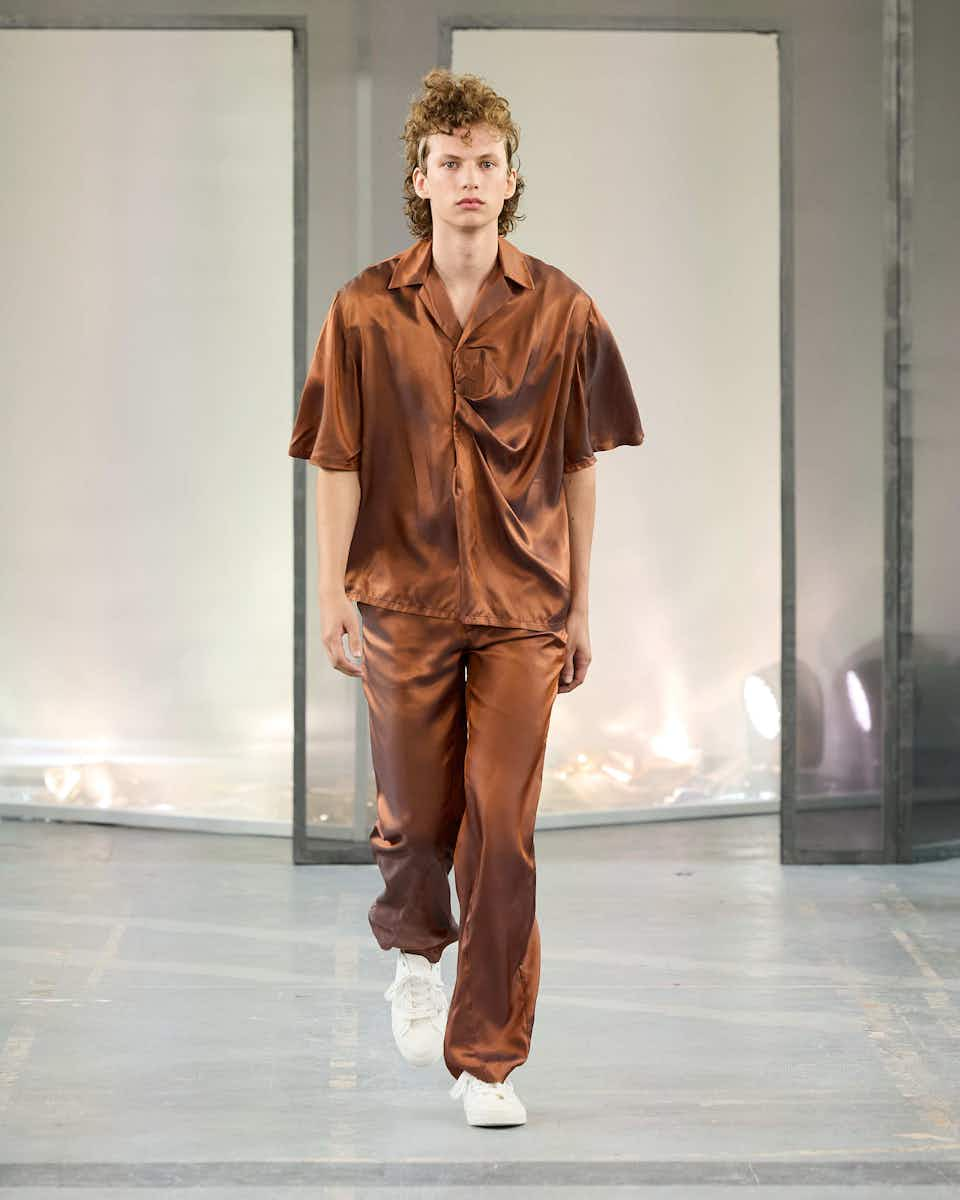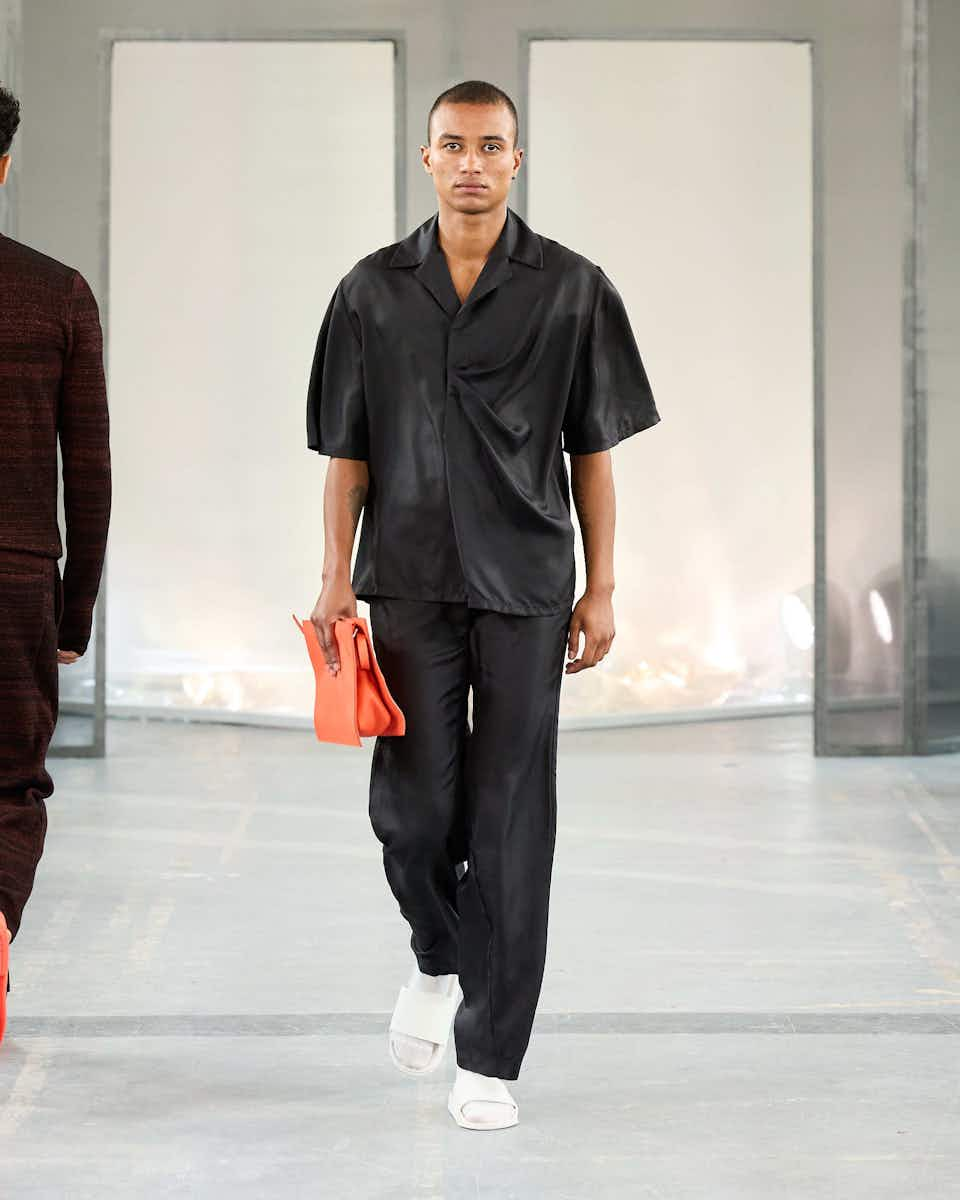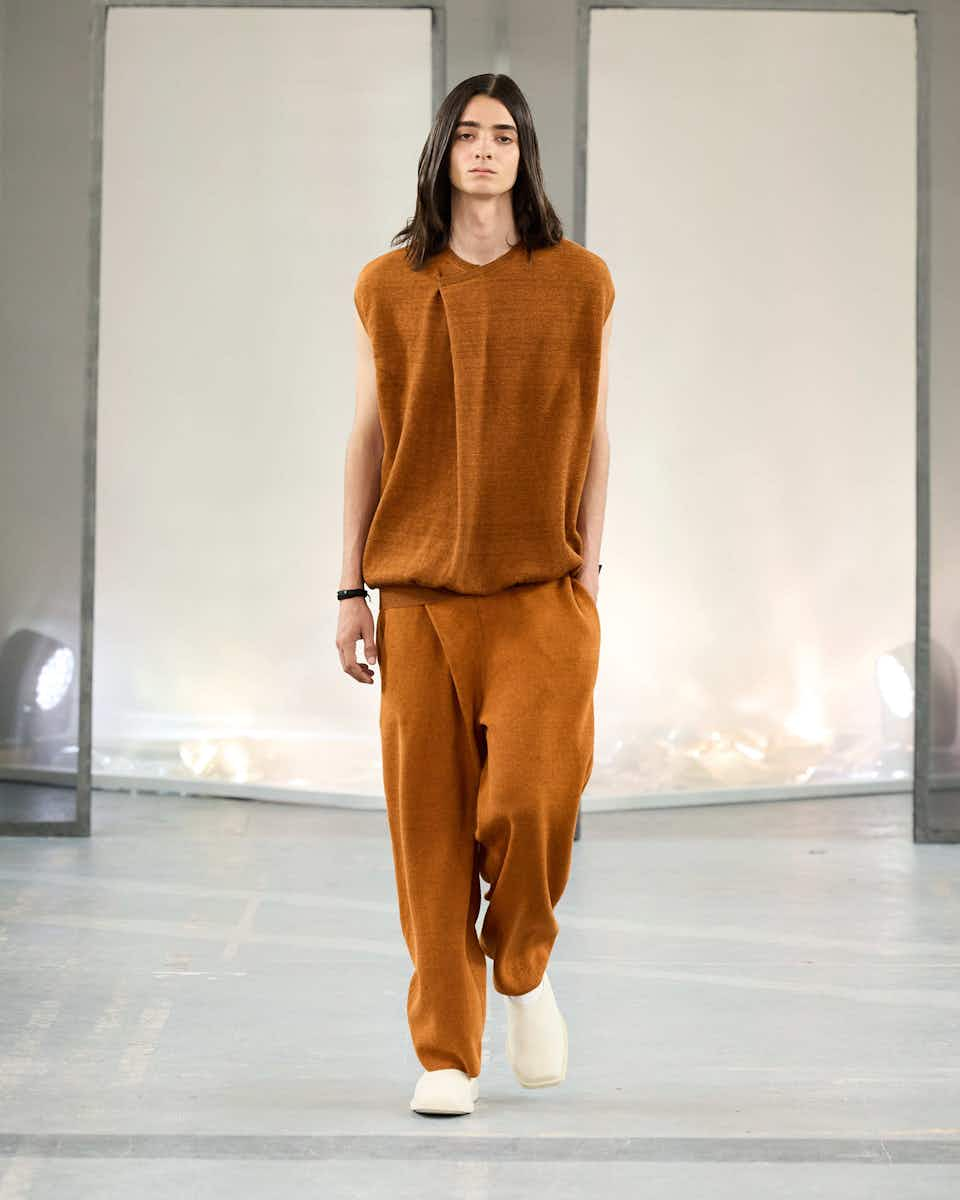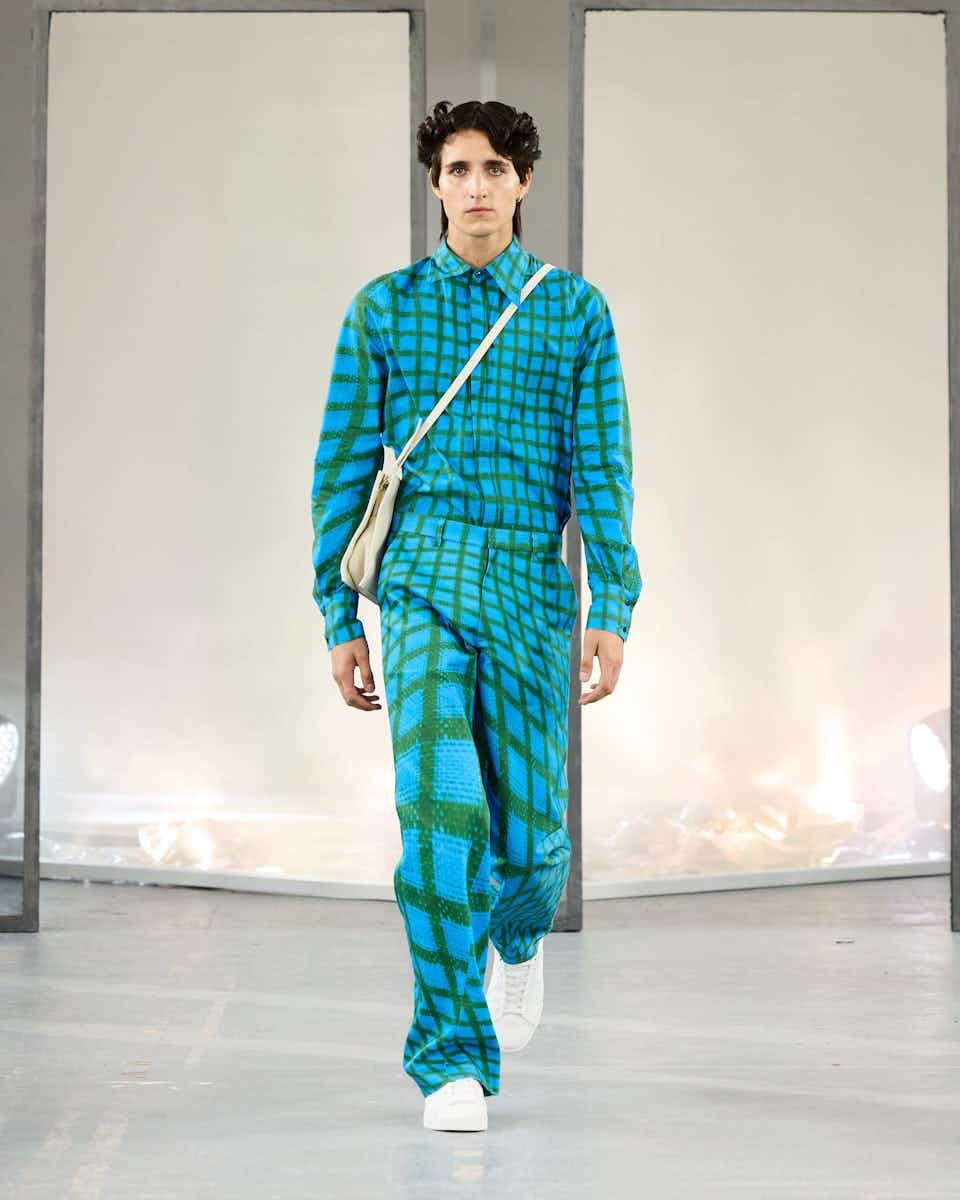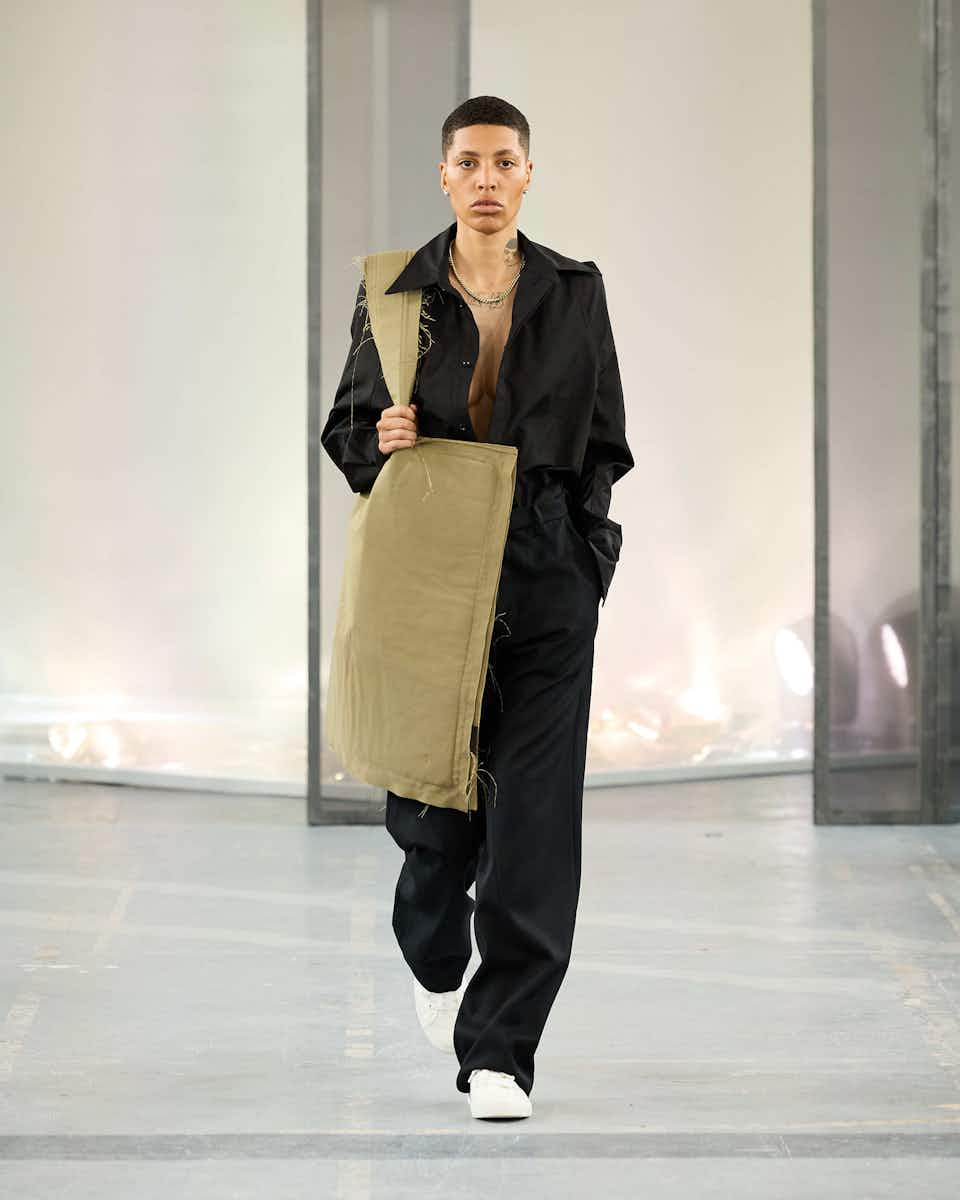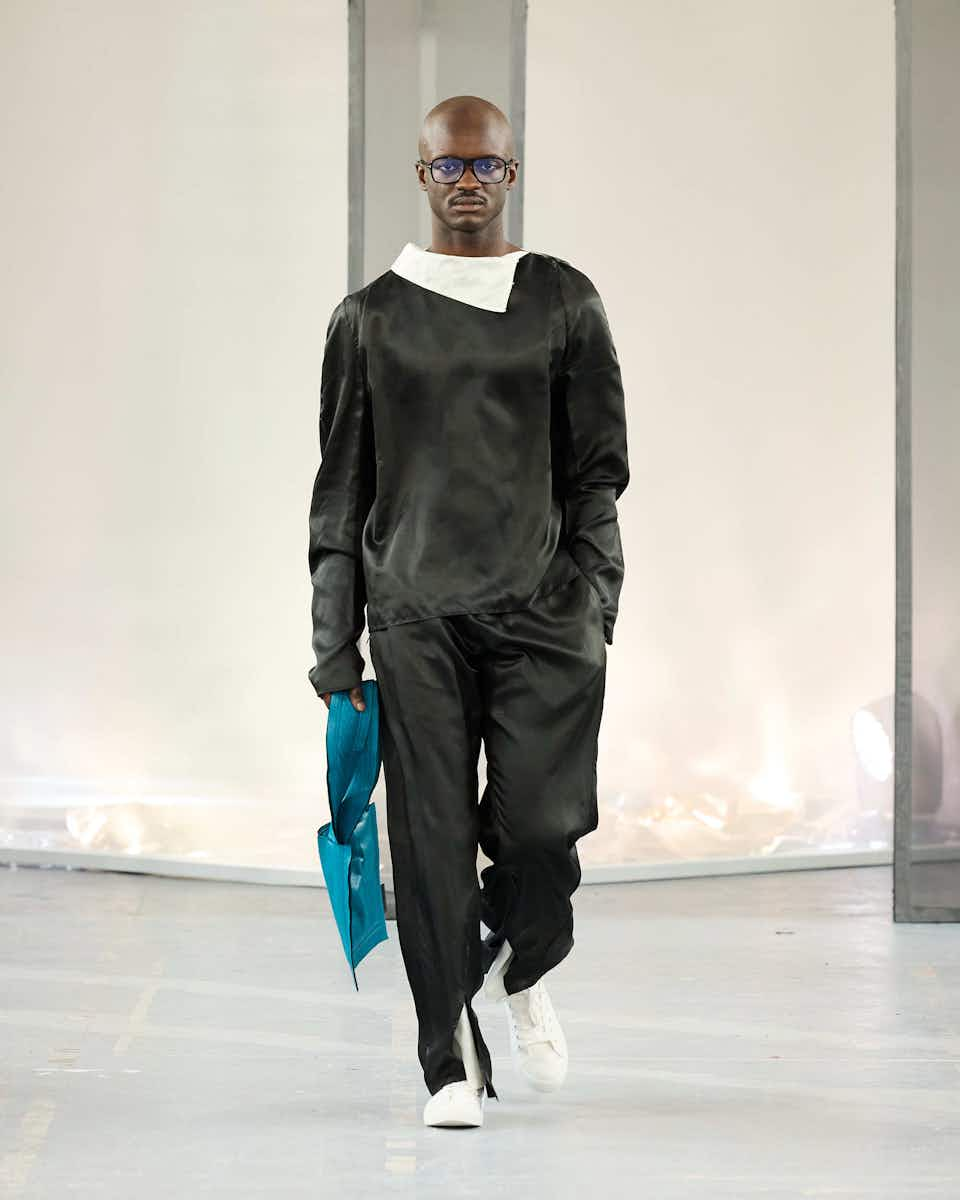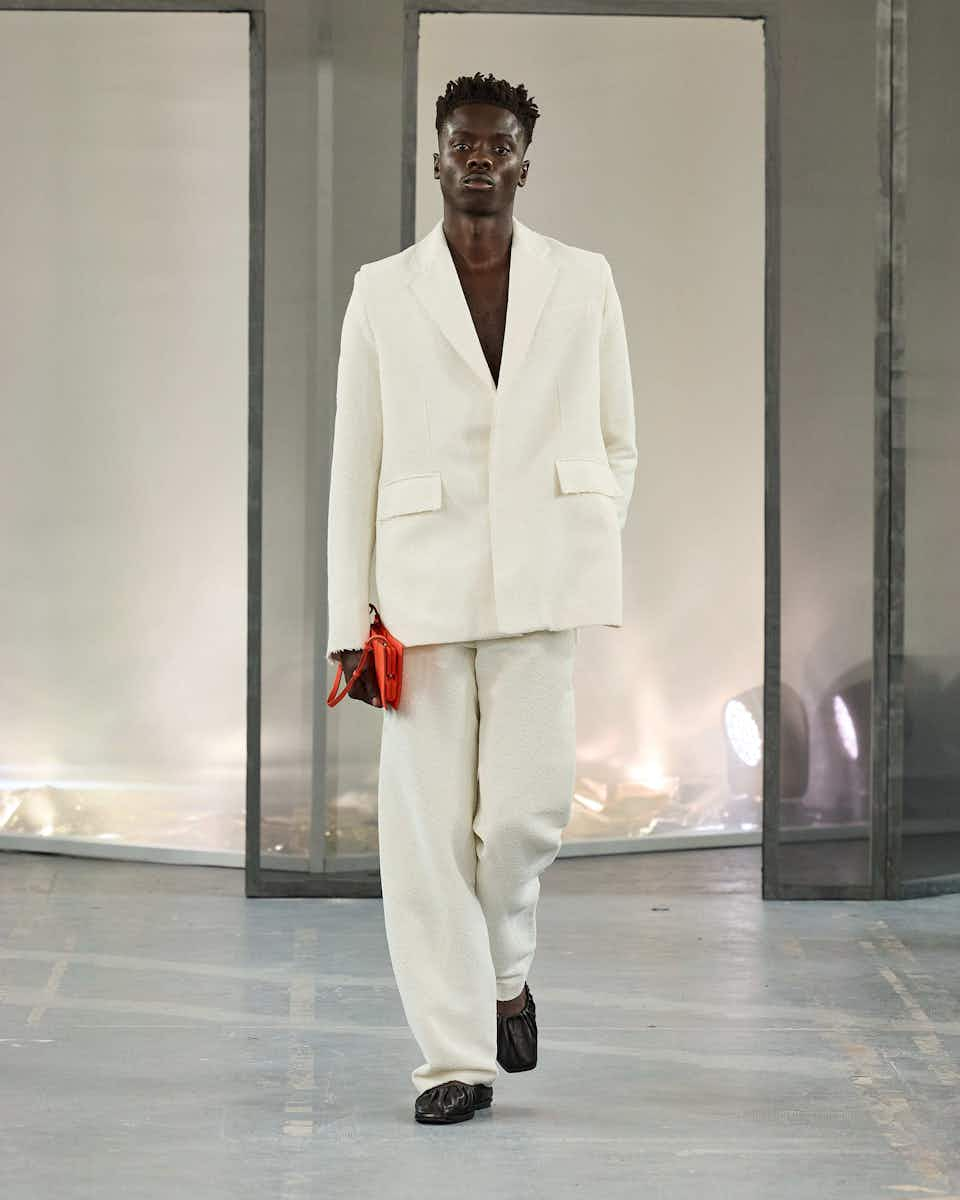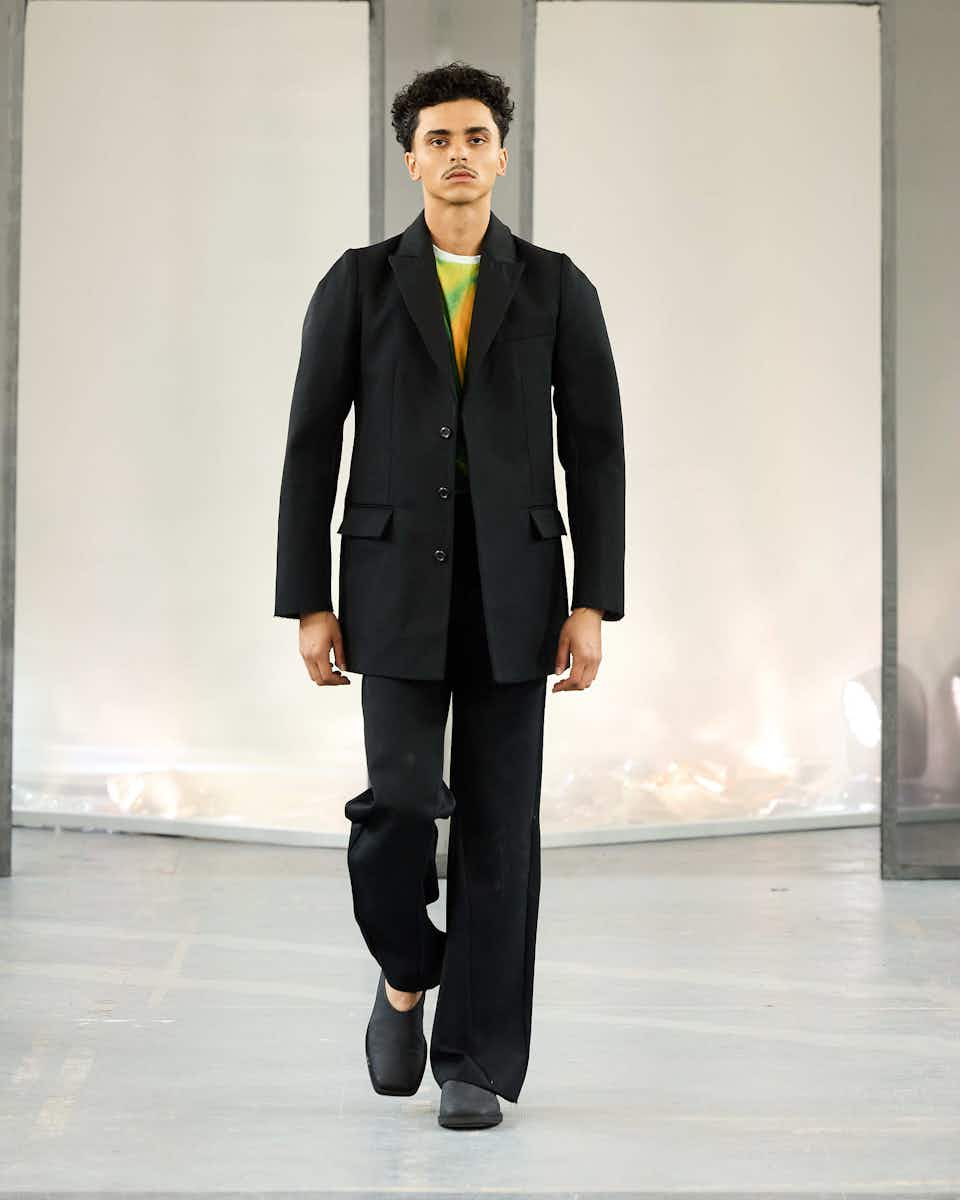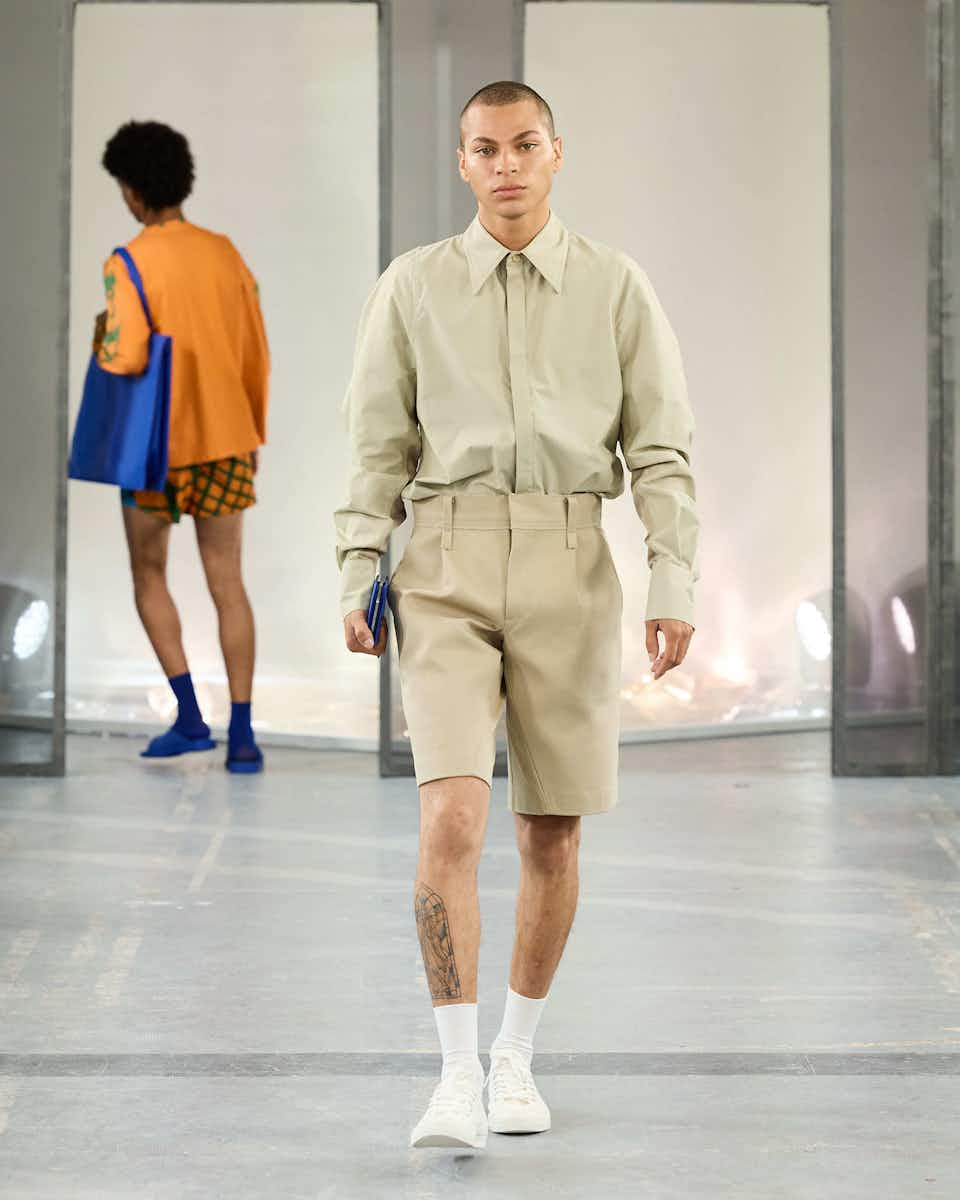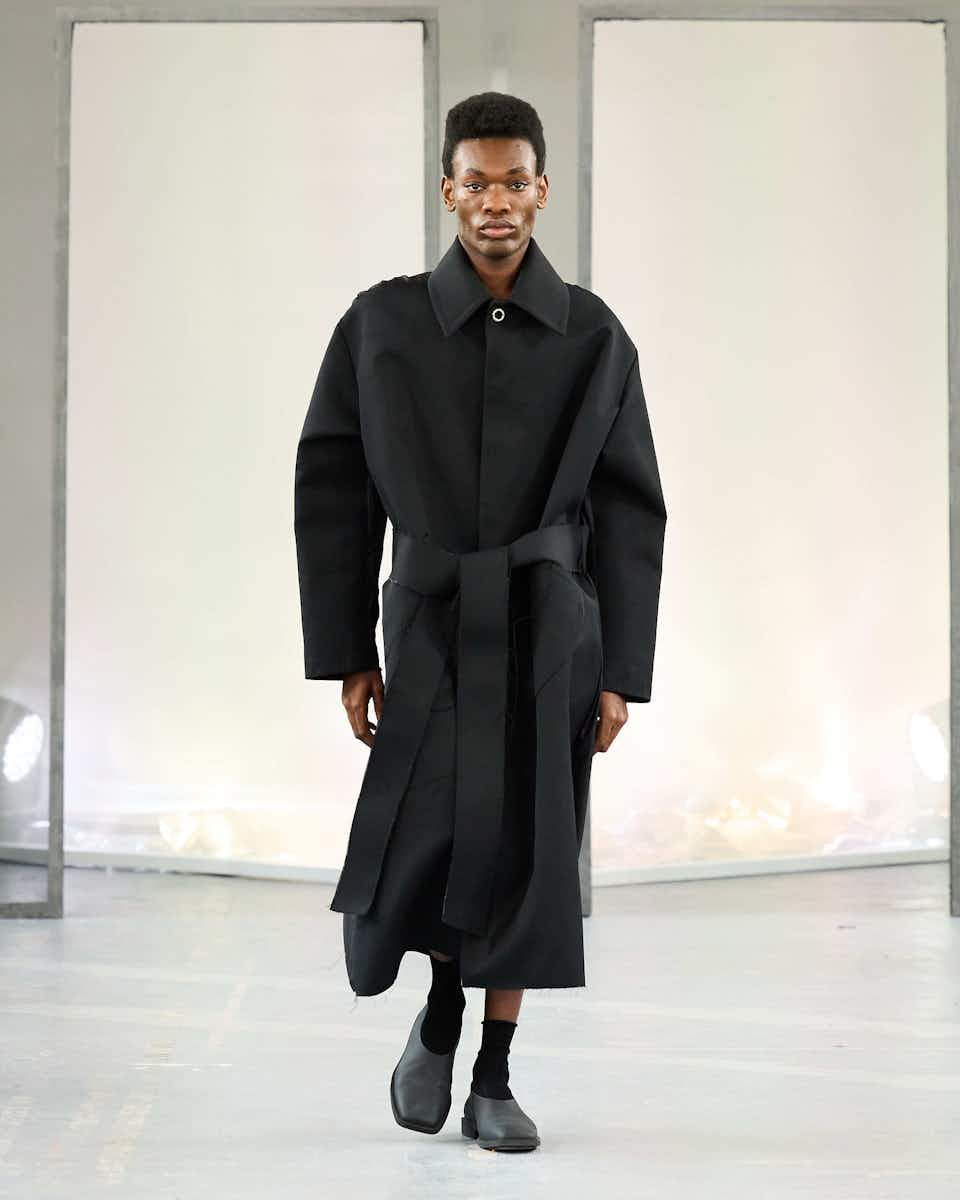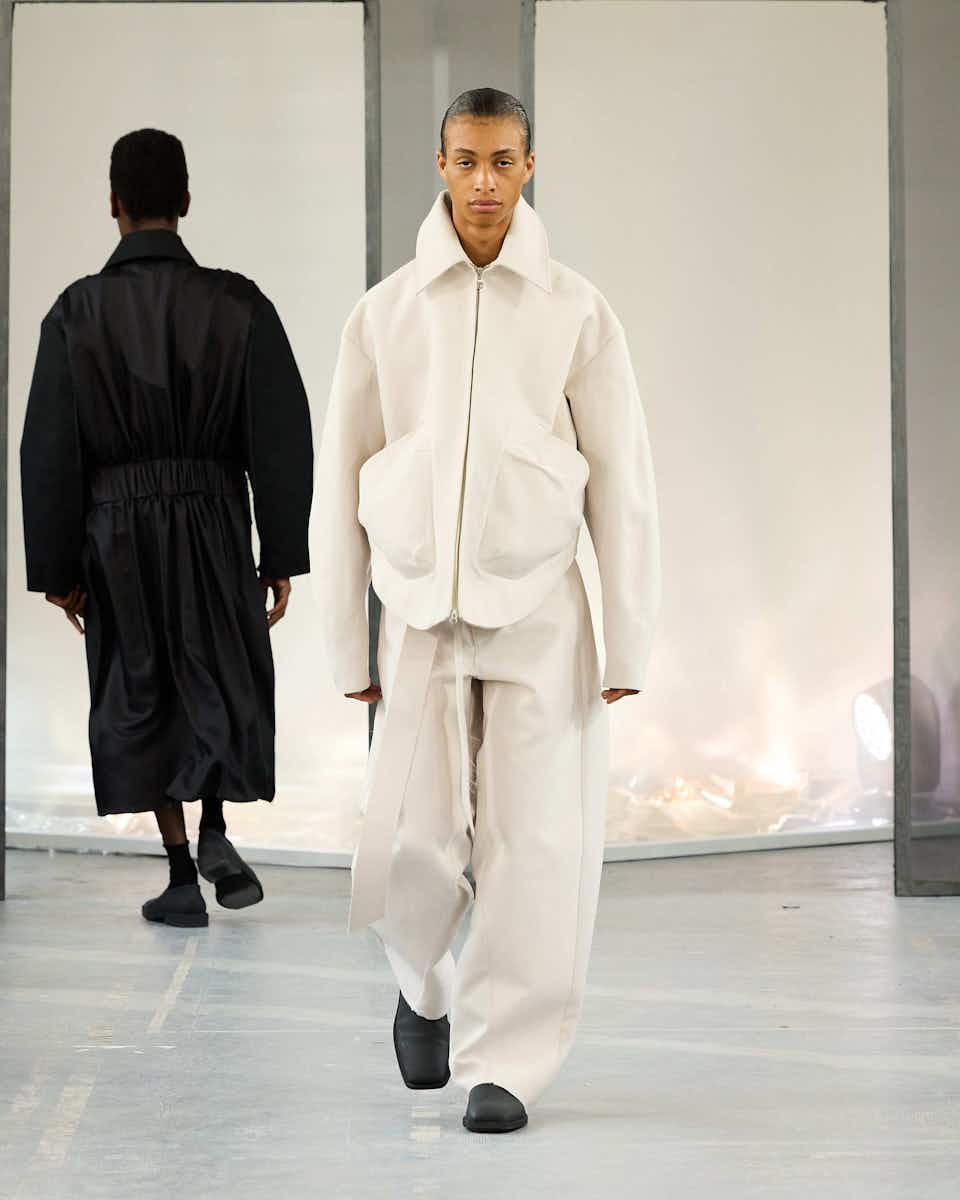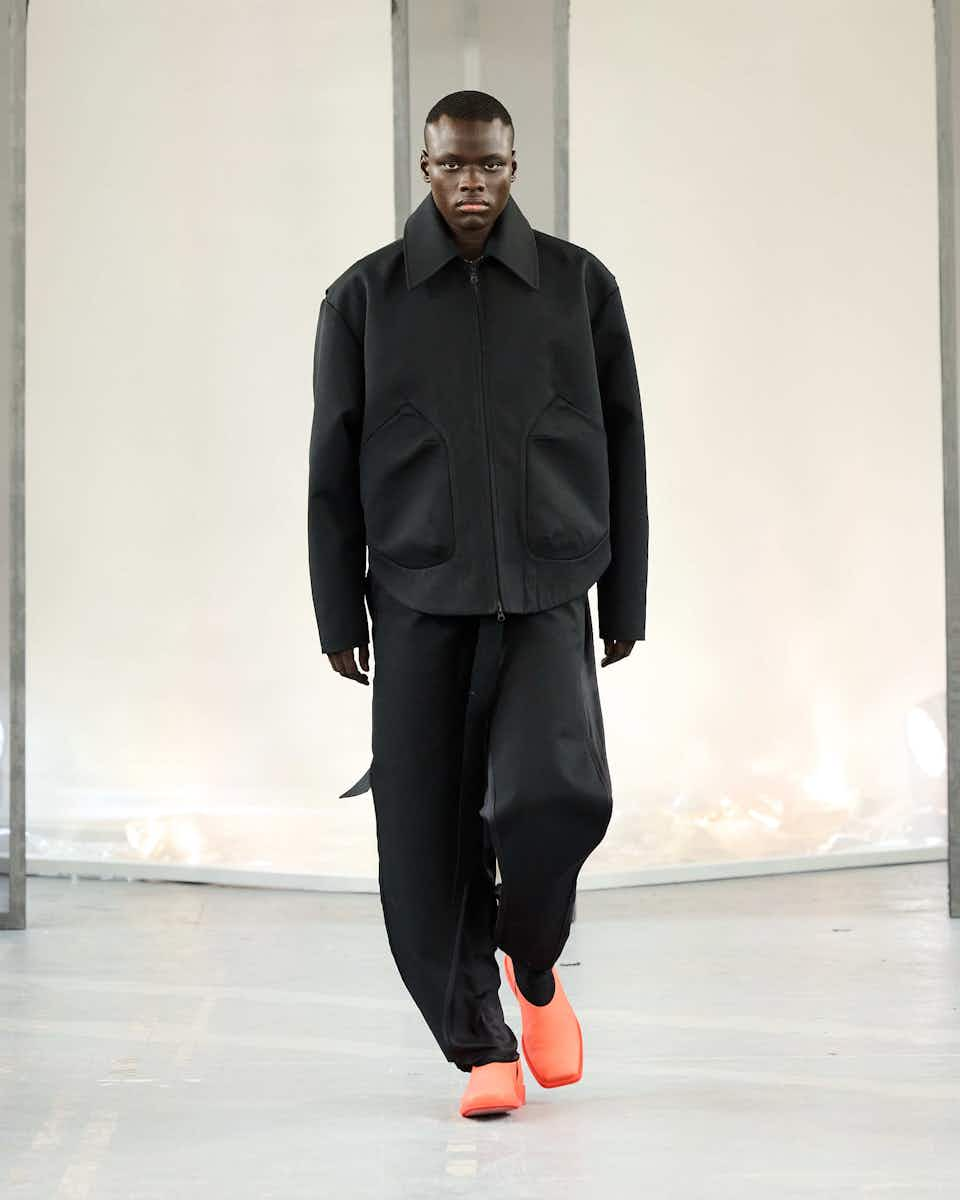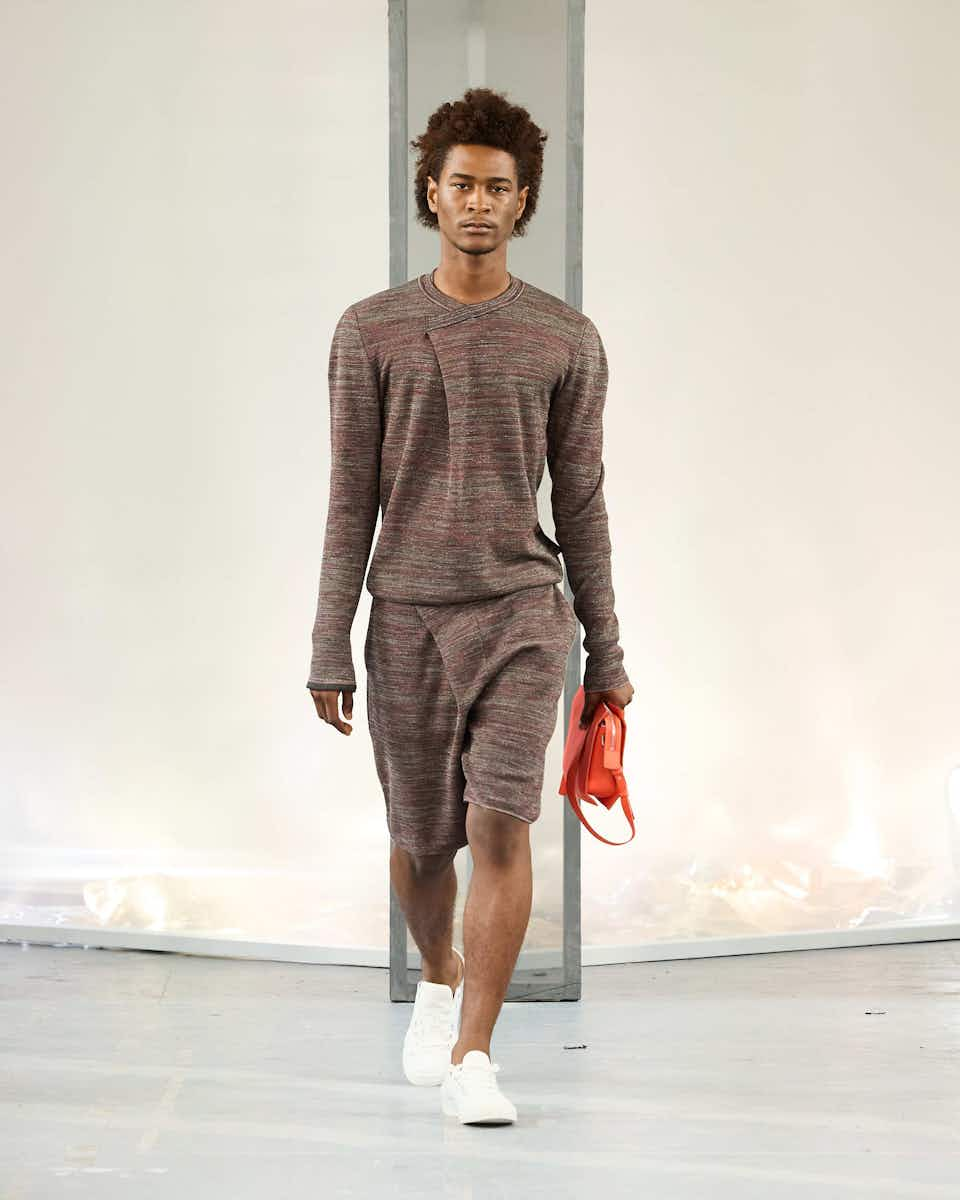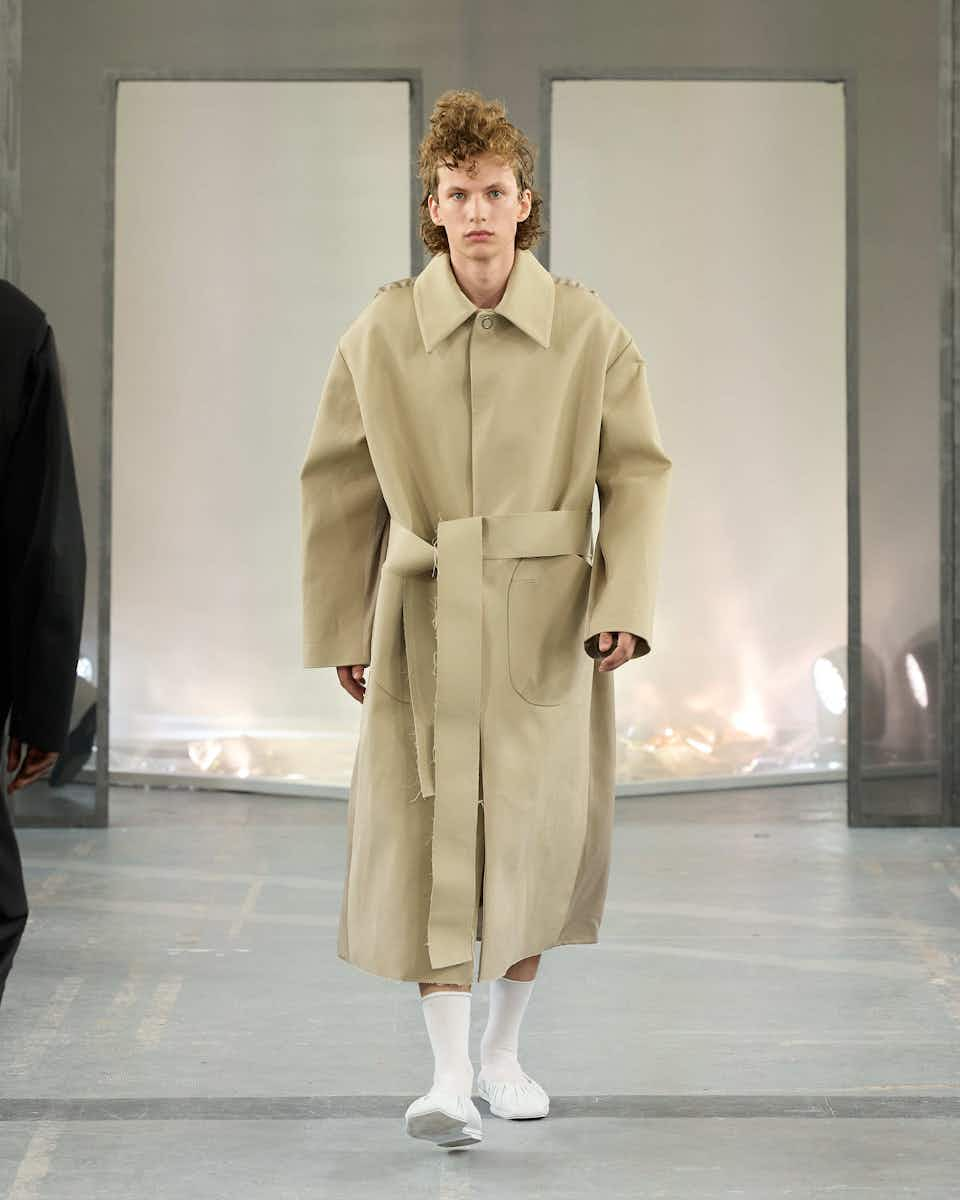 Great balls of fire – literally. If fashion is meant to mirror the present moment, right now there are warring impulses. Some designers want to get away from it all, with their collections defined by the staple fantasies of spring/​summer collections: sea and sun and clothes made for doing nothing in. Those who want to mine darker ideas are facing the present head-on, with apocalyptic visions of the climate crisis. Owens somehow managed to combine the two by mixing sculptural, fiery orbs on set with references to a recent holiday in Egypt. The clothes themselves were beautifully Rick, complete with swooping shoulders, gauzy fabrics and some iridescent forays into colour. The fabrics were carefully chosen, too. From fish skin by-products to reinforced nylon, this was a collection where the natural world collided with the toughness of human ingenuity.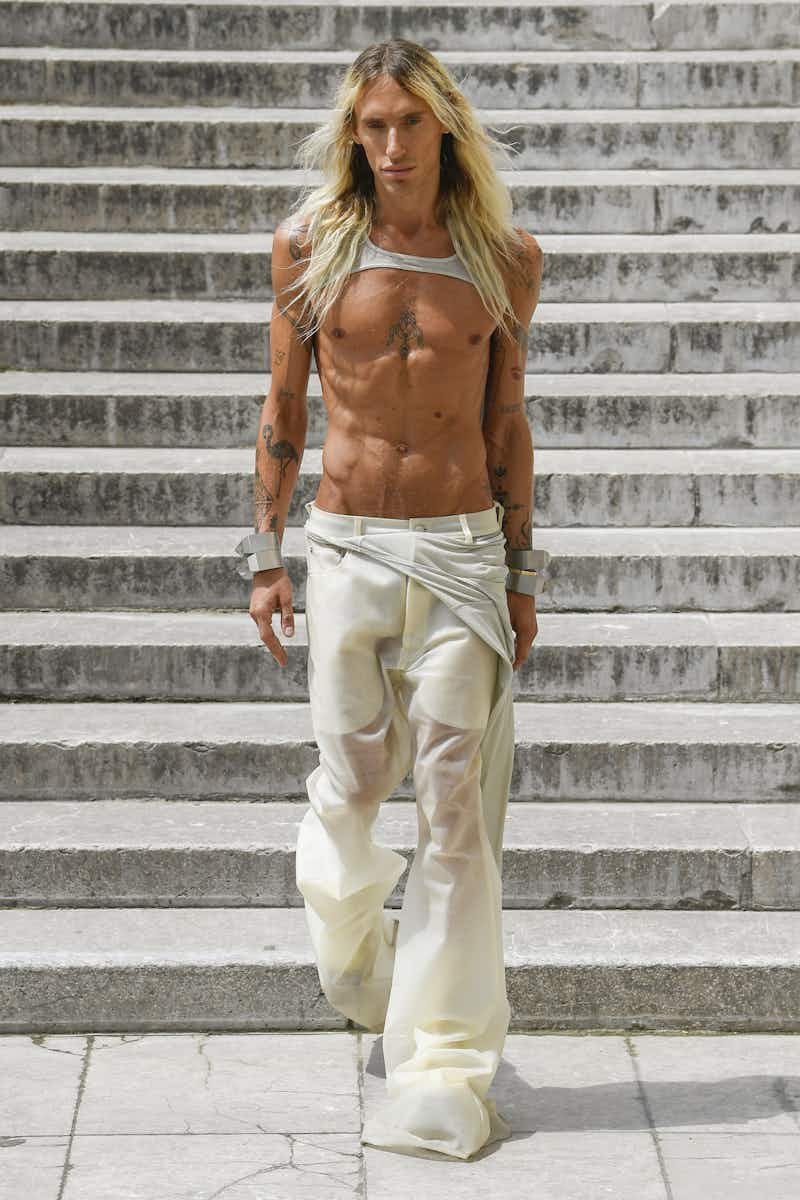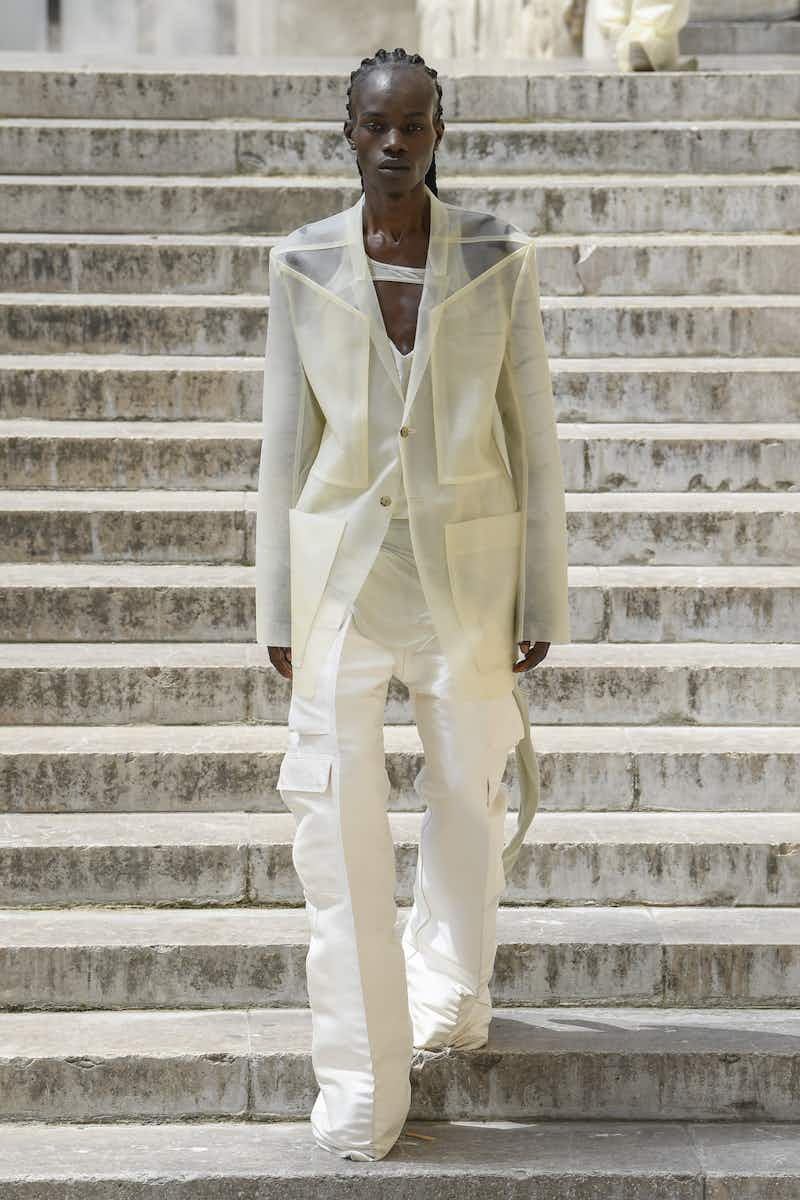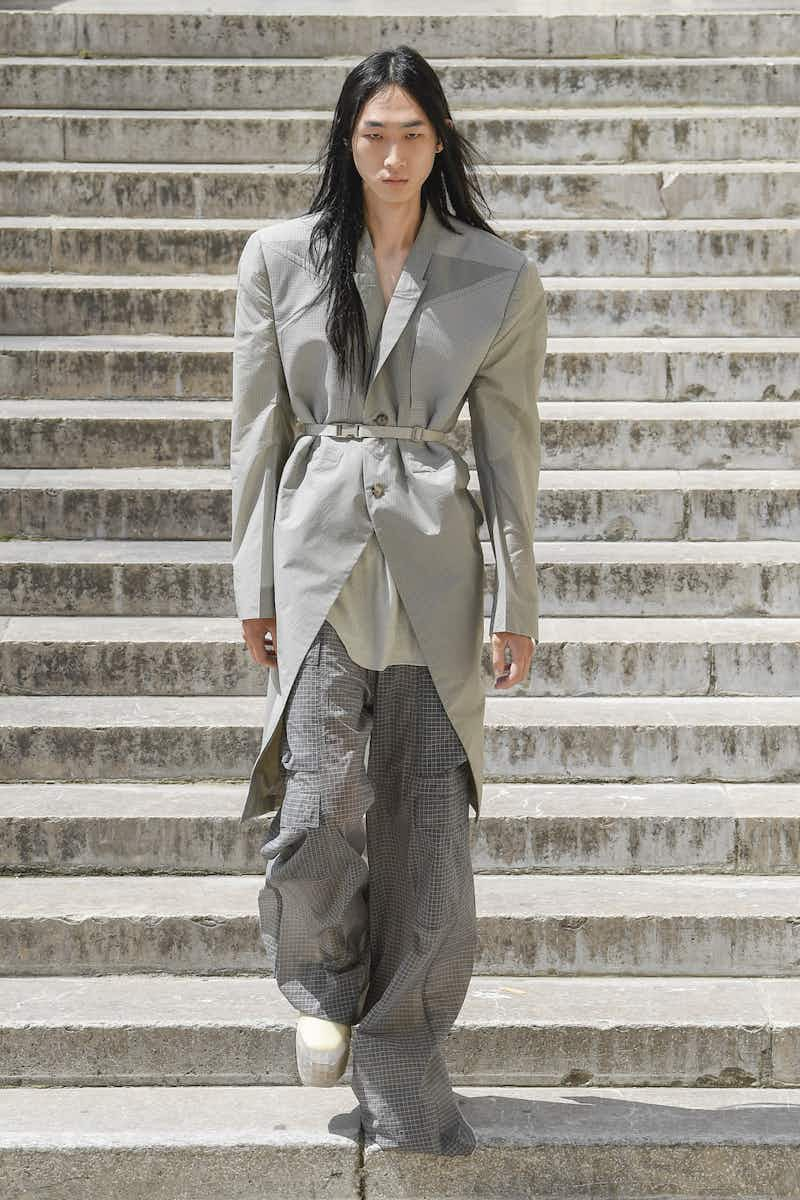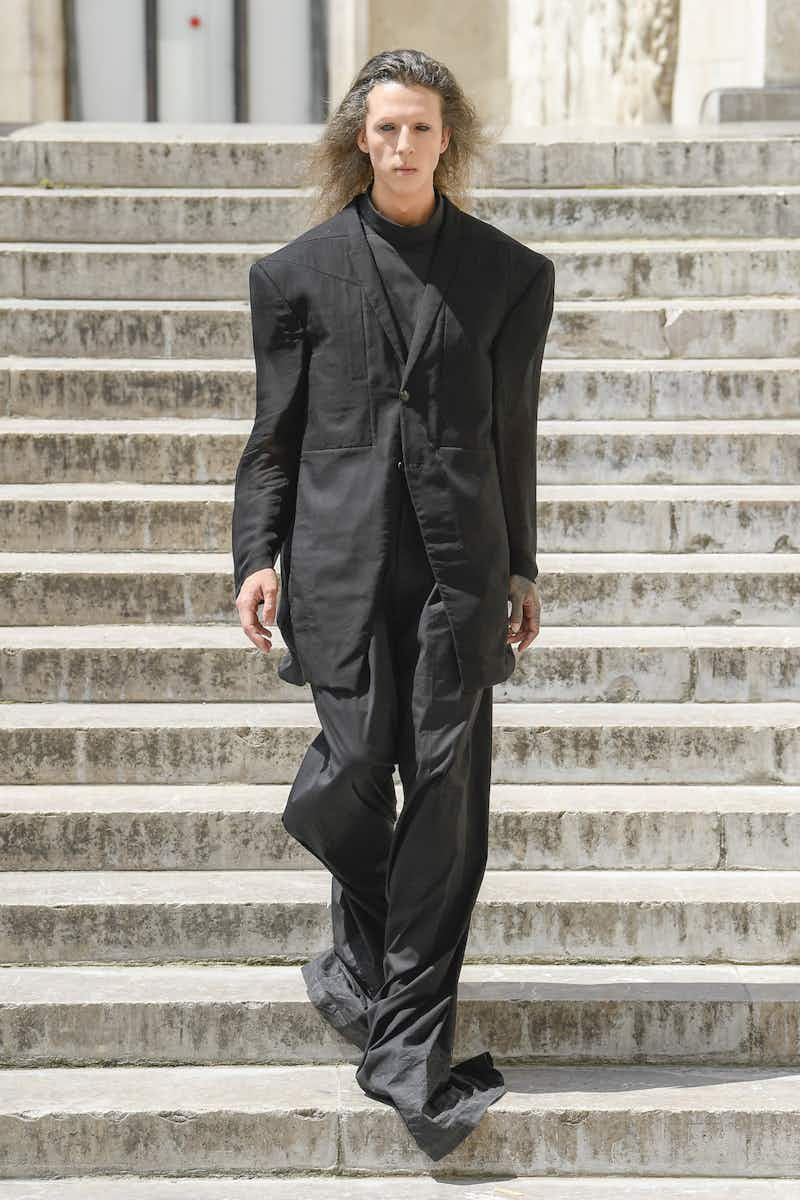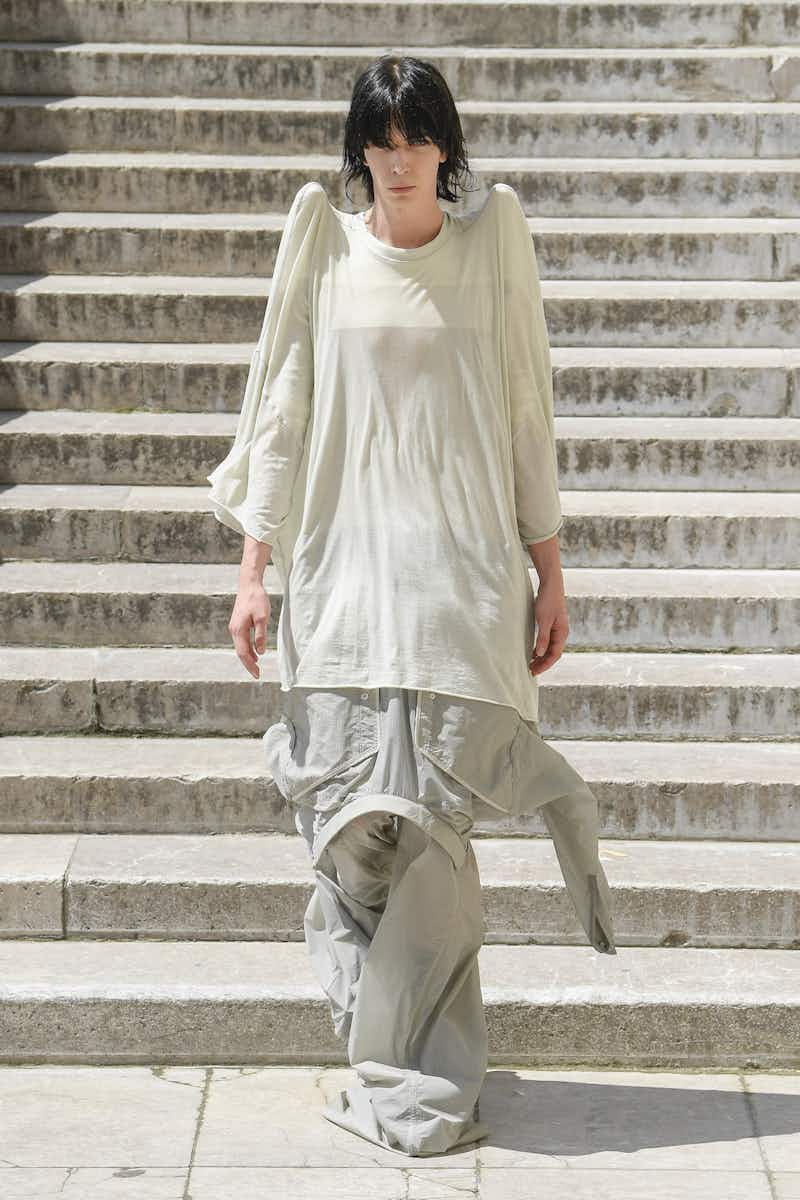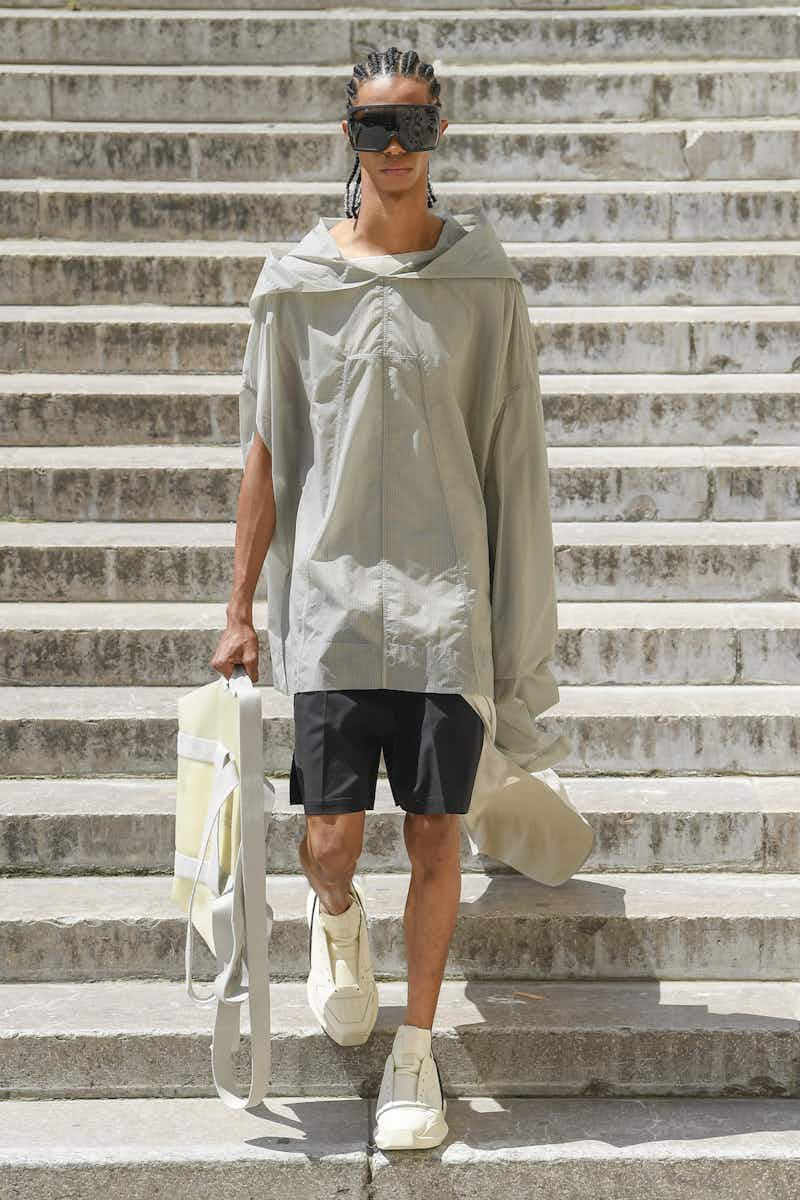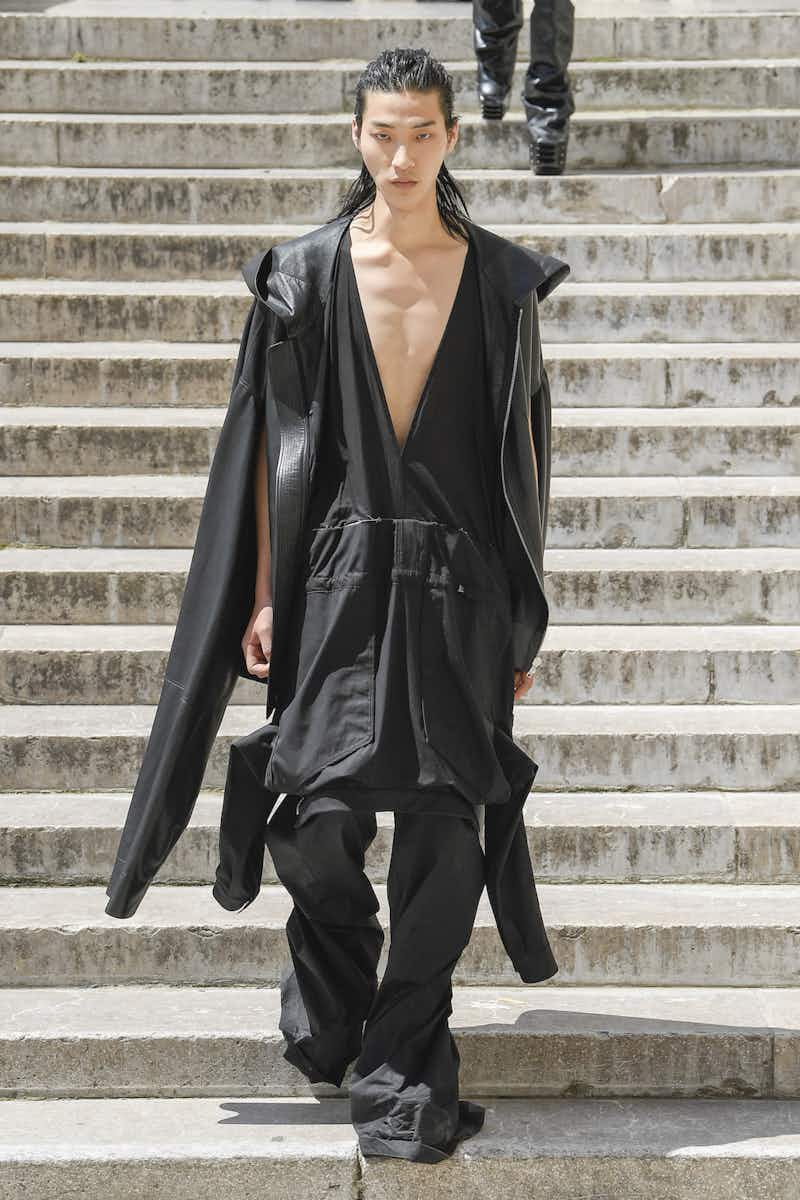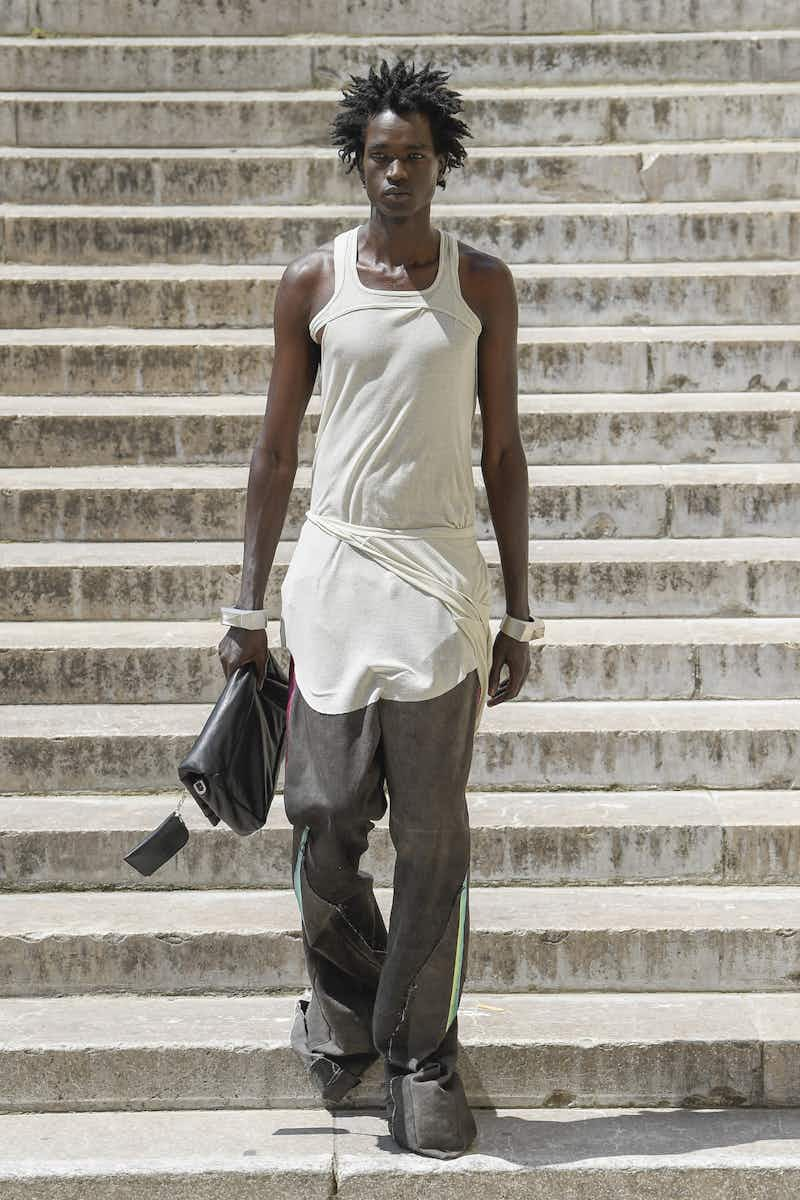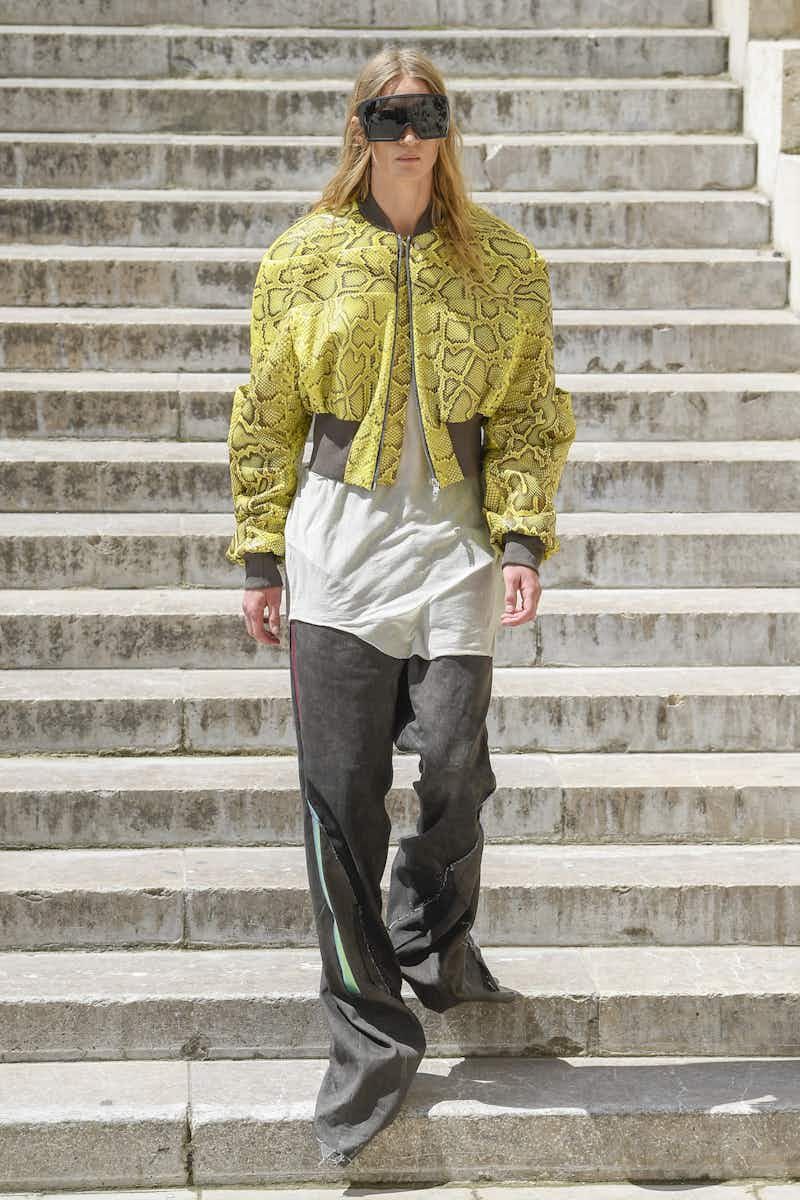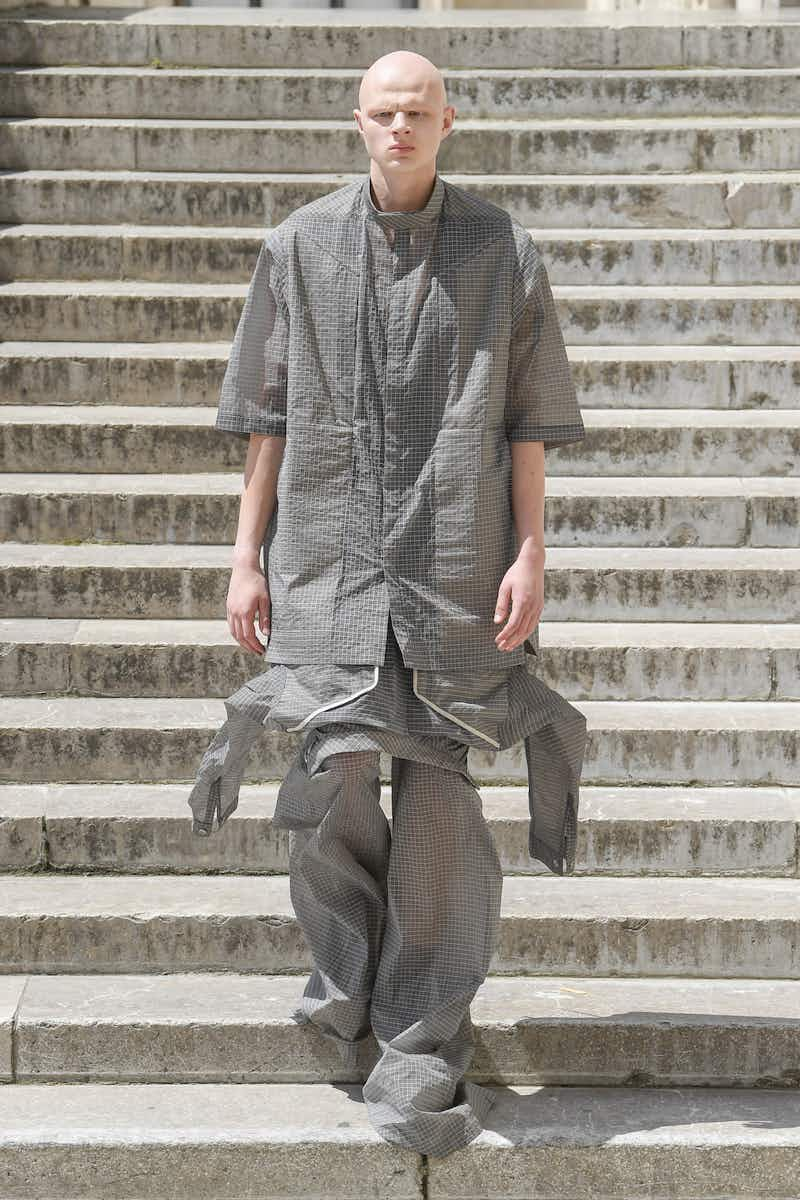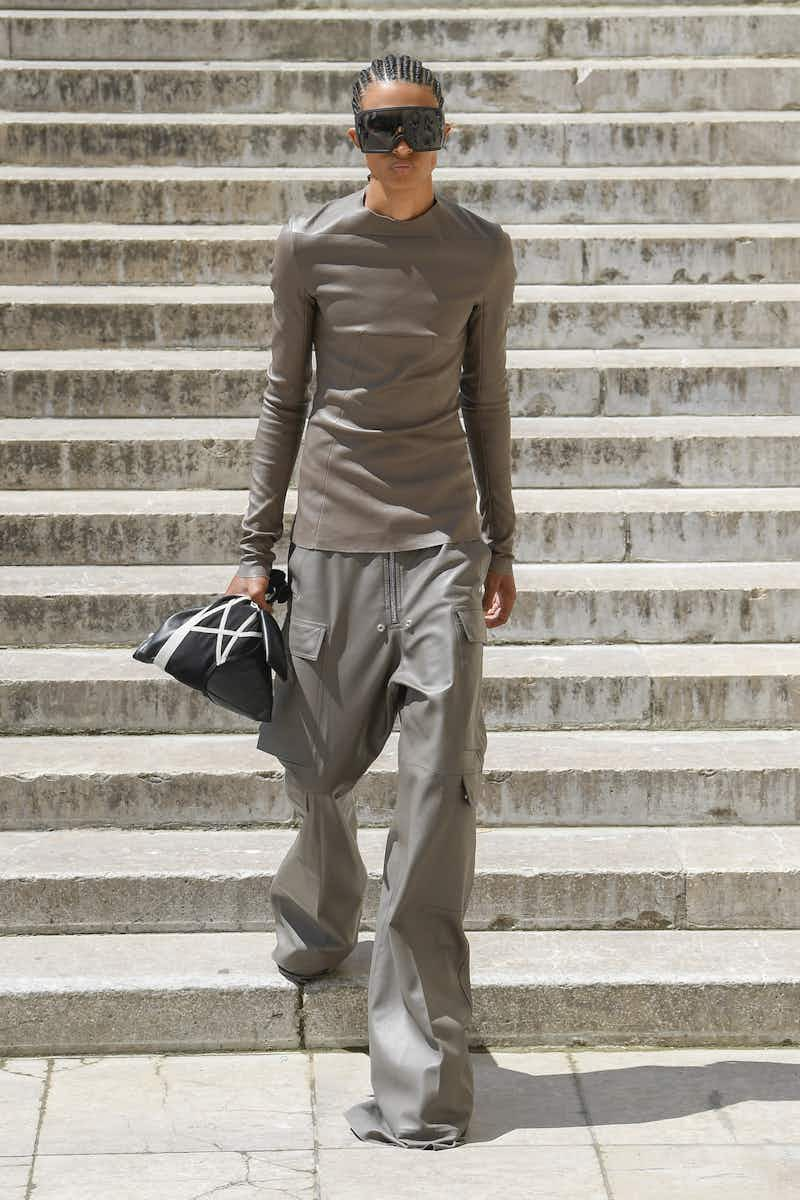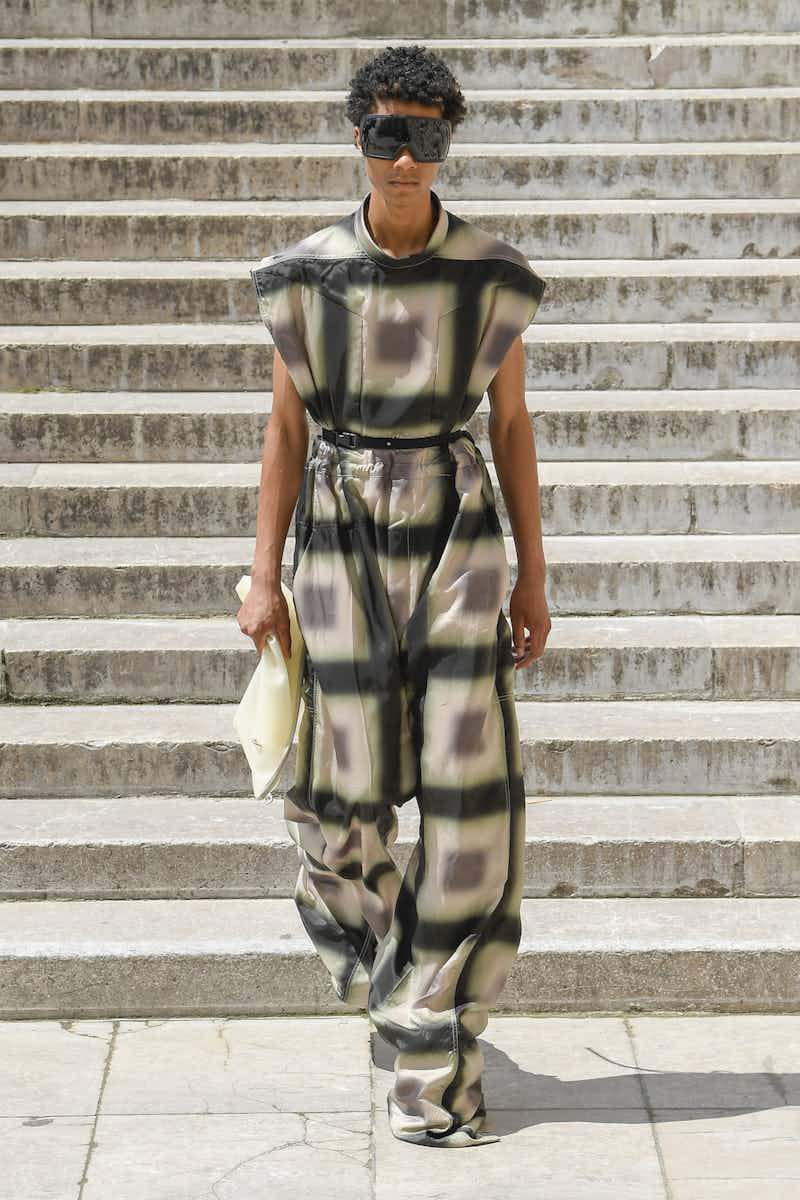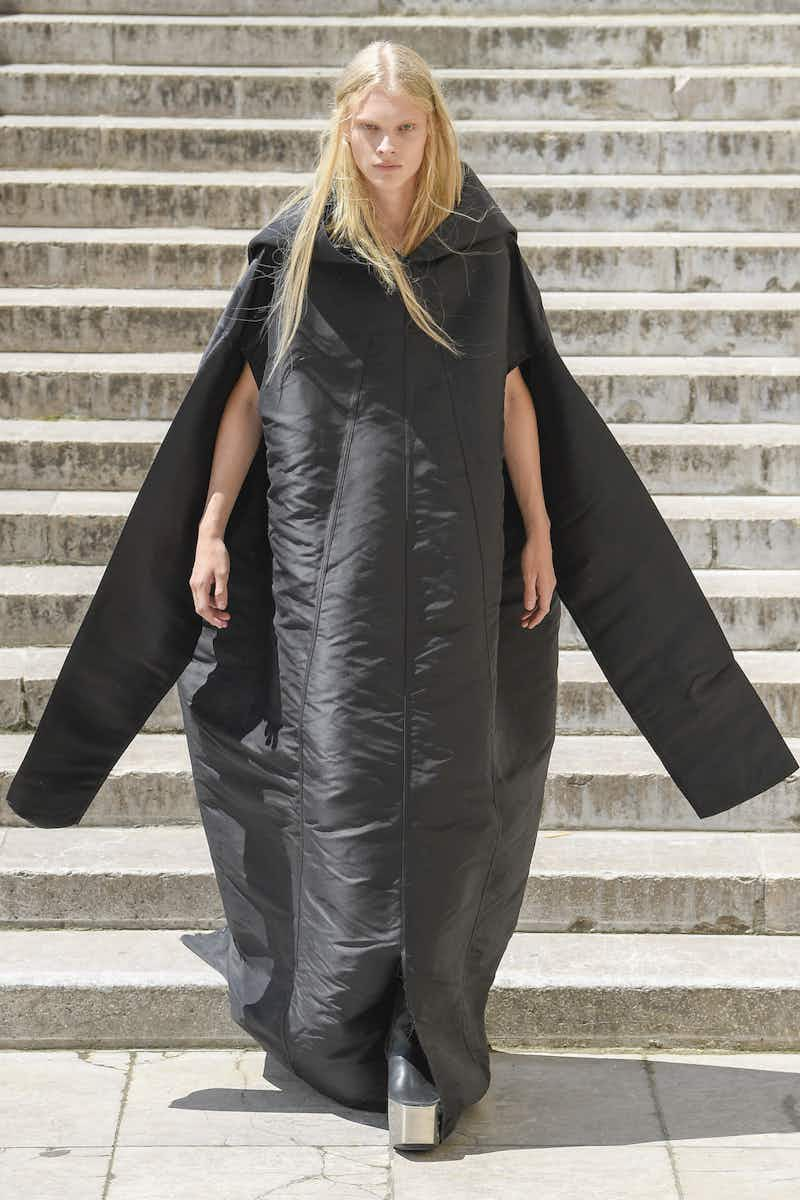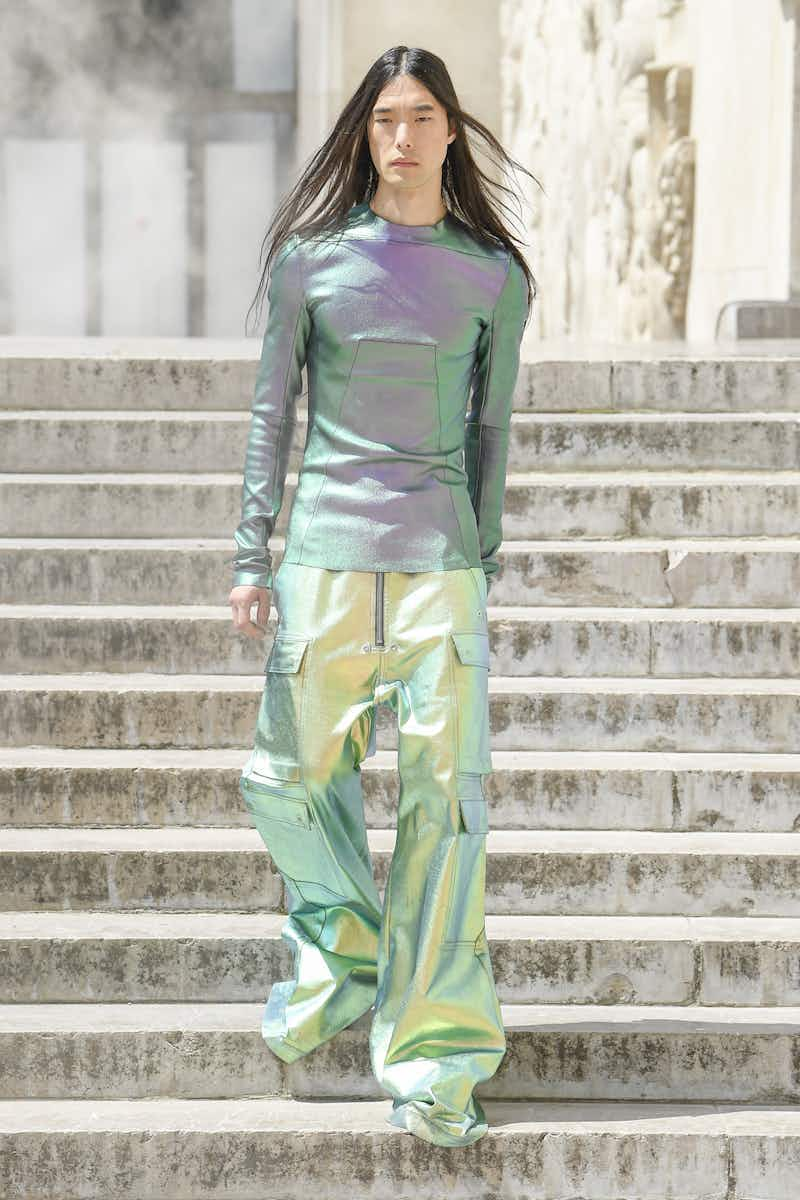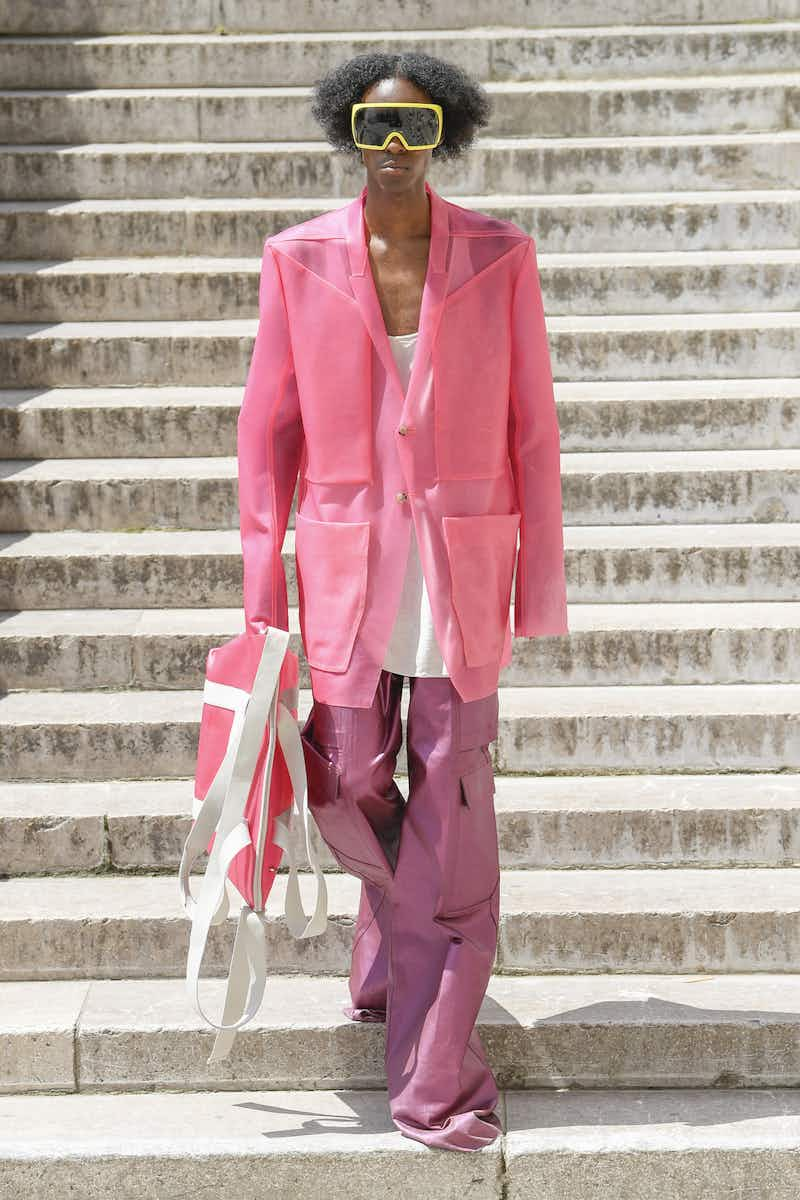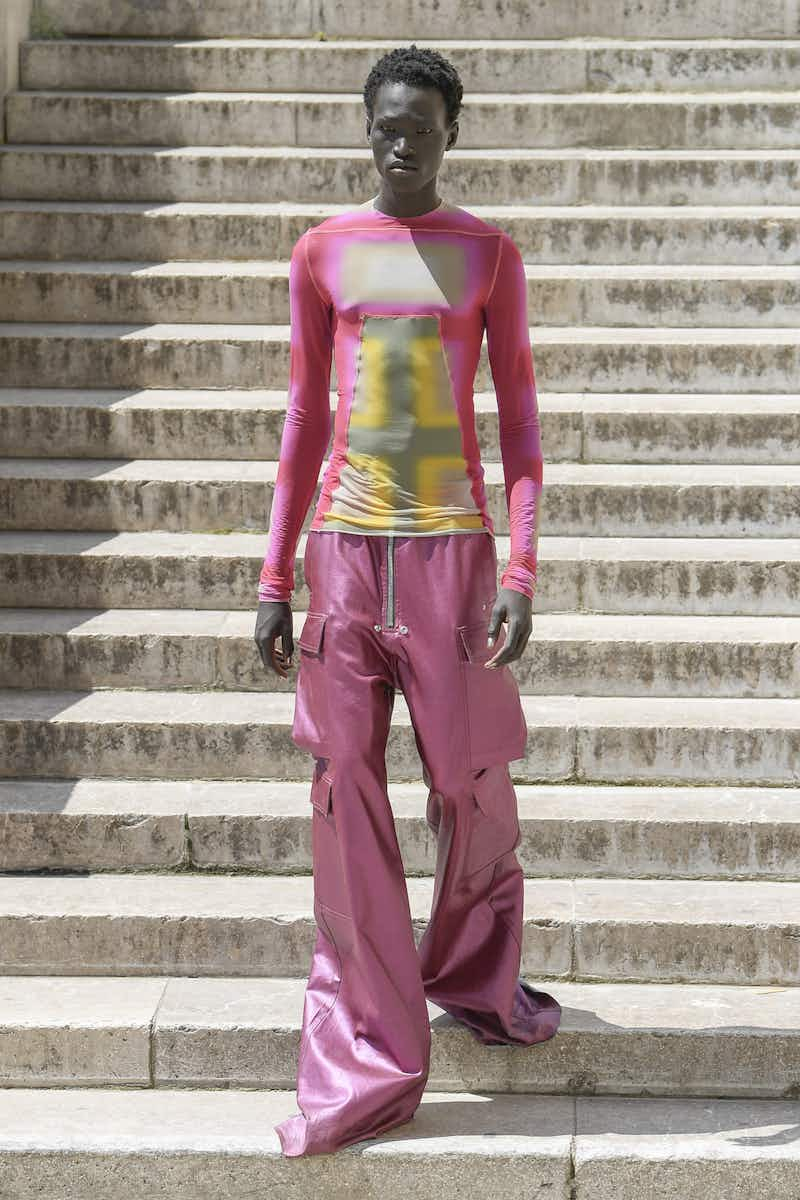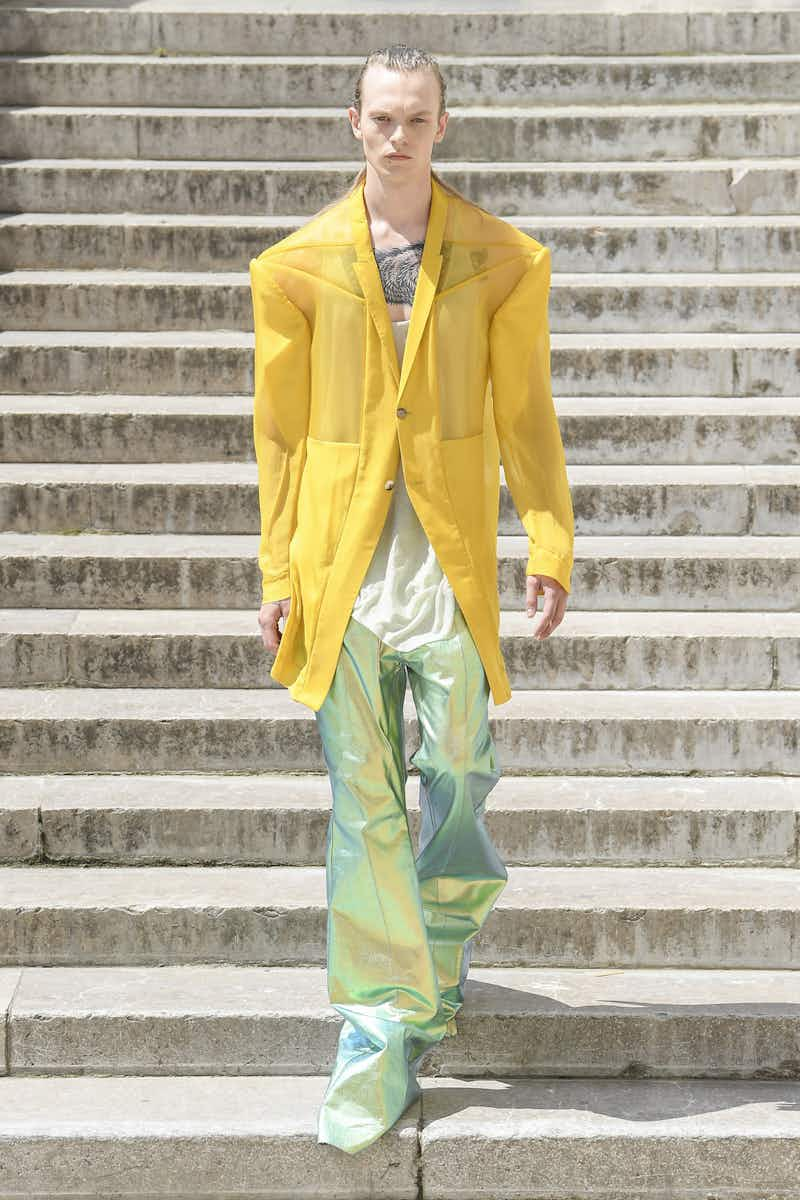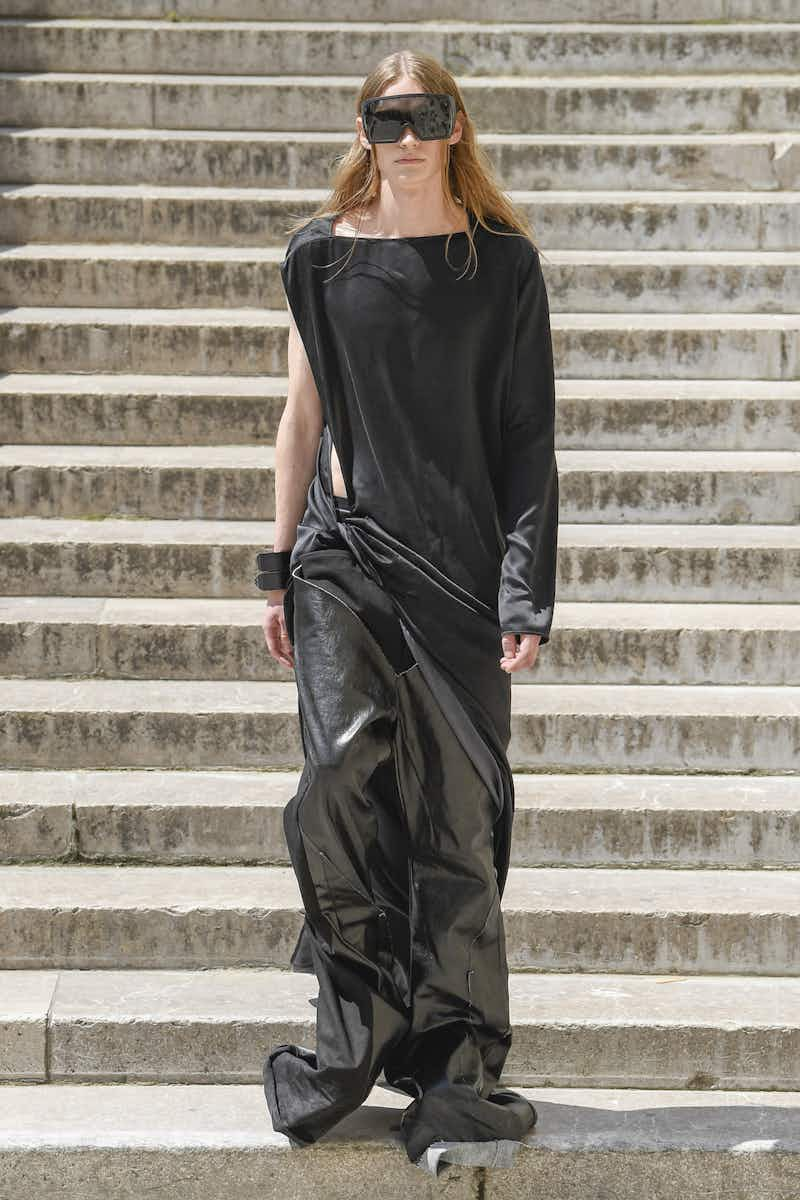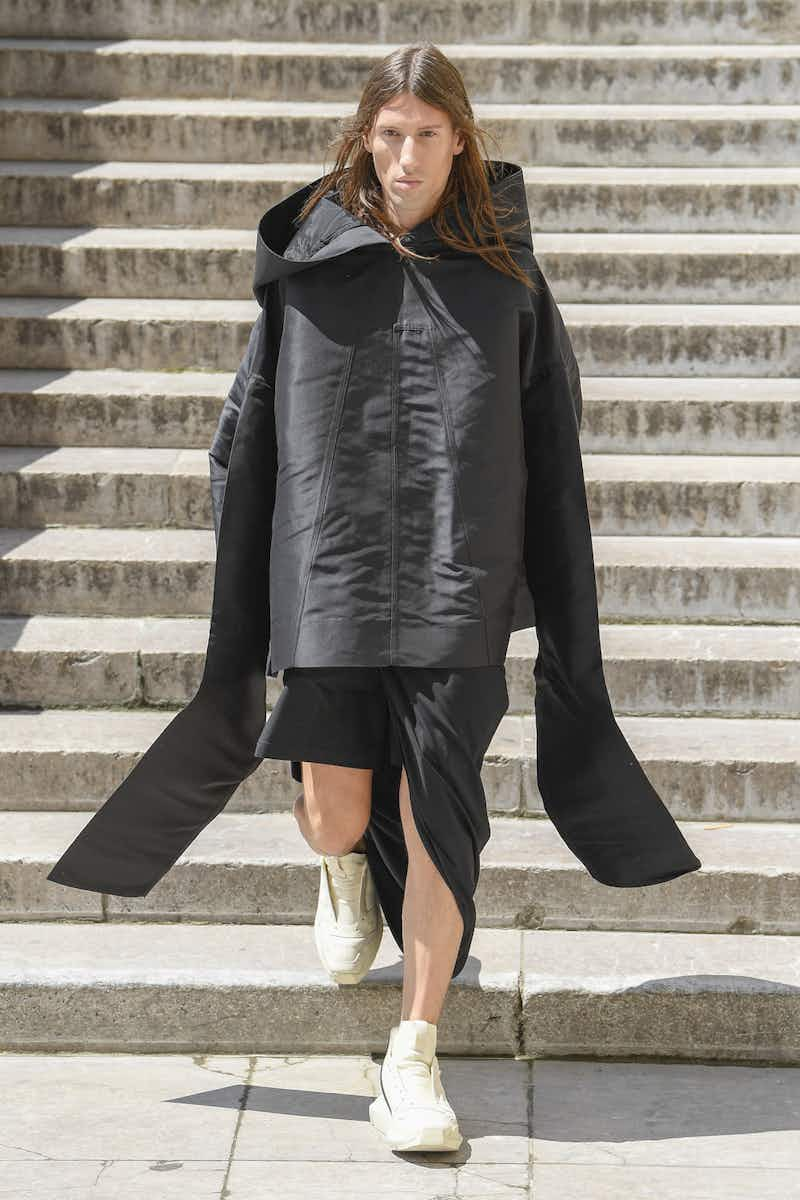 Mes ami, there's nothing French brands love more than making self-referential nods to their Frenchness. The Parisian woman stalks above them, blowing cigarette smoke all over the catwalk. For his co-ed show, Alexandre Matiussi leant lovingly into the tropes of Gallic style. There were chic blazers, leather jackets, artfully undone shirts, little neck scarves, and a good amount of navy and cream, for both les filles and les garçons. Houndstooth and stripes got a look-in, too, along with a succession of very mini mini-skirts and some gorgeously proportioned suits. Taking place in Montmartre's Sacré Coeur, this was a show that wore its love of the French capital on its perfectly trim sleeve.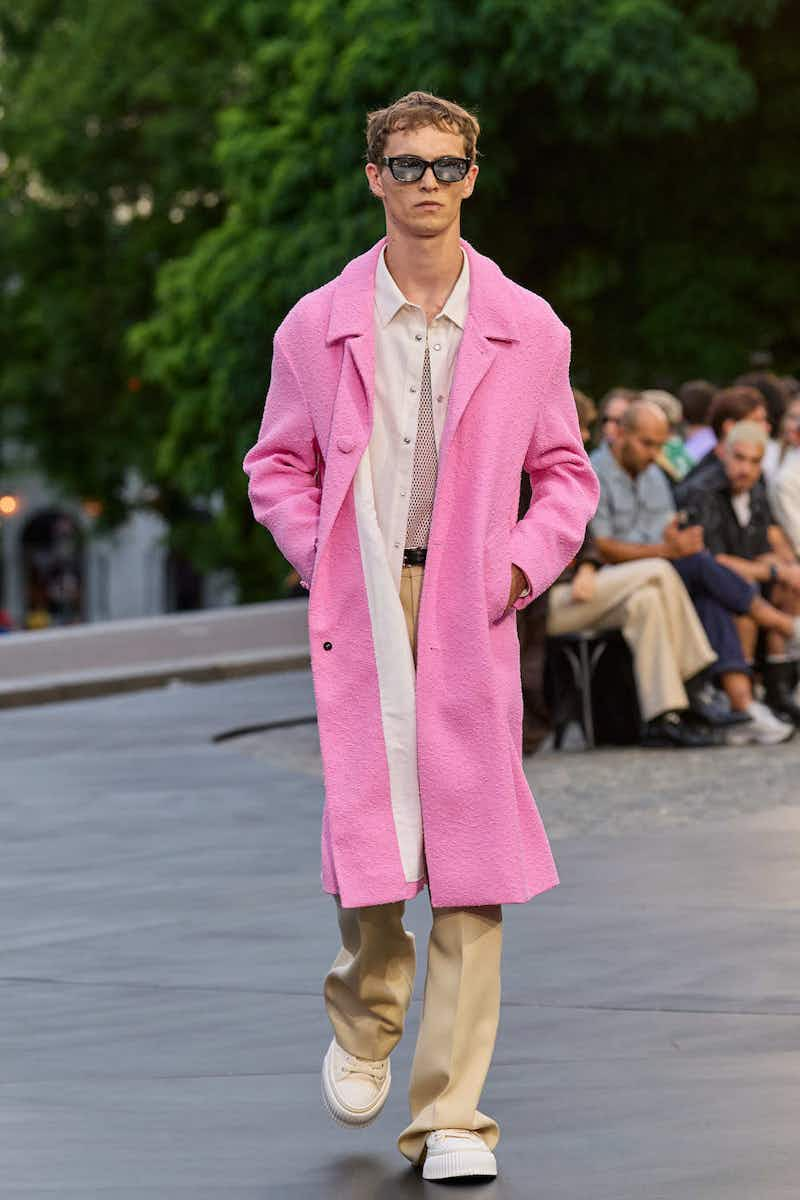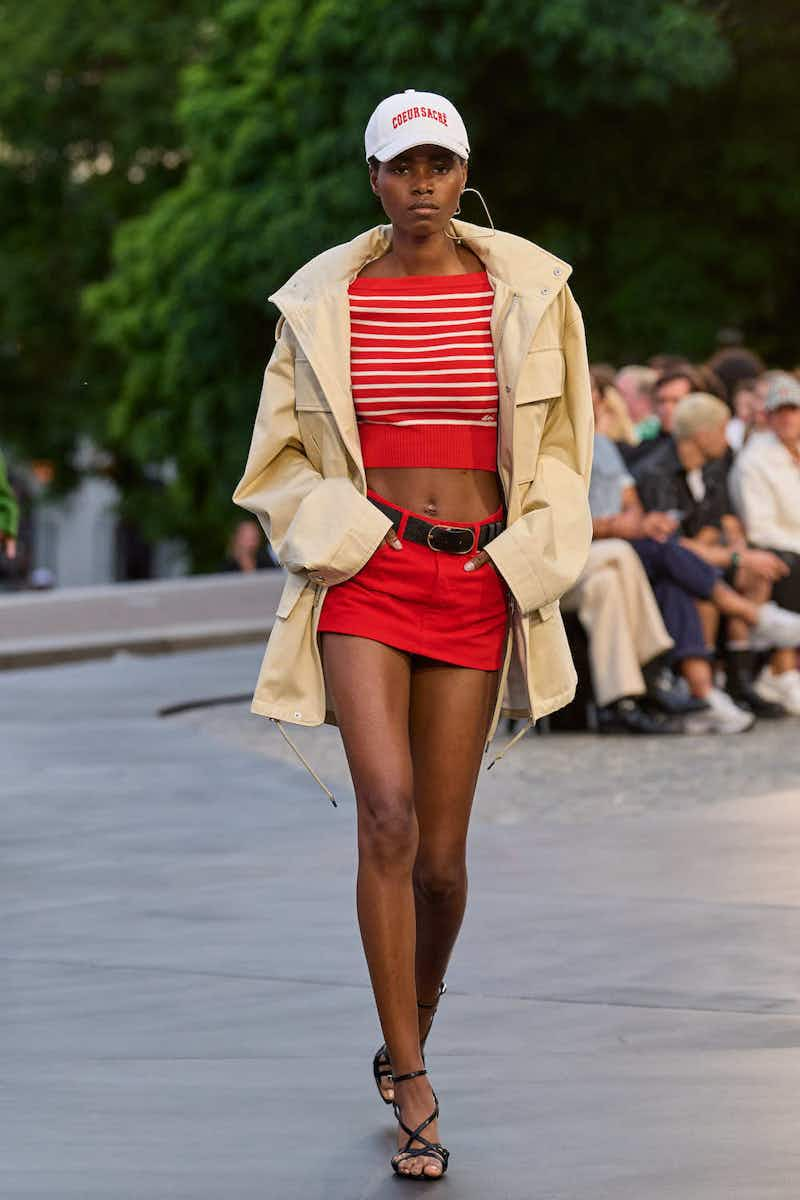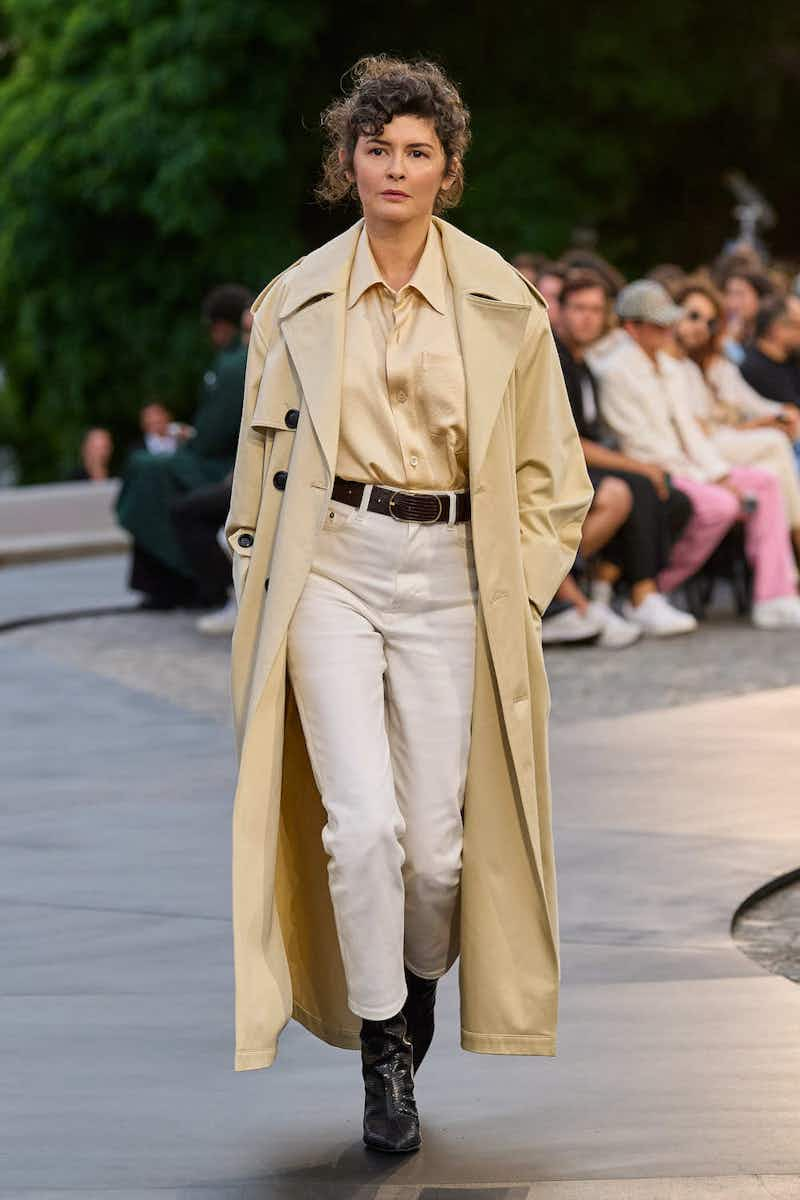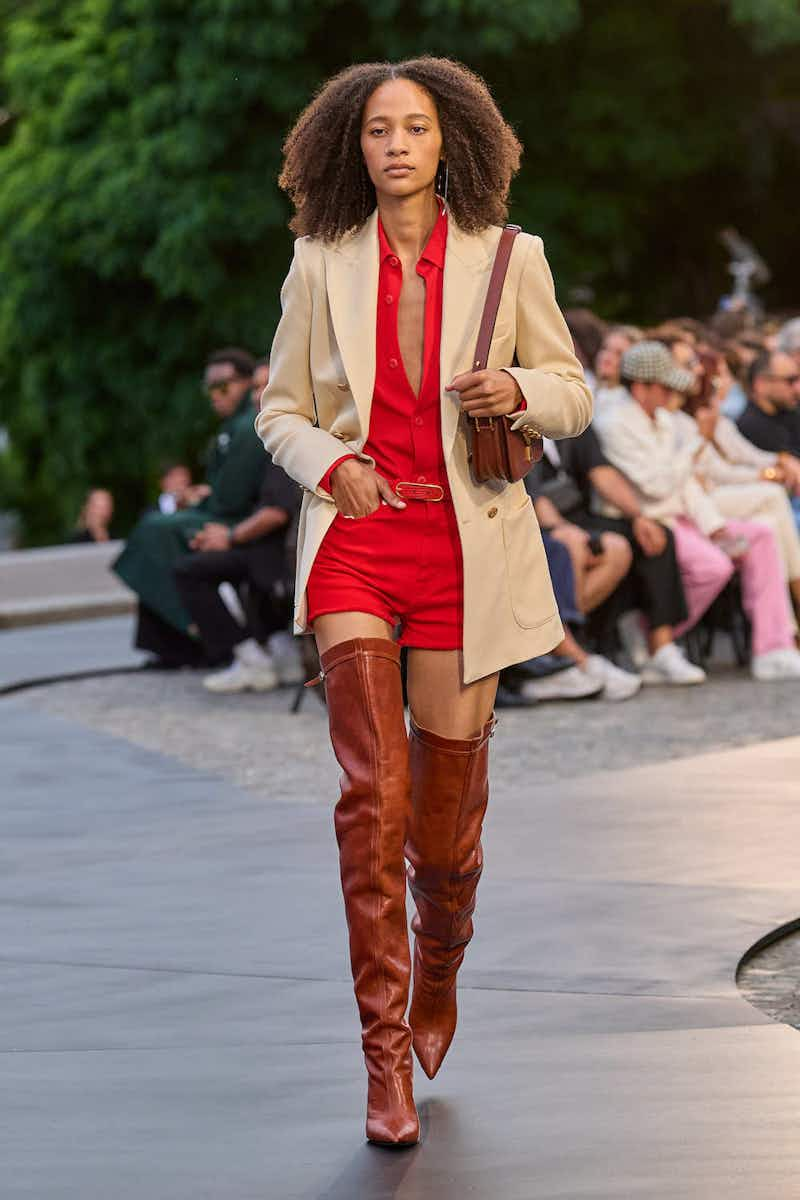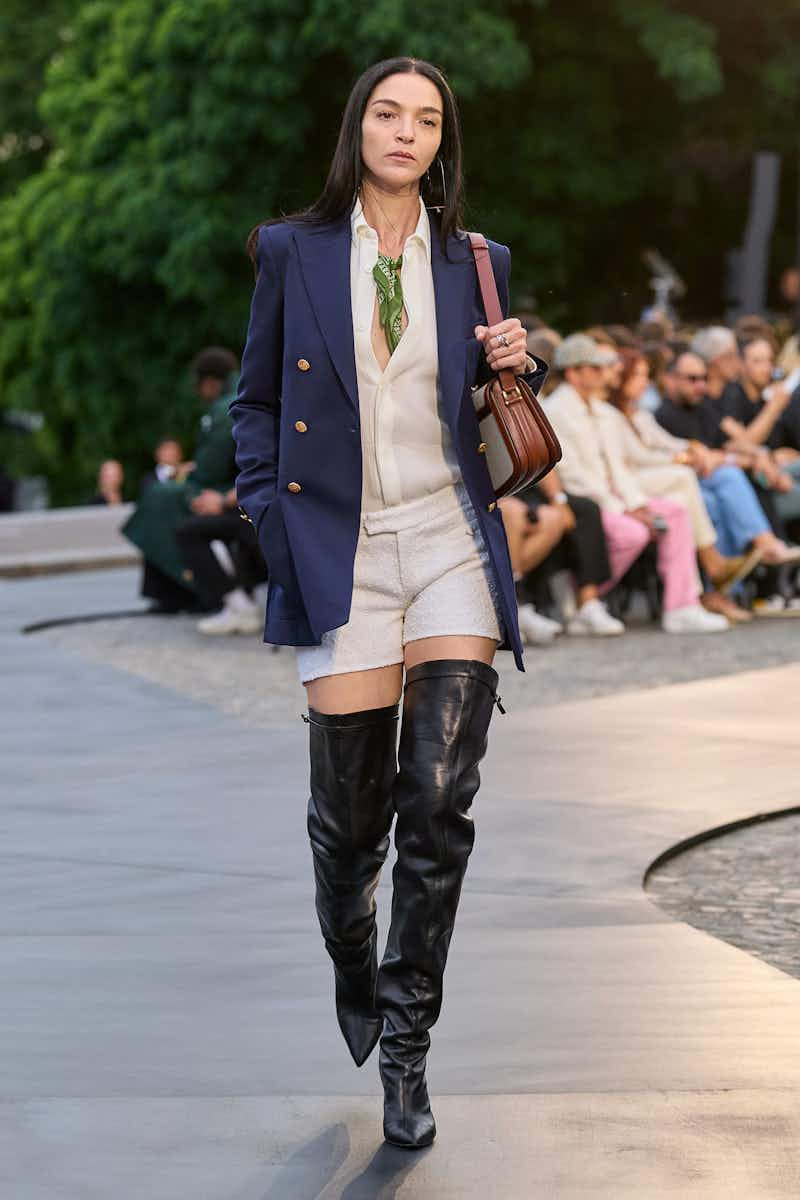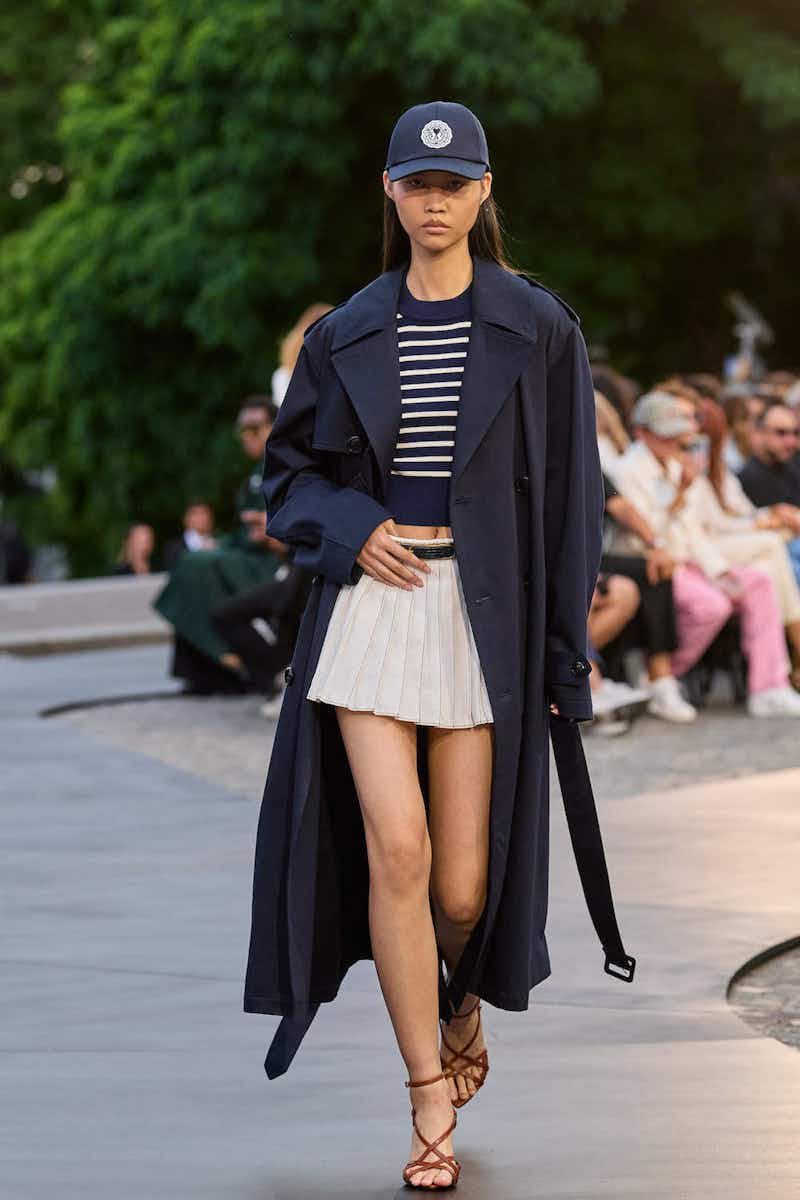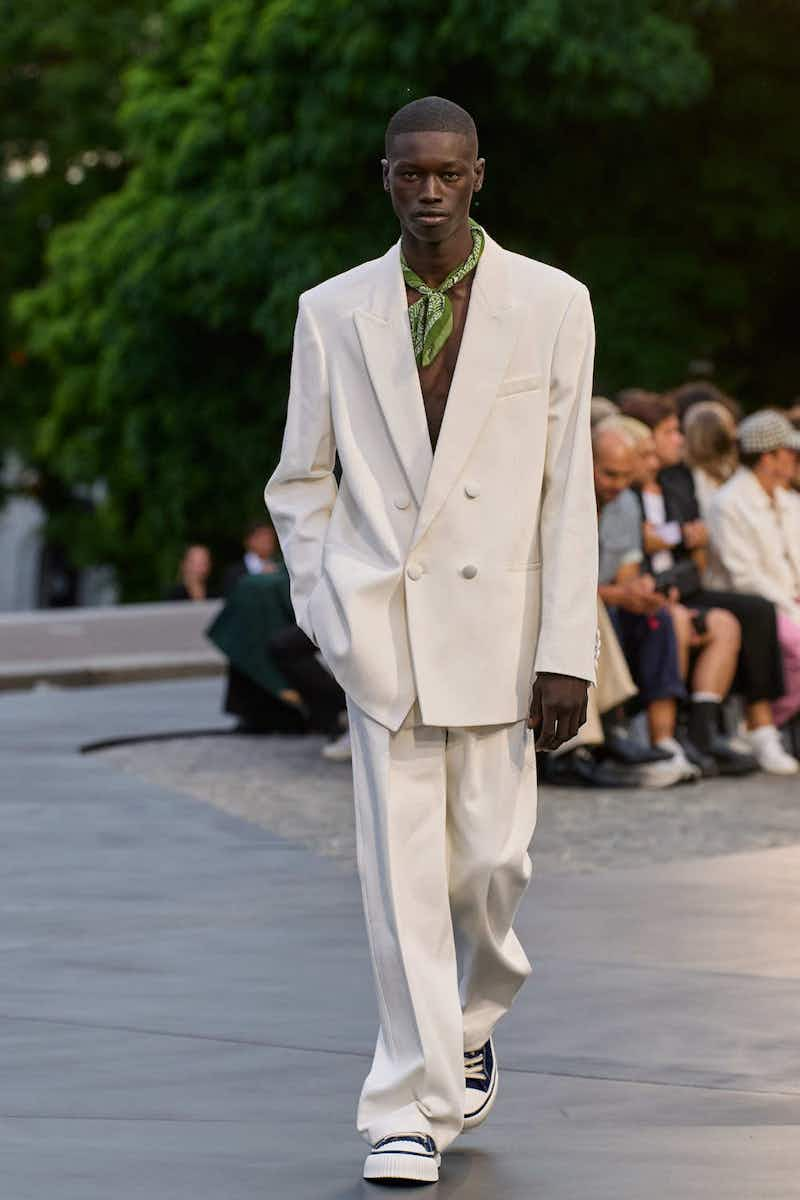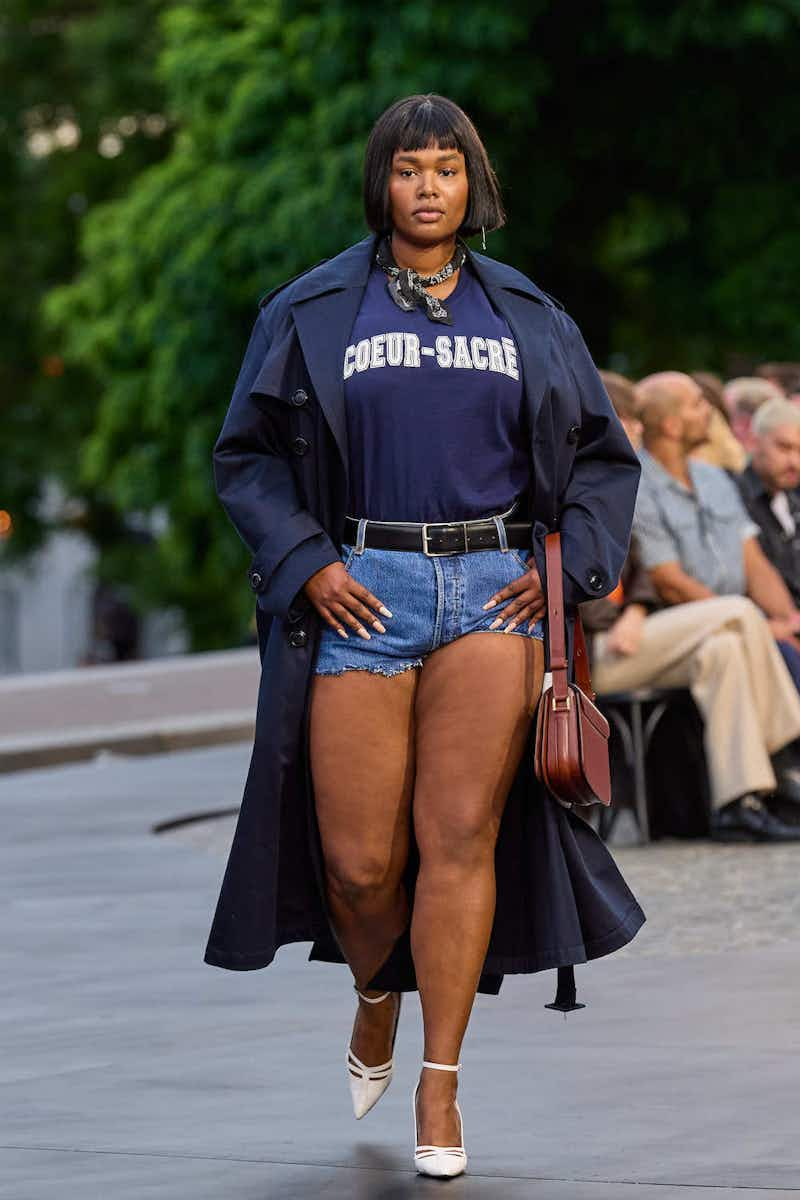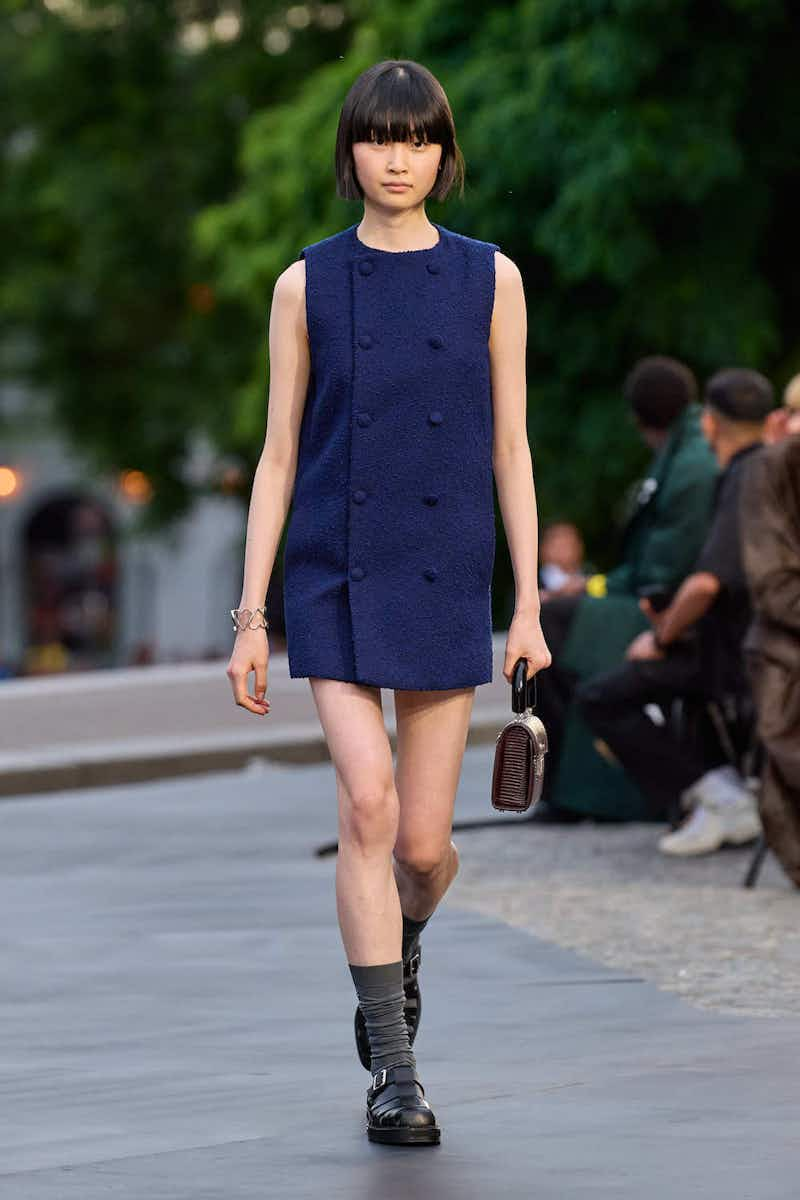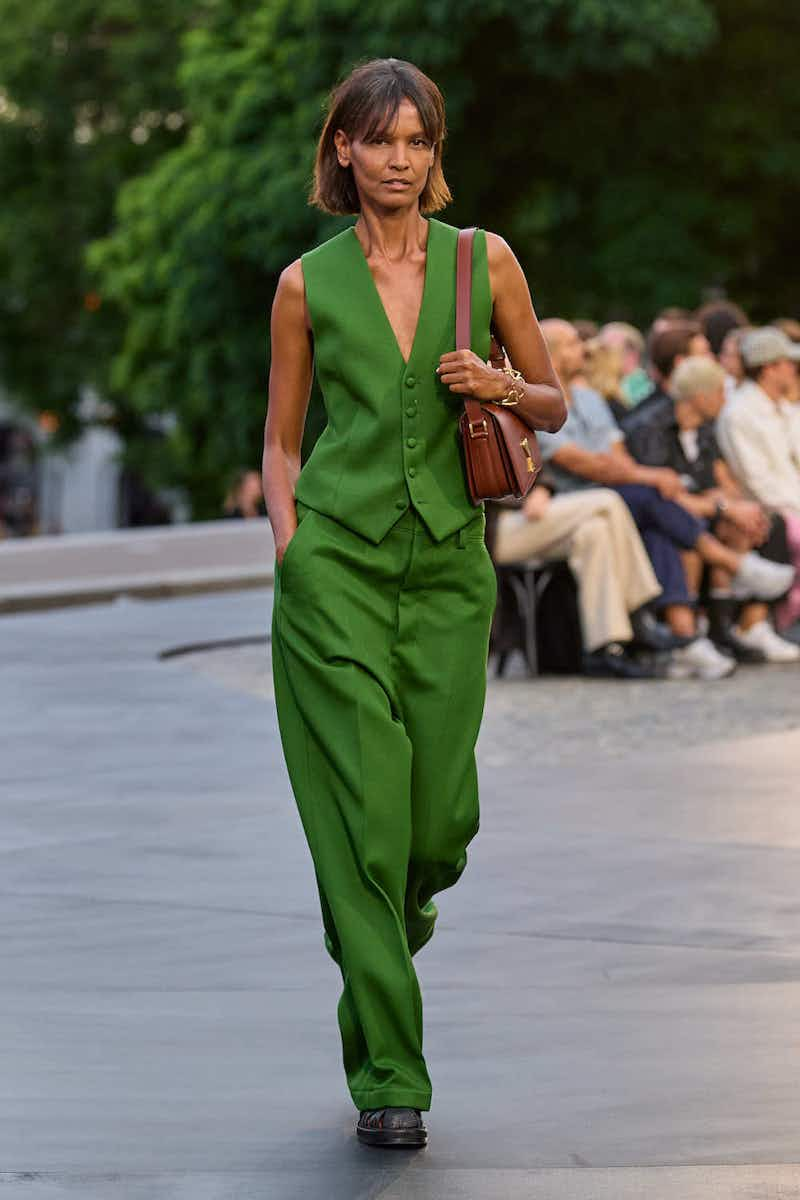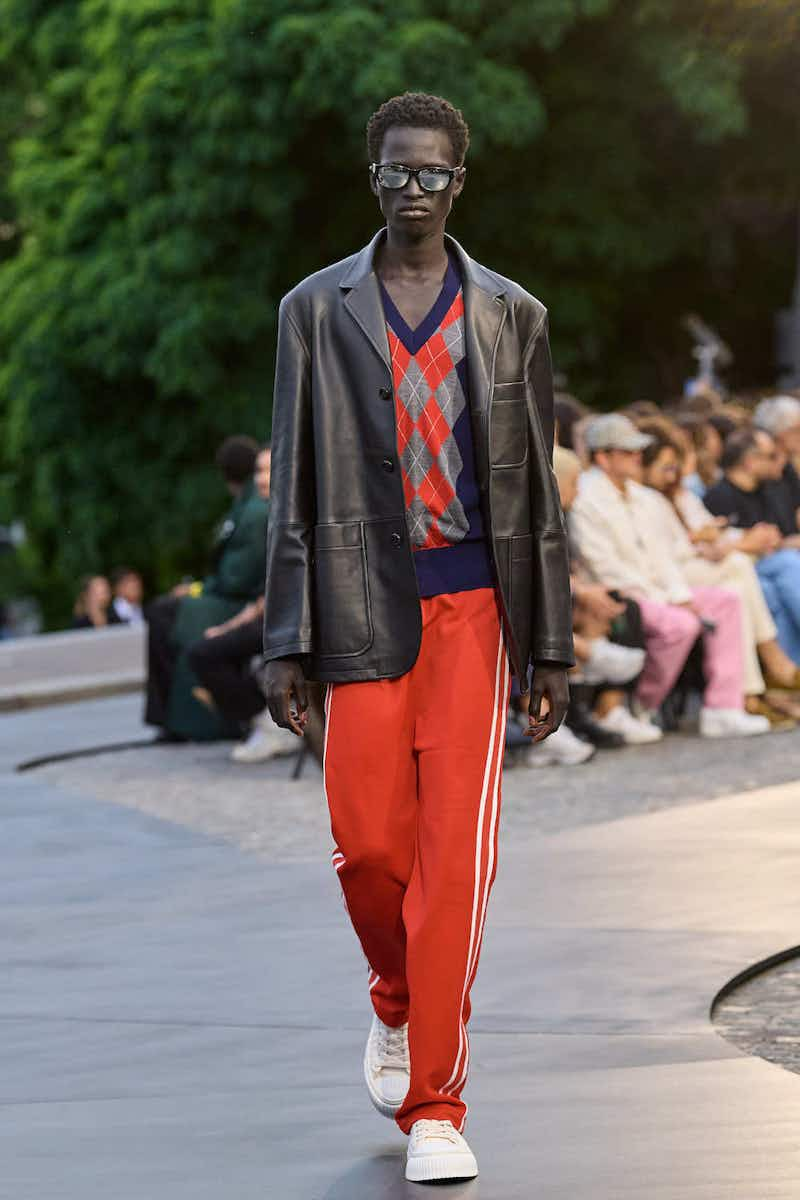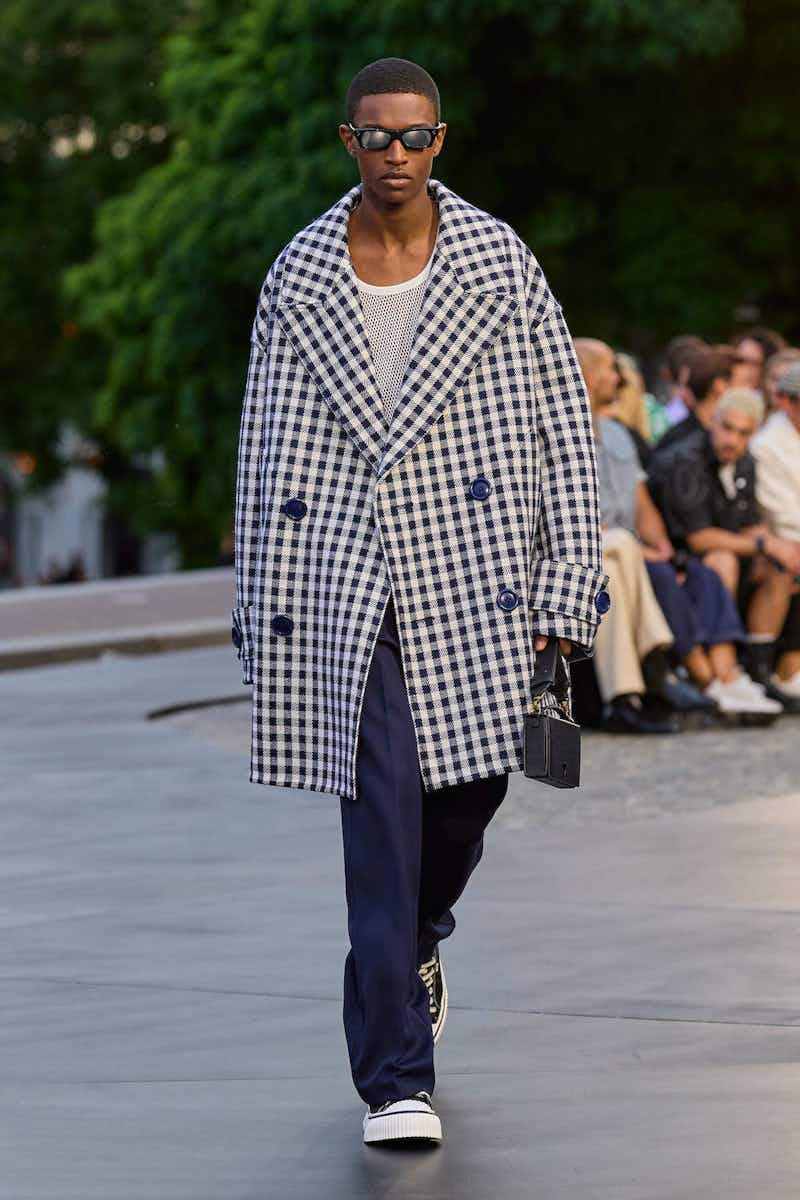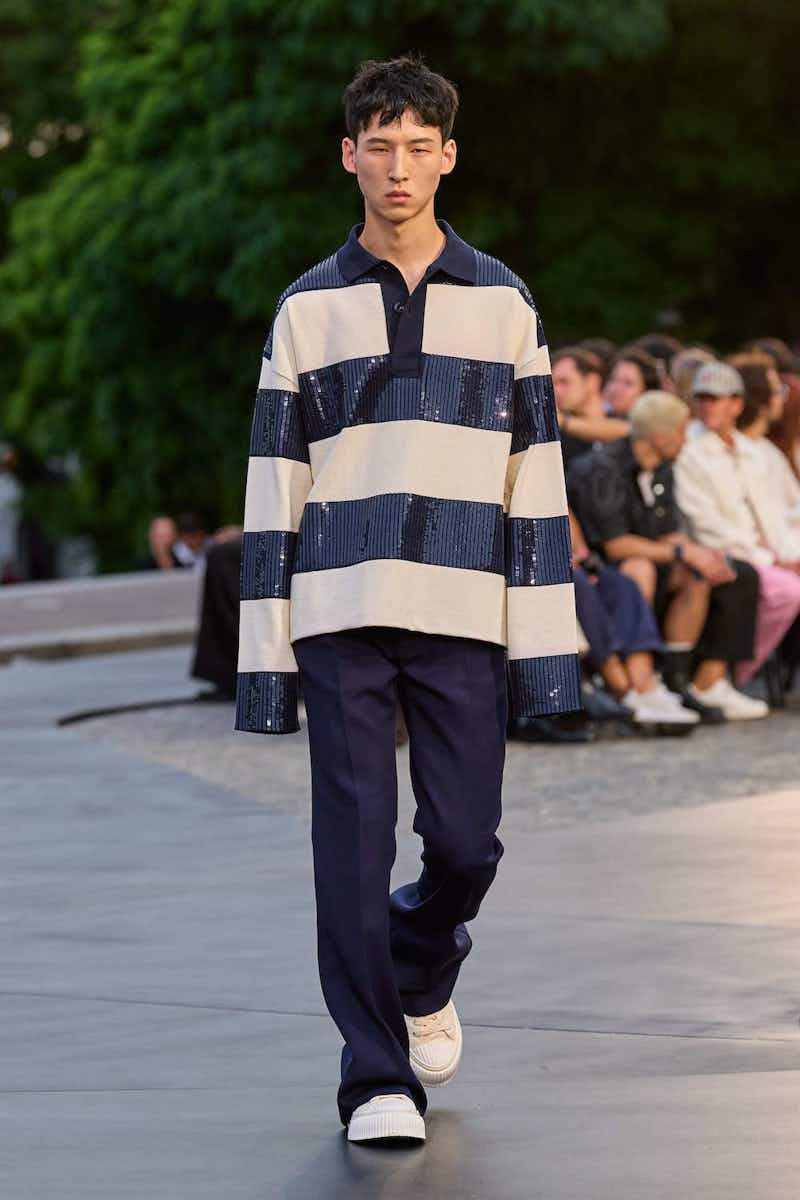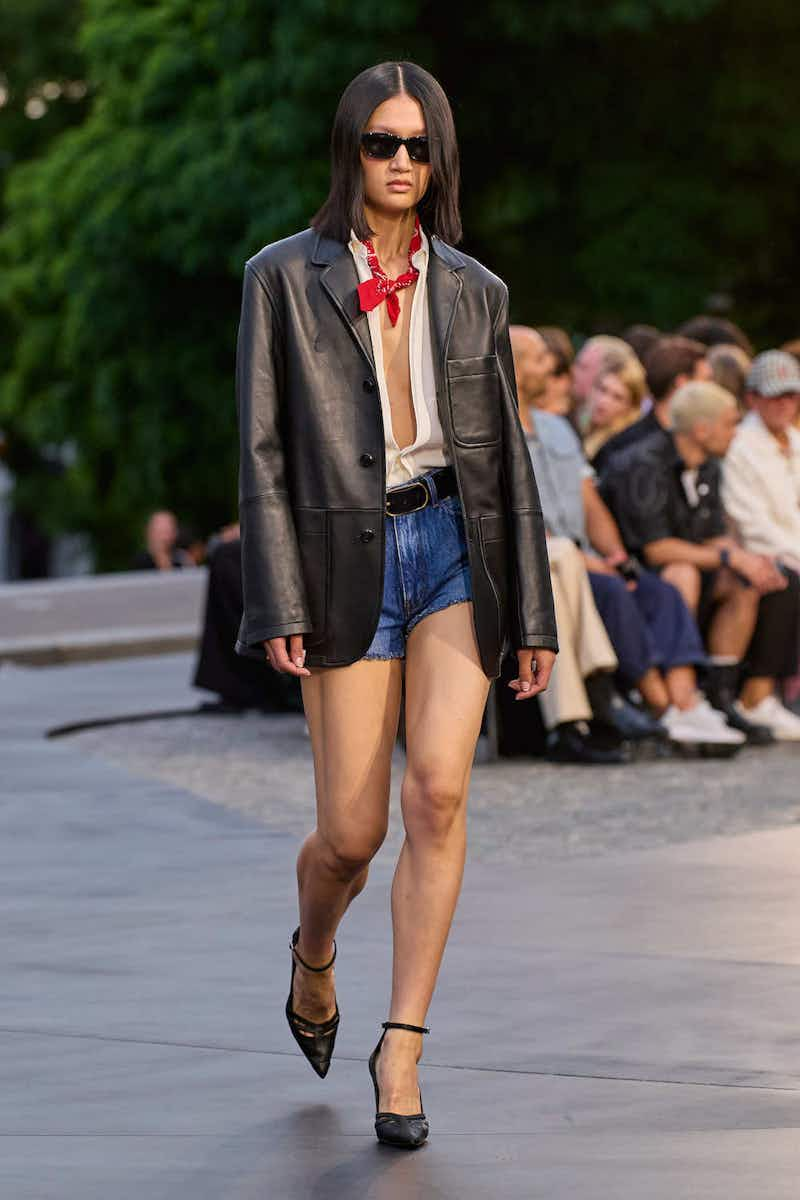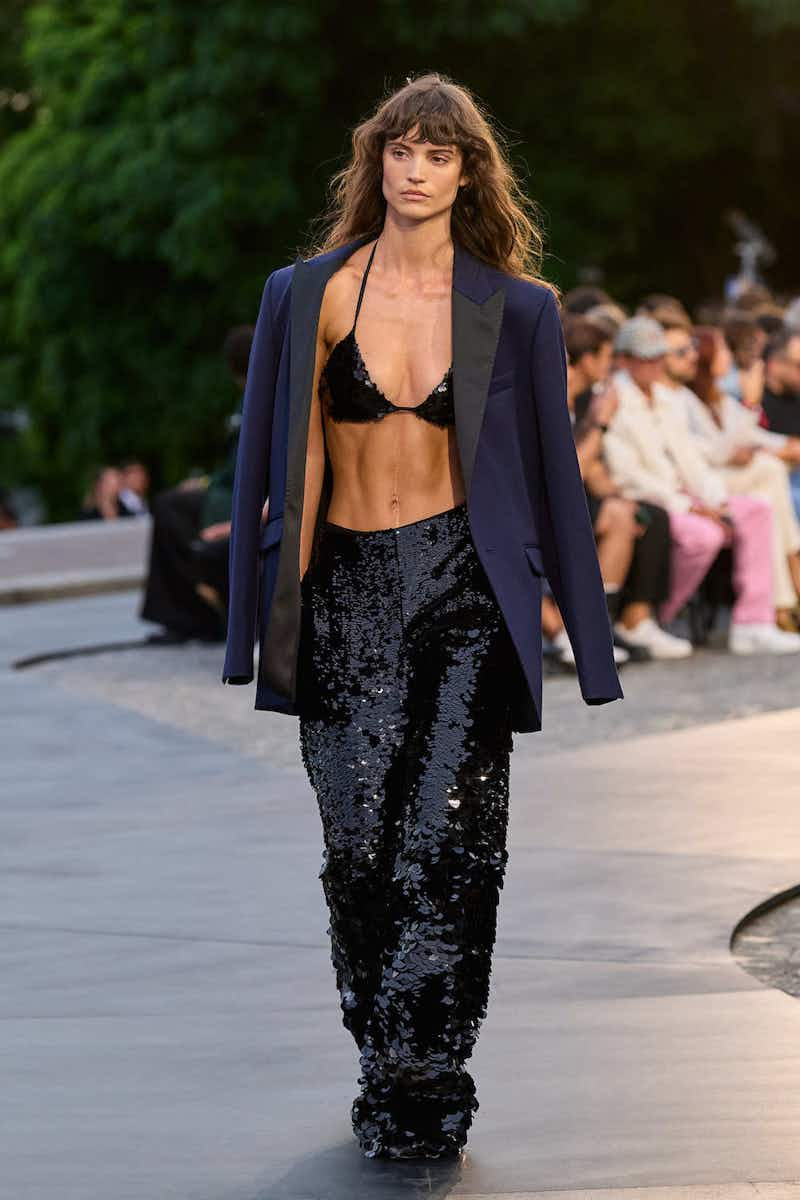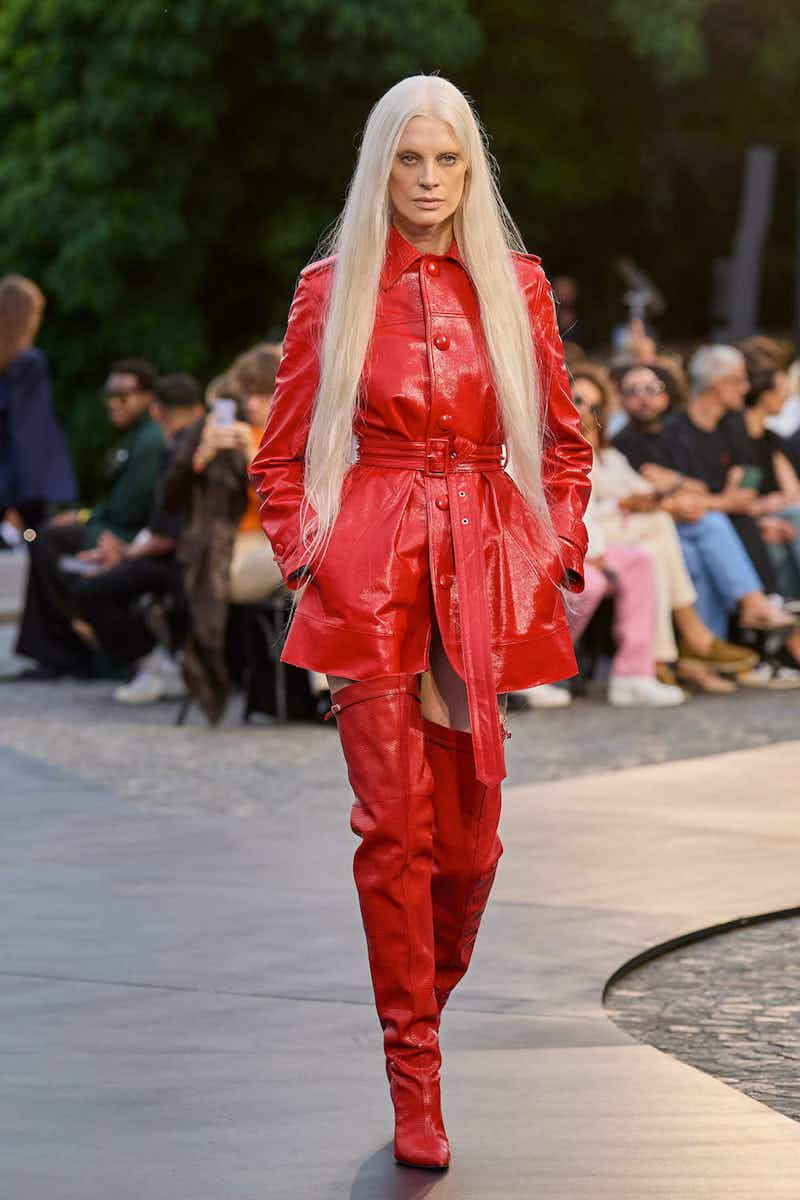 Goodbye, yellow brick road. This show marked a sensitive final chapter for Louis Vuitton, albeit one that undercut its sombre sense of an ending with great joy and a marching band from Tallahassee, Florida. Virgil Abloh's legacy and lasting influence has been celebrated several times since the designer's untimely death in November 2021, but this collection marks the last joint effort of the LV team he assembled around him. Soon, a new creative director will be announced. But this felt like a fitting – and very loving – coda, combining Abloh's core design philosophy with the ingenuity and flair of the team he so carefully put together. The idea at the centre of the collection was simple: ​"play". Abloh was someone who played not only with form and genre, but also the expected codes of the fashion world. ​"Play" also refers to that wonderful, childlike state of imagination so crucial to the creative mind. On the runway, ​"play" meant a sombre black suit covered in paper airplanes and sleeves constructed from crocheted flowers. It meant big beads, big pockets, big colours and a massive sense of spirit. Kendrick Lamar sat front row in a crown of thorns, performing songs from his new album Mr. Morale & The Big Steppers. He ended with a farewell message: repeating ​"long live Virgil" as the models filed past.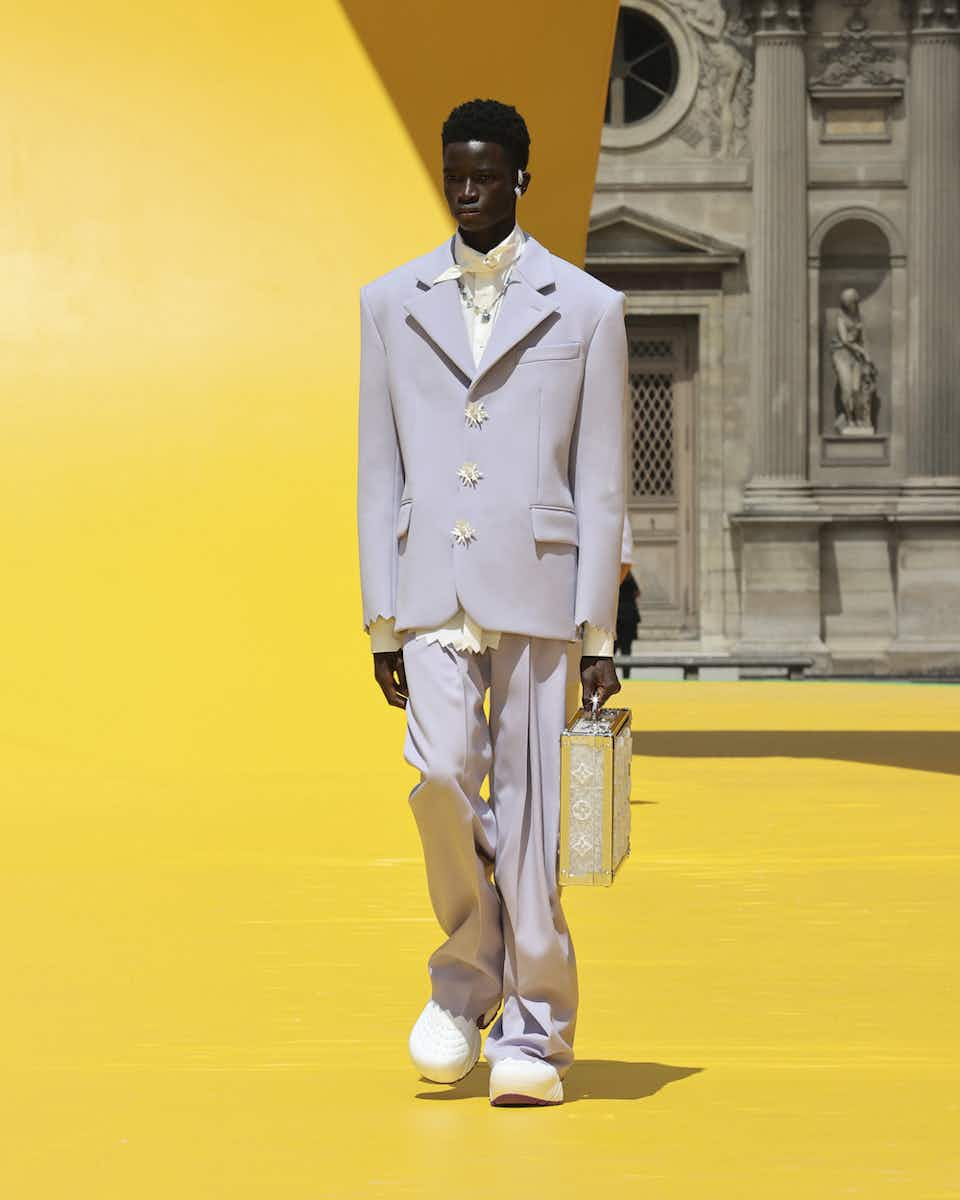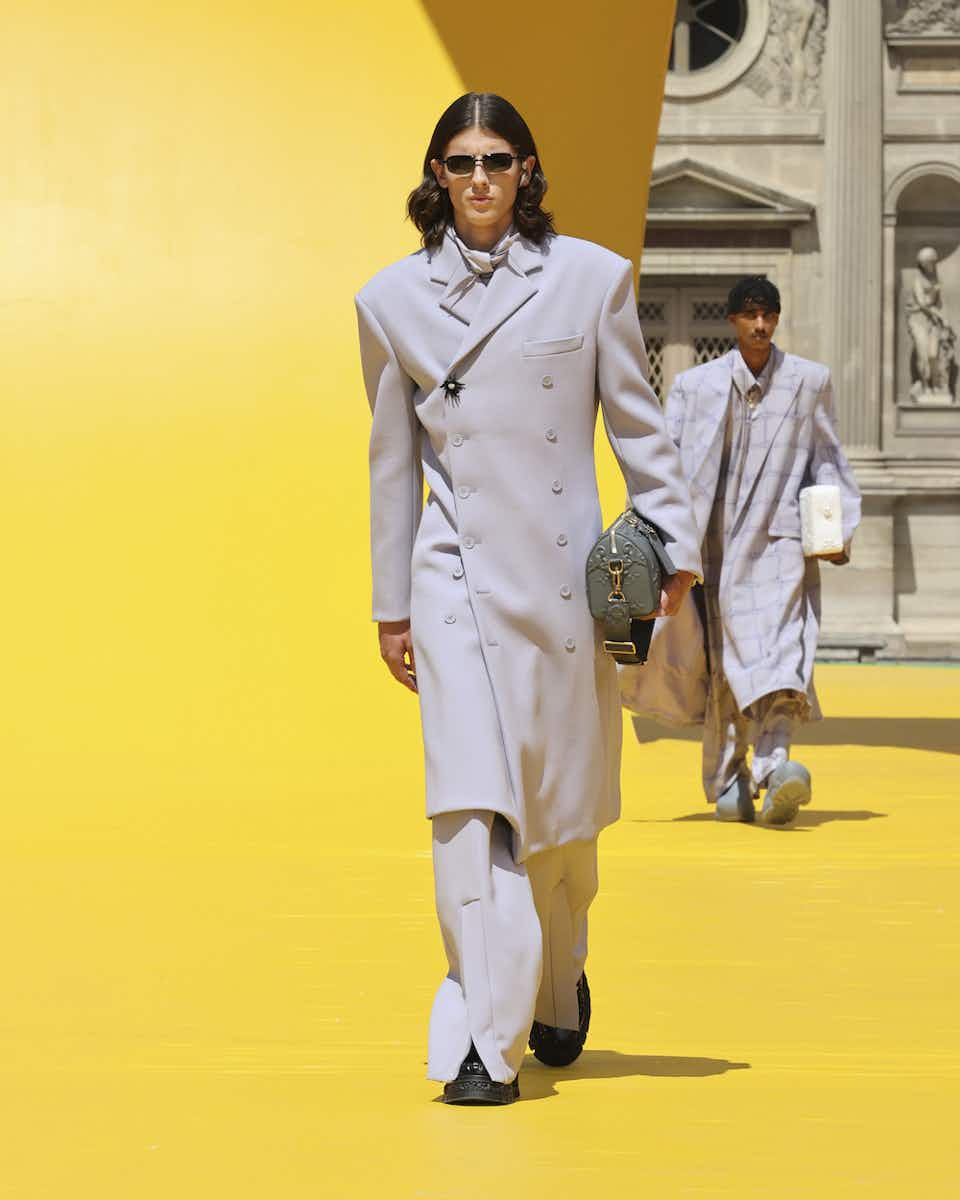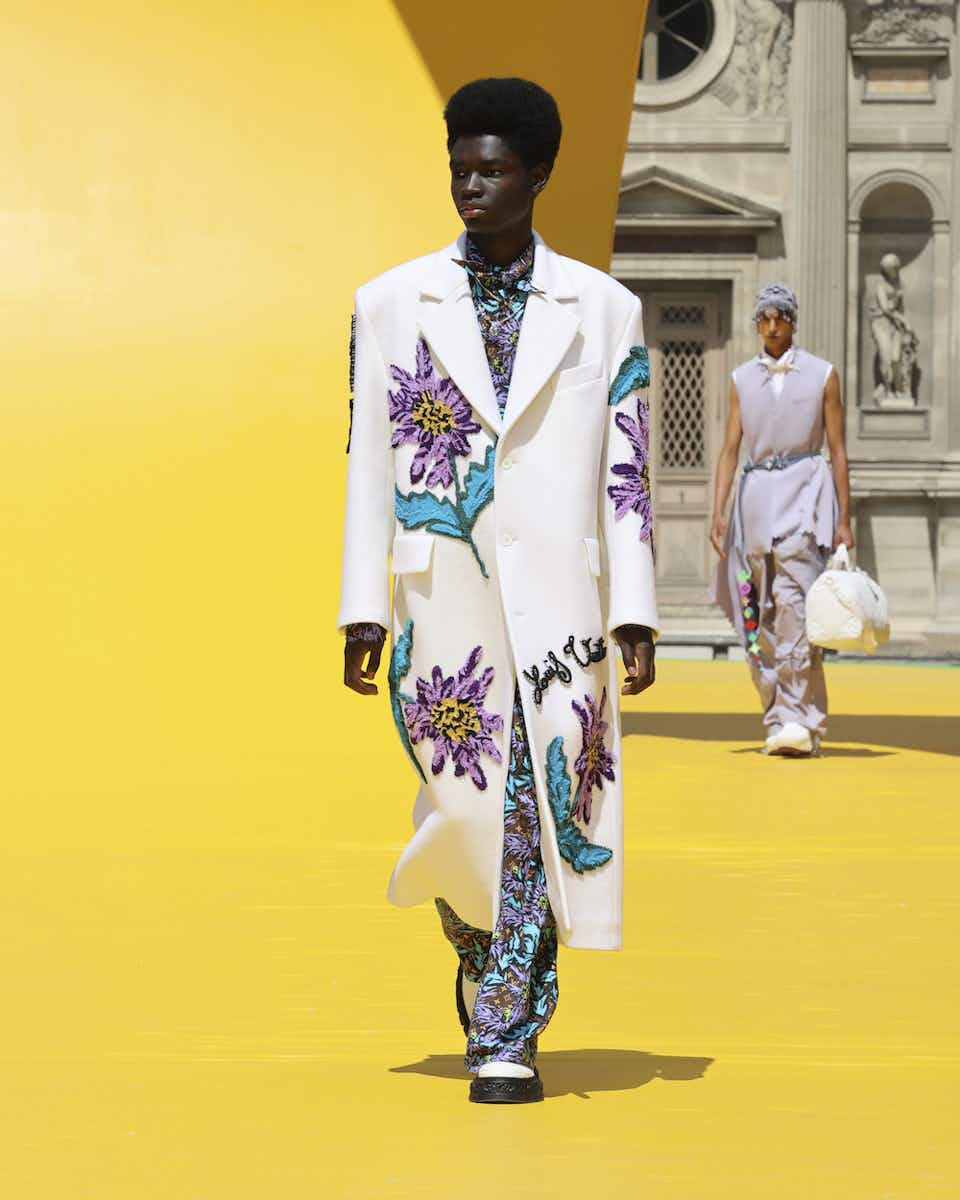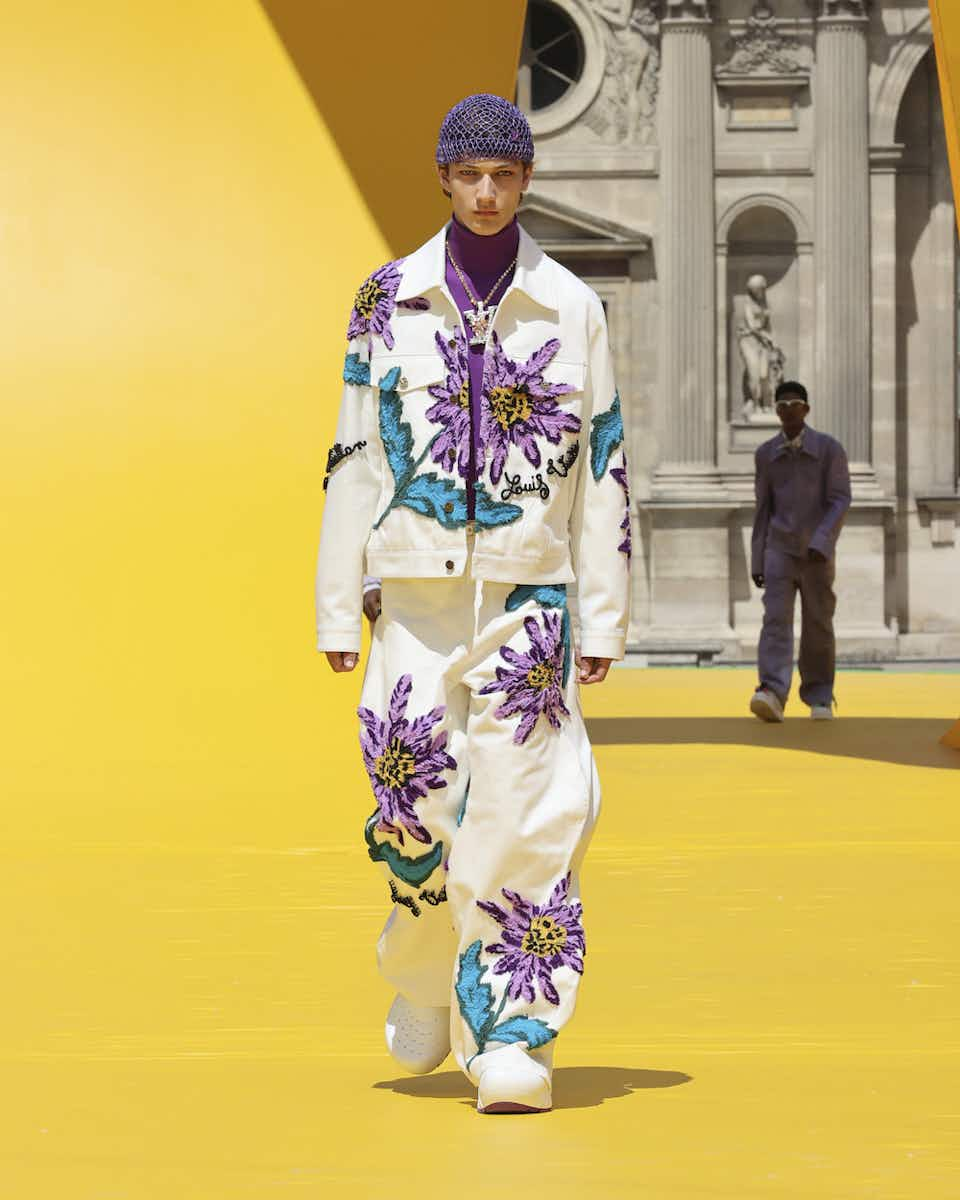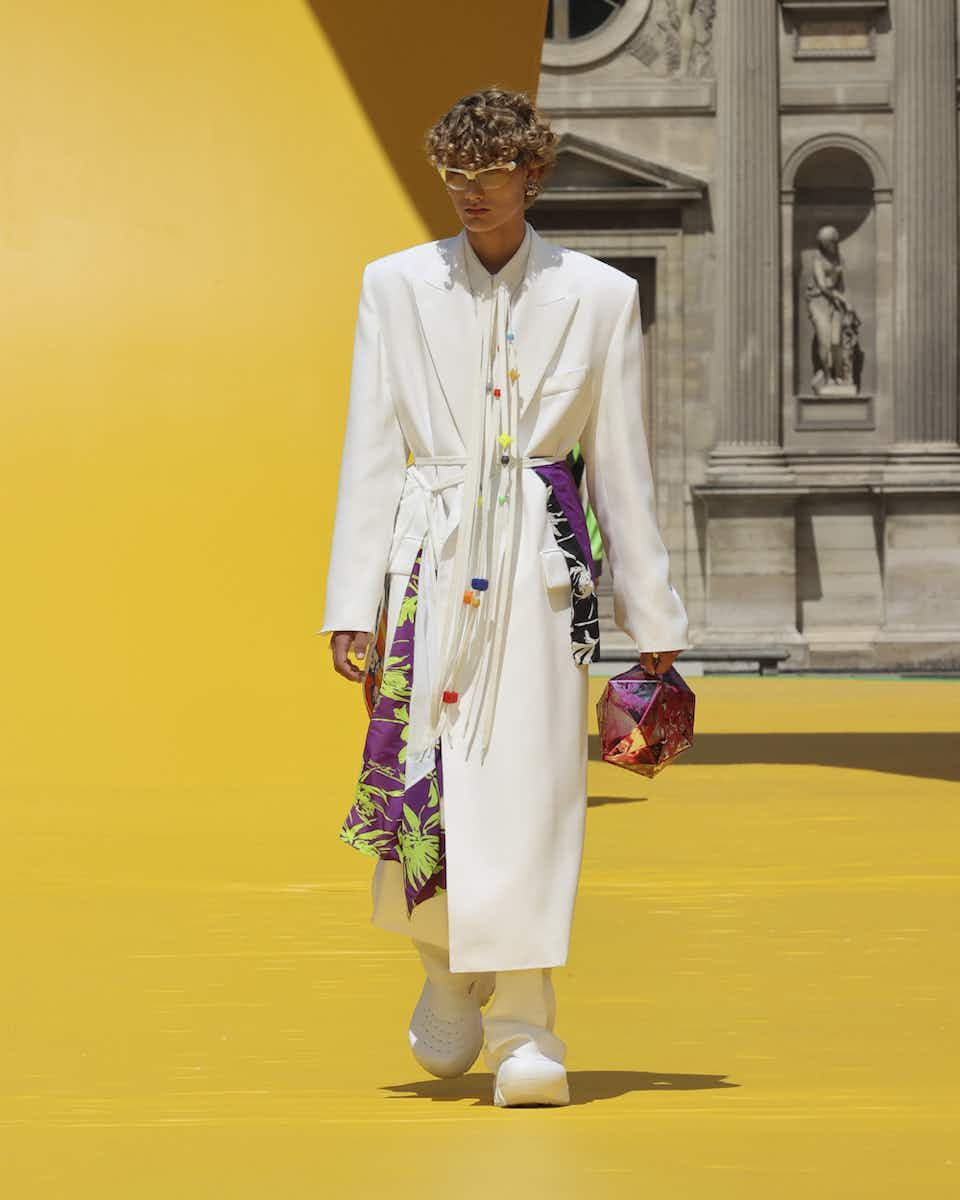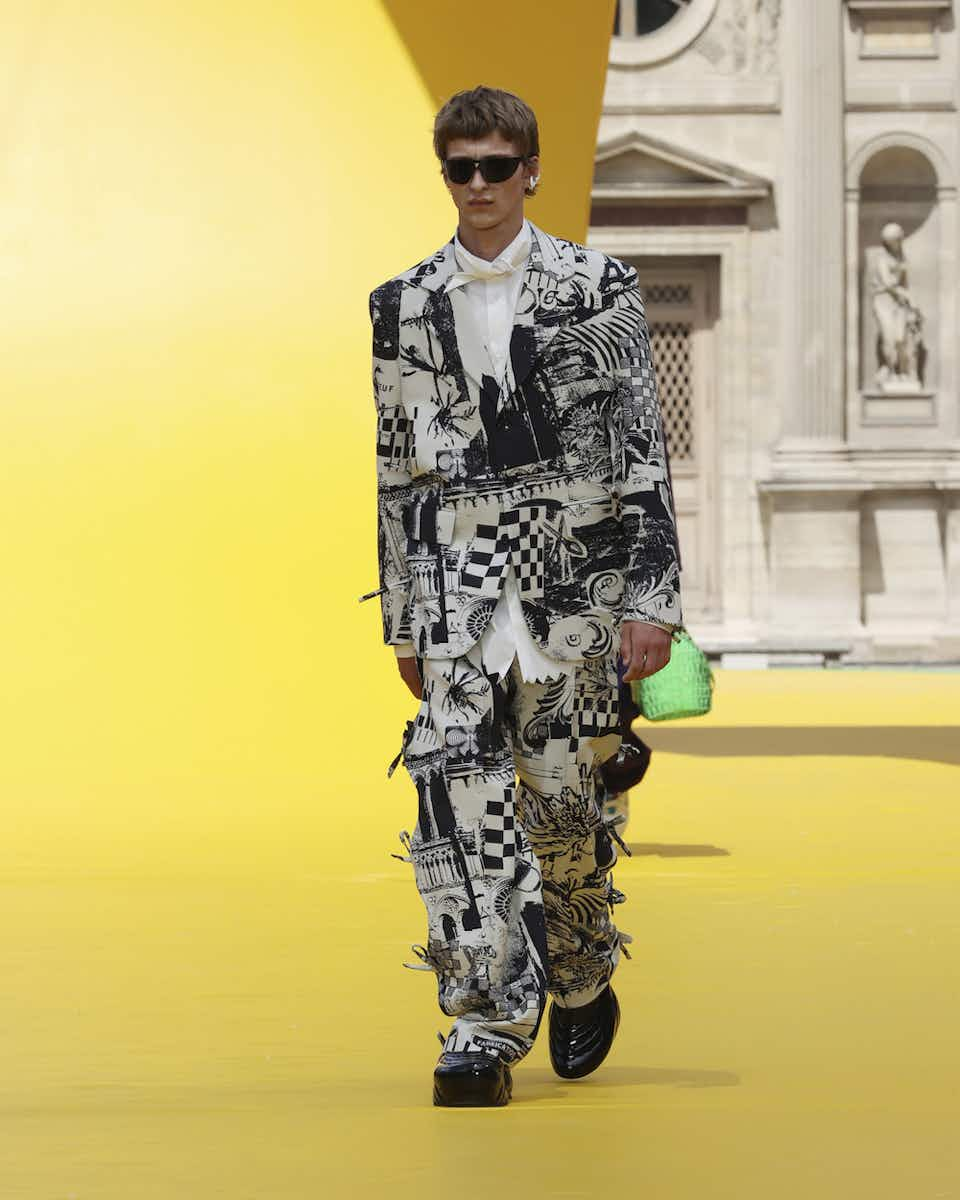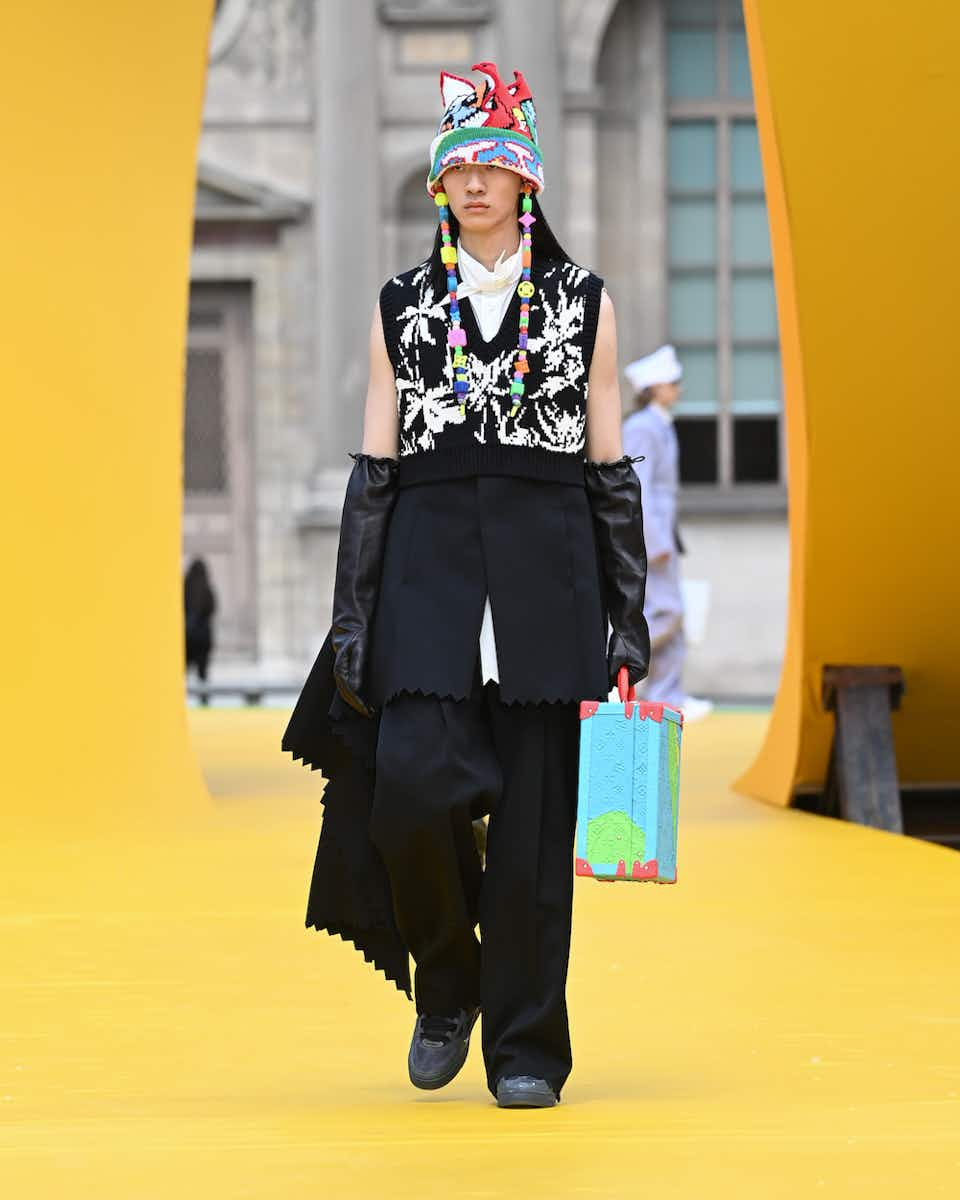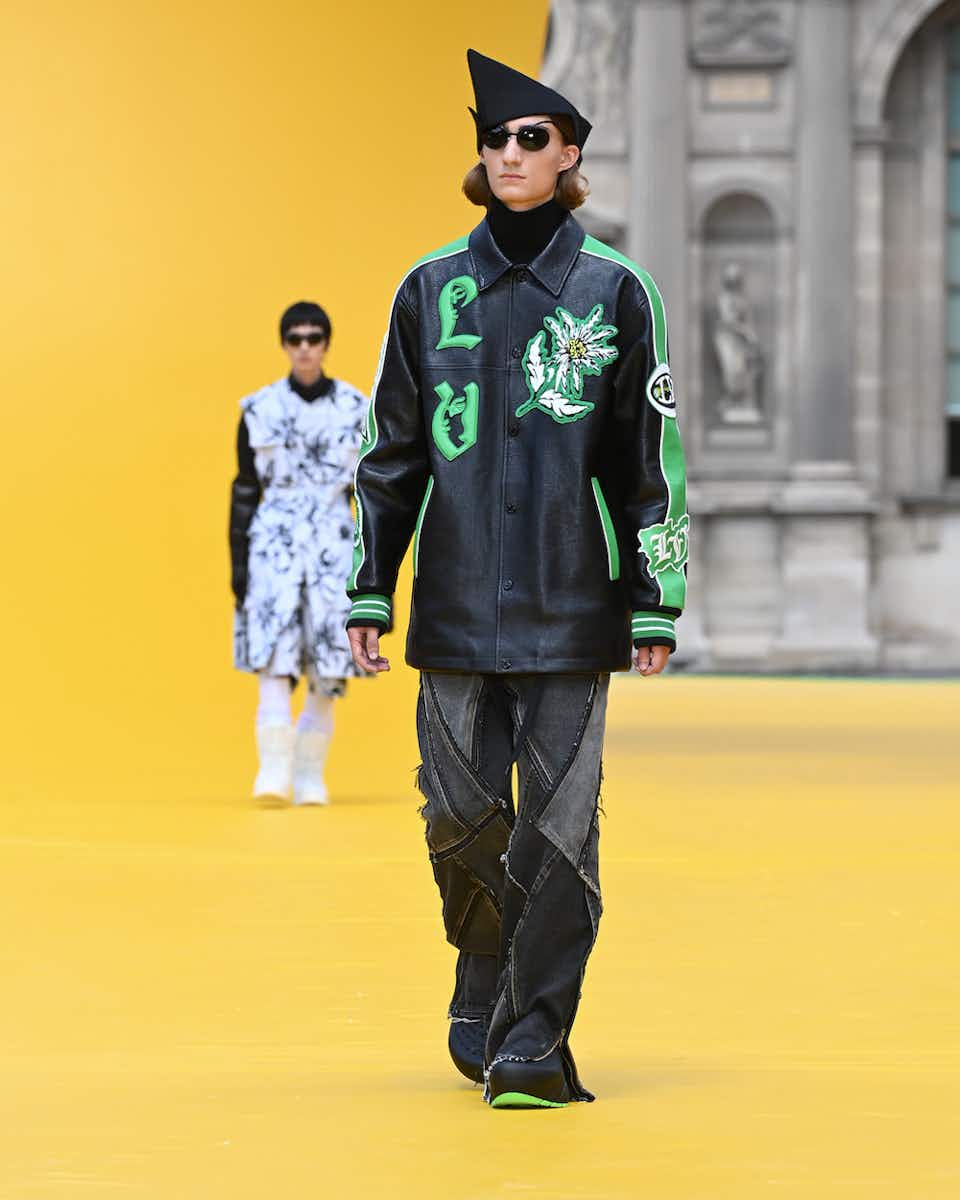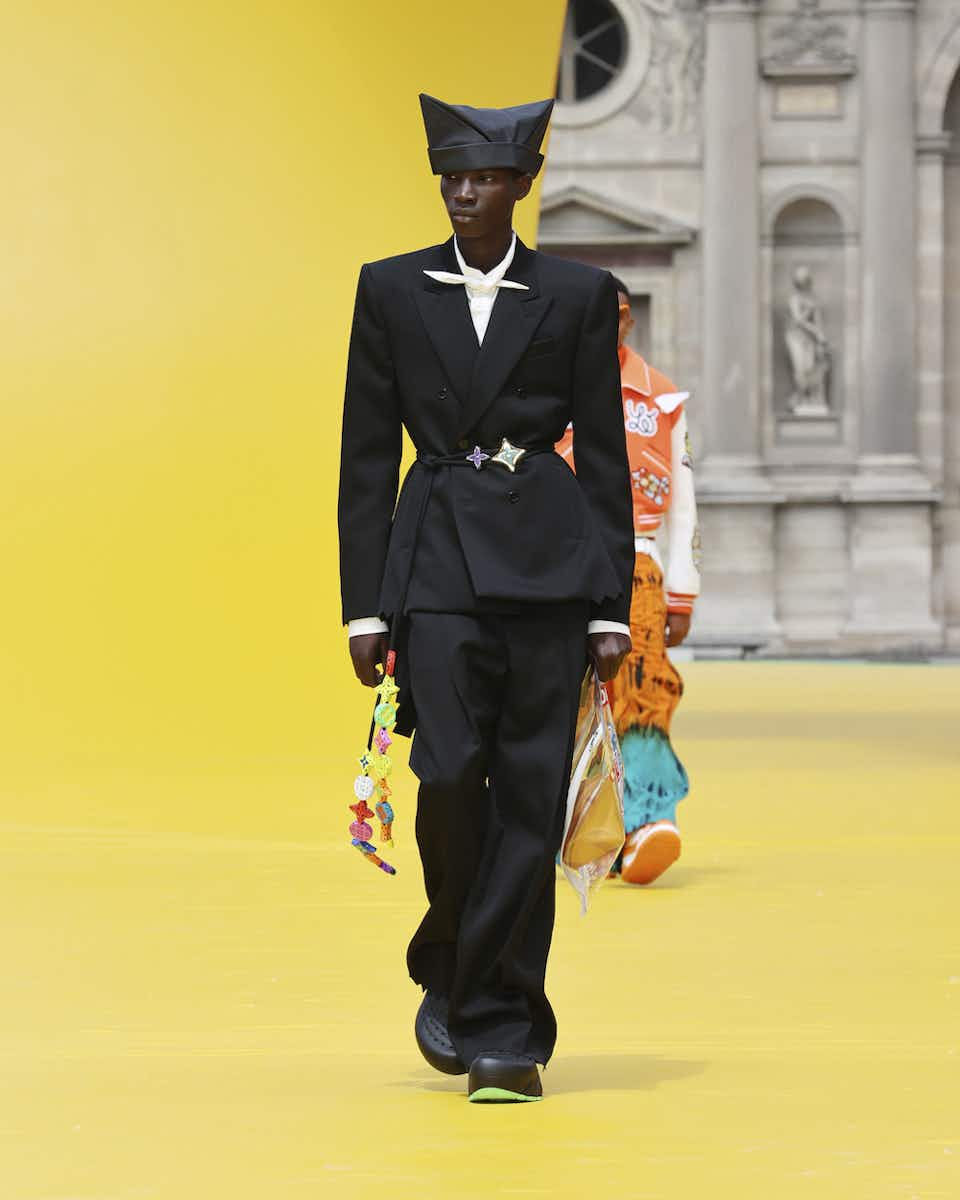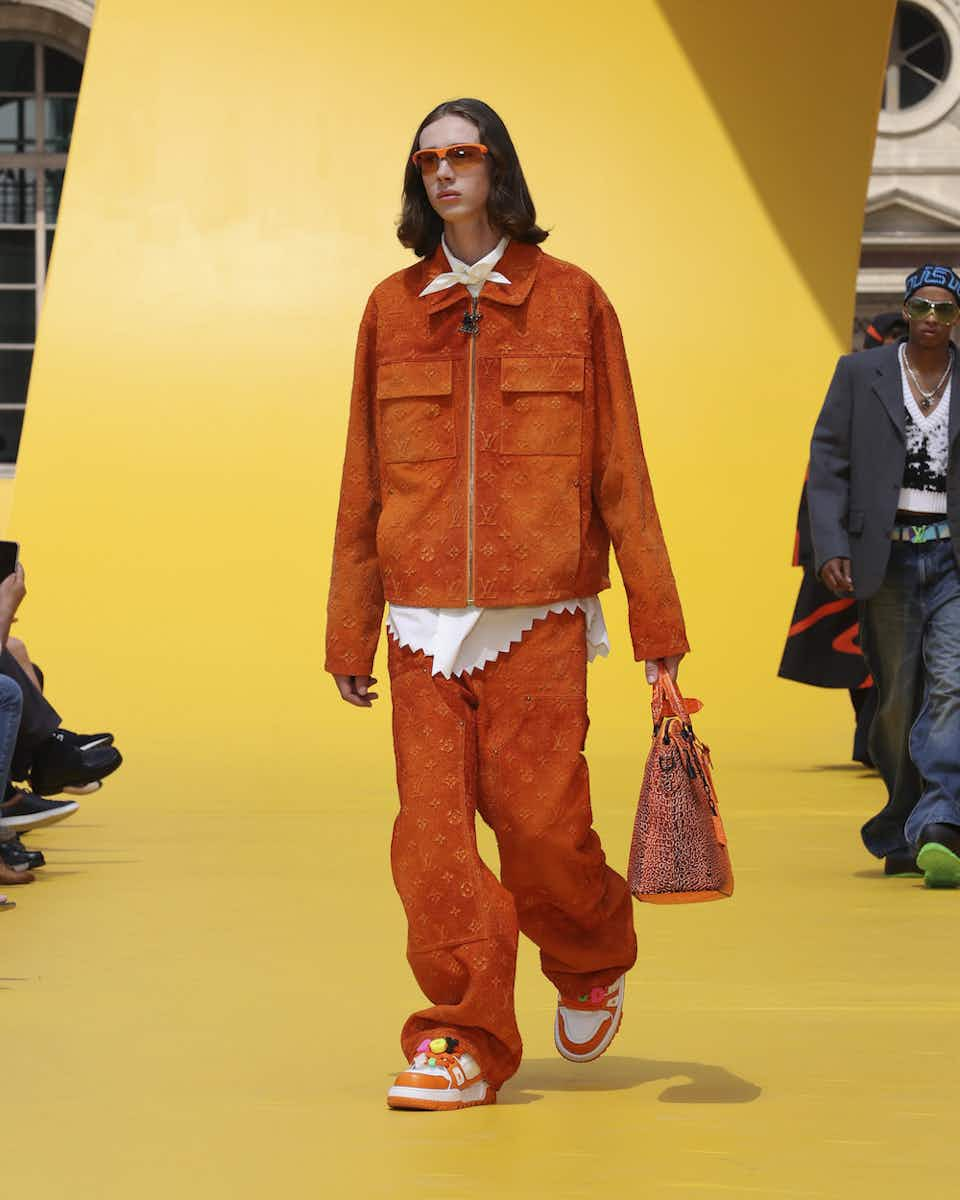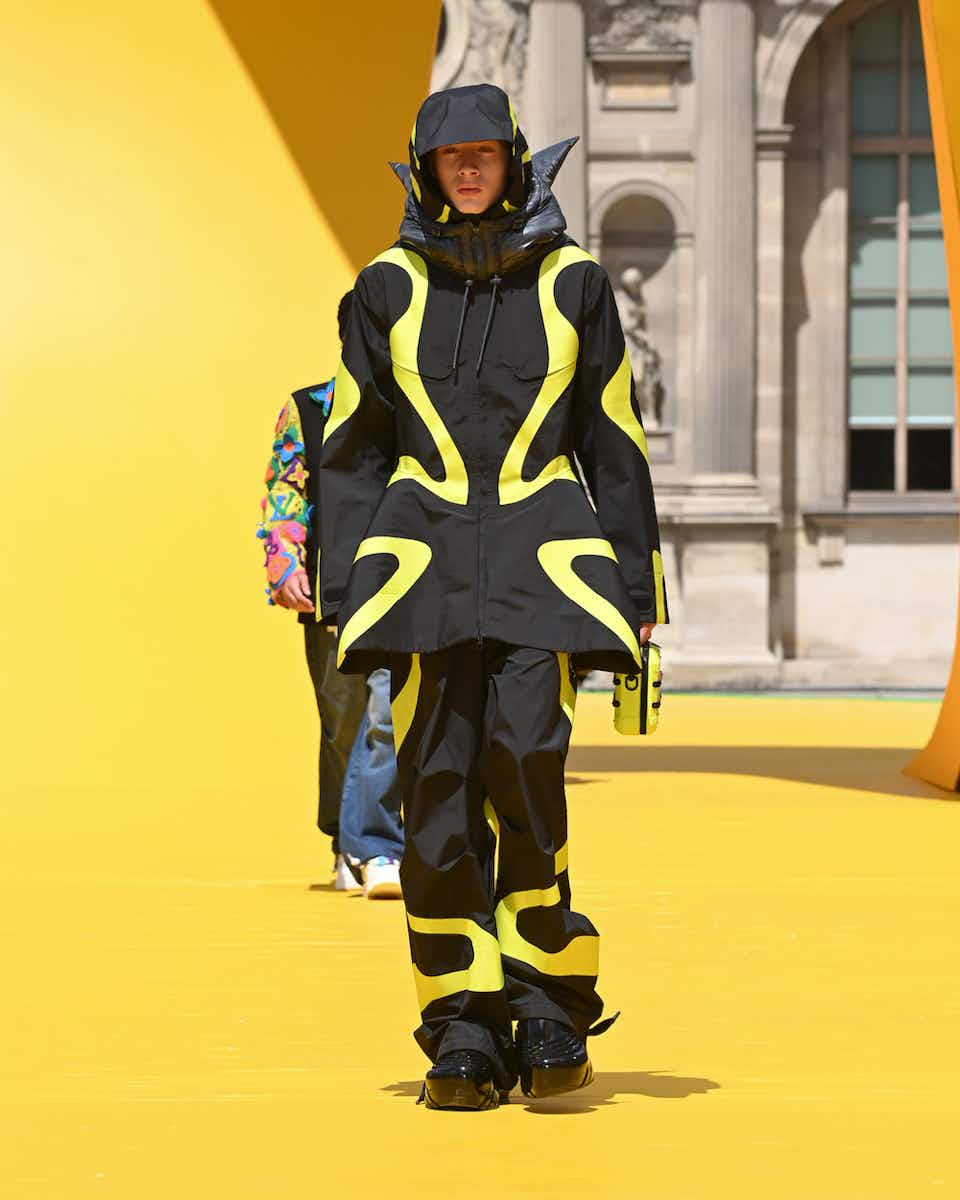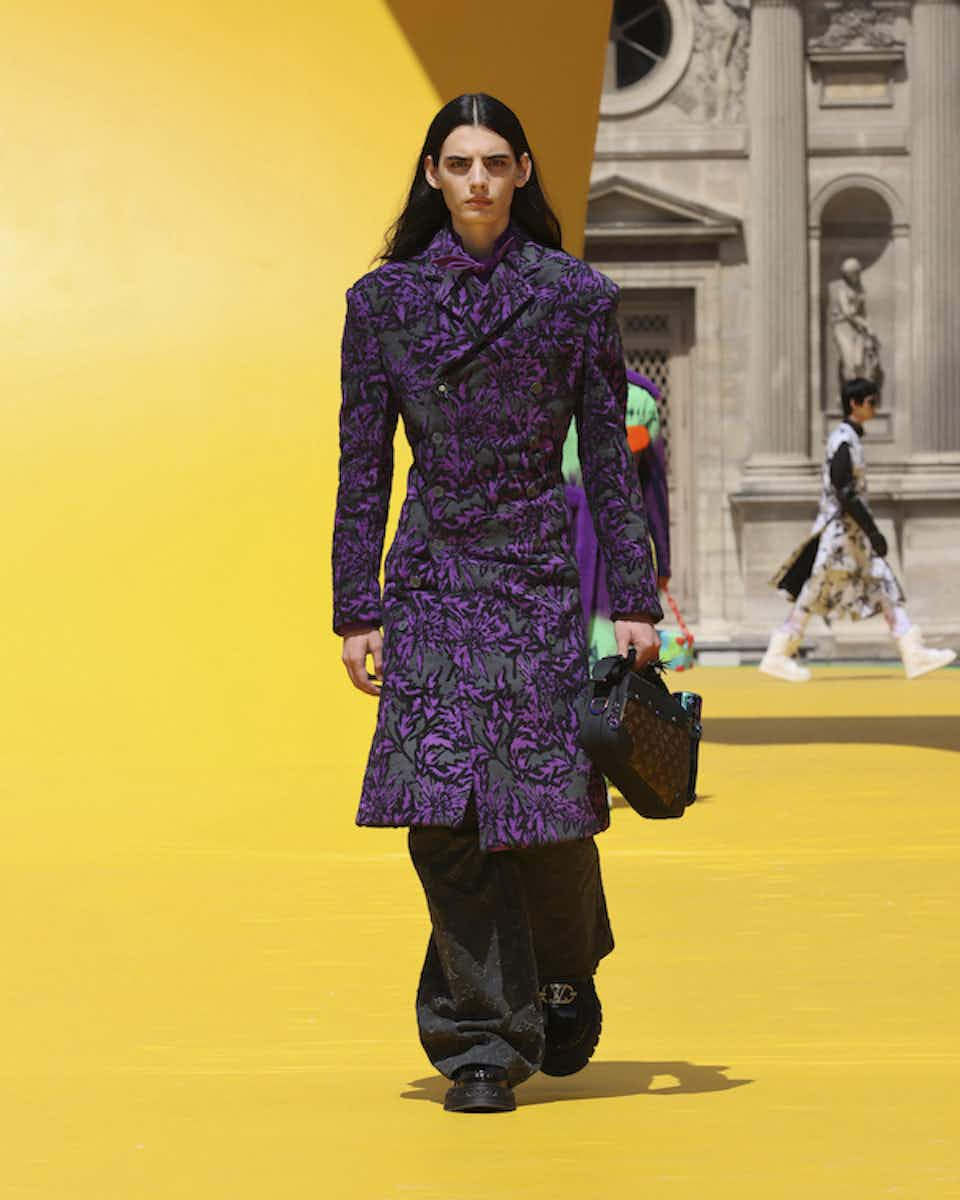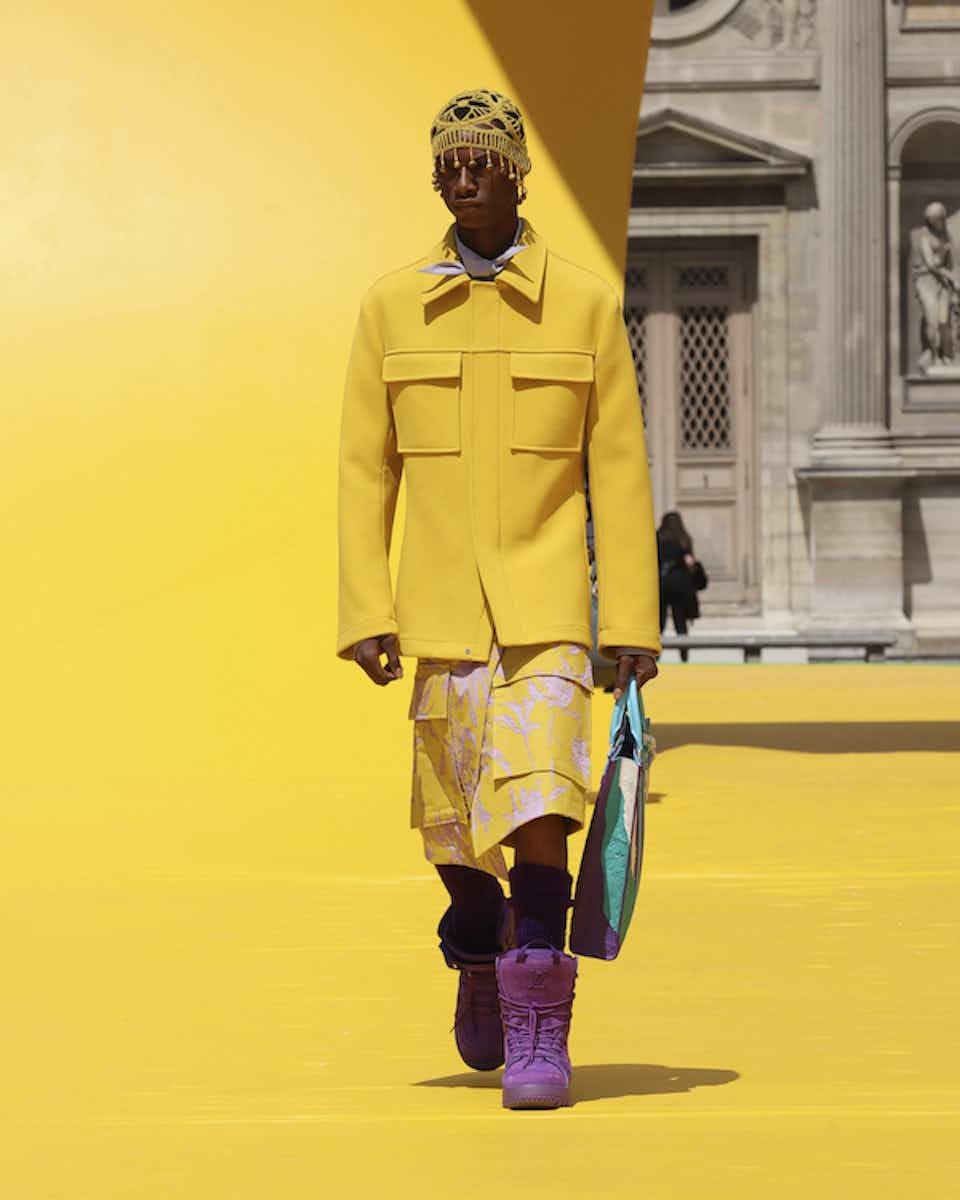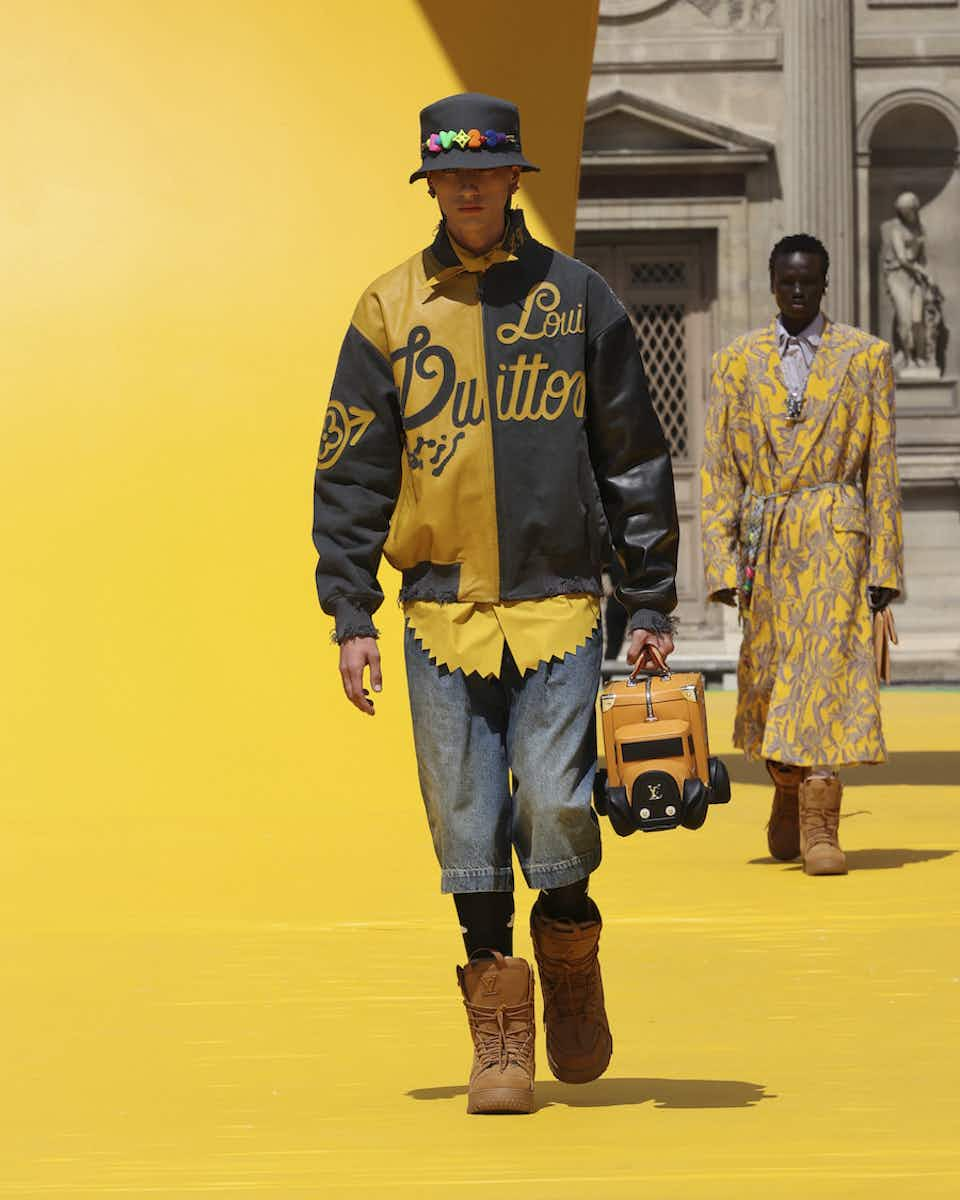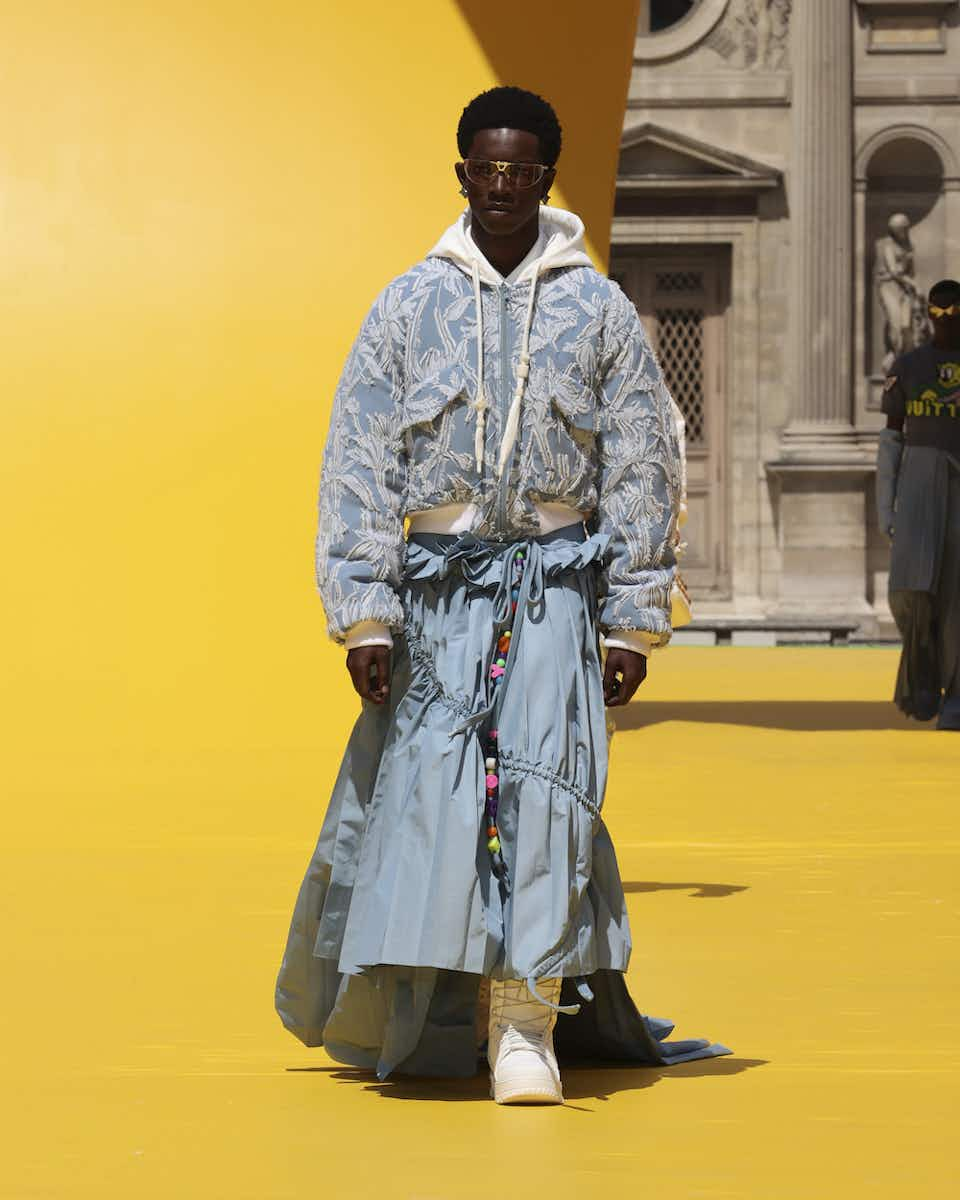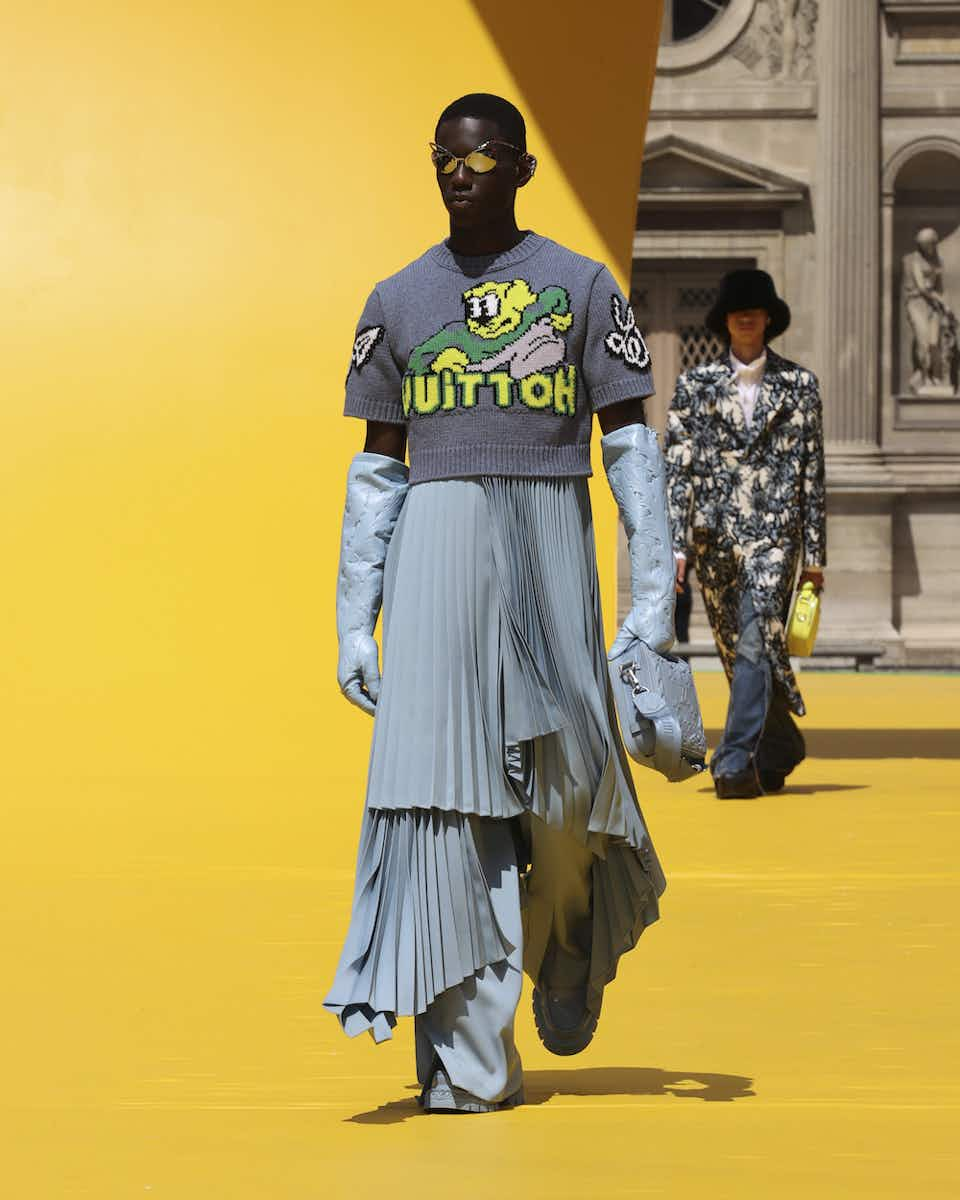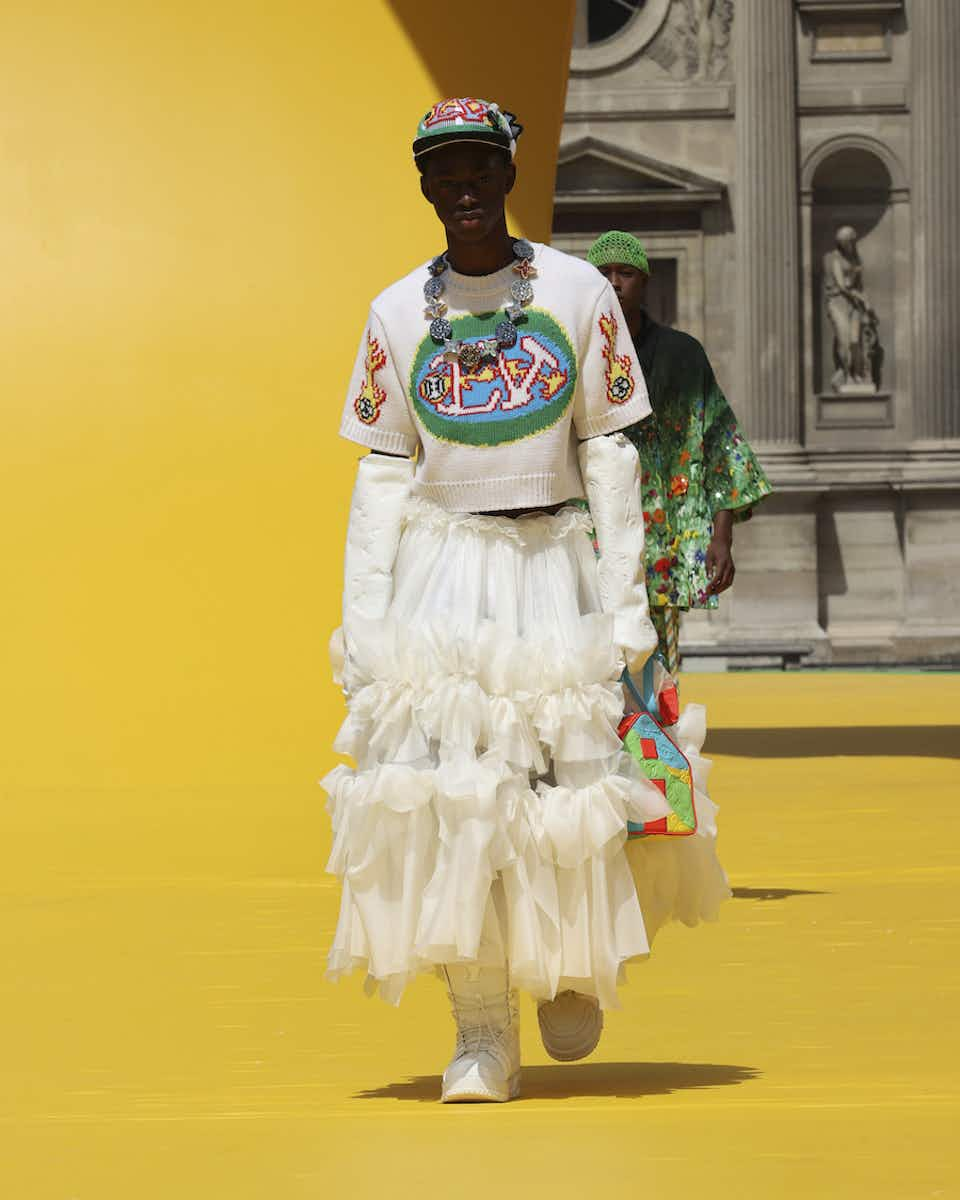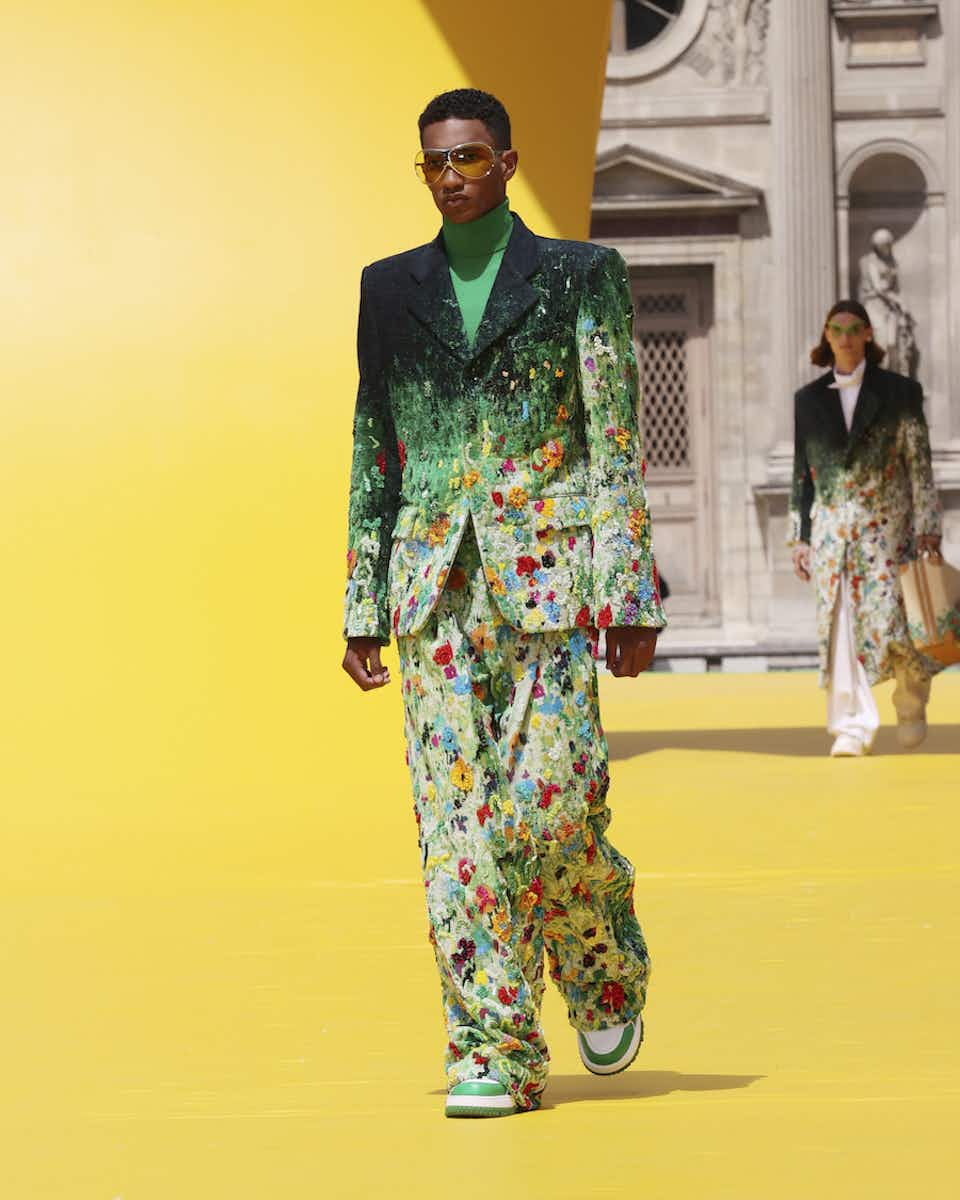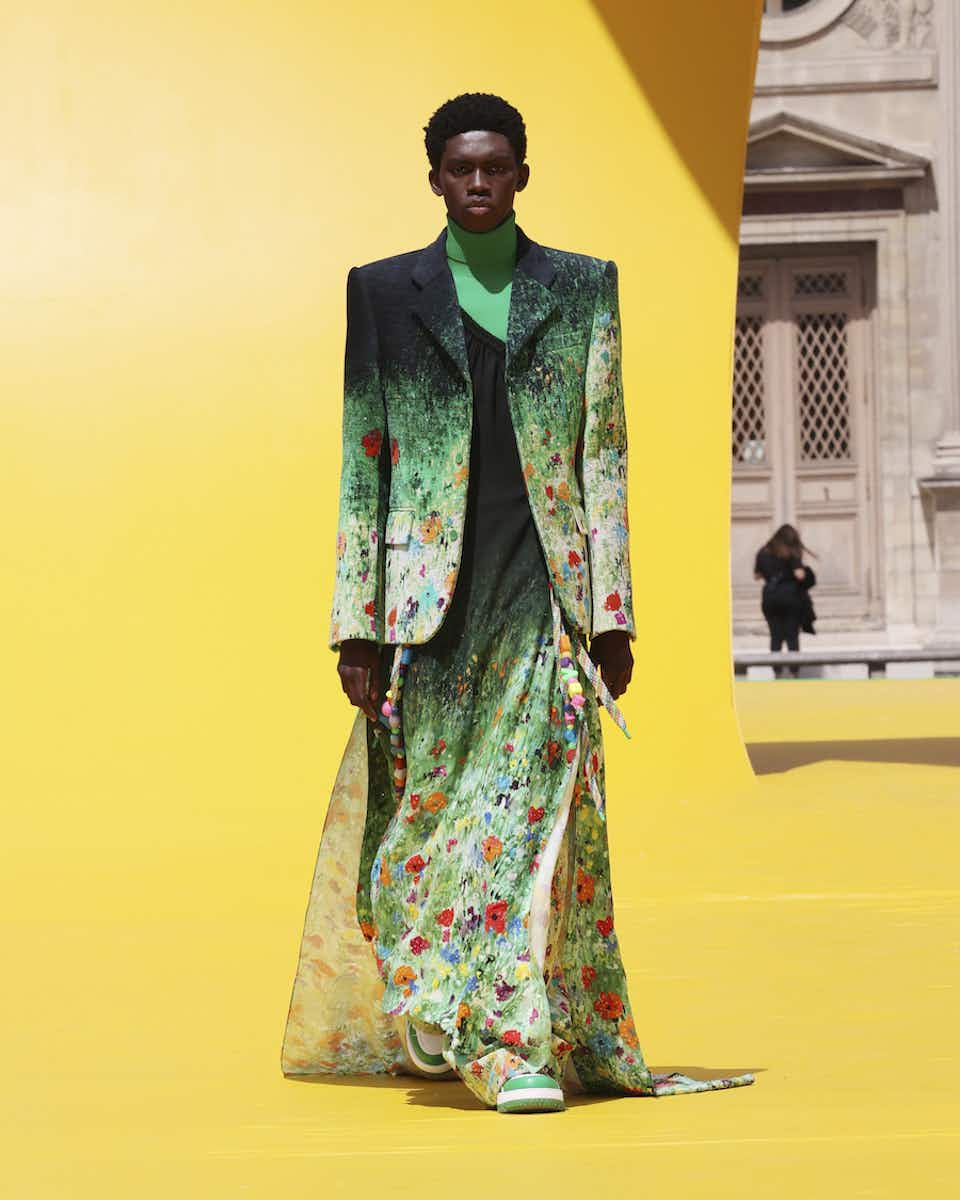 What is it about the Bloomsbury Group that inspires such fervour? Charleston has become the favoured destination for creative directors seeking bohemian inspiration, its painted interiors and ramshackle whiff of ever-so-pretty nonconformity offering a special kind of fashion catnip. Last year Kim Jones cited the creative cohort as inspiration for his Fendi womenswear debut. This season he brought Vanessa Bell, Duncan Grant et al over to Dior, combining a vision of the Sussex farmhouse's bounteous gardens with Christian Dior's rose bushes at his childhood home in Granville. The designs themselves suggested a balance between outdoorsy pursuits and leisurely lunches in the shade, dusky pink suits worn with backpacks and sensible boots. With many collections paying homage to the Bloomsbury Group, it's easy for the references to wear a little thin. Virginiana Woolf described Duncan Grant's time at Charleston as ​"a strange, shaggy interlude," but the fashion world rarely does anything especially strange or shaggy with these artists and writers. They become symbols of creativity, English eccentricity, free-spiritedness, idyllic queer life. The clothes, though, are beautiful. Kim Jones cuts his jackets with a wonderful mix of skill and inventive instinct. Perhaps in future he'll find different gardens to play in.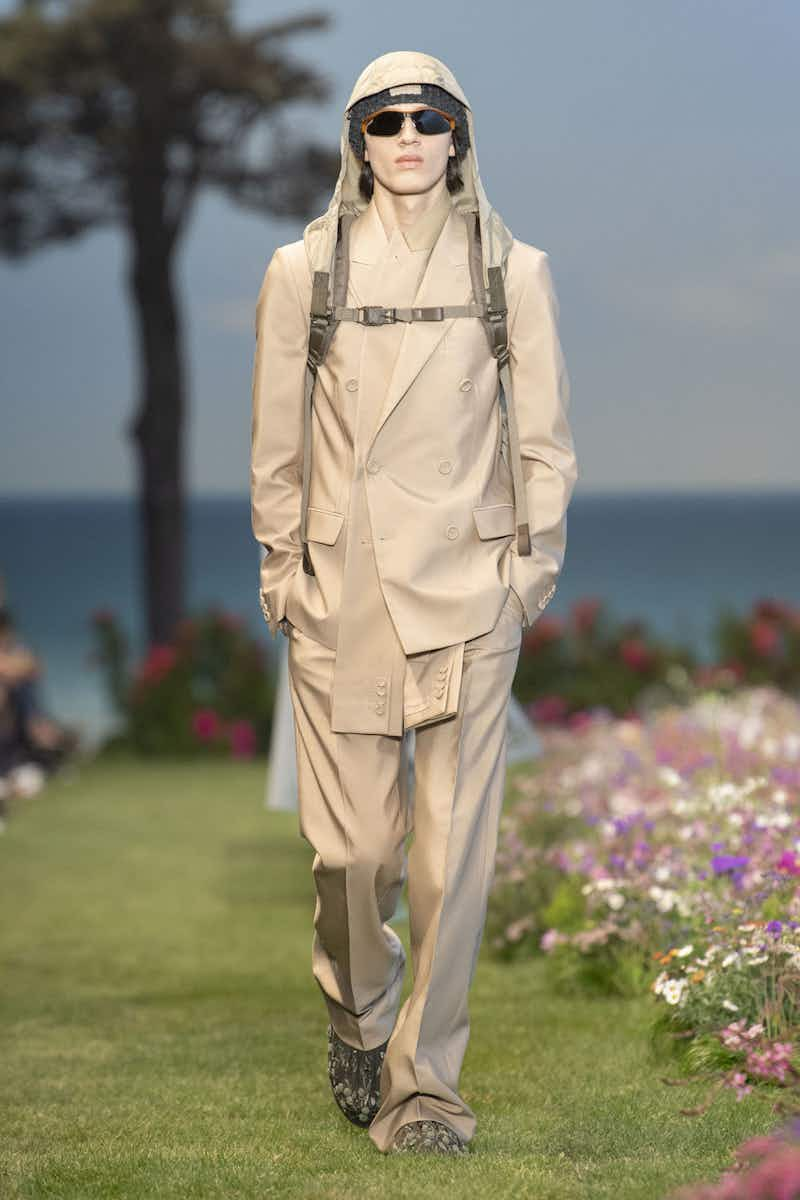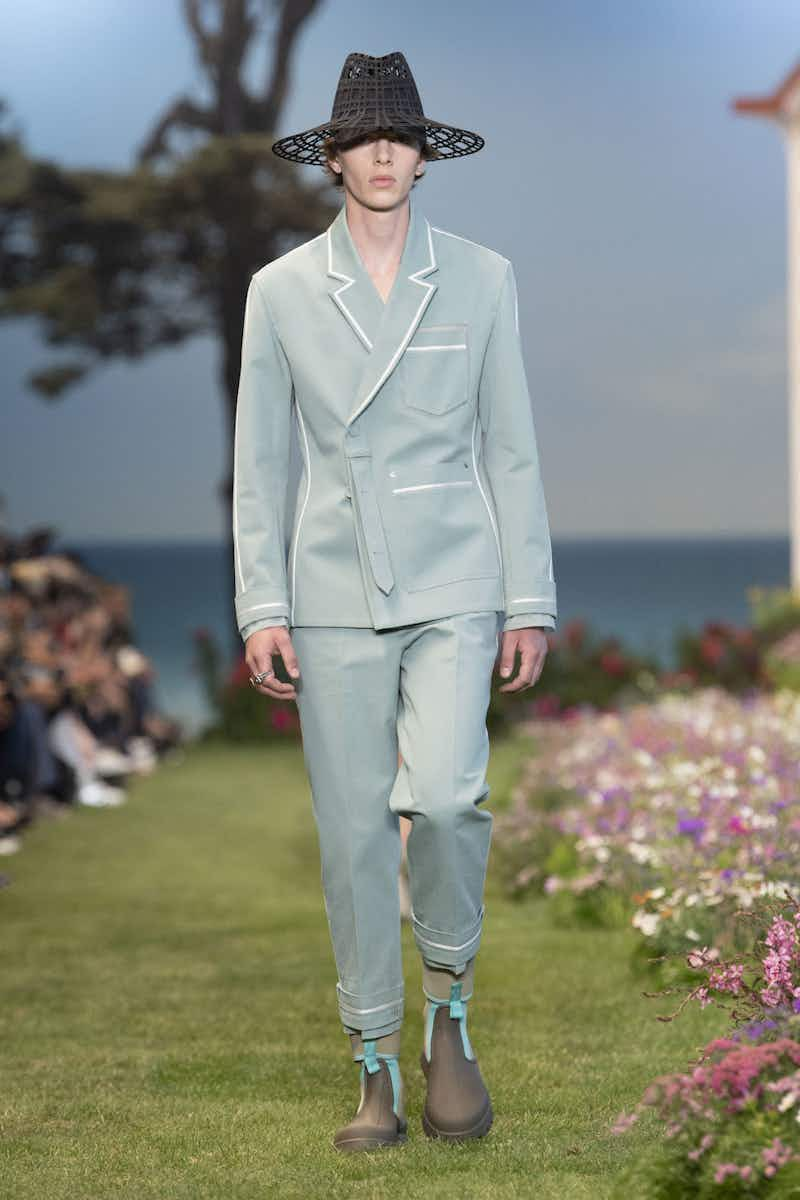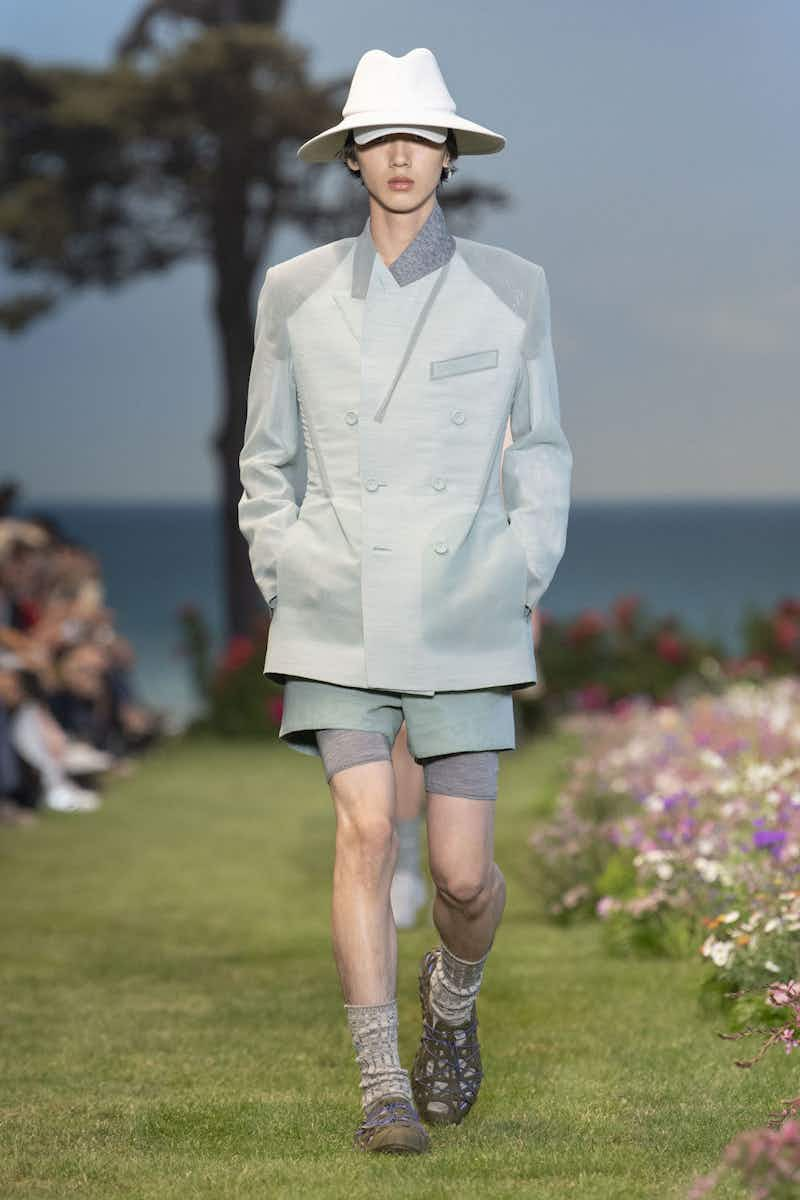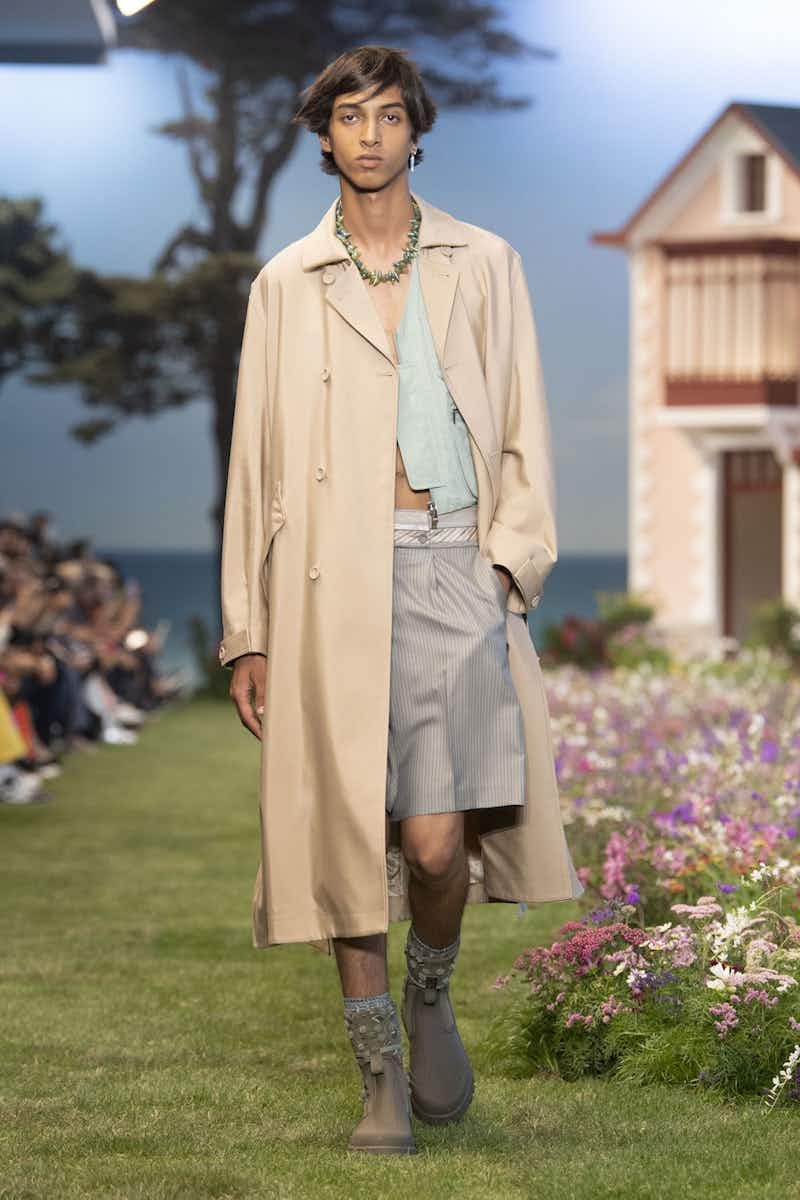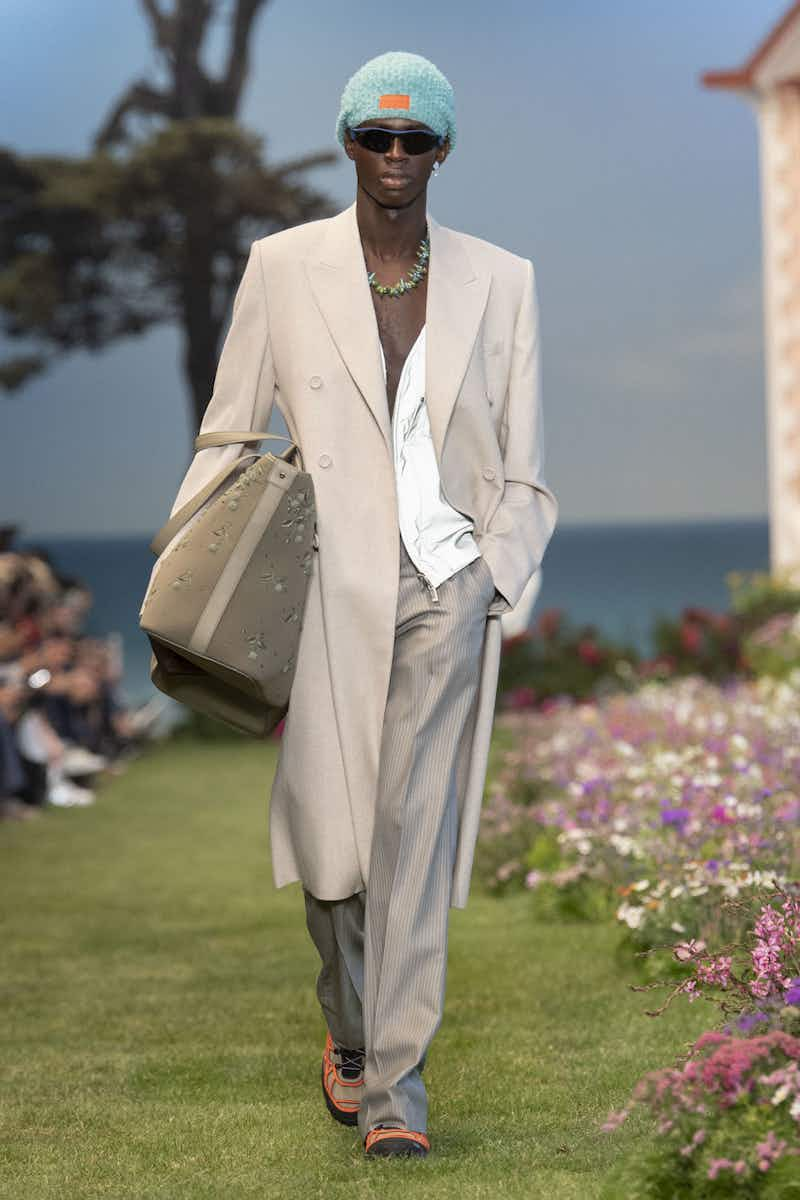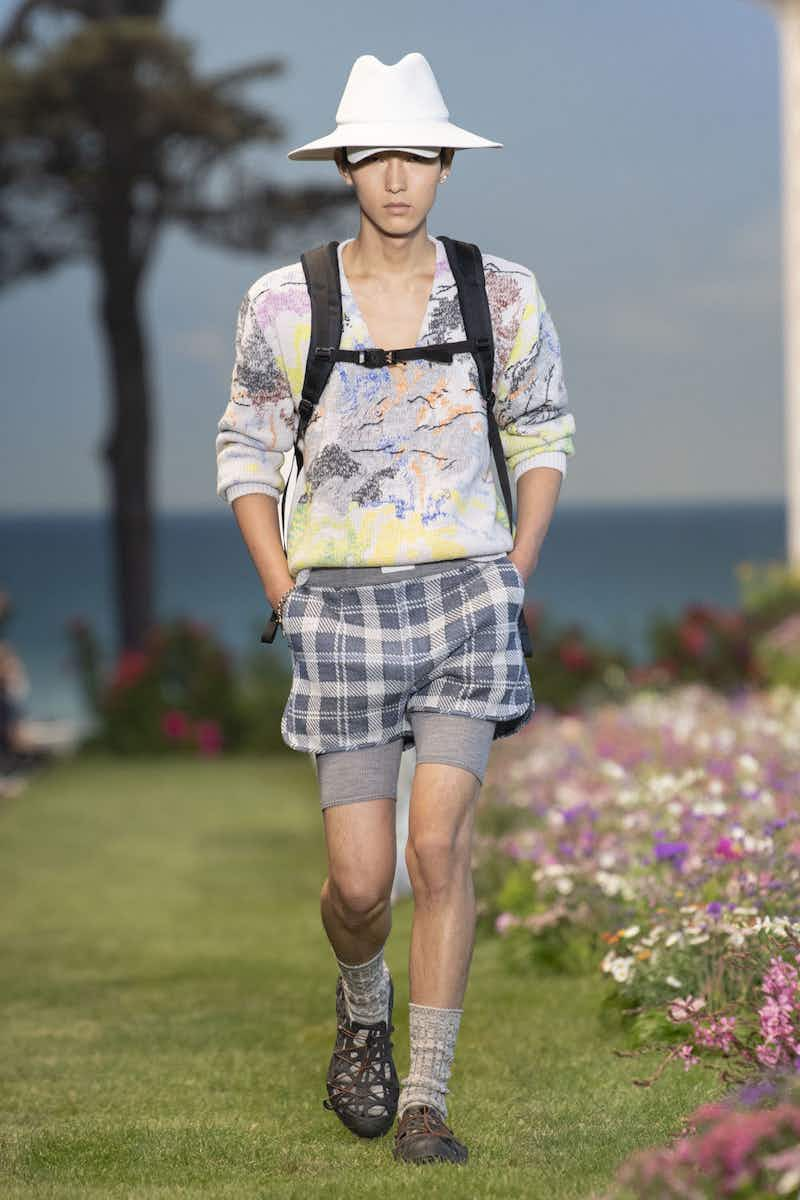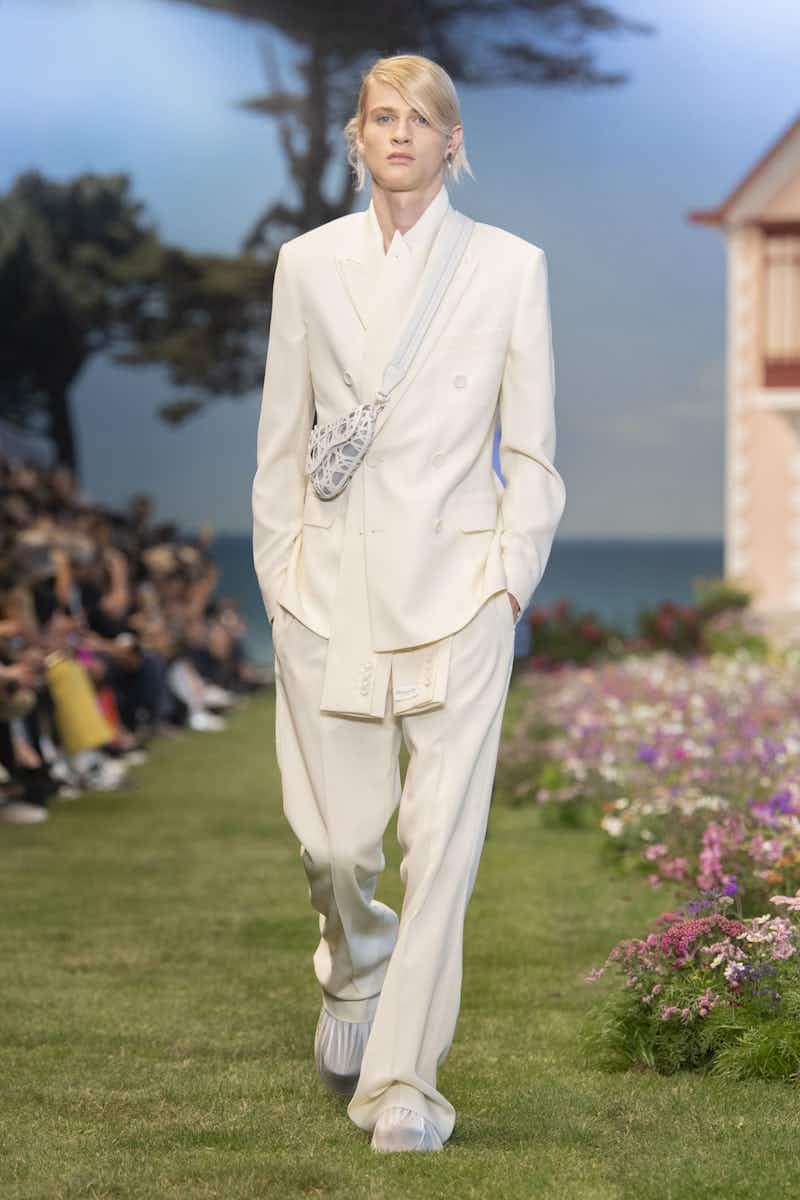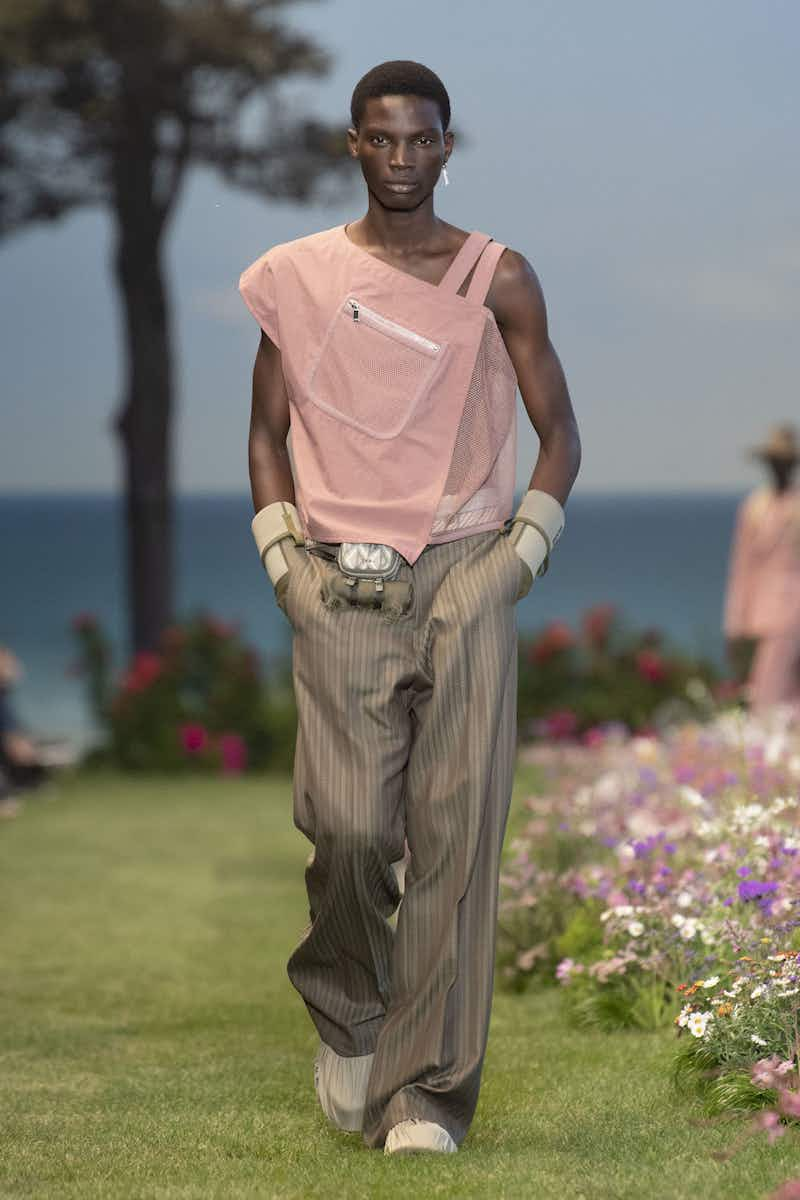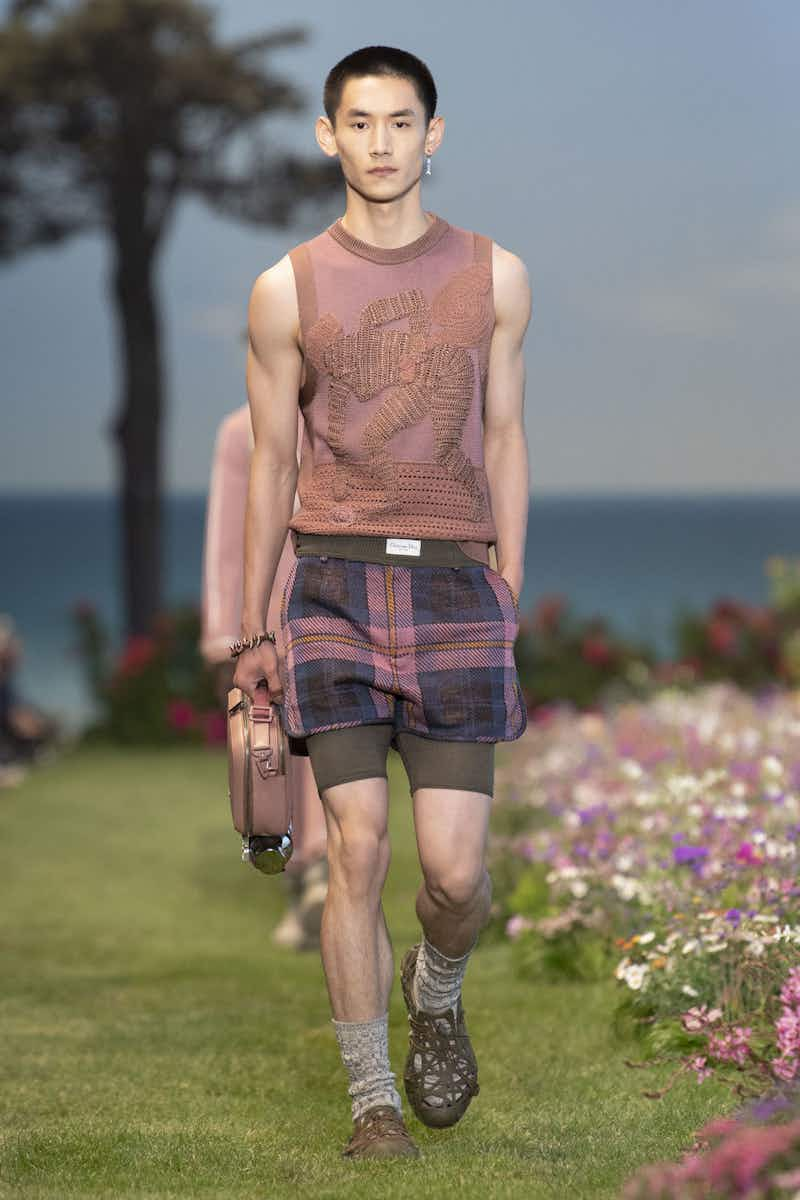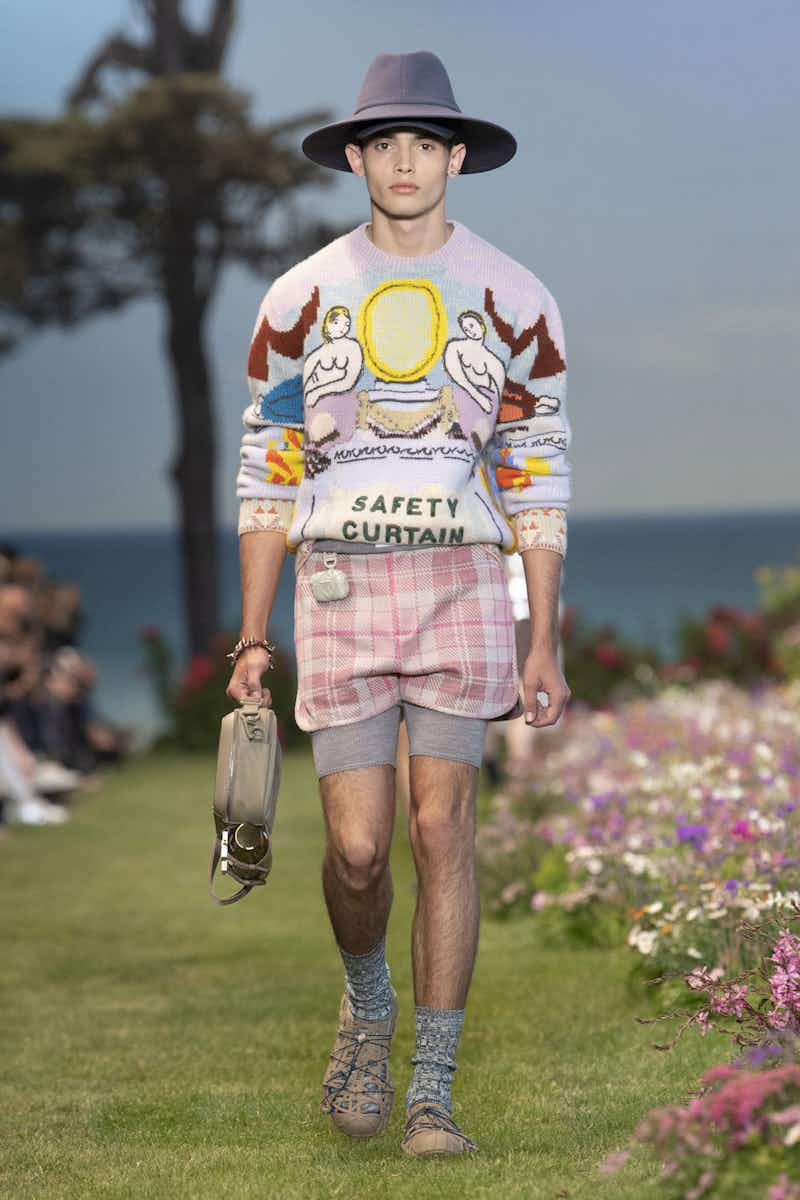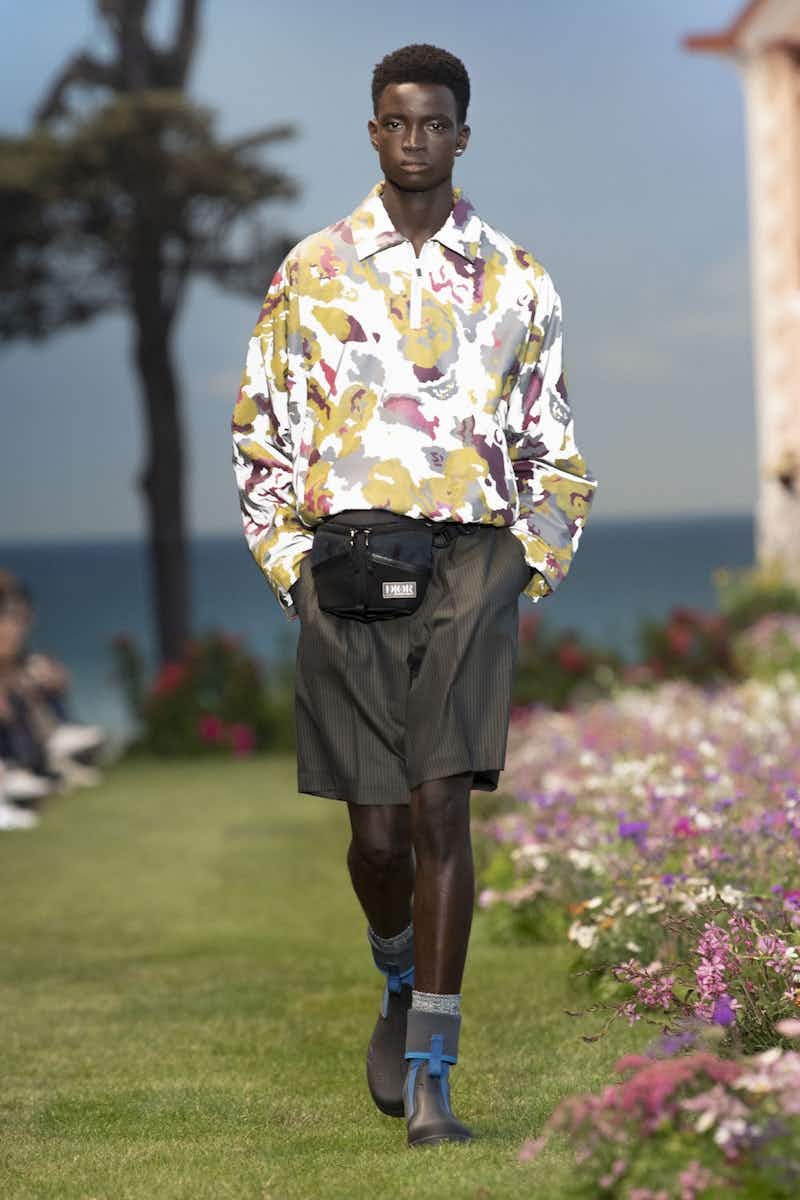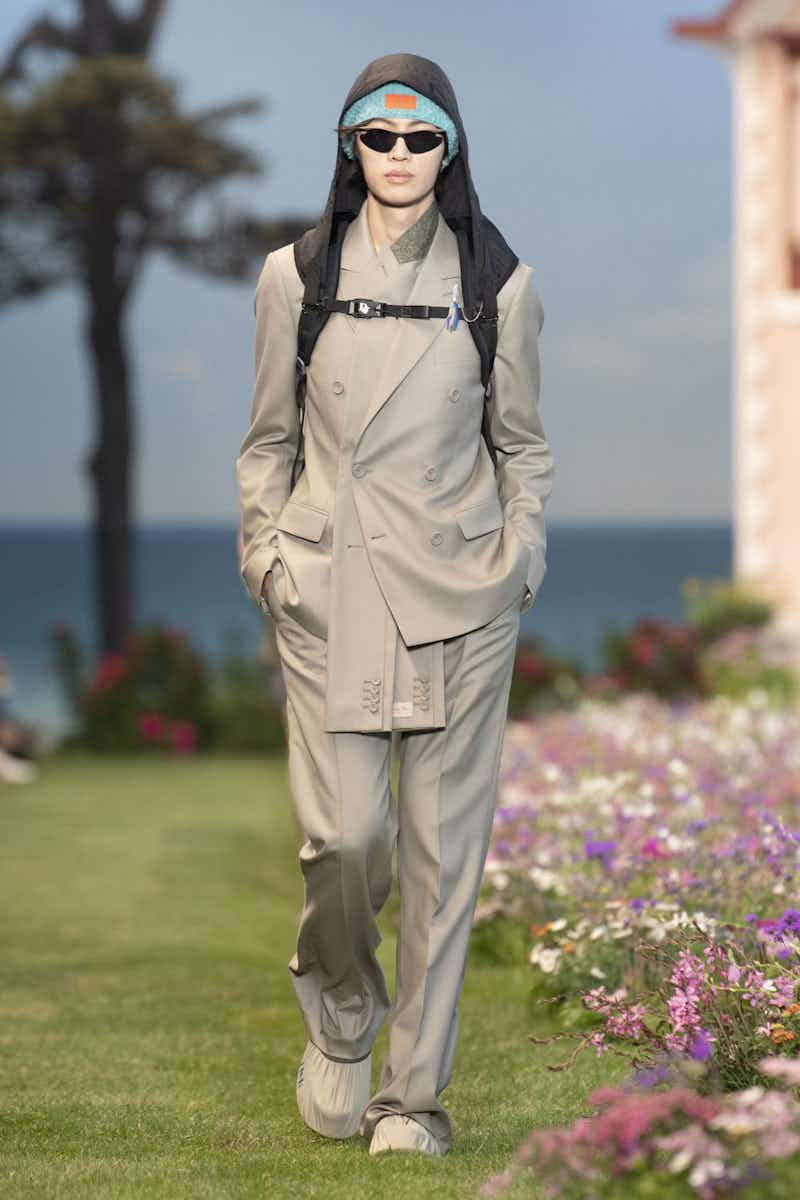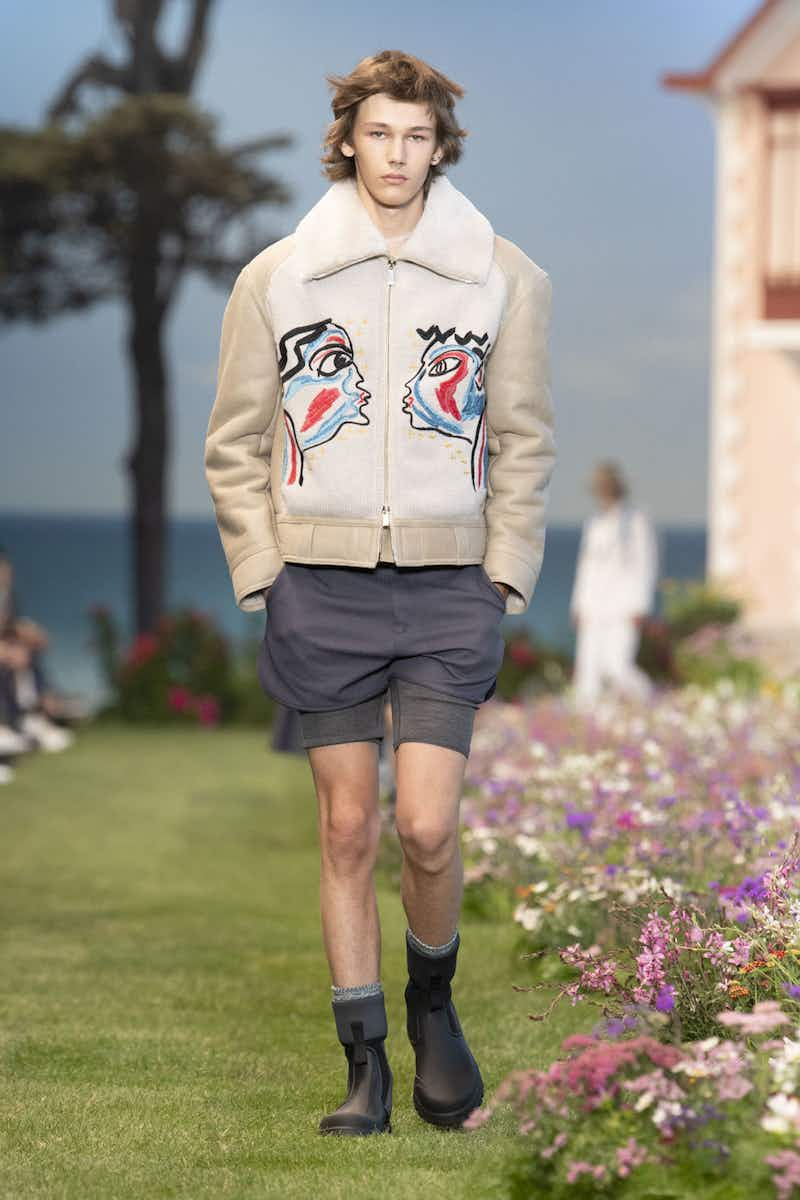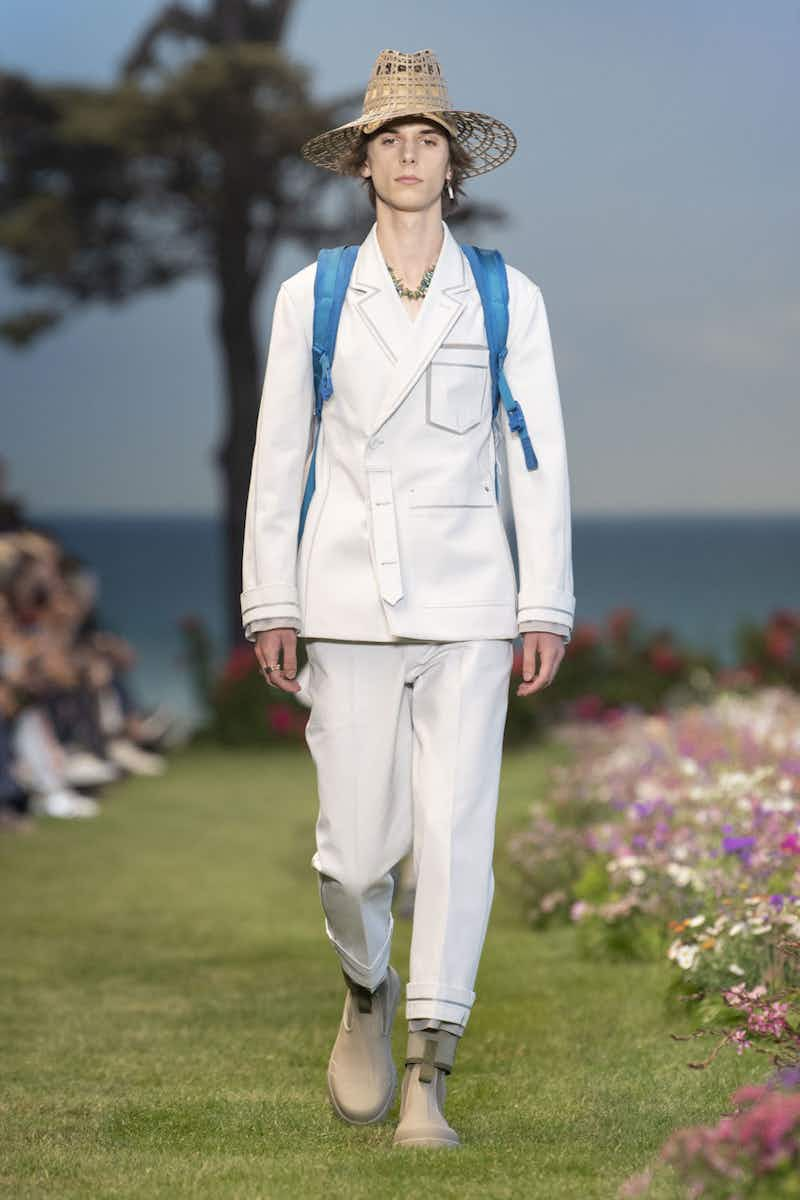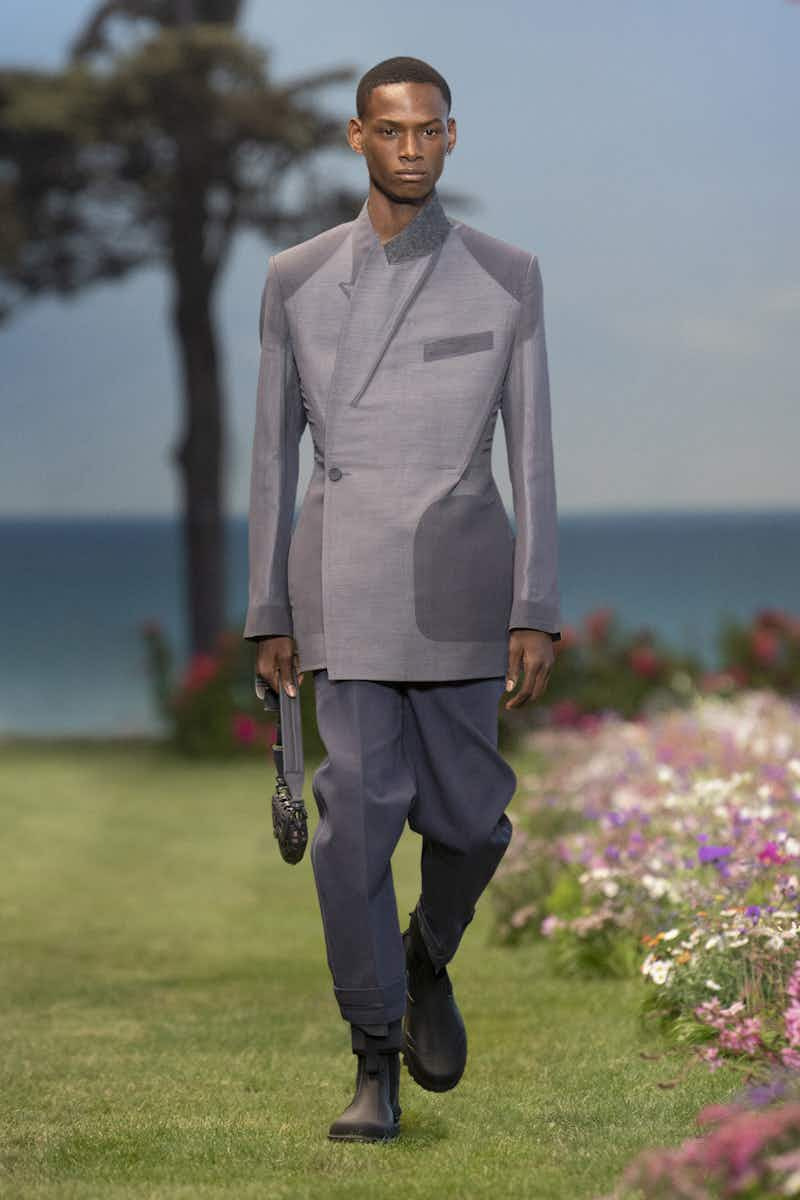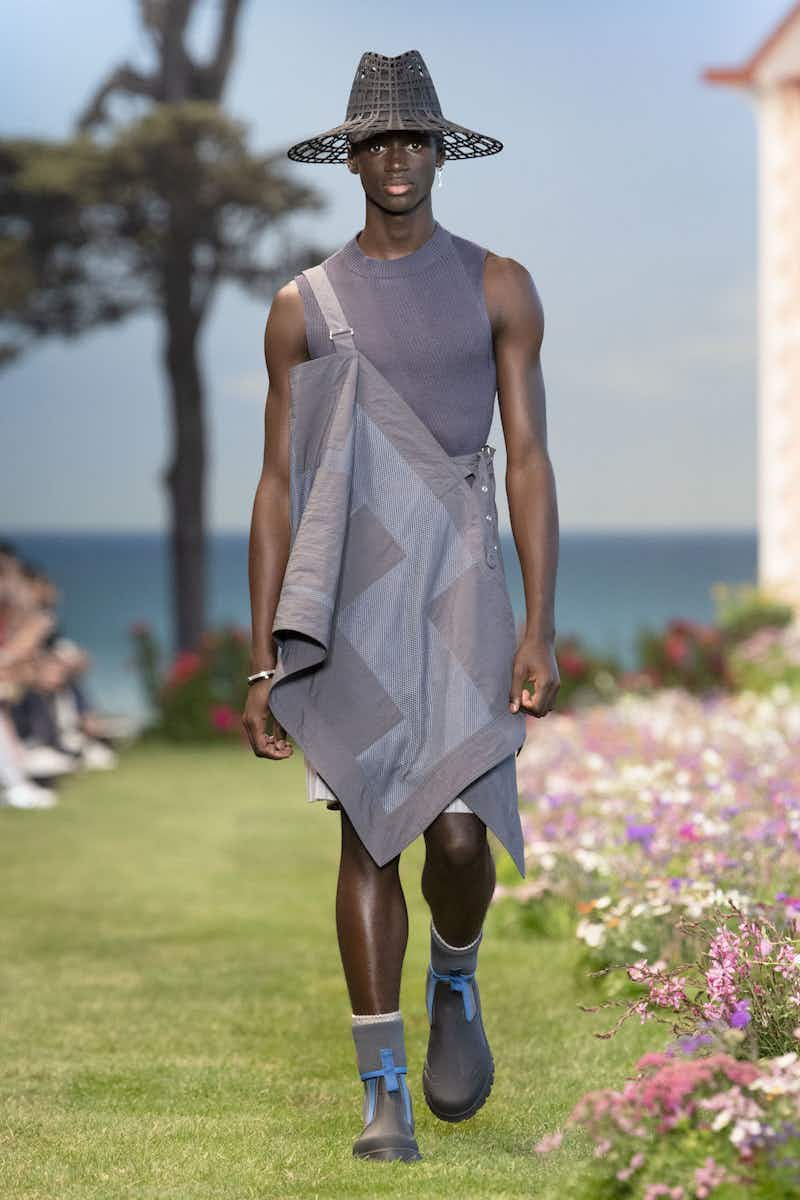 Craig Green's work always offers a very particular kind of poetry – the collision between functionality and the kind of experimental contraptions that look like they belong in a Heath Robinson illustration. There is always a quest involved as well, a sort of relentless searching for new forms, new ways of clothing the body. The show notes this season identified an actual quest to a ​"distant new summit… obscured far from view". There is something automatically captivating about the destination that always lies ahead. Like Gatsby's green light, it is a promise, a mirage, that spurs not just movement, but yearning. Here Green's models moved in padded blankets, militaristic trousers with hems that resembled gaffa tape, and suits with tags springing from them like paper tabs, as though such garments could be gently folded over the body rather than buttoned up. Green's work often feels like armour for a new world, or perhaps a portable toolkit – pieces in pink and sage coming complete with parachute style apparatus, ready for take-off.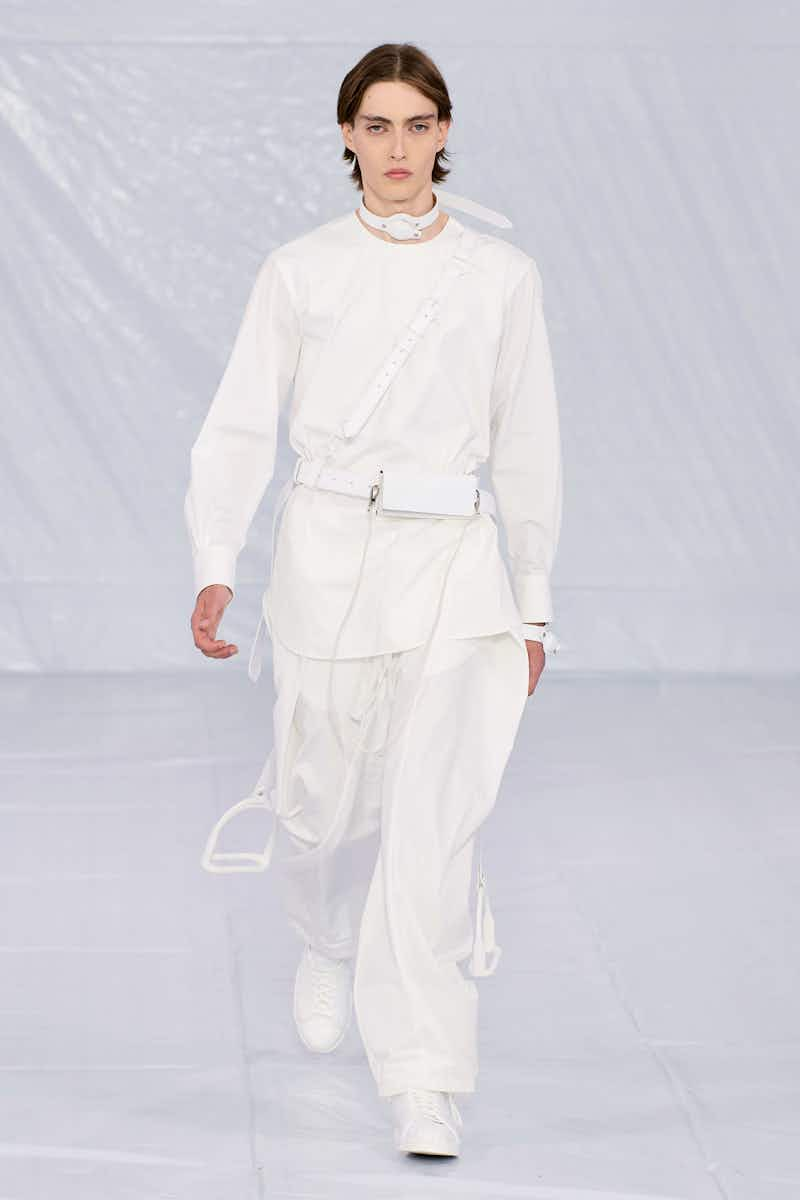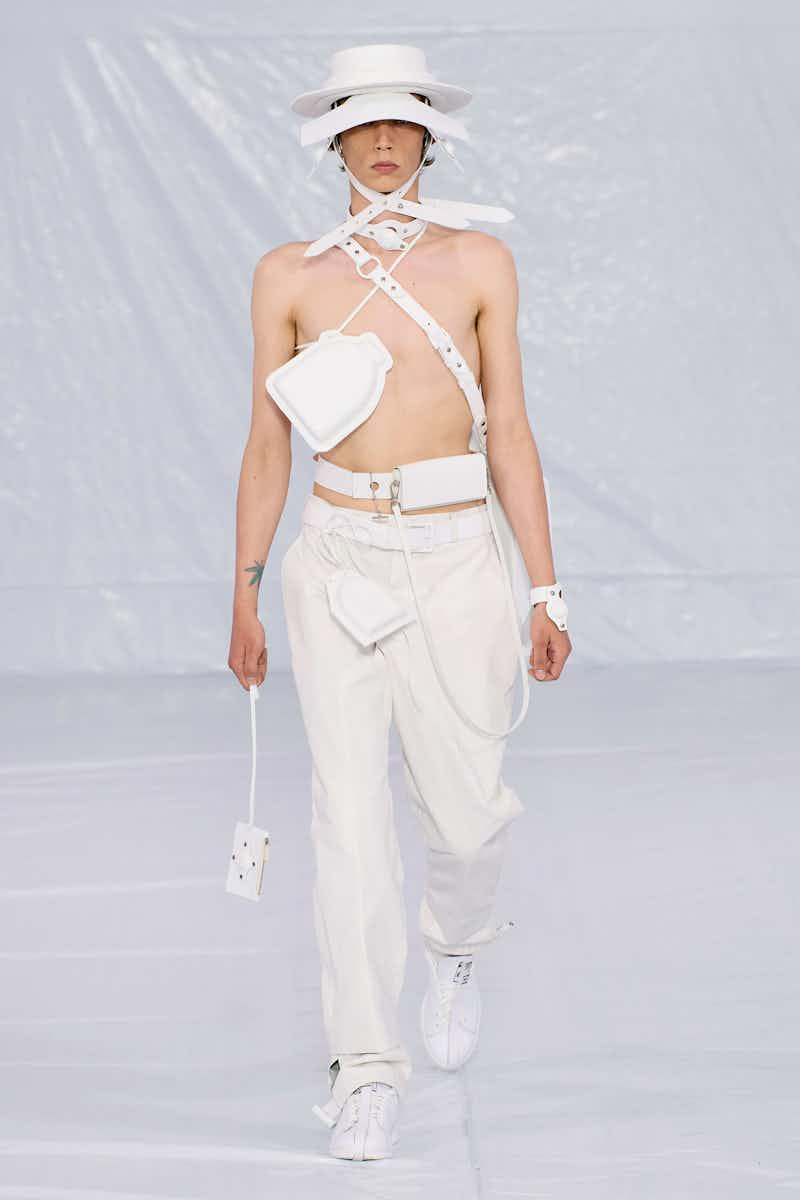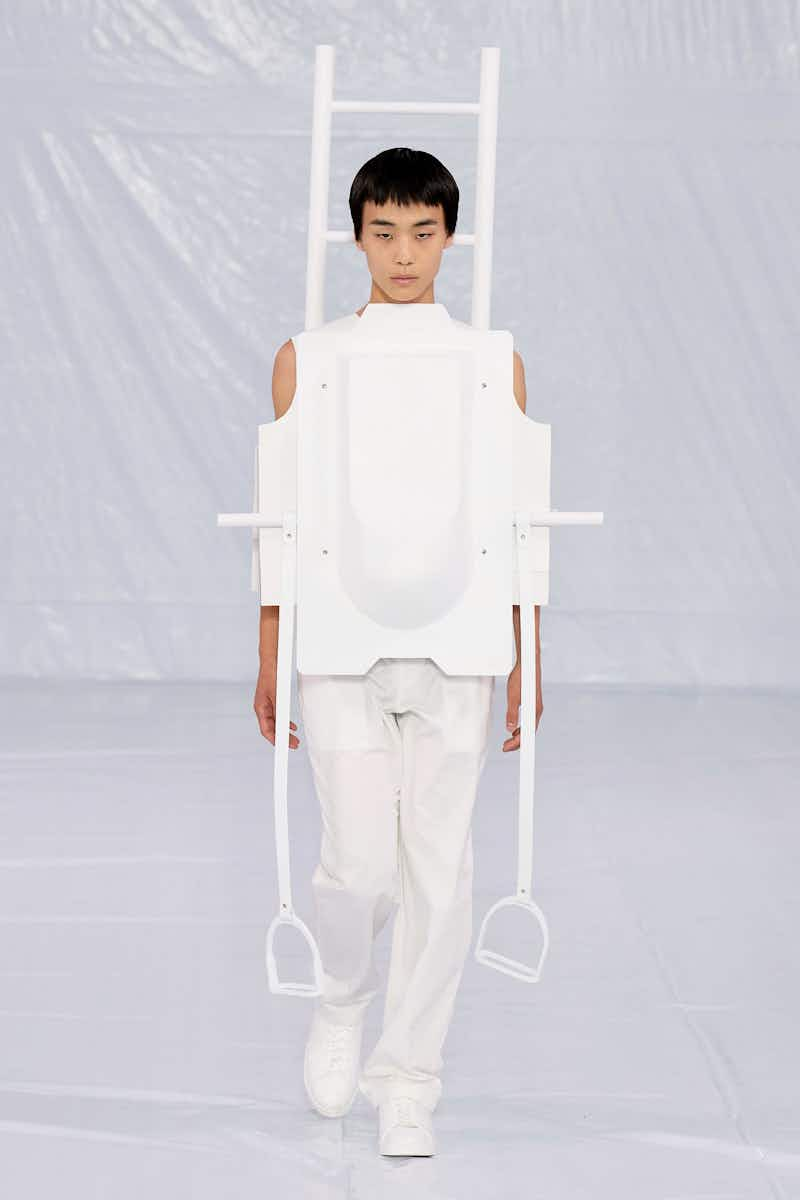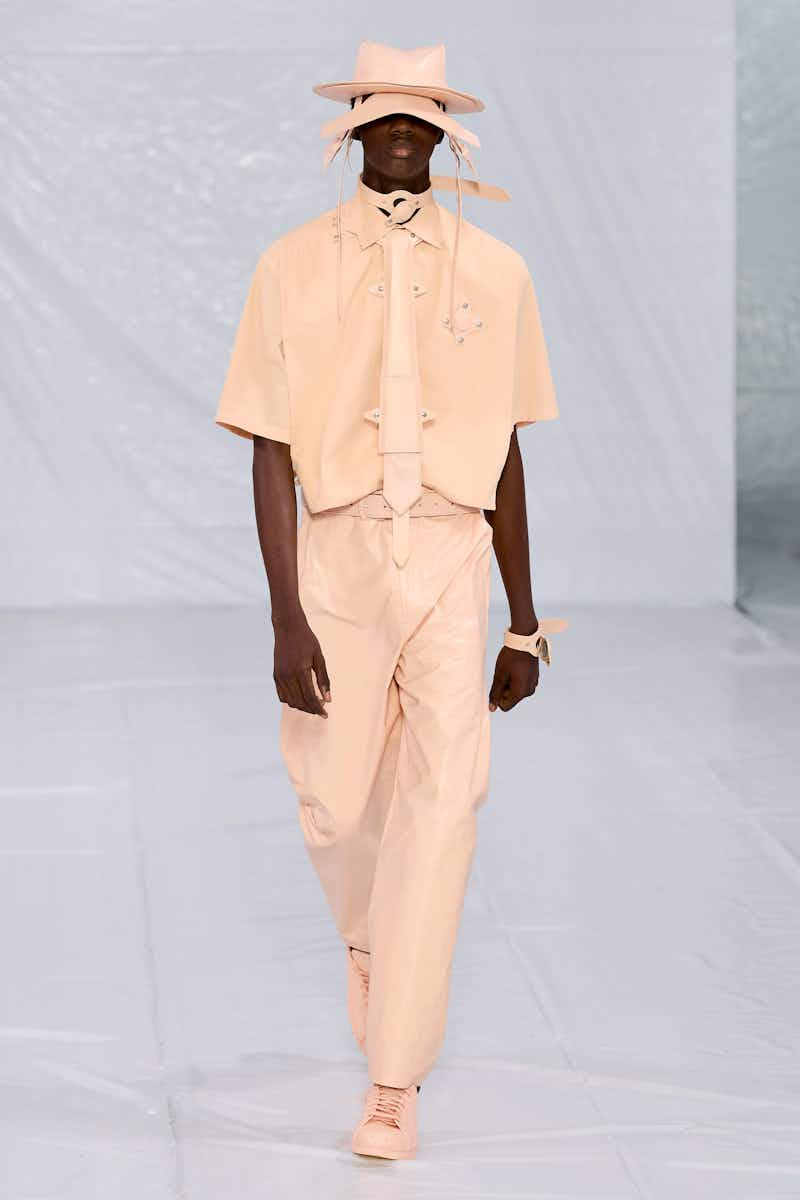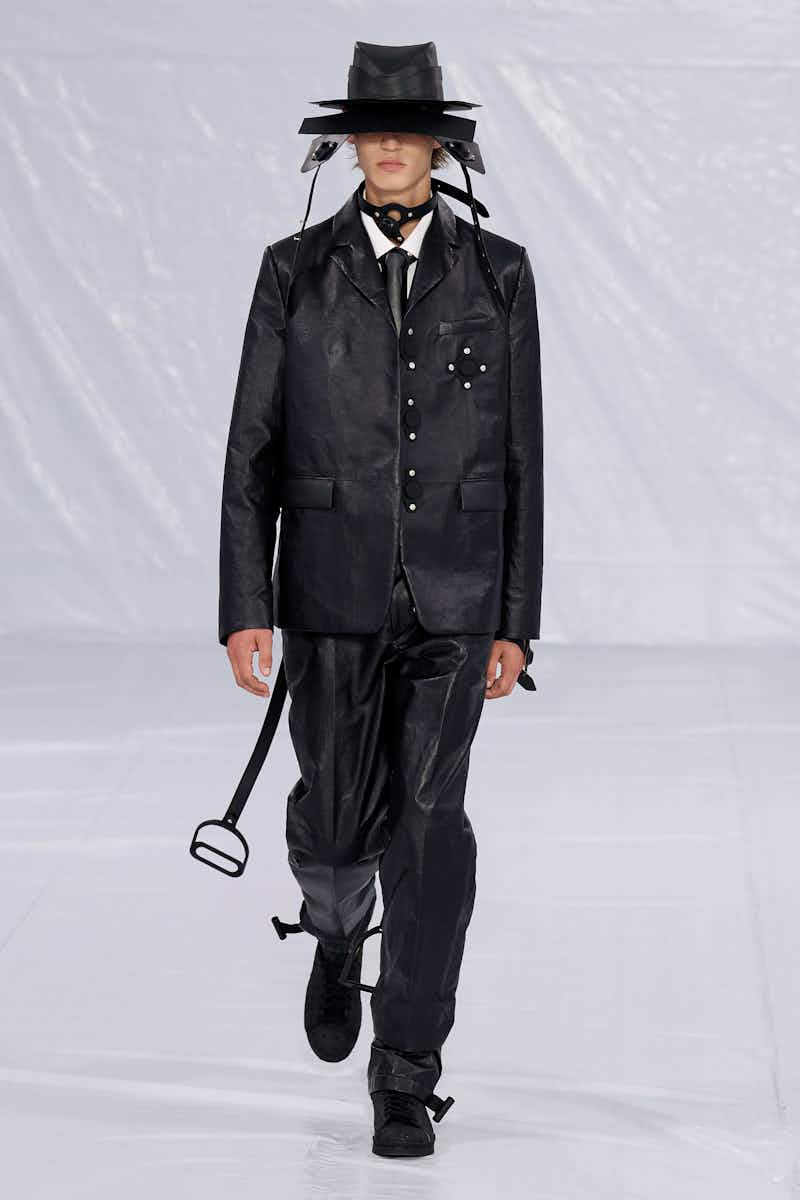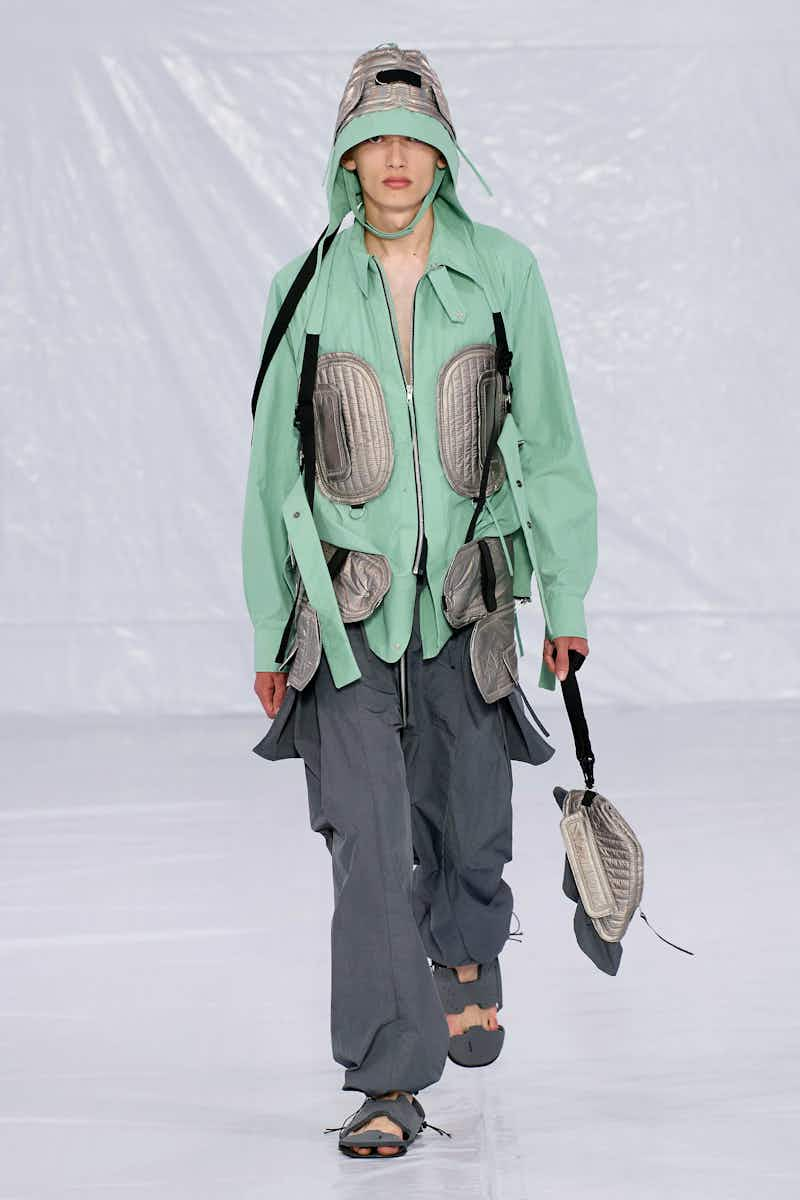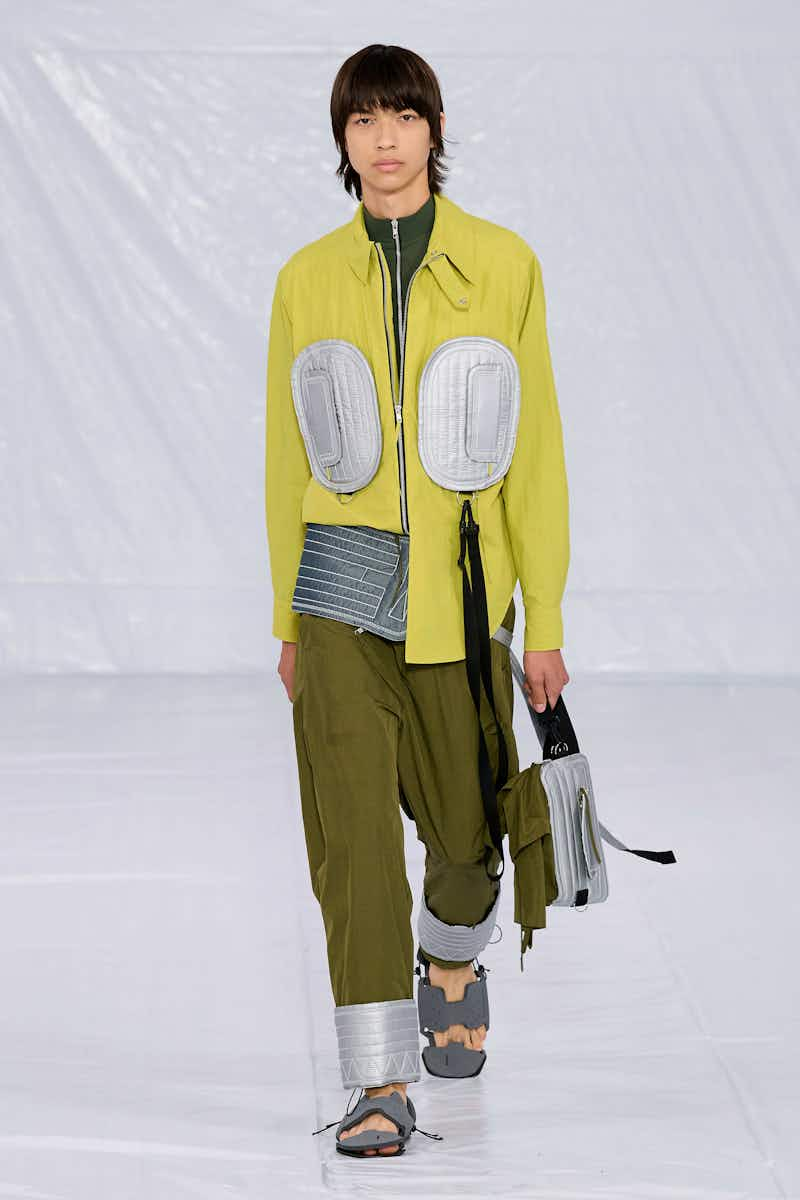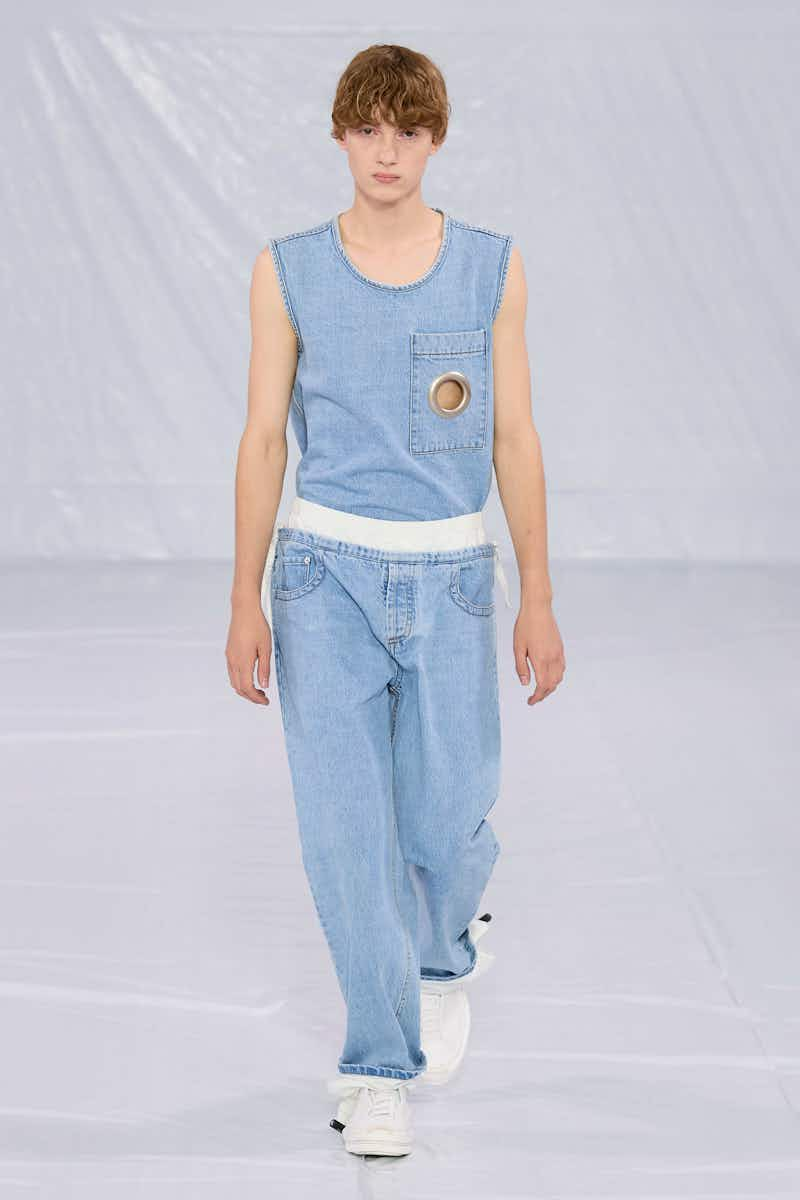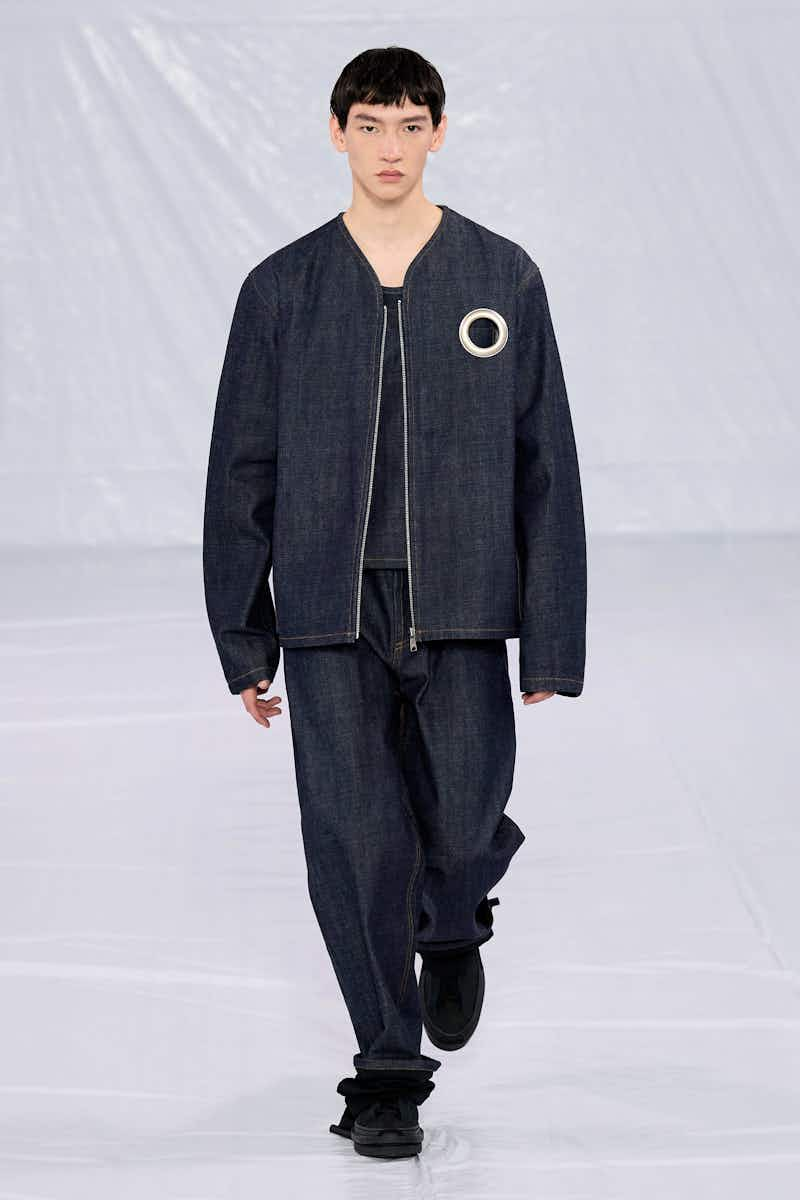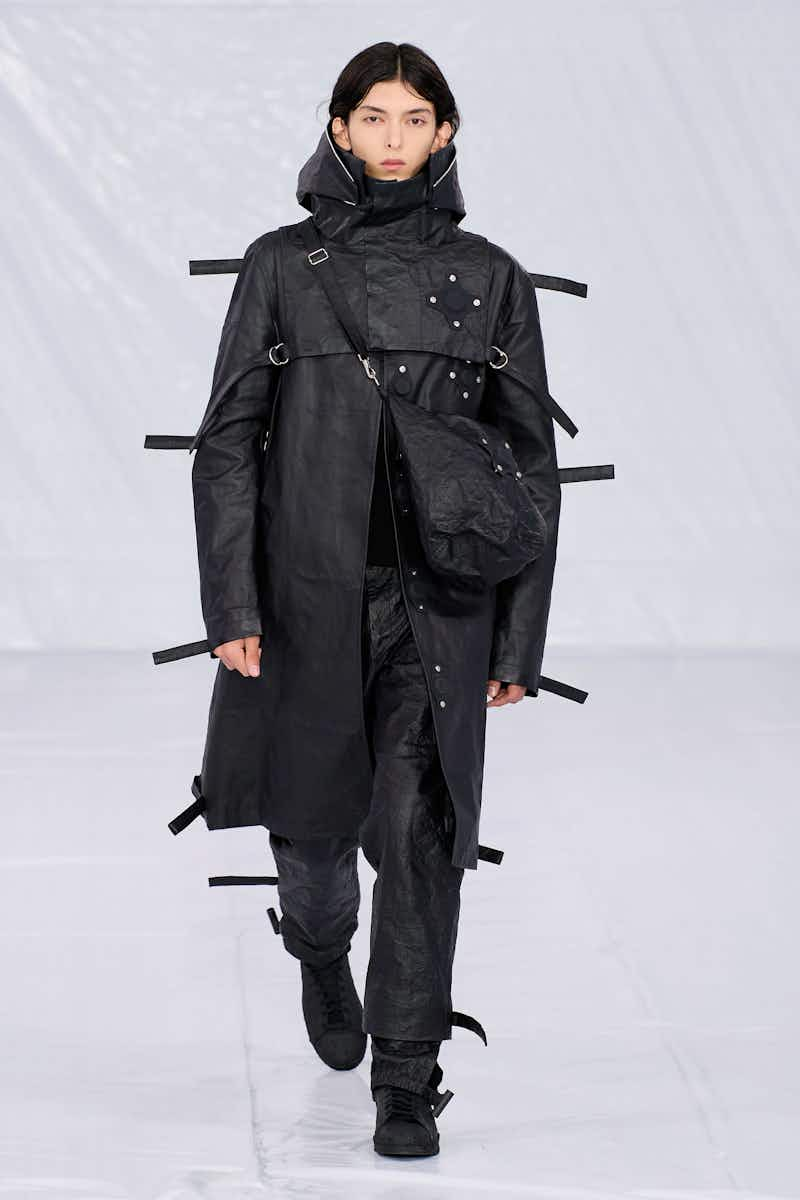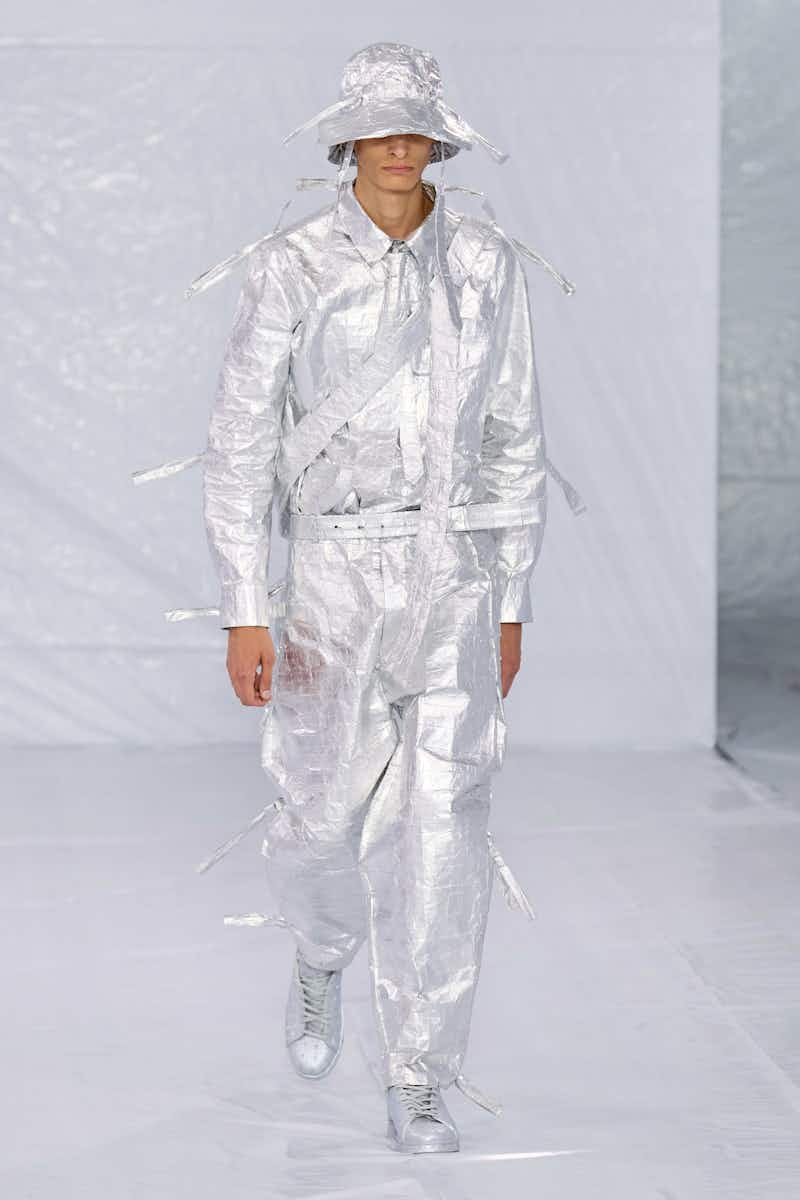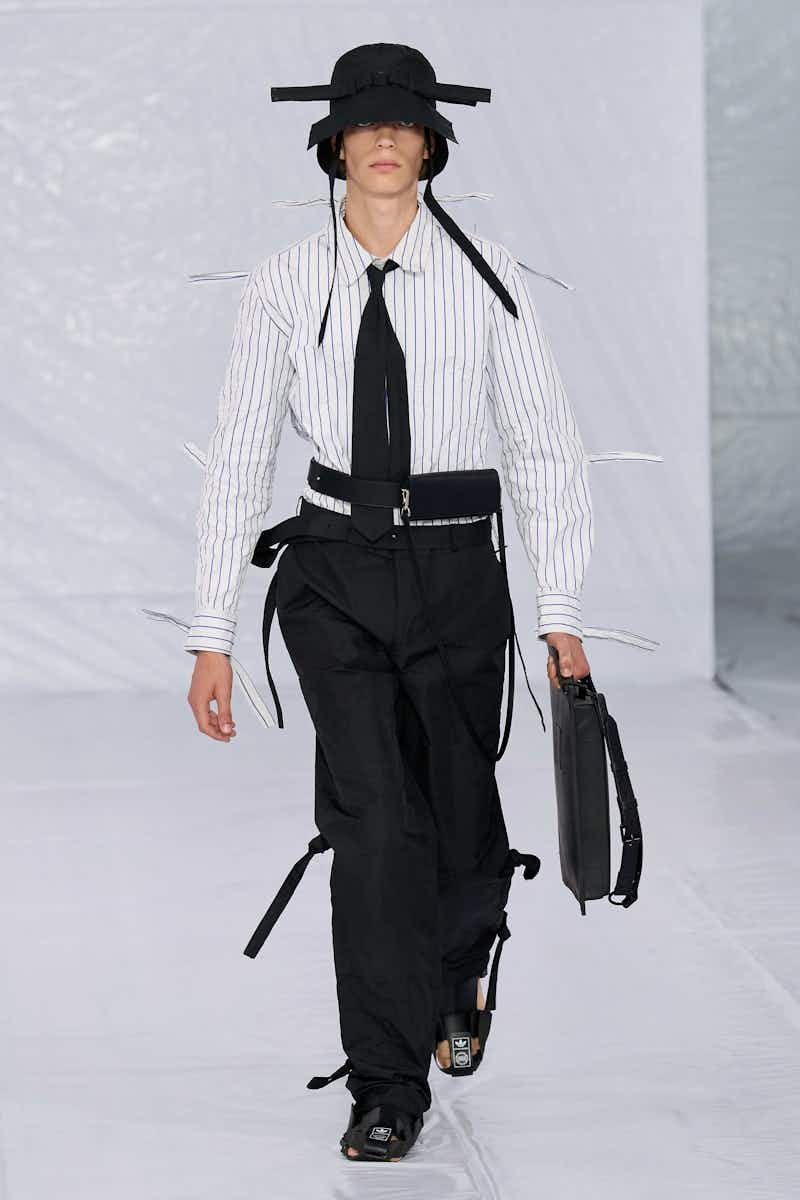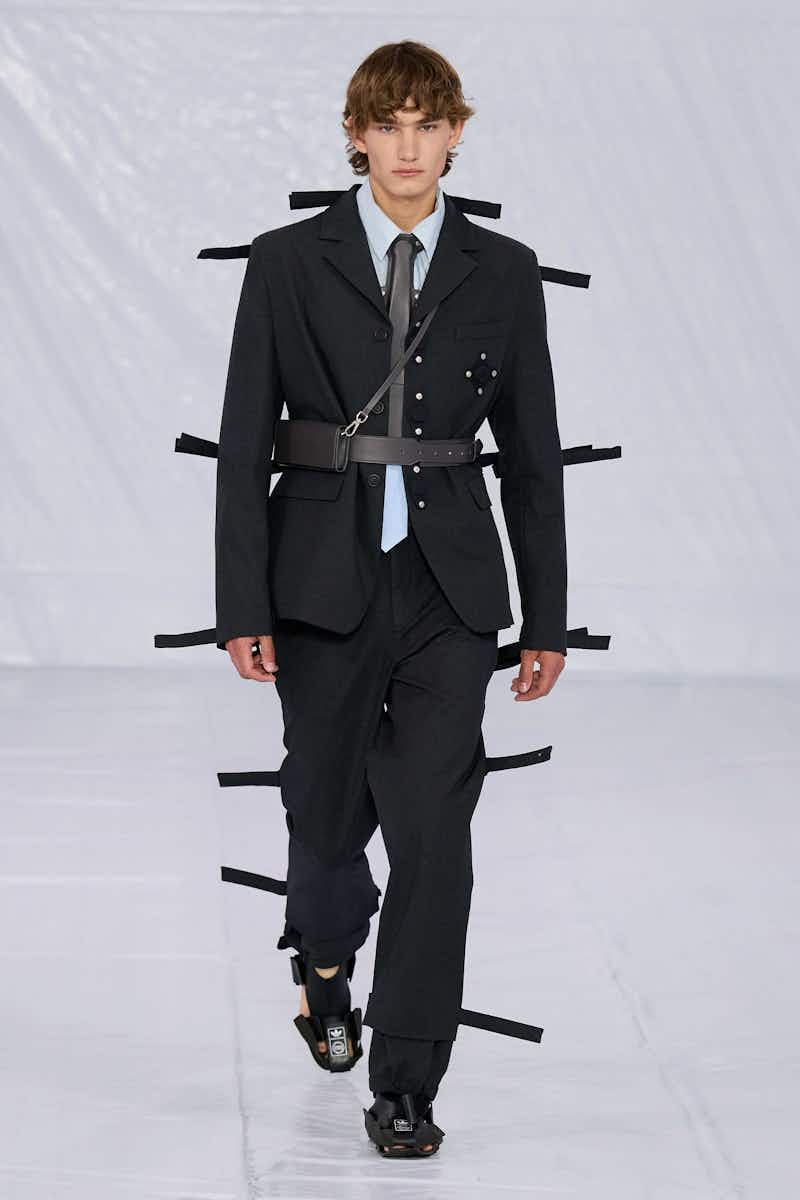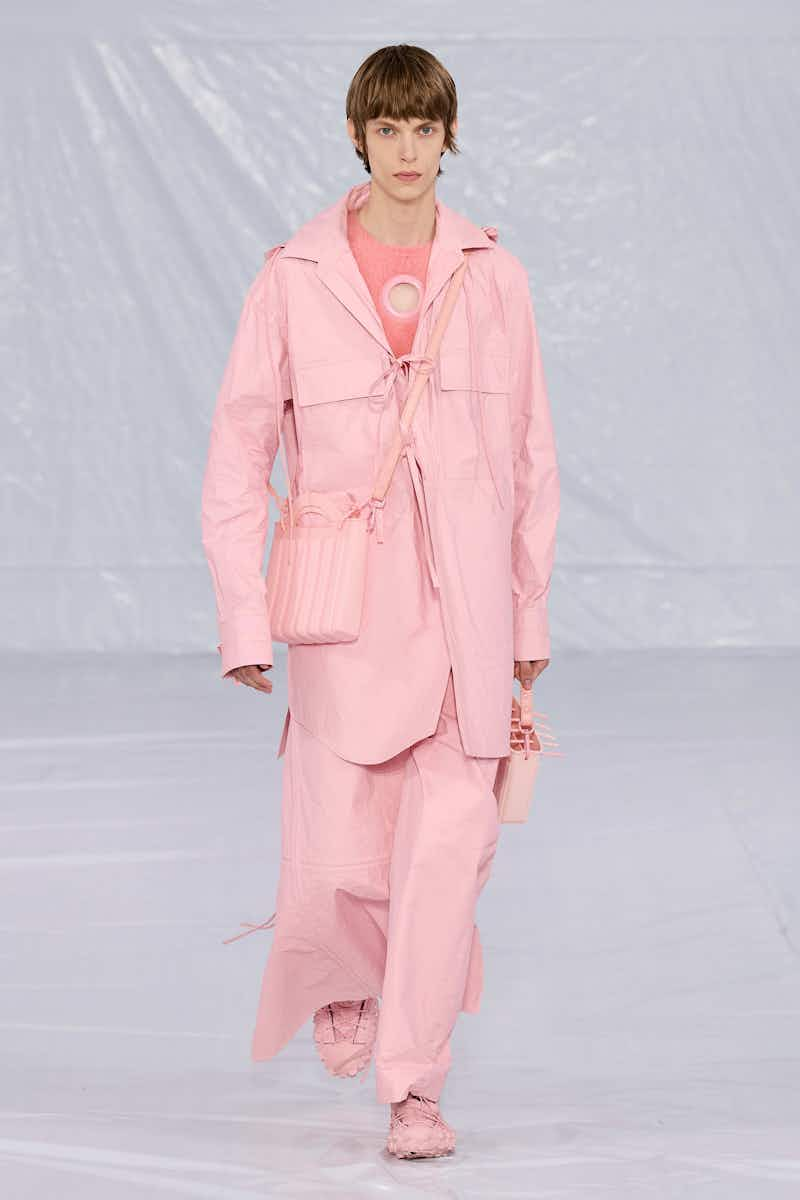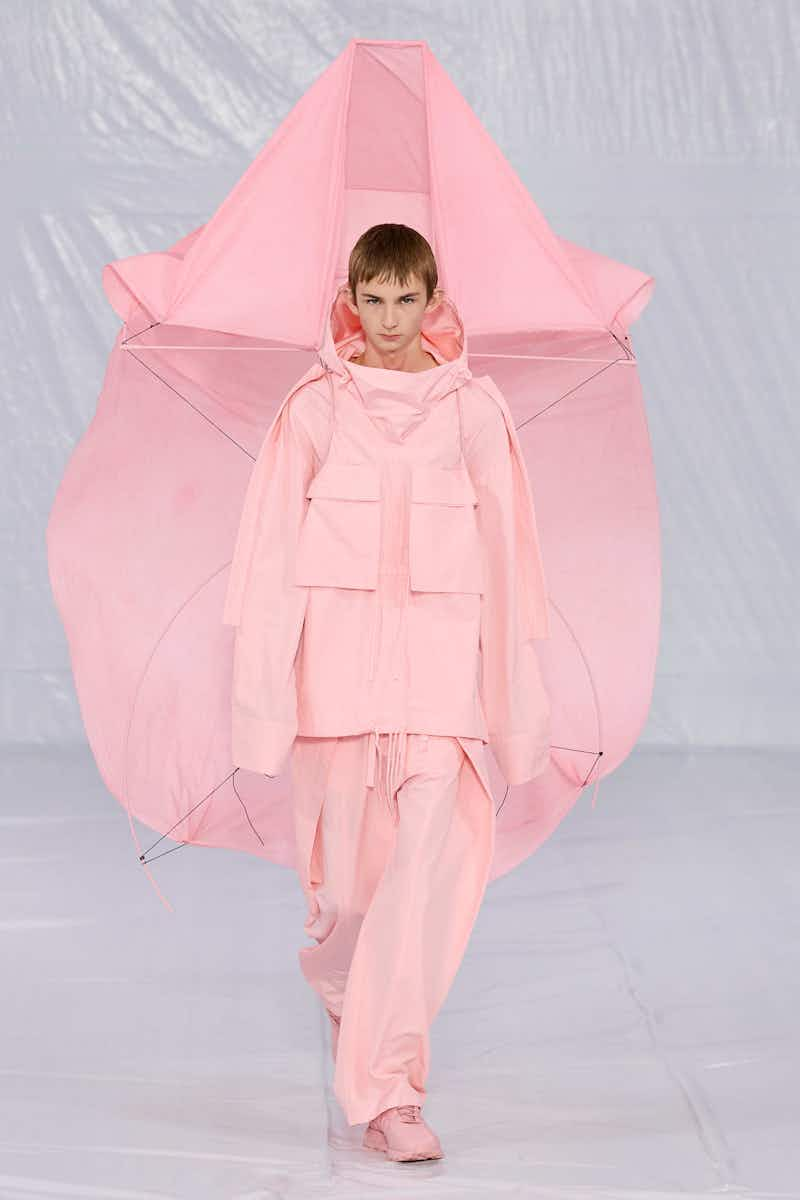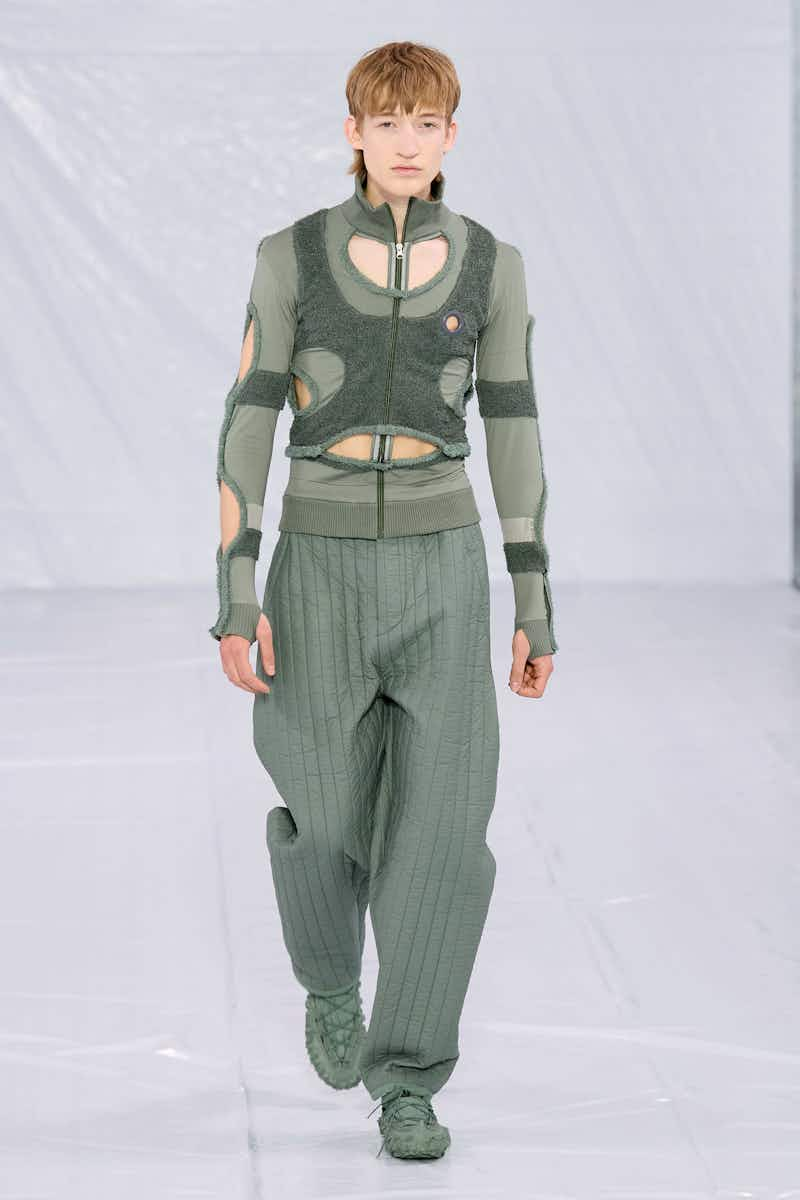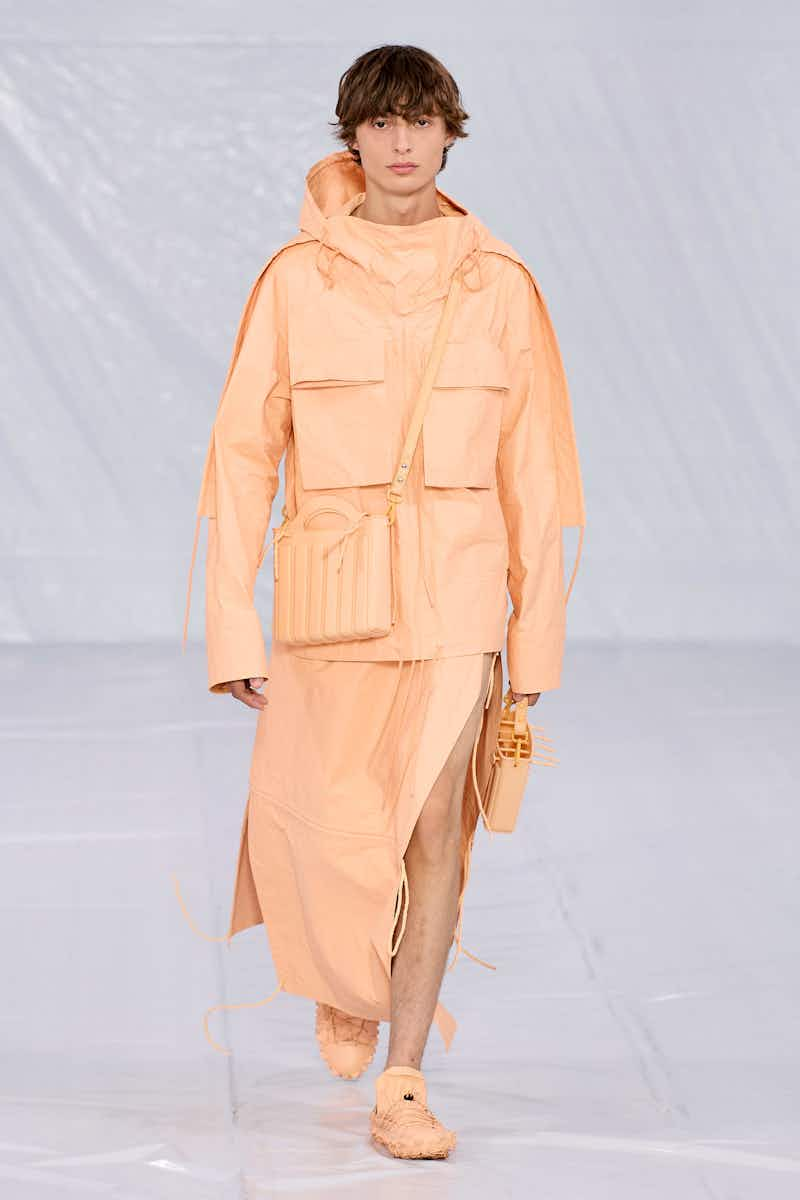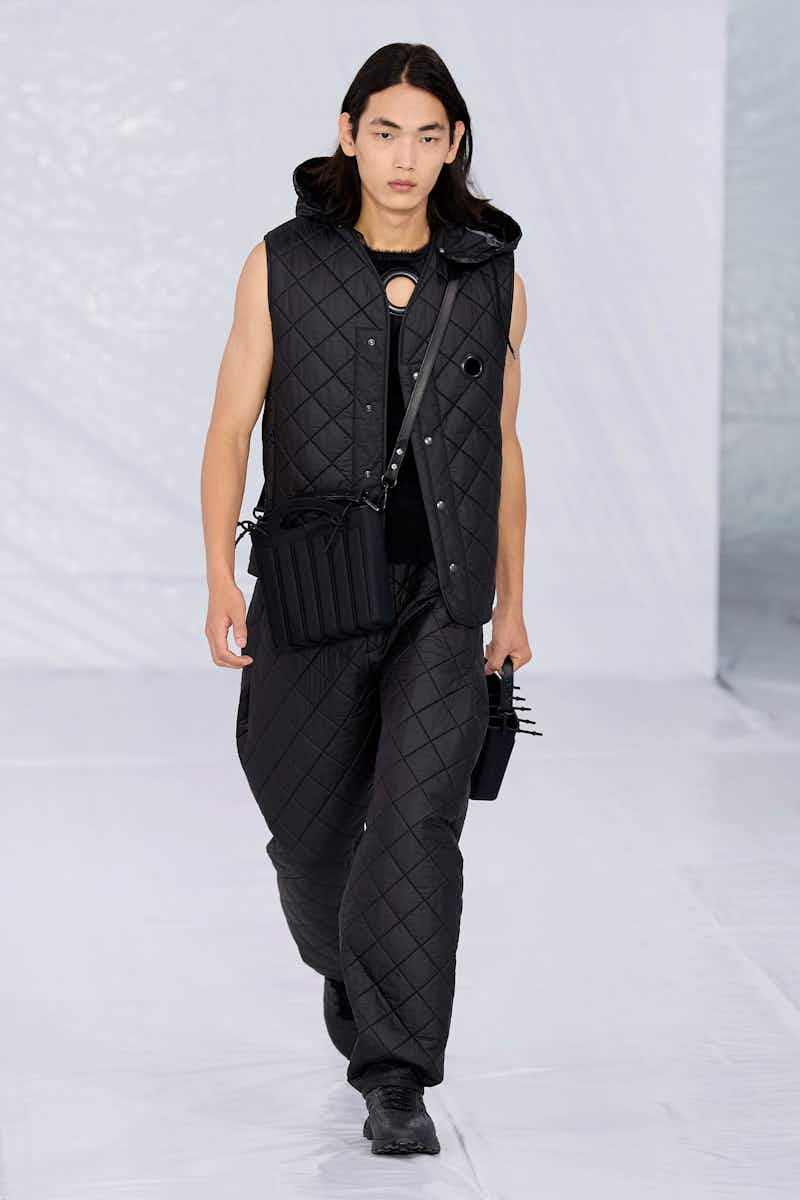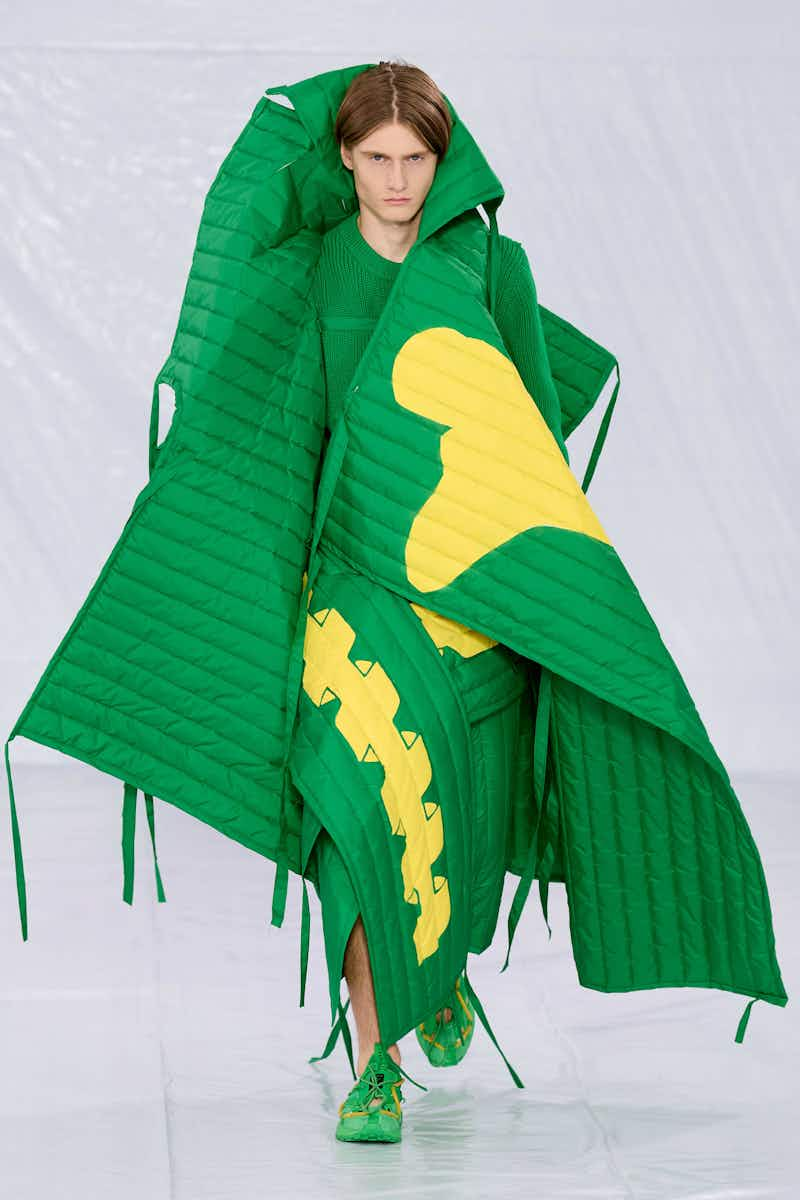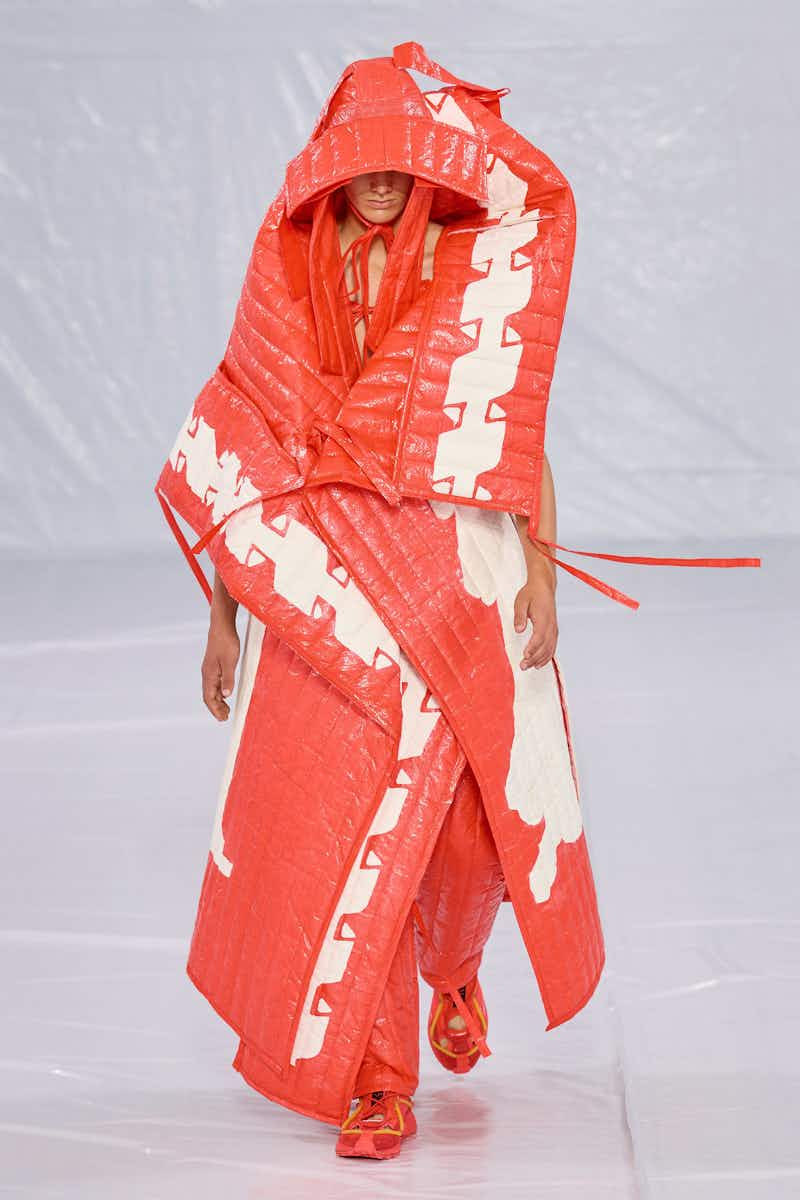 For those of us born in the ​'90s, the book Fairie-ality might bring back fond memories. Created by photographer David Ellwand and fashion illustrator David Downton, the book featured flight-of-fancy couture pieces rendered in materials from the natural world: rose petal gowns, pansy bell bottoms, hats crafted from bracken. This season, the ever-innovative Jonathan Anderson brought a similar idea to life in a series of breath-taking garments featuring living greenery. Collaborating with Spanish designer Paula Ulargui Escalona, many of the pieces worn on the catwalk had spent the last twenty days in a polytunnel. Cat's wort and chia were seeded and grown directly onto the fabric, creating extraordinary coats and shoes that made the wearers look like a modern-day green man. Elsewhere, the natural collided with the virtual, with Anderson simultaneously playing with the ubiquity of technology in everyday life via coats and T‑shirts bearing screens. It's the sort of contrast we've come to expect from Anderson: wearable, pleasurable, an intelligent spectacle seeded from something unexpected.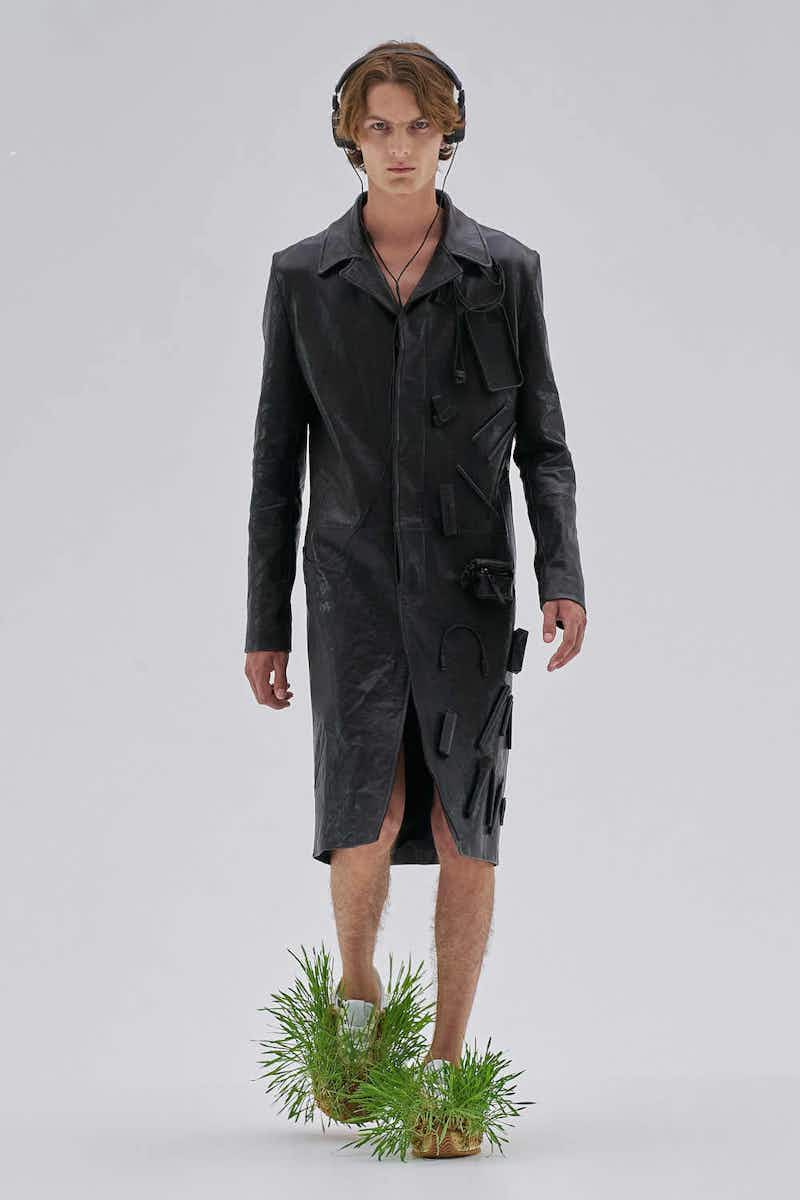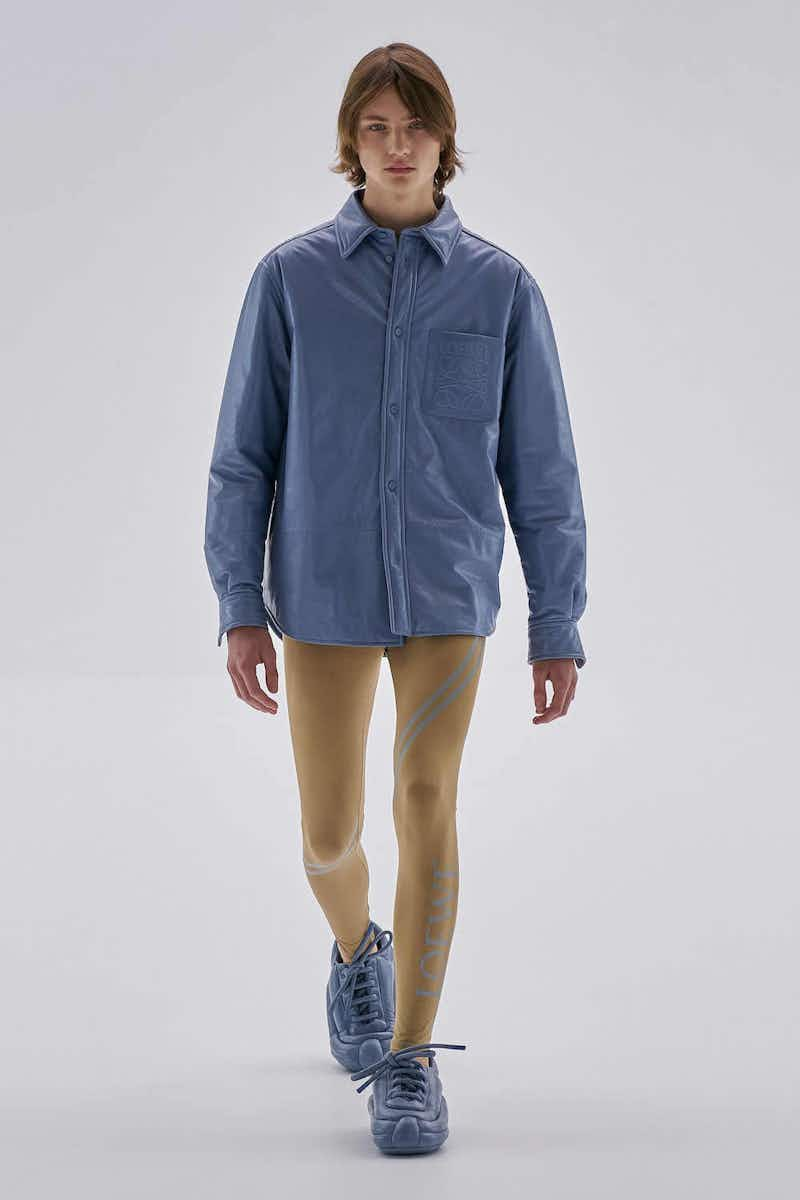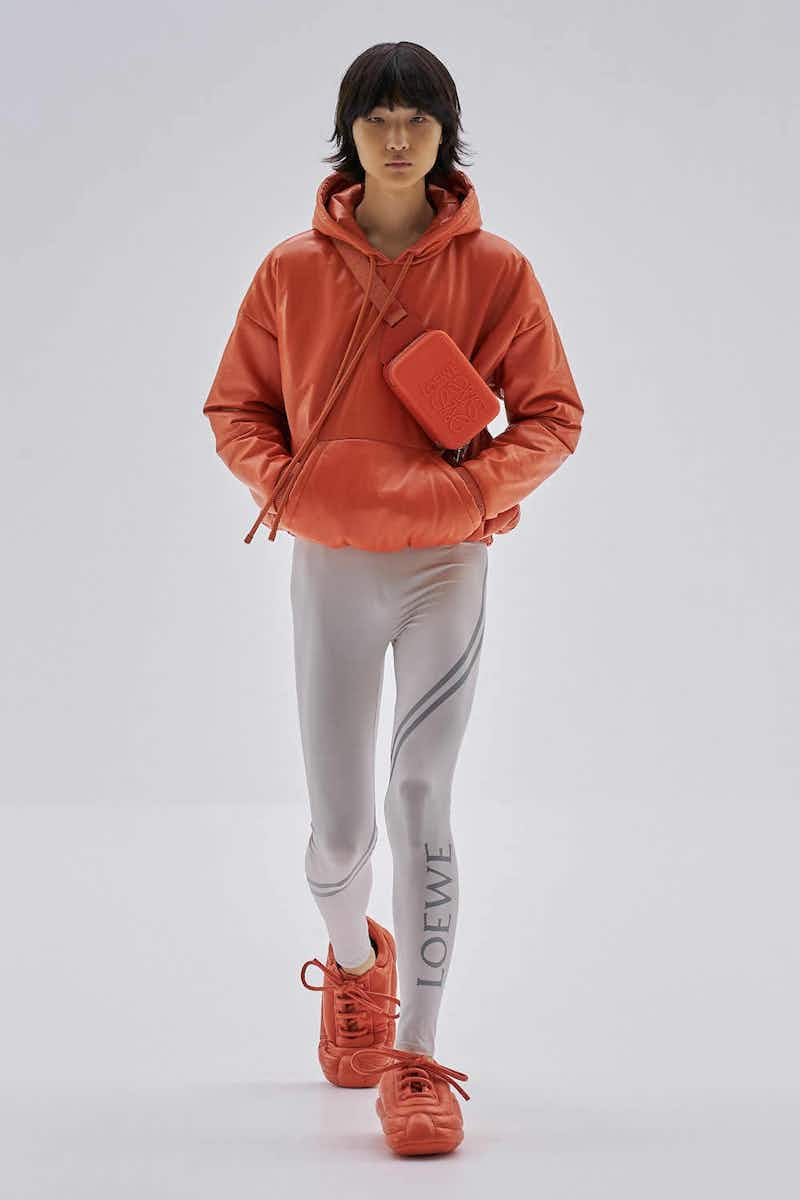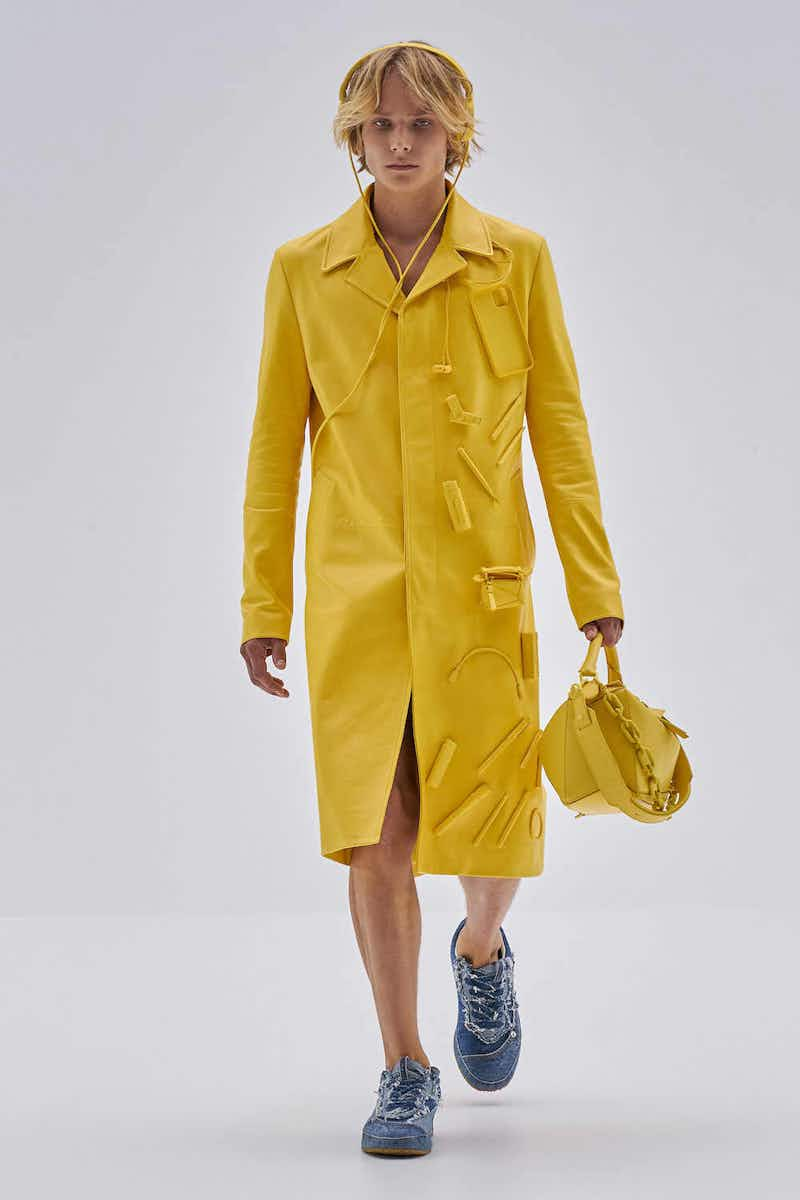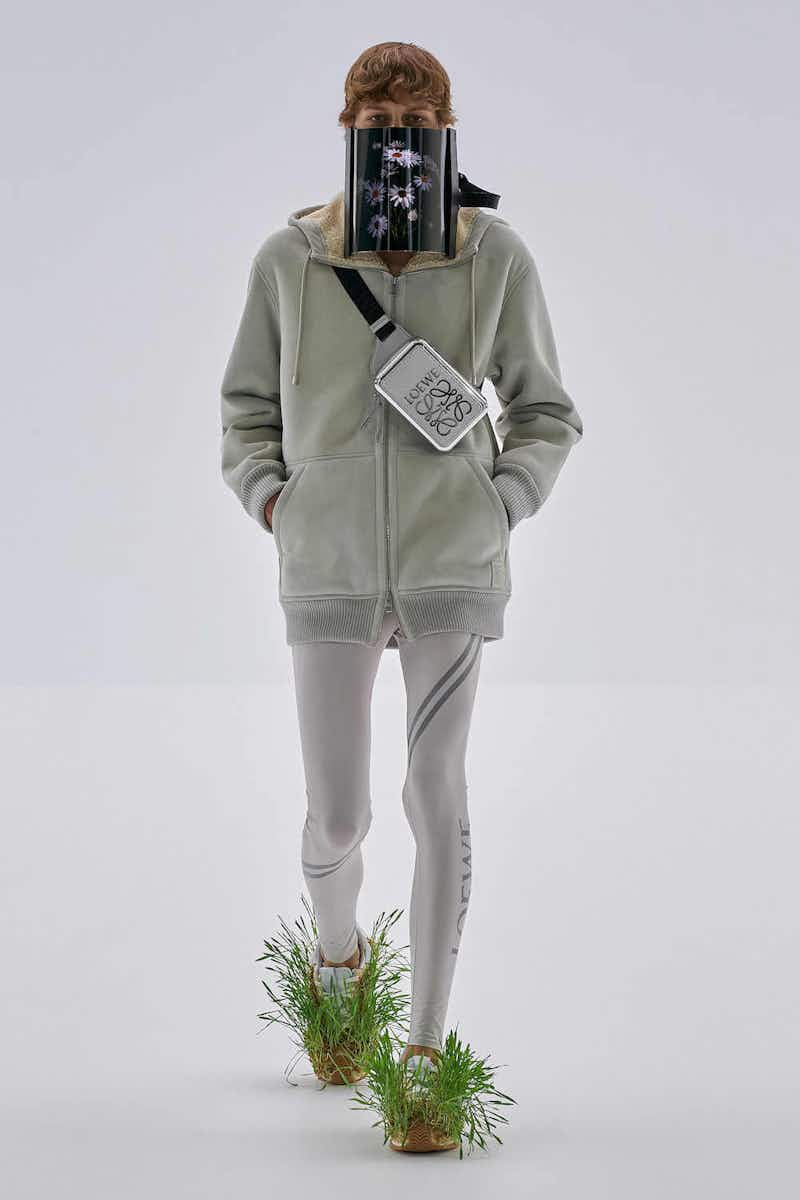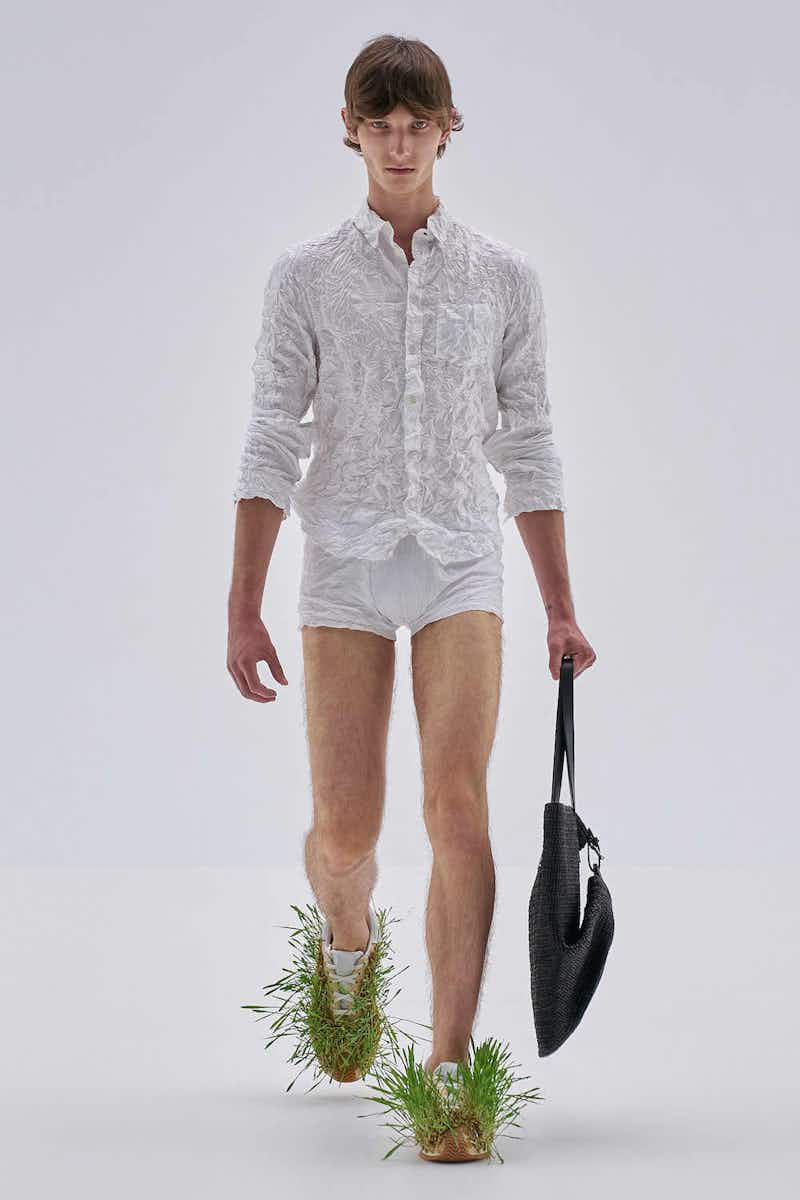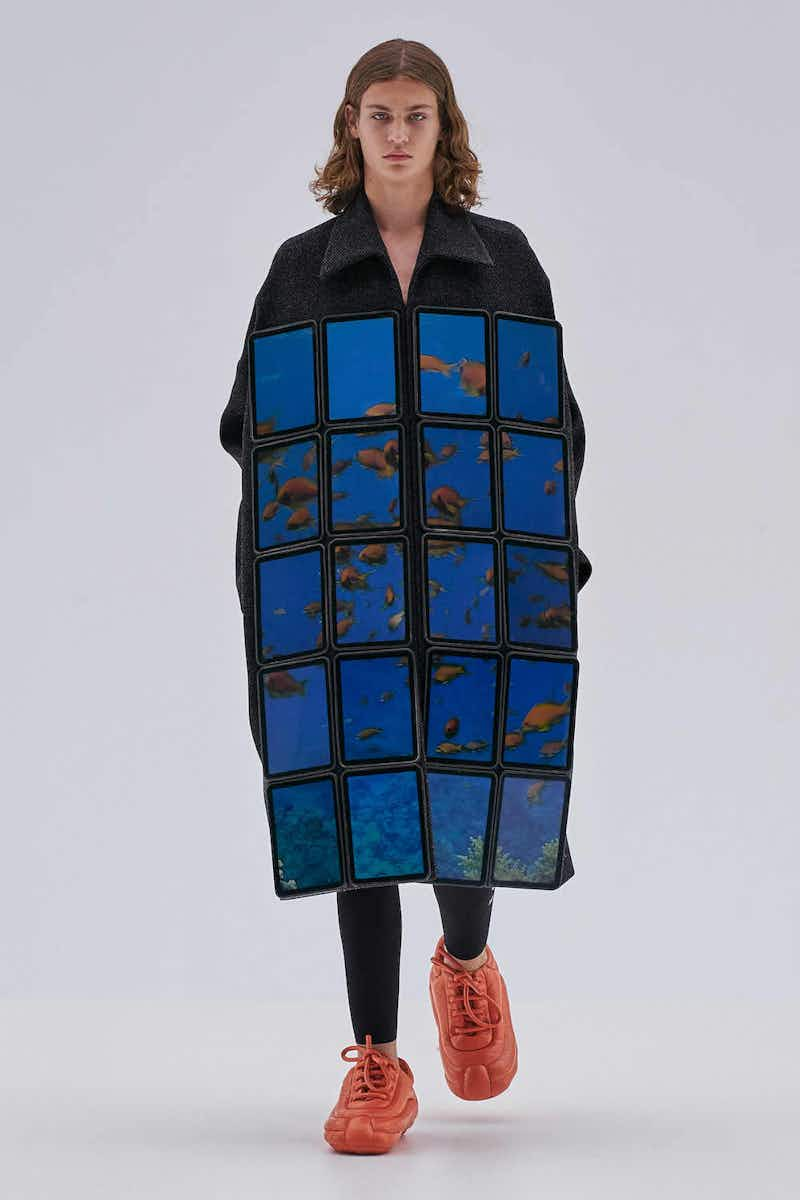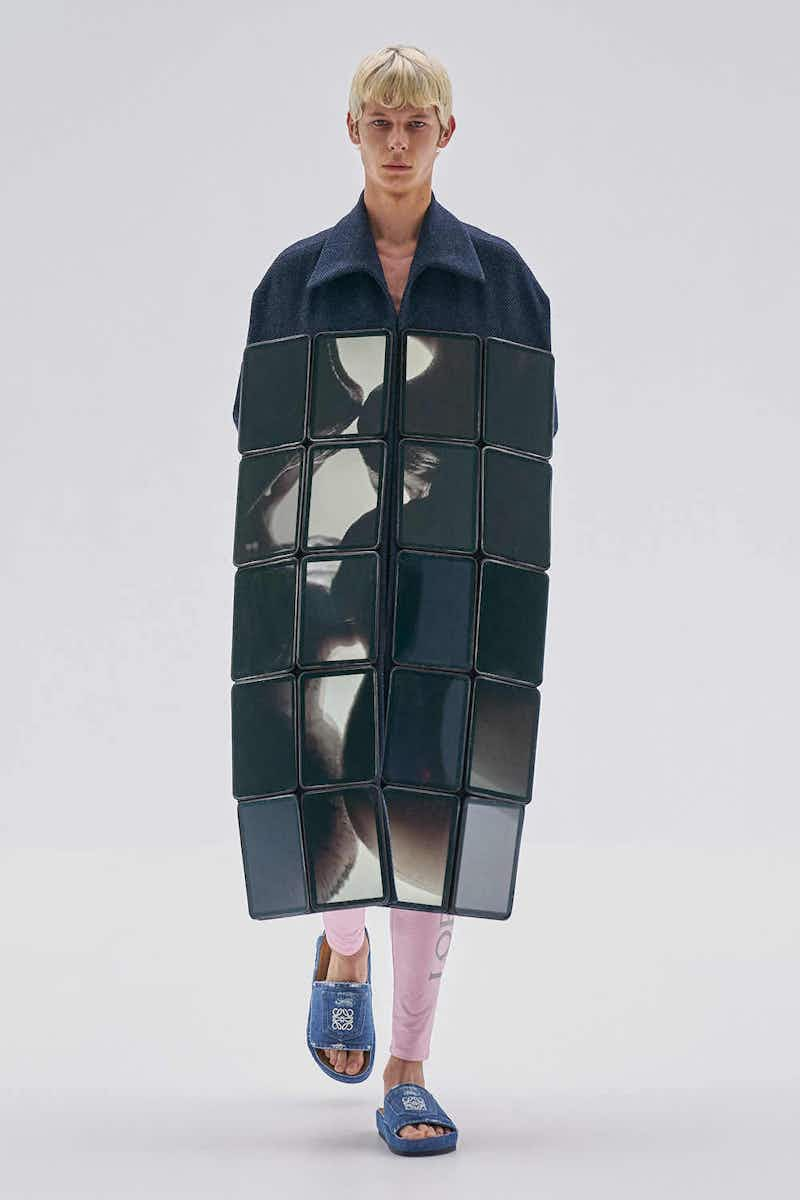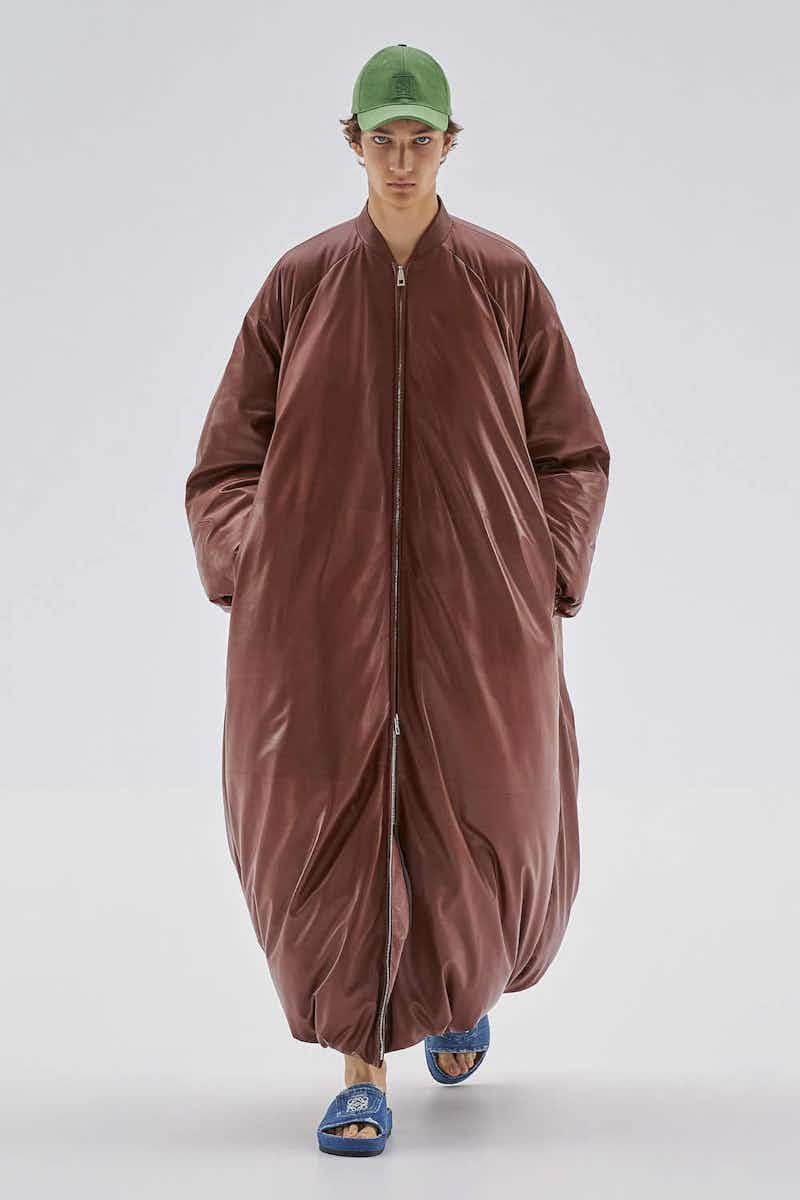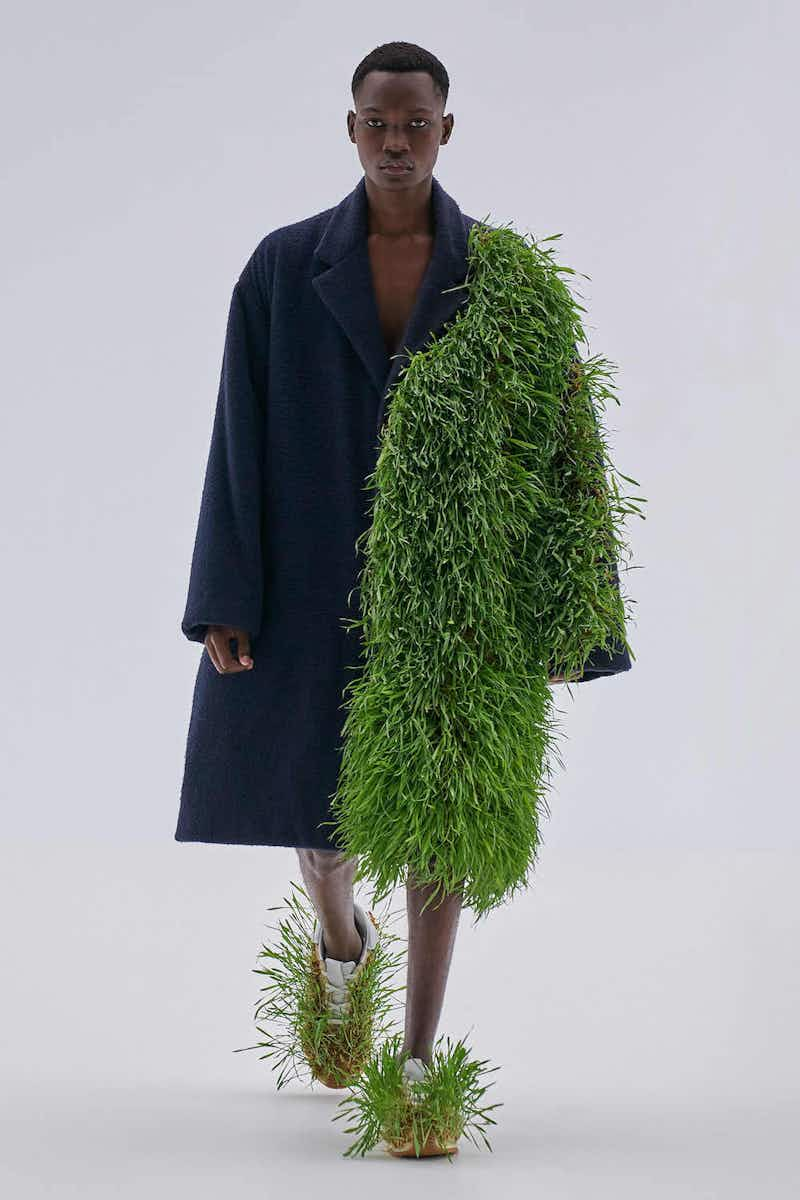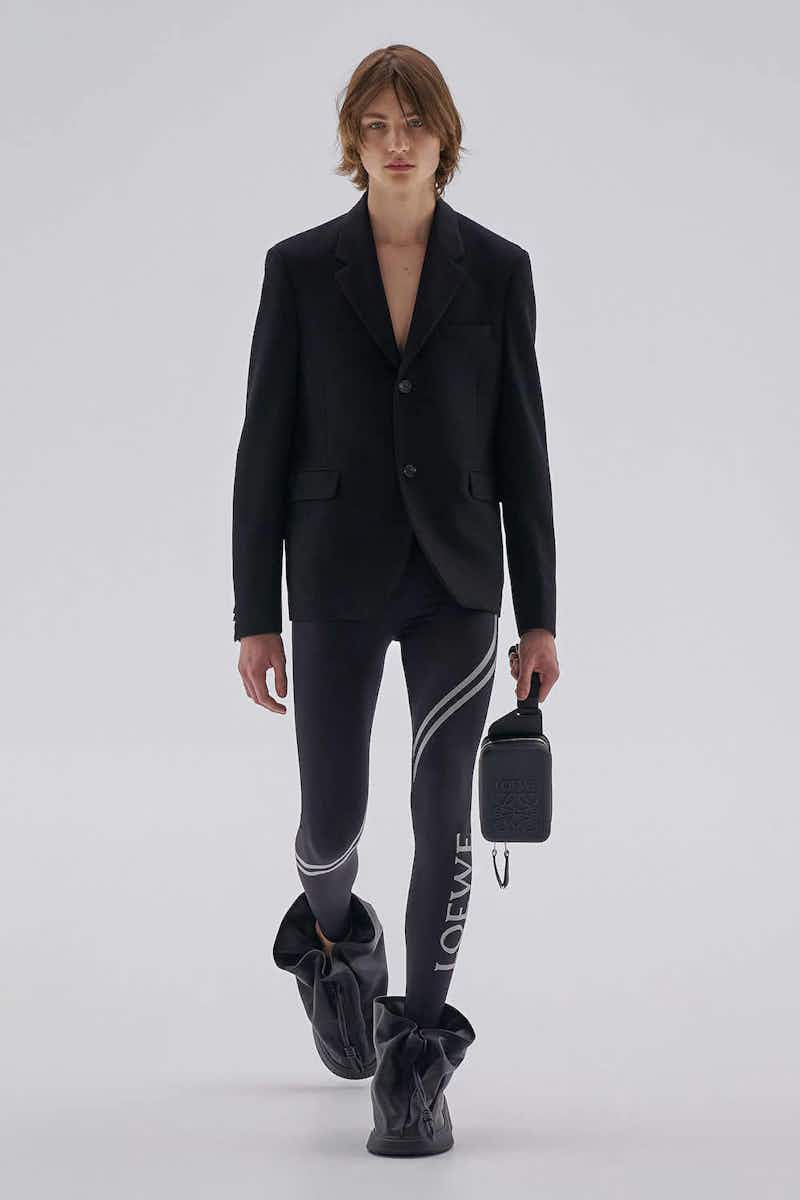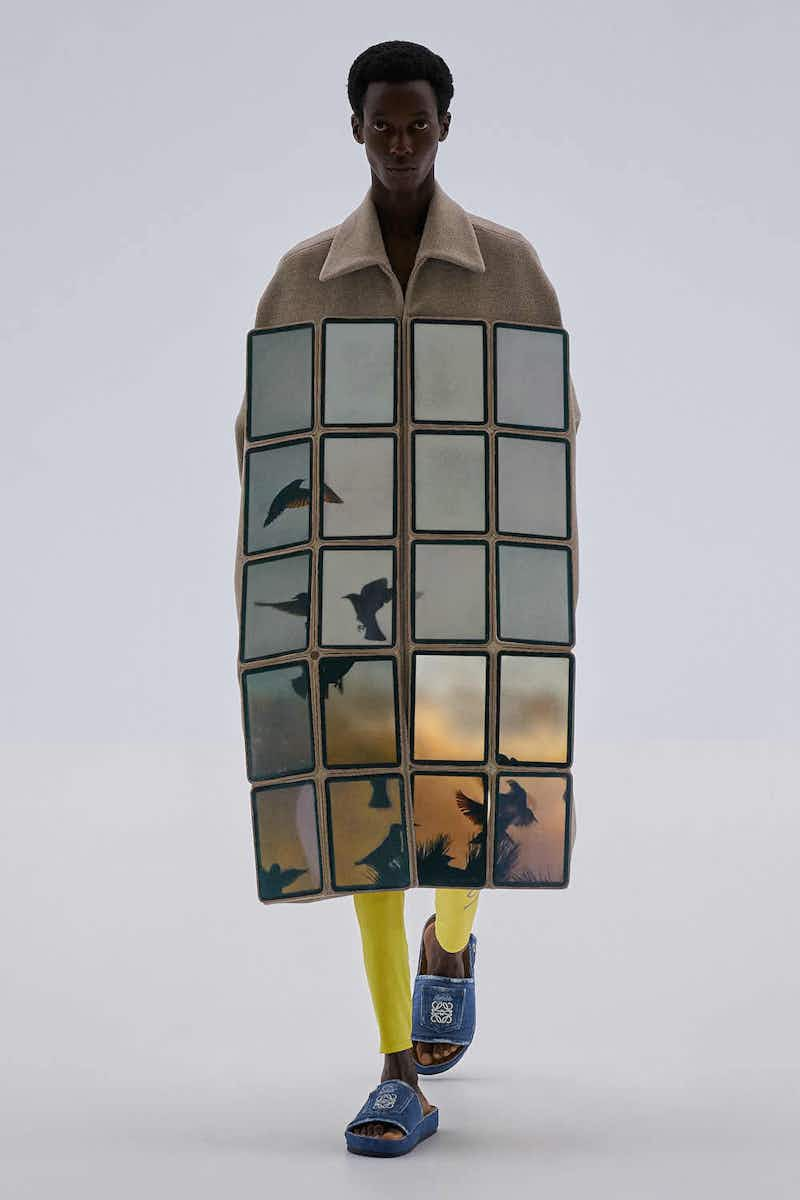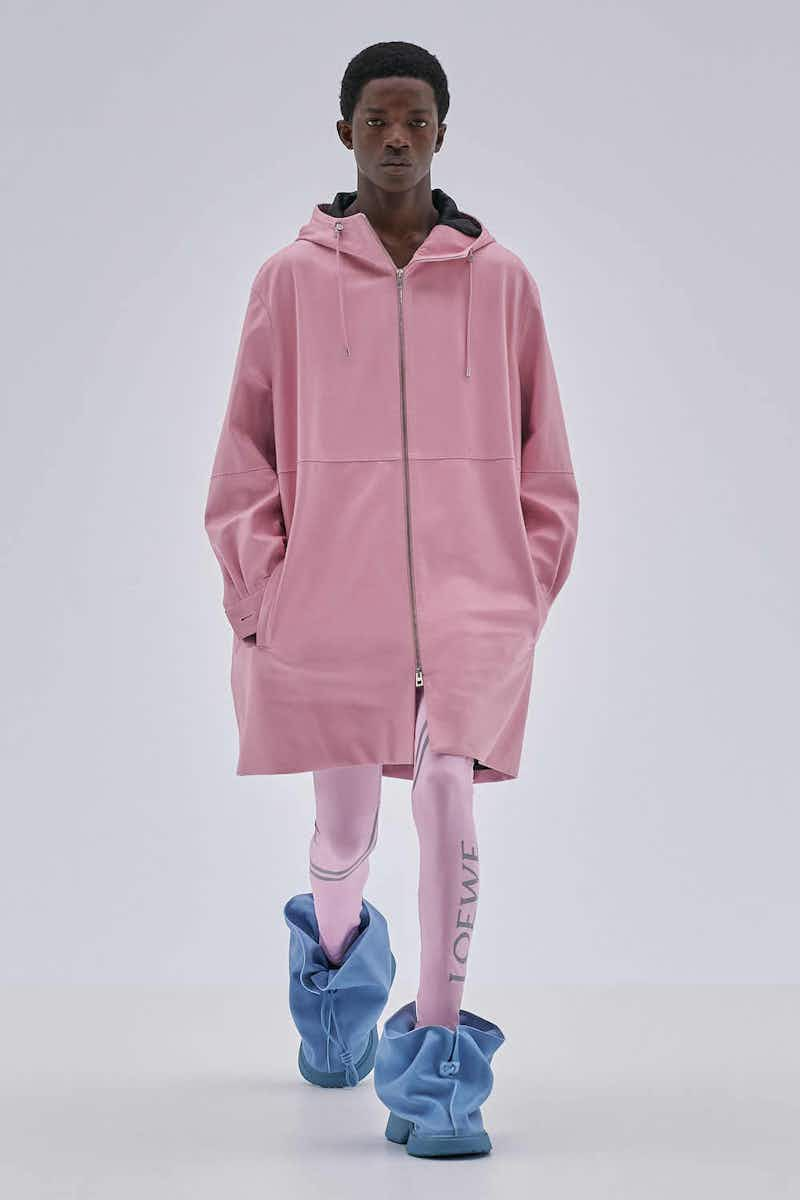 "Lightness" seemed to be the word du jour at Hermés. It's a good one, given the multiple implications – a spill of sunshine, a sense of weightless possibility, a cheerful mood that cannot be dragged down. Some of Véronique Nichanian's pieces showed direct interpretations of the theme, such as knits patterned with suns and seahorses to suggest the carefree buzz of long, coastal days. Others yielded the sort of sexy, relaxed designs that Hermés does so well: luxurious white suits and earthy brown pullovers, perfect for wearing when the sea breeze picks up. A rainbow of windbreakers in orange, lilac, yellow and turquoise brought some lovely sunset colours into the mix, while the neoprene sandals suggested that the Hermés man has a practical streak too.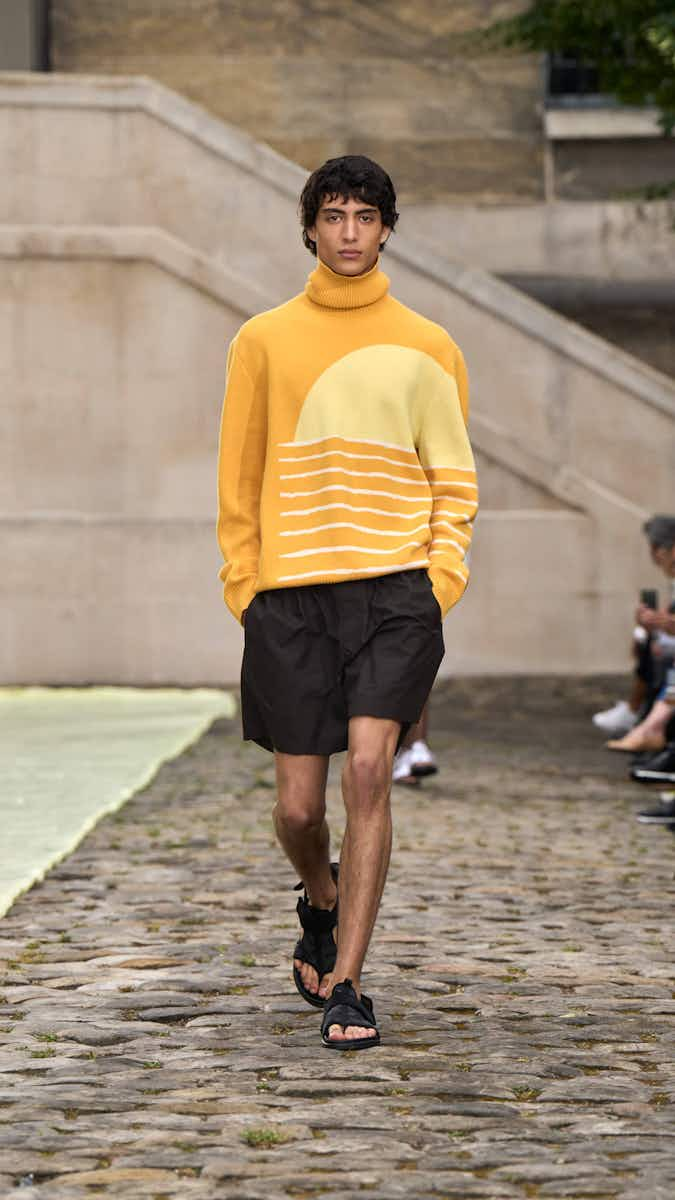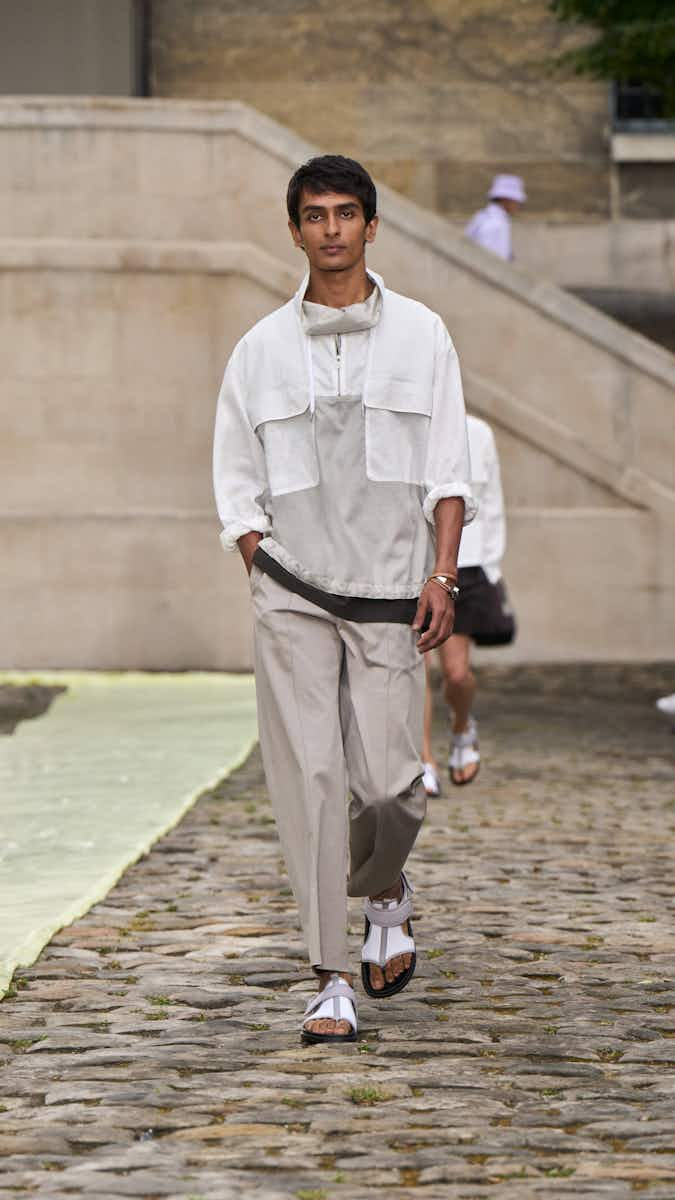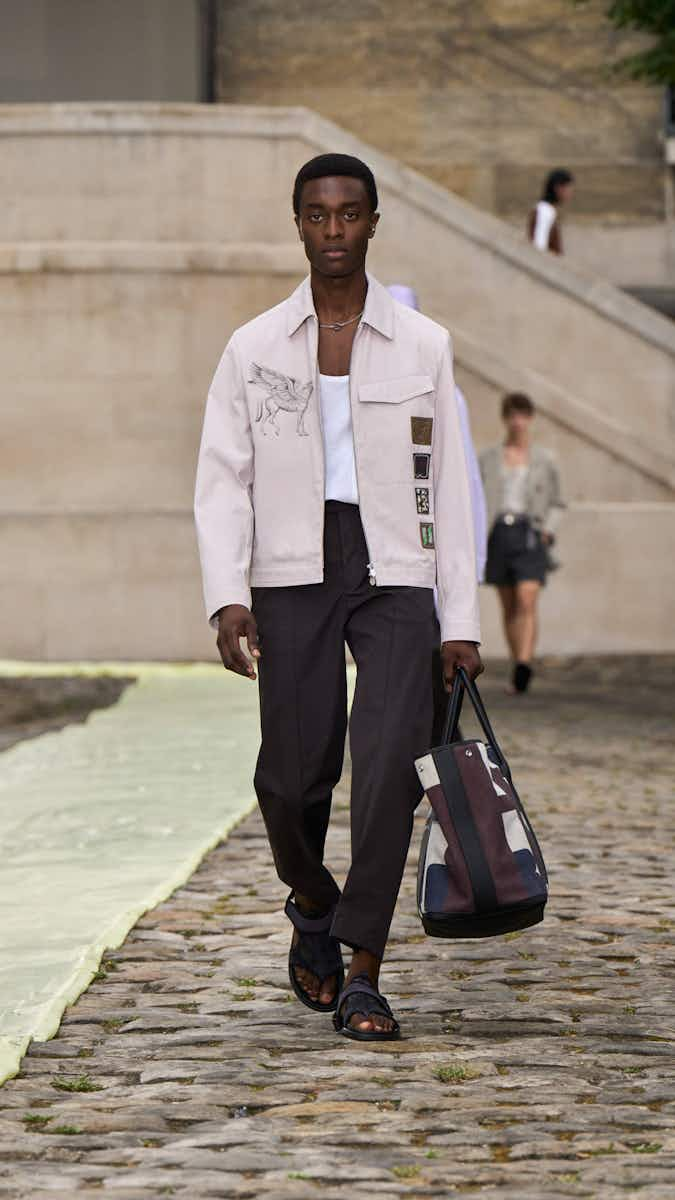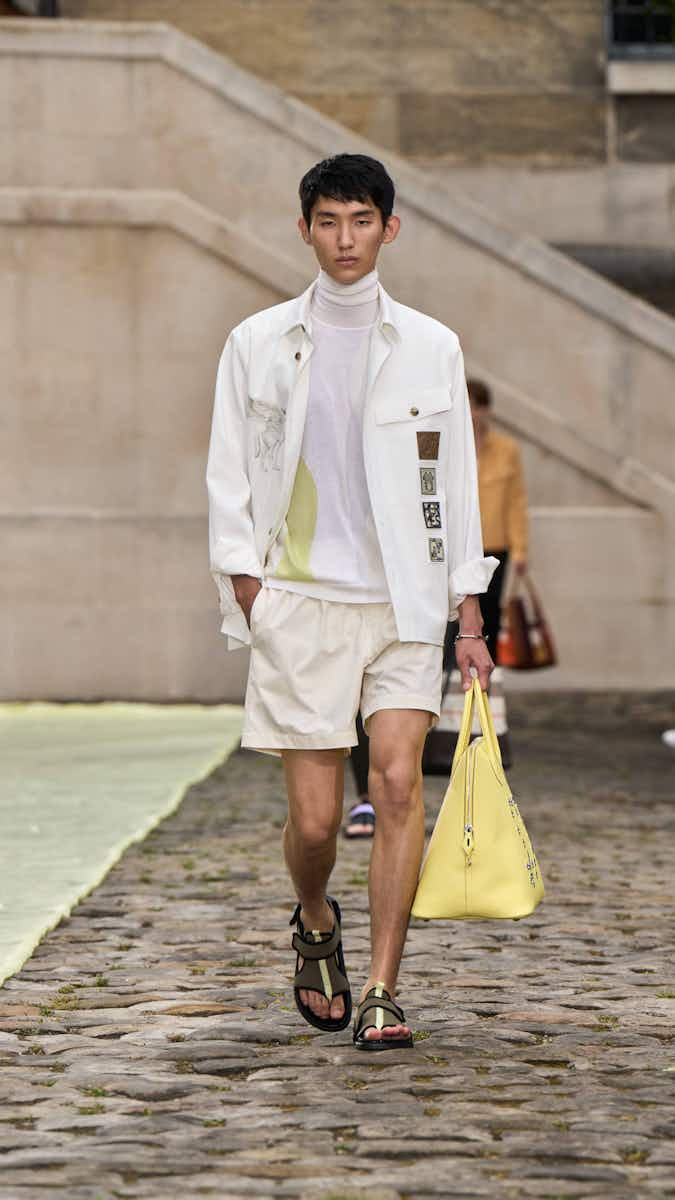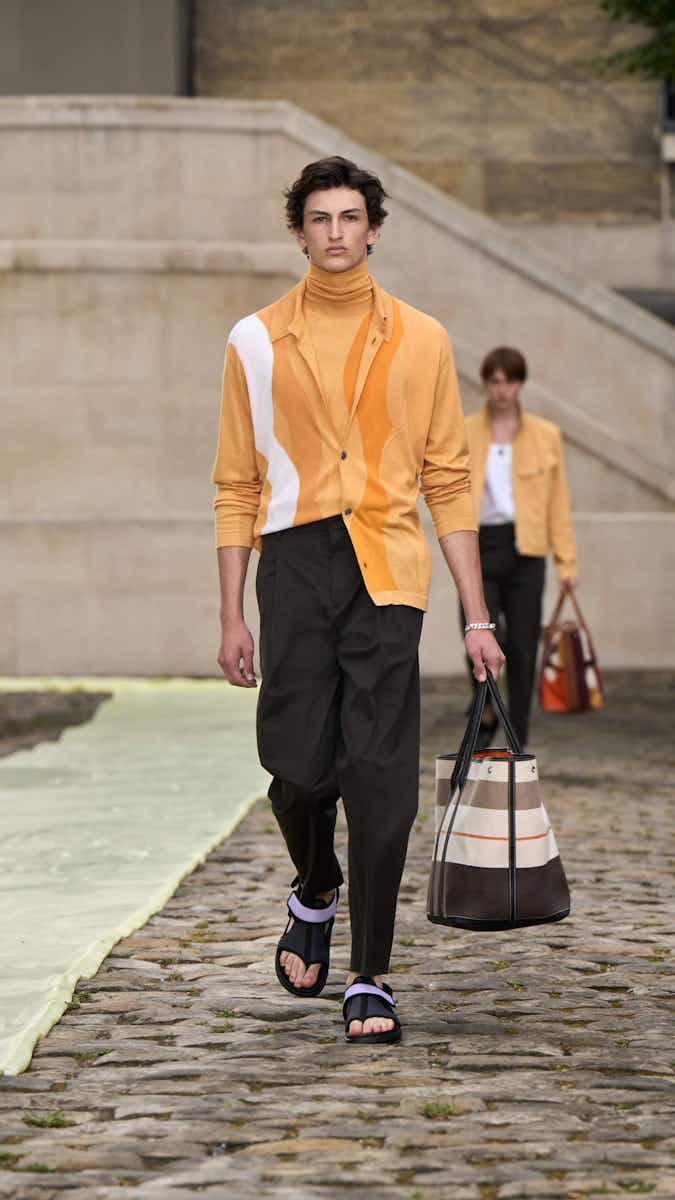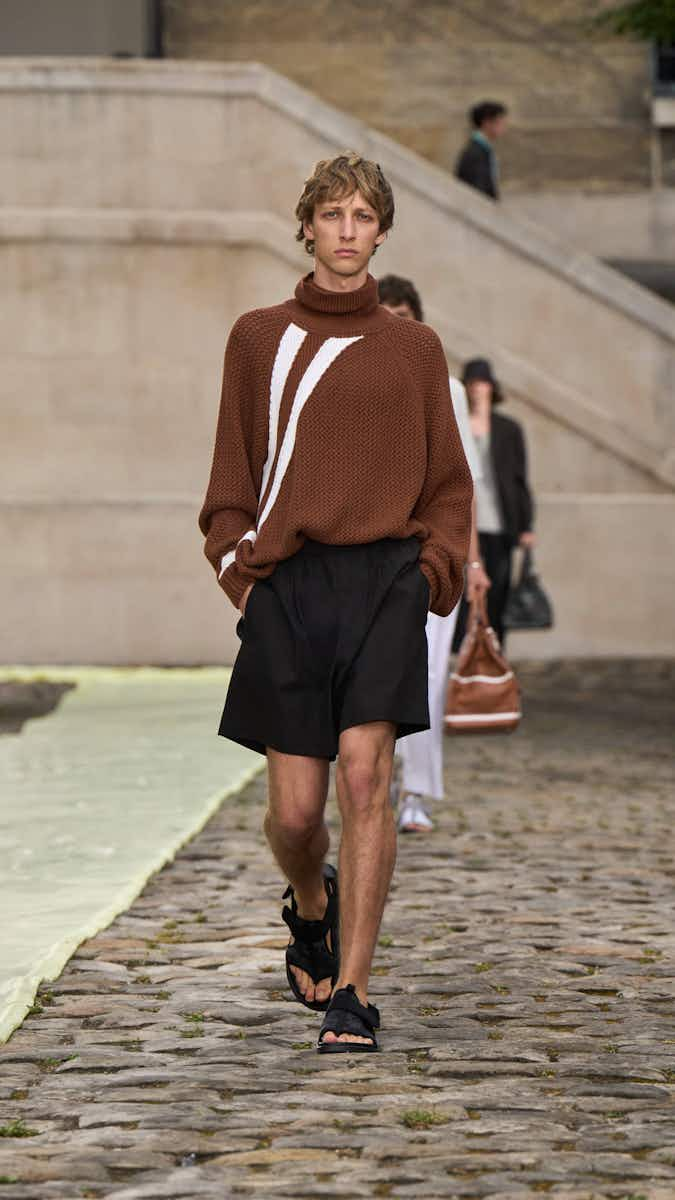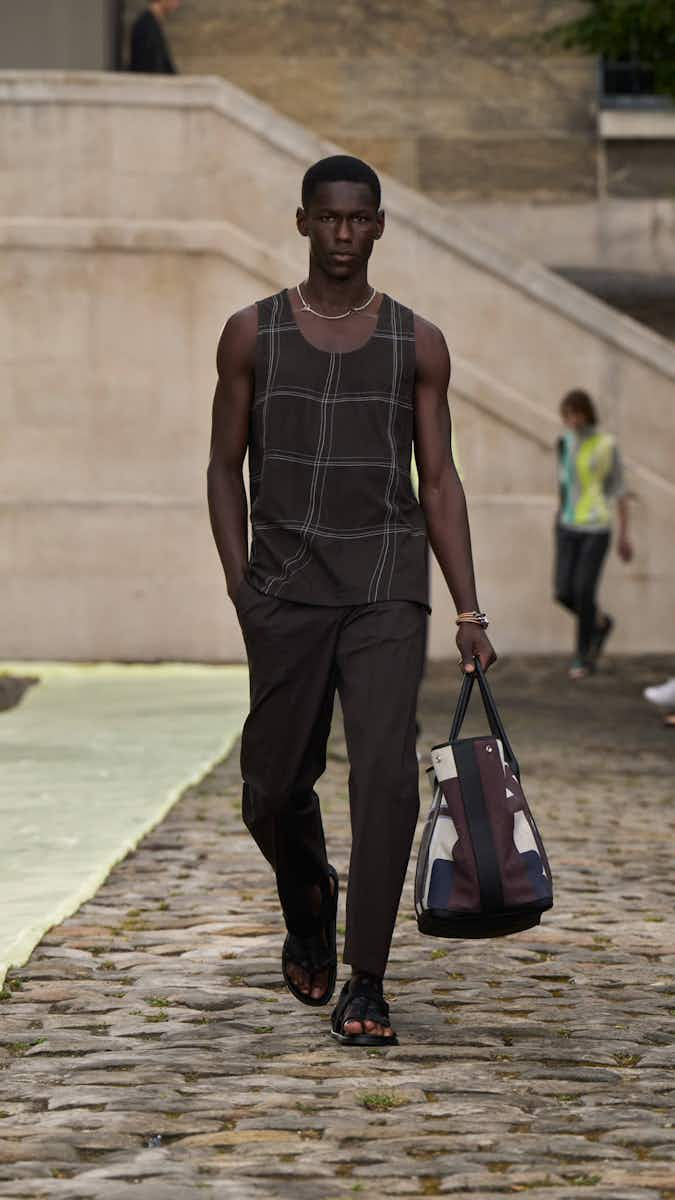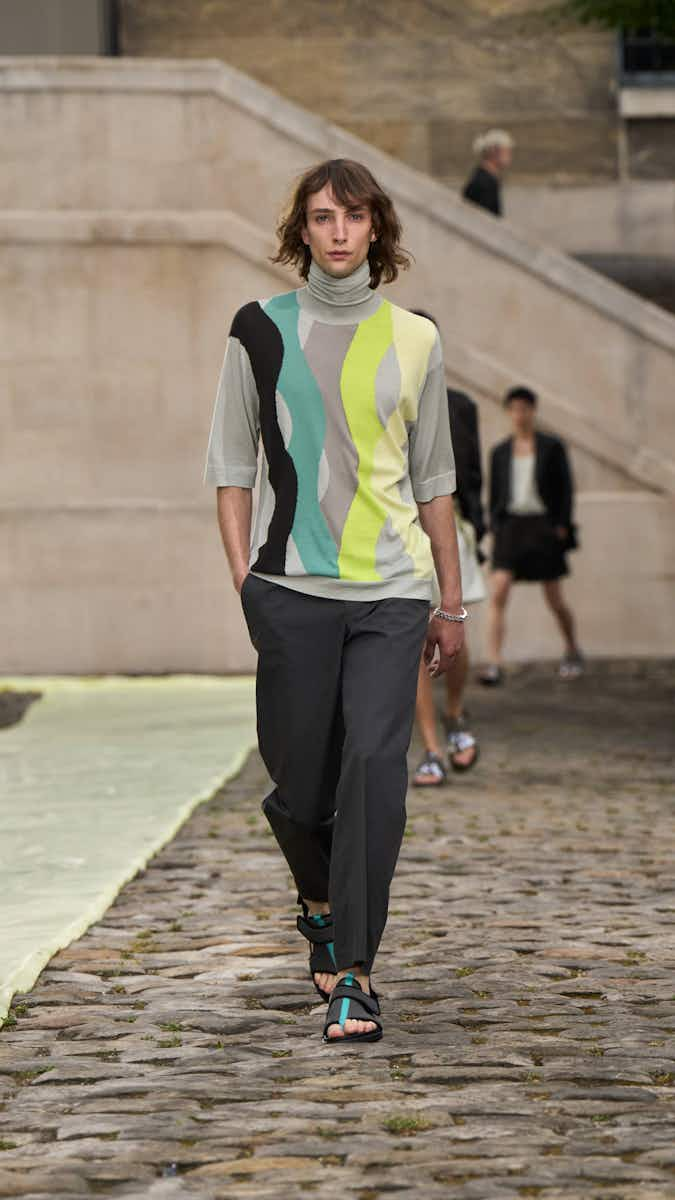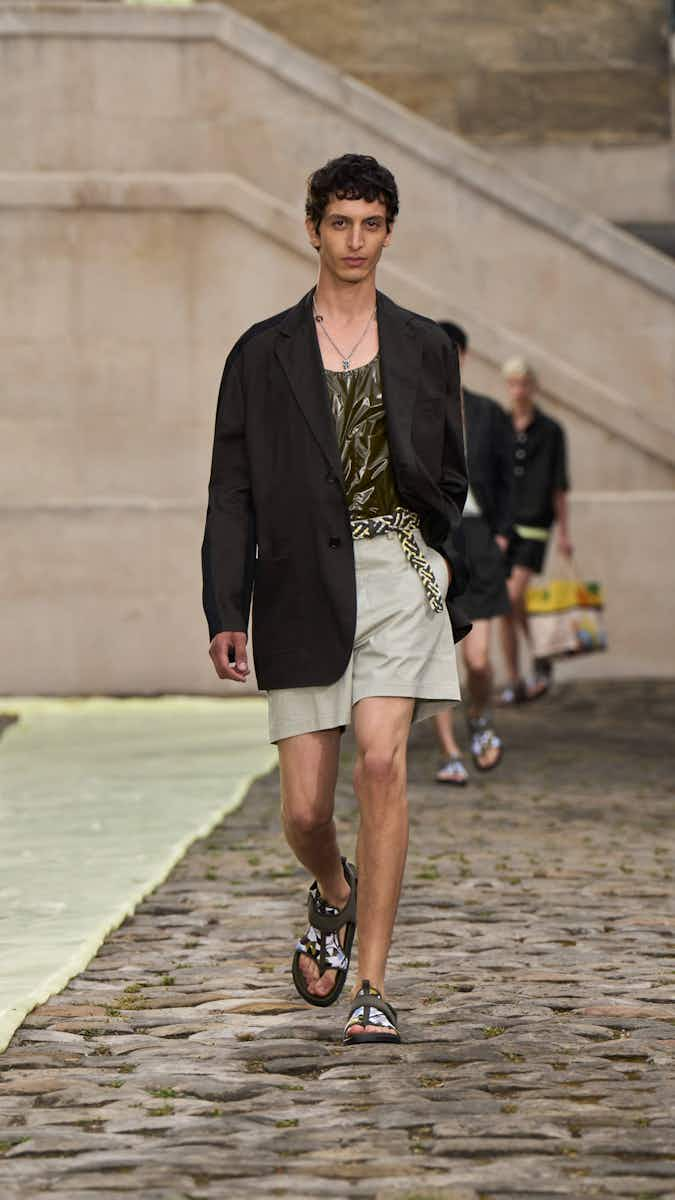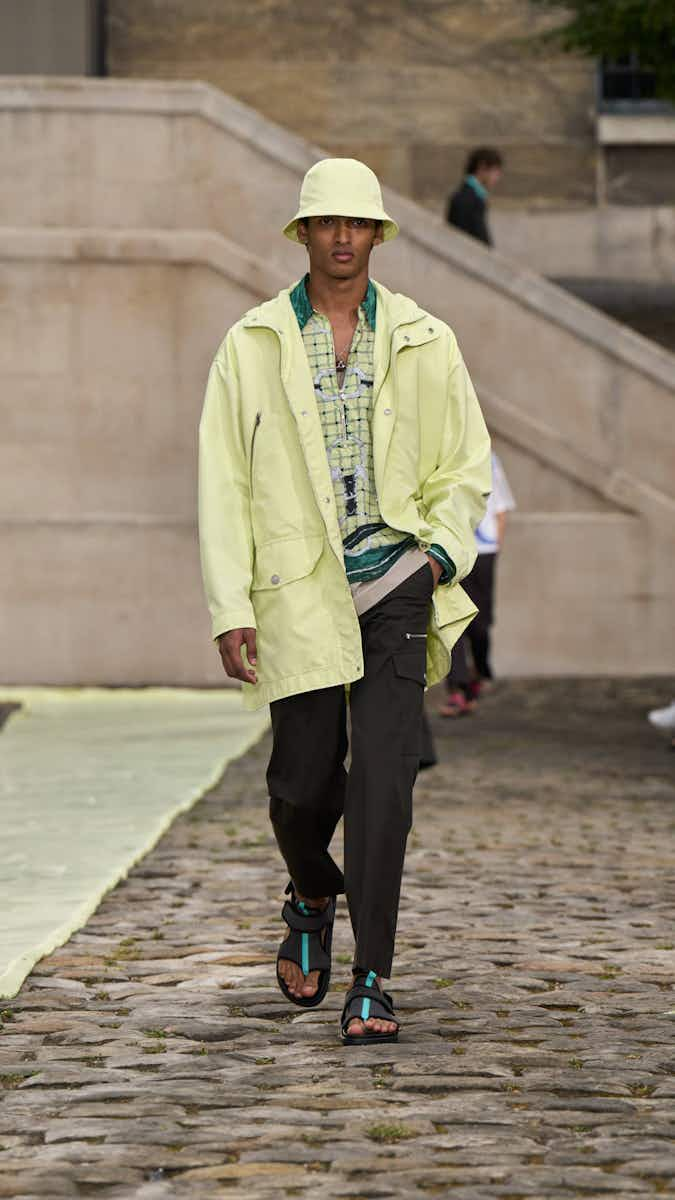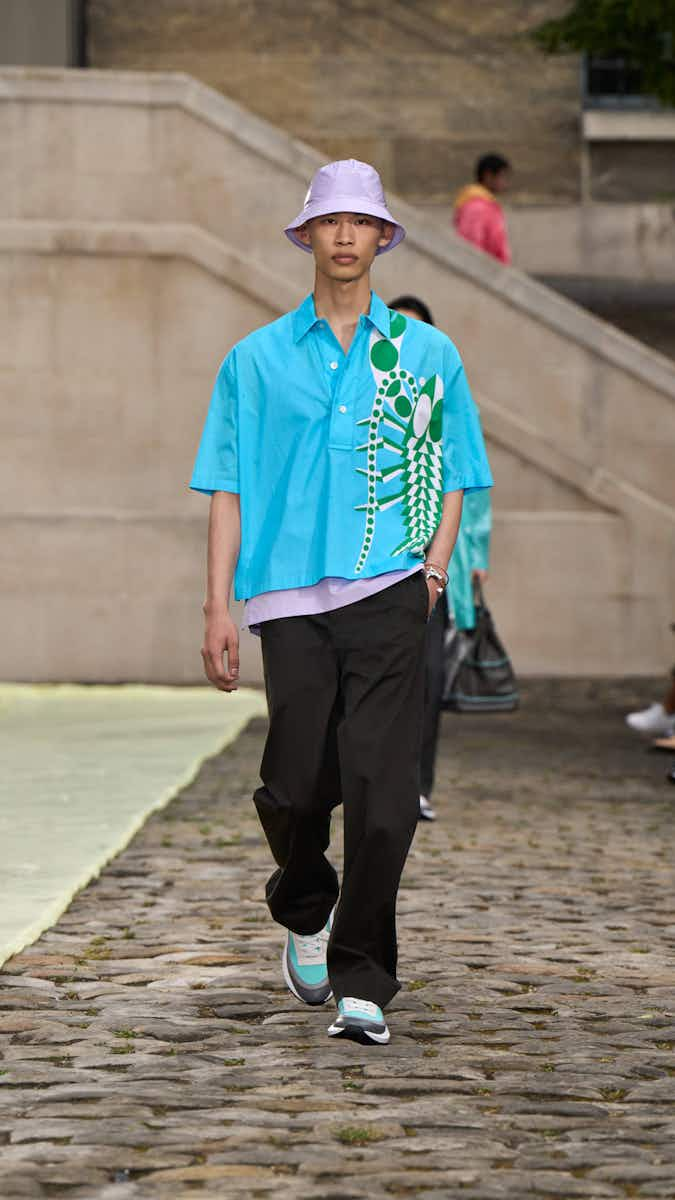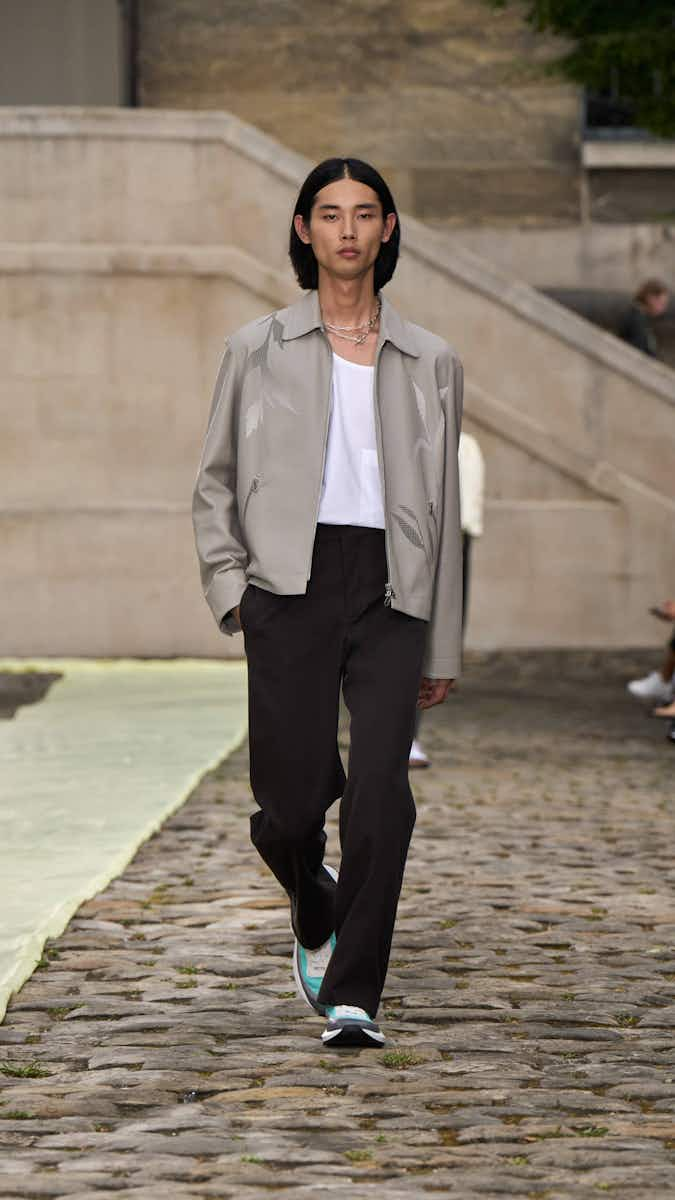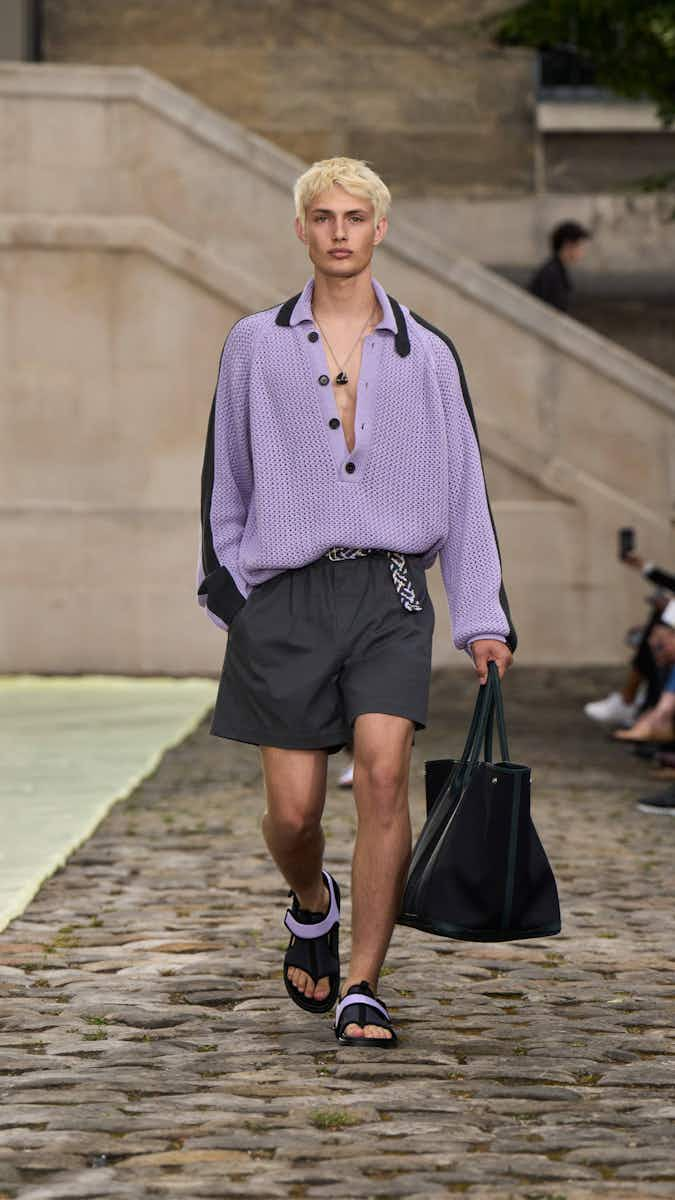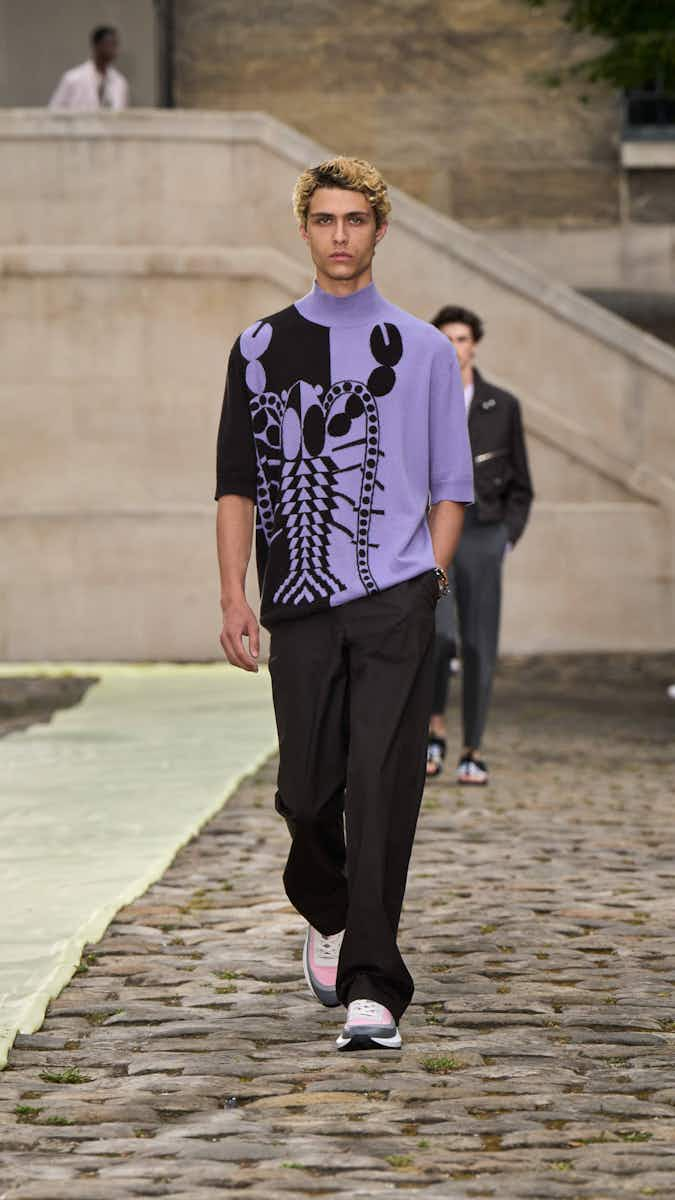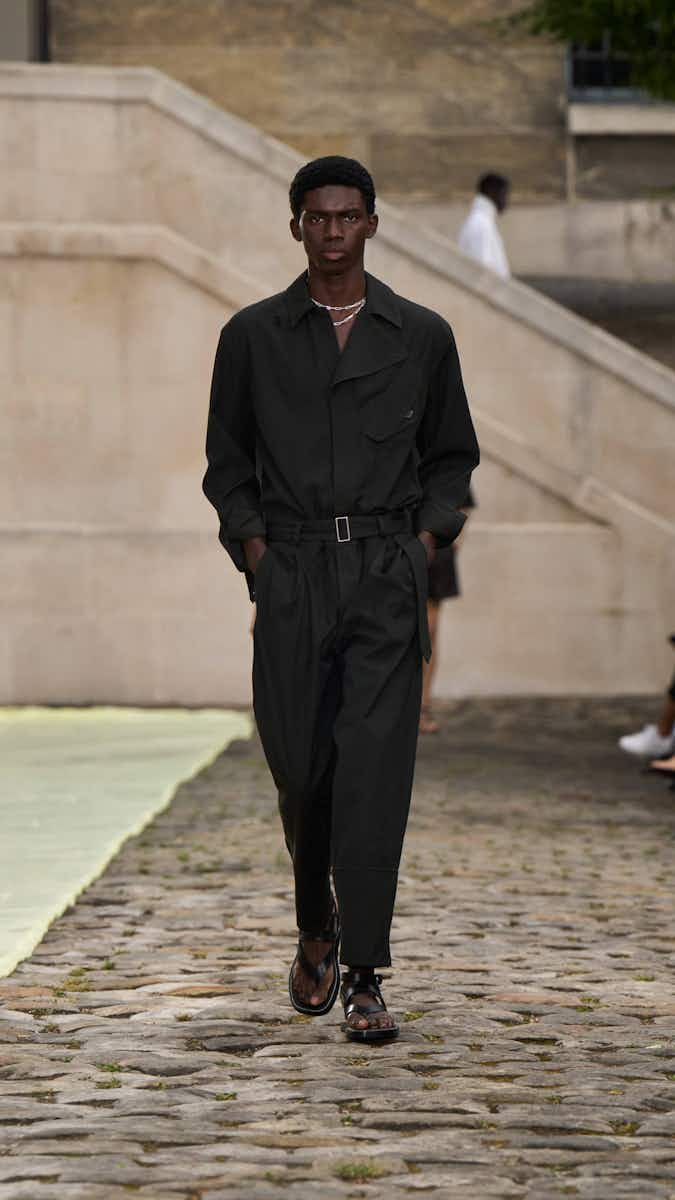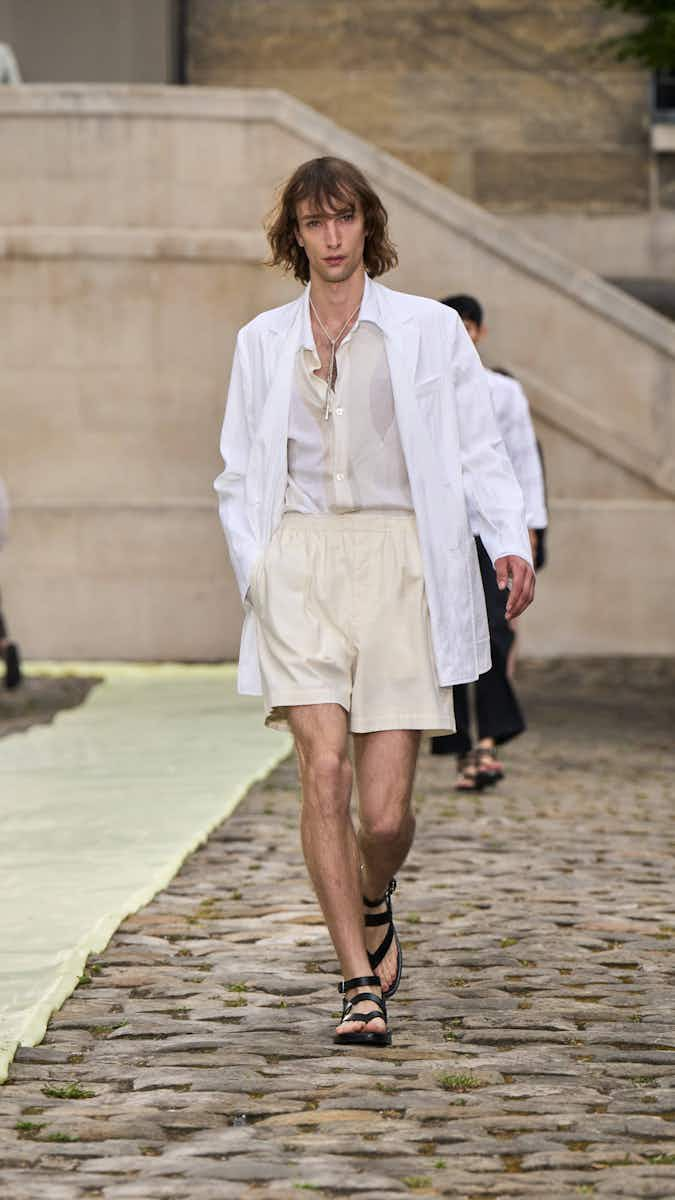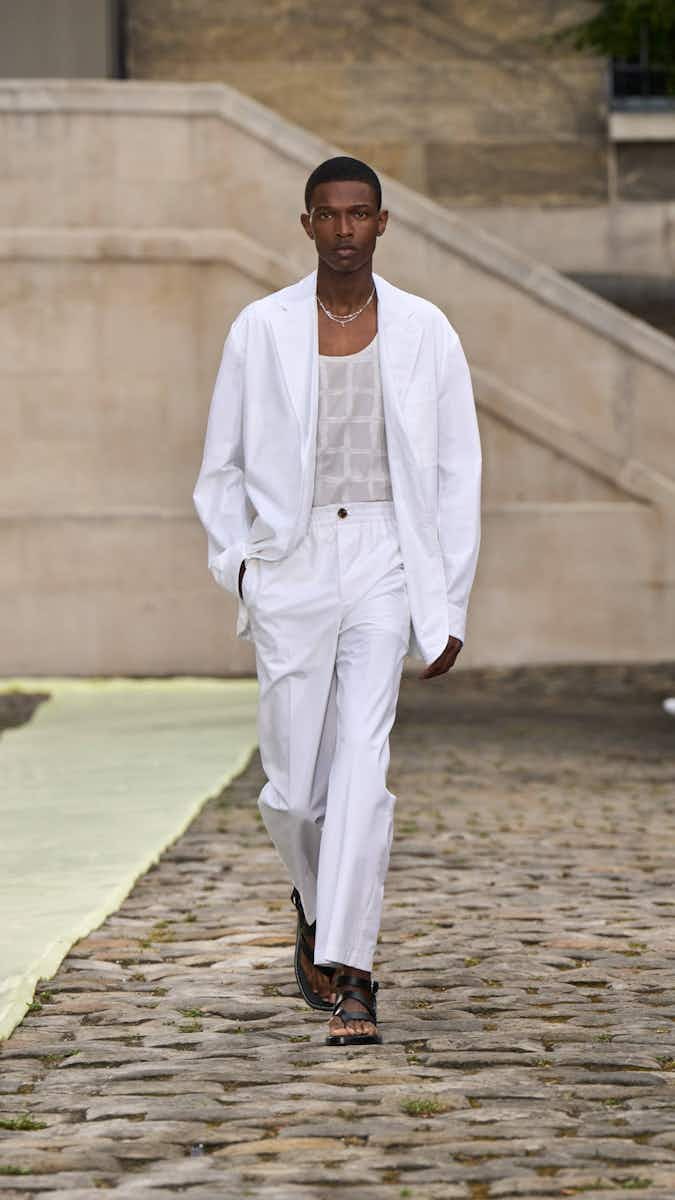 More like this