Heating up: Pip Paz-Howlett's homoerotic designs are sex on legs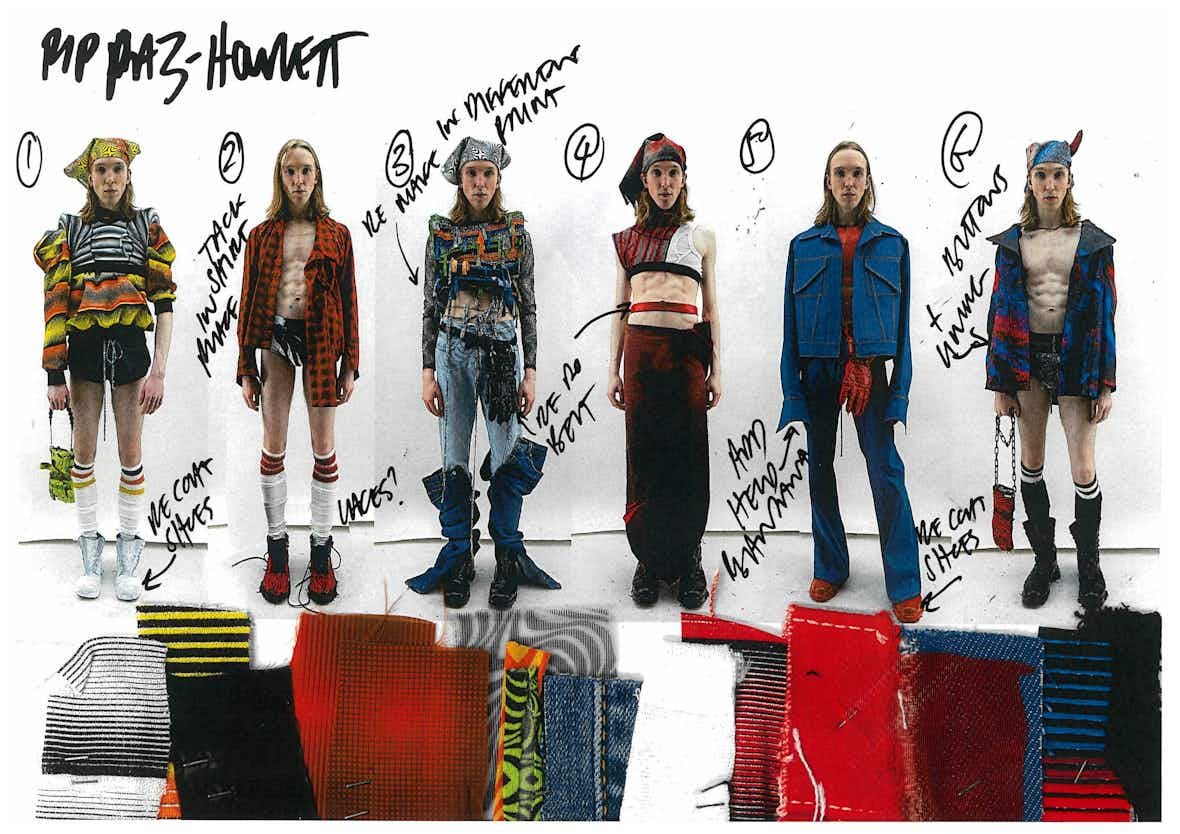 Off the Rails: Gay porn, '70s disco and heat-reactive tech are the magic ingredients in this British designer's work, who recently graduated from Central Saint Martins' MA Fashion course, and once worked as a print designer at JW Anderson.
Back in February, when Central Saint Martins presented their annual MA Fashion collections during London Fashion Week, the runway got marginally sexier when MA Menswear student Pip Paz-Howlett presented his looks. His designs, styled as though models were caught mid-undressing, featured handprints slapped onto the back of white Y‑fronts, fetishistic tube socks pulled to the knee, layers of acidic textures revealing limbs poking from underneath, and a crocheted jockstrap thrown in for good measure.
Raising pulses, Paz-Howlett, 28, set a red-hot tone for his lustful menswear that deftly pushes against tradition, blurring gender norms and sticking two fingers at anyone who objects in the process.
Born in London, the designer knew he wanted to get into design when he was picking his GCSEs and opted for textiles. ​"Everyone else was making cushions and hats for babies, and I made this awful dress," he says. ​"But I thought, I want to do this. It wasn't good, but it wasn't a cushion!"
A few years later, he started a BA in fashion design at Westminster, where notable alumni include Ashley Williams, Robyn Lynch and Priya Ahluwalia. After graduating in 2016, he bagged himself a top-notch role at JW Anderson, where he was the sole print and textile designer for just under two and a half years.
There, he oversaw the men's and womenswear collections, as well as collaborations with UNIQLO. Learning under creative director Jonathan Anderson, Paz-Howlett was involved in the British brand's brilliantly oddball design processes, hopping between tradition and pure subversion, and the uncanny references – which are often sexual – that have seasoned critics gasping for air on the front row.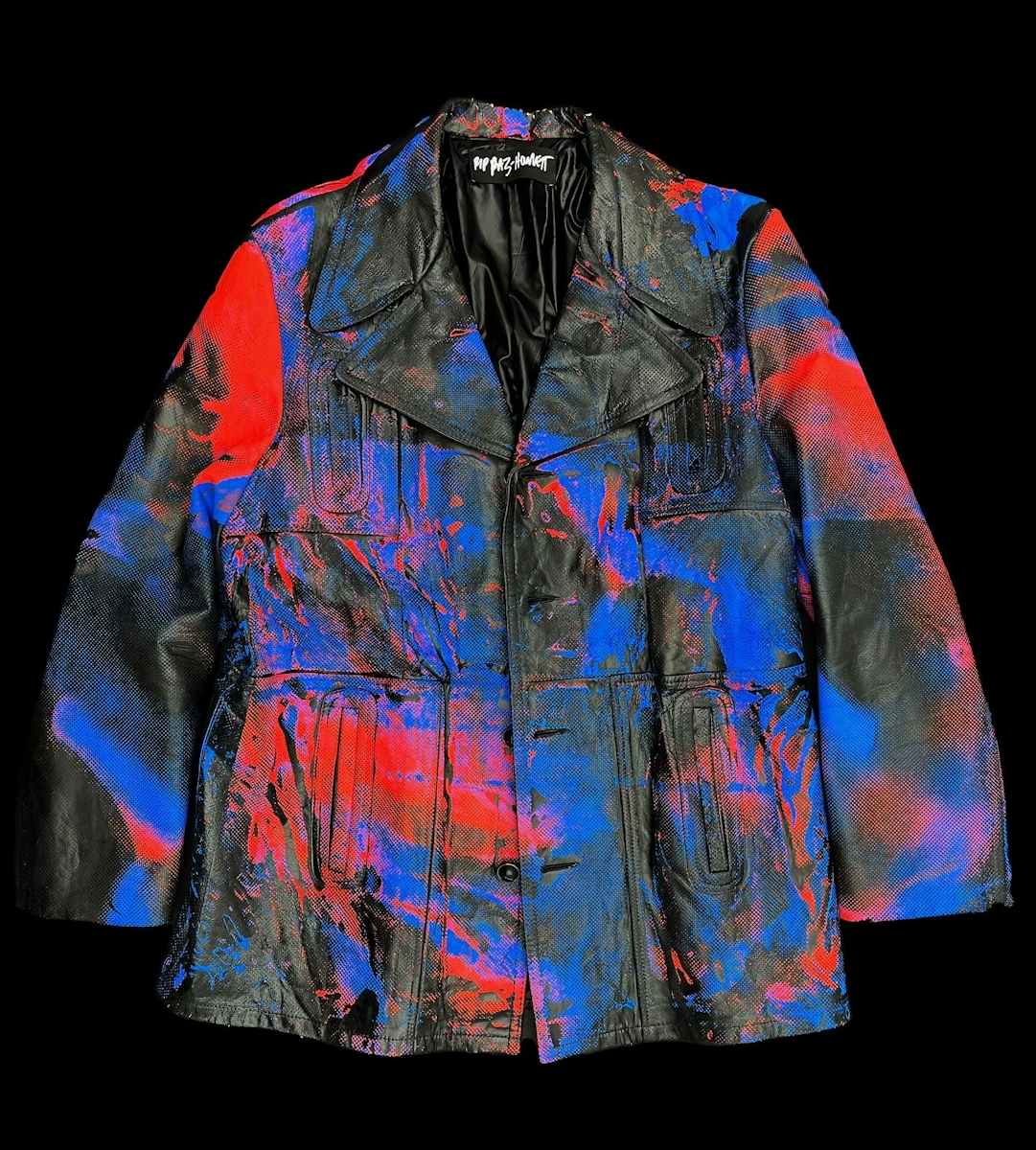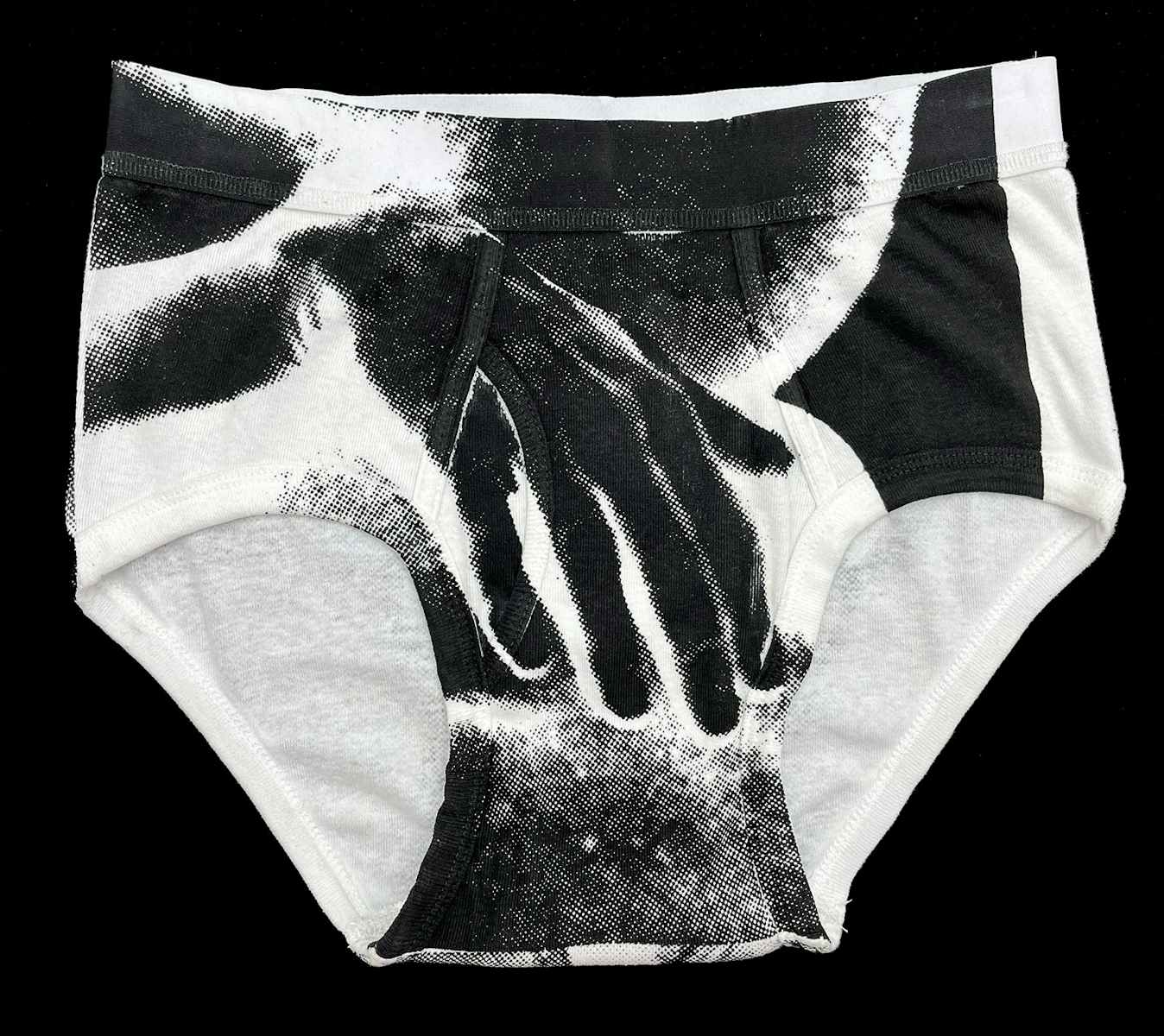 "It was, like, a steep learning curve, for sure," he says. ​"I didn't even really know how to design prints. I just kind of winged it in my BA collection. It was full-on, but it definitely gave me so many skills to be able to work really efficiently."
After leaving JW Anderson, Paz-Howlett set off to Australia, his partner's native, to hop around for a bit, just before the pandemic. Then, he returned to start the two-year MA course at Saint Martin's. For his final collection, he looked to the late ​'70s and early ​'80s – notably his hero, Patrick Cowley, the gay DJ who defined San Francisco's golden years of gay liberation, pre-AIDS, during the disco era. During that hedonistic time, Cowley worked with fellow disco innovator Sylvester on the dancefloor filler Do You Wanna Funk? in 1982.
"[Cowley] soundtracked loads of gay porn films around that time," Paz-Howlett says. ​"I've been into his music for a really long time. He has this book called Mechanical Fantasy Box and it's a really interesting glimpse into that time of pre-AIDS gay life in America and how liberating it was."
For the garments, the designer screen-grabbed moments of people undressing or taking each other's clothes off from gay porn films of that era. He then used them to influence garment cuts by way of twisted shoulders and neck holes in the wrong place, creating a sense of healthy, vulnerable awkwardness akin to stripping off in front of a potential shag.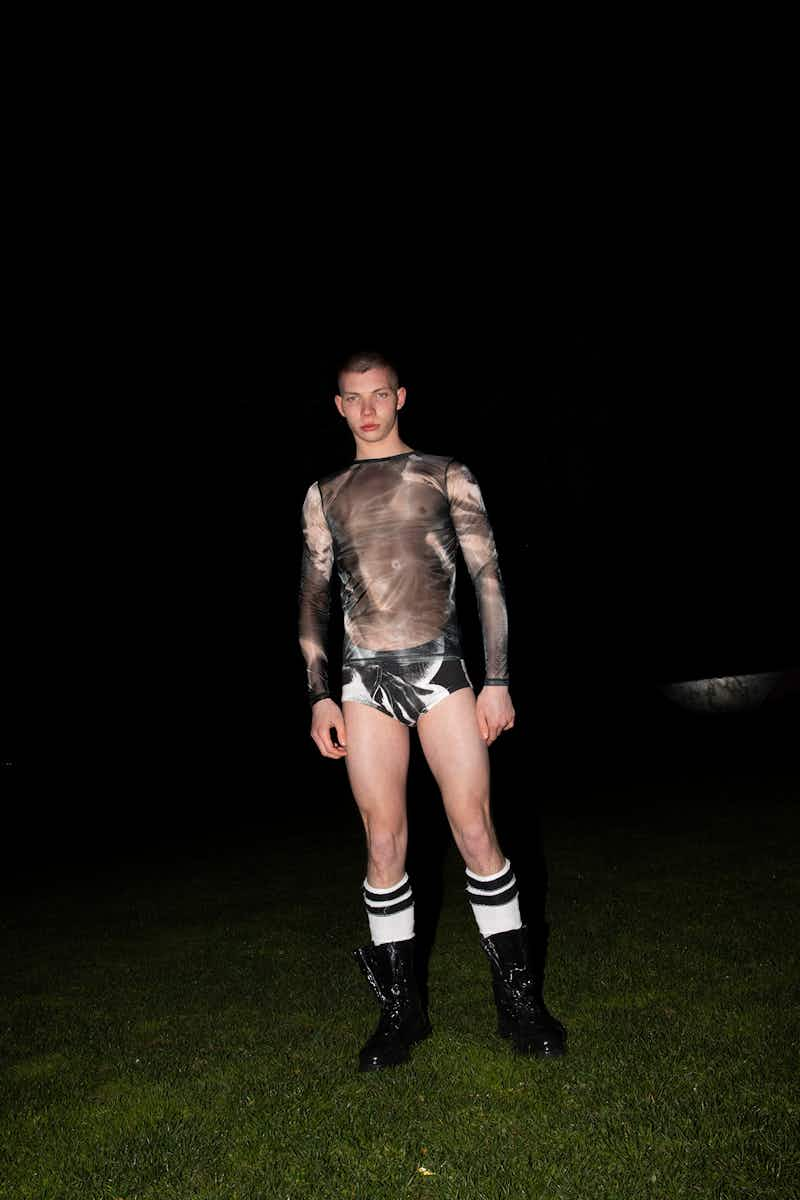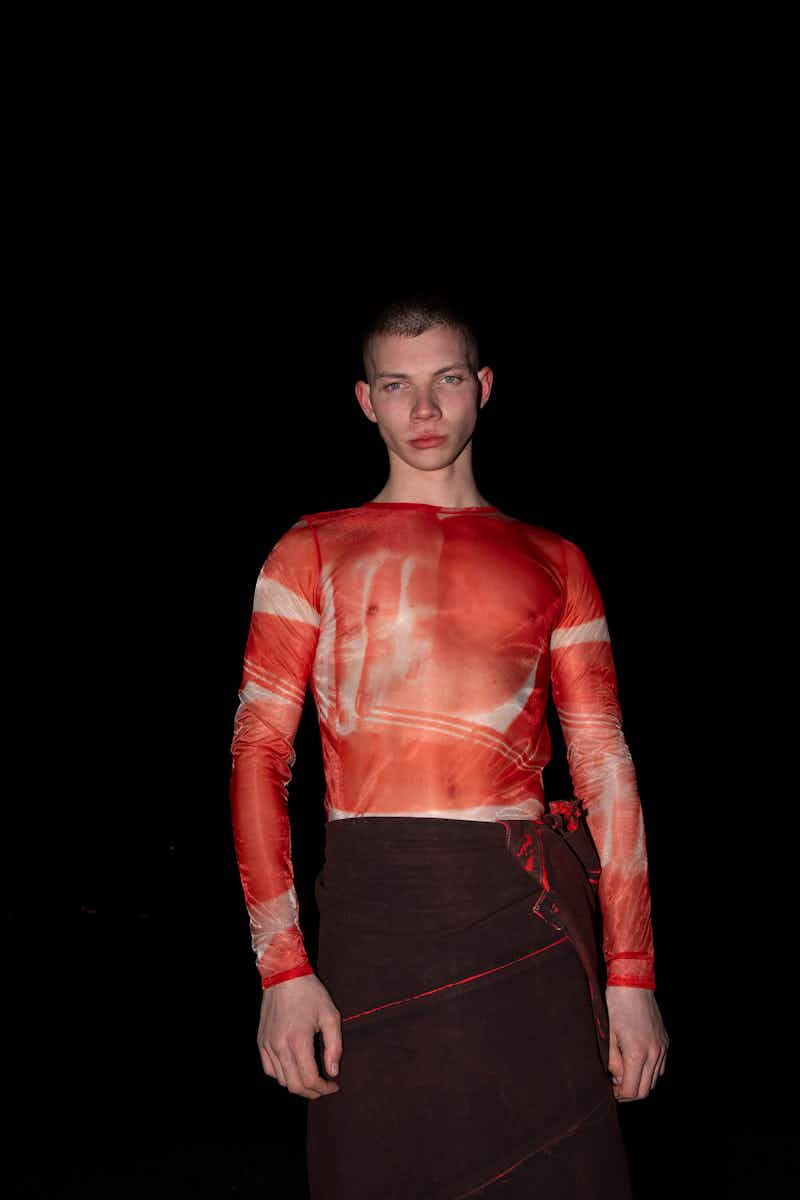 There's a tactile element to Paz-Howlett's designs, too – he uses heat-reactive technology. It's mind-bending stuff, involving £200 pots of inks, baking a pair of pants in a 200-degree oven and multiple washes. But once the labour of love is over, the result is surreal, with X‑ray-style hands plastered onto a full-length skirt like a touchy-feely embrace on the dancefloor.
"It's completely revealing since you get an impression of the legs over the crotch, but it's fully clothed," he says. ​"I wanted to play around with the idea of being fully covered and revealing at the same time."
If traditional menswear is more your bag, good luck finding it at Pip Paz-Howlett. There's a reason the designer isn't churning out tailored garments or smart suiting – it's simply not in his world. ​"I find it really unengaging and no one in my life works in the city. I don't relate to men who dress like that," he says. ​"I want to give menswear a bit more sex appeal."
Below, we go off the rails and find out what gets Pip out of bed, who he'd invite over for dinner and who he'd least want to see in his designs.

OFF THE RAILS
What's the best advice you've got for us?
Wear some colour.
What do you love and hate?
I love that everything's open again. I've got loads of festivals lined up and I'm excited to go and see live music again.
I hate the government in this country. Everything I hear on the radio every morning angers me.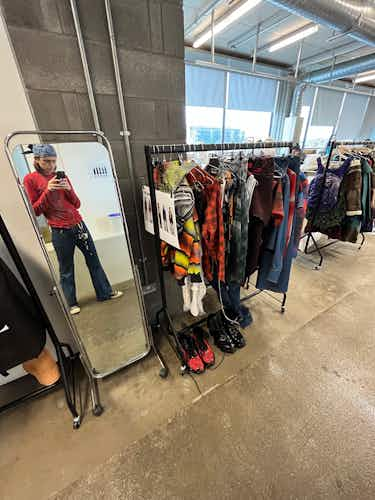 What would you be doing if you weren't a designer?
I'd definitely be a landscape architect, designing people's gardens and planting vegetables.
Who would you most and least want to wear your clothes?
I'd want Lil Nas X to wear my clothes. He's adventurous with what he wears in terms of cut, colour and fabric and I could imagine he would be super fun to work with. And I think it's important for another queer person to represent the clothes.
Least want… anyone who is right-wing and anyone who's homophobic.
What gets you out of bed in the morning?
Before the course, I used to do yoga every morning. But I feel like the course killed me a bit and I'm still recovering, and I find it so hard to wake up, so definitely coffee. And I like to go and sit in my garden for a good half an hour before I go and talk to anyone.
What do you listen to in the studio?
Patrick Cowley and my favourite band, The Knife.
Where do you go wild on the weekends?
I haven't been to a massive club for ages, but I always love going to The Glory [in Hackney, East London] or any of the places down Kingsland Road. I also love the Shacklewell Arms [in Hackney, East London]. In terms of cities, I've probably had my best nights out ever when I lived in Paris, going to cool queer nights.
Which five guests – dead or alive – would you have over for dinner?
Patti Smith, Marianne Faithfull, Paris Hilton, Dolly Parton and Karin Dreijer from The Knife.

More like this